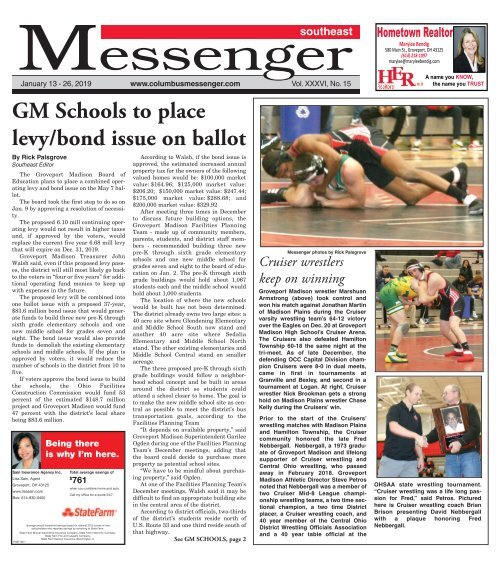 Southeast Messenger - January 13th, 2019
Create successful ePaper yourself
Turn your PDF publications into a flip-book with our unique Google optimized e-Paper software.
southeast

January 13 - 26, 2019 www.columbusmessenger.com Vol. XXXVI, No. 15

Hometown Realtor

Marylee Bendig

580 Main St., Groveport, OH 43125

(614) 218-1097

marylee@maryleebendig.com

A name you KNOW,

the name you TRUST

GM Schools to place

levy/bond issue on ballot

By Rick Palsgrove

Southeast Editor

The Groveport Madison Board of

Education plans to place a combined operating

levy and bond issue on the May 7 ballot.

The board took the first step to do so on

Jan. 9 by approving a resolution of necessity.

The proposed 6.10 mill continuing operating

levy would not result in higher taxes

and, if approved by the voters, would

replace the current five year 6.68 mill levy

that will expire on Dec. 31, 2019.

Groveport Madison Treasurer John

Walsh said, even if this proposed levy passes,

the district will still most likely go back

to the voters in "four or five years" for additional

operating fund monies to keep up

with expenses in the future.

The proposed levy will be combined into

one ballot issue with a proposed 37-year,

$83.6 million bond issue that would generate

funds to build three new pre-K through

sixth grade elementary schools and one

new middle school for grades seven and

eight. The bond issue would also provide

funds to demolish the existing elementary

schools and middle schools. If the plan is

approved by voters, it would reduce the

number of schools in the district from 10 to

five.

If voters approve the bond issue to build

the schools, the Ohio Facilities

Construction Commission would fund 53

percent of the estimated $148.7 million

project and Groveport Madison would fund

47 percent with the district's local share

being $83.6 million.

Sain Insurance Agency Inc.

Lisa Sain, Agent

Groveport, OH 43125

www.lisasain.com

Bus: 614-830-0450

Being there

is why I'm here.

Total average savings of

$

761

when you combine home and auto.

Call my office for a quote 24/7.

*average annual household savings based on national 2015 survey of new

policyholders who reported savings by switching to State Farm.

State Farm Murual Automotive Insurance Company, State Farm Indemnity Company,

State Farm Fire and Casualty Company,

State Farm General Insurance, Bloomington, IL

P097136.1

According to Walsh, if the bond issue is

approved, the estimated increased annual

property tax for the owners of the following

valued homes would be: $100,000 market

value: $164.96; $125,000 market value:

$206.20; $150,000 market value: $247.44;

$175,000 market value: $288.68; and

$200,000 market value: $329.92

After meeting three times in December

to discuss future building options, the

Groveport Madison Facilities Planning

Team - made up of community members,

parents, students, and district staff members

- recommended building three new

pre-K through sixth grade elementary

schools and one new middle school for

grades seven and eight to the board of education

on Jan. 2. The pre-K through sixth

grade buildings would hold about 1,067

students each and the middle school would

hold about 1,000 students.

The location of where the new schools

would be built has not been determined.

The district already owns two large sites: a

40 acre site where Glendening Elementary

and Middle School South now stand and

another 40 acre site where Sedalia

Elementary and Middle School North

stand. The other existing elementaries and

Middle School Central stand on smaller

acreage.

The three proposed pre-K through sixth

grade buildings would follow a neighborhood

school concept and be built in areas

around the district so students could

attend a school closer to home. The goal is

to make the new middle school site as central

as possible to meet the district's bus

transportation goals, according to the

Facilities Planning Team

"It depends on available property," said

Groveport Madison Superintendent Garilee

Ogden during one of the Facilities Planning

Team's December meetings, adding that

the board could decide to purchase more

property as potential school sites.

"We have to be mindful about purchasing

property," said Ogden.

At one of the Facilities Planning Team's

December meetings, Walsh said it may be

difficult to find an appropriate building site

in the central area of the district.

According to district officials, two-thirds

of the district's students reside north of

U.S. Route 33 and one third reside south of

that highway.

See GM SCHOOLS, page 2

Messenger photos by Rick Palsgrove

Cruiser wrestlers

keep on winning

Groveport Madison wrestler Marshuan

Armstrong (above) took control and

won his match against Jonathan Martin

of Madison Plains during the Cruiser

varsity wrestling team's 64-12 victory

over the Eagles on Dec. 20 at Groveport

Madison High School's Cruiser Arena.

The Cruisers also defeated Hamilton

Township 60-18 the same night at the

tri-meet. As of late December, the

defending OCC Capital Division champion

Cruisers were 8-0 in dual meets,

came in first in tournaments at

Granville and Bexley, and second in a

tournament at Logan. At right, Cruiser

wrestler Nick Brookman gets a strong

hold on Madison Plains wrestler Chase

Kelly during the Cruisers' win.

Prior to the start of the Cruisers'

wrestling matches with Madison Plains

and Hamilton Township, the Cruiser

community honored the late Fred

Nebbergall. Nebbergall, a 1973 graduate

of Groveport Madison and lifelong

supporter of Cruiser wrestling and

Central Ohio wrestling, who passed

away in February 2018. Groveport

Madison Athletic Director Steve Petros

noted that Nebbergall was a member of

two Cruiser Mid-8 League championship

wrestling teams, a two time sectional

champion, a two time District

placer, a Cruiser wrestling coach, and

40 year member of the Central Ohio

District Wrestling Officials Association

and a 40 year table official at the

OHSAA state wrestling tournament.

"Cruiser wrestling was a life long passion

for Fred," said Petros. Pictured

here is Cruiser wrestling coach Brian

Brison presenting David Nebbergall

with a plaque honoring Fred

Nebbergall.
---
PAGE 2 - SOUTHEAST MESSENGER - January 13, 2019

Franklin

Heating Cooling & Refrigeration, Inc.

Tune Up NOW or

Bundle Up LATER!

Financing Available

24 Hour

Service

614-836-9119

OH License #20692

www.franklinheating.com

Continued from page 1

The Facilities Planning Team noted

that building one middle school instead of

multiple middle schools means the district

would only have to build one set of athletic

facilities for middle school students.

The members of the team also said the

proposed building plan would: replace

aging school buildings; ease student overcrowding;

eliminate the 22 modular classrooms

in the district; enable there to be

5055 South Hamilton Rd., Groveport, OH

614.836.0500 • www.groveportsmiles.com

Brighten Up Your Smile

New Patients Welcome • Convenient Hours

Preferred Provider for most Insurance

Payment Plans Available

GM SCHOOLS

A trusted name in dentistry

Sacheen N. Garrison, DDS.

identical academic and other programs in

each school; result in less acreage to be

maintained; create more overall efficiency;

younger students would be separated from

older students in the elementaries and

buses; and provide for modern safety features

(the team noted the current schools

cannot be retrofitted to meet modern safety

needs).

At a Nov. 15 public meeting, Ogden said

that, in 2012, the Ohio Facilities

Construction Commission recommended

the district replace all of its schools

because the cost to renovate them would

exceed the cost of building new. (The high

school has already been replaced.)

"To bring the schools up to current standards

the cost to renovate the schools

would be $78 million," said Ogden. "We

could renovate them, but we'd still be in old

era buildings."

The board must approve another resolutions

on Jan. 23 declaring its ballot intentions

and then file with the Franklin

County Board of Elections by Feb. 6 to

place the combined levy and bond issue on

the May 7 ballot.

Groveport Madison's

elementary and middle schools:

•Asbury Elementary - Built in 1963 with

additions in 1968 and 1969. Enrollment, 435.

www.columbusmessenger.com

Second police officer hired to serve Groveport Madison

Groveport and Madison

Township officers used

By Linda Dillman

Staff Writer

Another school resource officer will soon

walk the hallways at Groveport Madison

High School following completion of an

agreement between the district and the

Madison Township Trustees.

During a Dec. 28 special meeting, the

trustees approved the contract for the

remainder of the 2018-19 school year The

Groveport Madison Board of Education

approved it on Jan. 9. Madison Township

Police Chief Gary York said he anticipates

the agreement going into effect in

February.

It will be the second school resource officer

in the district as the Groveport Police

have already been providing the first officer

at the high school. The contract for the

Madison Township Police school resource

officer is similar to the one the district has

with the Groveport Police.

"The contract is a 69/31 split with the

majority of the officer's salary and benefits

covered by the board," said York. "The

remainder is covered by the township since

the officer is available for patrol when the

district is on break."

The total yearly cost–including salary

and benefits–is $116,455 with the township

covering approximately $36,101 and

the district picking up $80,354.

York said the position was posted inhouse

following a previous trustees' meeting

and Officer Keith Mallory, a 14-year

plus law enforcement veteran of the township

department, was selected to fill the

newly-created position.

Mallory previously served as a detective

and is currently a patrol officer. In order to

serve as a certified school resource officer,

"It's an additional measure

taken for the security of the children.

The two SROs will work in

conjunction with each other. I

think this will really help improve

the overall school community."

- Gary York, police chief

Madison Township

he is required to attend 40 hours of additional

training.

"He has a good track record and has previously

worked closely with the schools,"

said York, "so it seemed natural for him to

step into that role.

York said Mallory is not replacing the

current Groveport Police school resource

officer. He stated the township position is a

supplement to the district's safety staff.

"It's an additional measure taken for the

security of the children," said York. "The

two SROs will work in conjunction with

each other. I think this will really help

improve the overall school community."

York added that the Madison Township

school resource officer will be available to

go to other schools in the district as needed.

Other Madison Township news

The trustees approved:

•The purchase of two police cruisers and

four in-car cameras. The vehicles are 2019

Ford Police Interceptor Utility vehicles at a

total cost of $38,363 each. The agreement

for the four cameras is not to exceed

$18,265.

•Non-union full and part-time base pay

rates for 2019 at 2018 rates for the administrator,

administrative specialist, public

works superintendent, police and fire

chiefs, police commanders, administrative

assistances and fire department office

manager, which are all city taxable.

Groveport Madison students excel at Ohio Model United Nations Convention

Groveport Madison Schools sent 22

Honors World History Students to the Ohio

Model United Nations Convention this year.

Two of the three Groveport Madison

groups made it out of the council sessions

and presented their resolutions in the

General Assembly in front of roughly 2,000

people. One group (Guyana) finished with a

top 10 outstanding resolution for their resolution

writing and public speaking skills.

Over 182 resolutions were submitted and

Groveport Madison had a group finish in

the top 10 and another in the top 15.

Groveport Madison High School was the

only district out of over 100 statewide that

brought strictly ninth grade freshmen to

compete. All other school districts brought

students in grade levels 9-12.

The students were: Valerie Ansong,

Raya Carrington, Lilly Clements, Rocky

Donald, AJ Gacnik, Abby Holdren, TJ

Hughes, McDaniel Jean, Kara Snyder,

Megan Barr, Natalie England, Jaxson

Kelly, Nevin Montgomery, Braylee Moore,

Jacob Ray, William Traylor, Makayla

George, Kyle Jennings, Cameron Leitwein,

Sonya Showman, Christina Thurber, and

Keller Weston.

The 2018 Outstanding Resolution

Winners Team Guyana members are:

Makayla George, Kyle Jennings, Cameron

Leitwein, Sonya Showman, Christina

Thurber, andKeller Weston.

The 2018 OMUN Leadership Award

winners are: Jacob Ray and AJ Gacnik.

Functional capacity, 425.

•Dunloe Elementary - Built in 1967 with

additions in 1968 and 1969. Enrollment, 433.

Functional capacity, 425.

•Glendening Elementary - Built in 1968

with addition in 1974. Enrollment, 480.

Functional capacity, 425.

•Groveport Elementary - Built in 1923.

Enrollment, 424. Functional capacity, 425.

Placed on the National Register of Historic

Places in 2009.

•Madison Elementary - Built in 1967 with

additions in 1968 and 1969. Enrollment, 383.

Functional capacity, 425.

•Sedalia Elementary - Built in 1969 with

addition in 1974. Enrollment, 672. Functional

capacity, 446.

•Middle School North - Built in 1975.

Enrollment, 499. Functional capacity, 425.

•Middle School South - Built in 1975.

Enrollment, 453. Functional capacity, 425.

•Middle School Central - Built in stages

as a high school between 1952-56.

Enrollment, 452. Functional capacity, 425.

Placed on the National Register of Historic

Places in 2009.

(Functional capacity is 85 percent of original

design capacity and reflects modern

requirements for classroom space and programming.

Source: Groveport Madison

Schools.)
---
www.columbusmessenger.com

January 13, 2019 - SOUTHEAST MESSENGER - PAGE 3

Groveport Police to get body cameras, new cruisers

By Rick Palsgrove

Southeast Editor

Groveport City Council prepared for 2019 by passing a

long list of legislation in late December authorizing purchases

and agreements to keep the city operating and to

make improvements.

Included in council's action is the purchase of two new

police cruisers to replace two 2008 model cruisers at a cost

of $120,000 and the purchase of 17 police body cameras at

a cost of $74,314.

"The cost for the body cameras is spread over five

years," said Groveport Assistant Administrator and

Finance Director Jeff Green.

According to Groveport Police Chief Ralph Portier, the

cost for the two new cruisers is estimated with all ancillary

equipment - including computer, radios, lights and sirens.

He said, in general, a police cruiser not outfitted sells

between $36,000 to $40,000 per unit.

"The 2019 estimate does have about $5,000 for potential

increase in vehicles' costs, that we may not see," said

Portier. "Any capital funds not used will remain until

needed."

Portier said the new cruisers will replace vehicles that

are more than 11 years old. He said police cruiser life

spans are usually four to five years.

"Presently we have 13 marked cruisers ranging from

2010 to 2018 (models)," said Portier. "The average age is

four years, but due to fleet maintenance and service we are

able to keep our cruisers in pretty good shape."

Portier added there are three cruisers that have been

out of service for the past year with mileage exceeding

130,000 miles.

around Groveport and Madison Township

Messenger photo by Linda Dillman

Recognition of assistance

Madison Township Fire Chief Jeff Fasone and members of

the Madison Township Fire Department presented a plaque

to Luann Bepler-Todd and her staff in appreciation for their

assistance during construction of Fire Station 183. A portion

of the Bepler Insurance Agency on Noe-Bixby Road served

as a satellite station for emergency crews before the township's

newest firehouse opened earlier this year. Fasone said

the temporary office "allowed us to have a medic in this area

because we are dispatched by GPS."

Opioid information series

The Groveport Madison Opiate Task Force will present information

sessions to help those impacted by opioid addiction:

•Voices of Faith—Jan. 22, 2019, 7 p.m. Faith & Outreach. At

Groveport United Methodist Church, 512 Main St., Groveport.

Portier said the body cameras will allow each officer

while on duty to have one fully charged.

"There are 24 officers," said Portier. "Detectives and

administrative staff will not be issued body cams, but the

spare units can be used by them should they work the

street. Policy will dictate the daily use of the cameras, but

they will be on during every traffic stop and criminal

investigation. Officers who work warrants will have them

as well."

Portier said the body cameras are useful tools.

"The cameras become useful as evidentiary collection,

statements made by the witness, suspect and the victims,"

said Portier. "It will be able to show what the human eye

cannot detect which allows a larger view of a scene. It also

assists the officer in recollection during the call."

Legislation approved for projects

Council approved legislation authorizing City

Administrator Marsha Hall to seek bids and contract for

the following (dollar amounts based on estimates in the

city's 2019 budget):

•East Bixby Road pavement rehabilitation (from near

Ebright Road to U.S. 33), $348,000 from street fund and

$92,000 from storm water fund.

•Annual street maintenance program, $450,000

from street fund and $105,000 from storm water

fund. Includes resurfacing work on Main Street

from College Street to Front Street (which was

reconstructed in 1989-90) and on Main Street from

Front Street east (which was reconstructed in 2003)

to a point near the Groveport Recreation Center.

Other streets to be included for work in 2019 and

beyond are still to be determined.

•Replacement of front entrance barn at The

What's the buzz?

Calling all beekeepers!

Interested in a beekeeper club closer to

home than what has been available,?

You are invited to attend an organizational

meeting to establish a new

"Beekeepers Club" on Jan. 19 from 1—3

p.m. at the Fairfield County Library,

Board Room, 219 N Broad St., Lancaster.

The club hopes to include beekeepers

from area counties including: Fairfield

County — southeast Franklin County,

northeast Pickaway County, southern

Licking County, northern Hocking

County, and western Perry County.

A representative from Ohio State

Beekeepers Association will attend the

meeting to help with the organizational

process.

For information call Jeannie at 614-

975-6139; or Steve at 614-288-1746.

Griefshare support group

GriefShare grief recovery seminar and

support group meets at Groveport United

Methodist Church, 512 Main St.,

Groveport, each Thursday at 7 p.m.

For information, email groveportgriefsharegroup@gmail.com

or call the church

office at 614-836-5968.

Registration is now available on-line at

https://www.griefshare.org/groups/95370.

Links golf course, $250,000.

•Sanitary pump station stand by generator for the

Bixford Green pump station for $75,000.

•Sanitary sewer force main replacements in Elmont

Place for $50,000.

Legislation approved for purchases

Council approved legislation authorizing Hall to enter

into lease agreements and/or purchases for the following

(dollar amounts based on estimates in the city's 2019

budget):

•Additional leaf vacuum, $96,000. (It is noted in the

budget this is required because after Kurtz Brothers

moved from the area the time and cost of transporting

leaves has "increased dramatically." The new system will

have a larger capacity for hauling leaves.)

•Starcraft Allstar 12+2 vehicle for transportation

department, $62,200.

•Replacement truck for the facilities department,

$30,000.

•A utility vehicle for Parks and Facilities Management,

$22,800.

•A 72 inch replacement scag mower for Parks and

Facilities Management, $10,518.

Be a Part of Our

Local Worship Guide

Our upcoming Worship Guide is geared toward

celebrating faith and helping readers connect with

religious resources in our community. Make sure these

readers know how you can help with a presence in this

very special section distributed to more than 20,000

households in the Southeast area.

The cost is $20 per issue. (must run twice)

Contact us today to secure your spot in Worship Guide.

614.272.5422 • kathy@columbusmessenger.com

A Special Section From

columbus
---
PAGE 4 - SOUTHEAST MESSENGER - January 13, 2019

southeast

Messenger

(Distribution: 19,206)

Rick Palsgrove ...................................Southeast Editor

southeast@ columbusmessenger.com

Published every other Sunday by

The Columbus Messenger Co.

3500 Sullivant Ave., Columbus, Ohio 43204-1887

(614) 272-5422

The Columbus Messenger Co. reserves the right to edit, reject or cancel

any advertisement or editorial copy at any time. The company is not

responsible for checking accuracy of items submitted for publication.

Errors in advertising copy must be called to the attention of the company

after first insertion and prior to a second insertion of the same advertising

copy.

BIRTHDAY • ENGAGEMENT • WEDDING • ANNIVERSARY

• GRADUATION • RETIREMENT

IN MEMORIUM • ARMED FORCES

Say it with an announcement ad in

the Messenger and spread the word.

You can download the appropriate form from

our Web site or stop by our office

Monday-Thursday, 8:30 a.m.-5 p.m.

Friday, 8:30 a.m.-2 p.m.

Columbus Messenger

3500 Sullivant Ave.

614-272-5422

www.columbusmessenger.com

SUPPORT

your

Community Paper

Through advertising, community newspapers like the

Messenger have always been FREE papers. In these

tough economic times we are asking you the reader to

help offset the current decline in advertising revenue by

participating in a voluntary payment program*.

To those who have already participated -

We Thank You.

For those who would like to, below is a form

you can mail with your payment.

*This is not a subscription.

.Name:

Address:

City/State/Zip

columbus

3500 Sullivant Ave., Columbus, OH 43204

1 year ($9) 2 year ($18)

Eastside Westside Southwest

Southeast

columns

www.columbusmessenger.com

So, what have you been reading?

Is there a book that really grabbed you

lately?

The book that I read in the past year

that had the biggest impact on me is, "Time

Warped," by Claudia Hammond.

Hammond addresses many of our perceptions

of time including our views of what constitutes

the past, present, and future; why

time seems to speed up as we age; time's relationship

to memory; time's illusions; how we

mentally time travel; and how we visualize

time. Hammond notes that, while not everyone

"sees time" in their mind, many people do

have their own unique time map in their

head they use to reference their place in time

and space.

It's interesting to think about time and

our interaction with it. We can't control time,

but then again, time can't control how we

choose to use it. We're all time travelers.

I also found myself this year going back

and re-reading some books that I read 40

years ago when I was in my twenties. It's

interesting how these books can seem fresh

and new again after this passage of time and

how they can speak to the experience I've

gained over the years.

One of the books I re-read this year is

"Maggie Cassidy" by Jack Kerouac, written a

few years before he hit it big with "On the

Road" and became a literary figure of the

Beat Generation. "Maggie Cassidy" tells of

Kerouac's teenage years in Lowell, Mass.,

and deals with his adolescent romance with

the title character as well as his own growth,

but also provides a wonderful snapshot in

time of the Lowell of his youth.

I bought my copy of "Maggie Cassidy" in a

Lowell book store nearly four decades ago

when a friend and I, both Kerouac fans, made

a side trip to Lowell, a sort of pilgrimage,

while we were on our way elsewhere to other

youthful adventures in Massachusetts. Rereading

the book not only allowed me to rediscover

Kerouac's youth, but also my own.

While books hold a special place in my

mind, over time I have also become an avid

reader of magazines. In the past year I've

regularly read the literary magazine, "The

Sun," which features essays, short stories,

Editor's Notebook

and some wonderful

photography. I also

read several history

journals, though I

must say the Ohio

History Connection's

"Echoes" is but a shadow

of the late, great

"Timeline" magazine,

which the Ohio

History Connection

ceased publishing in

favor of the shorter,

"Echoes."

One thing I found

Rick

Palsgrove

as I have grown older is that I read less fiction

and more non-fiction. The twists and

turns, as well as the highs and lows, of reality

never cease to amaze.

Rick Palsgrove is editor of the Southeast

Messenger.

You can't escape the faults in this flick

Some movies are subtle in their attempt to become a franchise.

Soft hints are dropped in the plot from time-to-time but ultimately

their pleas to the audience and studio are not egregious

enough where they give off the aroma of true desperation. "Escape

Room," however, is not one of those movies with hidden intent.

This film is so over-the-top in its quest for a follow up that they

might as well have used flashing neon signs

and arrows saying, "Here is where we have

enough plot to continue well into the future.

Please let us." Had this decision not been to

the detriment of what was otherwise a

decent film, this blatant shoehorned begging

would have been more amusing, if not

downright admirable.

It begins with six strangers meeting in a

high-rise building in Chicago over

Thanksgiving weekend. They had been chosen

by a mysterious organization called

Minos to participate in the most immersive

escape rooms to date. The prize should they

win, the personalized card states, would be

an award of $10,000. Hard to turn down,

right? Wrong! I don't care how much money

they are offering because clearly Cenobites

or Cenobite fans are on the other end. It's a

recipe for disaster, or death, or both.

But obviously, these people have green

paper on their minds rather than the silver

spikes because after the uncomfortable

introductions are out of the way, they find

themselves working together to escape the

room. The initial good vibes of the game,

however, begin to fade when the room

grows hotter as the time to solve the clues

runs low. Then, when a burst of fire comes

from the ceiling, they question whether this

'immersive experience' is a ploy to kill them.

Danny (Nik Dodani), an escape room aficionado,

assures his fellow participants that

it was just part of the game, and that he

cleared from the vent and into the

other room before the explosion

occurred. Having no other option,

they believe him until they start to

uncover escape room clues from their past,

clues only they would know. And as the

escape room environments change and

become increasingly more deadly, they don't

know who to trust, when to trust, or whether

any of them will get out alive.

The Reel Deal

Dedra

Cordle

With the popularity of escape rooms being used as team

builders, it is no surprise the subject has started to make its way

into the horror film genre. I vaguely remember seeing something

like this before, it might have been called "The Box," and thinking

this subject had some potential for scares.

"Escape Room" is not very scary, (it's PG-13 so the gore is limited)

but it can be unsettling. One of the most unsettling aspects

of this film is the set design and much credit should be given to

Edward Thomas, Tracy Perkins and Mark Walker, who were the

heads of the production design, set decoration and art direction,

respectively. They created escape room sets that were unbalancing

(the upside down room), caused chills down your spine (the

frozen tundra) and somewhat dizzying (the trip room). Their creativity

almost makes me want to recommend seeing this film in

the theater. I won't, of course, but it's rather engaging to look at

on a wall-to-wall screen.

Where the film unravels is the third act during the blatant set

up for sequels, and it had been going so well up to that point. It

has sympathetic characters (Deborah Ann Woll, Taylor Russell,

Tyler Labine, Logan Miller and Jay Ellis star), an interesting

premise, an excellent use of visuals and the sense of being uncomfortable

yet entertained. Then came the flashing neon shoehorned

arrows and blew away some of the goodwill.

Because movies like this are cheap to make — it had a $9 million

budget on an $18 million opening weekend return — director

and co-writer Adam Robitel is likely going to be rewarded and get

that sequel if not a franchise. It's just a shame the pitch was so

blatant that it slightly soured an otherwise decent film.

Grade: C

Dedra Cordle is a Messenger staff writer and columnist.
---
www.columbusmessenger.com

Cruiser band is peachy!

The Groveport Madison High School Cruisers

Marching Band was named the 2018 Chick-fil-A

Peach Bowl Parade Grand Champion. The band

participated in the Peach Bowl parade and in a

combined 11 marching band pre-game show at the

Peach Bowl football game between Florida and

Michigan on Dec. 29 in Atlanta, Ga. Also, in competitions,

the concert and jazz bands received first

place with a gold ratings in Category 1. Spencer

Linlinger won outstanding soloist in the jazz band

Daddy-Daughter Dance

The Groveport Recreation Center, 7370 Groveport

Road, hosts its Daddy-Daughter Dance on Feb. 8 from

6:30-8:30 p.m. Cost is $16 resident couple, $20 nonresident

couple, and $5 each additional guest. Register

by Feb. 3. Girls may bring dad, uncle or older brother.

Photo courtesy of Melissa Wagner

competition. "This was an amazing opportunity,"

said Julie Dowler, a band volunteer. "The band students

work very hard practicing to get chosen for

this. Each student worked to pay for their trip." The

band visited the CNN Center, World of Coca-Cola,

Atlanta Aquarium and the Martin Luther King Jr.

National Historic Site during the trip. The band

directors are Bart Pickenpaugh, Jayne Canaday,

Jonah Angulo-Hurtig and Morgan Arcand.

Groveport Garden Club

The Groveport Garden Club meets the first

Tuesday each month at Groveport Zion Lutheran

Church, 6014 Groveport Road. Anyone interested in

gardening welcome. Call Marylee Bendig at (614) 218-

1097.

January 13, 2019 - SOUTHEAST MESSENGER - PAGE 5

Groveport Madison Schools

earn Momentum Award

On Dec. 17, Groveport Madison Schools officials received notice

from the Ohio Department of Education that the district was one

of the 28 Ohio school districts to earn the state's "Momentum

Award" for 2018.

Recipients of the Momentum Award must receive straight "A's"

on all Value-Added measures on the 2018 State Report Card, and

at least two Value-Added subgroups of students, which include gifted,

lowest 20 percent in achievement and students with disabilities.

"This is incredible news," said Groveport Madison Schools

Superintendent, Garilee Ogden. "Our staff has been working

extremely hard to raise student achievement across all grade levels

and to ensure that each of our students receives the best possible

education we can provide. I am immensely proud of our staff, and I

applaud them for attaining this remarkable accomplishment."

On the 2018 State Report Card, the district earned an "A" on

the Value-Added grade, meaning students achieved more than a

year's-worth of academic growth over the course of the year.

The district received an "A" grade for the academic growth of

its students who have struggled the most (the lowest 20 percent of

achievers), an "A" Value Added grade for students with disabilities,

and an "A" Value Added grade for students who are receiving

gifted services.

"Over the past two years, we have built a strong foundation

from which to build upon," said Ogden. "We will continue to push

forward to ensure our students recognize their full potential — and

that they graduate from Groveport Madison Schools with many

good options from which to begin building their future."

Let's Talk About It

The Let's Talk About It Book Club meets the second

Wednesday each month at 2 p.m. at the Southeast Library, 3980

S. Hamilton Road, Groveport.

Wine Tasting

at the Paddock Pub and Links of Groveport

January 16, 2019

6:30pm - 7:30pm

$15 Per Person

Prepaid with reservation

To Taste:

Louis Jadot Macon-Village unoaked

Chardonnay

Meiomi Pinot Noir

Frost Bitten Ice Reisling

The Pub welcomes Leslie Peters of Heidelberg Distributing

to guide us through a tasting of three hand picked wines.

11am - 9pm

January 21 - 26 • Restaurant Week

January 29 • Cooking Class

The Paddock Pub

For reservations for this limited seating

tasting event, please call 614-610-6988
---
PAGE 6 - SOUTHEAST MESSENGER - January 13, 2019

www.columbusmessenger.com

Glendening students help solve Christmas mystery

By Rick Palsgrove

Southeast Editor

Second graders at Glendening

Elementary helped the Groveport Police

crack the case of "Who stole Santa's toy

sack?" in December.

Second grade teacher Jennifer Minton

came up with the idea to collaborate with

the Groveport Police on the project to help

keep her students engaged in their learning

and on task during the distractions of

the holiday season.

She enlisted her father, Groveport

Police Patrolman Ernie Bell, to help her

students learn about deciphering clues and

to learn to make inferences by going

beyond the written word to understand

what is not said and by using clues from

the text and background knowledge.

Minton said Bell came to her class on

Dec. 12 looking for some Santa experts.

"And who better to ask than second

graders!" said Minton. "He explained the

police received a case and needed the kids'

help. He 'deputized' some junior detectives

and they promised to be great helpers."

Here's the case

Someone stole Santa's toy sack and the

Groveport Police needed help to find out

who did it and why. Each day for four days

a Groveport Police officer visited Minton's

class and delivered a new clue. Students

read each clue and began eliminating suspects

based on key words or phrases used

in the clue.

"Each interaction lasted a few minutes,

but it made a huge difference in my kids,"

said Minton. "They did not stop talking

about 'helping the police' and who they

thought stole Santa's toy sack. The kids

went beyond the who, got into their reasonings,

and came up with why someone would

steal Santa's toy sack. My students loved

this lesson. They were engaged and excited

"What a great way to teach the

children the value of looking beyond

the surface and making the positive

connection with our police force. I

love seeing the positive in both

areas. Our children and our community

are in good hands. Thanks to

both Groveport Police Officer Ernie

Bell and Glendening Elementary

teacher Mrs. Minton for a job well

done!"

- Jean Ann Hilbert

Groveport City Councilwoman

Mike Albert

&

The Big E Band

"Burnin' Love"

Valentine's Show

Tickets - $49.00 (Includes dinner)

Friday, Febuary 9th Doors Open - 6:00pm

Villa Milano Dinner - 7:00pm

1630 Schrock Rd. Show -8:00pm

CALL FOR TICKETS - (614) 792-3135

for the police visits and receiving the clues.

They kept asking when our next clue would

arrive. My students viewed this as a partnership,

as if they truly were helping the

police crack a case."

Getting into it

"I was searching for some fun, engaging

lessons that still met the standards I am

responsible for covering. I try to do many

engaging lessons throughout the year,"

said Minton.

She came across an inferencing lesson

while searching Teacherspayteachers.com

called, "The Case of Santa's Missing Sack."

"What better time to carry out this lesson

than right before Christmas?" said

Minton. "Since it was a 'who done it' kind of

activity, I had the idea to make it more

interactive."

Bell presented the case to the kids,

handed them a list of suspects caught on

the Santa cam along with their pictures

and asked for the kids' help.

"The best lessons are those where students

are excited, highly engaged and do

not realize they are actually learning,"

said Minton. "They grasped the information

based on the daily indepth

conversations they

had with one another. Not

only were they asking

each other questions

about who they believe

took Santa's sack, but

they supported their

claims with information

from the textual clues, as

well as paying close attention

and picking up on

visual clues from the pictures

provided. This is

important because, as

readers, we learn we can

get as much information

from pictures as we do

from the words we read."

Minton said the project

taught her students to

read closely to determine

what the text says explicitly

so they could eliminate

suspects from their

list. They also had to cite

specific textual evidence

from written clues to support

why we were able to

eliminate them as a suspect.

"It took my students a

minute to actually get the

purpose of the clues," said Minton.

"Initially they wanted to immediately say

who did it instead of using the clue to eliminate

a suspect. I explained that, like real

detectives, they could not rush to conclusions

and pick a perpetrator based off one

piece of information. The officers gave my

students insight on how they solve cases.

This is an aspect they do not get to see in

real life."

Minton said it's important for students

to see and experience the positive side of

police work.

"By opening my classroom to the officers,

my students saw the police aren't big,

scary people, in fact they are quite the

opposite," said Minton. "They are friendly

individuals who are there to help keep us

safe and make our community a safe place

to live, work and play, but also someone

who we can go to in cases of emergency."

So, "Who stole Santa's toy sack?"

Minton said the kids narrowed it down

to two suspects: Mrs. Claus and one of

Santa's elves. The final clue revealed the

Photo courtesy of Jennifer Minton

Groveport Police Officer Ernie Bell shares clues to the case

of "Who stole Santa's toy sack?" with his Glendening

Elementary second grade student detectives. Other

Groveport Police officers who helped with the project were

Lt. Bary Murphy, Sgt. Casey Adams, Officer Jav Herrera, and

Officer Tiffany Roe.

suspect left behind a red, sticky hand print.

Based on this information, the students

identified Mrs. Claus as the culprit because

the picture given to them in the initial clue

shows she is the only one with a candy

cane, and as kids can infer, candy canes are

red and sticky.

"We also came up with the motive for

Mrs. Claus," said Minton. "She had taken

Santa's sack because it had a hole in it and

she patched it up!"

Reflecting

"This was an exciting lesson and experience

for my kids and I loved it as well," said

Minton. "It's not often family members,

especially fathers and daughters who work

in completely different fields get to work

together. Growing up I had opportunities to

see my dad in action and share a part of his

world, now he has taken a peek at me in

action, sharing my passion and love for

reading with my kids.This was such a wonderful,

positive experience and nowadays

police officers do not get the recognition

they deserve. They are so much more than

just the people who arrest the bad guys."

Mayoral proclamation honors Pickett

Groveport resident and Teays Valley

High School student Elise Pickett was honored

at the Dec. 17 Groveport City Council

meeting for her community service and

academic and athletic excellence.

In addition to various academic and athletic

honors, Pickett is active at Groveport

United Methodist Church, volunteers for

the Groveport Madison Human Needs

summer lunch program, and is an active

member of the anti-bullying FOR club

(Friends of Rachel) where she works before

and after school on anti-bullying programs.

Pickett was also this year's Circleville

Pumpkin Show Queen.

"You're mother and father are proud of

you and we are proud of you," said Mayor

Lance Westcamp as he presented Pickett

with a mayoral proclamation recognizing

her efforts.
---
www.columbusmessenger.com

January 13, 2019 - SOUTHEAST MESSENGER - PAGE 7

Health and Fitness

Go out and take a hike this winter!

Metro Parks will host its 46th annual Winter Hike Series this

January and February to enable people to explore and enjoy the

outdoors during the winter.

This year's series kicked off Jan. 5 at Blacklick Woods Metro

Park. The hikes are free and open to all ages. Varying distances of

hikes are offered at most of the parks, ranging from 1 mile to 6

miles.

There will be food and hot drinks after every hike. Meet new

friends and get out and get fit at one or all of the winter hikes.

Just show up and enjoy. No registration required.

Earn a patch by completing seven hikes and Friends of Metro

Parks members can get a walking stick or medallions for completing

all of the hikes.

This year's remaining hikes:

•Jan. 13 at 2 p.m. at Prairie Oaks* (1, 3, or 5 miles);

•Jan. 19 at 10 a.m. at Scioto Audubon* (1 or 2 miles);

•Jan. 26 at 10 a.m. at Clear Creek (1, 3, or 5 miles);

•Jan. 27 at 2 p.m. at Inniswood (2 miles);

•Feb. 2 at 10 a.m. at Blendon Woods (2, 4, or 6 miles);

•Feb. 3, at 2 p.m. at Scioto Grove* (1 or 2 miles);

•Feb. 9 at 10 a.m. at Highbanks (2.5 or 5 miles);

•Feb. 10 at 2 p.m. at Glacier Ridge* (2 miles);

•Feb. 16 at 10 a.m. at Three Creeks* (1,3, or 5.6 miles);

•Feb. 17 at 2 p.m. at Slate Run (2.5 or 5 miles);

•Feb. 23 at 10 a.m. at Battelle Darby Creek* (2, 4, or 6 miles).

*Leashed pets are welcome to walk with you at these hikes marked

Photo courtesy of K. Browne

Hikers climb a snow covered hill at Slate Run Metro Park during

a previous Winter Hike Series hike.

with an asterisk.

For information visit metroparks.net.

Special Olympics

A local chapter of Special Olympics

Ohio formed in the Groveport/Canal

Winchester area. The mission is to provide

year round sports training and competition

in Olympic type sports for intellectually

disabled individuals. Contact Penny

and Cassandra Hilty at groveportspecialolympics@gmail.com.
---
PAGE 8 - SOUTHEAST MESSENGER - January 13, 2019

www.columbusmessenger.com

ODNR hopes to increase interest in deer hunting

By Theresa Garee

Staff Writer

Though the tradition of deer hunting is

becoming less popular, the success rate is

steady.

Juan Navarro recently taught his two

boys, ages 10 and 12, how to hunt.

Predominately, a family of fishers, they

decided to expand their skill set this year.

Both boys were successful in their first

hunt and Navarro is proud that they were

able to help provide food for their family.

"I feel it's important they learn to hunt

and fish because it's natural and a good

way to spend time with your family and

provide food," Navarro said.

Navarro hopes his sons will teach their

children how to hunt, passing down a tradition

that is becoming less common.

"There has been a steady decline for a

couple decades," said ODNR Wildlife

Communications Manager John Windau.

"But it's not just the state of Ohio, it's

nationwide."

ODNR officials hope more education

and programs will reverse that trend.

ODNR offers hunter and trapper education

courses, an apprentice hunting license and

a "Becoming an Outdoor Woman" program,

as well as a youth-only hunting season.

This year's youth hunters checked 6,563

white-tail deer, an increase from the previous

year at 4,958. Youths can receive their

First Harvest certificate and share their

photos at wildohio.gov.

The Navarro family plans to hunt again

this season.

"We like fresh meat and this way we

don't have to worry about the chemicals

they are putting in meat," said Navarro.

Windau said the decline in hunting interest

is probably due to the many other activities

that draw people's attention and time

nowadays.

"There are a lot of lifestyle changes, people

are busier," said Windau.

ODNR information on deer hunting

Ohio's hunters checked 9,625 whitetailed

deer during Ohio's 2018 two-day

deer-gun hunting season, Dec. 15-16,

according to the Ohio Department of

Natural Resources. During last year's twoday

December deer-gun season, 14,115

deer were harvested.

Archery season remains open through

Feb. 3. Find information about deer hunting

in the 2018-19 Ohio Hunting and

Trapping Regulations or at wildohio.gov.

For the first time this year, Ohio resident

hunters can purchase multi-year and

lifetime licenses at wildohio.gov and at

hundreds of participating agents throughout

the state. License buyers can choose

from 3-year, 5-year, 10-year and lifetime

hunting or fishing licenses. All money generated

from the sale of multiyear and lifetime

licenses is deposited into the Wildlife

Fund, where it will be used to protect and

enhance Ohio's wildlife populations.

The goal of Ohio's Deer Management

Program is to provide a deer population

that maximizes recreational opportunities

while minimizing conflicts with landowners

and motorists.

A list of all white-tailed deer checked by

hunters using firearms during the 2018

two-day deer-gun hunting season is shown

below. The first number following the county's

name shows the harvest numbers for

2018, and the 2017 numbers are in parentheses.

Harvest numbers below are raw

data and subject to change.

Adams: 131 (203); Allen: 55 (61);

Ashland: 194 (342); Ashtabula: 368 (483);

Athens: 170 (246); Auglaize: 66 (55);

Belmont: 135 (264); Brown: 116 (172);

Butler: 48 (66); Carroll: 224 (412);

Champaign: 50 (75); Clark: 32 (48);

Clermont: 95 (152); Clinton: 41 (58);

Columbiana: 165 (367); Coshocton: 260

(512); Crawford: 82 (103); Cuyahoga: 5 (4);

Darke: 49 (48); Defiance: 194 (152);

Delaware: 71 (78); Erie: 58 (53); Fairfield:

85 (132); Fayette: 18 (22); Franklin: 10 (35);

Fulton: 53 (60); Gallia: 120 (169); Geauga:

113 (111); Greene: 39 (51); Guernsey: 187

(307); Hamilton: 21 (55); Hancock: 89 (74);

Hardin: 112 (110); Harrison: 175 (336);

Henry: 86 (55); Highland: 142 (191);

Hocking: 125 (199); Holmes: 211 (343);

Huron: 178 (236); Jackson: 173 (191);

Jefferson: 80 (197); Knox: 227 (382); Lake:

23 (40); Lawrence: 69 (91); Licking: 206

(340); Logan: 141 (169); Lorain: 159 (200);

Lucas: 23 (13); Madison: 19 (52); Mahoning:

104 (194); Marion: 47 (79); Medina: 117

(188); Meigs: 160 (200); Mercer: 59 (47);

Miami: 38 (54); Monroe: 120 (207);

Montgomery: 20 (35); Morgan: 117 (214);

Morrow: 88 (124); Muskingum: 206 (368);

Noble: 132 (211); Ottawa: 20 (38); Paulding:

115 (113); Perry: 118 (213); Pickaway: 47

(62); Pike: 95 (114); Portage: 112 (201);

Preble: 65 (82); Putnam: 54 (34); Richland:

222 (306); Ross: 127 (177); Sandusky: 54

(82); Scioto: 105 (184); Seneca: 147 (176);

Shelby: 67 (75); Stark: 169 (287); Summit:

33 (41); Trumbull: 226 (321); Tuscarawas:

282 (497); Union: 49 (64); Van Wert: 60 (49);

Vinton: 108 (201); Warren: 52 (66);

Washington: 131 (213); Wayne: 127 (195);

Williams: 168 (132); Wood: 69 (55);

Wyandot: 102 (101).Total: 9,625 (14,115).

Our Pictorial Past by Rick Palsgrove

Photo courtesy of the Groveport Heritage Museum

e canal covered bridge

Recently the Groveport Heritage Museum has received several inquiries about

where the covered bridge, which is featured in the city's logo, once stood in

Groveport. The covered bridge stood on Main Street just east of Front Street and

spanned the Ohio and Erie Canal where the canal passed through downtown

Groveport. The bridge was 214 canal miles from Cleveland. The covered bridge was

built in 1848 and stood until 1887 when it was replaced by an iron turn bridge. The

covered bridge was not the first bridge on Main Street over the canal. The first

bridge, which was also made of wood, was built in 1831 by Adam Rarey at a cost

of $200.

around Groveport and Madison Township

At Slate Run Living

Historical Farm

The following activities will be held at

Slate Run Living Historical Farm, 1375

State Route 674 North, Canal Winchester:

•Feb. 23-24, 1-3 p.m.: Maple Time -

Sample this sweet treat and learn about

making maple syrup the 1880s way. A

short hike to the sugarbush leaves the

farm at 1 p.m and 2 p.m. Sap collecting and

boiling is dependent on the weather, but all

other activities will take place. Call 614-

833-1880 to see if the sap is flowing.

At ree Creeks

The following activities will be held at

Three Creeks Metro Park, 3860 Bixby

Road, Groveport (Meet at Confluence Area

unless otherwise noted):

•Jan. 13, 2 p.m.: Winter Twig

Identification - Learn to identify trees by

their twigs and gather some to start your

own collection.

•Jan. 16, 10 a.m.: Preschoolers: Bear

Necessities - Engage in activities and listen

to stories about bears. Teddy bears welcome

to attend. Meet at Heritage Nature

Center, 551 Wirt Road, Groveport.

•Feb. 9, 6 p.m.: Owls of February - Learn

about Ohio's owls as you walk through the

woods and try to lure them with calls.

•Feb. 10, 2 p.m.: Coyotes Among Us -

Learn about this secretive animal as you

wander off trail in search of their signs.

Meet at Heron Pond.

•Feb. 23, 6 p.m.: Woodcock Watch -

Take a 1.5 mile walk to watch the aerial

courtship display of this fascinating bird.

Cruisers on the air

The Groveport Sports Network provides

live play-by-play coverage by veteran

broadcaster Rick Cooper of Groveport

Madison High School athletic contests in

2018-19. The broadcast coverage includes

high definition video as well as live audio.

Each broadcast begins 25 minutes prior to

the scheduled start time with the pre-game

show. Tune in after the game for interviews

with players and the head coach,

along with a look at the final stats. The

broadcasts can be accessed free of charge

on a computer or handheld device. All

broadcasts available to view on demand. To

listen live go to:

http://war.str3am.com:7570/live. To watch

live or on demand go to:

www.facebook.com/groveportsportsnetwork.

The games to be broadcast:

Boys basketball: Jan. 22 at 7:30 p.m.

vs. Pickerington North (boys); Jan. 25 at

7:30 p.m. vs. Canal Winchester (boys); Feb.

8 at 7:30 p.m. vs. Newark (boys); Feb. 15 at

7:30 p.m. at Big Walnut (boys).

Softball (all 5:15 p.m.): March 28 vs.

Pickerington Central; April 4 vs.

Lancaster; April 11 at Canal Winchester;

April 15 vs. New Albany; April 17 at

Newark; April 29 vs. Newark; May 1 at Big

Walnut.
---
www.columbusmessenger.com

January 13, 2019 - SOUTHEAST MESSENGER - PAGE 9

CLASSIFIED ADS

Deadlines: Southeast and West editions, Wednesdays at 5 p.m., • East, Southwest, Madison editions, Tuesdays at 5 p.m.

All editions by phone, Tuesdays at 5 p.m. • Service Directory, Tuesdays at 5 p.m.

xPublic Notices

THE ELMONT PLACE HOA

Seeking landscaper bids for the 2019

season. Bids must include full year

estimate with detailed breakdown of

each service and estimated cost. To

receive bid guidelines, please contact

the HOA by Feb. 15, 2019 at: elmontplacehoa@gmail.com

or by mail at

P.O. Box 474, Groveport, OH 43125.

Bids must be submitted by Feb. 15,

2019. Services needed include watering,

weeding, mowing, mulching, pruning

and planting as needed. Water

must be brought in as there is no water

xInformation

To Our Gift Card Winner

For DECEMBER 2018

J'Nell Boyd

From

The Columbus Messenger

Newspapers

Information

INFORMATION

ASSOCIATION ADS

Spectrum Triple Play!

TV, Internet & Voice for

$29.99 ea. 60 MB per

second speed. No contract

or commitment.

More Channels. Faster

Internet. Unlimited Voice.

Call 1-855-652-9304

ASSOCIATION ADS

Attention Viagra users:

Generic 100 mg blue

pills or Generic 20 mg

yellow pills. Get 45 plus

5 free $99 + S.H. Guaranteed,

no prescription

necessary. Call Today 1-

877-896-9004

DONATE YOUR CAR -

FAST FREE TOWING

24 hr response - Tax Deduction

UNITED BREAST

CANCER FOUNDATON -

Your donation can help

save a life! 877-654-3662

NOTICE OF PUBLIC HEARING

You are hereby notified that the City of

Groveport will be holding a Public

Hearing on Monday, January 28, 2019

at 6:15 p.m. in the Council Chambers of

the Groveport Municipal Building, 655

Blacklick Street, Groveport, Ohio for:

ORD. 18-074 – AN ORDINANCE REVISING THE FINAL PLAT

OF THE FOUNDERS BEND, SECTION 2 SUBDIVISION

All regular and special meetings of Council are open to

the public. The application for this zoning request is on

file in the office of the Clerk of Council for review.

Ruthanne Sargus Ross, CMC

Clerk of Council

ASSOCIATION ADS

CARS/TRUCKS WANT-

ED!!! All Makes/Models

2002-2018! Any Condition.

Running or Not. Top $$$

Paid! Free Towing! We're

Nationwide! Call Now: 1-

888-985-1806

Do you owe more than

$5000 in Tax Debt? Call

Wells & Associates INC.

We solve Tax Problems!

Personal or Business!

IRS, State and Local. 30

years in Business! Call

NOW for a free consultation

at an office near

you. 1-855-725-5414

Sufffering from an ADDIC-

TION to Alcohol, Opiates,

Prescription PainKillers or

other DRUGS? There is

hope! Call Today to speak

with someone who cares.

Call NOW 1-855-901-2049

ENJOY 100% guaranteed,

delivered to-thedoor

Omaha Steaks!

Makes a great Holiday

Gift! SAVE 75% PLUS

get 4 FREE Burgers! Order

The Family Gourmet

Feast - ONLY $49.99.

Call 1-855-349-0656

mention code 55586TJC

or visit www.omahasteaks.com/lovel3

Lung Cancer? Asbestos

exposure in industrial,

construction, manufacturing

jobs, or military

may be the cause. Family

in the home were also

exposed. Call 1-866-

795-3684 or email cancer@breakinginjurynews

.com. $30 billion is set

aside for asbestos victims

with cancer. Valuable

settlement monies

may not require filing a

lawsuit.

ASSOCIATION ADS

Lung Cancer? And Age

60+? You And Your

Family May Be Entitled

To Significant Cash

Award. Call 866-428-

1639 for Information. No

Risk. No Money Out Of

Pocket.

READER

ADVISORY

The National Trade Association

we belong to has

purchased the following

classifieds. Determining

the value of their service

or product is advised by

this publication. In order

to avoid misunderstandings,

some advertisers do

not offer "employment"

but rather supply the

readers with manuals, directories

and other materials

designed to help

their clients establish mail

order selling and other

businesses at home. Under

NO circumstance

should you send any

money in advance or give

the client your checking,

license ID or credit card

numbers. Also beware of

ads that claim to guarantee

loans regardless of

credit and note that if a

credit repair company

does business only over

the phone it's illegal to request

any money before

delivering its service. All

funds are based in US

dollars. Toll Free numbers

may or may not

reach Canada. Please

check with the Better

Business Bureau 614-

486-6336 or the Ohio Attorney

General's Consumer

Protection Section

614-466-4986 for more

information on the company

you are seeking to

do business with.

Public Notices

PUBLIC RELEASE

Imagine Groveport Community School today announced its 2018-2019 program year policy for free and reduced-price

breakfast and lunch meals for students unable to pay the full price of meals or milk served under the National School Lunch

and School Breakfast, After School Care Snack or Special Milk Program. Each school office and the central office has a

copy of the policy, which may be reviewed by any interested party.

The Federal Income Eligibility Guidelines will be used for determining eligibility. Children from families whose annual income

is at or below the Federal Guidelines are eligible for free and reduced price meals or free milk if the school participates in the

Special Milk Program.

Application forms are being distributed to all homes in a letter to parents or guardians. To apply for free and reduced-price benefits, households

should fill out the application and return it to the school. Additional copies are available at the principal's office in each school. A complete

application is required. Households which currently receive Special Nutrition Assistance Program Benefits (SNAP, formally known as food

stamps) or Ohio Works First (OWF) funds for a child must provide the child's name, the SNAP or OWF case number and signature of an

adult household member on the application. Households which do not receive SNAP or OWF funds must provide the names of all household

members, the last four digits of the Social Security Number of the adult signing the application or state "none" if the adult does not have a

Social Security Number, the amount and source of income received by each household member, (state the monthly income) and the signature

of an adult household member. If any of this information is missing, the school cannot process the application.

FREE HEALTH CARE: Families with children eligible for school meals may be eligible for FREE health care coverage through Medicaid

and/or Ohio's Healthy Start & Healthy Families programs. These programs include coverage for doctor visits, immunizations, physicals,

prescriptions, dental, vision, mental health, substance abuse and more. Please call 1-800-324-8680 for more information or to request an

application. Information can also be found on the web at http://jfs.ohio.gov/ohp/consumers/familychild.stm. Anyone who has an Ohio Medicaid

card is already receiving these services.

The information provided on the application is confidential and will be used only for the purpose of determining eligibility and may be verified

at any time during the school year by school or other program official. To discourage the possibility of misrepresentation, the application

forms contain a statement above the space for signature certifying that all information furnished is true and correct. Applications are being

made in connection with the receipt of federal funds. Schools or other officials may check the information on the application at any time

during the school year. Deliberate misrepresentation of information may subject the applicant to prosecution under applicable state and

federal laws.

Households will be notified of the approval or denial of benefits.

Foster children are categorically eligible for free meal benefits regardless of the household's income. If a family has foster children living with

them and wishes to apply for such meals or milk for them, contact the school for more information.

Under the provision of the policy, Sandra Sanders will review applications and determine eligibility. If a parent or guardian disagrees with the

decision on the application or the result of verification, the decision may be discussed with the determining official on an informal basis. If a

formal appeal is desired, the household has the right to a fair hearing. A fair hearing can be requested either orally or in writing from:

Adam Weber, 4485 S. Hamilton Road, Groveport, OH 43125, 614-574-4100

The policy contains an outline of the hearing procedure.

Households may apply for benefits any time during the school year. If a household is not currently eligible and if the household size increases

or income decreases because of unemployment or other reasons, the family should contact the school to file a new application. Such changes

may make the children of the family eligible for free or reduced-price benefits if the family income falls at or below the levels shown above.

In accordance with Federal civil rights law and U.S. Department of Agriculture (USDA) civil rights regulations and policies, the USDA, its

Agencies, offices, and employees, and institutions participating in or administering USDA programs are prohibited from discriminating based

on race, color, national origin, sex, disability, age, or reprisal or retaliation for prior civil rights activity in any program or activity conducted or

funded by USDA.

Persons with disabilities who require alternative means of communication for program information (e.g. Braille, large print, audiotape, American

Sign Language, etc.), should contact the Agency (State or local) where they applied for benefits. Individuals who are deaf, hard of hearing or

have speech disabilities may contact USDA through the Federal Relay Service at (800) 877-8339. Additionally, program information may be

made available in languages other than English.

To file a program complaint of discrimination, complete the USDA Program Discrimination Complaint Form, (AD-3027) found online at:

http://www.ascr.usda.gov/complaint_filing_cust.html, and at any USDA office, or write a letter addressed to USDA and provide in the letter all

of the information requested in the form. To request a copy of the complaint form, call (866) 632-9992. Submit your completed form or letter

to USDA by:

(1) mail: U.S. Department of Agriculture Office of the Assistant Secretary for Civil Rights,1400 Independence Avenue, SW Washington, D.C.

20250-9410; (2) fax: (202) 690-7442; or (3) email: program.intake@usda.gov.

This institution is an equal opportunity provider.

ASSOCIATION ADS

Start Saving BIG On Medications!

Up To 90% Savings

from 90DAYMEDS!

Over 3500 Medications

Available! Prescriptions

Req'd. Pharmacy Checker

Approved. CALL Today for

Your FREE Quote. 844-

776-7620

ASSOCIATION ADS

Suffering from an AD-

DICTION to Alcohol,

Opiates, Prescription

Pain Killers or other

DRUGS? There is hope!

Call Today to speak with

someone who cares.

Call NOW 1-855-866-

0913

ASSOCIATION ADS

Dish Network - Satellite

Television Services. Now

Over 190 channels for

ONLY $49.99/mo! HBO-

FREE for one year,

FREE Installation, FREE

Streaming, * FREE HD.

Add Internet for $14.95 a

month. 1-800-219-1271

ASSOCIATION ADS

Behind on your MORT-

GAGE? Denied a Loan

Modification? Bank

threatening foreclosure?

CALL Homeowner Protection

Services now!

New laws are in effect

that may help. Call Now

1-866-928-5204
---
PAGE 10 - SOUTHEAST MESSENGER - January 13, 2019

www.columbusmessenger.com

xEmployment

Welcome "2019" With A New Job!

TRISTAR IS NOW HIRING

PART-TIME DRIVERS!

NO CDL REQUIRED

Posions are PT, working 20-24 hrs per week

We offer dayme shis, no nights/weekends & have paid

training. Company vehicle provided for use during working

hours. Individuals must be able to pass a background check,

a pre-employment physical/drug screen, have no DUI's and

have less than 4 points on their OH license.

For more informaon, please contact Vanessa at

614-679-7280 or email vfrazier@tristarcolumbus.com

To learn more about Tristar, please visit our website at

www.tristarcolumbus.com

tristar

TRANSPORTATION CO.

BE YOUR OWN BOSS!

INDEPENDENT

CONTRACTORS

WANTED

If you have a reliable car and would like to

earn extra money, then why not deliver?

• Deliver 1 or 2 days a week

• Flexible delivery hours

• Work close to home - often in or

near your neighborhood

CONTACT US

1-888-837-4342

www.thebag.com

ASSOCIATION ADS

AIRLINE MECHANIC

TRAINING - Get FAA

Technician certification.

Approved for military

benefits. Financial Aid if

qualified. Job placement

assistance. Call Aviation

Institute of Maintenance

866-453-6204

• Deliver 7 days a week

• Delivery before dawn

• Work close to home - often in or

near your neighborhood

CONTACT US

614-461-8585

www.dispatch.com/delivery

ASSOCIATION ADS

HEAR AGAIN! Try our

hearing aid for just $75

down and $50 per

month! Call 800-426-

4212 and mention 88272

for a risk free trial! FREE

SHIPPING!

Wants to purchase minerals

and other oil and gas

interests. Send details to

P.O. Box 13557, Denver,

CO. 80201

ASSOCIATION ADS

VIAGRA & CIALIS! 60

pills for $99. 100 pills for

$150 FREE shipping.

Money back guaranteed!

1-800-503-7846

HughesNet Satellite Internet

- 25 mbps starting at

$49.99 / mo! FAST download

speeds. WiFi built in!

FREE Standard Installation

for lease customers!

Limited Time, Call 1-800-

610-4790.

Stay in your home longer

with an American Standard

Walk-In Bathtub. Receive

up to $1,500 off,

including a free toilet,

and a lifetime warranty

on the tub and installation!

Call us at 1-844-

374-0013

AIRLINES ARE HIRING -

Get FAA approved hands

on Aviation training. Financial

aid for qualified students

- Career placement

assistance. Call Aviation

Institute of Maintenance

877-818-0783

ATTENTION JOB SEEKERS!!

A Plus Staffing Solutions

NOW HIRING

1st and 2nd Shifts Available

Full-Time and Part-Time

Auction Drivers, Cooks, Servers,

Dishwashers, Bartenders and

General Laborer

CALL TODAY!!! (614) 328-9994

500 S. 4th Street, Columbus, OH 43206

NOW HIRING!

Local High Volume Pharmacy

Immediate 2nd shift positions available

for Pharmacy Clerks and Technicians.

Looking for energetic associates

in a fast pace environment.

NEW Starting rate: $11.50 per hour

Shift differential $.50 an hour

Please apply at: jobs.kroger.com

Use Zip Code 43217

Must be 18 years of age & have high school diploma or GED.

Call 614-333-5012 for more details.

ASSOCIATION ADS

Cross Country Moving,

Long distance Moving

Company, out of state

move $799 Long Distance

Movers. Get Free

quote on your Long distance

move 1-800-511-

2181

Selling a classic or antique

car? Selling a farm?

Selling construction

equipment? Get one

FREE week when placing

your ad in our network

for two weeks. Call

our office at 800-450-

6631. Not intended for

commercial use.

Sleep Apnea Patients - If

you have Medicare coverage,

call Verus Healthcare

to qualify for CPAP

supplies for little or no

cost in minutes. Home

Delivery, Healthy Sleep

Guide and More- FREE!

Our customer care

agents await your call. 1-

844-545-9175

IMPORTANT

NOTICE

The following states: CA,

CT, FL, IA, IL, IN, KY,

LA, MD, ME, MI, MN,

NE, NC, NH, OH, OK,

SC, SD, TX, VT and WA

requires seller of certain

business opportunities to

register with each state

before selling. Call to

verify lawful registration

before you buy.

ASSOCIATION ADS

ADVERTISE to 10 Million

Homes across the USA!

Place your ad in over 140

community newspapers,

with circulation totaling

over 10 million homes.

Contact Independent Free

Papers of America IFPA at

danielleburnett-ifpa@

live.com or visit our website

cadnetads.com for

more information.

Unable to work due to injury

or illness? Call Bill

Gordon & Assoc., Social

Security Disability Attorneys!

FREE Evaluation.

Local Attorneys Nationwide

1-855-498-6323

[Mail: 2420 N St NW,

Washington DC. Office:

Broward Co. FL (TX/NM

Bar.]

Become a Published Author.

We want to Read

Your Book! Dorrance

Publishing-Trusted by

Authors Since 1920.

Book manuscript submissions

currently being

reviewed. Comprehensive

Services: Consultation,

Production, Promotion

and Distribution. Call

for Your Free Author's

Guide 1-877-626-2213

or visit http://dorranceinfo.com/classified

If you or a loved one

were diagnoses with

ovarian cancer after use

of TALC products such

as Baby Powder or

Shower to Shower, you

may be entitled to compensation.

Contact

Charles H. Johnson 1-

800-535-5727

Employment

IMAGINE SCHOOLS

NOW HIRING

CERTIFIED TEACHERS

Imagine Primary - 4656 Heaton Rd., Columbus, OH 43229

Imagine Great Western - 310 North Wilson Rd., Columbus, OH 43204

Imagine Groveport - 4485 S. Hamilton Rd., Groveport, OH 43125

Imagine Harrisburg Pike - 680 Harrisburg Pike, Columbus, OH 43223

Imagine Sullivant - 3435 Sullivant Ave., Columbus, OH 43204

Resumes can be sent to:

jennifer.keller@imagineschools.org

ADVERTISING

ACCOUNT REPRESENTATIVE

The Advertising Department at the

Columbus Messenger Newspapers

is seeking a Sales Representative.

No Experience Necessary.

Base salary plus commissions, auto allowance.

Senior Citizens and Recent Grads

encouraged to apply.

Please send your resume to:

Doug Henry, Advertising Manager

Columbus Messenger Newspapers

3500 Sullivant Ave.

Columbus, Ohio 43204

or

e-mail to doughenry@columbusmessenger.com

ASSOCIATION ADS

Call Empire Today® to

schedule a FREE inhome

estimate on Carpeting

& Flooring. Call

Today! 1-800-508-2824

GENERIC VIAGRA and

CIALIS! 100 Pills $99.00

FREE Shipping! 100%

guaranteed. 24/7 CALL

NOW! 888-889-5515

DISH TV $69.99 For 190

Channels. Add High

Speed Internet for ONLY

$14.95/month. Best Technology.

Best Value. Smart

HD DVR Included. FREE

Installation. Some restrictions

apply. Call 1-855-

837-9146

AT&T Internet Get more

for your High-Speed Internet

thing. Starting at

$40 / month w / 12-mo

agmt. Includes 1 TB of

data per month. Ask us

how to bundle and

SAVE! Geo & svc restrictions

apply. Call us today

1-833-707-0984

ASSOCIATION ADS

Earn Up to $5K Per

Month? Work From

Home. No Experience

Necessary. Start Now!

http://earndollarsonline

daily.com Call 1-877-

866-6399

A PLACE FOR MOM. The

nation's largest senior living

referral service. Contact

our trusted, local experts

today! Our service is

FREE/no obligation. CALL

1-844-722-7993

[WANTED] CARS/

TRUCKS WANTED!!!

All Makes/Models 2002-

2018! Any Condition. Running

or Not. Competitive

Offer! Free Towing! We're

Nationwide! Call Now: 1-

888-368-1016

Have something to sell!

GET 2 FREE WEEKS

OF AVERTISING when

you purchase 2 weeks.

Learn more at macnet

online.com or give us a

call at 800-450-6631

ASSOCIATION ADS

TOP CASH FOR CARS,

Any Car/Truck, Running

or Not. Call for INSTANT

offer: 1-888-417-9150

$$OLD GUITARS & AMPS

WANTED$$ GIBSON*

FENDER*MARTIN. ALL

BRANDS. TOP DOLLAR

PAID. CALL TOLL FREE

1-866-433-8277

SAVE ON YOUR NEXT

PRESCRIPTION! World

Health Link, Price Match

Guarantee! Prescriptions

Required. CIPA Certified.

Over 1500 medications

available. CALL Today

For A Free Price

Quote. 1-855-530-8993

Call Now!

DIRECTV CHOICE All

Included Package. Over

185 Channels! ONLY

$45/month (for 24 mos.)

Call Now-Get NFL Sunday

Ticket FREE! CALL

1-855-781-1565 Ask us

How To Bundle & Save!
---
www.columbusmessenger.com

xFocus on Rentals

January 13, 2019 - SOUTHEAST MESSENGER - PAGE 11

xClassified Services

Focus on Rentals

xInformation

JANUARY GIVEAWAY

The Columbus

Messenger Newspapers

All classified line ads received

by mail, in person, e-mail or phone

will be included in the drawing.

Drawing will be held January 30th, 2019

and the winner will be notified and published

in our February 3rd, 2019 Madison paper

and our February 10th, 2019 issue

of the Columbus papers.

GOOD LUCK TO EVERYONE!

Information

HELP WANTED

Hair Stylist Needed

in Grove City FT/PT.

Hairstylist moving. Need

someone to help take

over clientelle & walkins.

Call Diana 614-875-4540

Shop / Delivery Person

Needed 8-5, Mon-Fri.

Will Train. Mechanically

inclined, able to drive a

standard shift, able to lift

75 lbs, have a driver's

license and dependable

transportation. Apply in

person at 2270 Harper

Rd., Columbus or call

614-275-0303

NOW HIRING PLUMBER

& Apprentice. 4 day work

week, vacation after 6

months. 740-625-9990

HELP WANTED

ADVERTISING

ACCOUNT

REPRESENTATIVE

The Advertising Dept. at

the Columbus Messenger

Newspapers is seeking a

Sales Representative.

No Experience Necessary

Base salary plus commissions

& auto allowance.

Senior Citizens and

Recent Grads

welcome to apply.

Please send your

resume to:

Doug Henry,

Advertising Mgr.

Columbus Messenger

Newspapers,

3500 Sullivant Ave.,

Columbus, OH 43204

or email to doughenry@

columbusmessenger.com

HAVE A

VACANCY

TO FILL?

CALL

Classified Display

Advertising

Columbus

Messenger

614-272-5422

HELP WANTED

Caregiver

Needed

Working Part Time with

Elderly & Children.

Transportation,

Some Experience &

References Required.

Drug Test.

WANT TO BUY

VACATION RENTALS

Englewood, Florida

Palm Manor Resort

Within minutes of white

sand Gulf beaches,

world famous Tarpon

fishing, golf courses, restaurants/shopping,

Bush

Gardens. 2 BR 2 BA

condos with all ammenities,

weekly/monthly, visit

www.palmmanor.com

or call 1-800-848-8141

2/3

A/M

Call 614-777-5850

$ Cash At Your Door $

for junk or unwanted cars

(Free Tow). Call

614-444-RIDE (7433)

We Buy Cars & Trucks

$300-$3000.614-308-2626

CASH FOR CARS

614-276-2597

ANTIQUES

WANTED

Victrolas, Watches,

Clocks, Bookcases

Antiques, Furn.

Jeff 614-262-0676

or 614-783-2629

WANTS TO Purchase

minerals and other oil &

gas interests. Send details

to: P.O. Box 13557,

Denver, CO 80201

We Buy Junk Cars &

Trucks. Highest Prices

Paid. 614-395-8775

RENTALS

WEST

Half Double 2 BR, bsmt.

Rent $650, Deposit $650.

Realtor 614-226-6767

APPLIANCE REPAIR

Washer, Dryer, Stove &

Refrig. Repair 875-7588

BASEMENT

WATERPROOFING

Walker's Basement

Waterproofing

Free Est. 614-996-4772

CARPET CLEANING

Dirt Busters Tile/Floor-Any

3 Rms - $44.95. Pet odor

treatment. 614-805-1084

CLEANING

Cleaning, 20 yrs. exp.

Call Judy 614-946-2443

CONCRETE

AJ's Concrete,

Masonry

Good Work - Fair Prices

Block Foundations

Driveways • Sidewalks

Epoxy/Overlay Floors

Bonded-Ins. • Free Ests.

Now Accepting Credit Cards

614-419-9932

GUTTERS

Low Price-Great Service

5 & 6" Seamless gutters,

covers, siding, gutter clng.

Bill 614-306-4541

HAULING

HAULING SERVICES

Quad Axle Dump Truck

Terry - 614-678-0856

HEATING

HEATING

Complete System Clean & Check

$49.95

Free Carbon

Monoxide Testing

Gas-Oil-Electric Heat/Pumps

All Makes • All Models

43 yrs exp. • Sr. Discount

614-351-9025

614-351-9005

HOME

IMPROVEMENTS

SINCE 1973

Phil Bolon Contr.

Windows & Siding

Decks, Kitchens, Baths

Room Additions,

Flooring, Roofing

Bsmt Waterproofing

Deal With Small Non-Pressure Co.

45 Yrs. Exp. - Refs. Avail.

Lic.-Bond-Ins.

1-20

A/M

Free Est. - Financing Avail.

Member BBB Of Cent. OH

O.C.I.E.B. ID #24273

614-419-3977

or 614-863-9912

1/20 A

1/20 A

HOME

IMPROVEMENTS

LG

REMODELING

Interior & Exterior

Full Service Remodeling

• Bathrooms • Kitchens

• Tile • Drywall • Flooring

• Roofing • Siding • Etc.

NO JOB TO SMALL

A+ BBB Rating

A+ Angie's List

Lic. • Bonded • Insured

614-488-8377

www.lgroofingcolumbus@gmail.com

C&JHandyman

Services LLC

Minor Plumbing &

Electric

Install Hot Water Tanks,

Dishwashers & Disposals

Also Fencing &

Interior/Exterior Painting

Free Est. ~ 18 Yrs. Exp.

Accepting Visa/MC

614-284-2100

SHOP THE CLASSIFIEDS!!

Only $1 per line

❏ Check for one additional FREE week.

Classified Services

columbus

Telephone: _________________________________________________________

Print Your Name:____________________________________________________

Last

First

Print Your Address:___________________________________________________

Print Your City:__________________________ State:_______ Zip:____________

West ___ Southwest ___ East ___ Southeast ___ Madison___

Print Your Ad Below…

One word each space. BE SURE YOUR TELEPHONE NUMBER OR ADDRESS is included in your

advertisement. The lessor of 4 words or 22 characters per line. We reserve the right to use abbreviations

when actual space exceeds amount purchased.

1. __________ __________ __________ __________

2. __________ __________ __________ __________

3. __________ __________ __________ __________

4. __________ __________ __________ __________

5. __________ __________ __________ __________

6. __________ __________ __________ __________

Columbus Messenger

3500 Sullivant Ave. • Columbus, Ohio 43204

614-272-5422

classified@columbusmessenger.com

$

1-20 A&M

1-20 A

Not Valid for Garage Sales

HOME

MAINTENANCE

JOE'S HOME MAINT.

Home Repairs, Roofing,

Siding, Gutters, Soffits,

Misc. Int. Repairs

Int. Painting

Call Joe 614-235-6883

35 Years Exp.

Retired Finishing Carpenter

for all your extra home

repairs. over 40 yrs. exp.

Sonny 614-325-1910

LAWN CARE

LET US MAINTAIN

YOUR LAWN & GARDEN

FOR YOU

Summer, Spring,

Winter or Fall

WE DO IT ALL!!!!

Lawn Cuts, Edging,

Trees & Shrubs, Garden,

Mulching, Hauling,

Garden Pond &

Home Maint.

Free Ests. Low Rates

$20 & Up

Kevin - 614-905-3117

❏ Cash

❏ Check

❏ Money Order

❏ VISA ❏ MC

MOVING

A Complete

Moving

Reasonable, Reliable

No Job Too Small

PUCO #150692-HG

Free Estimate

614-878-1179

PAINTING

Painter Over 30 Yrs Exp.

Free Est. Reas Rates

Daniel 614-226-4221

New Paint For The New

Year! Burt's Painting

Free ests. 614-539-3412

PEST CONTROL

Anthony Pest Control

Eliminate Your Pest For

Less $$. 614-600-8841

PLUMBING

All About Drains & Plumb.

Will snake any sm drain

$125 + tax. 614-778-2584

ALL IN ONE

PLUMBING LLC

"One Call Does It All"

$25 OFF LABOR

With This Ad

A

614-801-1508

All Major Credit Cards Accepted

1/20 A&M

2/3

Credit Card

Information

___

__________________________

Credit Card Number

____________

ROOFING

Robinson roofing & repairs

30 yrs. exp. Lifetime Cols.

resident. Lic./bonded/Ins.

Reas rates. Member of

BBB. Dennis Robinson

614-330-3087, 732-3100

SEWING MACHINE

REPAIR

REPAIR all makes 24 hr.

service. Clean, oil, adjust

in your home. $39.95 all

work gtd. 614-890-5296

TREE SERVICES

Joe's Tree & Yard Work

Trim, thin, shape bushes,

hedges, stump grinding,

hauling. 614-598-6247

Brewer & Sons Tree Service

• Tree Removal

• Tree Trimming 1-20

A&M

• Stump Grinding

• Bucket Truck Services

Best Prices • Same Day Service

614-878-2568

BURNS TREE SERVICE

Trimming, Removal &

Stump Grinding.

614-584-2164

__(___)__

Exp. Date 3 digit code

Minimum Charge $5.00
---
PAGE 12 - SOUTHEAST MESSENGER - January 13, 2019

www.columbusmessenger.com