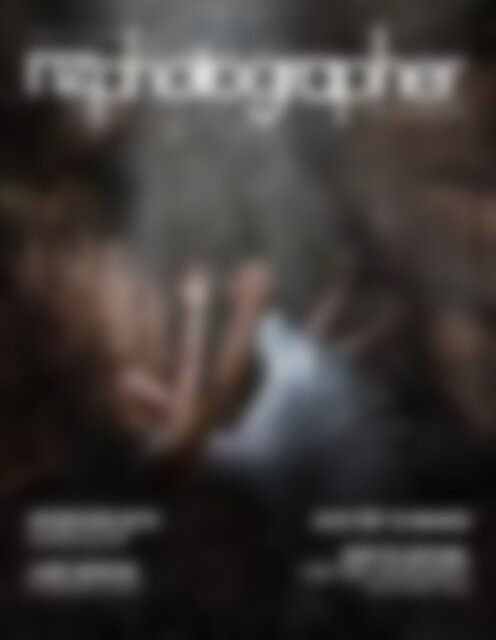 NZPhotographer Issue 15, Jan 2019
As of December 2022, NZPhotographer magazine is only available when you purchase an annual or monthly subscription via the NZP website. Find out more: www.nzphotographer.nz
As of December 2022, NZPhotographer magazine is only available when you purchase an annual or monthly subscription via the NZP website. Find out more: www.nzphotographer.nz
SHOW MORE
SHOW LESS
You also want an ePaper? Increase the reach of your titles
YUMPU automatically turns print PDFs into web optimized ePapers that Google loves.
Brought to you by

ISSUE 15, January 2019

INTERVIEW WITH

KAREN ALSOP

LAKE MARIAN

BY BRENDON GILCHRIST

2018 TOP 10 IMAGES

HOW TO CAPTURE:

STAR TRAIL PHOTOGRAPHY

WITH RICHARD YOUNG

January 2019

1
---
WELCOME TO ISSUE 15 OF

NZ PHOTOGRAPHER MAGAZINE

HELLO EVERYONE,

Happy New Year!

Are you ready to make this

year your best one yet in terms

of photography? We are!

That's why you'll notice some

changes in this issue with the

colour scheme changing from

orange to turquoise, addition

of the Excio logo on the cover,

and our CEO's bio on the next

page – This is all in an effort to

align NZ Photographer more

closely with our app, Excio as we

continue to inspire and support

the photography community

through 2019.

Over the following pages, you'll

find a variety of inspiration to

get the year off to a good start

– We've interviewed the award-winning digital photographic artist Karen

Alsop, Richard Young shares some tips for capturing star trails, Brendon

Gilchrist takes us on a trip to Lake Marion, and we go to Piha Beach with

Ted Grenfell in Behind The Shot.

If you're looking for a challenge to get your teeth into over the

next couple of months, be sure to read the details of our Love Story

competition on page 32, there's a cash prize to be won!

REGULAR CONTRIBUTORS

Brendon Gilchrist

Brendon is the man

behind ESB Photography.

He is an avid tramper

who treks from sea to

mountain, and back

again, capturing the

uniqueness of New

Zealand's unforgiving

landscape.

Ana Lyubich

Co-founder of Excio,

Ana's photography

journey started many

years ago with one of the

first Kodak film cameras.

She loves exploring the

unseen macro world and

capturing genuine people's

emotions.

Richard Young

Richard is an awardwinning

landscape and

wildlife photographer who

teaches photography

workshops and runs

photography tours. He

is the founder of New

Zealand Photography

Workshops.

Emily Goodwin

Editor NZ Photographer

General Info:

NZPhotographer Issue 15

January 2019

Cover Photo

by Karen Alsop

www.storyart.com.au

Publisher:

Excio Group

Website:

www.excio.io/nzphotographer

Group Director:

Ana Lyubich

ana@excio.io

Editor:

Emily Goodwin

Graphic Design:

Maksim Topyrkin

Advertising Enquiries:

Phone 04 889 29 25

or Email hello@excio.io

nzphotographer nzp_magazine nzp@excio.io

© 2019 NZPhotographer Magazine

All rights reserved. Reproduction of any material appearing in this magazine in

any form is forbidden without prior consent of the publisher.

Disclaimer:

Opinions of contributing authors do not necessarily reflect the

opinion of the magazine.

2 NZPhotographer January 2019 3
---
CONTENTS

BEHIND THE SHOT

WITH TED GRENFELL

HOW DO WE

6

10

13

18

28

BEHIND THE SHOT

WITH TED GRENFELL

HOW TO CAPTURE: STAR TRAIL PHOTOGRAPHY

with Richard Young

A LAKE CALLED MARIAN

by Brendon Gilchrist

INTERVIEW WITH KAREN ALSOP

TOP 10 IMAGES OF 2018

35 BEST READERS' SUBMISSIONS THIS MONTH 13

6

A LAKE CALLED MARIAN

BY BRENDON GILCHRIST

18 INTERVIEW WITH KAREN ALSOP Photography is not about

EMPOWER

20,000

PHOTOGRAPHERS

BY 2020?

with each other, but

competing

helping each other.

about

TOP 10 IMAGES OF 2018

28

SHARE YOUR THOUGHTS AT

WWW.EXCIO.IO/EMPOWER
---
BEHIND THE SHOT

with Ted Grenfell

F11, 1/10s, ISO100

6 NZPhotographer

January 2019

7
---
Behind The Shot with Ted Grenfell

TED, TELL US ABOUT YOURSELF AND YOUR

PHOTOGRAPHY...

I'm a professional food and lifestyle / studio

portrait photographer and a landscape

photography enthusiast. I'm based in Titirangi,

near Piha in the Waitakere Ranges, just west of

Auckland.

Just over a year ago I quit my job in the NZ

telecommunications industry to pack the house

up and join my wife Catherine in Melbourne.

Following her sudden death in May, I moved all

our stuff back to NZ to be closer to family and

to focus solely on the photography business we

started together in 2014.

WHAT ARE YOU SHOOTING WITH?

Sometimes a Fujifilm X-H1, but I mostly use a Nikon

D850 now with lenses ranging from a wide-angle

16-35mm f/4G through to a 70-200mm f/2.8E. My

favourite at the moment is the 24-70mm f/2.8E

although I do also love my 85mm f/1.4G.

I have a carbon fibre Manfrotto 055 tripod with

a Really Right Stuff head, and a mix of the Lee

100 and Benro filter systems, plus a Phottix Aion

remote trigger.

TELL US ABOUT THIS SHOT...

This photo, titled "Many Footsteps Before Me" was

taken at Piha beach in the Waitākere Ranges at

around 7pm on Friday September 14th, 2018. I'd

only just bought the D850 so this was one of the

first shots taken with it. A single image shot, I used

a Lee landscape CPL and a 0.6 soft GND on the

16-35mm f/4G lens.

I'd visited Piha three nights that week hoping

to capture both sun and clouds following a

spectacular sky display on the Tuesday night that

I missed. On Wednesday night there were no

clouds at all and I didn't even get the camera

out. Thursday night was almost entirely overcast

and on Friday night as I set up, I wasn't sure there

would be much in it either. I'm glad I hung around

though as I'd wanted to capture the beauty,

space and popularity of the beach at sunset

(South Piha car park had been almost full on the

Wednesday night).

At one point prior to this shot a wee lad wandered

along and started jumping around in the two

puddles in the foreground. Earlier, a large

group of walkers filled the frame as they quietly

meandered past. Neither event synced up too

well with sunset itself so I settled for capturing

people's imprints in the sand instead as a way of

showing the beach's popularity hence the title.

The only people in shot are a couple of tourists

from Edinburgh (who spent their sunset filming

surfers), and another photographer focused on

Lion Rock's coastal background, to the right of

frame.

The several days effort to get a halfway decent

shot of Cath's favourite beach was also an

attempt at proving to myself that I can keep

going there and taking photos even if she's

not with me as we pretty much did everything

together. It's hard to venture out at times but

perseverance is helping, and rewarding.

ANYTHING YOU'D LIKE TO CHANGE ABOUT

THIS PHOTO IF GIVEN A SECOND CHANCE?

For sure! I've now moved to the Adobe RGB

colour space in camera so my onscreen

histogram is slightly more accurate and I'd

probably have shot this at ISO 64. I'd also likely

have taken the advice of a mate and used a

14mm lens - to get more of Lion Rock in frame.

WHAT ARE YOUR PLANS FOR 2019?

In between settling back into client work in

Auckland and Dunedin this year, I've taken time

to go on a couple of landscape workshops and

attend some natural light and studio portraiture

courses, so early 2019 will see further development

of the portrait business.

I'll also revamp the Piha photo branded clothing

and soft furnishings website my wife began in 2016

as well as help my brother Jac further develop

training courses for Adobe Photoshop and

Lightroom users. In there somewhere is a photo

tour to Northern India too so it's going to be a

busy time.

WHERE CAN WE FIND YOU ONLINE?

www.instagram.com/grenfellphotography

www.facebook.com/grenfellphotography

8 NZPhotographer

January 2019

9
---
HOW TO CAPTURE: STAR TRAIL PHOTOGRAPHY

Astrophotography Tips with Richard Young

MORE

THAN A

WORLDWIDE

GALLERY

GET AN INSTANT PORTFOLIO

RECEIVE EXPERT FEEDBACK

CURATE YOUR OWN GALLERY

Rimutaka Trig Point

STARS LOCATION:

The direction in which you shoot will determine the

shape of the star-trails in your final image. If you include

the south celestial pole in your composition all of the

other stars will seem to be spinning around this central

location, which can create a strong anchor point in the

photograph. You can use a star app on your phone or a

compass to find the location of the south celestial pole.

F3.5, 30m, ISO100

FOREGROUND:

The stars on their own will not provide a very

interesting photograph, so, find a good foreground

like the trig point in the photo above. With the lack

of light, the foreground may show up as a silhouette.

If you want to have your star-trails over a well-lit

foreground you will need to photograph under a part

moon or use your head lamp to light the subject.

ENJOY EXCLUSIVE

DISCOUNTS & OFFERS

JOIN NOW

Membership only $49/year

STAR-TRAIL SETTINGS:

To capture star-trails you will need a long exposure of at

least 30 minutes, your camera will have to be on a tripod

and the shutter speed set to 'bulb' in manual mode.

DARK SKY:

For the best photo you will need to find the darkest

sky possible, ideally near or during a new moon. Most

of our National Parks, far away from the light pollution

of the cities, offer stunning views of the night sky.

IMPROVE YOUR ASTROPHOTOGRAPHY ON A 4 DAY ASTRO MASTERCLASS WORKSHOP IN MT COOK

WITH NEW ZEALAND PHOTOGRAPHY WORKSHOPS

Learn Grow Exhibit

www.excio.io

January 2019

11
---
A LAKE CALLED MARIAN

by Brendon Gilchrist

F16, 0.6s, ISO100

Summer is upon us and what better way to go

about a summer trip than with a trip to a lake?!

Lake Marian in Fiordland is an alpine lake

that was formed in the glaciation period. It is

bedded in a valley of huge cliffs and enclosed by

mountains towering up to 2474m called Mt. Christina.

Reflections of the Darren Mountains in the water have

attracted photographers to Lake Marian for years,

myself included this being my 3 rd visit to the lake with

each visit taking place at a different time of the year

allowing me a different view each and every time.

The adventure starts with a 90 minute treck through

the forest to reach the lake. As we enter the forest

from the car park we are instantly taken back-in-time

to a place where nature will always rule. The serenity

of the walk draws you into a place where the bird

life is like the radio playing; a constant sound of a

beautiful chirping chorus with the Kaka squawking

and the Kea screaming amongst the many other

feathered residents. It's very pleasing to the ear and

helps the hike pass quickly as the mind leaves the

stresses of the modern world behind and becomes

fully engaged in the magic of Fiordland National Park.

After crossing the swing bridge the path winds up

the Marian Creek and you arrive at the cascade of

waterfalls. All mossy and green they are sure to enrich

your sense of smell as you breathe in the scent of

nature. Get here in the late afternoon and admire

the way the light falls over the water – Just perfect,

although should it be raining you'll get some moody

shots which are just as pleasing to the photographer's

eye.

Continuing on, the track slowly leads you up, starting

at 450 meters above sea level and reaching lake level

at 700 meters - A steady climb with a rewarding view

at the end plus refreshingly cool water to jump into!

12 NZPhotographer

F16, 1/8s, ISO200

January 2019

13
---
F16 , 1/2s, ISO100

F9, 1/500s, ISO160

There is an unofficial campsite a 5 minute walk

away as you enter the lake view, a nice flat

grassy area where you can pitch your tent and

cook your meals - I only found this out the second

time I visited! The first time I was at Lake Marian

I arrived at sunset so I dropped my pack, set up

my camera gear and started to shoot as the light

was fading fast – A truly stunning scene, but alas

I ended up pitching my tent near the toilet as I

didn't know any better!

Should you tire of the lake view, or have some

extra nights available for exploring, there is a

large waterfall a 5 hour hike away called Lyttle

although don't let the name mislead you – The

waterfall is 220 meters high and surrounded by

even steeper mountains than those near the

lake. I had imagined a nice grass area here

suitable for pitching the tent but to my surprise,

all I could find were large areas of rock fall. As I

explored around this area, mainly photographing

the waterfall, but looking for other places to take

some good sunset and sunrise shots I found it

challenging due to the mountains. They are just

enormous cliff faces, no steady way to climb up

them so I came to the conclusion that my tent

would be the best focal point for a sunset shot!

As night fell, the sun setting fast, I cooked my

dinner (a pasta packet and a can of tuna) and

went to bed having an uncomfortable nights

sleep on rocks which resulted in a sore back the

following morning. Packing up was hard and I

knew the walkout was going to be a challenge,

it had already been a challenge to get to this

point. I knew there was a canyon in this valley

but hadn't seen it on the way up so I checked

the map and possible locations for it and headed

off, ready for all the spiders, the Bush bashing

and navigating through the thick Fiordland bush.

As we slowly made our way down, grazing our

legs, getting stuck, going back, finding another

way, all on the quest for reaching the stream

where the canyon might be, we were greeted by

inquisitive Kea, none of which had tags on their

feet, a really great sign that they were truly wild

birds.

We left our packs and walked back up the

stream in hope of finding this little canyon, and

sure enough there it was. Sitting in a large pool

of pure drinkable water that was so clear and

clean. We had a good drink, enjoyed the view

and then went back to our packs hoping they

would still be intact. Thankfully the Kea seemed

more interested in pulling the moss off the rocks

and eating it than touching our packs.

At the end of this tough day, we made it back to

the car, drove into Milford Sound and enjoyed a

real bed and a real meal.

As you know, I live for experiences that challenge

me mentally, physically and creatively, I love the

fact of not knowing quite what I will find and the

fact that I am going to a place very few people

visit. Lake Marian and the surrounding area never

disappoints.

3 TIPS FOR A GREAT MARIAN PHOTO

AND HIKING EXPERIENCE

• If you have a tent, do take it with you and

experience an easy access campsite at

a very amazing and iconic photographic

location.

• Key times for capturing the best reflections

are early morning or at night but sometimes

it can get really windy here so expectations

should be that you will see beauty no

matter what conditions you get – Don't be

disappointed if you can't get the shot you

hope for.

• I highly recommend using a Circular Polarizer

Filter aka a CPL - My go-to filter for 90% of my

stream and waterfall photos in the bush. When

you turn it you can see the glare disappear and

at times are able to see through the water.

14 NZPhotographer

January 2019

15
---
FRESH SHOOTS

PHOTO COMPETITION

We're inviting photographers to highlight all the wonderful things that make the Wellington

Botanic Garden much more than a garden, while encouraging photographers to focus on

the garden season by season.

For prizes and full Terms & Conditions see: www.excio.io/freshshoots

The competition is split into quarterly competitions based on each of the seasons:

Summer Autumn Winter

15 December -

22 March 2019

23 March -

21 June 2019

CATEGORIES

22 June -

20 September 2019

NATURE PEOPLE CREATIVE EVENTS

PARTNERS

16 NZPhotographer

January 2019

17
---
Interview with

Karen Alsop of

Story Art

the physical darkroom and the digital darkroom.

The skills that I learned in the darkroom developing

and printing my own works translated directly into

the digital environment and creating digital art has

always been a passion for me. Even in the 90's, when

Photoshop was in its infancy, I was entrenched in

creating digitally.

HOW WOULD YOU DESCRIBE YOUR CREATIVE

STYLE?

My mantra is making the impossible, possible. My

creations are very illustrative in nature but are

completely born of photographs that I've taken

myself. My work is light, hopeful and entertaining.

Above all my illustrative work is filled with story. The

story told often has several layers of depth to it that

has viewers taking a second look.

It is my hope that my animal work will inspire other

creative photographers to try something a little

different. It's a lot of fun making animals human like!

HI KAREN, PLEASE INTRODUCE YOURSELF

My name is Karen Alsop and I am an award-winning

Digital Photographic Artist from Melbourne, Australia.

I am married with two children, Asher (5) and Jazzlyn

(7) who often feature in my artwork.

I love bringing the art in my mind to life. My work is

filled with hope, joy, and humour, often featuring

children or animals. The fantastical pieces develop

first as a picture in my mind and I then set to work

photographing all the pieces of the puzzle and finish

by putting everything together with hundreds of layers

in Adobe Photoshop.

HOW DID YOUR PHOTOGRAPHY JOURNEY

BEGIN?

My love for photography was inspired by my

Grandfather. Popa was an avid photographer and

he introduced me to the camera and the darkroom.

At the beginning of my photography journey, aged

14, I was blessed to be able to experience both

HOW DO YOU COME UP WITH THE CONCEPTS?

Ideas are often inspired by stories, sayings, or

locations. If I'm creating for a client, or for a heart

project recipient, I find out about their stories, their

interests, their loves. I draw from these thoughts to

create a story that is uniquely theirs. Once the idea

takes hold, I then use Pinterest and art searches to

help me formulate concepts in my mind. As I can't

draw, these Pinterest boards act as a mood board

for me, each pin inspiring a different element in the

image, pose, colour, style, and story.

HOW LONG DOES IT TYPICALLY TAKE YOU

TO CREATE A FINAL IMAGE AND WHAT IS

INVOLVED?

I like to work in a committed fashion on one, maybe

two images at once. Once the idea is solidified

I try and shoot all the elements over a day or two,

or search my personal library for elements. The

background scene is always the first part to be

created, as I need to use that as a reference for

lighting, perspective, and tone when I photograph the

subject.

18 NZPhotographer

January 2019

19
---
20 NZPhotographer

January 2019

21
---
TELL US ABOUT YOUR STORY ART EDUCATION

AND WORKSHOPS…

I love teaching. It's a big part of who I am as a person.

I actually studied teaching and taught classroom

music for 8 years earlier in my life.

Story Art Education is an education platform I've created

that offers anyone, anywhere in the world, access to

composite photography and Photoshop tutorials and

resources. I have a library of over 100 tutorials and

hundreds of downloadable elements available to

members. I regularly add new tutorial videos to the library.

I also offer workshops and online and in person oneon-one

mentoring. I recognise that everyone has

different learning styles. While some will gain all the

information they need from watching videos, others

need feedback and interaction to learn.

WHY IS STORYTELLING SO IMPORTANT TO YOU?

Stories have the ability to go beyond the surface and

communicate messages not always heard. Storytellers

like Aesop, CS Lewis and even parables in the Bible,

communicate messages by telling a story and the

reader discovering the hidden meaning.

Stories in imagery can do the same thing. I'm always

intrigued to hear people translate my work into a

meaningful dialogue. At times these observations are

in line with my original meaning, but at other times,

the viewer will bring new stories and new meanings

to my work. It is the story behind the story that can

often move someone into a deeper understanding of

themselves, others and the world around them.

TELL US ABOUT YOUR INVOLVEMENT WITH THE

HEART PROJECT AND HOW THIS LED TO MORE

INVOLVEMENT IN THE NZ PHOTOGRAPHIC

COMMUNITY…

Of all the work I create, the most meaningful, the work

that means the most to me is the work I do for sick

children through TheHeartProject. Many of our stories

are available to read and watch on the website and

there is the opportunity to sign up to be part of this

worldwide movement on the contact page.

Once the scene is created, usually roughed out over

several hours in Photoshop, I arrange for the photo

shoot. I usually use the green screen and Elinchrom

strobes to control the lighting in the studio. The photo

shoot of the subject takes 45 minutes on average, and

it's usually that very last image that is the 'golden ticket'.

The full Photoshop process can take anywhere from

10–40 hours depending on complexity.

WHAT ARE YOU SHOOTING AND EDITING

WITH?

I have recently started shooting with the new Nikon

Z7 mirrorless camera. As a composite artist, I spend a

lot of time in the field gathering stock for my personal

collection. I have over 25,000 images from the past

5 years in my Lightroom CC cloud to draw from. The

Nikon is the perfect camera for me as it is light and

portable, but also works fantastically in the studio.

I also do a lot of behind the scenes video to share

with my process with viewers and the Nikon Z6 and

Z7 are perfect for this also. I can even pass the Z to a

photographer who has never shot video before and

have them capture steady, 100fps footage to later

create an epic BTS video.

I edit on a Wacom Mobile Studio Pro on the go, an

all in one computer and tablet and in my studio, I use

an Imac Pro and EIZO 4k monitor for perfect colour

management.

DO YOU HAVE 1 OVERALL FAVOURITE IMAGE?

My current favourite image is 'Elephant in the Room

and Other Puns'.

I drew inspiration from illustrators, one in particular, an

Australian author called Graeme Base. His best-selling

children's books, Animalia and The Eleventh Hour, are

filled with animals in humanlike situations.

I've always loved anthropomorphising animals, and

this particular image was a creative endeavour from

start to finish. I photographed the zoo animals on a

recent trip to Auckland, at the Auckland Zoo.

My favourite part about this piece is that it is a game,

and captures viewers in a way I haven't seen before in a

photographic composite. I represented 20+ animal puns

in this one image, and it's up to the viewer to find them.

Of course, the obvious one is the 'Elephant in the Room',

but I love watching people as they discover all of the

other animal puns. So many lightbulb moments.

This was a personal project created for the AIPP

Awards. It won Highest Scoring Print in the Pet Animal

Category and along with that I was awarded with the

title of Pet/Animal Photographer of the Year which

was a thrilling moment for me. Recognition of my work

from those I esteem most in the industry is a great

reward, especially after dedicating so much time and

commitment into my entries.

22 NZPhotographer

January 2019

23
---
24 NZPhotographer

January 2019

25
---
The background for the Santa photo was taken

on our way from Wellington to Auckland in July

when my children had the opportunity to see snow

for the very first time. So when we photographed

families in Auckland for Christmas Wish, I knew that

I wanted to include that scene in one of the families

special images. I added some trees, a sleigh and

of course Santa with the family. I love that the work

I create for others often contains many of our own

family memories within them because of the photo

adventures we go on and the images I take along the

way.

As well as being involved in other projects with me,

Nikon offered to partner with us for Christmas Wish

2018, and have gone above and beyond with their

support of this global project. They have been on the

ground with us at the various hospitals, helping with

gear and shooting behind the scenes, and have also

helped with funding.

Since a trip to New Zealand was scheduled for the

Auckland Hospital Christmas Wish, we decided it

would be a great opportunity for me to also run

some talks and Photo walks in New Zealand for the

photographic community. These were incredibly

successful, attracting sold out crowds in Auckland and

Christchurch. The attendees had the opportunity to

try out the new Nikon Z's and various lenses on photo

walks through the zoo and I had the opportunity to

share my story and a little about my Heart Project

work and my 'Elephant in the Room' creation in the

presentations.

The New Zealand Photographic Community

embraced me as one of their own so it feels like family

now whenever I visit.

CAN YOU GIVE US SOME TIPS FOR CREATING

A SUCCESSFUL COMPOSITE?

When people first start compositing they are often

just focused on getting a clean cutout and placing it

into a new scene. The mistake many make (and don't

realise) is that just as important is matching the subject

to the scene. Consideration must be made of light

direction in the background and that light matching

on the subject, both in direction and in quality of light.

This is then closely followed by the importance of

shadows and embedding it into a scene. Perspective

is also often forgotten. Matching perspective is

incredibly important in the quest for a convincing

composite.

I often hear people say Photoshop compositing is not

'Photography'. I agree that it's not 'A' Photograph

(because it's many photographs). But I have had

to polish my photography knowledge and skill

set far beyond what I needed as a wedding and

portrait photographer. The understanding of light,

perspective, depth of field, shade, and more are a

prerequisite to a successful piece of photographic art.

I teach all this and more in my education site and am

offering 1 month free access for NZP readers. To claim

just visit www.storyart.education/mygift/

WHERE CAN WE FIND YOU ONLINE?

www.facebook.com/storyartaustralia

www.instagram.com/storyartaustralia

www.storyart.com.au

26 NZPhotographer

January 2019

27
---
TOP 10 IMAGES OF 2018

A SPIRAL OF

CANDLELIGHT

Mary Livingston

Looking back at the last 12 months

makes us very proud of the photography

community around us that is going stronger

and stronger every day. Thinking of the

achievements all of you made this year, of the

photos you took at home and abroad, and

the stories you shared – It's a privilege to be

able to share these moments with our creative

community to inspire and motivate them but to

also be able to show those who aren't able to

travel, a small slice of our big-wide-world.

We talked to and featured so many people

who took us along on their journeys, shared

experiences, and wholeheartedly shared

their knowledge of photography so that we

can learn from each other and grow. Think of

Parmeet Sahni's amazing trip to Nepal and

her exhibition to raise funds for charity. Think

of Susan Blick who showed us the streets of

India and our very own Brendon Gilchrist who

travelled to South America, bringing back the

feelings and wonders of Iguacu Falls.

Our goal as a magazine and community is to

make sure that the information is spread as

widely as possible, reaching far corners of the

globe, so that people everywhere can have

access to these amazing photographs and

stories, and of course, learn more about New

Zealand.

Therefore we decided to highlight and

celebrate the Top 10 photos from 2018 Readers'

Submissions. It would have been an impossible

mission for the team to rate them, so we looked

at Excio statistics to determine the favourites.

If you're not sure what Excio is, it's our very own

home-grown app where we feature the best

submissions from every issue on our worldwide

gallery. It delivers culture and discovery to

screens around the world, making it a safe

environment for creatives to tell their story

without the clutter of social media.

Excio has reached nearly 250,000 installs all over

the world which means together with you, we

made 250,000 lives brighter and more exciting,

as well as raising awareness of important causes

and sharing a variety of events that ordinarily

wouldn't have been discovered. By creating

a place where photographers don't need to

worry about their copyrights and protection of

their work, nor feeling 'buried in the crowd',

Excio enables visual storytellers to share their

vision and get their message across in a much

more powerful and engaging way than social

media channels.

The numbers you will see on the following pages

are truly empowering, these images getting

hundreds of hours of display time on screens all

over the world, night and day, Excio being like

a digital pocket billboard. Just think about it,

hundreds of hours of screen time, not fleeting

moments as with Instagram and Facebook! It's

not just the photo that captures user's attention

either, on Excio the story is as important as the

image which is why we included how many

times people clicked to learn more about what

our contributors have to say.

If your photo isn't in the Top 10 on the following

pages but you're wondering if it was featured

and how many views and engagement it might

have got, download Excio free of charge

from the Google Play store (coming soon to

iOS) and take a look at the stats. You can

also visit the Web Albums if you don't have an

Android device, click onto the NZ Photographer

magazine profile and see the best images from

the back issues.

In 2019 we aim to uncover as many talented

creatives as we can and to empower and help

amateur photographers reach a new level in

their photography game. So submit your photos,

share your journeys, and help us unite and grow

the photography community in New Zealand

and around the world.

THE FROG

Roxanne Crawford

VIEWS: 105934

HOURS DISPLAYED: 224

STORY READ: 1268

2

VIEWS: 119937

HOURS DISPLAYED: 247

STORY READ: 1713

1

28 NZPhotographer

January 2019

29
---
BUSY

SUMMER DAY

Barb Lewis

VIEWS: 101842

HOURS DISPLAYED: 217

STORY READ: 1519

BOAT SHEDS

AND MARINA

John Kelly

VIEWS: 94291

HOURS DISPLAYED: 194

STORY READ: 1273

3 5

BUSY BEE

Ali Pike

VIEWS: 100974

HOURS DISPLAYED: 209

STORY READ: 1338

DAISIES IN

THE GOLDEN

HOUR

Paul Robertson

VIEWS: 93143

HOURS DISPLAYED: 202

STORY READ: 1252

4 6

30 NZPhotographer

January 2019

31
---
MIRROR

IMAGE

Grant Spiers

VIEWS: 92178

HOURS DISPLAYED: 187

STORY READ: 1125

THE WALK OF

LIGHT

Rod Lowe

VIEWS: 85975

HOURS DISPLAYED: 179

STORY READ: 917

7 9

WINTER

DREAM

Yasen Georgiev

VIEWS: 90025

HOURS DISPLAYED: 186

STORY READ: 1008

THE LOO

Baptiste Auguie

VIEWS: 84407

HOURS DISPLAYED: 177

STORY READ: 1003

8 10

32 NZPhotographer

January 2019

33
---
WHAT IS

LOVE?

PORTFOLIO

BEST READERS' SUBMISSIONS THIS MONTH

Photo Competition

W W W . E X C I O . I O / L O V E

WE WANT TO SEE

YOUR LOVE STORY

Whether that's romantic

love, parents' love, the

love and trust between

animals and humans or

even the heartache, that

love causes.

NZ$ 150 CASH PRIZE

1 JAN 2019 - 20 FEB 2019

T&Cs apply. See www.excio.io/love.
---
HANDS

F3.5, 1/15s, ISO250

I rarely use image stabilisation on my lenses and

thought candlelight would be a good test to try out the

stabilisation on the Canon 85mm F1.4 lens.

Al Popil
---
CHILLAXING IN THE SUN

F7.1, 1/400s, ISO400

HAMILTON ZOO

This little spider monkey got bored watching me fiddle

around with the camera and eventually nodded off in the sun.

Carole Garside
---
KERERU

F8, 1/160s, ISO500

HAMILTON ZOO

The colourful Kereru, otherwise

known as the New Zealand pigeon.

Carole Garside

BUT SOME ARE

MORE EQUAL

THAN OTHERS

F2.8, 1/2000s, ISO100

ROTOTAWAI, FEATHERSTON

Inquisitive Fawns checking

out the photographer

in the Wairarapa sun.

Greg Arnold
---
YOSEMITE CHAPEL

F11,1/2s, ISO200

YOSEMITE, CALIFORNIA, U.S.A

The Chapel in the last daylight hour during a

snowstorm.

Chick Piper
---
BELLBIRD

F6, 1/100s

MARLBOROUGH

A Bellbird enjoying nectar from my garden.

She is watching me, as I am watching her.

Cynthia Stoks
---
NEW YEAR FIREWORKS

F7.1, 3.2s, ISO200

TIMARU

The 2018 New Years fireworks display in Timaru with a

lone kayaker on the water watching on.

David Oakley
---
CLOUDS OVER LAKE HERON

F22, 1/40s, ISO125

HAKATERE CONSERVATION PARK

Looking across the baron landscape

towards Lake Heron on a cloudy spring day.

David Oakley
---
LAKE CHAPARRAL AFTER SNOWSTORM

F22, 1/13s ISO100

LAKE CHAPARRAL, CALGARY, CANADA

October is Fall in Calgary Canada and the weather is meant to be mild. On the

night of October 1st, 2018 the largest dump of snow took place since recording

began in the mid 1800's.

Dennis Brown
---
MURIWAI

F8, 1/320s, IS0100

MURIWAI, WEST AUCKLAND

During a recent trip to Auckland I took advantage of the one fine

day and shot out to an old favourite place of mine, the gannet

colony at Muriwai Beach.

Dominic Stove
---
STONE SHED

F2.8, 1/500s, IS0400

I spotted this little overgrown stone shed

during a recent visit to Wanaka.

Dominic Stove
---
AILAO AFI

F1.4, 1/160s, 50mm

SAMOA

In an area spanning over 4,000 square miles with hundreds of islands, it's hard to

pinpoint exactly where in Polynesia fire dancing began. However, it is believed that

the Maori people of New Zealand were the first pioneers as the originators of poi. In

Samoa, Ailao was originally used by warriors to show off their skill with the war-club,

twirling, throwing and catching it in ceremonial displays.

EJ Mathers
---
REFLECTIONS

F5.6, 1/170s, IS0200

NORMANDY, FRANCE

Captured early morning in a fishing port, Honfleur

Gail Orgias
---
FEATHER

F22, 1/15s, ISO125

ROTOTAWAI, FEATHERSTON

"Feathering an edge" with a 1915

honeysuckle smoothing plane.

Greg Arnold
---
KINGFISHER

CRESTWOOD VILLAGE, WEST AUCKLAND

There is a wood outside my window and we see quite a few Kingfishers

but they don't often stay long enough for me to get my camera. I find playing the

kingfisher call on the computer helps to get them to stay longer!

Juliet Hopkins

FUCHSIA

BALLERINAS

F4.1, 1/180s, ISO800

Such a beautiful flower at the

entrance to a bush walk in Paihia.

Kathleen Seaward
---
NEW ZEALAND DOTTEREL

F5.4, 1/500s, ISO2000

TE TI BAY, WAITANGI

One of NZ's endangered bird species that I

happened to see on a walk.

Kathleen Seaward
---
VIEW FROM DUFFER'S SADDLE

F14, 1/160s, IS0200

DUFFER'S SADDLE, NEVIS RD, CENTRAL OTAGO

The high point on the highest public road in New Zealand gives

wonderful views of Central Otago landscapes.

Maureen Pierre
---
THE DEPARTURE OF A DREAM

F4, 300mm

MOULAY BOUSSELHAM, MOROCCO

Mehdi El Baqali
---
TONGARIRO CROSSING

F25, 1/8s, ISO100

I was back in NZ for a bit in November and did the Tongariro

Crossing with an old mate. This is one of the pics taken.

Nick Van de Water
---
TARANAKI IN GOOD SPIRITS

F11, 1/60s, ISO100

EGMONT NATIONAL PARK

It is said that if you see Mt Taranaki behind clouds, it is the mountain

hiding his tears for his first love, the female mountain Pihanga. On

this magnificent evening, Taranaki was in good spirits.

Olga Macagon
---
THE SACRED SPIRIT OF NEVERLAND

F8, 1/5000s, ISO400

KARAMEA

A near-mythical place where sunlight goes, like the old elephants, to

part gracefully with its earthly presence. The enlightened destination, not

necessarily a habitat, will re-ferment disparate visitors' souls connecting

them with love of humanity and wonder of nature.

Peter Kurdulija
---
STANDING STONES

F11, 1/400s, ISO400

ORKNEY, SCOTLAND

A few of the standing stones at The Ring of Brodgar in Orkney. The

stone on the right was hit by lightning in 1980 which caused it to split.

Peter Maiden
---
LIGHTNING OVER AUCKLAND

F7.1, 5s, ISO100

SULPHUR BEACH BOAT RAMP, AUCKLAND

An incredible display of power and light over the city.

Simon Jarman
---
LONE SURVIVOR

F16, 5s, ISO200

LAKE TAUPO

I tried to make the most of a wet day

by shooting that tree on Lake Taupo.

Simon Wills
---
BLUE

F16, 20s, ISO100

PERTH, WESTERN AUSTRALIA

The Crawley Edge boat shed is one of the most popular landmarks to

photograph on the Swan River in Perth.

Simon Wills
---
BELIEVE YOU CAN, AND

YOU'RE HALFWAY THERE.

THEODOR ROOSEVELT

84 NZPhotographer