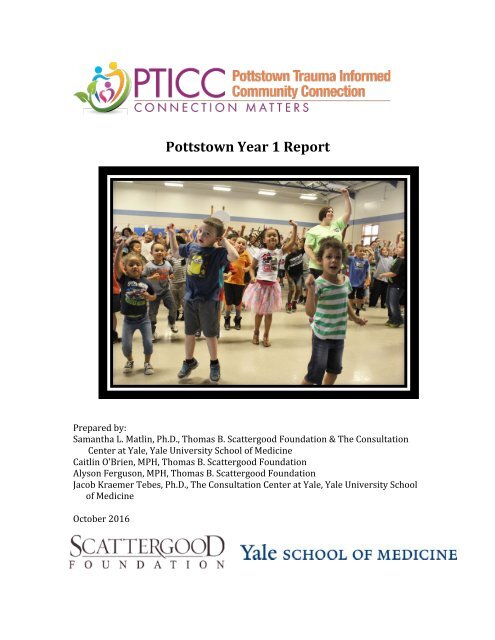 PottstownYear1ExecutiveSummary
You also want an ePaper? Increase the reach of your titles
YUMPU automatically turns print PDFs into web optimized ePapers that Google loves.
Pottstown Year 1 Report

Prepared by:

Samantha L. Matlin, Ph.D., Thomas B. Scattergood Foundation & The Consultation

Center at Yale, Yale University School of Medicine

Caitlin O'Brien, MPH, Thomas B. Scattergood Foundation

Alyson Ferguson, MPH, Thomas B. Scattergood Foundation

Jacob Kraemer Tebes, Ph.D., The Consultation Center at Yale, Yale University School

of Medicine

October 2016
---
EXECUTIVE SUMMARY

Year 1 activities of the Pottstown Trauma Informed Community Connection (PTICC)

included a variety of activities, including: consultation to the PTICC leadership and

Steering Committee; completion of key informant interviews; development of a

working logic model in collaboration with the Steering Committee to guide initiative

activities; launch and sustainability of Community Partner's Meeting and Trauma

101 Trainings; launch of a pilot implementation of a Social and Emotional Learning

curriculum to be aligned with PTICC objectives; and completion of evaluation

activities to track PTICC implementation and impact. Throughout the year, the

consultation team worked closely with the School District and PTICC leadership,

with Mary Rieck and Superintendent Jeffrey Sparagana leading the effort.

ACCOMPLISHMENTS

PTICC had a very successful year, making great strides towards a trauma-informed

community in Pottstown. Below are several major accomplishments.

• The PTICC Steering Committee sustained membership throughout the year

and served as the major leadership body for the Connection. Consisting of 27

members, the Steering Committee held 10 meetings over the course of the

year, with the majority of members attending each meeting. A total of 13

organizations are represented on the Steering Committee.

• Across four months, the Steering Committee developed a comprehensive

logic model to guide the initiative. The logic model development process

included input from all committee participants, with facilitation and

coordination provided by the consultation team. One outgrowth of this

process was that the group established a common vision for the initiative and

a realistic foundation for implementation that included identified outcomes

to be achieved at the individual, family/community, and service system level.

• A central feature of the logic model was the establishment of workgroups to

guide implementation of the initiative. Three work groups were established:

1) Training and Education; 2) Networking; and 3) Communications.

Workgroups met at least monthly during Steering Committee meetings and

also completed activities in the period between meetings to complete

identified tasks.

• Once the Steering Committee workgroups began implementing specific

activities identified in the logic model, they expanded their efforts to the

broader community by launching the Community Partner's Meeting. This

meeting began a process of engaging broader community sectors to help

create a vision for a trauma-informed community in Pottstown. Initially, the

Steering Committee established a goal of having 50 people attend the kick-off

October 2016

ii
---
Community Partner's Meeting. However, the community response was so

positive that 107 people attended. There was a lot of energy and enthusiasm

at the meeting as demonstrated by responses to a survey given at the

meeting (see below).

• Another accomplishment of the past year was that about 250 pre-K and K-12

teachers from the Pottstown School District participated in Trauma 101

training in Fall 2015. This training is an introduction to the potential

consequences of childhood trauma, with the goal of increasing awareness of

how these consequences can affect individuals, families, early childhood care

and education settings, organizations, and communities. In 2016, the

Steering Committee began to offer targeted Trauma 101 trainings to the

public. The first such training was held in August 2016 and involved over 80

school support staff, including custodians, lunch aids, and office staff.

Upcoming trainings in Fall 2016 are already full. In addition, 15 individuals

from the school district and PEAK partners completed the more advanced

Enhancing Trauma Awareness training.

• Another accomplishment this year was the development and implementation

of a strong branding and communication plan by the Communications

workgroup. This included developing a name for the initiative (the

Pottstown Trauma-Informed Community Connection [PTICC]), talking points

and messaging, a PTICC website (www.pottstownmatters.org), a logo,

brochures, tablecloth covers, wallet cards, lanyards, and standing banners.

The steering committee also created a system for tracking all presentations

on PTICC. Thus far, 19 presentations have been completed since June 2016.

• In addition to creating a website, the Steering Committee also launched a

social media and website presence. PTICC has its own group on

ACEsConnection.com, an online community of practice with over 10,000

members. In addition, PTICC has developed a Facebook page and Twitter and

Instagram accounts, and has also been featured in The Mercury and other

local news outlets, as well as the Pottstown Area Health and Wellness

Foundation Fall 2016 Community Benefit Report. Finally, PTICC and PEAK

were the subject of a 10-part training video produced by Better Kid Care Penn

State Extension, an organization committed to professional development for

early childhood professionals.

• Another development this year was the decision by the School District to

implement Social and Emotional Learning (SEL) in the Pottstown schools

this year. SEL aligns very well with trauma-informed practice as well as the

PEAK initiative, and will be a major focus of PTICC activities this year.

• Finally, during Year 1, we implemented several evaluation activities to

support PTICC. This included conducting key informant interviews and

October 2016

iii
---
developing, administering, and analyzing surveys of participants at the

Community Partner's Meeting and Trauma 101 trainings.

CONSULTATION AND EVALUATION FINDINGS

Major consultation and evaluation activities this past year included completion of

key informant interviews and facilitation of a logic model development process in

collaboration with the Steering Committee. In addition, we worked with PTICC

leadership and workgroups to launch the Community Partner's Meeting and Trauma

101 trainings, and to complete surveys for these activities. These assessments

indicate a promising start to engaging community partners and to enhancing

trauma-related knowledge and attitudes.

NEXT STEPS

In the coming year, PTICC will continue to implement activities specified in the logic

model. This will include implementation and evaluation of SEL in the schools.

PTICC will also seek a deeper engagement of families and other populations such as

the faith community. This will also include data collection of outcomes in the logic

model, such as changes in trauma knowledge and trauma-informed practices by

individuals as well as changes in community service system collaboration. PTICC

will continue to identify and apply for additional foundation funding to further

support and expand its efforts to build a trauma-informed community in Pottstown.

October 2016

iv