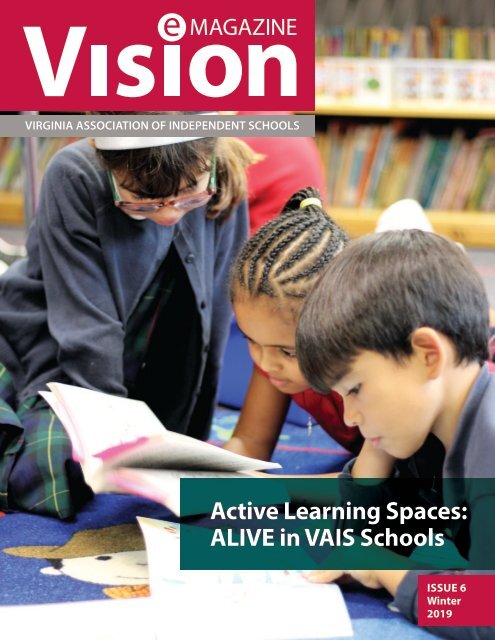 Vision EMag Winter 2019_2WEB
You also want an ePaper? Increase the reach of your titles
YUMPU automatically turns print PDFs into web optimized ePapers that Google loves.
e MAGAZINE

VIRGINIA ASSOCIATION OF INDEPENDENT SCHOOLS

Active Learning Spaces:

ALIVE in VAIS Schools

ISSUE 6

Winter

2019
---
e MAGAZINE

CONTENTS

2

How Classroom Design Affects Student

Engagement Active Learning

How Classroom Design

Affects Student Engagement

Active Learning |

Post-Occupancy Evaluation

5

7

9

11

13

15

16

17

18

19

20

Transforming to an Active Learning Space?

A Challenge Worth Tackling!

The WonderLab: A Classroom Built On A Word

Using Instagram in the Spanish Classroom -

Unlocking New Inspiration

Getting Electrified about Learning Engineering

Ditching the Pink Fluffy Chair

Alternative Seating in a Middle School

Math Classroom

Using the City of Richmond to Turn a

Controversy Into a Learning Experience

Intentional and Engaged Learning Spaces

in a Fifth Grade Classroom

Randolph-Macon Academy Opens

Innovation Wing

One Fun Little Dance - An Active Learning Lesson

The Innovation Lab - Movement, Commotion

and Production!

New data from ongoing Steelcase Education studies shows that

classrooms designed for active learning—i.e., where physical

space supports a focus on engaging experiences for students and

faculty— have a significant effect on student engagement.

Noteworthy studies have been completed in recent years that show

factors in the built environment can affect retention, attention,

motivation, learning and academic achievement, but there have

not been reliable post-occupancy evaluations of how different

classroom designs affect student success. To address this important

gap, a team of Steelcase Education researchers, in collaboration

with academic researchers in Canada and the United States,

recently completed studies at four U.S. universities. A robust survey

instrument, titled the Active Learning Post Occupancy Evaluation

(AL-POE) tool, was developed specifically for measuring the impact

of classroom design on student engagement. Engagement is widely

recognized as a highly probable predictor of student success.

The results of the study and the following term's aggregated data

revealed that classrooms intentionally designed to support active

learning increased student engagement on multiple measures as

compared to traditional classrooms

Figure 1: Standard Classroom

21

Making Space for Active Learning

Editorial Advisory Board

Kim Failon, Director of Communications, VAIS

Lelia Grinnan, Director of Accreditation, VAIS

Interested in writing an article for an upcoming

Vision? Contact: Kim Failon, Director of

Communications, VAIS, at kimfailon@vais.org

EXTENDING WHAT'S KNOWN

Sociological and environment behavioral research has established

the impact of built environments on various behaviors:

territoriality, crowding, situational and personal space. More

recently researchers have explored how a learning environment

impacts students. The consensus is that learning spaces have

physical, social and psychological effects. The Steelcase Education

research program was undertaken to build upon this growing

body of evidence that the learning environment impacts students'

success and engagement is a key predicting factor.

Verb classroom

Node classroom

CONNECT. COLLABORATE. LEAD.

ISSUE 6

Winter

2019

THE APPROACH: AN ACTIVE LEARNING POST-

OCCUPANCY EVALUATION SURVEY

The research was designed to analyze student engagement by

asking participants to compare their experiences in a traditional/

standard classroom with row-by-column seating (See Figure 1:

Standard Classroom) to what they experienced in a classroom

intentionally designed for active learning—i.e., where physical

space supports a focus on engaging experiences for students and

faculty. (See Figure 2: Steelcase Advanced Learning Environments)

media:scape classroom

LearnLab (or media:scape LearnLab)

Figure 2: Steelcase Advanced Learning Environments –4 Scenarios

1

2
---
How Classroom

Design Affects Student

Engagement

Active Learning

How Classroom

Design Affects

Student Engagement

Active Learning

The active learning classrooms were furnished with Steelcase's

advanced innovative products and applications for active learning

settings: Node® seating (See Figure 3), Verb®, media:scape®

and LearnLab. To determine a relationship between classroom

design and the behavioral factors of student engagement,

participating faculty members did not receive training from

Steelcase on active learning practices. The settings were simply

provided for their use as they saw fit.

Using a two-step decision-making research method, student and

faculty participants simultaneously evaluated their experience in

the active learning setting and their previous experience in the

traditional classroom; specifically, they compared the "pre/old" and

"post/new" settings for each metric.

The main body of the resulting evaluation has two sections.

Section I (Practices) focuses on active learning practices that

elicit engagement in the learning space. Section II (Solutions)

measures the effect of the classroom design on these active

learning practices. Twelve measurement factors are consistent

across the two sections, including:

• collaboration

• focus

• active involvement

• opportunity to engage

• repeated exposure to material through multiple means

• in-class feedback

• real-life scenarios

• ability to engage ways of learning best

• physical movement

• stimulation

• feeling comfortable to participate

• creation of an enriching experience

Another set of questions uses a five-point Likert scale to

determine perceptions of grades, retention, overall engagement

and ability to be creative.

To ensure adherence to the standards of academic research, the

Steelcase Education team worked with third parties: IRB research

protocol review, academic researchers and a statistician to

analyze and report results.

Respondents completed the survey online approximately 6-8

weeks into the term so they had enough time to establish a

rhythm of using the space.

3

Figure 3: Node ClassroomExample

To ensure adherence to the standards of academic

research, the Steelcase Education team worked with

third parties: IRB research protocol review, academic

researchers and a statistician to analyze and report

results.

RESULTS: ACTIVE LEARNING CLASSROOMS

HAVE A POSITIVE IMPACT ON STUDENT

ENGAGEMENT.

The combined studies results yielded major findings, all

supporting a highly positive and statistically significant

impact of active learning classrooms on student

engagement:

1) Participants reported that the new classrooms

improved active learning practices and had more

positive impact on engagement compared to the old

classrooms. There were no significant differences in

results among participating universities, strengthening

the applicability of the findings.

2) The majority of students rated the new

classroom better than the old classroom on each of the

12 factors.

3) Active learning practices and the impact of

the physical space significantly improved in the new

classrooms for both students and faculty. In the

practices section, average composite scores rose from

23.2 to 34.2 for students, and from 24.0 to 37.3 for

faculty. In the solutions section, average composite

scores rose from 21.8 to 35.5 for students and from 19.1

to 38.8 for faculty. (See Figures 5 and 6)

2

Average Composite Score

Average Composite Score

40

30

20

10

0

40

30

20

10

0

23.2

24.0

34.2

PRACTICES

Figure 5: Average Overall Engagement

Scores For Old and New Classrooms:

Students (n=389)

37.3

PRACTICES

21.8

19.1

35.5

38.8

SOLUTIONS

Figure 6: Average Overall Engagement Scores

For Old and New Classrooms: Faculty (n=41)

Standard (old)

Current (new)

SOLUTIONS

PERCENTAGE REPORTING MODERATE OR EXCEPTIONAL INCREASES IN:

ability to be creative

motivation to attend cl ass

ability to achieve a highergrade

engagement in class

4) The majority of students and faculty reported that the new classrooms

contributed to higher engagement, the expectation of better grades, more

motivation and more creativity. A large majority of students self-reported a

moderate to exceptional increase in their engagement (84%), ability to achieve

a higher grade (72%), motivation to attend class (72%), and ability to be creative

(77%). Almost all faculty members reported a moderate to exceptional increase in

student engagement (98%), and all perceived a moderate to exceptional increase

in student's ability to be creative (100%). A large majority of faculty reported a

moderate to exceptional increase in students' ability to achieve a higher grade

(68%), and a moderate to exceptional increase in students' motivation to attend

class (88%). (See Figure 7)

THE BOTTOM LINE: INTENTIONALLY DESIGNING SPACES

PROVIDES FOR MORE EFFECTIVE TEACHING AND LEARNING

As a result of the development of the evaluation instrument and this managed

research program, decision makers at educational institutions, architects and

designers can be assured that investments in solutions intentionally designed to

support active learning can create more effective classrooms and higher student

engagement.

The study also underscores the importance of designing products for educational

environments based on insights from rigorous research. All the products used

in the new/post classrooms were developed from Steelcase's human-centered

research process methodology, and this study validates that the evidence-based

design protocol helps produce measurable results in use.

0% 20% 40% 60% 80% 100%

Figure 7. Impact of New Classroom

on Student Engagement

Faculty

Students

This white paper was originally published by Steelcase and the full version can be found here:

https://www.steelcase.com/research/articles/topics/active-learning/how-classroom-design-affects-student-engagement/

Creative Office Environments is an authorized Steelcase Dealer and a proud VAIS Strategic Partner. For more information please contact

Jim Trebour at jtrebour@creative-va.com or 804-405-9717.

34
---
Active engagement is nothing but a prerequisite to the

learning process. Active learning is not trendy or faddish.

It is fundamental to the learning process. There is no cost,

program, or material that must be purchased to transform

a traditional classroom into an active learning space. I share

with you a few vignettes from my classroom and my reasoning

for incorporating active learning across the curriculum.

When I look at pictures taken in my classroom this fall, I

find two students on the carpet as they play a dice game they

created to practice their addition facts. In another photo I

observe students in a corner deeply engaged in a nonfiction

book about dogs, and I recall overhearing their conversation

about their own pet dogs as they read during partner reading

time. I look at a different picture, and I see four secondgraders

precariously balancing on chairs, contemplating

how to maximize gravitational pull to design a marble

maze using PVC pipes. I also notice a photograph of several

second-graders deeply engaged as they listen to one student

5

Transforming to an Active

Learning Space? A Challenge

Worth Tackling!

Michelle Bruch, Grade Two Teacher, Grace Episcopal School, Alexandria

share the story she had written that morning. This picture in

particular makes me smile because I remember asking these

students to read independently right before they decided to

have an impromptu writing time instead. In a photo I took

just last week, I see a second grader's joyful expression as she

holds up her very own bean sprout and takes a moment to

process the miracle of life.

Teaching and learning are one. I cannot teach my students a

new instructional objective if I do not first probe their background

knowledge. Recent neurological research supports the role

of movement and the importance of activating background

knowledge. We must prioritize connections in the classroom:

social, physical and cognitive connections are the essence of

learning itself.

I cannot expect my students to cultivate a deep comfort

with new content if I do not give them time to grapple,

explore, and explain newly learned concepts. It is ironic that

when I stop teaching and start learning that my teaching is

at its best. We actively learn together by using our classroom

space flexibly, and this practice allows me to differentiate

instruction, gives my students opportunities to engage deeply

with the curriculum through movement and conversation,

and provides ample time to question and learn.

Letting go of how we manage classroom space and time in

a traditional sense is difficult. Thoughtful deliberation is required

to engage students with direct inquiry meaningfully. Guided

by powerful questions, clearly communicated objectives, and

consistent routines, I am able to facilitate the smooth management

of the classroom. I must embrace trial and error, be deliberate

about my instructional objectives, and constantly assess the

classroom climate. As I listen closely to my students, I allow

them to take ownership of their learning. I continually seek

opportunities to help them make connections and inhabit a

state of wonder.

Facilitating active learning means acknowledging that there

is a give and take within the classroom learning environment. We

move our desks apart and place them so they face the walls during

writing workshop. I find this enables my second graders to focus

deeply on their writing and to find quiet spaces in the classroom as

they write. We also sit on the floor to read with partners each day.

Word study necessitates movement as we sort, hunt for word

patterns, and play games to deepen our knowledge. Math is

perhaps the most active time in my classroom because I rely

on my students who understand a concept to translate their

problem-solving processes to their peers, as cooperative

learning is central to our math curriculum.

By cultivating a culture of questioning, prioritizing process

in the classroom across the curriculum, and giving students

many opportunities each day to move and talk as they learn,

I enhance their educational experience. They take ownership

of their learning and beg to stay in the classroom during

recess to complete science projects, offer to help a classmate

who is feeling confused about how to solve a multi-step math

problem, and set and achieve goals higher than I would have

set for them. I continually seek opportunities to maximize

the active learning and engagement in my classroom. Active

learning is a rewarding and effective teaching practice that

allows me to guide and support student learning throughout

the school day. As William Butler Yeats wrote, "Education is

not the filling of a pail, but the lighting of a fire." Rethinking

how we use classroom space and time to ignite a passion for

learning is a worthy challenge.

6
---
The WonderLab: A Classroom

Built On A Word

Tracy Camp-Johnston, WonderLab Creator and Curator,

Burgundy Farm Country Day School, Alexandria

It's often said that you need a strong foundation to build

a sturdy structure. I disagree. I built an entire classroom and

a curriculum on a piece of paper. One tiny scrap of lined paper

torn from a composition notebook. One slip of paper with a

single word written on it. WONDER.

After a successful and fulfilling thirteen-year career in the

public school system and time off to raise a family, I had mixed

feelings about returning to teaching. I loved my job as a secondgrade

teacher in my local public school system, but towards

the end, my creativity felt crushed by an avalanche of SOLs and

benchmarks.

At the end of my career, I felt drained and detached. I had

lost my sense of magic. My inspiration was gone, and I worried

that I might not get it back. I knew that if I returned to teaching,

I would have to find an environment in which I felt the freedom

to explore new ideas and to move beyond traditional teaching

methods. I was lucky to find such a place. Tucked in a tiny haven

of woods, with weather-worn barns and a clutch of noisy hens,

just minutes from I-95, was Burgundy Farm Country Day School.

Burgundy's founders had a vision when they created this special

progressive school. They dreamt of a place where children and

teachers could explore, wonder, and create in a beautiful natural

environment. A place where curiosity would be encouraged and

where divergent thinking was embraced. I found my home here.

And then I found my wonder.

The wonder came to me during a faculty meeting several years

ago. Happily exhausted from a day spent with my fifteen active

kindergarteners and sleepy from too many M&Ms and an overly

toasty auditorium, I began doodling on my agenda to stay awake.

Amongst the swirls and sketches, I wrote the word WONDER. Such

a simple word yet it proved strong enough to inspire an entire

classroom.

Truly it begins with wonder. The very first people probably

looked upward in wonder at the infinite sky. It's likely that George

Washington Carver wondered, "What else can I make from this

peanut?" And no doubt, Lin-Manuel Miranda wondered about

the untold story of our founding fathers. All good things begin

with wonder. We are born wonder-ers. It is wound and bound

within our DNA. Every child comes to this world equipped with

a nearly insatiable, and (at times exhausting) sense of curiosity

and wonder. Young children seem to be 1⁄5 noise, 1⁄5 dirt and

the rest equal parts movement and wonder. That is why it is

so important to provide outlets for that spirit of wonder in the

early childhood years. Burgundy recognizes the need for young

children to delight in the natural world and inspires them to

engage in playful exploration.

With the backing of my generous administration, inspiration

from dedicated colleagues, and the love and support of my

husband, I set out to build a new kind of classroom. I knew it

needed to be an engaging space that captivated and inspired

awe and was accessible and friendly. I knew the space required

a floor plan that allowed for a variety of collaborative endeavors

but also made room for contemplation and introspection. I

wanted a space that included places to create, explore, build,

observe, and most of all wonder. After a year of planning and

revising, building and creating, the WonderLab was born. It is a

classroom transformed by wonder. As you enter the WonderLab,

you are greeted by a large and friendly tree. Birds and squirrels

and even an opossum cavort on sturdy branches, and turtles

and toads gather at the base.

The WonderLab is a fascinating space to see and touch. An

expansive interactive wall allows for new materials to be added

and removed as children's interest and abilities grow and change.

The wall beckons to be touched, and for its items to be removed,

played with, and then put back. It is a new wall after each class, as

children replace items in different and personal ways after each

use. This special wall creates visual and kinesthetic connections

that make lasting impressions.

A roomy sensory bin allows multiple children to experience

the world through touch and provides a valuable cooperative

base for sharing observations, ideas, and materials. The

WonderLab boasts an impressive library and an inviting space

for a solitary read, a small group meeting, or simply a space to

regroup and refresh. There is a CreatorSpace filled with loose

parts, tools, and compelling bits gleaned from recycling bins.

A "WonderBar" features a row of tables and stools perfect for

puzzles, games, and small-group exploration.

A mobile lab and kid-friendly flooring ensure that even the

messiest experiments (Ooblek) are easy to clean up. There are

puppets and builder's bins, games, toys, and much to discover

here. The lab is a living classroom designed to flex, change, and

respond to the people who visit. The physical space not only

provides a vibrant learning environment for many different

activities and pursuits, but it also allows me to offer engaging

and responsive lessons. The flexible interactive wall lets me add

items to spark conversation about new topics; it helps to hold

student interest in long-range projects by providing new objects

to connect to; and lastly, this wall unit even can showcase student

items, allowing for an informal but meaningful assessment tool

as we synthesize a concept. Easily accessible drawers in the

CreatorSpace allow me to change materials to enhance projectbased

learning. Adjustable display areas ensure that students

see value in their work. The WonderLab invites students to

safely explore a variety of learning experiences, and my plans

reflect this. A wonder-filled space makes planning wonder-filled

lessons easier and more manageable.

All of it was built on one word. Wonder. Proof that just one

word can bear a teacher's hopes and dreams, as well as the

weight of the wonder of all who pass through the door.

7

8
---
Using Instagram in the Spanish Classroom -

Unlocking New Inspiration

Mark Viser, Spanish Instructor, Hall Parent, Football/Basketball Coach, Christchurch School, Christchurch

Of all the wonderful things about Christchurch School, perhaps my favorite

part about working here is the diversity of our student body. Among

our 215 students, 19 countries are represented, and this diversity contributes

countless traditions, customs, and world views to our campus life. With this

diversity, though, comes an often unwieldy range of interests, learning styles,

and behaviors. As a Spanish teacher, this sometimes has been difficult to

navigate. How can I inspire and facilitate language learning to such a wide range

of people with varying degrees of ability?

While studying at Middlebury College this summer, I found an exciting solution

under the guidance of Esther Poveda Moreno of the University of Virginia. In an

effort to give students freedom to explore the language, I adapted her portfoliobased

approach by making Instagram a central focus of all my classes this year.

Each marking period, students are told to find aspects of the Spanish language

that interest them and periodically upload videos that report their discoveries to

their Spanish-only Instagram account. Already, their progress has exceeded my

expectations. Instead of being drilled on vocabulary and subject matter that I

select, students are independently finding TV shows, music, podcasts, and other

resources that they genuinely like and are sharing them with their classmates. Best

of all, some students have told me that they are enjoying their findings so much

that they spend their free time learning more. This type of self-driven studying is

much more effective than any number of vocabulary lists, conjugation drills, or

cultural readings I could ever implement. Furthermore, students have the ability

to focus on their strengths instead of being penalized for their weaknesses. For

example, if a student has trouble listening to the language and wants to capitalize

on their stronger reading skills, I encourage them to choose resources that play to

these advantages. So far, this has resulted in students' feeling confident about what

they do know instead of feeling ashamed and embarrassed for what they don't.

Of course, the nature of social media is essential to the success of this project.

Already, the students have enjoyed following their classmates and leaving them

comments or suggestions. In fact, I have found that students are easily picking

up on their peers' mistakes and omissions and are making mutual suggestions on

how to improve. This has organically created a friendly atmosphere that makes

our courses feel less like traditional classes and more like teams working toward

a common goal. Going forward, I hope to use Instagram to connect with student

groups in Spanish-speaking countries to make this process even more authentic.

By connecting with native speakers around their same age, the students would

not only get valuable feedback on their language skills, but also have a genuine,

tangible reason to study the language.

Above all, the best way to learn a language is to enjoy the process. What better

way to facilitate this journey than to give students the liberty to pursue what

interests them most?

9

10 ision
---
Getting Electrified about Learning Engineering

11

Elizabeth Kennedy, Science Department Chair, Highland School, Warrenton

While our new Physics and Engineering Lab is a work in

progress, we think that it has been a game-changer

at Highland School. The lab is a place where students are

encouraged to touch, make, take-apart, and create; and

where they are expected to help one another learn different

strategies and skills by doing so. For the upper school physics

and engineering students, this means having the space and

the freedom to explore a wide variety of phenomena in a

hands-on way. Dedicated in honor of the Class of 2017, this lab

is the ideal environment for active learning to occur, as well as

for accommodating a range of learning styles.

The physical space is large, with room for students to work

at desks or tables and plenty of storage for works-in-progress.

The lab is equipped with a state-of-the-art SMART Boards 6000,

several whiteboards, and a good old-fashioned blackboard.

Tools available include standard shop basics such as a drill

press, band saw, power tools, and a large complement of

hand tools. 3D printers and several laptops are available with

data collection interfaces and electronic sensors, including

motion detectors, force sensors, current/voltage sensors, and

temperature/pressure sensors. The lab is further equipped

with standard physics apparatus and equipment comparable

to what students would use at the university level.

As the teacher in this lab, I strive to cultivate a culture of

collaboration, where technical skills are valued and sought out.

Students collaborate to achieve common goals, such as building

rockets for the Team America Rocketry Challenge, making

experimental equipment for an AP® Physics lab, and producing

a science outreach presentation for younger students who

visit the lab for a "field trip." The spread of knowledge and skills

happens organically. I see my role as a facilitator who enables

students to share knowledge and skills.

One example of how the lab supports active learning is

a recent "machine dissection" activity in the Introduction to

Engineering class. Students in this class range from freshmen

to seniors, and their experience working with their hands

ranges from novice to veteran. The students were arranged in

groups and tasked to take apart a variety of machines in order

to study what they found inside. These machines included an

"all-in-one" printer-copier, a microwave oven, a computer, and

a DVD/Blu-ray player. The students dissected the machines

using any tools (except hammers!) and salvaged useful parts.

As the students worked to take apart the machines, I walked

around and asked questions about the things they were

finding. "What do you think this component does?" "Why do

you think there would be a motor inside of a printer?" "What

do you think we could re-use these toroids for?" One student

who retrieved a DC motor out of a printer didn't recognize it as

a motor. I handed him some wire-strippers and an AA battery.

After some initial trepidation, and with help from his group

members, he connected the wire to the battery and was soon

walking around showing everyone the motor that was now

spinning. The diversity of learning styles and skills in each

group enriched the experience for everyone.

The following day, the reclaimed components from the

dissected machines were put to use by students in AP® Physics

C: Electricity and Magnetism. Therein, the students found the

necessary materials to construct their own electroscopes. Of

course, we could have purchased this simple lab equipment

from a supply house. But why not take advantage of an

opportunity for students to have even more "skin in the

game" by making their own? For a look at one of the student's

electroscopes, check out this video.

Introduction to Engineering is a required course for Highland's

new Pre-Engineering Certificate. Seniors earn this certificate at

graduation by satisfying requirements that include completing

honors and AP® math and science classes, as well as programming

classes, a group engineering design class or participation on our

FIRST Robotics Team, and an individual engineering experience

over the summer. The program culminates with our Engineering

Capstone class in which seniors work with an outside sponsor to

design and build a project of their choice. Eight members of the

Class of 2018 earned the certificate by completing projects that

included a Rubens tube, a Tesla coil, and a pond-cleaning robot.

None of these projects could have been realized had we not had

the space and tools to inspire innovation.

As each student finds his or her own role in the class and

on teams, "Be yourself at Highland" becomes more than just a

tagline. It's an ideal we strive to help each student live up to, in

a hundred different ways each day.

12
---
Ditching the Pink Fluffy Chair

Christina Grande, English 8 and English 10 Honors Teacher, Trinity Episcopal School, Richmond

In the late 90s when I was in graduate school for education, the

buzz phrase was "cooperative learning." Education moved away

from individual assignments and papers towards group projects

and group interactions. When designing lesson plans, I had to start

with an "anticipatory set" or an opening activity, often a series of

questions or a demonstration.

As the 90s turned into the millenium, the phrase, "21st century

skills" buzzed around the academic building. Content was a thing

of the past; students could Google whatever information they

wanted to know. Instead, we wanted students to develop skills

that would prepare them for the real world. No longer did we

question what we wanted them to know or why, but instead how.

How, we asked ourselves, should we teach students who already

have the world, or at least the internet, at their fingertips?

As I've watched education evolve, I've noticed that one thing

has remained constant--we, as teachers, must find a way to reach

students where they are. Students must be engaged to learn.

Listening to a lecture may have worked for us old folks in the 80s,

but it isn't going to cut it with kids today. They need to move. They

need to be active. They need to generate their own discussions.

We can't tell them how to think. We need to show them what it

means to think critically. We need to guide them. Enter the new

catch-phrase "active learning."

My biggest challenge as a teacher was probably my move

from high school to eighth grade. My first attempt at active

learning was to implement flexible seating in the eighthgrade

classroom. I read that flexible seating gave students

more freedom and choice and allowed them to collaborate

more authentically than they could at traditional desks. I

learned quickly that active learning, while important, must be

purposeful and planned. While I had fun running to secondhand

stores and Craigslist to buy bean bags, floor pillows, and

papasan chairs, those items alone made my classroom more

chaotic than productive. My classroom became a "free for all"

with kids rushing to my room to snag the pink fluffy chair and

others jumping on top of the new owner of the fluffy chair

until the chair looked like a pile-up on a football field rather

than a fun place to learn. As you can imagine, the fluffy chair

quickly broke, and I decided to regroup and redefine active

learning for my eighth-grade classroom.

Now active learning looks like scissors and glue sticks--

messy but manageable. My students use interactive notebooks.

Inside their spirals all of their activities live--they cut events

from the myths we are reading and rearrange and paste them

chronologically; they draw pictures of their ideas of what monsters

look like before we read Walter Dean Myers' book Monster; they

cut out and color foldables to learn about the differences between

paraphrasing and summarizing. Sometimes the desks seem too

clunky and restrictive, so we move them. In circles they hurl fake

Shakespearean insults at each other while we read A Midsummer

Night's Dream, and at Christmas time they spread out for a White

Elephant gift exchange in which they learn how to write thankyou

notes.

During my seventeen years of teaching, I've learned a lot

about teaching styles. There is not a one-size-fits all method.

What may work for my neighbor next door may not work for me.

My classroom will never be silent. I will never take a "sit down

and wait your turn" approach to teaching. Life is messy and loud

and imperfect. So am I. Kids need guidance and rules, but they

also need a voice. They need to move around. They need to do. I

may have thrown out the bean bags and fluffy chairs, but I have

learned to create my own flexible classroom, and it seems to

work for all of us.

13

14 ision
---
Using the City of Richmond to Turn a

Controversy Into a Learning Experience

Penn Ward, Communications Coordinator, Orchard House School, Richmond

Alternative Seating in a Middle School Math Classroom

Carmen Rich, Middle School Math Teacher, Nansemond-Suffolk Academy, Suffolk

Over the summer months, I transformed my classroom into

an inviting space that feels like a breath of fresh air. The

room no longer has traditional seating but rather tall chairs and

desks, octagonal tables, stability ball chairs, wobble seats, and

saucer chairs, all tied together with an area rug. Gone is the long

whiteboard that covered the length of the front of the room, and

in its place is a beautiful Smart Panel, vibrant with color and the

potential to transform teaching through powerful technology.

When I first contemplated the brave new world of flexible

seating, I knew I needed to do some research. I read articles and

spoke with teachers who had become experts in the world of new

spaces. By the time I finished, I knew I did not want just to dip my

toe in the water; I wanted to dive in headfirst. I made a plan and

placed my order. As I unpacked each piece of new furniture, I felt

excitement, but at the same time I had a niggling feeling in the

back of my head--worrying about students' attention spans and

behavior within their new surroundings.

The first day of school arrived. As students entered the newly

designed space, eyes widened and smiles grew large. They loved

the room, were awed by the Smart Panel, and were curious about

the different types of seating. I told them to try a few seats, to

find the one they liked, and to settle in. The first thing we talked

about were the rules of the seating. No spinning was allowed,

but wobbling back and forth gently was acceptable. While high

bouncing was banned on the stability balls, a little bouncing and

swaying was just fine. Students couldn't use the wheeled chairs as

transportation, but moving around the tables to adjust to group

work was great. I also explained the rules regarding the Smart

Panel. Overall, I asked them to be respectful of our new furniture.

We wanted everything to last for a long time.

With my redesigned space, I have found that I am able to

move around the classroom more easily during instruction and

to observe students during group and individual work times.

I feel more connected to the students, and their behavior has

been fantastic. They seem happy and relaxed. We all have been

told how students have difficulty sitting for long periods of time,

but my students this year seem comfortable and do not always

want to leave when class is over.

Here is a short list of what I believe has contributed to the

success of this new and redesigned arrangement:

- Explaining expectations regarding the Smart Panel

- Allowing experimentation with the Smart Panel in applicable

situations

- Framing the rules of each seat

- Requiring a prompt seat change when a seat rule has been broken

(but allowing a student to try that seat again the next day)

- Allowing appropriate movement befitting each seat type

- Encouraging students to move around and try different seats

each day

- Providing traditional chairs for those few who prefer them

- Circulating amongst the students regularly

Assimilating to new technology and flexible seating has been

a rewarding and exciting adventure, but the most gratifying

aspects have been watching my students' engagement improve

and reveling in their learning experiences.

Girls bound out the

front door, two-bytwo

with water bottles

in hand, for a warm-up

walk with P.E. instructor

Suzi Horner. Meanwhile,

Janine Russo's math class

makes their way on foot

to the Virginia Museum

of Fine Arts, the culmination of their months-long math sketchbook

study on the interplay of mathematical concepts and visual art.

The city of Richmond is a classroom teeming with lessons —

history, architecture, music, art, botany, biology, and much more.

Cross the traffic circle at Allen Avenue, however, and the lessons

get more complicated at the base of the Robert E. Lee Monument.

Commissioned in 1876, after the end of Reconstruction in Virginia,

the Lee Monument is one of five monuments commemorating

notable members of the Confederacy along Monument Avenue.

The events of Summer 2017 brought a slew of nationwide protests

regarding the removal of Confederate statues, largely in Southern

cities. When the events of Charlottesville threatened to hit close to

home with a protest at Richmond's Robert E. Lee Monument, Orchard

House School chose to address the local and national discourse

surrounding the legitimacy of the nearby Confederate memorials.

Honoring Orchard House's commitment to being a responsive

academic environment, an instructional collaboration between history

teacher Taylor Hollander and English and theatre arts teacher Lucretia

Anderson arose. With an eye towards maintaining the social and

emotional well-being of students, the faculty wondered how much

the girls knew about the controversy, what would be the best way

to support them, and how to turn the controversy into a learning

experience. "I think a lot of the girls knew about the events around

Charlottesville and what was happening with the monuments, but a

lot didn't; and if they knew something was brewing, they didn't quite

understand what was happening or going on." In response Hollander

and Anderson designed a research project for Eighth Grade students.

The Confederate monument project involved five main themes

— fact and opinion, historical memory, public space, debate

and discussion, and oral and written communication skills. This

interdisciplinary approach combined the history unit on the Civil

War and Reconstruction with the literary notions of oral history and

authorship, as well as persuasive writing. While heated debate is

the natural expectation of a project with such timeliness and heft,

Anderson and Hollander found that two of the themes stood out the

most — public space and historical memory.

Prior to their research, few of the students had given much

thought to the significance of the monuments, treating them mainly

as invisible space. By walking from statue to statue on Monument

Avenue and recording information about their subjects, locations,

inscriptions, unique features, and their own first impressions, the

girls gained considerable awareness and understanding. Through

this experiential learning, they began to realize how and why

public space is often contested, writing about ways citizens can

"feel unwelcome driving down a street in the place they call home."

About the open-ended shape of the project, Anderson notes, "By

letting the girls explore the monuments first and ask their own

questions about what [they were] seeing and experiencing, they

were able to have an intellectual experience with them and not just

drive by the monuments."

Students then interviewed people outside the school about

the Confederate monument controversy. By collecting personal

reflections and commentaries, they learned about the richness of the

human experience and how everyday people who largely escape

the historical record can have very different views and opinions

about the past and present. The girls demonstrated a multifaceted

approach to their thinking, noting that the discomfort of talking

about Virginia's history "should not excuse us today from the burden

of trying to understand what made the people of the monuments

fight in the American Civil War."

While engaging in the debate, Middle schoolers in the throes

of grappling with self-discovery and identity benefited from the

bedrock of Orchard House School—sound relationships with faculty.

Anderson, who stresses historical context in her lessons, felt the

discussion was more nuanced because of diverse voices from faculty

and project interviewees. She noted, "You can always say, 'This could

affect people of color,' but it's nothing like having a person of color,

someone you have a relationship with, saying, 'Yes, this affects me,

and here's why.'"

It is those relationships with faculty that most often are cited by

parents and students as a major component of their Orchard House

experience. Drawing upon those relationships and benefitting from

a responsive approach to learning about the Monument controversy,

the Eighth Graders were able to build their own understanding in a

way that challenged and empowered them.

15 16
---
Intentional and Engaged Learning Spaces

in a Fifth Grade Classroom

Kelsi Bell, Fifth Grade Teacher, Powhatan School, Boyce

With no two learners alike in my classroom, I've developed an active

learning environment for my fifth grade students, inclusive

of flexible seating, custom lighting, decreased visual stimuli, and

increased material mobility. And why? An active learning environment

is student-centered, learning-focused, and wildly popular among

students and parents alike. Plus, it's effective!

So which comes first, the standing table or the active lessons? The

answer is both. If learning is the goal, we must establish a rhythm in

the physical realm and the cognitive realm to work as co-dependent

cogs in the wheel of student growth and development. Let's take

a look at physical space first, and then at what it looks like to be a

teacher and a student in an active learning environment.

To become an active learning space, a classroom must be

conducive to focused working and learning. This starts with an

aesthetically pleasing space with limited visual distraction. Such an

environment can be achieved by adhering to a basic color palette,

enhancing natural light with soft-light floor and table lamps, and

establishing organizational routines and procedures for tidy materials

management. Upon arrival to our classroom, students are greeted

twice -- once by me and then by the physical appearance of our

classroom. I desire for both messages to communicate, "Welcome!

You matter. To start, choose a seat where you will learn best."

A student who craves constant motion may prefer to balance on

a stability ball at the round table in the center of the room, but may

later wish to transition to the standing table with the elastic foot band

at the base for increased gross motor stimulation. Another student

who works best when her materials are spread out may choose to

sit on a foam mat at the 16-inch floor table, using the table top and

the surrounding carpet as her work surface. For the students who

desire to see all things at all times, sitting on a countertop-height

stool at the 36-inch table in the back of the room might be the best

place for them. Still, there is the trusty laundry basket full of cushions,

serving as a cozy, confined space for readers and studyers alike, or the

classic chair at a conference room-sized table for those who prefer

a traditional posture while working and learning. In our classroom,

mobility is effortless because students keep their materials organized

in black storage crates divided into sections that keep their binders

and folders upright. Students are free to choose from the variety of

work spaces available to them by simply picking up their crate and

moving to the position most desirable.

Such readily available flexible seating encourages students to

become more self-aware, asking themselves each day, sometimes

several times a day, "Where will I work best?" Becoming mindful of

their bodies, their learning styles, and their social norms enables

students to be increasingly metacognitive, reflecting on the role of

flexible seating as an owned, personal choice to enhance their unique

learning experience. This structure invites students to cognitively

develop who they are as learners. In turn, as I plan and prepare

lessons for my students, I can freely craft experiences that cater to

diverse learning styles, support academic choices, and encourage

intentional movement. As a result, students are not only engaged in

experiences, but are empowered to learn.

Mutually establishing that our classroom is a safe, flexible space

designated for focused working and learning negates social and

behavioral blunders, enhances a sense of community, and fosters

an environment that embraces the unique qualities of each child.

Though it highlights the diversity of students' learning styles, postures,

and personalities, our active learning environment reminds us that

collectively, we all are learners. As a unified front, we encourage one

another to celebrate that learning doesn't look or sound the same

for all of us, but tremendous learning is commonly occurring within

us. As we work and learn together, our space greets us all with,

"Welcome! You matter. Choose a seat where you will learn best."

Randolph-Macon Academy Opens Innovation Wing

Celeste Brooks, Director of Communications, Randolph-Macon Academy, Front Royal

This fall, Randolph-Macon Academy opened the Hadeed

Innovation Wing, with simulation labs intentionally designed

to be integrated learning spaces. These labs cut across academic

disciplines, encompassing flight, robotics, computer science,

engineering, graphic design, and studio art. The environment has

been created to be flexible and dynamic. "More than your typical

maker space, it's a place where computer science can meld with

engineering and graphic design and studio art, or the drone

program can work with studio art on intentional design for the

aesthetics of the drone design," explained Dr. Tess Hegedus, Dean

of Instructional Leadership and Innovation.

She gave another example: "If one of the pre-professional

pathways is Entrepreneurship, and you're learning about product

development as part of Entrepreneurship, you could go into the

Simulation Lab and work on engineering design, use the graphic

design lab to build a website to market or promote your business,

you could create logos, and plan how you might market your

product. It is a place to explore and integrate it all."

While the studio art lab and graphic design lab are standalone

rooms on one side of the wing, on the opposite side are the

flight simulation lab and the robotics lab, which are separated by

a removable partition. Both are designed to encourage students

to move around or design on their feet, rather than sitting

(though that remains an option). But the most-anticipated piece

of equipment might just be the soon-to-arrive flight simulator,

the FAA approved Redbird TD.

"It's a place for authentic learning experiences that are

connected to future careers," said Hegedus. "It provides a stepping

stone to a future internship. We're going to simulate what a

student might do in a career path."

Students will use the simulation labs to learn primary, essential

skills that align with a career pathway, with the idea that when

they begin an internship, they go in with some foundational

knowledge or some exposure to the field. This allows them to

participate in the internship more fully, whether that means they

are asking deeper questions or they are coming up with bigger

ideas. The hope is that when they get back from the internship

experience, those ideas are things they want to research further,

and the questions are problems they want to solve—thus, they

begin to research, create, and innovate.

17 18
---
One Fun Little Dance - An Active

Learning Lesson

Maura Rice, Junior Kindergarten Teacher, Congressional School, Falls Church

"I'm in, right out, right up,

right down, and I'm feeling fine!"

My students and I sing to each other as we start our morning

meeting with movement (courtesy of one of our favorite

Dr. Jean songs). We stretch our arms in, out, up and down and

turn ourselves around. We run in place; we practice freezing our

whole bodies; and then, we do it all again! By the end, both the

kids and I are smiling ear to ear; our bodies are more relaxed;

we are sometimes a little out of breath; but we are ready to

begin our next activity. Until … "Can we please do it again, but

in sloth mode?" they ask. Sloth mode is part of the dance our

class came up with, where we do the same actions but as slow

as we possibly can. Time is ticking away in the morning, but

as an early childhood educator, I have to pause and listen to

19

their request. When the children ask for more movement, what

they really are telling me is, "My brain needs this, and I need to

shake it up, to get up and move around; I need to have fun and

be active so that I can do my best learning today." So of course,

we hold off on morning meeting for three more minutes, and

begin again, in "sloth mode."

To an outsider looking in, this probably looks like one fun,

little dance. While that is true and learning through play is

imperative with learners of all ages, that is not the only reason

we do this. This fun, little dance is also helping the children

learn self- regulation skills, understand and follow multi step

directions, identify rhythms and patterns, develop a sense of

directionality, learn new vocabulary, engage in teamwork, and

foster classroom community. All of those incredibly important

learning skills from one fun, little dance!

Active learners translate to active minds—when we enable

and encourage our children to get up, move around, find new

spots, get their wiggles out, or take a brain break—what we are

really doing is empowering children to learn, grow, and progress

in the classroom in different, new, and exciting ways. We are

teaching them that learning doesn't just happen while sitting

down at a table, working with pencils and pens, or sitting on the

carpet for fifteen minutes straight. Learning also happens when

a student gets up, moves across the aisle, talks to a friend, tries

something new, or stands on his head! New ideas flourish when

children are given the chance to move their bodies, to be in

control of their physicality, and to realize that they are learning

and having fun while doing it.

We are preparing our children for a life of active learning and

for an actively changing and fast-paced world. We are teaching

them that they are, and should always be, active participants

in their own education. Giving them the chance for physical

flexibility encourages them to have mental flexibility as well.

The next time you see a class of five-year-olds dancing it out,

or jumping around, join in! It is never too late to get your blood

pumping, get your energy going, and get active. You just might

find, that if you let it, your mind can be as active as your body.

What does action look like in the classroom? It is movement,

commotion, and production. It is embracing the unknown.

It is failing and succeeding all at once. Ultimately, it is cementing

knowledge. Learning by doing is not a new concept, but it is one

that is often isolated within certain areas of our curriculum. I'm a

fine arts teacher. My entire curriculum is project-based learning.

My day is eternally action-packed. What I see on the horizon is

a maker movement that is tearing down the walls between art

and every other discipline.

As teachers, we want to set up our students to succeed. We

share with them the knowledge we want them to attain and then

help them navigate their way. We map out a means to an end.

Delivering projects in a classroom does not change the end, it

changes the means. When students are permitted to design their

own outcomes, they set out on pathways that are untrodden.

They are instilled with the courage to make waves, not just to

rinse and repeat. Action is diving deeper and resurfacing with

something new. Active learning at Foxcroft School is embodied

in the buzz of The Innovation Lab (TIL@FXC).

When we embarked on the creation of our makerspace

two years ago, we charged the students with designing the

space from conception to completion. It is truly a studentowned

space. The faculty continues to empower their student

leadership in refining the space and its use. The makerspace

has become a gathering place on campus for everything from

faculty hack sessions to student club meetings, from college

The Innovation Lab - Movement,

Commotion and Production!

Julie Fisher, Digital Arts and Engineering Instructor, Foxcroft School, Middleburg

information sessions to class meeting space. It is a place for

dreaming and doing.

Everyone is a maker and a doer at heart. If we did not strive

to create, we would have very little to show for our humanity.

Instead we produce a barrage of innovations on a daily basis.

Most inventors bridge concepts across disparate media. They

find relevance in the seemingly irrelevant, and a new idea is

born. The entire premise of a makerspace is to provide the ideal

conditions for ingenuity to flourish. The space itself is empty

without minds to explore it. TIL@FXC is a revolving door of

students with ambitious ideas and ready hands.

On a regular basis, I see my colleagues actively learning

with their students. Like art educators, they have embraced

lessons that encourage their students to create. In TIL@FXC, I

witnessed a world language student create an emblem for an

ancient myth and a world history student design a genocide

memorial. I watched a biology student create a paper doll-sized,

layered rendition of all the inner workings of the human body. A

creative writing student generated a poem inspired by a student

photographer's blended imagery. A theatre student engineered

a dress to transform Cinderella from rags to a ravishing gown

in seconds. A physics student built a pan flute out of bamboo

that she culled on campus. Each of these students utilized

the makerspace to step outside the confines of their focused

curriculum. These are the types of learners and creators we want

to put out there in the world to invent our future.

20
---
Making Space for

Active Learning

Evie Hinrichs, Second Grade Teacher, Congressional School, Falls Church

Taking inspiration from the book Most Likely to Succeed, by Ted

Dintersmith and Tony Wagner, many educators are looking

carefully at the learning opportunities afforded to students in the

What this meant for our classroom was that we needed lots of space

to work! The map was about 10 feet wide. Changing the set-up of

desks and tables to accommodate a 10-foot-wide map required

21st Century. Providing opportunities where students can think

some creativity and ingenuity. Students were excited to adjust

creatively and critically, collaborate with peers, and take charge

the learning space to support their needs. Three groups worked

of their own learning is paramount to student engagement and

on the different islands from the stories while others created the

success. As educators, we can and should leverage our teaching

map features. Every second grader was engaged, working across

environment, within our classrooms and beyond, as flexible,

weeks on their part of the project. The conversations between

active learning spaces.

students as they planned, created, and placed islands on the map

In my own second-grade classroom, this exploration into

were a teacher's dream. At the end of the project, the class was

active learning spaces has led to a burst of creativity, critical

excited to have the opportunity to share their map with the entire

thinking, and student engagement. Children of all ages are

student community at an all school gathering. They used the map

inherently active; learning through inquiry and exploration.

to summarize the adventures of Elmer and the dragon, describing

During a lesson about addition strategies, the class needed to

all to see. The lasting benefits of this type of hands-on, authentic

They are full of energy and are always eager to learn something

each island's location and topography using their new map skills.

spread out to practice computation skills without distraction.

learning experience will stick with the students long after they

new. Although students have always been active learners, the

This project was so successful, because it was student-inspired

This was achieved by writing on whiteboard space on the walls,

leave second grade.

shift to maximizing the classroom to facilitate and support

and student-led.

desk tops, and even windows. We rotated to a new surface with

Over the past several years, the approach of utilizing our

learning takes time, patience, and trust in the process. Every

Our classroom continues to shift as we work on different

each new equation. The novelty of writing on different surfaces

learning spaces both inside and out as tools to enhance student

part of our learning space has a purpose, yet is flexible to

projects. After reading a variety of books in class, students were

and moving between equations increased student engagement

learning has blossomed. Student motivation and engagement

support the needs of students. The classroom itself has become

challenged to create book reviews to share with other students.

and motivation.

is on the rise as we become more purposeful in planning how

a tool that can enhance inquiry, exploration, collaboration and

We brainstormed a variety of ways to approach this challenge

Finally, we need to remember that active learning is not

we use our spaces. This approach does require flexibility on the

individual learning.

and decided this would be a great time to integrate technology.

confined to the four walls of a classroom. There are many

part of the teacher. Lessons might not go exactly as planned, but

As an example, this fall our second-grade class was reading the

A group of second graders created a green screen studio in our

learning opportunities to extend learning outdoors. Our second

when given the space and opportunity, the students will take

trilogy of My Father's Dragon by Ruth Stiles Gannett. Our literary

classroom library space by adding a small table, stools, and a green

graders explore early civilizations. During our study of Ancient

the lead and take more ownership of their learning environment

focus was character development over time and understanding

sheet. Students, working with a partner, used iPads to record

Mesopotamia, students learn about cuneiform, the first system

and how they use it. This flexibility will also help us to better

how the setting played a role in the story. These books included

images of each other reading a favorite book. They worked

of writing. Although we read about it and find examples in

adapt to the changing needs of students.

several small maps. The students were fascinated by the maps and

together to place themselves in the setting of the book and then

books, we use a small stream on our campus. During science

tried to follow the main character's adventure across the different

created a tag line to hook other readers. With guidance, students

class, students discover clay along the banks of the stream so

lands. It also happened that we were studying map features and

were able to plan, problem solve, and work through each step of

we plan a second trip. It's much more engaging to walk to the

landforms in social studies. When the task of drawing and labeling

the process. As with the map project, students were able leverage

stream to collect clay for a tablet and gather sticks from the

our own maps came up, the class lobbied to collaborate on a giant

our classroom space in a way that encouraged creativity, critical

playground for a stylus. After gathering resources, students

map of the islands from My Father's Dragon. They wanted to see

thinking, and active learning. And since not every assignment is

are eager to practice being a scribe as they write letters and

all the places from the three books represented on a single map.

collaborative, students also need space to work independently.

numbers in the clay. The clay tablets are dried and displayed for

21

22
---
VAIS Mission

The Virginia Association of Independent Schools

is the leader in advancing and advocating for

independent school education in Virginia.

CONNECT. COLLABORATE. LEAD.

9100 Arboretum Parkway, Suite 310, Richmond, VA 23236

ph: (804) 282-3592

VAIS.ORG VAIS.org VAIStweets