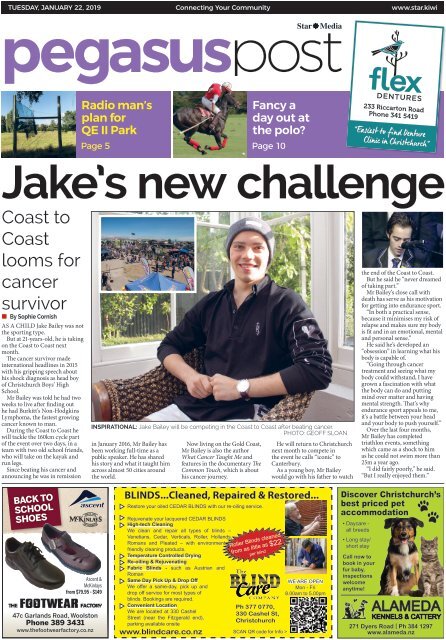 Pegasus Post: January 22, 2019
You also want an ePaper? Increase the reach of your titles
YUMPU automatically turns print PDFs into web optimized ePapers that Google loves.
TUESDAY, JANUARY 22, 2019

Connecting Your Community

www.star.kiwi

Radio man's

plan for

QE II Park

Fancy a

day out at

the polo?

Page 5 Page 10

233 Riccarton Road

Phone 341 5419

"Easiest to find Denture

Clinic in Christchurch"

Jake's new challenge

Coast to

Coast

looms for

cancer

survivor

• By Sophie Cornish

AS A CHILD Jake Bailey was not

the sporting type.

But at 21-years-old, he is taking

on the Coast to Coast next

month.

The cancer survivor made

international headlines in 2015

with his gripping speech about

his shock diagnosis as head boy

of Christchurch Boys' High

School.

Mr Bailey was told he had two

weeks to live after finding out

he had Burkitt's Non-Hodgkins

Lymphoma, the fastest growing

cancer known to man.

During the Coast to Coast he

will tackle the 160km cycle part

of the event over two days, in a

team with two old school friends,

who will take on the kayak and

run legs.

Since beating his cancer and

announcing he was in remission

INSPIRATIONAL: Jake Bailey will be competing in the Coast to Coast after beating cancer.

PHOTO: GEOFF SLOAN

in January 2016, Mr Bailey has

been working full-time as a

public speaker. He has shared

his story and what it taught him

across almost 50 cities around

the world.

Now living on the Gold Coast,

Mr Bailey is also the author

What Cancer Taught Me and

features in the documentary The

Common Touch, which is about

his cancer journey.

He will return to Christchurch

next month to compete in

the event he calls "iconic" to

Canterbury.

As a young boy, Mr Bailey

would go with his father to watch

the end of the Coast to Coast.

But he said he "never dreamed

of taking part."

Mr Bailey's close call with

death has serve as his motivation

for getting into endurance sport.

"In both a practical sense,

because it minimises my risk of

relapse and makes sure my body

is fit and in an emotional, mental

and personal sense."

He said he's developed an

"obsession" in learning what his

body is capable of.

"Going through cancer

treatment and seeing what my

body could withstand, I have

grown a fascination with what

the body can do and putting

mind over matter and having

mental strength. That's why

endurance sport appeals to me,

it's a battle between your head

and your body to push yourself."

Over the last four months,

Mr Bailey has completed

triathlon events, something

which came as a shock to him

as he could not swim more than

25m a year ago.

"I did fairly poorly," he said.

"But I really enjoyed them."

Back to

School

ShoeS

Ascent &

McKinlays

from $79.95 - $149

47c Garlands Road, Woolston

Phone 389 3431

www.thefootwearfactory.co.nz

BLINDS...Cleaned, Repaired & Restored...

Restore your oiled CEDAR BLINDS with our re-oiling service.

Rejuvenate your lacquered CEDAR BLINDS

High-tech Cleaning

We clean and repair all types of blinds –

Venetians, Cedar, Verticals, Roller, Hollands,

Romans and Pleated – with environmentally

friendly cleaning products.

Temperature Controlled Drying

Re-oiling & Rejuvenating

Fabric Blinds - such as Austrian and

Roman

Same Day Pick Up & Drop Off

We offer a same-day, pick up and

drop off service for most types of

blinds. Bookings are required.

Convenient Location

We are located at 330 Cashel

Street (near the Fitzgerald end),

parking available onsite

Roller Blinds cleaned

from as little as $22

per blind

Ph 377 0770,

330 Cashel St,

Christchurch

www.blindcare.co.nz SCAN QR code for Info >

WE ARE OPEN

Mon - Fri

8.00am to 5.00pm

Discover Christchurch's

best priced pet

accommodation

• Daycare -

all breeds

• Long stay/

short stay

Call now to

book in your

fur baby,

inspections

welcome

anytime!

aLameDa

kenneLs & cattery

271 Dyers Road | Ph 384 1297

www.alameda.nz
---
2 Tuesday January 22 2019

Latest Christchurch news at www.star.kiwi

get in touch

from the editor's desk

A GREAT idea for the old Ascot golf

course on page 5 today.

Radio man Chris Bond wants to develop

a multi-sport training and entertainment

complex on the site.

Bondy's plan, in a submission on the

QE II Park Master Plan, says: "Its facilities will include a 280m

driving range, batting cages for cricket, baseball and softball,

state-of-the-art swing and training simulators, a dynamic

all-weather indoor mini golf course and a thrilling eight-lane

sack slide."

The question is, who will pay for it?

And if the master plan looks like it will drag on for years

before anything is done – like other master plans – why not

return the site to what it was: A par 3 golf course.

– Barry Clarke

GENERAL INQUIRIES Ph 379 7100

CLASSIFIED ADVERTISING Ph 379 1100

Star Media, a division of Allied Press Ltd

PO box 1467, Christchurch

starmedia.kiwi

news

Civic Award for veteran volunteer

Coleen Dunlop doesn't let age get in the way of helping

people.

Page 6

news

Well on the way to being chlorine-free

The city council gives an update on how work to upgrade the

water supply wells is tracking.

Page 7

community events

PEGASUS POST

Give your brain a workout

Have fun with words – try Scrabble at the Shirley Library on

Wednesday, 1.30-3.30pm, 36 Marshland Rd.

NEWS

Matt Slaughter

Ph: 021 910 788

matt.slaughter@starmedia.kiwi

ADVERTISING

Elaine Moon

Ph: 364 7436

elaine.moon@starmedia.kiwi

Page 16

The best-read local newspaper, delivered to

15,657 homes every Tuesday

Linwood, Avonside, Richmond, Shirley, Burwood, Dallington,

Wainoni, Bromley, Aranui, Avondale, Bexley, New Brighton,

Northshore, Queenspark, Parklands, South Brighton.

Kite Day

FREE

Saturday 26 January

1–4pm

New Brighton Beach

ccc.govt.nz/summertimes
---
PEGASUS POST Latest Christchurch news at www.star.kiwi

Tuesday January 22 2019 3

News

Civic Award for Coleen

• By Georgia O'Connor-Harding

COLEEN DUNLOP may be

turning 90 this year, but that

has never stopped her from

doing what she loves most –

volunteering.

After spending 17 years

with the Wainoni Avonside

Community Services Trust,

the Parklands woman has been

recognised with a Civic Award.

Mrs Dunlop is one of 12

across the city to have the award

presented to her by Mayor

Lianne Dalziel recently.

She said she was both "surprised"

and "really nervous" to

receive her award.

"I love it, I really do love it

. . . I like to do things and meet

people," she said.

Even undergoing a triple heart

bypass surgery 18 years ago

hasn't stopped her.

"I had no symptoms, I just

got very breathless. I was sent

in for an angiogram and then I

was sent up in Auckland. They

decided I needed my bypass,"

Mrs Dunlop said.

But she said the surgery has

not affected her since.

She was nominated for the

award by Trust co-ordinator

Betty Chapman, the trust's

patron Margaret Austin and

chairman Rodney Routledge.

Mrs Chapman said she is the

most amazing lady, she volunteers

most days and is always

thinking of others.

Mrs Dunlop volunteers on

average about three to five hours

a day at the trust.

"She is always thinking of

other people and worrying as to

their well-being and is always

wondering what she can do for

them to help out a little," Mrs

Chapman said.

Mrs Dunlop said she loved

meeting people and continued

to volunteer after her husband

passed away in 2004.

Mrs Chapman said when the

trust hosts Age Concern courses

or morning teas she is always the

one putting on the lunch refreshments

or morning high teas.

Mrs Dunlop also works on the

Wainoni Riverside Community

Garden and assists with the

Veggie Co-Op New Brighton

RECOGNISED:

After serving

the Wainoni

Avonside

Community

Services Trust for

17 years, Coleen

Dunlop has been

presented with a

Civic Award.

PHOTO: MARTIN

HUNTER

once a week.

"I love making cups of tea and

Betty and I get on so well together.

I always tell her I am old enough

to be her mother," she said.

Mrs Dunlop said a large joint

birthday party is planned in

September with her 29-year-old

granddaughter.

"You mustn't look ahead

though. It is too far to look

ahead. I am a one day at a time

person," she said.

Local

News

Now

In Brief

Fire rages, homes at risk

NO STABBING SUSPECTS

Police have not been able to

identify any suspects for a random

stabbing in North New Brighton.

A 45-year-old man was stabbed

on December 4 outside the Keyes

Rd dairy. He was taken to hospital

in a critical condition before

becoming stable. Originally, the

victim told police he thought the

attacker's face was familiar but

he did not know who he was.

A police spokeswoman said on

Friday that inquiries are ongoing.

SAND DUNE FIRE

A member of the public put

out a fire at the New Brighton

beach sand dunes on Thursday

by covering it in sand. Fire and

Emergency NZ spokesman

Andrew Norris said firefighters

from the Anzac station were

called to the incident off Marine

Pde, 50m south of the New

Brighton Surf Club, about 7.40pm.

When the crew arrived, they

found a member of the public had

put the fire out using a bucket and

shovel.

INJURIES FROM CRASH

A person was taken to

Christchurch Hospital with minor

injuries following a two-car

crash on Friday morning. The

crash happened at the corner of

Guthries and Marshland Rds

about 7.15am. The site was cleared

by 7.35am.

Lazy Sundays

Lyttelton Record Company

Showcase

Featuring Emily Fairlight,

Matthew Smith, Tom Maxwell

and Deep Water Creek

FREE

Sunday 27 January, 3–4.30pm

Archery Lawn, Botanic Gardens

ccc.govt.nz/summertimes
---
4 Tuesday January 22 2019

Latest Christchurch news at www.star.kiwi

News

Local

News

Now

PEGASUS POST

Fire rages, homes at risk

SPLASH: Youngsters at the South Brighton Surf Life Saving Club holiday programme make a dash to see if they have what it takes to be lifeguards.

These kids could save your life one day

• Matt Slaughter

THE NEXT generation of surf

lifesavers have been put through

their paces.

​A South Brighton Surf Life

Saving Club programme has

been teaching 40 aspiring

lifeguards the skills they need to

keep themselves and others safe

at the beach.

The school pupils are learning

some of the skills needed to save

lives and have fun while they're

at it.

Last week, pupils got the

chance to compete in board

paddling and swimming races, as

well as test their speed and agility

on the sand.

The fun isn't over, with

the programme continuing

this week. Club president

Rohan McNaughton said the

programme was a great way to

scout out new talent.

"They're learning how to use

the beach in a safe way, which in

a community that's this close to

the beach is quite important."

He said the programme aims to

teach the pupils the skills needed

to be both good lifeguards and

good people. The best lifeguards

from the programme will now

be encouraged to take up afterschool

surf lifesaving lessons to

further their skills and one day

maybe become senior lifeguards.

STUCK IN: Dylan Cox and Taylah Pope, of New Brighton, lead

the group out during another drill at the holiday programme.

(Right) – New Brighton's Eli Robertson charges out of the water

after a drill.

Read more about Chris's story

at www.hagley.school.nz

Learn YOUR way

at Hagley in Yr 12 & 13

Take the next step with one of Hagley's tertiary

pathway programmes or specialist courses.

From Sports and Recreation to Cuisine, Fashion, Pre-Health and Animation,

Hagley has a range of courses designed to pathway you to tertiary study or

help you gain real skills for work.

Visit our website today for more information on your study options for 2019!

Senior College Enrolment Day

Jan 29, 9.30-2.30pm & 5pm-6.30pm

(03) 379 3090

www.hagley.school.nz
---
PEGASUS POST Latest Christchurch news at www.star.kiwi

Tuesday January 22 2019 5

News

Local

News

Now

Multi-sport complex mooted for Ascot

Fire rages, homes at risk

• By Julia Evans

HE HELPED create one of the

biggest brands in Canterbury

radio with Si and Gary, now The

Breakfast Club producer Bondy

wants to reinstate the golfing

complex at QE II

Park.

More FM radio

producer and

Five and Under

Par Ltd owner

Chris Bond

has pitched his

Chris Bond

plan to lease the

former site of

the Ascot golf

course and driving range from

the city council to develop a

new "multi-sport training and

entertainment" complex.

"Its facilities will include a

280m driving range, batting

cages for cricket, baseball and

softball, state-of-the-art swing

and training simulators, a

dynamic all-weather indoor mini

golf course and a thrilling eight

lane sack slide," he said in his

submission on the QE II Park

Master Plan.

The master plan is a $12

million 10-year upgrade of the

37ha space. It includes plans for

new public toilets and changing

rooms, upgraded community

WHAT REMAINS: The former site of the Ascot driving range could become a golf hub again.

centre, playground, basketball

court and disc golf course.

His proposal included a

petition with 2938 signatures.

It also has letters of support

from Sport Canterbury, 13 local

schools, New Zealand Golf,

Canterbury Golf, Christchurch

School of Gymnastics, Waimairi

and Rawhiti golf clubs and the

North Beach and Northshore

residents' associations.

"The complex will feature a

range of facilities and activities,

strategically selected to fill a gap

in the current market and to

complement rather than compete

with other facilities in the area,"

Mr Bond said.

"In fact, this site is so well

suited to being a driving range,

it's what used to be there."

The Ascot golf course and

driving range was closed after

suffering significant damage

in the February 22, 2011,

earthquake.

The building was demolished

in 2012.

"We understand that the site

was impacted by liquefaction in

the 2010/2011 earthquakes, but

initial Geotech advice indicates

that with the appropriate

foundations, this site would still

be suitable for building on," he

said.

City council head of recreation,

sports and events Nigel Cox said

staff had met with Mr Bond over

his proposal three times last year.

"The draft QE II Park Master

Plan that was consulted on in

2018 did not include allocation

of space for commercial

development," he said.

However, it could be included

in the final plan if approved by

the city council's hearings panel.

Mr Bond will speak to the

panel on Monday before a

decision is made.

Bid to stop $1m QE II toilet block

• By Matt Slaughter

A BID WILL be made this

week to scuttle plans for a $1

million toilet block and

changing room at Queen

Elizabeth II Park.

City councillor Glenn

Livingstone says the

cost for the planned

200 sq m building is too

extravagant.

He said a less expensive

building should

be constructed and the

money saved from it

spent elsewhere.

Glenn

Livingstone

"You can build a good house

for $350,000, which includes the

infrastructure, sewage and water,

so I'm not sure what they

have in mind for $1 million,"

he said.

The master plan is before

a city council hearings

panel which will

make a recommendation

about the plan to the full

city council.

Cr Livingstone, who

is on the panel, said he

would voice his concerns

at the hearing.

Cr David East, who represents

the Coastal Ward, said he

couldn't comment because he

was on the hearings panel.

But Cr Jamie Gough agreed

with Cr Livingstone: "It sounds

like an extraordinary amount of

money. So it does make you question

the value of that."

The $12 million in the Master

Plan will go towards the construction

and repair of sporting

facilities that were lost and damaged

in the earthquakes, a new

playground and a community

centre upgrade.

Jamie Gough

He could not understand why

$1 million of that would be for

toilets and changing block.

City council head of

recreation, sports and

events Nigel Cox said

the $1 million budgeted

for the toilet and

changing room block

was an estimate.

The 200 sq m building

would have four

changing rooms with

showers and toilets,

a referees' changing

room, storage, public toilets, provision

of services and landscaping

including paving, vegetation,

seating, a drinking fountain and

cycle stands.

Mr Cox said $1 million

was seen as the necessary

amount to build a toilet

and changing room facility

that would stand the test

of time.

"Sport change facilities

are high use and built to

a high specification to

ensure longevity and

vandal resistance," Mr

Cox said.

Dyers Road Landscape

& Garden Supplies

• Barks • Peastraw • Composts - we supply the best available

• Aggregates - Chip, Round and Basecourse

• Pavers & Schist products • Pungas

• Decorative Stones & Landscaping Rocks

• Trailer Hire first hour free with purchase

• Bag & Bulk - pick up or delivered

David, Carol & Mike

We will deliver!

SOIL

AND

HARDFILL

DUMPING

Phone: 03 384 6540

183 Dyers Rd, Bromley • OPEN 7 DAYS

Weekdays 7.30am-5pm. Weekends 8.30am-3pm

www.dyersroadandlandscapes.co.nz

Quail Island

Adventures

Get the kids into nature and head to

Quail Island! A great day trip to a real

island with a fascinating history, in the

heart of Lyttelton Harbour. Just a 15

minute ferry ride from Lyttelton.

Book the DOC hut to stay overnight

(via DOC website).

SCHEDULE FREQUENCY DEPART LYTTELTON DEPART QUAIL ISLAND

Oct & Nov Daily 10.20am 3.30pm

Dec – Mar Daily 10.20am, 12.20pm 12.30pm, 3.30pm

Apr – Sep Weekends only 10.20am 3.30pm

blackcat.co.nz

book 0800 436 574

online

CRUISES

LYTTELTON & AKAROA

'Under 5's

free

on all trips,

all year!

FARE

Adult $30 Child $15
---
6 Tuesday January 22 2019

Latest Christchurch news at www.star.kiwi

PEGASUS POST

Your Local Views

Facebook a tool for police

Gary Knight responds to

an article on speeding in

New Brighton.

GIVEN THE volume of

speeding tickets issued in and

around the eastern suburbs

in the pre-Christmas period,

the instigation of checkpoints

was a pro-active step. Their

continuation to help combat

such offences as driving while

using a cell phone, not wearing

a seat belt and drink driving is

commendable.

However, additional factors

just as detrimental to road

safety include driving while

applying cosmetics, lighting

and extinguishing cigarettes,

selecting music, unfoiling

takeaway foods, paperwork

entries and child chastisement.

Within this context, these

instances when encountered

should attract similar instant

fines and demerit points to

create an overall balance in

the interests of road safety

awareness.

New Brighton

Bin Inn owner

Nikki Griffin

says the

community can

become better

connected

with the police

through social media

IF YOU look at posts on

community Facebook pages

over the holiday season, you see

post after post about break-ins,

vandalism, thefts, burglaries,

video footage of late night

wanders and cars being stolen.

These posts are normally

backed by photos, asking for the

names of the offenders.

It would seem that Facebook

pages have become the new

police.

We are now more aware of

crimes due to these posts and

they are not just limited to

communities on the city's east

side. This is happening all over

the city.

Often these posts start out

with negative comments that are

turned into an active discussion,

with some good outcomes for our

community in terms of wanting

to work together and with the

police to lower crime.

Over the Christmas period, I

have noticed more police walking

the beat and being met with a

positive response by people in the

New Brighton business area.

It is great to see people stopping

to have a chat with the police.

There seems to be a lot of

frustration around the opening

hours of the local station for

many in the community.

I believe a few simple things

could create a better connection

between the public and police,

including updates on staff

changes through our own local

police Facebook page.

The page could also be used

to inform locals about the areas

with an increase in petty crime

and what people need to do to

keep themselves safe.

COMMUNICATE:

Nikki Griffin

say the New

Brighton police

could use a

local Facebook

page to let the

community

know what's

going on in the

area.

With so many people

now using social media as

their main form of getting

information, is this an

opportunity for police and

communities to become better

connected and work together for

the benefit of all?

•HAVE YOUR SAY: Do you

think New Brighton could

benefit from a local police

Facebook page? Email your

views to matt.slaughter@

starmedia.kiwi

JOIN US NOW!

See website for details

LAZEEZA

JEWELLERS

Selected Sterling Silver Studs &

Toe Rings $7.50 (while stocks last).

BENDON OUTLET

Amazing $15 Bra Sale

(selected styles, terms & conditions apply).

STYLES MAY DIFFER TO IMAGE SHOWN

ASICS BACK TO

SCHOOL DEALS

All Kids Clothing 50% Off RRP.

Free Shoe Bag When You Spend

$80 on Kids' Product.

TIMBERLAND

Buy 1 Get 10% Off, Buy 2 Get 20%

Off, Buy 3 Get 30% Off, Storewide

(excludes socks & shoe care).

TAROCASH

Selected Shirts $19.99 Each or 2

for $35, Selected Polo's $19.99

Each or 3 for $50.

Sign up to Smart Deals & be in the monthly draw for a $100 Dress-Smart gift card!

Be one of the first to hear about the latest deals, sent straight to your inbox each week!

CHRISTCHURCH 409 Main South Road, Hornby

www.dress-smart.co.nz

Open 10am-5pm, 7 Days 03 349 5750
---
PEGASUS POST Latest Christchurch news at www.star.kiwi

Tuesday January 22 2019 7

News

Local

News

Now

What it takes to remove the chlorine

Fire rages, homes at risk

With the

clock ticking

on the city

council's

self-imposed

deadline

to end

temporary

chlorination of the

water supply within

12 months, water

supply improvement

programme manager

Helen Beaumont gives

an update on how the

work is tracking

IT HAS been a year since the city

council voted to temporarily add

chlorine to the drinking water

supply in response to advice from

the Canterbury Medical Officer

of Health.

Over the past few months we

have made significant progress

on upgrading the wells that

supply our water so that we

can get back to having an

unchlorinated water supply.

To date we have upgraded

25 per cent of our wells – by

volume of water produced – to

bring them up to a standard

that exceeds the present

requirements.

We've set the bar higher than

required because we anticipate

that more stringent standards

will be introduced by the

Government shortly.

Upgrading each well takes

between two and six weeks and

we can only work on a limited

number of wells at any one time

because we still to need supply

water to homes and businesses.

We have been running a water

conservation campaign asking

people to use less water so we can

continue work on the wells and

we really appreciate the efforts

people have been making.

Our data shows average water

use to date is well below the

summer averages for the past two

years. If that keeps up we should

be able to continue with the well

remediation work as planned.

By May we expect to have

completed interim upgrades on

19 below-ground wells and raised

another 41 wells above ground,

bringing the total number of

secure wells to 98.

Those wells collectively provide

more than 60 per cent of the

city's water supply.

If we upgrade those wells

as planned, we should

have a sufficient volume of

unchlorinated water to supply

the city over the winter months

when we use about 50 per cent

less water than we do in the

summer.

However, even after doing this

work, providing chlorine-free

water to everyone in every part of

the city remains a challenge.

The water supply is delivered

through nine discrete zones.

The central zone is our biggest

water zone and supplies water to

42 per cent of the population. It

is the oldest part of the city and

where we have the most wells

that need to be raised above

ground.

There is high demand for water

relative to the available capacity

in this zone and, therefore, very

little excess capacity. This makes

it difficult to do the necessary

upgrades.

To address the challenge in

the central zone, in addition

to the interim upgrades on

below-ground wells, we are also

working to install ultra violet

treatment at the main pump

station.

The main pump station is the

biggest supplier of water to the

central zone, and we are working

with the contractor on ways that

the installation can be sped up

so water can be treated with UV

instead of chlorine at this site.

We are also looking at whether

we can transfer water across zone

boundaries.

There are technical challenges

because of the different pressure

levels in some of the zones.

However, it may be possible

for us to use some of the pump

stations on the boundaries of the

central zone to push untreated

water into that area.

In addition, we are

investigating whether we can

make use of two private wells on

the Metro Sports Facility site.

They tap into deep aquifers

and were originally drilled for a

ground-source heat pump that is

no longer required.

They may be suitable to supply

potable water to homes and

businesses in the central zone.

We are confident that seven of

the nine city supply zones will be

chlorine free by May this year.

It is likely that we will have

sufficient water from secure wells

in the Ferrymead zone, and we

are doing further modelling of

water supply options and looking

at opportunities to fast track

works in the central zone.

In the meantime, we are also

looking at how we can reduce the

amount of chlorine in the water.

At the pump stations where

the chlorine has two minutes to

react with the water and disinfect

it before it reaches the first

consumer we have been able to

halve the dose of chlorine.

We are now looking at whether

we can re-route the water at some

of the other pump stations so we

can give the chlorine a longer

time to do its job before it reaches

the first consumer.

For example, if we can send the

water around the block before

it reaches people's homes, there

may be other pump stations

where we can also reduce the

dose.

Each pump station has

between one and six wells

supplying it. Where some wells

are remediated and some are not,

we have to chlorinate all of the

water unless we can isolate

the wells that haven't been

remediated.

We can only do that when the

demand for water is low.

When there are periods of

low demand we aim to only use

pump stations without chlorine.

It is only when absolutely

necessary, as water demand

rises, that we bring the

chlorinated pump stations into

service.

We all want the chlorine out

of our water and we are working

hard to ensure we can have an

unchlorinated water supply as

soon as possible.

PRECIOUS: Limit the time you

operate your garden hose.

Read more about Lucy's story

at www.hagley.school.nz

Learn YOUR way

at Hagley in Yr 12 & 13

Take the next step with one of Hagley's tertiary

pathway programmes or specialist courses.

From Sports and Recreation to Cuisine, Fashion, Pre-Health and Animation,

Hagley has a range of courses designed to pathway you to tertiary study or

help you gain real skills for work.

Visit our website today for more information on your study options for 2019!

Senior College Enrolment Day

Jan 29, 9.30-2.30pm & 5pm-6.30pm

(03) 379 3090

www.hagley.school.nz
---
8 Tuesday January 22 2019

Latest Christchurch news at www.star.kiwi

News

Edgeware Pool

group needs

$20k for

feasibility study

FINDING $20,000 to pay

for a feasibility study into the

Edgeware Pool is a new priority

for the community group behind

the project.

The St Albans Pavilion and

Pool Group is using a Givealittle

page to raise money for the study,

which will assess the practicality

of the pool's designs and whether

it will be enough of an asset to

the community. After the study,

the group can apply to major

charitable funders for money to

build the pool.

In 2016, the city council sold

the land for the Edgeware Pool to

the St Albans Pavilion and Pool

Group for $1. The council said it

would commit $1.25 million if

the group can raise the rest of the

$5 million cost. So far, more than

$150,000 has been raised for the

project.

"The support has been fantastic

from the community. It will be a

fantastic facility as we are a growing

suburb," said community

member Lynne O'Keefe.

•To donate, visit: https://

givealittle.co.nz/cause/

edgewarepool

TRANSFORMATION: A sketch of how the Pleasant Point Yacht Club will look when its new buildings are shifted on site.

New rooms on way for yacht club

• By Matt Slaughter

A SIX-YEAR wait for new

clubrooms at Pleasant Point

Yacht Club could be over by

April.

The club has been operating

out of five makeshift containers

since 2013.

After receiving building

consent in October, it has now

started to make preparations

to move two buildings from

Canterbury University's

Kirkwood Village block onto its

site at South New Brighton Park.

Pleasant Point Yacht

Club publicity officer Nigel

Humphreys said once the

buildings were shifted and

renovated, the club would once

again have fully functional

clubrooms and a separate toilet

and shower block.

Mr Humphreys said this

would be a huge change from

the containers it is operating

out of currently, which were

predominantly only used for

storage.

"At the moment, we don't

have any showers, any hot water,

any power, any facilities or any

toilets."

"Once we have this in place,

we will finally have some decent

Local

News

Now

PEGASUS POST

Fire rages, homes at risk

facilities that our club members

deserve."

Mr Humphreys said the

project would cost about

$800,000 by the time it has been

completed.

He said Pleasant Point

Yacht Club still needs

about$120,000 to make the new

clubrooms a reality and it is

looking into ways to raise the

money.

HEAT PUMP

SALE NOW ON!

Amazin' summer Specials!!

• We will offer you the best quality brands and

option of heat pump for your home/business

• Providing Heat Pump solutions for over 16 years to Cantabrians

• We personally guarantee all our products & installs for 5 years

(providing annual maintenance has been completed)

Phone us today for your free consultation & quote

41A SHAKESPEARE RD, WALTHAM

PHONE 03 366 0525

www.enviromaster.co.nz

"A local team for local people"

YOUR ONE STOP SHOP!

TYRES

NEW & USEd

WoF

FLAGS

TYRES

bOOk

IN NOW

FULL MECHANICAL

SERVICES

WHEEL

ALIGNMENTS

SPECIALISTS$49

Wigram - 341 1226 104 Hayton Rd

Woolston - 384 0000 49 Garlands Road

YOUR LOCAL GARAGE

• All vehicle repairs

• Oil changes and services

• Brakes • Loan car available

• Tyres, punctures & batteries

• W.O.F • Tune up

Your LocaL GaraGe

VERY FRIENDLY SERVICE AND ADVICE

NEW BRIGHTON AUTOMOTIVE

Phone: 03 388 3630

40 Hawke St (behind Z Petrol Station)

Restoring your confidence through your smile

Full service Denture Clinic

and Laboratory

Caldent Denture Cleaner

Free Consultation

No Obligation

Ph: 385 5517 + 396 Innes Road, St Albans

admin@denturesplus.co.nz

+ denturesplus.co.nz
---
PEGASUS POST Latest Christchurch news at www.star.kiwi

Tuesday January 22 2019 9
---
10 Tuesday January 22 2019

Latest Christchurch news at www.star.kiwi

PEGASUS POST

News

SKILL: Enjoy

a day out in

Hagley Park

and watch

the polo

ponies and

their riders

competing.

Big turnout expected

for Hagley Park polo

• By Louis Day

TICKETS ARE selling fast for

the Armstrong Prestige Hagley

Park Polo Classic on Sunday.

Director Jimmy Wood said

he hoped the event would

receive the same support as

last year.

"THe crowds last year gave us

goosebumps, we hope they all

return this year. You don't need

to play or even ride a horse to

enjoy the day – it's about being

with friends and enjoying the

beautiful surroundings."

THere will be a champagne

lawn which will feature oysters

and bubbles provided by Louis

Champagne and Oyster Bar.

Tickets for the champagne

lawn are $55 and are selling out

fast, there are also only two VIP

tables left.

THe gates will open at 11.30am

and the first game, a play-off for

third and fourth place will begin

at 12.30pm, followed by the final

at 3pm.

Family team Waireka, which

is made up of Roddy Wood and

his three sons, Charlie, Jimmy

and Henry, will be competing

against Style Magazine, Bayleys

Realty Group and Louis

Champagne and Oyster Bar.

Bugs under the spotlight

A NEW STUDY will shine some

light on insects in the red zone.

National Institute of Water and

Atmospheric Research freshwater

ecologist Michelle Greenwood is

investigating how a change in

the colour spectrum of street

lights could be affecting the

insects that live in and near

freshwater.

Street lights in Christchurch

and around New Zealand are

being converted from mostly

high pressure sodium lights,

which emit a yellowish light, to

more cost-effective, low energy,

light-emitting diodes with a bluer

light.

The city council is changing

38,000 street lights to LED lamps.

It estimates the move will save

$32 million in operational and

maintenance costs over 20 years.

Dr Greenwood said insects

are indicators of the health of

urban waterways, but little is

known about how the switch to

LEDs will affect them. If their

behaviour is altered, it could have

a flow-on effect for other plants

and animals.

"A lot of insects are more

sensitive to the blue end of the

colour spectrum, which means

they could be more attracted to

the new street lights.

If they are attracted to light,

INVESTIGATION: NIWA freshwater ecologist Michelle

Greenwood is investigating the impact of LED lights on insects

like caddisflies (inset) in the red zone.

PHOTO: NIWA

they are attracted away from

normal activities.

They might just fly around and

around the light until they're

exhausted and die."

Dr Greenwood will observe

insects, such as caddisflies, flies

and midges, emerging from the

Avon River in the red zone, as

well as other urban waterways, to

see how they behave around the

lights.

"The Avon is tidal so it may

mean that there are different

responses at different locations,

so we are hoping a pilot study

this summer will guide further

trials later in the project," she

said.

The first pilot test will see

sheets of clear Perspex coated in a

sticky substance mounted next to

the light to catch insects.

These will be replaced daily.

MISSING

MISSING

SURF'S UP SCOTTY RAZOR ROBERTSON PROFILE

APRIL 2018

Frankie (3yo female)

• Missing from Bray St,

Woolston 15/01/2019

• Mastiff/Rottie cross

• Desexed and

microchipped

• Likely let out or taken

• Very friendly

If you have any info please contact

Hilary 0273598146 or Luke 0297708330

TJ'S

CHASING

ONE

GREAT MORE

COVER

CALEB

CLARKE

The power

Frankie LINE

of Perenara

Chip off the

(3yo female)

old block

• Missing from Bray St,

SUPER Woolston 15/01/2019

• RUGBY'S

6 issues (1 year) $44.50

Mastiff/Rottie cross

1ST XVs

G.O.A.T 12 issues (2 years) PLAY $79 LIKE PROS

• Desexed and

A school boy rugby

microchipped 18 issues (3 years) $115 investigation

CORY JANE

• Social Likely Media let Animal out or taken

• Very SUBSCRIPTIONS friendlyPLUS...

FREEPHONE

RRP $9.95

KEEPING

If you have + 0800 77 Chief 77 10

WHO WILL

TABS any ON info please contact

Tabai's

MAKE THE

Hilary 0273598146 rugbynews.co.nz

MATSON Tron AB CUT?

or tribe

Luke 0297708330

Your local friendly Bar

200gm Steak, Salad & Fries

Just $15.50 or 2 for $25

With a drink purchase on Monday nights

Buy a main meal & get another

for $5 Sunday nights. Conditions Apply

Chats Bar

251 Travis Road,

QEII Shopping Centre

Ph: 388 1566

Tuesday quiz nights

Wednesday karaoke

Thursday live music

Sky Sports

Courtesy van
---
PEGASUS POST Latest Christchurch news at www.star.kiwi

11

News

Tuesday January 22 2019

Local

News

Now

Call for more dolphin monitors in port

Fire rages, homes at risk

• By Louis Day

A MARINE biologist has

criticised the Lyttelton Port

Company's use of a single

observer to monitor Hector's

dolphins in the harbour.

LPC is currently piling for

its new cruise ship berth. It has

promised

to cease all

pile driving

activity

when

Hector's

dolphins

come within

450m of the

Liz Slooten

berth.

However,

Otago

University marine biology

professor Liz Slooten said the

majority of dolphins are likely

to be undetected by a single

observer.

"With one person looking,

you are only going to see a small

fraction of the dolphins that are

out there."

Prof Slooten said this could

cause a lot of dolphins to be

vulnerable to hearing loss.

"They use sound for everything

– that's why people often say a

deaf dolphin is a dead dolphin."

Prof Slooten said the size of the

safety zone also makes it difficult

to detect the dolphins.

"The probability of detecting

Hector's dolphins drops quite

significantly with distance," she

said.

"At about 100m you only

see about 60 per cent (of the

dolphins), and about 200m you

only see a third, and at 400m you

would only see about 14 per cent

of the dolphins."

LPC strategic engagement

manager Phil De Joux said he is

confident its current plan will

mitigate the impacts of piling on

the dolphins.

"We have worked at putting

VULNERABLE:

Pile-driving at

Lyttelton Port

Company's

planned new

cruise ship

berth can cause

temporary or

even permanent

hearing loss for

the endangered

Hector's dolphins.

together this plan with a group of

experts with years of experience

from multiple disciplines."

Mr De Joux said 287 dolphins

have been spotted since it started

piling at the end of last year.

PARA PARA PARA PARA PARA PARA PARA PARA PARA PARA PARA PARA PARA

PARA PARA PARA PARA PARA PARA PARA PARA PARA

POOls iNstORE NOw!

limitEd stOck!

prism Frame round pool

4.57m x 1.22m

$899 NOw $699

intex Ultra Frame rectangular pool

5.49m x 2.74m x 1.2m

$1,699

127 Blenheim Rd

No rainchecks. Cash sales only.

PHONE 343 9820

intex Ultra Frame round pool

4.88m x 1.22m

$1,199 NOw $999

Krystal clear Saltwater System

$450 NOw $369

25% Off iNflataBlEs

Monday to Friday 8.30am - 5pm;

Saturday 9am - 4pm; Sunday 10am - 4pm

All items available while stocks last

www.pararubber.co.nz

blenheiM

clarence

Matipo

PARA PARA PARA PARA PARA PARA PARA PARA PARA

PARA PARA PARA PARA PARA PARA PARA PARA PARA PARA PARA PARA PARA

GARAGE

CLEARANCE

SALE

UP TO 70% OFF

WELL BELOW COST

Our loss is your gain! Grab a bargain at

our warehouse. We have discontinued lines,

measuring errors and cancelled orders.

Also, a small number of seconds. Come on

down and bring your measurements.

HURRY!

LIMITED STOCK

First in – first served!

Blinds

Curtains

Shutters

AND SAVE UP TO 40%

ON NEW CUSTOM-MADE PRODUCT

97E (Unit 3) Sawyers Arms Road

03 365 4666 | Mobile Showroom Service

Up the long driveway – just follow the signs
---
12 Tuesday January 22 2019

Latest Christchurch news at www.star.kiwi

PEGASUS POST

CHIROPRACTIC Brighton

Queen Size Mattress & Base

NOW $1,799

WAS $3,599

Medium Feel

50%

OFF

CLASSIC Kappa

Queen Size Mattress & Base

ONLY $639

EVERYDAY

DREAM

PRICES

CHIROPRACTIC Ahipara

Queen Size Mattress & Base

NOW $1,699

WAS $3,399

50%

OFF

Medium Feel

Firm Feel

SWISSTEK LATEX Brigitta

Queen Size Mattress & Base

NOW $2,799

WAS $5,599

50%

OFF

SANCTUARY Astor

Queen Size Mattress & Base

NOW $3,999

WAS $7,999

50%

OFF

Firm Feel

Firm Feel

Other Sizes & Models Available In-store!

BEDS R US CHRISTCHURCH

166 Moorhouse Ave, (Next To Noel Leeming)

Ph: 03 379 5110
---
PEGASUS POST Latest Christchurch news at www.star.kiwi

Tuesday January 22 2019 13

News

Local

News

Now

Perfect camping trip at South Brighton

Fire rages, homes at risk

• By Matt Slaughter

A FAMILY with a long history

of holidaying at South Brighton

was back this year for the camp's

busiest season.

Camper Scott Rushton said he

had been spending the festive

season at the South Brighton

Holiday Park since 1998, as it had

been one of his mum's favourite

spots.

It had since become a favourite

for his family and he said it was

great to see the park full with

campers after an uncertain

couple of years.

Mr Rushton continued to camp

at the park after the earthquakes

left it with limited facilities

because he wanted to show his

support in difficult times.

Park owner Sam Hawkins said

when he and his wife Jacquie

bought the park in 2017 they

were faced with a huge job to fix

damage from the earthquakes.

But the repairs have been made

and after a quiet couple of years,

Mr Hawkins said the number of

campers at the park had doubled

this season compared to the

last Christmas and New Year's

period.

"We had to close the park three

times over new year because it

was at capacity."

Though Mr Rushton and his

LOYAL: Scott Rushton and his family (above) spent the festive

season at South Brighton Holiday Park, owned by Sam and

Jacquie Hawkins (right), when it reached capacity.

family enjoyed camping at the

park for many years, he said the

mood had been extra special

during this stay.

"They've brought back what

was originally so good about the

place. It's a place to camp up and

meet people and have barbecues."

"Its a hidden little gem, which

I don't want to give away too

much, really."

Mr Rushton, his wife Sarah and

their four children Olivia, Lucas,

Fleur and Maddison travelled

from Leeston and stayed in a tent

at the park over the holidays.

He said it had all the

makings of a classic Kiwi

camping trip.

"The kids loved it. We were

only going out for seven nights

and we ended up staying for 11.

The weather was great as well."

Mr Rushton said the holiday

park had a lot to offer, which is

what kept him going back year

after year.

"I always knew what it was like

and always knew the potential it

had," he said.

"The beach is just down the

road and it's so sheltered that it

hardly gets any wind. It's just

mint."

Hanleys Essential Dog Roll

Essentials dog rolls have now rebranded to Hanleys Essential

Dog Roll under owner Philippa Hanleys animal nutrition banner.

Philippa has been making natural horse and dog food for over

10 years and lives locally in Geraldine.

Hanleys Essential Dog Roll are not just amazing meat. Philippas

own amino acids blend from Nz whey protein concentrate

are added along with organic minerals, rice and hemp seed oil

from Canterbury. Hemp seed oil has been dubbed 'nature's

most perfectly balanced oil', due to its 3:1 ratio of Omega 6

to Omega 3, deemed an essential requirement for long-term

healthy nutrition. Brown rice flour and other organic minerals

are also added, making the rolls full of clean protein and good

fats. Hanleys contains 18% protein so next time you are buying

your dog roll compare this figure. More protein means you

need to feed less, so you are receiving far better value for

money. Feed less and save more.

It is not just about what is in the rolls. What is missing is also

crucial. No preservatives or chemicals are added. Many pet

owners probably do not realise how hard preservatives are

on a dog's kidneys and how much damage they may cause. The

business mottos are: 'enhance all health' and 'health before

money'.

Feed just a portion of normal supermarket rolls due to the

superfood ingredients.

Available from Shop 33, Bishopdale Mall, Ph. 359 5118

or visit www.animalessentials co.nz
---
14 Tuesday January 22 2019

Latest Christchurch news at www.star.kiwi

PEGASUS POST

Exhibitors

Book now

Don't miss your opportunity to

showcase your business in front of

10,000+ qualified attendees

Jon.Holmes@starmedia.kiwi or 021 225 8225
---
PEGASUS POST Latest Christchurch news at www.star.kiwi

Tuesday January 22 2019 15

MAKING A SPLASH:

New Brighton's Kaden

McBeth, 10, is tipped

overboard by his sisters

Ava, 10, and Maia,

7, at the Jellie Park

Recreation and Sports

Centre. The family took

a dip in the pool to cool

off from the recent

heat.

PHOTO: MARTIN

HUNTER

WATER: Rhys Steele (above) and

Gus and Max Pheloung (below)

spent a day of their holidays

paddling on a lake at The Groynes

with the Youth Alive Trust.

SLIPPERY: Taison Page (above) and Lachlan Maxwell (right) enjoyed

the waterslide at the Youth Alive Trust's Grace Vineyard Church

holiday programme.
---
16 Tuesday January 22 2019

Latest Christchurch news at www.star.kiwi

PEGASUS POST

Email georgia.oconnor@starmedia.kiwi

by 5pm each Wednesday

JP Clinic at Shirley Library

Tuesday, 10am-1pm

A justice of the peace will

be available to members of

the community, to witness

signatures and documents,

certify document copies, hear

oaths, declarations, affidavits

or affirmations as well as sign

citizenship, sponsorship or rates

rebates applications. No charge.

Shirley Library, 36 Marshland

Rd

Playstation 4 Tournament

Tuesday, 12-4pm

Go and test your gaming

skills these holidays. Highest

score on the day will win a prize.

New Brighton Library, 213

Marine Pde

Creative Family Time

Tuesday, 2-3pm

Go and get creative at Aranui

Library. There will be arts

and crafts, 3D colouring and

interactive games. Free and good

for all ages.

Aranui Library,109 Aldershot St

Scrabble Club

Wednesday, 1.30–3.30pm

Go along to the Scrabble

club. No obligation, just go

along when you can and join the

friendly group. All materials are

supplied. No fee.

Shirley Library, 36 Marshland

Rd (by the Palms)

mBots

Thursday, 10.30am-12pm

Do you like solving puzzles?

Then go and have fun with the

friendly little mBots and have a

go at some of the challenges.

New Brighton Library, 213

Marine Pde

Technology help drop-in

sessions

Thursday, 3.30-4.30pm

Go along to our drop-in

sessions for help with email,

searching the internet, using

the library catalogue, eBooks,

and general computer

queries.

Shirley Library, 36 Marshland

Rd (by the Palms)

For the next seven days, the work of local artist Mark Ashby will be displayed at New Brighton

Library. Mr Ashby's art has been part of his journey to recover from a significant brain injury. He

says he uses his "distorted persona" to capture a unique view and hopes this will help others in

the same predicament. The exhibition will be held on Tuesday, Wednesday, Thursday, Friday,

Saturday, Sunday, Monday, 9am-6pm Monday-Friday, 10am-4pm Saturday-Sunday, at New

Brighton Library, 213 Marine Pde.

Beebots

Friday, 2–3pm

Help your Beebots find their

way around using entry-level

coding. An informal dropin

session to have a look at

how Beebots work. Free, no

bookings required.

Shirley Library, 36 Marshland

Rd

Cards Club

Friday, 1.30–3.30pm

This weekly card club is on

every Friday, just go along and

join the fun. Free, no bookings

required.

Shirley Library, 36 Marshland

Rd (by the Palms Mall)

Shirley Library's Culture

Exchange

Friday, 3.45-4.45pm

Go along and make new

friends, practice English and

learn about New Zealand and

Christchurch.

Shirley Library, 36

Marshland Rd (by the Palms

Mall)

Have a go day

Saturday, 10.30am-3.30pm

Go along to New Brighton

Library to give some new

activities a go. There will be

gardening, belly dancing, coding

and ukelele classes.

New Brighton Library, 213

Marine Pde

New Brighton Seaside Market

Saturday, 10am-2pm

Held in the Brighton Mall

every Saturday just across the

road from the beach and the new

children's playground.

New Brighton Pedestrian

Mall, cnr Marine Pde and

Beresford St

Golden Oldies Movie

Screening

Monday, 1.30pm

Rick Moranis and Ellen Greene

star in Little Shop of Horrors,

a 1986 musical where a nerdy

florist finds his chance for success

and romance with the help of a

giant man-eating plant which

demands to be fed. Running time

is 1hr and 42min. Arrive early for

a cuppa and a chat. $2 donation.

New Brighton Museum, cnr of

Hardy St and Seaview Rd

Holiday programme

Minecraft Game Zone

Tuesday, 10am-12pm

Minecraft Game Zone is a 3D

gaming experience that involves

creating your own virtual world

and interacting with others

online. To get the most out of

this programme, you'll need to

have a basic understanding of

Minecraft. Book in for a twohour

session and play to your

heart's content.

New Brighton Library, 213

Marine Pde

It's our

45th

Anniversary

year!

#areyouupforit

45th Anniversary

Retro T-shirt

available when

entries open on

1st December 2018

Sunday 24th March, 2019 www.city2surf.co.nz
---
PEGASUS POST Latest Christchurch news at www.star.kiwi

Tuesday January 22 2019 17

FOCUS ON HEALTH

1 in 2 people

deficient in B12

Emerging research has shown as many as 50% of older adults and

as many as 25% of younger adults are deficient in vitamin B12.

Scientists at Rush University Medical

Center found those most deficient

in vitamin B12 to have the smallest

brain mass and the lowest scores on

tests measuring short-term memory,

concentration and brain performance.

Another study showed that older people

with higher levels of B12 in their blood

have bigger, healthier brains and score

higher on cognitive tests than those with

lower levels. Yet another recent landmark

study showed that B12 supplementation

slows the accelerated rate of brain

shrinkage and declining cognitive function.

B12 is essential for energy production, cell

health, regulation of mood and sleep cycles,

nerve health and repair, and prevention

of homocysteine a serious cardiovascular

risk factor that is known to cause damage

and plaque in the blood vessels. It can also

increase the chances of a stroke. Harvard

researchers found

a 34% decrease

risk of vision

loss in a study

of participants

aged 40+ who

supplemented with

B12. Another study

linked a higher risk of hearing loss in

subjects in their 60's who were low in B12.

The reason so many people lack B12

appears to be our body's ability to absorb

it declining with age as the digestive

system becomes less efficient. Anti-reflux

medication and other drugs further reduce

B12 absorption. The good news is B12 in

the form of Methylcobalamin sublingual

tablets that are dissolved in the mouth and

thru bypassing the digestive tract have

been shown to effectively raise B12 levels in

the body.

Further detailed information is

available from the Natural Health

Advisers at Marshall's Health & Natural

Therapy, 101 Seaview Road, New

Brighton, Phone: 388-5757. We are always

happy to help!

CITY

2SURF

2

CITY2SURF

with Les Mills

Sunday 24 March

#Areyouupforit?

14km, 6km Community

Fun Run Event

with Les Mills

A

EVENT

It's our

45th

Anniversary Year!

ENTER NOW

www.city2surf.co.nz

City 2 Surf 2019_Entries Available

The tree of LIFE

New research on Gingko

Biloba excites researchers!

For decades scientists believed brain

damage with age, after a stroke or injury

was irreversible and brain neurons could

not be repaired. In more recent times,

new research has shown that neurons

can grow back with the right conditions

and that a special extract of Gingko

Biloba (EGb-761 or TEBONIN) has

been clinically found to assist in this.

The implications for stroke recovery are

obvious, but researchers also know many

of us suffer from undetected "microstrokes"

that over a period of time slowly

reduce our cognitive function. TEBONIN

is prescribed worldwide as a natural

supportive agent for a healthy brain and

cognitive function. It supports healthy

mental performance, concentration, focus,

alertness, motor function and to help

with many conditions including tinnitus

(ringing and noise in the ears), vertigo

and normal balance. TEBONIN improves

micro-circulation and helps the blood

flow reach those critical places it needs to

get. It is a potent anti-oxidant and makes

the red blood cells more pliable and

capillary walls more flexible.

TEBONIN is one of the most widely

studied and researched herbal products in

the world and is the only Ginkgo biloba

extract manufactured via a patented

multi-step extraction process. Each small

tablet contains a highly concentrated

IS YOUR BRAIN SHRINKING?

Brain fog, forgetful, feeling old, low energy, mood swings,

difficulty sleeping, pins & needles, numbness in legs

Up to 1 in 2 people may have a shrinking brain due to a lack of vitamin B12.

Supplementation of methylcobalamin B12 has been shown to reduce the rate of brain

shrinkage & support memory & brain function. B12 is also known to protect against

homocysteine a serious cardiovascular risk factor that can also damage the hearing,

eyesight & affect the mood. B12 is essential for energy, cell health & nerve function.

B12 SUPPORtS:

• Memory & Brain Performance

• Helps protect brain

from shrinking

• Energy & Recovery

• Nerve Function

• Vegetarian's Diet

• Helps protect blood

vessels from damage

• Sleep

• Cellular Health & Repair

• Good Health

• Cardiovascular Health

50:1 extract to give you a therapeutic

clinical dose without having to take a large

amount of the herb. Of 25 Gingko biloba

products on the market, and tested by a

major medical journal, only TEBONIN

passed all five of the test requirements.

Ten brands didn't meet any requirements

and the rest didn't pass more than three

out of five requirements. TEBONIN is

the only Gingko biloba extract shown

to activated all areas of the brain and is

considered the gold standard in Gingko.

TEBONIN has been trusted by millions

of consumers worldwide for over 30

years with more than 8,000,000 tablets

consumed each day.

TEBONIN and further information

is available from the Natural Health

Advisers at Marshall's Health & Natural

Therapy in New Brighton. PH: 388-5757.

They are always happy to help!

See a

difference

in as little as

48 hours!

SUPER PRICE OFFER

Superior Methylcobalamin B12

(High Absorption Sublingual Lozenges)

100 Lozenges 200 Lozenges

Only $ 32 .90 Only $ 59 .80

MAIL ORDER AVAILABLE

Bringing You the Best in Natural Health

MARSHALLS HEALTH & NATURAL THERAPY

CONSULTING - PRESCRIBING - DISPENSING - MANUFACTURING - MEDICAL HERBALISTS

101 SEAVIEW RD, NEW BRIGHTON • PH 03 388 5757 • Email: enquiry@marshallshealthshop.co.nz

- WE ARE ALWAYS HAPPY TO HELP! -

BOOST BRAIN

PERFORMANCE UP TO 30%

TEBONIN is the No 1 Ginkgo Biloba extract in the World with more than 8 million tablets

being consumed every day. It is also the most researched herbal extract with more than 60

controlled clinical studies & over 400 scientific studies. It has been shown to have excellent

efficacy, safety & tolerability. Millions of consumers have trusted TEBONIN for over 30

years to support blood flow, capillary health, brain health & performance.

Studies on TEBONIN Show:

- Improved Brain Performance & Function up to 30%. This includes improvement

in mental sharpness, focus, attention, concentration, understanding, memory & recall.

- Reduces errors made & mental stress.

- The only Ginkgo shown to increase activity in all areas of the brain. Can help restore

brain function after a brain injury such as from a stroke.

- Helps relieve tinnitus (ringing & noise in the ears), vertigo, dizziness & supports normal

balance.

- Improves blood flow to all areas of the body.

- Reduces plaque formation in the blood vessels.

- Protective effect against eyes damage caused by light.

MAIL ORDER

AVAILABLE

Bringing You the Best in Natural Health

- WE ARE ALWAYS HAPPY TO HELP! -

SUPER PRICE

One month supply

only $39.90

Save

$8.10

TEBONIN is a highly concentrated

proprietary herbal extract of Ginkgo biloba

leaves that has proven superior to other

brands under scientific scrutiny.

MARSHALLS HEALTH & NATURAL THERAPY

CONSULTING - PRESCRIBING - DISPENSING - MANUFACTURING - MEDICAL HERBALISTS

101 SEAVIEW RD, NEW BRIGHTON • PH 03 388 5757 • Email: enquiry@marshallshealthshop.co.nz
---
18 Tuesday January 22 2019

Latest Christchurch news at www.star.kiwi

continuing education

FREE Arts & Design

course, with NCEA built in

For those looking for a role that combines

artistic and digital talents, then this

outstanding, FREE, entry level course

delivered by local Training Provider Trainme,

is perfect for those wishing to pursue, graphic

design, photography or digital media as a

career.

The course covers the introduction to media

techniques such as drawing and photography.

Students will learn to use design software

and create their own design concepts while

collaborating with other students on creative

projects.

This course is FREE to students aged 16 to 19

and they only have to have NCEA 1 to join.

Students without NCEA 1 can be admitted, if

they show artistic or digital aptitude.

"Many feel that school is not working for

them or they left without qualifications,"

says Rhys Pollard, Marketer with tertiary

educator Trainme. "While not necessarily

academically minded, they do have artistic

talents and are very much into digital

technology."

"This FREE six-month Trainme course,

combines these in a very hands-on, practical

way, giving them an intro

into various digital media.

This way, they can decide

which direction to pursue

as their career focus."

"As an NZQA approved

programme, NCEA credits

are built in, so if they

apply themselves, they

can graduate with a New

Zealand Certificate in Arts

and Design Level 2, as well

as gaining credits towards NCEA level 1 or

2." Says Pollard.

"NCEA results will depend on how many

credits they bring to the course to start with,

but as it's a fun subject, it won't feel like school

at all."

Successful Graduates from this programme

PEGASUS POST

could pathway

into higher study

in media arts,

which could

include graphic

design, video

production,

photography

or one of the

many emerging

digital-based

careers. Places

are limited, so students are encouraged to

apply as soon as they can.

Enrolments are Now Open, for a February

start. Contact Trainme at their Addington

campus for more information on 0800 872

466, or txt 'ARTS' to 027 557 8839 or visit the

website www.trainme.co.nz to enrol online.

LESSONS, ENSEMBLE, AND AND INSTRUMENT HIRE

ENROL NOW FOR FOR LESSONS LESSONS

AND ENSEMBLES IN 2018!

AND ENSEMBLES IN 2019!

ALSO:

ALSO: • FUN FOUNDATION CLASSES FOR 2–7 YEAR OLDS

• FUN GROUP FOUNDATION BEGINNER RECORDER CLASSES FOR LESSONS 2–7 YEAR FOR OLDS

• GROUP $1 A WEEK! BEGINNER (INCLUDES RECORDER AND TUTOR LESSONS BOOK) FOR

$1 A WEEK! (INCLUDES RECORDER AND TUTOR BOOK)

Enrol now for 2018

Enrol now for 2019

csm.org.nz | 03 366 1711

csm.org.nz 03 366 1711

FOR ALL AGES

Christchurch

School of Music

The Christchurch School of

Music is a family-oriented

community aimed at

providing quality music

education in and around

Christchurch. The school

has been an important part

of the Christchurch music

education scene for 62 years

so why not come along and

join us?

CSM is a not-for-profit

organisation with a strong

focus on community.

From ages 2 to 92 we have

something for everyone. On

a Saturday morning the whole family can find

something to suit.

For the young ones there are pre-school and

junior school classes, "Take Off with Music",

41/2 year olds can start on Suzuki strings

and at 6 the recorder is a great instrument

to learn. In 2019 we have a fantastic deal for

beginner recorder players – just $52 for a year

of tuition and this

includes a recorder

Piano

Raewyn Clegg

Registered Teacher of

Piano and Theory of

Music.

29 Lancewood Drive

Halswell

Ph 322-9377

and a book!!

Older children

and adults may

opt for group or

individual lessons on

a specific instrument

(including voice).

With six orchestras,

two concert bands,

a Big Band, a jazz combo, 6 wind ensembles,

rock bands, two choirs, chamber groups, a

samba band and a guitar ensemble there is an

ensemble to suit all levels and all ages.

If affordability is an issue, CSM may be able

to offer a discount through funding provided

by the Rata Foundation.

Enrolments are open for 2019 so please

contact us via our website www.csm.org.nz

and let us start you on a musical journey that

will bring pleasure for a lifetime.

STUDY @ SIT

CHRISTCHURCH CAMPUS

60 Waterloo Road, Hornby, Christchurch 8082

ENROL NOW FOR 2019

ª AUTOMOTIVE

ª MAKEUP ARTISTRY

ª CONSTRUCTION

ª ELECTRICAL

ª HAIRDRESSING

ª SPORT, EXERCISE &

RECREATION

Call today or email sit@sit.ac.nz

0800 TO STUDY

www.sit.ac.nz
---
PEGASUS POST Latest Christchurch news at www.star.kiwi

Tuesday January 22 2019 19

www.studywithus.co.nz

Make your vision

your future

We have courses in:

FREe

CoURSES!

ARTS & DESIGN

*conditions apply

Come along to our information night

at our Christchurch campus!

DATE:

TIME:

30th February

7:00pm

LAST CHANCE TO

ENROL FOR FEB START

Text 'STUDY'

To: 027 557 8839

Phone: 0800 834 834

50 Hazeldean Road,

Addington
---
20 Tuesday January 22 2019

Latest Christchurch news at www.star.kiwi

PEGASUS POST

If you want more information about an item or to contact a

seller, visit www.postanote.co.nz and search the ID#

2004 Yamaha XJR1300 Bike

Yamaha NS 2000 Speaker System

1998 Toyota Estima Campervan

Vintage Crown Crystal Wine Glasses

Super Nintendo Classic Mini & TV

1997 Toyota Landcruiser

$6,200

ID 26309

$1,700

ID 26257

$4,900

ID 26199

$20

ID 26068

$125

ID 26154

$10,500

ID 25917

Three-seater Swing Seat

2012 Suzuki Splash

Avanti Vivace Bike

Dinghy Beach Trailer

2008 Holden Viva

Table Tennis Table & Accessories

$175

ID 25850

$8,000

ID 25865

$700

ID 25709

$400

ID 25628

$5,800

ID 25783

$170

ID 25609

2004 Honda Fit

Fran 30-1 Speed Reducing Gearbox Model

2007 Nissan Teana

Cast Iron Slipper Bath

2004 Nissan Serena

Vineyard or Cricket Club Roller

$4,200

ID 26280

$115

ID 5563

$8,500

ID 6110

$800

ID 25275

$3,250

ID 25047

$900

ID 26078

2004 Subaru Impreza

Mercedes-Benz A190

York Treadmill

Mitsubishi Diamante

Ford Falcon G6E

Samsung Washing Machine

$5,500

ID 25744

$4,500

ID 25721

$750

ID 26245

$1,500

ID 17224

$20,250

ID 24482

$200

ID 26157

Inflatable Boat

1997 Toyota Liteace

Potter's Wheel

Polo Digital Camera

2000 Mitsubishi Dion

Churro Maker

$3,600

ID 26105

$1,500

ID 25456

$175

ID 26087

$260

ID 26084

$3,000

ID 25010

$20

ID 26248

1999 Suzuki Vitara

Bailey Pegasus Caravan

CSB Huntsman Dorado Boat

2000 BMW 328i

Suzuki TU250X Bike

2013 Ford Focus

$5,500

ID 24825

$42,000

ID 25567

$26,500

ID 25965

$2,900

ID 25732

$4,750

ID 25651

$15,500

ID 23439

Wing Chair & Footstool

2002 Nissan

Toyota Estima Aeris L

Subaru Outback Wagon

Pat Donnelly Waterski

2007 Honda Civic Ferio

$450

ID 10720

$3,200

ID 24339

$3,990

ID 25975

$6,990

ID 24104

$300

ID 25805

$5,900

ID 22737

2116276chch-h
---
PEGASUS 2 [Edition POST datE]

Latest Christchurch news at www.star.kiwi

Tuesday January 22 2019 21

when you have your

AUTOMOTIVE PROFESSIONALS

Specialists offer

expert servicing plus

a valuable bonus

ROADSIDE ASS

Give us a call if you have a

✓ WOF ✓ Servicing ✓ Tune ups ✓ Cambelts

✓ Clutches ✓ Brakes ✓ Transmission flushes

✓ Coolant flushes ✓ Tyres and diagnostics

Whatever servicing or repairs your

vehicle needs, Avonhead Automotive Ltd

in Racecourse Road have the experience

and expertise to keep it running in

optimum condition.

They specialise in warrant of fitness,

servicing, tune ups, cambelts, clutches,

brakes, transmission flushes, coolant

flushes, tyres and diagnostics. They can

also provide a loan vehicle, so you are not

inconvenienced while your vehicle is in the

workshop.

However, not only do owners Michelle

and Wayne and their team at Avonhead

Automotive Ltd offer friendly, efficient

service and repairs for all types of vehicle,

they also provide a valuable bonus for

• new & quality

secondhand tyres

• alloy wheels

• replacement rims

• puncture repairs

WITH A MASSIVE RANGE OF TYRES IN STORE,

WHY NOT POP IN AND SEE US TODAY!

®

their customers. As part of the nationwide

Club Evolution, Avonhead Automotive Ltd

gives six months free roadside assist to all

customers that have their vehicle serviced

there. That means if you break down, you

will get the help you need to get you back

on the road. More information can be

found on the website clubevolution.co.nz.

Plus, WOFs are only $40 at Avonhead

Automotive Ltd. So, give them a call on 342

7123 to book in for a warrant, a service, or

for any vehicle repairs.

Avonhead Automotive Ltd is at 126

Racecourse Road. Opening hours are

7.30am to 5.30pm Monday to Friday and

8am to 1pm on Saturday.

European

Car Owners

NEW DIAGNOSTIC EQUIPMENT!

We can identify ANY electrical

fault & reduce repair work

with our NEW European Car

Specific Diagnostic Equipment

ROSES

AUTO ELECTRICAL

Enquiries welcome

CH 352 5090

s

m

a

r

t

mall

edium

• Panel beating

• Spray painting

Fast

turnaround

utomotive

epair

echniques

Sizzling

Saturday

$22

WOF

Bookings essential. Conditions apply.

WE'RE BACK!

NEW

LOCATION

95 Gasson St

Cnr Fitzgerald Ave & Hereford St.

Phone: 365-5220

workshop@a1auto.co.nz

free

Michelle and Wayne at Avonhead

Automotive will make sure your

visit is helpful and efficient.

Avonhead Automotive

For full terms and conditio

A vonhead

utomotive

6 months roadside assist

with any vehicle servicing

• automatic transmission

flushing service

• Wof • tune-ups • suspension

• batteries • neW tyres • oil &

lube service • courtesy cars

• full mechanical repairs

oPen 6 days (sat until 1pm)

126 racecourse road

Ph 342 7123 or 027 495 6600

The Automotive Lamp Specialists

8c Birmingham Drive,

(Cnr Hands & Birmingham Drive)

Ph: 03 343 0099 Cell: 027 226 3805

Website: www.jcmdirect.co.nz

Smart repairS (NZ) Limited

automotive refinishers

272 Lichfield St (Fitzgerald Ave end)

Ph 377-0409

New and Used Lamps for Cars, Trucks,

Vans, 4WD and Motorhomes

PH 0800 225 483 | 95 Gasson Street, CHRISTCHURCH
---
22 Tuesday January 22 2019

Latest Christchurch news at www.star.kiwi

REAL ESTATE

PEGASUS POST

A classic Kiwiana bach

46 Bayview Road, Charteris Bay

Price: $405,000

3 bedrooms | 1 bathroom | 1 kitchen/dining room | 1 living room | Off-street parking | Listing Number: 8375

Think Marmite, Pavlova, the All Blacks,

Buzzy Bees etc. etc., this quirky character

filled 3 bedroom classic bach takes us back

to a time when life was simple and less

complicated.

Nestled amongst large mature Manuka

and native trees and enjoying some of

the very best uninterrupted views in the

Harbour this wee charmer is on the market

for the first time in about 60 years. Set on

2 levels, private, sunny and with off-street

parking.

The living area which is upstairs to take

in those magnificent views has a woodburner

to keep things cosy. An added

bonus is a sleep-out set away from the

house and the 979m 2 site is bush clad so no

lawns to mow.

Only approx. 25 minutes drive from

the city come and discover the beauty

of Charteris Bay and all the area has to

offer including Orton Bradley Park and

golf course, beautiful walks and beaches,

nearby tennis courts and cafés and a short

ferry trip to check out Lyttelton.

Being so close to the city makes these

baches very useable, no more hours in

the car and it feels like you are in another

world.

For a private viewing, please contact

Tim Dunningham of Min Sarginson Real

Estate (Licensed Agent REAA 2008),

phone 027 651 5474 or 329 4161

growing with you June 2018 | 100%

Plants For

winter wow

Cool Choices

For Colour

& Contrast

From swamp

to sea views

The journey

begins with sarah

the Gardener

$7.90 incl. GST

Snap it up

Enter our annual

Birdlife Photo

Competition to win

great prizes!

clear the air

Why groWing

indoor PLAnTs is

so good for you

give it a grow

from gArLic

To chinese

ArTichokes,

We hAve your

groWing TiPs

covered

the latest releases

into the rose world

+ rose care

through winter

The magazine for

gardeners who like to get

their hands dirty

SUBSCRIBE FROM

$43. 50*

*6 issues/6 months

SUBSCRIPTIONS FREEPHONE

0800 77 77 10

WWW.GARDENER.KIWI
---
PEGASUS POST Latest Christchurch news at www.star.kiwi

Tuesday January 22 2019 23

Classifieds Contact us today Phone our local team 03 379 1100

Health & Beauty

Trades & Services

Trades & Services

Trades & Services

OVER 50'S SPECIAL ONLY $45

Footcare

Deluxe Package

Footpod offers a complete array of

footcare services to help you overcome

problems and maintain healthy feet.

. Athletes foot

. Fungus nails

. Ingrown toenails

. Warts, corns,

calluses & bunions

. General foot care

021 900 977

27 Forfar St, CHCH | www.footpod.co.nz

BUILDER

• New Builds

• Renovations, extensions

• Repairs and maintenance

• Plastering and painting

Ring Mark

027 229 7310

for a free quote

www.longsilverconstruction.com

FOOTCARE

OASIS

Senior Citizens Foot Care

25 Conway Street, Spreydon

Treating hard thick nails, calluses

and corns finishing with a foot massage

Price $30 Allow 45 mins

Home Visits available by appointment

Therapist – Amanda

(30 years experience)

Ph. 942-6036 for an appointment

HOURS ARE FLEXIBLE

plumber

Call your local plumber

Whether you're

looking for advice,

maintenance,

urgent repairs or a

FREE quote contact

Aquapro now.

0508 AQUA PRO | aquaproplumbing.nz

PLUMBING | DRAINAGE | GAS FITTING | SOLAR

Caravans, Motorhomes

& Traliers

CARAVAN Wanted to

buy. Up to $5000 cash

today 027 488-5284.

CARAVAN Wanted to

buy. Up to $5000 cash

today 027 488-5284.

Collision Repairs

QEII Collision Repairs.

Free Courtesy Cars

(conditions apply). All

Insurance work, rust

repairs & private work.

Spray-painting. Free

pickup & delivery. Ph. 03

388 5187

Community Events

ALCOHOLICS

ANONYMOUS, If you

want to have a drink that's

your business. If you want

to stop, we can help. Phone

0800 229-6757

ALCOHOLICS

ANONYMOUS, If you

want to have a drink that's

your business. If you want

to stop, we can help. Phone

0800 229-6757

Computer

Services

SeniorNet

Mac

Apple tuition & help

for any age group.

Apple computers, iPad,

iPhone and watch.

41 Essex Street

Mon, Wed and Fri

10am-12 Noon

Further details phone

352 4950

Wanted To Buy

AAA Buying goods

quality furniture, beds,

stoves, washing machines,

fridge freezers. Same day

service. Selwyn Dealers.

Phone 980 5812 or 027

313 8156

A+ Household effects,

fridges, freezers, washing

machines, ovens. Good

cash paid. Ph Paul 022

0891 671

TOOLS Garden,

garage, woodworking,

mechanical, engineering,

sawbenches, lathes, cash

buyer, ph 355-2045

Holiday

Accommodation

Australia QLD

SUNSHINE

COAST

RESORT

ALEXANDRA HEADLAND

All Units Have Ocean Views.

Heated Pools, Spa & Sauna,

Free Wifi, Tennis

& Mini Golf.

CHECK OUR GREAT

WINTER SPECIALS

www.mandolin.com.au

0061 7 5443 5011

JUNE to AUG temps 20C

ADD SOME

COLOUR

TO YOUR ADVERT!

AAA HANDYMAN

licensed carpenter

LBP, all property and

building maintenance,

repairs, bathroom/shower

installations, with free

quotes 03 383 1927 or 027

245 5226 ciey@xtra.co.nz

BRICKLAYER

George Lockyer. Over

35 years bricklaying

experience. UK trained.

Insurance work. EQC

repairs. Heritage

brickwork and stonework

a speciality. No job too

small. Governors Bay.

Home 329-9344, Cell

027 684 4046, email

georgelockyer@xtra.co.nz

*****************

CARPET & VINYL

Laying. Exp Repairs,

uplifting, relaying,

restretching. Email

jflattery@xtra.co.nz ph

John on 0800 003 181 or

027 2407416

FENCING

All styles and shapes,

gates, wooden, ph Mark

0273 313-223

CARPET

CLEANING & FREE

DEODORISING

3 rooms &

hallway

from $59.00

Quick drying

Over 20yrs experience

Our guarantee is your

satisfaction

ALRIGHT CARPET

CLEANING

Ph. 027 220 2256

GLAZIER

Glass repairs - pet doors

- conservatory roofs. Exp

Tradesman. Call Bill on

022 413 3504 or 981-1903

LAWN MOWING

All lawn & garden

maintence. Prompt

efficient service.Great

rates. Ph Paul 022 6206412

or 390 0016

LAWNMOWING

You Grow I Mow. Free

quotes. Ph / text Chris 021

252 1801

Friday Jan 25– Saturday Jan 26, 6PM

www.ruapunaspeedway.co.nz Infoline 3497727

HALSWELL

GLASS & GLAZING 2017 LTD

THE PET DOOR SPECIALIST

• PET DOORS

• NEW GLAZING

• FRAMELESS SHOWERS

• MIRRORS

• INSURANCE CLAIMS

• RETRO GLAZING

• BALUSTRADING

ALL SUBURBS COVERED FOR

ALL YOUR GLAZING NEEDS

PHONE GAIL OR SARAH ON

322 7999 OR 021 CAT DOOR

(228 3667)

PAINTER AVAILABLE

All aspects in painting.

Very competitive in roofs

and fences. Please call 027

241-7471 or 335-0265

PAINTER AVAILABLE

All aspects in painting.

Very competitive in roofs

and fences. Please call 027

241-7471 or 335-0265

PAINTER

DECORATOR

All int /ext painting.

Comp rates. I stand by

Canterbury. Wayne 385-

4348, 027 274 3541

Kids

14 years

& Under

FREE

Gates open at

4.30 pm

The 17th Annual SPRINTCAR GOLD CUP

The BIG GUNS are here– Buddy Kofoid (USA), Jason Pryde (Australia), Jamie McDonald (Auck), Jamie Larsen

(Palmy), Rodney Wood (Bay Park) taking on the mainland's best. 25 ENTRIES…. AND COUNTING!!!

Pre Purchase Tickets at Edge Parts

& Performance, 6 Distribution

Lane, Sockburn

PLUS

SUPPORTING

PROGRAMME PLUS

SUPPORTING

PROGRAMME

Kids 14

and Under

FREE

THIS IS THE BIG ONE!

Bonus! Friday Night includes the 'Salute to Goodie Classic' 20 Lap Sprintcar Feature

Friday- Adults $20, Students and Seniors $15, Children 14 and Under FREE: Saturday Adults $25, Students and Seniors $20, Children 14 and Under FREE

Eftpos at the Gate

ROOF REPAIRS

Locally owned & operated with

over 30 years experience.

• Extensions & repair • Roof coating

• Concrete & clay tiles • Butynol

• Malthoid • Asbestos Certified

• Coloursteel • Old iron • Guttering

Phone Dave 981 0278

or 021 223 4200

E: dave@beaumontroofing.co.nz

BEAUMONT ROOFING LTD

Lawns, Gardens

& Home Cleaning

Free Quotes

Professional, personalised

service. Regular &

one-offs. Fixed price.

Ph: 377-5814

For all your property and

cleaning requirements

Trained, insured & security

screened owner/operators

Multi-award winning

systems & Franchises

Franchises Available

www.viphomeservices.co.nz

PLUMBER

ALF THORPE

PLUMBING Certifying

Plumber for all types of

plumbing, maintenance,

spouting, alterations etc.

Phone 352-7402 or 0274-

350-231

SPOUTING CLEANING

Spouting Unblocked,

Cleaned Out and Flushed

Out. Call Trevor 332 8949

or 021 043 2034

STONEMASON

BRICK

&

BLOCKLAYER,

Earthquake Repairs, Grind

Out & Repoint, River/

Oamaru stone, Schist,

Volcanic Rock, Paving,

all Alterations new & old,

Quality Workmanship,

visit www.featureworks.

co.nz or ph 027 601-3145

TILER/CARPENTER

35 years exp, no job

too small. Ph Ross 027

4311440.

FOR ALL YOUR

★Garden Clean-ups

★Pruning

★Lawn Mowing

★Garden Maintenance

Call us today for a FREE quote

PH 0800 4 546 546

(0800 4 JIMJIM)

TILER/CARPENTER

35 years exp, no job

too small. Ph Ross 027

4311440.

T.V. SERVICE CENTRE

Repairs, tvs, microwaves,

audio amps, soundbars.

.Aerial & satellite

installations, kitsets, 480D

Moorhouse Ave, ph 03 379

1400

VHS VIDEO TAPES

& all camera tapes

converted to DVD, video

taping special occasions,

www.grahamsvideo.co.nz

ph 03 338-1655

CARPET

CLEANING & FREE

DEODORISING

3 rooms &

hallway

from $59.00

Quick drying

Over 20yrs experience

Our guarantee is your

satisfaction

ALRIGHT CARPET

CLEANING

Ph. 027 220 2256
---
24 Tuesday January 22 2019

Latest Christchurch news at www.star.kiwi

PEGASUS POST

SHIFT

to a Tech Career

in 2019

Combine ANY DEGREE with the innovative one year SHIFT

Programme and kickstart your new career today.

"I combined my Geology

degree with software

development skills to

land an amazing tech job

with Seequent." Isaac

"I secured a job with

RCG Creations after

proving myself to

them through my Shift

industry project." Harry

Find out more

at our Free

Pizza & Tech

nights

Jan 30 17 & 30

Book at:

signal.ac.nz/events

"During the Shift programme

I built my tech sector

network. I'm now a full

stack developer at tech

firm, Orbica." Sakinah

"The project work really

extended my new tech

skills. I am now working

with Datacom as a Project

Co-ordinator." Jess

Start YOUR new career

SHIFT commences February 2019

Get in touch now!

181 High Street (Level 1)

Innovation Precinct

Christchurch

0800 990 024

info@signal.ac.nz

signal.ac.nz/shift

SIGNAL is powered by: