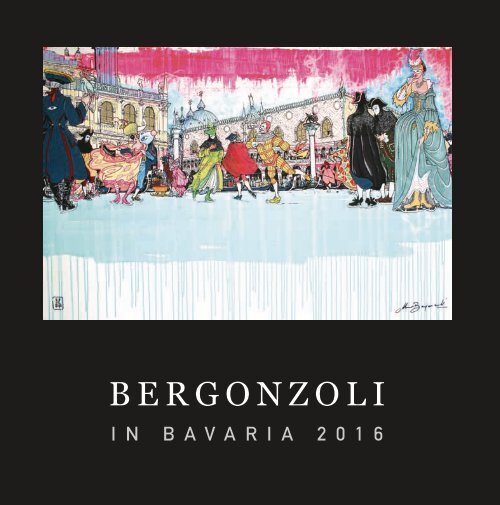 Mauro Bergonzoli Bavaria 2016
Create successful ePaper yourself
Turn your PDF publications into a flip-book with our unique Google optimized e-Paper software.
BERGONZOLI

I N B A V A R I A 2 0 1 6
---
BERGONZOLI

I N B A V A R I A 2 0 1 6
---
T

" hose who knew him, say Armando Testa, the greatest Italian advertising expert of the 20th century,

also acknowledged as the historical era of communication, was "the most artistic amongst

advertisers and the most anomalous amongst artists". This definition also applies to the art of Mauro

Bergonzoli, eclectic and provocative, a creator of ideas and images. With contemporary media bombarding

our daily lives, the artist brings metaphorical and surreal motifs generated by an ironic and

anti-academic vision of form, figure and composition.

In Bergonzoli's works, "The Lady with the Ermine" for example, becomes a hymn to our Italian excellence

and our culinary traditions, breaking up objects and cubist-renaissance-esque faces, accompanied

by Pop language as a courageous antithesis between modernity and classicism. Paying homage

to great masters plays a pivotal role in Bergonzoli's array of work, all the while harmonizing style and

value with educated and humorous references. As a result, a face influenced by the American artist,

Roy Lichtenstein, adds somatic details, turning into a Miró in which the eye holds introspective and

investigative value. At the same time a water lily lake winks at Monet without forgetting how much

the abstraction of the 20th century has completely shocked and turned upside down the naturalism

of the 19th century and the first optical experimentations which followed, converting them into public

icons of our time. In other works, Bergonzoli technically combines painting and handwriting, a kind

of growing mural etching telling stories of exotic scenes with oriental interiors as a visionary interpretation

of space and time, so important for the definition of a contemporary image.

In other moments the artist reminds us how 20th century esthetics has married design, reaching

us in the form of cars to be bought and desired, as they have become symbols of social status with

eternal appeal. What strikes most about Bergonzoli's art is without a doubt his pure and innocent

worldview, free of formal or fashionable superstructures, reaching his viewer directly and with the

immediacy of a commercial. After all, Pablo Picasso once said that in order to paint like a child he

would have had to work an entire lifetime. And so also the opening words on Bergonzoli's website,

contemporary instrument of communication, express the following: " I have arrived where I wanted

to begin", a testimony to his profound awareness of existence, research and art."

Dr. Guido Folco

Art- Historian, Art Critic

Director and President

Museo MIIT Torino

"The color, expanded by the artist in plain form, as if it were a print, or shaded by the superposition

of matter, reminds the audience of the first experiences with a young Pop Artist who began to show

his works to international critics.

Perhaps, even when we stared in amazement,for the first time, at the works of Roy Lichtenstein,

we already felt attracted by those bold and straightforward words represented by the symbol of a

black, defined stroke. This same symbol is found in the hands of Mauro Bergonzoli."

Daniele Crippa

President of Museo del Parco

Portofino

"Mauro Bergonzoli is, undoubtedly an ironic translator of reality. In comic shape and vivid colors,

Mauro Bergonzoli, using the language of Pop-Art, confronts the common places of a metropolitan

lifestyle, trampled by mass culture. Here is an artist who, without fearing the pollution of life,

but working with it instead, proposes visual work made up of scenes we always see, managing to

make them stand out like an advertisement designed to last and promote thinking rather than

just functioning as a fast sales campaign."

Francesco Gallo

Art Critic

"Mimmo Rotella in "The Gesture" grabbed manifestos from the cities' streets and walls to later combine

them in synthetic and complex images as a mirror of a scaled society. Bergonzoli's eye sees the

world in this way, stealing fragments of life, impressions, gestures and emotions to translate them

into works which are the quintessence of our chaotic daily life. Bergonzoli doesn't want to own reality

as Pop Art does, he wants to create his own and personal reality within it, in which the dynamism

and movement of his characters, the vivacity of color and the composition of the work of art are in

perfect symmetry, with his very own well-defined and never ordinary style.

Picasso has defined art as "a lie that helps us recognize the truth." This calls for a look at the complexity

and not the linearity of the real world. Bergonzoli observes life and reproduces it with firm,

precise strokes, essential In the conception of art that is open to everybody, to be understood everywhere."

Francesca Bianucci

Art Curator

4 5
---
The fantasy of ice skating

on Piazza San Marco

becomes a reality in this

contemporary interpretation

by Mauro Bergonzoli.

Protagonists of high society

dressed in lavish Carnival

costumes and colourful

dresses, twirl on cold

turquoise surfaces dripping

off the canvas. The

love the northern Italian

artist has for the famous

Lagoon city is once again

manifested in this Canalettoesque

homage.

Venice on Ice – 2016 acrylic

6 on canvas 80 x 120 cm

7
---
Inspired by Giovanni Tiepolo's Masterpiece, "Neptune Offering

Gifts to Venice", this painting tells the story of Neptune

bringing his riches from the Oceans to Venice. The rise in

popularity of mythology and the world of the Gods was very

much in fashion during the Renaissance. Bones of Saints

stashed in endless holy tabernacles all over the Lion City of

merchants alone were never enough for Venice to keep luck

and prosperity on her side. She was ever dependent on

riches arriving from the seas. Since 1177, with the discreet

permission of Pope Alexander III, a special mythical tradition

began and is still practiced today. In a festive celebration

once a year, the Doge, with his majestical boats, would embark

out to open waters and throw his ring into the ocean,

symbolising the marriage of Venice and the Sea. This resulted

in good omens for successful business and unending

good fortune.

8 Neptune's marriage to Venice – 2016 acrylic on canvas 80 x 120 cm

9
---
Piazza San Marco, Canal Grande, Carnevale and Snow in

Venice are other examples of Bergonzoli's modern illustrations

of one of the most spectacular cities ever built. All are free of

the current contamination and suffocating tourism and instead,

highlight the unrivaled romance, storied history and the ethereal

beauty that once defined this grandiose and ancient city.

10 Piazza San Marco – 2016 acrylic on canvas 50 x 70 cm

Canal Grande – 2015 acrylic on canvas 80 x 120 cm

11
---
12 Snow in Venice – 2016 acrylic on canvas 50 x 70 cm

Carnevale – 2016 acrylic on canvas 150 x 120 cm

13
---
The late Robert Hughes, chief art critic of TIME MAG-

AZINE for over 30 years, acclaimed writer and documentary

film maker, once made this statement:

"One gets tired of the role critics are supposed to

have in this culture: it's like being the piano player

in a whorehouse; you don't have any control over

the action going on upstairs."

This painting, "Art World" is Bergonzoli's documentation

of the current art market with all its

fairs and biennales spanning the globe. In the language

of paint, he points out what the little boy in

the emperors new clothes said in words.

14 Art World – 2016 acrylic on canvas 120 x 150 cm

15
---
Bergonzoli often paints

during live music concerts

organised for

his art collectors and

friends. From classical to

rock, he usually works

in his Atelier with inspiring

and energetic

music as his backdrop,

Jazz being a personal

favorite. In Blue Jazz,

this painting transports

its viewer into a world of

good vibrations oozing

directly from the soul.

The viewer is immersed

into a grooving room of

singing instruments and

funky musicians, with a

lovely lady at its center,

happily tickling the ivories

of her piano.

Purple Rain was playing

non-stop during the creation

of this portrait of

the legendary Minneapolis-born

musician, the

artist formerly known as

Prince, whose early and

tragic death occurred on

the Queens 90th birthday,

April 21st, 2016.

It is one of the several

portraits Bergonzoli has

done of famous artists

he admires.

16 Blue Jazz – 2013 acrylic on canvas 120 x 80 cm

Prince – 2016 acrylic on canvas 150 x 120 cm

17
---
A powerful pink stallion carries a slender lightly dressed goddess

on his back through the moon and starlight drenched

garden. Weeping willow branches drape the dreamlike image

of the elegant Amazon as she rides past a water lily lake, accompanied

by a fluttering family of brimstone butterflies. Every

girl's dream becomes a reality in this masterful painting infused

with elegance and grace, fantasy and beauty.

18 Moonlight Rider – 2016 acrylic on canvas 120 x 150 cm

19
---
The Oceans and the riches they bring is a common subject in Bergonzoli paintings.

He often cooks himself and is aware of the current global sustainability issues that

demand our proactive attention to the protection of our waters. As a result, finding

high-quality Lobsters or Oysters has become more and more difficult and is a rare

luxury to be enjoyed on the plate or in this case, on the wall. This modern version of

a still-life motif often painted throughout history from the 17th century Dutch artist,

Jan Davidsz. de Heem to the American Pop Artist, Roy LIchtenstein, this painting illustrates

Bergonzoli's appreciation for these precious sea creatures and our oceans.

In a recurring theme of the artist's oeuvre with Magic Bunnies, they appear again,

falling from the sky, asking questions or admiring the beautiful women who make

appearances on his canvases. Bergonzoli invented this character for the first time

in the year 2006 in a painting filled with magic bunnies. The bunny symbolizes the

importance to keep laughing, reproducing, having fun and believing in miracles,

without forgetting to look at the world with your own creative vision. The latter

keeps the magic alive!

20 Lobster and Oysters – 2016 acrylic on canvas 100 x 100 cm

Magic Bunny Rudolph – 2016 acrylic on canvas 100 x 100 cm

21
---
22 Magic Bunny Dots – 2016 acrylic on canvas 100 x 100 cm

Magic Bunny pharmacy – 2016 acrylic on canvas 100 x 100 cm

23
---
The famous legend of Lady Godiva dates back to the 13th century. After taking on a bet with her

husband, Leofric, Earl of Mercia, the wealthy Countess rode naked on horseback through the town of

Coventry in order to convince Leofric to soften the strict tax laws on his tenants. The night before the

infamous ride, she ordered everyone to shut their doors and windows so their eyes wouldn't see her

naked body. However, a tailor who became known as "peeping Tom" had drilled a hole in his shutters

to watch the beautiful Countess and was struck blind at her sight. Lady Godiva apparently won the

bet and taxes were lowered. In this painting, "Lady Godiva in the Museum", Bergonzoli has again

immortalized her, but as an iconic sculpture surrounded by art lovers inside a contemporary museum.

Bergonzoli is not a

big fan of playing

games, yet when it

comes to love, he

has always put his

cards on the table.

After two divorces,

the message in

this painting is the

following: Taking

good care of your

Queen of Hearts

keeps luck on your

side and your children

happy.

24 Queen of Hearts – 2013 acrylic on canvas 70 x 50 cm

Lady Godiva in the Museum – 2016 acrylic on canvas 50 x 70 cm

25
---
26 Summer Lake – 2015 acrylic on canvas 100 x 100 cm

Water Lilies Blue – 2015 acrylic on canvas 100 x 100 cm

27
---
Bergonzoli's Water Lily works, when hung on walls, create portholes to other magical

Edens, transcending our present world and into internal peace, visual pleasure

and holistic health. The soothing power of the images is a modern day homage to

the one and only Claude Monet, who understood the power of paint, brushes and

imagery from Mother Nature as a visual reminder of the fragility and beauty of our

natural world.

28 Water Lilies Detail – 2015 acrylic on canvas 100 x 100 cm

Water Lilies Green – 2016 acrylic on canvas 100 x 100 cm

29
---
A salute to guilty pleasures coming straight to you from

the artist. For a man, owning cars, horses and enjoying

the company of a beautiful woman by his side has

symbolized power and wealth throughout the ages. As

a real Italian, Bergonzoli loves not only the ladies' but

also fashion and beautiful cars. These contemporary

works are examples of this love expressed in vivid, expressive

color on canvas.

30 Pour Hermès – 2016 acrylic on canvas 100 x 100 cm

Ferrari – 2016 acrylic on canvas 80 x 120 cm

31
---
32 RUF CTR Yellowbird – 2016 acrylic on canvas 120 x 150 cm

Enjoy Coca Cola – 2009 acrylic on canvas 120 x 80 cm

33
---
Light Mirror – allo specchio

Design Light – different points of view

34 Lucky Rooster diptych – 2013 acrylic on canvas 70 x 50 + 70 x 50 cm

Light sculptures

35
---
Bergonzoli Minis

New Bergonzoli Mini paintings on canvas are now available and

perfect for art collectors with smaller budgets or less wall space.

36 Water Lilies Mini – acrylic on canvas 20 x 30 cm

Gondola Mini – acrylic on canvas 20 x 30 cm

37
---
38 Mozart Allegretto Mini – acrylic on canvas 20 x 30 cm

Maharadscha Mini – acrylic on canvas 20 x 30 cm

39
---
"Dopo il Ballo in Maschera" – art collection Julia Oetker

Just as it used to be common during Renaissance

times and the days of Caravaggio, Goya, or Anthony

van Dyck, there are many people still today

who request a special piece of art created exclusively

for them by the artist. Mauro Bergonzoli

accepts his client's made to measure orders and

Art commissions

paints every painting 100 % with his own hands.

His long experience in the advertising and film

world make him flexible enough to carefully translate

his collector's wishes into portraits, frescos,

unique fashion pieces, or sculptures.

40 41
---
"Jakob in Venedig"

art collection Fürst Fugger

Privatbank

"Constantin"

art collection Dr. Fritz

"Askan and Demi"

Private art collection

"Princess Anna"

art collection hereditary

prince oettingen-wallerstein

Portrait "Contessa"

art collection Countess

Franziska Fugger-Babenhausen

Neptune Fresco – Portofino

Private art collection

42 43
---
"Yoanna and Charlie"

art collection Charlie Hanbury

"White Turf" - St Moritz

Private art collection

Magic Fireplace - Milano

Private art collection

Design Lamps

art collection

Hubert Burda Media

44 45
---
The Country Atelier

Mauro Bergonzoli works in

his Bavarian "Giverny" circa

1 hour away from Munich

where he receives collectors

and art lovers from around

the globe. During his painting

breaks he tends to his

botanical park and water

lilies lake in order to absorb

inspiration for new works.

A 400-year-old farmhouse

serves as a guesthouse for

visitors who wish to take

time to see the art paradise,

discuss their wishes

for a commissioned piece

or choose their favorite

painting.

Contact:

Mauro Bergonzoli

Country Atelier

Kohlstattstr.8

87757 Kirchheim-Tiefenried

Bavaria – Germany

office +49 8266 869230

mobile +49 1787423606

moneypenny@

maurobergonzoli.com

Mauro Bergonzoli international

contemporary artist

Born December 24th 1965 in Milan Italy.

Painting, drawing, sculpture, design,

animation, film

Mauro Bergonzoli was born as the son of an

engraver in Milan Italy on december 24th

1965. In his father's workshop he learned at a

young age how to master the craft of drawing

and precision. At 14 he entered art school and

soon began selling his first paintings and comics.

Following a successful career in the advertising

and commercial film industry, he dedicates

himself completely since the year 2000, to the

production of his own original artwork . After his

exhibitions received great recognition all around

the globe, Bergonzoli has found his Country Atelier

headquarters near Munich, Bavaria. With his

modern Neo-Pop-style of painting he revisits historic

subjects and reminds his observer of humanity's

beauty and fantastic achievements.

www.maurobergonzoli.com

+49 1787423606

moneypenny@maurobergonzoli.com

Instagram – bergonzoli.mauro

46 47
---
Exhibitions:

2016 From Picasso and Miró to Contemporary Artists

– Site Oud Sint–Jan – XPO Center Bruges –

Belgium

2016 Bergonzoli in Bavaria – Bayrisches National

Museum, Munich, Germany

2016 Creative Art and Food – Museo MIIT – Torino,

Italy

2016 Bergonzoli Minis– Mozart Festival –

Fürst Fugger Privatbank, Augsburg Germany

2011 "The Magic Trip" Galerie Terminus, Munich,

Germany

2010 "Finissage" Fürst Fugger Privatbank, Augsburg,

Germany

2009 "Living and Modern Art" – Fürst Fugger

Privatbank, Augsburg Germany

2008 Galleria A.S. Contemporanea, Forli – Museo

Mim, San Pietro in Cerro – Villa Arconati,

Milano, Italy

2008 Museo de Arte Tigre, Buenos Aires, Argentina

Artfairs:

2013 Art Miami

2012 "Grafik 12" Art FAIR , Zurich, Switzerland

2011 Art Miami, Art FAIR, Miami, USA

2011 Art Fair 21, Köln, Germany

2007 Biennale Venezia, live performance Joseph

Buys stand

2007 Venezia, Italia

Other Projects:

2016 Portrait of Jakob Fugger the rich – limited

edition postal stamp – Germany

2014 Bergonzoli Design Lamps for Hubert Burda

Media

2014 Mauro Bergonzoli for converse –

limited edition

2014 Mozart Festival – Augsburg –Exhibition, live

painting and charity auction for gifted children

in music

2016 Jakob in Venedig – Fürst Fugger Bank –

Augsburg, Germany

2015 Music and Art with Gerhard Polt – Country

Atelier – Kirchheim, Bavaria, Germany

2015 Jaguar White Nights – Exhibition Opening

and live painting performance, Kolbermoor,

Bavaria, Germany

2015 Country Life – Exhibition Opening at the

Country Atelier – Kirchheim, Bavaria, Germany

2014 Bergonzoli in Bavaria – Exhibition Bayrische

National Museum – Munich, Germany

2014 Mozart – Exhibition Gut Bannacker –

Augsburg, Germany

2014 Mauro Bergonzoli – selected works –

Hubert Burda Media – Communication

Highway – Munich, Germany

2014 Magic Bunnies – Exhibition at Egerner Höfe –

Rottach Egern, Germany

2013 Pferd International, Munich, Germany

2012 "Göttinnen" – De Martino Gallery, Munich,

Germany

2012 "Magic Kisses" – for Wrigley's Spearmint,

Galerie Einstein – Berlin, Germany

2012 Moving Images" Scheublein Fine Art Gallery,

St. Moritz, Switzerland

2007 Galleria A. S., Milano – Venice Art Fair, Forli –

52 Biennale di Venezia, Venice, Italy

Autoria Art Gallery, Buenos Aires, Argentina

2006 Galleria Bocca, Milano, Galleria A.S. Contemporanea,

Forli – Museo del Parco, Portofino,

Italy

2004 Galleria A.S., Milano – Galleria Studio,

Buenos Aires, Argentina

2003 Wilson Art Gallery, Montevideo, Uruguay

2000 Galleria Studio, Buenos Aires, Argentina

Group Exhibitions:

2013 "Lebensmotor. Was uns antreibt" – Mercedes

Benz Headquarters, Munich, Germany

2013 Domaine des Arts – St. Tropez, France

2011 "Wunderkunst Vernissage" Wunderkunst,

Art de Vivre, Munich, Germany

2011 Polo + Art – Berenberg Polo Derby – Flo Peters

Gallery – Hamburg, Germany

2010 Omeoart, Boiron – Homeopathic Medicine,

Lyon,France

2008 Omeoart, Piacenza, Italy – Fondazione D´ars

Oscar Signorini, Castell´Arquato, Italy

2007 Omeoart, Milano, Italy – Il Colore Del Domani,

Palazzo Ducale, Genova, Italy

Advertising and Film in Milan, Italy

1984 First publications of cartoons and storylines

for Corrier Boy Cartoon Magazine

1985 Free lance art director and illustrator for

Unilever, Minolta, Ferrero, Mercedes, Bayer,

Lipton Ice Tea

1991 Creative director for Transatlantic Milano

advertising agency

1993 First advertising agency "Reclam" working for

Casio, Lorenz, and BAI BANK

1995 Joint venture with Landó Nardi agency

advertising products for Ferrero, Invicta Sport

Wear, De Fonseca, Ras Bank

1997 Joint venture with "No advertising" agency

producing campaigns for Diadora Sport Wear,

Ferrero, Scarpe e Scarpe, Nardi cucine, Ciao

Web social network for Fiat

1997 Opens advertising agency "Los Angeles"

inventing special products for clients: Kinder

Surprise, San Carlo Chips, Wackos, Ferrero

Nutella seasonal campaigns, Varadero Rum,

Carrera sun glasses

1998/ Director of short films a imation made for

2003 Ferrero "Esta Thé" and Kinder Surprise,

Nutella Christmas, Executive, Ciao Web, Geox

shoes, San Carlo Chips

2013 Rita Hayworth 30th Alzheimer's Association

Gala – Waldorf Astoria New York City –

Mauro Bergonzoli painting donated for the

silent charity auction

2013 Charity project Scarf Painting for

Gut Aiderbichl animal sanctuary

2013 Hadassah Hospital charity donation –

painting and painted Mercedes Benz

Smart car

2013 Lebenshilfe München e.V. painting donation

auctioned off for charity at Pferd International

2013 in Munich, Germany

2012 Ritzenhoff "my little Darling" Espresso Cup –

designed by Mauro Bergonzoli

48 49
---
www.maurobergonzoli.com