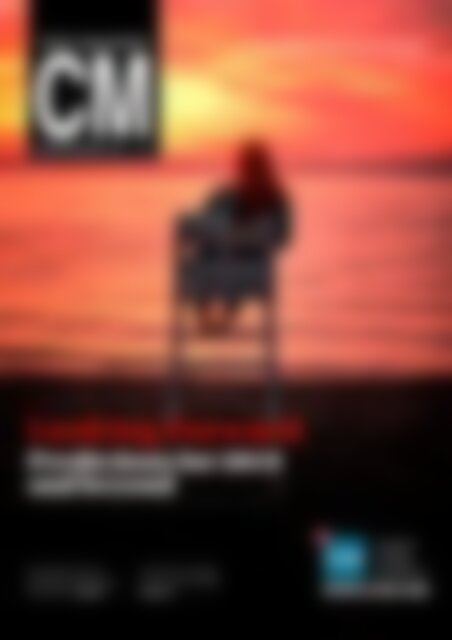 Credit Management Jan:Feb 2019
The cicm magazine for consumer and commercial credit professionals
The cicm magazine for consumer and commercial credit professionals
SHOW MORE
SHOW LESS
Create successful ePaper yourself
Turn your PDF publications into a flip-book with our unique Google optimized e-Paper software.
CREDIT MANAGEMENT

CM

JANUARY/FEBRUARY 2019 £12.50

THE CICM MAGAZINE FOR CONSUMER AND

COMMERCIAL CREDIT PROFESSIONALS

Looking Forward

Predictions for 2019

and beyond

80

YEARS

Strengthening the

Insolvency regulatory

framework. Page 5

Sean Feast speaks

to Tim Vine of D&B.

Page 18
---
22

View from the seafront

DAVID ANDREWS

JANUARY /

FEBRUARY 2019

CONTENTS

13 – OPINION

Sean Feast FCICM asks the experts

what 2019 has in store for the world of

consumer collections.

18 – TOWN AND COUNTRY

Tim Vine from Dun & Bradstreet

discusses the value of business

information.

22 – VIEW FROM THE SEAFRONT

David Andrews gives his cheery views

for the year ahead.

32

Opinion

DEREK SCOTT

FCICM

32 – OPINION

Derek Scott FCICM shares his

experiences on the role image and

perception can play in the credit

industry.

34 – 80 YEARS OF THE CICM

A fond look back at some of the

landmark moments in the Institute's

history.

40 – LEGAL MATTERS

A closer look at new proposals from the

FCA to extend the FOS Jurisdiction.

52 – CAREERS ADVICE

Top tips on how to land yourself a New

Year pay increase.

18

Town & Country

TIM VINE

CICM GOVERNANCE

President Stephen Baister FCICM / Chief Executive Philip King FCICM CdipAF MBA

Executive Board Pete Whitmore FCICM – Chair / Debbie Nolan FCICM(Grad) – Vice Chair

Glen Bullivant FCICM – Treasurer / Larry Coltman FCICM, Victoria Herd FCICM(Grad), Bryony Pettifor FCICM(Grad)

Advisory Council Sarah Aldridge FCICM(Grad) / Laurie Beagle FCICM / Kim Delaney-Bowen MCICM / Glen Bullivant FCICM

Lauren Carter FCICM / Brendan Clarkson FCICM / Larry Coltman FCICM / Victoria Herd FCICM(Grad) / Philip Holbrough MCICM

Laural Jefferies MCICM / Diana Keeling FCICM / Martin Kirby FCICM / Christelle Madie FCICM

Julie-Anne Moody-Webster MCICM / Debbie Nolan FCICM(Grad) / Ute Ogholoh MCICM / Bryony Pettifor FCICM(Grad)

Allan Poole MCICM / Phil Rice FCICM / Chris Sanders FCICM / Paul Taylor MCICM / Pete Whitmore FCICM.

View our digital version online at www.cicm.com. Log on to the Members'

area, and click on the tab labelled 'Credit Management magazine'

Credit Management is distributed to the entire UK and international CICM

membership, as well as additional subscribers

Reproduction in whole or part is forbidden without specific permission. Opinions expressed in this magazine do

not, unless stated, reflect those of the Chartered Institute of Credit Management. The Editor reserves the right to

abbreviate letters if necessary. The Institute is registered as a charity. The mark 'Credit Management' is a registered

trade mark of the Chartered Institute of Credit Management.

Any articles published relating to English law will differ from laws in Scotland and Wales.

Publisher

Chartered Institute of Credit Management

The Water Mill, Station Road, South Luffenham

OAKHAM, LE15 8NB

Telephone: 01780 722900

Email: editorial@cicm.com

Website: www.cicm.com

CMM: www.creditmanagement.org.uk

Managing Editor

Sean Feast FCICM

Deputy Editor

Alex Simmons

Art Editor

Andrew Morris

Telephone: 01780 722910

Email: andrew.morris@cicm.com

Editorial Team

Imogen Hart and Iona Yadallee

Advertising

Grace Ghattas

Telephone: 020 3603 7946

Email: grace@cabbell.co.uk

Printers

Stephens & George Print Group

2019 subscriptions

UK: £112 per annum

International: £145 per annum

Single copies: £12.50

ISSN 0265-2099

The Recognised Standard / www.cicm.com / January / February 2019 / PAGE 3
---
EDITOR'S COLUMN

The need for consistent, coherent

and collaborative advice

Sean Feast FCICM

Managing Editor

SINCE my article appeared in

the December issue of Credit

Management about the debt

advice sector, my editor's email

inbox has been full to busting.

OK, so that might be a slight

exaggeration, brought on by an excess

of jolliness left over from the Christmas

festivities, along with the Sprouts, but I

have certainly been contacted officially

and through other channels by a strong

number of those wishing to agree or

disagree with what was written. Again,

actually, that is another exaggeration, for

at present I am yet to hear a dissenting

voice, though interviews we have lined

up with the chief executives of Christians

Against Poverty (CAP) and StepChange

Debt Charity (SCDC) in the coming weeks

will undoubtedly add further intelligence

and insight to the debate.

Creditors and collection agencies are

quite right in challenging the debt advice

sector to prove that it is offering best advice

and value for money, and not simply going

to pay for salaries and overheads. But what

they are also questioning, which is perhaps

even more important, is what the debt

advice sector and the regulator are doing

to ensure the quality of advice debtors are

receiving.

I believe all of the industry – creditors,

agencies and advisors alike – are agreed

that whatever happens going forward,

the quality of advice given needs to be

consistent, coherent, and collaborative.

Consumers in financial straits – debtors

as we used to call them and some people

in Government still do – need to be able

to trust the advice and information they

are given. That advice needs to help them

to manage their debt and improve their

outcome, and not make a bad situation

worse.

All of the organisations I have

spoken to recognise the challenge, and

particularly the need to maintain quality

as the volumes increase, as increase they

must. Demand is not the issue; capacity

most certainly is, and to that end let

us hope that the new Single Financial

Guidance body (SFGB) is successful in

directing consumers to help where it is

available (see news page 10).

An excess of jolliness left

over from the Christmas

festivities, along with the

Sprouts.

The Recognised Standard / www.cicm.com / January / February 2019 / PAGE 4
---
CMNEWS

A round-up of news stories from the

world of consumer and commercial credit

Written by – Sean Feast FCICM and Alex Simmons

New regulatory framework

for IVA monitoring

THE Insolvency Practitioners

Association (IPA) is launching

a new regulatory framework

for the continuous monitoring

of the use of an Individual Voluntary

Arrangement (IVA) by the high-volume

IVA providers.

The Insolvency Service classifies

high-volume as those firms that are

responsible for two percent of the total

number of IVAs annually. An IVA is one of

the debt management solutions available

to consumers, which allows individuals

to enter into a binding agreement with

their creditors to repay part of what they

owe over a typical period of five years. An

IVA must be supervised by an Insolvency

Practitioner (IP) and the majority of IPs

who work on IVAs are regulated by the

IPA.

The quantity of people seeking debt

relief through an IVA has increased

significantly over the past ten years, with

numbers in 2017 exceeding 59,000 and

the IPA is keen to ensure that the sector

has a robust and meaningful process of

regulation that will give protection to

consumer debtors and particularly those

considered to be vulnerable.

The IPA believes that the traditional

method of regulation does not facilitate

meaningful supervision of the highvolume

providers who are reliant on

technology to deliver the volumes of

cases that are commenced each year.

Consequently, it will introduce a new way

to regulate the industry using continuous

monitoring, with real-time access to

systems.

This, the IPA says, will provide the

IPA inspectors with the information

they need to target visits on those

areas that require rapid improvement.

The IPA reports that it will also expand

its inspector network, and bring in

specialists, to enable more frequent

inspections for those organisations

operating in this work with up to four

visits a year, where there is usually just

one.

Michelle Thorp, CEO of the IPA says the

vast majority of IPs act with integrity and

in the very best interests of their clients

and stakeholders: "Given the changing

nature of the industry, we have been

working to adapt our regulatory practices

and this is an important improvement

to how we deliver our obligations to

regulate IPs in this sector.

"The outcome, which is a much more

intensive regime, will be to improve

trust and confidence in this sector and

to enable us to help our IPs improve their

working practices. The outcome for the

consumer should be a greater degree of

trust in the help they are getting at what

can be an incredibly tough time. It will

also provide confidence to creditors the

IVA process is transparent and that the

regulatory framework meaningful and

robust."

insolvency-practitioners.org.uk

CICM restructures to deliver further member focus

THE CICM has announced a series of

new appointments and changes in roles

and responsibilities at the Institute's

headquarters.

Effective from January 2019, Sue

Chapple has become Director of Strategic

Relationships looking after Corporate

Partners, business development and all

other aspects of strategic relationships,

while Anne Strahan has assumed

responsibility for HR, Governance, and other

administrative areas, in addition to her

current finance role as Director of Finance

and Administration.

Claire Bishop will take on the role of

Director of Operations with responsibility

for membership, branches, marketing,

events, IT, qualifications, education, and

other support activity, while Debbie

Tuckwood will be relinquishing operational

responsibility and taking on a new parttime

role of Chief Adviser (Professional

Development).

Debbie's extensive skills and experience

will be utilised in promoting the CICM's

qualifications more widely, identifying

how they should develop and evolve,

and working on specific training and

educational projects with clients and

member organisations.

Debbie will remain a member of the

senior management team alongside

Anne, Claire and Sue. In the short-term,

Debbie will continue as Responsible

Officer for the Awarding Body under Ofqual

requirements.

The Recognised Standard / www.cicm.com / January / February 2019 / PAGE 5
---
NEWS

IN BRIEF

CICM TO RELAUNCH

EAST SCOTLAND BRANCH

Loans to SMEs

There were 69,980 new loans and overdrafts

approved for a value of £7 billion in Q3

2018, according to UK Finance data. Banks

approved eight out of ten applications for

SME Finance. Cash held in both immediate

and notice accessible SME accounts

continue to rise. Mike Conroy, Director of

Commercial Finance at UK Finance says:

"Firms continue to build cash deposits and

demand for finance remains subdued and

steady across the UK's regions and sectors,

suggesting businesses are exercising caution

in the face of future uncertainty. However,

some businesses are now increasing the use

of their agreed overdraft facilities in order to

manage current cashflow but not leveraging

these to their full capacity."

ukfinance.org.uk

THE CICM is working on a new plan to

relaunch its East Scotland branch later

in the year, with training and networking

events at the top of the list.

The aim is to provide opportunities for

members to talk to like-minded credit

professionals and share experience and

best practice, as well as practical examples

of what has and hasn't worked in member

organisations.

"We cannot do this without the continuing

support of our existing members and, we are

hoping, some new members too," says the

CICM's Claire Bishop. "This is your chance

to get involved and influence the CICM

membership offering and branch activity in

Scotland."

Paul Taylor, CICM Regional Representative

for Ireland, Northern Ireland and Scotland,

adds: "We urge all those involved in credit

management and interested in helping

shape the future of credit in Scotland to

contact us and have your voices heard.

Whether you are a studying Member, Fellow,

Affiliate, Member or Associate (or not yet

a member) we want to hear from you.

Get in touch to find out more. There is no

commitment needed, we just want to hear

your ideas."

If you have a passion for credit

management, call Paul on 028 7035 0682, or

email paul.taylor@lynasfoodservice.com, or

CICM headquarters at branches@cicm.com

or 01780 722903.

Cyber security

A Financial Conduct Authority (FCA) review

of investment managers and wholesale

banks has warned that the industry has only

a limited understanding of cyber risk. The

FCA said bosses tend to dump responsibility

on their IT departments and called for

firms to not see cyber security as the sole

responsibility of their IT function 'but as a

part of a firm's activities and business as a

whole'. fca.org.uk

Board appointments

THE Financial Conduct Authority (FCA) and

Payment Systems Regulator (PSR) Boards

have appointed new members to three

decision-making committees: the FCA's

Competition Decisions Committee (CDC) and

the PSR's Competition Decisions Committee

and Enforcement Decisions Committee

(EDC). The three committees are responsible

for taking certain competition law and

regulatory decisions when a settlement

cannot be reached. Lesley Ainsworth, Simon

Polito, David Thomas and Tim Tutton have

been appointed as members of the PSR's EDC

and the FCA and PSR's CDCs. Alasdair Smith

has been appointed a panel member of the

FCA's CDC. fca.org.uk psr.org.uk

New Chair at

Stepchange

STEPCHANGE Debt Charity has a new

chairman in John Griffith-Jones following

the resignation of Sir Hector Sants last

October on his appointment as the Chair of

the new Single Financial Guidance Body.

Chris Stern has been acting as interim Chair

of StepChange Debt Charity for the past three

months. John Griffith-Jones was Chair of

the Financial Conduct Authority from 2013

to 2018, and of its subsidiary, the Payment

Systems Regulator. Before this, he worked at

KPMG from 1975 to 2012, becoming CEO and

subsequently Chairman and Senior Partner

of KPMG in the UK. He is Vice Chairman of

the National Numeracy Trust, and also holds

a number of other voluntary roles.

stepchange.org

PMI shows positive signs

FIGURES from the latest IHS Markit/

CIPS UK Manufacturing Purchasing

Managers' Index for December 2018 show

strength and a dramatic improvement on

the performance of recent months, at a

six-month high of 54.2 – an impressive

leap forwards compared to November's

seasonally adjusted 53.6; and even better

considering the disappointing 51.1 result in

October. It is also a strong result compared

to the faltering Eurozone figure of 51.4 for

the same period.

New business has increased steadily

SME confidence on the wane

RESEARCH commissioned by Dun &

Bradstreet suggests UK SME confidence in

future financial success is down 19 percent

compared to last year. The study found that

almost a third (32 percent) of respondents

have considered leaving the UK to increase

their chances of success.

The research also shows that late

payments have risen in the past year.

Cashflow remains a critical issue, with the

average amount owed to SMEs at any one

time over the past 12 months now at £80,141

– an increase of nearly 25 percent from 2017.

The consequences of these late payments

include cashflow difficulties (31 percent),

delayed payments to suppliers (28 percent)

and reduced profit performance (22 percent).

Nearly two thirds of respondents (63 percent)

feel that there should be financial penalties

in place to tackle late payments and 62

percent believe there should be legislation in

place to mitigate the problem.

Other factors cited as impacting the

future financial success of SMEs include

recruitment of the right talent and resources

(35 percent), adoption of new technology (26

percent) and ability to deal with increased

regulation such as the GDPR (20 percent).

since the drop in October, with increased

industry confidence apparent for the year

ahead. Stocks of purchases increased and

contributed to growth in the sector. New

orders are up at the highest for ten months,

coming from domestic and international

markets.

Cost pressures have also eased, with

input costs falling to the lowest for two and

a half months. However, output costs are

up, reflecting price increases being passed

on to customers and poor exchange rates.

news.ihsmarkit.com

Operating in an uncertain business

environment has had a clear impact on

SME business plans, with 63 percent

of respondents saying they had a clear

business strategy in place, down from 70

percent in 2017.

"Given the changing political, regulatory

and economic landscape, it's unsurprising

that small business confidence is down," says

Tim Vine, Head of European Trade Credit

at Dun & Bradstreet. "Despite the range of

factors at play, positively, over half of the

businesses we spoke to were confident that

their business can achieve financial growth

over the next five years. The resilience of

SMEs will stand them in very good stead

through these changing and complex times."

dnb.co.uk

See our Town and

Country feature on

page 18.

The Recognised Standard / www.cicm.com / January / February 2019 / PAGE 6
---
CICM SCHEME TO FIND THE

FELLOWS OF THE FUTURE

>NEWS

IN BRIEF

THE CICM has announced plans for a new

development scheme to identify credit or

collections professionals who have shown

the potential to become future leaders.

The aim is to give the candidates

opportunities to develop and practice their

leadership and strategic skills over a period

of one year, helping to equip them for future

leadership/Fellowship level roles.

There will be ten spaces available in 2019.

Any participant must be: a current MCICM or

MCICM(Grad) CICM member; nominated by

a current FCICM; currently in a management

level role; or newly appointed to a leadership

level role.

It is important that the participants have

the full support of their company or line

Serious failings

THE Financial Conduct Authority (FCA)

has fined Santander £32,817,800 for failing

to effectively process the accounts and

investments of deceased customers.

Santander did not transfer funds totalling

over £183 million to beneficiaries when it

should have done. Some 40,428 customers

were directly affected. Santander also

failed to disclose information relating

to the issues with the probate and

bereavement process to the FCA after it

became aware of them. fca.org.uk

manager or nominating Fellow, and the

CICM will be encouraging participants to

work on projects to put their newly

formed skills into practice. Main areas of

learning will include: knowing yourself

as a leader; leadership styles; stepping

up: technical credit skills versus

behaviours; and understanding business

strategy.

Nomination deadline is 22 Feb 2019.

The ten participants will be chosen and

notified on 4 March 2019. The nominators

and nominees will be invited to the Fellows'

Celebratory Lunch 2019 (with a reduced rate

ticket) at the War Rooms in London. You can

nominate by completing the application by

emailing CICMmembership@cicm.com.

Role model failure

THE Cabinet Office is missing its

targets to pay suppliers on time. The

Government had pledged to be a

model payer and settle 80 percent of its

invoices within five days and the rest

within 30 days, but latest figures

show those targets have been missed.

Data for the second quarter of the

2018/19 financial year shows 75.1

percent of invoices were paid within

five days and 88.8 percent within 30

days.

SERVICE

WORTH MERIT

THE Meritorious Service Award is

granted as a rare recognition of an

especially meritorious contribution

to the Institute. If you would like to

nominate a member, visit

cicm.com/cicm-meritorious-award

University challenge

COLLABORATING with 103 universities, 52

colleges, and five student accommodation

providers, STA International recovered

nearly £17 million of unpaid tuition and

accommodation fees from students in

143 countries worldwide in 2018. Some

86 percent of all international monies

recovered came from STA's efforts in the

UK, saving clients the added cost and

time of using overseas agents. China,

India, Nigeria, and the USA headed our

league tables for the value and volume of

debts placed, plus the amount collected.

stainternational.com

Mixed bag

THE latest NatWest Regional PMI showed

markedly different trends in performance

across areas of the UK private sector

midway through the fourth quarter, with

downturns in activity in London, the

North East and South West contributing

to a slowdown in overall UK growth.

A particular bright spot was the East

Midlands, which registered the strongest

output growth for the second month

running.

markiteconomics.com

Survey shows fall in demand for specialist lending

BUSINESS volumes were flat for

specialist lenders in the last

quarter of 2018, according to the

latest CBI/PwC financial services

survey, as demand for financial services

fell.

The quarterly survey of 84 firms revealed

flat or falling business volumes for banks,

building societies and specialist lenders,

although sentiment held up for insurers

which managed to grow their volumes.

Demand for the financial services sector

as a whole dropped for the first time in five

years, with investment managers reporting

the steepest fall in activity since the

financial crisis.

Profits in the financial services sector as

a whole remained flat for a third successive

quarter, with investment managers and

general insurers reporting declining

profitability.

Looking to this year, declines are

expected to continue at a similar pace over

the quarter to March, which is the first

time that growth expectations have turned

negative since 2009. Overall profitability

is also expected to fall for the first time

in over three years, as a result of a more

widespread deterioration in expectations

across the industry.

The CBI says this will bring a number of

challenges for firms. The top three issues

concerning them are macroeconomic

uncertainty, regulatory compliance, and

preparing for the impact of Brexit.

Meanwhile, new entrants also pose a

competitive threat to firms in many sectors.

For example, over half of firms in general

insurance and investment management see

new challengers as a source of competition

over the year ahead. In all sectors, the vast

majority of firms see competition coming

from their own sector. In the banking

sector, where collaboration with challenger

firms is said to be more established,

firms said they see the least potential for

competition from either new entrants or

from firms outside their sector.

"A combination of macroeconomic and

Brexit uncertainty, regulatory compliance

and global market volatility are taking a toll

on the UK's financial services sector," says

Rain Newton-Smith, CBI chief economist.

cbi.org.uk

Rain Newton-Smith

The Recognised Standard / www.cicm.com / January / February 2019 / PAGE 7
---
NEWS

IN BRIEF

Pack your bags

NEW analysis suggests that assets

worth almost £800 billion are being

moved from Britain to new financial

hubs in the EU ahead of Brexit, although

it is noted that this represents a fraction

of Britain's £8 trillion banking and £2

trillion insurance sectors.

Barclays launches nationwide

campaign for young farmers

BARCLAYS has launched FarmtheFuture, a

nationwide campaign encouraging farmers

to plan for their future and tell young people

about the benefits of a career in agriculture,

as new data reveals that Britain's farming

population is ageing rapidly.

The bank has teamed up with TV

presenter and former JLS boyband star JB

Gill, who has swapped pop stardom for a

rural life of turkey and pig farming, to show

the younger generation that farming could

be their perfect career.

The number of British farmers aged over

65 has increased by 70 percent in the last

decade, while the proportion of under-25s

running farms has dropped by two thirds

(63 percent) over the same period. The

average age of the British farmer is now

55.5 years old, with almost four in ten (38

percent) aged 65 or over.

Just three percent of 18-30 year-olds

surveyed by Barclays said they would

view farming and agriculture as a

desirable career, despite the job meeting

many of the criteria young people look

for in employment. Over three quarters

of millennials (76 percent) said staying

physically fit and healthy while working

was important to them and nearly half (48

percent) said they would like to work with

animals.

A lack of understanding and a perceived

lack of resources appear to be the key

things putting young people off a career

in farming. Over half (59 percent) believed

they wouldn't be able to afford to become

a farmer, while 43 percent thought they

needed to inherit land.

While many farm businesses

traditionally pass down through families,

farmers with no direct succession are now

exploring alternative options, including

share farming agreements. These allow

new entrants to farm in partnership with

the farm owner with much less capital

required than starting out alone, and their

share of the business can grow over time

through profit share.

barclays.co.uk/business-banking/sectors/

agri-business

Good call

THE Institute received an overwhelming

number of responses to the BEIS

'Creating a responsible payment culture'

Call for Evidence. Thank you to everyone

who contributed. You can read the

Institute's response to this, and other

consultations at cicm.com/governmentconsulations.

Test your metal

WYELANDS Bank has completed a sevenfigure

asset-based lending deal for AD

Bird Stainless. The deal will help the

supplier of precision, specialist, stainless

steel to grow by freeing up working

capital, enabling it to take on new orders

and invest for the future.

wyelandsbank.co.uk

Regional

represntation

IN addition to the Regional

Representatives already sitting on the

Advisory Council, Ute Ogholoh MCICM

has been appointed to represent the

East Midlands region. Details of CICM

Governance can be seen at cicm.com/

about-cicm/governance/.

Call for traffic light warning system

THE UK Small Business Commissioner, Paul Uppal

has recommended a traffic light warning system,

which will allow small businesses to easily identify

large businesses that pay late.

New public data analysed for the first time by

Lloyds Bank Commercial Banking in partnership

with the Small Business Commissioner, looked at

official payment reporting returns based on the

annual reports of large businesses. Duty to Report

(D2R) Legislation imposed in April 2017 required all

large businesses to publish their payment practices

within a given deadline.

The research is being cited in a proposal from

the Small Business Commissioner to publish

'traffic light' warnings to help small businesses

undertaking contracts with large businesses. The

large businesses that are taking longer than 30

days to pay are in effect using their supply chain to

finance their business. The Commissioner strongly

believes that a simple warning system will alert

small businesses to the potential risk of longer

payment terms.

Paul Uppal says his ambition is to help small

businesses make more informed choices when

deciding which larger businesses they are going to

trade with: "A traffic light system would be a simple

and effective visual way of highlighting which

larger businesses are paying promptly and are

working in partnership with their supply chain.

"Our initial findings indicate that almost two

thirds of payments are likely to be owed to smaller

businesses at any time. This is money that could

be used to grow smaller businesses and generate

tangible economic activity. Instead it is stuck on the

ledgers of large businesses doing nothing."

smallbusinesscommissioner.gov.uk

The Recognised Standard / www.cicm.com / January / February 2019 / PAGE 8
---
CSA appoints new Head of Policy

THE Credit Services Association (CSA), the

voice of the UK debt collection and debt

purchase industries, has appointed Henry

Aitchison, a former senior executive with

the FCA and OFT, to the newly-created role

of Head of Policy.

Henry, who has a career spanning

almost 20 years in consumer credit, will

have a broad role supporting the CSA

executive team in identifying key policy

issues and developing a clear strategy to

support the Association's principal aims

and objectives. He will also be responsible

for developing and maintaining an

active Public Affairs (PA) programme,

ensuring that the Association's views

and membership goals are represented in

the formulation and adoption of current

and future UK and European policy and

legislation.

Henry joins the CSA from the Finance

The CSA is looking to

further enhance its

influence in a number

of key areas, and Henry

will help us in shaping

the future agenda, rather

than the agenda shaping

us.

& Leasing Association (FLA) where he was

Senior Policy Advisor. This followed more

than 15 years with the OFT and FCA in

similar advisory roles, and with a particular

focus on consumer credit and protection.

John Ricketts, President of the CSA,

says the appointment of a dedicated

Head of Policy resource will add further

weight and bandwidth to the Association's

commitment to members: "Our ambition is

to be even more proactive in determining

future issues and regulation that

impact our members, and Henry's

knowledge and experience will play a key

part in putting the CSA on the front foot,"

he says.

"The CSA is looking to further enhance

its influence in a number of key areas, and

Henry will help us in shaping the future

agenda, rather than the agenda shaping us."

csa-uk.com

Henry Aitchison

CSA Head of Policy

>NEWS

IN BRIEF

R3 reports rise in

zombie companies

OVER one in ten (11 percent) UK

companies is just paying the interest on

its debts, rather than repaying the debt

itself, according to R3.

Based on a survey of 1,200 companies,

the research also found that one in six

(16 percent) businesses are having to

negotiate payment terms with creditors;

one in ten (12 percent) are struggling

to pay their debts when they fall due;

and eight percent would be unable to

repay their debts if interest rates were to

increase by a small amount.

Stuart Frith, President of R3, says rising

interest rates will have also contributed

to businesses stumbling into 'zombie

business' status: "The future for these

'zombie businesses' is mixed. Some might

eventually be able to restructure or find

new investment and grow. Others will

run out of road and become insolvent.

While this would mean capital could

be 'recycled', it may also be a bit of an

economic shock in itself."

The UK's insolvency and restructuring

framework is highly rated by the OECD

for its zombie-busting powers, and the

Government recently announced plans

to improve the UK's business rescue and

restructuring options.

r3.org.uk

Arthur Critchley: An appreciation

ARTHUR Critchley FCICM and Meritorious

Service Award recipient was a true

gentleman who even at 90 always made

time for everyone he met. To me he was a

much-loved friend for over 30 years who,

along with his wife Pat, supported me for

the 12 years I served on the Merseyside and

North Wales Branch Committee including

six of those in the capacity of Chairman.

I met Arthur and Pat in 1987 at my first

Merseyside & North Wales ICM Branch

meeting. They always came as a pair and it

was very unusual for Arthur to arrive at a

meeting on his own. As a founding member

of the Branch Arthur knew everyone in the

room and was full of enthusiasm for all

things debt related and those of us working

in the profession.

Arthur would sit and chat to everyone,

sharing his knowledge and more than a few

entertaining stories of what he had got up

to during his career carried out long before

mobile phones, email and Google had

become commonplace in pursuit of chasing

down a debtor.

Arthur did it the hard way, knocking

on doors, questioning neighbours, sitting

outside businesses early in the morning all

over the country waiting for them to open

up so he could politely point out the need

for a payment to be made especially as he

had spotted a nice car or van pulling into

the Director's parking spaces.

He and Pat were our official 'meeters

and greeters', a role they carried out with

a warmth that really made people want to

return. When it was conference time they

would be at the Albert Dock before 07.00am

welcoming exhibitors, making sure they

had everything they needed, especially

their breakfast! They were the real stars of

the day who past delegates wanted to see

again.

Arthur and Pat did so much for the

Branch over many years, especially with

the Students. Not too long ago exams were

taken in a classroom environment with Pat

and Arthur officiating every session and

offering words of encouragement to anyone

suffering last minute nerves.

I nominated Arthur for a much-deserved

Meritorious Service Award 20 years ago and

he said that when the letter arrived, he sat

on the edge of the bed with the letter in his

hand and for once was lost for words.

He was married to Pat for 69 years,

and nothing was more important to him

than his family. His two other loves were

Jazz and his Labrador Gwladus (Gladys

in English), a stray that Arthur and Pat

'looked after' for 12 years! In Gwladus' latter

years the two of them could be found going

along the promenade near their home with

Arthur in his motorised scooter complete

with go faster stripes and Gwladus trotting

alongside.

Lynne Mills FCICM

The Recognised Standard / www.cicm.com / January / February 2019 / PAGE 9
---
NEWS

IN BRIEF

Prize Winners

Two candidates have won this year's Sir

Roger Cork Prize for the highest aggregate

marks for CICM examinations within one

calendar year. Molly Kane started her

career in an office admin role where she

had her first experience of credit control.

Giampaolo Scarpaci started working

as a Credit Controller at Toolstream in

2017. A year later he moved to Servomex.

Both Molly and Giampaolo studied at the

London Metropolitan and were taught

by CICM Tutor, Kevin Artlett. The prize

includes a presentation at the CICM

British Credit Awards and a cash prize of

£500.

Corporate Partners

FORUMS International and Onguard

have recently become Corporate

Partners of the CICM, promoting their

services to the CICM's members.

Forums International has been running

Credit and Industry Forums since 1991

covering a range of industry sectors and

international trading. Its forums are

described as being not just meetings

but communities which aim to prepare

our members for the challenges

ahead. Onguard is a specialist in credit

management software and a market

leader in innovative solutions for Order to

Cash. Its integrated platform ensures an

optimal connection of all processes in the

Order to Cash chain and allows sharing of

critical data.

CICM

Essentials

THIS month's briefing includes details

of the Ministry of Justice Call for

Evidence, the Meritorious Service Award

nominations, a free webinar from High

Radius, and a discount for the Utility Week

Consumer Debt Conference.

TSB partners with

Police to combat fraud

TSB has announced a new £200,000

partnership with the Metropolitan

Police to step up the fight against

fraud and hunt down the criminals

that sit behind it.

Fraud is now one of the most common

crimes in the UK and the financial impact

to consumers is huge with over £2 million

lost every day. Figures revealed by the Met

last year showed that over 3,500 Londoners

are reporting fraud and cybercrimes each

month with many more attacks going

unreported or detected.

It is a serious crime often carried out by

organised crime groups involved in drug

rings, human trafficking and terrorism.

It is becoming increasingly challenging,

following several highly complex and

sophisticated attacks against banks last

year, including against TSB.

To help overcome this, TSB has

announced a new partnership with the

Metropolitan Police, initially focusing on

boroughs in the South East of London.

The partnership will be supported by

the London Digital Security Centre and

also involve the local authorities within

Lewisham, Bexley and the Royal Borough

of Greenwich.

The funding will help to increase the

ability of the police and local partners to

work together on fraud prevention and

enforcement; enhance the skills of officers

and staff – particularly within the Met's

Special Constabulary – and finance new

and innovative ways of tackling fraud at a

local level, including ongoing support costs

for the Met's Cybertools app, for front-line

police officers.

tsb.co.uk

Keeping it in the family

A recruiter in Reading has recently found

dream jobs for father and son in credit

management and financial services.

Tony Lambert, Business Director at Hays

in Reading, specialises in Treasury and

Credit Management recruitment across

the Thames Valley region and sits on the

committee for the CICM Thames Valley

branch.

Tony has worked with Vincent Dahill

throughout his career placing him into

credit manager positions for more than

12 years. When his son Sean finished his

degree, Vincent recommended Tony. Since

then Tony has since found him graduate job

opportunities in financial services and has

recently placed him in what Sean describes

as his 'dream role'.

Tony says he has been at Hays for

New finance body for money

and pensions

THE Single Financial Guidance Body (SFGB)

has been launched to help people make the

most of their money and pensions. From

the beginning of January, the SFGB brings

the free services delivered by the Money

Advice Service, The Pensions Advisory

Service and Pension Wise under one new

organisation.

The SFGB is an Arms-Length-Body,

sponsored by the Department for Work

and Pensions, with a joint commitment

to ensuring that people have access and

almost 18 years and the best thing about

his job is finding someone their perfect role:

"On average I place 100 people a year into

contract, temporary and permanent roles

across the Home Counties, but one of my

favourite placement stories has to be that of

Vince and Sean."

Vincent has worked in credit

management throughout his whole career,

predominantly for blue chip corporate

clients. "It was very important for me early

on in my career not only to establish myself

but to find the right partnership agency.

Since my first meeting with Hays and Tony

all those years ago we formed an excellent

working relationship that has been

beneficial to myself and Hays and more

importantly the companies that I had the

good fortune of servicing."

guidance to the information they need to

make effective financial decisions over

their lifetime.

The SFGB, working hand-in-hand

with industry, will ensure that money

and pensions guidance is available to

those that need it, adapting to people's

changing needs throughout their lives,

offering services and appointments over

the telephone, online and in person where

appropriate.

singlefinancialguidancebody.org.uk

The Recognised Standard / www.cicm.com / January / February 2019 / PAGE 10
---
FROM THE CHAIR

Looking ahead

Pete Whitmore FCICM says credit managers should

never underestimate the value of strong customer

relationships.

Pete Whitmore FCICM

EIGHTY years young and

still going strong! It is quite

remarkable to think that our

wonderful Institute has been

around since 1939; a time

when the world was a very

different place and about to enter a period

of global uncertainty. The challenges that

have been faced during that time have

been wide and varied, and it does feel that

we are entering another period of global

uncertainty.

One thing that has remained constant

throughout all of that time is the

professionalism of our membership. We

are still there to find ways of making every

credit situation work and ensure that cash

is collected so that our businesses have the

lifeblood they need to continue. That will

never change, and our Institute can help

with that too, whether it be through some

of the exceptional training modules and

qualifications that are available or making

use of our excellent 'Managing Cashflow

Guides'.

There really is something for pretty

much every scenario, and if you do

encounter something unique we have

access to a resource of expertise with our

Technical Committee who have hundreds

of years of experience between them. There

is so much value in being a member of our

Institute and we often forget about all the

services that are provided by the dedicated

HQ Team.

Something that we should also

remember is that our Institute is here to

help with consumer credit matters as well.

We often get caught up in the hustle and

bustle of the commercial credit world, but

the job that our consumer credit members

do is truly remarkable. I am often in awe at

the way in which they manage vulnerable

customers while treating them fairly; a

true skill.

Another skill that is too often

undervalued is that of collections. 'To pay

or not to pay, that is the question...' as that

famous 16th century credit controller,

William used to say. He did not have the

abundance of technology that exists today

to help him, but he used the power of his

words to develop a relationship with his

customers. It is often said that people buy

from people, but never underestimate the

value of a strong customer relationship in

getting paid either. Sometimes, that may

even mean continuing to supply when you

can't be paid just yet or providing extended

flexibility.

The real skill here is knowing when

you can and cannot do this. I would

wholeheartedly recommend getting out

and meeting your customers face-to-face.

It can be a real help when you or they need

to do something differently to support each

other. It is also where you can really develop

your credit management and customer

relationship skills. Personally, I find it to be

one of the most rewarding aspects of being

a credit manager and thoroughly enjoy

meeting some wonderful people.

So, what will 2019 have in store for

everyone? While I have no crystal ball, I

am sure that some things will continue

as always. There will still be tricky credit

challenges to overcome; there will still be

customers who won't pay you and there will

still be business failures, some of which

will be repeat offenders; you've got to love a

phoenix company! Above all, our Institute

will be there to support us. I do hope many

of you will be able to join in the Institute's

80th birthday celebrations during the

course of the coming year including the

CICM British Credit Awards on 7 February

and Credit Week (18-22 March).

Happy New Year to you and all your

families; here's to a smashing 2019 for

everyone!

The Recognised Standard / www.cicm.com / January / February 2019 / PAGE 11
---
INSOLVENCY

Trust, transparency,

consistency and confidence

Strengthening the insolvency regulatory framework.

AUTHOR – Michelle Thorp

Michelle Thorp

THE UK's insolvency regime

is one of the best in the

world according to the

World Bank, returning

money to creditors quickly

and cost effectively. It's a

regime the UK can be proud of. However,

the evolution of insolvency procedures

means that the regulatory framework must

always be reviewed and strengthened to

keep up with the needs of that changing

environment. A transparent, consistent,

and trusted regulatory framework is

important so that creditors can be

confident in the outcomes of insolvency

procedures. Without confidence in our

insolvency framework, the UK's business

environment would be a much harder

place to work in.

During my first few months as IPA

CEO, one area that dominated a number

of my early conversations with creditors,

debt charities, the Government, and of

course, the insolvency profession, is that

of how best to regulate those who have

adopted a business model undertaking

high numbers of Individual Voluntary

Arrangements (IVAs).

IVAs (available in England and Wales),

are one of three statutory personal

insolvency procedures available to

indebted individuals, and make up the

majority of personal insolvencies. They

are an agreement between the indebted

individual and its creditors to repay

all (or part) of what they owe, typically

over five years. They are the personal

insolvency equivalent of Company

Voluntary Arrangements (CVAs), which

have featured in the press recently

following the financial challenges that

retailers on the high street are facing. And

like CVAs, IVAs must be supervised by a

licensed insolvency practitioner.

The number of people using an IVA

to deal with their debts has increased

significantly over the last ten years as

rising consumer levels have increased,

with numbers in 2017 exceeding more

than 57,000.

As a response to the rising demand,

and the use of new technology, some

insolvency practitioners have streamlined

the IVA procedure, making it a more

accessible and cost-effective insolvency

procedure than it had previously been.

These firms (volume IVA providers) are

each responsible for at least two percent

of the IVA market (currently just over

5,000 IVAs).

Volume IVA providers have a vital role

to play in ensuring that people can deal

with their debts in the best possible way.

However, their rapid evolution through

the use of technology, has led to questions

from creditors and those who use them

about how they work, and how they are

regulated.

RIGOUROUS REGULATION

Following discussions with creditors,

debt charities, government, insolvency

practitioners, and, importantly, the

providers of volume IVAs themselves,

at the end of 2018 the IPA was able to

announce new measures to strengthen

the regulatory regime. When everyone

involved in an issue recognises that it is

time to change, it is often easy to bring

people together to agree a way forward.

The measures, implemented from

January, will be a far stronger regulatory

regime for those operating in this space.

Our monitoring regime will change,

introducing a concept of continuous

reporting, that will give more detailed

insight into operating practices, and

sharper and targeted reports. We will

be able to get to the nub of issues, and

address them quickly – including in some

cases issuing sanctions.

The features of the new regime will

include: up to four regulatory visits a year

(up from one); bespoke investigations

into particular targeted areas of

concern, looking at far more cases than

we currently inspect; and continuous

monitoring, through monthly reporting

and access to volume provider technology

systems to enable better scrutiny of their

business practices.

These changes will help to ensure that

creditors, and indebted individuals, can

have greater confidence that the services

offered by the volume IVA providers are

regulated well. The changes will be kept

under close review during implementation

and beyond, to ensure that they achieve

our collective aim of stronger regulation.

I am hopeful that this new, intensive,

but pragmatic regime will provide the

assurances the wider community has

been seeking in the regulation of volume

IVA providers' services.

The IPA's work to review and

implement new regulatory processes

doesn't stop with volume IVA providers.

We are also reviewing and implementing

changes that will ensure that regulation

is strengthened and consistent across all

insolvency procedures. As part of that

work, we are keen to hear the views of the

creditor community, so please do pick up

the phone and let me know about your

experiences of insolvency regulation.

Whether it's rescuing businesses and

jobs, ensuring the smooth wind down of

a company, or helping individuals with

debts that have become unsustainable,

the insolvency profession is a vital part of a

successful UK economy. The IPA's work to

review, evolve and strengthen regulation

will make sure that the profession can

continue its work, and importantly,

ensure that creditors can have confidence

in the UK's insolvency regime.

Michelle Thorp is CEO, Insolvency

Practitioners Association.

The Recognised Standard / www.cicm.com / January / February 2019 / PAGE 12
---
OPINION

TOMORROW IS

ANOTHER DAY

It has been a busy 12 months in the world of consumer

collections, and the pace isn't showing any sign of

slacking in 2019. Sean Feast FCICM asks the experts what

the future holds.

The Recognised Standard / www.cicm.com / January / February 2019 / PAGE 13

continues on page 14 >
---
OPINION

AUTHOR – SEAN FEAST FCICM

Peter Wallwork MCICM

Steve Murray MCICM

John Pears

Peter Wallwork MCICM, CEO of Credit

Services Association

Perhaps the biggest issue facing the consumer

collections industry in 2019 is that there are so

many issues to contend with. Some are well

known, such as GDPR; others have also been

waiting in the wings for some time – such

as the Senior Managers and Certification

Regime (SMCR) – where the countdown to

full implementation for regulated firms has

already begun.

Great uncertainty still exists over Brexit,

and how this will impact our industry, and so

too the progress of the new Non-performing

Loans (NPL) Directive and whether the

European authorities will heed the concerns

we have expressed.

Closer to home, however, we have a range

of issues to tackle. I sense that the concept

of 'fairness' will be a major focus in 2019, as

evidenced by ongoing debates over Breathing

Space and statutory payment plans.

'Fairness' will not only be about fairness to

the consumer, but also ensuring fairness

in how the debt advice sector is funded,

and in improving the quality of debt advice

available.

To that end, data will assume even greater

importance in the year ahead. The recent

news regarding the Fairshare contribution of

our members (almost £25 million) to funding

debt advice is a good example of where

strong, tangible data can inform a rational

conversation. Dialogue and consultation

become less about sweeping generalisations

and more about intelligent, informed

debates.

Another issue is education and within that

professional development. We must ensure

we continue to invest in the right level of

training and apprenticeship provision to

further improve the level of professionalism

within our industry, and with that, how our

industry is perceived. This is about creating a

virtuous circle, enhancing the profile of our

industry through the quality of the people

working within it.

Steve Murray MCICM, CEO of Ardent

Credit Services

On a macro-economic level there are a series

of events all conspiring to reduce customers

disposable income, from Brexit itself and the

possible recession that will follow to interest

rate rises (widely tipped to rise mid 2019 as

long as there isn't a Brexit aftershock). The

Bank of England last raised interest rates

in August and for only the second time in

a decade and both were modest increases.

A whole generation of homeowners, many

of whom are just about managing, have

never seen significant interest rate rises and

another increase will surely tip more people

into debt.

It shouldn't be forgotten as well that PPI

pay-outs stop in August 2019 – a process that

has pumped £33 billion back into consumer's

pockets since 2011. There is a fallacy that

DCAs do well in economic downturns and

the reality is that while debt levels increase,

the 'quality' of that debt reduces, and costs to

collect increase. The challenge facing DCAs

in 2019, therefore, is to continue to perform

compliantly for its clients against a backdrop

of increasing costs and customers with less

disposable income and that takes investment

in technology to build efficiencies and

smarter routes to customer contact solutions,

which is exactly what Ardent is doing.

John Pears, UK Managing Director of

Lowell

'Customer Engagement' – this is such a

multifaceted issue and the most fundamental

to our industry. Even a small shift in

engagement has a much bigger positive

impact on our businesses, and potentially the

wellbeing of customers.

The challenges we have should be clear

to all: as an industry our reputation remains

poor and our image is driven by the lowest

denominator shown in the media; the

accuracy of address data means we are not

always contacting the right people; tone of

contact can create barriers, and digitisation

capability does not yet meet customers'

service expectations, based on their

experience of banks and retailers.

Ultimately, the engagement challenge is

simply that people don't choose to be our

customers and most often arrive with us in

a difficult position. Often they are worried,

embarrassed and need help. As such, getting

any contact about a defaulted account is the

last thing they want, but if the approach is

right, it could well be exactly what they need.

As an industry we have to push all of our

members to deliver a better level of service,

one that considers the individual and their

circumstances. We've got to actively promote

this to consumers, so they understand our

primary role is to work with them to find the

The Recognised Standard / www.cicm.com / January / February 2019 / PAGE 14
---
OPINION

AUTHOR – SEAN FEAST FCICM

David Sheridan FCICM

Debbie Nolan FCICM

Nick Cherry MCICM

right solution. We need to show that it is okay

to talk about debt.

The #TalkDebt campaign is a great start

and can help with awareness, but we must

also address the broader engagement

landscape – making sure our tone, strategies

and technology all complement our desire

to have helpful conversations, regardless of

channel.

David Sheridan FCICM, Operations

Director of ARC Europe

As we enter a new year, thoughts naturally

drift towards what it could bring and perhaps

some new resolutions to help make the

most of it. We live in very interesting times,

the advances of technology and sweeping

changes in consumer behaviour as a

result and how we, consumers actually

acquire products and services continues

to evolve. Factor in concerns regarding

what Brexit means – brings a great deal of

uncertainty to both consumers and firms.

Most people like certainty as its predictive,

safe and known about, but the nature of

present times is the unexpected is constantly

emerging.

Within this environment, for DCAs to

thrive, there needs to be a vibrant consumer

credit economy and what we are starting to see

emerge, particularly with the developments

in open banking is a new range of players

with interesting credit products that will

offer consumers compelling choices. I

believe that this will increase credit usage in

line with new consumer spending patterns

and in turn, will lead to a rise in the needs

for experienced DCAs who can help firms

cashflow and customer relationships in a

positive and emphatic manner.

I believe that DCAs that have invested

heavily in their digital engagement to offer

consumers the ability to interact digitally

and resolve their account on their terms will

see increased opportunity in 2019. Living

with debt is becoming a way of life for many

consumers and they come to expect that the

service and overall experience that DCAs

offer needs to be as good as other service

providers. At ARC, we understand and accept

this expectation, and have been working

hard in 2018 to develop our digital solutions

to help us do exactly that.

I am excited about the uncertainty

that 2019 brings as I believe firms that

have invested in technology to strengthen

their already proven capabilities are in a

strong position to take advantage of the

opportunities that continued advances in the

consumer credit sector will bring.

Debbie Nolan FCICM, CEO of Arvato

I believe the biggest single issue facing

the industry is around vulnerability. An

increasing proportion of consumers in debt

are likely to be trying to deal with difficult

situations and are therefore at a heightened

risk of vulnerability. A report by the Money

and Mental Health Policy Institute in

December 2018 suggested that 100,000 people

attempt suicide each year partly because of

their problems with personal debt.

We draw on a wide range of sources of

information and guidance to ensure that

the best possible outcomes are achieved

for consumers in financial hardship and

potentially vulnerable situations. Strong

learning and development support is critical

to ensuring the appropriate identification,

management and review of vulnerable

customers is achieved.

This year will see even more emphasis

on training, ensuring our contact centre

agents are fully aware of their obligations

under relevant legislation and regulation,

and continue to signpost customers to

independent, non-charging debt advice

agencies, cooperating fully with those

agencies when required to do so. For our

teams it is about 'doing the right thing', being

flexible and sensitive to the needs of the

customer and thinking hard about what the

customer is telling them in order to ensure

that the solution offered is the best for that

customer

Much work has already been done to

ensure that vulnerability is identified clearly

and quickly, and appropriate forbearance,

breathing space and/or advice signposting

is given. More can be done, however, to

make it easier for vulnerable customers to

interact with creditors, in particular around

technology. We are developing additional

channels to allow customers to be able

to communicate via a media that best

suits them (two-way webchat, What'sApp,

interactive messaging etc) and this focus

on digital communications will be a major

feature of 2019 and beyond.

Nick Cherry MCICM, Managing

Director of Phillips & Cohen

In my personal view, the biggest challenge

facing the industry is actually one which

tends to largely slip below the radar until

there are significant incidents – namely

Cyber Security. This is not just specific to

the credit industry but is an issue that all

businesses that handle volumes of consumer

data are faced with.

In the last few months alone, I have

personally been a victim of the hacking of

the UK's leading national airline and of a

major hotel chain loyalty programme – and

those are the just the two that I am aware of!

As we all embrace digital innovations

within our businesses for the efficiencies

and consumer friendly functionality which

they offer, so too are we more exposed

than ever in terms of acting responsibly to

safeguard consumer data when interacting

digitally with the world.

The Recognised Standard / www.cicm.com / January / February 2019 / PAGE 15

continues on page 16 >
---
OPINION

AUTHOR – SEAN FEAST FCICM

Martin Roseweir

Paul Jarman

Eddie Nott

There is no perfect solution, and this can

only be addressed by significant continued

vigilance at all levels, through investment

in very robust data security measures and

employing knowledgeable people, together

with extensive insurance for that unthinkable

eventuality of having a major data breach.

Hopefully as an industry we can continue

to stay one step ahead of the hackers and the

phishers.

Martin Roseweir, Managing Director

of AIC UK

I believe that the single biggest issue that we

will experience in 2019 is how to reduce the

overall cost to serve and protect contribution

margins. With costs increasing year on year,

the challenge for agencies is to find ways to

sustain and improve performance without

pouring money into the traditional letter/

telephone 'old factory thinking' methods of

collecting.

This year will see increases in postage and

a further increase in the National Living Wage

and pension contributions. Passing on these

costs can meet with resistance from clients,

who are also trying to reduce their own costs.

This puts the onus on our business to find

more innovative, efficient and cost-effective

ways to deliver the expected results.

How do we address this? Enhancing

our digital capability by adding new ways

to interact with customers will be key.

Introducing and promoting web chat

capability, digital letters and the ability to

request call backs at specific times to be

more efficient with dialling strategies and

also enhancing the self-serve options for

customers.

The technology is there today to deliver

on this, and 2019 will be a collaborative year

with our clients to bring these enhancements

into the mainstream and develop strategies

that meet the performance expectations, with

always keeping the customer at the heart of

everything that we do. I believe customers

want the conversations to be easier, quicker

and less obtrusive and are open to interacting

through the many new digital and automated

solutions available. We need to deliver this in

2019.

Paul Jarman, Interim Head of UK

Operations of Hoist Finance

Outside of the expected economic challenges

that 2019 will undoubtedly bring, the way

in which we need to engage with customers

will be paramount for success. Customers

no longer expect to have to adapt their

own behaviours to our business 'habits' – it

now has to be the other way around, with

collections and other financial services

industries needing to work to ensure every

customer enjoys a preferred way in which to

engage. The speed with which these 'channels'

are developing and changing creates a

number of challenges including: the cost of

adoption – implementing additional channels

can be costly. Different technologies may be

needed and delivery methods into centres

need to be integrated; the rate of return –

while many of these new contact channels

are thought of as an eventual efficiency gain,

to actually get to a point where they deliver

a saving to your business can take quite

some time and real focus. It doesn't happen

overnight; ease of integration – training your

teams and ensuring your organisation is

designed to deal with your customers in these

different ways also takes careful planning

and a real cultural shift, and this is never easy

in any business.

This year is going to be a really interesting

year in all customer service industries as

we see more and more inventive ways to do

business – not least in collections, which is

already starting to join and in some ways

even lead the technological advance.

Eddie Nott, UK Managing Director of

Intrum

The disparate treatment of 'non-regulated'

debts is a huge challenge for the collections

industry and one that needs to be tackled

further in 2019. We believe change is coming,

with pressure on central government and

local authorities to improve their methods

and treatment of customers.

At Intrum we don't treat debts that

fall outside Financial Conduct Authority

regulation any differently from those that

do. The shift towards better treatment

of customers and a positive customer

experience has been taking place in the UK

collections industry for some time. This is the

next frontier in that change – utility, telecoms

and public sector debt collection should meet

the same high standards as those demanded

in financial services. Ultimately, it's about

forging a good relationship and creating

sustainable payment plans, not taking money

at any cost.

We are also helping drive this change

through our joint venture business H&F

Ethical Collections, which is already

revolutionising the way councils collect,

including a pledge by Hammersmith &

Fulham to end the use of bailiffs for council

tax arrears. Beyond this, we see technology

as an ongoing challenge for the sector – for

example deploying automation and AI in

ways that benefit customers and enhance

their experience rather than damage it.

In 2018 we launched our chatbot and it

has handled close to 4,000 messages in the

last six months. We're now offering our

clients the chance to have their own versions

and in the coming year will be upgrading it

to provide bespoke customer information

to individuals. 2019 will bring technological

innovation to our business in this and other

areas.

The Recognised Standard / www.cicm.com / January / February 2019 / PAGE 16
---
GAZPROM Energy's TLC

programme is one of the

best that we have ever seen'.

These were the words used

by Chris Sanders FCICM,

Head of Accreditation for

CICMQ, in his assessment of the energy

business in seeking accreditation for the

first time.

'Not only is it simple, it is clearly linked

to all aspects of the company including

rewards and recognition, company values,

conferences, appraisals and performance

management', the report goes on to say.

'The company's credit policy and the

governance that sits around it is also

excellent and has detailed document

control. The process of credit assessment

with the Robotic Process Automation (RPA)

activity for lower value SME customers is

very much at the forefront of modern credit

management thinking. Gazprom Energy

provided us with a comprehensive agenda

and full evidence file, demonstrating a very

high degree of professionalism.'

Sharon Noland, Credit Risk Manager

at Gazprom Energy, says that education

and future training is crucial to the

organisation: "For us the key is now

accessing the industry network and CICM

ROCHE Diabetes Care has achieved CICMQ

Accreditation after demonstrating 'Best

Practice' in Credit Management, with

Training and Development and Stakeholder

Management standing out as highperformance

areas during assessment.

"We strive for excellence and continuous

improvement," says Christelle Madie,

FCICM (Grad), MSc Credit Solutions

Manager at Roche Diabetes Care.

"Achieving CICMQ Accreditation serves

several purposes for us, both personally

and professionally, including raising

the profile of the Credit Department and

providing a renewed sense of excellence

across the company.

"Our aim is to keep the bar high and

continually improve; the opportunity

to access a wider bank of knowledge

through the Best Practice network is a

key advantage of CICMQ. There is also a

keen and growing interest within the team

to embark on CICM training courses and

attend professional forums."

CICMQ

Powering through CICMQ

assessment

Gazprom Energy

learning events, constantly looking to

learn more from others in the industry and

further develop as a team.

"Think Like a Customer (TLC) is our

way of thinking. It can be described

as 'putting yourself in the customer's

shoes' and 'treating the customer as you

would like to be treated.' The three TLC

principles that we live by are: Simplicity,

Solutions and Partnerships and we work

Caring About Credit

Roche Diabetes Care

Roche Diabetes Care, part of the Roche

group, was created in 2014 for the import,

market and distribution of diabetes care

equipment, associated consumables and

value adding services to the UK and Irish

healthcare markets. Last year it reported a

turnover of circa £79 million.

Pam Thomas, CICMQ Assessor said

in her report: 'Inductions for new staff

are comprehensive, including detailed

personal and professional development

programmes. All new starters receive a

The accreditation was presented by Glen Bullivant

tirelessly to ensure our people, processes,

communications and products embody

these values."

Gazprom Energy has 350 employees

operating across three countries, supplying

over 30,000 industrial and commercial

customers across the UK. It has the backing

of parent company Gazprom, who are

responsible for 13 percent of global gas

production.

Brenda Linger presented the CICMQ accreditation to Roche Diabetes Care

Job Specific Induction Programme (JSIP),

an excellent example of introducing new

members to the company.

'Since the CICMQ process began, it's

clear that work with the various areas

of the business has become closer with

daily contact with the other department

managers. The overall management of

stakeholders is very good, with regular

meetings and reports providing excellent

business, financial and risk information on

customers.'

The Recognised Standard / www.cicm.com / January / February 2019 / PAGE 17
---
TOWN AND COUNTRY

CHEMICAL

REACTION

Sean Feast FCICM talks to Tim Vine

about business information, the future of

credit management, and the relevance of

a degree in Chemistry.

THERE are worse places to meet

than the Ivy in Marlow, a stone's

throw (assuming you have the

arm of Ben Stokes) from the

UK headquarters of Dun &

Bradstreet where I've arranged

to meet Tim Vine, part of the company's senior

management team.

Tim is the Head of European Trade Credit

but, as I discover, wears many hats that include

promoting D&B Credit, the company's online

credit product suite, on a global basis. It's quite

a step from a man who graduated with a degree

in Chemistry from Birmingham University.

"There is a logic and methodology to credit

that is very similar to chemistry," he laughs.

"Everything has to have a process that leads

to a result, which in the case of credit means

getting paid."

FRAUD ANALYSIS

Tim fell into the world of business information

by accident. A university friend with a degree

in Maths had taken a job at D&B to conduct

financial statement analysis, and while Tim

had never heard of D&B, neither was his

heart in a career in Chemistry. Six weeks

later he was gainfully employed, on the

phones, researching and analysing potentially

fraudulent businesses: "What I learned very

quickly," he says, "is that fraudsters tend to tell

you everything, whereas as genuine business

will ask you why you want to know!"

Working initially in the company's

Birmingham office (in the days when D&B

operated a branch network reflecting the need

for 'feet on the street') he eventually moved to

the firm's purpose-built headquarters in High

Wycombe: "It was the days of discs and tapes

whizzing around the offices like a scene out of

Monsters Inc," he laughs.

In 2012 he moved to Toronto in Canada with

a particular remit to promote the company's

Portfolio Manager product, a role that evolved

into spearheading the development of the

D&B Credit product suite throughout North

America. For two years he lived in Hoboken in

New Jersey, on the opposite side of the Hudson

River to Manhattan: "We had all the advantages

of the Manhattan Skyline but at a fraction of the

cost," he jokes.

INVESTMENT DRIVERS

Moving back to the UK in 2016, he was given

responsibility for accelerating the promotion

for D&B Credit, not just for the US market but

also tailoring the product for a UK and European

audience. The drivers behind the investment in

D&B Credit was partly to increase and grow the

company's trade credit customer base, but more

so to genuinely add value to the credit decisions

taken by credit professionals: "Rather than the

'traditional' spreadsheet approach to credit

reports, we were adding news-feeds and even

social media reports about a business to give

the customer a cleaner and more holistic view

of a company's credit-worthiness to support

better, more informed decisions," he explains.

Certainly, D&B Credit seems to have been

well received, not just in the UK but by a global

audience. It is now actively promoted and used

in more than 40 countries across Europe, North

America and Asia. "It is especially useful in

accommodating the needs of multinationals

with a shared service centre (SSC)," he explains.

NOTABLE SHIFT

Businesses use D&B Credit to manage the entire

customer base, a notable shift from the days

of simply pulling credit reports as and when

they are needed: "In a finance and credit role

today you are expected to have ownership and

visibility of the whole customer base, and not

just their individual DSO figure," he says.

"But D&B Credit is not just for the larger

firms with a sophisticated credit management

function. It is intentionally all things to

all people. Business owners have many

responsibilities from Treasury to Sales and see

credit as a necessary evil. Whatever decision

The Recognised Standard / www.cicm.com / January / February 2019 / PAGE 18
---
The Recognised Standard / www.cicm.com / January / February 2019 / PAGE 19
---
CREDIT

PRODUCTS

DUN & Bradstreet offers modern risk

management solutions for companies of

all sizes through its D&B Credit product

suite. Anchored by the Dun & Bradstreet

D-U-N-S Number, it is designed to

equip credit and finance professionals

with data, analytics and insight to help

with everything from evaluating new

credit applicants to managing risk and

identifying opportunities for growth.

It provides a clear and customisable

view of accounts in real-time to support

decision-making and risk assessment.

D&B Credit includes: access to 300

million company records; powerful

segmentation tools, personalised

alerts and configurable credit reports;

analytics and scores to evaluate risk and

opportunity; the ability to review trade

payment data, legal events, corporate

family trees and social information.

We had all the

advantages of the

Manhattan Skyline

but at a fraction of

the cost.

The Recognised Standard / www.cicm.com / January / February 2019 / PAGE 20
---
TOWN AND COUNTRY

AUTHOR – SEAN FEAST FCICM

they are given, needs to make sense. It

needs to be justified and trusted."

Tim says that the D&B 'play' is to be the

best in class for every business segment,

from the SME to the multinational. To

that end he endeavours to bust the myth

that D&B is only for the Blue Chip: "We

are very clear about who we are and what

our role is," he continues, "and recognise

that our opinions play a significant part in

enabling business. That is a responsibility

we take very seriously.

"SMEs are being encouraged to expand,

and we need to become more influential

in opening the door of opportunity for the

good businesses."

He also believes the D&B role extends

beyond trade credit: "SMEs care about

cashflow and access to credit, so we

can play our part in opening the door

for lenders and insurers, but again this

comes with responsibility. It is clear,

though, that business information can

play a much larger role in future lending

and financing decisions.

"Late payments are also a perennial

headache for SMEs and despite efforts,

doesn't seem to be going away. For the last

two years we've commissioned a survey

and the latest results found the average

amount in overdue invoices had gone up

by around a quarter."

Key to any successful customer/credit

information provider relationship, he

adds, is delivering the content where the

business needs it most: "Companies invest

significantly in third-party systems and

want to 'consume' data in their world, not

ours. Regardless of the App or software a

company uses, our data is native and can

be presented either behind the scenes or

front of house."

CHANGING LANDSCAPE

Credit Management in the future will

be very different than it has been in

the past. Previously a 'back office'

function, decisions were often simple

and formulaic. But this is changing: "The

Credit Professional of the future will

be like a high-performance engineer,

fine-tuning and adjusting the business

'machine', managing risks down to

margins they are comfortable with, and

not getting so involved with the 'heavy

lifting'," he says.

"AI and machine learning will be more

embedded and make greater sense, but

there will always need to be someone

in charge capable of triaging issues as

they occur. The role will be more about

'exception management' than trying to do

everything."

Tim believes that credit professionals

will also have an even greater 'voice': "Only

rarely now do we have conversations

about DSO and bad debts; today it is all

about 'how can you help us grow'.

"Credit professionals are becoming

increasingly important 'up stream' as

well as 'down'. They want to know to

whom they should prioritise payments,

and be a force for good in making sales,

pre-screening new business leads and

supporting more intelligent marketing."

Tim sees D&B's role as helping to

'connect the dots' to improve business

performance: "Making connections

through clean data is a major enabler,

especially for the banks and larger

corporations with disparate CRM and

ERP systems, and being as far upstream

as you can is a major advantage. Access

to data from all of these systems enables

you to have a holistic view of a customer,

with a historical record that allows you to

assess whether this is a business you want

to be working with," he concludes.

SMEs care about

cashflow and access

to credit, so we can

play our part in

opening the door for

lenders and insurers,

but again this comes

with responsibility.

AI and machine learning

will be more embedded

and make greater sense,

but there will always need

to be someone in charge

capable of triaging issues

as they occur.

The Recognised Standard / www.cicm.com / January / February 2019 / PAGE 21
---
VIEW FROM THE SEAFRONT

A classical dilemma

The Brexit debacle and what might be to come.

AUTHOR – David Andrews

The Recognised Standard / www.cicm.com / January / February 2019 / PAGE 22
---
VIEW FROM THE SEAFRONT

AUTHOR – David Andrews

LIFE, as someone once

said, is a work in progress. An

unfinished symphony, perhaps,

to extend the metaphor. Time

slips past, and as we count down

the coming weeks towards the

end of the epic negotiations over our future

role with Europe, I daresay I am not alone in

wondering how much can be done in just a few

short weeks.

Franz Schubert, the great Austrian

composer, must surely have thought he had a

few more decades on God's earth to crack out

reams more beautiful compositions.

Of course, Schubert left behind a vast

oeuvre, including more than 600 secular

vocal works (mainly Lieder), seven complete

symphonies, sacred music, operas, incidental

music and a large body of piano and chamber

music. Yet while composing the song cycles

Die schöne Müllerin (D. 795) and Winterreise

(D. 911), Schubert succumbed to a dreadful

disease and was gone. He was just 31.

Pound for pound – or Euro for Euro – in the

time it took young Franz to write and oversee

the production of yet another landmark opera

and a couple of major symphonies, hundreds

of the (reputedly) finest economic and strategic

minds in Europe have singularly failed to agree

on key tenets which will decide our collective

futures going forward in this life.

BRAINLESS BREXIT

Naturally, it was always going to be a case

that hundreds of highly privileged British and

European agents of the State were never going

to be as efficient as one genius with true vision,

forging ahead to leave a legacy of great beauty

and monumental complexity within the space

of a few short years.

While a bona fide vision, a sense of urgency,

of time running short, is invariably the cross

artistic prodigies such as Schubert were

acutely aware had to be borne, politicians – for

the most part self-serving, egotistical in the

extreme, and more concerned with their own

outcomes rather than the legacy they will leave

behind – appear to have been unaware that the

clock has been ticking very loudly.

And so here we are. There can be few among

us who anticipated such a bun fight, the like of

which has not been seen within the peacetime

European landscape for 50 or so years.

The irony of the matter is that, before the

spectre of leaving Europe became a reality,

the UK was genuinely on a roll. Having spent

the best part of eight years hauling ourselves,

Sisyphus-like, back up the steepest incline

since the Great Depression, we have managed

to shoot ourselves spectacularly in both feet.

CRYSTAL BALL GAZING

Like Schubert and many another who departed

this Earth before their time, I have no facility

to see what the future holds. Many worse case

scenarios have been posited, not the least by

high ranking bankers such as Mark Carney

and other highly qualified individuals whose

sobering visions of an imperfect future for us

all would be foolish to dismiss.

But just as F Scott Fitzgerald embarked upon

'Tender is the Night', knowing that his health

was failing – but presumably not knowing that

he was not destined to survive long enough

to finish the great work – we will all move

forwards into an unknown future. A future

where certainties and proven economic and

social formulas of yesteryear have necessarily

been rendered obsolete.

The reality is that there is no economic

formula yet written which takes account of

an unknown. Physics and mathematics have

a certainty of outcome. The unknown does

not. We cannot forecast on a model which has

never before existed.

And while politicians and indignant

economists will insist on making strategic

comparisons to Norwegian agreements and

Canadian models and the like, this is ultimately

a strategy which lacks verisimilitude.

Here, for what it is worth, are some of my predictions for 2019:

Far fewer estate agents – euphemistically known as 'consolidation' in the

sector; ie, many will go to the wall a la 1989.

More crippling blows to our High Street retailers. Anticipate many more

department stores closing – and attendant job losses.

Online shopping will – assuming anyone has any money left – continue to

threaten the old status quo.

A severe slow down in the property market – consumers do not like

uncertainty. Prices of a greatly over-inflated market will necessarily come

down.

First time buyer activity will increase as a result – and expect more

government incentives in this area.

Further squeeze on the motor sales industry. There will be a raft of ultracheap

credit deals to stimulate the market – but inevitably big-ticket expenses

will suffer.

The diesel Porsche Panamera will become all but extinct. Look away now if

you have just unloaded £80,000.

An upswing in overseas travel bookings – many people will want to jump

ship. If only to regain sanity.

Upturn in the fortunes for the (lower end) of the credit industry as universal

credit restrictions bite.

Continuing low interest rates. The Bank of England will not risk constraining

spending.

A return to a more artisanal retail model – business rates will continue to fall

to stimulate High Street – this may well pave the way for the kind of shops

that people want.

A slow down in manufacturing output – leading to lay offs in key sectors.

Uncertainty does little to enhance the fortunes of order books.

Along with the above – which is not intended to be a litany of bleakness by

the way – we may well see a change of government this coming year. But as

Socrates said, all I know is that I know nothing.

David Andrews is a freelance business journalist.

The Recognised Standard / www.cicm.com / January / February 2019 / PAGE 23
---
COUNTRY FOCUS

Northern Ireland is one

of the fastest growing

regions in the UK.

AUTHOR – Adam Bernstein

The Titanic

visitor attraction

and a monument in

Belfast, Northern

Ireland.

The island of Ireland: Part three

NORTHERN LIGHTS

The Recognised Standard / www.cicm.com / January / February 2019 / PAGE 24
---
COUNTRY FOCUS

AUTHOR – Adam Bernstein

THEY say that a week is a long

time in politics so imagine the

change visible in Northern

Ireland after 20 years. That's

how much time has passed

since the Good Friday

agreement was put in place to bring peace to

a troubled part of the UK.

According to Invest Northern Ireland, the

region's development agency, the province is

'one of the fastest growing regions of the UK

and offers SMEs excellent opportunities for

growth and prosperity.'

Northern Ireland is the smallest of the

four parts of the UK with just 2.9 percent

(1.8 million) of the population spread over

5.7 percent of the UK landmass. Population

density is low compared to the rest of the UK

at 133 per sq. km. In comparison, the Irish

Republic has a density half that of Northern

Ireland's. Interestingly, the province's

population in 2001 was recorded as being

just above that in 1841. With politics based

on religion, it's likely – reckons the BBC – that

Catholics in the province could outnumber

Protestants (and other faiths) by 2021.

Belfast is the capital and Northern

Ireland's largest district with 340,000 people.

Next comes Armagh with 212,000 while

Newry has 179,000. The other eight districts

in the province have between 116,000 and

160,000 apiece.

EMERGING ECONOMY

Economically speaking, despite being on

the same island, the Irish and Northern

Irish economies are poles apart. In April

2018 the Belfast Telegraph suggested that

Ireland's economy would expand by 4.9

percent in 2018 compared to just 1.4 percent

in Northern Ireland. The paper also noted

the disparity between Ireland and Northern

Ireland when it wrote in June 2017 that

'exports from the Republic are €89 billion

(£77.85 billion) while from Northern Ireland,

exports are a paltry €6 billion (£5.25 billon).'

But it appears that this disparity cushioned

the Northern Ireland economy from the 2008

crash as it didn't have as far to fall.

Infrastructure in Northern Ireland is

excellent being sited so close to the UK

mainland. The road network is good and

(at present) permits frictionless trade with

Ireland. International freight can be in

Europe by air within 24 hours and by road

and sea within 48 hours – all facilitated by

seaports in Belfast, Derry, Warrenpoint and

Larne. International air travel is just as good

– London is an hour away with a direct link

and European capitals aren't far behind.

Of course, a key attraction of Northern

Ireland is that it shares a border with Ireland.

which when sterling plummeted following

the Brexit vote, saw much cross-border trade.

Key exports for the province

are, says Invest Northern Ireland, computer

and related activities; research and

development; market research; business and

management consultancy; architectural and

engineering; technical testing and analysis;

advertising; and creative entertainment.

The main business sectors include

software, contact centres and financial

services. But other areas of note are

aerospace, engineering, health technology,

services, manufacturing, construction,

agriculture, and tourism.

TAX AND HELP

The corporation tax rate is presently aligned

with the mainland at 19 percent, however,

once a government is reinstated in the

province legislation permits – and it is a

stated goal – a rate of 12.5 percent which will

put it on a par with Ireland. The standard

rate of VAT is 20 percent and personal

income tax uses the same bands and rates as

the mainland (apart from Scotland).

Invest Northern Ireland, notes that

those investing in the area may be offered

incentives such as revenue grants towards

start-up costs, interest relief, factory

rental costs, training costs, marketing

development costs and R&D (with R&D

capital spending being written off against

income); pre-employment training grants;

employment grants; finance investment

and concessionary loan rates; property tax

exemptions for manufacturing property; and

generous depreciation allowances.

There is much to make Northern Ireland

a destination for businesses, especially when

the incentives and relatively low cost of the

workforce are factored in. With luck Brexit

will not harm the province.

Adam Bernstein is a freelance

business writer.

Belfast City Hall

International freight

can be in Europe by air

within 24 hours and by

road and sea within 48

hours – all facilitated

by seaports in Belfast,

Derry, Warrenpoint and

Larne.

The Recognised Standard / www.cicm.com / January / February 2019 / PAGE 25
---
TRADE TALK

PANIC

STATIONS

How businesses should prepare for every

eventuality after Brexit.

AUTHOR – Lesley Batchelor OBE FCICM

DON'T panic – although

setting up borders is

no easy task, this is the

gargantuan task the UK

Government could face on

day one of their post-Brexit

world, whenever that may be. If we do take

back control of our borders post-Brexit, this

will require new border checks and controls

for goods being moved between the UK and

the EU to be applied either overnight, or

after a transition period.

Much has been written and said about

the potential for disruption should UK

authorities not be properly prepared to

take on these functions for UK-EU trade in a

sudden 'no-deal' situation. The Government

is taking steps to prepare itself for the surge

in checks to be applied – including the

training of new customs officers.

More important, however, will be

the preparing of the whole chain of

organisations involved in the moving and

checking of goods from the UK to the EU

– from port operators, clearance agents

and freight forwarders to the exporting

businesses themselves.

PERIOD OF ADJUSTMENT

According to the Institute for Government

there are 180,000 businesses currently

moving goods between the EU and the UK

that will be making customs declarations

for the first time, many of which are SMEs.

They also calculate that the introduction of

customs declarations for these businesses

could cost traders in the region of £4 billion

a year.

In December the Government sent

out advice to these businesses for what

it termed 'the unlikely event that the UK

leaves the EU without a deal on 29 March

2019'. In this advice businesses were asked

to register for an Economic Operators

Registration and Identification Number

(EORI) with HMRC, plan for how they

were going to make customs declarations

(through an agent, by themselves or using

a software programme), and to ensure the

organisation moving their goods knows

what additional information they may need

to provide (for example, safety and security

declarations).

It is apparent, therefore, that businesses

and the customs support and logistics

organisations they rely on, need to be

prepared for changes at the border after

Brexit – whether that's in March 2019, the

end of 2020 or beyond. At the Institute of

Export & International Trade we've been

adamant that it's never too early to start

preparing for changes as significant as this.

CUSTOMS DECLARATIONS

We welcome some of the steps being taken

by government to facilitate this change. For

instance, we particularly support the grant

funding it is providing for businesses that

will be making customs declarations post

Brexit. This funding is provided for training

to learn how customs procedures work or

the improving of IT systems businesses use

for managing declarations.

In partnership with EEF, we deliver

professional training courses across the

country that this funding can be applied

to. We provide a series of courses that give

individuals and organisations a proper

understanding of how customs declarations

are made and general customs procedures,

including the following:

• Customs Procedures and

Documentations*

• Customs Classification and Tariff Codes*

• Understanding Rules of Origin, Free

Trade Agreements & Export Preference*

• Excise Duties & Procedures

• Introduction to Export Licensing Controls

• Post Brexit Compliance & Documentation

• Post Brexit Planning Workshop

• Introduction to Exporting

• Introduction to Importing

• Advanced Exporting

• Advanced Importing

*These courses qualify for HMRC grant

funding so greatly reducing the cost to you

and your business of achieving this award

from the Institute of Export & International

Trade

A SMOOTH TRANSITION

We have also created a 'Customs

Professional Pathway' through which six

of our courses can be taken in conjunction

towards the attainment of our 'Customs

Practitioner Award' (including the first

four of the fundable courses listed above).

We did this because we believe that a new

profession of 'Customs Practitioners' is key

to ensuring businesses can navigate the

new checks and controls being applied to

goods being moved between the UK and

the EU. This profession could well be the

lifeblood of a new customs partnership

between government and the private sector

– one that is able to adjust to the significant

changes ahead.

Whatever happens in regard to the UK's

exit from the EU, as long as it happens,

some changes at our borders will be

inevitable at some point. Waiting for the

outcome of Brexit to crystallise is a waste

of time for businesses, because if there is a

cliff-edge exit in 2019, 2020 or beyond, the

impact will be sudden and unavoidable.

Businesses that have not prepared for this

impact will suffer greatly. Businesses need

to have the skills and the ability to adjust

processes for any outcome of Brexit – the

stakes are that high.

If you are interested in becoming one of

the Customs Practitioners we need, please

get in touch with the Institute of Export &

International Trade – our mission is to help

UK Businesses to build competence and

confidence to trade internationally.

Lesley Batchelor OBE FCICM is Director

General of The Institute of Export and

International Trade.

Lesley Batchelor OBE FCICM

The Recognised Standard / www.cicm.com / January / February 2019 / PAGE 26
---
www.portfoliocreditcontrol.com

PROUD SPONSORS OF

CUSTOMER SERVICE

HERO OF THE YEAR

would like to wish all the nominees

Good Luck at the CICM Credit Management

Awards 2019...

we look forward to seeing you there!

Portfolio Credit Control, part of the Portfolio Group,

are proud to be the only true specialist Credit Control

recruitment agency in the UK.

Solely recruiting for Credit Controllers and Credit professionals,

our market knowledge and industry experience has remained

steadfast at the forefront of the sector since 2008. Recognised as

an award-winning recruiter, we've been accredited as one of the

Best Companies to Work For in 2019 and we are also an audited

and compliant member of the REC. Our unique attributes enable

us to fill your next credit control vacancy simply and swiftly.

We understand the hard and soft skills of a Credit Controller

and we pride ourselves on finding you the perfect match.

All our temporary candidates are fully referenced and come

with a first day free trial – so, if you aren't happy you don't

pay a penny to ensure your full confidence.

We have immediately available multi-lingual Credit

Controllers to deliver effective debt management across

the globe.

Unparalleled market knowledge of our sector with

immediately available specialists in the areas of

Corporate, Consumer, International, Credit Control

and Collections. Unparalleled market knowledge

of our sector with immediately available

specialists in the areas of Corporate,

Consumer, International, Credit

Control and Collections.

3

YEARS

IN 2018

Contact one of our specialist recruitment consultants on

London 020 7650 3199 or Manchester 0161 836 9949

email recruitment@portfoliocreditcontrol.com

www.portfoliocreditcontrol.com

theportfoliogroup portfoliocredit portfolio-credit-control

The Recognised Standard / www.cicm.com / January / February 2019 / PAGE 27

WE ARE RATED 9 OUT OF 10
---
INTERNATIONAL

TRADE

Monthly round-up of the latest stories

in global trade by Andrea Kirkby.

ALWAYS LOOK

AT THE MARGINS

AN interesting piece from Coface shows

that French exports are lagging. Leading

exporters in automotive and aeronautics

are focusing on the domestic market

despite the fact that they are highly

competitive globally. Why? Because

they've decided to use increased

competitiveness to increase their export

margins, rather than to gain market share.

That gives them a nice cushion as global

trade slows.

There are two messages here. One is

always look at your customers' margins as

well as their balance sheets when you're

taking credit decisions. The other: there

are more ways than one of thinking about

growing your exports.

TROUBLE IN AUTOS

LOOK at the charts of car sales around the world and it seems

someone's just stamped on the brakes. Annualized growth

entered negative territory earlier in 2018 and it's getting

progressively worse. Bond markets have voted with their feet –

auto is the worst performing high yield bond sector of 2018, GM

is closing five North American plants, and Nissan/Renault head

Carlos Ghosn is under arrest. Jaguar Land Rover and Ford are also shedding

jobs and reviewing strategies.

Most of the big government sponsored packages for replacing older cars

have now expired. Demographics and tighter pollution regulations form

major headwinds, and there's a threat of turbulence from hybrid, electric,

and self-driving cars. If the auto sector goes into the red, there's a huge

supply chain that will go down with it. If you're selling into this sector, be

very, very careful. Things aren't going to get any easier.

Euler serves up the ugly

side of English

SERVITIZATION: I saw this word in a Euler

Hermes report and I was not impressed.

What a truly ugly word it is. I really hope the

Oxford English Dictionary doesn't make it

one of its words of the year.

But it does describe something quite

important – not just the massive growth of

the services sector in emerging markets,

but the way services are entering every

aspect of the economy. Even the most

hide-bound manufacturer probably now

uses e-commerce trading platforms or

has embedded software – cars with autodiagnostic

systems, for instance. Many

manufacturing and construction firms

now have as much revenue from add-on

services as they do from their products;

some have even reconfigured products as

services. Euler Hermes expects services

to be the big trade winner next year, with a

massive $365 billion of export gains. Time

to think about how you too can benefit

from servitization, whether or not you like

the word.

A POLITICAL AND

ECONOMIC DISASTER

SRI Lanka was getting its act together

nicely, with high GDP growth following

the end of civil war in 2009, but now

it's rapidly turning into a political and

economic disaster. The President has

ousted the Prime Minister and tried to

reinstall 'strongman' Mahinda Rajapaksa.

That risks fuelling ethnic tensions with

both Muslim and Tamil communities and

could destabilise the economy. The Sri

Lankan rupee is already one of the worst

performers among Asian currencies for

2018, and that could easily get worse if

the constitutional crisis worsens. S&P has

already cut the credit rating from B+ to B.

As an oil importer, Sri Lanka has found

coping with increased oil prices tough,

and with a widening current account

deficit and a looming foreign debt crisis,

the strengthening dollar put it under

the cosh for most of the year. There's a

bit of wriggle room now as both oil and

the dollar have weakened, but if foreign

investors get nervy, that could tighten

the screws. Keep a very close eye on the

currency and on the political situation.

The Recognised Standard / www.cicm.com / January / February 2019 / PAGE 28
---
China's slowing – sell Argentina?

MOST people think China's deceleration

will hurt Asian markets. But according

to research from Bank of America Merrill

Lynch, it will hurt Latin America much

more. While emerging markets lose 0.7

percent in growth for every one percent

that China slows, Latin America contracts

by 1.2 percent. China is a big purchaser

of LatAm's commodities exports. Longer

term, China has also been a major investor

in the region; if that investment slows, it

will lower long term growth rates.

Of course, the region isn't a single

market. BBVA's economic research shows

Chile, Paraguay, Peru and Colombia

strongly outperforming the rest. While

Argentina is forecast to recover, it will

remain soft. Brave exporters, though,

should look at Brazil – while 2.5

percent growth is nothing to shout about,

it's a big leap from under one percent in

2017-8.

World Powers race towards

trade Armageddon

IN a world where global trade is already

softening, with growth in the value of

trade slowing from 7.2 to 6.3 percent,

you really don't want a trade war. At the

G20 summit in Argentina, pragmatism

seemed to have won the day. The US

and China slowed down their escalating

skirmish and hit the pause button.

Markets breathed a sigh of relief.

Then Canada arrested telecoms

equipment maker Huawei's CFO for

breaking US sanctions. The cat is

now back in the middle of a thousand

pigeons. It could be carnage.

Euler Hermes says a 'trade feud'

would only trim half a percent off global

GDP. But trade war? That's another

kettle of fish. It would trigger a global

recession. Two percent off GDP for

starters. And, of course, there's more

than just trade involved; this is a fight for

global political influence as well.

Rather than wrangle for global

economic supremacy over the long term,

Trump is bringing on Armageddon. It

might be a calculated gamble; march on

your enemy before they're ready for you.

He clearly thinks he'll win; we're not that

sure. So…mind how you go in 2019. It's

going to be a difficult year.

Thinking differently about Ukraine

EMERGING

CURRENCIES

A softer greenback made for happier

emerging markets at the end of 2018.

Ertswhile dogs like the Turkish lira and

Indian rupee rose six percent and five percent

against the dollar in November, the rand did

quite well and even the Argentinian peso was

up on the month.

But the oddest phenomenon in emerging

markets has been the move in EM bonds.

Corporate bonds now trade tighter than

government bonds – investors trust

companies to pay them, more than they

trust governments not to default. That's

partly a reaction to crises in Turkey and

Argentina, but even so, it suggests currencies

may be a bigger issue than customers'

creditworthiness in 2019.

TALL STORY

TALL Security Group won a Queen's Award

for Enterprise 2018 and has neatly summed

up the lessons it's learned.

First, know your product and how it will

be used in the country you're exporting to.

That could be different from the way it's

used here. For instance, in some countries,

putting the parties' symbols on ballot

papers is important for non-literate voters.

Secondly, keep your routes to market

open. Direct exporting, using distributors or

partners, or e-commerce are all possibilities

– don't rule any of them out.

Get the paperwork right. Export

documentation, payment procedures,

legal requirements, who pays for logistics,

incoterms – you need an export nerd who's

on top of it all.

Finally – and the best advice of all in my

book: 'Don't stop at one'. Once one country's

dealt with, start on the next.

It's certainly worked well for TALL, which

has exported to Uganda, Ethiopia, Kuwait,

and Greece among other markets. A quarter

of turnover now comes from international

markets – though TALL warns exports in

the security print trade can be 'feast and

famine', depending on election years.

CURRENCY UK

EXCHANGE RATES VISIT

CURRENCYUK.CO.UK OR

CALL 020 7738 0777

Currency UK is authorised and regulated

by the Financial Conduct Authority (FCA).

UKRAINE is entering a difficult period.

Tensions with Russia are growing,

particularly over the Kerch strait, Ukraine's

access to the Black Sea, but it might be time

for contrarian thinking.

First, Ukraine has high hopes of a

new International Monetary Fund (IMF)

programme that could put some stimulus

into the economy. There's been reasonable

political stability for the five years since

the Maidan Revolution, and while reforms

have stalled, and elections next year could

be tricky, an IMF deal could give President

Poroshenko's government a fresh impetus.

The economy is recovering from the sharp

recession of 2015 and is now getting 3.5

percent growth in GDP. Admittedly, inflation

at ten percent remains uncomfortably

high, and Credendo has the country on

its highest level of medium to long term

political risk. Credendo has said an upgrade

could be on the cards – so it could be

time to target this market. There are big

opportunities in agriculture, education, and

infrastructure – and as you might expect,

given the conflict with Russia, in defence.

HIGH LOW TREND

GBP/EUR 1.1214 1.1023 Up

GBP/USD 1.2871 1.1296 Up

GBP/CHF 1.2648 1.2452 Down

GBP/AUD 1.8117 1.7528 Up

GBP/CAD 1.7505 1.6847 Up

GBP/JPY 142.336 136.633 Down

The Recognised Standard / www.cicm.com / January / February 2019 / PAGE 29
---
HIGH COURT ENFORCEMENT OFFICERS ASSOCIATION

SALE OR RETURN

Why do Enforcement Agents sell the goods they

take into control?

AUTHOR – Andrew Wilson MCICM

THE answer to this question

is simple. If debtors know

their goods could be seized

and sold, they're likely to

be more prompt in paying

their debt in full. The power

to take control of goods and, if need be, to

sell them, is a lever to encourage debtors

to pay what they owe. The majority of

successful paid in full cases are payments

to avoid goods being taken into control

and sold.

Instalments are only taken where

there are no goods to cover the amount

due. Goods should only be removed and

sold if, by doing so, at least 20 percent of

the proceeds goes to reduce the amount

due. Removal to solely cover costs

and enforcement fees could be seen as

disproportionate.

Enforcement Agents, under a High

Court Writ, must attend a debtor's

premises, even when an offer to pay by

instalments is made. This is to check

whether there are, in fact, goods to cover

the amount of debt. If this proves to be the

case, the enforcement continues and the

instalment offer is refused.

THE WORST OPTION

Sale of goods is the worst option for

a debtor. A forced sale produces, on

average, less than half of second-hand

value. Sale incurs the maximum scale

fees and auctioneers' commission. Sale

of a car without keys halves its value. Yes,

Enforcement Agents can remove cars

without keys, but I wouldn't suggest you

put yourself in a position to test that!

Scale fees are all set out clearly in

the Notice of Enforcement. This is why,

increasingly with B2B debt, payment

is made (30 percent or so) at the early

compliance stage where the cost is limited

to £90 plus a small amount of interest.

For a finance director, with the necessary

money to pay the debt, it would not make

financial sense to delay the payment.

SETTING AN EXAMPLE

For a lever to be effective, it must

actually be used from time to time 'pour

encourager les autres'. (Those of you who

recall Voltaire and poor Admiral Byng will

remember!)

If the lever is not used regularly (but

only in a tiny proportion of cases, 2.5 to

five percent), debtors might think that the

threat is toothless and that instalments

are the order of the day.

This is where High Court and County

Court practice has become rather

different. Enforcement Agents, acting

under a High Court Writ and County Court

Bailiffs, acting under a Warrant, have

identical powers under the Taking Control

of Goods procedure. But the County Court

Bailiffs have a tendency not to use them.

In the days of Sheriffs (pre-2004), I

started with seven Sheriff's Officers which

reduced to four over my 30 years as an

Under Sheriff. I didn't keep three of those

staff members because they tended to

take instalments rather than payment in

full and rarely chose to take goods into

control and sale. This was the easier

option for them but not the best way to

get the debt paid immediately. Once a

more active officer took over, she went

to sale regularly in the first six months,

establishing a more robust approach and

thus being more effective in recovering

debt.

So, what have we sold lately? A

half restored classic cabin cruiser,

woodworking machinery, a HGV, the

contents of an art gallery and a vaping

shop, equipment from a dental surgery

and many cars (including a Maserati

where the debtor will get some money

back from the surplus on the sale).

Sale is generally at the eleventh hour

of the enforcement process (it can still be

stopped up to the morning of the auction

but at a cost) and is sometimes the only

option. It is a blunt instrument which can,

nevertheless, be very effective.

Andrew Wilson MCICM is Chairman

of the High Court Enforcement Officers

Association (HCEOA).

The Recognised Standard / www.cicm.com / January / February 2019 / PAGE 30
---
DON'TGET STUNGBY

THELATESTAML

REGULATIONS

Will your

AML checks

stand up to new

scrutiny?

Are your current AML processes compliant

with the latest Regulations? SmartSearch is fully

compliant and hosts all your AML verification outcomes

including Sanction &PEP searches included in your basic

AML cost. All data can be retrieved 24x7x365 for investigation

or audit purpose. This includes enhanced due diligence cases and

supporting information.

Call us now to book afree demonstration on:

0113 399 6010

Or visit us online:

SMARTSEARCHUK.COM

POWEREDBY

SmartSearch delivers UK and International Business checks in the UK and International

Markets with inclusive Worldwide Sanction &PEP screening, Daily Monitoring, Email

Alerts and Automated Enhanced Due Diligence.

The Recognised Standard / www.cicm.com / January / February 2019 / PAGE 31
---
OPINION

PULLING

THE WOOL

Looks can be deceptive, and costly, especially

when it comes to the granting of credit.

AUTHOR – Derek Scott FCICM

I

wonder how many problems

in relation to payment or even

bad debts have been caused by

the granting of credit based on

a potential customer's image?

I believe the number would be

pretty substantial. If only I had a pound for

every time I have witnessed an instance

of this nature! Many would have been

made by people without any real training

or experience in credit management, but

some certainly have been from so-called

'credit professionals'.

The image conmen (mainly men but

some women!) use various methods to

gain credit facilities, firstly in the business

titles that they adopt, using words like

'group' or 'international' or something

close to the name of a large company.

They appear to use a prestigious address,

or claim to have multiple overseas offices

or branches. As individuals, they may

have apparently earned a good many

qualifications, with splendid initials after

their names, or belong to an illustrious

trade body.

SWEETS AND BEAUTY

These are just some examples of people

using false titles that I had the pleasure

of coming across. In relation to the word

'group' the best example must still be in

Scotland where the head office turned out

to be a sweet shop! The term 'international'

was used on a regular basis often coupled

with lists of offices overseas. One was

a beauty salon in the north of England

which claimed to have branches in every

overseas major city including Paris and

Singapore.

It was all bogus, and just a front for

a scam operation which ended up with

the person involved being hunted by

the police. I am certain, however, that a

few years later they re-surfaced on the

TV looking for funds to finance a new

business. Somewhere I have a video of

these programmes and they often use a

company name close to that of a major

business. Regretfully I could not recover

the SME's money.

GOLDFINGER TOUCH

The outstanding example of a person

running more companies than you can

shake a stick at was in a south coast

town where from a small office a man

known as 'Goldfinger' ran virtually every

type of business you can think of, from

construction to medieval banqueting.

We bought a company and I inherited

a group of very old debts. I noticed though

they were different types of businesses

that all had the same address. I had

some extremely interesting meetings

with the gentleman who drove a car

with a personalised number plate, and

numerous reasons why he had not paid,

even though he appeared very wealthy.

The last confrontation was in court, but

like all his creditors I did not get paid as

he vanished abroad as every company

went bust.

On a smaller scale, I have encountered

other 'groups of businesses' based in a

hairdressers, porta cabins, and even a

derelict colliery's bath house! However,

believe it or not, I did recover what they

owed.

I often found directors had many letters

after their names, but if you checked these

were not earned, but just organisations

where if you can pay, you can join. Some

sound important, and that's still the same

case. Then there are trade organisations

logos, but again anyone can join. I knew

someone who earned his living selling

membership to these types of bodies on a

commission basis only.

BURLINGTON BERTIE

Then of course we have the individual's

personal image. They are usually the very

essence of style – well-spoken, astute

etc. We have the 'name droppers' who

remind me of the line from the old music

hall song 'Burlington Bertie, Everyone

Knows Me'. Usually they have been

with some important person, Lords and

Sirs are a favourite, but it might even be

someone from the Government. Several

times I was told 'of course I know the

chairman!'

I found many SMEs incurred bad debts

because they are impressed by these

types of people, and often because their

addresses were in 'posh parts of town'. I

have door knocked at some of the most

palatial properties you can imagine with

at least two up-market cars in the drive.

No doubt all on credit and not paid for!

I have also met what I can only call

likeable rogues who reminded me of

Charlie out of Bergerac (for our younger

readers, that was a detective drama series

based on Jersey from the 1980s. Ed.),

but when dealing with them you needed

your wits about you.

IMAGE COUNTS

Many years ago, someone, though I

cannot remember who it was, conducted

an experiment in relation to whether

a person's image could affect a credit

decision. They arranged for two men

to visit major department stores in

London; this is my interpretation of what

happened, and no real surprise.

The first man was dressed in a rain coat,

football scarf and cloth cap. He went to

the area where you could arrange a store

credit account.

'Can I help you sir?'

'Yes, I would like to open a credit account.'

'I see, can we have some details please?

First your full name?'

'Fred Smith.'

'Your address?'

'24, Harold Wilson House, Bevan Estate,

London.'

'Occupation sir?'

'Waste Removal Operative.'

They completed a few more details

and then after a short deliberation the

store credit executive said: 'I regret sir

that we are not in a position to open a

credit account for you, but we will give

you a discount card to use when making

cash purchases.' The man subsequently

spent several hundred pounds in the

store.

The Recognised Standard / www.cicm.com / January / February 2019 / PAGE 32
---
OPINION

AUTHOR – Derek Scott FCICM

It was all bogus, and just a front for a

scam operation which ended up with

the person involved being hunted by

the police. I am certain, however, that a

few years later they re-surfaced on the

TV looking for funds to finance a new

business.

A second man went into the credit account

department. He was dressed in a camel

coat, with a bowler hat, a Guards tie and

rolled umbrella.

'I would like to open a credit account.'

'Certainly sir. First your name please?'

'Captain Charles Digby Fortescue-

Compton.'

'Address?'

'The Dower House, Briston Magna, Norfolk.

I also have a flat in Mayfair.'

'Let us complete your application.'

In a few moments the credit executive said

'no problem sir, you qualify for one of our

gold credit accounts, so you can purchase

any item up to £5,000 at very competitive

rates.'

The man soon used his card extensively

in the store. After three months they had

not received even one payment, so the

credit executive wrote a letter to the man

pointing out that despite sending invoices,

statements, and polite reminders no money

had been received, and they now required

prompt settlement.

They received the following reply. 'I

acknowledge your communication and

would advise you I have what I consider

a fair payment system for all my many

creditors. At the end of each month I put

all their names in a hat and pay those that I

pull out. If you send me any more letters of

this nature your name will not even go into

the hat!'

Is this story fantasy? Regretfully the

answer is no. I wish I had a pound for every

bad debt due to a con artist's perfect image.

This story is loosely based on a real

experiment which took place some years

ago. I believe the findings are correct as

many moons ago I was interviewed for the

position of credit manager in a very famous

London department store. I was asked

about my credit control strategy, procedures

etc. When I described my approach, I was

advised that my policy was not an acceptable

one in view of the high calibre of their

customer base. It was not the job for me!

Derek Scott FCICM is a freelance writer.

The Recognised Standard / www.cicm.com / January / February 2019 / PAGE 33
---
80 YEARS OF THE CICM

Meeting of minds

June 1934 – Cuthbert Greig

met with William S Swingle,

a Manager at the Foreign

Credit Interchange Bureau

(FCIB) of the National

Association of Creditmen.

ICM begins

working closely

with Government

March 1980 – Sir Kenneth

Cork played a key role in the

insolvency law reforms. Working

closely with government the

profile of the ICM was raised

considerably and members of the

senior team regularly commented

in the national press.

1934

Agreements on text

and evening lectures

July 1939 – the first formal meeting

was held. Cuthbert Greig was elected

Chairman and the other council

members as Fellows. The publication

of credit management text books was

agreed as well as a series of evening

lectures.

1939

1947

September 1947 – the

Council agreed the new

name – The Institute of

Credit Management. The

official publication is

named 'The Transactions

of the Institute of Credit

Management'. The first

student enrolled on

correspondence course.

1980

1938

1946

1964

1986

1987

The start of the

post-war revival

Arise Sir

Kenneth

What's in a

name?

November 1938 – the

committee would be

known as the National

Institute of Creditmen.

Based in London with

regional branches,

membership fees were set

at £1 1s per year for full

members and 10s 6d for

associates.

July 1946 – following a

number of years of quiet, an

unofficial meeting was held

and revived the Institute.

It was also agreed that

papers would be generated

to ensure those 'creditmen'

who had been away to war

would not be disadvantaged.

Membership

drive

November 1946 – the first

AGM. Greig steps down as

Chairman and becomes

President. A major drive for

new members begins under

new secretary.

March 1964 – Sir

Kenneth Cork elected

President. He also

served as Lord Mayor

of London between

1978-1979.

1986 – Son of Sir

Kenneth, Sir Roger

Cork was the driving

force behind the

establishment of

the Federation

of European

Credit Managers

Associations

(FECMA). He was

Lord Mayor of London

between 1996-1997.

The big

Mac retires

March 1987 - J.C. McNeil Greig

retires after 40 years' service

including time as Chairman

and Vice President.

The Recognised Standard / www.cicm.com / January / February 2019 / PAGE 34
---
2019 marks the 80th anniversary of the Chartered Institute of Credit

Management (CICM). Over the course of the year we will take a closer

look at the most important moments in its rich history and those figures

that have played a part in shaping it.

CHARTERED INSTITUTE OF CREDIT MANAGEMENT ●80

YEARS

1939 - 2019

A new man

at the top

January 2006 –

replacing Peter

Rowe MBE who had

been in post since

1992 establishing

and independent

secretariat for the

Institute, Philip King

FCICM appointed

Director General.

Publication of

the first of the

Managing

Cashflow Guides

January 2008 – the

Managing Cashflow Guides

were developed by the

ICM for the Department of

Business, Innovation and

Skills (BIS) as part of a

major initiative to improve

the payment culture among

UK PLCs.

Achieving

Chartered

Status

January 2015

– the most

significant

moment in the

history of the

organisation came

when the ICM

formally became

the Chartered

Institute of Credit

Management

(CICM).

Bringing credit

management to a

TV audience

November 2017 – CICM partners with

ITN Productions to produce a news and

current affairs style programme exploring

the impact credit management has

across the supply chain and the need to

support the growth of businesses and the

economy through healthier cashflow.

2006

2008

2015 2017

2009

2009 2015

2018

2018 2019

The

Prompt

Payment

Code

January 2009 –

the launch of the

Prompt Payment

Code. The ICM

administered the

code on behalf

of BIS. This

collaboration with

government raised

the profile of the

ICM further.

Director General

becomes Chief

Executive

June 2009 – Philip King

appointed Chief Executive as

part of a move to streamline

the management structure of

the organisation and make

it fit for purpose for the 21st

Century.

By Royal

appointment

March 2015 –

the Royal Charter

unveiling

ceremony with

many guests

attending from

the Institute's past

and present.

Launch of the

Knowledge

Hub

July 2018 – the

launch of the

Knowledge Hub,

an initiative to

provide members

and subscribers with

access to more than

1,000 knowledge

resources covering

the entire credit

management life

cycle.

Safety in

numbers

July 2018 – The

Mentor Hub is

also launched.

CICM members

can achieve

significant

professional

and personal

benefits by being

matched with

a mentor or

mentee.

The Recognised Standard / www.cicm.com / January / February 2019 / PAGE 35
---
PAYMENT TRENDS

Reasons to be cheerful?

The latest monthly business to business payment

performance statistics.

AUTHOR – Jason Braidwood FCICM(Grad)

WITH ongoing uncertainty it is

perhaps not a surprise that

payment term performance

has fluctuated from one

month to the next in recent

times. But after a concerning

last month with increases across the board, it is

encouraging to see some improvement, with the

average Days Beyond Terms (DBT) figures across

regions and sectors reducing to 14.1 and 14.3 days

respectively.

SECTOR SPOTLIGHT

This month's sector spotlight shows more positives

than negatives, with improvements aplenty and

only seven sectors posting increases in payment

terms.

It has been a particularly strong month for

Manufacturing, which has reduced its DBT by an

impressive 8.0 days and moved off the bottom of

the standings. Similarly moving away from the

lower reaches of the table is the Professional and

Scientific sector, reducing DBT by 6.1 days.

At the other end of the scale, it has been a

disappointing month for the Energy Supply Sector

which is now bottom of the table, with an increase

of 4.0 up to 19.6 DBT. Surprisingly, it's also been

a poor month for Hospitality, which has dropped

off top spot following a 5.1 increase to 12.1 days.

Public Administration now sits top off the pile on

7.7 DBT.

REGIONAL SPOTLIGHT

The regional standings are significantly more

encouraging, with improvements made across the

board bar Scotland, where DBT has increased only

very slightly (0.2 days) to 14.7 days.

Despite remaining at the wrong end of the

table, the biggest movers this month are Northern

Ireland, London and Wales which have made

good strides to improve performance, cutting DBT

by 6.8 days, 5.9 days and 5.0 days respectively.

A further improvement by East Anglia, reducing

DBT by another 2.4 days to 11.7 days means it now

tops the table as the best performing region.

Jason Braidwood FCICM(Grad),

Head of Credit and Collections at Creditsafe

Business Solutions.

It has been a particularly strong

month for Manufacturing,

which has reduced its DBT by an

impressive 8.0 days and moved

off the bottom of the standings.

The Recognised Standard / www.cicm.com / January / February 2019 / PAGE 36
---
PAYMENT TRENDS

AUTHOR – Jason Braidwood FCICM(Grad)

Top Five Prompter Payers

Region Dec 18 Change from Nov 18

East Anglia 11.7 -2.4

West Midlands 12.0 -2.5

South East 12.3 -1.5

South West 13.0 -2.3

East Midlands 13.5 -2.4

Getting Better

-8.0 Manufacturing

-6.1 Professional and Scientific

-3.4 Construction

-3.1 Water & Waste

-2.4 IT and Comms

Top Five Prompter Payers

Sector Dec 18 Change from Nov 18

Public Administration 7.7 -0.1

Entertainment 9.7 2.5

Education 9.9 2.1

Health & Social 11.9 1.9

Hospitality 12.1 5.1

Bottom Five Poorest Payers

Region Dec 18 Change from Nov 18

Northern Ireland 17.3 -6.8

Wales 16.7 -5.0

London 16.4 -5.9

Scotland 14.7 0.2

North West 14.5 -3.4

Getting Worse

5.1 Hospitality

4.0 Energy Supply

3.3 Business from Home

2.5 Entertainment

2.1 Education

Bottom Five Poorest Payers

Sector Dec 18 Change from Nov18

Energy Supply 19.6 4.0

Wholesale and retail trade 17.2 1.6

Mining and Quarrying 17.2 -2.1

Water & Waste 17.2 -3.1

IT and Comms 16.3 -2.4

Surprisingly, it's also been a

poor month for Hospitality,

which has dropped off top

spot following a 5.1 increase

to 12.1 days.

SCOTLAND

14.7 DBT

NORTHERN

IRELAND

17.3 DBT

Region

Getting Better – Getting Worse

NORTH

WEST

14.5 DBT

YORKSHIRE &

HUMBERSIDE

13.9 DBT

-2.4

-2.4

-5.9

-3.4

-6.8

0.2

-1.5

-2.3

-5.0

-2.5

-0.4

East Anglia

East Midlands

London

North West

Northern Ireland

Scotland

South East

South West

Wales

West Midlands

Yorkshire and Humberside

WALES

16.7 DBT

SOUTH

WEST

13.0 DBT

WEST

MIDLANDS

12.0 DBT

EAST

MIDLANDS

13.5 DBT

LONDON

16.4 DBT

EAST

ANGLIA

11.7 DBT

SOUTH

EAST

12.3 DBT

The Recognised Standard / www.cicm.com / January / February 2019 / PAGE 37
---
THE RECOGNISED

STANDARD

CICM British Credit Awards 2019

7 February 2019

Royal Lancaster, London

The awards are taking place next week

Last chance to book your table!

The countdown is on... there are now just

a few more days to go until this fantastic

evening of networking and celebration of all

the incredible achievements across the credit

and collections community.

With a fabulous line up of entertainment, it's the one

event in the credit calendar not to be missed!

BOOK YOUR TABLES TODAY

AND JOIN US ON THE NIGHT

WHERE ALL WINNERS WILL

BE REVEALED

cicmbritishcreditawards.com

Table bookings

Please contact Natasha Witter on:

T: 020 7484 9876

E: natasha.witter@incisivemedia.com

HEADLINE SPONSOR:

SPONSORS:

The Recognised Standard / www.cicm.com / January / February 2019 / PAGE 38
---
2019 Finalists:

Credit Information Provider of the Year

• CoCredo

• Company Watch

• Dun & Bradstreet

• PurplePatch

• StreetCred Ltd

Managing Risk Award

• Invictus Risk Solutions LLP

• PurplePatch

• Vodafone

Consumer Call Centre Team of the Year

• Amigo Loans

• DJS (UK) Limited

Commercial Credit Team of the Year

• Aggregate Industries UK Ltd

• European Metal Recycling Ltd

• Gazprom Energy

• Maglans Micro-Credit Services

• McDonalds Restaurants UK Limited - Global

Business Services (GBS)

• Royal Mail PLC

• TXM Group

• Veolia ES UK Limited

Commercial Collections Team of the Year

• Aggregate Industries UK Ltd

• Cardiff University

• Echo Managed Services - Northern Ireland &

NI Water

• HM Revenue & Customs, Large Business Unit

• Imperial College London

• JLL

• Royal Mail PLC

• TXM Group

• Veolia ES UK Limited

Third Party Debt Collection Team of the Year

• Clarke Willmott LLP

• Darcey Quigley & Co

• Echo Managed Services - Northern Ireland &

NI Water

• Hilton-Baird Collection Services

• Keebles

• The Zinc Group Ltd

• ZZPS Limited

Legal Team of the Year

• Ascent Performance Group Limited

• Blaser Mills Law

• Keebles

• Shakespeare Martineau

Project of the Year

• ABB

• Aggregate Industries UK Ltd

• CoCredo

• DJS (UK) Limited

• HM Revenue & Customs,

Green Channel Project

• Veolia ES UK Plc

Best use of Credit Technology

• Amigo Loans

• Atradius Collections

• DJS (UK) Limited

• High Court Enforcement Group Limited

• Insight Performance Improvement Ltd

• iwoca

• Onguard UK Ltd

• The Zinc Group Ltd

• United Utilities

Learning & Development Impact

• ABB

• Aggregate Industries UK Ltd

• Equinix

Employer of the Year

• Adecco UK & Ireland

• Aggregate Industries UK Ltd

• Amigo Loans

• CoCredo

• Costa Coffee Limited

• DJS (UK) Limited

• Kier Group

• Veolia ES UK Limited

Customer Service Hero Award

• Stephanie Ratcliffe - HM Revenue

and Customs

• Steve Walker - HM Revenue and Customs

Rising Star of the Year

• Annabel Blanco - Nuvias

• Cherie McNeil - HM Revenue and Customs

• Glenn Kincaide - Kier Group

• Jack Martin - Veolia ES UK Plc

• José Carlos Antequera Roa - Axión

Infraestructuras de Telecomunicaciones, SAU

• Kayleigh Linford - Clarke Willmott LLP

• Kieran Reid - Adecco UK & Ireland

• Lee Hancock - Veolia ES UK Plc

• Marc Foster - HM Revenue & Customs

• Rachael Costello - Aggregate Industries

• Rachelle Bull - Kier

• Roy Ortiz - Imperial College London

• Salma Shah - Paradigm Housing Group

Corporate Social Responsibility

• Aggregate Industries (UK) Ltd

• Amigo Loans

• Pulmonary Fibrosis Trust

• United Utilities

Diversity and Inclusion

• HM Revenue & Customs,

Debt Management Diversity Team

• HM Revenue & Customs,

Debt Resolution Team, Liverpool

• HM Revenue & Customs,

Debt Resolution Team, Shipley

Mentor of the Year

• Elizabeth Ives - HM Revenue and Customs

• Karen Finney - Salford City College

• Kaseem Younis - HM Revenue and Customs

Credit Professional of the Year

• Brendan Clarkson - CVR Global

• Giampaolo Scarpaci - Servomex Group

Limited

• Isaac Mireku - Harley Davidson Ltd

• Jackie Ray - Blaser Mills Law

• John Kelly - HM Revenue and Customs

• Lanslord Asumakah - Maglas Micro-Credit

Services

• Matthew Roberts - Npower Business

Solutions

• Michelle Atkinson - United Utilities

• Sarah Hicken - Aggregate Industries UK Ltd

• Steve Charter - TXM Recruit

The Sir Roger Cork Prize

No published shortlist

Winners of Winners

Winner announced on the night

PALADIN

The Recognised Standard / www.cicm.com / January / February 2019 / PAGE 39
---
LEGAL MATTERS

More FOS anyone?

Proposed Extensions of Financial Ombudsman

Service (FOS) Jurisdiction.

DD +44 161 603 5199 E ritchie.irvine@dwf.law W www.dwf.law/recover

Ritchie Irvine

Partner, DWF LLP

THE Financial Conduct

Authority (FCA) has recently

published proposals to:

1. widen the remit of FOS to

allow SMEs access to FOS

2. increase the compensation limit that

FOS can award

3. widen the jurisdiction of FOS to include

Authorised Push Payment Fraud (APP).

CURRENT RULES

The current rules state that access to

FOS is only available to individuals and

micro-enterprises that have a turnover or

annual balance sheet that does not exceed

€2,000,000 and less than ten employees.

The procedure that a company must

comply with when dealing with complaints

is set out in 'Dispute Resolution:

Complaints' (DISP) in the FCA handbook.

Should a customer not be satisfied with

the response that they have received from

the company, they have six months to

complain to FOS.

Once reported, FOS will independently

review the claim and documentation

from both parties and provide a written

outcome based on the evidence. FOS can

make a number of recommendations,

such as compensation or directions

for the respondent to take. Currently,

FOS can award up to £150,000 worth

of compensation. FOS can only make

recommendations for compensation

awards over £150,000.

PROPOSED CHANGES

Access for SMEs

In October 2018, the FCA issued near final

rules on widening access for SMEs to

FOS, by including SMEs in the definition

of an 'eligible complainant' in DISP.

The proposed definition of SMEs are

businesses that have an annual turnover

of less than £6,500,000 and either employ

less than 50 employees or have an annual

balance sheet of less than £5,000,000.

There is, no change in the types of

complaints which can be referred to FOS

and there remains doubt as to the extent

to which unregulated activities can be

subject to FOS jurisdiction.

Increase Compensation Awards

The FCA has also proposed to increase

the maximum compensation that FOS

can award to £350,000 in relation to

complaints about acts or omissions that

occur after the proposed date, which is

currently 1 April 2019. The consultation

paper also provides for the existing limit

to be increased from £150,000 to £160,000

for complaints about acts/omissions

before the proposed date.

Push Payment Fraud

Another potential extension to FOS'

jurisdiction is to include APP complaints.

In the FCA consultation paper, the

proposed definition of APP is a transfer

of funds by a payer to a person where

the payer intended to transfer the funds

to a certain person but was instead

deceived into transferring the funds to a

different person; or the payer transferred

funds to another person for what they

believed were legitimate purposes

but which were in fact fraudulent.

CIFAS published responses to the FCA

consultation paper where it believed that

the definition of complainant should be

wider to include organisations or legal

entities.

NEXT STEPS

The near final rules in relation to the

access for SMEs will be finalised by the

end of the year and come into force on 1

April 2019. Any responses to the proposals

to increase the maximum compensation

award limit are due by the 21 December

2018.

PRACTICAL CONSIDERATIONS

Given the significant increase to FOS'

jurisdiction and the discretion it has to

deal with complaints, combined with the

low costs risk associated with bringing

a complaint to FOS, it is likely that there

will be an increase in FOS complaints.

For SMEs, it is understandable why

they would choose to go to FOS with

a complaint instead of embarking on

costly and lengthy litigation. As currently

set up, FOS does not appear to have the

capability or resources to deal with an

influx of complaints that may well be

more complex, both legally and factually.

To counteract this, the FCA has advised

that FOS will have a new unit dedicated to

complaints in relation to SMEs. Whether

the new team has the skills and expertise

required to adjudicate on such complaints

remains to be seen.

Should the proposals be implemented,

it is prudent that any company that the

proposed changes potentially affect

should ensure that there are adequate

procedures in place to deal with any new

complaints arising out of the proposals. It

is imperative that any complaint received

is dealt with in accordance with the

complaints procedure set out in DISP.

The proposed changes mean that not only

is it widening the scope of FOS, but also

widening the exposure of businesses to

FOS complaints.

This information is intended as a general

discussion surrounding the topics covered

and is for guidance purposes only. It does

not constitute legal advice and should not

be regarded as a substitute for taking legal

advice. DWF is not responsible for any activity

undertaken based on this information.

As a CICM member you can receive free legal advice from

DWF. Visit the CICM website and click on the free Advice Line.

The Recognised Standard / www.cicm.com / January / February 2019 / PAGE 40
---
Fellows of the future

Do you know someone

working in credit who has

shown the potential to

become a future leader?

Or are you looking for a boost

in your credit career?

We are launching a new scheme 'Fellows of the

future'. The aim is to give MCICM and MCICM(Grad)

members the opportunity to develop and practice

their leadership and strategic skills, with the

support and guidance of the CICM and a mentor,

helping to equip them for future leadership/

Fellowship level roles.

Main areas of learning will include: knowing

yourself as a leader; leadership styles; stepping

up: technical credit skills versus behaviours; and

understanding business strategy.

Who will you nominate?

Who might nominate you?

For more information contact

T: 01780 722900

E: cicmmembership@cicm.com

There are ten spaces available in

2019. Any participant must be: a

current MCICM or MCICM(Grad)

member; nominated by a current

FCICM; in a management level role

or newly appointed to a leadership

level role.

NOMINATIONS OPEN

1 FEBRUARY AND CLOSE

22 FEBRUARY.

Whether you are a Fellow who

wants to nominate a colleague,

or a potential nominee, find out

more about the scheme and the

nomination process by emailing

CICMmembership@cicm.com.

CHARTERED INSTITUTE OF CREDIT MANAGEMENT ●80

YEARS

1939 - 2019
---
INTRODUCING OUR

CORPORATE PARTNERS

For further information and to discuss the opportunities of entering into a

Corporate Partnership with the CICM, contact Marketing on 01780 727273

Hays Credit Management is a national specialist

division dedicated exclusively to the recruitment of

credit management and receivables professionals,

at all levels, in the public and private sectors. As

the CICM's only Premium Corporate Partner, we

are best placed to help all clients' and candidates'

recruitment needs as well providing guidance on

CV writing, career advice, salary bench-marking,

marketing of vacancies, advertising and campaign

led recruitment, competency-based interviewing,

career and recruitment trends.

T: 07834 260029

E: karen.young@hays.com

W: www.hays.co.uk/creditcontrol

The Company Watch platform provides risk analysis

and data modelling tools to organisations around

the world that rely on our ability to accurately

predict their exposure to financial risk. Our

H-Score® predicted 92 percent of quoted company

insolvencies and our TextScore® accuracy rate

was 93 percent. Our scores are trusted by credit

professionals within banks, corporates, investment

houses and public sector bodies because, unlike

other credit reference agencies, we are transparent

and flexible in our approach.

T: +44 (0)20 7043 3300

E: info@companywatch.net

W: www.companywatch.net

HighRadius is a Fintech enterprise Software-as-a-Service

(SaaS) company. Its Integrated Receivables platform

reduces cycle times in the Order to Cash process through

automation of receivables and payments across credit,

e-invoicing and payment processing, cash allocation,

dispute resolution and collections. Powered by the

RivanaTM Artificial Intelligence Engine and Freeda

Digital Assistant for Order to Cash teams, HighRadius

enables more than 450 organisations to leverage

machine learning to predict future outcomes and

automate routine labour intensive tasks.

T: +44 7399 406889

E: gwyn.roberts@highradius.com

W: www.highradius.com

Forums International has been running Credit

and Industry Forums since 1991 covering a range

of industry sectors and international trading.

Attendance is for credit professionals of all levels.

Our forums are not just meetings but communities

which aim to prepare our members for the

challenges ahead. Attending for the first time is

free for you to gauge the benefits and meet the

members and we only have pre-approved Partners,

so you will never intentionally be sold to.

Chris Sanders Consulting (Sanders Consulting

Associates) has three areas of activity providing

credit management leadership and performance

improvement, international working capital

improvement consulting assignments and

managing the CICMQ Best Practice Accreditation

programme on behalf of the CICM. Plans for

2019 include international client assignments in

India, China, USA, Middle East and the ongoing

development of the CICMQ Programme.

Key IVR provide a suite of products to assist

companies across Europe with credit management.

The service gives the end-user the means to make

a payment when and how they choose. Key IVR

also provides a state-of-the-art outbound platform

delivering automated messages by voice and

SMS. In a credit management environment, these

services are used to cost-effectively contact debtors

and connect them back into a contact centre or

automated payment line.

T: +44 (0)1246 555055

E: info@forumsinternational.co.uk

W: www.forumsinternational.co.uk

T: +44(0)7747 761641

E: chris@chrissandersconsulting.com

W: www.chrissandersconsulting.com

T: +44 (0) 1302 513 000

E: sales@keyivr

W: www.keyivr.com

American Express is a globally recognised provider

of business payment solutions, providing flexible

capabilities to help companies drive growth. These

solutions support buyers and suppliers across the

supply chain with capital and cashflow. By creating

an additional lever to help support supplier/client

relationships, American Express is proud to be an

innovator in the business payments space.

T: +44 (0)1273 696933

W: www.americanexpress.com

Building on our mature and hugely successful

product and world class support service, we are

re-imagining our risk awareness module in 2019 to

allow for hugely flexible automated worklists and

advanced visibility of areas of risk. Alongside full

integration with all credit scoring agencies (e.g.

Creditsafe), this makes Credica a single port-of-call

for analysis and automation. Impressive results

and ROI are inevitable for our customers that also

have an active input into our product development

and evolution.

T: 01235 856400

E: info@credica.co.uk

W: www.credica.co.uk

Bottomline Technologies (NASDAQ: EPAY) helps

businesses pay and get paid. Businesses and banks

rely on Bottomline for domestic and international

payments, effective cash management tools,

automated workflows for payment processing

and bill review and state of the art fraud detection,

behavioural analytics and regulatory compliance.

Every day, we help our customers by making

complex business payments simple, secure and

seamless.

T: 0870 081 8250

E: emea-info@bottomline.com

W: www.bottomline.com/uk

The Recognised Standard / www.cicm.com / January / February 2019 / PAGE 42
---
Each of our Corporate Partners is carefully selected for

their commitment to the profession and best practice in the

Credit Industry and the quality of services they provide.

We are delighted to showcase them here.

THEY'RE WAITING TO TALK TO YOU...

Onguard is a specialist in credit management

software and a market leader in innovative solutions

for Order to Cash. Our integrated platform ensures

an optimal connection of all processes in the Order

to Cash chain and allows sharing of critical data. Our

intelligent tools can seamlessly interconnect and

offer overview and control of the payment process,

as well as contribute to a sustainable customer

relationship. The Onguard platform is successfully

used for successful credit management in more

than 50 countries.

T: +31 (0)88 256 66 66

E: ruurd.bakker@onguard.com

W: www.onguard.com

The Atradius Collections business model is to support

businesses and their recoveries. We are seeing a

deterioration and increase in unpaid invoices placing

pressures on cash flow for those businesses. Brexit is

causing uncertainty and we are seeing a significant

impact on the UK economy with an increase in

insolvencies, now also impacting the continent and

spreading. Our geographical presence is expanding

and with a single IT platform across the globe we can

provide greater efficiencies and effectiveness to our

clients to recover their unpaid invoices.

T: +44 (0)2920 824700

W: www.atradiuscollections.com/uk/

Graydon UK provides its clients with Credit Risk

Management and Intelligence information on over

100 million entities across more than 190 countries.

It provides economic, financial and commercial

insights that help its customers make better

decisions. Leading credit insurance organisations,

Atradius, Coface and Euler Hermes, own Graydon.

It offers its seamless service through a worldwide

network of offices and partners.

T: +44 (0)208 515 1400

E: customerservices@graydon.co.uk

W: www.graydon.co.uk

Rimilia provides intelligent, finance automation

solutions that enable customers to get paid on time

and control their cashflow and cash collection

in real time. Rimilia's software solutions use

sophisticated analytics and artificial intelligence

to predict customer payment behaviour and easily

match and reconcile payments, removing the

uncertainty of cash collection. Rimilia's software

automates the complete accounts receivable process

improving cash allocation, bank reconciliation and

credit management operations.

T: +44 (0)1527 872123

E: enquiries@rimilia.com

W: www.rimilia.com

Data Interconnect provides integrated e-billing

and collection solutions via its document delivery

web portal, WebSend. By providing improved

Customer Experience and Customer Satisfaction,

with enhanced levels of communication between

both parties, we can substantially speed up your

collection processes.

T: +44 (0) 1367 245777

E: sales@datainterconnect.co.uk

W: www.datainterconnect.com

Dun & Bradstreet Finance Solutions enable

modern finance leaders and credit professionals

to improve business performance through more

effective risk management, identification of growth

opportunities, and better integration of data and

insights across the business. Powered by our Data

Cloud, our solutions provide access to the world's

most comprehensive commercial data and insights

supplying a continually updated view of business

relationships that help finance and credit teams

stay ahead of market shifts and customer changes.

T: (0800) 001-234

W: www.dnb.co.uk

Moore Stephens is a top ten accounting and

advisory network. Our national creditor services

team has expert insights in debt recovery. This,

combined with unparalleled industry and sector

knowledge, enables our team to assist creditors in

recovering outstanding debts.

T: +44 20 7334 9191

E: Brendan.clarkson@moorestephens.com

W: www.moorestephens.co.uk

DWF is a global legal business transforming legal

services through our people for our clients. With

over 27 locations and 3,000 people delivering

services and solutions that go beyond expectations.

By questioning traditions and thinking beyond

conventions we were recognised by The Financial

Times as one of Europe's most innovative legal

advisers. DWF offers a full range of cost-effective

debt recovery solutions from pre-legal collections

and debt litigation to strategic enforcement,

insolvency proceedings and ancillary services.

T: +44 (0) 113 261 6169

E: David.Scottow@dwf.law

W: www.dwf.law/recover

Tinubu Square is a trusted source of trade credit

intelligence for credit insurers and for corporate

customers. The company's B2B Credit Risk

Intelligence solutions include the Tinubu Risk

Management Center, a cloud-based SaaS platform;

the Tinubu Credit Intelligence service and the

Tinubu Risk Analyst advisory service. Over 250

companies rely on Tinubu Square to protect their

greatest assets: customer receivables.

T: +44 (0)207 469 2577 /

E: uksales@tinubu.com

W: www.tinubu.com.

The Recognised Standard / www.cicm.com / January / February 2019 / PAGE 43

continues on page 44 >
---
INTRODUCING

OUR

CORPORATE

PARTNERS

For further information and

to discuss the opportunities

of entering into a Corporate

Partnership with the CICM,

contact Marketing on

01780 727273

THEY'RE

WAITING TO

TALK TO YOU...

C2FO turns receivables into cashflow and payables

into income, uniquely connecting buyers and

suppliers to allow discounts in exchange for

early payment of approved invoices. Suppliers

access additional liquidity sources by accelerating

payments from buyers when required in just two

clicks, at a rate that works for them. Buyers, often

corporates with global supply chains, benefit from

the C2FO solution by improving gross margin while

strengthening the financial health of supply chains

through ethical business practices.

T: 07799 692193

E: anna.donadelli@c2fo.com

W: www.c2fo.com

SOAPBOX CHALLENGE

BRIEF

ENCOUNTERS

What a summer spent

working in a cinema box

office can teach us about respect.

HAVE you ever been told

by a customer, 'that's not

possible', 'you've ruined

our week', or 'that's what

they pay you for isn't it'?

This may sound like a

pressured, high stakes work environment,

but these are phrases I heard all too often at

my summer job working in a cinema.

As a poor student and huge cinephile,

working in the box office of a multiplex

seemed like a perfect fit, especially with half

price tickets. I thought I would debate with

customers over the innovations of Orson

Welles, discuss the merits of Kubrick's

later work, or even just give them my

recommendations on which new releases

were simply unmissable. The reality was

often a far cry from this.

The actual experience was much

more intense and challenging, with

some customers enraged by the slightest

inconvenience, and deciding that any

mistake they had made was entirely the

fault of the cinema staff.

On one such occasion, an angry mother

told me that I had ruined her daughter's

weekend when I informed her that the

Saturday morning showing of Moana was

sold out. She arrived five minutes before the

showing was due to start without a booking,

the day after the film had been released.

Clearly all my fault.

However, angry parents were a relative

dream in comparison to kids who'd been

dropped off by a parent and left for the day,

like some sort of unlicensed creche. Armed

with £20 and no supervision, abandoned

children left to roam free would cause

chaos and panic wherever they went, like

the Velociraptors in Jurassic Park. Sneaking

past ushers to get into an 18-certificate

movie, throwing things at each other across

screens and foyers, or trying to steal pick

and mix was a common occurrence.

It wasn't just the kids, I was once insulted

by a couple of senior customers, who

vowed to never return to the cinema again.

They were incensed that the two seats they

wanted to sit in, that they had apparently

always sat in, had already been reserved

by two other customers. They proceeded to

sit in the seats anyway, and then refused to

move once the actual owners of the seats

SOAPBOX

challenge

arrived. I politely reiterated that the seats

had already been booked and explained that

there were plenty of other seats available in

the screen but they refused to budge. After

a brief encounter with security they finally

vacated the seats, and the cinema, vowing

to never return again.

Cleaning the screens after a movie was

another difficult experience. Popcorn

scattered throughout the aisles, fizzy drinks

spilled all over the floor and sweets stuck to

the seats with seemingly reckless abandon.

None of these factors help the ushers, who

have only a ten-minute turnaround on each

screen before the next audience is let in to

wreak their own havoc. The entitlement of

customers was a sight to behold, as if any

setback was the end of their cinematic

dream, and that no alternative could

possibly rescue them from their despair. I

dread to think how certain cinema goers

deal with the real problems in life.

Cinema, and film in general, should

be a cause for celebration in the UK. Box

office figures are increasing steadily and

film production in the UK is experiencing

a renaissance, with the industry as a whole

now worth over £2.5 billion a year. Large

budget Hollywood blockbusters being

filmed in the UK, coupled with the critical

success of smaller British movies, have

given a high stature to film production in

the UK.

Maybe it is this integration into society

that means that some customers feel

entitled to a perfect experience once they

enter the cinema. A study by the British

Film Institute found that as a society, we

value film not only as entertainment, but

as identity, culture, and as a means of social

connection. Why is it then that people place

such value and respect on the films they see,

but not the environment they see them in?

Oddly, I did enjoy my time working at

the cinema. Working in an environment

where the people you are alongside share

a passion is refreshing. I guess that is true

of the credit industry, and members of the

CICM particularly. And the one thing I have

learned especially, is that a little respect can

go a very long way.

George Hassler is in for a long and

arduous career.

The Recognised Standard / www.cicm.com / January / February 2019 / PAGE 44
---
THE PERFECT VENUE FOR THIS YEAR'S

CICM FELLOWS'

CELEBRATORY LUNCH

We invite all Fellows to help us celebrate 80 years of

CICM at this year's special Fellows' Celebratory Lunch,

at the Churchill War Rooms.

Walk the same corridors as Churchill, peer into the room where his War Cabinet

made their momentous decisions, and marvel at the complexity of the abandoned

Map Rooms, frozen in time since 1945.

Join us for great food, company and to welcome our newest Fellows.

We will also be launching our exciting new Fellows of the Future scheme.

FRIDAY, 7 JUNE 2019

Arrival drinks served at 11:30

Including welcome reception for new CICM Fellows.

Tickets £110.00+VAT per person which includes museum access.

Please email fellowslunch@cicm.com to book

CLIVE STEPS, KING CHARLES STREET,

LONDON, SW1A 2AQ.

The Recognised Standard / www.cicm.com / January / February 2019 / PAGE 45

CHARTERED INSTITUTE OF CREDIT MANAGEMENT ●80

YEARS

1939 - 2019
---
ASK THE EXPERTS

Payment received?

What happens when a liquidator claims back the

money paid pre-liquidation?

AUTHOR – David Kerr MCICM

David Kerr

THE Institute's Technical

Committee and helpline occasionally

deal with queries

from members where unusual

circumstances throw

up interesting questions.

One such case recently raised issues surrounding

the liquidation of a customer

company, and the position of the supplier

having received a payment for goods and

continued to supply during a period in

which the customer was subject to winding-up

proceedings (unknown to the supplier).

Our member is the credit manager

of company X, which had an ongoing

contractual relationship with a customer

company Y to supply goods and services

on credit. A sum was outstanding, but

on receipt of a payment of £20,000 last

April for part of the arrears, X continued

to supply throughout the subsequent

two months, until it became aware in

June that a winding-up petition had been

advertised. It transpired that the petition

had been presented to Y in early April

– a fact that first came to X's knowledge

some time later when the liquidator made

contact to claim back the £20,000.

So, where does X stand? The money

was accepted in good faith and without

knowledge of the impending liquidation,

but would that protect X? The law here is

governed by Section 127 of the Insolvency

Act 1986 dealing with void dispositions – in

essence, it is designed to ensure that once

a liquidation has commenced, creditors

share rateably in whatever assets are

available at the commencement date. In

this case, as in all compulsory liquidations

where the winding-up is by court order,

the liquidation is deemed to commence

when the petition is presented and served

on the company (back in early April).

THE PETITION

A winding-up petition has to be

advertised, and the court will not make

an order unless it has been, but that need

only take place a week before the hearing

(minimum seven days). It need not happen

immediately after presentation/service,

and in any event cannot be done less than

seven days after, but (as in this case) there

can be several weeks of 'limbo' – a sort

of hiatus in which the company is not in

liquidation unless or until the court makes

the order, but once the order is made

its effect is back-dated. And that's what

happened here – a gap of three months,

and a subsequent decision meaning that

the winding-up technically commenced in

April. The subsequent payment to X was

therefore void under S.127.

So, the liquidator was right to unpick

those 'post-liquidation' transactions, of

which this was one, leaving X with the

prospect of repaying the £20,000 and

claiming as an unsecured creditor for the

supplies made – including those delivered

between April and June. Not a happy

position! Hence the technical query.

Thankfully, the court has broad

discretion and can make such orders

as it sees fit to remedy situations where

justice demands that the effect of S.127

would otherwise be unfair. The court can

validate or ratify a payment made by the

company if appropriate, but there are

certain tests applied before it will do so,

in line with a published practice direction.

The general aim of the court will be to

preserve the position of the company and

its assets so that a rateable distribution

can be undertaken by the liquidator –

therefore, not allowing a creditor to 'jump

the queue'. Putting things back to where

they were at the point of presentation in

April is the overriding objective; or, at least

ensuring that the company's/creditors'

overall position has not been deteriorated

as a consequence of the transaction(s)

under review.

VALIDATION?

The court will look at factors such as

whether the payment made was:

• For the benefit of the general body of

creditors

• Necessary for continued trading

• Improving the position of the business

• Made in good faith

• In the ordinary course of business

• In circumstances where the recipient

was unaware of the petition (that is, preadvertising)

• Any goods/service provided was of

equivalent value.

So, where does that leave X? Well in

this case X supplied goods/services to a

value at least equivalent to the value of

the payment received in April, and this

enabled the company to continue trading

(and ultimately collect debts due and

improve the company's position overall).

Potentially therefore, X may expect the

court to validate the payment, but these

cases are not always straightforward.

It would not be easy for X to be able

to provide evidence of the company's

overall position. In such cases, a sensible

discussion and compromise with the

liquidator may be the best way forward.

Worth noting also that once the petition

is advertised, everyone is deemed to be

aware of it, whether the supplier has

actual knowledge or not. Note also that

transactions that fall under S.127 are

automatically void unless validated, so

advice is needed for protection in these

circumstances.

Of course, winding-up through the

court is not the most common type of

liquidation. In the more typical creditors'

voluntary liquidation there could also be

a hiatus before decisions about windingup

are taken, but that is usually shorter

and creditors are informed at an early

stage in the proceedings; backdating

does not usually apply, though directors

will be advised to preserve the company's

position in the lead up to the formal

commencement of liquidation, and

liquidators have powers to unpick

transactions such preferences.

David Kerr MCICM is an insolvency

practitioner with extensive regulatory

experience and a member of the CICM

Technical Committee.

The Recognised Standard / www.cicm.com / January / February 2019 / PAGE 46
---
EDUCATION

Reaping the rewards

How training at Travis Perkins is building confidence

and inspiring further education.

AUTHOR – Hilary Lewis, Corporate Member Co-ordinator

Hilary Lewis

There are many

personal success

stories involved

in the company's

qualification

journey and there

are more in the

pipeline.

IN a climate where cash is evermore

key to business, setting aside time

for employee development and

qualification study is a challenge,

even more so in highly-pressured

and target-driven environments.

Allen Marlborough ACICM, Senior Credit

Controller at Travis Perkins, is confident that

team investment will reap significant benefits

since having qualified colleagues brings

assurance to credit management practices

and creates a culture which fosters continuous

improvement, innovation and high levels

of customer service. As Allen has a keen

interest in further education and an eye for

an economically sound qualification package

– CICM Corporate Membership met all his

requirements.

THE SOLUTION

Allen was keen to offer CICM training and

qualifications to anyone in the team who

wished to benefit. This year, Travis Perkins held

two days of Advanced Telephone Collections

training to build on the skills of those who

would like to learn but could not commit to

a full classroom experience. As Allen says,

this has enabled him to 'target individuals

with training in a short burst of time' and

the resulting improvement in colleagues'

confidence has been noticeable. Following the

training, one learner was inspired to sign up

to the qualification course while team leaders

were able to cascade the learning to their

teams.

Travis Perkins is notable as being the

first ever Corporate Member company with

qualification programmes beginning in March

2013. With employees based at two sites in

Leicester and Northampton, the company

has found creative solutions for those wishing

to study Level 3 awards in a classroom

environment. This year, the company held

classes at a mid-way point in Crick and CICM

has delivered Business Law in a mixture of both

longer afternoon and shorter evening sessions

and Credit Management as an early evening

class. In each case, the patterns were devised

to fit in with the work and home commitments

of the learners.

An unexpected advantage of this approach

has been the networking opportunities. Travis

Perkins operates with a team of around 250

employees. Opportunities to network for credit

controllers are slim but through studying,

learners have met colleagues from each site,

learning more about the seven subsidiary

businesses these encompass.

CICM teachers enjoy the experience of

teaching at Travis Perkins as the learners

are enthusiastic and committed. Lead

Tutor, Mary Delahunty has worked with the

company since they first came on board: "I

have been privileged to teach within Travis

Perkins since 2013 and have really enjoyed

being able to share in so many individuals'

personal development journeys. As a tutor it

is always hugely inspiring to see people grow

in confidence and professionalism and hear

about the impact this has on achievement and

success within the organisation."

THE OUTCOME

Allen's overarching aim is to enable

individuals to achieve their goals, whether this

is taking one unit to consolidate knowledge,

or aiming for the prestigious MCICM(Grad),

the qualification Allen will himself be starting

soon. Since 2013, Travis Perkins has accrued

an impressive number of awards.

There are many personal success stories

involved in the company's qualification

journey and there are more in the pipeline.

In an industry known to be tough to work in,

the persistence of Travis Perkins learners in

achieving their qualification dreams alongside

busy work schedules and challenging personal

commitments is something to be celebrated.

THE FACTS:

• Travis Perkins was the CICM's first

Corporate Member company.

• Since 2013, Travis Perkins has accrued

an impressive 86 qualification awards.

• Four members of staff currently

have Associate status and 18 have

achieved the CICM certificate in Credit

Management.

• The organisation has a trained, skilled

and confident workforce.

• Travis Perkins is also CICMQ accredited

and is committed to maintaining best

practice.

The Recognised Standard / www.cicm.com / January / February 2019 / PAGE 47
---
EDUCATION

REACHING

THE TOP

The role CICM training has played in helping a

credit manager fulfil her lofty ambitions.

Alice Purdy

ALICE Purdy is Performance

Manager – Customer

Contact Business and

Community Solutions at

E.ON Energy. Based out of

its Phoenix Park office in

Nottingham, she has been with the company

for 11 and a half years.

Before she embarked on her learning

path with CICM she was not aware of the

Institute and all of the various courses and

learning options available. Now she stands

as the first person at E.ON to complete Level

5 Credit Management and Collections, so she

has a great overview of the whole training

life cycle.

"When I first joined E.ON I wasn't

a very confident person, but I had a

tremendous passion for business and

credit management," Alice says. "When my

manager suggested I should undertake some

studies with CICM I jumped at the chance

because I wanted to progress in my career as

far as possible."

E.ON first discussed in-company training

with CICM in 2011. The credit teams at

E.ON are between 800-1,000 strong and

it was the following year that the first

students started training. At Level 3 stage

tutors visit the offices for between 45-50

hours so the learning is well supported and

predominantly exam based.

"At first I found the classes quite nervewracking,

but once I got going I really found

my voice. The energy sector is quite different

to many others as customers are paying for

a service that they have already received, so

the training had to be tailored specifically to

us," she adds.

"This was my first training since I'd left

school so engagement was always going

to be key. The two tutors have a real skill

of putting business scenarios into real

life examples which made it far easier to

understand. It was well-structured learning

with knowledge being built gradually and

logically."

Having achieved Level 3, Alice along with

a number of other team leaders started Level

5. There is far more self-learning required

at this level as there is less contact with

tutors, although advice is always at the end

of the phone. We completed one exam and

five assignments for the Level 5 Diploma.

The criteria for passing Level 5 changed in

October; students now have to pass only

four out of the six units which means it

should only take a couple of years to achieve

MCICM(Grad). So far, four groups have

completed the Level 3 exams and another

four will finish Level 5 in early 2019.

During her studies Alice has been

promoted twice and she is in no doubt

as to why her career has been on such a

steep upward trajectory. "The last six years

working with the education team at CICM

has been fantastic. I still refer to my text

books regularly and often still speak to my

tutors Mary Delahunty and Sarah Aldridge. I

wouldn't be where I am today without their

help and support and being allowed the

time and funding from E.ON. And my CICM

tutors feel like colleagues beyond learning. I

ring them every month or so. CICM branch

meetings are also a fantastic network of

support and advice."

And the benefits are obviously twofold

for Alice's company too, as Wesley

McMullen, Small and Micro Business

Customer Contact Manager, Business &

Community Solutions at E.ON UK explains:

"I was Credit Operations Manager before

Alice moved into her new role and her

training with CICM had a big impact on her

insight and on our business.

"Her in-depth knowledge around

the legal aspects surrounding credit

management was invaluable. She helped

to shape new processes by relaying her

knowledge to the team in a way they could

easily understand. This in turn helped to

create the best practice and processes that

shape the training we provide," he says. "The

coaching and mentoring Alice has given our

teams have brought greater context to their

role and delivered real change in the way we

engage with our customers."

And Alice is proving to be a real

inspiration to those now coming through the

ranks at E.ON. "The junior members of our

teams see her dedication and passion and

want to follow suit. She is also now a part of

our talent programme who sits on our board

so she can spot the stars of the future."

The Recognised Standard / www.cicm.com / January / February 2019 / PAGE 48
---
Tailored

and bespoke

training for

your credit

team

Your specialism is

our specialism

At the CICM we know that credit and collections is a unique profession, and your business

calls for a training solution that is not 'off-the-peg'.

We take pride in delivering practical and effective learning to credit and collections teams.

Our training is designed and tailored to your business needs and to deliver results.

Your team will learn from our specialist trainers, who all have vast experience in the

profession and will share their real experiences and successes.

WWW.CICM.COM

Our specialist team will manage everything from

start to finish. To find out more information contact –

T: 01780 722907: E: training@cicm.com: W: www.cicm.com

Tailored and bespoke training in...

Developing Credit Strategy; Building Business; Managing Risk; Complying with Regulations; Improving

Customer Relations; Collecting the Cash; Negotiating and Influencing; Psychology of Collections; Achieving

Targets; Debt Recovery; Insolvency; Management Skills.

The Recognised Standard / www.cicm.com / January / February 2019 / PAGE 49
---
HR MATTERS

Deliberate data disclosure

The liability for disclosing personal information.

AUTHOR – Gareth Edwards

Arecent case – WM Morrison

Supermarkets plc v Various

Claimants – that involved

an employee disclosing the

personal information of around

100,000 fellow employees

on the internet, confirmed that there was a

sufficient connection between the employee's

employment and his wrongful conduct for

liability to be imposed on the employer.

As to the facts of the case, Mr Skelton

worked for Morrisons as a senior IT internal

auditor. After being involved in a disciplinary

hearing, Skelton formed a grudge against

Morrisons. During an annual audit he was

tasked with providing KPMG with payroll data

for employees. A member of HR provided

Skelton with the data on a USB stick. He then

downloaded the data onto his laptop and then

on to a KPMG USB stick which he then passed

to KPMG as instructed. Two weeks later he

downloaded the same data on to a personal USB.

A further two months later Skelton posted the

data of just under 100,000 Morrisons employees

(including names, addresses, dates of birth,

phone numbers, National Insurance numbers

and bank details) to a file sharing website. He

also sent the data to three newspapers. He was

later arrested and sentenced to eight years in

prison.

Over 5,500 employees brought a group

action against Morrisons for misuse of private

information, breach of confidence and breach

of statutory duty. The High Court initially held

that Morrisons was not primarily liable, but

was vicariously liable for the actions of Skelton.

Morrisons subsequently appealed to the Court

of Appeal (CA) and lost.

So, can an employer be liable for an

employee's misuse of private information?

The answer revolves around a concept term

'vicarious liability'. But in order for this to apply,

it is necessary to determine whether there is a

sufficient connection between the employee's

job and the act committed. A two-stage test is

used.

The first, field of activities, related to the

nature of Skelton's job. The CA held that dealing

with the data was a task specifically assigned

to Skelton, as opposed to something he simply

had access to. His role was to receive, store

and disclose the data. Therefore, although his

disclosure of the data to parties other than

KPMG was not authorised, it was still closely

related to the tasks he had been assigned.

The other, sufficient connection, links what

Skelton was employed to do and his wrongful

conduct. In this case, although Skelton had

committed the act of publishing the data several

weeks after the initial download, outside of his

working hours, while he was at home using

his own computer, the CA agreed with the

High Court that the act was not disconnected

from his job – rather there was a 'seamless and

continuous sequence' or 'unbroken chain' of

events linking Skelton's work to his wrongful

conduct.

The CA also confirmed that the motive

of the individual committing the breach is

irrelevant even where the motive is specifically

to cause financial or reputational damage to

the employer. The CA therefore dismissed the

appeal, finding Morrisons vicariously liable for

Skelton's misuse of confidential information

and breach of confidence. Morrisons has

expressed an intention to appeal to the Supreme

Court.

In terms of best practice, the High Court

Judge held that Morrisons had adequate and

appropriate controls in place, but that it had

failed to ensure that Skelton deleted the data

once he had provided it to KPMG.

Interestingly, the Information Commissioner

found that Morrisons had done nothing wrong.

This is significant because employers can be

liable for data breaches perpetrated by rogue

employees even where the employer is fully

complying with data protection legislation.

Managing risks in this area will therefore be

difficult however employers should consider

a number of steps, including checking that

their current insurance arrangements provide

adequate cover for data breaches, including

the potential for large group claims; and

considering whether additional checks can

be made. This could include taking up extra

references before appointing someone to a

role that includes responsibility for handling

confidential data.

Further, if an employee is subject to

disciplinary action or raises a grievance, the

employer should ensure that the processes

followed are fair and reasonable, that any

outcome is proportionate and that the

communication around the outcome seeks

to identify positives so as to avoid damage to

employer/employee relationship. Similarly,

employers should risk assess whether

disciplinary or grievance processes are likely

to increase the risk of a deliberate data breach.

Allied to this, systematic IT controls should

be put in place that monitor use and provide

alerts where policies are breached, or unusual

activity takes place.

Gareth Edwards is a partner in the

employment team at Veale Wasbrough Vizards.

gedwards@vwv.co.uk

The Recognised Standard / www.cicm.com / January / February 2019 / PAGE 50
---
CALENDAR

The rise and rise of

Peer-to-Peer alternative

finance. Page 13

The story behind the

collapse of Toys R Us.

Page 36

THE CICM MAGAZINE FOR CONSUMER AND

COMMERCIAL CREDIT PROFESSIONALS

CM December 2017.indd 1 21/11/2017 13:41

Sean Feast comments

on the Bell Pottinger

saga. Page 4

Are CRAs doing

enough around bogus

accounts. Page 26

THE CICM MAGAZINE FOR

CONSUMER AND COMMERCIAL

CREDIT PROFESSIONALS

CM October 2017.indd 1 21/09/2017 13:47

MARCH 2018 £12.00

People Power

How self-serve is

supporting customer

engagement. Page 14

Taken On Trust

Sean Feast speaks to

Joanna Elson of the Money

Advice Trust. Page 22

THE CICM MAGAZINE FOR CONSUMER AND

COMMERCIAL CREDIT PROFESSIONALS

Winners of the

CICM British

Credit Awards

2018

CM March 2018.indd 1 21/02/2018 13:56

How AI is challenging

our ethical code.

Page 17

The state of the credit

management nation.

Page 34

THE CICM MAGAZINE FOR CONSUMER AND

COMMERCIAL CREDIT PROFESSIONALS

CM April 2018.indd 1 21/03/2018 11:10

Sean Feast talks to

the new CEO of Hoist

Finance. Page 13

How Bexley Council

is improving supplier

relationships. Page 16

THE CICM MAGAZINE FOR CONSUMER AND

COMMERCIAL CREDIT PROFESSIONALS

CM June 2018.indd 1 21/05/2018 11:04

CICM MEMBER

EXCLUSIVE

Your CICM lapel badge

demonstrates your commitment to

professionalism and best practice

TAKE PRIDE IN

WEARING YOUR BADGE

If you haven't received your badge

contact: cicmmembership@cicm.com

CM

The magazine for

consumer and

commercial credit

professionals

CM

CREDIT MANAGEMENT

DECEMBER 2017 £12.00

INSIDE

2018 DESKTOP

Face to Face

Sean Feast speaks

to Business Minister

Margot James

CM

CREDIT MANAGEMENT

OCTOBER 2017 £10.00

Life on the edge

Consumers caught

in the debt trap

CREDIT MANAGEMENT

Chain Reaction

The cost of being in

– and out – of debt

THE CICM'S HIGHLY ACCLAIMED MAGAZINE

INSIDE

CM

CREDIT MANAGEMENT

APRIL 2018 £12.00

Barrel Role

How the UK wine industry

is finding cash to grow

CM

CREDIT MANAGEMENT

JUNE 2018 £12.00

Winds of

change

Headwinds on

the path to

economic

improvement

SPECIAL

FEATURES

IN DEPTH

INTERVIEWS

ASK THE

EXPERTS

GLOBAL

NEWS

INTERNATIONAL

TRADE

CURRENCY

EXCHANGE

HR

MATTERS

MOBILE DIGITAL

EDITION

THE LEADING JOURNAL FOR CONSUMER AND COMMERCIAL CREDIT PROFESSIONALS

TO SUBSCRIBE CONTACT: T: 01780 722903 E: ANGELA.COOPER@CICM.COM

The Recognised Standard / www.cicm.com / July/August June 2018 / PAGE 2018 / 58 PAGE 58

The Recognised Standard / www.cicm.com / January / February 2019 / PAGE 51
---
CAREER'S ADVICE

NEW YEAR

NEW ROLE

Karen Young talks about how to secure a

pay rise in the New Year.

Karen Young

MANY of us will be

pursuing a pay rise with

the coming of the New

Year. But asking for one

can be a nerve-racking

task, and it can be

frustrating and disheartening if the answer

is no. You may also worry about how it could

affect your relationship with your manager.

Taking the right approach means the more

likely it is that you will be able to secure a

pay rise this year.

The best way to start is by asking for

a meeting with your manager early on in

the year. Approaching the topic of a pay

increase is not something which can be done

over email, so make sure you choose an

appropriate time to meet in person.

What's most important is constructing

a good case for a raise. Developing a clear

and informed business case will help your

boss make a sensible decision, and your case

needs to be focused on providing tangible

evidence of how much of an asset you are to

the business.

Here are some things you need to consider

before you ask the question.

DO YOUR RESEARCH

Find out the industry average for your

current role, otherwise you'll be in the dark

about how much you can ask for if you are

keen to secure a rise. Using a tool such as the

Hays Salary Checker is a good place to start.

If you discover that the industry wage for

your role is higher than your current wage

then you are within your right to bring this

sort of external benchmarking information

with you when you have a discussion with

your manager.

Before deciding that you deserve a raise

consider how much your benefits (pension

scheme, life insurance, share scheme,

subsidised gym membership etc.) are worth

on top of your salary. Your salary may be the

industry average, but your other benefits

may more than make up for this.

Familiarising yourself with whether your

employer has a common procedure for salary

increases each year will also help ensure

you aren't caught off guard. If not found on

your company's internal systems, then make

a general inquiry to the HR department.

The HR department could also help you to

establish when your manager's budget is

finalised; scheduling your meeting just after

budgets have been confirmed puts you and

your boss in a very tricky position!

BUILD YOUR CASE

Detail a robust agenda for the meeting and

take control. Not only will preparing an

actual sheet of paper with the agenda on it

help you to keep your boss from altering the

trajectory but it will also be useful in helping

your boss go away and consider the matter.

Hard facts and figures visible on a piece of

paper cannot be disputed; whilst they'll also

help your boss articulate your case to HR,

who will likely also have to approve it.

Consider the value you bring to your

employer. If you have taken on additional

responsibilities and made crucial savings

then you already have some solid evidence

to present. Be specific and provide tangible

evidence, and don't just say that the cost of

living has gone up, or that you think you

generally do a good job.

DEVELOP YOUR SKILLS

If you are looking for your employer to invest

further in you this year by increasing your

pay or benefits package, you should show

some willingness towards improving your

skills within the business which will not only

help your employer, but also your future

career development. The largest acquired

skills gaps for new entrants in credit control

are technical knowledge and commercial

awareness for example.

Demonstrating to your employer that you

are constantly developing your skills and

knowledge will help you stand out from the

crowd and confirm that you are committed

to your career and personal development.

Even if you are not currently in a position

to seek a pay rise, by developing your skills

to align with those most in demand, you'll

be poised to take up new opportunities in

your current role or indeed elsewhere. Think

about where you want to be at the end of this

year, and what steps you need to take today

to set you on your way forward.

Karen Young is Director at Hays

Credit Management.

The Recognised Standard / www.cicm.com / January / February 2019 / PAGE 52
---
Are you a Leader

or follower?

CICMQ accreditation is a proven model that has consistently delivered

dramatic improvements in cashflow and efficiency

CICMQ is the hallmark of industry leading organisations

The CICM Best Practice Network is where CICMQ accredited organisations

come together to develop, share and celebrate best practice in credit and

collections

Be a leader – Join the CICM Best Practice Network today

To find out more about flexible options to gain CICMQ accreditation

E: cicmq@cicm.com, T: 01780 722900

The Recognised Standard / www.cicm.com / January / February 2019 / PAGE 53
---
The Recognised Standard / www.cicm.com / January / February 2019 / PAGE 54
---
The Recognised Standard / www.cicm.com / January / February 2019 / PAGE 55
---
AWARDING BODY

LEVEL 3 DIPLOMA IN CREDIT MANAGEMENT (ACICM)

NAME

Swapnil Alex Lopes

Nicola Balfour

Adam Bebbington

Danielle Booth

Samantha Bressington

Jason Broom

CONGRATULATIONS

Congratulations to all of the following, who successfully

achieved Diplomas in Credit Management.

LEVEL 5 DIPLOMA IN CREDIT AND COLLECTIONS (MCICM(GRAD))

NAME

Christopher Buckard

Lee Connor

Jonathan Coxon

Emily Harding

Kathryn Brown

Andrea Eason

Vincent Kanema

Nela Mencner

Laurentiu-Bogdan Paxaman

Lynn Roy

Valentina Tsialiatidou

Toni West

Kerry-Lea Weston

Daniel Wicks

Ellen Wright

Remi Zubairy

LEVEL 3 DIPLOMA IN DEBT COLLECTION (ACICM)

NAME

Ashley Coates

Richard Hollows

Laura Wood

LEVEL 3 DIPLOMA IN MONEY & DEBT ADVICE (ACICM)

NAME

Cathryn Mitton

James Shuttleworth

Charles Momo

Julie-Anne Moody-Webster

Matthew Norman

Samantha Puddy

Alice Purdy

Kelly Rowlands

Damien Senior

Kieran Way

The The Recognised Standard Standard / / www.cicm.com / January / November / February 20172019 / PAGE / PAGE 56 56
---
BRANCH NEWS

Kicking things off

Ireland Branch

Glyn Powell FCICM, Branch Chairman presenting the award to the Irish Collections Team of the Year.

THE newly formed Ireland

branch is up and running

with a group of committed

and enthusiastic members,

whose knowledge and

combined experience

will benefit the entire credit community

in Ireland. Following the inauguration

meeting in Croke Park, the committee was

elected as follows: Glyn Powell, Branch

Chair; Paul Whittaker, Secretary; Massimo

Lepri, Treasurer; Ian Finnie, VisionNet;

Ralph Montforts, Maxim Integrated;

Declan Flood, CEO of Irish Credit

Management Training; Jane Kloska, KPMG;

and Michael Burke, National Lottery.

In November, we co-hosted an excellent

All Ireland Utilities Conference in the

City North Hotel in conjunction with

the Northern Irish Branch. This was a

full day event with expert speakers on

topics relevant to all working in this

sector including: 'Robotics, Automation

and Artificial Intelligence in Credit and

Customer Management' by Brian Morgan

FCICM from Rimilia; 'Recruitment,

Development & Retention Strategies'

from Orlagh Reynolds of Hays

Recruitment; and two sessions on

vulnerable customers from Pauline

Brown of St. Vincent de Paul and Debbie

Tuckwood, Head of Education and

Professional Development at CICM. We

also looked at areas including fraud and

regulations with an open forum with a

panel of experts on hand to answer specific

questions from the audience.

There have been a number of

committee meetings and there is a full

calendar of events planned for 2019. On

the Education front we are launching

the CICM Diploma course in Dublin in

conjunction with Irish Credit Management

Training (ICMT), starting in UCD, Belfield

on 21 February 2019. It will be classroombased

and the first term will cover Credit

Management and Business Environment

for ten weeks and hope to attract a large

number of students to gain a valuable

qualification. We are also offering a

selection of assignment-based subjects,

where students will attend four half day

sessions to learn, prepare and finalise

their assignments on a number of valuable

credit related topics.

It is our intention to grow an active,

valuable and informative organisation in

Ireland for everybody working in the area

of credit management.

AUTHOR: Declan Flood FCICM

The Journey Ahead

Sheffield and District Branch

SHEFFIELD and district branch members

and guests had an interesting and

enjoyable evening taking part in The

Journey Ahead workshop at the cuttingedge

AMP Technology Centre facility in

Sheffield. Following refreshments and an

opportunity to network with like-minded

credit professionals guests were seated

and presentations began.

Daniel Cherry of Hays was able to give

a sneak peek into the upcoming Hays

UK Salary Survey and Recruiting Trends

guide 2019. At the time of writing the

official launch was weeks away and CICM

members had a preview of top secret

statistics on the current employment

market with a focus on credit. Some

surprisingly optimistic findings were

observed.

Simon Johnson delivered a presentation

on interpreting company accounts and

credit reports. This was an in-depth

lecture looking at case studies within

credit delivered by the top talent within

the industry. A fantastic opportunity

to learn, absorb and ask questions for

both experienced and budding credit

professionals. Simon was able to give an

invaluable insight into how he has been

able to reach his position as UK Credit

Director at SIG.

Finally, CICM Vice President Laurie

Beagle gave a highly informative and

personable update on all things CICM.

Laurie guided us through the many

benefits of membership and the more

varied study options now available as

well as how to get more involved with

the branch. Laurie was able to give his

account on how CICM has facilitated so

much throughout his career.

Following the presentations, the

members of the committee relished the

opportunity to speak to members and

potential new members on a one-to-one

basis to share knowledge and experiences.

It was a real joy to spend time with

credit professionals starting out on their

journeys.

As the evening came to an end after

much food for thought, members and

guests were delighted to leave with a CICM

goodie bag containing coffee cup, drink

mat, pen and even a stick of CICM rock!

Many thanks to CICM HQ, AMP

Technology Centre, Simon Johnson,

Laurie Beagle and all attending members

and guests for making the evening a

great success. The committee would like

to thank all sponsors and members for

their continued support of the branch

and its events in 2018. We look forward

to seeing you all again and welcoming

new members and promoting credit as

a profession across the region in 2019

further. Author: Daniel Cherry

The Recognised Standard / www.cicm.com / January / February 2019 / PAGE 57
---
BRANCH NEWS

Deal or No Deal Conference

East of England Branch

BRANCH Chairman Richard

Brown welcomed delegates

from eight CICM Branches

to this free conference,

introducing Branch

Committee member Chris

Parker of hosts Goodman Masson. Chris

gave a brief update then William Buist of

Xten presented on the risks of negotiating

badly, carefully examining the types of

deals that credit professionals make and

expertly detailing some of the methods

we could introduce to our own working

practice to ensure that we are getting the

best we can for our businesses, customers

and ourselves.

Steve Savva FCICM, Managing Director,

Credit Management Training (CMT),

delivered an energetic presentation on the

importance of looking behind the figures

before working with new clients. With

many tips and tricks learnt from his own

career, Steve showed us the warning signs

to look for, and how we can minimise

risk when engaging with prospective

customers.

Beth Poole from Great Ormond Street

Hospital (GOSH) shared her experiences as

a patient and outlined how the generous

charity donation from Martin Eaves of

Advanced Collection Systems might be

used.

Following a delicious buffet lunch and

networking, Tim Parkman of Lessons

Learned skilfully dissected the psychology

behind forging deals and the importance of

understanding ourselves before attempting

to understand our customers.

An open discussion was led by Branch

Committee members Atul Vadher,

Katherine Bailey and Lyn Commons

speaking about their own real life

experiences as credit managers on 'the

shop floor'.

Sidney Demadema of Tempest

Recruiting won the business card draw,

sponsored by Cforia and presented by

Matthew White.

An informative Q&A saw our speakers

joined by: Gerry Brown of NovaQuest

Capital Management; Stephen Cowan at

Yuill + Kyle; Robert Sorrentino from ACS;

Gary Stewart at YourDMS; and Matthew

White Cforia.

The conference feedback was

exceptionally good about the content, the

speakers and the venue, and the Branch

thanks Goodman Masson for its generous

hospitality and donors ACS and Cforia.

AUTHOR: Chris Parker

Hole in One!

Bristol and West and Thames Valley Branch

THE Bristol and West and Thames Valley

branches of the CICM came together for

their first joint Golf Day, at Wrag Barn Golf

Club near Swindon. Five teams and 20

players contested four awards. The team

award was won by Verizon.

The skies were clear all day, the sun was

out the whole time and at dinner we even

needed to close the curtains as the sun was

streaming into our eyes.

The main award of the day – the

Andy Scholes memorial trophy – went to

Richard Lester of Shoosmiths, who scored

a very impressive 42 stableford points.

Prizes were also awarded for longest drive

and nearest the pin.

Congratulations to all of our winners

and thanks to all that came along for

making it a very memorable day.

Planning has already begun for a repeat

of the event in mid-2019 and we are pretty

sure many of those that attended will

come along again and bring more friends!

Author: Gary Baker FCICM

The Recognised Standard / www.cicm.com / January / February 2019 / PAGE 58
---
BRANCH NEWS

Starting Your Own Business

North East Branch

OVERLOOKING the Tyne River, North

Shields was the venue for an informative

talk on the pitfalls and benefits of Starting

Your Own Business.

Janice Ross from the North Tyneside

Business Factory helped people through

the myriad options alongside providing

support, help and guidance.

The event was well attended and

Janice turned an often dry topic into an

interesting evening where not only the

practicalities of starting your own business

MEMBERS and guests spent a most

enjoyable evening networking, dining,

dancing and having a flutter at Genting

Casino in Sheffield.

We gathered in the VIP lounge for a fizz

reception and some serious networking

before being amazed by the sleight of hand

of the resident magician – try as we might,

we just could not see how he was doing his

tricks, despite our close-up view!

The dining room beckoned where

the first turkey dinners of the season

were served whilst being entertained by

excellent local vocalist Jess Armstrong.

After the crackers were pulled, the

Christmas pudding eaten and a boogie on

the dance floor, we made our way down to

the gaming floor.

Thankfully no shirts were lost but

likewise no millionaires made. The speed

at which the chips on the roulette table

2019 will see the relaunch of the East

Scotland branch of the CICM, and in

preparation we are working on a new plan

of training and networking events for the

East of Scotland area. Our aim is to provide

opportunities for our members to talk to

like-minded credit professionals and share

experience and best practice, as well as

practical examples of what has and hasn't

worked in organisations like yours.

We cannot do this without the

continuing support of our existing

members and, we are hoping, some

new members too. This is your chance

to get involved and influence the CICM

membership offering and branch activity

in Scotland. Paul Taylor, CICM Regional

Representative for Ireland, Northern

were explored, but also where motivation

and inspiration were key factors.

With a free buffet and plenty of

opportunities for questions, the evening

was another successful event for the North

East Branch.

The branch committee would like to

express its thanks to all who attended with

a special mention for Janice for her time,

effort and expertise.

Author: Allan Poole MCICM

Festive network event

Sheffield and District Branch

were pushed down the chute was eye

watering. The last gamblers made their

way home around 1am.

The event was a fitting celebratory end

to the year. Many thanks to Genting Casino

and all attending members and guests for

making the evening a great success.

Author: Paula Uttley MCICM(Grad)

Exciting news

East Scotland Branch

Ireland and Scotland, says we urge all

those involved in credit management

and interested in helping shape the

future of credit in Scotland to contact

us and have your voice heard: "Whether

you are a studying Member, Fellow,

Affiliate, Member or Associate (or not

yet a member) we want to hear from you.

Get in touch to find out more. There is no

commitment needed, we just want to hear

your ideas."

So if you have a passion for credit

management, call Paul on 028 7035 0682,

or email paul.taylor@lynasfoodservice.

com, or with CICM headquarters

branches@cicm.com or 01780 722903.

Author: Paul Taylor MCICM

Christmas

Quiz night

North East

Branch

SO…under the Christmas lights the great

and the good brave enough to tackle

the legendary CICM Christmas Quiz

gathered in Newcastle to do battle. The

popularity has grown to the extent that

we were over-subscribed, but those lucky

enough to partake were fuelled by a tasty

festive spread provided by our venue

hosts The Old George Inn. Challengers

locked horns on a light-hearted variety

of question rounds, with spot prizes and

a raffle breaking up the serious business

of challenging last year's winners

Northumbria University.

Our quizmistress Angie Deverick

put them through their paces and this

year we have a new name on the annals

(breaking up the Northumbria University/

Mincoffs Law dominance of the last

few years). Muckle stormed ahead and

took the title in fine fashion (they are

pictured with big winning smiles!) Last

but not least we have to say a very big

thank you to Hays, Muckle, Mincoffs

Solicitors, Paul Card Recruitment,

Northumbria University, Waters and Gate

Debt Collection, Sintons Debt Recovery

and the Old George for sponsoring some

fantastic prizes that helped to make the

evening not only great entertainment, but

a highly successful branch event. Great

job everyone! Thanks for all your help in

2018.

Author: Angie Deverick MA MCICM

The Recognised Standard / www.cicm.com / January / February 2019 / PAGE 59
---
TAKE CONTROL

OF YOUR CREDIT

CAREER

COLLECTIONS MANAGER

MANAGE YOUR EXPERT TEAM

London, £50,000 + bonus

A consultancy business in west London is looking to add

a collections manager to its team. Rapidly becoming a

market leader and expanding its client base by 40% over

the last year, this role will manage three credit controllers.

You will be responsible for ensuring high collections,

setting individual and team targets, appraisals, 1 to 1s,

aged debt reporting and cash flow forecasting. You

will be an analytical mind and have experience within

collections and managing a collections team. This is an

amazing opportunity for an individual who thrives in a

targeted environment and enjoys a sociable working

culture which rewards high achievers. Ref: 3503370

Contact April Gunn on 020 3465 0020

or email april.gunn@hays.com

SENIOR CREDITS CONTROLLER

BUILD KEY RELATIONSHIPS

High Wycombe, up to £30,000

Working for a market leader within the leisure industry,

a senior credit controller is required for a broad and

varied role. This role would suit someone used to working

with international ledgers with an analytical nature.

You will be looking for a role where you continuously

think outside the box and want to take the next step in

your career. In return, you will be offered opportunities

to improve processes and inject fresh ideas where CICM

study support is provided to enable you to develop

your career.

Ref: 3401302

Contact Emma Ruttle on 01908 870254

or email emma.ruttle@hays.com

SOLE CHARGE CREDIT CONTROLLER

TAKE FULL RESPONSIBILITY

Leatherhead, up to £36,000 + benefits

A sole charge credit controller is required to join

a growing, international firm. In this newly created

position, you will be responsible for maximising

collections and minimising aged debt by building

strong working relationships with both colleagues and

customers, as well as taking full responsibility for the

entire collection process up to and including litigation.

Previous experience working as a credit controller within

a chartered accounting or legal firm is essential. This is

an excellent opportunity to join a successful firm, in a

role that you can make your own.

Ref: 3493524

Contact Natascha Whitehead on 07770 786433

or email natascha.whitehead@hays.com

WORKING CAPITAL ASSISTANT

JOIN AN INTERNATIONAL LAW FIRM

London, up to £29,000

Due to a backlog of high volume invoices, this international

law firm is seeking an individual to assist and make a

difference through a 3-6 month fixed term contract.

With a strong focus on invoice amendments, high volume

processing and allocation of fees and disbursements,

this role will require billings experience and good time

management skills to meet deadlines. You will be able to

deal with enquiries and conduct yourself professionally,

ensuring you assist with the running of a department.

This is a fantastic opportunity to enhance your CV and

make a huge impact. Ref: 3460483

Contact Megan Allen on 020 3465 0020

or email megan.allen@hays.com

hays.co.uk/creditcontrol

The Recognised Standard / www.cicm.com / January / February 2019 / PAGE 60
---
CREDIT CONTROLLER

JOIN AN INTERNATIONAL COMPANY

London, up to £28,000

An international media company based in London is

currently looking for a French speaking credit controller

to join its finance team on an initial four month contract

basis. This is an integral role within the business where

you will be within a team of five in credit control and

report to the Credit Manager. You will be responsible for

your own ledger, predominantly with clients based in

France and North Africa. To be considered, you will have

previous experience within credit control and be either

fluent or native French speaking.

Ref: 3497157

Contact Summer Mostafa on 020 3465 0020

or email summer.mostafa@hays.com

CREDIT CONTROLLER

DEVELOP YOUR CAREER

Nottingham, up to £25,000

This high-growth HR technology business helps businesses

manage employee time-off and absence efficiently and

has acquired a new, state of the art business premises

in the heart of Nottingham. This driven, innovative,

collaborative and forward-thinking company is looking for

an individual who not only wants to make an immediate

difference but also wants to develop their career. Your

duties will include reducing outstanding debt, managing

the sales ledger, creating robust processes, resolving

complex queries and supporting the Finance Director and

Assistant Accountant. The business provides a fantastic

environment, plenty of incentives and a genuine pathway

for personal development. Ref: 3484223

Contact Megan Rogers on 0115 947 7500

or email megan.rogers@hays.com

FINANCE BILLER

SUCCESS THROUGH EXPERTISE

London, £26,000-£28,000 + benefits

This international PR media company is seeking a finance

biller to work in a professional, yet friendly working

environment with amazing offices. Your main duties

will include invoicing, raising jobs on SAP, ensuring fees

and costs are raised, maintaining client data forms, client

reconciliations, reporting, SOX compliance, maintaining and

updating job trackers and working with the team to ensure

WIP is kept low. To be successful, you will be a team player,

demonstrate strong people and relationship building skills,

have strong Excel skills and previous billing experience. SAP

experience is advantageous but not essential. Ref: 3498851

Contact Julia Foster on 020 3465 0020

or email julia.foster2@hays.com

CREDIT CONTROLLER

MAKE AN IMPACT

Crawley, £26,000 + excellent benefits

Hays has partnered with a growing and leading

organisation in Crawley. It is looking for a target-driven,

professional and dedicated credit controller to join its

close nit credit control team. Reporting into the Credit

Supervisor, this varied and fast-paced role's duties will

include but not be limited to chasing all allocated over

debts, maintaining and updating portfolio of aged debt

and identifying and resolving outstanding queries. This

is an exciting opportunity for a highly motivated team

player to join an established and reputable organisation.

Ref: 3492920

Contact Ella Tasker on 01293 220402

or email ella.tasker@hays.com

This is just a small selection of the many

opportunities we have available for credit

professionals. To find out more email

hayscicm@hays.com or visit us online.

The Recognised Standard / www.cicm.com / January / February 2019 / PAGE 61
---
View our digital version online at www.cicm.com

Log on to the Members' area, and click on the tab labelled

'Credit Management magazine'

Just another great reason to be a member

Credit Management is distributed to the entire UK and international

CICM membership, as well as additional subscribers

The Recognised Standard

www.cicm.com | +44 (0)1780 722901 | editorial@cicm.com

The Recognised Standard / www.cicm.com / January / February 2019 / PAGE 62
---
New CICM members

The Institute welcomes new members who have recently joined

ASSOCIATE

AFFILIATE

FELLOW

MEMBERS

Joanne Barton

Tariq Ali

Simon Bollington

Joanne Darlow

Giuseppe Farina

Harvey Fielding

Wendy Humphrey

Mohammad Khan

Nicki Blair

Doreen Kilshaw

Stacy Matthews

Jan Reeves

Pamela Richardson

Andrew Shipley

Marc Smith

Jazmin Winton

Maxine Wright

Caroline Arnold

Richard Green

Paul Kirby

Shu-Ken Li

Robert Matthews

Beverley Oliver

Joseph Pettit

Rachel Stanton

Robert Ball

Panos Michalopoulos

Paul Uppal

James Warnock

Robert Coles

Nathan McQueen

Rob Sands

Emma Hayzen-Smith

Annmarie O'Brien

Neil Sutcliffe

Zanele Tshabalala

Adam Wannan

STUDYING MEMBERS

Hisham Allam

Barbara Armstrong

Laura Barry

Mathew Bowater

Debbie Burke

Joshua Catterall

Shaun Chamberlain

Katarzyna Chojnacka

Dale Coppard

Eve Davis

Ajaypal Dulay

Michal Dusilo

Fatiha El Mozazi

Julie Fleming

Kelly Foale

Winston Frederick

Dominic Goddard

Daniela Gomez

Danielle Gray

Peter Haigh

Malgorzata Horab

Tammi Huxtable

Derrick Kankam-Hoppe

Emma Kennedy

Erin Lever

Amanda Lowrie

Haris Mahmood

Dumitru Marocico

Patrick McDonnell

John McNeill

Barbara Mendes

Ashleigh Moore

Stephen Murphy

David Mustoe

Seana Nixon

Sharon O'Connor

Mitan Patel

Christopher Peake

Jolene Phillipson

Joanna Piasecka

Aaron Powell

Will Powell

Kubik Sandra

Kelly Sheridan

Kasia Sierlecka

Marta Sikora

Paul Singers

Emma Smith

Lynsey Smylie

Ewelina Snopek

Louise Tan

Charlotte Tritton

Imrana Usmani

Tendesayi Vengesayi

Richard Williams

Eudoxie Yapi

Manawar Ali

Mary Barron

Sarah Beeton

Katharyne Brindle

Oluwatosin Dawodu

Kirsty Dear

Richard Edwards

Franklin Fevrier

Luke Fowler

Anita Glindoni

Samantha Goulding

James Hall

Scott Harvey

Nichola Hicks

Lorna Holden

Beverley Jackson-Broome

Sandra Kubik

Michael Miller

Rachael Murrell

Kieran O'Carroll

David Phillips

Bryony Purvis

Bjorn Reichmann

Leonid Shuleshko

Mark Stanley

Siobhan Stevenson

Tina Tomkinson

Nick Tumber

Dmytro Tupchiienko

Monir Uddin

Ashley Warner

Michaela Watson

Samantha-Joeane Whitby

Katrina Wilson

Anna Wright

FORTHCOMING EVENTS

CICM EVENTS

30 January

CICM South Wales Branch

CARDIFF

Are The Robots Coming or Are They Here

Already? What will you do?

Contact : To reserve a place- please email

southwalesbranch@cicm.com

Diana Keeling (07921) 492348

VENUE : Atradius 3 Harbour Road, Cardiff,

CF10 4WZ

30 January

CICM Corporate Partner HighRadius

ONLINE

Credit and Sales: Can Cats and Dogs Work

Together?

Contact : Visit our website for login details.

31 January

CICM West Scotland Branch

GLASGOW

Annual General Meeting

Contact : If you wish to attend the AGM

please email: westofscotlandbranch@cicm.com

VENUE : Blythswood Square Hotel Monte Carlo

Suite Reception, 11 Blythswood Square, Glasgow,

G2 4AD

6 February

CICM West Midlands Branch

BIRMINGHAM

Annual General Meeting and Quiz

Contact : Susan Byrne (01922) 452881 / 07721

31551

VENUE : Primitivo Bar 10 Barwick Street,

Birmingham, B3 2NT United Kingdom

6 February

CICM East of England Branch

BRENTWOOD

Annual General Meeting with Insolvency and

CICM HQ Update (2CPD)

Contact : eastofenglandbranch@cicm.com by 5

February 2019. Carol Baker (01277) 201554 / 07710

392934

VENUE : FRP Advisory, Jupiter House

Warley Hill Business Park, The Drive, Brentwood,

CM13 3BE

26 February

CICM Thames Valley Branch

MARLOW

Breakfast Briefing and AGM

Contact : thamesvalleybranch@cicm.com.

Mark Preston 07889692316

VENUE : Dun & Bradstreet Marlow International,

Parkway, Marlow, SL7 1AJ

OTHER EVENTS

5 February

Forums International

STRATFORD UPON AVON

Senior Credit Management Forum

Contact : Fsmf@forumsinternational.co.uk.

12 February

Forums International

STRATFORD UPON AVON

Pharmaceuticals & Medical Devices Credit Forum

Contact : For more information and

an information pack Email pmf@

forumsinternational.co.uk.

28 February

Utility Week –

BIRMINGHAM

Chartered Institute of Credit Management is a

proud supporter of the Utility Week Consumer

Chaired by Philip King FCICM, CICM Chief

Executive. Consumer Debt Conference –

Supported by CICM

When registering insert promo code CICM15 to

get the 15% discount.

Contact : Visit our online calendar for further

registration details.

VENUE : Birmingham Conference & Events

Centre Hill Street, Birmingham, B5 4EW

The Recognised Standard / www.cicm.com / January / February 2019 / PAGE 63
---
Cr£ditWho?

CICM Directory of Services

COLLECTIONS

COLLECTIONS LEGAL

CONSULTANCY

Atradius Collections Ltd

3 Harbour Drive,

Capital Waterside,

Cardiff Bay, Cardiff, CF10 4WZ

United Kingdom

T: +44 (0)2920 824700

W: www.atradiuscollections.com/uk/

Atradius Collections Ltd is an established specialist in business

to business collections. As the collections division of the Atradius

Crédito y Caución, we have a strong position sharing history,

knowledge and reputation.

Annually handling more than 110,000 cases and recovering over

a billion EUROs in collections at any one time, we deliver when

it comes to collecting outstanding debts. With over 90 years'

experience, we have an in-depth understanding of the importance of

maintaining customer relationships whilst efficiently and effectively

collecting monies owed.

The individual nature of our clients' customer relationships is

reflected in the customer focus we provide, structuring our service

to meet your specific needs. We work closely with clients to provide

them with a collection strategy that echoes their business character,

trading patterns and budget.

For further information contact: Hans Meijer, UK and Ireland Country

Director (hans.meijer@atradius.com).

INTERNATIONAL COLLECTIONS

Premium Collections Limited

3 Caidan House, Canal Road

Timperley, Cheshire. WA14 1TD

T: +44 (0)161 962 4695

E: paul.daine@premiumcollections.co.uk

W: www.premiumcollections.co.uk

For all your credit management requirements Premium Collections

has the solution to suit you. Operating on a national and international

basis we can tailor a package of products and services to meet your

requirements.

Services include B2B collections, B2C collections, international

collections, absconder tracing, asset repossessions, status reporting

and litigation support.

Managed from our offices in Manchester, Harrogate and Dublin our

network of 55 partners cover the World.

Contact Paul Daine FCICM on +44 (0)161 962 4695 or

paul.daine@premiumcollections.co.uk

www.premiumcollections.co.uk

COLLECTIONS LEGAL

Blaser Mills Law

40 Oxford Road,

High Wycombe,

Buckinghamshire. HP11 2EE

T: 01494 478660/478661

E: Jackie Ray jar@blasermills.co.uk or

Gary Braathen gpb@blasermills.co.uk

W: www.blasermills.co.uk

A full-service firm, Blaser Mills Law's experienced Commercial

Recoveries team offer pre-legal collections, debt recovery,

litigation, dispute resolution and insolvency. The team includes

CICM qualified staff, recommended in both Legal 500 and

Chambers & Partners legal directories.

Offices in High Wycombe, Amersham, Rickmansworth, London

and Silverstone

Lovetts Solicitors

Lovetts, Bramley House, The Guildway, Old Portsmouth

Road, Guildford, Surrey GU3 1LR

T: +44(0)1483 457500 E: info@lovetts.co.uk

W: www.lovetts.co.uk

Lovetts has been recovering debts for 30 years! When you

want the right expertise to recover overdue debts why not use a

specialist? Lovetts' only line of business is the recovery of

business debts and any resulting commercial litigation.

We provide:

• Letters Before Action, prompting positive outcomes in more than 80

percent of cases • Overseas Pre-litigation collections with

multi-lingual capabilities • 24/7 access to our online debt

management system 'CaseManager'

Don't just take our word for it, here's recent customer feedback:

"...All our service expectations have been exceeded..."

"...The online system is particularly useful and is extremely easy

to use... "...Lovetts has a recognisable brand that generates

successful results..."

STRIPES SOLICITORS LIMITED

St George's House, 56 Peter Street, Manchester, M2 3NQ

W: www.stripes-solicitors.co.uk

T: 0161 832 5000

95percent success rate in disputed litigation

cases over several decades

Stripes technical excellence, tenacity and commercial insight has led

to this 95 percent success rate over several decades. We have been

particularly recommended as a leading law firm by the Legal 500 in

the litigious field for representing clients with significant and complex

issues.

Our specialist commercial debt recovery and insolvency team work

with businesses ranging from SMEs to larger PLCs recovering

business debts on a no cost or fixed fee basis and often

recovering debts within days. We aim to understand your business

and tailor our services to suit your requirements. Our online service

provides you with 24/7 access to manage your account, to upload

new debtor cases and to generate new legal instructions.

Yuill + Kyle

Capella, 60 York Street, Glasgow, G2 8JX, Scotland, UK

T: 0141 572 4251

E: scowan@yuill-kyle.co.uk

W: www.debtscotland.com

Do You Have Trouble Collecting Debts in

Scotland? We Don't

Yuill + Kyle is one of Scotland's leading debt recovery and credit

control law firms. With over 100 years of experience, we are

specialists in resolving disputed and undisputed debts. Our track

record for successful recoveries means you have just moved one step

closer to getting your money back.

How we can help you:

• Specialist advice for all of your legal matters

• A responsive and straightforward approach

• Providing you with solutions-driven advice

• Delivering cost certainty and value for money

Our services

• Pre-sue

• Fast track collections

• Judgement enforcement

• Insolvency

• Bankruptcy

• Liquidation

Sanders Consulting Associates Ltd

T: +44(0)1525 720226

E: enquiries@chrissandersconsulting.com

W: www.chrissandersconsulting.com

Sanders Consulting is an independent niche consulting firm

specialising in leadership and performance improvement in all aspects

of the order to cash process. Chris Sanders FCICM, the principal, is

well known in the industry with a wealth of experience in operational

credit management, billing, change and business process improvement.

A sought after speaker with cross industry international experience in

the business-to-business and business-to-consumer markets, his

innovative and enthusiastic approach delivers pragmatic people and

process lead solutions and significant working capital improvements to

clients. Sanders Consulting are proud to manage CICMQ on behalf of

and under the supervision of the CICM.

COURT ENFORCEMENT SERVICES

Court Enforcement Services

Wayne Whitford – Director

M: +44 (0)7834 748 183 T : +44 (0)1992 663 399

E : wayne@courtenforcementservices.co.uk

W: www.courtenforcementservices.co.uk

High Court Enforcement that will Empower You!

We help law firms and in-house debt recovery and legal teams to

enforce CCJs by transferring them up to the High Court. Setting us

apart in the industry, our unique and Award Winning Field Agent App

helps to provide information in real time and transparency, empowering

our clients when they work with us.

• Free Transfer up process of CCJ's to High Court

• Exceptional Recovery Rates

• Individual Client Attention and Tailored Solutions

• Real Time Client Access to Cases

CREDIT INFORMATION

BUREAU VAN DIJK

Northburgh House, 10 Northburgh Street, London, EC1V 0PP

T: +44 (0)20 7549 5000E: bvd@bvdinfo.com

W: www.bvdinfo.com

We offer the most powerful comparable data resource on private

companies. We capture and treat private company information for

better decision making and increased efficiency, so we're ideally suited

to help credit professionals. Orbis, our global company database has

information on 250 million companies, and offers:

• Standardised financials so you can assess companies globally

• Financial strength metrics using a range of models and including a

qualitative score for when detailed financials aren't available

• Projected financials

• Extensive corporate structures so you can assess the complete group

– or take the financial stability of the parent into account

Credit Catalyst is a platform where you can combine information from

Orbis with you own knowledge of your customers and get dashboard

views of your portfolio.

Register for your free trial at bvdinfo.com.

The Recognised Standard / www.cicm.com / January / February 2019 / PAGE 64
---
FOR INFORMATION,

OPTIONS AND PRICING

PLEASE EMAIL:

grace@cabbell.co.uk

CREDIT INFORMATION

CREDIT INFORMATION

CREDIT MANAGEMENT SOFTWARE

Company Watch

Centurion House, 37 Jewry Street,

LONDON. EC3N 2ER

T: +44 (0)20 7043 3300

E: info@companywatch.net

W: www.companywatch.net

Organisations around the world rely on Company Watch's industryleading

financial analytics to drive their credit risk processes. Our

financial risk modelling and ability to map medium to long-term risk as

well as short-term credit risk set us apart from other credit reference

agencies.

Quality and rigour run through everything we do, from our unique

method of assessing corporate financial health via our H-Score®, to

developing analytics on our customers' in-house data.

With the H-Score® predicting almost 90 percent of corporate

insolvencies in advance, it is the risk management tool of choice,

providing actionable intelligence in an uncertain world.

Graydon UK

66 College Road, 2nd Floor, Hygeia Building, Harrow,

Middlesex, HA1 1BE

T: +44 (0)208 515 1400

E: customerservices@graydon.co.uk

W: www.graydon.co.uk

Graydon UK is a specialist in Credit Risk Management and Intelligence,

providing access to business information on over 100 million entities

across more than 190 countries. Its mission is to convert vast amounts

of data from diverse data sources into invaluable information. Based

on this, it generates economic, financial and commercial insights that

help its customers make better business decisions and ultimately

gain competitive advantage. Graydon is owned by Atradius, Coface

and Euler Hermes, Europe's leading credit insurance organisations. It

offers a comprehensive network of offices and partners worldwide to

ensure a seamless service.

Credica Ltd

Building 168, Maxell Avenue, Harwell Oxford, Oxon. OX11 0QT

T: 01235 856400E: info@credica.co.uk

W: www.credica.co.uk

Our highly configurable and extremely cost effective Collections and

Query Management System has been designed with 3 goals in mind:

• To improve your cashflow • To reduce your cost to collect

• To provide meaningful analysis of your business

Evolving over 15 years and driven by the input of 1000s of Credit

Professionals across the UK and Europe, our system is successfully

providing significant and measurable benefits for our diverse portfolio

of clients.

We would love to hear from you if you feel you would benefit from our

'no nonsense' and human approach to computer software.

CREDIT MANAGEMENT SOFTWARE

CoCredo

Missenden Abbey, Great Missenden, Bucks, HP16 0BD

T: 01494 790600

E: customerservice@cocredo.com

W: www.cocredo.co.uk

CoCredo's award winning credit reporting and monitoring systems have

helped to protect over £27 billion of turnover on behalf of our customers.

Our company data is updated continually throughout the day and access

to the online portal is available 365 days a year 24/7.

At CoCredo we aggregate data from a range of leading providers in

the UK and across the globe so that our customers can view the best

available data in an easy to read report. We offer customers XML

Integration and D.N.A Portfolio Management as well as an industry-first

Dual Report, comparing two leading providers opinions in one report.

Top Service Ltd

2&3 Regents Court, Farmoor Lane, Redditch,

Worcestershire, B98 0SD

T: 0152 750 3990.

E: enquiries@top-service.co.uk

W: www.top-service.co.uk

Top Service is the only credit reference and debt recovery

agency to specialise in the UK construction sector. Top Service

customers benefit from sector specific information, detailed

payment history intelligence and realtime trade references in

addition to standard credit information. There are currently

3,000 construction sector companies subscribing to the service,

ranging from multi-national organisations to small family firms.

The company prides itself on high levels of customer service

and does not tie its customers into restrictive contracts. Top

Service offers a 25 percent discount to all CICM Members as

well as four free credit checks of your choice.

CREDIT MANAGEMENT SOFTWARE

Experian

The Sir John Peace Building

Experian Way

NG2 Business Park

Nottingham NG80 1ZZ

T: 0844 481 9920

W: www.experian.co.uk/business-information/

For over 30 years Experian have been processing, matching and deriving

insights to provide accurate, up-to-date information that helps B2B

organisations to make more effective, fact based decisions, reduce

risks and meet regulatory standards. We turn complex data into clear

insights that help manage UK and international businesses to maximise

opportunities for growth and identify and minimise the associated risks.

Blending our business and consumer data we can offer a truly blended

score for sole traders and enhanced scoring on SME's to tell you more

about the business and the people behind the business. Experian can

support with new business, acquisition through to collections while

managing KYC requirements online or via our suite of APIs.

Innovation Software

Innovation Software, Innovation House,

New Road, Rochester, Kent, ME1 1BG.

T: +44 (0)1634 812300

E: jay.inamdar@innovationsoftware.uk.com

W: www.creditforceglobal.com

Innovation Software are the authors of CreditForce, the leading

Collections and Working Capital Management Systems. Our solutions are

used in over 26 countries and by over 20 percent of the Top 100 Global

Law Firms.

Our solutions have optimised Accounts Receivables processes for over

20 years and power Business Intelligence, with functionality to:

• improve cash flow • reduce DSO • control risk

• automate cash allocation • speed up query resolution

• improve customer relationship management

• automatically generate intelligent workflows and tasks

• manage the entire end-to-end collections cycle.

Fully integrated with over 40 leading ERP and Accounting systems,

including SAP, Oracle, Microsoft Dynamics and product partners with

Thomson Reuters Elite we can deliver on either your own computing

infrastructure or through Microsoft Azure's award winning and secure

cloud service.CreditForce remains the choice solution for world class

businesses.

Book a demonstration by calling T: +44 (0)1634 812 300 or visit

www.creditforceglobal.com for more information.

CREDIT MANAGEMENT SOFTWARE

STA International

3rd Floor, Colman House, King Street Maidstone , ME14 1DN

T: +44(0)844 324 0660.

E: enquiries@staonline.com

W: www.stainternational.com

GETTING BUSINESS PAID

STA is an award winning B2B and B2C debt collection, confidential

credit control and tracing supplier. ISO9001 quality accredited, and

with the CSAs Collector Accreditation Initiative, duty-of-care is as

important to us as it is to you. Specialising in international debt, in the

past 12 months we've collected from 146 countries worldwide. "Your

Debts Online" gives you transparent access to our collection success

and detailed management information, keeping you in control of your

account. We look forward to getting your business paid.

The Recognised Standard / www.cicm.com / January / February 2019 / PAGE 65 continues on page 66 >
---
Cr£ditWho?

CICM Directory of Services

FOR INFORMATION,

OPTIONS AND PRICING

PLEASE EMAIL:

grace@cabbell.co.uk

CREDIT MANAGEMENT SOFTWARE

Tinubu Square UK

Holland House,

4 Bury Street, London .

EC3A 5AW

T: +44 (0)207 469 2577 /

E: uksales@tinubu.com

W: www.tinubu.com

Tinubu Square offers companies across the world the appropriate

SaaS platform solutions and services to significantly reduce their

exposure to risk, and their financial, operational and technical

costs. Easy to implement, our solutions provide an accurate

picture of a customers' financial health through the entire

order-to-cash cycle, improve cash flow, and facilitate control

of risk across the organization whether group-wide or locally.

Founded in 2000, Tinubu Square is an award winning expert in

the trade credit insurance industry, with offices in Paris, London,

New York, Montreal and Singapore. Some of the largest multinational

corporations, credit insurers and receivables financing organizations

depend on Tinubu to provide them with the means to drive greater

trade credit risk efficiency.

CREDIT MANAGEMENT SOFTWARE

Data Interconnect Ltd

Unit 7, Radcot Estate, 7 Park Rd, Faringdon,

Oxfordshire. SN7 7BP

T: +44 (0) 1367 245777 F: +44 (0) 1367 240011

E: sales@datainterconnect.co.uk

W: www.datainterconnect.com

Data Interconnect provides integrated e-billing and collection

solutions via its document delivery web portal, WebSend.

By providing improved Customer Experience and Customer

Satisfaction, with enhanced levels of communication between both

parties, we can substantially speed up your collection processes.

Proud supporters

of CICMQ

Rimilia

Corbett House, Westonhall Road, Bromsgrove, B60 4AL

T: +44 (0)1527 872123 E: enquiries@rimilia.com

W: www.rimilia.com

Operating globally across any sector, Rimilia provides intelligent,

finance automation solutions that enable customers to get paid on time

and control their cashflow and cash collection in real time. Rimilia's

software solutions use sophisticated analytics and artificial intelligence

(AI) to predict customer payment behaviour and easily match and

reconcile payments, removing the uncertainty of cash collection. The

Rimilia software automates the complete accounts receivable process

and eliminates unallocated cash, reducing manual activity by an

average 70% and achieving best in class matching rates recognised

by industry specialists such as The Hackett Group.

CREDIT MANAGEMENT SOFTWARE

DATA AND ANALYTICS

Dun & Bradstreet

Marlow International, Parkway Marlow

Buckinghamshire SL7 1AJ

Telephone: (0800) 001-234 Website: www.dnb.co.uk

Dun & Bradstreet Finance Solutions enable modern finance

leaders and credit professionals to improve business performance

through more effective risk management, identification of growth

opportunities, and better integration of data and insights across the

business. Powered by our Data Cloud, our solutions provide access

to the world's most comprehensive commercial data and insights

- supplying a continually updated view of business relationships

that helps finance and credit teams stay ahead of market shifts and

customer changes. Learn more here:

www.dnb.co.uk/modernfinance

FINANCIAL PR

Gravity London

Floor 6/7, Gravity London, 69 Wilson St, London, EC21 2BB

T: +44(0)207 330 8888. E: sfeast@gravitylondon.com

W: www.gravitylondon.com

Gravity is an award winning full service PR and advertising

business that is regularly benchmarked as being one of the best

in its field. It has a particular expertise in the credit sector, building

long-term relationships with some of the industry's best-known

brands working on often challenging briefs. As the partner agency for

the Credit Services Association (CSA) for the past 13 years, and the

Chartered Institute of Credit Management since 2006, it understands

the key issues affecting the credit industry and what works and what

doesn't in supporting its clients in the media and beyond.

INSOLVENCY

Moore Stephens

Moore Stephens LLP, 150 Aldersgate Street,

London EC1A 4AB

T: +44 (0) 20 7334 9191

E: Brendan.clarkson@moorestephens.com

W: www.moorestephens.co.uk

Moore Stephens is a top ten accounting and advisory network,

with offices throughout the UK. Our clients range from individuals

and entrepreneurs, through to large organisations and complex

international businesses. We partner with them, supporting their

aspirations and helping them to thrive in a challenging world.

Our national creditor services team has expert insights in debt

recovery which, combined with their unparalleled industry and

sector knowledge, enables them to assist creditors in recovering

outstanding debts.

LEGAL MATTERS

PAYMENT SOLUTIONS

American Express

76 Buckingham Palace Road,

London. SW1W 9TQ

T: +44 (0)1273 696933

W: www.americanexpress.com

American Express is working in partnership with the CICM and is

a globally recognised provider of payment solutions to businesses.

Specialising in providing flexible collection capabilities to drive a

number of company objectives including:

•Accelerate cashflow •Improved DSO •Reduce risk

•Offer extended terms to customers

•Provide an additional line of bank independent credit to drive

growth •Create competitive advantage with your customers

As experts in the field of payments and with a global reach,

American Express is working with credit managers to drive growth

within businesses of all sectors. By creating an additional lever

to help support supplier/client relationships American Express is

proud to be an innovator in the business payments space.

PAYMENT SOLUTIONS

Bottomline Technologies

115 Chatham Street, Reading

Berks RG1 7JX | UK

T: 0870 081 8250 E: emea-info@bottomline.com

W: www.bottomline.com/uk

Bottomline Technologies (NASDAQ: EPAY) helps businesses

pay and get paid. Businesses and banks rely on Bottomline for

domestic and international payments, effective cash management

tools, automated workflows for payment processing and bill

review and state of the art fraud detection, behavioural analytics

and regulatory compliance. Businesses around the world depend

on Bottomline solutions to help them pay and get paid, including

some of the world's largest systemic banks, private and publicly

traded companies and Insurers. Every day, we help our customers

by making complex business payments simple, secure and seamless.

RECRUITMENT

PORTFOLIO

CREDIT CONTROL

Portfolio Credit Control

1 Finsbury Square, London. EC2A 1AE

T: 0207 650 3199

E: recruitment@portfoliocreditcontrol.com

W: www.portfoliocreditcontrol.com

Portfolio Credit Control, solely specialises in the recruitment of

permanent, temporary and contract Credit Control, Accounts

Receivable and Collections staff. Part of an award winning recruiter

we speak to and meet credit controllers all day everyday understanding

their skills and backgrounds to provide you with tried and tested credit

control professionals. We have achieved enormous growth because we

offer a uniquely specialist approach to our clients, with a commitment

to service delivery that exceeds your expectations every single time.

HighRadius

T: +44 7399 406889

E: gwyn.roberts@highradius.com

W: www.highradius.com

HighRadius is the leading provider of Integrated Receivables

solutions for automating receivables and payment functions such

as credit, collections, cash allocation, deductions and eBilling.

The Integrated Receivables suite is delivered as a software-as-aservice

(SaaS). HighRadius also offers SAP-certified Accelerators

for SAP S/4HANA Finance Receivables Management, enabling

large enterprises to maximize the value of their SAP investments.

HighRadius Integrated Receivables solutions have a proven track

record of reducing days sales outstanding (DSO), bad-debt and

increasing operation efficiency, enabling companies to achieve an

ROI in less than a year.

DWF LLP

David Scottow Senior Director

D +44 113 261 6169 M +44 7833 092628

E: David.Scottow@dwf.law W: www.dwf.law/recover

DWF is a global legal business, transforming legal services through

our people for our clients. Led by Managing Partner & CEO Andrew

Leaitherland, we have over 26 key locations and 2,800 people

delivering services and solutions that go beyond expectations. We

have received recognition for our work by The Financial Times who

named us as one of Europe's most innovative legal advisers, and we

have a range of stand-alone consultative services, technology and

products in addition to the traditional legal offering.

Hays Credit Management

107 Cheapside, London, EC2V 6DN

T: 07834 260029

E: karen.young@hays.com

W: www.hays.co.uk/creditcontrol

Hays Credit Management is working in partnership with the CICM

and specialise in placing experts into credit control jobs and credit

management jobs. Hays understands the demands of this challenging

environment and the skills required to thrive within it. Whatever

your needs, we have temporary, permanent and contract based

opportunities to find your ideal role. Our candidate registration process

is unrivalled, including face-to-face screening interviews and a credit

control skills test developed exclusively for Hays by the CICM. We offer

CICM members a priority service and can provide advice across a wide

spectrum of job search and recruitment issues.

The Recognised Standard / www.cicm.com / January / February 2019 / PAGE 66
---
BE ONE CLICK AWAY

FROM OUR WEBSITE

How to set up a great one click link to the CICM website on

your mobile phone. Follow these four simple steps...

Step 1 Step 2 Step 3 Step 4

Go to cicm.com > Click highlighted icon at bottom of screen > Click add to Home screen icon

> Click add icon at top right of screen > CICM icon will appear on your screen

Step 1 Step 2 Step 3 Step 4

Open cicm.com in Google Chrome browser > Tap Menu button > Tap add shortcut to Home screen

> Icon will appear on your screen. Menu button on other Android devices may be displayed differently.

THE RECOGNISED STANDARD IN CREDIT MANAGEMENT

T: +44 (0)1780 722900 | WWW.CICM.COM

The Recognised Standard / www.cicm.com / January / February 2019 / PAGE 67
---
www.tcmgroup.com

Probably thebest debt collection networkworldwide

Money knows no borders—neither do we