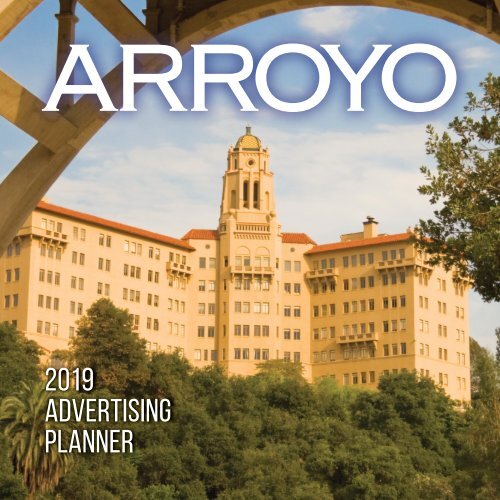 Create successful ePaper yourself
Turn your PDF publications into a flip-book with our unique Google optimized e-Paper software.
2019

ADVERTISING

PLANNER
---
EACH MONTH ARROYO

BRINGS THE BEST IN LOCAL

FINE LIVING DIRECTLY

TO THE AREA'S MOST

DESIRABLE HOUSEHOLDS.

OVERVIEW

#1 Magazine

#1 IN CIRCULATION

The largest of any local monthly

La Crescenta

Glendale

Montrose

La Cañada

Flintridge

Eagle Rock

Altadena

Pasadena

San Marino

Sierra Madre

Arcadia

Monrovia

#1 IN DISTRIBUTION

Direct-mailed to all affl uent

households in the market

#1 IN QUALITY

Independent, locally-focused

stories by respected writers

#1 IN RESPONSE

The most effective way to reach

the most desirable demos

#1 IN STATUS

The original and the best

South

Pasadena

Alhambra

• Monthly Circulation: 24,500 — the

largest circulation of any local

monthly magazine.

• Arroyo features world-class,

independent, locally-oriented

stories and columns by

well-respected writers.

• Direct-Mailed to single-family

owner-occupied homes with a

household income of $150,000

or greater in the following cities:

Pasadena, La Cañada, South

Pasadena, San Marino, Altadena,

Sierra Madre, Arcadia, Eagle

Rock, Alhambra, Monrovia and

Glendale (including Montrose and

La Crescenta).

• Select street distribution points

at upscale retail and restaurant

locations.

• Arroyo allows advertisers to target

high-income potential customers

for a fraction of the cost of

traditional direct-mail campaigns,

while providing better retention and

multiple exposures.

"Finding Arroyo in my mailbox

always elicits a smile and a sense

of anticipation of what awaits

within. Your publication is always

interesting and informative — I

am especially pleased with

articles about the arts"

–Lyn Spector,

Pasadena Area Philanthropist

ARROYO MONTHLY | 50 S. De Lacey Ave., Ste 200 | Pasadena, CA 91105 | P: 626.584.1500 | F: 626.795.0149 | arroyomonthly.com 3
---
DISPLAY

ADVERTISING

INFORMATION

EDITORIAL CALENDAR:

DATE ISSUE THEME AD DEADLINE

2019

JANUARY Health/Fitness/Beauty December 5, 2018

FEBRUARY Dining in Pasadena January 9, 2019

MARCH Real Estate + Summer Camp Preview Part 1 February 6

APRIL Seniors Issue + Summer Camp Preview Part 2 March 13

MAY Design '19 April 10

JUNE Summer Guide/Destination Hot Spots May 15

JULY Outdoor Entertaining June 12

AUGUST Family/Back To School July 17

SEPTEMBER Philanthropy-The Heart of Pasadena August 14

OCTOBER Fall Arts 2019 September 11

NOVEMBER Gems Of Pasadena October 9

DECEMBER Entertainment & Entertaining November 8

NOTE: All deadlines are by 1:30 p.m. on respective day. Editorial content subject to change.

Please confi rm dates at booking with your advertising representative.

"We have been working with

Arroyo and we are very happy

with our results. We feel our

advertising was effective - in just

one year we can feel that. We

would recommend advertising

with Arroyo to any new business

looking to get the word out in the

Pasadena area community. Our

future will be with them and as we

grow our advertising will grow."

—–Jennie Walker & Addy Viden

Walker / Viden Luxury

Consignment

RATES:

Size 1x 3x 6x 12x Gloss

FULL $2,395 $1,870 $1,635 $1,260 $230

1/2 $1,405 $1,095 $960 $740 $130

1/4 $815 $635 $ 555 $430 $80

1/8 $505 $395 $ 345 $265 $60

* All rates are net * All rates include 4-Color

PREMIUM POSITIONS:

Inside Front Cover $100 Back Cover $200 Center Spread $150 Page 3 or Inside Back Cover $100

PAYMENT TERMS:

Payment in advance is required until a signed credit application has been approved. All credit-approved advertising bills are

due within 30 days. If a contract is canceled prior to fulfi llment, a rate adjustment billing will occur. A rate adjustment is a

recalculation of all advertising back to the open rate according to the terms of this rate card. A rate adjustment will not occur if

a new, upgraded contract is signed. Ad sizes and copy may be changed without affecting contract rates.

4 ARROYO MONTHLY | 50 S. De Lacey Ave., Ste 200 | Pasadena, CA 91105 | P: 626.584.1500 | F: 626.795.0149 | arroyomonthly.com
---
FINE LIVING IN THE GREATER PASADENA AREA

August 2018

FINE

LIVINGING IN THE GREATER PASADENA AREA

OCTOBER 2018

FINE

LIVING IN THE GREATER PASADENA AREA

December 2018

ADVERTISING

SPECIFICATIONS

FULL PAGE

(NON-BLEED)

FULL PAGE

(BLEED)

1/2 PAGE

1/4 PAGE

1/8 PAGE

1/2 PAGE

(HORIZONTAL)

CAMERA-READY AD SIZES:

(All sizes shown in inches)

Size

Width x Height

Full Page (bleed) 10.5 x 12.5

Live Area 9.5 x 11.5

Trim Area 10 x 12

Full Page (non-bleed) 9.375 x 11.25

1/2 Page (V) 4.5 x 11.25

1/2 Page (H) 9.375 x 5.5

1/4 Page 4.5 x 5.5

1/8 Page 4.5 x 2.625

For production requirements, see page 11 of the Pasadena Weekly

media kit (other side).

READ ON!

Tips for Enticing Your Tween

To Love Books

GRANDFAMILIES

TO THE RESCUE

WHY MORE SENIORS ARE

RAISING THEIR GRANDKIDS

A PUBLIC SCHOOL

IMPRESARIO

Meet Monrovia's Patrick Garcia

TELESCOPES TO GO

Pasadena's Marja Seidel

Teaches Astronomy in the Amazon

FALL

ARTS

YEAR OF THE WOMAN

WAYNE'S

WORLD

JOHN WAYNE'S YOUTH

IN GLENDALE

ALIBABA

PICTURES

China Makes its Mark

On Hollywood

CHEFS' HOLIDAYS

Distinctive Recipes from

Top Pasadena Chefs

HOLIDAY GIFT AND

EVENT GUIDES

"Love your mag - makes me

proud to be a native of Pasadena,

and lover/ patron of the Arroyo!"

–Reader Comment,

Arroyo Readership Study

ARROYO MONTHLY | 50 S. De Lacey Ave., Ste 200 | Pasadena, CA 91105 | P: 626.584.1500 | F: 626.795.0149 | arroyomonthly.com 5