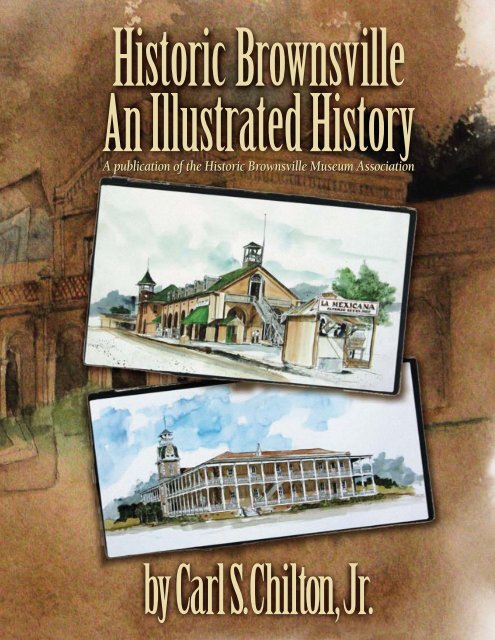 Historic Brownsville
An illustrated history of the City of Brownsville, paired with the histories of companies, families and organizations that make the region great.
An illustrated history of the City of Brownsville, paired with the histories of companies, families and organizations that make the region great.
SHOW MORE
SHOW LESS
You also want an ePaper? Increase the reach of your titles
YUMPU automatically turns print PDFs into web optimized ePapers that Google loves.
Historic Brownsville

An Illustrated History

A publication of the Historic Brownsville Museum Association

by Carl S.Chilton, Jr.
---
Thank you for your interest in this HPNbooks publication.

For more information about other HPNbooks publications, or information about

producing your own book with us, please visit www.hpnbooks.com.
---
Historic Brownsville

An Illustrated History

by Carl S. Chilton, Jr.

Commissioned by the Historic Brownsville Museum Association

Historical Publishing Network

A division of Lammert Incorporated

San Antonio, Texas
---
First Edition

Copyright © 2010 Historical Publishing Network

All rights reserved. No part of this book may be reproduced in any form or by any means, electronic or mechanical, including photocopying, without permission in writing

from the publisher. All inquiries should be addressed to Historical Publishing Network, 11535 Galm Road, Suite 101, San Antonio, Texas, 78254. Phone (800) 749-9790.

ISBN: 9781935377153

Library of Congress Card Catalog Number: 2010927306

Historic Brownsville: An Illustrated History

author: Carl S. Chilton, Jr.

cover artist: Don Breeden

Historical Publishing Network

president: Ron Lammert

project managers: Lou Ann Murphy

Joe Neely

Robin Neely

administration: Donna M. Mata

Melissa G. Quinn

book sales: Dee Steidle

production: Colin Hart

Glenda Tarazon Krouse

Evelyn Hart

2 ✦ HISTORIC BROWNSVILLE
---
CONTENTS

4 INTRODUCTION AND ACKNOWLEDGMENTS

5 CHAPTER I A community is established on the Rio Grande

9 CHAPTER II The Civil War years

11 CHAPTER III Difficult years in the 1800s

15 CHAPTER IV Railroad service, automobiles, an airport and a seaport

25 CHAPTER V Brownsville and Matamoros, neighboring cities on the Rio Grande

29 CHAPTER VI Agricultural and industrial development

33 CHAPTER VII Educating a young population

37 CHAPTER VIII Religious life

41 CHAPTER IX Tourism and recreation

49 CHAPTER X People who have made a difference

60 SOURCES AND REFERENCES

61 SHARING THE HERITAGE

91 SPONSORS

92 ABOUT THE AUTHOR

Contents ✦ 3
---
INTRODUCTION AND ACKNOWLEDGMENTS

At the southern tip of Texas lies is a distinctive area known as the Lower Rio Grande Valley. Featuring a landscape of tropical foliage,

palm and citrus trees, Gulf breezes and mild temperatures, the Valley is a close neighbor to Mexico. The oldest and largest city is

historic Brownsville, established in 1849, with a unique flavor of its own. Brownsville, a border community where two cultures blend

together in an agreeable way, is conscious of its unique, colorful history.

In the earliest days the region along the Rio Grande was part of Spain's empire in the New World. When Mexico won its

independence from Spain this area became part of Mexico. Texas won its independence from Mexico in 1836, and this land became

part of the Republic of Texas. In 1845 Texas was annexed into the United States. During the Civil War Texas joined the Confederacy,

whose flag became the fifth to fly over this area.

The southern tip of Texas has seen military action in two wars, the war with Mexico, which began here, and again during the Civil

War. Five weeks after General Lee surrendered at Appomatox Courthouse in Virginia, the last battle of the Civil War was belatedly

fought near Brownsville.

For sixty years Brownsville was isolated from the rest of the country, accessible only by sea or by stagecoach. The railroad arrived

in 1904, providing a convenient link with the rest of the country, and Brownsville and the Rio Grande Valley began a period of steady

growth and progress.

This narrative presents an overview of the important developments in Brownsville's history.

Appreciation and recognition is due to a number of people and organizations whose help made this project possible. The

manuscript was reviewed and valuable suggestions were made by Mark Lund, James Mills, Bobby Duffey and Tony Knopp. Special

thanks go to Marisela Cortez, Executive Director of the Historic Brownsville Museum and her staff, who assisted in obtaining

information, obtaining photographs, contacting people, etc.

Photographs were obtained from The University of Texas at Brownsville, Alan Hollander, the Church of the Advent Episcopal, the

First United Methodist Church, the Historic Brownsville Museum, the Port of Brownsville, the Brownsville/South Padre Island

International Airport and the Gladys Porter Zoo. Individuals who helped locate and organize photographs were John Hawthorne,

Milagril Hernandez, Letty Fernandez, Chris Trejo and Norma Reyes.

The images provided by Brownsville artist Don Breeden provide a unique, distinctive view of Brownsville's historic sites.

Carl S. Chilton, Jr.

November 2009

❖

Fishing in the Laguna Madre.

COURTESY OF DON BREEDEN.

4 ✦ HISTORIC BROWNSVILLE
---
CHAPTER I

A COMMUNITY IS E STABLISHED ON THE R IO G RANDE

Texas became part of the United States in 1845. Mexican officials had long regarded Texas as

Mexican territory, a renegade province that had broken off illegally, and were furious at the

annexation. Mexico had hoped to retake Texas eventually, but was unable to mount the military

effort. When Texas became part of the United States Mexican officials recognized they would never

be able to regain Texas.

❖

Battle of Palo Alto.

COURTESY OF THE HISTORIC

BROWNSVILLE MUSEUM.

Chapter I ✦ 5
---
❖

Above: General Zachary Taylor.

COURTESY OF THE HISTORIC

BROWNSVILLE MUSEUM.

Below: Steamboat on the Rio Grande.

COURTESY OF THE HISTORIC

BROWNSVILLE MUSEUM.

A dispute broke out between the two

countries in regard to the location of the

international border. Mexico claimed the

border was the Nueces River, while the United

States claimed it was the Rio Grande. President

James K. Polk was intent on establishing the

Rio Grande as the border, and ordered an

American army to establish a presence on the

north bank of the river. General Zachary Taylor

and some 2,500 troops arrived on the Rio

Grande in March 1846.

Taylor decided to build a fort directly

opposite Matamoros, a small Mexican

community on the south bank of the

river. Mexican officials told Taylor he

was on Mexican soil and ordered him

to leave, which he declined to do. The

fort, known initially as Fort Texas, was

an earthen breastworks with nine foot

walls, surrounded by a deep ditch.

The Mexicans began bombarding the

fort with their cannons located along

the river in Matamoros, and began

sending troops across the Rio Grande.

This brought several skirmishes, during

which some American troops were

killed, and soon both countries

declared war. American and Mexican

troops fought two battles near present

day Brownsville, Palo Alto and Resaca

de la Palma. The Americans were

victorious in those battles and in

stopping the bombardment of Fort

Texas. The Mexican troops fled across

the Rio Grande, and soon the Americans

occupied Matamoros. The commander

of Fort Texas, Major Jacob Brown, had

been killed during the bombardment, and the

fort was named Fort Brown in honor of this

respected officer.

Following this military action along the

Rio Grande, President Polk ordered General

Taylor to move his Army into Mexico and

attack Monterrey. Another American army

invaded Mexico through Vera Cruz and

attacked Mexico City. The Americans were

victorious, and in 1848, after two years of

fighting, a peace treaty was signed. One of the

6 ✦ HISTORIC BROWNSVILLE
---
terms of the treaty specified that the Rio Grande

was the international border.

After the fighting ceased there was much

resentment in Mexico about the American

invasion, and American officials were

concerned about unrest along the border. It was

decided that Fort Brown would be established

as a permanent military garrison. During 1848

and 1849 permanent facilities were built at

Fort Brown.

Prior to the war a number of Americans

had established residence in Matamoros and

engaged in business there, one of whom was

Charles Stillman, who had lived in Mexico for

some twenty years. Stillman recognized that

an American community would develop

adjacent to Fort Brown, so he acquired land

and laid out a townsite next to the fort. He

named the new community Brownsville, in

honor of Major Jacob Brown. Stillman

transferred his residence and some of his

business activities from Matamoros to

Brownsville, and encouraged others to buy

property and become residents.

Within a couple of years a community

had been established, made up of the military

personnel at Fort Brown and a civilian

population. It was, in some respects, a

turbulent frontier village which endured

considerable drinking, gambling and fighting.

Alongside these unruly activities a group of

forward-looking citizens began to establish

churches, schools, commercial businesses,

professional offices and the like.

❖

Above: Shipping at Point Isabel in

the 1850s.

COURTESY OF THE HISTORIC

BROWNSVILLE MUSEUM.

Below: Early day boats at

Point Isabel.

Chapter I ✦ 7
---
❖

Clockwise, starting from the top:

Richard King.

Mifflin Kenedy and Richard King.

COURTESY OF THE MUSEUM OF SOUTH

TEXAS HISTORY.

Roads and trails in the early days.

COURTESY OF THE HISTORIC

BROWNSVILLE MUSEUM.

Rowboat travel across the Rio Grande

from Brownsville to Matamoros.

As time went by Brownsville

became established on a firm

footing. One indication of this

was the construction of a building

that became the city hall

and the city market. This historic

building, begun in 1850,

provided citizens with an open

air market and governmental

offices. In 2009, 159 years

later, the market no longer

exists and the city hall is located

elsewhere. But the building

continues to play a role in

community life as the Market

Square Research Center, a collection

of historical materials

operated by the Brownsville

Historical Association.

During the first few

years there was considerable

economic activity, arising

from several sources. The

construction of the facilities

at Fort Brown brought

employment and purchases of materials and

supplies. Some international trade that had

previously gone through Matamoros now came

through Brownsville. This trade, consisting of

exports of mineral and agricultural products

from northern Mexico and imports of

manufactured goods, arrived and departed

by ocean shipping through nearby Brazos

Santiago Pass.

In 1849 many American men traveled to

California to participate in the gold rush there.

There were several ways to get to California, all

difficult, and one route was to come by ship to

Brazos Santiago. The men who chose this route

replenished their supplies in Brownsville, after

which they traveled overland to the Pacific

Coast and caught a ship to California.

Steamboat travel on the river provided business

opportunities. General Taylor brought the first

steamboats to the Rio Grande in 1846, using

them to move his troops, supplies and equipment

up the river preparatory to invading Mexico.

Mifflin Kenedy was employed as a riverboat

captain and urged his friend, Richard King, to join

him. After the war Kenedy and King decided to

establish roots in Texas. They acquired their own

steamboats from the Army and went into business.

They settled down in Brownsville, married

Brownsville women and resided in the community

for years before entering the ranching business,

establishing the famed King and Kenedy ranches.

But by the late 1850s war clouds were

gathering in the United States. Soon the

Brownsville area would be caught up in more

fighting, the turmoil of the Civil War.

8 ✦ HISTORIC BROWNSVILLE
---
CHAPTER II

T HE C IVIL W AR Y EARS

During the 1850s American citizens were caught up in a growing controversy over the subject of

slavery. Acrimony between northerners and southerners flared higher and higher. The election of

Abraham Lincoln in 1860 was considered by many southerners to be sufficient reason for seceding

from the Union. In early 1861 the majority of Texans voted in favor of secession, and Texas joined

the Confederate States.

As the Civil War continued, the location of Brownsville and Fort Brown assumed critical

importance. The economy of the southern states was primarily agricultural, with cotton as the major

export. The South needed to export cotton and to import war materials from abroad. Southern

seaports became very important. The Union recognized this and began an effective blockade,

making it virtually impossible to export cotton through these ports.

The 1848 treaty ending the war with Mexico had designated the Rio Grande as an international

waterway. The United States had agreed to respect Mexico's right to international commerce along

the Rio Grande, and promised not to interfere with traffic on the river. Union officials wanted to

maintain good relations with Mexico and chose to abide by terms of the treaty, fearing that

otherwise Mexico would side with the Confederacy.

As the Union blockade of southern ports became increasingly successful, the Brownsville/

Matamoros area became the principal site through which Confederate cotton moved to foreign

markets. Southern wagons, hauling cotton for export, began making the difficult trip to the Rio

Grande. This traffic began on a limited scale, but as time went by turned into a relentless tide, with

thousands of wagons heading south. Many ships waited off Bagdad, a Mexican community just

south of the mouth of the Rio Grande, to accept cotton bound for Europe.

This activity brought an economic boom to Brownsville, Matamoros and Bagdad. Each of these

communities saw a sizable increase in population and considerable prosperity.

❖

Fort Brown around 1916.

Chapter II ✦ 9
---
❖

Above: Military activity at Point

Isabel during the Civil War.

COURTESY OF THE HISTORIC

BROWNSVILLE MUSEUM.

Right: Cotton on the banks of the Rio

Grande during the Civil War.

Below, left: Cotton on the banks of the

Rio Grande.

COURTESY OF THE INSTITUTE OF

TEXAN CULTURES.

Below, right: The first bridge across

the Rio Grande.

COURTESY OF THE HISTORIC

BROWNSVILLE MUSEUM.

Shortly after the war began the

Confederates sent a force of 600

men to Brownsville, with the

intention of taking over Fort

Brown, which was occupied by

Union troops. After some difficult

negotiations, the commander of

Fort Brown evacuated the post and

the Confederates took over. They

controlled the fort until November

1863, when a Union force of 7,000

landed at Brazos Santiago, intending to disrupt

the cotton movement. They marched to

Brownsville and the small Confederate force

evacuated Fort Brown. Before leaving the

Confederates set the fort on fire, causing a large

explosion which destroyed much of the fort and

part of downtown Brownsville.

The explosion caused panic in Brownsville. A

strong wind blew smoke and sparks over the city,

while citizens fled through streets already clogged

with withdrawing Confederate soldiers. Many

residents fled to Matamoros, anxious to board a

ferry to carry them across the river, but had to

endure a long wait before boarding the boat.

Long time Brownsville resident William

Neale described the scene:

It was very difficult to get through the streets,

for the cavalry were rushing at a gallop in all

directions. A strong south wind was blowing at

the time, and when we got to the ferry a dense

black cloud of smoke was already spread over

the whole city and its entire destruction

appeared inevitable.

Within a few months the Confederates were

back, harassing the Union troops at Fort Brown

and taking took over again in July 1864. The

Confederates controlled the

fort until the end of the war.

10 ✦ HISTORIC BROWNSVILLE
---
CHAPTER III

D IFFICULT Y EARS IN THE 1800S

The fire and explosion of 1864 destroyed much of Fort Brown, and a hurricane in 1867

destroyed the few buildings that remained. There was an urgent need to rebuild the facilities, and

in 1868 Army Captain W. A. Wainright arrived to supervise the rebuilding. He was provided an

appropriation of $150,000, a substantial sum in those days.

Many buildings were constructed: infantry barracks, artillery barracks, cavalry barracks, an

administration building, commanding officer's quarters, other officers' quarters, stables, the post

hospital and other facilities.

The hospital was the most attractive building on the post and continues in use 140 years later.

The building had an area of 16,500 square feet and was built at a cost of $27,820. Spanish

architecture and graceful arches and breezeways made patients more comfortable in hot weather.

Wainright spent three years rebuilding the fort, and it is thought the employment of

many workers and purchase of supplies and materials provided a considerable boost to the

Brownsville economy.

During the years following the Civil War a sizable ranching industry had begun to develop,

and bandits from Mexico crossed the Rio Grande, stealing thousands of head of cattle and driving

them south across the river. Some parts of the area endured Indian raids. Soldiers stationed

along the border and Texas Rangers did what they could to deal with these problems, but with

limited success.

These years also saw difficult health conditions along the border. There were periodic epidemics

of cholera and yellow fever, causing much illness and many deaths.

❖

A view of Elizabeth Street in

the 1800s.

COURTESY OF THE HISTORIC

BROWNSVILLE MUSEUM.

Chapter III ✦ 11
---
❖

Top: A furniture delivery wagon.

COURTESY OF EDELSTEINS BETTER FURNITURE.

Above: Oxcarts in

downtown Brownsville.

A yellow fever epidemic in 1853 was

followed by another in 1858. Long time

resident William Neale described the 1858

epidemic as follows:

Bidding adieu to 1857, we arrive at the

summer of 1858, when the most terrible

epidemic of yellow fever fell on us that has ever

afflicted this frontier. Its ravages in this city

cannot be adequately described, and I will not

dwell upon the scenes of death, sickness and

misery that have pervaded all classes during the

four months that the plague was upon us.

One cause of illness was the

unhealthy river water, which

people drank because there

were no water purification

facilities. The area also lacked

sewage facilities and adequate

drainage during rainy periods.

This led to stagnant water,

breeding of mosquitoes and

disagreeable odors.

During these difficult years

a 27-year-old medical officer,

William Crawford Gorgas,

arrived at Fort Brown. Encountering yellow

fever for the first time, he did what he could,

treating patients with whiskey, brandy and

mustard seed. He began working in the morgue,

dissecting bodies in an effort to determine the

cause of the disease. His work began the efforts

that in future years led to the discovery that

yellow fever was carried by the mosquito.

Gorgas went on to a distinguished military

career, becoming Surgeon General of the

United States Army.

The economy declined after the prosperous

Civil War years, but continued to function at a

12 ✦ HISTORIC BROWNSVILLE
---
lower level. The area continued to rely on ocean

shipping and stagecoaches for transportation.

Steamboats on the Rio Grande provided

transportation to American and Mexican

communities and ranches along the river.

For years Mifflin Kenedy, Richard King

and Charles Stillman had a virtual monopoly

on river steamboat service, and their rates were

very high. In an effort to provide competition

and reduce transportation costs, Simon Celaya

and a group of investors built the Rio Grande

Railroad, running between Brownville and

Point Isabel. This railroad had many problems,

but was an important part of life in the

Brownsville area for years.

In the 1870s there was much shipping

through Brazos Santiago, carrying exports and

imports to and from the outside world. Northern

Mexico took advantage of ocean shipping to

export raw materials and agricultural products

and to import manufactured goods.

a substantial reduction of shipping through

Brazos Santiago, a reduction of business on the

Rio Grande Railroad and a decline in the

economy of the Brownsville area.

The population of Brownsville was stagnant

at 5,000 to 6,000 in the late 1800s.

During these years life in Brownsville was

simple, but pleasant in many respects. Social

activities included dances, receptions and

amateur theatre. A popular pastime was to

spend Sunday afternoon at the Matamoros

plaza, where a military band performed and

young people strolled. In 1881 an opera house

was completed in Brownsville. Light operas

were performed and there were evenings of

dancing. Holidays were celebrated with

parades, fireworks and patriotic celebrations.

The streets were lighted by a lamplighter

who made his rounds in the evening and early

morning hours, turning the kerosene lamps on

and off.

❖

A river steamboat and carts hauling

water to Brownsville residents.

COURTESY OF THE HISTORIC

BROWNSVILLE MUSEUM.

In 1881 a new railroad line began service

between Corpus Christi and Laredo. Much of

the Mexican cargo that had moved through

Brazos Santiago began going through Corpus

Christi and on by train to Laredo and on into

Mexico. This was a more direct, faster route for

moving cargo into and out of Mexico, bringing

Life was quiet and peaceful much of the time

for the citizens of the small community of

Brownsville. The area continued to be isolated

and saw little growth, but the early years of

the 20th century would bring a complete

transformation, with the advent of railroads,

highways, an airport and a deep water port.

Chapter III ✦ 13
---
❖

Above: The Rio Grande Railroad.

COURTESY OF THE HISTORIC

BROWNSVILLE MUSEUM.

Right: The route of the Rio

Grande Railroad.

COURTESY OF THE HISTORIC

BROWNSVILLE MUSEUM.

Below: A Rio Grande

Railroad locomotive.

COURTESY OF THE HISTORIC

BROWNSVILLE MUSEUM.

14 ✦ HISTORIC BROWNSVILLE
---
CHAPTER IV

R AILROAD S ERVICE, AUTOMOBILES,

AN A IRPORT AND A S EAPORT

THE RAILROAD ARRIVES AT THE TIP OF TEXAS

In the late 1800s there was a growing recognition that the southern tip of Texas, with a mild yearround

climate, fertile soil and abundant irrigation water, had potential for developing into a major

agricultural region. Efforts were begun to grow citrus, sugar cane, vegetables, rice and other crops.

But there was no convenient way to get these crops to market. Most of the country had railroad

service, which was badly needed in this area. Different investment groups had considered the idea

of building a railroad from either San Antonio, Victoria or Corpus Christi to Brownsville, but none

had gone forward with the idea.

In January 1903 a new company, the St. Louis, Mexico and Brownsville railway was organized

with the goal of bringing railroad service to Brownsville. Finally, it began to look as if railroad

transportation would become a reality. It was proposed that the railroad would run between

Robstown and Brownsville, a distance of 141 miles, and that tracks would then be extended

westward into Hidalgo County.

❖

The Brownsville airport in 1960.

PHOTO COURTESY OF BROWNSVILLE/SOUTH

PADRE ISLAND INTERNATIONAL AIRPORT.

Chapter IV ✦ 15
---
Uriah Lott, a former Brownsville resident,

was the organizer of the railroad, and began

working to develop support from people in

Brownsville and elsewhere along the proposed

route. Prominent citizens were eager for

railroad service, and became investors. A

meeting was held in Brownsville in June 1903

to determine the level of support within the

community. Lott requested that citizens and

communities along the proposed route support

the project by paying bonuses in the form

of cash or land. He asked the people of

Brownsville for $40,000 cash and fifty acres of

land within the city for a depot and shops. By

July 8 the bonuses had been paid, an indication

that Brownsville strongly supported the prospect

of being connected with the rest of the country

by rail.

Large ranch owners along the proposed route,

such as Henrietta King, Robert Driscoll, John

Kenedy, John Armstrong and Francisco Yturria

agreed to donate land, anticipating this would

enable them to ship cattle to markets by rail, and

enhance the value of their remaining land.

❖

Right: The first train arrives in

Brownsville, July 4, 1904.

COURTESY OF THE HISTORIC

BROWNSVILLE MUSEUM.

Below: A group of train

travelers, 1912.

PHOTO COURTESY OF FRANK CHAMPION MURPHY.

By July initial grading had begun and it

was anticipated the railroad would reach

Brownsville by November. This turned out to

be much too optimistic, however, as the

railroad was not completed until July 1904.

Two months prior to the arrival of the first

train, and while the last few miles of tracks

were still under construction, a group from

Corpus Christi, including the editor of the

Corpus Christi Caller, made what was described

as a "quick trip" to Brownsville. They left

Robstown by train at 7:30 a.m. and arrived in

Brownsville at 6:00 p.m., traveling the last

thirteen miles by private conveyance, probably

horse and buggy.

The newspaper article described the

handsome, well-built passenger depots in

Kingsville, Sarita and Mifflin. The country south

of Kingsville was described as brushy mesquite

16 ✦ HISTORIC BROWNSVILLE
---
country. At Harlingen work had begun extending

the railroad into Hidalgo County.

As the travelers approached Brownsville they

observed large ditches carrying water from the

Rio Grande to rice fields, described as green

and beautiful.

The article concluded that with the railroad

heading its way, Brownsville had a bright future.

On July 4, 1904, an historic day, the first

passenger train arrived. Most of the population

was on hand, and Brownville celebrated well

into the night.

THE FIRST AUTOMOBILES,

STREETS AND HIGHWAYS

The arrival of the first railroad provided

convenient transportation to and from the

rest of the country, but local transportation

remained primitive for several more years.

Residents relied on horses, wagons, buggies

and stagecoaches to get around, creating dust,

mud and unsanitary conditions.

Around 1910 automobiles began to appear.

Lifetime resident Joe Vivier, in a 1970s

interview, remembered his first automobile ride

in around 1910.

My grandmother and I went riding with some

relatives in their new automobile. It was at night

and the little white Buick, an open affair driven

by a chauffeur, had bright lights. There was a

beautiful full moon. We went out of town, as far

as Tomates Bend, near Fort Brown. I remember a

huge mass of dust billowing up behind us.

Vivier's family acquired its first automobile

in 1915, a Model T Ford.

We traveled in the Model T to and from

Point Isabel, where our family, with others from

Brownsville, used to spend the summer.

Those who owned automobiles prior to

1920 could not travel far, because there

were no paved roads. Efforts were made

to improve local streets, since automobiles

did not work well on dirt. Wooden blocks,

coated with tar-like creosote, seemed to be

an affordable and practical solution. The

wooden surface was able to withstand

automobile traffic, and made it easier to clean

up animal waste.

The wooden blocks were used for some

time, but with frequent problems. They

buckled when it rained, and had to be reset.

On one occasion leaking gasoline caught

fire, which spread to an entire block of

wooden paving. Local residents watched in

amazement as one of their streets burned.

Oscar Dancy was elected Cameron County

Judge in 1920 and began pushing for

construction of paved roads. His goal was

to build concrete highways, which were

expensive, but required limited maintenance.

In order to contain costs, some roads

to smaller communities were built with a

single lane of concrete, which became

known as "Dancy's sidewalks." Concrete roads

paid off during the Depression, requiring

little maintenance.

The first paved highway between

Brownsville and San Benito, built in 1921, was

fifteen feet wide.

In the 1920s it was possible to drive north

out of the Valley, but it took two days to reach

San Antonio.

❖

The passenger depot and

adjoining park.

COURTESY OF THE HISTORIC

BROWNSVILLE MUSEUM.

Chapter IV ✦ 17
---
AVIATION

COMES TO BROWNSVILLE

During the early years of the 20th century

airplanes began to catch the imagination of the

American people. Following the initial flight of

the Wright brothers, steady improvements in

aircraft design made for better safety, speed and

comfort. By the 1920s airplanes were carrying

mail, passengers and cargo.

In 1927 Charles Lindbergh, at the request of

the United States Government, made flights

to destinations south of the border, designed

to promote goodwill and development of

international flying. One such flight was from

Washington, D. C., to Mexico City, on a route

bringing it over Brownsville. This flight

demonstrated the feasibility of airmail service

to and from Mexico, and the Postmaster

General announced he would meet with

Mexican officials to discuss the establishment of

airmail service between the two countries.

Brownsville leaders closely followed these

developments, and concluded that the

community offered a strategic location for an

airport. There were indications the air mail

route to Mexico would include Brownsville.

The Chamber of Commerce Aviation

Committee was made up of R. B. Creager, W. B.

Clint, J. G. Starcke, B. E. Hinkley, A. C. Hipp

and John Gregg. They promptly recommended

to the City Commission that a municipal

airport be built, and that an election be held

to authorize a bond issue to provide funding

for the project. Brownsville voters endorsed

the proposal by a vote of 209 in favor and

12 opposed.

Several sites were considered for the location

of the airport, and a site near the El Jardin

School was chosen. This site was close to the

city, was on a concrete road, had electric service,

was well drained and had good land. The

airport, built during 1928 and early 1929, was

designed to qualify for the highest rating of the

Department of Commerce. The lighting system

was described as the most modern in use,

enabling the airport to operate around the

clock. It had a gravel runway which permitted

planes to land after it had rained.

❖

Above: Brownsville airport in 1929.

Left: The airport terminal building in

the 1930s.

PHOTO COURTESY OF BROWNSVILLE/SOUTH

PADRE ISLAND INTERNATIONAL AIRPORT.

Right: The program for the airport

dedication, 1929.

PHOTO COURTESY OF BROWNSVILLE/SOUTH

PADRE ISLAND INTERNATIONAL AIRPORT.

18 ✦ HISTORIC BROWNSVILLE
---
The field was considered by many to be

the best in the South, and was referred to as

"the air gateway between the United States and

Latin America."

The airport was dedicated on March 9 and

10, 1929, in a celebration described as an

international event of great significance. More

than 185 airplanes, military and civilian,

flew in, bringing many people well known

in aviation. Among those in attendance

was Captain Ira Eaker, Captain Frank Hawkes,

Miss Amelia Earhart and Major General

James Fechet, commander of the United States

Army Air Corps.

The highlight of the celebration was the

arrival of the first air mail flight from Mexico

City, piloted by Charles Lindbergh. Some

20,000 people greeted him when he landed.

The dedication of the airport was declared

an unqualified success. The many aviation

people in attendance departed with the

knowledge that Brownville had a fine airport.

❖

Above: Advertisement of Braniff

services in the 1930s.

PHOTO COURTESY OF BROWNSVILLE/SOUTH

PADRE ISLAND INTERNATIONAL AIRPORT.

Below: A Pan American Airways

advertisement in the 1930s.

PHOTO COURTESY OF BROWNSVILLE/SOUTH

PADRE ISLAND INTERNATIONAL AIRPORT.

Chapter IV ✦ 19
---
20 ✦ HISTORIC BROWNSVILLE

Local citizens felt their airport was an

investment that offered good opportunities. As

it turned out, an opportunity quickly emerged

that exceeded all expectations. Pan American

Airways was intent on establishing air service

to Mexico and Central America, and soon

established facilities at the airport for passenger

service and an aircraft overhaul base.
---
A LONG EFFORT TO

BUILD A DEEP WATER PORT

For many years water transportation was the

primary method of moving people and cargo

into and out of the area. However, the area

needed a deep water port, because larger ships

had to remain in the Gulf of Mexico while

loading and unloading due to the shallow

depth of Brazos Santiago Pass. Mariners,

shippers and local citizens began

dreaming of a deep water port as early

as 1910.

A group of promoters began in 1910

to work on building a port on the Rio

Grande, six miles upstream from the

mouth of the river. The plans included

establishing a community along the

river, deepening the Rio Grande so that

ships could dock nearby and building a

railroad to Brownsville.

The plan was heavily promoted,

with some success, and construction

got underway. However, heavy rains

began, bringing flooding on the Rio

Grande, which carried away the

wharves and warehouses that had been

built. The promoters soon vanished

and all that remained were memories

of a seaport city.

Efforts to develop a port continued,

and the Brownsville Waterways

Association was formed in 1911. The

officers and directors included many

prominent citizens. Their goal was to establish a

harbor at Brazos Santiago. There was some

discussion about the idea of dredging a ship

channel to the vicinity of Brownsville, but most

favored the Brazos Santiago location. It was

understood the pass would have to be deepened

and jetties would have to be built. Local

representatives made trips to Washington,

asking the Corps of Engineers to survey the

potential for a deep water port.

❖

Opposite page, top: Visiting aircraft at

the grand opening of the airport.

PHOTO COURTESY OF BROWNSVILLE/SOUTH

PADRE ISLAND INTERNATIONAL AIRPORT.

Opposite page, bottom left: The

Brownsville airport after World

War II.

Opposite page, bottom right:

Continental jets in the 21st century.

PHOTO COURTESY OF BROWNSVILLE/SOUTH

PADRE ISLAND INTERNATIONAL AIRPORT.

Left: Louis Cobolini, leader in

developing the port.

COURTESY OF THE PORT OF BROWNSVILLE.

Below: Construction of the jetties at

Brazos Santiago.

COURTESY OF THE PORT OF BROWNSVILLE.

Chapter IV ✦ 21
---
❖

Top: Construction of the Port of

Brownsville.

COURTESY OF THE HISTORIC

BROWNSVILLE MUSEUM.

Above: Dredging the Port of

Brownsville turning basin.

COURTESY OF THE PORT OF BROWNSVILLE.

Right: Cotton being loaded

aboard ship.

COURTESY OF THE PORT OF BROWNSVILLE.

The foremost leader in this

effort was Louis Cobolini, a

respected community leader.

From 1910 until his death in

1928 he worked continuously

to promote the establishment

of a port. He compiled much

of the data that finally

convinced the Corps of

Engineers that a port in the

Rio Grande Valley deserved

Federal support.

In 1917 the Corps of Engineers recommended

that a pass be dredged at Brazos Santiago, the

first step in establishing a port at Point Isabel.

Federal funds were authorized for dredging the

pass, but local funding would be required

to dredge a channel across the bay, and for

construction of wharves

and infrastructure for

the port.

Valley citizens were

convinced the benefits

of a port would greatly

exceed the cost.

Agricultural products

could be transported to

markets by ship, and oil

for the area could arrive

by ship, reducing existing

transportation costs.

Agricultural production

had grown beyond the

capacity of railroads to

handle all of it.

Valley leaders set out

to raise funds by voluntary

donations to pay for

developing the port. A

considerable amount was

raised and work began. It

turned out the amount

raised was not sufficient

to complete the work and

the project finally failed.

By 1927 Brownsville

leaders had decided to

support development of a

port located near the

city, requiring dredging

a seventeen mile ship channel. Citizens

were asked to authorize establishment of

the Brownsville Navigation District and

the issuance of bonds. After a vigorous

campaign, the voters approved the proposals by

a large majority.

22 ✦ HISTORIC BROWNSVILLE
---
Progress Administration,

provided funding for

the dredging of the ship

channel and construction

of infrastructure at the

turning basin.

During 1934, 1935

and early 1936 this

work was completed

and the Port of

Brownsville opened in

May 1936. This was

the occasion for a

three day celebration,

one of the greatest in

Brownsville history.

In 1928 and 1929 the Navigation District

began making plans to dredge the ship channel

and the turning basin, and to build wharves and

warehouses. These plans were ready to go in

1930, but by then the Great Depression was

underway, making it impossible to sell the bonds.

The entire project was delayed for three years.

When Franklin Roosevelt became President

in 1933 his administration created a variety of

government agencies to improve the economy.

In that year one of the agencies, the Works

❖

Top: Ships in port in the 1930s.

COURTESY OF THE HISTORIC

BROWNSVILLE MUSEUM.

Above Thousands of bales of cotton

stored at the port.

COURTESY OF THE PORT OF BROWNSVILLE.

Left: Onions waiting for shipment.

COURTESY OF THE PORT OF BROWNSVILLE.

Chapter IV ✦ 23
---
❖

Above: The Port of Brownsville

grain elevator.

COURTESY OF THE PORT OF BROWNSVILLE.

Center: The Port of Brownsville

in 1936.

COURTESY OF THE PORT OF BROWNSVILLE.

Below: The Port of Brownsville in

the 1990s.

The opening of the Port of Brownsville

marked the beginning of a sustained period

of growth and development for the community.

It marked the end of thirty-two years (1904

to 1936) during which there was a complete

transformation from the horse and buggy

days to a community with two railroads,

automobiles, paved roads, an international

airport and a deep water seaport.

COURTESY OF THE PORT OF BROWNSVILLE.

24 ✦ HISTORIC BROWNSVILLE
---
CHAPTER V

B ROWNSVILLE AND M ATAMOROS,

N EIGHBORING C ITIES ON THE R IO G RANDE

The community of Matamoros came into being around 1765. It was a small settlement that

became a trading center and a gathering place for ranchers who had settled in the area. In earlier

years residents had resided further up the Rio Grande, but the need for more land and an adequate

supply of water caused some ranchers to locate further down the river.

Over the next several decades Matamoros slowly became a center for trading and commerce,

utilizing ocean shipping. Merchants and tradesmen began handling exports from the interior

of Mexico and imports of manufactured goods needed by the residents of northern Mexico.

The community attracted a growing population, and became the location for customs houses,

import-export warehouses and wagon train companies which hauled goods into and out of the

Mexican interior. The population included merchants, soldiers of fortune, gamblers, prostitutes and

business entrepreneurs.

During the war with Mexico, from 1846 to 1848, American troops occupied Matamoros. The

peace treaty ending the war determined that the international border was the Rio Grande, and

Brownsville was established in 1849. The two communities became neighbors on the Rio Grande.

The merchants and traders residing in Matamoros included a colony of Americans and Europeans,

including an American named Charles Stillman. When the United States decided to establish a

permanent military facility directly opposite Matamoros, Stillman, an astute business man, felt an

American community would locate adjacent to the fort. In 1849 he bought land, founded the

community of Brownsville, and moved some of his business activities to the new community.

Other Americans and Europeans soon followed. It was not uncommon for merchants and

traders to have business interests in both Brownsville and Matamoros. There were few limitations

or regulations limiting movement back and forth across the border and engaging in business in

both countries.

❖

A view from Brownsville to

Matamoros across the Rio

Grande, 1954.

COURTESY OF THE HISTORIC

BROWNSVILLE MUSEUM.

Chapter V ✦ 25
---
❖

Above: The Brownsville ferry landing.

COURTESY OF THE HISTORIC

BROWNSVILLE MUSEUM.

Below: A pontoon bridge across the

Rio Grande built during the

Civil War.

COURTESY OF THE HISTORIC

BROWNSVILLE MUSEUM.

Although there was considerable business

carried on between the two cities, there

continued to be much resentment in Mexico

about the American invasion of Mexico and

the occupation of Matamoros. Juan Cortina, a

well known troublemaker and member of a

prominent family, strongly resented Americans,

feeling that the Mexican residents of Texas had

been mistreated. He developed an army of

followers, created considerable turmoil along the

border for several years, and on one occasion in

1859 he and his followers invaded Brownsville

and held the city captive for several hours.

However, the two communities were becoming

closely related. They had interrelated cultures,

economies and social activities. A mutual

dependence developed due to the many

relationships and networks.

During the Civil War some Brownsville

business men moved most of their operations to

Matamoros to escape the turmoil caused by

the war. The Civil War years brought much

Confederate cotton trade to the area, creating

prosperity and population growth for the two

neighboring cities.

By the end of the war in 1865 the two

communities on the Rio Grande had grown

closer in terms of their economies, cultures and

many cross-border marriages.

In the late 1800s the two communities saw

both good times and bad times and endured

considerable lawlessness. However, cross-border

business affiliations continued. In addition to

the business activities, residents of the two

communities engaged in social activities. In each

community there were dances and theatrical and

musical performances, attended by residents

from both sides of the river.

Lieutenant W. H. Chatfield was stationed

at Fort Brown in the late 1800s and wrote a

book, Twin Cities on the Border, describing life

in the neighboring cities. He described visits

to Matamoros by Fort Brown soldiers and

their families:

Visits to Matamoros furnish opportunities

for entertainment for soldiers and their families.

The ladies take delight in searching through

"Oriental looking shops."

We frequently attend a "baile" or a concert at

the Opera House, where we meet the elite of

Matamoros, and have a pleasant opportunity

afforded us to observe their manners and

customs. The "baile ground" is a public resort for

the lower classes and well worth a visit. Sunday

is the gala day, when grande bailes take place,

attended by crowds from both cities.

The business and social contacts between the

neighboring cities made for considerable traffic

across the Rio Grande, which was a good-sized

river in the 1800s. Ferries, in the form of

rowboats, provided the only means of crossing

the river. In the 1880s a dock for passenger

ferries was located near the end of Levee Street.

A boardwalk along the river provided a place

for waiting passengers to visit curio shops,

restaurants and ice cream parlors. At the end of

the boardwalk a barge was lashed to the

riverbank, and passengers could walk onto the

barge and board the ferry.

26 ✦ HISTORIC BROWNSVILLE
---
In addition to the passenger dock, a freight

ferry dock was located some 600 feet up the

river. It was reported that half the people of

northern Mexico received merchandise through

the freight ferry dock. The ferries continued as

the only means of transportation across the

river until 1910.

By 1909 it was determined that a railroad

bridge across the Rio Grande was needed. Local

officials wanted the bridge to be located in

Brownsville at a convenient place, so that,

in addition to trains, horses and wagons,

pedestrians could cross. A site reasonably close

to town was acquired and railroad officials

reached an agreement with the Mexican National

Railway that the two railroads would be equal

partners in the construction and ownership of

the first bridge across the Rio Grande.

Construction took place in 1909 and 1910,

and in August 1910 the first commercial

shipment of freight moved from the United States

into Mexico. In December the bridge opened for

general traffic, including foot passengers, wagons

and buggies, horses, mules, donkeys, cattle and

automobiles (of which there were few in 1910).

The opening of the bridge (known as the

B&M Bridge) provided opportunities for

increased commercial and social activity

between the neighboring cities. But the ferries

continued to carry some passengers until 1928,

when a second international bridge, the Gateway

Bridge, opened.

The arrival of the railroad in the early 1900s

brought an improved economy for Brownsville,

which became a central location for delivery of

merchandise and services to the surrounding

areas. Beginning in 1910 Mexico endured a

series of revolutions which brought turmoil and

fighting to Matamoros. Some upper class

Mexicans decided Brownsville was a safer place

to live, and relocated north of the river.

The 1920s, 1930s and 1940s saw continued

development of commercial and social

relationships between the neighboring

communities. These years saw periods of

prosperity in the 1920s, followed by the Great

Depression in the 1930s and World War II in

the 1940s. Each of these historic periods

brought changes in the level of activity between

the communities. And as time went by

increased customs and immigration regulations

were established, so that operating a business in

both Mexico and the United States became

more difficult than in earlier days.

❖

A view across the Rio Grande.

COURTESY OF THE HISTORIC

BROWNSVILLE MUSEUM.

Chapter V ✦ 27
---
❖

The B&M Bridge, built in 1910.

COURTESY OF THE HISTORIC

BROWNSVILLE MUSEUM.

During these years new dining and shopping

facilities opened in Matamoros. During World

War II American military personnel stationed

in the area enjoyed visiting there for dining,

shopping and entertainment.

The 1950s saw a big increase in cotton

farming on both sides of the Rio Grande,

providing substantial economic benefits to

both communities. The growing and processing

of cotton, along with construction of highways

and other infrastructure in Mexico, drew

thousands of workers to Matamoros from

the interior. This brought a major increase

in population, and provided business

opportunities for both communities.

After World War II it became apparent to

leaders in Brownsville that attracting

Mexican shoppers to Brownsville offered new

business opportunities. Brownsville business

organizations sponsored goodwill trips into

Mexico and downtown retailers catered to

Mexican shoppers.

At the same time, more American tourists

visited the southern tip of Texas, attracted by

the beaches, the climate and dining and

entertainment nearby in Mexico. These tourists

provided Matamoros restaurants, night clubs

and curio shops with additional business.

The economy of Mexico has had some

volatile ups and downs, affecting life in the two

border cities. In the 1970s the Mexican

economy was thriving due to the high price of

oil. Many Mexicans began buying property in

Brownsville and on South Padre Island, and

spending more time in this area.

In 1982 a big drop in the price of oil brought

a near-collapse in the Mexican economy, and a

serious devaluation of the peso against the

dollar. Mexican shoppers largely disappeared

from Brownsville, unable to afford American

goods because of the low value of the peso. The

Brownsville economy was hurt, but not nearly

as badly as the economy of Mexico.

Another devaluation of the peso came in the

1990s, again affecting both Brownsville and

Matamoros, but not to the extent of the 1982

devaluation. In the early years of the 21st

century the price of oil was high and the

economy of Mexico was stable, but in 2009

the price of oil dropped, as did the value of

the peso. It is possible both cities will again be

adversely affected.

In more recent years a major factor affecting

life in the neighboring cities has been the

development of the twin-plant, or maquiladora

industry. This program was begun by the

Mexican government to attract industry south

of the border. American companies, taking

advantage of lower costs in Mexico, set up

industrial facilities to engage in assembling

parts and materials to be shipped back to the

United States to be used in manufactured

products. These parts and materials were

moved back and forth between the two

countries free of most duties.

Many industrial plants were set up in

Matamoros, employing thousands of workers

who flooded the city from the interior of

Mexico. The American automobile industry

took advantage of lower Mexican costs and

utilized the maquiladoras to assemble tens of

thousands of radios, windshield wipers and

the like.

The population of Matamoros grew to

several hundred thousand people, bringing new

life to the community, which began to show

signs of modernization and becoming a real

city. Shopping centers, hotels and restaurants

and a municipal airport provided evidence of

these substantial changes.

In 2009 there is much traffic between the

two cities, and these neighbors continue to be

interrelated in many ways.

28 ✦ HISTORIC BROWNSVILLE
---
CHAPTER VI

A GRICULTURAL AND I NDUSTRIAL D EVELOPMENT

In the 1800s the area around Brownsville was suitable for raising cattle, but large scale farming

was difficult because much of the land was covered by thick brush. Small scale farming produced

vegetables for home use and for sale nearby.

In those days ox carts were used to bring agricultural products into town, and to haul merchandise

back to the farm or ranch. The ox cart was a medium sized vehicle, pulled by two oxen. The driver,

carrying a long pole, walked alongside to direct the movement of the two animals. The vehicle had

large wheels, raising the body of the cart over the rough terrain and high above the ground,

permitting it to clear bushes and high grass. The oxen were powerful animals, carried a heavy load,

and moved slowly, at two or three miles per hour.

In 1874 George Brulay purchased land near Brownsville and established a sugar plantation, along

with a sugar mill to process the crop. In 1876 he built the area's first irrigation system to water the

sugar cane. Ox carts carried the sugar cane from the fields to the mill. Brulay initially produced a

brown sugar candy, then decided to study the operation of sugar mills in Louisiana. He purchased

additional equipment and began manufacturing white sugar. He continued in business until his death

in 1905, and his son Louis operated the mill until 1911.

In the 1800s area farmers tried their hand at raising various crops, including rice, cotton, citrus,

bananas, grapes and tobacco. These efforts met with limited success because of a variety of problems,

such as lack of irrigation water, poor drainage, droughts, freezing weather, competitive crops from

other areas and, prior to 1904, lack of adequate transportation.

It was not until after the railroad came in 1904, providing convenient transportation with the rest

of the country, that farming on a large scale began to take hold. Land was available at reasonable prices,

and people from other areas, primarily the Midwestern states, became interested in this newly-opened

region that seemed to have much to offer. "Land parties" were organized, bringing prospective

residents to the Valley by train. Real estate developers built club houses to entertain the prospects and

lenders were on hand to provide financing for purchases of land, homes and commercial property.

❖

Cattle on Elizabeth Street, awaiting

examination by a banker.

PHOTO COURTESY OF THE

BROWNSVILLE HERALD.

Chapter VI ✦ 29
---
❖

Above: Pan American Airways at

Brownsville airport.

Below: A sugar mill near Brownsville

in 1908.

PHOTO COURTESY OF THE

BROWNSVILLE HERALD.

This activity resulted in the development a

large agricultural industry, which included

cotton, citrus, vegetables and other crops. In the

Brownsville area the choice land was located

near the Rio Grande, both east and west of town.

H. G. Stillwell developed the first citrus orchard.

The agricultural industry was supported

by a network of companies which processed

the products and provided fertilizer, seed,

equipment and other necessities. Agricultural

products were shipped to market by rail, and

after the Port of Brownsville opened in 1936

some products went by ship.

In the years following World War II, cotton

became a major crop in both the Rio Grande

Valley and nearby Mexico, with annual

production of several hundred thousand

bales. Harvesting, ginning, compressing and

transportation of cotton provided a major

economic boost to the Brownsville/Matamoros

area in the 1950s and 1960s.

In the late 1900s the largest crops were

cotton, citrus, sugar cane, vegetables and grain

sorghum. Due to the large production of grain

sorghum the Port of Brownsville built a grain

elevator in 1965.

As the population of the area has grown,

considerable land has been removed from

agricultural production to make way for

urban development, and local farmers wonder

if farming will survive for another generation.

But in the early years of the 21st century

agriculture continues to be an important factor

in the local economy.

In the early years of the 1900s, as the region

was beginning to develop, agricultural

industries played a major role in the economy.

These industries processed, canned and

transported agricultural products.

But this began to change in the late 1920s.

An earlier chapter described the establishment

by Pan American Airways of passenger service

and an aircraft overhaul base at the Brownsville

airport. Pan American maintained a presence at

in Brownsville for thirty years. The overhaul

base played a large role in the Brownsville

economy, employing as many as 2,000 people

during World War II. Prior to the arrival of Pan

American the Brownsville economy was based

largely on agriculture, and Pan American

provided an industrial payroll. It was an

excellent place to work and helped Brownsville

survive the Depression of the 1930s.

The base had an excellent reputation in the

aircraft industry, performing work on Pan

American aircraft, as well as outside contract

work for a wide variety of customers. One

unique job was the testing during World War II

of the first American jet aircraft engine. General

Electric had developed a jet engine in a plant

in New York State, but needed a location to

flight test the engine. Pan American Brownsville

was chosen for this work because of its

experienced personnel and because of good

flying weather much of the year. Another factor

was the ability to perform secret flight tests over

the Gulf of Mexico, where they were not likely

to be observed.

30 ✦ HISTORIC BROWNSVILLE
---
General Electric sent personnel, two jet

engines and a B-24 aircraft to Brownsville. An area

was set aside for ground testing, after which the

engines were placed in the bomb bay of the B-24

and tested on flights over the Gulf of Mexico.

After testing in the B-24, there was further testing

of the engine in a newer B-29 aircraft.

The entire project was top secret until after

the war.

Construction began in 1947 with as

many as 1,000 construction people working.

Operations began in 1950, with about 350

people operating the plant. The manufacturing

process was new, having been developed after

years of study and research. The plant was to

produce gasoline, diesel oil, industrial alcohol

and commercial oxygen, all extracted from

natural gas.

❖

Union Carbide plant at the Port

of Brownsville.

The personnel and equipment at the

Brownsville base did excellent work on pistondriven

engines, but were not proficient in

overhaul work on jet engines, which came

into widespread use in the 1950s. In 1959 Pan

American reluctantly closed the base, ending a

historic thirty-year period in Brownsville

industrial history.

In 1946 there was an announcement that

was hailed as one of the greatest economic

achievements in the history of the Rio Grande

Valley. A contract was signed between the Port

of Brownsville and Carthage Hydrocol, Inc., for

construction of a $20 million chemical plant

at the port. The complex would include two

smaller plants to be built nearby, utilizing

by-products from Carthage Hydrocol.

The decision to locate the plant in

Brownsville came after many months of effort

and negotiations, in which Port Director Fritz

Hofmokel played a key role.

Engineering and mechanical problems were

encountered and shutdowns were required.

After three years the plant closed down,

reportedly to permit installation of new

equipment. However, the plant never reopened,

and Stanolind Oil and Gas Company, which

had been operating one of the adjacent

plants, acquired it. They undertook extensive

engineering work and modifications, after

which operations began again. However,

Stanolind also encountered problems, and in

1957 the plant shut down a second time.

Port Director Hofmokel approached Union

Carbide Corporation, and that company

acquired the plant in 1958, installing a new

manufacturing process. Union Carbide

operated the plant for twenty-one years, but

closed it down in 1982 because of economic

conditions. It never reopened.

This marked the end of a tumultuous

chapter in the port's history. It started as a great

Chapter VI ✦ 31
---
❖

Above: Shrimp boats at the Port

of Brownsville.

COURTESY OF THE PORT OF BROWNSVILLE.

Below: A frozen foods

processing plant.

economic achievement and ended as a major

disappointment. The port itself played a

significant role in keeping the plant open from

1950 until 1982.

The availability of deep water has been

instrumental in bringing a variety of industries

to the Port of Brownsville.

In 1971 Marathon Manufacturing Company

leased 106 acres at the port to develop a

facility to build offshore drilling rigs. The

Brownsville location was chosen because of the

availability of labor, good year-round outdoor

working conditions, land available for future

expansion and a deep-water channel with no

overhead obstructions.

The company started building its first rig in

1971 and, during the 1970s when oil prices

were high, built three drilling rigs per year and

employed as many as 1,400 people. Oil prices

remained high until the early 1980s and

business continued to be good. After oil prices

declined the demand for drilling rigs dropped

quickly, and by 1985 Marathon was building

only one rig per year. In 1988 the plant closed.

It was taken over by two former employees,

John Allison and Tony McDermid, who began

operating Allison McDermid Company. They

were successful, and as their business grew

they needed more capital. They sold an interest

to a large company, the Far East Levingston

Shipbuilding Company. A new company, AmFELS

came into existence.

AmFELs is still in business at the port in

2009, and has enjoyed substantial growth. In

the early years of the 21st century the price of

oil was high much of the time, and the

company had all the business it could handle,

employing as many as 2,500 people (the largest

private employer in the area).

The price of oil declined in 2009, affecting

the company's business, but AmFELS's wellequipped

installation at the port is well regarded

in the industry and it likely will remain one of

the substantial industries in Brownsville.

In 1947 large numbers of shrimp boats

moved to Brownsville from other ports along

the Gulf and Atlantic coasts. New shrimp beds

had been discovered off the Mexican coast, and

these boats were attracted to Brownsville, the

American port nearest the fishing grounds.

The industry enjoyed many excellent years

and became an important factor in the local

business scene. In addition to the boat

operators, the industry's support businesses

included unloading facilities, ice and fuel

companies, processing plants, marine boat

yards and supply houses.

Shrimpers have encountered many problems

in recent years. Mexican fishing grounds have

been closed to American boats, the price of fuel

has been very high, the price of shrimp has

dropped due to a flood of imported shrimp and

environmental regulations have handicapped the

fishing operations. In 2009 the industry is much

smaller, but continues to be viable, providing

employment to a considerable number of people.

32 ✦ HISTORIC BROWNSVILLE
---
CHAPTER VII

E DUCATING A Y OUNG P OPULATION

Brownsville has a relatively young population, with thousands of students in the public and

private schools of the community. In 2009 educating the community's young people provides

employment for thousands of teachers and other personnel.

Not long after Brownsville was established in 1849, efforts got underway to provide education.

Among the earliest educators to arrive were four nuns from the Incarnate Word Convent in Lyons,

France, who had traveled from France, studied English and Spanish in Galveston and arrived in

Brownsville in 1853. They opened the second Catholic school in Texas, which became known as

Villa Maria, to provide education for the young ladies of the area.

The first public school was established in 1854, with F. F. Fenn as the teacher, and with classroom

space located in the county courthouse. The school began with eight students, a number which

grew to forty-nine within a year.

❖

Gorgas Hall at The University of

Texas at Brownsville.

COURTESY OF THE THE UNIVERSITY OF TEXAS

AT BROWNSVILLE.

Chapter VII ✦ 33
---
❖

St. Josephs School for Boys, 1866.

COURTESY OF THE HISTORIC

BROWNSVILLE MUSEUM.

In 1866 St. Joseph's School for Boys was

established, and in 1872 Teresa Clearwater

became the first Brownsville teacher to receive a

teachers' certificate.

The public school system was reorganized in

the 1880s with Captain William Kelly as board

chairman. The first public school building was

built in 1887, located at the site of present

Annie S. Putegnat Elementary School. As time

went by it became known as the Old Grammar

School. Americo Paredes, a Brownsville native

who became a distinguished educator, attended

school in this building and recorded his memories

in the Brownsville Herald:

The original school building was a long twostory

edifice, crowned by a cupola housing a

great, four-faced clock. The structure was

originally surrounded by a two-story porch. The

school clock was an important landmark to farm

and ranch folk coming into town. Even as late at

1915 it served as a lookout tower for people who

wanted to see the revolutionists in Matamoros.

We loved that old school, all of us who

studied there. How well do we remember the

first time we were ushered into its cool, quiet

hall by our parents on enrollment day. Education

had not been widespread before this school was

built, and whole families would come to enroll

one child, just to get a peek at the brand new

school. People who had no knowledge of

reading and writing brought their children to

obtain the advantages of education.

However, the public schools suffered from

inadequate funding and many children did not

attend. To some extent the gap in public school

education was filled by Catholic schools.

The population began to grow in the early

1900s, bringing an increase in the number of

students and construction of more school

buildings. The Brownsville Independent School

District was established in 1915 at a time when

the community had five city schools and five

rural schools. Over the years the school district

absorbed some smaller schools adjacent to

town. In 1916 a high school building was

constructed on Palm Boulevard. Over time this

facility became an educational complex

including the junior college, the high school,

the junior high school, an elementary school

and a football stadium.

By the mid-1920s more local high school

graduates began attending out-of-town

colleges. This was an expensive, long distance

proposition, and interest began to grow in the

idea of establishing a local junior college. In

1926 the Junior College of the Lower Rio

Grande Valley was established as part of the

Brownsville Independent School District, and

classes were held at the high school building

on Palm Boulevard.

Many young people who later became

important citizens attended the junior college.

In later life they asserted that without that

opportunity they might not have been able to

afford higher education at all. Prior to World

34 ✦ HISTORIC BROWNSVILLE
---
War II junior college enrollment averaged about

200 students per year. During the war years

enrollment declined to less than 100.

In 1948 the junior college moved from the

crowded high school to a new campus at Fort

Brown, located on property which had recently

been acquired from the federal government. In

the years immediately following World War II the

student body increased significantly due to

enrollment of war veterans, and the new campus

provided adequate facilities for the student body.

The University of Texas at Brownsville and

Texas Southmost College. The institution has

thousands of students and an attractive campus

of several hundred acres. It has indeed been

fortunate that the Fort Brown property became

available, and one wonders what course

education in Brownsville would have taken

without that property, which has provided ample

room for expansion.

❖

Above: Mrs. Clearwater's

teaching certificate.

COURTESY OF THE HISTORIC

BROWNSVILLE MUSEUM.

Below, left: Brownsville school on

Palm Boulevard.

Below, right: Brownsville High school

on Palm Boulevard.

COURTESY OF THE UNIVERSITY OF TEXAS

AT BROWNSVILLE.

In 1928 the name was changed to Brownsville

Junior College, and in 1949 it was changed again,

to Texas Southmost College. Over time the junior

college grew to be a university, now known as

Education in Brownsville has continued to

expand as the population has increased to an

estimated 180,000 in 2009. In recent years the

public school system has grown to include

fifty-two schools, with several more under

construction. The district has some 7,300

employees and a budget of $476 million.

Chapter VII ✦ 35
---
❖

Above: The Old Grammar School.

PHOTO COURTESY OF DON BREEDEN.

Below: The Old Grammar School.

There are a considerable number of private

schools. Several churches have established

schools for children of preschool and elementary

school ages, utilizing church facilities that otherwise

would be unoccupied during the week.

The Episcopal Day School has been in

existence for many years, with its own attractive

campus. The school offers preschool for three,

four and five year olds and elementary

education for those in grades one through six.

St. Josephs Academy offers middle school

and high school education. St. Josephs has its

own campus and a full range of academic, social

and athletic activities. It is the school of choice

for many, offering education in the 7th through

12th grades.

36 ✦ HISTORIC BROWNSVILLE
---
CHAPTER VIII

R ELIGIOUS

L IFE

Soon after the community of Brownsville was established authorities of various religious

denominations felt called upon to establish a church or mission in this new frontier community on

the border.

In 1849 priests from France, representing the Oblate Fathers of Mary Immaculate, arrived in

the area. In 1850 they began holding worship services in a small frame building in the downtown

area. In 1854 plans got underway for construction of the Church of the Immaculate Conception,

the first substantial church building in Brownsville. This turned out to be a lengthy project, and

the Gothic style structure was finally completed in 1859, five years later. Unique methods were used

to raise funds. To provide funding for the organ, ranchers in the area were persuaded to donate

cattle, which the church sold as part of a raffle. Prominent citizens supported the building

project. Mifflin Kenedy donated a stained glass window in honor of his wife, and paid for the

church bells.

❖

First Methodist Church, built in 1922

at Tenth and Washington.

COURTESY OF THE FIRST UNITED

METHODIST CHURCH.

Chapter VIII ✦ 37
---
❖

Above: Reverend Nehemiah Cravens,

first Methodist pastor.

COURTESY OF THE FIRST UNITED

METHODIST CHURCH.

Below: Richard and Henrietta

Chamberlain King.

In December 1849 Reverend Nehemiah

Cravens was appointed by the Methodist Church

to become pastor of the Brownsville Mission.

Reverend Cravens' appointment was announced

at a Methodist conference in Seguin, Texas, and

when the conference was over he undertook to

travel to Brownsville, probably by horseback,

arriving some three months later, in February

1850. Shortly after his arrival Cravens purchased

a lot on Elizabeth Street (where the Brownsville

City Hall now stands) and within a few days

began construction of a church building.

In 1849 Reverend Daniel Baker began

conducting Presbyterian services. Soon after

Reverend Hiram Chamberlain replaced him.

Chamberlain is considered the real father of the

First Presbyterian Church, serving in Brownsville

for sixteen years, until he passed away in 1866.

In 1854 a church building was erected at the

corner of Elizabeth and Ninth Streets.

The Chamberlain family history also became

linked with the legend of Richard King, the

man who founded the famous King Ranch.

Richard King was operating a steamboat on the

Rio Grande when the Chamberlains arrived in

Brownsville in 1850. Initially the family was

unable to find suitable housing and took up

temporary residence on a boat in the Rio Grande.

One day Richard King was bringing his boat to

the dock after a long, tiring voyage and found the

Chamberlain boat in his way. He became furious

and hurled a profane tirade at the other boat,

only to see an attractive young woman appear on

deck. She dressed him down firmly with a spark

of fire, telling him in perfect English that she had

never seen such a rude man, that this is where

she lived with her family, and that he should take

his boat elsewhere.

King docked his boat elsewhere, but was

impressed with the young woman. He arranged

to meet her, they discovered they were attracted

to each other and married a few years later.

Henrietta King became the matriarch of the King

Ranch, living there for many years after her

husband's death.

In 1851 a group of Brownsville citizens began

working to establish an Episcopal Church. Soon

the church became part of the Episcopal Diocese

of Texas and was named the Church of the

Advent. A church building, completed in 1854,

was located at 10th and Washington Streets. In

1853 Reverend William Passmore served as both

rector of the Episcopal Church and as chaplain at

Fort Brown. In the 1850s Colonel Robert E. Lee

spent some time at Fort Brown and attended the

Episcopal Church. In letters to his wife Colonel

Lee spoke well of Mr. Passmore, and told her he

had enjoyed Christmas dinner with the family.

These churches all struggled in the early years.

A major hurricane in 1867 destroyed some church

buildings. Finances were scarce and it was difficult

to raise money for construction of buildings,

church equipment and operating expenses. The

Methodist Church has no record of pastors in

Brownsville between 1865 and 1904, although

itinerant pastors may have appeared at times.

In the early 1900s the population increased,

bringing church activity. In 1910 the Christian

Church bought property at the corner

of Fourth and East Levee, holding

services in a small building there. In

1931 a larger, brick building was

constructed at the same location. The

church remained on Levee Street for

many years, then relocated to their

new building in a fast growing area on

Alton Gloor Boulevard.

The Immaculate Conception Church

for years served the needs of both

English speaking and Spanish speaking

Catholics. In 1913 it was decided the

time had come to establish two distinct

parishes, and the Sacred Heart Church

was built at Sixth and East Elizabeth to

provide Catholic services in English.

38 ✦ HISTORIC BROWNSVILLE
---
More denominations were established in

Brownsville and church membership and

church buildings saw much growth. The

Methodists, Presbyterians and Episcopalians all

built larger, modern churches in the 1920s. The

Methodist Church was built in the downtown

area at Tenth and Washington, while the

Presbyterians and Episcopalians moved west to

the Palm Boulevard area. These two denominations

have remained in their buildings in the

Palm Boulevard area ever since.

after being named. He was replaced by

Humberto Medeiros, who held the post until he

became Archbishop of Boston. Bishop Medeiros

was followed by John Fitzpatrick, who held the

position for many years. Bishop Raymundo Pena

now holds the office.

❖

Group of Methodist of young people

in the 1950s.

PHOTO COURTESY OF THE FIRST UNITED

METHODIST CHURCH.

Below, left: Guadalupe

Catholic Church.

PHOTO COURTESY OF THE FIRST UNITED

METHODIST CHURCH.

Below, right: The Immaculate

Conception Cathedral.

PHOTO COURTESY OF DON BREEDEN.

An important development in 1965 was

the establishment of the Catholic Diocese of

Brownsville, separating the Rio Grande Valley

Catholics from the Diocese of Corpus Christi.

The first bishop, Adolph Marx, died shortly

As the years passed more churches were

established, many of them located in fast

growing residential areas in north Brownsville.

People have developed stronger religious ties in

difficult times, and at other times have shown

less interest in religion. This has been true

in Brownsville, but in 2009 the community

is home to many active churches offering a

multitude of opportunities for engaging in

worship and other church activities.

Chapter VIII ✦ 39
---
❖

Above: First Presbyterian Church,

built in 1927.

Right: Church of the Advent,

Episcopal, built in 1927.

40 ✦ HISTORIC BROWNSVILLE
---
CHAPTER IX

T OURISM AND R ECREATION

Tourism and recreation are closely related, since many recreational opportunities enjoyed by

local citizens also attract tourists to the area. Local people and visitors both enjoy the warm winters,

the nearby beaches, the nearby attractions in Mexico, hunting, fishing, golf, the Charro Days

celebration and the Gladys Porter Zoo.

❖

Charro Days costumes.

COURTESY OF CHARRO DAYS.

Chapter IX ✦ 41
---
The kitchen and servants' quarters were in a

separate structure. A concrete cistern collected

rainwater for drinking, cooking and bathing.

Most nights, the children slept on the porch

under mosquito nets.

Fish, abundant in the gulf waters, was on the

menu most days. Don Pancho arranged for a

local Mexican fisherman to deliver fresh shrimp,

fin fish and crabs to his family each morning.

My father spent many boyhood summers at

Boca Chica Beach. He told me how much he

loved playing on the beach with his brothers,

and how they once caught a sand crab which

they promptly tucked into grandpa's bed sheets.

In the early 1900s a tourist facility at Boca

Chica offered a bath house and cottages,

providing families with a comfortable place to

eat and sleep.

❖

Top: Brownsville residents enjoying

Boca Chica beach.

PHOTO COURTESY OF THE

BROWNSVILLE HERALD.

Above: A model T Ford on Boca

Chica beach.

COURTESY OF THE HISTORIC

BROWNSVILLE MUSEUM.

Right: Chamber of

Commerce advertising.

COURTESY OF THE HISTORIC

BROWNSVILLE MUSEUM.

In earlier days there were few man-made

recreational facilities, so local citizens took

advantage of those provided by nature, the

foremost being the waters of the nearby Gulf of

Mexico. Boca Chica beach was the place to go

for bathing and fishing. At first, residents

reached the beach by driving horses and buggies

along a dirt road. Later, when automobiles

came into use, a paved highway made for a

convenient trip to Boca Chica, requiring a drive

of about thirty minutes. At one time a toll was

required to cross a wooden bridge that spanned

a tidewater area adjacent to the beach.

In his book, The Patriarch, Brownsville

resident Frank Yturria describes how his

grandfather, Francisco Yturria, acquired land at

the beach in the late 1800s and built a summer

home, where he and his family enjoyed the

cooler weather. Yturria described the house and

the activities:

The beach house stood on four-foot stilts,

between the sand dunes and the high water line.

There were four bedrooms, a dining room and a

living room. A large porch enclosed three sides

of the house.

42 ✦ HISTORIC BROWNSVILLE
---
Boca Chica was the place to go in the years

before the Padre Island causeway was built, but

in recent years Boca Chica seen far fewer visitors.

The area is now a habitat for endangered wildlife

and the beach remains in its natural state, an

environment which appeals to some visitors.

In the 1950s a causeway to South Padre

Island crossed the Laguna Madre for the first

time. In the intervening years the island has

developed into one of the primary tourist

destinations in Texas. Local citizens visit the

island in large numbers, enjoying the beach

with its cooler summer temperatures,

the fishing, the restaurants, hotels,

condos and shops. Many Brownsville

people own residential property on

the island and spend part of the

summer there. Thousands of visitors

from elsewhere visit the island,

and spend time in both Brownsville

and Matamoros.

Prior to closing in 1944 Fort Brown

offered recreational opportunities for

local citizens. They attended band

concerts and dances, and sports

enthusiasts enjoyed watching boxing,

polo, baseball and other sports.

The 1950s saw the beginning of

winter visits by residents of northern

states, who came south to enjoy the

mild winters. They were attracted to

this area by the low cost of living and

by friendly and hospitable local people.

As time went by more facilities were

built and many programs were

arranged to entertain these visitors.

They utilize local trailer parks,

recreational vehicle facilities, swimming

pools, golf courses, tennis courts,

dances, pot luck suppers, bingo parties

and the like.

In 2009 tens of thousands of

Winter Texans congregate in the Rio

Grande Valley. Brownsville recognizes

the substantial economic benefit that

comes from these people and makes

every effort to make them feel at home.

Two of the most popular tourist

attractions are Charro Days and the

Gladys Porter Zoo.

❖

Above: The original Brownsville

Country Club.

Left: Fishing in the Gulf of Mexico.

PHOTO COURTESY OF DON BREEDON.

Chapter IX ✦ 43
---
❖

Clockwise, starting from the top:

Two charros talking things over.

PHOTO COURTESY OF CHARRO DAYS.

Charro Days Parade, 1950s.

Charro Days publicity, 2006.

Charro Days poster, 2004.

CHARRO

DAYS

In 1937 Brownsville leaders were seeking

ways, during difficult economic times, to

generate new optimism, civic pride and

economic activity. A local businessman, Kenneth

Faxon, proposed the idea of a celebration that

would recognize and utilize the pageantry and

costumes of neighboring Mexico. The Chamber

of Commerce adopted the idea and J. H. Stein,

editor and publisher of the Brownsville Herald,

proposed the name Charro Days, reflecting the

image of the dashing Mexican gentlemen cowboy.

The year 1938 saw the first four-day pre-

Lenten fiesta, which has turned out to be a

Brownsville tradition with its own interesting

history. It was decided to open the fiesta with a

Grito, the traditional cry of joy or sadness of

the Mexican cowboy. For many years the Grito,

traditionally given in the middle of the

Gateway Bridge, was sounded by A. A. "Daddy"

Hargrove. The fiesta was a natural for the

bicultural community of Brownsville, which the

organizers developed initially without any prior

experience, but which turned out to be a very

successful event.

The first Charro Days,

and those that followed

in years thereafter,

included horse-drawn

floats in the gala parades,

motorboat races at the

port turning basin,

beautiful Charro and

China costumes (hard to

find that first year, but

worn enthusiastically) a

rodeo, street dances on

Elizabeth Street (which

was closed to traffic),

balls at the country club

44 ✦ HISTORIC BROWNSVILLE
---
and the yacht club, fireworks and other

activities, all of which recognized the culture,

charm and romance that made the borderland

with Mexico a unique area. Men were asked to

wear beards during the fiesta, and those who

dared walk the streets clean-shaven were

brought before the Brush Court to receive

appropriate punishment.

❖

Above, left: Mr. and Mrs.

Kenneth Faxon.

COURTESY OF CHARRO DAYS.

Above, right: A Charro Days

scene, 1939.

Below: Charro Days parade.

COURTESY OF THE HISTORIC

BROWNSVILLE MUSEUM.

Chapter IX ✦ 45
---
❖

Below: Earl Sams.

COURTESY OF THE GLADYS PORTER ZOO.

Opposite page, clockwise starting from

the top:

The Gladys Porter zoo

under construction.

COURTESY OF THE GLADYS PORTER ZOO.

Zoo animals in open environment.

COURTESY OF THE GLADYS PORTER ZOO.

Mr. and Mrs. Jimmy Stewart visit

the zoo.

COURTESY OF THE GLADYS PORTER ZOO.

The first Charro Days was so successful that

the fun and frolic continued in later years, with

three parades, mariachi and marimba concerts,

jalapeno eating contests and other competitions.

A presentation known as Fiesta Folklorica was

established, a presentation of Mexican dances by

Brownsville school children. Villa Maria School

presented a program entitled A Little Bit of Mexico,

also featuring Mexican dances and costumes. The

parades, costumes and the variety of programs

made Charro Days an event for the entire family.

Charro Days is a two-nation fiesta. In some

years the parades crossed the Gateway Bridge

and made their way through Matamoros. In the

1950s Tamaulipas Governor Dr. Norberto

Zapata, and Texas Governor Price Daniel and

their wives were in attendance.

Ladies of the Pan American Round Table

owned a unique collection of authentic Latin

American costumes. It was only natural that

these costumes become part of the Charro Days

festivities, and in 1939 the Round Table hosted

their first "merienda", displaying and modeling

their costumes for the public. This has been a

continuing and popular Charro Days event.

In the early years Americans loved the Big

Bands. Bands with a Latin flavor, Xavier Cugat's

and Desi Arnaz', both appeared at the Charro

Days Grand Balls, as did the Big Band of Jimmy

Dorsey. The popular Grand Balls attracted a

large attendance.

Later years have seen new features added

to the fiesta. Beginning in 1964 a prominent

Mexican citizen has annually been designated

as Mr. Amigo and invited to the celebration.

The first Mr. Amigo was former Mexico

President Miguel Aleman.

The year 1986 saw the creation of a new

event, Sombrero Fest. This event, at first

located in Washington Park, then moved

to the Mitte Cultural District, features

three days of music, dancers, arts and

crafts, cooking competition, many food

booths and other features. It has been a

resounding success.

The 2009 Charro Days was the 72nd

year for this great event. It has been a labor of

love for thousands of volunteers and

contributes to the aura that gives Brownsville a

special identity.

46 ✦ HISTORIC BROWNSVILLE
---
THE GLADYS PORTER ZOO

Brownsville is indeed fortunate to be the

location of the Gladys Porter Zoo, which is

recognized throughout the country, and

beyond, for its diversified collection of birds,

reptiles and mammals, its successful breeding

of endangered species and its innovative,

spacious exhibit areas. Many visitors are

surprised to find a facility of this quality located

far from major metropolitan centers.

It is one of the few zoos in the country built

entirely with funding from a private source,

the Earl C. Sams Foundation. Earl Sams spent

his career with J. C. Penney Company, serving

many years as chief executive officer. He was

a generous man, creating the Earl C. Sams

Foundation and embarking on a program of

generous contributions. When he died in 1950

the responsibility for the foundation passed to

his family. His two daughters, Gladys Porter and

Camille Lightner, lived in Brownsville and this is

where they established the foundation office.

Gladys Porter became president.

In the 1950s the foundation funded many

projects in South Texas. In the 1960s Gladys

Porter and her husband became aware of the

problems faced by endangered wildlife in Africa

and Asia. The foundation directors began to

seriously consider the idea of building a zoo,

and after much consideration decided to

proceed, locating the zoo in Brownsville. They

dealt with many unique problems, such as how

to go about designing a zoo (a type of facility

that was built infrequently), how to identify

competent advisors, how to go about acquiring

the animals, who would operate the zoo and

how the operation would be funded.

Chapter IX ✦ 47
---
❖

Crowd at the opening of the zoo.

COURTESY OF THE GLADYS PORTER ZOO.

They employed an experienced zoo professional,

Dr. Warren Thomas, as a consultant and

employed a firm of architects. Dr. Thomas provided

ideas and concepts to the architects, who

transferred them into architectural renderings.

It was decided the zoo would be built with

exhibit areas designed so that the animals would

be exhibited in a natural environment, one with

no bars or cages. Movement of animals would

be controlled by use of moats, walls and water

barriers, designed so that the animals could not

walk, climb or swim out. Different size barriers

were required for different types of animals,

some wider, some deeper, some smaller, some

taller. They had to be designed to keep the

animals away from the public, and be of a depth

that an animal could be rescued if it fell in.

It was necessary to provide adequate sized

plumbing for different animals, sufficient behindthe-scenes

support facilities and appropriate

amenities for visitors, such as concession stands

and a gift shop. The exhibit areas were designed

to make use of attractive rock work, landscaping

and water, which provided a pleasing appearance.

Gladys Porter and other foundation directors

were actively involved, making decisions about

the design and construction, and watching costs.

It was also decided the zoo would become a

home for endangered species, and arrangements

were made to acquire animals from Africa and Asia.

Construction began in 1969 and was

completed in 1971. Acquisition of animals was

also begun in 1969, and the first animals that

arrived from Africa and Asia were housed

temporarily at the Omaha, Nebraska, zoo. These

animals were brought to Brownsville in 1970,

while the zoo was still under construction.

They could not be housed in the open, where they

would have been able to roam the zoo grounds at

will. It was necessary to place them temporarily

wherever space could be found, some in plywood

pens. This caused some interesting problems.

Several cheetahs arrived during this period,

and it was decided to house them on an island

in the resaca, on the premise they would not go

into the water. Soon it was noticed the cheetahs

began putting one foot in the water, then two,

then three, then all four. Soon they were

wandering all over the zoo.

It was then decided to put them in an exhibit

area behind an eleven foot wall, assuming this

height would restrain them from jumping. One

day a keeper brought food for the cheetahs, and

put it on top of the wall. Quickly, a cheetah

jumped to the top of the wall, waiting to be fed.

The zoo opened over Labor Day weekend in

1971 and a crowd of nearly 21,000 attended

over the four day period.

In 2009 the zoo has been open 38 years.

These years have seen some difficult times;

hurricanes, freezes, financial problems, difficult

and bizarre escapades with animals. At the same

time, new exhibit areas have been added and the

zoo now offers more to the visitor than it did

when it opened.

In 2008 over 400,000 people visited the zoo.

It is the most important man-made attraction in

the Rio Grande Valley, is considered an

important asset that enhances the quality of life

and draws many tourists. Some 41% of zoo

visitors come from outside the Valley.

The zoo continues to do a first class job of

fulfilling its mission of conservation, recreation,

education and research.

48 ✦ HISTORIC BROWNSVILLE
---
CHAPTER X

P EOPLE W HO H AVE M ADE A D IFFERENCE

This chapter describes the lives six individuals who played a significant role in Brownsville life and

whose accomplishments provide an insight into several periods of Brownsville's history. It is

recognized that others have played a significant role, but these six individuals cover a wide range of

activities during many years of Brownsville's 160 year history.

CHARLES

STILLMAN

Charles Stillman is known as the founder of Brownsville, and is recognized as a successful

business man who resided in Matamoros from 1828 to 1848, and in Brownsville from 1848 to 1866.

During these years the area endured wars, border turmoil, hurricanes and economic declines, but his

business talents enabled him to be successful through it all.

Stillman's biography, commissioned by one of his descendants, describes him as intelligent,

honest, respectable and able to win the confidence of business associates in both Matamoros and

Brownsville. He was stern, serious and frugal, with little interest in the more light-hearted side of life.

He was an ardent Texan, loved the people and the area along the Rio Grande, and enjoyed

spending time outdoors. He had no desire to return to his native New England.

His father, Francis Stillman, was a New England ship owner with business interests in Mexico. At

age sixteen Charles shipped out on one of his father's ships and the next year arrived at Brazos

Santiago and settled in Matamoros, which had become a center of commerce for northeastern

Mexico. He became part of a colony of Americans engaged in business, and spent the next ten years

working for his father, maturing and learning business practices.

Francis Stillman died in 1838 and Charles remained in Matamoros, continuing in business for

himself. In 1846, when the United States and Mexico declared war, Americans in Matamoros were

ordered sent to Victoria, the capital of Tamaulipas. Charles escaped enroute to Victoria and remained

in hiding for a time. Five weeks later the American army had defeated the Mexicans and occupied

Matamoros. Charles left his hiding place, returned to Matamoros and was among the first Americans

to welcome General Zachary Taylor and the American troops.

❖

Charles Stillman and the

Stillman house.

PAINTING COURTESY OF DON BREEDEN.

Chapter X ✦ 49
---
In 1848 the north bank of the Rio Grande

became recognized as United States territory,

and it was decided that a permanent military

post, Fort Brown, would be established across

from Matamoros.

Stillman anticipated that some Americans who

had been living in Mexico would prefer to live in

the United States, and that a community would

likely be established adjacent to the fort. He

formed the Brownsville Town Company and

became 50% owner, with Samuel Belden and

Jacob Mussina as his partners. The company

acquired 4,676 acres of land for the purpose of

establishing a townsite and began promoting the

new town and selling lots.

Stillman named the new community

Brownsville, after Major Jacob Brown, who had

been killed in the war in 1846. The three

principal streets, Elizabeth, St. Francis and St.

Charles, were named for his bride-to-be, his

father and himself. Other streets were named

numerically or for United States presidents.

Stillman built a substantial brick business

building on Levee Street, giving people confidence

in the potential of the new community, and set

aside land for a public park, named Washington

Park. He also started a ferry service across the Rio

Grande to link Brownsville with Matamoros.

In 1849 he went to Connecticut for the summer

and, while there married Elizabeth Pamela

Goodrich. She was twenty one years of age and he

was thirty eight. She was an open, kindhearted and

charming person, in contrast to his serious nature.

He brought his bride to Brownsville and they

moved into a substantial home at the corner of

Washington and Thirteenth Streets, which has

been restored and maintained as a museum,

part of the Brownsville Heritage Complex.

Elizabeth Stillman lived in Brownsville four

years, and she and Charles had two children.

In 1853 she and the children traveled to New

England because she felt it was a better place

for the children, and never returned. Charles

refused to move to New England and stayed

in Brownsville. He and Elizabeth remained

married and saw each other only in the summers

when he visited the family.

Brownsville was plagued with epidemics of

cholera and yellow fever in the 1850s, which

may have convinced Elizabeth to remain in

New England. In a letter of December 1853

Charles indicated his intentions of remaining in

Brownsville, regardless of the problems in the area:

"The fever has left us I trust. No new cases for

several days. There is cholera in New Orleans.

You advise me to leave if it makes its appearance

here; it is not very creditable to leave your

post in time of danger, and I am too old to adapt

new customs."

He yearned for his children, according to an

1853 letter:

"No one is fonder of having his children

around him than I am. My own wants are few,

they would not be given a second thought.

There are different kinds of love: I love to

provide for those who are dependent upon me.

It might not be a very expressive way of showing

one's affection."

On another occasion he wrote:

"Tell Jimmy not to cry for me. One of these

days I will roam with him on his big black horse

over the wild prairie, running down deer or

chasing wild horses. When you return to Texas

you can exchange your skates for a good horse,

a rifle and a knife."

In another letter in March 1861 he expressed

a desire for his children to return to Texas:

"Say to Jimmy not to forget he is a nativeborn

Texan and that her destiny is ours, and in

our army we have soldiers not much older than

he is (he was eleven at the time). Do not let him

imbibe New England notions."

However, his children never returned to Texas.

According to his great-grandson, Chauncey

Stillman, Charles described himself as gloomy

and uncivil. He disapproved of his wife's harmless

pleasures, scolded her for extravagance and for

her lavish hospitality.

Charles vigorously pursued his business

interests, engaging in a variety of partnerships.

He was an investor in a profitable silver mine

in Mexico. He ran river steamboats on the Rio

Grande, one of his few unprofitable ventures, due

to competition from Mifflin Kenedy and Richard

50 ✦ HISTORIC BROWNSVILLE
---
King. Stillman did not like competition, and

watched Kenedy and King closely. He knew that

Kenedy was a seasoned river captain with a

competitive spirit, decided to talk to Kenedy about

becoming his partner in the steamboat business.

Kenedy discussed the idea with his friend and

confidant, Richard King. After some negotiation,

during which it was agreed to make King a

partner, the company of M. Kenedy and

company was formed. This partnership had a

monopoly on riverboat traffic for many years and

was very profitable.

With the help of a friend, Major Chapman of

Fort Brown, M. Kenedy and Company acquired

a government contract to supply forts along the

river, a contract which was awarded without

competitive bids. Major Chapman asserted that

M. Kenedy and Company were operating the

best boats and were responsible, reliable men.

The awarding of the contract without

competitive bids was controversial. Other

steamboat operators protested, and sometime

later government regulations were changed,

prohibiting Major Chapman from awarding

contracts without bids. James Armstrong, a

disgruntled former associate, secured the

contract with a lower bid and delivered cargo at

a more reasonable cost. Merchants along the

river were delighted to have lower freight rates.

Stillman, Kenedy and King were aggressive,

fought their competitors and convinced the

Army they were better qualified because they

had backup boats available. They obtained the

contract again and retained control of the river.

In 1855 Stillman owned a half interest in

Woodhouse and North, a company that operated

a general merchandising business in Brownsville.

An astute business man, Stillman always

kept his own counsel. It is doubtful if anyone

knew about all his different businesses. He

chose good business partners, and they made

money together. When the partnerships were

dissolved he and the former partners frequently

remained friends.

He bought ranch lands in several locations,

near Brownsville and near the Nueces and

Guadalupe Rivers. He engaged in raising cattle

and loved to visit his nearest ranch, located a

days ride from Brownsville. He loved the

outdoor life and said it renovated his health

after months of confinement.

His successful business operations made him a

wealthy man. However, he suffered setbacks and

dealt with a variety of problems. In 1857 an

explosion and fire damaged some of his business

properties in Brownsville, after which a hurricane

caused more damage. He was involved in

controversies and lawsuits, including lengthy legal

problems about whether he had acquired proper

title to the land on which Brownsville was located.

During the Civil War he was sympathetic to the

Confederate cause, and made every effort protect

his properties. Unable to travel safely, he did not

see his family again until the war was over. He

transferred some business activities to Matamoros,

and transferred his steamboats to Mexican registry.

In 1862 Stillman wrote to his wife Elizabeth.

"I am winding up my affairs, commercial

affairs, as fast as possible, and placing what funds

I can put together with my friends in Europe, so

that in case I should get my head knocked off,

you and the children will get a nest egg there."

During the war much Confederate cotton

moved to the Rio Grande and across the river,

where it was shipped to Europe without Union

interference. Stillman became active in the cotton

trade, bought and sold cotton, and his river

steamboats hauled cotton on the Rio Grande

He was concerned that his considerable

fortune would be at risk if the Union prevailed

and it became known he had aided the

Confederacy. He disguised his involvement in

the Confederate cotton trade by working

through agents, and at times switched to new

agents to further keep his name from being

publicly associated with the business. The cotton

trade brought excellent business conditions to

Brownsville and Matamoros, and the Civil War

years were very profitable for Stillman.

When the war ended the Brownsville/Matamoros

economy quickly declined. Charles Stillman was

55 years of age and his health was poor. Due to his

health and the poor business conditions, in 1865

and 1866 he sold many of his Texas properties

and businesses and moved to New York to be with

his family, where he spent the last nine years of his

life, but he missed the area along the Rio Grande.

In 1872 he turned his business affairs over to

his son James, and passed away in 1875 at the

age of 65.

Chapter X ✦ 51
---
❖

Mifflin and Petra Vela Kenedy.

MIFFLIN

KENEDY

Mifflin Kenedy, born in 1818 in Pennsylvania,

lived with his Quaker family until age 16.

Indications are that he received a fairly good level

of education, and he taught school for a time

before his 16th birthday.

At age 16 he went to sea. After

spending the better part of two

years at sea, he returned to

Pennsylvania, taught school and

held other jobs. At age 24 he

entered the river steamboat trade,

serving on boats along the Ohio,

Missouri and Mississippi rivers.

At this early age he saw promise in

the river steamboat business. Many

Americans were moving west and

cities were being established along

the major rivers. Mifflin observed

the new, larger steamboats on the

rivers, carrying more passengers and cargo.

From 1842 until 1846 he sailed the rivers of

the Midwest and Florida. While in Florida he

met Richard King, a handsome, outgoing,

outspoken young man. Kenedy was more quiet

and deliberate in his ways. The two formed a

friendship that lasted throughout their lifetimes,

each complementing the other and bringing

strength to the relationship.

In 1846 Kenedy took his steamboat to

Pittsburgh for maintenance. While there he met

Major John Saunders, a U. S. Army officer who

was buying boats for use by General Zachary

Taylor's army on the Rio Grande. Saunders was

also seeking river pilots and Kenedy, who had a

Masters Certificate, was persuaded to go to the

Rio Grande as commander of the Corvette. He

also helped Major Saunders acquire additional

river steamboats.

On July 2, 1846, Kenedy sailed from

Pittsburgh, arriving on the Rio Grande on

August 6. After he arrived he wrote his friend

Richard King, urging King to join him.

Kenedy began piloting the Corvette along the

Rio Grande, from the mouth of the river to

Camargo. He was able to make the trip in three

days, despite a winding river bed, a strong current

and debris in the water. Most captains required

four to six days to make the trip, and soon people

began taking note of young Captain Kenedy.

Kenedy and his friend Richard King sailed

the Rio Grande for the U. S. Army for two years.

After the war ended in 1848 they decided to put

roots down in Texas. They felt there were good

opportunities sailing the Rio Grande, and saw

other business opportunities in the new

American territory. However, business was slow

immediately after the war and they had to

scramble to find other work until the steamboat

business revived.

Kenedy went upriver to Roma, an area with

ranching, farming and minerals. He traveled

into Mexico, buying and selling merchandise. In

the meantime, both he and King acquired their

own boats, buying them from the Army at

bargain prices.

Kenedy and King began sailing the Rio

Grande, carrying passengers and cargo from

Brazos Santiago to Camargo. They had a

profitable operation, which was observed by

Charles Stillman, whose boats were not

profitable. Stillman approached Kenedy about

going into partnership, and after some

negotiations it was decided Stillman, Kenedy

and King would become partners under the

name M. Kenedy and Company.

By 1850 Kenedy had become established in

business and his future looked good. He was living

in Brownsville in a rooming house with twentythree

other men. Also living in Brownsville was

Petra Vela de Vidal, a handsome twenty-sevenyear-old

woman. She had been born in Mier,

Mexico, into a family with a long history in

northern Mexico. Her family seems to have been

moderately well off, and she attended Catholic

schools as a girl. At age fifteen she began attending

the local fandango, or dance, where young

men and women were able to mingle and get

acquainted. It is likely that at a fandango she met a

dashing Mexican lieutenant, Luis Vidal.

No information is available about their early

years together, but in 1842 they were living

together in a military compound in Matamoros.

Baptismal records show that Luis and Petra had

eight children, born between 1837 and 1849.

Luis died in 1849 and Petra was left with the

eight children. However, she had some means of

support due to an inheritance from her father.

Petra decided to start a new life, she and

her children moved to Brownsville. She likely

already had friends there and could see many

52 ✦ HISTORIC BROWNSVILLE
---
possibilities in this new, growing community.

She knew education was important, and

enrolled her children in school.

There is no record of how Petra and Mifflin

became acquainted, but Charles Stillman knew

them both and may have introduced them.

Mifflin was attracted to this woman, despite her

houseful of children, probably because of her

beauty, perhaps also because of her noticeable

prosperity, her education and her many friends

in Brownsville.

Petra may have been attracted to Mifflin

because he treated her as an equal and had an

ease and manner that she liked. She may have

felt he had potential to provide a level of

security for her and her family.

Petra and Mifflin were married in 1852 in her

family home in Mier.

They built a house on Elizabeth Street in

1853, the same year their first child, Thomas

Mifflin Kenedy, was born. In 1854 their marriage

was blessed in the Catholic Church in

Brownsville. Mifflin never became a Catholic, was

always a Quaker, but he gained a dispensation in

order to have a Catholic blessing. Following the

wedding Petra and Mifflin presented their son

for baptism. Mifflin strongly supported Catholic

churches in Brownsville and Corpus Christi

throughout their marriage, and all their children

were raised as Catholics.

Petra and Mifflin came from different

backgrounds and different cultures. By blending

them together they developed a strong marriage

which enabled them to face the challenges that

lay ahead.

During the next several years Petra and Mifflin

settled into their new home and had five children.

Petra established a place for herself in Brownsville,

while Mifflin faced difficult business conditions at

times due to drought and competitive pressures in

the steamboat business. He joined Richard King in

acquisition of land in the Wild Horse Desert, and

assumed management of Petra's ranch on the

Nueces River. His goal was to diversify his

holdings beyond his riverboat business.

In the early 1850s Brownsville was progressing.

The community was full of men who had arrived

during the Mexican war and decided to put down

roots. The population grew to 2,500, with people

from different backgrounds and different countries

settling in the community.

The wealthier people enjoyed a good standard

of living, with a wide range of merchandise

available in stores and at the City Market. Petra

and others shopped for food early each day, since

there was no refrigeration.

On October 23, 1857, Petra gave birth to a girl,

a joyous occasion, but which was overshadowed

by a fire that broke out the same day, destroying a

portion of Brownsville. When 300 kegs of power

exploded the town was filled with smoke and

heat, and many feared the fire would spread

throughout the community.

Petra and the children were surrounded by

heavy smoke and sounds of explosions. Mifflin

was at the waterfront trying to contain the fire.

Petra had her baby, perhaps assisted by a

midwife, while the older children cared for the

smaller ones. Finally the fires were contained and

the smoke cleared, and Petra and Mifflin gave

thanks for the safety of their family.

During these years Brownsville endured

epidemics of yellow fever and cholera. Petra lost

her three older children in one of the epidemics,

and was fierce in her determination to protect her

remaining children. She was very careful about

whom the children were allowed to come into

contact with, and there were long periods when

their only company was other family members.

In 1860 Richard King moved his family to

his ranch at Santa Gertrudis, but the Kenedy

family remained in Brownsville. They had

several children and it was difficult to raise

children in isolated ranch locations. Kenedy

continued to be heavily involved in operating

the steamboat business.

Petra was always close to the church, and

supported the construction of the Immaculate

Conception Church. Mifflin donated a stained

glass window in honor of Petra.

In 1860 the Kenedy household included eleven

children (five from Petra's first marriage) and six

servants. The previous five years had been good

for the family, but war clouds were gathering. The

Kenedys would be caught up in the controversy

and the conflict of the Civil War period, would be

uprooted, would have to abandon their home and

be separated from some of their children.

Many Brownsville people supported the

Confederacy, and early in the war the Confederate

military was in control of Fort Brown and the

surrounding area. But by 1862 many Brownsville

Chapter X ✦ 53
---
❖

Reynaldo Garza.

COURTESY OF THE HISTORIC

BROWNSVILLE MUSEUM.

men were making plans to move their businesses

and their families to Matamoros for safety. The

Brownsville/Matamoros area had become an

important location for exporting Confederate

cotton, and there was concern the Union would

move troops to the area and attempt to stop the

cotton trade.

Mifflin Kenedy, Richard King and Charles

Stillman were involved in the cotton trade,

which was very profitable for them. King, living

at Santa Gertrudis, assisted in moving cotton

through his ranch property to the border.

Kenedy worked to get the cotton moved across

the river to the ships that waited off Bagdad.

Stillman handled the business arrangements and

sold the cotton.

Sometime in 1863 Petra and Mifflin decided

to send their three oldest sons to Pennsylvania to

stay with Mifflin's mother and sister and continue

their education in a safer environment. Petra was

concerned the boys might be located a war zone

in Pennsylvania, and would be in a completely

different culture. The three boys spent four years

in Pennsylvania before returning to Texas.

In November 1863 7,000 Union troops

landed at Brazos Santiago, intent on capturing

Brownsville and Fort Brown and stopping the

cotton movement. The small Confederate

garrison at Fort Brown was greatly outnumbered,

and quickly retreated to the Wild Horse Desert.

The people of Brownsville were in a panic, and

rushed to take the ferry to Matamoros.

The Union soldiers occupied Brownsville.

Some residents remained in Brownsville and

swore allegiance to the Union, but Kenedy

refused to do so. As a result, the Kenedy business

properties and residence were confiscated and

used by the Union troops. In early 1864 Mifflin

and Petra were residing in Matamoros, which was

full of both Union and Confederate supporters.

The cotton trade continued, crossing the Rio

Grande further upriver, and Mifflin continued to

work to get cotton to the ships.

In 1864 the Confederates drove the Union

troops out of Brownsville and remained in

control until the war ended in 1865.

In 1865 Mifflin, ever the businessman, began

looking toward his next opportunity. He was

inclined toward more involvement in the

ranching business, but remained a Brownsville

resident for several more years.

After the war the Kenedys and others worked

to rebuild Brownsville. Mifflin served on the City

Council and in other positions. In October 1867

a terrible hurricane caused extensive damage.

Kenedy and King steamboats came to the rescue,

rescuing people stranded by the storm. However,

four of their boats were sunk. Mifflin saw this as

a sign he should give up the riverboat business

and turn his attention to ranching.

The Kenedys moved to their ranch in 1869.

There were a number of reasons for making

this move. Charles Stillman had moved to

New York and Richard and Henrietta King had

been residing at the King Ranch for several

years. Kenedy and King had lost much of their

influence on the Rio Grande, the government

was difficult to deal with and the hurricane had

destroyed a number of their boats and facilities.

The move was difficult for Petra, since she was

separated from her children and grandchildren.

Some of the children were sent away to school

and other children and grandchildren continued

to live in Brownsville. But she traveled there to

see them as often as possible.

The Kenedys were Brownsville residents from

1848 until 1869. Their story is one of positive

community involvement and service, and

describes how they dealt with the good and bad

times in Brownsville's early days.

REYNALDO

G. GARZA

Reynaldo Garza was born in Brownsville in

1915, the sixth of eight children. His parents,

hard working and thrifty, had migrated to Texas

from Mexico shortly after their marriage in

1901, seeking a better life. They made every

effort to see that their children were educated,

and Reynaldo and his brothers took advantage

of this, becoming successful business or

professional men.

After graduating from high school in 1935,

Reynaldo enrolled in Brownsville Junior

College. He helped pay for his education by

working as a laborer for a Depression-era federal

agency, the Works Progress Administration.

Garza credits Brownsville Junior College for

giving him his start with higher education. He

then enrolled at the The University of Texas and

received his law degree in 1939. During those

years he met J. J. Pickle, a future Congressman,

54 ✦ HISTORIC BROWNSVILLE
---
and John Connally, a future Governor of Texas.

In 1937, while attending the university, he

helped Lyndon Johnson, who was in a tight

Congressional race, by introducing Johnson to

some Hispanic Austin voters.

He was determined to return to his home

town, and began a solo law practice. In 1941 he

became the first Hispanic elected to the

Brownsville school board. During World War II

he spent four years in the Army Air Corps as

a gunnery instructor, and married Bertha

Champion in 1943, a marriage of 61 years that

produced five children.

Returning to Brownsville after the war, he

resumed his law practice and in 1947 was

elected a City Commissioner. During these years

he was active in the community and assumed

several responsible positions as a layman of

the Catholic Church. In 1949 he was actively

involved in a successful effort to create a

separate junior college district, which played

an important role in the future of the local

junior college.

He continued working as a practicing attorney,

in the 1950s became a partner in the firm of

Sharpe, Cunningham and Garza. He practiced

commercial and insurance law, earning a

reputation throughout South Texas. He became

acquainted with state officials and was appointed

to serve on statewide committees.

In 1961 Vice President Lyndon Johnson urged

President John Kennedy to appoint Garza a

Federal Judge for the Southern District of Texas.

He became the first Hispanic American to serve on

the Federal bench, and held court in his home

town of Brownsville. He spoke about his goals:

"I always said I hoped I got the appointment

because I was qualified, not because I was Mexican

American. But I knew I had to do a good job or

else my appointment would reflect badly not

only on me, but on other Mexican Americans."

The public attention and respect that

followed his appointment inspired other young

Hispanics to pursue their own careers. These

included a Brownsville junior high school

student, Juliet Villarreal, who in future years

would become the first female Hispanic to

become a college president, and Federico Pena, a

young Brownsville man who became mayor of

Denver and served in President Clinton's cabinet.

At the time of his appointment Garza was

president-elect of the Brownsville Rotary Club,

and continued his Rotary affiliation, assuming

the duties of president. He traveled frequently

to Corpus Christi, Laredo and other South Texas

cities to hold court, and attended Rotary

meetings in communities around the area,

where he frequently served as speaker. Back in

Brownsville, his Rotary vice president observed

that he presided at more local club meetings

than did Judge Garza.

During his years as a Federal Judge he

continued his participation in community

activities as time permitted, and in 1991

assisted in working out a unique partnership

agreement between The University of Texas and

Texas Southmost College.

His service on the Federal bench earned the

respect of the legal profession. He dealt with

many complex and arduous cases, carrying a

heavy work load and moving his docket along

promptly. As a result, he became chief judge of

the Southern District of Texas, serving in that

capacity from 1974 to 1979.

In 1976, as President Elect Jimmy Carter was

selecting members of his cabinet, he asked

Judge Garza to become Attorney General of the

United States. Garza would have been the first

Hispanic to serve in a presidential cabinet, and

seriously considered this offer. He finally

decided to decline, citing family responsibilities

in Brownsville and a reluctance to give up his

lifetime appointment as a judge.

In 1979 President Carter appointed him as a

judge of the Fifth Circuit Court of Appeals,

where he continued to work until shortly before

he passed away in 2004.

Judge Garza has received many honors.

School buildings have been named for him

in both Brownsville and McAllen, Texas. He

has been named a Distinguished Alumni of

both The University of Texas and Texas

Southmost College. The Brownsville Federal

Courthouse is known as the Reynaldo Garza

and Filemon Vela Federal Courthouse. He has

received recognition for his years of work on

behalf of the Knights of Columbus and the

Catholic Church.

This lifelong resident of Brownsville will long

be remembered as an outstanding citizen.

Chapter X ✦ 55
---
F. W. HOFMOKEL

"You have just changed my mind,"

❖

F. W. Hofmokel.

COURTESY OF THE PORT OF BROWNSVILLE.

Friederich Wilhelm Hofmokel was born

in Germany in 1899. During World War I he

served in the German Navy and fought for his

country aboard a submarine. Late in the war

his ship went down in the Mediterranean Sea,

but Hofmokel and his shipmates were rescued

and survived.

After the end of the war he returned to his

home in Germany, where he found much

destruction and a defeated spirit among the

people. He spent several years working at

various jobs, but decided to come to the United

States on a visitors' visa. After working for a few

years in America, he returned to Germany to

complete the necessary paperwork to enable

him to reside in America permanently.

On his trip back to Germany he met a young

German woman, Elizabeth Schoenfelder. They

were attracted to each other and became

engaged. They both obtained their American

papers and in February 1929 were married in

New York.

Hofmokel worked initially in New Orleans

for the North German Lloyd Steamship

Company, then became the port director in

Baton Rouge, where he was located in 1936, the

year the Port of Brownsville opened.

One of the Brownsville port commissioners,

J. G. Fernandez, had heard of Hofmokel, and

invited him to Brownsville for an interview. Mr.

and Mrs. Hofmokel came to Brownsville, looked

over the port and the community and liked

what they saw. But in the end they decided to

stay in Baton Rouge.

Several days later, back in Baton Rouge,

Hofmokel was visited by some officials of the

railroad serving Brownsville. One of them said,

"We understand you turned down the port

director's job in Brownsville, and we came by to

congratulate you."

"Why do I need congratulating?"

asked Hofmokel.

"Because before we get through with that port

down there, there will be grass growing the in

streets of Brownsville."

replied Hofmokel. He rang for his secretary.

"Send a wire to Mr. J. G. Fernandez

in Brownsville."

He dictated the following message:

"If the port director's job is still open,

I accept."

"You must be joking,"

said one of his astonished visitors.

"Why have you changed your mind?"

"Two reasons. In the first place, I don't think I

would like to see grass growing in the streets of

such a nice town. In the second place, my father

once bought $100,000 of your railroad bonds.

They are now worth six cents on the dollar. If I can

go to Brownsville and make a success of that port,

your railroad is going to enjoy a lot of business.

That might make my father's bonds worth a lot of

money. Good day, gentlemen. I've got things to do."

Hofmokel, then thirty seven years of age,

began work as Brownsville's port director on

June 1, 1936. His two-year contract called for a

salary of $6,000 per year. Due to his leadership

the port saw much progress. In 1939 it was

announced that in its first three years "the port

had saved the people of the Lower Rio Grande

Valley, in freight charges, more than the total

amount of money invested in the port." The

volume of cargo had increased, the ship channel

was being deepened, new warehouses were

being built and twenty-one steamship lines and

one barge line were providing service.

On September 1, 1939, Germany invaded

Poland and countries in Europe went to war.

German submarines were operating in the Gulf of

Mexico, creating concern that local shipping

would be attacked, which turned out to be a

legitimate concern. A tanker, the S/S Garnet

Hulings was torpedoed in the Gulf after it sailed

from the Port of Brownsville.

Fritz Hofmokel was a native of Germany and

had served in the German Navy during World War

56 ✦ HISTORIC BROWNSVILLE
---
I. The fact that he had been in the United States for

many years did not prevent some Brownsville

citizens from questioning his loyalty. Rumors,

letters and calls to the FBI accused Hofmokel of

being a German spy. Government officials felt it

necessary to investigate, and Hofmokel was asked

to resign as port director and to leave Brownsville.

He resigned on November 20, 1942, telling

the people of Brownsville that no charges

against him had been proven, but he felt it was

in the best interest of all concerned that he

move to San Antonio.

Many people in Brownsville were outraged,

and the Brownsville Herald had this to say:

Banned from his home, deprived of the

privilege of slaving day and night for the port

he loved, so that it could contribute its part

to winning this war, falsely accused by unthinking,

greedy, malicious people, this man is an innocent

victim of the very evils he is fighting today.

Those who have had the courage to come to

his aid, and their number is legion, have time

and again gone before the men in whose hands

his fate rested, both military and civil, and have

asked this question, "If there is anything against

this man, if there is the faintest evidence of

disloyalty, if there is any valid reason to suspect

him, tell us. We are entitled to know this. We as

patriotic Americans would never seek to defend

any man who was a danger to the nation for

which we are fighting, the same as you are

fighting. Tell us the facts, if there are any".

The answer has always been the same. They

make no charges against Fritz Hofmokel.

The port commissioners stood by Hofmokel,

and retained him as a consultant. On March 3,

1943, they hired him to work from San Antonio as

Executive General Agent for the Port of Brownsville.

Henry Ferguson, a Hofmokel assistant, became

Acting General Manager. They worked together

during Hofmokel's absence.

As the war progressed and the German threat in

the Gulf of Mexico decreased, Hofmokel was permitted

to return to Brownsville, and at a meeting

of the port commissioners on September 12, 1944,

he was present in his capacity of Port Director.

The next twenty-one years were a time of

consistent growth and progress at the port, and

Hofmokel was involved all the way. In 1949 the

new Intracoastal Waterway was completed to

Brownsville, opening the way for barge traffic. In

the 1950s Brownsville became the number one

cotton port in the United States, and chemical

plants, attracted to the port by Hofmokel's efforts,

were built. A fishing harbor was built to

accommodate the large number of shrimp boats

at the port. In 1965 a grain elevator was built.

The growth and development of the port was

proceeding well as it neared its 30th anniversary. It

seemed that many things were going in the right

direction when tragedy struck. On a Saturday

afternoon, April 24, 1963, Fritz Hofmokel drowned

while swimming at South Padre Island. The man

who had guided the port from its opening, and who

was given major credit for its success, was gone.

His unexpected passing was a major blow to

Brownsville, and brought expressions of shock,

dismay and praise. He was eulogized as a man who

dreamed big dreams for the port, and made many

of them come true. He was bursting with ideas

about projects that others considered impossible.

He was shrewd, honest, capable and dedicated.

His story was the story of the Port of Brownsville

for nearly thirty years. One of the most respected

men in the community, he was consulted on a

wide range of subjects.

He was, in the words of the Brownsville Herald,

"one hell of a guy!"

GLADYS

PORTER

Gladys Porter was born in 1910, daughter of

Earl C. and Lula Sams. Her father was for many

years chief executive officer of J.C. Penney Company.

Gladys Sams was raised in the East and

graduated from Finch College. In the 1920s she

paid a visit to Florida and met Dean Porter,

whose father was an early land developer in the

Rio Grande Valley. They were attracted to each

other, married in 1929 and initially settled in

Olmito, Texas, a small community a few miles

from Brownsville. Mr. Porter was engaged in

farming, ranching and real estate development.

In the 1930s they moved to Brownsville.

Gladys' sister, Camille, also met and married

a young man from Brownsville, Larry Lightner,

and the two sisters became neighbors and were

very close. They became involved in community

activities in Brownsville, and one of their

first major projects was to help organize the

❖

Gladys Porter.

COURTESY OF THE GLADYS PORTER ZOO.

Chapter X ✦ 57
---
Brownsville Junior Service League. Their father,

Earl Sams, told them it was important to "give

your time as well as your money."

When people asked Gladys if she missed life

in New York City, she responded that "people

are basically the same all over and I think one

ought to be happy wherever he or she lives." She

recognized that her community activities made

her feel at home and comfortable in Brownsville.

Mr. Sams had created the Earl C. Sams

Foundation and undertook a program of

charitable giving. Upon his death in 1950

responsibility for the foundation passed to his

family. Gladys Porter became president, and led

the board in making decisions about projects to be

funded. They concentrated on funding projects

of a permanent nature that would provide

widespread benefits. The South Texas area

benefited from the Sams Memorial Center at Valley

Baptist Hospital in Harlingen, the Earl C. Sams

Center at Trinity University, the Camille Playhouse,

Sams Memorial Stadium and Dean Porter Park in

Brownsville, and many other projects.

Gladys Porter said,

the staff needed help with a problem, she was

frequently able to provide assistance.

She was widely known and respected

throughout the Rio Grande Valley, and attracted

capable and prominent people to serve on the zoo

board and work on projects. Her prestige and

widespread contacts brought much financial and

public support. She saw that the zoo was provided

with the financial resources that were needed.

She worked with animal conservation

organizations on a national level. Traveling

widely, she met people of similar interests and

invited them to visit the Gladys Porter Zoo. These

successful efforts brought such outstanding

individuals as David Shepherd, Roger Caras,

Gloria and Jimmy Stewart, Amanda Blake, Betty

White and Alan Luden to zoo events.

Gladys Porter passed away in March 1980,

marking the end of an era in zoo operations.

She was a person who could have lived

anywhere she chose, but who chose to live

in Brownsville, where her efforts made a

lasting impact and brought much credit to

the community.

❖

Juliet Garcia.

COURTESY OF THE THE UNIVERSITY OF TEXAS

AT BROWNSVILLE.

"Our idea was that as a family we wanted to

do things together, not just with the money but

as a unit, working directly with the projects and

watching them grow. I think one has to be totally

involved with something before they can be

truly interested."

Chapter 10 describes how Gladys and her

husband became concerned about endangered

wildlife in Africa and Asia, and decided to

establish a zoo in Brownsville, a major project

requiring several years to complete.

After the Gladys Porter Zoo opened in 1971 it

received widespread recognition throughout the

country. This brought much recognition of Mrs.

Porter, who received the Governor's Tourist

Development Award. That same year nearly one

thousand of her fellow Brownsville citizens honored

her with a Gladys Porter Appreciation Night, one

of the largest such events in the city's history.

She served on the boards of the Texas Tourist

Council, Trinity University and First National

Bank of Brownsville.

She was president of the Valley Zoological

Society for eleven years. Always close to the

zoo's operations, she visited there regularly. If

JULIET

V. GARCIA

Juliet Villarreal Garcia is a native of Brownsville,

the second of three children. She grew up on

East Washington Street, near Palm Boulevard.

Her father, a Mexican citizen, initially worked as

a janitor at Pan American Airways, and later

became a customs broker for Pan American and

Mexican Airways. Her mother, a member of the

pioneer Lozano family in Harlingen, died when

she was nine years of age.

After graduating from high school she worked

a short time in Houston, but soon returned home

to enroll in Texas Southmost College. Later she

studied at Southwest Texas State University in San

Marcos. About this time she met and married

Oscar Garcia of Brownsville. They moved to

Houston, where she completed her B. A. and M.

A. degrees at the University of Houston, and while

in Houston she gave birth to her two children.

After earning her masters degree she taught

briefly at Pan American University in Edinburg,

then in 1972 joined the faculty of Texas

Southmost College. She recalled that President

Arnulfo Oliveira was bringing profound changes

to the campus, and she was part of a new wave

58 ✦ HISTORIC BROWNSVILLE
---
of faculty members. She said her students were

anxious to learn, and she felt Texas Southmost

College was the place to be.

In 1974 she won a Ford Foundation

fellowship to attend The University of Texas at

Austin, taking a two-and-one-half year leave of

absence to complete her Ph.D. degree in

communications and linguistics.

In 1980, back at Texas Southmost College, she

applied for the college presidency. She was not

successful but was a finalist. This made college

leaders aware they had a young, personable,

articulate, ambitious faculty member in their midst.

In 1981 she was appointed Dean of Arts and

Sciences and five years later, in 1986, the college

was again seeking a new president. The search

was wide-ranging, the position was advertised

nationally and there were 52 applicants. Many

hours were spent narrowing the group down to a

short list. The final choice was between Dr. Garcia

and the president of Northwest Michigan College.

Dr. Garcia, a Brownsville native, was well

acquainted with the community and the college.

She had been on the faculty since 1972, had

handled important projects and was articulate and

eager to move forward. The board decided she

had the academic credentials, management skills

and motivation to do the job. In February 1986

she was chosen as president of Texas Southmost

College, the first Hispanic woman to serve as

president of an American college.

Her appointment was followed by a wideranging

series of developments that brought

many changes and much recognition. The first

of these was a bond issue that made it possible

to build additional classroom space and

renovate several existing buildings. This work,

over a period of three years, included an eyecatching

entrance to the campus, pleasing

landscaping and a renovation of the original

Fort Brown buildings, which had been in use by

the college for some twenty years.

In 1987 the college undertook to raise $1

million to create an endowment for scholarships,

with the funds to be matched two for one by the

U. S. Department of Education. The $1 million

dollar goal was very ambitious in a community

with an average income much below the national

average. After an arduous effort, the $1 million goal

was reached in 1989. Texas Southmost College was

the first junior college in Texas to raise $1 million,

an achievement that received national recognition.

During the next ten years Dr. Garcia provided

the leadership that made possible the establishment

of a four year university, an undertaking

requiring much legislative and community support.

After serious deliberation, it was decided to

continue Texas Southmost College as a legal entity,

so that it continued to offer vocational and

technical programs, while the university offered

the traditional academic curricula. One feature of

this arrangement was the development of a

unique partnership between Texas Southmost

College and The University of Texas, the only

such partnership between a community college

and a state university. This unique, ambitious

program required many difficult decisions and

received widespread recognition.

Garcia has always been self-confident in her

vision for the university. In her twenty three

years as president the university has been

completely transformed in terms of the number

of students, the degrees offered, the size of the

campus, which has grown to 466 acres, and the

extensive construction of new facilities.

She is an Outstanding Alumnus of The

University of Texas, an Outstanding Young Texas

Ex-Student, has received the National Network

of Hispanic Women Hall of Fame Education

Award, been named one of the nation's Most

Influential Hispanics, received the Outstanding

Leadership in Education Award and received the

VIDA Award from NBC and Hispanic Magazine.

In 2000 she was inducted into the Texas

Women's Hall of Fame. She has served as Chair

of the American Council of Education and has

spoken annually to the Harvard IEM program for

higher education leaders, and has been

appointed a director of the Ford Foundation.

She has served as a board member of the Federal

Reserve Bank of San Antonio and of Texas

Commerce Bancshares. A Brownsville middle

school has been named in her honor. More

recently, she was appointed by President-Elect

Barack Obama to his Transition Team.

She has declined offers to move to higher

positions, and had chosen to live and work in her

hometown of Brownsville, because she felt this was

the time and place she could have the greatest

impact. She has continued to advance the

university and brought credit and recognition to

the community, to the university and to herself.

Chapter X ✦ 59
---
S OURCES AND R EFERENCES

Books

Presbyterian Church Sesquicentennial Celebration, 1850-2000

Brownsville, A Pictorial History by Ruby Woolridge and Robert Vezzetti, 1982

Boom and Bust by Milo Kearney and Anthony Knopp, 1991

Portrait of a Border City by William L. Adams and Anthony Knopp, 1997

Studies in Brownsville History, edited by Milo Kearney, 1986 (article by Anthony N. Zavaleta, The Twin Cities)

The Patriarch by Frank Daniel Yturria, 2006

Charles Stillman, 1810-1875, published by Chauncey Stillman, 1956

Petra's Legacy, the South Texas Ranching Empire of Petra Vela and Mifflin Kenedy, by Jane Clements Monday and

Frances Brannon Vick, Texas A&M University Press, 2007

The Port of Brownsville, A Maritime History of the Rio Grande Valley, by Henry N. Ferguson, 1976

Fort Brown, The First Border Post by Carl S. Chilton, Jr., 2005

The History of the Gladys Porter Zoo by Carl S. Chilton, Jr., 2007

70 Years of Airport History in Brownsville by Carl S. Chilton, Jr., 2000

The Community's University, UTB/TSC by Carl S. Chilton, Jr., 2001

Port of Brownsville, 60 Years of Service by Carl S. Chilton, Jr., 1997

The Brownsville Herald

Sesquicentennial Album, 1848-1998, February 25, 1998 issue

Internet material

charrodays.com

bisd.us (regarding the Brownsville public schools)

sja.us (regarding St. Josephs Academy)

Episcopaldayschool.net

utexas.edu/law (regarding Reynaldo Garza)

abanet.org (regarding Reynaldo Garza)

compact.org (regarding Juliet V. Garcia)

60 ✦ HISTORIC BROWNSVILLE
---
SHARING THE HERITAGE

Historic profiles of businesses,

organizations, and families that have

contributed to the development and

economic base of Brownsville

Esco Marine, Inc.............................................................................62

Ernesto Gamez Law Firm .................................................................66

Gulf Coast Paper Co., Inc. ...............................................................69

Autrey Pharmacy ............................................................................70

Cardenas Development Company, Inc. ................................................72

Limon's Tortilla Factory...................................................................74

Garza Memorial Funeral Home .........................................................76

The University of Texas at Brownsville and

Texas Southmost College .............................................................78

Staybridge Suites ............................................................................79

Valley Baptist Medical Center-Brownsville ..........................................80

Brownsville Chamber of Commerce.....................................................81

City of Brownsville .........................................................................82

Brownsville Housing Authority ..........................................................83

Port of Brownsville .........................................................................84

Clinica Santa Maria........................................................................85

IBC Bank Brownsville ......................................................................86

Gallegos Electric, Inc. .....................................................................87

International Forwarding & Storage Corp. ..........................................88

Glofesa Inc. dba Border Customs Service ............................................89

Allied Skills Training Center ............................................................90

Gallardo Insurance Agency ...............................................................91

SPECIAL

THANKS TO

Rio RV Park

Sharing the Heritage ✦ 61
---
❖

ESCO MARINE,

INC.

Below: One of twelve WWII Liberty

ships sunk as reefs by Andy

International in the Gulf of Mexico.

Opposite, top: USS Hope guided into

Andy International yard in 1975.

Opposite, bottom: The keel of a new

war boat being built by Andy

International in 1975 through 1976.

The steel for the vessel came from

WWII ships being recycled.

As the world's largest green recycler of oceangoing

vessels, Esco Marine, Inc., has earned

environmental recognition that extends far beyond

the Port of Brownsville. Esco Marine responsibly

dismantles World War II Victory and Liberty ships,

obsolete submarines and destroyers, along with

maritime tankers and freighters. The company

recycles metals and equipment on the ships

adhering to the credo that the less that goes into a

landfill, the better they are doing their job. For

Brownsville ship breaking pioneer Richard Jaross,

recycling ships in an environmentally sound

manner which means each maritime vessel now

goes not from cradle to grave, but from cradle to

recycled resource.

As a child in Kingston, New York, Jaross saw

fleets of mothballed ships anchored along the

Hudson River. Little did he know one of those

ships would come to his shipyard to be dismantled

years later. Jaross intended to pursue a career as a

Boy Scouting professional. But in 1967, he met a

scout's grandparent who introduced him to one of

America's largest scrap companies, Commercial

Metals of Dallas. Fascinated by metals and the

potential for recycling such resources, Jaross

worked for Commercial Metals and then for Luria

Brothers, a division of Ogden Metals. He was soon

taking up railroad tracks, refineries, dismantling

missile sites and other complexes made obsolete

by changes in technology.

In 1968, Jaross arrived in Brownsville looking

for scrap sources along the border to supply steel

mills in Mexico. With the demand for metals

high and the supply low, Jaross recommended

that Luria Brothers open a Brownsville recycling

yard and dismantle Liberty, Victory, and Navy

ships which were mothballed in Beaumont,

Orange and along the Texas Gulf Coast.

The company established a shipyard on the

Brownsville Shipping Channel, won the contract

for two destroyer escorts, and began turning

worn-out ships into recyclable metals.

Two years later, Jaross and a partner, Emilio

Sanchez, founded Andy International, a ship

recycling business. Over the next ten years,

the company cut up over 100 ships from

submarines to heavy cruisers and freighters.

Andy International, named for Jaross' son,

shipped barges loaded with scrap steel to

Pittsburgh and Chicago steel mills. Railcars

hauled tons south to Mexican steel mills. The

yard grew to 170 employees. When President

Nixon announced an era of detente with

China in 1972, Andy achieved an international

milestone by shipping the first load of American

scrap metal to China. Beginning in 1975, Andy

cleaned up and cut down twelve Liberty ships to

towable hulks. These were sunk in the Gulf of

Mexico, creating some of the region's best reefs.

With the devaluation of the peso and

recession, the metals market collapsed in 1982,

Andy International was sold off. Jaross

launched a joint venture in New York buying

ships and sending them to third world nations

for scrapping.

The ship breaking industry was revolutionized

in the late 1980s when the U.S. government

grasped the global environmental challenges of

ship breaking. Coupling that with the value of

the naval vessels' scrap metal to the national

economy, the government issued new policies to

end the federal exportation of hazardous wastes.

Instead, responsible ship breakers would be paid

to take naval vessels, remove the ships' hazardous

and toxic components which included asbestos,

PCBs, lead, mercury and fuel oil and dispose of

them under strict guidelines. The ship breaker

then could dismantle the hulk and recycle the

metals, such as copper, steel, brass, and other

ship contents under strict OSHA, State and

Federal requirements.

62 ✦ HISTORIC BROWNSVILLE
---
In 1990, Jaross and Sanchez teamed up once

more, buying back the Brownsville shipyard

under the name Esco Marine, Inc. Set on one

hundred acres, the company began investing in

expensive remediation and ship breaking

equipment. Esco Marine grew steadily, and

Jaross soon bought out Sanchez.

Esco Marine has achieved success by meeting

the market's needs. Now recycling is recognized

as an essential part of the culture and the

economy. Scrap is considered a valuable

resource because mills would shut down

without the recycled steel.

By 2009 the company employed almost four

hundred people. Jaross describes them as

highly professional workers with the most

admirable work ethic in the country. Esco's

emphasis on worker safety, which stretches to

supplying clothing and showering facilities, has

drawn a second generation of workers to follow

their fathers. Among those employees is Andy

Jaross, who has been around the shipyard since

he was three years old. In fact, crane operator

Robert Garcia used to babysit the toddler and is

still with Esco Marine after thirty-nine years.

Jaross agrees that acorns do not fall far from the

tree. His son Kenny is in the electronics

recycling business in Austin.

Sharing the Heritage ✦ 63
---
❖

Top: In 1968 a two destroyer escort

from the Orange, Texas, Navy

reserve fleet.

Above: USS General Patch, a WWII

troop ship, recycled by Esco Marine,

Inc., in 2002.

Esco takes ownership of naval and maritime

administration vessels after winning the bid

to dismantle the ships. Approximately sixty

percent are Marad freighters and Navy vessel

tankers, the balance is commercial vessels. The

recycler arranges for tugs to bring the ships to

Brownsville. There the huge, once-proud ships

are tied to Esco docks on the Brownsville

Ship Channel. Esco crews scour the interiors.

Furniture and fixtures, engines and equipment

come out for recycling. Fuel and lube oils go to

Esco's on-site processing equipment for eventual

sale to oil recovery firms.

Once a hulk is cleaned and gutted,

hazardous materials are manifested and

disposed of legally. Then Esco moves the ship

to one of its three slips. A giant winch eases the

hulk ashore, where it is dismantled from the

front to back. The process resembles a massive

log being fed into a campfire. Shedding a

waterfall of sparks, dismantlers use cutting

torches on metal plates, pipes and valves. Large

crawler cranes take apart the vessel piece by

piece. Massive trucks trundle past spraying

water to keep down dust. Rail cars, which hold

80 tons, look like toys next to a 600-foot-long

navy gray fuel supply ship. Barges haul tons of

steel to U.S. consumers. Containers of scrap go

to foreign markets, and railroad cars transport

processed scrap to Mexico.

Usually Esco Marine recycles six to eight

ships simultaneously. The largest vessels, like

the aircraft carrier USS Bonhomme Richard

dismantled on the West Coast, require just over

a year, but most dismantling projects average

five months.

Renowned vessels which have been

dismantled include the hospital ship, USS Hope

and the USS Kearny, the destroyer that took the

first enemy torpedo in World War II.

Brass commissioning plaques from venerable

ships like the 1942 destroyer USS Fraizer line the

walls of Esco Marine's two-story headquarters

overlooking the shipyard. Here the treasures

gleaned from the ships take pride of place:

wooden ship wheels, a diving helmet with

weighted boots, a ship's bell and bridge telegraph.

While Esco cannot sell naval vessels, not all

of its ships are reduced to scrap metal. Esco

Marine's website lists rehabilitated commercial

vessels for sale, such as the dive support ship,

the Cormorant, which retrieved the bell from

the SS Edmund Fitzgerald in 1995, twenty years

after the freighter sank in a Lake Superior

storm. Besides the dozen Liberty ships sunk

as reefs, Esco, with a Florida partner, took on

the challenge of the USS Oriskany. After

remediation, the aircraft carrier was sunk off

of Pensacola.

Jaross also built a ship breaking yard in

Puerto Cabello, Venezuela, to dismantle the

retired Venezuelan Navy fleet consisting of

thirty-three vessels, including two submarines,

destroyers and other retired naval vessels.

64 ✦ HISTORIC BROWNSVILLE
---
Esco Metals, which opened in 2007, has

feeder yards in Donna and Brownsville to

collect local recyclable metals. The company

acquired Brownsville's first car shredder, a

sophisticated device that in 30 to 60 seconds

shreds a vehicle into ferrous and

non-ferrous metals. A technicallyadvanced

device chops hefty copper

wires into marketable pellets.

Consistent with a philosophy of

keeping recovered components out

of landfills, Esco Sales opened in

2008. The retail operation handles

nautical antiques and maritime

equipment ranging from life

jackets to Liberty ship chairs

and condensers.

National Geographic and the

History Channel came to Esco Marine

to film documentaries about

the nation's largest ship recycling

yard which is insistently green in

its practices.

In 1972, Richard and Elka Jaross

opened the Valley's first Montessori

school, Kenmont Montessori, named

for their son Kenny. Andy and Kenny

were among the first eight students.

Kris Wood, who now works for Esco,

also began his education at Kenmont.

Richard named freighters after his wife,

the Elka J, and daughter, the Lori J.

Richard and his family have devoted their

careers to recycling. He believes that every

recyclable aluminum can, car, and ship

presents a new resource to put back to work for

future generations.

❖

Above: The first shredder built by

Esco Marine, Inc., in 2005.

Below: The USS Columbus guided by

a tugboat.

Sharing the Heritage ✦ 65
---
ERNESTO GAMEZ

LAW FIRM

❖

Ernesto Gamez as a young attorney.

Ernesto Gamez is a fighter by nature and

by profession. For the Brownsville attorney,

the most important thing is to win, and

that is one reason he enjoys being a lawyer.

Out of the courtroom, he fights special

interest groups that take advantage of

Brownsville residents.

As a Cameron County Drainage District

Number One Board Director, Gamez took on

large developers whose projects would

cause severe flooding and forced them to put

in retention ponds to retain storm water.

He helped reorganize the Drainage District

to make maintenance operations cost effective,

which resulted in lowered assessment fees

for Brownsville residents. Recognizing that

PUB kept raising rates to cover up front

costs of providing infrastructure for new

subdivisions and commercial tracts, Gamez

led the fight to require developers to pay

their own impact fees because the entire

community benefits when rates are kept

under control.

Gamez became a boxing promoter around

1994 and created the Miller Light Championship

with matches across Texas. His goal was to

get young males off the street and into a gym.

He hoped to develop a Mexican-American to

world championship level. Appointed to the

Greater Brownsville Incentives Corporation. In

2008, Gamez committed himself to bringing

new industries and new jobs to Brownsville.

Recently he fought to develop Brownsville's

first Industrial Park and a new city park,

leveraged with grants from the Texas Parks

& Wildlife Department.

A graduate of the University of Houston and

University of Houston's Thurgood Marshall

School of Law, Ernesto Gamez practices trial

law. His building, between the federal and

county courthouses, proclaims Justice for All

over its entrance. Gamez's clients include

accused drug traffickers and alleged murderers,

yet he earned a reputation for so ably defending

them that many were acquitted or given

minimal sentences.

Then, on May 21, 2008, after an energetic

pington game at the University of Texas-Texas

Southmost College gym, Ernesto Gamez died!

"I saw myself looking down at my body.

I realized I had died. I thought about never

seeing my parents, kids and family again.

When you leave your body, none of your

possessions are of any value. Everything you

worked for no longer matters. My spirit was

released from my body. There was no pain or

suffering. I had crossed over."

Gamez, a fitness fanatic, had collapsed

when his heart stopped, a phenomenon

called sudden death syndrome. Two gym

bystanders came to his aid. First, the

University of Texas-Brownsville Registrar,

Albert Barreda, then Phillip Conaster, an

assistant professor in the Health and Human

Performance Department, discovered Gamez

had no pulse and began performing CPR

compressions while Oseas Cantu, a medical

assistant at Student Health Services, did the

CPR breathing. Even when Conaster attached

an automated external defibrillator the

AED administered a shock to reestablish a

heart beat, Gamez's body did not respond.

Only after a second AED shock jolted

Gamez's heart did it start beating. For four

and a half minutes, Ernesto Gamez had

been dead.

66 ✦ HISTORIC BROWNSVILLE
---
After being raced to the hospital, Gamez

had his heart stop again, and had no pulse. A

cardiovascular surgeon luckily was in the

emergency room at the same time he was

brought in and applied shocks and brought

him back to life. For six days, Gamez lay in a

coma. No one in hospital history had ever

come back from more than four minutes

without a heart beat, four minutes without

blood and oxygen reaching the brain. Even if

he lived, he would most likely remain in a

vegetative state.

When Gamez regained consciousness,

he saw his parents, daughter and son who had

faithfully stayed by his side for six days

and nights praying for his awakening. The

loquacious attorney could not speak and he

could not move. He dreaded being trapped in

his body and a being a burden on his family.

After three hours, he could whisper and a few

hours later muscle memory returned.

When he asked, "Why am I here?," the

medical answer was "It's a miracle."

Gamez calculated the odds of having

medically trained persons nearby and coming

to his rescue at the gym. The odds were absurd,

not something to bet your life on. Ernesto

Gamez was one incredibly lucky man.

❖

Ernesto Gamez.

Sharing the Heritage ✦ 67
---
Gamez does not consider himself a religious

person although he has a close relationship with

a pastor. "You have gone through something no

one else has," the minister told him. "You have

a responsibility to tell this story."

He is still a tough guy and still devoted to

his mission of Justice for All. His law office

employees agree his heart is in the right place

and always has been and that he is easy to

work with.

❖

The Justice for All Building.

Because he is a give-it-all-you-got kind of guy,

once Gamez recovered he began telling his story

to friends and on radio shows. He believes there

is a reason the Man brought him back and that

is to be a witness, an instrument of information.

Gamez made it his mission to tell people that

He lives and that each of us has a soul.

A realist, Gamez knows that many consider

him reprehensible because of the clients he

represents who sometimes go free. Yet Gamez

believes if his imperfect self can be touched

by a Greater Presence, every one can have hope.

Gamez's miracle changed his life. He stopped

smoking and reduced his alcohol intake,

although he did not become an altar boy.

In his office, Gamez mentors young

attorneys who go on to be successful in private

and public practice. Working with him, they

learn invaluable skills, absorbing Gamez's

knowledge, energy and ability to communicate

with juries.

Gamez continues to fight for ordinary

people, few of whom realize he is

representing them as he battles cronyism.

Justice for all remains his philosophy.

Mutual respect, handshake agreements, and

winning battles are his hallmark. Now so

is Gamez's willingness to testify about his

beyond-death experience and what awaits

us all.

68 ✦ HISTORIC BROWNSVILLE
---
In 1979, Gulf Coast Paper opened its

Brownsville branch with seven employees

and one truck to sell and deliver sanitary

supplies. In the past 30 years, Gulf Coast Paper

Brownsville has grown not only its workforce,

now 48, and its fleet, now 13 trucks, but also

its product lines and services.

Two facts have laid the foundation of Gulf

Coast Paper's success. First, it is employeeowned.

Second, its business philosophy is

summed up in one word: service.

Gulf Coast Paper applies a consultative

approach with its customers in healthcare,

hospitality, government facilities, manufacturing

and building service contractors. The

company works to understand what each

customer requires and then works to satisfy

those needs with the most suitable and costeffective

products.

Coast Paper has over five thousand products

that can meet almost every sanitary supply

need. The company has taken the lead in

supplying the Valley with cleaning and paper

products that are environmentally Green.

Because of Gulf Coast Paper's outstanding

service, customers asked them to expand into

other fields. So, growing with the Valley in

response to customers' requests, Gulf Coast

Paper has become known as a full-service

headquarters for office supplies and as a fullservice

laundry and warewash supplier. Gulf

Coast Paper also offers repair service for all

industrial floor equipment, such as vacuums and

automatic scrubbers. Gulf Coast Paper's thirteen

Valley sales representatives are backed by

specialists in laundry, office supplies and floor

care. Gulf Coast Paper's service is simply better

than everyone else's

GULF COAST

PAPER CO.,

INC.

From its forty-eight-thousand-square-foot

Brownsville Air Park warehouse, Gulf Coast

Paper provides daily service and next day

delivery to customers across the Rio Grande

Valley. Its mainstay products are sanitary and

paper supplies from reliable national brands

such as Kimberly Clark, Georgia Pacific,

Spartan Chemical, and Johnson Wax. Gulf

A forty-year-old company headquartered

in Victoria, Texas, Gulf Coast Paper has a Texassized

reach and reputation. It has additional

branches in Austin, Clute, Corpus Christi, San

Antonio and Temple.

For additional information on Gulf Coast

Paper locations, products, and much more,

please visit www.gulfcoastpaper.com..

Sharing the Heritage ✦ 69
---
AUTREY

PHARMACY

❖

Right: Autrey Pharmacy's current

location at 1205 Central Boulevard.

Below: The building where Autrey

Pharmacy first started at 15 East

Jefferson in Brownsville. The business

was called Autrey I.V. Therapy

in 1991.

Autrey Pharmacy serves all of Brownsville

and the surrounding areas with a full line

pharmacy, accredited durable medical equipment

and supplies, unit dose packaging and

intravenous medications to the long-term care

market, medication therapy management, and

personalized customer service. Growth in its

nineteen year history has been phenomenal,

with over $90 million in sales since opening

and over $9 million in 2009. The business

now has 28 employees, including five

registered pharmacists and 14 registered

pharmacy technicians.

After receiving their Bachelor of Science in

Pharmacy degrees from the University of Texas

in 1978 and 1977, respectively, Robert and

Linda Autrey worked as pharmacists in

Brownsville and elsewhere until going into

business for themselves in 1991 to offer a

service not previously available in Brownsville.

Upon earning certification in preparing and

compounding I.V. medications, they opened

Autrey I.V. Therapy, providing only I.V.

medications to patients at home or in long-term

care facilities. They converted Linda's childhood

home to provide sterile conditions for the I.V.

preparations, becoming the only Brownsville

pharmacy providing this service.

In 1992 the business expanded to include

long-term care nursing home prescriptions, but

remained closed to the public. Sales grew to $1

million by the end of 1995, when the Autreys

purchased and completely remodeled the former

Jimmy Pace building at 1205 Central Boulevard.

The 6,500 square foot building was of sufficient

size to allow Autrey I.V. Therapy to become a full

retail store named Autrey Pharmacy and to be

open to the public in November 1996.

Robert, who grew up in Cisco, is the son of

the late Tom and Rheba Autrey. Linda, a

Brownsville native, is the daughter of Bertha and

the late Gonzalo A. Gonzales.

Key individuals in Autrey Pharmacy's first

years included Gerald Cortinas and Belia

Arevalo, pharmacy technicians; Rene Garzoria

and Melinda Arzamendi, registered pharmacists;

William "Hank" Geier, floor manager; Arturo

Arevalo, cashier; and Esmerejildo Cavazos,

delivery driver. Sylvia Price became the office

manager in 2001. James Vera and Jose Daniel

Salinas, owners of FM Pharmacy, joined as

staff pharmacists in 2005, when the Autreys

purchased their store. The Autreys' sons,

Eric and Garret, have been actively involved

throughout the years, and now serve as business

managers and pharmacy technicians.

As the business developed, the Autreys

employed several Brownsville High School Med

Tech students who did rotations in 1998-2003.

Many past and current employees were hired

through this program. Students at Texas A&M

Irma Rangel College of Pharmacy in Kingsville

started doing rotations at Autrey Pharmacy

in 2007.

70 ✦ HISTORIC BROWNSVILLE
---
Autrey Pharmacy implemented the use of a

Peer Review Committee for quality assurance

in 2005, seeking ways to prevent medication

errors. This program successfully implemented

procedures and employee training that have

been effective in error prevention.

In 2008 the business acquired a Parata

Robotic machine that automated forty-one

percent of the prescriptions filled. That same

year Autrey Pharmacy received Healthcare

Quality Association's accreditation in durable

medical equipment services.

Dr. Juliana Serna, Pharm. D., started working

with Autrey Pharmacy in 2003 as a contracted

pharmacist to provide services to long-term care

facilities and later to offer medication therapy

management to the public. Dr. Serna is also in

charge of implementing Peer Review Committee

recommendations and training.

Autrey Pharmacy employees who have moved

on to attend pharmacy school include Linda's

nephew, Dr. Austin Rock, Pharm. D., who

attended the University of Texas at Austin and is a

pharmacist in Dallas-Fort Worth; Dr. Yvette Garcia,

Pharm. D., who attended the University of Texas

at Austin, a pharmacist in north Texas; Steven

Michael Valdez, a pharmacy intern attending Texas

A&M, Kingsville; Mariel Perez, pharmacy intern

attending Texas Southern University, Houston; and

Trey Robinson, pharmacy intern attending

University of Texas at Austin.

Both Robert and Linda Autrey are active in a

wide variety of church, health and civic activities.

Throughout the years, Autrey Pharmacy has

employed a total of almost 100 employees each

of whom has contributed to our success. Robert

and Linda Autrey are very thankful to each one

of them for all of their accomplishments. More

information about the business is available on

its website at www.autreypharmacy.com.

❖

Above: The Autrey Pharmacy

management team (from left to right):

Jose Daniel Salinas, R.Ph.; Sylvia

Price, office manager; James "Jim"

Vera, R.Ph.; Garret Autrey, business

manager; Linda Autrey, R.Ph., owner;

Robert Autrey, R.Ph., owner; Eric

Autrey, business manager; Melinda

Arzamendi, R.Ph.; and William

"Hank" Geier, floor manager.

Left: Some of Autrey Pharmacy's

employees on a float entered into the

Charro Days parade. The employees

shown are (from left to right)

Arturo Arevalo, Melinda Arzamendi,

Mariel Perez, San Juanita "Janie"

Gomez, and Javier Acosta.

Sharing the Heritage ✦ 71
---
CARDENAS

DEVELOPMENT

COMPANY, INC.

❖

Mary Rose and Renato Cardenas.

Running two successful businesses and

raising five children never stopped Renato E.

and Mary Rose Cardenas from working for a

better Brownsville. The couple's lifelong efforts

have shaped the healthcare and education

resources of the city.

Orphaned young, Renato left Matamoros

for Brownsville and his aunt's home. He joined

the United States Air Force at eighteen and

served in the Korean War Theater. On his return

to Brownsville he earned a GED, followed by

an AB degree from Texas Southmost College.

While attending Pan American University, Renato

married Mary Rose Arzamendi in 1955. That

was the start of a long and beautiful partnership.

Their children—Reba, Elsa, Rick, Rene and

Eldarose—grew up with loving parents who

cared deeply about their community.

In 1960 the Cardenases became owners of

a Texaco full service garage at Third and East

Elizabeth and several years later began selling

used cars there. Property that Renato purchased

with the intent of expanding car sales turned

out to be suitable for a residential subdivision.

Cardenas Development Company, Inc., grew

from that investment.

In 1971, Renato purchased Valley Buick and

opened Cardenas Motors selling Buick, American

Motors and Jeep, while Mary Rose became the

company's comptroller. Cardenas Motors relocated

to a modern dealership showroom and service

center on the Expressway in 1975, and added

GMC, Dodge and Izusu. The SBA named him

Businessman of the Year. He served on the

national board of Minority Dealers.

Busy as they were, Renato and Mary Rose

welcomed opportunities to support and advance

their community. Renato was appointed to the

city's Appraisal Board, and, in 1975, he was

elected to the Brownsville City Commission

where he served six years. When a community

survey revealed a strong need for a second

Brownsville hospital, Renato with friends Butch

Brittain, Ted Hunt, and Charlie Trub organized a

bond sale in 1973 that built Valley Community

Hospital. Renato served on the board of the

hospital until its sale in 1985. The proceeds from

the sale were used to create the Brownsville

Foundation for Health and Education, which

has provided scholarships, children's services,

and endowments for the University of Texas-

Brownsville/Texas Southmost College. Renato

continues on the Foundation board.

72 ✦ HISTORIC BROWNSVILLE
---
Mary Rose joined the hospital board in 1985

and helped oversee its transformation and

expansion as Valley Regional Hospital. Continuing

the family's bond with the hospital, Elsa

Cardenas Hagen joined the board in 2001 when

her mother resigned to serve on the board of

Driscoll's Children Hospital for five years.

Mary Rose's commitment to education has

been evident since she was a young mother and

volunteering every week to teach English to

adults. In 1984, she became a member of the

Board of Trustees of Texas Southmost College.

In her twenty-two years on the board, she served

as chairman three times, helped create the

University of Texas-Brownsville/TSC partnership

and select Dr. Juliet V. Garcia as president. Her

extensive honors include being named

one of the ten most influential citizens

of Brownsville, Brownsville Citizen of

the Year, and an Outstanding College

Trustee. She has served as an officer of

the Association of Governing Boards of

Colleges and Universities.

Cardenas Development continues

to invest in real estate and over the

years has helped develop subdivisions

in Brownsville, Rancho Viejo, San

Benito and Harlingen. Daughter Reba

McNair manages daily operations for

the company. Like her parents and

her siblings, she gives generously of

her time and expertise to community

business, cultural and medical organizations.

Her brother Rene Cardenas

expanded Cardenas Motors to

Harlingen and operates Cardenas

Autoplex with Mercedes-Mazda and Toyota-

BMW dealerships. Since 1985, Rick Cardenas

has run Cubco Construction, Inc., which

specializes in building infrastructure for

subdivisions and commercial properties.

Eldarose Cardenas is an Austin attorney. Elsa

Cardenas Hagan, a speech therapist, developed a

revolutionary multisensory treatment program

for Spanish speaking dyslexic children. Her

husband Andy Hagan manages Cardenas Motors

in Brownsville.

Renato and Mary Rose remain actively

involved with their businesses, their family—

which now includes seven grandchildren—and

their community. No one can imagine anything

different from these unselfish and dynamic spirits.

Sharing the Heritage ✦ 73
---
LIMON'S

TORTILLA

FACTORY

❖

Right: Esther Limon, at an open house

reception of new the tortilla factory,

c. 1979.

Below: The original location from

1955 to 1979.

Widowed for the second time at forty-one,

Esther G. Limon had seven children to support

and little else. With only a fourth grade

education and God's help, she transformed

her husband's bakery into Limon's Tortilleria,

one of Brownsville's first tortilla establishments.

Her resourcefulness and success have been

her trademarks.

Born August 2, 1924, in Madero near

Mission, Texas, Esther Garcia is the oldest of

five children born to Leonardo and Adela

Garcia. She grew up following crops throughout

the Midwest. Married at sixteen to Reyes Iruegas,

she was widowed at nineteen with two

daughters to raise. After several years working

as a migrant laborer, she decided to become

a missionary and attended bible school near

El Paso, Texas. She was trained to accompany

an elderly missionary couple to Mexico. The

trio ministered to soldiers and set up a chapel

in Veracruz. There she met Abelardo Limon, Sr.,

a baker. They married in 1952 and settled

in Brownsville

Limon's small Mexican bakery supported

their seven children with the assistance of

Esther's day work as a saleslady and her night

work as a seamstress. Abelardo's death in 1965

stunned Esther. Without any business training,

she started running the alleyway bakery.

Concentrating on handmade tortillas, Esther

never closed, not even on Sundays. With the

Limon home next door, the children, from the

teenage girls to the littlest boys, all helped out.

Soon the Sixth and Jefferson location grew into

a neighborhood grocery. Again the children

stocked the shelves and soda cooler, everyone

working to keep the family together.

Esther realized Limon's Tortilleria would

grow if she took a calculated risk. In 1966, she

bought a tortilla-making machine, one of the

first in Brownsville. The gamble paid off, and

the business became more profitable.

In 1979, Esther built a new tortilla factory

across the street and added a second machine.

Always a go-getter, she convinced numerous

restaurants and factory cafeterias, such as

Lucio's Café, Luby's and Levi's, to buy her fresh

tortillas which were delivered in time for the

breakfast rush.

After 1981, Esther managed the business

alone since her children had married or were

away at college. Esther's work helped pay the

college costs. In 1986, Esther helped her son-inlaw

Albert Medrano open a west Brownsville

location. When Esther had surgery in 1994, her

daughter Irma and Albert helped manage the

original location. Two years later, the couple

took over the business and went on to launch a

third Limon's Tortilleria in 2006.

74 ✦ HISTORIC BROWNSVILLE
---
Esther had insisted her children get an

education. Irma finished high school and now

owns the business with Albert. Esther Garza

attended Texas Southmost College and became a

LVN and later a bookkeeper for the Limon Law

Office. Ruth Navarro also attended TSC and

became a legal clerk, now with Limon Law.

Elizabeth Avitia graduated from Pan American

University and is an educator with the

Brownsville School District. Letty Saldivar, who

attended the University of Houston, owns a

Texas City coffee shop. David, with a biomedical

engineering degree from Texas A&M, is a

Houston surgical consultant. Abelardo earned a

Masters in Public Affairs and a Law degree from

the University of Texas. He opened Limon Law

Office in 2002, focusing on debtor-creditor work.

A two-time cancer survivor, Esther retired in

1994, but retirement barely slowed her down. A

woman of great faith, Esther founded Allianza

Feminil de Brownsville, a city-wide organization

that brings together Christian women to foster

spiritual growth and family values. She served as

the first president and now helps as an advisor.

She was among the pioneers who developed

KBNR, a Brownsville Spanish language Christian

radio station. Since 1995, Esther has been a

volunteer host of a two-hour prayer program

that airs every Thursday morning. She counsels,

comforts and shares her wisdom.

Esther enjoys sixteen grandchildren, fourteen

great-grandchildren and one great-great grandchild.

The lives she has shaped reflect her love,

her faith and her dreams.

❖

Above: Esther Limon during one of

her radio broadcasts on KBNR.

Left: Albert Medrano, on the right,

with an employee, at the location in

west Brownsville.

Below: The West Brownsville location,

the company's newest location.

Sharing the Heritage ✦ 75
---
GARZA

MEMORIAL

FUNERAL HOME

❖

Above: The Trevino House. c. 1888.

Below: Indalecio and Isabel Kidder

Trevino, owners of the Trevino House

on Levee Street.

Over two hundred years ago, as a surveyor

for the King of Spain, Bartolome Trevino

measured and surveyed the terrain north of the

Rio Grande. Among the lands he received for his

service was the San Martin grant. Those twentyseven

thousand acres on the east side of presentday

Brownsville ran from the Rio Grande in the

Boca Chica area to the north. It included

Palmetto Hill, where the second battle of the

Mexican-American War battle was fought, and

the land that became the Port of Brownsville.

Jose Ignacio Trevino, Bartolome's son, settled

on the San Martin grant, which was recognized

in 1848 by the Mexican government in

Santander and years later by the State of Texas.

Indalecio Trevino, Jose's son, was born on the

San Martin in the 1850s and later married

Isabel Kidder, the daughter of Zachary Taylor's

Mexican-American War interpreter, Captain

Sandforth Kidder.

Daniel, the youngest of Indalecio's six children,

was born in 1888 at the family's home on Levee

Street. By that time, the land

had already been divided

between the descendants who

carried the names of Gavito,

Champion, and Urribe. Daniel

and his sisters each inherited

1,070 acres.

Daniel worked for Andres

Cueto managing the tenthousand-acre

Las Comas

Ranch at Laguna Atascosa as

well as bookkeeping at Cueto's

car agencies. Daniel's son Joe

Indalecio was born in 1927.

He worked at the Capital

Movie Theater from 1942 to

1944. After serving in the

Navy for nineteen months, Joe

returned to Brownsville in

1946 and immediately started

back in the theater. His mentor

W. E. Mitchell inspired him

76 ✦ HISTORIC BROWNSVILLE
---
and encouraged him to fight discrimination for

his rightful management position. A theater

man to the bone, Joe became the manager of the

art deco Majestic Theater, running it for

different owners for a total of sixteen years. Not

looking for celebrity, Joe would not mind being

remembered as the best popcorn boy at the

Queen Theater.

Joe's father-in-law started the Garza Funeral

Home in 1916. Joe got his funeral license in

1955 and built the first chapel at Garza Funeral

Home where he worked until 1962. He also

assisted his brothers-in-law, who were in the

funeral business, but the Majestic Theater called

and Joe went back for ten more years there.

He owned the Trevino Delta Funeral Home,

which he ran for eighteen years, and he later

built the Trevino Funeral Home, running the

two simultaneously. Fighting cancer, he sold the

Trevino Funeral home in 1987. In 2001, he

purchased the Garza Funeral Home which had

left family hands years earlier.

Today Joe is the oldest active funeral director

and embalmer between the border and Corpus

Christi. He has always had a special rapport

with older people, enjoying their ties to the past.

His son Oscar works with him as manager

at Garza Memorial Funeral Home. His son

Robert works with an attorney. His daughter

Sandra Suffel is a Houston teacher, and

daughter Gloria Davila is a lab instructor at

Texas A&M University Corpus Christi.

A good part of the ranch land in the San

Martin grant that Joe owned has been sold,

although he retained the water rights. Joe

and his daughters hoped to salvage and

rebuild the Levee Street Trevino family home,

which was owned by others. Unfortunately

it was demolished and replaced by banking

drive-up windows.

For Joe Trevino, life has been an adventure.

He is a fifth generation resident of the Rio

Grande Valley.

❖

Above: Joe Trevino, manager of the

Majestic Theatre from 1962 to 1972.

Left: Joe Trevino, working at the old

Capital Movie Theater in 1942.

Sharing the Heritage ✦ 77
---
THE UNIVERSITY

OF TEXAS AT

BROWNSVILLE

AND TEXAS

SOUTHMOST

COLLEGE

The proud history of the University of Texas

at Brownsville and Texas Southmost College

(UTB/TSC) is matched only by its remarkable

achievements. Built on the grounds of historic

Fort Brown, a U.S. Army post from 1846 to

1944, the campus' gracefully arched new

buildings echo the university's carefully

preserved nineteenth century military brick

structures still used as administrative offices.

The future of higher education began in 1926,

when a junior college opened on Palm Boulevard

in Brownsville. In 1948, Brownsville Junior

College moved to the Fort Brown site and acquired

the name Texas Southmost College in 1950.

In 1991, a historic partnership began between

Texas Southmost College and The University

of Texas at Brownsville. The unique partnership

allows a seamless transition between a community

college and a university where students can

begin with a certificate and move into

undergraduate and graduate degree programs.

Since the partnership, Dr. Juliet V. Garcia,

the first Hispanic woman to become a university

president, has directed the transformation

of UTB/TSC into an institution of teaching

and research excellence. More than seventeen

thousand students are enrolled in pursuit of

associate, baccalaureate and graduate degrees in

the sciences, liberal arts and professional fields.

As one of the fastest growing campus in the

UT System, the physical growth is everywhere:

the Education and Business Complex, the REK

Center, the ITEC Center, The Arts Center, the

Science and Technology Learning Center, the

New Library and an adjacent classroom building.

Even more remarkable is the academic

growth as UTB/TSC guides students at all levels

to develop critical thinking, analytical and

communication skills.

Students are drawn to UTB/TSC for a

number of reasons, all centered on student

success, its bicultural educational environment,

internationally recognized research, excellence

in teaching and learning and affordability.

The university's chess team has ranked third

nationally, drawing students from South

America, Europe and Mexico. The Fine Arts

Department is accredited by the National

Association of Schools of Music, the same

accreditation as Julliard and other fine schools

of music.

Additional information on UTB/TSC is

available on the Internet at www.utb.edu.

78 ✦ HISTORIC BROWNSVILLE
---
Staybridge Suites at 2900 Pablo Kisel Boulevard

in Brownsville is an award-winning, extendedstay,

all suite hotel that caters to guests looking

for short or long term housing. Staybridge is

conveniently located within walking distance of

famous restaurants, bars and shopping centers.

A variety of spacious suites will provide a

comfortable and complete stay to suit any need,

from studio to two-bedroom/two-bath suites

with fully equipped kitchens.

Guests are invited to enjoy the comforts and

warmth of home, along with the conveniences of

the office, while receiving favorable rates on

extended stays. Amenities include a complimentary

breakfast buffet; recreational facilities in a twentyfour

hour fitness center with pool, sport court and

barbecue pavilion; evening receptions with great

food, drinks and conversation; free wireless

Internet access throughout the hotel; a twenty-four

hour business center; a self-serve laundry; and

BridgeMart, a twenty-four-hour-per-day, sevenday-a-week

convenience store offering snacks,

beverages, and easy-to-prepare meals.

The upper scale all suite hotel is one of over

150 locations globally and is noted as a popular

spot with all travelers whether business or pleasure

brings them to Brownsville. Located in the Sunrise

Commons shopping center, north of Matamoros,

Mexico and east of South Padre Island, it also offers

easy access to a host of attractions, such as the

world-famous Gladys Porter Zoo, the Stillman

House Museum, Palo Alto Battlefield National

Historic Site and Aiken Education Center. Visitors

can shop for bargains at old world style markets

and enjoy the cuisine of a variety of restaurants

across the Mexican border, which is just seven

miles away. South Padre Island beaches are an easy

thirty minute drive.

Guests are invited to use the Internet to book

their stay with confidence and the assurance that

"if they find a lower rate on another site, we will

beat it." Reservations for a group or meeting can be

booked with the Group Sales Office or directly

with the hotel.

Winner of the coveted First Quarter 2009

Market Matrix Hospitality Index for its category,

the largest and most in-depth measure of hotel and

car rental performance available today. Staybridge

Suites gained the highest ranking in customer

satisfaction among twenty-three upscale hotels.

This marks its third first-place finish in the past

five quarters.

To learn more or to book your stay, call

877-238-8889 or direct to the hotel,956-504-9500.

STAYBRIDGE

SUITES

Sharing the Heritage ✦ 79
---
VALLEY BAPTIST

MEDICAL

CENTER-

BROWNSVILLE

❖

Valley Baptist Medical Center-

Brownsville cath lab team.

Divine Providence Hospital, managed by the

Sisters of Mercy, opened in June 1917. James

Stillman donated land for the larger Mercy

Hospital, which opened in 1923 and was also

operated by the nuns. Over the next fifty years,

Mercy grew with Brownsville, renovating and

adding a maternity wing, an emergency room,

more beds, surgical suites, air conditioning, and

key services.

In 1984, when the hospital, then known as

Brownsville Medical Center, was serving over

20,000 patients, a three story tower replaced part

of the original building. New facilities and

improved technologies continued to be acquired.

In 2004 the hospital joined Valley Baptist

Health System. Like its sister hospital, Valley

Baptist Medical Center-Harlingen, VBMC-

Brownsville responds to the community's

medical needs by providing the highest quality

of patient care while extending outreach programs

and screenings.

VBMC-B has dramatically improved outcomes

for patients with heart attack and heart failures

with advanced healthcare practices that save

lives, as shown by recent awards presented to the

hospital. VBMC-B was the first South Texas

hospital to win the Triple Crown from the

American Heart Association and the American

Stroke Association. This recognizes the hospital's

stellar performance in treating patients with

heart failure, coronary artery disease, and stroke.

The Rapid Response teams' evaluation and

stabilization of critical patients earned the hospital

the PRC 4-Star rating in emergency care.

The East Campus Behavioral Health Center,

opened in 2007, provides inpatient and

outpatient services. A cardiac catheterization lab,

an all-digital-radiology breast center, and new

surgical suits offer some of the latest technology to

enhance patient care. Valley Baptist also has the

only outpatient diabetes management programs

in Cameron County recognized by the American

Diabetes Association. The Foot Care Institute,

Wound Care Clinic, and hyperbaric medicine unit

complement the effort of this important program.

In recognition of the spiritual dimension of

healing at Valley Baptist Medical Center-

Brownsville, the original Mercy Chapel has

been restored, by love and faith, as a refuge of

tranquility and hope.

Valley Baptist Medical Center-Brownsville

is located at 1040 West Jefferson in Brownsville

and on the Internet at www.valleybaptist.net.

80 ✦ HISTORIC BROWNSVILLE
---
BROWNSVILLE

CHAMBER OF

COMMERCE

Brownsville and history are synonymous and

the Brownsville Chamber of Commerce is no

exception. The beginning of the Chamber goes

as far back as 1925.

According to historical documents, area

businessmen were known to assemble at various

office buildings in downtown Brownsville before

the association built its first office in 1927, a

beautiful Spanish Style structure on East Levee

Street adjacent to the Missouri Pacific railroad

passenger depot.

Ten years later, in July 1937, a voluntary

association of thirty-nine business people

formed the not-for-profit organization known

as the Brownsville Chamber of Commerce.

According to the first Articles of Incorporation,

"the beginning purpose of organizing a

Chamber of Commerce was the power to

provide and maintain suitable rooms for the

conduct of its business, to acquire, preserve,

and disseminate valuable business information,

and to promote the interest of trade and increase

the facilities of commercial transactions."

In 1966 a new structure was built on East

Elizabeth Street next to the Gateway International

Bridge which to this day continues to be the

home of the Brownsville Chamber of Commerce.

Since its inception, the Brownsville Chamber

of Commerce has been the community's united

front and a catalyst for the improvement of the

civic, economic and social welfare of Brownsville

and its citizens. The Chamber has celebrated

community victories and has responded to

challenges, but its most important role has

always been relentless advocacy for the region.

The Brownsville Chamber of Commerce can

be credited with helping establish Charro Days,

Inc., Sombrero Fest, the Mr. Amigo Association,

Leadership Brownsville; Brownsville Crime

Stoppers, and Healthy Communities of Brownsville,

and supporting the creation of Texas Southmost

College, the Port of Brownsville, the Brownsville/

South Padre Island International Airport, and the

Brownsville Economic Development Council.

Today, the Brownsville Chamber of Commerce

membership exceeds 1,000 members—companies,

individuals, organizations, and industries wanting

to promote the economic vitality and quality of life

in Brownsville. As in the past, the Chamber is the

voice of the business community in the issues of

business, education, international transportation,

and any other issue affecting the future of

Brownsville. The Chamber provides leadership by

drawing upon the ideas, talents, energies, and

finances of its members.

Additional information on Brownsville

Chamber of Commerce is available on the

Internet at www.brownsvillechamber.com.

❖

Above: Comfort Suites, 2009.

Below: Wal-Mart, 1987.

Sharing the Heritage ✦ 81
---
CITY OF

BROWNSVILLE

by Bill Young.

❖

Above: Brownsville Street scene in

1879. The building on the corner is

the Putegnat Drug Store (note the

mortar and pestle), a city landmark

since the Civil War. It sat on the city's

main thoroughfare, Elizabeth Street.

PHOTO COURTESY OF BROWNSVILLE

HISTORICAL ASSOCIATION.

Below: Brownsville City Hall occupied

the second floor of the old City

Market in this 1879 view. The large

bell on the roof was blown off during

a hurricane some years later. The

building, with some modifications, still

stands and until a few years ago

served as city hall.

Brownsville enjoys the distinction of being

recognized as one of the top two or three

most historic places in Texas. It is a veritable

repository of local, state and national history.

Beginning with Spanish colonization of the

area around 1748, the fertile, alluvial delta soil

attracted settlers anxious to carve out a life amid

lush vegetation and a near perfect climate.

Brownsville owes its origin to the War with

Mexico that began just north of the present city

at a place known as Palo Alto. There, on May 8,

1846, United States and Mexican armies clashed

in the first battle of that conflict. The Mexican

forces retreated and on May 9, 1846, another

battle took place at Resaca de la Palma. This

served to drive the Mexican forces across the Rio

Grande with the American army led by General

Zachary Taylor in hot pursuit.

It was during these early days of the War

with Mexico that Major Jacob Brown was

mortally wounded while commanding an

American fort on the Rio Grande known as

Fort Texas. The fort was renamed Fort Brown

in honor of the slain Major Brown and in 1848

a town sprung up around the fort and it was

named Brownsville.

A National Battlefield Park is now open on

the site of that first fight at Palo Alto.

Nearly twenty years after Palo Alto, the last

battle of the Civil War was fought some eight

miles east of Brownsville at Palmito Ranch.

That skirmish took place May 12-13, 1865, about

four weeks after Confederate General Robert E.

Lee surrendered his army at Appomattox

Courthouse, Virginia, on April 9, 1865. Plans are

now underway that will create yet another

National Battlefield Park at the Palmito Ranch site.

During the Civil War, Brownsville was

known as the "back door" to the Confederacy

and played an important role in the movement

of cotton from west of the Mississippi to Mexico

and then on to markets in Europe and even the

eastern United States.

Today the Brownsville Historical Association

maintains a large collection of antique

photographs, documents and artifacts that

illustrate the history of Brownsville. Writers,

historians and serious students of local history

draw heavily on this collection which is housed

at the Heritage Museum Complex on East

Washington Street.

The Historic Brownsville Museum is another

repository local history and features changing

displays of historical interest.

82 ✦ HISTORIC BROWNSVILLE
---
BROWNSVILLE

HOUSING

AUTHORITY

Since 1939, Brownsville has been committed

to providing affordable housing for low income

residents. Brownsville Housing Authority (BHA)

manages and operates public housing complexes

in the city. It originates leases and oversees

tenants' compliance with the lease terms. BHA

also maintains the buildings and common areas.

Backed by federal funding, the BHA in 1940

opened Buena Vida, the city's first subsidized

housing complex for 150 low income families and

individuals. In rapid succession, Bougainvillaea

and Victoria Gardens provided 100 more units.

Brownsville's critical housing shortage after

World War II led to BHA's opening of 250 units

at Poinsettia in 1952 and 150 units at Citrus

Garden in 1956.

The BHA opened Villa del Sol, a fourteenstory

high rise for the elderly in 1971. The 200

unit building occupies the site of the former

Incarnate Word Convent. A historic marker

notes that the 1868 convent was also a girls'

school for many years. In the 1980s, Linda

Vista, Las Brisas, and the Citrus Gardens Annex

brought 144 more units, while the 1990s saw

the completion of Rose Garden and Sunset

Terrace with eighty-five units.

Besides offering subsidized public housing

to qualified families, BHA also administers the

Section 8 program, which assists over 2,000

Brownsville families to occupy decent housing.

The BHA has utilized tax credits from the

Texas Department of Housing and Community

Affairs for its mixed-finance tax credit housing

projects such as Paseo Plaza, Tropical Gardens at

Boca Chica and at Candlewick, Sunset Haven

and Villa del Sol.

Along with affordable housing, BHA strives

to help its residents achieve self-sufficiency

through educational opportunities and support

services. BHA's Tenant Services Department

operates five family learning centers which

provide after-school tutoring. Summer community

projects engage and educate children.

Five resident councils and the Resident

Advisory board participate in the policy

development and direction of Public Housing

operations. In 2008, the BHA achieved the

"high performer" rating, the highest ranking

given by the U.S. Department of Housing and

Urban Development.

Sharing the Heritage ✦ 83
---
PORT OF

BROWNSVILLE

Ships from ports as distant as the United

Kingdom, Brazil, Germany and China call at the

Port of Brownsville, an indispensable terminal

for global shipping and for barge traffic on the

Gulf Intracoastal Waterway. As a major gateway

for cargo bound to and from southern Texas

and northern Mexico, the Port of Brownsville

handled five million metric tons of cargo in

2007, primarily steel and petroleum, along with

ores/minerals, grains and vegetable oils.

The Port of Brownsville, opened in 1936, is

connected to the Gulf of Mexico and the U.S.

Inland Waterway System by the seventeen-milelong

Brownsville Ship Channel. Covering more

than forty thousand acres, the Port is the largest

industrial center in Cameron County as well as the

largest employer in the region. Over 230

companies—employing approximately 8,000

people—call the Port home. An offshore oil

drilling rig builder and repair yard, ship

dismantlers, manufacturers, and petroleum

storage firms all operate within the Port. The Port's

twelve deep draft cargo docks and four oil/liquid

cargo docks are supported by extensive cargo

facilities that include transit warehouses and shed

space adjacent to vessel berths, overhead cranes,

railcar and truck loading racks. All are designed for

the safe and rapid transfer of freight.

The Port provides an exceptional number

of intermodal transportation choices for its

cargo customers: U.S. and Mexican trucks, the

Port's own short line rail connecting to major

lines, barge, pipeline access, and air services.

Short sea shipping, an economical mode of

transportation, and express barge service are

also available at the Port.

With the guidance of the Brownsville

Navigation District Board of Commissioners

and staff, the Port oversees a business-friendly

environment and investment opportunities

for expansion within its extensive boundaries.

As traffic increases, the Port is following a

strategic policy of industrial growth to upgrade

infrastructure and security as well as to provide

employment opportunities in the region. The

Port of Brownsville is the primary deepwater

port of South Texas and Northern Mexico.

Additional information is available at

www.portofbrownsville.com.

84 ✦ HISTORIC BROWNSVILLE
---
For over a quarter of a century, women of

the Brownsville community have trusted Clinica

Santa Maria to provide expert and quality care

for their obstetric and gynecological needs.

Dagoberto Martinez, M.D., established the

Women's Health Care Group in 1982 to provide

quality, coordinated, accessible healthcare to

Brownsville women. As a patient-centered

clinic responsive to women's needs, Clinica

Santa Maria has three strategically located

offices for the patients' convenience. The clinic

has four OB/GYN physicians and four

Advanced Nurse Practitioners, including a

Certified Nurse Midwife, assisting women to

receive superior obstetric and gynecological

care. Accomplishing these milestones is a result

of leadership with vision communicated by

Dr. Martinez coupled with staff

and management's commitment

to quality women's healthcare.

A native of Chile, Dr.

Martinez graduated from the

University of Chile Medical

School in Santiago in 1970. As

a young M.D., he completed

his internship and residency in

Obstetrics and Gynecology at

the University of West Virginia

in Wheeling, West Virginia.

In 1979, he began practicing

Obstetrics and Gynecology in

Brownsville, Texas.

Dr. Martinez achieved

advanced credentials to become

Board Certified in Obstetrics

and Gynecology as well as

Board Certified in Surgery. He

is a Fellow of the American

College of Obstetricians and

Gynecologists (F.A.C.O.G.) and

a Fellow of the American

College of Surgeons (F.A.C.S.).

Dr. Martinez has long supported

professional development.

He pioneered the collaborative

practice model utilizing nurse

practitioners to assist women

in a holistic approach to

healthcare. The experienced

staff provides sonograms,

mammograms, bone density

tests, preventative cancer

screening and diagnosis as well

as laboratory services.

Dr. Martinez has served his

community as Chief of OB/GYN and Chief of

Staff at Valley Regional Medical Center and

Brownsville Medical Center. He currently serves

as Chairman of the Board of Trustees at Valley

Regional Medical Center.

Dr. Martinez's community service includes

over thirty years of volunteering his time and

expertise to the Cameron County Maternity

Clinic and indigent care of Brownsville's women.

CLINICA

SANTA MARIA

❖

Dagoberto Martinez, M.D.

Sharing the Heritage ✦ 85
---
IBC BANK

BROWNSVILLE

Laredo-based International Bancshares

Corporation was founded in 1966 and

throughout its history has worked tirelessly to

offer its customers the highest level of service,

strength and performance standards while

developing the markets and helping the

communities that they serve.

The founder of International Bancshares

Corporation was A. R. Sanchez, Sr., whose many

enterprises provided jobs for thousands of

Texans in fields ranging from banking and real

estate to oil, gas, and cattle. As Chairman of the

Board of IBC and its numerous banks, Sanchez

and Bancshares CEO Dennis E. Nixon, built

America's largest minority-owned financial

organization and one of the largest independent

banks in Texas and Oklahoma.

The holding company's fourth bank, IBC

Brownsville was established twenty-five years

ago in 1984, by founding CEO Fred Rusteberg,

who continues to serve in that capacity to this

day. The Brownsville bank opened with six

employees and grew to $21 million by the end

of its first year. IBC Brownsville now has assets

of nearly $1 billion, with fifteen branches and

250 employees in Cameron County.

IBC Brownsville makes it a priority to meet the

needs of the community and also works to

uphold the philosophy of 'doing more' to provide

its customers with cutting edge tools and

products to best meet their financial needs. IBC is

a high performance, full service commercial bank

under one roof, offering traditional banking

products, international services, insurance,

mortgage products and financial services.

The local Board of Directors provides

strength, direction and commitment to the

region: Chairman Ygnacio D. Garza, Jr.;

President/CEO Fred Rusteberg; Dennis E.

Nixon, and Secretary Robert Ostos. Executive

Vice Presidents of IBC Brownsville are: Miguel

Ortiz, Larry Holtzman, Robert Richardson, Luke

Fruia, David Eymard, Nicholas Serafy, Patricio

Garza Garza, and Al Villarreal. Past board

members who are now deceased are A. R.

Sanchez, Sr., Lester Avigail, Roy Jennings,

Alberto Santos, Past Chairman Raul A. Besteiro,

Jr., Eduardo Appedole, and Lorenzo Blanco.

The leadership of the Board of Directors,

Officers and staff, have built a strong high

performance bank that has consistently

provided excellent banking services and has

helped shape the growth and development of

this domestic and international region.

For more information about IBC Brownsville,

check the website at www.ibc.com.

86 ✦ HISTORIC BROWNSVILLE
---
The U.S. Army started Juan Gallegos on his

lifelong career. He graduated from Brownsville

High School in 1966 and began his electrical

training in 1967 with the military. Back home in

Brownsville, he continued learning the craft and

became a licensed Master Electrician. In 1983,

when Gallegos was laid off from Union Carbide,

he decided the time was right to go out on his

own. He opened Gallegos Electric along with

one employee on Elsa Avenue.

Today Gallegos Electric, Inc., and its twenty

employees provide electrical expertise to

commercial and industrial customers across

the Valley. Working both on new construction

and repair, the company since 1990 has

participated particularly in the expansion

and development of areas north of FM 802

where Brownsville development is surging.

Gallegos' electricians and technicians service the

businesses that keep Brownsville growing.

From Taco Cabana restaurants and Amigo

Pawn Shops to communication towers and

facilities at the Port of Brownsville, the company

has earned a reputation for reliability. Customers

such as UPS, National Electric Coil, an industrial

turbine coil fabricating company, Home Depot

and O'Reilly's Auto Parts count on Gallegos

Electric to keep their facilities and machines

powered up and operational.

As specialists in motor controls for industrial

facilities, Gallegos Electric brings years of

experience to complex wiring projects, both in

the design stage and for day to day operations.

The company is proud of its security lighting

projects in the heart of Brownsville: Saint

Charles Park, Veteran's Memorial Park, the

University of Texas-Brownsville and the lighting

at Brownville's Historical Museum's parking

lot. As always, whenever Gallegos undertakes

new construction, repair or an upgrade, energy

conservation is always a consideration.

Gallegos is well-known for both his passion

and commitment to his profession and

successful business.

GALLEGOS

ELECTRIC,

INC.

Sharing the Heritage ✦ 87
---
INTERNATIONAL

FORWARDING &

STORAGE CORP.

❖

Juan Duran Longoria.

With more than forty years of

experience as an Import-Export Custom

Broker in Matamoros, Juan Duran

Longoria knows every last detail about

moving merchandise between the U.S.

and Mexico, Brownsville and Matamoros.

In 1972, while operating Agencia

Aduanal Juan Duran Longoria, he

decided to enlarge on the family

tradition of customs brokering by

opening International Forwarding &

Storage Corp. in Brownsville.

The Central Avenue business receives

merchandise exported by Mexican

customers, and it forwards merchandise

from American and Canadian customers

to destinations in Mexico. While nothing

is simple about moving goods across an

international border, the meticulous attention

to detail that is a hallmark of International

Forwarding & Storage enables freight to be

processed without delay.

The cargo can range from massive boat

propellers to medical supplies, from heavy

machinery to diamond powder. Once

International Forwarding receives freight

destined for Mexico, employees register the

shipment and classify the merchandise

according to a complicated categorization

system. The voluminous paperwork that

accompanies international shipments must be

error-free because the laws governing import

and export are exacting. International's

Forwarding capabilities are available for

customers to consolidate their shipments

before they are forwarded to Mexico.

Technology has helped speed the processing

of cargo in both directions. When International

processes an incoming caravan of trucks loaded

with fertilizer for Mexican ranches, the

electronic paperwork starts flowing as each

truck approaches the international bridge.

When the truck arrives one hour later at

International's Forwarding, the paperwork is

ready and the cargo can go on to its destination.

Credit goes to International's employees, the

experts in their field who

have been with the company

for over thirty years.

Juan Duran Longoria,

whose father was a Matamoros

customs broker sixty years

ago, now runs International

Forwarding in Brownsville

and Mexico with the assistance

of his children: Madelein

Duran Cavazos and customs

brokers Eduardo and Abel

Duran Cavazos. Despite

technology, he insists on

registering transactions by

hand in a log book, as a

security back-up. Attention

to detail, always, has led to

the business' success.

88 ✦ HISTORIC BROWNSVILLE
---
Border Customs Service started its operation

in June 1985 under the management of

Salvador Lopez Ponce and Manuel Perez, Jr.,

with the purpose of offering the local importexport

community a customs brokerage service.

This marked the beginning of a fruitful

entrepreneurial project that, through time, has

led to a solid, respected enterprise that

continues to grow.

In 1992, Manuel Perez retired, and Border

Customs Service came under the direction of

Salvador Lopez Ponce as full owner. He then

brought members of his family into the

business to continue the traditions of attention,

warmth, and professionalism that has made the

company so distinctive. Gloria Lopez-Martinez

is assistant manager. Salvador C. Lopez, a

licensed U.S. customhouse broker and is

personally in charge of traffic management.

Felipe Lopez, who has a degree in Industrial

Engineering, will soon be adding his experience

to the business full-time.

During the last few years, the growth of the

enterprise has been exceptional. Today, Border

Customs is no longer a business dedicated

exclusively to the small importer. It is now a

recognized competitor in its field, fulfilling the

needs of middle-size and large importers. Those

clients receive courteous and attentive customer

care at Border Customs' new and modern

facility located at 1280 Cheers Boulevard in

Brownsville. Importers and exporters know they

can count on the company's highly-qualified

personnel to respond rapidly to satisfy the needs

of their foreign trade operations.

More than twenty years of experience have laid

the foundation for the quality and service that is

a trademark of Border Customs Service. Today,

the family-owned business assists its customers

with the same dedication and effort that marked

its first years. At the same time, Border Customs

Service has evolved through the years to become

what it is now: an excellent option for logistic

services in the Rio Grande Valley region.

GLOFESA INC.

DBA BORDER

CUSTOMS

SERVICE

Sharing the Heritage ✦ 89
---
ALLIED SKILLS TRAINING CENTER

Across South Texas, ship

yards, manufacturers, and oil

and gas companies need skilled

welders. Individuals need job

training that would qualify

them as skilled welders eligible

for in-demand, well-paying jobs.

Tomas and Janie Solano

observed those facts and decided

they could bridge the gap

between the two through a

Combination Welding training

program. In 2005, they opened

Allied Skills Training Center

in Brownsville to provide an

intensive five week training

course for entry-level welders

that would enable people

to achieve a better lifestyle

through skills education. Allied

Training Center was established

with a belief in people and in

their capacity to learn, given

the opportunity.

ASTC is approved and regulated

by the Texas Workforce

Commission, Career Schools and College, Austin,

Texas. ASTC is also approved by the State of

Texas, Historically Underutilized Business (HUB),

Veterans Administration, and the M.E.T. Migrant

Education & Training, Inc., and is an Educational

Institute Member, American Welding Society.

ASTC's training facility is located at the

Brownsville Airport (formerly Neoplan Building.)

Tomas Solano established the Combination

Welding curriculum to emphasize handson,

practical welding skills, beginning with

the basics. The course combines expert,

experienced instructors and state-of-the-art

equipment with a thorough foundation in

welding techniques. With a three to one

student to instructor ratio, the training center

has gained a reputation for turning out

competent welders.

The training center's adult students

appreciate the flexible program hours. They

also recognize the relevance and marketability

of the skills they are learning. These factors

have resulted in Allied Skills Training Center's

course completion rate of ninety-eight percent.

Graduates of the welding program receive a

certificate of completion and are eligible to sit

for the certification exam of the American

Welding Society. That enables them to seek

employment as certified welders.

High placement rates for graduates are

significant indicators of Allied Skill Training

Center's success.

For more information on Allied Skills

Training Center, please do not hesitate to call

956-548-2100 or stop by at 2045 Les Mauldin,

Suite B, in Brownsville.

90 ✦ HISTORIC BROWNSVILLE
---
When Agustin P. Gallardo and wife Maria

Elena Gallardo founded Gallardo Insurance

Agency in January 1987, they operated it out of

a small ten by ten foot office building in front of

their home. They had no computers, just a

single typewriter and the use of their residential

phone line.

Within months, however, Texas began

requiring all vehicle owners to have liability

insurance, which created a continuous flow

of customers calling at all hours of the day

and night.

"Dad was so committed to his customers

that he would see them after normal business

hours, even on Sundays," said daughter Norma

D. Gallardo.

As a result of such commitment, the agency

soon outgrew its place in the home and today

has expanded into three full-service offices

in the Rio Grande Valley area—one each

in Brownsville, Los Fresnos and Raymondville.

Each office offers clientele the best in

automobile, home, motorcycle, mobile home

and commercial insurance products.

Still very much a family business, offices are

now served by Norma D. Gallardo, Gabriel

Gallardo, Guillermo Gallardo, Josue Gallardo,

Rubia Flores Gallardo, and Mona L. Gallardo.

Judy Pequeno and Jackie R. Ochoa have been

employees for many years.

For more information, call 956-504-5980.

GALLARDO

INSURANCE

AGENCY

SPONSORS

Allied Skills Training Center .........................................................................................................................................................90

Autrey Pharmacy ..........................................................................................................................................................................70

Brownsville Chamber of Commerce..............................................................................................................................................81

Brownsville Housing Authority.....................................................................................................................................................83

Cardenas Development Company, Inc. .........................................................................................................................................72

City of Brownsville .......................................................................................................................................................................82

Clinica Santa Maria ......................................................................................................................................................................85

Ernesto Gamez Law Firm .............................................................................................................................................................66

Esco Marine, Inc. .........................................................................................................................................................................62

Gallardo Insurance Agency ...........................................................................................................................................................91

Gallegos Electric, Inc....................................................................................................................................................................87

Glofesa Inc. dba Border Customs Service......................................................................................................................................89

Gulf Coast Paper Co., Inc.............................................................................................................................................................69

Garza Memorial Funeral Home.....................................................................................................................................................76

IBC Bank Brownsville ...................................................................................................................................................................86

International Forwarding & Storage Corp.....................................................................................................................................88

Limon's Tortilla Factory ................................................................................................................................................................74

Port of Brownsville .......................................................................................................................................................................84

Rio RV Park..................................................................................................................................................................................61

Staybridge Suites ..........................................................................................................................................................................79

The University of Texas at Brownsville and Texas Southmost College ...........................................................................................78

Valley Baptist Medical Center-Brownsville.....................................................................................................................................80

Sharing the Heritage ✦ 91
---
ABOUT THE AUTHOR

C ARL S. CHILTON, JR .

Carl S. Chilton, Jr., moved to Brownsville in 1948 to teach at Brownsville Junior College. He remained on the college faculty

until 1951, at which time he entered the public accounting profession as a certified public accountant. He is a founding partner of

Long Chilton, LLP, a Valley-wide CPA firm that continues in business today. He was with the firm from 1951 until 1988, when

he retired.

In his professional life Chilton served as state president of the Texas Society of Certified Public Accountants, and wrote two books

published by Prentice Hall on the practice of accounting.

He has been active in Brownsville community life for many years, serving as president or chairman of the Rotary Club of

Brownsville, the United Fund of Brownsville, the First United Methodist Church, the Brownsville Public Utilities Board, the Valley

Zoological Society (Gladys Porter Zoo), and the Brownsville Tennis Association

During Chilton's tenure as president of the Brownsville Tennis Association he was involved in the funding and construction of the

Brownsville Tennis Center. This excellent facility, which adds to the quality of life for many local residents, was recognized as a

"Facility of the Year" by the United States Tennis Association upon its completion in 2001.

During his retirement years he has been engaged in researching and writing about Brownsville history and submitting weekly

articles to the Brownsville Herald. He has completed seven books on Brownsville history, including The Port of Brownsville: 60 Years

of Service, Water and Power for Brownsville: 1903 to 1998, 70 Years of Airport History in Brownsville: 1929 to 1999, First Methodist

Brownsville: 150 Years of Service, The Community's University: A History of UTB/TSC, Fort Brown: The First Border Post, and The History of

the Gladys Porter Zoo. He is presently working on a history of transportation in this area, which will be titled From Steamboats and

Stagecoaches to Jet Aircraft. These books tell the story of the challenges that have faced Brownsville and the Rio Grande Valley, and of

the vision and determination of citizens who worked to develop the area. Present and future readers of these books will develop an

understanding and appreciation of the events and challenges Brownville has faced throughout its history of 160 years.

Chilton is married to Ruth Lewis Chilton.

92 ✦ HISTORIC BROWNSVILLE
---
$34.95

LEADERSHIP SPONSORS

Esco Marine, Inc.

ISBN: 9781935377153