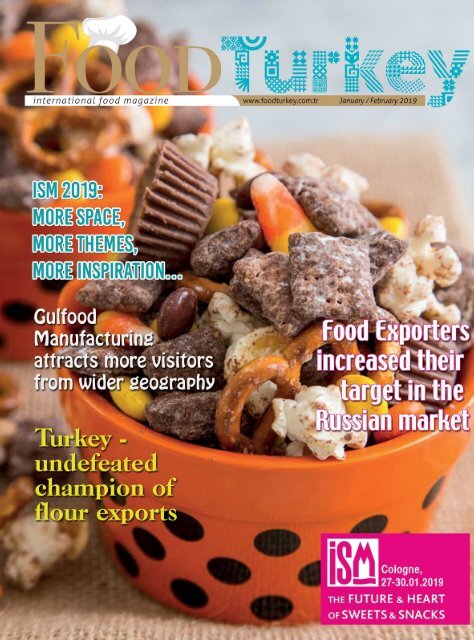 Food Turkey International Food Magazine January 2019
Food Turkey International Food Magazine January 2019
Food Turkey International Food Magazine January 2019
SHOW MORE
SHOW LESS
Create successful ePaper yourself
Turn your PDF publications into a flip-book with our unique Google optimized e-Paper software.
Group Chairman

Publisher

H.Ferruh ISIK

ISTMAG Magazin Gazetecilik

Yayıncılık İç ve Dış Ticaret Ltd. Şti.

Managing Editor

Editor

Mehmet SOZTUTAN

(mehmet.soztutan@img.com.tr)

Ayça SARIOĞLU

(ayca.sarioglu@img.com.tr)

Hi sweetie!

Our magazine usually publishes its sweetest issue in January because

of ISM, the leading global trade fair for sweets and snacks.

When you go through the pages you'll see a lot of sweet coverage

related to this industry.

Around 1,700 exhibitors from 73 countries will present the

whole world of sweets and snacks to the international trade audience

on 120,000 square meters of exhibition space. As one of

the most leading national exhibitors, Turkey is strong in sweets

and snacks. The country has a powerful biscuits and confectionery

sector.

Today, there are lots of companies in Turkey producing various

biscuits in the same quality with its European competitors. All

of the production units in the sector are private companies

and most of them are located in Marmara and Central Anatolia

provinces.

Came back from Gulfood Manufacturing with our previous issue

we will be en route to Dubai again to attend Gulfood. We'll

accompany hundreds of Turkish exhibitors attending this global

show addressing mainly to the MENA region with a wide range

of food and beverage products. Throughout the year we will

be at all leading shows to be organized at different part of the

world from New York to Russia. We will be more than happy

to promote the new products of the industry. We also promise

to offer you very rich content to enlighten especially about the

Turkish FB industry as well as about the events held all over the

world.

4 FOOD TURKEY November-December 2018

Mehmet Söztutan

Responsible

Editor-in-Chief:

Advertisement Manager

Communications Manager

Art Director

Finance Manager

Accounting Manager

Subscription

HEAD OFFICE

Güneşli Evren Mah. Bahar Cad.

Polat İş Merkezi B Blok No:3,34197

Güneşli-İstanbul/TURKEY

Tel: +90 212 604 50 50

Fax: +90 212 604 50 51

Cüneyt AKTÜRK

(cuneyt.akturk@ihlasfuar.com.tr)

Emir Omer OCAL

(emir.ocal@img.com.tr)

Omer Faruk GORUN

(fgorun@ihlas.net.tr)

Enes KARADAYI

(enes.karadayi@img.com.tr)

Ebru PEKEL

(ebru.pekel@voli.com.tr)

Tolga ÇAKMAKLI

(tolga.cakmakli@img.com.tr)

Mustafa AKTAŞ

(mustafa.aktas@img.com.tr)

Zekayi TURASAN

(zturasan@img.com.tr)

İsmail ÖZÇELİK

(ismail.ozcelik@img.com.tr)

LIAISON OFFICE:

Buttim Plaza A. Blok

Kat:4 No:1038

Bursa/TURKEY

Tel: +90. 224 211 44 50-51

Fax: +90. 224 211 44 81

PRINTED BY

IHLAS GAZETECILIK A.Ş.

Merkez Mahallesi 29 Ekim Caddesi İhlas Plaza No:11 A/41

Yenibosna-Bahçelievler/ISTANBUL

Tel: 0212 454 30 00
---
CONTENTS

6

ISM 2019: More space,

more themes, more

inspiration…

16

Biscuits industry on

an uprising trend

20

Representatives of

160 food companies

from 33 countries

convened in Bursa

for cooperation

24 34

Milkman – a dependable

address in innovative

palate taste in milk

market

26

Balparmak to introduce

Turkish honey in the

Middle East

28

Teksüt focuses on exports

in 2019

32

Seyidoglu Food: "Our

aim is to export to forty

countries"

Gulfood ups

knowledge-exchange

ante with first-ever

innovation summit

38

Gulfood Manufacturing

attracts more visitors

from wider geography

42

Pastazym PD greatly

improves the cooking

tolerance of pasta.

44

Optimal

manufacturing

for necessities of

the sector by Aks

Cooling

48

Russia to double tomato

imports from

Turkey

50

Turkey - undefeated

champion of flour exports

56

Food Exporters

increased their target in

the Russian market

60

Kaya Çiftligi focuses on

exports in 2019

6 FOOD TURKEY January - February 2019
---
ISM 2019: More space,

more themes, more

inspiration…

Led by Istanbul

Exporters'

Association, 60

Turkish exhibitors

will display a wide

range of products

at ISM 2019

From 27 to 30 January 2019, the

leading global trade fair for sweets

and snacks will once again be bringing

the supply and demand together

at a worldwide level. Around

1,700 exhibitors from 73 countries

will present the whole world of

sweets and snacks to the international

trade audience on 120,000

square meters of exhibition space.

As such the exhibition space has

increased once again by a further

8,500 square meters, because in

addition to the previous seven halls,

ISM is also being staged in Hall 3.1.

At 86 percent, the anticipated share

of foreign exhibitors remains to be

very high and demonstrates the international

alignment of the sweets

and snacks industry. ProSweets Cologne

- the international supplier fair

for the sweets and snacks industry

with around 330 exhibitors - will

once again be staged parallel to ISM.

8 FOOD TURKEY January - February 2019
---
Together both trade fairs cover the

entire value chain in the production

of sweets and snacks, a unique constellation

worldwide.

Traditionally, both market leaders

as well as medium-sized and smaller

companies participate in ISM.

Germany is strongly represented

again. The most famous participating

companies and brand names include

among others Brandt, Coppenrath

Feingebäck, Genuport, Griesson –

de Beukelaer, Halloren, Hans Riegelein,

Kalfany, Katjes, Krüger, Kuchenmeister,

Lambertz, Mederer/Trolli,

Niederegger, Ragolds, Ritter, Rübezahl,

Seeberger, The Lorenz Bahlsen

Snack-World, Wawi and Zentis.

Once more numerous companies

from abroad are taking part such

as Baronie, Barry Callebaut, Guylian

and Neuhaus from Belgium, Dan

Cake and Toms Confectionery from

Denmark, Cémoi from France, Ion

from Greece, ICAM, Loacker and

Sperlari (new) from Italy, Colombina

from Colombia, Crown Confectionery

(new) from Korea, Kras

Food Industries (new) from Croatia,

Barcel and Canel's from Mexico, the

returnee exhibitor Cloetta from the

Netherlands, Manner from Austria;

Millano and Wawel from Poland,

United Confectionery from Russia,

Camille Bloch, Kambly and Ricola

from Switzerland, Orkla Confectionery

& Snacks from Sweden, Fini Golosinas,

Natra, Valor and Vidal Golosinas

from Spain, the Elvan Group

and Sölen Cikolata from Turkey,

Thornton's and Walkers Shortbread

from Great Britain as well as ABK

Confectionery and Roshen from the

Ukraine.

Because they grant the many smaller

and medium-sized companies

access to buyers from all over the

globe, the country pavilions are

of great significance at ISM. At the

10 FOOD TURKEY January - February 2019
---
coming ISM the following country

pavilions are present Belgium (Brussels,

Flanders, Wallonia), Brazil, the

People's Republic of China, Denmark,

Finland, France, Greece, Hong

Kong, Ireland, Italy (Italy, South Tyrol,

Arezzo), Canada (new), Lithuania,

the Netherlands, Austria, Poland,

Sweden, Switzerland, Spain (Spain,

Catalonia), the Czech Republic, Turkey,

the Ukraine, the USA and the

United Kingdom.

ISM will next year also once again

be offering diversified product segments

and will pick up on the industry's

current trends. Alongside

the traditional product groups, such

as sweets and snack items ranging

from chocolate products and confectionery

through to ice cream,

the industry's leading trade fair will

also be presenting segments that

focus on the themes snacking, togo

items, breakfast as well as coffee

and gourmet products. These also

include the New Snacks section in

Hall 5.2. that was introduced five

years ago. Here 45 exhibitors from

17 countries will be presenting

among others fruit, vegetable and

breakfast snacks, jerky and meat

snacks, sandwich spreads as well as

protein and energy bars.

In the Cologne Coffee Forum in

Hall 5.2, coffee manufacturers and

roasting companies will demonstrate

how sweets, biscuits as well as

coffee, tea or cocoa can be put together

to form tasty combinations.

Lectures, workshops and best practice

seminars round of the program

in this section.

Furthermore, for the seventh time,

ISM is offering established companies

that are exhibiting at ISM for the

first time the opportunity to present

themselves to the international

buyer's market in the Newcomer

Area. With a total of 13 companies

the allocated space in Hall 11.1 is already

fully booked.

The New Product Showcase in

Hall 2.2. has established itself as an

appealing attraction for all decision-makers.

A high-quality special

exhibition gives the visitors the targeted

opportunity to learn about

the new products of the sweets

12 FOOD TURKEY January - February 2019
---
It is an inevitable element of dining tables equipped

with the most delicious dishes to share with the

loveliest friends… It is Kilikya Şalgam, It is

Kilikya Turnip…

No matter what you have on the menu, the dining

tables without Kilikya are savorless and the dishes

are unhappy. Because Kilikya Turnip is the taste

friend of all dishes!

taste

friend

/kilikyatr

www.kilikya.com.tr
---
and snacks industry. In more than

130 display cases, the exhibitors of

ISM will present products that have

been developed after ISM 2018.

Trends and new products with

added value - Trend Court@

ISM

The Start-up Area located in the

Trend Section of Hall 5.2. is the

place for innovations. 17 companies

will be presenting their products

and concepts to the broad trade

audience at ISM 2019.

Furthermore, as usual Innova Market

Insights will be presenting the industry's

trends in a new location in

Hall 5.2. and will thus grant insights

into the latest developments for

sweets and snacks. In this connection

Innova Market Insights will be

14 FOOD TURKEY January - February 2019
---
organizing trend presentations three

times a day in the scope of the Expert

Stage.

The Trend Court@ISM will be

rounded off by lectures and discussions

on industry-relevant themes

on the ISM Expert Stage also in Hall

5.2.

Sweet Kitchen@ISM - the

new showroom of ISM

Interesting live shows on the theme

sweets will be held for the first time

in the new Sweet Kitchen@ISM section

in Hall 3.1. Here visitors have

the opportunity to experience the

production process of different

types of sweets in a relaxed atmosphere

- from making bonbons

through to the filling and decoration

of macaroons.

Halal an ongoing trend

After the successful premiere at ISM

2017, the Halal Infopoint will once

again in 2019 take place at a central

location on the Central Boulevard.

Here, globally operating dealers and

manufacturers of sweets and snacks

have the opportunity to present

their products clearly in a central

location because the significance of

Halal continues to increase on the

German and European retail food

market.

Award-winning moments

The highlights of ISM include the

presentation of the ISM Award for

exceptional services within the

sweets and snacks industry as well

as the selection of the winners of

the New Product Showcase on 27

January 2019.

Parallel to ISM, the visitors to ProSweets

Cologne can inform themselves

about the complete range of

supplies for the sweets and snacks

industry: from innovative ingredients,

to pioneering packing solutions,

through to optimized production

technologies.

16 FOOD TURKEY January - February 2019
---
Biscuits

industry on an

uprising trend

The increasing demand

and bigger market

potential motivate

biscuit manufacturers to

diversify their product

range and improve their

quality to offer healthier

and testier products

Nutritional demands are increasing

around the world and the consumption

of biscuits is also increasing in line

with this fact. As working and active

life is becoming more intense, the time

spared for cooking is decreasing, and

the income levels become higher, the

consumption of biscuits in the snack

food category is increasing. This rise in

consumption affects the whole global

biscuit market.

The increasing demand and bigger

market potential motivate biscuit

manufacturers to diversify their product

range to include other varieties,

such as diabetic biscuits, baby formula

biscuits, special breakfast biscuits, nutritious

and weight-losing bran, oat or

rye biscuits, to address the demands

of their target consumers.

Turkish Ministry of Economy offers

the most accurate information about

all industries and it is naturally the best

source of information for the Turkish

economy. The following information

about the biscuit industry in Turkey

was provided from the Ministry's

sources.

18 FOOD TURKEY January - February 2019
---
Biscuit Production in Turkey by Years

Biscuit production in Turkey dates

back to 1924. However, the sector has

been experiencing rapid development

and modernization for 15-20 years.

The product diversification has been

realized, and more attention has been

paid for scientific and hygienic methods

by employing modern technologies.

EXPORTS

Sweet and sugar added biscuits are the major items in the total exports of

biscuits (97% in 2016) from Turkey.

Turkish Biscuit Exports by Years

Today, there are lots of companies

in Turkey producing various biscuits

in the same quality with its European

competitors. All of the production

units in the sector are private companies

and most of them are located in

Marmara and Central Anatolia provinces.

Production of biscuits in Turkey was

671 thousand tons in 2016.

Export of Turkish Other Biscuits by Destinations

20 FOOD TURKEY January - February 2019
---
Representatives of 160 food

companies from 33 countries

convened in Bursa for

cooperation

Under the framework of a UR-GE (International Competition

Development) project of BTSO aiming to improve competitive efforts in

international markets for food companies was held in Merinos AKMM

and more than 160 foreign buyers from 33 countries participated in the

event. The event was a part of other organizations held for different

sectors, where more than 500 foreign buyers met with managers of food

companies in Bursa.

In the press conference held before

the event, Ibrahim Burkay, chairman of

BTSO, Bursa Chamber of Industry, informed

about activities they engaged

to reflect the power and richness of

Bursa in the food and farming industries

in international markets. He said,

"We have been emphasizing on UR-

GE projects to improve our productive

powers in certain fields. Today, we

have been starting the forth buying

delegations activity in the food sector.

We hope that the event will be effective

on the efforts of our companies

in the way to increase their export

earnings. About 160 businesspeople

will come together to seek export

opportunities. Among them are buy-

22 FOOD TURKEY January - February 2019
---
ers from Dubai, the largest wholesaler

of Morocco, Urenfood from England,

Neptun from Azerbaijan and others

from Germany.

Foreign trade and exports are main

power engine for economic development

of Turkey. Bursa is one of the

major provinces in the country that

have an important potential in international

markets. I wish success for all

parties in their efforts to contribute to

our national economy."

In his address to the press, Alinur

Aktas, mayor of metropolitan city of

Burse, emphasized on the importance

of the city as an important trade center.

He said, "The buying delegation activities

held under the UR-GE project

are highly effective when compared

with similar organizations. I am also

happy that it is held in this Merinos

AKKM and I express my thanks to the

chairman Ibrahim Burkay, assembly

member Burhan Sayilgan and other

members of the committee."

24 FOOD TURKEY January - February 2019
---
ZEYTİN, ZEYTİNYAĞI,

SÜT ÜRÜNLERİ, ŞARAP VE

TEKNOLOJİLERİ FUARI

Olive, olive oil, dairy products

wine & technologies fair

6-9 MART

MARCH 2019

Yer / Meeting point:

fuarizmir

DESTEKLEYENLER (SUPPORTERS)

THIS FAIR HAS BEEN ARRANGED ACCORDING TO THE LAW OF 5174 BY TOBB (TURKISH UNION OF STOCK EXCHANGES AND CHAMBERS)
---
Milkman – a dependable

address in innovative

palate taste in milk

market

Managing the

supply chain

under quality

circle concept from

milking up to the

packaged delivery,

Milkman runs fast

to be a popular

brand in domestic

and international

markets by

investing in product

development.

Having 30 years of production experience

in the food industry and been

serving to millions of people of every

age group in more than 80 countries

in all continents Saray Holding produces

milk and milk products up to

the same standard in its newly established

Milkman Milk Company. Started

to produce on a land of 46,000 sqm

in 2014, the company offers quality,

healthy, dependable and innovative

milk products.

Chairman of Milkman, Samed Ozdag

told us about launching story of their

innovative products.

How was the Milkman born in

Saray Holding and what is the

present position of the brand?

Milkman was established in Karaman

in 2014 to produce milk, ayran, cream,

milk powder and other products by

Saray Holding. As a factory of palate

taste, the modern facilities of the

company transfers the regional natural

flavors to the tables in the world by

offering delicious, lovely, satisfying and

innovative milky products developed

by its R&D team and produced healthily,

hygienically, naturally and efficiently.

Milkman has several certificates for

the products and production processes,

including ISO2200, ISO9001/2008,

BRC and Halal Food and exports its

products to several countries including

Gulf countries and others.

Let us listen to the

development of innovative

milk products from you, the

original source of the story.

What do you want to say

about the new flavors that

you added to your product

portfolio recently?

The new varieties are made of milk

and other fruits, walnut and hazelnut,

26 FOOD TURKEY January - February 2019
---
all are the ingredients needed for a

healthy diet having vitamins and delicious

flavors. Milkman milk with hazelnut

and Milkman milk with walnut, a

practical solution for healthy life for all

ages, contains D and B12 vitamin, folic

acid, calcium and phosphor that meets

the daily needs of consumption up to

37.5%.

The products are made of milk and

5% of ground hazelnut or walnut that

are processed under sterile conditions.

Chairman of Milkman, Samed Ozdag

How long was the product

development process for

these two products?

It took about one year to develop

both, and the milk with hazelnut is the

first in Turkey. We made this both domestic

and national product by ourselves

from the product technology

up to the formula. Milkman milk with

tahini was the first in Turkey that we

launched it in 2016.

What are the aims of Milkman

for the future?

We keep offering new and innovative

product to the milk industry. Our aim

is to expand the milk and milk products

market with our innovative products

and to get a 7.5 percent share of

market.

January - February 2019 FOOD TURKEY 27
---
Balparmak

to introduce Turkish

honey in the Middle East

The collaboration agreement signed

with IFFCO, which is one of the

most important players in United

Arab Emirates' fast-moving consumer

goods industry, will enable Balparmak,

Turkey's leading honey brand, to be

introduced in the Middle East. Flower

Honey from Anatolia, which is home

to thousands of endemic plant species

and Pine Forest Honey, of which

Turkey harvests more than 90% of the

world's reserves, along with innovative

products such as Apitera and Honey-

Mix, will initially be available in August

and onwards to consumers in Dubai

at supermarket chains, Carrefour and

Özen Altıparmak

Union Cooperative Society. Speaking

about the collaboration, Balparmak's

Chairman, Özen Altıparmak, puts into

words, "Our most important goal is

to increase the recognition of Turkish

honey all over the world. We also

strive to mutually contribute in quality

and taste to our overseas customers

by distributing our products abroad

with the support we get from Turquality.

Our collaboration with IFFCO is

crucial in this endeavor. We will collectively

be introducing Turkish honey to

national supermarkets and to general

traditional stores, as well as to food

service. As the owner of the most so-

28 FOOD TURKEY January - February 2019
---
Balparmak signed

a collaboration

agreement with

IFFCO, most

important players

in the fast-moving

consumer goods

industry all over the

Middle East. The

collaboration will

make Balparmak

flower and pine

varieties of honey, as

well as innovative

products such

as Apitera and

HoneyMix, available

for sale, first in

Dubai and then

expending into all

other neighboring

countries in the Gulf

Cooperation Council

region.

phisticated and unique honey-specific

laboratory in Turkey, and one of four in

Europe, we will also be progressing to

a very promising and confident future

making Balparmak a global brand."

Balparmak has been pioneering the

development of Turkey's honey industry

since it was founded in 1980,

and has remained the industry leader

for many years. With over 300

employees, the company delivers

healthy, natural and delicious honey to

consumers under brand names, Balparmak,

Balkovan (HoneyHive), and

honey derived products, Apitera and

Honey Mix. Balparmak differentiates

itself through the standard of quality

it brings to consumers and leads the

industry in this respect. Balparmak operates

according to international food

safety standards, certified by ISO FSSC

22000 Food Safety Systems and the

BRC (British retail Consortium) Global

Food Standard.

January - February 2019 FOOD TURKEY 29
---
Teksüt

focuses

on exports

in 2019

"We watch

opportunities

in the Middle

East, the Gulf

region and the

African markets.

Southeast Asian

countries like

Indonesia and

Malaysia also

have potential for

us."

Teksut, Turkey's leading dairy products

company, is rapidly expanding its export

network. The company closed

2018 with a growth of 20 percent.

Meeting the year 2019 with the Gulfood

exhibition, one of the most important

meeting points of the food

sector, the company plans to continue

to grow in the export field. We talked

with Teksut Board Member Arda

Aksaray about Teksut's structuring in

foreign markets.

How was the year 2018 for

Teksut?

We have left behind a volatile and successful

year in 2018. At the beginning

of 2018, we set a 20 percent growth

target for ourselves. We got this target.

Due to the financial fluctuations in the

country it was a difficult year but we

achieved this success by working hard,

not compromising our quality, and increasing

our penetration, exports and

employment. We have a growth of

14 percent, especially on the employment

side. Due to increased business

volume, we have expanded our staff.

Forecasts by the financial markets and

the government about 2019 signal

that the growth for the year will below

those of the past. So we take our

routes by watching the developments

in the country and in abroad. Exports

30 FOOD TURKEY January - February 2019
---
will be on the agenda. Number of our export markets increased

from 9 to 14 last year; we targeted 20 for the year 2019. We increase

the penetration in the markets we have been in. As of the

year-end data we hope to realize 50% increase in our exports.

How do you evaluate the data about consumption of

milk and milk products?

Milk production is on the rise in the country, growth rate in 2017

was 17%. It seems there will be 10 percent growth in 2018. Consumption

of milk, yogurt and other milk products are growing in line

with growing population but there is still room for further progress.

Annual per capita consumption is about 24 liters, one third of European

countries average. We need to consume more milk as a whole

nation, from 7 to 77 years old.

January - February 2019 FOOD TURKEY 31
---
How do your preparations go

for Dubai Gulfood fair? Which

product groups do you plan

to exhibit in the fair?

We will be participating in the fair

for the 5th time. Dubai Gulfood is an

important meeting point not only for

the regional businesses but also for

the whole world. About 5 thousand

firms participate in the event which is

visited by 100,000 professionals.

Export is one of the important items

on our business agenda. We have

been exporting for many years but

we expanded our market coverage

more in recent years. Number of

our export markets increased 50% in

2018. The Dubai Golfood has a good

share in this growth. So, we attach

great importance in participating in

this fair. Global food businesses take

their place in this fair and it is possible

to reach every food company and

seller from all over the world. We will

exhibit all the products in the fair that

we sell in domestic market.

Arda Aksaray Teksut Board Member

Which countries do you

target to reach out in the fair?

We have been watching the opportunities

in the Middle East, Gulf region

and African markets. Besides,

the south east Asian countries such

Malaysia and Indonesia bear potentials

for us. Region has a great cultural

variety, and a middle class segment

whose incomes are rising fast.

32 FOOD TURKEY January - February 2019
---
Seyidoglu Food:

"Our aim is to

export to forty

countries"

Seyidoglu Food,

a halwa and fruit

preserve producer,

introduced its new

products first in

Musiad Fair.

Mehmet Goksu, General Manager

Seyidoglu Food has taken place in

the 8th hall in Musiad Expo fair held

in Istanbul ended on November 24.

Mehmet Goksu, General Manager of

the company, said on the occasion,

"We displayed the fruit preserves,

honey and other varieties for breakfast

tables that we launched in the fair.

There were great number of visitors

on our booth starting from the first

day of the event. We have had several

important business contacts for cooperation

with prospects and buying

delegations coming especially from

the Middle East, Africa and Europe.

The fair run well for us and it was very

productive."

"As Seyidoglu we have been exporting

to 30 countries and our aim is to

sell our products in 40 countries by

the end of 2019. Presently, we have

four hundred product varieties in our

portfolio, including the honey and other

series for breakfast and our target

is to be the leading brand in breakfast

category. Our new factory in Hadimkoy

Organized Industrial Zone, that

we invested in 10 million TL, will be

operational in the early months of

2019. With this new plant our production

capacity will be doubled."

34 FOOD TURKEY January - February 2019
---
Meet key buyers at the Kingdom's

premier event for the food and

hospitality industry

21 – 23 April 2019

Jeddah Centre for Forums & Events

To book a stand please contact:

thehotelshowksa@dmgevents.com

or call +971 4 4453721

thehotelshowsaudiarabia.com

JOIN YOUR PEERS

Supported by Host venue Endorsed by

Hygiene Partner

Organised by
---
Gulfood ups

knowledgeexchange

ante

with first-ever

innovation summit

Visionary

speakers from

Beyond Meat, the

UN World Food

Program and

Kellogg's among

industry stars to

shine spotlight on

'good food' and

other industry

touchpoints

Dubai, UAE – Global food sector

power brand Gulfood - the world's

largest annual food and beverage

trade exhibition – will celebrate its

new 'The World of Good, The World

of Food' theme by launching the Gulfood

Innovation Summit, a robust new

conference program, in 2019.

In line with the 'good' proposition of its

core theme, the 24th edition of Gulfood

- running at Dubai World Trade

Centre (DWTC) from February 17-

21, 2019 - will see consumer preferences

feature heavily in the Gulfood

Innovation Summit, where three-days

of industry discussion, from February

18-20, and the airing of a global social

and economic outlook for the F&B industry

on its first day.

The Summit will also feature exclusive

question-and-answer sessions with

globally acclaimed chefs, influencers

36 FOOD TURKEY January - February 2019
---
and industry leaders on the challenges

of introducing breakthrough concepts

to local markets.

"The summit will tackle a diverse

range of issues which are already impacting,

and will continue to effect, the

global F&B industry during this hugely

transformative part of its history," said

Trixie LohMirmand, Senior Vice President,

Exhibitions & Events, DWTC.

"As an educational forum, the Summit

is a vital learning ground and essential

for those looking to keep up with the

pace of change this sector is currently

experiencing."

Global talent descends on

Dubai

Keynote addresses on the industry's

challenges and opportunities and

global food supply will come from

Dr. Bernhard van Lengerich, Board

Member of Beyond Meat and former

Chief Science Officer & Vice-President

of Technology Strategy, General

Mills; and Paul Newnham, Director of

the World Food Programme, United

Nations. A blueprint for the Design of

Good Food for the future, meanwhile,

will be the Summit domain of Dr. Nigel

Hughes, SVP Research & Development,

Kellogg's.

Elsewhere, incisive success pointers

will be unveiled by some of the biggest

names in the local, regional and international

business with distributors

picking up tips from Bhushant Ghandi,

General Manager of international F&B

January - February 2019 FOOD TURKEY 37
---
powerhouse Truebell, which is one of

the GCC's largest independent food

and licensed beverage importers.

Retailers and online

disruptors come to the fore

Retailers will hear how changing consumer

preferences are driving a sector

revolution in a panel discussion aimed

at airing new strategies, showcasing

technologies and ensuring industry

players select the right product mix,

while Yusuff Ali, M.A., Chairman and

Managing Director of retailing giant

Lulu Group will feature on the panel

alongside a senior representative of

hypermarket chain MAF-Carrefour.

Some of the biggest online delivery

channel players will also take to the

Summit stage to give their views on

how the sector will continue to impact

the F&B scene. Deep insights

will come from Anis Harb General

Manager (Dubai) of Deliveroo; Spencer

Price, CEO of Halla I/O; and Toon

Gyssels, Chief Operating Officer, Talabat.

The Summit spotlight will also fall on

Saudi Arabia and Egypt with industry

forecasts being proffered for both

countries.

Gulfood at a glance

Gulfood visitors will discover a show

packed to the DWTC rafters taking

up more than 1,000,000 square feet

with 5,000 exhibitors and 120 country

pavilions vying for business with

the latest F&B produce and showcases

across eight primary market sectors:

Beverages; Dairy; Fats & Oils; Pulses,

Grains & Cereals; Health, Wellness

& Free-from; Meat & Poultry; Power

Brands; and World Food.

Gulfood 2019 is a trade event open

strictly to business and trade visitors.

The show is open 11am-7pm from

February 17 – 20 and 11am-5pm on

February 21.

38 FOOD TURKEY January - February 2019
---
PANTONE 1795 CVC

PANTONE 362 CVC

PROCESS BLACK 100%

17 - 21 FEBRUARY 2019

DUBAI WORLD TRADE CENTRE

The world's largest annual food & beverage

trade exhibition is back for its 24 th edition,

placing innovation and goodness at its core.

See what's fresh, cool and hot at the only

food event that is truly global.

REGISTER NOW

& PAY AED 420

AED 270

OFFER ENDS

7 FEBRUARY 2019

Get your ticket at gulfood.com

Organised By

Registration

Area Sponsors

Category Sponsor

(Meat & Poultry)

Silver Sponsor

& Carrier Bags

Lanyards Sponsor

Visitor Badge

Pouches Sponsor

Carrier Bags

Sponsor

Exclusive Official

Publication

Official Chef's

Magazine

Exclusive Online

Media Partner

Official Media Partners

Official Regional

Magazine

Exclusive Regional

Online Media Partner

Official

Publisher

Official

Airline Partner

Official Courier

Handler

Official Travel

Partner
---
Gulfood Manufacturing

attracts more visitors

from wider geography

Fifth outing for

annual production

platform witnesses

growth in

geographic visitor

footprint

Dubai, UAE – Gulfood Manufacturing

2018, the fifth edition of the

region's biggest food industry processing

event - witnessed a major

expansion of the annual show's

visitor geographic footprint across

continents, further cementing its position

as a gateway to Africa – one

of the world's major global growth

markets.

Key players among the 35,000-strong

turnout of visiting industry professionals

from 160 countries, revealed

that commercial potential evidenced

by African buyers had delivered an

unexpected, yet welcome, windfall

over the three-day show, which

ran November 6-8 at Dubai World

Trade Centre (DWTC).

For global sector leader International

Flavors & Fragrances Inc. (IFF),

which leveraged an experiential display

to attract high levels of interest

on its first Gulfood Manufacturing

outing, the show's ability to unearth

intercontinental opportunities made

40 FOOD TURKEY January - February 2019
---
the long journey to Dubai worthwhile."The

effect of our multi-sensorial

experience room, where we

tried to re-imagine the future of

food to foresee what changes might

be and how they might translate

into today's F&B world, was certainly

the highlight of our participation,"

said IFF's Mamdouh Seoudy, Business

Development & Marketing Manager

Middle East & North Africa. "We

were thrilled with the commercial

potential we generated and the diversity

of new buyers we were able

to meet. The geographical diversity

of visitors was especially noticeable

for us, with Sub-Sahara Africa delivering

a great and unexpected representation.

The size of the event, the

number of visitors, and the quality of

exhibitors and content was beyond

our expectations."

IFF's ringing endorsement was underpinned

by other mainline exhibitors,

who all reported a significant

uptick in on-the-floor business compared

with the 2017 event.

Dohler, the global technology-driven

ingredient, systems and solutions

provider, reported a 15 per cent

first-day upswing in lead generation

with the quality of leads leaving the

company's MENA Regional Project

Manager Gayatri Vivek Damle,

"most impressed." German smart

processing solutions provider GEA

added that the 2018 show proved

invaluable in reaching new prospects

with Branding and Advertising

Director Stefan de Roo celebrating

actual early-show signed deals.

"Half way through the show we'd

nearly met out targets," he said.

The breadth and speed of buyer response

came as no surprise to show

January - February 2019 FOOD TURKEY 41
---
organizers DWTC, with the 2018 edition

taking on the mantle of 'Future in Focus'

for the global food processing and distribution

industry which is on the cusp of a

major disruptive overhaul.

"The show has huge industry appeal as

it hosted a spread of international breakthrough

technologies which are set to

reshape a sector, which is racing to meet

seismic changes in consumer demand

and driving the 4th industrial revolution

efficiency to heighten competitiveness,"

explained Trixie LohMirmand, Senior Vice

President, Exhibitions & Events Management,

DWTC.

"Across the globe, every serious industry

player acknowledges the need to keep

abreast of the new sector dynamics and

that investment for competitive advantage

is now non-negotiable. The upsurge

in interest from Africa is attributed to the

huge investment upswing under way on

the continent to optimize its agricultural

potential and the fact that Dubai is a gateway

to this vast market with daily flights

to most African nations being only around

four-hours and with freight sea-lanes easily

accessible from Jebel Ali port."

42 FOOD TURKEY January - February 2019
---
The net result was a show which morphed

into a 'laboratory of the future',

with Gulfood Manufacturing's 1,600

exhibitors from 60 countries applying

cutting-edge innovation to a range of

critical industry issues, from improved

food safety and traceability systems, to

food waste, improved yields, labor scarcity

and shifting consumer preferences.

All these key issues were aired at

show's associated 'Food Tech Summit',

which ran on November 7 and 8 and

blueprinted the Factory of the Future

by exploring next-gen technologies,

including artificial intelligence, digitalization,

the Industrial Internet of Things

(IIoT), automation, robotics and blockchain

transformation.

"The future-themed content of the

conference, and the wider show, provided

an enormous pull, with the

conclusion being that for this industry

the future is quite literally here today,"

said LohMirmand. "Our history of value-add

show features continued with

new-look innovation demos and tours."

The innovation demos ensured that

visitors - including some of the 2,000

C-level executives who were hosted

on a Big Buyers program – received

deep insights into the progressive technologies

on offer. The tours took in the

show's five dedicated sectors: Ingredients,

Processing, Packaging, Automation

& Controls, and Supply Chain Solutions.

"This is an industry which is at the vanguard

of national priorities and the 4th

industrial revolution practices. With regional

players keeping a close watch on

global developments, we are committed

to ensuring Gulfood Manufacturing

reflects a sector where the pace of

change in massively outstripping that of

many other manufacturing segments,"

concluded LohMirmand.

Gulfood Manufacturing returns to

Dubai World Trade Centre from 29-31

October 2019.

January - February 2019 FOOD TURKEY 43
---
Pastazym PD

greatly

improves

the cooking

tolerance of

pasta.

Greatly reduced

stickiness, even

when low-protein

wheat varieties are

used

Ahrensburg – Pasta tends to stick

together quickly if it is cooked or

kept hot too long. The quality and

therefore the cooking tolerance of

the pasta suffer consider-ably, especially

when low-protein flours are

used. In Pastazym PD, the Ahrensburg

flour expert Mühlenchemie

has developed a new enzyme system

that ensures ex-cellent cooking

stability of the pasta even under

extreme conditions. Not only

does this have a positive influence

on consumers' purchasing decisions;

above all, it proves extremely

useful in the food service sector.

"Clean label"

solution for better

cooking stability

The optimal raw material for producing

high-quality pasta is hard

wheat, but fluc-tuating wheat

qualities, restricted availability and

unstable prices are increasingly

causing pasta manufacturers to

resort to soft wheat or mixtures

of hard and soft wheat. Pasta with

this composition has considerably

less tolerance in respect of cooking

times, and the desired al dente

bite of the pasta is lost. Just a small

amount of Pastazym PD – 40 g per

100 kg flour – extends the cooking

time to as long as 20 minutes

and ensures a pleasant mouth feel

as well as reducing the stickiness

44 FOOD TURKEY January - February 2019
---
of the cooked pasta. Mühlenchemie's

innovative enzyme was first

used at high altitudes, where the

re-duced air pressure lowered the

boiling point of the water. This in

turn increased the cooking time

for the pasta. With Pastazym PD, it

was possible to achieve acceptable

quality in spite of prolonged cooking

times of up to 20 minutes, with

a significant difference as compared

to untreated pasta.

The use of Pastazym PD is also

of interest to pasta manufacturers

who supply com-panies in the

food service and restaurant sectors;

these are than able to guarantee

their customers uniformly high

quality in spite of long standing

times and fre-quent re-heating of

the pasta.

Pasta manufactured with the addition

of Pastazym PD is classified

as a "clean label" product and does

not require adjustment of the label

declaration – a fact that makes it

particularly attractive to consumers.

January - February 2019 FOOD TURKEY 45
---
Optimal

manufacturing

for necessities

of the sector by

Aks Cooling

Aks Cooling

renders services for

various sectors and

excels in machine

production and

export.

Aks Cooling is one of the prominent

names in the Turkish drying and dehumidification

machines sector. We

asked Merve Arda, Manager of AKS

Cooling, the success story of the company:

When and how was AKS

Cooling founded?

Our firm was established under the

name of Aks Cooling as a private

company in the field of

air conditions sales and services

in 1996. It performed

as a dealer and after sale

service of a lot of brands.

Our firm gained legal

entity status under

the name

of "Aks Klima

Sogutma ve

Gida Sanayi" in 1998 as a result of its

growth.

While at the same time, we started

manufacturing of dryer and dehumidification

machines manufacture that

were required by the Turkish industry

to meet demands. We offered of all

these industrial machines to the Turkish

sector by registering under the

umbrella of Aks Cooling brand.

Which sectors do you

serve? Could you detail your

industrial dryer machines?

We render services for various sectors

such as the food industry (vegetable

and fruit drying, dried fruits, chocolate

and confectionery), the maritime sector

(lazaret and ship's stores, to prevent

the corrosion in electronic ma-

46 FOOD TURKEY January - February 2019
---
terials, to store moisture-sensitive raw

materials and shipping) construction

industry (for plaster and concrete drying,

jamb and decoration in stores, museums,

libraries, etc.) and the printing

sector (paper drying, power presses

and moisture measurement). Our machines

are used in these sectors confidently

for drying various materials.

What kind of machines do

you have? Which foods are

suitable for your machines?

What do you want to say

about your production

capacity? Could you mention

about quality standards of

your machines?

Our machines are divided into two

groups as carpet and food dryer

machines. All of our productions are

manufactured at ISO 9001 standards.

We have machines addressing to the

needs of customers with different

ranges as M2 and measures. We received

positive feedbacks from our

references in the food industry. We

work on various products such as

mushroom, tea, tomato, apricot, grape,

dog food, etc.

What are the main principles

of AKS Cooling in production?

We are a family-owned company. Our

main goals are working hard in good

and bad times for success of our company

and our essential principle is to

maximize the customer satisfaction in

production.

Which countries do you

export and what are your

target markets?

We think that exporting is important

and it takes part among the targets

of all companies. We, as Aks Cooling

family, export to 33 countries. We be-

January - February 2019 FOOD TURKEY 47
---
lieve that we will increase the number

of our export markets and volume;

we work hard in this direction.

What do you do to promote

your firm and products to

your prospective clients

clientele?

Participating in fairs is our first priority.

We place importance on using social

media efficiently. Besides, we make

promotion by calling our customers

to make one to one discussions.

Which fairs shall we see Aks

Cooling at home and abroad

this year?

We attend most of the domestic

shows. We took part in Hannover

Messe International Industry Fair last

year. We will participate in Global

Clean Expo, which will be held at Lütfi

Kırdar International Convention and

Exhibition Center, 21-22-23 February

2019.

What are your current

projects and aims?

Primary aim of our R&D studies is to

gain maximum benefit with minimum

energy. We develop our machines

that we produce at this direction. Our

goals are to make our presence felt

at home and abroad and to provide

service in this industry with our quality

and customer satisfaction.

Do you have any new

investments set recent times

and do you have anything

for us to underline in the

interview?

We developed a new universal software

design that can dry every

product and can be operated with

electronic, solar, steam and break gas

powers, all in one single device working

with minimum energy.

48 FOOD TURKEY January - February 2019
---
Nem Alma ve Kurutmada

Çözüm Ortağınız...

İkitelli Organize Sanayi Bölgesi

MUTSAN Mutfakçılar Sanayi Sitesi

M Blok No : 40 Başakşehir / İSTANBUL

www.akscooling.com

info@akscooling.com
---
Russia to double tomato

imports from Turkey

Russia's Agriculture Ministry is planning

to double the quota on tomato

imports from Turkey to 100,000 tons

a year, the Interfax news agency reported,

citing a draft decree.

Russia, which is Turkey's largest market

for tomatoes, halted imports due to a

crisis that began after Turkey downed

a Russian fighter jet for violating its airspace

in November 2015.

In January 2016, Russia banned imports

of Turkish fruits and vegetables,

including tomatoes, oranges, apples,

apricots, cabbage, broccoli, mandarins,

pears, peaches, cucumbers, plums,

strawberries, onions and cloves. It also

banned the imports of poultry and related

products.

However, Russia

relaxed the trade

sanctions on Turkey

during the

summer of 2017. It

lifted a ban on vegetable

imports from

Turkey in November

2017 after a rapprochement

between the two countries

and Russia agreed to import

up to 50,000 tons of Turkish tomatoes

annually.

50 FOOD TURKEY January - February 2019
---
Turkey -

undefeated

champion

of flour

exports

52 FOOD TURKEY January - February 2019
---
Realizing 30% of the

11 million tons of flour

trade of the world

and unchanging

name of the peak,

Turkey strengths its

solidarity with Turkish

Flour Industrialists'

Federation (TFIF).

January - February 2019 FOOD TURKEY 53
---
Pointing out the importance of

Turkey in the flour industry with its

words "Turkey is an energy bridge

on the wheat export," Eren Günhan,

Chairman of the Board of Turkish

Flour Industrialists' Federation

talked about market share of Turkey

and activities of TFIF.

Could you mention about

the building stones of

Turkish Flour Industrialists'

Federation, one of the biggest

business world organizations

of Turkey?

One of the first geographies where

wheat is grown, Turkey paved the

way for development of the flour

industry. Although the old water

mills were replaced by mechanization

with the proclamation of the

republic but the mechanization in

this sector could not be realized

until 1960s. After then incentives

increased in 1980s, the flour sector

got its share. The number of flour

factories increased and various re-

Ton

25,000,000

20,000,000

15,000,000

10,000,000

5,000,000

0

4,000,000

3,500,000

3,000,000

2,500,000

2,000,000

1,500,000

1,000,000

500,000

0

TÜRKİYE BUĞDAY ÜRETİMİ

2008 2009 2010 2011 2012 2013 2014 2015 2016 2017 2018

TÜRKİYE UN İHRACATI (ton)

2014 2015 2016 2017 2018

54 FOOD TURKEY January - February 2019
---
gional associations were founded. As

a result of common decision of the

industry leaders with the thought

that it would be inefficient the activities

of small associations, Turkish

Flour Industrialists' Federation (TFIF)

was established by merging of 9 associations

in 2005. 320 of the 457

members is the manufacturer, the

association today represents 85% of

the sector.

What do you say about

mission and responsibilities

of Turkish Flour Industrialists'

Federation?

The job definition of the federation

is to fulfill the obligations related to

the flour production process such

as health and quality. As well as the

quality of the flour, its public awareness,

the public and the public relations

and doing studies related to

them are among the main objectives

of our federation. In this direction,

we carry out various projects. We

can say that our most important activity

in this context is our congress

work organized in Antalya every

year in March / April. This year the

15th of our congress will be held.

Eren Günhan

Chairman of the Board of Turkish Flour Industrialist' Federation

Our congress started with 300 delegates

at the beginning and there

were more than a thousand delegates

last year. Not only our members

but also other shareholders

from other industries participate in

our congress. Among the participants

are suppliers, baggers, wheat

importers, flour milling machinery

manufacturers, pesticide firms, and

other shareholders that offer transportation

and port services. In principle,

we decided on a theme each

year for the congress to take on the

agendas. This year, our 15th International

Congress and Exhibitions

(TUSAF) will convene on the theme

of Global Trade and Licensed Warehousing

from 25th to 28th April.

January - February 2019 FOOD TURKEY 55
---
Buğday İthala4

Un İhraca4 Buğday Karşılığı

6,000,000

5,000,000

4,000,000

3,000,000

2,000,000

1,000,000

0

2007 2008 2009 2010 2011 2012 2013 2014 2015 2016 2017

What is the total production

amount of our country that is

called as a wheat silo?

We produce an average of 20 million

tons annually. Fluctuation in agriculture

depends on climate conditions

and the situation of cultivation

sites. Fertilizer, soil analysis and certificated

seed production affect on

the agriculture. There is a horizontal

integration almost 20 million tons in

our country and the consumption

is nearly 19 million tons. The more

wheat import leads the way to the

more flour exports.

What is the world ranking

of Turkey about the flour

export?

Turkey ranks top in flour trade

and Kazakhstan comes next. Turkey

meets 3.5% of total flour trade of

11 million tons having 30% market

share. Difference between Turkey

and Kazakhstan is that Kazakhstan

has its own power of farming of

wheat. Among the countries Kazakhstan

exports flours are neighboring

Afghanistan, Uzbekistan and

Turkmenistan. We export flour to

more than 100 countries. Iraq and

Syria have important positions in

our exports. Thanks to its geographical

position, Turkey has a good share

in the countries namely Sudan, Angola,

Somali, Madagascar and Philippines.

Annually 70 million tons of

wheat is consumed.

4,000,000

3,500,000

3,000,000

2,500,000

2,000,000

1,500,000

1,000,000

500,000

0

2,000,000

1,800,000

1,600,000

1,400,000

1,200,000

1,000,000

800,000

600,000

400,000

200,000

0

2013 2014 2015 2016 2017 2018

TÜRKİYE

There is no wheat production in Indonesia

and Vietnam. Egypt has 10

million of production and 100 million

people. Turkey is located at the

crossroad of the countries that have

surplus and deficit for wheat. It can

be said that Turkey is like an energy

bridge for wheat trade in the world.

What are the general

hardships encountered in the

flour exports?

Flour is a product while wheat is

a commodity. You can store wheat

KAZAKİSTAN

ÜLKE BAZINDA UN İHRACATI

Irak Suriye Sudan Angola Somali Madagaskar Benin Filipinler

2017 2018/10

for three years without processing,

but when it is converted to flour,

its shelf life diminishes by 6 months

because the wheat is more qualified

than flour. Flour can be stored and

transported as easy as copper and

silver. You cannot load flour in container

and you have extra costs for

packing and bagging and others. It is

impossible to mix with other products

again and get them back later.

For this reason, wheat trade in the

world is more common than flour

trade volumes. In the end, Turkey

56 FOOD TURKEY January - February 2019
---
has a mission to act a bridge in this

regard. So, we are the first in flour

exports in the world.

What would you say about

machine investment and

technological developments in

the flour industry of Turkey?

The growth of flour milling productions

and capacities has become an

important dynamism behind the development

of machinery industry in

Turkey. There was no national supplier

of flourmills by the 80's. There

were only a few firms producing

parts for those machines. The industry

was conquered by Germans and

Italians. In line with the growing demand

for the establishment of factories

its supplier industries have also

been developed.

The manufacturers of flour milling

machinery in Trace, Antep, Eskisehir

and Corum produce synergy by cooperating

among themselves. Brand

image for these firms will emerge in

the future. They have product qualities

up to the world standards in

their efforts both in supply and in

production and in product varieties.

We are ahead of most of the countries

in European Union.

How is the quality and

diversity of flour produced in

Turkey?

The diversity dominates in the European

because the demands are that

way. We are an expert in industrial

products and bread types but we

are not experienced in none-wheat

products. I think that if the European

Union market were open to Turkey,

our country would be developed in

this area.

January - February 2019 FOOD TURKEY 57
---
Food Exporters

increased their target

in the Russian market

The food industry, leaded by the Agriculture

and Forestry Minister Dr. Bekir

Pakdemirli, visited Russia, which is the

sole country considered as the target

market of all exporting industries in

Turkey, for settlement of problems experienced

in exportation operations.

In a 9-month period, the Turkish food

industry exported food items worth

610 million dollars to Russia and the

goal in exporting to Russia is to exceed

1-billion dollar limit.

The Agriculture and Forestry Minister

Dr. Bekir Pakdemirli presided at the

Turkish Delegation at the Turkish-Russian

Federation 2nd Term Agricultural

Executive Committee Meeting and he

had discussions with the Russian Federation's

Agriculture Minister Dimitri

Patrushev and other officials for improvement

of agricultural cooperation

and trade between Turkey and Russia.

An Agriculture Business Meeting was

held at the Russian Federation's Ministry

of Agriculture with the Agriculture

58 FOOD TURKEY January - February 2019
---
and Forestry Deputy Minister Mehmet

Hadi Tunç and the Russian Federation's

Deputy Minister of Agriculture

Sergey Levin and businesspeople.

The problems encountered at the

Russian customs during exportation

of Turkish food items to Russia were

discussed at the meetings and then

both parties expressed their constructive

approaches towards settlement

of these problems.

The Aegean Fresh Fruit and Vegetable

Exporters' Association Chairman

Hayrettin Uçak, Aegean Olive and Olive

Oil Exporters' Association Chairman

Davut Er, Aegean Dried Fruits

and Products Exporters' Association

Vice Chairmen Mehmet Ali Işık and

Gürcan Şen, Aegean Dried Fruits and

Products Exporters' Association Board

Member Nejat Almış and Supervisory

Board Member Erkan Geyik, Aegean

Fresh Fruit and Vegetable Exporters'

Association Board Member M. Ata

Özdemir and the Aegean Aquatic

and Animal Products Exporter' Association

Supervisory Board Member

Haluk Taktak represented the Aegean

Exporters' Association on the delegation

organized by the Agriculture and

Forestry Minister Dr. Bekir Pakdemirli

for visiting Russia.

The goal in exporting food

items to Russia is exceeding 1

billion dollar

The Aegean Fresh Fruit and Vegetable

Exporters' Association Chairman

Hayrettin Uçak reported that Tur-

January - February 2019 FOOD TURKEY 59
---
key exported food items worth 610

million dollars to Russia in 2018 and

the fresh fruits, vegetables and products

industry accounts for 423 million

dollars of it and reminded that the

Russian customs have recently started

to keep Turkish food items for unnecessarily

longer periods but some

improvements were discussed during

the visit in Russia for overcoming

these problems; he noted that Turkey

will try to export food items worth

over 1 billion dollars to Russia following

the actions to be taken in the upcoming

period.

The Aegean Olive and Olive Oil Exporters'

Association Chairman Davut

Er highlighted that their goal is to

make Turkey the second leading producer

in the world by 2023 with olive

oil production of 650 thousand tons

60 FOOD TURKEY January - February 2019
---
and the leader producer with table

olive production of 1 million 200

thousand tons and he added that they

consider Russia as a significant option

to transform surplus olive and olive oil

production in Turkey into added value.

"We want to improve the power of

our olive and olive oil industries in the

Russian market. For this purpose, we

will have Sectoral Trade Delegation

and Procurement Delegation Organizations.

For us, it was a fruitful business

trip" said Mr. Er.

The Aegean Dried Fruits and Products

Exporters' Association Vice Chairman

Mehmet Ali Işık noted that they want

to increase the volume of dried fruit

and organic product exportation to

Russia and they plan to organize a

"Sectoral Trade Delegation" for Russia

through the recently launched Development

of International Competitiveness

Project (URGE).

Exportation of food items

to Russia increased by 31

percent

In 2018, Turkey exported products

worth 2 billion 497 million dollars

to Russia during the period between

January and September and the food

items account for 610 million dollars

of this exportation volume.

Our general exportation to Russia

increased by 41 percent and the increase

in exportation of food items

was recorded as 31 percent.

The fresh fruits and vegetables industry

marked a highest total of exportation

to Russia; 417 million dollars

and it is followed by the automotive

industry with 342 million dollars. The

chemicals industry and garment industry

followed these industries with 283

million dollars and 204 million dollars,

respectively.

January - February 2019 FOOD TURKEY 61
---
Kaya Çiftligi focuses

on exports in 2019

Kaya Çiftliği, which produces white

cheese, fresh cheddar cheese, butter,

yoghurt and different cheese varieties,

collecting the results of restructuring

process and the importance of the

brand investment in 2016 and took

the growth rate to 60-70%. The brand,

which primarily develops its investments

in automation, has increased its

employee training and human quality

by over 120% of its targets for 2018.

In 2018, Kaya Çiftliği reached more

than 100 branches in 22 provinces

and will continue its restructuring in

2019 as well. Zülfikar Kaya, Chairman

of Kaya Çiftliği said, "We have the opportunity

to make our store managers

more qualified with new software, to

keep their own stock, to protect and

to follow up, to see the data online

from our center. We developed our

control area by empowering a wider

domain and more people, which in

2018 made us profit."

62 FOOD TURKEY January - February 2019
---
Kaya Çiftligi

restructured its

annual growth

rate of 10-20

percent and

increased it to

60-70 percent in

2018. With this

situation it's over

the target 120

percent for 2018.

In 2019, the brand

will increase its

investment in

technology and

will concentrate

more on foreign

targets.

Zülfikar Kaya Chairman

Expands to Dubai

"We will open new branches in 2019,

but our franchise conditions will be

solid compared to the previous years.

Every day 20-25 franchise demand

is coming, and only 5 percent of the

evaluations are taken " said the Kaya

Çiftliği's Chairman Zülfikar Kaya, in the

period ahead they will give weight to

exports continued as follows: We have

already delivered to Kuwait and Qatar.

We are preparing to enter Dubai.

We prefer to be in international chain

markets through our main distributor

and not with franchise abroad.

January - February 2019 FOOD TURKEY 63
---
Chinese investment

potential continues to

focus on agribusiness

sector in Turkey

China is keen to

import fruits and

vegetables from

Turkey. Cherry

imports from Turkey

and the Shanghai

Food port can be

entry points for

Turkish cherries to the

Chinese market.

As one of the first and largest direct

investors, China's interest in Turkey is

increasing while the potential for cooperation

grows.

A delegation of Turkish business people

led by the International Cooperation

Platform (UİP) held meetings in

Shanghai. The organization recently

established an office in Shanghai and

solidified the investment bridge between

Turkey and China.

Moreover, Turkish and Chinese investors

who plan to carry out investments

in Turkey and China came

together at a meeting in

Istanbul organized by the

UİP. Executives from SHMY

HealthDigit and

Shanghai

Le Wei

Info-Tech

and China's Agricultural

Education

Development Center Director

Zhimin Yan participated

in the meeting. The organizations

reportedly expressed the will to

evaluate investment opportunities

in mining, agriculture, health

and fishing sectors. The executives

of SHMY HealthDigit and Shanghai

Le Wei Info-Tech told that they are

interested in cooperating with Turkish

investors in the electric bus, health,

greenhouse cultivation and solar power

areas and they are keen to import

fruits and vegetables from Turkey. They

said that cherry imports from Turkey

and the Shanghai Food port can be

entry points for Turkish cherries to

the Chinese market. "We want to position

Turkey as a hub and sell Chinese

products to European, Near Eastern

and Middle Eastern markets.

The Belt and Road project that was

launched by Chinese President Xi

Jinping in 2013 has enabled access to

reach Chinese investors and gave a

boost to Chinese investments in Turkey.

UİP Chairman Cengiz Özgencil emphasized

that Turkey is an attractive

country for foreign investors and noted

that UİP works to bring together

Turkish and Chinese investors and expand

their ties.

The bilateral trade between Turkey

and China was recorded at $28 billion

in 2017 and Turkey's imports from the

country totaled to nearly $26 billion.

Chinese firms that have been operating

in Turkey's logistics, electronics, energy,

tourism, finance and real estate

sectors are expanding their businesses

in the country. With the entry of Bank

of China and Industrial Commercial

Bank of China (ICBC), the flow of

Chinese companies into Turkey has

accelerated and also expanded into

the e-commerce sector in the recent

period. The number of Chinese firms

operating in Turkey had neared 1,000

by April, according to data from the

Economy Ministry.

66 FOOD TURKEY January - February 2019