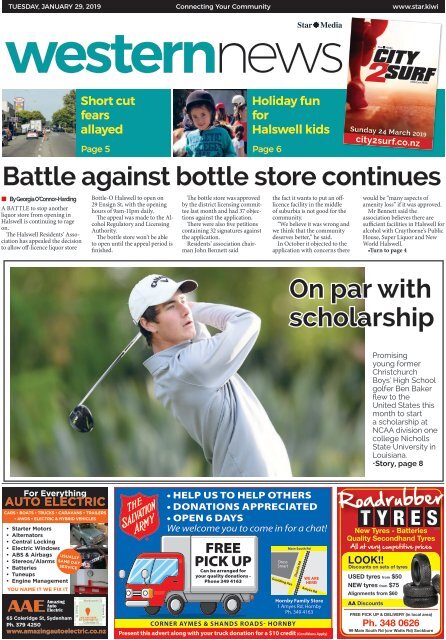 Western News: January 29, 2019
You also want an ePaper? Increase the reach of your titles
YUMPU automatically turns print PDFs into web optimized ePapers that Google loves.
TUESDAY, JANUARY 29, 2019

Connecting Your Community

www.star.kiwi

Short cut

fears

allayed

Page 5 Page 6

Holiday fun

for

Halswell kids

2SURF

CITY

CITY

2

with Les Mills

2SURF

Sunday 24 March 2019

city2surf.co.nz

with Les Mills

Battle against bottle store continues

• By Georgia O'Connor-Harding

A BATTLE to stop another

liquor store from opening in

Halswell is continuing to rage

on.

The Halswell Residents' Association

has appealed the decision

to allow off-licence liquor store

Bottle-O Halswell to open on

29 Ensign St, with the opening

hours of 9am-11pm daily.

The appeal was made to the Alcohol

Regulatory and Licensing

Authority.

The bottle store won't be able

to open until the appeal period is

finished.

The bottle store was approved

by the district licensing committee

last month and had 37 objections

against the application.

There were also five petitions

containing 32 signatures against

the application.

Residents' association chairman

John Bennett said

the fact it wants to put an offlicence

facility in the middle

of suburbia is not good for the

community.

"We believe it was wrong and

we think that the community

deserves better," he said.

In October it objected to the

application with concerns there

would be "many aspects of

amenity loss" if it was approved.

Mr Bennett said the

association believes there are

sufficient facilities in Halswell for

alcohol with Craythorne's Public

House, Super Liquor and New

World Halswell.

•Turn to page 4

On par with

scholarship

Promising

young former

Christchurch

Boys' High School

golfer Ben Baker

flew to the

United States this

month to start

a scholarship at

NCAA division one

college Nicholls

State University in

Louisiana.

•Story, page 8

For Everything

AUTO ELECTRIC

CARS • BOATS • TRUCKS • CARAVANS • TRAILERS

• 4WDS • ELECTRIC & HYBRID VEHICLES

• Starter Motors

• Alternators

• Central Locking

• Electric Windows

• ABS & Airbags

• Stereos/Alarms

• Batteries

• Tuneups

• Engine Management

YOU NAME IT WE FIX IT

AAE

Amazing

Auto

Electric

USUALLY

SAME DAY

SERVICE

WE ARE HERE

65 Coleridge St, Sydenham 65 Coleridge St

Coleridge St

Ph. 379 4250

www.amazingautoelectric.co.nz

Gasson St

Wordsworth St

Brisbane St

• help us to help others

• donations appreciated

• open 6 days

We welcome you to come in for a chat!

Free

picK up

can be arranged for

your quality donations -

phone 349 4163

Dress

Smart

Goulding Ave

main south rd

We Are

here!

hornby Family store

1 Amyes Rd, Hornby

Ph. 349 4163

Corner Aymes & shAnds roAds- hornby

Present this advert along with your truck donation for a $10 credit (Conditions Apply)

shands rd

Amyes rd

Roadrubber

T Y R E S

New Tyres - Batteries

Quality Secondhand Tyres

All at very competitive prices

LOOK!!

Discounts on sets of tyres

USED tyres from $50

NEW tyres from $75

Alignments from $60

AA Discounts

FREE PICK UP & DELIVERY (in local area)

Ph. 348 0626

99 Main South Rd (cnr Watts Rd) Sockburn

LTD
---
City 2 Surf 2019_Entries Available

2

get in touch

Tuesday January 29 2019

from the editor's desk

ANOTHER PROMISING young

sportsman has gone to the United States to

pursue his dream.

On page 8 today, reporter Gordon

Findlater talks to golfer Ben Baker who

has taken up a four-year golf scholarship at

Nicholls State University in Louisiana.

He will join the thousands upon thousands of other promising

young golfers in the US, firstly trying to break into secondary

tours which can springboard you onto the PGA.

Baker, 19, is a product of Christchurch Boys' High School,

which won its maiden New Zealand secondary schools title in

2017.

Baker is now the third member of that promising team to

head to the US on a golf scholarship, following Tom Parker

(University of Oregon) and Dominic Brettkelly (Western Kentucky

University).

Lots of talent out there.

– Barry Clarke

GENERAL INQUIRIES Ph 379 7100

CLASSIFIED ADVERTISING Ph 379 1100

Star Media, a division of Allied Press Ltd

PO Box 1467, Christchurch

starmedia.kiwi

NEWS

Georgia O'Connor-Harding

Ph: 021 910 730

georgia.oconnor@starmedia.kiwi

ADVERTISING

Alana Powell

Ph: 962 8753

alana.powell@starmedia.kiwi

CITY

with Les Mills

2SURF

Latest Christchurch news at www.star.kiwi

2

CITY2SURF

Sunday 24 March

#Areyouupforit?

14km, 6km Community

Fun Run Event

A

with Les Mills

EVENT

It's our

45th

Anniversary Year!

ENTER NOW

www.city2surf.co.nz

your local views

Pathway to sports hub idea

Halswell Ward junior council will meet in March to plan a

pathway from Aidanfield Christian School and Nga Puna

Wai Sports Hub.

Page 4

news

#areyouupforit?

Grab an entry form at www.city2surf.co.nz and start training

for the event on March 24.

Page 14

community events

Fun for whanau

Storytime at Te Hapua: Halswell Centre, 341 Halswell Rd,

Friday 5.30-6.30pm.

Page 16

WESTERN NEWS

The best-read local newspaper, delivered to

18,190 homes every Tuesday

Templeton, Islington, Hei Hei, Broomfield, Halswell, Oaklands,

Westlake, Hornby, Wigram, Sockburn, Church Corner, Ilam,

Russley, Hyde Park, Avonhead, Riccarton Park, Riccarton.

Seven friendly villages

in Canterbury

Key

• Ryman village

• Proposed village

Rangiora

• Charles Upham

Christchurch

• Anthony Wilding, Aidanfield

• Diana Isaac, Mairehau

• Essie Summers, Beckenham

• Margaret Stoddart, Riccarton

• Ngaio Marsh, Papanui

• Park Terrace, Central City

• Woodcote, Hornby

0800 588 222

8984

Home & Business Security • Cameras • Gates & Fencing

Access Control • Alarm Monitoring • Home Automation

Alarms Electrical Cameras Intercoms Auto Gates

Residential and Business Security

Tailor Made Security Solutions

All Your Electrical Needs

Custom Designed Automatic Gates

Innovative Intercom Systems

Pet Friendly Sensors

Security Cameras

Access Control Systems

Electric Fencing

Service and Maintenance

24/7 Fault Service

Locally owned and operated

All faults attended that same day

FREE QUOTES

P: (03) 384 0995 24/7 E: info@actionsecurity.co.nz

www.actionsecurity.co.nz

HORNBY SOUTH

FAMILY STORE

We can arrange

pick-up of

donations simply

by phoning us.

Te Ope Whakaora

pRELOVEd qUALiTy cLOTHiNG,

FURNiTURE & HOUSEHOLd iTEmS

VOLUNTEERS REqUiREd

wOULd yOU LikE TO SUppORT yOUR cOmmUNiTy?

Cnr Columbia Ave & Halswell Junction Rd

Ph 344 2530

Hours Mon - Fri 9am - 4.30pm

Sat 9.30am - 1.30pm

We've been trusted to look after hundreds

of properties all over Christchurch.

You can trust us to look after yours too.

Property Manager of

the Year NZ 2015/16

Ray

Hastie

Manager

027 448 8225

Local Experts – Citywide Knowledge

Phone (03) 331 6755

rwferrymead.co.nz

Paula

Hastie

Inspections

Administrator

027 588 8822

Chloe

McGill

Property Manager

021 914 332

Tom

Brittenden

Property Manager

021 054 5003

Nominated for Ray White New

Zealand Property Management

Office of the Year, 2016/17

Prier Manson Real Estate Ltd Licensed (REAA 2008)
---
WESTERN NEWS Latest Christchurch news at www.star.kiwi

Tuesday January 29 2019 3

News

Complaints remain secret

SWIMMING

• By Georgia O'Connor-Harding

THE CITY council is remaining

tight-lipped over code of

conduct complaints involving

Halswell-Hornby-Riccarton

Community Board members.

It has refused to reveal details

to Western News on the behindclosed-doors

sessions that went

on last year to resolve issues

amongst the board.

But a residents' association

which labelled the board "dysfunctional"

says the information

should be public.

Central Riccarton Residents'

Association secretary Garth

Wilson said the ratepayer should

know if there is "dysfunction"

on the board.

"It is the ratepayers' business,

it is the ratepayers' money that

is being squandered by this

dysfunction," he said.

His views were backed by

Templeton Residents' Association

chairman Garry Kilday,

who said the public should know

what is happening.

A request by Western News for

all correspondence between Dr

Edwards and the community

board on the code of conduct

of fellow board members was

refused.

A city council spokesman said

the privacy of those who make

TROUBLE: The city council is refusing to release information

on conflict between the Halswell-Hornby-Riccarton

Community Board which led to behind-closed-door meetings

with the mayor and chief executive. ​

complaints to the city council or

the nature of the complaints are

not generally released.

He said releasing the information

could have a "negative

effect" on expressing their opinions

openly in the future.

"In the council's view, the

reasons for withholding these

details are not outweighed by

public interest considerations."

Western News reported last

year the board privately met

with city council chief executive

Karleen Edwards and Mayor

Smart Living

54 Sugden Street, Spreydon | Listing #BE193192

2 bedrooms | 1 bathroom | 1 living room | 1 car-garage | 1 off-steet park | $475,000

Lianne Dalziel in October.

Dr Edwards had received

complaints about the conduct of

board members.

She told Western News the

meeting centred on challenges

they faced, in particular, surrounding

the Denton Park

decision-making process, their

relationships and joint-decision

making.

But Halswell-Hornby-

Riccarton Community Board

chairman Mike Mora said issues

it had faced "absolutely" did not

get in the way of the board getting

the job done.

"Our record is we get the job

done. Everything we have been

asked to do or has been put in front

of us we will make a decision either

one way or another," he said.

Mr Mora said it is not the only

board in the city facing code of

conduct issues.

The Papanui-Innes, Coastal-

Burwood and Linwood-Heathcote-Central

Community Board

have faced code of conduct

issues over the past year.

But Dr Wilson said the association's

experience with the

board is it is unable to resolve any

issues in a timely manner and it

now goes above the board to Dr

Edwards to get things done.

"We are not saying the

personalities on the boards are

hopeless. We are saying the

board is dysfunctional and it

does not achieve anything," he

said.

Mr Mora said it passes resolutions

at the board and has to

wait on staff to implement them.

"It is the way bureaucracy

works in Christchurch," he said.

Deputy chairwoman Helen

Broughton said she will be meeting

with two senior city council

staff members today over the

process in place for elected

members.

Local

News

Now

In Brief

Fire rages, homes at risk

POOL HOURS

A bid to have the Te Hapua:

Halswell Summer Pool's hours

open for longer has been made. A

notice of motion filed by Halswell-

Hornby-Riccarton Community

Board member Debbie Mora will

be brought to the board today.

The Te Hapua Halswell Summer

Pool's current hours are 11.30am-

7pm. It opened for the summer

season on November 17 and will

close again on March 31.

PARKING RESTRICTION

The Halswell-Hornby-Riccarton

Community Board will make

a decision today on whether it

will approve the installation of

a 10min parking restriction at

104 Hayton Rd. It is a result of a

takeaway business owner contacting

the city council to have shortterm

on-street parking to service

the business property.

TRAILER OVERTURNS

A blockage on the Christchurch

Southern Motorway was caused

by a truck's trailer overturning on

Friday morning. The trailer lost

its load of soil causing a blockage

on the eastbound lane near the

Wrights Rd overbridge. A police

spokeswoman said there did not

appear to be any injuries. The

road was cleaned up and trailer

removed.

SALE FINISHES THIS WEEKEND!

Your agent, Your home, Your future

LICENSED SALES CONSULTANT REAA 2008

Quail Island

Adventures

Get the kids into nature and head to

Quail Island! A great day trip to a real

island with a fascinating history, in the

heart of Lyttelton Harbour. Just a 15

minute ferry ride from Lyttelton.

Book the DOC hut to stay overnight

(via DOC website).

Beautifully presented by my fastidious vendor this standalone

townhouse is a smart choice for those who want an easy-care property

in a popular location.

With spacious open plan living leading onto an enclosed conservatory

you can entertain in comfort. The added benefit of a downstairs toilet is

always a good plus to any property. With good indoor/outdoor flow from

the conservatory area to an immaculate courtyard and garden. Enough

to potter around in and perhaps grow some vegetables, but easy care

enough that you can also have your weekends free to enjoy the many

amenities the area offers.

Two large double bedrooms upstairs along with a roomy bathroom

complete the package this lovely home has on offer.

A good sized single internal access garage keeps your car tucked away at

night, along with off street parking as well. Secure fencing allows you to

keep children or pets safe while outside.

P 027 777 0411

SCHEDULE FREQUENCY DEPART LYTTELTON DEPART QUAIL ISLAND

Oct & Nov Daily 10.20am 3.30pm

Dec – Mar Daily 10.20am, 12.20pm 12.30pm, 3.30pm

Apr – Sep Weekends only 10.20am 3.30pm

blackcat.co.nz

book 0800 436 574

online

CRUISES

LYTTELTON & AKAROA

'Under 5's

free

on all trips,

all year!

FARE

Adult $30 Child $15

GARAGE

CLEARANCE

SALE

UP TO 70% OFF

WELL BELOW COST

Our loss is your gain! Grab a bargain at our

warehouse. We have discontinued lines,

measuring errors and cancelled orders.

Also, a small number of seconds. Come on

down and bring your measurements.

HURRY!

LIMITED STOCK

Monday – Friday 10.00am – 5.00pm

Saturday 10.00am – 2.00pm

Sunday 10.00am – 2.00pm

Blinds

Curtains

Shutters

First in – first served!

AND SAVE UP TO 40%

ON NEW CUSTOM-MADE PRODUCT

97E (Unit 3) Sawyers Arms Road

03 365 4666 | Mobile Showroom Service

Up the long driveway – just follow the signs
---
4 Tuesday January 29 2019

Latest Christchurch news at www.star.kiwi

WESTERN NEWS

News

Pathway to sports hub idea

• By Georgia O'Connor-Harding

A PATHWAY to the new Ngā

Puna Wai Sports Hub could be

built to keep children off busy

Halswell roads.

A junior council made up

of primary school pupils in

Halswell will meet in March to

discuss building a pathway from

Aidanfield Christian School to

the $100 million sports facility.

City councillor

Anne

Galloway said

the idea is to

allow parents

to park safely

at the school's

car park as

Anne Galloway

opposed to

parking on

Aidanfield

Drive to take their children the

Nga Puna Wai Sports Hub.

It would mean children would

avoid walking on Aidanfield

Drive, Euphrasie Drive and Augustine

Drive.

"It is getting kids involved

in decision-making and in

civics which is something I am

passionate about," Cr Galloway

said.

It is estimated about 5433 vehicles

travel on Aidanfield Drive

between Nash Rd and Donovan

Place daily.

CIVIC DUTY: The Halswell Ward junior council will meet in

March to plan building a pathway between Aidanfield Christian

School and the Ngā Puna Wai Sports Hub. ​

On average, 499 vehicles

use Eupharasie Drive between

Josephine Cres and Benedict St

daily.

Instigated by Cr Galloway in

2017, the Halswell Ward junior

council is made up of pupils year

5-8 from Seven Oaks School,

Oaklands School and Aidanfield

Christian School.

Cr Galloway said it is planning

to invite the newly completed

Knights Stream School and

Wigram Primary School to the

junior council when they are up

and running.

The project will also be worked

on in conjunction with the

Student Volunteer Army and the

city council.

The pathway is in the early

stages with the cost and construction

time lines still yet to be

discussed.

"We are hoping we do all of

that with voluntary labour but

we need to plan where it will be,"

Cr Galloway said.

BATTLE: The Halswell Residents' Association has appealed

against the decision allowing a bottle store to open on 29

Ensign St. ​

Battle against bottle store

•From page 1

But the decision granting

the application said Bottle-O

Halswell directors Wendy and

Richard Gibbons have the experience

necessary to safely sell

alcohol.

It found the hours of operation

were consistent with other

off-licence premises in the area

and the store was not visible to

schools and pre-schools.

The residents' association

argued in its objection that since

The Quarry Bar & Bistro has

gone from Ensign St there has

been an improvement in the level

of amenity and petty vandalism

has gone.

The bar was severely damaged

after a fire in 2013.

But the decision said the risk

The revolution

in heat pumps

is here now!

of similar effects arising from the

bottle store would be mitigated

by the amenity of The Oaks Village

Halswell.

It said it will also be minimised

by the good amenity in

the area, the position of the store

within the development and the

lack of evidence of disorder in

the locality.

The appeal will go to a hearings

panel later this year.

Bottle-O Halswell Ltd director

and shareholder Mrs Gibbons

did not respond to Western

News.

•HAVE YOUR SAY: Are

you concerned about the

Bottle-O Halswell store

opening on Ensign St?

Email your views to georgia.

oconnor@starmedia.kiwi

The revolution in heat pumps is here now!

The Fujitsu e3series

The brilliant

heat pumps from Fujitsu

e1 : efficiency

e2 : environment

e3 : economy

The brilliant e3 series

heat pumps from Fujitsu

e1 : efficiency

e2 : environment

e3 : economy

Website: www.pshc.co.nz

NEW ZEALAND'S FAVOURITE AIR

Fujitsu's Catechin Filters are

approved by the Asthma and

Respiratory Foundation NZ's

Sensitive Choice ® programme.

FREE consultation from your local

Accredited Heat Pump Expert

Phone today: 03 381 6950

INSERT DEALER DETAILS HERE

Email: info@pshc.co.nz

FG1441

Fall in love

with your

favourite furniture

all over again!

BEFORE

• Recover your chairs and couches

and save money!

• Excellent range of fabrics

• Quality workmanship guaranteed

• Free quotes available

• Over 30 years experience

AFTER

Somerfield Upholstery Ltd

FURNITURE RECOVERY SPECIALIST

10 Calgary Place, Hornby | Ph 021 251 6200 | 349 0456

QUALITY WORKMANSHIP GUARANTEED www.somerfieldupholstery.co.nz
---
WESTERN NEWS Latest Christchurch news at www.star.kiwi

Tuesday January 29 2019 5

Short cut fears allayed

• By Georgia O'Connor-Harding

RESIDENTS' FEARS have been

allayed over traffic taking short

cuts to avoid major road works

in Riccarton Rd.

Riccarton Bush-Kilmarnock

Residents' Association chairman

Tony Simons said he is satisfied

with the city council's assurance

that there won't be large

increases in

traffic through

residential

streets.

"But having

said that,

traffic already

does that in

Tony Simons

the morning

anyway. I

imagine it will get worse in spite

of the fact they say it won't," he

said.

The roadworks to begin next

month will involve upgrading

damaged underground

pipes and rebuilding the road

to accommodate bus priority

measures.

It is not expected to be

completed until December

2020.

The association recently asked

the city council what it would

do to mitigate "anticipated

adverse behaviour of changed

traffic behaviour" on its residential

streets.

Residents were concerned

about speeding vehicles and

traffic levels at peak times

exceeding what the residential

streets would normally carry.

City council transport planning

and delivery manager

Lynette Ellis said it is not anticipating

a significant increase

in traffic utilising surrounding

residential roads.

"Riccarton Rd will continue

to operate with one lane of traffic

in each direction throughout

the works," she said.

Ms Ellis said temporary remedial

options, should they be

required, would be looked at on

a case by case basis.

The city council's project team

is in the process of ordering

traffic counts to take place on

the residential streets to monitor

traffic levels during construction.​

Rimu St resident Lyndon

Telfer said he has been to

a drop-in session with city

council staff and Fulton Hogan

TURMOIL: The

city council has

assured steps

will be taken if

vehicles begin

to take short

cuts through

residential

streets to avoid

the roadworks

on Riccarton

Rd. PHOTO:

MARTIN

HUNTER

and is confident they are going

to make every effort to make the

process a smooth one.

But he said the short cutting

is happening already and the

roadworks have the potential to

make it worse.

•HAVE YOUR SAY: Are you

concerned about how the

upgrades on Riccarton Rd

between Harakeke and

Matipo Sts may impact

residential areas? Email your

views to georgia.oconnor@

starmedia.kiwi

Local

News

Now

Fire rages, homes at risk

New vicar

sought for

church

• By Georgia O'Connor-Harding

ST CHRISTOPHER'S Anglican

Church is on the hunt for a new

vicar.

Vicar Mark Hood resigned

from the role last month after

serving at the church, based on

Avonhead Rd, for four years.

But priest-in-charge Reverend

Susan Gill, who has taken over

the role in the meantime, said the

church is happy to take its time in

finding a new vicar.

"The last person to have an

interim role was here two years

so things don't move quickly in

Anglican churches," she said.

Reverend Gill said the church is

very optimistic in wanting to be

more focused on the wider community

this year than they have

been in the past.

"My background is in community

development before I

was ordained so I am personally

am really passionate about the

church's place in the wider community,"

she said.

The church holds many community

events throughout the

year including book fairs, a youth

group, movie nights and the St

Christopher's Fair.

THE RUSSLEY VILLAGE

HOLLY LEA VILLAGE

russleyvillage.co.nz

03 357 9392

73 Roydvale Ave,

Christchurch

For enquiries contact

Wayne Thompson

STYLISH DESIGN,

CONTEMPORARY RETIREMENT LIVING

Making your retirement move is easy when it's to one of these sought after locations.

Located on the site of the old Russley Hotel, The Russley Village is set within eight acres of award-winning

gardens and grounds. The centrepiece of The Russley Village is its purpose built resident community facility,

The Homestead where you will find Abode Café & Brasserie, a cinema, library, arts & crafts space and hair salon.

The Village scooped two prestigious awards for this state-of-the-art, multi-purpose building at the recent

New Zealand Commercial Project Awards. The Ashley Suites, our boutique care facility, is currently underway

and will provide residential care up to hospital level.

Holly Lea Village is nestled in the heart of Fendalton within beautifully tailored grounds. The village has recently

undergone a major refurbishment and has just released the first stage of new apartments with construction

planned to commence in early 2019. The Morven apartments, comprising of eight spacious two bedroom

apartments, are architecturally designed with comfort and safety in mind and offer the latest in contemporary

retirement living.

hollylea.co.nz

03 351 2679

123 Fendalton Rd,

Christchurch

For enquiries contact

Juliane Brand
---
6 Tuesday January 29 2019

Latest Christchurch news at www.star.kiwi

News

Investigation

into use of

burnout pad

at Ruapuna

• By Georgia O'Connor-Harding

AN INVESTIGATION is under

way into whether a burnout pad

can be used at Ruapuna Speedway.

Noise complaints prompted the

city council to investigate whether

a resource consent issued to the

race track 18 years ago is still live.

Ruapuna Speedway contracted

its burnout pad to the New Zealand

Burnout Championship for its

Southern SmokeFest on January 19

– resulting in two noise complaints.

City council head of resource

consents John Higgins said the

consent was issued in 2001 for an

indefinite period but it is checking

lapsing provisions relating to the

consent.

"We need

to check what

lapsing period

applies to

this consent

and when

the pad was

Sara

Harnett Kikstra

constructed," Mr

Higgins said.

If it is found

the resource

consent is not live, Ruapuna

Speedway will have to cease using

the burnout pad or apply for

resource consent, he said.

The speedway's president

Allan Daly said the burnout pad

was contracted out only for the

Southern Smokefest and it does not

intend to use it again.

He said it is in discussion with

the city council to make sure it

"gets it right going forward."

Mr Daly said it would not go

to the expense of applying for

another resource consent if that

was what was required by the city

council.

Yaldhurst Rural Residents'

Association chairwoman Sara

Harnett Kikstra said hopefully it

will not happen again. "I hope the

council does investigate and work

out whether they were able to do

it or not, and if they weren't they

should be accountable for that.

Because the damage is done. We

had a weekend from hell," she said.

Local

News

Now

Line-up of fun activities for kids

CHILDREN HAVE been

kept busy over the last week

at a popular Halswell holiday

programme.

A line-up of fun activities

was held at the Baxter's Buddies

Holiday Programme –

from a trip to Sumner Beach

and Orana Wildlife Park to

horse-riding at Heathcote

Valley.

There was also a daily "stay

and play" option at Seven

Oaks School where children

played on the waterslide,

went scootering and took

part in art and craft activities.

Other fun excursions

included a day at Taiora

QEII Recreation and Sport

Centre, a trip to the central

city library Tūranga, Ten-Pin

Bowling and a visit to Hoyts

Riccarton to see How to

Train Your Dragon: The Hidden

World.

OUTDOORS: Sienna Turner horse-riding at Heathcote Valley.

SMILES: James Smith,

Harrison Brindley, Hemi

Niania and Liam Morgan

having a blast at the

Baxter's Buddies Holiday

Programme.

WESTERN NEWS

ADVENTURE: Baxter's Buddies Holiday Programme

children on the courtesy bus at Orana Wildlife Park.

Fire rages, homes at risk

A reader responds to the

an article on extending

the hours at the Te Hāpua:

Halswell Centre summer

pool

Linda Gilchrist – I read

with interest the article in the

Western News regarding the

hours for the Halswell pool.

We live in the area and were

very disappointed when the

pool opened to find it was not

covered and the hours are so

limited, especially for early

risers and those who work fulltime.

My husband and I, both

keen swimmers, travel to Jellie

Park Recreation & Sport Centre

to enable us to swim year-round.

Obviously, we would much

prefer to support the local

community but the Halswell

pool fails miserably to cater for

year-round pool users.

The article was correct in

stating that residents were not

aware of the change in hours last

season.

Readers respond to an

article on the city council

measures being put in

place to ensure businesses

aren't impacted by road

works along Riccarton Rd

Lynne Abel – The whole

"trees in the middle of the road"

has to go. This isn't Bealey Ave,

it's tiny, overcrowded Riccarton

Rd.

Peter Walker – If the city

council has come up with it,

then no, it probably won't work.

Aaron Anderson-Hall –

The council needs to come

up with a plan to keep the

civil construction industry

honest.

Shaun King – Why

not put light rail, like in

the Gold Coast, straight up

the middle from the city to

Riccarton.

Holly Traxler-Puddle – I

can't even contemplate this – it

was such a mess last year and

the year before. It is a shame that

the city council has not listened

to people who are in the area,

live in the area, work in the area

and actually run a business in

the area.

Trevor Taylor – They have

promised all this at other sites

in the past and businesses have

gone under. Don't expect a

different result this time from

the same recipe.

Jennifer Kay Drabble –

Have they fixed Pages Rd yet?

Toaiva Tom Teevale –

Probably another 30km/h speed

zone.
---
WESTERN NEWS Latest Christchurch news at www.star.kiwi

Tuesday January 29 2019 7

Ruapuna

Friday 1st, 2nd

& 3rd Feb

Looking for a great fun

family day out?

2019 Skope Classic - Car Racing like no other!

Come along to the 28th edition of the

Canterbury Car Club's Skope Classic at

the Mike Pero Motorsport Park, Ruapuna

on February 1-3, where the actionpacked

calendar includes Mainland

Muscle Cars, vintage racing, and sports

cars, along with classic single seaters and

saloon cars.

One of the most iconic racing events

in New Zealand, suitable for all ages, the

event will once again headline the popular

Formula 5000 single seater revival, along

with a strengthening Historic Touring

car category.

On the Sunday there will be specific

activities just for kids, including a bouncy

castle, face painting and, as always, you

can walk through the pits, meet the

drivers, teams and get to the all of the

cars up close and personal!

The ground shaking muscle cars will be

Guy Stewart's iconic Porsche.

raring to go, along with the ever

impressive Formula 5000's, a class with

serious excitement.

The Muscle Cars, which highlight a

field choked with Chev Camaro's and

Ford Mustangs, have grown from the

formation of the Central Muscle Cars

in the North Island and the Australian

Masters Touring Car category.

A spectator survey at the last Australian

Supercar meeting held on the Hamilton

street circuit, resulted in the Central

Muscle Cars outranking all other classes

by four to one on the he drove in the

1980s.

An exciting lunchtime show is likely to

be provided by the locally built Formula

One style "Rodin Fzed". Murphy will take

charge of the car, which has been built

by Australian billionaire David Dicker

at his amazing

facility located

on the Waiau to

Kaikoura inland

road.

The project

began back in

1999. In 2005,

Mr Dicker

found the ideal

site away from

the public eye

to build a 2.8

kilometre test

track with

accompanying

facilities. The

latest model, the

fifth evolution, is

powered by a 3.8 litre

Cosworth V8 engine,

which is reputed to

achieve 0 to 100kph

in 2.9 seconds with

a maximum speed

of 300kph. Saturday,

and two to one on

Sunday.

Drivers in the

Historic Touring cars will include

four-time Bathurst winner Greg

Murphy who will drive a BMW,

along with multiple New Zealand

champion Trevor Crowe who will

be reunited with the BMW 635, a

vehicle

It will be a fun

day for the

whole family.

The 28th Skope Classic will be

held from 1st to 3rd February.

1991

2019

BATHURST WINNER GREG MURPHY

DEMONSTRATING THE RODIN

BATHURST WINNER JIM RICHARDS

RACING THE BMW 635 'BLACK BEAUTY'

FAMILY DAY - SUNDAY 3 FEBRUARY

Family pre-sale pass $40 - x2 adults and up to 3 kids

Promo code: familypass Go to: Ticketek.co.nz

WWW.RUAPUNA.CO.NZ

Online tickets from $30. Gate tickets from $40.

See ruapuna.co.nz for more information
---
8 Tuesday January 29 2019

Latest Christchurch news at www.star.kiwi

Wharenui wins Hollander Cup again

MILESTONE: Wharenui club swimmers celebrate their 10th

straight Hollander Cup success. ​

WHARENUI SWIM Club

have won their 10th straight

Hollander Cup at the Swimming

Canterbury West Coast Regional

Championships.

The Hollander Cup is a 15 x

50m open relay, meaning men

and women compete against

each other, between clubs from

the Canterbury West Coast

region.

Wharenui took the honours in

a tight relay, finishing in a total

time of 6min 42.74sec, ahead

of the Jasi Swim Club (6min

46.48sec) and the Aquagym

Swimming Club (6min 53.44sec)

Moana Pool in Dunedin hosted

the championships, which

lasted four days and saw 210

swimmers from 15 clubs in the

Canterbury and West Coast region

compete. They were joined

by 35 visitors from the Southland

and Otago regions.

There was also personal success

for Wharenui's Christopher

Elson, who won both the men's

50m freestyle and 50m butterfly.

Three Jasi swimmers also

claimed a number of open titles.

Quinton Hurley won the men's

200m freestyle, 400m freestyle,

800m freestyle and 1500 freestyle

titles. Kaylee Jackson won

the women's 50m breaststroke,

100m breaststroke and 200m

breaststroke titles, while Manaia

Butler won the women's 100m

freestyle.

SPORTS

OPPORTUNITY: Ben Baker has taken his golfing talent to

Nicholls State University in the US.

Baker in US to

take up golf

scholarship

WESTERN NEWS

EXPERIENCE: Seamus Gallagher and Nicholas Murphy were invited to bolster the Wellington

Phoenix Soccer School under-12 squad in Japan.

Young Phoenix players share

memories after tour of Japan

CHRISTCHURCH United

talents Seamus Gallagher and

Nicholas Murphy have returned

from Japan with incredible

memories, new friendships and

invaluable new experiences

about what is required at the

highest level.

The two Christchurch United

players were invited to bolster

the Wellington Phoenix Soccer

School under-12 squad for a

gruelling two-week tour around

Japan where they played 11

matches against some of Japan's

leading professional football

clubs.

Nicholas said he was grateful

to have experienced "a-once-ina-lifetime

opportunity" on and

off the pitch, as a footballer and

as a young person.

The St Bede's College student

had been immensely impressed

by the intensity of his Japanese

peers.

"They were quick, disciplined

and kept their hunger for the

whole game," said Nicholas.

Seamus, who attends St

Thomas', said he was inspired by

playing against teams who operate

at a professional level.

"It left me with the question of

how do I close the gap between

what I can do and how they play

in Japan?"

As the tour progressed, the

Christchurch United players and

their Phoenix teammates proved

that they could adjust to their

new opponents and environments.

The Phoenix team beat five

Japanese club sides, including

a nail-biting penalty shoot-out

against Funabashi FC in the

semi-final, before the top Japanese

professional club Kashiwa

Reysol proved to be too strong in

the final.

• By Gordon Findlater

BEN BAKER headed stateside

on January 13 to begin a

four-year golf scholarship at

Nicholls State University in

Louisiana.

The 19-year-old finished his

time at Christchurch Boys' High

School at the end of 2017.

Baker took a gap year, which

has paid off for him with the

opportunity to become part of

Nicholls State's golf programme.

He started playing golf when

he was 11 after being introduced

to the sport by his father and

brothers who already played.

"After I gave up rugby from

getting injured too often, I

decided to give golf a go. We

had heard Russley Golf Club

had a great junior programme

so we headed down to have a

look and get some info on it,

then signed up later that week,"

said Baker.

He was part of the

Christchurch Boys' High School

team which won their maiden

New Zealand secondary schools

golf title in 2017. Baker is now

the third member of that team

to head to the US on a golf

scholarship, joining Tom Parker

(University of Oregon) and

Dominic Brettkelly (Western

Kentucky University).

At the national tournament,

CBHS led by one shot after

the first round before the pair

of Parker and Baker went

bogey-free in the second round

to widen the gap on the field

and lead CBHS to their first

national title. Barker was part

of the Canterbury under-19

team which finished third at

last year's national provincial

tournament. He was also part

of Russley's men's inter-club

team which defended their

Woodward Cup title.

Baker is majoring in business

management at Nicholls State.

"I have met heaps of people

already and everyone has been

welcoming, which is nice. I

have my first tournament on

Saturday at the La Tour Golf

Club," said Baker.
---
WESTERN NEWS Latest Christchurch news at www.star.kiwi

Tuesday January 29 2019 9

free UnderLAY *

FREE no obligation measure & quote

(conditions apply)

February

*

on seLected ProdUcts, conditions APPLY

Q Card Finance Now Available

Ruby Bay

• 75 oz Solution Dyed Nylon

• 3 Colours

free

UnderLAY

Vega Vinyl Planks

3 Colours in stock

$233.00 Per BLM

Grange Fell

• 50 oz

• Solution Dyed Nylon

• Extra Heavy Duty

• 5 Colours

$139.90 Per BLM

Windsor Twist

• Extra Heavy Duty

• 36oz Solution Dyed Nylon

• 11 Colours

$119.90 Per BLM

Newport

• Commercial Heavy Duty

• Solution Dyed Nylon

• Loop Pile

• 5 Colours

$109.90 Per BLM

free

UnderLAY

free

UnderLAY

free

UnderLAY

now $29.90PM 2

Vinyls

2m & 3m wide

2M wide froM $29.90LM

3M wide froM $50.00LM

Garage Carpet

6x6m, Fully installed

now $850.00

312 Wilsons Road North, Waltham Phone 366 0070

Mon to Fri 8am-5pm and Sat 10am-1pm

Check out our website! www.carpetkingdom.co.nz
---
10 Tuesday January 29 2019

Latest Christchurch news at www.star.kiwi

WESTERN NEWS

SCOOP PURCHASE

4WD VRX

$39,990

SAVE $14,500*

7 Leather-faced Seats •

2.4L Petrol Engine • 126kW

Power • 4WD • 18" Alloy

Wheels • Reversing Camera

• Sunroof • Ultrasonic misacceleration

Mitigation

System (UMS).

Christchurch Mitsubishi have a LIMITED NUMBER of Short-term lease returned

2018 Outlander 2.4L VRX, most having travelled under 25,000kms available

for immediate delivery. Includes balance manufacturers warranty.

*Savings shown off new Outlander 2.4L VRX.

2WD GLX-R

RRP $46,120 +ORC

$29,990

+ORC

SAVE $16,130

† Price listed is for Triton 2WD GLX-R manual and includes on road costs which includes registration, WoF,

1,000km road user charges and a full tank of fuel. Available while stocks last. Automatic model available

for $31,990 plus on road costs. † Visit mmnz.co.nz for full Diamond Advantage warranty conditions.

The Triton Runout is on. Drop

everything, and if you're quick

you can pick up • 17" Alloys

• 2.4L Turbo Diesel • 7.1L per

100km efficiency (manual) •

Sports Suspension • Cruise

Control • Smartphone

Connectivity • Reversing

Camera • Daytime Running

Lights • 5-Star Safety and

a 10 Year Powertrain

Warranty †.

CHRISTCHURCH MITSUBISHI

386 Moorhouse Avenue, Christchurch.

03 379 0588 | christchurchmitsubishi.co.nz

10 year / 160,000km Powertrain Warranty (whichever comes

first) (non transferable). 5 year / 130,000km New Vehicle

Warranty (whichever comes first) (non transferable).
---
© Paul Knight, Knight Ltd. This document and design remain the property of Knight Ltd under the

Copyright Act 1994. This document and design are for consideration and discussion and, therefore,

not for further reproduction. Any breach of Copyright protection may result in legal action.

WESTERN NEWS Latest Christchurch news at www.star.kiwi

Tuesday January [Edition 29 datE] 2019 27 11

keep it local

and support businesses in your community

Time to put your Feet First

Feet First Podiatry has been delivering

quality footcare for over 30 years from

their convenient location at 37 Main South

Rd, Upper Riccarton, and several branches

located across the city in Marshlands,

Redcliffs, Darfield and Oxford.

Owner and Senior Podiatrist Charlotte

Russell leads a team of three Podiatrists

and their focus is to provide effective

management and treatment of all foot

related problems. Bone and joint disorders

associated with arthritis, neurological and

circulatory disorders such as Diabetes

and the complications of these conditions

can affect the lower limb. Painful heels

and arches, due to sporting activities or

biomechanical anomalies, and childrens'

foot problems can be effectively treated to

keep you on your feet and participating in

your activities in comfort.

Feet First Podiatry provide a full service to

relieve these symptoms along with effective

treatment for corns, callous, and ingrowing

toenails. Feet First Podiatry carry the

Gehwol range of Foot Care products from

Germany to pamper your feet and several

fungal nail treatment options for those with

troublesome fungal nails.

In addition to providing orthotics to

help manage these foot problems, Feet

First Podiatry provide a great range of

footwear available in The Shoe Room

at their Main South Road clinic. Many

of Feet First Podiatry's clients have

struggled for years to find fashionable,

functional footwear. The Shoe Room

now stocks several well-respected

brands, such as Revere, Vionic,

Frankie4, Taos, and Propet,

providing clients with a wide varied

of quality footwear.

Each brand is specifically selected

for key features that accommodate

orthotics, provide extra depth and width

and offer comfort and support without

sacrificing fashion. The Shoe Room staff

are always available to

help with fitting, and a

Podiatrist is usually on

site for any fitting issues.

Bookings are highly

recommended but not

essential.

Head to www.feetfirst.

co.nz and follow them

on Facebook to see their

full range of footwear and

services and keep up with what is

happening at Feet First Podiatry.

For an appointment contact

Charlotte and her friendly

team on 03 3487910 or

email info@feetfirst.co.nz

They will look forward to

hearing from you.

mens and WOmens

clOtHing

all 30%

Summer Range Instore

off RRP

Open 7 days

dressmart HOrnby, main sOutH rd

pH 03 344 5304

RiccaRton

37 Main South Road

RedcliffS

2 augusta Street

MaRShlandS

427 Marshland Road

daRfield

darfield Pharmacy

Ph 348 7910 | www.feetfirst.co.nz

now servicing

oXfoRd

"Delicious and satisfying!"

Souvlaki King

Brand

Black and White

C0 M0 Y0 K100

PANTONE PROCESS BLACK

Black and Grey

C0 M0 Y0 K100

PANTONE PROCESS BLACK

C0 M0 Y0 K80

PANTONE COOL GREY 10C

Colour

C0 M0 Y0 K100

PANTONE PROCESS BLACK

C0 M100 Y100 K0

PANTONE COOL GREY 10C

C0 M100 Y100 K0

PANTONE 1795C

1 Kennedys Bush Road,

Halswell

Phone 03 322 4888

Open 7 days:

Mon-Thurs 10am-8pm

Fri 10am-9pm

Sat 11am-9pm

Sun 11am-8pm

Halswell RD

Halswell JUNCTION RD

KNIGHT

signs graphics branding

sPaRKs RD

Paul Knight Manager

0272954254

paulknightnz@gmail.com

Ilam Watchmakers

207 Waimairi Road, Ilam, Christchurch 8041| P: 357 1002 | www.ilam-watchmakers.co.nz

Advertising enquiries Alana Powell | Ph: 962 8753 | alana.powell@starmedia.kiwi
---
12 Tuesday January 29 2019

Latest Christchurch news at www.star.kiwi

become a member

Play

House of Cards is a day-time bridge club

situated in Merivale. Our philosophy is to

provide a friendly, family-type environment

for bridge players.

Bridge is not only a wonderful, stimulating

game, it is also splendidly social. We have

had much pleasure in seeing many new

friendships flourish over the years.

House of Cards is especially renowned

for its teaching and we have taught literally

thousands of beginners as well as improvers,

in Christchurch and around New Zealand.

We have run several national teachers'

conferences and have been instrumental

in creating a national standard for bridge

teachers.

We have also written a whole series of

bridge books for new and improving players

which are widely used in New Zealand,

Australia and the United Kingdom.

We are a friendly, enthusiastic team

who welcome new players. We have four

sessions dedicated especially for the novice

player, so you needn't feel nervous!

We will also introduce you to

SkyBridgeClub. This is an online club

catering for the improving player, where

you can practice online during your course.

It's a great way to learn.

Come in and see us. We'd love to meet you.

WORKOUT,

SWIM, RELAX

• Escape the multitudes & train in peace.

• New Cardio equipment.

• Fully refurbished.

Line up for fun

learn to Line Dance

The dance floor – a place where bills

and responsibility don't exist, where

stress is gone and nothing matters but the

music. The dance floor is freedom, say the

Cathedral City Line Dancers.

A recent German study tested people

who tried different forms of exercise and

then measured their hippocampuses

(the memory centre of their brains) and

those who did Line Dancing were better

protected from dementia and memory loss.

So, if you like to dance, want a social life

with a friendly bunch of people and a lot

of laughs while exercising your brain, then

Line Dancing could be just what you are

looking for. They even cater for people with

two left feet.

You can have all this, plus meet new

friends by joining Cathedral City Line

Dancers and learning to dance with Mary.

For details, see the advertisement on this

page.

You will quickly appreciate the added luxury that a Heritage Health Club membership brings with access to an indoor

pool, spa, sauna and fully equipped gym.

Experience the Heritage Health Club.

28-30 Cathedral Square

T 377 2122 | M 021 977 221

www.heritagehealthclub.co.nz

Want to try Aikido

Want to try the martial art Aikido, learn

self defence and improve your fitness?

Make it a New Years resolution and

Become a Member of Aikido Shinryukan

Canterbury.

Aikido is an effective self defence art

that you can build into your daily life.

Unlike most other martial arts it is not a

competitive sport but offers something

for everyone young or old and whatever

condition you are in.

Some of the benefits from learning aikido

will include developing strength, flexibility,

posture and confidence. Aikido provides

a great antidote to the daily stresses we

all endure, and ASC prides itself on a

supportive training environment.

At ASC you will learn aikido from some

of the most senior instructors training in

NZ and enjoy seminars with some of the

top aikido teachers in the world.

Through its dojos in Burnside and

Centrally located within Christchurch's

Heritage Hotel, the Heritage Health Club

allows you to escape the multitudes and

train in a private, tranquil space.

Owned and managed by Ken and Jude

Mackwell, the club offers a 20m indoor

pool, spa and sauna alongside a fully

equipped gym, and an environment

where members feel part of something

WESTERN NEWS

Linwood, Aikido Shinryukan Canterbury

offers training near you. Its timetable of

23 classes weekly including morning and

evening classes ensures that you can find

a flexible training schedule that suits you.

ASC also runs kids classes.

For more about Aikido Shinryukan

Canterbury phone Andrew 021 343 672

Website www.christchurchaikido.co.nz

or come to our Open Day at our Burnside

Dojo on Thursday 7 February at 6pm.

Special environment at

central city health club

Learn To Line Dance

With Mary Stanley-Shepherd

CATHEDRAL CITY LINE DANCERS

MONDAYS

Commencing 4 th February 2019

Bromley Community Centre, Bromley Rd.

New Dancers 6 – 7pm

Experienced Dancers

7.00 – 8.30pm

Tuesday & Wednesday

Afternoons

Commencing 5 th & 6 th February 2019

Woolston Club, Hargood St, Woolston

New Dancers 12.30pm – 1.30pm

Experienced Dancers 1.30pm – 3.15pm

Tuesday Evenings

Commencing 12 th February 2019

Paparua RSA, 38 Kirk Rd. Templeton

New Dancers 6.15 – 7.00pm

Intermediate 7.00 – 8.15pm

For further information

Phone Mary 389 8809 or 021 216 3382

Email danzlines@gmail.com

BRIDGE

LESSONS

4 introductory simple lessons to

the wonderful game of bridge

Classes start:

Tues February 19th at 1.30pm

special, with personalised service, towels

on hand, a private locker, and no waiting

for equipment. New cardio equipment and

fully refurbished club.

"We pride ourselves on our welcoming,

friendly environment without overcrowding,

and fitness options for a wide

range of requirements including Cardio,

Strength Training, Core Stability, Swim

Training and Rehabilitation from injury,"

Ken explains.

Experienced Personal Trainers help you

maximise your training sessions and keep

you progressing towards your health and

fitness goals.

Membership packages vary depending

on the membership term. Call 03 377

2122 or 021 977 221 for information, or

to organise a personal tour.

Located at 28-30 Cathedral Square,

the Heritage Health Club is open 6am-

10pm, every day of the year. www.

heritagehealthclub.co.nz

Come and Play

BRIDGE!

FREE

Play FREE online

during your course

Ph: 355 0643 • Email: bridge@houseofcards.co.nz

184 Papanui Road (opposite the Merivale Post Office)
---
WESTERN NEWS Latest Christchurch news at www.star.kiwi

Tuesday January 29 2019 13

RiCHMonD DiSCoUnT

Furniture and Bedding - The Best little Furniture Shop in Town

BEDRooM FURniTURE

beds, tallboys, mirrors, cabinets, chests & more!

Jasmine Queen

Frame &

Mattress

Ther-a-pedic Mattress & Base

Reversible pillowtop innersprung

lowboy

6 Drawer

1130x410x820

Duchess with

Mirror

1090x410x820

NZ MADE

Solid Timber

Free

Standing

Mirror

only

$599

SinglE $499

king SinglE/DBlE/ 3/4 $599

QUEEn $699

only

$449

only

$549

WaS $169

only

$129

Midi 7 Drawer

Scotch Chest

975x760x410

With metal runners.

Also available in Black.

Bedside Cabinet

540x460

With metal runners.

Also available

in Black.

7 Drawer

Scotch Chest

1140x800x410

Also available in black.

Jumbo 4

Drawer Chest

1140x800x400

NZ MADE. Metal runners.

Also available in black.

Tallboy 4 Drawer

600x400x900

Towerboy 6

Drawer

1260x460x410

With metal

runners.

Also

available

in Black.

Bombay

Chest

only

$349

only

$269

FRoM

$130

only

$299

only

$269

only

$199

only

$220

Bombay

Bedside

only

$129 EaCH

FURniTURE

storage shelves, bookcases, buffet units, dining tables, hall tables, side cabinets & more!

Display Cabinet

1800hx900wx400d

Foundry Display

Cabinet

900x1800x420

Timber Bookcase

600x320x1200

Buffet Unit

1500x800x420

Buffet

Unit

1175x

430x840

nest of Tables

Entertainment

Unit

1530x520x660

Solid Timber.

Buffet Unit

with Wine Rack

1300x840x430

only

$599

only

$599

only

$199

only

$549

only

$399

EaCH

only

$149

only

$499

Tundra Coffee Table

1200x700x400h

2 Draw Entertainment Unit

1200x600x450

Entertainment Unit

1100x400x480

Entertainment Unit

980x600x460

Solid Timber.

Hall Tables

2 Drawers

only

$279

only

$449

only

$399

only

$299

only

$299

3 Piece

Dining Suite

600x600

2 Draw Hall Table

1200x810x420

only

$379

Side Cabinet

600x600x450

only

$199

Hall Table

1500x800x420

only

$449

Coffee Tables

Solid Timber.

only

$169

1200x600

only

$329

Coffee Table

1200x400x600

only

$399

only

$399

Hall Tables

3 Drawers

only

$349

7 Drawer TV/DVD Chest

760x1140

x410

(Gap 150)

Corner TV Unit

1000x750x550

Tundra Entertainment Unit

1600x420x450h

Solid

Timber

Buffet

Units

Buffet

700x

320x

1070

only

$299

only

$299

only

$699

only

$299

only

$299

233 STANMORE ROAD • PHONE 03 389 0536

WE aCCEPT EFTPoS, ViSa anD MaSTERCaRD... PaRking aT REaR
---
14

Tuesday January 29 2019

Latest Christchurch news at www.star.kiwi

2

WESTERN NEWS

A

EVENT

CITY2SURF

with Les Mills

Sunday 24 March

#Areyouupforit?

14km, 6km Community

Fun Run Event

It's our

45th

Anniversary Year!

ENTER NOW

www.city2surf.co.nz

City 2 Surf 2019_Entries Available
---
WESTERN NEWS Latest Christchurch news at www.star.kiwi

Tuesday January [Edition 29 datE] 2019 15 27

Wellbeing & Beauty

Much more than 'JUST CUTS'

Sending the kids back

to school just got a little

less stressful, thanks to

the team at Just Cuts in

Hornby. Not only will

they cut your children's

hair so that they look cool

for their first day back,

but they are also on hand

to deal with one of the

most persistent problems

that they can bring back

home with them – lice

and nits (their eggs).

These creatures are easily

transferred from head-tohead,

regardless of how

clean the hair is, but the

Just Cuts exclusive range

of Natural Look Anti Lice treatment is

effective and so natural that it is crueltyfree.

The active ingredient is pyrethrum,

obtained from the pyrethrum daisy. The

range includes an oil which removes lice

and nits immediately, a maintenance

shampoo and a leave-in conditioner which

continues to work between shampoos. The

combination of natural oils and pyrethrum

mean that when this product is used

regularly, head lice and

nits are both controlled

and prevented.

This natural approach

is reflected in their

proudly chemical-free

environment. Although

that means no foils, they

do provide shampoos,

blow-waves, at-basin

deep-conditioning

treatments, and even

beard and moustache

trimming. Although

they are a drop-in, no

appointment salon, if you

have a special occasion

one night and you need

a hair-up that afternoon,

they will keep a spot for you and make

sure you leave looking fabulous. To keep

you looking great after your appointment,

they sell the salon-quality Justice range

which has everything from at-home

colours to shampoos, conditioners, and

styling products.

Just Cuts is completely family-oriented,

welcoming everyone from babies to

grandparents. Its location at the heart of

The Hub means that getting the

family's hair cut couldn't be more

convenient - it can be done on the

same trip as the grocery-shop and

getting the new year's stationery

and school shoes organised.

Last year, the salon won Just

Cuts Franchisee of the Year,

just two years after it opened,

ranking it first out of 26 salons

across New Zealand, and with

80% of their clients going back

again and again, the team want to

extend a big 'thank you' to their

loyal customers. They believe

in giving back to their clients.

Their family bonus card system

is shared right across a family so

whoever gets their hair cut, the

card is stamped and the eighth

haircut is free. Their friendly and

welcoming attitude to their clients

is exceptional – Mondays to

Fridays see a senior discount and

a baby's first haircut is free; DVDs

are on hand to distract younger clients,

and balloons and lollipops are available for

children of all ages. A visit to Just Cuts is

much more than just a cut.

Last year, the salon won Just

Cuts Franchisee of the Year, just

two years after it opened

Look your best

back at the Desk

FREE Detangle Brush when you

purchase a Styling pack at

Just Cuts Hornby!

free

brush

free

brush

Mention

'Get to a

healthier place'

for limited

membership

rates

DENTURE CLINIC now

open in riccarton

Having a perfect smile and being a perfect you

free polishing

free

for the

Use your

aftercare

free lifetime of and also

service consultation your dentures receive 10% off

CHRISTCHURCH

DENTURE caRE

Do you have any denture issues?

contact us today

105 Wainui Street, Riccarton

Phone 03 341 2242

Open Monday to Friday 9am -5pm,

Saturday 9am to 4pm

no transport? we can come to you at your home or rest home

wainui street

full time

DENTURE

CLINIC

winz quotes

insurance quotes

Riccarton road

dallas street

matipo street

Well... what are you waiting for?

OPEN DAY

Tuesday 29 January, 10am-7pm

We have Body Scan, Lorna Jane and Scorpion Supplements

coming along...

Everyone is welcome!

Come in and see our friendly staff

or text 4464 for more info

Anytime Fitness Church Corner

1 Waimairi Road, Upper Riccarton

P 03 341 2220 E church.corner@anytimefitness.co.nz

@AnytimeFitnessChurchCorner

www.anytimefitness.co.nz
---
16 Tuesday January 29 2019

Latest Christchurch news at www.star.kiwi

continuing education

WESTERN NEWS

COMMUNITY FUN: Take the

kids, take the grandparents, or

take your uncle and cousins –

the whole whānau is invited.

The Te Hapua: Halswell Centre

is running its first Friday Whānau

Fun Night. The event will be

evening of stories, family and

fun at the library. The short

storytime will be followed by

fun, hands-on activities to do as

a family. Go along create some

great family memories, and get

your weekend off to a fun start.

The event will be held on Friday,

5.30-6.30pm at Te Hapua:

Halswell Centre, 341 Halswell

Rd. ​

JP Clinics

Tuesday, 10am-1pm

A justice of the peace

will be on-site to take

declarations, affidavits

and affirmations, witness

signatures on documents

and certify document

copies. They can also

witness citizenship

applications and rates

rebate applications.

Fendalton Library,

4 Jeffreys Rd, Te

Hāpua: Halswell Centre,

341 Halswell Rd, and

Upper Riccarton Library,

71 Main South Rd

Citizens Advice Bureau

Fendalton – Tuesday,

2-5pm, Wednesday,

Thursday, Friday and

Monday, 11am-5pm.

Hornby on weekdays, 9am-

5pm

The Citizens Advice

Bureau provides free and

confidential advice to

everyone. It takes the time

to listen to you and equip

you with the information,

options and support that

fit your needs.

Fendalton Library, 4

Jeffreys Rd, cnr Clyde

and Jeffreys Rds, Hornby

Library, 8 Goulding Ave

Family History Help

Wednesday, 11am-1pm

Are you interested

in family history and

genealogy? A volunteer

from the Canterbury

branch of the New Zealand

Society of Genealogists

will be available to help

with your family history

questions.

Upper Riccarton Library,

71 Main South Rd

Mahjong Group

Wednesday, 1-3pm

Interested in playing

mahjong? Learn to play

at the Upper Riccarton

Library. For beginners

and advanced players

alike. If you have your

own set, take it along,

otherwise go and join

in a friendly game

every Wednesday in the

community room.

Upper Riccarton Library,

71 Main South Rd,

Sockburn

Scrabble Club

Wednesday, 1.30-3.30pm

Do you have a way

with words? Come along

when you can and join

this friendly group. Some

boards provided, but feel

free to bring your own.

Te

Hāpua: Halswell Centre,

341 Halswell Rd

Chung Wah Restaurant

Exhibition

Wednesday, 9am-8pm

Chung Wah Restaurant

was the biggest Chinese

restaurant in New Zealand

in 1984. It expanded

from Shanghai Café, to

Chung Wah I and then to

Chung Wah II in 20 years.

Celebrate the history of an

iconic restaurant through

this special photographic

exhibition. Share your

fond memories in the sign

in book.

Upper Riccarton Library,

71 Main South Rd

Email georgia.oconnor@starmedia.kiwi

by 5pm each Wednesday

Chinese Technology

Help Book-in Sessions

Wednesday, 2–3pm

These free book-in

sessions are available to

help you with specific

issues such as using email,

searching the internet,

using the library catalogue,

using electronic resources

and any other general

computer-related queries.

Bookings required.

Upper Riccarton Library,

71 Main South Rd

Musical Instrument

Jams

Thursday, 3.30–7pm

Book a time to go solo

or have a silent practice

with up to four bandmates.

You can take in your own

electric instruments such

as guitar or bass and plug

into the session mixer.

Registrations are required.

Te Hāpua: Halswell

Centre, 341 Halswell Rd

Go Well Group – play

Rummikub

Thursday, 1-2pm

Go along to Fendalton

Library and play

Rummikub – an exciting,

interactive strategy game

Fendalton Library, 4

Jeffreys Rd, corner Clyde

and Jeffreys Rds

Free Legal Advice

Thursday, 6.15-8.15pm

Need advice with legal

questions? A lawyer is

available at the Hornby

Library every Thursday

evening to provide expert

help. No bookings. Firstin,

first-serve basis. Please

take relevant documents.

Note that the finish time

may vary from week

to week depending on

demand. If no customers

are waiting at 6.15pm, the

lawyer will wait for 15min

and then leave. The 8.15pm

finish time is a guide only.

Citizens Advice Bureau,

8 Goulding Ave

Makerspace

Saturday, 1.30pm-3pm

Join in for fun activities

every week in the

Makerspace. There will be

a variety of activities and

fun to be had for all.

Te hāpua:

Halswell Centre,

341 Halswell Rd

Te Hāpua: Halswell

Centre Book Discussion

Group

Tuesday, February 5,

6–7pm

For those who love

reading and want to share

in discussion with other

friendly book lovers. The

group subscribes to the

Book Discussion Scheme

so there is a cost involved.

Places are limited so

please phone or email to

inquire about availability

and cost. Go to https://

my.christchurchcity

libraries.com.

Te Hāpua: Halswell

Centre, 341 Halswell Rd

Aikido (Japanese

martial art)

Thursday, February 7,

6–7.30pm

Go along to an open

day and have-a-go session

learning the martial art of

Aikido.

Burnside Dojo, 35 Morley

St, Burnside

Christchurch School

of Music enrolments

are open for 2019

The Christchurch

School of Music is

a family-oriented

community aimed

at providing quality

music education

in and around

Christchurch. The

school has been an

important part of the

Christchurch music

education scene for

62 years so why not

come along and join

us?

CSM is a not-forprofit

organisation with a strong focus on

community. From ages 2 to 92 we have

something for everyone. On a Saturday

morning the whole family can find

something to suit.

For the young ones there are pre-school

and junior school classes, "Take Off with

Music", 41/2 year olds can start on Suzuki

strings and at 6 the recorder is a great

instrument to learn. In 2019 we have a

fantastic deal for beginner recorder players

– just $52 for a year of tuition and this

includes a recorder and a book!!

Older children and adults may opt for

group or individual lessons on a specific

instrument (including voice). With six

orchestras, two concert bands, a Big Band, a

jazz combo, 6 wind ensembles, rock bands,

two choirs, chamber groups, a samba band

and a guitar ensemble there is an ensemble to

suit all levels and all ages.

If affordability is an issue, CSM may be able

to offer a discount through funding provided

by the Rata Foundation.

Enrolments are open for 2019 so please

contact us via our website www.csm.org.

nz and let us start you on a musical journey

that will bring pleasure for a lifetime.

LESSONS, ENSEMBLE, AND AND INSTRUMENT HIRE

ENROL NOW FOR FOR LESSONS LESSONS

AND ENSEMBLES IN 2018!

AND ENSEMBLES IN 2019!

ALSO:

ALSO: • FUN FOUNDATION CLASSES FOR 2–7 YEAR OLDS

• FUN GROUP FOUNDATION BEGINNER RECORDER CLASSES FOR LESSONS 2–7 YEAR FOR OLDS

• GROUP $1 A WEEK! BEGINNER (INCLUDES RECORDER AND TUTOR LESSONS BOOK) FOR

$1 A WEEK! (INCLUDES RECORDER AND TUTOR BOOK)

Enrol now for 2018

Enrol now for 2019

csm.org.nz | 03 366 1711

csm.org.nz 03 366 1711

FOR ALL AGES
---
WESTERN NEWS Latest Christchurch news at www.star.kiwi

Tuesday January 29 2019 17

continuing education

Join a night class at

Papanui High School

It is time to make those New Year

resolutions so why not begin 2019 by

taking some time for yourself and joining

one of the wide range of nightclasses that

are on offer at Papanui High School.

The start of a new year is the ideal

opportunity to get inspired to get out and

learn something new and meet some new

people? Classes for Term 1 begin from

Monday 11 February and the options are

extensive from Art to Yoga and everything

in between we are sure regardless of your

age or interest you will find something

to tempt you. Classes at Papanui High

School are held in a warm, friendly relaxed

environment and our tutors are supportive

and well qualified in their chosen fields.

One of our new courses on offer is

Cake Design, taught by Paula Profitt from

Sweet Revenge Bakery. Paula is a very

experienced Cake Designer and she will

teach students how to layer and fill and ice

a cake to a smooth finish, piping techniques

and the art of a good drizzle along with

mirror glazes and chocolate decorations.

You will also learn how to make fondant

cake toppers in various styles.

For further information and enrolment

in any of our courses please visit our

website www.papanui.school.nz go to the

Adult Education tab at the top right of the

screen and then browse courses, or email

Barbara Roper rpb@papanui.school.nz

or telephone our office on 3520701.

New experiences at WEA

It is almost time for the new term to

start here at the Canterbury Workers

Educational Association (WEA). Just as the

new year brings a chance for us all to reflect

and set goals for positive change in the year

ahead, so to does the new school year for

us at the WEA, as we plan and schedule

courses, talks and learning opportunities

across the coming months. Positive change

(whether for personal or planetary gain)

is what the WEA is all about and we are

excited to offer plenty to support positive

change in the Term 1 programme (which

runs February 11th to April 7th).

With new courses in printmaking and

creative writing, and workshops ranging

from crafting feminism to renaissance

dance there is plenty to help you get creative

this summer.

We also have talks coming up from and

about some truly inspiring people and

organisations. We will be joined by Mojo

Mathers on 20th February (New Zealand's

first deaf Member of Parliament) for a

look at why disability representation in

politics matters for all of us. Then during

Seaweek (6th March) we will hear from the

volunteers at Sea Shepherd on the threats

to our underwater ecosystems and the

work they are doing to protect them. There

are also talks about Marie Curie, Ernest

Shackleton and William Morris to mention

but a few.

For those wanting to take action in their

own lives to make a difference, a course in

taking sustainability to the next level will

be on Wednesday evenings (it even has

dinner included) followed by one on how

to live well with less (Living Tiny(er)) on

Thursday evenings.

All in all there are more than 40 listed

events, all of which can be booked

online at www.cwea.org.nz . Our printed

programme is available from our front

porch (59 Gloucester street) or at your

local library, and our office is open

9.30-3pm Monday to Friday. We look

forward to answering your questions and

hopefully helping

you to make 2019

a year of new

experiences and

positive learning!

Piano

Raewyn Clegg

Registered Teacher of

Piano and Theory of

Music.

29 Lancewood Drive

Halswell

Ph 322-9377

Papanui High School

Adult & Community Education

Night Classes

Arts, Crafts, Dance, Dressmaking, Cooking, Music,

Health, Chinese Massage, Photography, Skin Care,

Exercise, Upholstery, Beekeeping, Languages...

• Term 1 begins 11th February 2019

• Weekly evening or weekend classes • Pricing from $98

See our range of courses on www.papanui.school.nz/adult-education

Enrol Now! Phone 03 352 0701 or email rpb@papanui.school.nz

art, dance, music, tech, science,

history, philosophy:

40+ short courses and talks enroling now

CWEA, 59 Gloucester Street, Christchurch

www.cwea.org.nz | ph 366 0285

STUDY @ SIT

ENROLMENTS ARE CLOSING SOON FOR FEBRUARY 2019 INTAKES

With over 200 courses, In 33 subject areas, from Certificate to

Master's degrees, SIT has an option for you.

If you are eligible for the Fees Free govt policy, then you can

apply for the Mayor Tim Shadbolt Accommodation Bursaries

for Invercargill

Call today or email info@sit.ac.nz

0800 4 0 FEES

www.sit.ac.nz

CWEA, 59 Gloucester Street, Christchurch

www.cwea.org.nz

ph 366 0285

CWEA, 59 Gloucester Street, Christchurch

www.cwea.org.nz

ph 366 0285
---
18 Tuesday January 29 2019

Latest Christchurch news at www.star.kiwi

continuing education

Adult and Community

Education at Risingholme

Community Centre –

come learn with us!

We are now taking enrolments for 2019.

New classes start on Monday 11th February

and all class information is available via our

website. www.risingholme.org.nz

Classes include Print Making for

Beginners, Drawing and Sketching, Night

Photography and Photoshop. We have also

developed a new series of classes that focus

on sustainability 'Future Living Skills' This

sustainable living programme is a practical,

fun way to learn and use actions, which not

only reduce your environmental impacts,

but can also save you money and bring you

a heathier lifestyle. The 'Plastics Free' and

'Fermented Foods' workshops although

offered separately are also offered as part

of the 'Future Living Skills' programme.

We are continually developing new courses

based on the information that we gather

from the community, so please check our

website regularly for updates.

Risingholme's traditional base of art and

craft courses continues to flourish with a

full range available at a number of venues.

They include fabrics, woodwork skills, cake

decorating, health & fitness and well-being,

computing, guitar and cooking as well as

many others.

Have you ever considered learning a new

Language we have a number of these that

will run throughout the year including NZ

Sign, Te Reo Maori, ESOL, Russian, Italian,

Arabic, German, Spanish and Italian.

Language classes run at a variety of levels

from beginners to more advanced.

If you cannot find what you are looking

for – "Tell us what you would like to learn"

For more information on classes at

Risingholme, Riccarton High School,

Christchurch Girls High School, Shirley

Boys High School and Hornby High

School, contact Risingholme Community

Centre at 332 7359 or email info@

risingholme.org.nz

The full programme for Term 4 is on our

website at http://www.risingholme.org.nz

FREE Arts & Design

course, with NCEA built in

For those looking for a role that

combines artistic and digital talents, then

this outstanding, FREE, entry level course

delivered by local Training Provider

Trainme, is perfect for those wishing to

pursue, graphic design, photography or

digital media as a career.

The course covers the introduction to

media techniques such as drawing and

photography. Students will learn to use

design software and create their own design

concepts while collaborating with other

students on creative projects.

This course is FREE to students aged 16

to 19 and they only have to have NCEA 1

to join. Students without NCEA 1 can be

admitted, if they show artistic or digital

aptitude.

"Many feel that school is not working for

them or they left without qualifications,"

says Rhys Pollard, Marketer with tertiary

educator Trainme. "While not necessarily

academically minded, they do

have artistic talents and are very

much into digital technology."

"This FREE six-month

Trainme course, combines

these in a very hands-on,

practical way, giving them an

intro into various digital media.

This way, they can decide which

direction to pursue as their

career focus."

"As an NZQA approved

programme, NCEA credits

are built in, so if they apply

WESTERN NEWS

themselves, they can graduate with a New

Zealand Certificate in Arts and Design

Level 2, as well as gaining credits towards

NCEA level 1 or 2." Says Pollard.

"NCEA results will depend on how many

credits they bring to the course to start

with, but as it's a fun subject, it won't feel

like school at all."

Successful Graduates from this

programme could pathway into higher

study in media arts, which could include

graphic design, video production,

photography or one of the many emerging

digital-based careers. Places are limited, so

students are encouraged to apply as soon as

they can.

Enrolments are Now Open, for a

February start. Contact Trainme at their

Addington campus for more information

on 0800 872 466, or txt 'ARTS' to 027 557

8839 or visit the website www.trainme.

co.nz to enrol online.

Adult and Community

Education Term 1, 2019

Come learn with us

Risingholme Community Centre offers

a wide range of short courses, each term,

at a range of venues.

Shirley Boys' High School

Painting with Acrylics, German Language, Photoshop, Reiki Level 1, Spanish

Language Level 3, Te Reo Maori, Thai Cooking, Woodwork, Yoga (range of

classes), Art of Creativity & Expression, Sign Language.

Risingholme Community Centre

Art (Create with Pastels & Paints, Mixed Media, Watercolour, Painting with

Acrylics), Mindfulness, Cake Decorating, Drawing & Sketching, Embroidery,

ESOL, Fabric & Craft Skills, Guitar, Pottery, Sewing Skills, Upholstery, Using

your Overlocker, Weekend Sewing classes, Yoga, Wood Sculpture, Woodwork,

Woodwork for Women, Zentangle, Printmaking, Fermented Foods, Plastics

Free, Waiata.

Christchurch Girls' High School

Dressmaking, Embroidery, Te Reo Maori, Watercolour Painting, Drawing &

Sketching, Preserving Fruit, Vegetables & Herbs.

Hornby High School

Sewing Skills, Thai Cooking, Te Reo.

Riccarton High School

Calligraphy, ESOL Business English Intermediate, Indian Cooking,

Italian Language, NZ Sign Language, Russian Language, Sewing Skills,

Spanish Language, Te Reo Maori, Arabic, A Taste of Egyptian Cooking,

Picture Framing.

Full details available on www.risingholme.org.nz

Risingholme office at 99 Hawford Road

Phone 332 7359 | Email info@risingholme.org.nz

www.risingholme.org.nz
---
WESTERN NEWS Latest Christchurch news at www.star.kiwi

Tuesday January 29 2019 19

www.studywithus.co.nz

Make your vision

your future

We have courses in:

FREe

CoURSES!

ARTS & DESIGN

*conditions apply

Come along to our information night

at our Christchurch campus!

DATE:

TIME:

30th February

7:00pm

LAST CHANCE TO

ENROL FOR FEB START

Text 'STUDY'

To: 027 557 8839

Phone: 0800 834 834

50 Hazeldean Road,

Addington
---
20

Tuesday January 29 2019

Latest Christchurch news at www.star.kiwi

WESTERN NEWS

Exhibitors

Book now

Don't miss your opportunity to

showcase your business in front of

10,000+ qualified attendees

Jon.Holmes@starmedia.kiwi or 021 225 8225
---
WESTERN NEWS Latest Christchurch news at www.star.kiwi

Tuesday January 29 2019 21

REAL ESTATE

Luxury waterfront residence - one of NZ's finest homes

145 Main Road, Redcliffs

Price: $3,795,000

4 bedrooms | 3 bathrooms | 4 toilets | 3 living rooms | 1 dining room | 1 office/study | 3 car-garage | Listing Number: PI54988

Rarely are we favoured with the

opportunity to bring to the market a home

of this quality and size within a prestigious

neighbourhood, where luxury residences

are few and far between. With all the

earthquake repairs thoroughly completed

the house is now insured with NZI ready

for the next owners to enjoy its splendour.

Epitomizing a cutting edge design,

this striking home is a commitment to

contemporary architectural language and

unparalleled luxury. Designed by Stufkens

+ Chambers Architects the home has

perfectly encapsulated an ambience of

timeless elegance, while forsaking nothing

in practicality and functionality.

With a rich floor area of 501sqm, the

home built in 2010 is notable for the way

in which it explores the three separate

buildings joined by transparent links

wrapped around an open courtyard

to create a timeless, modern building,

appropriate to its urban location.

With precise planning and detailing it

incorporates four bedrooms, several living

areas, soundproof media room, mezzanine,

study, gym, pool/spa, and an air conditioned

wine cellar as well as triple car garaging.

All with water views and effortless indooroutdoor

flow, lighting and well thought out

landscaping, it is the perfect result.

The natural palette of materials and

colours used throughout the home delivers

on a promise of calm and clarity with oak

timber veneer, timber flooring, exposed

aggregate concrete walls, frosted glass

and simple white interior. Inspections

will reveal the full extent of the luxurious

detailing. Automated roller blinds, localized

air-conditioning, double-glazing, extensive

underfloor heating, smart security and

home automation system start a very long

list of quality specifications.

Located just a few minutes to either the

city or the beach, with local amenities

meaning you will never need to leave this

pinnacle position

The extravagance of this home requires

new occupants and prudent purchasers

will recognise that this is indeed a rare

opportunity for a life that excites the senses.

Adequate superlatives elude us, so we must

make do with just two words - SEE IT!

To arrange a private viewing phone

Cameron Bailey on 352 6166 or mobile

0275 557 079 or Kirstyn Hay on 027 7224

792 of Harcourts Gold Papanui (Licensed

Agent REAA 2008)

growing with you June 2018 | 100%

Plants For

winter wow

Cool Choices

For Colour

& Contrast

From swamp

to sea views

The journey

begins with sarah

the Gardener

$7.90 incl. GST

Snap it up

Enter our annual

Birdlife Photo

Competition to win

great prizes!

clear the air

Why groWing

indoor PLAnTs is

so good for you

give it a grow

from gArLic

To chinese

ArTichokes,

We hAve your

groWing TiPs

covered

the latest releases

into the rose world

+ rose care

through winter

The magazine for

gardeners who like to get

their hands dirty

SUBSCRIBE FROM

$43. 50*

*6 issues/6 months

SUBSCRIPTIONS FREEPHONE

0800 77 77 10

WWW.GARDENER.KIWI
---
22 Tuesday January 29 2019

Latest Christchurch news at www.star.kiwi

WESTERN NEWS

If you want more information about an item or to contact a

seller, visit www.postanote.co.nz and search the ID#

Husqvarna Chainsaw

2009 Subaru Imprezza

Raleigh Assault

Economical Honda

Walnut Coffee Table

Austin A70 Pick Up

$100

ID 22184

$7,600

ID 26485

$25

ID 26532

$4,200

ID 26280

$250

ID 26518

$44,000

ID 12768

Porcelain Dolls

6 Metal Frame Wooden Chairs

Toyota Reflet X Starlet

Brass Light Fitting

2 Deck Chairs

Skoda

See Seller

ID 26504

$100

ID 26503

$3,000

ID 21544

$50

ID 26500

$30

ID 26499

$2,500

ID 26514

New Season Lucerne Bales/Bailage!

1971 MG BGT

Dining Room Suite

Bailey Pegasus Verona Caravan

Mahogany Dining Table & Chairs

Ford Laser Frontal Damage

$75

ID 26493

$9,750

ID 26557

$1,600

ID 26440

$45,000

ID 26607

$1,300

ID 26523

$250

ID 26131

Mazda MX-5

Honda 50 Stepthrough

Air Hockey Table

Goat Wethers

Cobar Explorer Kayak

Oven

$12,500

ID 26396

$1,500

ID 26353

$80

ID 26379

$50

ID 26374

$650

ID 26373

$150

ID 26372

1996 Toyota Celica Auto 2.0

Fish Tank

Little Green Beastie

Portable Tefal Oven

SL 250 Motorsport

Nissan Navara

$2,000

ID 26368

$50

ID 26365

$10,495

ID 21867

$150

ID 26354

$1,500

ID 26352

$19,000

ID 20229

Pottery Coffee Mugs

3-Person Sofa & 2 Chairs

CSB Huntsman Dorado

Ford Falcon G6E

Set of Outdoor Chairs

Martin Acoustic Guitar with Hard Case

$15

ID 24238

$200

ID 26236

$26,500

ID 25965

$20,250

ID 24482

$125

ID 26227

$1,100

ID 26208

Dresser

Toyota Prado

Cobra Eliminator Kayak

Samsung Washing Machine

Skope Chiller

2007 Ford Mondeo S/W

$200

ID 20872

$9,500

ID 25881

$800

ID 26166

$180

ID 26157

$600

ID 26151

$5,500

ID 26147

2119003chch
---
WESTERN NEWS Latest Christchurch news at www.star.kiwi

Tuesday January 29 2019 23

Computer

Services

SeniorNet

Mac

Apple tuition & help

for any age group.

Apple computers, iPad,

iPhone and watch.

41 Essex Street

Mon, Wed and Fri

10am-12 Noon

Further details phone

352 4950

Gardening

& Supplies

LAWNS, garden

maintenance, pruning.

Free quotes, affordable

prices. Lucky Green

Thumbs 0211 407 813

Holiday

Accommodation

Australia QLD

SUNSHINE

COAST

RESORT

ALEXANDRA HEADLAND

All Units Have Ocean Views.

Heated Pools, Spa & Sauna,

Free Wifi, Tennis

& Mini Golf.

CHECK OUR GREAT

WINTER SPECIALS

www.mandolin.com.au

0061 7 5443 5011

JUNE to AUG temps 20C

ADD SOME

COLOUR

TO YOUR ADVERT!

Classifieds Contact us today Phone our local team 03 379 1100

Trades & Services

GLAZING

Twisty Glass & Glazing LTD

• Mirrors • Pet door specialists

• Splashbacks

THE CAT DOOR MAN

ALL BROKEN WINDOWS

Phone Cushla or Darren Twist

03 352 6225 or 027 352 6225

Trades & Services

ELECTRICIANS

Professional

Friendly Registered

Tradesmen available

for your Electrical

requirements today.

For immediate

quality service please

contact

services

Ph. 03 322 8454

www.skeltonelectrical.co.nz

Situations Real Estate Vacant

LAND FOR SALE

Halswell Land for Sale by Tender

Private sale of 14.8097 hectares of farm land

presently used as a lifestyle block. The house is

earthquake damaged and in as-is condition.

Tenders close 28 February 2019.

All tenders to be delivered to Saunders & Co,

131 Victoria St, Christchurch,

PO Box 18, Christchurch 8140

– Attention: Laura McDonnell.

For a copy of the tender document please

Contact Laura McDonnell at Saunders & Co

Telephone: 03 379 7690

Email: laura.mcdonnell@saunders.co.nz

Trades & Services

Lawns, Gardens

& Home Cleaning

Free Quotes

Professional, personalised

service. Regular &

one-offs. Fixed price.

Ph: 377-5814

For all your property and

cleaning requirements

Trained, insured & security

screened owner/operators

Multi-award winning

systems & Franchises

Franchises Available

www.viphomeservices.co.nz

Trades & Services

ROOF

PAINTING

Rope & harness

a speciality,

no scaffolding

required,

30 years of

breathtaking

experience.

FREE QUOTES

Exterior staining,

exterior painting,

moss and mould

treatment and

waterblasting

Phone Kevin

027 561 4629

Trades & Services

CARPET & VInYL

LAYIng

Exp. Repairs, uplifting,

relaying, restretching.

Email jflattery@xtra.co.nz

ph 0800 003 181 or 027

2407416

ELECTRICIAn

Registered, electrical

installation and repairs,

Gorbie Electrical, ph 021

026 73375 or 03 322 4209

gARDEn CORnER

SORTER

Ring Graeme 027 341`

8596 / 342 5151

PAInTER

DECORATOR

All int /ext painting.

Comp rates. I stand by

Canterbury. Wayne 385-

4348, 027 274 3541

PAInTIng

Indoor / Outdoor, over 30

yrs exp, same day quotes,

ph Steve 021 255 7968

PAInTIng

30 years experience,

workmanship

BATHROOM

Renovations, complete

service from start to finish,

free quotes, ph Dave 027

334 4125

BRICKLAYER

George Lockyer. Over

35 years bricklaying guaranteed, pensioners

experience. UK trained. discounts, free quotes, ph

Insurance work. EQC Robert 021 026-30757

repairs. Heritage

ROOFIng REPAIRS

brickwork and stonework

Fully qualified, over 40

a speciality. No job too

yrs experience. Ph John

small. Governors Bay.

027 432-3822 or 351-9147

Home 329-9344, Cell

email johnchmill@

027 684 4046, email

outlook.com

georgelockyer@xtra.co.nz

************** **************

junk

Why go to the Dump? Junkman comes to you!

Items too big for the rubbish bin?

Or too heavy for you to move?

Travlon

FROM

*Prices vary depending

Coachlines

on items and volume – minimum charge $65

Junkman comes to

you & takes it away $

65 *

Trades & Services

SPOUTIng CLEAnIng

Spouting Unblocked,

Cleaned Out and Flushed

Out. Call Trevor 332 8949

or 021 043 2034

STOnEMASOn, BRICK

& BLOCKLAYER,

Earthquake Repairs, Grind

Out & Repoint, River/

Oamaru stone, Schist,

Volcanic Rock, Paving,

all Alterations new & old,

Quality Workmanship,

visit www.featureworks.

co.nz or ph 027 601-3145

STUMP gRInDIng

Best price guarantee Tony

0275 588 895

TILER/CARPEnTER

35 years exp, no job

too small. Ph Ross 027

4311440.

TILIng

Flooring - Splashbacks -

Wall incl tile removal, reg

master tiler, ph Dave 027

334 4125

T.V. SERVICE

CEnTRE

Repairs, tvs, microwaves,

audio amps, soundbars.

.Aerial & satellite

installations, kitsets, 480D

Moorhouse Ave, ph 03 379

1400

T.V. SERVICE

CEnTRE

Repairs, tvs, microwaves,

audio amps, soundbars.

.Aerial & satellite

installations, kitsets, 480D

Moorhouse Ave, ph 03 379

1400

VHS VIDEO TAPES

& all camera tapes

converted to DVD, video

taping special occasions,

www.grahamsvideo.co.nz

ph 03 338-1655

Trades & Services

0800 586 5626

www.junkman.co.nz

WINDOW TINTING

tintawindow

advanced film solutions

99% uv block

fade protection

heat control

reduce glare

25 Years Experience

privacy films

frosting designs

non-darkening films

Workmanship Guaranteed

Lifetime Warranties on Most Films

UV

block

Free Quotes Canterbury and Districts

03 365 3653 0800 368 468

Trades & Services

office@junkman.co.nz

Tuition

Wanted To Buy

Tours

************** Email: info@travlon.co.nz

PIANO Tuition.

Registered Teacher

has vacancies for

beginners. Halswell area.

Raewyn Clegg, phone

322-9377

**************

Situations Tours Vacant

CHARTER & TOUR

Travlon

Coachlines

Travlon Coachlines

School Run to some

private schools

ex Selwyn/Halswell area

"Wide range of coaches

"Wide

and buses for

School range of Run coaches to some and buses

for Charter & Tour"

private schools

ex

www.travlon.co.nz

Selwyn/Halswell area

"Wide

Email:

Phone: range

info@travlon.co.nz

03 325 of coaches 2959

www.travlon.co.nz | Phone: 03 325 2959

and buses for

Charter & Tour"

CASH FOR

STAMPS

Do you have an

www.travlon.co.nz

Old Stamp or Coin

collection tucked away

somewhere?

Phone: 03 325 2959

be worth a fortune!

It could

We are currently Buying

Email: info@travlon.co.nz

old collections the

Christchurch area to stock

our retail shop in Riccarton.

Free Appraisal and Cash

Offers on most items.

Call Matt Power

0800 39 24 26

The Stamp Exchange

134a Riccarton Road. Opposite

the Mall carpark.

AAA Buying goods

quality furniture,

Beds, Stoves, Washing

machines, Fridge Freezers.

Same day service. Selwyn

Dealers. Phone 980 5812

or 027 313 8156

TOOLS Garden,

garage, woodworking,

mechanical, engineering,

sawbenches, lathes, cash

buyer, ph 355-2045
---
24 Tuesday January 29 2019

Latest Christchurch news at www.star.kiwi

WESTERN NEWS

SHIFT

to a Tech Career

in 2019

Combine ANY DEGREE with the innovative one year SHIFT

Programme and kickstart your new career today.

"I combined my Geology

degree with software

development skills to

land an amazing tech job

with Seequent." Isaac

"I secured a job with

RCG Creations after

proving myself to

them through my Shift

industry project." Harry

Find out more

at our Free

Pizza & Tech

nights

Jan 30 17 & 30

Book at:

signal.ac.nz/events

"During the Shift programme

I built my tech sector

network. I'm now a full

stack developer at tech

firm, Orbica." Sakinah

"The project work really

extended my new tech

skills. I am now working

with Datacom as a Project

Co-ordinator." Jess

Start YOUR new career

SHIFT commences February 2019

Get in touch now!

181 High Street (Level 1)

Innovation Precinct

Christchurch

0800 990 024

info@signal.ac.nz

signal.ac.nz/shift

SIGNAL is powered by: