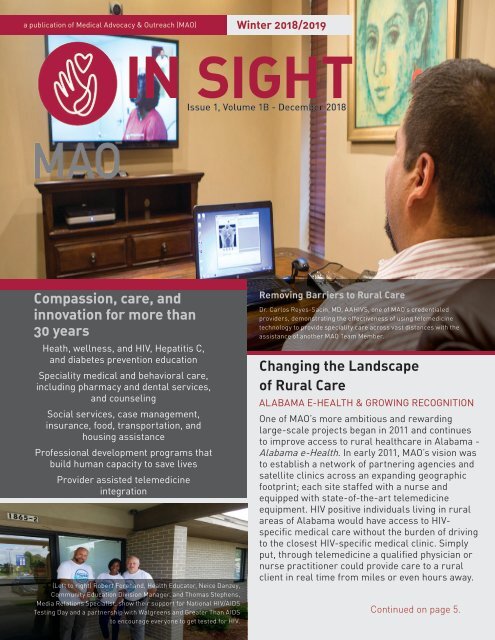 MAOInsightFallWinter2018
MAO In Sight is the community and supporter newsletter of Medical Advocacy and Outreach (MAO), a 501(c)3 not-for-profit organization.
MAO In Sight is the community and supporter newsletter of Medical Advocacy and Outreach (MAO), a 501(c)3 not-for-profit organization.
SHOW MORE
SHOW LESS
You also want an ePaper? Increase the reach of your titles
YUMPU automatically turns print PDFs into web optimized ePapers that Google loves.
a publication of Medical Advocacy & Outreach (MAO) Winter 2018/2019

IN SIGHT

Issue 1, Volume 1B - December 2018

Compassion, care, and

innovation for more than

30 years

Heath, wellness, and HIV, Hepatitis C,

and diabetes prevention education

Speciality medical and behavioral care,

including pharmacy and dental services,

and counseling

Social services, case management,

insurance, food, transportation, and

housing assistance

Professional development programs that

build human capacity to save lives

Provider assisted telemedicine

integration

(Left to right) Robert Forehand, Health Educator, Neice Danzey,

Community Education Division Manager, and Thomas Stephens,

Media Relations Specialist, show their support for National HIV/AIDS

Testing Day and a partnership with Walgreens and Greater Than AIDS

to encourage everyone to get tested for HIV.

Removing Barriers to Rural Care

Dr. Carlos Reyes-Sacin, MD, AAHIVS, one of MAO's credentialed

providers, demonstrating the effectiveness of using telemedicine

technology to provide speciality care across vast distances with the

assistance of another MAO Team Member.

Changing the Landscape

of Rural Care

ALABAMA E-HEALTH & GROWING RECOGNITION

One of MAO's more ambitious and rewarding

large-scale projects began in 2011 and continues

to improve access to rural healthcare in Alabama -

Alabama e-Health. In early 2011, MAO's vision was

to establish a network of partnering agencies and

satellite clinics across an expanding geographic

footprint; each site staffed with a nurse and

equipped with state-of-the-art telemedicine

equipment. HIV positive individuals living in rural

areas of Alabama would have access to HIVspecific

medical care without the burden of driving

to the closest HIV-specific medical clinic. Simply

put, through telemedicine a qualified physician or

nurse practitioner could provide care to a rural

client in real time from miles or even hours away.

Continued on page 5.
---
A message from MAO

Leadership

Michael Murphree, LICSW

Chief Executive Officer

There has never been a better

time to say how much we

appreciate our supporters.

Over the last few years, Medical

Advocacy and Outreach (MAO) has

not only continued to serve those

who rely on us for life-saving

care, but we have been able to

expand our services based on the

changing needs of South Alabama

residents.

My hope is that you will find the information in this issue of the new

MAO IN SIGHT informative and inspiring. Take a moment to consider

how you might get more involved. Everything that we have been

able to do since 1987 has been a direct result of public support.

Your support, whether that be in the form of donations, event

sponsorships, volunteerism, professional introductions, or just

attending activities and events hosted by MAO, helps us continue to

save lives every day. THANK YOU!

In addition to HIV, Hepatitis C, diabetes, and stigma are prevalent in

South Alabama, there remain barriers for many needing care, and

some segments of the population are being hit harder than others.

Together, we can #GetToZero new HIV infections, and improve

access to care and quality of life for everyone.

STAFF LEADERSHIP

Michael Murphree, LICSW

Chief Executive Officer

Ashley M. Tarrant, MPH

Chief Operation Officer

Tina Bush, CPA

Chief Financial Officer

Laurie Dill, MD, AAHIVS

Medical Director

DaQuentin Davis, MS, HRM

Director of Human Resources

Rozetta Roberts, MSN, RN

Clinical Director

KC Vick, MPH

Director of Capacity Building

Jamil Dawson

Director of Support Services

Alftan D. Dyson-Long, PharmD,

BCACP, AAHIVP

Director of Pharmacy Services

Elana M. Parker Merriweather, Ed.S.,

AADC, LPC, NCC

Director of Behavioral Health

Carl Shamburger, Jr., DMD

Dominique Askew Shamburger, DDS

Co-Directors of Dental Services

MAO IN SIGHT RETURNS

Increasing communication

Over the past two years, MAO has made great strides in

realizing a long-term plan to increase communication with

those we serve through cost-effective means. The results to date have

been most evident in the appearance of event-specific advertisements

such as those used to promote the annual Tread Red Walk and Fun Run in

Montgomery and the first Wiregrass Breaking Barriers Summit in Dothan;

more comprehensive use of social media platforms; and ongoing work to

improve the content and scope of the MAOI.ORG website.

One staple of the early years of Montgomery AIDS Outreach, Inc., D.B.A.

Medical Advocacy & Outreach (MAO), was the quarterly IN SIGHT newsletter.

IN SIGHT was first concieved by those generous volunteers we honor as

MAO's founders and first published in the Fall of 1987. IN SIGHT provided

updates about MAO and the HIV/AIDS pandemic. Although we continue to

evaluate the frequency of producing the publication in today's economy, we

are thrilled to share the first issue of the new IN SIGHT with you. Feel free

to share your thoughts.

MAO INSIGHT - WINTER 2018/2019 - PAGE 2

Billy Sample

Telehealth Resource Center Program

Manager

Ashley F. Boaz, MBA, MHA, CMPE

Clinical Practice Manager

Pamela D. Holton

Regional Coordinator (Wiregrass Area and

Southwest Alabama)

IN SIGHT PUBLICATION TEAM

Thomas L. Stephens

Media Relations Specialist

tstephens@maoi.org

Dianne Teague

Government and Donor Relations

dteague@maoi.org
---
Building and Maintaining a Holistic Care Model Requires Planning and Constant Examination

of What Works and How We Can Do More

MAO's team of medical, dental, and behavioral health providers gathered with pharmacy services and operation personnel from

Montgomery, Dothan, and Atmore in September 2018 to assess service delivery, changing patient needs, and potential barriers to care.

NO ONE TURNED AWAY DUE TO AN

INABILITY TO PAY

Compassionate, quality, affordable care, and assistance still

needed.

Since the first cases of HIV were recorded, an estimated 77.3

million people worldwide have contracted HIV and an estimated

35.4 million have died of AIDS-related illnesses. Today, an

estimated 36.7 million people are living with HIV worldwide.

Thankfully, global efforts have resulted in 19.5 million people

worldwide receiving lifesaving antiretroviral treatment. Since the

peak of the epidemic in 2005, annual AIDS-related deaths have

declined by 48%.

Although we have finally started to see a decline in new

diagnoses in the United States and across the globe, the fight

is NOT over. New diagnosis remain in the thousands. In fact,

an estimated 1.1 million people in the United States are living

with HIV, and 1 in 7 still do not know they are infected. In

2016, Southern states accounted for more than half of new HIV

diagnoses in the U.S., despite making up just 38% of the overall

population. There are high risk groups, but HIV does NOT

discriminate regardless of belief, location, race, culture, gender,

sexual orientation, or political views.

According to the Alabama Department of Public Health, there

were approximately 14,351 reported cases of HIV in Alabama as

of September 2018, including 262 newly diagnosed.

Continued on page 4 .

MAO Dental Clinic

After One Year

In June of 2017, MAO opened the

MAO Dental Clinic to provide oral

health for clients living with HIV.

The Clinic in Montgomery served

more than 240 patients in its first

two months. After one year, the

Clinic now serves more than 100

patients per week.

Many patients had not visited a

dentist for more than 15 years,

In addition to financial concerns,

"there are still a lot of places

where people living with HIV

are met with stigma," observed

Dominique Shamburger, DDS,

Co-Director of MAO Dental

Services and one of three

licensed dentists at the MAO

Dental Clinic. "They will not find

that here!"

MAO INSIGHT - WINTER 2018/2019 - PAGE 3
---
MAO Wellness Center

EXPANDING OPTIONS FOR COMMUNITIES BEYOND HIV

One of MAO's more recent expansions is the MAO Wellness

Center. The vision for the Center includes the development

of specialized care and wellness activities for women, the

LGBTQi communities, and others. Currently, the Center is

home to MAO's PrEP Clinic. PrEP is a one pill per day risk

reduction option for people who test negative

for HIV and would like to stay that way. More

than 175 indviduals are now receiving PrEP

through the Center with private insurance or

as a result of available assistance programs.

Rozetta Roberts, MSN, RN,

Clinical Director, for MAO's

Copeland Care Clinic, and Billy

Sample, Program Manager of

MAO's new Telehealth Resource

Center, demonstrate for

supporters at the MAO Learning

Center in Montgomery how

telemedicine allows a patient and

their doctor to capture realtime

patient vitals and examine

physical anomalies.

NO ONE TURNED AWAY DUE TO AN

INABILITY TO PAY

Compassionate, quality, affordable care, and assistance

still needed. Continued from page 3.

When combined with the number of those we have lost, the

accumulative reported cases of HIV totals an estimated 20,185.

Of course, the data was still subject to verification at the time

of reporting, but the figures paint a very real picture. For MAO,

this means a growing number of people living with HIV, many

who are co-infected with other concerns like Hepatitis C and

diabetes, who will need care.

At the close of 2017, MAO was providing direct care to more

than 1,800 spanning 28 counties in South Alabama. As of

December 2018, MAO welcomed 192 new patients living

with HIV into care. As the data below clearly shows, we have

seen a steady flow of people entering treatment over the last

five years. However, as a result of increased adherence to

medication, more patients are able to visit their doctor less.

Patient-focused use of telemedicine technology is playing

a significant role in patient adherence. A research study

about MAO's success with telemedicine technology was

published in the Journal

of Telemedicine and

Telecare in February

2018. The study

found that 96% of

followed patients were

retained in care, 97%

used antiretroviral

therapy and 93% had

suppressed viral loads.

"Before

telemedicine,

newly diagnosed

patients had

to wait weeks,

sometimes

months, to

see a doctor.

Now we can

accommodate

patients as

soon as they

are diagnosed.

Telemedicine

has been a life

saver."

- Alabama Department

of Public Health

MAO INSIGHT - WINTER 2018/2019 - PAGE 4
---
Changing the Landscape of

Rural Care

ALABAMA E-HEALTH & RECOGNITION

Continued from page 1.

Thanks, in part, to a matching grant from AIDS United, MAO

launched the Alabama e-Health Telemedicine Initiative and

its first telemedicine clinic in Selma, Alabama in 2011. Over a

few short years, MAO's Initiative grew from one patient clinic

and one provider location into a network that now canvases

12 Alabama counties. As of

2018, MAO's Alabama e-Health

network consisted of three

provider locations and 10 rural

satellite clinics. The MAO

network of satellite clinics

delivers not only HIV-specific

specialized and primary care,

but pharmacy consultations,

mental health counseling, and

social work support-services via

telemedicine to underserved,

disproportionately impacted

communities.

MAO's efforts to integrate telemedicine

technology informed and inspired a widescale

effort by Alabama Department of Public

Health (ADPH), which resulted in telemedicine

technology being integrated at county health

departments in 37 counties by April 2018.

Twenty three more were expected to go online

by August 2018. Furthermore, ADPH confirmed

60 out of 66 counties "Bandwidth Ready"

in 2018 to support the use of telemedicine

technology. To quote an Alabama Department

of Public Health HIV Program Coordinator from

one of Alabama's most rural areas, "Before

telemedicine, newly diagnosed patients had to

wait weeks, sometimes months, to see a doctor.

Now we can accommodate patients as soon as

they are diagnosed. Telemedicine has been a

life saver."

Looking beyond HIV, the Alabama e-Health

Initiative is proving the potential of telemedicine

to address widespread health barriers and

reduce disparities in rural Alabama. The initial

success of Alabama e-Health earned MAO

recognition from The White House resulting

in an invitation to present at the What Works

Showcase in 2014. Additionally, The White

House's national HIV strategy highlighted the

Alabama e-Health model as a viable and costeffective

means of reaching rural HIV patients.

Having demonstrated that the success was as

much about innovative technology as it was

provider effectiveness, MAO providers were

presented with The American Academy of HIV

Medicine (AAHIVM)/Institute for Technology

in Health Care HIV Practice Award in 2015 for

their pioneering work. To help cement longterm

sustainability of the Initiative, in December

2015, MAO worked with Blue Cross Blue Shield

of Alabama and reached an agreement to allow

for insurance reimbursement of telemedicine

visits through that provider.

MAO INSIGHT - WINTER 2018/2019 - PAGE 5
---
BEHAVIORIAL HEALTH

Serving the mind and the body

MAO SUPPORTS NATIONAL DRUG TAKEBACK DAY

More than 40 pounds of controlled and non-controlled prescriptions were

collected and turned over to the DEA in April.

Corp. Cedrick Leonard from the Montgomery County Sheriff's Department

pictured with Kirstie Tyson Cleveland, ALC, one MAO's Behavioral Health

Therapists, preparing the DEA submission.

(1) medical and clinical operations through

physician referrals and consultations;

(2) capacity building through workforce

development and staff training on specialized

topics around behavioral health;

(3) social services through the coordination of

community resources and referral linkages;

(4) administration through agency wide

planning for Alabama Department of

Mental Health substance abuse treatment

certification;

(5) marketing and social media through the

use of multimodal dissemination of behavioral

health information to staff and the community;

(6) telehealth services through opportunities

for substance abuse prevention and treatment

opportunities in rural communities; and,

(7) financial planning for future acquisition of

state and federal behavioral health funding,

private pay fee for services, and third party

insurance billing.

The Department of Behavioral Health

continues to explore opportunities to address

the opioid crisis in Alabama. In 2018, the

following programs were implemented and

MAO INSIGHT - WINTER 2018/2019 - PAGE 6

MAO's newest department,

Behavioral Health, began

expansion efforts in 2018. The

primary goal of the ongoing

expansion is to offer substance

abuse and mental health

counseling services to agency

patients and clients who are

accessing other services. The

offering of these and other

behavioral health services

have been initiated through the

integration of services into:

funding initiatives were pursued respectively:

• Intra departmental development and

coordination of the OTAP Committee

(Opioid Treatment Abuse and Prevention)

including capacity building and pharmacy

• Hosting the National Prescription Drug

Take Back Observance on April 26 for the

community, patients, and MAO staff

• Hosting the 1st Annual Opioid Summit on

October 18 for state and local community

substance abuse and mental health

providers

• Naloxone 101 Training for clinical and social

services staff on September 25 and October

18

• Integration of the SBIRT (Screening for

Brief Intervention Referral to Treatment)

and ASAM (American Society for Addiction

Medicine) assessment tools to screen

patients for opioid related disorders

The integration of comprehensive behavioral

health services into Ryan White Care

programs at MAO is evolving and growing.

Contributed by

Elana M. Parker Merriweather, Ed.S., AADC, LPC, NCC

Director of Behavioral Health
---
Building Human Capacity

Community Education - Professional Development -

Systems Outreach - Civic Health

One of the fasted growing departments within MAO is the Department of Capacity Building. For

some who remember the early years of MAO, education and helping South Alabama communities

gain access to information and the tools that will improve overall health, quality of life, and

remove stigma surrounding life-saving care is

where it all began. Today, we have to go ever

further to make a difference.

During 2018, MAO's Division of Community

Education hosted multiple health fairs and

wellness events, including the Wiregrass

Wellness Expo in November, and exhibited at

those hosted by partnering agencies. Additionally,

MAO's Health Educators continued to lead

efforts to encourage the public to know their

HIV and Hepatitis C status by offering free,

fast, and confidential testing at MAO locations

and throughout South Alabama. More than 200

presentations were made in settings ranging from

Preparing for community testing days in Dothan and

Montgomery. Always a team effort at MAO!

secondary schools to college and university campuses to private institutions of care or

incarceration.

Changing the Landscape

of Rural Care

- Continued from page 5.

Over the past few years,

the Alabama Governor's

Office turned to MAO for

advice on addressing health

disparities, nominating

MAO's CEO, Michael

Murphree, to the State's

Healthcare Task Force.

To date, Murphree has

been invited to participate

in three rural health

conferences at The White

House where he advocated

for policies to bolster rural

healthcare capabilities.

Elsewhere, he has been

invited to provide talks on

a wealth of social service,

HIV/AIDS, telemedicine and

rural health topics.

MAO's Division of Professional Development was equally busy

planning, hosting and/or facilitating training opportunties that

expand the capabilities of doctors, nurses, social service

workers, counselors, and others. Through in person and webbased

training sessions, including the Breaking Barriers

Summit andWiregrass Breaking Barriers Summit, operating

alone or in partnership with the Alabama AIDS Education

Training Center (AETC) and the Southeast AIDS Education

Training Centers (SE AETC), more than 1,243 trainees reached

new levels of understanding on a menu of topics.

During 2018, the Capacity Building Team increased its focus on

empowering people to become more active in issues impacting

their lives by assisting with voter registration, offering voter right

restoration training sessions, and hosting nonpartisan Town Hall

Listening Sessions surrounding healthcare. Advancing into 2019,

even more will be done in these areas as well as Civic Health

and System Outreach, focusing on the

benefits of PrEP and building community

support partnerships.

Consider how you might get involved.

Lucero Sitz, MAO's LatinX outreach professional

and language interpretor pictured outside of the

MAO Learning Center showing support for MAO's

#ivotebecause campaign.

MAO INSIGHT - WINTER 2018/2019 - PAGE 7
---
YOUR DONATIONS COUNT

Help South Alabama Residents

Get Tested! Get Care & Support! Get Connected! Get Involved!

Did you know MAO must raise nearly 30% of its annual budget from grants

and public contributions? Given the uncertanty of government and private

foundation grants recurring annually, the support of individuals and

businesses play critical roles in sustaining afforable, quality care; expanding

prevention efforts that save lives and lower healthcare costs; and responding

to the changing needs of those living in the rural South.

Please consider making a generous one time gift or smaller recurring gifts

to Medical Advocacy & Outreach (MAO) today.

No amount is too small, and most donations are tax-deductible to the extent

permitted by law. Consider your donations as investments in the health of

your family, friends, neighbors, and community. Use the enclosed envelope for

check or cash donations, or donate online using a major credit card at: http://

maoi.org/support-mao-save-a-life-today/donate/

Questions! Contact Dianne Teague. Call (334) 315-5421 or e-mail

dteague@maoi.org. Donate anonymously or in honor of a loved one.

In the Next Issue

Healthy Babies

Preventing HIV transmission to

newborns. Monitoring the child and the

MOMS of MAO.

New Atmore Location

Developing MAO's newest full service

clinic and education center in an

underserved region.

Expanding Services

Specialized care to address Hepatitis C,

STIs/STDs, diabetes, Women's Health,

and the LGBTQi community.

Copeland Care Pharmacy

More than just medications.

Consultations,assistance referrals,

interdisciplinary approaches, and

convenience.

Telehealth Resource

Center

Helping providers and service workers

connect with those in need

across great distances.

Breaking

Barriers

Summit 2019

Jan. 23 - 25, 2019

12.5 contact hours

REGISTER TODAY!

MAO INSIGHT - WINTER 2018/2019 - PAGE 8

2900 McGehee Road

Montgomery, Alabama 36111

(800) 510-4704

info@maoi.org

MAOI.ORG

SAVE THE DATE!

September 14, 2019

Montgomery

@MAOofAlabama

maoofalabama

MAO