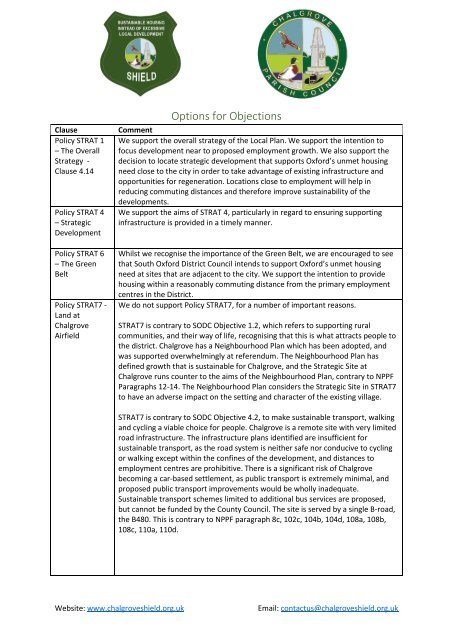 Options for Objection - STRAT 7
You also want an ePaper? Increase the reach of your titles
YUMPU automatically turns print PDFs into web optimized ePapers that Google loves.
Clause

Policy STRAT 1

– The Overall

Strategy -

Clause 4.14

Policy STRAT 4

– Strategic

Development

Policy STRAT 6

– The Green

Belt

Policy STRAT7 -

Land at

Chalgrove

Airfield

Options for Objections

Comment

We support the overall strategy of the Local Plan. We support the intention to

focus development near to proposed employment growth. We also support the

decision to locate strategic development that supports Oxford's unmet housing

need close to the city in order to take advantage of existing infrastructure and

opportunities for regeneration. Locations close to employment will help in

reducing commuting distances and therefore improve sustainability of the

developments.

We support the aims of STRAT 4, particularly in regard to ensuring supporting

infrastructure is provided in a timely manner.

Whilst we recognise the importance of the Green Belt, we are encouraged to see

that South Oxford District Council intends to support Oxford's unmet housing

need at sites that are adjacent to the city. We support the intention to provide

housing within a reasonably commuting distance from the primary employment

centres in the District.

We do not support Policy STRAT7, for a number of important reasons.

STRAT7 is contrary to SODC Objective 1.2, which refers to supporting rural

communities, and their way of life, recognising that this is what attracts people to

the district. Chalgrove has a Neighbourhood Plan which has been adopted, and

was supported overwhelmingly at referendum. The Neighbourhood Plan has

defined growth that is sustainable for Chalgrove, and the Strategic Site at

Chalgrove runs counter to the aims of the Neighbourhood Plan, contrary to NPPF

Paragraphs 12-14. The Neighbourhood Plan considers the Strategic Site in STRAT7

to have an adverse impact on the setting and character of the existing village.

STRAT7 is contrary to SODC Objective 4.2, to make sustainable transport, walking

and cycling a viable choice for people. Chalgrove is a remote site with very limited

road infrastructure. The infrastructure plans identified are insufficient for

sustainable transport, as the road system is neither safe nor conducive to cycling

or walking except within the confines of the development, and distances to

employment centres are prohibitive. There is a significant risk of Chalgrove

becoming a car-based settlement, as public transport is extremely minimal, and

proposed public transport improvements would be wholly inadequate.

Sustainable transport schemes limited to additional bus services are proposed,

but cannot be funded by the County Council. The site is served by a single B-road,

the B480. This is contrary to NPPF paragraph 8c, 102c, 104b, 104d, 108a, 108b,

108c, 110a, 110d.

Website: www.chalgroveshield.org.uk

Email: contactus@chalgroveshield.org.uk
---
STRAT7 is contrary to SODC Objective 5.2, which seeks to support development

that respects the scale and character of our towns and villages. STRAT7 during the

plan period will triple the size of the existing community, and beyond the plan

period will almost quadruple it, and there would be significant negative effects for

the existing community. The Strategic Site Selection document makes reference

to "regeneration" of Chalgrove; this is not a requirement that is recognised by the

community. This strategy is contrary to NPPF Paragraphs 12-14.

STRAT7 is contrary to SODC Objective 6.1, which champions Neighbourhood

Planning. The Neighbourhood Plan has identified growth of almost 30% (in excess

of the 15% required by the local plan for larger villages) which totals 320 houses

that will meet the needs of the community, and represents a sustainable increase

in housing. This strategy is contrary to NPPF Paragraphs 12-14

STRAT7 is contrary to SODC Objective 8.2, which seeks to "minimise carbon

emissions and other pollution such as water, air, noise and light, and increase our

resilience to the likely impact of climate change, especially flooding". Due to the

location of Chalgrove in a remote, rural area of South Oxfordshire, carbon

emissions will necessarily be higher than for sites closer to the major employment

centres and with access to existing public transport infrastructure. Chalgrove has

no rail service, and is not near any rail lines. All transport from Chalgrove will, of

necessity, be car-based, and deliveries of goods and services will also have

increased journey distances. This is contrary to NPPF paragraph 8c, 102c, 104b,

104d, 108a, 108b, 108c, 110a, 110d.

STRAT7 states that land will be safeguarded for the future operations of Martin-

Baker Aircraft Company Ltd. The intention is to take up the existing runways at

Chalgrove Airfield, and replace them with a single runway that far shorter than

the existing ones, and will of necessity limit the operations of the company. The

proposal is therefore to build housing, schools and limited employment centres

adjacent to an active runway, with the commensurate safety considerations. In

addition, Martin-Baker operates a pyrotechnic test facility at the Airfield, which

carries out regular explosives testing. This would also be adjacent to proposed

housing. It is inconceivable that sufficient mitigation could be implemented to

prevent significant noise nuisance to new residents on this site. A site with

significant noise pollution at the heart of it is contrary to NPPF paragraph 91c and

95a. The proposal to allow Martin-Baker to remain on site must also be mindful of

NPPF paragraph 95b; Martin-Baker is a major defence contractor, and as such,

would be adversely affected by the impact of proposed development on a site

they currently enjoy full use of.

STRAT 7 states that land must be secured for infrastructure. Currently, very few

areas of land have been secured for the proposed highway infrastructure projects,

and one of the proposed bypasses is located almost entirely in Flood Zone 3b, on

the River Thame flood plain. The road improvements proposed will open a new

corridor between the M40 and Oxford that will allow traffic to avoid the M40, A40

and A34, significantly increasing road traffic in an unsustainable way. This is

contrary to NPPF paragraph 103.

Website: www.chalgroveshield.org.uk

Email: contactus@chalgroveshield.org.uk
---
STRAT7 proposes improvements in bus routes. This is the only proposed

sustainable transport option, and is limited to destinations used by fewer than

half of Chalgrove's current commuters. This is contrary to NPPF paragraph 103

and 104.

Paragraphs 4.64 and 4.65 identify an issue with the existing tenant, and the

requirement for a Compulsory Purchase Order. As a result, Paragraph 4.65

indicates that no completions are expected on the site until 2026/2027 at the

earliest. This is contrary to NPPF paragraph 67a, which stated that the policies

should identify a supply of specific, deliverable sites for years one to five of the

local plan period. SODC's own definition of Deliverability also defines the ability of

the site to deliver housing within five years. This site breaches that definition.

Deliverability – the plan identifies that there is uncertainty about the Chalgrove

site coming forward, given that the site would require a CPO. There are a number

of factors which would indicate that the success of a CPO would be unlikely, as in

order for it to succeed, it would need to prove necessity and public interest. The

Local Plan significantly over-provides housing for the plan period by over 5000

homes, to the extent that if the entire Chalgrove site were removed from the

plan, there would still be an over provision for the plan period, over and above

the SHMA, which removes the argument of necessity completely.

Our Comments:

The SODC Form

Whilst we support the majority of the Local Plan, it cannot be found sound whilst

the Chalgrove site remains within it.

PLEASE NOTE: These are suggested objections. PLEASE don't copy and paste; if

the Inspector receives hundreds of identical letters, they will not take them into

consideration! Please read them, and if you agree with them, please edit and use

your own words to express your views – and add any additional arguments you

may have. The important thing is – we support the plan, and we will find it sound

IF Chalgrove is removed from it.

The form is complex, but here are our recommendations:

Part A – you are responding as an individual.

Part B – quote the STRAT number / paragraph number you are commenting on in

the first box (NOTE – you have to fill in a new Part B for every STRAT you

comment on!)

As residents, we are unlikely to know if the plan is legally compliant or complies

with the Duty to co-operate, but we can tick the "don't know" boxes. However,

we can comment on soundness, as that includes deliverability, sustainability etc.

For the policies you are supporting, tick "Yes". For the one you are objecting to

(STRAT 7 Chalgrove), tick "No".

In the next box – if you are supporting, put the reasons you are supporting. If you

are objecting, put the reasons you are objecting. Please note that you can

continue on the last page, or add an attachment if you run out of space.

In the next box – if you are supporting, no need to add anything. If you are

objecting, please state that the way the plan can be amended to make it sound is

to remove Chalgrove Airfield from the plan.

It is up to you if you wish to speak as part of the examination process. We will be

speaking on behalf of the village.

Any questions, please let us know!

Website: www.chalgroveshield.org.uk

Email: contactus@chalgroveshield.org.uk