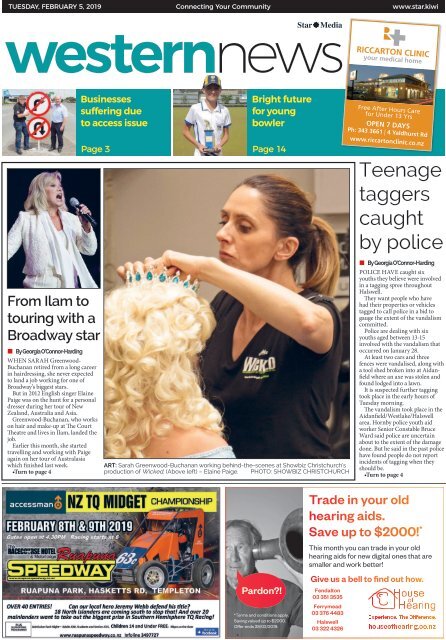 Western News: February 05, 2019
Do you know the secret to free website traffic?
Use this trick to increase the number of new potential customers.
TUESDAY, FEBRUARY 5, 2019

Connecting Your Community

www.star.kiwi

Businesses

suffering due

to access issue

Bright future

for young

bowler

Free After Hours Care

for Under 13 Yrs

OPEN 7 DAYS

Ph: 343 3661 | 4 Yaldhurst Rd

From Ilam to

touring with a

Broadway star

• By Georgia O'Connor-Harding

WHEN SARAH Greenwood-

Buchanan retired from a long career

in hairdressing, she never expected

to land a job working for one of

Broadway's biggest stars.

But in 2012 English singer Elaine

Paige was on the hunt for a personal

dresser during her tour of New

Zealand, Australia and Asia.

Greenwood-Buchanan, who works

on hair and make-up at The Court

Theatre and lives in Ilam, landed the

job.

Earlier this month, she started

travelling and working with Paige

again on her tour of Australasia

which finished last week.

•Turn to page 4

Page 3 Page 14

ART: Sarah Greenwood-Buchanan working behind-the-scenes at Showbiz Christchurch's

production of Wicked. (Above left) – Elaine Paige. PHOTO: SHOWBIZ CHRISTCHURCH

www.riccartonclinic.co.nz

Teenage

taggers

caught

by police

• By Georgia O'Connor-Harding

POLICE HAVE caught six

youths they believe were involved

in a tagging spree throughout

Halswell.

They want people who have

had their properties or vehicles

tagged to call police in a bid to

gauge the extent of the vandalism

committed.

Police are dealing with six

youths aged between 13-15

involved with the vandalism that

occurred on January 28.

At least two cars and three

fences were vandalised, along with

a tool shed broken into at Aidanfield

where an axe was stolen and

found lodged into a lawn.

It is suspected further tagging

took place in the early hours of

Tuesday morning.

The vandalism took place in the

Aidanfield/Westlake/Halswell

area. Hornby police youth aid

worker Senior Constable Bruce

Ward said police are uncertain

about to the extent of the damage

done. But he said in the past police

have found people do not report

incidents of tagging when they

should be.

•Turn to page 4

Pardon?!

*Terms and conditions apply.

Saving valued up to $2000.

Offer ends 28/02/2019.

Trade in your old

hearing aids.

Save up to $2000! *

This month you can trade in your old

hearing aids for new digital ones that are

smaller and work better!

Give us a bell to find out how.

Fendalton

03 351 3535

Ferrymead

03 376 4483

Halswell

03 322 4326
---
2 Tuesday February 5 2019

Latest Christchurch news at www.star.kiwi

get in touch

from the editor's desk

LOGAN DUNN might only be 15, but he's

already making his mark on the bowling

green.

On page 14 today, we highlight the

youngster's victory in the Canterbury

men's first and second first year championship.

Logan comes from good bowls stock. His father Jason is a

handy player and those genes have also rubbed off onto Logan's

16-year-old brother Jordan.

In the semi-final, Logan prevailed Jordan. No doubt those two

will continue to face each other in the years to come.

Logan was in the Halswell four which was runner up in the

open section. It also included his father and Darryl Hawker,

the current Canterbury coach, and part of the great Halswell

premier rugby league team during the 1980s.

- Barry Clarke

GENERAL INQUIRIES Ph 379 7100

CLASSIFIED ADVERTISING Ph 379 1100

Star Media, a division of Allied Press Ltd

PO Box 1467, Christchurch

starmedia.kiwi

news

Mad about robotics

Burnside High School students with a flair for electronics

will take their own robot to a national competition.

Page 6

your local views

Pet responsibilty

Find out what SPCA southern region general manager Barry

Helem has to say about desexing your pets.

Page 10

community events

WESTERN NEWS

Year of the pig

Head to the Te Hapua: Halswell Centre, 341 Halswell Rd, on

Saturday from 1.30-2.30pm to celebrate Chinese New Year.

NEWS

Georgia O'Connor-Harding

Ph: 021 910 730

georgia.oconnor@starmedia.kiwi

ADVERTISING

Alana Powell

Ph: 962 8753

alana.powell@starmedia.kiwi

Page 17

The best-read local newspaper, delivered to

18,190 homes every Tuesday

Templeton, Islington, Hei Hei, Broomfield, Halswell, Oaklands,

Westlake, Hornby, Wigram, Sockburn, Church Corner, Ilam,

Russley, Hyde Park, Avonhead, Riccarton Park, Riccarton.

A love of

dance for life

CONTEMPORARY

BALLET

JAZZ | HIP HOP

< Preschool to adults

< Family discount

< Avonhead

< Very reasonable fees

< Annual recital

Jadon Dance

Jacqui Tieleman

03 324 2227

021 630 910

jacs2u@scorch.co.nz

Donna Head

03 351 2401

021 0423 621

donna.head@xtra.co.nz

Meet Ruth

at the Te Hapua ¯ Halswell Centre Café

2-3pm Friday 8 February

Second Friday of each month

Phone 09 376 4512

porthills.mp@parliament.govt.nz

Lazy Sundays

Featuring Yurt Party

FREE

Sunday 10 February, 3–4.30pm

Archery Lawn, Botanic Gardens

ccc.govt.nz/summertimes
---
WESTERN NEWS Latest Christchurch news at www.star.kiwi

Tuesday February 5 2019 3

News

Businesses bid for direct access

• By Georgia O'Connor-Harding

BUSINESSES HAVE banded

together in a bid to get back

direct access to their shopping

area on Main South Rd.

A petition with almost 150

signatures has been collected by

businesses calling for a rightturning

bay along Main South

Rd, opposite Harvard Ave.

They are concerned patronage

could be declining as customers

travelling towards Hornby are

unable to directly access their

businesses.

The issue was raised

in October when the

Halswell-Hornby-Riccarton

Community Board approved a

recommendation to ban vehicles

from turning right off Main

South Rd or make U-turns at the

Harvard Ave intersection.

Board chairman Mike Mora

said at the time a turning bay

could be put in and a report on

the issue is expected back in

April.

"The board has always been

supportive of a turning bay," he

said.

However, city council staff

have not started an investigation

into the situation.

Vehicles which want to access

businesses opposite Harvard Ave

have to perform a U-turn about

1km further along Main South

Rd. The petition was presented

to the board by RA Shearings

Contractors director Bob

Shearing and DA Lewis director

Mark Lewis.

Mr Shearing, a former city

councillor, said his business has

been there for more than 40

years and there has never been a

problem with the road.

He said there are about 20

businesses in the shopping block

with about 200-300 employees.

"We certainly don't believe it

was ever dangerous or is . . . they

need to make the corner safe to

do U-turns and the only way to

do that now is to put a turning

bay into it which is easy to do."

City council transport

operations manager

Steffan Thomas said there have

been 12 crashes reported in the

past five years – one serious

injury and three minor injury

crashes.

Mr Shearing said if people

can't turn there, they will go to

another business.

CALL FOR CHANGE:

Business owners Bob

Shearing and Mark

Lewis have collected

a petition with nearly

150 signatures to have

a turning bay installed

on Main South Rd

opposite Harvard Ave.

He is being supported by Mr

Lewis and Chipmunks Playland

& Cafe Wigram business partner

Dell Lu. Mr Lu said he believes

he has lost customers due to the

access issue.

The city council originally

installed the signs because there

was no turning bay.

Mr Thomas said right and

U-turning traffic obstructs the

traffic flow along Main South

Rd and the city council needs to

deal with the safety issue before

a turning bay can be put in.

Local

News

Now

In Brief

Fire rages, homes at risk

HAREWOOD RD CRASH

A woman was taken to

hospital with moderate

injuries following a two-car

crash on the corner of Greer

and Harewood Rds last

Monday. St John spokesman

Gerard Campbell said it was

called to the incident about

7.40am.

SUMMER POOL HOURS

The Halswell-Hornby-

Riccarton Community Board

has asked city council chief

executive Karleen Edwards

for advice on extending the

Te Hapua: Halswell Summer

Pool hours. It has also asked

city council staff to investigate

funding the additional

operating hours from the

board's ​discretionary response

fund. The board wants the

pool to open earlier than it

current 11.30am opening

time.

FREE BARBECUE

A free barbecue will be held

for the Hornby community

at Branston Park on Saturday

from 11am-1pm. The event,

which will include a bouncy

castle, has been organised by

the Greater Hornby Residents'

Association and is supported

by Hornby sports clubs.

MEDITERRANEAN

Souvlakis

ONLY

SOUVLAKIS FROM $7.90

251B Riccarton Road

Upper Riccarton

Phone (03) 341 6700

Student

Meal

Special

$4.99

PHONE ORDERS WELCOME

For Everything

AUTO ELECTRIC

CARS • BOATS • TRUCKS • CARAVANS • TRAILERS

• 4WDS • ELECTRIC & HYBRID VEHICLES

• Starter Motors

• Alternators

• Central Locking

• Electric Windows

• ABS & Airbags

• Stereos/Alarms

• Batteries

• Tuneups

• Engine Management

YOU NAME IT WE FIX IT

AAE

Amazing

Auto

Electric

USUALLY

SAME DAY

SERVICE

WE ARE HERE

65 Coleridge St, Sydenham 65 Coleridge St

Coleridge St

Ph. 379 4250

www.amazingautoelectric.co.nz

Gasson St

Wordsworth St

HEAT PUMP

SALE NOW ON!

Amazin' summer Specials!!

Brisbane St

" Check out what's

on at Bunnings

Riccarton"

SATURDAY 9TH FEBRUARY

1PM – 4PM

SINEAD,

TEAM MEMBER

Bring the whole family along

for a special meet and greet

with Chase from Nickelodeon's

PAW Patrol.

For more information please

call 03 361 0800 or visit

bunnings.co.nz/riccarton

• We will offer you the best quality brands and

option of heat pump for your home/business

• Providing Heat Pump solutions for over 16 years to Cantabrians

• We personally guarantee all our products & installs for 5 years

(providing annual maintenance has been completed)

Phone us today for your free consultation & quote

41A SHAKESPEARE RD, WALTHAM

PHONE 03 366 0525

www.enviromaster.co.nz

"A local team for local people"

BUNZ19347_WN

© 2018 Spin Master PAW Productions Inc. All Rights Reserved. PAW Patrol and all related

titles, logos and characters are trademarks of Spin Master Ltd. Nickelodeon and all related

titles and logos are trademarks.

CNR BLENHEIM RD & FOSTER ST, RICCARTON
---
4 Tuesday February 5 2019

Latest Christchurch news at www.star.kiwi

WESTERN NEWS

News

Has your property been tagged?

•From page 1

"Half a dozen kids can tag a

lot of places so we want to be on

top of this really quickly," Senior

Constable Ward said.

Several youths had gone to

a house in Halswell

on Sunday night and

unbeknownst to the

parent they snuck out

in the night, picked up

more youths, consumed

alcohol and spraypainted

properties, he

said. The tagging was

brought to the police's

attention by one of the

parents who had seen one of the

boys covered in spray paint.

"The parents are horrified,"

Senior Constable Ward said.

Residents on Wigram Rd, near

Westlake Park were one of the

unfortunate targets on a Monday

morning.

A resident, who did not wish

Bruce Ward

to be named, woke up at about

1.15am to a light being shone in

her window before finding

two vehicles had been badly

tagged. Senior Constable Ward

said either the youths or their

parents may have to

pay for reparation or

community service

and they will have their

photos and

fingerprints taken

for further use. "If it

runs into thousands of

dollars we might have

to think where we take

these youths. They may

have to go to the youth court."

If your property or vehicle was

vandalised between January 28

and 29 call police on 363 7435.

•HAVE YOUR SAY: Are you

concerned about tagging in

the Halswell area? Email your

views to georgia.oconnor@

starmedia.kiwi

UNFORTUNATE: The damage sustained from six youths who went on a tagging spree

throughout Halswell.

Life on the road with a

musical theatre legend

DREAM JOB: Sarah Greenwood-Buchanan has been working

as a personal hairdresser, tour companion and assistant for

Broadway star Elaine Paige.

•From page 1

Well known for her work in

musical theatre, Paige's career

came into the spotlight when

she played Eva Peron in Andrew

Lloyd Webber's production of

Evita in 1978.

Greenwood-Buchanan said she

was "very privileged" to be asked

back to work as Paige's personal

hairdresser, tour companion and

personal assistant.

"I think she likes me because

we like a lot of the same things

. . . the fact I can help her with

her hair and make-up is a bit of a

treat for her because she usually

always does it herself. We just get

on really well," she said.

While Greenwood-

Buchanan was in charge

of setting up Paige's dressing

room, she said Paige preferred to

get ready and decide what to wear

by herself.

She described Paige as a "classy

lady" who knows how to make

herself look a "million dollars."

"She is absolutely lovely. She

is very down to earth, she has a

fantastic sense of humour. We

have a lot of laughs," Greenwood-

Buchanan said.

She said it was a "career

highlight" to work with Paige.

"I remember listening to her

songs in the 80s . . . I was in awe

of her voice, her presence and

persona."

Touring with Paige in 2012

"kicked off a massive career"

for Greenwood-Buchanan who

"didn't really know" what she

was going to do after 29 years as

a hairdresser. She has since been

involved in sourcing and styling

wigs, hairdressing, make-up and

managing wardrobes backstage

for shows.

Following her first tour with

Paige, Greenwood-Buchanan

was contacted by one of The

Court Theatre's leading directors

to work on wigs and hair

backstage.

"I haven't looked back really. I

have been contracted to do this

work ever since . . . it is a whole

new career," she said.

Greenwood-Buchanan has also

led an exciting career on stage,

playing the lead role of Velma

Kelly in Showbiz Christchurch's

production of Chicago in 2008.

She is also a co-director

and co-performer in vocal

trio The Starlets, and hopes to

perform more for the public this

year.

CAMERON BAILEY

Testimonial

"Heather and I would like to convey to you and your personal assistants Samantha and Lisa,

our appreciation for your input and management for the marketing of the Waltham Street units.

Truly a class act – the photography and descriptions were superb, we were kept informed,

were given the opportunity to have input where appropriate, and ended up with a fantastic

result! Thank you, sincerely, and best wishes."

Allan and Heather Burgess

NO.1 HARCOURTS CANTERBURY 2012-2018

NO.1 HARCOURTS NEW ZEALAND 2017-2018

NO.1 HARCOURTS INTERNATIONAL 2017-2018
---
WESTERN NEWS Latest Christchurch news at www.star.kiwi

Tuesday February 5 2019 5

Local

News

Now

More info for quarry application

Fire rages, homes at risk

• By Anan Zaki

ENVIRONMENT Canterbury

and the Selwyn District Council

are seeking more information

from Fulton Hogan over its

planned controversial quarry

near Templeton.

ECan requested more

information about the scope

of the application, Canterbury

air regional plan assessments,

effects on air

quality, dust

management,

groundwater

effects, well

use, effects on

water races,

aggregate

Simon Moore

washdown

water, truck

washing,

stormwater discharges, land

contamination, hazardous

substance storage, cleanfill

management and site

rehabilitation.

The district council

requested more information

on transportation matters,

noise, landscape, assessment

of effects, mitigation measures

and planning and other general

information.

Fulton Hogan said it will

respond to the requests for more

information by February 28.

Fulton Hogan applied to

quarry on the site bordered

by Curraghs, Dawsons, Jones

and Maddisons Rds between

Templeton and Weedons in

November.

"Once the information is

deemed to be complete, the

applications will be publicly

notified, providing the

opportunity for submissions to

be made," ECan said.

ECan says once the

information is received both

councils will review and assess

the information to determine

whether it is complete, or

whether additional clarification

from Fulton Hogan.

Weedons Residents' Association

member Simon Moore believed

the requests for extra information

by ECan and the district council

was "well written."

"I was quite pleased, it was

obviously quite thorough and

it would be very interesting to

see what their [Fulton Hogan's]

response to a lot of the questions

would be, particularly the issues

around water and traffic," Mr

Moore said.

Mr Moore believes that if

Fulton Hogan chose not to

respond, the quarry was unlikely

to go ahead because more

QUARRY LAND:

Fulton Hogan

will provide more

information about

its proposed quarry

near Templeton.

information would have been

needed.

ECan said that once the

information is received, both

ECan and district council

will review and assess the

information to determine if it

is complete or if more

clarification is needed from

Fulton Hogan.

Dates for the resource consent

hearing will be set once the

applications are notified.

Historic hall could be a heritage site

• By Georgia O'Connor-Harding

YALDHURST'S historic war

memorial hall could be a heritage

site.

A site visit made by the city

council's heritage team recently

has found the hall contains heritage

values which means it could

be protected under the District

Plan. If the hall was scheduled

under the District Plan as a heritage

building, a resource consent

would be needed to enable the

demolition, head of community

support, governance and partnerships

John Filsell.

The site visit also identified the

hall is physically intact and has

not changed since 1954 when it

was built. But Mr Filsell said a

research and evidence gathering

phase is needed to provide a full

picture.

Yaldhurst Memorial Hall

Committee member Michelle

Clark said it "absolutely" believes

the hall has historical significance

not only for the city but a

memorial point of view.

She said it would be positive if

the hall was a heritage building

under the district plan.

Discussions of the demolition

of the hall have been ongoing

since 2015. The hall may also be

thrown a lifeline with the possibility

of it being offered back to

the community for restoration.

A report exploring options

on the future of hall will be presented

to the community board

between April and June by city

council staff. But Mr Filsell said

it is too early establish what the

options are as not all information

is available.

City council staff recommended

demolishing the hall on

Pound Rd.

Yaldhurst Rural Residents'

Association chairwoman

Sara Harnett-Kikstra said

the community is hoping the

money set aside for demolishing

the building could go towards

restoring it.

HOPE: The Yaldhurst Memorial Hall could be a heritage site.

• help us to help others

• donations appreciated

• open 6 days

We welcome you to come in for a chat!

Free

picK up

can be arranged for

your quality donations -

phone 349 4163

Dress

Smart

Goulding Ave

main south rd

shands rd

We Are

here!

03 349 5050

free

denture

checks

Amyes rd

hornby Family store

1 Amyes Rd, Hornby

Ph. 349 4163

Corner Aymes & shAnds roAds- hornby

Present this advert along with your truck donation for a $10 credit (Conditions Apply)

New Dentures > Relines > Repairs >

6 Brynley Street, Hornby, Christchurch

www.betterdenture.co.nz
---
6 Tuesday February 5 2019

Latest Christchurch news at www.star.kiwi

News

WESTERN NEWS

Local

News

Now

Fire rages, homes at risk

Students nuts and bolts about robots

• By Georgia O'Connor-Harding

BURNSIDE HIGH School

students with a flair for

electronics will take their own

robot to a national competition.

Aditi Sharma, Alisha Sangwan

and Aarya Advilkar have spent

hours joining wheels, axles,

motors and gears to create their

own robotic machine.

But the hard work has paid

off, with the students travelling

to the Vex Robotics National

Competition in Auckland later

this month.

The competition requires

students to build and

programme a robot, which

will then undertake a series of

challenges.

The students have designed

their robot to launch balls

through a catapult design, go up

onto platforms and flip flags.

It is controlled by a remote

controller.

Aditi, 15, said it is an

opportunity for them as they can

meet other people who share the

same interests.

They have been working on

building the robot since January

last year and have spent time in

their school holidays working on

the project.

BUILDERS: Burnside High School students Alisha Sangwan, Aditi Sharma and Aarya Advilkar will

be taking their robot to the Vex Robotics National Competition

Alisha, 13, said the students

are hoping to earn a good

placing in the competition.

"Top 50 would be good, but the

least would be getting experience

and new ideas of what other

people think," she said.

All three students share an

interest in electronics and how

robotics could impact society in

the future.

Alisha said while she doesn't

think "robots are going to take

over the world" learning about

them is helpful if you want

to go into different types of

technology.

She said the programming

for the robot has similarities to

science, technology, engineering

and mathematics.

Aarya, 14, said she "likes

robotics so much" and thinks

it will help her in the future as

she is considering becoming an

architect.

"I like to plan ideas for the

robots and how it can compete

in the game and how it can fulfil

the task within the game," she

said.

Aditi said she is taking three

technology subjects this year and

is interested in pursuing a career

in engineering.

"I think robots would be a

good part of society, they can

help in so many ways. They can

do things humans can't," she

said.

About 80 teams from around

New Zealand are taking part in

the event which aims to increase

the awareness of robotics in

school communities.

Summer Range Instore

RiccaRton

37 Main South Road

RedcliffS

2 augusta Street

MaRShlandS

427 Marshland Road

daRfield

darfield Pharmacy

Ph 348 7910 | www.feetfirst.co.nz

now servicing

oXfoRd

Our gorgeous range of..

sandwiches, paninis, bagels,

scones, slices, muffins,

quiches, sausage rolls & pies,

coffee and more!

CATERING AVAILABLE!

Gorgeous Food

specialist bakery

OPEN

SATURDAY

7am - 1.30pm

66-68 Springs Rd Ph: 344 6044 Email: gorgeousfood@xtra.co.nz

Open Monday-Friday 6am-3.30pm www.gorgeousfood.co.nz
---
WESTERN NEWS Latest Christchurch news at www.star.kiwi

Tuesday February 5 2019 7

Have your say on what you think of

the changes. Send your views to

georgia.oconnor@starmedia.kiwi

Why Riccarton Rd is being upgraded

The city council answers

some of the most common

questions about why it is

upgrading Riccarton Rd

Major roadworks to begin this

month will involve upgrading

damaged underground pipes

and rebuilding the road to

accommodate bus priority

measures. The nearly two-year

project is not expected to be

completed until December 2020.

Why does this work have to

be done now?

The sewer pipes that run underneath

Riccarton Rd are nearly

100 years old. They have reached

the end of their lifespan and

need replacing. If the city council

delays replacing them, there is a

risk they could fail, resulting in

major disruption and roadworks.

The road surface is also in poor

condition, with damage evident

in many areas. At the same time

as resurfacing, bus priority will

be added measures so that buses

can travel more easily along Riccarton

Rd, which will cut travel

times along this busy route.

Why is it going to take almost

two years?

If the city council is only

resurfacing the road it could

complete the upgrade in a much

shorter time frame. It is because

TURMOIL: The city council has answered some of the most common questions on why

Riccarton Rd needs to be upgraded.

it needs to also replace the water

and sewer pipes that run beneath

the road that this project is likely

to take until December 2020 to

complete.

What's the most time-consuming

aspect of the work?

The sewer pipe is located 4m

below the road so a very deep

trench has to be dug. The trench

sides need to be supported so it is

a time-consuming process. Work

on the trench can only proceed

about 1m a day. Contractors are

starting at three different work

sites to speed up the process.

Can't you speed-up the

work by working at night and

weekends?

Contractors will be working

nights and weekends when

required, but during the sewer

pipework, it is dangerous to work

at night because good lighting

is needed. There are also motels

and a rest home along the route

and night work would be very

disruptive for them so it is a case

of balancing the needs of the

whole community.

Why are you putting a treelined

median strip down the

middle?

In 2015, the city council asked

the community for views on two

upgrade options – one with a

tree-lined median and one without.

The option with trees along

a central median was preferred.

This option was subsequently

recommended by the Halswell-

Hornby-Riccarton Community

Board to the city council's

infrastructure, transport and

environment committee, which

approved the scheme in August

2015. The tree-lined median

uses space made available by the

removal of car parks. There is

still one lane of traffic in each direction,

as there is now. The treelined

median should help to slow

traffic speeds and make the area

safer for pedestrians, cyclists and

drivers. The trees, along with

other streetscape enhancements,

such as new furniture, paving

and landscaping, will also make

this part of central Riccarton

more attractive and a destination

rather than solely a transport

corridor.

Do other parts of Riccarton

Rd need upgrading?

The stretch of Riccarton

Rd between Deans Ave and

Harakeke St has already been

upgraded. No other work of

this scale is planned but some

improvements to intersections

and other facilities, such as for

cycling, are scheduled to occur

over the next 10 years.

KIWIS CAN'T FLY – BUT THESE DEALS WILL!

Jim Beam Gold / Canadian Club Premium

7% 330ml 6 pk cans

$13 .99 ea

Matua Regional

range (ex PN)

$11. 99 ea

Mudhouse range (ex PN)

$11. 99 ea

Jim Beam Devils Cut 700ml,

Teachers,Chatelle,Old Crow, 1ltrs

$35. 99 ea

Jim Beam & Cola / Canadian Club (incl zero)

4.8% 10 pk cans Jim Beam gold 7% 8pk cans

$19. 99 ea

Stoneleigh Marlborough

Lighter ranges

$12.

99 ea

Jim Beam, CC (including spiced) 1ltr,

& JB Black 700mls

$38. 99 ea

Villa Maria Private Bin

Range (ex PN&Syrah)

$12. 99 ea

Woodstock 5% bottles, Cruiser 7%

cans, Codys 7% cans, all 12pks

$21.

99 ea

Woodstock 7% 250ml 12pk cans

(incl zero) $22. 99 ea

Smirnoff Ice Double Black 7%

12 pk can range

$23. 99 ea

Long White 10 pk range

$23. 99 ea

Double Jack 375ml 10pk cans

$27. 99

Larios 1ltr,Jim Beam Honey, Apple, Red Stag

700mls

$33. 99 ea

Kopparberg 10pk cans

Tiger 12pks Somersby 12pk Bottles

$18. 99

Billymaverick 7%

18pk cans

$28. 99

Huntaway Reserve range

19 Crimes range

Brown Brothers

Moscato Range

$14. 99 $14. 99 ea

Malibu / Kahlúa 1Ltrs

ea

$ .99 ea

Blackheart 1 ltr

12 $34. 99 ea

$34. 99

Bombay Saphire 1ltr

Absolut Vodka, Beefeater, Ballantines 1ltrs

$22. 99 $22. 99

$39. 99 $45. 99

$39. 99 ea

Johnnie Walker Red 1L

$23.

Jagermeister 700ml

$32. 99

Monteiths cider & beer 12 pk bottle range

$24. 99 ea

Mac's cider and beer 12pk range

$24. 99 ea

www.thirstyliquor.co.nz

398 High Street, Rangiora

03 313 7207

1275 Main North Road, Bridgend

03 323 8833

Lion Red, Speights, Waikato or Summit 15 pk bottles

Peroni / Asahi 12 pk bottles

$24. 99 ea

$24. 99 ea

OVER 155 STORES NATIONWIDE!

585 Springs Rd, Prebbleton

03 349 6031

45 South Terrace, Darfield

03 317 9499

Heineken 15pk bottles

Tui, Export Gold or DB Draught 24pk bottles Export 33 - 24 pk bottles

$29. 99 $35. 99 ea

Available from 1st – 28th February. Specials while stocks last. Available at participating stores.

1147 West Coast Rd, West Melton

03 347 8460

670 Main South Rd, Islington

03 349 7337

Main Rd, Lake Tekapo

03 680 6242

42 Waimate Highway, St Andrews

RD24 03 612 6740

$38. 99

Steinlager 24 pks

$42. 99

www.facebook.com/ThirstyLiquorandBlackBullLiquor

69 Main St, Fairlie

03 685 8061

21 Aldwins Road, Linwood

03 982 1753

9 Parnwell St, Burwood

03 383 2564

495 Papanui Rd, Christchurch

03 260 2380

65 Victoria St, Christchurch CBD

03 260 1155
---
8

Tuesday February 5 2019

Latest Christchurch news at www.star.kiwi

Your Local Views

Readers respond to

Western News' article on

extending the opening

hours at the Te Hāpua:

Halswell Summer Pool

WESTERN NEWS

this and you just might find they

pull their own behaviour into

line as a car community. Not a

just a few boy racers making the

rest look bad.

Madeline Howe – I think

the pool hours really need to

be extended. I have lived in

Halswell for four years and I

am a ratepayer and have never

used the pool because of the

volume of people there in peak

times which by the look of it is

all the time bus loads of kids

from schools that aren't from

Halswell or nowhere near. As the

generations get older, to be blunt

they don't want to be sharing a

pool with kids diving onto them

from every angle. I would love

to go swimming on a hot day at

8am onwards but not when every

man and his dog is there. Considering

being told to keep your

body moving as you get older,

it's all the younger generation

getting catered for. I brought this

point up about three years ago

when I gave up work but sadly

the pool wasn't opened until

3pm when the school went back.

Very disappointed with lack of

feedback or support. What are

rates for? Get active and keep

moving it would help if I could

in the pool that was meant for

everyone.

Gary Knight – As a community-based

facility, the Te Hapua:

Halswell Centre community

pool is a true asset to Halswell.

To utilise it to fullest advantage

would deem the extension of the

present opening hours to be a

pro-active step, for the benefit of

not only Halswell residents but

many from other areas enjoying

this facility. In spite of patronage

levels fluctuating at this venue

over different time periods, rationale

must prevail from a city

council perspective and concede

the necessity of extended pool

hours to cater for the rapid

population growth of Halswell,

projected to be 34000 to 40000

by 2035.

Readers respond to

a Western News article

on whether a resource

consent for a burnout pad

at Ruapuna Speedway is

still valid

The revolution

in heat pumps

is here now!

CHANGE: A push has been made for the Te Hāpua Halswell Summer Pool hours to be extended. ​

Chris Huddlestone – You

move into an area where there

are racetracks which have

been there since 1963 and you

complain about the noise . . . go

figure.

Stacey Benton – It's a no

win situation. People complain

about burnouts on the street

wanting them to go to a place

where they can do burnouts and

then complain they are doing

burnouts in a controlled environment.

What the hell . . . it's a

racetrack what do people expect?

Matt Reid – Yaldhurst Rural

Residents' Association is always

whinging. Noise, dust, flight

paths, quarries. And yet all winter

the rural residents are burning

huge amounts of rubbish.

Kyla Ellis – If they don't like

the noise then why move into

an area or close to a racetrack.

Don't like it, do your homework

and move somewhere else. The

race track was there before you

moved into the area.

Charlene McConchie

– Why would you complain

about something that's only

The revolution in heat pumps is here now!

The Fujitsu e3series

The brilliant

heat pumps from Fujitsu

e1 : efficiency

e2 : environment

e3 : economy

The brilliant e3 series

heat pumps from Fujitsu

e1 : efficiency

e2 : environment

e3 : economy

happening once a year. It's a controlled

environment. Pretty sure

they weren't using it all hours of

the night. Seems selfish, let them

have it, it's not like they are using

it every weekend.

Ricky Ireland – Weekend

from hell? It went from noon till

5.30pm on a Saturday afternoon.

Sorry Christchurch, we tried

though.

Karyn Molloy – I think you

will find that most of the drivers

at that burnout competition are

not the young ones that do burnout

out on public roads. Surely

once a year is not bad compared

to every weekend on the streets, I

hear a lot in my area every weekend

then see results on the roads

when I go out during the week.

People wanted a pad for them

and now complain when someone

uses it. Get over it people.

Tiffany Burke – If you live

so close to the track, chances are

you know when they are going to

have big events. So maybe make

plans, have a weekend away, or

buy earplugs. I live close to it,

heard the cars, but didn't sound

anymore than usual.

Neil Ward – The speedway

been there for years and years.

People move into the area knowing

it's there then complain

about the noise.

Robyn Jones – I don't

understand all these people that

complain about the noise, yet

they chose to move into the area

or build a house when there was

an existing track. I can hear it

from my place it doesn't faze me

in the slightest. It's only a few

weekends every now and again

and I think the people that use

the track are entitled to some fun

if you don't like the noise why

move there when the track has

been there long before the new

subdivision. Bunch of complainers.

CJ Hendry – Giving the

car culture a place to go that is

already to be used is one of the

best ideas the city council has

come up with yet. Create some

boundaries . . . like sober, fully

licenced drivers, cars with warrants

of fitness and registrations.

But most of all give them somewhere

to go . . . where they can

be petrol heads and have some

fun unimpeded by authority. Do

style

noun

elegance and sophistication.

synonyms: flair, grace, poise,

polish, suaveness, urbanity,

chic, finesse, taste, class,

comfort, luxury, affluence,

wealth, opulence, lavishness.

Jimmy Harvey – That racetrack

was there long before you.

Don't like it? Do your research

before you move there.

Ryan Trounce – Section 10

of the RMA should allow its use

to continue. I guess that residents

that are complaining are new to

the area, post-earthquake had

no choice to move into a new

subdivision. Not directly their

choice, but they are probably on

the approach for Christchurch

International Airport too and

complain about that.

Mary Ann Grace – We had

the weekend from hell What a

joke. Hell is starving to death in

a third world country, lady!

Simon Marshall – As the

owner of the safety crew who

was at this event I would like to

say that the noise of this event

was not over the 90db. I would

say the speedway this weekend

was louder than the burnouts.

Lyn Morris – Two complaints

out of hundreds of houses

around there.

Ben Ditmer – This was a

fantastic event. There was only

burnout noise from noon-3pm.

Don't buy a house near a racetrack.

James FitzPatrick – There's

no point using a skid pad at Ruapuna.

The track gets plenty of

noise complaints from legitimate

events and use as it is. Say they

open access to the skid pad for

said boy racers to use on Friday

and Saturday nights, they would

surely have to close it at a reasonable

hour, say 10pm. I'd doubt

everyone will just jump in their

cars and call it a night cause

the pads closed. A dedicated

site away from residential areas

would be best. Station a few

police during the nights it's open

to keep people in line, inspect

any dodgy vehicles and breath

test drivers.

•More letters, page 10

Check out the

new Sportsman 470

Range TODAY

Proudly supporting JBnZ for over 50 years

Website: www.pshc.co.nz

NEW ZEALAND'S FAVOURITE AIR

Fujitsu's Catechin Filters are

approved by the Asthma and

Respiratory Foundation NZ's

Sensitive Choice ® programme.

FREE consultation from your local

Accredited Heat Pump Expert

Phone today: 03 381 6950

INSERT DEALER DETAILS HERE

Email: info@pshc.co.nz

MAGAZINE

STYLE.KIWI

20 Lunns Rd, PO Box 709, Christchurch 8024

Ph: 03 962 0505

Email: hamiltonjet.nz@hamjet.co.nz

www.hamiltonjet.com
---
WESTERN NEWS Latest Christchurch news at www.star.kiwi

Tuesday February 5 2019 9

"The staff here are

lovely, giving really

good care."

Nicky Anderson, the new

clinical manager at Ryman

Healthcare's Woodcote

Retirement Village, likes the

warmth and friendliness and

easy access around the village,

where she is already drawing

out the best in people.

A registered nurse, Nicky

has an outgoing personality

and shines with enthusiasm

when she is working with

fellow staff members and

residents. She's keen to build

on what is already a strong

team of happy, kind and highly

motivated staff.

She has spent much of her

working life in Canterbury as

well as bringing up a family

of four.

Her career has seen her work

in a wide variety of health care

jobs and Ryman has welcomed

her management skills and

vast experience in acute clinical

roles. These have included

district nursing, nursing at a

medical centre and previously

working at another Ryman

village – the Ngaio Marsh

Retirement Village.

Since her arrival at the village

she has settled back into the

Ryman way and loves the

friendly banter between staff.

She was appointed to the

role after Woodcote's previous

clinical manager, Jacky

Fitzsimon, transferred to a

Ryman village in Melbourne.

She and Village Manager

Liz Hampton go back many

years, having trained

and worked together at

Christchurch Hospital.

Nicky likes the open spaces

in and around Woodcote with

its single level townhouses,

studio apartments and

resthome. The landscaped

gardens are gorgeous and there

are plenty of outdoor spaces

undercover as well as lounges

at the village where residents,

friends and family can gather.

The lovely facilities include a

dining room, lounges, library,

petanque court, indoor bowls

and hair salon.

There is also an activities

programme for residents who

can choose to join in with

things such as the Ryman

Triple A exercise programme

or events and outings.

"Quite a few of the

family members have been

introducing themselves to me.

Woodcote's got quite a nice

feel to it. The residents have

got their photos up and like to

tell me about their families."

Resident June Mounce says

it is great to have Nicky at

the village and she is doing a

good job.

Over the years she has

worked with young and old,

however, likes the fact that

she can chat away with a

resident while changing a

dressing or attending to their

regular medications.

Nicky Anderson (centre) with fellow workers Anu Gill (left) and Lisa Mazey (right).

"I love the tales they tell,

talking about things like life

experience. That's when you

get to know them," she says.

The support from Ryman

includes the introduction

of the exclusive myRyman

Care app.

The app is designed for

staff to have residents care

information at their ngertips

on a tablet. There is a tablet in

every care residents room and

allows staff to have more time

with the residents rather than

on paperwork. The electronic

care device is colour coded and

a particularly strong tool for

resthome care, she says.

She has had members

of her own family in care

facilities, so recognises the

ADVERTISEMENT

importance of the standard

of care and the impact of this to

every individual resident and

family member.

"Ryman is excellent. They

dot the i's, cross the t's and

provide great care.

"The staff here are lovely,

giving really good care and

they're good to each other;

they're a great team."

Peace of mind

retirement

Residents enjoy a lovely and private room with

ensuite and the very best care from our staff.

To find out more phone

Liz on 349 8788

29 Woodcote Avenue, Hornby

8196
---
10

Tuesday February 5 2019

Your Local Views

•From page 8

Andrew Foster – They move

there because the housing is

cheap because of the racetrack

then complain hoping it will get

closed and their house prices

will rise.

Andrew Lawrence – Listening

to their whinging is more

damaging than the sound of

the burnouts. Just shut your

windows and turn the air conditioning

on. Then you won't even

hear it.

Matto Croton – And you

wonder why people do it on the

streets.

Jayme Simpson – Don't live

near a racetrack if you don't like

stuff like this.

Jax Kearvell – It's a controlled

environment. I bet if you

did a petition more would be for

it than against.

Frank Wood – You want

them back on the streets?

Readers respond to the

article on the Halswell

Residents' Association

fighting against a bottle

store on 29 Ensign St

Ange J Rush – First I've

heard about it and I live just up

the road. There's no need for

another bottle store, there's one

already five minutes around the

road plus the supermarket.

Jamie Rossiter – I live in

Halswell and I never objected

or opposed this. These so-called

concerned residents' association

only represent a small minority

of residents, not all of us.

Karen Drummond – There

are far too many bottle stores

now.

Chrissy Cacot – All is not

well in Halswell. I seem to

remember they were fighting

something else recently.

Rob Dickinson – Do none of

them drink then?

Jo Maraki – Put it in

Fendalton

Hayden Johnson – Maybe

if they pay for the speed bumps

down Ensign St that are wanted?

Latest Christchurch news at www.star.kiwi

Desexing pets is responsible

SPCA

southern

region

general

manager

Barry Helem

writes about

problems

the centre based in Hornby

faces when people don't

desex their pets

In April last year, a little kitten

named April Penny arrived at

the SPCA Christchurch Centre.

The vets noticed an

abnormality in her chest, and

an X-ray showed her sternum

growing inwards towards her

vital organs.

She would have eventually

died from internal bleeding if

she didn't receive urgent care.

A surgery like this hasn't

always been possible at SPCA

due to limited resources, but

fortunately for April Penny, she

arrived at our centre just after

our SPCA hospital opened up.

It was a great feeling when she

received the surgery she needed

to live a happy and healthy life.

In 2018 we also began building

our new ringworm unit that will

open in March this year.

After years of fundraising,

we will finally have a facility to

properly manage the extremely

infectious disease, that affects

numerous cats and dogs each

year.

But even with new facilities,

our centre still struggles over the

summer period – kitten season.

This summer has been particularly

busy in Christchurch,

with hundreds of abandoned

and stray kittens like April

Penny needing our help – all

because people don't desex their

pets.

WESTERN NEWS

When Ollie the kitten arrived

at SPCA, he had such bad cat

flu he needed surgery to remove

his eye, and Popeye the kitten's

conjunctivitis was so severe, it

looked like he had already lost

his eye from the infection.

There are countless other cats

and kittens with similar stories.

Every year the SPCA's main

goals are to educate New

Zealanders how to be responsible

pet owners, break the cycle of

cruelty, and hopefully see fewer

animals like April Penny, Ollie

and Popeye needing our help.

It's not small feat trying to

achieve this change, and we

can only do it with help

from you – our Christchurch

community.

You can have this Paramount Pool

installed in your back yard

for less than $20,000*

Receive a

FREE pool cover

valued up to $1,200

when ordering a pool

package before

28th February.

Do you have doubts your

earthquake repairs have

been done properly?

An inground swimming pool

doesn't have to cost a fortune!

75 Blenheim Road, Christchurch

Freephone: 0800 POOL QUIP

Phone: 03 343 3441

Email: paramount.chc@xtra.co.nz

Hours: Monday to Friday 8.30am-5pm

and Saturday 9am-1pm

www.paramountpools.co.nz

Paramount Pools and Poolquip NZ

*Based on actual costs of the pictured pool (6.1m X 3.7m) including Paramount Pool package** ($8,600), installation & landscaping.

**All packages come complete with ladder, pump, filter, plumbing and accessories.

Don't leave it until it's too late.

Sign up with us for a free foundation report.

Claims Resolution Service Ltd

Ph: 03 377 8855 | 130 Ferry Road, Christchurch

E: reception@earthquakeservices.co.nz | W: www.earthquakeservices.co.nz

NO WIN

NO FEE
---
WESTERN NEWS Latest Christchurch news at www.star.kiwi

Tuesday February 5 2019 11
---
12

Tuesday February 5 2019

Latest Christchurch news at www.star.kiwi

WESTERN NEWS

8932658AA

C

FUN School Holiday &

After School Activities

Phone 349 9260

Email: info@caspa.org.nz

Website: www.caspa.org.nz

CASPA

says

Only

go with

people you

know and

trust.

Never

go with

strangers!

D

Dental implants

are a wonderful

way to replace

missing teeth...

Wear your mouthguard

when you play sport so

you won't need them.

1st Floor Merivale Mall, Phone 355 8297

dentistry@merivale.co.nz

www.dentistryonmerivale.co.nz

Everyone needs to

take care of their skin.

Always remember to

Ewear your sunblock.

Euphoria

body & beauty clinic

Harewood Road, Bishopdale (inside the YMCA)

Phone 359 3445

www.euphoriabodybeauty.com

FFIRST

AID KIT

$37.50

Based on our own

experiences of

mishaps with the

family, this kit helps

deal with those minor

scrapes, burns and

prickles so you can

get back to enjoying

what matters most.

Find out more at redcrossshop.org.nz

Global Leaders in First Aid Training

K

Keep medicines up

high out of the

reach of children

DIESEL

- Doctor -

repairs &

servicing.

288 Lincoln Rd (opp ANZ)

Ph: 338 8884 • www.dieseldoctor.co.nz

L

Look both

ways

before

crossing

the road

PH 0800 225 483

95 Gasson Street, CHRISTCHURCH

M N

MASH provides a safe, secure and

exciting environment for your kids before

and after school as well as in the holidays

Nurtured

kids are

safe kids

Phone: 03 377 2540

www.playcentre.org.nz

S

Sunglasses

save your

sight

BARRINGTON - 256 Barrington Street

PH 332 1730 | www.suckling.co.nz

T

Take care when reversing

out of the driveway

waTCh FoR ChildRen.

Car City

EST. 1973 ChCh

Cnr Moorhouse & Ferry Road

Ph (03) 379 4254

U

YOU CAN KEEP

YOUR CHILDREN

SMOKEFREE.

PLEA$E $MOKE OUT$IDE

(We Can Help You QUIT)

RICCARTON CLINIC

www.riccartonclinic.co.nz

VVegeland says

Eat fresh fruit

and veggies to

grow healthy

bodies and

minds

vegeland

310 Marshland Road, Chch

Phone 03 385 3718
---
WESTERN NEWS Latest Christchurch news at www.star.kiwi

Tuesday February 5 2019 13

B

Avonside Early

is for Booster

Childhood

Centre providing

excellence for

the children of

our community

since 1943

A

43 Woodham Rd

(03) 389 8473

www.avonsidekids.co.nz

Up to their 7th birthday,

children are legally

required to be in a child

restraint or booster.

From 7 years up, research

shows they are best

protected in a booster

until 148cm in height.

For advice on which

booster is right for your

child, contact your

local child restraint

technicians at

Christchurch North

515 Wairakei Rd, Burnside

Ph 960 9752

Christchurch Central

87a Gasson St, Sydenham

Ph 421 3243

G

Go slow

around

children,

drive safely

on the roads

32 Moorhouse Ave,

Christchurch

Phone 366 7768

H

Have you got

your Will sorted?

Protect your

child's future today!

J

Just remember to

look both ways before

you cross the road

Just Cuts Hornby,

The Hub, Christchurch

8987425AA

"South Island's largest range of

vehicles on one site"

03 352 2293 | www.harmans.co.nz

O

Value the wellbeing

of children

Put tamariki first

P

Need someone to talk to

about your parenting issue?

Free Parenting Helpline

Friendly advice and support

Positive and practical strategies

Anonymous and non-judgmental

Q

Quick thinking

saves lives -

In emergencies

dial 111

R

Riding

your bike

always

wear a

helmet

www.orangatamariki.govt.nz

Call us today

0800 568 856

www.parenthelp.org.nz

Phone 379 7100

359 Lincoln Road, Christchurch

Cycle Trading Co

23 Elgin St, Sydenham

(opposite The Colombo)

Phone: (03) 366 3760

www.cycletrading.co.nz

W

Water Safety

Be safe around water.

Come to Wharenui Swim Club

for all your lessons.

X

OUT

FAMILY

VIOLENCE

Kids need a happy,

safe home

Y

Your children are

precious cargo - get

your vehicles tyres

checked at

ZStay safe with high viz fabric from Haralds.

Z is for zips -

we have

over 10,000

of them!

Half price zips

and zip slider

replacements when

you show this ad!

is for high

VIZ fabric

348 6488

learntoswim@wharenui.co.nz

161 Pages Rd, Wainoni, Christchurch 8061

or reception@hewakatapu.org.nz

Complete

Tyre and

Auto

Canterbury owned and operated

395 Ferry Rd, 03 389 5395

464 Ferry Rd, 03 389 5370

ctawoolston@yahoo.co.nz

New & Used Tyres • Puncture Repairs

Batteries • WOF • Balancing

Mechanical Repairs • Lube & Servicing

Wheel Alignment

"THE TRUSTED NAME IN FABRICS"

47 Birmingham Drive, Middleton

Phone 338 7700

Open Monday to Saturday 10am-4pm
---
14

Tuesday February 5 2019

Latest Christchurch news at www.star.kiwi

WESTERN NEWS

Teen bowls his way to men's title

• By Gordon Findlater

TEENAGER Logan Dunn has

shown he has a bright future in

bowls.

The 15-year-old Halswell

player defeated Jonathan

Truesdale, of Cust, 21-10 to win

the Bowls Canterbury first and

second year centre title.

Logan comes from a talented

bowls family. In the semi-final,

he defeated his 16-year-old

brother, Jordan, 21-12.

"He usually beats me when

we're practicing but I got on top

of him that day," said Logan.

He also teamed up with

his father, Jason Dunn, in

the Halswell fours team and

made the final before losing to

Rangiora 4-20.

"As soon as we step on the

green, he's just another player.

He accepts that and he wouldn't

want it any other way either,"

said Jason.

Logan completed a trio of

final appearances by making

his way to the under-20 singles

final which was taken out by

Rangiora's Rebecca Jelfs 21-19 in

a tight match.

The Bowls Canterbury centre

championships began with

round-robin play in November

before the finals weekend at

Parklands from January 26-27.

Although the family represent

Halswell, they travel to the club

for inter-club each Saturday from

their home in Hawarden.

FAMILY TIES: As well as winning the Bowls Canterbury first and second year centre title,

Logan Dunn (right) finished second in the men's fours with Darryl Hawker (left), his father Jason

Dunn and Paul Matheson.

"That's just given the kids

the best opportunity to fulfil

what they want to in the game.

There's not enough up here in

our area. Now they've got good,

hard competitive bowlers to go

against and get their game to the

next level," said Jason, who is a

well know greyhound trainer. He

grew up in Sydney and pursued

bowls into his mid-20s. He

played representative bowls for

New South Wales but gave the

sport away when he moved to

Christchurch in 2007.

Logan didn't know about

bowls until being introduced to

it by his father when he took him

to the green two years ago.

"It just clicked and I've liked

it from day dot," said Logan. "I

played rugby for a year but I'm

too small for that."

Canterbury men's coach

Darryl Hawker – who played in a

Halswell fours team with Logan

– believes the 15-year-old could

SPORTS

go a long way in bowls.

"I think he could have a

big future in the game, his

commitment to improving as

a bowler is impressive," said

Hawker.

Practicing three to four times

a week, Logan dreams of playing

the sport professionally one day.

"I want to be world champion,"

he said.

If his progression in the sport

continues, the Sydney-born

bowler could find himself

having to make a choice between

representing New Zealand or

Australia one day.

The family's current rugby

allegiances are split, with the

boys backing the Wallabies and

the girls cheering on the All

Blacks.

As for Logan's future bowling

allegiances: "It all depends who

gives me the offer," he said.

Other Halswell players to

make finals were Phil Austin,

who was defeated by Elmwood

Park's Bruce Humphreys 15-21

in the men's under-eight singles

final, while Rex Carpinter, John

Connolly and John Topham were

also beaten finalists in the over

60s triples. The title was won by

Elmwood Park 18-4.

It's our

45th

Anniversary

year!

#areyouupforit

45th Anniversary

Retro T-shirt

available when

entries open on

1st December 2018

Sunday 24th March, 2019 www.city2surf.co.nz
---
WESTERN NEWS Latest Christchurch news at www.star.kiwi

Tuesday February 5 2019 15

SCOOP PURCHASE

4WD VRX

$39,990

SAVE $14,500*

7 Leather-faced Seats •

2.4L Petrol Engine • 126kW

Power • 4WD • 18" Alloy

Wheels • Reversing Camera

• Sunroof • Ultrasonic misacceleration

Mitigation

System (UMS).

Christchurch Mitsubishi have a LIMITED NUMBER of Short-term lease returned

2018 Outlander 2.4L VRX, most having travelled under 25,000kms available

for immediate delivery. Includes balance manufacturers warranty.

*Savings shown off new Outlander 2.4L VRX.

2WD GLX-R

RRP $46,120 +ORC

$29,990

+ORC

SAVE $16,130

† Price listed is for Triton 2WD GLX-R manual and includes on road costs which includes registration, WoF,

1,000km road user charges and a full tank of fuel. Available while stocks last. Automatic model available

for $31,990 plus on road costs. † Visit mmnz.co.nz for full Diamond Advantage warranty conditions.

The Triton Runout is on. Drop

everything, and if you're quick

you can pick up • 17" Alloys

• 2.4L Turbo Diesel • 7.1L per

100km efficiency (manual) •

Sports Suspension • Cruise

Control • Smartphone

Connectivity • Reversing

Camera • Daytime Running

Lights • 5-Star Safety and

a 10 Year Powertrain

Warranty †.

CHRISTCHURCH MITSUBISHI

386 Moorhouse Avenue, Christchurch.

03 379 0588 | christchurchmitsubishi.co.nz

10 year / 160,000km Powertrain Warranty (whichever comes

first) (non transferable). 5 year / 130,000km New Vehicle

Warranty (whichever comes first) (non transferable).
---
16

Tuesday February 5 2019

Latest Christchurch news at www.star.kiwi

2

WESTERN NEWS

A

EVENT

CITY2SURF

with Les Mills

Sunday 24 March

#Areyouupforit?

14km, 6km Community

Fun Run Event

It's our

45th

Anniversary Year!

ENTER NOW

www.city2surf.co.nz

City 2 Surf 2019_Entries Available
---
WESTERN NEWS Latest Christchurch news at www.star.kiwi

Tuesday February 5 2019 17

Email georgia.oconnor@starmedia.kiwi

by 5pm each Wednesday

Chung Wah Restaurant

Exhibition

Weekdays, 9am-8pm and

Saturday, 10am-4pm

Chung Wah Restaurant was

the biggest Chinese restaurant

in New Zealand in 1984. It

expanded from Shanghai Café,

to Chung Wah I and then to

Chung Wah II. Celebrate the

history of an iconic Christchurch

restaurant through this special

photographic exhibition.

Upper Riccarton Library, 71

Main South Rd

JP Clinics

Tuesday, 10am-1pm

A justice of the peace will

be on-site to take declarations,

affidavits and affirmations,

witness signatures on documents

and certify document copies.

They can also witness citizenship

applications and rates rebate

applications.

Fendalton Library, 4 Jeffreys

Rd, Te Hāpua: Halswell Centre,

341 Halswell Rd, and Upper

Riccarton Library, 71 Main South

Rd

Citizens Advice Bureau

Fendalton, Tuesday, 2-5pm,

Wednesday, Thursday, Friday

and Monday, 11am-5pm. Hornby

on weekdays, 9am-5pm

The Citizens Advice Bureau

provides free and confidential

advice to everyone. It takes

the time to listen to you and

equip you with the information,

options and support that fit your

needs.

Fendalton Library, 4 Jeffreys Rd

and Hornby Library, 8 Goulding

Ave

Knit 'n' Yarn

Thursday, 10.30am-2.30pm

Go along and enjoy a chat with

others as you knit. For anyone

who loves to knit or wants to

learn.

Upper Riccarton Library, 71

Main South Rd

Go Well Group – play

Rummikub

Thursday, 1-2pm

Go along to Fendalton Library

and play Rummikub – an

exciting, interactive strategy

game

Fendalton Library, 4 Jeffreys Rd

Musical Instrument Jams

Thursday, 3.30-7pm

Book a time to go solo or

have a silent practice with up

to four bandmates. There are

electronic drums, a digital

piano, a Roland session mixer,

mics and headphones available

CULTURE: Go along to the library for A Celebration of Culture – Lunar New Year. There will be a

spectacular display of colours, costumes, music and performances to welcome the Year of the

Pig. You are welcome to wear traditional clothing. The event will be held on Saturday, 1.30–2.30pm

at Te Hāpua: Halswell Centre, 341 Halswell Rd. ​

for budding musicians.

Registrations are required.

Te Hāpua: Halswell Centre, 341

Halswell Rd

Free Legal Advice

Thursday, 6.15-8.15pm

Need advice with legal

questions? A lawyer is available

at the Hornby Library every

Thursday evening to provide

help. First-in, first-serve basis.

Note that the finish time may

vary depending on demand.

If no customers are waiting at

6.15pm, the lawyer will wait for

15min.

Citizens Advice Bureau, 8

Goulding Ave

Aikido

Thursday, 6-7.30pm

Go along to an open day and

have a go session learning the

martial art of Aikido. Everyone

is welcome.

Burnside Dojo, 35 Morley St,

Burnside

Upper Riccarton Library

Korean Book Club

Friday, 6-7pm

Go along to the library and

share your ideas with other

Korean book lovers.

Upper Riccarton Library, 71

Main South Rd

Chinese Book Club

Friday, 6.30-7.30pm

Chat about favourite reads,

discover new titles and authors,

make friends and share life

experiences with other readers.

Fendalton Library, 4 Jeffreys

Road

Makerspace

Saturday, 1.30-3pm

Go along for fun

activities every week in the

Makerspace. There will

be a variety of activities.

Te Hāpua: Halswell Centre,

341 Halswell Rd

Riccarton Horticultural

Society Summer Show

Saturday,12.30-4.30pm

Go along to the Riccarton

Horticultural Society Summer

Show. There will be sales tables,

raffles, refreshments, dahlias,

floral art, cut flowers and home

produce will be on display. For

more information call Beverley

on 960 3381

St Peter's Church Hall, Upper

Riccarton
---
18

Tuesday February 5 2019

SENIOR LIVING

Latest Christchurch news at www.star.kiwi

WESTERN NEWS

Centuries old folk remedy supports

good health!

A fermented liquid health

tonic offers an array of

powerful health benefits. It is

none other than the popular

apple cider vinegar or ACV.

Since the time of Hippocrates – the "Father

of Medicine" – ACV has been renowned for its

curative properties.

In his popular book "ARTHRITIS & FOLK

MEDICINE", DR. D.C. Jarvis reports how he

found that Vermonters who regularly consumed

ACV and Honey had excellent health with

many putting in a vigorous day's work on the

farm even when well into their eighties. He also

noted the effects of ACV and H on arthritis to be

remarkable with many patients reporting almost

total relief after taking a course of the

mixture. Dr. Jarvis surmised that

the acid and potassium in cider

vinegar counteracted calcium

deposits and helped the body

control calcium use. He also noted

that Vermonters who consumed

ACV and H around meal time

had excellent blood pressure and

circulation. The reason he found

was that protein foods thickened

the blood and vinegar thinned it.

As the blood thickens it cannot

pass as easily and quickly through

the blood vessels and capillaries. This

poor blood flow would reduce cellular

health by limiting nutrients to the cells

as well as waste elimination from the cells.

To prevent cell damage the body naturally

increases blood pressure but this puts more stress

on the blood vessels, organs and heart. Having

ACV and H with meals will help prevent protein

raising the blood pressure. It also contributes

to a feeling of greater well-being because the

thinner blood circulates quickly and more easily

through the blood vessels. Dr. Jarvis found regular

consumption of CV and H to be an excellent

health tonic with numerous Health attributes.

ACV is highly nutritious as it contains all the

goodness of the apple in a form that is readily

accepted by the bodyGood health starts with good

digestion and assimilation of nutrients. ACV taken

before food will stimulate and promote healthy

digestion and assimilation of vital nutrients for

good health. A well-functioning digestive system

helps prevent disease by neutralising any toxic

substances that enter the body.

It is important to note not all ACV is produced

in the traditional way and results are likely to

prove disappointing with these other vinegars.

Marshall's Premium ACV & ACV with 20%

Manuka Honey is produced in Canterbury from

Organic whole apples in the traditional way. It is

double strength so you can use less.

Further information is available from the

Natural Health Advisers at Marshall's Health

& Natural Therapy, 101 Seaview Road, New

Brighton, Phone: 388-5757. We are always

happy to help!

COLLAGEN - ThE BOdy's yOuTh PrOTEiN

hAir - sKiN - NAiLs - JOiNTs - BONEs

Collagen is the primary structural component for all tissue in the body,

providing the strength & resilience associated with youth, beauty &

wellness. The body's natural collagen production decreases with age

resulting in many signs of aging, such as flaccid skin, wrinkles, ligament &

tendon injuries & aching joints. Collagen supplementation is one of the most

fundamental things a person can do to prevent premature aging & promote

youthful vitality. NEOCELL collagen has undergone advanced enzymatic

hydrolyzation for superior results.

NEOCELL COLLAGEN SUPPORTS:

• Reduction in lines & wrinkles - improved skin elasticity

• Strong hair & nails, may help reduce hair loss

• Supports bone, ligaments, tendons & joint health

• Lean muscle & weight loss

• Youthful vitality & slowing of the aging process

NEOCELL PREMIUM COLLAGEN IS CLINICALLY

RESEARCHED FOR SUPERIOR RESULTS

Super

Prices

120 tablets only

$36.90 Save

$5.75

Bringing You the Best in Natural Health!

250 tablets only

$56.90 Save

$9.75

500 tablets only

$99.90 Save

$33.40

198 gram powder

$36.90 Save

$5.75

- WE ARE ALWAYS HAPPY TO HELP! -

MAIL ORDER AVAILABLE

MARSHALLS HEALTH & NATURAL THERAPY

CONSULTING - PRESCRIBING - DISPENSING - MANUFACTURING - MEDICAL HERBALISTS

101 SEAVIEW RD, NEW BRIGHTON • PH 03 388 5757 • Email: enquiry@marshallshealthshop.co.nz

Apple Cider VinegAr - Powerful Natural Health Tonic

ACV is a highly nutritious with all the goodness of apples (one of our most health-giving fruits) in a form that is readily

accepted by the body. It promotes healthy digestion, assimilation of nutrients & elimination of wastes. Detoxifying

& purifying & supports the function of vital organs like the kidneys, bladder, liver & heart. Helps neutralise toxic

substances & harmful bacteria in food. A time-honoured natural remedy to improve health & longevity.

ACV SUPPORTS

• Healthy digestion, assimilation of nutrients, elimination of wastes

• Energy – Vitality – Endurance

• Elimination of viruses, bacteria, fungus & parasites

• Powerful antioxidant

• Cardiovascular health, blood flow & healthy blood pressure

• Diabetes – improves insulin sensitivity

• Arthritis & joint support • Longevity & improved health

• Settles the stomach & reduces reflux

• Weight Loss

ALWAYS INSIST ON MARSHALL'S TRUE APPLE CIDER VINEGAR FOR

MAXIMUM NUTRITIONAL VALUE & HEALTH BENEFITS!

Bringing You the Best in Natural Health

MARSHALLS HEALTH & NATURAL THERAPY

CONSULTING - PRESCRIBING - DISPENSING - MANUFACTURING - MEDICAL HERBALISTS

101 SEAVIEW RD, NEW BRIGHTON • PH 03 388 5757 • Email: enquiry@marshallshealthshop.co.nz

- WE ARE ALWAYS HAPPY TO HELP! -

Super price

Premium QuALity N.Z. DoubLe

StreNgth, orgANic APPLe

ciDer ViNegAr:

750ml only $9.90, 2ltr only $19.90

With 20% mANukA hoNey ADDeD:

750ml only $14.90, 2ltr only $29.90

MAIL ORDER

AVAILABLE

Available villas Make 2019 your fresh start - call to view today!

Orari Villa - 96m 2 BRAND NEW!

2 bedrooms, open plan living/dining, bathroom with separate toilet,

single garage, lovely north facing terrace. Choose your soft furnishings to

make this your own.

Belfield Villa - 108m 2

2 bedrooms, fully refurbished, spacious living, modern kitchen,

single car garage, north facing to soak up the sun.

33 CONNOLLY STREET, GERALDINE 7930

FREEPHONE. 0800 845 524 LANDLINE. 03 693 8340

WEBSITE mlv.org.nz

ACCREDITED VILLAGE OF THE RVA
---
WESTERN NEWS Latest Christchurch news at www.star.kiwi

Tuesday February [Edition 5 datE] 2019 193

SENIOR LIVING

Device to prevent

snoring

Why put up with broken sleep, when

help is at hand with Snorex, an appliance

that prevents snoring, sleep apnoea, and

dry and raw throats.

Snorex is custom-fitted to your mouth

for comfort, and a follow up service is

provided.

Denise Lim has been involved with

Snores for 22 years and has had a 98%

success rate with

people using the

appliance. Snoring

can be a health

hazard, causing

sleep apnoea, where

the person actually

stops breathing for

short periods.

It can cause

short-term memory

loss, tiredness and

contribute to high

blood pressure.

The Snorex

device does not feel

restrictive, is noninvasive

and carries

a money-back

guarantee.

Many people are referred by ear, nose

and throat specialists, however, anyone can

phone for an appointment.

For an information pack or to discuss

the Snorex further, phone Denise Lim on

377 4318 or check out the website

www.snorex.co.nz

A Leader in

Healthcare

Excellence for

the Older Person

Collagen

The Body's Youth Protein

Collagen is the primary protein in the

body. It is a major component of skin,

hair, nails, muscles, tendons, ligaments,

joint cartilage, bones, gums, teeth, eyes,

and blood vessels.

In fact collagen is the primary

structural component for all tissue

in the body, providing the strength

and resilience associated with youth,

beauty and wellness. The body's natural

collagen production decreases with

age resulting in many signs of aging,

such as flaccid skin, wrinkles, ligament

and tendon injuries and aching joints.

Collagen supplementation is one of

the most fundamental things a person

can do to prevent premature aging and

promote youthful vitality.

NEOCELL are the industry leaders

in research on collagen supplementation.

Through advanced research they have

perfected a way to hydrolyse collagen and

effectively reduce its molecular weight this

improving the absorption of collagen into

the blood stream by over 90%.

A clinical study on NEOCELL

COLLAGEN has shown skin hydration to

increase an average of 21% and up to 50%,

with 92% of test subjects experiencing

firmer, softer skin. Most people taking

NEOCELL COLLAGEN reported seeing

visible improvements within two weeks.

Collagen supplementation provides

the nutrients necessary to support the

body's collagen supply. It can help reduce

fine lines and wrinkles and improve skin

elasticity, support building of strong bones

and teeth, strengthen the nails and hair,

and is vital for muscle growth, It also

assists weight loss by helping burn fat

for energy, promotes wound healing by

supporting the regeneration of healthy

tissue as well as help support overall

health.

NEOCELL COLLAGEN and further

information is available from the

Natural Health Advisers at Marshall's

Health & Natural Therapy, 101 Seaview

Road, New Brighton, Phone: 388-5757.

We are always happy to help!

2015 NZ Disability

Information Centre

of the Year

Support and Resources for Independent Living

Can we help you or someone you support?

Brookhaven

Retirement Village

29 Alport Place

Woolston

Phone 03 384 5046

Golden Age

Retirement Village

96 Harewood Road

Papanui

Phone 03 375 0720

Disability Information Service – a 'one stop

information service' which offers unbiased

advice to assist people navigate their way to

organisations or services that can provide them

with support or advice.

you can stop him

snoring with a

SNOREX

Why put up with a broken

night's sleep?

Ph 377-4318 or 027 682 1752

DENISE LIM

FOR A FREE INFO PACK

Website: www.snorex.co.nz

Albarosa

Dementia

80 Harewood Road

Papanui

Phone 03 375 0727

Somerfield

Dementia

137 Barrington Street

Somerfield

Phone 03 332 5897

Camellia Court

Dementia

84 Harewood Road

Papanui

Phone 03 375 0722

Hoon Hay

Dementia

16 Anvers Place

Hoon Hay

Phone 03 379 7825

www.goldenhealthcare.co.nz

Lady Wigram

Retirement Village

Sarah Jacobson

Village Manager

210 Kittyhawk Ave,

Wigram

Phone 027 3411 464

walkers to

purchase

(FroM $230)

or hire

$20

per week

Aspire Canterbury is a not-for-profit organisation

providing services to the community since 1981

Physical Address:

314 Worcester Street

Linwood Christchurch

Aspire Canterbury Shop – shop online or call in

to our shop at 314 Worcester Street and view our

range of easier living products We also hire out

wheelchairs, ramps and walkers.

Total Mobility Discounted Taxi Service – a scheme

which provides 50% discounts on taxi journeys to

eligible people in the Christchurch area who, due

to health conditions, are unable to access public

transport. Contact us for more information on

03 366 9093 or visit our website.

Mobile Service – Fun interactive

presentations of our information,

services and easier living equipment.

We come to you!

Call Kylie Taylor on 022 676 5851 or email

mobileservices@aspirecanterbury.org.nz

Postal Address:

PO Box 32074

Christchurch 8147

Ph: 03 366 6189

Freephone: 0800 347 242

Ph: (Total Mobility) 03 366 9093

E: admin@aspirecanterbury.org.nz

W: www.aspirecanterbury.org.nz
---
20

Tuesday February 5 2019

Latest Christchurch news at www.star.kiwi

WESTERN NEWS

Exhibitors

Book now

Don't miss your opportunity to

showcase your business in front of

10,000+ qualified attendees

Jon.Holmes@starmedia.kiwi or 021 225 8225
---
WESTERN NEWS Latest Christchurch news at www.star.kiwi

Tuesday February 5 2019 21

REAL ESTATE

A sense of community in Church Bay

5 Taimana Lane, Church Bay

Price: $585,000

3 bedrooms | 2 bathrooms | 2 car-garage | Listing Number: 8481

On the easy slopes of a tranquil secluded

lane this home is nestled amongst other quality

contemporary homes in this close knit little

community.

For retirees it offers security and friendship,

for families the excellent local school is just

down the road as is the local supermarket and

soon to be vibrant commercial hub.

This home offers a host of living possibilities.

There are 3 double bedrooms, main with en

suite and cosy open-plan living. In addition a

semi self-contained studio room with en suite

and kitchenette for use as a fourth bedroom,

home office, or just extra living space to spread

out.

There is a carport and double garage plus

excellent under house basement for storage

which offers additional options for work or

play.

The grounds are immaculately landscaped

and weekend friendly.

This represents excellent value for any

discerning buyer.

Only 30 minutes scenic drive from the

bottom of Colombo Street. Local amenities

are many and varied to indulge in and in

the pipeline are a cinema, supermarket and

additional shops, as well as the development

of the Te Ana Marina at Lyttelton stage 1

complete. The local school and Kidsfirst centre

have an excellent reputation and the zoned

high school is Cashmere.

Open Home 2.30 to 3pm Sunday 10th Feb

See you at the Open Home or for a private

viewing, please contact Min of Min Sarginson

Real Estate (Licensed Agent REAA 2008),

phone 027 432 0327 or 329 4161

growing with you June 2018 | 100%

Plants For

winter wow

Cool Choices

For Colour

& Contrast

From swamp

to sea views

The journey

begins with sarah

the Gardener

$7.90 incl. GST

Snap it up

Enter our annual

Birdlife Photo

Competition to win

great prizes!

clear the air

Why groWing

indoor PLAnTs is

so good for you

give it a grow

from gArLic

To chinese

ArTichokes,

We hAve your

groWing TiPs

covered

the latest releases

into the rose world

+ rose care

through winter

The magazine for

gardeners who like to get

their hands dirty

SUBSCRIBE FROM

$43. 50*

*6 issues/6 months

SUBSCRIPTIONS FREEPHONE

0800 77 77 10

WWW.GARDENER.KIWI
---
22 Tuesday February 5 2019

Latest Christchurch news at www.star.kiwi

WESTERN NEWS

If you want more information about an item or to contact a

seller, visit www.postanote.co.nz and search the ID#

Bailey Pegasus 554 2010 4 Berth

Toyota Celica Auto

Rustic Garden Table

2005 Mitsubishi Colt

1999 Abbey Pacific 400

Chev Clutch Kit

$39,000

ID 25046

$2,000

ID 26690

$85

ID 26738

$3,700

ID 26715

$16,500

ID 26656

Make Offer

ID 26652

Toyota Hilux 2L/3L Disc Brake Pads

Honda Fit

Raleigh Assault

2006 BMW SUV X5 Diesel

Antique Horse-drawn Hay Rake

Macrocarpa Building Timber

$30

ID 26650

$4,200

ID 26280

$25

ID 26532

$8,500

ID 26765

$900

ID 26665

$350

ID 26355

1970 Triumph GT6 MKII 2+2

Yamaha NS 2000 Speaker System

1974 Liteweight Caravan

2005 Toyota Hilux Double Cab

Kawasaki 900 ZXI

Fi-Glass Scamp Boat

$19,750

ID 25804

$1,700

ID 26257

$10,500

ID 26768

$12,000

ID 26761

$3,500

ID 26716

$6,500

ID 26659

Coronation Street History

Two External Wooden Doors With Glass Panels

Great 7-Seater People Mover

Road Bike

Waeco Fridge Freezer

Toyota Hilux Surf 4x4 2.4T

$50

ID 26620

$450

ID 26622

$4,750

ID 26600

$1,495

ID 26597

$800

ID 26592

$4,200

ID 26568

Breville Blender

Elegant Spice Rack - Comes With Free Herb/Spice

1971 MG BGT

Honda CRF100

Oh, What A Lovely War! - LP

Skoda 110R Coupé

$20

ID 26561

$15

ID 26559

$9,750

ID 26557

$2,000

ID 26556

$12

ID 26578

$3,000

ID 26688

Concrete Mixer

Two-seater Sofa With Foldout Single Bed

Fisher & Paykel Chest Freezer

1993 Toyota Hiace Camper 4WD

Aprilia SRMax 300 Scooter

Sleeper Chair

See Seller

ID 26628

FREE

ID 26537

$400

ID 26539

$19,500

ID 26533

$6,000

ID 26531

$100

ID 26530

Mahogany Dining Table & Chairs

Old School Atari & Other Computer Bits

Skoda

Old Bath

Subaru Imprezza 2009

Ride-on Mower

$1,300

ID 26523

See Seller

ID 26515

$2,500

ID 26514

FREE!

ID 26501

$7,600

ID 26485

$1,600

ID 26444

2119009chch
---
Computer

Services

SeniorNet

Mac

Apple tuition & help

for any age group.

Apple computers, iPad,

iPhone and watch.

41 Essex Street

Mon, Wed and Fri

10am-12 Noon

Further details phone

365 1979

Wanted To Buy

CASH FOR

STAMPS

Do you have an

Old Stamp or Coin

collection tucked away

somewhere? It could

be worth a fortune!

We are currently Buying

old collections in the

Christchurch area to stock

our retail shop in Riccarton.

Free Appraisal and Cash

Offers on most items.

Call Matt Power

0800 39 24 26

The Stamp Exchange

134a Riccarton Road. Opposite

the Mall carpark.

AAA Buying goods

quality furniture,

Beds, Stoves, Washing

machines, Fridge Freezers.

Same day service. Selwyn

Dealers. Phone 980 5812

or 027 313 8156

TOOLS Garden,

garage, woodworking,

mechanical, engineering,

sawbenches, lathes, cash

buyer, ph 355-2045

Travlon

Latest Christchurch news at www.star.kiwi

Tuesday February 5 2019

Classifieds Coachlines Contact us today Phone our local team 03 379 1100

WESTERN NEWS 23

Tours

CHARTER & TOUR

Travlon

Coachlines

Travlon Coachlines

School Run to some

private schools

ex Selwyn/Halswell area

"Wide range of coaches

"Wide

and buses for

School range of Run coaches to some and buses

for Charter

private schools

& Tour"

ex Selwyn/Halswell area

www.travlon.co.nz | Phone: 03 325 2959

"Wide

Email:

Phone: range

info@travlon.co.nz

03 325 of coaches 2959

Email: and info@travlon.co.nz

buses for

Holiday

Accommodation

Charter & Tour"

Australia QLD

www.travlon.co.nz

SUNSHINE

Phone: 03 325 2959

Email:

COAST

info@travlon.co.nz

PH 0275 356 583

RESORT

ALEXANDRA HEADLAND

All Units Have Ocean Views.

Heated Pools, Spa & Sauna,

Free Wifi, Tennis

& Mini Golf.

CHECK OUR GREAT

WINTER SPECIALS

www.mandolin.com.au

0061 7 5443 5011

JUNE to AUG temps 20C

To Lease

LAND or Paddock

wanted to lease. Long

term to store a truck

and trailer. Must be in

Christchurch South area,

Prebbleton, Rolleston etc.

Tuition

PIANO Tuition.

Registered Teacher has

vacancies for beginners.

Halswell area. Raewyn

Clegg, phone 322-9377

PILATES Beginner &

Intermediate classes,

Monday & Wednesday

nights. Fendalton Croquet

Club, Makora Street.

Phone Julie 351-2100

Trades & Services

BLOCKED

DRAINS?

• Video inspection

• Waterblasting

• liquid Waste

pH: 03 365 7960

24 hours // 7 days

info@h20jet.co.nz

www.h20jet.co.nz

BATHROOM

Renovations, complete

ELECTRICIAN

service from start to finish,

Prompt & reliable

free quotes, ph Dave 027

registered electrician

334 4125

with 24 years experience

for all residential and

BRICKLAYER

commercial work, new

George Lockyer. Over

housing and switch board

35 years bricklaying

replacements. Phone Chris

experience. UK trained.

027 516 0669

Insurance work. EQC

repairs. Heritage

brickwork and stonework PAINTER

a speciality. No job too DECORATOR

small. Governors Bay. All int /ext painting.

Home 329-9344, Cell Comp rates. I stand by

027 684 4046, email Canterbury. Wayne 385-

georgelockyer@xtra.co.nz 4348, 027 274 3541

**************

CARPET & VINYL

Laying. Exp. Repairs,

uplifting, relaying,

restretching. Email

jflattery@xtra.co.nz ph

0800 003 181 or 027

2407416

ELECTRICIAN

Registered, electrical

installation and repairs,

Gorbie Electrical, ph 021

026 73375 or 03 322 4209

Trades & Services

HALSWELL

GLASS & GLAZING 2017 LTD

THE PET DOOR SPECIALIST

• PET DOORS

• NEW GLAZING

• FRAMELESS SHOWERS

• MIRRORS

• INSURANCE CLAIMS

• RETRO GLAZING

• BALUSTRADING

ALL SUBURBS COVERED FOR

ALL YOUR GLAZING NEEDS

PHONE GAIL OR SARAH ON

322 7999 OR 021 CAT DOOR

(228 3667)

ROOFING REPAIRS

Fully qualified, over 40

yrs experience. Ph John

027 432-3822 or 351-

9147 email johnchmill@

outlook.com

SPOUTING CLEANING

Spouting Unblocked,

Cleaned Out and Flushed

Out. Call Trevor 332 8949

or 021 043 2034

Trades & Services

ELECTRICIANS

Professional

Friendly Registered

Tradesmen available

for your Electrical

requirements today.

For immediate

quality service please

contact

services

Ph. 03 322 8454

www.skeltonelectrical.co.nz

STONEMASON

BRICK

&

BLOCKLAYER,

Earthquake Repairs, Grind

Out & Repoint, River/

Oamaru stone, Schist,

Volcanic Rock, Paving,

all Alterations new & old,

Quality Workmanship,

visit www.featureworks.

co.nz or ph 027 601-3145

STUMP GRINDING

Best price guarantee Tony

0275 588 895

TILER/CARPENTER

35 years exp, no job

too small. Ph Ross 027

4311440.

TILING

Flooring - Splashbacks -

Wall incl tile removal, reg

master tiler, ph Dave 027

334 4125

T.V. SERVICE CENTRE

Repairs, tvs, microwaves,

audio amps, soundbars.

.Aerial & satellite

installations, kitsets, 480D

Moorhouse Ave, ph 03 379

1400

WINDOW TINTING

tintawindow

advanced film solutions

99% uv block

fade protection

heat control

reduce glare

25 Years Experience

Trades & Services

privacy films

frosting designs

non-darkening films

Workmanship Guaranteed

Lifetime Warranties on Most Films

UV

block

Free Quotes Canterbury and Districts

03 365 3653 0800 368 468

HOUSE

CLEARING

Are you

moving house

or trying to

downsize?

Call All Clear

Canterbury. We work

with you to recycle,

sell and dispose of

unwanted items.

Ph: 03 260 0934

or 021 078 4553

raewynlcooke@gmail.com

www.allclearcanterbury.co.nz

VHS VIDEO TAPES

& all camera tapes

converted to DVD, video

taping special occasions,

www.grahamsvideo.co.nz

ph 03 338-1655

ROOF

PAINTING

Rope & harness

a speciality,

no scaffolding

required,

30 years of

breathtaking

experience.

FREE QUOTES

Exterior staining,

exterior painting,

moss and mould

treatment and

waterblasting

Phone Kevin

027 561 4629

Letterbox Advertising

Flyers and Newspaper Inserts

DESIGN

We offer professional

design services.

PRINT

We print your gloss

mailers and letterbox

flyers.

Delivery

Canterbury wide

coverage or targeted

zone deliveries.

FREE QUOTES Contact: Michaela Malloch

P: (03) 379 7100 or 021 932 177

E: michaela.malloch@starmedia.kiwi
---
24 Tuesday February 5 2019

Latest Christchurch news at www.star.kiwi

WESTERN NEWS

www.studywithus.co.nz

Make your vision

your future

We have courses in:

FREe

CoURSES!

ARTS & DESIGN

LAST CHANCE TO

ENROL FOR FEB START

Text 'STUDY'

To: 027 557 8839

*conditions apply

Phone: 0800 834 834

50 Hazeldean Road,

Addington