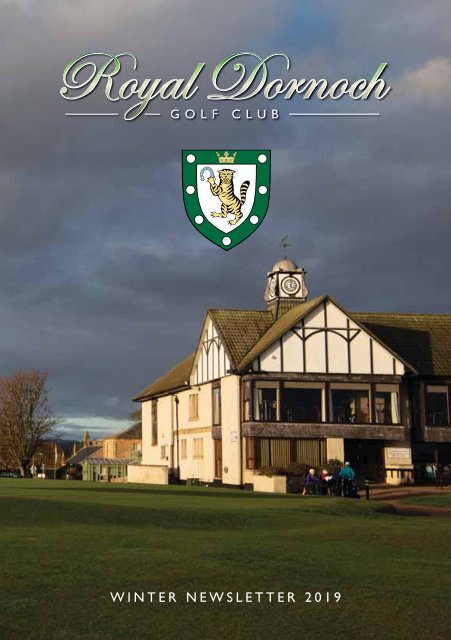 You also want an ePaper? Increase the reach of your titles
YUMPU automatically turns print PDFs into web optimized ePapers that Google loves.
WINTER NEWSLETTER 2019
---
2
---
Captain's Report

It is an absolute honour to have been elected Captain of this

great and world famous club, a huge responsibility but a

challenge which I am thoroughly enjoying. I wish to thank

Immediate Past Captain Alan Ramsey for nominating me and

the members for electing me.

As I write this report it is only four months since I became

Captain and the time has flown by as we are in the midst of an

extremely busy time.

We are very fortunate to have so many exceptionally dedicated

people on Council of Management and on our sub committees

giving up their time for the club. We also have a fantastic team

of people who manage and run the club on a day to day basis.

Rob Murray

At the AGM it was pleasing to get such strong support for the new clubhouse project which is now

gathering momentum. We have gone through the early stages of planning and are now entering the

much more exciting phase when we will see a building emerging.

The dry weather during the summer provided some of the best true links conditions for many years with

the Championship Course gaining many plaudits from officials of the R&A, PGA and players both

amateur and professional.

3
---
My first official duty was to referee the Carnegie

Shield Final which was contested in an extremely

sporting manner in the true spirit of golf between

two great competitors Christopher "Chippie"

Mailley and Ian Rennie. Chippie was victorious

with Ian being a gracious runner up. We were served

up some brilliant golf in testing windy conditions.

We hosted the Boys Home Internationals for the

Royal and Ancient in August. The England Team

were victorious narrowly defeating the Ireland

Team. All players and officials were delighted with

the venue and the presentation of the course.

The Captain's Members Weekend was great fun

and everyone appeared to enjoy themselves as there

was much laughter both on and off the course!

The 7 th hole on the Championship Course is now

taking shape with the green and approach area

now well established and the prospect of playing it

and enjoying the views is very exciting.

At the Annual Prize Giving we decided to try

something different and we had cocktails and live

music, so much hilarity and dancing ensued. Our Club

Champion, Wesley Harden, travelled over the weekend

from South Carolina, USA for the presentation so I

thank him for this huge commitment.

In my short term of office and the few months

beforehand I have met literally hundreds of people in

connection with the club on both a business and social

level. A wide range of people from the people who

work in all areas our club, members, visitors, business

associates, members of the local community and

visiting dignitaries' from the R&A, PGA and USPGA.

On reflecting on the last few months I have tried,

like many others in the past, to sum up what makes

our club so great and the word I would use is

passion! Everyone loves coming to Dornoch and

enjoying our great club and our memorable links.

I had the pleasure of visiting Pinehurst, USA on a

personal holiday and anyone who sees the Royal

Dornoch crest immediately gives you a warm

welcome. We have many friends around the world!

It would be unfair to single anyone out because

everyone who works in the club is passionate about

their particular working environment. We are

fortunate to have wonderful team camaraderie around

us always striving to make our experience even better.

All those who have gone before in the club have

left a great legacy and as I said at the AGM, this is

our time and we will do our best to do the same

for the next generations.

During the past year the club has raised £20,000 for

SCAA Charity, the air ambulance covering our area.

Thanks go to Alan Ramsey and Elizabeth Henderson,

immediate past captain and Ladies' captain

repectively, for such a tremendous achievement.

I look forward to meeting more of you in the

months and season ahead.

Rob Murray

Captain

4
---
From The General Manager's Office

Once again, the weather has played a big part in

our golfing season, but this time for the right

reasons. Not since 2013 have we played on

traditional links conditions so it was great to get

back to the running game and playing the ball

along the ground, using our imagination and not

our range finder. This did give us some other issues

to deal with but with the expert eye of our Course

Manager Eoin Riddell, and his team, we had some

magnificent conditions throughout the year and

although there was a little less water for the fairways

than we would have ideally liked, they have already

had lots of TLC and are recovering well.

As always, we have changes in the Council of

Management and every two years we get a new

Captain. So welcome to the hot seat Rob! I am

sure that Rob will be able to take it all in his stride

having served on the council as greens and finance

convenor but also watching his father Ken who sat

in the secretary's seat right here at Royal Dornoch

from 1975 to 1987. That does also mean there is a

new vice captain and this is Willie MacKay. He

does so much for so many groups in and around

Dornoch while also advising many of the North

clubs in his capacity as a Scottish Golf Regional

Development Officer so you may wonder how he

will cope with another busy role? For those of you

that know Willie like I do he is the epitome of the

saying "if you want something done, give it to a

busy person" so I have no doubt that he and Rob

will form a great team to lead the club.

We also have four new members of council of

management and have welcomed Cara Thompson,

Gordon Davies and Kevin Matheson for three year

terms and also John McMurray for one year as the

replacement to see out the time that Willie

MacKay had left to serve.

Royal Dornoch v Country Club of North Carolina,

June 2018

5
---
It would be remiss not to take a moment to mention

and remember Alexander Campbell who retired

from the Council at the AGM. We all had the

knowledge that time for Alex was short but it became

apparent that he was going to leave sooner than

anyone had expected. He married his partner of

many years, Helen Needs (our recently departed head

chef) in October but sadly passed away in early

November at just 45 years of age. A dry but insightful

wit who had the intelligence to analyse all situations,

and more often than not come out with a line or two

that put paid to any further discussion, usually with

everyone in fits of laughter. Alex, thanks for being a

big part of Royal Dornoch.

Also stepping down this year were Elizabeth Coghill

and Colin MacKay and I am sure you will join me in

thanking them for given up their time to help take the

club forward during their time on the council.

While highlighting the new faces on the council we

have also taken on several new members of staff in

some key positions.

Firstly, we had Brian Sangster take over from Helen

Needs as Head Chef in March. Our thanks to Helen

for her work and our thoughts are with her on the

loss of Alex. Brian had not worked in a golf club

environment before and now that he has a season

under his belt we look forward to seeing what he has

on the menu next season along with the return of the

evening meu which should help make the clubhouse

a destination for those long summer nights.

Next to join the team was Bradley Smith in the Pro

Shop. This is in the position of Retail Manager now

that we have the pro shop in-house. It has been a good

season for the shop, which will be reflected in the

annual accounts, and we hope that with the

knowledge that Brad has gained, plus the launch of

our online shop www.royaldornochproshop.com,

2019/20 will give even better returns. To find out

more about Brad turn to the Meet the Team page.

Andrew, Gary and Jorden fitted in well to being

employees of the club and now that we have a season

of assessing their capabilities and desires we can refine

their roles and get the best out of them going forward.

Our final senior appointment this year was Sue Robb,

our new Food & Beverage Manager. Sue is in charge

of both front and back of house, although working

very closely with Brian, to ensure that our bar and

catering offering achieves the 4 star standard that we

wish to offer. Coming from a lifetime in hospitality at

this level we look forward to her sharing her

knowledge with us all and imparting that to our staff.

6
---
At this time I would like to thank Denise Ross for her

6½ years with us and wish her well in her next role.

I can't conclude this piece without highlighting the

work that all the staff do to make this club so special

to us all, and in particular Claire Riddell for being

more that just our Assistant Manager but a great fount

of knowledge, and the one that cleans up all the bits

and pieces I leave behind!

It is with much excitement that I write about the

Clubhouse project. The update from the Captain at

the end of 2018 has shown you the great progress we

have made on the design and the amount of

involvement that our own staff have had in the layout

of each floor. This will ensure that they have

"ownership" of their particular domains and a much

greater emotional attachment to the club and their

work. The local community continue to be advised of

progress for which they are grateful and continue to

support what we are doing. The clubhouse is primarily

for the members (and their guests and our many

visitors) so your thoughts and comments are always

welcomed so please take the opportunity to feedback

whenever you can. We are working hard to deliver you

something meaningful and tangible to discuss in the

lead up to the AGM in August so that important

decisions can be made.

While the new clubhouse is still on the drawing board

what we do have under construction is the new 7 th

hole on the Championship Course. As the green

convenor has said we have brought the programme

for this forward so that it will be opened at the start

of the 2020 season, one in which we will host the

Mens Home Internationals. Part of the works means

new tees for the 8 th hole leading to a different angle

on the tee shot and more approach shots from the top

of the hill. Hopefully you will approve and enjoy all

the changes to these two holes. Finally on the

Championship Course the front bunker at the 10 th

was moved closer to the tee and, to my eye, it looks in

exactly the same position – well done to the team for

another feat of invisible mending!

One more piece of course news is that we should have

the Halfway House data connection in place so that

we can use the same till system as we have in the

clubhouse thus allowing real time loyalty card

payments as well as cash and credit card payments.

As always it is thanks to you for the support and

enthusiasm that you show for all that we do here in

Dornoch to ensure that our club is one the best in

the world.

We all look forward to seeing you soon.

Neil Hampton

General Manager

7
---
Finance Convenor's Report

Overview

The Club has had another successful season, with

our income in the period rising by nearly 20%

compared to last year to £2.97m, our surplus on

ordinary activities before taxation increasing by over

25% to £1.98m and our cash balance increasing by

£1.25m to £4.73m. However, it is important to

remember that nearly all our income comes in our

first half year while we continue to have significant

expenditure in the second half year.

Visitors Green fees

Visitor green fees have increased by 12% to £1.8m.

This is as a result of increasing the rate per round to

£160. This is still substantially lower than our major

competitors and it is being increased to £180 for next

year. Visitor numbers were broadly similar to last year.

Professional Shop

As you are aware, the Club took over the

professional shop at the beginning of the year, and

it has produced a surplus of over £150,000 on sales

of approximately £560,000. This is a very good

result given that much time has been spent learning

about the operations and planning for the future.

A number of new initiatives are in the pipeline, and

we are looking to increase the online sales offering

significantly. Thanks go to Ian Madeley and Ivan

Collingwood who continue to spend a great deal of

time helping to support the pro shop team.

Bar & Catering

The House Convener's report explains the changes

that are taking place in the bar & catering

operation. Whilst clearly there have been a

number of operational issues, the surplus in the

first half year is some £15,000 higher than last year

and, consequently, we are working towards a

reduced loss for the full year.

Costs

Costs in all areas have been managed broadly in

line with our expectations. Staff costs, which for a

full year make up about 60% of our total costs, are

lower than we expected due to us being short of

people in a number of areas. We are actively

increasing our recruitment efforts to try to ensure

we have the right complement of staff for next year

to provide the level of service expected by members

and visitors.

Cash

Cash flow has remained very good and there have

been no significant unexpected costs in the period.

Financial information and controls

I'm pleased to say that we have made good progress

in this area. As you may know, last year we

produced for the first time for many years a detailed

budget on a monthly, as well as an annual, basis.

This budget has proved surprisingly accurate as far

8
---
as costs have been concerned and, fortunately, very

conservative on the income front!

Monthly accounts compared to budget are now

produced by the middle of each month, and we are

starting to get the departmental managers involved

in the budgeting and reporting process. There is

still work to do in various areas, but we are

determined that, by the beginning of next season,

we will be getting all the information we need to

enable all areas of the Club to be managed in a way

that is appropriate for a business of our size.

Many thanks go to Matt McBride and Martin

Lynch for all the work they have done on this. We

are particularly fortunate that Martin became

available to spend a significant amount of time

focusing on many of the financial reporting and

control issues. We are hoping that the bulk of this

work, including the documentation of our systems

and controls, will be complete by the end of the

year, at which point Martin's workload can be

reduced to a few days a month.

Looking Forward

Whilst it is early days, current indications are that

visitor bookings for next year are well ahead of this

time last year. As you know, we remain highly

dependent on visitors and visiting members to

generate the income and cash flow that will enable

us to complete the clubhouse project on a timely

basis.

Estimates have been produced of how we think the

full year will turn out and, by the time you read

this, next year's budget will be in place and

financial estimates made for the next 5 years.

As far as the Clubhouse project is concerned, our

advisors have done a lot of work on cost estimates,

which are currently running within our

expectations. We have also held preliminary

discussions with grant providers, which we hope

to advance in the next few months in order to get

firm proposals from them. This is all important, as

financial planning for the new clubhouse is very

high on our agenda as much has to be finalised

before our next AGM in August 2019.

Once again, thanks must go to Neil and Claire not

only for all the work they do, but also for

embracing the many changes that are taking place

on the finance side of the Club.

Tony Bartlett

Finance Convenor

9
---
Match & Handicap Convenor's Report

As I enter my third year as Match and Handicap

Convenor I would like to again record my grateful

thanks for the tremendous efforts of Neil, Claire

and the office team in ensuring that both the Club

and Open Competitions are professionally

organised and efficiently run. I would also like to

thank the many members who have kindly given

of their time to assist on the registration desk or

with the input of scores at our Open Competitions

during 2018. We shall again be seeking assistance

this coming year and if you would care to be

involved please contact either Claire or myself.

In respect of the Open Competitions Royal

Dornoch club members have again figured strongly

in the winner's circle with the first event of the

year, the Struie Mixed Foursomes, proving

successful for Rebecca Riddell and Graham

Minton. Their success was quickly followed by a

win for Connor Mackay, Trevor Mackay and

Struan Robertson in the Burghfield with Chris

Mailley winning the scratch prize. Further local

success was achieved in the 3 Lady Team Open

with Caroline Madeley, Alison Davies and

Marjorie Kingston proving victorious.

Whilst visitors from Buckpool GC, Stuart and

Karen McLeod, won the Captain's Open Mixed

Foursomes, Ian and Margaret MacDonald

captured the Lady Captain's Open Mixed

Foursomes. In between these two events Kevin

MacGillivray won the handicap prize in the Robbie

Grant and Duncan Murray Seniors and Gordon

Sutherland was successful in the Macleod Trophy.

Chris Mailley proved victorious in the Sinclair Cup

with a scratch score of 138 whilst Adam Mackay

won the handicap prize with a score of 131 (5).

The Carnegie Shield Final was contested between

two Royal Dornoch members with Chris Mailley

victorious over Ian Rennie. The Davidson Trophy

was won by Ian Smyth from Northern Ireland with

a 1 hole victory over Royal Dornoch Alasdair

Dickson. However home success again was

achieved in the E C Fraser Trophy with Grant

Mackay defeating an Australian, David Liddicoat.

The Silver Medallist, with a score of 139, was John

D Forbes, Inverness GC.

Gareth Hall was successful in the Glenmorangie

Open and Michael Schinkel, with a superb

aggregate score of 133 including a new course

record score of 66 on the Struie Course, won the

Fraser/Gardner Tournament. Marelle Sierra won

the Senior Ladies Open and Douglas Martin with

his partner Stephen Craig from Ranfurly Castle

were the winners of the Senior Open 4 Ball

Betterball Stableford.

Finally in the David Urquhart Memorial Trophy,

the winner was Struan M. Robertson. So all in all

it has been a very successful year in our Open

Competitions for Royal Dornoch members.

10
---
Club Competition winners were as follows:

Donald Grant Cup

McNaughton Rosebowl

Ryle Jug

Murray Vase

Cadzow Quaich

Patterson Trophy

Colin Graham

John McMurray

Connor Mackay

Struan Robertson

Neil and Max Hampton

Graham Minton and

Rebecca Riddell

Prove Trophy

Kent Russell

Paul York Order of Merit Connor Mackay

President's Cup Handicap

President's Cup Scratch

Struie Club Championship

Handicap

Struie Club Championship

Scratch

Club Championship

Handicap

Club Championship

Scratch

Alastair Stoddart

Chris Mailley

Gary Ballantyne

Graham Minton

Cliff Martin

Wesley Harden

Congratulations to all the prize winners and best

wishes to all club members for golfing success in

the forthcoming season.

11
---
May I again respectfully remind competitors that

with all Club Matchplay competitions it is essential

that all entrants must be able to compete over the

full duration of the dates shown on the draw sheet.

As from 1 st January 2019 we shall see changes to

The Rules of Golf and I am indebted to our

President, Mr Gordon Lawson, for kindly

providing a brief summary of the major changes

which are expected to have the most impact on the

game and to be of most interest to players. These

are on the following page.

Players are encouraged to obtain the new Players

Edition of the Rules of Golf which will be available

from the Club. This booklet is written in plain

language and with explanations and illustrations

aimed at assisting the player in understanding and

being able to apply the new Rules.

More detailed information on these and other

changes will be given at a Rules Night to be held

in the Clubhouse on Friday 22 nd February 2019.

Grant Shannon

Match & Handicap Convenor

12
---
Major Changes in the Rules of Golf for 2019

This is a summary of some of the main changes effective from 1st January 2019, being those expected to

have the most impact on the game and to be of most interest to players.

Lost Ball:

Ball at rest moved:

Ball in motion:

Taking Relief:

Putting Green:

Penalty Areas:

There are 5 defined

areas of the Course:

Bunkers:

Caddies:

Embedded Ball:

A ball is lost if not found in 3 minutes, (previously 5 minutes).

During search, replace, no penalty.

Accidentally moved on putting green, replace, no penalty.

Moves on green e.g. by wind after being marked, lifted and replaced then replace,

no penalty; but if not already lifted and replaced then play from new position.

Accidentally hits player, caddie, equipment, play as it lies, no penalty.

Double hit, no penalty, counts only as 1 stroke.

Drop in a defined relief area.

Drop from knee height.

Ball must come to rest in the relief area where it was dropped.

All damage to green including spike marks can be repaired.

Putting with flagstick in hole is permitted.

Ball wedged against flagstick and side of hole is deemed as holed.

Formerly water hazards but may now include other areas marked as yellow or

red penalty areas from which relief with a 1 stroke penalty is allowed.

Touching the ground and touching or moving loose impediments is permitted.

The general area (formerly known as "through the green").

The teeing ground of hole being played.

All penalty areas.

All bunkers.

The putting green of the hole being played.

Loose impediments may be touched or moved without penalty.

Sand may be touched without penalty but certain touching of sand e.g. testing

condition of bunker, making practice swing, touching area right behind or in

front of the ball whilst making backswing will still be penalised.

Unplayable ball relief can be taken outside the bunker back on a line from the

hole for 2 penalty strokes, or from where player's last stroke was made for 1

penalty stroke.

A caddie is not allowed to stand behind the player to assist with alignment while

the player is taking their stance and playing their shot.

Free relief is available anywhere in general play area.

Players are encouraged to obtain the new Players Edition of the Rules of Golf which will be available

from the Club. This booklet is written in plain language and with explanations and illustrations aimed

at assisting the player in understanding and being able to apply the new Rules.

13
---
Green Convenor's Report

The weather gods are obviously not golfers, as last

year's deluge has been followed by this year's

drought. Due to the shortage of water we have

prioritised the greens from a usage point of view,

consequently the fairways suffered accordingly.

This fact was noted in the STRI (Sports Turf

Research Institute) late summer report which

highlighted that the greens were technically the

best for 5 years and were up to Championship

standard. Of particular note was the rapid

improvement of the sixth green.

The condition of the fairways was poor due to the

lack of water and we are now in the recovery mode

with over seeding, followed by top dressing using the

newly acquired Dakota sand spreader. We intend to

use this machine at least twice a year in an endeavour

to firm up the playing surface so that we can

maintain a traditional links feel to the fairways. This

process will take some three to four years before we

really appreciate the real benefit of this operation.

We are experiencing quite significant leaks of water

from the pipes underlying the Struie Course. We are

in the process of consulting with the experts who

installed the system on the Championship Course

as to the best way and likely cost of improving the

situation, as well as potentially building a water

storage tank beyond the back of the second green on

the Struie.

A "spring rake" has also been added to our

greenkeeping store of equipment. The purpose of

this machine is to cut and collect the rough grass

bordering the fairways so that the remaining rough

will consist of the finer grasses more in keeping

with a links course. The area behind the

eighteenth green on the right of the path back to

the clubhouse is a good example of what we hope

we can achieve doing this.

Much of the winter programme will take place on the

new seventh hole. A large section of whins has already

been taken out and the main bulk of the work will

involve completing the fairway which presently extends

sixty yards back from the green, leaving roughly three

hundred more yards to go. After removing the stones

we shall put down nearly a foot (300mm) of sand,

topping it off with about 4 inches (100mm) of root

zone (top soil). Finally we shall put the grass seed on

top and lo and behold – a perfect fairway!

The new bunker at the tenth has now been finished

and looks very impressive. The front of the green has

been levelled and the front lip of the new bunker is

just about where the back lip of the old bunker was,

so we now have a landing area of five yards before

the start of the putting surface. The hole should now

present no problems downwind!

With all the extra work being carried out and ongoing,

all members should be thankful for the expertise of

our green staff ably led by Eoin Riddell (Course

Manager) and Scott Aitchison (Deputy Course

Manager). One has only to watch the annual revetting

of the bunkers to realise the skill needed. We were also

able to build the new seventh green without outside

assistance – the plan was to replicate the contours and

slopes of the current seventh, so no easy task, but even

at this early stage the result is impressive.

I hate to end on a fractious note, but far too many

pitchmarks on the greens are simply not being

repaired. These are mainly at the front of the greens.

Why not make a New Year's resolution to repair at

least 4 pitchmarks every green?

Happy Golfing.

Adrian Bagott

Green Convenor

14
---
House Convenor's Report

Those of you who have eaten at the club over the

summer will have noticed the various changes in

personnel. Sue Robb, our new Food and Beverage

Manager and Brian Sangster our new Head Chef

have had a busy summer period, and are now

focusing on building a team over the winter in

preparation for next season.

The club council has agreed, that given the club's

standing in the world of golf, the service and food

at the club should be achieving 4 star standards.

This has been discussed and agreed in the House

Committee and we are making plans to deliver on

this as soon as possible. Watch this space!

We are delighted that over the summer, we had an

uplift in our business. In response we have updated

some of our equipment and are purchasing some

new items in the kitchen. We also plan to be

completing some work on the fabric of the building.

During the winter we hope to provide a range of

different dishes, menus, wines and events. We

realise that our customer base changes

considerably from summer to winter. We will be

producing a wider range of food options for those

eating more regularly at the club.

If you missed the excellent Italian Night, (the

words of those who attended), and the other

special events leading up to Christmas, such as the

Prize Presentation Cocktail Evening, the Life

Members Christmas lunch, Christmas Quiz and

Hogmanay Dinner, why not try to make it along

to the following?

• Burns Supper Wednesday 23 rd January

• Bingo and Play Your Cards Right Saturday 9 th

February

• A night with Paul Lawrie Saturday

16 th February

• Rules Night Friday 22 nd February

• Curry Night Saturday 2 nd March

• Spanish Night and Wine Tasting Saturday

16 th March

We plan to have a variety of food available across

these events to tantalise your taste buds. We have

also trialled providing transport home for a small

additional charge, to ensure everyone gets home

safely and in comfort. This has proved to be

successful and you can book in advance when

reserving your place at these special events.

We also have the Sunday Carvery in operation

until 31 st March which is a good excuse to treat the

family and neighbours to a relaxing meal.

I hope you will join us in the clubhouse soon, winter

or summer and enjoy some great food. I know Sue

and Brian's team would like to have you along.

John McMurray

House Convenor

15
---
Junior Convenor's Report

2018 started pretty coldly for us all, with snow, snow

and probably a wee bit more snow. This did not

however dampen the spirits of our youngsters and

numerous coaching sessions were provided by our

two fantastic junior coaches Gary Dingwall and

Jorden Ferrie. The enthusiasm and hard work that

these individuals possess needs to be recognised.

Their input to our juniors is clearly paying dividends

as we had a very successful year and I wish to record

my continued gratitude for their efforts.

Unfortunately the weather ensured the season got

off to a poor start as our Junior Open in April had

to be cancelled. We had a good entry with

competitors from Skye, Orkney and the Central Belt

on top of many local clubs. First tee time was 9am

but by 12 noon the sea haar had not lifted with the

first bunker on left of the first fairway still not

visible. It was deemed unsafe to send the players out.

Wonders tournament. The qualifying event was

staged at Fortrose & Rosemarkie and Moray Golf

Clubs with seven juniors progressing to the regional

finals held at Gleneagles and from there Zara

Macdonald, Mikayla Mackay and Finn Hallam

qualified for the grand final which was played over

the links at St. Andrews. They all played

magnificently and whilst no winners, all did

enough to qualify for the European finals next year.

A huge shout out to Jorden Ferrie for her assistance

in getting the players to and from the finals.

Over the course of the season we have several fun

foursomes events.

Onto the golf though. We had our Annual Match

against UHI students over the Struie course with

a couple of B Section players playing for our team

(Kieran Allan and Ali Morrison), this was the first

time either had played 18 holes of competitive golf.

Not only did they play well they were victorious in

their match, helping our juniors to a very well

deserved win overall.

As the weather improved and the days started to get

longer more of our youngsters were taking to the

links with good turnouts in coaching, B and B plus

sections. Our A section is currently quite small but

they are all enthusiastic and competitive when it

comes to their golf. The scoring throughout the

year was improving and the players from all sections

enjoyed away trips to other local golf clubs to

participate in local open competitions. We had

numerous winners from the club in each section

and age group. We also took part in the HSBC Wee

Burnett Cup

Winner of the Burnett Cup this year was Ruaridh

Holden in his first time playing. Winner of the

Rainbow Trophy was Calum Morrison, winner of

Thomson Trophy was Zara Macdonald. Winners

of A/B Skinner trophy were Zara Macdonald &

Liam Vass.

16
---
Rainbow/Thomson

but the winner of the Duncan Allan trophy for

best Dornoch player was won by our new Junior

Section Captain Owen Mackay.

The Roddy Dingwall Memorial trophy is the Order

of Merit award in A Section and was won this year

jointly by Hannah Riddell and Owen Mackay, each

having 58 points.

The A Section most improved player was Ruben

Aitchison.

The B Plus Section boys winner was Jamie Riordan

with the girls winner of this section being Rhianna

Mackay.

The B Section winners this year made it a real

family affair with the boys winner being Ruaridh

Holden and girls winner being Erin Holden.

Of note we had one player progress from B Section

all the way to A section during the course of the

season so huge congratulations to Zara Macdonald

(let's keep up the good work).

The highlight of the year for me however was the

annual Morcott Challenge. A lot of work goes into

this event over the course of the year from

fundraising at quiz nights and annual car wash

events, to coaching of the selected players. So a big

thank you to all who helped and supported these

activities over the course of the year. This year we

hosted the American Team and friendships made on

Hilton Head Island, South Carolina last year were

rekindled. Our team this year of Ceitidh Aitchison,

Owen Mackay, Hannah Riddell, Paddy Murray, John

Leslie, Max Hampton and brothers Tom and Angus

McFall gelled absolutely magnificently and, over the

course of the week, played some excellent golf. The

matches were played in a very sporting manner in

conditions that neither team were completely

prepared for. The sun was shining in Scotland, as it

had all summer, and the golf courses were extremely

firm and fast. Whilst the Americans are used to the

constant sunshine they were unprepared for our

links bounces. One of the Americans, a 2 handicap

player, was lamenting afterwards that he had played

54 holes in Dornoch and was still waiting for his first

birdie. I think we can all feel his pain.

Morcott Challenge Team

Another notable success was in the Northern

Counties girls event with Hannah Riddell being

victorious.

The season concluded with our Donald Ross

Junior Open in October. A good field turned up

and played in some testing windy conditions. With

the wind keeping the haar away this time we

actually got some golf. There was no local winner

17
---
I would like to put on record my sincere thanks to

Woody Morcott for his continued enthusiasm for

this event. Next year we are moving into a new

chapter with Woody handing over the organising

to his son Scott. The matches are moving to the

Chicago area next July so new experiences and

adventures are in the pipeline.

Max Hampton, Caddies Cup 2018

Onto the match itself, our Royal Dornoch team was

victorious for only the third time in this event's

history, going one better than the draw we managed

last year in America. All the hard work put in by the

players and Gary Dingwall prior to the event paid

off handsomely with Royal Dornoch winning every

session, a feat not previously achieved.

The Morcott Challenge is not just about the golf.

It was started as a cultural exchange to give the

players a glimpse into life in the opponent's

countries. From this point of view it was extremely

gratifying to see that all the players socialised as if

they had known each other all their lives and it was

evident they were all having fun.

The junior section depends on volunteers to help

out with scoring and advice giving throughout the

year and I would like to thank all the people who

gave up their time to help on Thursday afternoons

or participated in playing or helping with the

numerous competitions we ran or provided

transport to the away events we attended. Without

your help we wouldn't be able to achieve what we

have this year.

May I take this opportunity to extend my best

wishes to you all and hopefully look forward to less

sledging and more golf this winter.

Alastair Stoddart

Junior Convenor.

18
---
Marketing Convenor's Report

2018 was another highly successful year for Royal

Dornoch. Reaching our highest world ranking yet of

number 2, if not including the USA clubs and

number 4, if these are included. These ratings are

generated by visits to the club by the course raters

and golf journalists. This is testament to the hard

work done by all involved with the club.

We continue to keep busy with marketing the club

to ensure we maintain our status. Holding strong

relationships with tour operators and cruise liners

continues to bring a steady stream of visitors.

Our PR and social media is mainly handled by

System2 and we continue to see increased numbers

following the Club on the various social media

platforms. We now have over 21,000 followers and

our posts were seen 3.3 million times over the year.

I see this as an area which could also be further

developed to increase interaction with local and

overseas members. The various departments within

the club hope to soon have their own dedicated

channels which will allow them to keep you all up to

date on various events, news and promotions

happening within the Professional Shop and the

Clubhouse. Keep your eyes peeled for this.

System2 also completed a branding workshop with

groups of staff earlier in the year. This was to

provide us with an insight into what they see daily

from members and visitors and how the Club is

perceived and what people look for and expect

from Royal Dornoch.

We also continue to work with Nairn, Castle Stuart

and the Kingsmills Hotel as part of the Highland

Golf Links. As well as this we also work with 29 other

Highland clubs in Golf Highland. This encourages

groups to come to the area and stay for longer to take

advantage of all we have to offer rather than a

fleeting visit just to play 1 or 2 courses in the area.

The Club continues to work closely with the local

community, in particular with DACIC and DADCA

to assist local projects where we can. Members and

locals are of great importance to the club and play a

key role in promoting the club as well as welcoming

visitors and friends to the area.

Neil and Allison from the office had a busy and

productive week at the Scottish Golf Tourism Week

in St Andrews. This provided a great opportunity to

meet with relevant buyers to Royal Dornoch and

follow up on initial contact with them.

This role is still quite new to myself but I look

forward to the challenges that may lie ahead. It is

important that we continue to promote Royal

Dornoch and the area as a whole as one of THE

places to visit on a golfing holiday to Scotland.

Cara Thompson

Marketing Convenor

19
---
President's Report

It has been another very busy year here in Dornoch,

not only on the golf courses but also in the town.

Many members, whether based here or away, and

visitors from all over the world have come to play

our courses and also to take in the scenery of the

surrounding Highland area. I have enjoyed being

able to meet and play with some of them.

From all accounts and comments they have

thoroughly enjoyed their time here which is down

to the hard work and dedication of all the Club

employees. Their contribution towards providing

a high quality Royal Dornoch experience should

be very much appreciated.

One of my great pleasures this year has been to

present the prizes at the Caddies Cup. Many prize

givings suffer from poor attendances but that has

never been the case with this event. As ever there

was a large turnout of Juniors and their families

and I was struck by the tremendous enthusiasm

shown by all the youngsters. I felt it appropriate to

point out to them that they should appreciate being

part of a club which supports and encourages

junior golf to the extent we do at Royal Dornoch.

Continuing on the junior theme we also had the

privilege of hosting the Boys Home Internationals,

an event which brought together the best young

players in the UK. Even at such a young age they

play, as they say, a game with which I am not

familiar! I am sure we will have seen some players

who will feature at an even higher level in the

future. The R & A along with the players and

officials were fulsome in their praise of the course

and the welcome they received at Royal Dornoch

which was most gratifying to hear. This will stand

us in good stead towards attracting other top level

tournaments in the future.

I have also appreciated the continuing support

from our Vice Presidents, Hamish Macrae, Jim

Campbell and Christine Murray here in Dornoch,

and Woody Morcott in America. We are all happy

to be able to contribute to the running of the

Club's business and events in whatever way we can.

Wishing you all good golfing in the season ahead,

and a happy and healthy 2019.

Gordon Lawson

President

20
---
Royal Dornoch

Annual Open Tournament

106 th CARNEGIE SHIELD 11 th – 17 th AUGUST 2019

World Amateur Golf Ranking Event

TERMS OF COMPETITION:

1. Entry will be limited to gentlemen of 21 handicap or less, aged 16 years and over (Boys under 16,

holding a handicap of 4.0 or less at the date of entry, will be considered), who are members of

recognised golf clubs and who hold an official handicap, proof of which must be provided at the

time of entry. Competitors who hold a handicap index under the "USGA slope system", must provide

at the time of entry a certificate indicating their allotted index. The Office will apply the slope rating

for Royal Dornoch which, for information, is 134. Inactive handicaps will not be accepted. Where

an entrant holds more than one official handicap, he is to play to the lowest handicap held, irrespective

of the issuing authority. The entry will be divided into a High Handicap Group and a Low Handicap

Group. The handicap division of groups will be determined by the entries and the aim will be,

assuming the competition is oversubscribed, to equate the numbers on a waiting list for each group.

2. Stroke Play The qualifying rounds for each handicap group will be played as follows:

Higher Handicaps

Lower Handicaps

SUNDAY 11 th and MONDAY 12 th August

TUESDAY 13 th and WEDNESDAY 14 th August

Entrants who are allocated places must, by 17 th July, inform Royal Dornoch of any amendment to

the handicap on which they entered. All competitors, with the exception of those whose home

club is Royal Dornoch, will be required to produce a current handicap certificate dated no earlier

than 4 th August at registration, which is before play on your first competition day.

Entrants will, after 17 th July, on the basis of their latest known handicap be drawn into the appropriate

section of the competition. Should a handicap change after the draw is made, an entrant will compete

in the section of the competition in which he was drawn and will be scored playing to his handicap

current at the time of the Shield. Entrants playing on Sunday and Monday will not be eligible to

qualify for the Carnegie Shield match play. There will be NO preferred tee times.

Royal Dornoch Golf Club is fully committed to alleviating the problem of slow play. Our open

competitions will have on course marshals and penalties applied to the culprits. As a condition of

entry you are accepting the responsibility to keep a good pace of play as advertised at the time of the

event and to complying with all the competition rules.

21
---
3. Match Play Competitions - THURSDAY 15 th to SATURDAY 17 th August.

The E. C. FRASER CUP (High Handicap)

The DAVIDSON TROPHY (Low Handicap)

The CARNEGIE SHIELD (Scratch)

32 qualifiers. Play will commence at 7.00 a.m.

32 qualifiers. Play will commence at 9.30 a.m.

32 qualifiers. Play will commence at 12.00 p.m.

The draw for the Ellis Fraser Cup will be published on Tuesday 13 th August. The draws for the

Carnegie Shield and Davidson Trophy will be published as soon as possible after play on Wednesday

14 th August.

4. In the event of a tie for qualifying places the following will apply: -

CARNEGIE SHIELD. A play-off will be held, as soon as possible after completion of stroke play

rounds, over 1 st , 2 nd & 18 th holes, continuing to further holes on a sudden death basis in the event of

a tie after these 3 holes. In the event of a play-off being stopped for any reason, such as bad light, then

for those left in the play off, a count back on the second round card will be used. If conditions do

not permit a play off to begin then the Committee reserves the right to resolve ties by count-back over

better 2nd round.

DAVIDSON TROPHY

E.C. FRASER CUP

To be decided over better 2nd round

To be decided over better 2nd round

5. Entries received by 9.00am on 13 th March will be entered into the ballot. If the numbers do not exceed

the available places all will be accepted at that point and competitors notified. If numbers exceed the

places then a ballot will be held on 14 th March for, as required, the low and high handicap groups.

Applicants with handicap of 2 or better will not be subject to a ballot as long as they provide a current

handicap certificate at time of entry. The first 30 places in the High H'cap Group and the first 50

places in the Low H'cap Group will be for Royal Dornoch Full Members. If numbers require, these

places will be subject to a member ballot, unsuccessful members subsequently being entered into the

open ballot if such takes place. Unsuccessful applicants will be added to a waiting list in the order

they come out of the ballot.

Entries received after 13 th March will be accepted if there are vacancies, or entered onto waiting lists

as at the date they are received. The allocation of such places will be on a first come first served basis.

6. Penalties for Non Compliance of Tournament Rules

Any competitor, who does not turn up for his appointed tee time without good reason and/or fails

22
---
to inform the Club, will not be eligible to compete in this event for three years.

All competitors tying for places in the Carnegie Shield must participate in any play off. Failure to

participate will result in disqualification from the Davidson Trophy.

Where a competitor qualifies for the match play round and then, without good reason, declines to

play he will not be eligible to compete in this event for three years.

Should the Club find that entrants have delayed advising the club until after 17 th July of their current

handicap and any change would have had effect on the draw in which they play, they will not be

eligible to compete in this event for three years.

The Club reserves the right, without necessarily giving reason, to decline an entry and in all

circumstances Royal Dornoch Golf Club Council of Management's decisions are final.

7. Refund Entry Fees Fees as detailed on the Entry Form, will be refunded, less £10 deposit Non-

Members and £5.00 Members, if withdrawals are made before 16 th July. After that date no refund

will be made (except in exceptional circumstances).

8. Additional Competitions Royal Dornoch will hold two competitions over the Golspie Links for

players in the Carnegie Shield:

(1) For the Lower Handicap Group, there will be a competition on Monday 12 th August

(2) For the Higher Handicap Group, there will be a competition on Tuesday 13 th August

Please complete the appropriate section on the attached entry form if you wish to play in either of

these competitions. The draws will be published midweek prior to the Carnegie Shield.

For all non-qualifiers there will be a competition over the Struie Course on Thursday 15 th August,

tee-times will only be available between 10am and 2pm. There will be prizes for both scratch and

handicap

For all non-qualifiers and 1st round losers there will be a competition over the Struie Course on

Friday 16 th August, tee-times will only be available between 9am and 2pm. There will be trophies and

prizes for both scratch and handicap.

9. Prize Giving Prizes for the competitions at Golspie and the qualifying rounds (excluding the Silver

medal) may be collected from the office or will be sent to competitors. The principal prizes will be

awarded after the close of play on Saturday 17 th August. The Council of Management expects Finalists

and Semi-finalists and the Silver Medallist to attend the Saturday prize giving.

23
---
Entry Form Captain's Member Guest Invitational 24th – 26th MAY 2019

Following on from the success of recent years we

anticipate a good entry for the Annual Member

Guest Weekend this coming May, which will be

continuing in the three day format.

Once again, the competition will be limited to an

entry of 100 teams. Each team must comprise of a

Member and a Guest (Non Member) with places

allocated strictly on a first come first served basis.

For the purposes of this event a Struie member is

classed as an Ordinary member.

Due to the limitations of the clubhouse seating,

the Saturday night dinner will be limited to 100

diners and I realise that this will lead to

disappointment for some competitors.

To keep it as fair as possible, a ballot will be held

for the Saturday night dinner but the catering will

be open to all over the entire weekend and those

unfortunate to miss out in the ballot for Saturday

will have priority for booking the Friday night in

the clubhouse.

In addition to prizes for each day, the overall

Captain's Prize will be awarded to the team

accumulating the most stableford points over the

weekend (with the best 2 days from 3 to count).

As this is a popular event in the calendar we

encourage Members to book early to avoid

disappointment.

for, the Saturday night dinner.

Saturday 25 th May, will be a Texas scramble

stableford competition on the Struie Course. With

tee times available between 8.30am – 1.30pm. At

7.30pm there will be a Dinner in the Clubhouse

for all competitors and guests, followed by the prize

giving for the Friday and Saturday events and a

"Captain's Charity" auction. The Dinner will be

limited to 100 with places allocated, as highlighted

above by ballot. To help this run smoothly it would

help the staff if you could pre-order your wine.

Sunday 26 th May, will be a two person Greensomes

stableford on the Championship course. Tee-times

will be available from 8.00am – 1.00pm with the

prize giving in the Clubhouse immediately after

the conclusion of play.

The cost for each golf tournament is £20 per team

per day and the Saturday Night Dinner will cost

£30.00 per person.

It promises to be an exceptional weekend of golf

and a brilliant opportunity to introduce close

friends and associates to Royal Dornoch Golf

Club, and all in aid of an excellent cause, the

Captain's Charity.

Rob Murray

Captain

On Friday 24 th May, the format will be "two ball

better ball" stableford on the Championship

Course. Tee times will be available from 10.00am

to 3.30pm. Please indicate your preferred tee-time

on the entry form. Dinner will be available in the

Clubhouse with booking preference given to those

who are unable to, or have missed out on the ballot

24
---
Entry Form Captain's Member Guest Invitational 24th – 26th MAY 2019

Member's Name ………………………………. Surname ………………………………………… (All block letters please)

Address …………………………………………………………………………………………………………………………………

…………………………………………………………………………………………………………………………………

Tel. No …………………………………………

Handicap ………………………………………………………………………

E-Mail: …………………………………………………………………………………...………………………………………………

Guest's name …………………………………

Home Club & Handicap ……………………………………………….

I wish to attend the following events in Royal Dornoch Golf Club's Captain's Member

Guest Invitational Weekend.

Competitions

Yes/No Preferred Time Cost (£20) per team/per day

Friday Better Ball (1000-1530)

Saturday Texas Scramble (0830-1330)

Sunday Greensomes (0800-1300)

Dinner – Saturday 25th May 2019

Names Special Dietary Needs Cost (£30) per person

(Member)

(Guest)

(Dinner Guest)

(Dinner Guest)

Total Amount Enclosed £ …………………………

Please Note: Due to space restrictions, the above is the maximum you are allowed to book for dinner.

Table seating requests should be made direct to the bar, (01862 810219 ext. 4) and will only be accepted

a maximum of 7 days in advance of the dinner.

Please complete and return to Club office this form with entry fees and the dinner charge as soon as

possible. Entries will be on a first come first served basis. Cheques payable to RDGC please and please

note that entries will not be accepted without payment.

Visa/MasterCard No ………………………….......………

Exp. ……/……

3 digit security code on reverse of card ……………… Signature ………………………………

25
---
Entry Form – 106th Carnegie Shield 2019

ENTRY FORMS, ACCOMPANIED BY THE PLAYER'S HANDICAP

CERTIFICATE AND ENTRY FEE SHOULD BE RETURNED TO:

Competition Secretary,

Royal Dornoch Golf Club,

Golf Road, Dornoch, Sutherland IV25 3LW

e-mail bookings@royaldornoch.com

IT IS THE PLAYER'S

RESPONSIBILITY TO

ENSURE HIS ENTRY

IS COMPLETE IN

ALL ASPECTS

ENTRIES RECEIVED WITHOUT A HANDICAP CERTIFICATE AND/OR

ENTRY FEE WILL BE RETURNED

E-mail will be accepted provided credit card details and a handicap certificate are included.

First Name …………………….....…………. Surname …………………………......………………………………………

Home Address ……………………………………………………………………..……………………….………………...........

………………………......................……………………………………..................…………………................………………

Tel. No …………………………......…………

Mobile …………………………......…………

E-Mail: ………………………………………….......……………...………

Home Club ………………………………......……………………………

……………………………………………………………………………………………………………….............……..………………

…………………………………………………………………………………………………………………............………...…………

Handicap/index …………………………

CDH/Ghin Number ………………….................................……

Contact tel no. at time of competition (if known) ………………………........……................……...………

Date: …………………………..........………… Signature ......................................……………………………………

26
---
Entry Form – 106th Carnegie Shield 2019

Payment of the Entry Fee and (if applicable) Golspie Stableford. can be made using Visa or

MasterCard. Alternatively payment can be made by Sterling Cheque, made payable to Royal

Dornoch Golf Club.

Carnegie Shield entry fee

(Full Members £53.00, Struie Members £107.00

Non- Members £160.00)

£ ___________

Stableford Competition at Golspie

(Members and Non-Members £20.00)

£ ___________

Monday 12th - Lower Handicap group

Tuesday 13th - Higher Handicap group

To be allocated as per handicap divide (Paragraph 1)

These competitions are administered by Royal Dornoch

and are non-qualifying

Total

£ ___________

Visa/MasterCard No ………………………………………………………………………........…………

Exp. …… / ……

3 digit security code on reverse of card ……………….......…………

ANY ENTRY NOT ACCOMPANIED BY A HANDICAP

CERTIFICATE AND ENTRY FEE EITHER AS CASH,

CHEQUE OR VISA/MASTERCARD NUMBER WILL BE

RETURNED AND A PLACE WILL NOT BE ALLOCATED.

27
---
ENTRY FORM – LADIES OPEN

(Handicap Limit 30)

WEDNESDAY 7th AUGUST 2019

Royal Dornoch Golf Club,

Golf Road, Dornoch, Sutherland IV25 3LW

First Name ……………………….....………. Surname ……………….............................................……………….

Home Address …………………………………..……………………………………………………………………………………

…………………………………………………………………………………………………………………………………………………

Tel. No ………………………….......………… E-Mail: ………………………........................................………………

Mobile ………………………………………………………………………………………………………………………….…………

Handicap/index …………………...……… Home Club …......................................………………………………

Preferred Tee Time ……………………… CDH/Ghin Number ……………….................................………

I wish to enter for the above Competition and enclose a Cheque/Cash or Mastercard or Visa

in payment of the Entrance Fee (Member £10, Struie Member £20, Reciprocal £25, Non Member £40)

[__]__]__]__]__]__]__]__]__]__]__]__]__]__]__]__] Exp [__]__]__]__] for £

……………

Security Code [__]__]__] last 3 digits on signature strip on reverse of card

PLEASE RETURN ENTRY FORM, INCLUDING ENTRY FEE TO THE

COMPETITION SECRETARY, ROYAL DORNOCH GOLF CLUB

NO ENTRY WILL BE ACCEPTED WITHOUT PAYMENT OF ENTRY FEE

Date: …………………………………...........… Signature ………………….......................................…………………

28
---
ENTRY FORM – LADIES OPEN

TERMS OF COMPETITION:

1. Entry is limited to persons of 30 handicap or less who are members of recognised Golf Clubs.

INACTIVE HANDICAPS WILL NOT BE ACCEPTED. Handicap certificates will be

required on the day of play with the exception of competitors whose home club is Royal

Dornoch.

2. Competitors, who, after entry find that their handicap no longer meets the competition

requirements, will not be eligible to play and should notify the Club office as soon as possible at

which time a full refund will be given.

3. Entries will be accepted on a "first come first served" basis and applicants will be notified

whether they have been successful.

Any competitor who does not turn up for her appointed tee time without good reason and/or

fails to inform the Club will, at the discretion of the Ladies' Committee, not be eligible to

compete in this event for three years.

4. Entry fees are only refundable if withdrawal from this event is notified before the draw is

published.

5. Catering will be available half an hour prior to the first tee time.

6. Royal Dornoch Golf Club is fully committed to alleviating the problem of slow play and

promotes the R&A initiative of Ready Golf in all our strokeplay events. For those unfamiliar with

the term Ready Golf we would encourage all competitors to familiarise themselves with the

guidelines as advertised on our competition noticeboard prior to play.

29
---
Ladies Section

We have once again had a busy year enjoying both

competitive and fun events throughout the season.

At our AGM in October Patsy Mackay, Alison

Davies and Wilma Murray retired from the

committee and I thank them for all their hard work

for the Ladies' section. I am delighted to have Alison

Bartlett as Vice Captain. She has a great knowledge

of all things golf and will be a huge benefit to us. I

also welcome Fiona MacDonald, Moira Rennie and

Trish Weekes to the committee. Margaret Ross has

agreed to come back on committee to continue as

treasurer – we would be lost without her.

Our Club Champion is Cara Thompson, winning

the title for the 13 th time, defeating Caitlin Boa in

the final. Congratulations Cara, and also for

winning the Northern Counties Championship.

Handicap champion this year is Caroline Madeley

who defeated Rosemary Muschamp in the final.

Other trophy winners this year were

Anne Gunn – Sykes Cup;

Theresa Campbell – Sutherland Cup;

Alison Bartlett and Wilma Murray –

Barrow Cup;

Ashley Rose – Davidson Trophy and

Constance Young Seniors;

Ann Little – Struie Cup;

Caitlin Boa – McQueen Cup;

Cara Thompson – Grant Cup;

Vicky Sutherland – Daisy Simpson Trophy;

Patsy Mackay and Terry Morrison –

Mrs Winter Cup.

Well done ladies. It was good to see all our winners

and runners-up at the Club Prize Giving.

In the Open competitions there was success for a

number of our ladies. In the Ladies Open Denise

McBride won 1 st nett and the Lovell Salver and

Cara Thompson was the silver medallist. The

bronze division was won by Fiona MacDonald. The

Seniors Open was won by Marelle Sierra, runner

up was Ashley Rose. The 3 Lady Team Open was

won by Alison Davies, Marjorie Kingston and

Caroline Madeley. There were more Royal

Dornoch ladies featuring in all the Open prize lists

– too many to mention.

Qualifiers for the Daily Mail Foursomes are again

Caitlin Boa and Rebecca Riddell – good luck girls in

future rounds. The Coronation Foursomes qualifiers

are Alison Bartlett and Ashley Rose.

We enjoyed friendly fixtures against Inverness,

Nairn, Fortrose, Tain, Bonar Bridge, Brora and

Golspie. These matches are always played in good

spirit and are enjoyed by all who participate. This

year we also saw our ladies going to Lossiemouth to

play with the ladies of Moray Golf Club. This was a

very successful event organised by Elizabeth

Henderson and Debbie Bethune.

Our teams again did well in both the

Ross/Sutherland at Tain where Dornoch 1 were

victorious and the Caithness/Sutherland at Brora

where Dornoch 1 won scratch and Dornoch 3 the

handicap. Well done to all who took part.

30
---
Alison Bartlett won the Highland Vets Championship

and Linda Offin won the aggregate trophy.

It is really good to see our young junior members

doing so well both at Dornoch and also with

Northern Counties – very encouraging for the future.

We played with the Men's Senior section in a mixed

greensomes and likewise with the Wednesday

Seniors – "the Gerries" – both great fun. Our match

against the Wednesday Seniors later in the year, was

unfortunately cancelled due to bad weather.

The evening with the golf students of UHI, and the

following golf and tea party was again a great success

and we look forward to this event again in 2019.

The ladies away day was at Grantown-on-Spey where

we were very well looked after and had an excellent

fun day.

The Ladies' Captain's charity was again SCAA and

in fact it became the chosen charity of the entire

club. The ladies raised over £2,000 – well done all

especially past Ladies' Captain Elizabeth Henderson.

Recently we held an evening to look at the new rules

starting in 2019 and a quick look at stroke and match

play – giving strokes etc., and stableford points and

stroke indices. A big thank you to Claire Riddell and

Alison Bartlett for doing this and making it so

interesting. We then enjoyed a basket supper followed

by a fashion show – some new stock from the Pro

Shop modelled by a few of the ladies – interesting!

On behalf of the ladies section I thank all the Royal

Dornoch staff – Eoin Riddell and all his team; Neil,

Claire and the girls; Sue and her merry band; Brian

and his kitchen crew and Andrew, Bradley, Gary and

Jorden and everyone else in the Pro Shop. You all do

a great job and maybe you don't always get the

appreciation you deserve. Thank you all.

Lastly to our hard working and dedicated committee

and, of course, to all the ladies for supporting the

Ladies' Section – a huge thank you. Wishing you all

an excellent golfing year in 2019 – have fun and

enjoy not only your golf on our wonderful courses

but your friendships within the club.

Norma Fleming

Ladies Captain

31
---
Senior Section

Playing golf most Tuesdays, we have a great gang

of guys who put the world to rights both on the

course and afterwards upstairs. If you are 55 years

old or over, why not come and join us.

Matt McBride soon passes on the Captaincy to vice

captain Adrian Bagott. Matt has overseen the other

Seniors Committee members including club

President Gordon Lawson, past club Captain

Hamish Macrae, Club Council member Tony

Bartlett and myself. Roger Boyce has joined us too

as an observer.

In this year's seniors knockout competitions, the

Bartlett Cup (scratch) was won by Derek

McDougall and the Barry Watson Quaich

(handicap) was won by Edward Sierra.

The winners of the other competitions were:

Spring Meeting Patterson Shield:

Ian Irwin

Summer Championship Patterson Trophy:

Stuart Shaw

W. E. Skinner Cup Medal Scratch:

Stuart McAllister

W. R. MacDonald Trophy Handicap:

Ian McAuley

We had six away matches this year and eight at

home, due to our one off match with Royal

Portrush. We lost three of our home matches,

Royal Portrush, Nairn and Tain, and won against

the Seniors Society, Moray, Boat of Garten,

Hopeman and Brora. We lost all our away matches

Tain, Fortrose, Elgin, Royal Aberdeen, Ballater and

Grantown on Spey. Our seniors don't travel well!

32
---
Our total membership reduced from 62 in 2017 to

56 this year. However our numbers playing

remained similar to last year. We hope to build up

our numbers in the years ahead. We continue to

benefit with increased members playing during the

summer, as those club members who live away

from the Highlands join in when they visit

Dornoch. This is open to all in the age bracket, (55

years and over), just ask the office for details.

Thanks to all the senior members, home and away,

who made my final year in the role of senior

secretary fulfilling and so enjoyable. Preparation

for the 2019 season should start as soon as

possible, to ensure that Adrian can achieve at least

a few away wins!

I finish by thanking the staff in the club office who

are always willing to help, the staff upstairs who

keep the seniors nourished and in chocolate

Senior Christmas Lunch, December 2018

biscuits, and to the staff who prepare and maintain

a great course for us all to enjoy. Although they

never put the pins in the correct place on the

greens! A big thanks to Captain Matt for keeping

me right and coming up with some good ideas to

make some of our events more special.

John McMurray

Senior Secretary/Treasurer

33
---
Wednesday Seniors (The Geriatrics)

On the 3 rd Wednesday Charitable Seniors was

founded by Dennis Lovell (pictured) so we are 40

years in existence.

Once again we had a good turnout with an average

of 25 or so members playing each Wednesday

throughout the summer and early autumn.

Martin Steeves died this

year and his wife Mary has

presented the group with

a trophy which we will

play for later in the year.

A new spring mixed

greensomes competition

has been introduced and

will be played for the Dave

MacKenzie trophy. A

competition was played this

year over a short course but

it was decided not to play

for the trophy due to bad

weather. The Ladies v

Geriatrics was cancelled

due to bad weather so the

match was declared a half.

Whilst we are enjoying ourselves our donations

(which is the weekly £2 the entry fee) have been

accumulating. This year we raised £1240 for charity

– £500 each to the Dornoch Medical Practice and the

Highland Hospice, and £240 to the Heritage Society.

Our Annual Luncheon and Competition took

place on Wednesday 27 th September and was well

attended as usual. Many thanks to the chef and

catering staff, we were well fed and watered. I also

thank the front of house staff for looking after us

throughout the season and to the club for

supplying the wine. Our guests were President

Gordon Lawson, Captain Rob Murray, Ladies

Captain Elect Norma Fleming, General Manager

Neil Hampton, Assistant Manager Claire Riddell,

and Head Pro Andrew Skinner whose assistants

have to cope with an unruly lot of old men raring

to go (many of whom turn up before the shop is

open). Apologies were received from the Course

Manager Eoin Riddell. Willie Skinner was in good

form telling us stories about our founder and it has

been suggested we book him for next year!

Norma graciously presented the prizes & trophies

and stoically withstood many geriatric embraces.

As usual we all retired mellow and happy.

John S Logan

34
---
The results for the season:

Competition Winner Runner Up

Mixed Foursomes

Don MacKay

Tom Tew

Sheila Anderson Kathleen MacKenzie

Jim Seatter Rosebowl

Archie Forbes Trophy

J T Robertson Cup

Macleod Thomson Targes

Niall Currie Trophy

Patterson Salver Foursomes

Heritage 5 Club

John Green Quaich

Peter Monk Trophy

J N Patterson Quaich

K W Milne Whisky Foursomes

Philip Prince

Stuart Shaw

John Maltby

Duncan MacDonald

Kenneth Bromage

David Offin

Kenneth Bromage

John Calder

Iain Fraser

Alan Woodstock

Steve Webb

Ronnie Bruce

Don MacKay

Roger Thompson

Alistair Fleming

Jim Seatter

Ronnie Bruce

Stuart Shaw

Tom Tew

Brian Munro

Don MacKay

Bill Orr

Billy MacKay

Roger Thompson

Phil Prince

Alan McKillop

Phil Prince

Ian Innes

Qualifying Appearances – 15 For trophies below

Hugh Steele Trophy Overall Winner

Old Father Time Trophy Over 80 A

Florence Patterson Trophy Over 75 B

Trowbridge Trophy 70 & Over C

Bill Smith Trophy 65 & Over D

Twomey Trophy Under 65 E

President's Shield (Non-Qualified) F

Dingwall Trophy

(Most Appearances)

John Calder

Alan McKillop

Willie Skinner Duncan MacDonald

John Calder

Lindsay MacDonald

Stuart Shaw

Steve Webb

Ian Irwin

Andy Marshall

No Entries

Phil Prince

Tom Dingwall

Mike Hemming 34 Hugh Anderson 33

Don MacKay 34

W E Skinner Quaich

J N Patterson Eclectic Trophy

E H McDonald Painting –

'Thanks for the Memory'

Highest Average

Eclectic

Winner of

A&B Groups

Ronnie Bruce 25.00 Stuart Shaw 24.63

Ronnie Bruce 146 Brian Munro 142

John Calder

Ian Irwin

35
---
Meet the Team

with my Dad & Uncle, (I have attended every open

since, baring 2015 St Andrews), my love of the

game grew and I joined a local course called

Rushcliffe Golf Club just south of Nottingham. As

a junior I was a regular county player and won

several county events in the region. One of my

proudest moments as a junior golfer was becoming

the club's Centenary Junior Captain in 2009, the

first of the club's history.

My name is Brad & I am the new Retail Manager

here at Royal Dornoch.

I was born on the 27 th February 1991 in York, but

spent most of my life growing up in Nottingham. I

moved up here 7 months ago to start my new

career here at Royal Dornoch.

I took up the game of golf at the age of 12 after

going to watch the 2002 British Open at Muirfield

In 2010 at the age of 19 I decided to take up a

career in golf and follow the route of the PGA

Professional Degree. This led me to Pyle & Kenfig

Golf Club in South Wales in which I spent 2 years

learning my trade about links golf and the golf

business. During my time in Wales I was lucky

enough to be part of the build up to the 2010

Ryder Cup at Celtic Manor and attended the event

on the final Monday's play, even running onto the

18 th green to join the players in celebration.

After 2 Years I decided to return home and joined

Belton Woods Golf Resort just outside

Nottingham, starting as a shop assistant. After my

first year I became a fully qualified PGA

Professional and another year later I worked my

36
---
way into being an assistant manager and a further

year later I became the Golf Operations & Retail

Manager at the 3 rd busiest golf resort in the UK. 3

Years of doing this role took me away from playing

and coaching and I fell in love with the retail and

operations side of the business.

Then Dornoch came calling and how can you

resist true golfing paradise!

In my short time here, I have already met so many

amazing people, especially the members who are

so embracing and helpful to everybody who visits

this historic area!

My golfing highlight so far has to be my first round

here at Royal Dornoch, that walk from the 2 nd

green to the 3 rd tee, when the course opens in front

of you, when you reach the 7 th tee and look back,

the peacefulness surrounding the 9 th tee – and it

also helped I was 4 under through 10 holes! Then

I missed the 11 th green and found the true meaning

of plateau greens!

once were, I still like to see how they are getting

on! I think that I may have to take Ross County as

my 2 nd team!

I also enjoy travelling and have so much of the

World to see. My highlights so far are Barcelona,

New York & Las Vegas. I would also love to play

every Open & US Open venue in my lifetime with

my Dad. After that I would like to tick off every

major football stadium, highlight of this so far has

to be the Bernabeu in Madrid.

I also enjoy yearly holidays to Florida with the

family where my dad and I soak in the Florida sun

whilst hitting lots of golf balls in to their

ridiculously sized hazards!

I look forward to meeting you all in my time here

at Royal Dornoch on and off the golf course

Bradley Smith

Outside of work I enjoy following my beloved

Sheffield Wednesday, although not as good as we

37
---
Minutes of the Annual General Meeting

Minutes of the Annual General

Meeting of Royal Dornoch Golf Club

Held in Dornoch Academy on Friday

17 th August 2018 at 7.30pm

Captain Alan Ramsey in the Chair

Present: 120 Ordinary Members, 13 Struie/Social

Members

1. Meeting Overview

The Captain welcomed everyone to the

meeting and asked that mobile phones were

turned off. He said that no fire alarm tests

were scheduled for this evening and therefore

if an alarm does go off please exit the building

in an orderly fashion.

He then intimated that to try and ensure the

smooth running of the meeting the order of

business will be amended slightly to that of the

printed agenda. As Mr W D M MacKay is a

current serving member of the Council of

Management and has been nominated as the

vice captain then the result of the vote for the

members of the council of management will

be not be announced until after that of the

vice captain. Should Mr MacKay be

successfully elected as the vice captain this

would create a fourth vacancy on the Council

of Management for one year. The person in

fourth place in the vote would take this place.

He informed everyone that voting papers were

to be used for item 6 and that while voting

papers have been issued for all other

resolutions it was hoped that a show of hands

would suffice.

Following item 7, the statement and adoption

of the annual accounts, the vice captain would

give a short presentation on the clubhouse

project after which item 12 would be taken.

The Captain concluded his welcome by asking

that when members address the meeting either

to ask a question or make a comment they

should wait until they were in possession of a

microphone and to state their name so that it

can be accurately minuted. He also requested

one voice at a time.

38
---
2. Apologies for absence

28 received.

3. Approval of Minutes

Minutes of 2017 AGM (circulated previously).

Proposed by Hamish Macrae and Seconded by

Jim Seatter.

Approved by a show of hands.

4. Matters Arising from the Minutes

There were no matters arising from the

minutes.

The Captain explained that by using the voting

papers the membership could vote for up to 4

of the candidates and that the first 3 would

serve for 3 years and should Mr W D M

MacKay be elected as the Vice Captain the

fourth would serve for one year.

The candidates were asked to give a short

introduction to themselves and the qualities

they would bring to the Council to serve the

Club.

The Captain asked those able and wishing to

vote to complete the voting slip and pass to the

tellers.

7. Statement and Adoption of Accounts for the

year 2017/2018

5. Captain's Report

The Captain thanked all the volunteers who

helped make the Boys Home Internationals a

success. He reported that the R&A were delighted

with our course and the welcome and help that

they received from everyone at Royal Dornoch.

6. Election of Members of the Council of

Management

Retiring members – Mrs E A Coghill, Mr A J

Campbell and Mr C A MacKay.

The candidates for election are Mrs E A

Coghill, Mr G I Davies, Mr C A MacKay, Mr

K A Matheson, Mr S J M McMurray, Mrs C J

Thompson.

The Finance Convener, Mr A.D. Bartlett told

the meeting that he would first comment on

the accounts for the year ended 31 st March

2018, answering any questions, and then say a

few words about the current year and the

future.

As far as the published accounts are concerned

he commented as follows:

Clearly it had been a very good year with a

significant increase in green fees due to both

increases in numbers of visitors and an

increase in the fee per round.

Members subscriptions had been kept in line

with inflation.

The bar and catering loss had increased but

not as much as we thought at the half year.

39
---
Course expenditure increased by about

£100,000 but most of this was due to the work

on the 7 th hole.

Overheads are down by about £300,000 as the

previous year included the costs of the 400

Year celebrations and a high level of

irrecoverable VAT.

This year there were a number of exceptional

items which are fully explained in the Finance

Conveners report.

On the balance sheet both Stocks and

Creditors have increased which is a result of

the Club taking on the Pro shop.

As far as cash flow is concerned, this has been

very strong with cash balances rising by about

£900,000 to over £4m.

Turning to the current year he commented

that:

Green fee income was likely to be significantly

up again as although visitor numbers were

similar to the previous year a further £20 had

been added to the green fee tariff.

The Pro shop was going well with a turnover

of over £350,000 for the period up to the end

of July. Whilst we are expecting a good surplus

for the year we are still 'finding our feet' as far

as the operation is concerned.

There is still work to do on bar and catering.

The Club's expenditure is running at about

£2m per year of which about £1.2m relates to

wages and salaries

The Clubs profitability and cash generation

are highly dependant on visitor income but if

we continued to keep the numbers at the

current level we would expect cash generation

to be good, perhaps in excess of £750,000 pa.

Over the next few months we should get a much

better view of the likely costs of building a new

clubhouse and our income levels for next year.

In addition, we are having early stage discussions

with Highland & Island Enterprises regarding

grants. With all this information we should have

a better idea of the likely timing of the project

which would be put to next year's AGM.

Ashley Rose asked if we had an idea of the

minimum cash balance we should keep at the

Club. The Convener said we are still working on

this but it was worth noting that in 2008,

following the financial crisis our visitor numbers

(which were far below current numbers) dropped

by about 25%. If this happened today our annual

surplus and cash flow would reduce by over

£500,000. He commented that it might well be

sensible to put some borrowing facilities in place

to cover contingencies but we did not want to

take the risk of significant long term debt.

40
---
The adoption of the accounts was seconded by

Mr A Ramsey and was passed by a show of

hands.

8. Election of Auditors

The Council of Management unanimously

proposes that the firm of Mackenzie Kerr be

re- appointed as club auditors.

This was seconded by A D Bartlett and passed

by a show of hands.

9. Green Convenor Report

The Green Convenor had nothing to add to

his report and there were no questions

submitted.

10. Championship Course Evolution – 10 th Hole

Resolution - Alter the size and location of the

central bunker as per the MacKenzie and Ebert

recommendation.

Ian Irwin – would the work be done in house.

The Captain confirmed that it would.

Nick Harding – the physical access and exit

from the bunkers is not easy. The Captain

confirmed that the land around the bunker

would be shaped to allow good access.

The resolution was passed by a show of hands.

41
---
11. Rule 7 – Deletion

As the pro shop has now been taken "in

house" and all staff are directly employed by

the club then the need to have a separate rule

to give the club professional and assistants

membership of the club during their time of

employment is no longer required as they will

now be covered by Rule 1 (e).

Resolution – Delete Rule 7 and renumber the

following rules accordingly.

which led to immense peer group pressure to

follow the crowd. To allow everyone to express

their view without fear of pressure from others

this vote should be conducted by using the

voting slips. This was agreed by consensus of

all those in the room.

With no further comments the Captain asked

for the votes to be cast.

For 106, against 14 – the motion was carried.

There were no comments from the floor and

it was passed by a show of hands.

12. Clubhouse Project

Presentation on the clubhouse project by Mr

R D Murray. This was an update of the work

undertaken since the members open evening

on 19 th July, which was then circulated to the

members.

Approval is sought from the membership to

proceed with the full design and the tender

process as described in the presentation that

was given to members at the open evenings in

July and again at the AGM.

Mr William Sutherland asked to speak before

the item was discussed. He said that he had

been a member for 50 years and this was the

biggest moment in the club's history and so

should be a secret ballot. He gave the analogy

of the trade unions in the early 1980's having

mass meetings and asking for a show of hands,

13. Election of Captain

I wonder where the last two years have gone.

It seems only yesterday that I took over from

Jim Seatter. Being involved with so many

changes and forward plans has certainly made

the time fly.

There has been a great deal of progress in the

club over the past few years. The proposed new

clubhouse, the in house pro shop and changes

to the course, in particular the anticipated new

7 th hole on the Championship Course, our

world ranking of number 4, and some less

obvious staff and backroom changes.

Each year the work load on the club's

administration is increasing and we rely heavily

on all our staff to cope with the added

pressures on a day to day basis. There are more

sub committees in operation reporting back to

the council of management and without the

hard work of their members progress would be

very slow.

42
---
I must give my sincere thanks to all our staff

and council members and co-opted members

of the sub committees without whom Royal

Dornoch would not flourish. Your time is

much appreciated.

The one thing a Captain dreads is if the golf

course does not meet the members and guests

expectations. I have been fortunate to have

had the courses in superb condition over my

time and for that I am exceedingly grateful. We

are continually praised on our quality and

welcome. Long may that continue.

There are a few special thanks I must give.

Firstly, to Neil. He always puts a name to the

face. He is tireless in his dedication to the club

and has kept my back for the last two years. His

workload has increased exponentially and he

still copes. Thank you, Neil.

Secondly to Claire. She keeps Neil's back as

well as mine. Her calmness in the office and

love of the job are apparent by the length of

her service to the cub. Thank you, Claire.

I must also thank the Past Captains for having

faith in me and proposing me as Captain for a

second time.

Finally I have to thank the lady who has had

my back for not only the last two years but

nearly the last fifty, my wife Christeen. She

kept telling me years ago that golf was just a

game. If only it were so.

43
---
To have been Captain of Royal Dornoch once

was a great honour. To have been Captain

twice, words fail me. Thank you.

The Captain received a standing ovation from

the members present.

It gives me great pleasure to propose the

election of the new Captain. In accordance

with the club rules the council of management

unanimously propose Mr Rob Murray.

Rob's father was the first full time secretary of

the club from 1971 to 1985. Rob has served on

council as greens convenor and finance

convenor. As Vice Captain he also chaired the

clubhouse and capital projects committee. He

has been diligent in all he has done for the

44
---
club. He has been dedicated in his support of

me over the last two years. I am certain that

Rob has the club at heart and will be a talented

and energetic Captain to take the club forward.

Seconded by Mr G K Lawson.

A show of hands in unanimous support.

Mr R D Murray now in the chair.

I would like to thank Alan for asking me to be

his vice captain and giving me the opportunity

of becoming captain of this great club. From a

tiny corner in the North of Scotland has grown

a huge world renowned golf club, a talking

point wherever you go, a great responsibility

which I am pleased to take up on your behalf.

It is a real honour and I will do my very best to

carry on the business and traditions of the club.

45
---
I'm looking forward to working with the

Council of Management, Neil, Claire and the

rest of our employees who do the hard part of

the day to day running of our club, but which

makes it so welcoming to all.

And not forgetting you all and all the members

around the world who make this club what it

is, a fun place to be. There are probably few

hours in a day that someone, somewhere is not

talking about Royal Dornoch.

Before we move on I would like to thank Alan

for all the work he has put in over the past 2

years, he has done a tremendous job of being

Captain of the club and representing the

members. This is his second term of office as

Captain and as I said recently he must have

been mad to do it twice but that is the measure

of the man. He has a love for the game of golf

and of Royal Dornoch Golf Club, it runs

through his veins!

Alan has attended umpteen meetings from

Match & Handicap, Greens, Clubhouse,

Capital Projects and numerous presentations.

He has invested many, many hours for the

Club, in fact to emphasise the size of the job

one member of Council said to me a few

months ago "I'm working harder now than

when I was in full time employment!" such is

the commitment from Past Captains and

council members alike, so a huge thank you

to all.

We have had some fun too over the past two

years on various duties we've carried out on

behalf of the club, and one or two things

spring to mind. Alan's face when presented

with the bill for 2 Gin & Tonics and a whisky

at Gleneagles, Alan likes a deal and that was

not a deal! Two country bumpkins trying to

get across London in rush hour in what

seemed like numerous train journeys on route

to a Nairn match at Royal Wimbledon, I think

the Londoners giving directions were taking

the Mick, and flying high in a sports car but

that's another story for another time. I won't

incriminate him in front of so many witnesses!

Finally, Alan and his wife Christeen have been

good friends to Wilma and I over the past few

years, so thank you Alan, and Christeen.

Alan you have done a grand job and it is my

pleasure to present you with your Past

Captain's Badge.

14. Election of Vice Captain

I would like to formally propose Willie

MacKay as Vice Captain of the Club

Seconded by Mr J M Campbell

A show of hands in unanimous support.

Congratulations Willie, I'd like to say a few

words about you.

Willie MacKay I hear some saying who? Oh

aye, Willie Hook you mean!

When I asked Willie if he would take the job

I didn't get the reaction I thought I would.

He didn't say yes but he didn't say no, he was

speechless! And those of you who know Willie

will understand he's not usually short of a

word or two!

46
---
But seriously, Willie's enthusiasm for the

Community, sport and golf is second to none.

He never rests and works tirelessly in

everything he does. When he takes something

on it's not to the exclusion of other things –

he just works longer hours!

As you may know Willie was a PE teacher, a

good one at that according to a number of his

former pupils, some here tonight. They might

even tell you a few tales if you buy them a

drink later!

He told me recently he car shared with my

mother and others when they both taught at

Golspie High School so you're not as young as

you look Willie!

In his day job he is the Scottish Golf Club

Development Officer (North) for Scottish

Golf, that slips off the tongue easily!

So he has vast experience in sport and golf,

especially at grass roots level, getting people into

the game and in promoting junior golf which

can only be good for the game and our club.

I know Willie will do a fantastic job for us all

over the coming years.

Mr MacKay responded by thanking the

Captain for the nomination and then giving a

brief resume of his career and time living and

working in the Highlands and he looked

forward to working for the golf club.

47
---
6. Election of Members of the Council of

Management

As Mr W D M MacKay has been elected as

Vice Captain there are 4 vacancies.

Those elected for three years were Mr K A

Matheson and Mrs C J Thompson. Mr G I

Davies and Mr S J M McMurray were tied for

third and fourth places so the Council of

Management will decide at their first meeting

who serves for three and who serves for one year.

Questions received prior to the AGM

One question from Marelle Sierra:

"Does the Council of Management have any

plans to replace the very unattractive portaloo

on the Struie with a proper flushing toilet? If

not, why not?"

Reply: Thank you for your question a very

valid one. We have considered this in the past

as the Struie deserves to have proper amenities

and it has been policy over the last few years to

48
---
present Struie in a similar manner to The

Championship Course, for example tee

furniture, fairway yardage markers and overall

condition of presentation.

but we will consider again and report back.

This concluded the official section of the

AGM at 8.55pm.

The specific nature of the toilet is one we

would very much like to improve but has been

put on the back burner for several reasons such

as the position of the toilet relative to potential

new holes being added, drainage etc.

Consideration on capital expenditure with

potential upcoming clubhouse is also relevant

The Captain then opened the forum for

members to bring up items of the Council of

Management to consider.

Paul Lager – Warning system for the tee shots

at 8th and 17th?

49
---
Sign at path on 17th pointing left to path up

towards 3rd tee that says all golfers this way

while there is a path that goes straight ahead?

Ashley Rose – Visitor rounds to member

rounds ratio is down, why is it declining? Is it

age? ability? or something else?

Edward Sierra – cost of a member hiring a golf

buggy. £20 is too expensive and it should be

cheaper.

Ian Irwin – 1st hole in Struie has a lot of rough

area to the LHS, can this be GUR?

Alex Sim – Overheard member of staff saying

they only got paid straight time for extra hours

worked and were on minimum wage. The club

should treat people better.

Gordon Lawson – Before you all depart,

perhaps in the direction of the Clubhouse,

always assuming the Captain is going to give

us an incentive to do so, I would like you to

join with me in thanking both the Captain

and the now immediate Past Captain for

chairing the Meeting in a very efficient manner

and also for the huge amount of time and

effort they have given to the Club which

should be appreciated by all.

The Captain thanked everyone, closed the

meeting and invited all to the clubhouse for a

drink.

Closed at 9.08pm

Peter Haworth – Member logo was got rid of

why are we having another?

Derek Booth – Our turnover is £3m and we

are going to spend £6m on a clubhouse will we

still be able to have a Council of Management

or will we change to a more business

orientated system?

50
---
51