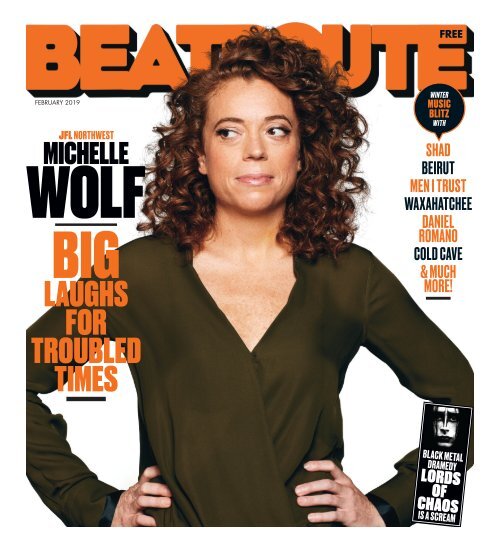 BeatRoute Magazine BC Edition February 2019
BeatRoute Magazine is a monthly arts and entertainment paper with a predominant focus on music – local, independent or otherwise. The paper started in June 2004 and continues to provide a healthy dose of perversity while exercising rock 'n' roll ethics. Currently BeatRoute's AB edition is distributed in Calgary, Edmonton (by S*A*R*G*E), Banff and Canmore. The BC edition is distributed in Vancouver, Victoria and Nanaimo. BeatRoute (AB) Mission PO 23045 Calgary, AB T2S 3A8 E. editor@beatroute.ca BeatRoute (BC) #202 – 2405 E Hastings Vancouver, BC V5K 1Y8 P. 778-888-1120
BeatRoute Magazine is a monthly arts and entertainment paper with a predominant focus on music – local, independent or otherwise. The paper started in June 2004 and continues to provide a healthy dose of perversity while exercising rock 'n' roll ethics.

Currently BeatRoute's AB edition is distributed in Calgary, Edmonton (by S*A*R*G*E), Banff and Canmore. The BC edition is distributed in Vancouver, Victoria and Nanaimo. BeatRoute (AB) Mission PO 23045 Calgary, AB T2S 3A8 E. editor@beatroute.ca BeatRoute (BC) #202 – 2405 E Hastings Vancouver, BC V5K 1Y8 P. 778-888-1120
SHOW MORE
SHOW LESS
Create successful ePaper yourself
Turn your PDF publications into a flip-book with our unique Google optimized e-Paper software.
FREE

FEBRUARY 2019

JFL NORTHWEST

MICHELLE

WOLF

BIG

LAUGHS

FOR

TROUBLED

TIMES

WINTER

MUSIC

BLITZ

WITH

SHAD

BEIRUT

MEN I TRUST

WAXAHATCHEE

DANIEL

ROMANO

COLD CAVE

& MUCH

MORE!

BLACK METAL

DRAMEDY

LORDS

OF

CHAOS

IS A SCREAM
---
JOHN FLUEVOG SHOES AD:

TRIM SIZE: 10.25"W x 11.5" H, RIGHT HAND PAGE

SPRING HAS

SPRUNG!

(TELL YOUR PANTS!)

JOHN FLUEVOG SHOES 837 GRANVILLE ST 604·688·2828 65 WATER ST 604·688·6228 FLUEVOG.COM
---
February'19

PUBLISHER

BeatRoute Magazine

LAYOUT

& PRODUCTION MANAGER

Naomi Zhang

FRONT COVER PHOTO

Reed Young

FRONT COVER DESIGN

Troy Beyer Design

BPM EDITOR

Joey Lopez

CONTRIBUTING WRITERS

Sarah Bauer • Tony Binns • Luiza Brenner •

Sebastian Buzzalino • Kira Clavell • Lauren

Donnelly • Mike Dunn • Lauren Edwards

• Karina Espinosa • Mia Glanz • Johnny

Kosmos • Ana Krunic • Brendan Lee •

Christine Leonard • Rhys Mahannah •

Dayna Mahannah • Noémie Attia • Trevor

Morelli • Randee Neumeyer • Jennie Orton

• Cole Parker • JJ Powell • Alan Ranta •

Brendan Reid • Daniel Robichaud • Judah

Schulte • Josh Sheppard • Leah Siegel •

Austin Taylor • Cole Young

CONTRIBUTING

PHOTOGRAPHERS &

ILLUSTRATORS

Syd Danger • Christopher Edmonstone •

Pooneh Ghana • Tom Hawkins • Shimon

Karmel • Zee Khan • James Mackenzie

• Jen Maler • Carole Mathys • Timothy

Nguyen • Stephen Oxenbury • Jaik

Puppyteeth • Johann Wall

ADVERTISING INQUIRIES

Glenn Alderson

glenn@beatroute.ca

778-888-1120

DISTRIBUTION

Gold Distribution (Vancouver)

Mark Goodwin Farfields (Victoria)

Editor-In-Chief

Glenn Alderson

glenn@beatroute.ca

City

Yasmine Shemesh

yasmine@beatroute.ca

Moving Mountains

Jessie Foster

jessie@beatroute.ca

The Skinny

Johnny Papan

johnny@beatroute.ca

Comedy

Graeme Wiggins

graeme@beatroute.ca

Web

Jashua Grafstein

jash@beatroute.ca

Managing Editor

Jordan Yeager

jordan@beatroute.ca

Local Music

Maddy Cristall

maddy@beatroute.ca

Grassifeds

Jamila Pomeroy

jamila@beatroute.ca

Live Reviews

Darrole Palmer

darrole@beatroute.ca

Film

Hogan Short

hogan@beatroute.ca

Social Media

Mat Wilkins

mat@beatroute.ca

04

07

08

14

16

17

18

HI, HOW ARE YOU?

- With With Tonye Aganaba

PULSE - CITY BRIEFS!

CITY

- Zadie Smith

- Thank You For Being A Friend

- Heritage Week

- Steve Winter: On The Trail Of

Big Cats

- Affinities at the VAG

- Considering Contraints

GRASSIFIEDS

- Mary Zilba

- Strain Of The Month

MOVING

MOUNTAINS

- The Josie Pioneers An Oasis In

Rossland

COVER

- Michelle Wolf

JFL NORTHWEST

SKINNY

- Todd Glass

- Sam Jay

- Michelle Buteau

- Nicole Byer

Physiotherapy

Personal Training

Cryotherapy

Orthotics

Acupuncture

I.M.S

25

28

30

34

40

42

MUSIC

- Beirut

- Men I Trust

- Dan Mangan

- BRONCHO

- Cold Cave

- Waxahatchee

- Daniel Romano

THE SKINNY

- Monster Truck

- Dead Meadow

- Conan

FILM

- Lords Of Chaos

- Destroyer

- Black History Month &

The Oscars

REVIEWS

- Homeshake

- The Claypool Lennon

- Delirium

- Sneaks

& More!

LIVE REVIEWS

- Still Woozey

- NAO

- Peter Murphy

& More!

HOROSCOPES

308 - 125 EAST 13TH STREET

NORTH VANCOUVER, BC V7L 2L3

John McCordic, KIN., B.Sc(P.T.)

BEATROUTE MAGAZINE

202-2405 Hastings St. E

Vancouver BC Canada

V5K 1Y8

editor@beatroute.ca • beatroute.ca

©BEATROUTE Magazine 2019. All rights reserved.

Reproduction of the contents is strictly prohibited.

Contact:

Tel.604.987.5291

Email. info@nsosc.com

www.nsosc.com

February 2019 3
---
WITH TONYE AGANABA

"It was the best of times, it was the worst of times."

They're the opening words of Dickens' Tale of

Two Cities, but they also sum up 2018 for Tonye

Aganaba. The Vancouver-based singer, songwriter,

musician, and force of nature has been through a

lot in the last few years. From health challenges that

led to a MS diagnosis, to a car accident that broke

her spine, to a record deal, to parting ways with

that label, to falling in love and getting married —

the last few years have given her high-highs and

low-lows. She's come out with a new perspective,

and a reignited passion to foster connection

through music. For Aganaba music is emotional.

Music is connection and healing. On Dec. 19, at

Blue Light Studios, Aganaba and her 14-piece

band celebrated the release of Villain EP (604

Records), the completion of her newest album, the

independently produced, Something Comfortable,

and the official launch of her podcast, AfroScience.

And there's more. February is Black History Month,

and Aganaba is bringing her new music and

podcast to new spaces. BeatRoute caught up with

Aganaba by phone to hear more about her ideas for

revolutionizing Vancouver's music scene.

Your EP was produced under a label, but your

upcoming album is an independent release. How

was the production experience this time around?

It took me a few years after being diagnosed to

even start playing music again because my ability

to write music and my ability to freestyle, my ability

to write lyrics was completely gone. I left Vancouver

because honestly I couldn't fake it anymore. I

couldn't even remember lyrics because MS affects

your short term memory. So the new record really

was about me relearning how to write music and

how to approach an instrument that didn't make

sense anymore because my hands wouldn't work.

I had to learn how to play guitar again...This new

record that I've made with my friends and family

is that, it's reconnection to that creative energy

that brought me to music in the first place, not the

music industry that I was connected to that helped

me destroy myself.

How did those health issues impact the way you

approach performance?

Before I got sick I was obsessed with getting it right.

And I think that's what changed for me after I got

sick was that I didn't want to just put on a good

show anymore. I want to connect to myself and

to God through music, and therefore touch other

people with a performance. It's not about whether

the notes are right. It's not about whether my band

gets the notes right. It's about whether we're in it

together and we're doing it honestly...I do music

because I'm a broken ass person and music heals

me inside. When I get on stage I'm like, trying to get

there. You know, I'm trying to get to that zone. I'm

trying to bring people with me.

We hear a lot about how Vancouver's a tough

Photos by Céline Pinget

Written by Lauren Donnelly

city to be a musician in. What would you say

Vancouver does well that like no other city does?

I would say Vancouver fucks over its musicians and

artists really well. I love that though. I'm grateful.

In the face of that fuckery, so much creativity

comes out. They say that whenever a Republican

becomes president, the art pops off. And I think the

same is true for Vancouver. The more Vancouver

invests in the wrong shit, the more the right shit

has incubation time. That's the perspective that

allows me to deal with it right now. Vancouver

over-develops really well, Vancouver pushes poor

people to the background really well, Vancouver

ignores its systemic racism really well, Vancouver

renovicts people that can't afford to find places to

live really well...It doesn't actually have to be this

way. And we're making a choice to live like this. And

through conscious effort, we can change our own

realities. I'm changing mine by existing outside of

the confines of the record industry that wants me

to be a part of it. I will do it myself and I will do it in

a way that makes me feel very comfortable.

February is Black History Month. How can

Canadians celebrate Black History this year?

My challenge to myself is to undertake the practice

of understanding myself through AfroScience.

Everybody has their own science. Mine is Afro

because I am an African person...but I am going to

be doing the real research into where the fuck are

we? Where are black people in Vancouver? Where

did we go? We all know — well I mean I hope we

all know — people have heard about Hogan's Alley.

People have heard conversations about where

black people used to be, people have heard about

Jimi Hendrix having roots here, and stuff like that,

but where really are black people here? Where

are the black-owned businesses? Where are the

organizations that are focusing on supporting black

music? For me specifically, I'm interested in where

I can find significant amounts of black culture in

the city. Where can I find that? I want to focus my

energy not on where black people aren't, but where

black people are. And so, if you know black artists

that you have seen in Vancouver that perform a

lot, go support their shows this month. Don't just

do it because it's February. Just in your life, look for

black people. Look for them. If you look around

your circles and there's only white people that's a

problem. I'm not saying that you're racist. I'm just

saying that's a problem. Go support black art. I'm

playing tons of shows in February.

Tonye Aganaba is bringing her music and AfroScience podcast to new spaces.

Tonye Aganaba is opening for Mayor Kennedy

Stewart, performing at the 2019 Black History Month

Community Celebration at City Hall on Feb. 1. She'll

be playing at Granville Island's Performance Works

for Coastal Jazz & Blues' Winter Jazz series on Feb. 23.

Her latest album Something Comfortable is available

online Feb. 22.

4

February 2019
---
CITY BRIEFS!

Black History Month Blood on the Dance Floor Taboo Naughty but Nice Sex Show The Amish Project Year of the Pig Temple Fair

A TASTE OF COEXISTENCE

Until March 20 at Hillel BC, UBC

Two of Vancouver's favourite

Mediterranean eateries — Chickpea

and Aleph — are coming together in

honour of coexistence and delicious

hummus. Chickpea's chefs are Israeli

and Aleph's are Palestinian. The

restaurants are alternating providing

$8 lunches at UBC's Hillel BC every

Wednesday until March, in an initiative

to celebrate each other and what they

have in common. Their collective

statement is worth a read, but the

bottom line is this: "We believe in

peace, love, equality, equity and justice

for the people of today and the children

of tomorrow."

AFRICAN FASHION AND ARTS

MOVEMENT VANCOUVER

February 16 at Scottish Cultural

Centre

AFAM is an organization dedicated to

increasing educational opportunity

for young Africans. The fashion show

features African designers from both

Vancouver and other parts of Canada,

as well a showcase of art, dance

performances, and a silent auction

in support of children's education in

Lome, Togo-West Africa.

BLOOD ON THE DANCE FLOOR

February 6-9 at the SFU Goldcorp

Centre for the Arts

Both written and performed by Jacob

Boheme, this moving production

combines Aboriginal Dance, theatre,

and storytelling to share Boheme's story

as someone living at the intersection

of Aboriginal, queer, and HIV-positive

communities in Southern Australia.

BLACK HISTORY MONTH AT THE

VANCOUVER PUBLIC LIBRARY

Various VPL locations across the city

The Vancouver Public Library will be

celebrating Black History Month with

an extensive selection of special events

from film screenings of documentaries

like Little Black Schoolhouse to talks

by writers like Chelene Knight. Drop by

your local branch to check them out.

LE SOULIER

February 26-March 9 at Studio 16

When eight year old Benoit goes to the

dentist for toothache as they seem -

but, once there, a story unfolds that is

more problematic than a cavity. Local

theatre company Théâtre la Seizième's

newest production, Le Soulier, is a

dark comedy that explores behavioral

disorders and self-medication.

LOVE IS GREATER THAN

February 12 at Cinematheque

A group of some of Vancouver's most

talented young creatives will gather

in this special showcase to tell stories

about love. JUNO-nominated stand

up comedian and political activist

Charlie Demers will be amongst those

performing. Proceeds from the event

will go towards LOVE BC, which

provides artistic support to youth who

have been affected by discrimination

and violence.

TABOO NAUGHTY BUT NICE SEX

SHOW

February 8-10 at Vancouver

Convention Centre

Canada's largest adult trade show

is back for another year of frisky

fun. As always, there will be plenty

of exhibitors, entertainment, and

seminars. Performances by Body

Heat - All Male Revue and educational

sessions on sex by Dr. Jess are amongst

some of this edition's highlights.

THE AMISH PROJECT

February 20-23 at Studio 1398

In 2006, the local milkman walked into

an Amish school, shot all the girls, and

then himself. This critically-acclaimed

production by Dark Glass Theatre

explores the tragic event, as well as

how the Amish community forgave the

gunman and embraced his family as

fellow victims.

WINTER JAZZ ON GRANVILLE

ISLAND

February 22-24 at Performance

Works

Coastal Jazz presents three days of free

jazz concerts, in every interpretation

from classic and modern to funk and

soul. You won't want to miss Geordie

Hart (bassist of The Boom Booms) and

Tonye Aganaba.

YEAR OF THE PIG TEMPLE FAIR

February 10 at Dr. Sun Yat-Sen

Classical Chinese Garden

Happy New Year! The annual Temple

Fair is back to celebrate the lucky Year

of the Pig. Visit the beautiful Dr. Sun

Yat-Sen Classical Chinese Garden and

enjoy a day of storytelling, musical and

dance performances, tea tastings, local

vendors, and more.
---
CITY

ZADIE SMITH

VOICE OF A GENERATION

LUIZA BRENNER

Zadie Smith and Jael Richardson will meet in Vancouver to discuss her renowned body of work.

NO BLUE MEMORIES

HONOURING ONE OF THE TWENTIETH CENTURY'S MOST IMPORTANT LITERARY FIGURES

NOÉMIE ATTIA

Zadie Smith is coming to town in a presentation by

Vancouver Writers Fest. With tickets for the event

sold out months ago, the acclaimed British writer

slash literary rockstar will talk about her work to date

and her recent collection of essays, Feel Free.

Born in 1975 in Northwest London to a Jamaican

mother and a British father, Zadie Smith is one of

today's best-selling authors and has won more prizes

than one would mind keeping track of. In her 20s,

Smith emerged as an original voice to her generation

and was soon elected a fellow of the Royal Society of

Literature.

Her debut novel, White Teeth, published in 2000,

was showered with literary awards, including the

James Tait Black Memorial Prize, the Whitbread First

Novel Award, and the Guardian First Book Award.

Unlike authors who can't seem to follow up firsthit-home-running

books, Smith continues to deliver

hit after hit. Her body of work discusses identity

issues and an entanglement with family, class, culture,

and politics.

In White Teeth, Smith portrays the changing

landscape of Great Britain in the 1970s through

the friendship of two World War II veterans. In The

Autograph Man, she shifts her critical gaze to fame

and celebrity culture by chronicling the life of an

autograph collector. On Beauty, winner of the 2006

Orange Prize, is set in a fictionalized American New

England college campus and tells the story of rivalry

between two academic families. Swing Time (2016),

her first novel written in the first person, explores the

complexities of female friendships by following the

lives of childhood friends growing up in council flats

in London.

Even though Smith is best known for her novels,

her essays are what give us the privilege to dive into

the wonders of her mind. A regular contributor to the

New Yorker and a professor of creative writing at New

York University, Smith is, above all, a contemporary

(and non-pretentious) thinker. She doesn't claim to

have expertise, nor aim to have the final say, on a

subject – quite the contrary. By acknowledging her

lack of "qualifications," the author opens her latest

book, aptly named Feel Free (2018), with an invitation

to, indeed, feel free. She offers her essays "to be

used, changed, dismantled, destroyed or ignored as

necessary!"

From Brexit to Facebook, from Jay-Z to her

mother's obsession with bathrooms, no topic is

too big or too small to be addressed. The ease with

which she moves to and from them makes the reader

(always referred to with a feminine pronoun) feel like

she's talking to a friend over dinner. She manages,

brilliantly, to be casual and engaging, insightful and

light-hearted, all at once.

On February 28, Smith will be in Vancouver

for a conversation with Jael Richardson, author,

broadcaster, and Director of The Festival of Literary

Diversity. The duo will discuss Smith's body of

work, hopefully carrying the same casual, clever

and contemporary spirit we see in her writing. As

there are no tickets left, we can only hope for good

coverage… and that the encore doesn't take too long.

Zadie Smith in Conversation takes place on February

28 at the Stanley Industrial Alliance Stage.

Biopics – they often glorify personalities and

fail to do justice to the era they represent, or

to reveal anything relevant about ours.

No Blue Memories shows it's high time

we break this habit.

Manual Cinema created this live

cinematic performance of shadow theatre

with actors, paper puppets and live music to

pay Miss Gwendolyn Brooks a tribute for her

centenary. Brooks was an important poet

from Chicago who had a massive political

impact in the United States for most of the

twentieth century. She was also the first

African American to win a Pulitzer Prize.

"[Brooks] is a personal figure, as well as an

artistic giant in the city," says Sarah Fornace,

the director of the show and a member of

the Chicago-based arts company, on the

phone. The entire ensemble on stage in No

Blue Memories is African American, all from

Chicago. Each artist in the project had an

anecdote to share about Brooks, as she was

very involved in the local artistic community

throughout her life. It only made sense that

Chicagoans, themselves, recount her story.

8

In the show, actors' shadows and paper

puppets animate Brooks' poems and

personal life on a screen, accompanied by

live music composed and performed by

Jamila and Ayanna Woods. "It's definitely

audio and visual," Fornace says. "You can just

watch the screen above and it's like a movie,

or you can look down and see the actors

speaking and the band playing and singing."

Eve Ewing and Nate Marshall, the writers of

the show, wove their narrative around the

events of Brooks' life and also the sociopolitical

events happening around her

– most notably, the Civil Rights movement.

"Whether you knew of Gwendolyn

Brooks' poetry before or not, I would say

that everyone that comes to the theatre

is going to have an amazing emotional

journey," Fornace says. "And it is some of the

best music and poetry I've ever heard on

stage."

No Blue Memories: The Life of Gwendolyn

Brooks takes place on February 24 at the

Chan Centre for Performing Arts.

Photos by Drew Dir

For the centenary of Gwendolyn Brooks, Manual Cinema has crafted an intimate audio-visual tribute.

February 2019
---
PLACES, PLEASE

YOUR MONTHLY THEATRE GUIDE

LEAH SIEGEL

Children Of God blends ancient traditions and contemporary realities for an emotional musical.

February might only be four weeks long (side

note: why can't rent be cheaper this month?) but

there's a ton of good stuff happening onstage.

Grab your Valentine (or your Galentine!) and

buckle up.

Cabaret at Studio 58, January

31-February 24

"Leave your troubles outside," entreats the emcee

at the beginning of this well-loved musical. "Life is

disappointing. Forget it! In here, life is beautiful!"

No, he's not pitching Netflix's newest

advertising campaign. It's Berlin in 1929, and there

are plenty of reasons for any rational individual to

seek some sort of escape: namely, the economy

sucks, and Nazis are rising to power. Isn't it neat

how history repeats itself?

Without any sort of streaming service available

(or personal computers, for that matter),

Berliners with loose morals or open-minded

dispositions would frequent seedy hubs like the

Kit Kat Klub, where we find ourselves with the

emcee, chanteuse Sally Bowles, and a Britishwriter-searching-for-inspiration

Cliff Bradshaw,

among other members of the Scooby Gang.

While the show is certainly rife with

interpersonal drama (forbidden love! Early

twentieth century abortion! Secret Nazis!),

what makes this musical stand out from Cats or

Oklahoma is the play's doomed yearning for the

greener pastures of yesteryear in the midst of

major, life-threatening political upheaval. Quel

juxtaposition, n'est-ce pas?

For the prudes among us, there's going to be

some skin showing, and a sampling of rather

colourful language. But let's be honest: with a title

like Cabaret, what were you expecting?

Yoga Play at Gateway Theatre,

February 7-16

An executive at the yoga apparel company Lulule

– sorry – Jojomon gets in trouble for fat-shaming.

Joan is hired to save the company's image, and

comes up with some, er, creative solutions.

Dipika Guha's new play tackles issues such

as body image, cultural appropriation, and the

awkward intersection of yoga spirituality with

capitalism, but the show never takes itself too

seriously. "The more serious, the more difficult

something is to talk about, the more we actually

need the laughter to explore it," says the play's

director Jovanni Sy. "There's so much that can be

unpacked through humour."

Despite taking place in California, Sy adds,

Yoga Play is particularly relevant for Vancouver

audiences. "I think the more you hustle to try

to buy a home where the market is so crazily

inflated, or you try to make rent, the harder it

might be to find a place that is spiritually centred,

where you have a sense of yourself," he says. "And

what does it mean when that search for self is in

itself a huge, billion-dollar industry? What does

it mean to find that kind of inner peace when

everyone's trying to sell it to you?"

Children of God at the Cultch,

February 20-March 10

If you don't think Canada's residential school

system is the most obvious subject for a musical,

you're not alone. That didn't stop playwrightdirector

Corey Payette, though – and his show

Children of God returns this month to Vancouver

after a sold-out run in 2017.

The story focuses on an Oji-Cree family that's

torn apart by one such school. (Payette himself is

Oji-Cree.) "We felt it was important to tell a more

personal story," he says. "These were brothers and

sisters; these were aunties and uncles; these were

people that were funny and quirky and had joy

and sadness."

Critics have called it "must-see theatre for

Canadians," and say it has "the most punch-tothe-gut

emotional ending I have ever experienced

in my many years as a theatregoer." Well, dang.

THANK YOU FOR BEING A FRIEND

CARRYING A TORCH FOR YOUR FAVOURITE QUEEN BEE SEPTUAGENARIANS

JENNIE ORTON

It is hard to imagine a universe in which a

network would greenlight a show with the

following synopsis: "The hilarious daily lives

of four women over 65 who share a Miami

bungalow and maneuver the trials and

tribulations of aging, dating, female friendship,

independence, and the reconciliation of oneself

in your twilight years." Not only does this

universe exist, but, at one time, we were living

in it.

In 1985, four pioneers of the voice of women

in television signed on to do a show that was as

ground-breaking as it was unapologetic. There

have been attempts to reclaim it (the earnest

but ultimately disappointing effort of "Grace

and Frankie" comes to mind) but nothing can

match the impact of the original. With chemistry

so difficult to replicate, there was only one real

solution that made sense for any kind of tribute

show: puppets.

"'The Golden Girls' is a master class in sitcom

writing," says Thomas Duncan-Witt, who cocreated

the show with Jonathan Rockefeller. "It's

a very attractive fantasy. What person wouldn't

want to live in a lovely '80s retro Miami house

with their three or four best friends and sit

around and eat cheesecake and talk shit all day?"

And get laid. And get arrested. And meet Burt

Reynolds. And chase careers. And slam the door

in the face of your loser ex-husband. It was all

pretty relatable and hilarious material, delivered

by experts at comedic timing.

"Like most successful sitcoms, which are

incredibly rare, it was a bit of lightning in a

THEATRE

bottle," posits Duncan-Witt. "Obviously you have

a great script, but you have these four actors who

have very successful track records and who were

all available. I suspect it was serendipity that it

did get made."

"Golden Girls" was a critical hit in both senses

of the word: loved by critics and a meaningful

strike to the patriarchy of prime time network

television. None of the cast were new to female

led button-pushing fare; Bea Arthur and Rue

McClanahan did "Maude," the former portraying

the title character, which was an "All in the

Family" spinoff that grappled with issues like

racism, homophobia, white privilege, and drug

laws, and Betty White played Sue Ann Nivens, the

fiercely charismatic and veracious portrait of the

housewife archetype squirming against the apron

strings on the also female-fronted "Mary Tyler

Moore Show," known for its scandalous attempts

to showcase a career-minded woman who dared

wear pants on network television. Literally, pants:

it was scandalous back then.

Today, women are still fighting for equal

pay and for top billing. Issues like gay

marriage, reproductive rights, sexual assault,

intersectionality, and female sexuality (all issues

tackled by "Golden Girls") are still on the docket

for politicians to discuss. There is no better time

for us to reconvene around the wicker kitchen

set, over a plate of cheesecake, with our favourite

friends and hash it all out.

Thank You for Being a Friend takes place at the

Vogue Theatre on February 13.

The inimitable dynamic between the Golden Girls could only be recreated through puppetry.

February 2019 9
---
CITY

HERITAGE WEEK

STRENGTHENING THE CULTURAL FABRIC OF THE HERE AND NOW

DAYNA MAHANNAH

$24

TICKETS FROM

Heritage Week: if you haven't done it, you should.

These days, as time moves faster than ever, it's easy

to get swept up in the technological advances and

digital trends that hurtle us into futuristic rapture.

But what of the past?

After speaking with Vancouver Heritage

Foundation's Executive Director, Judith Mosley, it's

evident there's a place for our history in the present

and, if we are foresighted enough, in the hereafter.

"The Tie That Binds" is this year's theme for

Heritage Week, which runs from February 18-24

and will host numerous events and activities to help

people engage with the legacies of Vancouver. "It

helps us understand our communities and our cities,"

Mosley says, "by helping us connect to the history to

[understand] how we got to where we are."

Walking tours, visiting museums and old

neighbourhoods, and exploring Vancouver's archives

are some of the ways to enjoy this celebration. VHF

has also been developing online resources that

allow better access to Vancouver's bygone days – a

perfect instance of how to keep alive the relics and

memories that are the foundation of our culturally

diverse city.

The Heritage Site Finder is an interactive map

listing over 2,200 registered – yes, heritage – sites,

complete with photography and researched

information. Another work-in-progress is the Places

That Matter project, a collaboration aimed toward

gathering history of people, places, and events

that are lesser known to the general public and

acknowledging those stories. They are catalogued

on the Community History Resource website and

celebrated with a researched blue plaque. Places That

Matter will also be the eponymous mainstay event at

Heritage Week.

Still, VHF works year-round to "promote the

appreciation and conservation of historic places in

the city." For Mosley, this is vital to sustaining the

integrity of where we live. "On someone's street,

a house restored may mean more people are able

to live in it… that can lead to more people in the

neighbourhood taking on that kind of project as

well."

Reinforcing communities in this way can have a

bigger impact on Vancouver's economic and housing

issues. "We encourage people to keep buildings, keep

houses, and find ways to reuse them," she says. "A lot

of older places are very adaptable and very much a

part of the solution to the challenges we are facing."

Mosley hesitates to choose a single site as a

favourite. "There are a lot of places I treasure," she

laughs. "I couldn't pick just one." But it is no doubt

they are more than just nostalgic. "Special places

in the city can really help bring people together.

Understanding the stories of the people and the

places where we live and work is really important in

helping us make decisions for the future."

BC Heritage Week runs from February 18- 24 at

various locations. Find out more at heritagebc.ca and

vancouverheritagefoundation.org.

Photos via The Vancouver Heritage Foundation

Feb 20–Mar 10, 2019

YORK THEATRE

ACTOR: MICHELLE BARDACH | PHOTO: MATT BARNES

Urban Ink (VAN), Co-produced with the Segal Centre (MTL)

Presented with the Talking Stick Festival

TICKETS AVAILABLE AT THECULTCH.COM

Vancouver Heritage Foundation is working year round to conserve the city's historical buildings.

10

February 2019
---
STEVE WINTER

LIFE THROUGH THE LENS OF A NATIONAL GEOGRAPHIC PHOTOGRAPHER

RHYS MAHANNAH

Photos by Steve Winter

Steve Winter's photography highlights the importance of education and conservation.

Steve Winter thought he was a dead man.

He'd set out to find the resplendent quetzal, a sacred

bird in ancient Mesoamerican mythology, after he'd

gotten the story idea from an ornithologist. Now, he

was somewhere deep in the Guatemalan jungle.

One night, alone in a one-room shack, he heard it.

Creaking floorboards, then creaking stairs. Scratching at

the door, then heavy sniffing.

Terrified, he radioed the nearby naturalist, who

responded: "Steve, don't worry – it's just a black jaguar."

The experience would prove life-changing and

career-defining. "That's the moment big cats chose

me," says Winter, now a multiple award-winning nature

photographer for National Geographic.

Winter has travelled the world, from India's remote

mountains to Myanmar's dense jungles to Los Angeles's

urban centres, to capture rare and stunning images of

these "charismatic, sexy animals."

His adventures, sometimes months-long in the most

grueling of weather, have led to something else: a sense

of responsibility.

"One can't do a story on these animals, then let them

disappear," he says. Beyond the aesthetics, he uses his

photography as a medium for discussing, and hopefully

expanding, conservation efforts for his animal subjects.

"My favourite photos tend to be those which make

CITY

the biggest difference to a particular species at a

particular time," he says.

One example is his iconic Hollywood Cougar,

featured in "Ghost Cats," the headline story in the

December 2013 issue of National Geographic.

"I love that photo, because it got people in greater

L.A. to acknowledge they have animals," says Winter. "It

was also a catalyst to get people interested in building

one of the world's largest wildlife overpasses." That

overpass, to be built over California's Highway 101, is

scheduled for completion in 2022.

Winter's latest gig, a talk entitled "On the Trail of Big

Cats," is the next step in his education and conservation

efforts. It comes to Vancouver this month.

The goal is not only to delight audiences with

outstanding photography, but also to highlight the

intimate connection between humans and nature – a

connection we often don't think about, and one that

could prove essential to our own survival.

"If you stop and think about the areas where big

cats live, they're also important to us. So if we can save

them, then we can help save ourselves."

National Geographic LIVE presents Steve Winter's "On

the Trail of Big Cats" on Wednesday, February 27 the

Orpheum Theatre.

MICHAEL LANDSBERG

#SICKNOTWEAK TURNS THE VOLUME UP ON THE CONVERSATION AROUND DEPRESSION

LAUREN EDWARDS

"Silence is suicide's biggest ally," says long-time TSN

reporter Michael Landsberg, over the phone from one of

the stops of his #SickNotWeak Canadian tour. He travels

across the country with the focus of spreading his message

about depression, "the invisible disease" he has been

suffering from for 20 years.

Landsberg founded #SickNotWeak in 2009 as a

community platform that recognizes depression's looming

voice and encourages more people to open up about their

experiences to help end its stigma. One of the weapons

depression uses to induce suffering are the negative

connotations associated with having a mental illness.

"Dialogue within the community is how you disarm the

stigma," states Landsberg.

In 2013, he released Darkness and Hope: Depression,

Sports, and Me, a memoir that featured elite athletes like

Olympian Clara Hughes, Stanley Cup winner Stéphane

Richer and World Series winner Darryl Strawberry speaking

about their struggles within the sports industry. It would

later receive a nomination for a Canadian Screen Award for

Best History or Biography Documentary.

Moving from film to stage, Landsberg says that "if

you're a decent speaker, doing it face-to-face with people

is way more powerful than any other format. I think

every individual benefits from it, from hearing someone

talk about it. I know when I speak to a group of a couple

hundred people, at least one person will walk out of there

and see themselves differently. That it will change their

life."

Landsberg exudes confidence as he speaks eloquently

about depression. Committing time to talk about his

personal battle, he explains, "It works both ways. When

people feel like they're understood, because I know what's

been going on in their brain, I feel understood as well."

There is no doubt a bigger stigma with men about

mental illness. A contributing factor could be young boys

conditioned that they are not allowed to cry and should

instead "man up."

According to Statistics

Canada's 2012 Canadian Community Health Survey

on Mental Health, about one in five Canadians have

experienced depressive thoughts at some point in their

lives. Statistically, women are more likely to experience

depression than men – however, "Men will suffer in silence

because they think it is a weakness, and do not want to

show it," Landsberg explains.

#SickNotWeak could also benefit parents, especially

those faced with their children opening up to them about

suicidal thoughts. However, the reality nowadays is that

many kids may not feel comfortable going to their parents

for help. "It would be a little easier if parents mentioned it

first," Landsberg suggests. With a reduced stigma, perhaps

the next generation will feel they can ask for help without

fear. "The way we get to that position is from talking about

it, from desensitizing people," says Landsberg, "This is not a

weakness, not self-inflicted. This is an illness, like anything

else."

If you would like to know more, check out sicknotweak.

com and @SickNotWeak on Twitter.

Michael Landsberg speaks at Congregation Beth Israel on

February 13, in support of #SickNotWeak.

Michael Landsberg is working to minimize the stigma against depression.

February 2019 11
---
Spring 2019 Exhibition

February 16 to June 15

Catherine Opie 700 Nimes Road (2010-2011) (one of ) 50 archival pigment prints on Canson platine paper 310 gsm,

two letterpress inserts, silk lined linen box with embossed text | each 24 7/8 x 30 3/8 x 1 3/4 in ( 63 x 77 x 4.5 cm ) framed

Rennie Museum | 51 East Pender St | Vancouver
---
AFFINITIES

VISUALS OF THE PAST DEMAND RELEVANCE TO THE MODERN AGE

JAMILA POMEROY

Photos by Rodney Graham

Affinities showcases the ways French artists influenced Canadian art in the 20th century.

CONSIDERING CONSTRAINTS

ARTIST ZANDI DANDIZETTE IS A SPECTRUM OF COLOUR

MIA GLANZ

Drawn from the Vancouver Art Gallery's permanent

collection, Affinities: Canadian Artists and France

explores the significance of French modernism, cultural

theory, and the impact these cultural and visual

revolutions have had on Canadian art. Tracing a century

of avant-garde art making, the exhibition displays art

informed by French intellectuals of the mid-to-late 20th

century.

"The exhibition looks at the affinities: the Canadian

artist's [connection to] France, in terms of the art that

was produced there, but also in terms of the philosophy

and thinking that has come out of France over the last

120 years," says curator Grant Arnold.

Broken into three sections, viewers explore

impressionism, post-impressionism, the art of 1950s

Montreal, and both French and French-Canadian

surrealism. "The first section focuses on artists who

studied in France in the late 19th or early 20th century

who were influenced by impressionism and postimpressionism,"

explains Arnold.

This visual exposé of French art touches on Montreal's

relationship with France: in this, we discover these artists

of true innovation were merely inspired by their French

forefathers, far from the misconceptions that they were

only replications and transplants of the revolutionary

scene. Featuring the likes of James Wilson Morrice,

Maurice Cullen, A. Y. Jackson, and Emily Carr, we are

able to see the direct impact French culture has had on

Canadian technique and the statements these works

CITY

superimpose.

The second section of the exhibit explores the

abstract: in response to the French surrealist poet André

Breton, Paul-Émile Borduas and Jean-Paul Mousseau

undertake visual revolutions based on automatic writing.

"It looks at painting in Montreal in the '40s and '50s,"

says Arnold, who sees the France-to-Montreal exodus as

paramount to current Canadian artistic culture. "At that

time, the discussions of art-making in Montreal were

probably the most advanced in the country, or at least

the most up to date in terms of modernism. There were

a number of artists, Alfred Pellan being one of them,

who had been in France for quite a long time. Alfred

Pellan came back to Montreal at the beginning of the

Second World War, after living in Paris for 14 years. He

was very familiar with cubism and surrealism and recent

developments of French painting."

With more recent works of the exhibit largely

informed by French theorists, and aligned deeply with

the post-modernist feminism of that time, viewers obtain

a deeper understanding of just how interdependent

these visual movements were with the voice of the

people, and further, statements reacting on the societal

and political states of the time. With artists such as Mary

Scott and Lucy Hogg, we are given visual waves of French

theorists such as Jacques Lacan and Julia Kristeva.

Affinities: Canadian Artists and France runs from February

16-May 20 at the Vancouver Art Gallery.

Pink, purple and blue are Zandi Dandizette's

colours. Not only in terms of dress: even

their lips, hair, and eyebrows are painted in a

Care Bear palette. Every morning, Dandizette

steps out of their bedroom at the James

Black Gallery, of which they are founder and

artist-resident, and into the "transition" room,

where the walls and ceiling are plastered in

amorphous conglomerations of pink, blue,

and purple.

Colour associations are immediate, but not

instinctive. "In the past, pink was considered

a really loud colour, and a totally masculine

colour," Dandizette explains. They use

colour to explore identity in their exhibition

and curatorial work, the latter being "an

extension of [their] thought process." Beyond

Dandizette's work as an artist, a curator, and a

part of the James Black Gallery and residency

program, they are Programs Coordinator for

CARFAC and on the Board of Directors at

VIVO Media Arts Centre.

Don't be fooled by notions of pink –

colourful Dandizette is a force.

Expect more figurative colourations at

Dandizette's upcoming exhibition, Considering

Constraints, at Conduit Gallery. The project

has installation and performance components,

and the space will be transformed with "a lot

of baby foam mats, and then polyurethane

blobs coming out and interrupting the strict

grid pattern." The baby foam mats reference

childhood as the period when humans are,

Dandizette explains, "forced into gender

constraints." A video loop of hundreds of

people's faces, close-ups without contextual

markers of gender, will play on the gallery

walls.

At the closing show on February 21,

Dandizette will wear a morphsuit inviting

people to draw on them in order to "ascribe

their own meaning and how they view the

body." The presence and reaction of people

whose faces play in the video loop will add to

an experience of the space.

For Dandizette, today we are constantly

interacting with visual tropes. In old films, the

pacing was different. "At the time they needed

to develop the character," they say. "Nowadays,

we have all this film history and these tropes

in place so we can immediately identify that

character."

In their practice, they seek to use and

highlight visual language to "discuss, subvert,

and hopefully make people question why they

think the way they do," – starting with pink,

purple, and blue.

Considering Constraints runs from February

7-21 at the Conduit Gallery.

Zandi Dandizette uses colour to explore identity in both their exhibition and curatorial work.

February 2019 13
---
MARY ZILBA

Reality TV star enters budding realm of cannabis

JAMILA POMEROY

Mary Zilba invests in medicinal properties of cannabis.

Recording artist, business woman, TV personality

and philanthropist, Mary Zilba, enters the budding

realm of cannabis. With the announcement of

her new company, Marz Ventures INC, Zilba plans

to incorporate her ethics grounded in women's

rights and empowerment, while helping to end the

negative stigmas of the plant. "It was a very natural

thing for me to get heavier into the cannabis

space. I've never had a problem with [cannabis]

because I never believed it caused the problems

that a schedule one drug should cause. I've always

felt that alcohol is the more evil of the two;

without the side-effects that alcohol can cause.

I've never had a negative thought about cannabis

and It's never something I've thought badly about,"

explains Zilba.

"It's something that hits close to home," says

Zilba, who shares that her son was able to get off

his seizure medication with the use of cannabis.

"He had a very debilitating seizure disorder since

he was three. He had been on every kind of

medication that you could imagine, every anticonvulsive

medication they could possibly get him

on, because nothing was controlling his seizures. A

lot of pharmaceuticals take trial and error for them

to work, and sometimes a lot of them don't work;

so patients are stuck having seizure after seizure,"

explains Zilba. With symptoms only getting worse,

her concerns grew deeper. "He had been having

such difficulties at school, he wasn't able to stay

awake, he was having really dark thoughts and

they weren't controlling the seizures," she explains.

After searching the Internet for alternatives, Zilba

stumbled across the high CBD strain, Charlotte's

Web. After much research, Zilba introduced

cannabis oil into her son's medical regime,

foreverchanging his life. "He's 23 and hasn't has a

seizure since. It's incredible and it makes me cry

when I tell the story" she shares.

In addition to the great success with her son,

Zilba has seen cannabis change her family in

other positive ways, including helping her brother

combat addiction. "I have six brothers and sisters

and one of my brothers was addicted to opioids

and cocaine for a very long time. He's now clean,

but you know, we were a big catholic family and all

professionals and my brother just took the wrong

road. He ended up being quite addicted," she

explains. While cannabis may have been labeled

as a gateway drug for years, it's hard to see it as

anything other than an exit drug, with cannabis

being so prevalent in alternative addictions

counseling. "I'm very familiar with addiction, what

it can do and how it can rip families apart [...] It

wasn't until recently that my brother had to utilize

cannabis to get off the opiods. He's 51 now and

since 18, has been an addict. So the miraculous

things I have seen over time, have really been the

reason I have gotten into the cannabis business,"

Zilba explains.

It's stories like these that really help remove

the negative stigma of the plant, and people like

Zilba, that are helping give a new, welcoming face

to the industry. Amidst the recurrence of cannabis

greatly improving the lives of the people around

her, Zilba had began working on the media side

of the industry. "in the meantime I had started

my company LadyPants Productions. We started

doing cannabis content for different companies."

A product of the production company, is the

popular cannabis cooking series, BAKED, which

showcases different recipes including cannabis. "In

doing all of that cannabis content, I started getting

more and more involved in the cannabis space

and meeting more people. I started really finding

there was a great lack of knowledge and education

for patients, and really anyone who is interested

in cannabis. I began to get really passionate about

helping, particularly women, understand the

benefits of cannabis," she explains.

It may be easy for some under the spotlight, to

kick back and relax, but for Zilba, the importance

of using her following for good is paramount. After

realizing her passion for the cannabis industry, and

larger, her passion for helping others, Zilba began

to reach out to cannabis companies, eventually

leading her to forming Marz Ventures INC. "It's

really encapsulating everything I have been doing

in the cannabis space, all in one company, but

ebelishing on that and being able to take it to

a world-wide level. Marz Ventures is a global,

fully integrated company: including branded

dispensaries, cannabis product lines and grow

facilities, while providing consumers with ample

information about the plant. With plans to adhere

their quality premium product, with ethics that

serve patients and consumers; we can only expect

the company to make giant positive waves in the

cannabis industry.

STRAIN-OF-THE-MONTH

Charlotte's Web

Great for consumers who don't want their medication to affect their daily tasks, Charlotte's Web

is the low THC, high CBD strain sent from above. Known for helping to treat seizures, as well as a

large range of other medical conditions, the strain has gained worldwide recognition due to the

higher than average CBD content. Cultivated by the Stanley Brothers for a young epileptic patient

named Charlotte, the strain has helped spark medical research while helping clear negative stigmas

associated with cannabis. Charlotte's Web boasts scents of pine and citrus, all adding to the painrelieving

and anti-inflammatory qualities of the strain.

14

February 2019
---
LIFE INSIDE THE DOME

ALLAN STANLEIGH'S WONDERFUL WORLD

KIRA CLAVELL

photos by Kira Clavell

CITY

RIO

THEATRE

1660 EAST BROADWAY

FEBRUARY

6

FEBRUARY

7

8

10

FEBRUARY

FEBRUARY

FEBRUARY

9

FEBRUARY

The Fictionals Present

IMPROV AGAINST

HUMANITY

Game of Love

First Thursday of Every Month!

PAUL ANTHONY'S

TALENT TIME

11th Anniversary Special!

Nicolas Cage Double Bill!

MOONSTRUCK

AND

David Lynch's

WILD AT HEART

Haida Language Feature

EDGE OF THE KNIFE

#CDNFilm

Tainted Love Double Bill!

Glenn Close & John Malkovich

DANGEROUS LIAISONS

AND

Uma Thurman

HENRY AND JUNE

FEBRUARY

13

STORY STORY LIE

Fool for Love

The Gentlemen Hecklers present

THE NOTEBOOK

FEBRUARY

14

April O'Peel presents

BURLESQUE DUOS

A Valentine's Day tradition

In the picturesque, dreamlike Bloedel Conservatory, custodian and graphic novelist Allan Stanleigh crafts worlds all his own.

Dense fog has settled over the city

the day I'm to meet Allan Stanleigh at

the Bloedel Conservatory. The mist is

an appropriate intro for the late shift

custodian at the bird sanctuary atop

Queen Elizabeth Park. Stanleigh is also

a writer of graphic novels, screenplays,

podcasts, and the managing director

of West Ghost Publishing. One

wonders what life is like after hours

in the solitude of the dome. Would

you pause from sweeping up fallen

seeds to lean your head upon the

hilt of your broom and gaze through

the leaves to the stars above? Is this

when you dream up stories, beneath

and beyond the glass panels arching

around you?

Driving towards Bloedel, the

fog lifts and sunlight pours across

the grassy slopes leading up to the

conservatory. Outstretched barren

tree branches seemingly point

towards the dome. This sudden clarity

seems befitting: readying the reveal

of Stanleigh and his temperatureregulated

exotic world. Perhaps these

are all just images conjured from

reading Caretakers, his charming,

ghostly graphic novel series based on

a screenplay that has fans awaiting

the third installment to find out what

has happened with baby Ginnie and

captured the attention of a national

network with its all-ages appeal.

We meet at the entrance. Stanleigh

is mild-mannered and soft-spoken.

"When I first started, I heard voices,

and it's the birds," he says. "I'd be

walking around, and I'd hear, 'Hi!

Hello!' It sounds so human-like, but

it's the birds. I'm the only human in

here."

A pheasant is quietly weaving

around our feet, leading us as we walk.

Stanleigh introduces me to Gidget,

a gentle cockatoo, and, of all the

birds, she seems the closest to him,

even in personality. Rudy, an African

grey parrot, protectively watches

over them both. Our conversation is

punctuated by screeches of "Hi Art!"

from Art, the macaw who loves to

talk. The air is humid and pleasant,

and the trees are full and lush. I follow

Stanleigh up a steep metal staircase to

the uppermost landing that overlooks

the conservatory. Steam hisses from

small vents above our heads, pushing

moisture into the air. Droplets form

on the panes of glass. "That's what's

collecting up there and falling down

like raindrops." It's a breathtaking view

— a birds-eye perch not generally

seen by the public. Looking down

upon the tropical land below, I'm

expecting to see a Brachiosaurus

emerge, nibbling on the flora.

"I'll take you to see the tunnels."

Yes, please. The mechanics are a sharp

contrast to the languidness of foliage

and feathered companions. It strikes

me as more attuned to Stanleigh's

USNA (United States of North

America) graphic novel series. It's a

vision he and his fellow co-writers

started writing 25 years ago about a

world where Canada and the United

States have amalgamated. "It's about

the rebels, because I would want to

be a rebel." Indeed. There are stories

upon stories Stanleigh can introduce

you to if you are ever lucky enough

to see him at Bloedel, and even more

if you look up his work through West

Ghost Publishing.

Darkness envelops us once we

emerge from the dome. The fog has

returned, and Stanleigh uses the

flashlight on his cell to illuminate the

steps down the slope as we make our

way from the sanctuary.

FEBRUARY

15

FEBRUARY

15-23

FEBRUARY

16

FEBRUARY

22

FEBRUARY

24

-TO -

MARCH

3

MARCH

1

Baz Luhrmann's

MOULIN ROUGE!

Friday Late Night Movie

JFL NorthWest presents

VANCOUVER'S

JUST FOR LAUGHS

FESTIVAL

The Geekenders Present

UNCAPED CRUSADERS

A Batlesque tribute to The Dark Knight!

ARMY OF DARKNESS

Friday Late Night Movie

VANCOUVER

INTERNATIONAL

MOUNTAIN

FILM FESTIVAL

Info www.vimff.org

Takashi Miike's

AUDITION

20th Anniversary Remaster!

Friday Late Night Movie

Gaspar Noé's

*CLIMAX

MARCH

Jonas Åkerlund's

4 LORDS OF CHAOS

*www.riotheatre.ca for additional times

COMPLETE LISTINGS AT WWW.RIOTHEATRE.CA

February 2019 15
---
MOVING MOUNTAINS

photo by Ryan Flett

The Josie Hotel

Pioneers A Winter

Oasis In Rossland,

B.C.

By Glenn Alderson

In the middle of downtown Rossland is an iconic

bronze statue of a stoic looking man named Olaus

Jeldness, holding a pair of skis and looking wistfully

over the West Kootenay town of approximately

3,000 from atop his permanent perch.

Jeldness moved to the quaint mining

community in 1896 and is credited with

pioneering the establishment of competitive skiing

in Western Canada. Originally from Norway, he

caused quite the stir in 1857 when, at the age of

15, he ski jumped a distance of 92 feet. That's 28

meters in Canadian; longer than the distance from

first to second base, for all you baseball freaks.

What brought Jeldness to Rossland was the work,

but if you spend one weekend in this magical

town, it's clear he stayed for the same reason most

do to this day — that sweet, sweet powder. It's

actually a common theme in Rossland; those who

come don't really ever seem to leave. They just

have one simple rule — don't tell anyone.

The secret is one worth keeping, but the cat

seems to be out of the bag. Located just 15

minutes north of the US border, Rossland is easily

one of the most Canadian towns in Canada and it

doesn't even have a Tim Hortons. Instead it's got

an intimate and independent vibe that is fostered

by its budding community of young and old.

Spend one night hanging out and drinking at their

local hotspot The Flying Steamshovel and you'll

immediately sense why the residents don't want

their secret to get out. Imagine Whistler back in

the day, before they got their first Earls and opened

the floodgates for big business and international

visitors alike to après their way through hell every

winter season.

Not only is Rossland home to RED Mountain,

one of the oldest and most heavenly ski hills in

North America, it's also host to the Rossland

Winter Carnival. Established in 1898, it's one of the

oldest winter carnivals in Canada, second only to

Quebec City.

It's a crisp Friday night in January. The snow on

the side streets is piled up about five feet high,

but Columbia Avenue — the street Jeldness's

bronzed, beautiful body is looking out over — is

packed with spectators for the carnival's annual

parade. There are fire spinners, floats packed

with kids throwing candy, a herd of wiener dogs

being guided by their bundled-up owners... a

random pick-up truck with one dude in its cab,

driving with their music cranked. And then come

the new kids on the block, the staff of The Josie,

Rossland's brand new boutique hotel. Hanging out

the windows of an SUV decorated with Christmas

lights, they're wearing the hotel's signature

bathrobes, honking and waving to the excited

onlookers.

The Josie opened its doors to the public at the

end of November 2018. Located at the base of the

town's coveted RED Mountain Resort, the fresh

and vibrant oasis blurs the line between luxury

and accessibility in hospitality with ease. If RED

Mountain is celebrated as one of the last great

unspoiled resorts, then The Josie, much like Olaus

Jeldness, is a pioneer, offering a first of its kind in

dining and hospitality for the modest and modern

mountain town.

Born from a partnership between William

Cole Companies, a Texas company who operates

another similar property in Bryan, TX called The

Stella, and Noble House Hotels & Resorts, The Josie

offers a stunning ski-in/ski-out experience with

106 rooms for their guests, plus an opportunity

for casual fine dining at their locally-inspired

restaurant, The Velvet. Named after one of the

most famous and valuable mines in the area

originally discovered by old man Jeldness, the

restaurant is as fresh and funky as it is warm

and inviting, offering stunning views of the

mountain's base during the day and a cozy feeling

of intimate seclusion in the evenings. Executive

Chef Marc-Andre Choquette has thoughtfully

curated a locally foraged menu with French

influences that range from baked French onion

soup and charcuterie starters to mains like baked

sablefish and confit rabbit pappardelle pasta with

mushrooms, leeks, chile, garlic zucchini and basil

puree. If you're in a sharing mood, make sure to try

to their rack of lamb served with cumin-date purée

and roasted carrots, or the generously portioned

dry-aged 26 oz beef striploin, served with roasted

root vegetables and pomme purée.

Back in the town's mining heyday, the infamous

Jeldness was also known for hosting mountaintop

tea parties — most notable was the one way up at

the top of the Velvet mine. It's fun to think back on

these interesting pieces of Rossland's rich mining

history while enjoying the new luxuries that

The Josie has worked so tirelessly to bring to its

patrons. If Jeldness was still alive to experience the

comfort and care The Josie has brought to town,

it's almost guaranteed that he'd be moving those

tea parties inside and inviting all of his Instagram

friends and followers that he undoubtedly would

have amassed.

It's now Saturday morning, and after a

relaxing evening in one of The Josie's premium

king suites, there's no better way to continue

the winter carnival festivities than by standing

at the top of one of the town's steepest hills,

watching the Sonny Samuelson Bobsled Race

down the menacingly steep Spokane Street. One

after the other, these homemade death traps

are being lined up to brave the icy track that's

lined with spectators. At the bottom of the hill,

a representative from the local radio station is

sitting atop an outlook station, calling out the

times as each team comes barreling down at

alarming speeds. "Fifty-six kilometers an hour for

the Pillbillies! Not bad," he says while Lil John's

"Get Low" is blaring on the speakers behind him.

Everyone in the town is out for this bobsled

spectacular and the energy is high. After the races,

the local Legion is hosting a borscht smorgasbord,

complete with both Ukrainian and Russian

renditions of the dish — $7 per bowl and an extra

$2 if you want a piece of pie.

Respectfully removing our hats, we grab a bowl

and pull up a seat next to a couple of retired local

women, June and Alma. June is 83 and has been

living in Rossland for more than 50 years. She's

already been skiing 25 times this season. It wasn't

more than five minutes before Alma was offering

up the ski gear of her recently deceased husband.

"So you're writing about Rossland for a

magazine?" June says, chipping away at the crust

of her lemon meringue pie. "Yes," I say, trying to

divert the conversation away from Alma's generous

but awkward offer.

"Is there anything I should know before writing

it?" I ask.

"Yes, tell your readers that Rossland is just ok,"

she said with a smirk on her face.

Don't worry June and Alma, your secret is safe

with me.

Don't go to Rossland. Don't ski RED Mountain. Don't

go to The Josie. You'll hate it ;)

16

February 2019
---
S

ome comedians train their whole lives

to secure an HBO special, headline a Just

for Laughs festival, host Netflix's first

late-night comedy talk show, or speak

at the White House Correspondents'

Dinner. Michelle Wolf is not some comedians. In

fact, she never planned to be a comedian at all.

After studying kinesiology in college, Wolf jumped

headfirst into a career on Wall Street despite never

having taken a business course. She started at Bear

Stearns in the summer of 2007, less than a year

before its collapse during the stock market crash of

2008.

"I got a job on Wall Street, mostly because I

was an athlete and I got good grades and those

are people who are competitive and want to win,"

says Wolf. "Around the same time that Bear was

collapsing, some friends came to visit me, and we all

went to a taping of SNL. I've always been such a big

fan, so afterwards I googled how people get onto

the show, and most of them started in improv. So I

just signed up for an improv class."

For someone known for their controversial

speech-turned-roast at 2018's White House

Correspondents' Dinner, it might be surprising to

learn that Wolf is not interested in overtly political

comedy. Whether you're watching her 2017 HBO

special Nice Lady or seeing her at The Comedy Cellar

in New York City, tune into her stand up and you're

not likely to hear much of a political persuasion: "I

will never do a Trump joke in stand up," she says.

Her aim at the Correspondents' Dinner was not just

to roast Trump's administration, but also to hold the

media accountable for profiting off of publicizing

the policies they claim to staunchly oppose. In 2018,

Wolf became Netflix's first late-night host on a

weekly program called The Break with Michelle Wolf

(it was the network's second-ever talk show, after

Chelsea Handler's self-named, two-season series).

Though she claims not to be interested in analyzing

politics with her humour, many of the topics she

touches on in The Break, such as ICE, women's

rights, and the epidemic of backlogged, untested

rape kits across the United States, are, decidedly,

highly political. The show is laced with sketches that

are apolitical too, though, like one about a "Too

High Squatty Potty" – a four-foot-tall Squatty Potty

that, quite simply, is too high.

"We just did anything we thought was going to

be fun," she says. In one episode, there are several

minutes of jokes about crows having sex with dead

crows. "We all wrote, like, so many crow jokes. We

had to do it – they were all funny! We cut probably

five to eight minutes out of that. And I guarantee

you no one else on any late night show was talking

about it. We really just wanted it to be fun, and for

people to maybe not have to think about what's

happening in the world right now."

After its 10-episode run, Netflix decided against

renewing The Break. The modern day algorithm

simply wasn't conducive to the old school latenight

format, especially when you take into account

that most late-night programs are allowed dozens

of episodes to figure out a formula that works for

them.

"I'd like to potentially try it again in the future,

but I'd want to wait until the landscape is less

political," says Wolf. "Political comedy, what late

night shows are doing, it bores me. It's all the same.

I feel like right now, a lot of people just want to

hear 'Trump is bad.' We already know that! Hearing

it again isn't going to change anything. I mean, you

can just vote. That's really all we can do."

Despite the fact that Netflix has yet to properly

discern an effective method of marketing a talk

show through its

streaming service, The

Break was, ultimately,

not a failure. Watching

the show, it's plain to see

that the stage is Wolf's

natural environment.

Even the jokes the

audience doesn't quite

get are funny, if only

because she's enjoying herself so

much up there.

Wolf talks modestly of her

days as an athlete. But the title of

athlete doesn't give her enough

credit. In 2018, Wolf ran her first

ultramarathon – that's 50 miles

(or 80 kilometres). It took more

than 12 hours. Perseverance and

relentless commitment helped

prepare her for a career on Wall

Street, sure, but it's also one of

the reasons she attributes to becoming successful in

comedy so quickly.

"Comedy is a marathon, not a sprint," she says.

"Anyone can be successful for a couple years. But

can you be successful for a couple decades? You've

got to be consistent. You can take a day off every

once in a while, but you're only going to get better if

you're dedicated to it and you keep pushing yourself

and you try to get back to the point where you're

uncomfortable. When you feel uncomfortable,

you get better. Part of the reason I think I've done

well in comedy is because I've applied that training

mentality; most of it is just putting your head

down and doing the work. One of the best things

about stand up is that you create your own success.

You're always in charge of how many jokes you have

and what your hour looks like – it's completely

up to you. It's just having that determination, the

discipline, and putting in the time and effort."

Discipline doesn't always take the same form.

Whether it's running at higher mileage increments

every week or committing yourself to writing one

joke every day, Wolf proves that the process you

take to get there isn't really what matters, as long as

you get it done.

"I never write the same way," she says. "If I had

one way that I wrote and I knew it worked all the

time, I'd be thrilled. But sometimes I'll think of

something when I'm just walking around, or, you

know, staring at a wall. Most people don't realize

that comedians need a lot of time just to think.

And then you think of something, and you're like,

'Oh, now I know what this joke is.' But it's endlessly

frustrating that there's no one way that that works.

The number of times I've thought of something

as I was going to sleep and then thought 'You're

definitely going to remember this,' and then not

remembered it in the morning because I did not

write it down – I mean, I'm an idiot for not writing

it down. I'm always like, 'This is so good! I'll never

forget this.' It's an ego thing at some point."

JFL NorthWest is quickly approaching, and one of

Wolf's favourite places in the world is Vancouver's

sea wall. Try to catch her set, but if not, you'll surely

be able to catch her mid-run, training for the next

ultramarathon.

"I'm excited to be in Vancouver," she says. "I had a

great time last time I was there. And I love Canadian

chocolate. You guys have Coffee Crisp! Every time

I'm there… I mean, I've eaten so many of them."

Michelle Wolf performs at the Vogue Theatre on

February 23 as part of JFL NorthWest.

MICHELLE

WOLF

BREAK IT

TILL YOU

MAKE IT

Whether performing stand up or working on Wall

Street, Michelle Wolf takes an athletic approach to

everything she does.

Written by Jordan Yeager

February 2019 17
---
IVAN DECKER

MOVING UP AND MOVING ON

BY TONY BINNS

Talk to most comedians and they'll tell you straight

up what they want — awards, festivals, talk show

appearances. So what happens when you actually get

there? If you're Ivan Decker, you start from scratch.

"The big thing for me now is the production of new

material," Decker says in a phone interview from his

home in Los Angeles. "So I'm spending the next few

months leading up to this show in Vancouver and

onward trying to come up with a brand new act, a new

hour for 2019 that will be good and hopefully people

will enjoy."

That may seem like something effortless for one of

Canada's fastest rising comics, but Decker's material

is very meticulously laid out. It may appear that he's

just talking about something as mundane as a subway

sandwich, but Decker brings a unique perspective and

dry observational humour that can make the prospect

of a new hour daunting, more so when you've made

your reputation on clean material. "It's kind of always

been the way that I write" he muses "I was always a

big fan of that kind of comedy. When I started I loved

Chapelle and Chris Rock, I still love them I think they're

hilarious, but I've just never been able to sell dirty

material."

Fortunately, Decker has never had to. He's had

an impressive run lately, with a Juno Award for best

comedy recording, a Netflix special and an appearance

on Conan. It's clearly a breakout year by any definition,

but it does make for an unusual experience living in

L.A. when you aren't quite a household name yet.

"It's a bit of an adjustment because I have to

integrate myself into a comedy scene that nobody

really knows me in," he explains. "When people have

never seen you before, they assume you're not very

good. So you can go up and do well and people are

actually surprised, so it's very fun."

Up in Canada, where Decker has made a few more

in-roads, he continues to work hard to give a return

audience something new to see.

"This is kind of a production phase. Last year was

a really big year for me in terms of the industry side

of things…this year is going to be more of a nose to

the grindstone tour and try to come up with new

material," Decker says. "You want to make sure when

you're forced on to that big stage that you can deliver.

That's the thing about entertainment…it only gets

harder."

Ivan Decker will be performing at the Comedy Mix on

February 15.

Comedian Michelle Buteau has strong opinions on

Vancouver. Having recently spent time here filming

Ali Wong and Randall Park's new movie Always Be My

Maybe she developed quite the affinity for our city.

"I was like, this is how the world should live,"

she says. "Look at all these windows and the fun

shrubbery on top. Everything I wear is grey and I felt

like I could just fit in. And the air is so clean."

It's not only the atmosphere she appreciates, it's

also the food: "I have to walk everywhere because

I'm going to gain weight. I could be on 'My 600 lb

Life' in Vancouver because the food is so good." Even

Vancouver's elderly get props from Buteau: "I'm sure

people over 65 are having sex because they all have

good hips – is everyone hiking all the time?"

A long-time veteran of the comedy world, Buteau

has reached a bigger audience this year after being

featured on HBO's 2 Dope Queens, starting her own

talk show podcast Late Night Whenever and starring

in a special on Netflix's The Comedy Lineup. Her

comedy is brash and honest. She's not worried about

getting trouble or having to self-censor: "I don't have

to do much filtering. I'm not a monster or an asshole,

right?"

While it's becoming a thing as of late for

comedians to ruin their chances for prime

opportunities, she doesn't feel like she has much to

worry about. "If the Academy was like, 'Do you want

to host the Oscars?' tomorrow, I'd be like, 'Sure.' And

if someone went through my Twitter feed I could

sleep at night because I have certain values and

morals. I just don't think a certain way."

You can tell that seeing those kinds of situations

play out is disappointing to her. She values her

integrity too much to let that happen.

"You have the platform," she says. "It's not just

to make a lot of money and get famous and have

stand up be a vehicle for that. No, you should have

a backbone and a moral compass." And while she's a

versatile comedian, able to tailor her set to whatever

audience, you don't have to worry that this integrity

will come at the expense of being funny. She's not

going to compromise on that. "It's always gonna

sound like me. I'm not gonna give you Jerry Seinfeld

with back-fat. It's gonna be freewheeling and sassy."

Michelle Buteau will be performing at the Biltmore

Cabaret on February 21.

MICHELLE BUTEAU

ON NOT BEING AN ASSHOLE

BY GRAEME WIGGINS

photo by Mindy Tucker

18

SAM JAY

CONSCIOUSLY KEEPING IT REAL

BY GRAEME WIGGINS

Career arcs look different from outside perspectives. By all

appearances, comedian Sam Jay has had an incredible year.

She dropped her debut album Donna's Daughter to much

acclaim, she's written for SNL, and she had a new special

for Netflix's The Comedy Lineup. That's a lot of success for

one year, after years of toiling in the comedy world. But for

Sam Jay, this is just the beginning.

"I don't really quantify things that way, but it feels

like the right steps are being made, you know?" she says.

"It's such a long process building a career, and all these

things are building blocks to that. It's a culmination of an

entire career. This is great, but it's not it. It feels like I'm

starting, as weird as that sounds. It feels like I'm finally at

the beginning. Even Just For Laughs: New Faces wasn't

the beginning – it was the thing that gets you to the

beginning, and now it's like, okay, my career is starting."

It's clear that Jay thinks big, and it's that kind of big

thinking that motivates her bold album, a hilarious debut

which is centered around her divorce.

"I'm not going to not talk about what I'm going

through," says Jay. "I was in the middle of going through all

this stuff with my soon-to-be ex-wife, and it was just hard

to not get up there and talk about it." The album is a wellthought-out

introduction to who she is as a comedian.

This, too, was a very conscious decision. As she puts it: "I

wanted the album to be really honest, and to be a true

introduction to an artist. I wanted it to have a '90s hip-hop

Ready to Die, Illmatic feel where you feel like you've spent

the day with this person, truly getting to know who they

are."

That consciousness extends to her choice of both

well-polished older material and newer, less-refined bits:

"I wanted it to be brutally honest and raw in some ways. I

wanted some of it to feel unfinished because it was – I was

going through it. I wanted you to have that refinement of

some of the jokes to be really polished and really on and I

wanted some of it to have that looser, 'Hey, we're working

on stuff' feel to it, just because I wanted it to be a rounded

view of me as an artist."

It's a great debut, and if she has her way, it's only just the

beginning.

Sam Jay live will be performing at the Biltmore Cabaret on

February 20.

February 2019
---
NICOLE BYER

COMEDIC QUEEN OF CAKES CHARMS CROWDS

BY RANDEE NEUMEYER

Nicole Byer is a busy person. Her Netflix special was

released last month as part of the series Comedians

of the World, she hosts the hit amateur baking show

Nailed It! (also on Netflix), and she stars in a hilarious

podcast asking the eternal question: Why Won't You

Date Me?

Byer became a household name when she became

the host of Nailed It!, a show in which contestants

unsuccessfully try to recreate cakes from Pinterest.

"They just presented me with essentially a one-page

sheet on what they were trying to go for," says Byer.

"'We need you to teeter the line between calling out

what you see and not being too harsh.' That seemed

like a fun challenge, and it just all fell together in a

really great way."

Now she tours all over the United States performing

for a variety of different audiences.

"The best thing about touring is you learn how

to tell a divisive joke without being super divisive. I

learned how to tell Trump jokes on the road. I learned

that you can't just be like, "He's bad.' Statistically,

someone in the audience voted for him, and he's not

my cup of tea but also I'm not everyone's cup of tea.

Learning how to tell jokes in a way that everyone can

laugh at is very useful."

Byer's stand up material is very honest, sharing

personal details about her life on a range of topics

from finding poop in an airline blanket to her dating

life.

"Sometimes things happen where I'm like, 'This is

too bonkers not to share with people.' The way people

talk on dating apps is insane, so when I talk about that

I feel like it's pretty much universal that everyone's like,

people are wild in these streets out here," says Byer.

Along with performing stand up at the festival, she'll

be doing a live taping of her podcast Why Won't You

Date Me?, which started when she wanted to ask past

dates why they didn't want a relationship with her.

Now she invites hilarious guests and they dive into

the world of dating and sex. Byer often has the guest

critique her Tinder profile, and reads comments sent

to her from questionable men.

"Audiences now know what kind of performer I am

before they get there, as opposed to 'Oh, I'll just see

a comedian. Who's up this weekend?' I have people

coming to see me, which is really awesome."

Nicole Byer performs at The Rio on February 23.

The best-laid plans don't always work out the way you

intend them to. My intention in interviewing veteran

comedian and podcaster Todd Glass was to talk about

how his podcast The Todd Glass Show influenced

his comedy, how and why he tours with a band, his

infamous love of comedy venues getting things just

right, and his Netflix special Act Happy. And to be fair,

we did have that discussion. But nearer the end of the

interview he went on a tangent, as he is prone to do,

and the result was a refreshing take on a topic that's

been tread to death.

"I hear so many comedians be like 'The walls are

getting smaller and smaller; you can't say anything

anymore,'" says Glass. "You can always say pretty much

anything you want. 30 years ago if you talked about

not believing in God, just you not believing in it, just

your view, you couldn't do that. I wish some comedians

would take a second from thinking about what they

can't say anymore and instead think about what they

can say."

It's not as though he doesn't understand the

motivation, but rather that he sees it as emphasizing

the wrong things. As Glass puts it, there are a lot more

things comedians can talk about than they used to

be able to: "I get it, sometimes you have to ignore the

outcry about 'We didn't like that joke!' If we didn't

ignore the collective pulse of a comedy club some

nights, we wouldn't have good comedy. The audience

isn't always right, but they aren't always wrong either.

When you say you can't say anything anymore, how

about sexuality? How about me? I want to say to all the

comedians who say you can't say anything anymore,

how about the fact that I can mention that I am gay on

stage for two minutes? I talk about it and then move

on. It used to be that you could talk about it, but if you

did you had to talk about it for the whole hour because

they'll never get over it. That's a big deal! It's a big

goddamn fucking big deal!"

This lack of understanding is sad to Glass – it's as

though these comedians are aging out of comedy. "Once

you say 'the kids today,' you're done being relevant in

comedy," he says. "Fucking throw in the towel. Have you

no humility as a comedian? Do you not hear yourself?

You're a grandpa, give it up!" With a positive attitude

like that, let's hope Glass never grows up.

Catch Todd Glass live as part of JFL Northwest at the Rio

Theatre on February 20 or performing a live version of his

podcast, The Todd Glass Show, on February 21 at the Fox

Cabaret.

TODD GLASS

NOT WORRIED ABOUT THE KIDS RUINING COMEDY

BY GRAEME WIGGINS

PAUL F TOMPKINS

THE WAR ON THE SOUL OF COMEDY

BY JOSH SHEPPARD

The meaning of what comedy should stand for has never

been more questioned than at the present moment. Two

camps have been formed: those who view comedy as a tool to

criticize power, and those who view comedy as the vanguard

of free expression. Paul F Tompkins has found himself caught

in the middle of this heated debate.

''There's a growing chasm between people who use comedy

as a tool to call out people who are powerful, and people

who use it as an aggressive tool to shut people up who they

consider to be whiny," says Tompkins. "Things change, society

evolves, and you want to get hung up on a word that hurts

people's feelings – that's the hill you want to die on?"

Looking back at comedy of the past has always inspired

mixed feelings, as our heroes may one day lose their luster.

Should the past be viewed with present-day sensibilities or

should we judge the people by the standards of the times that

were presented before them? Comedian Norm Macdonald

recently defended the modernist writer Ernest Hemingway

who was labelled as an example of toxic masculinity, stating

that this form of criticism was "presentism at its worst."

"Here's the thing: as you grow up, some of the people you

viewed as heroes in your youth won't necessarily stay your

heroes," says Tompkins. "The thing that drives me crazy about

something like 'presentism at its worst' is like, you're saying

this isn't something worth talking about? Like there's nothing

valid here at all? Just because someone lived a long time ago,

do they get an endless free pass? You can still like Hemingway's

work, that's fine, but it's completely valid to discuss the life

that he lived especially as it affected the themes of his work.

That's an intellectual pursuit and we could get something out

of it as a society."

Spontaneity is one of the most important tools a comedian

has to display their wit. Tompkins even has a podcast,

SPONTANEANATION, that examines the subject deeply.

"The essence of spontaneity is being present and open –

you're aware of what's going on," he says. "You're aware of

what's going on in the room right at the moment. You're

feeling how everyone feels and you're allowing things to enter

into that vibe." The combination of that spontaneity and

his well thought out intellect should make his show one to

remember.

Paul F Tompkins and Mark Evan Jackson present A Two

Gentleman Improv Show at the Vogue Theatre on February 17.

February 2019 19
---
MUSIC

BEIRUT

THE PERPETUAL MOTION OF A CREATIVE GIANT

JORDAN YEAGER

Beirut, like many bands, is often thought of in

terms of its frontman and founder, Zach Condon.

Originally it did start out as his solo project, but

its magnitude and vision were too vast to be

carried out by one man alone; and over the years,

the band's shape shifted. Paul Collins, the group's

bassist, has been there almost since the beginning

after he witnessed a one-man performance by

Condon in Beirut's earliest solo days by sheer

happenstance.

"I was working at a punk rock festival in Santa Fe,

and he was playing," says Collins. "I was like, 'holy

shit.' I think he was 19 years old, and I just couldn't

believe it. Santa Fe is a pretty small town in terms

of music and most of the bands I was playing in

were post-punk bands, and there was a lot of emo

and hardcore stuff. Zach just seemingly came out of

fucking nowhere, and I loved it. I helped him find a

drummer, his friend Perrin played cello, and then he

added me just to play the ukulele and do whatever,

and then the live band was formed. So basically it

was out of necessity. I think if Zach had it his way

he would have just been by himself all these years."

At the time, Collins was in school studying film,

but ultimately realized he "was not disciplined

enough to be a filmmaker." Music was something

that had always come naturally to him – he felt

compelled to create it, and seeing Condon perform

sparked something in him.

"I honestly wasn't disciplined enough to be a

musician either, but I just love music so much that

I could get by," he laughs. "Jonas Mekas was an

experimental filmmaker – although he hated that

term – in New York City, and he just died the other

day at 96 years old. He talked about how his work

and his life were one inseparable thing, and I really

connected with that, in terms of how I see music.

It's not really a career endeavour. It's always just

been a part of the ether for me. It's outside of me. It

just, like, happens."

Something else that just, like, happened was the

20

photo by Olga Baczynska

After 12 years as a band, Zack Condyn and Beirut continue rocketing to new heights with Gallipoli.

magnitude at which Beirut accelerated from a band

formed out of the necessity to perform live into a

full-fledged indie-rock group touring the world.

"It was like a fucking rocket," says Collins. "It just

so quickly gained speed. I remember calling up my

parents and being like, 'Hey, so Beirut is moving

to New York, and I still have a year left of school,

but I think I need to do this.' And my parents, to

their credit, were like, 'Great.' You don't know my

parents, but that was surprising to me. Suddenly

this band was in SXSW, which I thought was the

biggest thing ever. And then we had a tour of the

US, and I couldn't believe it was happening."

"Gallipoli," the premiere single off their

forthcoming album of the same name, is classic

Beirut: brass, drums, a steady bassline, and vocals

reminiscent almost of a choir in a huge, echoey

room. Suitably, they recorded the album in

Gallipoli, a coastal town in the south of Italy, for

no real reason other than the fact that they could.

"Those are the moments that are so exciting – I

almost love knowing that we're going to go

somewhere more than even going there," laughs

Collins. And for a group with a history spanning

more than 12 years, five albums, and five EPs, those

moments have scarcely slowed down.

"My friend Jeremy Barnes [of A Hawk and a

Hacksaw and Neutral Milk Hotel] always said to

define yourself in music. The one thing you have

to do is just keep making music," he says. "If you

keep making music and put out a record every year,

then you have created your own world by the end

of it all. I think working as much as possible is the

best thing you can do as a musician. I have so many

brilliant friends who stopped playing music for

stupid fucking reasons and it's so self-defeating as

opposed to just getting shit out and making it. Even

if it's bad – that's how you get better."

Beirut performs at the Orpheum Theatre

(Vancouver) on February 26.

MEN I TRUST

PROVING YOU REALLY CAN DO IT ALL

JUDAH SCHULTE

When the Montreal-based three piece isn't

touring across continents, Jessy Caron (bass),

Dragos Chiriac (keys), and Emma Proulx

(guitar and vocals) are hard at work recording,

producing, and releasing singles and music

videos to promote their upcoming album Oncle

Jazz, which is set to release this month. From

mastering tracks to coordinating interviews,

the group handles everything except booking

shows, reminding us that "indie" is short for

"independent." For a band with such a heavy

workload, their sound is impressively light. Their

blissed-out brand of indie-pop has lyrics rich

enough to dissect and rhythms that make your

hips move, satisfying both body and mind. For

the members of Men I Trust, the lightness is

not just an aesthetic choice but a philosophy,

one that explains how they can keep their cool

amongst so much bustle.

"We like to put an emphasis on positive values,

something higher than us, instead of destructive

moods, which we all like, but it's trickier to write

other types of songs. It's a challenge to not be

obviously negative," says Proulx.

The intention they invest in the content

of their songs extends also into the process

of writing them. "Overall, we don't want to

write lyrics about things that don't happen to

us, like pick a theme and write about it. That

would be too weird," says Proulx. "When a

story is more personal, it's brought up by just

one of us. But once we all start working on the

song, the general questions are brought out of

the personal experience, making it a bit more

philosophical."

By filtering personal experience through the

lens of each member's perspective, MIT's songs

are at once intimate and universal, the result of

three minds working toward the same end, like

three separate notes coming together to make

a chord.

Whether it's the lyrics, guitar tones, or music

videos, everything the band releases seems to

exist in the same dreamy universe. In the video

for "Seven," the images of young women gliding

along a river in kayaks are superimposed over

shots of a lush, sun-dappled forest. With the

same grace, the guitar on "I Hope to Be Around"

glitters atop a textured synth bass line. This

consistency is indebted in part to the band's

multi-disciplinary interests. Proulx studied art

in university, Chiriac studied philosophy, and

Caron studied jazz, all informing, in one way

or another, the sound, image and ideals of the

band. These varied interests combined with

an uncompromised independence is what

upholds the cohesiveness of their work. "We do

everything together. When we're filming videos,

we're together; on tour we're driving and sound

checking together. But we're not against the idea

of a label," says Proulx. "In the beginning, not

many people had an interest in us, so we learned

to do everything ourselves. When you're so

involved in the process, you don't lose anything.

We know everything that's going on with the

band, and that helps us stay grounded."

Aside from their ideology, the band cites

nature as a major source of inspiration. MIT has

a cabin they go to near Chaudière-Appalaches,

a mountainous region in Quebec, where they

recorded many of their songs and filmed the

video for "Tailwhip." But even on the road,

the group seeks greenery to decompress and

recollect. "While we're on tour we like to stop

in quiet, wide open spaces," says Proulx. These

landscapes seem to come through into their

music, each song feeling as easy and free as a

breath of fresh air.

With upcoming tours through Europe and

North America, as well as the release of a new

album, the members of Men I Trust show

no signs of slowing down. And thanks to the

balance they've struck between thoughtful

lyricism, simple but infectious rhythms, and an

impenetrable sense of mellow, we can do just

that: slow down and appreciate the sounds of

art, nature, and philosophy working in harmony.

Men I Trust play the Biltmore Cabaret on February

22.

Men I Trust keep their indie rock independent and stay connected to the world as a result.

February 2019
---
DAN MANGAN

EVERY MORNING'S A RESURRECTION

JOHNNY KOSMOS

photo by Vanessa Heins

Dan Mangan remains himself, but with a greater sense of focus on More Or Less.

Dan Mangan is one of those artists that always seems

to be challenging and pushing himself with each new

record he produces. You can always tell when an artist

is truly living life or just going through the motions.

In the six years Mangan took off from touring, he

lived a lot of life. A year of rest turned into two kids,

a marriage, multiple film and television scores and

plenty of time for reflection. All of the above have

changed the man and the artist. "It just took a lot of

time. Back in 2012 the phone wouldn't stop ringing; we

were stuck in this positive feedback loop."

Years of childrearing and domestication presented

a steep learning curve for a man who had spent years

on the road. "Your kids don't care about all this cool

stuff you do. They just care

about how you are as a

dad." Rock stars aren't rock

stars when they're at home;

they're just dads. During

this time, Mangan wrote the

experimental Club Meds

with Blacksmith and scored

the incredible Hector and

the Search for Happiness, as

well as a number of other

films and TV shows.

On his latest release,

More or Less (2018 Art & Crafts), Mangan remains

himself, but with a greater sense of focus. "I came to

the realization I wasn't done. I had more songs in me, I

had more I wanted to accomplish," he says of his return

to the business of making music. "That whole process

took years."

When Mangan decided he was finally ready to step

back into it he contacted producer Drew Brown and

the wheels were in motion. "Took us nearly two years

to get all of the people together that he (Drew Brown)

wanted. During this time Drew encouraged me to keep

writing, by the time we hit the studio I had all these

new songs that weren't in the demos."

Was it worth the wait?

Mangan seems in awe as he states, "I had the

same rhythm section, playing through the same

microphones, in the same studio, with the same

hardware and the same engineer as Sea Change

(Beck 2002 Geffen)." Their influence on More or Less

is apparent right away. Upon first listen, the album

evokes a sense of gentle reflection; it's much more

stripped-down than Club Meds (2015 Arts & Crafts).

It's not exactly a return to his roots, but more of

an acknowledgment and transformation he's gone

through. This is still very much a Dan Mangan record,

but this a new Dan Mangan. "We all have our heroes.

Joey (Waronker)'s cases said 'Roger Waters'. Jason

(Falkner)'s cases said 'Beck'. These guys work with the

best of the best. When I first got to LA and went into

the studio I was nervous, like, 'What are they going to

think of me?'" Mangan confesses. "But they just trusted

Drew. They were so nice and really gave themselves to

the material. By the end, they were saying, 'Great songs,

man!' None of us is impervious to flattery. Having this

affirmation from people that I admire so much, I felt

like I was getting my groove back."

Mangan's groove is definitely back on this album.

The subtlety and vulnerability in the vocals bring the

listener into a very personal space, one filled with

MUSIC

stillness and the musical equivalent of sitting and

staring. "You need to reserve space in your mind that's

just for you." Mangan says, "I don't meditate, but I try

and be bored for a couple minutes a day. If you can be

peacefully okay with yourself just sitting it will make

you better prepared to deal with the never-ending

stream of bullshit."

There was a full on stream of bullshit when he first

started recording More or Less. While out for dinner

his first night in LA, his car was robbed of everything

except his guitar. Laptops, hard drives full of the demos

he was about to track, his passport. Everything. "I

spent the whole next morning trying to find my stuff

and get my passport reinstated. So, I went into the

studio, do one take

"Your kids don't care

about all this cool stuff

you do. They just care

about how you are as a

dad." - Dan Mangan

of "Lay Low" and Paul

McCartney pops his

head into the studio!"

Mangan continues

sarcastically, "Of

course, when Paul

McCartney hears my

music it's not the

finished product, it's

the first take of the first

song I'm doing with my

new band. He gave me

some suggestions, but then we scrapped everything he

heard. My Mom was devastated when I said we didn't

use any of Paul's suggestions."

"What the hell is wrong with everyone now?"

a line from his song, "Troubled Mind" is fitting on

days such as that (and in the grander context of

humanity as a whole). "People are an equal amount

of fucked up, always. There's so much to take in now,

so much information, so much pain, so much going

on all the time." Mangan says of society, "It's up to us

to be informed citizens, so we're not just passively

distracted."

There are lessons being taught everywhere, every

day. You just need to pay attention and take risks.

The day Mangan decided to take a break from

touring he got a call from a producer to score a film.

"Every time I've scored something I've learned about

a deficiency in my musicality that I've overcome," he

says of the experience. "And you come out the other

end and go, 'Aw, man, I didn't know I could do that.'

It's a beautiful thing when you know you can still

surprise yourself." When it came time to prep for the

tour, Mangan enlisted Don Kerr (Rheostatics), Jason

Haberman and Michael Brian.

With an all-new gathering of people behind him,

Mangan took a couple weeks to rehearse in Toronto.

He found that time and this new group gave a breath

of fresh air to his previous work. "It was injecting all

this new personality into the old material. We started

to think, 'What's the best way we can deliver these

existing melodies and songs in a live context?'"

Reinventing yourself in the tireless pursuit of

relevancy is daunting and exhausting. While no

doubt an intimidating endeavor, it's a good thing

Dan Mangan keeps trying because we missed him.

Welcome back, Dan.

Dan Mangan performs February 12 at the Vogue

Theatre.

February 2019 21
---
MUSIC

BRONCHO

DODGING FORMULAS AND ROLLING THE DICE

J.J. POWELL

BRONCHO is perhaps best known as the band

behind "Class Historian," a diabolically catchy rock

song with a haunted melodic stutter as its vocal

refrain. It showed up in a few television shows,

commercials and films, and demonstrated the

band's ability to write an indie hit. But what's most

interesting about this group is their willingness

to dodge formulas and roll the dice with every

release.

"Yeah the one plan usually, is that we don't have

COLD CAVE

FINDING LOVE IN THE TRIBULATIONS

JOSHUA SHEPPARD

Photo by Pooneh Ghana

Ryan Lindsey and his band have been cherry picking the hits for your enjoyment since 2011.

a plan," explains Ryan Lindsey. He's BRONCHO's

affable front-guy, currently in a car bound for

Tulsa, Oklahoma, where most of the band reside.

"See what happens, that's the way it's always been.

Who knows though, we could get really organized,

start really doing it right, start making plans."

Can't Get Past the Lips, BRONCHO's 2011

debut, was a bratty assault of art-scuffed punk,

with an array of influences from Wire to Stiff Little

Fingers to the Beach Boys. Those schizophrenic

tendencies were slightly less pronounced on 2014's

Just Enough Hip to Be Woman, with nods to the

Pixies and Joy Division unified by steadier, more

hypnotic rhythms and trench-reverbed vocals.

Sounding like a broken Beach Boys cassette

played in the gleaming darkness of a huge crystal

cavern, 2016's Double Vanity was all distortion

and reverb, with no cute, catchy parallels to

"Class Historian". Further investigations revealed

a melodic loveliness and structural cunning more

mesmerizing with every play. Fuzzed-up guitars

make thick austere shapes under watery leads,

while slow-motion drums trudge noisily alongside

slacker vocal hooks and sweet-heart harmonies.

The band achieved a cohesion and a signature

sound on this album that set it apart from their

previous efforts, although Lindsey says it came

together naturally. "It's really moment to moment

with our stuff, like anything could happen in

any particular song, so being open to where the

environment takes the song, and being open to

the situation. Whoever's in the room, be open to

what they can bring to it and see which way things

go." Laughing he adds, "But it's also being open to

maybe changing that up, so, you never know."

In 2017 BRONCHO changed things up again

with an exclusive digital single called "Get in My

Car." Sounding like a bedroom demo next to

the thunderous bombast of Double Vanity, it's

a gentle, muted affair, with no distortion and

severely reigned-in reverb. Nevertheless, the

disarming happy-sad melody and seductive refrain

of "Wanna, wanna make you feel good!" turned it

into a weirdo summer anthem and prepared fans

for a strange new sound.

"'Get in My Car' just kinda happened," Lindsey

explains. "It felt like it was a song that should

come out during the summer, so we put it out real

quick thinking we were going to finish our record,

but we never did till maybe a year later," he laughs.

Akin to its early lead-off single, Bad Behavior

seemed wildly stark upon release last summer.

It's an album built on minimalist drumbeats and

guitars that rejoice in twangy rawness, absent

of fuzz. "Sometimes you just make a move that

makes no sense. And I like doing that."

There's a scene in their recent video for

"Sandman/Boys Got to Go" where Lindsey

hand-feeds a single cherry into the mouth of

the hesitant, haunted protagonist. Asked if this

gesture is symbolic of an approach or feeling

within the band, Lyndsey responds in his typically

kindly, cryptic manner. "Cherries just seemed to

make a lot of sense. We didn't really have to even

talk about it," he muses. "It's probably a little

portrait of our world, trying to keep as sharp a

sense of humour through the dark as you can,

because the dark can get pretty funny sometimes,

if you know how to laugh."

BRONCHO performs at the Fox Cabaret on

February 7.

Over the course of this decade, Wes Eisold has

reached a sonic culmination from his bedroom

producer experimentations under the moniker

of Ye Olde Maides to the fully-fledged postpunk,

darkwave, '80s inspired sounds of Cold

Cave. Throughout Cold Cave's decade-long

existence, Eisold still feels most comfortable

creating music that is intrinsically personal,

influenced by his internal self rather than

outside perspectives.

"My experience with these bedroom projects

was simple instrumentation, starting with

Ye Olde Maides, which was an anonymous

indie-pop project with a fictitious duo as

its narrative," says Eisold. "Over the years

I've been able to retain my own ideas – my

inspiration comes to me when I'm at my

most independent. If I'm able to stay true to

what I think without taking into account any

externalities, it's where I'm most comfortable."

As the son of a Navy officer, his beginnings

as an army brat in the '80s created a sense

of fluidity when it came to travelling, never

truly being situated in one specific place. This

peripatetic lifestyle has never truly left him as

he continues to tour and travel to new locations

with his music.

"[Growing up] I didn't have solid roots in

any one place and always felt like I was at the

mercy of the sea, hence my sea sick tattoo," he

says. "This lifestyle definitely became habitual,

traditional. The whole process of travelling

is engrained in me because growing up as a

military brat took me to all parts of the world.

I find more comfort in motion and moving

rather than feeling comfortable at home."

Being part of this travelling lineage of musical

acts, Eisold has found himself in both the

most beautiful and the worst music clubs, but

is always able to appreciate the history that

certain venues hold. "I still romanticize about

the history of the people that have played

the venues I've toured in; it's still very much

inspiring to me. From going as a no-name punk

band to playing venues of artists I've always

loved, my appreciation just keeps growing. ''

The poet Ira Cohen once said "Epiphany is

momentary sanity," and this sentiment relates

to the creative process Cold Cave employs. The

"first record curse" is a trapping many artists

fall prey to, which was something Eisold was

conscious of when he started his hardcore band

American Nightmare in the late '90s.

''I find sanctuary and happiness in the

creative process – besides that, it's all about

making sure things don't fall into shambles,"

he says. "My approach has changed over time.

But I found ways to ensure I didn't lose out

on finding my voice by searching deeper into

myself for inspiration. I've been able to remain

me throughout my whole life, for better or for

worse. A lot of my inspiration is from how I was

born and that world outlook is still cemented

into who I am; I can't change it. I still am trying

to continuously search for what I'm trying to

say."

On Cold Cave's new EP, You & Me & Infinity,

Eisold explores the sentiments of finally finding

the love he has been searching for his whole life.

"[It's about] attaining this ideal of love that I

thought I needed, that I thought I could never

have – actually finding that love in my life," he

says. "It's a reconciliation of that search, the

hunt and the finding of it. I'm here now and this

is what it's like, and it's beautiful and amazing.

I was finding it and now I'm living it, but is it

gonna be okay? Am I gonna be okay with it?

Am I gonna blow it? Am I gonna break it? Let's

do this."

Cold Cave plays the Imperial on February 20.

Cold Cave find ways to express their creativity from within.

22

February 2019
---
WAXAHATCHEE

AWAITING THE CALM BEFORE THE STORM

GRAEME WIGGINS

HUMANS

CRAFTING A DISTRACTION WITH PROGRESSIVE SONIC EVOLUTION

JOEY LOPEZ

MUSIC

Katie Crutchfield is embarking on a west coast tour as Waxahatchee before taking some time to slow down.

It's been a busy few years for Katie Crutchfield.

Recording under the stage name Waxahatchee,

Crutchfield dropped her debut, American

Weekend, in 2012 and has since added three

further albums and one EP to her discography.

Add to that a fairly consistent touring schedule

and it's not hard to see why she might be a little

worn out. It may be surprising, then, to learn she's

starting off the new year with yet another tour.

"It's funny," Crutchfield laughs. "I keep calling

2019 my sabbatical year. I mean obviously it's not

because I'm going on tour, but the idea was to do

some west coast shows that were headline shows

because I haven't done that since Out in the

Storm came out [in 2017]."

After that, however, it will be time for a break.

"I have been passively writing for a while," she says.

"The plan is to just take it easy. I've burned it from

both ends for a few years now, so to get myself

excited about it again I need to go away and read

and write and not play shows."

With that time off to write, we shouldn't

necessarily expect a return to the quiet side of

Waxahatchee that she has seemed to tease about

wanting to return to. "It's funny: when Ivy Tripp

came out I told everyone I was going to make a

really quiet album, and then I made Out in the

Storm, which is the opposite of that," she says. "So

it's hard to say. To me, Great Thunder was sort of

that, but it's a like a diffuser of sorts – it was old

songs that I had some detachment from."

For a songwriter who handles such personal

subject matter, her interviews in the wake of Out

in the Storm talked a lot about connection and

audience. This was partly just due to the relatable

idea surrounding the record. Her thoughts about

personal writing versus writing for an audience

tend to vary record by record.

"American Weekend, when I think about

writing that record, it was just for me," says

Crutchfield. "I felt like I was singing into the abyss.

I made it and sat on it for a year before I even

played it for anyone."

The more audience-focused aspect of Out in

the Storm is something she's working against

going forward: "It's a headspace I really want to

get out of. I really want to write lyrics about what

I'm feeling, and as your audience grows, it gets

more challenging. I'm in the process of turning

that entire thing off and getting off the grid and

focusing on my feelings at the moment."

Out in the Storm was a roaring portrait of

overcoming a troubled relationship. It showcased

more anger, but also more hope, than her previous

work; there was a new self-confidence apparent.

However, it's not as though her next record will be

brimming full of pure positivity.

"Positivity is interesting," she says. "I feel like in

2019, everyone is all about positivity. When I first

started making music it was all about being super

emo. Super sad and negative and really exploring

pain. I feel like it's out of fashion to do that. It's not

what people want to hear, but also it's what has

always inspired me and I have a lot to draw from."

Until that comes about, it will be a while before

she's here again, so we'll have to settle for her

upcoming show.

Waxahatchee performs at the Wise Hall on

February 24.

Vancouver's very own electronic dynamic-duo

HUMANS have just released their full-length

album Going Late, a follow-up to their EP The

Feels that dropped earlier this year. Going Late

feels like the electronic anthem of Vancouver.

Unique as a duo in their own right, Peter Ricq

and Robbie Slade find a way to still capture the

nightlife of the city they call home.

"I can only speak for myself, but we've been

doing this band long enough that all of this is

a product of being a Vancouverite for the past

fifteen years. With how things have changed [in

the city] and how weird it is right now… I don't

know, it's challenging being a Vancouverite," says

Slade. "We were in that headspace while writing

all of this stuff. I mean, we try not to do this

because I think it's kind of stupid to have a point

when writing lyrics. We try to write fun stuff.

'Breakfast with Liz' is literally about going out for

breakfast with my friend Liz."

Everything they write comes from the source

material of their lives and from Vancouver as a

whole. Existing as a Vancouverite in its current

climate is tough and HUMANS are bringing

levity to the challenges by creating a danceable

distraction with Going Late.

"It's kind of darker and there are a couple

movements to every song. It evolves," says Ricq

of their sound and the sound of Going Late. "It's

a movement and it always evolves. We call it

progressive. There's always a progression to the

sound. There's two parts, sometimes more, it's

like dancing. We always try to make something

that moves you, something that's not your typical

polished sound. We try to take on challenges

and I think every time we do an album we try

something new, something we haven't done

before."

With Going Late, HUMANS do something new

by breaking the conventions of what makes an

electronic album. According to Slade, it's barely

using electronics in exchange for something

more traditional. "Everything has very loose

percussion. There's a lot of bass, guitar, keys and

live drummers. It's a lot more live."

"On some of these tracks it's Robbie and I

playing bass over three different sessions really

stacking it up and Robbie playing more guitar and

more live drums than ever before. We were trying

to experiment and have more of a band sound

without creating it with a band. We're getting

more comfortable after doing "Noontide" and

wanted to do it before, but it didn't feel right.

After working with our producer Nik (Kozub) we

feel like we can do whatever we want."

With Going Late HUMANS want listeners

to be able to put the record on at anytime and

turn everything into a dance party, while being

able to chill, unwind and listen to alone. And of

course, HUMANS wants their fans to come out of

listening to Going Late with one thing most of all,

"We want them to think we should win a Juno,"

says Slade without a second of hesitation and a

laugh.

Humans perform Feb. 15 at Celebrities Nightclub.

Peter Ricq and Robbie Slade capture the sound of Vancouver's challenging nightlife on Going Late.

February 2019 23
---
MUSIC

SLEEPY DOG

ANYTHING BUT TIRED

COLE YOUNG

Sleepy Dog craft country psych rock that will keep you up at night.

"I woke up the next day fully clothed on top of

the duvet and the screen door was on my feet

all tangled between my legs, so we hid it under

the mattress."

Luke Basso, guitarist and vocalist, reminisces

about a wild night at Sled Island Music Festival

in Calgary a few years back. It was the night

when him and Henry Peters, the band's other

guitarist and vocalist, met their new friend and

now bassist Scott Postulo. The three of them are

STEVE BROCKLEY

NO LOVE WITHOUT DARKNESS

JOHNNY KOSMOS

Steve Brockley's vintage folk ages well on his latest, Is Not Was.

The sappy love song is a tired trope. Steve

Brockley's latest release, Is Not Was, is far from

sappy. While Brockley might sound exasperated

and drained, the music itself isn't tired. "I really

appreciate a love song that's not all happy and

hunky-dory," says Brockley. "I try not to sugar

coat anything."

The title, Is Not Was, might as well have a

comma and read more like "Is, Not Was." The

album, written and recorded while Brockley

24

photo by Jenna Beaudry

joined by drummer Christofer Reimar to form

Sleepy Dog. Their interview with BeatRoute

was full of whiskey and cigarettes while Daniel

Romano sang his heart out in the background.

These boys may love to have a good time but

don't get it twisted, they're not in it for the

party, they're putting the time in and crafting

heartfelt country psych-rock that is just as

reminiscent of Johnny Cash as it is John Dwyer

of Thee Oh Sees. Peters explains the origins of

photo by Louis Bockner

was going through a rough patch with his now

wife, is a tale of life, love and the dark side of

it all. "We are current, not past," Brockley says

of the title. "It was all about pulling it together

and repairing it, and how can we move through

this?"

Written during the spring of 2016 and

recorded that June at Vancouver's legendary

Afterlife Studios, Brockley played most of the

instruments on the album, an impressive feat

Sleepy Dog, "I went to try and work on the oil

rigs but then nothing was happening. I was

working like one day a week so I just sat at

home and wrote a couple songs and brought

them to these guys when I got back." Postulo

adds that as soon as he heard the songs Peters

had been working on he knew he had to be

a part of it. "It's just totally the kind of thing

I'm into." These guys have a real bond over

the music, with members from other notable

Vancouver-based bands such as Dried Out,

Skinny Kids, The Prettys and more. When

they're not already on the same page, they're

intrigued to learn more about each other's

perspectives and reasons.

Basso at one point taking over as interviewer

asked Peters to explain the story and idea

behind their track "Getting High With Jesus."

"I'm from a really religious town so everyone

I know from home interprets that as me getting

high with fucking Jesus," Peters says. "But I don't

mean it like that at all; I mean me getting fucked

up with a guy named Jesus from Mexico. I like

to play on the line with it." Postulo points out

that he first interpreted the song as someone

getting high by themselves in a hotel room and

thinking that they meet Jesus due to the drugs.

At the end of the day, they're all just excited

to be discussing and creating art together.

Sleepy Dog perform at the Fox Cabaret

(Vancouver) on February 26.

considering they recorded it in two days. John

Raham (Frazey Ford, Be Good Tanyas) lent his

technical prowess and production instincts to

the project. Raham's live approach to recording

is essential to the natural and vintage feel of the

record.

Brockley is based out of the West Kootenays,

where he lives on an acreage with his wife and

child. Born and raised in Vernon, BC, Brockley

moved to Montreal where he played in a bunch

of bands, gigging and touring all over Canada.

"It was a great place to cut your teeth," he says

of his time in Montreal. "It's dirt cheap to live

out there so you can afford to make music and

not work all the time and there are tons of live

music venues — the opposite of Vancouver."

It was there that he met his wife, also from BC.

Tired of the big city, they moved back west to

raise a family.

The perils of love are hard to overcome.

Making an album about it is even harder.

Brockley has done both.

Is Not Was is now available on all streaming

services via Afterlife Records.

STATIC JUPITER

THE NEW HOME OF PSYCH ROCK IN VANCOUVER

COLE YOUNG

"Anyone can have a projector, but when the liquid light

show is happening in real time, you just know that the

artist is experiencing the music the same way the artists

playing it are. It's just beautiful."

Valeria Kvochkova, owner and lead engineer of

Static Jupiter, is bursting with passion when talking

about Vancouver's local music scene. Whether it's the

aforementioned live analog liquid light show present at

every gig she hosts at her venue, the bands playing, or the

people who show up, it's clear that every ounce of her

spirit is dedicated to helping the music scene grow and

flourish.

Static Jupiter is Vancouver's newest DIY venue, hosting

mostly garage-rock type shows every weekend. On top

of being a great place to catch one of your favourite local

acts, Static Jupiter is also a recording studio during the

week. Kvochkova is busy working with tons of local groups

such as Brother 12, The Rambling Derelicts, Oswald and

Primp. On top of her passion, Kvochkova is full of talent,

knowledge and creative ideas. She's currently waiting to

get her reel to reel tape recorder fixed and she will then

not only be able to record to tape, but also will have live

sets running through it which will then play through the

PA at shows so that the audience gets to experience the

sound of reel to reel during a live performance. She also

plans to purchase a vinyl cutter so she can record the sets

straight to vinyl. Once she has this set up she will be the

only one in Vancouver recording live shows straight to

vinyl, something she is really looking forward to. "You have

this event captured on beautiful vinyl and if you listen to it

you'll feel like it's happening again in real time," she says.

Kvochkova has put an incredible amount of time and

energy into making Static Jupiter what it is today. From

installing acoustic treatment to design and promotion, she

puts everything she's got into the space. "All I want is to

contribute to the music scene, and when people are here

you just know that's it's become a community. People are

actually here to listen to the bands. It's not about doing

drugs and getting drunk, it's the complete opposite and I

really respect that. It's probably why I'm still doing it, even

though I'm tired as hell."

Static Jupiter is located at 25 E 6th Ave. in Vancouver.

Owner Valeria Kvochkova is dialled in to local music.

December 2018
---
MUSIC

DANIEL ROMANO

A COSMIC COLLAPSE BETWEEN ART AND AUDIENCE

SEBASTIAN BUZZALINO

photo by Sebastian Buzzalino

Finally free — Daniel Romano knows that there is no truth in rock 'n roll, but his postmodern approach to songwriting makes him one of the most enigmatic and exciting songwriters in Canada.

Daniel Romano is wildly prolific and

bound to no one but himself — an

artist equally comfortable kicking out

the jams before 300 mad girls in Madrid

with his free-wheelin' rock 'n' roll group,

The Outfit, as he is nestled in a cabin

deep, far-off in the solitude of a waning

Swedish summer. In pursuit of music,

poetry and painting aimed towards

discovering a sort of truth in art, he

ends up confronting the notion that

perhaps truth isn't the right question

to ask.

"I don't think the truth of a song

matters at all," says Romano. "I never

listen to music and think, 'Is that

true?' I get uncomfortable with very

literal language in song, it makes me

feel uneasy. Outside of the personal

relationship of trust, I think the truth

doesn't matter so much."

For Romano, the profound, there

is no truth in rock 'n' roll, no fixed

horizon, no centre from where we can

get our bearings. Our heroes are dead,

the gods are long gone and the only

thing that's left is an exploration of the

human condition as it unfolds alongside

us. His lyrics, penned somewhere

between Dylan and Rimbaud, exist

in a paradise populated by Greek

mythology and take on the mantle of a

soft resistance, a call for freedom.

On his recent album, Finally Free, this

is particularly true. The songs slip in and

out of feverish dreamscapes littered

with translucent bodies and weeping

angels, characters trying to get out

from under the machinations of their

own thumbs. It's an apolitical warning

where freedom from corruption

moves towards freedom in love and

expression. There's honesty in his lyrics,

but not necessarily truth — at least

none that you or I could access. Not

that it would matter anyway, we make

our own truths as much as he has his.

"The song changes as soon as it's

written," claims Romano. "You write a

song with a purpose, with somewhat

of a meaning in mind, or, more

interestingly to me, a mood. But then

you can't replicate that mood once it's

done. I mean, you're singing the words

in so many different circumstances and

playing the song in so many different

places for people, and people are always

going to feel differently, that I wouldn't

want to try and replicate that original

mood. That would be so exhausting."

He adds, "A show is, 'Take these [songs],

I made them and maybe they'll do

something for you as they did for me."

This postmodern approach to

songwriting makes Romano one

of the most enigmatic and exciting

songwriters in Canada. He understands

he is dead as an author but alive as

the artist, and that the intersection

between him and us is where we create

instant meaning in the moments we

share.

"You can find anything in anything, if

you want to. I used to worry that things

were too in the moment and not exact

and concise, as far as whatever the

process is for getting thought into word

in my songs. But it's really more to do

with the mood than anything."

On the track "Between the Blades

of Grass," Romano sings about the

"liberating in the language of love."

It's a common thread throughout his

work that clarifies what, if anything,

can fill the void — a deep, empathetic,

spiritual sort of love that binds us

together, a nucleic bond between artist

and audience. To illustrate his point,

he mentions a new poetic project he's

wrapping up with long-time friend and

artist, Ian Daniel Kehoe.

"We started a poetic correspondence.

We send each other poems in

dedication to each other. Interestingly,

2019 is the year of eros, the origin of

erotic nature. We had decided, previous

to knowing that, that it was going to

be sort of erotic, in the early Greek

meaning of the word, exchange. As our

correspondence continued, the poems

became tributes to each other, more

so than how we think of it as modern

eroticism… you can sense this kind of

symbiotic and drastic metamorphosis

of almost two people becoming one.

There's a unification of thought and

feeling."

This unification, this becoming of

one, can be read as a blooming process

that, again, resists the easy packaging

and distribution of a singular sense of

being. Romano and Kehoe's bodies

move towards each other into one and,

in the cosmic collapse, an impassioned

universe of love emanates, entire

constellations tracing out nostalgic

histories and emergent presents.

The same applies to Romano's art,

musical or visual: it's a tense, symbiotic

relationship between art and audience,

between creation and consumption, a

crucial link in the survival of both.

Thus here we stand, at our own brink

of collapse together — Romano and his

audience, Romano and Kehoe — the

ground already crumbling at our feet

in anticipation of emancipation. Will

2019 be the year of eros, a complex

metamorphosis? What becomes the

meaning of love? Are our spirits truth?

And are our bodies free?

Daniel Romano performs February 25 at

the Biltmore Cabaret (Vancouver) and

February 26 at Lucky Bar (Victoria).

February 2019 25
---
MONSTER TRUCK

BAKING A BIG BATCH OF THUNDER

CHRISTINE LEONARD

DEAD MEADOW

20 YEARS OF PSYCH ROCK GOLD

MADDY CRISTALL

photo by Mathew Guido

With a little help from Twisted Sister's Dee Snyder, Monster Truck are all revved up and ready for you.

Dead Meadow is one of the most important

gems in the ever-changing and beloved sea of

psych rock. The genre is perhaps now more

popular than ever with the array of artists such

as King Gizzard and the Lizard Wizard, Thee

Oh Sees and Ty Segall perpetually releasing

innovative music. Dead Meadow is a 20-yearold

band that may just be the epitome of psych

rock. Their music is simultaneously heavy yet

melodic; it's an accessible mosaic of sound.

They're known for generous concerts that

melt the faces off drooling audience members,

present company included.

The band has always consisted of lead singer

and guitar icon Jason Simon as well as Steve

Kille on bass and sitar. Every strong psych band

requires a sitar. The two primary members

have rotated drummers over the years, but

each original member is featured on their latest

album The Nothing They Need. This is the

band's eighth studio album and arguably their

best yet.

"It felt like a reunion – we got into the studio

and it was like 1999 again," Simon says. Perhaps

that's what makes this record so special. It

doesn't feel nostalgic; it feels brand new. The

band is originally from Washington, D.C. but

now resides in L.A. When asked if they are

famous in L.A., Simon coyly laughs.

"Who knows, are we famous anywhere?" he

says. The answer to that question is that, to

most, they're not. To some, though, they make

the world's most important music.

"The music industry has changed so much

over the years, it's hard to know if there still is an

industry," says Simon. "We signed with Matador

in the early 2000s and I don't know if bands can

just do that anymore."

Their latest video for "Here with the Hawk"

features Michael Horse a.k.a. Deputy Hawk

from Twin Peaks. The video is a wonderful

representation of the infinite magnetism that

Dead Meadow so seamlessly emanates. Dead

Meadow remains interesting because they are

authentically excited to make music.

Dead Meadow plays at the Rickshaw Theatre on

February 23.

Big, bad and mean, Monster Truck is a Hamilton

phenomenon with the multi-dimensional clout

of a rock 'n' roll juggernaut. Since the four-piece

released their third studio LP, True Rockers, last

September, Monster Truck has been riding high on

the momentum along with the testosterone-fueled

lead single "Evolution," featuring Twisted Sister's

Dee Snider. Racking up tens of dozens of live shows

since their previous album Sittin' Heavy (2016),

the close-knit band has come to appreciate the

simple pleasures of life. Who knew that making a

homemade meal could compete with opening for

Deep Purple? Monster Truck, that's who.

"I like to do a lot of culinary stuff. I put a fair

amount of time into making sourdough bread in

addition to doing a lot of Thai cooking. Basically,

just enjoying being in the kitchen and trying to

find new recipes to make and to liven up the ol'

dinner time at home," reports guitarist Jeremy

Widerman.

Along with breaking out ear-grabbing

rock anthems at the drop of a checkered flag,

Widerman is also a self-professed sourdough dealer

to the stars. Or, at least, he's trying to be.

"No one really wants it. It's such an investment

of time to get through the entire day of building

the dough and then letting it sit overnight, and

baking it the next day to have it turn out like shit,"

Wilderman says of his efforts that he also tries to

pass off to his bands member. "It really was like two

or three months of not getting great results for me

before I started getting some loaves I was satisfied

with. So, I don't know if people have enough time

to wanna put into learning how to make bread.

For me it ended up being worth it. But I'm not sure

that's something everyone wants to dive headfirst

26

into."

For a hot minute there we thought Widerman

was talking about making an album instead of

baking a loaf.

"You could say that," he observes. "In the studio

it's a lot harder actually than in the kitchen with

the sourdough. The sourdough kind of ends up

being a thing where you know it's good by looking

at it the second you cut into it. You can see it from

the outside, it's got an exterior element to it that is

crucial to knowing whether or not you did a good

job. In the studio you don't know if you're happy

sometimes until after the fact."

An essential component of Monster Truck's

success lies in their unified vision for a putting on

a riveting live show that will have fans reaching for

their wallets and their beers.

"That's definitely a fundamental aspect of trying

to figure out whether or not a song is good. And

that's what I most envision when I'm working on a

song, a transition, a part or a vocal hook with the

band. I always try to put my mindset of how it's

going to feel to play live."

If you believe the signals, it looks like Monster

Truck has a long career of selling the edge of seats

ahead of them.

"This is something that we've done over 10

years, but we're the same band as when we started.

There are people who are just getting onboard now

who are bummed that they missed out eight years

ago. They're like, 'Where have you been my whole

life?' and we're like, 'We're right here!'"

Monster Truck perform February 6 at Capitol

Ballroom (Victoria), Feb. 7 and 8 at Venue Nightclub

(Vancouver).

After 20 years, Dead Meadow frontman Jason Simon still has no idea if his band is famous.

February 2019
---
CONAN

TOTAL CONQUEST CITY

CHRISTINE LEONARD

Liverpool, England, may be nicknamed "the

Pool of Life," but it was the primordial ooze of a

million down-tuned guitars that gave birth to the

grinding sludge metal band Conan. Emerging from

the estuaries of Merseyside in 2006, the stoneshattering

three-piece has grown to become one

of the most revered and recognizable artists on the

photo by Matt Negus

Conan embrace a strong sense of altered reality, if not all-out fantasy on Existential Void Guardian.

Napalm Death record label.

Most recently, the lumbering fuzz giant

unleashed its fourth studio LP, Existential Void

Guardian. A melodic yet bludgeoning answer

to 2016's Revengeance, Conan's latest onslaught

continues to benefit from the grounding presence

of bassist/vocalist Chris Fielding. The producer of

several of the band's previous recordings, Fielding

has been adding his gravitas to the sonic frenzy

generated by guitarist/vocalist Jon Davis and

drummer Johnny King. As Davis confirms, the

complex riffs and vexing grooves of Existential

Void Guardian foretell a new epoch in the history

of Conan.

"I think the main thing was how heavy it came

out and how the songs took shape in an almost

effortless manner. We had quite a disjointed 12

months leading up to the recording of the album

and there was a risk the album would suffer, but

I'm very happy that we put out a cool recording in

spite of it all."

Rising above the din, Conan's first recording

featuring drummer Johnny King (Dread Sovereign,

Malthusian) stands out from the crowd with Davis

delivering his bloodstained lyrics with a poetic

passion that runs hot and cold.

"I think my lyrics have usually been kind of

concise and I think it works, because it doesn't give

too much away," says Davis. "It helps the listener

use their imagination, which is absolutely what

we want them to do while listening to the music.

I 'defo' use colloquialisms in normal conversations

but try not to do it in the lyrics. I find that would

be a bit limiting for the tracks and I'd hate to make

myself cringe further down the line!"

One thing Existential Void Guardian has in

common with the trio's earlier works is a strong

sense of altered reality, if not all-out fantasy. After

hours of exhaustive research, Davis concludes that

Conan's back catalogue is best paired with the

following video games:

"Horseback Battle Hammer (2010 Throne

Records)–Rastan (Commodore 64 version),

Monnos (2012 Burning World Records)–Quake

(PC version), Blood Eagle (2014 Napalm Records)–

Skyrim (PS4 version), Revengeance (2016 Napalm

Records)–Renegade (Amiga version), Existential

Void Guardian (2018 Napalm Records)–Karateka

(C64 VERSION)."

It's only a matter of time before the industry

comes knocking, especially now that Robert E.

Howard's beloved Conan character has returned to

Marvel Comics and the public eye.

"Hold on, I'm just about to put a down payment

on our new tour bus," Davis jests, predicting an

upsurge of interest in the necromancer-smashing

barbarian and the band's namesake. But seriously,

you just never know where the group's doomy

Cimmerian sounds are going to turn up.

Conan performs February 28 at The Astoria..

IMONOLITH

SUPERGROUP'S HOMETOWN DEBUT

ANA KRUNIC

Despite its relatively small population, Vancouver

has spawned a surprising amount of internationally

acclaimed acts. It's even more surprising when you

consider how many of them come from the metal

or alternative scene: Skinny Puppy, 3 Inches of

Blood, D.O.A., and, of course, Devin Townsend and

his insane genesis as Strapping Young Lad. When

Townsend announced that he was putting the

Devin Townsend Project (DTP) on hiatus last year,

his bandmates, drummer Ryan Van Poederooyen

and guitarist/bassist Brian Waddell, had time to

spend on something that had been brewing for

a while. Without the constraints of the relentless

tour schedule that the Devin Townsend Project

demanded, Imonolith sprung forth.

"Brian and I started writing material for

Imonolith back in 2015," Van Poederooyen says.

"In between tours we just started jamming, since

we grew up on the same kind of music – Pantera,

Van Halen, that kind of stuff. We'd been writing

music for the past few years, and we thought, let's

do this, now is the time. Let's get some artists that

we'd truly love to write and play in a band with

and get it going. In February we made the calls,

we got in touch with everyone. We were already

kind of jamming with Byron [Stroud, of Fear

Factory and Strapping Young Lad] so he was the

first guy we added, then we got Jon [Howard, of

Threat Signal] and Kai [Huppunen, ex-Methods of

Mayhem]. And that's Imonolith."

The songwriting for this project is, so far, a joint

effort between Van Poederooyen and Waddell

since they already had a body of work together

before forming the supergroup.

"There's guitar leads and stuff that's been added,

but for a base sound everyone loved what Brian

and I had already written. As the band progresses

and everyone gets used to touring with it and

playing the music, we're going to evolve much

more."

Coming from that kind of musical background

creates preconceptions from fans who assume

they're going to follow in Devin's prog-metal

footsteps. But Imonolith is coming at their sound

from their own angle, as heard in their first single,

"Hollow," which came out along with a music

video on January 18.

"Everyone in the band has different influences

and that's how we want to present the music,"

he explains. "We don't just want to come out

with crushing metal – we have a catchier radio

side to us, which the world's going to hear with

'Hollow.' We don't want to be a one trick pony. We

want to have our heavy side, our catchy side, our

experimental side and everything in between."

The single is a precursor to a full-length album

they're hoping to release this summer, with their

first-ever show happening in their hometown of

Vancouver.

"We're excited. Brian and I have been touring

constantly for the past 10 years to the point where

if we got four or five months off, it was a long time.

And now, the last show I played was on December

photo by Dave Benedict

Imonolith has a lot of experience and broad influences that lend to their many sides and sounds.

31, 2017. So for me it's like, holy shit, I need to get

out there, man. To play the first ever show with

this project in our hometown, especially after this

long, is amazing."

Imonolith plays at the Red Room on February 23

with guests Touch the Sun.

February 2019 27
---
BPM

LOOP SESSIONS

AN UNDERGROUND INCUBATOR FOR CREATIVE EXPLORATION

JOEY LOPEZ

CLUBLAND

YOUR MONTH MEASURED IN BPMS

JOEY LOPEZ

Winter isn't over yet and the cold might make you want to

stay in all day, but you're not going to want to be a homebody

forever so get out there and catch some of the electrifying

shows that February has to offer. Grab your Valentine's Day

date and impress them with your impeccable tastes at this

month's upcoming shows.

BOOMBOX CARTEL

February 7th at Celebrities

The LA-based electronic dance duo with Latin roots, Boombox

Cartel are guaranteed to bring the house down at Celebrities

Nightclub with their trap and hip-hop influenced production.

Get ready to be danced into a daze by their hypnotizing

grooves that is both dramatic and romantic with a touch of

head-banging dubstep snuck in there to keep you guessing

WTF will come next. Get ready to experience two club DJs on

creative steroids.

Loop Sessions creates a space that welcomes creatives free of charge and free of ego to learn and create.

There are few things left that are found out by way of word of

mouth. The internet has provided immediate access to nearly

all information known to humans and spontaneous discovery

becomes rarer every day. There's something special about

something that is truly underground – unadvertised and not

promoted or reposted one hundred times over to gain mass

attention. Loop Sessions is just that. An opportunity for raw

creative improvisation: once a month a group of 30 producers are

brought under a single roof and given the same song to sample.

Each producer is then tasked to create a two to three minute

beat based on that sample within a three hour time frame. From

there, they reveal their creations to each other – something wholly

original with no two songs sounding the same.

Loop Sessions is a hidden gem, not only just to Vancouver but to

places all around the world. Its origins are the brain child of a group

of producers from Brazil that sought to bring artists together under

the name Deep Brasilia. From there it found its way to Montreal by

way of Canadian producer Dr. Mad.

Bringing it to Vancouver was practically serendipitous. While

recording I M U R's latest album in Montreal, band member Mikey

Blige came across the Loop Sessions that was happening there and

immediately sought to bring it back home with him. Unbeknownst

to him, Nick Wisdom of producing duo Potatohead People

happened to have the exact same idea,

"I met up with Dr. Mad on my trip to Montreal and told him

that Mikey went to Loop Sessions and how I wished I could have

gone. He was like, 'You guys have to start it in Vancouver. That's

your mission you have to do this.' Says Wisdom of the beginnings

of Loop Sessions Vancouver, "When I came back to Vancouver I

was planning on starting [Loop Sessions] with Nick and I didn't

even know he was given this mission. It was kind of perfect timing.

And we didn't even have a space but the owner of Nemesis Café

really likes hip-hop and he offered us the space for anything we

wanted," Blige mentions of the synchronicity of the event coming

together. According to Wisdom, the mission itself was to create a

space that welcomed creatives free of charge, free of ego and free of

clout chasing.

"The best part of it is you get to see so deep into somebody

by what they choose to do with those two hours. Everybody's

vulnerable and none of these beats are masterpieces, but that's

not what it's about. It's about giving people something to do. I

remember the feeling of the first one and being so inspired by

28

photo by Bailey Morgan

seeing 30 people making beats, 25 of which I had never seen in my

life and now we see them all the time."

"We don't even want to advertise it because we don't want too

many people coming and resulting in someone being turned away

[due to space], so we invite people that we know make music or

anyone who was at the past Loop Sessions. There's already been

this great community of people that have naturally gravitated

toward it." Says Blige, "But we want to open it up to more newbies

and more women. We have a lot of men come in and we're

wondering how we can change that," chips in Wisdom about

building on the accessibility of the event.

The solitary practice of creating beats in one's own room

becomes a social event, putting those who normally shy away from

the spotlight centre stage for their peers to witness and admire.

"During the month we started this in Vancouver, without any

external contact, Loop Sessions Brussels and Loop Sessions Buenos

Ares started at the same time. And now there's a Toronto one, too,"

Says Blige, solidifying the collective consciousness behind Loop

Sessions and affirming that this is exactly what producers around

the world have been craving. " We hope in the future with a little

bit of love we can build something where people are travelling

city to city, bringing people from like Loop Sessions Montreal out

here and we send people out there and when people go travelling

to whichever city they will know there's a Loop Sessions there.

Creating a bigger network and crossing more paths." says Wisdom,

hopeful for the future of turning Loop Sessions into a worldwide

networking opportunity, "We really want to establish more public

support. What we're hopeful for in the future is to get more high

profile curators, so people who are producing locally will have a

bridge to those who are on the international circuit. There's a huge

opportunity there," Says Blige on the future plans of Loop Sessions.

With Vancouver's DIY venues suffering from the meteoric rise

of unaffordable real estate and the gentrification of lower income

neighborhoods with great losses happening across the city,

something like Loop Sessions is exactly what Vancouver needed.

An accessible space, free of charge where artists can create freely

and where newcomers to the scene can rub shoulders with local

legends.

Loop Sessions is held monthly at Nemesis Coffee free of charge and

is open to the public. Catch February's Loop Sessions hosted and

curated by DJ Flipout.

CHALI 2NA

February 14th at The Imperial

Oh shit, Chali 2na himself! The OG from the legendary Jurassic

5 is going to be bringing his brand of classic hip-hop to The

Imperial on Valentine's Day. When we say classic hip-hop we

mean it and this is the show to be at if you want to spend the

most romantic day of the year if you feel like you're getting

funky with one of the grandfathers of the Chicago rap scene.

YVES TUMOR

February 16th at Celebrities

Do you have plans February 16th? Well, forget them. Forget

them now! Drop everything and go see Yves Tumor at

Celebrities Underground. Coming off of a collaboration

with Blood Orange and their incredibly strong album Safe

in the Hands of Love, Yves Tumor is the best he's ever been

and you're going to want to see what he has to offer. Fans of

experimental hip-hop and avante garde soundscapes will have

field day with this show.

JOJI

February 22nd at Fortune Sound Club

A member of 88Rising and former YouTube sensation Joji has

quickly risen in the ranks of the alternative R&B world with

his dark, moody style. If Valentine's Day wasn't for you and

you're still rocking that single life then lose yourself in Joji's

brooding tracks about sadness and heartbreak. Embrace that

inner sad boy and catch what is most definitely going to be an

interesting performance.

YVES TUMOR

February 2019
---
BPM

SHAD

THE REVOLUTION WILL BE ENERGIZED

ALAN RANTA

photos by Justin Broadbent

Damn the man, Shad smashes the state on his sonically aggressive and forward-thinking, A Short Story About War.

Kenya-born, Canada-raised rapper Shad has been

through a lot since he dropped Flying Colours, his

third consecutive Polaris Prize short listed album,

in 2013. He became a positive face for CBC's q

after Jian Ghomeshi was fired in disgrace, hosted

the award-winning documentary series Hip-Hop

Evolution, and most recently became a husband

and father. If you think parenthood is going to

make him soft, you'll be dead wrong.

"I thought that maybe it would make me feel

more conservative, just in terms of wanting to be

stable," Shad says over the phone. "But it's actually

made me feel like I have to live out my values even

more, like there's somebody watching. I assumed it

would make me get more pragmatic and sensible,

but it's kind of done the opposite. Made me think

even more about what it looks like to live out my

values every day."

Returning to hip-hop production after a five

year gap, A Short Story about a War is arguably his

most ambitious work yet. It's a complex concept

album set on a desert planet waging a seemingly

ceaseless world war. The album is a staggering,

insightful examination of humanity's attempt

to survive the drawn out effects of a desperate

capitalist system.

"This album is really anti-capitalist, more than

I think I even realized when I was making it," Shad

says. "Do I think we'll survive? I want to say yes,

but there are a lot of challenges. I think the biggest

challenge is how quickly things change, and it's

difficult for us to get our heads around what to

do, frankly. Our institutions are big and slow.

Our governments are big and slow. Meanwhile,

technology is shaping us really quickly. I don't

know how we are supposed to contend with

that. There is something energizing about having

a problem to solve, and our generation has a lot

of big problems to solve, everything from the

environment to inequality. I don't know if we'll

figure it out, but I do feel energized that we have a

task at hand and we have something to do. There's

potential there."

From a purely sonic standpoint, A Short Story

about a War is the most aggressive and forwardthinking

album Shad has produced, compared to

the warmer throwback De La Soul vibes of Flying

Colours. With guest appearances from Kaytranada,

Lido Pimienta, Eternia and Yukon Blonde, there

is as much going on aurally as lyrically, requiring

multiple listens to fully appreciate its many

flavours.

"I wanted it to carry the feelings I wanted

people to feel with the album, which to me

felt imaginative, apocalyptic, intense, exciting,

anxious," Shad desired. "All that means, for the

most part, getting away from the soul samples

that I still love, but, for this project, weren't right...

Part of the fun trying to put this together was the

task of making it listenable, approachable and

manageable, even though it's dense and intense

by nature. I had that idea of interludes going back

to the classic hip-hop thing of interludes that

feel almost live, like you're hearing a poet or a

storyteller in a room stitching the thing together."

Hitting the road for his first real tour in years,

Shad is excited to reconnect with his fans across

the country, to see how his challenging new tunes

have resonated. It's not going to be all doom and

gloom, though. He's going to mix it up.

"This lineup, as far as the musicians and sounds,

is kinda why I went away from live bass and

live drums because I wanted to at least make

everything sonically consistent with the darker

sounds that are on the [new] album," Shad

muses, "So that's why there's the synth bass and

programmed drums. The tricky thing has been

incorporating some of this stuff in with the old

stuff, and have it make sense altogether… Some of

this stuff is going to a different place emotionally,

and then I have to make a turn to some of the

other material that I want to do, especially live,

because people like it. And it's fun and that's the

energy I want to give people in a live setting, but it

can be a hard turn."

Pushing the aesthetic boundaries of his music

and taking the structure and meaning of his

lyrics to new heights, A Short Story about a War

deserves to be the one to finally claim the Polaris

Prize more than anything else he has yet released.

In any case, it's sure to resonate deeply across

Canada and beyond.

Shad performs Feb. 21 at Fortune Sound

(Vancouver) and Feb. 23 at the Capital Ballroom

(Victoria).

February 2019 29
---
FILM

BLACK HISTORY MONTH

AND THE AWARD GOES TO…

HOGAN SHORT

It was only three years ago that the 2016 Oscars

inspired the #OscarsSoWhite hashtag. Chris Rock

hosted those 88th Academy Awards, ironically

joking that if he didn't take the job it would mean

losing yet another gig to Kevin Hart. We've seen

how that turned out, but that's another story.

Chris Rock had another funny line in his standout

opening monologue, "I'm sure, in one of the years

when Sidney (Poitier) didn't put out a movie, I'm

sure there were no black nominees." He definitely

had a point. The Oscars started in 1929. It took

10 years for the first black person to win an Oscar

because Hattie McDaniel was just too damn

incredible in Gone with the Wind to ignore. It

then took another 24 years for Sidney Poitier to be

awarded number two. From 1949-2000, 29 black

actors were nominated for acting awards out of a

possible 510 nominations. African-American film

workers have not been given roles or positions

LORDS OF CHAOS

BLACK METAL DRAMEDY PACKS A GRUESOME PUNCH

AUSTIN TAYLOR

Denzel Washington as

Malcolm X, 1992

BeatRoute's film editor looks back at some of the most overlooked nominations by the Academy in years past.

historically, and when they are, the voting body of

the Academy is 94 per cent white males over the

age of 50.

Here we have a short list of a few contributions

to film that did not even receive a nomination.

Every year incredible talent goes ignored or

unnoticed, but these examples are genuinely

egregious snubs.

MALCOLM X

Best Director: Spike Lee

First he had She's Gotta Have It and Do the Right

Thing (which wasn't even nominated), and then

Mo Better Blues, and yes, they are all worthy of

best picture. But now Spike Lee has a bona fide

star in a fleshed out biopic featuring what might

be the best performance of Denzel Washington's

career. And nothing? Washington got nominated,

and the film was nominated for Best Costume

Design, too. Lee got his first nomination ever this

year, but it should have been one of many to date.

SELMA

Best Director: Ava DuVernay

Best Actor: David Oyelowo

This is considered one of the biggest snubs of

all time. It came out late in the year, receiving

incredible reviews for its intense and dramatic

power. Was it too late to be considered? No,

because they did give it a Best Picture nomination.

How a film could be one of the best of the year

and get a 99 per cent rating on Rotten Tomatoes

yet not receive a nod for its direction or for the

brilliant portrayal of an icon is still confusing.

SORRY TO BOTHER YOU

Best Original Screenplay: Boots Riley

One of the best-reviewed films by critics and an

audience favourite, this is a film that delicately

carries humour while having a strong critique on

capitalist society and being black within those

borders. If this movie was destined for one award,

it was for its script.

BEST LEAD ACTRESS

The sad thing about this award is that I barely have

enough content to discuss. Try and think of five

well-written films with a black female lead. Angela

Bassett should have 10 examples herself. Great

supporting roles happen often, even though they

are rarely nominated. Kerry Washington has never

had one, and think about Django Unchained and

The Last King of Scotland. On IMDB's list of the

top 100 actresses, only three of them are black.

BOYZ N THE HOOD

Best Picture

John Singleton was the first black person ever

nominated in this category, which is ridiculous

enough. And it didn't even get a Best Picture nod,

which is even more ridiculous. The two are not

always hand-in-hand, but without calling any film

in particular out, Boyz n the Hood was by far more

deserving than most of the other forgettable films

in the category.

Many people have expressed their disdain for the

achievements of Black Panther, calling it overrated

and unworthy, but for many, it's the first time they

have seen themselves represented onscreen as

a superhero and politician. We made it through

17 Marvel movies before we saw a black person

leading the story, and that story went on to be

the Marvel Universe's most profitable. Strides

are being made, and things are becoming more

inclusive in film. What we need now is complete

inclusivity. Not just as the friend in a romantic

comedy, but as the lead. Not just as the first

person to die in a slasher film, but as the person

who makes it out alive. Get Out was huge for a

reason, but now it is time for Hollywood to allow

for more films of its kind – not only when a genius

filmmaker decides to comment on society's many

flaws, but also when a filmmaker just wants to tell

a great story.

When Vice Films announced they were making

a movie about the Norwegian black metal band

Mayhem, most wouldn't have guessed its genre

would fall under "dramedy." Considering the

band initially gained notoriety with a revoltingly

graphic album cover in 1990—featuring a

photograph of their lead singer post suicide via

shotgun to the head—one might conjure images

of thriller or horror. Following the debut of the

album cover rumors, often sparked by members

themselves and later proven in the court of law,

Mayhem's notoriety spread like the fires of the

ancient churches rampantly being burned in

their Norwegian community. Lords Of Chaos

features these myths without censorship, including

members of the band wearing skull fragments

of their dearly departed lead singer as necklaces,

acts of animal abuse, senseless vandalism and,

most horifically, brutal murder. It's unclear what

the producers were expecting would come out of

this film but there's nothing like Macaulay Culkin's

kid brother Rory to sprinkle some of that Home

Alone 2 charm into one of the most sinister tales

in contemporary music history.

30

Lords Of Chaos melds dark humor and dark

music in a way that makes such a gruesome

narrative barely digestible. It's just enough to reach

fringe mainstream audiences without repulsing

them away within the first five minutes. Even

so there were scenes that were so macabre and

grisly it's difficult to maintain eye contact with

the screen. If death and gore isn't your thing, you

might want to skip this one.

The narrative closely follows the true chronicles

of Mayhem founder Øystein Aarseth a.k.a.

Euronymous and Burzum's Varg Vikernes as they

establish the black metal subgenre. In the film the

duo quickly amasses a cult following, which fuels

their egomania, initiating a gruesome game of

one-upmanship of who can be the most fucking

metal. The viewer quickly learns that being metal

doesn't just mean growing your hair long and

wearing t-shirts with band names spelled in

ornate illegible fonts. In one scene, "The Black

Circle," not being a poser involves burning down

Christian churches for album art, murdering

your best friends for clout and raiding your local

butcher for pig heads to be used as stage props.

Lords Of Chaos chronicles the origins of black metal and its originators, Mayhem, through an objective lens.

The film does an interesting job portraying the

nearsightedness of the group's ideas on how to

achieve absolute metal-ness. It illustrates the

shortcomings of their ideology by juxtaposing the

realities of their everyday lives with the vision of

"metal" that they are hoping to project onto the

world. Realities such as group members wealth

upbringings. Including, Euronymous pulling a

Volvo out of a pristine suburban driveway, hiding

a bouquet from his parents during the opening

day of his pretentious record store, or the fact

that the record store was fully funded by them.

The mystique of someone being truly black metal

to the core quickly vanishes when you watch

members of the band eat donair or practice their

scowls in the mirror of their IKEA-clad apartment.

Considering Mayhem invented black metal, you

would assume the director (Jonas Akerlund)

would make them endlessly cool, but it was

refreshing to see this was not the case.

Regardless of your emotional connection to the

band or knowledge of this page in metal history,

the admirably concocted blend of solid casting

and convincing acting, morbidly raw violence and

comic relief keep this film engaging from start to

finish. If you have any level of sentiment for the

legends of Norwegian black metal or just want to

see someone eat another person's brains, Lord's of

Chaos will fit just perfectly into your Valentine's

Day plans.

February 2019
---
FILM

DESTROYER

DIRECTOR KARYN KUSAMA EXAMINES WHAT IT TAKES TO BREAK A SOUL

HOGAN SHORT

THIS MONTH IN FILM

YOUR MONTH MEASURED IN BPMS

BRENDAN LEE

Velvet Buzzsaw

February 1

Jake Gyllenhaal and Dan Gilroy, who directed Nightcrawler, team

up again for their next mind twister, this time about an eccentric

art critic and a set of paintings with terrifying, unholy powers.

Behind thick-framed black glasses, Gyllenhaal looks to be at his

weird, weird, best.

According to director Karyn Kusama, Nicole Kidman took to method acting to portray her storied character, Detective Erin Bell.

Karyn Kusama, like any woman working in

film (or any industry, really), has worked

incredibly hard to get where she is now.

She had early success in film and television

and has now, along with her screenwriter

husband, found herself able to create

the stories she wants to tell. Her new

film Destroyer is the second film in an

unconnected L.A. trilogy, the first being the

under-appreciated psychological horror

The Invitation. Destroyer is a character

study of a woman whose soul has broken.

Nicole Kidman plays Detective Erin Bell,

who must connect with various people

from a past undercover case to find any

semblance of peace. Kusama talks about

making this gritty character study with one

of Hollywood's biggest stars and how they

found each other to begin with.

"Nicole actually approached me for

the part," says Kusama. "She had read the

script before we started casting and was

interested in talking creatively. She loved

the character. Unlike a lot of actors who

won't have a conversation until they know

the offer, she is willing to hear a director's

vision of the film and then be a part

advocating for it. The openness in which

she approached this allowed me to be

purely creative." Kusama's films have always

had a deep supporting cast, recruiting

top talent to different roles no matter

how small or large. Destroyer is carried by

Kidman's powerhouse performance but is

held up in every moment by an amazing

ensemble that includes Sebastian Stan (I,

Tonya), Tatiana Maslany (Orphan Black),

Bradley Whitford (Get Out), and many

more. To piece a cast like this together

while writing each character to have depth

and a real sense of uniqueness is rare, and

Kusama has handled that task beautifully.

"I got a great piece of advice a long time

ago from director John Sayles (Lone Star),

who I was an assistant for for three years,"

she says. "He read Girl Fight [Kusama's first

film to earn wide critical acclaim] and he

told me, 'As you get closer to finding your

story, put yourself through an exercise of

looking through the eyes of every person

as if they were the main character.' It gives

a vividness and specificity to everyone

onscreen. My hope is that it means I get

to work with really special actors who can

really fill those roles. Casting is the single

most crucial part of the process."

Kidman's performance in this film is

doubly impressive when considering she is

essentially playing two different characters.

She plays a young undercover Erin Bell,

in love and excited about the work. She

also plays an aged, broken down Erin Bell,

seemingly incapable of feeling happiness

on any level. On set, there was a creative

and budgetary decision to shoot Kidman's

later years first. "As we were prepping, we

recognized that it would be really nice

to get a sense of what the present-day

Erin Bell was like, what informed her and

emotionally drove her. Nicole would then

be able to hook into younger Erin Bell,

because by the time we finished all her

material she was pretty rung out. To be able

to play the younger version who is more

optimistic, it came at the right time to

jump into that work."

Jumping into the work was something

Kidman did completely, to Kusama's

surprise: "She stayed in character. She

approached the role as a method actor

more than I anticipated. On set when I

chatted with Nicole about an adjustment

or a performance, I wasn't speaking with

Nicole. It was Erin Bell, which was a little

more daunting. Initially I thought she was

really grumpy, but no, she's just Erin. Erin

lives in that broken, dissatisfied place, so it

was interesting to have the a-ha moments

on set. In many respects I was witnessing a

channeling of the character through Nicole

until we finished."

One of the most important characters

in Destroyer is actually the city of Los

Angeles itself. Typically, in gritty, street level

detective films like Taxi Driver and Serpico,

we see New York City. L.A. seems to be

used for sprawling sunset car chases and

palm trees. Kusama and her locations team

have created this dirty, small world in L.A.

that we haven't seen very often on film.

"It was really important we keep this in

L.A.," she says. "Destroyer was written to be

an odyssey in a dense and complicated city.

Few cities for that bill the same way as L.A.

because you have to drive everywhere, so

there's a sense of a quest, like you have to

chariot across the city. We live in and love

this city. We wanted to uncover corners of

the city and the original inspirations came

from New York filmmakers. That sense of

struggle with despair and the larger world is

the same in any city."

Destroyer is a film that burns into you.

It forces you to live in this despair with

Erin Bell, but also keeps you asking what

happened to this person. When answers

are revealed, you are forced to ask yourself

about what is right and wrong in life and in

love. This is a complex film with complex

characters in a year that also included so

many beautifully layered female directed

films like Can You Ever Forgive Me (Marielle

Heller) and You Were Never Really Here

(Lynne Ramsay). The Oscar nominations

were announced the day of this interview

and Kusama, as a powerful female voice in

this industry, touched on what it means to

see another year without a single female

nominated for Best Director.

"I'm a sober person about the march of

progress," she says. "I'm old enough now

to understand the march is really slow

and sometimes zig-zags. It's disappointing

because there was so much strong work

from so many women this year. All of

the editors, sound mixers, visual effects

artists, writers, and producers who aren't

even getting a cursory nod, that feels

beyond insulting and has to change. I don't

know how to change it, but when I see

nominations like this I feel disheartened."

Hopefully powerful films like Destroyer

can raise voices like Kusama's and create

the change for equality.

Piercing

February 1

Written by Ryu Murakami and based on his novel of the same

name, Piercing depicts a night in the life of a man who only finds

release in the brutal killing of prostitutes. It's gruesome, ethereal,

and a sick kind of fun – if you're into that kind of thing.

The Man Who Killed Hitler and Then The Bigfoot

February 8

I'm generally not one to judge a book by its cover, but damn.

Calvin Bar has lived most of his adult life knowing he has Adolf

Hitler's blood on his hands. Now, years later, his next target is an

even bigger, scruffier legend.

Lords of Chaos

February 8

They painted their faces black and white, they played an

aggressive, teeth-shattering form of rock 'n' roll the kids were

calling "black metal," and to top things off, they actually burned

churches. Lords of Chaos tells the true story of Mayhem, the

Norwegian band of misfits who defined a genre and caused a

whole lot of it.

Hotel by the River

Feb 15

The latest art-house feature by South Korean auteur Hong

Sang-soo is shot in bleached black and white and follows a poet

nearing the end of his days. The man invites his two estranged

sons to stay in a lone hotel at the edge of a river, where two

women also happen to be staying for their own reasons. And as

fate has a tendency to do, their five paths intertwine.

Velvet Buzzsaw

February 2019 31
---
F E B R U A R Y 2 0 1 9

FRI 1

DOORS @ 7:00PM

TRACYANNE & DANNY

WITH PHOTO OPS AND JODY GLENHAM

THURS 14

DOORS @ 6:O0PM

MORGAN MURPHY

PRESENTED BY JFL NORTHWEST

THURS 21

DOORS @ 6:00PM

MICHELLE BUTEAU

PRESENTED BY JFL NORTHWEST

FRI 1

DOORS @ 10:30PM

NO REQUEST FRIDAY

INDIE, ROCK, ALT, 80S, 90S, & 2000S GEMS!

THURS 14

DOORS @ 8:30PM

SUPER MEGA LIVE

PRESENTED BY JFL NORTHWEST

THURS 21

DOORS @ 8:30PM

LAS CULTURISTAS

PRESENTED BY JFL NORTHWEST

SAT 2

DOORS @ 10:30PM

NITE*MOVES

DANCE PARTY JAMS FOR THE YOUNG, RESTLESS, AND BORED!

FRI 15

DOORS @ 6:00PM

GIRLS GOTTA EAT

PRESENTED BY JFL NORTHWEST

FRI 22

DOORS @ 6:00PM

WATCH FOOLISH WHAT FAR CRAPPENS BACK

PRESENTED BIG SHOES. BIG BY HAIR. JFL BIG NORTHWEST

ATTITUDES.

THURS 7

DOORS @ 7:00PM

GREY'S ANATOMY TRIVIA

WITH IQ 2000 TRIVIA

FRI 15

DOORS @ 8:30PM

MATTEO LANE

PRESENTED BY JFL NORTHWEST

FRI 22

DOORS @ 7:45PM

MEN FOOLISH I TRUST FAR BACK

BIG SHOES. BIG HAIR. BIG ATTITUDES.

WITH GUEST MICHAEL SEYER

FRI 8

DOORS @ 7:00PM

HILLSBURN

WITH THE LONG WAR

SAT FRI 1517

DOORS @ 10:30PM

NO REQUEST FRIDAY

INDIE, ROCK, ALT, 80S, 90S, & 2000S GEMS!

SAT FRI 22 17

DOORS @ 11:30PM

NO REQUEST FRIDAY

INDIE, ROCK, ALT, 80S, 90S, & 2000S GEMS!

FRI 8

DOORS @ 10:30PM

NO REQUEST FRIDAY

INDIE, ROCK, ALT, 80S, 90S, & 2000S GEMS!

SAT 16

DOORS @ 7:00PM

DPK 5 YEAR ANNIVERSARY

2 NIGHTS

SAT 23

DOORS @ 6:00PM

DUCE SLOAN

PRESENTED BY JFL NORTHWEST

SAT 9

DOORS @ 7:00PM

KEUNING

WITH WRITTEN YEARS

SAT 16 17

DOORS @ 10:30PM

NITE*MOVES

DANCE PARTY JAMS FOR THE YOUNG, RESTLESS, AND BORED!

SAT 23 17

DOORS @ 7:45PM

SAVES THE DAY

WITH REMO DRIVE & MIGHTY

SAT 917

DOORS @ 10:30PM

NITE*MOVES

DANCE PARTY JAMS FOR THE YOUNG, RESTLESS, AND BORED!

SAT SUN 17

DOORS @ 7:00PM

DPK 5 YEAR ANNIVERSARY

2 NIGHTS

SAT 23 17

DOORS @ 11:30PM

NITE*MOVES

DANCE PARTY JAMS FOR THE YOUNG, RESTLESS, AND BORED!

SUN 10

DOORS @ 7:00PM

DRAMA

WITH CLAIRE GEORGE

MON 18

DOORS @ 7:30PM

NASTY WOMEN COMEDY

PRESENTED BY JFL NORTHWEST

SUN 24

DOORS @ 7:00PM

PEDRO THE LION

WITH TOMBERLIN

TUES 12

DOORS @ 7:00PM

MASS APPEAL

WITH FASHAWN, STRO, EZRI, CANTRELL & 070 PHI

WED 20

DOORS @ 6:00PM

SAM JAY

PRESENTED BY JFL NORTHWEST

MON 25

DOORS @ 7:00PM

DANIEL ROMANO

WITH DEAD SOFT

SAT WED 17 13

DOORS @ 10:00PM

IT'S NOT YOU, IT'S ME

ANTI-VALENTINE'S DAY PARTY

WED 20

DOORS @ 8:30PM

LIZA TREYGER

PRESENTED BY JFL NORTHWEST

TUES 26

DOORS @ 8:00PM

CURRENT JOYS

WITH HARLEQUIN GOLD
---
MUSIC REVIEWS

Homeshake

Helium

Sinderlyn Records

It's ironic that in this day and age, when the ability

to produce high-quality recordings is just a local

studio booking away, DIY music continues to

grow in popularity. Rather than spotlighting the

technicalities, "lo-fi" musicians embrace human

imperfection and put an emphasis on pure emotion

and artistry. Their subdued approach creates a

distinct vibe and overall earnestness, resulting in

music that sounds, thinks and feels like the people

actually listening to it.

Montreal-based Peter Sagar is one of the best

examples today of a lo-fi musician who creates art

with a pulse. Formerly known as the touring guitarist

for Mac DeMarco, Sagar has since made a name

for himself with his dreamy, synth-pop project,

Homeshake. His fourth release, aptly entitled Helium,

is perhaps his most honest work to date; unlike his

previous work, Helium was recorded and mixed by

Sagar alone in his apartment. Making music without

worrying about external factors allowed Sagar to

proceed with a much clearer mental state.

Helium is a continuation of the buoyant synth

lines, tranquil guitar riffs and hypnotic tones that

were last heard on 2017's Fresh Air. But whereas

the previous record adhered to the formalities of

notes and chords, Helium gives precedence to rich

textures, timbre, and atmosphere. Sagar trades in the

accessibility of conventionalism for the accessibility

of emotion, resulting in an intimate record that

encapsulates Homeshake's unique brand of R&Binfused,

lo-fi pop.

The definitive song of the album is "Like Mariah," a

surprisingly charming ode to one of Sagar's favourite

musicians. Like the R&B songstress, Sagar stretches

the limits of his vocal range and sings in the upper

registers. Although he impresses with his best Mariah

Carey-lite notes, Sagar admits to having insecurities

about his voice. In his lyrics he wistfully imagines

what it would be like to be a musician of Carey's

caliber, fantasizing about possessing her talent and

fame. His quivering voice expresses a mixture of

yearning and disappointment when he realizes that

this scenario would only increase his loneliness.

Layered between silky synths and a full-bodied

bassline, the song sounds both relaxing and eerie,

exposing a very human vulnerability that contrasts

the glamorous image his idol projects.

The R&B influence continues to flow throughout

the rest of Helium, but it crops up in unexpected

ways. Unlike the typical, virile crooner, Sagar isn't

writing party anthems or songs that promote his

sexual prowess. Instead, he reworks the conventions

of the R&B genre to reflect his own thoughtful

meditations. On the track "Just Like My," a crunching,

Nineties boom-bap maintains a dominant presence

and is juxtaposed with Sagar's lofty voice. And from

the frantic and fragmented lyrics, it's clear that Sagar

isn't concerned with crafting a perfect image of

himself: he separates himself from the outside world

to the point at which he isn't sure whether or not

it's a Sunday. This then prompts him to compare his

fading memory to that of his 98-year-old grandma.

It's an interesting inversion that underscores just how

far removed Sagar is from accepted norms.

One song that isn't as weighed down by heavy

synths or themes is "Nothing Could Be Better," a

romantic ballad sung in a falsetto quaver. With its

memorable hook, the track stands out as the one

that most closely resembles a conventional pop song.

Sagar employs an accessible set of lyrics and croons

about ditching a social function to be with the one

he loves. With each verse he grows increasingly

honest, even hoping that he'll never blink so that

he could stare into his lover's eyes forever. The sense

of isolation that permeates the rest of the album is

gone, and the tone is self-assured and blithe. Once

he's alone with his sweetheart, Sagar unshackles

himself from his uneasy feelings and proclaims, "Got

me smiling finally / Got no reason to be sad."

Which isn't to say that the rest of the album is

morose or lacking in confidence. Woven into the

14-song tracklist is a series of instrumental interludes,

including "Early," "Heartburn," "Trudi and Lou"

and "Couch Cushion." Here Sagar seems to take

cues from Japanese ambient composer Haruomi

Hosono, crafting songs that could easily fit into the

soundtrack of a MUJI store. They may not stand

out on their own, but the tracks add to the album's

overall meditative soundscape. Their woozy, slowchurning

grooves move at an unhurried pace and

reinforce the dream-like state that Sagar inhabits.

Sentient and sincere, the songs reflect Sagar's desire

to build his own world amidst the confusion and

overstimulation of the present. And this is exactly

what Homeshake sets out to do with Helium: Sagar

is responding to his shifting, existing environment

by creating spaces of serenity or stillness. His reality

may be cold and often alienating, but there is a

comforting repose that accompanies his solitude.

Helium's brooding yet tender ambient pop is a

worthy addition to Sagar's body of work.

Whether you're mellowing out alone in your room

or roaming around in a crowded city, Homeshake's

music is the type to lose yourself in.

• Karina Espinosa

• Illustration by Michael Markowsky

(@MarkowskyArt)

February 2019 33
---
Better Oblivion Community Center Cass McCombs - Tip Of The Sphere The Claypool Lennon Delirium - South of Reality Dream Theater - Distance Over Time

Better Oblivion Community Center

Better Oblivion Community Center

Dead Oceans

Conor Oberst and Phoebe Bridgers: name a

more sensible duo. Together as Better Oblivion

Community Center, on their self-titled debut

album the pair comes across as kindred spirits in

dialogue, blending indie nostalgia with road trip

rock, implicating "you" and "I" in their unflinching

observations on human futility.

There's a fourteen-year age gap between the

two, which makes their collaboration all the

more a tribute to the timeless influence of artistic

synthesis (considering the Xanga/Myspace emo

landscape of Oberst's early 2000's Bright Eyes

heyday versus the YouTube dispatch of today,

where Phoebe Bridgers reigns).

Separately, Bridgers and Oberst possess vocal

ranges that one could index as having a Venetianglass

quality, wistful or (in Oberst's case), on the

edge of a sob. Together on songs like "Chesapeake"

and "Sleepwalkin", these melancholy tones merge

and layer, creating a sense of heightened sonic

fortitude, capturing each voice individually and in

unison as something wholly fresh and enigmatic.

Their harmonies on hearty tracks like "Dylan

Thomas" and "My City" establish the voice of this

community, a place for fans of both and for new

listeners.

All of this, and more: synth-rock flows on

"Exception to the Rule" and "Big Black Heart"

without sounding contrived, and "Forest Lawn"

and "Didn't Know What I Was in For" return to

sad-sounding roots with tenderness and nuance.

Both artists are lyrical Eeyores, but Better Oblivion

Community Center expands an otherwise darklyshaded

tapestry with a hint of comedy, giving

listeners new readings on charity runs, Celine Dion

power ballads, and having "fun."

Oberst and Bridgers engaged a vast and

impressive team of musician friends in recording

the album's ten tracks, which took place over the

summer and fall of 2018 in Los Angeles, including

members of Dawes, The Yeah Yeah Yeahs and Jack

White's band. Better Oblivion Community Center

has good bones, and with Oberst and Bridgers

as an ideal pairing, their music together makes

perfect sense.

• Sarah Bauer

Backstreet Boys

DNA

SONY Music

For people of a certain age, the Backstreet Boys

were one of the ubiquitous sounds of their youth.

The inescapable group cranked out hit after hit

over their course of their first three records from

1996 to 1999.

Along with N'Sync, Britney Spears and Christina

Aguilera, they defined the sound of turn-ofthe-century

pop music. And while the celebrity

machinery ground up Spears and spit her out,

Aguilera moved into what's essentially the highest

profile A&R position on the planet hosting The

Voice, and N'Sync became irrelevant when Justin

Timberlake assumed his role as the biggest pop

singer of his generation, the Backstreet Boys stayed

mostly together, and have continued to make

music that, while no longer genre-defining, is still

tuneful, melodic and easily palatable for fans of

the style.

DNA, the group's first record since 2013's In A

World Like This, leads with a melancholy piano on

"Don't Go Breaking My Heart", before one of the

Boys lays down some quick flow before the beat

drops with a big bass nightclub groove.

It's a solid cut, and opens the record showing

a few different ideas. The hook is cool, if a little

simple, with a hot falsetto crying, "Baby, don't go,"

before the harmonies chime in, "breakin' my heart,

breakin' my heart." The bass groove, together with

that hook and the drop that precedes it are exactly

the kind of club jam that could get people to max

out their credit cards on Cristal and a fast-arriving

cocaine dealer.

"Breathe" opens with some Beach Boys-inspired

barbershop harmonies over a groove of snapping

fingers. It's a cool trick, and the Backstreet Boys

really pull of some subtlety with a couple cool

vocal changes and spot on vocal deliveries.

Musically, its lack of the overbearing and brash

club groove is a smart move and makes it a

highlight of the album.

"New Love" tries on some fuzz bass with an

up-tempo groove and a flute hook. It might be

risky, in this era, to lead with a line like, "Who are

you, the sex police? My sex don't know no rules,"

but the groove of the tune is unmistakably catchy,

as is "Passionate" with its Chic-y guitar riff over the

funkiest groove on the record, though some of the

harmonies come off dry in the mix.

While their continued productivity since

their youthful prime has negated some of the

comeback/nostalgia narrative so common in

midlife releases, the Backstreet Boys are a capable

group of singers, wholly indebted to some of

the earlier '90s groups like Boyz II Men and

New Kids On The Block (and obviously Michael

Jackson), groups that also had massive singles and

records. The difference with the Backstreet Boys

is their massive success in the last era of mass

consumption of physical copies which put them

in a position to grow as singers and remain, if not

visionary, an adequate arbiter of the style they

represent.

• Mike Dunn

Cass McCombs

Tip Of The Sphere

ANTI-

On his ninth album, Cass McCombs doubles down

on what makes his dream-like musical prose so

appealing, sending listeners on an introspective

trip that proves to be as relaxing as it is thought

provoking. Settling back into an armchair, it's very

easy to get carried away by the soothing Eastern

influences of "Real Life," the moody outro of

"Rounder," or the wistful guitars on "I Followed

The River South To What." But beneath it are all

lyrics that are observant and contemporary, lyrics

that croon laments to the human condition and

sling poetic condemnations to larger political

bodies. The effect is engrossing, and the music is

34

February 2019
---
Whitehorse - The Northern South Vol.2 Le Butcherettes - bi/MENTAL Lee Harvey Osmond - Mohawk The Lemonheads - Varshons 2

given identity through dusty Americana flavours,

mixed neatly with folk and indie sensibilities.

The underlying anxiety culminates on "American

Canyon Sutra," an outlying track with synthetic

percussion and bleakly spoken lyrics, before

breaking back into melancholic and folksy

familiarity on the album's closers. It's a reminder

of the inherent cycle of all things, and few capture

this meditative sensation better than McCombs.

• Brendan Reid

David Storey and the Side Road

Scholars

Made In Canada

Independent

David Storey has travelled the world, but there's

only one place he fits in. This sense of home is

celebrated with his latest release Made In Canada,

and through it the romantic, somber and nostalgic

charms of our nation are explored with a countryfolk

flair.

Storey and his backing band, the Side Road

Scholars effortlessly bring the boot-stomping,

sing-along energy when the time is right, but

also know how to settle into more pensive

moments, reflecting on the wholesome aspects

of Canadian life. These emotions are coupled

with strong storytelling sensibilities, and Storey

easily transports you to the minds of dreamyeyed

hockey players, small time bar bands, and

remorseful murderers alike.

Storey proudly carries the torch of Canadiana

folk-rock, and does so with the confidence of a

man who has fallen deeply in love with his home.

The effect is heartwarming and honest, inspiring

one to raise their stick in appreciation.

• Brendan Reid

Dream Theater

Distance Over Time

Inside Out Music / Sony Music

Time and again, Dream Theater have brought

complex musical ideas to the table and made

them sound both interesting and effortless. Few

bands are able to match their technical expertise,

making them a highly respected band, especially

among musicians. Whether it's John Petrucci's

guitar virtuosity or Mike Mangini's double time

kick drums, the Long Island, NY quintet has built

a dedicated following around its methodical

wizardry and inspired legions of Guitar Hero

wannabes since 1985.

With Distance Over Time, the band displays a

confident, sonic power that resonates more with

every listen. Attacking hard from the outset with

"Untethered Angel," Dream Theater brings an

all-hands-on-deck approach to their latest effort.

Canadian James LaBrie's vocals soar on "Paralyzed,"

Petrucci's furious shredding shines on "At Wit's

End," and Mangini's pulse-pounding drums

dominate the Rush-esq opus "Barstool Warrior."

Hardcore fans might argue that it's not as epic or

influential as their previous efforts, but Distance

Over Time is a worthy mind-bending journey

nonetheless.

If Dream Theater is burning out after 14 albums

and nearly 25 years as a band, they certainly

don't show it on Distance Over Time. Instead,

they've given us another collection of beautiful,

thought-provoking, and hard-hitting prog-metal

tunes that challenges us to think about how we

hear music. After you listen to a band like Dream

Theater, conventional songs sound half-baked and

oversimplified.

• Trevor Morelli

Le Butcherettes

bi/MENTAL

Rise Records

Who doesn't have complicated feelings about

their family? For El Paso-based garage punk

group, Le Butcherettes, family drama is a source

of inspiration. bi/MENTAL, their first full-length

album with Rise Records, is a deep dive into the

relationship between family and self-perception.

With Teri Gender Bender on vocals, guitar and

piano, Alejandra Robles Luna on drums, Rikardo

Rodriguez-Lopez on guitars and synth, and

Marfred Rodriguez-Lopez on bass, each of the

13 tracks are diverse, sonically challenging, and

emotionally-intricate.

The lead single off the album, spider/WAVES

features punk legend Jello Biafra and explores

internal strife with religious -- often blasphemous

-- imagery. Teri Gender Bender's vocals shift

between Gwen Stefani, Portishead, Heart, and

Kate Bush's falsetto lilt. "nothing/BUT TROUBLE"

features an industrial groove, sinister chord

progression, and indie rock vocals. "in/THE END"

slows things down and lightens up with layers of

synthy strings, lumbering tom groove, patches of

psychedelic dissonance and huskier vocals.

Produced by Talking Heads member Jerry

Harrison, the album is a mixed bag and an intricate

listen. "I've never been to a therapist before," says

Gender Bender. "I don't talk to my friends about

this stuff. Music keeps me away from trouble.

It keeps my mind free." This album's an artistic

investigation, and there's a lot to unpack. With bi/

MENTAL The band defies generic expectations and

challenges perceptions of identity, family, and what

it all even means.

• Lauren Donnelly

Lee Harvey Osmond

Mohawk

Latent Recordings

Hamilton, Ontario's Tom Wilson has a storied and

well-deserved place in the canon of Canadian rock

'n' roll history. He's the dynamic leader of alt-rock

mainstays Blackie and the Rodeo Kings and prior

to that, he cut his teeth in the '90s blues funk

outfit Junkhouse. Wilson certainly pours his heart

and soul into every release, and his solo work as

Lee Harvey Osmond is no different.

On Mohawk, Wilson continues his intriguing

and surprising journey of self-reflection after

discovering his true lineage in his 50s. Wilson

was actually adopted and recently learned his

biological parents were from the Kahnawake

reserve outside of Montreal. He is, therefore,

Mohawk by heritage and it's led him to reconsider

many of the things he once thought he knew

about himself.

Catchy first single "Forty Light Years," lays down

a groovy beat that's contrasted nicely by angstridden

acoustic protest songs like "Whole Damn

World." "A Common Disaster" employs fuzzy

Beatles guitar tones, while closer "What I Loved

About You" tells a seductive story about the highs

and lows of love. Although the story behind it is a

little more interesting on paper, Mohawk is still an

eclectic mix of sultry, poppy and folk-inspired jams

crafted by an expert songsmith.

• Trevor Morelli

Malibu Ken

Malibu Ken

Rhymesayers

In some ways it seems like this would be a match

made in heaven. Rapper Aesop Rock's lyrics push

the boundaries of language in novel and abstract

ways, while Tobacco's hallucinogenic sounds can

move the listener into new worlds of sound. The

concern might be that it would be too much;

dense lyrics with psychedelic music might just

be too much going on to enjoy either. With this

new album that concern turns out to unfounded.

Tobacco's beats are subtle and woozy, providing

a consistent sonic palate for Aesop Rock to

work from. While in some sense, Tobacco takes

a little bit of back seat to Aesop Rock's complex

wordplay; the subtle touches and mood really

complement the rapper. This comes across

strongest on the body-horror invoking "Tuesday,"

which Tobacco infuses with disorienting, sea-sick

synths, as well as album highlight "Acid King," a

song detailing the story of a supposed satanic

murder set to an almost '70s or '80s horror movie

soundtrack. Aesop Rock, for his part, is on the

top of his game here, with off-putting stories,

anecdotes and wordplay so dense one finds

something new on every listen. It says something

of the collaboration that this never gets too heavy.

It takes a light touch and chemistry, which these

two have in spades.

• Graeme Wiggins

Millencolin

SOS

Epitaph

Lean and mean. That's how Millencolin plays it on

their latest studio album, SOS. The Swedish poppunks

were born out of the '90s skate punk power

chord boom, and their formula hasn't changed

much since then. That's not to say SOS is a bad

record. It's a loud, speedy effort with enough rough

edges to turn some heads. After all, if it ain't broke

… keep milking it for years to come.

With few songs running past the three minute

mark – and none over four – SOS is a raging,

sharp and well-polished album. Front loaded with

rocket launchers like "For Yesterday" and "Sour

Days," it's clear the quartet is aware of their age

but more interested in rocking on than pining for

the past. Their lyrics are always interesting, letting

a little cheekiness to shine though without being

downright silly.

Later, the band touches on relationships on "Do

You Want War" and politics on the amusingly

titled "Trumpets & Poutine." SOS doesn't veer

much from Millencolin's last album True Brew

(2015, Epitaph) – or any of their other albums for

that matter – but at least they bring the distortion

pedals every time. Even in 2019, Millencolin prove

that a little dose of pop-punk can be good for the

nostalgic part of your soul.

• Trevor Morelli

Panda Bear

Buoys

Domino Records

Noah Lennox, a.k.a. Panda Bear, has put out a

wide collection of music in the past two decades,

both as a solo artist and as a member of famed

and acclaimed psychedelic pop group, Animal

Collective. His music has mostly stayed within the

reverb-laden wheelhouse he's familiar with, but the

experimental nature of the genre has allowed his

music to remain fresh through the years.

Buoys is his sixth solo album and it's incredibly

stripped back compared to previous releases,

with Lennox's voice and acoustic guitar serving as

the meat and potatoes of each track. Sampling,

feedback and other miscellaneous noises garnish

rather than serve as main attractions. Lennox's

February 2019 35
---
Malibu Ken - Malibu Ken Millencolin - SOS Panda Bear - Buoys

voice sounds bland and flat fairly often and the songwriting only

sometimes justify this focus on the barebones.

On album standout, "Inner Monologue," the percussive sound of

Lennox's sliding fingers on the neck of the guitar and heavy breathing

bake in a bevy of effects while his voice bounces between dipping

into a lower register and remarkably harmonized shocks of a higher

range that punctuate the track's hook. On other tracks, Lennox flirts

with an interesting textural idea before quickly abandoning it, only

to return to his frequently repetitive vocal melodies. Most of Buoys is

restricted rather than liberated by his minimalistic approach.

• Cole Parker

Phaeton

Phaeton

Independent

From the mountainous stronghold of Kimberley B.C., Phaeton

charges forth with their first full length album offering an epic

progressive metal listening experience. This self-titled album

showcases an instrumental endeavour that doses the imagination

with scenes of shiny sci-fi fantasy, grave adventure and the

impending interference of an unknown mystical power. Inventive

throughout, Phaeton tells its story by swapping between bright,

technical arrangements, ominous battle riffs and foreboding war

drums. Each song playing like a chapter of a novel, the listener

gains further omniscient perspective into the universe Phaeton

has created, watching the events unfold from above. The album

creates a sense of good versus evil taking place in a futuristic world

with the fate of humankind hanging in the balance. Blasting the

listener with layers of intense progressive metal over dreamy operatic

chants, piano pieces and sounds of the ocean, Phaeton churns out a

heart pounding, head banging album that brings the audience on a

journey deep into a world not of this realm.

• Trevor Hatter

Said the Whale

Cascadia

Arts & Crafts

Vancouver based indie trio Said the Whale continue to outline

their West Coast sound with the aptly titled Cascadia. The JUNO

award-winning band consisting of Tyler Bancroft, Ben Worcester and

Jaycelyn Brown bring together more than a decade of musical talent,

following up their 2017 album, As Long as Your Eyes are Wide.

A piano riff, a strum on an acoustic guitar and eclectic keyboard

sounds introduce Cascadia. It begins with "Wake up," a satisfying

beat complemented by twinkling piano notes, followed by

"UnAmerican," a head-banging electric guitar rhythm. The songs

cascade into ten tracks that showcase the band's broad indie music

capabilities; an excellent introduction for any person unfamiliar

with Said the Whale. Cascadia hits its stride with songs "Moonlight"

and "Love Always," graced with music and poetic lyrics relatable

36

to anyone experiencing love's mixed blessings. "Gambier Island

Green" closes off Cascadia with a nostalgic ambience and beautiful

composure, ideal for any romantics pining for a past love.

• Lauren Edwards

Seer

Vol. 6

Artoffact Records

Vol. 6 is Seer's most fully realized work to date. The Vancouver-based

doomster's signature elements can still be picked out – bluesy stoner

riffs, moody Americana, eerie ambience and, of course, doom, baby,

doom. All those bits have had time to simmer and ferment, the

flavours intermingling and complementing one another, swirling and

bubbling into a thick, satisfying stew. The stoner repetition is more

selective and, thus, more effective. The ritualistic, ambient moodsetters

are more pronounced, more powerful.

Bronson Lee Norton's commanding vocals exude confidence and

charisma, perfectly giving voice to the heavy metal doom swagger

of the music. The decidedly more menacing vibe introduced on

Vol. 5 is maintained in this latest chapter, and is improved upon,

in and of itself, and by its enmeshing with the existing sonic pillars

outlined above. Best of all, the darker approach does not sacrifice

any of the stomping, headbanging fun, it just means there's more

of it now. As great as this latest offering is, there's a sense that Seer's

masterpiece still lies ahead. In the meantime, Vol. 6 is the latest and

weightiest step in what is proving to be a consistently impressive and

adventurous musical pilgrimage.

• Daniel Robichaud

Sneaks

Highway Hypnosis

Merge Records

For their third full length release, Eva Moolchan packs up her

minimal post-punk solo project and takes it in a new direction.

Sneaks' previous LP's are comprised of mostly brief, bass-driven songs

with a whole lot of (s)punk. But on Highway Hypnosis, Moolchan

lets the drum machine take the wheel. The result is a set of energetic

and playful bangers that could be played in your bedroom or at the

after-hours club.

The title track starts things off with a sample of someone laughing

and repeating "Highway hypnosis" under a beat, aptly introducing

the listener to the sample rich, experimental tracklist ahead. As

the songs ensue, so do the rapid fire hi hats and thudding kick

drums, pulling from trap, grime, even darkwave during "And We're

Off". Though Eva's new stylings draw from very established and

recognizable genres, the record is far from formulaic, experimenting

with creative vocal samples and off the wall synth garnishes.

With Highway Hypnosis Sneaks takes us on a scenic detour with a

fresh, inventive fusion of pop, trap and post-punk.

• Judah Schulte

The Claypool Lennon Delirium

South of Reality

ATO Records

Picking up where Monolith of Phobos (2016 Rancho Relaxo), Sean

Lennon and daddy long legs Les Claypool are once again voyaging

beyond the horizon to an realm of pure lyrical and melodious

delights. A playful "Within You Without You" vibe pervades

throughout the psych-rock duo's second collaboration. The watery

fairytale "Little Fishes" with its loping bass lines opens the scene with

a silliness that combines Claypool's Wonka-esque showmanship with

scaly geometric progressions. It's a bubble that refuses to burst as he

muses, "Gone are the days when your gender tells you where to piss."

Pastel shades of John inevitably seep through Sean's lackadaisical, and

at times lonely, vocals on "Love and Rockets," and reaping strawberry

hued fields with the metallic edge of a sharpened chord. Determined

to set the world on fire, or at least to get the New Gen up on their

hind legs, title track ignites with a '60s tambourine shakedown and

electric organ boogie. Deep waters and whale songs beckon on the

menacing "Boriska;" a vortex of warped, nasally vocals and punkish

guitar gales that conjures the story of Forrest Gump. The quirky

biopics keep on truckin' with the cinematic "Toadyman Hour" and

the sultry grooves of the Bukowski-inspired "Easily Charmed by

Fools." Debatably, the most compelling and seductive daytrip of

the lot, "Cricket Chronicles Revisited" is a magic carpet ride of sitar

synths, ponderous fret paddling and multilayered reverb piloted

by the Maharishi Mahesh Yogi. This hand-clapping raga on 'roids

distends and transcends before it ends - with a warning list of utterly

bizarre side-effects that (almost) put big pharma to shame.

• Christine Leonard

The Lemonheads

Varshons 2

Fire Records

Yes, The Lemonheads are back. Far gone from the '90s heyday, and

even ten years gone from their last offering of covers with Varshons

(2009), leader Evan Dando is back with a crazy focused collection of

cover songs with Varshons 2. Like a 21st century Joe Cocker, Dando

lends his pop sensibilities and distinct vocal style to such artists as

John Prine, Nick Cave, Lucinda Williams, Yo La Tengo, and yes, even

the Eagles. These are deep cuts, and the songs are treated with pure

heart. Dando has a talent to see to the soul of a track, and his voice is

stronger than ever, but this is no solo effort. The "Lemonheads" that

he has assembled are no stranger to lovely harmonies, ripping guitar

solos and a killer rhythm section, and that's no easy feat. Check the

stomping drums and face melting organ and guitar displayed on "Old

Man Blank" (The Bevis Frond). It seems Dando has been meticulously

assembling songs to express himself, as well as the people he wants

to tackle that task with. Listen to his version of the Jayhawks' "Settled

Down Like Rain" and tell me Dando isn't living happy ever after.

• Chad Martin

February 2019
---
Said the Whale - Cascadia Seer - Vol. 6 Sleepy Dog Sneaks - Highway Hypnosis

Whitehorse

The Northern South Vol.2

Six Shooter

When the Polaris Prize-nominated duo Whitehorse

released The Northern South Vol. 1 EP back in

2016 it added a new layer to the bluesy glam folk

rock sound Luke Doucet and Melissa McClelland

had become known for.

Now with Vol 2., Whitehorse is still showing

how sinister, sexy and striking the blues can really

be. Made up of fiery traditional blues gospel tracks

and jams, Vol. 2 doesn't stray too far away from the

original compositions and sounds, but adds just

the right pinch of Whitehorse flavour.

Beginning with Howlin Wolf's "Who's

Been Talkin," a song about a lover being less

than faithful, Doucet and McClelland utilize

the Wurlitzer, melodica, and of course some

foreboding lead guitar to reanimate the 1957 track.

Next comes a take on Jimmy Reed's classic "Baby

What You Want Me To Do," which stays pretty

true to the blues minimalism Reed portrayed.

Still, the jittery Gretsch squeals enhance the

track and keep it groovin. "John the Revelator"

finds its way onto the album except with some

more up to date lyrics about the sorry state

the United States finds it in, global warming,

consumerism, and of course, religion. It might be

the most experimental and interesting track on

Vol. 2.

"Baby Scratch My Back,"—Slim Harpo's classic

sexist ditty—is morphed into a track of female

empowerment with McClelland on lead vocals.

To cap the album off is Whitehorse's take on "St.

James Infirmary," an American jazz blues standard

with unknown origins made famous by Cab

Calloway, Louis Armstrong, and more recently,

The White Stripes. Whitehorse's version is a great

take on ethereal blues that brings the album to a

blissful halt, leaving the listener wanting more.

• Stephan Boissonneault

Weezer

The Teal Album

Crush Music / Atlantic

If everything in life was as poppy and sweet as

Weezer's Teal Album, we'd be just fine. The band

surprise-dropped the record late last month,

giving us nine more cover songs on the heels of

the (relative) success of their rendition of Toto's

"Africa." Don't worry, that track is included here if

it hasn't made you want to punch a wall yet.

In any case, The Teal Album gives us nine more

songs of sugary, energetic pop-rock covers, notably

focusing on '80s favorite from greats like Tears For

Fears, Eurythmics, A-ha, and Michael Jackson. Like

"Africa," they're all insanely faithful covers, which

make for a fun, short, and pleasurable listen.

Weezer fans of old might be a tad disappointed

with the disc though. The closest thing you'll find

to edginess here is their take on Black Sabbath's

"Paranoid," which amps up the distortion but

again, sticks closely to the script. Other standouts

include covers of The Turtles "Happy Together"

and ELO's "Mr. Blue Sky."

The Teal Album is harmless rock delivered

with a sugary coating. Luckily it doesn't stray into

Twisted Sister territory or overstay its welcome.

Now bring on The Black Album already!

• Trevor Morelli

February 2019 37
---
LIVE

photo by Tenzing Lama

NAO

The Vogue Theatre

January 12, 2019

Lovely East London singer NAO, aka

Neo Joshua, packed the Vogue up to the

nosebleeds.

Every element of the show felt directed

at Joshua's fans. The show started with an

instrumental from her first-rate, all male band

and a blue glow - a perfect distraction that

allowed NAO to head into the centre of the

crowd, erupt from it with a spotlight and

create mass excitement with opening song,

"Another Lifetime." More surprises followed:

glowing white balloons (a symbol from the

Saturn album) that were floating in a bunch

on the side of the stage were given to the

audience. A good idea in theory, in practice

it meant lost ones were floating high up,

dangerously close to lights.

Interestingly, Joshua paused a lot during

the show, but it didn't affect the performance.

She had a really great rapport with her

audience, giving us insight into her love of

D'Angelo and the creation of "Inhale Exhale,"

and letting us empathize with her about

finding her inner goddess with help from

her grandma. Her dialogues also allowed us

to transition emotionally from songs such

as "A Life Like This" into dance tracks like

"Complicated."

NAO's friendly demeanour, exciting

approach to R&B, and vocal prowess bundled

us with intimacy and coziness. The show's

balanced set list and NAO's acts of kindness

and engagement with the audience made a

large difference to what normally feels like a

one-sided, staged interaction. Everyone left

her show buzzing, lighter in their hearts, with

smiles on their faces.

• Esmée Colbourne

Still Woozy

The Biltmore Cabaret

January 11, 2019

When Sven Gamsky aka Still Woozy ran on

stage — and he actually ran — the crowd at

the Biltmore erupted. Accompanying him

was a bassist who looked like a millenial

version of Mario in overalls and dangling

earrings as well as a drummer introduced

as Skinny Pete, both as energetic as their

frontman.

The energy continued on both sides of the

stage while Gamsky ran around it, cycling

between guitar, bass and mad dancing.

Woozy played through all six of his released

songs as well as covers from both Hank

Williams and Mac Demarco. Still Woozy

may have a limited discography, but he's

got plenty of hype surrounding him. The

set was executed with the same excitement

and attention to detail that you hear in Still

Woozy's recorded work, proving himself well

worth the hype.

The 25 year old sold out the Biltmore,

which was just one of 14 sold out shows on

his North American tour. With a summer full

of festival dates, including Coachella and the

Governor's Ball. Next time we see Gamsky

and co. we can expect it to be on a bigger

stage.

• Judah Schulte

photo by Darrole Palmer

photo by Raunie Mae Baker

Peter Murphy

The Vogue Theatre

January 19, 2019

For decades goth kids have been carelessly slumped

into the same category as the emo kids, with no

recognition for the subtle, but prevalent differences

that exist between the two subcultures. Here are the

facts: Emo kids listen to the Smiths, and goth kids listen

to Bauhaus. Hellish frontman Peter Murphy and fellow

founding member David J, dawned upon the Vogue

Theatre to play a ghoulish set of Bauhaus classics.

The night began with the band performing songs

from their seminal debut album, In the Flat Field.

Bathed in an evil, red glow, Murphy was loose and far

more dynamic than in past visits. Though he remained

stoic, never revealing any hint of sunny disposition and

harnessing energy from the heavens above as he stood

crucified amongst his congregation.

The songs from In the Flat Field were heavy and

grotesque as David J crawled his fingers across a fretless

bass, but it was fan favourites "Bela Lugosi's Dead" and

"She's In Parties," in the band's second set, that really

got the crowd fired up. Murphy's baritone voice has

aged well breathing new life into these beloved goth

rock anthems with calculated ferocity.

After 40 years, Bauhaus' bleak image still resonates

heavily with those enamoured by the dark and

mysterious. Murphy's enigmatic stage presence was

a grim ballet enjoyed by all Joy Division shirts in

attendance.

• Jeevin Johal

38

February 2019
---
UPCOMING SHOWS

COLD CAVE

WITH ADULT. & VOWWS

FEB 20

RIA MAE

WITH MATTHEW V MUSIC

FEBRUARY 18

DAVID AUGUST

WITH SPECIAL GUESTS

FEBRUARY 21

SHARON VON ETTEN

REMIND ME TOMORROW TOUR

FEBRUARY 22

COAT HANGERS

WITH LITTLE SPROUT & BB

MARCH 2

JULIA HOLTER

WITH TESS ROBY

MARCH 4

THE WHITE BUFFALO

WITH SPENCER BURTON

MARCH 16

LOW

WITH SPECIAL GUESTS

MARCH 19

WET & KILO KISH

W/ HELENA DELAND

MARCH 23

AGAINST THE CURRENT

WITH SPECIAL GUESTS

APRIL 3

TICKETS ARE AVAILABLE AT IMPERIALVANCOUVER.COM
---
UPCOMING SHOWS

SCOTT HELMAN

WITH SPECIAL GUESTS

march 14

CHOIR!CHOIR!CHOIR!

WITH SPECIAL GUESTS

february 7

DAN MANGAN

WITH SPECIAL GUESTS

february 12

JUNGLE

WITH SPECIAL GUESTS

march 9

SOLD OUT!

SOLD OUT!

WITHIN TEMPTATION & IN FLAMES

WITH SMASH INTO PIECES

march 15

BARONESS & DEAFHEAVEN

WITH ZEAL & ARDOR

march 20

MATTHEW GOOD

WITH POESY

march 23

BROODS

WITH SPECIAL GUESTS

APRIL 2

SMINO

WITH PHOELIX

april 5

THE MUSICAL BOX

A GENESIS EXTRAVAGANZA

april 9

TICKETS ARE AVAILABLE AT VOGUETHEATRE.COM
---
photo by Danny Kresnyak

Colter Wall

Commodore Ballroom

January 19, 2019

Colter Wall's knife edged baritone-voice cut

through the sold-out Commodore Ballroom like a

prairie wind blows white across the yellow grass of

the Qu'appelle Valley.

The 23-year old ginger bearded son of

Saskatchewan's 14th Premier took the stage in

a pork-pie Stetson, denim shirt, blue wranglers,

black silk scarf and worn brown cutter-toe cowboy

boots. The first four songs of his set was a solo

performance, just Wall and his Martin acoustic,

strumming chords to the legend of Wild Bill

Hickok and the delight of a hard drinkin', boot

stompin' crowd of yahoos, hipsters and hell raisers.

Let's get this out of the way, due to Wall's

political lineage some have called the credibility

of his "Outlaw Plainsmen" image into question,

but these people have never seen his show. While

Colter may not have been born on a dirt farm

like Johnny Cash, or raised in a train car like Merle

Haggard, neither were Townes Van Zandt, Gram

Parsons or several other privileged martyrs of

country music's mythological past.

LIVE

Once his band, the Scary Prairie Boys, joined

him — a group of hairy Nashville impresarios

under wide brimmed hats — the show took

on a livelier tone. Wall's music is riddled with

the scars of classical country influences. The

guttural emotive vocals on his first hit, "Sleeping

on the Blacktop" has appeared in the films Hell

or High Water and Three Billboards Outside

Ebbing, Missouri, reminiscent of Johnny Cash's

posthumous holy war anthem "God's Gonna Cut

You Down." The song "Calgary Stampede" off his

recently released Songs of the Plains got the crowd,

many of who had crushed up against the stage

barricade, to open up and several small two-step

dance floors became visible amongst the monolith

of sweat and flesh.

Wall performed a slow-tempo version of Billy

Joe Shaver's "Georgia on a Fast Train" that brought

the crowd back down to impassioned focus,

before the raucous Wild Dogs. For an encore,

Wall brought out his own rendition of a classic

written by legendary Texas songwriter Ray Wylie

Hubbard, and popularized by original outlaw Jerry

Jeff Walker, a popular honky tonk sing along, "Up

Against the wall, Redneck Mother."

• Danny Kresnyak

Travis Scott

Rogers Arena

January 25, 2019

A theory: Travis Scott is the distant scion of Willy Wonka,

Astroworld is his chocolate factory, Kylie Jenner is his darling

Oompa Loompa, and you'd be lucky to snatch a golden ticket.

Astroworld swept across the world with the velocity of

the miniskirt in the '60s, or the Black Death in the 1340s. The

second leg of the eulogized tour was kicked off at Vancouver's

very own Rogers Arena, as rabid masses swarmed to worship

at the sold out altar of La Flame.

Living in the Western Hemisphere, you would have to be

deaf and blind to not have caught a whiff of rap superstar

Travis Scott; amid his near airwave monopoly, upcoming

Superbowl performance, and babymamadrama, sensory

deficit seems like the only plausible explanation.

Devastation hit Houston, in 2005 with the demolition of Six

Flags AstroWorld. "They tore down AstroWorld to build more

apartment space," come the eternal words from Scott himself

(GQ), who was 12 year old Jacques Berman Webster II at the

time. Ironically, it was the existence, but more importantly the

death of AstroWorld that turned Webster to music, to cope

with the day-to-day humdrum previously assuaged by the

amusement park. And so began the steady metamorphosis.

Little Jacques met Kanye, dropped the "$", and the rest is

history; yet no lackluster mixtape could've prepared the world

for the genius of Rodeo — the widely recognized rebirth of

trap music — and later its (true) successor Astroworld

The opener was none other than Cactus Jack Records

signee Sheck Wes, whose sleeper hit Mo Bamba erupted mid-

2018 and has been overplayed at house parties ever since.

Love it or hate it, when else would you hear 20,000 voices

scream "Fuck! Shit! Bitch!" in perfect unison?

The elaborate reconstruction of the stage took at least

30 minutes. The space was in constant motion throughout

the night, with the giant Scott-head, trippy graphics, and a

functional roller coaster spanning across the arena; your eyes

would not know where to look.

Scott held the crowd on an energical plateau despite

the ebb and flow of the tempo, with high intensity tracks,

like "No Bystanders" and "Butterfly Effect", rousing as much

enthusiasm as slower songs, like "Drugs You Should Try It"

and "Love Galore". Then came "Sicko Mode" and it was over,

and just :(

When it comes to the spectacle itself, Scott's show is like

no other; it pushes and shatters all limits of the performative

paradigm, transcends into uncharted territory and teeters at

the very precipice of reality.

• Maryam Azizli

photo by Zee Khan

photo by Kira Clavell

KISS

Rogers Arena

January 31, 2019

An electricity emitted off the skin of the fans that

filled a nearly sold out Rogers Arena. Nothing could

sour the mood of the kids in KISS makeup rolling

around the hallway floor, nor the parents who

watched over them while holding nine dollar cups

of Budweiser.

Before the show had even begun, I had seen

or bumped into forms of "The Demon" and "The

Starchild" a hundred times over. Some fans simply

donned the classic KISS facepaint, while others

embodied the characters in full costume. One

Gene Simmons look-alike slithered his tongue out

salaciously at me while crossing paths down a hall.

Compared to the real Gene, he was a bit inadequate.

KISS exploded onto the stage with "Detroit Rock

City," igniting flames complemented by fireworks

and sparklers, engulfing the arena with the smell of

sulfur. This was a common thread throughout the

show.

Other standout moments were Gene Simmons

being elevated high above the stage, shrouded

by mist and thunder, spewing blood as the band

prepared for "God of Thunder." Paul Stanley ziplined

from one stage to another platform at the other end

of the arena for "Love Gun," and the disco-classic "I

Was Made for Lovin' You."

Perhaps most impressive was, beneath all the glitz

and glamour of the production, were four talented

musicians who could still play their instruments

raw and well after all these years. I was in awe

witnessing some of the greatest minds in music

business perform. The band ended their set with the

megahit, "Rock And Roll All Nite."

• Johnny Papan

February 2019 41
---
NEW MOON RISING

YOUR MONTHLY HOROSCOPE

QUAN YIN DIVINATION

Month of the Fire Tiger

As we pass the second new moon

following winter solstice, we begin the

Lunar New Year and welcome in the

Year of the Earth Pig. The annual marker

of February 4 (known as Lichun, or the

coming of spring) indicates in Chinese

astrology whether the year will be lucky

or not. It is said that a year started after

this date is propitious, and one that

begins before it is not. February 5 is

marked as this year's day of celebration,

moving it forward to ensure it is well on

the new year side of Lichun – making

this year a lucky one for marriage and

investments.

Starting the year on the right foot is

important, and it is customary to buy

new clothes, clean the house, and have

a blessing at the front door of your

business to help bring in the energy of a

fortuitous year to come. This is a good

time to speak highly about the future,

share your goals and aspirations, and

set clear intentions. The first 14 days of

the Lunar New Year are said to be well

spent enjoying the company of good

friends and family in celebration for the

year ahead. Anything that is said now

with emphasis will have greater power

than during other times of the year.

Rabbit (Pisces): Say little, and say it

gently. Your leadership is appreciated

now if you can remain neutral,

diplomatic, and patient. By refusing

to take sides, you help others take a

different perspective and pave the way

for peace and harmony to prevail.

Dragon (Aries): Multiple objectives

can pull you in many directions, but

real progress can only be made step by

step. Slow down, resist taking shortcuts,

and dig deeper to find the strength you

need to get to the heart of the things

that matter most to you.

Snake (Taurus): Humility is your

greatest asset this year, as the Pig

clashes with the Snake. Work harder for

less, stay behind the scenes, and retreat

with like-minded friends to escape the

pressures that may surround you now.

Horse (Gemini): A long-awaited

change for you is coming now, and it's

time to settle into your new routine

and hang your hat for a while. There is

still plenty of excitement for you this

year, but it will be more restful as you

decide to do less, and achieve more.

Sheep (Cancer): Taking an evening

course or following a new track can

help your talents to shine. Relaxing is

now a priority. Let go of any ambitious

thinking or overzealous attitudes for

accomplishment. To be is enough.

Monkey (Leo): Proceed with caution

and remember to take things one step

at a time. An overenthusiastic attitude

or strategic plan may backfire if the

timing isn't right. Carefully plan your

next steps and be sure to anticipate

how others may react, so you're ready

and steady.

Rooster (Virgo): Stick close to people

you know and trust to ensure your

good fortune this year. After a busy and

active 2018, a restful time of rebirth and

renewal awaits you into a time that will

give you back a good return on your

investments. Stay true to your purpose

and don't get distracted.

Dog (Libra): Keep your eye on the

goal and make good use of your time,

but don't overdo it. Less effort and

more planning can prevent burn out

and conserve your energy for when

it's needed. Take it easy – some things

can definitely wait, so why not just

procrastinate?

Pig (Scorpio): Spontaneous rewards

arrive out of a carefree and laissez-faire

attitude. There is wisdom in the path

of non-action. Keep your word, be on

time, and stay open to the possibility of

everything working out just fine.

Rat (Sagittarius): Step outside your

routine. Travel to a place you've never

been to restore your optimism and

curiosity. Make plans to go solo, refresh

yourself by exploring creative interests,

and take in the best in entertainment.

Ox (Capricorn): It is possible that you

don't have the whole story and it might

look quite different when it comes to

light. Some secrets are best kept and it

might be better now if you don't ask, or

don't tell. Stay present, quiet, and keep

your lips sealed.

Tiger (Aquarius): Superficial

connections may inspire your dreams of

a different life. Look before you leap, as

what you find now may only be skin deep.

Susan Horning is a Feng Shui Consultant

and Bazi Astrologist living and working

in East Vancouver. Find out more about

her at QuanYin.ca.

INVENTORY

BLOWOUT

+

Half Price

Rental Day

FRI

SALE

Huge deals!

Great savings!

FEBRUARY

SAT

15 16

1/2

Price

Saturday

March 2 nd

Applies to any new rentals

taken on March 2, 2019.

1 month maximum term.

PLUS 0% FINANCING ON EVERYTHING IN THE STORE

6 MONTHS WITH PRE-AUTHORIZED PAYMENTS.

DAIRAKUDAKAN

MARCH 8 & 9 @ 8PM

VANCOUVER PLAYHOUSE

21 SURREAL

SENSATIONAL

DANCERS

INFO & BOX OFFICE:

604.662.4966

VIDF.CA

VANCOUVER

368 Terminal Ave.

(604) 734-4886

NORTH VANCOUVER

1363 Main St.

(604) 986-0911

Dairakudakan photo by Hiroyuki Kawashima

42

February 2019
---
CANADA'S LARGEST INDEPENDENT CONCERT PROMOTER

UPCOMING SHOWS

DANIEL ROMANO

W/ DEAD SOFT

February 25

The Biltmore Cabaret

CHOIR! CHOIR! CHOIR!

WITH SPECIAL GUESTS

February 7 - The Vogue Theatre

VUNDABAR

WITH THE RED PEARS, LE GROTTO & MILK

February 8 - Fox Cabaret

DAN MANGAN

Feb 12 - The Vogue (Soldout)

Feb 13 - Kelowna Community Theatre (On Sale)

SOLD OUT!

THANK YOU FOR BEING A FRIEND

WITH SPECIAL GUESTS

February 13 - The Vogue

RIA MAE

WITH MATTHEW V MUSIC

February 18 - The Imperial

COLD CAVE

WITH ADULT. & VOWWS

February 20 - The Imperial

MEN I TRUST

WITH MICHAEL SEYER

February 22 - Biltmore Cabaret

SAVES THE DAY

WITH REMO DRIVE & MIGHTY

February 23 - Biltmore Cabaret

PEDRO THE LION

WITH TOMBERLIN

February 24 - Biltmore Cabaret

TICKETS ARE AVAILABLE AT MRGCONCERTS.COM