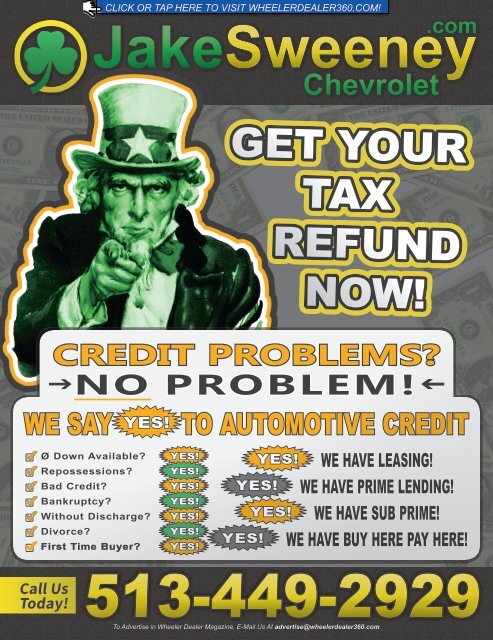 Wheeler Dealer 360 Issue 06, 2019 Featuring the Tri-State's Top Dealers and Best Price Auto Deals! Since 2009, Wheeler Dealer 360 has helped car buyers in the Cincinnati, Indiana and Kentucky areas find reputable car dealers via our free car magazine that is published weekly.
CLICK OR TAP HERE TO VISIT WHEELERDEALER360.COM!

.com

JakeSweeney

Chevrolet

GET YOUR

TAX

REFUND

NOW!

CREDIT PROBLEMS?

→ NO PROBLEM! ←

WE SAY

✔

Ø Down Available?

Repossessions?

Bad Credit?

Bankruptcy?

YES!

Without Discharge?

Divorce?

TO AUTOMOTIVE CREDIT

YES!

YES!

YES!

YES!

YES!

YES!

YES!

YES!

YES!

YES!

YES!

WE HAVE LEASING!

WE HAVE PRIME LENDING!

WE HAVE SUB PRIME!

WE HAVE BUY HERE PAY HERE!

513-449-2929

Call Us

Today!