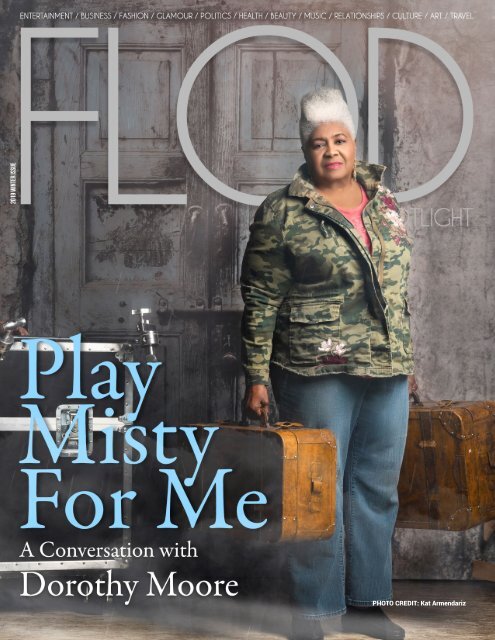 FLOD Spotlight - Issue 8
Play Misty for Me - A Conversation with Dorothy Moore
Play Misty for Me - A Conversation with Dorothy Moore
SHOW MORE
SHOW LESS
You also want an ePaper? Increase the reach of your titles
YUMPU automatically turns print PDFs into web optimized ePapers that Google loves.
PHOTO CREDIT: Kat Armendariz
---
2 FLOD SPOTLIGHT | 2019 WINTER ISSUE | FIRSTLADIESOFDISCOSHOW.COM

The Southern Charm of

Dorothy

Moore

By James Arena

The year was 1976—a time when classic disco music was dominating radio airwaves and exploding out

of the clubs. A background singer then exploring solo opportunities, Dorothy Moore had no idea her

recently released single, a gentle ballad called "Misty Blue," which had been languishing on the shelves

of Malaco Records for years, would sidestep pop's then current flavor and vault up the national music

surveys. Reportedly, the track started out as a B-side but was quickly flipped after a buzz began to build for it.

Produced by Tom Couch (who founded Malaco in 1967) and James Stroud and written by Bob Montgomery,

the song reached number three on Billboard's pop chart, number two on the magazine's R&B survey and enjoyed

tremendous success across Europe.

The Jackson, Mississippi, native was soon thrust into the spotlight and eventually netted a Grammy nomination

for her vocal performance of the track (as well as for her successful follow-up single, "I Believe In You"). Inspired

by the divine sounds of luminaries such as Mahalia Jackson, Aretha Franklin and Etta James, Ms. Moore made her

own indelible mark on the music industry with a song that was broadly embraced by pop, R&B, country and even

disco fans of the period. She continues to enjoy a busy performance schedule today, saying, "I am so blessed to still

be receiving so much love from my audiences when I perform 'Misty Blue.'"

PHOTO CREDIT: Kat Armendariz

It's wonderful to be speaking with you, Dorothy. I

purchased your single "Misty Blue" back in the day,

and the song has stayed with me all these years. To

begin our conversation, would you tell me a little

about your early years and when you discovered your

voice?

Why thank you so much!

I was raised by my great grandmother. I was born in her house.

Back then, my mother—black people—didn't have much access to

hospitals and all that. So they had a midwife to deliver babies. My

mother was living with my great grandmother and that's where I

was born. My great grandmother raised me, and I stayed with her

until I got married. My mother discovered my talent for singing.

She was a singer too. She used to sing in her school choir. At the age

of three, she noticed I had a vibrato. I started singing for the church

I attended at the age of five. I grew up near the railroad tracks and

learned how to compose music listening to the clicky clack of the

tracks when the trains would go by.

They used to have a talent show at a local movie theater every

Wednesday night. It was called the Alamo Theater. The deejay at

WOKJ radio hosted it. I was on that. I started singing for a paying

audience by the time I was 12. I would sing the blues—I didn't

know what the blues was, but I knew the audience loved it. I heard

the blues songs of that time at a local cafe and on the radio. I also

started singing Etta James songs and sang at talent shows at my

school.

In the mid-'60s you were signed to Epic Records and

became part of a girl group called The Poppies. Tell

me about these early days in your professional career.

I got discovered by a man named Bob McCree. He came to our

house looking for a girl who had been singing around town—

that was me. He had just started a studio (an old movie theater

he had remodeled into a studio) and he wanted to record me for

backgrounds for other stars. Two other young ladies were also

background singers. We'd harmonize, and that led to the producer

wanting to record us as a group—The Poppies—and I was the lead

singer. It was fun. We were only together for a couple of years. We

recorded an album called Lullaby of Love. We went to Nashville to

record it with a producer named Billy Sherrill. He also produced

Tammy Wynette. Our album went to #58—something like that—it

was a totally pop album. We toured with Joe Tex, Billy Stewart,

Wilson Pickett—just a host of them. We were in awe of these stars

and having the opportunity to open for them, singing on these big

stages. It was an honor for me. We stayed together for two years.

The other girls didn't really want to be professional singers—it was

more of a hobby for them. But it became a profession for me. It was

something for me to do—that's the way it was for me. I didn't think

I was ever going to become a star.

Were those good times for you?

Oh, yes. Singing came to me like drinking water. In those days, it

was simple, we had fun, would laugh and joke around. I just did the

jobs they brought me. And when stars came in, our mouths would

hang wide open. I did the background vocals on Jean Knight's

(1971) hit "Mr. Big Stuff." If you listen real good, you can hear me

singing "oooh, yeah." She was a big star at the time, and I was like,

"Oh wow." I'm on a lot of records from back then.

You mentioned Jean Knight, one of the key stars on

Mississippi's Malaco Records, an important indie

label in the '70s. Your biggest hits would be recorded

with this company, who you were signed with for

several years. The most popular and successful of

these hits was the 1976 ballad "Misty Blue." I'd love

to know how this emotional and stirring classic came

to be.

FLOD SPOTLIGHT | 2019 WINTER | FIRSTLADIESOFDISCOSHOW.COM 3
---
My producer at the time was Tommy Couch, Sr., the man who

signed me with the Malaco Records label. He called me one day

and wanted me to come to the studio to hear a song to see if I liked

it, to record. I liked it. I recorded the song that day. Tommy always

had a rhythm section there in case someone came to the studio and

they wanted to lay down some tracks. They were always prepared.

We got my key, and I recorded "Misty Blue" in one day. It was a

simple song, and I just put my thing to it.

But they didn't release it right away. He put it on the shelf for two

years because we had other songs he was [more focused on at the

time]. "Misty Blue" was a slow song and, at the time, uptempo

songs were happening. After the two years passed (I did other

things during that time—backgrounds and such), I got a call from

the producer again. He was getting ready to release "Misty Blue." I

had a copy of the original recording (I always made sure I kept a

copy of my work), and I told him to wait. I had something I wanted

to add to it before it went out. I went out to the studio and told

him to put the track on and let me record what I was adding. He'd

know I was done adding when I signaled with my finger across my

throat. I added that humming you hear at the intro of the song.

The intro was so long, and it needed something there. And that's

what I added. Some other touches were also added to make the

song happen.

I was working at a company called School Pictures (student

photographs for yearbooks, annuals and such) at the time it was

released. I worked there every fall season for two or three months.

Tommy asked me if I was ready to go on the road. He said, "I think

we have a hit, Dorothy." I asked the photography company to keep

PHOTO CREDIT: Kat Armendariz

4 FLOD SPOTLIGHT | 2019 WINTER ISSUE | FIRSTLADIESOFDISCOSHOW.COM

my name in their files in case this wasn't really a hit. I didn't want to

lose my job. But I never had to go back to work again.

It must have been an incredible experience becoming

a pop star. You bucked the disco trend of the period

with this soft and dreamy hit as well.

It was very exciting at that time—I was a size six back then.

I would go on tour and I'd hear "Misty Blue" being played with

all these other hits, like [Johnny Taylor's] "Disco Lady," K.C. and

The Sunshine Band—all those people. Yes, "Misty Blue" came out

during the disco boom. I don't know how the song made it then—

everything was disco. "Misty Blue" was the only ballad that was

really happening. I used to do some drops (quick track shows) at

the clubs and bars, and the song ended up becoming one of the

songs they played in the discos. It started out on the R&B charts,

then pop, then country, then disco. I was on the TV show Disco '77,

The Midnight Special, The Dinah Shore Show, American Bandstand,

on and on. I got a Grammy nomination—the song and the vocal.

(I also got a double Grammy nomination for the follow-up song,

"I Believe In You.")

I didn't focus on disco during that time, but I did release some

disco singles. "Let The Music Play"—a 12-inch single, or 20-inch,

whatever it was! [She laughs.] "Another Broken Heart" was played

in the clubs [in the '80s]. I was prepared to do anything. There were

so many genres that I could sing. I could yodel if necessary.

After having such great success with "Misty Blue," did

you feel any pressure to come up with more hit songs?

I wasn't feeling any pressure, but I was concerned that my label

Malaco wasn't known to push their artists and songs. That's what

we needed back in the '70s. Today, you need [technology platforms]

and videos. Back then, it was the people at radio that made me. The

deejays. We didn't have to worry about anything else. Whatever

I recorded after "Misty Blue," I just made sure it was something

everybody could listen to. That was the only concern I had—that

the lyrics were right and that I liked it. That's the way I approached

things. I didn't worry. I just wanted to know the song was good.

Many artists of the period have unpleasant memories

of their financial relationships with record labels. Did

you experience difficulties?

With Malaco, we all loved one another at the time, but when money

comes into it, you then start to have to call to make an appointment

to see people. We used to just walk in and go in the studio. But

things changed. Ego problems. You know. I didn't get treated fairly,

no—and it's still like that in some ways. I'm one of those artists who

didn't get everything they were supposed to get. It's still going on.

I've been through so many different attorneys, it's crazy. A person

like me just wants to sing. We didn't worry about the business—

and we should have. Nowadays, young people are aware, and I'm so

happy that they are. I have my own label now, just for me. It's called

Farish Street Records of Mississippi. Whenever I want to record, I

record.

Your career in recording seemed to slow down in the

decades that followed. What were you feeling about

the business?

I wasn't as visible in the '80s and '90s. I was really disappointed by

the business. It wasn't the happy experience it once was, especially

as far as studio recording. I was still performing on the stage,

though. (Thank God I had "Misty Blue" and a couple of hits under

my belt).

You still enjoy performing today?

Oh, yes, and [the audience] always wants to hear that ol' "Misty

Blue." I still am touring around—I have a couple of dates coming up

on shows with old school artists like The Whispers, The Dramatics,

GQ and just a whole bunch of others. I usually do shows with five

or 10 other artists and one orchestra that plays for all of us. We sing

our hits, and so I guess I've sung "Misty Blue" more times now than I

can possibly count! I always love when I'm on that stage and love my

audiences. I always try to give them 150 percent of my heart.

Do you sense any differences in today's audiences

compared to the '70s?

Wow, that's funny. Good question. Well, one thing is today my

audience has gotten whiter and younger! [She laughs.] My race still

comes to the show, though. And the audience is much bigger. There

can be thousands of people there. And I perform with really great

artists. Like Martha Wash! I have always been a fan of hers, and when

I met her, I was like, "Oh my Lord!" She's just incredible. That voice!

"I was prepared to do

anything. There were so many

genres that I could sing.

I could yodel if

necessary."

PHOTO CREDIT: Marcia Weaver

How do you feel about the music industry in the 21st

century?

I would say today, Lord, you have to know how to do so many

things. It might be easy for younger people today, you know, but it

isn't for me. As for the quality of today's music—well, there's some

things they are doing today that I wouldn't do. I like a full band, live

musicians playing the instruments on a recording—that doesn't

happen often today. Today's music just sounds different to me. I've

tried it a few times, but I didn't like it. Singing with electronics—the

drums just sound like a rubber band hitting on something. To me,

it doesn't have that oomph a real drum would give you. Keyboards,

too. Back in my day there was a real piano in there. In my day, they

had the piano, the horns, the violins, the background singers. They

have rappers now. But they do have good dancers today, I'll say

that!

Shifting gears a bit, I know you've witnessed most of

the major events in the struggle for black rights and

empowerment. What is your impression of where the

country is today?

Ummm—well, it seems like it's going back to the way it was in

the '40s or '50s. It seems that way, and it's scary. I believe in God,

and back in my day I prayed for [the safety of] my family and

friends and the congregation. Today, I'm praying for the world, the

president and our country—for everybody. I ask God to help us. In

some ways, things are better, a little bit. But it still feels messed up

to me. But thank God we have people that won't let it go back to

the way it was.

FLOD SPOTLIGHT | 2019 WINTER | FIRSTLADIESOFDISCOSHOW.COM 5
---
What has kept you in Mississippi all these years?

My daughter, son (well, he's in Tennessee), grandchildren—they

are all here. You know, I think I can just get the same things here I

could get in, say, Hollywood. If I want to go get something I don't

have here in Mississippi, I can get on a plane and do that. And my

church is here. (I'm not Dorothy Moore the "star" in church.) That's

why I stay. I'm very happy here.

Do you have some goals you want to acheive?

I'd love to do a duet with another star. Maybe some jazz—I know

how to scat. I did one gospel album (Giving It Straight To You in

1986); I'd like to do another.

For aspiring artists who may be lucky enough to

one day have the kind of hits and career you have

enjoyed—what advice would you give them?

Oh, Lord. Wow. Don't let the music change you—or success. Try

not to develop an ego problem if you are successful. Stay close

to your family and friends. And as far as entertainment goes, be

smart—have an entertainment lawyer, not the record label's lawyer.

Have an attorney you can trust that is looking out for you.

Would you share with me the single best thing that's

come from your music career?

Single best thing—that's tough. Well, I guess, overall, that I am able

to do what I want to do, go where I want to go. I'm not rich, but I'm

not broke. I don't do drugs—never have. I only have a drink when

I am toasting the new year. I'm just so thankful for what God has

given me. I have "Misty Blue," and that keeps me working, if I want

to. And I can say no, too—I don't have to say yes. That's a great way

to be. I am doing fine, and I'm happy about life—I guess that's the

best thing to have happened to me.

Cookin'

with

Dorothy

In addition to being a beloved vocalist,

Ms. Moore is highly respected for her culinary skills.

We asked her to share her kitchen with us.

Single most important kitchen gadget or appliance?

A black skillet that works! You can fry, bake and boil in it. Get

yourself a nice black skillet—that's good!

The secret to being a successful cook?

I don't measure anything. Measuring cups, one-third teaspoon of

this or that. You know. I just use my eyes, and I just taste whatever

I'm cooking. If it tastes the way I like it, it's good.

Favorite food?

I love vegetables! Red beans, cabbage. I also love chicken wings and

barbecue chicken. Corn bread. Sometimes I like a good steak with

gravy and onions and rice, too.

You are making me so hungry!

Come on over sometime! I'll make you catfish, anything you want!

When you're not cooking up a storm, what's your

favorite resturant?

Well, I like to go to Red Lobster! I love that place. I like Olive

Garden, too. But every now and then, I'll go somewhere where they

make a really good t-bone steak. I admit I like to be served and

pampered every now and then!

"I asked the photography company to keep my name in their

files in case this wasn't really a hit…

but I never had to go back to

work again."

PHOTO CREDIT: Kat Armendariz

FLOD SPOTLIGHT | 2019 WINTER | FIRSTLADIESOFDISCOSHOW.COM 7