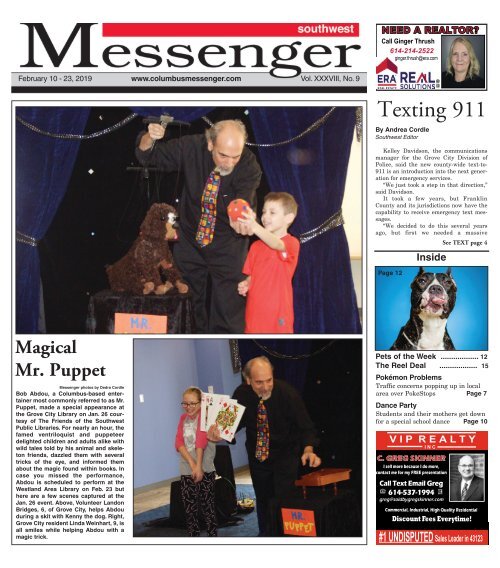 Southwest Messenger - February 10, 2019
Create successful ePaper yourself
Turn your PDF publications into a flip-book with our unique Google optimized e-Paper software.
February 10 - 23, 2019 www.columbusmessenger.com Vol. XXXVIII, No. 9

NEED A REALTOR?

Call REALTOR?

Ginger Thrush

Call 614-214-2522

Ginger Thrush

614-214-2522

ginger.thrush@era.com

Texting 911

By Andrea Cordle

Southwest Editor

Kelley Davidson, the communications

manager for the Grove City Division of

Police, said the new county-wide text-to-

911 is an introduction into the next generation

for emergency services.

"We just took a step in that direction,"

said Davidson.

It took a few years, but Franklin

County and its jurisdictions now have the

capability to receive emergency text messages.

"We decided to do this several years

ago, but first we needed a massive

See TEXT page 4

Page 12

Inside

Magical

Mr. Puppet

Messenger photos by Dedra Cordle

Bob Abdou, a Columbus-based entertainer

most commonly referred to as Mr.

Puppet, made a special appearance at

the Grove City Library on Jan. 26 courtesy

of The Friends of the Southwest

Public Libraries. For nearly an hour, the

famed ventriloquist and puppeteer

delighted children and adults alike with

wild tales told by his animal and skeleton

friends, dazzled them with several

tricks of the eye, and informed them

about the magic found within books. In

case you missed the performance,

Abdou is scheduled to perform at the

Westland Area Library on Feb. 23 but

here are a few scenes captured at the

Jan. 26 event. Above, Volunteer Landon

Bridges, 6, of Grove City, helps Abdou

during a skit with Kenny the dog. Right,

Grove City resident Linda Weinhart, 9, is

all smiles while helping Abdou with a

magic trick.

Pets of the Week .................. 12

The Reel Deal .................. 15

Pokémon Problems

Traffic concerns popping up in local

area over PokeStops Page 7

Dance Party

Students and their mothers get down

for a special school dance Page 10

V I P R E A L T Y

I N C

C. GREG SKINNER

I sell more because I do more,

contact me for my FREE presentation

Call Text Email Greg

614-537-1994

greg@soldbygregskinner.com

Commercial, Industrial, High Quality Residential

Discount Fees Everytime!

#1 UNDISPUTED Sales Leader in 43123
---
PAGE 2 - SOUTHWEST MESSENGER - February 10, 2019

www.columbusmessenger.com

PRE GRAND OPENING 2/10/19

Open House Today from 12:00 pm - 4:00 pm

Come Out and Join Us for Refreshments and Please Excuse Our Dust.

Homes Starting at $279,900
---
www.columbusmessenger.com

February 10, 2019 -SOUTHWEST MESSENGER - PAGE 3

Thank you for your friendship and your trust.

Greg is rated #1 in 43123

One of the BEST IN COLUMBUS

One of the BEST IN AMERICA

Call or Text C. Greg at 614-537-1994

www.soldbygregskinner.com
---
PAGE 4 - SOUTHWEST MESSENGER - February 10, 2019

TEXT

Continued from page 1

www.columbusmessenger.com

upgrade," said Davidson.

Davidson said Grove City started working on its

upgrade last fall. Then they had to wait for the other communities

in the county to complete upgrades.

Accuratax of columbus

3099 Sullivant Ave. • 614-274-6900

(at the corner of Westgate & Sullivant)

Bring in This Ad and Receive a Discount!

"Serving The Hilltop Since 1983"

APPLIES ONLY TO

TAX RETURN PREPARATION

Hrs: Mon.-Thurs.

10 am - 6 pm

Fri. & Sat. 10 am-5 pm

Not Valid With Any Other Coupon

"We all did this together."

Davidson stressed that the text-to-911 service is

designed for those who cannot call. Dispatchers prefer residents

to call if they can because the emergency workers

receive more information from a phone call.

"Call if you can. Text if you can't," said the communications

manager.

Still Davidson said the texting capabilities

would benefit the hearing impaired, speech

impaired or individuals who may be in a situation

where calling 911 could be dangerous.

Text-to-911 works on cell phones, tablets and

other devices with the capability of sending texts.

Text-to-911 service is subject to cell signal availability.

If an emergency text does not go through,

the person trying to use the text-to-911 would

receive an automated bounce-back message letting

them know the text had not been delivered.

According to Davidson, the new service does not

include the ability to accept photos or video though

she does see that in the future.

"The technology is there," said Davidson.

Safety agencies throughout Franklin County

partner to share 911 systems and work together to

improve emergency service delivery for all Franklin

Pancake breakfast

The Kiwanis Club of Grove City will

hold its annual pancake breakfast from 8

a.m. to noon Feb. 23 at the Grove City

United Methodist Church, 2684 Columbus

County residents while reducing costs. Dispatchers

throughout the county will now see text-to-911 messages

in a similar fashion to what shows up on a smartphone text

chain and can text back specific questions to the sender.

Agencies jointly developed pre-programmed responses

aimed to address the text emergencies they receive and

quickly ask for key information.

"Grove City is quite proud of our communications center,

recently upgraded to the latest 911 communication

technology," said Grove City Mayor Richard "Ike" Stage.

"Like many aspects of public safety, this is another great

example of sharing resources and technology with all of

our partners in Franklin County."

The Grove City Communications Center takes in emergency

calls from the southwest quadrant of the county

including the city of Grove City, Jackson Township,

Pleasant Township and Prairie Township. In January

2019, the center received 1,800 emergency calls.

Davidson said so far, the Grove City center has only

received a few emergency texts.

"It works well," she said. "Hopefully it means people are

getting the message to call if you can and text if you can't."

For more information about the new text-to-911 service,

visit text911.franklincountyohio.gov.

around the southwest

St. in Grove City. It is an all-you-can-eat

breakfast featuring pancakes, sausage, coffee,

orange juice and milk. Donations will

be accepted. Proceeds will benefit the charitable

activities of the club in the Grove

City area community.

Lowest Prices of the Year

LIMITED NUMBER OF UNITS AVAILABLE

NEW LENNOX

GAS FURNACE

AND

AIR CONDITIONER

0% Financing

Up to 24 Months With Down Payment

Sale Good

Thru

February

Triple A Rating

INTERSTATE

Heating & Cooling

2nd to None Since 1981

Serving Franklin & Surrounding Counties

38 Years - Over 5,000 Installations • Senior Discounts

SERVICE ALL BRANDS

614-875-1227

Printed upside down at customer request. Lic. No.: 20687
---
www.columbusmessenger.com

In Education

Infinite Campus to expand in SWCS

By Dedra Cordle

Staff Writer

The Infinite Campus in the South-Western City

Schools District is set to expand.

At the Jan. 28 board of education meeting, food services

supervisor Lisa Hamrick announced that the

department will soon be making the transition to the

online portal.

"We are very excited about this," she told the board.

According to Hamrick, the department will be

adding point of sale capabilities that will allow parents

to have access to account activities and balances,

including those who request free or reduced breakfast

and lunches.

"Having one system to log onto will really speed up

the process and make it more efficient," she said.

Though an emphasis will be placed on online applications,

Hamrick said they will not do away with

paper applications.

"We will still be allow those," she said.

There will, however, be the elimination of

PayPAMS as the department transitions to the

Infinite Campus.

"We will no longer be using those," said Hamrick.

The transition to the Infinite Campus will come at

the beginning of August, weeks before the start of the

2019/20 school year. Hamrick said they didn't want to

make the switch during a school year that was already

in progress.

The district began using the Infinite Campus in

2012 as a way to allow parents access to their children's

academic reports and class schedules, and to

update emergency contact information through online

tools and applications. It can now also be used to

update medications, health information, pay school

fees and contact teachers.

In related food services news, Hamrick said more

students are eating breakfast and lunch.

"Our numbers continue to grow for breakfast and

lunch," she said.

around the southwest

Grove City Preschool enrolling

Grove City Preschool is now enrolling

children for the 2019/20 school year that

will begin in September. The school is

located at 1761 Gateway Circle in the

Cheer Center. Information can be obtained

by calling the preschool at 614-875-4432 or

emailing gcpreschool@gmail.com.

Two or three half day classes are available

for children who will be 3, 4 or 5 by

Sept. 30. Registration is open to all families

and forms are accepted on a first-come,

first-serve basis. There is a $30 registration

fee.

Free tax preparation at

Church of the Nazarene

AARP Foundation Tax-Aide volunteers

are offering free tax preparation from early

February through mid April at the Grove

City Church of the Nazarene, 4770 Hoover

Road in Grove City.

Because of the new tax laws, demand is

expected to be heavier this year. Residents

According to Hamrick, more than 6,900 students

eat breakfast daily (an average of 1.2 million per year)

and more than 13,500 students each lunch daily (an

average of 2.4 million per year).

She credited the food service cooks and staff for the

continued increase in breakfast and lunch participation.

"I cannot be more proud of our staff," Hamrick said.

"They work really hard."

Hamrick also spoke of the pilot café that was established

earlier this year at Grove City High School.

"I think it is going over really well," she said of the

'Greyhound Ground Café,' which serves hot and cold

drinks during breaking and lunch hours.

Board member David Donofrio asked whether the

café would be expanded to each of the high schools in

the coming years.

"If things go well, we will consider looking at the

other high schools," she said.

Hamrick added that it was piloted at Grove City

High School because there was more of a need for it

there.

In other news, transportation supervisor Tim Cox

gave an update on the department. According to Cox,

the department is running smoothly and inspections

are in progress for all of the buses in their fleet.

He also presented a snapshot with the average

number of students, runs, routes and miles traveled

per day. Cox said the buses transport more than

15,000 students per day, the fleet averages more than

16,000 miles per day, and there

are more than 180 routes driven

per day.

During his report, he also

announced that the First Time

Riders event will be held on

Aug. 10 at Central Crossing

High School from 9 a.m. to noon.

"We're going to make it a oneday

event, so we'll see how that

goes," he said.

are urged to sign up early for an appointment

time. Appointments will be scheduled

from 9 a.m. to 4 p.m. on Wednesdays and

Thursdays.

While Tax-Aide's focus is on low-to-moderate

income senior citizens, the service is

available to anyone regardless of income or

age. Taxpayers are asked to bring a photo

ID, last year's tax return and all tax-related

documents.

To schedule an appointment, call 614-

277-1060. For more information, visit

www.aarp.org/money/taxes/aarp_taxaide.

Immunizations in Jackson Twp.

Franklin County Public Health will

offer adult and childhood immunizations

on Feb. 11 at the Jackson Township

Adminstration Building, 3756 Hoover

Road in Grove City. Most insurance plans

accepted. Discounted services are available

for those with no insurance. To schedule an

appointment, call (614) 525-3719 or visit

www.myfcph.org.

February 10, 2019 -SOUTHWEST MESSENGER - PAGE 5

SUPPORT

your

Community Paper

Through advertising, community newspapers like the

Messenger have always been FREE papers. In these

tough economic times we are asking you the reader to

help offset the current decline in advertising revenue by

participating in a voluntary payment program*.

To those who have already participated -

We Thank You.

For those who would like to, below is a form

you can mail with your payment.

*This is not a subscription.

.Name:

Address:

City/State/Zip

columbus

3500 Sullivant Ave., Columbus, OH 43204

1 year ($9) 2 year ($18)

Eastside Westside Southwest

Southeast
---
PAGE 6 - SOUTHWEST MESSENGER - February 10, 2019

Opinion Page

www.columbusmessenger.com

A lack of planning makes me a 'Grumpy Old Man'

In a few previous columns, I've offered

no defense, guilty as charged. Yes, I'm a

grumpy old man. But I couldn't help it. It

was a natural transition and I suspect others

didn't even notice since I was also a

grumpy young man, as my wife will confirm.

But I've decided to fight the stigma of

The Court ruling. Your Honor, in my

defense, there were extenuating circumstances.

Really, it's only one thing I'm

grumpy about, that's life in general and I

still insist I'm only grumpy when it's

deserved. Hear me out. I call to the stand

my first defense witness.

I recently went to the Schott to see a

basketball game. We properly planned and

got there shortly before tipoff and made our

way up to the ozone layer. The seats were

the equivalent of a flight's tourist class,

only not as roomy or comfortable. After

unsuccessfully trying various approaches, I

painfully succeeded in crumpling up like

an accordion into my unpadded seat, with

its whole six inches of leg space, trying

hard not to let my knees bonk the person in

front of me who was busy scarfing down

nachos. The game was set to begin.

It started and so did the predictable,

"excuse me, sorry, need to get by, coming

through," late procession. The only way

they could get by was for me to make feeble

attempts as a contortionist and unravel

myself, stand and give them the only available

inch to move by. "Ouch, hey

Twinkletoes, you're on my foot!" I could

hear cheering coming from the game

beyond my blocked view. We were near the

mid-point of the first half before our row

and the aisles in front of us were finally

clear. Then, with lots of time left in the

first half, the mass procession to the concession

stands and restrooms began.

As the second half began, the seats were

still empty. Then the return stampede

started. "Ouch! Hey, you spilled your beer

on me! You mind getting the popcorn you

dropped out of my hair! You spilled your

This school year brought a major milestone

to my family - packing lunches.

In first grade, my oldest daughter is now

a full-day student, and on top of that, my

youngest daughter is now in preschool and

requires a snack each day.

For years, I packed my lunch for work,

but often it was leftovers.

Packing for picky eaters makes that

nearly impossible considering dad and I

like a little more variety in taste than our

younger ones.

Although noodles are the go-to staple for

the kids, I've found myself struggling (and

I'm just on day three of school as I write

this) on what to pack. Looking through

mustard and relish all over me, how about

the hotdog so I can make a meal out of it."

It was midway into the second half before

we were all finally crumpled back into our

luxury torture seats. That only lasted a few

minutes, then the mass migration for beer

refills and more hotdogs and nature calls.

With a quarter of the game to go, some

started filing out. I was wondering why

they even came? By the time the game

ended, I estimated our view was unobstructed

for maybe half the game, at most.

I'm betting most of you can relate to that

experience, be it a sporting event, a concert,

movie, or whatever you've attended?

It's not a rare thing; it's always that way.

Your Honor, I can put up with all of it, it's

the ones who file in late that always get me

grumpy. I know, there are times it can't be

avoided, but for too many, it's just a way of

life, no matter what they do. We all know

people like that, sure bets to be late for

everything? To me it's the lack of attention

and/or priority to planning and the insensitivity

to others that gets me grumpy.

I recall my working days. I had a slogan

on the wall, 'Any lack of planning on your

part does not constitute a crisis on my

part." Unfortunately, others, too often

including management, had their own:

'Why do today what you can put off until

tomorrow.' Net result was others always

had to pick up the slack and still get results

for the poor planning procrastinators.

You could give management a four-year

warning or just a two-week notice on a

retirement. It didn't matter, it would

always become a last second fire drill with

no trained backfill ready. We'd have the

inevitable hastily called group meeting,

"we have a problem, we'll have to divvy

his/her work up until we get someone in

here and up to speed." (Note: it was implied

management was going to help, hardy har

har)!

One time they decided to change (they

called it enhance) the huge corporate

accounting system. I noticed the scope of

the conversion failed to include the business

I did the accounting for. I pointed that

out, but it fell on deaf ears and rather than

regroup and re-plan, it was man the torpedoes

full speed ahead. I also pointed out the

new system had very limited reporting

capabilities.

The implementation team finished the

conversion, collected bonuses, got their promotions

and moved on, heralding the

closed conversion project as a huge success.

In no time, it was the usual enhancement

gone awry with businesses screaming they

needed better reporting. I had to use more

band-aids than were stocked on the shelves

at the local pharmacy to be able to keep

feeding the accounting data from my

excluded business to the new corporate system.

I also warned them no one knew had

to properly put the band-aids on the

wound, except me. I had no trained backup.

I heard that immediately became another

needless, "We have a problem," crisis after

I retired.

More examples, Your Honor? How about

our government leaders? They set the new

low standard in lack of planning and procrastination

for our youth to follow with

their always predictable, irresponsible

budget policy of 'continuing resolution'.

"We'll deal with it later, let's kick the can

down the road again and get out of here for

vacation". So many issues have needed

attention for so long, social security,

health, infrastructure, immigration, balanced

budget, on and on it goes. But nope,

upcoming elections and political concerns

always take precedence. Don't rock the

boat, we'll deal with it later, when they

have more time and can sit down and arbitrate

and compromise. Right, we all believe

that. Is there anything they ever do that

doesn't come down to the wire and/or result

in a needless fire-drill crisis for us to put up

with? Am I not correct, Your Honor?

I remember when that war zone I-71

Packing a school lunch for very picky eaters

Life Moments - By Christine Bryant

social media forums, I know I'm not alone.

Social media can be a blessing and a

curse. We all know the negatives of social

media and the web, but in this instance,

they've been a blessing.

I've learned several helpful tips that

may seem obvious, but when you're overwhelmed,

they're helpful reassurances.

These include:

•Pack foods you know your kids will eat

- not what you wish they would eat.

•Examine your kid's lunch box when

she comes home. This will provide clues

into what are good or bad choices to include

based on what's uneaten. Just because

something is uneaten, as well, does not

mean it wasn't liked. It might simply have

taken too long to eat when kids are on a

timed schedule for lunch.

•Kids won't care if you spend 5 minutes

or 50 minutes packing their lunches, so

save time in whatever ways you can.

•Tupperware containers that have compartments

are great. They save you time

from washing a million little containers

and save the kids time opening up those

million little containers. Just make sure

whatever container you pick fits in the

lunch box.

Seems easy enough, right? Now comes

the hard part - filling the lunch boxes.

One thing I've discovered is allowing my

Guest Column

Dave Burton

construction from

Stringtown to

Columbus first

began. It seems so

long ago. I predicted

it would be a sea of

accidents. My neighbor

will readily

agree after being

rear-ended in a fivecar

pileup on that stretch not long ago, just

one of countless streams of accidents there.

If I could foresee the accidents coming,

couldn't better preventative planning

emphasis have alleviated that to some

degree? Maybe not, but are we to just conclude

there will be many accidents there

and leave it at that and not plan harder?

They've moved lanes numerous times. The

temporary lanes were not built to handle

heavy traffic flow or harsh winter weather.

Last winter a sea of potholes surfaced. The

berms were filled with cars pulled over

after suffering extensive damage. With all

the engineering brainpower assembled,

couldn't that have been foreseen and better

planned for? Saying this is Ohio and Ohio

gets potholes does not reflect planning.

Your Honor, aging has taught me to

think and plan before I try to do something

and then get it done. I still usually screw

everything up, it just seems to come natural

to me, but at least my intentions are well

meaning. I try to accept my responsibilities

and think of others. I ask that the court

reduce my sentence from 'Grumpy Old

Man' to instead a 'Justified Old Grump'.

Thank you, Your Honor, I rest my case.

Dave Burton is a guest columnist for the

Columbus Messenger Newspapers. He

lives in Grove City.

daughter to have a role in what I pack

makes it more likely she will eat what is in

her lunch. This has been the case with

meals in general. When I ask her what she

wants, she will tell me, and she will finish

her meal.

Google "lunches for picky eaters" and

you will come across a ton of other ideas for

school lunches, even when your child only

eats a handful of foods. Many of the ideas

appear on social media sites like Pinterest

and Facebook.

Christine Bryant is a Messenger staff writer

and columnist.
---
www.columbusmessenger.com

February 10, 2019 -SOUTHWEST MESSENGER - PAGE 7

Community Focus

PokeStop raising safety concerns in township

By Dedra Cordle

Staff Writer

A popular game is raising safety concerns in a Jackson

Township community.

At the Feb. 5 board of trustees meeting, township

administrator Shane Farnsworth said he has received

complaints from residents in the Emersonia subdivision

who have seen Pokémon Go players parking their vehicles

in intersections in order to catch the virtual characters.

"They apparently just stop in the middle of the road

(and play)," he said.

Farnsworth said the residents who have called are troubled

by this behavior and are worried it will only get worse

as the warmer season approaches.

"This is something that does need to be addressed," he

said. "It certainly poses a safety hazard."

But what can be done about motorists who drive around

looking to catch Pokémon and find it acceptable to stop in

the road to collect them? Not too much, admitted Franklin

County Sheriff Deputy Jason Ronk.

"We have to catch them in the act and then we can

address the issue," said the community liaison after the

meeting.

"But the thing I would strongly recommend is that people

be smart; don't play with your phone when you're driving,

be aware of your surroundings and obey the traffic

laws."

He said that these complaints are not isolated to the

Emersonia community either.

"We've received complaints like this all over," he said.

"I've pulled over a few kids myself who were just sitting in

the roadway, waiting for something to pop up."

He said that while he appreciates that people

want to get outside and play, they need to educate

themselves about what is acceptable behavior.

"Blocking traffic to play games is not," Ronk

said.

In related news, trustee David Burris said he

fielded numerous complaints related to speeding on

Hiner and Home roads. He asked Ronk during the

regular meeting whether he believed flashing solar

speed signs were efficient deterrents to reduce

speeding.

"I think they are a good deterrent while they're

posted," he said.

Ronk added that

he read a few studies

that show

motorists do reduce

their speed once

they see the flashing

indicators.

"There is something that reacts in our brains when we

see that and it causes us to slow down."

Burris said he would like the township to see how much

it would cost to order and post them in high speeding

areas.

In other news, the next regular meeting will be held at

1:30 p.m. on Feb. 19 at the Jackson Township

Administrative Building, located at 3756 Hoover Road.

AMAZING KIDS

ACADEMY PRESCHOOL

4501 Hoover Rd., Grove City, OH 43123

614-530-0283

3-5 Year Olds

2 morning, 3 morning, 5 morning &

3 afternoon

OPEN HOUSE, TUES. FEB. 12 TH

5:30 pm to 7:00 pm

Visit us on Facebook

Sights at Scioto Grove

Messenger photo by Kristy Zurbrick

Hundreds of people showed up for the afternoon Winter Hike at Scioto Grove Metro

Park in Grove City on Feb. 3. Walkers took advantage of the warmer weather after

several days of subzero temperatures. Here, a few hikers pass by a melting snowman.

Hikers were given options of one-mile and two-mile routes.

Just Enrolling K-8

Ask about our early entrance kindergarten program

Tuition is FREE!

ENROLLING NOW for 2019-2020 2018-2019 school year!

Hurry, spots fill up quickly!
---
PAGE 8- SOUTHWEST MESSENGER - February 10, 2019

www.columbusmessenger.com

The City Beat

Council wants delivered materials

properly placed on property

By Andrea Cordle

Southwest Editor

Flower Power at

annual symposium

Anticipation is growing for the Gardens

at Gantz Symposium, "Flower Power," 8

a.m. to 3:30 p.m. March 23 at the Evans

Center, 4330 Dudley Ave., Grove City. The

2019 theme is based on the 50th anniversary

of Woodstock; attendees are encouraged

to dress "groovy" for the occasion.

Featured speakers include Cynthia

Davis, artist and owner of The Honey

House, in historic Grove City Town Center,

shares her story of urban beekeeping and

how to garden while supporting pollinators.

Debra Knapke, author and garden

designer coaches participants to simplify

gardening in joyful ways; Charles Cleaves,

executive director of Kingswood Center,

presents many facets of rock gardening;

and Susan Leichty, advanced master gardener

and past president of the Herb

Society of America, shares the secrets of

Grove City Council wants to eliminate

visual blight in the community.

At the Feb. 4 meeting, council unanimously

voted to amend the property offenses

portion of the city code to now include

unsolicited written materials.

This legislation is in reference to The

Bag, which delivers advertisements and

The Columbus Messenger Newspapers.

The Bag is delivered by Dispatch

Consumer Services.

"We receive numerous trash complaints

about these bags blowing into yards and

into drainage areas," said councilwoman

Christine Houk. "We are trying to deal

with this issue while trying to protect the

First Amendment right of the organizations

delivering the materials."

Houk said citizens complain that the

delivery drivers throw the materials out of

their vehicles into yards or in the streets.

This has resulted in clogged storm drains

which has backed up water in public

rights-of-way.

Councilman Roby Schottke said he

walks around his neighborhood and sees

the problem firsthand.

"Put them on hooks or in the mail slots.

Don't just thrown them out," said Schottke.

"I'm glad we're doing this."

Law Director Stephen Smith said Grove

City would pattern its enforcement after

Upper Arlington, which approved similar

legislation. He said the city will first notify

the public of the code change, as well as the

delivery company.

"We hope the deliveries meet our expectations,"

said Smith. "Upper Arlington has

been able to compel compliance with the

threat of a citation."

According to the legislation, no person

shall deliver, place or distribute unsolicited

written materials to any premise other

than on a porch nearest the front door,

through a mail slot on the front door, in a

distribution box located on the property,

securely attached to a hook on the mailbox

or within a mail slot, or personally to the

occupant of the property. This provision

does not apply to the United States Postal

Service.

Violations of the code would be classified

as a misdemeanor, punishable by a

fine of $250 per violation.

"This legislation gives the city the ability

to cite the driver throwing the materials

out of the vehicle or the organization," said

Smith.

Dispatch Consumer Services did not

want to comment on the legislation at this

time.

In related news, city leaders spoke

about a new initiative to reduce the use of

plastic bags in the city.

Linda Rosine, environmental coordinator,

briefly spoke about the Think Outside

the Bag campaign the city is working on.

Rosine said this program would encourage

city residents to either use reusable bags

when shopping or take the plastic bags

back to the retail outlet for recycling.

Schottke said several communities have

enforced a ban on plastic bags, though he

was not sure about going that route yet.

"What should we do instead of plastic

bags," asked the councilman. "We should

look at doing things differently."

around the southwest

saffron, a versatile herb used to dye fabric,

season food and benefit health.

The Gardens at Gantz Symposium is

sponsored by the Gardens at Gantz Farm

Volunteers. A lunch will feature herbal

dishes and vendors will be on hand offering

herbal and garden products for sale. The

$45 program cost includes course materials,

lunch and a continental breakfast.

Registration deadline is March 13.

For information or to register, call the

Gantz Farmhouse at 614-871-6323.

S.A.L.T. at Evans Center

The Grove City Division of Police host

Seniors and Law Enforcement Together

(S.A.L.T.) meetings at 1 p.m. the second

Tuesday of each month at the Evans

Center, 4330 Dudley Ave. Adults of all ages

are welcome to attend. If you would like

additional information on other crime prevention

programs visit police.grovecityohio.gov

or call 614-277-1765.
---
www.columbusmessenger.com

Little League registration in GC

Grove City Parks and Recreation is registering

for the spring/summer Little

League baseball season throughout the

month of February. Participants sign up at

Kingston Center, 3226 Kingston Ave.

through Feb. 28. The office is open Monday

through Friday, 8 a.m. to 5 p.m., with

hours extended until 7 p.m., Tuesday, Feb.

26.

Children ages 5 through 17 are eligible

to participate. Per Little League

International, age determination is based

on the player's age on Aug. 31, 2019; applicants

born during May through August of

2001 can participate in the Big League.

Fees for residents of Grove City or Jackson

Township are $70 per player for T-ball

through Minor 7-8; $90 for Minor 9-10

through Big League. Participants who

reside outside the city/township corporate

limits are eligible to play, but are required

to pay an additional $10 non-resident fee.

To register, bring full payment and

proof of residency to receive the resident

fee. Be ready to provide a uniform size and

emergency contact information. A birth

certificate must be presented for those participating

in the Grove City Parks and

Recreation baseball program for the first

time.

Practices begin April 1, with the first

games played May 4. All games and practices

are at Windsor Park, 4330 Dudley

around the southwest

Ave./4408 Broadway. Players in the

leagues for ages 9 and older should attend

an observation March 16, to assist coaches

in drafting players. Players in T-ball,

Minor 6 and Minor 7-8 leagues are

assigned to teams and do not have observations.

All leagues play twice per week.

Postponed games are made up on

Saturdays; occasional double headers may

be scheduled.

Interested in being a volunteer coach,

paid umpire or team sponsor? Pick up an

application or sponsor form at the Kingston

Center or download at

Parks.GroveCityOhio.gov. All coaches

must pass a background check and complete

online training.

For more information, visit

GroveCityOhio.gov or call the Parks and

Recreation Department at 614-277-3050.

C.M.T

MOWER REPAIRS

614-875-5830

6446 HARRISBURG PIKE, ORIENT, OHIO 43146

Pick-up and Delivery

"We have the lowest price in town!"

Fresh produce

Free fresh fruit and vegetables will be

distributed on March 9 to qualified, lowincome

Franklin County residents. The

fresh produce will be available at Central

Baptist Church, 1955 Frank Road, beginning

at 10:00 a.m. To assist in registration,

please bring a photo ID and your current

address in Franklin County. You are asked

to also bring heavy-duty bags, boxes or

carts to carry the bulk produce home. For

more information, contact the church at

614-279-3115 or www.centralbaptistcolumbus.org.

Blood drive at Kingston Center

The American Red Cross Blood Drive

meets in the Kingston Center, 3226

Kingston Ave., from 1-7 p.m. the first

February 10, 2019 -SOUTHWEST MESSENGER - PAGE 9

Wednesday of each month.

To schedule an appointment call 1-800-

448-3543 or visit the American Red Cross

Blood Drive website.

JEFFREY P. COMPTON

ATTORNEY AT LAW

General Practice

Personal Injury • Domestic

Probate • Wills

Power of Attorney

Healthcare Documents

FREE CONSULT & PARKING

614-875-7233 Fax: 614-875-7207

3894 Broadway, Grove City

www.jeffreypcompton.com

Email: jcompton@jeffreypcompton.com

LOOKING TO MOVE THIS YEAR?

WE HOLD THE "KEY" TO YOUR NEW HOME IN 2019!

Our team sold 73 homes in 2018 which is equivalent to selling a home every 5 days!!!

Let the Pinnacle Performance Partners of Key Realty put their 83 combine years of real estate experience to work for you!

Jody McCague

614-332-4649

Steven McCague

614-315-2181

Alexandria Shaw

740-215-6656

Sarah Hart

614-716-9808

Roger McDaniel

570-3260

We would be happy to provide a free market analysis or buyer consultation to start your new year off right!

3903 Broadway, Grove City, OH 43123 | 614-991-0405
---
PAGE 10 - SOUTHWEST MESSENGER - February 10, 2019

www.columbusmessenger.com

--------

Time to get glowing

Messenger photos by Dedra Cordle

The beaming smiles were brighter than the neon decorations and adornments at

the third annual Mother and Son Glow Party at J.C. Sommer Elementary School on

Jan. 25. The night-time fiesta was presented by the school's Parent Teacher

Association as a way to beat the winter doldrums and try to embarrass children as

their mothers danced the night away. Shown here Danna Lotz does the Macarena

with her son Diesel, a fourth grader at the school. The third grade teacher said she

was surprised he was familiar with the moves and thinks it was due to the influence

of an older sister.

NEW

Grov

ve e Cit

ity

Officice!

Our new Grove City office is located in the

North Meadows Medical Office building, near

Mount Carmel Grove City. Orthopedic ONE

Grove City now offers a convenient multi-special-

ty physician clinic with on-site imaging, therapy

services and appointments five days a week.

We have everything

to care for every part of y ou.

ything we need

part of you

ẏ

Orthopedic ONE – Grove CIty

|

5500 Nor

th Meadows Drive

To schedule an appointment at our Grove CIty

office, please call (614) 488-1816 or visit us at

www.orthopedicONE

thopedicONE.com.

This is where e you go to get better.

Bianca Gerardo dances with son Kaleb

Shie during the final song of the night.

First grader Derrick Jordan skims the

limbo stick during the limbo contest.
---
www.columbusmessenger.com

February 10, 2019 -SOUTHWEST MESSENGER - PAGE 11
---
PAGE 12 - SOUTHWEST MESSENGER - February 10, 2019

WINTER

AUTO DEALS

This Week's Features

614-279-8880

www.haydocy.com

CERTIFIED USED SPECIALS

09 PONTIAC VIBE

18B158A

$

Red

6,995

06 HUMMER H3

18G134B

11 HONDA CRV EX-L

18G272B

Leather Heated Seats,

Sunroof & More!

11 CADILLAC SRX

17B153A

AWD Luxury

15 BUICK VERANO

18G322A

Convenience Group,

White. Only 27,000 Miles!

$

15,191

15 VOLKSWAGON

GOLF GTI

18G384A

6 Speed, Auto,

Leather Interior, Sunroof,

ONLY 49,760 Miles!

$

7,995

$

10,995

$

11,995

$

16,795

15 CHRYSLER 300 S AWD

SA1833

Sunroof, $

17,995

Navigation & More!

14 GMC SIERRA 1500

CREW CAB 4X4

18G398A

$

18,995

14 GMC YUKON DENALI

18G215A

Sunroof, DVD & More!

$

28,995

3895 W. Broad St.

www.haydocy.com

Pet Corner

Pets of the week

Percy is about 2

years old. He is a fellow

that loves to

snuggle. He likes to

play, wrestle with his

cat siblings and he

loves to chase toys.

Percy has been

neutered and is upto-date

on shots. He

is looking for that perfect

forever home. Adopt Percy through

Friends for Life Animal Haven.

FYI: www.fflah.org

Grove City Church of God

"A Healing Place"

4235 Harrisburg Pike, Grove City, Ohio

614-875-7186

Sunday Service: 10am

Wednesday Service: 7pm

• Pentecostal • Spirit-Filled Wordship

• Gospel Ministry • Life Groups

• Central Ohio Living Free

• Biblical Teaching/Preaching

Be a Part of Our

Local Worship Guide

These furry friends are available

for adoption at local rescues

and shelters

Lacey may be a

senior, but age is not

holding her back.

She's a goofy, outgoing

dog who loves

attention. You'll never

see her not wagging

her tail; she's pretty

much happy all the

time. She does well

with other dogs and wouldn't mind having a

furry friend in her new home. Adopt Lacey

from the Franklin County Dog Shelter.

FYI: 614-525-3647 or www.franklincountydogs.com

Looking for a small, friendly church experience? Try

First Presbyterian Church

of Grove City

4227 Broadway in Grove City

Join us on Sunday mornings:

Traditional wordship at 9am

Sunday School:

Pre-school-4th grade: 9:15am-10am

Adult Sunday School: 10am-11:00am

Contemporary Service: 11:15am-12:15pm

Our upcoming Worship Guide is geared toward celebrating faith and helping

readers connect with religious resources in our community. Make sure these

readers know how you can help with a presence in this very special section

distributed to more than 22,000 households in the Southwest area.

Contact us today to secure your spot in our Worship Guide.

614.272.5422 • kathy@columbusmessenger.com

www.columbusmessenger.com

Paco is such a

sweet, fun guy. He is

very handsome and

just wants to please

and have someone

to give all of his love

to. Don't let his

cropped ears scare

you - he is a big baby

and is very hard not

to love. He also

makes the cutest snort noises. If you would

like to meet Paco, visit the Franklin County

Dog Shelter.

FYI: 614-525-3647 or www.franklincountydogs.com

Buster is one inquisitive

kitten. He's a

friendly, happy boy

who was dumped in

a parking lot with his

mom and siblings.

Fortunately they

were rescued and

are now looking for

forever homes.

Buster is neutered,

microchipped and up to date on vaccines. He

is up for adoption through Colony Cats and

Dogs.

FYI: www.colonycats.org

Champ is a 2-yearold

beagle mix who

loves to play with

other dogs. He also

loves toys and snuggling

on the couch.

Champ would love a

home where his

human companion

would take him for

walks and on car rides. He is housebroken,

neutered, microchipped and up to date on

vaccines. Champ is up for adoption through

Colony Cats and Dogs.

FYI: www.colonycats.org

around the southwest

Free community meal

Bethel Lutheran Church, 4501 Hoover

Road in Grove City, will host a free community

meal every third Saturday of each

month. The food will be served from noon

to 1 p.m. For more information, call the

church office at 875-0510.

southwest

Messenger

(Distribution: 21,678)

Andrea Cordle...................................Southwest Editor

southwest@ columbusmessenger.com

Published every other Sunday by the

The Columbus Messenger Co.

3500 Sullivant Ave., Columbus, Ohio 43204

(614) 272-5422

The Columbus Messenger Co. reserves the right to edit, reject or cancel

any advertisement or editorial copy at any time. The company is not

responsible for checking accuracy of items submitted for publication.

Errors in advertising copy must be called to the attention of the company

after first insertion and prior to a second insertion of the same advertising

copy.
---
www.columbusmessenger.com SOUTHWEST MESSENGER - February 10, 2019 - PAGE 13

By Rick Palsgrove

Southeast Editor

Racing through the decades at Columbus Motor Speedway

The roar and blur of fast race cars

speeding around the track at the Columbus

Motor Speedway were once familiar sites

and sounds on the south end of Columbus.

From 1946 to 2016 the speedway, with

its one-third mile track, operated just

south of Williams Road near Obetz. For

much of its history it was led by the

Nuckles family and was home to a variety

of motorsports races including motorcycles,

coupes, and stock cars. It also offered stock

car shows, school bus races, and thrill

shows.

After the speedway ceased operations,

the village of Obetz purchased the site

which has since become Fortress Obetz, an

athletic and concert facility.

Columbus resident and racing historian

Mike Garrepy has captured the history of

the race track in his new book, "Columbus

Motor Speedway," published by Arcadia

Publishing. The book contains 127 pages of

photos and text on the history of the track.

The book shows how the models and

styles of racing vehicles changed over the

decades of Columbus Motor Speedway's

operation from home built vehicles to modern

custom built race cars. Also of note is

how, as time wore on, the speed and power

of the vehicles increased and how the level

of safety gear worn by the drivers evolved.

I interviewed Garrepy about his book:

Why did you decide to write the book and

why are you interested in the Columbus Motor

Speedway?

Mike Garrepy: "The reason for the book

is simple: to preserve the history of the

track in written and pictorial form and to

provide a place where fans and drivers

could return to recall some of the great

times each had. Not to make it all syrupy,

but for many drivers race nights made

them something special, especially if they

won. Come Monday morning they went

back to body shops, garages, driving

trucks, building roads or whatever, but on

race night they were the star of the show. I

hope I preserve that in some way."

What set the Columbus Motor Speedway

apart and made it special compared with

other race tracks?

MG: "It wasn't just one thing, but rather

a combination of things. First, if a fan

wanted to see racing on asphalt in the

Columbus area, Columbus Speedway was

the only option unless they wanted to travel.

The Nuckles family did not exploit this.

They kept the facility clean and fresh looking

with repairs and paint as needed. They

invested heavily in new buildings with

flush toilets and concession stands. Repairs

were made quickly. The grass was cut prior

to race night, the shrubs clipped, the PA

system worked and an extensive lighting

system was installed. In later years the pit

area was paved — not something all tracks

have. They promoted upcoming events

heavily to build excitement. They kept

admission prices reasonable and generally

finished around 10 p.m., which means the

younger fans would still stay awake. These

are all things many other tracks either

missed or ignored."

Do you have a favorite car and driver who

competed there? Why are they your favorite?

MG: "If I had to name a driver as a

favorite, it would be the late Dale Pyle. In

his last months of his life earlier this year,

I spent every Thursday afternoon for three

months with him as morphine was injected

to ward off the pain of his cancer. His

insight and understanding of racing and a

driver's mentality allowed me to see the

sport in a different light. It was as if he cowrote

the book."

What are your thoughts about the demise

of the speedway and what has been lost to

the community now that it is gone?

MG: "It is sad on so many levels. Besides

cars going around in a circle, racing is also

a social event. When a track closes folks

lose contact with the friends who they have

parked next to or sat next to for many

years. Many people I have interviewed said

they miss seeing their at-the-track friends

as much as the racing itself."

Where can people purchase your book?

MG: "Contact me at

Mike.garrepy@gmail.com, contact the publisher

at Arcadiapublishing.com or see us

at one of our meet and greet events. Each

greet is detailed on the Facebook page

'Columbus Motor Speedway Gone but Not

Forgotten.' I will also have a display at the

Piqua Mall's Race Car show on March 22,

23 and 24."

Franklin

Heating Cooling & Refrigeration, Inc.

Tune Up NOW or

Bundle Up LATER!

24 Hour

Service

614-836-9119

Financing Available

OH License #20692

www.franklinheating.com

V I P R E A L T Y

I N C

C. GREG SKINNER

COMMERCIAL, INDUSTRIAL, HIGH QUALITY RESIDENTIAL

• Only agent offering balanced marketing including Newspapers, Magazines,

area Postcards, Enchanced Internet and more!

• 5 Star Rated Columbus Area agent again for 2018 • Discount Fees everytime

Call Text Email Greg 614-537-1994

for a FREE marketing presentation, it spells out all I do to sell your home.

greg@soldbygregskinner.com

UNPRECEDENTED

SINGLE AGENT

SALES

OF OVER

$75 MILLION

FOR 2015-2018

UNDISPUTED Sales Leader in 43123
---
PAGE 14 - SOUTHWEST MESSENGER - February 10, 2019

In Achievement

military news

• U.S. Air Force Reserve Airman 1st Class Kyle Buerkle graduated

from basic military training at Joint Base San Antonio-

Lackland, San Antonio, Texas.

The airman completed an intensive, eight-week program that

included training in military discipline and studies, Air Force core

values, physical fitness, and basic warfare principles and skills.

Airmen who complete basic training also earn four credits toward

an associate in applied science degree through the Community

College of the Air Force.

Buerkle is the son of Gerald and Nicole Buerkle of Grove City.

He is a 2018 graduate of Central Crossing High School.

• U.S. Air Force Airman 1st Class Corey Wellman Jr. graduated

from basic military training at Joint Base San Antonio-

Lackland, San Antonio, Texas.

The airman completed an intensive, eight-week program that

included training in military discipline and studies, Air Force core

values, physical fitness, and basic warfare principles and skills.

Airmen who complete basic training also earn four credits toward

an associate in applied science degree through the Community

College of the Air Force.

Wellman is the son of Gail and stepson of Brandon Green of

Grove City. He is a 2018 graduate of Grove City High School.

www.columbusmessenger.com

Get outside and active this winter

The following are events scheduled at Battelle

Darby Creek Metro Park in February. Battelle Darby

Creek Metro Park is located at 1775 Darby Creek

Drive in southwest Franklin County.

• Photo Group: Image Review on Feb. 9 at 10 a.m. -

Attendees are invited to share their photos and share

constructive feedback. All skill levels. Ages 18 and

older at the Nature Center.

• Yoga in the Park on Feb. 9 at 11:30 a.m. - Learn

movements to rejuvenate your mind and body. Meet at

Cedar Ridge Lodge.

• Preschoolers: Oh Deer on Feb. 12 at 9:30 a.m. or

11 a.m. - Learn about Ohio's state mammal, the whitetailed

deer. Meet at the Nature Center.

• Friday Night Movie Nova: Ice Age Death Trap on

Feb. 15 at 6:30 p.m. - Scientists race to uncover a site

in the Rockies packed with fossil mammoths and other

extinct ice age beasts. Meet at the Nature Center.

Grove City Arts Council

The Grove City Arts Council meets the third

Tuesday of each month at 6:30 p.m at the Visitors

Center and Museum, 3378 Park St. in Grove City. For

more information, call 670-2926.

club meetings

• Ice Age Display from Feb. 16-24 9 a.m. to 5 p.m. -

Learn about life in Ohio during the Ice Age. Events are

in the Nature Center.

• Ice Age Ohio on Feb. 16 at 2 p.m. - Meet Dale

Gnidovec, curator of the Orton Geological Museum,

and learn about the effects glaciers had on the landscape

and wild animals, including mammoths,

mastodons, giant beavers and giant bears. Meet at the

Nature Center.

• Feed the Stream on Feb. 17 at 2 p.m. - Give the

fish worms and crickets and watch the feeding frenzy.

Meet at the Nature Center.

• 46th Annual Winter Hikes Series on Feb. 23 at 10

a.m. - Enjoy a 2-, 4- or 6-mile trek along the banks and

bluffs of Big Darby Creek. Meet at the Ranger Station.

For more information about the park or its programs,

call 614-891-0700 or visit metroparks.net.

Kiwanis Club of Grove City

The Kiwanis Club of Grove City meets at 6 p.m. the

first, third and fourth Tuesday of each month at the

IHOP on Stringtown Road. For more information, contact

Phil Rohr at 614-539-3610.

Home Byers Guide

Open Saturday and Sunday 2-4

SOLD

568 Willow Lane, Circleville ASKING: $ 349,500

MOVE-IN spacious 4 bedroom home. 2 1/2 BA, newly remodeled kit. w/SS appls, BA

,HVAC. Features Frst Flr LR, DR, office, walk-in pantry, 1/2 bath, spacious closets

throughout. Quiet neighborhood, large deck, shaded backyard. Well worth the drive.

Gary Dean

REALTOR ®

(740) 207-7742

HERRealtors.com/garydean

Tony Milano

REALTOR ®

Phone: (614) 302-6022 or (614) 437-2100

tony@tonymilanosellshomes.com

tonymilanosellshomes.com

It's not just a house. It's home. | 43homes.com

$

389,900

New 4 BDR, 2½ BA, 2 story, 3000 sq ft, full basement, wooded lot w/deck, Jack & Jill bath,

tandem 3 car garage, Fireplace, Study & dining room

Call Lisa Meier

for information

614-738-8103

Saxton Real Estate

"People Serving People"

Locally owned and operated since 1959

Contact Saxton Real Estate for more

information about purchasing a HUD home.

3703 Broadway, Grove City, OH 43123

614-875-2327

www.saxtonrealestate.com

http://sageacq.com https://www.hudhomestore.com/home/index.aspx

February 24 th

Deadline: February 19 th

To Reserve Space Contact

Doug Henry

Phone: (614) 272-5422

Email: doughenry@columbusmessenger.com

Terri Ehmann

REALTOR ®

Direct: (614) 216-7977

Fax: (614) 875-0889

terri.ehmann@herrealtors.com

herrealtors.com/TerriEhmann
---
www.columbusmessenger.com SOUTHWEST MESSENGER - February 10, 2019 - PAGE 15

In Entertainment

"Free Solo" should climb to the top of your must see list

I remember the moment when word

broke that Alex Honnold had made history

by becoming the first individual to free solo

El Capitan, a 3,000 foot high granite monolith

nestled in the famed Yosemite

National Park. I was flipping through the

news stations, wondering what fresh horror

this world had to offer, when the chyron

announced this historic event. I did not,

and still do not, know much about big-wall

climbing and those who do it, but I was

swept up in this achievement, cognizant of

this feat of human skill and celebrating in

the fact that this person realized a dream

and was alive to share the story.

In the weeks that followed, however, I

forgot the most important detail. I could

tell you that someone recently climbed El

Capitan without the use of a rope or other

safety gear but I would have had to rack

my brain to remember the name of the man

who did it. Then came the film that documented

his journey. "Free Solo," a National

Geographic feature which has only been

shown in IMAX, puts you right there with

Honnold as he makes his attempt. It's

frightening, dazzling, mind-boggling, exhilarating

and it makes sure that you (and I!)

will never forget his name again.

It begins by introducing us, the general

"Rumors"

at Ready

Bishop Ready Theatre Department's

winter production is Neil Simon's

"Rumors," a play described as producing

a "severe attack of Farce."

One of Simon's most celebrated comedies,

the subject is a dinner party gone

awry and Simon himself said he had

nothing more on his mind "except making

the audience laugh."

The play takes place at a townhouse

where the participants have gathered for

a 10th anniversary celebration. The

group of young professionals, all up-andcoming,

includes lawyers, an accountant,

a psychiatrist, a politician, and the host

of a cooking show.

A gunshot causing temporary deafness,

and a need to "cover up" an unfortunate

accident, (plus two police officers)

leads to the comedy that Simon himself

described thus: "a farce is relentless…

people in a farce are trying to withhold

information from other people."

"Rumors" runs Friday, Feb. 15, at 7

In rehearsal for Bishop Ready's production

of "Rumors," are (seated)

seniors Brigitte Bowman and Dominic

Tokar; (back) senior John Pyles,

sophomore Grace Larger and junior

Julianne Pece.

p.m., Saturday, Feb. 16, at 2 p.m., and

Sunday, Feb. 17, at 2 p.m. Tickets are

$10 for adults, $9 for students, and $8

for those 65 and older.

For more information, call Bishop

Ready High School at 614-276-5263.

th

public, to Alex Honnold, a 30-something

year old who predominately lives inside of

a camper. Since his introduction to wall

and rock climbing as a teen, Honnold has

been travelling the world, honing his

Spiderman-like skills on some of the most

challenging granite terrain in the world —

most of them done without the use of safety

equipment.

At first, he tries to explain what attracts

him to this dangerous activity but comes to

the realization that he cannot get others to

understand. He is fully aware that he may

die while free soloing, but to him his

chances are no greater than getting in a car

and being hit by a drunk driver.

The dream of free soloing El Capitan, he

says, came to him some time ago. As a

famous free soloist, he was constantly

asked about making an attempt during

interviews but was always cagey in his

answers. He said this was done so there

was no undue pressure or expectations put

on him but once he got it into his mind that

climbing El Capitan was something he

wanted to do, he went all out to achieve his

dream.

For more than three years, Alex and his

fellow expert climbing friends mapped out

his path to the top. He would begin by taking

the Freerider route and following all 33

pitches with special attention being paid to

'The Boulder Problem,' which is considered

the most treacherous part of the route due

to its pencil-thin handholds and slippery

wall that is near completely vertical. After

that was completed, he would then traverse

another thousand or so feet to make

his way to the Enduro Pitch and its sharp,

exposed corners and sculpt his body to

them as he continues to ascend. After, it is

all mind over the prospect of celebration

until he traverses another couple hundred

feet to the top. Or so they desperately hope.

"Free Solo" documents these trial and

error runs — all done with their safety

equipment fully in place — and then takes

us into Alex's mind as he comes home to

write about which moves would work best.

It also shows us the toll his dream takes on

his family and friends, one of which is codirector

Jimmy Chin. Like his fellow

climbers and filmmakers, Chin knows the

importance of documenting this attempt

but he also knows he would be on hand to

witness the death of his best friend should

a finger or soft sole slip.

Though the outcome of Alex's free solo

attempt is now known, it doesn't take away

from that sense of suspense as he makes

Book signing for local author

Grove City author Susan Kay Box

Brunner will be featured in a book signing

event at the Book Loft in German Village,

631 S. 3rd St. in Columbus from 1 to 5 p.m.,

Feb. 10. She will be promoting her newly

released book "Durim Bridges" about a

man coming to a crossroads in life. For

more information, email

th

February Giveaway

Place a prepaid classified line ad in our paper

for the month of February and be registered to win a

$50 Gift Card from

The Columbus Messenger Newspapers.

All ads received by mail, in person,

email or phone will be included in the drawing.

Drawing will be held March 1st, 2019

and the winner will be notified and published in

our March 3rd issue of Madison and

the March 10th Issue of the

West, Southwest,

East & Southeast papers.

GOOD

The Reel Deal

Dedra Cordle

the decision to

attempt El Capitan.

In fact, the film

amplifies it through

up-close shots of

Alex's rosin encrusted

hands gripping

barely there

grooves, the muscles in his legs stretching

as he balances and grips the rock wall, and

the bottomless view of ground below.

"Free Solo" is going to be tough for some

people to get through — the camera sweeps

along the landscape at dizzying heights,

the mid-section that lulls with relationship

drama, the lack of understanding of why he

does the things he does — but if you think

you can handle it go see it before it leaves

the theater. "Free Solo" is a terrific documentary

offering a glimpse into the mindset

of a thrill-seeking man few will ever

want to emulate, but one that many ought

to get to know. Grade: A

community events

Dedra Cordle is a Messenger staff writer

and columnist.

booksbysusan1@yahoo.com or visit

www.booksbysusan.com.

President's Day Program

The Hilltop Historical Society will present

a program about President Ulysses S.

Grant at 3 p.m. Feb. 17 at Crossroads

United Methodist Church, 1100 S. Hague

Ave. in Columbus.

LUCK!
---
PAGE 16 - SOUTHWEST MESSENGER - February 10, 2019

www.columbusmessenger.com

CLASSIFIED ADS

Deadlines: Southeast and West editions, Wednesdays at 5 p.m., • East, Southwest, Madison editions, Tuesdays at 5 p.m.

All editions by phone, Tuesdays at 5 p.m. • Service Directory, Tuesdays at 5 p.m.

xPublic Notice xAdult Care

xInformation

LEGAL NOTICE

The Grove City Police Department has recovered

numerous bicycles, tools, electronic equipment, clothing

and monies over the course of several months.

The bicycles are of various types and models, as are

the tools and electronic equipment. All properties are

held in a secured police facility at all times. If you

believe you have claim to any of the property and have

proof of ownership for the property, you may call the

Grove City Police Department Property Room at

614-277-1757. A review and release of any and all

property is by appointment only. All items not claimed

will be sold at public auction, turned over to the Law

Enforcement Fund, or destroyed according to Ohio

Law.

CHARITABLE DONATION

Qualified organizations may be eligible to receive

bicycles as charitable donations from the City of

Grove City. Qualified organizations must have a valid

ruling or determination letter recognizing the taxexempt

status of the organization, pursuant to Internal

Revenue Code Section 501(c)(3) or (c)(19).

Representatives may call the Grove City Police

Department Property Room at 614-277-1757 to

inquire about the donation process.

Public Notice

xValentine Greeting

Happy

Valentine's

Day

To all Our Readers

and Customers

From the

Classified Dept.

Valentine Greeting

ELDERLY CARE

IN MY

PRIVATE HOME

Reasonable Rates

Years of Experience

References, Hot Meals, Laundry,

Visiting Physicians & Home Health Nurses

& Much More!

614-777-5850

Adult Care

INFORMATION

Got the Winter Blahs?

Call Marilyn Weaver

For An Appt.

For a New Haircut/Style

for those Holiday Parties

614-277-1921

Indulgence Hair Salon

3387 McDowell Rd.

Grove City

ASSOCIATION ADS

Stay in your home longer

with an American Standard

Walk-In Bathtub. Receive

up to $1,500 off,

including a free toilet,

and a lifetime warranty

on the tub and installation!

Call us at 1-844-

374-0013

DISH NETWORK $69.99

For 190 Channels. Add

High Speed Internet for

ONLY $14.95/month. Best

Technology. Best Value.

Smart HD DVR Included.

FREE Installation. Some

restrictions apply. Call 1-

855-837-9146

Congratulations

To Our Gift Card Winner

For January 2019

Jason Burns

From

The Columbus Messenger

Newspapers

ASSOCIATION ADS

Wants to purchase minerals

and other oil and gas

interests. Send details to

P.O. Box 13557, Denver,

CO. 80201

A PLACE FOR MOM. The

nation's largest senior living

referral service. Contact

our trusted, local experts

today! Our service is

FREE/no obligation. CALL

1-844-722-7993

DIRECTV & AT&T. 155

Channels & 1000s of

Shows/Movies On Demand

(w/SELECT Package.)

AT&T Internet 99

Percent Reliability. Unlimited

Texts to 120

Countries w/AT&T Wireless.

Call 4 FREE Quote

1-855-781-1565

ADVERTISE to 10 Million

Homes across the USA!

Place your ad in over 140

community newspapers,

with circulation totaling

over 10 million homes.

Contact Independent Free

Papers of America IFPA at

danielleburnett-ifpa@

live.com or visit our website

cadnetads.com for

more information.

Become a Published Author.

We want to Read

Your Book! Dorrance

Publishing-Trusted by

Authors Since 1920.

Book manuscript submissions

currently being

reviewed. Comprehensive

Services: Consultation,

Production, Promotion

and Distribution. Call

for Your Free Author's

Guide 1-877-626-2213

or visit http://dorranceinfo.com/classified

Information

FEBRUARY GIVEAWAY

Place a prepaid classified line ad in our paper

during the month of February and be registered

to win a $50 Gift Card from

The Columbus Messenger Newspapers.

All ads received by mail, in person,

e-mail or phone will be included in the drawing.

Drawing will be held March 1st, 2019

and the winner will be notified and published

in our March 3rd issue of Madison

and the March 10th issue of the

West, Southwest, East & Southeast papers.

GOOD LUCK TO

EVERYONE!!!!

xCraft Shows/Bazaars

ADVERTISE

Your Spring Craft Show

Bazaar, or Bake Sale!

ASSOCIATION ADS

A PLACE FOR MOM

has helped over a million

families find senior living.

Our trusted, local advisors

help find solutions

to your unique needs at

no cost to you. 1-855-

204-5180

Selling an Antique car or

Farm Equipment? Selling

construction equipment?

Advertise with us

to reach up to 3.2 million

homes each week. You

choose the area. 800-

450-6631.

Call Kathy

272-5422

For More Info

Craft Shows/Bazaars

ASSOCIATION ADS

ENJOY 100% guaranteed,

delivered to-thedoor

Omaha Steaks!

Makes a great Holiday

Gift! SAVE 75% PLUS

get 4 FREE Burgers! Order

The Family Gourmet

Feast - ONLY $49.99.

Call 1-855-349-0656

mention code 55586TJC

or visit www.omahasteaks.com/lovel3

ASSOCIATION ADS

VIAGRA & CIALIS! 60

pills for $99. 100 pills for

$150 FREE shipping.

Money back guaranteed!

1-800-503-7846

Sleep Apnea Patients - If

you have Medicare coverage,

call Verus Healthcare

to qualify for CPAP

supplies for little or no

cost in minutes. Home

Delivery, Healthy Sleep

Guide and More- FREE!

Our customer care

agents await your call. 1-

844-545-9175
---
www.columbusmessenger.com

February 10, 2019 - SOUTHWEST MESSENGER - PAGE 17

xEmployment

ADVERTISING

ACCOUNT REPRESENTATIVE

The Advertising Department at the

Columbus Messenger Newspapers

is seeking a Sales Representative.

No Experience Necessary.

Base salary plus commissions, auto allowance.

Senior Citizens and Recent Grads

encouraged to apply.

Please send your resume to:

Doug Henry, Advertising Manager

Columbus Messenger Newspapers

3500 Sullivant Ave.

Columbus, Ohio 43204

or

e-mail to doughenry@columbusmessenger.com

WANTED

Servers • Dish • Host

You Can Work 29+ Hrs. Based on

Your Availability & Performance

Immediate Full/Part-time Openings

• Weekly Pay

• Paid Training

• No Tip Sharing

• Paid Vacation

We Offer:

• Employee Meal Discount

• Position/Salary Advancement Plan

• Discount Purchase Plan

Apply online at crackerbarrel.com/careers for

Grove City Location

614-871-1444

IMAGINE SCHOOLS

NOW HIRING

CERTIFIED TEACHERS

Imagine Primary - 4656 Heaton Rd., Columbus, OH 43229

Imagine Great Western - 310 North Wilson Rd., Columbus, OH 43204

Imagine Groveport - 4485 S. Hamilton Rd., Groveport, OH 43125

Imagine Harrisburg Pike - 680 Harrisburg Pike, Columbus, OH 43223

Imagine Sullivant - 3435 Sullivant Ave., Columbus, OH 43204

Resumes can be sent to:

jennifer.keller@imagineschools.org

BE YOUR OWN BOSS!

INDEPENDENT

CONTRACTORS

WANTED

If you have a reliable car and would like to

earn extra money, then why not deliver?

• Deliver 1 or 2 days a week

• Flexible delivery hours

• Work close to home - often in or

near your neighborhood

CONTACT US

1-888-837-4342

www.thebag.com

• Deliver 7 days a week

• Delivery before dawn

• Work close to home - often in or

near your neighborhood

CONTACT US

614-461-8585

www.dispatch.com/delivery

ASSOCIATION ADS

HughesNet Satellite Internet

- 25 mbps starting at

$49.99 / mo! FAST download

speeds. WiFi built in!

FREE Standard Installation

for lease customers!

Limited Time, Call 1-800-

610-4790.

Have something to sell!

GET 2 FREE WEEKS

OF ADVERTISING when

you purchase 2 weeks.

Learn more at macnet

online.com or give us a

call at 800-450-6631

KILL BED BUGS! Buy

Harris Sprays, Kits, Mattress

Covers. Hardware

Stores, The Home Depot,

homedepot.com

Sufffering from an ADDIC-

TION to Alcohol, Opiates,

Prescription PainKillers or

other DRUGS? There is

hope! Call Today to speak

with someone who cares.

Call NOW 1-855-901-2049

Lung Cancer? And Age

60+? You And Your

Family May Be Entitled

To Significant Cash

Award. Call 866-428-

1639 for Information. No

Risk. No Money Out Of

Pocket.

ASSOCIATION ADS

$$OLD GUITARS & AMPS

WANTED$$ GIBSON*

FENDER*MARTIN. ALL

BRANDS. TOP DOLLAR

PAID. CALL TOLL FREE

1-866-433-8277

70 years old, kids are

grown. Still need your life

insurance? Or is a big

LIFE SETTLEMENT

CASH PAYOUT smarter?

Call Benefit Advance.

1-877-332-9643

READER

ADVISORY

The National Trade Association

we belong to has

purchased the following

classifieds. Determining

the value of their service

or product is advised by

this publication. In order

to avoid misunderstandings,

some advertisers do

not offer "employment"

but rather supply the

readers with manuals, directories

and other materials

designed to help

their clients establish mail

order selling and other

businesses at home. Under

NO circumstance

should you send any

money in advance or give

the client your checking,

license ID or credit card

numbers. Also beware of

ads that claim to guarantee

loans regardless of

credit and note that if a

credit repair company

does business only over

the phone it's illegal to request

any money before

delivering its service. All

funds are based in US

dollars. Toll Free numbers

may or may not

reach Canada. Please

check with the Better

Business Bureau 614-

486-6336 or the Ohio Attorney

General's Consumer

Protection Section

614-466-4986 for more

information on the company

you are seeking to

do business with.

ASSOCIATION ADS

Applying for Social Security

Disability or Appealing

a Denied Claim?

Call Bill Gordon & Assoc.,

Social Security Disability

Attorneys, 1-855-

498-6323! FREE Consultations.

Local Attorneys

Nationwide [Mail: 2420 N

St. NW, Washington DC.

Office: Broward Co. FL

(TX/NM Bar.)]

ASSOCIATION ADS

GENERIC VIAGRA and

CIALIS! 100 Pills $99.00

FREE Shipping! 100%

guaranteed. 24/7 CALL

NOW! 888-889-5515

Call Empire Today® to

schedule a FREE inhome

estimate on Carpeting

& Flooring. Call

Today! 1-800-508-2824

CARS/TRUCKS WANT-

ED!!! All Makes/Models

2002-2018! Any Condition.

Running or Not. Top $$$

Paid! Free Towing! We're

Nationwide! Call Now: 1-

888-985-1806

HEAR AGAIN! Try our

hearing aid for just $75

down and $50 per

month! Call 800-426-

4212 and mention 88272

for a risk free trial! FREE

SHIPPING!

Cable - Internet - Phone.

No Credit Check! No

Contracts! $29.99 each!

Bundle - Save huge!

We're local installers!

Call Free Quote! 1-888-

486-5572

Lung Cancer? Asbestos

exposure in industrial,

construction, manufacturing

jobs, or military

may be the cause. Family

in the home were also

exposed. Call 1-866-

795-3684 or email cancer@breakinginjurynews

.com. $30 billion is set

aside for asbestos victims

with cancer. Valuable

settlement monies

may not require filing a

lawsuit.

AIRLINE MECHANIC

TRAINING - Get FAA

Technician certification.

Approved for military

benefits. Financial Aid if

qualified. Job placement

assistance. Call Aviation

Institute of Maintenance

866-453-6204

[WANTED] CARS/

TRUCKS WANTED!!!

All Makes/Models 2002-

2018! Any Condition. Running

or Not. Competitive

Offer! Free Towing! We're

Nationwide! Call Now: 1-

888-368-1016

IMPORTANT

NOTICE

The following states: CA,

CT, FL, IA, IL, IN, KY,

LA, MD, ME, MI, MN,

NE, NC, NH, OH, OK,

SC, SD, TX, VT and WA

requires seller of certain

business opportunities to

register with each state

before selling. Call to

verify lawful registration

before you buy.

ASSOCIATION ADS

Call Empire Today® to

schedule a FREE inhome

estimate on Carpeting

& Flooring. Call

Today! 1-866-538-7163

Cross Country Moving,

Long distance Moving

Company, out of state

move $799 Long Distance

Movers. Get Free

quote on your Long distance

move 1-800-511-

2181

Start Saving BIG On Medications!

Up To 90% Savings

from 90DAYMEDS!

Over 3500 Medications

Available! Prescriptions

Req'd. Pharmacy Checker

Approved. CALL Today for

Your FREE Quote. 844-

776-7620

Spectrum Triple Play!

TV, Internet & Voice for

$29.99 ea. 60 MB per

second speed. No contract

or commitment.

More Channels. Faster

Internet. Unlimited Voice.

Call 1-855-652-9304

SAVE ON YOUR NEXT

PRESCRIPTION! World

Health Link, Price Match

Guarantee! Prescriptions

Required. CIPA Certified.

Over 1500 medications

available. CALL Today

For A Free Price

Quote. 1-855-530-8993

Call Now!

Dish Network - Satellite

Television Services. Now

Over 190 channels for

ONLY $49.99/mo! HBO-

FREE for one year,

FREE Installation, FREE

Streaming, * FREE HD.

Add Internet for $14.95 a

month. 1-800-219-1271

Employment

SEARCHING

for More Qualified Employees?

March 24 th , 2019

Deadline: March 15 th , 2019 At 2pm

Special employment Section Featuring:

Job Openings

Job Fairs

Full and Part Time Employment

Seasonal Job Opportunities and more

ALL ADS ARE IN FULL COLOR. Contact us by phone or online to discuss special

advertising rates that are available for this section as well as combination rate

discounts for advertising in multiple coverage areas.

Westside • Southwest • Eastside • Southeast • Madison

614-272-5422

Kathy@columbusmessenger.com

Doughenry@columbusmessenger.com
---
PAGE 18 - SOUTHWEST MESSENGER - February 10, 2019

www.columbusmessenger.com

xEmployment

Beat the

Winter Blahs with a New Job!

TRISTAR IS NOW HIRING

PART-TIME DRIVERS!

NO CDL REQUIRED

Posions are PT, working 20-24 hrs per week

We offer dayme shis, no nights/weekends & have paid

training. Company vehicle provided for use during working

hours. Individuals must be able to pass a background check,

a pre-employment physical/drug screen, have no DUI's

and have less than 4 points on their OH license.

For more informaon, please contact Vanessa at

614-679-7280 or email vfrazier@tristarcolumbus.com

To learn more about Tristar, please visit our website at

www.tristarcolumbus.com

tristar

TRANSPORTATION CO.

HELP WANTED

ADVERTISING

ACCOUNT

REPRESENTATIVE

The Advertising Dept. at

the Columbus Messenger

Newspapers is seeking a

Sales Representative.

No Experience Necessary

Base salary plus commissions

& auto allowance.

Senior Citizens and

Recent Grads

welcome to apply.

Please send your

resume to:

Doug Henry,

Advertising Mgr.

Columbus Messenger

Newspapers,

3500 Sullivant Ave.,

Columbus, OH 43204

or email to doughenry@

columbusmessenger.com

WANTED

SW CITY SCHOOLS

SCHOOL BUS DRIVERS

The South-Western City School

District is currently hiring drivers

$16.55/HR

Available positions are for substitute

drivers that can develop into "Regular"

positions with benefits. Interested

individuals should submit an application

on our website at swcsd.us. Follow the

employment link. Applicants should have

an excellent driving record and must

submit to drug, alcohol, and background

screening. A high school diploma or

equivalent is required.

EOE

WANT TO BUY

NOW HIRING!

Local High Volume Pharmacy

Immediate 2nd & 3rd shift positions available

for Pharmacy Clerks and Technicians.

Looking for energetic associates

in a fast pace environment.

NEW Starting rate: $11.50 per hour

Shift differential $.50 an hour

Please apply at: jobs.kroger.com

Use Zip Code 43217

Must be 18 years of age & have high school diploma or GED.

Call 614-333-5012 for more details.

ASSOCIATION ADS

TOP CASH FOR CARS,

Any Car/Truck, Running

or Not. Call for INSTANT

offer: 1-888-417-9150

AT&T Internet Get more

for your High-Speed Internet

thing. Starting at

$40 / month w / 12-mo

agmt. Includes 1 TB of

data per month. Ask us

how to bundle and

SAVE! Geo & svc restrictions

apply. Call us today

1-833-707-0984

Suffering from an AD-

DICTION to Alcohol,

Opiates, Prescription

Pain Killers or other

DRUGS? There is hope!

Call Today to speak with

someone who cares.

Call NOW 1-855-866-

0913

ASSOCIATION ADS

AIRLINES ARE HIRING -

Get FAA approved hands

on Aviation training. Financial

aid for qualified students

- Career placement

assistance. Call Aviation

Institute of Maintenance

877-818-0783

HELP WANTED

Caregiver

Needed

Working Part Time with

Elderly & Children.

Transportation,

Some Experience &

References Required.

Drug Test.

3/3

A/M

Call 614-777-5850

HELP WANTED

MAINTENANCE

PERSON NEEDED

Apt., house, all phases

Must have tools/transp.

Hourly rate. 614-783-7464

Shop / Delivery Person

Needed 8-5, Mon-Fri.

Will Train. Mechanically

inclined, able to drive a

standard shift, able to lift

75 lbs, have a driver's

license and dependable

transportation. Apply in

person at 2270 Harper

Rd., Columbus or call

614-275-0303

NOW HIRING PLUMBER

& Apprentice. 4 day work

week, vacation after 6

months. 740-625-9990

Employment

WANTS TO Purchase

minerals and other oil &

gas interests. Send details

to: P.O. Box 13557,

Denver, CO 80201

We Buy Junk Cars &

Trucks. Highest Prices

Paid. 614-395-8775

We Buy Cars & Trucks

$300-$3000.614-308-2626

CASH FOR CARS

614-276-2597

$ Cash At Your Door $

for junk or unwanted cars

(Free Tow). Call

614-444-RIDE (7433)

ANTIQUES

WANTED

Victrolas, Watches,

Clocks, Bookcases

Antiques, Furn.

Jeff 614-262-0676

or 614-783-2629

MISCELLANEOUS

FOR SALE

EXERCISE BIKE-$150

614-649-1021

RENTALS

2 bdrm TH, 1.5 bath,

stove, ref, carport. No

pets, no smoking.

$650/mo. 614-875-7854

SHARED LIVING

Share Your Home?

Retired Lady Needs To

Rent a Room & Bath on

1st Floor. Southwest Area.

Rent Negotiable. Call

614-272-5422

Leave Name & Phone

Number for ad # 11

VACATION RENTALS

Englewood, Florida

Palm Manor Resort

Within minutes of white

sand Gulf beaches,

world famous Tarpon

fishing, golf courses, restaurants/shopping,

Bush

Gardens. 2 BR 2 BA

condos with all ammenities,

weekly/monthly, visit

www.palmmanor.com

or call 1-800-848-8141
---
www.columbusmessenger.com

xFocus on Rentals

WEDGEWOOD

VILLAGE

1, 2, and 3 BR Apts.

Rent Based on Income.

Call 614-272-2800 or visit us

at 777 Wedgewood Dr.

DD/TTY 1-800-567-5857

EQUAL HOUSING OPPORTUNITIES

Rentals

ATTENTION:

APARTMENT MANAGERS

Advertise Your

Apartment

Community

In Our Papers!

CALL KATHY TODAY

And Ask About Our

Rental Ad Special!

614-272-5422

SHOP THE CLASSIFIEDS!!

Only $1 per line

columbus

❏ Check for one additional FREE week.

Telephone: _________________________________________________________

Print Your Name:____________________________________________________

Print Your Address:___________________________________________________

Print Your City:__________________________ State:_______ Zip:____________

Columbus Messenger

3500 Sullivant Ave. • Columbus, Ohio 43204

614-272-5422

classified@columbusmessenger.com

$

Not Valid for Garage Sales

Last

West ___ Southwest ___ East ___ Southeast ___ Madison___

Print Your Ad Below…

One word each space. BE SURE YOUR TELEPHONE NUMBER OR ADDRESS is included in your

advertisement. The lessor of 4 words or 22 characters per line. We reserve the right to use abbreviations

when actual space exceeds amount purchased.

1. __________ __________ __________ __________

2. __________ __________ __________ __________

3. __________ __________ __________ __________

4. __________ __________ __________ __________

5. __________ __________ __________ __________

6. __________ __________ __________ __________

❏ Cash

❏ Check

❏ Money Order

❏ VISA ❏ MC

First

Credit Card

Information

___

__________________________

Credit Card Number

____________

__(___)__

Exp. Date 3 digit code

Minimum Charge $5.00

February 10, 2019 - SOUTHWEST MESSENGER - PAGE 19

xClassified Services

APPLIANCE REPAIR

Washer, Dryer, Stove &

Refrig. Repair 875-7588

AUTO SERVICE

Don't Get Stuck

in the Cold!

WINTERIZE NOW!

Go To MIDLAND AUTO

for all your

auto service needs!

614-278-9458/778-3864

A Rating-BBB - 46 yrs.

American & Foreign Cars

BASEMENT

WATERPROOFING

Walker's Basement

Waterproofing

Free Est. 614-359-4353

CLEANING

WALKER'S

Housekeeping &

Cleaning Services

614-218-2200

Cleaning Your Home

with Love & Passion

Detailed & Dependable

~ 614-271-8799 ~

Cleaning Done Right!

Residential/Commercial.

Weekly/Biweekly.

Ref. Available.

Call for Free Estimate

614-857-5714

Cleaning, 20 yrs. exp.

Call Judy 614-946-2443

CONCRETE

AJ's Concrete,

Masonry

Good Work - Fair Prices

Block Foundations

Driveways • Sidewalks

Epoxy/Overlay Floors

Bonded-Ins. • Free Ests.

Now Accepting Credit Cards

614-419-9932

FENCING

EAZY FENCE

Chain Link - Wood

No Job Too Big or Small

All Repairs ~ Free Est.

Insured. 614-670-2292

GUTTERS

Low Price-Great Service

5 & 6" Seamless gutters,

covers, siding, gutter clng.

Bill 614-306-4541

HAULING

DEAN'S HAULING

614-276-1958

INFORMATION

ONLY

$50.00

For This Ad In Our

West & Southwest

For Info Call

272-5422

0217 A

HEATING

HEATING

Complete System Clean & Check

$49.95

Free Carbon

Monoxide Testing

Gas-Oil-Electric Heat/Pumps

All Makes • All Models

43 yrs exp. • Sr. Discount

614-351-9025

614-351-9005

HOME

IMPROVEMENTS

Quality is our #1 Priority

HELMS' CONTRACTING

Call For FREE ESTIMATES

New Kitchens & Baths

New Replacement Windows

Basement Remodels

Room Additions • Roofs

More than 25 Years Experience

Licensed • Insured • Bonded

Bill Helms 614-296-0850

or 614-801-1801 2-17

W/SW

SLAGLE

HOME REMODELING

Baths, Kitchen, Room

Additions, Drywall Repair,

Plumbing and Electrical.

All your Handyman needs

No Job too Big or Small

Over 30 Yrs. Exp. Lic.-Bond-Ins.

Jerry

614-332-3320

SINCE 1973

Phil Bolon Contr.

Windows & Siding

Decks, Kitchens, Baths

Room Additions,

Flooring, Roofing

Bsmt Waterproofing

Deal With Small Non-Pressure Co.

45 Yrs. Exp. - Refs. Avail.

Lic.-Bond-Ins.

2-17

A/M

Free Est. - Financing Avail.

Member BBB Of Cent. OH

O.C.I.E.B. ID #24273

614-419-3977

or 614-863-9912

LG

REMODELING

Interior & Exterior

Full Service Remodeling

• Bathrooms • Kitchens

• Tile • Drywall • Flooring

• Roofing • Siding • Etc.

NO JOB TO SMALL

A+ BBB Rating

A+ Angie's List

Lic. • Bonded • Insured

614-488-8377

www.lgroofingcolumbus@gmail.com

2/17 A

2/17 SW

2-17 A&M

HOME

IMPROVEMENTS

C&JHandyman

Services LLC

Minor Plumbing &

Electric

Install Hot Water Tanks,

Dishwashers & Disposals

Also Fencing &

Interior/Exterior Painting

Free Est. ~ 18 Yrs. Exp.

Accepting Visa/MC

614-284-2100

HOME

MAINTENANCE

Retired Finishing Carpenter

for all your extra home

repairs. over 40 yrs. exp.

Sonny 614-325-1910

LAWN CARE

LET US MAINTAIN

YOUR LAWN & GARDEN

FOR YOU

Summer, Spring,

Winter or Fall

WE DO IT ALL!!!!

Lawn Cuts, Edging,

Trees & Shrubs, Garden,

Mulching, Hauling,

Garden Pond &

Home Maint.

Free Ests. Low Rates

$20 & Up

Kevin - 614-905-3117

MOVING

A Complete

Moving

Reasonable, Reliable

No Job Too Small

PUCO #150692-HG

Free Estimate

614-878-1179

Aaron Allen Moving

Local Moving Since 1956

Bonded & Insured

614-299-6683, 263-0649

Celebrating 60 yrs in business

PAINTING

LeVay Painting Co.

Interior & Exterior painting,

Wall Repair,

Wallpaper Removal &

2-17

Powerwashing.

A&M

Zach

614-886-8926

INFORMATION

LOOK TO

THE PROFESSIONALS

IN OUR

SERVICE DIRECTORY

For Service

"That Is Out Of This World"

Classified Services

2-17 A

2/17 A&M

PAINTING

Painting - Int./Ext.

Power Wash-Gutters Clnd

Free Est. - 26 Yrs Exp.

Call Dave 614-270-2369

God Bless

PLUMBING

All About Drains & Plumb.

Will snake any sm drain

$125 + tax. 614-778-2584

ALL IN ONE

PLUMBING LLC

"One Call Does It All"

$25 OFF LABOR

With This Ad

A

614-801-1508

All Major Credit Cards Accepted

POWER WASHING

Spring Housewash

Vet/Sr Disc. Call Today!!

614-586-3417

ROOFING

Robinson roofing & repairs

30 yrs. exp. Lifetime Cols.

resident. Lic./bonded/Ins.

Reas rates. Member of

BBB. Dennis Robinson

614-330-3087, 732-3100

SEWING MACHINE

REPAIR

REPAIR all makes 24 hr.

service. Clean, oil, adjust

in your home. $39.95 all

work gtd. 614-890-5296

TREE SERVICES

Brewer & Sons Tree Service

• Tree Removal

• Tree Trimming 2-17

A&M

• Stump Grinding

• Bucket Truck Services

Best Prices • Same Day Service

614-878-2568

Joe's Tree & Yard Work

Trim, thin, shape bushes,

hedges, stump grinding,

hauling. 614-598-6247

BURNS TREE SERVICE

Trimming, Removal &

Stump Grinding.

614-584-2164

INFORMATION

3/3
---
PAGE 20 - SOUTHWEST MESSENGER - February 10, 2019

www.columbusmessenger.com