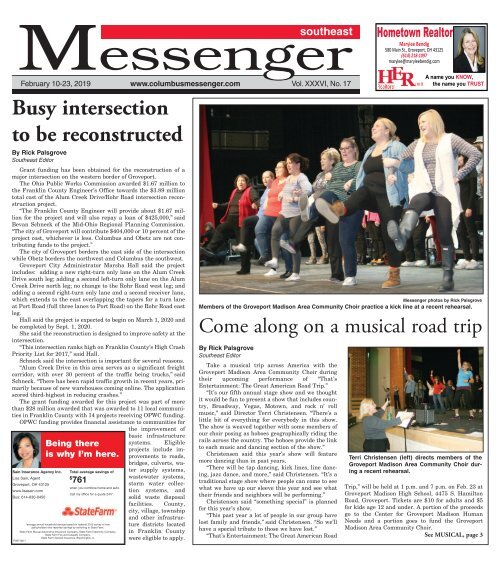 Southeast Messenger - February 10th, 2019
You also want an ePaper? Increase the reach of your titles
YUMPU automatically turns print PDFs into web optimized ePapers that Google loves.
southeast

Hometown Realtor

Marylee Bendig

580 Main St., Groveport, OH 43125

(614) 218-1097

marylee@maryleebendig.com

February 10-23, 2019 www.columbusmessenger.com Vol. XXXVI, No. 17

Busy intersection

to be reconstructed

By Rick Palsgrove

Southeast Editor

Grant funding has been obtained for the reconstruction of a

major intersection on the western border of Groveport.

The Ohio Public Works Commission awarded $1.67 million to

the Franklin County Engineer's Office towards the $3.89 million

total cost of the Alum Creek Drive/Rohr Road intersection reconstruction

project.

"The Franklin County Engineer will provide about $1.67 million

for the project and will also repay a loan of $425,000," said

Bevan Schneck of the Mid-Ohio Regional Planning Commission.

"The city of Groveport will contribute $404,000 or 10 percent of the

project cost, whichever is less. Columbus and Obetz are not contributing

funds to the project."

The city of Groveport borders the east side of the intersection

while Obetz borders the northwest and Columbus the southwest.

Groveport City Administrator Marsha Hall said the project

includes: adding a new right-turn only lane on the Alum Creek

Drive south leg; adding a second left-turn only lane on the Alum

Creek Drive north leg; no change to the Rohr Road west leg; and

adding a second right-turn only lane and a second receiver lane,

which extends to the east overlapping the tapers for a turn lane

at Port Road (full three lanes to Port Road) on the Rohr Road east

leg.

Hall said the project is expected to begin on March 1, 2020 and

be completed by Sept. 1, 2020.

She said the reconstruction is designed to improve safety at the

intersection.

"This intersection ranks high on Franklin County's High Crash

Priority List for 2017," said Hall.

Schneck said the intersection is important for several reasons.

"Alum Creek Drive in this area serves as a significant freight

corridor, with over 30 percent of the traffic being trucks," said

Schneck. "There has been rapid traffic growth in recent years, primarily

because of new warehouses coming online. The application

scored third-highest in reducing crashes."

The grant funding awarded for this project was part of more

than $28 million awarded that was awarded to 11 local communities

in Franklin County with 14 projects receiving OPWC funding.

OPWC funding provides financial assistance to communities for

the improvement of

basic infrastructure

Sain Insurance Agency Inc.

Lisa Sain, Agent

Groveport, OH 43125

www.lisasain.com

Bus: 614-830-0450

Being there

is why I'm here.

Total average savings of

$

761

when you combine home and auto.

Call my office for a quote 24/7.

*average annual household savings based on national 2015 survey of new

policyholders who reported savings by switching to State Farm.

State Farm Murual Automotive Insurance Company, State Farm Indemnity Company,

State Farm Fire and Casualty Company,

State Farm General Insurance, Bloomington, IL

P097136.1

systems. Eligible

projects include improvements

to roads,

bridges, culverts, water

supply systems,

wastewater systems,

storm water collection

systems, and

solid waste disposal

facilities. County,

city, village, township

and other infrastructure

districts located

in Franklin County

were eligible to apply.

A name you KNOW,

the name you TRUST

Messenger photos by Rick Palsgrove

Members of the Groveport Madison Area Community Choir practice a kick line at a recent rehearsal.

Come along on a musical road trip

By Rick Palsgrove

Southeast Editor

Take a musical trip across America with the

Groveport Madison Area Community Choir during

their upcoming performance of "That's

Entertainment: The Great American Road Trip."

"It's our fifth annual stage show and we thought

it would be fun to present a show that includes country,

Broadway, Vegas, Motown, and rock n' roll

music," said Director Terri Christensen. "There's a

little bit of everything for everybody in this show.

The show is weaved together with some members of

our choir posing as hoboes geographically riding the

rails across the country. The hoboes provide the link

to each music and dancing section of the show."

Christensen said this year's show will feature

more dancing than in past years.

"There will be tap dancing, kick lines, line dancing,

jazz dance, and more," said Christensen. "It's a

traditional stage show where people can come to see

what we have up our sleeve this year and see what

their friends and neighbors will be performing."

Christensen said "something special" is planned

for this year's show.

"This past year a lot of people in our group have

lost family and friends," said Christensen. "So we'll

have a special tribute to those we have lost."

"That's Entertainment: The Great American Road

Terri Christensen (left) directs members of the

Groveport Madison Area Community Choir during

a recent rehearsal.

Trip," will be held at 1 p.m. and 7 p.m. on Feb. 23 at

Groveport Madison High School, 4475 S. Hamilton

Road, Groveport. Tickets are $10 for adults and $5

for kids age 12 and under. A portion of the proceeds

go to the Center for Groveport Madison Human

Needs and a portion goes to fund the Groveport

Madison Area Community Choir.

See MUSICAL, page 3
---
PAGE 2 - SOUTHEAST MESSENGER - February 10, 2019

Franklin

Heating Cooling & Refrigeration, Inc.

Tune Up NOW or

Bundle Up LATER!

24 Hour

Service

614-836-9119

Financing Available

OH License #20692

www.franklinheating.com

www.columbusmessenger.com

Remembering Columbus Motor Speedway

By Rick Palsgrove

Southeast Editor

SEARCHING

for More Qualified Employees?

March 24 th , 2019

Deadline: March 15 th , 2019 At 2pm

Special employment Section Featuring:

Job Openings

Job Fairs

Full and Part Time Employment

Seasonal Job Opportunities and more

ALL ADS ARE IN FULL COLOR. Contact us by phone or online to discuss special

advertising rates that are available for this section as well as combination rate

discounts for advertising in multiple coverage areas.

Westside • Southwest • Eastside • Southeast • Madison

The roar and blur of fast race cars speeding around the track at

the Columbus Motor Speedway were once familiar sites and

sounds on the south end of Columbus.

From 1946 to 2016 the speedway, with its one-third mile track,

operated just south of Williams Road near Obetz. For much of its

history it was led by the Nuckles family and was home to a variety

of motorsports races including motorcycles, coupes, and stock cars.

It also offered stock car shows, school bus races, and thrill shows.

After the speedway ceased operations, the village of Obetz purchased

the site which has since become Fortress Obetz, an athletic

and concert facility.

Columbus resident and racing historian Mike Garrepy has captured

the history of the race track in his new book, "Columbus

Motor Speedway," published by Arcadia Publishing. The book contains

127 pages of photos and text on the history of the track.

The book shows how the models and styles of racing vehicles

changed over the decades of Columbus Motor Speedway's operation

from home built vehicles to modern custom built race cars.

Also of note is how, as time wore on, the speed and power of the

vehicles increased and how the level of safety gear worn by the

drivers evolved.

I interviewed Garrepy about his book:

Why did you decide to write the book and

why are you interested in the Columbus Motor

Speedway?

Mike Garrepy: "The reason for the book is

simple: to preserve the history of the track

in written and pictorial form and to provide

a place where fans and drivers could return

to recall some of the great times each had.

Not to make it all syrupy, but for many drivers

race nights made them something special,

especially if they won. Come Monday

morning they went back to body shops,

garages, driving trucks, building roads or

whatever, but on race night they were the

star of the show. I hope I preserve that in

some way."

What set the Columbus Motor Speedway

apart and made it special compared with other

race tracks?

MG: "It wasn't just one thing, but rather

a combination of things. First, if a fan wanted

to see racing on asphalt in the Columbus

area, Columbus Speedway was the only

option unless they wanted to travel. The

614-272-5422

Kathy@columbusmessenger.com

Doughenry@columbusmessenger.com

Nuckles family did not exploit this. They

kept the facility clean and fresh looking

with repairs and paint as needed. They

invested heavily in new buildings with flush

toilets and concession stands. Repairs were

made quickly. The grass was cut prior to

race night, the shrubs clipped, the PA system

worked and an extensive lighting system

was installed. In later years the pit

area was paved — not something all tracks

have. They promoted upcoming events

heavily to build excitement. They kept

admission prices reasonable and generally

finished around 10 p.m., which means the

younger fans would still stay awake. These

are all things many other tracks either

missed or ignored."

Do you have a favorite car and driver who

competed there? Why are they your favorite?

MG: "If I had to name a driver as a

favorite, it would be the late Dale Pyle. In

his last months of his life earlier this year, I

spent every Thursday afternoon for three

months with him as morphine was injected

Photos courtesy of Arcadia Publishing

Reynoldsburg resident Chuck Engle has a tough go of it as he

loses the left front wheel and tire, hub, and brake drum from his

super in a photo from Columbus Motor Speedway in 1962.

(Midwest Racing Photo.)

Billy Stickel (shown here at Columbus Motor Speedway in 1984)

and Darryl Hoosier were co-owners of this Chevelle and were

team drivers. (Photo by Dale Pyle.)

to ward off the pain of his cancer.

His insight and understanding of

racing and a driver's mentality

allowed me to see the sport in a

different light. It was as if he cowrote

the book."

Why do you think the speedway

thrived for so long?

MG: "Because the Nuckles

family understood that racing,

especially on a local level, was

and is an 'event.' It is entertainment

for the folks who toil in the

work-a-day world and are looking

for something to take their minds

off Monday morning."

What are your thoughts about

the demise of the speedway and what has been lost to the community

now that it is gone?

MG: "It is sad on so many levels. Besides cars going around in

a circle, racing is also a social event. When a track closes folks lose

contact with the friends who they have parked next to or sat next

to for many years. Many people I have interviewed said they miss

seeing their at-the-track friends as much as the racing itself."

Where can people purchase your book?

MG: "Contact me at Mike.garrepy@gmail.com, contact the publisher

at Arcadiapublishing.com or see us at one of our meet and

greet events. Each greet is detailed on the Facebook page

'Columbus Motor Speedway Gone but Not Forgotten.' I will also

have a display at the Piqua Mall's Race Car show on March 22, 23

and 24."
---
www.columbusmessenger.com

Groveport Madison launches threats tip line

Groveport Madison Schools has

launched an anonymous tip line for

reporting concerns or threats to its schools

or potential harm to a student or staff

member.

The Safer Schools Ohio tip line is operated

through the Ohio Department of

Public Safety and the Ohio Department of

Education, accepting tips 24-hours a day.

Calls or texts to 844-SaferOH (844-723-

3764) are answered by analysts in the Ohio

Homeland Security's Threat Assessment

and Prevention (TAP) Unit. When action is

needed, the TAP Unit immediately forwards

information to the school district

and to local law enforcement agencies. The

district and local law enforcement officials

will work together to investigate the report

and ensure that it is resolved. The TAP

Unit also follows up with both entities to

ensure the report has been investigated

and that appropriate actions have been

taken.

Tip line promotional materials are

MUSICAL

Continued from page 1

Tickets are available at Motts Military

Museum and from any choir member as

well as at the door.

Christensen said the group is thrilled to

be performing the show in the new

Groveport Madison High School auditorium.

"It's wonderful! Everything works!" said

Christensen. "The lighting and the sound

are fantastic. We'll have more microphones,

more options for backdrops, and

the acoustics are great. It's exciting to be in

this new space."

Christensen said the 74 member choir,

which started out with 32 members in its

first year five years ago, continues to grow.

"If you want to come sing with us, you

can," said Christensen.

One person who came to sing with the

group from the very start is Larry Dowler,

80, who said he's been singing all his life in

church choirs. He said some of the songs he

being distributed through the district's

schools, and information is being shared

via the district's website, newsletters,

social media, etc.

"The safety of students and staff is

always the district's highest priority," said

Superintendent Garilee Ogden. "Our staff

works hard to forge trusting relationships

with students. One of the many benefits of

those relationships is that students feel

comfortable reporting their concerns to an

adult at their school. That has helped us to

address issues before anyone might be

harmed — as well as to diffuse and debunk

rumors. While we always want to encourage

students to make us aware of any concerns,

the anonymous tip line is another

avenue that can be used to report potential

issues."

Information on the Safer Schools Ohio

Tip Line is on the Safety and Security page

at gocruisers.org/SafetySecurity.aspxm and

saferschools.ohio.gov/content/tip_line_infor

mation.

City income tax assistance is available

As of Jan. 1, 2019, the Regional Income

Tax Agency (RITA) began collecting

municipal income tax for the city of

Groveport for both current and prior tax

years.

In the past, residents who did not owe

municipal income tax were not required to

file.

However, beginning with the 2018 filings,

all city of Groveport residents and

businesses are now required to file returns

even if no municipal income tax is due.

Additional information is available on

the city of Groveport website, www.groveport.org,

by callling RITA's customer service

representative at 800-860-7482, or by

calling Bob Curtin, Groveport tax administrator,

at 614-836-5301.

On March 28, the city of Groveport will

host a Taxpayer Assistance Day in the banquet

room at the Links at Groveport, 1005

Richardson Road, from noon to 7 p.m. RITA

representatives will be available for assistance

in answering questions or filing

returns.

(The date of Taxpayer Assistance Day has

been updated and revised from when it was

originally reported. March 28 is the correct

date.)

American Red Cross Blood Drive in Groveport

An American Red Cross Blood Drive

will be held March 4 from 1-7 p.m. at

Groveport KidSpace, 630 Wirt Road. To

schedule an appointment call 1-800-Red-

Cross or visit RedCrossBlood.org sponsor

code: CityofGroveport.

loves to sing are, "Mountain Music," "Come

Fly With Me," and "Oklahoma!"

"I love being with the people and I love

singing. When this group started I jumped

at it," said Dowler, who also performs in

comedy skits. "We all enjoy it and have a

lot of fun rehearsing and performing. It's

something everyone in the group loves

doing.'

For information on the Groveport

Madison Area Community Choir and its

upcoming performance call 614-753-2947

or visit gmcommunitychoir.org.

The city of Groveport's senior transportation

program will provide free rides to

the 1 p.m. performance on Feb. 23 of the

Groveport Madison Area Community

Choir's show, "That's Entertainment: The

Great American Road Trip." For information

and reservations call 614-836-7433,

option 1.

Irish music concert

A free concert of Irish music will be held

at Groveport Town Hall, 648 Main St., on

March 10 featuring Lone Raven at 2 p.m.

and the Richens/Timm Academy of Irish

Dance at 3:30 p.m.

southeast

Messenger

(Distribution: 19,206)

Rick Palsgrove ...................................Southeast Editor

southeast@ columbusmessenger.com

Published every other Sunday by

The Columbus Messenger Co.

3500 Sullivant Ave., Columbus, Ohio 43204-1887

(614) 272-5422

The Columbus Messenger Co. reserves the right to edit, reject or cancel

any advertisement or editorial copy at any time. The company is not

responsible for checking accuracy of items submitted for publication.

Errors in advertising copy must be called to the attention of the company

after first insertion and prior to a second insertion of the same advertising

copy.

February 10, 2019 - SOUTHEAST MESSENGER - PAGE 3

5055 South Hamilton Rd., Groveport, OH

614.836.0500 • www.groveportsmiles.com

Brighten Up Your Smile

New Patients Welcome • Convenient Hours

Preferred Provider for most Insurance

Payment Plans Available

A trusted name in dentistry

Sacheen N. Garrison, DDS.
---
PAGE 4 - SOUTHEAST MESSENGER - February 10, 2019

Baker Creative honored

Baker Creative, a nationally and

internationally awarded branding PR

firm located in Groveport, earned a

2018 Gold Hermes Creative Award and

an honorable mention from the

MarCom Awards for its work with

Wallick Communities. Both acknowledgements

were for the Print

Media/Advertising/Direct Mail piece

category for its Invitation to The

Ashford, a senior living facility overseen

by Wallick. The 2018 Hermes is

the seventh earned by Baker Creative.

Baker Creative was awarded on multiple

occasions in 2018. Among its honors

were a PRSA Diamond Award and

Communicator Award.

names in the news

KINGDOM ALIVE

WORD CHURCH

7840 Richardson Road

Groveport, Ohio 43125

(614) 836-8177

(Your GO TO CHURCH in Groveport)

Sunday Empowerment Hour 9:45 a.m.

Sunday Worship 11:00 a.m.

Wednesday Bible Study 7:00 p.m.

Be a Part of Our

Local Worship Guide

Our upcoming Worship Guide is geared toward celebrating faith and helping

readers connect with religious resources in our community. Make sure these

readers know how you can help with a presence in this very special section

distributed to more than 19,000 households in the Southeast area.

Contact us today to secure your spot in our Worship Guide.

614.272.5422 • kathy@columbusmessenger.com

southeast

Motts

awarded

The Professional

Photographers of

America awarded

Warren Motts a special

Past President's

Award. This year marks the 150th

Anniversary of the PPA. Which is a 30,000

member-strong association, the oldest and

largest photographic association in the

world. Motts (left) is shown here receiving

the award from the CEO of the PPA David

Trust. Motts was president of this organization

in 1990 and is currently the

Founder/Director of Motts Military Museum

in Groveport.

entertainment

www.columbusmessenger.com

Climbing El Capitan

I remember the moment when word

broke that Alex Honnold had made history

by becoming the first individual to free solo

El Capitan, a 3,000 foot high granite monolith

nestled in the famed Yosemite

National Park.

I was flipping through the news stations,

wondering what fresh horror this

world had to offer, when the chyron

announced this historic event. I did not,

and still do not, know much about big-wall

climbing and those who do it, but I was

swept up in this achievement, cognizant of

this feat of human skill and celebrating in

the fact that this person realized a dream

and was alive to share the story.

In the weeks that followed, however, I

forgot the most important detail. I could

tell you that someone recently climbed El

Capitan without the use of a rope or other

safety gear but I would have had to rack

my brain to remember the name of the man

who did it. Then came the film that documented

his journey. "Free Solo," a National

Geographic feature which has only been

shown in IMAX, puts you right there with

Honnold as he makes his attempt. It's

frightening, dazzling, mind-boggling, exhilarating

and it makes sure that you (and I!)

will never forget his name again.

It begins by introducing us, the general

public, to Alex Honnold, a 30-something

year old who predominately lives inside of a

camper. Since his introduction to wall and

rock climbing as a teen, Honnold has been

travelling the world, honing his Spidermanlike

skills on some of the most challenging

granite terrain in the world — most of them

done without the use of safety equipment.

At first, he tries to explain what attracts

him to this dangerous activity but comes to

the realization that he cannot get others to

understand. He is fully aware that he may

die while free soloing, but to him his

chances are no greater than getting in a car

and being hit by a drunk driver.

The dream of free soloing El Capitan, he

says, came to him some time ago. As a

famous free soloist, he was constantly asked

about making an attempt during interviews

but was always cagey in his answers. He

said this was done so there was no undue

pressure or expectations put on him but

once he got it into his mind that climbing El

Capitan was something he wanted to do, he

went all out to achieve his dream.

For more than three years, Alex and his

fellow expert climbing friends mapped out

his path to the top. He would begin by taking

the Freerider route and following all 33

pitches with special attention being paid to

The Reel Deal

'The Boulder Problem,'

which is considered

the most treacherous

part of the route due to

its pencil-thin handholds

and slippery

wall that is near completely

vertical. After

that was completed,

he would then traverse

another thousand

or so feet to

Dedra

Cordle

make his way to the Enduro Pitch and its

sharp, exposed corners and sculpt his body

to them as he continues to ascend. After, it

is all mind over the prospect of celebration

until he traverses another couple hundred

feet to the top. Or so they desperately hope.

"Free Solo" documents these trial and

error runs — all done with their safety

equipment fully in place — and then takes

us into Alex's mind as he comes home to

write about which moves would work best.

It also shows us the toll his dream takes on

his family and friends, one of which is codirector

Jimmy Chin. Like his fellow

climbers and filmmakers, Chin knows the

importance of documenting this attempt

but he also knows he would be on hand to

witness the death of his best friend should

a finger or soft sole slip.

Though the outcome of Alex's free solo

attempt is now known, it doesn't take away

from that sense of suspense as he makes

the decision to attempt El Capitan. The

film amplifies it through up-close shots of

Alex's rosin encrusted hands gripping barely

there grooves, the muscles in his legs

stretching as he balances and grips the

rock wall, and the bottomless view of

ground below.

"Free Solo" is going to be tough for some

people to get through — the camera sweeps

along the landscape at dizzying heights,

the mid-section that lulls with relationship

drama, the lack of understanding of why he

does the things he does — but if you think

you can handle it go see it before it leaves

the theater. "Free Solo" is a terrific documentary

offering a glimpse into the mindset

of a thrill-seeking man few will ever

want to emulate, but one that many ought

to get to know.

Grade: A

Dedra Cordle is a Messenger staff writer

and columnist.

at Metro Parks' Slate Run Living Historical Farm

The following activities will be held at

Slate Run Living Historical Farm, 1375

State Route 674 North, Canal Winchester:

•Feb. 23-24, 1-3 p.m.: Maple Time -

Sample this sweet treat and learn about

making maple syrup the 1880s way. A

short hike to the sugarbush leaves the

farm at 1 p.m and 2 p.m. Sap collecting and

boiling is dependent on the weather, but all

other activities will take place.

Call 614-833-1880 to see if the sap is

flowing.
---
www.columbusmessenger.com February 10, 2019 - SOUTHEAST MESSENGER - PAGE 5

Death investigated

On Jan. 28, Groveport Police officers

were dispatched to a Westport Drive

address and located 58-year-old Robert

Windsor III deceased inside the home. At

this time, this death is being investigated

as overdose. During processing of the

scene, a digital video recorder was taken as

evidence.

With assistance from the Franklin

County HOPE Taskforce, the video was

downloaded and revealed additional persons

of interest that need identified.

Contact Det. Del Dalton of the Groveport

Police Department at 614-830-2053 or the

Franklin County Hope Task Force at 462-

3333 with any information.

Madison Township Police

officer placed on leave

A Madison Township Police officer was

alleged to have been involved in a domestic

violence situation, according to Madison

Township officials. As a result of the allegation,

the officer was placed on paid

administrative leave pending the outcome

of both the criminal aspect of the case as

well as the departmental investigation.

Township officials stated they take

"allegations of this nature very seriously"

and the police chief took immediate action.

Groveport Madison HS

staff member investigated

Groveport Madison Schools officials

released the following statement on Jan.

31:

"We have been made aware of an allegation

that one of our high school staff members

has behaved in an

unprofessional/inappropriate manner.

Groveport Madison Schools takes allegations

of this nature very seriously, and we

have taken immediate action. We have

already begun an internal investigation

and have notified appropriate authorities.

The staff member in question has been

placed on administrative leave pending the

conclusion of the investigations.

Furthermore, the staff member has been

directed that he is prohibited from being

on district property and from having any

contact with Groveport Madison students

and staff members (other than union representation).

Should this allegation be substantiated,

we will take swift and appropriate disciplinary

action, up to and including termination."

Learn how to save a life

As part of the Opioid Information Series

presented by the Groveport Madison

Opiate Task Force, a Narcan (Naloxone)

training session will be held Feb. 12 at 7

p.m. at the Groveport Presbyterian

Church, 275 College St. Narcan helps

against life threatening heroin or opiate

overdoses. The session is open to the public.
---
PAGE 6 - SOUTHEAST MESSENGER - February 10, 2019

www.columbusmessenger.com

Keep moving for fitness

By Rick Palsgrove

Southeast Editor

When the Hatfield family learned that

the Groveport Recreation Center would

hold an indoor triahlon/duathlon on Jan. 27

they were all in.

"It's cold outside and this is a nice event

for a family to do," said Kyle Hatfield.

"Running is our family past-time."

His daughter, Aly Hatfield, who attends

Teays Valley East and runs cross country

and plans to run the mile and 800 meter

races in track this spring, joined her father

in the event.

Amy Van Huffel, Groveport Recreation

Center sports and fitness manager, said

the idea behind the Happy Move Year

Indoor Triathlon/Duathlon was to provide a

healthy, active event that offered variety in

one's workout.

"In the past we had held our annual

Resolution Run, but the cold weather each

year made it difficult to continue that

event," said Van Huffel. "So we decided to

change it up this year with a

triathlon/duathlon that includes indoor

swimming, running, and cycling. It's a good

option that offers things people do throughout

the year. It's a unique

triathlon/duathlon where people can choose

their styles of exercise that fits their individual

workouts."

The triahlon included swimming in the

center's indoor pool, running on a treadmill

or on the indoor track, and cycling on a stationary

bike. The duathlon consisted of the

treadmill or indoor track run and the stationary

bike cycling. The participants could

choose to do each leg for 10 minutes nonstop

or for 20 minutes.

"This event is good because it fits anyone's

ability level," said Van Huffel. "You

Messenger photo by Rick Palsgrove

Kyle Hatfield and his daughter, Aly

Hatfield, tackle the running portion of

the Groveport Recreation Center's

Happy Move Year Indoor

Triathlon/Duathlon on Jan. 27.

could be a beginner or more experienced.

It's your choice to do as much as you are

able to do and to push your limits. Plus, it's

fun!"

The Hatfields were two of the 20 participants

in this year's Happy Move Year

Indoor Triathlon/Duathlon. They hopped

on treadmills for their running portion of

the duathlon and both took off at a fast

pace.

"I like running," Aly Hatfield said with a

smile.

Our Pictorial Past by Rick Palsgrove

Photo courtesy of the Groveport Heritage Museum

e old municipal building

Before the city of Groveport offices were moved to 655 Blacklick Street in the mid-

1990s, this was the town's municipal building, located along Wirt Road. This building

is now Crooked Alley KidSpace.
---
www.columbusmessenger.com

February 10, 2019 - SOUTHEAST MESSENGER - PAGE 7

Groveport Youth Athletic Association

Baseball / Softball Sign ups

Saturday, February 23rd 9am – 1pm Groveport Madison Middle School Central

Sunday, February 24th 1pm - 3pm Groveport Madison Middle School Central

Saturday, March 2nd 9am - 1pm Groveport Madison Middle School Central

Sunday, March 3rd 1pm - 3pm Groveport Madison Middle School Central

Tball, Coaches Pitch U8, U10,

U12 U14 *Softball Minor and

Major Baseball Pony*, Babe Ruth*

Prices start at $60.00 and vary based

upon age levels. Discounts are available.

See www.groveportyouth.com for additional

information, terms, and conditions.

G.Y.A.A. is a not-for-profit parent volunteer organization

Present this flyer with your signup and receive $10.00 off toward each registration – with payment in full.

Offer applies to Saturday February 23rd Only. Forms of payment include CA$H and CHECKS.

Credit cards will be accepted for an additional fee of $5.00 per payment

Registration Ends, March 4 th . Late fees ($40) will apply,

cannot guarantee placement due to late sign up.

Groveport Madison Middle School Central 751 East Main St. Groveport, 43125
---
PAGE 8 - SOUTHEAST MESSENGER - February 10, 2019

Bauerle's art exhibited

Groveport Elementary fourth grade student

Hannah Bauerle has had artwork chosen

to be exhibited in the 2019 Ohio Art

Education Association's Young People's Art

Exhibition. The exhibit represents Ohio

students in grades pre-kindergarten

through eighth and is on display at Rhodes

State Office Tower in Columbus, Ohio

from Feb. 16th - March 23. The exhibit is

sponsored by the Ohio Art Education

Association, which is the professional

organization for art teachers in Ohio.

Bauerle's artwork was submitted for the

show by Danae' Sperk, art educator at

Groveport Elementary. A reception and

awards ceremony will be held at Rhodes

Office Tower on March 2 for the young

artists, their families and teachers.

Women's self-defense

•The Groveport Police will conduct a

women's self-defense class for ages 14 and

up at the Groveport Recreation Center,

7370 Groveport Road, on March 16 from 10

a.m. to 1 p.m. Cost is $10. Call 614-836-

1000 for information.

•The Madison Township Police

Department will hold a women's selfdefense

class for ages 14 and up at the

Madison Township Community Center,

4575 Madison Lane. This free two-part

class is open to all township residents and

around Groveport and Madison Township

community members, and will be held

March 19 and 26 from 6-8:30 p.m. To register

call 614-836-5355 or email Sergeant

Tiller at ntiller@madisontownship.org.

Calling all beekeepers

The newly formed Beekeepers club in

Fairfield County will meet Feb. 19 at St

Mark's Catholic Church, 324 Gay St.,

Lancaster from 6:30-8:30 p.m. At this meeting,

members hope to pick a name for the

club, discuss and perhaps vote on a proposed

constitution and bylaws, decide if it will

become an independent nonprofit or affiliate

under OSBA, and nominate candidates for

officers and trustees. Membership due will

be collected - $15 single and $25 family. It

was suggested at the organizational meeting

that everyone who can, bring a snack to

share. Paper goods and drinks are taken

care of. Come and be part of the founding

membership of this exciting new club.

Surge in overdose deaths

The Franklin County Coroner's Office

saw another surge in overdose deaths

under a 24-hour period in Franklin

County.

Between the hours of 7:52 a.m. on Jan.

28 and 4:35 a.m. on Jan. 29 there were five

apparent overdose deaths located in the zip

codes of 43125, 43123, 43230 and 43229.

the coroner's office toxicology team is conducting

initial testing to confirm if these

overdose deaths are fentanyl-related.

For those Franklin County residents

with family or friends that might be at risk

for an overdose, the coroner's office ask

that they take the necessary steps to have

Naloxone available for them. Naloxone is a

lifesaving tool used for opiate overdoses.

The general public can obtain naloxone at

any pharmacy without a prescription, at a

cost, or by using their health insurance.

Franklin County Public Health along

with Project DAWN (Deaths Avoided with

Naloxone) will also provide free naloxone

with a brief training. To locate these sites

visit: http://www.odh.ohio.gov/projectdawn.

Schools seek levy/bond issue

The Groveport Madison Board of

Education will place a combined operating

levy and bond issue on the May 7 ballot.

The proposed 6.10 mill continuing operating

levy, if approved by the voters, would

replace the current five year 6.68 mill levy

that will expire on Dec. 31, 2019.

The proposed levy will be combined into

one ballot issue with a proposed 37-year,

4.72 mill, $83.6 million bond issue that

would generate funds to build three new

pre-K through sixth grade elementary

schools and one new middle school for

grades seven and eight. The pre-K through

sixth grade buildings would hold about

1,067 students each and the middle school

would hold about 1,000 students.The bond

issue would also provide funds to demolish

www.columbusmessenger.com

the existing elementary schools and middle

schools. If the plan is approved by voters, it

would reduce the number of schools in the

district from 10 to five. The locations of

where the new schools would be built has

not been determined.

If voters approve the bond issue to build

the schools, the Ohio Facilities

Construction Commission would fund 53

percent of the estimated $148.7 million

project and Groveport Madison would fund

47 percent with the district's local share

being $83.6 million.

According to Groveport Madison

Treasurer John Walsh, if the bond issue is

approved, the estimated increased annual

property tax for the owners of the following

valued homes would be: $100,000 market

value: $164.96; $125,000 market value:

$206.20; $150,000 market value: $247.44;

$175,000 market value: $288.68; and

$200,000 market value: $329.92

District officials state the bond issue is

needed to: replace aging school buildings;

ease student overcrowding; eliminate the

22 modular classrooms in the district;

enable there to be identical academic and

other programs in each school; result in

less acreage to be maintained; create more

overall efficiency; younger students would

be separated from older students in the elementaries

and buses; and provide for modern

safety features (the team noted the current

schools cannot be retrofitted to meet

modern safety needs).

Liquor Tasting

at the Paddock Pub and Links of Groveport

February 12, 2019

6:30pm - 8:00pm

$30 Per Person

Prepaid with reservation

To Taste:

Watershed Vodka

Watershed Gin

Watershed Bourbon Barrel Gin

Watershed Bourbon

Kit Meager will join us from Watershed Distillery to pour

four tastings of their exceptional spirits along with four

tastings of Watershed's signature cocktails.

11am - 9pm

February 13 • Paint & Craft

February 14-16 • Special Valentine's Dinner

The Paddock Pub

For reservations for this limited seating

tasting event, please call 614-610-6988
---
www.columbusmessenger.com

February 10, 2019 - SOUTHEAST MESSENGER - PAGE 9

CLASSIFIED ADS

Deadlines: Southeast and West editions, Wednesdays at 5 p.m., • East, Southwest, Madison editions, Tuesdays at 5 p.m.

All editions by phone, Tuesdays at 5 p.m. • Service Directory, Tuesdays at 5 p.m.

xInformation

xEmployment

xGreeting

Happy

Valentine's

Day

FEBRUARY GIVEAWAY

Place a prepaid classified line ad in our paper

during the month of February and be registered

to win a $50 Gift Card from

The Columbus Messenger Newspapers.

All ads received by mail, in person,

e-mail or phone will be included in the drawing.

Drawing will be held March 1st, 2019

and the winner will be notified and published

in our March 3rd issue of Madison

and the March 10th issue of the

West, Southwest, East & Southeast papers.

GOOD LUCK TO

EVERYONE!!!!

To all Our

Readers

and

Customers

From the

Classified Dept.

Greeting

ASSOCIATION ADS

VIAGRA & CIALIS! 60

pills for $99. 100 pills for

$150 FREE shipping.

Money back guaranteed!

1-800-503-7846

Information

ASSOCIATION ADS

$$OLD GUITARS & AMPS

WANTED$$ GIBSON*

FENDER*MARTIN. ALL

BRANDS. TOP DOLLAR

PAID. CALL TOLL FREE

1-866-433-8277

Congratulations

To Our Gift Card Winner

For January 2019

Jason Burns

From

The Columbus Messenger

Newspapers

ASSOCIATION ADS

70 years old, kids are

grown. Still need your life

insurance? Or is a big

LIFE SETTLEMENT

CASH PAYOUT smarter?

Call Benefit Advance.

1-877-332-9643

TOP CASH FOR CARS,

Any Car/Truck, Running

or Not. Call for INSTANT

offer: 1-888-417-9150

A PLACE FOR MOM. The

nation's largest senior living

referral service. Contact

our trusted, local experts

today! Our service is

FREE/no obligation. CALL

1-844-722-7993

CARS/TRUCKS WANT-

ED!!! All Makes/Models

2002-2018! Any Condition.

Running or Not. Top $$$

Paid! Free Towing! We're

Nationwide! Call Now: 1-

888-985-1806

Call Empire Today® to

schedule a FREE inhome

estimate on Carpeting

& Flooring. Call

Today! 1-866-538-7163

Cable - Internet - Phone.

No Credit Check! No

Contracts! $29.99 each!

Bundle - Save huge!

We're local installers!

Call Free Quote! 1-888-

486-5572

KILL BED BUGS! Buy

Harris Sprays, Kits, Mattress

Covers. Hardware

Stores, The Home Depot,

homedepot.com

GENERIC VIAGRA and

CIALIS! 100 Pills $99.00

FREE Shipping! 100%

guaranteed. 24/7 CALL

NOW! 888-889-5515

ASSOCIATION ADS

Call Empire Today® to

schedule a FREE inhome

estimate on Carpeting

& Flooring. Call

Today! 1-800-508-2824

READER

ADVISORY

The National Trade Association

we belong to has

purchased the following

classifieds. Determining

the value of their service

or product is advised by

this publication. In order

to avoid misunderstandings,

some advertisers do

not offer "employment"

but rather supply the

readers with manuals, directories

and other materials

designed to help

their clients establish mail

order selling and other

businesses at home. Under

NO circumstance

should you send any

money in advance or give

the client your checking,

license ID or credit card

numbers. Also beware of

ads that claim to guarantee

loans regardless of

credit and note that if a

credit repair company

does business only over

the phone it's illegal to request

any money before

delivering its service. All

funds are based in US

dollars. Toll Free numbers

may or may not

reach Canada. Please

check with the Better

Business Bureau 614-

486-6336 or the Ohio Attorney

General's Consumer

Protection Section

614-466-4986 for more

information on the company

you are seeking to

do business with.

BE YOUR OWN BOSS!

INDEPENDENT

CONTRACTORS

WANTED

If you have a reliable

car and would like to

earn extra money,

then why not deliver?

• Deliver 1 or 2 days a week

• Flexible delivery hours

• Work close to home - often

in or near your neighborhood

CONTACT US

1-888-837-4342

www.thebag.com

• Deliver 7 days a week

• Delivery before dawn

• Work close to home - often

in or near your neighborhood

CONTACT US

614-461-8585

www.dispatch.com/delivery

ASSOCIATION ADS

HughesNet Satellite Internet

- 25 mbps starting at

$49.99 / mo! FAST download

speeds. WiFi built in!

FREE Standard Installation

for lease customers!

Limited Time, Call 1-800-

610-4790.

[WANTED] CARS/

TRUCKS WANTED!!!

All Makes/Models 2002-

2018! Any Condition. Running

or Not. Competitive

Offer! Free Towing! We're

Nationwide! Call Now: 1-

888-368-1016

Spectrum Triple Play!

TV, Internet & Voice for

$29.99 ea. 60 MB per

second speed. No contract

or commitment.

More Channels. Faster

Internet. Unlimited Voice.

Call 1-855-652-9304

Lung Cancer? And Age

60+? You And Your

Family May Be Entitled

To Significant Cash

Award. Call 866-428-

1639 for Information. No

Risk. No Money Out Of

Pocket.

ADVERTISING

ACCOUNT REPRESENTATIVE

The Advertising Department at the

Columbus Messenger Newspapers

is seeking a Sales Representative.

No Experience Necessary.

Base salary plus commissions, auto allowance.

Senior Citizens and Recent Grads

encouraged to apply.

Please send your resume to:

Doug Henry, Advertising Manager

Columbus Messenger Newspapers

3500 Sullivant Ave.

Columbus, Ohio 43204

or

e-mail to doughenry@columbusmessenger.com

Employment

ASSOCIATION ADS

Selling an Antique car or

Farm Equipment? Selling

construction equipment?

Advertise with us

to reach up to 3.2 million

homes each week. You

choose the area. 800-

450-6631.

A PLACE FOR MOM

has helped over a million

families find senior living.

Our trusted, local advisors

help find solutions

to your unique needs at

no cost to you. 1-855-

204-5180

Cross Country Moving,

Long distance Moving

Company, out of state

move $799 Long Distance

Movers. Get Free

quote on your Long distance

move 1-800-511-

2181

Start Saving BIG On Medications!

Up To 90% Savings

from 90DAYMEDS!

Over 3500 Medications

Available! Prescriptions

Req'd. Pharmacy Checker

Approved. CALL Today for

Your FREE Quote. 844-

776-7620

ASSOCIATION ADS

Have something to sell!

GET 2 FREE WEEKS

OF ADVERTISING when

you purchase 2 weeks.

Learn more at macnet

online.com or give us a

call at 800-450-6631

DISH NETWORK $69.99

For 190 Channels. Add

High Speed Internet for

ONLY $14.95/month. Best

Technology. Best Value.

Smart HD DVR Included.

FREE Installation. Some

restrictions apply. Call 1-

855-837-9146

Dish Network - Satellite

Television Services. Now

Over 190 channels for

ONLY $49.99/mo! HBO-

FREE for one year,

FREE Installation, FREE

Streaming, * FREE HD.

Add Internet for $14.95 a

month. 1-800-219-1271

Suffering from an AD-

DICTION to Alcohol,

Opiates, Prescription

Pain Killers or other

DRUGS? There is hope!

Call Today to speak with

someone who cares.

Call NOW 1-855-866-

0913

ASSOCIATION ADS

AIRLINE MECHANIC

TRAINING - Get FAA

Technician certification.

Approved for military

benefits. Financial Aid if

qualified. Job placement

assistance. Call Aviation

Institute of Maintenance

866-453-6204

Applying for Social Security

Disability or Appealing

a Denied Claim?

Call Bill Gordon & Assoc.,

Social Security Disability

Attorneys, 1-855-

498-6323! FREE Consultations.

Local Attorneys

Nationwide [Mail: 2420 N

St. NW, Washington DC.

Office: Broward Co. FL

(TX/NM Bar.)]

ENJOY 100% guaranteed,

delivered to-thedoor

Omaha Steaks!

Makes a great Holiday

Gift! SAVE 75% PLUS

get 4 FREE Burgers! Order

The Family Gourmet

Feast - ONLY $49.99.

Call 1-855-349-0656

mention code 55586TJC

or visit www.omahasteaks.com/lovel3
---
PAGE 10 - SOUTHEAST - February 10, 2019

www.columbusmessenger.com

CLASSIFIED ADS

Deadlines: Southeast and West editions, Wednesdays at 5 p.m., • East, Southwest, Madison editions, Tuesdays at 5 p.m.

All editions by phone, Tuesdays at 5 p.m. • Service Directory, Tuesdays at 5 p.m. • Main Street Mailbox, Tuesdays at 5 p.m.

xEmployment

Beat the

Winter Blahs with a New Job!

TRISTAR IS NOW HIRING

PART-TIME DRIVERS!

NO CDL REQUIRED

Posions are PT, working 20-24 hrs per week

We offer dayme shis, no nights/weekends & have paid

training. Company vehicle provided for use during working

hours. Individuals must be able to pass a background check,

a pre-employment physical/drug screen, have no DUI's

and have less than 4 points on their OH license.

For more informaon, please contact Vanessa at

614-679-7280 or email vfrazier@tristarcolumbus.com

To learn more about Tristar, please visit our website at

www.tristarcolumbus.com

tristar

TRANSPORTATION CO.

ASSOCIATION ADS

IMPORTANT

NOTICE

The following states: CA,

CT, FL, IA, IL, IN, KY,

LA, MD, ME, MI, MN,

NE, NC, NH, OH, OK,

SC, SD, TX, VT and WA

requires seller of certain

business opportunities to

register with each state

before selling. Call to

verify lawful registration

before you buy.

ASSOCIATION ADS

AIRLINES ARE HIRING -

Get FAA approved hands

on Aviation training. Financial

aid for qualified students

- Career placement

assistance. Call Aviation

Institute of Maintenance

877-818-0783

Stay in your home longer

with an American Standard

Walk-In Bathtub. Receive

up to $1,500 off,

including a free toilet,

and a lifetime warranty

on the tub and installation!

Call us at 1-844-

374-0013

ASSOCIATION ADS

Sufffering from an ADDIC-

TION to Alcohol, Opiates,

Prescription PainKillers or

other DRUGS? There is

hope! Call Today to speak

with someone who cares.

Call NOW 1-855-901-2049

SAVE ON YOUR NEXT

PRESCRIPTION! World

Health Link, Price Match

Guarantee! Prescriptions

Required. CIPA Certified.

Over 1500 medications

available. CALL Today

For A Free Price

Quote. 1-855-530-8993

Call Now!

NOW HIRING!

Local High Volume Pharmacy

Immediate 2nd & 3rd shift positions available

for Pharmacy Clerks and Technicians.

Looking for energetic associates

in a fast pace environment.

NEW Starting rate: $11.50 per hour

Shift differential $.50 an hour

Please apply at: jobs.kroger.com

Use Zip Code 43217

Must be 18 years of age & have high school diploma or GED.

Call 614-333-5012 for more details.

ASSOCIATION ADS

HEAR AGAIN! Try our

hearing aid for just $75

down and $50 per

month! Call 800-426-

4212 and mention 88272

for a risk free trial! FREE

SHIPPING!

DIRECTV & AT&T. 155

Channels & 1000s of

Shows/Movies On Demand

(w/SELECT Package.)

AT&T Internet 99

Percent Reliability. Unlimited

Texts to 120

Countries w/AT&T Wireless.

Call 4 FREE Quote

1-855-781-1565

AT&T Internet Get more

for your High-Speed Internet

thing. Starting at

$40 / month w / 12-mo

agmt. Includes 1 TB of

data per month. Ask us

how to bundle and

SAVE! Geo & svc restrictions

apply. Call us today

1-833-707-0984

Become a Published Author.

We want to Read

Your Book! Dorrance

Publishing-Trusted by

Authors Since 1920.

Book manuscript submissions

currently being

reviewed. Comprehensive

Services: Consultation,

Production, Promotion

and Distribution. Call

for Your Free Author's

Guide 1-877-626-2213

or visit http://dorranceinfo.com/classified

ADVERTISE to 10 Million

Homes across the USA!

Place your ad in over 140

community newspapers,

with circulation totaling

over 10 million homes.

Contact Independent Free

Papers of America IFPA at

danielleburnett-ifpa@

live.com or visit our website

cadnetads.com for

more information.

ASSOCIATION ADS

Wants to purchase minerals

and other oil and gas

interests. Send details to

P.O. Box 13557, Denver,

CO. 80201

Lung Cancer? Asbestos

exposure in industrial,

construction, manufacturing

jobs, or military

may be the cause. Family

in the home were also

exposed. Call 1-866-

795-3684 or email cancer@breakinginjurynews

.com. $30 billion is set

aside for asbestos victims

with cancer. Valuable

settlement monies

may not require filing a

lawsuit.

Sleep Apnea Patients - If

you have Medicare coverage,

call Verus Healthcare

to qualify for CPAP

supplies for little or no

cost in minutes. Home

Delivery, Healthy Sleep

Guide and More- FREE!

Our customer care

agents await your call. 1-

844-545-9175

HELP WANTED

MAINTENANCE

PERSON NEEDED

Apt., house, all phases

Must have tools/transp.

Hourly rate. 614-783-7464

Caregiver

Needed

Working Part Time with

Elderly & Children.

Transportation,

Some Experience &

References Required.

Drug Test.

Call 614-777-5850

Employment

3/3

A/M

IMAGINE SCHOOLS

NOW HIRING

CERTIFIED TEACHERS

Imagine Primary - 4656 Heaton Rd., Columbus, OH 43229

Imagine Great Western - 310 North Wilson Rd., Columbus, OH 43204

Imagine Groveport - 4485 S. Hamilton Rd., Groveport, OH 43125

Imagine Harrisburg Pike - 680 Harrisburg Pike, Columbus, OH 43223

Imagine Sullivant - 3435 Sullivant Ave., Columbus, OH 43204

Resumes can be sent to:

jennifer.keller@imagineschools.org

HELP WANTED

ADVERTISING

ACCOUNT

REPRESENTATIVE

The Advertising Dept. at

the Columbus Messenger

Newspapers is seeking a

Sales Representative.

No Experience Necessary

Base salary plus commissions

& auto allowance.

Senior Citizens and

Recent Grads

welcome to apply.

Please send your

resume to:

Doug Henry,

Advertising Mgr.

Columbus Messenger

Newspapers,

3500 Sullivant Ave.,

Columbus, OH 43204

or email to doughenry@

columbusmessenger.com

Shop / Delivery Person

Needed 8-5, Mon-Fri.

Will Train. Mechanically

inclined, able to drive a

standard shift, able to lift

75 lbs, have a driver's

license and dependable

transportation. Apply in

person at 2270 Harper

Rd., Columbus or call

614-275-0303

WANTED

SW CITY SCHOOLS

SCHOOL BUS DRIVERS

The South-Western City School

District is currently hiring drivers

$16.55/HR

Available positions are for substitute

drivers that can develop into "Regular"

positions with benefits. Interested

individuals should submit an application

on our website at swcsd.us. Follow the

employment link. Applicants should have

an excellent driving record and must

submit to drug, alcohol, and background

screening. A high school diploma or

equivalent is required.

EOE

HELP WANTED

NOW HIRING PLUMBER

& Apprentice. 4 day work

week, vacation after 6

months. 740-625-9990

WANT TO BUY

CASH FOR CARS

614-276-2597

WANTS TO Purchase

minerals and other oil &

gas interests. Send details

to: P.O. Box 13557,

Denver, CO 80201

WANT TO BUY

We Buy Junk Cars &

Trucks. Highest Prices

Paid. 614-395-8775

$ Cash At Your Door $

for junk or unwanted cars

(Free Tow). Call

614-444-RIDE (7433)

We Buy Cars & Trucks

$300-$3000.614-308-2626

ANTIQUES

WANTED

Victrolas, Watches,

Clocks, Bookcases

Antiques, Furn.

Jeff 614-262-0676

or 614-783-2629
---
www.columbusmessenger.com

xLegal Notice

February 10, 2019 - SOUTHEAST MESSENGER - PAGE 11

xClassified Services

F.C.A. §§ 617;

CPLR 315, 316

FAMILY COURT OF THE STATE OF NEW YORK

COUNTY OF CHAUTAUQUA

In the Matter of

Minor Child M.B.

A Child under Eighteen Years of Age

Alleged to be Neglected by

Ashley Burkes,

Respondent.

IN THE NAME OF THE PEOPLE OF THE STATE OF NEW YORK:

To:

Ashley Burkes

520 W 6 th St

Jamestown, NY 14701

File #: 17757

Docket #: NN-02650-18

SUMMONS

(Publication)

GF30 12/1997

A petition under Article 10 of the Family Court Act having been filed with this Court requesting the

following reliefs: Pre-Petition Application and Neglect;

YOU ARE HEREBY SUMMONED to appear before this Court on

Date/Time: March 6, 2019 at 9:00 AM

Purposes: Service on Respondent and Return on Publication

Part: 3

Floor/Room: Floor 1/Room See Court Officer

Presiding: Hon. Michael J. Sullivan

Location: Community Municipal Building (Old Mayville School)

2 Academy Street, Suite 5

Mayville, NY 14757

to answer the petition and to be dealt with in accordance with Article 10 of the Family Court Act.

On your failure to appear as herein directed, a warrant may be issued for your arrest.

Dated: January 15, 2019

TO THE ABOVE-NAMED RESPONDENT:

David E Travis, Chief Clerk

The foregoing summons is served upon you by publication pursuant to an Order of the Hon. Michael J.

Sullivan of the Family Court, Chautauqua County, dated and filed with the petition and other papers in the

Office of the Clerk of the Family Court, Chautauqua County.

Legal Notice

xPublic Notice

PLANNING AND

ZONING COMMISSION

***NOTICE OF MEETING***

MONDAY, MARCH 4, 2019 6:00 P.M.

GROVEPORT MUNICIPAL BUILDING

COUNCIL CHAMBERS—2ND FLOOR

#2018-11 A request by EMH&T – Matt Kirk for a

Final Plat at 0 Bixby Road, Hickory Grove, Section

3A, Parcel #185-001602 (tabled from theOctober 1,

November 5, and December 3, 2018 meetings).

The public is invited to attend and participate.

Public Notice

MISCELLANEOUS

FOR SALE

Two Eastern Star Rings

10K white gold with small

diamonds. Best offer. Call

Nancy 614-205-5098

REAL ESTATE

SERVICES

Property Management

We are always available!

40 yrs. exp in

Certified Property Mgmt.

Reas. Fees. Call Now!

614-783-7464

VACATION RENTALS

Englewood, Florida

Palm Manor Resort

Within minutes of white

sand Gulf beaches,

world famous Tarpon

fishing, golf courses, restaurants/shopping,

Bush

Gardens. 2 BR 2 BA

condos with all ammenities,

weekly/monthly, visit

www.palmmanor.com

or call 1-800-848-8141

INFORMATION

APPLIANCE REPAIR

Washer, Dryer, Stove &

Refrig. Repair 875-7588

BASEMENT

WATERPROOFING

Walker's Basement

Waterproofing

Free Est. 614-359-4353

CLEANING

Looking for Mrs. Clean?

For excellent cleaning

services at reas. rates

w/great refs, depend.

10% Sr. Disc. Gwen

614-226-5229 Free Est.

WALKER'S

Housekeeping &

Cleaning Services

614-218-2200

Cleaning, 20 yrs. exp.

Call Judy 614-946-2443

CONCRETE

AJ's Concrete,

Masonry

Good Work - Fair Prices

Block Foundations

Driveways • Sidewalks

Epoxy/Overlay Floors

Bonded-Ins. • Free Ests.

Now Accepting Credit Cards

614-419-9932

GUTTERS

Low Price-Great Service

5 & 6" Seamless gutters,

covers, siding, gutter clng.

Bill 614-306-4541

HEATING

HEATING

Complete System Clean & Check

$49.95

Free Carbon

Monoxide Testing

Gas-Oil-Electric Heat/Pumps

All Makes • All Models

43 yrs exp. • Sr. Discount

614-351-9025

614-351-9005

HOME

IMPROVEMENTS

J&E

Renovations

Interior & Exterior

Room Additions, Garages,

Insurance Claims & Handyman

Free Estimates

740-272-6421

0217 A

2/17 A

2/17 ws/se

INFORMATION

HOME

IMPROVEMENTS

SINCE 1973

Phil Bolon Contr.

Windows & Siding

Decks, Kitchens, Baths

Room Additions,

Flooring, Roofing

Bsmt Waterproofing

Deal With Small Non-Pressure Co.

45 Yrs. Exp. - Refs. Avail.

Lic.-Bond-Ins.

Free Est. - Financing Avail.

Member BBB Of Cent. OH

O.C.I.E.B. ID #24273

614-419-3977

or 614-863-9912

LG

REMODELING

Interior & Exterior

Full Service Remodeling

• Bathrooms • Kitchens

• Tile • Drywall • Flooring

• Roofing • Siding • Etc.

NO JOB TO SMALL

A+ BBB Rating

A+ Angie's List

Lic. • Bonded • Insured

614-488-8377

www.lgroofingcolumbus@gmail.com

C&JHandyman

Services LLC

Minor Plumbing &

Electric

Install Hot Water Tanks,

Dishwashers & Disposals

Also Fencing &

Interior/Exterior Painting

Free Est. ~ 18 Yrs. Exp.

Accepting Visa/MC

614-284-2100

HOME

MAINTENANCE

2-17

A/M

JOE'S HOME MAINT.

Home Repairs, Roofing,

Siding, Gutters, Soffits,

Misc. Int. Repairs

Int. Painting

Call Joe 614-235-6883

35 Years Exp.

2-17 A&M

2-17 A

HOME

MAINTENANCE

Retired Finishing Carpenter

for all your extra home

repairs. over 40 yrs. exp.

Sonny 614-325-1910

LET US MAINTAIN

YOUR LAWN & GARDEN

FOR YOU

Summer, Spring,

Winter or Fall

WE DO IT ALL!!!!

Lawn Cuts, Edging,

Trees & Shrubs, Garden,

Mulching, Hauling,

Garden Pond &

Home Maint.

Free Ests. Low Rates

$20 & Up

Kevin - 614-905-3117

A Complete

Moving

Reasonable, Reliable

No Job Too Small

PUCO #150692-HG

Free Estimate

614-878-1179

SHOP THE CLASSIFIEDS!!

Only $1 per line

❏ Check for one additional FREE week.

Classified Services

columbus

Telephone: _________________________________________________________

Print Your Name:____________________________________________________

Last

First

Print Your Address:___________________________________________________

Print Your City:__________________________ State:_______ Zip:____________

Print Your Ad Below…

One word each space. BE SURE YOUR TELEPHONE NUMBER OR ADDRESS is included in your

advertisement. The lessor of 4 words or 22 characters per line. We reserve the right to use abbreviations

when actual space exceeds amount purchased.

1. __________ __________ __________ __________

2. __________ __________ __________ __________

3. __________ __________ __________ __________

4. __________ __________ __________ __________

5. __________ __________ __________ __________

6. __________ __________ __________ __________

Columbus Messenger

3500 Sullivant Ave. • Columbus, Ohio 43204

614-272-5422

classified@columbusmessenger.com

$

LAWN CARE

MOVING

2/17 A&M

Not Valid for Garage Sales

MOVING

Aaron Allen Moving

Local Moving Since 1956

Bonded & Insured

614-299-6683, 263-0649

Celebrating 60 yrs in business

PAINTING

LeVay Painting Co.

Interior & Exterior painting,

Wall Repair,

Wallpaper Removal &

2-17

Powerwashing.

A&M

Zach

614-886-8926

PLUMBING

ALL IN ONE

PLUMBING LLC

"One Call Does It All"

$25 OFF LABOR

With This Ad

A

614-801-1508

All Major Credit Cards Accepted

All About Drains & Plumb.

Will snake any sm drain

$125 + tax. 614-778-2584

West ___ Southwest ___ East ___ Southeast ___ Madison___

❏ Cash

❏ Check

❏ Money Order

❏ VISA ❏ MC

3/3

ROOFING

Robinson roofing & repairs

30 yrs. exp. Lifetime Cols.

resident. Lic./bonded/Ins.

Reas rates. Member of

BBB. Dennis Robinson

614-330-3087, 732-3100

SEWING MACHINE

REPAIR

REPAIR all makes 24 hr.

service. Clean, oil, adjust

in your home. $39.95 all

work gtd. 614-890-5296

TREE SERVICES

Brewer & Sons Tree Service

• Tree Removal

• Tree Trimming 2-17

A&M

• Stump Grinding

• Bucket Truck Services

Best Prices • Same Day Service

614-878-2568

BURNS TREE SERVICE

Trimming, Removal &

Stump Grinding.

614-584-2164

Joe's Tree & Yard Work

Trim, thin, shape bushes,

hedges, stump grinding,

hauling. 614-598-6247

Credit Card

Information

___

__________________________

Credit Card Number

____________

__(___)__

Exp. Date 3 digit code

Minimum Charge $5.00
---
PAGE 12 - SOUTHEAST MESSENGER - February 10, 2019

www.columbusmessenger.com