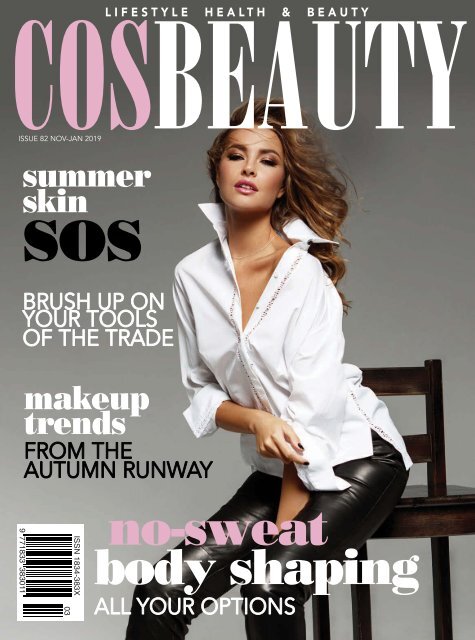 CosBeauty Magazine #83
CosBeauty is the #BeautyAddict's guide to lifestyle, health and beauty in Australia. In this issue: - Summer Skin SOS - Brush up on your tools the trade - Maekup Trends from the Autumn Runway - No-sweat body shaping - all your options
CosBeauty is the #BeautyAddict's guide to lifestyle, health and beauty in Australia.
In this issue:
- Summer Skin SOS
- Brush up on your tools the trade
- Maekup Trends from the Autumn Runway
- No-sweat body shaping - all your options
SHOW MORE
SHOW LESS
You also want an ePaper? Increase the reach of your titles
YUMPU automatically turns print PDFs into web optimized ePapers that Google loves.
COSBEAUTY

LIFESTYLE HEALTH & BEAUTY

ISSUE 82 NOV-JAN 2019

LIFESTYLE HEALTH & BEAUTY

summer

skin

sos

BRUSH UP ON

YOUR TOOLS

OF THE TRADE

makeup

trends

FROM THE

AUTUMN RUNWAY

9 771833 383011

no-sweat

body shaping

ALL ALL YOUR YOUR OPTIONS OPTIONS

03

ISSN 1834-383X
---
THE BEST FORMULA WE HAVE EVER MADE

A MASTERPIECE OF SIMPLICITY

®

A revolutionary blend of breakthrough molecule retinyl retinoate,

now twinned with crystal-stabilised retinaldehyde for ultimate overnight skin rejuvenation.

Experience now at medik8.com.au

1800 242 011 #BEYONDRETINOL @medik8australia
---
&

Radiate

beauty

confidence

Using the latest technologies, our team of experts

is committed to help you achieve natural-looking

results in a relaxed and friendly setting.

Come in and experience the Skin Renu difference.

Our comprehensive treatment menu includes:

world-class wrinkle reduction and

lip enhancement

laser skin rejuvenation

CoolSculpting non-surgical fat reduction

Thermage non-surgical face lifting

medical peels

clinic-only premium skincare

Call us to book a complimentary consultation

02 9555 9506

www.skinrenu.com.au

16B Beattie St, Balmain, Sydney
---
The first breathable colour corrective

foundation with 12 active ingredients

Design the perfect LOOK for every MOMENT

LYCOGEL.COM.AU

T: 1800 242 011 E: cs@advancedcosmeceuticals.com.au
---
Contents

skin

regulars

8 Editor's Letter

10 Beauty Insider

100 Ed's Faves

features

44 Tools of the Trade

Do yourself a favour and brush

up on some of the best beauty

tools around..

76 Donna Aston

An expert in the field of weight

loss, health and fitness, she

explains her AstonRX program

80 Body Matters

The guide to no-sweat body

shaping

86 Why do Men Age Better?

While women may be the fairer

sex, men enjoy some significant

cosmetic advantages when it

comes to ageing.

BEAUTY

40 The Pinnacle of Skin

Rejuvenation

Medik8's most powerful

anti-ageing technology,

r-Retinoate Intense is a

masterpiece of simplicity.

52 The secret to a perfect

complexion

Lycogel is the go-to colour

corrective foundation that

combines flawless coverage

with advanced skincare

technology.

56 Autumn Trends

Autumn is all about porcelain

skin and vixen lips. Check out

these runway trends and the

products you need to recreate

the looks.

24 Summer Skin SOS

Post-summer skin survival

tactics to target dehydration,

pigmentation and premature

ageing.

30 Out Damned Spot!

For best results, sometimes

pigmentation spots need to

be treated professionally and

cosmelan ® is the treatment of

choice for clinicians Australiawide.

34 Skin That Glows

Our skin is often the first

thing others notice about us.

Here are our tips for a radiant

complexion at any age.

62 Luxe Treatments

While today's luxe treatments

don't necessarily break the

bank, they all deliver on their

promise of quality and results.
---
WELLNESS & LIFESTYLE

42 Home Spa Ambience

Being positive about ourselves

includes self care and looking after

our skin – not just to look our best

but for survival

64 Feed Your Face

Welcome to the next generation

of superfoods.

72 Take Care Down There

Women's health has been too long

under wraps and gynaecologist

Dr Oseka Onuma says it's time to

understand what's happenIng under

the covers.

90 Doha – Stopover Hot Spot

For many antipodeans travelling to

Europe, the traditional south-east

Asian stopover has been replaced

by a taste of the extravagant

futuristic skylines of the Middle

East – Dubai, Abu Dhabi and more

recently Doha

www.cosbeauty.com.au 7
---
From the

Editor

It seems like only last week I was madly organising myself for my

summer holiday – waxing, bleaching, primping – and now I'm already

slathering on the treatments to repair my dry skin and frizzy hair.

Where did the time go and was it worth it? Yes, of course, but we all

need to pay the piper at some stage. Turn to page 24 for our Summer

Skin SOS article, which showcases our fave products to help get our

skin back into tip-top condition. And don't even mention my hair! The hints in

Post-summer Hair Repair on page 48 will help tame the unruliness and frizz that

days at the pool or beach have fostered.

Using the correct tools of the trade is imperative in every industry, so having

the right brushes is a no-brainer – not only for our hair, but also to help hone

how precisely we are able to apply our makeup. Tools of the Trade on page 44 is a

great place to choose your weapons.

No matter how à la natural we go with our makeup over summer, it seems the

one staple is always applying a good lipstick. I love the quotes we feature from

four fabulous beauties who all agree on the importance of a good lipstick – not

just to look better, but to feal great as well.

As autumn approaches and our tans and summer memories fade, we start

wearing more layers of clothing and our makeup takes on more importance. On

page 56 we show the latest autumn makeup trends from the runways, and the

newest products to help you achieve these looks.

Have you ever wondered why men seem to age better than women? On page

86 we look at the details of how men's faces actually age and why we might

think this is true.

Getting healthy and in shape is important all year round. No matter how

you decide to smooth your curves, we have you covered. Donna Aston is an

inspiration and her routine AstonRX is helping thousands get into shape. If

exercise isn't your thing, we also have a no-sweat body feature from page 72 that

outlines all the methods available to reshape your body without hitting the gym.

A holistic approach is important, so whichever method you choose, healthy

eating, adequate hydration and a good night's sleep are still up there!

Issue 83

February 2019 - April 2019

Editor-in-Chief

Michelle Kearney

Art Director

Debbie Pilarinos

Writers

Catherine Hale, David Hickie,

Maria Leahy, Aimée Rodrigues

Photographers

Debbie Pilarinos, ShutterStock

Distribution &

Subscription Enquiries

Bill Dunk

Phone 02 8095 6265 Mob 0410 528 582

Email bill@bellamedia.com.au

Advertising Enquiries

Michelle Kearney

Phone 02 8095 6265 Mob 0419 624 246

Email michelle@bellamedia.com.au

Editorial Enquiries

Michelle Kearney

Phone 02 8095 6265 Mob 0419 624 246

Email michelle@bellamedia.com.au

Produced & Published by Bella Media

ABN 86 082 157 695

Managing Director

Michelle Kearney

Chief Operating Officer

Bill Dunk

Public Relations, Marketing

& Event Organisation

Phone 02 8095 6265

Office address

Suite 2201, Level 22 Westfield Tower 2

101 Grafton St,

Bondi Junction NSW, 2022

Phone +61 2 8095 6265

www.bellamedia.com.au

find us on Facebook

cosbeauty

Michelle Kearney

Editor-in-Chief

michelle@bellamedia.com.au

Read the online edition

plus more great aRTicles @

www.cosbeauty.com.au

follow us on Instagram

cosbeauty

Reproduction in whole or in part is not permitted without the

written authorisation of the publisher. All reasonable efforts have

been made to trace copyright holders. All manuscripts and articles

submitted for publication remain the property of The Bella Media

Group. This magazine contains general information only and

does not purport to be a substitute for medical advice. All readers

are advised to seek medical advice from a doctor if considering

cosmetic surgery. The publisher and the authors do not accept

any liability whatsoever in respect of an action taken by readers in

reliance on the recommendations set out in this magazine. Except

where specified in captions, photographs depict models who have

not necessarily received treatments described in this magazine.

Any 'before and after' photographs in CosBeauty Magazine

articles are of genuine patients. It is important to understand

that they represent one person's experience and there is

no guarantee that any other patient will experience similar results.
---
@cosbeauty

Beauty insider

THE WHO'S WHO AND WHAT'S NEW IN BEAUTY.

kkw Beauty's glam BIBle

After launching KKW Beauty in 2017,

Kim Kardashian West has become

a formidable force within the

beauty industry. Her first product,

a contouring and highlight kit, sold

out in just under three hours, and

each new rollout still generates the

same buzz.

For the Glam Bible, Kardashia West

wanted to include everything except

skin products such as concealer. She

wanted it all to be very universal and

chose highlighters and blush colors

that could work with all skin tones,

along with two different lip colours,

lip liner, lashes, mascara, eyeliner,

and a six-pan eyeshadow palette.
---
@cosbeauty

the BIggest trends In the

Beauty Industry

In his blog for Forbes.com,

Richard Kestenbaum caught up

with Jennifer Hessell, an industry

consultant and L'Oreal alumna,

who told him there are four

major trends that the fastestgrowing,

young brands are taking

advantage of now:

The Instant Fix: This refers to

the age-old desire for instant

gratification, focused on the

skincare segment. Products

that allow a consumer to see

immediate improvement in bags

or lines or brightening are often in

this class.

The Doll Look: Using heavy makeup

or surgery to create a look that

is more porcelain-like, smooth

and perfect. It doesn't aspire to

be natural-looking — it's about

flawlessness and it's taken deep root

in the makeup and hair businesses.

Most recently, L'Oreal acquired

my firm's client, Pulp Riot Hair, in a

perfect example of the trend.

Skin Care From The Earth: The

skin category continues to explode

with more natural, clean and even

food-standard products. There is a

perception that skin and mind are

linked and there's a connection

between skin care and wellness.

It's the opposite direction from

where makeup is going.

Customisation and

Personalisation: Using data and

customer input to create products

for a universe of one is a new form

of luxury.

Source: https://www.

forbes.com/sites/

richardkestenbaum/2018/09/09/

beauty-industry-biggest-trendsskin-care-loreal-shiseidolauder/#5e4f92356982

dr anh's new skInCare

Dr Anh is a leding Australian

plastic surgeon from Perth. Her

eponymous new luxurious range

'Dr Anh' uses only the finest

ingredients with the strongest

scientific evidence to protect and

repair the skin without any harmful

fillers and perfumes.

The focus of this range is simple

– no empty promises, just pure

results.

www.dranh.com.au

www.cosbeauty.com.au 11
---
@cosbeauty

new dna restorIng mask

DNA Renewal, the anti-ageing

skincare line created by American

dermatologist Dr Ronald Moy, has

introduced the DNA Restoring

Mask. This research based

treatment works to instantly

refresh the skin without any

irritation, utilising the power of

DNA Repair Enzymes and Vitamins

E and C.

It delivers instant hydration,

to improve the texture and

appearance of skin, minimising

fine lines with DNA Repair

Enzymes and Vitamins E and C for

sun damage protection and repair.

Formulated to help reduce the

toll nature takes on your skin

for an instantly refreshed and

healthy looking appearance,

it helps boost cellular renewal

for an instant glow. It also helps

reduce sun damage with DNA

Repair Enzymes delivered through

liposomes to deeply penetrate the

skin.

Size: 60ml jar RRP: $89

ryan reynolds, the new

faCe of armanI Code

fragranCe

Giorgio Armani beauty has

announced Ryan Reynolds as

the new face of its Armani Code

fragrances. The new Armani Code

campaign starring the Canadian

actor and producer will be

released worldwide in Feb 2019.

"With his status as modern male

figure of self-fulfillment, Ryan

Reynolds perfectly embodies the

modern sensuality of the Armani

Code man: someone with charisma,

authenticity, an effortless style, and

the right dose of irony", said Mr.

Giorgio Armani.

Originally introduced in 2004,

Armani Code is the modern

embodiment of self-fulfilment and

personality, of a man who effortlessly

masters the art of seduction. The

fragrance ranks in the top 10 of

men's fragrances worldwide.
---
@cosbeauty

Beauty knows no gender

Chanel has borrowed the best

from the beauty world to create a

new line of makeup for men. Three

imperceptible, easy-to-use products

in midnight blue packaging to

create the look of even skin,

defined brows and smooth lips.We

say, 'go for it', guys!

www.cosbeauty.com.au 13
---
@cosbeauty
---
@cosbeauty

The most-requested UK makeup

looks of 2018

According to premiumnews.com, Kylie

Jenner is so famous for her plump pout

that the makeup mogul's signature

pillowy lips were apparently the mostrequested

beauty look of 2018. This

comes from research by the service

platform Bark.com, which interviewed

2,000 makeup artists, stylists and

beauticians to determine the top 10

requested beauty looks of the year in

the UK. Jenner's over-lined lips were

the beauty asset that clients coveted

most in 2018.

While Jenner's lips are famously due

in part to cosmetic fillers, the second

most-requested look of the year was

at the opposite end of the scale.

The natural makeup look sported by

Meghan Markle, the Duchess of Sussex,

was in high demand across the UK,

with clients seeking to emulate her soft

smokey eye shadow and nude pink lip.

The third most-popular beauty look

was Kim Kardashian's extreme contour

look, followed by supermodel Cara

Delevingne's statement full eyebrows.

Ariana Grande's signature winged

eyeliner, comprising a cute flick drawn

on with liquid liner, was named the fifth

most-requested look.

Multiple event-specific looks also

featured in the top 10, from Beyonce's

Coachella makeup to the Gothic-esque

products worn by Lily Collins at the

MET Gala in May. Bella Hadid, Rihanna

and Taylor Swift rounded out the list.

According to the survey, 75% of UK

beauty clients request a specific

celebrity look from their makeup artist,

but this comes as no surprise to Bark.

com co-founder Kai Feller, who said:

"Considering the popularity of these

celebrities, it's no surprise to see many

of them on the list. The influence of

celebrity culture on the cosmetics

industry is huge."

Source: premiumbeautynews.com

www.cosbeauty.com.au 15
---
'Pour yourself

a drink, put

on some

lipstick and

pull yourself

together.'

Elizabeth Taylor
---
'I believe in

manicures,

I believe in

overdressing.

I believe in

primping at

leisure and

wearing

lipstick.'

Audrey Hepburn
---
'Beauty, to me,

is about being

comfortable

in your own

skin. That, or a

kick-ass lipstick.'

Gwyneth Paltrow
---
Anna Magnani
---
'Live your

eyeliner,

breathe

your lipstick

and kill for

each other.'

Lady Gaga
---
eauty
---
Summer

skin

S S

Post-summer skin survival tactics

to target dehydration, pigmentation

and premature ageing.

Too much fun in the sun may have fast tracked your path to fine

lines and wrinkles, pigmentation, and dry, blotchy skin. Get your

skin back on track and help reverse signs of sun damage with active

skincare to replenish, rehydrate and promote healthy skin turnover.

Caring for your skin and preventing premature ageing is not a wash-andgo

approach; it should be tailored to your skin type and the skin concerns

you wish to address.

A serious skin routine incorporates a variety of layering strategies and

techniques to diminish fine lines and wrinkles, fade pigmentation and age

spots, firm skin, minimise uneven skin tone, and improve breakouts.

A few extra minutes every day spent with your skin rejuvenation products

will turn a basic skincare routine into a serious skincare regime that will

comprehensively address an array of skin issues – particularly needed after a

long hot summer.

www.cosbeauty.com.au 25
---
cleansing

beauty

Cleansing should be your first

beauty ritual every morning.

choose a simple, gentle cleansing

product that will effectively remove

dirt and makeup. maintaining the

evening cleansing step is the most

important of them all to wash away

the day's wear and tear on the face.

there are cleansers for every skin

type. if you're prone to blocked

pores, use gel formulations. For

delicate skin, use milky products

and for dry skin, cream products

work best. try something with

glycolic acid or aha to complement

an anti-ageing skincare regimen.

cleansers are also instrumental

for optimum absorption of

moisturisers and serums.

1.

2.

3.

1. Murad redness therapy

sensitive soothing gel cleanser

200ml, $44, 2. Organic Nation

rosemarymint Body cleanser with

aloe and superberries 350ml,

$42, 3. Medik8 micellar mousse

150ml $49, 4. DNa renewal

dna Foaming gel cleanser, $39,

5. Murad aha/Bha exfoliating

cleanser 200ml, $62, 6. Corbin RD

restorative cleanser Balm 50g,

$49.95 7. aspect Dr aha/

Bha cleanser 240ml, $66.

4.

5.

6.

7.
---
www.cosbeauty.com.au 27
---
moisturisers

beauty

Give your skin the fuel it needs to

ignite and sustain the rejuvenation

process. Look for products containing

hyaluronic acid (HA), antioxidants,

vitamin complexes, alpha hydroxy

acids (AHAs) and peptides to

really deliver results and reduce

signs of ageing.

HA (also found naturally in the

skin) is a standout ingredient in many

anti-ageing products due to its ability

to attract and bind water, locking

moisture into the skin and binding

collagen with elastin.

Antioxidants help protect skin

by combating free radicals, which

attack healthy skin cells and collagen,

resulting in lines and wrinkles, uneven

skin tone and sensitivity.

Topical vitamins play a huge part

in protecting and repairing skin.

Vitamin C, for example, is an

antioxidant that works to prevent

free radical damage and help

reinforce the skin's own defenses

and prevent long-term damage.

Arguably the most potent topical

is retinol, a derivative of Vitamin A

(retinoic acid), which is widely touted

as 'the' anti-ageing solution. Retinoids

encourage better cell function and

turnover, stimulating the dermis and

helping to boost collagen and elastin

production and improve fine lines

and wrinkles, skin texture, skin

tone and colour, and your skin's

hydration levels.

Peptides are known for their

rejuvenation and repair properties,

such as copper or hexapeptides, so

they come highly recommended.

Some active skincare may initially

induce mild irritation, so it is best to

build up gradually as your skin gets

used to treatment. Find a different

skin rejuvenating moisturiser for day

and for night that work well in synergy.

And don't forget to moisturise your

neck and décolleté as well – this area

is one of the first to show signs of sun

damage and age.
---
& serums

1.

17.

16.

10.

5.

11. 12.

2.

6.

13.

3.

14.

20.

15.

21.

22.

4.

7.

8.

9.

1. alpha-H daily essential

moisturiser sPF 30+ 50ml, $46.95,

2. dermalogica calm water gel

weightless water-gel moisturizer

50ml, $73, 3. medik8 Balance

moisturiser 50ml & glycolic acid

activator 5ml, $98, 4. Medik8

daily radiance vitamin c 50ml,

$109, 5. Medik8 liquid Peptides

30ml, $98, 6. Medik8 Pore

minimising tonic 100ml, $78, 7.

PCa Skin Perfecting neck and

decolletage cream, $120, 8. ella

baché hydra cationic skin elixir

50ml, $69, 9. La Roche-Posay

lipikar Baume aP+ Body Balm

200ml, $24.95, 10. asap super c

serum 30ml, $89, 11. ella baché

hydra Jelly moisture shot 50ml,

$89, 12. environ Body dermalac

lotion, $79.99, 13. alpha-H

vitamin c 25ml 25ml, $69.95,

14. mesoestetic glycolic + e +

F ampoules 10 x 2ml, $118, 15.

SkinCeuticals a.g.e. interrupter

50ml, $225, 16. Cosmedix simply

Brilliant 30ml, $105,17. aspect

Pigment Punch 30ml, $130,18.

ultraCeuticals ultra retexturising

Body complex 250ml, $89,19.

SkinCeuticals advanced

Pigment corrector 30ml, $130.64,

20. asap super B complex

30ml, $95, 21.ultraCeuticals

Ultra Smoothing Pore Refiner

50ml,$115, 22. Skeyndor eternal

cream antiage 50ml, $154.95

19.

18.

www.cosbeauty.com.au 29
---
exfoliants, peels

4.

beauty

removing old skin cells that

collect on the surface of the skin

encourages the growth of new cells,

revitalising your skin. When you

exfoliate, you remove dead surface

cells that contribute to dryness and

oil that can cause blocked pores and

problems like acne.

you can choose to use a

mechanical exfoliation method,

which is a granular scrub style,

or a chemical/enzyme exfoliant

incorporating alpha hydroxy or beta

hydroxy acid, or vitamin a (retinol,

tretinoin and retinyl palmitate).

scrubs treat the surface of the

skin and help unclog pores, while

exfoliants remove surface cell

debris and leave skin fresher and

looking brighter.

skin peels are another way to

more deeply achieve the removal

of the older, outermost layer of

skin, which stimulates new skin cell

growth. common types contain

lactic acid and glycolic acid. lactic

acid is an alpha hydroxy acid that

occurs naturally in our bodies and

helps stimulate the production of

collagen and elastin in the dermal

layer. it is also a humectant, which

attracts water molecules in the skin

to the surface, giving a plumper

appearance. a glycolic peel contains

a higher potency of alpha hydroxy

acid. low-concentration lactic or

glycolic peels are available as athome

treatments.

using a facial mask can soothe

and nourish skin, oxygenate,

improve the circulation, help clear

up blemishes and discolouration

and even reduce the appearance of

fine lines and wrinkles. The benefits

of masks are often underestimated,

but they can give the complexion a

real boost. generally, they should be

used weekly after exfoliating. CbM

6.

2.

8.

1.

7.

3.

10. 11. 13.

17.

5.

14.

9.

18.

15.

16.

19.
---
& masks

1. DNa Renewal DNA Restoring Mask 60ml, $89, 2. C Lab

& Co Coffee Body Scrub with Coconut Tub 330g, $24.95,

3. aLPHa-H Micro Cleanse Super Scrub, 100ml, $49.95,

4. Organic Nation Black Rice Scrub, 150ml, $53, 5. Genie

Exfoliate 3 Triple Action Microdermabrasion Exfoliant Face

Scrub, $40, 6. Dermalogica daily microfoliant 74g, $84,

7. ultraceuticals Ultra Dual Microfoliant 75ml, $79,

8. aspect exfoliating clay m 118ml, $59, 9. asap Revitalising

Bodyscrub 200ml, $45, 10. Skinbetter Science Detoxifying

Scrub Mask 60ml, $55, 11. Skeyndor Derma Peel PRO

Resurfacing Peel Cream 50ml, $119, 13. mesoestetic

brightening peel booster 50ml, $114, 14. asap daily

exfoliating facial scrub 200ml, $49, 15. Société Superfruit

Enzyme 59ml, $69, 16. environ Tri Bio-Botanical Revival

Masque 50 ml, $110, 17. Murad Hydro-Glow Aqua Peel,

4 Single-use Treatments, $68, 18. Frank body Express-O

Scrub 250ml, $19.95, 19. milk & Co, Body Scrub 375ml,

$16.95, 20. Skeyndor MyMask Fresh Sorbet, mineralising

and moisturising mask 50ml, $67, 21. Medik8 Activated

Charcoal Refining Mask Starter Kit, $78.00, 22. Cosmedix

Pure Enzymes Exfoliating Mask, $80.

21.

20.

22.

www.cosbeauty.com.au 31
---
Skin

Out

Damned

Spot

For best results, sometimes

pigmentation spots need to

be treated professionally

and cosmelan ® is the

treatment of choice for

clinicians Australia-wide.

Developed by mesoestetic ® and

distributed in Australia by

Advanced Cosmeceuticals,

cosmelan ® is a one-off treatment that not

only helps visibly reduce dark spots, it

also restores radiance and luminosity to

the skin while equalising skin tone. The

treatment works by helping to decrease

the skin's melanin production.

cosmelan ® is a new-generation

depigmentation treatment that finally

offers clinically proven results in all types

of pigmentation, including melasma.

Melasma is a common skin problem
---
that can cause brown, blotchy patches

of discoloured skin to appear, usually

across the face, and is exacerbated

by exposure to the sun. Although

it affects such a high proportion of

Australians, especially women, it is

extremely difficult to treat.

However, cosmelan ® is a gamechanger

and has an impressive

clearance rate, helping to reduce age

spots by up to 95% in nearly all cases.

The treatments are suitable for all

Fitzpatrick skin types and can be used

all year around.

And it gets better – cosmelan ® has a

dual action. It has a short-term action

to improve the appearance of superficial

pigmentation via chemical exfoliation

and it has a longer term action which

gives it an advantage over other

products, in that its ingredients actually

help to reduce melanin production.

Although you need to prepare

yourself for some downtime, if you're

a lifelong pigmentation sufferer, you

will know the possibility of having

smooth and clear skin far outweighs

the short downtime.

What to

expect

The cosmelan ® treatment consists

of two phases and it is imperative

both be used according to

the directions to achieve

complete success.

Phase 1 – in the clinic

The cosmelan ® 1 mask is applied

in the clinic and left on the skin

for a period of time which is

determined by the professional

according to your skin colour

and type. This is usually around

8-12 hours.

Phase 2 – home maintenance

The mask is removed at home

and followed by an application

of melan recovery. cosmelan ®

2 maintenance cream is applied

at home according to the

recommended protocol of the

professional. The objective of

this highly effective maintenance

cream is to help the continued

brightening of the complexion,

while restoring luminosity.

Follow daily with melan recovery

and hydrating moisturiser with

sun protection.

Peeling of the treated skin

begins in approximately 48-72

hours and lasts about three

days. hydra-vital factor k is

provided for multiple applications

during the day and night. Follow

up is in 7-10 days and the

cosmelan ® home maintenance

program must be adhered to for

effective results.

www.cosbeauty.com.au 31
---
Skin

Kojic acid

Topicals to treat melasma usually

incorporate inhibitors of tyrosinase,

a key enzyme in melanin production

within the melanocyte. Until now,

these products have usually been

associated with adverse side effects and

a long-haul to real results.

cosmelan ® uses kojic acid (KA),

which is a natural chelation agent

and tyrosinase inhibitor produced by

several species of fungi.

A report by Jean Levy and Frederic

Pons et al., conducted at the Centre

Laser Dermatologique in France,

explains the benefits of KA in the

cosmelan ® treatment line.

'It is well established that tyrosinase

is a key enzyme in the synthesis of

melanin,' the report states. 'Depicted

as a natural approach to skin

depigmentation, cosmelan ® features

KA, which is extremely stable in

solution and retains its potency

over time.'

This KA complex is partnered

with a high antioxidant vitamin

complex, which can help the skin

look rejuvenated and renewed, and

diminish the appearance of age spots

and pigmentation.

A vegetable extract complex is

used to hydrate and soothe the skin.

Notably, cosmelan ® also includes an

exfoliating agent to help accelerate

the natural renewal of the skin's

upper layers and further reduce the

appearance of age spots.

WHERE

TO GET IT

cosmelan is available at select

skin clinics across Australia.

For stockists, visit www.

advancedcosmeceuticals.com.au

or call 1800 242 011

Patients

shown to

endure side

effects for

improved

results

A study, published in the Journal of

Cosmetic Dermatology, enrolled 22

women with melasma into a splitfaced

trial lasting four months.

The aim was to compare the

effects of cosmelan ® with another

depigmentation product on

the market.

The study found cosmelan ® to

be more effective in reducing the

appearance of pigmentation and,

even though some participants

experienced mild irritation following

use, they preferred the efficacy of

cosmelan ® to the alternative.

With documented results, the

cosmelan ® Professional Treatment

affords an effective and fast track

solution to the clearance of melasma

pigmentation. The accessibility and

usability of the treatment means

patients are likely to adhere to the

regimen, without experiencing

any disruption to their social and

professional lives. Most importantly,

the clinical results show great promise

for the management of melasma, in

even the most resistant of individuals.
---
world's leading professional

depigmentation method

cosmelan ® is a professional, topical skin brightening treatment that

helps to visibly reduce and eliminate dark spots and blemishes caused

by excess melanin in the skin. It's cutting edge formula has been

After

designed to achieve DNARenewal: maximum efficacy, THE while FOUNDER it helps to balance skin

Before

tone and increase skin Dr. Ronald luminosity. L. Moy, The renowned cosmelan scientist, ® application researcher, acts on dermatologist, and cosmetic surgeon,

the cells that are responsible has dedicated for his skin life's pigmentation, work to understanding helping to the reduce impact of photo damage on skin's health and aging.

melanin production Today, in hyperpigmented DNARenewal marks areas the and culmination thereby helping of his passion to to create a clinically proven regimen that

remove or lighten unsightly effectively blemishes helps repair and photodamaged spots. aging skin.
---
Skin

feature

that

glows

Our skin is often the first thing

others notice about us. here are

our tips for a radiant complexion

at any age.

Effected by the lifestyle we lead,

the foods we eat, the products

we use and the vitamins we

consume, our skin, and the way

it ages, is an amazingly complex

phenomenon. External factors work

alongside genetics, ethnicity and

other intrinsic processes to map our

path to skin ageing. And while there

is little we can do to halt the hands of

time from leaving their mark on our

skin, there is plenty we can do to limit

the damage being done by the choices

we make on a day-to-day basis.

Spanning from the active cells of

the dermis to the dead cells of the

stratum corneum (the outermost

layer of the epidermis), the skin

serves to protect the body and acts

as an exchange system for water and

waste. Skin cells are produced by

stem cells in the dermis and, from

here, move up through the layers of

the epidermis before they are shed

from the stratum corneum. As we

age this process of skin cell renewal

slows down, meaning the skin's

integrity, texture and resilience are

slowly impaired. Also in the dermis

lie interlinked collagen and elastin

fibres, the skin's support structure

and the key to a youthful facial

contour. Again, these fibres lose

strength with age, causing wrinkles

to form, elasticity to deteriorate and

firmness to fade.

While these ageing processes are

somewhat inevitable, a number

of external factors contribute to

their onset and development. Sun

exposure, diet and lifestyle all impact

the speed of skin cell renewal and

the integrity of support structures in

the dermis.
---
UV damage

In a country as sun-drenched as Australia,

the skin is unavoidably battered by some

degree of ultraviolet (UV) radiation.

With profound effects on skin health,

sun damage has been deemed responsible

for up to 90 percent of visible signs of skin

ageing and impacts the entire spectrum

of skin processes. It is difficult to tell just

how much damage is occurring during

sun exposure, as the radiation responsible

for photoageing is different to that which

causes sunburn. While excessive UVB

exposure induces burning, blisters and

discomfort, UVA radiation penetrates

the skin unnoticed, reaping havoc on

the cells, vessels and support structures

of the dermis.

Working to compound, accelerate

and trigger intrinsic signs of ageing,

UV damage alters molecular processes

to gradually transform fine lines into

deep wrinkles, a smooth complexion

into a think, leathery texture and mild

pigmentation into harsh, irregular sun

spots. According to Siddharth Mukherjee

et al. in a study published in the journal

of Clinical Interventions in Aging,

severe photodamage morphs the dermis

into a "massive quantity of thickened,

tangled and degraded elastic fibres."

This phenomenon causes blood vessels

to widen and show on the skin's surface,

atrophying the skin and collapsing its

support structures.

While prevention is always preferable,

reversing some signs of UV damage

is achievable. An antioxidant-fuelled

skincare regime can slow the process of

pigmentation arising, certain skincare

products can prohibit melanin generation

and some treatments can lighten the

skin, reducing the appearance of existing

pigmentation on the surface. Zinc fortified

cosmetics provide enhanced protection

against the sun's harmful rays, preventing

further damage from occurring.

www.cosbeauty.com.au 35
---
feature

diet

The way we nourish our bodies,

satisfy our cravings and sate our taste

buds manifests itself on the skin in a

surprisingly direct fashion. Though

we often adjust our diet to slim the

waist or fl atten the stomach, we

don't always think of the impact

such dietary decisions are having

on our skin. For example, skin cell

membranes, which are comprised

of fatty molecules, or lipids, are

responsible for protecting the cell,

absorbing nutrients and eliminating

wastes. The integrity of this lipid

membrane is dependant on the

availability of essential fatty acids,

which the body cannot produce

independently. Because of this, those

following extremely low fat diets

will often exhibit compromised skin

barriers, due to a lack of essential

fatty acids and a weakening of cell

membranes. Alternatively, a diet

high in Omega 3 and 6 will work to

refi ne and strengthen epidermal skin

cells, enhancing the skin's protective

barrier and increasing water and

nutrient retention.

Omegas aside, not all fats benefi t

the skin. An excess of unhealthy

fats will induce a heightened sebum

production and disrupt the skin's

acid mantel – or the water/oil barrier

across the skin's surface. Similarly,

highly acidic diets will cause your

body to excrete excess acid via the

epidermis, sometimes triggering

conditions such as psoriasis, eczema

or adult acne.

Finally, bad news for those with

a sweet tooth; excess blood sugar

molecules bombard the collagen and

elastin fi bres in the skin, causing the

proteins to become hard and brittle.

Too much sweet indulgence will

deteriorate the skin's elasticity and

resilience, resulting in a 'criss-crossed'

wrinkle formation around the chin

and eye area – a condition known as

glycation. Anti-glycation agents can

be found in certain cosmetics, while

balancing your diet with nutrient-rich

vegetables and red meat will soften

the glucose effect.

stress, sleeP,

smoKing and

exerCise

Triggering the release of the hormone

cortisol, stress takes a toll upon every

aspect of the body, skin included.

Maintained levels of stress, whether

it's induced mentally or physically–

for example diffi culty sleeping – will

result in an overload of cortisol in

the system. Produced by the adrenal

glands, cortisol breaks down collagen

in the skin leading to increased skin

laxity, fi ne lines and dark circles

under the eyes.

Ensuring the standard six to eight

hours of sleep each night will keep

those cortisol levels at bay, while

regular exercise will induce an

increased blood supply to the dermis,

delivering adequate nutrients and

removing excess waste for a healthier

looking complexion.

There is signifi cant research

to suggest smoking increases the

appearance of fi ne lines and wrinkles

in the skin. By reducing the capillary

and arteriolar blood fl ow to the skin,

smoking leaves the skin starved of

oxygen and nutrients, while also

damaging the connective tissue fi bres

in the dermis.

Our lifestyle can directly manifest

itself upon our complexion. By

moderating external ageing factors

in fi lling your diet with nutrients,

exercising regularly and using sun

protection, those inevitable intrinsic

ageing factors will be slower to

appear. Whether used alongside

cosmetic interventions or not, a

holistic approach to anti-ageing will

leave your skin healthier, fi rmer and

more youthful for longer. csbm
---
6

WaYS tO GEt

younger looking skin

Modern skincare products are formulated with potent active ingredients to work magic

on your complexion. While selecting the products to include in your beauty arsenal,

there are many important ingredients to look for.

The following are the critical and most vital ingredients to any anti-ageing product.

1.

sunsCreens

Sunscreens are an integral part of any anti-ageing regime. They

are, fi rst and foremost, products to help prevent extrinsic ageing

of the skin. Ensure any sunscreen has physical and chemical

blockers plus antioxidants. While not perfect, these sun care

products are the best we have at the moment.

2.

antioxidants

Antioxidants are nature's magic

bullets, protecting our bodies against

the chemical reaction responsible

for the free radicals that are one of

the key mechanisms in ageing. Free

radicals are by-products of normal

cell activity but they also occur as

a result of exposure to pollutants

and sunlight. They are extremely

destructive, damaging cell structures

and contributing to degenerative

illnesses such as heart and liver

disease and cancer.

Antioxidants can break the chain

reactions triggered by the production

of free radicals. The good news is

that they are freely available because

most benefi cial antioxidants occur

in foods we eat. These include

Vitamins A, C and E, carotenoids

such as betacarotene, some minerals,

phenolic compounds and other

naturally occurring chemicals with

antioxidant properties.

Antioxidants help prevent tissue

damage that could potentially lead

to ageing and disease. They are

important in photo-damage repair

and protection.

Antioxidants are increasingly being

included in skincare products, but

there are a number of factors that

infl uence their effectiveness in topical

form. These include the chemical

makeup of the antioxidant, what

it is combined with and how it is

delivered in the product formulation.

www.cosbeauty.com.au 37
---
4.

feature

3.

Vitamin A

Most skin health professionals

will agree that Vitamin A is the

single-most important ingredient

to prevent, restore, normalise and

help repair damaged skin. Since our

body does not make Vitamin A, our

skin becomes deficient over time.

For that reason, Vitamin A is a very

important and necessary ingredient

in all quality anti-ageing product

lines. However, in its acid form it

may cause redness and irritation. It

can also cause a thinning of the skin,

which is not a good thing. There

are now effective forms of Vitamin

A that are less damaging. Look for

retinal palmitate, acetate and retinol.

The sun depletes the skin of

Vitamin A and this is one of the

reasons those who super-expose their

skin to sun damage age faster than

those who do not.

Vitamin C

Vitamin C repairs and rejuvenates

the skin. It helps to prevent

hyperpigmentation by slowing the

production of melanin. Vitamin C is a

normal component in the skin, but is

utilised first for other bodily functions,

so the skin is vulnerable for deficiency.

We should include it in our diet, in

supplements and in topical products.

The problem is that the longproven,

most effective form is ascorbic

acid, which quickly degenerates with

exposure to air and light. Ascorbic

acid is recommended for maximum

delivery of fresh, high-potent Vitamin

C. To do so, the delivery and storage

of the product is all-important; a

'mix-before-use' product is typically

preferred. Vitamin C is also now

available in effective fat-soluble forms

(eg, Magnesium Ascorbyl Phosphate

and Ascorbyl Tetraisopalmltate),

which work well and remain stable and

efficacious for longer.
---
5.

Exfoliants

Exfoliants are believed by many to be

a necessary component to maintain

the health of the skin. The outer

layer of the skin must be thick and

compact, an important protection

against the environment, and it

best exfoliates naturally. On the

other hand, not exfoliating prevents

maximum penetration of ingredients

and can create a skin that is dull with

poor texture and older in appearance.

The best policy is a compromise of

mild resurfacing. Remember, as with

most things in life, less is more to

remove excess dead cells.

6.

Peptides

Peptides are one of the newer

ingredient groups to hit the antiageing

skincare scene, and many

studies have shown significant results.

But for many skin scientists the jury is

still out on just how effective they are

as an anti-ageing product.

That being said, peptides are highly

respected for their ability to penetrate

the skin and activate their target –

increasing the production of collagen

and elastin. Peptides have been

shown to 'turn on' the fibroblasts,

which are essential for building

and repairing the skin and a basic

requirement for anti-ageing success.

Results are cumulative and it can take

three to four months of twice-daily

use for a good skincare product to

show results.

The anti-ageing attack is focused

on a brigade of reliable and stable

formulations of established and

trusted ingredients. The ones

mentioned above are synergistic

troops in the battle, and their

effectiveness has a long history of

studies and proof that they do assist

in the maintenance of healthy and

beautiful skin. CBM

www.cosbeauty.com.au 39
---
Skin

The Pinnacle

of Skin

Rejuvenation

Medik8's most powerful

anti-ageing technology,

r-Retinoate Intense is a

masterpiece of simplicity.

The fight against ageing is

starting younger and younger

with research showing one

in five young women stress about

wrinkles before they've even reached

their mid-twenties.

It's never too early to start looking

after your skin and r-Retinoate Intense

is a revolutionary complex of the

most powerful Vitamin As - crystal

stabilised retinaldehyde joins forces

with breakthrough retinyl retinoate

- for the ultimate Vitamin A power.

Never before have these two legendary

molecules been combined and never

before have such profound visible

results been attainable at home.

Vitamin A is arguably the most

renowned ingredient in cosmeceuticals

for it's ability to help reduce the

first signs of skin ageing. Retinol

rejuvenates the appearance of the skin,

helping it to look smoother, refined

and plumper. It helps promote cell

turnover to diminish the appearance of

fine lines, wrinkles, uneven skin tone,

and blemishes.

The new r-Retinoate Intense is

eight times stronger than retinol and

eleven times faster acting. In as little

as four weeks, it visibly reduces the

appearance of fine lines and wrinkles

and radiance reaches unprecedented

levels of luminosity. Suitable for all

skin types and designed for use only

at night, it has been formulated into

a cashmere-soft moisturising night

cream centred around a suite of skin
---
youthful-looking skin.

inGREDiEnTS

Polymer-Encapsulated Retinyl

Retinoate – eight times more

powerful than retinol and stable

both day and night, this nextgeneration

vitamin A helps defy

signs of premature ageing.

Crystal-Encapsulated

Retinaldehyde – one step closer

to retinoic acid than retinol,

retinaldehyde delivers results

up to eleven times faster than

retinol, while maintaining its

kindness to the skin. Retinal also

has antibacterial properties,

which crown it as the best

Vitamin A for blemish prone skin.

Smart Hydration Reservoir

– a complex of multi-weight

hyaluronic acid, nourishing

squalane and humectant

glycerin, which delivers multilevel

hydration that adapts to your

skin's needs throughout

the night.

Vitamin E – an oil-soluble

antioxidant, Vitamin E can

quench free radicals on the skin

while stabilising retinaldehyde for

optimal power.

Ceramide Complex – a cocktail

of ceramides, which are almost

'skin identical', allowing them to

easily nourish the skin.

Drone-Targeted Copper

Peptide – directed like a drone to

skin's deeper layers for optimum

results, the peptide is released

over time, promoting plumper,

more youthful-looking skin.

Organic Carrot Seed Oil –

providing a soft, apricot hue to

the luxurious cream, carrot seed

oil makes up part of a unique,

patent pending stability system,

which preserves the potency of

r-Retinoate Intense.

optimised ceramides and dronetargeted

peptides.

r-Retinoate Intense is infused with

the sweetest notes of Madagascan

vanilla, expertly paired with soft

citrus aromas to promote the perfect

night's rest. Applied before bed,

means upon waking your skin

feels revitalised, rejuvenated and

undeniably youthful-looking.

The science behind the product has

been ten years in the making and the

formulation contains three patented

and patent pending discoveries with a

revolutionary blend of retinyl retinoate

and crystal-stabilised retinaldehyde.

This powerful combination enables

you to experience the pure power

of transformation in as little as four

weeks. The r-Retinoate Intense

contains an ingenious 'drone-targeted'

delivery system – directed like a

drone to 'drill' down deeper than is

usually possible to deliver the actives

to skin's deeper layers for plumper,

more youthful looking, radiant skin.

PRECAUTiOnS

Sunscreen must be worn during the

day when incorporating Vitamin A

into your routine.

Consult your GP if you are

breastfeeding or pregnant before using

Vitamin A.

Consult your GP if you are

taking any acne medication and/

or are receiving any sort of peeling

treatment. CBM

WHERE

TO GET IT

r-retinoate intense is available

at select skin clinics across

australia. for stockists,

visit www.medik8.com.au

or call 1800 242 011

www.cosbeauty.com.au 41
---
BEAUTY

home spa

AMBIENCE

BEING POSITIVE ABOUT

OURSELVES INCLUDES SELF

CARE AND LOOKING AFTER

OUR SKIN – NOT JUST TO

LOOK OUR BEST, BUT FOR

SURVIVAL.

The overwhelming responses to what

factors women consider most contribute

to a home spa ambience are the presence

of beautiful candles, a soothing fragrance and soft

relaxing music.

If you are stressed out and tired, but can't seem

to find the time to unwind, you are not alone.

Many Australians also go through this, especially

women. There is nothing more enjoyable than

a day spent at the spa; so when a spa experience

doesn't quite fit into your schedule - or your

budget - there are plenty of easy ways you can

recreate a relaxing spa-like experience in the

comfort of your own home.

Creating a soothing ambiance for it is top of

the list. With a home spa, you can relax any time

that best suits you, whether you just got home

from work or it's your day off. Having one will

also help you save money and time in traveling to

spas.

Taking care of yourself is something you

shouldn't take for granted. So get to it and create

an amazing spa ambience at home. And don't

forget how important it is to unplug your laptop

and turn off your mobile.
---
1.

3.

2.

4.

1. SALT By Hendrix Coconut

Candle That Love, $39.95

2. Ginger and Me Be Grateful: White

Candle, Natural Coconut, $54.95

3. The Body Shop Mango

Exfoliating Sugar Body Scrub, $29

4. endota spa Essential Oil Diffuser, $80

5. endota spa Mini Ceramic

Mood Lamp, $60

6. The Body Shop Spa of the World

Ethiopian Green Coffee Cream $53

7. Pure Fiji Aroma Diffuser available

in Coconut, Coconut Lime Blossom,

Mango or Guava, $29.95.

8. T2 Beauty Queen Loose Leave

Green Tea With Botanicals, $18

9. endota spa Essential Oil Burner, $30

10. Arbonne Rescue & Renew Pure

Essential Oil – Lavender, RRP $35

5.

6. 7.

8.

9. 10.

www.cosbeauty.com.au 43
---
eauty
---
tOOLS

of the

TRADE

DO YOURSELF A

FAVOUR AND BRUSH

UP ON SOME OF

THE BEST BEAUTY

TOOLS AROUND.

No matter what the industry,

everyone relies upon specialised

tools of the trade to complete

their work. From dentists to mechanics,

neurosurgeons to musicians, or

carpenters to plumbers, everybody who

is serious about quality outcomes needs

their tools of choice. The beauty industry

is no exception.

evo Hank 43,

ceramic radial brush,

$36.95,

evo Tyler, teasing

brush, $30,

evo Bruce 22, bristle

radial brush, $40

www.cosbeauty.com.au 45
---
eauty

Jane Iredale Kabuki

brush, $80, Blending/

Contouring brush,

$62 and The Handi

Brush, $71

nude by nature

Essential collection

brush set, $39.95

MaKe uP bRuSHeS

These are essential beauty tools

as they can make a massive

difference to how things blend,

the precision of application

and the shapes or styles we can

achieve with our make up.

In fact, having the right make-up

brushes can make the difference

between magnifi cent and

mediocre. They can also be a

godsend if there is something we

fi nd trickier to do, such as work

accurately on a precise lip line, or

winged eye.

It is important to have a

selection of good quality brushes

at your fi ngertips, whenever or

wherever you need the expertise

or extra help.
---
HaIR bRuSHeS

It isn't long ago that 100 strokes

of the brush each night before

bed was thought to give beautiful

shiny hair. While that's now

considered excessive, brushing

remains an important part of

grooming and, and is good for

healthy hair in moderation.

Too much or too vigorous brushing

can lead to or exacerbate hair loss.

Gentle brushing makes hair shine

by fl attening the cuticles (the outer

layer of the hair shaft), which makes

the hairs more refl ective. Styling

with a special brush can also add

volume to fl at hair.

Brushing also cleans the hair

and scalp, removing old hair, dead

skin cells, chemical products and

other deposits.

The sebaceous glands produce

sebum, a protective oil and natural

conditioner, and brushing stimulates

these glands and distributes sebum

from the base of the hair along the

shaft. This makes hair stronger,

more resilient, less dry, smoother

and shinier.

If you have straight or wavy hair,

you should never brush your hair

while it's wet. Wet hair is weak,

elastic and vulnerable to breakage.

It's also not recommended to tousle

your hair with a towel – this is too

rough and tangles the hair. Instead,

slowly wring out your hair, using your

hands. Then air-dry, or wrap your hair

in a towel. Wait until it's almost dry

before styling it.

On the other hand, if you have

curly or textured hair, you shouldn't

brush when it's dry as this will create

frizz. Curly hair isn't as weakened by

moisture and can be untangled and

styled while damp, using a brush,

comb or fi ngers.

These days, hair brushes come in

a bewildering variety of shapes and

sizes, so ask your hairdresser for advice

in choosing. A paddle brush is a

wide, fl at brush that detangles and

smooths most hair types, while roundbarrel

brushes are used for styling hair.

These are our pick of some of the

best tools of the trade around.CbM

beautyblender

Original, $30

asap pure Sculpt + Blend

Brush Set, $165

www.cosbeauty.com.au

47
---
BEAUTY

POST-SUMMEr

Hair

WHILE THERE'S SO MUCH TO

LOVE ABOUT SUMMER – LONG LAZY

DAYS IN THE SUN, DIPS IN THE POOL,

TIME AT THE BEACH – IT CAN ALL

TAKE ITS TOLL ON OUR HAIR.

The unrelenting summer sunshine, chlorine and salt water can

have us looking like Medusa before we know it, if we don't

take steps to look after our locks. From frizziness to breakage,

dryness to split ends, a little extra care can go a long way to keeping

our crowning glory in tiptop condition.

Chlorine can make blonde hair bright green, while even red heads

and brunettes might notice a khaki tinge. Make sure you rinse your

hair straight after pool time and, if hair already has a green tinge,

use a deep cleansing shampoo to help remove mineral deposits, and

follow with conditioner.

Sun exposure and swimming can cause hair to dry out and become

dull, so use a deep conditioning treatment weekly to stop the problem

before it starts.

Sunburn and dehydration can cause a dry, fl aky scalp, so remember

to wear a hat in the sun. Keep your scalp hydrated by drinking

plenty of water. Treatments for dry scalp include oils and medicated

shampoos if the fl akiness continues.

Your hair probably seems frizzier now then it did when summer

started. Frizzy hair responds well to moisturising hair products,

so it's important for you to incorporate a hydrating shampoo and

conditioner into your hair care routine. After you rinse your hair,

how you dry it is also essential. When using a blow dryer or fl atirons,

make sure you use a cool setting, since heat can exacerbate frizzy hair.

These products are our go-tos when making sure our hair condition

isn't a casualty of our summer fun. CBM

REPAIR
---
www.cosbeauty.com.au 49
---
1. Moroccanoil Protect &

Prevent Spray, 160ml, $30

BEAUTY

2. Moroccanoil Color

Continue Shampoo, 250ml, $26

3. Moroccanoil Color

Continue Conditioner, 250ml, $27

4. DAVINES MELU Hair

Shield, 250ml, $41.95

1.

2.

3.

5. DAVINES Oi Oil, 135ml, $65.95

6. OLAPLEX No.4 Bond

Maintenance Shampoo,

250ml, $49.95

7. OLAPLEX No.5 Bond

Maintenance Conditioner

250ml, $49.95

8. OLAPLEX No.3 Hair Perfector

treatment, 100ml, $49.95

9. DAVINES NOU NOU

Hair Mask, 250ml, $42.95

10. DAVINES Circle Chronicle

Hair Masks, Wake-Up, Purity

& Quick Fix, 50ml, $17.95 each

4.

5.
---
10.

6.

7. 8. 9.

www.cosbeauty.com.au 51
---
Skin

The secret

to a perfect

complexion

Lycogel is the go-to

colour corrective

foundation that

combines flawless

coverage with advanced

skincare technology.

Lycogel has deservedly

developed a cult following and

those in the know use it to

provide that flawless complexion so

coveted by women everywhere. This

is truly a beauty product with benefits,

providing natural-looking buildable

coverage with quality non-irritating

and skin-soothing ingredients.

With 12 shades available, it's easy

to find the perfect colour match for

every skin type and tone, and to

achieve the exact level of coverage

and finish desired.

Ranging from natural-looking

camouflage to a sheer tint, the

products can be used on all skin types,

including sensitive and acne-prone

skin, as well as immediately after laser

treatment or facial surgery, to blend

out skin imperfections and minimise

redness and colour irregularities.
---
Lycogel contains powerful antioxidants

and vitamins and is suitable

for every skin type. Its standout

feature is its breathable base,

which delivers oxygen to the skin.

Originally formulated as a postprocedure

camouflage base, users soon

recognised Lycogel's advantage as a

daily foundation, which delivers even

coverage while providing anti-ageing

benefits to the skin.

Hypoallergenic and noncomedogenic,

Lycogel delivers

moisture and reduces trans-epidermal

water loss, thus preventing the skin

from becoming dehydrated. This

helps to reinforce the skin's natural

defence system, while protecting the

skin barrier.

All products feature the

revolutionary LYCO-Complex, a

carefully balanced formulation of

12 active ingredients, including

hyaluronic acid, antioxidants and

peptides, which work together to

deliver oxygen, moisture, and nutrients

to the skin.

This promotion of skin repair results

in younger looking skin, whilst the

delivery of oxygen soothes the skin,

helping to minimise lines and fine

wrinkles. An added bonus for wearers,

Lycogel also contains a non-chemical

SPF, which offers both UVA and

UVB protection – a daily necessity

for everybody.

Importantly, Lycogel is also suitable

for immediate post-procedure

application, especially after laser

treatments, peels or skin needling.

Loaded with active ingredients, it

aids in the healing of damaged skin,

helping bruising, inflammation,

redness and tightness after cosmetic

procedures, as well as helping to

prevent excessive scar formation. CBM

www.cosbeauty.com.au 53
---
Skin

The

Lycogel

range

BREATHABLE BALM

a clear balm that energises and

protects the skin and is packed

with the benefits of the LYCOcomplex.

contains sPf 15.
---
CULT PRODUCT

Lycogel Breathable Tint provides perfect coverage without that 'heavy'

look and feel. This revolutionary tinted cream is long lasting and water

resistant, making it the perfect base to match any situation – from

minimal coverage for a day at the beach to natural-looking coverage

for dinner with friends or a night out.

The tint is lightweight and absorbs quickly into the skin, providing a

light coverage while still managing to even out any redness in skin, hide

broken capillaries, smaller blemishes and pigmentation. This amazing

product doesn't just offer long-lasting coverage – it also supports the

longer term health of your skin, while providing SPF for daily wear.

BREATHABLE

CAMOUFLAGE

a buildable coverage

featuring an elegant matte

finish. Suitable for everyday

use and for people with

sensitive skin trying to

camouflage eczema,

blemishes, rosacea and

other skin conditions.

Also suitable for immediate

use following cosmetic

procedures. contains sPf 30

and is available in 12 shades

BREATHABLE TinT

a luminous light

coverage that gives

skin a vibrant glow.

contains sPf 30 and is

available in 4 shades.

BREATHABLE COnCEALER

Provides maximum coverage

to effectively reduce the

appearance of imperfections,

age spots and blemishes. it is

ideal for use around the eyes to

cover dark circles, or on specific

areas that require extra coverage

such as birthmarks or scars.

contains sPf 30 and is available

in 3 shades.

WHERE

TO GET IT

Lycogel is available at select

skin clinics across australia. for

stockists, visit www.lycogel.com.au

or call 1800 242 011.

www.cosbeauty.com.au 55
---
BEAUTY

Autumn Trends

Becca Sunlit Bronzer

in Capri Coast, $58

AUTUMN IS

ALL ABOUT

PORCELAIN

SKIN AND

VIXEN LIPS.

CHECK OUT

THESE RUNWAY

TRENDS AND

THE PRODUCTS

YOU NEED

TO RECREATE

THE LOOKS.

Charlotte Tilbury

Hollywood Contour

Wand, $60

Jane Iredale

greatshape

Contour Kit, $84
---
www.cosbeauty.com.au 57
---
Arbonne Sheer

Glow Highlight

Stick, $69

BEAUTY

The Body Shop

Shimmering Dry

Oil Honey, $33

ALL THAT GLITTERS

Runways: Giambattista Valli,

Maison Margiela, Versace

Summer has been ablaze with

illuminators and pearly powders and

this trend shows no sign of stopping

through autumn.

HOW?

Make sure the glitter has staying

power and doesn't spread to

unwanted areas, by applying base

makeup before the glitter and finish

with a setting product afterwards.

asap Pure

Mineral

Bronzer, $40

Charlotte Tilbury

Luxury Palette ,The

Vintage Vamp, $80

THE WIDE EYE

Runways: Fendi, Versace, Tommy

Hilfiger

As the temperature starts to fall and

the days get shorter, it's time to give

your eyes a little wake-up call.

HOW?

A touch of white eye shadow in the

inner corner of the eye. Just use a

small brush or the pointed end of

a sponge to apply the eye shadow,

then blur it in slightly.
---
FENTY BEAUTY

Gloss Bomb Universal Lip

Luminizer in Fussy, $30

SOFT GLOSS

Runways: Versace, Custo

Barcelona, Moschino, Miu Miu,

Emilio Pucci, Oscar de la Renta

A must-have look from the autumn

shows is shimmering lips with that

'just kissed' effect. Gloss is a great

way to keep your lips looking

summer fresh through autumn.

HOW?

Go for softer, subtler colours that

tend towards pastels, like peach or

rose, paying close attention to the

texture, using glossy finishes that

promise a lustrous effect.

FENTY BEAUTY

Diamond Bomb All-Over

Diamond Veil, $56

www.cosbeauty.com.au 59
---
BEAUTY

THE CLASSIC RED LIP

Runway: McQueen, Tadashi Shoji

This season features the comeback

of the classic vixen-red lips.

HOW?

Lipstick is the focal point of

minimalist makeup. For a defined

sharp look, take the time to outline

the lips with a well-sharpened lipliner,

then spread the lipstick with a

brush. Always start from the centre,

moving outwards, for lip perfection.

2.

3.

1.

4.

5.

1. mellow Liquid Lip

Paint in Paris, $21

2. BITE BEAUTY

French Press Lip Gloss in

French Press, $36

3. NuSkin Powerlips Fluid

in Maven, $39

4. Sisley Le Phyto-Rouge

in Monaco, $68

5. NUDESTIX Intense

Matte Lip & Cheek Pencil

in Icon, $35

60 www.cosbeauty.com.au
---
Genie Beauty Make Me Blush

Anti-Ageing Cream Blush, $50

FENTY BEAUTY

Moroccan Spice

Eyeshadow Palette, $82

THE POP PALETTE

Runway: Anna Sui, Gigi Hadid

The last few years have given pop

colours a touch of class, and these

neon shades now enjoy a special

place on your eyes, your lips

and even your cheekbones. This

autumn, go for some unexpected

colour combos: bright pink and

ultraviolet, electric orange and

soft green.

HOW?

Contrasts are always a safe bet, like

pale/dark or warm/cold. Use them

to create gradients on your eyelids

or to contrast your eyes with your

lips. Otherwise, try a variation on

the monochromatic theme by using

complementary colours on your lips

and eyelids.

7.

Mavala

Heritage Color

in Versailles &

Bergen, $8.50

Lycogel Breathable Tint

SPF30 30ml, $89

Skindinavia Post Makeup

Recovery Spray, $36

www.cosbeauty.com.au 61
---
SALT By Hendrix

Botanical Facial

Serum, $39.95

Skeyndor Eternal

Cream 50ml, $193

Giorgio Armani

Ga Lip Balm

15ml, $42

BEAUTY

L

Chanel Hydra

Beauty Nourishing

Lip Balm, $55

LUXE

TREATMENTS

asap DNA

renewal treatment

30ml, $129

Frank Body

Anti-Drama

Face Mask

80ml, $21.95

La Prairie

Skin Caviar

Luxe Cream

Sheer 50ml,

$655,
---
Dermalogica

ProSkin60, $120, available

www.dermalogica.com.au

EYERIS Hyaluronic Acid

Eye Patch, $99

Arbonne Nightly

Resurfacing Pads &

Solution, $145

IN DAYS GONE BY, SPENDING

UP BIG ON LUXURY BRANDS

AND PAMPERING DID NOT

NECESSARILY MEAN YOU

WERE INVESTING IN A MORE

EFFECTIVE PRODUCT. WHILE

TODAY'S LUXE TREATMENTS

DON'T NECESSARILY BREAK

THE BANK, THEY ALL DELIVER

ON THEIR PROMISE OF

QUALITY AND RESULTS.

TOM FORD

Intensive

Infusion Eye

Treatment

15ml, $205

NuSkin

ageLOC ® Tru

Face ® Essence

Ultra, $265

Image Skincare

Ageless Overnight

Retinol Masque, $120

PAYOT Masque Sos

Coup De Soleil, $58

Arbonne RE9

Advanced Cellular

Renewal Mask, $105

Jurlique Purity

Specialist

Treatment Mask

100ml, $85

Arbonne RE9

Advanced

Prepwork Gel Eye

Masks, $73
---
feature

feed

your

face
---
WELCOME

TO THE NEXT

GENERATION OF

SUPERFOODS.

Not all foods are created

equal. Certain foods have

been given the title 'super'

for their ability to fi ght disease,

immune disorders and the signs of

skin ageing. Here are some of the

new kids on the superfood block –

plus the foods that have earned cult

health status.

Chia seeDs

These tiny but mighty edible seeds,

which date back to Mayan and

Aztec cultures, are an excellent

source of fi bre (three times more

than oatmeal), protein, calcium,

antioxidants and omega-3s. In fact,

chia is the richest plant source of

omega-3 oil, which is said to help

lower cholesterol, reduce high

blood pressure and fi ght against

infl ammation in the body.

Chia can also help stabilise blood

sugar levels and even help target

pesky belly fat! The seeds can be

soaked in liquid or sprinkled onto just

about every meal to add a nutritious

mildly nutty taste.

kale

This nutritional powerhouse has

become a household name over

the past few years – and it's no

wonder. With more iron than beef

per calorie, kale contains nine

essential amino acids, as well as

high levels of magnesium and

oxygen-rich chlorophyll.

It's the ultimate detox food as

it's also rich in fi bre and sulphur,

lowers cholesterol and is rich in

antioxidant and anti-infl ammatory

properties to help ward off several

types of cancer. Rich in Vitamins A,

C and K, kale also does wonders for

glowing, clear skin.

PistaChios

Move over walnuts, there's a new nut

rising up the nutrition leaderboard.

So why are pistachios said to be

superior to their nutty counterparts?

To start, they contain fewer calories

and more potassium and Vitamin

K per serving than other nuts.

Pistachios contain two carotenoids

not found in most nuts – lutein and

zeaxanthin – which are essential

for eye health and defending tissues

from free radicals. They are also a

great source of Vitamins A, B6 and

E, essential for healthy, smooth

and beautiful skin, and are rich in

phytoserols and soluble fi bre, two

plant compounds that can lower

cholesterol and reduce the risk of

heart disease.

CaCao

Consumed raw, with all enzymes and

goodness left in its unheated glory,

cacao has more antioxidants than

chocolate, red wine and blueberries

combined! It is choc-full with

nutrients and incredibly high in

iron. It also helps to raise endorphins

and boost our serotonin levels. Add

it in powdered form to a smoothie

or sprinkle some over oats to add a

delicious (and nutritious) chocolate

fl avour to your morning porridge.

aCai

Pronounced ah-sigh-EE, studies have

shown this Amazonian berry is one

of the most nutritious foods in the

world. Resplendent in amino acids,

antioxidants, fi bre, phytosterols

and omega-3 fatty acids, it also has

powerful cancer-fi ghting properties, is

a stem cell producer and assists with

weight loss.

kelP

Essentially mineral-rich seaweed

and packed with high levels of

demulcent fi bre, kelp can actually

help heal the digestive tract and is

one of the best natural sources of

iodine, which promotes thyroid and

endocrine function. It also helps

boost the immunity system and even

improve memory.

Pomegranate

These Middle Eastern jewel-like

seeds have earned their place as a

superfood due to their high levels of

polyphenols, powerful cancer-fi ghting

and heart-healthy antioxidants.

It is said that pomegranate seeds

have more antioxidant power

than cranberry juice or green tea.

Pomegranate is rich in Vitamins A,

C and E, and in iron, which helps the

blood maintain an effective supply of

oxygen to the body.

Quinoa

This supergrain, pronounced KEENwah,

contains more protein than any

other grain and is super-charged with

iron, potassium and all nine essential

amino acids while being naturally

gluten-free.

A cup of quinoa delivers fi ve

grams of fi bre and aids in improving

digestion, lowering cholesterol and

promoting healthy blood sugar levels.

Oh, and it's great at keeping excess

kilos at bay.

These days, you'll fi nd it adorning

many a cafe and restaurant menu,

but you can easily create a delicious

quinoa-inspired meal at home, too.

Add to salads, soups or try it as an

alternative to rice.

www.cosbeauty.com.au 65
---
Cult

feature

These superfoods

may not be the

new kids on

the block, but

they've stood

the test of time

in promoting

inner health

and external

radiance.

Cranberries &

blueberries

Cranberries have long been used

to ward off urinary tract infections

and are packed with antioxidants.

More recently, it has been discovered

that cranberries also contain anticarcinogenic

compounds, which

can prevent or delay the development

of cancer.

Blueberries deliver high levels of

antioxidants called anthocyanins,

which have been shown to lower

cholesterol, prevent blood clotting and

protect body cells. They also contain

Vitamins C and E, in addition to fibre

and folic acid, which is of benefit to

women who wish to fall pregnant.
---
Classics

Dark leafy greens

Leafy green vegetables are packed full

of goodness, and spinach is the best

of the bunch. It contains Vitamins

A and C and folic acid, as well as

magnesium, which is thought to

help fight cancer and lower the risk

of heart disease and stroke. It also

blocks free radicals, which cause signs

of ageing on the skin, and may even

help prevent osteoporosis.

Avocados

Up until a couple of decades ago,

avocados had a relatively bad name,

thanks to their higher levels of fat

than most fruits and vegetables.

However, word is definitely spreading

that this fat is good fat: healthy

monounsaturated fatty acids actually

appear to lower 'bad' cholesterol

levels and raise the 'good' levels.

Avocados are also rich in

antioxidants, which are thought to

slow the body's ageing process by

destroying free radicals and slowing

oxidation. Antioxidants also reduce

allergies and the risk of heart disease

and cancer.

Oily fish

Sardines, herring, trout and salmon

are all rich sources of omega-3 fatty

acids, which help prevent heart

disease. They're also good news for

osteoporosis prevention and can

improve the texture of the skin

and hair.

Oily fish is a good source of

Vitamins A and D. Vegetarians can

boost their intake of omega-3 by

taking supplementary capsules daily.

Essential fatty acids play an integral

part in skin hydration, cell renewal

and protecting the epidermis against

harmful bacteria. These unsaturated

fatty acid chains maintain the

permeability barrier of the stratum

corneum – or the top layer of the

epidermis. This barrier protects the

skin from bacteria to prevent acne

and inhibits trans-epidermal water

loss to maintain skin hydration. cbm

Green tea

Most types of tea contain flavonoids

called polyphenols; however green tea

contains less caffeine than black tea

and is also thought to aid digestion

and may stimulate the metabolism.

Many green tea drinkers also report

that drinking a couple of cups a day

helps to maintain clear skin.

www.cosbeauty.com.au 67
---
Safe

tanning

DON'T FALL VICTIM TO SUN-

DAMAGED SKIN OR, WORSE YET,

SKIN CANCER. HERE'S HOW TO

CHOOSE THE BEST SUNSCREENS FOR

BLOCKING DAMAGING UV RAYS.

With Australia's warm and sunny

climate, many of us are intrinsically

drawn to lying in the sun – but

be warned. According to the Department of

Health and Ageing, approximately two in

three Australians will be diagnosed with skin

cancer before the age of 70.

One of the best ways to protect yourself

against the sun's harmful rays is by using a

sunscreen. But it's important to know the

differences in how they work, in order to

choose the best option for your skin.
---
Organic vs inorganic

sunscreens

Inorganic sunscreens, also known as

'mineral' or 'physical' sunscreens, work

by reflecting or scattering UV rays and

radiation. Some sunscreens combine both

organic and inorganic components. Two

types of inorganic sunscreens available

are zinc oxide and titanium dioxide. Both

provide broad-spectrum UVA and UVB

protection and are gentle enough for

everyday use. Zinc oxide is especially useful

for people with sensitive skin, as it rarely

causes skin irritation.

Organic, or 'chemical', sunscreens are

composed of several active ingredients

because no single chemical ingredient blocks

the entire UV spectrum (unlike inorganic

spectrum). Instead, most chemicals only

block a narrow region of the UV spectrum

– the majority of chemical agents used in

sunscreens work in the UVB region, but only

a few chemicals block UVA rays.

The choice between organic and chemical

is a personal preference and may depend on

your usage and skin type.

SPF 50+

Despite having the highest rates of

melanoma in the world, Australians

have been slow to adopt the heightened

protection offered by SPF 50+ sunscreen.

According to the Department of Health

and Ageing, Australians are four times more

likely to develop a skin cancer than any

other form of cancer. So why has it taken

so long to introduce these higher levels of

protection to our shores?

The concern has always been that people

will think, by using a sunscreen labelled SPF

50, they can either use less of it or won't

have to apply it as often. And while an

increase from 30 to 50 sounds like a lot,

in reality the extra protection offered by

SPF 50 isn't nearly as significant. Add to

this the fact the average person puts on

between 25 and 50 per cent less sunscreen

than the recommended amount, and you

can see why the authorities may have urged

caution over introducing what merely

appears to be a significantly more effective

level of protection.

The proper use of

www.cosbeauty.com.au 69
---
sunscreens

The use of sunscreen is an important

preventative measure to help reduce

the risk of developing skin cancer

and premature skin ageing. Skin

is susceptible to attack by the sun,

resulting in the destruction of collagen

and elastin structure, and more

seriously the damage to cells' DNA

leading to possible cancer formation.

No matter what level of protection

you choose, therefore, the best advice is

to use your sunscreen properly.

Sunscreen should be distributed

liberally enough to all sun-exposed

areas that it forms a fi lm when initially

applied. If you're not using this much

— about half a 100g tube (every time

you put sunscreen on your whole body)

— you're probably not getting enough

protection from UV.

Generally a person about 175cm

tall and weighing about 82.5kg will

require approximately 40g – almost half

a typical 100g tube – of sunscreen to

cover their body to the same level as

is specifi ed in the Australian Standard

test procedure.

Applying this amount means you are

using the effective level as stated on

the label. Using less means you are not

getting the SPF stated on the label.

The key is to reapply the sunscreen at

regular intervals to ensure an adequate

fi lm is maintained; but remember, using

sunscreen is a fi lter only.

Even when a SPF 30 sunscreen is

reapplied regularly, if the intensity of

the UV radiation is high enough and

if the skin is exposed for long enough,

invisible damage, or even sunburn,

could occur. Reapplication of the

sunscreen does not remove the damage

that has already been caused by the

transmitted radiation.

Remember the sunscreen should be

applied 15-30 minutes before going

into the sun and it should be reapplied

15-30 minutes before entering the

water. This time allows the water

in the product to evaporate and the

waterproof sunscreen fi lm to properly

form on the skin surface.

What is

SPF?

Sunscreens are merely filters, and all

of them will let some UV radiation

through at varying rates – indicated

by the Sun Protection Factor (SPF)

rating. The level of SPF given

to each sunscreen is measured

using a complex mathematical

equation, and refers to the amount

of ultraviolet radiation required to

cause sunburn with the sunscreen

on, as a multiple of the amount

required without the sunscreen.

The protection given to

individuals by a certain level of

sunscreen will vary depending on:

• The amount applied

• The frequency of application

• The skin type of the user

• Immersion in moisture through

swimming or extensive sweating

• Amount of sunscreen absorbed

by the skin

1. The Body shop Honey

Bronze Drop Of Sun, $25,

2. The Bronzer Instant Tan,

$24.95, 3. vita Liberata

pHenomenal 2-3 Week Tan,

$85, 4. The Body shop

Honey Bronze Bronzing Body

BB Cream, $29, 5. endota

Organics Coconut Oil & Shea

Butter Instant Tanner 180mL,

$45, 6. endota Organics Jojoba

& Coconut Dry Shimmer Oil

50mL, $50, 7. arbonne Liquid

Sunshine Tinted Self-Tanner,

$74, 8. nuskin Sunright Insta

Glow Tinted Self-Tanning Gel,

$41, 9. esPa Gradual Tan

Face Concentrate, $45,

10. sunescape Instant Self-Tan

Mousse, $44.95.

1.

2.

3.

70 www.cosbeauty.com.au
---
fake

it!

BrOnZer

As we've (somewhat begrudgingly)

accepted that there's no such thing as

a safe suntan, we've bumped bronzer

up to one of the most essential beauty

products for summer—and, arguably,

for every season thereafter. (There's

no expiration date on donning a

believable glow, after all!) But just as

with self-tanners, snagging a bronzer

that doesn't exude a telltale orange,

sparkly, or otherwise unnatural hue isn't

always as breezy as a day at the beach.

6.

4.

5.

7.

8. 9. 10.
---
wellness

Take

care

down

there

women's health

has been too long

under wraps and

gynaecologist Dr

Oseka Onuma says it's

time to understand

what's happenIng

under the covers.
---
While it's been reported that nearly half of all

women have some sort of problem with their sex

lives, it's a topic many people don't know much

about, or are embarrassed to discuss.

There are pivotal times in a woman's life that influence

sexual function and vaginal competency; menopause,

pregnancy and childbirth among them.

'Female sexual dysfunction is complex and can be a

result of hormonal, psychological, psychiatric, physical,

neurological, environmental and social causes,' says

Adelaide gynaecologist and pelvic reconstructive surgeon

Dr Oseka Onuma.

'Since most cases of sexual dysfunction are treatable, it's

important to keep in mind that dysfunction does not always

imply abnormality and affected women should seek help.

These days women are less willing to accept changes in

genital anatomy resulting from pregnancy, childbirth and

ageing.

'They are less likely to have the attitude that sexual

dysfunction is "just part of being a woman", and something

they have to put up with.'

Dr Onuma stresses that no woman should suffer

embarrassment or feel inhibited in her relationship with

her partner due to the appearance of her vagina or physical

sexual dysfunction. Further, she should be encouraged to

talk openly about her sexual health in order to gain realistic

ideas of the changes in her body and in her relationship.

Assessment of sexual function, mental health and

relationship quality are crucial and should be considered

routine.

'The majority of my patients seeking vaginal rejuvenation

are not motivated by the aesthetic but, rather, by a growing

dislike of pain during intercourse or discomfort when

participating in everyday activities,' he says.

'The importance of reassuring my patient that she is not

alone in her genital issues and that there are options for

improving her quality of life cannot be over-emphasised,' he

concludes.

PREGNANCY

'The effect of pregnancy on a woman's life is variable: some

women's libido increases, some decreases, some remain

unaltered,' explains Dr Onuma.

'As pregnancy proceeds, the physical challenge

increases and the missionary position becomes less

possible or tolerable. An increase in vaginal dryness

often accompanies pregnancy and use of lubricants

may be needed.

'Further to this, fear of damaging the developing baby may

prevent sexual activity (in most cases there is no evidence

to support this). A history of early pregnancy failure may

lead to advice to restrict sexual activity in the first and

www.cosbeauty.com.au 73
---
wellness

sometimes second trimester of pregnancy.

'A finding of a low-lying placenta or bleeding during

pregnancy may also be an indication to cease sexual

intercourse during the pregnancy.

'There is also an increase in hormones such as

progesterone and relaxin, which causes softening and

relaxation of muscle and connective tissue. Some of these

changes will not be reversed after pregnancy is complete.'

CHILDBIRTH

A 2015 study published in the Journal of Sexual

Dissatisfaction Medicine found more than 60 per cent of

women suffer from sexual dysfunction after childbirth.

Other studies have shown the prevalence of sexual

dysfunction is high during pregnancy and peaks in the

third trimester. This includes the inability to orgasm, pain

during sexual activity, or a general lack of interest.

The study found sexual dysfunction could lead to

overall relationship dissatisfaction, as well as post-natal

depression. It also showed 88 per cent of women did not

consult healthcare professionals about the issue, due to

shyness or embarrassment.

'Childbirth is the major factor in causing damage to

the female pelvic floor, as the disruption of connective

tissues [muscles/ligaments/fascia] results in reduced tissue

elasticity and avulsion of tissues from their origins,'

says Dr Onuma.

'There is some significant restitution [healing with tissue

going back towards normal] after childbirth. However,

some of the spontaneous healing involves formation of

scar tissue, which is inherently weaker and less elastic than

the original tissue.

'Symptoms can occur immediately after delivery, but

often present some years later. Further pregnancies and

deliveries can result in marked worsening of symptoms.'

Damage to the pelvic floor can result in pain during

intercourse, reduced sensation during intercourse,

both pain and reduced sensation and reduced ability to

achieve orgasm. Dr Onuma says that often these causes coexist

– for example, painful intercourse may result in a fear

of intercourse, resulting in psychological sequelae.

MENOPAUSE

Hormonal changes from menopause can result in loss of

libido or physical alterations of the vaginal epithelium,

which can result in difficult or painful intercourse.

Laser-assisted vaginal surgical procedures can enhance

vaginal muscle tone, strength and control, as well as

help alleviate vaginal atrophy and dryness. According

to Dr Onuma, laser techniques deliver gentle precision

procedures with controlled accuracy and result in rapid

healing, minimal pain and relatively fast recovery, allowing

for improved sensation and resumption of daily activities

in a relatively short period of time.

'Non-surgical laser vaginal treatment is not the same

as traditional methods and may not be the most suitable

avenue of treatment for some patients,' he says. 'The best

approach is for a patient to discuss their symptoms with a

doctor who has a clear understanding of all the modalities

of treatment available and is able to guide them towards

the mode of treatment that might offer the best outcome.'

According to Dr Onuma, while non-surgical laser

vaginal treatment shows the most promise for improving

or curing symptoms related to atrophic vaginitis, it is of

little value in correcting pelvic organ prolapse (particularly

relevant to childbirth issues).

'While non-surgical laser vaginal treatment can

improve very mild stress incontinence or reduce vaginal

wall relaxation, it is unlikely to cure any significant

stress urinary incontinence or improve sensation during

intercourse, where the vagina and the vaginal introitus

are patulous because of detached or torn muscles and

fascia,' he says.

appearance

At any stage of life, oversized, elongated or asymmetrical

labia minora may lead to self- consciousness and even

embarrassment.

It can cause discomfort during sex and hinder certain

activities such as cycling and horse riding, and often

makes wearing certain clothes such as swimwear, jeans

or tights difficult.
---
The Australian Centre for Female

Pelvic & Vaginal Rejuvenation

Feature

Vaginal rejuvenation – both surgical and non-surgical

procedures – can help alleviate pain, improve form and

function, and enhance quality of life for many women.

'A blanket of taboo means there is a lack of open and

honest public dialogue that makes it difficult for some

women to seek successful treatment – or even know there

are treatment options available,' says Dr Onuma.

For example, both surgical and laser reduction

labiaplasty can sculpt the elongated or unequal labial

minora as desired. The vulvar structures (including

the labia minora, labia majora, mons pubis, perineum,

entrance to the vagina and hymen) can be surgically

enhanced, both functionally and aesthetically.

Each treatment is completely tailored by Dr Onuma

to meet the patient's specific needs and individual goals.

Laser reduction labiaplasty can also be used to reconstruct

conditions that are a result of the ageing process,

childbirth trauma or injury.

VULVO-VAGINAL DISTRESS

SYMPTOMS

Every organ within the female pelvic floor is subject to

stress – from gravity or from the delivery of a baby.

'Muscle, connective tissue and epithelium can break, tear,

stretch and lose their elasticity, resulting in functional

impairments,' says Dr Onuma.

Common symptoms of vaginal wall prolapse or

relaxation include a lump, a 'dragging' within the vagina

or lower back, urinary incontinence, the need to empty

the bladder frequently and/or with urgency, pain and/or

reduced sensation during intercourse.

Another problem is female stress urinary incontinence,

caused predominantly by an improperly functioning

urethra. When a woman suffers from this condition,

weakened muscle and pelvic tissue don't adequately

support the urethra.

solutions

As women become more aware that it is possible to

correct potentially embarrassing problems, female genital

procedures are increasing in popularity.

Vaginal rejuvenation – both surgical and non-surgical

procedures – can help alleviate pain, improve form and

function, and enhance quality of life for many women.

'Beyond pelvic floor retraining and physiotherapy, there

is now a range of minimal-access surgical options available

that can address and hopefully resolve these problems,'

says Dr Onuma.

'Non-surgical laser vaginal rejuvenation can effectively

enhance vaginal muscle tone, strength and control, and

can be used to treat minor degrees of prolapse and/or

relaxation of the vaginal walls to improve sensation.' CBM

EMPOWERING WOMEN THROUGH

KNOWLEGE, CHOICE AND ACCESS

TO WORLD CLASS CARE

DR OSEKA ONUMA

Gynaecologist and Pelvic

Reconstructive Surgeon

BSc. (Hons), MJur., CCST,

MBBS, FRANZCOG, FRCOG

4 Robe Terrace,

Medindie SA 5081

08 8344 6085

reception@dronuma.com.au

www.dronuma.com.au

www.cosbeauty.com.au 75

ADELAIDE • SYDNEY • DARWIN
---
fitness

do a
---
nna

ston

For over 25 years, Melbourne-born

fitness coach, nutritionist and

author Donna Aston has earned the

reputation as an expert in the field of

weight loss, health and fitness.

Starting out as an over-weight teenager, Donna has dramatically

transformed her own body and continues to help countless others

achieve their personal goals through private consultations and

training, as well as public speaking and numerous publications.

Her extensive client-base has included numerous high-profile

celebrities, such as Sigrid Thornton, Kat Stewart, Peter Alexander,

Magda Szubanski, Dave Hughes, Stephen Curry and Amercian Idol's

Simon Cowell.

With six best-selling books to her credit, Donna has worked in

Australia, Europe and the USA as a private health and fitness coach

and advisor. She continues to be summoned from various overseas

locations to prepare private, high-profile clients for red carpet and

film. Donna is also a Genos Emotional Intelligence (EI) Certified

Practitioner, to which she credits much of her success in coaching and

inspiring countless clients.

Donna has emerged as one of our country's most sought after health

and fitness experts, with guest appearances on numerous lifestyle

television shows.

For many years now, Donna has received extensive media attention

for her work. With her trademark no-nonsense approach to diet and

exercise and her loyal and growing following, Donna continues to set

new standards for health, fitness and weight loss.

www.cosbeauty.com.au 77
---
The

fitness

Program

According to Donna Aston, there are

several contributing biological factors

that must be addressed before permanent

fat loss is possible.

Current diets only provide shortterm

success because you've accidently

stumbled onto one of these factors.

However, while they may have

addressed one key aspect (generally

the superficial), they have missed the

other five key fundamental components

that successfully address your internal

health issues and result in successful,

long-term weight loss. So what are the

six key pillars?

Donna has

emerged as one

of our country's

most sought after

health and fitness

experts.
---
1. Weight set-point

2. Exercise

3. Insulin resistance

4. Gut flora

5. Harnessing stress management

6. Timing/circadian rhythm

Donna launched a new program on

1 February 2019 that will retrain your

body and help you achieve permanent

weight loss.

'ASTON RX starts with each

person taking a detailed blood test

and, using cutting edge science,

we determine each individual's key

biological markers. Weight loss is not

a one-size-fits-all approach like we are

currently being told. It's an individual

journey, with each person requiring a

unique program based on their own

pathology results and underlying health

issues,' Donna explains.

'Without directly addressing your

Week 1

Induction

Otherwise known as the

transitional phase. You will

receive step-by-step support

to help you understand your

body and metabolism.

Week 2

The Zone

You've entered the optimum

fat-burning zone! You'll

experience significant fat

loss, increased energy,

improved sleep and a

greater feeling of wellbeing.

Week 3

Change

The program starts to mix

things up to give your

metabolism an extra 'kick!'

Your transformation is now

becoming evident.

Week 4

New Body

Habits have changed. You

feel calm and confident and

well-informed. You will start

to enjoy your new body that

glows from the inside out!

www.donnaaston.com

#letyourselfbe

biological factors, the weight loss is not

sustainable, hence why people fail time

and time again. Once these markers are

identified, the ASTON RX program

allows you to reboot your body resulting

in renewed energy, improved sleep,

reduced inflammation and rapid fat

loss,' she explains.

After entering your blood results

on the ASTON RX online platform,

the program takes you through the next

28 days. CBM

www.cosbeauty.com.au 79
---
feature

BO

DY

matters
---
All your options for removing

fat, tightening skin and

creating sexy curves

– with no sweat involved.

LIPOSUCTION

What is it?

Liposuction is a surgical procedure performed under

anaesthetic to remove deposits of fat from specific areas

of the body. It can be performed almost anywhere on the

body where there are pockets of fat, including the neck,

arms, stomach, back, chest, buttocks, thighs and ankles.

It is usually performed as day surgery, although some

cases may warrant an overnight hospital stay.

Generally, the area to be treated with liposuction

is infiltrated with a tumescent fluid containing local

anaesthetic and a vaso-constrictor before small cannulas

are used to vacuum out the fat. Alternatively, a syringe

can be used to withdraw the fat.

Power-assisted liposuction, where radiofrequency,

ultrasound or laser technology is used to improve

liposuction results, can help increase skin contracture

and tone and tighten the skin's surface. These types of

techniques are also typically less aggressive.

Ideal candidate?

The ideal liposuction patient is at or near their ideal

body weight (within 30 per cent), has good skin

elasticity and is seeking reduction of diet-resistant

localised pockets of fat. They also need to understand

the risks of surgery and have realistic expectations that

liposuction is not a way of losing masses of weight or a

cure for obesity.

Results?

Bruising can last for a few weeks and swelling for

around one to two months. A compression garment is

usually worn for about four to six weeks in most cases.

Patients can usually return to work after around three

to seven days. Final results – a trimmer-looking, more

proportionate and shapely form – can be seen from six

months to a year as swelling subsides. Results are long

lasting provided the patient maintains a similar weight.

www.cosbeauty.com.au 81
---
feature

tummy tuck

What is it?

A tummy tuck (abdominoplasty)

is surgery performed under general

anaesthetic. An incision is made

across the lower abdomen, the excess

skin and fat are removed and the

stomach muscles tightened. The

navel is repositioned as the skin is

re-stretched over the stomach.

Ideal candidate?

Abdominoplasty is best suited to

patients who have lost a considerable

amount of weight and have loose skin

and fat deposits that don't respond to

diet or exercise, or who are looking to

restore their pre-baby bodies. Like all

surgery, patients should understand

the risks involved and have realistic

expectations of what the procedure

can do for them.

Results?

A firm strap and drain is usually worn

for the first 24 hours, followed by

a compression garment for several

weeks. Patients usually take around

three weeks off work. Results are

a flatter stomach with repaired

abdominal muscles and removal of

excess skin. A scar is created across

the lower abdomen, which can be

hidden within the bikini line, and

minimised with various scar therapies.
---
What

is fat?

The human body contains

two types of fat: white fat

and brown fat. White fat is

important in heat insulation,

energy metabolism and

mechanical cushioning. Brown

fat actively burns calories for

heat, but has been thought

only to exist in childhood.

Fat tissue is made up of

cells that hold the fat. When

food that contains fat is

ingested it goes through the

stomach into the intestines,

where the fat droplets get

mixed with bile salts from

the gall bladder. The mixture

breaks up the large droplets

into several small droplets,

which increases the fat's

surface area.

The pancreas then secretes

enzymes that attack the

surface of each small droplet

of fat and break them down

into fatty acids and glycerol,

which are then absorbed into

cells lining the intestine.

In the cells lining the

intestine, the parts are

reassembled into packages of

fat molecules with a protein

coating, called chylomicrons.

These are then released into

the lymphatic system, which

eventually merges with the

veins so they pass into the

blood stream.

NON-SURGICAL

BODY CONTOURING

What is it?

Non-surgical body contouring

procedures use medical-grade energybased

devices to dissolve fat and/or

tighten skin. The energy is emitted

via an applicator through the skin

without damaging the outer layers,

only targeting the underlying fat and

tissues. The most popular energy

systems are radiofrequency (RF) body

contouring devices and cryolipolysis.

RF treatments. With RF body

contouring treatment, the heat

generated from the RF energy

dissolves fat cells and causes

microscopic changes to tissues and

collagen fibres, with further collagen

remodelling occurring over the

subsequent months following the

procedure. The broken down fat

cells are drained via the lymphatic

system and then excreted as urine.

A reduction in the appearance of

cellulite is also commonly reported.

Cryolipolysis. This method uses

almost-freezing temperatures to kill

fat cells without traumatising the

surrounding tissues or harming the

skin. A gel drape is placed onto the

target area to protect the skin before

the applicator head is placed onto

the fat pocket, where it remains

for approximately one hour. The

applicator acts like a vacuum to

suck the area into position and direct

the cold temperature to the target

fat cells under the skin, which are

then destroyed and eliminated

naturally by the body.

Ideal candidate?

Patients with small to medium

localised pockets of fat on the

abdomen, hips and thighs are

most suited.

While no non-surgical device

can achieve the level of fat removal

possible with liposuction, it offers

patients a good option to remove

fatty areas resistant to diet and

exercise without the associated risks

and recovery time of surgery.

Results?

Treatment results in a circumferential

reduction of the treated area and a

more streamlined shape. Most nonsurgical

devices require a minimum of

three treatments in order to achieve

optimal results, and often it can

take longer before those results are

seen, as the fat cells take time to be

metabolised through the body's usual

processes. There is no downtime but

temporary redness or swelling may

be present.

In conjunction with a healthy

diet and exercise regime, results

should be long lasting because, just

as with liposuction, when fat cells

are permanently destroyed they will

not return.

www.cosbeauty.com.au 83
---
Arm LIFT

feature

What is it?

Also known as brachioplasty, an arm

lift reshapes the underside of the

upper arm from the armpit to the

elbow, and involves the removal of

excess loose skin and fat from saggy

underarm areas, sometimes referred to

as "bingo wings".

As well as the surgical excision of

loose skin, the procedure may also

incorporate liposuction to remove

excess fat. Performed under general

anaesthetic, the procedure may

require an overnight stay in hospital

but patients are often allowed to go

home on the same day.

Ideal candidate?

People who have saggy, excess

skin on the underside of their

arms, particularly after significant

weight loss.

Results?

Improved appearance of the upper

arm, with more definition and no

flapping skin. Most people can resume

normal activities around two weeks

after surgery. A scar will be visible,

typically running along the inside

of the arm from the armpit to the

elbow; however scar management

techniques and products can help

minimise the appearance

Thigh Lift

What is it?

A thigh lift is a surgical procedure

performed under general anaesthetic

to remove excess skin and fatty

tissue, typically in patients who've

lost considerable amounts of weight.

A thigh lift can be combined with

liposuction for a smoother result.

During the procedure, an incision

is made in the upper inner thigh

– in some cases this may extend to

the groin line or buttock fold – and

excess fat and tissue is removed via

this incision.

Ideal candidate?

Patients with significant drooping

skin on the upper leg that does not

respond to diet or exercise.

Results?

Improved contour of the upper leg,

with tauter skin and more defined

musculature. Normal daily activities

can usually be resumed, and are

encouraged for circulation, within

several days following surgery.
---
Surgery

after

massive

weight loss

As bariatric, or weight loss, surgery

becomes more popular, so too has

the need for body contouring

procedures such as tummy tucks,

breast lifts, thigh lifts and upper arm

lifts, which are usually associated with

significant weight loss, according to

new data from the American Society

of Plastic Surgery.

Bariatric surgery has become much

more common over the past decade.

As these patients lose weight they

may have excess 'loose' skin and need

plastic surgery procedures to remove it

a year or two later.

Roughly one in five people who have

weight loss surgery will need body

contouring as well.

It is usually recommended that

doctors wait until weight loss is

complete before assessing whether

a patient is a good candidate for skin

removal procedures, and then only

performing one at a time.

In addition to abdominoplasty, other

common cosmetic surgeries following

massive weight loss include an arm lift,

thigh lift and breast lift.

Breast Lift

What is it?

For a small lift, the peri-areola mastopexy is commonly used,

with an incision made around the nipple. The nipple is

elevated and the skin envelope is moved so the nipple sits

higher on the breast mound.

For a larger lift, the anchor-incision technique may be

used. It involves an incision being made around the nipple

and vertically down, with another incision horizontally

under the breast. Another common breast lift method is the

shorter scar LeJour technique. In both cases, the excess skin

is removed and the nipple placed higher.

Ideal candidate?

A breast augmentation can return shape to a flattened,

sagging breast, but it is commonly combined with

mastopexy (breast lift surgery) to raise the breasts to a more

aesthetically pleasing position. In other patients, a breast

reduction may be more suitable following weight loss, and

again this is usually combined with a mastopexy to achieve

the best results.

Results?

Rounder, fuller breasts with higher projection and

repositioned to a more youthful and attractive position.

Notably, a mastopexy can help reduce the appearance

of back rolls, or sagging skin on the sides and back of a

weight-loss patient. By pulling the tissue upwards, and

excising a significant amount of skin in the process, breast

lifting can smooth, lift and tighten the skin around the

patient's rib cage.

Initial recovery takes around five to seven days and

resulting scars should fade over time. CBM

www.cosbeauty.com.au 85
---
feature

Why

do

MEN

age better?
---
While women may

be the fairer sex,

men enjoy some

significant cosmetic

advantages when

it comes to ageing.

Tara Casey reports.

Men and women age differently –

and the process tends to treat men

more favourably. So, apart from the

obvious, how do the sexes differ?

Bone size

Male bones are generally longer and larger

than female bones and have more obvious

muscle markings. Men also have bigger skulls,

with more prominent brow ridges, bigger jaws,

chins, cheekbones and noses, giving men's

faces a squarish shape and stronger features

than women's.

These differences in bone structure are

hormonally triggered at puberty. Increased

levels of testosterone trigger the growth of

certain bony facial features so boys' faces

grow more than girls'. Female faces remain

relatively childlike. High levels of oestrogen

in growing girls prevent the growth of facial

bone and result in increased thickness of lips

and fat deposition in the cheek area, whereas

a male face is often 'chiselled' in appearance.

Faces with masculine features – such as a

large jaw and prominent cheekbones – appear

dominant, and dominance is associated with

male reproductive success in many species,

including humans.

Using CT scans of 100 men and women,

researchers at Duke University Medical

Center in the US discovered that the bones

in the human skull change as people age.

The forehead moves forward while the

cheekbones move back. As the bones move,

the overlying muscle and skin moves as well,

subtly changing the shape of the face. 'The

facial bones also appear to tilt forward as

we get older, which causes them to lose

support for the overlying soft tissues,' says Dr

Michael Richard, an oculoplastic surgeon at

the Duke Eye Center. 'This results in more

sagging and drooping.'

The dramatic ageing of facial bones also

happens at a significantly younger

age for women than men, according to Dr

David Kahn, assistant professor of plastic and

reconstructive surgery at Stanford University

School of Medicine in the US. Women's

facial bones begin to shrink at the onset of

early middle age, while men don't exhibit this

until they are at retirement age.

www.cosbeauty.com.au 87
---
feature

Musculature

Males tend to be more muscular than

females from birth, with girls showing a

higher fat ratio even before puberty. At

puberty, males begin to develop heavier

bones and thicker muscles. The average

adult male has about 150 percent of the

lean body mass of an average female, and

about 50 percent of the body fat.

Because men have bigger muscles

than women, this also affects the facial

contours, especially in relation to the

jaw and neck. It is the difference in

their muscle development that makes

males' Adam's apples protrude. Men

characteristically have thicker necks

than women, and often the masseter

muscles at the hinges of the jaw are also

more prominent. Cheek and forehead

muscles can also be more pronounced.

Their muscle size affects the appearance

of men's faces, providing a more sculpted

look than is usually seen in women.

Even the nerve impulses that control

muscle movements differ between the

sexes: men and women have different

left- and right-brain connections

that affect the face. In right-handed

individuals, men have stronger left

brain to left side uncrossed corticomuscular

projections and women

stronger right to right.

While men have larger muscles,

women are more facially expressive,

suggesting that they may use their facial

muscles more. This gender difference is

present from birth; girl babies smile more

than boys do.

While many of the 53 facial muscles

are involved in conveying the universally

recognised expressions of anger,

happiness, surprise, fear, sadness and

disgust, not everyone has the capacity for

the same muscle movements.

A study by Dr Bridget Waller from

the Centre for the Study of Emotion

in the Department of Psychology at

the University of Portsmouth in the

UK, in collaboration with anatomists
---
The average

adult male has

about 150 percent

of the lean

body mass of an

average female,

and about 50

percent of the

body fat.

at the University of Pittsburgh and

Duquesne University in the US,

found there are 19 facial muscles that

may not be present in all people and

that only two-thirds of the population

have the risorius muscle that creates

an expression of terror.

It is tempting to speculate that

the 'manly' quality of maintaining

a stoic countenance under

challenging circumstances may not

be merely innate, due to their lesser

expressiveness in general, but possibly

also because they are unable to form

some expressions.

In both men and women, the facial

muscles elongate with age and the

average man's facial muscles will be a

centimetre longer at 55 than 30 years

earlier, contributing to sagging of the

facial tissues and the formation of

creases and wrinkles.

Skin

Men's skin is different from women's

in a number of respects, the most

obvious being facial and body hair

growth. Men's beards and body hair

growth are triggered by the hormone

androgen, and its continued action

causes the hair to become thicker as

they mature into adulthood.

They also have more sebaceous

glands than women. Testosterone

gives men a 70 percent higher

sebum production than women,

which diminishes with age but still

contributes to maintaining the

emollient film of lipids on the skin's

surface. While this keeps their skin

naturally lubricated, it also means

they have larger pores and sweat

more, making their skin 'dirtier'. To

an extent, shaving compensates for

this by mechanically exfoliating the

lower face, but cleansing should be an

essential part of male skincare.

Men's skin is not only more

lubricated, it is also denser. While

women's skin is characterised by a

smooth surface and plump texture,

due to the underlying fat, men's skin

contains more collagen, the fibrous

protein that makes up the skin's

connective tissue. This gives men

thicker skins and is the reason they

can appear to age more slowly than

women, whose collagen production

drops dramatically at menopause.

But there is a balancing factor.

Women's external fat is much

healthier than the internal fat even

apparently slim men can carry in their

muscles and around their vital organs,

including the heart. This tendency

is partly governed by lack of exercise

and partly by genetics.

'Our work so far has shown that

you can take two men of the same

age, with the same BMI (body mass

index), and find one with 5 litres

of fat within him and another with

2 litres,' says Professor Jimmy Bell,

head of the molecular imaging group

at the Medical Research Council's

Centre at Imperial College, London.

'We've even scanned people who are

underweight and found up to 7 litres

of fat inside them.'

Bell has coined a term for these

individuals, calling them 'tofis' –

thin on the outside, fat inside. The

good news is that the way the body

stores fat can be altered by changing

the diet to one containing grains

and lentils.

Another structural difference in

men's skins is its vascularity. The

fine network of blood vessels below

the surface is more extensive,

making men more prone to bleeding

and to appearing ruddy faced.

Abundant blood supply is essential to

healthy skin functionality, even if it

does make the practice of shaving a

daily challenge!

While women may be the fairer

sex, men do enjoy a number of

advantages over women including,

apparently, the ability to age

better. CBM

www.cosbeauty.com.au 89
---
travel

DOH
---
A

Stopover

Hot

Spot

For many australians

travelling to Europe, the

traditional south-east Asian

stopover has been replaced

by a taste of the extravagant

futuristic skylines of the Middle

East – Dubai, Abu Dhabi and

more recently Doha

doha is the capital of Qatar, the gas-rich constitutional

monarchy perched on a peninsula jutting 160kms into

the Persian Gulf from the north-eastern border

of Saudi Arabia.

According to a series of 2017 international surveys,

Qatar now boasts both the 'highest per capita income'

and 'highest per capita Gross Domestic Product' in the

world (overtaking Luxembourg) – thanks to its status as

the globe's leading exporter of liquefied natural gas (it sits

atop the world's third largest natural gas reserves, after Iran

and Russia).

And Doha is the glitzy modern capital attracting

international jet-setters in record numbers – especially

following the continuing expansion of Qatar Airways'

international networks, combined with Qatar's rapid rise to

prominence as both surprise choice as host for the 2022

soccer World Cup and home of the mushrooming Al Jazeera

media network.

Downtown Doha offers an eclectic mix of modern in-yourface

'glass and steel' skyscraper architecture, overlooking a

traditional dhow harbor – the slow moving dhows are lateenrigged

wooden boats, almost from a bygone era, with one or

two masts and a triangular sail on a long yard (the spar from

which sails are set) at an angle of 45° to the mast.

In similar contrast, the historic 'souqs' (bustling outdoor

www.cosbeauty.com.au 91
---
travel

markets) teem with delicious aromas

and a crowded cacophony to

match the busiest Turkish bazaars,

while nearby sit peaceful mosques

and inspiring museums featuring

centuries-old art treasures from

across the Islamic world.

Many visitors begin their exploration

of Doha with a walk along the glitzy

Corniche Promenade, a 7-kilometre

walkway around the downtown Doha

Bay waterfront. Annual celebrations

of national holidays such as National

Sports Day and Qatar National Day

are centred on the Doha Corniche.

Museum Of

Islamic Art

On a man-made island at one end of

the Corniche Promenade sits Doha's

famous Museum of Islamic Art, a

stunning geometric structure opened

in 2008 and designed by worldrenowned

architect I.M.Pei – also

responsible for the Louvre pyramid

in Paris.

Aged 91, Pei was coaxed out

of retirement to undertake the

project and 'travelled throughout the

Muslim world on a six-month quest

to learn about Muslim architecture

and history and read Muslim texts

to draw inspiration for his design',

particularly noting the light fountain

in Cairo's 9th century Ibn Tulun

Mosque was his inspiration.

The Museum's main 5-storey

building and central tower are

connected with the education wing

via a large central court. Pei utilised

creamy limestone for the outer

facades 'to emphasise the various

shades during the different times

of the day'.

The five floors are covered by a

glass facade to the north, providing a

panoramic view of the Persian Gulf.

A purpose-built park surrounds the

eastern and southern facades, with

two bridges connecting the southern

front with the main peninsula

that holds the park. The western

and northern facades overlook

the harbour to showcase Doha's

seafaring past.
---
Qatar Fast Facts

• Population: 2.6 million – 315,000 Qatari citizens and 2.3

million expatriates (temporary and permanent resident

workers/visitors)

• Before the discovery of oil in 1940, economy focused on

fishing and pearl hunting.

• No income tax. No unemployment.

• National carrier Qatar Airways was named both 'World's

Best Airline' and 'World's Best Business Class' by Skytrax

2017 and now offers a global network of 150+ destinations.

• Ruled by the House of Thani since Sheikh Jassim bin

Mohammed Al Thani founded the state in 1825. Under

military pressure, the ruling Al Thani tribe submitted to

Ottoman rule from 1871-1915; however during World

War 1, Qatar took part in Arab revolt against the Ottomans,

and thereafter Qatar became British protectorate

from 1916 until gaining independence in 1971. In 2003,

new constitution was overwhelmingly approved (98%)

in a referendum.

• According to The Art Newspaper, Qatar is the 'world's

biggest buyer in the contemporary art market' by value.

Facilities inside include temporary

and permanent galleries, library, gift

shop, café and restaurant, 200-seat

theatre, classrooms and prayer

rooms. External facilities (forming part

of the crescent-shaped MIA park)

include walking tracks, cycling tracks,

a carousel, cafes and boat rentals.

The Museum's extensive art

collection from across the Muslim

world spans 1,400 years – including

metal work, textiles, ceramics,

jewellery, wood work, glass and

manuscripts obtained from three

continents and dating from the 7th to

the 19th century.

In addition, it also houses one of

the world's most complete collections

of Islamic artefacts (gathered since

the late 1980s) with items including

manuscripts, textiles and ceramics

originating in Spain, Egypt, Iran, Iraq,

Turkey, India, and Central Asia.

The museum also offers a keenly

anticipated calendar of special

events, plus courses and lectures.

www.cosbeauty.com.au 93
---
travel

Souq Waqif

'market maze'

The tumultuous Souq Waqif maze of

traditional Arabian markets represents the

ancient heart of Doha's history.

Everything's for sale here: garments,

rugs, perfumes, jewellery, gold,

handicrafts, souvenirs, spices, domestic

pets of all descriptions (including dogs,

cats, rabbits, turtles and birds) and

– especially popular among the local

males – falcons (nearly 80% of the male

population reputedly own one). Falcons

represent a traditional 'rite of passage'

among Qatari men and can range in

price from a modest US$5,000 up to a

whopping US$250,000.

Traditional music, art and cultural shows

add to the ambience of this historic

market. It includes the 980-seat Al Rayyan

indoor theatre, and a yearly spring festival

around April hosts many theatrical,

acrobatic and musical performances.

The Souq Waqif Art Centre (located

close to the Fish Market) combines a

selection of small and artistic shops with

exhibition rooms laid out around a long

narrow courtyard, dotted with sculptures

and exotic chests inlaid with turtle shell.

The Souq Waqif also houses a

cornucopia of cafes, restaurants and

shisha lounges – where patrons share

shisha (tobacco mixed with flavourings

such as mint) from a communal hookah

(an oriental tobacco pipe with a long,

flexible tube which draws the smoke

through water contained in a bowl) placed

at each table or a bar.
---
Pearl-Qatar island

Pearl-Qatar is a huge artificial island

(4 square kilometres) set 350m off the

coast, the first land in the kingdom

available for freehold ownership by

foreign nationals (by 2018 there were

40,000+ residents) and now the most

exclusive address in the city.

The name 'The Pearl' was chosen

because the island is being built

on one of Qatar's former major pearl

diving sites; once completed The

Pearl will resemble a string of

pearls – there will be more than 13

islands, including eight for sale to

private owners.

The Pearl-Qatar's 'Venice-like

community' has an extensive canal

system, with 10 precincts that

make up Pearl-Qatar Island. Major

developments include: Porto Arabia

Towers (31 towers with 4,700

apartments); Viva Bahriya Towrs

(29 towers); Qanat Quartier (977

residental apartments in 31 buildings;

188 townhouses; 15 bridges,

including a replica of Venice's iconic

Rialto Bridge; 200 retail units; and

200 moorings in the marina); and

Abraj Quartier (7 towers, highest

40 storeys).

Meanwhile back on Doha Bay, top

of the city's most extravagant hotels

is Ritz-Carlton's Sharq Village & Spa,

where the Royal Villa features the

theatrical 'blue marbled bathroom

veined with 18-carat gold'.

www.cosbeauty.com.au 95
---
travel
---
Tips For

Aussie

Travellers

I travelled to London via Doha in early

September and Qatar Airways (the

state-owned flag carrier) offered a free

night's accommodation, and free airport

transfers, at the 5-star Oryx Rotana hotel.

To take full advantage, I recommend

paying for a second night – to allow

a full day for sight-seeing – for a very

reasonable US$100.

Highlight of my day was the 3 hours

I spent in the morning at the Museum

of Islamic Art, built on an island of

reclaimed land. Entry is free and, at

the end of your tour, the cafe offers

panoramic views overlooking the bay

and across toward the new commercial

district with its amazing skyline boasting

88 office towers.

In the afternoon I took one of the

standard 4-hour city tours for A$135.

They run from 3pm-7pm (starting midafternoon

to avoid the earlier heat)

My tour took me through some of the

very wealthy suburbs (such as Pearl-

Qatar) and downtown's extraordinary

architectural skyline, then back to the

Museum of Islamic Art for another hour

(there was still plenty more to see), and

finished at the famed Souq Waqif (a

labyrinth of historic markets) – where

I spent several hours wandering in

and out of the never-ending maze of

market stalls, offering everything from

camels, horses and falcons (there is

even a falcon hospital), to spices, gold,

cloths, restaurants and my favourite, the

fantastic Middle Eastern desserts.

– GABRIELLE COLE
---
travel

Doha
---
Tourist Highlights

Corniche Promenade: a 7-kilometre walkway around

the downtown Doha Bay waterfront and gateway to

numerous parks.

Museum of Islamic Art: on a man-made island at one end

of the Corniche, housing an extensive art collection from

across the Muslim world.

Mathaf Arab Museum of Modern Art: focuses mainly on

art of the Arabian Peninsula, with works dating from the

19th century to today.

Souq Waqif: centuries old market maze selling garments,

rugs, gold, handicrafts, animal pets, souvenirs and

spices, dotted with cafes, restaurants and shisha lounges.

Doha Fort: Near Souq Waqif is turreted Doha Fort

(Al Koot Fort) built in the 1920s and now containing

a small museum.

Pearl-Qatar: a massive artificial island set 350m offshore

and the most exclusive address in the city – a haven for

the mega-rich, boasting luxury apartments, beach villas

and high-end shopping.

Villaggio Mall: Venetian-themed shopping district in the

city's western Aspire Zone, boasting 220 stores, plus a

150m indoor canal with gondolas and the 22,000sqm

Gondolania theme park (with indoor Olympic-sized ice

skating rink, roller coaster, go-karts, ten pin bowling

centre and a 4D-theatre).

Aspire Tower: also known as The Torch Doha, a 300m

skyscraper hotel located in the Aspire Zone.

Doha Golf Club: an 18-hole championship course.

Al-Shahaniya Racetrack: Between November-February,

Doha's biggest sport is camel racing, based 40-minutes

outside the city centre with a TV channel exclusively

dedicated to it.

Qatar Foundation Mosque: An exhilarating landmark

(in Al Rayyan City on the outskirts on Doha) sweeping

across the ground with its twin ribbons reaching into

the sky and pointing toward Mecca. It encompasses the

Education City Mosque and Qatar Faculty of Islamic

Studies, with the Mosque itself resting on five large

columns, representing the five pillars of Islam and each

bearing a verse drawn from the Holy Qur'an.
---
BENEFIT COSMETICS

Ka-BROW! Eyebrow

Cream-Gel Color, $43

Mayerling Dermal Transfer

Serum Vitamin C 15% 30ml, $140

TARTE Tarteist

Contour Palette

Version III, $67

FENTY BEAUTY

Match Stix Trio, $79

BEAUTYBLENDER

Bounce Liquid

Whip Long Wear

Foundation, $60

Eds

,

FAVES

THE LUST-WORTHY PRODUCTS

THE LUST-WORTHY PRODUCTS

WE'RE CURRENTLY COVETING.

PETER THOMAS

ROTH Potent -C

Bright & Plump

Moisturizer 50ml, $102

BECCA

Be a

Light Palette

(Limited

Edition), $78

MIU MIU Miu Miu Eau

De Parfum 50ml, $140

MARC JACOBS

BEAUTY Velvet

Noir Major Volume

Mascara, $39
---
CLEAR + BRILLIANT

now

available

with

nicole

As we age, the amount of maintenance required to keep a youthful look will increase,

but getting started early is a huge advantage. Filling the gap between over-the-counter

treatments and more aggressive laser offerings, Clear + Brilliant creates and defi nes an

entirely new category of laser aesthetic treatments for clients moving along the skincare

continuum. Clear + Brilliant helps prevent and address early signs of ageing, resulting in a

brighter, more even skin tone. Treatments are comfortable, fast, effective and suitable for

all skin types. The results are both immediate and progressive, depending on the age and

condition of the skin. It is also great for those who are looking for short downtime and a quick

skin 'pick-me-up'. Call Nicole now to take advantage of an opening offer.

02 9327 7728

mobile 0410 627 767

mobile 0410 627 767

nicole@nicolesbeautysalon.com.au

nicole@nicolesbeautysalon.com.au

Shop 8, 401 - 407 New South Head Rd,

Shop 8, 401 - 407 New South Head Rd,

Double Bay NSW 2028

Double Bay NSW 2028

www.nicolesbeautysalon.com.au

www.nicolesbeautysalon.com.au