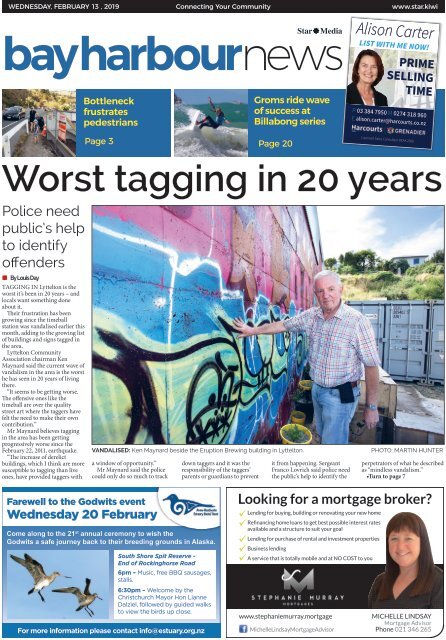 Bay Harbour: February 13, 2019
You also want an ePaper? Increase the reach of your titles
YUMPU automatically turns print PDFs into web optimized ePapers that Google loves.
WEDNESDAY, FEBRUARY 13 , 2019

Connecting Your Community

www.star.kiwi

Alison Carter

LIST WITH ME NOW!

Bottleneck

frustrates

pedestrians

Page 3

Groms ride wave

of success at

Billabong series

Page 20

PRIME

SELLING

TIME

P 03 384 7950 M 0274 318 960

E alison.carter@harcourts.co.nz

Licenced Sales Consultant REAA 2008

Worst tagging in 20 years

Police need

public's help

to identify

offenders

• By Louis Day

TAGGING IN Lyttelton is the

worst it's been in 20 years – and

locals want something done

about it.

Their frustration has been

growing since the timeball

station was vandalised earlier this

month, adding to the growing list

of buildings and signs tagged in

the area.

Lyttelton Community

Association chairman Ken

Maynard said the current wave of

vandalism in the area is the worst

he has seen in 20 years of living

there.

"It seems to be getting worse.

The offensive ones like the

timeball are over the quality

street art where the taggers have

felt the need to make their own

contribution."

Mr Maynard believes tagging

in the area has been getting

progressively worse since the

February 22, 2011, earthquake.

"The increase of derelict

buildings, which I think are more

susceptible to tagging than live

ones, have provided taggers with

VANDALISED: Ken Maynard beside the Eruption Brewing building in Lyttelton.

a window of opportunity."

Mr Maynard said the police

could only do so much to track

down taggers and it was the

responsibility of the taggers'

parents or guardians to prevent

it from happening. Sergeant

Franco Lovrich said police need

the public's help to identify the

PHOTO: MARTIN HUNTER

perpetrators of what he described

as "mindless vandalism."

•Turn to page 7

Farewell to the Godwits event

Wednesday 20 February

Come along to the 21 st annual ceremony to wish the

Godwits a safe journey back to their breeding grounds in Alaska.

South Shore Spit Reserve -

End of Rockinghorse Road

6pm – Music, free BBQ sausages,

stalls.

6:30pm – Welcome by the

Christchurch Mayor Hon Lianne

Dalziel, followed by guided walks

to view the birds up close.

For more information please contact info@estuary.org.nz

Looking for a mortgage broker?

lending for buying, building or renovating your new home

Refinancing home loans to get best possible interest rates

available and a structure to suit your goal

Lending for purchase of rental and investment properties

Business lending

A service that is totally mobile and at NO COST to you

www.stephaniemurray.mortgage

MichelleLindsayMortgageAdvisor

Michelle lindsay

Mortgage advisor

Phone 021 346 265
---
PAGE 2 Wednesday February 13 2019

BAY HARBOUR

Latest Christchurch news at www.star.kiwi

get in touch

from the editor's desk

SCHOOL HOLIDAYS and warm weather.

It's a terrible combination that can often

lead to outbreaks of graffiti.

Why? Because teenagers – who predominately

are the taggers – are out and about

late at night during the school holidays. And when it's dry and

warm they're outside.

On page 1 today we reveal Lyttelton has been gripped in its

worse spate of tagging for 20 years.

That's a shame. Lyttelton needs all of the help it can get to

bring back that sparkle.

Good things are happening. There's some interesting murals

and the timeball has been restored.

But they too have become the target of taggers.

We recall the passing of David Cox on page 5. David was a

great servant for the community.

- Barry Clarke

GENERAL INQUIRIES Ph 379 7100

CLASSIFIED ADVERTISING Ph 379 1100

Star Media, a division of Allied Press Ltd

PO box 1467, Christchurch

starmedia.kiwi

NEWS

Louis Day

Ph: 021 919 917

louis.day@starmedia.kiwi

ADVERTISING

Rob Davison

Ph: 021 225 8584

rob.davison@

starmedia.kiwi

news

Bid for fine wine store

The Bloom Room Florist building on Main Rd may become

a liquor outlet.

Page 12

news

Families claim crosses

Three crosses commemorating fallen World War 1

servicemen have been claimed.

Page 14

community events

Learn to play bridge

The Mt Pleasant Bridge Club has two sessions per week at the

Mt Pleasant Yacht Club, join in and have fun. Wednesday

7.20pm and Friday at 1pm.

Page 25

The best-read local newspaper, delivered to

10,056 homes, RDs and farms every Wednesday

Brookhaven, Heathcote, Ferrymead, Redcliffs, Mt Pleasant,

Sumner, Lyttelton, Diamond Harbour, Governors Bay, Akaroa.

JOIN US NOW!

See website for details

UNDER ARMOUR

Tee's - 2 for $60, 3 for $80,

4 for $100.

CANTERBURY

Canterbury Drill Shorts $20.

LAZEEZA JEWELLERS

Sterling Silver Promise Rings

50% Off the Regular Price.

TAROCASH

Selected Shorts $49.99 Each

or 2 for $60.

SCRIBER & MARKS

Huge Summer Sale: Merino

Wool Suits from $249, Slim

Cut Suits from $199, Cotton

Business Shirts from $29.

Sign up to Smart Deals & be in the monthly draw for a $100 Dress-Smart gift card!

Be one of the first to hear about the latest deals, sent straight to your inbox each week!

CHRISTCHURCH 409 Main South Road, Hornby

Open 10am-5pm, 7 Days 03 349 5750

www.dress-smart.co.nz
---
Wednesday February 13 2019

News

Complaints over pathway bottleneck

• By Louis Day

CONSTRUCTION of the

Christchurch Yacht Club's new

boat shed has created a choke

point on the coastal pathway.

The $1.3 million boat shed

will have a deck which will add

4m of width to the pathway,

eliminating the

choke point.

However,

Christchurch

Yacht Club boat

shed project

manager Frank

Sara

Templeton

Coppens said

the deck would

not be ready

until June or July.

Linwood-Central-Heathcote

Community Board member and

city councillor Sara Templeton

said a temporary solution is being

looked at.

Redcliffs Residents'

Association secretary Pat

McIntosh said the current state

of the path was disgraceful and

something needed to be done

before June.

"We have had a number of

complaints from residents

about the condition of the path,

especially affected being the elderly

and those with infants and

children. There is no access for

the disabled to Sumner without

using a car," she said.

Pedestrians have been forced

to walk on the shore side of the

road due to the pathway on the

other side of the road being

closed after the 2011 earthquakes.

Latest Christchurch news at www.star.kiwi

NARROW: Pedestrians on the coastal pathway negotiate the choke point at the construction

site of the new Christchurch Yacht Club boat shed.

PHOTO: MARTIN HUNTER

This section of the coastal

pathway has been a source of

danger in the past with a pedestrian

being struck by a drink

driver in 2016.

Cr Templeton hoped a temporary

solution could be put in

place.

"I have asked for city council

staff to meet with the CYC again

in the next week to come up

with a temporary solution to the

narrowness of the path while

the platform and permanent

pathway are being built," she

said.

display-HN-90x12.9.pdf 2 21/12/2018 1:11:19 p.m.

BAY HARBOUR

Local

News

Now

In Brief

PAGE 3

Fire rages, homes at risk

HOUSE FIRE

Twelve firefighters were called to

a house fire in Sumner which is

believed to have started from an

electrical extension cord. Sumner

Volunteer Fire Brigade said it was

called to Taylors Mistake Rd at

4pm on Friday. Mr Sayer said the

fire which spread from the deck

to the corner of the building took

30min to extinguish. The house

was vacant at the time of the fire

and nobody was hurt.

WALKWAY FEEDBACK

The Orton Bradley Park to

Charteris Bay section of the

Head to Head walkway project

is currently open for public

consultation. The city council

is seeking feedback on route

options between Orton Bradley

Park and Charteris Bay Yacht

Club. Public consultation will

close on February 7.

ANTIQUE COINS

Lyttelton police want the owner

of three antique coins to claim

them. They were found by an

eight-year-old on College Rd and

handed into police on January

28. Sergeant Franco Lovrich said

one of the coins was found to be

of significant value after it had

been looked at by an expert. The

owner would need to describe

the coins.

tree trouble?

call us 384 9630

www.fourseasonstreecare.co.nz

Nuk Korako

National List MP based in

the Port Hills

Please feel free to contact my

office if there is anything I can

help you with.

C

M

A

E

P

6/950 Ferry Road, Ferrymead

nuk.korakomp@parliament.govt.nz

03 384 0008

/nukkorako.PortHills

Y

CM

MY

CY

CMY

t h e t r e e p e o p l e

f o u r s e a s o n s t r e e C a r e

korako.co.nz

Funded by the Parliamentary

Service and authorised by

Nuk Korako, 6/950 Ferry Road,

Ferrymead, Christchurch

K

Diamond Harbour's Summer Sunday music concert

'Live at the Point' is back. 2019 is bringing you artists from

around NZ - a variety of music genres and performers.

diamondharbour.info/live-at-the-point

facebook.com/sprig.dhca

Tax Time is not far away...

Now we are well and truly into the New Year, the 31 March

tax year end will soon be upon us. So now is the time to

focus on your tax and accountancy needs for 2019.

We specialise in:

- Business & Management Advice

- Owner Managed Businesses

- Individual's Tax affairs

- Investment & Rental Properties

- Business Start-Ups

- Accountancy and Tax Compliance

So if you are an owner-managed business, sole trader, have investments

or rental properties and want good quality, fairly priced, friendly local

accountancy and tax advice then contact Ferrymead Accounting.

Your local independent MYOB Approved Partner

and Xero Certified Advisor in Ferrymead

11F Settlers Cres. Ferrymead P. 03 384 8179 M. 022 354 8218 E. info@ferrymeadaccounting.co.nz www.ferrymeadaccounting.co.nz
---
PAGE 4 Wednesday February 13 2019

BAY HARBOUR

Latest Christchurch news at www.star.kiwi

Have you thought about

a career in real estate?

Getting started can be the hardest part. You can hit

the ground running with a huge amount of energy

and enthusiasm and then as the days and weeks go

by you suddenly realise that it's not quite as easy

and straightforward as you first thought. And here's

the tip. It's all about playing the long game. It's about

relationships and people trusting you with their

largest investment and that just doesn't happen

overnight. It takes a planned, structured approach

in order for those first group of happy clients to

help you build a long-standing business whereby

those clients not only become friends but can also

become your advocate. Focus on the quality of the

transaction not size of the deal, as you never know

where your next referral

is going to come from! As

for what my number one

tip would be to anyone who

wants to be successful in

real estate, is to not only

think about relationships

but set yourself tasks with

manageable goals. Have a plan and stick to it, be

prepared to work hard, put the hard yards in and build

a career with the future in mind. If this sounds like

you, come and talk to us. At Ray White Ferrymead,

we're in growth mode and we've got a desk available

for motivated and energetic people like you!

Patricia Van der bent

027 296 1408

Jan Edlin

027 433 8025

Top Sales

for January

Eddie Spry

Ferrymead Office

Feature Properties

Eddie Spry

021 156 5884

Marie Malone

027 489 8349

We are hiring!

In your career there is ALWAYS room for

change, is this your opportunity for 2019?

Eleanor Corston

027 435 2415

Molly Ferdinand

027 594 7427

✓ A fresh approach

✓ A fresh look at your business

✓ A fresh start

359 Mt Pleasant Road, Mt Pleasant

– Eddie Spry and Matt Clayton

If you have a current real estate license, or you are in the

process of completing one, come and talk to us, have a

coffee, and ask us some questions!

Contact Craig Prier anytime!

Ph: 027 434 5299 or 384 4179

Email: craig.prier@raywhite.com

Bronny Clifford

021 272 7718

Mark Gardner

021 633 669

Confidentiality assured

Ray White Ferrymead

What people are saying

about us:

13 Ripon Street, Lyttelton – Daisy Foldesi

Daisy Foldesi

021 328 059

Matt Clayton

021 223 3998

"Excellent to deal with, very professional, worked hard

to achieve a sale."

– About Jan & Patricia

"Bev was thoroughly professional and we felt confident

we were in good hands. She behaved with integrity

throughout and her manner was calm and open."

– About Bev Prout

"Simon and Paula were fantastic agents, putting in a

lot of hard work marketing the property, which paid

dividends on auction day."

– About Team Standeven

Anna Loader

027 272 7128

Simon Standeven

027 430 4691

Paula Standeven

027 547 2852

6a The Rise, Mt Pleasant – Rod Cross

21 Humphreys Drive, Ferrymead and 47b London Street, Lyttelton

Phone (03) 3844 179 | rwferrymead.co.nz | /RayWhiteFerrymead

Rod Cross

021 763 763

Bev Prout

027 495 9586
---
Wednesday February 13 2019

News

• By Julia Evans

WELL-KNOWN Redcliffs

identity David Cox has died

after a long illness.

The 80-year-old gave a lifetime

of service to the community

including a stint as a city

councillor and Hagley-Ferrymead

Community Board member.

find your

groove find your

He had Parkinson's disease

for the last three-and-a-half

contemporary

contemporary

years. However, Mr Cox died on

groove

Thursday after a battle with jazz cancer.

Throughout his life Mr Cox

jazz

was a patron of the Redcliffs

Monday to Saturday

Library, as well as chairman

Preschool to Advanced

of the Music Centre hiphop of

RTS RAD BBO JDNZ NZAMD

Christchurch and member on

the board of the Christchurch Monday to Saturday

Preschool to Advanced

116 Sawyers Arms Road

Symphony Orchestra.

hiphop

RTS RAD BBO JDNZ NZAMD

His wife of 56 years, Fiona,

116 Sawyers Arms Road

Papanui

said Mr Cox he cared so much DEDICATION: Redcliffs ballet identity David Cox died on Thursday.

about Papanui

ballet the community and was

Call 03 354 6228 or 0274 836 265

still working with the library a Youth Heritage Education Trust, silence in his honour www.annaleeschoolofdance.co.nz

before Community Board member

month before Call he passed 03 354 6228 away. or 0274 836 a member 265 of the Court Theatre their game on Saturday.

Darrell Latham said he was a

"He was living www.annaleeschoolofdance.co.nz

life pretty well Trust and a committee member City councillor Yani ANNA Johanson LEE great SCHOOL

adviser for board matters.

until just before ANNA Christmas. LEE All SCHOOL for Bromley Kindergarten, worked with Mr Cox from 2001, "We met on several occasions

the family came for Christmas Christchurch East School and when he was first elected to the at functions and he offered great

OF DANCE

OF DANCE

and we had the best day ever," Linwood College.

board.

advice and support. David Cox

she said.

Mr Cox was also active

"He was a really hard-working has provided excellent service

Mr Cox leaves behind children in a number of sports clubs and dedicated servant to the and support to Christchurch city

and Nor grandchildren, Wester 9 x Sonia 6.4cm and adPeter

including Nor Christchurch Wester 9 United, x 12.9cm community. ad He was involved and to his community. This will

Caird, Andrew and Sarah Cox, Ferrymead Bays Football Club, with young sports people, be his enduring legacy.''

James, Simon and Michael Caird, Sumner Cricket and Canterbury volunteer groups, the libraries. A celebration of Mr Cox's life

and Annabel and Claudia Cox. Sports Foundation.

In terms of his service to the will be held at the Christchurch

He was involved in the

Ferrymead Bays wore black community, he was incredible." Transitional Cathedral on

Sumner Lifeboat Institution, the armbands and held a minute's Linwood-Central-Heathcote Friday from 2pm.

find your

groove

ballet

hiphop

jazz

contemporary

Monday to Saturday

Preschool to Advanced

RTS RAD BBO JDNZ NZAMD

Classes near you in

Sumner/Ferrymead

Call 03 354 6228 or 0274 836 265

www.annaleeschoolofdance.co.nz

ANNA LEE SCHOOL

OF DANCE

Bay

PURE

Harbour News 9 x 6.4cm ad

beautiful hair

HUE is a Specialist Hair Colouring Salon

We don't do cuts…we just do colour!

At Hue, colour is our calling…we are the colour experts.

YOUR LOCAL

ACCOUNTANT

find your

groove

• Financial Statement

Preparation

• Tax Preparation &

Compliance

• Xero & MYOB

Specialists

• We come to you

ballet

hiphop

Bay Harbour News 9 x 12.9cm ad

Latest Christchurch news at www.star.kiwi

Lifetime of community service ends

jazz

7 Margot Lane

Mount Pleasant, Christchurch

Phone 3844-633 Cell 021-677-670

steven@sclarke.co.nz

contemporary

Monday to Saturday

Preschool to Advanced

RTS RAD BBO JDNZ NZAMD

Classes near you in

Sumner/Ferrymead

Popular

Call 03 354 6228 or 0274 836 265

www.annaleeschoolofdance.co.nz

T008 Model

$269

ANNA LEE SCHOOL

OF DANCE

Christchurch Showroom

13b Parkhouse Rd, Wigram

Vanity Range 20% OFF

BAY HARBOUR

Local

News

Now

Open 6 Days Mon-Fri 9am - 5.30pm | Sat 9.30am - 4pm

0800 MILLEN | www.millen.co.nz | 03 348 8678

New

Whirlpool Flush

T027 Model

$499

Extra High

BTW Style

PAGE 5

Fire rages, homes at risk

Dark Star Cafe

may stay open

• By Louis Day

THE DARK Star Cafe may reduce

its opening hours instead of closing

completely in March.

Co-owner of the cafe Martin

Henderson previously told the Bay

Harbour News they would be closing

in March.

However, after the petition to extend

the statutory building approval

of the Godley House site received

more than 3000 signatures he felt it

would not be fair on the community

to completely close down.

"A lot of people are quite upset at

the fact that we are going, so what

we are looking at is a limited opening

schedule," he said.

Mr Henderson said this would

consist of the cafe opening on

Wednesdays, Friday evenings and

throughout the weekend.

The petition was presented to

the Banks Peninsula Community

Board on February 4.

City council head of facilities,

property and planning Bruce Rendall

said they could not consider

extending the lease on the Godley

House site beyond June 2021 until

the Dark Star owners had found a

new business to occupy the site.

However, Mr Henderson said it

was almost impossible to attract a

new business to the site with only

two years left on the lease.

Hue dOn't dO Cuts?

That's right, no scissors in the salon. We are a salon that specialises in colour, offering our

clients expertise, convenience, flexibility and value. We have been in the industry for ten

years, with five salons in Auckland and now one in Ferrymead, Christchurch. We think colour

has the greatest impact on someone's 'look'. Colour also needs attention before length, so it

makes sense to specialise in colour.

expertise

Consultation is always free in our salons. Getting it right is incredibly important to us. Our

clients appreciate that their consultation and colouring is done by the same person.

Flexibility

Clients can choose as much or little as they wish from our colour and styling menu.

Whether it's just a blow wave or toner to keep the colour looking sharp, or a creative

colour for a full transformation and a new 'look', we have the flexibility to match

anyone's desire and budget.

Hue Ferrymead

Unit 2, 1105 Ferry Rd , Christchurch

Phone: 03 266 0099 | info@hue.co.nz | www.hue.co.nz

Opening HOurs:

Tuesday: 9am – 8pm, Wednesday: 9am – 6pm, Thursday: 9am – 8pm

Friday: 9am – 6pm, Saturday: 9am – 5pm, Sunday and Monday: Closed
---
PAGE 6 Wednesday February 13 2019

BAY HARBOUR

Latest Christchurch news at www.star.kiwi

New

EvErything you

nEEd in onE plaCE

Group fitness, yoga, Pilates, dance, kickboxing, cycling, gymnastics, family fitness

your rEsults

arE at thE top of

our playlist!

Memberships from just 35 dollars per week

aerial yoga

— exclusive to

members!

Call us today 027 555 8956

14/1005 Ferry Rd, Ferrymead, Christchurch

www.thehealthhubnz.co.nz | info@thehealthhubnz.co.nz
---
Wednesday February 13 2019

Latest Christchurch news at www.star.kiwi

BAY HARBOUR

PAGE 7

News

See in-store for

Valentines gift ideas!

11 th to 17 th February 2019

$

24 99

kg

Fresh NZ Beef

Sirloin Steak

$

1 49

ea

Large Hass Avocados

Tagging spree gets

worse in Lyttelton

•From page 1

"If anyone could identify

the tag or give us a name

of a potential suspect, we

would certainly follow

up on that information,"

Sergeant Lovrich said.

Eruption Brewing owner

Brendan Hyman said

he was devastated to see

taggers had defaced the

mural on the side of his

microbrewery.

"I really don't like

tagging, but I love street

art, and the fact that they

have tagged over what was

a great piece of street art is

quite upsetting."

Mr Hyman said it has

been an ongoing battle with

taggers since he opened the

microbrewery last year.

Lyttelton Coffee

Company owner Stephen

Mateer said he has to deal

with tagging on his cafe

regularly. "I have got two

to clean off at the moment

actually, but there are some

I quite like that I might

leave on the building."

•To report tagging,

phone the Lyttelton

Police Station

on 378 0200 or

anonymously call 0800

Crimestoppers (0800

555 111).

$

5 79

ea

WW Butter Salted

500g

2 for

$

3 00

Wattie's Canned Fruit

400-410g

(Excludes Tropical)

$

2 49

ea

$

1 00

ea

Coca-Cola,

Sprite, Fanta, Lift

or L&P 1.5L

Golden Circle

Fruit Juice 1L or

Kiwi Blue Still

Water 1.5L

BAD LOOK: Lyttelton Community

Association chairman Ken

Maynard said the current wave

of vandalism is the worst he has

seen in 20 years.

$

17 99

pk

DB, Export Gold,

Citrus or Tui

12 x 330ml Bottles

$

11 99

ea

Wither Hills

750ml

(Excludes Pinot Noir)

svbhn1302

Owned &

operated

by locals

SuperValue Lyttelton, Sumner

For inspiration visit SuperValue.co.nz |

While stocks last at SuperValue Lyttelton and Sumner only.

Please drink

responsibly
---
PAGE 8 Wednesday February 13 2019

BAY HARBOUR

Latest Christchurch news at www.star.kiwi

Swap a can of food for a

free Resene testpot!

Bring a can of food into your local Resene owned

ColorShop and we'll give you a FREE Resene

testpot (worth up to $5.60). All cans of food will be

donated to local Salvation Army and community

foodbanks to give to Kiwi families in need.

So start gathering up those cans and

bring them into your local Resene

owned ColorShop.

Your Local Views

Vittoria's age of mischief

VITTORIA

& Matt

Te Ope Whakaora

HUNGER FOR COLOUR

www.resene.co.nz/hungerforcolour

Limit of 7 free testpots 60-80ml per household. Maximum of 1 testpot per Resene

colour. Food can must be at least 200ml/gm of food or more. Hunger for Colour runs

from 1-28 February 2019 or while testpot stocks last. See details in store or online.

I HOPE everyone enjoyed

their Waitangi Day break –

our only truly national holiday.

That is until we all realise that

a national holiday in winter –

like, say, for Matariki – would

actually be quite nice.

I've lost my mouse. My

computer mouse that is.

Well, I say 'I lost it', but

really someone small and

cute found it, took it, and

put it somewhere safe. Or

under something. Or behind

something. Or in something.

I mean, she can't eat it, I

don't think. Turn your back

to Vittoria's actions and she'll

get up to some sort of mischief

without fail. Age and stage,

right? Either way, it's made

writing this slightly difficult. I

use a laptop and am the kind

of person who can accidently

wipe his computer by touching

that bloody mouse pad. Just

got to persist and deal without

it for now.

That's one way to remind me

to be on my toes as to things

around Vittoria. Considering

her mischief abilities, I'm

equally impressed by Laura's

and my persistence in keeping

all her pyjamas, bibs and socks

neatly folded and stacked on

a shelf in direct line of fire. I

think we've both re-folded and

re-stacked that shelf 100 times.

She'll grow out of it eventually,

either that or we'll buy another

drawer or something.

It's hilarious when you catch

her in the act of mischief, she

usually shoots over a sly look

while slowly continuing to do

whatever it is you're telling

her 'no' about. If you catch her

"borrowing" something, she

generally giggles, tries to hide

it behind herself and then runs

off. Sometimes too fast and she

falls over, making it funnier.

Or immediately sadder.

GUILTY: Vittoria caught in the act of mischief.

She is so adorable that it's enjoyed herself, I could tell

hard to be angry mostly. because even though she

Unless it's the 10th time abandoned me to go play with

that day. Then it's time for a the cupboards with a new

recharging cuppa.

friend as it started, she came

Beyond renewed assaults back all smiles soon after and

on folded clothing, this week stayed for the rest.

also saw Vittoria and I start •Former Bay Harbour

at her first toddler-focussed News journalist Matt

activity, Shimmy Shakers, at Salmons has become a

the Phillipstown Community stay-at-home dad. We

Hub on Monday. She really follow his journey weekly.

NEW LISTING

NEW LISTING

Redcliffs 9 Red Rock Lane

Sumner 45 Kinsey Terrace

Majestic in Moncks Bay

4 1 2 2

Contemporary Clifton home

3 2 2 1

A fabulous home and lifestyle that has been in the

family for over 40 years. A stunning architectural

home in a superb position. Perfectly private, warm and

sunny. This contemporary home has a Scandinavian

influence, extensive use of natural timbers throughout

including flooring, stairs, ceilings and joinery has

created a warm glow and a sense of style. With

sweeping unobstructed views over Moncks Bay to the

Southern Alps and beyond, on magnificent northfacing

site of 11,455m 2 . Opportunities such as this are

rare, so close the the city. Make your lifetime memories

in this wonderful

bayleys.co.nz/559324

Deadline Sale (unless sold prior)

4pm, Fri 1 Mar 2019

987 Ferry Rd, Ferrymead

View Sat/Sun 11-11.45am

Marilyn Still

027 229 8769

marilyn.still@bayleys.co.nz

WHALAN AND PARTNERS LTD, BAYLEYS, LICENSED REAA 2008

Private and peaceful, nestled into the side of Clifton hill

overlooking Moncks Bay. Breathtaking intimate water

views, lush gardens and mature plants and an easy

stroll to the beach along Mulgans Track. Extensively

renovated inside and out with a keen sense of

elegance and style. Expansive and functional living

spaces are defined by the detailing throughout which

reflect the owners refusal to compromise on quality.

Simply stunning with floor to ceiling use of glass

maximizing the sun and the views. Very cool modern

and welcoming, every level has wow!

bayleys.co.nz/559316

Auction (unless sold prior) 12pm, Thu 28 Feb 2019

3 Deans Ave, Chch

View Sat/Sun 2.15-3pm

Marilyn Still

027 229 8769

marilyn.still@bayleys.co.nz

WHALAN AND PARTNERS LTD, BAYLEYS, LICENSED REAA 2008
---
Wednesday February 13 2019

Latest Christchurch news at www.star.kiwi

BAY HARBOUR

PAGE 9

free UnderLAY *

FREE no obligation measure & quote

(conditions apply)

February

*

on seLected ProdUcts, conditions APPLY

Q Card Finance Now Available

Ruby Bay

• 75 oz Solution Dyed Nylon

• 3 Colours

free

UnderLAY

Vega Vinyl Planks

3 Colours in stock

$233.00 Per BLM

Grange Fell

• 50 oz

• Solution Dyed Nylon

• Extra Heavy Duty

• 5 Colours

$139.90 Per BLM

Windsor Twist

• Extra Heavy Duty

• 36oz Solution Dyed Nylon

• 11 Colours

$119.90 Per BLM

Newport

• Commercial Heavy Duty

• Solution Dyed Nylon

• Loop Pile

• 5 Colours

$109.90 Per BLM

free

UnderLAY

free

UnderLAY

free

UnderLAY

now $29.90PM 2

Vinyls

2m & 3m wide

2M wide froM $29.90LM

3M wide froM $50.00LM

Garage Carpet

6x6m, Fully installed

now $850.00

312 Wilsons Road North, Waltham Phone 366 0070

Mon to Fri 8am-5pm and Sat 10am-1pm

Check out our website! www.carpetkingdom.co.nz
---
PAGE 10 Wednesday February 13 2019

BAY HARBOUR

Latest Christchurch news at www.star.kiwi

NEW RELEASES

GREAT

Summer

READS

INSTORE!

GREAT READS INSTORE NOW

Backstage Passes

The untold story of New Zealand's Live Music

Venues 1960-1990

By Joanna Mathers

New Zealand music was made on beer-stained stages, in

grimy toilets and smoky back rooms. Backstage Passes charts

the stories of the countries most celebrated live music venues.

Hookers, heroin, cocaine, killings, sex in alleyways, punch-ups

on dance floors – live music was the nexus around which a

cultural history happened.

Backstage Passes has the inside story on what it was like

to be part of a vibrant scene when New Zealand was a rural

backwater. First-hand accounts from muscicians, fans and bar

owners bring each chapter to life.

The beating heart of the book is the music and the spaces

within which the music was played. Rock, pop, reggae, punk

and hip-hop.

The Book of Knowing

Know How you Think, Change How you Feel

By Gwendoline Smith

'This book has given our daughter life's most essential skill:

the ability to notice and manage her thoughts. This skill has

fundamentally changed her present and her future. We will

be forever grateful.' Scarlett's mum. Written in an accessible

and humorous style, this book teaches you to know what's

going on in your mind and how to get your feelings under

control. It'll help you adapt and feel better about your place

in the world. Psychologist Gwendoline Smith uses her broad

scientific knowledge and experience to explain in clear and

simple language what's happening when you are feeling

overwhelmed, anxious and confused.

The Six Loves of Billy Binns

By richard Lumsden

THE SIX LOVES OF BILLY BINNS is a deeply moving debut

set in London against the backdrop of the changing 20th

century. it is reading group fiction perfect for those who loved

the quirky pathos of Gail Honeyman's ELEANOR OLIPHANT

IS COMPLETELY FINE and the warmth and humour of Rachel

Joyce's THE PILGRIMAGE OF HAROLD FRY. At 117 years old,

Billy Binns is the oldest man in Europe and he knows his time

is almost up. But Billy has a final wish: he wants to remember

what love feels like one last time. As he looks back at the

relationships that have shaped his life - and the events that

shaped the century - he recalls a life full of hope, heartbreak

and, above all, love.

At The Wolf's Table

By rosella Postorino

They called it the Wolfsschanze, the Wolf's Lair. 'Wolf' was his

nickname. As hapless as Little Red Riding Hood, I had ended

up in his belly...

Germany, 1943: Twenty-six-year-old Rosa Sauer's parents

are gone and her husband Gregor is far away, fighting on the

front lines. Impoverished and alone in war-torn Berlin, she

makes the fateful decision to seek refuge with her in-laws in the

countryside.

But one morning the SS arrive to inform her she has been

conscripted as one of Hitler's food tasters. Twice a day, Rosa

and nine other women must go to his secret headquarters, the

Wolf 's Lair, to eat his meals before he does. After each meal,

the women must wait an hour to see if they will die.

Forced into this deadly game of roulette, the tasters divide into The Fanatics, loyal to Hitler, and

the women like Rosa who insist they aren't Nazis, even as they risk their lives every day for his.

As secrets and resentments grow, one of Rosa's SS guards becomes dangerously familiar. And

as the war escalates, it becomes increasingly clear that Rosa and everyone she knows are on

the wrong side of history.

1005 Ferry rd

Ph 384 2063

while stocks last (see instore for terms and conditions)

Barry & kerry
---
Wednesday February 13 2019

News

Latest Christchurch news at www.star.kiwi

BAY HARBOUR

PAGE 11

Suspected drink drivers

prompt call from police

• By Louis Day

DON'T USE Facebook to

report crime. Contact the

police.

That is the plea

from Sergeant

Franco Lovrich

after details about

two suspected

drink drivers were

posted on the

Diamond Harbour

Facebook page.

Resident Lorraine

Heaton-

Caffin posted on Facebook

after her children saw two

4x4 vehicles being driven

up the rock wall at the

Diamond Harbour wharf

car park.

Her children believed

the drivers were drunk.

Mrs Heaton-Caffin told

Franco Lovrich

the Bay Harbour News

she did not think she had

enough evidence to report

the incident to the police.

But Sergeant Lovrich

said people should

report this kind of

incident to police

so they could be

the best judge.

"That's the frustrating

thing, people

see something

and they start gossiping

about it on

Facebook instead

of reporting it to us. By

reporting directly to us we

can get an accurate judgement

of offences as they

occur and from there we

can prioritise resources,"

he said.

Mrs Heaton-Caffin said

she posted about the incident

on Facebook to see if

anyone else saw anything.

"My children told me

they were driving their

cars right up against

the side of the car park

which made the rocks fall

down on to the car park.

They said both kids were

drunk," she said.

Another resident said

on the Facebook page they

saw the suspected drink

drivers leaving the car

park in "an awful manner."

Sergeant Lovrich refused

to comment on speculation

made over social

media but condemned

drink driving as a serious

offence.

"If you are going to

drink find a sober driver

to get you home."

Call for end to double cruise ship days

• By Louis Day

AKAROA residents are

calling for an end to

double cruise ship days

after 6568 cruise ship

passengers and staff

docked in the town last

Thursday.

This was the largest

cruise ship day since the

start of December when

7060 people arrived.

Akaroa also had to

accommodate 4312 cruise

ship passengers and staff

on Monday when they had

a triple cruise ship day.

Akaroa Civic Trust

secretary Rosie Davidson

said the town was bursting

at the seams during the

recent double cruise ship

visit.

"When you have a

population of 640 people

and you have a good 6000

people landing on your

doorstep it is just chaos,"

she said.

Mrs Davidson said

Beach Rd was congested

with tour buses and the

wharf was "heaving with

humanity."

One local business

owner who wished to remain

anonymous told the

Bay Harbour News during

TOURS: Buses line Beach Rd.

BURSTING: More than 6000 cruise ship

passengers and staff visited Akaroa last Thursday.

the double cruise ship visit

in December, they had

tourists break into their

private toilets.

"This Australian passenger

had used our toilet in

spite of me telling him to

use the public bathrooms

across the road and had

left mud all throughout

the bathroom."

Deputy Mayor and

Banks Peninsula

councillor Andrew Turner

said discussions were

ongoing to reduce double

cruise ship visits in future

seasons.

"My understanding

from relevant management

at Christchurch NZ

is that progress has been

made in reducing double

cruise ship days in the

future."

Cr Turner said

Akaroa did not have the

infrastructure to cope

with 6568 cruise ship

passengers and staff at a

time.

"They [double cruise

ship days] don't work for

the passengers, they don't

work for the businesses

and they don't work for

the community, they are

just not an ideal situation."

Fresh NZ Quality

Mark Prime Beef

Mince

Don't forget valentines day!

Single

Long Stem Rose in

Decorative Sleeve

$

12 99 ea

Floral available while stocks last!

$

10 99 kg

Bluebird Original

Cut Chips 150g

$

1 99 ea

Thursday 14th February

Nestle Scorched

Almonds 240g

Pams Fresh Sweet

Temptation Tomatoes

500g Prepack

Product of New Zealand

www.foursquare.co.nz

$

5 99 ea

$

3 49 pk

Allan Scott 750ml

(excludes Pinot Noir)

$

13 99

ea

facebook.com/FourSquareNZ

Specials available South Island only from Monday 11th February until Sunday 17th

February 2019 or while stocks last. Wine and beer available at stores with an off licence.

Wine and beer purchases restricted to persons aged 18 years old and over.
---
PAGE 12 Wednesday February 13 2019

BAY HARBOUR

Latest Christchurch news at www.star.kiwi

ews

Bid for fine wine store in Redcliffs

• By Louis Day

REDCLIFFS MAY get a fine

wine and spirits store on Main

Rd.

The company behind the bid is

national chain Thirsty Liquor.

Thirsty Liquor wants to set-up

the store in the

Bloom Room

Florist building.

But the new

outlet will not

have the Thirsty

Liquor branding

and will be

called "Redcliffs

Darrell Fine Wine and

Latham Spirits."

The application will be heard

by the District Licensing Committee

where the licensing inspector,

police, medical officers

of health and objectors will have

the opportunity to present their

case.

The store has applied to open

seven days a week from 9am

to 10pm. Public submissions

regarding the application close

on February 21.

Redcliffs Residents' Association

secretary Pat McIntosh said

they would not be lodging an

objection.

"We have had a fair amount

CHANGE OF SCENERY: A fine wine store may occupy the Bloom Room Florist building on

Main Rd.

PHOTO: MARTIN HUNTER

of feedback from people, many

were supportive of it and some

were concerned but as an association,

we did not think we

should take a stand collectively,"

she said.

Linwood-Central-Heathcote

Community Board member

Darrell Latham said the board

would happily support any

residents who objected to the

liquor outlet.

"It is critically important that

members of the Redcliffs community

take the opportunity to

have their voices heard on the

application for a new Thirsty

Liquor bottle store," he said.

Store owner Jugraj Singh

was confident the store would

not have a negative impact on

the community.

"Thirsty Liquor is a franchise.

Some of the stores are bad and

some of them are very good,

that is down to the owner," he

said.

Mr Singh said the store would

offer a selection of wines, spirits,

craft beer as well as a range of

delicatessen and that only 10 per

cent of alcohol sold would be

RTDs.

Local

News

Now

Installing fire

protection

system forces

tunnel closure

Fire rages, homes at risk

LYTTELTON TUNNEL will

be closed on three consecutive

nights in late February in order

to install a multi-million dollar

fire protection system.

The closures are required in

order to install and carry out

testing of a new $29 million fire

protection system in the tunnel.

The NZ Transport Agency

has planned to close the tunnel

between 11pm and 4am on February

24, 25 and 26.

The tunnel will open to traffic

for 10min on the hour each of

these nights. Outside of these

times, only emergency vehicle

access will be available.

NZTA senior project manager

Chris Collins said work on the

project will be completed in

April.

"Installing the new fire protection

system often involves

working in confined spaces.

Single and full tunnel traffic lane

closures are critical to successfully

completing this important

project. To minimise their

impact, they are timed for late at

night and in the early hours of

the morning when tunnel traffic

is at its lightest," he said.

new client deal

20% off any service

booked with Ashlee.

Valid until 28th Feb 2019, Terms & conditions apply

Book your appointment today (03) 384 1743

4/2 Soleares Ave, Mt Pleasant

Open: Monday to Saturday Late Night: Wednesday & Thursday

style

noun

elegance and sophistication.

synonyms: flair, grace, poise,

polish, suaveness, urbanity,

chic, finesse, taste, class,

comfort, luxury, affluence,

wealth, opulence, lavishness.

MAGAZINE

STYLE.KIWI

Discover Christchurch's

best priced pet

accommodation

• Daycare -

all breeds

• Long stay/

short stay

Call now to

book in your

fur baby,

inspections

welcome

anytime!

aLameDa

kenneLs & cattery

271 Dyers Road | Ph 384 1297

www.alameda.nz

Visit our new website: www.min.nz

With thriving communities and

picturesque views,

the bays are truly spectacular

COASTAL REAL ESTATE SPECIALISTS

We'll help you live the dream.

Min Sarginson Real Estate Ltd. specialises in homes, sections and

rental properties in the spectacular Lyttelton Harbour bays, and

coastal suburbs of Christchurch, New Zealand.

We'll make it so easy for you. All our sales consultants live in the

area – we can give you valuable insights into life in our thriving

coastal communities.

This is an exciting time; of promise, optimism, and opportunities

never anticipated pre-quakes. Beachfront, or hillside with

grandstand views, find the property of your dreams:

Lyttelton | Diamond Harbour | Governors Bay | Cass Bay

Charteris Bay | Church Bay | Purau Bay | Port Levy | Northshore

Southshore | New Brighton | Heathcote | Sumner | Redcliffs

Scarborough | Mount Pleasant | Clifton

Call Min Sarginson Real Estate Ltd. for free, no-obligation advice. Lyttelton: 03 328 7273, lyttelton@min.nz or Church Bay: 03 329 4161, churchbay@min.nz
---
Wednesday February 13 2019

Latest Christchurch news at www.star.kiwi

BAY HARBOUR

PAGE 13

2 FOR 1

Africa

Cambodia

China

Egypt

India

Italy

Sri Lanka

Turkey

Vietnam

Book from 21 January to 10 March 2019

2 FOR 1

Africa

Cambodia

China

Egypt

India

Italy

Sri Lanka

Turkey

Vietnam

15% OFF

ANZAC Day

Iceland

Jordan

Morocco

Peru

Thailand

10% OFF

Bhutan

Greece

Japan

Nepal

Russia

& more...

contact the 15% team OFF at HOT Ferrymead for all of the terms and conditions

ANZAC Day

987 FERRY ROAD, FERRYMEAD VILLAGE

Iceland

376 Jordan 4022 | FERRYMEAD@HOT.CO.NZ

Morocco

FERRYMEAD
---
PAGE 14 Wednesday February 13 2019

BAY HARBOUR

Latest Christchurch news at www.star.kiwi

News

Extending Akaroa

Catholic Cemetery

'not a possibility'

• By Louis Day

AKAROA RESIDENTS are

frustrated that the city council is

refusing to expand the Akaroa

Catholic Cemetery into the vacant

land next to it.

The cemetery is currently full

except for burials in pre-purchased

plots and second internments.

An Akaroa cemeteries working

group came across the vacant land

while conducting repairs to the

cemetery.

Banks Peninsula Community

Board and Akaroa cemeteries

working group member Janis Haley

said they went to the effort of

clearing the land to be told it was

not an option.

"It was covered in bush so we as

a voluntary group got in there and

cleaned it all out and we would

like to think that since it is already

cemetery land that they [city council]

would consider it," she said.

However, city council manager

of community parks Al Hardy said

the expansion of the cemetery into

the vacant land was not a possibility.

"The expansion of the cemetery

into vacant cemetery land would

likely be expensive due to rugged

contours alongside difficult

access and consent issues. We

are also aware of the existence of

unmarked graves in the area."

• By Louis Day

THE FAMILIES of three

Sumner servicemen who died

during World War 1 have

claimed their commemorative

crosses.

RSAs across the country

commemorated Armistice

Day last year by displaying

crosses which commemorated

servicemen who gave their lives

during the conflict.

The Sumner Redcliffs RSA

made a cross for each of the 21

casualties from Sumner and

displayed them at the memorial

gates on Wakefield Ave.

The families of Lieutenant

Corporal Henry Wright, Private

Albert Marquet and Private

Richard Stevens claimed their

crosses.

The families shared their

thoughts and experiences,

swapping tales and showing each

other memorabilia, speculating

that their predecessors may have

met all those years ago.

However, Sumner Redcliffs

RSA president Pat Boland said

there was still work to do.

"Ideally we would like all

21 crosses reunited with their

families."

The remaining crosses will

continue to be displayed on

Wakefield Ave and may still be

claimed by relatives.

•Phone RSA president

Pat Boland 027 333 2189.

The crosses still to be claimed:

•Trooper George Wyse Smith

•Private Robert Ash

•Private Albert Walker

Richardson

•Lieutenant

George SissmoreLavie

•Corporal Frederick William

Pilcher

•Private Roland Dalton

•Bombardier Harry Brian

Fletcher

•D'Arcy Street

•George Stringfellow

•Private Geoffrey Vincent Hill

•Trooper Montagu Clayton

Local

News

Now

Families claim three crosses

LEST WE FORGET: Gareth Wright, great nephew of Lieutenant Corporal Henry Wright, Annette

Sowman, great-niece of Private Richard Stevens, Harry Marquet and his son Michael Marquet,

who are the nephew and great-nephew of Private Albert Marquet, stand in front of the

memorial gates on Wakefield Ave.

Fire rages, homes at risk

•Private Alfred Victor Fitchett

•Trooper Edwin Hugh Senior

•Acting Sergeant Frank

Pardoe Hibell

•Corporal Felix H.C. Preston

•Private Charles Horace Maffey

D.O.S.

•Lieutenant Lloyd Phipps Black

•Private Albert Oliver

•Private George Gordon Hibell

mitre 10 mega ferrymead

lend a helping hand

On Wednesday 30th january a team from Mitre 10 MeGA Ferrymead ran a hands

on holiday programme with Youthtown at the te Waka Unua School.

The day started off with the banging of hammers and whirring of

drills as the kids began to put together six planter boxes which

will be left for the school. Working in groups and supervised by

the Mitre 10 Team, it wasn't long before the boxes were built and

ready for painting. The children got stuck right in decorating them

with purple, green and yellow before breaking for a well earned

lunch. Once re-energised they were on to filling the planter boxes

with soil and some vege mix supplied by Tui, before planting some

edibles - lettuce, onion, broccoli to name a few. Overall it was a very

successful day!

PrOject

tHree

te WAkA UnUA ScHOOl

PlAnter bOxeS

tHe teAM HelPInG Set UP

HAPPY tO lend A HelPInG HAnd

HAve YOU GOt A

cOMMUnItY PrOject?

visit https://www.mitre10.co.nz/local/MegaFerrymead/

cOMMUnItY/ to register and you could have the Mitre10

team lend you a helping hand.

Terms and conditions apply, see instore or online for more details.

proudly supported by:

Ferrymead

1005 Ferry Road, Phone: 366 6306

Opening Hours: Monday–Friday: 7:00am–7:00pm

Saturday, Sunday and Public Holidays: 8:00am–6:00pm

mitre10.co.nz/local/MegaFerrymead/

If you find a lower price on an identical stocked

product locally we will beat it by 15%.

@MeGAFerrymead

If you find the same product cheaper from another Mitre 10 store or Mitre 10 website we'll match that price.

Excludes trade and special quotes, stock liquidations and commercial quantities. The in-store price may be lower than that advertised.

ferrymead
---
Wednesday February 13 2019

Latest Christchurch news at www.star.kiwi

BAY HARBOUR

PAGE 15

PROjECTS DONE RIGhT

Fence Paling 1.8M

150x12mm. H3.2 treated

Radiata. Rough sawn finish.

635018

TG&V Retaining

Wall Timber

150x50mm. H4 treated Radiata.

Machine gauged.

635826

Fence Rail 4.8M

50x75mm. H3.2 treated Radiata.

Rough sawn finish.

635030

$

2 39

$

5 47

$

14 88

$

1 98 $

17 12

$

10 52

eaCh

Firth

Walkway Paver

Available in black sands, volcanic ash

or terracotta. W:230, L:190, D:50mm.

278930

eaCh

Expanding Trellis

1800x900mm.

Lightweight and

easy to install.

114294

Exposed

Aggregate Paver

Traditional paver. Available

in 450, 500 and 600 sizes.

908935

FroM

p/M

eaCh

Railway Sleeper 2.1M

210x162mm H5. Ideal for creating

landscaping features around your home.

119823

Flagstone Paver

400x400x40mm.

Available in black,

white or sand.

267932

MLC Group

Trellis or

Louvre Panel

1800x900mm.

Available in a

range of colours.

297362/66

eaCh

eaCh

$

36 16 $ 69 98

eaCh

FroM

$

138 eaCh

26x BULK BINS

COMPOST, LAWN MIx, BUILDING AGGREGATES AND STONES

The Ferrymead Mitre10 Trade Centre and Landscaping Zone has

everything you need to complete your projects.

• Screened Soil

• Mega Grow

• Bio Blend

• Garden Grow

• Tree Mulch

• Black Mulch

• Builders Mix

• AP20 Shingle

• AP40 Shingle

• Plastering Sand

• Brick Sand

• Bedding Sand

• Crusher Dust

• Teddington Chip

• Lime Chip

• Tailings

• 15mm White Ice

• 30mm White Ice

• Oamaru Pebble

• Gabion Boulders

Ask about our delivery and

FREE courtesy trailers today!

Conditions apply

• Glacier White

Pebble

• Firewood

• 13mm Chip

• 13mm Rounds

• Standard Bark

Nuggets

• Premium Bark

Nuggets

offers available at Ferrymead Mitre 10 Mega Trade Centre only, until 20 th of February 2019, while stocks last.

Ferrymead 987 Ferry Road phone 373 6550 mitre10.co.nz/trade hours Mon-Fri 7am-7pm, Sat-Sun and Public Holidays 8am-6pm
---
PAGE 16 Wednesday February 13 2019

BAY HARBOUR

Latest Christchurch news at www.star.kiwi

New Brighton

New Zealand Post, Kiwi Bank & NZTA Registration Services

(Licensing, Change of Ownership, RUCLA)

Available 7 days a week

Monday to Friday 8.30 to 5.30

Saturday 9.00 to 5.30

Sunday 10.00 to 4.00

paperplus.co.nz

72 Brighton Mall, New Brighton

03 388 1809 | paperplus.co.nz
---
Wednesday February 13 2019

Your Local Views

Pirate's Corner

Learn the rules if

you want to

jetski in the harbour

• By Gary Manch

WE HAVE had a great summer

so far and it's been relatively

incident-free to date.

However, there is one thing

that concerns me – as it does

you, considering to the number

of phone calls I have received

– and that is the apparent

disregard for people's safety

in some of our bays by people

riding jet skis.

Sadly, once again, it is the

minority of users bringing

disrepute to the capable and safe

jet skiers.

I have said many times, the

harbourmaster and his staff are

there to ensure the waterways

are safe for everyone, from

swimmers through to big ships.

We want people to have fun, but

with consideration for others

while obeying the safety rules.

This unsafe behaviour has included

jet skis operating within

200m of the shore travelling at

high speed. Sadly, some of these

have travelled close to swimmers

Sell your home

this summer!

Relax in the sun and

let me work for you

The summer months are the peak selling time in our seaside

suburbs so, if you are considering selling, call Chris today for

the latest market news and a free appraisal of your home.

Chris Moores

Harcourts Grenadier Ferrymead 1020 Ferry Road

P: 03 384 7950 | M: 027 588 4440

E: chris.moores@harcourts.co.nz

Licensed Sales Consultant REAA 2008

and moored vessels.

There is a definite risk to not

only the people in or on the

water, but also to the jet ski rider

if they lose control.

So here is my challenge to both

jet skiers and those of you who

have friends with them – please

have a chat about safety.

If the person does not know

the rules, ask in the nicest

possible way that they do.

Alternatively, contact me at the

harbourmaster's office, I am

happy to give advice about where

you can and cannot go.

Canterbury is a region of some

40,000 sq km, with many waterways

that can be used recreationally

without choosing high-use

areas that have restrictions, or a

lot of swimmers, and paddlecraft

operators.

So, the message this month is

go out there, have fun, but in the

appropriate area for the vessel

you are using. It shouldn't be too

hard to follow.

Be safe on the water.

GRENADIER

SAFETY:

Have fun

on your

jetski but

watch out

for other

water

users.

Latest Christchurch news at www.star.kiwi

Linwood-

Central-

Heathcote

Community

Board

member

and city

councillor

Sara

Templeton

talks about how important

community action is in

fighting climate change

I RECENTLY attended a

thought-provoking meeting in

Redcliffs where residents have

started the year talking about

climate change.

While some in the media see

no point in individual action and

call on regulation from above,

these residents have recognised

that individuals acting together

can make a real difference.

Organised by Dave Bryce, we

heard from Dr John Hunt about

the science and Shannon Ball

about measuring our individual

and community actions. The

information was really useful

and the discussions generated

afterwards were positive, with

residents sharing ideas and

knowledge.

Individual action matters for

many reasons – the first of which

is that it makes a difference in our

own lives, gives us hope and motivation

for the future. The next is

that our actions inspire others.

This was a key message at the

meeting – let us inspire change

in each other and make a collective

difference, not just as a

small coastal community, but let

us challenge our neighbouring

communities to do the same.

Then there's the moral mandate

– how can we ask change of

others if we are not prepared to

do it ourselves?

This works both at a personal

level, a city level and a National

one. How can New Zealand

insist that other countries cut

their emissions when we produce

more per capita than most of

Call today for

professional,

local advice on

real estate

Dyers Road Landscape

& Garden Supplies

• Barks • Peastraw • Composts - we supply the best available

• Aggregates - Chip, Round and Basecourse

• Pavers & Schist products • Pungas

• Decorative Stones & Landscaping Rocks

• Trailer Hire first hour free with purchase

• Bag & Bulk - pick up or delivered

David, Carol & Mike

them? While we are small, we

know that we can make a difference

in the world when we lead

the way.

If all the small nations in the

world whose emissions are under

one per cent of global emissions

simply threw their hands up and

said 'we're too small to make

a difference' then 24 per cent

of the world's emissions would

go untouched and continue to

increase.

However, the reality is that

We will deliver!

BAY HARBOUR

SOIL

AND

HARDFILL

DUMPING

PAGE 17

Community action on climate

change can make a difference

ACTION REQUIRED: The

effects of climate change are

wide-ranging.

Local

News

Now

Fire rages, homes at risk

there needs to be large scale

changes to our transport and

agricultural systems, to how we

manage water and our energy

supply – things that individuals

have no direct power to change.

Yet we can make a difference

as our leaders need a mandate to

make this change. Without the

grass roots demanding action

our councils and our Government

struggle to get changes

through against a vocal opposition.

It is here that I believe that

individuals can make the most

difference – by calling for change

from those in power and holding

them to account.

"Never doubt that a small

group of thoughtful committed

citizens can change the world.

Indeed, it is the only thing that

ever has." – Margaret Mead

Phone: 03 384 6540

183 Dyers Rd, Bromley • OPEN 7 DAYS

Weekdays 7.30am-5pm. Weekends 8.30am-3pm

www.dyersroadandlandscapes.co.nz
---
PAGE 18 Wednesday February 13 2019

BAY HARBOUR

Latest Christchurch news at www.star.kiwi

FRESH POPS OF

COLOUR

Camille Dining Chair

BEAUTIFUL BRASS

DETAILING

Donata Kalmin Armchair

SLEEPWORTHY

TEXTURES

Prestige Plus Mattress

Manteau Outdoor

Corner Lounge Suite

REFRESHINGLY

CLEAN LINES

Come see what's new and on sale! Ends 04.03.19

Shop

Online

Nationwide

Delivery

Finance

Options

targetfurniture.co.nz

Cnr Blenheim & Curletts Rds, Christchurch

Ph: 0800 TARGET (0800 827438)

Offers and product prices advertised here expire 04/03/19.

Sale excludes Manchester and Accessories.
---
Wednesday February 13 2019

News

More rubbish dumped at estuary

• By Louis Day

A WILD boar carcass and

broken lime scooter have

been found next to the Avon-

Heathcote Estuary as illegal

dumping continues.

Avon-Heathcote

Estuary Ihutai

Trust co-ordinator

Tanya Jenkins said

the group collects

up to 10 tonnes of

rubbish from the

estuary each year.

Andrew

Rutledge

"It is particularly

sad that people

can't drive a few

metres to the landfill and dispose

of it there, but I guess it has a lot

to do with cost," she said.

Mrs Jenkins said the pollution

from illegal dumping was having

a serious impact on wildlife in

the estuary area.

"A couple years back, we had

a dead hector's dolphin turn up

in the estuary. We had a look

and it had a plastic bottle in its

blowhole."

Fines under the Litter Act can

range from $100-$400. However,

under the Resource Management

Act, the cost of an infringement

is $500 for an individual or

$1000 for a company. The type of

infringement is determined by

the nature of the offence.

City council head of parks

Andrew Rutledge encouraged

members of the public to report

illegal dumping.

"The public can assist us

by reporting any dumping

they see through Snap Send

Solve, our Call Centre, or

social media. If it's related to

the waterways, the public can

also contact Environment

Canterbury's Incident Response

Line. Recording any vehicle

details is always a great help to

investigators," he said.

•To report illegal rubbish

dumping, phone the city

council on 941 8999 or ECan

on 0800 765 588.

Latest Christchurch news at www.star.kiwi

DUMPED: The

city council has

removed this boar

carcass from the

Avon-Heathcote

Estuary.

Below – A broken

lime scooter was

illegally dumped

at the estuary.

BAY HARBOUR

Local

News

Now

Shared barbecue

plan cooked up

for Mt Pleasant

• By Louis Day

Landlords

Insulate against fines!

PAGE 19

Fire rages, homes at risk

MT PLEASANT could get a

community garden and shared

barbecue.

The Mt Pleasant Memorial

Community Centre and Residents'

Association has applied

for $5500 from the city council

innovation and sustainability

fund.

The association hopes to

plant eight native trees, five

community vegetable and fruit

gardens and install a shared

barbecue area with shade sails

at the centre. It is also waiting

for the plans to be approved by

the Linwood-Central-Heathcote

Community Board.

Mt Pleasant Memorial Community

Centre committee

member Jocelyn Papprill said

the garden would cost between

$7000 and $8000.

Ms Papprill said it hopes to

raise the remaining money from

donations and eliminate some

of the costs through voluntary

work. "This project can be

another thing that people can be

involved in – it's a way of bringing

the community together,"

she said.

Ms Papprill said the community

vegetable and fruit garden

would provide a place for people

to come together and learn.

Exhibitors

Book now

Don't miss your opportunity to

showcase your business in front of

10,000+ qualified attendees

Jon.Holmes@starmedia.kiwi or 021 225 8225

By now, landlords, property managers

and most tenants will be aware of the

changes to the Residential Tenancy Act

concerning home insulation, requiring all

rental properties to have adequate ceiling

and under floor insulation installed, where

practicable, by 30 June 2019.

However, many landlords and property

managers may not be aware they could be

liable for a $4,000 fine (per non-compliant

property), payable to the tenants, if their

investment properties do not meet the

standard in time. With an estimated 125,000

rental properties still requiring better

insulation, these owners and property

managers are being urged to take action now

to avoid the impending rush.

Local long-established insulation specialists

EnergySmart are a selected service

provider for the government's EECA (Energy

Efficiency and Conservation Authority)

insulation programme, and currently offer

both landlords and homeowners great

savings to better insulate their properties.

The company offers free property

assessments with an insulation Compliance

Certificate for the property if the existing

insulation already complies. If insulation

is required, they provide a Compliance

Report and quote to complete the work.

Extended home energy assessments are

also available, covering heat pumps and LED

lights if required.

EnergySmart are one of the largest

manufacturers and installers of insulation

products in New Zealand and supply a

range of home solutions including their

own insulation brands Terra Lana wool and

PolyKing polyester, as well as supplying Pink

Batts fibreglass insulation. All carry a 50

year warranty.

Their installers are fully trained, clean

and tidy, and their work is audited both

internally as well as by the government, so

you are assured of the highest standard of

workmanship.

EnergySmart has easy payment options

including no deposit and 36 months

interest free, meaning you can insulate your

property from only $12 per week. Landlords

can insulate now, take advantage of current

discounts, and beat the rush.

While insulation in rental properties is now

a legal requirement for landlords, they will

also have the satisfaction of knowing their

tenants are living in a warmer healthier, more

energy-efficient home, and consequently

are more likely to stay.

To enquire about a free property

assessment and insulation options,

contact EnergySmart.

Call 0800 7 7 7 1 1 1

email: support@energysmart.co.nz

www.energysmart.co.nz
---
PAGE 20 Wednesday February 13 2019

BAY HARBOUR

Latest Christchurch news at www.star.kiwi

SPORTS

YOUNG GUNS: Ava Henderson (left) won the under-16 girls

division at the Billabong Grom Series in Whangamata, while

Estella Hungerford finished second in the under-18 girls division.

PHOTOS: COL/SURF2SURF.COM

Taylors Mistake groms carve up series

TAYLORS Mistake surfers

Ava Henderson and Estella

Hungerford have reinforced their

status as two of the country's top

young groms following a strong

weekend in Whangamata.

Ava, 13, collected her first

Billabong Grom Series win of the

year by winning the under-16

girls division, while Estella, 16,

finished second in the under-18

girls division.

Ava's win continued her ascent

up the grom rankings. After

finishing fourth at the national

championships in the under-16

age group and second at the first

event of the series, she has now

claimed a win in the division.

She finished with a 13.5 point

heat total for a comfortable

win over Alice Westerkamp

(Auckland), Brie Bennett

(Raglan) and Liv Haysom (Piha),

who finished second through to

fourth respectively.

Meanwhile, Estella finished

with a 10.0 point heat total,

which was good enough for

second in the under-18 division

behind Raglan's Kai Woolf who

scored 13.0.

Estella beat out Gabrielle Paul

(Piha) in third and Baylin Klein

Ovink (Auckland) in fourth.

The Billabong Grom Series is

split into three divisions for

boys and girls, ranging from

under-14 to under-18 in two year

increments.

The final event of the series

will be held at Piha Beach,

Auckland, from February 23-24.

•More sport, page 23

It's our

45th

Anniversary

year!

#areyouupforit

45th Anniversary

Retro T-shirt

available when

entries open on

1st December 2018

Sunday 24th March, 2019 www.city2surf.co.nz
---
Wednesday February 13 2019

Latest Christchurch news at www.star.kiwi

BAY HARBOUR

PAGE 21

ALL-NEW DISTRIBUTOR OWNED

DEALERSHIP MOVING TO CURRENT

BMW DEALERSHIP FROM FEB 2019.

30 Manchester St, Christchurch

MOVING SALE

NOW ON!!!

OVER 80 NEW & USED CARS, SUV'S, UTES

AND COMMERCIAL VEHICLES AVAILABLE.

SAVE THOUSANDS!

FINANCE ON-SITE • TRADES WELCOME

Christchurch SsangYong & LDV | Phone: 03 379 4999

374 Moorhouse Avenue, Christchurch
---
PAGE 22 Wednesday February 13 2019

BAY HARBOUR

Latest Christchurch news at www.star.kiwi

SCOOP PURCHASE

4WD VRX

$39,990

SAVE $14,500*

7 Leather-faced Seats •

2.4L Petrol Engine • 126kW

Power • 4WD • 18" Alloy

Wheels • Reversing Camera

• Sunroof • Ultrasonic misacceleration

Mitigation

System (UMS).

Christchurch Mitsubishi have a LIMITED NUMBER of Short-term lease returned

2018 Outlander 2.4L VRX, most having travelled under 25,000kms available

for immediate delivery. Includes balance manufacturers warranty.

*SAVING of $14,500 off an equivalent new model.

NEW

NEW TRITON AVAILABLE NOW FROM $35,990 +ORC*

* Price excludes on road costs, which includes registration, WoF, 1,000km road user charges and a full tank of fuel. VRX Model Shown. All-terrain

tyres shown are available at additional cost. Visit mmnz.co.nz for full Diamond Advantage warranty conditions.

CHRISTCHURCH MITSUBISHI

386 Moorhouse Avenue, Christchurch.

03 379 0588 | christchurchmitsubishi.co.nz

10 year / 160,000km Powertrain Warranty (whichever comes

first) (non transferable). 5 year / 130,000km New Vehicle

Warranty (whichever comes first) (non transferable).
---
Wednesday February 13 2019

FINAL PUSH:

Dave Fitch

running to

victory in the

Canterbury

Masters

3000m

champs.

SPORTS

Latest Christchurch news at www.star.kiwi

Fitch sets Sumner club

record at 3000m masters

Sumner Running Club coach

Ann Wells reports on how

the club is performing in the

second half of the season

THE CANTERBURY Masters

3000m champs were won

convincingly by Dave Fitch in 9min

44.92sec, with Simon Wooding

slipping into fourth place in the last

few metres of the race.

Fitch's time broke Morgan Strong's

eight-year club record. Fitch has also

broken the 800m and 1500m club

records this season.

The juniors are into the

second half of the season and are

working towards the Canterbury

championships to be held on March

16-17 at Nga Puna Wai.

Eli Dimbleby is showing good

form. He is new to athletics this year

in the grade 7 boys. Sibling crosscountry

runners Zara, 7, Tommy,

9, and Max, 10, Percasky, as well

as Lewis Cooke, 8, are also new to

athletics and are producing good

performances in the longer sprint

events.

Jonah Cropp, 13, continues to

dominate the track walk, having

moved up to 1600m from 1200m.

At the South Island Colgate Games

in Dunedin in January, he won with

a winning margin of 3min.

We are certainly enjoying having

an international standard track to

compete on after seven years of grass

at Rawhiti Domain.

BAY HARBOUR

(Right) –

Jonah Cropp,

13, has

continued to

dominate the

track walk

this season. QUICK: Eli Dimbleby gets going in the 200m.

PAGE 23
---
PAGE 24 Wednesday February 13 2019

BAY HARBOUR

Latest Christchurch news at www.star.kiwi

Love the

Freedom

Discover the Summerset life for yourself

At Summerset retirement villages, you'll find a wide range of

homes specifically designed for the over 70s.

Our warm, modern homes are built with accessibility as a

priority. And there's no need to worry about maintenance

or upkeep. Simply choose your new home and make it your

own. You can even bring along your pet.

As a Summerset resident, you'll enjoy easy access to village

facilities and community spaces. And there's support on

hand should you need it in the future.

We'd love to see you at our Open Weekend, Saturday 16 th

and Sunday 17 th February from 10am til 3pm.

Come and discover why you'll love the Summerset life.

Christchurch

Open Weekend

Saturday 16 February

Sunday 17 February

10am - 3pm

Summerset on Cavendish

147 Cavendish Road, Casebrook

Summerset at Avonhead

Shop 10, Avonhead Mall,

Merrin Street, Avonhead

To order your free information pack call

0800 SUMMER (786 637) or visit summerset.co.nz

SUM1378_37x8
---
Wednesday February 13 2019

Latest Christchurch news at www.star.kiwi

BAY HARBOUR

PAGE 25

WāKōrero/Storytimes

Today, 10.30-11am

Encouraging learning

through a love for stories, this

interactive programme includes

stories, songs, rhymes and play.

This is a free drop-in session.

Matuku Takotako: Sumner

Centre

JP Clinic

Saturday, 10am-noon

A justice of the peace will

be available to members of

the community to witness

signatures and documents,

certify document copies, hear

oaths, declarations, affidavits

or affirmations as well as sign

citizenship, sponsorship or rates

rebates applications. There is no

charge for this service.

Matuku Takotako: Sumner

Centre

Social Games Club

Monday, 10-11.30am

This free session is for those

who enjoy playing board

games such as Scrabble, Chess,

or Rummikub. No bookings

required.

Matuku Takotako: Sumner

Centre

Technology Help Sessions

Monday, 2-3pm

If you need help using your

computer, smartphone, iPad

Email louis.day@starmedia.kiwi by 5pm

each Wednesday

or tablet, go along to these free

drop-in sessions. Learn to use

email, search the internet, use

the library catalogue, eBooks

and other computer functions.

Take your devices or use one of

the libraries computers. This free

event requires no bookings.

Matuku Takotako: Sumner

Centre

Akaroa Craft Group

Monday, 1.30-2.30pm

Go along and join the friendly

Akaroa Craft Group. Sit in

the beautiful library on the

comfortable chairs and have

a relaxing chat while working

on your craft project. Share

skills like needlework, knitting,

quilting, handicrafts, making

dolls, teddy bears and spinning.

Akaroa Library

Create and Connect

Thursday, 9.30am-noon

Enjoy some company while

creating. Take your project or get

some inspiration. Cost is $3 to

cover morning tea. Phone Beth

for more information on 022 678

1252.

St Andrews Church, 148 Main

Rd, Redcliffs

Sumner Market

Every Sunday until April

There will be a great range

of stalls from fresh veges to

Check out the Mt Pleasant Bridge Club on Wednesday, 7.20pm, and Friday, 1pm. There

will be two sessions each week at the Mt Pleasant Yacht Club. All visitors are welcome –

players need to be seated 10min prior to the start of play. Phone Kay on 384 9113 for more

information.

amazing food from all over

the world and amazing crafts.

You'll find the market right next

to the beach as you go in to the

village.

Corner of Marine Pde and The

Esplanade

Loopy Tunes Preschool Music

Tuesdays during school term

time at Sumner, 9.30am, and

Redcliffs, 10.30am

Each session takes about half an

hour and is followed by a playtime

for the children. All children aged

Ferrymead

We Must be Brave

by Frances Liardet

A woman; a war; a child that changed everything.

Spanning the sweep of the twentieth century, We Must Be Brave

is a luminous and profoundly moving novel about the people we

rescue and the ways in which they rescue us back. She was fast

asleep on the back seat of the bus. Curled up, thumb in mouth.

Four, maybe five years old.

I turned around. The last few passengers were shuffling away from

me down the aisle to the doors. 'Whose is this child?' I called. Nobody

looked back.

December, 1940. As German bombs fall on Southampton, the city's residents flee

to the surrounding villages. In Upton village, amid the chaos, newly-married Ellen

Parr finds a girl sleeping, unclaimed at the back of an empty bus. Little Pamela, it

seems, is entirely alone.

Ellen has always believed she does not want children, but when she takes Pamela

into her home the child cracks open the past Ellen thought she had escaped and

the future she and her husband Selwyn had dreamed for themselves. As the war

rages on, love grows where it was least expected, surprising them all. But with the

end of the fighting comes the realization that Pamela was never theirs to keep…

A story of courage and kindness, hardship and friendship, We Must be Brave

explores the fierce love we feel for our children and the astonishing power of that

love to endure.

Not Bad People

by Brandy Scott

Three friends, thirty years of shared secrets, one impulsive gesture.. and a terrible

accident. When friendship goes bad, someone has to pay. For fans of Liane Moriarty

and Robyn Harding.

It's New Year's Eve. Three thirty-something women - Aimee, Melinda and Lou - best

friends for decades, let off sky lanterns filled with resolutions: for meaning, for

freedom, for money. As the glowing paper bags float away, there's a bright flare in

the distance. It could be a sign of luck - or the start of a complete nightmare that will

upend their friendships, families and careers.

The day after their ceremony, the newspapers report a small plane crash - two

victims pulled from the wreckage, one a young boy. Were they responsible? Aimee

thinks they are, Melinda won't accept it, and Lou has problems of her own. It's a

toxic recipe for guilt trips, shame, obsession, blackmail and power games.

They're not bad people. But desperate times call for desperate measures.

WIN THIS BOOK

up to five years plus their parents/

caregivers welcome. Cost is $2 per

child. For more information, call

Siu Williams-Lemi – 022 632 6140.

Matuku Takotako: Sumner

Centre and Uniting Church hall, 4

Augusta St, Redcliffs

ENTER TO

book

release

WIN

THIS BOOK

We have one copy of We Must Be Brave to give away, courtesy of Take Note Ferrymead. To be in the

draw, email giveaways@starmedia.kiwi with We Must Be Brave in the subject line or write to Take Note Book

Giveaway, We Must Be Brave, Star Media, PO Box 1467, Christchurch 8140. To be eligible for the draw, all

entries must include your name, address and contact number. Entries close Tuesday, February 26th. Winner

of The Dog That Saved My Life is Samantha Phillips of Phillipstown.
---
PAGE 26 Wednesday February 13 2019

BAY HARBOUR

Latest Christchurch news at www.star.kiwi

REAL ESTATE

There's nothing quite like this!

45 Truro Street, Sumner

Auction: Thursday 28 February 2019 (Unless Sold Prior)

4 bedrooms | 1 bathroom | 1 toilet | 1 living room | 1 dining room | 1 car-garage | Listing Number: SM0155

Displaying classic 1960's style and natural

charm this 4 bedroom property offers

sensational outdoor space and lies upon a

quarter-acre section, encompassed by an

undeniably idyllic setting.

Constructed over a single storey, the

timber home enjoys a practical floor plan

that comprises a kitchen which opens

through to a shared dining and lounge

area while four bedrooms are serviced by a

family bathroom.

A log burner and a heat pump provide

a comfortable climate year-round, and the

attic ensures there is no shortage of storage

space.

Buyers with an eye for design will

recognise the opportunity to modernise

some aspects of the interior, and outside,

the presence of four sheds will also entice

as they could potentially be converted into

accommodation.

The manicured garden is ideally situated

to embrace absolute privacy, and it will come

as no surprise that it has been the recipient

of several Christchurch beautifying garden

awards.

Inviting outdoor spaces provide you with

numerous areas for alfresco entertaining,

and the large flat lawn offers all the room a

growing family could wish for.

The hillside and adjacent green space

heighten the feeling of tranquillity

and escape, and this belies the home's

convenient situation with proximity to

the beach, in-zone Sumner School and the

amenities in central Sumner.

Buyers are encouraged to act quickly if

they want to acquire this unique property

which is on the market for the first time in

36 years due to our owners now downsizing.

Open Homes: Wednesdays, Saturdays

and Sundays 2-2.45pm.

See you at one of the open homes.

For more information contact:

Alison Carter 0274 318 960

Lynton Hubber 0274 334 141

Harcourts Grenadier Sumner/Ferrymead

(Licensed Agent REAA 2008)

growing with you June 2018 | 100%

Plants For

winter wow

Cool Choices

For Colour

& Contrast

From swamp

to sea views

The journey

begins with sarah

the Gardener

$7.90 incl. GST

Snap it up

Enter our annual

Birdlife Photo

Competition to win

great prizes!

clear the air

Why groWing

indoor PLAnTs is

so good for you

give it a grow

from gArLic

To chinese

ArTichokes,

We hAve your

groWing TiPs

covered

the latest releases

into the rose world

+ rose care

through winter

The magazine for

gardeners who like to get

their hands dirty

SUBSCRIBE FROM

$43. 50*

*6 issues/6 months

SUBSCRIPTIONS FREEPHONE

0800 77 77 10

WWW.GARDENER.KIWI
---
Wednesday February 13 2019

Latest Christchurch news at www.star.kiwi

BAY HARBOUR

PAGE 27

Computer

Services

VIRUS REMOVAL AND

PC HEATH CHECK

$50.00 With free pick

and delivery within 10km

of Redcliffs. Phone Paul

on 021495577. Microsoft

Certified Pro with 25 years

experience. Visit www.

seracnz.com

Gardening

& Supplies

Landscape

and Garden

Services

Need help with

your garden?

We provide a quality

service for all your

Garden Maintenance

(hedges, lawns,

line trimming, weeding)

and Landscaping needs,

(fencing, paths, drives,

retaining and earthworks).

Ph 021 272 0303

Health & Beauty

EXERCISE for over

65s. Redcliff's Bowling

Club "Use it or Lose it"

classes. Mondays 11am

(men only), Wednesdays

9am (mixed), Fridays

11am (mixed). MoveEzy

gentle class: Mondays

1.30pm. Contact Kris

021 262 8886 or kris@

exerciseasmedicinenz.com

Holiday

Accommodation

Australia QLD

SUNSHINE

COAST

RESORT

ALEXANDRA HEADLAND

All Units Have Ocean Views.

Heated Pools, Spa & Sauna,

Free Wifi, Tennis

& Mini Golf.

CHECK OUR GREAT

WINTER SPECIALS

www.mandolin.com.au

0061 7 5443 5011

JUNE to AUG temps 20C

Classifieds Contact us today Phone our local team 03 379 1100

To Let

RENT ME!

Ideal as an extra

bedroom or office.

no bond required

Fully insulated and double glazed for warmth.

Three convenient sizes from $70 a week:

Standard 3.6m x 2.4m

Large 4.2m x 2.4m | Xtra-large 4.8m x 2.4m

Visit our website

www.justcabins.co.nz

for display cabin locations

www.justcabins.co.nz

Trades & Services

• Lawns • Hedges

• Sections • Gardens

0800 MR GREEN (0800 67 47336)

FOR A FREE QUOTE

www.mrgreen.co.nz

PLUMBER

12 years

experience

Serving Christchurch and wider

Canterbury Region with quality

workmanship and service.

24/7 caLLOUT serVice

Trades & Services

rooF

painting

Book now and

receive 20% discount

for summer.

Rope and harness a

speciality.

No scaffolding required.

30 years experience.

Free quotes, call

Craig 021 060 2392

PLUMBER

AvAilAble for:

Hot water cylinder

replacements

Gas conversions

Top quality full

house filtration to

protect all your

plumbing and your

health from chlorine.

Phone Mike

021 132 8929

Trades & Services

ROOF

PAINTING

Rope & harness

a speciality,

no scaffolding

required,

30 years of

breathtaking

experience.

FREE QUOTES

Exterior staining,

exterior painting,

moss and mould

treatment and

waterblasting

Phone Kevin

027 561 4629

Trades & Services

ARCHITECTURALLY

CORRECT

Linear straight right

angles, lifetime guarantee.

Level 5. The Naked

Plasterer. 027 2888 285

CARPET & VINYL

LAYING

Exp. Repairs, uplifting,

relaying, restretching.

Email jflattery@xtra.co.nz

ph John on 0800 003 181

or 027 2407416

CONCRETE CUTTING

Affordable Concrete

Cutting with Quality, and

removal work. Free quote.

No job to small. Phone 027

442-2219, Fax 359-6052

a/h 359- 4605

ELECTRICIAN

JMP Electrical.

Experienced & registered..

Expert in all home

electrical repairs &

maintenance.Call James

027 4401715

GARDENER

Need your home or

commercial garden tidied

up or renovated or require

long term assistance.

Phone Ruth 326-6663 or

021 272-0303

Trades & Services

LAWNMOWING

You Grow I Mow. Free

quotes. Ph / text Chris 021

252 1801

PAINTING SERVICES

Mature, reliable,

conscientious &

experienced, reasonable

rates, no job too small!,

call Ron 027 434-1400

PLASTERING

INTERIOR, no job too big

or too small, specialise in

repair work & new houses,

free quotes given, over 20

yrs plastering experience,

ph Peter 027 221-4066 or

384-2574

PLASTERER

Architecturally

Correct Linear straight

right angles, lifetime

guarantee. Level 5. The

Naked Plasterer. 027 2888

285

STONEMASON,

BRICK,BLOCKLAYER

Earthquake Repairs, Grind

Out & Repoint, River/

Oamaru stone, Schist,

Volcanic Rock, Paving,

all Alterations new & old,

Quality Workmanship,

visit www.featureworks.

co.nz or ph 027 601-3145

Trades & Services

TILER

Available now, excellent

rates, quality work, call

John for a free quote 021

144 0844

Situations Vacant

SUMNER REDCLIFFS

RSA INC.

Our present Secretary/

Treasurer is retiring and we

need to employ a replacement

Secretary/Treasurer.

This is a home - based position without regular hours, and would

suit someone in the Sumner, Redcliffs, Mt Pleasant area or nearby.

Experience with Xero accounting and Office 365 are necessary, as

is the ability to attend meetings.

The commencement date is negotiable before 31 March 2019.

For a schedule of duties, please email sumnerredcliffsrsa@gmail.com.

Please submit your application before 22 February 2019.

Tuition

Trades & Services

TILER

Available now, excellent

rates, quality work, call

John for a free quote 021

144 0844

PIANO LESSONS

Catherine Bracegirdle

DipABRSM ATCL AIRMT

51A Colenso St, Sumner

Ph. 021 044 5102

www.pianoandtheory.co.nz

catherine.bracegirdle@gmail.com

Public Notice

ADVERTISE YOUR

BUSINESS HERE

Phone for further details

Exhibitors

Book now

Don't miss your opportunity to

showcase your business in front of

10,000+ qualified attendees

(03) 379 1100

Jon.Holmes@starmedia.kiwi or 021 225 8225
---
PAGE 28 Wednesday February 13 2019

BAY HARBOUR

Latest Christchurch news at www.star.kiwi

Free ride home

from Sparks

We're providing free buses to help get you home after Sparks.

Check out the map to find your best route.

ccc.govt.nz/sparks

Sparks

Saturday 16 February, 7.30–10pm

North Hagley Park

Northwood

Northwood Supa Centa

Queenspark

Burwood Hospital

Sheffield Cres

Avonhead Shopping Centre

Northlands

Merivale

The Palms

New Brighton

Twenty-eight free

buses will depart

after Sparks, buses

will leave once full

and travel the routes

marked on map

Bush Inn

Shopping Centre

University of Canterbury

Sparks

Eastgate

Westfield Riccarton

The Hub Hornby

Ferrymead

Halswell

Halswell Shops

Princess Margaret

Hospital

Harper Ave

Park Tce

Buses departing from Harper Ave

B Blue Line to Princess Margaret

Hospital and Cashmere

O Orange Line to Halswell

P Purple Line to Sheffield Crescent

Y Yellow Line to Hornby

Buses departing from Park Tce

B Blue Line to Belfast

O Orange Line to Queenspark

P Purple Line to Sumner

Y Yellow Line to New Brighton

Night Noodle

Market

Sparks