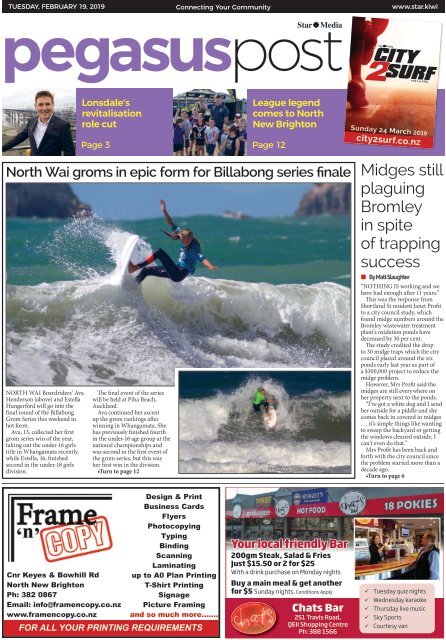 Pegasus Post: February 19, 2019
Do you know the secret to free website traffic?
Use this trick to increase the number of new potential customers.
TUESDAY, FEBRUARY 19, 2019

Connecting Your Community

www.star.kiwi

CITY

2SURF

with Les Mills

Lonsdale's

revitalisation

role cut

Page 3 Page 12

League legend

comes to North

New Brighton

CITY

2

2SURF

Sunday 24 March 2019

city2surf.co.nz

with Les Mills

North Wai groms in epic form for Billabong series finale

NORTH WAI Boardriders' Ava

Henderson (above) and Estella

Hungerford will go into the

final round of the Billabong

Grom Series this weekend in

hot form.

Ava, 13, collected her first

grom series win of the year,

taking out the under-16 girls

title in Whangamata recently,

while Estella, 16, finished

second in the under-18 girls

division.

The final event of the series

will be held at Piha Beach,

Auckland.

Ava continued her ascent

up the grom rankings after

winning in Whangamata. She

has previously finished fourth

in the under-16 age group at the

national championships and

was second in the first event of

the grom series, but this was

her first win in the division.

•Turn to page 12

PHOTOS: COL/SURF2SURF.COM

Midges still

plaguing

Bromley

in spite

of trapping

success

• By Matt Slaughter

"NOTHING IS working and we

have had enough after 11 years."

This was the response from

Shortland St resident Janet Profit

to a city council study, which

found midge numbers around the

Bromley wastewater treatment

plant's oxidation ponds have

decreased by 30 per cent.

The study credited the drop

to 30 midge traps which the city

council placed around the six

ponds early last year as part of

a $300,000 project to reduce the

midge problem.

However, Mrs Profit said the

midges are still everywhere on

her property next to the ponds.

"I've got a white dog and I send

her outside for a piddle and she

comes back in covered in midges

. . . it's simple things like wanting

to sweep the backyard or getting

the windows cleaned outside, I

can't even do that."

Mrs Profit has been back and

forth with the city council since

the problem started more than a

decade ago.

•Turn to page 6

Cnr Keyes & Bowhill Rd

North New Brighton

Ph: 382 0867

Email: info@framencopy.co.nz

www.framencopy.co.nz

Design & Print

Business Cards

Flyers

Photocopying

Typing

Binding

Scanning

Laminating

up to A0 Plan Printing

T-Shirt Printing

Signage

Picture Framing

and so much more…….

FOR ALL YOUR PRINTING REQUIREMENTS

Your local friendly Bar

200gm Steak, Salad & Fries

Just $15.50 or 2 for $25

With a drink purchase on Monday nights

Buy a main meal & get another

for $5 Sunday nights. Conditions Apply

Chats Bar

251 Travis Road,

QEII Shopping Centre

Ph: 388 1566

Tuesday quiz nights

Wednesday karaoke

Thursday live music

Sky Sports

Courtesy van
---
2 Tuesday February 19 2019

Latest Christchurch news at www.star.kiwi

get in touch

from the editor's desk

A STRONG advocate for New Brighton

has gone.

Paul Lonsdale has finished up as

manager of the New Brighton Business

and Landowners Association because

there is no funding for the role. That's

a bugger. Lonsdale has been a good public advocate for New

Brighton. He knows keeping New Brighton in the public eye is

vital to keeping organisations like Regenerate and Development

Christchurch on their toes.

Being in the public eye means being available to the news

media. Lonsdale has been very good at this. He often says what

needs to be said, even when the questions are difficult.

The new chief of the association has big shoes to fill and great

communication skills will be vital.

– Barry Clarke

GENERAL INQUIRIES Ph 379 7100

CLASSIFIED ADVERTISING Ph 379 1100

Star Media, a division of Allied Press Ltd

PO box 1467, Christchurch

starmedia.kiwi

news

Reverend's fruit and vege mission

New Brighton church minister takes another step to provide

the community with low cost produce.

Page 7

your local views

Saving water key to being chlorine-free

Do your bit to conserve water and help the city council remove

chlorine from the city's water supply as soon as possible.

Pages 10

community events

Ascot Sit and Be Fit class

Head to the Ascot Community Centre in Parklands on

Wednesday, 1-2pm, for a different kind of workout.

PEGASUS POST

NEWS

Matt Slaughter

Ph: 021 910 788

matt.slaughter@starmedia.kiwi

ADVERTISING

Elaine Moon

Ph: 364 7436

elaine.moon@starmedia.kiwi

Page 19

The best-read local newspaper, delivered to

15,657 homes every Tuesday

Linwood, Avonside, Richmond, Shirley, Burwood, Dallington,

Wainoni, Bromley, Aranui, Avondale, Bexley, New Brighton,

Northshore, Queenspark, Parklands, South Brighton.

JOIN US NOW!

See website for details

ITALIA SPORTSWEAR

Men's & Women's Basic Fila Hoodies

& Crews, 2 for $60

(selected items only, while stocks last).

COTTON ON KIDS

Short Sleeve PJs from $10,

$15 Sprinklers (while stocks last).

PHONE EXPERT

iPhone Screen Replacements, were

from $100, Now from $69.

BENDON OUTLET

Up To 80% Off Sale.

TAROCASH

All Suits $199.99.

Sign up to Smart Deals & be in the monthly draw for a $100 Dress-Smart gift card!

Be one of the first to hear about the latest deals, sent straight to your inbox each week!

CHRISTCHURCH 409 Main South Road, Hornby

www.dress-smart.co.nz

Open 10am-5pm, 7 Days 03 349 5750
---
PEGASUS POST Latest Christchurch news at www.star.kiwi

Tuesday February 19 2019 3

News

Lonsdale's revitalisation role cut

• By Matt Slaughter

PAUL LONSDALE'S role as

manager of the New Brighton

Business and Landowners

Association has been cut.

Mr Lonsdale finished last

week, saying it no longer had the

funds to employ

him.

The

association's

chairwoman

Rebecca Tavete

will incorporate

Rebecca

Tavete

Mr Lonsdale's

previous tasks

into her role.

This will be unpaid.

Mrs Tavete said news of Mr

Lonsdale's departure had been

known for six months.

She said the association no

longer had the necessary funding

to continue paying Mr Lonsdale.

"As time went on, we realised

that our funding for his role was

not looking brilliant."

Mr Lonsdale will continue his

role as manager of the Central

City Business Association, with

Mrs Tavete saying his ongoing

commitment to this cause had

not been a reason for cutting his

New Brighton role.

Mr Lonsdale was employed

part-time by the association in

2017 to promote New Brighton

and increase its appeal to business

owners and property buyers.

He said during his two years in

the role, the number of businesses

operating out of properties in

New Brighton had increased by

over 30 per cent.

"We've seen a number of buildings

being sold and repurchased

and upgraded."

These achievements meant

the association was now in a

position where it could operate

without Mr Lonsdale, said Mrs

Tavete.

"The most important things

we were trying to achieve were

looked after as much as they

possibly could be. We've just

reached a point where most

YOUR LOCAL GARAGE

• All vehicle repairs

• Oil changes and services

• Brakes • Loan car available

• Tyres, punctures & batteries

• W.O.F • Tune up

things are over the line and it

really is just what it is."

However, Mrs Tavete said Mr

Lonsdale was the only person on

the New Brighton Business and

Landowners Association who

had been paid for his work.

No longer having someone

employed would make the

association's job harder, she

said.

"Unfortunately, we just won't

have as much presence because

we're all landowners and business

owners who already have fulltime

jobs."

Mrs Tavete said early conversations

around how the association

could gain additional funding

MOVING ON:

New Brighton

Business and

Landowners

Association's

manager Paul

Lonsdale has

finished his

time in the

role.

so it could carry out its role to its

full potential were under way.

Mr Lonsdale said this was just

a start and the association still

had work to do if New Brighton

was to reach its full potential.

"I think we've really only just

lifted the surface on the New

Brighton regeneration."'

He said it was up to its remaining

members to continue to put

pressure on the city council and

Development Christchurch "to

drive more significant change" in

the area."

Mr Lonsdale unsuccessfully

stood for mayor in 2013 and

served as a city councillor from

2013 until 2016.

Local

News

Now

In Brief

Fire rages, homes at risk

ASSAULT CHARGE

A 63-year-old man is facing

charges after punching his

neighbour on Wednesday.

Police were called to the

incident on Pages Rd in

Aranui around 10.50pm. The

man was arrested and charged

with assault with intent to

injure and remaining with

intent.

RIVER FESTIVAL

Duck on Down to the River,

a new riverside festival will

be held on March 24 at Kerrs

Reach from 1pm. The day will

include a duck race, water

activities, music and food,

organised by the Avondale,

Burwood East and Dallington

residents associations,

Dallington Community Trust,

All Saints Anglican Church

and Burwood Christian

Centre.

EARTHQUAKE MATERIAL

The Burwood Resource

Recovery Park will stop taking

earthquake-related material

from December 20. The

facility will remain open and

has resource consent to receive

capping and landscaping

material until December 31,

2021.

Your LocaL GaraGe

VERY FRIENDLY SERVICE AND ADVICE

NEW BRIGHTON AUTOMOTIVE

Phone: 03 388 3630

40 Hawke St (behind Z Petrol Station)

Crispy Crunchy Batter

Serving the Community for over

23 years with passion and pride

* Specialty fish cooked to order… Blue Cod, Gurnard, Sole, Hoki, and more!

How about trying a real deal

chicken fillet burger?

GOURMET SEAFOODS QEII

Ph: 388 2531, QEII Shopping Centre, 251 Travis Rd

Mon - Wed 11.30am - 8.30pm (Tues from 4.30pm), Thurs - Sat 11.30am - 9.00pm

Sun 12noon - 8.30pm, Daily break 3.15 - 4.30pm
---
4

Tuesday February 19 2019

PEGASUS POST

Latest Christchurch news at www.star.kiwi

News

McMaster & Heap

Veterinary practice

NEW CHANGES ON

THE HORIZON

What an exciting year 2019 is going to be for

the McMaster & Heap Family. A new veterinary

building, a specialist veterinarian joining the

ranks, more skilled nurses required and our

family size is fast shrinking with sons off to

pursue their dreams.

On the home front we have gone from a

family of 5 to a family of 3. Our eldest son

Connor will go into his

second year of Veterinary

training at Massey

University in Palmerston

North. Most of Connors

summer holidays have

been spent doing

practical work for his

vet degree. He spent 5

weeks on a Sheep and

Beef farm in Methven.

Connor really enjoyed all

aspects of farm life from

ploughing fields, to

vaccinating and drenching stock

to driving all the farm machinery. He gained

valuable skills in reading animal behaviours

and how to handle them and learning about

management practices. He is now spending

time at a racing stable in Templeton and

seeing some equine veterinary work. It would

be fair to say his horse handling skills are

sketchy but nothing 2 weeks in a busy racing

stables can't fix.

Dylan our tennis man

Connor Heap - 2nd year Vet

student doing Beef and sheep

farm practical work

Our 18 year old son Dylan left in January to

pursue his tennis dream in the US, gaining

a scholarship to the university of Minnesota

in Minneapolis. Within 2 days of touching

down he was back on a plane with the

team to a training camp in Florida. He will

study business and finance while over there.

At present he's trying to acclimatize to

temperatures that have reached -45 degrees!!

Luckily for us, our youngest 14 year old son

Isaac ,is still living with Ma and Pa. Not for

long though something tells me ,as this son

can't wait to travel the world, meet new

people and study overseas.

On the vet front we are very excited

to welcome Richard Lucy into the

McMaster and Heap family. Richard

went through Massey with Steve a wee

while ago now (graduated in 1992)

and fairly early on pursued Radiology

and Ultrasonography as his areas of

interest. Richard passed his Veterinary

Open 7 days

Cnr Hoon Hay & Coppell place

phone 338 2534, Fax 339 8624

e. mcmasterandheap@yahoo.co.nz

www.mcmasterheap.co.nz

Cardiology exams at the Royal Vet College in

London. On returning to NZL, Richard worked

in Auckland and Hamilton for several years

before retraining in human echocardiology

(ultrasound of the heart). He even did a stint

in human ultrasound working at Waikato

and Christchurch Public Hospitals. Richard

has since returned to his original vocation

and works solely performing

ultrasounds on the heart ,

musculoskeletal system and

abdomen of referral patients. He

will now see his South Island and

Christchurch referrals through

our practice, working Monday

through to Thursdays. Richard is

married to Linda and in his spare

time entertains his twin 3 year olds,

slaves away on his lifestyle block

and enjoys the rivers, mountains

and coasts that Canterbury and the

South Island has to offer. We are

thrilled to be able to offer Richards expert

skills and knowledge to our patients and

those that are referred to us.

So with the addition of Richard and our skilled

ultrasonographer Catherine, we will be able

to offer ultrasounds to patients Monday to

Friday.

We have just accepted a building tender to

get our exciting new build underway as soon

as possible. We are expanding quickly and

need more consulting rooms and a bigger

kenneling area as well as a state of the art

surgical suite. Works should start before the

end of the month and all going well, by the

end of August we will be enjoying loads

more space, a separate "cat only" waiting and

treatment space and loads more exciting

extras.

I apologize now for any disruptions and extra

building site noise but promise this that

the end result will be a great thing for our

patients.

We employed 4 fantastic new nurses last

year due to continued practice growth.

Olivia, Rachael, Danielle and Marysha have

all brought something new and special

into the team mix and its refreshing to have

enthusiastic, inspired and fun young nurses to

help us with the important work we do.

Visit our website for more

information on our staff.

Watch this space for more

developments on our

building project and our

awesome expanding team

of vets and nurses.

Dr Michele McMaster

Welcome to Richard Lucy

McMaster & Heap

Kids flock to I Love New Brighton

Thomas and Henry

Ridpath (above) joined

thousands of people

at the annual I Love

New Brighton festival

in Thomson Park on

Waitangi Day. Live

bands, have-a-go

sports, inflatables,

markets stalls and food

trucks brought people

together from across

Christchurch. More

than 40 community

groups and 100

volunteers showcased

the best of New

Brighton at the event.

HEAT PUMP

SALE NOW ON!

Amazin' summer Specials!!

SOUth iSLAnD

SUpERStOcK chAmpS

pLUS

mAg & tURBO SUpER

SALOOn cUp finALE!

• We will offer you the best quality brands and

option of heat pump for your home/business

• Providing Heat Pump solutions for over 16 years to Cantabrians

• We personally guarantee all our products & installs for 5 years

(providing annual maintenance has been completed)

Phone us today for your free consultation & quote

41A SHAKESPEARE RD, WALTHAM

PHONE 03 366 0525

www.enviromaster.co.nz

"A local team for local people"

SAt 23 RD fEBRUARY

7pm StARt

ADULTS $20 Seniors $10

FAMILY PASS $40

Children $5 Under 5yrs free

(2 adults & up to

4 children 15yrs & under)

DOUBLEDAYS ROAD KAiApOi

infOLinE 03 364 8833

www.wOODfORDgLEn.cO.nz
---
PEGASUS POST Latest Christchurch news at www.star.kiwi

Tuesday February 19 2019 5

Petition launched over QE II school zone

• By Julia Evans

RESIDENTS ARE rallying to get

excluded suburbs back into the

Shirley Boys and Avonside Girls'

High School zone.

In April, the Ministry of

Education came up with a

compromise for a 13-year

transitional zone which would

allow students living in the

current zones around Richmond,

Shirley, Avonside, Dallington, St

Albans and Edgeware to enrol at

the new multimillion

dollar QE

II Park campus.

The zone will be

reviewed in May,

a month after

students start at

the new school.

Bebe Frayle

But residents

from the

excluded suburbs have launched

a petition, which will be sent

to the ministry, calling for the

transitional zone to be made

permanent. So far it has 100

signatures.

Dallington Residents

Association chairwoman Bebe

Frayle said the group always

planned to lobby for the zone to

be made permanent.

"But what kicked off our

regrouping was the info that

Shirley Boys has closed their outof-zone

roll as soon as it opened,"

CAMPAIGN: A petition has been started to make the transitional zone for the new Shirley Boys

and Avonside Girls' High School campus permanent.

she said. SBHS closed enrolments

for out-of-zone students last

month – two months before it is

due to move to the new campus.

"For us, it's all about gathering

support, and the plan would

be to talk to communities and

the school, mostly the people

affected," she said.

Being permanently excluded

from the zone would impact on

house prices, divide communities

and disrupt families, she said.

"We're placed in a very weird

position and as residents, we can't

say that this is our local school.

We don't have one," she said.

"It's a weird and unfair position

for families to be in."

But Ministry of Education

deputy secretary sector

enablement and support Katrina

Casey said the changes were

made to the enrolment schemes

to reflect the new location.

"The enrolment schemes will

help Avonside Girls' High School,

and Shirley Boys' High School

make effective and efficient use

of their new schools and will

give them the ability to manage

future rolls and reduce the risk of

overcrowding," she said.

•To sign the petition, go

to www.change.org/p/

ministry-of-education-makethe-transitional-zone-partof-aghs-sbhs-permanentzone-for-the-sake-of-equity

Local

News

Now

Solar panels

stolen again at

Bexley toilets

• By Matt Slaughter

Fire rages, homes at risk

THE SOLAR panels on top

of the public toilets at Bexley

Reserve have been stolen for the

second time.

Coastal-Burwood

Community Board chairwoman

Kim Money said the panels

were first taken

November. They

were replaced

in December

but were stolen

again shortly

afterwards.

She said the

second theft Kim Money

occurred before the panels

had been fully reinstalled on

the roof of the toilet block. Six

panels, worth $1500 each, were

stolen on both occasions.

Ms Money said it has been

a huge inconvenience for city

council staff and park-users.

"The first time was bad

enough, but the second time is

devastating for them because

they've got events coming up

and tourists coming in the

holidays. They've got these

lovely toilets and yet they're

having to use portaloos, so it's

devastating."

YOUR ONE STOP SHOP!

TYRES

NEW & USEd

WoF

FLAGS

TYRES

bOOk

IN NOW

FULL MECHANICAL

SERVICES

WHEEL

ALIGNMENTS

SPECIALISTS$49

Wigram - 341 1226 104 Hayton Rd

Woolston - 384 0000 49 Garlands Road

26x BULK BINS

COMPOST, LAWN MIx, BUILDING AGGREGATES AND STONES

The Ferrymead Mitre10 Trade Centre and Landscaping Zone has everything you need to complete your projects.

• Screened Soil

• Mega Grow

• Bio Blend

• Garden Grow

• Tree Mulch

GET yOUR SUMMER SORTED!

• Black Mulch

• Builders Mix

• AP20 Shingle

• AP40 Shingle

• Plastering Sand

• Brick Sand

• Bedding Sand

• Crusher Dust

• Teddington Chip

• Lime Chip

• Tailings

• 15mm White Ice

• 30mm White Ice

• Oamaru Pebble

• Gabion Boulders

Ask about our delivery and

FREE courtesy trailers today!

Conditions apply

Ferrymead 987 Ferry Road Phone 373 6550

• Glacier White

Pebble

• Firewood

• 13mm Chip

• 13mm Rounds

• Standard Bark

Nuggets

• Premium Bark

Nuggets

mitre10.co.nz/trade
---
6 Tuesday February 19 2019

Latest Christchurch news at www.star.kiwi

News

Unusual

items

taken in

scout hall

burglary

• By Matt Slaughter

A USED toilet brush was

among the hundreds of dollars

of equipment stolen from the

Otakaro Park Scout Group in

Dallington.

However, group leader Angela

Smith-Williams said the bad

situation has been transformed

into a learning experience for

the cubs and scouts.

The Otakaro Park Scout

Hall on Halberg St was broken

into between February 4-7. A

range of unusual items were

taken, including orienteering

compasses, cooking pots, art

and craft supplies, toilet paper

and cleaning products.

Mrs Smith-Williams said

a box of cub badges was also

taken. She questioned why

anyone would steal an item

which means so much to

the cubs. "They're of no use

to anyone else, but cubs are

incredibly proud when they

earn them."

Although the burglary was

a big blow for the group, it

created an opportunity to teach

the scouts and cubs about the

role of the police, Mrs Smith-

Williams said.

"We're hoping to link up later

in the term and see if we can get

a finger-printer in, or if we can

go to the police station and have

a look at how they do it all."

A Facebook post made by

Mrs Smith-Williams after the

burglary was shared 182 times

and many people have donated

time and equipment to get the

scout group back on its feet.

"It's just been amazing how

the community has rallied

behind us."

She said the burglary had also

taught the kids a valuable lesson

about generosity.

Road safety tips for pupils and parents

• By Matt Slaughter

THE BEGINNING of the school

year has seen children and

parents in the eastern suburbs fill

footpaths and roads at pick-up

and drop-off times.

The safety risks that come with

this have prompted police to

make an effort to educate pupils

on how to stay safe heading to

and from school.

But pupils are not the only

targets of the messages – a big

push is being made to get them

to share the road safety tips with

their parents.

Schools community officer

Constable Matt Swaney said

parents' safety concerns during

the school rush often created

more safety issues.

"There's a feeling from a lot of

parents that the roads aren't safe

and, therefore, they want to drop

their kids as close to the gate as

possible. In the process of doing

that, they're actually making the

roads more unsafe by doubleparking

and parking on yellow

lines and contributing to the

problem they're trying to avoid."

"Our message to kids is a lot of

common sense stuff like to use

school crossings."

Constable Swaney said too

often this message is not getting

through to parents and children

are being encouraged to teach

them good habits.

"You get parents who will cross

•From page 1

Mrs Profit said the traps had

been relatively successful over

Christmas, but the midges had

returned to her property in huge

numbers.

"It's absolutely atrocious

. . . it may have worked over

Christmas, but it is definitely not

working now."

City council general manager

of city services David Adamson

said the 30 per cent reduction

in midge numbers has occurred

around the ponds themselves,

but "no monitoring of the midge

numbers is undertaken in the

LESSON: Constable Matt Swaney teaching pupils from Whitau School in North Linwood about

road safety.

PHOTO: MARTIN HUNTER

their kids 100m down the road

because that's where their car is

parked. The message to kids is

don't encourage that."

Constable Swaney held a

session on road safety with pupils

at Whitau School in Woodham

Rd, North Linwood, last week.

The school's road safety coordinator

and caretaker Stewart

surrounding areas or

properties."

Mrs Profit said the

city council's current

strategy is costing too

much considering the

results.

"They breed in the

ponds but they don't

stay there . . . they may

have 30 per cent less in

the ponds, but we haven't got 30

per cent less in the houses."

She said placing salt around

the edge of the ponds or

reinserting some sewage back

into them would be better and

Janet Profit

Russell said the messages being

relayed to road patrollers in the

session were getting through.

The tips have been spread to

pupils of all ages, even those as

young as five, and to parents as

well, Mr Russell said.

He said pupils "don't run

across the crossing now like they

used to – they wait until they're

more cost-effective

options. However, Mr

Adamson said the salt

option had been proven

to be "uneconomic" and

adding sewage had the

potential to cause an

odour and "a significant

impact on the water

quality of the final

effluent being discharged

out into Pegasus Bay."

He said the current range of

the trapping and monitoring

techniques being used would

"have a cumulative influence as

they take effect in coming years."

PEGASUS POST

told." Mr Russell said Woodham

Rd is "one of the major roads

that a school is on and just for

the safety of the kids, some of the

traffic needs to be told to slow

down."

"That's quite important for a

lot of people to realise and the

road patrol just reinforces that,"

he said.

Bromley midge problem: 'Nothing is working'

CAMERON BAILEY

The reduction in the midge

population achieved by the

techniques means they are

currently the best options, he

said.

But Mrs Profit said she

was willing to "make midge

sandwiches and take them to the

council" to give it a taste of just

how bad the problem was on her

property.

She doesn't hold out hope that

it will get better, in spite of years

of trying.

"I'm not just fighting a losing

battle, it's been a losing battle of

11 years. It's longer than a war."

Testimonial

"Heather and I would like to convey to you and your personal assistants Samantha and Lisa,

our appreciation for your input and management for the marketing of the Waltham Street units.

Truly a class act – the photography and descriptions were superb, we were kept informed,

were given the opportunity to have input where appropriate, and ended up with a fantastic

result! Thank you, sincerely, and best wishes."

Allan and Heather Burgess

NO.1 HARCOURTS CANTERBURY 2012-2018

NO.1 HARCOURTS NEW ZEALAND 2017-2018

NO.1 HARCOURTS INTERNATIONAL 2017-2018
---
PEGASUS POST Latest Christchurch news at www.star.kiwi

Tuesday February 19 2019 7

HEALTHY: Reverend Katrina Hill runs a fruit and vegetable co-op and shop out

of St Faith's Anglican church in New Brighton.

Reverend grows fruit

and vegetable co-op

• By Matt Slaughter

A NEW Brighton church

minister is spreading good

health, community spirit

and big savings to residents

in the east.

Reverend Katrina Hill

has opened a shop at St

Faith's Anglican church

on Hawke St to support

her fruit and vegetable

co-op. It supplies produce

to people in New Brighton,

South New Brighton and

North New Brighton every

Tuesday.

The initiative has

become a hit, saving

people money and

providing an opportunity

for volunteers to do their

bit for the community.

Rev Hill and other

organisers purchase fruit

and vegetables and sell

them in $10 mixed bags big

enough to feed a family for

a week.

She said the bags are

sold for about 30 per cent

less than what other stores

charge. More than 60 bags

are sold every week, she

said.

Rev Hill said the co-op

helps to ease some of

the strain for parents in

particular. "It's really

difficult parenting these

days, I think. There's a

lot of external pressure in

regards to food people are

eating."

"As parents, we want

to be giving good food

to our children and it's

just becoming harder and

harder to do that."

Co-op volunteers get a

great sense of pride out

of giving back to their

community, said Rev Hill.

"I know a lot of the

people that are part of

our community really

appreciate being able to

help families in some way."

"We offer opportunities

to volunteers who may

be isolated and wanting

something to do during

their day."

Rev Hill said the health

benefits of the co-op,

paired with its positive

effect on community spirit,

has made it a "win-win"

initiative for all involved.

Gates open at

Saturday February 23, 6PM

4.30 pm

SOUTH ISLAND SPRINTCAR

CHAMPIONSHIP

SUPPORTING

PROGRAMME www.ruapunaspeedway.co.nz Infoline 3497727

Kids

14 years

& Under

FREE

Admission Admission — Adults — $20, Adults Students $20, Students and Seniors and Seniors $15, Children $15, Children 14 and 14 Under and Under FREE: Eftpos FREE: at Eftpos the Gate

the Gate

PLUS

SUPPORTING

PROGRAMME PLUS

Kids 14

and Under

FREE

ADverTOrIAL

Sustainability key

to organic farming

There's something for

everyone in the realm of

organic farming but as far

as Bill Martin is concerned,

it's all about sustainability.

The Training College

Manager at Lincoln

University's Biological

Husbandry Unit Organics

Trust (BHU) is happy to see

a surge in enthusiasm for

organic food production

as younger generations

become more aware of

environmental concerns.

He says the growing

popularity of organic

production in recent years

means that graduates are

now taking what they have

learned into a broader

range of sectors.

"It's not just about

growing, wholesaling

and retailing food anymore. They're

going into schools and teaching primary

and secondary schoolers about the

importance of sustainable farming and

gardening and really starting to embed the

philosophy into the education system."

As far as conventional agricultural

practices are concerned, he says farmers

should be encouraged to optimise their

production, rather than maximise it at the

expense of the environment.

"We need to change our agricultural

paradigm and re-evaluate our priorities."

Mr Martin says those interested in a

career in organics should enrol in the

one-year Diploma in Agri-Food Production

LIN2813

Grow a career

in organics

Lincoln University's Diploma in Organic Agri-Food Production will prepare

you for work in the organic sector or your own garden or smallholdings. It's

a full-time, one-year programme that covers the theory and practice behind

contemporary organic agri-food production.

Join us in February to find out what growing organically on an agricultural

scale really means.

Learn more at www.lincoln.ac.nz or call 0800 10 60 10.

Students

are eligible

for a fee waiver

course, which is open to students either

with or without university entrance.

Introduced last year, it includes Tikanga

and Mahinga Kai components and can

lead to employment in organic primary

production or other sectors related

to organics, especially education and

hospitality.

"The course offers a good grounding

in the principles of organic agriculture,

teaching the philosophies and histories

of organics and providing practical

knowledge of how they are applied," Mr

Martin says.

Apply now for the Diploma in Organic

Agri-Food Production and begin studying

in February 2019.
---
8 Tuesday February 19 2019

Latest Christchurch news at www.star.kiwi

News

Petition fails to

save Eastgate

Kiwibank

• By Matt Slaughter

A BID to reopen Kiwibank's

branch in the Eastgate Shopping

Centre has failed.

Port Hills MP Ruth Dyson

presented a petition to save

Kiwibank's services in the

mall with more than 3000

signatures to Kiwibank investor

and government relations manager

Kevin Hastings on January

29.

In spite of the number of signatures,

Kiwibank spokeswoman

Kara Tait said its decision was

based on the shift in how people

are banking in the modern age.

"Over 90 per cent of our customers

are now banking online."

She understood that adapting

to this change could be harder for

the older generation, but there are

support services available to help

people with online banking.

However, Woolston Community

Association chairwoman Jackie

Simons said expecting people to

change so quickly after a lifetime

of doing their banking in person

was unrealistic.

"While I understand that we

should supposedly all move with

the times, there are a whole lot

of people in that area that simply

can't."

CHRISTCHURCH will

soon welcome its first former

refugees via the quota since the

earthquakes – and the New

Zealand Red Cross is getting

ready to help them settle.

Groups of about 20 former

refugees from Afghanistan and

Eritrea will arrive in the city

every eight weeks from March 1.

Christchurch's Farahnaz

Khosravi, 47, is training to

become a refugee support

volunteer with the New Zealand

Red Cross and will work in a

small team to support a new

family transition into New

Zealand life. Ms Khosravi came

to Christchurch from Iran on

a skilled migrant visa with her

husband and children almost

five years ago.

She knows what it's like to be

new to the country and felt it

was her duty to help other new

Kiwis feel at home.

"When I moved from Iran,

I had done all I could to

prepare from overseas – I

knew english, enrolled my

children in schools, rented

a house, I had even made an

appointment with the bank.

"Even with all that preparation

and information I had, it was

still challenging. I know it will

be much harder for refugees who

haven't planned to be here, don't

have knowledge of english or of

the country."

Ms Khosravi said her family

was warmly welcomed by

Cantabrians and they wanted to

ensure other new arrivals have

the same experience.

Red Cross pathways to

settlement manager Jo Fasheun

said refugee support volunteers

will help new Kiwis settle into

their homes, find their way

around, meet their neighbours,

register with a doctor and

navigate public transport.

"All of that can be really

challenging – it's about how we

can support them to make those

challenges easier and bringing

some humour into it. It's about

learning from each other along

the way," Ms Fasheun said.

Refugee support volunteers

have found the role to be a

Local

News

Now

PEGASUS POST

Help former refugees feel at home

Fire rages, homes at risk

REWARDING:

Farahnaz

Khosravi is

training to

become

a refugee

support

volunteer

with the

New Zealand

Red Cross. ​

rewarding experience, she

said.

"Many of our volunteers stay

connected with families for a

very long time – you might just

become part of the family."

Ms Fasheun said it is not

too late to get involved and

encourages anyone interested in

helping to get in touch through

the New Zealand Red Cross

website – www.redcross.org.nz.
---
PEGASUS POST Latest Christchurch news at www.star.kiwi

Tuesday February 19 2019 9

0800 casino | 30 victoria st

FREE

PARKING

SALISBURY STREET

ONLY A TWO

MINUTE WALK

TO VICTORIA

SQUARE

during the LANTERN festival

COLOMBO STREET

DURHAM STREET

SALISBURY ST

ENTRANCE

P

PETERBOROUGH ST

ENTRANCE

PETERBOROUGH STREET

VICTORIA STREET

CHRISTCHURCH

CASINO

MONTREAL STREET

2 MIN

WALK

KILMORE STREET

CHRISTCHURCH

TOWN HALL

COLOMBO STREET

Celebrate with us!

FREE FACE PAINTING

& PRIZE WHEEL at our

marquee in Victoria Sq.

CRANMER

SQUARE

CHESTER STREET WEST

ARMAGH STREET

VICTORIA

SQUARE

GLOUCESTER STREET

MONTREAL STREET

WORCESTER BOULEVARD

CATHEDRAL

SQUARE

HEREFORD STREET

CASHEL STREET

VISIT THE CASINO LOBBY TO REDEEM YOUR FREE PARKING.

SEE CHCHcasino.CO.NZ FOR MORE DETAILS.

T'S & C'S APPLY.
---
10

Tuesday February 19 2019

Latest Christchurch news at www.star.kiwi

Your Local Views

Solution to village's bus woes

Disabled

Persons

Assembly

Christchurch

and districts

president Philip

Haythornthwaite

provides a solution to Diana

Isaac Retirement Village

residents' lack of a nearby

bus stop

ENVIRONMENT Canterbury

cannot claim it has 'run out of

ideas' for a compromise that

would satisfy both residents and

staff at Diana Isaac Retirement

Village after the Orbiter bus route

was changed on January 7.

I was at the protest meeting

outside the ECan office on Tuam

St when the ECan chairman

guaranteed a full bus service

would be retained to service

the retirement village after the

Orbiter service was cut.

This change has been forced

onto ECan because QE II Drive

is being rebuilt and there is no

longer a right turn into Philpotts

Rd for the Orbiter service to

use.

The solution to this is very

simple – change route 44, the

Dallington to Ara bus service.

It could turn right from Innes

Rd into Philpotts Rd up to the

old Glenmoor School site, which

Ryman Healthcare has offered

the use of part of their land as

a turning circle. It could then

go back along Philpotts Rd over

Innes Rd to Kensington Ave and

into the city.

The turning circle concept

is already in use on three bus

routes – the Orange and No 135

at Burwood Hospital, where

both buses use the same on-site

bus stop, and at The Princess

Margaret Hospital where the

Orbiter anti-clockwise service

turns into the same bus stop

outside the hospital as the Orbiter

clockwise service.

ECan senior manager of

public transport Stewart Gibbon

has said 're-routing the No 44

also did not align with ECan's

regional public transport plan'.

The needs of bus passengers

must surely 'align with ECan's

regional public transport plan'

and msut come first at all times.

The re-routing of a bus service is

an important and simple way to

achieve this.

ECan has a duty to honour the

commitments made to the public

last year to provide a service to

people who are now 800m from

their nearest bus stop.

WITH FEBRUARY

traditionally the hottest month

of the year, the city council is

reminding residents to keep

doing their bit to save water so

it can work to remove chlorine

from the city's water supply as

soon as possible.

The council is aiming for

the city's drinking water to be

un-chlorinated by May, which

will mark 12 months since it

rolled out chlorine treatment

in response to advice from the

Canterbury medical officer of

health.

City council water supply

improvement programme

manager Helen Beaumont said

achieving the target depends

partly on people continuing to

use less water so wells can be

taken offline and upgraded as

needed.

"We're definitely not out of

the woods yet, and we really

need people to keep watching

their water use so we can

upgrade our wells and continue

to cut back the chlorine across

the city," Ms Beaumont said.

"We're experiencing much

hotter days now, with less rain

in between, so the temptation

is to leave the garden sprinklers

on for longer or to turn them on

Local

News

Now

PEGASUS POST

Fire rages, homes at risk

Saving water key to

getting rid of chlorine

more often.

"We have no issue with

people watering their lawns or

gardens, but we do ask they use

a hand-held hose or watering

can, which avoids any waste,

and only water on alternate days

between 9pm and 7am, when

it's cooler."

Sprinklers and garden

irrigators are the biggest users of

household water, but there are

plenty of other ways people can

help save, said Ms Beaumont.

"Taking shorter showers,

doing one less laundry load

a week, and sweeping your

driveway instead of hosing it

are all ways people can help

save water. It may not seem like

much, but a lot of people doing

a little really adds up."

By May the city council

expects to have completed

temporary upgrades on 19

below-ground wells and to have

raised another 41 above ground,

bringing the total number of

secure wells to 98 out of 140.

"If we can upgrade those wells

as planned, we should have

enough un-chlorinated water to

supply the city over the winter

months, when we use about 50

per cent less water than we do

over summer."

BRODIE

& FITZY

SWITCH IT UP

WEEKDAYS 6 – 9AM

97.7

thehits.co.nz
---
PEGASUS POST Latest Christchurch news at www.star.kiwi

Tuesday February 19 2019 11

COLUMBUS CAFÉ NOW OPEN

Monday to Friday 7am to 4.30pm | Saturday to Sunday 8am to 4.30pm | Public holidays 8am to 4.30pm

Ferrymead café

offers tasty food and

a relaxing ambience

The café opened in October 2018, and since then it has

received a lot of positive feedback from customers

Customers at Mitre 10 MEGA in Ferrymead

now have the chance to have another enjoyable

experience during their shopping excursion –

time out at the new Colombus Café.

The café opened in October 2018, and since

then it has received a lot of positive feedback from

customers, says the store's General Manager, Tony

Franc.

Located next to the Garden Centre, and offering

pleasant views of the greenery on one side and

the Port Hills on the other, the café has a light,

airy feel with a seaside ambience. Spacious too,

it accommodates up to 100, so there is always

seating available.

Café manager Ash Hansen has several years'

experience in hospitality, and she and her team

of eight, which includes two qualified chefs and

trained baristas, offer a wide selection of tasty,

freshly prepared cabinet food, kitchen food and,

of course, Colombus brand coffee seven days a

week.

Breakfast and lunch are served up till 2.30pm

each day, and the café is open till 4.30pm.

The Mitre 10 MEGA team are enjoying having

the café on site, Tony says.

"The Colombus Café brand has an association

with Mitre 10 MEGA, and there are around 40

cafes located in MEGA stores around New Zealand

with five in Canterbury," he adds.

The Colombus Café at Mitre 10 MEGA Ferrymead

is open Monday to Friday from 7am to 4.30pm

and Saturday, Sunday and public holidays from

8am to 4.30pm.

So next time you are shopping for your DIY

projects, homewares or gardening jobs, why

not drop by and try out the coffee and tasty

food in this relaxing new spot in Ferrymead.

Bring in this coupon

or mention this ad to get a

2 For 1

Columbus

CoFFee

limited

time only

Valid until 31st

March 2019 at

Mitre 10 MEGA

Ferrymead only.

FerryMead
---
12 Tuesday February 19 2019

Latest Christchurch news at www.star.kiwi

Manly league legend visits

in lead up to Warriors clash

MANLY SEA Eagles legend

Steve Menzies visited North

New Brighton as part of the

club's early preparations for

their match against the Warriors

in Christchurch in March.

Menzies played 349 first class

games for Manly and scored 180

tries in his 15-year career at the

club.

He spent time with youngsters

at the aptly named Sea Eagles

Reserve in North New Brighton,

and caught up with Crusaders

coach Scott Robertson for a

swim at Sumner beach and then

a Crusaders practice.

Justin Wallace, the promoter

of the March 30 event through

his company Walco, said this

will be Manly's second home

game in Christchurch, having

lost to the Warriors last year.

"Plans are well-advanced

for the match and ticket

sales through Ticketek are

accelerating the closer we get

to the start of the NRL Telstra

Premiership season.

"Manly is looking to have

a long-term relationship with

Christchurch and we know fans

here will adopt them as their

favourite Australian NRL side,"

he said.

•The Sea Eagles will

play the Warriors at 5pm

on Saturday, March 30, at

Christchurch Stadium.

SPORTS

FANS: Danica Pickles (left) and Harry Wallace, both 9, with Steve

Menzies.

YOUNG GUN: Ava Henderson will compete in the final round

of the Billabong Grom Series this weekend.

PHOTO: COL/SURF2SURF.COM

Ava and Estella firing

ahead of final event in

Billabong Grom Series

•From page 1

Ava finished with a 13.5 point

heat total to earn a comfortable

win over Alice Westerkamp

(Auckland), Brie Bennett

(Raglan) and Liv Haysom

(Piha), who finished second

through to fourth respectively.

Meanwhile, Estella finished

with a 10.0 point heat total,

which was good enough for

PEGASUS POST

second in the under-18 division

behind Raglan's Kai Woolf who

scored 13.0.

Estella beat out Gabrielle Paul

(Piha) in third and Baylin Klein

Ovink (Auckland) in fourth.

The Billabong Grom Series is

split into three divisions for

boys and girls, ranging from

under-14 to under-18 in two

year increments.

Tech graduates in

ADVERTORIAL

demand from industry

Young technology graduates are being snapped

up by employers, with the rapidly growing New

Zealand ICT (information communications and

technology) industry hungry for skilled staff.

"There are lots of IT jobs, but not enough graduates

joining the marketplace," says Gary Taylor, campus

manager of Vision College in Christchurch.

Vision College, a private training establishment with

campuses in Christchurch, Auckland, Pukekohe and

Hamilton, has seen huge demand from employers

for its graduating information technology students.

"In the future, there will be an even bigger shortfall,"

warns Taylor, who notes that IT industry occupations

are on Immigration New Zealand's long-term skill

shortage list, reflecting the growth of the industry

and the rise in job vacancies. "The IT industry is

growing rapidly. We need to get more skilled

graduates ready to ride the wave."

According to the latest annual TIN Report, the

revenue of the top 200 New Zealand technology

companies grew by 11 per cent to $11.1 billion in

2018. The New Zealand tech sector employs more

than 25,000 people locally and 50,000 globally, and

offers a significantly higher pay than the national

average.

Christchurch woman Jessica Costello, 20, recently

graduated from Vision College with a Level 5 NZ

Diploma in Web Development and Design and

a Level 6 NZ Diploma in Software Development.

The two-year programme covered a range of

subjects, including web design, coding languages,

programming skills and software engineering – as

well as an eight-week internship with local company

CORE Education – which led to a job offer.

Late last year Costello started as a junior web

designer with the company. "It's a great industry

to be working in, and I can't wait to see what the

future holds," says Costello.

She attributes Vision College as being a huge part

of her success in gaining employment in the IT

industry. The small class sizes and supportive tutors

were both nurturing and engaging. "Our tutors built

a great rapport and connection with the students,

so they knew where we were at to ensure we were

all keeping up with the programme," says Costello.

There was also a focus on practical learning and

writing code. "We were on the computers from the

first day, learning by doing, and really drilling down

into specialty areas," says Costello. "I could see my

skillset progressing and developing every day."

As well as learning technical skills, she had the

opportunity to do professional practice papers to

build up "soft skills" too – something employers are

increasingly looking for, notes Taylor.

"They're wanting peopale that are technical skilled

but who can also be innovative, creative and solve

problems and can communicate well," says Taylor.

He says that industry internships are a key part

of the course programme, giving students the

opportunity to apply their learnings to real world

situations – and these opportunities often lead to

employment.

Aaron Kitto, national IT manager at CORE

Education, and Costello's new boss, agrees that the

industry is desperate for more skilled IT graduates,

particularly in areas such as software development.

He encourages students to find out more about

IT courses, as it is a career that offers flexibility and

growth.

"For me, IT is a skill that can exist in any industry like

human resources or marketing," says Kitto. "The skills

of an IT person can be mobile between almost every

type of organisation from education to agriculture

to tourism. This means that as the world moves

towards less "job for life" roles and more "do what is

needed" roles, IT people are perfectly placed to take

advantage of this. We have contractors who set up

company servers in Taiwan while writing code for a

Canadian firm, all from a beach in Bali."

For more information on getting started in IT, see

visioncollege.ac.nz or phone 0800 834 834. The

programme allows for flexible study and University

Entrance (UE) is not required to begin studying.

Upcoming intakes are scheduled to start

March 4, 2019.
---
PEGASUS POST Latest Christchurch news at www.star.kiwi

Tuesday February 19 2019 13

School's

not for

everyone!

free courses

FREE 19 week course!

arts & design

Earn credits towards NCEA. Learn a range of

media techniques like design, layout, drawing

and photography!

FREE 19 week course! Earn credits towards

NCEA, gain your learner driver licence, do

a range of practical taster courses like

barista training, early childhood,

driving quad bikes and tractors.

security

FREE 19 week course! Earn credits

towards NCEA and gain your COA for free. Both theory

and practical based. Learn conflict management,

door entry and exit control, security requirements,

industry knowledge, digital security and more...

ultimate

for 16-19

year olds*

early childhood education

FREE 18 week course! Offers the opportunity

to gain credits towards NCEA Level 1 and 2. This

is perfectly suited to school leavers or students

who want to complete their NCEA Level 1 and 2

and gain skills towards a career qualification.

gain ncea

& career

direction

with one

of our free

courses!

50 Hazeldean Road,

Addington

0800 872 466

www.studywithus.co.nz

*conditions apply
---
14

Tuesday February 19 2019

Latest Christchurch news at www.star.kiwi

PEGASUS POST

SERENITY Carnation

Queen Size Mattress & Base

NOW $1,749

WAS $3,499

50 % OFF

Firm Feel

SERENITY Dahlia

Queen Size Mattress & Base

NOW $1,844

WAS $3,699

50 % OFF

CLASSIC Kappa

Queen Size Mattress & Base

ONLY $639

EVERYDAY

DREAM

PRICES

Medium Feel

Medium Firm Feel

SERENITY Jasmine

Queen Size Mattress & Base

NOW

WAS $3,899

$1,949

50 % OFF

CLASSIC Zulu

Queen Size Mattress & Base

ONLY $1,249

EVERYDAY

DREAM

PRICES

Plush Feel

Medium Firm Feel

Other Sizes & Models Available In-store!

BEDS R US CHRISTCHURCH

166 Moorhouse Ave, (Next To Noel Leeming)

Ph: 03 379 5110
---
PEGASUS POST Latest Christchurch news at www.star.kiwi

Tuesday February 19 2019 15

PLAY FOOTBALL 2019

Burwood

AFC

Welcome to the 2019 football season. Burwood AFC is a

progressive club with Junior and Senior teams.

We expect to have 3-4 Senior teams, with our Senior 1st team in

the Canterbury Championship League. New Senior and Junior

players are most welcome.

Burwood supports the Whole of Football framework initiated

by NZ Football and run by Mainland Football. This concept works

for our First Kicks (4-6 years) and Fun Football (7-8 year). Both

these grades are run In-house with the help of Mainland Football

and other clubs. Older Junior grades run under the Mainland

competitions. Registration is now online, for more information

see our website www.burwoodafc.co.nz.

ainland Football

Get In to football this year by joining up with your local Football Club. Your local club will provide you

with a range of opportunities to get involved with the Worlds No 1 Sport. Our First Kicks and Fun Football

programs are focused on the basic skills and are developed to ensure all players are highly involved. For the

older kids there are winter competitions that club teams play in. From playing to refereeing to coaching there

is something for the whole family. So get in touch with your local club to get registered.

If you are looking for your closest club visit www.mainlandfootball.co.nz and check out our club

directory for contact details.

Coastal Spirit

Football Club

Coastal Spirit Football Club are entering their 12th

season since the amalgamation of New Brighton

AFC and Rangers AFC. Coastal are a family club

that offers football for everyone regardless of age,

gender and ability. Gary Bennett, the Football

Development Manager is starting his second season

with the club and comes with experience of working

in four different countries including several years

at Southampton FC in England. Coastal Spirit care

about the development of the players as people and

as players and always put the player first.

Registrations are now open online for more

information see our website www.coastalspirit.

co.nz

Gary Bennett, Football Development Manager

COASTAL SPIRIT

FOOTBALL CLUB

2019 Registration

ONLINE NOW

www.coastalspirit.co.nz

Beginners, Social & Elite

Male & female players

4 to 65 years+

Email: info@coastalspirit.nz

Where it all started for All White Aaron Clapham

and Football Fern Meikayla Moore

Registration and Subscriptions

For more details with online registration

and subscriptions see our website

www.burwoodafc.co.nz

New Junior and Senior players

are welcome.

If you would like to assist or get

involved in the coaching of Junior

teams, please contact the Secretary

Mark Tolchard 385-0098

or 027 319 0192

GET INTO THE

PLAY // COACH //

REFEREE //

JOIN A CLUB

// MAINLANDFOOTBALL.co.nz

VISIT OUR WEBSITE FOR INFO ON CLUBS & REGISTRATION

#GETIN
---
16 Tuesday February 19 2019

Latest Christchurch news at www.star.kiwi

FOCUS ON HEALTH

1 in 2 people

deficient in B12

Emerging research has shown as many as 50% of older adults and

as many as 25% of younger adults are deficient in vitamin B12.

Scientists at Rush University Medical

Center found those most deficient

in vitamin B12 to have the smallest

brain mass & the lowest scores on

tests measuring short-term memory,

concentration & brain performance.

Another study showed that older people

with higher levels of B12 in their blood

have bigger, healthier brains & score higher

on cognitive tests than those with lower

levels. Yet another recent landmark study

showed that B12 supplementation slows

the accelerated rate of brain shrinkage

& declining cognitive function. B12 is

essential for energy production, cell

health, regulation of mood & sleep cycles,

nerve health & repair, & prevention of

homocysteine a serious cardiovascular

risk factor that is known to cause damage

& plaque in the blood vessels. It can also

increase the chances of a stroke. Harvard

researchers found

a 34% decrease

risk of vision

loss in a study

of participants

aged 40+ who

supplemented with

B12. Another study

linked a higher risk of hearing loss in

subjects in their 60's who were low in B12.

The reason so many people lack B12

appears to be our body's ability to absorb

it declining with age as the digestive

system becomes less efficient. Anti-reflux

medication & other drugs further reduce

B12 absorption. The good news is B12 in

the form of Methylcobalamin sublingual

tablets that are dissolved in the mouth &

thru bypassing the digestive tract have

been shown to effectively raise B12 levels in

the body.

Further detailed information is

available from the Natural Health

Advisers at Marshall's Health & Natural

Therapy, 101 Seaview Road, New

Brighton, Phone: 388-5757. We are always

happy to help!

IS YOUR BRAIN SHRINKING?

Brain fog, forgetful, feeling old, low energy, mood swings,

difficulty sleeping, pins & needles, numbness in legs

PEGASUS POST

Grape Seeds Shown To Have

Remarkable Health Benefits!

According to researchers grape seeds may

hold the potential to treat & prevent many

devastating disorders. The seeds have been

found to contain many powerful antioxidant

such as resveratrol, catechins, epicatechins,

proanthocyanadins & anthocyanins as well as

other nutrients that have been shown to support

the natural healing process & even slow the

aging process.

Grape Seed Extract (GSE) has been shown to

reduce inflammation & pain, increase cellular

energy, protect protein structures & increase

collagen production. The powerful antioxidants

in GSE can tone & strengthen the blood vessels,

improve blood flow making it valuable for

circulatory disorders of all kinds, including

varicose veins, haemorrhoids, hardening of the

arteries & impaired blood flow to the brain. It

is excellent for most skin conditions because

of the increase of blood flow to the skin tissue

thru allowing more nutrients to the tissue cells

& better waste removal from the cells. As well as

this it supports collagen production. For these

reasons many people report the skin looks more

healthy, smoother & with better elasticity when

using GSE.

GSE offers a natural alternative for many

people with hypertension (High Blood

Pressure). Higher than normal blood pressure

puts more stress on organs & can lead to

atherosclerosis (hardening of the arteries) &

therefore increased risk of heart disease (The

heart has to work harder to supply blood

around the body & may become enlarged &

eventually fail) & strokes.

Recent analysis of 16 randomized studies on

people with elevated blood pressure found GSE

to significantly lower both systolic & diastolic

blood pressure but had no effect on people with

normal blood pressure. Animal studies have

shown GSE to improve heart function, reduce

damage caused by heart attacks & prevent the

formation of foam cells that play a role in the

formation of arterial plaque.

A growing number of studies show that GSE

has powerful anticancer properties in both the

prevention & treatment of many types of cancer.

Studies show arthritis of every type may be

greatly improved by GSE. GSE also helps protect

the body against damage caused by diabetes

while helping balance blood sugar levels.

Another area GSE is proving highly beneficial

is the brain. It has been shown to protect

brain cells while stimulating the formation of

healthy new brain cells. It may prove vital in the

treatment of brain disorders like Alzheimer's &

Parkinson's disease.

There are numerous studies on GSE that

show it can help support our good health &

prevent many degenerative diseases.

Further detailed information is available

from the Natural Health Advisers at

Marshall's Health & Natural Therapy, 101

Seaview Road, New Brighton,

Phone: 388-5757.

We are always happy

to help!

Seven friendly villages

in Canterbury

Key

• Ryman village

• Proposed village

Rangiora

• Charles Upham

Christchurch

• Anthony Wilding, Aidanfield

• Diana Isaac, Mairehau

• Essie Summers, Beckenham

• Margaret Stoddart, Riccarton

• Ngaio Marsh, Papanui

• Park Terrace, Central City

• Woodcote, Hornby

0800 588 222

8984

Up to 1 in 2 people may have a shrinking brain due to a lack of vitamin B12.

Supplementation of methylcobalamin B12 has been shown to reduce the rate of brain

shrinkage & support memory & brain function. B12 is also known to protect against

homocysteine a serious cardiovascular risk factor that can also damage the hearing,

eyesight & affect the mood. B12 is essential for energy, cell health & nerve function.

B12 SUPPORtS:

• Memory & Brain Performance

• Helps protect brain

from shrinking

• Energy & Recovery

• Nerve Function

• Vegetarian's Diet

• Helps protect blood

vessels from damage

• Sleep

• Cellular Health & Repair

• Good Health

• Cardiovascular Health

See a

difference

in as little as

48 hours!

SUPER PRICE OFFER

Superior Methylcobalamin B12

(High Absorption Sublingual Lozenges)

100 Lozenges 200 Lozenges

Only $ 32 .90 Only $ 59 .80

MAIL ORDER AVAILABLE

Bringing You the Best in Natural Health

MARSHALLS HEALTH & NATURAL THERAPY

CONSULTING - PRESCRIBING - DISPENSING - MANUFACTURING - MEDICAL HERBALISTS

101 SEAVIEW RD, NEW BRIGHTON • PH 03 388 5757 • Email: enquiry@marshallshealthshop.co.nz

- WE ARE ALWAYS HAPPY TO HELP! -

GRAPE SEED EXTRACT - SUPPORTS GOOD HEALTH

Research is showing that grape seeds may hold the potential to prevent & treat many devastating disorders. It is well known

pharmaceutical drugs have many side effects whereas natural compounds like Grape Seed Extract can supply the body with

vital nutrients that it requires to keep healthy.

GRAPE SEED EXTRACT SUPPORTS:

• Reduction in inflammation & pain

• Healthy joint function

• Healthy blood pressure & circulation

• Improved cardiovascular health

• Improved elasticity & strength of blood vessels

• Formation of collagen

• Smooth healthy skin – Excellent for varicose veins

& haemorrhoids

• Protecting the brain from neurodegenerative diseases

including Alzheimer's & Parkinson's

• Protects brain cells while supporting the formation

of new brain cells

• Cancer prevention & treatment

• Stabilised blood sugar

Bringing You the Best in Natural Health

amazing prices:

SANDERSON

Practitioner Series

HIGH POTENCY

Grape Seed MAX,

60,000 EXTRACT

90 Capsules

ONLY $22.90 Save $18.80

180 Capsules

ONLY $36.90 Save $46.50

MAIL ORDER

AVAILABLE

MARSHALLS HEALTH & NATURAL THERAPY

CONSULTING - PRESCRIBING - DISPENSING - MANUFACTURING - MEDICAL HERBALISTS

101 SEAVIEW RD, NEW BRIGHTON • PH 03 388 5757 • Email: enquiry@marshallshealthshop.co.nz

- WE ARE ALWAYS HAPPY TO HELP! -
---
PEGASUS POST Latest Christchurch news at www.star.kiwi

Tuesday February 19 2019 17

HEALTH & AWARENESS

Joint pain: Do I have arthritis or

could it be mainly my muscles?

The team at Physical Sense in Sydenham sees clients with

a range of symptoms but many of their middle-aged and

senior clients visit complaining of pain in one of their joints.

Physiotherapist Ietje van Stolk suggests

that a major part of the pain could be due

to muscle pain rather than simply arthritis.

"Even if an x-ray shows arthritis, the reason

for the pain may be the muscles around

the joint," she explains. The images show

how a muscle knot (the crosses) in a back

muscle can give hip pain (aches and pain

are the red areas in the drawings), a knot

in a muscle on the back of the shoulder

blade can give a deep pain in the front of

the shoulder and a muscle knot all the way

near the groin can give an ache in the knee

(especially at night in bed).

Ietje recalls one case where an 89 year

old client with severe arthritis who walked

with a stick, told her, "I will end up in

a wheelchair, I cannot put any weight

through my right leg due to pain in my hip

and buttock". "Within 4 treatments, she

was walking with her stick but without the

severe pain," says Ietje. "The arthritis was

one of the factors that made her muscles

spasm but the other was that older people

move less and the flexed position the hip

is in when we sit is particularly bad for

the hip." Ietje is happy with the fact that

although the client was 89 and could have

been "given up on" or told to live with the

pain, she made a difference to her health

and wellbeing.

The same lack of movement can be the

reason for your knee pain or your shoulder

pain and the same few treatments could

make a huge difference for you.

At Physical Sense, hands-on techniques

(massage and triggerpoint deactivation

techniques) are used to release the muscles.

The client also gets a home exercise

program designed to mobilize and stretch

the joint, strengthen the important core

muscles and increase general strength and

SHOULDER

PAIN

KNEE PAIN

balance. They teach a movement sequence

that stretches the joint in all directions

whilst the client is able to lie safely on their

bed, perfect for older or less mobile clients.

In many cases having the muscles

released and being taught how to maintain

it, is enough to stay on top of the problem.

HIP PAIN

(the crosses are the areas of the muscle spasms, the red areas is where the pain is felt)

If severe arthritis is the underlying cause,

some maintenance therapy may be

necessary, but that is often more affordable

and, for older patients, better tolerated than

surgery. In very few treatments the client

will know if it is going to work for them or

not, without financial commitment.

Physical Sense Gym and Physio is located at 300 Colombo Street, Sydenham. The Blue Line Bus stops in front of the door and there is ample

parking. To enquire about specialised exercise classes or physiotherapy treatment, phone 377-2577 or visit www.triggerpoints.co.nz

It's our

45th

Anniversary

year!

#areyouupforit

45th Anniversary

Retro T-shirt

available when

entries open on

1st December 2018

Sunday 24th March, 2019 www.city2surf.co.nz
---
18 Tuesday February 19 2019

Latest Christchurch news at www.star.kiwi

PEGASUS POST

2

A

EVENT

CITY2SURF

with Les Mills

Sunday 24 March

#Areyouupforit?

14km, 6km Community

Fun Run Event

It's our

45th

Anniversary Year!

EntEr NOW!

Entry $25 (children 10 and under free)

Available online now from city2surf.co.nz or at these outlets
---
PEGASUS POST Latest Christchurch news at www.star.kiwi

Tuesday February 19 2019 19

JP Clinic at Shirley Library

Tuesday, 10am-1pm

A justice of the peace will be

available to members of the community

to witness signatures and

documents, certify document

copies, hear oaths, declarations,

affidavits or affirmations as well

as sign citizenship, sponsorship

or rates rebates applications. No

charge.

Shirley Library, 36 Marshland

Rd

Senior Net New Brighton

Tuesday, Wednesday and

Thursday, 10am-12 pm, Help

Classes on Fridays

Get Confident with

technology.

New Brighton Club, 202 Marine

Pde

Reading to dogs

Wednesday, 3.30-4.30pm

This programme is designed

to provide an atmosphere which

encourages children to develop

their reading skills and a love for

reading in front of some furry

friends.

New Brighton Library, 213

Marine Pde

Wā Pēpi/Babytimes

Tuesday, 11.15-11.45am,

Wednesday and Thursday, 10.30-

11am

Go along with your little one

Email matt.slaughter@starmedia.kiwi by

5pm each Wednesday

for an interactive programme

including music, movement,

rhymes and a story.

Aranui Library Tuesday, New

Brighton Library Wednesday,

Shirley Library Thursday

Technology help drop-in

sessions

Thursday, 3.30-4.30pm

Go along to a drop-in session

for help with email, searching

the internet, using the library

catalogue, eBooks, and general

computer queries.

Shirley Library, 36 Marshland

Rd

SAYGo Steady As You

Go Falls Prevention Exercise

Class

Friday, 10-11am

This is a specially-designed

class to help you prevent a

dangerous fall. No bookings required,

but $2 donation to enter.

Those interested are invited to

turn up on the day and see what

the class can do for them.

New Brighton Library, 213

Marine Pde

Cards Club

Friday, 1.30–3.30pm

This weekly club is on every

Friday, just go along and join the

fun. Free, no bookings required.

Shirley Library, 36 Marshland

Rd

Shirley Library's Culture

Exchange

Friday, 3.45-4.45pm

Go along and make new

friends, practice English and

learn about New Zealand and

Christchurch.

Shirley Library, 36 Marshland

Rd

New Brighton Seaside

Market

Saturday, 10am-2pm

Held at Brighton mall every

Saturday, just across the road

from the beach and the new children's

playground.

New Brighton Pedestrian

Mall

Super Saturday Storytimes

Saturday, 11am-1.30am

Go and enjoy Storytimes, an

interactive programme

including stories, songs,

rhymes and play. This is a

free session.

Shirley Library, 36 Marshland

Rd

Golden oldies movie

screening – The Lemon Drop

Kid

Monday, 1pm

Starring Bob Hope and

Marilyn Martin, this 1951

comedy/ crime follows a New

York City swindler who has

until Christmas to come up with

the $10,000 he owes a gangster,

prompting him to go into

scamming overdrive.

New Brighton Museum, 8

Hardy St

The Ascot

Sit and Be

Fit class will

be held on

Wednesday

between 1pm

and 2pm and

on Thursday

between

9.30am and

10.30am

at Ascot

Community

Centre,

Ascot Ave,

Parklands.

The cost of

the class is $4

and with this,

you'll get a

cup of tea or

coffee.

The Monday Makers Club

Monday, 3.30-4.30pm

Go along to weekly after school

making sessions for kids. A range

of activities varying in theme,

week by week. Free of Charge, no

booking required.

New Brighton Library, 213

Marine Pde

Activity Zone

Monday, 3.45-4.45pm

Go and have fun at Activity

Zone, the Shirley Library

after school club. There will be

technology, games, crafts and

books. Suitable for ages six to 10.

Caregivers, please remain in the

library during the session.​Free,

no bookings required.

Shirley Library, 36 Marshland

Rd
---
20

Tuesday February 19 2019

Latest Christchurch news at www.star.kiwi

PEGASUS POST

Exhibitors

Book now

Don't miss your opportunity to

showcase your business in front of

10,000+ qualified attendees

Jon.Holmes@starmedia.kiwi or 021 225 8225
---
PEGASUS POST Latest Christchurch news at www.star.kiwi

Tuesday February 19 2019 21

REAL ESTATE

The best of coastal living

83 Beachville Road, Redcliffs

Auction: Thursday 28 February 2019 Unless Sold Prior

4 bedrooms | 2 bathrooms | 2 toilets | 2 living rooms | 1 office/study | 1 off-street parks | Listing Number: FM5467

Soak up the intimate water views of the

Redcliffs Riviera while you fall in love with

this modern twist on a character styled villa.

The charm of the traditional exterior tastefully

conceals the contemporary masterpiece inside,

fulfilling all the needs of family living.

Designed and built in 2015 by Mike Greer

Hills the home fully utilises the full 40mt width

of this corner section to ensure the stunning

water views can be fully appreciated from the

expansive decks, two living areas, study and

two of the four double bedrooms on offer.

The master bedroom provides an impressive

outlook with sliding door access to the deck and

has its own luxurious ensuite and walk-in-robe.

The open plan kitchen with its stone

benchtop and walk-in pantry is the central

focus of the home and embraces the dining

and family living, flowing out to the two decks.

The formal lounge provides an ideal solution

for a media room connecting perfectly to the

two verandahs for those wonderful sea views.

The clean lines and light décor throughout

the home are enhanced by the detailed

finishing and contrast perfectly with the

vibrant green shades displayed in the easy

care, established gardens.

A gentle stroll along the coastal pathway

will take you to the local shops and cafes of

the village, or you can stretch the legs further

and appreciate the ocean views as you walk

into Sumner to enjoy the beach, bars and

restaurants on offer.

This summer do not miss this unique

coastal lifestyle home as opportunities like

this are rare, with viewing essential.

Open Homes Thursday 21 Feb 5:00pm -

6:00pm and Sunday 24 Feb 2:00pm - 3:00pm.

Auction date Thursday 28 February

12:00pm (Harcourts City, 98 Moorhouse

Ave) unless sold prior .

For more information or to arrange a

private viewing contact Chris Moores of

Harcourts Grenadier Ferrymead (Licensed

Agent REAA 2008) on 384 7950 or

0275 884 440

growing with you June 2018 | 100%

Plants For

winter wow

Cool Choices

For Colour

& Contrast

From swamp

to sea views

The journey

begins with sarah

the Gardener

$7.90 incl. GST

Snap it up

Enter our annual

Birdlife Photo

Competition to win

great prizes!

clear the air

Why groWing

indoor PLAnTs is

so good for you

give it a grow

from gArLic

To chinese

ArTichokes,

We hAve your

groWing TiPs

covered

the latest releases

into the rose world

+ rose care

through winter

The magazine for

gardeners who like to get

their hands dirty

SUBSCRIBE FROM

$43. 50*

*6 issues/6 months

SUBSCRIPTIONS FREEPHONE

0800 77 77 10

WWW.GARDENER.KIWI
---
22 Tuesday February 19 2019

Latest Christchurch news at www.star.kiwi

PEGASUS POST

If you want more information about an item or to contact a

seller, visit www.postanote.co.nz and search the ID#

1846 Leather Bound Pocket Bible

F&P Stainless Steel Fridge Freezer

Mazda RX 8 Sell Or Swap

1 Car Garage

2001 Mazda MPV

Double Bed Settee

$95

ID 27098

$320

ID 27095

$1,000

ID 22809

FREE!

ID 27078

$2,500

ID 27075

$345

ID 26900

1998 Hero Gizmo 50cc 2 Stroke Engine

Honda PCX150

Sun Umbrella

1993 Toyota Windom

BTD Bulldozer

$900

ID _6230

$200

ID 25140

$2,000

ID 27034

$50

ID 27009

$1,900

ID 26961

$8,625

ID 16536

Row Boat

2 Deck Chairs

Subaru Imprezza

Convection Oven

Friar Tuck Whiskey Decanter

Nissan Ute

$600

ID 26855

$30

ID 26499

$7,600

ID 26485

$75

ID 26799

See Seller

ID 22003

$19,000

ID 20229

8 Solar Lights

Zephyr 460 Plan A

Giant Dirt E-Pro Electric Mountain Bike

2007 Kia Rio

Floor-standing Lamp

Baby Exersaucer Mega

$10

ID 23624

$12,000

ID 24933

$2,850

ID 26967

$6,000

ID 26860

$20

ID 26949

$50

ID 26942

Diamante 3.5 V6

2 Ex-Army Jerry Cans

CorySal - Air Compressor

Toyota Rav4 L

Drift Bike

Tangent Monitor TM3 Loudspeaker

$1,500

ID 17224

$60

ID 26934

$120

ID 26933

$2,500

ID 26996

$115

ID 26930

$200

ID 26915

Chook House

Ford Falcon S/W

Wooden Poles

Honda TRX 300

Mitsubishi Grandis (Chariot)

Two-stroke Lawnmower

$650

ID 26913

$3,750

ID 22603

See Seller

ID 26899

$3,500

ID 26895

$6,995

ID 26882

$175

ID 26858

Aurora Portable Wooden Massage Table

Kawasaki Ninja

Mitsubishi Pajero

Playpen Mat

Concrete Mixer

Old Bath

$280

ID 26868

$1,750

ID 26326

$1,700

ID 26879

$20

ID 26839

See Seller

ID 26628

FREE!

ID 26501

2123895chch-h
---
Tuesday February 19 2019

PEGASUS POST 23

Latest Christchurch news at www.star.kiwi

Classifieds Contact us today Phone our local team 03 379 1100

Situations Vacant

Board

NZIIU urgently requires host families

to host Japanese students attending

an NZIIU programme based at

Chisnallwood Intermediate from 12-24

March. Board payment applies.

For further information please contact

NZIIU Tel: 0800 694 486.

Host Families

Urgently Required

Caravans, Motorhomes

& Traliers

CARAVAN Wanted to

buy. Up to $5000 cash

today 027 488-5284.

Collision Repairs

QEII Collision Repairs.

Free Courtesy Cars

(conditions

apply),All

Insurance

work,Rust

Repairs &Private work.

Spray-painting.

Free pickup & delivery.

Ph. 03 388 5187

Community Events

ALCOHOLICS

ANONYMOUS, If you

want to have a drink that's

your business. If you want

to stop, we can help. Phone

0800 229-6757

Computer

Services

SeniorNet

Mac

Apple tuition & help

for any age group.

Apple computers, iPad,

iPhone and watch.

41 Essex Street

Mon, Wed and Fri

10am-12 Noon

Further details phone

365 1979

Health & Beauty

OVER 50'S SPECIAL ONLY $45

Footpod offers a complete array of

footcare services to help you overcome

problems and maintain healthy feet.

Footcare

Deluxe Package

. Athletes foot

. Fungus nails

. Ingrown toenails

. Warts, corns,

calluses & bunions

. General foot care

021 900 977

27 Forfar St, CHCH | www.footpod.co.nz

Holiday

Accommodation

SUNSHINE

COAST

RESORT

Australia QLD

All Units Have Ocean Views.

Heated Pools, Spa & Sauna,

Free Wifi, Tennis

& Mini Golf.

CHECK OUR GREAT

WINTER SPECIALS

www.mandolin.com.au

0061 7 5443 5011

JUNE to AUG temps 20C

ALEXANDRA HEADLAND

Real Estate

PROPERTY MANAGEMENT

Private Rental

Owners

Call Diane 027 435 6410 AREINZ

NZQA Level 4 Property Management

Diane Astle Realty Ltd MREINZ

LICENSED (REAA 2008)

• Health & Safety form

• Insulation form

• New AML form

• Deposit Bond

• Inspections

• We do full & casual

management

Do you follow the law?

ROOF REPAIRS

• Extensions & repair • Roof coating

• Concrete & clay tiles • Butynol

• Malthoid • Asbestos Certified

• Coloursteel • Old iron • Guttering

Locally owned & operated with

over 30 years experience.

BEAUMONT ROOFING LTD

Phone Dave 981 0278

or 021 223 4200

E: dave@beaumontroofing.co.nz

Trades & Services

BUILDER

Ring Mark

027 229 7310

for a free quote

• New Builds

• Renovations, extensions

• Repairs and maintenance

• Plastering and painting

www.longsilverconstruction.com

Tree and shrub pruning

Hedge trimming

Garden maintenance

Build raised gardens

Lawnmowing

CALL us 021 405 277

House & Garden

Property services Ltd

Senior Reporter -

Star Media

The successful candidate will ideally

have worked in Christchurch and

have a good knowledge of its people,

movers, shakers and issues.

You will be part of a vibrant team which will dominate the news coverage

in our region.

You will need to be competitive, a team player, think outside of the square

and have an enviable contact book.

The successful applicant will also be a key part of news room planning.

The successful applicant will need to have a full New Zealand driver licence.

The position will be filled as soon as the right applicant is found.

Star Media is seeking a

senior reporter with a track

record of breaking the big

stories and producing top

line backgrounders to join its

award winning newsroom.

If you have the above and want to be part of a progressive media

company, please email your CV to:

Barry Clarke, Editor In Chief - barry@starmedia.kiwi

Page 3 Page 13

Li ter library

Problem areas for li ter

revealed

Surf club move

New Brighton surf club opts

to rebuild on new site

TUESDAY, APRIL 10, 2018 www.star.kiwi

Loca ly Owned

jo

hayes

christchurch east

Ca l to make an

a pointment

P: 384 9459

www.national.org.nz

Authorised by Jo Hayes

Unit 6/950 Fe ry Road, Christchurch

• By Sophie Cornish

WORKSAFE NEW Zealand

has b en a proached in a bid to

fina ly repair the potholes in New

Brighton's Hawke St car park.

Coastal-Burw od Ward city

counci lor David East wants

WorkSafe to pre sure the car

park's private owners into

repairing the potholes which are

a "trip and vehicle" hazard.

WorkSafe chief inspector

a se sment southern Da ren

Handforth said it may be able to

take action under the Health and

Safety at Work Act 2015, "as a

person conducting a busine s or

undertaking."

Mr Handforth said WorkSafe

is aware of the concerns raised by

Cr East abou the car park.

"WorkSafe has completed

an a se sment visi to the site

and is engaging with the owner

to advise them that it is their

responsibility to manage their

risks a propriately."

Different parts of the car park

are owned by various people

and the Coastal-Burw od

Community Board recently

wrote to them about its concerns

around health and safety.

Cr East said the bi gest i sue

in the past has b en ge ting in

touch with the landlords and

owners and ge ting them to

agr e to anything. "The board

a preciates that multi-ownership

of the parking space may present

a difficulty in co-ordinating

repair/resurfacing but felt obliged

to pa s these concerns onto you,"

said the le ter.

One reply has b en received so

far from an owner who is wi ling

to discu s the i sue. However, a l

the owners would have to agr e

to undertake work.

Cr East said there had b en

a "number of incidences" in

the car park of people injuring

themselves which had gone

unreported.

"I've always though that it

has b en quite amazing that we

haven't had any serious a cidents

or senior citizens perhaps

tri ping in those potholes and

doing themselve some damage."

He is confiden the new

a proach wi l bring results.

"I think the WorkSafe

involvement may prove to be the

lever that we are l oking for."

New bid to fix potholes

Action looms

on Hawke St

car park

HAZARD: Coastal-Burw od Ward city counci lor David East wants WorkSafe New Zealand to put pre sure on the Hawke St car

park owners to fix the dangerous potholes. PHOTO: GILBERT WEA LEANS

Ph 3 7 0 70,

30 Cashel St,

Christchurch

Restore your oiled CEDAR BLINDS with ou re-oiling service.

Rejuvenate your lacquered CEDAR BLINDS

High-tech Cleaning

We clean and repair a l types of blinds –

Venetians, Cedar, Verticals, Ro ler, Ho lands,

Romans and Pleated – with environmenta ly

friendly cleaning products.

Temperature Contro led Drying

Re-oiling & Rejuvenating

Fabric Blinds - such as Austrian and Roman

Same Day Pick Up & Drop O f

We o fer a same-day, pick up an drop o f

service for mos types of blinds. B okings

are required.

Convenient Location

Drop blinds into us by 9am, at

30 Cashel Str et (near the

Fitzgerald end), and co lect

them a th end of the day.

New Blind Sales Priced from $30

WE ARE OPEN

Mon - Fri

8. 0am to 5. 0pm

Ro ler Blinds cleaned

from as li tle as $20

per blind

www.blindcare.co.nz SCAN QR code for Info >

BLINDS .Cleaned, Repaired & Restored .

Land size

Garage

Bedr om

Carport

Bathr om

Car pad

Lounge

Boat pad

Dining

P ol

Toilet

Te nis court

Shower Study

2.5

1

2

4

850m

1 2 3 4 5 6 7 8 9 10 1 12 13 14

Land size

Garage

Bedr om

Carport

Bathr om

Car pad

Lounge

Boat pad

Dining

P ol

Toilet

Te nis court

Shower Study

2.5

1

2

4

850m

1 2 3 4 5 6 7 8 9 10 1 12 13 14

Land size

Garage

Bedr om

Carport

Bathr om

Car pad

Lounge

Boat pad

Dining

P ol

Toilet

Te nis court

Shower Study

2.5

1

2

4

850m

1 2 3 4 5 6 7 8 9 10 1 12 13 14

Land size

Garage

Bedr om

Carport

Bathr om

Car pad

Lounge

Boat pad

Dining

P ol

Toilet

Te nis court

Shower Study

2.5

1

2

4

850m

1 2 3 4 5 6 7 8 9 10 1 12 13 14

Page 3 Page 5

Cartwright steps downs

Community board chairman

stays true to his word

Pool plans for Edgeware

Designs for ind or learner's

p ol revealed

TUESDAY, APRIL 10, 2018 www.star.kiwi

Loca ly Owned

www.denturesouth.co.nz

call 332 4004 TexT 027 537 0567

230 BarringTon sTreeT

Mobile

Service

Available

• By Sophie Cornish

THE ST Andrew's Co lege big

band had extra incentive to

win a the National Youth Ja z

Competition – ba s player, Tom

Fastier, co lapsed and died the

day before the competition

began.

"Tom was a ba s player from

Cashmere High Sch ol who was

playing with our big band this

year. He had a strong chance of

wi ning best ba s player a the

festival as he was a very a complished

musician," head of music

Duncan Ferguson said.

"We were delighted to win, but

it was bi tersw et," he said.

St Andrew's won the most

outstanding big band title a the

competition in Tauranga.

The band dedicated it se to

Tom, who died while on his way

to Cashmere High on March 27.

His death was po sibly related to

a medical event.

•Turn to page 9

SW ET SOUNDS: St Andrew's Co lege year 12 students Lewis Edmond and Je na We ls performing a the 41st National Youth

Ja z Competition.

Bittersweet win for St Andrew's big band

• By Sophie Cornish and Julia Evans

THE PAPANUI-I nes

Community Board has taken the

rare step of starting a petition

to figh the city council over

funding.

Signatures are being co lected

in a bid to get funding for a community

facility in Shirley.

It comes after the city council

removed funding for the centre

pla ned for Shirley Rd, near the

intersection with Hi ls Rd. This

was the site of the former community

centre, which was badly

damaged in the February 2,

20 1, earthquake.

The removal o funding

prompted community board

chairwoman Ali Jones to threaten

to stand down, citing it as her "die

in the ditch" project.

Ms Jone said the board's role

is to represen the community,

and by gathering signatures from

residents, it was fulfi ling that

role.

"One of the roles of a community

board is to represent and act

as advocate for the interests of its

community and this is what we

are doing. The LTP and a nual

plans are a l about lo bying the

council."

•Turn to page 5

Board

launches

petition

to get new

community

facility

Ph 3 7 0 70,

30 Cashel St,

Christchurch

Restore your oiled CEDAR BLINDS with ou re-oiling service.

Rejuvenate your lacquered CEDAR BLINDS

High-tech Cleaning

We clean and repair a l types of blinds –

Venetians, Cedar, Verticals, Ro ler, Ho lands,

Romans and Pleated – with environmenta ly

friendly cleaning products.

Temperature Contro led Drying

Re-oiling & Rejuvenating

Fabric Blinds - such as Austrian and Roman

Same Day Pick Up & Drop O f

We o fer a same-day, pick up an drop o f

service for mos types of blinds. B okings

are required.

Convenient Location

Drop blinds into us by 9am, at

30 Cashel Str et (near the

Fitzgerald end), and co lect

them a th end of the day.

New Blind Sales Priced from $30

WE ARE OPEN

Mon - Fri

8. 0am to 5. 0pm

Ro ler Blinds cleaned

from as li tle as $20

per blind

www.blindcare.co.nz SCAN QR code for Info >

BLINDS .Cleaned, Repaired & Restored .

Grenadier Real Estate Ltd MREINZ is a Licensed Agent Under the Real Estate Agents Act 2 08

Alistair Hazeldine

Mobile: 027 572 1 5 | Phone: 0 384 7950

Email: alistair.hazeldine@harcourts.co.nz

w.harcourtsfe rymead.co.nz

MAgic on clifton

Mobile: 021 353 280 | Phone: 0 384 7950

Email: joy.butel@harcourts.co.nz

Joy Butel AREINZ - Dip.R.E.

Four Seasons Realty

Grenadier Fe rymead

TEAM

BUTEL

20 Tuawera Te race, Clifton Hi l - $980, 0 3 2 2 2

Phone: 03 384 6540

183 Dyers Rd, Bromley • OPEN 7 DAYS

W ekdays 7.30am-5pm. W ekends 8.30am-3pm

www.dyersroadandlandscapes.co.nz

Dyers Road Landscape

& Garden Supplies

• Barks • Peastraw • Composts - we su ply the best available

• A gregates - Chip, Round and Basecourse

• Pavers & Schist products • Pungas

• Decorative Stones & Landscaping Rocks

• Trailer Hire first hour fr e with purchase

• Bag & Bulk - pick up or delivered

David, Carol & Mike

We wi l deliver!

SOIL

AND

HARDFILL

DUMPING

Page 3 Page 5

Traffic plan at The Brae

Bid to ease traffic on busy,

na row str et

New pi za joint

Fire and Slice fina ly se to

open in Sumner

WEDNESDAY, APRIL 1 2018 www.star.kiwi

Loca ly Owned

LICENSED SALES CONSULTANT RE A 2 08

GRENADIER

Alison Carter

P: 384 7950 M: 0274 318 960

E: alison.carter@harcourts.co.nz

Your local

hi l and

seaside

specialist.

• By Gordon Findlater

DEAN CALVERT (above)

returned from the United

Kingdom last w ek after

ge ting closer than mos to

Joseph Parker in the build up

to his world heavyweigh title

unification fight with Anthony

Joshua in Cardiff.

The former New Zealand

title-holder trave led with his

father George and brother

Bryce to London ahead of the

fight where they spen time

with Parker in the build up.

Mr Calvert, 47, comes from a

boxing mad family.

•Turn to page 6

Former champ hooks

up with Parker in UK

Cave Rock

Apartments'

owners

expect EQC

sign-off

this week

• By Sarla Donovan

THE OWNERS of Sumner's Cave

Rock Apartments ar expecting the

Earthquake Commi sion to sign-off

on a se tlement agr emen this w ek.

Body corporate chairman Mike

White said the group had gone

into mediation with IAG and EQC

on February 20, and signed off

on a deal with IAG on February

2 – coincidenta ly seven years

to the day after the February 2,

20 1, earthquake. However, they

are waiting for EQC to sign the

agr ement.

"Given that EQC actua ly drafted

the agr ement, there' l be no

problem with them doing that."

The apartment suffered damage

in the February and June, 20 1,

earthquakes and were demolished in

late 2012. In 2016, IAG's offer of the

difference betw en indemnity value,

$10 mi lion, and the sum insured,

$16 mi lion, was rejected by the body

corporate.

The mediation agr ement

prevented Mr White from disclosing

the se tlement amount, but he said it

involved the two parties paying "a bit

more money than they'd wanted to

earlier."

•Turn to page 6

Page 7 Page 10

Fishin' for w eds

Children's event at risk if The

Groynes' lakes not cleaned up

Pedaling acro s NZ

Stroke survivor finishes long

journey

TUESDAY, APRIL 10, 2018 www.star.kiwi

Loca ly Owned

www.denturesouth.co.nz

CA L 32 4 04 TexT 027 537 0567

230 Ba ringTon sTr eT

Mobile

Service

Available

A NEW 60km/h sp ed limit and

double ye low lines wi l be in

place on Dyers Pa s Rd by early

May.

The sp ed limit change was

a proved by the city counci last

w ek.

A decision to paint double yellow

lines on the stretch betw en

Summit Rd and the Sign of the

Takahe was earlier made by the

Spreydon-Cashmere Community

Board.

Bu the Banks Peninsula Community

Board decided against

ye low lines on the Summit Rd-

Governors Bay section due to the

road's narrowne s and general

condition.

The changes are designed to try

and reduce the crash rate.

Insta lation of the double

ye low lines, the new sp ed limit

signs and raised centre line pavement

markers wi l begin in mid

April.

The work i scheduled to take

place betw en April 15-18, 2-26,

29 and May 2.

While the work is done, Dyers

Pa s Rd wi l be closed to traffic

from the Sign of the Takahe to

Governors Bay betw en 7pm and

6.30am.

60km/h

Dyers Pass

speed

limit from

early next

month

• By Emily O'Co ne l

A WOOLSTON butcher proved

to be a cut above the rest in an

international competition.

New World Fe ry Rd butcher

Jeremy Garth and his team, the

Pure South Sharp Blacks, recently

came second a the World

Butchers' Cha lenge in Northern

Ireland.

It was the firs time Mr Garth

had competed in the cha lenge

and he was "rea ly proud" of

how the team performed.

"We produced some top quality

products and came away

with a g od result so we're very

ha py," he said.

The preparation for this year's

World Butchers' Cha lenge was

intense as the team members

met in Auckland every two

months for lengthy w ekend

practices.

Mr Garth, who has b en a

butcher for 14 years, said the

competition brought back his

pa sion for the job.

"Doing a l thi stuff and

m eting new people, s eing new

ideas, it just brings that flair

back for you," he said.

Mr Garth hopes to own a

butcher shop of his own someday

but says for now he wi l focus

on ge ting mor experience

and on the 2020 cha lenge.

"In two years' time, we' l be

going back to try and win the

title," he said.

U per Ri carton butcher Corey

Winder was part of the Pure

South Sharp Blacks team.

GLOBAL STAGE: W olston butcher Jeremy Garth back home after his team came second in the World Butchers' Cha lenge.

PHOTO: MARTIN HUNTER

From New World Ferry Rd

to second in the

world

Ph 3 7 0 70,

30 Cashel St,

Christchurch

Restore your oiled CEDAR BLINDS with ou re-oiling service.

Rejuvenate your lacquered CEDAR BLINDS

High-tech Cleaning

We clean and repair a l types of blinds –

Venetians, Cedar, Verticals, Ro ler, Ho lands,

Romans and Pleated – with environmenta ly

friendly cleaning products.

Temperature Contro led Drying

Re-oiling & Rejuvenating

Fabric Blinds - such as Austrian and Roman

Same Day Pick Up & Drop O f

We o fer a same-day, pick up an drop o f

service for mos types of blinds. B okings

are required.

Convenient Location

Drop blinds into us by 9am, at

30 Cashel Str et (near the

Fitzgerald end), and co lect

them a th end of the day.

New Blind Sales Priced from $30

WE ARE OPEN

Mon - Fri

8. 0am to 5. 0pm

Ro ler Blinds cleaned

from as li tle as $20

per blind

www.blindcare.co.nz SCAN QR code for Info >

BLINDS .Cleaned, Repaired & Restored .

Page 3 Pages 10 & 13

Cyclist's helipad bid

Serious crash gives new

perspective on ride to hospital

River working group

Rebuilding a healthy

ecosystem in the Selwyn River

WEDNESDAY, APRIL 1, 2018 www.star.kiwi

Loca ly Owned

June 29 - July 1

EXHIBITORS BOOK NOW

vanessa.fleming@starmedia.kiwi

021 914 565

• By Georgia O'Co nor-Harding

A CRACKDOWN on mobile

traders acro s the districts could

be l oming.

However, the public has li tle

interest in having input into the

i sue.

Only eight submi sions were

received for a potential bylaw

aimed at regulating commercial

activities in public places.

The district council wi l be

holding a hearing for the Public

Places Bylaw and Policy on Commercial

Activities and Events in

Public Places.

A hearing i scheduled to be

held on Thursday.

The bylaw comes as an increasing

number of mobile traders

are s eking to operate in Selwyn,

especia ly during the summer

months.

In the past year, the district

council has received five inquiries

about se ting up a mobile busine s

on private or public land.

A report said there are two

str et operators in Darfield, a

coff e cart is parked beside the

railway in Ro leston, and a pi za

cart visits Lincoln w ekly betw en

September-May along with a Thai

f od truck.

•Turn to page 7

Mobile

traders

could

face

regulation

Pupils learn about role of war horses

GR ENDALE SCHOOL pupils

have taken a step back in time,

s eing first hand what men and

horses l oked like during war.

The New Zealand Mounted

Rifles Charitable Trust president

Mark A pleton and member

Mike Donaldson t ok their

horses to the sch ol on Monday,

in a bid to educate pupils on the

sacrifice their ancestors made in

World War 1 and World War 2.

Mr A pleton and Mr Donaldson

a rived a the sch ol dre sed

in World War 1 uniforms while

their horses Tommy and Kruze

wore 1 0-year-old sa dles donated

to the trust.

The presentation is a prelude

to the Gr endale Recreation Reserve

Management Commi t e's

upcoming Anzac Day service.

As a tribute to those who

served, members of the trust wi l

ride horseback to the service.

Mr A pleton said it was

important children were

educated on what soldiers

wen through during World

War 1 and World War 2.

But he said the presentation

didn't go into t o much detail

and was more of a "show and

te l" to make them aware of what

the soldiers l oked like.

Children were shown the type

of kits horses were required to

wear in the war.

•Turn to page 7

• By Georgia O'Co nor-Harding

HISTORY: Pupils have taken a step back in time learning about what

New Zealand soldiers and horses l oked like in World War 1. Abi P oler,

5, sits on Kruze, alongside Mounted Rifles Charitable Trust president

Mark A pleton. PHOTO: MARTIN HUNTER

New sections

selling now

There's no be ter place to se tle out wes than at Falcon's Landing. Pop in to our sales and

information office, 17 Branthwaite Drive, this Thursday, Friday or Sunday from 1pm to 3pm

to find out more. Contact us on 03 741 1340 or mail enquiries@yoursection.nz anytime.

Page 3 Page 5

Driver hazard?

Community board member

blasts Yaldhurst Rd island

Mega centre f edback

Denton Park a tracts more

submi sions than Cathedral

TUESDAY, APRIL 10, 2018 www.star.kiwi

Loca ly Owned

www.denturesouth.co.nz

CALl 32 4 04 TexT 027 537 0567

230 Ba ringTon sTr eT

Mobile

Service

Available

• By Emily O'Co ne l

AN U PER Ri carton butcher

has proven himself to be a cut

above his Au sie rivals at an

international competition.

Elite Meats owner Corey

Winder was named in the a l

star team a the World Butchers'

Cha lenge in Northern Ireland.

Mr Winder and his team, the

Pure South Sharp Blacks, which

includes W olston butcher

Jeremy Garth, finished second

in the competition.

He said the cha lenge started

as a "transtasman test match"

seven years ago.

The preparation for this

year's World Butchers' Challenge

was intense as the team

members met in Auckland

every two months for lengthy

w ekend practices. Mr Winder

said coming second against 1

other countries was a "fantastic"

result.

"To get second behind Ireland

was a huge achievement and to

be ahead of Australia is an

even bi ger thing for us," he

said.

But Mr Winder admires the

Australian team.

"Those guys over there

[Australia] are on top of their

game, they do a g od job," he

said.

"And it just showcases that

New Zealand has got some

of the best butchers in the

world," he said.

Mr Winder has b en a butcher

since the age of 19.

Elite butcher cut above the world

• By Emily O'Co ne l

THE HALSWE L-Hornby-

Ri carton Community Board

has b en given the gr en ligh to

o pose the pla ned qua ry near

Templeton.

Mayor Lia ne Dalziel told the

board on Thursday it had the okay

from the city council to make a

submi sion if Fulton Hogan a plies

for a resource consen to create a

qua ry.

Board chairman Mike Mora

told Western News the submi sion

would likely o pose Fulton Hogan's

plan.

"You can just about guarant e

it . because we [the community

board] don't believe quarries

should be so close to residential

areas," he said.

Mr Mora said he wasn't sure if

the city council would endorse the

board' submi sion.

"I'd like to think so because the

city council has had their eyes

open as we l ove recent years over

the crysta line silica risk," he said.

Mr Mora said the community

board wi l be "representing and

advocating" for the Templeton

community.

•Turn to page 5

Community

board get

permission

to oppose

Templeton

quarry

AWARD-WINNING: Corey Winder is back home after his team came second in the World Butchers' Cha lenge .

PHOTO: MARTIN HUNTER

Ph 3 7 0 70,

30 Cashel St,

Christchurch

Restore your oiled CEDAR BLINDS with ou re-oiling service.

Rejuvenate your lacquered CEDAR BLINDS

High-tech Cleaning

We clean and repair a l types of blinds –

Venetians, Cedar, Verticals, Ro ler, Ho lands,

Romans and Pleated – with environmenta ly

friendly cleaning products.

Temperature Contro led Drying

Re-oiling & Rejuvenating

Fabric Blinds - such as Austrian and Roman

Same Day Pick Up & Drop O f

We o fer a same-day, pick up an drop o f

service for mos types of blinds. B okings

are required.

Convenient Location

Drop blinds into us by 9am, at

30 Cashel Str et (near the

Fitzgerald end), and co lect

them a th end of the day.

New Blind Sales Priced from $30

WE ARE OPEN

Mon - Fri

8. 0am to 5. 0pm

Ro ler Blinds cleaned

from as li tle as $20

per blind

www.blindcare.co.nz SCAN QR code for Info >

BLINDS .Cleaned, Repaired & Restored .

Pip Su ton BCM (Marketing)

Residential Sales & Development

Specialist - Licens e Salesperson

Next Step Realty Limited

Licensed (RE A 2 08)

Your best choice

in the West

Mobile: 027 24 9524

DI: 03 421 8417

Email: pip.su ton@raywhite.com

$ 40

T Y R E S

LTD

New Tyres - Ba teries

Quality Secondhand Tyres

Discounts on sets of tyres

LOOK

Used tyres from

FR E PICK UP & DELIVERY (in local area)

Ph 348 0626

9 Main South Rd (cnr Wa ts Rd), Sockburn

T Y

Quality Secondhand Tyres

Discounts on sets of tyres

A l at very competitive prices

$ 70

155

x 13

AA

Discounts

8047287 A

8214716 A

LOOK

New tyres from

5

Star Media is a division of Allied Press.

Situations Vacant

HALSWELL

GLASS & GLAZING 2017 LTD

THE PET DOOR SPECIALIST

• PET DOORS

• NEW GLAZING

• FRAMELESS SHOWERS

• MIRRORS

• INSURANCE CLAIMS

• RETRO GLAZING

• BALUSTRADING

ALL SUBURBS COVERED FOR

ALL YOUR GLAZING NEEDS

PHONE GAIL OR SARAH ON

322 7999 OR 021 CAT DOOR

(228 3667)

HOUSE

CLEARING

Are you

moving house

or trying to

downsize?

Call All Clear

Canterbury. We work

with you to recycle,

sell and dispose of

unwanted items.

Ph: 03 260 0934

or 021 078 4553

raewynlcooke@gmail.com

www.allclearcanterbury.co.nz

Trades & Services

Lawns, Gardens

& Home Cleaning

Free Quotes

Professional, personalised

service. Regular &

one-offs. Fixed price.

Ph: 377-5814

For all your property and

cleaning requirements

Trained, insured & security

screened owner/operators

Multi-award winning

systems & Franchises

Franchises Available

www.viphomeservices.co.nz

FENCING

All styles and shapes,

gates, wooden, ph Mark

0273 313-223

GLAZIER

Glass repairs - pet doors

- conservatory roofs. Exp

Tradesman. Call Bill on

022 413 3504 or 981-1903

LAWNMOWING

You Grow I Mow. Free

quotes. Ph / text Chris 021

252 1801

PAINTER

DECORATOR

All int /ext painting.

Comp rates. I stand by

Canterbury. Wayne 385-

4348, 027 274 3541

PLUMBER

ALF

THORPE

PLUMBING

Certifying

Plumber for all types of

plumbing,

maintenance,

spouting, alterations etc.

Phone 352-7402 or 0274-

350-231

SPOUTING

CLEANING

Spouting

Unblocked,

Cleaned Out and Flushed

Out. Call Trevor 332 8949

or 021 043 2034

STONEMASON,

BRICK,BLOCKLAYER

Earthquake Repairs, Grind

Out & Repoint, River/

Oamaru stone, Schist,

Volcanic Rock, Paving,

all Alterations new & old,

Quality

Workmanship,

visit

www.featureworks.

co.nz or ph 027 601-3145

STUMP GRINDING

Best price guarantee Tony

0275 588 895

TILER/CARPENTER

35 years exp, no job

too small. Ph Ross 027

4311440.

VHS VIDEO TAPES

& all camera tapes

converted to DVD, video

taping special occasions,

www.grahamsvideo.co.nz

ph 03 338-1655

Trades & Services

AAA HANDYMAN

licensed

carpenter

LBP, all property and

building

maintenance,

repairs, bathroom/shower

installations, with free

quotes 03 383 1927 or 027

245 5226 ciey@xtra.co.nz

BRICKLAYER

George Lockyer. Over

35 years bricklaying

experience. UK trained.

Insurance work. EQC

repairs.

Heritage

brickwork and stonework

a speciality. No job too

small. Governors Bay.

Home 329-9344, Cell

027 684 4046, email

georgelockyer@xtra.co.nz

*****************

BUILDER QUALIFIED

Decks, T & G Flooring,

Villa Restoring, New

Homes,

Weatherboards.

Free Quotes. Bennet &

Sons Ltd Sam 027 496-

9362 or Tony 027 224-0374

CARPET & VINYL

LAYING

Exp Repairs, uplifting,

relaying,

restretching.

Email jflattery@xtra.co.nz

ph John on 0800 003 181

or 027 2407416

Call us today for a FREE quote

PH 0800 4 546 546

(0800 4 JIMJIM)

FOR ALL YOUR

★Garden Clean-ups

★Pruning

★Lawn Mowing

★Garden Maintenance

Trades & Services

PIANO LESSONS

25 yrs experience. All

styles, all levels. Ph 0274

677 457

Tuition

A+ Household effects,

fridges, freezers, washing

machines, ovens. Good

cash paid. Ph Paul 022

0891 671

Wanted To Buy

Further information about fire

seasons is available on

www.fireandemergency.nz

PROHIBITED

FIRE SEASON

To check the season status in an area

please visit www.checkitsalright.nz

or call 0800 658 628.

Fire and Emergency New Zealand declares

a prohibited fire season, from midnight,

Tuesday 12 February 2019 in the following

area:

• Those lands encompassed by the

Christchurch City Council (including

Banks Peninsula)

See www.checkitsalright.nz for types of fire

which have been authorised as not being

fires in open air and do not need a permit.

Any fire permits issued during a restricted

fire season in the Christchurch City Council

area are suspended from the start of the

prohibited fire season.

Dave Stackhouse

Area Commander

Christchurch Metro

Bruce Janes

Principal Rural Fire Officer

North Canterbury

Public Notices

TOOLS

Garden,

garage,

woodworking,

mechanical, engineering,

sawbenches, lathes, cash

buyer, ph 355-2045

Wanted To Buy

Book now and

receive 20% discount

for summer.

Rope and harness a

speciality.

No scaffolding required.

30 years experience.

Free quotes, call

Craig 021 060 2392

rooF

painting
---
24

Tuesday February 19 2019

Latest Christchurch news at www.star.kiwi

PEGASUS POST

FRESH POPS OF

COLOUR

BEAUTIFUL BRASS

DETAILING

Camille Dining Chair

Donata Kalmin Armchair

SLEEPWORTHY

TEXTURES

Prestige Plus Mattress

Manteau Outdoor

Corner Lounge Suite

REFRESHINGLY

CLEAN LINES

Come see what's new and on sale! Ends 04.03.19

Shop

Online

Nationwide

Delivery

Finance

Options

targetfurniture.co.nz

Cnr Blenheim & Curletts Rds, Christchurch

Ph: 0800 TARGET (0800 827438)

Offers and product prices advertised here expire 04/03/19.

Sale excludes Manchester and Accessories.
---
28 Tuesday February 19 2019

Latest Christchurch news at www.star.kiwi

PEGASUS POST
---
26 Tuesday February 19 2019

Latest Christchurch news at www.star.kiwi

PEGASUS POST
---
PEGASUS POST Latest Christchurch news at www.star.kiwi

Tuesday February 19 2019 27
---
PEGASUS POST Latest Christchurch news at www.star.kiwi

Tuesday February 19 2019 25