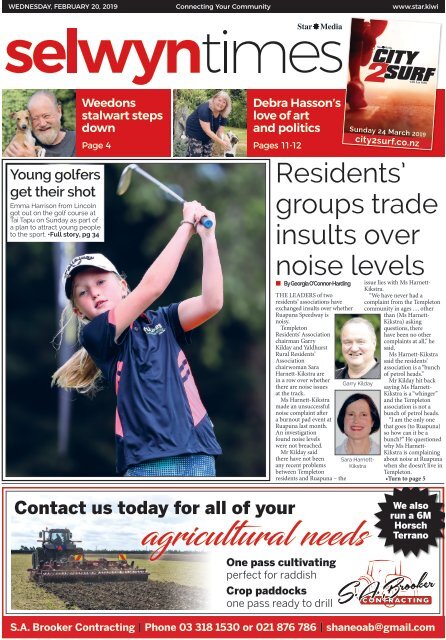 Selwyn Times: February 20, 2019
Create successful ePaper yourself
Turn your PDF publications into a flip-book with our unique Google optimized e-Paper software.
WEDNESDAY, FEBRUARY 20, 2019

Connecting Your Community

www.star.kiwi

Weedons

stalwart steps

down

Page 4

Debra Hasson's

love of art

and politics

Pages 11-12

2SURF

CITY

CITY

2

with Les Mills

2SURF

Sunday 24 March 2019

city2surf.co.nz

with Les Mills

Young golfers

get their shot

Emma Harrison from Lincoln

got out on the golf course at

Tai Tapu on Sunday as part of

a plan to attract young people

to the sport. •Full story, pg 34

Residents'

groups trade

insults over

noise levels

• By Georgia O'Connor-Harding issue lies with Ms Harnett-

Kikstra.

"We have never had a

complaint from the Templeton

community in ages . . . other

than (Ms Harnett-

Kikstra) asking

questions, there

have been no other

complaints at all," he

said.

Ms Harnett-Kikstra

said the residents'

association is a "bunch

of petrol heads."

THE LEADERS of two

residents' associations have

exchanged insults over whether

Ruapuna Speedway is

noisy.

Templeton

Residents' Association

chairman Garry

Kilday and Yaldhurst

Rural Residents'

Association

chairwoman Sara

Harnett-Kikstra are

in a row over whether

there are noise issues

at the track.

Ms Harnett-Kikstra

made an unsuccessful

noise complaint after

a burnout pad event at

Ruapuna last month.

An investigation

found noise levels

were not breached.

Mr Kilday said

there have not been

any recent problems

between Templeton

residents and Ruapuna – the

Garry Kilday

Sara Harnett-

Kikstra

Mr Kilday hit back

saying Ms Harnett-

Kikstra is a "whinger"

and the Templeton

association is not a

bunch of petrol heads.

"I am the only one

that goes (to Ruapuna)

so how can it be a

bunch?" He questioned

why Ms Harnett-

Kikstra is complaining

about noise at Ruapuna

when she doesn't live in

Templeton.

•Turn to page 5

Contact us today for all of your

agricultural needs

We also

run a 6M

Horsch

Terrano

One pass cultivating

perfect for raddish

Crop paddocks

one pass ready to drill

S.A. Brooker Contracting | Phone 03 318 1530 or 021 876 786 | shaneoab@gmail.com
---
2 Wednesday February 20 2019

Latest Christchurch news at www.star.kiwi

get in touch

from the editor's desk

"A BUNCH of petrol heads."

That's the inflammatory comment fuelling

a row between the Templeton and

Yaldhurst residents' associations (see page

1). The battleground is Ruapuna Speedway.

The dispute: Noise.

Templeton chairman Garry Kilday says as far as his association

is concerned, noise hasn't been an issue for sometime.

Yaldhurst chairwoman Sara Harnett-Kikstra disagrees. She

filed a complaint recently about the noise at a burn out pad

event. An investigation found noise levels were not breached.

Harnett-Kikstra says the Templeton association is a "bunch of

petrol heads". Kilday says she is a "whinger".

"I am the only one that goes (to Ruapuna) so how can it be a

bunch?" he said.

Where will it all end?

- Barry Clarke

GENERAL INQUIRIES Ph 379 7100

CLASSIFIED ADVERTISING Ph 379 1100

Star Media, a division of Allied Press Ltd

PO box 1467, Christchurch

starmedia.kiwi

news

Hot air balloons take to the sky

The Hororata Night Glow will return for its second year in

May.

Page 14

community events

Put on your running shoes

Check out when the running clubs around the district are

meeting for their weekly training sessions.

Page 18

sport

SELWYN TIMES

Football clubs join forces

Prebbleton footballers will get access to more resources as

the club joins with Christchurch United.

NEWS

Anan Zaki

Ph: 021 911 576

anan.zaki@starmedia.kiwi

ADVERTISING

Lynette Evans

Ph: 364 7434

lynette.evans@starmedia.kiwi

Page 31

The best-read local newspaper, delivered to

20,015 homes, RDs and farms every Wednesday

Ladbrooks, Tai Tapu, Leeston, Lincoln, Southbridge, Prebbleton,

Halswell, Rolleston, Templeton, Burnham, West Melton, Darfield,

Kirwee, Arthur's Pass.

PROSTATE CANCER

SUPPORT GROUP

Establishing a support group in Selwyn for

men and their families who are living with a

diagnosis and treatment for Prostate Cancer.

Co-ordinators Chris & Dianne Ward

Phone: 0274 371 254

Email: selwyn@prostate.org.nz

For more information call 0800 477 678

Organised by the Prostate Cancer Fondation of New Zealand

www.prostate.org.nz

1St MEEting

26th FEb, 7.30PM

Lincoln Events

Centre, tod Lounge

Meijer Drive,

Lincoln.

Fall in love

with your

favourite furniture

all over again!

• Recover your chairs and couches

and save money!

• Excellent range of fabrics

• Quality workmanship guaranteed

• Free quotes available

• Over 30 years experience

BEFORE

Somerfield Upholstery Ltd

FURNITURE RECOVERY SPECIALIST

AFTER

10 Calgary Place, Hornby | Ph 021 251 6200 | 349 0456

QUALITY WORKMANSHIP GUARANTEED www.somerfieldupholstery.co.nz

Arts Culture

& HeritageSELWYN

Need funding for your creative project?

Creative Communities Selwyn can help!

Funding is available to groups or individuals with

community-based creative projects that promote arts

or culture in Selwyn.

Applications for this funding round close at 5pm,

Friday 22 February.

Visit www.selwyn.govt.nz/artsfunding for more

information and to apply.
---
SELWYN TIMES Latest Christchurch news at www.star.kiwi

Wednesday February 20 2019 3

News

Rural schools call

for 40km/h enforceable speed limit

2019

ON THE DOMAIN LINCOLN 2 MARCH 2019

TICKETS

ON SALE

NOW

www.selwynsounds.co.nz

• By Anan Zaki

RURAL SCHOOLS in the

district want to change an

advisory speed limit and replace

it with a punishable limit.

It comes as the district council

ended consultation on its speed

limit review on Friday.

Currently 10 schools across

the district advisory yellow signs

which say: "School Zone 40

km/h, slow down when children

present."

One of the questions asked in

the consultation – which drew 46

responses – is whether all schools

should have a 40 km/h speed

limit outside of them.

The New Zealand Transport

Agency said police cannot ticket

drivers for travelling over the

limit on the advisory speed sign.

They have been used in the

district since 2014.

Three schools told the Selwyn

Times that the advisory signs do

not work.

Hororata School principal

Marty Gameson said the advisory

sign outside the school has

been unsuccessful.

"I think it needs to be a road

speed sign, not a recommended

speed. For us, you cannot tell if

children are present, because we

are off site from the road [Bealey

Rd]," Mr Gameson said.

"We also start at 8.45am and

finish at 2.45pm so those people

that think that 'by 3pm I'll watch

out for the kids' – well our kids

are gone by 3pm."

An NZTA spokeswoman said

speed signs that can be enforced

by police must have a red circle

around the speed.

Easter

wedding?

We've got you covered!

Visit Smith & Boston today!

"Police may still charge a driver

with dangerous driving if their

behaviour endangers children [in

a school zone with an advisory

sign]."

The principals of Glentunnel

School and Rolleston Christian

School also said the advisory

signs have not worked.

Glentunnel principal Dion

Stechmann said he was not aware

that the existing advisory signs

ENFORCE:

Rural schools

want advisory

speed signs

like this

one outside

Broadfield

School on

Robinsons Rd

replaced with

a punishable

limit.

were non-enforceable.

Mr Stechmann said the advisory

school zone speeds are not

respected by drivers that travel

past the school.

"The cars don't slow down to

40 km/h. I see the traffic go past

my office window and they slow

down to 60 km/h maybe, but not

40km/h," he said.

Rolleston Christian School

principal Liz Horn also believed

ROLLESTON LAW

drivers do not respect the advisory

speed.

"I think a 40 km/h would be

less confusing. People definitely

go past here faster than the advised

40 km/h speed," Miss Horn

said.

"It's also confusing about when

children are on site, because

people who don't have children

may not know when people are

on site or off site because for us

we have before and after school

care."

Broadfield School did not want

to comment as it was consulting

with the district council about

the speed limits outside the

school. Greendale School also did

not want to comment.

Principals from other schools

with the advisory signs were not

available for comment .

A public hearing on the

reduced speed limits which

recently went to consultation is

expected to be held before the

middle of the year.

•HAVE YOUR SAY: Do you

want to see speed limits

dropped to 40km/h around

the district's schools? Email

your views to Anan.Zaki@

starmedia.kiwi

Rolleston Office: 78A Rolleston Drive, Rolleston

Darfield Office: Darfield Business Hub, 68 South Terrace

Phil Murfitt

ORTHODONTIST

Weekly Orthodontic

Clinic in Rolleston

Clinics are held at the

Rolleston Dental Centre, Tennyson Street

To book an appointment with

Phil or Mark, please call 03 3754418.

www.philmurfitt.co.nz

Designer garments for

special occasions.

Sizes 6 - 22.

SMITH & BOSTON

Prebbleton Village | Christchurch

Ph: 03 349 5646

www.smithandboston.co.nz

W: www.meareswilliams.co.nz

T: (03) 374 2547 M: 021 148 6221

Richard Gray

E: rcg@meareswilliams.co.nz

Anita Molloy-Roberts

E: am@meareswilliams.co.nz

Kate Warren

E: kcw@meareswilliams.co.nz

See your local

audiologiSt – BreNNa

for a more personalized hearing aid experience!

There's no excuse to wait…

• Open 5 days a week in Rolleston

• Late night clinic for those who are working (these fill up fast, so be quick!!!)

• Match or beat any competitor's price

• FREE appointments if you have ACC funded hearing aids

• Hearing aids in all price brackets – including fully funded ACC options!

If you have hearing aids or need hearing aids and want a high level of

personal service at a competitive price, get in touch. It's easy to switch

to our clinic even if you already have hearing aids from elsewhere!

36 Tennyson Street, Rolleston

Call 03 390 2332 | www.sincockhearing.nz

Clinics in Lincoln | Leeston | Darfield
---
4 Wednesday February 20 2019

Latest Christchurch news at www.star.kiwi

News

Local

News

Now

SELWYN TIMES

Fire rages, homes at risk

Doyle leaves Weedons residents' group

Plans to focus

on dog

show judging

• By Anan Zaki

NEARLY THREE decades

of fighting for the Weedons

community has come to an end

for Gary Doyle.

The affable 79-year-old has

just resigned as secretary of the

Weedons Residents' Association.

"It feels a bit strange," he said.

Mr Doyle has been secretary

for the past six years, and before

that he was a district councillor,

serving the Weedons community

from 1995 to 2010.

But his commitment to the

community started much earlier

– he was a policeman from 1964

1995.

""The committee was formed

[in 1996] to fight a mushroom

factory, which was intended to be

built behind the Weedons School.

The Weedons people objected

to it and to fight it formed a

committee," Mr Doyle said.

The residents won their battle

against the factory, he said.

Since then, there had been many

battles.

Mr Doyle's resignation comes

along with another change in

the residents' association make

up. Chairman John McKim also

stepped down from his role of six

years.

Mr Doyle said he will now

focus on judging dog shows,

something he has done nationally

and internationally since 1976.

"I've been all around the world

judging dogs. I've been to the

United States, Mexico, all around

the Pacific, Asia, South Africa

and even Pakistan," Mr Doyle

said. "John [McKim] wants to

finish [building] his boat and

go sailing. And I'm knocking

on 80-years-old – I'll carry on

judging dogs."

A lot of the association's battles

END OF AN

ERA:

Former

Weedons

Residents'

Association

secretary

Gary Doyle,

with his Italian

greyhound

Mr Mouse.

PHOTO:

MARTIN

HUNTER

involved the district council. But

one of its biggest fights is against

the proposed Fulton Hogan

quarry near Weedons, which has

applied for resource consent.

"Particularly to do with road

works and speeds. Also [battles

with] the likes of the Richmond

Fellowship, which was bringing

in and buying houses for various

types of offenders which were not

acceptable for the general public,"

Mr Doyle said.

At last week's full district

council meeting, councillor Mark

Alexander paid tribute to Mr

McKim and Mr Doyle.

"On behalf of council, I thank

them for their efforts on behalf of

their area and their residents," Cr

Alexander said. "While we may

not always agree with what they

have come to talk to us about,

they've always come with passion

for their community."

The change of guard at the

association marked the "end of

era" Cr Alexander said.

Said Mr Doyle: "Fortunately

we have a very good relationship

with council. They are well aware

that if the association disagrees,

they'll be very vocal about it."

He looked back on his days in

the association with pride.

"Fighting to solve a lot of

problems, which on the big scale

of things would be regarded as

minor but locally it would be

regarded as major," Mr Doyle

said. "Speed limits, traffic control

and intersections – that type of

thing. Also keeping a close eye on

council expenditure."

A new chairman and secretary

will be announced in the coming

weeks.

"I dream of a Pacific where this terrible disease has

been eradicated and can no longer cause fear, stigma

and discrimination in families and communities."

Lorena and three of her children were diagnosed with leprosy.

Lorena says "Although our leprosy could be cured, we knew that

sometimes there can be serious effects from the disease, like

disabilities. I was terrified that more of my children would get sick.

But then the Pacific Leprosy Foundation started its new programme

which gives medicine to the rest of the family so that they are

much less likely to get leprosy. It was wonderful to have that

reassurance! Now I want the rest of the countries in the Pacific

to be able to take part in this programme, but I know that costs a lot

of money."

Your gift of $35 will provide preventative

treatment for one household contact of a

leprosy patient.

A gift of $420 enables the treatment of an

average household in Kiribati, Samoa or the

Solomon Islands.

Pacific Leprosy Foundation

Private Bag 4730, Christchurch, 8140

www.leprosy.org.nz

Registered Charity No: CC26987

SOUth iSLAnD

SUpERStOcK chAmpS

pLUS

mAg & tURBO SUpER

SALOOn cUp finALE!

SAt 23 RD fEBRUARY

7pm StARt

ADULTS $20 Seniors $10

FAMILY PASS $40

Children $5 Under 5yrs free

(2 adults & up to

4 children 15yrs & under)

DOUBLEDAYS ROAD KAiApOi

infOLinE 03 364 8833

www.wOODfORDgLEn.cO.nz
---
SELWYN TIMES Latest Christchurch news at www.star.kiwi

Wednesday February 20 2019 5

News

Insults traded

•From page 1

Ms Harnett-Kikstra

responded: "How would

they know where the

complaints were coming

from?"

She said she lives on the

boundary of Templeton

and Yaldhurst.

"I have been down to

Templeton School. My

children were there for

sports day and my God

why they put up with it

there I don't know . . .

we get people calling in

here saying the noise is

disgusting".

Residents have been

at war with Ruapuna

for years, with the issue

flaring up in 2013 when

Ms Harnett-Kikstra

told the city council her

children could not sleep.

But the Ruapuna

Community Liaison

Committee, made up of

residents and raceway

representatives, said noise

issues had been minimal.

Said chairman Laurie

McCallum: "We need to

work as hard at the peace

REVVING UP: A row has broken out over how noisy

Ruapuna Speedway is.

PHOTO: MAINLAND PHOTOS

as we did at the war and

that is what we are trying

to do at Templeton."

Eleven complaints were

made in against Ruapuna

in 2017 – with eight from

Templeton, two from

Yaldhurst and one with no

location details.

Last year, five

complaints were made

from Templeton.

Mr McCallum said in

a report to the Halswell-

Hornby-Riccarton

Community Board

there was a high level

of compliance from the

speedway.

But Ms Harnett-Kikstra

said while noise at

Ruapuna has gotten better,

it had no option but to get

better after the noise issues

went to the Environment

Court. Noise restrictions

were placed on Ruapuna

in 2016.

Hon Amy Adams

MP for Selwyn

I am out and around Selwyn regularly

and would love to meet you and hear

the things that are important to you

Friday 1 st March

10:30am - Salmon Tales Cafe, Rakaia

1:30pm - Dunsandel Store, Dunsandel

Come up and make

yourself known to me.

Visit amyadams.co.nz

to sign up for my newsletter

Contact me

03 344 0418

selwynoffice@parliament.govt.nz

MPAmyAdams

amyadams.co.nz

Authorised by Amy Adams,

829 Main South Road,

Templeton, Christchurch.

Home & Business Security • Cameras • Gates & Fencing

Access Control • Alarm Monitoring • Home Automation

Alarms Electrical Cameras Intercoms Auto Gates

Residential and Business Security

Tailor Made Security Solutions

All Your Electrical Needs

Custom Designed Automatic Gates

Innovative Intercom Systems

Pet Friendly Sensors

Security Cameras

Access Control Systems

Electric Fencing

Service and Maintenance

24/7 Fault Service

Locally owned and operated

All faults attended that same day

FREE QUOTES

P: (03) 384 0995 24/7 E: info@actionsecurity.co.nz

www.actionsecurity.co.nz

powered by

people

Tania Anderton

Registered Legal Executive

Your local expert in Residential

Property, Wills, Powers of

Attorney and Estate Planning

E: tania.anderton@saunders.co.nz
---
6 Wednesday February 20 2019

Latest Christchurch news at www.star.kiwi

SELWYN TIMES

SCOOP PURCHASE

4WD VRX

$39,990

SAVE $14,500*

7 Leather-faced Seats •

2.4L Petrol Engine • 126kW

Power • 4WD • 18" Alloy

Wheels • Reversing Camera

• Sunroof • Ultrasonic misacceleration

Mitigation

System (UMS).

Christchurch Mitsubishi have a LIMITED NUMBER of Short-term lease returned

2018 Outlander 2.4L VRX, most having travelled under 25,000kms available

for immediate delivery. Includes balance manufacturers warranty.

*SAVING of $14,500 off an equivalent new model.

BLACK EDITION

$29,990

+ORC*

Enjoy the connectivity and

design of the ASX 2WD XLS,

now with stunning panoramic

roof, push-button start and

distinctive factory-fitted

black body kit: 18" Alloys, front

bumper, lower front grille, belt

line, door mirrors, aluminium

pedals and red interior

stitching.

All these features are

available in every colour.

*Price listed is for ASX Black Edition. Price

excludes On Road Costs which includes WoF,

Registration and a full tank of fuel. Offer

available while stocks last. Visit mmnz.co.nz for

full Diamond Advantage terms and conditions.

CHRISTCHURCH MITSUBISHI

386 Moorhouse Avenue, Christchurch.

03 379 0588 | christchurchmitsubishi.co.nz

10 year / 160,000km Powertrain Warranty (whichever comes

first) (non transferable). 5 year / 130,000km New Vehicle

Warranty (whichever comes first) (non transferable).
---
SELWYN TIMES Latest Christchurch news at www.star.kiwi

Wednesday February 20 2019 7

News

buy one of each

FOR ONLY

STOLEN: Five bonsai plants, some of which were more than 30-years-old, were

stolen from Texture Group nursery in Prebbleton last week.

'Extremely rare'

See instore for details.

plants stolen

• By Anan Zaki

A PREBBLETON nursery

has been stripped of up to

$10,000 worth of plants

after a break in.

Texture Group owner

Hamish Prebble said

more than 40 plants were

stolen after the nursery's

padlocked gate on Springs

Rd was broken into last

Wednesday.

Some of the stolen plants

were "extremely rare and

recognisable" and were not

for sale.

Mr Prebble believed it

was a targeted break in and

was alerted to the incident

after the nursery's burglar

alarm went off at about

12.20am.

The stolen items included

five mature bonsai,

which were more than

30-years-old, a rare

wollemi pine – one of less

than 100 in the country – a

brahea palm, a japanese

umbrella pine and about 30

to 40 other plants including

puka, nikau, gunnera and

clivia.

"You just can't replace

these things," Mr Prebble

said.

"Whoever did it knew

what they were looking for.

They weren't labelled and

out of the way, you'd have

to know [recognise] them,"

he said.

Police are in the process

of reviewing CCTV

footage from neighbouring

businesses on Monday

to determine if there was

footage of the offenders.

Said Mr Prebble: "It's the

first time [in 25 years of

business] that we've been

targeted. We've had plants

stolen before but it was

more opportunist."

"If I saw [the stolen

plants] I would know it. It's

quite one off, particularly

the bonsai's, if you've been

growing them for more

than 20 years you'd get a

fairly good idea," he said.

•If you have more

information about the

break in phone police

on 379 4208 and quote

case file number

190213/7311

Fresh NZ Skinless

Chicken Breast

Fillets

$

11 99 kg

Whittaker's Block

Chocolate 250g

$

4 49 ea

Pams Fresh Tomatoes

700g Prepack

Product of New Zealand

NEW

PRODUCT

$

3 49 pk

V Energy Drink

500ml Single Can

$

2 79 ea

Wither Hills 750ml

(excludes Pinot Noir)

$

12 99 ea

Speight's Gold

Medal Ale 12 Pack

330ml Bottles

$

18 99 pk

www.foursquare.co.nz

MISSING: A Brahea

Palm was also stolen

from Texture Group's

nursery. Owner Hamish

Prebble said the

collective value of the

stolen plants were was

up to $10,000.

facebook.com/FourSquareNZ

Specials available South Island only from Monday 18th February until Sunday 24th February 2019

or while stocks last. Wine and beer available at stores with an off licence. Wine and beer purchases

restricted to persons aged 18 years old and over.
---
8 Wednesday February 20 2019

Latest Christchurch news at www.star.kiwi

News

ADverTOrIAL

Sustainability key

to organic farming

There's something for

everyone in the realm of

organic farming but as far

as Bill Martin is concerned,

it's all about sustainability.

The Training College

Manager at Lincoln

University's Biological

Husbandry Unit Organics

Trust (BHU) is happy to see

a surge in enthusiasm for

organic food production

as younger generations

become more aware of

environmental concerns.

He says the growing

popularity of organic

production in recent years

means that graduates are

now taking what they have

learned into a broader

range of sectors.

"It's not just about

growing, wholesaling

and retailing food anymore. They're

going into schools and teaching primary

and secondary schoolers about the

importance of sustainable farming and

gardening and really starting to embed the

philosophy into the education system."

As far as conventional agricultural

practices are concerned, he says farmers

should be encouraged to optimise their

production, rather than maximise it at the

expense of the environment.

"We need to change our agricultural

paradigm and re-evaluate our priorities."

Mr Martin says those interested in a

career in organics should enrol in the

one-year Diploma in Agri-Food Production

LIN2813

Grow a career

in organics

Lincoln University's Diploma in Organic Agri-Food Production will prepare

you for work in the organic sector or your own garden or smallholdings. It's

a full-time, one-year programme that covers the theory and practice behind

contemporary organic agri-food production.

Join us in February to find out what growing organically on an agricultural

scale really means.

Learn more at www.lincoln.ac.nz or call 0800 10 60 10.

Students

are eligible

for a fee waiver

course, which is open to students either

with or without university entrance.

Introduced last year, it includes Tikanga

and Mahinga Kai components and can

lead to employment in organic primary

production or other sectors related

to organics, especially education and

hospitality.

"The course offers a good grounding

in the principles of organic agriculture,

teaching the philosophies and histories

of organics and providing practical

knowledge of how they are applied," Mr

Martin says.

Apply now for the Diploma in Organic

Agri-Food Production and begin studying

in February 2019.

Warning: Don't plant

on council berms

• By Anan Zaki

AN ARM wrestle between

a Prebbleton resident and

the district council has led

to warnings over planting

trees on berms.

Tony Gibson planted red

robins on the outside of his

fence on Birchlea Court

– which is

district council

property –

about a year

ago.

He did it to

try and dull the

traffic noise on

Birchs Rd.

But just before

Christmas,

In Brief

MOTORCYCLE CRASH

A man was moderately

injured after his

motorcycle crashed into

a ditch on Christchurch

Akaroa Rd near Tai Tapu

on Saturday about 9.30am.

The cause was not known.

. . . WARNING SIGNS

Electronic warning signs

are being installed on

the Christchurch Akaroa

Murray

Washington

Mr Gibson

arrived home

to find that

the red robins

were gone. A neighbour

informed him that the

plants were removed by the

district council.

District council assets

manager Murray Washington

told Selwyn Times that

residents are not allowed

to plant on berms without

council permission.

The council was also not

aware that Mr Gibson's

plants belonged to him. The

hedge would have "overgrown"

and they had to be

removed, Mr Washington

said.

The district council

alleged that Mr Gibson

himself poisoned two trees

– a cherry and a maple tree

owned by the council.

"Council staff met with

Mr Gibson on site, and he

acknowledged

that he had poisoned

the trees.

The council does

not have any record

of Mr Gibson

previously raising

any concerns over

the trees," Mr

Washington said.

Mr Gibson

strongly denied

poisoning the

council trees.

"That really

annoys me, they have got to

be careful about what they

say."

Mr Gibson said he met

with a council reserves

worker after his red robins

were removed, but did

not meet with the council

about its two trees.

He had "no problem"

with the cherry and maple

tree the council owned and

said the trees were already

dying when he moved into

Rd by the New Zealand

Transport Agency to

improve safety, particularly

for visitors and tourists.

One sign will be installed

in Tai Tapu for motorists

driving towards Akaroa

and a second sign will be

installed in Duvachelle for

motorists driving towards

Christchurch.

GRASS FIRE

A farmer mowing grass

SELWYN TIMES

ON EDGE:

Prebbleton

resident

Tony Gibson

is upset with

the district

council after

they cut

down his

new trees

outside his

house.

his house a year ago.

To plant trees on council

land, residents must submit

an application.

The district council said

"as a rule" it will only approve

plantings that involve

the whole or major part of

the street or areas that are

designed to have plants.

But the Mr Washington

said that in general, planting

outside properties on

a "one off" basis won't be

approved.

Mr Gibson said he also

spoke to a council roading

engineer about improving

the seal on Birchs Rd before

Christmas.

He says council roading

engineers discussed

a potential compromise

to reduce road noise by

resealing a small section of

Birchs Rd near his house.

But Mr Gibson said that

was not good enough.

"They should do the

whole road. It's the whole

road that's too noisy. It's

not the cars that are too

loud, it's the tyre noise," Mr

Gibson said.

The district council

should have improved the

seal on Birchs Rd when the

area became residential, he

said.

sparked a grass fire

on Deans Rd on the

Inland Scenic Route

72 last Tuesday. The

incident happened about

1pm and burnt 0.5ha of

grass. Hororata chief fire

officer Bruce Sayer said

the incident was a

reminder to not mow

grass on hot days. A fire

appliance and water tanker

extinguished the fire in an

hour.
---
SELWYN TIMES Latest Christchurch news at www.star.kiwi

Wednesday February 20 2019 9

0800 casino | 30 victoria st

FREE

PARKING

SALISBURY STREET

ONLY A TWO

MINUTE WALK

TO VICTORIA

SQUARE

during the LANTERN festival

COLOMBO STREET

DURHAM STREET

SALISBURY ST

ENTRANCE

P

PETERBOROUGH ST

ENTRANCE

PETERBOROUGH STREET

VICTORIA STREET

CHRISTCHURCH

CASINO

MONTREAL STREET

2 MIN

WALK

KILMORE STREET

CHRISTCHURCH

TOWN HALL

COLOMBO STREET

Celebrate with us!

FREE FACE PAINTING

& PRIZE WHEEL at our

marquee in Victoria Sq.

CRANMER

SQUARE

CHESTER STREET WEST

ARMAGH STREET

VICTORIA

SQUARE

GLOUCESTER STREET

MONTREAL STREET

WORCESTER BOULEVARD

CATHEDRAL

SQUARE

HEREFORD STREET

CASHEL STREET

VISIT THE CASINO LOBBY TO REDEEM YOUR FREE PARKING.

SEE CHCHcasino.CO.NZ FOR MORE DETAILS.

T'S & C'S APPLY.
---
10 Wednesday February 20 2019

Latest Christchurch news at www.star.kiwi

FREE

in

SELWYN TIMES

FOR ALL EVENT DETAILS FOLLOW US ON

FACEBOOK OR VISIT SELWYN.GOVT.NZ/EVENTS

Summer Skate/

Scooter Jams

20 February–30 March

Picnic in the Park

21 Feb: Burnham

28 Feb: Dunsandel

7 Mar: Springfield

13 Mar: Prebbleton

A Month

of Sundays

Sunday 24 February

1–3pm

Music from Lee Martin, 16

Sunday's and Nor'west Brass

Rolleston

Drive-in Movie:

Up (2009)

Friday 1 March

Rolleston Reserve

7–9pm

Summer 3X3

Basketball

Sunday 17 March

Faringdon Playground

2–4pm

Darfield

Drive-in Movie:

Wallace & Gromit: The Curse

of the Were-Rabbit G (2005)

Friday 22 March

Darfield Domain

7–9pm

growing strong

communities

WITH SPECIAL THANKS TO OUR SPONSORS
---
SELWYN TIMES Latest Christchurch news at www.star.kiwi

Wednesday February 20 2019 11

Our People

Debra Hasson

Hasson's love of art, travel and politics

Springston's Debra

Hasson has had a seat

at the district council

table since 1995. The

longest current serving

councillor talked to

Anan Zaki about her life

in and out of politics

Why did you enter local

politics?

I worked previously for

Waimairi District Council,

prior to it being amalgamated

into Christchurch in 1989,

when we went through a series

of amalgamations of councils.

During that time, myself and

my partner, Mike, purchased

a property in Springston. So

we moved from Christchurch

to Springston and our son was

born. And basically, I questioned

a rating process. So having

questioned something, I decided

that sure, if you've got a voice

and you're criticising something,

you also need to be part of that

solution. That's why I decided to

stand. To try and solve the issues

that I saw. And if the community

saw those issues as well, then

they would support me and

consequently they did and I was

elected.

Did you ever see yourself

being the longest serving

member at the council table?

Not really. I sort of found

a niche that I actually enjoy

being involved in public policy.

I actually enjoyed working

alongside communities and

volunteers within communities

and actually giving them a

voice in council. When I first

got elected to council we only

got paid an honorarium. At the

time, I'm thankful that I had a

supportive partner and we had

a five-year-old. The community

rallied around and after school

they actually looked after our

son while Mike was at work and I

was at council meetings. So it was

the support of the community

that actually helped me be at the

council table.

HOBBY: Long-serving Selwyn district councillor Debra Hasson is passionate about

collecting art.

PHOTO: MARTIN HUNTER

What are some of the biggest

changes you've seen in your

time as a councillor?

It took three females on

council to establish a community

committee within council. We

had the standard assets, standard

planning and standard corporate,

and community services were

normally run under corporate.

With the assistance of two other

female councillors, we managed

to separate it out in a stand-alone

unit. That's been the best story.

I'm glad to say that from being a

lonely voice for the environment,

we now have environmental

responsibilities becoming

mainstream within local

government. It's really pleasing

for someone like me and I'm still

a strong advocate for it.

What do you do outside of

council?

We as a family have always had

an interest in collecting antiques,

supporting local history and local

arts. We always went garage sale

hunting and we still sometimes

go.

We're both members of

the North Canterbury Game

Shooters Club and have been

for the past 30 odd years. And

I also play a role in community

committees outside council. Just

because I know how hard it is to

support volunteers.

Has art always been a hobby

of yours?

I actually did art history at

Canterbury University as one of

my subjects. That came about

because I had the opportunity

to travel for five years on my OE

and I became interested in art.

Lately it's just been that we

have some really good talented

local artists in Selwyn. I buy

art because I like it. I have a few

pieces that are really precious to

me. And they represent Selwyn

or our local community or the

environment.

At the moment, I've got

landscape [art], I've got political

art, I have a lot of native birds.

It varies. I've got two pieces of

Henry Turner. He's a young,

talented artist from West Melton,

and he's really brilliant. I've got

three pieces of Henry's.

What did you do at the

Waimairi District Council?

I was actually a dog

control officer. Then with the

amalgamation I went across to

the Christchurch City Council

and was involved in dog policy in

the environmental unit. Then I

left and moved out to Selwyn.

Tell me about your family?

My partner of 38 years is Mike

and we have a son, Drew, he is

now independent at 29-years-old,

with a partner and a mortgage

living in Selwyn. It's nice for him

to come home for a visit.

How did you and Mike meet?

Through mutual friends

as flatmates while I was at

Canterbury University. Just

through mutual friends from the

flats we were in. And Mike now

works at Landcare Research.

You mentioned you travelled

for five years, where did you go?

I left New Zealand when I

was 18. I had my 19th birthday

in Acapulco, Mexico. Then

travelled across to Portugal,

travelled around Europe and

finally ended up in London.

Then from London, I used it as

a base and travelled through to

Canada and around Maine and

Vermont in the United States.

Then I spent some time in Israel

and then finally came back

and landed in Christchurch.

I lasted three weeks and went

to Australia. I spent a year in

Australia and I decided I had to

settle down so came back and

went to Canterbury University

and did a Bachelor of Science in

zoology. I'm still very fortunate

that we can travel. Because we

are fortunate in being able to do

this travel, for the past 20 years

we have taken the opportunity

support, through World Vision,

children in Cambodia. We

actually support one currently

in India. It's just giving back that

social responsibility because

we're so fortunate in New

Zealand and you don't see it until

you travel overseas.

•Turn to page 12

Environment Canterbury

ANNUAL PLAN 2019-20

E19/7226

Environment Canterbury is considering its 2019-20

Annual Plan.

While the plan largely aligns with the most recent

Long-Term Plan, small changes to our fees and charges

policy and our revenue and financing policy are being

considered. Increased funding of public transport to

match funding from NZTA and increased funding in water

management, pest control and biodiversity are also being

considered, as well as a reduction in air quality funding.

These will impact on some ratepayers, depending on

their location, when the 2019-20 Regional Council

rate is confirmed.

To find out how these changes affect you, and to provide

feedback, visit haveyoursay.ecan.govt.nz/annualplan

Facilitating sustainable development

in the Canterbury region

www.ecan.govt.nz
---
12 Wednesday February 20 2019

Latest Christchurch news at www.star.kiwi

SELWYN TIMES

Our People

ANIMAL LOVER: Debra Hasson, who has previously worked as a dog control officer and studied

zoology, playing with her dogs Meg and Polly.

PHOTO: MARTIN HUNTER

Dog control officer to

long-time councillor

•From page 11

What are your favourite

things about Selwyn?

Just recently, it's the positive

comments coming back that we

are one of the highest performing

councils in managing growth in

New Zealand.

And what's great about living

here?

The open space. We're

fortunate we have been able to

purchase where we are when we

moved from Christchurch. It

was very rural but it was always

a dream of Mike's to own a

small farm. And we had the

opportunity to purchase it. We

had to do a lot of work to break

in the land to farm it. And our

neighbours have been really

stable in the locality that we

live in and they're great friends.

That's what helps make the place

100%

Capital gain

to the resident

enjoyable to live in, the friends

that you make. Drew going to a

rural school like Springston, he's

still really good friends with the

kids he went to school with and

we're still good friends with the

parents. That social community

that we're very fortunate to have

in Selwyn. I have to question

it now because we are growing

in our main centres, but I am

positive about the fact that people

can connect.

Where did you grow up?

I grew up in Greymouth on

the West Coast. I've got relatives

back there. My parents moved to

Oxford when they retired. Apart

from visiting relations I really

haven't been back there.

Do you miss the West Coast

or do you prefer the drier

weather in Selwyn?

The scenery and everything

on the Coast is really nice. But

I prefer the lifestyle that I've got

now.

What advice do you have for

younger people who might want

to stand for council one day?

Being a younger person

standing for council, you have to

have that support base out there.

You don't do it for the money.

You do it to put your energy or

your views or your time back into

the community.

The way you get paid is not

a lot, and it's a lot of time. The

amount of time I would now

spend at council compared

to when I was first elected

is ten-fold, because of the

responsibilities we now have

under a lot of legislative acts and

what's being passed through

from central government to local

government.

$1,000 fully

refundable

deposit

BEFORE WE get into this, I

need to say, still no luck on

finding my mouse. That bad boy

is probably long gone.

I'm beginning to dread future

hide and seek games, will I

disappear too?

However, over the last week

Vittoria has started holding

some things closer, and it's very

cute.

She gets her favourite soft

toys, like her Dragon, wraps

her wee arms around them

and gives them a big, smiling,

moving side-to-side cuddle.

Dragon even gets a couple of

kisses on his cheek sometimes.

Very, very cute.

She even gave someone else's

teddy a big cuddle at Baby

Times. I can't wait to see her

give her friends big hugs too.

Last week started out

productively. Over the weekend,

Laura and I cleaned the whole

house (hence the mouse update)

with a focus on Vittoria's room.

Her room has seen a lot of use

for storage, including her cot.

We've been co-sleeping with

the wee darling for a while now.

She got sick last year which

ended a joyous run of full nights

of sleep until we gave in and let

her into the big bed.

VITTORIA

& Matt

Long road ahead

getting back to cot

Thing is, getting her back into

sleeping in her own bed is not

going to be easy.

In bed with one of us, she

can roll over, touch us and get

reassured straight away that

she's safe and with her parents.

In the cot, not so much.

It really highlights how much

like a little prison those things

are when you see your daughter

standing there, holding the bars

and crying like the world just

ended.

And if you're used to having

your parents next to you when

you settle back to sleep, dad just

holding your hand is not going

to cut it.

So we've got a long road ahead

to get her back to a place where

she feels safe in her cot and

happy to sleep there all night.

A lot of that road will involve

very little sleep too.

To add to the difficulty, this

week Vittoria and I have got

some sort of cold. It may be

unfair, but I'm pretty sure I

got it off her since we spend so

much time in close proximity.

•Former Star Media

journalist Matt Salmons has

become a stay-at-home

dad. We follow his journey

weekly.

BIG HUGS: Vittoria with a Teddy at Baby Times.

investMent in your retirMent and

reap the reWards in rolleston

E S T A T E

Phone. 03 421 7796 | Email. sales@woodcroftestate.co.nz

WOODCROFT WAY, 28 KENDON DRIVE, ROLLESTON, CANTERBURY

rolleston's neW registered retireMent village

• Initial weekly fee of $75 includes rates & full insurance

• Gated community and emergency call button in each villa

• Two & three bedroom villas with single/double garage from $450,000

• There will be an on site manager and a pavilion and bowling green

• Show Home now open Monday to Friday 10am to 2pm or weekend

viewing by appointment call Corinne 021 292 1141

www.manorgroup.co.nz
---
SELWYN TIMES Latest Christchurch news at www.star.kiwi

Wednesday February 20 2019 13

FERRYMEAD SUPERSTORE GRAND REOPENING SALE!

We're rolling out the red carpet, celebrating with GRANDS of savings!

Save up to

$10,000

on Premium Spa

packages*

Hot deals on

SWIM SPAS

Spas from under

$6,500

Up

to

Spa Accessories*

You'll need to be quick, 4 DAYS ONLY this Thursday to Sunday (21-24 FEB)

At our GRAND new showroom, in the same handy location:

1004 FERRY ROAD, FERRYMEAD

OPPOSITE MITRE 10 & COUNTDOWN

Ph: 0800 80 1004 • wrightspapools.co.nz

* T&Cs apply see instore for details
---
14 Wednesday February 20 2019

Latest Christchurch news at www.star.kiwi

SELWYN TIMES

Your Local Views

West Melton resident

Peter Fry writes about the

proposed skate park in the

town, which the Selwyn

Times covered last month

I write in support of Bruce

Russell's sensible statement that

the logical and correct placement

of a possible skate park in West

Melton is adjacent to the splendid

new community centre and within

existing and planned sporting

and recreational services.

The safety of users of recreational

facilities is a complex issue

requiring constant monitoring

– surveillance cameras have been

found to be essential – immediate

access to first aid not just when

the medical centre is open, ongoing

supervision and safe access to

toilets are major considerations.

Country wide planners recognise

these issues and it has not

been possible to find an example

of a stand alone skate park established

anywhere within a quiet

residential neighbourhood.

Using the land allocated within

a "family area" with established

facilities is fully logical, is the

most economic use of the council's

(ratepayers') funds and in

the broadest sense, is the safest

option.

However, this issue has served

as a catalyst to address and to

halt the years of neglect of Retford

Common. Open spaces are

increasingly scarce treasures intended

for the use of all members

of the community and as such

deserve appropriate maintenance

and care. At present trees are dying

on the common, the installed

water hydrants are unused, the

unsuitable and unsightly limestone

chip paths are scattered and

thin and overgrown with weeds,

the grass is roughly cut at irregular

intervals and the attractive

gazebos require maintenance.

Retford Common was intended

to be a truly beautiful, much used

space and a major asset to the

entire West Melton community.

To this end it is intended that the

Friends of Retford Common will

work with district council planners

to find solutions to restore

and enhance this important open

space and to provide an aesthetically

pleasing environment that

is useful to members of the community,

of all ages, throughout

the year.

•If you would like to

become a friend of

Retford Common, send

your contact details to

friendsofretfordcommon@

gmail.com

COLOURFUL: Hot air balloons light up in last year's inaugural Hororata Night Glow.

PHOTO: MURRAY IRWIN

Hot air balloons return

HOT AIR balloons are set to

return to Hororata.

The balloons will be part of the

Hororata Night Glow, which will

be held in May.

Event organiser, the Hororata

Community Trust said the inaugural

Night Glow last year

captured people's imaginations.

"Hot air balloons hold a

certain magic and the Hororata

Community Trust is very excited

to be bringing the Night Glow

back for a second year. The

festival last year was amazing,

not only for its entertainment

value but it also benefited our

community in many ways," said

Hororata Community Trust

executive officer Cindy Driscoll.

The event received recognition

by winning the 2018 Selwyn

Tourism award.

"The balloons are undoubtedly

the main attraction of the festival

but we have new surprises in

the pipeline which will see the

Hororata Night Glow build on

what we did last year, details of

these will be released soon," Mrs

Driscoll said.

Recently applications for stall

holders opened. Businesses and

community groups have until

March 25 to apply.

The community trust committee

is also seeking expressions

of interest from performers

and bands interested in being

involved.

The Hororata Night Glow will

be held Saturday May 18 at the

Hororata Domain, 3-8.30pm

Postponement date is Sunday

May 19.

Discounted tickets will be sold

online from April 1.

•For more details

visit www.hororatanightglow.

org.nz

Join the Selwyn

Public Arts Panel

We are seeking expressions of interest to participate in a Public Arts

Panel. The purpose of the panel will be to purchase or commission a

piece of Public Art for Selwyn in 2019.

We are looking for local creatives, who are currently practising or have

a degree in the arts (or equivalent).

Collectively the Panel will have an informed view of the district's

geography and an understanding of the place making potential of arts

and culture for our communities. They must respect the values of the

communities and individuals that may be affected by the panel advice.

Priority will be given to Selwyn residents, former residents of Selwyn

and mana whenua.

Applications close Wednesday 13 March. To register your expression

of interest, please email arts@selwyn.govt.nz.

Arts Culture

& Heritage

SELWYN

Enquiries are welcome for scholarships including

the George F Hight Scholarship (needs-based).

Enrol now for 2020!

We look forward to meeting you at one of our

2019 Boarding Road Shows to share with you

the family culture which makes boarding so

special at St Andrew's College, Christchurch.

Ashburton

BOARDING

ROAD SHOWS

Tuesday 5 March

5.00pm–7.00pm

Lushingtons Café,

5 Archibald Street

Visit stac.school.nz for times, locations and to register online.
---
SELWYN TIMES Wednesday February 20 2019 15

Latest Christchurch news at www.star.kiwi

Backyard Critters

Pollinator still facing mighty threat

Mike Bowie is an ecologist who specialises in

entomology (insects and other invertebrates).

Each week he introduces a new species found

in his backyard at Lincoln. His column aims

to raise public awareness of biodiversity, the

variety of living things around us. Check out

the full list of invertebrates found at http://naturewatch.

org.nz/projects/backyard-biodiversity-bugs-in-lincoln

WITH ALL the hot weather

recently, one of the most

obvious insects is the western

or European honeybee, Apis

mellifera.

They were first documented

in New Zealand in 1839.

The bees are unrivalled as

pollinators in large scale

monoculture. Their success is

due to their ability to pollinate

a high diversity of flowers,

colony growth speed, defence

• By Anan Zaki

THE FUTURE of a riverside

community is at risk due to

slow planning, residents say.

Plans for a new wastewater

consent at Selwyn Huts on the

banks of the Selwyn River are

not under way.

Homeowner and residents

representative Graham Evans

spoke at the full district

council meeting last week.

"I'm very disappointed to

against invaders, such as

wasps, ability to be managed

and transported, ability to

work in colder conditions and

higher longevity of workers

and queens.

Workers are known to live

as long as 152 days. However,

there is a global colony decline

around the world. This has

been attributed to a number

of factors, including colony

collapse disease, habitat loss,

be standing here today," said

Mr Evans, who is a third

generation Selwyn Huts

holiday home owner.

Before 2011, the community

was governed by an elected

board or committee, separate

to the district council. But in

2011, the district council took

over full governance of the

Selwyn Huts.

"We are aware that the

consent for sewer and water

waste is to run out in June

pesticides and varroa mites.

The mites, which arrived in

New Zealand in 2000, can be

managed easily in hives but

it is unknown how well feral

populations have fared – there

may well be some valuable

varroa-resistant populations

2020," Mr Evans said.

An expired consent could

force residents out of the

community, he said. There are

about 100 permanent residents

in Selwyn Huts, who live on

land leased from the council.

District council chief

executive David Ward said he

was confident action would

be taken before the existing

consent expired in June next

year. He said council staff

are currently in discussion

out there. The apiculture

industry is worth $5 billion to

New Zealand's economy.

This is why the Ministry for

Primary Industries' border

security is so important to

keep new bee diseases from

entering our country.

Residents concerned about future of Selwyn Huts

with the Department of

Conservation, Environment

Canterbury, homeowners and

Ngai Tahu about a new waste

water consent. "I've got total

confidence in staff that are

leading the discussions," Mr

Ward said.

Mr Evans says he is still

worried the council may have

left things too late. "If we don't

have consent, we won't have

any system to take our waste

water away," he said.

WOF

SURF'S UP SCOTTY RAZOR ROBERTSON PROFILE

APRIL 2018

TJ'S

CHASING

ONE

GREAT MORE

COVER

The power

LINE

of Perenara

SUPER

RUGBY'S

G.O.A.T

CORY JANE

6 issues (1 year) $44.50

12 issues (2 years) $79

18 issues (3 years) $115

Social Media Animal

PLUS...

+

RRP $9.95

KEEPING Chief

WHO

TABS ON Tabai's

MATSON Tron tribe

$45 .00

• Courtesy cars • Oil changes

• Full mechanical repairs

• Brake & clutch repairs

• Transmission flush service

• Tyres & batteries

• Petrol & diesel servicing

Fitzgerald Motors

PHONE 03 349 7813

We've shifted now located at

Unit 8,193 Waterloo Road, Hornby

(6 doors down from our old site)

CALEB

CLARKE

Chip off the

old block

1ST XVs

PLAY LIKE PROS

A school boy rugby

investigation

SUBSCRIPTIONS FREEPHONE

0800 77 77 10

rugbynews.co.nz

we have

WHO WILL

MAKE THE

AB CUT?

Kids 14

and Under

FREE

Kids

14 years

& Under

FREE

moved!

The revolution

in heat pumps

is here now!

The revolution in heat pumps is here now!

The Fujitsu e3series

The brilliant

heat pumps from Fujitsu

e1 : efficiency

e2 : environment

e3 : economy

Gates open at

Saturday February 23, 6PM

4.30 pm

SOUTH ISLAND SPRINTCAR

CHAMPIONSHIP

Admission Admission — Adults — $20, Adults Students $20, Students and Seniors and Seniors $15, Children $15, Children 14 and 14 Under and Under FREE: Eftpos FREE: at Eftpos the Gate

the Gate

PLUS

SUPPORTING

PROGRAMME PLUS

SUPPORTING

PROGRAMME www.ruapunaspeedway.co.nz Infoline 3497727

The brilliant e3 series

heat pumps from Fujitsu

e1 : efficiency

e2 : environment

e3 : economy

Website: www.pshc.co.nz

FREE consultation from your local

Accredited Heat Pump Expert

Phone today: 03 381 6950

INSERT DEALER DETAILS HERE

NEW ZEALAND'S FAVOURITE AIR

Fujitsu's Catechin Filters are

approved by the Asthma and

Respiratory Foundation NZ's

Sensitive Choice ® programme.

Email: info@pshc.co.nz

131 Iport Drive, Rolleston | Phone 03 347 4020

Open Monday to Friday 8am-5pm

and Saturday 8am-12pm (for WOFs only)

www.jonesroadauto.co.nz
---
16 Wednesday February 20 2019

Latest Christchurch news at www.star.kiwi

SELWYN TIMES

More bins means

less waste to landfill

Aqua-thon raises funds for charity

Always been interested in our Aqua fitness classes but never given

them a go? Come along on Thursday 21 February for a fun night to

try our different class options.

This is the perfect opportunity to give our aquatic exercise classes

a go, while supporting a worthy cause. All proceeds will be donated

to Arthritis New Zealand.

To learn more about what classes we offer head to selwyn.govt.nz/sac

$5 donation (cash only). Concession cards can be used. Drop in or

stay for the whole Aquathon.

· 7–7.15pm Hydrotone

· 7.20–7.35pm Aqua Fit

· 7.40–7.55pm Aqua Intense

· 8–8.15pm Aqua HIIT

· 8.15–8.30pm Warm down and stretch

For more information call us on 03 347 2734 or send us a message

on Facebook @selwynaquaticcentre.

More Selwyn residents than ever before now have organic bins and existing residents are using their

organic bins a lot more than this time last year, resulting in a decrease in waste going to landfill.

The district is seeing strong growth in organic waste tonnes, with nearly 1200 tonnes or 22% more

organic waste received than at this time last year while total waste to landfill is tracking towards a

4% decrease on a per capita basis.

Council Solid Waste Manager Andrew Boyd says he's very pleased with the reduction and wants

to continue to encourage less waste going to landfill, by greater use of recycling and organic bins.

"We've got a number of waste minimisation projects in the pipeline. We'll be looking to expand

access to recycling services for off-route properties, expanding the range of materials accepted at

community recycling days, and also a number of improvements at the Pines Resource Recovery

Park," he says.

There are also Council-supported workshops coming up in mid-March at the Rolleston

Community Centre focusing on waste-free parenting and how to minimise food waste when

cooking. Keep an eye on Council Call and Council Facebook for details on these.

For more information on the Pines Resource Recovery Park go to selwyn.govt.nz/pines.

Summer 3X3 Basketball Jam

Ever wanted to give basketball a try? Jump into a 3X3 basketball

game at the Faringdon court with our Summer in Selwyn team.

No registration is required, just come along with a team you've

gathered or join a team on the day.

If you're not keen to play you can pack a picnic and watch a fun

basketball game. We'll also have other games provided on the day

as well as music and prizes.

The basketball jam is on Sunday 17 March, frm 2–4pm at the

Faringdon Playground Basketball Court in Rolleston.

Thanks to Faringdon for their support.

For the full list of Summer in Selwyn events and to view the

booklet go to selwyn.govt.nz/events or check us out on Facebook

@Summerinselwyn.

Need funding for your creative project?

Applications are open now for Creative Communities funding.

Funding is available to groups or individuals with community-based creative projects that promote arts

or culture in Selwyn. The aim of the scheme is to increase participation in the arts at a local level, and

increase the range and diversity of arts available to communities.

Applications for this funding round close at 5pm, Friday 22 February. Visit selwyn.govt.nz/artsfunding

for more information and to apply.

Do you know the rules for this

fire season?

The Selwyn district is currently in a Restricted Fire Season.

This means you cannot light a fire in open air unless you have a

permit from Fire and Emergency NZ. Before you light, you must

check to make sure that a Prohibited Fire Season status has not

been declared.

Check the fire season status for Selwyn at Fire and

Emergency's website www.checkitsalright.nz.

ON THE

ROADS

On the roads this week

Seal repairs will be carried out on Wards Road,

Larcombs Road and Bealey Road.

Road reconstruction (granular overlay) on

Leaches Road and Cordys Road.

Reseals will take place on Larcombs Road and

Bealey Road.

Kerb and channel and footpath construction will continue on

Masefield Drive.

Drainage work will begin on Sleemans Road , Kowai Road and Mt

White Road.

Footpath repairs will occur on Elizabeth Street, Binyon Place and

East Belt.

Closure of Weedons Road at SH1 Intersection

From Tuesday 19 February, Weedons Road will be closed at the

SH1 (Main South Road) intersection for approximately six weeks.

This closure is to allow the project team to continue construction of

the Weedons Interchange.

Following this work, the new south bound on-ramp will open to provide

access from Weedons Road to SH1.

Please be alert to changes in the traffic management, follow all on-site

signage and drive to the conditions.

Council Call

Selwyn District Council

Norman Kirk Drive, Rolleston

Ph 347 2800 or 318 8338

Rolleston Library

Rolleston Drive, Rolleston

Ph 347 2880

Darfield Library & Service Centre

1 South Terrace, Darfield

Ph 318 8338 or 347 2780

CC200219
---
SELWYN TIMES Latest Christchurch news at www.star.kiwi

Wednesday February 20 2019 17

Notices

ALCOHOL NOTICES

JTP Limited has applied to

renew its off licence. Objections

are open until Friday 1 March.

For more information head to

selwyn.govt.nz/alcoholnotices.

MOBILE LIBRARY

TIMETABLE

Wednesday 20 February:

Rakaia Huts 9.10–9.30am

Southbridge Playcentre

10–10.30am

Southbridge School

10.45am–12pm

Abbeyfield, Leeston 2.30–3pm

Meetings

Public Forums: Council,

Community Board and local

committee meetings are open

to the public. Time is available at

the start of meetings for people

to speak on matters of concern.

Please notify Bernadette Ryan

or your local committee at least

three days before the meeting.

Township, Hall and Reserve

Committees: To list or make

changes to meeting details, email

meeting.changes@selwyn.govt.

nz or phone 347 2800 or 318

8338 by 9am Wednesday the

week before publication.

COUNCIL AND COMMUNITY

BOARD

Unless stated meetings are held

at the Rolleston Council Building.

Water Race Subcommittee

Mon 25 Feb 12.30pm

Malvern Community Board

Mon 25 Feb 4.30pm

Castle Hill Hall

District Plan Review Committee

Wed 27 Feb 9am

Park-and-ride update

Council contractors have completed new

stormwater services for the new park-and-ride

facility in Rolleston.

This week contractors will begin construction of

the public and Council parking areas.

Watch as it starts to take shape. We will provide

further updates on the project as it progresses.

St John of God, Rolleston

3.30–4pm

Thursday 21 February:

Tai Tapu Playcentre 9.30–10am

Active Explorers Tai Tapu

10.15–10.45am

Prebbleton Playcentre

11–11.30am

Prebbleton Childcare

1.15–1.45pm

Ladbrooks School 2–2.30pm

Prebbleton Township/Tavern

3.30–5.30pm

There will be no mobile service

on Friday 22–Monday 25

Selwyn Waihora Zone

Committee

Tues 5 Mar 2pm

Property Committee

Wed 6 Mar 9am

Audit & Risk Subcommittee

Wed 6 Mar 3pm

LOCAL COMMITTEES &

ASSOCIATIONS

Glentunnel Township

Committee

Mon 25 Feb 7.30pm

Glentunnel Community Centre

Kimberley Reserve & Hall

Committee

Thurs 28 Feb 7.30pm

Kimberley Hall

Ladbrooks Community Hall

Committee

Fri 22 Feb 7.45pm

Ladbrooks Community Hall

Leeston Park Committee

Mon 25 Feb 8pm

Leeston Park Pavilion

New playground equipment for Levi Park

February.

Tuesday 26 February:

Burnham Kindergarten

9.40–10.10am

Burnham Montessori

10.20–10.50am

Dunsandel School

11.20am–12.10pm

Dunsandel Childcare

12.20–12.40pm

Paradise for Little Angels

1.30–2pm

Bright Beginnings Montessori

Preschool 2.15–2.45pm

Best Start Rolleston 3–3.30pm

Rolleston Community Centre

Management Committee

Thurs 28 Feb 7pm

Rolleston Community Centre

Rolleston Residents Assn

Mon 25 Feb 7pm

Rolleston Community Centre

Sheffield/Waddington

Community Committee

Thurs 21 Feb 7.30pm

Sheffield Fire Station

Tawera Memorial Hall

Committee

Wed 6 Mar 7.30pm

Tawera Memorial Hall

Waihora Park Reserve

Committee

Tues 5 Mar 7.30pm

Waihora Bowling Club

Weedons Reserve Committee

Mon 4 Mar 7.30pm

Weedons Reserve

Whitecliffs Township & Domain

Committee

Mon 4 Mar 7.30pm

Glentunnel Hall

A new playground climbing structure being imported from Germany is expected to be installed at Levi

Park, Rolleston, in late May this year.

The new playground, suitable for children four years and over, replaces the existing playground which

had experienced drainage and slumping issues which resulted in the playground area becoming heavily

water logged. A geotechnical engineer has advised Council that this issue is isolated to the playground

area and does not affect any nearby residential properties.

Drainage works began in November last year and are expected to be completed at the end of this

week.

Council Property and Commercial Manager Douglas Marshall says a strip drain will be installed across

the opening to the tennis courts to improve future site drainage.

"Excavations to three metres have now shown that if the existing structure was to remain on site,

further settlement or slumping of the playground structure would occur," Mr Marshall says.

"The new playground equipment will be more suitable for the remediated site and I'm pleased that

we're able to salvage the old equipment and place it in another area for more children to enjoy. Thank

you to nearby residents for their patience and support as we make Levi Park a safe playground for the

community."

The existing see-saw will remain on the Levi Park playground site. A new set of swings will be installed

with a standard swing seat and a fully enclosed toddler swing seat.

The Council is currently looking at an alternative site to relocate the existing playground and basket

swing to a new site in Rolleston. This will be confirmed soon.

Levi Park Playground is likely to be re-opened in June.

Selwyn Events

WEDNESDAY

20

FEBRUARY

THURSDAY

21

FEBRUARY

SUNDAY

24

FEBRUARY

UNTIL

24

FEBRUARY

WEDNESDAY

24

FEBRUARY

THURSDAY

28

FEBRUARY

FRIDAY

1

MARCH

FRIDAY

1

MARCH

Tai Tapu Summer Skate/

Scooter Jam

Tai Tapu School, 3.30–5.30pm

A great way to introduce children and

young people to skating with free

gear hire, prizes, music and coaching

from experienced skaters from

Cheapskates Skate Skool. Something

for all abilities!

Burnham Picnic in the Park

Freyberg Domain, 5.30–7.30pm

Spend your summer evening at the

park with live music, Pedalmania,

bouncy castles, face painting,

entertainment, free sausage sizzle

and more.

A Month of Sundays

The Lincoln Green (outside Lincoln

Library) 1–3pm

Relax, unwind and recharge on your

Sunday afternoon at the Lincoln

Green and Library with live music,

face painting, Henna art and garden

games. Bring a picnic and enjoy our

talented local musicians.

Ivan Button art exhibition

Lakeland Art Gallery, 80 High

Street, Leeston

Call in and check out our Guest

Exhibitor Ivan Button's works in

watercolour and oils.

Glentunnel Summer Skate/

Scooter Jam

Glentunnel School, 3.30–5.30pm

A great way to introduce children and

young people to skating with free gear

hire, prizes, music and coaching from

experienced skaters.

Dunsandel Picnic in the Park

Dunsandel Domain, 5.30–7.30pm

Spend your summer evening at the

park with live music, Pedalmania,

bouncy castles, face painting,

entertainment, free sausage sizzle

and more.

Lake Crichton Series

Triathlon and Duathlon

Lake Crichton Waterski Park, Dunsandel,

6.30pm

A family-friendly event to finish the

working week with a race. Enter

individually or in a team. To enter go

to selwynsportstrust.org.nz.

Rolleston Drive-In Movie

Rolleston Reserve 7–9pm

Park up and enjoy the movie Up

(2009). Tune in to the special

frequency on your car radio.

For information on listing a community event visit

www.selwyn.govt.nz/councilcall

Leeston Library & Service Centre

19 Messines Street, Leeston

Ph 347 2871

Lincoln Library & Service Centre

Gerald Street, Lincoln

Ph 347 2876

(03) 347 2800

Darfield call free 318 8338

www.selwyn.govt.nz

SelwynDistrictCouncil
---
18 Wednesday February 20 2019

Latest Christchurch news at www.star.kiwi

SELWYN TIMES

Email anan.zaki@starmedia.kiwi by 5pm

each Wednesday

Summer Skate/Scooter Jam

Wednesday, 3.30-5.30pm

A great way to introduce

children and young people to

skating with free gear hire,

prizes, music and coaching

from experienced skaters

from Cheapskates Skate Skool.

This is a relaxed environment

which will allow participants to

give it a go, cheer on their friends

and family or ease their way into

skateboarding.

Tai Tapu School, cnr Main

Akaroa Highway and School Rd

Teen Artspace: after school

drop-in

Wednesday 4.30-6pm

Teens can participate in art and

craft activities, and hang

with friends in a creative

atmosphere. You will learn how

to use various art and craft

materials.

Rolleston Library, 94 Rolleston

Drive

Selwyn Speaker Series: Tips

for Young Drivers and Parents

Wednesday, 6-7.30pm

Go along and learn more about

the driver licence process and

how to help your teenager learn

to drive safely. Tea and coffee

provided.

Rolleston Library, 94 Rolleston

Drive

Children's and Teens Book

Clubs

Thursday, 3.30-4.30pm

Enjoy a good book? Don't mind

sharing the good the bad and

the ugly bits? Our book clubs are

an opportunity to get together

with other readers and talk about

books on a monthly topic or

genre.

Leeston Library, 19 Messines St

A Month of Sundays

Sunday, 1-3pm

Relax, unwind and recharge

on a Sunday afternoon with live

music, face-painting and garden

games, or pop into the Lincoln

Library for a browse. Bring a

picnic to enjoy while listening

to an outstanding line-up of

talented musicians.

The Lincoln Green

Adult Book Club

Tuesday, 10.30am-noon

Enjoy a good book? Don't mind

sharing the good the bad and

the ugly bits? Our book clubs are

an opportunity to get together

with other readers and talk about

books on a monthly topic or

genre.

Lincoln Library, 22 Gerald St

Justice of the Peace Clinics

Rolleston on Monday, noon-

1pm, and Lincoln on Tuesday,

Are you a keen runner? Join one of the running groups across the district. Rolleston Road

Runners: Monday registration from 6.15pm for a 6.30pm start. 2.5km and 5km options

in Foster Park, next to the car park beside the playground. Lincoln Road Runners: Tuesday

registration from 5.40pm, starts at 6pm. 3km or 6km events. Starts outside Coffee Culture on

Gerald St. Gold coin donation. Malvern Road Runners: Tuesday registration, starts at 5.45pm

for a 6pm start. 3km and 6km options and a 1.5km over summer. Meet at McHughs Plantation.

Ellesmere Road Runners: Wednesday registration from 5.45pm, starts at 6pm. 3km or 6km

walk or run. Starts from Leeston Physiotherapy. Foster Park Run: Saturday from 7.50am. Free

weekly timed 5km run, jog or walk. Register at www.parkrun.co.nz/foster and don't forget

your barcode.

10am-1pm

A justice of the peace will

be available to members of the

community to witness signatures

and documents, certify document

copies, hear oaths, declarations,

affidavits or affirmations, as well

as sign citizenship, sponsorship

or rates rebates applications.

Rolleston Library, 94 Rolleston

Drive, and Lincoln Library, 22

Gerald St

Lego Club

Tuesday, 4-5pm

Once a month come and

have some fun with LEGO led

by experts from the House of

Bricks. FREE - Drop in only,

with limited spaces. No bookings

taken. Recommended for

primary school aged children.

Children under 8 years of age

must be accompanied by an

adult.

Rolleston Library, 94 Rolleston

Drive

Markets:

West Melton Market: Saturday,

9am-noon. St Paul's Church.

Darfield Market: Saturday,

9am-1pm, opposite Challenge

Darfield, South Tce.

Lincoln Farmers and Craft

Market: Saturday, 10am-1pm,

Gerald St.

Late night Lyttelton Tunnel closures

From Sunday 24 February, you'll need to plan your

travel around late night tunnel closures.

These are essential to both install and test a new fire protection

system inside the tunnel.

Work on this $28.7 million project is expected to be completed

by April/May 2019.

Traffic lane closures are timed for late night/early morning

on the lightest tunnel traffic days of the week, that is Sunday,

Monday and Tuesday.

In conjunction with the late night tunnel closures, we are

carrying out maintenance on SH74 (Tunnel Road) to ensure

fewer nights of disruption for motorists and residents. Work

includes replacing some guardrails and road resurfacing work

between Port Hills and Horotane Valley overpasses as well.

Lyttelton-bound traffic into the tunnel for the 10-minute openings

will be unaffected. Traffic leaving the tunnel towards Christchurch

will have to exit onto SH76 Port Hills Road.

WHAT YOU NEED TO KNOW

• Real-time traffic information for the Lyttelton Tunnel area is

available at www.tfc.govt.nz

• A schedule of tunnel traffic lane closures can be found at

www.nzta.govt.nz/assets/projects/lyttelton-tunnel/

lyttelton-tunnel-lane-closures.pdf

TUNNEL CLOSED

from 11pm to 4am

Sunday 24 February

Monday 25 February

Tuesday 26 February

The tunnel will open to

traffic for 10 minutes on the

hour on these nights.

Emergency access will be

maintained through the

tunnel at all times.

• Check the Transport Agency's official Twitter @nztacwc and

Facebook facebook.com/nztasouthisland pages.

• For traffic and travel information, call 0800 4 HIGHWAYS

(0800 44 44 49) to speak to one of our team.
---
SELWYN TIMES Latest Christchurch news at www.star.kiwi

Wednesday February 20 2019 19

SERENITY Carnation

Queen Size Mattress & Base

NOW $1,749

WAS $3,499

50 % OFF

Firm Feel

SERENITY Dahlia

Queen Size Mattress & Base

NOW $1,844

WAS $3,699

50 % OFF

CLASSIC Kappa

Queen Size Mattress & Base

ONLY $639

EVERYDAY

DREAM

PRICES

Medium Feel

Medium Firm Feel

SERENITY Jasmine

Queen Size Mattress & Base

NOW

WAS $3,899

$1,949

50 % OFF

CLASSIC Zulu

Queen Size Mattress & Base

ONLY $1,249

EVERYDAY

DREAM

PRICES

Plush Feel

Medium Firm Feel

Other Sizes & Models Available In-store!

BEDS R US CHRISTCHURCH

166 Moorhouse Ave, (Next To Noel Leeming)

Ph: 03 379 5110
---
WELLB

20

Wednesday February 20 2019

Latest Christchurch news at www.star.kiwi

Selwyn Times

@ Rolleston College

Teenagers and Wellbeing

Being a teenager is really hard. The teenage

brain is undergoing a major transformation

and during these years our young people can

really struggle. They need our help (even if they

say they don't) and we need to give them clear

expectations whilst also teaching them tools to

help them flourish both academically and with

their own well being.

How does all of this look at

Rolleston College?

The Rolleston Spirit

Girls Hui about well-being

Why Wellbeing?

As a society we place great emphasis on being

active, feeling fit and eating well and this also

applies to keeping our mind fit and well. Mental

fitness is just as important as physical fitness and

the two are usually linked. If we are feeling fit, we

tend to eat well and therefore feel good on the

inside. We begin to notice how we are feeling and

can achieve our goals and connect with others

in a positive way. The positive emotions that are

associated with wellbeing give us strength in all

areas of our life and give us the skills to deal with

issues when they crop up.

What is Wellbeing?

Through our work with Lucy Hone, she uses the

definition from Felicia Huppert & Timothy So,

from Cambridge University who define wellbeing

as "feeling good and functioning well".

Wellbeing is linked to happiness and builds

resilience to get through the tough times and

enables us to flourish.

Jess, Heyward, Alessandra Ward,

Emily Taylor, Alex North Learner

Team behind the design of the new

Rolleston Spirit poster

Rolleston College is one of many New Zealand

schools to implement the Ministry of Education

Positive Behaviour for Learner School Wide

Framework. At our school this framework has

been adapted to work within the context of our

school and our learners. The purpose of Positive

Behaviour for Learning-School Wide (referred

to as Ready to Learn at Rolleston College) is to

ensure the Rolleston Spirit is flourishing within

our school. The staff have a strong belief that

learners need to be Ready to Learn and Ready

to Flourish. If a learner performs poorly in a

learning task we teach them what steps to take

next, if they struggle at a particular sports skill,

we teach them how to improve, if they can not

play a musical instrument we teach them how to

play, yet traditionally, if they behave differently

to what we expect… we punish them. PB4L aims

to use teaching behaviour as a tool for improving

behaviour.

Ready to Flourish

We already know that in education one size does

not fit all so we promote learners having access to

a wide range of wellbeing resources that we call

our 'Hauora Kete'. The contents in the Kete are

taught to learners and staff in various ways across

our learning programme. Some of the tools in

our kete are:

• Character Strengths - According to the

VIA Institute on Character (www.viacharacter.

org), every individual possesses all 24 character

631 Springston Rolleston Rd | Phone. 03 595 2490 | Em
---
Selwyn Times Latest Christchurch news at www.star.kiwi

Wednesday February 20 2019

21

EING

Horoeka Haemata

Character Strength Dress Up Day

strengths in different degrees, giving each person a

unique character profile. Knowing your signature

strengths is a tool that can help you through times

of struggle. Knowing and growing your core

strengths can also help you to flourish and build

your wellbeing. At Rolleston College, all staff and

Learners take the free online test and know their

Character Profile. This is then applied to their

learning and celebrated through Character Theme

weeks and World Character Day. Character

Strengths are also used in Goal Setting and can be

a useful tool when restoring situations

• Five Ways to Wellbeing - The Mental Health

Foundation promotes this as a key wellbeing tool.

'5 ways' includes Take Notice, Be Active, Keep

Learning, Connect and Give. They are actions

that can be incorporated into your life at any

time. Some learners find this is an easy way in to

understanding wellbeing.

• Mindfulness - Mindfulness is paying

attention to our thoughts and feelings, learning to

slow things down so we can react and see things

more clearly.

From 2017 the Pause, Breathe, Smile programme

from the Mindfulness Education group was

taught across whānau. This programme has

clear links to the New Zealand curriculum and

is also explored at some of our feeder schools.

This means learners are coming to Rolleston

College with an understanding of mindfulness

practices and how it can help them with focus

and learning. Through the eight sessions in the

programme our junior learners are able to engage

in mindfulness practices and to understand

how mindfulness can support their learning and

achievement.

In 2018 all staff spent the day with John Quinn

who is the Director of Wellbeing and Positive

Education at Christs' College and has lead a three

year implementation of positive education both

in and out of the classroom. Rolleston College

aims to further integrate mindfulness practices

into our curriculum for senior learners to

support their educational success.

• Te Whare Tapa Wha - This is a key wellbeing

model that forms the foundation of our hauora

practices. It recognises the four cornerstones of

health. Should one of the dimensions be missing

or damaged a person can become unbalance. The

four pillars are: Taha Tinana (Physical Health)

this is the capacity for growth and development;

Taha Wairua (Spiritual Health) our capacity for

faith and communication; Taha Whānau (Family

Health) this is belonging, caring and sharing

with family and wider society; Taha Hinengaro

(Mental Health) this is to consider our thoughts,

feelings and emotions. Learners start their year

9 journey developing an understanding of this

model and create their own whare to support

their understanding.

• Check and Connect - this is a way of

connecting with our learners on a daily basis

and in all learning vehicles. There are a variety

of ways that Check and Connect can operate -

with the essential outcome being that all learners

know that they have staff who care, are ready to

help, and work together to create a flourishing

learning environment. The learners can use and

practice the tools from their kete, just as you

would use and practice numerical skills.

ail. admin@rollestoncollege.nz |

www.rollestoncollege.nz
---
22 Wednesday February 20 2019

Latest Christchurch news at www.star.kiwi

SELWYN TIMES

SELWYN RURAL LIFE

New tool helps farmers

gauge carbon footprint

A new carbon calculator that gives farmers

a guide to the size of their carbon footprint

has been developed by Lincoln University's

Agribusiness and Economics Research Unit

(AERU) and Agrilink NZ, with financial

assistance from Meridian Energy and Westpac

NZ.

Alison Howard, Head of Sustainability at

Meridian Energy, is welcoming the release of

the calculator.

"We know a lot of our farming

customers are going to a lot of effort

to run their operations in a sustainable

way, and are worried how a zero

carbon target for the country might

affect them.

"This calculator gives them a quick

way to find out their impacts. We know farmers

are always looking for ways to contribute

positively to the future of New Zealand and

this is just a small way we thought we could

help."

Westpac NZ Head of Commercial and

Agribusiness, Mark Steed, wants farmers to

know that they are supported in making better

choices, both for their farms and the country.

"We know farmers care about climate

change. Farming is a long-term business and

the changing climate is already having an

impact.

"We hope this easy way to calculate their

farm's carbon footprint will help them

make decisions and guide the sustainable

development of their business."

The greenhouse gas calculator was originally

prepared in 2008 to better inform the Food

Miles debate.

It has now been updated to give farmers a

quick approximation of their carbon footprint;

it is not intended to replace

detailed greenhouse gas

modelling tools.

As carbon can be a

very abstract concept,

the calculator compares

a farm's greenhouse gas

emissions to the distance

travelled in a car, or the area that could be

planted to offset their emissions.

Andrew Barber, Managing Director of

Agrilink NZ says "owners of a variety of

farm types can use this calculator, including

horticulture for example, where farmers may

not have access to detailed carbon footprint

tools.

"Like all farmers, they can enter their energy

use, as well as that of their contractors, to better

understand their carbon footprint."

The calculator is available at www.lincoln.

ac.nz/carboncalculator.

Get Nutrient

Rich Crops

Spent Mushroom Compost is

the ideal natural alternative to

chemical fertiliser for your farm

Free Delivery

For a limited time *

Learn more at:

meadowmushrooms.co.nz/smc

or call 03 307 6974 today

*

T & Cs apply
---
SELWYN TIMES Latest Christchurch news at www.star.kiwi

Wednesday February 20 2019 23

SELWYN RURAL LIFE

Preventing rural crime

The Police are aware of stock theft being

an issue across rural communities in New

Zealand and all complaints of stock theft

are taken seriously and followed up as

appropriate.

They encourage rural property owners

to make security a priority and ensure they

are taking measures to help prevent thefts.

A lot of reported

thefts are committed by

opportunist criminals

simply looking for that

insecure shed or a farm

vehicle with the keys left

in the ignition.

Owners of large rural

properties should check

their boundaries and

fence lines on a very

regular basis. Keep

in contact with your

neighbours too and let

each other know if you

notice anything unusual. Neighbourhood

Support groups can be particularly useful

for this purpose.

For farmers, it is crucial you regularly

review your auditing systems, in terms

of management and the security of stock.

Clearly tag animals - regardless of the size

of your property, stock numbers should

be checked once a week. Items such as

animal tags and equipment should be kept

in a secure facility. Additionally, ensure due

diligence is carried out around any new

staff who are hired.

Contact the Police immediately if you

witness any suspicious behaviour, need to

report a theft or have other information

which may assist us.

Keep in mind police may need to travel

long distances to get to you.

Call 111 when you need immediate help

with a life-threatening or time-critical

emergency.

Some emergencies will

need more than one service

(Fire, Ambulance and Police)

so ask for the service which

is needed most urgently. All

emergency services have

links to each other and the

first service called will notify

the other services if they are

required.

For non-urgent situations,

call or visit your local police

station.

Crime prevention in rural

areas is most effective when it involves a

partnership between rural people, Police,

local authorities and local organisations.

Police work closely with their partner

agencies, in particular non-government

agencies such as Community Patrols NZ

and Neighbourhood Support NZ, both

of whom have recently appointed rural

coordinators to their organisations.

Further prevention advice can be found

at the Police's Rural Hub online at their

website www.police.govt.nz.

TANDEM AXLED

GALVANISED TRAILER

Fully galvanised, tandem axled transporter trailer, fitted with electric brakes, hand winch, side lights,

spare wheel and rear side stands for smooth loading.

SPECIFICATIONS

Deck dimensions (L x W) (mm): 4000 x 1900

Drawbar (mm): 1500

Deck height (mm): 460

Wheel rim: 13 inch

Tyre: 175/80D13

Net weight (kg): 580

Max. carrying capacity (kg): 1600

PRICE: $5,500.00 GST inclusive

Winch capacity (kg): 900

Tuatara Machinery Ltd • 291 Weedons Ross Road

Tel. 03 347 4956 • Mob. 0274 770 070

www.tuataramachinery.co.nz

3 TRUCKS

3 CARS

3 LUBES

3 SERVICING

3 FLEET WORK

3 BOATS

3 DIESEL INJECTOR

3 & PUMP SERVICING

3 ENGINE TUNING

Mon-Fri 7am-5pm

Sat 8am-12pm (WOFs only)

3 BRAKES

3 MAXXIS TYRES

3 WHEEL ALIGNMENTS

3 BATTERIES

3 WOFs

3 CAMBELTS

AND MUCH

MORE!

839 Jones Road, Rolleston P.O. Box 16 Rolleston

Phone Simon on 347 7110 or Mobile 027 272 9213

canterbury

timber & Hardware

Are now stockist of Laminata

prefabricated timber fencing

new

product

Sustainably sourced, ethically produced

Kiwi construction systems from the

heart of Northland

www.laminata.nz

Call in today for your free quote!

NEW ENTRANCE: 167 Manion Road, Rolleston

Jason Pester P 03 347 7465 F 03 347 7032 E jason@cthl.co.nz

Mon-Fri: 7am-5pm Saturday: 8am-12pm

canterbury

c t H timber & Hardware

We are here

• All residential and light commercial drainage

• Septic Tank Systems • Alterations

• Excavations • Canterbury Wide • Free Quotes

M: 027 437 2468 | E: office@dynamicdrainage.co.nz | W: www.dynamicdrainage.co.nz

PO Box 86024, Rolleston West, Rolleston 7658
---
24 Wednesday February 20 2019

Latest Christchurch news at www.star.kiwi

HOME PROFESSIONALS

SELWYN TIMES

Garden centre go to place

for everything plant-related

The new garden centre at Southern Woods

Nursery, in its handy location on the corner

of Main South Road and Robinsons Road, is

the go to place for everything plant-related

since opening last year.

Despite the surrounding road works this

busy garden centre remains open seven

days a week offering its many customers a

huge selection of every kind of flowering

plant, bush or tree waiting to find a home

at your place.

Most of them are grown on site and

looked after by the team of 40 dedicated

staff, says marketing manager Rico Mannall,

The garden centre opened last year as an

extension of the existing Southern Woods

wholesaling business on the site half way

between Templeton and Rolleston.

The purpose-built retail store has been

specifically designed with the customer

in mind making it easy to find hedging,

natives, deciduous trees, bushes, grasses,

spots of colour or ground cover.

The Southern Woods team is on hand to

help, happy to provide free advice based

on their many years in the business and

knowledge of which plants would suit your

property's location, soil type and aspect the

best.

If you are unsure

exactly what you

are looking for a

landscape architect

and designer are

also on-site to make

your selection even

easier.

Southern Woods

can also provide onsite

consultations

and design landscape plans for new sections

including preparing the soil for planting to

get the best results. Another option is to

take in your plans and they can help with

deciding on which plants to use.

Along with the plants, there is also

a selection of premium tools, planting

accessories and disease control products.

"Our tools are top quality and come from

Japan and Germany so they will last a long

time," says marketing manager Rico.

Next time you are

heading between

Templeton and Rolleston

stop at the Southern

Woods garden centre for

some inspiration for your

garden. There is plenty

of free parking. Or call

them on 0800 800 352 or

visit their website at www.

southernwoods.co.nz.

Southern Woods Eleni Farnell & Rico Mannall.

Summer Planting

Sorted.

From landscape plans to plant supply, the

local Southern Woods team can help with:

- Landscaping plants for all projects

- Ornamental & Specimen trees

- Canterbury's largest range of natives

- Hedging & Topiaries

- Fruit & Nut plants

Get great planting advice

from our friendly team.

OPEN

7 DAYS

Sharon CroftS

LandSCape d e S ign

• Consultations • Design Concepts • Planting Plans

P. 329 6229

M. 0274 311 558

s-crofts@xtra.co.nz

www.sharoncrofts.co.nz

1002 Robinsons Rd, Chch - 0800 800 352 - southernwoods.co.nz

• Driveway gates • Pedestrian gates

• Sliding gates • Swing gates

• Louvered gates • T & G gates

• Aluminium frames with timber infill

No obligation

free measure

& quote

• Fencing aluminium or timber

• Full gate automation systems

• Keypads • Video intercom

where time is everything...

We understand the need to get the job

done as quickly and efficiently as possible.

come and see us today for all your hire

equipment needs - we are happy to help!

plant and

equipment hire

Ph: 0508 4 gates (0508 442 837) 03 325 4397

E: info@townandcountrygates.co.nz

Town and Country Gates

73 hire rolleston

873 Jones Road, Rolleston

Phone 03 347 0450 | 73 Hire - Rolleston

73 hire darfield

26 Horndon Street, Darfield

Phone 03 318 8228 | 73 Hire

www.townandcountrygates.nz

open Monday to Saturday, 7.30aM-5pM | www.73hire.co.nz
---
SELWYN TIMES Latest Christchurch news at www.star.kiwi

Wednesday February 20 2019 25

HOME PROFESSIONALS

Enjoy the outdoors all year

round with the Bowranda Roof

With spring now behind us and summer

in full swing, it is the perfect time to step

back and look at how you can get the most

out of your outdoor living environment.

Whether you are hosting family and

friends or just enjoying some "you time",

being able to utilise your outdoor space

with protective shade from the harsh sun

or shelter from inclement weather is the

dream lifestyle.

The Bowranda Roof is the ultimate

solution to your needs, providing comfort

and protection through all four seasons.

As a permanent outdoor space that

provides shelter from the elements, it

offers a desirable compromise for anyone

who wants to be outside while avoiding

exposure to spoiling weather extremes.

Tailored to the needs of New Zealanders,

Bowranda's ingeniously designed roof

incorporates a specialised membrane

that eliminates 99% of UV rays while still

preserving ambient light.

This provides reliable protection from

harmful rays without compromising the

feel of a natural sunlit area, and unlike

other shade composites, it will not unduly

darken the adjacent interior.

The Bowranda is not just a sunshade;

it offers protection from all the elements,

making it a standout among

other forms of outdoor

shading. With the option to

complement the Bowranda

Roof with sunscreen mesh

or clear PVC roller blinds,

customers are protected

from sun, wind and rain

from any direction.

Constructed from

powder-coated aluminium

and marine-grade stainless

steel fixings, Bowranda has

a structural design that was

carefully developed over a

five-year period, and comes

with a 10-Year Guarantee.

The intentional square

profile of the roof line

and vertical posts ensures

aesthetic conformity with

New Zealand's residential

architecture.

The Bowranda Roof is

centrally manufactured

right here in New

Zealand to the exact

specifications and dimensions required by

customers to meet their outdoor

aspirations.

Bowranda - A Lifestyle Choice

For more information, phone 0800

26 26 20, or visit www.bowranda.co.nz

to browse the photo gallery and view

testimonials from Bowranda's many

happy owners.

Bowranda - A Lifestyle Choice.

BOWRANDA

ROOFS

HALF PRICE

DOUBLE GLAzING

Before

For a free Measure & Quote PH 0800 26 26 20

After

when you add

aluminium windows

& doors with Ultimate

Design & Renovation

Have your

windows, doors,

conservatory

or windbreak

installed now &

pay nothing until

January 2020

Conditions apply

CALL TODAY FOR YOUR FREE NO OBLIGATION APPOINTMENT

03 349 8951 • office@udr.co.nz

8 Moncur Place, Addington

www.ultimate-design.co.nz

● Immediately increase the value of your home

● Manufactured to custom specifications

● A permanent, sheltered outdoor space

● Strong and durable frame constructed of powdercoated

aluminium and stainless steel

● Square profile complements NZ residential architecture

● Option to enclose with outdoor blinds

● Eliminate 99% of harmful UV light

● Achieve your outdoor vision

A Lifestyle Choice

www.bowranda.co.nz

STOP BIRDS

hail, leaves, snow & vermin from

blocking & damaging your spouting

Quality materials: BHP Colorbond steel mesh with unique patented louvre

will even keep out pine needles. Will not rust or sag with age or load.

10 year warranty, range of colours.

Proven in Australia & New Zealand over the last 15 years.

FOR SAFE, PURE DRINKING WATER

FROM YOUR ROOF.

NOW AVAILABLE: STAINLESS STEEL MICO MESH

Call Rohan anytime Mon-Sat for a

no-obligation assessment & quote

03 982 8850 0800 486532 www.gumleaf.co.nz
---
26 Wednesday February 20 2019

Latest Christchurch news at www.star.kiwi

HOME PROFESSIONALS

SELWYN TIMES

Help with

your garden

is at hand

Get your weekends back with the help of

local garden maintenance and landscaping

business Revive Landscaping.

Ross and the team are skilled in all aspects

of gardening including pruning, planting,

paving and landscape construction. They

are also experts at keeping topiaries looking

trim and tidy.

As the summer weather cools, it is a great

time for a summer prune of stone fruit

trees and trimming hedges before autumn

arrives.

Year-round maintenance of your garden

is key, Ross says, to ensuring maximum

growth and healthy vegetation. Removing

damaged or diseased plants can also help

rebalance your garden's aesthetics and keep

an eye out for any weeds, plucking them

out at the base and collecting the roots.

If your lawn is looking tired or weedridden,

now is the time to act. By spraying,

cultivating and reseeding your lawn now,

you will give the new lawn the best chance

to spring back into life. You could also add

pavers for easy access to outdoor areas

or the clothes line once the wet weather

arrives with winter.

Building up your soil is an advantage

no matter where you live but with

Selwyn's often stony soil, adding compost

is particularly helpful for minimising

water usage. Composting also helps with

suppressing weeds, moisture retention and

the overall health of your plants.

If keeping your garden under control

sounds like too much hard work, give

Ross at Revive Landscaping a call. They

are happy to help out with whatever you

need. Ross has many years' experience in

landscape gardening and design including

working on sites at the Ellerslie Garden

Show and the television show Mucking In.

For a free garden consultation and

quote, call Ross on 027 222 0388 or you

can check out their website at www.

revivelandscaping.co.nz.

Setting up your garden now will help reduce ongoing maintenance requirements.

Landscape

Construction and

Garden Maintenance

You can have your gardens, trees,

shrubs, plants and lawns maintained to look

their best all year round, for a great price.

Residential & Commercial Landscaping

• Maintenance • Pruning

• Reconstruction & Rejuvenation

• Rental Property and Commercial Maintenance

• Pre-Sale Tidy-Ups

New Home Landscaping

Lawns • Gardens • Decks • Paving

• Water Features • Quality • Value for money

• Experienced • Punctual • Professional

• Flexible • Knowledgeable • Reliable

Call Ross Legg - 027 222 0388

Email ross@revivelandscaping.co.nz www.revivelandscaping.co.nz

PATIOS - OUTDOOR AREAS - CAR PORTS

Shadecraft is a locally owned company who specialise in shade and weather

protection products to enhance your homes design and use of outdoor areas.

SHADE SAILS – UMBRELLAS – ALL WEATHER CANOPIES

ShadeCraft (SI) Ltd

0800 742332 • Cell 0274 981239 • www.shadecraft.co.nz
---
SELWYN TIMES Latest Christchurch news at www.star.kiwi

Wednesday February 20 2019 27

HOME PROFESSIONALS

Hydroseeding cost effective

solution for your new lawn

Hydroseeding is a cost effective and

efficient way of creating a new, great

looking lawn for your home or commercial

property thanks to Canterbury Lawns.

Hydroseeding specialists and owners Zac

and Ashley Swale live locally and can give

the best advice on growing the perfect lawn.

Hydroseeding is a spray-on application

of water, grass seed, wood fibre mulch,

fertiliser and tackifier (a glue which holds

the mix to the surface it is sprayed on). This

method give the best chance for the seeds

to germinate and become your beautiful

green and luscious lawn. Providing it is well

maintained and the conditions are right, it

takes four to six weeks to see the results.

Hydroseeding can be done any time of

the year as the products used are suited to

the season. Autumn and spring are typically

the best times for growing a new lawn but

in summer your lawn will germinate much

faster if you can get plenty of water.

Zac has always enjoyed working

outdoors and has previously worked in

both landscaping and road construction

where his expertise ensures that the ground

will be prepared correctly contributing to a

successfully grown lawn.

Watering is key and Zac recommends

having an automated irrigation system

installed to make the job easier, more

convenient and more efficient in terms of

water use and can advise regarding the best

type of sprinklers for your needs.

Canterbury Lawns also installs roll-out

instant lawns using top quality products

which are locally sourced.

As part of their service clients are given

an advice care sheet after the job has been

completed so they can confidently caring

for their new lawn.

Zac and the team are also specialists

in erosion and dust control for both

commercial and residential areas. Their

hydroseeder can hold large quantities at

a time making the job more efficient and

they can source top quality products to suit

each job.

Landscaping is another part of the

Canterbury Lawns service whether you

need garden preparation, site clearing, a

new fence, paving or decking. They not

only work close to home on residential

properties but also specialise in commercial

and larger-scale work, bringing to any job a

high level of both expertise and enthusiasm.

For more information phone Zac on

027 456 7777 or visit their website at

www.canterburylawns.co.nz.

before after before

after

Your local

Hydroseeding and Lawn

Specialists

• Locally owned &

operated

• Residential &

commercial lawns

• Hydroseeding

• Instant roll out lawn

• Full lawn preparations

• Site clearing

• Erosion and dust

control

• Irrigation

• Posthole boring

Call us today to discuss all your lawn

and landscaping requirements

Phone 347 4000 or 027 456 7777

Email zac@canterburylawns.co.nz

www.canterburylawns.co.nz

LET'S GET

GARDENING

INTELLIGRO OFFERS:

Expert gardening advice

High quality products

South-Hort growing mixes

VIP rewards

Buy in-store and online

Handy delivery service

For more information,

check out our website: www.igro.co.nz or visit

our facebook page: www.facebook.com/igro.co.nz

261 Manion Rd, Weedons

info@igro.co.nz | www.igro.co.nz | Phone 03 347 9415

For the Outdoor Space

of your Dreams...

Paving, Irrigation, Lawns, Planting,

Fences, Pergolas, Water-features,

Outdoor fires, Raised Vege beds,

Decks, Artificial grass & more...

Call Aaron & the team today!

Phone: 03 347 4422 or 021 542 402

Email: Aaron@theoutdoorspace.co.nz

www.theoutdoorspace.co.nz
---
28 Wednesday February 20 2019

Latest Christchurch news at www.star.kiwi

HOME PROFESSIONALS

SELWYN TIMES

Bring bees back to

Attracting bees to our gardens has never been more

important. We need to help make the world a better place

for these amazing little creatures' survival.

Bees not only give us honey, they also

pollinate our plants and flowers – and they

help us grow food for our tables.

A world without bees would mean the

loss of food crops that we have come to

rely on – many of the fruit and vegetable

crops that are pollinated by bees would

simply disappear. People who depend on

the pollination of their crops for human

and animal food – farmers and orchardists

– would soon lose their livelihoods and the

effect would chain -react right through to

the supermarkets and consumers.

So how can you help?

You can attract bees to your garden by

planting a variety of flowering plants and

fruit trees. Bees love blue, purple and

yellow flowers and plants.

Don't forget to create a watering

station for your little visitors.

Take a shallow dish, add some stones

to act as landing pads and then add

water, making sure some of the stones

are above the water line. Your bees will

love you for it!

Try planting a combination of these herbs, perennials & annuals:

- Aster

- Borage

- Calendula

- Catmint

- Fennel

- Geranium

- Hollyhock

- Lavender

- Sweet alyssum

- Sage

- Strawberry

- Sunflower

- Thyme

- Wildflower mix

- Zinnia

Our Services

Make natural pest sprays for your plants

There is a whole range of natural

ingredients you can use safely on your

plants to deter pests without harming

bees. Chances are you will have just what

you need to make a natural insecticide

or weedkiller spray in your pantry, with

ingredients such as vinegar, Epsom

salt, pepper, garlic, onion, eco-friendly

dishwashing liquid, and essential oils.

Try this safe, easy to use, and cost-effective spray:

- 1 small onion

- 1 tablespoon of biodegradable

- 4 cloves garlic

dishwashing liquid

- 2 tsp cayenne pepper

- 1 litre water

Blend onion, garlic, and cayenne in a blender. Add to water and allow the mixture

to soak/steep for an hour, then strain through a fine mesh strainer or muslin cloth.

Add liquid soap to the strained liquid and pour into a clean spray bottle. Refrigerate

for up to a week.

Spray any plants being attacked by bugs, including the underside of the leaf. Use 1-2

times per week, or after a heavy rain.

Remember to spray in the evening when the bees have finished their day's work.

• House Re-Wiring

• Garden Lighting

• New Builds

• Mitsubishi Heat Pumps

• Office Re-Fits

• Internet & Telephone

• TV Aerials

• Spa Pool Installation

• Industrial Installation

• Electrical Safety

Certificates

Mobile 021 22 77 275

Web juiceelectrical.co.nz

Email greg@aelectrical.co.nz

03 379 6644

PO Box 7778,

Sydenham,

Christchurch 8240

Lagoon

Pools

03 349 2160

0800 92 72 82

Canterbury Ltd

• Quotations for water system designs and water testing

• Pipes, valves, fittings sales

• Filtration supply and installation

• Pump service, repairs and maintenance

• Bore flush and development

• Bore pump sales, servicing and maintenance

• We also sell, service and repair most

pump brands including sewage pumps

NEW LOCATION

551 Halswell Junction Road

0800 GRUNDFOS / 0800 478 633

For sales and service or

after hours service call

Jason 021 649 944

or Mike 021 560 044

www.pumps-filters.co.nz
---
SELWYN TIMES Latest Christchurch news at www.star.kiwi

Wednesday February 20 2019 29

HOME PROFESSIONALS

your garden

Anatomy of a bee

Compound

Eye

Wings

Stinger

Teach children to

respect garden bees

Yes, they do sting but instead of

swatting at bees, encourage children

to quietly watch and appreciate the

work bees do in your garden.

Host a hive

If you are not allergic to bee stings and

have a sunny space in your garden, then

hiring or hosting a hive may be your

golden opportunity to help the bees

and get some honey produced in your

backyard.

Many beekeepers now hire out hives

for the garden both rural and urban. The

colony is managed by the beekeeper,

and in return, you'll get a few kilos of

honey for your toast and help improve

pollination on your property.

Honey for health

Honey is an excellent tonic with many health benefits,

including being high in antioxidants. When combined with

other ingredients honey can be used in many ways to benefit

our health.

Turmeric is one such spice to team up with honey. In India,

turmeric is revered as a sacred root and loved for its health

benefits. Turmeric contains curcumin, a substance known for

its potent anti-inflammatory and antioxidant properties.

Turmeric Infused Honey

1 tsp ground turmeric

¼ cup honey

1 small clean jar & lid

Spoon the honey into the jar; add the turmeric and stir.

Enjoy it by the spoonful, add a teaspoon of the mixture to

your favourite tea blend, or add to a cup of hot water with

a pinch of ground

or crushed ginger,

freshly ground

pepper and a dash

of lemon juice.

Freshly ground

pepper enhances

the absorption and

anti-inflammatory

effects of turmeric.

Proboscis

Honey

Stomach

Become a bee supporter

Pollen

Basket

BUY LOCAL

There is nothing quite like buying honey that has been

freshly harvested by your local beekeeper. Whether it is

native or garden harvested honey, you'll have the satisfaction

of knowing that you are doing your bit to support local

honeybee populations.

COMMUNITY FOCUS

Encourage your local council to plant bee-friendly plants

and wildflower gardens in parks, centre plots and roadsides

around your neighbourhood and district.

MAKE 'BEES' YOUR BUZZWORD FOR 2019

Join a local bee hobbyist group, learn about bees, their life

cycles, how they make honey and how they help make the

world a better place to live in.

For information on bees and beekeeping, visit: www.

chchbeekeepers.org.nz, http://ncbeeclub.org.nz/ or

www.apinz.org.nz

YOUR LOCAL FLOORING EXPERTS

AND WE COME TO YOU AT A TIME THAT SUITS

At Harrisons Carpet you'll always get the

best advice and best price from your

locally owned and operated Harrisons

expert. We'll come to you with our vans

full of over 500 carpet samples plus a

range of other flooring options.

OUR

PRICE

PROMISE

Why Harrisons?

• It's easy, we're mobile, so we come to you

• We provide free designer colour and style advice

• Huge range of the latest carpets and vinyls to

suit all decors and budgets

• Our price promise*

• Get Fly Buys with every purchase

• Finance options available (Q Card, GEM Visa)

*See website for details

Manufacturers and

suppliers of superior quality

garage doors throughout

New Zealand.

• Cedar Doors

• Specialising in " one-off

custom designs"

• Negative detail /Flat Panel

and Insulated designs

• Merlin Auto Openers, repair

& Maintenance

Amanda Wilson - Owner

Harrisons Carpet,

Canterbury Country

FOR A FREE IN-HOME CONSULTATION

0800 103 004 harrisonscarpet.co.nz

See you at your place TM

Contact us for a free measure and quote.

Showroom: 276 Larcombs Road, Weedons

Phone 3478333 or 0800 661 366

BRAND NEW SHOW HOME NOW OPEN IN

BRANTHWAITE, ROLLESTON

WEDNESDAY TO SUNDAY 12PM - 4PM

2 Reuben Avenue, Rolleston

Modern design, home & land

packages available, friendly team

www.generation.co.nz/christchurch

Like us on Facebook: Generation Homes Christchurch
---
30 Wednesday February 20 2019

Latest Christchurch news at www.star.kiwi

SELWYN TIMES

Prebbleton to honour rugby stalwarts

• By Jacob Page

FOUR OF Prebbleton rugby's

most loyal stalwarts will be

honoured with life memberships

over Easter.

Alistar Busch, Steve Laughton,

Karl Challis and current

Prebbleton club president Jeromy

Knowler will all be recognised for

more than 130 years of combined

service at the

club's centenary

celebrations over

Easter weekend.

Busch contributed

more than

20 years and

Alistar Busch

300-plus senior

games in the 70s

and 80s and said

the club "has been my life."

"I'm absolutely thrilled. It's

been the biggest part of my life

for all of my life."

Busch's father Allan was also

a life member of the club after

shifting the family to the area

after World War II.

Busch was part of the 1974

division one team which won the

Ellesmere competition.

While he now lives in

Ashburton, Busch played an

essential role in fundraising and

building the current clubrooms

by carting concrete blocks,

cement and iron and also had a

• By Jacob Page

THE LAUNCH of the athletics

facilities at Nga Puna Wai will

be a positive for the Selwyn

Athletics Club.

Senior athlete co-ordinator

Troy McGillicuddy said the new

facilities will help the club, which

has been going for five seasons,

keep succeeding and growing.

Sewlyn athletes will compete

at Nga Puna Wai in the Athletics

Canterbury Championships

over the weekend and at the

New Zealand Track and Field

Championships on March 8-9.

"Nga Puna Wai is a great

facility that will only get better

and it certainly helps with our

athletes no longer having to head

to Nelson or Timaru."

hand in the drainage for the

No 1 field.

Knowler said it was a huge

honour for him as the young one

in the group to be recognised

with three stalwarts of the club.

"I'm probably the young one on

the block but it's exciting because

I still have many years left to give

to the club," he said.

Knowler began as a division

The club continues to grow

with more than 220 active

participants this year, ranging

from the junior to masters level.

"Now 48 of those are at a senior

level and we've really seen the

numbers boom over the last

three player in 1999 before

focusing on the JAB ranks as a

coach and club captain before

becoming vice president in 2012

and then president from 2014

onwards.

Laughton has been a selfconfessed

"dogs body around the

place" since 1981.

He's done almost every job

imaginable from player, coach

three years as we have established

ourselves," McGillicuddy said.

He said athlete retention from

junior to senior is key to the

club's future.

"We find it can be hard to keep

athletes around that age of 14 and

and club captain to working

bee organiser and bread and

bun supplier for fundraising

barbecues.

"Back when I first became club

captain we had nine teams," he

said. "Now you look and we have

27 teams."

Laughton, who still marks the

fields for teams to train on, said

he loved the family atmosphere.

keep them coming back."

"We have the Athletics

Canterbury Championships and

the New Zealand Track and Field

Championships here and both

should be cracker events."

With talented 17-year-old

SPORTS

LOYALTY: Jeromy Knowler

(left), Steve Laughton and

Karl Challis, along with Alistar

Busch, will be awarded

Prebbleton Rugby Club

life memberships at the

centenary celebrations over

Easter. PHOTO: JACOB PAGE

Challis is the current senior

club captain and has been on the

club committee since 1989.

He started as a JAB player in

1977 and played 10 years in the

division one team from 1989-

1999 where he also captained the

team for five seasons.

Challis said he never thought

about such an honour when he

first started more than 40 years

ago.

"It's my club and it's been really

great to see it grow and have the

success that we are having at

present," he said.

Last year, Challis coached the

Prebbleton under-18 team which

won the Ellesmere competition.

Selwyn athletes prepare for big events at Nga Puna Wai

TEAM: Selwyn Athletics Club members preparing for their upcoming competitions at a club

night last week.

PHOTO: SELWYN ATHLETICS CLUB

sprinter Maia Broughton – who

has won medals at a national level

– in their ranks, and 15-year-old

400m runner Jack Rodgers also

impressing, McGillicuddy said

young athletes can see a pathway

in the sport through the club.

"Athletics is a sport for life and

you create friendships that last a

long time," he said.

"We have those top athletes but

we want to create an atmosphere

of participation and family.

"We're working with Parafed

Canterbury to include athletes

with disabilities and try to make

the club as inclusive as possible."

•Anyone who wants to

give athletics a go can get

in touch with the club at

selwyn.athletics@gmail.com

•More sport, pages 31-34

SURF'S UP SCOTTY RAZOR ROBERTSON PROFILE

APRIL 2018

TJ'S

CHASING

GREAT CALEB

ONE

MORE

COVER

LINE

The power

of Perenara

6 issues (1 year) $44.50 • 12 issues (2 years) $79 • 18 issues (3 years) $115

rugbynews.co.nz 0800 77 77 10

SUPER

RUGBY'S

G.O.A.T

CORY JANE

Social Media Animal

RRP $9.95

+

WHO

PLUS...

KEEPING

TABS ON

MATSON

Chief

Tabai's

Tron tribe

CLARKE

Chip off the

old block

XVs

1ST XVs

PLAY LIKE PROS

A school boy rugby

investigation

WHO WILL

MAKE THE

AB CUT?
---
SELWYN TIMES Latest Christchurch news at www.star.kiwi

Wednesday February 20 2019 31

Prebbleton unites football club

PREBBLETON Football

Club has joined forces with

Christchurch United Football

Club to provide a better pathway

for its players and grow the sport

in the Selwyn township.

Prebbleton president Shannon

Gilmore said that combining

forces will provide a stronger

platform for football to develop

in Prebbleton, which currently

relies on a group of volunteers.

"This will future-proof our

club," said Gilmore.

"Our home will remain at

Prebbleton Reserve, but our

teams will also get access to

Christchurch United's great

facility, coaching expertise,

resources and networks."

The academy would provide

an additional pathway for the

Prebbleton players who are keen

to get into a high performance

programme, he said.

Christchurch United board

chairman Malcolm Hinman

is looking forward to a strong

collaboration to support football

in Prebbleton and to extend his

club's footprint across the region.

"We already have a strong

community player base at our

historical home at Spreydon

Domain, and we are keen to

share our football expertise and

philosophy with the players and

coaches in Prebbleton as well,"

said Hinman.

Coaching education would

also be provided for Prebbleton's

volunteers.

Prebbleton has been fielding

teams in the junior grades for

more than a decade, but has not

been allowed to register teams

in the Mainland Football youth

and senior grades, which forced

the board to look for a partner

club.

The alliance with Christchurch

United will enable Prebbleton

to field youth and senior teams

under the Christchurch United

banner.

However, they will also retain

their own identity.

"Under the agreement, our

players will now be able to

continue to play in older age

groups, but in our own colours

on their own Prebbleton home

ground," said Gilmore.

Prebbleton's senior teams

currently play in the Sunday

leagues, but will now have an

option to register for a Saturday

PARTNERSHIP:

Christchurch

United board

chairman Malcolm

Hinman (left)

and Prebbleton

Football Club

president Shannon

Gilmore agree to

a new relationship

between the two

clubs.

league under the Christchurch

United flag.

"We had been speaking with

other clubs, but they basically

just wanted to absorb our teams.

Christchurch United encouraged

us to keep our own identity,

which made this a very attractive

opportunity," he said.

'Famous for their roasts!'

RESTAURANT & CAFÉ

Kid's SPECIAL

Two courses

Seniors SPECIAL

Two courses

$13

We are family friendly. Great Kids menu plus designated play area.

Soup/Roast or

Roast/Dessert

Special available lunch only

Monday - Saturday 12pm - 2.30pm

$22

Start your

day with us

We are open from 6.30am

Cooked

breakfasts

$19

Check out our extensive

breakfast menu from

Continental to Cooked

The

RACECOURSE HOTEL

& Motorlodge

118 Racecourse Rd, Sockburn,

Christchurch. Ph 03 342 7150

www.racecoursehotel.co.nz

H ORNBY

WORKINGMEN'S

CLUB

BUSINESS AS USUAL DURING REDEVELOPMENT

THIS SATURDAY, 8PM

JODY DIREEN

+ FULL BACKING BAND

TICKETS $20 AT CLUB OFFICE

HEAT PUMP

SALE NOW ON!

Amazin' summer Specials!!

• We will offer you the best quality brands and

option of heat pump for your home/business

• Providing Heat Pump solutions for over 16 years to Cantabrians

• We personally guarantee all our products & installs for 5 years

(providing annual maintenance has been completed)

Phone us today for your free consultation & quote

41A SHAKESPEARE RD, WALTHAM

PHONE 03 366 0525

www.enviromaster.co.nz

"A local team for local people"

SUNDAY 1.30PM: $6 ENTRY

ANNETTE'S HEART OF THE COUNTRY

COMING

UP

5-8PM IN THE

SPORTS HALL

SATURDAY 9 MARCH, 7.30PM

RETRO ROCKIN'

NEXT BUFFET: MARCH 3

BOOK NOW!

3 MAR | 7 APR

5 MAY |9 JUN

ADULTS $27

CHILDREN 5-12 =

$1 PER YEAR OF AGE

BOOKING ESSENTIAL

PRE-SALE

TIX $20

DOOR SALES

$25

WITH ANTHONY EASTERBROOK-CARTER & BACKPACK

Club CAFE

OPEN DAILY

LUNCH & DINNER

The Hornby Club | ph 03 349 9026 | 17 Carmen Rd | Hornby

www.hornbywmc.co.nz Members, guests & affiliates welcome
---
32 Wednesday February 20 2019

Latest Christchurch news at www.star.kiwi

SELWYN TIMES

ALL-NEW DISTRIBUTOR OWNED

DEALERSHIP MOVING TO CURRENT

BMW DEALERSHIP FROM FEB 2019.

30 Manchester St, Christchurch

MOVING SALE

NOW ON!!!

OVER 80 NEW & USED CARS, SUV'S, UTES

AND COMMERCIAL VEHICLES AVAILABLE.

SAVE THOUSANDS!

FINANCE ON-SITE • TRADES WELCOME

Christchurch SsangYong & LDV | Phone: 03 379 4999

374 Moorhouse Avenue, Christchurch
---
$7.90 incl. GST

SELWYN TIMES Latest Christchurch news at www.star.kiwi

Wednesday February 20 2019 33

Ray and Caleb were Baughan to race

• By Allan Batt

WHEN THE cars are pushed

onto Ruapuna Speedway on

Saturday night for the South

Island Sprintcar Championship,

Caleb Baughan will be

continuing a family link that

goes back to 1996 when his

grandfather Bob Baughan was

tearing up the tracks.

"I'm a bit young to remember

grandad racing, but I know that

the sprintcars were struggling for

numbers, so Bob entered a car

with a mate of his, Chris Harley,

doing the driving. It's hard to

believe that we are racing for

over $100,000 a season around

the island when those guys raced

for about fifty bucks a car," the

21-year-old Prebbleton resident

said.

He is in his second full season

of racing in the 850 horsepower

V8 powered cars.

"They are just such a beast to

drive and for an adrenalin junkie

it just doesn't get any better than

these things. It's hard to describe

what it's like running wheel

to wheel on a dirt track, with

limited visibility as you go into a

corner at over 140km per hour.

We have a huge amount of trust

in each other."

Caleb's participation in Saturday

night's event has been under

a cloud after an expensive engine

blow up at the recent national

championship, but with help

from family and friends he is

raring to go.

"It's a cruel sport sometimes,

and hard on time and the bank

balance but we just get stuck in

and do it."

A couple of hard crashes hasn't

dented his enthusiasm, as Caleb

said it's "part of the game."

Though, he wonders what goes

through his father Ray's head

when those crashes occur.

"Dad has been racing sprintcars

for a few years now. Obviously

we help each other out a

lot, but I'm sure he wonders what

the hell has happened if I've had

HARD WORK:

Prebbleton's

Ray (left) and

Caleb Baughan

prepare Caleb's

sprintcar for

the South

Island Sprintcar

Championship

at Ruapuna on

Saturday.

PHOTO: BRIAN

HOPPING

a crash and my car's either upside

down or being towed away.

While we are obviously racing

everyone else hard, there's that

father son thing going on and we

love having a good run at each

other," he said.

"Dad is so competitive at everything

he does. I think he hates

the thought that I might start

beating him one day, but I do

know that he's pretty happy that

I'm a third generation sprintcar

racer."

With close to 20 cars entered

for Saturday night's race, Caleb

said he is keen to beat his father

to a South Island title win.

"It's amazing that dad has

raced for so long, been on the

podium at a national midget

car event but never won a South

Island championship in either

midgets or sprintcars. He's been

on the podium eight times, and

I know it irritates the hell out of

him."

Caleb is pleased to be part of

the young racers who are coming

through the ranks and said

the strength of sprintcars has

never been stronger in the South

Island."

"When you look at it, Jamie

Duff who is the current South Island

champion is just 28. There's

Connor Rangi from Nelson who

is 18, Jayden Dodge is under 30

as is Stephen Duff. There are a

few others who are light on years

or experience. The old man says

that the old fellas are not quite

ready to chuck it in just yet."

Saturday's championship will

be contested over a series of heat

races, with a 25 lap feature.

Bright future for Brandon

• By Jacob Page

LINCOLN HIGH School's

Brandon Wallace surprised

himself by claiming third

at the South Island BMX

Championships in Dunedin.

The 16-year-old finished on the

podium in the 17 to 24-year-old

category.

"I was super stoked with how

I performed for my first time in

that age class and I'd had limited

training and a few injuries

to deal with as well," Brandon

said.

The result puts him on the

cusp of qualifications for the

nationals in Auckland in April,

depending on how his next two

races go.

Brandon represented the Kapiti

BMX Club before he moved to

Lincoln five months ago.

He will now race for the

Christchurch City BMX Club,

which is based in Hornby.

"Its a big change from up

north, but we used to drive an

hour and a half up north just to

get to a track for an hour session,

so to live just 10 minutes from a

track now means I can train a lot

more," he said.

Brandon said the key to a good

race was often determined by the

start.

"To be honest, 95 per cent of

the time, if you're leading into

the first turn you can usually

maintain that lead to the finish

and avoid any issues," Brandon

said.

He got hooked on BMX three

years ago, when he rode his

brother's bike.

SPORTS

"My wheels got off the ground

for half a second and everything

clicked with me after that," he

said

"I knew I wanted to race and

compete."

•More sport, page 34

AIR TIME: 16-year-old Lincoln

BMX rider Brandon Wallace,

is ranked third in the South

Island in the 17 to 24 age

group.

PHOTO: WALLACE FAMILY

growing with you June 2018 | 100%

Plants For

winter wow

Cool Choices

For Colour

& Contrast

Snap it up

Enter our annual

Birdlife Photo

Competition to win

great prizes!

clear the air

Why groWing

indoor PLAnTs is

so good for you

The magazine for

gardeners who like to get

their hands dirty

From swamp

to sea views

The journey

begins with sarah

the Gardener

give it a grow

from gArLic

To chinese

ArTichokes,

We hAve your

groWing TiPs

covered

the latest releases

into the rose world

+ rose care

through winter

SUBSCRIBE FROM

$43. 50*

*6 issues/6 months

SUBSCRIPTIONS FREEPHONE

0800 77 77 10

WWW.GARDENER.KIWI
---
34 Wednesday February 20 2019

Latest Christchurch news at www.star.kiwi

SPORTS

SELWYN TIMES

ON THE

GREEN: The

first Futures

Canterbury

Golf Hub day

on Sunday

at Tai Tapu

attracted

budding golfers

and families.

PHOTO:

CANTERBURY

GOLF

Clubs band together

to keep young

golfers on course

• By Jacob Page

Greendale, Hororata, Lincoln, young players.

McLeans Island and Tai Tapu. "Clubs are struggling with

ASPIRING SELWYN golfers

CITY

The hub's membership is open the development of their young

have a new option to get involved to anyone under the age of 19, people so this initiative is to help

in the game.

with memberships for parents them do that," he said.

The Tai Tapu club hosted the and guardians to play with their He would like to have 100

first Futures Canterbury Golf child at any of the clubs.

juniors take up the sport in the

Hub day on Sunday.

2SURF

Members are also given an first year.

The hub involves a collection of apparel pack, an official New "It's our intention to

seven golf clubs from around the Zealand Golf number and a start similar hubs – one in

district forming a club for young handicap, as well as subsidised Christchurch and one in North

people and their families to play coaching and off-peak with playing Les Mills Canterbury over the next two or

the sport in an affordable and rights.

three years."

social way.

The cubs involved include

Charteris Bay, Ellesmere,

Canterbury Golf general

manager Grant Lewis said hoped

the concept will help retain

•The Futures Play 9 event

will be held at Lincoln Golf

Club on February 27.

2

CITY2SURF

with Les Mills

Sunday 24 March

#Areyouupforit?

14km, 6km Community

Fun Run Event

EntEr NOW!

A

EVENT

It's our

45th

Anniversary Year!

Entry $25 (children 10 and under free)

Available online now from city2surf.co.nz or at these outlets

LEARNING: Cooper, Paige and Clayton Cherry during the

Futures Canterbury Golf Hub day on Sunday. (Below) – Isaac

Williamson from Hororata attempts a putt while his father Simon

watches.

PHOTOS: BW MEDIA

Seven teams still have chance

to make country cricket semis

COUNTRY CRICKET'S bottom three

teams all snared much-needed wins on

Saturday as the race for the semi-finals

heats up.

With two rounds left in the CRV

Ambreed country premier one-day

competition, seven of the eight teams still

have a mathematical chance of making

the top four.

Competition leaders Southbrook tripped

up away against Cheviot, registering just

their second loss of the season. The Brook

were rolled for 136, with Tom Rodden's 60

the standout display.

A blazing 46 off 19 balls from Jack

Harris helped the Cheviot Magpies coast

to an eight-wicket win, which applied

pressure to Oxford-Rangiora and Kaiapoi

– who both lost over the weekend – for the

fourth finals berth.

Weedons thumped Kaiapoi by 135 runs

after posting a huge 270/7 in 45 overs.

Sam Wilson's run-a-ball 70 led the way

for Weedons, while Brad Nightingale

(57 off 79) and veteran country stalwart

Paul Rugg (48 off 80) helped post the

mammoth total.

Only Caleb Greaves showed any

resistance for Kaiapoi in the run chase.

He was left stranded on 79, with wickets

tumbling around him. Lachie Stove (2/23)

knocked off the top order before Liam

Mason took a staggering five-wicket bag

in just 15 deliveries.

Oxford-Rangiora also stumbled

on Saturday, losing to cellar-dwellers

Darfield, who chased down 181 with eight

balls and six wickets to spare. Opener

Rhys Mariu made a classy 74 off 108

for Oxford-Rangiora, with brother Josh

Mariu (28 off 44) the only batter to give

him much support. Zak Foulkes took

4/13, while Toby Kars grabbed a threewicket

haul.

Darfield's reply got off to a solid start

before two quick wickets from George

Mauger gave the combined side hope.

That was soon extinguished by Jesse

Frew, who put on a batting masterclass

with an unbeaten 93 off 110, guiding

Darfield to a six-wicket win.

At Leeston Park, visitors Sefton won

the toss and elected to bowl in a second

v third match-up. Leeston-Southbridge

started cautiously, seeing off a testing new

ball spell from Canterbury pace-man

Fraser Sheat.

It was then Sefton's change bowlers who

did the damage, uprooting Canterbury

'A' wicketkeeper-batsman Joel Harden

(26), Rupert Young, brother of Central

Districts star Will Young, (7), and Dutch

international Tim Gruijters (6), leaving

Leeston-Southbridge 64/3 after 18 overs.

When Harry Chamberlain got his eye in,

he went on to dominate the second half

of the innings. Chamberlain smashed

seven fours and three sixes before he was

cruelly dismissed for 99. Sefton stalwart

Barry Cross was the pick of the bowlers,

taking 4/33 off nine overs, as Leeston-

Southbridge posted a competitive total of

200. The Seals were eventually dismissed

for a paltry 46, with none of their batters

reaching double digits.

Leeston-Southbridge's Tim Field ended

with 5/8 off eight overs, ably supported by

Harden who put his wicketkeeping gloves

aside for the afternoon and took four

wickets with his right-arm seamers.
---
SELWYN TIMES Latest Christchurch news at www.star.kiwi

Wednesday February 20 2019 35

Hyundai Santa Fe shows its versatility

Motoring

Ross Kiddie

IT WAS A case of mission

accomplished, I was asked by my

daughter if I would help her shift

flats.

Along with a stack of shoes

that I didn't think was possible

for a 24-year-old to accumulate,

there was the usual amount of

furniture – duchess, cabinets and

bed. I had the perfect vehicle to

carry out the process – a Hyundai

Santa Fe – a large seven-seat

sport utility vehicle, of course,

by lowering the rear rows of

seats you get a very healthy

wagon section which swallowed

everything we could load into it,

mattress aside.

That's one of the reasons why

SUVs have become so popular,

they are adaptable and versatile

and, in the Santa Fe's case, it is

also a plush luxury car which

impresses with its refinement.

As history has served to prove,

I missed a drive in the previous

generation model, circumstances

constantly conspiring against

me getting into the vehicle. That

aside, the latest generation model

is simply stunning, it is grand in

its design and manufacture.

The new Santa Fe is all-new, it

lands here in four variants, petrol

and diesel, all with four-wheeldrive

starting from $59,990.

Bearing in mind the old V6

engine is gone, today's petrolpowered

Santa Fe is a 2.4-litre

four-cylinder unit.

This evaluation focuses on

the range-topping Limited with

Hyundai's magnificent 2.2-litre

diesel engine. The four-cylinder

turbocharged unit is rated at

147kW (3800rpm) with 440Nm

of torque available from 1570rpm

to 2750rpm.

Not only are these outputs

impressive in terms of flexibility

and outright grunt, it is one of

the smoothest engines you are

ever likely to find in a vehicle of

this type.

The engine is hooked to

a recently-developed eightspeed

automatic transmission,

something that is shared with

Hyundai's partnership with Kia.

Interaction between the engine

and gearbox is smooth and

seamless, and the gear ratios

are structured so that they work

efficiently with the engine's power

and torque bands, especially so

the mid-range rev spread.

In this form, the Santa Fe is

relatively quick for a vehicle

which weighs in at almost

two-tonne. According to my

stopwatch it will make 100km/h

from a standstill in 9.4sec and

80km/h to 120km/h in 6.2sec.

As you would expect in newage

SUV, the Santa Fe is fitted

with the latest technologies

for safety, along with a full raft

of features for comfort and

convenience.

At $82,990, it really needs to be

well-specced, it is competing with

the major European brands, and

if you throw in a newcomer to

the large SUV market – Holden's

Acadia – then Hyundai know

it has to provide a good level of

fitment.

Major items of specification

HYUNDAI SANTA FE: Sophisticated sport utility vehicle.

include full leather trim with

electrically adjustable seats up

front (also heated). There is

head-up display, paddle shift gear

selectors and the choice of several

drive modes which the driver

can use to suit his or her driving

preference. These are on top of

items that you would normally

expect to find in a top-grade

model.

HIGH-SPEC: The Santa Fe has a multitude of features, including

leather trim..

Hyundai has upped the

ante in terms of efficiency in

this age where fuel prices play

such a big part in the buying

choice.

The Santa Fe returned some

interesting fuel usage information

during my time with the test car.

At 100km/h in top gear the big

diesel sips fuel instantaneously at

around seven-litres per 100km

(41mpg), turning over at just

1500rpm.

A test average of 9l/100km

(31mpg) is respectable for vehicle

weight, and compares well to

Hyundai's combined cycle claim

of 7.5l/100km (37mpg).

Not only is the diesel Santa

Fe an economical choice, it will

offer the versatility you would

expect from a family wagon. It

cruises the highway with dignity,

yet it also tackles the hard yards

when presented with an off-theseal

excursion, although at just

185mm, the driver does need

to keep in mind that ground

clearance isn't huge.

The suspension is fully

independent all-round – struts

up front and multiple links on the

rear – the spring and dampers are

• Price – Hyundai Santa Fe

Limited, $82,990

• Dimensions – Length,

4770mm; width,

1890mm; height,

1705mm

• Configuration – Fourcylinder,

four-wheeldrive,

2188cc, 147kW,

440Nm, eight-speed

automatic.

• Performance –

0-100km/h, 9.4sec

• Fuel usage – 7.5l/100km

only firmed moderately. There's

no mistaking the suspension

locates four driveshafts, but the

ride is far from abrasive.

It was good to be back

behind the wheel of a Santa

Fe. I've driven a lot of Hyundai

product in recent months

and it all stands up to be

counted in terms of quality and

sophistication.

The new Santa Fe

lands at a time when

sales in the large SUV sector

are still rising. It has a lot of

competition but with such a

broad range there is a Santa Fe

for all budgets.
---
36

Wednesday February 20 2019

Latest Christchurch news at www.star.kiwi

SELWYN TIMES

Exhibitors

Book now

Don't miss your opportunity to

showcase your business in front of

10,000+ qualified attendees

Jon.Holmes@starmedia.kiwi or 021 225 8225
---
SELWYN TIMES Latest Christchurch news at www.star.kiwi

Wednesday February 20 2019 37

Classifieds Contact us today Phone our local team 03 379 1100

Caravans, Motorhomes

& Traliers

CARAVAN Wanted to

buy. Up to $5000 cash

today 027 488-5284.

Classic Cars & Motorcycles

Computer

Services

SeniorNet

Mac

Apple tuition & help

for any age group.

Apple computers, iPad,

iPhone and watch.

41 Essex Street

Mon, Wed and Fri

10am-12 Noon

Further details phone

365 1979

Towing

Caravans, Motorhomes

& Traliers

CARAVAN Wanted to

buy. Up to $5000 cash

today 027 488-5284.

For safe, damage free

car transportation

call Ashley's Tow Taxi

Special care for special cars

ASHLEY'S TOW TAXI

Breakdown & Relocation

0800 TOW TAXI • 0800 869 8294

Firewood

LOGS Wanted, suitable

for firewood, ph 027 432

9768

Macrocarpa Sleepers

200x100

Ideal for

landscaping

1-5m

We cut to

length

Gardening & Supplies

SUPPLIES LIMITED

Gardening

& Supplies

ellesmere

lions

Pea straw

now available

We deliver:

Small bales $6

Medium squares

(equivalent of

10 small bales)

$50

Contact

alex Hayward

03 324 4094

Phone

021 325 661

653 Ellesmere Road, Lincoln

www.macrocarpasupplies.co.nz

Funeral Directors

Non-Service Cremation $2,050

Just Funerals, a family owned and

operated company with qualified,

registered and experienced staff.

Other services also

available, please

call to enquire.

Phone 0800 804 663 - 24 Hour Availability

Email: info@justfunerals.co.nz

christchurch.justfunerals.co.nz

Heating

Log Fires

Pellet Fires

Heat Pumps

Sales

Service

Installations

Free Quotes

03 343 1651

472 Blenheim Rd

www.heatstore.co.nz

To Let

RENT ME!

Ideal as an extra

bedroom or office.

no bond required

To Lease

LAND wanted lease.

Suitable for dairy grazing

in the selwyn area. Please

contact 0275900096

Anything considered.

Must have yards

Tours

Fully insulated and double glazed for warmth.

Three convenient sizes from $70 a week:

Standard 3.6m x 2.4m

Large 4.2m x 2.4m | Xtra-large 4.8m x 2.4m

Visit our website

www.justcabins.co.nz

for display cabin locations

www.justcabins.co.nz

Real Estate

HALKETT LIFESTYLE

FOr SalE

61 Calders Road,

Halkett, West Melton

4.0670 Hectares good land with a modern

2 bdrm home approx. 9 years old with a

large attached 2 bay garage.

All paddocks have good fencing , shelter

and lovely outlook to the mountains.

Good water supply , Bore ,plus large tank

and pressure pump, troughs to paddocks,

plus some k line irrigation.

Offers over $710,000 plus GST on land.

OPEN HOMES

FRIDAY 22nd February, 2019

4.00 pm to 6 pm.

SATURDAY 23rd February 2019

11.00am to 1.00pm or by arrangement.

All enquiries to Sheree +61497593434

OR Lynette 027 485 2748

Select Services

Need a hand?

✤ Lawns & Edges

✤ Landscaping

✤ Gardening

✤ Hedge Trimming

✤ Handyman Jobs

✤ Casual or One Off

Phone Mike Lineton

022 341 8848

Your local

Selwyn District

GARDENER/

HANDYMAN

Trades & Services

BUTCHER

SERVICE

Watkins Home Kill

Processing Beef, Pigs,

Sheep, Deer & Fish.

Smoking Bacon, Ham

and small goods.

Mobile slaughter service.

124 Burdons Road

Burnham

Phone Tim 347 6693

Hedge tRimming

& gaRden

maintenance

• Hedge Trimming

• Small Trees and Shrubs Topped,

Shaped or Removed

• Trenching and Digging Buckets

• Garden Maintenance

• Landscaping

• Cleanups Available

• Wood Splitter for Hire

JuSt Small

HedgeS

Stu Reid OWNER OPERATOR

Phone: (03) 325-4664 | Mobile: 021-500-519

hedgesandmore.co.nz

BUILDING REPAIRS

GIB STOPPING | FENCING

YARD CLEARING / CLEAN UP

SMALL DIGGER WORK

DRIVEWAYS & CONCRETE REPAIRS

RC MAINTENANCE

no job too small

Trades & Services

LTD

ROSS CHESTNUT

ROSS Owner CHESTNUT

/ Operator

Owner / Operator

021 969 654

021 969 654

ross@rcmaintenance.co.nz

ross@rcmaintenance.co.nz

PO Box 92010

PO Box 92010

Farringdon, Rolleston

Rolleston 7650

BUILDING REPAIRS | GIBB STOPPING | YARD CLEARING / CLEAN UP

SMALL DIGGER WORK | FENCING | DRIVEWAYS & CONCRETE REPAIRS

"Totally Dependable"

Maintenance & Servicing | New Housing | Hot Water Systems

Upgrades | Solar Hot Water | Central Heating

Commercial & Backflow Prevention | Pumps & Filtration

Town & Rural

Laser Plumbing Christchurch West

Phone: 03 348 6920

Email: chchwest@laserplumbing.co.nz

www.laserplumbing.co.nz

• Irrigation • Drainage • Driveways

• Auger Hole Drilling

• Land Clearing & Development

• Culvert Installation • Construction Site Works

• Tree & Hedge Removal • Concrete Breaker

Phone Mike: 027 272 8058 OR 03 324 4323 A/H

g.m.contracting@xtra.co.nz

www.gmcontracting.co.nz

DECORATORS

New Paint • Repaints

Wallpapering • Fences

Repairs • Feature Walls

Floor & Roof Painting

Spray Painting

Light Commercial

Restoring Timber

Selwyn based but service the whole of Canterbury

www.andertondecorators.co.nz

www.facebook.com/andertondecorators

027 724 6846 027 PAINTIN

digga hire

AUTO ELECTRICIAN

CARPET carpet/furnishings

/ FURNISHINGS

SHELTERBELT TRIMMING

Ellesmere

Auto

Electrical

• Air Conditioning • Alternators

• Starter Motors • Wiring Repairs

• Diagnostics • Lighting • Batteries

Mobile Auto Electrician

022 644 9664

Farmlands Card Accepted

Di's Carpet

BinDing

Have your carpet

off-cuts bound

124 Halswell Junction Rd, Halswell

Phone 322 1103 Mobile 027 586 4830

Hours Mon - Fri 9.30am - 5.00pm

Boundary

Trimming

Call Tony Dempsey

Phone 03 325 3256

Mobile 0274 323 943

Heat Pump Specialist

(Registered Electrician)

Installation • Sales • Maintenance

Cozy 5.85Kw

Heat Pump

$2,100 installed

* Conditions apply,

other models also

available

Contact Stu Masters: 027 472 7955 or 03 338 0295

www.greeonline.com | airconmasters@xtra.co.nz

Short and long term hire -

Flexible and competitive rates

1.5t - 25t Excavators & attachmEnts

0800 344 425

Cnr SH1 & Weedons Ross Rd, Rolleston

Access from Manion Rd
---
Wednesday February 20 2019

SELWYN TIMES

38 Latest Christchurch news at www.star.kiwi

Classifieds Contact us today Phone our local team 03 379 1100

ADD SOME

COLOUR

TO YOUR ADVERT!

TAI TAPU TYRES

53 Main Rd Tai Tapu

Ph. 03 329 6767

Will better any

other quoted price

Stockists of Kumho, Goodride and

Petlas Tyres, for all cars, 4WD, bikes,

tractors and trucks.

Trades & Services

•Re Roofing

•Roof Repairs

•Spouting

Approved Age Concern provider

Over 30 years experience

Licensed Building Practitioner

N A BARRELL

ROOFING LTD

Ph: 349 9778 or 0275 389 415

Email: nabroofing@xtra.co.nz

Excavations

For a Free Quote

on your next project

Phone Steve on 021 338 247

or 325 7922

• Driveways

• Car Parks

• Site Cleaning

• Demolition

• Farm Tracks

• Drain Cleaning

• Stump & Hedge

Removal

• Ashpalt Concrete

• Tennis Courts &

Swimming Pools

• Chip Seal Driveways

• Diggers – 2 Ton

up to 20 Ton

• Excavators

• Bobcat & Drilling

• For Posthole &

Fence hole

Wide range

oF TruckS

Free

QuoTe

need a new roof?

163 ShandS road, hornby | Ph: 03 349 8439

www.roofline.co.nz

Free measure and quote.

For a quality job contact us.

RE-ROOFING

We can replace your old concrete tile,

deco tile or old corrugate roof.

We can also complete asbestos removal.

Driveways

Driveways

Phone: 0800 081 400

Mob: 0274 325 457

SWAINS

KIWI KERB

Over 22 Years Experience

(Since 2005)

• Driveways

• Kerb &

Channel

• Garden Edging

Quality

Workmanship

Trades & Services

Trades & Services

For all painting and

decorating services.

Fully Qualified

• Interior &

Exterior Painting

• Wallpapering

• Plastering

• Roof Painting

All work guaranteed

FREE QUOTES

UDI PAINTING &

DECORATING

Contact Udi Aale

Ph. 021 074 2075

ELECTRICIANS

Professional

Friendly Registered

Tradesmen available

for your Electrical

requirements today.

For immediate

quality service please

contact

services

Ph. 03 322 8454

www.skeltonelectrical.co.nz

Rope & harness

a speciality,

no scaffolding

required,

30 years of

breathtaking

experience.

FREE QUOTES

ROOF

PAINTING

Phone Kevin

027 561 4629

Exterior staining,

exterior painting,

moss and mould

treatment and

waterblasting

Rob & Scott WaRloW

Servicing Selwyn Area Since 1987

Qualified & Experienced Professional

office: 03 337 9553

Rob: 027 436 1169

Scott: 021 168 6118

Member of Pest Management

Assoc. of NZ

• Spider proofing

& fly control

• all other pest

problems

PESt

coNtRol

Trades & Services

LBP 35 years building

in the Selwyn area

Extensions/alterations

Kitchens Bathroom

Joinery shopfitting

Farm buildings

maintenance

Decks and pergolas

Licensed

Builder

Contact Barry:

027 2626 867

or 03 329 5506

All Plumbing

Gasfitting

Drainlaying

Blocked Drains

Log Fires,

Wetbacks

Gas Hotwater

Phone

021 454 864

ACE HIGH

PLUMBING

CARPENTER

HANDYMAN

Small Job Specialists,

Carpentry,

Repairs,

Decking & Maintenance,

40 years experience, no

job too small, Ph Warren

03 322-1103 or 027 697-

8541

CARPET & ViNYl

lAYiNg

Exp. Repairs, uplifting,

relaying,

restretching.

Email jflattery@xtra.co.nz

ph 0800 003 181 or 027

2407416

CONCRETE CUTTiNg

Affordable

Concrete

Cutting with Quality, and

removal work. Free quote.

No job to small. Phone 027

442-2219, Fax 359-6052

a/h 359- 4605

FENCiNg

Quality timber fencing -

gates & repairs, ph Ryan

027 951 8892

Trades & Services

Bellamy's

Furniture

Furniture made to

order and restoration

by tradesman with

35yrs experience.

PH Stephen

021 073 2624

lANDSCAPiNg

Paving, Lawns, Irrigation,

Decking,

Fencing.

Kanga & small digger

services. Check out Squire

Landscaping on facebook.

FREE QUOTES. Ph

Arthur 347-8796, 027

220-7014 Edwin 027 220-

7154

MASONRY

DAMAGED

MASONRY?? Rock and

Blocks Work Ltd for all

your brick, block and tile

laying needs. Friendly

service Licensed Building

Practitioner phone Devon

on 021 375-888 or 03 329-

5511

RJB PlUMBiNg

Renovations, New Houses,

Hot Water Cylinders,

Kitchens

Bathroom

Upgrades,

Laundries,

General Maintenance ,

Water Filters. Phone Mark

0278690026

SHEEP SHEARiNg

MOBilE

Fast friendly professional

service. 25 yrs exp.

Shearing, drenching, hoof

trimming etc. Call Shaun

021 204 1274

SPiDER & FlY

CONTROl

Fully certified professional

service. Call Zero Pests

022 507 3787 or 03 595

0422

STUMP gRiNDiNg

Best price guarantee Tony

0275 588 895

TiliNg

Flooring - Splashbacks

-Wall incl tile removal, reg

master tiler, ph Dave 027

334 4125

WiNDOW ClEANiNg

Brown & White Ltd.

Family owned since 2001.

Ph Paul 027 229 3534

BUilDER QUAliFiED

Decks, T & G Flooring,

Villa Restoring, New

Homes,

Weatherboards.

Free Quotes. Bennet &

Sons Ltd Sam 027 496-

9362 or Tony 027 224-

0374

HUNTAWAY

working

sheep dog. Ph 03 349-7303

TOOLS

Garden,

garage,

woodworking,

mechanical, engineering,

sawbenches, lathes, cash

buyer, ph 355-2045

Wanted To Buy

Senior Reporter -

Star Media

The successful candidate will ideally

have worked in Christchurch and

have a good knowledge of its people,

movers, shakers and issues.

You will be part of a vibrant team which will dominate the news coverage

in our region.

You will need to be competitive, a team player, think outside of the square

and have an enviable contact book.

The successful applicant will also be a key part of news room planning.

The successful applicant will need to have a full New Zealand driver licence.

The position will be filled as soon as the right applicant is found.

Star Media is seeking a

senior reporter with a track

record of breaking the big

stories and producing top

line backgrounders to join its

award winning newsroom.

If you have the above and want to be part of a progressive media

company, please email your CV to:

Barry Clarke, Editor In Chief - barry@starmedia.kiwi

Page 3 Page 13

Li ter library

Problem areas for li ter

revealed

Surf club move

New Brighton surf club opts

to rebuild on new site

TUESDAY, APRIL 10, 2018 www.star.kiwi

Loca ly Owned

jo

hayes

christchurch east

Ca l to make an

a pointment

P: 384 9459

www.national.org.nz

Authorised by Jo Hayes

Unit 6/950 Fe ry Road, Christchurch

• By Sophie Cornish

WORKSAFE NEW Zealand

has b en a proached in a bid to

fina ly repair the potholes in New

Brighton's Hawke St car park.

Coastal-Burw od Ward city

counci lor David East wants

WorkSafe to pre sure the car

park's private owners into

repairing the potholes which are

a "trip and vehicle" hazard.

WorkSafe chief inspector

a se sment southern Da ren

Handforth said it may be able to

take action under the Health and

Safety at Work Act 2015, "as a

person conducting a busine s or

undertaking."

Mr Handforth said WorkSafe

is aware of the concerns raised by

Cr East abou the car park.

"WorkSafe has completed

an a se sment visi to the site

and is engaging with the owner

to advise them that it is their

responsibility to manage their

risks a propriately."

Different parts of the car park

are owned by various people

and the Coastal-Burw od

Community Board recently

wrote to them about its concerns

around health and safety.

Cr East said the bi gest i sue

in the past has b en ge ting in

touch with the landlords and

owners and ge ting them to

agr e to anything. "The board

a preciates that multi-ownership

of the parking space may present

a difficulty in co-ordinating

repair/resurfacing but felt obliged

to pa s these concerns onto you,"

said the le ter.

One reply has b en received so

far from an owner who is wi ling

to discu s the i sue. However, a l

the owners would have to agr e

to undertake work.

Cr East said there had b en

a "number of incidences" in

the car park of people injuring

themselves which had gone

unreported.

"I've always though that it

has b en quite amazing that we

haven't had any serious a cidents

or senior citizens perhaps

tri ping in those potholes and

doing themselve some damage."

He is confiden the new

a proach wi l bring results.

"I think the WorkSafe

involvement may prove to be the

lever that we are l oking for."

New bid to fix potholes

Action looms

on Hawke St

car park

HAZARD: Coastal-Burw od Ward city counci lor David East wants WorkSafe New Zealand to put pre sure on the Hawke St car

park owners to fix the dangerous potholes. PHOTO: GILBERT WEA LEANS

Ph 3 7 0 70,

30 Cashel St,

Christchurch

Restore your oiled CEDAR BLINDS with ou re-oiling service.

Rejuvenate your lacquered CEDAR BLINDS

High-tech Cleaning

We clean and repair a l types of blinds –

Venetians, Cedar, Verticals, Ro ler, Ho lands,

Romans and Pleated – with environmenta ly

friendly cleaning products.

Temperature Contro led Drying

Re-oiling & Rejuvenating

Fabric Blinds - such as Austrian and Roman

Same Day Pick Up & Drop O f

We o fer a same-day, pick up an drop o f

service for mos types of blinds. B okings

are required.

Convenient Location

Drop blinds into us by 9am, at

30 Cashel Str et (near the

Fitzgerald end), and co lect

them a th end of the day.

New Blind Sales Priced from $30

WE ARE OPEN

Mon - Fri

8. 0am to 5. 0pm

Ro ler Blinds cleaned

from as li tle as $20

per blind

www.blindcare.co.nz SCAN QR code for Info >

BLINDS .Cleaned, Repaired & Restored .

Land size

Garage

Bedr om

Carport

Bathr om

Car pad

Lounge

Boat pad

Dining

P ol

Toilet

Te nis court

Shower Study

2.5

1

2

4

850m

1 2 3 4 5 6 7 8 9 10 1 12 13 14

Land size

Garage

Bedr om

Carport

Bathr om

Car pad

Lounge

Boat pad

Dining

P ol

Toilet

Te nis court

Shower Study

2.5

1

2

4

850m

1 2 3 4 5 6 7 8 9 10 1 12 13 14

Land size

Garage

Bedr om

Carport

Bathr om

Car pad

Lounge

Boat pad

Dining

P ol

Toilet

Te nis court

Shower Study

2.5

1

2

4

850m

1 2 3 4 5 6 7 8 9 10 1 12 13 14

Land size

Garage

Bedr om

Carport

Bathr om

Car pad

Lounge

Boat pad

Dining

P ol

Toilet

Te nis court

Shower Study

2.5

1

2

4

850m

1 2 3 4 5 6 7 8 9 10 1 12 13 14

Page 3 Page 5

Cartwright steps downs

Community board chairman

stays true to his word

Pool plans for Edgeware

Designs for ind or learner's

p ol revealed

TUESDAY, APRIL 10, 2018 www.star.kiwi

Loca ly Owned

www.denturesouth.co.nz

call 332 4004 TexT 027 537 0567

230 BarringTon sTreeT

Mobile

Service

Available

• By Sophie Cornish

THE ST Andrew's Co lege big

band had extra incentive to

win a the National Youth Ja z

Competition – ba s player, Tom

Fastier, co lapsed and died the

day before the competition

began.

"Tom was a ba s player from

Cashmere High Sch ol who was

playing with our big band this

year. He had a strong chance of

wi ning best ba s player a the

festival as he was a very a complished

musician," head of music

Duncan Ferguson said.

"We were delighted to win, but

it was bi tersw et," he said.

St Andrew's won the most

outstanding big band title a the

competition in Tauranga.

The band dedicated it se to

Tom, who died while on his way

to Cashmere High on March 27.

His death was po sibly related to

a medical event.

•Turn to page 9

SW ET SOUNDS: St Andrew's Co lege year 12 students Lewis Edmond and Je na We ls performing a the 41st National Youth

Ja z Competition.

Bittersweet win for St Andrew's big band

• By Sophie Cornish and Julia Evans

THE PAPANUI-I nes

Community Board has taken the

rare step of starting a petition

to figh the city council over

funding.

Signatures are being co lected

in a bid to get funding for a community

facility in Shirley.

It comes after the city council

removed funding for the centre

pla ned for Shirley Rd, near the

intersection with Hi ls Rd. This

was the site of the former community

centre, which was badly

damaged in the February 2,

20 1, earthquake.

The removal o funding

prompted community board

chairwoman Ali Jones to threaten

to stand down, citing it as her "die

in the ditch" project.

Ms Jone said the board's role

is to represen the community,

and by gathering signatures from

residents, it was fulfi ling that

role.

"One of the roles of a community

board is to represent and act

as advocate for the interests of its

community and this is what we

are doing. The LTP and a nual

plans are a l about lo bying the

council."

•Turn to page 5

Board

launches

petition

to get new

community

facility

Ph 3 7 0 70,

30 Cashel St,

Christchurch

Restore your oiled CEDAR BLINDS with ou re-oiling service.

Rejuvenate your lacquered CEDAR BLINDS

High-tech Cleaning

We clean and repair a l types of blinds –

Venetians, Cedar, Verticals, Ro ler, Ho lands,

Romans and Pleated – with environmenta ly

friendly cleaning products.

Temperature Contro led Drying

Re-oiling & Rejuvenating

Fabric Blinds - such as Austrian and Roman

Same Day Pick Up & Drop O f

We o fer a same-day, pick up an drop o f

service for mos types of blinds. B okings

are required.

Convenient Location

Drop blinds into us by 9am, at

30 Cashel Str et (near the

Fitzgerald end), and co lect

them a th end of the day.

New Blind Sales Priced from $30

WE ARE OPEN

Mon - Fri

8. 0am to 5. 0pm

Ro ler Blinds cleaned

from as li tle as $20

per blind

www.blindcare.co.nz SCAN QR code for Info >

BLINDS .Cleaned, Repaired & Restored .

Grenadier Real Estate Ltd MREINZ is a Licensed Agent Under the Real Estate Agents Act 2 08

Alistair Hazeldine

Mobile: 027 572 1 5 | Phone: 0 384 7950

Email: alistair.hazeldine@harcourts.co.nz

w.harcourtsfe rymead.co.nz

MAgic on clifton

Mobile: 021 353 280 | Phone: 0 384 7950

Email: joy.butel@harcourts.co.nz

Joy Butel AREINZ - Dip.R.E.

Four Seasons Realty

Grenadier Fe rymead

TEAM

BUTEL

20 Tuawera Te race, Clifton Hi l - $980, 0 3 2 2 2

Phone: 03 384 6540

183 Dyers Rd, Bromley • OPEN 7 DAYS

W ekdays 7.30am-5pm. W ekends 8.30am-3pm

www.dyersroadandlandscapes.co.nz

Dyers Road Landscape

& Garden Supplies

• Barks • Peastraw • Composts - we su ply the best available

• A gregates - Chip, Round and Basecourse

• Pavers & Schist products • Pungas

• Decorative Stones & Landscaping Rocks

• Trailer Hire first hour fr e with purchase

• Bag & Bulk - pick up or delivered

David, Carol & Mike

We wi l deliver!

SOIL

AND

HARDFILL

DUMPING

Page 3 Page 5

Traffic plan at The Brae

Bid to ease traffic on busy,

na row str et

New pi za joint

Fire and Slice fina ly se to

open in Sumner

WEDNESDAY, APRIL 1 2018 www.star.kiwi

Loca ly Owned

LICENSED SALES CONSULTANT RE A 2 08

GRENADIER

Alison Carter

P: 384 7950 M: 0274 318 960

E: alison.carter@harcourts.co.nz

Your local

hi l and

seaside

specialist.

• By Gordon Findlater

DEAN CALVERT (above)

returned from the United

Kingdom last w ek after

ge ting closer than mos to

Joseph Parker in the build up

to his world heavyweigh title

unification fight with Anthony

Joshua in Cardiff.

The former New Zealand

title-holder trave led with his

father George and brother

Bryce to London ahead of the

fight where they spen time

with Parker in the build up.

Mr Calvert, 47, comes from a

boxing mad family.

•Turn to page 6

Former champ hooks

up with Parker in UK

Cave Rock

Apartments'

owners

expect EQC

sign-off

this week

• By Sarla Donovan

THE OWNERS of Sumner's Cave

Rock Apartments ar expecting the

Earthquake Commi sion to sign-off

on a se tlement agr emen this w ek.

Body corporate chairman Mike

White said the group had gone

into mediation with IAG and EQC

on February 20, and signed off

on a deal with IAG on February

2 – coincidenta ly seven years

to the day after the February 2,

20 1, earthquake. However, they

are waiting for EQC to sign the

agr ement.

"Given that EQC actua ly drafted

the agr ement, there' l be no

problem with them doing that."

The apartment suffered damage

in the February and June, 20 1,

earthquakes and were demolished in

late 2012. In 2016, IAG's offer of the

difference betw en indemnity value,

$10 mi lion, and the sum insured,

$16 mi lion, was rejected by the body

corporate.

The mediation agr ement

prevented Mr White from disclosing

the se tlement amount, but he said it

involved the two parties paying "a bit

more money than they'd wanted to

earlier."

•Turn to page 6

Page 7 Page 10

Fishin' for w eds

Children's event at risk if The

Groynes' lakes not cleaned up

Pedaling acro s NZ

Stroke survivor finishes long

journey

TUESDAY, APRIL 10, 2018 www.star.kiwi

Loca ly Owned

www.denturesouth.co.nz

ca l 32 4 04 TexT 027 537 0567

230 Ba ringTon sTR ET

Mobile

Service

Available

A NEW 60km/h sp ed limit and

double ye low lines wi l be in

place on Dyers Pa s Rd by early

May.

The sp ed limit change was

a proved by the city counci last

w ek.

A decision to paint double yellow

lines on the stretch betw en

Summit Rd and the Sign of the

Takahe was earlier made by the

Spreydon-Cashmere Community

Board.

Bu the Banks Peninsula Community

Board decided against

ye low lines on the Summit Rd-

Governors Bay section due to the

road's na rowne s and general

condition.

The changes are designed to try

and reduce the crash rate.

Insta lation of the double

ye low lines, the new sp ed limit

signs and raised centre line pavement

markers wi l begin in mid

April.

The work i scheduled to take

place betw en April 15-18, 2-26,

29 and May 2.

While the work is done, Dyers

Pa s Rd wi l be closed to traffic

from the Sign of the Takahe to

Governors Bay betw en 7pm and

6.30am.

60km/h

Dyers Pass

speed

limit from

early next

month

• By Emily O'Co ne l

A WOOLSTON butcher proved

to be a cut above the rest in an

international competition.

New World Fe ry Rd butcher

Jeremy Garth and his team, the

Pure South Sharp Blacks, recently

came second a the World

Butchers' Cha lenge in Northern

Ireland.

It was the firs time Mr Garth

had competed in the cha lenge

and he was "rea ly proud" of

how the team performed.

"We produced some top quality

products and came away

with a g od result so we're very

ha py," he said.

The preparation for this year's

World Butchers' Cha lenge was

intense as the team members

met in Auckland every two

months for lengthy w ekend

practices.

Mr Garth, who has b en a

butcher for 14 years, said the

competition brought back his

pa sion for the job.

"Doing a l thi stuff and

m eting new people, s eing new

ideas, it just brings that flair

back for you," he said.

Mr Garth hopes to own a

butcher shop of his own someday

but says for now he wi l focus

on ge ting mor experience

and on the 2020 cha lenge.

"In two years' time, we' l be

going back to try and win the

title," he said.

U per Ri carton butcher Corey

Winder was part of the Pure

South Sharp Blacks team.

GLOBAL STAGE: W olston butcher Jeremy Garth back home after his team came second in the World Butchers' Cha lenge.

PHOTO: MARTIN HUNTER

From New World Ferry Rd

to second in the

world

Ph 3 7 0 70,

30 Cashel St,

Christchurch

Restore your oiled CEDAR BLINDS with ou re-oiling service.

Rejuvenate your lacquered CEDAR BLINDS

High-tech Cleaning

We clean and repair a l types of blinds –

Venetians, Cedar, Verticals, Ro ler, Ho lands,

Romans and Pleated – with environmenta ly

friendly cleaning products.

Temperature Contro led Drying

Re-oiling & Rejuvenating

Fabric Blinds - such as Austrian and Roman

Same Day Pick Up & Drop O f

We o fer a same-day, pick up an drop o f

service for mos types of blinds. B okings

are required.

Convenient Location

Drop blinds into us by 9am, at

30 Cashel Str et (near the

Fitzgerald end), and co lect

them a th end of the day.

New Blind Sales Priced from $30

WE ARE OPEN

Mon - Fri

8. 0am to 5. 0pm

Ro ler Blinds cleaned

from as li tle as $20

per blind

www.blindcare.co.nz SCAN QR code for Info >

BLINDS .Cleaned, Repaired & Restored .

Page 3 Pages 10 & 13

Cyclist's helipad bid

Serious crash gives new

perspective on ride to hospital

River working group

Rebuilding a healthy

ecosystem in the Selwyn River

WEDNESDAY, APRIL 1, 2018 www.star.kiwi

Loca ly Owned

June 29 - July 1

EXHIBITORS BOOK NOW

vanessa.fleming@starmedia.kiwi

021 914 565

• By Georgia O'Co nor-Harding

A CRACKDOWN on mobile

traders acro s the districts could

be l oming.

However, the public has li tle

interest in having input into the

i sue.

Only eight submi sions were

received for a potential bylaw

aimed at regulating commercial

activities in public places.

The district council wi l be

holding a hearing for the Public

Places Bylaw and Policy on Commercial

Activities and Events in

Public Places.

A hearing i scheduled to be

held on Thursday.

The bylaw comes as an increasing

number of mobile traders

are s eking to operate in Selwyn,

especia ly during the summer

months.

In the past year, the district

council has received five inquiries

about se ting up a mobile busine s

on private or public land.

A report said there are two

str et operators in Darfield, a

coff e cart is parked beside the

railway in Ro leston, and a pi za

cart visits Lincoln w ekly betw en

September-May along with a Thai

f od truck.

•Turn to page 7

Mobile

traders

could

face

regulation

Pupils learn about role of war horses

GR ENDALE SCHOOL pupils

have taken a step back in time,

s eing first hand what men and

horses l oked like during war.

The New Zealand Mounted

Rifles Charitable Trust president

Mark A pleton and member

Mike Donaldson t ok their

horses to the sch ol on Monday,

in a bid to educate pupils on the

sacrifice their ancestors made in

World War 1 and World War 2.

Mr A pleton and Mr Donaldson

a rived a the sch ol dre sed

in World War 1 uniforms while

their horses Tommy and Kruze

wore 1 0-year-old sa dles donated

to the trust.

The presentation is a prelude

to the Gr endale Recreation Reserve

Management Commi t e's

upcoming Anzac Day service.

As a tribute to those who

served, members of the trust wi l

ride horseback to the service.

Mr A pleton said it was

important children were

educated on what soldiers

wen through during World

War 1 and World War 2.

But he said the presentation

didn't go into t o much detail

and was more of a "show and

te l" to make them aware of what

the soldiers l oked like.

Children were shown the type

of kits horses were required to

wear in the war.

•Turn to page 7

• By Georgia O'Co nor-Harding

HISTORY: Pupils have taken a step back in time learning about what

New Zealand soldiers and horses l oked like in World War 1. Abi P oler,

5, sits on Kruze, alongside Mounted Rifles Charitable Trust president

Mark A pleton. PHOTO: MARTIN HUNTER

New sections

selling now

There's no be ter place to se tle out wes than at Falcon's Landing. Pop in to our sales and

information office, 17 Branthwaite Drive, this Thursday, Friday or Sunday from 1pm to 3pm

to find out more. Contact us on 03 741 1340 or mail enquiries@yoursection.nz anytime.

Page 3 Page 5

Driver hazard?

Community board member

blasts Yaldhurst Rd island

Mega centre f edback

Denton Park a tracts more

submi sions than Cathedral

TUESDAY, APRIL 10, 2018 www.star.kiwi

Loca ly Owned

www.denturesouth.co.nz

ca l 32 4 04 TexT 027 537 0567

230 Ba ringTon sTr eT

Mobile

Service

Available

• By Emily O'Co ne l

AN U PER Ri carton butcher

has proven himself to be a cut

above his Au sie rivals at an

international competition.

Elite Meats owner Corey

Winder was named in the a l

star team a the World Butchers'

Cha lenge in Northern Ireland.

Mr Winder and his team, the

Pure South Sharp Blacks, which

includes W olston butcher

Jeremy Garth, finished second

in the competition.

He said the cha lenge started

as a "transtasman test match"

seven years ago.

The preparation for this

year's World Butchers' Challenge

was intense as the team

members met in Auckland

every two months for lengthy

w ekend practices. Mr Winder

said coming second against 1

other countries was a "fantastic"

result.

"To get second behind Ireland

was a huge achievement and to

be ahead of Australia is an

even bi ger thing for us," he

said.

But Mr Winder admires the

Australian team.

"Those guys over there

[Australia] are on top of their

game, they do a g od job," he

said.

"And it just showcases that

New Zealand has got some

of the best butchers in the

world," he said.

Mr Winder has b en a butcher

since the age of 19.

Elite butcher cut above the world

• By Emily O'Co ne l

THE HALSWE L-Hornby-

Ri carton Community Board

has b en given the gr en ligh to

o pose the pla ned qua ry near

Templeton.

Mayor Lia ne Dalziel told the

board on Thursday it had the okay

from the city council to make a

submi sion if Fulton Hogan a plies

for a resource consen to create a

qua ry.

Board chairman Mike Mora

told Western News the submi sion

would likely o pose Fulton Hogan's

plan.

"You can just about guarant e

it . because we [the community

board] don't believe qua ries

should be so close to residential

areas," he said.

Mr Mora said he wasn't sure if

the city council would endorse the

board' submi sion.

"I'd like to think so because the

city council has had their eyes

open as we l ove recent years over

the crysta line silica risk," he said.

Mr Mora said the community

board wi l be "representing and

advocating" for the Templeton

community.

•Turn to page 5

Community

board get

permission

to oppose

Templeton

quarry

AWARD-WINNING: Corey Winder is back home after his team came second in the World Butchers' Cha lenge .

PHOTO: MARTIN HUNTER

Ph 3 7 0 70,

30 Cashel St,

Christchurch

Restore your oiled CEDAR BLINDS with ou re-oiling service.

Rejuvenate your lacquered CEDAR BLINDS

High-tech Cleaning

We clean and repair a l types of blinds –

Venetians, Cedar, Verticals, Ro ler, Ho lands,

Romans and Pleated – with environmenta ly

friendly cleaning products.

Temperature Contro led Drying

Re-oiling & Rejuvenating

Fabric Blinds - such as Austrian and Roman

Same Day Pick Up & Drop O f

We o fer a same-day, pick up an drop o f

service for mos types of blinds. B okings

are required.

Convenient Location

Drop blinds into us by 9am, at

30 Cashel Str et (near the

Fitzgerald end), and co lect

them a th end of the day.

New Blind Sales Priced from $30

WE ARE OPEN

Mon - Fri

8. 0am to 5. 0pm

Ro ler Blinds cleaned

from as li tle as $20

per blind

www.blindcare.co.nz SCAN QR code for Info >

BLINDS .Cleaned, Repaired & Restored .

Pip Su ton BCM (Marketing)

Residential Sales & Development

Specialist - Licens e Salesperson

Next Step Realty Limited

Licensed (RE A 2 08)

Your best choice

in the West

Mobile: 027 24 9524

DI: 03 421 8417

Email: pip.su ton@raywhite.com

$ 40

T Y R E S

LTD

New Tyres - Ba teries

Quality Secondhand Tyres

Discounts on sets of tyres

LOOK

Used tyres from

FR E PICK UP & DELIVERY (in local area)

Ph 348 0626

9 Main South Rd (cnr Wa ts Rd), Sockburn

T Y

Quality Secondhand Tyres

Discounts on sets of tyres

A l at very competitive prices

$ 70

155

x 13

AA

Discounts

8047287 A

8214716 A

LOOK

New tyres from

5

Star Media is a division of Allied Press.

(Part-time)

OFFICE ADMINISTRATOR "EXTRAORDINAIRE"

About Us

We are a large family-owned dairy and dry stock operation dedicated to farming

for the future, being at the forefront of innovation and efficiency and promoting a

culture of continuous learning. The farm milks 9000 cows across 6 dairy units with

dry stock land fully supporting the business.

We have a permanent, part-time opportunity available for an Office Administrator

"Extraordinaire". You will be the first point of contact for our staff and suppliers,

so it is essential that you have an outgoing and enthusiastic personality, a can-do

attitude and a great sense of humour.

You will be a multi-tasking, organisational superstar with a cheerful, welcoming

manner and be proactive by nature. You will have previous experience in an

administrational role, have good problem-solving skills and be able to quickly learn

how to handle a wide variety of queries.

The position involves the administration of our HR, health & safety, housing, training

and water management and providing general administrative support to the office

and management team. It is essential that you are computer savvy and have a good

skill level with Microsoft Office suite.

We offer a fun working environment, a great team spirit, competitive salary and

ongoing support.

Based at our rural Southbridge office, the position is approx. 32 hours a week (Mon-

Fri), however additional hours may be necessary during busy periods.

See our website for a full job description: www.rakaiaisland.co.nz/employment.

To apply, please submit your CV and a cover letter to: annabel@rakaiaisland.co.nz

Applicants for this position must have NZ residency or a valid NZ work visa.

Situations Vacant

Compliance Partners is a leading provider of H&S, HR and Occupational

Health services in the Canterbury region, and are looking for an enthusiastic,

dedicated Registered Nurse to join our team in a casual capacity.

Our ideal candidate will have:

• Experience working within occupational health

• An Independent Vaccinators Certificate (or willingness to obtain)

• An unrestricted driver's licence (required)

• NZ residency or a valid NZ work visa (required)

To find out more about Compliance Partners, check out our Facebook

page or cp.org.nz.

Occupational Nurse

WaNted

apply to info@cp.org.nz or

contact Jane, confidentially,

on 0800 BIZSaFe.

Situations Vacant

Bellamy's

Furniture

Furniture made to

order and restoration

by tradesman with

35yrs experience.

PH Stephen

021 073 2624

Trades & Services

Trades & Services
---
SELWYN TIMES Latest Christchurch news at www.star.kiwi

Wednesday February 20 2019 39

Classifieds Contact us today Phone our local team 03 379 1100

EXCAVATOR OPERATOR/

TRUCK DRIVER REQUIRED

We operate a small excavation

company, working predominantly in the

Selwyn District, with excavators ranging

from 1.5 ton to 20 ton.

We require someone with at least

a minimum of 2 years' experience

on a wide range of excavators and

machinery.

Ideally we are seeking someone with

experience/qualifications in Water

Reticulation Level 3 or 4 (Water,

Wastewater and Stormwater) OR

someone who has an interest in gaining

this qualification.

Applicants for this position must have NZ

residency.

Remuneration based on skills and

experience.

Situations Vacant

• Minimum of 2 years of experience preferred on a

range of different sized excavators.

• Truck licenses class 1,2, and 4 will be beneficial.

• R,T,W endorsements are required.

• Prefer a current Site Safe Civil Passport, First Aid

Certificate, Level 1 TC or STMS.

• Must be able to work a wide range of machinery,

including rollers, tractors, compactors, laser

equipment.

• Physically fit, reliable, motivated and punctual.

• Work well both unsupervised and in a team

environment, and have a positive "can do" attitude.

• Must be competent in completing all the required

documentation that comes with this position.

• Prepared to complete the relevant courses required

for the position.

• Committed to Health and Safety.

• A pre-employment health check including a drug

test will be required.

Please email your CV with covering letter to g.m.contracting@xtra.co.nz by

25th February 2019 or Phone Mike on 0272728058 for further information.

Situations Vacant

Situations Vacant

Forklift

Operator

Ongoing work available,

earn $19+/hr! If you have:

• Current OSH cert.

& relevant experience

• Physically fit & able

• Can pass a drug screen

• Have your own reliable

transport

• NZ resident or citizen

• Available now!

Freephone Lynne or

Crystal today on

0800 363 676.

Public Notices

Situations Vehicles Vacant Wanted

CAR REMOVALS

$$CASH PAID$$

CARS, VANS, UTES

& 4X4 WANTED

We use world class vehicle

depollution systems

0800 8200 600

www.pickapart.co.nz

Public Notice

NZ OWNED

AND

OPERATED

FOR

24 YEARS

Process Workers -

ANZCO Rakaia

ANZCO Foods Limited is one of New Zealand's largest

exporters employing over 3,000 staff worldwide.

A dynamic, multinational group of companies, our

core purpose is to procure, process and market

New Zealand beef and lamb products to the world.

We are looking for enthusiastic and positive individuals

with a can-do attitude to work in our stockyards,

slaughter floor and offal room at our Rakaia processing

plant commencing immediately.

Whilst previous meat/food industry experience

is useful, it is not essential as full training will be

provided. These roles require a strong work ethic, a

willingness to learn, develop and achieve, as well as the

ability to cope with a significant physical workload.

ANZCO Foods maintain a Drug and Alcohol Free

Workplace policy. All applicants will be required to

undertake a pre-employment medical assessment,

including drug and alcohol screening. Applicants for

these positions are required to have NZ residency or a

valid work visa.

Calling for exhibitors

If you are looking to learn new skills and are a strong

team player we would like to hear from you.

Applications close:

Thursday, 21 February 2019.

Apply online now at

careers.anzcofoods.com

weddingshow

Sunday 25th August, 2019 Air Force Museum, Christchurch

To exhibit at this fantastic show, please email mark.sinclair@starmedia.kiwi for more info.
---
40 Wednesday February 20 2019

Latest Christchurch news at www.star.kiwi

SELWYN TIMES

MEMPHIS DARK

A classic silhoutte

with a modern twist.

6 Drawer Dresser

NOW ONLY $

699

11 Drawer Chest

NOW ONLY $

799

6 Drawer Lingerie

NOW ONLY $

379

Blanket Box

NOW ONLY $

299

Shop

Online

Nationwide

Delivery

Finance

Options

targetfurniture.co.nz

Cnr Blenheim & Curletts Rds, Christchurch

Ph: 0800 TARGET (0800 827438)

Offers and product prices advertised here expire 04/03/19.

Sale excludes Manchester and Accessories.

Come see what's new and on sale! Ends 04.03.19
---
the BeSt PRoPeRtieS AcRoSS

the SeLWYn DiStRict

INSIDE

PUBLiSheD eVeRY WeDneSDAY

Week commencing WeDneSDAY, 20th FeBRUARY 2019

Private And Peaceful

This beautifully presented home sits on 4 hectares.

The entranceway leads you through to the modern

kitchen and a large family room/dining area and

through again to a large formal lounge.

There are three bedrooms, master with en suite and

walk-in robe, an office, extra large double garage, good

storage and an extra toilet in the garage.

The property is set in a mature setting of trees,

roses, vege gardens and fruit trees. Bonus of a 9 x 5m

swimming pool and a delightful sleepout with toilet

and shower facilities. It is north facing with a small

verandah out the front.

Good shelter, own well, plus a variety of sheds, sheep

yard and shared cattle yard.

ENQUIRIES OVER $900,000

GST Inclusive

Min Cookson

Contact:

Phone: 03 341 4301

Mobile: 027 249 5417

min.cookson@pggwrightson.co.nz

1/51 Wild Road, Rolleston Open Home: Sunday 2.00-2.30pm

Big range of sections

900–6,500m 2 from $225,000

Think big with our wide range of sections at Wilfield. Find out more,

call us on 03 741 1340, or email enquiries@yoursection.nz
---
2

Hastings McLeod Limited Licensed under the Real Estate Agents Act 2008 rolleston@pb.co.nz 03 929 0306

Modern Design and Comfort-Here It Is!

Spread out in style

DEADLINE SALE

WEB ID ROU66688

ROLLESTON

2 Wedgewood Row

Built in 2016 and designed to impress before you step

through the door, this expansive 285m2, 5 bedroom

home on a 1266m2 section offers extensive

indoor/outdoor living options, a stunning central kitchen

and luxury bathrooms that are all crafted to an executive

contemporary level.

• Kitchen with granite tops, gas cooking

• Luxury bathrooms with extensive tiling

• Extra-height ceilings, central vacuum

• Ducted heat pump, log burner, gas hot water

• Partially covered wrap around patio

VIEW By Appointment

DEADLINE SALE closes Thursday 7th

March, 2019 at 5.00pm, (unless sold

prior)

5

NEW LISTING

WEB ID LEU66544

LEESTON

22 Friars Lane

View By Appointment

This beautifully designed 377m2 family home is available

now. And there`s plenty of room for all the family and

friends with 6 bedrooms and sprawling living spaces.

The kitchen area offers a 6-burner gas hob, walk-in

pantry and large central breakfast island and, with the

open-plan living/dining area with log fire, this is a

perfect `family-hub`. The indoor/outdoor flow from here

onto the spacious, sheltered veranda makes entertaining

and alfresco dining a real pleasure. This property has so

Penny Dadson-Clausen

much to offer and could be your wonderful `forever

Mobile 027 895 5943

home`!

Office 03 929 0306

pennyd@pb.co.nz

BUYERS $895,000+

Near new! BUYERS $539,000+

WEB ID DFU66072

ROLLESTON

35 Longcot Drive

Situated among other quality-built homes, this 12

month old Peter Ray home is ready for the new owner/s

to love as much as the current owners have. Due to a

change of circumstances, this 3 bedroom, 2 bathroom,

cleverly designed brick and linear home has come to the

market with heavy hearts. You have this wonderful

opportunity to benefit from all the thought and hard

work. If you would like to become part of the

community in this fast-growing area and be within

walking distance to the local school, parks, cafes, etc,

then please call me now. Move in and enjoy!

VIEW Sunday 24 Feb 2.00 - 2.30pm

6

3

4

NEW LISTING

Check this one out!

NEW LISTING

Sarah Yeates

Mobile 027 447 2719

Office 03 929 0306

sarahy@pb.co.nz

BUYERS $539,000+

WEB ID ROU66513

ROLLESTON

15 Fairfield Way

With large living spaces, a sunny, easy care section &

room for the whole family, you will want to check this

one out right now! If relaxing is your thing, then you will

love to sit back in the generous lounge or chill out &

enjoy the sunny drenched covered courtyard, which is a

fantastic space for the summer barbecues. The open

plan kitchen dining area basks in all day sunshine &

features a great sized kitchen with updated appliances

(approx 2 yrs old) and heaps of bench space. A must for

the chef in the family!

VIEW Sunday 24 Feb 2.15 - 2.45pm

Angela Hunt

Mobile 021 548 777

angela.hunt@pb.co.nz

Great buying here! BUYERS $400,000+

WEB ID ROU66454

HEI HEI

14 Aurora Street

Recently refreshed throughout, this three double

bedroom light filled home with polished wood floors

comprising an open plan lounge, modern kitchen and

dining area is sure to delight. Separate toilet, bathroom

& laundry. Two Heat Pumps warm this home, along with

the HRV system and underfloor/ceiling insulation,

making your winter months warm as toast. Added

bonus of a conservatory, which is a great extra living

space. Single garage plus studio, covered patio area and

a large deck great for summer entertaining among the

beautifully landscaped gardens.

VIEW By Appointment

2

3

4

2

2

3

3

Jannetta Thomas

Mobile 021 256 6295

jannetta@pb.co.nz

Tick, Tick, Tick! BUYERS $669,000+

WEB ID ROU65408

ROLLESTON

5 Diane Place

Completed in 2017 this simply stunning home of perfect

size, clever design and impeccable style awaits in the

peaceful and quiet Mayfair subdivision.

Built with the intention of being a forever home it is

packed with so many extras and outstanding detailing.

However their hometown is calling and my vendors just

know that the new owners are going to love this place

as much as they have.

VIEW By Appointment

2

2

Designed with Style

April Nicholls

Mobile 027 737 6474

april@pb.co.nz

BY NEGOTIATION

WEB ID ROU66165

ROLLESTON

91 Ledbury Drive

The walk in 'wow' factor of this exquisite 240 sqm

(approx) architecturally designed home cannot be

denied. Proudly presenting the ex R&B builders show

home, immaculately presented with clean modern lines

and a sleek styled decor, viewing this home is an

absolute must for the discerning buyer.

• Stylish, functional kitchen with dining area & scullery

• Distinctive lounge with high ceilings, access to decks

• Downstairs includes tiled bathroom & 2 bedrooms

• Upstairs living area & 2 large bedrooms

• Features quality chattels, fit out, and decorating

VIEW Sunday 24 Feb 4.00 - 4.30pm

1

1

4

4

Sarah Yeates

Mobile 027 447 2719

Office 03 929 0306

sarahy@pb.co.nz

2

3

Michael Robb

Mobile 027 436 7106

Office 03 929 0306

michael.robb@pb.co.nz

3

2

pb.co.nz
---
2

[Edition datE]

3

Tips for first home buyers

Struggling to get on the property ladder

and feeling fed up? You're not alone. Real

Estate Authority (REA) research has found

that more than half of all first home buyers

– even the ones who successfully buy a

property – find the process stressful and

overwhelming.

"We know it's hard for people when they're

trying to buy their first home – it's a complex

legal process and a huge financial deal,"

says REA chief executive Kevin Lampen-

Smith. "We want to empower them to feel

more confident and in control when they're

making such a big decision."

1. SORT OUT YOUR FINANCES

You'll already know that saving is a big

part of getting ready to buy, but do you

know what else you need to do?

Getting financial advice from a qualified

advisor could be a useful step in your

planning. Owning a property means you're

responsible for all the maintenance and

repairs – and for paying rates and insurance.

Owning an apartment may also mean you

need to pay body corporate fees. These costs

can be a bit of a shock to the system if you've

rented for a long time.

"It's also a good idea to get conditional

pre-approved finance arranged so you can

move quickly when you spot a property you

really like," Lampen-Smith says. "Having

conditional pre-approval lets you know the

price range you can buy in and it shows

agents and sellers that you're a serious buyer.

It's also crucial if you're planning to bid on a

property at auction."

Don't forget to explore ways that

you might be able to get help from the

Government. There are various forms of

assistance available if you're a KiwiSaver

member, buying in certain areas, want

to buy a former Housing New Zealand

property or are Māori and want to live on

your ancestral land.

2. NEEDS VS WANTS

Many first home buyers discover a big gap

between what they'd like to buy and what

they can afford when they first start looking.

"Sit down and write a tight list of what

your absolute must-haves are, then work

out what you're willing to compromise on,"

Lampen-Smith says.

If you're thinking about pets and children

arriving in the short-to-medium term, think

about how these will change your needs.

Will you need to be near to childcare or

schools? Will you need a fenced property?

"If you're the sort of person who likes a

good list, we've got a useful 'researching the

property' checklist on settled.govt.nz that

will help you keep track of all the questions

to ask about a property. This is especially

useful if you're looking at more than one

property at a time."

3. DO YOUR HOMEWORK

Don't let your desperation to find

somewhere blind you to a property's faults.

"Do as much research as you can about a

property," Lampen-Smith says. "That means

getting a lawyer on board to make sure all

the paperwork is in order and to help you

understand if there are any issues. We also

recommend getting a qualified building

inspector who has professional indemnity

insurance to prepare a comprehensive

report on the property."

If you're worried about paying for this

kind of report before you make an offer (due

to a lack of time or funds), you can make

them a condition of your offer. Remember

that paying for good advice is an investment

that will buy you more peace of mind than a

quick once-over by a mate.

4. RECOGNISE YOUR LIMITS

Buying a 'doer-upper' is a Kiwi tradition,

especially for first-home buyers, but we're

not all blessed with the right skills. Factor

this in before you make an offer on a

'renovator's dream'.

"Be honest with yourselves about how

much DIY you can really do, especially if

you've got pets and kids," Lampen-Smith

says.

"Getting professionals in to help will cost

more, but it will also make the process faster.

It may also be better in the long term when it

comes to selling the property if any work has

been done properly with the right consents."

For independent guidance and

information on buying or selling, check

out settled.govt.nz.

Hastings McLeod Limited Licensed under the Real Estate Agents Act 2008 rolleston@pb.co.nz Office 03 929 0306

Congratulations

Top Selling Sales Consultant*

Angela Hunt

Residential/Lifestyle Sales Consultant

M 021 548 777

E angela.hunt@pb.co.nz

Top Listing Sales Consultant*

Michael Robb

Residential/Lifestyle Sales Consultant

M 027 436 7106

E michael.robb@pb.co.nz

*January 2019

If you want results, then talk to your

award winning local Sales Consultants today

pb.co.nz
---
4
---
5
---
6
---
7
---
8
---
9

We clearly SELL more homes in Selwyn

than any other brand.

We have buyers waiting and would love to

help you get SOLD!

Another

SOLD

Another

SOLD

Another

SOLD

1/236 Springston Rolleston Road 19 Jowers Road 38 Carnaveron Drive 7 Ellington Mews

44 School Road

Another

SOLD

Another

SOLD

Another

SOLD

Another

SOLD

Another

SOLD

15 Whitewood Crescent 212 Larcombs Road 117 Knights Road 13 Ardrossan Way

600 Sandy Knolls Road

Another

SOLD

Another

SOLD

Another

SOLD

Another

SOLD

Another

SOLD

56 Alpine View 21B Sheridan Drive 12 Siding Lane 22 Ryelands Drive

19 Kingsdowne Drive

Another

SOLD

Another

SOLD

Another

SOLD

Another

SOLD

Another

SOLD

13 Conductors Road 7 Thames Drive 24 Full Moon Lane 43 Marlowe Place

8 Whitney Court

Another

SOLD

Another

SOLD

Another

SOLD

Another

SOLD

Another

SOLD

1 Heathridge Place 6 Loxley Place 20 Allingham Lane 6 Milrose Court

25 Lawrence Drive

Another

SOLD

Another

SOLD

Another

SOLD

Another

SOLD

Another

SOLD

23 Stonebrook Drive 98 Brookside Road 10 Butler Court 67A Fairfield Way

59 Masefield Drive

Another

SOLD

Another

SOLD

Another

SOLD

Another

SOLD

Another

SOLD

51B Moore Street 31B Edward Street 1 Shelley Street 18A Othello Drive

18 George Street

Another

SOLD

Another

SOLD

Another

SOLD

105 Old Bridge Road North

Another

SOLD

Another

SOLD

25 James Street 66 Moore Street 33/28 James Street

109 South Town Belt

Another

SOLD

Another

SOLD

Ray White Town & Lifestyle Real Estate Ltd Licensed (REAA 2008)

Rolleston

03 347 9988

www.rwrolleston.co.nz

Lincoln

03 325 7299

www.rwlincoln.co.nz

West Melton

03 347 9933

www.rwwestmelton.co.nz
---
10

M-A

MATSON & ALLAN

REAL ESTATE LIMITED

'The

Selwyn

Experts'

Residential

Lifestyle

Rural Property

Licensed REAA2008

ROLLESTON - 57 Bethany Road

NEAR NEW ON 726M2 SECTION

• 2 year old Today Homes quality build

• 3 large bedrooms

• Dual access bathroom

• Open plan living at its best

• Quality appliances

• Extra office area Heat Pump and Alarm system

• Drive through garage to added external space for

boats and trailers

• Secure low maintenance home

• Fully fenced

• West Rolleston School zone

Paul Robinson Mb 021 277 2690

paul@marealestate.co.nz

NEW LISTING

Price: Neg Over $479,000

View: www.marealestate.co.nz/MA0506

ROLLESTON - 76 Othello Drive

IDYLLIC SETTING WITH GENEROUS

PARKING

• Private and idyllic setting

• Four bedrooms

• Master with WIR and ensuite

• Separate lounge with log burner

• Kitchen/dining/living area

• Double internal access garage

• Additional parking for boat or caravan

• Private, established and idyllic 875m 2 section

• Convenient central location

Jackie Derrick Mb 027 636 3576

jackie@marealestate.co.nz

OPEN HOME

Viewing: Sun 12.45pm - 1.15pm

Price: Neg Over $529,000

View: www.marealestate.co.nz/MA0497

ROLLESTON - 7 Juliet Place

HIGHLY DESIRABLE ON A

FABULOUS SECTION

• Spacious and desirable 230sqm home

• Four double bedrooms

• Study nook

• Master bedroom with WIR and ensuite

• Well-appointed kitchen with premium appliances

• Two separate living areas

• Separate laundry

• Fabulous outdoor entertaining area

• Large private and secure 889m2 section

• Central and convenient location

OPEN HOME

Viewing: Sun 1.30 – 2.00pm

Price: Neg Over $589,000

View: www.marealestate.co.nz/MA0500

Jackie Derrick Mb 027 636 3576

jackie@marealestate.co.nz

ROLLESTON - 75C Lowes Road

RARE OPPORTUNITY WITH 4 CAR

GARAGING!

• Fabulous executive living

• Four double bedrooms

• Large master bedroom with WIR and ensuite

• Gas hot water and cooking

• Separate laundry

• Ample internal storage

• Substantial 1290sqm section

• Four car internal access garage

• Enviable and convenient location

Price: Neg Over $669,000

View: www.marealestate.co.nz/MA0495

Jackie Derrick Mb 027 636 3576

jackie@marealestate.co.nz

LEESTON - 21 Da Vinci Avenue

AS NEW AND READY FOR YOU!

• Located in Monticello Subdivison

• Three year old four bedroom home

• Open plan living and dining

• Access to patio perfect for evening outdoor

dining

• Practical kitchen with double fridge space

• Two bathrooms

• Master with WIR & ensuite

• Attached double garage

• 774m2 fully fenced easy care section

• Great street appeal

• Great family home at an affordable price

OPEN HOME

Viewing: Sun 1.30pm - 2.00pm

Asking Price: $489,000

View: www.marealestate.co.nz/MA0503

Cameron McRae Mb 027 769 6696

cameron@marealestate.co.nz

LEESTON - 15 Cassini Place

AS NEW HOME WITH TRIPLE

CAR GARAGING

• 216m2 three bedroom home

• Perfectly positioned for all day sun

• Entertainers kitchen with stone bench space galore

• Separate lounge perfect for watching the big game

• Superb outdoor living with North West facing kwila

deck

• Tasteful tones throughout

• Super stylish bathrooms

• Master with ensuite

• Triple car garage

• Easy care 846m2 section

OPEN HOME

Viewing: Sun 1.00pm - 1.30pm

Asking Price: $539,000

View: www.marealestate.co.nz/MA0499

Cameron McRae Mb 027 769 6696

cameron@marealestate.co.nz

IRWELL - 247 The Lake Road

YOU WILL LOVE THE LIFESTYLE

• Four could be five bedroom 270m2 family home

• Three living areas including large loft space over the garage.

• Two bathrooms – main with spa bath, includes ensuite.

• Large practical country style kitchen with great storage.

• Separate laundry and oversized double garage attached.

• French doors opening out onto sheltered sun drenched

patio.

• Landscaped thoughtfully planted private lawns and gardens.

• Fantastic sheds including extra lockable garaging,

workshop, storage and new 4 bay barn.

• Well subdivide sheltered property with water to all

paddocks.

• Established dog runs, chook runs, orchard and so much more.

DARFIELD - Creyke Road

TORLESSE ESTATE – 1 HECTARE BLOCKS

• 11 one hectare blocks • Post & rail fencing now complete for Stage 1

• Magnificent views • Power, telephone, fibre and town water to the

• boundary • Restrictive covenants in place to protect your investment

• Close to all Darfield amenities

Price: $295,000

View: www.marealestate.co.nz/MA0380

NEW LISTING

Viewing: by appointment

Asking Price: $985,000 (plus GST on land, if any)

View: www.marealestate.co.nz/MA0505

Stephan Knowler Mb 027 229 9522

stephan@marealestate.co.nz

Chris Flanagan

Mb 027 433 4657

chris@marealestate.co.nz

SHEFFIELD - 35 Vogel Street

QUALITY SECTION WITH SERVICES

811m2 section with small lock up shed

• A true rural position with farm land wrapped

around the boundaries

• 3 phase power onto the section

• Town water

• Auto building rights

• great opportunity to secure a section in a true

rural environment

• Don't delay, it's a no brainer!

PRICE REDUCED

Asking Price: $130,000

View: www.marealestate.co.nz/MA0470

Chris Flanagan 027 433 4657

chris@marealestate.co.nz

ROLLESTON PH: 03 347 9949 LEESTON PH: 03 324 3704 DARFIELD PH: 03 318 8204 www.marealestate.co.nz

Chris Flanagan

027 433 4657

Andrew Taylor

027 435 5930

Jackie Derrick

027 636 3576

Jo Barrett

021 859 006

Brendan Roxburgh

027 571 3983

Stephan Knowler

027 229 9522

Cameron McRae

027 769 6696

Paul Robinson

021 277 2690

Juliet Flanagan

027 490 8019
---
M-A

MATSON & ALLAN

REAL ESTATE LIMITED

'The

Selwyn

Experts'

11

Residential

Lifestyle

Rural Property

Licensed REAA2008

63 Coopers Road, Leeston

OPEN HOME

NEW LISTINg

Peaceful Private Oasis

Ever dreamed of leaving it all behind and buying a life-style block? If so this

lovely four bedroom, two bathroom modernised farmhouse with its orchard,

chook house, mature trees, lawns and gardens might be just the motivating

factor for embracing the pleasures of rural living.

With ten fertile acres, a multitude of sheds, including seven bays, a work shop

and a concrete floored header shed, this established property offers excellent

opportunities and value.

Only minutes from the friendly rural town of Leeston and 30 mins from

Christchurch this property is extremely private and peaceful as it is

surrounded by large cropping fields with all neighbours a considerable

distance away.

Currently, a successful peony flower business is run from the property. If

interested in this industry the vendors are open to the possibility of enabling

the purchaser to continue running this exciting profitable business.

Viewing will impress and we recommend you make

an appointment to visit at your earliest convenience.

Deadline Sale: All offers to be presented on

or before 4pm, Monday 4th March 2019.

Open Home: Sun 24 Feb 2.45pm – 3.30pm

View: www.marealestate.co.nz/MA0501

Cameron McRae

M: 027 7696 696 W: 03 324 3704 E: cameron@marealestate.co.nz

1134 Leeston Road, Irwell

OPEN HOME

NEW LISTINg

Parklike Paradise with

Irwell Stream Boundary

Located in the tightly held often admired village of Irwell an easy commute

from Rolleston, Lincoln and the City finds this stunning property that will

captivate all those who view.

The comfortable and slightly quirky four bedroom home offers plenty of

space for all with its large formal lounge, country sized kitchen/dining area,

sun drenched conservatory (or could be second living area) and large practical

separate laundry. The home has recently been double glazed and has several

heating options.

Garaging is by way of a permanent material standalone double with loads of

workshop space attached for the man who likes a shed.

The botanic setting of specimen trees and shrubs is topped off with the

Irwell stream running at the bottom of the lawn. What a setting for family

gatherings or even just relaxing with a good book listening to the

stream go past! This property is an absolute one off and is for

genuine sale as the vendors look to relocate.

Deadline Sale: All offers to be presented on or

before 4pm, Tuesday 5th March 2019.

Open Home: Wed 20 Feb 6.00pm – 6.30pm and

Sun 24 Feb 11.00am – 11.30am

View: www.marealestate.co.nz/MA0504

Stephan Knowler

M: 027 229 9522 W: 03 324 3704 E: stephan@marealestate.co.nz

ROLLESTON PH: 03 347 9949 LEESTON PH: 03 324 3704 DARFIELD PH: 03 318 8204 www.marealestate.co.nz

Chris Flanagan

027 433 4657

Andrew Taylor

027 435 5930

Jackie Derrick

027 636 3576

Jo Barrett

021 859 006

Brendan Roxburgh

027 571 3983

Stephan Knowler

027 229 9522

Cameron McRae

027 769 6696

Paul Robinson

021 277 2690

Juliet Flanagan

027 490 8019
---
12

Introducing Tony Edwards

Lincoln Office

When you combine an experienced

salesperson with the most trusted and

proven brand in Real Estate the results

speak for themselves.

Tony has owned and sold numerous lifestyle

blocks for others in both the Selwyn and

Waimakariri districts and is now back living

and working in Selwyn.

M 027 442 1402

E tony.edwards@harcourts.co.nz

Belfast Hanmer Springs Hornby Kaiapoi

Lincoln Rangiora

Rolleston The Palms

0800 789 1011

fourseasons@harcourts.co.nz

Four Seasons Realty 2017 Ltd | Licensed Agent REAA 2008

Your home for local property
---
13

Four Seasons Realty 2017 Ltd | Licensed Agent REAA 2008

Contributor to realestate.co.nz

Your home for local property

harcourts.co.nz
---
14

Under Offer

Four Seasons Realty 2017 Ltd | Licensed Agent REAA 2008

Contributor to realestate.co.nz

Contributor to realestate.co.nz

Your home for local property

harcourts.co.nz
---
15

New to the market!

126 Kivers Road, Burnham

100503m2 4 3 2 4

So Many Options...126 Kivers Rd offers a truly

unique lifestyle with income opportunity. Currently

operating as an Equestrian Facility, with appropriate

business consent in place, there is huge breadth to

further the burgeoning business (financials available).

Alternatively, the future may lie in a multitude of

ventures, with the spectacular 70m x 45m shed the hub

of the operation.

Presently boasting two outdoor arenas, huge indoor

arena, concrete floor stables and tack area, ladies and

gents shower and bathroom facilities, office/foyer and

social room along with self-contained three bedroom

and one bedroom units, you may choose to maximise

the potential of the current business, or alternatively

convert the shed space to suit another commercial or

agricultural opportunity.

Complementing the stunning property and facilities

is a substantial and well-appointed lifestyle home.

Set amongst established grounds, the four-bedroom

(three with ensuite and walk-in robe) plus office, home

provides a family retreat. Open plan kitchen and living

flow out to the covered outdoor entertaining space, with

fantastic views to the Southern Alps. A separate lounge

allows flexibility, while central heating radiators and

Yunca gas fire ensure year-round comfort.

An easy commute to Christchurch City or the

International Airport, and just minutes to Rolleston or

the Main South Highway this property presents a genuine

opportunity that will appeal to equestrian enthusiasts,

contractors or savvy business owners. Our owners

instructions are clear, this must be SOLD - call today for a

private viewing or further information.

Deadline Treaty Wednesday 27 February 4:00 p.m

(Unless Sold Prior)

Viewing by appointment

Call the Steve's for more infomation

Stevie Golding Steve Alfeld

P 021 083 04660 P 0210 2402 528

Consider

A Fresh Approach to selling

your lifestyle property.

Stevie Golding

Steve Alfeld

P 021 083 04660 P 0210 2402 528

stevie.golding@harcourts.co.nz

steve.alfeld@harcourts.co.nz

Four Seasons Realty 2017 Ltd | Licensed Agent REAA 2008

Your home for local property
---
2

16

[Edition datE]

What you need to know about open

homes when you're selling a property

There is nowhere more sacred than your

home. Welcoming visitors is one thing,

opening it up to complete strangers is

another situation entirely.

When you're selling a property you get

to decide how the open home process is

run. If you're working with a real estate

agent, this is will be part of the marketing

plan that you agree upon with them before

you sign the agency agreement. The real

estate agent will advise you on the timing

and frequency of open homes, or any

other viewings. If there is anything you

are uncertain about, talk to the agent and

make your feelings clear. There's no law

that you have to have open homes – you

may decide that you'd rather have viewings

by appointment only.

"Bear in mind though that in order to

sell your home, people will have to see it,"

says Kevin Lampen-Smith, chief executive

of the Real Estate Authority (REA). "You

may have to be flexible on when viewings

are held, even if they are not particularly

convenient."

If you are selling privately, you have full

responsibility for running any viewings.

This can be time-consuming and has the

potential to be distressing if you're not

braced to hear other people's criticisms of

your property. Some private sellers get a

friend to help out for this reason.

When it comes to the marketing and

selling process of your home it's a good

idea to look at things from the perspective

of the real estate agent and any prospective

purchaser, Lampen-Smith says.

"Open homes often attract people who

are just browsing to see what's around, or

neighbours who have always wanted to

see what 'that house at number 10' is like.

The agent will report back to you after the

open home to let you know the level of

interest – if they have kept an electronic

or paper record of visitors it will give you

an indication of how many visitors were

sticky beaks from down the street."

In an ideal world, people will treat your

home with respect when viewing it, he

says.

"If you suspect they will need

reminding, request that the agent asks

visitors to remove any wet weather gear or

shoes before entering. Most people go on a

major cleaning, tidying and de-cluttering

mission before putting a property on the

market, which will make it much easier

to prepare it for an open home. It's a

good idea to clear away any valuables or

personal items (if time is short, dump

them all in a washing basket that you can

pick up and take with you) and use your

own common sense about what you want

strangers to see."

Don't shove things into cupboards or

wardrobes – prospective buyers will be

keen to gauge storage capacity. Remember

that families with small children could be

going through your property and delicate

ornaments or family heirlooms might be

better out of harm's way.

Selling a property can be a stressful time,

but you'll make it much easier on yourself

if you work out a plan of attack, including

getting the advice of professionals along

the way, Lampen-Smith says.

"Present your home well and it's more

likely to attract another set of owners."

For independent advice on buying or

selling property, check out settled.govt.nz.
---
17

Greenpark 287 Jarvis Road

Prebbleton 24 Oakley Drive

Sought-after lifestyle

6 3 2

Incomparable

3 2 2 2

Delivering contemporary country living against a

private and tranquil rural backdrop, this substantial

10.6 hectare lifestyle property is an easy 10 minute

drive to Tai Tapu and Lincoln. The 10 year old, 320m 2

(approximately) brick home is surrounded by lowmaintenance

grounds. Neatly presented the land is

supported by consented paddock irrigation, two-bay

shed and sheep yards. Buyers will be seduced by the

modern comforts and peacefulness offered at this

countryside property.

bayleys.co.nz/559064

Price by Negotiation

Phone for viewing times

Chris Jones 027 220 5043

chris.jones@bayleys.co.nz

Sam Sidey 027 346 3500

sam.sidey@bayleys.co.nz

WHALAN AND PARTNERS LTD, BAYLEYS, LICENSED REAA 2008

Creative flair, thoughtful design, and impeccable

craftsmanship. This spacious 210m 2 (approx)

executive home has three generous bedrooms, an

open-plan living, dining and kitchen space including a

scullery plus the addition of another separate living

area. Set on a 597m 2 (approx) north-facing section

and coupled with cathedral ceilings and two heatpumps

there is plenty of warmth to go round.

Completing the puzzle is the internal laundry, attic

storage and double internal access garage. A

distinctive home of genuine substance and style, and a

proposition that demands immediate attention.

Price by Negotiation

View Sun 12-12.30pm

Urszula Bedggood 027 338 7889

urszula.bedggood@bayleys.co.nz

WHALAN AND PARTNERS LTD, BAYLEYS, LICENSED REAA 2008

bayleys.co.nz/559351

NEW LISTING

Glenroy 322 Windwhistle Road

Endless options - deer, sheep, cattle, crop

Ridge Farm is a 128.3ha fully deer-fenced dryland farm. This well-developed property has recently been growing

kale to winter dairy cows, followed by crop producing very high yields. Fencing is excellent and laneways are wellthought-out,

giving access to most paddocks providing many options for farming. The farm is supported by a very

good deer shed, cattle yards, hayshed and workshop and a large, six-bedroom family home. With tourist numbers

at an all time high and the location of the property being only a short drive to skifields, the Rakaia River and lakes, the

home could also be used for homestays or Air BnB. This is a property with options.

bayleys.co.nz/559364

6 2 2

Deadline Sale (unless sold prior)

4pm, Thu 14 Mar 2019

3 Deans Ave, Chch

View by appointment

Ben Turner 027 530 1400

ben.turner@bayleys.co.nz

Craig Blackburn 027 489 7225

WHALAN AND PARTNERS LTD, BAYLEYS, LICENSED UNDER THE REA ACT 2008

bayleys.co.nz
---
18

Building blocks

to a new home

As Cantabrians continue to move forward, when building

a new home, here's a reminder to pay attention to some of

the fine details...

Weedons 4/634 Weedons Road

Impressive equestrian

lifestyle

Meticulously maintained from top to toe by vendors

who have taken immense pride in their property, this

4.1382 hectares presents a picture perfect lifestyle

opportunity. The Gold award-winning 372m 2 (approx)

home is set within immaculate landscaped grounds.

There is so much on offer for the horse lover or

lifestyler including quality fencing and fully equipped

stables. Easy access to quality schools and less than

half an hour to the city. Privacy and tranquillity are in

abundance here.

bayleys.co.nz/559026

Boundary lines are indicative only

4 2 2 2

Deadline Sale (unless sold prior)

1pm, Wed 13 Mar 2019

View by appointment

Chris Jones 027 220 5043

chris.jones@bayleys.co.nz

Sam Sidey 027 346 3500

sam.sidey@bayleys.co.nz

WHALAN AND PARTNERS LTD, BAYLEYS, LICENSED REAA 2008

Anyone intending to build a new home

should have the builder's contract

checked out by an experienced lawyer.

A payment schedule can also

minimise financial risks. Issues that

you may have to deal with include:

the deposit, guarantees and warranties

If you want to compare building

companies, it's important to get down

to finer details such as how many

power points there are per room, the

type of windows you are having or

which paint finishes are included.

Questions to ask

builders include:

• Do you have a completion guarantee

and how does it work?

• Is there a loss of deposit

guarantee?

• Is the company a

Registered Master Builder

and does it use thirdparty

written guarantees?

• What is the schedule for

payments?

• How are the deposit and

progress payments

administered?

• Are they held in a solicitor's trust

fund?

• Will the master franchisor complete

the build if the franchisee goes out

of business

• What are the exact specs?

• Are the prices fixed?

• What is excluded from the build?

• Are there any restrictions on

driveways or any other connections?

• Can you speak with clients who

have just completed a build?

Do your homework before you decide

on a building company and you will

have a less stressful time once the

building process starts.

Boundary lines are indicative only

Rangiora 67 Youngs Road

Central Canterbury

New opportunities for new

owners

For sale for the first time in six generations, this dairy

farm of 132.3650 hectares is in an exciting location and

sure to appeal to a range of buyers. Several titles, Cam

River meanders through property. Peak milk at 140

head, 15 aside Herringbone shed, winter milk contract.

Implement sheds, several hay sheds and two older

homes. Irrigated by guns, heavy soils, regular

regrassing. Run with 20.1135 hectare runoff, available

to buy separately or with this farm.

bayleys.co.nz/559231

Deadline Sale (unless sold prior)

1pm, Thu 7 Mar 2019

View by appointment

Dean Pugh 027 335 6303

dean.pugh@bayleys.co.nz

Brook Yates 027 807 8093

brook.yates@bayleys.co.nz

Nick Wilson 021 917 047

nick.wilson@bayleys.co.nz

WHALAN AND PARTNERS LTD, BAYLEYS, LICENSED REAA 2008

Home and workshop

Are you looking for a property with a good home and

a contractor's yard or an engineering workshop of a

commercial standard? This property could be the one

for you. Located in the heart of Central Canterbury,

this 5.0590ha block has everything you need to run a

rural business - a three-bedroom home and a purposebuilt

workshop with three-phase power, internal

compressed airlines, offices, storage and staff

facilities, a six-bay hay shed, older sheds for storage

and a large metal yard.

An opportunity not to be missed.

bayleys.co.nz/559320

3 1 3

Deadline Sale (unless sold prior)

4pm, Wed 6 Mar 2019

3 Deans Ave, Chch

View by appointment

Ben Turner 027 530 1400

ben.turner@bayleys.co.nz

Craig Blackburn 027 489 7225

craig.blackburn@bayleys.co.nz

WHALAN AND PARTNERS LTD, BAYLEYS, LICENSED REAA 2008
---
A large, quality home sited in a private and established

5021m 2 park-like se ting in the sought after Claremont

Estate on the boundary of Christchurch City.

The home features four bedr oms (master with

en suite and walk-in robe), open-plan kitchen, dining

and living along with formal dining, lounge and

conservatory. Great ind or outd or flow to a large

sheltered deck set in sprawling lawns and easy care

gardens with automated watering. Triple car garaging,

security gates, ducted heating, solar energy and

security system are just a few of the many extras on

offer with this property. There is a separate standalone

spacious office/studio that gives options for

those who require a dedicated work from home space

or alternatively, r om for a dependant relative.

Set amongst other quality homes on larger sections,

this property maintains a semi-rural f el whilst being

a short, easy commute into the city or ou to Ro leston.

Selwyn Times

Auction (unless sold prior)

Thursday 19 October, 2pm

411 Blenheim Road

www.pggwre.co.nz/DAR26164

Karen Hennessy

Contact:

Phone: 03 341 4301

Mobile: 027 967 0186

karen.he ne sy@p gwrightson.co.nz

W ek commencing Tuesday, 3Rd ocToBeR 2017

Brand new 'show stopper' with 4 car garaging

As always, this builder has finished his latest new build to

perfection, incorporating a l the 'must haves' and more for

the discerning buyer. Situated on a 12 0m 2 section, with

an established backdrop, the substantial 315m 2 fl or plan

provides the ultimate in family living options. The su ny &

spacious open plan living r om boasts a designer kitchen

with 90cms oven, stone bench tops & a walk in pantry,

together with define dining, living & study spaces that

The formal lounge als opens to the landscaped garden

& has a boxed high stud ceiling with sound speakers. A l 4

bedr oms are fabulously proportioned qu en sized r oms,

with the master suite providing the perfect parents' retreat

featuring an amazing dre sing r om with fu l wardrobe

system, a ditional storage & a beautiful tiled ensuite with

double tiled shower, fr estanding bath & twin vanities. The

family bathr om is equa ly elegant with a tiled shower &

twin vanities. Cosy up in front of the log burner, k ep your

toes warm with the under tile heating in the bathr oms &

k ep c ol or warm, as required, a the push of a bu ton with

2 heat pumps.

The home's practical layout also includes a walk-in linen

r om, a substantial separate laundry, a tic storage with

la der a ce s and last, but certainly not least, hugely sought

after 4 car garaging. From the moment you a proach this

premium property, you wi l a preciate what a privilege it

would be to be able to ca l it 'home'.

www.flemington.co.nz

19

DeaDline Sale:

Closing 4pm on Monday

11th June 2018

(unless sold prior)

rwro leston.co.nz/RLL23148

Town & Lifestyle Real Estate Ltd

Licensed (REAA 2 08) - West Melton

Sarah Booth

Contact:

Mobile: 027 527 8258

Brendan 'Big Red' Shefford

Contact:

Mobile: 027 224 4733

Lincoln - 03 325 7299

Ro leston - 03 347 9988

West Melton - 03 347 9933

THe BeST PRoPeRTieS AcRo S

W ek commencing WeDneSDAY, 23RD mAY 2018

Town & Lifestyle Real Estate Ltd

Licensed (REAA 2 08)

Your guide to Show Homes & New Sections

in the Selwyn District

A building inspection is a safeguard

Before purchasing an existing home, consider engaging

the services of a firm that specialises in carrying out

building inspections.

A building inspection does not guarantee the

condition of a house however, the inspector's knowledge

of construction and what is code compliant can help

towards protecting your investment. It is for this reason

most financial institutions request a building inspection

report before agreeing to mortgage a property.

Legal issues, such as the LIM and whether a house has

Council code of compliance, will not be addressed as

part of a building inspection and you and your solicitor

should investigate these.

Pre-purchase building inspections generally come with

a comprehensive report on what the inspector viewed

and the condition of the home.

The inspector will check the foundations outside.

Where a single level dwelling with a wooden floor the

confined space inside will likely mean a torch is simply

shone through the manhole for checking any obvious

signs of deterioration like a loose pile.

Health and safety legislation will also prevent the

inspector from carrying out more than a look in the roof

cavity, from a ladder or safe attic access space. This is

still likely to provide an indication of the condition of

the trusses along with the level of ceiling insulation. The

roof and guttering will be viewed from a ladder placed

at various points around the house. If you have serious

concerns about the condition of the roof, you may wish

to engage the services of a qualified roofer who can

provide a more specialised report.

The exterior walls of the home where visible, will be

looked over for cracks and gaps between the cladding and

flashing, and the condition of the joinery examined.

Inside, the general condition will be assessed, taking

into account normal wear and tear for the age of the

home. Floor levels in the various rooms will be measured

and noted within the report as will indicative moisture

readings.

Some aspects of the inspection will be more involved

than others. For example, the hot water system,

plumbing, electrical or gas may only receive cursory

looks as the inspector is unlikely to be qualified in these

areas.

Features such as the foundation footings, ground

conditions and stability, waterproofing membranes,

drainage including storm water and

sewers, in-ground features like a

swimming pool or spa, septic tanks,

wells, fireplaces and chimneys,

intercom systems and appliances,

are generally outside the scope of a

building inspection.

The report may recommend

remedial work and how the home

could be improved.

If considering buying a preearthquake

home, ensure it has been

signed off in relation to any remedial

work carried out through EQC or

an insurance company. Check also,

that the property is fully insurable

and there are no issues in relation to

• The cladding will

be examined.

• The home's

condition will be

assessed.

• A building

inspection report

may recommend

remedial work.

• The roof will be

checked from a

ladder.

securing future insurance. You may not be concerned

if purchasing an 'as is, where is' home though contents

insurance may still be required.

PUBLiSHeD eVeRY WeDneSDAY

THe SeLWYn DiSTRicT

INSIDE

Quality Home, Private Setting, Sought After Location

extend through sliding d ors to a large deck & covered 'al

fresco' entertaining area.

63 Rossington Drive, West Melton Open Home: Sunday 2.00pm - 2.30pm

EVERY WEDNESDAY inside Selwyn Times

Address: 19 Devine Drive, Templeton Open Home: Sunday 8 & 15 October, 1pm - 1.45pm

Get the power

of three offices

working for you

Your section hunt

starts here

New Falcon's Landing sales office open, 17 Branthwaite Drive, Ro leston,

Ray White Rolleston,

Lincoln & West Melton

Sales - Property Management - Loan Market

Residential - Lifestyle - Commercial

Thursdays, Fridays and Sundays from 1-3pm. Come, visit and share in our vision

for Ro leston. Or ca l us anytime 03 741 1340. Email enquiries@yoursection.nz

Get your messages into homes throughout

the Selwyn District.

Delivered to every home & rural letterbox

(also available at selected pick up points).

For full information on placing your

advertising call:

Lynette Evans

Ph 021 222 7831 | email: lynette.evans@starmedia.kiwi

Printed on

high impact

Gloss!

Selwyn Times dedicated to getting you outstanding results & making our district a better place to live.
---
20

Visit Our New

Showhome Village

Featuring seven of Canterbury's

leading building companies

The Flemington Showhome Village is now open.

Find your perfect house and land package within a well regarded

community. Each home site has been created to enjoy the best

possible aspect situated amongst Lincoln's rural outlook.

First National Real Estate

Sue Mullins

027 244 1325

Visit Us Onsite Corner of Birches Road and Craig Thompson Drive, Lincoln.

Barry O'Neill

021 364 422

www.flemington.co.nz
---
2

[Edition datE] 21

The pros and cons of building sites

When selecting a building site weigh up

your lifestyle, family needs and aspirations

before signing up for any section.

Those purchasing early on in the

development of a subdivision will have

more choice of section size and orientation

to the street and sun. As the individual

sites are sold, there may be less availability

though this need not be a deterrent. With

good design any building site can be made

to work.

Selwyn has experienced considerable

growth in recent years. Sub-divisions

have opened up and been built on, with

new developments regularly coming on

stream. Within these, section sizes vary

from around 400 square metres upwards

to 5,000 square metres. Lifestyle blocks are

also scattered around the district.

The size of the house and amount of

yard desired will influence the feasibility

of some building sites as will sun and wind

direction, bearing in mind that a house

can be designed to capture the sun's free

heat and allow for pleasant outdoor areas

to enjoy.

If the street side of the building site is

north/north west, incorporating fenced or

planted courtyards can offer private places

to entertain and bask in the sun.

Those wanting street presence or keen

on gardening may prefer a corner section

and while it might seem they offer less

privacy, with strategic placement of fences

quite the opposite can be the case.

Weigh up your family's needs in terms

of the outdoor areas too. Do you want play

areas for your children? Do you have a

need for off-street parking for a number of

vehicles and space for a boat, caravan or

motorhome, which may need to be parked

out of site of the street? How much lawn or

garden do you want?

Start by identifying housing

developments that you like and could see

your family living in. Think also about the

convenience of shops and other amenities,

something that may or may not be a

concern.

Single out possible sections then talk

with a designer or builder. Most building

companies have a good selection of

standard plans as a starting point and they

will usually work with a client to modify

a plan or draw up one that will work

on a particular building site, whilst also

containing the components the client is

seeking within their new home.

Before signing up for any building

site, check the Council land zoning and

recession plane requirements as well as

covenants for the sub-division. These will

show not only how far from a boundary

the house can be sited but also roof

height, permissible building materials,

and acceptable types of fencing, as well as

what can be on view from the street like

a clothes line, caravan or motorhome.

Conducting your research first will save

any frustration or hassles later.

All sections are

workable, it is simply

a matter of choosing

one that matches

your specific needs.
---
22

17447 BCS 6982

DESIGN:

DRAWN:

JOB No.

SCALE:

CHECKED:

DATE:

SHEET No.

Show

home

Guide

Homes by Parklane

"Standout Homes for an

Outstanding Price"

Flemington, Lincoln

6 Craig Thompson Drive

Thurs & Fri 1pm - 4pm

Sat & Sun 12pm - 4pm

Wigram

2 Harvard Avenue

Mon to Fri 9am - 5pm

Master Builders House of the

Year 2017 Gold Reserve Award

Winning Showhome

(03) 341 3000 or 029 201 2453

www.homesbyparklane.co.nz

New House and Land

Packages Available Now

Call Us Today for Further Details

www.homesbyparklane.co.nz

Showhome

6 Craig Thompson Drive, Flemington, Lincoln

Thursday and Friday 1pm-4pm

Saturday and Sunday 12pm-4pm

(03) 341 3000 or 029 201 2453

Registered Master Builders House of the Year

Multi Gold Award Winning Builder

Standout Homes for an Outstanding Price

Two New Display Homes Now Open...

Jennian Homes Canterbury North have two new Display Homes that are now open.

With their outstanding features and functional design, they are sure to impress.

7 Lemonwood Drive, Faringdon, Rolleston

Open: Wednesday - Sunday, 12pm - 4pm

9 Westpark Boulevard, Rangiora

Open: Wednesday - Sunday, 12pm - 4pm

At Jennian Homes Canterbury North we pride ourselves on delivering the home you've

always wanted. So, what are you waiting for? Come on over and see for yourself what life

could be like in a Jennian Home.

Example photos

Promote your

Showhome

throughout

Christchurch

to over

93,000 homes

Signature Homes

Rolleston

97 Ledbury Drive, Faringdon.

Open Wed to Sun 12noon – 4pm

Prestons Park

37 & 39 Prestons Park Drive

Marshland, Chch both Open Wed

to Sun 12noon – 4pm

Show Room/Office:

31 Watts Road, Sockburn

0800 8444 88 or 03 3427788

www.signature.co.nz

Jennian Homes Canterbury North

212 Main South Road, Sockburn

P 03 741 1436 E canterburynorth@jennian.co.nz

jennian.co.nz

Build Brand new in 2019

177m 2

Showhome open

39 Sherborne St

St Albans

Jennian Homes Canterbury North

Rolleston

7 Lemonwood Drive, Faringdon

Wednesday to Sunday, 12pm to 4pm

Rangiora

9 Westpark Boulevard

Wednesday to Sunday, 12pm to 4pm

www.jennian.co.nz

David Reid Homes

Casebrook

New showhome coming soon:

2 Glenturret Drive

Prebbleton

80 Farthing Drive

Fri to Sun 12pm-4pm

Shane - 021 392 995 or

Krystal - 021 335 707

www.davidreidhomes.co.nz

To advertise in

The Showhome Guide

Contact Elaine: (03) 364 7436

elaine.moon@starmedia.kiwi

from 293K Build price

LOOKING FOR DESIGN INSPIRATION?

Visit one of our three stunning showhomes to gather ideas for your dream home

TAURANGA OFFICE 027 404 1311 tgasales@firsthomes.nz

CHRISTCHURCH OFFICE 021 575 545 chchsales@firsthomes.nz

97 Ledbury Drive, Faringdon 37 Prestons Park Drive, Marshland

39 Prestons Park Drive, Marshland

SHOWHOMES:

All three showhomes

Open Wed-Sun 12pm-4pm

First in PRICE

First in QUALITY

First in EXPERIENCE

Phone: 021 575 545

www.firsthomes.nz

Notes:

P.O. Box 2309

Tauranga

david.fishing@xtra.co.nz

ph. 021 742 734

Permit for:

TERRITORIAL AUTHORITY:

GEOGRAPHICAL ZONES:

DRAWING TITLE:

SHOWROOM / OFFICE:

31 Watts Road, Sockburn

Open Mon-Fri 8am-5pm

Christchurch

0800 844 488

signature.co.nz

Contact Elaine Moon:

Phone 03 364 7436

elaine.moon@starmedia.kiwi
---
thiS WEEk'S

23

5.00pm - 6.00pm

6.00pm - 6.30pm

11.00am - 11.30am

12.30pm - 1.00pm

1.00pm - 1.30pm

1.00pm - 1.45pm

1.00pm - 1.45pm

12.45pm - 1.15pm

1.00pm - 1.45pm

1.15pm - 1.45pm

1.30pm - 2.00pm

2.00pm - 2.30pm

2.00pm - 2.30pm

2.15pm - 2.45pm

2.15pm - 3.00pm

3.00pm - 3.30pm

3.15pm - 3.45pm

4.15pm - 4.45pm

11.00am - 11.30am

11.00am - 11.30am

11.00am - 11.30am

11.00am - 11.30am

11.00am - 11.30am

11.00am - 11.30pm

11.00am - 11.30pm

11.00am - 11.30am

11.00am - 11.30am

11.00am - 12.00pm

11.15am - 11.45am

11.30am - 12.00pm

11.45am - 12.15pm

11.45am - 12.15pm

11.45am - 12.15pm

12.00pm - 12.30pm

12.00pm - 12.30pm

12.00pm - 12.30pm

12.00pm - 12.30pm

12.00pm - 12.30pm

WEDNESDAY 20th fEbruArY

333 Buchanans Road, Yaldhurst

Harcourts Rolleston

1134 Leeston Road, Irwell

Matson & Allan Leeston

thurSDAY 21St fEbruArY

83 Highsted Road, Bishopdale

Harcourts Rolleston

29 William Street, Rolleston

Ray White Lincoln

11 Goldie Place, Rolleston

Harcourts Rolleston

49 Lignite Drive, Rolleston

Harcourts Rolleston

24 Dunlop Crescent, Rolleston

Harcourts Lincoln

SAturDAY 23rD fEbruArY

12 Brookside & Burnham Road, Leeston

Harcourts Lincoln

24 Dunlop Crescent, Rolleston

Harcourts Lincoln

268 Southfield Drive, Lincoln

Ray White Lincoln

421 Trents Road, Prebbleton

Ray White Rolleston

63 Thames Drive, Rolleston

Harcourts Rolleston

670 Springston Rolleston Road, Rolleston

Harcourts Lincoln

5 Foxbridge Lane, Lincoln

Ray White Lincoln

83 Highsted Road, Bishopdale

Harcourts Rolleston

2/274 Main North Road, Redwood

Ray White Rolleston

16 Boundary Road, Lincoln

Ray White Lincoln

4 Craig Thompson Drive, Lincoln

Ray White Rolleston

SuNDAY 24th fEbruArY

1134 Leeston Road, Irwell

Matson & Allan Leeston

3 Saint Andrews Lane, Kirwee

PGG Wrightson Real Estate Canterbury

12 Anaru Road, Lincoln

Ray White West Melton

4 Skye Lane, Prebbleton

Ray White Lincoln

1/842 Coast Road, West Melton

Ray White West Melton

99 Shillingford Boulevard, Rolleston

Ray White Rolleston

51 Oak Tree Lane, Rolleston

Ray White Rolleston

10 Full Moon Lane, Rolleston

Ray White Rolleston

24 McCauley Street, Rolleston

Ray White Rolleston

26 Anaru Road, Lincoln

Ray White West Melton

35 Chapman Street, Leeston

Property Brokers

21 Newbrook Terrace, Darfield

Farmlands Real Estate

20 Full Moon Lane, Rolleston

Ray White Rolleston

53 Oak Tree Lane, Rolleston

Ray White Rolleston

11B Greenan Place, Doyleston

Matson & Allan Leeston

25 Kathleen Crescent, Hornby

Harcourts Rolleston

24 Oakley Drive, Prebbleton

Bayleys Canterbury

11 Goldie Place, Rolleston

Harcourts Rolleston

31 Chervier Street, Leeston

Property Brokers

28 Goodland Place, Rolleston

Ray White Rolleston

12.00pm - 12.30pm

12.00pm - 12.30pm

12.00pm - 12.30pm

12.15pm - 12.45pm

12.15pm - 12.45pm

12.30pm - 1.00pm

12.30pm - 1.00pm

12.30pm - 1.00pm

12.30pm - 1.00pm

12.30pm - 1.30pm

12.45pm - 1.15pm

12.45pm - 1.15pm

12.45pm - 1.15pm

1.00pm - 1.30pm

1.00pm - 1.30pm

1.00pm - 1.30pm

1.00pm - 1.30pm

1.00pm - 1.30pm

1.00pm - 1.30pm

1.00pm - 1.30pm

1.00pm - 1.30pm

1.00pm - 1.30pm

1.00pm - 1.30pm

1.00pm - 1.30pm

1.00pm - 1.30pm

1.00pm - 1.30pm

1.00pm - 1.45pm

1.15pm - 1.45pm

1.15pm - 1.45pm

1.15pm - 1.45pm

1.15pm - 1.45pm

1.15pm - 1.45pm

1.15pm - 2.00pm

1.30pm - 2.00pm

1.30pm - 2.00pm

1.30pm - 2.00pm

1.30pm - 2.00pm

1.30pm - 2.00pm

1.30pm - 2.15pm

1.30pm - 2.00pm

1.45pm - 2.15pm

1.45pm - 2.15pm

1.45pm - 2.15pm

2.00pm - 2.30pm

2.00pm - 2.30pm

21 Siltstone Street, Rolleston

Ray White Rolleston

12 Allingham Drive, Rolleston

Ray White Rolleston

7 Mahoe Street, Templeton

Ray White Rolleston

49 Lignite Drive, Rolleston

Harcourts Rolleston

567 Days Road, Springston

Ray White Lincoln

29 William Street, Rolleston

Ray White Lincoln

22 Poplar Lane, Lincoln

Property Brokers Real Estate

21A Spring Street, Leeston

Matson & Allan Leeston

3 Breccia Street, Rolleston

Ray White Rolleston

10 Navy Loop, Rolleston

Ray White West Melton

197 Brookside Road, Rolleston

Ray White Rolleston

13A Runnymede Drive, Templeton

Ray White Rolleston

76 Othello Drive, Rolleston

Matson & Allan Rolleston

30B McLaughlins Road, Darfield

PGG Wrightson

15 Cassini Place, Leeston

Matson & Allan Leeston

67 Manse Road, Leeston

Matson & Allan Leeston

20 Oakley Drive, Prebbleton

Harcourts Rolleston

423 Burnham School Road, Burnham

Bayleys Canterbury

13 Mila Haven, Rolleston

Harcourts Rolleston

20 Chert Street, Rolleston

Ray White Rolleston

4B Stonebrook Drive, Rolleston

Ray White Rolleston

32a Moore Street, Rolleston

Ray White Rolleston

23 Dryden Avenue, Rolleston

Ray White Rolleston

112 Alpine View, West Melton

Farmlands Real Estate

15 Piako Drive, Darfield

Matson & Allan Darfield

141 Horndon Street, Darfield

Property Brokers

24 Dunlop Crescent, Rolleston

Harcourts Lincoln

10 Michaels Road, Tai Tapu

Ray White Rolleston

33 Birchs Road, Prebbleton

Ray White Lincoln

18 Wilbur Close, Rolleston

Ray White Rolleston

500 East Maddisons Road, Rolleston

Harcourts Rolleston

15 Tiny Hill Drive, Rolleston

Property Brokers

51 Tancreds Road, Tai Tapu

Farmlands Real Estate

10 Caesar Close, Rolleston

Ray White Lincoln

61 Gordon Street, Southbridge

Bayleys Canterbury

28 Craig Thompson Drive, Lincoln

Bayleys Canterbury

27 High Street, Leeston

Matson & Allan Leeston

7 Juliet Place, Rolleston

Matson & Allan Rolleston

4 Piako Drive, Darfield

Farmlands Real Estate

21 Da Vinci Avenue, Leeston

Matson & Allan Leeston

23 Denimes Crescent, Rolleston

Ray White Rolleston

42 Dryden Avenue, Rolleston

Ray White Rolleston

16 Delamare Way, Rolleston

Harcourts Rolleston

670 Springston Rolleston Road, Rolleston

Harcourts Lincoln

63 Thames Drive, Rolleston

Harcourts Rolleston

2.00pm - 2.30pm

2.00pm - 2.30pm

2.00pm - 2.30pm

2.00pm - 2.30pm

2.00pm - 2.30pm

2.00pm - 2.30pm

2.00pm - 2.30pm

2.00pm - 2.30pm

2.00pm - 2.30pm

2.00pm - 2.30pm

2.00pm - 2.45pm

2.15pm - 2.45pm

2.15pm - 2.45pm

2.15pm - 2.45pm

2.15pm - 2.45pm

2.15pm - 2.45pm

2.15pm - 3.00pm

2.30pm - 3.00pm

2.30pm - 3.00pm

2.30pm - 3.00pm

2.30pm - 3.15pm

2.30pm - 3.00pm

2.30pm - 3.15pm

2.30pm - 3.15pm

2.45pm - 3.15pm

2.45pm - 3.15pm

2.45pm - 3.15pm

2.45pm - 3.15pm

2.45pm - 3.30pm

2.45pm - 3.15pm

2.45pm - 3.30pm

3.00pm - 3.30pm

3.00pm - 3.30pm

3.00pm - 3.30pm

3.00pm - 3.30pm

3.15pm - 3.45pm

3.15pm - 3.45pm

3.15pm - 3.45pm

3.30pm - 4.00pm

3.30pm - 4.00pm

3.30pm - 4.00pm

4.00pm - 4.30pm

4.00pm - 4.30pm

4.15pm - 4.45pm

1/51 Wild Road, Rolleston

PGG Wrightson

11 Dollar Place, Prebbleton

Bayleys Canterbury

35 Longcot Drive, Rolleston

Property Brokers

83 Ledbury Drive, Rolleston

Ray White Rolleston

48 Riverstone Drive, Rolleston

Ray White Rolleston

21 Lynley Drive, West Melton

Ray White West Melton

25 Jacqueline Drive, West Melton

Ray White West Melton

184 Gilmours Road, Lincoln

Bayleys Canterbury

25 Blue Jean Ave, Rolleston

Property Brokers

4 Thomas Street, Kirwee

Matson & Allan Darfield

188 Knights Road, West Melton

Harcourts Rolleston

7 Stonebridge Way, Prebbleton

Ray White Rolleston

62 Selwyn Street, Leeston

Ray White Rolleston

19 High Street, Southbridge

Matson & Allan Leeston

15 Fairfield Way, Rolleston

Property Brokers

37 Brookside & Irwell Road, Irwell

Ray White Lincoln

83 Highsted Road, Bishopdale

Harcourts Rolleston

63 Lancewood Drive, Halswell

Ray White Rolleston

2/1280 West Coast Road, West Melton

Bayleys Canterbury

3/11 Crohane Place, Addington

Ray White Rolleston

11 Aua Street, Lincoln

Harcourts Lincoln

40 Chapman Street, Leeston

Farmlands Real Estate

256 Leadleys Road, Prebbleton

Ray White Lincoln

333 Buchanans Road, Yaldhurst

Harcourts Rolleston

12 Bowen Street, Southbridge

Matson & Allan Leeston

45 Lemonwood Drive, Rolleston

Ray White Rolleston

68 Rossington Drive, West Melton

Ray White West Melton

3 Annie James Close, Rolleston

Ray White Rolleston

63 Coopers Road, Leeston

Matson & Allan Leeston

6 Fleming Drive, Leeston

Bayleys Canterbury

371 Springston Rolleston Road, Rolleston

Farmlands Real Estate

39 Bass Street, Woolston

Harcourts Rolleston

6 Moore Street, Rolleston

Property Brokers Real Estate

18 Liddington Drive, Rolleston

Ray White Rolleston

2 Perthshire Crescent, Lincoln

Ray White Lincoln

8 Chert Street, Rolleston

Property Brokers

3 James Hight Avenue, Halswell

Ray White Rolleston

436 Southbridge Leeston Road, Leeston

Ray White Rolleston

65 Longcot Drive, Rolleston

Ray White Rolleston

47 Hungerford Drive, Rolleston

Harcourts Rolleston

788 Weedons Ross Road, West Melton

Ray White West Melton

12 Brookside & Burnham Road, Leeston

Harcourts Lincoln

91 Ledbury Drive, Rolleston

Property Brokers Real Estate

3 Redruth Avenue, Spreydon

Ray White Rolleston

For full details of all

Open Homes, please

contact the Real Estate

companies

BAYLEYS

CANTERBURY 03 375 4700

www.bayleys.co.nz

RAY WHITE

ROLLESTON 03 347 9988

www.rwrolleston.co.nz

WEST MELTON 03 347 9933

www.rwwestmelton.co.nz

LINCOLN 03 325 7299

www.rwlincoln.co.nz

FARMLANDS www.farmlands.co.nz

FARMLANDS LINCOLN 03 325 2889

FARMLANDS LEESTON 03 324 3189

FARMLANDS DARFIELD 03 317 9070

PROPERTY BROKERS ROLLESTON

www.propertybrokers.co.nz

ROLLESTON 03 929 0306

HARCOURTS

www.fourseasons.harcourts.co.nz

HARCOURTS HORNBY 03 349 9919

HARCOURTS ROLLESTON 03 347 4711

HARCOURTS LINCOLN 03 662 9933

PGG WRIGHTSON CANTERBURY

03 318 7850, www.pggwre.co.nz

MATSON & ALLAN

www.marealestate.co.nz

ROLLESTON 03 347 9949

DARFIELD 03 318 8204

LEESTON 03 324 3704

MIKE PERO ROLLESTON

03 347 1111, www.mikepero.com
---
24