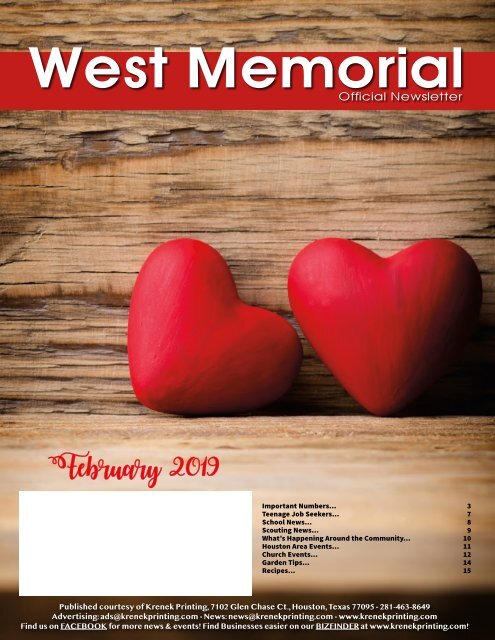 West Memorial February 2019
Create successful ePaper yourself
Turn your PDF publications into a flip-book with our unique Google optimized e-Paper software.
West Memorial

Official Newsletter

February 2019

Important Numbers... 3

Teenage Job Seekers... 7

School News... 8

Scouting News... 9

What's Happening Around the Community... 10

Houston Area Events... 11

Church Events... 12

Garden Tips... 14

Recipes... 15

Published courtesy of Krenek Printing, 7102 Glen Chase Ct., Houston, Texas 77095 • 281-463-8649

Advertising: ads@krenekprinting.com • News: news@krenekprinting.com • www.krenekprinting.com

Find West us Memorial on FACEBOOK | February for 2019 more news & events! Find Businesses easier on our BIZFINDER at www.krenekprinting.com! 1
---
FIND OUT IF SURGICAL WEIGHT

LOSS IS RIGHT FOR YOU

Get information you need to start your weight-loss journey.

Laura Choi, MD

Bariatric Surgeon

Houston Methodist West's

experts, including bariatric

surgeons, counselors,

nurses and an exercise

physiologist, will ensure

you receive the exceptional and personalized

care needed to achieve long-term success.

Dr. Laura Choi offers individualized plans

designed to help you achieve your specific

goal, whether you want to improve your

quality of life or drastically change your life

with surgical weight loss.

Attend one of our free in-person information sessions:

Thursday, Feb. 7

6–7 p.m.

Registration is required.

Friday, Feb. 8

Noon–1 p.m.

Friday, Feb. 22

Noon–1 p.m.

Visit houstonmethodist.org/events or call 832.667.5673.

Or, watch online at houstonmethodist.org/weight-loss-surgery.

Houston Methodist West

18500 Katy Freeway

Houston, TX 77094

2

February 2019 | West Memorial
---
Interested In Hosting

A Foreign Exchange Student?

Now that the holidays are over and everyone is settling back down again into their daily

lives, why not consider hosting a foreign exchange student for the 2019/2020 school year. STS

Foundation is now accepting applications from prospective host families - all it takes to host is

to provide a place for the student to sleep, three meals a day and a willingness to share your life

with one of our amazing students!

Meet Emma from Denmark - Most of the time I'm a quite happy person. I'm very honest and

thoughtful. I usually worry about others before myself. Usually I'm not shy and I don't have

a problem making new acquaintances. I'm helpful and enjoy helping others out. I also love to

hang out with my friends after school. I'm not very sporty, but I still like the thought of staying

healthy, so I go for a run with a friend sometimes, I like to read books, but I also enjoy writing.

Different short stories, mostly just for me. I also enjoy dancing. It's not something I go to,

because of the not so good opportunities in my area. I really like to act as well. We only have one

drama school in my area and it isn't very good, but I have been in a few school plays.

And here's Diego from Spain - I am a very active and sportive boy. I am also a very sociable person,

so I think this experience may be a good one. Meeting new people and having new friends are

some of the things I would enjoy about this experience. I'm a person who has lots of interests,

for example I am always wanting to learn new things such as the culture of other countries

or even at school I'm interested in nearly all the subjects. I think that I am also very mature

and self-motivated. My interests are mostly related to sports (swimming, skiing and playing

soccer), but I also have other cultural interests. For example, I love geography, knowing every

place and learning interesting facts about them. I'm also interested in cooking. I usually cook on

weekends with my father and we make really good dishes. Finally, I like to play videogames with

my friends or going out with them. We usually go to the movies or to have dinner.

If you are interested in learning more about Emma, Diego or any of our other students, please

give me a call - I'd love to talk to you about hosting! I can be reached at 832-455-7881 or at vicki.

stsfoundation@yahoo.com.

WEST MEMORIAL IMPORTANT NUMBERS

West Memorial Mailing Address:

c/o High Sierra Management

722 Pin Oak Road, Katy, TX 77494 ª 281-391-7914

Manager: Sherri Carey

www.westmemorial.org

PARK HOURS:

8 AM - Dusk, 7 days a week

TRASH PICK UP: Wednesday & Saturday

SECURITY (CONTRACT #83)

EMERGENCY (Police, Fire, Medical) 911

NON-EMERGENCY:

Constables Office 281-463-6666

Harris County Precinct 3 713-755-6306

Crime Stoppers

713-222-TIPS

HCE SD FIRE DEPT. 48 281-599-8888

SCHOOLS

KISD Administration 281-396-6000

KISD Security 281-396-7560

KISD Transportation Dept. 281-396-6220

West Memorial Elementary 281-237-6600

West Memorial Jr. High 281-237-6400

Katy High School 281-237-6700

Texas Children's Hospital West 832-227-1000

Children's Protective Svs. 713-394-4000

Harris Co. Public Health & Environment 713-439-6000

Comcast Cable 713-341-1000

Reliant Energy 713-207-7777

Centerpoint Energy 713-207-2222

www.ceneterpointenergy.com/outage

West Memorial MUD 281-392-2290

WCA (trash pick-up service) 281-368-8397

BOARD OF DIRECTORS

President

Vice President

Treasurer

Secretary

Director

Director

Pat Leo

Jerry Wells

Pat Wilson

Lindy Rajput

Harry Woodstrom

Ishmael Gantt

IMPORTANT NUMBERS

Poison Control Center 800-764-7661

Animal Control 281-999-3191

Memorial Hermann Katy Hosp. 281-644-7000

Houston Methodist W. Hospital 832-522-5522

WEST MEMORIAL BOARD MEETINGS ARE THE

4TH TUESDAY OF EACH MONTH AT 7 PM AT THE CIVIC CENTER

WEST MEMORIAL SWIM TEAM WEBSITE

www.wmst.swimtopia.com

Newsletter published courtesy of Krenek Printing Company

7102 Glen Chase Ct., Houston, Texas 77095 281-463-8649

news@krenekprinting.com • www.krenekprinting.com

West Memorial | February 2019 3
---
Alert Alert!!

Please make sure you lock your cars doors. There have been numerous car

break ins. The majority of targets have been unlocked vehicles. Precinct

5 is aware of the issue please report any breaks in the department for

further investigation.

We are currently working on the pool remodel, which will include new

fencing, the pools will be resurfaced and retitled with new lighting. In

addition, the deck will be pressured washed and the drains cleared for

summer operation. We are currently seeking bids for a new life guard

company. There has been a new pool maintenance company hired to

care for the pools through out the year. Be on the look out for future park

enhancements.

Call Anytime!

4

Local Utility Rebates Now Available

TACLB019260E

HEATING • AIR CONDITIONING

NEW A/C & HEAT SYSTEM as low as $ 78 * a month

* $78 MONTH BASED ON LOAN AMOUNT OF $6501 FOR A 2 TON 16 SEER SYSTEM, 7.9% APR. WITH APPROVED CREDIT. CALL FOR DETAILS.

CANNOT BE COMBINED WITH ANY OTHER OFFER. EXPIRES 2/28/2019

281-492-3450 myACandHEAT.com

FREE ESTIMATES on New Equipment

"We work as unto

the Lord"

RESIDENTIAL &

COMMERCIAL

GEYER ROOFING

Specializing in

Re-Roofing

Ron Geyer

713-462-3898

REMODELING

• Kitchens • Bathrooms • Windows / Doors • Floors • Hardi Siding

• Rooms Additions • Complete Renovations • Patio Covers

Rob Geyer

281-477-3456

Same-Day Service

Seeking Volunteers

Yard of the month club: We need several people to select yard based

on the landscaping. Our volunteers would award the yards with the yard

of the month sign and possible gift card for Houston Garden Center or

Home Improvement Center

Welcome Committee: We need several people to welcome new

neighbors. The committee will introduce themselves and provide a

welcome packet. We need help assembling the welcome packets.

Neighbors helping Neighbors: We are seeking contractors and people

in the housing industry.

Park Beautification Project: We need several people to help monitor

the park to insure it remains well kept.

Please email volunteers@westmemorial.org for more information or

questions.

West Memorial Updates

As you walk through the subdivisions, you might realize that in some

areas, we are experiencing severe erosion under the sidewalks.

Depending on the location and the cause, the problem might be repaired

(at no cost to the homeowner) by either West Memorial MUD at 281-392-

2290 or hcmud81@comcast.net and/or Harris County at 713-755-6405.

As a homeowner, you are responsible for the maintenance of sidewalks

and driveways and should an accident occur because the sidewalk is not

in "good" condition, the liability would be yours, as homeowner. So we

encourage you to contact these two parties and have them come out to

decide when they can make the repairs.

We have leash laws in the County, this is for the safety of all residents. In

addition, please carry a bag when you walk your dog and pick up your

dog's bowel movements. I am confident everyone will appreciate your

being considerate on this point.

We are in the process of establishing a monthly newsletter, if you would

like to be included please send an email to lindy@westmemorial.org.

Do not forget to sign in at our monthly meetings. We would like to include

you on updates for the community and any email alerts.

We have received several notices in regards to street parking and

obstructions that are caused by parking on the street. Please review the

following guidelines listed below. In addition, if you have shrubs over

hanging in front of street signs please trim. We appreciate your concern

and care in this matter. Safety Notice-http://codes.findlaw.com/tx/

transportation-code/transp-sect-545-302.html

Per the Texas Traffic Codes

(1) in front of a public or private driveway;

(2) within 15 feet of a fire hydrant;

(3) within 20 feet of a crosswalk at an intersection;

(4) within 30 feet on the approach to a flashing signal, stop sign, yield

sign or traffic-control signal located at the side of a roadway.

February 2019 | West Memorial
---
The West Memorial Civic Association

MANAGEMENT COMPANY HIGH SIERRA MANAGEMENT, INC

Sherri Carey is the Association's Manager. The Association has a direct

phone number for your convenience. The number is 281-391-7914 and

will direct you to whomever in the management staff you wish to speak

with; manager, administrative staff, accounting and the work order

department. Please allow the property manager, unless of urgent need,

twenty four to forty eight hours to respond to your correspondence.

When contacting the office or speaking with the answering service,

please be sure to give your name, homeowner association, address and

telephone number where the call can be returned. The management

office is located at 722 Pin Oak Road, Katy, Texas 77494 and office hours

are Monday through Friday 8 AM to 5 PM. You may also contact your

management team by visiting the High Sierra Management website at

www.highsierramanagement.com and selecting "Online Requests."

High Sierra Management will be performing the monthly deed restriction

inspections and citing all violations of the governing documents. If you do

not have the rules and regulations, you may download a copy from www.

WestMemorial.org or contact the management company and request a copy.

We are sure you are all eager to help maintain the property values and exterior

appearance of our community and hope we can count on your continued

support in this effort. As a reminder, West Memorial Civic Association is a

deed restricted community and all changes or additions to the exterior of the

home must be approved by the Association prior to any work commencing.

Requests for home improvements can be obtained through management.

The Board of Directors meetings are held monthly in the association

clubhouse (by the pool) on the fourth Tuesday at 7 PM and all homeowners

are welcome to attend. You may also email or call with any questions or

concerns at any time. We thank you all in advance for your kind cooperation

and continued help in making West Memorial a great place to live!

Respectfully, The West Memorial Civic Association - Board of Directors

West Memorial Email Alert &

Notification System

West Memorial has a new alert and notification system that works with

email. The alerts are for emergency notifications, security alerts and

messages from our constables. The notifications are for neighborhood

events, meetings and issues. To be a part of the system, you must request

the service. If you are interested, open our web site at www.westmemorial.

org and locate the Sign-Up icon on the right side of the main page. Follow

the instructions and you will receive all future alerts and notifications.

Anyone wishing to send an alert or notification should submit the

message to westmemorial@westmemorial.org for approval, posting and

transmission. Please direct any questions to harry@westmemorial.org.

Trash Service

WCA (Waste Corp. of America) is your trash collection provider. Each

homeowner/resident is responsible for initiating service and remitting

payment. WCA statements are issued quarterly via US Mail. Trash service

days are Wednesday and Saturday. Please have trash out at curb by 7

AM each pick up day. Heavy Trash and/or extra bags are picked up on

both pick-up days, Wednesday and Saturday.

RECYCLING IS EVERY SATURDAY: WCA takes great pride in our recycling

program and efforts. Ensuring the best recycle program for our customers

takes time and effort on both sides. Please remove caps, liquids and food

products from inside the containers. Please only use the recycle bins for

recyclable materials, not as an extra trash container. WCA will collect

papers, plastics, aluminum and tin cans that are placed within the provided

recycling bin. If items exceed container capacity, please place them adjacent

to bin. WCA will provide each current residence with one recycling bin. WCA

will replace any bins that are defective or otherwise become unusable due

ADVANCED

HOME EXTERIORS

WE DON'T TRY TO DO IT ALL...

WE ONLY DO WHAT WE DO BEST!

SIDING, WINDOWS & ROOFING

HardiePlank Siding & Exterior Painting

$500 OFF *

HardiePlank and Window Replacement

*Minimum purchase required

Hardie ColorPlus from

Advanced Home Exteriors

is recommended by

Tom Tynan, HomeShow Radio

Financing Available

Call Today for Your Free Estimate!

832-363-3772

Forever Landscape

• Tree Trimming

• Tree Removal

• Tree Fertilizer

• Trim Bushes

• Flower Bed Design

• Planting, Renovation

• Stone Border

• Pavers

Call Everth

Amelia Norabuena

• Flagstone

• Drain System

• Garden Soil, Top Soil

• Grass Installation

• Lawn Aeration

• Lawn Dethatcher

• Mulch

• Clean Gutters

281-891-0370

Visit us at

www.foreverlandscape.com

Fully insured for your protection.

Free

Estimates

MAID SERVICES

281-912-5036

West Memorial | February 2019 5
---
to normal wear and tear. Theft, lost or additional bins can be replaced at $8

each. If you find items left in your bin that are not recyclable please dispose

of these items in your trash container for the next scheduled pick up.

HHHHHHHHHHHHHHHHHHHHHHHHHH

H

H

H WIZARD REMODELING H

H

There's no place like home. H

H

H Kitchens and Baths

H

H

H Home Additions

H

H

Mr. OZ

H Patio Covers and Decks

H

H

H Siding, Painting, Concrete and Roofing H

H

All Your Home Remodeling and Repair Needs H

H

Interior/Exterior, Large or Small, We Handle It All! H

H 30 Years Experience

H

H Free Estimates Jim Mroz 281-773-9275 H

HHHHHHHHHHHHHHHHHHHHHHHHHH

6

Roof Leaking?

Specialized in Roof Repairs

Our Family Trade Since 1945

• Whole Roofs & Roof Repairs

• Seamless Gutters & Downspouts

• Wall Flashing

• Soffit & Fascia

• Skylights & Chimneys

• Window Replacement

• Other Difficult Repairs

281-391-8257

www.callenroofing.com

WE FIX IT RIGHT

THE FIRST TIME!

Katy Owned & Operated

Your Trusted and Reliable Expert Electricians

Serving Katy and Greater Houston for Over 40 Years

• Panel Upgrades

• Custom Lighting

• Dimmers

• Security Lighting

• Surge Protectors

• Ceiling Fans

• Generators

• Troubleshooting & Repairs

Free Estimates • 2 Hour Appointment Window • 5 Year Warranty

281-909-4888

westhoustonelectric.com

HOLIDAYS: When regular pick-up falls on a holiday, New Year's Day,

Memorial Day, July 4 th (Independence Day), Labor Day, Thanksgiving

Day, and Christmas Day, the pick-up will be made on the next regular

scheduled pick-up day. If your recycling day falls on a holiday it will be

picked up the next week on your normal scheduled recycle day.

BILLING: WCA will invoice each individual residence on a quarterly basis. Bills

are due 30 days after receipt. Any residents failing to pay will receive a statement,

have services discontinued and incur a $25 late/reconnect service fee.

CONTACT INFORMATION

Waste Corporation of Texas

8515 Highway 6 South, Houston, TX 77083

Ph: 281-368-8397

West Memorial Park

Our community park is located at 22415 Kingsland and is open to all West

Memorial residents for outdoor activities. It has playground equipment

and a large sheltered pavilion.

Soliciting

Soliciting is prohibited in West Memorial Subdivision. Please make sure

you have a sign posted on your residence for no soliciting. If you are

approached by a solicitor, please call the Constable's office at 281-463-

6666. Continue to call this number if you see suspicious person or vehicles.

Stray Animals

Do not hesitate to call Harris County Animal Control at 281-999-3191, if

you see animals that are roaming the neighborhood unleashed.

West Memorial Constables

Please make sure you call and report any suspicious behavior. Please file

a report for any stolen or missing property we need to know what is going

on in the neighborhood. Our Constables patrol our subdivision 24 hours

a day/seven days a week. Please call them at 281-463-6666 to report any

disturbance or to request vacation patrols.

West Memorial Website

www.westmemorial.org is the address for West Memorial information on

the internet. The web site contains pool information, Board member contacts

and complete documentation of your deed restrictions. It also contains

neighborhood information, including schools, security, recreation and local

worship centers. Check it out, you might find something you have been looking for.

Deed Restrictions

The purpose of Deed Restrictions in your neighborhood is to protect and

enhance property values. They set guidelines for initial construction,

perpetual maintenance and property use. As residents agree to abide by

the majority view; the style and standards of a community are established

and everyone benefits. For your information, restrictions are written by

the developer before the first home is constructed and the Association is

then charged with the on-going responsibility of enforcing them. They can

be changed, but a very large percentage vote of homeowners is required

to do so. Please let us know if you see a problem in the neighborhood.

Reward

West Memorial Civic Association's Board has approved the following:

A $250 reward to anyone providing information leading to the arrest

and prosecution of person or persons vandalizing or destroying West

Memorial Civic Association property.

February 2019 | West Memorial
---
Clubhouse Rental

If you are interested in renting the clubhouse, please call Dannielle

Raper at 281-391-7914. At the time your call is returned, the guidelines

for renting and using the clubhouse will be provided. Be sure you allow

yourself plenty of time to fulfill the requirements, such as hiring security

officers. You will be provided with the names and phone numbers of the

individuals to contact to make the necessary arrangements. A few, but

not all, of the guidelines are listed below:

1. There is no smoking in the clubhouse.

2. Residents must have all dues/assessments paid prior to booking the

clubhouse.

3. A certified check for all rental fees and deposits is required 30 days in

advance.

4. The security deposit will be returned within 30 days after the date of

the event based on the condition the premises was left in.

5. Renter is responsible for the conduct of all attendees.

6. Police Officers are required at all functions of 50 or more attendees or

at any event in which alcohol will be served. Arrangements and payment,

for the officers, are to be made by the renter.

Rental rates are as follows:

Resident $175

Non-resident $525

Security deposit $300

Street Lights

Your Association pays for streetlights from your annual dues, whether

they work or not. If a light is out in your area, please call 713-207-2222 and

report it. You may also report outages online at www.centerpointenergy.

com/outage. Each light has a number on it. When reporting the out light,

give the pole number and street location. We want all lights to work. A

lighted area is a safer area.

KEEP YOUR FAMILY HEALTHY

WITH HOUSTON METHODIST

PRIMARY CARE

Our primary care doctors make your family

their top priority.

We provide personalized care for your whole family, including

physicals, immunizations and preventive care.

Many of our practices:

• Provide online scheduling

• Offer same-day appointments

• Are conveniently located close to work or home

• Accept most major insurance plans

Teenage Job Seekers

If you are between 12 and 18 and would like to be added to the

teenage job seeker's list, please fill out the form on our website (www.

krenekprinting.com, click submissions and choose Jobseekers) with

your name, birthdate (mo. & yr.), phone number, year you will graduate

and the name of your newsletter/subdivision. Check the list of jobs you

want on your form. Please make sure your email is correct, we send

emails in the summer to make sure all the info is still good and that you

want to stay on the list. If we do not hear back from you after 3 tries, we

will remove you from the list until we do. Must have parent(s) permission.

LICENSED

houstonmethodist.org/pcg

713.394.6638

TACLB021058E

INSURED

DISCLAIMER:

Neither the subdivision, nor Krenek Printing is responsible for those listed

on the Teenage Job Seeker List. Please ask for and check out references

if you do not personally know those listed. This is just a list of teenagers

from the subdivision who wish to find part time jobs. Responsibility for

any work done by these teenagers is between those seeking helpers and

the teens and their parents.

CODE KEY: B - BABYSITTING, CPR - CPR CERT., FAC - FIRST AID CERT.,

RCC - RED CROSS CERT., SS - SAFE SITTER, SL - SWIM LESSONS, PP

- PET/PLANT SITTER, P - PET CARE ONLY, H - HOUSE CARE, L - LAWN

CARE, C- CAR CARE/DETAILING, T - TUTORING

TEENAGE JOB SEEKERS

NOT AVAILABLE ONLINE

HEAT

FREE 1st lb. Freon (R410 only)

1/2 Priced Condenser Coil Cleaning

1 Yr. Warranty On Parts Changed

We Value Your Business

All Brands Serviced

Local Neighborhood Company

Fast Personalized Service

We Will Heat & Cool Your Castle!

COOL

Discount Fence Company

"When a good job really matters."

Residential and Commercial Fences

• Wood Privacy Fences

• Chain Link Fences

• Fence Repairs

• Insured and Bonded

• Free Estimates

• Tree Trimming (Certified Arborist)

No Job Too Big

or Too Small

Daniel Burgess

832-378-2337

West Memorial | February 2019 7
---
School News

KATY INDEPENDENT SCHOOL DISTRICT

WWW.KATYISD.ORG

IMPORTANT DATES

February 15 th - Early Dismissal - Campus Professional Learning

February 18 th - District Professional Learning Day - Student Holiday

L-R: Shelley Carpenter with Brazos Valley Schools Credit Union and

Kristin Abel with Yoga West reading at Bryan Elementary School.

Jacob Anderson with AXA Advisors reading at Shafer Elementary School.

Over 250 Katy ISD Elementary Classes Benefit From Promise To Read

In November, 130 guest readers represented by 50 area businesses and community members across Katy brought the love of reading to 274 Katy ISD

classrooms during Promise to Read. This annual initiative is part of a 21-year-old tradition led by Katy ISD's Partners in Education. Promise to Read

affords the community a unique opportunity to reacquaint themselves with the world of children's literature by spending 30 minutes reading to a

classroom of excited elementary students. Each November, the program is offered over the course of two weeks at various elementary campuses.

This year's Promise to Read was hosted at Alexander, Bryant, Golbow, Holland, Fielder, Katy, Shafer, Sundown, West Memorial and WoodCreek

elementary schools. Host campuses rotate each year so that, over a four-year period, every Katy ISD elementary has an opportunity to participate.

"Promise to Read has become a treasured community event thanks to hundreds of devoted community volunteers, many of whom join us every year

and our Katy ISD host campuses," says Janet Theis, Katy ISD's Executive Director of Community Partnerships. "Promise to Read continues to open the

door for our business community to embrace and inspire the love of reading and share that magic with classrooms across the district."

About Katy ISD Partners in Education - Through programs like Promise to Read, Katy ISD Partners in Education creates school-support opportunities

for parents, businesses and the community by offering a wide variety of options amenable to every schedule, talent and expertise. We bring volunteers

into Katy ISD classrooms at each campus and all grade levels. To learn more, visit Partners in Education under the "Community" tab at www.katyisd.org.

8

February 2019 | West Memorial
---
Attendance Boundary Modifications

Approved For New Junior High

With the construction of Junior High #16 set to be completed just in

time for the 2019-20 school year, Board of Trustee members considered

and discussed attendance boundary modification (ABM) options, which

would address the fast growth taking place in the southwest quadrant

of Katy ISD. During the December Regular Board meeting, Trustees

approved Option #1 which can be viewed on the Attendance Boundary

Modification website.

"Thanks to the voter approved November 2017 Bond, Junior High #16 will

open in August of 2019," said Chief Operations Officer Lee Crews. "Junior

High #16 will open near capacity enrollment and provide population relief

to Tays, WoodCreek and Seven Lakes junior high schools," added Crews.

After careful consideration, Option #1 was determined to be the best

long-term solution for balancing Junior High enrollment in the southwest

quadrant of Katy ISD.

Thank You For Giving To Katy Isd

Food For Families!

Together, our Katy ISD community raised $37,500 for Food for Families.

Grocery gift cards were distributed to students this week.

On behalf of all our campus principals, counselors and the entire

district, we thank you for your generous contribution and making it a

brighter season for 750 Katy ISD students in need this year.

Scouts

Brownie GS Troop Openings for 2nd

Grade Girls-Katy Wide

Troop 128006, a Katy wide 2 nd Grade Brownie Girl Scout Troop, has

opening for 2 nd grade girls. We welcome new to GS, returning & existing

2 nd grade Girl Scouts. Meetings: Every other Monday, 6:30-8 PM, 20000

Franz Road area. Contact Lee at gstroop128006@gmail.com for more

information.

Scout It Out And Come Join Cub

Scouts With Pack 353!

FIELD TRIPS. CAMPING. RACING. FITNESS. FRIENDSHIP.

Nottingham Elementary: Pack 353 has been keeping the Scout spirit alive

since 1982. With over 60 scouts and 20 dynamic leaders, we are gearing

up for a fun-filled year with a wide variety of activities that help boys

develop leadership skills, build character, strengthen communication

skills and demonstrate good citizenship.

ONE COMPANY.

ONE AGENT.

MANY WAYS TO SAVE.

Let me help you save time and money.

Protecting more of your world with Allstate makes your life easier.

And it can put more money in your pocket. Bundle your policies and

you can save even more. Why wait? Call me today.

Warren Sloan

(713) 464-4442

1400 W. Sam Houston Pkwy. N #130

Houston

warrensloan@allstate.com

Subject to terms, conditions and availability. Savings vary. Allstate Property and Casualty Insurance Co., Allstate Fire

and Casualty Insurance Co., Allstate Insurance Co., Allstate Texas Lloyd's, Allstate Indemnity Co., Allstate Vehicle and

Property Insurance Co. Northbrook, Illinois © 2011 Allstate Insurance Co.

87877

Boys entering first through fifth grades are welcome to join us anytime

throughout the year. If you would like more information on joining Cub

Scouts and participating in our summertime activities, please contact

our Cubmaster Randy Barras at: 353katy@gmail.com. Keeping it fun.

Doing our best.

Homeschool Pack 164

Cub Scouts is a fun way to teach boys about character, respect,

responsibility and many other traits. Pack 164 is a Christian, home

school Cub Scout Pack that services the Greater West Houston/Katy area.

Pack 164 promotes service to God, to country and to others. If you are

interested and your son is entering 1 st through 5 th grade, please contact

Jack M. Jones at 281-558-5722.

On-Site Leaded Glass Door Repairs Free Estimates

Glass Happy

Call Larry Jones

281-579-7761

Custom Stained Glass

Free Estimates

Sidelights & Transoms

to match your front door

Half Round/Arched Windows

Add

Privacy and Beauty

to your home

Visit our Gallery

www.glasshappy.com

Stained Glass Restoration & Repair

West Memorial | February 2019 9
---
What's Happening Around the Community

5K & 1 Mile Walk

February 9, 2019

No Label Brewery

Registration 8:00am

Run Starts at 9:00am

Family Entertainment

No Label Brewery, Face Painting, Bounce Houses,

Food, Raff le, Chris Boise, and

Righteous Cause Band

Register & Learn More:

***all funds raised benefit

The Children's Heart Foundation

and Hayden's Heart

Graeme's Run

5K & 1 Mile Walk on February 9, 2019 at the No Label Brewery.

Registration 8 AM and run starts at 9 AM.

Family Entertainment: No Label Brewery, Face Painting, Bounce Houses,

Food, Raffle, Chris Boise and Righteous Cause Band. *All funds raised

benefit The Children's Heart Foundation and Hayden's Heart.

Register & learn more at www.graemessuperheroes.org.

10

Reign Over Cancer Walk

February 16, 2019, 8-11 AM: Join the GEST Foundation at Cane Island, Katy,

TX, 2100 Cane Island Parkway, Katy, TX 77493 to celebrate cancer survivors

and remember loved ones no longer with us. Money raised will fund grants

to allow cancer patients the opportunity to focus on healing. Silent Auctions,

Giveaways and more! Join us for a day of family fun! Register online here:

http://reignovercancerwalk.itsyourrace.com - GEST Foundation, Inc., is a

registered 501c3 organization. Your donation is tax deductible to the fullest

extent of the law. Tax ID 30-0960768. Receipts for tax purposes will be mailed

out at the end of the year. For more info., www.GESTfoundation.org.

February 2019 | West Memorial
---
Houston Area Events

6 TH ANNUAL HOUSTON CREOLE HERITAGE FESTIVAL MARDI GRAS AND PARADE - February 2, 2019, 9 AM-10 PM. Cost: $10-$15. Come and enjoy good food,

good music and good times! The Parade begins promptly at 9 AM - Bell St and Chenevert Street. Locals and visitors from around the country of all ages are

invited to join us for an exciting, float-filled Mardi Gras Parade; accompanied by a fun-filled festival celebrating the cultural richness of Creole heritage. There

will be many local vendors and tasty food trucks for you to explore. The main stage will be filled with Creole musical acts. Visit us at www.mardigrashou.com.

REELABILITIES: HOUSTON FILM & ARTS FESTIVAL - February 12-21, 2019. A FREE city-wide film and arts festival dedicated to presenting films, art

exhibitions, performances and speakers that celebrate the lives, stories and talents of people with disabilities and enrich Houston's culture, diversity

and inclusion efforts. For a full schedule of the events go to www.reelabilitieshouston.org/schedule-of-events.php.

PROJECT ROW HOUSES PRESENTS: SOMEWHERE I READ - February 13, 2019, 6:30-8:30 PM. Project Row Houses, 2521 Holman, Houston, TX 77004.

Admission: Free. Project Row Houses (PRH) presents "Somewhere I Read," a series of listening groups focused on the themes of listening to and hearing

Black Geographies. In conjunction with Tia-Simone Gardner's Round 48 installation "The Black Power Station," the listening groups will hear an audio

recording of the essay "Mathematics Black Life" by Black Feminist Geographer Katherine McKittrick.

REEL FORCES - February 22, 2019, 7-8:30 PM. Match - Midtown Arts & Theater Center Houston

3400 Main Street, Houston, TX 77002. Kick-off Oscars weekend with an evening of the meta, the miniscule and the far-reaching as Musiqa celebrates

experimental film and live music. "Reel Forces" examines the traces of humanity, memory and conflict through "Beyond Zero: 1914-1918," a moving

and mesmerizing film of rare WWI archival footage by auteur-director Bill Morrison and scored for string quartet by Aleksandra Vrebalov. Two short films

curated by Houston Cinema Arts Society and musical works by Marcus K. Maroney and Florent Ghys complete the program. Season Passes starting at

$95; General Admission Pay-what-you-wish; limited quantity of $5 Explorer tickets for first-time Musiqa patrons!

DOWNTOWN RODEO PARADE - February 23, 2019, 8:30 AM. Every February since 1938, the nation's fourth largest city is transformed from a bustling

metropolis to a down-home celebration of Western heritage. Decorative floats intermingle with thousands of men and women on horseback to fill the

streets with hoof beats and marching bands. Enthusiastic Houstonians join out-of-town spectators to line the streets and sidewalks to be involved in one

of Houston's most popular celebrations! The best places to view the parade are on Louisiana, from Bell to Lamar, Lamar and from Louisiana to Smith.

HOUSTON LIVESTOCK SHOW & RODEO - February 25, 2019 - March 17, 2019 - The Houston Livestock Show and Rodeo promotes agriculture by hosting an

annual, family-friendly experience that educates and entertains the public, supports Texas youth, showcases Western heritage and provides year-round educational

support within the community. Since its beginning in 1932, the Rodeo has committed more than $475 million to the youth of Texas. www.rodeohouston.com.

GUST - Daily through March 21, 2019, Discovery Green, 1500 McKinney Street, Houston, TX 77010. Admission is free. GUST: Celebrating a Decade of Discovery

is an interactive art installation created by Cocolab, a Mexico City-based studio for the Discovery Green Conservancy. GUST is a public art project that uses

an array of 1600 handmade pinwheel to visualize the invisible patterns of the wind and to activate Brown Promenade with vivid color and subtle motion.

LIVING HISTORY SATURDAY - 3 rd Saturday of the month, 10 AM-4 PM. Washington On The Brazos State Historic Site, 23400 Park Road 12, Washington,

TX 77880. Admission: Regular admission fees apply. Travel back in time to where a nation was born in 1836. Staff and volunteers dressed in period

clothing bring to life the people and events of Old Washington providing a unique opportunity to discover various aspects of life surrounding the birth

of the Republic of Texas. The program features activities suited for the entire family. Try your hand at writing with a quill pen and sign a copy of the

Texas Declaration of Independence. Visit with militia soldiers travelling through town or try your hand at some early Texas games. Step back in time and

discover the spot where Texas became Texas! (Activities will vary and some are weather dependent.) Contact Adam at 936-878-2214 ext. 228.

COMEDY NIGHT AT HPL - Monthly on the 3 rd Thursday, 6-8 PM. Houston Public Library, 500 Mckinney Avenue, Houston, TX 77002. Admission is free. The

Houston Public Library offers "Open Mic" comedy night where local and non local comedians, comediennes, ventriloquists and impressionists of ALL ages

present family comedy to the audience. Improv Performers from Station Theater closes out the night with games that involve the audience. Everyone who

participates in at least one open mic throughout the year become eligible to participate in the Annual Comedy competition which is held in December. Prizes

in the amounts of $100 and $75 gift cards are given to the 4 winners. Two adult and two youth. Event is free and open to the public. Food and non alcoholic

beverages are allowed in the sitting area during this event only. You can bring your own food and order from many of the surrounding food places. All ages.

CAFFEINE AND CHROME - Recurring monthly on the last Saturday of the month, 9 AM-12 Noon, Gateway Classic Cars Of Houston, 1910 Cypress

Station Drive, Suite 200, Houston, TX 77090. Admission is free to spectators. Presented by Grundy Insurance! So far we have had some amazing turnouts,

but we want to continue to grow! Enjoy delicious donuts, coffee and all of our sweet rides! No cruiser? No sweat bring the daily driver. Hope to see you

there. 250+ classic & exotics.

LET'S ROAM: HOUSTON MUSEUM DISTRICT SCAVENGER HUNT - Daily, Hermann Park, 5951 Fannin Street, Houston, TX 77030. Admission: $11.99/

person. The largest city in Texas can feel like one great big museum. On this fun-filled Houston scavenger hunt, explore the Museum District and all its

surrounding green spaces. Who is the city's heroic namesake? How many columns does it take to make a colonnade? Find out on this scavenger hunt of

Houston! What You'll See: Museum District, Hermann Park, Clayton Library. Tickets and info, 833-202-7626 or www.letsroam.com.

West Memorial | February 2019 11
---
p r e s e n t e d b y

Door registration opens at 4:30 pm

1901 N. Shoreline Dr. Corpus Christi, TX 78401

group rates available • children under 7 FREE

Special $12. 50 rate for Destination Heaven

conference attendees

For tickets, info, or for conference registration:

Text the word TRUTH

to 22828 to join our email list

12

Quality Printing

Targeted Advertising

Professional Service

f e a t u r i n g

Print & Mail ServiceS

Call our office today to get a quote for your printing needs!

in concert

FEBRUARY 24, 2018

7:30 pm - 9:30 pm

American Bank Center

General Admission: $15

VIP Tickets: $40

877-218-7884 or www.fullnessoftruth.org

St. John XXIII

vs

Brazos High School Cougars

ARMED FORCES NIGHT

September 21, 2018

at St John XXIII Stadium

SaRaH ReeVeS

• Flyers

• Postcards

• Business cards

• Brochures

• Programs

• newsletters

L

I

O

N

S

MATTRESS FIRST I GAVE

5102 Avenue H, Rosenburg TX 77471 I GAVE

832-645-4889 I GAVE

LOWEST PRICE OF THE YEAR!

SAVE 50 - 80%

OFF RETAIL STORE PRICES!

Pledge

Queen Sets Starting at Pledge $150

Offering

Offering

• ncr Forms

• christmas cards

• graPhic design

• mailing services

(EDDM, Bulk, First Class)

• and more!

281-463-8649

www.KrenekPrinting.com

Other

Other

Name Name

Automatic Automatic

Online

MATTRESS

BY APPOINTMENT ®

Text Text

281.500.9992

Envelope

To To bless your online or electronic gift, you may

place place this this envelope in the offering plate as as an an

act act of of worship. For more information on on the the

different

different

ways

ways

to

to

give,

give, contact Valerie McElhose

McElhose

at valerie@stcuthbert.org or 281-463.7330.

at valerie@stcuthbert.org or 281.463.7330.

advertiSing OPPOrtunitieS

in the local Subdivision Newsletters reaching over 100,000 homes!

Visit our website for a full price list & to view past issues

YOUR AD COULD

BE HERE!

Krenek Printing

DESIGN • PRINT • MARKET • MAIL

LLC

Church Events

Fry Road Church Of Christ

Spring 2019 Gospel Meeting

March 31-April 3, 2019

Service times are:

Sunday, March 31 st : 9:30, 10:30 AM and 6 PM (Communion will be

observed in the 10:30 AM and 6 PM services.)

Monday April 1 st : 7:30 PM

Tuesday April 2 nd : 10 AM and 7:30 PM

Wednesday April 3 rd : 7:30 PM

The congregation welcomes visitors at each of these as well as our weekly

services. The web address for the Fry Road church is www.fryroad.org.

The visiting evangelist is Reagan McClenny.

Katy Christian Women's Connection

KCWC is part of Stonecroft, a ministry for women which provides Bible

Studies, Prayer Connections and fellowship luncheons around the US.

Katy Christian Women also sponsors monthly Prayer Coffees. These are

held on the second Thursday of each month. Please visit our website

at Katycwc.org for locations or call Janet Collins at 281-762-8252. For

more information or to RSVP for the luncheon, please email Nancy at

Katycwc@gmail.com or call 281-232-8338.

Katy Women's Aglow

Katy Women's Aglow, a part of Aglow International, is a local, spirit-filled

women's ministry fellowship. We meet monthly, usually on the fourth

Saturday 10-11:30 AM. We come together for fellowship, to worship and

to hear inspirational speakers and testimonies, as well as for special

events. Katy Women's Aglow is a great place to make new friends! View

our website for information about current Bible studies. Prayer meetings,

special events and speaker biographies, www.katyaglow.com.

Hope Impacts Bible studies

Mondays at the Bagel Café 7-8:30 PM. Bible Study includes dinner.

Located 631 S Mason Rd, Katy, TX 77450

Thursdays 12-1:30 PM, Ladies Discovery Bible Study and lunch on the

first 3 weeks of the month. Hope Impacts office is located at 802 Dominion

Suite 300, Katy, TX 77450. Registration is required and onsite childcare

provided upon advance request. Minimum participation 2, Maximum 10.

Questions call 713-705-7884 ask for Marilyn or Tina.

Prophetic Bible Study

from the Torah

Prophetic Bible Study from the Torah starting with Leviticus chapter 23,

"the feasts of the Lord," using authentic Hebrew Scrolls and the New

Testament. The lessons are in English, Chinese and partially finished

in the Russian language. Lessons are web based until a group study

is formed in Katy http://scrolls4all.org. Contact: Gary Zimmerman

scrolls4all.org@gmail.com.

Trinity Baptist Church

Senior Adult News

Trinity Baptist Church Senior Adults get together on Monday afternoons

from 1-4 PM for a time of fellowship, prayer and games... Come join the

fun! Trinity Baptist Church is located at 10000 Spring Green Blvd. (corner

of Spring Green and Fry). For more information, visit www.trinity-katy.

org or call the church office at 281-579-6724.

February 2019 | West Memorial
---
Bingo

Epiphany Bingo

Epiphany conducts their bingo games every Friday night except

holidays. THERE IS NO SMOKING ALLOWED DURING ALL BINGO

GAMES. They have security, lighted parking, big screen color monitor,

computerized bingo equipment, snack bar and large cash prizes. Profits

benefit charitable outreach programs. Epiphany Catholic Church, Church

Community Center, 1530 Norwalk Dr. (between Fry and Mason Roads,

south of I-10 behind Nottingham Subdivision) off Highland Knolls. Early

bird games begin at 7:30 PM and regular games at 8 PM. For more info,

call the bingo hall number at 281-578-3905.

St. Bartholomew the Apostle

Catholic Church BINGO

At St. Bartholomew the Apostle Catholic Church in downtown Katy,

"BINGO" is being played in our Parish Hall every Friday evening except

Holidays. Doors open at 7 PM, games start at 7:15 PM with four Early Bird

games. Regular games start at 7:30 PM. All profits will benefit community

outreach and Religious Education programs. The Church is located in

downtown Katy at 5356 Eleventh St. You can get to the church if traveling

west on Hwy. 90 to Katyland Rd. Turn right at the light, go to the second

stop sign (at the stadium) Eleventh St., turn left and the Church Hall will

be on your right one block down. For more info., call 281-391-4758.

Saint Edith Stein Catholic Church

Friday Night Bingo

Friday night BINGO is held the first Friday of February, May, June and

August. This will be a fun evening for the entire family. Everyone can

play including children. We offer a smoke and alcohol free environment.

Cash prizes awarded for Regular BINGO and Special Games will range

from $15 to $100. Snacks and refreshments will also be available. Doors

open at 6:30 PM for BINGO card presales. Early Bird BINGO starts at 7 PM,

Regular BINGO starts at 7:30 PM. All BINGO events at Saint Edith Stein

Catholic Church are operated under a license issued by the Texas Lottery

Commission. Location: Carmel Hall, Saint Edith Stein Catholic Church,

3311 N. Fry Road, Katy, TX 77449.

A.A.A.

Tree Services

& Landscaping

925 South Mason Rd. P.M.B. 239

Katy, TX 77450

281-798-5224

a.a.a.landscaping.2005@gmail.com

• Tree Removal

• Tree Trimming

• Palm Tree Trimming

• Stump Removal

• Lots Cleaned Up

• Landscaping Designs

MPL#40815

Water Heaters • Drain Problems

Faucet Installation & Repair

Gas Test • Water Leaks & Much More

35+ Years Experience

832-890-8449

info@tonysplumbingtx.com

www.tonysplumbingtx.com

15% OFF

Any Service

With this ad.

Fence

Installation

Special

• Flagstone & Paver Patios

• Sod Replacement

• Sprinklers Repair

• Fence Installation & Repair

• Mulch

• Monthly Packages

• Drainage System

Always there for you!

$30 off

any Job

Over $95

Low Price Guarantee

Licensed & Insured

FREE ESTIMATES

West Memorial | February 2019 13
---
Recipes...

Valentine's Pie

You could make this on Valentine's Day February 14th!

INGREDIENTS:

1 (8 ounce) package cream cheese

1 cup confectioners' sugar

1 teaspoon vanilla extract

1 (8 ounce) container frozen whipped topping, thawed

1 (9 inch) prepared graham cracker crust

1 (16 ounce) can cherry pie filling

DIRECTIONS:

In an electric mixer, beat the cream cheese and the

powdered sugar until combined. Add vanilla and beat

2 minutes. Gently fold in whipped topping. Transfer

mixture into the pie crust. Top the filling with the cherries.

Refrigerate for at least one hour before serving.

Source: allrecipes.com

Rich Banana Bread

You could make this on National Banana Bread Day February 23rd!

Ingredients:

1/2 cup butter, melted

1 cup white sugar

2 eggs

1 teaspoon vanilla extract

1 1/2 cups all-purpose flour

1 teaspoon baking soda

1/2 teaspoon salt

1/2 cup sour cream

1/2 cup chopped walnuts

2 medium bananas, sliced

14

Directions:

Preheat oven to 350 degrees F (175 degrees C). Grease a 9x5 inch loaf pan. In a

large bowl, stir together the melted butter and sugar. Add the eggs and vanilla,

mix well. Combine the flour, baking soda and salt, stir into the butter mixture

until smooth. Finally, fold in the sour cream, walnuts and bananas. Spread evenly

into the prepared pan. Bake at 350 degrees F (175 degrees C) for 60 minutes or

until a toothpick inserted into the center of the loaf comes out clean. Cool loaf in

the pan for 10 minutes before removing to a wire rack to cool completely.

Source: allrecipes.com

February 2019 | West Memorial
---
Gardening Tips...

Krenek Printing

NEIGHBORHOOD NEWSLETTERS

www.krenekprinting.com

281-463-8649

LLC

RESIDENTS:

Please support the businesses within

this newsletter. It is because of their support

that you receive this paper at no charge

to you or your HOA.

Share your community news with us.

Non-profit, scouts, school, dated events, etc.

send to news@krenekprinting.com.

The next deadline is February 21st

for the April newsletter

(delivered end of March)

Gardening Tips For February

FLOWERS

• Plants to set: Alyssum, Calendula, Canterbury Bells, Carnations, Columbine, Cornflower,

Daisies, Delphinium, Hollyhock, Larkspur, Lobelia, Nicotiana, Pansy, Petunia, Phlox

(Louisiana), Shrimp Plant, Snapdragon, Stock and Verbena.

VEGETABLES

• Plant beets, broccoli (plants), brussel sprouts (plants), cabbage (plants), carrots,

cauliflower (plants), celery, chinese cabbage (plants), chives collards (plants), endive, kale,

lettuce (leaf and head), mustard, onions (plants), parsley, garden peas, radishes, rutabagas,

spinach, tomato (seeds) and turnips.

ADVERTISERS:

Want your ad to be placed in this newsletter

and mailed to the homeowners every month?

For more information, pricing or to view newsletters

online please visit www.krenekprinting.com

or email ads@krenekprinting.com

BUSINESS FINDER:

Search for businesses in your local area

and find great deals on the goods and

services you are looking for!

TREES AND SHRUBS

• Finish all transplanting, get everything in the ground for a good spring spurt of growth.

Transplant balled and burlap, container-grown, bare-root deciduous evergreen trees,

shrubs, roses and vines while still dormant.

• Finish pruning roses. Weed and cultivate lightly all beds. Replenish mulch as needed.

• Control early spring insects like thrips on glads and aphids on young tender growth. Spray

with Malathion, Diazinon or Orthene.

• At the end of February: peach, apple and pear fruit must be thinned to insure quality

production at harvest.

• Give groundcovers a haircut. They will spread faster.

• Divide daylilies, daisies and other perennials now.

DISCLAIMER: Articles and ads in this newsletter express the opinions of their authors and do not necessarily

reflect the opinions of Krenek Printing Co. or its employees. Krenek Printing is not responsible for the

accuracy of any facts stated in articles submitted by others. The publisher also assumes no responsibility

for the advertising content within this publication. All warranties and representations made in the

advertising content are solely that of the advertiser and any such claims regarding its content should be

taken up with the advertiser.

The publisher assumes no liability with regard to its advertisers for misprints or failure to place advertising

in this publication except for the actual cost of such advertising.

Although every effort is taken to avoid mistakes and/or misprints in this publication the publisher assumes

no responsibility for any errors of information or typographical mistakes, except as limited to the cost of

advertising as stated above or in the case of misinformation, a printed retraction/correction. Under no

circumstances shall the publisher be held liable for incidental or consequential damages, inconvenience,

loss of business or services, or any other liabilities from failure to publish, or from failure to publish in a

timely manner, except as limited to liabilities stated above.

Published by: KRENEK PRINTING CO, 7102 Glen Chase Ct., Houston, TX, 77095

281-463-8649 • news@krenekprinting.com

NEWSLETTERS:

View your newsletter online! You can read your

community news on our website or download it to

take with you and print. Archived issues are also

available.

MOBILE:

You now have access to our full website optimized for

your mobile device, making it even easier to find the

things you need on the go!

MORE:

Find information about advertising opportunities,

article submissions, our company, and

frequently asked questions.

NOW OFFERING FULL COLOR

PRINTING SERVICES!

Call today for a quote or email

print@krenekprinting.com!

West Memorial | February 2019 15
---
Air Conditioning Contractors of America

Sore Throat, Fever or the Flu?

Excel Urgent Care is Here For You!

Urgent Care vs. Emergency Room?

Did you know a visit to the ER can cost as much as five times

more than a visit to Excel Urgent Care, for the same problem?

$$

$$

$

$ - $$

$$

$$

VS.

Sprains

Minor Lacerations

Cold, Flu, Fever

Occupational Medicine

855-EXCEL-UC

Lab & Drug Screen (on site)

www.excelurgentcare.com

Serving Cypress, Missouri City & Katy Areas

Open Everyday 9 a.m. - 9 p.m.

No appointment needed.

X-Ray

Emergency

Room

$$$$

$$$$

$$$$

$$$$

$$$$

$$$$

Save Time and money at...

19450 Katy Freeway

Houston, TX 77094

16

• Additional Plugs & Outlets

• Panel Upgrade/Replacement

• Smoke Detectors

• Troubleshooting

• TV Mounting

Licensed & Insured

Family Owned & Operated • Residential & Commercial

713-467-1125 | wiredes.com

*Expires 3/1/19

TECL 22809 & Master 100394

NOW HIRING

LIFEGUARDS

FOR SUMMER

Apply online at www.awesomelifeguards.com

Serving Houston & Surrounding Areas

Minimum Age 15 • Flexible Hours

Please Call 281-376-6510 with Questions

Winter Specials on New Equipment Installs

281-394-0028

Free estimate or 2 nd opinion

$25 off

any

repair

License TACLB 24777E and Insured

Expires 2/28/19

FREE

Wi-fi thermostat

w/ equipment purchase

• Annual

Maintenance

Programs

• All repairs

guaranteed

• Serving area

since 1994

0% Interest

financing available

Expires 2/28/19 WAC

Expires 2/28/19

IdealAirServices.com

February 2019 | West Memorial