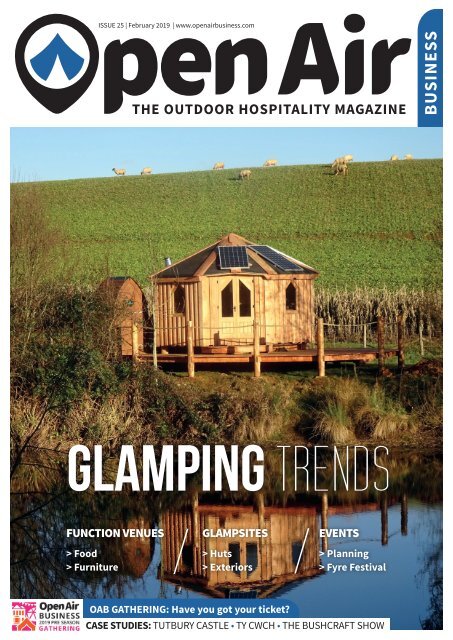 Open Air Business February 2019
The UK's outdoor hospitality business magazine for function venues, glamping, festivals and outdoor events
The UK's outdoor hospitality business magazine for function venues, glamping, festivals and outdoor events
SHOW MORE
SHOW LESS
You also want an ePaper? Increase the reach of your titles
YUMPU automatically turns print PDFs into web optimized ePapers that Google loves.
ISSUE 25 | February 2019 | www.openairbusiness.com

BUSINESS

GLAMPING TRENDS

FUNCTION VENUES

> Food

> Furniture

/ /

GLAMPSITES

> Huts

> Exteriors

EVENTS

> Planning

> Fyre Festival

OAB GATHERING: Have you got your ticket?

CASE STUDIES: TUTBURY CASTLE • TY CWCH • THE BUSHCRAFT SHOW
---
CAN YOU AFFORD TO LOSE

POWER

AT YOUR NEXT EVENT?

Whether you're organising a sporting event or planning a wedding a JCB generator

is the perfect power solution to support any event. We know peace of mind is of utmost

importance in the pursuit of a successful event and that's why every generator boasts all

the quality you'd expect from JCB, including innovative, efficient design, cutting edge engine

technology and market-leading telemetry. With a JCB generator you can be confident that

you're well supported to deliver power anywhere it's needed.

POWER PRODUCTS

Visit our website to find your ideal power solution to support your event. 01889 272200 www.jcb.com
---
ISSUE 25 | February 2019 | www.openairbusiness.com

WELCOME

Welcome

IT PAYS to be green, and not just in terms of good PR. You'd have to be

living under a rock not to be affected by the messages bombarding us from

all media channels about the effects of climate change and the problem of

waste, and people want to feel they are contributing to a more responsible

future by being conscientious about what they are purchasing.

In the last issue Kate Morel reported that 50 per cent of consumers said

eco-credentials were important to them in making a choice about where

to holiday. In this issue we are seeing the same message echoed by Kelly

Chandler on choosing food for weddings and events, Michael Hall on an ingenious way to turn

waste plastic into event structures and Tom Dixon on the increase in bookings for glamping

experiences with sustainable living at their heart.

The case studies we have chosen illustrate the point. Ty Cwch, a contemporary twist on a

boathouse, is a new, near zero carbon glamping development in Cardigan Bay. The Bushcraft

Show is successful in its ambition to 'leave no trace' yet welcomes 12,000 people to a green

field site for a three day event every May, and Tutbury Castle couldn't do what it does as a

venue without careful consideration for the impact its activities has on its heritage site and the

community around it.

In Entrepreneur's Chat, James Lynch shows how his Fforest brand, which touches all three

of the outdoor hospitality sectors, has flourished because of (not in spite of) his sustainability

sensitivities, and we have a number of news stories with similar up beat messages – well done Y

Not Festival, Brighton and Hove City Council, Royal County of Berkshire Show and the team at A

Greener Festival.

Please do book your tickets to OAB Gathering if you haven't already done so – we have some

surprises up our sleeves I can't wait to tell you about! (hot tub anyone?)

Tally Wade

Editor / Publisher

PUBLISHERS

Steve Rix - steve@openairbusiness.com

Tally Wade - tally@openairbusiness.com

EDITOR

Tally Wade - tally@openairbusiness.com

ADVERTISING SALES

Marney Whyte - 01892 677740

marney@openairbusiness.com

DESIGN

James English -

www.jamesenglishdesign.co.uk

PUBLISHED BY

Coffee Shop Media Ltd - 01580 848555

www.coffeeshopmedia.com

The House on the Hill, Friezley Lane,

Cranbrook, Kent, TN17 2LL

t: 01580 848555

NOT A SUBSCRIBER?

Sign up for FREE at

www.openairbusiness.com/subscribe-free

to make sure you continue to

receive the magazine.

Contents ISSUE #25 February 2019

UP FRONT

4 News

8 Product News

10 OAB Gathering

13 Entrepreneur's Chat – James Lynch,

Fforest

40 Glamping 2019 – what the booking

stats say from Canopy & Stars

42 VisitEngland – how the agency is

supporting tourism

44 Huts – mini case studies

46 OAB Loves… Exteriors – making

things look lovely on the outside

FOLLOW US ON

TWITTER

@openairbusiness

FOLLOW US ON

FACEBOOK

www.facebook.com/

openairbusiness

Find more expert advice online:

www.openairbusiness.com

BUSINESS

FUNCTION VENUES

19 Tutbury Castle – an 11th castle

offering events with an historic flavour

24 Food Trends – vegan, bowl, slow

cooked and more

27 WWW – who, what, where: how to

stand out on the web

29 Furniture – trends for events in 2019

30 Interiors – mini case studies

GLAMPSITES

33 Ty Cwch – a contemporary glampsite

by the sea

38 Industry Insights – Kate Morel on

planning, business and more

EVENTS

48 The Bushcraft Show – three days

celebrating survival in the wild

52 Event Timelines – planning events

from 12 months out with Jim Davey

57 Fantastic Plastic – Michael Hall has

a cradle-to-cradle solution for event

waste

58 Fyre Festival – John Radford asks

what can we learn?

60 Event Glamping – mini case studies

62 Spotlight

63 Classifieds

65 24 Hours… with Chris Kelly

SUBSCRIBE

FREE

ISSUE 25 | FEBRUARY 2019 | www.openairbusiness.com

GLAMPING TRENDS

FUNCTION VENUES GLAMPSITES EVENTS

> Food

> Huts

> Planning

> Furniture

/ /

> Exteriors

> Fyre Festival

OAB GATHERING: Have you got your ticket?

CASE STUDIES: TUTBURY CASTLE • TY CWCH • THE BUSHCRAFT SHOW

COVER PHOTO

The new off grid Octa-Pod from Wild Hart, hand

crafted in Devon using local materials. Complete with

kitchenette, en-suite shower room, wood burning stove,

solar panels and compost toilet. 07971 869058

www.wild-hart.co.uk

WWW.OPENAIRBUSINESS.COM 3
---
The latest news from the world of outdoor hospitality

Y Not Festival Reduces Waste

Y NOT Festival has launched a

sustainability campaign called

'Keep the Peaks Green' targeting

sustainability by cutting out plastic,

encouraging recycling and reducing

landfill waste.

Launched ahead of its 2019 event

(25-28 July in Pikehall, Derbyshire)

organisers said: "While there isn't

a more idyllic spot for Y Not, we

recognise that running a festival on

this site has a direct impact, both

positive and negative, on the natural

environment, and we're making even

bigger efforts to be sustainable".

Measures include a litter bond,

which means every booking will have a

compulsory £10 deposit. Festival-goers

are then encouraged to hand in their

rubbish at the end of the festival to be

reimbursed.

Following on from last year, all

single used plastics are prohibited for

traders. The 10p cup scheme will also

be back; 10p will be given to anyone

who collects and hands in a cup.

Organisers are encouraging

customers to take tents home with

them, rather than leaving them for

landfill, or to sign up to use pre-pitched

tents at the new camping zone Pitch

Village.

Diversifying

Assets in Light

of Brexit

ACCORDING TO a recent survey

conducted by Rural Solutions, 35 per

cent of respondents were looking to

diversify into the leisure and tourism

sector, including as glampsites, farm

parks and venues, to help future-proof

their assets. This comes off the back

of an exclusive Country Land and

Business Association (CLA) poll, which

shows a third of farmers plan to use

less of their land for agriculture.

According to the head of the

National Farmers' Union "the UK's

farmers face a profound crisis in the

event of a no-deal Brexit, and there is

dangerous ground ahead even if a deal

is agreed".

A government briefing in December

suggested that in the event of no

deal, it could allow some products

to continue to enter the UK without

paying a tariff to keep food prices

stable. Minette Batters, the union's

first female leader, pointed out UK

farmers would have third-party status

and would face high tariffs to sell their

goods into Europe. "We'd be priced out

of the market and the result could be

catastrophic. 40 per cent of our lamb

goes to Europe, for example".

Tackling Waste at Royal Show

THE NEWBURY and District Agricultural

Society has been working hard over

the last few years to ensure its waste

management plan for the Royal County

of Berkshire Show is sustainable and ecoconscious.

With thousands of attendees the

show creates a lot of waste. Organisers

work closely with MJ Church on a waste

management plan, providing a good

selection of recycling bins across the

showground during the show weekend, making it even easier for visitors to dispose of

their waste.

In 2018, over 14 tonnes of waste was removed from the showground after the event,

10 tonnes less than in 2017. 84% was recycled and 15% was transferred from waste to

energy.

The show team is appealing to visitors to bring their own carrier bags, water bottles

(and fill up at free water stations), look out for exhibitors who are offering recyclable

cups and other products, and to ensure they dispose of waste in the bins provided.

4 WWW.OPENAIRBUSINESS.COM
---
Residents Have Their Say

BRIGHTON AND Hove City Council has

commissioned a draft Outdoor Events

Strategy to 2024, giving people a chance

to have their say on the future of outdoor

festivals and events in the area. This will

be presented to the Tourism, Development

and Culture Committee in March.

The city hosts many hundreds of

events throughout the year including the

Marathon, Pride and Veteran Car Run.

The city council is examining the city's

future, its priorities, approach and the

delivery structures needed to realise its

potential.

Part of the report includes the concept

of an Outdoor Events Charter. The first

of its kind in the country, this is a public

statement about what the council and

organisers are trying to achieve through

outdoor events and how. It will help

organisers understand what the city

expects from them to which events it

publicly commits. It is also a tool to

use with local communities who may

be impacted by events, to show what

is trying to be achieved and to create

better relationships. The charter builds

on petitions made to the council last year

to ban single-use plastic and reuse and

recycle at big events.

Ian Taylor, events manager, told

Open Air Business: "We worked on this

for six months in order to get people –

from residents to outside visitors and

stakeholders – to buy into our Outdoor

Events Strategy. We're in a good place. It

has a broad programme of high quality

events that deliver meaningful benefits

to the community and attract tourists. If

we want to achieve more in ensuring our

outdoor events reach their full potential

we have to be mindful of a number of

broader economic, health, cultural, social,

environmental and tourism agendas. To

that end we asked businesses, industry

professionals and members of the public

about our vision, objectives and criteria for

events, and any specific issues that they

had. The response was overwhelmingly

positive. It was quite heartening in fact,

and not too far away from doing what we

envisaged."

Expansion for Ready Camp Brand

Luxury Lodges to Double

Wedding Bookings

IN A bid to increase the income from events

held at Capesthorne Hall in Cheshire, six

double and en-suite lodges have been

constructed and several on-site cottages

renovated. Having put in the plans for

this latest development in 2016, the

accommodation will be available in May and

is predicted to double the number of future

wedding bookings, as well as create three

new jobs at the Bromley-Davenport familyowned

estate.

Capesthorne Hall has made a significant

investment into the project and also

received a LEADER funding grant, which

provides funding for projects that create

jobs, help businesses to grow and benefit

the rural economy. The new accommodation

at the Macclesfield venue will also be

offered to those visiting the area and will

be available all year round, creating an

additional income stream to help fund

essential repairs to the hall and grounds.

READY CAMP, the glamping brand

from The Camping and Caravanning

Club, has added three new locations

across England for 2019.

With new safari-style tents at

Clitheroe (Lancashire), Kingsbury

Water Park (West Midlands) and

Devizes (Wiltshire), there is now a

network of 242 pre-pitched Ready

Camp tents at 48 locations across the

UK.

Bob Hill, club sites director, said:

"Ready Camp remains a top pick

for hassle-free breaks and we're

pleased to extend the coverage of our

glamping holidays across England this

year.

"It's reported that 59 per cent of

people are planning a domestic UK

break in 2019 [ABTA Holiday Habits

2018] and we're growing to

meet this demand."

Since its launch in 2015, Ready

Camp coverage across the UK has

more than doubled and it exceeded £1

million revenue in 2017.

Each Ready Camp tent is wellequipped

with a kitchenette, decked

area, table and chairs, triple bunk bed

and a single stow away bed. Campers

need only bring their bedding, towels

and a sense of adventure. On-site

facilities are of a high standard and

benefit from regular investment.

Facility blocks are within walking

distance of each tent and many

locations have dedicated parent and

baby rooms.

Ready Camp has scooped several

awards in recent years including the

Best Holiday Rental for Families award

at the Family Traveller Awards 2017.

WWW.OPENAIRBUSINESS.COM 5
---
The latest news from the world of outdoor hospitality

Greener Festival

Awards 2018

NOT FOR profit group A Greener Festival

(AGF) awarded 35 festivals and outdoor

events from 14 countries accolades

celebrating initiatives to reduce their

environmental impacts at a ceremony held

at Eurosonic Noorderslag on 18 January.

Awards were presented in 11 areas including

transport, waste, power, water, and local

area impacts. Applicants undergo a rigorous

assessment, site visit and post-event

analysis of their events' sustainability

actions.

AGF directors Ben Challis, Claire O'Neill

and Teresa Moore presented awards to a

host of worthy recipients that included Das

Fest (Germany), DGTL (Netherlands), Pohoda

Festival, Slovakia, and Ireland's Body and

Soul.

UK event Boomtown Fair applied for the

award assessment and feedback for the

first time in 2018. Sustainability manager

Emily Ford said: "We are delighted that

we obtained the Commended Award from

AGF. This highlights the positive action we

are taking. It's a great start to our mission

to ensure that we significantly reduce the

environmental impact of the event, as well

as raise awareness of just how vital it is that

we all pull together to protect the planet for

future generations."

Claire O'Neill commented: "This year

has seen unprecedented action and an

awareness of the urgency to make our

industries and our lives more harmonious

with nature. The festivals and events that we

have had the honour to assess and award

are helping to shape this transition, which

has positive repercussions not only within

the events' operations but also through the

message and example they put out into the

world."

The awards themselves are made entirely

of reused materials that include salvaged

tents by I Dress Myself and reclaimed wood

turned by Steve O'Neill.

The next batch of winners, which will

include events in the southern hemisphere

along with winter events that take place in

the northern hemisphere, will be announced

at the annual Green Events and Innovations

Conference, London, on 5 March as part

of the International Live Music Conference

(ILMC).

Congratulations to UK festivals who

achieved awards in the following categories:

› Outstanding - Cambridge Folk Festival,

Green Gathering and Wood Festival

› This Highly Commended - Greenbelt

Festival

› Commended - Boomtown Fair, Fire In The

Mountain and Kew the Music

› Improvers - BST Hyde Park, ILMC and

Manchester Pride.

For those events wishing to participate,

applications are now open for the Greener

Festival Awards 2019. Contact hello@

agreenerfestival.com to learn more.

BEN CHALLIS

VisitBritain partners with Airbnb

NATIONAL TOURISM agency

VisitBritain/VisitEngland and

Airbnb have announced a

partnership to promote and

broaden local-led tourism

experiences, driving visitor

growth and boosting the

economy.

The £500,000 match-funded

partnership will work with

businesses and destinations

to promote local experiences

to domestic and international

visitors, and grow and broaden

the range of experiences

available.

Experiences on the Airbnb

platform offers visitors

handcrafted activities, tours

and educational workshops led

by local experts. The platform

also offers a route to market for

British businesses to host their

experiences and grow their

revenue stream.

The partnership will

work with businesses and

destinations to get more Brits

to take a holiday at home to

boost tourism, collaborating

with the tourism organisations

of Scotland and Wales to

promote local experiences.

A focus is getting more young

Brits to take a short break

at home. About half of UK

domestic Experiences bookings

on the Airbnb platform are

made by 18-to-34 year olds,

who are also the target for

VisitEngland's domestic

campaign #MyMicroGap. The

campaign encourages young

Brits to take a 'microgap,' a

break typically taken during a

gap year but condensed into

a short break. Statistics show

that in 2016, 16-to-34 year

olds took almost 1.4 million

fewer holidays in Britain than a

decade previously.

The partnership will also see

the national tourism agency

and Airbnb hosting a series

of free regional workshops

across Britain during March

and April for destinations

and local tourism businesses,

entrepreneurs and charities.

This will enable potential

hosts to find out more about

listing an Experience on Airbnb,

how to design an innovative

Experience for visitors, as well

as how to drive engagement on

the platform through exciting

visuals and compelling content.

The workshop dates will be

available in the coming weeks

at www.visitbritain.org

6 WWW.OPENAIRBUSINESS.COM
---
BUSINESS

2019 PRE SEASON

GATHERING

24-25 March 2019

Hothorpe Hall, Leicestershire

Last

few tickets

remaining!

AFFORDABLE

Just £70

FOCUSSED

and practical

FUN

we've got a

gin bar and a

treehouse!

24-25 March 2019

Hothorpe Hall,

Leicestershire

BUSINESS

2019 PRE SEASON

GATHERING

Limited tickets...

We are offering 150 delegate spaces

• 50 x delegates

from Function

Venue businesses

• 50 x delegates

from Glamping

businesses

book

now

• 50 x delegates

from Outdoor

Event businesses

Pick and choose between streams of content at the event • Expand

your Open Air Business horizons by interacting with peers and

experts across sectors

From the people

who bring you

www.oabgathering.com
---
PRODUCT

Contemporary Design

for Maximum Space

THE LAST half of 2018 saw the launch of Ellipse Leisure Buildings' Haven

range of luxury outdoor accommodation.

The Balder and The Tees models, names borrowed from the rivers that

flow through Teesdale in the North Pennines, are unique in their design

both inside and out.

A contemporary roof design maximises interior space for a more

comfortable living experience. While outside, a handmade steel chassis

adds the choice of mobility to the timber exterior.

The Tees boasts the option of an en-suite and kitchenette for a fully

functional living space, while The Balder is more compact for guests that

want more of a 'rewilding' experience.

All models are entirely bespoke; the only limitation being a client's

imagination. www.ellipseleisurebuildings.co.uk

New FinVision Saunas

THE LOG Company is excited to announce it now

stocks FinVision saunas in addition to Kirami

wood fired hot tubs. In Finland, saunas and hot

tubs regularly sit side by side and the new range

has been handcrafted from surface-treated plain

sawn spruce and spruce plywood, finished with

a large tempered glass window and LED lighting.

The cosy interior encourages relaxation, while the

window allows users to feel at one with nature.

Exteriors are available in a variety of colours to

match those of the hot tubs. Each sauna comes

complete and is available with an electric or wood

fired heater. www.thelogcompany.com

All in one Bed Solution

EMBERS CAMPING (www.emberscamping.co.uk) has purchased 180 all-in-one

beds from Bundle Beds for glamping rental and corporate events. Each rollout

bed comprises a self-inflating mattress, 15-tog duvet, pillow and washable

jersey cotton sheets, rolled together in a waterproof outer layer. Following the

success with Embers Camping, Bundle Beds is now looking to share its concept

with other sites and venues and is focussing on highlighting the benefits to

glampsites and events.

A complete sleeping solution that is quick and hassle-free to set up and pack

away, Bundle Beds unroll in seconds, are easy to store and there's no need

for airbeds, mattresses or additional bedding. Bundle Beds can be rented

to visitors, paying for themselves within a few of weeks of bookings, adding

another revenue stream to a business along with commission on any follow-up

sales. www.bundlebeds.com

8 WWW.OPENAIRBUSINESS.COM
---
Accessible and Inclusive

Showering from Horne

HORNE SPECIALISES in the

design and manufacture of preplumbed

thermostatic shower

panels for a variety of private

and public care applications,

including accessible and

Changing Places facilities.

Glampsite operators offering

accessible amenities for their

clients should consider installing

a Horne Care shower. It features

an enclosed hot water supply

pipe (within the shower panel)

avoiding injury caused by a

hot surface, and integral Water

Fittings Regulations and Type

3 Approved (healthcare rated)

thermostatic shower valve

and lever controls. These are

clearly and logically marked

and individually shaped to

further denote function (flow or

temperature) by feel.

The easy, low-torque lever

operation works with a closed fist,

offering greater independence to

users with limited grip or hand

mobility. Other features include a

riser mechanism with easy height

adjustment using only a closed

fist, and visual contrast for users

with limited sight including on

shower controls, head, hose and

handset and background panel

(LRV=86) and a clear black dot on

the riser mechanism.

Glampsite operators will also

appreciate its robust design and

ease of installation, cleaning,

valve maintenance (with free

online training) and low-cost

spare parts. An integral flow

regulator helps reduce water use,

which, coupled with accurate and

reliable thermostatic control of

the shower valve, saves energy

too. Watch a video at http://goo.

gl/PqVf76

Peefence - a Simple Events Urinal

DANISH DESIGNED Peefence is a unique,

simple and inexpensive urinal system to

complement mobile toilet solutions for the

male attendees to festivals, street and other

outdoor events.

Developed in 2015 by four students

from the Technical University of Denmark

(DTU), the patented design has attracted

significant interest from festivals across

Denmark, including one of the largest music

festivals in Europe, the Roskilde Festival.

Other outdoor events, including Distortion

in downtown Copenhagen, have followed

and continue to increase the numbers of

Peefence specified each year.

Last Year the first sale outside of Denmark

was to Notting Hill Carnival, where more

than 100 Peefence urinals were installed.

2019 will see an international roll out,

starting with the UK, Netherlands, Belgium

and Germany. The roll out plan includes

the launch of a brand new plastic Peefence

which is printable, re-usable and can be

installed without tools. www.peefence.com

WWW.OPENAIRBUSINESS.COM 9
---
INDUSTRY NEWS

OAB Gathering

24-25 March, Hothorpe Hall & The Woodlands

Leicestershire, LE17 6QX. www.oabgathering.com

Got Your

Ticket?

There aren't many left

- secure yours ASAP at

www.oabgathering.

com/tickets

LINE UP

Meet the experts offering their

advice at the inaugural Open

Air Business Gathering on 24-

25 March

FUNCTION VENUES

KELLY CHANDLER

Wedding venue

consultant

Kelly Chandler

Consulting

www.kellychandlerconsulting.co.uk

Kelly is a long term preferred

service provider for exclusive

venues including Syon Park,

Highclere Castle, Spencer House

and Stoke Park Club. Kelly's

consulting services to wedding

venues draw on prior experience

in international conference and

event planning, over 15 years

of business management and

working directly with couples

as a wedding planner. She is

also a former director of trade

body The Alliance of Wedding

Planners.

NICOLA FIRTH

Venue managing

director

Hothorpe Venues

www.hothorpe.co.uk

Nicola is the managing director

of Hothorpe Hall & The

Woodlands (our venue), and

responsible for its continued

growth, ultimately ensuring

high customer standards are

maintained and that its offering

meets the needs of everchanging

markets.

Hothorpe Hall, based

in Theddingworth on the

border of Leicestershire and

Northamptonshire, unveiled

its eco-friendly development,

The Woodlands, in 2015. The

Woodlands also includes a

bar, dining room and luxury

treehouse, all of which we will

be experiencing.

RICHARD

GOODWIN

Rural surveyor

CLA Midlands

www.cla.org.uk

A qualified charted surveyor

with considerable experience

of diversification in rural areas,

Richard advises CLA members

on all aspects of planning

and diversification including

real estate appraisal and

development.

A farmer's son, he

graduated from Harper Adams

University with a degree in

Rural Enterprise and Land

Management before qualifying

as a Member of the Royal

Institution of Chartered

Surveyors.

ANDREW WHITE

Venue marketing

specialist

Triggerfish PR

www.triggerfish.co.uk

Andrew is MD of Triggerfish

Communications, a specialist

in helping heritage venues

and leisure attractions build

awareness and market share in

the business of events. Clients

include Historic Royal Palaces,

Center Parcs, The Science

Museum and the National

Theatre. A regular contributor

to Open Air Business, Andrew

writes on how venues can

maximise revenue from

corporate bookings and has an

eye for the potential of unusual

spaces.

SECRET SPEAKER - TBA!

GLAMPING

RICHARD

COULTER

Glamping

entrepreneur

Long Valley Yurts

www.luxury-yurt-holidays.co.uk

Richard is co-founder of

Long Valley Yurts, which was

established in 2008 with John

Maddy. Long Valley Yurts aims

to provide luxury camping

within the Lake District

National Park in custom-built

yurts situated in stunning rural

locations.

The business has experienced

year-on-year growth, with four

sites now operating within the

Lake District National Park

and one in the Peak District

National Park. With more sites

nationally to follow over the

next five years, the business

has developed a concept that

sets the standard for the luxury

camping market.

CHRIS KELLY

Short breaks director

Port Lympne Hotel &

Reserve

www.aspinallfound

ation.org/port-lympne

Chris is short breaks director

at Port Lympne Hotel &

Reserve, directing all facets of

its accommodation offering

including the Tree House Hotel,

Pinewood Pods, Livingstone

Cottage, Livingstone Lodge,

and Bear Lodge.

He has been central in Port

Lympne's glamping provision,

which now includes safari tents,

shepherd huts, treehouses,

pods and a 'bubble'.

MOREL & CO

Glamping development specialists

Morel & Co - team members Kate

Morel, Ian Firth (planning) and Leigh

Smallwood (treehouse design/build)

www.morelcompany.co.uk

Kate Morel and her team work

closely with clients to support

new glamping developments

and businesses. Ian Firth

(Bondstones) works with Morel

& Co providing planning

support, and Leigh Smallwood

(Smallwood Treehouses),

the design and installation of

treehouse accommodation.

Kate supports industry events,

providing tailored presentations

and workshops for tourism

conferences and exhibitions and

recently published a Glamping

Business Guide in association

with the Friends of Loch Lomond

and the Trossachs.

SARAH ORCHARD

Hospitality business

marketing

Orchard Marketing

Associates

www.orchardmarketing

associates.co.uk

Sarah helps owners of

glamping and other hospitality

businesses get their marketing

approach spot on to get

more bookings without using

expensive online agents. She

is a professionally qualified

Chartered Marketer, with

over 25 years' of hands-on

marketing experience in travel

and tourism. Sarah is also

currently developing her own

glampsite with her husband –

an exciting new venture and a

big learning curve too!

10 WWW.OPENAIRBUSINESS.COM
---
BUSINESS

2019 PRE SEASON

GATHERING

JIM

RICHARDS

Finance specialist

Rural & Business

Specialists

www.ruralmortgages.co.uk

Jim is an agriculture graduate

and has an extensive rural

education. Early in his career he

specialised in agricultural and

rural finance, working for some

of the leading lenders including

The Agricultural Mortgage

Corporation (AMC), ING (the

Dutch banking group) and the

Royal Bank of Scotland Group

before co-founding Rural &

Business Specialists in 2004.

He's a successful consultant

with specialist rural and banking

knowledge, tenacity and a

determination to succeed on

behalf of clients.

EVENTS

MARY CORFIELD

Ethical event

management

Greenbelt Festival

Mary is responsible for turning

the Greenbelt Festival's

programme and ideas into

reality, managing contractors

and volunteers as well as

working with local authorities

and other stakeholders. She

is also passionate about

making Greenbelt an ever more

accessible and environmentally

sustainable event.

Mary has been working in

event management for several

years, specialising in large

charity events.

JIM DAVEY

Event management

expert

Redwood Event

Solutions

www.redwood.events

Jim is managing director of

Redwood Event Solutions,

providers of event planning and

infrastructure, health and safety

services and site management.

He has over 15 years' experience

in event production, operations

management and safety

consultancy, working on events

of all scales right up to some of

the largest and most

challenging in the world.

THOM HARRIS

Festival organiser

Vicar's Picnic

www.vicarspicnic.

co.uk

One of five friends that started

and still run the Vicar's Picnic

festival in Kent, Thom has

experienced every aspect of

event organisation from local

liaison to site planning, sourcing

infrastructure, balancing the

books, finding talent and more.

"Kent's biggest little festival"

welcomed Fun Lovin' Criminals,

Starsailor and Cast to the stage

in 2018 and was nominated for

NOEA's Event of the Year.

ROWAN

HOBAN

Immersive events

organiser

Wild Rumpus

www.wildrumpus.org.uk

Rowan co-founded Wild Rumpus

with Sarah Bird in 2009, initially

dreaming up the now award

winning Just So Festival.

Wild Rumpus exists in a space

where arts and culture meet the

natural environment. Working

from the Whirligig (four acres

of woodland in Cheshire), the

team creates experiences which

inspire curiosity and design

events that immerse audiences

in incredible stories and

moments of wonder.

JOHN

RADFORD

Event production

specialist

JR Event Services

www.jreventservices.co.uk

John Radford runs JR Event

Services and has worked in the

event industry in one form or

another from back in school –

he won't give an exact number

of years due to the

embarrassment factor. Suffice

to say, it's a fair number! He

provides event management

and event safety consultancy

services for a broad spectrum of

events from single day and city

centre cultural events to week

long music and dance festivals.

ALTOGETHER

› Finding Money - A look at the

options – private investment,

grants, crowd funding and

financing

› Instagram - Tips, tricks and

using 'influencers'

GLAMPING

› Going Green - Being off-grid,

dealing with waste, choosing eco

products and more

› Adding Value - What can you do

to increase revenue or add value?

› Treehouses - From idea to

high value business asset – the

journey and options

› Planning - Success, failure and

getting it right first time

› Getting Booked - Where to

market and how to manage

bookings for the best return

› Operations - Cleaning,

turnaround and codes of conduct

FUNCTION VENUES

› The Trend for Quirky - The

market for small, unusual,

rural spaces for weddings and

corporate events

› Wedding Additionals - Ideas to

increase revenue or just stand out

24-25 March 2019

Hothorpe Hall,

Leicestershire

BUSINE SS

2019 PRE SEASON

GATHERIN G

PROGRAMME*

› Corporate Events - What to offer

and where to market

› Customer Experience - Getting

it right across all platforms

from web to showround to event

› Seasonal Specials - Making

the most of Halloween,

Christmas, the springtime and

winter nights

› Structures - Marquees and other

temporary structures

EVENTS

Join the Party!

24 March – 7.30-11pm

› So, I've had an Idea! - How to

analyse your market, audience

demographic and competition

› Sponsorship - Finding sponsors,

preparing a brief, and keeping

them sweet

› Pieces of the Puzzle - How

complex events come together

› Sustainable Practices - They

don't have to be expensive!

› Health & Safety - Best practice,

delegating responsibility,

minimising risk

› Local Liaison - Dealing with local

authorities, communities and

neighbouring residents

*subject to change as we tweak things

Networking, bowl food and drinks, with a gin bar and

some fun surprises!

Tickets are nearly gone for overnight packages –

we only have a few rooms left!

Visit www.oabgathering.com to secure yours

WWW.OPENAIRBUSINESS.COM 11
---
Turnkey Immersive Dome Solution

Structure + Projection Screen & Mapping + Surround Sound + Content Creation

Watch our showreel at:

www.freedomes.com/360projection

Freedomes - World in a Sphere

www.freedomes.co.uk

+44 020 3695 4246

events@freedomes.co.uk

Freedomes is a leading manufacturer and supplier of event dome

structures. We offer wide range of dome sizes and

accessories - available for rent and purchase. Inquire today!
---
INDUSTRY OVERVIEW

ENTREPRENEUR'S CHAT

James

Lynch

Meet James Lynch, who together with his family has

created a business turning over £2million in a remote spot

on the Ceredigion coast. Louise Creasy investigates

"SOMETIMES WHAT you want is right in

front of you. All you have to do is open your

eyes and see it." These are the wise words

of Meg Cabots, an American author, and

a quote that I'm sure James Lynch could

relate to. When he and his family were

looking for a change they headed to New

Zealand, but within weeks realised that

what they were looking for they already had.

"After my partner, Sian, and I left art

school in 1981, she specialised in textiles

and illustrations for children's books and

I was doing graphics and exhibitions," he

says. "After four years and with some money

we saved up and the help of a bank loan,

we bought a former furniture warehouse on

Old Street in Shoreditch where we lived. We

divided the space into studios and rented it

out to our art school pals.

"This was the decade that Shoreditch

started evolving into a village of visionary

pioneers, as people like me began taking

over warehouses for visual artists, fashion

designers and other creatives to move into.

It was the start of my career in property

development and we were having a great

time. We had lots of friends, and there was

just so much energy, but things took a turn

for the worse when the recession of the

early nineties hit. I lost my shirt – I didn't

quite go bankrupt but it was very bleak for

a few years as we had to rebuild everything

again. It certainly made me more cautious in

business.

"Fast forward 10 years and the place was

again a hub of activity, but it was less hippy

and more hipster – big-name developers

and architects were heavily investing in the

area as lofts, former theatres and railway

arches came into high demand. Shoreditch

was becoming increasingly 'cooler',

and the city bankers, lawyers and other

professionals were starting to move in. We

had changed too though; we had four young

boys and wanted to take our lives in another

direction.

"We decided to go to New Zealand – I

played rugby with kiwis and worked with

a lot of them and always felt at ease. Sure

enough, the people were great and the

country was beautiful, but it made us realise

that what we were hankering for we had.

It was where the boys had spent every

summer, it was where Sian's parents lived,

and it was a place we knew really well: west

Wales. Six weeks later we moved to our

holiday home on the beach."

LIVING THE DREAM

At this point – the beginning of 2004 – James

happened upon a derelict, but magnificent

listed farmhouse that had been for sale

for over a year and was 20 minutes from

where the family was living. It was extremely

neglected and hadn't been lived in for 10

years but sat within 200 acres, surrounded

by a river estuary, wildlife reserve and

just moments from the coast. The family

believed that it would be possible to create

something from it, James' words were 'this

is the beginning', and so they bought it.

The dream was born: Sian and James

would use the experience and skills they had

honed over the years to create a new type

of rural escape promoting the best Wales

had to offer. Somewhere for families and

friends to holiday that would combine the

life-enhancing embrace of the outdoors with

comfort, great facilities, local food and the

same friendly welcome that they received in

New Zealand.

They applied for planning permission

to build eco-friendly lodges within the

woods but kept getting turned down. It's

not a word that James likes to use, but

'glamping' wasn't even added to the Oxford

English Dictionary until 2016 and at this

point sustainable luxury retreats were an

unknown concept to most. Two years on,

when James finally got consent for 24 units

of different tent types, he discovered that

local residents were opposed to the idea on

the grounds that they affiliated the word

'eco' with environmental protestors, such as

Swampy.

"There's been a shift in public perception

and now, of course, people have realised

what my ecological intentions meant and

they can see that with what we've done,"

says James. "When we started we thought

about different ways of reducing our carbon

footprint, and over the years we've tried to

use sustainable materials for most of our

buildings, and incorporate eco-friendly

cooking, heating, lighting and sanitary

facilities."

WWW.OPENAIRBUSINESS.COM 13
---
INDUSTRY OVERVIEW

PEACH AND JO PHOTOGRAPHY

"WHILE WE WERE FOUNDED ON FAMILY HOLIDAYS

EMBEDDED IN NATURE, WE ALSO HOST WEDDINGS IN EACH

OF OUR THREE LOCATIONS, ALTHOUGH ONLY DURING

SCHOOL TERM TIME"

The Lynch family began with four geodesic

domes and a few Scandinavian tipis and

in 2007 the first paying guests arrived. By

this point the recession was looming so the

farmhouse renovations took a back seat

(until late 2015), while they focussed on

building the business slowly and organically.

PLACES AND SPACES

Almost 13 years later, and Fforest Farm has a

range of unique tented and converted farm

building accommodations and facilities – all

designed and project managed by James.

There are also lots of places to eat, drink,

gather and have fun, including The Lodge

where breakfast and supper is served

during the main holiday season and for

special events, and Y Bwthyn (The Bothy or

Cottage), which is the site's own little pub.

Adjoining a 300 acre nature reserve, Fforest

is also able to offer a wealth of activities

from canoeing and wild swimming to

archery and walking. "People get a lot

out of not very much, and the outdoor

activities make the best of our beautiful

surroundings," he says.

Besides Fforest Farm, there are two

other sites. Cardigan Quayside, on the

banks of the Teifi, is home to the PizzaTipi

where guests can enjoy wood-fired pizzas,

Tafarn Smwglin (Smugglers Inn) serving

Welsh beers, ciders and spirits, and an

events venue, which was once the town's

coal yard. Directly across the river at Teifi

Wharf are beautifully restored Granary lofts,

created within what was one of the town's

main maritime warehouses. James had

already acquired these some years ago to

justify spending the family's entire summer

holidays in the area – he thought that one

day they would be a great project.

And then down the estuary and up

the coast, Manorafon is the sea camp,

comprising cabins, tented accommodation,

and Ty Manorafon, another restored

farmhouse that sleeps eight. It is a

converted dairy farm and some of the rustic

buildings are still in place but serve different

purposes – the stable is now the communal

relaxing area, and the cedar barrel sauna

and firepit are further additions. The sites

can accommodate 150 guests in existing

accommodation, with the possibility to add

a temporary tented village for larger events.

FFOREST WEDDINGS

"While we were founded on family holidays

embedded in nature, we also host weddings

in each of our three locations, although

only during school term time," says

James. "There is an early and late season

for weddings and we host around 25 a

year and each one averages around 120

guests. Weddings account for 40 per cent

of the business so financially they're very

important to us. Holiday accommodation

accounts for 30 per cent, events 10 [more on

that later] and catering 20, which is actually

a very important aspect of what we do."

Being a wedding venue however was

never on the family's radar. "In 2008 Guy and

Kathryn, a couple who had stayed with us in

that first year, asked if they could have their

wedding with us. We said no, we weren't

set up for it and that it was too much of a

responsibility, but they were so enthusiastic

and insistent on working together to make

it happen that we gave in. We're so glad that

we did – it was a lot of fun and we were very

satisfied that we managed to pull it off. They

chose us because we weren't a formula and

they saw that they could have an event that

would be unique and memorable, and it

was."

The first few weddings were with people

the family had already built a relationship

14 WWW.OPENAIRBUSINESS.COM
---
INDUSTRY OVERVIEW

FINN BEALES

we now have plans to home rear all of our

own meat, so weddings can be grown to

order."

FFOREST EVENTS

As the business grew, and the couple gained

experience from holding weddings, things

took another twist in direction as they

decided to put on their first event in 2016.

Gather, which is billed as a 'new kind of

holiday', is essentially two six-night family

friendly gatherings held in the middle of

summer. With an emphasis on nature,

music, culture, making, growing and simple

pleasures, it makes the best of all Fforest

has to offer, as a revolving cast provides

workshops and outdoor activities during the

day and evening. The events are restricted to

300 people, and guests can camp or stay in

one of the accommodations on site. "It's like

a collective of friends, the atmosphere is so

wonderful. All the creative stuff is part of our

DNA and when you combine that with the

entirely unspoilt quality of the environment

– this stunning, fantastic wilderness, and our

simple but very tasty food – it really provides

a magical experience for our guests."

Fforest also offers Glow Camps, which

are creative four-day retreats – one in the

winter, one in the summer – for women to

learn new skills, reconnect with nature and

eat delicious food. With workshops offering

activities such as dying, weaving, cooking

and preserving, the camps are designed to

be nurturing weekends.

Twice a year Fforest holds a feast, where

it collaborates with local producers and

suppliers to put on an eight-course dinner

showcasing their food.

New for 2019 is the Fforest Nature Writing

Retreat, an immersive writing course spread

over five days and led by professional

authors and poets.

FFOREST CORPORATE

With the space, resources, facilities and skills

to create memorable events – and ones

that were getting noticed by mainstream

media – it wasn't long before the business

was getting corporate enquiries, and D3

Eventz (for Red Bull), Cotswold Outdoor

and J. Walter Thompson are just some of

the people it has worked with. James says:

"It's a venue with a twist, with the ability to

facilitate from 20 to 200 people, but in an

incredible and exclusive environment. This

is an area of the business we'd like to expand

upon and hopefully, now we're increasing

our accommodation offerings, the two will

go hand in hand.

"Getting people to us is sometimes an

issue. They get excited about what we can

offer them from looking at our website but

we're a good five hours from London so they

don't appreciate they may have to factor in a

day's travel time. Now that we're introducing

different types of accommodation that are

with, but as they started to promote that

side of the business it wasn't long before

they gained a reputation. Since then Fforest

has hosted hundreds of weddings, and the

press coverage that has been attracted

speaks for itself. "When a bride- and groomto-be

propose a campsite wedding it

must horrify some parents, but on the day

they realise it's quite different. We offer a

venue that's deep within the forest but all

wrapped up with touches of luxury and

practicality in terms of the accommodation

and different venues we can provide. The

menu is similarly fantastic, boasting the

very best seasonal food the local area has

to offer. We grow all of our own veg too, and

WWW.OPENAIRBUSINESS.COM 15
---
INDUSTRY OVERVIEW

more flexible we're hoping it will encourage

more corporate events.

"We started out offering family holidays

but now, with such a high proportion

of weddings and events, the sites lend

themselves more to having flexible sleeping

spaces that can cater for couples, individuals

or larger families come the summer. We

started to introduce this type of simple,

characterful accommodation with dining

and kitchen areas on outside terraces in

the second half of last year with our Garden

Rooms and we instantly saw a return.

WHAT MAKES FFOREST?

So, what is the secret to Fforest's success?

"While I've always kept my ear to the ground

observing and thinking about what the

business needs, together with a focus on

infrastructure, we've always taken a soft

approach and to a degree just let things

happen. A lot is on instinct, see what

works and build on that. Saying that, food,

architecture and general design are what I'm

most passionate about and I'm very up to

date with those things – this is the lens I steer

the business through.

Funnily enough The Future Laboratory, a

trend forecasting agency, used us as a model

a few years back, and it came pleasantly

and completely true. Fforest is a big part

of domestic tourism in Wales, although

part of that success is down to the fantastic

relationship we developed with Visit Wales.

But while we have the location and resources

to create an experience that people want,

quality trumps everything.

"One of the disadvantages to having

a business in rural Wales is the stark

seasonality. The weddings are a good way of

spreading income over the year, and we've

been lucky enough to have help through

grants from Visit Wales and loans from the

Development Bank of Wales. The other issue

is if you want to get things done it can take

time. I'm not a local and it's taken me a long

time to escape that. Unlike major cities,

where you meet people and stuff happens,

in our rural corner you need to create your

own opportunities – and to do that you need

resilience and resources.

"We just try to do things better than

our competitors. It took 10 years to reach

maturity and become commercially

sustainable, and that's because of our

approach. We're continually improving,

refining and evolving, but it's about being

fair in your business dealings and how you

look after people, too. The character and

quality of this place are a lot to do with the

personalities that work for us. We employ

a lot of youngsters and their love and

enthusiasm for our place is very important

to us – if you set up the right conditions

that will happen naturally. If there is one

thing I've learnt in business it is dedicating

the right people to the right jobs. Bringing

people on, no matter their age or gender, if

they show promise, encourage them. I like to

evolve people in the business.

"I'm also really proud of the PizzaTipi

on Cardigan Quayside– we get 300 to 400

people visiting per day over a summer

weekend, which is great for what is a

relatively remote location. It's a melting

pot of locals and holiday makers of all ages.

It's important for our visitors to immerse

themselves in the culture here, but it's

equally vital that the locals can feel at

home. It is something for everyone to enjoy

and there's nothing else like it in the area.

A beautiful riverside courtyard location,

it's also a little bit urban – so it goes down

well with the younger members of the

community."

THE FUTURE

So, what does the future hold for the

business? James is in the process of

developing a hotel on the riverside built

on the same Fforest philosophy – creating

simple luxury the Lynch way. "It will look

fairly discreet and it won't be obvious it's

a hotel. It will have an event space for 200

people, a big restaurant, and a spa – but not

how one might think of a traditional hotel

spa, more in a sense of outdoors and nature.

So think Nordic sauna, Japanese onsen,

cold showers… all in the open air. I'm very

inspired by The College Hotel in Amsterdam,

which is run entirely by hospitality and

catering students, and I'm aiming to employ

young people learning on the job. Work will

start on that later this year and will take

around two years to complete.

"I'm also working on a preservation

project with the Church in Wales with help

again from the Welsh Government. We are

creating a series of hostels for touring cyclists

by putting mobile pods inside redundant

churches and chapels. The accommodation

will not interfere with the structure of the

churches but will create a sustainable model

for preservation and their upkeep."

Despite the fact that James turned 60 last

year, he clearly doesn't have any immediate

plans for retirement and his businesses show

no sign of slowing down either. By a process

of experience and introspection, James and

Sian identified what counted as meaningful

in their eyes. It may have taken a while to

work out but they're making up for it now.

DETAILS

Fforest Camps Limited HQ

Bridge Warehouse, Teifi Wharf

Cardigan, Wales, SA43 3AA

Accommodation: www.coldatnight.co.uk

Weddings: www.fforestweddings.co.uk

Corporate: www.fforestfire.co.uk

Gather festival: www.fforestgather.co.uk

PizzaTipi restaurant: www.pizzatipi.co.uk

16 WWW.OPENAIRBUSINESS.COM
---
Don't Dream it - Hire it

• Furniture - internal & external

• Dance floors & staging

• Thermostatically controlled heating systems

• Event lighting & electrics

• Power generation

• Event management

With our extensive experience within the events industry, Event Equipment is the ideal partner to

fulfil all of your event requirements. Our knowledgeable and friendly staff can help to make your

occasion special. Our event management service can help with every aspect of your day, be it a

party or a wedding, including being there on the day to make sure it runs smoothly.

www.eventequipmentltd.co.uk

Tel: 01829 289 888

Email: sales@eventequipmentltd.co.uk

18 WWW.OPENAIRBUSINESS.COM
---
CASE STUDY

Tutbury

Castle

More than 'just a ruin', this Staffordshire castle has

a diverse offering, from weddings to ghost hunts

A well known historian and media personality, curator Lesley Smith can often be found

as Elizabeth I, Mary Queen of Scots or Anne Boleyn. Radiating passion for her subject and

the 11th century ruin in her charge, she and her team have created a multi-faceted venue

business with some utterly unique features. We talk to Lesley.

When did you start your venue

business and what is its history?

Tutbury Castle was one of the first

historic properties to open its doors

for a fee in 1848. The entrance fee

was one penny. The castle was

particularly attractive to Victorians

who much enjoyed all things Gothic.

There is even a Penny Dreadful

dated 1830, prior to Queen Victoria

coming to the throne, which reports

on the romantic ruined part of the

castle and also the ghosts. I took

over the castle at the end of 1999

as the first lessee from the Duchy of

Lancaster. The castle forms

part of the Forest of Needwood

Estate and currently trades as a

limited company.

"THE CASTLE

SITS 150

FEET UP ON

A GRASSY

LEDGE OVER-

LOOKING THE

LUSH DOVE

VALLEY BE-

LOW AND THE

RIVER DOVE

ITSELF WITH

AN ALMOST

COMPLETE

OX-BOW

LAKE"

Tell us about your location

and site

The castle is royal (and still is)

despite being largely ruined in

1647. This was carried out by order

of an Act of Parliament following

the civil war although the Great

Hall was allowed to remain as

the parliamentarians needed an

administration based here. It was

known as the "Lock of two counties"

those counties being Staffordshire

and Derbyshire - vital to control to

allow movement to the North by an

aggressive army.

The castle sits 150 feet up on

a grassy ledge overlooking the

lush Dove Valley below and the

river Dove itself with an almost

complete ox-bow lake. Far in the

green distance can be seen both the

Derbyshire and Weaver Hills. The

famous Derbyshire Peak National

Park is a half hour drive away.

Although there is evidence

that man has lived on the castle

ledge from 8,000 BC and Romans

are recorded on the site, it is also

known that the Vikings sacked the

immediate area, but it was really

the Normans that made the Tutbury

Castle we know today in the reign

of William the Conqueror. First built

in wood and then stone, rising up to

be a massive castle with up to the

1,000 people within her walls at her

height of medieval glory in the mid

to late 14th Century. There are three

baileys and one motte now resting

on 38 acres still held by the castle.

WWW.OPENAIRBUSINESS.COM 19
---
FUNCTION VENUES

It has welcomed numerous kings

and queen such as Henry IV, Richard

III and Mary Queen of Scots as a

prisoner four times.

What facilities for outdoor

functions do you offer?

A glamorous hard floor marquee

seats up to 120 for catered functions

with a dance floor and professional

chefs producing award winning

food. Medieval style tents can be

rented for events.

Food is also served in the Great

Hall and a pretty tea room.

Hand-fasting ceremonies are on

offer at the castle calling on the

pre-1446 custom of marriage. These

are also offered at midnight for the

ghosts and the brave.

Camping is occasionally allowed.

What services do you offer?

We offer wedding ceremonies, civil

partnerships, handfastings outside

or inside, ghost hunts (public and

corporate), historic food sampling,

Cornish cream teas, light lunches,

formal lunches and suppers.

Events planning forms part of the

usual system of booking at Tutbury

Castle. Our team works closely with

clients to ensure they achieve their

ideal event.

For corporate events we offer the

marquee as well as the Great Hall

and a series of break-out rooms.

We also offer management

training, funerals, outside cinema

and entertainment with an historic

flavour such as birds of prey, have

a go archery, Medieval musicians,

Tudor musicians and guided tours.

Particularly well known for our

historic talks by myself and other

experts in full costume, visitors

and guests at private functions

have the chance to meet Elizabeth

I, Mary Queen of Scots and Anne

Boleyn among others, as well as the

specialist talk "Sex and the Tudors".

There are other historical speakers

including Henry VIII, Richard III

and specialist speaker Dr Gareth

Williams from the British Museum

who gives talks on Vikings and

medieval warfare.

Describe how you researched and

sourced your structures

Mostly from visiting other sites

and seeing their structures and

deciding the right type for us. Direct

experience is always preferable to

"FOR

CORPORATE

EVENTS WE

OFFER THE

MARQUEE AS

WELL AS THE

GREAT HALL

AND A SERIES

OF BREAK-

OUT

ROOMS"

pictures! The cold light of day works

best in making a decision. Marquee

companies, in my experience, agree.

How do you work with your

customers to make their events

unique?

Listening to the client rather

than just hearing is essential and

ensuring that information about

their event is agreed formally and

constantly tracked from planning to

the day itself. It is also very helpful

to ensure that there are only two

contacts, not a stream of individuals

who may want to put forward their

own ideas. A filter from the client

and in turn the castle end enables

smooth planning with reliable

outcomes.

Tutbury Castle is able to make

quick decisions about what is

possible and to offer creative

alternative ideas if necessary.

Not being too prescriptive is also

20 WWW.OPENAIRBUSINESS.COM
---
FUNCTION VENUES

essential as clients must have their

own event, not ours! Restrictions

of a scheduled monument may

come into play but clients always

understand that Tutbury Castle is a

real 11th century royal castle with

a noble, and in some ways tragic,

past and that is a large part of its

attraction.

The castle has minimal fly

past and stunning countryside

views. It has parking for 250 cars

and an opportunity is available

for clients to have exclusive use.

This is particularly important

for commercial clients who may

need complete security and

confidentiality. We have had main

boards fly in to be with us from

countries in Europe particularly to

discuss sensitive issues.

Tutbury Castle is in the heart of

England with easy access to all the

major Midlands roads such as the

M1, M42, A50 and A38. It is just a 40

minute drive to East Midlands or

Birmingham Airport and there is a

train station at Hatton under a mile

from the castle.

How do you publicise yourself?

It really helps that I have appeared

in over 120 television programmes -

history programmes, the BBC News,

The One Show and paranormal

TV programmes across the world.

I have also appeared in national

press including a double page

spread in the Daily Telegraph and

numerous glossy magazines. I also

had my own page in Staffordshire

Life for eight years. Radio interviews

are regular, including the John

Humphries show on Radio 4 and

international life radio interviews to

countries such as Australia.

Our website and literature have

been professionally designed to

a high standard. The two major

promotions remain however -

customers typically coming to the

castle for a meal and historic talk

and then coming back to repeat

the experience with other historic

characters. Many of these same

people then come back to other

events. We use a system of press

releases for up and coming general

public events.

Any wedding will usually result in

more enquiries.

The castle is also a favourite with

some blue chip corporate clients

returning for other events and

family days.

I speak off site all over the UK

to audiences of up to 1,000 but

more usually around 200. These

talks bring business directly to the

castle as audiences will arrange a

coach tour to see Tutbury Castle

and experience another historic

character.

WWW.OPENAIRBUSINESS.COM 21
---
FUNCTION VENUES

How would you describe your

'style' or unique selling point?

The castle is in a beautiful place

and has a sensational history but

as one visitor said: "There are lots

of castles but not another Lesley

Smith". Therefore, the costumed

talks we offer is the major USP,

which was proved when I went on

a sabbatical for a couple of years

and the bookings (other than

weddings) plummeted. The talks

are very popular, now more than

ever.

What challenges have you faced?

Tutbury, although a pretty town,

is not near London or York or any

other major city with a strong

historic past where people in a five

mile radius might visit a number

of attractions, therefore the 'pull'

to the area is a difficult one. The

castle has endured a number

of dramas in the past 20 years

including the Foot and Mouth

crisis. We are in the middle of a

rural farming area and flooding

can also affect the road systems

leading to us.

Encouraging the general public

to visit a castle that on the face of

it is "just a ruin" is a challenge but

they have a happy surprise when

they realise there is a lot more

to it with the beautiful Great Hall

filled with Tudor furniture, the

exhibition room and lovely boxed

gardens.

The difficult economics of the

past years has had an impact so

we keep the entrance fee low so

we can be great value.

"ENCOURAG-

ING THE

GENERAL

PUBLIC TO

VISIT A

CASTLE THAT

ON THE FACE

OF IT IS "JUST

A RUIN" IS A

CHALLENGE

BUT THEY

HAVE A

HAPPY SUR-

PRISE WHEN

THEY REALISE

THERE IS A

LOT MORE..."

Have you worked with any

industry bodies or consultants?

It depends what you mean by

industry but certainly in heritage

such as Historic England. Also, land

agents WK Marshall (for advice on

the best use of the land, grants etc.)

and historical experts in various

disciplines.

I have had 20 years in an above

the line advertising agency and was

a consultant myself.

Describe your average day midseason

On a Saturday:

› 08.00 - staff arrive to receive flowers

and room dressers for a wedding.

› 08.00-09.00 - last minute tidying

and arranging furniture, steaming

glasses and checking all is perfect.

› 09.30 - catering team arrives.

› 11.00 - guests start to arrive for a

wedding.

› 11.00 - ticket office opens for

general public visitors.

› 12.00 - civil wedding in the Great

Hall.

› 13.30 - formal wedding breakfast

for 80 served in the marquee.

Meanwhile visitors come for tours

of the castle, cream teas or light

lunches. Ice creams are going well

as is the children's dressing up

box. Enquiries for school visit and

weddings.

› 16.00 - last admission to the castle.

› 17.00 - security on the gate arrive.

Musicians arrive.

› 18.00 - handfast for all wedding

guests and some more just arriving

for the evening event. Handfast set

out in the castle grounds surrounded

by lanterns.

› 19.30 - music and evening food for

120.

› 21.00 - ghost-hunters arrive who

will take over the Great Hall.

› 00.00 - midnight close down for the

night unless on extension.

› 02.00 - ghost-hunters leave and

security locks up.

What do you enjoy about the

business and why?

It is so varied, as Henry VIII arrives

and a woman with owls queries

school visits. The castle has to be

fought for as a business and must

be cared for constantly. You have to

love it.

ADDRESS BOOK

DETAILS

Tutbury Castle

Castle Street

Tutbury

Burton upon Trent

Staffordshire DE13 9JF

01283 812129

www.tutburycastle.com

22 WWW.OPENAIRBUSINESS.COM
---
S2T GRASS

REINFORCEMENT

PERFO

interlocking tiles - effective

protection for soft ground

Ideal for the reinforcement of

parking areas, access tracks,

pitches etc. at:

- camping & glamping sites

- open air event venues

- country & leisure parks

Tel. 01992 522797

www.perfo.co.uk

WWW.OPENAIRBUSINESS.COM 23
---
FUNCTION VENUES

What's Cooking

in 2019?

With food taking centre stage at weddings, Kelly Chandler

asks those in the know for their 2019 predictions and presents

the must have props for venues

LET'S FACE it, food and drink are one of the

key ingredients for any kind of celebration

or event, so it seemed fitting to focus this

month's feature on what's steaming hot this

year in the world of wedding edibles.

With millennial couples being increasingly

foodie, it's really important that you

regularly review your menus, look to inspire

your clients and potential clients with new

workable additions and ensure you stay

up to date with current lifestyle and eating

trends, whether that's with your in-house

team or by reviewing your recommended

supplier list of catering experts.

Edibles are oh-so-important in every

wedding day and couples are increasingly

food-conscious in all its guises so, as a smart

venue, you need to ensure your offering

of eats tempts the taste buds and creates

the wow factor to secure those coveted

bookings.

To this end, I've had the considerable help

of a selection of my favourite caterers old

and new, with a collective tonne of wedding

experience, to share their predictions for

what's hot and in demand right now when it

comes to wedding food. Now to the feast…

INDULGENCE PREDICTS...

Sarah, Anthony and team from Oxfordshire–

based caterers Indulgence know their

stuff when it comes to bespoke, elegant

weddings. They are in-house and preferred

caterers for some of Oxfordshire's best

known venues and rightly so – they are

at the top of their wedding game. www.

indulgenceboutiquehospitality.co.uk

› A Buffet Jim, but not as you know it: As

the demand for a more casual approach

to wedding catering continues to grow,

feasting will be back and big in 2019. This

time moving from served at the table to

the 'farmhouse sharing table'. Make no

mistake, this is no 1970s dodge buffet, but

something fit for the Instagram generation.

Think a rustic big wooden table groaning

with platters laden with amazing vibrant

salads and grilled meats. But this will only

work in the right venue with the right laid

back vibe.

› Vegan – know your onions: Veganism

took 2018 menus by storm and we only

see this as an amazing opportunity in

2019. It is shaping our offer and increasing

creativity. It is no longer enough to just

know where your beef comes from, you

now need to know your carrots and onions

too! With the obvious health benefits of

a plant-based diet, clients no longer see

vegan or vegetarian as second best if you

are creative with your offer. This refreshing

change in perception and attitude brings

with it the opportunity to increase your

gross profit margins, something that has

been very difficult to do in recent years

with food inflation.

› Low and slow, wood fired and smoked:

Slow food is moving fast; 24-hour beef

and fire pit lamb will feature for us. Slowly

cooked over the embers with an amazing

depth of flavour and the added bonus of

bringing some real theatre to your offer.

› Spice it Up: Chefs will be pushing

boundaries and mixing it up in 2019 just

as much as their mixologist buddies.

On trend super spices will continue to

dominate - cardamom, ginger, cinnamon,

acacia, and of course turmeric. Amazing

health benefits and creative flavour

bombs, what's not to like here?!

› Bowled Over: Bowl food will get a

much needed update in 2019. It's still an

amazing way to entertain your guests

but expect creativity to rise here. Out

with main stream bangers and mash and

shepherd's pie, in with donburi, poke and

lakas.

THE

CURATED

KITCHEN

PREDICTS...

Dani May-

McCallum is owner of

this newly launched exciting

catering company specialising in

luxurious feasts, grazing tables and

afternoon teas for informal weddings

and events in Surrey, Sussex and beyond.

wwwthecuratedkitchen.co.uk

› Sustainability: This year sustainability is

sure to be an even bigger consideration for

our couples and I'm sure we are going to see

a rise in requests for more organic, locally

sourced produce, with veganism high on the

agenda.

› Alternative luxury: We'll see the

continuation of couples seeking an

alternative to formal catering but

2019 couples are looking for luxurious

alternatives that still create an

unforgettable sense of occasion.

› Social dining: Sociable dining experiences

such as grazing tables and sharing platters

are set to be a key trend for the year ahead

but they will need to be less rustic than we

have seen before.

› Styling: Food will play a bigger part in

the overall styling – think show-stoppingly

styled platters and grazing tables laden with

locally sourced, organic produce and piled

high with beautiful handmade treats and

delicacies to create focal and discussion

points.

CAPER & BERRY PREDICTS...

Our dear friends at Caper & Berry are

passionate foodies who deliver unique

events with panache and personality. I've

worked with them to all sorts of wedding

briefs in private homes, tents and fields

24 WWW.OPENAIRBUSINESS.COM
---
FUNCTION VENUES

INDULGENCE

THE CURATED KITCHEN

and at leading light venues such as

Hedsor House and Somerley House

respectively. www.caperandberry.

co.uk

› Ottolenghi sharing: 2018 was the

return of the traditional three course

seated meal but 2019 is taking a

complete U-turn. Brides and grooms

are looking for vibrant, interesting

sharing meals, with a real nod

towards Ottolenghi.

› Vegan: Veganism is becoming

more and more popular and you

will continue to see this in 2019.

Restaurants and brides and grooms

are incorporating vegan options

into their menus. We are big fans of

vegan starters, they look stunning

and are packed full of flavour. A few

of our favourites are 'fig

and walnut' (fresh fig,

toasted walnut and

baby herb salad drizzled

with a honey mustard

dressing and edible

flowers) and 'balsamic

peach' (balsamic

roasted peach, toasted

hazelnut, home dried

tomato and baby leaf

salad finished with extra

virgin olive oil).

› Bare naked: when it

comes to table settings

we are preparing for a lot of

paired back, rustic luxury. A

focus on beautiful textures but

not going over the top.

› Sustainability: The events industry

is finally putting huge emphasis on

sustainability and we couldn't be

more pleased. 2018 saw the end

of single use plastics and over the

next 12 months there will continue

to be more legislation to promote

sustainability in the events and

wedding industries.

› Local produce: This has always

been hugely important to us but,

with a question mark on what's

happening in March, shopping locally

has never been more relevant. We are

surrounded by incredible suppliers

and producers and have always

chosen to use them due to the quality

of the produce not just because they

are so close.

So I think you can see our catering

friends definitely share some trends

and predictions (but with their own

unique twists) which is always good

to know!

And don't forget to check out the

websites of these brilliant caterers if

you're looking for new additions to

your venue offerings – they all cater

client events of course but some

of them offer a food consultancy

service too should you want some

support to develop your in-house

options – do get in touch with either

myself or them directly.

Making it easy for couples

So you've noted what's hot, but what kinds of things

can you do as a modern venue to make your spaces as

appealing as possible to clients and make it easy for

them to adopt these trends, either with your own team

or their choice of external caterer?

FURNISHINGS

› A rustic farmhouse table: This has to be a winner for a

number of venues and is multi-purpose. The ideal base

for a delightful grazing station, dessert buffet or any

number of interactive food and drinks stations, this has to

be a winner and worth investment.

› Long trestle tables: These are very much in favour for

wedding day dining and much preferred over the round

table variety –a worthwhile investment, and the basic

kind (in need of cloths) are not too costly.

› Cross-back chairs: The choice of chairs has to be a wellconsidered

one and we know that storage, versatility,

weight, ability to wipe-clean and more come into play.

There is not one ideal chair out there, however from a

wedding desirability point of view, the cross-back chair is

a 2019 winner, particularly in a more rustic setting.

TABLEWARE AND PROPS

› Platters: With the grazing table and rework of the buffet

on trend, presentation platters are key. Can you invest in

a suitable range of platters, dishes and bowls that work

with your venue setting? Think about presentation and

creating different levels across a table, so not all low

platters for example. Depending on your arrangements

with caterers, this one could well be a team effort to

ensure anything you invest in works for the caterers

supplying your events, or if you're a dry hire venue, then

it's just a really great starter kit that will make your venue

more appealing from the off.

› Chalkboards and signage: Invest in some different sized

table and floor standing chalkboard signs so that couples

can get creative with their wedding signage, describing

the menu or otherwise putting little foodie messages

to their guests. With couples putting more effort into

choosing local and making very conscious choices on

their food, they are more likely to want to tell their guests

about this on the day.

› Props: You might like to invest in some 'on trend'

items to hire out on a per-job basis. Things like 'donut

walls' (the actual wall you could build and hire out),

drinks stations, bar units (we love a good old Prosecco

bar horse-box) and much more. With sustainability and

consideration for the environment a much bigger pull for

couples in 2019, it's likely to be viewed as a much more

sensible option to source items from one place, ie. you

the venue, than have endless deliveries and journeys with

having to hire things in.

ABOUT THE AUTHOR

Kelly Chandler Wedding Consulting helps unique places and spaces to thrive in the modern wedding market via a

range of specialist one to one consulting and group training programmes.

Kelly has a wealth of specialist wedding industry experience through more than 15 years leading her award-winning independent

wedding planning business, The Bespoke Wedding Company, together with a Directorship at industry body,

the UK Alliance of Wedding Planners. Kelly is proud to eat, breathe and sleep weddings - setting standards, inspiring,

mentoring and motivating others. She is a well-respected go-to expert in the business of weddings with a unique grasp

of both modern bridal expectations and a venue's commercial needs. www.kellychandlerconsulting.co.uk

WWW.OPENAIRBUSINESS.COM 25
---
Bespoke

Furniture

Hire

0208 692 4444 hello@junohire.com

www.junohire.com juno_hire

26 WWW.OPENAIRBUSINESS.COM
---
FUNCTION VENUES

INDUSTRY INSIGHTS: CORPORATE EVENTS

www.whowherewhy

Wise words from Andrew White on standing out online as a business

event venue against competition with very deep pockets

THE INTERNET is without doubt a

fantastic requisite part of how we now live

day to day. It informs, controls, educates

and - if it's your thing - lets us show off too.

For marketeers, the 'www' presents

immeasurable opportunities to reach new

audiences, to engage with them and to

ultimately drive revenue. Add in the key

social media platforms and there seem to

be few excuses why a business shouldn't

do well.

But e-commerce logic doesn't

necessarily follow through for the

business of events; a sector that's hard to

compartmentalise and therefore tricky to

commoditise. Destinations and venues

can't be tick box transactions as every

venue is as individual as its ISP address.

Getting a property noticed online needs

a broad reach of vocabulary and content,

and while you can throw money at SEO

and pay per click, I'll guarantee you one of

the big global hotel chains has far deeper

pockets. Bigger budgets ensure that the

terms 'conference, meeting, unique,

iconic, function, party, wedding' will link

back to their brand and its associated local

property. It's a vicious circle balancing

keyword search and the integrity of your

own unique brand.

Delve a little deeper than the thousands

of competitor venue websites and you hit

the listings sites, hundreds and hundreds

of listing sites. Again, all competing for

supremacy with the same muck spread

of adjectives associated with the events

industry; 'conference, meeting, unique,

iconic, function, party, wedding'. One level

down and you'll find the venue finders;

same sh!t with the addition of 'free venue

finder conference, meeting, unique,

iconic, function, party, wedding'. Add to

the mix the catering companies who have

all created venue sourcing arms and it's

an utter melee for venues to be found,

seen and heard. Competing for market

supremacy on 'conference, meeting,

unique, iconic, function, party, wedding' is

a costly and often fruitless exercise.

CHOOSING WISELY

"IF YOU'VE A

BEAUTIFUL

PILE THAT

WOULD

BENEFIT

FROM VIDEO

TO BRING

THE MANY

STATE

ROOMS

TO LIFE,

HEADBOX

ARE YOUR

PEOPLE"

From Triggerfish's experience we

would always advocate do less

but do it better. In other words

don't get lost in the white noise by simply

jumping on the keyword bandwagon.

There are seemingly bottomless pockets

already at this.

Remember what is genuinely special

and different about your venue and

capitalise upon these words in your

SEO. And do work with three or four

chosen listing sites that can help your

business, ensuring you develop a robust

relationship that will drive your enquiries.

London Venue Search does what it says.

It's for London venues and it employs a

savvy bunch of locals who know what's

going on in the capital. So, if you are a

London venue look to work with them.

If you've a beautiful pile that would

benefit from video to bring the many state

rooms to life, Headbox are your people.

Square Meal has it licked for a UK

presence and has one of the best

databases of buyers who are seeking

spaces for their events. They also have an

amazing concierge service who you can

get to know and build a relationship with.

People buy people!

The key thing is to really get to know

the people who are managing your

presence so that they can help make you

stand-out and individual. It's time well

spent and that will pay dividends; do less

better.

Www is a brilliant resource but

remember it's an enormous resource,

therefore your venue needs to look

amazing on the social channels, talk

amazing on the www and be as individual

on the listings sites as you are as the

property owner. People buy people - be

bold to be as individual as your ISP

address is.

ABOUT THE AUTHOR

Andrew White is

MD of Triggerfish

Communications,

a specialist in

helping heritage

venues and leisure

attractions build

awareness and market

share in the business of

events. www.triggerfish.co.uk

WWW.OPENAIRBUSINESS.COM 27
---
MATTRESSES | DIVANS | HEADBOARDS | SOFA BEDS

B E D S F O R B U S I N E S S • D E S I G N E D F O R D E M A N D

With products designed for the hotel, glamping, accommodation and contract market, Mattison Contract Beds is one of

the industry's leading manufacturers with over 150 years of experience. As a UK manufacturer, Mattison Contract Beds

produce mattresses, divan beds, headboards, sofa beds, guest beds, metal beds, bunk beds and bedding accessories which

all comply with UK fire regulations. With an extensive portfolio of clients ranging from top hotel chains, universities,

schools and cruise ships, through to interior designers, these are beds for business - designed for demand.

• Order direct from the manufacturer

• Free delivery*

• Free bed surveys and quotations

• Order any quantity

• Quick delivery lead times

• Discounts for quantity

• Contract Source 5 fire rated

Our Services

* Free delivery on orders of £500.00 or greater

• Bespoke sizes available

• Nationwide service

• Full installation and disposal service available

• Zip/Velcro® and link available on all models

• Over 150 years of experience

• Made to order

MADE IN

THE UK

Mattison Contract Beds | 6 Whittle Road | Hadleigh Road Industrial Estate | Ipswich | Suffolk | IP2 0UH

01473 255 888 | info@mattisoncontractbeds.co.uk | www.mattisoncontractbeds.co.uk
---
FUNCTION VENUES

GUEST COMMENT

Furniture

Trends

Industrial, tech and coral - Europa

International's Helen Lowe talks us

through what's hot in event

furniture for 2019

AND JUST like that 2018

has been and gone. It was a

pretty epic year to be fair but

here at Europa we're looking

forward to an even bigger,

better and more fabulous

year ahead, full of events

with furniture hire choices

that are bang on trend. What

trends? I hear you cry. Well,

seeing as you asked why not

belt up for our whistle stop

tour!

From the known and

loved, to the game changers

and everything in between,

say 'hello' to the crème de la

crème of 2019 because, let's

face it, 2018 was sooo last

year…

So, where do we start?

How about industrial style

furniture with a splash

of colour... and of course

tech, tech and more tech.

That's what our clients are

focussed on, at the very

least.

The industrial theme

has been popping up just

about everywhere recently,

with the mix of gunmetal

grey and distressed wood

proving a popular combo

among event profs far and

wide.

When we realised how

well the simple look of

this trend translated into

event furniture we simply

couldn't resist jumping on

the bandwagon and before

we knew it had invested in a

new range of Tolix inspired

bar stools and chairs which

are the perfect combination

of style and practicality, if

we do say so ourselves.

Next in our line-up is tech,

arguably not a newcomer

but one that's definitely

made its mark and is here

to stay. Who knew that tech

and furniture would be a

match made in heaven?

Not us! Tech is definitely

something that has made us

folk in the furniture hiring

industry rethink the way

we choose – and in some

instances, design – furniture

that we know our event

profs will love.

Power Benches, as well

as our very own Charging

Work Stations, are definitely

top of the wish-list for many

event organisers. Perhaps

unsurprisingly, considering

how many people rely so

heavily on technology these

days.

We developed the

Charging Work Stations to

provide a sleek table top

with a discreet button that,

when pushed, releases the

power sockets where your

delegates can sit and charge

their laptops, phones or

tablets – a vital feature given

that the average Brit now

spends an entire day every

single week online (can you

believe it?)!

A POP OF CORAL

If at this point your finding yourself

thinking 'wow, that Helen really

knows what she's talking about'

(thanks) but you're already

wondering how to add a little

personality to what could, at first

glance, feel a little stark… fear not!

With spring already well on its way

we've also got our finger on the

pulse when it comes to the perfect

trend to help liven the décor up

a bit!

You've probably already heard,

if not seen, that Pantone's Colour

of the Year for 2019 is 'Living

Coral'. Not quite pink and not

quite orange, coral is a wonderful

combination of the two and the

perfect pop of colour to add in to

the mix (alongside your industrial

seating and tech work benches, of

course).

Think industrial-style bar stools

with coral seat pads or, if you're

more into your neutrals, a couple

of coral cushions wouldn't go

amiss alongside our white Swan

chairs or Corbusier sofas. However

you choose to add colour to your

event, coral is definitely where the

hype will be in 2019!

Ultimately, our top piece of

advice is to think through, and

stick to, what's right for you and

for your clients. But, if you're

hoping to avoid any 'furniture faux

pas' by keeping on top of what's

hot and what's not in 2019 – and

if you find yourself in a furniture

frenzy – why not let Europa come

to the rescue. We'd be delighted

to give your event an extra boost

of TLC and a sprinkle of Europa

magic!

ABOUT THE AUTHOR

Helen Lowe is the events and marketing manager at Europa International. For over 50 years, Europa has been supplying

furniture and floor coverings for hire to the events industries. It specialises in chair, sofa, stool and table hire at affordable

prices, and carries a stock of items for those who want 'something a little different.' A truly independent furniture and

event hire company, it is family run, with family values. Other services include floor covering, registration desks, panel

hire, electrical, graphics, conference seating and shell scheme hire. 08454 303015 / www.europainternational.com/oa or

Tweet @Europa_Int

WWW.OPENAIRBUSINESS.COM 29
---
FUNCTION VENUES

PRODUCT IN FOCUS

Furniture

A Field in the Depths of the

Midlands Countryside

Description: A private event featuring a

two-storey inflatable structure!

Product: Furniture hire

Supplier: Europa International

Telephone: 020 8676 0062

Website:

www.europainternational.com/oa

Details: Europa was given an unusual brief

to kit out a two storey inflatable structure

for a private event in the heart of the

Midland countryside. The client required

a furniture package (delivered, installed

and quality checked) with the ultimate

wow factor. It needed to complement

the unusual design of the space, give the

indoor and outdoor areas a different mood

while also ensuring consistency - all within

some rather strict timescales. Luckily the

team is well practised in thinking outside

the box or, in this case, in a field.

The key to the project was planning and

time management (with, of course, the

odd cup of tea). The team worked quickly

to agree a package of white contemporary

lounge and bar furniture for the inside with

rattan sofas, chairs and coffee tables for the

outside, which the client loved.

Establishing just how long it would

take to get the inflatable up, the access

points, and the time available to get

the furniture in and back out again was

crucial. And all this occurred in somewhat

sweaty conditions caused by the heatwave

that kindly consumed the Midlands that

particular weekend.

Feedback: Europa's Helen Lowe said: "For

those old enough, you will remember the

phrase "flexible friend". Well, while we are

not a credit card company, the client loved

how we are flexible, helpful and above all

friendly. That always helps an event build

up go smoothly."

Willington Hall

Description: Boutique hotel set

in a stately home with gardens

and park land in Cheshire

Product/service: Banqueting

furniture supplied for 150 guests.

Additional lounge/chill out

furniture for inside the marquee

and in the walled garden,

lighting and dance floor

Company: Event Equipment

Telephone: 01829 289888

Website:

www.eventequipmentltd.co.uk

Details: Working closely with

a trusted marquee company,

we organised the wedding

for our bride with the help of

Willington Hall. We supplied the

Chiavari chairs, round tables,

rattan furniture for inside and

outside the marquee, as well as

a black and white dance floor

and lighting. The Chiavari chair

is our most popular wedding

chair however the Crossback

is catching it up now. With the

dance floor and lighting we

went for a nightclub vibe which

worked well.

Feedback: "Working with

Event Equipment, I have the

confidence that the furniture

ordered will not only arrive

on time but will be in great

condition. Our working

relationship is second to none

and they are always happy to

help in an emergency any time,

night or day."

30 WWW.OPENAIRBUSINESS.COM
---
FUNCTION VENUES

Private party,

Chichester

Description: The party

took place in a glamorous

marquee in the garden of a

private home

Product supplied: Bespoke

furniture and bar hire

Company name: Juno Hire

Telephone: 0208 692 4444

Website: www.junohire.com

Details: Juno Hire recently

provided all the furniture for

a botanical themed special

event within a marquee.

The party took place in a

glamorous structure, with

a dramatic canopy ceiling.

The cream coloured fabric

was a perfect backdrop for

more colourful furniture

items such as Dinky

sofas and armchairs

in Claret, Millennial

Pink and Dusky Blue. The

variation of these dusty

shades sat perfectly next

to the sprawling green pot

plants dotted around the

venue.

Reminiscent of picnics

in the park, practical Disco

Poseur tables and stools,

alongside the dramatic

foliage, brought the outside

in to this event. These

particular stools and tables

also added a contrasting

industrial element to the

otherwise colourful, natureinspired

function.

Evocative of retro bird

cages, Birdcage coffee tables

were a perfect match for

the leafy surroundings. Big

enough to accommodate

guests' drinks (and a second

or third round too!) and low

enough to be placed next to

the comfy Dinky sofas.

Milano

Poseur

tables in

black

were used

outside the

marquee, placed

conveniently next to a

picturesque swimming pool.

Adaptable for all occasions,

the tables at this event were

topped with tea lights and

surrounded by garlands of

twinkling fairy lights. This

was the place to be as the

night set in.

Feedback: The client was

over the moon with the

service and attention to

detail. So much so we have

since become a preferred

supplier for the agency

who planned the party, and

have worked with them

numerous times since.

WWW.OPENAIRBUSINESS.COM 31
---
The Haven range from

Ellipse Leisure Buildings Ltd

The only limit is your imagination...

www.ellipseleisurebuildings.co.uk

Contact 01833 630851 sales@ellipseleisurebuildings.co.uk

Innovation from

Universal Glamping

GlampRAD

• IRC Radiant Heating Systems

for glamping structures.

• Efficient, cost-effective and extra safe

• Doesn't require an electrician to install

• Produced in canvas or stainless steel

panels

www.glamprad.com

GlampLoft

• Two-tier modular

canvas structure.

• Durable and quick

to assemble

• Insulated for year

round use

• 20.4sqm over two

floors

01269 853957

www.universalglamping.com

32 WWW.OPENAIRBUSINESS.COM
---
GLAMPSITES

ALL IMAGES COURTESY OF © CROWN COPYRIGHT (2018) VISIT WALES

CASE STUDY

Ty Cwch

Meaning 'boat house' in Welsh, this contemporary

take on glamping repurposes used shipping

containers and provides a 'space to share' right

on Cwmtydu Beach, Cardigan Bay

Eco architect Nigel Humphrey has created a near zero carbon,

contemporary glamping development with activities including fishing,

kayaking, windsurfing and climbing from the beach just a stone's

throw away. We talk to him about how he handled the planners and the great support

offered by Business Wales.

What's your back story – your life

before ty Cwch?

I've always been architecting, apart

from nine years in France when I

bought and renovated a ruined

water mill and farm buildings which

were then rented out as holiday

accommodation.

While there I also worked for

several clients, converting a range

of traditional stone buildings from

barns to pig sties, often for holiday

use. It's amazing what you can fit in!

Living in old stone buildings

through cold continental winters

provoked a keen interest in how to

keep warm, and after we came back

to the UK in 1997 I completed an

MSc in Energy Efficiency in Building.

We were living in Somerset for

14 years, where we renovated two

houses for ourselves and then we

moved to Cardiff, and renovated

a third house for which we won

several awards.

Now, 20 years later, I've

worked on buildings from

Donegal to Brittany, traditional

and contemporary, and have

the expertise and experience to

produce a very energy efficient

building like ty Cwch. It doesn't yet

have the planned PV panels which

will make it nearly zero carbon

but because the energy load is so

low, and we use only renewable

electricity, it isn't doing badly even

now.

What made you decide to

start offering glamping

accommodation?

I wanted to enact the planning

consent and had a limited budget.

I knew from my research that the

demand for short stay activity

holidays was growing rapidly. I'd

already made the link with a local,

(inland) activity provider looking for

a coastal location.

The plan originally was to provide

space for daytime use only but

the advantage of also providing

sleeping accommodation quickly

became clear.

Ty Cwch is a bit of a hybrid and

could be described as a bunkhouse

or glamping. It combines all the

comforts of home (nearly) with the

experience of being in a natural

landscape.

We finished the building in late

September and were officially

opened by Ben Lake MP in late

December. This will be our first year.

How did you research the

business before entering it?

Visit Wales has a lot of detailed

statistics available on its website

WWW.OPENAIRBUSINESS.COM 33
---
GLAMPSITES

about the tourism trade, including

bookings. At the time when I was

writing the business plan Visit Wales

was very keen to encourage catered

activity holidays. It was also clear

that there was a big increase in the

numbers of people taking shorter,

more frequent, breaks.

I had the previous experience

of holiday rental from France to

call on, and did the usual SWOT

analysis, looking at the competition

and the risks.

Tell us about your location and

site

My first visit to Cwmtydu was on

a crisp sunny Autumn afternoon.

We drove downhill for two miles

through the steep sided wooded

and sun dappled valley until

eventually emerging to a narrow

view of the sea between two steep

hills. For me at the time this gave

a deep sense of retreat. Because

of the hills there was no telephone

signal, no Wi-Fi, peace.

The Ceredigion coast path runs

beside ty Cwch. Up the coast or

down are beautiful views, and

inland lots of woodland walks.

Cwmtydu feels relatively

undiscovered. It's much less busy

than New Quay or Llangrannog

and in the evenings in the summer

the visitors go and peace and quiet

returns for the locals to enjoy.

How did you tackle getting

planning?

We bought the site with a planning

consent but not for what we

wanted to build. I had to remind

the planners that the wording

legally constituted Full Planning

Consent and to prove to them that

if they granted a new planning

consent that I couldn't

just build both!

Many people

think of the

planners as

policemen and they

get abused. My advice to clients

is to study the Local Plan and

Supplementary Guidance and look

for ways of telling the planning

department the story that they

want to hear. Say what you want to

do, why it's a good thing, and have

a fall-back position which you can

find acceptable.

How did you finance the project?

I tried for several years to get grants

without any luck, and was told by

brokers at the time, "nobody will

lend money for a tourism project

west of the Severn". So the project

was funded mostly from capital

and a loan from Business Wales, for

about 18% of the build cost.

Business Wales was excellent and

I'd recommend anyone to go to it.

What glamping accommodation

do you offer and why did you

choose it?

We have four pods on the ground

floor each of which opens on to the

'deck' which is covered by three

permanent sails. One is just storage

for valuable equipment, the others

are all fully insulated and heated.

There's a sitting room, kitchen, and

utility room (with two WCs). At the

end of the utility room there's a

further two showers.

The pods are made from 6m

"THE CEREDIGION COAST PATH RUNS

BESIDE TY CWCH. UP THE COAST OR

DOWN ARE BEAUTIFUL VIEWS, AND

INLAND LOTS OF WOODLAND WALKS"

34 WWW.OPENAIRBUSINESS.COM
---
GLAMPSITES

shipping containers which are

quite special because the whole

side can open.

In the deck area there are also

large sitting and dining areas, and

the outside walls of the deck open

fully giving views of the sea and

making it a very flexible space. It's

a bit difficult to describe but if you

look on the gallery on our website

you'll see what I'm talking about.

On the first floor there are three

cabins each with four bunks (again

fully insulated and heated) and

two showers/WCs.

The choice of shipping

containers arose from practical

considerations of how to create the

retaining wall that I needed at the

back of the site, cost, issues around

embodied energy, and energy in

use. They're very well sealed and

have low thermal mass, so they

heat up quickly and are easy to

keep warm.

Guests can always be cosy inside

"JUST

KNOWING

THE ROPES

OF DIARY

NOTICES,

PRESS

RELEASES,

WHO TO GET

A HOLD OF

AND HOW,

MAKES YOUR

EFFORTS

MUCH MORE

PRODUCTIVE"

the pods regardless of what the

weather's doing outside, but on

the business plan I assume that

we have very few bookings if any

between October and Easter.

How did you work out your

brand and how do you publicise

yourself?

Ty Cwch means the 'boathouse'

in Welsh. The design deliberately

plays on that theme with sails, a

boat deck, large round portholes,

and galvanised steel walkways.

I should put up a sign, 'Port Out

Starboard Home'.

A recently retired school friend

was a university marketing director

and has been an excellent help. I'd

suggest getting help from someone

either privately or from the

equivalent of Business Wales where

you are. Just knowing the ropes of

diary notices, press releases, who

to get a hold of and how, makes

your efforts much more productive.

I have also been cheeky and

gotten in touch with people.

Visit Wales and the Ceredigion

Tourism officers were happy to

be contacted and to help. This

network has then produced other

interesting contacts. I've used CRM

software to make lists which can

then be used to keep in touch with

them all.

How would you describe your

ethos and unique selling point?

I described ty Cwch once to a

visitor as, 'a place to share'. It's

possible to book just a pod, or the

whole place, but since we have 12

beds even that will mean a certain

amount of sharing and getting on

with each other.

Beside the location and the

building, which are very special,

the activities are a USP. There's a

wide range available for groups or

families. So, plenty to discover and

enjoy.

BUILD YOUR OWN SHEPHERD HUTS

VISIT WWW.SHEPHERD-HUTS.COM

AND CLICK ON THE 'SELF BUILD' PAGE

BUILD TO A SIZE

THAT SUITS YOU!

WWW.OPENAIRBUSINESS.COM 35
---
GLAMPSITES

How did you choose your interior

decoration?

Generally, a theme was the kind

of things that you might expect to

find in a shipping container, hence

boxes, pallets, sawn timber. Another

was from the Mexican hammocks

we'd bought at WOMAD. Bright,

colourful, holiday colours.

What challenges have you faced?

All the challenges that usually come

with building - time and cost. It

usually takes three people to build

well, the client, the architect, and

the builder. I've been all of these in

the past and decided that you can

just about get away with being two

at the same time but not three.

Also, this time I must stick around

and make the building, and the

business, work. Usually this is the

point where I walk away!

What are your plans for next

season?

This will be our first season, so I

plan to be spending quite a lot of

time finding out how this business

works. Obviously, I've done holiday

rental before, so I've got some idea.

Describe your average day midseason

We'll see!

Do you enjoy the business and

why?

I enjoyed working with the people

who made the building, a mixture

of old and possibly new friends.

I realised a while ago that I do

like people. When we ran the gite

business in France I wasn't so sure.

What are you most proud of?

I'm tempted to say, 'sheer dogged

determination to keep going', but

that's not necessarily a virtue.

I take great pleasure in my

children's comments about the

building, and even the building

control officer said, 'this is so cool'!

I hope that my children are as

pleased with the business.

What advice could you give

to someone coming into the

industry?

Get advice and help wherever you

can, don't be shy. Do your business

plan as well as you can, research

thoroughly, allow more time and

money, and you'll give yourself

much more chance of enjoying

what you're doing.

I'm writing my own short report

on the building, suppliers, and

costs. If you are interested, please

get in touch.

DETAILS

Ty Cwch

Llwyndafydd

Llandysul SA44 6LQ

www.tycwch.wales

enquiries@mas.eu.com

07535 149130

36 WWW.OPENAIRBUSINESS.COM
---
stay somewhere different

from

£2,600

for a 13'

from

£2,600

for a 13'

Join our dynamic portfolio of

unique glamping structures.

Designer of Innovative Dream Solutions

Beautiful Inflatable

Bubble Houses

For extra accommodation in your

backyard or for any occasion for

days or months...

> MODULAR CONCEPT: fully transparent, semi

opaque or fully opaque for more privacy.

> Available from 6.5 feet to 26 feet diameter.

> NO BUILDING permit required.

> 50 min. set up, inflation included.

To buy or to rent We SHIP from FRANCE

e-mail or call us today to discuss your project!

CasaBubble ® distributed in France: +33(0)6 8627 9168

info@CasaBubble.com | www.CasaBubble.com

Visit qualityunearthed.co.uk or

call 01348 830922

nick@wild-hart.co.uk

www.wild-hart.co.uk

07971869058

"Revitalise your ability to re-engage with nature"

W I L D H A R T

PLAY CABINS HOME

WWW.OPENAIRBUSINESS.COM 37
---
GLAMPSITES

INDUSTRY INSIGHTS

Kate Morel

Stay up to date on the glamping industry with

Kate's unique insights

ABOUT THE AUTHOR

Kate Morel works

exclusively in the

boutique glamping

accommodation sector,

specialising in creating

new developments

focussing on that

sometimes elusive,

but all important,

'guest experience'. As

a respected go-to expert

in this niche industry,

she also runs business

workshops and provides

informative seminars at

leading industry events.

Her hand-picked team of

planning consultants

and designer-builders

are bringing bespoke

treehouse and cabin

design concepts into

reality through Morel

& Co. www.katemorel.

com, 07849 514588,

info@katemorel.

com - Facebook Group:

Glamping Business Link.

THIS TIME last year I was writing about glamping resorts for OAB, and since then I've been

pleased to see, and engage in, stylish resort projects that push the boundaries of this British

holiday tradition firmly into the 21st Century. However it's not only the bigger developments that

are adopting resort style facilities and features. As the glamping landscape continues to develop,

smaller multiple unit glamping businesses are also creating communal social areas and adding

cafes, shops and play areas. But as can be expected from the glamping sector, they're doing

so very much in their own style, creating congruent, magical and unique experiences for their

guests.

Other popular features that are making a splash right now are outdoor showers and baths, and

not necessarily expensive glass enclosures or copper bathtubs, either. Tin baths, simple exposed

copper pipes and watering cans are being drafted in to create that quintessential British 'quirk

factor'. A cursory glance through the latest cabin and treehouse offerings reveals a plethora of

unconventional ablutionary experiences… we Brits do like a touch of eccentricity, don't we.

COHESION STUDIO

FROM MY DIARY

I HAVE visited more than my fair share of farms this month, eyeing up barns and cow sheds for conversion into alternative

businesses such as rental properties, craft centres, galleries, farm shops and wedding venues. All accompanied by some sort of

stylish glamping accommodations, naturally. They're usually owned by independent landowners and I find working with them

so rewarding because I get to be involved in their aspirations and plans to shape their future, and sometimes their childrens'

futures.

I gave a talk at the Rural Expo Show last week, and one particular note on one slide made people smile - 'Dare to be different,

only dead fish go with the flow'. I'll be the first to admit that very often going with the flow is the best course of action but in

business we also need to know when to make our own moves. As such, I'm often inspired by my clients' motivation and vision

because they are taking control, occasionally taking a chance, daring to forge something new, and sometimes under challenging

circumstances. I admire them all immensely.

38 WWW.OPENAIRBUSINESS.COM
---
GLAMPSITES

FOR YOUR DIARY

IF YOU'RE in need of hospitality inspiration and networking, you

will definitely want to attend the Open Air Business Gathering on 25

March… and if you're in the mood for a little socialising you'll also

want to join us for drinks and supper on the evening of the 24th.

I know, I mentioned it last month but life is busy and before you

know it, it will be over, so here's another nudge because it's one of

those events you'll regret missing… trust me on this one - www.

oabgathering.com

If your business has anything to do with short stays, you might

also want to check out the Short Stay Show on 14 March at Excel in

London. I'm hosting a discussion on urban glamping. Glamping in

cities might seem a contradiction, but I'm going to review existing

examples and explore new ideas because the concept opens

up exciting possibilities… and only dead fish go with the flow,

remember – www.shortstay.show

Permissions and Plans

Other subjects that have raised their heads lately are flaunted

planning permissions and faulty business plans.

› Planning Permissions - A

new glamping site was recently

reported by angry neighbours as

being an eyesore but to be fair to

the local planning department,

what had been installed wasn't

the development they had

granted permission for. The

landowner had changed their

mind and used a completely

different structure design in a

different layout, and sadly the

resulting effect didn't do the site

or the new structure choice any

favours

I can understand the reasons

behind this kind of change of

heart, but once permissions

have been granted, that's what

you have to install, unless you

resubmit a new application

altogether, or apply for

variations to the existing design.

I sometimes hear from people

who have already obtained

planning but aren't quite sure,

and often I have to concur that

what they have permission for

isn't going to be as commercially

viable as they thought.

› Business plans - Getting

the figures close to how the

business will perform is,

obviously, important. Rental

fees and occupancy rates can

sometimes be tricky though,

because for various timescale

and market reasons, by the

time a business becomes

operational they may no longer

be as relevant. However, some

aspects, such as seasonal

change-over frequencies are

very predictable yet can be miscalculated

by people or business

plan service providers who don't

know the industry. If they're

underestimated, there's less

financial impact if you're doing

change-overs/laundry yourself,

but you'll be working harder

than you thought you would.

However, if you're outsourcing

them, over time and several

units, those additional changeovers

could add a hefty figure to

your running costs.

Tip No 2.

Whisk me Away

PAN TREETOP CABINS,

GJESÅSEN, NORWAY

www.panhytter.no

I'm as fond of a rustic log

cabin as the next country gal

but lately I've been decidedly

seduced by modernity, and

its smooth simplicity in the

form of clean lines and plain

facades.

These treetop cabins

perched on structural

supports strike a sharp

angled silhouette against the

skies. What I like about them:

› Simplicity - unlike some

cabins they are beautifully

bereft of pretension and fuss,

pushing the focus onto the

natural environment around

them

› Perspective - they've raised them just high enough to

maximise on the superb landscape

› Form and functionality – they blend stylish design

with the fundamental facilities for human comfort…

no more, no less.

FOLLY DESERT CABIN,

JOSHUA TREE, USA

www.airbnb.co.uk/rooms/

plus/18332523

At first I thought 'what the…'

but actually, this is one pile

of rust I can get excited

about. It's off-grid for a start,

a desert cabin, refreshingly

devoid of delusions in being

anything other than what it

is. What I like about it:

› I want to dislike it, but I can't, and that makes it

interesting, intriguing even. Is it the rust, the location,

the juxtaposition of the two?

› The solar panel has been mounted on a separate

post not on the roof, better performance, but from an

aesthetic perspective it frees the cabin's design from

an unattractive practical constraint

› The vast open window above the bed – seriously –

now that's what I call stargazing.

MNAL ESPEN SURNEVIK

COHESION STUDIO

MNAL ESPEN SURNEVIK

Tip No 1.

Don't dive into submitting a

planning application before

thoroughly researching

accommodation structures.

Ensure that your business plan

is accurate, well researched and

informed, and if you're using a

business plan service, that the

person writing it understands

every nuance of how this

industry works.

COHESION STUDIO

WWW.OPENAIRBUSINESS.COM 39
---
GLAMPSITES

THE LOFT, DEVON

Glamping

Trends

Tom Dixon of Canopy & Stars reveals his

predictions for the 2019 glamping season

THE BREXIT EFFECT

Canopy & Stars predicts a 15 per cent rise in bookings

for UK breaks as Britain leaves the EU on 29 March 2019.

Since the Brexit vote took place in June 2016, we have

seen EU bookings fall, while UK bookings have risen.

January to March 2019 are already up by 13 per cent for

the same period in 2018.

Leading the charge for 2019 bookings is the perennially

popular Sky Den, an outdoors-indoors treehouse in

Northumberland's Kielder Forest and Ditchling Cabin, one

of Canopy & Stars recently added floating cabins on its

own private lake in the South Downs National Park.

DEVON'S WHERE IT'S AT

For the first time, Devon has

overtaken Cornwall as the UK's most

popular destination, with searches for

the county beating those for Cornwall

consistently since May 2018. Devon has

also seen some of Canopy & Stars' most

exciting new treehouse additions, with

more planned for early 2019.

Joining the two treehouses at Wolf

Wood on Dartmoor is The Lookout, a

woodland palace with outdoor jacuzzi.

Head to Braunton, where the Loft and

the Hideaway at Pickwell Manor bring

treehouse style to the north coast. Guests

can watch the sea from their woodland

bed or head to Putsborough for beach

days.

›

THE GARDENER'S SHED, DEVON

GROWTH IN AFFORDABLE

SPACES

Although demand continues to rise

for the more luxurious, creative

and extreme, there is a steady

demand for the more affordable,

rustic and beautifully simple of

spaces. To embrace this, we will

focus on adding more budgetfriendly

options in 2019.

Examples are the The Gardener's

Shed, a homely cabin for two

overlooking the Axe Valley, with

free-range farm animals and

cookery courses on site, and Joan's

Hut, a shepherd's hut with roll top

bath in a secluded damson orchard

in Worcestershire.

›

40 WWW.OPENAIRBUSINESS.COM
---
›

HUMBLE BEE, DEVON

OCCASION VACATIONS

The 'experiences not things' trend

continues to grow, so does the appetite

for occasion breaks, with over 50 per cent

of all Canopy & Stars' bookings in 2018

celebrating an occasion with birthdays,

anniversaries and honeymoons topping the

reasons for taking a trip. Canopy & Stars gift

card sales are also predicted to rise in 2019

with club together gift cards where multiple

people can contribute to one present.

Milestone anniversaries are often

celebrated from the human sized beehive

at Humble Bee in Devon and bobbing

peacefully on the water at Amelie in

Falmouth.

›

DITCHLING CABIN, EAST SUSSEX

THE NOOK, ESSEX

STUDIO HOOSE, SCOTTISH HIGHLANDS

THE ART OF BEING BORED

Millennials heading for 'burnout'

are looking for ways to escape constantly

being switched on, even Google is telling us

that searches for 'being bored' have fallen

dramatically over the last 10 years; it seems

we've lost the art of just 'being'. For those

tired of cities, smartphones and work, Canopy

& Stars predicts 2019 will be the year of the

boring holiday. People will head out into

nature, make no plans and contemplate life at

a significantly slower place - they'll feel better

for it!

Studio Hoose provides one such

opportunity, where the only company is the

wild Scottish mountains. The Observatory on

Cornwall's furthest tip also allows guests to do

just that – observe, with the Milky Way above

and wild seas below.

WELLNESS HOLIDAYS FOR COUPLES

We have been doing wellbeing holidays

long before it became a trend, but we have

recently seen an increase in people looking for

breaks with wellness at the core, whether that's

nurturing a relationship or a way to improve

mental health.

Research has proved how spending time

outdoors and away from the stresses of daily life

is good for your health. Canopy & Stars, along

with relationship gurus Project Love, believe it

also has huge positive effects on relationships, so

have joined forces to encourage couples to rewild

their relationship by producing a 'how-to-guide'

to reconnecting in the outdoors and a collection

of places to put the theory to the test.

Guests can follow in Project Love's footsteps

and learn a skill together in the Herefordshire

countryside at Brook House Woods or reconnect

in a tiny house compete with tin hot tub at The

Nook in Essex.

›

PUCKSHIPTON TREEHOUSE, WILTSHIRE

GLAMPSITES

PETS LOVE GLAMPING TOO

In 2018 12 per cent of all Canopy &

Stars trips included a pet. The number of

stays with pets has grown by nearly 60

per cent in the last two years and shows

no signs of slowing.

Pets are in perfect company at Mill

Valley's collection of four dog-friendly

cabins. The owners have 10 of their own,

a huge garden they can play in and a free

dog-sitting service. Free dog sleepover

packs await pets that visit Boutique Farm

Bothies in Aberdeenshire as well as dogfriendly

beaches and advice on walks.

›

SUSTAINABILITY BACK ON THE

TRAVEL AGENDA

The news that tourism causes almost

a tenth of global emissions has put

sustainability firmly back on the travel

agenda. The launch of Zerobnb is

putting pressure on the big travel firms

to recognise and categorise sustainable

homes. By its nature, glamping is already

ahead of the game but to further the cause

Canopy & Stars has launched a collection

of its most sustainable places, with over 50

at the last count.

Taking sustainability to new heights is

Puckshipton Treehouse, a rope hung, offgrid,

no-car escape deep in the Wiltshire

countryside. As is Brockloch Bothy, an

architect-designed eco-build with farreaching

views, surrounded by sheep.

›

ABOUT THE AUTHOR

Tom Dixon is managing

director at Sawday's Canopy

& Stars, a collection of

selected and inspected

special places to stay

and experience the great

outdoors across Britain,

France, Spain, Portugal, Italy

and Scandinavia. From humble

beginnings in 2010, the agency has

grown to more than 500 places; everything

from treehouses, yurts, and converted horse

trucks, to cabins, Gypsy caravans and Iron

Age roundhouses. Championing the small

and independent, and being an advocate of

sustainable tourism, the team genuinely cares

about what they do, and how they do it.

0117 204 7802 / www.canopyandstars.co.uk

BOUTIQUE FARM BOTHIES, ABERDEENSHIRE

WWW.OPENAIRBUSINESS.COM 41
---
GLAMPSITES

VISIT BRITAIN/JOANNA HENDERSON

GUEST COMMENT

Andrew Stokes

VisitEngland director Andrew Stokes gives a rundown of tourism in England

today – the good news? Staycations are massive!

TOURISM IS one of the UK's most

valuable export industries and

growing faster than many other

sectors. Worth £127 billion to the

economy overall, the UK's tourism

industry makes up 9 per cent of

GDP and supports 10 per cent of all

jobs. It is full of innovators and is an

industry which spans the country

and where small changes have a big

impact on our economy. Tourism

needs no trade deals and can attract

large inbound investment from

around the world.

National tourism agency

VisitBritain/VisitEngland builds

England's tourism product and

raises Britain's profile worldwide,

increasing the volume and value

of tourism exports and developing

England and Britain's visitor

economy.

At VisitEngland we are looking

forward to another busy and exciting

year as we work with the industry to

boost growth in visitor numbers and

spending across the country, shining

the spotlight on our outstanding

destinations, experiences and

visitor attractions right here on our

doorstep.

£11 BILLION STAYCATION MARKET

More Brits have been taking holidays

at home with our research showing

that the ease and convenience along

with the certainty of budgeting and

the range of quality destinations and

tourism products are all contributing

factors to people taking more

domestic holidays. The latest full

year statistics show that Brits took

47.2 million staycations in England

during 2017, spending £11 billion.

Short-breaks of one-to-three

nights have contributed to the

growth in domestic staycations

in recent years, with Brits taking

more than five and a half million

more short breaks in England

than a decade ago. Our research

also shows that camping and

caravanning is an important part of

the domestic holiday market; more

than 10 million domestic holidays

in England in 2017 involved

staying in camping or caravan

accommodation, almost one in four

trips (23 per cent).

Tourism is fiercely competitive

and all about choice and we know

there are destinations that would

welcome more visitors, so as an

industry we need to keep telling

people about unexplored locations

and new experiences. And we need

to get better at telling the story of

places, inspiring visitors to discover

more, travel further and stay longer.

With more than a quarter of

all domestic holidays in England

taken in July and August, boosting

tourism across the shoulder

seasons remains crucial. So does

increasing the value of visitor

spending. Domestic day trippers

in England spent £34 per day on

average in 2017, while spending on

holiday trips was £70 per night, so

driving that conversion to overnight

visitors and getting them to stay

longer is important.

ABOUT THE

AUTHOR

Andrew leads on

the development

and delivery of

the £40 million

'Discover England

Fund' to ensure

'bookable' English

regional product

is being created

for international

markets that

will also benefit

domestic tourism.

He is responsible

for developing an

England Action

Plan that focuses

on the Discover

England Fund and

on business visits

and events tourism.

VISIT BRITAIN/ANDREW PICKETT

CAMPAIGNS TO INSPIRE

Our global campaign 'I Travel For…',

is all about shining the spotlight

on unexpected experiences and

less-explored destinations to boost

tourism across the UK, alongside

our globally renowned and iconic

landmarks and attractions.

Domestically, our 'Join the

World - #MyMicrogap' campaign is

getting more young Brits to take

short breaks at home and discover

new experiences, with a focus on

travel across the shoulder seasons,

from glamping at an Alpaca camp

in Sussex to staying in a Kudhva,

an architectural hide-out in North

Cornwall, or sleeping under the stars

in a luxurious pod in Devon. Working

with destinations and tourism

businesses, we can ignite the

passion for domestic travel in young

people, inspiring them to take a

holiday at home right now and

throughout their lifetimes, boosting

the economy and driving growth

from tourism in the future.

42 WWW.OPENAIRBUSINESS.COM
---
GLAMPSITES

VISIT BRITAIN/JOANNA HENDERSON

"AS THE VOICE OF

ENGLISH TOURISM

VISITENGLAND

SHINES A SPOTLIGHT

ON THE INDUSTRY

AND ALL IT DOES

TO HELP GROW THE

ECONOMY"

VISIT BRITAIN/ANDREW PICKETT

VisitEngland's focus is also on

product development for English

tourism under the Discover England

Fund. The three-year £40 million fund

has brought more than 50 tourism

projects to life, delivering a stepchange

in England's tourism offer

and creating exciting new reasons to

explore more of England.

As the voice of English tourism

VisitEngland shines a spotlight on

the industry and all it does to help

grow the economy. This year we will

again be supporting English Tourism

Week (ETW) which runs from 30

March to 7 April, to raise the profile

of the industry and its importance

to the economy. Also during ETW,

VisitEngland's Tourism Superstar

Competition reaches its finale,

celebrating those individuals in our

industry who go the extra mile to

ensure tourists in England have an

amazing visitor experience.

BUSINESS ADVICE FOR TOURISM

BUSINESSES

VisitEngland provides a free resource

to help tourism businesses grow with

the Business Advice Hub. It is packed

full of practical tips and guidance,

including toolkits to help target

overseas markets and make the most

of digital platforms. The hub also

links to local support organisations,

legislation information, guidance

on managing employees and more.

For more information go to www.

visitbritain.org/business-advice

At the end of last year the UK

Government confirmed that the

tourism industry's bid for a sector

deal as part of its industrial strategy

has now moved to an official

negotiation. This is fantastic news

and securing this is set to ensure our

industry grows and thrives yearround.

As we look ahead to our

50th anniversary this year, our

priority continues to be to work

collaboratively with businesses

and organisations across the

tourism landscape and with the

UK Government, driving growth

and innovation in the sector and

cementing the competitiveness of

one of our great industries.
---
GLAMPSITES

PRODUCT IN FOCUS

Huts

Gumboots &

Wellingtons

Description: A small

glamping operation based in

North Yorkshire, catering for

cyclists and hikers among others

Product: A bundle of major

component parts for the self-build

of a large shepherd hut, including

plans and step by step guide, cast

iron wheels, bespoke timber roof

construction, doors, windows and

bespoke roof sheets

Company: Tithe Barn Shepherd

Huts

Telephone: 01788 510507 / 07711

581904

Website: www.shepherd-huts.

com

Details: We worked closely

with owners Andrew and Lesley

over several months as they

considered the size and design

of the first of the two shepherd

huts they will offer at their

glamping site. As with many of our

customers, the large 6m x 2.8m

hut they wished to build required

several bespoke items that we

were able to supply. We were also

able to offer ongoing support

during the build.

Feedback: Andrew Beale, owner

Gumboots & Wellingtons, said:

"I found Tithe Barn Shepherd

Huts while researching for our

glamping business. Phillip and

Sally gave me the confidence

to self-build, as their bespoke

parts packages and advice made

anything possible! I'm a novice

builder, so their step-by-step

guide has proved invaluable,

with photographs for each stage

of the build. I honestly couldn't

have done it without the guidance

of Phillip and Sally, and also my

father-in-law who helped me build

what is essentially a tiny house!

I highly recommend Tithe Barn

Shepherd Huts and will be placing

another order very soon!"

Dimpsey Glamping

Description: Luxury glamping accommodation

based around the idea of luxury in a field

Product: Turnkey Hut and Brace Hut

Company: Blackdown Shepherd Huts

Telephone: 01460 929774

Website: www.blackdownshepherdhuts.co.uk

Details: Dimpsey originally ordered a Turnkey Hut

to start a glamping business on the farm. With

stunning views across the Blackdown Hills and a

lovely secluded position, the team has continued

to capitalise on the hut and its positioning by

adding an outdoor hot tub and kitchen. The hut

has a high occupancy level all year round, so when

the opportunity to expand with a second hut

presented itself, Blackdown Shepherd Huts was

happy to assist. The second hut, a luxury Brace, is

set in a different area on the farm and includes a

slipper bath, double bed, sitting area and kitchen

area – but over two huts joined together.

Feedback: "Dimpsey gets the most amazing

reviews – not just for the area and the service we

provide our customers, but for the hut and how

clever it is. It really does have everything you

need. Also, because it's a solid building (albeit on

wheels!), it allows us to have guests all year round.

The second hut is already proving to be popular –

we had bookings before it had arrived based on the

lovely images we were able to share of the Brace,

and Blackdown and Dimpsey's reputation."

44 WWW.OPENAIRBUSINESS.COM
---
GLAMPSITES

PRODUCT SNAPSHOTS

Greta

Ellipse Leisure Buildings

01833 630851

www.ellipseleisurebuildings.

co.uk

Due to launch this year is the

Greta by Ellipse Leisure Buildings

from its Haven range of luxury

outdoor accommodation.

Complementing the Balder and

the Tees models, its name is

taken from the river that flows

through the site where all the

models are handmade by expert

craftsmen. The Greta will have

the largest footprint option within the standard Haven range.

As with all the Ellipse models, the interior and exterior can be bespoke

depending on use and style; the only limit to what can be achieved is a client's

imagination.

Incorporating a unique roof design, the Greta provides spacious and

comfortable living space.

Sunshine with Showers

expected

goo.gl/D3e236

Stylish good looks

easy installation

simple maintenance
---
GLAMPSITES

WE LOVE…

Bespoke signage from The Sign

Maker

WHY?

Having met the team at the

Farm Business Innovation show

last year, we really appreciate

the care and craftsmanship

the folk at The Sign Maker

puts into its commissions.

Working in a wide variety of

traditional and contemporary

processes with a vast selection

of materials including timber,

slate, stone, brass and Corian,

the team comprises experts in

woodworking, engraving, casting,

printing, sand-blasting, chemical

etching, anoprinting and hand

painting, all based at workshops

in Devon.

With the busy summer season

fast approaching are your signs

ready?

FROM

The Sign Maker

01769 561355

www.sign-maker.net

OAB

LOVES…

EXTERIORS

Keeping things looking good

on the outside

WE LOVE…

Playscapes from Wild

Hart

WHY?

With an ethos of

'reconnecting with

nature', we love

everything that Nick

Sneller produces

from his Wild Hart

brand, which includes

bespoke cabins, furniture

and playscapes. In this instance it is his naturalistic play

environments that we are particularly in admiration of.

Award winning (taking 'the treble' at RHS Hampton Court

Flower Show no less for the The Zoflora and Caudwell

Children's Wild Garden), handcrafted, expertly designed

and made with care, what's not to love? In addition, Nick

has a real appreciation for natural environments and works

painstakingly to ensure his installations sit sympathetically

within the landscape. He also uses sustainably sourced

timber and works collaboratively to support local businesses.

FROM

Wild Hart

07971 869058

www.wild-hart.co.uk

WE LOVE…

Bespoke treehouse design for

staying and playing from Cheeky

Monkey Treehouses

WHY?

A stalwart of treehouse design,

you may know Cheeky Monkey

Treehouses for its highly sought

after glamping accommodation,

but the team is just as well known

by the children who enjoy its play

structures. Imagine the delight on

the faces of families that turn up

to your site on spying a treehouse

den especially for kids. Cheeky

Monkey Treehouses has 22 years'

experience delivering the stuff

of dreams for little ones and is

expert in providing everything

needed for an adventure in the

trees.

As a site owner, you'll enjoy a

personal treehouse consultation

service, hand-drawn 3D

illustrations and a high level of

craftsmanship and attention to

detail.

FROM

Cheeky Monkey Treehouses

01403 732 452

www.cheekymonkeytreehouses.

com

WE LOVE…

Park Pro Front cut mowers from Stiga

WHY?

Articulated steering makes the Park Pro Front cut mowers agile and perfect for

large complex areas where manoeuvrability is tight around rocks, trees, corners

and confined spaces. These mowers also feature 4-wheel drive, power steering and

electric height of cut. Stiga has also developed a quick connect system which allows

you to switch implements in minutes without any tools. There is also a selection of

seasonal implements including sweepers, snow blades, flail mowers, rakes and carts

– could this be your all-in-one lawncare machine?

FROM

Stiga

0800 669 6326

www.stigalawnmowers.co.uk

46 WWW.OPENAIRBUSINESS.COM
---
"We cannot

fault their

service…"

"After researching the market for domes,

we chose to order our domes through

TruDomes. Our main basis for this decision

was to support a UK company which

in turn meant if there were any issues we

could contact them easily. We cannot

fault their service. They have followed

our progress and assisted with any complex

questions. We plan to purchase further

domes from TruDomes."

Claire Fahy, Proprietor

Pant y Rhedyn Guesthouse & Accommodation

TruDomes.com

"It's fabulous…

corporates love its

flexibility"

"The dome is beside our restaurant terrace

at the moment and creates a talking

point for everyone who visits. We have

had baby showers, meetings and parties

in there and have a coffee house product

launch booked this summer. The acoustics

are outstanding… it's fabulous and

funky and corporates love its flexibility."

Ema Townsend, Head of

Marketing Heart Of England

Conference & Events Centre

"We would highly

recommend

TruDomes…"

"Our TruDomes glamping dome is great,

the aluminium frame is well engineered

and went up with no problems, Kelda

and the team are always ready to offer

help and advice and we would highly recommend

TruDomes for glamping

projects."

Carolyn Truss

Gayton Farm

From cosy to colossal together we create beautiful,

bespoke, spaces your customers will love!

Contact us today to design

your own amazing space. Our

home-grown experts in the

field of British designed,

engineered and manufactured

geodesic domes are ready to

help businesses like yours

create beautiful, customisable,

profitable spaces that your

customers will love.

W. TruDomes.com

T. 02476 326585

E. Hello@TruDomes.com
---
EVENTS

CASE STUDY

The Bush

Craft Show

The live face of Bushcraft & Survival Skills

Magazine, the Bushcraft Show is in its ninth year

and attracts over 12,000 outdoor enthusiasts

A glorious celebration of the skills needed for survival in the wild and

all things outdoors, the Bushcraft Show is a glorious mix of have-a-go

experiences, proper camping (complete with camp fires), music

and spectacle. We talk to organiser and commercial director David Thompson.

Describe your event and how

many people it attracts?

The Bushcraft Show attracts

c12,000 visitors over the course of

the late May bank holiday weekend.

It is a jam-packed, three-day event

filled with amazing bushcraft

activities that takes visitors on a

bushcraft and survival adventure

that's hard to forget.

People can come for the day

or stay for the weekend, trying

their hands at woodland crafts,

firelighting, shelter building,

tracking, foraging, woodland games

and so much more.

Explain a bit about your venue

and its history

Situated in the heart of the National

Forest, Beehive Farm Woodland

Lakes is, we are quite sure you'll

agree, the perfect venue for The

Bushcraft Show.

You enter the site on a level

grassed area with purpose

built tracks encircling the main

showground. There is not a

building in sight, with woodland all

around and views over the tranquil

Horseshoe Lake.

In this most southerly part of

rural Derbyshire, the venue offers

our visitors loads of fun ways to

enjoy a very special corner of the

National Forest. With over 65 acres

of mixed woodland to explore, filled

with thriving wildlife and three

lakes (one for fishing), it takes little

time for people to relax and feel at

one with their environment. The

heady combination of activities,

entertainment, demonstrations,

guest speakers, have-a-go sessions,

woodland and meadow camping

with open fires (exclusive to The

Bushcraft Show) provides an

adventure not to be missed and

one not soon to be forgotten.

Whether arriving from the north,

south, east or west, The Bushcraft

Show enjoys a centrally located

site, which is easily accessed via the

motorway and railway network and

by Birmingham International and

East Midlands Airport.

What is the event's history?

It is now in its ninth year and

continues to grow both in terms of

its offering and in terms of visitor

experience and numbers. The

concept was to develop both a

magazine and an outdoor event to

cater for the ever growing interest

in bushcraft and re-connecting with

the outdoors.

As well as bushcrafters, we

attract campers, paddlers,

climbers, walkers, indeed anyone

who just loves to be outdoors.

How does the relationship work

with the venue you hold the

event at?

We hire the whole site for over

a week and have a wonderful

relationship with Alistair Chapman

who owns it. He takes immense

pride in looking after the land,

the trees and lakes and the flora

48 WWW.OPENAIRBUSINESS.COM
---
EVENTS

and fauna adorning it. Alistair

respects the fact that our mantra

is "leave no trace". Of an evening

there are literally hundreds of

campfires burning but to walk

through the woodlands post

event, you simply would not

know it.

How did you find applying for

permission to run the event?

We hire an expert (Paul Budden

at Wessex Safety Services) to

handle these matters. He applies

for licensing, change of use, road

signs, fire certification/approval,

security, electrics, water etc.

Additionally, Paul and his team

of three attend and manage the

event.

"AS WELL

AS BUSH-

CRAFTERS,

WE ATTRACT

CAMPERS,

PADDLERS,

CLIMBERS,

WALKERS,

INDEED

ANYONE WHO

JUST LOVES

TO BE

OUTDOORS"

How have you planned the layout

of the event and what structures

do you use?

There is a formula for the build and

break down which changes little.

The event is centred upon three

giant tipis which encompass a main

stage, seating for in excess of 375

people, a dance area, AV, screens,

lighting etc. The event radiates and

is centred around this arena.

WWW.OPENAIRBUSINESS.COM 49
---
EVENTS

How did you research and source

your marquees, flooring, bars

etc?

Mainly through internet research,

word of mouth and attending

event shows etc.

How have you financed the

event?

Through our own efforts and

profits from the previous event

and from those derived from the

magazine. It is profitable.

What entertainment do you

offer?

We stage two bands each night

as well as wandering Minstrels,

fire-walking, fire-twirling at dusk

and battle re-enactments. This

is all again self sourced and,

like everything else we do, local

suppliers and provenance are allimportant

to us and the event.

What provisions do you make for

power, lights and sound?

We have at least four main

generators dotted around the

site to power showers, toilets, the

main stage arena, lighting towers,

catering units and to serve our

exhibitors/traders.

the main arena. We have backup

matting, tractors, gravel and

straw available to cater for really

inclement conditions though.

How do you publicise the event?

Through Bushcraft & Survival Skills

Magazine, which we also publish,

email and postal marketing

campaigns, affiliate programmes

with our sponsors/traders/

exhibitors and, of course, through

social media platforms.

"WE STAGE

TWO BANDS

EACH NIGHT

AS WELL AS

WANDERING

MINSTRELS,

FIRE-

WALKING,

FIRE-

TWIRLING AT

DUSK AND

BATTLE

RE-ENACT-

MENTS"

What are your plans for next

year?

It will be our tenth anniversary so

we are planning a 'spectacular'!

What other outdoor hospitality

sectors do you operate in?

We don't, although we recently

introduced a glamping element

around one of the beautiful lakes

on site. It was a huge success and

will be ramped-up this year.

What advice could you give

to someone coming into the

outdoor event industry?

Plan well and have contingency,

don't try to do it all yourself,

consult and use experts.

How do you manage admissions

and visitor safety?

Security and Wessex Safety

Services arrange this in

conjunction with our c100

wonderful team of volunteers.

What ground protection do you

use for cars and footfall?

We don't need to as there is a

gravelled walkway all around

What challenges have you faced?

Fitting the c110 traders in as

there is relatively limited space,

attempted restrictions of the

amount of people allowed at

any one time in the bar vicinity

and, a few years ago, wild and

very wet weather which is now

affectionately referred to as

Mudfest. We learnt an awful lot

from that event.

ADDRESS BOOK

DETAILS

25-27 May 2019

Beehive Farm Woodland Lakes

Rosliston

Derbyshire

DE12 8HZ

www.thebushcraftshow.co.uk

50 WWW.OPENAIRBUSINESS.COM
---
CALL NOW TO BOOK:

0800 043 2688

The UK's only mobile

Th

il

S hire-themed glamping pod s

i

e

TWO-WAY RADIO HIRE

A simple solution for those who need

temporary communications. This solution

has proven to be invaluable for such

sectors as; event organisers, council

teams, TV and film crews, security and

parking to name but a few, with both

short and long term contracts available.

Organising any event or general on-site

communication requires total dedicated

support and at DCRS, there is always a

team on-call or on-site ready to assist you.

Call FREE: 0800 043 2688

email: sales@dcrs.co.uk

www.dcrs.co.uk

WE BOAST A COMPLETE HIRE

SERVICE INCLUDING:

Bespoke radio solutions for large,

wide area events

Digital and analogue radios, mobiles

and repeaters

Nationwide PTT digital hand portables

A full range of audio accessories

to support

Free radio licence or free programming

to your own frequencies

Delivery and collection to your

specified addresses

On-site support and out of hours

call-out, 24/7 if required

Now bringing comfort and warmth to outdoor events, these cosy

cabins have been designed to travel, making them the UK's only

mobile Shire-themed glamping pods, perfect for festivals (as

seen at Shambala), campsites, weddings and more.

07805 539122/ 07846 282404

www.theshirehuts.com

DCRS Open Air Magazine Advert.indd 1 28/11/2018 12:20

Tired of chasing multiple event suppliers?

We hear you!

JT Stage Productions specialise in comprehensive

technical event production for festivals, concerts,

and theatre.

THEATRE

SERVICES

OUTDOOR

COVERED STAGES

LIVE MUSIC

AND FESTIVALS

VENUE

SUPPORT

CONFERENCE

SERVICES

CONTACT@JTSTAGEPRODUCTIONS.CO.UK

Tel. 01235 884545

www.jtstageproductions.co.uk

Electrical

POWERING YOUR

CAMPSITE OR

GLAMPSITE

Temporary Solutions or

Permanent Installations

www.excellelectrical.com

Email: enquiries@excellelectrical.com

Phone: 01233 822059

WWW.OPENAIRBUSINESS.COM 51
---
EVENTS

Event Planning

Timeline

Jim Davey, MD of Redwood Event Solutions, discusses the

ideal timeline from event idea through to event day, and

what planners can do when time is of the essence

THE SAYING 'there aren't enough hours

in the day' couldn't be more true when it

comes to event planning and organisation.

As any event professional knows time and

of course budget are two of the biggest

impacting factors on creating a stand out

event. Reaching the key milestones in

event planning with time on your side is the

dream, but things don't always work that

way.

Whatever the size or type of event, the

planning timeline takes an organiser from

the conception of an idea through to the

event itself, and as event professionals, we

can agree that when time is on our side

there is real value in working through each

timeline stage and giving it the attention

that it deserves. However, being able to get

into the details is the goal but not always

the reality.

By putting in the planning hours we're

better placed to create an event that fits

with the vision and the all-important

budget. And the more solid a foundation

built, the more creative everyone involved

can be in the long run.

At Redwood Event Solutions, we have

worked with almost every time frame

imaginable when it comes to planning.

For some events we've had over a year to

consider, finesse and create, while for others

we have literally had a matter of weeks –

still delivering to the same level and quality.

The luxury of time affords space to get

into the finer details, to consider what

exactly we are trying to achieve, what the

journey is and how we can do everything

we can with the show. Putting on events is

a huge privilege and we should never lose

sight of the fact that people come, have an

incredible time and attach moments of their

life to them. That's pretty humbling.

When time is of the essence then

decisions have to be made. Sometimes just

making the decision is the most important

thing to do. That is when having the right

team on board to be able to make them is

invaluable.

STAGE 1 – THE IDEA

› 12 months+ before the event

Like most things in life, it begins with an idea.

When an event organiser has a great concept

and is at the beginning of planning, that's

typically when we will get a call.

With experience across a broad range of

events from large green field festivals to high

end bespoke installations, foodie festivals

to live music and everything in between,

we often get called in at the 'idea' stage

to start mapping out what the event will

look like, how it could work and for venue

considerations.

In an ideal world, we like to be involved

from the very beginning. By being

involved with the initial conversations and

brainstorms for the event, we often save

our clients time and money by bringing our

experience from previous events to the new

brief. If it is a site that we're familiar with or

we have experience in that type of event, we

52 WWW.OPENAIRBUSINESS.COM
---
EVENTS

can instantly offer advice at this early stage

that could help shape the event's DNA.

More often than not, we already have

existing relationships with the relevant

authorities around the UK to help grease the

wheels and get the ball rolling, which means

we can start the channels of communication

earlier, based on reputation and trust.

At this point, we very much become part

of our client's team, where we ensure that

all operational plans and requirements are

underway so that they can focus on the

event content, ideas and creative.

STAGE 2 – SITE FEASIBILITY

› 12 months+ before the event

Having worked at a number of stately

homes, public parks, farming estates, private

land and green field sites over the last four

years with Redwood and 16 years across my

career, finding the right site for a new event

or relocating an existing one is a big decision.

Whether it's a foodie festival celebrating

local produce, a community sporting

event offering participation in bike rides

and runs, or an open-air cinema showing

the classics, you need to consider what is

going to work well on the land and spaces

you have available. Any existing facilities,

infrastructure or services available on site

could make life a lot easier in the long run.

A feasibility study of the site is an

extremely useful tool at this stage, and we've

conducted these for the likes of CarFest, Pub

in the Park and some exciting new events for

this year at Bowood House to ensure that

there are no unexpected 'surprises' once we

commit to a site.

By assessing everything from the drainage,

soil type, existing services, the all-important

hard standing and road networks through

to larger commercial concerns like local

demographic and travel logistics, we can give

each client a clear, practical and solutions

focused assessment of the proposed site. At

this initial stage we can clearly outline if the

site works, and its strengths, weaknesses

and challenges. In short, if it is a good idea

or not.

This phase can run in conjunction with the

creation of the event concept and can indeed

shape the content – knowing what can and

can't be done on the site will focus and tailor

the event team's plans.

STAGE 3 – EVENT PLANNING

› 12 months+ before and ongoing

throughout the planning process

A first draft of the site plan really starts to

bring an event to life. We create Auto CAD

drawings for every event site we build so

that we can visualise how everything will fit

together. Physically being able to see what

goes where, in what quantities and starting

to envisage a patrons' journey or experience

is incredibly valuable.

Until you have a site plan, there is no

physical representation of the event. Once

drawn, it begins to come to life - visualisation

is a powerful tool and really helps to focus

attention and efforts.

While the site plan will change and

develop in the lead up to the event, we try to

limit the number of major changes, unless

absolutely necessary, to avoid impacting the

rest of the site layout on a regular basis. Our

experience on site planning, event logistics

and crowd management means we work

with clients to update and finesse site plans,

offering advice on best practice and how

they could adjust sites to work even more

efficiently.

Of course, having a site plan drawn to

scale will also give very specific details of the

equipment needed and will help with the

specification of each element.

STAGE 4 – EVENT

SPECIFICATION

› 6–9 months before the event

Whether it's a brand new event or one that

is expanding/evolving, specifying the type

and quantity of equipment needed can be

a series of make or break decisions. Either

under or over ordering is an event manager's

worst nightmare and can have differing

implications depending on what you end up

with too little or too much of!

We use the age-old carpenters' mantra of

"measure twice, cut once". We also ensure

that we have a sensible and considered

contingency in hand for key items such as

fencing and trackway.

While there are the must-haves, and what

seem like the nice to haves, this can quickly

change as weather forecasts or ticket sales

alter in the lead up to the event. Not having

enough trackway or woodchip for what is

shaping up to be a soggy, muddy festival

could hugely impact the enjoyment of your

visitors and mean they don't return the

following year.

Being involved with events from the get-go

means we can build modular blueprints

with specification requirements, offering

clients the option of using this framework

to create the event or leaving us to manage

all procurement and operations while they

concentrate on the event content and look

and feel of the show.

Getting the specifications right for the

first event, or as an existing one changes,

means that we can help keep budgets tight

and consider the value of each purchase and

what it brings.

STAGE 5 – ENGAGING WITH

THE LOCAL AUTHORITY AND

LICENSING

› 6 months+ before the event

As we all know, event planning runs

alongside health and safety and licensing

requirements so it's important to ensure

that while the event concept and content

is coming together, the nitty gritty of legal

matters and health and safety requirements

are being progressed and managed

efficiently at the same time.

In an ideal world, licence applications

should happen as far out as practicably

possible; we suggest a six month minimum.

This gives a good period of time to build a

working relationship with the local authority

and to undertake the license process

including notice periods. The absolute

minimum amount of time is technically 28

days. Providing there are no objections, and

you have followed the process, the license

may be awarded. If there are notifications,

then you have to head down the hearing and

mediation routes.

We've secured licences with the tightest of

deadlines and with some rather extenuating

circumstances. While this undoubtedly adds

a bit of spice, there really is no substitute

for proper lead times and planning. This

involves everything from attending Safety

Advisory Group (SAG) meetings and liaising

with stakeholders involved with the event,

through to dealing with the emergency

services and planning for potential incidents.

It is incredibly important to remember

SAGs are working groups and there to help

guide your plans and offer assistance. They

are not always in the business of marking

your homework or rolling out the red

tape. Use the forums well, engage with the

members properly and build relationships.

In our humble experience, there is no

substitute for pre-empting the SAG meeting

by distributing detailed and thorough

plans (event safety management plan, site

plans, operations docs etc.) in advance of

WWW.OPENAIRBUSINESS.COM 53
---
EVENTS

the meeting. This gives the SAG members

the chance to get up to speed with your

proposed event as well as you demonstrably

showing them that you know what you are

doing and are professional in all that you do.

Trust begins to be built at this stage.

STAGE 6 – PICKING

YOUR A-TEAM

› 6 months+ before the event

It goes without saying that having the right

people and a strong team in place is the very

backbone of a good event. Having the right

team to oversee, manage and co-ordinate it,

both in the lead up and on the day(s) is vital

to its success.

We are lucky to live in a country with a

very established event industry and a huge

wealth of experience both across in-house

teams and freelancers – finding the right

people for the job cannot be valued high

enough.

At Redwood, we work on the full sliding

scale when it comes to teams from putting

in the full event team to deliver on

every aspect – site crew, H&S officers,

production teams and more, through to

fulfilling specific roles where there are

gaps in established event teams.

STAGE 7 – EVENT BUILD

› One week+ before the event

Event size dependent, the build of an event

can start anywhere between a week and a

month before it opens. Across this time, it

is key for the production schedule to run on

time and have the right people on site to

oversee the build effectively.

consider straight after the event, the better.

If it's scheduled to be an annual event,

then you don't want to forget what you've

learnt between the end of one show and the

planning for the next one.

We always recommend a debrief meeting

with the client within two weeks following

an event. Running through everything that

went well, not so well and where things

could be improved provides a vital learning

opportunity for every event whether it's year

one or year five. There is always something

that can be tweaked or made better and so

it should be – events are constantly evolving,

and we should always strive for the very

best!

When Time is

Not on Your Side!

› Make a decision, don't overthink it

too much or introduce too many options.

Choose a path and get started

› Prioritise the big things, feed them into your

project management process and get on with it

› Agree a timeline, document it and work

against it; transparency is key

› Be realistic, keep calm and remember

that you are really rather good

at what you do.

CASE STUDY

Pub in the Park – May 2017

For the inaugural Pub in the Park, we

were approached with the idea in late

November 2016 and started working

with the client to draw up budgets and

operational plans.

We drew the first site plan draft

in December 2016 and began to get

a feel for the layout and flow of the

event. We produced multiple iterations

and captured an accurate layout of

everything on site.

In December 2016 we had the first

SAG meeting with the local authority,

presenting plans and arrangements and

began to build relationships ahead of the

license application.

In January 2017 the license

applications were made and the notice

period of 28 days passed without

representation/objections. The

Temporary Traffic Regulation Orders

(TTROs) were also submitted to the local

authority.

Event equipment specifications were

produced and went to market for all

infrastructure and services. In March

2017, the second SAG meeting took

place to run through finer detail of plans

and give each department/member the

chance to comment and offer guidance.

In early May, we were on site to mark

out and build the show as per the site

plan and production schedule ahead of

the Event Live phase.

Within weeks of the event, we had a

debrief with both the client and the SAG

with all learnings from the first event.

STAGE 8 – EVENT DAY

› Show time!

Once everything is in place and the event

site is ready to open… it's show time! When

it comes to event day/weekend, it's about

making sure that everyone on the team has

everything they need to do the best possible

job. While we all expect to put in longer shifts

on-site (usually somewhere around the 16

hour mark) it is more important than ever

when you're walking tens of miles every day

and having to be 'on alert' for long periods

of time, to make sure that the team is looked

after, eating regularly, sleeping and taking

breaks.

STAGE 9 – EVENT DEBRIEF

› Two weeks post event

Once the event has finished and the derig

has happened, a key piece and the closing

part to any event, is the debrief. How did

it go? What could you do better next time?

Was it a success? The more you capture and

ABOUT THE AUTHOR

Jim Davey is managing director of Redwood Event Solutions, a

provider of event planning and infrastructure, health and safety

services and site management. He has over 16 years' experience in

event production, operations management and safety consultancy,

working on events of all scales right up to some of the largest and

most challenging in the world. www.redwood.events

54 WWW.OPENAIRBUSINESS.COM
---
EVENT HIRE.

Our huge range of event equipment makes us a tough

act to follow. So whatever you need talk to us today.

To find your nearest branch call 0333 2000 836

or contact one of our Event Specialists.

Visit us at brandoneventhire.co.uk

Brandon Hire Station

The UK's Tool and Equipment Hire Specialist

SIMPLY PUT…

WE COMPLETE THE PICTURE

Services we offer include:

• Event Management and Production

• Creative Event Solutions

• Technical and Site design and Procurement

• Event Safety

• Event Safety Training

• Licensing & Stakeholder Liaison

heating & Air conditioning

TEMPORARY & PERMANENT

HYDRONIC

FAN COILS

HOT WATER

BOILERS

ELECTRIC

HEATERS

MARQUEE

HEATERS

Tel: 01275 406760

www.jreventservices.co.uk

Email: info@jreventservices.co.uk

HIRE • SALE • SERVICE

• Indirect Oil Fired Marquee Heaters

• Boiler & Fan Coil Heating Systems

• Heat Pump Chiller & Fan Coils

• Portable Air Conditioners

• Electric Blower Heaters

• Fans and Ventilation

You can also find us on

WWW.OPENAIRBUSINESS.COM 55
---
Headline Sponsor

Discover new wow factors

for your future events.

From temporary structures and roadways, to permanent

inspiration and entertainment, you'll find it all at EPS.

For Every Event

Reserve your visitor badge now

www.eventproductionshow.co.uk
---
EVENTS

GUEST COMMENT

Fantastic Plastic!

Michael Hall concludes his series on the problem of plastic by turning things

on their head and offering a cradle to cradle solution

THIS ARTICLE is much more fun to write

because it is not a grizzle about the woes

of the world, instead it is suggesting that

the scale of a problem is smaller than the

opportunity it presents.

Sure you can tinker around the edges and

suggest stopping using plastic or recycling it

time and time again into useful trinkets. But

does that really fix the problem or does it

needs something more fundamental to make

David Attenborough and the folks at the

Davos World Economic Forum smile?

So what would do that? Let's start by

considering the things that upset them in the

first place! We are wasting resources and not

being responsible about what we use and

what happens after we discard it.

Why not turn that sentence on its head

and be responsible for using up waste so we

never need to discard it again by creating a

permanently useful stock of resources.

So if we could convert plastic waste into

something so essential that everyone would

want to use it now and for generations to

come, why would that work? Define essential

and you have a starting point then ask if you

can imagine what would be still useful in the

future.

How about shelter, however basic or

advanced you want to make it? Somewhere

beautiful you or anyone else can live, work

and play that meets personal and community

needs. If you forget bricks and mortar, can

you imagine a warm, comfortable and safe

place if it happens to be made of something

stronger, lighter and more thermally

efficient (plastic) plus maintained with

natural renewable energy with minimal

environmental impact? We have the science

to do this!

How many new buildings

and structures does the

world need now and to come.

Enough I suspect to use up all the waste

plastic we have already made. Would that

make you smile?

Breaking things down and recreating with

simple systems means not just eliminating

complexity but our mindsets. It has to be

better for us, cost less while benefiting the

environment and society physically and

emotionally, plus a lot more.

For one thing it would mean converting

a profit and loss expense (waste disposal)

into a balance sheet asset which would keep

business happy. For another, the cost of

housing, structures and buildings would drop

because of a plentiful supply of second hand

material designed to last forever. Third, but

not least, converting waste into innovation

value will change how we all behave.

By Fusion is an American enterprise that

has made a great start (www.byfusion.com),

and a UK exhibition company Ecobooth

(www.ecobooth.co.uk) is also leading by

example.

Philips in the Netherlands now sells light

not lightbulbs and shortly IKEA will rent

kitchens and lounges in a new model based

on the 'performance economy' that predicts

huge opportunities for cradle to cradle

products and systems.

We at C6(n) see a big future picture for

structures and buildings consisting of a kit

of modular, lightweight, load-bearing parts

that can be assembled into anything you can

imagine, be changed, re-arranged and easily

re-purposed somewhere else.

Making the parts with plastic waste is far

more satisfying because it matters to us and

fundamentally plastic is such a good material

(whatever its type). But then there are other

waste resources to consider and that will be

next on our journey's list.

If you have ideas and suggestions we

would love to hear from you.

ABOUT THE AUTHOR

Michael Hall is chairman of

Above All C6(n), experts in

composite materials and

innovators of turning event

waste into permanently

useful products. www.c6n.

co.uk / www.above-all.co.uk /

02380 972093
---
EVENTS

INDUSTRY INSIGHTS

John Radford

Learnings from

Fyre Festival

Titled by some as the "most disastrous festival

ever", Fyre Festival hit the headlines for its

falsehoods and non delivery

IF YOU haven't seen the

Netflix documentary yet, then I

recommend spending 90 minutes

of your time to watch it. The

staggering issues raised and

the numbers involved makes

compelling viewing - $100million

of damages claims post event,

allegations of $27.4million of

fraudulent fundraising, thousands

of upset customers, prison

sentences, and that's just the tip of

the iceberg!

For those who have yet to hear

about the event itself - it was sold

as a new "luxury music festival" in

the Bahamas last year that went

from a heavily promoted event

by social media influencers

and music artists to a number

of lawsuits and criminal

charges for the company and

promoter.

Attendees were left with

no accommodation, little or no

food, lost baggage, soaking wet

mattresses in the 'VIP tents' (note:

apparently they were actually

disaster relief tents), flight

cancellations and numerous other

failures that meant they had to

make do with what they could

" IT MAY HAVE BEEN A US EVENT BUT

THINGS LIKE THIS SHOULD ALWAYS

MAKE OUR INDUSTRY SIT UP AND

DOUBLE CHECK HOW WE OPERATE"

WEB SUMMIT

Fyre Festival cofounders

Billy

McFarland and

Ja Rule

get their hands on until being

evacuated from the island when it

was clear that there really was not

going to be a festival of any type

taking place!

On top of that, numerous

suppliers, staff and contractors

have been left unpaid and unable

to reclaim their losses. The words

scam, con and fraud regularly pop

up in the online discussions and

from a bystander's perspective it

appeared to be set to fail from the

start. Although, sitting watching a

documentary eight months on this

is all very easy for me to say. It may

have been a US event but things

like this should always make our

industry sit up and double check

how we operate.

Have I ever been close to being

hoodwinked by a promoter similar

to that on the documentary?

58 WWW.OPENAIRBUSINESS.COM
---
EVENTS

No, thank goodness. Can we all

still learn some lessons from this

debacle? A resounding yes would

be my answer.

Some of the learning could

probably be summed up with

the simple phrase "if it sounds

too good to be true, it probably

is". However, while it can be very

easy to succumb to an exciting

new event proposition, I'd suggest

taking a few minutes before signing

to delve a little deeper.

› Have they done anything similar

before?

› How did those events turn out?

› What's their background?

› Do they have the right backing

and support in place?

› Does the hype and advertising

ring true?

The above questions should be

asked whether you are a supplier,

event organiser or even a potential

guest. They should at least allow

you to step back and consider

things before taking the plunge.

As a supplier you may be happy

to take financial risk as part of

your business model, for others

you may simply want to act as a

paid contractor with no risk. Be

clear from the outset what you

want from the relationship. If

you don't feel comfortable with

what's requested, walk away. Many

suppliers are SMEs and debts could

have a huge adverse effect on

them and their financial security. In

the past I have walked away from

projects if the numbers didn't add

up or the information coming from

the promotion team didn't sit well.

It is not easy but in hindsight the

right decisions were made.

If you end up being the "face" of

the event as the event organiser,

are you happy with what you are

selling and providing? If not, what

are your options? Are you certain

you have confidence in the event

and its goals? It was interesting the

number of people interviewed in

the documentary who bought into

the event 100% and were left high

and dry following its demise.

For potential attendees it may

ABOUT THE AUTHOR

John Radford runs JR

Event Services and

has worked in the

event industry for over

20 years. He provides

event management

and event safety

consultancy services

for a broad spectrum

of events from single

day and city centre

cultural events to

week long music and

dance festivals. Visit

www.jreventservices.

co.uk or call 01275

406760 for an informal

chat.

be harder to distinguish between

what will be a truly unique festival

starting out and something

less than ideal, but feedback

and information is more readily

available now more than ever with

today's technology. Use it to your

advantage and maybe delve a little

deeper.

I've met with new promoters

promising exciting things, be it

the best new event ever or an

appealing financial return. I can't

say I haven't been extremely

tempted, but having stepped back

to consider the opportunity it has

become clear the risks that I could

have taken on were huge and, in

most cases, I have been proved

right.

There are people out there who

think putting on a festival or event

is easy – it isn't. It takes a team

of knowledgeable, informed and

experienced people to make a

success. On top of that, and having

looked back at the documentary, a

good slice of honesty and integrity

also helps!

WWW.OPENAIRBUSINESS.COM 59
---
EVENTS

PRODUCT IN FOCUS

Event Glamping

Fieldview Festival

Description: A three day celebration

of music and arts located in the

Wiltshire countryside

Product/service: 24x5m bell tents

for festival guests, 10x5m bell tents

for crew and artists, a chill out tent and

a full glamping check-in and concierge

service

Company: Great British Glamping

Telephone: 07919 021912

Website: www.greatbritishglamping.com

Details: Guest tents were furnished with full height beds,

handwoven rugs, a table, mirror, lighting and cotton bunting.

Situated in a quiet corner of the festival site, the glamping field

afforded fantastic views towards the stages, with easy access to all

the site amenities.

The crew/artist tents were installed eight days prior to the festival

to provide crew accommodation during the build and break-down

phases, and for artist use during the event itself. Situated in a

backstage production area of the site this mini-village meant crew

could relax and recharge in comfort.

The chill out tent was an open-sided structure providing space

to chill and re-charge for guests (and their phones) with bale sofas,

giant beanbags and snuggly blankets. Lit with festoon lighting

and decorated with bunting flags, it provided a central area for the

glamping village.

The Great British Glamping crew also provided check-in and

wrist-banding for guests, helping carry luggage and providing an

introductory tour of the festival. Even Fraser the trusty Labrador

provided some often-needed canine friendship!

Feedback: Fieldview Festival's director said: "We were delighted to

work with GBG again on the festival. Not only is their service superb,

they bring unrivaled personal service and touches from their team

which set them apart and make them a big hit with guests and crew

alike. They are legends and a core part of what we create here -

thank you!"

The Masked Ball

Description: The Masked Ball is an immersive, multilevel

party kingdom with ballers all dressed to excess in

a venue carved out of the cliffs overlooking the stunning

Mount's Bay. A one of a kind event situated in the

quintessentially Cornish fishing village of Porthleven

Products: 18x2 berth units and 2x4 berth units. All huts

come fully furnished which includes: beds with 4" foam

mattress along with sheet and cushions, bedside unit

plug sockets, bedside lamp, 800w oil heater, coat hooks,

rug, door mat, bin, mirror, bunting, key (lockable doors),

bespoke stools and a welly stand. The beds can be made

into a twin or double, depending on the customer's

preference. Bedding is offered at an additional cost.

Company: The Shire Huts

Telephone: 07846 282404

Website: www.theshirehuts.com

Details: The Shire Huts is totally independent when

it comes to the set up and take down of its huts. Its

organised team loves what it does and takes great pride

in making its glamping area inviting and magical. There is

a communal fire pit set up in the middle of the huts, which

is a great way for everyone to get to know each other

and become friendly hobbit-shire neighbours! Colourful

festoon lighting is also run all the way along the huts.

The company arranges all the meet and greets with

guests and is on call 24/7 during an event.

Feedback: "Staying with The Shire Huts is like spending

time with our extended family. The huts themselves are

magical, bijou, cosy and so much fun to stay in! Plus

they are secure and have electricity - bonus! Hannah

is wonderful; her customer service is second to none,

though we have never had an issue in the five years

we stayed in them at festivals. They even hire out for

weddings! I know, because they were at mine and

were amazing. I can't recommend them enough for the

ultimate glamping experience."

60 WWW.OPENAIRBUSINESS.COM
---
EVENTS

PRODUCT SNAPSHOTS

Modular Inflatable

Bubble Tents

CASABUBBLE

+33 (0)1 7103 4704

www.casabubble.com

Get in touch with

CASABUBBLE'S European

distributor in France

for its modular Bubbles

collection, to rent or buy.

The local CASABUBBLE

team, or one of its

partners, will set up the

structures (between 20-60

minutes per Bubble) at your event venue for event glamping with

extra 'WOW' factor!

Frameless and virtually roofless, Bubbles are inflated by silent, low

energy air blowers, which keep the domes in shape and keep the air

filtered and fresh. They can also be 100% energy self-sufficient with

the addition of the new Solar-Box. Available in transparent and semiopaque

finishes.

BOOK

NOW

WWW.OPENAIRBUSINESS.COM 61
---
Spot light

A roundup of products for the outdoor hospitality industry

TRAILERS TO KEEP PRODUCE

FRESH

Coldtraila

01684 311811

www.coldtraila.co.uk

Whether you're setting up a

food stall or running out of

space in your grocery store,

you're more than likely going to

need somewhere to store excess

products. At Coldtraila, our Chill-

Tow and Freeze-Tow trailers

can be rented or delivered in

emergency situations for those

in need of chilled storage. We

also provide speciality trailers

for those interested in the

gaming or butchery industries,

with bespoke optional fittings to

suit. Visit our website at www.

coldtraila.co.uk to fill out your

enquiry form today.

MARQUEE HEATING

Thermobile UK

02476 357960

www.thermobile.co.uk

Thermobile heaters are

manufactured in Holland and

built to a very high quality. They

have a minimum efficiency of

90%, which means that 90% of

the fuel burned goes as useful

heat into the heated space

and only 10% via the flue.

This is a very high efficiency in

comparison to other heaters

on the market. The Thermobile

ITA range is ideal for heating

marquees and other temporary

structures. It comprises small,

mobile units with a 5-10m range

for ducting and 15hr integral

fuel tanks. The larger IMA units

require a separate fuel tank and

can be ducted up to 40m.

INFRARED HEATING PANEL

GlampRad

01269 853957

www.glamprad.com

GlampRad, a newly developed

12 volt infrared panel heater, has

just been released into the UK's

campervan market with our first

customer, Boondock Trailers.

Running the 2x3 amp heating

panels directly off the trailer's

off-grid lithium battery provides

optimal comfort wherever it

goes. This new addition to

GlampRad's existing range of

innovative heating products

opens up so many possibilities

in regards to sustainable heating

solutions. Operating at a surface

temperature of 80 deg C provides

60% infrared radiation, which

is safe to touch and reduces

condensation. To learn more

please visit www.glamprad.com

and www.boondocktrailers.co.uk

GLAMPING BARRELS HIT THE UK

CampPlus

01908 538055

www.campplus.co.uk

The Glamping Barrel has been

launched into the UK courtesy

of CampPlus. The company that

manufactures en-suite camping

and glamping shower rooms is

now an exclusive distributor of

the Finkota structures, which

come in 4.3m and 5.9m lengths.

Comfortably sleeping four, the

Barrels have wide appeal in

Europe, with over 600 installed

at 150 sites, 30 at Legoland

Denmark and 39 at Legoland

Germany.

Features include a super king

bed, pull out table, storage, USB

sockets, and 12V LED lighting

for easy use off-grid. Optional

electrical packages and infrared

heating are available, as are

connections to CampPlus ensuite

pods.

62 WWW.OPENAIRBUSINESS.COM
---
MASTER MAKERS OF

DISCERNING SHEPHERD HUT

SPACES

Blackdown Shepherd Huts

01460 929774

www.blackdownshepherdhuts.co.uk

Established in 2011, Blackdown

Shepherd Huts is now one

of the leading shepherd hut

makers with a reputation for

quality and service that goes

above and beyond what's

expected. With a skilled team

of carpenters and joiners who

love to create innovative builds

and realise their customers'

dreams, Blackdown offers

unique solutions for a number

of needs. From a hut to retreat

into, to a space solution for your

hotel or boutique glampsite,

the team will work with you to

create exactly what you need,

and you can rest assured that

you will enjoy the results for

years to come.

BEST OF BRITISH – BESPOKE

GEODESIC DOMES

TruDomes

02476 326585

hello@trudomes.com

www.trudomes.com

The team at TruDomes comprises

home-grown experts in the field

of British designed, engineered

and manufactured geodesic

domes. It boasts the design and

manufacturing capabilities to

help businesses create truly

unique and profitable space

solutions. Attractively priced,

the range starts at cosy dining or

lounging spaces with the smallest

bespoke dome being created to

perfectly fit a hot tub to maximise

the feeling of luxury. At the other

end of the scale are the colossal

domes, which can comfortably

cater for events and parties, act

as classrooms, or accommodate a

large family or group that want to

glamp together.

Electrical

POWERING YOUR

CAMPSITE OR

GLAMPSITE

Temporary Solutions or Permanent Installations

Classified

Directory

Email: enquiries@excellelectrical.com

www.excellelectrical.com

Phone: 01233 822059

Temporary & PERMANENT

heating & air conditioning

Hire/Sale/service

WWW.OPENAIRBUSINESS.COM 63
---
Classified Directory

Green Goblet Ltd

Reill Reill not Landill Landill

Reusable Branded Cups

A Greener Event

Less Landfill

Souvenir Cup

Sales & Serviced Solution

Washing & Storage

info@green-goblet.com 01172440103 www.green-goblet.com

Probably the largest selection of textile fasteners in the UK

www.opas.co.uk

Keeping Things

Together

Meeting the Challenges

of Mowing Head On

Sewage Treatment Systems

Electric Free Biomatic Systems

For all residential, commercial and

industrial applications

BARKER Marquees

Fabric Engineering at its Best

Traditional and

Modern Marquees,

Linings and Accessories

www.stigalawnmowers.co.uk

01295 236101 • sales@theseptictankstore.co.uk

www.theseptictankstore.co.uk

Hand crafted in the UK for over 100 years

01883 337099 • sales@barkersmarquees.co.uk

www.barkersmarquees.co.uk

TECHNICAL EVENT PRODUCTION

THEATRE OUTDOOR

SERVICES COVERED STAGES

LIVE MUSIC

AND FESTIVALS

VENUE

SUPPORT

CONFERENCE

SERVICES

WWW.JTSTAGEPRODUCTIONS.CO.UK

TEL. 01235 884545

CONTACT@JTSTAGEPRODUCTOINS.CO.UK

Finman

Glamping

Cabins and

BBQ Huts

From

£3,685

UNIQUE • QUALITY • CUSTOMISABLE

01389 887205 www.logspan.com

The ultimate solution to reducing the use

of plastic drinking cups at festivals and

events. Manufactured in the UK from

100% recycled stainless steel

Durable – Brandable – Recyclable

A new drinking experience

0121 523 0011

enquiries@enviro-cup.co.uk • www.enviro-cup.co.uk

64 WWW.OPENAIRBUSINESS.COM
---
DAY IN THE LIFE

"WE STARTED OFFERING

ACCOMMODATION

13 YEARS AGO WITH

GIRAFFE LODGE. THIS

PROVED TO BE SO

POPULAR THAT WE

SAW A DEMAND TO

OFFER YEAR-ROUND

ACCOMMODATION

ALONGSIDE OUR

SEASONAL OFFERING"

24 Hours with…

Chris Kelly

A day in the life of Chris Kelly, short breaks director

at Port Lympne Hotel and Reserve in Kent

MY DAY starts depending on where

I'm coming from. If it's Monday

morning I leave home at 4.30am

from my home in Droitwich Spa,

Worcestershire; otherwise I have a

little annex next to a bungalow in

a local village, so I leave at 8.30am.

Whatever the journey, when I arrive

at Port Lympne, I always look

forward to what the day may hold in

such a wonderful place.

We started offering

accommodation 13 years ago

with Giraffe Lodge (then called

Livingstone Lodge). This proved

to be so popular that we saw

a demand to offer year-round

accommodation alongside our

seasonal offering. We converted

the beautiful mansion at the

heart of Port Lympne Reserve

into a hotel and expanded the

glamping offering by creating

Bear Lodge. The success of

these projects has enabled us

to follow on year after year with

new accommodation which

now includes luxury lodges set

partially within our lion and tiger

habitats, beautifully converted

cottages overlooking rhino and

wolves, shepherds huts set in our

Asian Experience, a bubble tent and

10 award winning treehouse suites at

the Treehouse Hotel.

My first thoughts are about our

guests, both those who have stayed

with us the night before, or those

coming to stay with us that day.

I check that there have been no

issues that need my immediate

attention and following this I check

our bookings for that day and catch

up with my heads of housekeeping

and customer services to ensure

that we have everything in place

for the day ahead. I have a team of

40, encompassing a hotel general

manager and heads of customer

services and housekeeping. In all, the

team looks after more than 40,000

guests, 365 days a year.

Then it's down to emails and any

administrative tasks I need to catch

up on. I always feel positive; how

could you not be in this place? Port

Lympne is home to over 700 animals

and 88 species. I look around to

see the wonderful work we do here

in looking after some of nature's

fantastic animals, in readiness to

send them to their rightful homes

across the world.

WWW.OPENAIRBUSINESS.COM 65
---
DAY IN THE LIFE

Challenges often present themselves

around our guests' journey from

parking their cars, checking-in to their

accommodation and ensuring they are

fully happy, however my team is ready for

anything and everything. Bad weather

is always on my watch list, especially in

winter.

All accommodation is thoroughly

checked by the housekeeping team. The

guest services team has already called

our expected guests to talk them through

their stay, where they want to eat and what

experiences they would care to book. We

then ensure that any golf buggies that form

part of the guest experience are checked for

safety, cleanliness and fuel.

If there are any accommodation issues,

repairs etc. our Short Breaks maintenance

team prioritise these and liaise with

housekeeping and customer services to

ensure any booked accommodation is

ready on time and meets our extremely

high standards. Our tented structures have

been carefully researched and are the same

type used on game reserves in South Africa

to ensure we give our guests the full safari

experience here in Kent.

I tend to eat at my desk at lunchtime,

usually fruit and several cups of tea

(strong and sweet), but most days I tend to

work through while checking on existing

accommodation, or preparing for new

developments. We have a comprehensive

plan to grow our accommodation that

includes the full conversion of a beautiful

15th century Wealden Hall House alongside

further luxury lodges and glamping

offerings.

We decided to initially start our venture

into glamping to offer our visitors the

chance to experience the reserve 24 hours

a day. It was rightly anticipated to generate

more revenue to fund our vital conservation

work both at the wild animal parks we look

after in Kent and the wilderness areas we

protect overseas. Ultimately, this means

that we continue to send animals born at

our parks to protected areas of their natural

habitat, so they can live wild and free – just

as they should be.

I never leave work feeling I have left

something to do. Our guests are usually fully

settled in and enjoying their experience. I

can rest assured that they are in the capable

hands of my brilliant teams.

I have been working at Port Lympne for

seven years, all while living in Droitwich. We

have been in development mode in Short

Breaks during this period and I have been

at the very heart of what we have achieved

in this time. Encompass this with our

wonderful animals, incomparable people

and glorious landscape and you'll have a

pretty good idea why I love my job!

ABOUT CHRIS

Chris has a comprehensive background in leisure,

retail and the public sectors ranging from holiday

parks, both UK and abroad, visitor attractions

and transformational work in the public sector.

He has a wife, Nicola, a son, Brett, and two

daughters, Charlotte and Laura. When leisure

time presents itself, he loves to watch rugby and

still plays the occasional game of cricket.

Port Lympne Reserve Accommodation

› Giraffe Lodge – 10 authentic African style

tents overlooking the watering hole on the

'African Experience'. Aimed at adults, dinner and

breakfast is included, cooked on an open fire pit

in the Laapa at the lodge. Guests also enjoy a

ranger guided safari and the opportunity to feed

the resident giraffe herd.

› Bear Lodge – 19 safari tents tents capable of

accommodating between six and eight guests in

each and perfect for families. The site overlooks

the bear habitat and includes a clubhouse

restaurant, pizza takeaway, bar and large

children's play area.

› Pinewood – a fun camping experience, aimed at

families and groups comprising 13 fully insulated

wooden pods, shepherds huts and luxury tents.

It also has a clubhouse and restaurant and is set

close to the lion and tiger habitats.

› Hog Deer Creek – eight luxury shepherds huts in

the garden of the 'Asian Experience'.

› Forest Hideaway – three raised cabin/

treehouses set amongst towering pine trees,

close to the Amur tiger habitat.

› The Bubble – a luxury romantic retreat, with

transparent walls for 180 degree panoramic

views.

› Lion Lodge – the latest development, two

unique timber clad, Manhattan loft style

buildings set within the lions' habitat – a first in

the world. Featuring picture windows in both the

master bedroom and the open plan living area,

guests are just a breath away from the lions.

› Tiger Lodge – as above but set within the tiger

enclosure.

› Wolf Lodge and Rhino Lodge – two converted

cottages adjacent to the wolf and rhino habitats.

› Treehouse Hotel – voted Best Tourism

Experience and Self Catering Experience of the

Year 2016-2017 by Tourism South East, the hotel

is nestled in the tree canopy above the reserve.

› Port Lympne Hotel – four star luxury with a

twist in a grade two mansion.

www.aspinallfoundation.org/port-lympne/shortbreaks

66 WWW.OPENAIRBUSINESS.COM
---
Create your luxury retreat

Handcrafted in Somerset, uniquely yours...