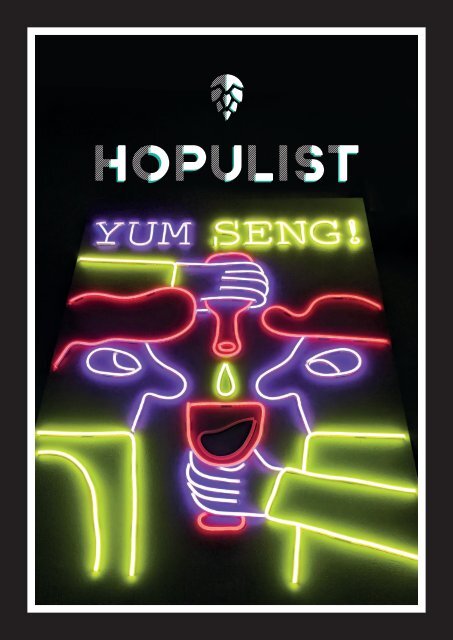 Hopulist Issue 7
Welcome to issue seven of Hopulist… • Take a trip to Singapore with us. • Exclusive interview with top writer Matthew Curtis • We prove craft beer on a budget is possible. • A guide to 2019's best craft beer events. • Our picks of what beer is hot right now • All the freshest beer merch to keep you looking slick
Welcome to issue seven of Hopulist…
• Take a trip to Singapore with us.
• Exclusive interview with top writer Matthew Curtis
• We prove craft beer on a budget is possible.
• A guide to 2019's best craft beer events.
• Our picks of what beer is hot right now
• All the freshest beer merch to keep you looking slick
SHOW MORE
SHOW LESS
Create successful ePaper yourself
Turn your PDF publications into a flip-book with our unique Google optimized e-Paper software.
Once again this month, we have been incredibly

lucky to travel the world in the name of craft

beer. Singapore was our key destination and we

have to say we were highly impressed. Asia is

perhaps the lesser known or explored part of

the craft beer world, with such a heavy focus on

Europe and the USA. But hopefully you will see

(and will have seen with our previous features on

Japan and Thailand) that this is part of the beer

drinking world that should not be overlooked.

Enjoy it and we hope you manage to visit at least

one of the venues we highlight.

Elsewhere we have examined just how you can

enjoy craft beer on a budget. We realise it's an

expensive passion to have – you can suddenly

end up paying double what you would normally

for a beer. But there are affordable craft beers

out there, you just have to know where to look.

Hopefully we can be of assistance.

Thanks for reading.

Cheers,

The Hopulist team
---
06

08

10

The latest craft beer

news, now!

Fresh new beer to

get in your mouth.

Our guide to craft

beer events.

20

22

36

The best of gear

based around beer.

Take a trip to

Singapore with us.

Craft beer on a

budget is possible.

50

52

58

More gear based

around beer.

Matthew Curtis spills

the beans.

All the g's you need

to know about beer.

62

66

BBNo's mosaic-based

perfection.

What have we been

drinking this month?
---
VERDANT OPEN

SEAFOOD BAR

February saw the long-awaited opening

of Verdant's seafood bar. Positioned

on the pictueresque waterfront at

Falmouth, The Seafood Bar, is a crowdfunded

project based around small seafood

plates and fresh beer – the kind of place you

go for a few beers and end up ordering the

whole menu.

Dishes include pan-fried gurnard with

mussels and crab sauce, oven-baked salt

cod with potato puree and a classic fish

finger butty as well as eight taps to help

wash it all down with.

Opening hours are 12 til late, no bookings

necessary. For more info check out

instagram.com/verdant_seafood_bar/ and

twitter.com/verdantseafood
---
NORTHERN

EVOLUTION

After a hugely successful crowdfunding campaign

Northern Monk has completed a rebrand, undertaken

by Leed-based strategic design agency, Robot Food.

The logo has been given a refresh with a much cleaner,

simpler look whilst the new can designs evoke the style and

flavour of each beer with bold colours and illustrations that

make them all very distinctive.

Speaking about the rebrand, Founder of Northern Monk,

Russell Bisset says: "The intention of our crowdfunding

campaign was always to refresh, expand and reach more

people in new places. We needed every element of our

brand to be representative of how far we've come since the

beginning our journey and give our supporters something

to get excited about. Robot Food understood our vision, we

trusted them to amplify what we saw as important for our

brand and the end result is something that we're both really

proud of."

CORE STRENGTH

Northern Monk's

rebrand also sees the

introduction of two

new core beers in their

range. Origin, a 5.7%

gluten-free IPA and

Striding Edge which is

a 2.8% light IPA.
---
WANT YOUR LATEST BEER LAUNCH FEATURED

PILSNER POPPING

Duration have not one, but two new

spring beers on offer. Small doses,

(pictured above) a low ABV pilsner

and Deep Roots, a carrot saison. Both

beers will be making their debut at

Cloudwater's Festival on 1 March.

Excited much!?

ET TU, BRUT?

ORA have a brut IPA dropping as

we go to press. Inspired by Gipsy

Hill's Fugitive this brut-style IPA has

been loaded with bucket loads of

blueberries and dry hopped with

Olicana and an experimental hop! 7%

ABV

Release date: Preorders from 21 Feb

Release date: Available to pre-order
---
NEW RELEASES WE

CAN'T WAIT TO GET

OUR MITTS ON...

? CONTACT US AT INFO@HOPULIST.COM

SATAN JUICE

Mogwai Beer Satan is a limited-edition

5.2% ABV New England pale ale

brewed in collaboration with Mogwai

and Signature Brew. This tropical,

hazy IPA carries huge, hoppy flavours

with subtle heat from chilli additions.

HERE ENDETH THE LESSON...

Northern Ireland's Heaney Brewery

and Boundary have collaborated to

create a luxurious, chocolatey and

robust cherry porter called Lessons

Learned. It's a limited run so keep your

eyes peeled.

Release date: On sale

Release date: On sale
---
ALL PICTURES COURTESY OF ORGANISATIONS SOCIAL MEDIA

SET A DATE WITH

CRAFT

CRAFT BEER – IT'S BEST ENJOYED WITH

FRIENDS. WHETHER THAT'S SOMEONE YOU'VE

KNOWN SINCE YOUR SCHOOL DAYS OR

SOMEBODY YOU JUST MET, WHY NOT SHARE

THE LOVE OF THE GOOD STUFF AT ONE OF

THE UK'S THRIVING EVENTS IN 2019?
---
CRAFT BEER RISING

BRICK LANE, LONDON

21-23 February

craftbeerrising.co.uk

Self-billed as the largest craft beer gathering of its

kind Craft Beer Rising is one of the big boys that

you should definitely make an attempt to attend.

It combines an almost unrivalled billing of brewers

alongside street food, music and a raft of wellknown

industry faces for three days of what we

think is probably pretty close to heaven for craft

beer lovers. The event takes place in London's

Brick Lane and this year will feature support from

big names including Tiny Rebel, Fourpure, Goose

Island, Yeastie Boys, Lost and Grounded and

Mothership. But in total there will be more than 120

beer names represented, which is… well, making

us a little thirsty. But it's not just beer (what else is

there?), there's cider, music from some of London's

hottest up-and-coming acts and talks from some

real fountains of knowledge in the craft beer world.
---
MAGIC ROCK SESHFEST

MAGIC ROCK TAP, HUDDERSFIELD

8 June

magicrockbrewing.com

Huddersfield's Magic Rock reckons that despite the

plethora of craft beer events that have sprung up

around the country, there is still a gap for a brewerled

one that is organised for brewers by brewers.

SeshFest is the first event of its kind and will be

celebrating the roots of Magic Rock and its fellow

local beer by only pouring session beer of 4.5%ABV

and under. The vibe for this event is set to be

relaxed and there will be music, a dedicated cask

bar. Tickets are on sale now on the Magic Rock

website, but you should be quick if you want to

attend as it will be a limited number (quickly opens

new browser window).
---
BRISTOL CRAFT BEER FESTIVAL

LLOYDS AMPHITHEATRE, BRISTOL

7-8 June

bristolcraftbeerfestival.co.uk

What could be better than sipping exquisite craft

beer at the harbourside in Bristol? If your answer

to that is 'not a lot' then you should be buying

tickets to the Bristol Craft Beer Festival. Go on, stop

reading this and get on with it.

For those still with us in need of persuasion, how

about considering that there will be brewers such

as Brew By Numbers, Bristol Beer Factory, Dugges,

Gipsy Hill, Left Handed Giant, Northern Monk, North

Brewing Co, Siren Craft Brew, The Kernel, Verdant

and Wylam there? Not enough? How about live

music and enough food to ensure you can stay

there all day? Those wise enough to attend will

also get a free tasting glass and a programme.
---
LONDON CRAFT BEER FESTIVAL

TABACCO DOCK, LONDON

9-11 August

londoncraftbeerfestival.co.uk

There's something magical about London in

the summer, and that can only be enhanced by

attending one of its best craft beer gatherings, the

London Craft Beer Festival this August. The event

has a star-studded lineup including Amundsen,

Anspach & Hobday, Brick Brewery, Five Points,

Cloudwater, Lervig, Signature Brew, Thornbridge,

Weird Beard and Wild Beer Co. The usual mix

of music and food will also be thrown in and the

venue of Tabacco Dock makes for an all-round cool

experience.
---
FRIENDS & FAMILY & BEER FESTIVAL

UPPER CAMPFIELD MARKET, MANCHESTER

1-2 March

friendsandfamily.beer

When a beer giant like Cloudwater announces

it's going to run a beer festival, you better sit up

and take notice. Especially when that festival

is being run entirely not-for-profit, with charity

getting all the takings and the general vibe of the

event being a celebration of everything the brewer

holds close to its heart. There will be a big array

of what Cloudwater calls its family – brewers from

across the UK, Europe and the rest of the world.

There will be a wide range of styles, strengths

and approaches of beer available to drink at the

event including a large number of one-offs brewed

specifically for it. We'll see you there.
---
SHEFFIELD BEER WEEK

MULTIPLE VENUES, SHEFFIELD

11-17 March

sheffieldbeerweek.co.uk

For one week in March, Sheffield will become an

even more awesome place than it already is when

it hosts its fifth Sheffield Beer Week. As well as

having the usual mix of great beer, music, talks and

other events, the week also has a theme each year

– with 2019's set to be diversity and inclusion in

beer. With International Women's Day taking place

just before the week starts, it's awesome to see

that the event will be celebrating women working

in the beer industry. There'll be a brewsters'

tap takeover collaboration with Norwich-based

organisers Fem.Ale and much more. If there's one

thing beer does (or should do) it's bring us together

– something this well-regarded beer week has

focussed on this year.
---
EDINBURGH CRAFT BEER FESTIVAL

LEITH, EDINBURGH

24-25 March

edinburghcraftbeerfestival.co.uk

Brewing north of the border is every bit as vibrant

as it is in England, and that is perfectly showcased

at the Edinburgh Craft Beer Festival in Leith.

The lineup this year will include names such as

Amundsen, Cloudwater, Fierce Beer, Firestone

Walker, Marble, Pilot, Tempest Brew Co, To Øl,

Whiplash and Wylam. If that doesn't whet your

appetite, then perhaps the excellent food and

music offerings will help with that too? Quite

frankly, if you are a fan of beer in Scotland, there's

absolutely no reason why you shouldn't be here,

making friends and drinking excellent beer.
---
LIVERPOOL CRAFT BEER EXPO

INVISIBLE WIND FACTORY, LIVERPOOL

27-30 June

eventbrite.co.uk

Beer festivals are so last year, it's all about beer

expos now. Well maybe not, but the Liverpool Craft

Beer Expo should definitely be on your radar for

2019. The modern expo will feature innovative

brewers from the UK and Europe and will have

afternoon and eveing sessions across four days.

Entry to the expo will give you a commemorative

guidebook and glass, plus you'll be in Liverpool,

which is a fantastic city that is well worth exploring.
---
LEEDS INTERNATIONAL BEER FESTIVAL

LEEDS TOWN HALL, LEEDS

6-9 September

leedsbeer.com

What's not to love about Leeds? A four-day craft

beer festival promoting craft beer brewed both in

the UK and Europe is certainly not one thing. There

will be a raft of brewers there complimented by a

street food market, music across three stages and

in the festival organisers' own words 'all sorts of

lovely beer-related things'. We don't know about

you, but that sounds pretty great. Not to mention

that we absolutely love Leeds and while you're

there you absolutely must visit Northern Monk's

taproom at its brewery in the city. Just trust us on

this.
---
SWEET HARMONY

The 'Harmony' Rastal bowl tapers to

a smaller mouth which concentrates

aromatics, making for a better

drinking experience. Featuring a

design from Northern Monk's Patrons

Project Skyline.

A WILD ONE

Wild Beer have, once again, produced

the goods with this Teku glass

featuring wraparound design. With

a half pint capacity it's a great

accompaniment to use with your

favourite nosh.

W A N T Y O U R P R O D U C T F E A T U R E D ? C O
---
WE MAY HAVE

BECOME OBSESSED

WITH GLASSWARE...

NECK OIL

The Old Engine Oil 330ml glass from

Harviestoun features understated but

iconic Old Engline Oil branding, which

really pops when filled with black ale,

or an equally nice stout or porter of

your choosing.

IT'S A TRAPP

The Orval chalice glass is iconic

and an essential for any craft beer

glassware obsessive. This trappist

masterpiece was designed by

Henry Vaes, who also designed the

distinctive Orval beer bottle.

N T A C T U S A T I N F O @ H O P U L I S T . C O M
---
ISLAND

STATE OF MIND
---
Singapore is a fascinating place – from its colonial past

to its financial superpower present – but when Hopulist

visited town there was only one thing on our mind. And

we were not found wanting on the craft beer front.

By David Guest

It's hard to imagine just how Sir Stamford Raffles might

have felt when he first arrived in what is now Singapore all

the way back in 1819. A new, alien land filled with strange

tropical wonders and near boundless opportunities – he

must have been excited and apprehensive in equal measure.

As I stepped off the plane into the cool, sharp blast of air

conditioning at Singapore's Changi airport, I was filled with

a mixture of at least some of the emotions I imagine Raffles

felt when he did the same (albeit from a boat and 200 years

earlier). When he arrived, Sir Stamford quickly identified

the island as an ideal port location for Britain in South East

Asia and founded Singapore in February of that year, after

brokering a deal with local people. Later in 1824, after further

negotiation, Singapore actually became a British possession

until as late as the 1960s when it gained independence.

My motives for being here, however, are peaceful. The

only trade deal I am looking to broker is how I can enjoy the

best of one of Asia's most vibrant craft beer destinations at a

reasonable price. And it didn't take long for me to realise that

it would be a simple, engaging and rewarding process.
---
LITTLE RED DOT

After a full day of sightseeing upon first arriving in Singapore,

my feet had begun to throb and my throat had begun to

crave the cool, refreshing and hoppy relief of a craft beer. I'd

walked miles – literally – while exploring sights including

the glamourous mega-luxury hotel Marina Bay Sands, the

peaceful retreat that is Gardens by the Bay and the many

historic, colonial-style buildings that line the streets pretty much

everywhere you look in the centre of the city. And it was among

some of this historic architecture that I stumbled across the first

stop on my list of meticulously researched craft beer venues –

Red Dot.

Nestled in Boat Quay, a tributary that comes off the main

marina, Red Dot is so named after the affectionate nickname

Singapore has been known as for many years – the little red

dot. The name simply refers to how this city state appears on

maps due to its small size, but there's nothing small about the

ambition or grandeur of Red Dot Brewhouse.

The venue claims to be the very first locally-owned,

independent microbrewery in Singapore, with brewmaster Ernest

Ng having become a home brewer and started the bar back in

1997. All of the beer sold at Red Dot is brewed on site and the

selection is impressive. There's a core range comprising pilsners,

wheat beers, IPAs, English ales, summer ales and lagers – and

then a constantly rotating spectrum of seasonal beers too. Red

Dot has a brewing capacity of 17,000 litres and its state-of-the-art

facility meets the standards of the American Society of Engineers,

but all that technical stuff aside, by just sampling one of the beers,

I knew I'd started my craft beer adventure in a great place.

I opted for a lime wheat beer from the seasonal menu that was

a good steady start – made all the better by the fact I enjoyed it

from Red Dot's quayside terrace. Watching boats glide past on

the water that sparkled with the reflections of the skyscrapers

with colonial stonework surrounding them, I knew I was in for

a great trip.

"Watching boats

glide past on the

water that sparkled

with the reflections of

the skyscrapers with

colonial stonework

surrounding them, I

knew I was in for a

great trip."
---
A NIGHT ON THE TILES

My hotel during my stay was located in the Little India district

of Singapore – which incidentally I cannot recommend enough

as somewhere to wander around in the day time for incredible

smells, sights and sounds – and as you would expect I'd studied

where the nearest craft beer oasis was. Just a brisk (but warm)

1km walk away from my hotel was probably one of Singapore's

most individual and stylish craft beer bars: Druggists. Don't

let the name fool you, it is so called because the building it

lies in used to be a Chinese Druggists Association (basically

a chemist), and the owners have kept many of the original

features – the most striking of which are its blue and white

patterned tiles on the floor. The tiles have become so locally

famous that Druggists uses them as its own branding, featuring

them on beer mats and the likes. The bar is small, humble

and welcoming and reminded me of the type of place you

would find in London – oozing cool and with knowledgable

and passionate staff who were keen to help you choose from

their fantastic array of international beers. Names upon the

chalkboard over the bar included Mikkeller, To Øl, Magic Rock,

Thornbridge and Amager. I enjoyed the farmhouse ale Nul from

To Øl and sat back and breathed in the relaxed and friendly

atmosphere. A group of young professionals spoke excitedly

in English on some kind of after work social, while a Chinesespeaking

family revelled in each other's company over a board

game I couldn't quite work out the rules to. This place definitely

had an 'authentic' craft bar feel and I spent the next few hours

before bed enjoying the atmosphere.

BUSINESS MEANS BUSINESS

Singapore has a thriving economy – in fact it's a world

superpower – and at times you could be mistaken for thinking

you were in London's Canary Wharf. The banking and

finance industry is huge here and there are plenty of affluent

professionals in suits wandering the streets at any time of day

MALAYSIA

• Kuala Lumpur

SINGAPORE

Singapore is an

island city-state

in Southeast Asia.

A global financial

center with a

tropical climate

and multicultural

population.
---
or night. Beach Road is one of the epicentres of trade and

splendour in Singapore and the next bar I'd highlighted just

happened to be right in that proverbial mixer. The Armoury

described itself as a lively craft beer and gastro bar with exotic

beers – I'll be the judge of that, I thought. And so I was.

The bar's exterior impressed, boasting colonial-era heritage of

its former life as an actual armoury. I dashed through the front

door, narrowly avoiding a monumental soaking from a rainstorm

that had just started as I approached the bar. It's a common part

of living in this part of the world, with the all-year-round warmth

comes tropical showers that can soak you to the bone in seconds.

Immediately I was struck by a definite 'professionals after work'

vibe, but also a laidback ambience that made me feel comfortable

to pull up to a table at the back and order a Freshly Squeezed IPA

from Deschutes Brewery of the United States.

The Armoury has a great range of American craft from names

like Rogue and Stone and also some Japanese favourites like

Hitachino. I tried one of the excellent burgers on offer 0and

decided to make a hasty exit as a live band was setting up for the

night – it was a Friday, so I envisaged things getting a little more

rowdy than I was up for.

Luckily the next stop was only a short (and thankfully covered)

walk away – The Alchemist Beer Lab. The name sounded

promising and when I learned while researching it that it only

serves beer it brews in its own infusion beer towers, I was sold.

The bar benefits from the inquisitive genius of award-winning

brewmaster Steve Spinney, who together with owner Francis Khoo

have experimented with making beers that are often curious and

never dull. It seemed only right that I sampled as many beers as

possible here, so I ordered a flight comprising of Sister Golden

Ale, Whiter Shade of Pale Ale, Stars and Bars American IPA and

Flaming Lips ginger beer. Each beer was a slight tweak on a classic

and they were all made more enjoyable by the fact I sat outside on

the bar's patio and watched the seemingly never-ending world of

Singapore high-flying business go by around me.

"The international

feel of Singapore

is everywhere

you go. It's in the

architecture, the

wide range of

languages spoken,

the religions

practiced and,

thankfully for us, the

beer drunk."
---
"The bar also has

its own chapter of

Mikkeller Running

Club, something I

couldn't resist buying

some merchandise

of, being a keen

runner myself."

AN INTERNATIONAL FLAVOUR

The international feel of Singapore is everywhere you go. It's

in the architecture, the wide range of languages spoken, the

religions practiced and, thankfully for us, the beer drunk. Two

particularly favourite examples of that I discovered during my

stay were JiBiru and Mikkeller.

JiBiru is a Japanese craft beer bar just off one of Singapore's

major shopping avenues, Orchard road. The name means 'local

beer' and the range is pretty staggering. Avid Hopulist readers

will remember our trip to Japan last year and the collection

of Japanese beers here is worthy of any bar we visited there.

Minoh is here, Hitachino is here, Echigo is here, even a good

range of Sake is here if you get bored of the beer. And all of it

can be served with accompanying delicious food. I didn't stay

long here as it was a busy Saturday afternoon, but it is a bar

that should certainly be on your hit list.

For a European flavour, the Mikkeller bar in Singapore is an

absolute must. No matter where Mikkeller sets up its bars, it

manages to perfectly marry its own style with the local feel.

This bar is located not too far from the famous Raffles Hotel

with its even more famous Long Bar (the birth place of the

Singapore Sling cocktail), and is housed in a magnificent

colonial-era building adorned with bright red shutters that

really make it stand out. The building was in fact once a

settlement for Chinese communities first arriving in Singapore

years before. The bar had the usual excellent selection of beers

and plenty of space to sit and enjoy good company and watch

the world go by through those shuttered windows. As usual

the staff were super friendly and genuinely fans of the beer

they served, which always makes for a better beer drinking

experience. The bar also has its own chapter of Mikkeller

Running Club, something I couldn't resist buying some

merchandise of, being a keen runner myself.
---
GETTING HIGH

The final craft beer place I visited in Singapore was

completely by accident but could also make a good case

for being the most memorable. Wandering around the

marina with all those iconic sights of Singapore within

view, a quick search on my phone revealed a bar I hadn't

uncovered in my research beforehand. Experience tends

to tell me that places in touristy areas are not always the

best bets for authentic craft experiences, but Level33

piqued my interest. The bar's first line of description is

'the world's highest urban craft brewery'…

A bit of exploring and whizzing up 33 floors of a

skyscraper later and I discovered the place – a genuine

brewery, making its own beer on the 33rd floor of an

office block with probably the best view of Singapore

right there in front of you. Copper brewing towers are

dotted throughout the bar, which also serves

some pretty good food I'm lead to believe.

But the pièce de résistance is the terrace

– part of which is open air. The views are

simply stunning and the beer isn't half bad

either. The styles are fairly plain and there's

nothing exceptional about what they are

doing here in brewing terms (expect perhaps

logistically), but the view makes up for it and

more. It was a fitting end to a fantastic trip as

I watched the colours change with the fading

light across the marina with a cold beer in

hand that was brewed just yards from where I

was standing. Craft beer can take you to some

special places – physically and emotionally.
---
ALL'S WELL THAT ENDS IN KL

It would be remiss of me not to mention

another eclectic and enthralling South East

Asian city that I also visited on this same

trip, especially seen as it is only a onehour

flight from Singapore. The Malaysian

capital Kuala Lumpur is somewhere else I

would recommend anyone to visit. Many

people had described it

to me as a mini Bangkok

before I went, but I have

to disagree with that

analogy. Malaysia is a

majority muslim country,

and because of that, you

can't expect every corner

of it to be a booze-fest or

party town. So when in Kuala Lumpur,

my advice would be not to expect beer on

every corner or in every restaurant – it

just does not happen. However, there were

two decent craft beer places I managed

to find (almost by accident) that I would

recommend checking out if you're in KL.

The first couldn't be easier to find – it's

right at the base of Kuala Lumpur's most

iconic tourist attract the Petronas Towers.

It's a Delerium bar – yes that Delerium, the

Belgian beer experts of pink elephant fame.

The bar features large indoor and outdoor

seating areas and has a very good selection

of Delerium's own beers plus many other

favourites from Belgium. It has a slightly

cheesy feel to it with lots of plastic pink

elephants and tourists stopping in due to

its location, but it is the best pour you'll

find anywhere around. Best of all, if you

sit out on the terrace in the

evening, you can watch the

famous light show in the

Petronas Towers' fountain.

The second bar I found

was a real gem – Taps Beer

Bar, located in the Bukit

Bintang region of the city

at the base of a skyscraper.

You could instantly tell the people running

this place were genuine craft beer fans.

The walls are adorned with empty bottles

and cans from all over the world and

moodily-lit bar has an excellent choice of

beers behind it. Brewdog, Hitachino, Siren,

Thornbridge, 2Brothers, Amager, Yo-Ho,

Rogue, Mikkeller and more were all here –

either on tap or in the well-stocked fridge.

There was also an international vibe in here

as the western style of the place attracts

people who are perhaps less confident to

hit more local style places.
---
"MAY YOUR CHOICES

REFLECT YOUR HOPES,

NOT YOUR FEARS."

NELSON MANDELA
---
CRAFT

BEER

ON A

BUDGET
---
UNTAPPD RATINGS CORRECT AT TIME OF PUBLISHING

CRAFT BEER CAN BE AN

EXPENSIVE HOBBY. IF YOU'RE

SAMPLING BEERS THAT HAVE

BEEN IMPORTED ACROSS VAST

LANDS AND SEAS THEN IT'S NOT

UNUSUAL TO PAY UPWARDS OF

£10 TO SAMPLE AN INDIVIDUAL

BEER. BUT IT DOESN'T HAVE TO

BE THAT WAY. WE'VE ASSEMBLED

A LINEUP OF AFFORDABLE

CRAFT BEERS THAT PROVE YOU

CAN STILL ENJOY COMPLEX

AND UNUSUAL FLAVOURS IN

YOUR DRINK-ING ON A MODEST

BUDGET. MOST OF THEM ARE

FROM THE UK, BUT THERE'S

A COUPLE OF EUROPEAN

NUMBERS TOO, PROVING THAT

GREAT TASTES DON'T HAVE TO

COAST THE EARTH.
---
GREEN MOUNTAIN

BAkEWELL

Style:

NE SESS|ON |PA

ABV: 4.3%

Volume: 330ml

UNTPPED.com

RAT|NG: ●●●●● 3.72

WHAT THEY SAY:

A beautiful hazy

Vermont Session

IPA. We generously

dry hop with

galaxy, mosaic,

citra and Amarillo

hops, creating a

hugely aromatic

and juicy

fruitbomb.

WHAT WE THINK:

We're big fans

of Thornbridge

and what they

do and this beer

really ticks a

lot of boxes for

us. Medium in

mouthfeel, but

punchy in unique

hoppy flavours,

Green Mountain

is a session ale

that doesn't feel

like it's been

watered down.

It's also widely

available in UK

supermarkets –

bonus.
---
FULL FATHOM 5

BREW|NG CO

LEEDS

Style:

PORTER

ABV: 6.5%

Volume: 330ml

UNTPPED.com

RAT|NG: ●●●●● 3.69

WHAT THEY SAY:

This is a full

bodied indulgent

porter. Toasted

coconut was used

at the end of

the boil, and 'dry

coconutted' in the

fermenter. Single

origin Rwandan

coffee beans from

North Star coffee

roasters.

WHAT WE THINK:

The lightness

of coconut just

goes so perfectly

with porter, we

can't believe

it hasn't been

done more often.

Notes of coffee

come through in

waves as you sip

this dark and full

bodied porter

that is, in our

opinion, a perfect

nightcap or beer

to round off a

night.
---
JUPA

HACKNEY

Style:

|PA

ABV: 5.5%

Volume: 330ml

UNTPPED.com

RAT|NG: ●●●●● 3.57

WHAT THEY SAY:

Hopped with

simcoe in the boil

and dry-hopped

with citra and

mosaic, this beer

has bold juicy

citrus flavours

and a tropical

fruit character;

think cantaloupe

melon or papaya.

With a low

bitterness and

refreshing body,

this beer feels like

a good way to

kick off spring.

WHAT WE THINK:

Five Points says

this beer feels like

a good way to

kick off spring and

when we sipped

its hazy, orange

goodness we

had to agree. It

had us dreaming

of warmer days.

The orange and

lemon aromas

are matched with

a straw, biscuit

and a subtle

fruity flavour that

is toned down

well by a mild

bitterness. Nicely

balanced.
---
A PEELING PALE

COPENHAGEN

Style:

PALE ALE

ABV: 5%

Volume: 330ml

UNTPPED.com

RAT|NG: ●●●●● 3.5

WHAT THEY SAY:

Feeling yellow?

A citrousy pale

ale with a warm

orange peel and

loaded up with

the freshest citra

hops.

WHAT WE THINK:

Besides the

beautiful can, this

beer is a great

example of how

to make citra work

for you in an IPA.

Very hazy with a

small head, the

beer has aromas

of oranges (as

you'd expect) and

once you taste it

you get the full

fruity flavour and

a fairly harsh

smack of citrus.

It can be a little

tart and not to

everyone's liking

– it is certainly a

beer you wouldn't

want to have too

many of in one

sitting.
---
X TW|STED BARREL

CULTURE SHOCK KVEIK

LEEDS x COVENTRY

Style:

|pa

ABV: 6.8%

Volume: 440ml

UNTPPED.com

RAT|NG: ●●●●● 3.87

WHAT THEY SAY:

Culture Shock

has a complex

malt base including

wheat,

rye and oats,

and a substantial

dry hop of citra

and el dorado.

It is the yeast,

however, that is

the protagonist

of this beer. The

beer uses the

Sigmund's Voss

strain, which

brings a light

earthy spiciness.

WHAT WE THINK:

We're not sure

which culture is

being shocked

here by this collab

from two of the

UK's brightest

brewers, but we

like it. A darker

and more hazy

IPA than many

others, the beer

has notes of

tropical fruit but

a much more

complex flavour

that marries those

citrusy fla-vours

with oats and a

tiny drop of herb.
---
BERRY BERLINER

LONDON

Style:

BERL|NER WE|SSE

ABV: 3.5%

Volume: 440ml

UNTPPED.com

RAT|NG: ●●●●● 3.54

WHAT THEY SAY:

New Howling Hops

beer klaxon! This

berry Berliner

Weisse is loaded

with fresh berries

to create a

delicate, fruity and

super sessionable

brew which weighs

in at just 3.5% ABV.

WHAT WE THINK:

A Berliner weisse

that takes you to

Berry Town and

pushes you into its

biggest berry lake.

This is everything

you'd expect

from this kind of

beer: tart, sharp,

acidic and with

a berry flavour

that eventually

gives way to

more subtle notes

like lemon and

toasted grains. A

real beauty.
---
SAUCERY

HUDDERSF|ELD

Style:

SESS|ON |PA

ABV: 3.9%

Volume: 330ml

UNTPPED.com

RAT|NG: ●●●●● ???

WHAT THEY SAY:

A supernatural

session IPA made

for drinking all

day long. Lightly

sweet and malty

Golden Promise

malt, a balanced

bitterness and

layers of tropical

fruit filled citra

and ekuanot hops

in a whirlpool and

dry hop.

WHAT WE THINK:

It never ceases

to amaze us

how Magic Rock

keeps putting out

these ace session

beers. This number

has a hazy

golden orange

colour and an

aroma that is

mixed citrus and

refreshing. The

fermentation

with London Ale

II yeast gives an

enhanced malt

and hop profile

against this fruity

body.
---
SLEEPING LIMES

CO

SHEPTON MALLET

Style:

GOSE

ABV: 4.6%

Volume: 330ml

UNTPPED.com

RAT|NG: ●●●●● 3.3

WHAT THEY SAY:

We have traversed

the globe to

Mexico where we

celebrate Brett's

love of South

American food

and citrus zing of

the mighty lime.

Clean and crisp

with refreshingly

tangy limes and

a moreish briny

finish.

WHAT WE THINK:

If you've ever

tried Wild Beer's

Sleeping Lemons,

then this a

cleaner, crisper

version made

with lime that

takes the Corona

and lime wedge

and steps it up

several notches.

It has a sweet

flavour and very

tart finish that is

complemented

perfectly by a

medium white

head and clear,

golden coloured

body.
---
ELVIS JUICE

ELLON

Style:

AMER|CAN |PA

ABV: 6.5%

Volume: 330ml

UNTPPED.com

RAT|NG: ●●●●● 3.81

WHAT THEY SAY:

An American IPA

with a bitter edge

that will push your

citrus tolerance

to the brink and

back; Elvis Juice

is loaded with tart

pithy grapefruit

peel.

WHAT WE THINK:

A modern-day

classic, we simply

love this beer.

Light notes of

pine in the aroma,

but the taste is

nothing short of

a smack in the

face of grapefruit.

However the initial

tartness subsides

to a more clean,

sweet and hoppy

finish. One of

Brewdog's best.
---
SESSION IPA

LONDON

Style:

SESS|ON |PA

ABV: 3.6%

Volume: 330ml

UNTPPED.com

RAT|NG: ●●●●● 3.4

WHAT THEY SAY:

A rich and wellbalanced

IPA

packing a load

of summit and

chinook hops.

Another beer in

our pursuit for

the perfect pint.

WHAT WE THINK:

Another beer

that is widely

available in UK

supermarkets,

this session ale

has the unusual

addition of

summit hops,

which gives it a

more grassy and

piney bitterness

than many beers

of this type. It's

very well rounded,

with no flavour

particularly

spiking.
---
STOUT

BREWERY

ZAGREB

Style:

|MPER|AL STOUT

ABV: 5.7%

Volume: 330ml

UNTPPED.com

RAT|NG: ●●●●● N/A

WHAT THEY SAY:

A dark, milky

breakfast stout.

Full bodied with

a low to medium

bitterness and low

carbination.

WHAT WE THINK:

This is a stout

we really enjoy

thanks to its

bourbon aroma,

and long lingering

flavours of coffee,

chocolate, dark

caramel and

bourbon barrel.

The beer is made

with chocolate

and black roasted

malts and you

can re-ally tell.

Quite a heavy

mouthfeel, almost

creamy at times.
---
BY THE NUMBERS

When Brew By Numbers do something

they do it with style and this 'Kit'

t-shirt is no exception. Available in

sizes small to doubleXL and grey

(pictured), maroon or navy.

GROUND CONTROL

Saturn V is a limited edition screen

print of the brewing process all done

in the fantastic styling of Redwell's

Steam Lager can design. Don't just

drink it, hang it on your wall!

W A N T Y O U R P R O D U C T F E A T U R E D ? C O
---
BECAUSE SOME

THINGS YOU NEED

IN YOUR LIFE...

KEEP ON TRUCKING

Harbour have knocked it out the park

with these classic snapback trucker

hats. Embroidered with the Harbour

Brewing Company logo they are

available in brown/orange, blue/white

or black/silver.

BAR BLADE

Something a little different to the

usual clothing merch, these Drygate

branded bar blades really caught our

eye, strong graphics and a robust

useful tool. What more can you ask?

N T A C T U S A T I N F O @ H O P U L I S T . C O M
---
WRITERS OF

CRAFT

MATTHEW

CURTIS

MATTHEW CURTIS IS A BEER WRITER

AND PHOTOGRAPHER WITH SOME

PRETTY IMPRESSIVE PROJECTS

UNDER HIS BELT. WE FIND OUT HOW

HIS HUMBLE BEER BLOG HELPED

CATAPULT HIM TO BEER WRITER

EXTRAORDINAIRE.

How did you get into beer writing? What inspired you?

I've been into beer for as long as I can remember. However,

my first trip to the USA in 2010 turned fascination into

something of an obsession. I started visiting as many

breweries as I could, and tasting as many different beers as

I could. It annoyed the hell out of my friends because all

I wanted to talk about was beer. I've also always enjoyed

writing, having done bits and bobs over the years, with a few

blogs on various subjects, but nothing ever very good. Late in

2011 my partner, Dianne, suggested I start a beer blog to try

and vent some of my enthusiasm into something productive.

So, I started my beer blog, Total Ales, in January 2012 and the

rest is history.
---
Give us a brief overview of

your experience and work in

beer writing?

Total Ales was where it all started,

and it was the first time I'd started

a blog that people seemed to be

interested in reading! With that

impetus acting as motivation,

I started actively promoting

my work through social media,

and building a little audience

on the way. I'm also pretty

argumentative, and not afraid to

stick my oar in if I don't agree

with things, so this started plenty

of conversations — and still does.

About 18 months after I started

my blog I was contacted by my

now very good friend Chris Hall,

as he was looking for someone

to collaborate on a project called

100 Best Breweries In The World

for Future Publishing. That was

published in March 2014 and

things started to snowball from

there. I was picked up by the

emergent Ferment Magazine

which I've now contributed

towards for over four years. My

friends Jen Ferguson and Glenn

Williams opened a cool shop

called Hop Burns & Black and

hired me to write their beer

column, and a pub local to me

called The Duke's Head hired

me to run beer events for them

(which, sadly, I no longer do —

but I do events with plenty of

other folks).

At this point my beer writing

had become a little part-time job

on top of my then full time job in

musical instrument distribution

I'M IMMENSELY

PROUD OF THE

AWARDS I'VE

RECEIVED FOR

MY WORK

FROM BOTH

THE BRITISH

AND AMERICAN

GUILDS OF

BEER WRITERS.

TROUBLE IS

THEY'VE JUST

MADE ME

HUNGRY FOR

MORE!

(which was very boring for me).

I wanted to do more and more

beer work, and in July 2015 I was

offered the opportunity to work

for Chicago-based beer site Good

Beer Hunting (GBH). Things

shifted fast after that, I felt I was

finally beginning to cut my teeth

as a professional writer. So, after a

lot of thought and a little saving,

I quit my job and went freelance

in Feburary 2016. I carried on

working for several publications,

eventually being made an Editor at

GBH in late 2017. This year though

I made the decision to concentrate

on my freelance career and get

my byline out there, so parted

ways with GBH. I'm still writing

for plenty of other folks though,

and always hunting for new and

interesting commissions. It's a really

exciting time to be a beer writer!

How did you carve your niche

as a way of helping beer brands

say what they want to say in a

better way?

I don't do a huge amount of

consultancy if I'm being honest but

it's something I want to do more

of as I expand my repertoire. But

when I do, it's always a brewery

that's really keen to hear my insight

into their business or the industry

as a whole, and conversations

over a pint can blossom into a

little work, typically helping them

getting their voice heard by a wider,

or more specific audience. It came

about very organically, it feels like a

natural extension of my writing and

photography.
---
What has been your proudest moment?

Working on the editorial team at GBH, and building a

strong UK team featuring the likes of Claire Bullen, Jonny

Garrett and Lily Waite gave me a real sense of achievement.

Initially being the site's sole UK contributor could be a little

intimidating at times. Being asked to build that team felt

like a real vote of confidence at the time, and I'm proud to

leave such a strong team of writers behind as the site goes in

its own direction.

I'm also immensely proud of the awards I've received for

my work from both the British and American guilds of Beer

Writers. Trouble is they've just made me hungry for more!

Hopefully there'll be a few more in my future.

What has changed most in the

beer/craft beer industry since

you've been writing about it?

It's way more corporate – which isn't

really a bad thing – this is the natural

order. It's a young industry that's

maturing but the important thing to

remember is that it IS an industry.

There's a lot of folks desperate to cling

to that convivial, pally feel the industry

had when it was in its infancy, and

that's getting to be more difficult,

which I know some find frustrating.
---
WHAT ARE YOUR TOP THREE TIPS FOR BEERS LOVERS TO

GET MORE FROM THEIR EXPERIENCES?

1. TRAVEL.

Travel everywhere. Go to Chicago and Auckland and

Prague and Tokyo and wherever you can find beer –

which is everywhere! Immerse yourself in other beer

cultures as this is the best way to give you increased

perspective on your own.

2. CARRY A CAMERA WITH YOU.

It doesn't need to be an expensive one, but pictures are

a wonderful way of helping you to recall highlights of

a trip. I'm also a professional photographer and for me

one photo can be as valuable as several pages of notes.

3. WRITE ABOUT YOUR EXPERIENCES.

Nothing crystallises your perspective more. I love to

see new beer blogs appear on the scene, and I feel that

there's room for plenty more. Oh, and a bonus tip, tell

people about your blog. You might just experience a

similar journey to myself.
---
My work takes me to the USA a lot,

and this gives me great perspective

of where I think the UK industry

is heading. The US beer industry is

way larger and far more corporate

than much of the UK. But it's still

edge-of-your-seat exciting, which

gives me the same excitement

about how the UK beer industry is

maturing. I just hope those working

within it can mature as fast as the

industry itself.

What are your favourite kinds of

beer and why?

A classic American IPA in the 7%

range will always be right in my

wheelhouse. I like bitter, citrus

flavours, confident malt notes and

a tantalisingly bitter finish. Think

Odell IPA, Russian River Pliny the

Elder or something like Magic Rock

Cannonball in the UK. I love the

way the extra weight of a 7% or 8%

beer adds definition to bold hop

flavours.

I'm a huge fan of mixed

fermentation sour beers, particularly

saisons from the likes of Burning

Sky or Mills at home, or folks like

Allagash and New Belgium in the US.

For me, these beers are getting to be

as complex and interesting as some

of the best wines. I love sharing big

750ml bottles of these with friends (or,

sometimes sharing a whole one with

myself,) and would like to see more of

these styles packaged in this way.

I also really love lagers from the

Bavarian and Bohemian regions of

Germany and Czechia, something

with soft bready malts and snappy

herbal hops. Sometimes it's the

I REALLY NEED

TO MENTION

CASK, BECAUSE

I LOVE MY

CASK BEER,

ESPECIALLY

RED ALES AND

STOUTS AT

THE MOMENT.

I'D LOVE TO

SEE MORE

BREWERIES

BACKING

DARKER STYLES.

only style of beer I want to drink.

Finally, I really need to mention

cask, because I love my cask beer,

especially red ales and stouts at

the moment. I'd love to see more

breweries backing darker styles. So

basically, I like everything.

On the future of beer – what

excites you the most? And what

worries you (if anything)?

I'm an optimist, so I find the

evolution of the industry as a whole

very exciting, despite the challenges

it faces such as consolidation and

things like cask being in slow decline.

However, I think the consolidation of

cask could be turned to the brewers'

advantage. Less cask on the bar could

be an opportunity for better cask

on the bar. I'm glad to see young

brewers like Cloudwater and Verdant

deciding to back the format, however

hyperbolic you may feel this to be.

I'm also fascinated where the

world of beer starts to blur, as it

meets fellow industries like wine,

cider and coffee. These industries

are so very different, but at the same

time share an immense amount in

common. I'm excited to see what

happens at the fringes of these

industries as they, hopefully, begin

to look more alike. I feel this is

where beer's future is. And that's the

one thing that worries me, at the

moment, beer's distant future, so

10 or 20 years, feels very blurry to

me. There is an immense amount of

uncertainty ahead, but hopefully we

can work together and chart strong

routes through any choppy waters

that may block our path.
---
IS FOR, WELL,

LOTS OF THINGS.

THAT'S WHY WE

HAVE DEVISED

OUR OWN BEER

GLOSSARY

FOR YOU TO

DRINK IN.

IMPROVE YOUR

KNOWLEDGE OF

WHAT MAKES

BEER SO GREAT

AND IMPRESS

YOUR FRIENDS

IN THE BAR.

WHAT HAVE YOU

GOT TO LOSE?

GROWLER

What would craft

beer be without the

faithful growler?

Well, probably a lot

less interesting for

people who like what

they like. Growlers,

usually sized in 32oz

or 64oz, are often

sold by craft beer

taprooms as a way

of beer lovers to

take away a decent

sample of their

favourite tipples to

enjoy at home. They

are also a great way

for transporting

your own home

brews. Whether

glass, ceramic or

aluminium, a growler

is an essential

bit of kit for any

discerning beer

lover.

A
---
GALAXY HOPS

A long time ago

in a galaxy far,

far away… Okay,

so it was actually

Australia and that

galaxy reference

was pretty cheap,

but galaxy hops is

a killer flavour that

is worth the big

entrance. The hops

is largely grown

down under and

offers punchy notes

of passion fruit,

peach, pineapple

and other tropical

fruits. The hop is

very often used in a

dry hopping method

to really emphasise

the powerful punch

it packs. Good

examples of beer

with galaxy hops

include Beyond

the Pale by Point

Brewing Co and

Walkabout Pale Ale

from Flat 12.

GOLDEN ALE

Anything golden has

to be good right?

Well, in the guise of

golden ale then that

is certainly true. A

ray of sunshine in

the drinking world,

golden ale is usually

pale, well-hopped

and light on the

tastebuds. Naturally

pale or straw

coloured, these

beers normally have

citrusy hop flavours

and don't weigh

in too strongly on

the ABV scale. You

can count Hika by

Maule Brewing and

Bombay Honey by

the Indian Brewing

Company as two

of our favourite

examples of good,

honest, clean golden

ales.

GRAVITY

No, we're not talking

about how much

you weigh on the

moon here, we're

talking about

a brewing term

that refers to the

amount of dissolved

solids in the liquid

you are drinking.

Within beer, that

usually refers to

sugars. Gravity

is measured in a

pretty complicated

way with lots of

numbers, but all

you need to know

is that the higher it

is, usually means

it has a higher ABV

too. It tends to mean

different things to

different beer styles

too. We won't lie that

it is one for the more

serious beer geeks,

but it definitely can

improve your beer

tasting experience

getting to know it.
---
GRIST

It may look a bit

like regurgitated

porridge, but grist is

an essential part of

the brewing process.

The term refers to

the substance you

are left with after

grinding the malt

and cereals for a

brew – it is one of

the very first stages

in the glorious

process of creating

beer. These malt

and cereal grains

can be ground (or

milled) either dry or

wet to offer different

outcomes and can

also be milled to

different levels of

fineness.

GERMINATION

This term might

sound like it doesn't

belong in beer, but

it actually plays a

mighty important

role. When barley

grain goes through

a process known as

malting, germination

refers to when

the grain begins

to sprout when

submerged in water.

This process can be

halted at any stage

by simply drying

the barley out – and

different levels of

germination equate

to different kinds

of beers. Bet you

wished you'd paid

more attention in

chemistry classes at

school now, eh?

A

GOBLET

Before your inner

Harry Potter fan

gets too excited,

these goblets are

not of fire, but of

beer. A goblet (or

chalice) is one of the

larger types of beer

glass around and is

often characterized

by a large, goldfish

bowl-shaped

drinking vessel

mounted onto a

thick and sometimes

long stem. Normally

they are used for

European style

beers like Belgian

ales (particularly

Trappist ones) and

German bocks. Their

grand nature can

often be perfectly

complemented by

a gold rim – so you

can still feel like a

wizard, even though

it has NOTHING to do

with Harry Potter.
---
WE'RE GROWING...

WANT TO BE PART OF OUR STORY?

SINCE OUR LAUNCH OVER A YEAR AGO, HOPULIST HAS ATTRACTED

OVER 32,000 VIEWS AND GROWING. WE HAVE ATTRACTED

READERS FROM AROUND THE GLOBE – AND NOW WE WANT TO

SHARE OUR SUCCESS.

CONTACT US TODAY TO FIND OUT HOW YOU COULD USE OUR FAST-

GROWING PLATFORM TO REACH AN EXPANDING AUDIENCE OF

DISCERNING AND GENUINE CRAFT BEER DRINKERS.

COME RAISE A GLASS WITH US…

INFO@HOPULIST.COM
---
11/03

UN|TED k|NGDOM

Style:

SESS|ON |PA

ABV: 4.2%

Volume: 440ML

Brew By Numbers is one

of those brewers that

represents the core of what

craft beer is all about and

this take on a session IPA is

a thing of sheer perfection

in our eyes. It's a blast of

mosaicy goodness.
---
You know you make

good beer when you

don't even have to give

your brews fancy names and

slogans, you just number them.

Okay, so the guys at Brew By

Numbers, based in Bermondsey

in London, are nowhere near

that arrogant to put it like that

themselves. But the fact that its

beers are named with a simple

numbering system shows that

their hearts and minds are in

the right place: focused on

quality brewing.

BBNo is the brainchild of

Tom and Dave, who met on

a rock climbing tour around

Asia. After discovering their

mutual interest in craft beer,

the two joined up on their

return to London along with a

third party, Tom, and created

a microbrewery they hoped

THE

GOLD

CLUB

IN THIS SERIES

WE EXAMINE THE

BEERS THAT WE

THINK HAVE TOUCHED

PERFECTION. JUST

HOW DO THEY DO IT?
---
would deliver IPAs and Pale Ales that did things

differently and did things well. And so Brew

By Numbers was born. The ethos is to create

forward-thinking beers that focus on quality

and drinkability – whether that's perfecting

traditional styles, or creating new ones entirely.

And we just happen to believe one of their very

best beers is the one you see right before you.

Brew By Numbers describes 11/03 – its

session IPA created only with the single hop

mosaic – as a beer with "all the hop character

of an Indian pale ale, crammed into a low

ABV beer. Mosaic hops take centre stage

here." Now, before we go any further, we must

unashamedly admit that one of the reasons we

THE ETHOS IS TO CREATE FORWARD-

THINKING BEERS THAT FOCUS ON

QUALITY AND DRINKABILITY.

love this beer so damned much is that mosaic

is among our top three hops in brewing. But

that aside, we simply have to share this beer

with you due to its all round quality.

The hazy golden colour when poured

is only the beginning of the pleasurable

experience that is drinking this beer. When

you bring it to your nose, you'll enjoy those

oh-so-familiar notes of lemon, mango

and other citrus fruits as well as a grassy,

piney undertone. The taste packs a similar

punch with those citrus flavours perfectly

complementing a mild bitterness and

essence of malt. But the punch does not

leave you on the floor, the beer has a light

finish and a relatively light mouthfeel, which

reminds you that this isn't some heavyhitting

DIPA, it's a session beer, that you can

enjoy several of without losing your senses.

Quite frankly, this is a beer that is just so

ridiculously drinkable it kind of summarises

exactly what Brew By Numbers is about. It

doesn't rely on a witty name or some crazy

pyschadelic artwork on the can (although

just for the record and with our designer's

cap on, we absolutely love these latest slick

and clean can designs) – it simply relies on

a beer that will get you telling your friends

about it and desperately trying to remember

the number combination that is it's name.

Brew By Numbers makes several of these

types of beers in its 11 range of session

IPAs, and many of those combine mosaic

with other well-suited hops – but for us this

is mosaic at its purest, mosaic at its finest

and mosaic delivered in a no frills way that

is hard to resist. And it's important to pay

homage to this hops, as it was one of the first

major hops to be picked up by American

and British craft brewers to start developing

beers that offered some real punchy flavour

with citrusy twang. And we all have a chance

meeting on a rock climbing adventure in

China to thank for a beer that us at Hopulist

couldn't imagine being without. Cheers.
---
OUR FAVOURITE

CRAFT BEERS OF

THE MOMENT.

SO GOOD WE

ARE DRINKING

THEM AT HOME.
---
WYLAM

THE SHAPE

DDH IPA

A limited edition IPA

packed with hops

giving a powerful citrus,

orange peel aroma with

traces of pale malt. The

taste is an explosion

of ripe mango, orange

and pineapple. Overall

an excellent IPA, well

balanced and as packed

with fresh hop flavours

as you would hope and

expect from a drink of

this style.

ABV: 6.7%

Colour: Hazy gold

Aroma: Malt/citrus

Taste: Orange/citrus
---
MAGIC ROCK

THE WAVE

PROJECT

DDH SESSION IPA

The wave project UK

supports 1,000 people

every year through surf

and beach therapy to

help young people feel

less anxious. So when

you buy this satisfying,

tropical fruit flavoured,

session IPA you will

also be supporting a

worthwhile cause as

part of the proceeds

is going directly to the

registered charity.

ABV: 5.2%

Colour: Yellow

Aroma: Tropical/pine

Taste: Tropical/pine
---
DURATION

TURTLES ALL

THE WAY DOWN

AMERICAN PALE

It's been a long time

coming, but the wait

to sample some of

Duration's fine work

has been worth it. This

supremely balanced

and well-rounded

American pale has a

full arsenal of different

hops including magnum

and mosaic, hallertau

blanc grist that cast a

spell on the tastebuds.

We can't wait for more.

ABV: 5.5%

Colour: Hazy gold

Aroma: Tropical/citrus

Taste: Tropical/citrus
---
NORTH BREWING

ORIGIN OF

WATER

BRUT IPA

This is a beer that is

right on trend, perfectly

showcasing the German

Hallertau Blanc hops.

The aroma and the

taste of this beer are

clear and clean and

almost a little wine-like

in places. The mouthfeel

is incredibly light and

bubbly and it ends with

a slight biscuity malt

flavour, but the overall

impression is crisp and

light

ABV: 6%

Colour: Pale gold

Aroma: Fruity, wine

Taste: Wine, biscuit,

malt
---
GARAGE

LEFT SAIGON

SESSION IPA

Spanish stalwarts

Garage have done it

again with a juicy IPA

brewed in collaboration

with Civil Society and

3 Stars. A New England

style loaded with hops

give a definate citrus

burst along with some

mild maltiness. Well

made, very sessionable

and incredibly hazy.

ABV: 4.8%

Colour: Hazy gold

Aroma: Citrus

Taste: Citrus/malt
---
EVIL TWIN

KEY LIME PIE

IPA

A beer like this is always

going to attract our

attention because it's so

unusual. Evil Twin has

pulled it off though, with

an outstanding aroma

that carries lime and

other citrus notes that

gives way to a punchy

sour flavour that

delivers on all fronts.

Forget about desert,

have this instead.

ABV: 7%

Colour: Hazy gold

Aroma: Limes

Taste: Limes
---
CIB

SHELL SHOCK

IPA

Unless you are

fortunate enough to

find yourselves in the

Cayman Islands it is

unlikely you will get hold

of this, luckily we know

a man on the island who

supplied us with a few

bottles of 'The Island

IPA'. A Crisp tropical

fruit aroma and flavour

with a slightly bitter

aftertaste. We just wish

we were drinking it on

Seven Mile Beach...

ABV: 5.2%

Colour: Copper

Aroma: Tropical/citrus

Taste: Tropical/toast
---
BURNT MILL

GALAXY FOG

IPA

The first in a series of

single hop beers being

produced by Burnt Mill,

fermented with London

Fog yeast. Galaxy hops

bring huge peach and

passion fruit aromas

to this strong IPA. The

taste is big on grapefruit

with a real chewy hoppy

aftertaste. We can't wait

to try the others in the

range.

ABV: 6.4%

Colour: Gold

Aroma: Peach/tropical

Taste: Grapefruit
---
OUTER RANGE

NATURE SHAPES

DDH IPA

Outer Range Brewing

Company are based in

Frisco, Colorado and

from the few beers we

have tried from their

range we think they

are well worth keeping

an eye out for. This

IPA is a straight up

fruit juice fest with

prominent citrus aroma

and flavours. Orange,

grapefruit, lemon... you

name it, it's in there.

ABV: 6.2%

Colour: Hazy yellow

Aroma: Tropical fruits

Taste: Tropical/malt
---
NEXT ISSUE READY FOR CONSUMPTION

SUMMER 2019
---
! FACEBOOK.COM/ HOPULIST/

$ @HOPULISTMAGAZINE

SEARCH THE HASHTAGS:

#HOPULIST #HOPULISTMAG

E: INFO@HOPULIST.COM

W: HOPULIST.COM

TO ADVERTISE

OR IF YOU WOULD LIKE

YOUR BREWERY, TAP ROOM

OR PRODUCT TO APPEAR IN

HOPULIST PLEASE CONTACT:

INFO@HOPULIST.COM

EDITORIAL: DAVID GUEST

DESIGN: MARK GRAFTON