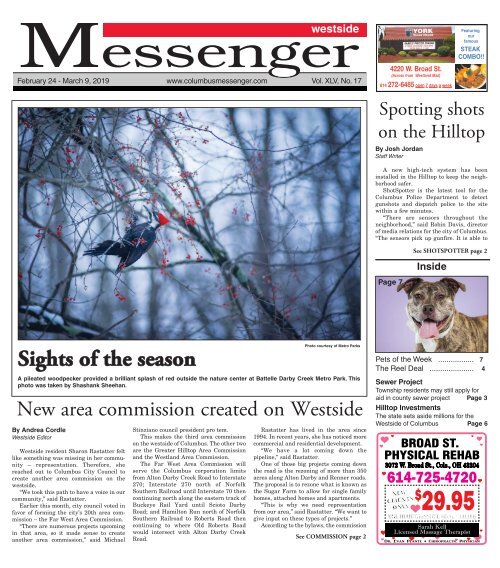 Westside Messenger - February 24th, 2019
Create successful ePaper yourself
Turn your PDF publications into a flip-book with our unique Google optimized e-Paper software.
westside

February 24 - March 9, 2019 www.columbusmessenger.com Vol. XLV, No. 17

4220 W. Broad St.

(Across from Westland Mall)

614 272-6485 open 7 days a week

Featuring

our

famous

STEAK

COMBO!!

Spotting shots

on the Hilltop

By Josh Jordan

Staff Writer

A new high-tech system has been

installed in the Hilltop to keep the neighborhood

safer.

ShotSpotter is the latest tool for the

Columbus Police Department to detect

gunshots and dispatch police to the site

within a few minutes.

"There are sensors throughout the

neighborhood," said Robin Davis, director

of media relations for the city of Columbus.

"The sensors pick up gunfire. It is able to

Page 7

See SHOTSPOTTER page 2

Inside

Sights of the season

Photo courtesy of Metro Parks

A pileated woodpecker provided a brilliant splash of red outside the nature center at Battelle Darby Creek Metro Park. This

photo was taken by Shashank Sheehan.

New area commission created on Westside

By Andrea Cordle

Westside Editor

Westside resident Sharon Rastatter felt

like something was missing in her community

— representation. Therefore, she

reached out to Columbus City Council to

create another area commission on the

westside.

"We took this path to have a voice in our

community," said Rastatter.

Earlier this month, city council voted in

favor of forming the city's 20th area commission

— the Far West Area Commission.

"There are numerous projects upcoming

in that area, so it made sense to create

another area commission," said Michael

Stinziano council president pro tem.

This makes the third area commission

on the westside of Columbus. The other two

are the Greater Hilltop Area Commission

and the Westland Area Commission.

The Far West Area Commission will

serve the Columbus corporation limits

from Alton Darby Creek Road to Interstate

270; Interstate 270 north of Norfolk

Southern Railroad until Interstate 70 then

continuing north along the eastern track of

Buckeye Rail Yard until Scioto Darby

Road; and Hamilton Run north of Norfolk

Southern Railroad to Roberts Road then

continuing to where Old Roberts Road

would intersect with Alton Darby Creek

Road.

Rastatter has lived in the area since

1994. In recent years, she has noticed more

commercial and residential development.

"We have a lot coming down the

pipeline," said Rastatter.

One of those big projects coming down

the road is the rezoning of more than 350

acres along Alton Darby and Renner roads.

The proposal is to rezone what is known as

the Sugar Farm to allow for single family

homes, attached homes and apartments.

"This is why we need representation

from our area," said Rastatter. "We want to

give input on these types of projects."

According to the bylaws, the commission

See COMMISSION page 2

Pets of the Week ................. 7

The Reel Deal ..................... 4

Sewer Project

Township residents may still apply for

aid in county sewer project Page 3

Hilltop Investments

The state sets aside millions for the

Westside of Columbus Page 6

BROAD ST.

PHYSICAL REHAB

3072 W. Broad St., Cols., OH 43204

614-725-4720

$

29.95

ONE HOUR MASSAGE (Reg. $60.00)

NEW

CLIENTS

ONLY

Sarah Kell

Licensed Massage Therapist

Dr. Evan Plante • Chiropractic Physician
---
PAGE 2 - WESTSIDE MESSENGER - February 24, 2019

Community hours at

ird Way Cafe

Columbus City Council's newest member,

Shayla Favor will hold community

hours from 1 to 2:30 p.m. Feb. 26 at Third

Way Cafe, 3058 West Broad St. in

Columbus to listen to the issues and concerns

of Columbus residents. Community

Hours will allow citizens the opportunity to

address their questions and concerns,

along with discussing how city council can

be of assistance. For more information,

contact Ralonda Hampton at 614-645-5524.

Pancake breakfast

Magnolia Masonic Lodge #20 will host

its annual pancake breakfast fundraiser

from 8 to 11 a.m. Feb. 23 at The Luther B.

Turner Masonic Temple, 2933 Valleyview

Drive in Columbus. Breakfast for adults is

$8 and $5 for children under 14 and

community events

SHOTSPOTTER

Continued from page 1

includes all-you-can-eat pancakes,

sausage, juice and coffee. Tickets can be

purchased at the door or through

www.magnolia20.com.

www.columbusmessenger.com

Immunizations in Prairie Twp.

Franklin County Public Health offers

adult and childhood immunizations on

March 21 at the Prairie Township Fire

Department, 123 Inah Ave. Most insurance

plans accepted. Discounted services available

for those with no insurance. To schedule

an appointment, call (614) 525-3719 or

visit www.myfcph.org.

Community Plan Workshop

The Hilltop Community Plan Workshop

will be held from 6 to 8 p.m. March 14 at

the J. Ashburn Boys and Girls Club, 85

Clarendon Ave. For more information, visit

envisionhilltop.com.

SEARCHING

for More Qualified Employees?

March 24 th , 2019

Deadline: March 15 th , 2019 At 2pm

Special employment Section Featuring:

Job Openings

Job Fairs

Full and Part Time Employment

Seasonal Job Opportunities and more

ALL ADS ARE IN FULL COLOR. Contact us by phone or online to discuss special

advertising rates that are available for this section as well as combination rate

discounts for advertising in multiple coverage areas.

Westside • Southwest • Eastside • Southeast • Madison

614-272-5422

Kathy@columbusmessenger.com

Doughenry@columbusmessenger.com

be detected differently than cars backfiring or fireworks.

Then it's transmitted to a place in California

where live human beings listen to it so they can also

make those distinctions. Then it's sent back into the

dispatch system where the officers are notified."

According to the ShotSpotter company website, over

90 percent of gunfire within the systems zone will be

detected and located within 60 seconds of the incident.

This will lead to greatly improved response times.

"Right now, I've got police officers 100 percent dedicated

to responding to the alerts," said Deputy Chief

Richard Bash of the Columbus Police Department.

"They are not tied up on anything else. As soon as the

alert goes off, they are in the area and they respond."

The three areas of the city that were chosen for the

installation of the system are the Hilltop, Linden and

south side. One of the reasons the Hilltop was chosen,

other than the higher concentration of gunfire compared

to other neighborhoods, was the inability or

unwillingness of residents to report the shootings.

"For every one (shooting) that we do respond to,

there are many that aren't even called in," said

Sergeant Chantay Boxill of the Columbus Police

Department. "I think that the city is employing this to

try to get these people who are out there shooting, even

though they are not being reported."

COMMISSION

Continued from page 1

shall consist of nine commissioners. Six will serve as

at-large seats and must live within the commission

boundaries and three may be selected who live or work

within the commission area including Prairie and

Norwich townships or a representative from the area

school districts which include South-Western City

Accuratax of columbus

3099 Sullivant Ave. • 614-274-6900

(at the corner of Westgate & Sullivant)

Bring in This Ad and Receive a Discount!

"Serving The Hilltop Since 1983"

APPLIES ONLY TO

TAX RETURN PREPARATION

Hrs: Mon.-Thurs.

10 am - 6 pm

Fri. & Sat. 10 am-5 pm

Not Valid With Any Other Coupon

The system isn't just a response driven mechanism,

it will also be used to better understand the shootings

and help police combat shooting hot spots in the

future.

"That will allow us to deploy personnel to specific

areas of the Hilltop, not just general areas," said Bash.

"In the long run, what we want to do is reduce the

amount of shootings on the Hilltop. We can do that,

hopefully, by getting more illegal guns off the street."

The ShotSpotter has had incredible success in

reducing crimes in other major cities across the United

States, including Cincinnati, Ohio where violent

crimes were reduced by 40 percent.

However, Columbus Police want to let people know

that the new system is not all that is necessary to

bring these drastic changes to Columbus and the

Hilltop.

"ShotSpotter does not replace 911. Please continue

to call every time you hear a shot," said Bash.

"Residents have to be equal partners in the safety of

our community. Being willing to tell us what you see,

what you hear, what you know is extraordinarily

important. Encouraging your neighbors to be part of

the solution as well, not to be afraid to tell us who's firing

the shots or the car that was there or even who

these people were shooting at."

Schools, Columbus City Schools and Hilliard City

Schools. The commission must maintain a minimum of

two thirds majority of commissioners who are residents

of the city of Columbus.

Since the commission is just forming, Rastatter said

things will be a bit different for a while. Members of a

task force that helped create the commission

will serve as commissioners for an

interim period. Elections will be held in

August for three-years terms.

Rastatter encourages citizens to attend

the monthly commission meetings and

think about serving.

"There are 43,000 residents in this area,

and we need more people involved," she

said.

The Far West Area Commission will

meet the fourth Tuesday of each month at

7 p.m. at Hilliard Horizon Elementary

School, 6000 Renner Road in Columbus.

The next meeting will take place Feb. 26

and the Sugar Farm rezoning proposal is

on the agenda.

For additional information on the city's

newest area commission, visit farwestsidecbus.org.
---
www.columbusmessenger.com

February 24, 2019 - WESTSIDE MESSENGER - PAGE 3

Township Focus

Financial aid still available for sewer connection

By Amanda Ensinger

Staff Writer

Residents in Franklin Township still

have time to reapply for financial assistance

to connect to a new sewer system.

"Some people's financial situation may

have changed, so they can reapply and see

if they are eligible for financial assistance,"

said John Fleshman, township trustee at a

recent board meeting. "When some residents

applied, they may have not qualified

for assistance, but now they are retired or

less people live in their home, so they may

be eligible now."

The financial assistance is through the

Franklin County Department of Sanitary

Engineering and is for the Mon-E-Bak and

Broad Road East sewer connection project.

"Residents who live in the Mon-E-Bak

neighborhood and Brown Road East must

connect to the sewer system," said Stephen

Renner, director of sanitary engineering for

Franklin County. "Both areas have been

identified as having sever water quality

issues by Franklin County Public Health.

Septic tanks in these areas are leaking and

polluting the streams and rivers."

Renner said it is their duty to sewer the

areas, therefore a new system has been

built. However, residents will have to pay

to connect to the system.

According to Renner, it will cost

Franklin Township residents between

$9,000 and $12,000 to connect to the system.

"Approximately 600 homes will be connecting

to the system, however we anticipate

nearly half the population in the project

area to qualify for the financial assistance

program," Renner said.

Residents who receive financial aid

assistance will receive a zero percent interest

loan.

"If you qualify, we will put a lien on the

parcel and each year the lien will decrease

by 10 percent," Renner said. "By 10 years it

goes away. It is like receiving a grant."

If residents want to get an additional

loan on their property for home improvements

or other projects, the lien can take

second position and the new loan can take

the first position.

However, Renner said if a homeowner

sells their home, they or the new homeowner

would need to pay back the loan.

Fleshman said after granting the first

round of financial aid, the county has about

15 more spots available for financial assistance.

For a financial aid application, contact

the department of sanitary engineering at

614-525-3940.

In other news, the board discussed the

sale of blighted properties in the township.

"In group one we have sold five properties

and have received approximately

$112,000," said Robyn Watkins, assistant

fiscal officer for Franklin Township. "In

group two we have about two to three properties

we will be selling."

According to leadership, the properties

the township owns were given to the township

due to them being abandoned, blighted

or owed past taxes.

"All the money raised from the sale of

these houses will go into a capital improvement

fund and be used for improvements in

the community," Fleshman said. "That

could be used to build a community meeting

place, a separate building for the police

department or expanding parking at township

hall. It won't be used for salaries and

will be reinvested in the community."

ST. MARGARET OF

CORTONA CHURCH

21st Annual

"Best Fish Fry Dinner in Town!"

Six Fridays during Lent: March 8 th -April 12 th

4:30 - 7:30 PM

Fried Ocean Perch or Baked Cod, with French Fries, Baked

Potato or Sweet Potato, Macaroni & Cheese, Cole Slaw,

Applesauce, Roll & Butter, homemade desserts. FREE COFFEE!

ADULTS: $10.00 • SENIORS $9.50;

CHILDREN (10 & UNDER) $5.00 (Free under 3)

Pop, Beer, Seconds & Carryouts available

1600 N. Hague Ave. INFO: 614-279-1690

CHOCTAW LAKE

CRAFT BAZAAR

Sat., March 2 nd

9:00 am - 3:00 pm

Choctaw Lake Lodge

2875 Oneida Dr.

London

STOP IN FOR

LUNCH!

Dancing with Dad

Photo courtesy of Will Martello

It was date night for some local dads and their daughters. On Feb. 8, the Prairie

Township Community Center hosted the special event for fathers and daughters.

The pairs got dinner and had a fun evening of dancing.

Just Enrolling K-8

Ask about our early entrance kindergarten program

Tuition is FREE!

ENROLLING NOW for 2019-2020 2018-2019 school year!

Hurry, spots fill up quickly!
---
PAGE 4 - WESTSIDE MESSENGER - February 24, 2019

In Entertainment

Academy Awards sure to be a hot mess

The ceremony for the 91st annual

Academy Awards has yet to take place but

the fact remains that this is nothing short

of a hot mess already. The drama surrounding

the event began last summer

when the governing body of the academic of

motion picture arts and sciences decided to

add an "Outstanding Achievement in

Popular Film" category to the broadcast

this year. This change, explained the

board, was to honor those films that would

have otherwise been ignored by its snootiest

members (paraphrased) and invite a

new audience to its dwindling televised

audience (paraphrased). In the end, the

board cancelled its plans and it remains to

be seen whether this category will be featured

in future telecasts.

Shortly after this debacle, the Kevin

Hart debacle began and then came the

decision to do away with hosts.

Then, just the other week, the board

announced four categories — cinematography,

film editing, live action short and

makeup and hairstyling — would be presented

during commercial breaks to save

time. They said they had the blessing of the

individual guilds to do so, which apparently

they did not. After a celebrity-filled outpouring

of anger, the four categories are

now back to being televised.

It's common for some drama to take

place at the actual ceremony but the

behind the scenes drama this year has and

will put everything else to shame. I had

debated on whether to watch the telecast

as I am not terribly impressed by the nominated

films, but I am now compelled to see

if the mess spills over on live television.

I was afraid that "Isn't it Romantic"

would be like "I Feel Pretty," a movie about

a beautiful woman who has no confidence

and only gains said confidence through

trauma to the brain. Then, along the way,

her dream man falls in love with her and

she miraculously recovers from her brain

trauma and believes his love was fake since

those ugly clouds of self-doubt have suddenly

resurfaced.

I think it is safe to say that we, the general

public who often goes to see female-led

comedies and romantic comedies, are tired

of these tropes. You can address the lack of

confidence in a person without being

bonked in the head and discovering their

self-worth in the aftermath. But I digress

because "Isn't it Romantic" is not like that

at all. Yes, it does have transformative

brain trauma and it does deal with a lack of

self-confidence but it does so in a sly, meta

way. This is a movie within a movie within

a parody movie. It pokes fun at common,

The Reel Deal - Oscar Predictions and Movie Review By Dedra Cordle

Also, I like making predictions and watching

as they come true and I get one step

closer to collecting a sweet lump sum of less

than $5 in a betting pool. So, whether you

join me in watching a possible train wreck

or not, here are some of my predictions for

the major categories — all of which will definitely

be televised.

Best Supporting Actress

Amy Adams (Vice)

Marina de Tavira (Roma)

Regina King (If Beale Street Could Talk

Emma Stone (The Favourite)

Rachel Weisz (The Favourite)

Prediction: Regina King is a presumptive

front-runner for her portrayal as a

mother intent on proving the innocence of

her daughter's incarcerated love in "If

Beale Street Could Talk." The one thing

that gives me pause, however, is the fact

that she was not nominated for a Screen

Actors Guild award and actors make up a

majority of the voting academy. Hot on the

veteran actor's heels is Rachel Weisz, who

received a BAFTA for her role as Queen

Anne's childhood friend and secret lover in

"The Favourite." Though Weisz is trending

upward, I predict King is going to take

home the gold. She should also stay away

from courtside seats lest she wants to be

featured in the 'In Memoriam' segment.

Best Supporting Actor

Mahershala Ali (Green Book)

Adam Driver (BlacKkKlansman)

Sam Elliott (A Star is Born)

Richard E. Grant (Can You Ever

Forgive Me?)

Sam Rockwell (Vice)

Prediction: Like the previous category,

Mahershala Ali is the presumptive frontrunner

for his role as pianist Don Shirley

in Green Book but unlike that category no

other nominees are hot on his heels. Ali is

going to receive his second supporting actor

Oscar in three years. (He won for

"Moonlight" in 2017).

Best Actress

Yalitza Aparicio (Roma)

Glenn Close (The Wife)

Olivia Coleman (The Favourite)

Lady Gaga (A Star is Born)

Melissa McCarthy (Can You Ever

Forgive Me?)

Prediction: This category is intriguing

for many reasons. Yalitza Aparicio is the

first indigenous woman to be nominated for

Best Actress, personal favorite Melissa

McCarthy delivered a nuanced performance

as talented writer and famed forger

Lee Israel, and Olivia Coleman, Lady Gaga

and Glenn Close have all battled it out at

various award shows. But I think the recipient

this year will be Close for her portrayal

as the supportive wife of a famed author

who has some hidden secrets.

Best Actor

Christian Bale (Vice)

Bradley Cooper (A Star is Born)

Willem Dafoe (At Eternity's Gate)

Rami Malek (Bohemian Rhapsody)

Viggo Mortensen (Green Book)

Prediction: As with its Best Actress

counterpart, this category is a little unpredictable.

Earlier this year, Bradley Cooper

was supposed to be the frontrunner but his

win is not likely to happen. Instead, it is

going to be between Christian Bale for his

transformative performance as former Vice

"Isn't it Romantic" is charming and cute

and sometimes dangerous, tropes in

female-led comedies and romantic comedies

while being both comedic and somewhat

romantic.

It begins with the introduction of

Natalie (Alexandra Kis), a young

Australian girl who loves romantic comedies.

While watching "Pretty Woman," her

mother (a delightful and underutilized

Jennifer Saunders) catches that dreamy

look in her eyes and cynically tells her that

love doesn't happen for people who look

like them and that everything she has been

told about love is a lie. It's played for

laughs, and it gets them, but you can see

that message sink in through the young

girl's brain as she furrows her brow

throughout the rest of "Pretty Woman."

It then flashes forward 25 years to

where an adult Natalie (Rebel Wilson) is

an architect living in New York City. But

this New York City is not like the idealized

versions, neither is Natalie's life. Though

www.columbusmessenger.com

President Dick Cheney and Rami Malek for

his struggle with prosthetic teeth while

portraying the dazzling Queen front man

Freddie Mercury in "Bohemian Rhapsody."

In the end, I think Malek is going to take

home the statue but put those fake teeth on

his mantle instead.

Best Picture

BlacKkKlansman

Black Panther

Bohemian Rhapsody

The Favourite

Green Book

Roma

A Star is Born

Vice

Prediction: I have no clue. All of these

films have taken home awards — "Black

Panther" won Best Ensemble at the SAG

awards which is a strong indicator of which

film might take home Best Picture — and

all have a little bit of controversy surrounding

them. Some feel that "Black Panther" is

going to take home the trophy but I have a

feeling there are far more snooty members

of the academy than previously believed. In

my opinion, it's between "The Favourite,"

"Green Book" and "Roma" for the top prize

and the academy is going to go the safest

route and choose the working class drama

"Roma" despite it being a "Netflix film."

They'll make some allowances but no comic

book movies just yet (or likely ever).

The 91st annual Academy Awards ceremony

will be televised Feb. 24 on ABC

starting at 8 p.m. As they say on decorative

pillows and throws 'Bless this Mess.'

Dedra Cordle is a Messenger staff writer

and columnist.

she has a great job, she lives in a cramped

apartment with a limited wardrobe and a

dog who doesn't listen to her. Meanwhile,

at her workplace, the office is equally as

cramped and unflatteringly lit and she has

coworkers that don't listen to her either.

After losing the courage to speak up at a

pitch meeting, she spies her assistant

Whitney (Betty Gilpin) watching a romantic

comedy and unleashes a tangent about

the harmful tropes of that genre. That

scene, of course, is shown via montage.

At the end of the day, on her way back

home to the dog that doesn't listen to her,

she meets a seemingly pleasant fellow who

shows interest in her. She is not surprised

when he turns out to only want her purse

and is knocked unconscious during the

ensuing subway fight. When she wakes,

her life has been changed: the city is clean

and the shops are filled with love themes,

her apartment has been transformed into a

luxurious abode, her dog has begun to listen

to her and she has a new best friend

(Brandon Scott Jones) on demand. To confuse

her even more, she draws the attention

of Blake (Liam Hemsworth), the

obnoxious billionaire who dismissed her

presence in the pitch meeting, who is now

smitten with this "beguiling creature."

Fearing that she will be trapped in this

horrible romantic comedy nightmare forever,

she tries to follow the stereotypes laid

out in romantic comedies of yore but finds

that it is easier said than done.

I wasn't expecting much from "Isn't it

Romantic" but I came away from this film

utterly charmed by the characters, its

actors and even the message. It's not a

must-see at the theaters, but it's a good

watch for those looking for something cute,

funny and simple. Grade: B

Dedra Cordle is a Messenger staff writer

and columnist.
---
www.columbusmessenger.com February 24, 2019 - WESTSIDE MESSENGER - PAGE 5

In Education

Westside advocate to end term on school board

After more than

a decade of leading

education policy and

advocacy in

Columbus and

championing the

successes of Ohio's

largest school district

at the state and

national levels,

Columbus Board of

Education President

Gary Baker II announced plans to make

2019 his final year of service.

"From my very first day in 2008, I have

always believed passionately that serving

on a board of education is one of our community's

highest callings, as we directly

impact and empower our city's most precious

gifts - the children and young adults

of Columbus," said Baker. "Though the

work of our school board is never done, I

feel that our district is now in the right

position to reach the levels of achievement

this community expects and our children

deserve."

Among the advances in Columbus City

Schools during Baker's terms in office, the

district:

•Established nearly 2,100 pre-kindergarten

seats and transitioned Columbus

City Schools into the city's leader in offering

high-quality early childhood education.

•Led a community-wide effort on primary

reading that more than doubled the

percentage of third graders promotable to

fourth grade four years in a row.

•Served more students with limited

English proficiency and special needs than

any other district in the region.

•Closed the achievement gaps that historically

separated student groups and

increased test scores, with the most recent

state report card showing more Columbus

students meeting or exceeding proficiency

levels on 16 of 21 state assessment measures.

•Took the historic step to offer both

breakfast and lunch to all students at no

charge.

•Opened 37 new or renovated school

buildings since 2008 while at the same

time closing or consolidating nearly two

dozen unneeded buildings.

•Reduced administrative overhead,

trimmed budgets, closed under-utilized

schools, sold unneeded properties, and

launched a $125-million bond-supported

infrastructure repair program to address

years of deferred maintenance.

•Implemented protective digital and

physical data review systems to provide

constant updates on vital compliance

measurements for enrollment, attendance

and academic measures, further ensuring

the fidelity and accuracy of student-related

data.

•Increased transparency and accountability

with the launch of the district's first

online Digital Dashboard with insight into

student attendance, enrollment, and academic

achievement, the first Financial

Dashboard with access to see finances, payroll,

and funding sources, and the first

Columbus City Schools Mobile App.

"As I look ahead, I see a new reality on

the horizon for our schools and education,

influenced by broader trends outside our

classrooms, in our neighborhoods, in the

halls of the Statehouse, and in

Washington," said Baker. "I see commitment

and dedication coming to the table in

the newest members of our board and our

incoming superintendent. For this reason,

I am comfortable concluding my term

knowing that there is a clearly-defined,

long-term strategic plan that will serve as

a blueprint to continued success."

Baker will finish out his current term on

the board through the end of the calendar

year.

JEFFREY P. COMPTON

ATTORNEY AT LAW

General Practice

Personal Injury • Domestic

Probate • Wills

Power of Attorney

Healthcare Documents

FREE CONSULT & PARKING

614-875-7233 Fax: 614-875-7207

3894 Broadway, Grove City

www.jeffreypcompton.com

Email: jcompton@jeffreypcompton.com

Bishop Ready senior Cade Dent is pictured here with Ready Athletic Director

Steven McQuade.

Honored for leadership

Bishop Ready senior Cade Dent

received the Scholastic Player Voted

Outstanding in School Leadership,

Academic Achievement, and Football

Performance (CCL) Award by the

National Football Foundation at a formal

ceremony held at the Archie Griffin

Grand Ballroom at The Union at OSU in

mid-February.

The award carries with it a scholarship

grant from the John McConnell and

Worthington Industries Foundation.

Dent is an honor roll student, member

of the Ready chapters of the National

Beta Club and National Honor Society

and the Ready Student Council. He has

been named second team/all CCL and

honorable mention/all district in football

and second team/all CCL in baseball.

Dent also played basketball throughout

high school.

He is the son of Leslie and Buck Dent

of Columbus.
---
PAGE 6 - WESTSIDE MESSENGER - February 24, 2019

Central Ohio is on track to become a

region of 3 million people by 2050, according

to the latest population estimates from

the Mid-Ohio Regional Planning

Commission

The estimates are developed annually

by MORPC to provide up-to-date insights

into the patterns of growth in the 15-county

region (which includes Madison County).

"Estimating current populations and

projecting future growth are important to

local governments as ways to inform longrange

planning efforts for villages, townships,

cities and counties. Keeping track of

growth in the region has important implications

for how communities plan for the

future," said MORPC Executive Director

William Murdock.

In 2018, MORPC estimates that the

region saw an increase of 43,000 residents

— enough to fill both Nationwide Arena and

the Schottenstein Center to capacity simultaneously

and the largest single-year of

growth in Central Ohio's history. This

equates on average to 118 people coming

into the region each day. The region's total

population is now estimated to be 2.4 million

people.

Franklin County accounted for 70 percent

(1.3 million) of the regional population

increase, gaining nearly 30,000 residents,

an additional 82 new residents per day.

This continues a trend of strong growth in

the region's core, which began around

2010. The trend in recent years is a significant

shift from the suburban sprawl that

characterized the prior several decades.

From 2000-2010, Franklin County saw just

40 percent of the region's total growth.

The city of Columbus also achieved a

significant milestone in 2018, surpassing

900,000 residents for the first time. The

region's largest city added nearly 22,000

residents over the past year, a full fifty percent

of the regional total.

MORPC has identified several factors

that are fueling the region's growth.

Migration, both domestic and international,

is a key component. Since 2010, for

every resident gained from natural population

growth, another moved into the region.

Migration into the region is a mix of residents

from elsewhere in the United States,

www.columbusmessenger.com

Repairs and replacements needed in South-Western

By Dedra Cordle

Staff Writer

The condition of the windows and entry

doors at one building in the South-Western

City Schools District prompted the board of

education to approve a replacement bid by

urgent necessity at the Feb. 11 meeting.

According to Mark Waller, the coordinator

of property services and construction

projects, the action was taken due to the

rejection of two bids to replace the doors

and windows at East Franklin Elementary

School.

"We received two bids for this project

and both of them exceeded the architect's

estimated cost by 10 percent," Waller said.

"That excess is an automatic rejection."

Due to the nature of this project, Waller

said it was imperative that the board not

enter into another bidding process.

"It's a lengthy process and sometimes it

can take between four and six months for

windows to be delivered," he said. "We

want to get these items ordered and

installed before the start of the new school

year."

Waller said there is no danger posed to

the students and staff due to the condition

of the windows and doors but there is a

need for safety upgrades.

"Some of those doors and windows are

originals from the school, which I think

was built in the 1960s," he said. "They have

received a lot of wear and tear through the

years and it is time they are replaced and

brought up to current day safety standards."

With the urgent necessity approval, the

board entered into a contract with Summit

Construction to replace the windows and

entry doors at East Franklin Elementary

at a cost of $422,000. Waller estimates the

work will begin around June 3 and will be

completed before the start of the 2019/20

school year.

The board of education also approved a

bid to the JB Roofing Company, A Tecta

America Company, to partially replace the

roof at Central Crossing High School. The

cost of the project, which will replace several

"low-slope" sections of the main building,

is $217,770.

Last month, the board approved a complete

roof replacement at East Franklin

Elementary and Grove City and Westland

high schools at a cost of $5.3 million.

Waller said the work on each of those projects

is slated to begin on June 3 and be

completed in time for the start of the new

school year.

Central Ohio population to reach three million by 2050

including people from other places in Ohio,

and a significant number of residents moving

to the region from abroad.

Looking to the future, MORPC's forecasts

call for continued steady growth in

Central Ohio, with the region reaching the

3 million mark in 2050. Prolonged population

booms like the one the region is currently

experiencing could drive that number

even higher, while economic slowdowns

or other unforeseen factors could have a

dampening effect. For this reason, MORPC

models a range of growth for the future and

uses the most likely scenario for its projections.

"What's important is that Central Ohio

is a rapidly growing region, and that

growth is not showing signs of slowing

down. Collectively as a region, we have the

opportunity to plan for this growth in a

sustainable way that delivers a range of

transportation options, offers affordable

housing options, ensures all residents have

opportunities for economic success, and

makes efficient use of our resources," said

Murdock.

State invests millions in the Hilltop

State Rep. Adam Miller (D-Columbus)

recently announced the Controlling Board

approved the release of $110 million in

state investments for two major projects in

Columbus's Hilltop neighborhood, including

$110 million in facility funding at the

Twin Valley Behavioral Healthcare

Hospital and more than $1.2 million for the

Housing Development Assistance

Program's Hilltop City Cottages Project.

"Investing in neighborhoods is more

than investing in steel and concrete; it's

investing in the people that make it a community,"

said Miller. "These projects will

provide much-needed services, create jobs

and continue historic revitalization efforts

on the city's westside."

The $110 million will help to replace the

Kosar civil hospital facility at the Hilltop's

Twin Valley Behavioral Healthcare

Hospital. Twin Valley provides recoverybased,

comprehensive, quality, cost-effective

mental health services to adults with a

severe mental illness in a secure inpatient

setting. They work with mental health centers

to link patients with an outpatient

treatment team or their own psychiatrist

to maintain their progress in their community.

The City Cottages project includes funding

for the construction of six rental homes

on land bank sites in the Hilltop.

Construction is scheduled to begin this

year. The project is funded, in part, by the

Ohio Housing Finance Agency, which provides

funding for the development, rehabilitation

and financing of low- to moderateincome

housing. It is an independent state

agency.

The State Controlling Board is a joint

committee of the Ohio General Assembly

that performs legislative oversight over

capital and operating expenditures by

state agencies.
---
www.columbusmessenger.com

Pet Corner

Pets of the week

These furry friends are available

for adoption at local

rescues and shelters

February 24, 2019 - WESTSIDE MESSENGER - PAGE 7

Mamas is such a

sweet heart. She is so

wiggly and adorable.

This 7-year-old pit

bull mix loves attention

and is very

social. She loves

everyone she meets.

She enjoys exploring

and walking, and

can't wait to adventure with you. She would

need to be the only female dog in the home

but she would do well with a male dog where

she can be the boss. She loves to cuddle with

her human friends. Adopt Mamas from the

Franklin County Dog Shelter.

FYI: 614-525-3647 or www.franklincountydogs.com

Marcus is a wiggler.

He is a bouncy,

happy guy who is

excited about everything.

This 2-year-old

pit bull mix would love

a family with the time

and patience to help

him learn his basic

manners and commands.

He can't wait to find his forever home

so he can run and play all day with his new

favorite people. He likes to play with other

dogs, but is a little overwhelming for some. He

needs to meet any potential furry friends

before adoption. Marcus does have some

medical issues that need addressed so a person

or family with an established vet is recommended.

Meet him at the Franklin County Dog

Shelter.

FYI: 614-525-3647 or www.franklincountydogs.com

Maude is being

retired and is looking

for a new home. She

is a 26-year-old

Percheron mare who

worked closely with

the public for 23

years. She is comfortable

pulling farm

machinery and still actively works. However,

as her age has increased, the days when she

is able to pull a plow all day have passed. She

is a steady, reliable horse and could easily

pull a small wagon or do light farm chores.

Adopt Maude through Friends for Life Animal

Haven.

FYI: www.fflah.org

Mister is a 10-yearold

"Heinz 57" boy

who loves everyone.

He's such a laid back

guy who is super loving.

He's neutered,

microchipped and up

to date on vaccines.

Mister is up for adoption

through Colony

Cats and Dogs.

FYI: www.colonycats.org

Stewart is a handsome

tuxedo with

extra toes. He's a

Hemingway cat who

is 2 years old. Stewart

is neutered,

microchipped, FL/FIV

negative and up to

date on vaccines. He

is up for adoption

through Colony Cats and Dogs.

FYI: www.colonycats.org

Gracie is a beautiful young lady who is looking for her forever home.

She is a bit shy at first and will take some time to warm up, so she'll

need lots of patience and love. Gracie loves having her belly rubbed

and she loves to snuggle. She would make a fantastic addition to any

family. Gracie is up for adoption through Friends for Life Animal Haven.

FYI: www.fflah.org

Oh Deer!

Battelle Darby Creek Metro Park,

located at 1775 Darby Creek Drive in

southwest Franklin County will host

Preschoolers: Oh Deer on Feb. 28 at 11

a.m. or 1 p.m. Participants can learn about

Ohio's state mammal, the whitetailed

deer. Visitors are asked to meet at the

Nature Center. For more information

about the park or its programs, call 614-

891-0700 or visit metroparks.net.

westside

Messenger

(Distribution: 25,168)

Andrea Cordle...................................Westside Editor

westside@ columbusmessenger.com

Published every other Sunday by the

The Columbus Messenger Co.

3500 Sullivant Ave., Columbus, Ohio 43204-1887

(614) 272-5422

The Columbus Messenger Co. reserves the right to edit, reject or

cancel any advertisement or editorial copy at any time. The company

is not responsible for checking accuracy of items submitted

for publication. Errors in advertising copy must be called to the

attention of the company after first insertion and prior to a second

insertion of the same advertising copy.
---
PAGE 8 - WESTSIDE MESSENGER - February 24, 2019

Produce giveaway at YMCA

The Hilltop YMCA hosts a fresh produce

giveaway the third Wednesday of each

month from 4 to 6 p.m. at 2879 Valleyview

Drive in Columbus. For more information,

call the YMCA at 614-276-8224.

Fresh produce

Free fresh fruit and vegetables will be

distributed on March 9 to qualified, lowincome

Franklin County residents. The

fresh produce will be available at Central

Baptist Church, 1955 Frank Road, beginning

at 10:00 a.m. To assist in registration,

please bring a photo ID and your current

address in Franklin County. You are asked

to also bring heavy-duty bags, boxes or

carts to carry the bulk produce home. For

community events

more information, contact the church at

614-279-3115 or www.centralbaptistcolumbus.org.

Free meal at Hoge Memorial

There will be a free hot meal served at

Hoge Memorial Presbyterian Church, 2930

W. Broad St., from 5 to 6 p.m. every

Saturday. For more information, contact

the church at 276-5433 or visit

www.hogepresby.org.

Breakfast to benefit

Special Olympics

The Westgate Masonic Lodge #623 is

preparing breakfasts once a month to benefit

the Special Olympics. The public is

invited to have breakfast the second

Saturday of each month. Adults pay $6,

children age 3 and above pay $3 while children

under 3 eat free. Serving is from 9

a.m. to noon.

Champions at

Community Christian

A Hilltop section of the recovery program

put on by Champions meets every

Tuesday at 6:30 p.m. at the Community

Christian Church, 118 S. Powell. This is a

program for men who are struggling with

addiction, whether it be from drugs or alcohol.

The program offers help, hope and

healing, whether it be physical, emotional

or spiritual, said co-pastor Steven

Heninger. The program is free and men of

any age are welcome.

Correction

www.columbusmessenger.com

In the Jan. 27 edition of the Westside

Messenger, in the article titled "Staying

active and safe in Prairie," Amanda

Ensinger incorrectly reported that the

father/daughter date night at the Prairie

Township Community Center was Feb. 9.

The event was held on Feb. 8. The

Messenger regrets the error and apologizes

for any inconvenience.

club meeting

Disabled American Veterans

The Disabled American Veterans

Chapter 144 meets at 6 p.m. on the fourth

Tuesday of every month at The American

Legion Post 532, 1571 Demorest Road.

Call Will Davis at 309-0171.

CLASSIFIED ADS

Deadlines: Southeast and West editions, Wednesdays at 5 p.m., • East, Southwest, Madison editions, Tuesdays at 5 p.m.

All editions by phone, Tuesdays at 5 p.m. • Service Directory, Tuesdays at 5 p.m.

xPreschool/Daycare

xAdult Care

xInformation

ELDERLY CARE

IN MY

PRIVATE HOME

Reasonable Rates

Years of Experience

References, Hot Meals, Laundry,

Visiting Physicians & Home Health Nurses

& Much More!

614-777-5850

Adult Care

MARCH GIVEAWAY

Place a prepaid classified line ad in our paper

during the month of MARCH and be registered

to win a $50 Gift Card from

The Columbus Messenger

Newspapers.

All ads received by mail, in person,

e-mail or phone will be included in the drawing.

Drawing will be held April 3rd, 2019

and the winner will be notified and published

in our April 7th issue .

GOOD LUCK TO

EVERYONE!!!!

advertise

YOUR DAY CARE OR PRESCHOOL

in the West and Southwest Messengers

and reach over 40,000 homes

Call Kathy For More Info

614-272-5422

Preschool/Daycare

INFORMATION

Got the Winter Blahs?

Call Marilyn Weaver

For An Appt.

For a New Haircut/Style

for those Holiday Parties

614-277-1921

Indulgence Hair Salon

3387 McDowell Rd.

Grove City

Have Something To Sell?

Need To Rent That Property?

Try The Messenger!

For Info On

Placing An Ad Call

614-272-5422

ASSOCIATION ADS

Start Saving BIG On Medications!

Up To 90% Savings

from 90DAYMEDS!

Over 3500 Medications

Available! Prescriptions

Req'd. Pharmacy Checker

Approved. CALL Today for

Your FREE Quote. 844-

776-7620

Cross Country Moving,

Long distance Moving

Company, out of state

move $799 Long Distance

Movers. Get Free

quote on your Long distance

move 1-800-511-

2181

Wants to purchase minerals

and other oil and gas

interests. Send details to

P.O. Box 13557, Denver,

CO. 80201

Information

ASSOCIATION ADS

VIAGRA & CIALIS! 60

pills for $99. 100 pills for

$150 FREE shipping.

Money back guaranteed!

1-800-503-7846

Lung Cancer? And Age

60+? You And Your

Family May Be Entitled

To Significant Cash

Award. Call 866-428-

1639 for Information. No

Risk. No Money Out Of

Pocket.

TOP CASH FOR CARS,

Any Car/Truck, Running

or Not. Call for INSTANT

offer: 1-888-417-9150

ASSOCIATION ADS

$$OLD GUITARS & AMPS

WANTED$$ GIBSON*

FENDER*MARTIN. ALL

BRANDS. TOP DOLLAR

PAID. CALL TOLL FREE

1-866-433-8277

GET 2 FREE WEEKS

OF ADVERTISING when

you purchase 2 weeks.

Learn more at macnet

online.com or give us a

call at 800-450-6631
---
www.columbusmessenger.com

February 24, 2019 - WESTSIDE MESSENGER - PAGE 9

CLASSIFIED ADS

Deadlines: Southeast and West editions, Wednesdays at 5 p.m., • East, Southwest, Madison editions, Tuesdays at 5 p.m.

All editions by phone, Tuesdays at 5 p.m. • Service Directory, Tuesdays at 5 p.m.

xEmployment

IMAGINE SCHOOLS

NOW HIRING

CERTIFIED TEACHERS

Imagine Primary - 4656 Heaton Rd., Columbus, OH 43229

Imagine Great Western - 310 North Wilson Rd., Columbus, OH 43204

Imagine Groveport - 4485 S. Hamilton Rd., Groveport, OH 43125

Imagine Harrisburg Pike - 680 Harrisburg Pike, Columbus, OH 43223

Imagine Sullivant - 3435 Sullivant Ave., Columbus, OH 43204

Resumes can be sent to:

jennifer.keller@imagineschools.org

NOW HIRING!

Local High Volume Pharmacy

Immediate 2nd & 3rd shift positions available

for Pharmacy Clerks and Technicians.

Looking for energetic associates

in a fast pace environment.

NEW Starting rate: $11.50 per hour

Shift differential $.50 an hour

Please apply at: jobs.kroger.com

Use Zip Code 43217

Must be 18 years of age & have high school diploma or GED.

Call 614-333-5012 for more details.

ASSOCIATION ADS

DIRECTV & AT&T. 155

Channels & 1000s of

Shows/Movies On Demand

(w/SELECT Package.)

AT&T Internet 99

Percent Reliability. Unlimited

Texts to 120

Countries w/AT&T Wireless.

Call 4 FREE Quote

1-855-781-1565

Dish Network - Satellite

Television Services. Now

Over 190 channels for

ONLY $49.99/mo! HBO-

FREE for one year,

FREE Installation, FREE

Streaming, FREE HD.

Add Internet for $14.95 a

month. 1-800-219-1271

CARS/TRUCKS WANT-

ED!!! All Makes/Models

2002-2018! Any Condition.

Running or Not. Top $$$

Paid! Free Towing! We're

Nationwide! Call Now: 1-

888-985-1806

ASSOCIATION ADS

HughesNet Satellite Internet

- 25 mbps starting at

$49.99 / mo! FAST download

speeds. WiFi built in!

FREE Standard Installation

for lease customers!

Limited Time, Call 1-800-

610-4790.

Antique Car or Farm

Equipment to sell? Advertise

with us in over

100 publications. You

choose where you want

to advertise. 800-450-

6631

A PLACE FOR MOM

has helped over a million

families find senior living.

Our trusted, local advisors

help find solutions

to your unique needs at

no cost to you. 1-855-

204-5180

ASSOCIATION ADS

KILL BED BUGS! Buy

Harris Sprays, Kits, Mattress

Covers. Hardware

Stores, The Home Depot,

homedepot.com

Put on your TV Ears and

hear TV with unmatched

clarity. TV Ears Original

were originally $129.95 -

NOW WITH THIS SPE-

CIAL OFFER are only

$59.95 with code

MCB59! Call 1-855-993-

3188

DISH NETWORK $69.99

For 190 Channels. Add

High Speed Internet for

ONLY $14.95/month. Best

Technology. Best Value.

Smart HD DVR Included.

FREE Installation. Some

restrictions apply. Call 1-

855-837-9146

[WANTED] CARS/

TRUCKS WANTED!!!

All Makes/Models 2002-

2018! Any Condition. Running

or Not. Competitive

Offer! Free Towing! We're

Nationwide! Call Now: 1-

888-368-1016

Call Empire Today® to

schedule a FREE inhome

estimate on Carpeting

& Flooring. Call

Today! 1-800-508-2824

Spectrum Triple Play!

TV, Internet & Voice for

$29.99 ea. 60 MB per

second speed. No contract

or commitment.

More Channels. Faster

Internet. Unlimited Voice.

Call 1-855-652-9304

Employment
---
PAGE 10 - WESTSIDE MESSENGER - February 24, 2019

www.columbusmessenger.com

xEmployment

JOB

EXPLOSION!!

S TA F F I N G Your Partner at Work

50 immediate openings

Warehouse to Office Work Available

Up to $13/Hour

Perfect Attendance Bonus

Manufacturing, Warehouse,

Assembly, Pick/Pack to Forklift

ALL SHIFTS!

Apply Daily at Trillium

Located at 4998 West Broad St., Suite 100

Columbus, Ohio

614-351-3100

WANTED

Servers • Dish • Host

You Can Work 29+ Hrs. Based on

Your Availability & Performance

Immediate Full/Part-time Openings

• Weekly Pay

• Paid Training

• No Tip Sharing

• Paid Vacation

We Offer:

• Employee Meal Discount

• Position/Salary Advancement Plan

• Discount Purchase Plan

Apply online at crackerbarrel.com/careers for

Grove City Location

614-871-1444

WANTED

SW CITY SCHOOLS

SCHOOL BUS DRIVERS

The South-Western City School

District is currently hiring drivers

$16.55/HR

Available positions are for substitute

drivers that can develop into "Regular"

positions with benefits. Interested

individuals should submit an application

on our website at swcsd.us. Follow the

employment link. Applicants should have

an excellent driving record and must

submit to drug, alcohol, and background

screening. A high school diploma or

equivalent is required.

EOE

ADVERTISING

ACCOUNT REPRESENTATIVE

The Advertising Department at the

Columbus Messenger Newspapers

is seeking a Sales Representative.

No Experience Necessary.

Base salary plus commissions, auto allowance.

Senior Citizens and Recent Grads

encouraged to apply.

Please send your resume to:

Doug Henry, Advertising Manager

Columbus Messenger Newspapers

3500 Sullivant Ave.

Columbus, Ohio 43204

or

e-mail to doughenry@columbusmessenger.com

JOB

FAIR

OR OPEN

INTERVIEW

VIEWS?

CALL KATHY

TO ADVERTISE

272-5422

ASSOCIATION ADS

GENERIC VIAGRA and

CIALIS! 100 Pills $99.00

FREE Shipping! 100%

guaranteed. 24/7 CALL

NOW! 888-889-5515

Call Empire Today® to

schedule a FREE inhome

estimate on Carpeting

& Flooring. Call

Today! 1-866-538-7163

70 years old, kids are

grown. Stilll need your life

insurance? Or is a big

LIFE SETTLEMENT

CASH PAYOUT smarter?

Call Benefit Advance. 1-

866-719-5766

70 years old, kids are

grown. Still need your life

insurance? Or is a big

LIFE SETTLEMENT

CASH PAYOUT smarter?

Call Benefit Advance. 1-

877-332-9643

ASSOCIATION ADS

HEAR AGAIN! Try our

hearing aid for just $75

down and $50 per

month! Call 800-426-

4212 and mention 88272

for a risk free trial! FREE

SHIPPING!

Sufffering from an ADDIC-

TION to Alcohol, Opiates,

Prescription PainKillers or

other DRUGS? There is

hope! Call Today to speak

with someone who cares.

Call NOW 1-855-901-2049

READER

ADVISORY

The National Trade Association

we belong to has

purchased the following

classifieds. Determining

the value of their service

or product is advised by

this publication. In order

to avoid misunderstandings,

some advertisers do

not offer "employment"

but rather supply the

readers with manuals, directories

and other materials

designed to help

their clients establish mail

order selling and other

businesses at home. Under

NO circumstance

should you send any

money in advance or give

the client your checking,

license ID or credit card

numbers. Also beware of

ads that claim to guarantee

loans regardless of

credit and note that if a

credit repair company

does business only over

the phone it's illegal to request

any money before

delivering its service. All

funds are based in US

dollars. Toll Free numbers

may or may not

reach Canada. Please

check with the Better

Business Bureau 614-

486-6336 or the Ohio Attorney

General's Consumer

Protection Section

614-466-4986 for more

information on the company

you are seeking to

do business with.

ASSOCIATION ADS

Suffering from an AD-

DICTION to Alcohol,

Opiates, Prescription

Pain Killers or other

DRUGS? There is hope!

Call Today to speak with

someone who cares.

Call NOW 1-855-866-

0913

ENJOY 100% guaranteed,

delivered to-thedoor

Omaha Steaks!

SAVE 75 PERCENT

PLUS get 4 FREE Burgers!

Order The Family

Gourmet Feast - ONLY

$49.99. Call 1-855-349-

0656 mention code

55586TJC or visit

www.omahasteaks.com/

lovel3

Stay in your home longer

with an American Standard

Walk-In Bathtub. Receive

up to $1,500 off,

including a free toilet,

and a lifetime warranty

on the tub and installation!

Call us at 1-844-

374-0013

AT&T Internet Get more

for your High-Speed Internet

thing. Starting at

$40 / month w / 12-mo

agmt. Includes 1 TB of

data per month. Ask us

how to bundle and

SAVE! Geo & svc restrictions

apply. Call us today

1-833-707-0984

Employment

Local New Construction

Plumbing Contractor

seeking experienced

Rough & Finish Plumbers.

Please visit our website for more information

and to apply on line at:

http://plumbingsolutionscolumbus.com/employment/

or call, 614.235.6007

ASSOCIATION ADS

SAVE ON YOUR NEXT

PRESCRIPTION! World

Health Link, Price Match

Guarantee! Prescriptions

Required. CIPA Certified.

Over 1500 medications

available. CALL Today

For A Free Price

Quote. 1-855-530-8993

Call Now!

IMPORTANT

NOTICE

The following states: CA,

CT, FL, IA, IL, IN, KY,

LA, MD, ME, MI, MN,

NE, NC, NH, OH, OK,

SC, SD, TX, VT and WA

requires seller of certain

business opportunities to

register with each state

before selling. Call to

verify lawful registration

before you buy.

Lung Cancer? Asbestos

exposure in industrial,

construction, manufacturing

jobs, or military

may be the cause. Family

in the home were also

exposed. Call 1-866-

795-3684 or email cancer@breakinginjurynews

.com. $30 billion is set

aside for asbestos victims

with cancer. Valuable

settlement monies

may not require filing a

lawsuit.

HIRING LOCAL & REGIONAL OTR

CDL-A DRIVERS TODAY

Our Drivers enjoy excellent pay, overtime daily,

the 100 percent Company Paid Health Care!

Call or text Bailey at

616-395-5761 or

email: Bailey.Coval@usfc.com

BE YOUR OWN BOSS!

INDEPENDENT

CONTRACTORS

WANTED

EEOC

If you have a reliable car and would like to

earn extra money, then why not deliver?

• Deliver 1 or 2 days a week

• Flexible delivery hours

• Work close to home - often in or

near your neighborhood

CONTACT US

1-888-837-4342

www.thebag.com

ASSOCIATION ADS

AIRLINES ARE HIRING -

Get FAA approved hands

on Aviation training. Financial

aid for qualified students

- Career placement

assistance. Call Aviation

Institute of Maintenance

877-818-0783

CHILD CARE

OFFERED

Depend. Quality Child care

in loving hm. Exp. Mom, n-

smkr, hot meals, sncks,

playroom, fncd yd. Reas.

rates. Laurie at 853-2472

• Deliver 7 days a week

• Delivery before dawn

• Work close to home - often in or

near your neighborhood

CONTACT US

614-461-8585

www.dispatch.com/delivery

HELP WANTED

Caregiver

Needed

Working Part Time with

Elderly & Children.

Transportation,

Some Experience &

References Required.

Drug Test.

3/3

A/M

Call 614-777-5850
---
www.columbusmessenger.com

xFocus on Rentals

February 24, 2019 - WESTSIDE MESSENGER - PAGE 11

xClassified Services

Apple Run

Apartments

Studio, 1 & 2 Bedroom

Franklinton Area

2350 Apple Ridge Drive

Columbus, OH 43223

(614) 279-5840

www.applerunapts.com

FREE CABLE/WIFI

WEST-LINCOLN VILLAGE S.

1 BD FLATS FROM $515 - $525

1 BD FLATS W/BALCONY FROM $585

2 BD FLATS W/BALCONY FROM $665

2 BD FLATS W/FULL BSMT FROM $795

CARPET, APPLIANCES, A/C, GAS, HEAT,

IN HOUSE LAUNDRY OR WASHER/DRYER HOOKUPS

SECURITY CAMERAS & LIGHTING

MOVE-IN SPECIAL IF QUALIFIED

TUES.-FRI. NOON-6PM, SAT. 10AM-4PM

(614) 870-7717

NO PETS

HELP WANTED

ADVERTISING

ACCOUNT

REPRESENTATIVE

The Advertising Dept. at

the Columbus Messenger

Newspapers is seeking a

Sales Representative.

No Experience Necessary

Base salary plus commissions

& auto allowance.

Senior Citizens and

Recent Grads

welcome to apply.

Please send your

resume to:

Doug Henry,

Advertising Mgr.

Columbus Messenger

Newspapers,

3500 Sullivant Ave.,

Columbus, OH 43204

or email to doughenry@

columbusmessenger.com

4 Paws & A Tail

Looking to hire 2 PT

Bathers. Immediate hire.

Come fill out an application

at 3899 Grove City

Rd., Grove City.

Wanted: Mobile Home set

up person, experienced to

assist local company. Call

614-209-5744

NOW HIRING PLUMBER

& Apprentice. 4 day work

week, vacation after 6

months. 740-625-9990

Rentals

WANT TO BUY

ANTIQUES

WANTED

Victrolas, Watches,

Clocks, Bookcases

Antiques, Furn.

Jeff 614-262-0676

or 614-783-2629

We Buy Junk Cars &

Trucks. Highest Prices

Paid. 614-395-8775

CASH FOR CARS

614-276-2597

We Buy Cars & Trucks

$300-$3000.614-308-2626

$ Cash At Your Door $

for junk or unwanted cars

(Free Tow). Call

614-444-RIDE (7433)

WANTS TO Purchase

minerals and other oil &

gas interests. Send details

to: P.O. Box 13557,

Denver, CO 80201

MISCELLANEOUS

FOR SALE

New & Pre-owned Furniture

& Appliances - 4000

sq ft of good clean items.

All American Furniture

635 Harrisburg Pike

Open Daily 10am-5pm

WE BUY & SELL!

Large Selection of

Chandeliers to

choose from.

All in working condition.

Going Out of Business!!

614-271-2469

RENTALS

2 bdrm Condo, 1.5 bath,

newly renovated, no pets.

$850/mo. 614-296-1948

DO YOU NEED

TO RENT

THOSE EMPTY

APARTMENTS?

Call Kathy at

The

Columbus

Messenger

To Advertise

Your

Apartment

Community

614-272-5422

RENTALS

2 & 3 bdrm very nice

units, full bsmt & appls.

Clime Road area.

614-783-7464

Eakin-1 Br Apt, crpt, appls.

No Pets 614-560-3050

2 Bdrm Ranch on end of

quiet dead end street.

Newer kitchen & bath

with full bsmt. Close to

170/Central Point shopping

& COTA. $750/mth.

Call Carolyn at

614-373-9329

1/3/4 BR homes-fncd yd

bsmt. $500-$900

614-530-8097

SHARED LIVING

Share Your Home?

Retired Lady Needs To

Rent a Room & Bath on

1st Floor. Southwest Area.

Rent Negotiable. Call

614-272-5422

Leave Name & Phone

Number for ad # 11

Working person to share

home with elderly working

person. No pets or

smoking. 614-746-7795

VACATION RENTALS

Englewood, Florida

Palm Manor Resort

Within minutes of white

sand Gulf beaches,

world famous Tarpon

fishing, golf courses, restaurants/shopping,

Bush

Gardens. 2 BR 2 BA

condos with all ammenities,

weekly/monthly, visit

www.palmmanor.com

or call 1-800-848-8141

APPLIANCE REPAIR

Washer, Dryer, Stove &

Refrig. Repair 875-7588

AUTO SERVICE

Don't Get Stuck

in the Cold!

WINTERIZE NOW!

Go To MIDLAND AUTO

for all your

auto service needs!

614-278-9458/778-3864

A Rating-BBB - 46 yrs.

American & Foreign Cars

BASEMENT

WATERPROOFING

Walker's Basement

Waterproofing

Free Est. 614-359-4353

CLEANING

Cleaning, 20 yrs. exp.

Call Judy 614-946-2443

CONCRETE

EVANS

Complete Concrete.

Facebook Evansconcrete

(Schedule Now)

• Foundations • Additions

• Block • Driveways

• Patios • Sidewalks

• Colored & Stamped

(Free Estimates)

614-373-1013

Ins./Bonded • 32 Yrs. Exp.

Pour It Right, The First Time

AJ's Concrete,

Masonry

Good Work - Fair Prices

Block Foundations

Driveways • Sidewalks

Epoxy/Overlay Floors

Bonded-Ins. • Free Ests.

Now Accepting Credit Cards

614-419-9932

FENCING

EAZY FENCE

Chain Link - Wood

No Job Too Big or Small

All Repairs ~ Free Est.

Insured. 614-670-2292

GUTTERS

Low Price-Great Service

5 & 6" Seamless gutters,

covers, siding, gutter clng.

Bill 614-306-4541

HAULING

CHEAP HAULING

614-816-6680

DEAN'S HAULING

614-276-1958

HEATING

HEATING

Complete System Clean & Check

$49.95

Free Carbon

Monoxide Testing

Gas-Oil-Electric Heat/Pumps

All Makes • All Models

43 yrs exp. • Sr. Discount

614-351-9025

614-351-9005

3-17 A

03/17 A

3/17 A

HOME

IMPROVEMENTS

C&JHandyman

Services LLC

Minor Plumbing &

Electric

Install Hot Water Tanks,

Dishwashers & Disposals

Also Fencing &

Interior/Exterior Painting

Free Est. ~ 18 Yrs. Exp.

614-284-2100

SINCE 1973

Phil Bolon Contr.

Windows & Siding

Decks, Kitchens, Baths

Room Additions,

Flooring, Roofing

Bsmt Waterproofing

Deal With Small Non-Pressure Co.

45 Yrs. Exp. - Refs. Avail.

Lic.-Bond-Ins.

3-17

A/M

Free Est. - Financing Avail.

Member BBB Of Cent. OH

O.C.I.E.B. ID #24273

614-419-3977

or 614-863-9912

Quality is our #1 Priority

HELMS' CONTRACTING

Call For FREE ESTIMATES

New Kitchens & Baths

New Replacement Windows

Basement Remodels

Room Additions • Roofs

More than 25 Years Experience

Licensed • Insured • Bonded

Bill Helms 614-296-0850

or 614-801-1801 3-17

W/SW

LG

REMODELING

Interior & Exterior

Full Service Remodeling

• Bathrooms • Kitchens

• Tile • Drywall • Flooring

• Roofing • Siding • Etc.

NO JOB TO SMALL

A+ BBB Rating

A+ Angie's List

Lic. • Bonded • Insured

614-488-8377

www.lgroofingcolumbus@gmail.com

HOME

MAINTENANCE

Retired Finishing Carpenter

for all your extra home

repairs. over 40 yrs. exp.

Sonny 614-325-1910

INFORMATION

ONLY

$50.00

For This Ad In Our

West & Southwest

For Info Call

272-5422

3-17 A

2-17 A&M

LET US MAINTAIN

YOUR LAWN & GARDEN

FOR YOU

Summer, Spring,

Winter or Fall

WE DO IT ALL!!!!

Lawn Cuts, Edging,

Trees & Shrubs, Garden,

Mulching, Hauling,

Garden Pond &

Home Maint.

Free Ests. Low Rates

$20 & Up

Kevin - 614-905-3117

A Complete

Moving

Reasonable, Reliable

No Job Too Small

PUCO #150692-HG

Free Estimate

614-878-1179

Aaron Allen Moving

Local Moving Since 1956

Bonded & Insured

614-299-6683, 263-0649

Celebrating 60 yrs in business

SHOP THE CLASSIFIEDS!!

Only $1 per line

❏ Check for one additional FREE week.

Classified Services

columbus

Telephone: _________________________________________________________

Print Your Name:____________________________________________________

Last

First

Print Your Address:___________________________________________________

Print Your City:__________________________ State:_______ Zip:____________

West ___ Southwest ___ East ___ Southeast ___ Madison___

Print Your Ad Below…

One word each space. BE SURE YOUR TELEPHONE NUMBER OR ADDRESS is included in your

advertisement. The lessor of 4 words or 22 characters per line. We reserve the right to use abbreviations

when actual space exceeds amount purchased.

1. __________ __________ __________ __________

2. __________ __________ __________ __________

3. __________ __________ __________ __________

4. __________ __________ __________ __________

5. __________ __________ __________ __________

6. __________ __________ __________ __________

Columbus Messenger

3500 Sullivant Ave. • Columbus, Ohio 43204

614-272-5422

classified@columbusmessenger.com

$

LAWN CARE

MOVING

PAINTING

DON'T BE

LEFT OUT!

Deadline Is Tuesdays by

5pm For Following

Sunday"s Publication

614-272-5422

3/17 A&M

Not Valid for Garage Sales

PAINTING

A Job Well Done Again

A lic. General Contractor

Some Skilled Services

Incl: Painting • Stucco,

Repair•Carpentry•Exterior

Drainage & Home Maint.

Call Today! 614-235-1819

New Paint For The New

Year! Burt's Painting

Free ests. 614-539-3412

PAINTING

614-702-3017

Painting - Int./Ext.

Power Wash-Gutters Clnd

Free Est. - 26 Yrs Exp.

Call Dave 614-270-2369

God Bless

PLASTERING

Plaster & Stucco

NEW AND

REPAIR

Established 1917

Geo. F. Neff & Co.

274-5629

PLUMBING

All About Drains & Plumb.

Will snake any sm drain

$125 + tax. 614-778-2584

ALL IN ONE

PLUMBING LLC

"One Call Does It All"

$25 OFF LABOR

With This Ad

A

614-801-1508

All Major Credit Cards Accepted

❏ Cash

❏ Check

❏ Money Order

❏ VISA ❏ MC

3/3

Spring Housewash

Vet/Sr Disc. Call Today!!

614-586-3417

Robinson roofing & repairs

30 yrs. exp. Lifetime Cols.

resident. Lic./bonded/Ins.

Reas rates. Member of

BBB. Dennis Robinson

614-330-3087, 732-3100

SEWING MACHINE

REPAIR

REPAIR all makes 24 hr.

service. Clean, oil, adjust

in your home. $39.95 all

work gtd. 614-890-5296

TREE SERVICES

Joe's Tree & Yard Work

Trim, thin, shape bushes,

hedges, stump grinding,

hauling. 614-598-6247

BURNS TREE SERVICE

Trimming, Removal &

Stump Grinding.

614-584-2164

Brewer & Sons Tree Service

• Tree Removal

• Tree Trimming 3-17

A&M

• Stump Grinding

• Bucket Truck Services

Best Prices • Same Day Service

614-878-2568

Credit Card

Information

___

__________________________

Credit Card Number

____________

POWER WASHING

ROOFING

__(___)__

Exp. Date 3 digit code

Minimum Charge $5.00
---
PAGE 12 - WESTSIDE MESSENGER - February 24, 2019

Young at Heart club

You are invited to join the Young at

Heart seniors' group for fun and activities.

The group meets every Thursday from

10:30 a.m. to 2 p.m. at Central Baptist

club meetings

Church, 1955 Frank Road, where we enjoy

bringing in guest speakers, sharing lunch,

games, occasional field trips, bingo and

cards. Call Norma at 614-308-5998 for

more information.

www.columbusmessenger.com

Westgate

United Methodist Church

61 S. Powell Ave.

Columbus, Ohio 43204

614-274-4271

westgateumc@sbcglobal.net

9:00 a.m. Worship Service

10:00 a.m. Sunday School

11:00 a.m. Wednesday Bible Study

WESTGATE

BAPTIST CHURCH

4234 Clime Road North

Columbus, OH 43228

614-279-6395

9:30 AM Sunday School

10:45 AM Worship Services

6:30 PM Sunday Evening

7:00 PM Wednesday Bible Study

Be a Part of Our

Local Worship Guide

westside

Parkview United

Methodist Church

344 S. Algonquin

Columbus OH 43204

614-274-8431

pvumc1@att.net

Sunday School - 9:15am

Worship - 10:15am

Wednesday Bible Study

6:30pm in Soild Rock

WEST BROAD

CHURCH OF CHRIST

3361 W. Broad St.

9:30 AM Sunday Bible Study

10:30 AM Worship Service

3:30 PM Worship Service

7:30 PM Wednesday Bible Study

www.westbroadchurch.com

Our upcoming Worship Guide is geared toward celebrating faith and helping

readers connect with religious resources in our community. Make sure these

readers know how you can help with a presence in this very special section

distributed to more than 25,000 households in the Westside area.

Contact us today to secure your spot in our Worship Guide.

614.272.5422 • kathy@columbusmessenger.com

Photos courtesy of Arcadia Publishing

Reynoldsburg resident Chuck Engle has a tough go of it as he loses the left front

wheel and tire, hub, and brake drum from his super in a photo from Columbus Motor

Speedway in 1962. (Midwest Racing Photo.)

Memories of the Speedway

By Rick Palsgrove

Southeast Editor

The roar and blur of fast race cars

speeding around the track at the

Columbus Motor Speedway were once

familiar sites and sounds on the south end

of Columbus.

From 1946 to 2016 the speedway, with

its one-third mile track, operated just

south of Williams Road near Obetz. For

much of its history it was led by the

Nuckles family and was home to a variety

of motorsports races including motorcycles,

coupes, and stock cars. It also offered stock

car shows, school bus races, and thrill

shows.

After the speedway ceased operations,

the village of Obetz purchased the site

which has since become Fortress Obetz, an

athletic and concert facility.

Columbus resident and racing historian

Mike Garrepy has captured the history of

the race track in his new book, "Columbus

Motor Speedway," published by Arcadia

Publishing. The book contains 127 pages of

photos and text on the history of the track.

The book shows how the models and

styles of racing vehicles changed over the

decades of Columbus Motor Speedway's

operation from home built vehicles to modern

custom built race cars. Also of note is

how, as time wore on, the speed and power

of the vehicles increased and how the level

of safety gear worn by the drivers evolved.

I interviewed Garrepy about his book:

Why did you decide to write the book and

why are you interested in the Columbus Motor

Speedway?

Mike Garrepy: "The reason for the book

is simple: to preserve the history of the

track in written and pictorial form and to

provide a place where fans and drivers

could return to recall some of the great

times each had. Not to make it all syrupy,

but for many drivers race nights made

them something special, especially if they

won. Come Monday morning they went

back to body shops, garages, driving

trucks, building roads or whatever, but on

race night they were the star of the show. I

hope I preserve that in some way."

What set the Columbus Motor Speedway

apart and made it special compared with

other race tracks?

MG: "It wasn't just one thing, but rather

a combination of things. First, if a fan

wanted to see racing on asphalt in the

Columbus area, Columbus Speedway was

the only option unless they wanted to travel.

The Nuckles family did not exploit this.

They kept the facility clean and fresh looking

with repairs and paint as needed. They

invested heavily in new buildings with

flush toilets and concession stands.

Repairs were made quickly. The grass was

cut prior to race night, the shrubs clipped,

the PA system worked and an extensive

lighting system was installed. In later

years the pit area was paved — not something

all tracks have. They promoted

upcoming events heavily to build excitement.

What are your thoughts about the demise

of the speedway and what has been lost to

the community now that it is gone?

MG: "It is sad on so many levels. Besides

cars going around in a circle, racing is also

a social event. When a track closes folks

lose contact with the friends who they have

parked next to or sat next to for many

years. Many people I have interviewed said

they miss seeing their at-the-track friends

as much as the racing itself."

Where can people purchase your book?

MG: "Contact me at

Mike.garrepy@gmail.com, contact the publisher

at Arcadiapublishing.com or see us

at one of our meet and greet events. Each

greet is detailed on the Facebook page

'Columbus Motor Speedway Gone but Not

Forgotten.' I will also have a display at the

Piqua Mall's Race Car show on March 22,

23 and 24."