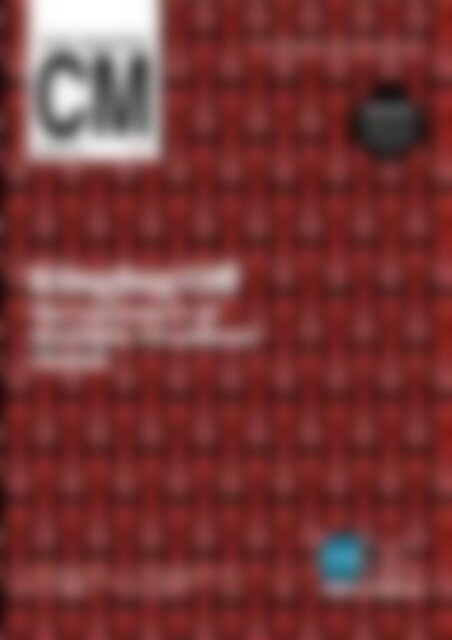 Credit Management 2019
The CICM magazine for consumer and commercial credit professionals
The CICM magazine for consumer and commercial credit professionals
SHOW MORE
SHOW LESS
Create successful ePaper yourself
Turn your PDF publications into a flip-book with our unique Google optimized e-Paper software.
CREDIT MANAGEMENT

CM

MARCH 2019 £12.50

THE CICM MAGAZINE FOR CONSUMER AND

COMMERCIAL CREDIT PROFESSIONALS

INSIDE

Winners of the

CICM British

Credit Awards

2019

Ringing Off

The nuisance of

multiple vexatious

claims

80

YEARS

Sean Feast FCICM

speaks to Matt Barlow

of CAP. Page 18

The construction sector

on shaky ground.

Page 60
---
www.tcmgroup.com

Probably thebest debt collection networkworldwide

Money knows no borders—neither do we
---
12

Interview

MARTIN ROSEWEIR

18

Interview

MATT BARLOW

MARCH 2019

CONTENTS

8 – EXCLUSIVE NEWS SPECIAL

Have Claims Management Companies

found the next PPI? Credit Management

investigates.

12 – INTERVIEW

Martin Roseweir sits down with Sean

Feast FCICM to discuss growing up

in Glasgow and his love of the great

outdoors.

18-PAGE

SUPPLEMENT

CICM British

Credit Awards

2019

PAGES 34-51

21 – CONSUMER CREDIT

How collections teams are being

trained to identify and assist customers

with vulnerabilities.

27 – TRADE TALK

The importance of terms and

conditions when exporting.

60 – OPINION

The health of the construction sector

and how it is impacting on the rest of

the UK economy.

66 – HR MATTERS

A summary of different cases from

Employment Tribunals including

a disagreement over sick pay, the

minimum wage and the rise in claims.

CICM GOVERNANCE

24

Country Focus

ADAM BERSTEIN

President Stephen Baister FCICM / Chief Executive Philip King FCICM CdipAF MBA

Executive Board Pete Whitmore FCICM – Chair / Debbie Nolan FCICM(Grad) – Vice Chair

Glen Bullivant FCICM – Treasurer / Larry Coltman FCICM, Victoria Herd FCICM(Grad), Bryony Pettifor FCICM(Grad)

Advisory Council Sarah Aldridge FCICM(Grad) / Laurie Beagle FCICM / Kim Delaney-Bowen MCICM / Glen Bullivant FCICM

Lauren Carter FCICM / Brendan Clarkson FCICM / Larry Coltman FCICM / Victoria Herd FCICM(Grad) / Philip Holbrough MCICM

Laural Jefferies MCICM / Diana Keeling FCICM / Martin Kirby FCICM / Christelle Madie FCICM

Julie-Anne Moody-Webster MCICM / Debbie Nolan FCICM(Grad) / Ute Ogholoh MCICM / Bryony Pettifor FCICM(Grad)

Allan Poole MCICM / Phil Rice FCICM / Chris Sanders FCICM / Paul Taylor MCICM / Pete Whitmore FCICM.

View our digital version online at www.cicm.com. Log on to the Members'

area, and click on the tab labelled 'Credit Management magazine'

Credit Management is distributed to the entire UK and international CICM

membership, as well as additional subscribers

Reproduction in whole or part is forbidden without specific permission. Opinions expressed in this magazine do

not, unless stated, reflect those of the Chartered Institute of Credit Management. The Editor reserves the right to

abbreviate letters if necessary. The Institute is registered as a charity. The mark 'Credit Management' is a registered

trade mark of the Chartered Institute of Credit Management.

Any articles published relating to English law will differ from laws in Scotland and Wales.

Publisher

Chartered Institute of Credit Management

The Water Mill, Station Road, South Luffenham

OAKHAM, LE15 8NB

Telephone: 01780 722900

Email: editorial@cicm.com

Website: www.cicm.com

CMM: www.creditmanagement.org.uk

Managing Editor

Sean Feast FCICM

Deputy Editor

Alex Simmons

Art Editor

Andrew Morris

Telephone: 01780 722910

Email: andrew.morris@cicm.com

Editorial Team

Imogen Hart and Iona Yadallee

Advertising

Grace Ghattas

Telephone: 020 3603 7946

Email: grace@cabbell.co.uk

Printers

Stephens & George Print Group

2019 subscriptions

UK: £112 per annum

International: £145 per annum

Single copies: £12.50

ISSN 0265-2099

The Recognised Standard / www.cicm.com / March 2019 / PAGE 3
---
EDITOR'S COLUMN

The FCA and an anodyne

comment of nothingness

Sean Feast FCICM

Managing Editor

CLAIMS Management Companies

are making spurious

and vexatious claims against

creditors, and they could do

real damage if the regulator

doesn't take swift action.

That seems to be the conclusion from

our exclusive investigation on page eight

that suggests that Claims Management

Companies are looking for the next PPI,

and they think they've found it by making

claims against lenders, collections agencies

and buyers in order, seemingly, to extort

money.

Some creditors we have spoken to have

even received claims from individuals

who when contacted had no idea that a

claim had been lodged on their behalf,

suggesting serious breaches in data

protection regarding how personal data is

being shared and used.

Now you'd have thought that in taking

this information to the Financial Conduct

Authority (FCA) they would have been

quick to make reassuring noises, especially

since they will be taking over regulatory

responsibility in this area in four weeks'

time, and particularly since there are

already concerns that it will take them so

long to get up to speed, that by the time

they are ready for action the damage will

have already been done.

No, not a bit of it. Despite giving them

the opportunity of telling creditors that

they are on the case, and will come down

hard on any transgressors, they simply

fobbed us off with an anodyne comment

of nothingness. Which is a pity. And a

missed opportunity.

The Ministry of Justice, similarly,

and unbelievably, appeared to have no

knowledge of such activity, (haven't they

heard of Wonga??), which means they are

all either sticking their heads in the sand

or they really cannot see what is staring

them in the face, which is a worry. What is

more of a concern, however, is that if the

MoJ has no knowledge of such practices,

then how are they briefing the FCA for

when it takes over in April?

(It is worth pointing out that we did also

contact the Chief Executive of the Alliance

of Claims Companies for a comment, and

despite an initial promise, a quote was not

forthcoming beyond originally saying that

it was not something he was aware of).

So to reassure readers, all of the people

who should know about this, apparently

don't. Let's hope that actually, they do, but

for some reason they just didn't want to

tell us.

The Recognised Standard / www.cicm.com / March 2019 / PAGE 4
---
CMNEWS

A round-up of news stories from the

world of consumer and commercial credit

Written by – Sean Feast FCICM and Alex Simmons

Complaints against debt

collection activities fall

THE Credit Services Association

(CSA) has challenged the

reporting of recent complaint

statistics into debt collection

activities.

It believes that debt collectors are

being singled out unfairly to make a

headline, conveniently ignoring the fact

that complaints against debt collectors

have in fact fallen in the last 12 months

and represent only 0.0021 percent of the

50,000,000 accounts handled by CSA

members.

The figures from the Financial

Ombudsman Service (FOS) show that

there were just over 1,000 complaints

regarding debt collection activities in

2017/18, but less than a third (31 percent)

were upheld.

The CSA believes a three percent fall

in complaints against debt collection

should be seen in the context of an 83

percent increase in complaints against

credit reference agencies, a 73 percent

rise in complaints against hiring, renting

and leasing businesses, and a 64 percent

increase in complaints regarding payday

loans (17,256 complaints in 2018 versus

10,529 in 2017).

They should also be seen in the

context of rising complaints in other

areas such as pet and livestock

insurance (1,508 complaints representing

an increase of 38 percent year on year)

which suggests that consumers are more

likely to complain about insuring their

cat or budgie than the way in which a

debt is collected.

"The decidedly small, and indeed

falling, number of complaints relating

to debt collection activities, particularly

against a backdrop of rising complaints

elsewhere, illustrates the level of

commitment from CSA members, and

other financial services creditors, to treat

their customers fairly when collecting

outstanding debts," says Peter Wallwork,

CSA Chief Executive.

"Singling out debt collectors in

this way fails to take into account the

significant progress the industry has

made in the last ten years, especially

in the identification and treatment of

vulnerable customers, work that has

been acknowledged by the regulator,

the Ombudsman, and the various debt

charities."

Mr Wallwork also says it is important

to understand that the total number of

complaints relates to debt collection

activities as opposed to debt collection

agencies per se: "This means it includes

complaints raised against in-house

collections teams within banks and other

financial services institutions.

"Whereas the CSA accepts that any

complaint is one complaint too many,

failing to provide proper context does the

agencies a considerable disservice in the

work that they do in treating customers

fairly, helping them to become debt free,

and returning significant sums to the UK

economy.

"Some creditors outside of financial

services might indeed benefit from the

high-level musings in the Money Advice

Service's creditor toolkit, but they can

learn more from the practical expertise

of those firms that are already delivering

a high level of customer care."

csa-uk.com

Peter Wallwork

MCICM

>FCA OPENS INNOVATION SANDBOX

THE Financial Conduct Authority (FCA) has

invited applications from fintech firms wishing

to test new financial products across more than

one jurisdiction.

Almost a year after the FCA first suggested the

idea for a cross-border innovation sandbox, the

Global Financial Innovation Network (GFIN) – a

group of 29 financial regulators which includes

the FCA – has finally opened applications to

any firm that wishes to test innovative financial

products, services or business models in a live

market environment. However, candidates

will have to send applications to each relevant

regulator in the jurisdictions where they wish to

operate.

"The pilot tests will provide a more efficient

way for innovative firms to interact with

regulators across the world, as they look to

scale new ideas," the FCA said in a statement.

"Each regulator will make sure that appropriate

safeguards for their jurisdiction are in place for

the tests." fca.org.uk

The Recognised Standard / www.cicm.com / March 2019 / PAGE 5
---
NEWS

IN BRIEF

Credit Experts launch

'CREDIT Experts' will premiere during British

Credit Week in March 2019, and form part

of an extensive communications campaign

featuring CICM members, industry partners,

government partners, as well as relevant

journalists, writers and bloggers. The

programme will aim to promote excellence

in credit management and raise awareness

of its vital role within business and the

community. It will also look at how poor

credit management or lengthy payment

terms can have a significant and detrimental

impact later down the line including the

mental health of those involved in the supply

chain.

Holes in the walls

CASH points are closing at a rate of 16 per

day, the fastest ever recorded, according to a

new study. Figures from the consumer group

Which? show cash machines disappeared at

a rate of 488 per month between June and

December last year. Over the six months,

2,962 cash points were taken out of service,

representing a 4.6 percent decline in the

overall network of 63,152. The Federation of

Small Businesses (FSB) and Which? have

launched a campaign calling for a dedicated

regulator to be put in place to ensure

companies and shoppers who rely on cash

are not left behind. which.co.uk

Fresh Insight

THE Office for National Statistics (ONS) has

launched a specialist unit that it claims will

provide fresh insight into the economic

effects of globalisation and multinational

enterprises. The ONS International Business

Unit will work with some of the largest

multinationals to ensure that their activities

are recorded accurately and attributed to the

correct countries. ons.gov.uk

ECB Chief Economist

IRELAND'S Central Bank Governor Philip

Lane will be confirmed by EU leaders as the

European Central Bank's Chief Economist

next month. He will replace Peter Praet, a

former director of the Belgian National Bank,

and serve a non-renewable eight-year term

from 1 June. ecb.europa.eu

CICM Chief calls

for more challenges

to the PPC

CICM Chief Executive Philip King

has defended the Prompt Payment

Code and the Compliance Board

over its actions relating to the

recent failure of the construction giant,

Carillion.

Speaking at a construction industry late

payment workshop last month, Mr King

said that not a single complaint was raised

against Carillion while it was solvent, and

that the volume of complaints being raised

against other signatories to the Code still

remained 'pathetically low'.

"Clearly there is a reluctance for

businesses to raise a complaint, perhaps

because of concerns about how it might

affect their relationship," he says. "Whereas

the Compliance Board will proactively

challenge signatories, based on their Duty

to Report, we still urge businesses who

have evidence of poor practice to come

forward so we can investigate fully."

Mr King said that in 2016, the Board

received only 16 challenges, and only 21

challenges in the last 12 months. "Small

Construction growth hits new low

THE IHS Markit/CIPS UK Construction

Purchasing Managers' Index dropped to

50.6 in January, down on 52.8 in December

and close to the 50 no-change reading.

New orders increased only marginally,

contributing to the slowest expansion in

employment numbers for two-and-a-half

years.

All three construction categories

recorded weaker trends, with residential

work the strongest performing area and

commercial work the weakest. Civil

engineering activity increased marginally.

Brexit and the economic outlook were yet

again mentioned in anecdotal evidence as

weighing on client demand.

Slower growth in input buying reduced

pressure on construction supply chains and

there was the joint mildest deterioration

in vendor performance since September

2016. Input price inflation continued to

moderate, with average cost burdens

rising at the slowest pace since June 2016.

Price increases were linked to imported

construction products and materials.

ihsmarkit.com cips.org

Developer banned over missing millions

A property developer has been banned

from running companies for 10 years

after millions of pounds of council cash

earmarked for Northampton Town's new

football stadium went missing.

Howard Grossman was sole director of

1ST Land Limited which was incorporated

in August 2013 to act as the contractor for

the club's plans to redevelop the Sixfields

Stadium. Between December 2013 and

July 2014, 1ST Land received at least £6

million from Northampton Town towards

the costs of redeveloping the stadium. The

football club in turn received the funds from

Northampton Borough Council.

In January 2015 1ST Land entered into

administration following the petition of

a creditor before entering into Creditors

Voluntarily Liquidation in December 2015.

Northamptonshire Police and the Insolvency

Service carried out an investigation into the

Philip King FCICM

Chief Executive of the CICM

businesses can help themselves by helping

us to identify those who continue to behave

badly," he added, "and in removing their

names from the Code." Meanwhile, Labour

MP and Shadow Business Secretary Bill

Esterson has been putting forward his

alternatives for tackling late payment:

"Thoughts are always welcome," Mr

King says, "but he will find there is no

silver bullet. What is needed is a proper

investment and full support in the tools

that are already in place, and wider use of

regulation on the charging of late payment

interest that already exists.

"Investing in professional credit

managers and following best-practice credit

management are also essential in helping

to identify risks before they become a

problem." promptpaymentcode.org.uk

collapse of 1ST Land and Grossman's conduct

while a director.

Investigators discovered that Grossman

failed to ensure the company maintained

adequate accounting records or deliver

a sufficient amount of records to the

administrators. As a result, it has been not

possible to determine the exact nature of

more than £5.6 million worth of payments

made to various parties from 1ST Land's

accounts. The Secretary of State has

now accepted a 10-year disqualification

undertaking from Grossman.

Sue MacLeod, Chief Investigator for the

Insolvency Service, says: "Northamptonshire

Police is continuing its nationwide

investigation into the missing Northampton

Borough Council loan money and is working

with other prosecuting authorities to

recover public funds." gov.uk/government/

organisations/insolvency-service

The Recognised Standard / www.cicm.com / March 2019 / PAGE 6
---
Trade body opens new route

to commercial finance

>NEWS

IN BRIEF

THE National Association of Commercial

Finance Brokers (NACFB) has launched

an enhanced online portal, (nacfb.org/

findsmefinance), offering UK businesses

access to the trade body's membership of

independent finance brokers.

The free directory enables UK businesses

seeking finance to simply filter their funding

requirements by loan size, type and location

and are then presented with a range of

the Association's commercial brokers to

approach.

The platform is available to all UK SMEs

and provides exclusive access to NACFB

broker members with the aim of offering an

alternative route to finance for businesses

Getting onboard

GRAYDON has appointed Jonathan Cushley

to spearhead its strategic growth in Ireland,

where he will be focusing primarily on

Graydon's new onboarding platform, an

AI-based, turnkey solution that claims

to simplify credit, fraud and compliance

processes into one seamless workflow.

Previously European Account Director at

D&B, Jonathan has more than 33 years'

experience in driving global sales and

revenue in the business intelligence sector.

graydon.co.uk

that may have been turned away elsewhere.

Each NACFB broker has an updateable

online listing and can monitor SME

engagement through the platform via an

analytical dashboard.

NACFB chairman, Paul Goodman, says the

government's bank referral scheme helped

just 230 British businesses access £3.8

million of funding in its first nine months.

"Only 2.8 percent of the 8,100 businesses

referred through the scheme were able to

draw finance," he claims. "The site will seek

to provide a lifeline to those left behind

by providing access to a wide range of

brokers, all of whom adhere to an industry

recognised code of practice." nacfb.org

Simply Irish

SIMPLY Asset Finance has appointed

Gary Coburn as Head of Sales for Northern

Ireland. Gary has 20 years' industry

experience and joins Simply after nine

years at Close Brothers Asset Finance

where he was responsible for the Northern

Ireland Asset Finance sales team. In his

new role, Gary will have full responsibility

for Simply's offering in Northern Ireland

and will contribute to the overall growth

strategy of the business.

simply.finance

LEVEL 3

ENFORCEMENT

The Level 3 Award in Advanced

Enforcement is an online course

available for purchase on the

Knowledge Hub. For further

information or detail, email

jo.grant@cicm.com or

learningsupport@cicm.com.

Leadership team

Phillips & Cohen Associates has

appointed Dani Shi as Senior Vice

President of Global Data Systems and

Analytics. In this newly created position,

Ms. Shi will lead its growing analytics,

MIS and platform management teams

in all markets. Ms. Shi has experience

in process, strategic and quantitative

analytics in the collections space for

multiple large-scale financial institutions,

most recently serving as Senior Vice

President Risk Analytics for Citi.

phillips-cohen.co.uk

Ultimate Finance

JOSH Levy has been appointed as Chief

Executive Officer of Ultimate Finance,

succeeding Ron Robson who has served

as CEO since 2015. Beginning his career

in the Investment Banking Division

of Investec Bank, Josh has worked at

Tavistock Group since 2016 and is on the

board at Mitchells & Butlers. He holds an

MSc and a BA (Hons) from the University

of Nottingham.

ultimatefinance.co.uk

P2P platform launches to fund litigation cases

A

new

crowdfunding platform has

been launched to fund litigation

cases, and give investors an

expected return of up to 60

percent.

AxiaFunder, the business behind

the platform, claims to have already

fully funded its first case, a professional

negligence dispute that was looking to raise

£12,720. If the case wins, the expected return

for investors is said to be 60 percent per

year. Average returns across all cases are

predicted to be in the 20-30 percent range,

a figure that is substantially higher than

alternative finance investments.

Litigation finance providers offer funding

for claimants who cannot afford to pay for

their legal disputes, in return for a share

of the settlement or damages. The finance

typically comes from institutions such as

hedge funds and private equity houses, but

crowdfunding platforms open this sector up

to individual investors. AxiaFunder Chief

Executive, Cormac Leech acknowledges that

investors may have initial concerns about

the exceptionally high returns on offer,

explaining that there is some education

required about the litigation finance sector:

"AxiaFunder undertakes a rigorous process

to assess potential deals," he explains.

"We only extract five to 10 percent of

cases that come across. Once investors are

signed up to the platform and have signed

a non-disclosure agreement, they can

access legal correspondence pertaining to

the case which gives them a good level of

transparency on their investment."

Mr Leech says there tends to be a 30-35

percent chance of losing the cases they put

on the platform but all cases are insured by

an investment-grade insurance company,

protecting against adverse cost risk.

Elsewhere, a global crowdfunding

platform has been launched to support

international development projects. IsDB

Innovate was developed for the Islamic

Development bank to raise money for

science, technology and innovation projects

that are aiming to solve the world's biggest

problems. Current projects include funding

research into an anti-Ebola treatment and

the development of a low-cost glucose

monitoring unit to help Diabetics.

IsDB says that projects can be put on the

platform from anywhere in the world, but

most tend to be from developing countries.

The platform currently only accepts

donations but is set to open up to debt and

equity investments later this year. IsDB

Innovate will be applying for regulatory

approval in various countries ahead of its

expansion into debt and equity investments.

axiafunder.com

The Recognised Standard / www.cicm.com / March 2019 / PAGE 7
---
NEWS SPECIAL

CLAIMING DAMAGES

Have Claims Management Companies found their

next unwitting victims?

AUTHOR – Sean Feast FCICM

CLAIMS Management Companies

(CMC) are looking

for the next PPI, and they

think they've found it with

creditors and lenders.

Information seen by

Credit Management suggests a series of

vexatious and spurious claims may be being

made by CMCs against lenders, collections

agencies and buyers in order, effectively, to

extort money.

And some creditors are allegedly

receiving claims from individuals who

when contacted had no idea that a claim

had been lodged on their behalf, suggesting

serious breaches in data protection

regarding how personal data is being

shared and used.

While CMCs will shortly come under

the jurisdiction of the Financial Conduct

Authority (FCA) (from April 2019), some

creditors fear it will be at least 18 months

before the FCA properly gets to grips with

the problem, a fact that some suggest is

currently being exploited by unscrupulous

CMCs.

It is also suggested that some CMCs will

be able to avoid FCA regulation altogether;

those that are, in effect, legal practices

fall under the authority of the Solicitors

Regulation Authority (SRA), and some have

suggested that the SRA does not have the

resources to fully investigate what is going

on – a suggestion, it should be said, that the

SRA strongly disputes.

Credit Management understands that

the Information Commissioner's Office

(ICO) is also looking into possible data

breaches, having been made aware of the

issue by a major lender, although again the

ICO suggests that it is, as yet, unaware of

any such action being taken.

SCAM APPROACH

The CMC 'scam' is to inundate creditors/

lenders with claims detailed on a

spreadsheet, with each spreadsheet often

containing thousands of names. The

'threat' is that the CMC will take its claims

to the Financial Ombudsman Service (FOS)

if the claims are not settled. Whereas every

creditor is allowed 25 FOS complaints 'free',

for every complaint raised beyond those

25 it is obliged to pay FOS a fee of £550 per

case, regardless of whether the complaint

is subsequently upheld. CMCs are therefore

suggesting that the creditor agrees a oneoff

payment in order to make those claims

go away.

One industry insider told Credit

Management that not only is this

tantamount to blackmail, but more

importantly, it also means those

consumers with legitimate complaints

will lose out. Another lender told us that

12 months ago it had four staff handling

consumer complaints referred to it by

CMCs; today it has 40. A third has paid out

more in FOS fees in the last 12 months than

mediation!

CMCs are also steering consumers to

pre-populated templates.

"Lenders are happy to handle genuine

complaints," another insider told us.

"But swamping lenders with vexatious

and spurious claims is pushing lenders

to the limit, and could force them into

liquidation, in which case nobody wins.

And if the lenders are the target today, then

who is to say that the banks and overdrafts

won't be next."

Consumer detriment is a genuine

concern. Another source told Credit

Management that they knew of one creditor

with a team that was purely focused on

managing template letters: "Some of the

letters are so poor that they still contain

Latin," the source said.

"But what is more alarming is that

consumers who may already have an

agreed repayment plan are being tempted

to fill out these templates or go to CMCs who

are guaranteeing them that for a fee, they

can wipe out their debts altogether. There

is never any such guarantee," the source

continued, "and if a customer breaks their

current repayment arrangement or debt

management plan it could lead to a very

poor outcome."

One solution to stop the volume of

vexatious claims would be to charge CMCs

FOS fees for those complaints that are not

upheld. This would narrow it down to only

legitimate complaints, and make the CMCs

much more focused on those complaints

that they elevate. This would, in one

insider's view prevent CMCs from using

FOS as a weapon.

It is a widely accepted view that Wonga

was taken down because it could not handle

the many thousands of data subject access

requests it received, a fact, it should be

said, that is disputed by the claims industry

itself.

The Recognised Standard / www.cicm.com / March 2019 / PAGE 8
---
Lenders are happy to handle

genuine complaints, another

insider told us. But swamping

lenders with vexatious and

spurious claims are pushing

lenders to the limit.

LITIGATION EXEMPTION

CMCs that are legal practices legitimise their actions

by relying on 'litigation exemption', but to qualify their

actions must be proven to be in contemplation of

litigation – i.e. there must be a reasonable expectation

that a legal case will be forthcoming, and that the

exercise is not simply a 'fishing trip' which would be in

breach of the regulated activities order. Effectively, this

would mean CMCs providing debt advice that they are

not authorised to give.

The SRA is certainly aware that some malpractice

is underway, and says that it has been working closely

with the Claims Management Regulator (CMR part of

the Ministry of Justice) to stamp it out. Spokesman Lee

Shrimpton told Credit Management: "We speak mostly

about PPI claims, but the Regulator has made us aware

of solicitor firms involved in other financial product

claims. These firms cannot make the calls – the SRA

Code of Conduct makes that quite clear – but if they are

involved with CMCs that do, then we will take action if

we find evidence of misconduct."

The SRA is also keen to stress that it has both the

resources and the appetite to act where necessary: "We

have worked with the CMR on claims work for some

time, so it has long been a priority and remains so. So

much, in fact, that it became a 'priority risk' in our Risk

Outlook for the current year. The number of law firms

associated with the area of work (you describe) is very

low, so could be absorbed easily into our workstream

if we are presented with strong, actionable evidence of

wrong-doing on their part."

In April, responsibility for regulation will be handed

over from the MoJ to the Financial Conduct Authority

(FCA). Since the FCA is not yet the industry's regulator,

it declined to comment on whether it was aware of the

issue, or whether it would be a priority. Roshini Johnson

in the FCA press office did confirm, however, that the

FCA will shortly be publishing final rules on how it

intends to regulate the sector, and Credit Management

understands that the FCA is not only deeply concerned

about the situation it is inheriting, but is determined to

make it a key priority.

In terms of the alleged data breaches, the ICO

is similarly coy. An ICO spokesperson told Credit

Management: "We are aware of the reports of fraudulent

claims but we have not received any complaints in

relation to this and no substantiated evidence has been

submitted to us. If anyone is concerned about how their

personal data has been handled they can report this to

the ICO and we will make enquiries."

The Credit Services Association (CSA), however, is not

so backward in coming forwards. Peter Wallwork, the

CEO, says that members have witnessed a concerning

and marked increase in vexatious claims from alleged

consumer advocate organisations: "These risk swamping

creditors and members with two likely outcomes," he

explains. "It will mean a significant increase in cost to both

the recipients and FOS, given the additional resources

that will be required to manage such potentially large

volumes; and it means the risk that genuine complaints,

and customers who may be in vulnerable circumstances,

will no longer have the visibility they need within the

complaints system."

Poor advice, Mr Wallwork says, is a major contributor

to the increase in mischievous claims, as are the templates

provided online at certain consumer sites: "Perhaps their

intentions are honourable, but customers are believing

the advice they are being given, and actually making

their position worse, not better, as a result."

The Recognised Standard / www.cicm.com / March 2019 / PAGE 9
---
NEWS

IN BRIEF

NatWest claims

UK accountancy

software 'first'

NATWEST and fintech company FreeAgent

are to offer direct bank feeds of NatWest and

Royal Bank accounts via the open banking

platform, exclusively to its SME customers –

and they claim a UK accounting software first.

The improvement will give customers

greater security and visibility of the finances

they hold with the bank's NatWest and Royal

Bank brands, using the industry's new open

banking platform. This will initially be open to

a select group of test users, with a wider rollout

expected later in 2019.

The new feature uses open banking to

deliver secure data feeds from customers'

accounts via an API (application

programming interface), directly into

FreeAgent. The move will provide the bank's

customers with faster access to these

accounts and added security and data quality.

business.natwest.com freeagent.com

Crowning glory

MARTIN Traynor OBE, the recently-appointed

Small Business Crown Representative, says

he will work to ensure the Government

gets best value and small businesses have

improved access to government contracts.

Traynor is the Deputy Chairman of the

University Hospitals of Leicester NHS Trust,

runs his own training and consultancy

business and is the former Group Chief

Executive of Leicestershire Chamber of

Commerce. He says he aims to build on

the work of predecessor Emma Jones: "The

Government buys a wide range of goods and

services from businesses right across the

country which represents a huge opportunity

for many of the UK's small businesses. I will

work with colleagues across government

to tackle any barriers to our procurement

processes." gov.uk

Revolut denial

REVOLUT Chief Executive Nikolay Storonsky

has denied that the digital bank has links to

the Kremlin. Revolut was granted a European

banking licence by the Bank of Lithuania in

December, enabling the company to offer

its services across the EU. However, Stasys

Jakeliunas, Chairman of the Lithuanian

Parliament's Budget and Finance Committee,

has accused Mr Storonsky – who is the son

of a director at a division of Gazprom – of

interfering in the country's politics due to his

links with Russia. Mr Storonsky has published

an open letter in which he rejects the claims.

revolut.com

CICM Essentials

This week's briefing includes details of the

Taking Control of Goods Exam, the last

chance to apply for CICM Examiner roles, the

opening of the booking window for March

online exams, and a national initiative to

support the development of female leaders

across the UK's finance sector.

UK businesses under increasing

attack from cyber criminals

UK businesses were subjected

to 281,094 internet-borne

cyberattacks each last year,

according to analysis from

Beaming, the business ISP.

The volume of attacks on UK companies

was more than a quarter (23 percent) higher

in 2018 than it was in 2017, surging to over

1,500 attacks a day on average in the final

two months of the year. Beaming's analysts

identified more than 1.3 million unique

IP addresses used by cybercriminals to

launch cyberattacks on UK companies in

2018. Just under a fifth (16 percent) of these

IP addresses were located in China. Much

of the cyberattack activity in November

and December was traced to IP addresses

in Brazil and Russia. Some 12 percent and

seven percent of the IP addresses used to

target UK companies in 2018 were located in

Brazil and Russia respectively.

Research reveals the loneliness

of a no-distance worker!

HOMEPRENEURS – the new name given

to the UK's growing army of home-based

entrepreneurs – are not all happy in their

work, and some suffer from loneliness

according to new research from Barclays.

Two in five (38 percent) of UK businesses

are now home-based, with the number

steadily increasing by three percent over

the last five years.

Some 68 percent of those surveyed say

they feel happy and a further three in five

(62 percent) experience excitement while

running their business at home. Over half

(59 percent) said they are more efficient

working alone without distractions from

others, and one in five (20 percent) admitted

to sometimes wearing their pyjamas while

working.

However, over a third (37 percent) of

homepreneurs surveyed also admitted to

CSA further strengthens Board

THE Credit Services Association (CSA)

has appointed four new senior industry

executives to its Board.

Frank Horvath has more than 30 years'

experience in financial services, including

27 years as a lender, debt seller and debt

placer. He is currently Managing Director of

Link Financial Outsourcing.

Joanne Cowens, Head of Conduct and

Risk at NCO Europe, has similarly worked

in the financial services industry for more

than 30 years and is a former executive

within the Financial Ombudsman Service.

Stewart Hamilton also has substantial

regulatory expertise, and is currently

General Counsel and Company Secretary

The Recognised Standard / www.cicm.com / March 2019 / PAGE 10

The most common target for

cybercriminals in 2018 were IoT

applications such as building control

systems and networked security cameras

that could be controlled remotely over

the internet, as well as network device

administration tools that are often

unsecured by default. On average,

businesses were subjected to 489 attacks

a day targeting these systems in the final

quarter of 2018. File sharing applications

attracted 277 attacks a day and databases

120 attacks a day over the same period.

Sonia Blizzard, Managing Director of

Beaming, says it has seen a huge surge in

criminal activity online in the final months

of 2018: "UK businesses were attacked at

least once every two minutes last year,

making it the worst year on record for

cyberattacks."

beaming.co.uk

experiencing feelings of loneliness while

working from home. Almost two-thirds

(64 percent) attributed these emotions to

not having colleagues around to discuss

ideas with, and around half (49 percent)

said these emotions were a consequence

of not having people around for support

when things get stressful. Almost a fifth of

respondents (17 percent) said they actively

phoned their friends and family during the

day to combat isolation.

When homepreneurs were asked about

the support needed to grow their business,

three in ten (30 percent) said they want

to work alongside more like-minded

businesses, and over a quarter (27 percent)

said they would like to collaborate with

more people who can help grow their

business.

barclays.com

at Arrow Global Group plc, managing a

significant European in-house legal and

company secretarial team.

Ian Rea has held a variety of roles

working for large banking operations

(HSBC), a big four consultancy (Deloitte),

front-line retail financial services (HBOS)

and the UK's primary conduct regulator

(FCA). He is currently Group Compliance

Director at Cabot Credit Management.

John Ricketts, CSA President welcomed

the new members to the Board at the CSA

Annual General Meeting on 5 February: "The

talent and experience they bring will add

further weight and expertise to our Board,"

he says. csa-uk.com
---
INSOLVENCY

ROBUST, TRUSTED

AND TRANSPARENT

Building the highest standards of insolvency

practitioner regulation.

AUTHOR – MICHELLE THORP

Michelle Thorp

THE measures that the

Insolvency Practitioners' Association

(IPA) is implementing

to strengthen the regulation

of Individual Voluntary

Arrangements (IVA) are a vital

way of ensuring that creditors, indebted

individuals and the public can have trust

and confidence in the UK's insolvency regime.

As I've set out before, the UK's world

class insolvency framework (ranked one

of the best in the world by the World Bank)

is something the insolvency profession

and the wider public should be proud of.

For the creditor community, a world class

framework matters because it means more

money will be returned more quickly

and cheaply than in other countries. This

means that we can start, run, and grow

our business in the UK with confidence;

knowing that if something goes wrong, our

investment is appropriately protected.

As a regulator of insolvency practitioners,

it is our role to keep the regulatory

framework under constant review, and

strengthen it where needed. As part of that

work, the IPA announced in February new

measures to modernise its own regulatory

and governance framework. This is in

addition to the specific measures we are

taking to improve the way we regulate

Volume Providers of Individual Voluntary

Arrangements, about which I wrote in the

last issue of Credit Management. These

measures are important because they will

help ensure that our insolvency regulation

processes are as robust, trusted, and

transparent as they can possibly be.

NEW MEASURES

The IPA is always looking at ways to

strengthen and improve regulation. It is

a vital part of what we do. We know that

there are times when businesses have felt

that regulation has fallen short of where it

should be. Whether it's delays in dealing

with a complaint you have made, or a

report you have received that was long and

complicated to understand, we are listening

and making appropriate changes where we

can.

The Government too is always looking

at ways to improve insolvency practitioner

regulation. In 2015 it introduced Regulatory

Objectives (for the five insolvency

regulators including the IPA) as part

of its 2015 Small Business, Enterprise

and Employment Act. At the same time

as introducing those objectives, the

Government set out legislation that gives

it the power to introduce a single regulator

for insolvency should it assess that the

regulatory objectives have not been met.

That power expires in 2022. The Insolvency

Service recently announced that it was

using the prospect of that power expiring as

an opportunity to review the way in which

insolvency regulation arrangements were

achieving the principles set out in the 2015

legislation.

It was against that background we

launched a full review of our regulatory

and governance structures in the autumn

of last year.

MONITORING IPS

The new measures will streamline our

monitoring visits to insolvency practitioner

firms, and our reporting processes. This

will deliver a monitoring regime which is

more efficient, more targeted, and,

importantly for creditors, quicker. Visits

will be tailored to types of insolvency

practitioner firms and will give greater

weight to risk analysis. Monitoring reports

by our inspectors will also be more

focused on systemic and major problems,

and include recommendations for

changes, further action, and sanction

helping to inform committees, and

improve decision-making consistency and

transparency.

COMPLAINTS

We know how important it is that

complaints should be dealt with as quickly

and efficiently as possible. We have listened

to where changes need to be made and will

be introducing more stringent processes

for dealing with aged complaints, as well as

introducing a more robust internal review

process to identify where there might be

issues progressing a complaint. These are

being introduced together with a revised

Investigation Report structure.

REGULATORY DECISION MAKING

To strengthen the regulatory decisionmaking

process at the IPA, our four

regulatory committees (Membership and

Authorisation; Investigation Committee;

Disciplinary Committee; Appeal

Committee) will be pooled into two tiers.

The first will focus on authorisation,

complaints and monitoring, and the

second will focus on tribunals and judiciary

decisions. This new two-tier structure will

ensure that potential conflicts of interest

are avoided and maximise the application

of the panel members' expertise. This

will create a stronger and more objective

decision-making process where insolvency

practitioners may have fallen short of the

regulatory standards to which they should

adhere.

As the only Recognised Professional

Body that deals exclusively with insolvency,

we strive hard for the highest possible

standards of insolvency practitioner

regulation. The changes we have made

will go some way in continuing to build

a regulatory framework that is robust,

transparent, and trusted.

As part of keeping our regulatory

framework under review, I am always keen

to hear the views of creditors. So please

do share your views with me so that we

can work together to make sure that the

UK's insolvency practitioner regulatory

framework is not only world class, but also

in-line with your expectations.

Michelle Thorp is CEO, Insolvency

Practitioners Association.

The Recognised Standard / www.cicm.com / March 2019 / PAGE 11
---
INTERVIEW

THE

GLASGOW

RANGER

Sean Feast FCICM speaks to

Martin Roseweir about outsourcing,

cold relief powders, and holidays in a

Talbot Sunbeam.

GLASGOW. Early. I've taken

the 7-40 flight from Heathrow

which means I am on

time for my meeting with

Martin Roseweir, CICM Think

Tank member and Managing

Director of Allied International Credit (AIC)

UK. We meet in his office where he is standing

up, a by-product of an ongoing Sciatic nerve

problem which makes sitting down painful.

In front of him is a platform that raises and

lowers like a miniature scissor lift.

For the briefest of moments, I have an image

of having to conduct the whole interview on my

feet, and wonder how I am going to manage it,

but Martin assures me that he is through the

worst of it, and thanks to the miracle worker

who is his Physio he is all-but cured.

"It used to confuse some of the staff," he

jokes, "when they looked through my office

window and saw me standing at my desk. It

looked like I was a DJ!"

Martin is a Glaswegian born and bred.

Originally from Priesthill on the Southside

of the City, his early years were a challenge:

"Dad worked for Chrysler in the press shop,

but the noise ultimately made him deaf and he

was out of work. My mother did door-to-door

collections for Pearl Insurance and so became

the principal bread winner."

CAREERS ADVICE

While he does not overplay his back story,

there is no doubt that his childhood and

teenage years have shaped his life. At

school, a careers' advisor suggested teaching

(ironically his sister is now a primary school

head teacher), but Martin was perhaps

more interested in a 'hands-on' profession,

such as electrical engineering. Colour

blindness, however, proved to be a barrier

too far: "I don't think anyone would have

been happy with me cutting wires when I

couldn't tell which colours they were," he

laughs.

He joined a YTS scheme at 16 (For those of a

younger age, this was a Youth Training Scheme)

and began working for Abdine Ltd, a company

that was synonymous for its cold relief powders

and stomach settling powders.

Martin found himself as a jack of all

trades, from unloading trucks to setting

up manufacturing, packaging and printing

machinery. "I had a mentor called Vito, who

was my boss. He was an Italian and treated me

like a son. He also introduced me to brandy,

which was perhaps not such a good thing."

Becoming an essential part of the company's

operations, Martin decided that his school days

were over. After nine enjoyable years at Abdine

he joined Frank Sammeroff Ltd, a medical

products firm (the company was eventually

wound up in 2010 with the loss of more than

100 jobs). Again, he was employed doing a little

bit of everything, especially as a machinery

trouble-shooter, and also learned how to drive

a forklift.

EXTRA CASH

While working for Sammeroff's, Martin took

an evening job at AIC to earn a little extra cash.

With a credit card to pay off, and a holiday to

pay for, he needed the money. It proved to be

a life-changing experience in more ways than

one. Not long after joining the company he

was diagnosed with Testicular Cancer: "My

daytime employer was only interested in when

I was coming back to work, but Kenny Johnston

(Kenny is today President of Bill Gosling

Outsourcing, AIC's parent company in Canada)

told me to get better and the job would be still

there at the end of it."

The Recognised Standard / www.cicm.com / March 2019 / PAGE 12
---
Bill Gosling is a fictitious name – a

combination of Bill (as in the beak of

a Goose) and a Gosling (the young of

a Goose). The company was founded

in 1955 in Toronto, Ontario, by John

Rae. Originally operating as Allied

International Credit (AIC), and

focusing solely on accounts receivable

management, the company quickly

established roots in the UK, and

branched into the customer service

realm.

After decades of growth, the

company changed hands but stayed

in the family, when David Rae (John's

son), along with an investment team,

purchased AIC from John. Bill Gosling

Outsourcing develops customer

communication solutions for every

part of the customer lifecycle, from

start to end.

The Recognised Standard / www.cicm.com / March 2019 / PAGE 13 continues on page 14 >
---
INTERVIEW

AUTHOR – SEAN FEAST FCICM

Having recovered, Martin decided to work

for AIC full time, steadily rising through the

ranks from team leader to team manager,

though it was far from easy: "I missed out on

promotion to Operations Manager on two

occasions, thinking I would just be given the

job, but realised I had to push myself forward."

Eventually successful, Martin went from

Ops Manager to Operations Director, a post he

held for seven years until Kenny's departure

for Canada. Asked to fill-in while they searched

for a replacement, early candidates didn't meet

the expectation, and in November 2012 Martin

was offered the job himself. It was, by any

measure, a remarkable achievement for a man

who started as a part-time agent to eventually

land the top job, and he well remembers the

early days of a cigarette smoke-filled office and

agents flicking through the small ads of the

local paper to recommend short-term loans

to customers in debt! He also learned a great

deal from his contemporaries, who he still sees

from time to time in the industry.

INFLUENTIAL FIGURES

Tom McCausland, a partner in the business,

was another influential figure: "Working one

evening as an agent I was not aware that he was

listening to me. When the conversation with

the customer ended he simply said 'that was a

great call'. It seems such a simple thing but it

was profound. It made me appreciate that you

need to make time for your people, to learn

something about them, and give feedback

where you can. Without them you don't have

a business."

AIC is more than 'just' a third-party

collections agency. It is a full business process

outsourcing (BPO) business with collections as

one of its key services. Its other services include

web chat, welcome calls, customer service

calls, first-party collections, processing, call

quality services, data cleansing and trace.

In Canada (Bill Gosling has offices in the

UK, Canada, the US and the Philippines) it

Martin is a keen outdoors

man, having recently

climbed Ben Nevis. He is

also committed to climbing

another few Munros (Scottish

mountains of more than

3,000ft) in the coming year, so

long as his back holds out.

even provides outsourced customer sales and

acquisition services.

This is not to say, however, that Martin

hides from AIC's collections role. Quite the

opposite. He is proud of what he sees as AIC's

expertise, often building internal processes

for clients to enable them to maximise their

revenues. He will even tell a client if he thinks

they are paying too much! "It's about creating

sustainable, progressive and collaborative

relationships," he says. "Sometimes we start

with just a small amount of business, and then

grow with the client to become an integral part

of their business."

Certainly, the client list is impressive.

Although for obvious confidentiality reasons

he cannot name names, the client portfolio

includes household brands in banking,

financial services, high-cost short-term

lending, energy and water. In some sectors,

especially utilities, his teams have as much if

not more knowledge and experience of the

industry than the clients they represent, simply

because they have been doing it for so long.

Indeed, Martin explains that many of his senior

team have been with the business for 20 years

or more, and that length of service is something

to be recognised and rewarded.

"Twenty years is not uncommon," he says,

"neither is starting from the bottom and

working your way to the top. Dave Rae, whose

father founded the business in 1955 (the UK

operation started in 1968) started life as an

agent in London. Today he is the company

CEO."

REMUNERATION AND REWARD

On the issue of remuneration, AIC has

moved away from financial incentives and

commissions towards a model with a fixed

contract and salary. It did not sit comfortably

with Martin that an agent's actions could

potentially be influenced by the need to earn

extra money to pay their own bills. By paying

above national living wage, and providing

non-financial but worthwhile incentives,

recruitment and retention rates remain positive,

and quality scores have actually improved.

Culture is important, as is staff engagement.

Business cards and titles mean little.

AIC and its people are big givers to charity;

The Recognised Standard / www.cicm.com / March 2019 / PAGE 14
---
INTERVIEW

AUTHOR – SEAN FEAST FCICM

staff have to pay £2 per month to dress down –

a simple gesture that raised more than £7,000

for good causes last year. It has also recently

launched a £10 challenge, the challenge being

to convert £10 to a larger sum, a challenge

that similarly managed to raise £3,000 in two

weeks. Martin also listens to staff feedback,

implementing suggestions wherever practical

to do so, such as installing phone charging

points in the locker room and giving birthday

holidays without it counting against their

annual leave allowance.

The company also offers incentives and

rewards to clients, among them 'Flock Coins'

that entitle clients to receive credits to 'buy'

additional services that they might not have

considered or think they need, but can

add further value to their business: "It's a

consultative approach," Martin adds, "that

enables them to try before they buy."

INDUSTRY ENGAGEMENT

In discussing wider industry issues, Martin says

that the biggest challenge is how to reduce the

overall cost to serve and protect Contribution

Margins, and at the same time meeting client

expectations. AIC shapes its services depending

on need, from a basic service with monthly

reporting to more frequent communication

and engagement in what is seen as a premium

service. What he does say, however, is that

whereas past conversations have been about

quality and compliance, conversations are now

shifting back towards collections performance,

penetration and stick rates.

He finds engagement through forums such

as the CICM Think Tank particularly useful: "It

is a tremendous opportunity to interact with

my peers and learn about issues that impact

the credit sector. Recent sessions on Bitcoin,

Robotics/AI and the current political situation

have been particularly interesting, as was

the discussion on Open Banking since that

increasingly appears on tenders."

He also reserves praise for the Credit

Services Association (CSA): "I think they fight

our corner well," he says. "They are always at

the end of the phone if we need them and if

they don't know the answer immediately then

they go away and find it. It is good looking at

issues through a CSA lens; we run a tight ship

and are very risk averse, but it is a comfort to

know the CSA is there."

"It used to confuse some

of them when they looked

through my office window and

saw me standing at my desk.

It looked like I was a DJ!"

great affection for his native Scotland where he

used to holiday with his family out of the back

of a Talbot Sunbeam!

Martin also likes nothing better than

watching his beloved Glasgow Rangers with

his 21-year old son. On his wedding day, his

wife was 45 minutes late arriving at the church

(the car had broken down) and Martin's first

question to his prospective bride was to ask

whether Rangers – who were playing Celtic in

the Old Firm derby – were winning! For the

record, they won 2 – 0.

Although Martin never became a teacher, it is

something that he still thinks about today, and

he is a keen mentor to schoolchildren wanting

to learn about business as part of the 'Career

Ready' programme. He takes great pleasure in

monitoring their progress, and watching them

grow. He is also a champion of younger people

in the workforce; AIC has a number of 16-year

olds who he believes bring different qualities

and perspectives, and are especially talented at

fact finding and problem solving.

With the rest of the business, he has also set

himself three personal and three professional

goals for the year. Among his personal goals is

to learn how to Sign: "I've seen how frustrated

my father gets in communicating with others,"

he explains, "and so it seemed like a good

challenge."

It is also about giving something back: "When

I was diagnosed with cancer, I was determined

not to get down. I learned to understand that

every day is another day and you have to live

your life to the full."

TALBOT SUNBEAM

Married for 27 years (by a remarkable

coincidence it transpires the editor and his

wife were married on the same day and the

same year), Martin is a keen outdoors man,

having recently climbed Ben Nevis. He is also

committed to climbing another few Munros

(Scottish mountains of more than 3,000ft) in

the coming year, so long as his back holds out.

An inveterate traveller, he has been lucky with

work to travel all over the globe, but still has

The Recognised Standard / www.cicm.com / March 2019 / PAGE 15
---
CICMQ

Omincom achieves

CICMQ accreditation

OMNICOM Media Group

(OMG) has achieved

CICMQ accreditation after

it had started the process

once but had to restart it

following major changes

within the business.

OMG completed the Workshop Approach

in April 2017, but shortly after it went

through a fundamental change – systems

were upgraded and certain activities

outsourced to India resulting in all but

three people in credit and billing – Gary

Tobin, Billing/Collection Co-ordinator,

Stephen Wilson, Credit Manager, and

Hardy Bates, Order to Cash Process Lead

– leaving the organisation. Overall there

has been a 60 percent reduction in staff

which has been reduced further within

transaction processing.

It was agreed with the Director of the

Shared Service Centre, David Hughes,

that OMG would start the process again,

completing both the Discovery phase and a

full CICMQ Assessment in order to achieve

accreditation.

"Despite the timing we were very keen

to attain the accreditation to demonstrate

that our new processes, methods and

procedures met CICMQ standards, and we

also saw it as a validation of what we have

done in transforming the business."

CICMQ Assessor, Pam Thomas said in

her report: 'It has been a long process for

OMG to get to this point. It is also recognised

that the journey isn't over as there are some

recommendations within the report, but

these are limited.

'There is great reporting through

the ERO57 tool which continues to be

upgraded. Policies and processes are all

new since 2015 and training has become

more important due to the offshoring.

Additionally, all of the team are now CICM

Members and the two new members of

staff are now keen to develop further, using

their skills to help manage the operation

remotely through the offshore centre'.

Credit management excellence

SHELL, the UK's largest publicly listed

businesses by market capitalisation, has

achieved CICMQ accreditation for the fifth

time, demonstrating that the principles of

good credit management remain despite

recent changes within its group structure.

Low oil prices over the past few years

have caused large challenges for the

business and have led to periods of reorganisation

and restructuring with jobs

being moved to shared services centres

and redundancies.

Despite the changes, Shell has

managed to maintain its extremely

structured and controlled environment

for credit management, culminating

in achieving another reaccreditation:

"We are in a similar position to two

years ago and again we looked to the

reaccreditation to get an outside view

of our processes. We are pleased with

the outcome, passing the accreditation

with no issues raised and also receiving

special praise for our results," says

Thomas Thies, Global Credit Policy and

Governance Manager at Royal Dutch

Shell.

The Recognised Standard / www.cicm.com / March 2019 / PAGE 16
---
OURAML SOLUTION WILL

HELPYOU SEAL

THEDEAL

There's

no need

to make life

complicated, you

have three problems;

we have one solution!

We deliver AML, Sanctions &PEP checks "all-in-one"

search, individual checks take 5seconds, business checks

take longer, 1-2minutes! Daily monitoring of all your clients for

Sanction &PEP changes for the lifetime of your contract isincluded at

no extra cost. Automatic enhanced due diligence, biography, adverse media

and photographic evidence isalso included inyour basic AML price.

Call us now to book afree demonstration on:

0113 333 9835

Or visit us online:

SMARTSEARCHUK.COM

POWEREDBY

SmartSearch delivers UK and International Business checks in the UK and International

Markets with inclusive Worldwide Sanction &PEP screening, Daily Monitoring, Email

Alerts and Automated Enhanced Due Diligence.

The Recognised Standard / www.cicm.com / March 2019 / PAGE 17
---
INTERVIEW

HEALING

HANDS

Sean Feast FCICM speaks to

Matt Barlow about his faith, Fair Share

funding and the joys of Rugby Union

MATT Barlow never set

out to work in the debt

advice sector. He never

especially set out to be

religious. But a chance

meeting at University

and an epiphany ultimately led him to do

both, and today he is Chief Executive of

Christians Against Poverty (CAP), delivering

tangible results for some of the most

vulnerable of the vulnerable in society.

Born and raised in Cheltenham, Matt's

father worked in Local Government,

specialising in Environmental Health.

After schooling locally, he chose to study

Marketing at Lancaster University where

his life took an unusual and unexpected

turn: "It's fair to say I left university a very

different person to the young man who

arrived," he laughs. "Marketing sounded fun

and exciting, and I was keen on chasing the

money, but then everything changed when I

found my faith."

Invited to church, he went along more

out of politeness than anything more

significant. That evening he prayed, asking

God to show himself, and had what he can

only describe as a 'supernatural experience'.

"Like most of us at the time I was probably

more interested in drinking and girls, but

after I had my Road to Damascus experience

it changed my life. Jesus is very underrated,

and as Christians we've done a very poor job

on explaining what he is about."

NEW-FOUND FAITH

Armed with his new-found faith, after

graduating Matt spent two years in the

Dominican Republic, ending up helping to

run a project that involved setting up a school

and health clinic for a village in desperate

need of support, and providing succour to

refugees from neighbouring Haiti.

Returning to the UK, and conscious

of finding a 'proper' job, Matt worked for

the National Health Service (NHS) for 15

months before a chance meeting with

John Kirkby, the founder of CAP, who

was endeavouring to expand his mission

to tackle poverty and deprivation in his

hometown of Bradford. Long story short,

at the beginning of 1999 Matt and his wife

Josie, who he'd met at university, became

two of John's first employees: "We originally

did everything," Matt remembers, "as is the

way with any start-up enterprise. We were

taught the basics of debt counselling and

money advice, and very soon afterwards

found ourselves helping some very broken

people."

Matt quotes the example of 'Dave' one

of his first success stories: "When I first

met Dave, he could not even look me in the

eye, and he was covered in eczema which

is a sure sign of stress. He and his wife had

suffered the tragedy of a still-born child, and

the marriage had not survived. He was also

now heavily in debt. Just the fact that he had

someone to talk to helped him recover his

The Recognised Standard / www.cicm.com / March 2019 / PAGE 18
---
dignity and his self-respect, and gave him

the confidence to find a solution.

"I still bump into Dave occasionally; his

life is back on track. He has remarried and

has a young family. Getting out of debt can

sometimes involve painful decisions, but

there is always hope in the most hopeless

situations."

SKILLS LEARNING

As well as the 'softer' skills, Matt also

learned the administrative side of the

business – setting up client accounts,

managing bank reconciliations etc – and

building the systems and infrastructure to

support CAP's growth in an efficient and

compliant way long before the advent of

the Financial Conduct Authority (FCA)

authorisation.

In many ways CAP was one of the true

pioneers of debt advice, and even with

its present size and scale, the charity

continues to adapt and change to meet

the challenges of a new regulatory

environment.

Today, CAP has around 300 staff at its

headquarters in Bradford, though the free

service they provide is not only focused on

debt. They also deliver life skills coaching,

job clubs, and fresh-start groups – essential

services that are inter-related and relevant

to the customers they serve. There are also

an additional 450 or so 'agents' working

directly in the local community, often

through the churches which are also often

the locations for a network of debt advice

'centres'.

The HQ team, with authorised

debt counsellors, manage all of the

client administration, negotiating with

creditors, the banks, and creating all of

the formal paperwork required for each

client including debt management plans,

debt relief orders etc. As well as debt

counsellors, the team also comprises other

specialists to deal with every facet of debt.

The 'boots on the ground' are the agents,

who were historically often retired bank

managers or accountants with time and

financial acumen on their side. Today, the

financial services knowledge is retained

within the HQ, and the agents are much

closer to the vulnerable people they serve.

SAFETY NET

Last year, CAP touched something in the

region of 8,000 'new' homes, many of these

will be families that others in the debt

advice sector cannot support. "In many

ways we are the safety net for all those who

struggle to work within the 'traditional'

debt counselling sector," Matt continues.

"To that extent we are unique. We are

not competing against other advisors;

we sweep up those who the system has

perhaps deemed as being beyond help,

or where other debt advice models do not

The Recognised Standard / www.cicm.com / March 2019 / PAGE 19

continues on page 20 >
---
INTERVIEW

AUTHOR – Sean Feast FCICM

allow enough time or resource to resolve

the issues they face."

That's not to say, however, that CAP has

an adversarial relationship with others

in the sector. Anything but: "We have a

good, healthy relationship with other

debt advisors, especially StepChange,

and recently had a joint executive

meeting with members of their team as

mutual sounding boards on a number

of challenges. It was really useful for

our respective financial and compliance

teams to share ideas, experiences and best

practice."

Matt is aware of concerns expressed

from some parts of the credit community,

and collections agencies in particular,

about how the sector is funded. Agencies

also want to know that customers are

receiving best advice. To this end he

has some reassuring words: "Because

of our funding model, Fair Share

comprises only eight percent of our

total funding, with the rest down to

the generosity of the great British public.

"Marketing sounded

fun and exciting, and

I was keen on chasing

the money, but then

everything changed when

I found my faith."

We have around 30,000 regular givers,

which is a remarkable number, especially

given that this is to support a UK charity.

Would we have had the same if we were a

secular organisation? I am not convinced.

The public are often quick to support

a charity doing good works in Africa,

but for the UK that is impressive. The

reason is because of our strong tradition

in Christianity in the neighbourhoods

we serve, and the strong tradition that

Christian people have for caring and

giving."

CONSISTENT QUALITY

In terms of quality, Matt agrees that

consistency is vital; he believes debt

counselling is an art, as much as it is a

science. He also says it is important to take

a holistic approach to problem solving:

"We have come a long way from the white,

middle class bank managers we started

with as debt coaches," he smiles. "That's

not to say that we do not still welcome

their support, but it is important that our

people can relate to clients who are often

financially and numerically illiterate, who

struggle to read and write, and are often

suffering with mental health issues."

Matt became Chief Executive of CAP

in 2006 and was named as 'Best Leader' in

The Sunday Times Best Small Company to

Work For awards in both 2013 and 2015.

But he by no means rests on his laurels.

Every year presents a new challenge, and

the current challenge is how to continue

to grow. "It is getting harder," he explains,

"because although the need is increasing,

we are still limited by the number of local

partners we have."

Technology may play a bigger part in

the future: "Certainly we are doing some

strategic work around how technology can

help drive greater efficiencies, hopefully

reducing the unit cost per person helped,

so we can help even more people while

still maintaining quality. To that end

we recently appointed a new executive

director to help us with the transformation

process."

FORWARD THINKING

So what of the future? Away from work,

Matt enjoys a variety of sports, and is an

ardent Rugby Union fan, despite being in

Rugby League heartland and working in

an office less than a mile from Bradford

City's football stadium. "Some sports I play

but don't watch, and others I watch but

don't play," he laughs. He is also a big fan

of fine food and craft beers.

Matt is committed to leading the

organisation for as long as he is wanted;

CAP's vision is to bring freedom and good

news to the poor in every community

through a nationwide network of CAP

projects.

His commitment is evidenced by the

fact that he moved his family to Yorkshire,

and has since been joined by his own

parents who wanted to be nearer to their

grandchildren. With his own teenage

children, he does not want to force his

faith upon them, or put them into any

kind of box, but will encourage them to

use their strengths and gifts to help others

where they can: "It is a myth that money

makes you happy," he adds.

The Recognised Standard / www.cicm.com / March 2019 / PAGE 20
---
CONSUMER CREDIT

THE GENTLE

TOUCH

Collections teams must balance

structure and empathy when training

agents to identify and support customers

with vulnerabilities.

AUTHOR – Heather Greig-Smith

INSTEAD of following scripts, frontline

collections staff are being trained to

use emotional intelligence, empathy

and listening skills.

"Agents have to find their own

way of speaking to customers. They

need to get the customer's trust, engage with

them and be able to identify triggers," says

Arrow Global Head of Operations, Adelle

Smith.

Identifying vulnerability is the first step in

the process. Staff are trained to listen for the

nuances on a call. They may be speaking to

an individual with dementia who doesn't

recall previous conversations, or someone

struggling with their mental health and feeling

suicidal.

Some flags of potential vulnerability may

not be obvious. "Calling to change address

could be because the customer is in prison,"

says Adelle. "We can't cover everything. That

comes with experience on the live floor with

constant monitoring and calibration."

John Thompson, Head of Compliance at

Hoist Finance, agrees: "Early identification

of vulnerability is key to ensuring the best

outcome for a customer during the collections

process. Our representatives are trained to

effectively engage with our customers so

that they can explain their current situation,

which in turn allows us to adapt our processes

– thereby ensuring their account is correctly

managed. It is often not the vulnerable

condition that drives any change in how

we manage their account, but instead the

impact that vulnerable condition has on the

customer."

EVOLVING LIST

At Cabot Credit Management, there is an

evolving list of 50-60 vulnerabilities, from

learning difficulties to terminal illnesses

and mental health conditions. "We have

to make sure we are factoring in all of

these considerations," says Cabot Financial

Customer Operations Enhancement Manager,

Emma Bantges.

Clearly it's not possible to train agents in all of

these areas: "We are not medical professionals,

but we do have a duty to understand the impact

of vulnerability," says ARC Europe's Operations

Director, David Sheridan. "It's about getting the

balance right."

Debbie Nolan, Chief Executive of Arvato

Financial Solutions UK, agrees: "We don't

expect them to be experts on any of these

things. We train them to adopt an empathetic

approach and get the information without

causing distress."

Some potential vulnerabilities will not affect

a person's ability to deal with their finances.

"Someone identified as having a terminal illness

is very different to a builder who has fallen off a

ladder and broken his leg and will be returning

to work when his leg has mended," she says.

Not everyone wants their account ring-fenced

for specialist treatment. "We wouldn't force a

customer to have support. The customer may

feel they are quite capable of dealing with their

finances," says Emma.

BEYOND THE MODELS

There are many training models that have

been developed to help shape approaches

to vulnerability. For example, Chris Fitch

and Colin Trend at the Money Advice Trust

developed TEXAS – a framework used when a

customer is giving information.

Chris Collins, HR and Customer Experience

Director at Intrum UK, points also to BRUCE

– a tool to recognise red flags around mental

health and BLAKE – a conversational structure

when customers are disclosing suicidal

thoughts (which supplements its suicide first

aid programme ASIST).

However, Chris says the fundamentals of

training are more nuanced than a framework:

"It's about equipping people: understanding

procedure and having the emotional

intelligence to ask questions at the right time,"

The Recognised Standard / www.cicm.com / March 2019 / PAGE 21

continues on page 22 >
---
CONSUMER CREDIT

AUTHOR – Heather Greig-Smith

he says. "We don't want people to feel

confined to the framework. Things like

TEXAS can be very sequential but agents

who are more experienced know when to

ask those questions in the call."

Agents need to maintain consistency

and manage their emotions. "The first

call of the day should be the same as the

last. We all have these models, but the

emotional intelligence and advanced

communications required to direct those

models in the right way is where you get

the differentiation," he says.

Training has to be ongoing to be

effective. "It's not a case of training people

on dealing with customers in vulnerable

circumstances in isolation. Vulnerability

isn't like that – there is a myriad of

circumstances we can be presented with."

Aside from ongoing individual coaching

and development, agents at Intrum have

on average 14 days of training a year.

Adelle agrees models need to be used

sensibly: "We used to try and train a lot

of different models and found people got

confused. Now we train the TEXAS model

and encourage the agents to use that as a

guide. Experienced agents are extremely

gifted in the art of conversation. They

need to be able to take the time to

reassure the customer that they really are

interested in them."

THIRD-PARTY LINKS

Within Hoist Finance, John Thompson

says its contact centre representatives

have detailed and in-depth training on

how to identify vulnerability using a

variety of guidance processes including

TEXAS, BRUCE and CARERS. "We have

an excellent working relationship with

StepChange Debt Charity to ensure

effective referrals to a third-party agency

who can offer additional support not

only for customer who are financially

vulnerable but those who need on-going

support and advice," he explains.

"We are also introducing more detailed

Risk Factors which will help us identify

customers who have the potential

to become vulnerable or who are

demonstrating signs of an unconfirmed

vulnerability." It's not just frontline staff

who need training on vulnerability.

Managers and those setting policies

and providing technology need to take

part in training so they understand the

challenges.

All organisations are training their

teams on vulnerability from day one.

Customers in vulnerable circumstances

feature heavily in their induction

processes and organisations refresh this

regularly. Mechanisms for doing this

include visits from charities and other

specialist organisations, such as MIND,

Macmillan and suicide prevention

charities, to enhance training in specific

areas.

"Organisations like Macmillan come

in and help us identify more complex

triggers," says Emma. "We start with the

sensitive support team and filter through

the organisation." At ARC, Customer

Support Manager, Danielle Halligan, says

there is a buddy system for three months

during which agents have no collections

targets. As well as annual refreshers there

are also workshops every month that

are based on call scoring feedback. "We

develop bespoke training, looking at areas

for improvement," she says.

Technology can also help, with speech

analytics able to detect trigger words and

signs of distress much earlier. "Agents

have a live alert to help them ensure they

are consistent and fair – a widget that sits

on their screen and creates a pop up if a

vulnerability trigger has been recognised.

It forewarns the agent and will guide

them," says Emma.

SAFE PLACES

Technology also offers customers other

avenues to manage their debts. At Arrow

research shows 55 percent of 2018 online

registrations were from customers with

vulnerabilities who see it as a 'safe place'.

The firm is researching ways to enhance

their online experience.

The Recognised Standard / www.cicm.com / March 2019 / PAGE 22
---
CONSUMER CREDIT

AUTHOR – Heather Greig-Smith

But technology cannot replace the

need for human intervention. "I think

technology is going to help with more

interactive training," says David. "But

fundamentally a vulnerable case needs to

be assessed by a human with experience

and expertise."

Vulnerability is not an area that is

diminishing. "More customers are selfidentifying

as vulnerable," says Adelle.

"We are asking the right questions and

identifying triggers but also externally the

stigma around mental health is changing."

The proportion of customers falling

into the category of vulnerability depends

on the portfolios a company owns or is

collecting on – at Intrum UK around 2,000

customer contacts out of 12,000 a month

are vulnerable, while at ARC five to ten

percent of the customer contacts on the

collections floor fall into the category.

CCM currently has more than seven

million customers, with one percent of

the book requiring additional support. At

Arrow there has been a 0.5 percent rise

in vulnerability cases, with dementia,

healthcare and addiction significant

factors.

SUICIDAL THOUGHTS

The most difficult situation for a team

member is speaking to a person who

is suicidal. Debbie says her team has

handled portfolios with instances of

customers who are having suicidal

thoughts.

"Rather than putting them on hold we

can get someone more experienced to

join the call, then we decide whether or

not we need to alert the authorities," she

says. "The important thing is that we train

people to understand there is nothing

they can do about it over the phone. They

need to get information and help the

person they are speaking to."

Arvato uses plenty of examples in its

training that impress upon the team the

need to flag concerns and that people can

be impacted very differently by similar

events. "The general induction includes

full vulnerability training and we have

regular refresher training – for example

if something comes up that we haven't

experienced before," says Debbie. "We are

constantly sharing information."

She adds that all of the team are

trained in this area, but some are more

advanced and can take over or help in

specific circumstances. The company

is also building a dedicated team as

clients increasingly isolate vulnerability

portfolios.

While Arrow Global trains all agents

to handle vulnerability, it also runs a

dedicated vulnerability team for one

client. The staff on this team have a

15-minute debrief at the end of the day.

There is also a mental health initiative for

all staff, including a 24-hour telephone

service. This is becoming more common.

"We have an obligation to our people as

well as to our customers," says Emma. "We

want to make sure that we're supporting

our employees." Across the industry,

agents are trained to take a breathing

space after a distressing call. There are

people available to listen to them and

formal counselling processes where

needed.

Positive feedback is another important

aspect of support for agents. After an

agent spoke to a suicidal customer while

emergency services were called, Adelle

reports that the customer later called

to thank him: "The authorities couldn't

believe it was a debt collection agency

she'd been speaking to," she says. "You've

made a difference in that individual's life

by being there with the right skills."

Heather Greig-Smith is a freelance

business journalist.

"We don't want people to feel confined to

the framework. Things like TEXAS can be

very sequential but agents who are more

experienced know when to ask those

questions in the call."

The Recognised Standard / www.cicm.com / March 2019 / PAGE 23
---
COUNTRY FOCUS

The UAE is one of

the richest regions in

the world and a land of

great opportunity.

AUTHOR – Adam Bernstein

PART ONE: United Arab Emirates

UNITED AMBITION

J. PAUL Getty once said that the

"formula for success is to rise

early, work hard, strike oil." And

it appears that the United Arab

Emirates (UAE) agrees. Once a

sleepy backwater in the Arabian

Gulf wholly dependent on fishing and

a failing pearl industry, oil was first

discovered there in 1958.

The federation was formed in December

1971 following independence from Britain.

Originally nine emirates attempted

to form a much larger federation, but

political differences – despite efforts

by Saudi Arabia, Kuwait and Britain to

reinvigorate discussions – led to Bahrain

becoming independent in August 1971,

and Qatar following in September 1971.

The federation of the UAE now consists of

seven emirates: Abu Dhabi, Dubai, Ajman,

Fujairah, Ras al Khaimah, Sharjah and

Umm al Quwain; each maintains a large

degree of independence.

The land covered by the present-day

UAE has a history that extends back some

130,000 years and more 'recently' to six

distinct periods from 3200BE. The area

saw the spread of Islam from 630 AD and

the direct influence of the Ottomans from

the 16th Century together with a mix of

Portuguese, English and Dutch colonial

forces. During the 19th Century the British

gained influence and control of the area.

POLITICAL MAKEUP

With a population estimated to be between

8.1 million (BBC Monitoring) and 9.4

million (Baker McKenzie Habib Al Mulla)

spread over a landmass of 30,000sq miles.

86 percent of the UAE is made up of just

one emirate – Abu Dhabi – and is

strategically placed by the Strait of Hormuz,

a key transit point for oil in the region. Of

the rest, Dubai represents five percent of

the landmass, Sharjah 3.3 percent, Ras al-

Khaimah 2.2 percent, Fujairah 1.5 percent,

Umm al-Quwain one percent and Ajman

just 0.3 percent.

But population doesn't equate to

landmass. Data from Dubai Online

reckons: Dubai has 45.4 percent (5.5

million) of the population; Abu Dhabi

30.4 percent (1.67m); Sharjah 12.3 percent

(678,000); Ajman 4.7 percent (258,000); Ras

al Khaimah 3.7 percent (205,000); Fujairah

2.3 percent (127,000); and Umm al-Quwain

just 1.2 percent (68,000).

As the UAE borders Oman, Saudi Arabia

and Qatar the region is not without its own

tensions, a key example being a UAE claim

on islands by Qatar.

Politically, the UAE consists of seven

absolutist monarchies each retaining

powers not granted to the national

government. The presidency and prime

ministership are effectively hereditary

roles with the Emir of Abu Dhabi holding

the former while the Emir of Dubai holds

the latter.

ECONOMIC GROWTH

Data from the UK Government indicates

that the UAE is the UK's largest export

market in the Arab world and 13th overall

– the country took in £9.8 billion of exports

in 2016, a 37 percent rise on 2009. The UAE

is the UK's fourth largest export market

outside of the EU.

With oil being a diminishing resource,

the UAE has taken great steps to diversify to

the point that non-oil sectors, according to

Coface, contribute some 70 percent of the

UAE's GDP – that same figure stood at 43

percent in 2001. Regionally, IMF forecasts

the UAE to play second fiddle only to Saudi

Arabia in terms of GDP.

Coface also notes that the UAE has signed

various economic, trade, investment,

and technical agreements with many

countries. Its strategic location allows

it to play a central role in re-exporting

goods from different countries around the

world towards Arab nations. Re-exports

account for nearly 60 percent of total

exports.

At the same time, the UAE has been

prioritising trade ties with China. Coface

feels that China's 2013 announcement of

the Belt and Road Initiative (BRI),

which aims to connect Asia, Africa, and

Europe, has significant benefits for the

UAE in terms of boosting commerce

and investments, as well as accessing

wider markets, especially regarding the

construction, metals, trade, logistics and

hydrocarbon sectors. China is aiming to

diversify its energy suppliers as much

as it can. This has brought the country

close to the Gulf States, which in turn

have benefitted from China's trade and

investment flows.

As the UK Government has reported,

over 5,000 British companies operate in the

UAE, including BP, Shell, Rolls Royce, BAE

Systems, Mott McDonald, SERCO, Standard

Chartered, HSBC and John Lewis/Waitrose.

These names seem familiar for good

reason; the majority of the UAE population

is made up of expatriates, with 120,000

from the UK alone. Just as interesting are

14.9 million people who visited the UAE in

2016, of which 1.25 million were from the

UK.

PUBLIC SPENDING

The UAE is a hub of growth for a number of

reasons including its good infrastructure,

strong banking systems, stable

government, free trade zones that are both

tax free and which offer foreign ownership,

and a number of developments.

Unlike in the UK (and elsewhere for

that matter), public spending is rising in

the whole region – the Gulf Cooperation

Council (GCC) has a combined GDP of $1.4

trillion. The GCC is presently expanding

its network of trade agreements with

Australia, China and the EU.

The Recognised Standard / www.cicm.com / March 2019 / PAGE 24
---
COUNTRY FOCUS

AUTHOR – Adam Bernstein

OPPORTUNITIES

Data from UN Comtrade, the United

Nations International Trade Statistics

Database, shows that the UAE imports

much from the rest of the world.

In volume order, the UAE imports

jewellery and precious metals; electrical

and electronic equipment; aircraft and

car products; telecoms and broadcast

equipment; textiles; food and allied

products; medical products; metal

products; petroleum-based products; and

commodities not specified.

Education and knowledge are of vital

importance to the UAE and the Government

has set up a number of institutions to move

this forward including the Knowledge

and Human Development Authority

and the Abu Dhabi Education Council.

British education is in demand, especially

higher education establishments,

as are curriculum development and

assessment centres. Energy and extractive

technologies, understandably, are of value

to the UAE Government which is keen to

further exploit its onshore and offshore

reserves (which places it seventh in the

world for gas and eighth for oil). With

an eye to the future, nuclear is being

developed – with four in progress – which

opens the door to opportunities for R&D,

waste management, and education; as

does renewables including solar and

sustainable water use.

Considering the wealth in the region,

it's not very surprising that financial and

allied services, both onshore and offshore,

are growing in importance in the UAE.

And then there's healthcare, which by

dint of a rising and wealthy population

is becoming more prominent. With

a number of new build hospitals and

medical centres there are opportunities

for care, equipment, management,

infrastructure, and training.

As would make sense for a country

moving away from reliance on oil, the

UAE has a burgeoning construction and

infrastructure – as the Palm Jumeirah

development illustrates. With a view to

Vision 2021, a golden jubilee celebration

of the federation, a number of national

priorities were outlined – world class

healthcare, first-rate education,

competitive knowledge economy, a fair

judiciary and a cohesive society – a

number of large infrastructure projects

were announced that feature theme

parks, island developments, a harbour

and Expo2020. There is therefore a need

for construction and contracting services,

materials, sustainable solutions, water

saving devices, cooling systems and both

security and swimming pool equipment.

Defence is an area of interest, according

to Abu Dhabi's Vision 2030, with a need

for aerospace, manufacturing and space

capabilities and also cyber-security. Led by

the Emirates Defence Industries Council,

the advice from the UK government is that

negotiations can be long and complicated,

but nevertheless worthwhile. Allied to this

general aviation with opportunities for

airport developments are also of interest.

Coface notes that civil aviation accounts

for 12 percent of GDP and is estimated to

reach 32 percent by 2020 when it would

contribute by $53 trillion and 750,000 jobs

to the federation's economy.

Lastly, the UAE is investing so as to make

it a tourist destination with a number of

projects that involve theme parks, retail

and culture. Architecture and interior

design are aligned with this.

Adam Bernstein is a freelance

business writer.

The Recognised Standard / www.cicm.com / March 2019 / PAGE 25
---
New markets, new opportunities

When you're trading overseas, it's good to

know there's a partner you can trust.

With our worldwide footprint and specialist

market knowledge, Atradius can help your

business to uncover new export opportunities.

Trade credit insurance will protect your cash flow

and give you the confidence to extend your export

horizons.

With access to business intellegence on millions of

companies worldwide you will have a competitive

adavantage in setting your trading terms, and you

will know that you will still get paid even if your

customer becomes insolvent.

We are already helping thousands of UK

businesses from SME to multinational to trade

safely in overseas markets.

Whether you're thinking of exporting for the first

time or an experienced exporter looking to enter

a new market, Atradius can help ensure that you

'Trade and Get Paid'

We hold in-depth intelligence on hundreds of

millions of companies worldwide, so we can

help you identify the best opportunities - and

avoid the risks

Every credit insurance policy is created around

your specific needs by our specialist brokers

and experienced underwriting team, so you get

tailored cover and only pay for what you need.

We operate worldwide through our presence in

more than 50 countries around the globe.

In the UK, we have our HQ in Cardiff, as well as

our Regional Hub network so that you can get

support when and where you need it.

We have just published our research on Promising Emerging Markets for 2019.

Visit our website to download this report.

@AtradiusUK

The Recognised Standard / www.cicm.com / March 2019 / PAGE 26

+44(0)29 2082 4000 | www.atradius.co.uk
---
TRADE TALK

THE SMALL

PRINT

Why exporters need international terms

and conditions.

AUTHOR – Lesley Batchelor OBE FCICM

Lesley Batchelor OBE FCICM

AFTER hearing many experiences

of smaller

businesses trading internationally,

the Institute

of Export & International

Trade realised that an

increasing number have been acting

without a contract or agreed payment

terms. This is a very risky approach to take

and one that can lead to a lack of clarity,

potentially damaging a business' relationships

with its international customers and

partners.

Elizabeth Ward, Principal of Virtuoso

Legal, explains: "A finely considered set

of international terms and conditions

(T&Cs) allows a business to determine from

the outset of any agreement exactly how

business between the parties is going to

be conducted. They provide clarity on the

agreed processes for getting paid, where

liability lies, and what happens when

disagreements arise."

Given English contract law has a

tendency to take businesses straight to a

dispute rather than including options for

mediation and arbitration, our exporters'

international relationships risk being

damaged by needless litigation. A proper

set of international T&Cs can give exporters

alternative routes to dispute resolution,

saving them significant legal costs and time.

Further, they can include other key aspects

of international trade that UK contract law

will not, including anti-bribery and antislavery

laws.

A key message from the Government's

Export Strategy was that industry needs to

do more to help businesses feel confident

and secure when trading internationally.

In line with this, we, at the Institute,

after consulting with our members and

partners, realised that a key solution was

to provide international T&C templates

that cover the basic premises of trading

overseas.

A CRUCIAL STEP

We are offering these templates to

our members to allow them to export

confidently, safe in the knowledge that they

have a legal framework specific to their

international needs, including clauses

relating to anti-bribery and anti-slavery

laws. We understand that we can't change

the culture of business overnight, but by

offering this template of International

T&Cs for SMEs, relevant to the different

styles of business they operate in, we can

begin to protect them from some of the

risks of international trade, enabling them

to export successfully and securely.

This new offering has been wellreceived

by both the legal profession and

the Government. John Mahon, Director

General for Exports of the Department

for International Trade (DIT), says: "A

crucial part of exporting is having the legal

frameworks in place that allow businesses

to trade confidently. I'm delighted that the

Institute of Export & International Trade

has launched these templates as part of

a package of solutions on offer to help

businesses export.

"I urge all UK companies that are

currently selling overseas without proper

contracts in place to take a look at these

templates and implement the right one for

them. Through our Export Strategy, DIT has

set out an offer for all businesses to ensure

they are able to make the most of the global

opportunities this presents."

Elizabeth Ward, who also supported

us in creating the templates, adds: "These

templates are a great start for businesses,

helping to give them a basis upon which

they can export with confidence."

FOUR TYPES OF EXPORT

The international T&C templates will be

available to members of the Institute of

Export & International Trade. They will

cover four uses: distance (non-online)

consumer goods services and digital

content terms and conditions; online

business and consumer goods services;

terms and conditions for the supply of

goods; and terms and conditions for the

supply of services.

Each of the templates also include

Anti-Slavery and Bribery Act clauses,

giving businesses peace of mind to trade

internationally.

COMPLIANTLY AND CONFIDENTLY

This is just one of several membership

benefits we offer, including access to

our Technical Helpline, discounts on our

world-class suite of training courses and

qualifications, and a communications

package of daily bulletins, newsletters and

our quarterly World Trade Matters journal.

For over 80 years we've been supporting

the interests of everyone involved in

importing, exporting and international

trade in the UK, and never has our

role been more important. With Brexit

looming, the threat of trade wars and the

constantly increasing pace of technological

innovation, our exporters face an everincreasing

range of both opportunities and

challenges.

We have created a legal framework

through which you can offer your products

or services overseas – safe in the knowledge

that you have clarity on payment terms,

liability and what happens in the case

of a dispute. This is an essential starting

point for exporters. These templates give

exporters the confidence to make the most

of the opportunities that are out there

internationally.

More information can be found at

export.org.uk/membership.

Lesley Batchelor OBE FCICM is Director

General of The Institute of Export and

International Trade.

The Recognised Standard / www.cicm.com / March 2019 / PAGE 27
---
INTERNATIONAL

TRADE

Monthly round-up of the latest stories

in global trade by Andrea Kirkby.

BREXIT – COMING

READY OR NOT

AUTHORS and publishers selling on Amazon in the EU recently

got an email asking them whether they wanted to continue

trading on amazon.co.uk. It's obvious that like many businesses,

Amazon has decided to separate its UK operations from the rest

of Europe.

Right now, that's a formal separation. But creating separate holdings

means that if companies later want to drop their UK operations completely,

they can do so much more easily. With a matter of weeks to go before B-Day,

many companies are now putting their contingency plans into effect.

You might think that this disruption will be limited to the UK. But

Atradius warns that there will be an impact on other European countries.

Ireland's economy is intertwined with the UK's, and it could see GDP falling

by four percent. The Netherlands, Denmark and Belgium are also likely to be

impacted, and that will push insolvencies up. (Northern France, too, stands

to lose out as the huge cross-Channel ferry trade suffers.)

So if you're exporting to these countries, as well as dealing with new

customs and regulatory barriers, and keeping an eye out for sterling

volatility, you're also going to have to watch out for weak customer balance

sheets. You've got your work cut out!

TRADING nations are dependent on others

and general business confidence to keep the

plates spinning. The relatively good news

of some progress in the talks between the

US and China is something that everyone

has been wishing for but, as with anything

Trump-related, the news should be taken

with a pinch of salt. His announcements

aren't always backed by fact.

Clearly, it's unknown as to who will

eventually win the trade war, but it may

Trading places

not be either the US or China. Indeed, a

February paper from the UN Conference on

Trade and Development (UNCTAD)'s, The

Trade Wars: The Pain and the Gain, said that

'bilateral tariffs alter global competitiveness

to the advantage of firms operating in

countries not directly affected by them'. It

predicts that the European Union will be

the biggest winner, taking home some $70

billion in additional trade precisely because

of the trade war.

THE CLOUDS

ARE GATHERING

THE Turkish lira depreciated by almost 30

percent in 2018, and Q3 saw the country's

GDP contracting while inflation remained

severe at over 20 percent. Is the country

now heading for recession?

Despite some observers making the

lira their preferred comeback currency of

the year, so far in 2019, it's continued to

weaken. That helps push up inflation –

making supporters of President Erdogan's

AK party more and more miserable – and

puts Turkey in a difficult financial position.

Forex reserves cover only three months

of imports, and don't cover external

debt servicing requirements, so further

weakening could critically damage the

economy.

Credendo points out that commercial

risk is also high. Corporate debt is running

at more than 70 percent of GDP, and the

banks depend on foreign investment to

be able to fund these loans. Meanwhile,

the overheated real estate market is

showing signs of cracking: if you want

to see something really spooky, search

for the drone video of the Burj al-Babas

development, 732 identical French

chateaux left unfinished when developer

Sarot Group hit the skids in November 2018.

If the Turkish construction sector falls,

I suspect the other dominoes will clatter to

the ground in short order. Add to that the

sizable political risks involved, and Turkey

looks like a country awaiting a downgrade.

AN END TO CHEAP

TRADE INSURANCE?

TINUBU Square has predicted that 2019

will be the most challenging year for a

decade in credit insurance. Increasingly

volatile markets combine with higher

expected insolvencies and a changed

risk landscape (particularly political

risk) to up the ante for insurers, and the

reinsurance market is getting tighter, too.

All of that adds up to one big conclusion

for me – that pricing will increase.

That's not good news for exporters, but

I think swallowing any price increases

is the right thing to do. If Tinubu Square

is right about higher insolvencies

(and it's not the only house to make

that prediction), going without trade

insurance or reducing your cover could

be costlier than just paying up.

The Recognised Standard / www.cicm.com / March 2019 / PAGE 28
---
MOROCCO looks in much better shape than

Turkey. Since 2011, growth has averaged 3.5

percent according to Credendo, and though

there are sporadic, ongoing protests, it's

made political progress, with economic

reform and investment in infrastructure.

While investment has been uneven

between regions, and the closure of the

border with Algeria continues to impact

trade, Morocco ranks high on 'ease of

doing business' indices, and FDI has been

consequently strong. The government has

promoted automotive and other high-tech

manufacturing, with successful clusters

Moroccan Medinas

Oooh to be a Gooner

ANOTHER thing I observed in Ethiopia

was the vast number of Arsenal shirts on

display, and the fact that I was regularly

asked 'Who do you support – Man United

or Arsenal?'

If you don't think that observation

belongs here, then you haven't seen

the news that the Premier League now

generates £3.4 billion of added value for

the UK economy. The six-year TV rights

package in the US is worth $1 billion on

of investment around Casablanca and

Tangiers. And it has actually managed to

move the country's export structure from

low margin textiles towards higher margin

products.

Add to that a strong financial sector

(Casablanca is Africa's second largest

Stock Exchange) and no restrictions on

capital, and Morocco looks like a good

choice for British exporters. There are

some big opportunities available, too – an

ambitious renewable energy programme,

infrastructure projects, and training and

education.

Africa – wind in the sails?

I'VE just spent a month in Ethiopia, and

it's interesting how positive African

business feels compared to the climate

in Europe and the US.

Africa has many problems, including

too much misapplied public spending,

low GDP, and patchy infrastructure.

Many countries are still struggling to

create strong democratic institutions.

And government debt remains far

too high, particularly external debt.

But things are beginning to change.

Infrastructure is being improved.

Education is being given a top priority in

many nations. And borders are opening

up.

Ethiopia, for instance, now has trains

running through to Djibouti, and has

access to two more major ports now that

it's opened its borders to Eritrea (Assab

and Massawa). That should reduce the

cost of imports substantially.

And 2018 saw 27 nations signing

up to a protocol for freedom of

movement across the continent.

That's an ambitious project which

should underpin the success of single

market areas such as the East African

Community, COMESA and ECOWAS.

There are of course a large number

of ways that things can go wrong. Low

commodity prices have put pressure on

many African economies, and security

remains an issue (as the recent attack

on the DusitD2 hotel in Nairobi showed).

But Africa should have half the world's

fastest-growing economies in 2019,

according to the Brookings Africa

Growth Initiative.

And for exporters, the huge advantage

of these deals is that you don't need to

open an office in each country. Using

one country as a hub to access all the

region's markets can reduce your set-up

costs while expanding your addressable

market. Will 2019 be your Year of Africa?

its own – then there's merchandising,

other territory deals, and tourism

revenues too.

All of which has to be credited not to

an abounding fascination with the 4-4-2

formation, but to great management of

the Premier League assets over the past

couple of decades. England may not have

won a World Cup since 1966, but

the Premier League has conquered the

world!

CONSTRUCTION –

TOPPING OUT

CONSTRUCTION is a sector that's done well

since the credit crunch. It's recovered and

then grown strongly, but according to Euler

Hermes, there's nothing left in the gas tank.

Euler Hermes predicts a slow cooling off from

3.5 percent growth in 2018 to three percent in

2019; and what happens after that?

What's worrying is that according to Euler

Hermes the sector isn't any better prepared

for a slowdown now than it was in 2008 – in

fact, it's probably less ready to cope. It's still

one of the most poorly performing sectors

with regard to payment delays. Margins

remain low, leverage is rising, and liquidity

is deteriorating, and a number of major

insolvencies show that the problems aren't

restricted to small firms.

Construction accounts for ten percent of

economic activity globally, so there's a huge

knock-on effect if the sector starts to tank.

If you're selling into construction markets,

it's time to tighten up credit, particularly on

those customers that you always thought

were 'too big to fail'.

THE EARLY BIRD

CATCHES THE WORM

ONE of the odd things I noticed in Ethiopia

was that 100 percent of minibuses are

Toyotas, and 100 percent of autorickshaws

are Bajaj. That got me thinking. In Georgia,

the vast majority of cars and buses are

Mercedes, often imported second hand

(sometimes still with their original owner's

paint job).

While in developed markets it's a lucky

business that gets more than 40 percent

market share, in many emerging markets,

the first exporter to arrive wipes up the

entire market. That makes life very difficult

for the number two. So, a big lesson for

exporters looking at frontier markets - get in

early! If you're there first, you can establish

a quasi-monopoly, and make it extremely

difficult for other brands to compete.

CURRENCY UK

EXCHANGE RATES VISIT

CURRENCYUK.CO.UK OR

CALL 020 7738 0777

Currency UK is authorised and regulated

by the Financial Conduct Authority (FCA).

HIGH LOW TREND

GBP/EUR 1.1600 1.1152 Down

GBP/USD 1.3210 1.2700 Down

GBP/CHF 1.3125 1.2563 Down

GBP/AUD 1.8506 1.7680 Down

GBP/CAD 1.7514 1.6876 Down

GBP/JPY 144.755 137.904 Up

The Recognised Standard / www.cicm.com / March 2019 / PAGE 29
---
Tailored

and bespoke

training for

your credit

team

Your specialism is

our specialism

At the CICM we know that credit and collections is a unique profession, and your business

calls for a training solution that is not 'off-the-peg'.

We take pride in delivering practical and effective learning to credit and collections teams.

Our training is designed and tailored to your business needs and to deliver results.

Your team will learn from our specialist trainers, who all have vast experience in the

profession and will share their real experiences and successes.

WWW.CICM.COM

Our specialist team will manage everything from

start to finish. To find out more information contact –

T: 01780 722907: E: training@cicm.com: W: www.cicm.com

Tailored and bespoke training in...

Developing Credit Strategy; Building Business; Managing Risk; Complying with Regulations; Improving

Customer Relations; Collecting the Cash; Negotiating and Influencing; Psychology of Collections; Achieving

Targets; Debt Recovery; Insolvency; Management Skills.

The Recognised Standard / www.cicm.com / March 2019 / PAGE 30
---
EDUCATION

Stars of the Series

In the first of a new series, Credit Management will

celebrate CICM Studying Members who have excelled in

their online exams.

Business Law

MARK ACHIEVED 92%

I have completed all my modules and now

have a CICM Level 3 Diploma in Credit

Management. It is wonderful that CICM

offers face-to-face tutors and online for

those of us that cannot always be at group

sessions. I am taking a break now but am

thinking of taking the next step to Level 5

Credit Management. Leanne Eason

Credit Management

MARK ACHIEVED 93%

I've found the module I've studied to be

well structured and I've developed a more

in-depth knowledge of the topics covered.

I've now begun the Business Environment

module, which I'm enjoying thus far and

am finding more informative. I've been

able to apply what I've learned, to my role

at work with success. Thomas Faulkner

Trade Credit Management

MARK ACHIEVED 98%

With regards to my last module (Trade

Credit Management), I found this module

most useful out of the three so far due

to our sales being mainly B2B, and in

particular, Risk Assessment and Credit

Decisions as this is an area I'm keen to

develop. The communication with CICM

has been great. Elizabeth Lack

Business Law

MARK ACHIEVED 92%

The most interesting aspect of the module

has been the case law and how everything

can hinge on the small details. I have

found CICM studying to be very accessible

with several options available which

allow students to tailor their studying

to fit nicely around work and personal

commitments. Dan Clinton

Business Environment

MARK ACHIEVED 100%

I currently manage the Insolvency and

Litigation Team here at npower Business

Solutions so the knowledge I have gained

from the module has given me a greater

understanding of how external factors and

Government policies directly impact the

level of Insolvencies we receive through

our department. Jamie England

Taking Control of Goods

MARK ACHIEVED 80%

I found the exam materials to be very

comprehensive and useful, especially

mock exam questions. This enabled me

to pass the exam at my first attempt with

80 percent and to apply to London County

Court to become an Enforcement Agent.

Dmytro Tupchilenko

Business Environment

MARK ACHIEVED 92%

The most useful and interesting part of

the module for me was learning about

organisational management. It's helped

me in my day-to-day role at E.ON as I can

now base my decisions on information I've

been taught. I now feel more comfortable

and confident coaching my colleagues and

making decisions which are best for our

customers and our business.

Joe Fowler

Export Credit Management

MARK ACHIEVED 82%

During the module, I found the part

dedicated to the Incoterms and all the

implications over both the invoicing

and the customer experience very

useful. I also found the Business Law

module educational as it gave me a

great opportunity to better understand

the British Legal System and all the

implications over granting credit to our

customers. Alberto Hernandez-Rivas

Business Environment

MARK ACHIEVED 93%

The most interesting part of the course

was how it could easily be applied in

my day-to-day work and how I could

use what I was learning in my role. This

was especially the case when studying

the importance of communication, the

different personality types on a team and

how to manage and balance these, as well

as what the effects are when this is done

badly or not considered. Peter Haigh

The Recognised Standard / www.cicm.com / March 2019 / PAGE 31
---
CAREER'S ADVICE

Diverse Thinking

Is your workplace as diverse as you think it is?

AUTHOR – Karen Young

Karen Young

DIVERSITY and inclusion

in the workplace has

never been more

relevant than it is today.

In light of International

Women's day celebrated

this month, employees should feel

encouraged to take ownership of this and

question the diversity of their workplace.

Hiring methods are an integral element

of increasing diversity among employees,

and CVs are one of the many ways in

which the process can be improved. Many

organisations will judge candidates based

on their most recent job listing, potentially

overlooking talented and competent

applicants without a steady course of

uninterrupted career progression. This can

particularly disadvantage many women in

finance who have prioritised childcare at

points throughout their career.

More and more organisations now

recruit based on blind CVs, where

information such as age, race and gender

are removed to prevent subconscious

biases from influencing hiring decisions.

Using competency-based application

processes assesses essential soft skills

such as communication, emotional

intelligence, problem solving and selfmotivation,

rather than testing specific

knowledge of current finance regulations,

which can be learned more readily and

quickly than soft skills.

Favouring competency-based applications

or requiring blind CVs is a sign

that your organisation is taking steps to

fairly assess candidates based on their

skills and experience, consequently eliminating

the effect of subconscious biases.

These methods of talent-based hiring also

demonstrate a commitment to overcoming

the perceived disadvantage of career

breaks that will positively contribute

to diverse representation in the finance

sector.

TRANSPARENT REPORTING

Demand for transparency around targets

and performance is at an all-time high.

Social movements and legislation may

be encouraging honest reporting from

organisations about their performance,

but challenging your employers'

transparency around this will help you

gauge their standing on diversity and

inclusion issues. If your organisation is

transparent in their diversity reporting,

it proves their willingness to make a

public commitment to achieving a fairly

recruited workforce and makes them

accountable for measuring and reporting

their progress.

The recency and relevancy of data

with regards to employees' religion,

sexual orientation, ethnicity and class

backgrounds is crucial to transparent

reporting and will reveal where

improvement is needed. New data

publishing laws are documenting positive

change in diversity, particularly with the

gender pay gap where much improvement

is still needed in the accountancy and

finance sector. In light of this, it is worth

gauging your organisation's efforts to

collect and utilise this type of data in

their reporting as it proves that they are

prioritising and confronting diversity

issues.

Ideally organisations should

maximise the transparency of their

reporting by informing their employees

of their diversity and inclusion (D&I)

practices through effective methods of

communication. These methods might

include internal newsletters, D&I reports

or team meetings. Crucially their reporting

will be widespread and easily accessible.

Make sure to engage with communication

from your employers about their diversity

reporting as their openness and honesty

will encourage other employers to do the

same thus bringing about cultural change.

FLEXIBLE WORKING

Flexible working is a highly effective

tool to improve diversity. It should be

implemented early in the recruitment

stage, as 30 percent of UK employees cite

an appealing work-life balance as their

top priority when looking for a new role.

Historically flexible working has been the

domain of mothers balancing childcare

with returning to work or a privilege which

is earned through hard work and company

loyalty, rather than an optional working

practice. Organisations which embrace

more agile working practices will give

themselves greater employee engagement

and retention as well as the advantage of a

wider talent pool to choose from. A diverse

and inclusive organisation will offer

flexible working at the point of hire rather

than later in employment.

To ensure flexible working options

are properly implemented to achieve a

diverse workforce, organisations need

to invest in effective communication of

different working practices. As senior

management and business leaders

are fundamental in advancing underrepresented

demographics in the

workplace, they need to be properly

informed about what their organisation can

offer, actively promote it to professionals

and where possible lead by example

themselves. Communication from your

employers about available working options

is extremely conducive to recruiting and

retaining a diverse and inclusive workforce.

Karen Young is Director at Hays

Credit Management.

The Recognised Standard / www.cicm.com / March 2019 / PAGE 32
---
Exclusive offers for all

CICM and FECMA members *

Quote: CREDITWEEKCICM

Supported by

18-22 March 2019 | London

THE LARGEST CREDIT

GATHERING IN EUROPE!

Where the European credit industry gathers and

connections are made

Credit Summit headline partner

Women in Credit category sponsor

Hitachi Capital (UK) PLC

FEATURING

Credit Summit partners

THE ONLY AML RESOURCE YOU NEED

#CreditWeek

creditstrategy.co.uk/credit-week

Email: mredshaw@creditstrategy.co.uk

Call: 020 7940 4848

Supporters

The Recognised Standard / www.cicm.com / March 2019 / PAGE 33
---
DON'T JUST

OPTIMISE YOUR

CASHFLOW.

SUPERCHARGE IT.

Our Business Payments are flexible and innovative so your

business can free up cash to fund growth. We could pay your

suppliers in 5 days and you could get up to 58 days to pay us.

It's one of those 'win-win' situations.

Find out more: americanexpress.com/uk/supercharge

The Recognised Standard / www.cicm.com / March 2019 / PAGE 34
---
Supplement special

The CICM

British Credit

Awards 2019

THE RECOGNISED STANDARD IN CREDIT MANAGEMENT

The Recognised Standard / www.cicm.com / March 2019 / PAGE 35
---
The CICM

British Credit

Awards 2019

Driving best-practice

excellence

THE CICM was set up 80

years ago this year. Cuthbert

Greig, who had the vision

to create the organisation,

had clear objectives and

they haven't changed. The

CICM has become the largest recognised

professional body in the world for the

credit management community and we're

here for the same objectives that Cuthbert

Greig had in 1939.

He strived, and we strive, to promote

awareness of the importance of credit

management to business and to the

economy. He also drove, as we drive,

best practice in credit management.

These awards are a celebration of all that

is good in our brilliant profession, our

CICMQ accreditation scheme recognises

organisations that are adopting the

highest standards, our magazine provides

thought leadership and insight, our events

share innovation and ideas. To those

behind all these, thank you for leading the

way, and to the winners and the highly

commended promoted in these pages, our

congratulations and thanks for sharing

in our vision to champion excellence in

everything we do.

Philip King FCICM

Chief Executive

Philip King, FCICM

Chief Executive of the CICM

Judging Panel 2019:

Dr Stephen Baister FCICM, Chair of

Judging Panel, CICM

Sean Feast FCICM, Managing Editor,

Credit Management Magazine

Sponsorship:

Glen Bullivant FCICM,

CICM Vice President

Karen Savage FCICM, Partner, Shoosmiths

Matthew Davies

Director, Invoice Finance and Asset Based

Lending, UK Finance

Debbie Nolan FCICM

Vice Chair, CICM Executive Board

Karen Young, Director and recruiting

expert, Hays Accountancy & Finance

Dee Weston FCICM, Credit Manager

Exclusive Networks

Glenn Collins, Head of Technical Advisory,

ACCA

Brenda Linger FCICM, CICM Vice President

Stuart Frith, President, R3

Joanna Carnell MCICM(Grad), Group Credit

Manager, TrustFord

PALADIN

Amir Ali MCICM

Chair, Civil Court Users Association

Headline sponsor:

Hosted by:

To view more photographs of the event visit:

www.cicmbritishcreditawards.com

The Recognised Standard / www.cicm.com / March 2019 / PAGE 36
---
The CICM

British Credit

Awards 2019

Credit Information Provider of the Year

Winner

CoCredo

Judges' comment: "Head and shoulders

above the competition. A business that

truly listens to what its clients want.

Innovation at its best."

Highly Commended: Company Watch

Presenter: Sean Feast, Managing Editor – Credit Management magazine, CICM

Collector of award: Dan Hancocks, Managing Director, CoCredo.

Finalists:

CoCredo, Company Watch, Dun & Bradstreet, PurplePatch, StreetCred Ltd

Managing Risk Award

Winner

Vodafone UK Credit

& Risk Team

Judges' comment: "Vodafone

demonstrates a very positive approach

to risk management in a very difficult

market. This is what good looks like;

there is not always a silver bullet;

just hard work across systems and

processes. A clear winner."

Finalists:

Invictus Risk Solutions LLP, PurplePatch, Vodafone

Presenter: Pete Whitmore, Chair, CICM

Collector of award: Penelope Clarke, Head of Credit Risk, Vodafone.

The Recognised Standard / www.cicm.com / March 2019 / PAGE 38
---
How well do you really

know the people behind

the companies you do

business with?

Wouldn't you like to

see what skeletons

lurk in their cupboard?

Aphrodite:

Enhanced Director Matching

from Company Watch.

#HindsightInAdvance

Call: +44(0)20 7043 3300

Email: info@companywatch.net

Visit: www.companywatch.net
---
The CICM

British Credit

Awards 2019

Consumer Call Centre Team of the Year

Winner

PiggyBank - DJS

Judges' comment: "This company

demonstrated good examples of an

improvement in the customer journey

especially around call quality and stick

rates."

Finalists:

Amigo Loans, DJS (UK) Limited

Presenter: Debbie Nolan, Vice Chair, CICM

Collector of award: Dan Ware, CEO, and The PiggyBank team

Commercial Credit Team of the Year

Winner

Veolia ES UK

Sponsored by

PALADIN

Judges' comment: "The Irish takeover

is an excellent example of what can be

achieved by a focused team – the team

has a track record that is difficult to

fault."

Presenter: George Miles, Chairman, Paladin

Collector of award: Sarah Bolas, Credit Services Manager at Veolia

Finalists:

Aggregate Industries UK Ltd, European Metal Recycling Ltd, Gazprom Energy, Magans Micro Credit Services, McDonalds Restaurants UK Limited -

Global Business Services (GBS), Royal Mail PLC, TXM Group, Veolia ES UK Limited

The Recognised Standard / www.cicm.com / March 2019 / PAGE 40
---
Commercial Collections Team of the Year

Winner

Imperial College

London

Sponsored by

The CICM

British Credit

Awards 2019

Judges' comment: "Great results and

a team clearly committed to the cause

with proven engagement across all

stakeholders – a testament to their

collaborative approach."

Highly Commended: JLL

Presenter: Joe Pettit, Director of Business Development, Data Interconnect

Collector of award: Roy Ortiz from Imperial College London

Finalists:

Aggregate Industries UK Ltd, Cardiff University, Echo Managed Services - Northern Ireland & NI Water, HM Revenue & Customs, Large Business Unit,

Imperial College London, JLL, Royal Mail PLC, TXM Group, Veolia ES UK Limited

Third Party Debt Collection Team of the Year

Winner

Hilton-Baird

Collection Services

Judges' comment: "The feedback from

clients and proven results made this a

stand-out entry."

Presenter: Bryony Pettifor, Vice President, CICM

Collector of award: Ian Tramaseur from Hilton-Baird Collection Services

Finalists:

Clarke Willmott LLP, Darcey Quigley & Co, Echo Managed Services - Northern Ireland & NI Water, Hilton-Baird Collection Services, Keebles, The Zinc

Group Ltd, ZZPS Limited

The Recognised Standard / www.cicm.com / March 2019 / PAGE 41
---
The CICM

British Credit

Awards 2019

Legal Team of the Year

Winner

Keebles LLP

Sponsored by

Judges' comment: "Excellent feedback

from clients – a clear understanding

of the sectors in which they work and

impressive recovery rates.""

Presenter: Michael Whitaker, Head of Business Development, High Court Enforcement Group

Collector of award: Charise Marsden, Debt Recovery Manager, Keebles LLP

Finalists:

Ascent Performance Group Limited, Blaser Mills Law, Keebles, Shakespeare Martineau

Project of the Year

Winner

Aggregate Industries

(UK) Ltd

Judges' comment: "Excellent use of

technology to enable the secure handling

of customer information and enabling

calls and efficiency savings across the

entire department."

Presenter: Larry Coltman, Vice President, CICM

Collector of award: Phil Rice, Head of Credit, Aggregate Industries (UK) Ltd

Finalists:

ABB, Aggregate Industries UK Ltd, CoCredo, DJS (UK) Limited, HM Revenue & Customs, Green Channel Project, Veolia ES UK Plc

The Recognised Standard / www.cicm.com / March 2019 / PAGE 42
---
Modern Credit Solutions

to Improve Business Performance

Leverage the world's most comprehensive global data and insights from Dun & Bradstreet's

Data Cloud to help transform your credit team into a data inspired growth engine.

Better Data. Better Insights. Better Performance.

Learn more here: dnb.co.uk/dbcredit

In the UK, Dun & Bradstreet Ltd is certified to ISO 27001 and is authorised & regulated by the Financial Conduct Authority

in relation to providing credit references on non-limited companies.

The Recognised Standard / www.cicm.com / March 2019 / PAGE 43

© Dun & Bradstreet, Inc. 2019
---
Best use of Credit Technology

Winner

High Court

Enforcement

Group Limited

Sponsored by

The CICM

British Credit

Awards 2019

Judges' comment: "A platform

that is already delivering results

and continues to save costs, time

and resources."

Presenter: Victoria Herd, Trustee, CICM

Collector of award: Alan Smith, Director of Corporate Governance, High Court Enforcement

Group Limited

Finalists:

Amigo Loans, Atradius Collections, DJS (UK) Limited, Insight Performance Improvement Ltd, iwoca, Onguard UK Ltd, The Zinc Group Ltd and

United Utilities.

Learning & Development Award

Winner

ABB

Judges' comment: "A company that

looks not only at the needs of the

business but also the individual needs

of each individual learner, both in the

UK and internationally."

Presenter: Glen Bullivant, Vice President, CICM

Collector of award: Neil Murdy from ABB

The Recognised Standard / www.cicm.com / March 2019 / PAGE 44
---
Employer of the Year

Winner

CoCredo

The CICM

British Credit

Awards 2019

Sponsored by

Judges' comment: "The judges were

particularly impressed by the entry from

a member of staff who is employed by the

company, and who speaks of a company

where people clearly love to work."

Presenter: Kabir Gulabkhan, Manager, UK Credit Management Lead, Hays

Collector of award: Dan Hancocks, Managing Director, CoCredo

Finalists:

Adecco UK & Ireland, Aggregate Industries UK Ltd, Amigo Loans, CoCredo, Costa Coffee Limited, DJS (UK) Limited, Kier Group, Veolia ES UK Limited

Customer Service Hero Award

Winner

Stephanie Ratcliffe

HM Revenue &

Customs

Sponsored by

Judges' comment: "A proven team

leader and team player who is

obviously a joy to work with and

work for. She appears to do almost

everything for her customers!"

Presenter: CharlotteTurner, Director, Portfolio Credit Control

Collector of award: Stephanie Ratcliffe, HM Revenue & Customs

The Recognised Standard / www.cicm.com / March 2019 / PAGE 45
---
Rising Star of the Year

Winner

Salma Shah

Paradigm Housing

Group

Sponsored by

The CICM

British Credit

Awards 2019

Judges' comment: "In another highly

contested category, Salma is a dedicated

and professional rising star who is clearly

determined to succeed, to develop her

own skills and the skills or others. Salma

demonstrates how CICM membership and

qualifications can be the springboard to

future success.""

Presenter: Ceinwen Wilson, Director, CWC Recruitment

Collector of award: Salma Shah, Senior Income Officer, Paradigm Housing Group

Finalists:

Annabel Blanco - Nuvias, Cherie McNeil - HM Revenue and Customs, Glenn Kincaide - Kier Group, Jack Martin - Veolia ES UK Plc, José Carlos

Antequera Roa - Axión Infraestructuras de Telecomunicaciones, SAU, Kayleigh Linford - Clarke Willmott LLP, Kieran Reid - Adecco UK & Ireland,

Lee Hancock - Veolia ES UK Plc, Marc Foster - HM Revenue & Customs, Rachael Costello - Aggregate Industries, Rachelle Bull - Kier, Roy Ortiz -

Imperial College London, Salma Shah - Paradigm Housing Group

Diversity and Inclusion Award

Winner

HM Revenue &

Customs, Debt

Management

Diversity Team

Sponsored by

Judges' comment: "An impressive entry

that uses real life stories to create a very

powerful story. Achievements are driven

by people as well as the organisation."

Presenter: Natalie Ross, Director – UK Working Capital & Growth, American Express

Collector of award: Karen Cobb & Patricia Wilkinson, HM Revenue & Customs, Debt

Management Diversity Team

Finalists:

HM Revenue & Customs, Debt Management Diversity Team, HM Revenue & Customs, Debt Resolution Team, Liverpool, HM Revenue & Customs,

Debt Resolution Team, Shipley

The Recognised Standard / www.cicm.com / March 2019 / PAGE 46
---
Credit Professional of the Year

Winner

Matthew Roberts -

Npower Business

Solutions

The CICM

British Credit

Awards 2019

Judges' comment: "A stand out entry in a

highly competitive field. The sign of a true

credit professional is the ability to pass on

their skill sets to others and Matthew is

clearly doing this with great success."

Presenter: Jo Kettner from Company Watch.

Collector of award: Matthew Roberts, Debt Risk Strategy Manager, Npower Business Solutions

Finalists:

Brendan Clarkson - CVR Global, Giampaolo Scarpaci - Servomex Group Limited, Isaac Mireku - Harley Davidson Ltd, Jackie Ray - Blaser Mills

Law, John Kelly - HM Revenue and Customs, Lanslord Asumakah - Maglas Micro-Credit Services, Matthew Roberts - Npower Business Solutions,

Michelle Atkinson - United Utilities, Sarah Hicken - Aggregate Industries UK Ltd, Steve Charter - TXM Recruit

Corporate Social Responsibility

Winner

Aggregate Industries

(UK) Ltd

Sponsored by

Judges' comment: "A true CSR policy

with great results and investment

from the company and their staff."

Presenter: Mark Preston, Senior Consultant and Subject Matter Expert, Dun & Bradstreet

Collector of award: Phil Rice, Head of Credit, Aggregate Industries (UK) Ltd

Finalists:

Aggregate Industries (UK) Ltd, Amigo Loans, Pulmonary Fibrosis Trust, United Utilities

The Recognised Standard / www.cicm.com / March 2019 / PAGE 47
---
The CICM

British Credit

Awards 2019

Mentor of the Year

Winner

Karen Finney -

Salford City College

Sponsored by

Judges' comment:

"Has helped many apprentices through

their qualifications, recognising that each

learner may well need a different approach.

Karen adapts her style to each individual

she is supporting. An excellent role model

and mentor."

"Highly Commended: Kaseem Younis

Finalists:

Elizabeth Ives - HM Revenue and Customs, Karen Finney - Salford City College, Kaseem Younis - HM Revenue and Customs

Winner of Winners

Winner

Matthew Roberts -

Npower Business

Solutions

Judges' comment: "A unanimous

decision from the judges, Matthew

is a credit to his employer and the

profession."

Shortlist:

Npower Business Solutions, CoCredo, ABB

Presenter: Stephen Baister, President, CICM

Collector of award: Matthew Roberts, Debt Risk Strategy Manager, Npower Business Solutions

The Recognised Standard / www.cicm.com / March 2019 / PAGE 48
---
The Sir Roger Cork Prize

Joint

Winners

Giampaolo Scarpaci -

Servomex Group Ltd

and Molly Kane -

Oxford University

The CICM

British Credit

Awards 2019

An annual award presented to the candidate who

achieved the highest aggregate CICM examination

pass-marks within the calendar 2018.

Presenter: Debbie Tuckwood, Chief Adviser, CICM

Collector of award: Giampaolo Scarpaci, EMEA Credit Controller, Servomex Group Ltd

Photographs of the evening

The Recognised Standard / www.cicm.com / March 2019 / PAGE 49 continues on page 50 & 51 >
---
The Recognised Standard / www.cicm.com / March 2019 / PAGE 50
---
The Recognised Standard / www.cicm.com / March 2019 / PAGE 51
---
INTRODUCING OUR

CORPORATE PARTNERS

For further information and to discuss the opportunities of entering into a

Corporate Partnership with the CICM, please contact corporatepartners@cicm.com

Hays Credit Management is a national specialist

division dedicated exclusively to the recruitment of

credit management and receivables professionals,

at all levels, in the public and private sectors. As

the CICM's only Premium Corporate Partner, we

are best placed to help all clients' and candidates'

recruitment needs as well providing guidance on

CV writing, career advice, salary bench-marking,

marketing of vacancies, advertising and campaign

led recruitment, competency-based interviewing,

career and recruitment trends.

T: 07834 260029

E: karen.young@hays.com

W: www.hays.co.uk/creditcontrol

The Company Watch platform provides risk analysis

and data modelling tools to organisations around

the world that rely on our ability to accurately

predict their exposure to financial risk. Our

H-Score® predicted 92 percent of quoted company

insolvencies and our TextScore® accuracy rate

was 93 percent. Our scores are trusted by credit

professionals within banks, corporates, investment

houses and public sector bodies because, unlike

other credit reference agencies, we are transparent

and flexible in our approach.

T: +44 (0)20 7043 3300

E: info@companywatch.net

W: www.companywatch.net

HighRadius is a Fintech enterprise Software-as-a-Service

(SaaS) company. Its Integrated Receivables platform

reduces cycle times in the Order to Cash process through

automation of receivables and payments across credit,

e-invoicing and payment processing, cash allocation,

dispute resolution and collections. Powered by the

RivanaTM Artificial Intelligence Engine and Freeda

Digital Assistant for Order to Cash teams, HighRadius

enables more than 450 organisations to leverage

machine learning to predict future outcomes and

automate routine labour intensive tasks.

T: +44 7399 406889

E: gwyn.roberts@highradius.com

W: www.highradius.com

Forums International has been running Credit

and Industry Forums since 1991 covering a range

of industry sectors and international trading.

Attendance is for credit professionals of all levels.

Our forums are not just meetings but communities

which aim to prepare our members for the

challenges ahead. Attending for the first time is

free for you to gauge the benefits and meet the

members and we only have pre-approved Partners,

so you will never intentionally be sold to.

Chris Sanders Consulting (Sanders Consulting

Associates) has three areas of activity providing

credit management leadership and performance

improvement, international working capital

improvement consulting assignments and

managing the CICMQ Best Practice Accreditation

programme on behalf of the CICM. Plans for

2019 include international client assignments in

India, China, USA, Middle East and the ongoing

development of the CICMQ Programme.

Key IVR provide a suite of products to assist

companies across Europe with credit management.

The service gives the end-user the means to make

a payment when and how they choose. Key IVR

also provides a state-of-the-art outbound platform

delivering automated messages by voice and

SMS. In a credit management environment, these

services are used to cost-effectively contact debtors

and connect them back into a contact centre or

automated payment line.

T: +44 (0)1246 555055

E: info@forumsinternational.co.uk

W: www.forumsinternational.co.uk

T: +44(0)7747 761641

E: chris@chrissandersconsulting.com

W: www.chrissandersconsulting.com

T: +44 (0) 1302 513 000

E: sales@keyivr

W: www.keyivr.com

American Express® is a globally recognised

provider of business payment solutions, providing

flexible capabilities to help companies drive

growth. These solutions support buyers and

suppliers across the supply chain with working

capital and cashflow.

By creating an additional lever to help support

supplier/client relationships American Express is

proud to be an innovator in the business payments

space.

T: +44 (0)1273 696933

W: www.americanexpress.com

Building on our mature and hugely successful

product and world class support service, we are

re-imagining our risk awareness module in 2019 to

allow for hugely flexible automated worklists and

advanced visibility of areas of risk. Alongside full

integration with all credit scoring agencies (e.g.

Creditsafe), this makes Credica a single port-of-call

for analysis and automation. Impressive results

and ROI are inevitable for our customers that also

have an active input into our product development

and evolution.

T: 01235 856400

E: info@credica.co.uk

W: www.credica.co.uk

Bottomline Technologies (NASDAQ: EPAY) helps

businesses pay and get paid. Businesses and banks

rely on Bottomline for domestic and international

payments, effective cash management tools,

automated workflows for payment processing

and bill review and state of the art fraud detection,

behavioural analytics and regulatory compliance.

Every day, we help our customers by making

complex business payments simple, secure and

seamless.

T: 0870 081 8250

E: emea-info@bottomline.com

W: www.bottomline.com/uk

The Recognised Standard / www.cicm.com / March 2019 / PAGE 52
---
Each of our Corporate Partners is carefully selected for

their commitment to the profession and best practice in the

Credit Industry and the quality of services they provide.

We are delighted to showcase them here.

THEY'RE WAITING TO TALK TO YOU...

Onguard is a specialist in credit management

software and a market leader in innovative solutions

for Order to Cash. Our integrated platform ensures

an optimal connection of all processes in the Order

to Cash chain and allows sharing of critical data. Our

intelligent tools can seamlessly interconnect and

offer overview and control of the payment process,

as well as contribute to a sustainable customer

relationship. The Onguard platform is successfully

used for successful credit management in more

than 50 countries.

T: +31 (0)88 256 66 66

E: ruurd.bakker@onguard.com

W: www.onguard.com

The Atradius Collections business model is to support

businesses and their recoveries. We are seeing a

deterioration and increase in unpaid invoices placing

pressures on cash flow for those businesses. Brexit is

causing uncertainty and we are seeing a significant

impact on the UK economy with an increase in

insolvencies, now also impacting the continent and

spreading. Our geographical presence is expanding

and with a single IT platform across the globe we can

provide greater efficiencies and effectiveness to our

clients to recover their unpaid invoices.

T: +44 (0)2920 824700

W: www.atradiuscollections.com/uk/

With 130+ years of experience, Graydon is a leading

provider of business information, analytics, insights

and solutions. Graydon helps its customers to

make fast, accurate decisions, enabling them to

minimise risk and identify fraud as well as optimise

opportunities with their commercial relationships.

Graydon uses 130+ international databases and the

information of 90+ million companies. Graydon has

offices in London, Cardiff, Amsterdam and Antwerp.

Since 2016, Graydon has been part of Atradius, one of

the world's largest credit insurance companies.

T: +44 (0)208 515 1400

E: customerservices@graydon.co.uk

W: www.graydon.co.uk

Rimilia provides intelligent, finance automation

solutions that enable customers to get paid on time

and control their cashflow and cash collection

in real time. Rimilia's software solutions use

sophisticated analytics and artificial intelligence

to predict customer payment behaviour and easily

match and reconcile payments, removing the

uncertainty of cash collection. Rimilia's software

automates the complete accounts receivable process

improving cash allocation, bank reconciliation and

credit management operations.

T: +44 (0)1527 872123

E: enquiries@rimilia.com

W: www.rimilia.com

Data Interconnect provides integrated e-billing

and collection solutions via its document delivery

web portal, WebSend. By providing improved

Customer Experience and Customer Satisfaction,

with enhanced levels of communication between

both parties, we can substantially speed up your

collection processes.

T: +44 (0) 1367 245777

E: sales@datainterconnect.co.uk

W: www.datainterconnect.com

Dun & Bradstreet Finance Solutions enable

modern finance leaders and credit professionals

to improve business performance through more

effective risk management, identification of growth

opportunities, and better integration of data and

insights across the business. Powered by our Data

Cloud, our solutions provide access to the world's

most comprehensive commercial data and insights

supplying a continually updated view of business

relationships that help finance and credit teams

stay ahead of market shifts and customer changes.

T: (0800) 001-234

W: www.dnb.co.uk

Shared Services Forum UK Limited

Shared Services Forum UK is a not-for-profit

membership organisation. with one vision, to form

the largest community of people from the business

world and facilitate a platform for them to work

together to mutual benefits.

Benefits include; networking with like-minded

professionals in Shared Services. The criteria is a

willingness to engage in our lively community and

help shape our growth and development.

T: 07864 652518

E: forum.manager@sharedservicesforumuk.com

W: www.sharedservicesforumuk.com

C2FO turns receivables into cashflow and payables

into income, uniquely connecting buyers and

suppliers to allow discounts in exchange for

early payment of approved invoices. Suppliers

access additional liquidity sources by accelerating

payments from buyers when required in just two

clicks, at a rate that works for them. Buyers, often

corporates with global supply chains, benefit from

the C2FO solution by improving gross margin while

strengthening the financial health of supply chains

through ethical business practices.

T: 07799 692193

E: anna.donadelli@c2fo.com

W: www.c2fo.com

Tinubu Square is a trusted source of trade credit

intelligence for credit insurers and for corporate

customers. The company's B2B Credit Risk

Intelligence solutions include the Tinubu Risk

Management Center, a cloud-based SaaS platform;

the Tinubu Credit Intelligence service and the

Tinubu Risk Analyst advisory service. Over 250

companies rely on Tinubu Square to protect their

greatest assets: customer receivables.

T: +44 (0)207 469 2577 /

E: uksales@tinubu.com

W: www.tinubu.com.

The Recognised Standard / www.cicm.com / March 2019 / PAGE 53
---
INTRODUCING

OUR

CORPORATE

PARTNERS

For further information and

to discuss the opportunities

of entering into a Corporate

Partnership with the CICM,

please contact

corporatepartners@cicm.com

THE PERFECT VENUE FOR THIS YEAR'S

CICM FELLOWS'

CELEBRATORY LUNCH

THEY'RE

WAITING TO

TALK TO YOU...

DWF is a global legal business transforming legal

services through our people for our clients. With

over 27 locations and 3,000 people delivering

services and solutions that go beyond expectations.

By questioning traditions and thinking beyond

conventions we were recognised by The Financial

Times as one of Europe's most innovative legal

advisers. DWF offers a full range of cost-effective

debt recovery solutions from pre-legal collections

and debt litigation to strategic enforcement,

insolvency proceedings and ancillary services.

T: +44 (0) 113 261 6169

E: David.Scottow@dwf.law

W: www.dwf.law/recover

We invite all Fellows to help us celebrate 80

years of CICM at this year's special Fellows'

Celebratory Lunch, at the Churchill War Rooms.

Walk the same corridors as Churchill, peer into the room where his

War Cabinet made their momentous decisions, and marvel at the

complexity of the abandoned Map Rooms, frozen in time since 1945.

Join us for great food, company and to welcome our newest Fellows.

We will also be launching our exciting new Fellows of the Future

scheme.

FRIDAY, 7 JUNE 2019

Arrival drinks served at 11:30 Including welcome

reception for new CICM Fellows.

Tickets £110.00+VAT per person

which includes museum access.

Please email fellowslunch@cicm.com to book

CLIVE STEPS,

KING CHARLES STREET,

LONDON, SW1A 2AQ.

CHARTERED INSTITUTE OF CREDIT MANAGEMENT ●80

YEARS

1939 - 2019
---
The Real Alternative for

High Court Enforcement

Who we are:

• The UK's fastest growing High Court Enforcement Company

• Collected £40 million on behalf of our clients in 2018

• Experienced team with track record for innovation and compliance

• New transparent approach for our clients

How we can help:

• We offer a personal, proactive & tailored service to meet your needs

• Guaranteed individual attention for each client

• CCJ Transfer up - fast & free administration service

• Exceptional Recovery Rates - consistently outperforming traditional rms

• Unique client access of your cases in real time via our Award-winning Field App

• Tracing, Process Serving & Commercial Rent Arrears Recovery (CRAR)

The Recognised Standard / www.cicm.com / March 2019 / PAGE 55
---
PAYMENT TRENDS

Not a pretty sight

The latest monthly business to business payment

performance statistics.

AUTHOR – Jason Braidwood FCICM(Grad)

THE last payment performance

statistics gave real cause for

encouragement and optimism, with

some impressive sector and regional

improvements. This month, however,

does not make for pleasant reading.

The average Days Beyond Terms (DBT) figures

across regions and sectors have increased to 17.1

and 16.2 days respectively.

SECTOR SPOTLIGHT

The sector spotlight shows little in the way of

encouragement, with only five of the 22 sectors

reducing their payment terms. Energy Supply

has reduced DBT by 4.9 days. Hospitality has also

performed well, with a reduction of 3.6 and now

tops the table with a DBT of 8.6 days. The other

sectors to show improvements are Business from

Home, International Bodies and Agriculture,

Forestry and Fishing.

At the other end of the scale, it has been a

dreadful month for the Financial and Insurance

sector, with DBT increasing by an enormous 8.2

days to 22.7 days overall. Sitting rock bottom of the

table is Water and Waste with an overall DBT of 24

days following a further increase of 6.8 days. It has

also been a disappointing month for Wholesale

and Retail Trade, Real Estate and Professional and

Scientific, with increases of 4.9 days, 4.2 days and

4.1 days respectively.

REGIONAL SPOTLIGHT

It's impossible to find a positive in the regional

standings, with all regions posting an increase

in their payment terms. It's not a pretty sight.

Following a positive improvement where DBT was

reduced by 6.8 days, Northern Ireland has moved

hastily in the wrong direction with an increase of

5.7 up to 23 days overall.

It's been similarly disappointing for East Anglia,

which surrenders top spot after a steep increase of

5.5 days. Also sliding the wrong way in the table is

the West Midlands and South East, with increases of

4.6 days and 3.7 days.

But in truth, it has been a poor month across the

board. And with the continued uncertainty over

Brexit, it's very difficult, if not almost impossible,

to make predictions on how things will look in the

coming months.

Jason Braidwood FCICM(Grad),

Head of Credit and Collections at Creditsafe

Business Solutions.

The Recognised Standard / www.cicm.com / March 2019 / PAGE 56
---
PAYMENT TRENDS

AUTHOR – Jason Braidwood FCICM(Grad)

Top Five Prompter Payers

Region Jan 19 Change from Dec 18

South West 14.7 1.7

East Midlands 15.3 1.8

North West 15.7 1.2

South East 16 3.7

West Midlands 16.6 4.6

Getting Better

-4.9 Energy Supply

-3.6 Hospitality

-1.8 Business from Home

-1.7 International Bodies

-0.2 Agriculture, Forestry and Fishing

Top Five Prompter Payers

Sector Jan 19 Change from Dec 18

Hospitality 8.6 -3.6

Public Administration 10.9 3.2

Education 11.2 1.3

Entertainment 11.2 1.5

International Bodies 11.9 -1.7

Bottom Five Poorest Payers

Region Jan 19 Change from Dec 18

Northern Ireland 23 5.7

Wales 17.8 1.1

London 17.5 1.1

East Anglia 17.2 5.5

Scotland 16.9 2.2

Getting Worse

8.2 Financial and Insurance

6.8 Water and Waste

4.9 Wholesale and Retail Trade

4.2 Real Estate

4.1 Professional and Scientific

Bottom Five Poorest Payers

Sector Jan 19 Change from Dec 18

Water and Waste 24 6.8

Financial and Insurance 22.7 8.2

Wholesale and Retail Trade 22.1 4.9

Business Admin and Support 20.2 3.9

Professional and Scientific 19.3 4.1

It's impossible to find a positive in the

regional standings, with all regions

posting an increase in their payment

terms. It's not a pretty sight.

SCOTLAND

16.9 DBT

NORTHERN

IRELAND

23 DBT

Region

Getting Better – Getting Worse

NORTH

WEST

15.7 DBT

YORKSHIRE &

HUMBERSIDE

17 DBT

5.5

1.8

1.1

1.2

5.7

2.2

3.7

1.7

1.1

4.6

3.5

East Anglia

East Midlands

London

North West

Northern Ireland

Scotland

South East

South West

Wales

West Midlands

Yorkshire and Humberside

WALES

17.8 DBT

SOUTH

WEST

14.7 DBT

WEST

MIDLANDS

16.6 DBT

EAST

MIDLANDS

15.3 DBT

LONDON

17.5 DBT

EAST

ANGLIA

17.2 DBT

SOUTH

EAST

16 DBT

The Recognised Standard / www.cicm.com / March 2019 / PAGE 57
---
ADVERTORIAL

Are you a Credit Professional

wanting to stay ahead in this

ever-changing business world?

If so, our Credit and Industry Forums are for you.

Forums International Ltd was launched in 2015

however we have been running forums since 1991.

Why are we different?

• Our events are learning experiences where the agenda items are

decided by the members

• They are NOT lecture based but interactive workshops and

discussions

• 50 percent of each event is led by a subject matter expert. The other

50 percent is dedicated to attendees sharing their experiences

• Our forums provide opportunities for credit and finance

professionals to meet and discuss key trading challenges in their

industry sectors

• Our members share experiences and challenges and most

importantly discuss innovation and how they have secured success

• Membership is open to credit professionals of all levels.

Our portfolio of forums includes:

• Business and Office Supplies Credit Forum

• Credit Professionals Forum

• IT Distributors and Resellers Credit Forum

• Export Credit Forum

• Fraud Prevention Network

• ICT Credit Forum

• International Telecoms Risk Forum

• Pharmaceuticals and Medical Devices

• SAP User Group

• Senior Credit Management Forum

Want to find out more about how Forums International can help your career

Email: lauriebeagle@forumsinternational.co.uk.

>What's New for 2019

Forums International is going virtual – when members

find it difficult to travel to a forum they can now access

them virtually. Join in from the comfort of your desk –

you can hear and see what's going on and take part in the

discussion.

Webinars – Forums International also offers a

comprehensive FREE webinar programme providing

keynote speakers from our Corporate Partners on important

topics.

> Dates for your diary

March 12 – Rimilia

March 19 – Delphinus tmc

April 16 – Company Watch

Credit Card Forum – 13 March 2019. This workshop is

designed for managers and staff who rely on making or

receiving payments via credit cards.

For further information, please contact Lynn Christon –

lynnchriston@forumsinternational.co.uk.

Are you Interested in becoming a Forum Member?

If you are not already a member, then coming along to your first Forum is free of charge. Come along and meet the

members and gauge the benefits before making any commitment to join. We only have pre-approved Corporate Partners.

You will never intentionally be sold to. Our website is packed full of information about our events and latest industry news –

www.forumsinternational.co.uk.

For further information, please contact Laurie Beagle, FCICM

E: lauriebeagle@forumsinternational.co.uk

M: +44 (0)7712 The 486798 / T: +44 The Recognised Standard / www.cicm.com / / March (0)1246 May 2018 2019 / / PAGE 41 58 555055
---
CICM MEMBER

EXCLUSIVE

Your CICM lapel badge

demonstrates your commitment to

professionalism and best practice

TAKE PRIDE IN

WEARING YOUR BADGE

If you haven't received your badge

contact: cicmmembership@cicm.com

To celebrate our double award success at the British

Credit Awards, CoCredo are offering...

5FREEEE DUAL REEI?RUP !

Ouuuurrrrrrrr Duuuuaaaal Reeeeeeepppoooooorrrrrrrrtttttsssss aaaarrrrrrrreeeeeee aaaann iiiinnddduuuussssstttttrrrrrrrryyy fiiiirrrrrrrrsssssttttt, aaaalloooooo×iiiinn' yyyoooooouuuu tttttoooooo ccoooooompppaaaarrrrrrrreeeeeee

2ccrrrrrrrreeeeeeedddiiiittttt ppprrrrrrrrooooooviiiidddeeeeeeerrrrrrrrsssss iiiinn oooooonneeeeeee eeeeeeeaaaasssssyyy tttttoooooo rrrrrrrreeeeeeeaaaaddd rrrrrrrreeeeeeepppoooooorrrrrrrrttttt

*

*T&C's apply

cocredo.co.uk Call us on 01494 790600 Quote Ref: CICM 2019

The Recognised Standard / www.cicm.com / March 2019 / PAGE 59
---
EXCLUSIVE REPORT

GROWING PAINS

The difficulties the construction sector is facing

and the wider impact on the economy.

AUTHOR – Markus Kuger

THE construction industry is

often used as a barometer of

overall economic growth by

analysts and commentators.

The sector represents

around six percent of GDP,

contributes some £90 billion in gross value

added and supports 2.9 million jobs, so

activity in this industry is often a good

indication of the general health of the

economy. When it's on the up, there are

more investment projects and in times

of uncertainty or recession, it's usually

one of the first sectors to show signs of a

slowdown.

Recent statistics such as the UK

Construction PMI published by IHS Markit

and the Chartered Institute of Procurement

and Supply (CIPS) show a slowing pace

of construction activity with growth at

a three-month low at the end of 2018.

Despite a rise in civil engineering activity

and major public projects such as Crossrail

and HS2, uncertainty around Brexit does

seem to be impacting the appetite for

investment in new projects and currency

fluctuations may have increased the cost

of importing vital materials.

Forward-looking indicators have

deteriorated markedly in recent quarters.

Eurostat's Economic Sentiment Indicator

(which combines industrial, services,

retail, construction and consumer

confidence indicators) dropped to 103.7

in January 2019, the lowest reading since

July 2016 and significantly below the EU-28

average of 106.1.

The latest high-frequency indicators

point towards a cooling in the construction

sector. The Purchasing Managers' Index

dropped to 50.6 in January, a ten-month

low and only marginally above the neutral

50-points line that divides expansion in

sectoral activity from contraction. All

three sub-categories (residential, civil

engineering, and construction) were down

from their December readings, and work on

commercial projects (including shops and

offices) fell for the first time since March

2018. Office for National Statistics (ONS) data

shows that new orders in the construction

sector fell in Q1-Q3 2018, with July-September

(the latest-available data point) recording a

30.2 percent year-on-year drop, the sharpest

deterioration since the financial crisis.

CARILLION EFFECT

The construction sector has undoubtedly

been impacted by the fallout of the highprofile

collapse of Carillion. This has

impacted cashflow and also led to yet more

scrutiny on payment terms imposed by

larger organisations given the reliance of

smaller businesses on prompt payments.

The National Federation of Builders (NFB)

states that small and medium enterprises

in the construction industry are owed a

total of £30 billion in unpaid invoices and

the sector has the worst payment record of

any industry. With suppliers offering limited

credit and many projects dictated by weather

conditions, businesses in this sector often

face significant cashflow challenges.

The Recognised Standard / www.cicm.com / March 2019 / PAGE 60
---
EXCLUSIVE REPORT

AUTHOR – Markus Kuger

Dun & Bradstreet data based on trade

references shows that the construction

industry average for paying bills on time is

just 42.8 percent.

LABOUR MARKET

Firms operating in the UK construction

industry are also dealing with a challenging

labour market. Data from the NFB suggests

that the industry needs to recruit at least

35,000 new workers each year to cope

with increasing work demand. Anecdotal

evidence quoted in the Royal Chartered

Institute of Surveyors (RICS) Construction

and Infrastructure Market Survey for the

final quarter of last year raised concerns

around the impact of Brexit on the

availability of skilled workers and survey

responses indicated a decrease in new

project enquiries. The shortage of skilled

labour is likely to be exacerbated by the

Brexit uncertainty due to the number of EU

nationals working in the sector.

ACCESS TO FINANCE

Respondents in the RICS survey also

highlighted difficulties with access to

finance and credit with 20 percent more

respondents reporting a deterioration in

credit terms, compared to those who had

seen an improvement. This could be a

knock-on effect of the Carillion collapse,

and also increased caution from banks and

lenders while the full impact of Brexit is

still unclear.

The BDRC SME Finance monitor

showed a decline in profit from 86 percent

to 79 percent across SME construction

firms from 2017 to H1 2018, and a similar

decline in growth (41 percent to 26 percent)

over the same period. There was also a drop

in the number of construction SMEs using

external finance from 37 percent to 33

percent, with the percentage of permanent

non-borrowers increasing from 48 percent

to 51 percent.

CORPORATE LIQUIDATIONS

Dun & Bradstreet business failure data for

the construction sector for Q4 2018 shows an

improvement quarter-on-quarter (down 1.6

percent), but in a year-on-year comparison

the number of corporate liquidations in

the sector rose by 11.4 percent. Overall,

666 construction companies filed for

insolvency during October to December

2018.

The number of business failures in

construction has also been rising over

the last three years. Over half of business

liquidations are in Specialised Construction

Activities (Electrical, plumbing, building

completion and finishing, etc.) with a

regional concentration around the Greater

London area and in the Midlands. Although

as Greater London has the highest number

of construction-related businesses, this

isn't surprising. Notably, nearly 75 percent

of the business closures are younger

businesses that have only been operating

for five years or less. More established

firms (those over 20 years) only represent

three percent of the number of business

closures, suggesting that companies

who have been around for longer are

weathering the uncertainty easier than

more recently formed businesses.

DOOM AND GLOOM

However, the outlook is not all gloomy. The

latest ONS bulletin on construction output

recorded an all-time high for November

2018, with the total value of construction

output hitting an all-time high since

records began – breaking the £14 billion

mark. This growth has been primarily

driven by new housing, private commercial

new work and public housing repair

and maintenance. The UK Government

has committed a further £1 billion in

additional HRA borrowing to fund council

housing, which has stimulated more

activity.

Dun & Bradstreet data shows a steady

rise in the number of construction

businesses over the past four years from

400,000 in 2015 to over 600,000 in 2018. Civil

Engineering firms have seen the highest

increase, doubling over the three-year

period. Within Specialised Construction

Activities, the Building Completion and

Finishing sector has seen a marked growth

in the number of active businesses from

69,000 in 2015 to 132,000 in 2018. The

majority (over 90 percent) of construction

firms are 'micro' businesses with only

a small percentage categorised as large

enterprises. Nearly three quarters of firms

are listed as private limited companies and

nearly half are less than five years old.

The Recognised Standard / www.cicm.com / March 2019 / PAGE 61 continues on page 62 >
---
EXCLUSIVE REPORT

AUTHOR – Markus Kuger

The continued

uncertainty

around Brexit is

likely to be a key

factor influencing

the significant

slowdown in

growth and an

increase in business

failures across the

construction sector.

Financial information shows a significant

decrease in the proportion of assets financed

by debt with specialised construction activities

seeing a significant average reduction of nearly

36.2 percent in debt ratio. There has also been

a marked decrease in current ratio. This is a

liquidity measure indicating more difficulties

to cover the short-term debt with short-term

assets.

PLANNING AHEAD

The continued uncertainty around Brexit

is likely to be a key factor influencing the

significant slowdown in growth and an increase

in business failures across the construction

sector. Dun & Bradstreet's analysis predicts that

economic performance will worsen if the UK

leaves the EU without a deal so there may be

bumpier roads ahead.

The construction industry is likely to be

monitored closely for early signs of the economic

impact of whatever Brexit scenario plays out in

2019. Although there has been a slowdown, it

continues to be a sector that is increasing in size

and constitutes a significant proportion of the

UK's small and micro businesses.

Dun & Bradstreet's baseline scenario is for

a delayed, soft Brexit, but things are changing

quickly. The best advice for construction

businesses is to monitor the situation and try

to establish a transparent view of supply chain

and business relationships to enable a quick

assessment of how the latest development will

impact business operations once a decision is

made.

Markus Kuger is Lead Economist at

Dun & Bradstreet.

Markus Kuger

The Recognised Standard / www.cicm.com / March 2019 / PAGE 62
---
www.portfoliocreditcontrol.com

PROUD SPONSORS OF

CUSTOMER SERVICE

HERO OF THE YEAR

would like to Congratulate

the winners of the CICM Credit

Management Awards 2019...

Portfolio Credit Control, part of the Portfolio Group,

are proud to be the only true specialist Credit Control

recruitment agency in the UK.

Solely recruiting for Credit Controllers and Credit professionals,

our market knowledge and industry experience has remained

steadfast at the forefront of the sector since 2008. Recognised as

an award-winning recruiter, we've been accredited as one of the

Best Companies to Work For in 2019 and we are also an audited

and compliant member of the REC. Our unique attributes enable

us to fill your next credit control vacancy simply and swiftly.

We understand the hard and soft skills of a Credit Controller

and we pride ourselves on finding you the perfect match.

All our temporary candidates are fully referenced and come

with a first day free trial – so, if you aren't happy you don't

pay a penny to ensure your full confidence.

We have immediately available multi-lingual Credit

Controllers to deliver effective debt management across

the globe.

Unparalleled market knowledge of our sector with

immediately available specialists in the areas of

Corporate, Consumer, International, Credit Control

and Collections. Unparalleled market knowledge

of our sector with immediately available

specialists in the areas of Corporate,

Consumer, International, Credit

Control and Collections.

3

YEARS

IN 2018

Contact one of our specialist recruitment consultants on

London 020 7650 3199 or Manchester 0161 836 9949

email recruitment@portfoliocreditcontrol.com

www.portfoliocreditcontrol.com

theportfoliogroup portfoliocredit portfolio-credit-control

The Recognised Standard / www.cicm.com / March 2019 / PAGE 63

WE ARE RATED 9 OUT OF 10
---
OPINION

RISK AND

REWARD

How credit managers should deal

with difficult customers.

AUTHOR – Chris Sanders FCICM

Chris Sanders FCICM

Head of Accreditation – CICMQ.

AS human beings we are

all unique. When organisations

develop scripts for

telephone collections or

a process for collections

strategies we shouldn't

be surprised that things don't always go

to plan. Machine learning determines

outcomes and actions based on past

experience and future probability, and it

is beginning to move organisations away

from the set scripts and standard collections

paths of two letters then a phone call.

While many of the larger organisations,

utilities, banks etc are able to invest in

these clever tools, for most working in the

credit management world many of these

tools are still some years away. Based on

the experience and feedback from CICMQ

Accredited organisations, I thought it

would be useful to put something together

that may assist the vast majority of credit

teams who rely on people rather than

machines.

Despite what many people may think,

organisations of between five and 15 credit

controllers make up the majority of CICMQ

companies. Many of these companies still

manage credit through spreadsheets, make

calls manually, sign-off credit notes etc –

the world of automation and machine

learning is still some time away.

This article is also aimed at the credit

controllers who manage large strategic

accounts or, as most refer to them, National

or Major Accounts. These accounts are

tough to automate, require relationships

not 'interactions', have complex disputes

and queries and also challenge your

standard terms, and often use third party

offshore accounts payable teams. I have

found when working with international

clients these principles also apply. While

everyone is different, people are also the

same the world over – these strategies have

been used successfully in Far East, India,

Africa, Middle East, Europe and USA.

There are two places to start:

FINANCIALS

You would have determined with a

reasonable degree of certainty that the

customer can pay their bills, but don't

take the reports at face value. Check with

your sales people and your network.

Remember, we have had some surprisingly

good credit reports which within weeks

turn bad, Patisserie Valerie most recently

and the dreaded Carillion from 2018. Keep

checking payment data and beware of

customers suddenly wanting 90+ terms

and beyond. Liquidity issues in some

parts of the world are proving difficult

for suppliers so understand what you are

getting into before you start. Government

debt in some geographies at the moment

is driving the payment trends in

some countries, and your international

customers may be caught up in that.

KNOW YOUR CUSTOMER

KYC or, as we prefer it, know your

customer's payment process. This is

something that few credit management

teams truly understand, but we

recommend that you spend some time

at the beginning of your relationship

understanding your customer's payment

process – who signs-off what, where in

the organisation your invoice goes and

how long it takes. The people that manage

these processes will become your new best

friends!

With these two criteria understood

we can move onto when the relationship

develops and things start to get difficult.

With the impending Brexit you should

prepare some strategies to ensure that you

can deal with some difficult situations.

Understanding what to do with Can Pay v

Can't Pay and Will Pay v Won't Pay will help.

Create a square chart with four quadrants

to help you map your customers and then

in each quadrant give them a Red, Amber,

Green (RAG) status and start to develop

some strategies for each quadrant. Test

them to see if they work. If not change

them, the key here is flexibility.

So as far as the strategies go, let's start

with the easy one:

Can Pay/Will Pay (bottom left hand

corner, RAG Status = GREEN)

As I said nice and simple to start with.

As with all collections activities they

should be consistent and persistent.

Just because they pay doesn't mean they

should be ignored. This action is relevant

for all customers regardless of the type or

payment behaviour.

Can Pay/Won't Pay (bottom right hand

corner, RAG Status = AMBER)

They have the money but are reluctant to

part with it and as a result put obstacles

in the way. Firstly, by understanding the

customer's payment process you will be

able to push the customer 'So I understand

that John signs off the invoices, when will

he be back?', or 'So what has changed as

this process only takes three days?' This

sort of customer also places obstacles like

disputes in the way of payment. If this is

the case, come to agreements written in

emails: 'If we resolve this dispute when can

we expect payment?' This is about almost

bartering one thing for another. Checking

invoices for these customers may also help

to try and spot pricing issues or general

invoicing errors before the customer does.

One international client had a customer

who wanted to roll the outstanding debt

The Recognised Standard / www.cicm.com / March 2019 / PAGE 64
---
OPINION

AUTHOR – Chris Sanders FCICM

The people that manage

these processes will

become your new best

friends!

into a new contract, which was fine, but as a

negotiating tactic you should always adjust the

margin to cover the cost of credit, and the same

should be applied to extending payment terms.

In short, remove as many of the reasons for nonpayment

as you can, agree strict terms and add

the cost of the credit wherever possible to ensure

that they recognise that you are not a soft touch.

Word can get around to other customers in your

industry.

Can't Pay/Will Pay (top left-hand corner RAG

Status = AMBER)

This is the customer who will pay but is financially

strapped at the moment. Now we are entering

the world of payment plans and extended

payment arrangements. The situation that the

customer finds themselves in may be completely

outside their control – they may be the victim

of the Government liquidity issues mentioned

above. We should not penalise them for this as

they may become unwilling to pay. During the

credit crunch one CICMQ organisation in the

building trade assisted their customers with

financial arrangements, retention insurance

and credit vetting their customers. In the long

run this strategy helped to build a much more

loyal customer base. So, think about the future

– it is not always about the here and now. With

all payment plans the main requirement is to

document the agreement.

Can't Pay/Won't Pay (top right-hand corner

RAG Status = RED)

This is the customer who is in financial difficulty

and also puts obstacles in the way of payment.

Here you will need to ensure that everything

Flexibility is

the key, the

provision

of credit as

we enter an

unknown period

will become

more important.

is documented as before and also work on the

payment arrangements. This sort of customer is a

drain on your margins so you may want to consider

whether this is the sort of customer that you want

to deal with. Keep a very close watch on the cost of

credit and if possible establish what the margins

are for the products or services that they buy. As

a credit manager it is also your responsibility

to ensure that all customers are profitable and

providing this information, good or bad, to sales

and marketing.

These are just a few of the things to consider

when developing strategies for difficult customers.

As mentioned above, one CICMQ organisation

provided a suite of 'credit products' to assist their

customers. Others provided their customers

with joint deposit accounts, extended short-term

finance, invoice finance as well as giving extended

credit through financial institutions while your

organisation gets paid to terms.

Flexibility is the key, the provision of credit as

we enter an unknown period will become more

important, those credit teams that bend and flex

with customers to provide innovative solutions will

once again be the ones who provide the greatest

benefit to their business.

I said in 2008 at the time of the Credit Crunch

'Now is the time for Credit Managers to show their

true value' and the same is true today as we enter

another period of uncertainty.

All of these strategies are examples from the

CICM Best Practice Network where 'best practice'

methods and procedures are shared. For more

information please contact cicmq@cicm.com

Chris Sanders FCICM,

Head of Accreditation – CICMQ.

The Recognised Standard / www.cicm.com / March 2019 / PAGE 65
---
HR MATTERS ROUNDUP

Discriminating against

a disabled employee

Determining sick pay for part-time employees,

calculating National Minimum Wage, and attempts to

combat the rise in claims.

CAN an employer discriminate

against a disabled employee

if it bases its early retirement

pension calculations on

their adjusted, reduced

hours of work? The answer

in The Trustees of Swansea University

Pension & Assurance Scheme and another

v Williams was no.

Mr Williams was employed by Swansea

University. His working hours were

reduced to part time as a reasonable

adjustment in light of a medical condition

that amounted to a disability under the

Equality Act. Williams applied for ill health

AUTHOR – Gareth Edwards

early retirement, which was granted when

he was aged 38. As a result of his early

retirement he started to receive his pension

under the terms of Swansea's pension

scheme.

Williams claimed that the calculation

of his pension amounted to unfavourable

treatment since it was based on his parttime

salary and he was only working parttime

because of his disability. The tribunal

agreed, but the Employment Appeal

Tribunal and the Court of Appeal did not.

The Supreme Court, however, confirmed

that it was not discrimination arising from

disability to calculate Williams' pension

by reference to his part time hours. In

particular, the Court found that he had

not been subjected to any unfavourable

treatment. Had he not been disabled, he

would not have been entitled to a pension at

all at that time. The treatment was therefore

not in any sense unfavourable, nor could it

reasonably have been so regarded.

This judgment is good news for

employers and pension providers. Subject

always to the rules of the particular scheme

involved, an employee will not suffer

discrimination where ill-health retirement

benefits are calculated on the basis of their

most recent salary and hours worked.

Calculating national minimum wage

NATIONAL Minimum Wage (NMW)

legislation provides that an individual

who is a 'worker' for minimum wage

purposes must be paid the NMW. Within

updated guidance from the Department for

Business, Energy and Industrial Strategy

(BEIS), the term NMW covers both NMW

and the National Living Wage.

Many employers use unpaid trial

work periods as a legitimate part of their

recruitment process. The current law does

not define what a 'trial work period' is, or

when during a work trial NMW must be

paid. The guidance seeks to assist employers

in determining if a trial work period is

subject to NMW or not. The following

factors will generally be taken into account

by courts and tribunals: whether a 'work

trial' is genuinely for recruitment purposes;

the length of the trial period; the extent of

observations during the trial; the nature

and value to the employer of the tasks; and

whether the trial period is being used to

reduce labour costs.

The Government's view on lengths

of trial work periods is that any trial

longer than one day is likely to incur

NMW in all but very exceptional

circumstances.

While ultimately payment of NMW

during work trials will need to be assessed

on a case-by-case basis by HMRC and

potentially the courts, the updated guidance

highlights some helpful factors which are

likely to be taken into account and serves

as a useful reminder to employers.

Combatting the rise in claims filed

FOLLOWING the 165 percent increase in

tribunal claims, it has been revealed that

in some areas Employment Tribunals (ET's)

are listing final hearings far too long after

receipt of the initial claim form.

At a recent meeting of the Employment

Tribunal National User Group, the President

explained that in some regions it is taking

12 to 18 months to list open track cases for

final hearing, which requires hearings of

five days and over.

The delay for hearings to be listed has

been apportioned to both the increase in

claims following the abolition of tribunal

fees, as well as the reduced number of

salaried judges. The President commented

that it is harder to list longer hearings

as fee-paid judges and lay members find

it more difficult to commit to multiday

proceedings. It is also interesting to

note that while single claims to ET's have

increased by 165 percent in the most recent

quarter, the number of claims would

have needed to rise by 200 percent to meet

the pre-fees position.

In relation to the shortage of salaried

judges, it was reported that the Judicial

Appointments Commission are in the

process of appointing 54 full-time salaried

judges at the ET. It is hoped that the

additional appointments will increase the

speed within which ET claims are listed

and heard.

Gareth Edwards is a partner in the employment

team at VWV.gedwards@vwv.co.uk.

The Recognised Standard / www.cicm.com / March 2019 / PAGE 66
---
The enforcement team

that recovers more

If you are looking for an outstanding – and award winning –

HCEO with nationwide coverage to enforce your outstanding

judgments and possession orders, HCE Group offers:

The largest independent High Court enforcement company

in England and Wales

More authorised HCEOs than any other firm,

bringing unrivalled expertise and knowledge

Nationwide highly trained and qualified

enforcement agents

Award wins at the CICM British Credit Awards in 2018

and 2019

The Recognised Standard / www.cicm.com / March 2019 / PAGE 67

To find out more or instruct us

08450 999 666

www.hcegroup.co.uk
---
The Recognised Standard / www.cicm.com / March 2019 / PAGE 68
---
Congratulations from

CWC to all the winners

and finalists of The CICM

British Credit Awards!

CWC is a specialist recruitment consultancy dedicated

to recruiting credit professionals at all levels, including

credit control, sales ledger, billings, credit risk/analysis,

credit management, and order to cash.

We have over 35 years of credit control and credit

management recruitment experience. We are true

experts within our field, and have built up an unrivalled

network of contacts and established relationships

within the industry.

We are passionate about the credit management industry,

and pride ourselves on offering a personal, efficient and

consultative service to both candidates and clients.

Contact us today to discuss your recruitment needs.

It pays to speak to the experts.

Ceinwen Wilson

07738 948848

ceinwen.wilson@cwcrecruitment.com

Sarah Chandler

07738 948844

sarah.chandler@cwcrecruitment.com

www.cwcrecruitment.com

The Recognised Standard / www.cicm.com / March 2019 / PAGE 69
---
LEGAL MATTERS

Recovery Options under

Regulated Agreements

DD +44 161 603 5165 E dominicjones@dwf.law W www.dwf.law/recover

Dominic Jones

Senior Associate,

Finance Litigation, DWF LLP

WHEN a Regulated

Hire Purchase

Agreement falls into

default, recovery

of the asset comes

into consideration.

The account will be reviewed, a Notice of

Default can be served, and, if the default

is not remedied, the Agreement can be

terminated, usually by written notice.

Once the Agreement has been

terminated, the lender's right to seek

possession of the asset has crystallised.

At this point there should be a calculation

undertaken to determine whether one

third of the total price payable under the

Agreement has been paid. If less than

one third has been paid, the asset can be

recovered without the need for a Court

Order. If more than one third has been

paid, the asset is considered protected

goods under Section 90 of the Consumer

Credit Act 1974 (CCA) and a Court Order is

required before possession can be taken.

The assessment of amount paid is vital

when you consider that, if an asset is

deemed to be protected goods is collected

without a Court Order, the customer

can claim the asset has been unlawfully

repossessed. Section 91 of the CCA provides

that where there has been an unlawful

repossession, the customer is entitled to

repayment of all payments made under

the Agreement including any deposit

paid. It can be a costly error to make.

ALTERNATIVES

As an alternative, it is worth considering

if there are other recovery solutions that

would be worth exploring before the

Agreement is terminated by the lender.

Two should be considered if the customer

is agreeable to the asset being returned.

The first is Voluntary Termination of

the Agreement (VT). Section 99 of the

CCA provides that a customer under a

regulated Agreement has the right to

return the asset provided notice is served.

Section 100 CCA provides that unless

another sum is quoted in the Agreement,

the customer will only be liable to pay 50

percent of the total amount payable under

the Agreement if they VT. If 50 percent

hasn't been paid, the customer should

only be liable for the balance that will

take it up to the 50 percent figure. If more

than 50 percent has been paid, there is no

further liability.

The other alternative is Voluntary

Surrender (VS) which allows the customer

to return the asset to the Lender for it to

be sold and the sale proceeds credited

to the balance outstanding which

reduces the amount they owe under the

Agreement. If this approach is being

taken, then lenders must ensure that

the customer signs a form confirming

they are agreeing to return the asset and

accepting the customer will be liable for

payment of the remaining balance due

under the Agreement. This form is the

lender's protection against an unlawful

repossession claim.

The two options can have different

results and it is useful to consider whether

one option is better for the customer than

the other. The difference will invariably

turn on the value of the asset and whether

crediting sale proceeds will put the

customer in a better position.

TREATING CUSTOMERS FAIRLY

As all responsible lenders apply the

principle of Treating Customers Fairly

(TCF), then consideration of which of

the two options is best for the customer

is essential if there is the possibility of

a different outcome. If it is possible to

establish the value of the asset, then it is

possible to assess which option is going to

result in the customer having to pay the

lowest possible shortfall amount. If the

customer has paid 50 percent of the total

amount payable, then VT is clearly the

best option even if they are unaware of

it. However, if an agreement is concluding

very early in its term, it is possible that

the enhanced value of the asset would

mean that, after giving credit for sale

proceeds received for the asset, the

shortfall amount left to be paid under

VS would be less than the 50 percent

VT figure (or the amount to be paid to

reach 50 percent). The customer could be

looking to VT when the best option would

be to VS.

Compliance with TCF means that the

customer should be advised of the best

option for them whether they are aware

of it or not, and lenders should make

the assessment when offering customers

these exit strategies. It is safe to assume

that, if a subsequent complaint was made

by a customer, the Financial Ombudsman

Service could look to see if the lender had

undertaken this assessment.

This information is intended as a general

discussion surrounding the topics covered

and is for guidance purposes only. It does

not constitute legal advice and should not

be regarded as a substitute for taking legal

advice. DWF is not responsible for any activity

undertaken based on this information.

As a CICM member you can receive free legal advice from

DWF. Visit the CICM website and click on the free Advice Line.

The Recognised Standard / www.cicm.com / March 2019 / PAGE 70
---
UK CREDIT &

COLLECTIONS

CONFERENCE 2019

CROWNE PLAZA

NEWCASTLE UPON TYNE

THURSDAY 12 SEPTEMBER 2019

INDUSTRY CONFERENCE & AWARDS

UKCCC

2019

CROWNE PLAZA

NEWCASTLE UPON TYNE

POWERED

BY

NOW OPEN FOR ENTRIES

VISIT: WWW.CREDITANDCOLLECTIONSTECHNOLOGYAWARDS.CO.UK

T: 0191 217 3073

E: sales@csa-uk.com

#ukccc2019

The Recognised Standard / www.cicm.com / March 2019 / PAGE 71
---
TAKE CONTROL

OF YOUR CREDIT

CAREER

GLOBAL CREDIT MANAGER

ESTABLISH STRATEGY AND STRUCTURE

Cambridge, up to £80,000

One of Cambridge's most established and well-known

technology companies with a turnover of over £2 billion

is looking for a global credit manager to join its team.

The role will involve managing the global team of six,

managing the timely and accurate billing of 500-600 live

customers as well as the billing cycle and collecting cash,

providing accurate cash flow and revenue recognition.

Another key responsibility will be looking to improve

global policies and processes. You will have global

experience, ERP experience and be a good influencer.

Ref: 3524483

Contact Zara Newman on 01223 361507

or email zara.newman@hays.com

GROUP CREDIT MANAGER

MAKE AN IMPACT

Lancashire, £50,000-£70,000 + benefits

A unique opportunity has arisen with a leading wholesale

business. You will be responsible for the group debtor

book totalling £37 million with a net turnover of

£260 million. To be successful, you will a driven,

commercial credit professional who is able to implement

and embrace change to harness a forward-thinking

ideology within a credit function. In return, you will be

part of a business that is fast becoming one the leading

names within this industry and are intent on furthering

its foot print throughout the UK. Ref: 3523586

Contact Ruben Hankinson on 01772 555587

or email ruben.hankinson@hays.com

BILLING ANALYST

ACHIEVE SUCCESS

London, £35,000 + 10% bonus

A highly professional international management

consultancy based in the City of London is looking

for a billing analyst to join its finance team. This

role involves raising highly complex invoices, key

stakeholder relationship building, contract review and

WIP management. You will have experience of highly

complex billing processes including WIP and contract

review from a professional international company.

Ref: 3523754

Contact Holly Parkes on 020 3465 0020 or

email holly.parkes@hays.com

CREDIT CONTROL SUPERVISOR

SUCCESS THROUGH EXPERTISE

Belfast, up to £35,000

This global blue chip business, based in the heart of the

city centre, is looking for a motivated and experienced

credit professional to lead its credit team. You will

manage all elements of credit control from collections

to legal proceedings. This exciting and varied role will

allow you to establish your own working practices and

procedures. You will have proven managerial experience

within a busy credit environment and first class

communication skills within a team. Ref: 3529909

Contact Nicola McCallum on 02890 446911

or email nicola.mccallum@hays.com

hays.co.uk/creditcontrol

The Recognised Standard / www.cicm.com / March 2019 / PAGE 72
---
CREDIT CONTROLLER TEAM LEADER

GO THE EXTRA MILE

Barrow In Furness, £30,000

A FTSE 200 engineering company is looking for a credit

control team leader to join its highly successful team

on a full time permanent basis. You will be responsible

for managing and promoting the credit control function

across one of the UK's largest engineering businesses,

as well as maintaining procedures and documentation,

following legal processes and ensuring your team hit

KPI's on the ledger and compiling monthly reports of

outstanding debt. You will be hardworking, driven,

passionate and looking to develop your career within a

large local business. This is an exciting opportunity to

learn, gain new skills and lead a fantastic team.

Ref: 3526122

Contact Tanya Parry on 01524 532330

or email tanya.parry@hays.com

ASSISTANT CREDIT MANAGER

JOIN A GROWING TEAM

Basingstoke, £33,000 + benefits

This is an excellent opportunity to join one of the

world's leading professional services firms in a newly

created role. Supporting the Credit Manager, you will

take responsibility for the daily collections activities of

the credit control and credit risk team. In this hands on

role, you will be the go to person for escalations and

providing best practice advice. Responsibilities include

motivating, mentoring, training and developing the

credit team, therefore previous leadership experience

is essential. To be successful, you will have strong

knowledge of credit control processes and be able to

lead a team to achieve against targets. Ref: 3531689

Contact Natascha Whitehead on 07770 786433

or email natascha.whitehead@hays.com

CREDIT CONTROLLER

GET REWARDED FOR HITTING TARGETS

Basingstoke, £25,000 + bonus (OTE £30,000)

Due to continued growth, a skilled credit controller is

required to join a leading technology business based in

Basingstoke. Working as part of a great team, you will

take ownership for your own ledger of approximately

400 live accounts and be targeted on maximising cash

flow, minimising bad debt and providing high levels of

customer service. You will be responsible for chasing

payments, resolving queries and recording all actions

on the system. This role will be suited to a target driven

credit controller who enjoys working in a fast-paced

environment where success is financially rewarded.

Ref: 3527785

Contact Natascha Whitehead on 07770 786433

or email natascha.whitehead@hays.com

CREDIT CONTROLLER

PASSIONATE ABOUT CICM

New Malden, £13.85 per hour

As a FTSE 250 business and corporate recruiter to the

CICM, Hays Specialist Recruitment has several exciting

opportunities for skilled credit controllers to join the

professional credit team at the shared service centre

in New Malden. The roles are on-going temporary

assignments with a minimum of three months' work.

You will be a passionate, resilient, forward-thinking

credit professional with sound experience in reducing

aged debt and cash collection. This is a fantastic

opportunity where you can achieve results and be

rewarded accordingly. Ref: 3490516

Contact Mark Ordoña on 0208 247 4042

or email mark.ordona@hays.com

This is just a small selection of the many

opportunities we have available for credit

professionals. To find out more email

hayscicm@hays.com or visit us online.

The Recognised Standard / www.cicm.com / March 2019 / PAGE 73
---
NEW MEMBERS

NEW CICM MEMBERS

The Institute welcomes new members

who have recently joined.

ASSOCIATE

MEMBER BY EXAM

FELLOW

MEMBERS

Simon Davies

David Gibbs

Kayrul Islam

James King

Rachael Barber

Damien Rochford

Roger Dago

Peter Felton

Dara Kiernan

Eldred Mascarenhas

Tania Midwinter

Charles Okello

Fiona Palmer

STUDYING MEMBERS

Nicola Aldus

Susan Angel

Jack Archer

Alexander Barwell

Amy Bennett

Florina Bocu

Andrea Boni

Bettina Bossanyi

Miria Cerullo

Alexis Child

Amy Cooper

Terry Cooper

Susan Cornall

Liam Crank

Nicola Dalessandro

Thomas Davies

Rebecca Day

Bethany Dixon

Zoe Dowell

Luke Edwards

Joy Emegbo

Mandy Farrar

Kelly Firth

Danial Fisher

Emma Fitzgibbons

Paige Ford

Lloyd Foster

Shaun Fuller

Shelley Garrington

Marina Ghiorzi Farcili

James Gibson

Nicholas Goddard

Elise Gubbins

Barry Hall

Lorna Harding

Stephanie Higgins

Laura Holder-Stephenson

Mark Hollingworth

Michael Hooper

Neil Humphries

Nazakat Hussain

Khazima Iqbal

Elsie Juma

Mashuda Khan

Darren King

Georgina Kyriacou

Daniel Leaning

Sam Lee

Andrea Lopes

Laisha Mansfield

Amy-Jane Marsden

Giuseppe Matrullo

Rosie Matthews

Tracey McIver

Olivia McKay

Yasmin Mia

Zoe Millington

Andrea Moore

Danny Moores

John Muir

Sian O'Brien

Victoria O'Neill

Karolina Osinska

Ravin Patel

Sunaina Paul

Jaswant Pouni

Katie Radnedge

Ian Ravenscroft

Annette Reed

Jason Roberts

William Runacre

Cesar Sabato

Sukhvinder Sahota

Matthew Skinner

Laura Smith

Dilip Sond

Katie Standbridge

Vladimir Stefanov

Sunny Talafair

Carly Taylor

Amanda Thrower

Jacqueline Tongue

Lee Tregear

John Turner

Sarah Ward

Pauline Watson

Sarah Waymouth

Karen Welch

Paul Wilde

Harry Williams

AFFILIATE

Ruurd Bakker

Curtis Broadhead

Craig Chappell

Rachel Crookes

George Edmond

Paul Hover

Charise Marsden

Elizabeth Willmore

WE WANT YOUR BRANCH NEWS!

Get in touch with Andrew Morris by emailing andrew.morris@cicm.com

with your branch news and event reports. Please only send up to 400 words

and any images need to be high resolution to be printable, so 1MB plus.

The Recognised Standard / www.cicm.com / March 2019 / PAGE 74
---
Are you a Leader

or follower?

CICMQ accreditation is a proven model that has consistently delivered

dramatic improvements in cashflow and efficiency

CICMQ is the hallmark of industry leading organisations

The CICM Best Practice Network is where CICMQ accredited organisations

come together to develop, share and celebrate best practice in credit and

collections

Be a leader – Join the CICM Best Practice Network today

To find out more about flexible options to gain CICMQ accreditation

E: cicmq@cicm.com, T: 01780 722900

The Recognised Standard / www.cicm.com / March 2019 / PAGE 75
---
FORTHCOMING EVENTS

Full list of events can be found on our website: www.cicm.com/events

We are inviting all members to bring a colleague to a CICM membership

event, free of charge. For more information, email events@cicm.com

CICM

EVENTS

UP AND COMING EVENTS IN MARCH

5 March

CICM Yorkshire Ridings Branch

LEEDS

You're On Stop! Details to follow, Please visit our

online events calandar.

Booking deadline: 1 March 2019

Contact : Phil Holbrough 07919214412

VENUE : DWF LLP Bridgewater Place,

Water Lane, Leeds, LS11 5DY

5 MARCH

CICM North East Branch

NEWCASTLE UPON TYNE

Annual General Meeting

Contact : Angie Deverick 07740 855420

VENUE : Muckle LLP Time Central, 32

Gallowgate, Newcastle Upon Tyne, NE1 4BF

12 MARCH

CICM London Branch

LONDON

Annual General Meeting

Contact : Kabir Gulabkhan (0203) 4650020

kabir.gulabkhan@hays.com

VENUE : Hays 107 Cheapside, London, EC2V 6BT

12 MARCH

CICM Wessex Branch

EASTLEIGH

Annual General Meeting

Contact : Linda Woolcocks

wessexbranch@cicm.com

VENUE : Lakeside Country Park Wide Lane,

Eastleigh, SO50 5PE

14 MARCH

CICM South West Branch

ASHBURTON

Annual General Meeting

To book please email southwestbranch@cicm.

com by 7th March 2019.

Contact : Gerry Thomas 07827 159 041

VENUE : Dartmoor Lodge, Peartree Cross,

Ashburton, Devon, TQ13 7JW

14 MARCH

CICM South Wales Branch

CARDIFF

Annual General Meeting and Quiz

Contact : Diana Keeling 07921 492348

VENUE : Holiday Inn Cardiff, Merthyr Road,

Tongwynlais, Cardiff, CF15 7LH

18 - 22 MARCH

CICM Supporting Credit Week 2019

LONDON

www.creditstrategy.co.uk/credit-week

VENUE : Various London Locations

19 MARCH

CICM Bristol & West Branch

BRISTOL

AGM with a Presentation on Litigation

Contact : Tim Peakman 07765 956 894

VENUE : Clarke Willmott LLP

1 Georges Square, Bath Street, Bristol, BS1 6BA

19 MARCH

CICM Northern Ireland Branch

BELFAST

Celebrate Credit Week 2019 with a Branch

Breakfast and Panel Discussion (2 CPD Hours)

Register today at northernirelandbranch@cicm.

com to secure your FREE place/s. Members and

non-members will be made most welcome.

This event is free but booking is essential.

Contact : Angela Miller 028 90239385

VENUE : Clayton Hotel 22-26 Ormeau Avenue,

Belfast, BT2 8HS

21 MARCH

CICM London Branch

LONDON

London Gin Distillery Tour

The 'City of London Distillery' brought Gin

distilling back to the City in 2012, after an

absence of nearly 200 years.

Contact : Alan Church londonbranch@cicm.com

VENUE : City of London Distilllery

22-24 Bride Lane, London, EC4Y 8DT

More reasons to be a member

OTHER

EVENTS

6 MARCH

Branch

LONDON

Corporate Partner Onguard –

Academy Big Data: impacting Order to Cash

Contact : Please visit our online events calandar

for more details.

VENUE : The Trampery Old Street, London, EC1V

7 - 8 MARCH

Forums International

PARIS

International Telecoms Risk Forum

Email itrf@forumsinternational.co.uk.

VENUE : Paris, France

18-22 MARCH

Credit Week 2019

LONDON

From guest speakers and bespoke workshops to

dinners and awards ceremonies, Credit Week is

the must attend event in 2019.

VENUE : Various London Locations

21 MARCH

Forums International

LONDON

Business & Office Supplies Credit Forum

Email bsf@forumsinternational.co.uk.

VENUE : Moore Stephens, London

25 - 26 MARCH

AMLP Forum

LONDON

The Financial Crime and Corruption Association

CICM Members will receive a ten percent

discount upon registration – please quote 'CICM'

when you book to secure this.

Contact : Please visit our online events calandar

for more details.

VENUE : The Salt Point Bar, 5 Exchange Square,

London, EC2A 2EH

Credit Management is distributed to the entire UK and international

CICM membership, as well as additional subscribers

The Recognised Standard / www.cicm.com / March 2019 / PAGE 76
---
3

YEARS

IN 2018

Credit

Controller

Accounts Receivable

Specialist

Credit Control

Supervisor

Head of

Credit

Billing

Administrator

CELEBRATING 30

YEARS OF MATCHING

EXCEPTIONAL TALENT

TO LEADING BRANDS

ACROSSTHE UK.

Portfolio Credit Control, part of the Portfolio Group, have been supplying the highest calibre permanent,

temporary and contract staff for 30 years and our dedicated Consultants have specialist expertise in the

Credit Control market.

We've opened our Credit Control Division in Manchester

Centrally located, we are nowable to provide apersonal level of service

in aclose proximity to our clientsbased in: MANCHESTER &THE NORTH

WEST •LEEDS &YORKSHIRE •NEWCASTLE &THE NORTH EAST

Contact one of our dedicated Recruitment Consultants to fill

your current vacancy or find your next career move!

LONDON 020 7650 3199

THIRD FLOOR, 1FINSBURYSQUARE, LONDON EC2A 1AE

MANCHESTER 0161 836 9949

THE PENINSULA, VICTORIA PLACE, MANCHESTER M4 4FB

www.portfoliocreditcontrol.com

recruitment@portfoliocreditcontrol.com

www.facebook.com/theportfoliogroup

linkedin.com/company/portfolio-credit-control

The Recognised Standard / www.cicm.com / March 2019 / PAGE 77

WE ARE RATED 9OUT OF 10

@portfoliocredit
---
CREDIT TO

THE EXPERTS

CELEBRATING YOUR

SUCCESS

We believe a job well done should be celebrated.

That's why we're pleased to have sponsored the

award for 'Employer of the Year' at the recent

CICM British Credit Awards.

We are proud to have been involved in an event that

raises the profile of the industry, recognises and rewards

credit professionals for their hard work and commitment

and promotes credit management as an exciting career.

Whether you are looking for a credit risk analyst, team leader,

credit control administrator, credit manager or head of credit, we

can find the best talent to help meet your requirements, across

the public and private sectors.

We work exclusively in premium corporate partnership with the

CICM, providing invaluable careers advice and support to our

candidates and clients.

Congratulations to all the winners and all those shortlisted for

the awards.

Whether you're looking to recruit or considering your

next career move,or simply some advice or benchmarking,

we have the expertise to help you. Contact our UK credit lead,

Kabir Gulabkhan and our team of credit recruitment experts on

020 3465 0017 or visit hays.co.uk/offices.

Proud sponsors of the CICM British Credit Awards 2019

hays.co.uk/creditcontrol

The Recognised Standard / www.cicm.com / March 2019 / PAGE 78
---
BRANCH NEWS

Full name

Derek Saunders.

The robots are coming

South Wales Branch

THE South Wales branch

of the CICM welcomed

Philip King to the Atradius

HQ building. Based in the

beautiful Mermaid Quay,

Cardiff, the impressive building overlooks

the bay which was bathed in glorious

winter sun. Such was its appeal that we all

immediately thought back to our Cardiff

Bay Cruise trip in September.

The event was based around the

theme – 'The robots are coming...or are

they already here?' A good crowd were in

attendance and all grateful for the early

cup of coffee and bacon roll!

After much mingling and not too many

cups of coffee, (did I get that the right way

round?), the event got underway. Philip

began by giving us his thoughts on robots

in the workplace, including the rise of

the use of artificial intelligence – really

fascinating stuff.

This was followed by, self-confessed

luddite and Global Channel Programme

Manager at Atradius, Gideon Jones',

presentation on the advance of technology,

starting from when he was a lad with the

invention of the press machine in 1440,

through to such advancements like the

world wide web.

Tanya Giles, Regional Manager at

Atradius then talked about the impact all

this technology will have on people and

the global jobs market.

Following on from the three great talks

there was an open Q&A session that was

very lively. Who'd have thought we'd have a

five-minute discussion about camels!

At the end of the event we had a

networking session where it was lovely to

meet some of our newest members. Keep

an eye out on the CICM website for further

events in South Wales this year.

Author: Steve White MCICM

May the course be with you

Sheffield Branch

WEDNESDAY evening saw Sheffield and

District branch embark on a pre-AGM

team golf challenge at the Paradise Island

Adventure Golf in Sheffield. Members

and guests assembled straight after work

for a 18.15 four team tee off across the

two available courses. As ever, there was

strong individual competition and team

rivalry but plenty of fun and networking

across our business areas. Once each team

had completed their round it was down

to the formal business of the AGM at our

boardroom table set for us at the Proove

Restaurant, followed by refreshments and

pizza.

The formalities of the AGM were

conducted by Branch Secretary Myron

Fedak and following a series of votes the

committee for 2019 was approved. Paula

Uttley agreed to serve a second term and

was appointed Branch Chair for a further

12 months. Following a review of branch

activities in 2018 and the planned events

for 2019, it was time to formally close

the AGM and get on with the remaining

informal business of pizza and prizes.

After scrutiny of all team scorecards Carl

Goodman was declared clear (four under

par) winner of the Branch trophy. Runner

up was Richard House (four over par)

receiving a rather useful wooden spoon.

Author: Myron Fedak MCICM

Current job title

Credit Control and

Billing Manager.

Current company name

Bewley's Tea and Coffee UK.

Number of years in credit management 20.

Number of years in current role

Six months.

How did you get into credit management?

I was working in an accounts role and

needed to cover credit control. From there

on I developed and progressed over the

years into credit management.

What is the best thing about where you

work?

The people are great and there is a real

team spirit.

What motivates you?

Hitting a target and achieving a goal.

What skill do you think has helped you

most in your credit career so far?

Being focused on targets and organising a

team to achieve them.

Name three people you would invite to a

dinner party and why?

Arnold Schwarzenegger as I admire his

amazing determination. Princess Diana

for her heart and not being afraid to be

herself. SpongeBob Squarepants – he's just

so funny.

What is your favourite pastime/relaxation

activity?

I really enjoy running and I've completed

several half marathons and marathons.

What is the best/worst quality in a leader?

Being approachable is without a doubt the

best quality and being unapproachable is

the worst.

Who is your business or personal hero?

My brother. He's been through a great deal,

outspoken when needed, always there for

people.

What can't you live without?

Family. It means everything to me.

What's been your most rewarding moment

in your credit career?

Achieving the MCICM Grad qualification.

What has surprised you the most about

working in credit?

People can be creative in thinking of ways

in which not to pay.

If you weren't working in credit

management, what would you be doing?

Possibly fitness as I'm also a qualified Self

Defence Instructor.

Where do you see your career in five years'

time?

Being an effective credit manager.

60SECONDS

WITH

The Recognised Standard / www.cicm.com / March 2019 / PAGE 79
---
Cr£ditWho?

CICM Directory of Services

COLLECTIONS

COLLECTIONS LEGAL

COURT ENFORCEMENT SERVICES

Atradius Collections Ltd

3 Harbour Drive,

Capital Waterside,

Cardiff Bay, Cardiff, CF10 4WZ

United Kingdom

T: +44 (0)2920 824700

W: www.atradiuscollections.com/uk/

Atradius Collections Ltd is an established specialist in business

to business collections. As the collections division of the Atradius

Crédito y Caución, we have a strong position sharing history,

knowledge and reputation.

Annually handling more than 110,000 cases and recovering over

a billion EUROs in collections at any one time, we deliver when

it comes to collecting outstanding debts. With over 90 years'

experience, we have an in-depth understanding of the importance of

maintaining customer relationships whilst efficiently and effectively

collecting monies owed.

The individual nature of our clients' customer relationships is

reflected in the customer focus we provide, structuring our service

to meet your specific needs. We work closely with clients to provide

them with a collection strategy that echoes their business character,

trading patterns and budget.

For further information contact: Hans Meijer, UK and Ireland Country

Director (hans.meijer@atradius.com).

INTERNATIONAL COLLECTIONS

Premium Collections Limited

3 Caidan House, Canal Road

Timperley, Cheshire. WA14 1TD

T: +44 (0)161 962 4695

E: paul.daine@premiumcollections.co.uk

W: www.premiumcollections.co.uk

For all your credit management requirements Premium Collections

has the solution to suit you. Operating on a national and international

basis we can tailor a package of products and services to meet your

requirements.

Services include B2B collections, B2C collections, international

collections, absconder tracing, asset repossessions, status reporting

and litigation support.

Managed from our offices in Manchester, Harrogate and Dublin our

network of 55 partners cover the World.

Contact Paul Daine FCICM on +44 (0)161 962 4695 or

paul.daine@premiumcollections.co.uk

www.premiumcollections.co.uk

COLLECTIONS LEGAL

Lovetts Solicitors

Lovetts, Bramley House, The Guildway, Old Portsmouth

Road, Guildford, Surrey GU3 1LR

T: +44(0)1483 457500 E: info@lovetts.co.uk

W: www.lovetts.co.uk

Lovetts has been recovering debts for 30 years! When you

want the right expertise to recover overdue debts why not use a

specialist? Lovetts' only line of business is the recovery of

business debts and any resulting commercial litigation.

We provide:

• Letters Before Action, prompting positive outcomes in more than

80 percent of cases • Overseas Pre-litigation collections with

multi-lingual capabilities • 24/7 access to our online debt

management system 'CaseManager'

Don't just take our word for it, here's recent customer feedback:

"...All our service expectations have been exceeded..."

"...The online system is particularly useful and is extremely easy

to use... "...Lovetts has a recognisable brand that generates

successful results..."

Yuill + Kyle

Capella, 60 York Street, Glasgow, G2 8JX, Scotland, UK

T: 0141 572 4251

E: scowan@yuill-kyle.co.uk

W: www.debtscotland.com

Do You Have Trouble Collecting Debts in

Scotland? We Don't

Yuill + Kyle is one of Scotland's leading debt recovery and credit

control law firms. With over 100 years of experience, we are

specialists in resolving disputed and undisputed debts. Our track

record for successful recoveries means you have just moved one step

closer to getting your money back.

How we can help you:

• Specialist advice for all of your legal matters

• A responsive and straightforward approach

• Providing you with solutions-driven advice

• Delivering cost certainty and value for money

Our services

• Pre-sue • Fast track collections • Judgement enforcement

• Insolvency • Bankruptcy • Liquidation

CONSULTANCY

Court Enforcement Services

Wayne Whitford – Director

M: +44 (0)7834 748 183 T : +44 (0)1992 663 399

E : wayne@courtenforcementservices.co.uk

W: www.courtenforcementservices.co.uk

High Court Enforcement that will Empower You!

We help law firms and in-house debt recovery and legal teams to

enforce CCJs by transferring them up to the High Court. Setting us

apart in the industry, our unique and Award Winning Field Agent App

helps to provide information in real time and transparency, empowering

our clients when they work with us.

• Free Transfer up process of CCJ's to High Court

• Exceptional Recovery Rates

• Individual Client Attention and Tailored Solutions

• Real Time Client Access to Cases

CREDIT INFORMATION

Company Watch

Centurion House, 37 Jewry Street,

LONDON. EC3N 2ER

T: +44 (0)20 7043 3300

E: info@companywatch.net

W: www.companywatch.net

Organisations around the world rely on Company Watch's industryleading

financial analytics to drive their credit risk processes. Our

financial risk modelling and ability to map medium to long-term risk as

well as short-term credit risk set us apart from other credit reference

agencies.

Quality and rigour run through everything we do, from our unique

method of assessing corporate financial health via our H-Score®, to

developing analytics on our customers' in-house data.

With the H-Score® predicting almost 90 percent of corporate

insolvencies in advance, it is the risk management tool of choice,

providing actionable intelligence in an uncertain world.

Blaser Mills Law

40 Oxford Road,

High Wycombe,

Buckinghamshire. HP11 2EE

T: 01494 478660/478661

E: Jackie Ray jar@blasermills.co.uk or

Gary Braathen gpb@blasermills.co.uk

W: www.blasermills.co.uk

A full-service firm, Blaser Mills Law's experienced Commercial

Recoveries team offer pre-legal collections, debt recovery,

litigation, dispute resolution and insolvency. The team includes

CICM qualified staff, recommended in both Legal 500 and

Chambers & Partners legal directories.

Offices in High Wycombe, Amersham, Rickmansworth, London

and Silverstone

Sanders Consulting Associates Ltd

T: +44(0)1525 720226

E: enquiries@chrissandersconsulting.com

W: www.chrissandersconsulting.com

Sanders Consulting is an independent niche consulting firm

specialising in leadership and performance improvement in all aspects

of the order to cash process. Chris Sanders FCICM, the principal, is

well known in the industry with a wealth of experience in operational

credit management, billing, change and business process improvement.

A sought after speaker with cross industry international experience in

the business-to-business and business-to-consumer markets, his

innovative and enthusiastic approach delivers pragmatic people and

process lead solutions and significant working capital improvements to

clients. Sanders Consulting are proud to manage CICMQ on behalf of

and under the supervision of the CICM.

The Recognised Standard / www.cicm.com / March 2019 / PAGE 80

CoCredo

Missenden Abbey, Great Missenden, Bucks, HP16 0BD

T: 01494 790600

E: customerservice@cocredo.com

W: www.cocredo.co.uk

CoCredo's award winning credit reporting and monitoring systems have

helped to protect over £27 billion of turnover on behalf of our customers.

Our company data is updated continually throughout the day and access

to the online portal is available 365 days a year 24/7.

At CoCredo we aggregate data from a range of leading providers in

the UK and across the globe so that our customers can view the best

available data in an easy to read report. We offer customers XML

Integration and D.N.A Portfolio Management as well as an industry-first

Dual Report, comparing two leading providers opinions in one report.
---
FOR INFORMATION,

OPTIONS AND PRICING

PLEASE EMAIL:

grace@cabbell.co.uk

CREDIT INFORMATION

CREDIT MANAGEMENT SOFTWARE

CREDIT MANAGEMENT SOFTWARE

Experian

The Sir John Peace Building, Experian Way

NG2 Business Park, Nottingham NG80 1ZZ

T: 0844 481 9920

W: www.experian.co.uk/business-information/

For over 30 years Experian have been processing, matching and deriving

insights to provide accurate, up-to-date information that helps B2B

organisations to make more effective, fact based decisions, reduce

risks and meet regulatory standards. We turn complex data into clear

insights that help manage UK and international businesses to maximise

opportunities for growth and identify and minimise the associated risks.

Blending our business and consumer data we can offer a truly blended

score for sole traders and enhanced scoring on SME's to tell you more

about the business and the people behind the business. Experian can

support with new business, acquisition through to collections while

managing KYC requirements online or via our suite of APIs.

CREDIT INFORMATION

Keyivr

T: +44 (0) 1302 513 000

E: sales@keyivr W: www.keyivr.com

Key IVR are proud to have joined the Chartered Institute of Credit

Management's Corporate partnership scheme. The CICM is a

recognised and trusted professional entity within credit management

and a perfect partner for Key IVR. We are delighted to be providing

our services to the CICM to assist with their membership collection

activities. Key IVR provides a suite of products to assist companies

across the Europe with credit management. Our service is based

around giving the end-user the means to make a payment when and

how they choose. Using automated collection methods, such as a

secure telephone payment line (IVR), web and SMS allows companies

to free up valuable staff time away from typical debt collection.

CREDIT MANAGEMENT SOFTWARE

Proud supporters

of CICMQ

Rimilia

Corbett House, Westonhall Road, Bromsgrove, B60 4AL

T: +44 (0)1527 872123 E: enquiries@rimilia.com

W: www.rimilia.com

Operating globally across any sector, Rimilia provides intelligent,

finance automation solutions that enable customers to get paid on time

and control their cashflow and cash collection in real time. Rimilia's

software solutions use sophisticated analytics and artificial intelligence

(AI) to predict customer payment behaviour and easily match and

reconcile payments, removing the uncertainty of cash collection. The

Rimilia software automates the complete accounts receivable process

and eliminates unallocated cash, reducing manual activity by an

average 70% and achieving best in class matching rates recognised

by industry specialists such as The Hackett Group.

CREDIT MANAGEMENT SOFTWARE

Graydon UK

66 College Road, 2nd Floor, Hygeia Building, Harrow,

Middlesex, HA1 1BE

T: +44 (0)208 515 1400

E: customerservices@graydon.co.uk

W: www.graydon.co.uk

Graydon UK is a specialist in Credit Risk Management and Intelligence,

providing access to business information on over 100 million entities

across more than 190 countries. Its mission is to convert vast amounts

of data from diverse data sources into invaluable information. Based

on this, it generates economic, financial and commercial insights that

help its customers make better business decisions and ultimately

gain competitive advantage. Graydon is owned by Atradius, Coface

and Euler Hermes, Europe's leading credit insurance organisations. It

offers a comprehensive network of offices and partners worldwide to

ensure a seamless service.

THE ONLY AML RESOURCE YOU NEED

SmartSearch

SmartSearch, Harman House,

Station Road,Guiseley, Leeds, LS20 8BX

T: +44 (0)113 238 7660

E: info@smartsearchuk.com W: www.smartsearchuk.com

KYC, AML and CDD all rely on a combination of deep data with broad

coverage, highly automated flexible technology with an innovative

and intuitive customer interface. Key features include automatic

Worldwide Sanction & PEP checking, Daily Monitoring, Automated

Enhanced Due Diligence and pro-active customer management.

Choose SmartSearch as your benchmark.

CREDIT MANAGEMENT SOFTWARE

ONGUARD

T: +31 (0)88 256 66 66

E: ruurd.bakker@onguard.com

W: www.onguard.com

Onguard is specialist in credit management software and market

leader in innovative solutions for order to cash. Our integrated

platform ensures an optimal connection of all processes in the order

to cash chain and allows sharing of critical data.

Intelligent tools that can seamlessly be interconnected and offer

overview and control of the payment process, as well as contribute to

a sustainable customer relationship.

In more than 50 countries the Onguard platform is successfully used

for successful credit management.

Tinubu Square UK

Holland House, 4 Bury Street,

London EC3A 5AW

T: +44 (0)207 469 2577 /

E: uksales@tinubu.com

W: www.tinubu.com

Tinubu Square offers companies across the world the appropriate SaaS

platform solutions and services to significantly reduce their exposure

to risk, and their financial, operational and technical costs. Easy to

implement, our solutions provide an accurate picture of a customers'

financial health through the entire order-to-cash cycle, improve cash

flow, and facilitate control of risk across the organization whether groupwide

or locally. Founded in 2000, Tinubu Square is an award winning

expert in the trade credit insurance industry, with offices in Paris, London,

New York, Montreal and Singapore. Some of the largest multinational

corporations, credit insurers and receivables financing organizations

depend on Tinubu to provide them with the means to drive greater trade

credit risk efficiency.

HighRadius

T: +44 7399 406889

E: gwyn.roberts@highradius.com

W: www.highradius.com

HighRadius is the leading provider of Integrated Receivables

solutions for automating receivables and payment functions such

as credit, collections, cash allocation, deductions and eBilling.

The Integrated Receivables suite is delivered as a software-as-aservice

(SaaS). HighRadius also offers SAP-certified Accelerators

for SAP S/4HANA Finance Receivables Management, enabling

large enterprises to maximize the value of their SAP investments.

HighRadius Integrated Receivables solutions have a proven track

record of reducing days sales outstanding (DSO), bad-debt and

increasing operation efficiency, enabling companies to achieve an

ROI in less than a year.

DATA AND ANALYTICS

Dun & Bradstreet

Marlow International, Parkway Marlow

Buckinghamshire SL7 1AJ

Telephone: (0800) 001-234 Website: www.dnb.co.uk

Dun & Bradstreet Finance Solutions enable modern finance

leaders and credit professionals to improve business performance

through more effective risk management, identification of growth

opportunities, and better integration of data and insights across the

business. Powered by our Data Cloud, our solutions provide access

to the world's most comprehensive commercial data and insights

- supplying a continually updated view of business relationships

that helps finance and credit teams stay ahead of market shifts and

customer changes. Learn more here:

www.dnb.co.uk/modernfinance

FINANCIAL SERVICES

Credica Ltd

Building 168, Maxell Avenue, Harwell Oxford, Oxon. OX11 0QT

T: 01235 856400E: info@credica.co.uk W: www.credica.co.uk

Our highly configurable and extremely cost effective Collections and

Query Management System has been designed with 3 goals in mind:

• To improve your cashflow • To reduce your cost to collect

• To provide meaningful analysis of your business

Evolving over 15 years and driven by the input of 1000s of Credit

Professionals across the UK and Europe, our system is successfully

providing significant and measurable benefits for our diverse portfolio

of clients.

We would love to hear from you if you feel you would benefit from our

'no nonsense' and human approach to computer software.

Data Interconnect Ltd

Unit 7, Radcot Estate, 7 Park Rd, Faringdon,

Oxfordshire. SN7 7BP

T: +44 (0) 1367 245777 F: +44 (0) 1367 240011

E: sales@datainterconnect.co.uk

W: www.datainterconnect.com

C2FO

15 Statton Street, Mayfair,

London W1J 8LQ

T: 07799 692193

E: anna.donadelli@c2fo.com W: www.c2fo.com

Data Interconnect provides integrated e-billing and collection

solutions via its document delivery web portal, WebSend.

C2FO turns receivables into cashflow and payables into income,

By providing improved Customer Experience and Customer

uniquely connecting buyers and suppliers to allow discounts in

Satisfaction, with enhanced levels of communication between both exchange for early payment of approved invoices. Suppliers access

parties, we can substantially speed up your collection processes. additional liquidity sources by accelerating payments from buyers

when required in just two clicks, at a rate that works for them.

Buyers, often corporates with global supply chains, benefit from the

C2FO solution by improving gross margin while strengthening the

financial health of supply chains through ethical business practices.

The Recognised Standard / www.cicm.com / March 2019 / PAGE 81

continues on page 82 >
---
Cr£ditWho?

CICM Directory of Services

FOR INFORMATION,

OPTIONS AND PRICING

PLEASE EMAIL:

grace@cabbell.co.uk

FINANCIAL PR

Gravity London

Floor 6/7, Gravity London, 69 Wilson St, London, EC21 2BB

T: +44(0)207 330 8888. E: sfeast@gravitylondon.com

W: www.gravitylondon.com

Gravity is an award winning full service PR and advertising

business that is regularly benchmarked as being one of the best

in its field. It has a particular expertise in the credit sector, building

long-term relationships with some of the industry's best-known

brands working on often challenging briefs. As the partner agency for

the Credit Services Association (CSA) for the past 13 years, and the

Chartered Institute of Credit Management since 2006, it understands

the key issues affecting the credit industry and what works and what

doesn't in supporting its clients in the media and beyond.

FORUMS

FORUMS INTERNATIONAL

T: +44 (0)1246 555055

E: info@forumsinternational.co.uk

W: www.forumsinternational.co.uk

Forums International Ltd have been running Credit and Industry

Forums since 1991. We cover a range of industry sectors and

International trading, attendance is for Credit Professionals of all

levels. Our forums are not just meetings but communities which

aim to prepare our members for the challenges ahead. Attending

for the first time is free for you to gauge the benefits and meet the

members and we only have pre-approved Partners, so you will never

intentionally be sold to.

LEGAL MATTERS

DWF LLP

David Scottow Senior Director

D +44 113 261 6169 M +44 7833 092628

E: David.Scottow@dwf.law W: www.dwf.law/recover

DWF is a global legal business, transforming legal services through

our people for our clients. Led by Managing Partner & CEO Andrew

Leaitherland, we have over 26 key locations and 2,800 people

delivering services and solutions that go beyond expectations. We

have received recognition for our work by The Financial Times who

named us as one of Europe's most innovative legal advisers, and we

have a range of stand-alone consultative services, technology and

products in addition to the traditional legal offering.

PAYMENT SOLUTIONS

American Express

76 Buckingham Palace Road,

London. SW1W 9TQ

T: +44 (0)1273 696933

W: www.americanexpress.com

American Express is working in partnership with the CICM and is

a globally recognised provider of payment solutions to businesses.

Specialising in providing flexible collection capabilities to drive a

number of company objectives including:

•Accelerate cashflow •Improved DSO •Reduce risk

•Offer extended terms to customers

•Provide an additional line of bank independent credit to drive

growth •Create competitive advantage with your customers

As experts in the field of payments and with a global reach,

American Express is working with credit managers to drive growth

within businesses of all sectors. By creating an additional lever to

help support supplier/client relationships American Express is proud

to be an innovator in the business payments space.

PAYMENT SOLUTIONS

Bottomline Technologies

115 Chatham Street, Reading

Berks RG1 7JX | UK

T: 0870 081 8250 E: emea-info@bottomline.com

W: www.bottomline.com/uk

Bottomline Technologies (NASDAQ: EPAY) helps businesses

pay and get paid. Businesses and banks rely on Bottomline for

domestic and international payments, effective cash management

tools, automated workflows for payment processing and bill

review and state of the art fraud detection, behavioural analytics

and regulatory compliance. Businesses around the world depend

on Bottomline solutions to help them pay and get paid, including

some of the world's largest systemic banks, private and publicly

traded companies and Insurers. Every day, we help our customers

by making complex business payments simple, secure and seamless.

RECRUITMENT

Hays Credit Management

107 Cheapside, London, EC2V 6DN

T: 07834 260029

E: karen.young@hays.com

W: www.hays.co.uk/creditcontrol

Hays Credit Management is working in partnership with the CICM

and specialise in placing experts into credit control jobs and credit

management jobs. Hays understands the demands of this challenging

environment and the skills required to thrive within it. Whatever

your needs, we have temporary, permanent and contract based

opportunities to find your ideal role. Our candidate registration process

is unrivalled, including face-to-face screening interviews and a credit

control skills test developed exclusively for Hays by the CICM. We offer

CICM members a priority service and can provide advice across a wide

spectrum of job search and recruitment issues.

PORTFOLIO

CREDIT CONTROL

Portfolio Credit Control

1 Finsbury Square, London. EC2A 1AE

T: 0207 650 3199

E: recruitment@portfoliocreditcontrol.com

W: www.portfoliocreditcontrol.com

Portfolio Credit Control, solely specialises in the recruitment of

permanent, temporary and contract Credit Control, Accounts

Receivable and Collections staff. Part of an award winning recruiter

we speak to and meet credit controllers all day everyday understanding

their skills and backgrounds to provide you with tried and tested credit

control professionals. We have achieved enormous growth because we

offer a uniquely specialist approach to our clients, with a commitment

to service delivery that exceeds your expectations every single time.

ATTENTION

PRODUCT AND

SERVICE PROVIDERS

GET YOUR BUSINESS IN

CREDITWHO AND ON THE

ONLINE DIRECTORY.

For only £1,250 + VAT for the year

- your business will be listed in

Credit Management magazine,

which goes out to all our members

and subscribers.

To book your listing

in CreditWho contact:

Grace Ghattas

T: 02036037946

E: grace@cabbell.co.uk

or Russell Bass

E: Russell@cabbells.uk

T: 0203 603 7937

For even greater exposure to

our membership and a closer

association with CICM, why

not enquire about becoming a

Corporate Partner.

To find out more contact

Sue Chapple 07741 884 916.

CICM CORPORATE

PARTNERS NOW GET

CREDITWHO INCLUDED.

The Recognised Standard / www.cicm.com / March 2019 / PAGE 82
---
www.paladincommercial.co.uk

Contact: george@paladincommercial.co.uk

The Recognised Standard / www.cicm.com / March 2019 / PAGE 83