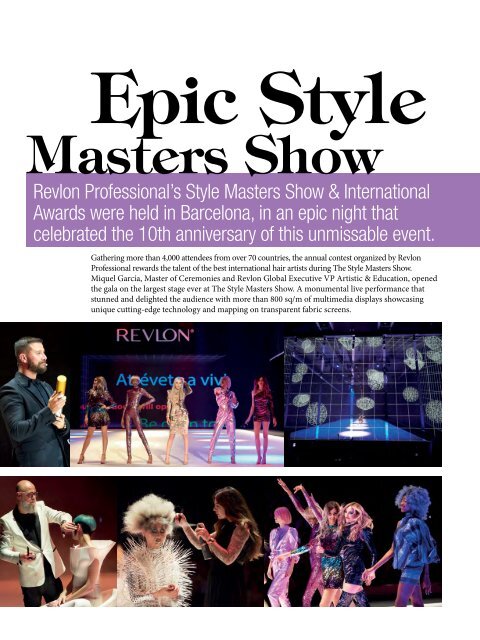 Estetica Magazine WORLD Edition (3/2018)
Estetica Magazine is the world's leading hairdressing magazine. Founded in Italy in 1946 and published today in over 60 countries around the world, it is a global reference point for professionals working in the hair and beauty industry. Techniques, fashion, education and trends are at the core of every issue of Estetica Magazine. Further information about both the printed and digital versions of the magazine is available at www.esteticanetwork.com
Epic Style

Masters Show

Revlon Professional's Style Masters Show & International

Awards were held in Barcelona, in an epic night that

celebrated the 10th anniversary of this unmissable event.

Gathering more than 4,000 attendees from over 70 countries, the annual contest organized by Revlon

Professional rewards the talent of the best international hair artists during The Style Masters Show.

Miquel García, Master of Ceremonies and Revlon Global Executive VP Artistic & Education, opened

the gala on the largest stage ever at The Style Masters Show. A monumental live performance that

stunned and delighted the audience with more than 800 sq/m of multimedia displays showcasing

unique cutting-edge technology and mapping on transparent fabric screens.
More magazines by this user