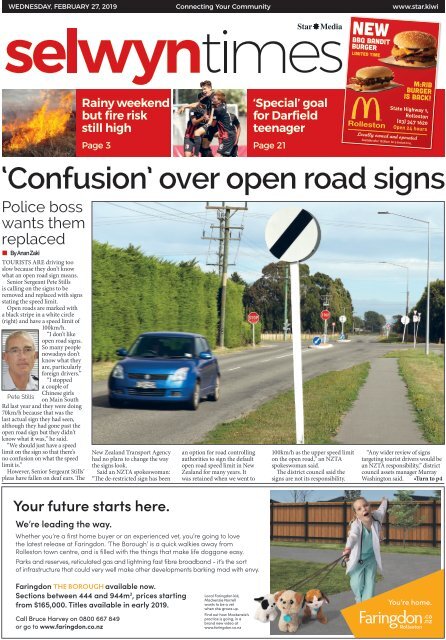 Selwyn Times: February 27, 2019
Create successful ePaper yourself
Turn your PDF publications into a flip-book with our unique Google optimized e-Paper software.
WEDNESDAY, FEBRUARY 27, 2019

Connecting Your Community

New

BBQ Bandit

Burger

limited time

www.star.kiwi

Rainy weekend

but fire risk

still high

Page 3

'Special' goal

for Darfield

teenager

Page 21

Rolleston

State Highway 1,

Rolleston

(03) 347 1620

Open 24 hours

Locally owned and operated

Available after 10:30am for a limited time.

Mcrib

burger

is back!

'Confusion' over open road signs

Police boss

wants them

replaced

• By Anan Zaki

TOURISTS ARE driving too

slow because they don't know

what an open road sign means.

Senior Sergeant Pete Stills

is calling on the signs to be

removed and replaced with signs

stating the speed limit.

Open roads are marked with

a black stripe in a white circle

(right) and have a speed limit of

100km/h.

"I don't like

open road signs.

So many people

nowadays don't

know what they

are, particularly

foreign drivers."

"I stopped

a couple of

Pete Stills

Chinese girls

on Main South

Rd last year and they were doing

70km/h because that was the

last actual sign they had seen,

although they had gone past the

open road sign but they didn't

know what it was," he said.

"We should just have a speed

limit on the sign so that there's

no confusion on what the speed

limit is."

However, Senior Sergeant Stills'

pleas have fallen on deaf ears. The

New Zealand Transport Agency

had no plans to change the way

the signs look.

Said an NZTA spokeswoman:

"The de-restricted sign has been

an option for road controlling

authorities to sign the default

open road speed limit in New

Zealand for many years. It

was retained when we went to

100km/h as the upper speed limit

on the open road," an NZTA

spokeswoman said.

The district council said the

signs are not its responsibility.

"Any wider review of signs

targeting tourist drivers would be

an NZTA responsibility," district

council assets manager Murray

Washington said. •Turn to p4

Your future starts here.

We're leading the way.

Whether you're a first home buyer or an experienced vet, you're going to love

the latest release at Faringdon. 'The Borough' is a quick walkies away from

Rolleston town centre, and is filled with the things that make life doggone easy.

Parks and reserves, reticulated gas and lightning fast fibre broadband - it's the sort

of infrastructure that could very well make other developments barking mad with envy.

Faringdon

available now.

Sections between 444 and 944m 2 , prices starting

from $165,000. Titles available in early 2019.

Call Bruce Harvey on 0800 667 849

or go to www.faringdon.co.nz

Local Faringdon kid,

Mackenzie Norrell

wants to be a vet

when she grows up.

Find out how Mackenzie's

practice is going, in a

brand new video at

www.faringdon.co.nz

You're home.
---
2 Wednesday February 27 2019

Latest Christchurch news at www.star.kiwi

get in touch

from the editor's desk

PETE STILLS has a very good point on

page 1 today.

He is questioning how well the open road

signs are understood and points out how

often police stop motorists for driving too

slow.

It stands to reason overseas tourists don't know what the

signage means – 100km/h.

We can all get frustrated with slow drivers, particularly tourists

driving at a snail's pace on the open road.

But if they're going as fast as the latest speed sign they have seen

– 50 or 70km/h – then you can understand why.

But change won't come in a hurry it seems. So we will all have

to continue to be patient behind those slow drivers.

And don't forget to be very careful.

– Barry Clarke

GENERAL INQUIRIES Ph 379 7100

CLASSIFIED ADVERTISING Ph 379 1100

Star Media, a division of Allied Press Ltd

PO box 1467, Christchurch

starmedia.kiwi

news

Stall closed

A pensioner is upset with the loss of a chilly bin full of

vegetables from a roadside stall in rural Rolleston.

Page 4

news

Call for footbridge

A Prebbleton parent says safety changes need to be made

outside the primary school.

Page 9

community events

At the drive-in

Park up and tune into a movie on your car radio at

Rolleston Reserve on Friday, 7-9pm.

SELWYN TIMES

NEWS

Anan Zaki

Ph: 021 911 576

anan.zaki@starmedia.kiwi

ADVERTISING

Lynette Evans

Ph: 364 7434

lynette.evans@starmedia.kiwi

Page 31

The best-read local newspaper, delivered to

20,015 homes, RDs and farms every Wednesday

Ladbrooks, Tai Tapu, Leeston, Lincoln, Southbridge, Prebbleton,

Halswell, Rolleston, Templeton, Burnham, West Melton, Darfield,

Kirwee, Arthur's Pass.

Meat you in

Faringdon

Mobile butcher at

South Point Shopping Centre

Thursdays 2–6:30pm

HON AMY ADAMS

MP FOR SELWYN

Working hard for our communities

If you would like to sign up for

my newsletter please visit:

www.amyadams.co.nz

CONTACT

P 03 344 0418

E selwynoffice@parliament.govt.nz

• Grass fed giving leaner meat, higher in nutrients

• Prime choice cuts

• Gluten free options available

ElitE MEats ChristChurCh

Bush Inn Centre | 364 Riccarton Road, Riccarton

Phone 03 348 5043 | Like us on Facebook

We pride ourselves on service, advice and quality meats

Funded by the Parliamentary

Service and authorised

by Amy Adams, 829 Main

South Road, Templeton,

Christchurch.

Specialists @ Individuality

• Focus on sustainability

• Award winning family owned business

• Proven reputation of quality

• Full architectural design package

NATIONAL "HOY" WINNER plus GOLD RESERVE 2016

View our display home

Phone Jesse 021 701 265

or visit www.jdhomes.co.nz

Canterbury
---
SELWYN TIMES Latest Christchurch news at www.star.kiwi

Wednesday February 27 2019 3

News

Catastrophic fire

risk in spite of weekend rain

• By Anan Zaki

HEAVY RAIN over the

weekend won't have an impact

on the potential for a fire

catastrophe.

Fire and Emergency New

Zealand Canterbury

principal

rural fire

officer Bruce

Janes said

there needed

to be a number

of weeks of

rain for the

Bruce Janes

risk of fire to

dissipate.

"It's all very well having rain.

But with so much dead grass and

fuel available . . . it only takes

two or three days of fine weather

to bring fuel back-up and available,"

Mr Janes said.

MetService is forecasting

showers for tomorrow, but conditions

are set to return to warm

and dry conditions from Friday,

right through to next Wednesday,

with temperatures ranging

from 21 to 27 deg C.

FENZ declared a prohibited

fire season across the district on

DANGER: FENZ Canterbury warns that there will be no

stopping grass fires in current conditions. ​

Wednesday.

"A rapid grass fire in current

conditions is catastrophic," he

said.

"I would say fires would spread

catastrophically rapidly. Because

anything wind-driven could be

catastrophic. It could leap across

grass fields, over roads, nothing

slows it down."

The main factor in decisionmaking

was from weather

indexes which FENZ monitors

daily.

2019

ON THE DOMAIN LINCOLN 2 MARCH 2019

"All of our indexes are at extreme

or high," he said.

"The weather has been hot and

dry. The community after the

Nelson and Port Hills fires is very

alert. We want to keep them safe."

The district was previously

in a restricted fire season, with

farmers requiring stubble burn

permits for the first time.

"They [stubble burn permits]

are now suspended. They haven't

lost their permit and won't have

to reapply," Mr Janes said.

"They are just on hold until

the conditions change," he said.

When the prohibited fire season

is lifted, it is likely to return

to an open season instead of a

restricted season.

"Autumn is happening as you

all know with the dew in the

morning. There's no point in

people going in to the permit

process when you're rapidly going

into winter," Mr Janes said.

He advised people not to use

machinery such as lawn mowers

during the heat of the day.

• Burnham camp firefighter, p14

•For latest fire season

updates visit www.

checkitsalright.nz

In Brief

TICKETS

ON SALE

NOW

www.selwynsounds.co.nz

GRASS FIRE

Dunsandel firefighters were called

to a grass fire which threatened

to engulf a chicken shed on Two

Chain Rd. The fire started at about

3pm on Thursday. Dunsandel

chief fire officer Ian Chatterton

said the fire was extinguished in

about two hours, before it could

reach the chicken shed. Six tankers

and four appliances were called

in as a precaution,. The cause of

the fire is under investigation,

Mr Chatterton said. Meanwhile,

firefighters were called to a hedge

fire on Telegraph Rd at 7pm

on Wednesday. Mr Chatterton

said the fire was contained in

about two hours. Six tankers and

two fire appliances were called

from Dunsandel, Kirwee and

Southbridge fire stations. The

cause has yet to be determined, Mr

Chatterton said.

TWO INJURED IN CRASH

A crash involving a ute and car

injured two people last week.

The crash happened on Shands

Rd, near the intersection with

Robinsons Rd at about 7am last

Tuesday. St John Ambulance

says the two people were taken to

hospital with minor and moderate

injuries.

Exclusive New Product Launch

March Heating Expo

Ravelli Dual 7

Natural 7 - No fan

Ravelli Elena Nectre N65 Blaze King Chinook Blaze King Sirocco

Install Early - Avoid the rush!

Pellet and Wood Fire Specialists

Expo weekend

Sat 2nd – Sun 3rd 10am – 4pm

www.heatstore.co.nz

472 Blenhiem Road

Sockburn

Phone 03 343 1651
---
4 Wednesday February 27 2019

Latest Christchurch news at www.star.kiwi

News

Police call

for change

to open

road signs

•From page 1

Automobile Association

principal adviser regulations

Mark Stockdale agreed some

tourists may not be familiar with

the open road sign.

"Although they [tourists]

are encouraged to familiarise

themselves with New Zealand

road rules and road rule

collateral is provided by many

rental companies," Mr Stockdale

said.

He said open road signs are

still authorised signs and other

factors may be in play when it

comes to tourists driving slowly.

Said Mr Stockdale: "The fact

that some visiting drivers are

travelling below the speed limit

may also suggest that they are

driving at a speed that feels

comfortable to them based on the

look and feel of the road."

•HAVE YOUR SAY: Do you

think open road signs should

be replaced with numbered

signs? Send your views to

anan.zaki@starmedia.kiwi

Thieves put end to vege stall

• By Anan Zaki

JAN HALES-WELLS has been

selling veges outside her rural

cottage for six years.

The 70-year-old retired farmer,

who lives in rural Rolleston,

uses the money from selling

vegetables to pay her rent and

power bills during winter.

But to her shock, the chilly

bin full of vegetables outside her

Newtons Rd cottage, along with

the carrots and courgettes inside

it, were stolen last Wednesday.

All that was left behind was

a $2 coin, she said. "I just had

major shoulder surgery and I

had a lie down in my bed [at

2.30pm] and they came along

and pinched them," Ms Hales-

Wells said.

The chilly bin was taken

between 2.30pm and 4pm, she

said.

Ms Hales-Wells has seen the

odd vegetable go missing over

the past few years – but nothing

like last week.

"I'm a pensioner and it just

helps me pay my rent and my

power bills."

The vegetables were in a

30-year-old chilly bin with holes

in the bottom and a damaged

lid, she said.

The incident was

disheartening and sad, Ms

Hales-Wells said. "I'm 70 and I

was brought up to be honest and

I've never ever stolen anything

in my life. Today, the way society

is going, I would hate to see what

the next generation will look

like."

Knowing the thief is out there

was "crazy," she said

"There is someone out there

wandering around – casing the

joint as I like to say – to see what

they can get into. They just don't

care," Ms Hales-Wells said.

She has now put up a sign

saying "due to somebody

stealing my icebox, there will be

no more veges."

"[The money] is a big help,

I put most of it on my power

account in the winter. The

cottage only has under-floor

insulation and a heat pump."

Ms Hales-Wells hopes to have

SELWYN TIMES

NOT FAIR:

Rural

Rolleston

pensioner

Jan

Hales-Wells

is upset after

her chilly bin

full of veges

was stolen

last week.

another box made with the help

of her son next week.

Police encourage people with

information to phone them.

Ms Hales-Wells said all she

wants is for those responsible to

be caught.

•Anyone with information

can get in touch with

the police on 347 9248

and quote file number

190220/3135.

BOARDING

ROAD SHOWS

IT'S A FESTIVAL OF

MOTORCYCLE SPEEDWAY

Enquiries are welcome for scholarships including

the George F Hight Scholarship (needs-based).

Enrol now for 2020!

We look forward to meeting you at one of our

2019 Boarding Road Shows to share with you

the family culture which makes boarding so

special at St Andrew's College, Christchurch.

Ashburton

Tuesday 5 March

5.00pm–7.00pm

Lushingtons Café,

5 Archibald Street

Visit stac.school.nz for times, locations and to register online.

WeedonS Road, West Melton

Adults $20

Pensioners $15 with gold card

Family $40 (2 adults & 4 children under 15)

Accompanied children under 15 years $10.

Infants under 5 FREE. (Sorry, no EFTPOS)

Info line Ph 021 070 3140

www.mooreparkspeedway.co.nz

BOWRANDA

ROOFS

For a free Measure & Quote PH 0800 26 26 20

● Immediately increase the value of your home

● Manufactured to custom specifications

● A permanent, sheltered outdoor space

● Strong and durable frame constructed of powdercoated

aluminium and stainless steel

● Square profile complements NZ residential architecture

● Option to enclose with outdoor blinds

● Eliminate 99% of harmful UV light

● Achieve your outdoor vision

A Lifestyle Choice

www.bowranda.co.nz
---
SELWYN TIMES Latest Christchurch news at www.star.kiwi

Wednesday February 27 2019 5

Gangs targeting men online

• By Sophie Cornish

GANGS ARE using women

as young as 16 to target

unsuspecting men who are then

being beaten, kidnapped and

robbed.

The tactic is called "honeytrapping."

Police say women are reaching

out to men online who arrange

to meet them and then gang

members and associates get

involved.

Police are investigating

whether there is an online link

to a brutal attack on a 59-yearold

in Rolleston just over three

weeks ago.

He was punched, kicked and

stomped at his home by gang

members and associates.

His cellphone, wallet, four

firearms, a Ford Falcon, a Harley

Davidson motorcycle and a

laptop were stolen.

Police arrested Black

Power gang member William

Hewinson in relation to the

incident. He has since pleaded

guilty in the district court to

charges of aggravated robbery,

kidnapping, burglary and

unlawful possession of firearms.

Two men and a 21-year-old

woman have been charged with

the same offences.

TRAP: Police say women are reaching out to men online and

arranging to meet them, and then gang members and their

associates get involved.

In late December, a 45-yearold

was beaten and robbed of his

car, cellphone and wallet after he

picked up two 17-year-olds from

a Woolston address. He had met

one of them online.

After driving for a short time,

the teenagers asked him to

pull over so they could have a

cigarette.

Detective Sergeant Daniel

Isherwood said two men

associated with the Tribesmen

gang pulled up in a vehicle.

The 45-year-old was then

allegedly kicked in the head

through the window, while the

other man climbed into the

passenger seat and punched him

in the head.

He was then forced into the

backseat of his car and told to sit

on his hands while being driven

around the city. He was taken

back to his own house, where the

alleged offenders took a Holden

Commodore.

He was also told he owed

them $5000. He did not pay the

money and went to the police.

Two brothers have been

charged with aggravated robbery

and kidnapping.

Detective Sergeant Isherwood

emphasised the gang tactics

were not widespread and victims

were only a "small part" of the

community.

"They look for any

opportunity really, any weakness

. . . these victims are seen as an

easy target," he said.

Detective Sergeant Isherwood

is also concerned that young

people associated with gangs

may not realise how serious

the penalties are for aggravated

robbery.

"If a senior gang member is

asking you to partake in an

activity which involved threats,

extortion and the harming of

people, the likely outcome for

you is time in prison," he said.

"The convictions for

aggravated robbery and/or

kidnapping will likely result in

lengthy terms of imprisonment,

both of which carry maximum

terms of imprisonment of 14

years.

He is calling for victims of

this behaviour to come forward.

"Police are willing to support

any victims of this offending

and encourage anyone to come

forward and speak with us. We

have a good resolution rate for

those who speak with us."

Local

News

Now

• By Anan Zaki

Fire rages, homes at risk

Tools stolen

in burglary of

school shed

TOOLS VALUED at $7000

were stolen from a shed at

West Rolleston School on

Thursday.

Principal Sylvia Fidow said

fuses in the security lights were

disabled by the burglar between

midnight and 8am.

"Everything" was stolen, she

said.

The stolen items included an

angle grinder, lawn mower, jigsaw

and a drill.

"We had been slowly building

up our resources so everything

was new," Ms Fidow said.

The burglary has "shocked" the

school community.

"As a new school we could not

afford a caretaker for the first

year and since Andy Benn has

been with us he has done such a

great job of making our school

a beautiful and inviting physical

landscape," Ms Fidow said.

"Everyone has been upset for

Andy and he has had lots of cards

made by the children."

•If you have information on

the burglary phone police

on 347 9248 and quote file

number 190221/4626

JOIN US NOW!

See website for details

PHONE EXPERT

iPhone Charging Cable 3m,

1 for $15, 2 for $20.

CUTLER & CO

Summer Clearance: All Short Sleeve

Shirts, Shorts, & Selection of Long

Sleeve Shirts Now Reduced to

$69.95 Each or 2 for $100.

BONDS OUTLET

40% Off All Marked Prices Storewide.

ITALIA SPORTSWEAR

Men's & Women's Basic Fila

Hoodies & Crews, 2 for $60

(selected items only, while stocks last).

LAZEEZA JEWELLERS

All Tungsten Rings Now $49

(short time only, terms & conditions apply).

Sign up to Smart Deals & be in the monthly draw for a $100 Dress-Smart gift card!

Be one of the first to hear about the latest deals, sent straight to your inbox each week!

CHRISTCHURCH 409 Main South Road, Hornby

www.dress-smart.co.nz

Open 10am-5pm, 7 Days 03 349 5750
---
6 Wednesday February 27 2019

Latest Christchurch news at www.star.kiwi

SELWYN TIMES

BATHROOM

EXPO ON NOW

GET IT BEFORE IT'S GONE

$

99

Nouveau

Victoria Toilet

Suite

Close coupled

suite. S or P

trap, dual flush

6/3L. 3 star

WELs rating, 2

year warranty.

318378 196

$

249

Nouveau

Bondi Vanity

with Mirror

600mm also

available

in 900mm ($257)

334141

$

499

Nouveau

Round Shower

Frame

Includes door set,

liner & tray.

H: 2000mm,

W: 900mm

D: 900mm.

10 year warranty.

329423 186

$

199

Robinhood

900mm

Laundry Tub

& Cab

1 door. Large

stainless steel

tub. Left or

right option.

227792 212

BUY ANY

CLEARLITE

MILLENNIUM,

SIERRA OR

CEZZANE SHOWER

& RECIEVE A

FREE BATH

See instore for details.

Nouveau

Basin, Kitchen or Shower Mixer

321489 174

$

45

Buy any bathroom

product & be in to

WIN 1 of 10 $1000

Mitre 10 gift cards.

ST250219

Available from Wednesday

27th February until

Sunday 3rd March 2019,

while stocks last.

Mitre10 MEGA Hornby

Ph: 03 349 8497

*If you find a lower price on an identical stocked

product locally we will beat it by 15%

Mitre10 MEGA Papanui

Ph: 03 359 5443

*If you find the same product cheaper from another Mitre 10 store or Mitre 10 website we'll match that price.

Excludes trade and special quotes, stock liquidations and commercial quantities. The in-store price may be lower

than that advertised.
---
INGREDIENTS

STORAGE

MADE IN

ESTD.1942

ESTD.1942

NUTRITION

Servings per package: 10

Serving size: 50g (1 Slice)

Ave quantity Ave quantity

Energy 515kJ 1030kJ

Protein 3.9g 7.7g

Fat - total 2.0g 4.0g

- saturated 0.2g 0.3g

Carbohydrate 20.8g 41.5g

- sugars 1.8g 3.6g

Dietary Fibre 2.6g 5.2g

Sodium 205mg 410mg

CONTACT US

per serving

per 100g

SELWYN TIMES Latest Christchurch news at www.star.kiwi

Wednesday February 27 2019 7

News

CARD$50

GIFT

FUTURE: An artist's impression of the new Southern Motorway and the Main

South Rd bridge, which will be open this week.

Another bridge to open

in motorway project

• By Anan Zaki

MOTORISTS will be

allowed onto the new Main

South Rd bridge from this

week.

The bridge near

Robinsons Rd crosses the

new Southern Motorway,

in the $195 million project.

The 130m Main South

Rd bridge is one of eight

bridges being built in the

project. It is made of 16

precast beams, weighing

68 tonnes each, New

Zealand Transport Agency

said.

Further road layout

changes are also planned

this week, NZTA said.

Curraghs Rd will close

at Main South Rd with

detours in nearby roads.

Robinsons Rd will

become left turn in and

out at its intersection with

Main South Rd.

Last week, the south side

• By Anan Zaki

THERE WILL be a

changing of the guard at

the Selwyn Waihora Zone

Committee.

Committee chairman Allen

Lim called time on his

position as chair after four

years in the job.

Mr Lim is stepping down

due to taking up other

commitments at the end of

last year.

"I was asked to join the

Freshwater Leaders Group,

which is an advisory committee

under the Ministry for

the Environment," he said.

"And there's been a whole

lot of meetings around that

which has kept me busy."

Mr Lim said he is a keen

promoter of the environment.

"I'm outdoor person,

always have been. Every

weekend I can I go for a hike

in the high country," he said.

"Being able to put a water

of the Weedons

and Main South

Rd intersection

was closed for

six weeks.

Motorists

wanting going

to Levi Rd from

Main South Rd

will now have

to go through

Rolleston and

Masefield Drives.

NZTA said the closure

will allow contractors

to continue building

a grade-separated

interchange at Weedons

Rd. Following the work, a

new southbound on-ramp

will open to provide access

from Weedons Rd to Main

South Rd.

Construction of the

Southern Motorway

stage two is expected to

completed in December.

Meanwhile, a digger

working on constructing

Geoff Griffiths

bottle into a stream and

drink from it, I see that as

a right."

Mr Lim said it is

now a good time

to transition a new

person into the role.

A new chair will

be elected at next

month's Selwyn

Waihora Zone

Committee meeting

next Tuesday.

There had been

both challenges and

positives during Mr Lim's

time as chairman.

"When I got there the

limit setting process was

pretty much done and

dusted. But the challenge

was getting those limits

into words," he said.

"When the Selwyn River

went dry a couple of years

ago, we had a lot of questions

to answer. We copped

a lot of flak for that even

though we couldn't do

much," Mr Lim said.

the new Southern

Motorway hit an

underground power

cable, but did not

impact the progress

of construction.

NZTA said the

incident last Tuesday

afternoon damaged

the protective

sheath of the 11 KV

cable, but avoided

the power lines, on

Main South Rd, between

Robinsons and Berketts

Rds.

The digger operator was

unhurt after coming into

contact with the cable

NZTA principal project

manager Geoff Griffiths

said.

Lines company

Connetics carried out

repairs on the day of

the cable strike. Two

properties lost power for

five hours while repairs

were carried out.

Zone committee chair to step down

Since then, the committee

had succeeded in a

project to recharge the river

by using the Central

Plains Water

scheme.

"Hopefully we

will never get the

river dry at Coes

Ford ever again.

There's no guarantee

but that's

the intention,"

Mr Lim said.

He said he has

"thoroughly enjoyed" his

time as chairman.

"It's been a real pleasure

and privilege in that role.

I met some really great

people and lots of great

farmers and great members

of the community," Mr

Lim said.

"I see my role as engaging

with all of those people

with different views and

trying to come up a solution

that suits everybody,"

he said.

Allen Lim

CIABATTA

C I A B A T T A

ALL NATURAL

INGREDIENTS

BREADCRAFT

This popular Italian classic is known as

Slipper Bread. Made to the original Verona recipe,

our Ciabatta is crisp, chewy, spongy and light.

P L A C E H O L D E R

500g NET

Love Apples

Smitten Apples Loose

Product of New Zealand

Dole Bananas Loose

Product of Philippines

or Ecuador

NEW ZEALAND

WAIRARAPA

Lovingly made in the Wairarapa, using traditional

recipes and techniques and the best of local and

imported ingredients.

Contains gluten containing

cereals as indicated in bold type.

Wheat flour, water, olive oil,

sea salt, yeast, malt flour (barley).

Made in a bakery that also

produces products containing:

milk, soy and sesame.

This paper bag is good for the

planet and good for storing your

bread in a cool, dry place away

from direct sunlight. You can

also freeze it in a sealed bag or

container for up t one month.

REFRESH YOUR BREAD

In the unlikely even that you

don't finish this loaf on day of

purchase you can refresh your loaf

in a 200°C oven for 3-5 minutes

or until the crust is crisp.

Purchase any

Cottage Lane Bread

at a participating Four Square

South Island store

and be in to win

$

2 99 kg

$

2 29 kg

Stoneleigh 750ml

(excludes Latitude,

Wild Valley &

Rapaura Series)

$

12 99 ea

*all specified values are averages

For any information on this or other

Cottage Lane products feel free to

contact us on +64 6 370 0260 or

Box 352, 85 Judds Road, Masterton,

New Zealand. breadcraft.co.nz

P L A C E H O L D E R

BAKED ON

*all specified values are averages

a $ 50 gift card!

P L A C E H O L D E R

Halos Mandarins

460g Prepack

Product of USA

Speight's Gold

Medal Ale 24 Pack

330ml Bottles

www.foursquare.co.nz

Cottage

3 99 Lane Bread

ea

$

4 49 pk

Quality Bakers

Nature's Fresh Bread

700g

$

3 19 ea

$

33 99 pk

facebook.com/FourSquareNZ

Specials available South Island only from Monday 25th February until Sunday 3rd March

2019 or while stocks last. Wine and beer available at stores with an off licence. Wine

and beer purchases restricted to persons aged 18 years old and over.
---
8 Wednesday February 27 2019

Latest Christchurch news at www.star.kiwi

News

SELWYN TIMES

High environmental rating for farmer

LOOKING AFTER the

environment is an essential

part of Lake Ellesmere

dairy farmer Tony

Dodunski's philosophy.

A recent independent

check shows he's well on

the way towards achieving

sustainable farming in a

challenging area.

Mr Dodunski has been

rated "A" for his farm

environment plan audit by

Environment Canterbury.

He's also achieving his production

goals at his farm

near Lake Ellesmere.

Having worked his way

up the dairy farming ladder

via management, contract

milking and leasing out

cows, Mr Dodunski and his

wife Clare, a doctor, bought

their 190ha farm next to

Lake Ellesmere two years

ago.

To start with they

thought that under ECan's

tightening environmental

regulations, it would be too

difficult to comply as well

as make a profit.

But they needed to be

within half an hour of

Christchurch Hospital so

Clare could commute to

work.

A land agent persuaded

them to view the property

CLEAN FARMING: Dairy farmer Tony Dodunski has

been recognised for environmental performance.

next to the lake. "He said,

'Tony, come and have a

look at this farm and at

least think about it'."

Farmers in the area

are in the environmental

spotlight. Under the Canterbury

Land & Water Regional

Plan, the property is

in the Selwyn Te Waihora

Cultural Landscape Values

Management Area's Phosphorus

and Sediment Risk

Zone.

In this zone, dairy farms

must have a nitrogen

budget done, and those

leaching more than 15 kg

of nitrogen per hectare per

year are required to cut

their leaching by 30 per

cent by 2022.

The tight environmental

regulations didn't faze Mr

Dodunski. He figured that's

how farmers should be

operating anyway.

Mr Dodunski said the

property's previous owner

was a very good farmer

who had fenced off drains,

planted flax and put in

effluent storage. He has

added to that, planting

4000 trees and shrubs as

well as deepening and

digging a further 8.5km of

drains.

In his first year on the

farm he built a 700-cow

concrete feed pad. The

farm's heavy soils turn

to mud quickly in wet

weather, so Mr Dodunski

gets cows off pasture on to

the feed pad quickly.

ROLLESTON LAW

Rolleston Office: 78A Rolleston Drive, Rolleston

Darfield Office: Darfield Business Hub, 68 South Terrace

W: www.meareswilliams.co.nz

T: (03) 374 2547 M: 021 148 6221

Richard Gray

E: rcg@meareswilliams.co.nz

Anita Molloy-Roberts

E: am@meareswilliams.co.nz

Kate Warren

E: kcw@meareswilliams.co.nz

StREEtStOcK

StAtE Of ORigin

pLUS

wingLESS

mODifiED chAmpS &

DEmOLitiOn DERBY

SAt 2 nD mARch

7pm StARt

ADULTS $20 Seniors $10

FAMILY PASS $40

Children $5 Under 5yrs free

(2 adults & up to

4 children 15yrs & under)

DOUBLEDAYS ROAD KAiApOi

infOLinE 03 364 8833

www.wOODfORDgLEn.cO.nz
---
SELWYN TIMES Latest Christchurch news at www.star.kiwi

Wednesday February 27 2019 9

News

• By Anan Zaki

A PARENT who uses a school

zone in line for lower speed

limits wants more done.

Prebbleton School parent

Melissa Olliver said proposed

speeds of 40km/h outside the

school in the recent speed

limit review consultation is not

enough.

The district council's consultation

on lower speeds around

schools ended earlier this month

and had 46 submissions.

Miss Olliver said lower speeds

won't reduce traffic on Springs

Rd outside the school.

She called for a footbridge to

be built to replace an existing

pedestrian traffic island on

Springs Rd, outside the school.

The speed limit outside

Prebbleton School is currently

50km/h on both Blakes and

Springs Rds.

There is a kea crossing on

Blakes Rd. Kea crossings only

operate when a school patrol

is present. But there is no kea

crossing on Springs Rd.

Miss Olliver, who regularly

uses the Springs Rd traffic

island crossing, said the it is

"dangerous" as vehicles had

no obligation to give way to

pedestrians.

"It's just really busy especially

at peak times like getting kids

across to school," Miss Olliver

said.

"Naturally, if you live in

Prebbleton Central, that's your

main crossing point."

Selwyn Times reported on the

dangers of the same crossing

last year. At the time, the district

council dismissed community

suggestions to install flashing

lights to improve the safety of

the Springs Rd crossing.

The district council did not

respond to questions about a

possibility of a footbridge

across Springs Rd.

Prebbleton School principal

Kim Alexander said there are no

plans for another school patrol

on Springs Rd.

She encouraged parents to

use another crossing on Springs

Rd, near William St, which had

orange signs. Ms Alexander also

encouraged parents to use the

school's kea crossing on Blakes

Rd.

District council asset manager

Murray Washington said

Prebbleton School has been

1working with the community

on a school travel plan since last

July.

"The school travel plan process

is where the school community

is consulted on current and

desired modes of travel," Mr

Washington said.

Ms Alexander said the plan

won't be finalised until early

next year.

In response to the school

travel plan process, Miss Olliver

said she was unaware of the

plan, but said that the options in

the plans such as kea crossings

would not work.

Local

News

Now

Call for footbridge across road to school

SATURDAY

9 TH

MARCH

9AM-2PM

BUSY: Prebbleton mother Melissa Olliver (centre), with her children Isabel, 7 (left), Lewis, 2, and

Paige, 5, cross Springs Rd on their way to Prebbleton School. PHOTO: MARTIN HUNTER

LINCOLN

PRIZES | YUMMY FOOD | BOUNCY CASTLES | FREE SMOOTHIES

CHALLENGES | COFFEE | MEMBERSHIP SPECIALS

Your fresh food people.

Fire rages, homes at risk

COMMUNITY SUPPORT

Melissa Olliver first made her

call to improve safety near

the school online. Her post on

the Prebbleton Community

Facebook Page attracted

strong support, calling for

something to be done to

improve the crossing.

•A community group member

said: "Something definitely

needs to be considered by the

council, it's a terrible crossing."

•Another Facebook user said

any option was better than no

options.

"I'd take any option as we

definitely need an option. It's

incredibly dangerous and

really just a matter of time

before something serious

happens."

•Others suggested that it was

not only school times when

the crossing was dangerous.

"It's not just bad for the school

kids, it's bad for all, even on

weekends. I watched four cars

speed pass while I stood there

with two kids in tow," another

Facebook user said.

•Miss Olliver's post also

attracted a question about

there being no school patrols

on Springs Rd.

"Why don't the school have

patrols on it? One on Blakes

Rd and one there?" a user

wrote.

OUR weekly specials

.99

kg

2 .00

Royal Gala Apples ....................................... 1

new SEASON

Corn .....................................................................5 for

Perlas 1.5kg ................................................................. 5

Lettuce .................................................................................. 1

\

Red Fortune Plums ......................................... 3

Blueberries ................................................................. 2

Beef Rump Steak ............................................... 11

Lamb Shoulder chops ..........................

12

Chicken Nibbles ............................................... 6

Pork Leg Steaks .............................................. 9

.99

each

.49

each

.99

kg

.99

each

.99

kg

.99

kg

.99

kg

.99

KG

E lincoln@flexfitnessgym.co.nz

P 03 421 5746

Corner of Edward and Eastfield Dr, Lincoln

All our fresh meat is 100% NZ FARMED. specials VAlid 25th FEBRuary - 3rd march 2019.

ONLY AVAILABLE AT RAEWARD FRESH HAREWOOD RD, TOWER JUNCTION.

WWW.

.CO.NZ
---
10 Wednesday February 27 2019

Latest Christchurch news at www.star.kiwi

News

Decrease in

organic waste

going to landfill

ORGANIC WASTE is on the

rise.

The district council said more

Selwyn residents than ever

before now have organic bins and

existing residents are using their

organic bins a lot more than this

time last year, resulting in a decrease

in waste going to landfill.

The district is seeing strong

growth in organic waste tonnes,

with nearly 1200 tonnes or 22 per

cent more organic waste received

than at this time last year while

total waste to landfill is tracking

towards a four per cent decrease

on a per capita basis.

Council solid waste manager

Andrew Boyd said he is pleased

with the reduction and wants to

continue to encourage less waste

going to landfill, by greater use of

recycling and organic bins.

"We've got a number of waste

minimisation projects in the

pipeline. We'll be looking to

expand access to recycling

services for off-route properties,

expanding the range of materials

accepted at community recycling

days, and also a number of improvements

at the Pines Resource

Recovery Park," he said.

Updates will be available on

Council Call and the district

council Facebook page.

• By Anan Zaki

A DARFIELD farmer has put

the district council "on notice"

for shoddy road repairs.

Bill Bradley said he is sick of

seeing uneven roads and potholes

on district council roads.

Mr Bradley, who has 25 years

experience in roadwork, said

more heaves and potholes are

appearing due to poor roadwork.

He voiced his concerns to the

district council at their February

13 meeting.

Mr Bradley said the main

reason for his council deputation

was to put the council "on

notice."

"They're going to have to be

answerable to any deaths or

injuries because my concerns

are now on public record," Mr

Bradley said.

"You can't grade roads properly

quickly, and the roads have

deteriorated because they're not

being done properly."

Mr Bradley highlighted a

motor-cycle crash on Old West

Coast Rd in January last year as

an example of poor roadwork

causing danger. He said the issue

of dangerous road surfaces

wasn't raised publicly at the time

of the crash.

A police report said the rider

of one bike hit a pothole on Old

West Coast Rd and crashed, and

a second rider crashed trying to

avoid the first machine. The two

riders had serious and moderate

injuries.

No charges were laid after the

crash, police said.

The district council said it followed

up Mr Bradley's concerns

about quality of road repairs last

week.

"No issues of concern in relation

to roading maintenance

have been identified," council

assets manager Murray Washington

said.

However, Mr Washington

confirmed cost is a big factor

in evaluating tenders for road

maintenance.

"Price is a significant factor

in tenders, but a number of

other factors are also considered.

Under the council's tender

Local

News

Now

Call for action over shoddy roadwork

DANGER: Darfield farmer Bill Bradley measures the depth of

a road heave on Old West Coast Rd. The council disputes Mr

Bradley's view the district's roads are in poor condition.

PHOTO: MARTIN HUNTER

SELWYN TIMES

Fire rages, homes at risk

process, price makes up 70 per

cent of the total evaluation with

the other 30 per cent being nonprice

attributes such as relevant

experience and track record,

relevant skills and resources and

methodology," Mr Washington

said.

He said the district council

has two supervisors checking

the roading network every day,

checking work that is done.

"There is daily contact

between council staff and

contractor staff with any issues

discussed and resolved as part

of that contact. The contract

has performance measures in

relation to response times, cyclic

work and meeting agreed time

frames for approved work," Mr

Washington said.

Mr Bradley was angry with

the council's response to his

deputation.

"It's shoddy workmanship and

yet they're turning around and

saying this [there are no issues]."

"It's just bulls***t," Mr Bradley

said.

He said there are heaves on

roads across the district at

present, even one outside his Old

West Coast Rd farm.

It was only a matter of time

before a car or a truck hit the

heave, causing a crash, Mr

Bradley said.

Work & Income NZ

Work & Income NZ Superannuation

is coming to Selwyn

Work Superannuation & Income NZ Superannuation is coming

is coming to Selwyn

to Selwyn

Ken Stevens, a case manager from the Ministry of Social Development, will be

visiting Selwyn to answer questions on payments, entitlement, and any other

is coming to Selwyn

matters regarding superannuation.

Ken

Ken

Stevens,

Stevens, a

case

case

manager

manager

from

from

the

the

Ministry

Ministry

of

of

Social

Social

Development,

Development,

will

will

be

be

visiting

visiting

Selwyn

Selwyn

to

to

answer

answer

questions

questions

on

on

payments,

payments,

entitlement,

entitlement,

and

and

any

any

other

other

matters

matters

regarding

regarding

superannuation.

superannuation.

Visits are by PRIOR appointment – to book an appointment

please phone (03) 961 9170. Ken will be visiting these locations:

Wednesday 20 March, 10am-2pm - Leeston Library

Tuesday 26 March, 10am-2pm - Darfield Library
---
SELWYN TIMES Latest Christchurch news at www.star.kiwi

Wednesday February 27 2019 11

Where community shapes

the heart of your retirement

Anthony Wilding Retirement Village

Anthony Wilding Retirement Village in Halswell is a

vibrant community where residents enjoy a carefree

retirement in the company of like-minded friends.

The village enjoys 360 degree views of the Port Hills

and Southern Alps, spacious grounds and beautifully

landscaped gardens.

With independent townhouses, serviced apartments,

resthome, hospital and dementia care, there is often no

need to move away from the village that has become

your home if your health needs change.

Discover all that a Ryman village has to offer.

To enquire about availabilities at

the village phone Susie on 338 7696

5 Corbett Crescent, Halswell, Christchurch

Join us at our open days

Saturday 9 or Sunday 10 March, 10am - 3pm. Information presentation at 11am each day.
---
12 Wednesday February 27 2019

Latest Christchurch news at www.star.kiwi

SELWYN TIMES

ALL-NEW DISTRIBUTOR OWNED

DEALERSHIP MOVING TO CURRENT

BMW DEALERSHIP FROM FEB 2019.

30 Manchester St, Christchurch

MOVING SALE

NOW ON!!!

OVER 80 NEW & USED CARS, SUV'S, UTES

AND COMMERCIAL VEHICLES AVAILABLE.

SAVE THOUSANDS!

FINANCE ON-SITE • TRADES WELCOME

Christchurch SsangYong & LDV | Phone: 03 379 4999

374 Moorhouse Avenue, Christchurch
---
SELWYN TIMES Latest Christchurch news at www.star.kiwi

Wednesday February 27 2019 13

News

Locomotive dream now a reality

• By Louis Day

SEVEN YEARS ago West

Melton resident Andrew Wilson

had a dream of bringing a

locomotive to Little River, last

week that dream became a

reality.

On February 14, the Little

River Railway Station Trust

welcomed a 62-year-old

locomotive into the station.

Director of operations and

trustee Mr Wilson dreamt up

the idea of bringing a locomotive

to Little River in 2008 as part of

the trust's 2021 vision plan.

It was also Mr Wilson who

came across the locomotive on

Trade Me and drove to Dunedin

to assess it.

"I have driven further for

trains, I have gone down to Bluff

over a weekend," he said.

Mr Wilson said he has had a

passion for trains ever since his

grandmother took him for walks

through the train yard next to

their holiday home in Kaikoura.

"On my grandmother's death

bed she said I must ask for forgiveness

for introducing you to

trains and I said why? You have

introduced me to a hobby that

will last me a lifetime and she

said not to you but to everyone

else for having to put up with

this hobby of yours."

EXCITED: Little River Railway Station trustee Andrew Wilson with the locomotive.

PHOTO: MARTIN HUNTER

Mr Wilson who still has

photos of himself as a child with

locomotives hoped children

today could create the same

memories with the station's newest

addition.

"The idea is to create that

scene for people to make those

memories and that locomotive

is there to help people do that

so they can look back on those

memories for a lifetime."

The $8500 locomotive is now

on the tracks connected to a

carriage ready for people to have

their photos taken next to it.

The locomotive was introduced

into service in June 1957

and decommissioned in April

1985.

It spent its entire working role

in the South Island.

Mr Wilson said once the trust

had restored the interior of the

locomotive they would consider

opening it up on special occasions

and maybe even let people

pull the whistle.

The trust does not have a

licence to run the locomotive

along the tracks, however, Mr

Wilson said they could possibly

jack it above the rails which

would allow the wheels to go

round without it actually going

anywhere.

$30k fine

for Hororata

dairy farm

A HORORATA dairy farm has

been convicted and fined $30,000

after illegally discharging effluent

onto land.

A representative for Aitkens

Road Dairies Ltd pleaded guilty

to the charge in December. The

charge related to discharging

a contaminant onto land in

circumstances which may result

in the contaminant entering

groundwater, which is prohibited

under the Resource Management

Act.

The court heard last week that

Aitkens Road Dairies Ltd had

consent to dispose of effluent to

land, but due to a faulty pipe,

which was known about by the

farm's owner and manager, an

effluent pond on the property

overflowed 80m² down a hill.

While the pond was being

monitored daily by the farm

manager, the overflow still

occurred. A number of

improvements had been made at

the property since the incident.

In sentencing the company,

Judge Jane Borthwick said the

actions taken by Aitkens Road

Dairy Ltd before the incident were

not those of a prudent farmer

and were negligent rather than

careless.

Get Nutrient

Rich Crops

Spent Mushroom Compost is

the ideal natural alternative to

chemical fertiliser for your farm

Free Delivery

For a limited time *

Learn more at:

meadowmushrooms.co.nz/smc

or call 03 307 6974 today

*

T & Cs apply
---
14 Wednesday February 27 2019

Latest Christchurch news at www.star.kiwi

News

FOR NEW Zealand Defence

Force firefighter Lance Corporal

James Nunan, helping fight the

multiple bushfires burning across

Tasmania is a way of giving back.

Lance Corporal Nunan, who

is based at Burnham Military

Camp, is one of five NZDF

firefighters in Tasmania. They

are part of a Fire and Emergency

New Zealand team assisting

about 500 firefighters from the

Tasmania Fire Service and other

parts of Australia.

"The Australians were

among those who came to our

aid following the devastating

earthquake in Christchurch in

2011 and the 2016 earthquake

in Kaikoura," Lance Corporal

Nunan said.

"We always help each other

out, as good neighbours do. It's

nice to help other people and the

community."

NZDF firefighters left for

Tasmania on February 7 and

have been working in a number

of fire-affected areas near

Geeveston, 62km south-west of

Hobart.

Lance Corporal Nunan said

• By Anan Zaki

THE DISTRICT'S first ever

travel expo is on its way next

month.

The helloworld Travel Rolleston

Expo will host 17

travel operators –

including Antarctic

expeditions and

Contiki travel.

Said helloworld

Travel Rolleston

director Paul

Robinson: "It's a

chance for people to

talk directly with the

suppliers, come and

talk to the guys that

live and breathe that

destination."

"It's not intended to be a sales

expo, it's an information thing,"

Paul Robinson

a typical work day lasts about

12 hours, starting at 7am. After

receiving their tasks for the day,

the NZDF firefighters are flown

to the Hartz Mountains, about

55km south-west of Hobart.

"We've worked at several

locations since we arrived.

Last week, we were assigned to

attack hotspots at a eucalyptus

plantation and this week we are

at the Hartz Mountains National

Park. Many trees have been burnt

Mr Robinson said. There will also

be 15 travel-related presentations

at the expo, which will have free

entry.

"It's a big thing, especially for

us being a small company out in

Selwyn," Mr Robinson

said.

A popular destination

for Selwyn travellers

is Vietnam, he said.

While Canada and the

United States' state of

Alaska is also a common

destination.

"But [there are] also

people wanting to do

more than sitting on a

cruise ship. It might be

jumping on an inflatable

and getting up close with polar

bears or walking on ice shelves

in Antarctica, swimming with

and there are trunks that are still

smouldering," he said.

"The Tasmanian fire crews

specialise in remote area

firefighting – I've learnt a lot

working with them."

The NZDF also deployed

220 personnel recently to fight

bushfires in Nelson and others

to fight fires in Marlborough and

Canterbury.

The deployment to Tasmania

is Lance Corporal Nunan's first

dolphins or going to a village that

rarely sees civilisation in South

America," Mr Robinson said.

The South Island's reach to

Asian destinations has improved

in recent years, due to the

addition of new routes from

Christchurch, he said.

The city currently has daily

flights to Guangzhou, China, and

Singapore. It also has seasonal

flights to Hong Kong.

US destinations are also easier

to access due to flights from

Auckland, Mr Robinson said.

"Certainly our reach into the

globe has changed in the last 10

years," he said.

•The helloworld Rolleston

Travel Expo will be on

March 30 at the Rolleston

Community Centre from

10am-3.30pm.

overseas operation, but he has

been involved in large-scale local

firefighting operations, such as

the Port Hills fire in 2017.

"We helped out for more than

two weeks (in the Port Hills),

starting at 5am and finishing

about 9pm on most days. It

was hard and fairly dangerous,

especially in the initial phase,"

he said.

Lance Corporal Nunan

enlisted in the New Zealand

Local

News

Now

From Burnham to fighting fires in Tasmania

SERVING

ABROAD:

Lance

Corporal

James Nunan

is one of five

New Zealand

Defence

Force

firefighters

tackling

multiple

bushfires in

Tasmania.

SELWYN TIMES

First ever travel expo on way to Rolleston next month

Fire rages, homes at risk

Army in 2013, a few months after

graduating from Shirley Boys'

High School.

"I was quite familiar with army

life because of our proximity to

Burnham Camp. I also enjoy

being outdoors and running

in the forests, which was why I

chose the army."

After completing basic

training, he took a gap year to

travel to Europe and Asia with a

high school friend and then spent

a few months doing drainlaying

and construction work in the

Christchurch rebuild.

When he re-enlisted in 2014

his mind was set on becoming a

firefighter. He also has a diploma

in paramedic science from

Auckland University and is a

volunteer ambulance officer for

St John.

"I've been in a number of

situations where people have

been seriously injured or ill and

survived because we were able

to treat them and get them to a

hospital quickly," he said.

"It's a team effort and everyone

has a role to play, just like in

firefighting."

HOLIDAY: Antarctic cruises will feature in Selwyn's first ever

travel expo next month.

FIRST AND SECOND STAGE ALL SOLD!

OUR NEXT STAGE BUILD HAS COMMENCED WITH CONTRACTS

ALREADY BEING SIGNED FOR OUR TWO & THREE BEDROOM VILLAS.

Secure you villa now, choose your location and personalise your interior.

CONTACT KAREN HARRIS 027 3739 463 & COME AND VIEW OUR SHOW VILLAS

200 DUNNS CROSSING ROAD, ROLLESTON | info@boulevardvillage.co.nz | BOULEVARDVILLAGE.CO.NZ
---
SELWYN TIMES Latest Christchurch news at www.star.kiwi

Wednesday February 27 2019 15

Selwyn'S only dedicated SportS

Store haS arrived

An exciting new store has arrived on Selwyn's sports scene.

Magnitude Sports has just opened

its doors to the public at the

Faringdon Shopping Centre.

When sports enthusiasts and

locals Andrew and

Priscilla Foster

saw a gap in the

local market

for quality,

branded

sports gear

and clothing,

they decided

to use their

combined

industry

and sales

experience to

offer the community

the only dedicated

sports store

in Selwyn.

"We felt there was a gap in the

market for quality sports gear

in Selwyn," says Andrew, "As a

general sports store, we aim to

cater for 95% of the public. If we

don't have what the customer

wants in-store, we will source and

get it in with a two-day turn-around."

The couple's business model is

"big on service", and they

plan to "go the extra

mile" to make sure

their customers

are happy and

get the service

they need.

Andrew and

Priscilla are

also extremely

price

conscious and

have priced

their products

competitively,

making sure their prices

are in line with city store

prices.

"We thoroughly research our

products online and make sure

our prices and quality meet the

customers' expectations."

Magnitude Sports offer a range

of clothing and sports shoes that

cater to infants through to adults,

with more children's clothing to

come.

Brands include Asics, New

Balance and Canterbury with

more brands to come throughout

the year. Just some of the sports

covered are netball, basketball,

cricket, rugby, rugby league,

football, hockey, swimming,

tennis, yoga, darts and golf.

There is also a range of quality

backpacks available, too.

"We have a range of fitness

supplies such as socks, gym

towels, sweatbands, support

braces, and mouthguards

available. We've ticked off most

sports played locally and chosen

brands that are well known and

trusted."

When Andrew and Priscilla are

not in their store the busy pair

are supporting local sporting

clubs – Andrew coaches rugby

and plays cricket for Weedons,

while Priscilla supports their two

children with their sports as well

as a spot of running when time

permits.

The team at Magnitude Sports

has a wealth of experience to

offer, so come along and check

out the new store and specials

at 3/55 Faringdon Boulevard,

Southpoint, Rolleston - next to

Pedal Pushers. Alternatively,

give them a call on 03 347 0146.

openinG

SpecialS

15%

oFF

All hockey

gear*

Synact and Solvi

Mens & Womens

$149.99 *

(Usually $179.99)

magnitudesportsnz

Magnitude Sports

open hours: Mon – Fri 9am – 5.30pm Sat 9am – 4pm Sun 10am – 4pm

55 Faringdon Blvd, rolleston | ph 03 3470146

*For a limited time. Ends Sunday 10th of March
---
16 Wednesday February 27 2019

Latest Christchurch news at www.star.kiwi

SELWYN TIMES

Country cricket heats up ahead

TWO THRILLING finishes were

produced in the country cricket

competition on Saturday.

Leeston-Southbridge

dominated a top-of-the-table

clash, as the tight competition

heats up going into the final

round next weekend. They

knocked off a Southbrook XI

rattled by an average-looking

Leeston pitch, while Oxford-

Rangiora overwhelmed Kaiapoi

in the penultimate round of

the CRV Ambreed Country

Premier One Day Competition.

But the two marquee matches

featured Darfield, which edged

out Sefton by two runs, and

Cheviot, which chased down

Weedons' 213/9 with just nine

balls to spare.

At Darfield Domain, the

home side elected to bat first

but struggled to gain any

momentum against some tight

bowling.

Michael Pauling (24 runs off

49 balls) and Robbie Frew (26 off

60) tried to grind out a total, but

Darfield were bowled out for a

meagre-looking 122 runs in 34

overs.

Veteran Sefton Seals' seamer

Jeff Jones grabbed his first fivewicket

bag in 20 years for fine

figures of 5-27 off 8.4 overs.

Tim Harrison again anchored

Sefton's run chase and they

appeared to be cruising at 93/3

before Nigel Granger was out

and Harrison was bowled next

over to Liam Foulkes.

All of the Darfield bowlers

contributed to the Sefton

collapse. They fell two runs short

and now face a must-win game

next weekend if they are to make

the semi-finals.

Weedons batted first on their

home ground against visiting

Cheviot. Brad Nightingale

continued his fine form with

a commanding 79 off 102,

including 11 boundaries.

Other batters chipped in as

Weedons posted a solid 213/9 off

their 45 overs.

The Cheviot run chase was

done by committee, with six

batsmen each scoring between

18 and 37 runs. Club stalwart

Woody Anderson top-scored.

Weedons tried seven bowlers

100%

Capital gain

to the resident

GOOD TECHNIQUE: Weedons' Brad Knightingale whips the ball off his legs on the way to 79

from 102 balls.

PHOTOS: KAREN CASEY

to defend their score, but they

couldn't stop the Magpies taking

the much-needed points with

three-wickets to spare and

leapfrogging Sefton into third

place.

Competition leaders

Southbrook didn't like the

look of the Leeston wicket on

Saturday.

Their concerns escalated when

opener Tony Hancox suffered an

early painful blow to the ribs.

Southbrook's innings never

got going, with No 11 batsman

Anthony Tavendale – in the

tradition of his grandfather

Wayne and father John, both

'Brook legends – took the long

handle and smashed the top

score of 20 off 18.

Southbrook were scuttled

for 73 runs, with ex-Dutch

international Tim Gruijters

DANGEROUS: Josh Watson survives a close run out

opportunity.

$1,000 fully

refundable

deposit

extracting big turn and bounce

with his off-spinners for 4-13

off nine overs. He was wellsupported

by former Nelson

player Tim Field who took 3-9 off

4.1 overs with his left-arm pace

bowling.

Leeston-Southbridge knocked

off a tiny total easily in the

16th over with Canterbury A

wicketkeeper batsman Joel

Harden the only wicket to fall.

Harry Chamberlain continued

his good form, scoring 37 not

out off 35 balls, supported at

the other end by a patient Liam

O'Sullivan who was unbeaten

on 20.

•More sport,

page 22

BIG SWING: Tom Suyker has a

big heave.

SHOT: Lochie Stove strikes the

ball down the ground.

OUT: Cheviot's Will Hamilton

dives to take a low catch.

investMent in your retirMent and

reap the reWards in rolleston

E S T A T E

Phone. 03 421 7796 | Email. sales@woodcroftestate.co.nz

WOODCROFT WAY, 28 KENDON DRIVE, ROLLESTON, CANTERBURY

rolleston's neW registered retireMent village

• Initial weekly fee of $75 includes rates & full insurance

• Gated community and emergency call button in each villa

• Two & three bedroom villas with single/double garage from $450,000

• There will be an on site manager and a pavilion and bowling green

• Show Home now open Monday to Friday 10am to 2pm or weekend

viewing by appointment call Corinne 021 292 1141

www.manorgroup.co.nz
---
SELWYN TIMES Latest Christchurch news at www.star.kiwi

Wednesday February 27 2019 17

of final round

CLOSE CALL:

Tom Suyker

survives a

caught and

bowled chance.

Unexpected

NZ call up

for Darfield

batsman

IN FLIGHT:

Lochie Stove

(below) lines up

a delivery from

Charlie Sidney.

ALL EYES: Jason Pawson

prepares to play a back

foot shot.

SAFE: Frazer Austin makes

sure his bat is in the crease.

• By Jacob Page

DARFIELD CRICKETER Jesse

Frew was as shocked as anyone

when his name was called out

for the New Zealand under-19

squad's tour of Bangladesh in

April.

"I wasn't expecting it at

all after I didn't make the

Canterbury under-19s," he said.

Frew, the son of longtime

Canterbury Country

representative Rob Frew, is

known as a toporder

batsman

who can also

open the

bowling.

However, a

stress fracture

in his back

kept him

away from the

bowling crease

this summer,

which he felt

had limited

his chances to

push for higher

honours this

season.

"I made the

Canterbury

under-19s last season but was

dropped this year and was told

with my body being injured,

they were unsure if it could

handle a cricket tournament, "

he said.

The 17-year-old St Andrew's

College student, who lives and

plays his cricket in Darfield,

scored 93 not out in his first

game of the season for the

Darfield premier team a

fortnight ago.

Jesse said he remembers

watching his dad play in the

Hawke Cup when he was young

and he joined the Greendale

Club as a four-year-old before

moving to Darfield as he

progressed through the ranks.

"I had a bat and ball in my

hand as soon as I could walk I

think. I tried a bit of everything

when it came to cricket when I

was younger and that's carried

on through."

Jesse is one of three

Canterbury Country players

to make the squad, with

Rhys Mariu

(Rangiora) and

Angus Sidney

(Cheviot) also

in the side.

The team will

be coached by

Canterbury

Country legend

and former

Black Cap Peter

Fulton.

The tour

will start with

a 50-over

warm-up game,

followed by

Jesse Frew five 50-over

matches. The

schedule for the series has not

yet been announced.

Jesse said he has gained a lot

of confidence from making the

squad purely as a batsman. He

had to go through 16 weeks of

recovery before he could even

bowl again.

"There's nothing fancy about

the recovery, it's just rest and no

bowling."

Jesse aims to be back

performing both disciplines in

time to push his claims for the

under-19 World Cup in South

Africa in January.

Our gorgeous range of..

sandwiches, paninis, bagels,

scones, slices, muffins,

quiches, sausage rolls & pies,

coffee and more!

CATERING AVAILABLE!

Gorgeous Food

specialist bakery

OPEN

SATURDAY

7am - 1.30pm

66-68 Springs Rd Ph: 344 6044 Email: gorgeousfood@xtra.co.nz

Open Monday-Friday 6am-3.30pm www.gorgeousfood.co.nz

Air conditioning checks

Mobile WOF's

Safety checks

For agricultural/farm/heavy machinery and forklifts

Additionally, we can also offer at our premises:

• Light engineering services

• Pre COF-checks and IN HOUSE

• WOF's of all light vehicles

COFs in conjunction with VTNZ

• Vehicle advice

• Batteries sales

• Vehicle repairs and maintenance • Forklift hire

• Brake roller testing

• Breakdowns

Port Hills Truck Centre

7 Brightlings Road, Hillsborough

P: 03 376 5653

E: phtc@xtra.co.nz

www.porthillstruckcentre.co.nz

Call us today

for enquires and

pricing options
---
18

Wednesday February 27 2019

Latest Christchurch news at www.star.kiwi

Selwyn Times

SUMMER

Council's work in connecting people to their community continues with the Picnics in the Park

hitting venues around Selwyn!

Families have been connecting with their local park in Springston, Leeston, Tai Tapu, West Melton

and Burnham, while being entertained with Lieutenant Lou clown police, Rick the Policeman's

speed camera sprint racing, Pedalmania bikes, garden games, bouncy castles and face painting.

Live music from local artists such as Holly Kimber, Alex Hardy and Moonflower has created a

relaxed and welcoming atmosphere. It has been great to see families being active or relaxing but

most of all enjoying the atmosphere at their local park.

We have three more Picnics in the Park coming up over summer – at Dunsandel Domain (28

February), Springfield Domain (7 March), and Prebbleton Community Park combined with Summer

Skate/Scooter Jam (13 March), all from 5.30–7.30pm.

Birchs Road footpath upgrade

Work is about to get under way on a footpath upgrade on Birchs Road, in Lincoln.

The $250,000 project involves installing new footpath, kerb and channel and stormwater improvements

on a 700-metre stretch along the western side of Birchs Road, between Grangewood Drive and

Carnaveron Drive.

Council Assets Manager Murray Washington describes the work as an urbanisation upgrade. "This area

has grown rapidly in recent years, with further subdivision currently under way," he says. "The upgrade

reflects the need to bring amenities up to a standard that's appropriate for a more urban environment,

which has developed through recent growth.

"As well as creating a more attractive streetscape, the new footpath will improve safety for pedestrians,

with many children and families using this road daily to travel to and from the township and local

schools. The project will also include tactile pavers at road crossings for the visually impaired."

The existing bus stop on the western side between Grangewood Drive and Craig Thompson Drive will

be upgraded to a full bus bay, along with the installation of a bus shelter which is being relocated from

the now unused bus stop outside the Lincoln police station. The project does not include piping the

open drain that runs alongside the road.

Construction work will start during the coming week, and is expected to take approximately eight

weeks to complete. Schick Civil Construction are the contractors on the project.

During construction some impact on traffic may occur, including heavy vehicle movements, temporary

speed restrictions when required and parking restrictions on Birchs Road.

in

SELWYN

Picnic in

the Park

Helping parents with teen drivers

Parents play a large part in the safety of their family when their

teenagers learn to drive.

We have been rolling out a series of successful workshops at our

libraries educating families about the licence process and how to

improve the safety of their teenager. These workshops are run by

Council Road Safety Coordinator, Peter Daly.

"It can be a scary time for parents when their teenager is learning

to drive. We want to help make the licence process as easy as

possible and answer any questions parents may have," he says.

We have two more classes coming up on Wednesday 27 February

at Darfield Library and Wednesday 6 March at Leeston Library.

Following on from these sessions we will be hosting 'Teen

Coach' workshops at our libraries for parents and caregivers.

These workshops will offer practical tips on how to safely coach

a learner driver.

For more information and to book go to selwynlibraries.co.nz/events.

Volunteering in Selwyn

Volunteering Canterbury is setting up a six-month initiative in

Selwyn to connect residents looking to volunteer with local notfor-profit

organisations, and to assist local organisations looking

for volunteers.

Throughout March, residents and organisations can drop-in to one

of the local sessions. These are for anyone interested in volunteer

engagement, recruitment, retention, recognition, or those who want

to find out more about volunteering.

· Rolleston Library: Tuesday 26 February, 9am–1pm

· Darfield Library: Tuesday 5 March, 9am–1pm

· Leeston Library: Tuesday 12 March, 9am–1pm

· Lincoln Library: Tuesday 19 March, 9am–1pm

Volunteering Canterbury enables the successful employment

of volunteers by not-for-profit organisations, and promotes the

benefits of volunteering to people and communities. The regional

website receives around 200 new registrations each month from

people putting up their hand to find out how they can get involved

in making connections in their community, giving back, and just

generally 'making a difference' through volunteering.

For more information contact outreach@volcan.org.nz.

Prohibited fire season declared

Fire and Emergency NZ has declared a Prohibited Fire Season in the

Selwyn district, which came into effect from midnight Wednesday

20 February.

Any fire permits issued during the restricted

fire season are suspended.

Visit www.checkitsalright.nz for authorised

types of fire which do not need a permit.

Progress on park-and-ride project

Contractors are continuing to clear and excavate the area between

the Council building and Kidman Street. Construction of the car

park is planned to begin this week as well as kerb preparation,

depending on the weather.

RATES REMINDER

By now you should have received your rates invoice for the

third quarter of the 2018/19 rating year. These were sent out

in early February.

This invoice covers the period from 1 January to 31 March

2019, and is due for payment without penalty by Friday 15

March 2019.

If you have not yet received your invoice, please contact our

Rates Department on 347 2776 to discuss, or email us at

rates@selwyn.govt.nz.

If you have recently moved into a new dwelling in Selwyn,

please contact us to update your address and contact details.

Council Call

Selwyn District Council

Norman Kirk Drive, Rolleston

Ph 347 2800 or 318 8338

Rolleston Library

Rolleston Drive, Rolleston

Ph 347 2880

Darfield Library & Service Centre

1 South Terrace, Darfield

Ph 318 8338 or 347 2780

CC270219
---
Selwyn Times Latest Christchurch news at www.star.kiwi

Wednesday February 27 2019

19

Notices

ALCOHOL NOTICES

Wine Divine Limited has

applied to renew its off

licence. Objections are open

until Monday 11 March. For

information go to selwyn.govt.

nz/alcoholnotices.

MOBILE LIBRARY

TIMETABLE

Wednesday 27 February

Arthur's Pass 11.30am–12.30pm

Springfield School 2–3pm

No mobile service from

Thursday 28 February–Monday

4 March.

Meetings

Public Forums: Council,

Community Board and local

committee meetings are open

to the public. Time is available at

the start of meetings for people

to speak on matters of concern.

Please notify Bernadette Ryan

or your local committee at least

three days before the meeting.

Township, Hall and Reserve

Committees: To list or make

changes to meeting details, email

meeting.changes@selwyn.govt.

nz or phone 347 2800 or 318

8338 by 9am Wednesday the

week before publication.

COUNCIL AND COMMUNITY

BOARD

Unless otherwise stated all of

these meetings will be held at the

Rolleston Council Building.

District Plan Review Committee

Wed 27 Feb 9am

Selwyn Waihora Zone Committee

Tue 5 Mar 2pm

ON THE

ROADS

Tuesday 5 March

Kirwee School 10.45–11.15am

Annabel's West Melton

11.40am–12.10pm

West Melton Community Centre

12.15–12.45pm

West Melton School 1–1.45pm

West Melton Learning Centre

1.50–2.20pm

Cat's Pyjamas West Melton

2.25–2.55pm

MICROCHIPPING

Free dog microchipping will take

place on Friday 8 March at

· Leeston: 9–9.30am

Property Committee

Wed 6 Mar 9am

Audit and Risk Subcommittee

Wed 6 Mar 3pm

Council Meeting

Wed 13 March 1pm

LOCAL COMMITTEES AND

ASSOCIATIONS

Killinchy Community Centre

Committee

Mon 11 Mar 7.30pm

Killinchy Community Centre

Kimberley Reserve and Hall

Committee

Thu 28 Feb 7.30pm

Kimberley Hall

Kirwee Recreation Reserve

Management Committee

Mon 11 Mar 7.30pm

Kirwee Recreation Reserve

Sports Pavilion

Lincoln Community Committee

Mon 11 Mar 7pm, Lincoln Event

Centre Fitzgerald Room

On the roads this week

· Darfield: 10.15–10.45am

· Rolleston: 11.30am–12pm

· Lincoln: 12.45–1.15pm

Please note:

· Clinics last for only 30 minutes

· The Rolleston venue is Norman

Kirk Drive (off Rolleston Drive),

other locations are outside

libraries

· Microchipping won't occur if

wet.

If you have any questions

regarding microchipping, please

contact Tracey on 347 2800.

Rolleston Community Centre

Management Committee

Thu 28 Feb 7pm

Rolleston Community Centre

Southbridge Advisory

Committee

Mon 11 Mar 7pm

Southbridge Hall meeting room

Tawera Memorial Hall

Committee

Wed 6 Mar 7.30pm

Tawera Memorial Hall

Waihora Park Reserve

Committee

Tue 5 Mar 7.30pm

Waihora Bowling Club

Weedons Reserve Committee

Mon 4 Mar 7.30pm

Weedons Reserve

Whitecliffs Township and

Domain Committee

Mon 4 Mar 7.30pm

Glentunnel Hall

Seal repairs will be carried out on Wards Road. Road reconstruction (granular

overlay) on Leaches Road and Cordys Road. Reseals will take place on Bealey

Road. Kerb and channel and footpath construction will continue on Masefield Drive.

Drainage work will begin on Highfield Road, Midhurst Road and Downs Road. Kerb

and channel and footpath construction will commence on Birchs Road, Lincoln.

CSM2 update

Weedons Road is closed at the Main South Road intersection until approximately the end of March.

This closure is to allow the project team to continue construction of the Weedons Interchange.

Following this work, the new south bound on-ramp will open to provide access from Weedons Road to

Main South Road.

From late February a series of staged layout changes will take place on Main South Road, between

Robinsons Road and Waterholes Road.

· Construction of the Robinsons Road overpass will commence.

· Curraghs Road will be closed at Main South Road with detours in place.

· Robinsons Road will become 'left in/left out' to and from Main South Road during the overpass

construction.

· Main South Road traffic will be diverted over the new Main South Road bridge.

Please follow all on-site signage and drive to the conditions, as traffic management and temporary

speed limits will be in place.

For more information visit nzta.govt.nz/csm2.

Aqua-thon proves popular

Last week the Selwyn Aquatic Centre hosted their first ever

'Aqua-thon for Charity' event.

The event included 15 minute 'tasters' of each aqua fitness class

offered at the facility, in both the hydrotherapy and 25m pool.

The instructors joined together to push everyone to their limits.

The event proved to be very popular, raising over $200 for

Arthritis NZ, which supports people with this condition that greatly

benefits from exercising in the water.

Check out the full timetable for all aqua fitness classes at

selwyn.govt.nz/sac.

Selwyn Events

SUMMER IN SELWYN

WEDNESDAY

27

FEBRUARY

SUMMER IN SELWYN

THURSDAY

28

FEBRUARY

FRIDAY

1

MARCH

SUMMER IN SELWYN

FRIDAY

1

MARCH

SUNDAY

3

MARCH

MONDAY

4

MARCH

SUMMER IN SELWYN

WEDNESDAY

6

MARCH

SUMMER IN SELWYN

THURSDAY

7

MARCH

Glentunnel Summer Skate/

Scooter Jam

Glentunnel School, 3.30–5.30pm

A great way to introduce children and

young people to skating with free gear

hire, prizes, music and coaching from

experienced skaters.

Dunsandel Picnic in the Park

Dunsandel Domain, 5.30–7.30pm

Spend your summer evening at the park

with live music, Pedalmania, bouncy

castles, face painting, entertainment,

free sausage sizzle and more.

Lake Crichton Series

Triathlon and Duathlon

Lake Crichton Waterski Park,

Dunsandel, 6.30pm

A family-friendly event to finish the

working week with a race. Enter

individually or in a team. To enter go

to selwynsportstrust.org.nz.

Rolleston Drive-In Movie

Rolleston Reserve 7–9pm

Park up and enjoy the movie Up

(2009). Tune in to the special

frequency on your car radio.

SPN Children's Day

Foster Park, 12–3pm

Enjoy a range of fun activities and

entertainment designed to bring families

together and celebrate the importance

of our tamariki. Find Selwyn Parenting

Network on Facebook.

The Hidden Environmental

Cost of Modern Sign

Manufacturing Processes

Lincoln Event Centre, 7–9pm

Anne McDonald from Signs of Art will

be telling us about the large amounts

of landfill and non-recyclable waste

produced through modern sign

production as opposed to traditionally

painted signs. For information contact

Dave Fitzjohn on 03 423 0445 or

projectmanagerlet@gmail.com.

West Melton Summer

Skate/Scooter Jam

West Melton School, 3.30–5.30pm

A great way to introduce children and

young people to skating with free gear

hire, prizes, music and coaching from

experienced skaters.

Springfield Picnic in the Park

Springfield Domain, 5.30–7.30pm

Spend your summer evening at the park

with live music, Pedalmania, bouncy

castles, face painting, entertainment,

free sausage sizzle and more.

For information on listing a community event visit

selwyn.govt.nz/councilcall

Leeston Library & Service Centre

19 Messines Street, Leeston

Ph 347 2871

Lincoln Library & Service Centre

Gerald Street, Lincoln

Ph 347 2876

(03) 347 2800

Darfield call free 318 8338

www.selwyn.govt.nz

SelwynDistrictCouncil
---
20 Wednesday February 27 2019

Latest Christchurch news at www.star.kiwi

SELWYN TIMES

YOUR CLUB

NEEDS YOU.

People of Canterbury, The Draft is now

open; sign up to your local rugby club

for the season ahead.

REGISTER TO PLAY NOW

CRFU.CO.NZ

Banks Peninsula

Diamond Harbour

Prebbleton

Southbridge

Burnham/

Dunsandel/Irwell

Darfield

Kirwee

Leeston

Lincoln

Rolleston

Selwyn

Sheffield

Springston

Waihora

West Melton

Season starts end of March 2019

YOUR CLUB.

YOUR CANTERBURY.
---
SELWYN TIMES Latest Christchurch news at www.star.kiwi

Wednesday February 27 2019 21

'Special' goal enhances

bid for under-20

World Cup squad

• By Gordon Findlater

A BUSY SEVEN days was capped

off in style by Darfield teenager

Seth Clark when he scored the

winning goal at English Park

on Sunday to book Canterbury

United a play-off spot.

Clark, 18, was substituted

on with 30min remaining in

United's match against Team

Wellington last weekend. With

the scores level at 1-1 the attacking

midfielder became the hero

in the 89th-minute when he

finished off the 2-1 victory.

"I think it was one of the most

significant goal I've ever scored,

it's a good feeling that we're in

the play-offs again," said Clark.

The effort, which saw him

receive the ball on the edge of

the area and turn two defenders

before moving the ball onto

his favoured left foot and curling

it into the back of the net, came

much to the delight of coach

Willy Gerdsen.

"I have seen many goals in my

career, but that goal was something

special," said Gerdsen.

The goal could work as a

springboard in his push for a

spot at this year's under-20 FIFA

World Cup in Poland.

Clark, who has started the

majority of United's games this

season, was introduced from

the bench because he was only

able to attend one team training

session during the week.

Following United's 4-2 win at

Hamilton Wanderers the prior

Sunday, Clark and fellow United

player Jacob Richards travelled to

Auckland on Monday morning

for a four-day under-20 identification

camp in preparation for

the tournament in May.

Following the camp's conclusion

on Thursday he flew back to

Christchurch to attend United's

Friday evening straining session.

The teenager isn't new to travelling

in the pursuit of a professional

football career. Clark lives

in Darfield and commutes into

Christchurch each day to train.

The revolution

in heat pumps

is here now!

WINNER: Seth Clark is embraced by his teammates after

scoring an 89th minute goal in Canterbury United's 2-1 win over

Team Wellington at English Park on Sunday.

PHOTO: MARTIN HUNTER

With two round-robin matches

remaining and a play-off spot

now confirmed, Clark will have

ample opportunity to push his

case for under-20 selection on

the country's biggest stage domestically.

"I just need to keep playing

well and hopefully the selectors

and the coach will see that," said

Clark.

The revolution in heat pumps is here now!

The Fujitsu e3series

The brilliant

heat pumps from Fujitsu

e1 : efficiency

e2 : environment

e3 : economy

Website: www.pshc.co.nz

FREE consultation from your local

Accredited Heat Pump Expert

Phone today: 03 381 6950

INSERT DEALER DETAILS HERE

The brilliant e3 series

heat pumps from Fujitsu

e1 : efficiency

e2 : environment

e3 : economy

NEW ZEALAND'S FAVOURITE AIR

United are currently fourth in

the national league. However,

they have a chance to finish as

high as second which would

grant them a home semi-final.

After recently finishing his

final year at Middleton Grange

School Clark is also hopeful of

securing a football scholarship

to a United States college by

August.

Fujitsu's Catechin Filters are

approved by the Asthma and

Respiratory Foundation NZ's

Sensitive Choice ® programme.

Email: info@pshc.co.nz

• By Jacob Page

SELWYN SPRINTER Maia

Broughton is on the fast track to

success.

The 17-year-old is the current

national secondary schools 100m

and 200m champion but she

believes her best distance is the

400m.

"It's always a bit of a

surprise when I win the

100m because I don't

have a great start out of

the blocks.

Maia, who moved

from Lincoln High

School to St Andrew's

College last year, was

the first member of the

Selwyn Athletics Club

when it was formed in 2010.

She said she's committed to

showing the area has plenty of

talented athletes.

"I just want to show the

younger ones that they can do it

and that they're all doing really

well, " she said.

A cold last week saw her

chances of success at last

weekend's Canterbury

Championships curtailed but she

had some specific goals for this

season.

"This season, I'd like to run the

400m in 55sec, the 200m I'd like

to go low 24sec and the 100m I'd

like to go under 12sec," she said.

SPORT

Sprinter has sights

set on success

• By Jacob Page

ROLLESTON'S Brookside

Park will host the three-round

Canterbury Duathlon Series

which starts in June.

THe event, which has been

held for the past 13 years, was

previously the Ashburton

Duathlon Series and was held at

the Ashburton Domain.

Organiser John Moore from

CJM'S Events said 60 per cent

of the competitors were from

Canterbury regions.

"We thought, why not try it in

Rolleston and see if we can build on

the 130 athletes we had last year."

Maia's mother, Kim, father,

Marcus and nana Karen were all

sprinters back in their youth so

the sport runs in their family.

"It was the athletics days

at Rolleston Primary where I

realised I could run faster than

most and I joined the Selwyn

club soon after that.

"Before that I was

really into netball and

thought I was going

to be a centre for the

Silver Ferns one day.

Maia now spends

11 months of the year

training towards her

sprinting goals with

coach and former

Commonwealth

Games sprinter Bev

Peterson.

Maia's main aim is to win the

200m and 400m at Nga Puna

Wai next month before she

defends her national secondary

schools' titles in Wellington in

November.

She would also like to

represent New Zealand at a

Commonwealth Games or Youth

Olympics in the future.

Once she finishes high school

at the end of the year, her options

are endless.

"I haven't thought too far

ahead but I'll definitely keep

running."

Maia Broughton

Duathlon event for Rolleston

'Famous for their roasts!'

RESTAURANT & CAFÉ

Kid's SPECIAL

Two courses

Seniors SPECIAL

Two courses

$13

We are family friendly. Great Kids menu plus designated play area.

Soup/Roast or

Roast/Dessert

Special available lunch only

Monday - Saturday 12pm - 2.30pm

$22

THe name change means

the race series could be held

anywhere in Canterbury in the

coming years.

"We're always looking at

all options going forward but

Brookside Park is an ideal

location, nice and easy and good

for spectators because they will fit

in a 1.25km loop, " he said.

Moore said the event would

keep its family feel but there

would be a points series to crown

an overall champion over the

three races.

THe first race will be on June 9

with races two and three on June

30 and July 28 respectively.

Start your

day with us

We are open from 6.30am

Cooked

breakfasts

$19

Check out our extensive

breakfast menu from

Continental to Cooked

The

RACECOURSE HOTEL

& Motorlodge

118 Racecourse Rd, Sockburn,

Christchurch. Ph 03 342 7150

www.racecoursehotel.co.nz
---
22

Wednesday February 27 2019

Latest Christchurch news at www.star.kiwi

SELWYN TIMES

College year starts off competitively

Ellesmere

College

year 7 and

8 teacher

Dean

Mower

writes

about the

start to the

school year

AS WE officially end week four

of the year, the college is already

dwelling on its busy start to the

year.

The year began in week one

with a two-day year 13 training

course. On day one, the year 13s

were looking at the expectations

around being a year 13 and,

by default, a leader within the

school environment.

Principal Ronan Bass

highlighted the importance of

role modelling, attendance and

knowing what your focus for the

year is.

The students also did some

team building skills and games

within their whanau groups so

that they could, in turn, lead

some sessions within their

whanau classes.

On day two the focus was

working as a team. The group

went into Christchurch and took

part in a visual scavenger hunt

in and around the Botanical

COMPETITORS: Ellesmere College swimmer Lily McClure competes in breaststroke finals. Right – Hillary Barrett in a

team-building exercise.

Gardens. Many of the students

had not visited the gardens

before and were a little in awe of

the sheer size of the location.

After having a picnic lunch they

then went to Garden City Bowl

and had an inter-whanau challenge

to see which whanau would have

the highest average. (Rimu were

helped by an impressive score from

their whanau co-ordinator – Kim

Thomas).

Week two saw the official start

of the academic year and as has

become the tradition on the first

morning, a Mihi Whakatou to

welcome the new members into

the school community was held.

With its increasing role it has

now become impossible to hold

SCHOOLS

a whole school assembly in the

school gym and so the powhiri

was held outside on the school's

tennis court.

With about 130 new students

and 10 new staff the manuhiri

(new people or visitors) were

an impressive group and were

not intimidated by the tangata

whenua (local people). They were

then welcomed by Waimaria

Brown (the Kaikaranga), the

manuhiri were greeted with a

formal welcome (kaikorero)

delivered by TJ Gibson and a

reply by Josh Thompson.

Both speakers were supported

by their respective groups, who

sang a waiata. The ceremony

finished with a brief hongi to

formally welcome the manuhiri

as part of the tangata whenua

On February 14, the college

held their annual swimming

sports at the Southbridge

Community Pool.

With over half the school

competing, the atmosphere

was positive and had a real

competitive edge.

Senior students in each of

the whanau worked well to

develop a real spirit and one of

the highlights of the day was

an impromptu chant-off, which

was probably heard right across

Southbridge township.

Other highlights included a

whanau challenge race where

senior students had to tow

juniors up and down the pool

using noodles, the regular cross

whanau relays and the ultimate

relay of staff v year 13.

This year the staff managed

to 'field' two teams and without

even the slightest hint of bending

the rules managed to finish in

first and second place.

A great day was had by all

and now we look forward to the

Selwyn athletics day coming up

in a couple of weeks.

Endemic moth with striking wing pattern

A RATHER stunning endemic

moth found in my backyard is

the forest semi-looper, Declana

flocossa.

The moth has a wingspan

of 27-35mm and is extremely

variable in wing pattern and

colouration.

One feature that does help to

identify it is the raised ridges of

scales on the forewing. Like other

Declana species, moths rest with

wings shaped like a roof over

their body.

They are also bark or lichen

mimics and are commonly found

resting on tree trunks or fences.

Female moths lay oval-shaped

eggs in an upright position on

Mike Bowie is an ecologist who specialises in

entomology (insects and other invertebrates).

Each week he introduces a new species found

in his backyard at Lincoln. His column aims

to raise public awareness of biodiversity, the

variety of living things around us. Check out

the full list of invertebrates found at http://naturewatch.

org.nz/projects/backyard-biodiversity-bugs-in-lincoln

BACKYARD

CRITTERS

leaves of the host plants which

include natives such as kanuka,

beech and tutu. Exotic host

plants include pine, eucalytus,

douglas fir and larch.

Larvae reach a length of 30mm

when they descend to the ground

on a silk thread to pupate in or

on the leaf litter.

They construct a rough cocoon

using fragments of leaves or

needles.

Only one generation occurs per

year.

SURF'S UP SCOTTY RAZOR ROBERTSON PROFILE

APRIL 2018

TJ'S

CHASING

GREAT CALEB

ONE

MORE

COVER

LINE

The power

of Perenara

6 issues (1 year) $44.50 • 12 issues (2 years) $79 • 18 issues (3 years) $115

rugbynews.co.nz 0800 77 77 10

SUPER

RUGBY'S

G.O.A.T

CORY JANE

Social Media Animal

RRP $9.95

+

WHO

PLUS...

KEEPING

TABS ON

MATSON

Chief

Tabai's

Tron tribe

CLARKE

Chip off the

old block

XVs

1ST XVs

PLAY LIKE PROS

A school boy rugby

investigation

WHO WILL

MAKE THE

AB CUT?
---
SELWYN TIMES Latest Christchurch news at www.star.kiwi

Wednesday February 27 2019 23

2

A

EVENT

CITY2SURF

with Les Mills

Sunday 24 March

#Areyouupforit?

14km, 6km Community

Fun Run Event

It's our

45th

Anniversary Year!

EntEr NOW!

Entry $25 (children 10 and under free)

Available online now from city2surf.co.nz or at these outlets
---
24 Wednesday February 27 2019

Latest Christchurch news at www.star.kiwi

SELWYN TIMES

Subaru Forester a worthy car of the year

Motoring

Ross Kiddie

MY WIFE and I consider

Queenstown one of our favourite

holiday destinations. We have

driven there often, the roads

and scenery on that journey are

magnificent.

Every time I've driven past the

famous Bendigo station, south

of Omarama, I've looked in and

wondered what intrigue lies

behind the front gates.

Well, now I know. When

Subaru launched its latest

generation Forester to the media

it included a drive through some

of the rugged tracks that link old

gold mining settlements, farming

blocks and now vineyards. Not

only was the experience a way

to explore the history of that

area but it was a good test of the

Forester's off-road ability.

The Forester is brand new for

2019, it's a new shape, yet it still

utilises most of the mechanicals

that make the Impreza-based

sport utility vehicle a force to be

reckoned with in the mid-size

market.

It's fair to say, too, the Forester

is state-of-the-art in terms of

four-wheel-drive engineering, all

the trickery you need to travel

off-road are included.

There are three models in the

line-up, and it must be said that

the Forester is still the bargainbased

model which has sold in

large numbers in New Zealand.

The range starts at $39,990,

there's a $44,990 Sport Plus

model while a Limited variant

lists at $47,490. The test car was

the latter and it bristles with

fitment and specification.

All Foresters here now get

a 2.5-litre, quad-camshaft,

horizontally opposed, fourcylinder

petrol engine, and it

does a sterling job in terms of

power output and economy.

Rated with 136kW and 230Nm

(5800rpm and 4400rpm

respectively), and listed with an

7.4-litre per 100km (38mpg)

combined cycle fuel usage rating,

the Forester is not short on the

ingredients which make it feisty

and frugal.

On my home patch for a

week, the trip computer was

constantly showing around

9l/100km (31mpg), and it

registered a 4.5l/100km (62mpg)

instantaneous readout travelling

at 100km/h (engine speed

1500rpm).

Drive to all four wheels

is channelled through

a continuously variable

SUBARU FORESTER: Perfect for alpine roads.

transmission. The benefit of CVT

is its lightweight, and the ability

to harness power without loss

through a torque converter.

There's little downside to

CVT, the only notable

comment is that the engine

appears to have more freedom,

and that is a good thing, there's

a constant feeling of liveliness

within the driveline.

As a consequence, the Forester

has good acceleration, it will cut

out a standstill to 100km/h time

in under 10sec, and punches

through a highway overtake

in 6sec (80km/h to 120km/h).

Strength for the latter is provided

by the healthy torque figure and

the natural force developed by

horizontally opposed engines,

they work tirelessly through the

mid-range.

Given the time we had at

Bendigo Station, I didn't feel the

need to spend any time off-road

locally; however, I can report

that with a generous 220mm of

ground clearance the Forester

is adept in the rough stuff, with

fully independent suspension and

permanently engaged drive to all

wheels, the driver can gain plenty

of confidence travelling crosscountry.

Even though the tyres

(Bridgestone Dueler 225/55

x18in) don't have an aggressive

off-road tread pattern, grip is

still well enhanced, and if treated

sensibly the Forester will take you

places well off-the-beaten-track

thanks to an X-Mode driver assist

function, it is there to manage

engine output, and drive, in hilly

sections.

Although the ski season is still

some way off, the Forester is the

quintessential vehicle for winter

sport enthusiasts, its drive system

• Price – Subaru Forester

Premium, $47,490

• Dimensions – Length,

4625mm; width, 1815mm;

height, 1730mm

• Configuration – Fourcylinder,

four-wheel-drive,

2498cc, 136kW, 239Nm, CVT.

• Performance –

0-100km/h, 9.5sec

• Fuel usage – 7.4l/100km

is tailor-made for the trek up the

alpine roads.

On-road handling is also

keen, constant four-wheel-drive

encourages grip, and with its low

centre of gravity, the Forester is

an SUV which handles like the

family sedan.

For its price the Premium-spec

Forester is well appointed with all

of the comfort and convenience

items you'd expect on a premium

model, although I couldn't find

any seat heaters and that's a

disappointment. However, it

does get Subaru's Eyesight safety

technology which goes a long

way towards earning the Forester

a five-star Australasian New

Car Assessment Program safety

rating.

Over the years the Forester has

cemented itself well into Kiwi

culture, so much so it has become

one of our sport utility vehicle

favourites. And the new model

has already won the New Zealand

Motoring Writers' Guild Car of

the Year award, an honour well

deserved.
---
SELWYN TIMES Latest Christchurch news at www.star.kiwi

Wednesday February 27 2019 25

NEW

NEW

TRITON

AVAILABLE

NOW FROM

$35,990 +ORC*

* Price excludes on road costs, which

includes registration, WoF, 1,000km road

user charges and a full tank of fuel. VRX

Model Shown. All-terrain tyres shown

are available at additional cost. Visit

mmnz.co.nz for full Diamond Advantage

warranty conditions.

BLACK EDITION

$29,990

+ORC*

Enjoy the connectivity and

design of the ASX 2WD XLS,

now with stunning panoramic

roof, push-button start and

distinctive factory-fitted

black body kit: 18" Alloys,

front bumper, lower front

grille, belt line, door mirrors,

aluminium pedals and red

interior stitching.

All these features are

available in every colour.

*Price listed is for ASX Black Edition.

Price excludes On Road Costs which includes

WoF, Registration and a full tank

of fuel. Offer available while stocks

last. Visit mmnz.co.nz for full Diamond

Advantage terms and conditions.

CHRISTCHURCH MITSUBISHI

386 Moorhouse Avenue, Christchurch.

03 379 0588 | christchurchmitsubishi.co.nz

10 year / 160,000km Powertrain Warranty (whichever comes

first) (non transferable). 5 year / 130,000km New Vehicle

Warranty (whichever comes first) (non transferable).
---
26 Wednesday February 27 2019

Latest Christchurch news at www.star.kiwi

MY PRIDE AND JOY

SELWYN TIMES

A lifetime love of rail

Graham at the controls in the locomotive

cab doing what he loves to do.

While many of us love journeying by

train, for Rolleston local Graham Lawn, rail

has been a lifetime journey which started

when he was a young boy.

"Dad was a Signal Maintainer, stationed at

Ward from 1953 to 1968," explains Graham

whose fascination for trains stems from the

time he rode on jiggers with his father.

Graham attended Marlborough Boys

9198779AA

Jones Road, Rolleston, RD 7

Christchurch

Ph 347 8703 Fax 03 347 9576

Mob 027 228 2854

Email cameron.hcc@paradise.net.nz

College in Blenheim, travelling 30 miles to

school by bus before the family moved to

Blenheim. On leaving school, he took up a

diesel mechanic apprenticeship with Tractor

Services Marlborough then progressed

to rail, starting as a trainee locomotive

assistant (his apprenticeship giving him an

insight into how diesel engines operated).

"In those days, you sat beside the driver

• Panelbeating

• All insurance

claims

• Sandblasting

• Spray (Bake)

Painting

• Truck Refinishing

• Windscreen

Replacments

• Chassis

Straightening

• Motorhome

Refinishing

• Loan Cars

for five years before being eligible to sit your

driver's certificate. Employees were judged

on seniority whereas now it is on merit,"

explains Graham.

On 3rd February this year, Graham

celebrated 46 years in rail. In that time he

has fulfilled a number of roles, moving into

training in 1990. He has been National

Training Manager for Tranz Scenic (now

The Great Rail Journeys of New Zealand)

and currently teaches trainee drivers topics

such as air brake and mechanical, rules

and codes, and train handling using a

locomotive simulator, of which he is one of

the two main trainers in the country.

His passion for rail led him to begin

collecting memorabilia, photographing

trains, locomotives and his railway

experiences, then collecting old rule

and code books, other books on rail,

maintenance manuals and diagrams of

air brake systems, old torches and lamps,

old uniform items including caps, badges

worn by train drivers on their black

Kaiapoi hats (in the steam and early stages

of dieselisation), and some model engines

and locomotives. He hopes to build on his

collection and one day display the items.

He has also found some of the items helpful

when teaching.

Periodically, Graham conducts seminars

for groups or the public on track train

dynamics from a safety perspective, and

assisted a student produce a DVD on the

effects of level crossing accidents. He was

also involved in recovering the locomotive

that was trapped on damaged track after the

2016 Kaikoura earthquake; an operation

which involved moving the train one

kilometre south so the freight, wagons

Graham in the locomotive

simulator room

and the two 100 ton locomotives could be

trucked out.

"For me, it's not just a job, rail is in

my blood. It's a personal interest. The

memorabilia is something that will allow me

to look back as I get older and be reminded

of my experiences and what I did," explains

Graham whose son Jason has followed his

father and grandfather by also joining New

Zealand Rail.

"I'm lucky to have a job I gain so much

enjoyment from. It's been a great journey

and one of the best parts is seeing the people

I train achieve their goals."

Escort Metal Polishers

Specialists in Metal Polishing & Sandblasting in Christchurch

At Escort Metal Polishers in Christchurch, New Zealand we have over 45 years

experience in polishing, from the engine of your classic car, motorcycle &

marine parts, fittings and fixtures of your home through to commercial and

industrial runs.

We appreciate what it takes to make your car or motorcycle gleam whether

it's just a reshine, polishing up a casting, or preparation for electroplating.

We can do anything from mag wheels to trims, bumpers to manifolds, tappit

covers to exhaust systems, If your parts need electroplated; zinced, nickeled,

chromed or anodised we can even arrange all that for you from our location.

If you've got the metal then we've got the solution! Escort Metal Polishers

provide the best customer service possible and strive to reach the highest

possible level of customer satisfaction.

Call in and see us for a quote.

Mon–Fri: 7am–4pm (often later) | Saturday & Sunday: Closed

21 Maldon St, Christchurch, Phone (03) 366 2708

"south island's leading hot rod shop"

Phone:

0800 872 727

0800 usa PaRts

338 Lincoln Road, Christchurch

P. (03) 379 5585 F. (03) 379 5094

usaparts@americanautoparts.co.nz

www.americanautoparts.co.nz

• Engines

• Performance Parts

• Chassis

• Suspension

• Hot Rod Parts & more

need parts

oVernight?

order by 3pm. Visa ready.

Phone 0800 872 727

We also Cater For Jet Boats & other Motorsports
---
SELWYN TIMES Latest Christchurch news at www.star.kiwi

Wednesday February 27 2019 27

MOTORCARE PROFESSIONALS

Jones Road Auto - bigger

and better

Nigel and Lisa Fleck, owner/operators of

Jones Road Auto, love living in Selwyn, being

part of the vibrant growing community, and

living in a town small enough that many of

their customers feel like friends.

The couple's core values have always

been conducting themselves with integrity,

providing exceptional service and a high

standard of workmanship.

They purchased Jones Road Auto in 2012.

It has grown from two staff to 14 and now

has two branches. The business has grown

massively and Lisa and Nigel are very excited

that they now own their own premises,

which are purpose-built and twice the size

of the previous one.

Jones Road Auto employs a great team of

experienced, high performing mechanics

and fabulous office staff. In their new

premises a service advisor/dedicated

mechanic is accessible for customers in the

front office, to be on hand to answer queries,

131 Iport Drive, Rolleston | Phone 03 347 4020

Nigel, Lisa and the team at their

exciting new premises

quote jobs and assist customers on the spot.

The company's new premises has more

space and staff to reduce waiting lists and

an additional four hoists. They have also

upgraded some WOF testing and diagnostic

equipment.

Electric Vehicle charging points have been

added, ready for future technology changes

and they are currently training their staff

to service and repair these vehicles. Plus

an additional WOF bay has been added to

get through those while-you-wait WOFs at

twice the speed!

The growth of business in Selwyn has been

phenomenal, and Lisa and Nigel have added

a dedicated fleet servicing lane in response

to local demand.

Jones Road Auto now has twice as many

carparks. The waiting room is a cosy place

to relax and take advantage of the guest Wi-

Fi, enjoy a delicious coffee, read a magazine

and, if necessary, recharge your devices.

Nigel and Lisa are enjoying their new

building, and want to say a huge thank

you to their amazing customers and local

community, whose support has been

incredible from the first day they opened

their doors and every day since.

The new premises are located at 131

Iport Dr, which is on the corner of Hoskyns

Road and Iport Dr, at the roundabout

across from ITM.

Jones Road auto

ALL YOUR

MOTORING NEEDS

› While You Wait WOF's

› Courtesy Cars

› Diagnostics

› Repairs › Servicing

› Batteries › Tyres

WE HAvE MOvED 131 IPORT Drive

(Cnr Hoskyns & IPORT drive)

Phone 347 4020 | www.jonesroadauto.co.nz

Specialists in Collision Repairs

From small dings to major repairs

• Two great locations

• Collision repair specialists

• Free loan cars and vans

• Insurance repairs, smash repairs, rust

repairs, fibreglassing

• From motorbikes to horse floats

• No job is too big or small

• Open most Saturday mornings for

customer convenience

BEFORE

BEFORE

AFTER AFTER

107 St Asaph St, City Central

www.rojones.co.nz PH 0800 RO JONES

3 TRUCKS

3 CARS

3 LUBES

3 SERVICING

3 FLEET WORK

3 BOATS

3 DIESEL INJECTOR

3 & PUMP SERVICING

3 ENGINE TUNING

Mon-Fri 7am-5pm

Sat 8am-12pm (WOFs only)

3 BRAKES

3 MAXXIS TYRES

3 WHEEL ALIGNMENTS

3 BATTERIES

3 WOFs

3 CAMBELTS

AND MUCH

MORE!

839 Jones Road, Rolleston P.O. Box 16 Rolleston

Phone Simon on 347 7110 or Mobile 027 272 9213
---
28 Wednesday February 27 2019

Latest Christchurch news at www.star.kiwi

SELWYN TIMES

PETS & PAWS

Luxe Doggy Day Spa

brings bling to Rolleston

Loretta, owner of Luxe

Doggy Day Spa with her

dogs Mac and Oscar

Luxe Doggy Day Spa is a boutique

business in Rolleston. Loretta believes

their point of difference is her genuine

love, patience and appreciation for dogs.

"When a dog gives me a hug, it makes my

day."

She will take special care of your pet,

and care for them like she does her own

dogs, Mac - a Maltese, Oscar - a Shih Tzu

and Bella - a Spoodle.

Every week Loretta puts up a couple

of photos of her client's dogs up on

her Facebook page. Photos of Loretta's

gorgeous doggie clientele looking

blissfully content adorn her website

and Facebook page, alongside glowing

recommendations from their owners.

"Puppy First Groom" is very popular,

a gentle introduction to grooming with

lots of breaks and cuddles, making it as

pleasant an experience as possible.

There is also the Silver and Gold

Packages. All first puppy grooms receive

a welcome gift pack to take home and all

dog grooms receive a bow on their collar

as the final touch.

Many customers are new to the breed

of dog and unsure what is required to

keep them well maintained, so education

is important as they might not be aware

of something their dog needs. Luxe

Doggy Day Spa supports SPCA and the

local vets.

Loretta is part of the National Dog

Grooming Association of NZ; committed

to always keeping up-to-date with the

latest trends.

Luxe Doggy Day Spa is also part of the

Selwyn Network Business Group, and

greatly appreciates the local support.

Loretta has just started using Pampered

Pooch, a range of exclusive products

made in NZ; cruelty-free and completely

natural. Loretta uses their delicious

spritzers and hair serum on tails and ears

for all gold grooms.

Loretta says "A lot of dogs come who

were initially very anxious. It is the

loveliest feedback when a dog starts

wagging its tail in excitement when it

knows it is going to the dog spa."

Luxe Doggy Day Spa is very gentle,

believes in "humanity before vanity"

and giving lots of cuddles. In the

appointments so they can focus on the

dog being groomed, keeping it as quiet

To give your dog a special treat,

call Loretta on 021 68 8803 or email:

purpose-built

crafted a relaxing

building

studio,

Loretta

and spaces

has

out

as possible.

loretta@luxespa.co.nz

Pet Boarding

dog grooming

doggy daycare

Dogs, Cats

Rabbits,

Guinea Pigs

& Birds.

554 Jones Rd, Templeton

P: 03 347 8835 E: bunnylodge@xtra.co.nz

www.bunnylodge.co.nz

Manufacturers of

Fine Natural Pet Food

Variety of 10kg

Mixes

for cats

and dogs

$45-$55

Phone (03) 347 0626

Shop 4, 855 Jones Road, Rolleston (opposite Redpaths)

Hours: Mon-Tue 9am-5pm, Wed-Fri 9am-5.30pm, Sat 10am-1pm

We are

• Mobile

• Prompt

We provide

• Caring

• Reliable

• Full grooming and clipping

• Wash/dry

• Nail trimming

Your local professional

groomers, Jill & Sophie are

available now to book your

dog/s in for a pampering at

your own home.

Call now to seCure your appointment!

0800 454 654

www.jimsdogwash.co.nz

Your local vet right here in the heart of Selwyn!

Selwyn Vet Centre

is a modern, purpose-built totally

independent veterinary practice.

How can we help your precious pet? Call us today!

Phone: 03 347 7419 - Visit: 829 Jones Rd, Rolleston

Email: info@selwynvet.com - Web: www.selwynvet.com
---
SELWYN TIMES Latest Christchurch news at www.star.kiwi

Wednesday February 27 2019 29

Gardening

It's not too soon to be

thinking about autumn

TIRED AFTER a long summer's

labour? Many gardeners don't

realise that an autumn garden

can be stunningly beautiful.

It's not too early to be thinking

of the autumn garden, while we

have been blessed with a hot, dry

summer, autumn is just around

the corner, trees will once again

come into prominence, showing

off rich golds, purples and reds.

Closer to the ground, skilful

gardeners keep the colour coming

with well-selected shrubs and

perennials.

While thinking about the

autumn clean-up, don't be too

quick to cut down some of your

favourite plants.

Experiment by leaving certain

flowers up during the winter

months to appreciate their sculptural

effect.

For more colour from annuals,

plant cool-season types, such as

snapdragons and pansies, which

keep going even after frost.

Ornamental grasses take

their place as autumn nears.

The seed heads of maiden

grass (Miscanthus sinensis

`Gracillimus') are understatedly

beautiful.

MAINTENANCE:

A spiker or

aerator allows

the air to enter

the soil under

your lawn. If you

don't want to

buy a special

tool, a simple

fork does the

job.

Get your tools ready for those

autumn jobs. You'll need a lawn

aerator, lawn spiker and lawn

sweeper, or leaf sweeper.

Lawn spiker and aerator tools

are designed to open up the lawn

to allow air to enter. This is an

important process for maintaining

your lawn and helps with

drainage and allows for backfilling

with sand and autumn

lawn feed.

Hedge trimming should not

be left too late or the frosts will

get into freshly cut stems and kill

them back.

RETAINING MOISTURE: Mulch shouldn't be used to make

your garden look tidy.

Take it easy when

applying mulch

MULCH, IT seems, is the new

compost.

There's nothing wrong with

mulch when it's used judiciously,

but creating ''mulch volcanoes''

around your trees is a very bad

idea, especially when it's done

mainly for aesthetics.

The root zone of an established

tree extends beyond its drip line,

so mounding the mulch against

the trunk does little for the roots,

except cause roots near the trunk

to grow into the mulch volcano.

The piled-up mulch can soften

the bark of some young trees and

invites insects and diseases.

The lower trunk, unlike the

roots, cannot easily survive

long-term with the constant

moisture the volcano traps—it's

the equivalent of planting a tree

too deeply.

Bear in mind that the main

reasons for mulching are to

retain soil moisture, suppress

weeds and moderate soil

temperatures — not to cover the

garden so it looks tidier.

canterbury

timber & Hardware

Are now stockist of Laminata

prefabricated timber fencing

new

product

Lawns & turf care

Irrigation

Paving & patios

Timber work

Retaining walls

Excavation

Planting

Call in today for your free quote!

NEW ENTRANCE: 167 Manion Road, Rolleston

Jason Pester P 03 347 7465 F 03 347 7032 E jason@cthl.co.nz

Mon-Fri: 7am-5pm Saturday: 8am-12pm

canterbury

c t H timber & Hardware

Sustainably sourced, ethically produced

Kiwi construction systems from the

heart of Northland

www.laminata.nz

We are here

The magazine for gardeners who

like to get their hands dirty

SUBSCRIBE FROM

$43. 50*

*6 issues/6 months

$7.90

SUBSCRIPTIONS FREEPHONE

0800 77 77 10

WWW.GARDENER.KIWI

growing with you June 2018 | 100%

Plants For

winter wow

Cool Choices

For Colour

& Contrast

From swamp

to sea views

The journey

begins with sarah

the Gardener

incl. GST

Snap it up

Enter our annual

Birdlife Photo

Competition to win

great prizes!

clear the air

Why groWing

indoor PLAnTs is

so good for you

give it a grow

from gArLic

To chinese

ArTichokes,

We hAve your

groWing TiPs

covered

the latest releases

into the rose world

+ rose care

through winter
---
30 Wednesday February 27 2019

Latest Christchurch news at www.star.kiwi

SELWYN TIMES

SELWYN TIMES

GUIDE TO

THE

2019

Saturday 2 March • Lincoln Domain

How to make the best of this fantastic day out

Can't wait to see you at this year's Selwyn Sounds!

LINCOLN

HIGH SCHOOL

Once again Lincoln Domain will be the perfect venue for

fun in the sun, awesome food and drink, and a stellar

cast of Kiwi music legends. As the sun goes down,

an unforgettable day will culminate with an awesome

performance from the one and only Little River Band!

WATER

CORPORATE ZONE

TOILETS

SMOKING

ZONE

B

A

R

FIRE B

ALCOHOL

FREE

ZONE

POLICE FIRST

AID

GATE A

ENTRY

FOOD CENTRAL

Getting in

We want to make sure everyone

has a great time on the day, and

that there's nothing stopping you

getting into the venue. So there

are some important dos and don'ts

that need to be followed.

To make sure there are no

surprises when you arrive,

take a few minutes to read our

Conditions of Entry.

We recommend you aim to get to

the venue well before the show

starts to get yourself a good spot.

Bus transport

There will be five pick up locations

around Christchurch and the

surrounding suburbs for those who

have pre-purchased bus tickets.

Just remember you need to

check in half an hour before

the bus departs.

Sorry but, due to high demand,

almost all the prepaid bus tickets

have been sold. BUT there is

an excellent regular Metro bus

service to Lincoln on the day

which runs at regular intervals

from Parklands through the city

centre and on to Lincoln.

Getting to

Lincoln Domain

& where to park

Lincoln Domain is located at

15 Meijer Drive Halswell, Lincoln.

There will be parking at Lincoln

High School on Boundary

Road,which is just a short walk

from the venue via a walkway.

You can download a printable pdf

of a map showing the location of

the venue & park from our website:

www.selwynsounds.co.nz

Seating

Zones

We want everyone to have a great

experience and be able to see our

fantastic line up from their seats.

So we have created three distinct

zones at the venue – there will be

no seating of any kind allowed at

the front (but feel free to bring a

picnic blanket), the next section

will be low chairs only, and you

are welcome to bring full height

deckchairs for the deckchair zone.

Thank you for your cooperation

with this.

TOILETS

E

E

E

BAR

DECK

CHAIR

ZONE

DECK

CHAIR

FREE

ZONE

E

Exits

Fire exits

SCREEN

ACCESS WAY

SOUND

SCREEN

Venue layout

Use this map to familiarise

yourself with the layout of the

concert, and help you suss out

the best seats in advance.

DANCE

STAGE

PS1 & PS4

Documentation

DECK

CHAIR

ZONE

SELWYN

NETBALL

CENTRE

ACCESS WAY

SCREEN

TOILETS

GENERATOR

DECK

CHAIR

FREE

ZONE

CABLE RAMPS

GATE B

BACKSTAGE

ENTRY

BACK STAGE ENTRANCE

VIP

AREA

BACK STAGE

E

E

E

FOOD CENTRAL

EFTPOS

FOOD CENTRAL

WATER

TAP

BACK STAGE

FOOD CENTRAL

DRESSING ROOMS

GREEN ROOM

PRODUCTION

OFFICE

CREW CATERING

DISABLED

VIP PARKING

LINCOLN

BOWLING CLUB

TOILETS

GATE

BAG

CHECK

BOX

OFFICE

TICKETS

TICKETS

BAG

CHECK

ENTRY

WRISTBANDS

& TICKETS

Meijer Drive

What's on

& when?

9.30am: VIP & Express Pass

10.00am: GA Gates Open

11.00am: Auto 80

12.15pm: Midge Marsden

1.30pm: Ross Wilson

2.45pm: Golden Kiwis

4.20pm: Leo Sayer

5.40pm: Jon Stevens

7.00pm: Little River Band

Printed

ezyTicket

option

Food

and

drink

If you choose to print your

tickets, please make sure

you print the ezyTicket PDF

found as an attachment to

your confirmation email.

There is no need to print

the email itself!

It's not just the music that's

awesome at Selwyn Sounds!

The food is fantastic too. You'll find

something for everyone in our huge

range of food trucks.

There'll be everything from gourmet

and international cuisine, to good

old kiwi favourites,

If you purchased more than one ticket, you

need to print each separate ezyTicket PDF

as they have their own unique barcode that

must be scanned for entry.

Prior to the event please ensure you fold each

ezyTicket as shown on your printout for quick

entry into the venue.

plus lots of yummy sweet treats & coffee if

you need a bit of extra energy during the day.

You are allowed to bring in a sealed plastic

bottle of water or soft drink up to 1.5 litres.

This can then be refilled throughout the day

at one of our water stations.

PLUS there'll be plenty to drink from our

well stocked bars.

TICKETS

STILL

AVAILABLE

Order online now or there

will be ticket sales available

at the venue on the day.

www.selwynsounds.co.nz
---
SELWYN TIMES Latest Christchurch news at www.star.kiwi

Wednesday February 27 2019 31

Summer Skate/Scooter Jam

Wednesday, 3.30-5.30pm

A great way to introduce children

and young people to skating

with free gear hire, prizes, music

and coaching from experienced

skaters from Cheapskates Skate

Skool. This is a relaxed environment

which will allow participants

to give it a go, cheer on

their friends and family or ease

their way into skateboarding.

Glentunnel School, 2 Homebush

Rd

Teen Artspace: after school

drop-in

Wednesday 4.30-6pm

Teens can participate in art and

craft activities, and hang with

friends in a creative atmosphere.

You will learn how to use various

art and craft materials.

Leeston Library, 19 Messines St

Selwyn Speaker Series: Tips

for Young Drivers and Parents

Wednesday, 6-7.30pm

Go along and learn more about

the driver licence process and

how to help your teenager learn

to drive safely. Tea and coffee

provided.

Darfield Library, 1 South Tce

Love Your Life: Simple

Nutrition for Busy People

Thursday, 7-8.30pm

Pip Meads of Pure and Simple

Email anan.zaki@starmedia.kiwi by 5pm

each Wednesday

Nutrition will discuss evidencebased

nutrition information that

is simple, sustainable and provide

healthy eating tips to improve

your diet.

Rolleston Community Centre,

94 Rolleston Drive

Children's and Teens Book

Clubs

Darfield – Monday, 3.30-

4.30pm, Rolleston – 5-6pm

Enjoy a good book? Don't mind

sharing the good the bad and

the ugly bits? Our book clubs are

an opportunity to get together

with other readers and talk about

books on a monthly topic or

genre.

Darfield Library, 1 South Tce,

Rolleston Library, 94 Rolleston

Drive

Adult Book Club

Tuesday, 10.30am-noon

Enjoy a good book? Don't mind

sharing the good the bad and

the ugly bits? Our book clubs are

an opportunity to get together

with other readers and talk about

books on a monthly topic or

genre.

Lincoln Library, 22 Gerald St

Justice of the Peace Clinics

Rolleston on Monday, noon-

1pm, and Lincoln on Tuesday,

10am-1pm

A justice of the peace will be

available to members of the community

to witness signatures and

documents, certify document

copies, hear oaths, declarations,

affidavits or affirmations, as well

as sign citizenship, sponsorship

or rates rebates applications.

Rolleston Library, 94 Rolleston

Drive, and Lincoln Library, 22

Gerald St

St Patrick's Craft and Friendship

Group

Tuesday, 1.30-3.30pm

St Patrick's Craft and Friendship

group meet in Lincoln

Library in the children's area on

the first and third Tuesdays of the

month. Bring along your craft or

just come for some friendship.

Any inquiries phone Yvonne on

366 9795 or 027 334 1151

Lincoln Library, 22 Gerald St

Lego Club

Tuesday, 4-5pm

Once a month come and

have some fun with Lego led by

experts from the House of Bricks.

Free, drop-in only, with limited

spaces. No bookings taken. Recommended

for primary school

aged children. Children under 8

years of age must be accompanied

by an adult.

Rolleston Library, 94 Rolleston

Drive

S.T.A.R.S

Tuesday, 4-5pm

Fun, educational and interesting

with something new every

month. Come along and have a

go.

Darfield Library, 1 South Tce

Markets:

West Melton Market: Saturday,

9am-noon. St Paul's Church.

Darfield Market: Saturday,

9am-1pm, opposite Challenge

Darfield, South Tce.

Lincoln Farmers and Craft

Market: Saturday, 10am-1pm,

Gerald St.

Running groups:

Rolleston Road Runners:

Drive-in

movie, Friday,

7-9pm.

Grab your

nearest and

dearest for

the animated

Up, a familyfriendly

movie

outdoors!

Park up and

tune into

the special

frequency on

your car radio.

Rolleston

Reserve,

Tennyson St.

Monday registration from

6.15pm for a 6.30pm start. 2.5km

and 5km options in Foster Park,

next to the gravel car park beside

the playground.

Lincoln Road Runners: Tuesday

registration from 5.40pm,

starts at 6pm. 3km or 6km

events. Starts outside Coffee Culture

on Gerald St. 3km or 6km

options. Gold coin donation.

Malvern Road Runners:

Tuesday registration, starts

at 5.45pm for a 6pm start.

3km and 6km options and

a 1.5km over summer. Meet

at McHughs Plantation in the

summer.

Ellesmere Road Runners:

Wednesday registration from

5.45pm, starts at 6pm. 3km

or 6km walk or run. Starts

from Leeston Physiotherapy.

Foster Park Run: Saturday

from 7.50am. Free weekly timed

5km run, jog or walk. Register at

www.parkrun.co.nz/foster and

don't forget your barcode. Starts

at Foster Park in Rolleston.

H ORNBY

WORKINGMEN'S

CLUB

BUSINESS AS USUAL DURING REDEVELOPMENT

FRIDAY 7PM:

JO'S KARAOKE

5-8PM IN THE

SPORTS HALL

COMING UP

SATURDAY 9 MARCH, 7.30PM

RETRO

ROCKIN'

ANTHONY EASTERBROOK-CARTER

& BACKPACK

PRE-SALE TIX $20. DOOR SALES $25

THIS SUNDAY!

BOOK NOW!

3 MAR | 7 APR

5 MAY |9 JUN

ADULTS $27

CHILDREN 5-12 =

$1 PER YEAR OF AGE

BOOKING ESSENTIAL

SATURDAY 7.30PM:

IAN MAC

Club CAFE

OPEN DAILY

LUNCH & DINNER

Plan now to enter the...

Gather a creative team

during the July school holidays

Prizes and a public screening

for all eligible entries

Entry form, FAQs, and rules at

Malvern Community Arts Covuncil gratefully

acknowledges the support of...

The Hornby Club | ph 03 349 9026 | 17 Carmen Rd | Hornby

www.hornbywmc.co.nz Members, guests & affiliates welcome
---
32

Wednesday February 27 2019

Latest Christchurch news at www.star.kiwi

SELWYN TIMES

Exhibitors

Book now

Don't miss your opportunity to

showcase your business in front of

10,000+ qualified attendees

Jon.Holmes@starmedia.kiwi or 021 225 8225
---
SELWYN TIMES Latest Christchurch news at www.star.kiwi

Wednesday February 27 2019 33

Classifieds Contact us today Phone our local team 03 379 1100

Caravans, Motorhomes

& Traliers

CARAVAN Wanted to

buy. Up to $5000 cash

today 027 488-5284.

Computer

Services

SeniorNet

Mac

Apple tuition & help

for any age group.

Apple computers, iPad,

iPhone and watch.

41 Essex Street

Mon, Wed and Fri

10am-12 Noon

Further details phone

365 1979

Firewood

LOGS Wanted, suitable

for firewood, ph 027 432

9768

Gardening

& Supplies

ellesmere

lions

Pea straw

now available

We deliver:

Small bales $6

Medium squares

(equivalent of

10 small bales)

$50

Contact

alex Hayward

03 324 4094

Funeral Directors

Non-Service Cremation $2,050

Just Funerals, a family owned and

operated company with qualified,

registered and experienced staff.

Other services also

available, please

call to enquire.

Phone 0800 804 663 - 24 Hour Availability

Email: info@justfunerals.co.nz

christchurch.justfunerals.co.nz

AUTO ELECTRICIAN

Ellesmere

Auto

Electrical

• Air Conditioning • Alternators

• Starter Motors • Wiring Repairs

• Diagnostics • Lighting • Batteries

Mobile Auto Electrician

022 644 9664

Farmlands Card Accepted

Select Services

Need a hand?

✤ Lawns & Edges

✤ Landscaping

✤ Gardening

✤ Hedge Trimming

✤ Handyman Jobs

✤ Casual or One Off

Phone Mike Lineton

022 341 8848

Your local

Selwyn District

GARDENER/

HANDYMAN

Heating

Log Fires

Pellet Fires

Heat Pumps

Sales

Service

Installations

Free Quotes

03 343 1651

472 Blenheim Rd

www.heatstore.co.nz

SHELTERBELT TRIMMING

Boundary

Trimming

Call Tony Dempsey

Phone 03 325 3256

Mobile 0274 323 943

Select Services

WATER FILTERS

CALL AQUA FILTER TODAY

For all of your Water Treatment needs

0800 426 426 | www.aquafilter.co.nz

DRIVEWAYS

HARRIS

BULLDOZING LIMITED

To Lease

LAND wanted lease.

Suitable for dairy grazing

in the selwyn area. Please

contact 0275900096

Anything considered.

Must have yards

• Driveways

• Car Parks

• Lifestyle Blocks

• Site Clearing

& General

Earthmoving

Mark 021 345 571

or Paul 021 705 996

Email harrisbull@xtra.co.nz

www.harrisbulldozing.co.nz

All Work Guaranteed

Please phone for a free quote

To Let

RENT ME!

Ideal as an extra

bedroom or office.

no bond required

To Lease

LAND wanted lease.

Suitable for dairy grazing

in the selwyn area. Please

contact 0275900096

Anything considered.

Must have yards

Fully insulated and double glazed for warmth.

Three convenient sizes from $70 a week:

Standard 3.6m x 2.4m

Large 4.2m x 2.4m | Xtra-large 4.8m x 2.4m

Visit our website

www.justcabins.co.nz

for display cabin locations

www.justcabins.co.nz

Tuition

ACCORDION

LESSONS $15 subsidy

per lesson for 1st 5 lessons.

Canterbury Accordion

Assoc welcomes new

players. All ages. Ph 359-

6615 / 027 323 5943

ADD SOME

COLOUR

TO YOUR ADVERT!

Trades & Services

BUILDING REPAIRS

GIB STOPPING | FENCING

YARD CLEARING / CLEAN UP

SMALL DIGGER WORK

DRIVEWAYS & CONCRETE REPAIRS

RC MAINTENANCE

no job too small

LTD

ROSS CHESTNUT

ROSS Owner CHESTNUT

/ Operator

Owner / Operator

021 969 654

021 969 654

ross@rcmaintenance.co.nz

ross@rcmaintenance.co.nz

PO Box 92010

PO Box 92010

Farringdon, Rolleston

Rolleston 7650

BUILDING REPAIRS | GIBB STOPPING | YARD CLEARING / CLEAN UP

SMALL DIGGER WORK | FENCING | DRIVEWAYS & CONCRETE REPAIRS

• Driveways

• Trenching

• Section Clearing

• Demolition

• Tree/Stump Removal

• Truck/Digger Hire

• Post Driving

• Section/Lifestyle Block Development

C O N T R A C T I N G

Phone: 329 7165 or 027 616 1761

Garage Doors, Auto Openers,

EQC Quotes, Repairs and

Maintenance, One off Custom

Made Designs...

Showroom at

Larcombs Road and

Home Ideas Centre,

Mandeville Street

The genuine custom made

garage door professionals

EQC &

insuranCE

rEPairs

TyPEs of garagE doors:

Cedar Door, Glass & Acrylic doors, Flat Panel insulated range,

Pressed Panel Doors, Ribline doors, Tilt doors, Roller Doors,

flush mounted doors.

Proud to support your local community

Phone: 0800 661 366 • Fax: 03 347 8363

Factory: 276 Larcombs Road, R.D. 8 Weedons,

Christchurch

www.custommade.co.nz

Builder

BUILDers

"A local looking after locals"

• Licenced builder with 20 years

experience in renovations,

alterations and extensions

• A creative craftsman who is

attentive to detail

• Quotes the job, does the job

• Works with all budgets

Andrew Drewitt

Ph: 021 395 324

Email: ad_designs@hotmail.com

CONCRETE

CONCRETE

Specialising in in residential

& commercial finishes for all your

& & commercial concrete requirements finishes for including: for all all your

concrete Floor requirements slabs • Driveways including:

Floor Pads slabs • Patios Driveways

• Paths

info@consol2003.co.nz

Pads Patios Paths

www.consol2003.co.nz

info@consol2003.co.nz

www.consol2003.co.nz

Call John on

info@consol2003.co.nz www.consol2003.co.nz

Call Call John John on on

027 227 8208

027 227 8208

Canterbury Canterbury owned owned owned and and and operated operated since since since 2003 2003

2003

9020599AA

Trades & Services

TAI TAPU TYRES

53 Main Rd Tai Tapu

Ph. 03 329 6767

Will better any

other quoted price

Stockists of Kumho, Goodride and

Petlas Tyres, for all cars, 4WD, bikes,

tractors and trucks.

•Re Roofing

•Roof Repairs

•Spouting

Approved Age Concern provider

Over 30 years experience

Licensed Building Practitioner

N A BARRELL

ROOFING LTD

Ph: 349 9778 or 0275 389 415

Email: nabroofing@xtra.co.nz

concrete & paving

• Driveways

• Earthquake repairs

• New Home Specialists

• Patios & Paths

tel: 0508 873 7483

email: sales@affordableconcrete.co.nz

www.affordableconcrete.co.nz

Est

1979

Arthur's

Roof & Property

Services

Ph: 03 347 2635

DeMossing

Silicone Sealing

Pest Controls

Roof Repairs

Colourcoating

Cell: 027 584 7980

Email: apisl2008@slingshot.co.nz

www.arthursroofandproperty.co.nz

Trades & Services

UDI PAINTING &

DECORATING

For all painting and

decorating services.

Fully Qualified

• Interior &

Exterior Painting

• Wallpapering

• Plastering

• Roof Painting

All work guaranteed

FREE QUOTES

Contact Udi Aale

Ph. 021 074 2075

ELECTRICIANS

Professional

Friendly Registered

Tradesmen available

for your Electrical

requirements today.

For immediate

quality service please

contact

services

Ph. 03 322 8454

www.skeltonelectrical.co.nz
---
Wednesday February 27 2019

SELWYN TIMES

34 Latest Christchurch news at www.star.kiwi

Classifieds Contact us today Phone our local team 03 379 1100

Trades & Services

Trades & Services

Phone Mike: 027 272 8058 OR 03 324 4323 A/H

g.m.contracting@xtra.co.nz www.gmcontracting.co.nz

• Irrigation • Drainage • Driveways • Auger Hole Drilling • Land Clearing & Development

• Culvert Installation • Construction Site Works • Tree & Hedge Removal • Concrete Breaker

DECORATORS

New Paint • Repaints

Wallpapering • Fences

Repairs • Feature Walls

Floor & Roof Painting

Spray Painting

Light Commercial

Restoring Timber

www.andertondecorators.co.nz

www.facebook.com/andertondecorators

027 724 6846 027 PAINTIN

Selwyn based but service the whole of Canterbury

Driveways

Driveways

Phone: 0800 081 400

Mob: 0274 325 457

SWAINS

KIWI KERB

Over 22 Years Experience

(Since 2005)

• Driveways

• Kerb &

Channel

• Garden Edging

Quality

Workmanship

landscaping

You can have your gardens, trees,

shrubs, plants and lawns maintained to look their best

all year round, for a great price.

Residential & Commercial Landscaping

• Maintenance • Pruning • Reconstruction & Rejuvenation

• Rental Property and Commercial Maintenance

• Pre-Sale Tidy-Ups

New Home Landscaping

Lawns • Gardens • Decks • Paving • Water Features

• Quality • Value for money • Experienced • Punctual

• Professional • Flexible • Knowledgeable • Reliable

Call Ross Legg - 027 222 0388

Email ross@revivelandscaping.co.nz

www.revivelandscaping.co.nz

Landscape

Construction and

Garden Maintenance

Excavations

For a Free Quote

on your next project

Phone Steve on 021 338 247

or 325 7922

• Driveways

• Car Parks

• Site Cleaning

• Demolition

• Farm Tracks

• Drain Cleaning

• Stump & Hedge

Removal

• Ashpalt Concrete

• Tennis Courts &

Swimming Pools

• Chip Seal Driveways

• Diggers – 2 Ton

up to 20 Ton

• Excavators

• Bobcat & Drilling

• For Posthole &

Fence hole

Wide range

oF TruckS

Free

QuoTe

BUILDER QUALIFIED

Decks, T & G Flooring,

Villa Restoring, New

Homes,

Weatherboards.

Free Quotes. Bennet &

Sons Ltd Sam 027 496-

9362 or Tony 027 224-

0374

BUILDER QUALIFIED

Decks, T & G Flooring,

Villa Restoring, New

Homes,

Weatherboards.

Free Quotes. Bennet &

Sons Ltd Sam 027 496-

9362 or Tony 027 224-

0374

Rope & harness

a speciality,

no scaffolding

required,

30 years of

breathtaking

experience.

FREE QUOTES

ROOF

PAINTING

Phone Kevin

027 561 4629

Exterior staining,

exterior painting,

moss and mould

treatment and

waterblasting

Trades & Services

Rob & Scott WaRloW

Servicing Selwyn Area Since 1987

Qualified & Experienced Professional

office: 03 337 9553

Rob: 027 436 1169

Scott: 021 168 6118

Member of Pest Management

Assoc. of NZ

• Spider proofing

& fly control

• all other pest

problems

PESt

coNtRol

Trades & Services

LBP 35 years building

in the Selwyn area

Extensions/alterations

Kitchens Bathroom

Joinery shopfitting

Farm buildings

maintenance

Decks and pergolas

Licensed

Builder

Contact Barry:

027 2626 867

or 03 329 5506

Trades & Services

All Plumbing

Gasfitting

Drainlaying

Blocked Drains

Log Fires,

Wetbacks

Gas Hotwater

Phone

021 454 864

ACE HIGH

PLUMBING

Trades & Services

BUILDER

Local builder with 35

years exp in all types

of building - from light

commercial

construction

to housing, etc. Also some

gib stopping and painting.

Selwyn based. High

quality work with careful

attention to detail. No job

too big or small. Ph Bruce

027 2742792.

CARPENTER

HANDYMAN

Small Job Specialists,

Carpentry,

Repairs,

Decking & Maintenance,

40 years experience, no

job too small, Ph Warren

03 322-1103 or 027 697-

8541

CARPET & VINYL

LAYINg

Exp. Repairs, uplifting,

relaying,

restretching.

Email jflattery@xtra.co.nz

ph 0800 003 181 or 027

2407416

CONCRETE CUTTINg

Affordable

Concrete

Cutting with Quality, and

removal work. Free quote.

No job to small. Phone 027

442-2219, Fax 359-6052

a/h 359- 4605

FENCINg

Quality timber fencing -

gates & repairs, ph Ryan

027 951 8892

Trades & Services

Bellamy's

Furniture

Furniture made to

order and restoration

by tradesman with

35yrs experience.

PH Stephen

021 073 2624

LANDSCAPINg

Paving, Lawns, Irrigation,

Decking,

Fencing.

Kanga & small digger

services. Check out Squire

Landscaping on facebook.

FREE QUOTES. Ph

Arthur 347-8796, 027

220-7014 Edwin 027 220-

7154

LANDSCAPINg

Paving, Lawns, Irrigation,

Decking,

Fencing.

Kanga & small digger

services. Check out Squire

Landscaping on facebook.

FREE QUOTES. Ph

Arthur 347-8796, 027

220-7014 Edwin 027 220-

7154

MASONRY

DAMAGED

MASONRY?? Rock and

Blocks Work Ltd for all

your brick, block and tile

laying needs. Friendly

service Licensed Building

Practitioner phone Devon

on 021 375-888 or 03 329-

5511

RJB PLUMBINg

Renovations, New Houses,

Hot Water Cylinders,

Kitchens

Bathroom

Upgrades,

Laundries,

General Maintenance ,

Water Filters. Phone Mark

0278690026

SPIDER & FLY

CONTROL

Fully certified professional

service. Call Zero Pests

022 507 3787 or 03 595

0422

STUMP gRINDINg

Best price guarantee Tony

0275 588 895

TILINg

Flooring - Splashbacks

-Wall incl tile removal, reg

master tiler, ph Dave 027

334 4125

WINDOW CLEANINg

Brown & White Ltd.

Family owned since 2001.

Ph Paul 027 229 3534

AAA Buying goods

in

Rolleston,Lincoln,

Prebbleton.

Quality

furniture, Beds, Stoves,

Washing

machines,

Fridge Freezers. Same day

service. Selwyn Dealers.

Phone 980 5812 or 027

313 8156

TOOLS

Garden,

garage,

woodworking,

mechanical, engineering,

sawbenches, lathes, cash

buyer, ph 355-2045

TOOLS

Garden,

garage,

woodworking,

mechanical, engineering,

sawbenches, lathes, cash

buyer, ph 355-2045

Wanted To Buy

HEAVY TRAFFIC

LICENCE COURSE

DRIVETECH LTD

FREEPHONE 0508 2 DRIVE (37483) OR 03 348 8481

info@drivetech.co.nz | www.drivetech.co.nz

INTEREST FREE TIME PAYMENT

OTHER COURSES/LICENCE

ENDORSEMENTS AVAILABLE ARE:

Driving Related Health & Saftey Training

Passenger, Logbook & Load Security Training

(conditions apply)

FROM FULL CAR (Class 1)

TO FULL TRUCK (Class 2)

(Road code & pre-assessment driving training provided)

Class 3, 4 & 5, Vehicle Recovery, Wheels, Tracks,

Rollers, Dangerous Goods

Courses in Christchurch, Invercargill,

Cromwell & Mosgiel daily.

Other areas by arrangement

"TRAINING TOMORROWS DRIVERS TODAY"

Situations Vacant

We are currently seeking a class 4 truck driver to assist

in the delivery of potable water around the Selwyn and

Christchurch area.

This position is an as required position (Casual) and

would suit a retired or semi-retired person for 1 to 2 days

per week.

We require someone who can deliver exceptional customer

service, has good record keeping abilities, is reliable,

competent, and has experience in driving a truck with a

Roadranger gearbox.

If this job interests you, please contact

Geoff Haywood 027 678 0515.

Casual Driver

Senior Reporter -

Star Media

The successful candidate will ideally

have worked in Christchurch and

have a good knowledge of its people,

movers, shakers and issues.

You will be part of a vibrant team which will dominate the news coverage

in our region.

You will need to be competitive, a team player, think outside of the square

and have an enviable contact book.

The successful applicant will also be a key part of news room planning.

The successful applicant will need to have a full New Zealand driver licence.

The position will be filled as soon as the right applicant is found.

Star Media is seeking a

senior reporter with a track

record of breaking the big

stories and producing top

line backgrounders to join its

award winning newsroom.

If you have the above and want to be part of a progressive media

company, please email your CV to:

Barry Clarke, Editor In Chief - barry@starmedia.kiwi

Page 3 Page 13

Li ter library

Problem areas for li ter

revealed

Surf club move

New Brighton surf club opts

to rebuild on new site

TUESDAY, APRIL 10, 2018 www.star.kiwi

Loca ly Owned

jo

hayes

christchurch east

Ca l to make an

a pointment

P: 384 9459

www.national.org.nz

Authorised by Jo Hayes

Unit 6/950 Fe ry Road, Christchurch

• By Sophie Cornish

WORKSAFE NEW Zealand

has b en a proached in a bid to

fina ly repair the potholes in New

Brighton's Hawke St car park.

Coastal-Burw od Ward city

counci lor David East wants

WorkSafe to pre sure the car

park's private owners into

repairing the potholes which are

a "trip and vehicle" hazard.

WorkSafe chief inspector

a se sment southern Da ren

Handforth said it may be able to

take action under the Health and

Safety at Work Act 2015, "as a

person conducting a busine s or

undertaking."

Mr Handforth said WorkSafe

is aware of the concerns raised by

Cr East abou the car park.

"WorkSafe has completed

an a se sment visi to the site

and is engaging with the owner

to advise them that it is their

responsibility to manage their

risks a propriately."

Different parts of the car park

are owned by various people

and the Coastal-Burw od

Community Board recently

wrote to them about its concerns

around health and safety.

Cr East said the bi gest i sue

in the past has b en ge ting in

touch with the landlords and

owners and ge ting them to

agr e to anything. "The board

a preciates that multi-ownership

of the parking space may present

a difficulty in co-ordinating

repair/resurfacing but felt obliged

to pa s these concerns onto you,"

said the le ter.

One reply has b en received so

far from an owner who is wi ling

to discu s the i sue. However, a l

the owners would have to agr e

to undertake work.

Cr East said there had b en

a "number of incidences" in

the car park of people injuring

themselves which had gone

unreported.

"I've always though that it

has b en quite amazing that we

haven't had any serious a cidents

or senior citizens perhaps

tri ping in those potholes and

doing themselve some damage."

He is confiden the new

a proach wi l bring results.

"I think the WorkSafe

involvement may prove to be the

lever that we are l oking for."

New bid to fix potholes

Action looms

on Hawke St

car park

HAZARD: Coastal-Burw od Ward city counci lor David East wants WorkSafe New Zealand to put pre sure on the Hawke St car

park owners to fix the dangerous potholes. PHOTO: GILBERT WEA LEANS

Ph 3 7 0 70,

30 Cashel St,

Christchurch

Restore your oiled CEDAR BLINDS with ou re-oiling service.

Rejuvenate your lacquered CEDAR BLINDS

High-tech Cleaning

We clean and repair a l types of blinds –

Venetians, Cedar, Verticals, Ro ler, Ho lands,

Romans and Pleated – with environmenta ly

friendly cleaning products.

Temperature Contro led Drying

Re-oiling & Rejuvenating

Fabric Blinds - such as Austrian and Roman

Same Day Pick Up & Drop O f

We o fer a same-day, pick up an drop o f

service for mos types of blinds. B okings

are required.

Convenient Location

Drop blinds into us by 9am, at

30 Cashel Str et (near the

Fitzgerald end), and co lect

them a th end of the day.

New Blind Sales Priced from $30

WE ARE OPEN

Mon - Fri

8. 0am to 5. 0pm

Ro ler Blinds cleaned

from as li tle as $20

per blind

www.blindcare.co.nz SCAN QR code for Info >

BLINDS .Cleaned, Repaired & Restored .

Land size

Garage

Bedr om

Carport

Bathr om

Car pad

Lounge

Boat pad

Dining

P ol

Toilet

Te nis court

Shower Study

2.5

1

2

4

850m

1 2 3 4 5 6 7 8 9 10 1 12 13 14

Land size

Garage

Bedr om

Carport

Bathr om

Car pad

Lounge

Boat pad

Dining

P ol

Toilet

Te nis court

Shower Study

2.5

1

2

4

850m

1 2 3 4 5 6 7 8 9 10 1 12 13 14

Land size

Garage

Bedr om

Carport

Bathr om

Car pad

Lounge

Boat pad

Dining

P ol

Toilet

Te nis court

Shower Study

2.5

1

2

4

850m

1 2 3 4 5 6 7 8 9 10 1 12 13 14

Land size

Garage

Bedr om

Carport

Bathr om

Car pad

Lounge

Boat pad

Dining

P ol

Toilet

Te nis court

Shower Study

2.5

1

2

4

850m

1 2 3 4 5 6 7 8 9 10 1 12 13 14

Page 3 Page 5

Cartwright steps downs

Community board chairman

stays true to his word

Pool plans for Edgeware

Designs for ind or learner's

p ol revealed

TUESDAY, APRIL 10, 2018 www.star.kiwi

Loca ly Owned

www.denturesouth.co.nz

call 332 4004 TexT 027 537 0567

230 BarringTon sTreeT

Mobile

Service

Available

• By Sophie Cornish

THE ST Andrew's Co lege big

band had extra incentive to

win a the National Youth Ja z

Competition – ba s player, Tom

Fastier, co lapsed and died the

day before the competition

began.

"Tom was a ba s player from

Cashmere High Sch ol who was

playing with our big band this

year. He had a strong chance of

wi ning best ba s player a the

festival as he was a very a complished

musician," head of music

Duncan Ferguson said.

"We were delighted to win, but

it was bi tersw et," he said.

St Andrew's won the most

outstanding big band title a the

competition in Tauranga.

The band dedicated it se to

Tom, who died while on his way

to Cashmere High on March 27.

His death was po sibly related to

a medical event.

•Turn to page 9

SW ET SOUNDS: St Andrew's Co lege year 12 students Lewis Edmond and Je na We ls performing a the 41st National Youth

Ja z Competition.

Bittersweet win for St Andrew's big band

• By Sophie Cornish and Julia Evans

THE PAPANUI-I nes

Community Board has taken the

rare step of starting a petition

to figh the city council over

funding.

Signatures are being co lected

in a bid to get funding for a community

facility in Shirley.

It comes after the city council

removed funding for the centre

pla ned for Shirley Rd, near the

intersection with Hi ls Rd. This

was the site of the former community

centre, which was badly

damaged in the February 2,

20 1, earthquake.

The removal o funding

prompted community board

chairwoman Ali Jones to threaten

to stand down, citing it as her "die

in the ditch" project.

Ms Jone said the board's role

is to represen the community,

and by gathering signatures from

residents, it was fulfi ling that

role.

"One of the roles of a community

board is to represent and act

as advocate for the interests of its

community and this is what we

are doing. The LTP and a nual

plans are a l about lo bying the

council."

•Turn to page 5

Board

launches

petition

to get new

community

facility

Ph 3 7 0 70,

30 Cashel St,

Christchurch

Restore your oiled CEDAR BLINDS with ou re-oiling service.

Rejuvenate your lacquered CEDAR BLINDS

High-tech Cleaning

We clean and repair a l types of blinds –

Venetians, Cedar, Verticals, Ro ler, Ho lands,

Romans and Pleated – with environmenta ly

friendly cleaning products.

Temperature Contro led Drying

Re-oiling & Rejuvenating

Fabric Blinds - such as Austrian and Roman

Same Day Pick Up & Drop O f

We o fer a same-day, pick up an drop o f

service for mos types of blinds. B okings

are required.

Convenient Location

Drop blinds into us by 9am, at

30 Cashel Str et (near the

Fitzgerald end), and co lect

them a th end of the day.

New Blind Sales Priced from $30

WE ARE OPEN

Mon - Fri

8. 0am to 5. 0pm

Ro ler Blinds cleaned

from as li tle as $20

per blind

www.blindcare.co.nz SCAN QR code for Info >

BLINDS .Cleaned, Repaired & Restored .

Grenadier Real Estate Ltd MREINZ is a Licensed Agent Under the Real Estate Agents Act 2 08

Alistair Hazeldine

Mobile: 027 572 1 5 | Phone: 0 384 7950

Email: alistair.hazeldine@harcourts.co.nz

w.harcourtsfe rymead.co.nz

MAgic on clifton

Mobile: 021 353 280 | Phone: 0 384 7950

Email: joy.butel@harcourts.co.nz

Joy Butel AREINZ - Dip.R.E.

Four Seasons Realty

Grenadier Fe rymead

TEAM

BUTEL

20 Tuawera Te race, Clifton Hi l - $980, 0 3 2 2 2

Phone: 03 384 6540

183 Dyers Rd, Bromley • OPEN 7 DAYS

W ekdays 7.30am-5pm. W ekends 8.30am-3pm

www.dyersroadandlandscapes.co.nz

Dyers Road Landscape

& Garden Supplies

• Barks • Peastraw • Composts - we su ply the best available

• A gregates - Chip, Round and Basecourse

• Pavers & Schist products • Pungas

• Decorative Stones & Landscaping Rocks

• Trailer Hire first hour fr e with purchase

• Bag & Bulk - pick up or delivered

David, Carol & Mike

We wi l deliver!

SOIL

AND

HARDFILL

DUMPING

Page 3 Page 5

Traffic plan at The Brae

Bid to ease traffic on busy,

na row str et

New pi za joint

Fire and Slice fina ly se to

open in Sumner

WEDNESDAY, APRIL 1 2018 www.star.kiwi

Loca ly Owned

LICENSED SALES CONSULTANT RE A 2 08

GRENADIER

Alison Carter

P: 384 7950 M: 0274 318 960

E: alison.carter@harcourts.co.nz

Your local

hi l and

seaside

specialist.

• By Gordon Findlater

DEAN CALVERT (above)

returned from the United

Kingdom last w ek after

ge ting closer than mos to

Joseph Parker in the build up

to his world heavyweigh title

unification fight with Anthony

Joshua in Cardiff.

The former New Zealand

title-holder trave led with his

father George and brother

Bryce to London ahead of the

fight where they spen time

with Parker in the build up.

Mr Calvert, 47, comes from a

boxing mad family.

•Turn to page 6

Former champ hooks

up with Parker in UK

Cave Rock

Apartments'

owners

expect EQC

sign-off

this week

• By Sarla Donovan

THE OWNERS of Sumner's Cave

Rock Apartments ar expecting the

Earthquake Commi sion to sign-off

on a se tlement agr emen this w ek.

Body corporate chairman Mike

White said the group had gone

into mediation with IAG and EQC

on February 20, and signed off

on a deal with IAG on February

2 – coincidenta ly seven years

to the day after the February 2,

20 1, earthquake. However, they

are waiting for EQC to sign the

agr ement.

"Given that EQC actua ly drafted

the agr ement, there' l be no

problem with them doing that."

The apartment suffered damage

in the February and June, 20 1,

earthquakes and were demolished in

late 2012. In 2016, IAG's offer of the

difference betw en indemnity value,

$10 mi lion, and the sum insured,

$16 mi lion, was rejected by the body

corporate.

The mediation agr ement

prevented Mr White from disclosing

the se tlement amount, but he said it

involved the two parties paying "a bit

more money than they'd wanted to

earlier."

•Turn to page 6

Page 7 Page 10

Fishin' for w eds

Children's event at risk if The

Groynes' lakes not cleaned up

Pedaling acro s NZ

Stroke survivor finishes long

journey

TUESDAY, APRIL 10, 2018 www.star.kiwi

Loca ly Owned

www.denturesouth.co.nz

ca l 32 4 04 TexT 027 537 0567

230 Ba ringTon sTr eT

Mobile

Service

Available

A NEW 60km/h sp ed limit and

double ye low lines wi l be in

place on Dyers Pa s Rd by early

May.

The sp ed limit change was

a proved by the city counci last

w ek.

A decision to paint double yellow

lines on the stretch betw en

Summit Rd and the Sign of the

Takahe was earlier made by the

Spreydon-Cashmere Community

Board.

Bu the Banks Peninsula Community

Board decided against

ye low lines on the Summit Rd-

Governors Bay section due to the

road's na rowne s and general

condition.

The changes are designed to try

and reduce the crash rate.

Insta lation of the double

ye low lines, the new sp ed limit

signs and raised centre line pavement

markers wi l begin in mid

April.

The work i scheduled to take

place betw en April 15-18, 2-26,

29 and May 2.

While the work is done, Dyers

Pa s Rd wi l be closed to traffic

from the Sign of the Takahe to

Governors Bay betw en 7pm and

6.30am.

60km/h

Dyers Pass

speed

limit from

early next

month

• By Emily O'Co ne l

A WOOLSTON butcher proved

to be a cut above the rest in an

international competition.

New World Fe ry Rd butcher

Jeremy Garth and his team, the

Pure South Sharp Blacks, recently

came second a the World

Butchers' Cha lenge in Northern

Ireland.

It was the firs time Mr Garth

had competed in the cha lenge

and he was "rea ly proud" of

how the team performed.

"We produced some top quality

products and came away

with a g od result so we're very

ha py," he said.

The preparation for this year's

World Butchers' Cha lenge was

intense as the team members

met in Auckland every two

months for lengthy w ekend

practices.

Mr Garth, who has b en a

butcher for 14 years, said the

competition brought back his

pa sion for the job.

"Doing a l thi stuff and

m eting new people, s eing new

ideas, it just brings that flair

back for you," he said.

Mr Garth hopes to own a

butcher shop of his own someday

but says for now he wi l focus

on ge ting mor experience

and on the 2020 cha lenge.

"In two years' time, we' l be

going back to try and win the

title," he said.

U per Ri carton butcher Corey

Winder was part of the Pure

South Sharp Blacks team.

GLOBAL STAGE: W olston butcher Jeremy Garth back home after his team came second in the World Butchers' Cha lenge.

PHOTO: MARTIN HUNTER

From New World Ferry Rd

to second in the

world

Ph 3 7 0 70,

30 Cashel St,

Christchurch

Restore your oiled CEDAR BLINDS with ou re-oiling service.

Rejuvenate your lacquered CEDAR BLINDS

High-tech Cleaning

We clean and repair a l types of blinds –

Venetians, Cedar, Verticals, Ro ler, Ho lands,

Romans and Pleated – with environmenta ly

friendly cleaning products.

Temperature Contro led Drying

Re-oiling & Rejuvenating

Fabric Blinds - such as Austrian and Roman

Same Day Pick Up & Drop O f

We o fer a same-day, pick up an drop o f

service for mos types of blinds. B okings

are required.

Convenient Location

Drop blinds into us by 9am, at

30 Cashel Str et (near the

Fitzgerald end), and co lect

them a th end of the day.

New Blind Sales Priced from $30

WE ARE OPEN

Mon - Fri

8. 0am to 5. 0pm

Ro ler Blinds cleaned

from as li tle as $20

per blind

www.blindcare.co.nz SCAN QR code for Info >

BLINDS .Cleaned, Repaired & Restored .

Page 3 Pages 10 & 13

Cyclist's helipad bid

Serious crash gives new

perspective on ride to hospital

River working group

Rebuilding a healthy

ecosystem in the Selwyn River

WEDNESDAY, APRIL 1, 2018 www.star.kiwi

Loca ly Owned

June 29 - July 1

EXHIBITORS BOOK NOW

vanessa.fleming@starmedia.kiwi

021 914 565

• By Georgia O'Co nor-Harding

A CRACKDOWN on mobile

traders acro s the districts could

be l oming.

However, the public has li tle

interest in having input into the

i sue.

Only eight submi sions were

received for a potential bylaw

aimed at regulating commercial

activities in public places.

The district council wi l be

holding a hearing for the Public

Places Bylaw and Policy on Commercial

Activities and Events in

Public Places.

A hearing i scheduled to be

held on Thursday.

The bylaw comes as an increasing

number of mobile traders

are s eking to operate in Selwyn,

especia ly during the summer

months.

In the past year, the district

council has received five inquiries

about se ting up a mobile busine s

on private or public land.

A report said there are two

str et operators in Darfield, a

coff e cart is parked beside the

railway in Ro leston, and a pi za

cart visits Lincoln w ekly betw en

September-May along with a Thai

f od truck.

•Turn to page 7

Mobile

traders

could

face

regulation

Pupils learn about role of war horses

GR ENDALE SCHOOL pupils

have taken a step back in time,

s eing first hand what men and

horses l oked like during war.

The New Zealand Mounted

Rifles Charitable Trust president

Mark A pleton and member

Mike Donaldson t ok their

horses to the sch ol on Monday,

in a bid to educate pupils on the

sacrifice their ancestors made in

World War 1 and World War 2.

Mr A pleton and Mr Donaldson

a rived a the sch ol dre sed

in World War 1 uniforms while

their horses Tommy and Kruze

wore 1 0-year-old sa dles donated

to the trust.

The presentation is a prelude

to the Gr endale Recreation Reserve

Management Commi t e's

upcoming Anzac Day service.

As a tribute to those who

served, members of the trust wi l

ride horseback to the service.

Mr A pleton said it was

important children were

educated on what soldiers

wen through during World

War 1 and World War 2.

But he said the presentation

didn't go into t o much detail

and was more of a "show and

te l" to make them aware of what

the soldiers l oked like.

Children were shown the type

of kits horses were required to

wear in the war.

•Turn to page 7

• By Georgia O'Co nor-Harding

HISTORY: Pupils have taken a step back in time learning about what

New Zealand soldiers and horses l oked like in World War 1. Abi P oler,

5, sits on Kruze, alongside Mounted Rifles Charitable Trust president

Mark A pleton. PHOTO: MARTIN HUNTER

New sections

selling now

There's no be ter place to se tle out wes than at Falcon's Landing. Pop in to our sales and

information office, 17 Branthwaite Drive, this Thursday, Friday or Sunday from 1pm to 3pm

to find out more. Contact us on 03 741 1340 or mail enquiries@yoursection.nz anytime.

Page 3 Page 5

Driver hazard?

Community board member

blasts Yaldhurst Rd island

Mega centre f edback

Denton Park a tracts more

submi sions than Cathedral

TUESDAY, APRIL 10, 2018 www.star.kiwi

Loca ly Owned

www.denturesouth.co.nz

ca l 32 4 04 TexT 027 537 0567

230 Ba ringTon sTr eT

Mobile

Service

Available

• By Emily O'Co ne l

AN U PER Ri carton butcher

has proven himself to be a cut

above his Aussie rivals at an

international competition.

Elite Meats owner Corey

Winder was named in the a l

star team a the World Butchers'

Cha lenge in Northern Ireland.

Mr Winder and his team, the

Pure South Sharp Blacks, which

includes W olston butcher

Jeremy Garth, finished second

in the competition.

He said the cha lenge started

as a "transtasman test match"

seven years ago.

The preparation for this

year's World Butchers' Challenge

was intense as the team

members met in Auckland

every two months for lengthy

w ekend practices. Mr Winder

said coming second against 1

other countries was a "fantastic"

result.

"To get second behind Ireland

was a huge achievement and to

be ahead of Australia is an

even bi ger thing for us," he

said.

But Mr Winder admires the

Australian team.

"Those guys over there

[Australia] are on top of their

game, they do a g od job," he

said.

"And it just showcases that

New Zealand has got some

of the best butchers in the

world," he said.

Mr Winder has b en a butcher

since the age of 19.

Elite butcher cut above the world

• By Emily O'Co ne l

THE HALSWE L-Hornby-

Ri carton Community Board

has b en given the gr en ligh to

o pose the pla ned qua ry near

Templeton.

Mayor Lia ne Dalziel told the

board on Thursday it had the okay

from the city council to make a

submi sion if Fulton Hogan a plies

for a resource consen to create a

qua ry.

Board chairman Mike Mora

told Western News the submi sion

would likely o pose Fulton Hogan's

plan.

"You can just about guarant e

it . because we [the community

board] don't believe qua ries

should be so close to residential

areas," he said.

Mr Mora said he wasn't sure if

the city council would endorse the

board' submi sion.

"I'd like to think so because the

city council has had their eyes

open as we l ove recent years over

the crysta line silica risk," he said.

Mr Mora said the community

board wi l be "representing and

advocating" for the Templeton

community.

•Turn to page 5

Community

board get

permission

to oppose

Templeton

quarry

AWARD-WINNING: Corey Winder is back home after his team came second in the World Butchers' Cha lenge .

PHOTO: MARTIN HUNTER

Ph 3 7 0 70,

30 Cashel St,

Christchurch

Restore your oiled CEDAR BLINDS with ou re-oiling service.

Rejuvenate your lacquered CEDAR BLINDS

High-tech Cleaning

We clean and repair a l types of blinds –

Venetians, Cedar, Verticals, Ro ler, Ho lands,

Romans and Pleated – with environmenta ly

friendly cleaning products.

Temperature Contro led Drying

Re-oiling & Rejuvenating

Fabric Blinds - such as Austrian and Roman

Same Day Pick Up & Drop O f

We o fer a same-day, pick up an drop o f

service for mos types of blinds. B okings

are required.

Convenient Location

Drop blinds into us by 9am, at

30 Cashel Str et (near the

Fitzgerald end), and co lect

them a th end of the day.

New Blind Sales Priced from $30

WE ARE OPEN

Mon - Fri

8. 0am to 5. 0pm

Ro ler Blinds cleaned

from as li tle as $20

per blind

www.blindcare.co.nz SCAN QR code for Info >

BLINDS .Cleaned, Repaired & Restored .

Pip Su ton BCM (Marketing)

Residential Sales & Development

Specialist - Licens e Salesperson

Next Step Realty Limited

Licensed (RE A 2 08)

Your best choice

in the West

Mobile: 027 24 9524

DI: 03 421 8417

Email: pip.su ton@raywhite.com

$ 40

T Y R E S

LTD

New Tyres - Ba teries

Quality Secondhand Tyres

Discounts on sets of tyres

LOOK

Used tyres from

FR E PICK UP & DELIVERY (in local area)

Ph 348 0626

9 Main South Rd (cnr Wa ts Rd), Sockburn

T Y

Quality Secondhand Tyres

Discounts on sets of tyres

A l at very competitive prices

$ 70

155

x 13

AA

Discounts

8047287 A

8214716 A

LOOK

New tyres from

5

Star Media is a division of Allied Press.

Situations Vacant

Trades & Services
---
SELWYN TIMES Latest Christchurch news at www.star.kiwi

Wednesday February 27 2019 35

Classifieds

Public Notices

POLICE EXERCISE

6 MaRCh 2019

The general public is to be advised

that the New Zealand Police will be

conducting live fire training in the

West Melton Rifle Range area on 6

March 2019.

Training will involve carrying out night

firing in the West Melton Rifle Range

area from 2pm – 11pm.

Live small arms rounds will be used.

For more information please call

03 363 7400

Public Notices

MILITARY EXERCISE

Night Firing and High Explosive at West

Melton Rifle Range

The general public is to be advised that a

NZ Army Exercise will be conducted in the

West Melton Rifle Range area over the period

4 – 15 March 2019.

The exercise will involve personnel of

Delta Company 2/1 RNZIR, from Burnham

Military Camp. The exercise will involve up to

60 personnel.

Subject to fire restrictions training will

involve soldiers live firing at night on West

Melton Rifle Range, commencing at 8pm and

concluding no later than 10pm on Monday

4, Wednesday 6, and Thursday 7 March 2019.

High Explosives will be used from 10am to

4.30pm daily from Monday 11 to Thursday 14

March 2019.

For more information please contact

Burnham Military Camp on 03 363 0099

Prohibited

fire season

Notice is given under section 56(1)(a) of the Fire and Emergency

New Zealand Act 2017 that a Prohibited Fire Season is declared from

midnight, 20th February 2019 in the following area(s) until revoked or

amended by the 3rd Emergency Response Troop, Burnham:

• Burnham Camp and Housing Area, including Lake Rudd and 189

Paddock;

• West Melton Range; and

• Tekapo Military Camp and Balmoral Training area

During a Prohibited Fire Season, you commit an offence if you

knowingly or recklessly light, or allow another person to light, a

fire in open air the use of all barbecues which use or contain solid

fuels is prohibited. As braziers or other similar devices use solid fuel

and constitute a fire in the open air, their use is also prohibited. Gas

fuelled barbecues and gas cookers, which contain no charcoal, or

solid fuel are exempt from this notice provided a high pressure water

supply is available.

Extreme care must be taken while operating machinery in open air.

Persons seeking further information can contact the 3rd Emergency

Response Troop (Burnham Camp Fire Station) by phoning

027 671 2789 or 03 363 0067.

Note: This Prohibited Fire Seasons has been put in place to lessen the

risk of rural fire and damage to life and property during a period of

very high fire danger.

G. PAYTON,

MAJOR

Principal Rural Fire Officer

ADVERTISE YOUR

BUSINESS HERE

Phone for further details

(03) 379 1100

Contact us today

Public Notices

PROHIBITED

FIRE SEASON

Fire and Emergency New Zealand declares a

prohibited fire season,

from midnight, Wednesday, 20 February 2019

in the following area(s):

• Those lands encompassed by the Selwyn

District Council, Hurunui District Council,

and Waimakariri District Council.

See www.checkitsalright.nz for types of fire

which have been authorised as not being fires

in open air and do not need a permit.

Any fire permits issued during a restricted fire

season in the area(s) are suspended from the

start of the prohibited fire season.

Bruce Janes

Principal Rural Fire Officer

North Canterbury

David Stackhouse

Area Commander

Christchurch Metro

Mike Johns

Area Commander

Canterbury

To check the season status in an area

please visit www.checkitsalright.nz

or call 0800 658 628.

Further information about fire

seasons is available on

www.fireandemergency.nz

Vehicles Wanted

CAR REMOVALS

$$CASH PAID$$

CARS, VANS, UTES

& 4X4 WANTED

NZ OWNED

AND

OPERATED

FOR

24 YEARS

We use world class vehicle

depollution systems

0800 8200 600

www.pickapart.co.nz

Show

home

Guide

Homes by Parklane

"Standout Homes for an

Outstanding Price"

Flemington, Lincoln

6 Craig Thompson Drive

Thurs & Fri 1pm - 4pm

Sat & Sun 12pm - 4pm

Wigram

2 Harvard Avenue

Mon to Fri 9am - 5pm

Master Builders House of the

Year 2017 Gold Reserve Award

Winning Showhome

(03) 341 3000 or 029 201 2453

www.homesbyparklane.co.nz

Signature Homes

Rolleston

97 Ledbury Drive, Faringdon.

Open Wed to Sun 12pm - 4pm

Prestons Park

37 & 39 Prestons Park Drive

Marshland, Chch both Open Wed

to Sun 12pm - 4pm

Show Room/Office:

31 Watts Road, Sockburn

0800 8444 88 or 03 3427788

www.signature.co.nz

Jennian Homes Canterbury North

Rolleston

7 Lemonwood Drive, Faringdon

Wednesday to Sunday, 12pm - 4pm

Rangiora

9 Westpark Boulevard

Wednesday to Sunday, 12pm - 4pm

www.jennian.co.nz

First Homes - Christchurch

St Albans

39 Sherborne Street

Open Tuesday to Saturday

10am - 4pm

021 575 545

chchsales@firsthomes.co.nz

www.firsthomes.co.nz

To advertise in

The Showhome Guide

Contact Elaine: (03) 364 7436

elaine.moon@starmedia.kiwi
---
36 Wednesday February 27 2019

Latest Christchurch news at www.star.kiwi

SELWYN TIMES

SAY WHAT??

Snap these deals up before they're gone!

Limited time, stock dependent. Deals end Monday 4th March 2019.

Bahamas Trundle Bed

Includes Single + King Single

Mattress

was $ 899

then $ 749

Regan Sofa Bed

was $ 999

then $ 799

now

$

699

now

$

699

Static Outdoor Bench

Setting

was $ 999

then $ 799

now

$

499

Ego Egg Chair

was $ 579

then $ 459

now

$

299

Love new things?

new styles

GIA

JUST LANDED

CRUZ VERANO –

COMET BLUE

METRO – BLACK

Shop

Online

Nationwide

Delivery

Finance

Options

targetfurniture.co.nz

Cnr Blenheim & Curletts Rds, Christchurch

Ph: 0800 TARGET (0800 827438)

Offers and product prices advertised here expire 04/03/19.

Sale excludes Manchester and Accessories.
---
the BeSt PRoPeRtieS AcRoSS

the SeLWYn DiStRict

INSIDE

PUBLiSheD eVeRY WeDneSDAY

Week commencing WeDneSDAY, 27th FeBRUARY 2019

Grab it whilst you can!

This immaculately presented 230m 2 approx. four bedroom

home is situated on a generous 837m 2 section with landscaped

gardens. It offers a separate lounge and a very spacious open

plan living/dining area that opens out to a large patio... a perfect

private oasis for your outdoor entertaining.

The well-appointed, stylish kitchen has plenty of bench and

pantry space and boasts a 90cm oven with gas hobs. There are

four good sized bedrooms, the master featuring an ensuite with

under-tile heating. There is an additional room that is big enough

to use as a study, or it could be used for extra storage space.

There is also the added bonus of a separate laundry room.

Heating is by way of gas fire in the separate lounge area, two

heat pumps located in the main bedroom and the family area and

under-tile heating in both bathrooms.

The grounds, which benefit from a comprehensive irrigation

system including pop-ups, are well maintained and include a large

veggie patch, two garden sheds (one of which is a generous 10m 2 )

and a glasshouse. There is plenty of room to spread out and enjoy

your new lifestyle, with a fully fenced backyard that will keep the

kids and pets secure. It is handily located in the heart of Prebbleton

and is only a short distance to the local shops and school.

If you are after easy family living in a fantastic location, act now.

Viewing will impress.

Offers over $699,000

Town & Lifestyle Real Estate Ltd

Licensed (REAA 2008) - Rolleston

Sarah Booth

Contact:

Mobile: 027 527 8258

rwrolleston.co.nz/RLL24699

Brendan 'Big Red'

Shefford

Contact:

Mobile: 027 224 4733

421 Trents Road, Prebbleton Open Home: Saturday 1.00 - 1.30pm

OPENING

SOON

Brand new sales and

information office

Opening Sunday March 3, our brand new home at Rolleston is right at the

entance of Falcon's Landing on Lincoln-Rolleston Road. Find out more,

call us on 03 741 1340, or email enquiries@yoursection.nz
---
2

New to the market!

333 Buchanans Road, Yaldhurst

26377m2 3 1 1

Deceased Estate - Lifestyle on the

Fringe

Executors instructions are very clear - this property

must be sold.

Get in quick and secure for yourself this much loved

entry level lifestyle block in an excellent location, within

a "stones throw" from Christchurch fringe and minutes

to Hornby mall, bus services etc.

A well loved family home built in the 60's with many

original features promotes an opportunity for the savvy

buyer. An excellent starter property for the lifestyle

lovers, or for those with the renovators flair - you could

have fun here.

The home offers open plan kitchen/dining area with

french style doors to the outdoor patio area, while a

separate family lounge is drenched in all day sun. Good

sized bedrooms, separate internal laundry, partial

double glazing and heat pump provide the basis for a

good family home.

Outdoors the land is fenced into 6 paddocks and offers 2

stables with an attached barn, large implement shed and

various other outbuildings typical of the era.

If lifestyle, location and opportunity are what you are

after - don't wait. Call Katie today.

Auction Wednesday 13th March 2p.m (Unless Sold Prior)

Russley Golf Club, 428 Memorial Avenue Burnside.

Viewing Thursday 5pm-5:45pm

Saturday & Sunday 1:30pm-2:15pm

Call Katie for more infomation

Katie Harrison

P 021 135 0887

E katie.harrison@harcourts.co.nz

Top Sales Consultant

Outstanding

in her field

KATIE Harrison

Rolleston Office

021 135 0887 | 03 347 4711

katie.harrison@harcourts.co.nz

harcourtsfourseasons.co.nz

Top Lifestyle & Rural Consultant

2nd Place in Christchurch region for Oct-Dec 2018

Top 20 Sales Consultant

Christchurch Region for Oct-Dec 2018

Katie Urgently Needs More Properties to Sell

to meet Buyer Demand – Give her a call

Four Seasons Realty 2017 Ltd | Licensed Agent REAA 2008

Your home for local property
---
3

$575,000

Four Seasons Realty 2017 Ltd | Licensed Agent REAA 2008

Contributor to realestate.co.nz

Your home for local property

harcourts.co.nz
---
4

Four Seasons Realty 2017 Ltd | Licensed Agent REAA 2008

Contributor to realestate.co.nz

Your home for local property

harcourts.co.nz
---
M-A

MATSON & ALLAN

REAL ESTATE LIMITED

'The

Selwyn

Experts'

5

Residential

Lifestyle

Rural Property

Licensed REAA2008

SOUTHBRIDGE - 17 Cryer Street

A SUPER STARTER OR SMART

INVESTMENT

• Tucked away on quiet Cryer Street on its 1019m2

section

• Three large bedrooms

• Plenty of living and dining space

• Large kitchen

• Separate bathroom

• Stand alone log burner plus positioned to get the

best of the all day sun

• Recently repainted internally and with the roof to

be painted prior to settlement

• Section features a Single stand alone

garage,several handy sheds plus plenty of room

• Come to Southbridge and enjoy the lifestyle!

OPEN HOME

Viewing: Sun 2.45 – 3.15pm

Price: Neg over $349,000

View: www.marealestate.co.nz/MA0510

Stephan Knowler Mb 027 229 9522

stephan@marealestate.co.nz

NEW LISTING

LEESTON - 27 High Street

THE COMPLETE FAMILY HOME ON

1341M2 WITH FOUR CAR GARAGING

• Renovated three bedroom home

• Huge 1341m2 section

• Huge deck area facing north and west

• Large Bi Fold door off the dining area

• Superb indoor outdoor flow

• Modern kitchen

• Large hi-spec bathroom with tile shower & luxury

bath

• Separate formal lounge with Log Burner

• Tw o large doubles and one single bedroom

• Massive four car

• Landscaped backyard

• Fully fenced secure and private section

OPEN HOME

Viewing: Sun 1.30pm – 2.00pm

Price: $419,000

View: www.marealestate.co.nz/MA0509

Stephan Knowler Mb 027 229 9522

stephan@marealestate.co.nz

NEW LISTING

ROLLESTON - 7 Juliet Place

HIGHLY DESIRABLE ON A

FABULOUS SECTION

• Spacious and desirable 230sqm home

• Four double bedrooms

• Study nook

• Master bedroom with WIR and ensuite

• Well-appointed kitchen with premium appliances

• Tw o separate living areas

• Separate laundry

• Fabulous outdoor entertaining area

• Large private and secure 889m2 section

• Central and convenient location

Jackie Derrick Mb 027 636 3576

jackie@marealestate.co.nz

OPEN HOME

Viewing: Sun 1.30 – 2.00pm

Price: Neg Over $589,000

View: www.marealestate.co.nz/MA0500

IRWELL - 1134 Leeston Road

A PARKLIKE PARADISE

• Comfortable slightly quirky four bedroom home

• Large formal lounge

• Country sized kitchen/dining area

• Large conservatory/second living area

• Separate laundry

• Double glazed with several heating options

• Standalone double garage with attached

workshop space

• Botanic setting of specimen trees and shrubs with

the Irwell stream boundary

• I s for genuine sale as the vendors look to relocate

OPEN HOME

Viewing: Sun 11.00am – 11.30am

Deadline Sale: Offers to be presented on or

before 4pm Tues 5 March 2019

View: www.marealestate.co.nz/MA0504

Stephan Knowler Mb 027 229 9522

stephan@marealestate.co.nz

IRWELL - 247 The Lake Road

YOU WILL LOVE THE LIFESTYLE

• Four could be five bedroom 270m2 family home

• Three living areas including large loft space over the garage.

• Two bathrooms – main with spa bath, includes ensuite.

• Large practical country style kitchen with great storage.

• Separate laundry and oversized double garage attached.

• French doors opening out onto sheltered sun drenched patio.

• Landscaped thoughtfully planted private lawns and gardens.

• Fantastic sheds including extra lockable garaging, workshop,

storage and new 4 bay barn.

• Well subdivide sheltered property with water to all paddocks.

• Established dog runs, chook runs, orchard and so much more.

OPEN HOME

Viewing: By appointment

Asking Price: $970,000 (plus GST on land, if any)

View: www.marealestate.co.nz/MA0505

DARFIELD - 15 Piako Drive

GARDEN OF EDEN

• Wonderfully appointed permanent material

quality built 230sqm home

• 5 bedroom, 2 bathroom, country living at its best

• Open plan kitchen and dining

• 2 large living areas

• Log fire and heat pump for warmth and comfort

• Double garaging with internal access

• Low maintenance gardens to be envied by anyone

PRICE REDUCED

Viewing: By appointment

Price: Neg Over $695,000

View: www.marealestate.co.nz/MA0466

Stephan Knowler Mb 027 229 9522

stephan@marealestate.co.nz

Paul Robinson Mb 021 277 2690

paul@marealestate.co.nz

LAKE COLERIDGE - 6 Ryton Place

NATURES PLAYGROUND

• 2008 Architecturally designed low maintenance

Linea home

• 650m2 easy care section

• 2 x heatpumps and log fire plus additional gas fire

• Natures playground of fishing, hunting, tramping

and boating

• Easy reach to Mt Hutt and Club Fields for skiing

• High quality appliances in large Kitchen

• Large open plan living and dining

• Entertainers delight

• Double garaging with internal access

Viewing: By appointment

Price: Neg over $575,000

View: www.marealestate.co.nz/MA0491

DARFIELD - Creyke Road

TORLESSE ESTATE – 1 HECTARE

BLOCKS

• 11 one hectare blocks

• Post & rail fencing now complete for Stage 1

• Magnificent views

• Power, telephone, fibre and town water to the

boundary

• Restrictive covenants in place to protect your

investment

• Close to all Darfield amenities

Price: $295,000

View: www.marealestate.co.nz/MA0380

Paul Robinson Mb 021 277 2690

paul@marealestate.co.nz

Chris Flanagan Mb 027 433 4657

chris@marealestate.co.nz

ROLLESTON PH: 03 347 9949 LEESTON PH: 03 324 3704 DARFIELD PH: 03 318 8204 www.marealestate.co.nz

Chris Flanagan

027 433 4657

Andrew Taylor

027 435 5930

Jackie Derrick

027 636 3576

Jo Barrett

021 859 006

Brendan Roxburgh

027 571 3983

Stephan Knowler

027 229 9522

Cameron McRae

027 769 6696

Paul Robinson

021 277 2690

Juliet Flanagan

027 490 8019
---
6
---
7
---
8
---
9
---
10
---
11

Due to continued success as Selwyn's leading

Real Estate team, we need more homes

to satisfy these genuine waiting buyers.

Please, if you can help, call us today

West Melton

4-5ha established lifestyle property

4-5 bedrooms

Price $800,000 - $$1,200,000

Contact

Frank Dowle 027 528 0480

frank.dowle@raywhite.com

Selwyn Area

2-3 bedrooms

Double garage + workshop or shed

Land size 1 acre minimum

Price around $500,000

Contact

Zelda Potgieter 022 311 6931

zelda.potgieter@raywhite.com

Rolleston/West Melton

5 bedrooms

High spec house

Section size over 1200m2

Price up to $800,000's

Contact

Leisa Webster 027 722 5537

leisa.webster@raywhite.com

Rolleston

3+ bedrooms, 2 bathrooms

Double garage

Section around 1200m2

Price $550,000 - $590,000

Contact

Zelda Potgieter 022 311 6931

zelda.potgieter@raywhite.com

Rolleston

3-4 bedrooms

Section 700m2 minimum

Price $500,000 - $550,000

Contact

Leisa Webster 027 722 5537

leisa.webster@raywhite.com

Prebbleton

4 bedrooms

3 car garaging

Section 600m2 minimum

Price around $750,000

Contact

Zelda Potgieter 022 311 6931

zelda.potgieter@raywhite.com

Rolleston or Surrounding

1-2 bedrooms

Small section

Price up to $300,000

Contact

Judith Heke-Sunnex 027 603 3862

judith.heke-sunnex@raywhite.com

Rolleston

3-4 bedrooms, 2 bathrooms

3 car garaging

Section 800m2

Price $550,000 - $600,000

Contact

Zelda Potgieter 022 311 6931

zelda.potgieter@raywhite.com

Lincoln

4 plus bedrooms, 3 car garaging

Section 1000 - 2000m2

Price $950,000 - $1,200,000

The Grange or Liffeyfields preferred

Contact

Helen Lee 027 503 9219

helen.lee@raywhite.com

Prebbleton/Rolleston/

Lincoln/Tai Tapu

Section up to 800m2

Not in a sub-division

Price up to $250,000

Contact

Leisa Webster 027 722 5537

leisa.webster@raywhite.com

Prebbleton

3 bedrooms, 2 bathrooms

Section around 600m2

Price $620,000 to $660,000

Contact

Zelda Potgieter 022 311 6931

zelda.potgieter@raywhite.com

Rolleston

3-4 bedrooms

2 living

Easy care section

Price $460,000 - $500,000

Contact

Leisa Webster 027 722 5537

leisa.webster@raywhite.com

Lincoln/Prebbleton

3 bedrooms

2 living areas

Easy care section around 600m2

Price up to $600,000

Contact

Trina Rea 027 424 6901

trina.rea@raywhite.com

Weedons

3-4 bedrooms

Weedons School Zone

Land size 2-5 hectares

Price $700,000 - $950,000

Contact

Frank Dowle 027 528 0480

frank.dowle@raywhite.com

Rolleston

3 bedrooms

Easy care section, under 600m2

Wallking distance to amenities

Price up to $550,000

Contact

Glenda Crawford 027 309 0115

glenda.crawford@raywhite.com

Rolleston/Halswell

3+ bedrooms

Section 500m2 minimum

Price $450,000 - $500,000

Contact

Felicity Darling-Croton 027 779 9006

felicity.darling-croton@raywhite.com

Rolleston

3 bedrooms, 1 bathroom

Okay if TLC is needed inside

Section 600 - 1000m2

Price around $450,000

Contact

Emma Langton-George 027 555 0568

emma.langton-george@raywhite.com

Selwyn Area

3 plus bedrooms

Land 4ha or greater

Price around $700,000

Contact

Zelda Potgieter 022 311 6931

zelda.potgieter@raywhite.com

Rolleston

4 bedrooms

Ideally with 2 living areas & a WIP

Section 600m2 minimum

Price up to $550,000

Contact

Amanda Cherry 027 340 6955

amanda.cherry@raywhite.com

Selwyn Area

Land 100 - 150 acres to lease

for a Dairy Farmer

Contact

'Big Red' Shefford 027 224 4733

brendan.shefford@raywhite.com

Are you considering selling? Do you have a property that matches one of these descriptions?

Contact us now for a no obligation appraisal

Ray White Rolleston - Town & Lifestyle Real Estate Ltd Licensed (REAA 2008) MREINZ

Ph: 03 347 9988

www.rwrolleston.co.nz, www.rwwestmelton.co.nz, www.rwlincoln.co.nz
---
12

Hastings McLeod Limited Licensed under the Real Estate Agents Act 2008 6 Tennyson Street ROLLESTON rolleston@pb.co.nz 03 929 0306

Strong Performer with Options

Downs Road

NEW LISTING

NEW LISTING

WEB ID DFR64702

HORORATA

15 Osbournes Road

View By Appointment

After successful and dedicated ownership our Vendors

are reluctantly seeking a sale of their Osbournes Road

Property located near Hororata.

An aesthetically pleasing property located in a quality

location approximately 50 minutes drive to Christchurch.

The combination of moderately deep Claremont soils

and Rakaia stony loams allow for versatility of

production choices, including but not limited to Dairy

support mixed cropping or finishing.

Significant infrastructure for a block of this size including Matt Collier

substantial cattle yards, woolshed and yards along with

Mobile 027 205 6626

numerous other shedding.

mattc@pb.co.nz

Live it up large and lush

$1,590,000 + GST (IF ANY)

BUYERS $589,000+

WEB ID ROU66823

ROLLESTON

3 Dylan Close

Tucked away in a private 772m2 setting you could be

forgiven for thinking you're in your own wee world. As

you wander around this spacious 239m2 beauty it is

evident that it has been well-cared for and recent

updates have maintained the contemporary yet homely

feel.

• 5 bedrooms, 2 bathrooms and 2 living areas

• Large 5th bedroom loft or 3rd living space option

• Huge master with spacious WIR and ensuite

• Gas cooking and hot water (separate kitchen HWC)

• Extra-height ceilings to the main living areas

• Log burner and ducted heat pump

VIEW By Appointment

WEB ID DFR66691

HORORATA

Downs Road

View By Appointment

Downs Road presents the astute purchaser an excellent

opportunity to purchase a property with a solid proven

performance without the requirement for irrigation.

Effective area combined with strong soils and generally

reliable rainfall are key defining features.

Currently being utilised as a cropping property but not

limited to such.

Adjacent is a further 68 hectares allowing intending

purchasers multiple options.

Matt Collier

Mobile 027 205 6626

mattc@pb.co.nz

BY NEGOTIATION

Check this one out! BUYERS $539,000+

WEB ID ROU66513

ROLLESTON

15 Fairfield Way

With large living spaces, a sunny, easy care section &

room for the whole family, you will want to check this

one out right now! If relaxing is your thing, then you will

love to sit back in the generous lounge or chill out &

enjoy the sunny drenched covered courtyard, which is a

fantastic space for the summer barbecues. The open

plan kitchen dining area basks in all day sunshine &

features a great sized kitchen with updated appliances

(approx 2 yrs old) and heaps of bench space. A must for

the chef in the family!

VIEW Sunday 3 Mar 1.00 - 1.30pm

5

4

NEW LISTING

Sarah Yeates

Mobile 027 447 2719

Office 03 929 0306

sarahy@pb.co.nz

Modern Design and Comfort BUYERS $895,000+

WEB ID LEU66544

LEESTON

22 Friars Lane

This beautifully designed 377m2 family home is available

now. And there`s plenty of room for all the family and

friends with 6 bedrooms and sprawling living spaces.

The kitchen area offers a 6-burner gas hob, walk-in

pantry and large central breakfast island and, with the

open-plan living/dining area with log fire, this is a

perfect `family-hub`.

The indoor/outdoor flow from here onto the spacious,

sheltered veranda makes entertaining and alfresco

dining a real pleasure.

VIEW Sunday 3 Mar 3.00 - 3.30pm

2

2

Spread out in style

Angela Hunt

Mobile 021 548 777

angela.hunt@pb.co.nz

BY NEGOTIATION

WEB ID ROU66688

ROLLESTON

2 Wedgewood Row

Built in 2016 and designed to impress before you step

through the door, this expansive 285m2, 5 bedroom

home on a 1266m2 section offers extensive

indoor/outdoor living options, a stunning central kitchen

and luxury bathrooms that are all crafted to an executive

contemporary level.

• Kitchen with granite tops, gas cooking

• Luxury bathrooms with extensive tiling

• Extra-height ceilings, central vacuum

• Ducted heat pump, log burner, gas hot water

• Partially covered wrap around patio

VIEW By Appointment

2

2

6

5

Penny Dadson-Clausen

Mobile 027 895 5943

Office 03 929 0306

pennyd@pb.co.nz

3

4

Sarah Yeates

Mobile 027 447 2719

Office 03 929 0306

sarahy@pb.co.nz

2

3

pb.co.nz
---
13

Hastings McLeod Limited Licensed under the Real Estate Agents Act 2008 6 Tennyson Street ROLLESTON rolleston@pb.co.nz Office 03 929 0306

pb.co.nz

REAL ESTATE SPECIALISTS

29 Philippa Drive, Rolleston 1/212 Jowers Road, West Melton

Offers Over $484,000 enquiries Over $849,000

A Stylish Starter!

Visually pleasing and offering a low-maintenance lifestyle, this three double bedroom home in Faringdon will be

a particularly appealing option for first-time buyers who are seeking a stylish abode that they can call home. A

contemporary colour scheme and crisp finishes are ever-present, and modern conveniences including a master

ensuite & walk in robe, and an attractive open plan kitchen with breakfast bar only enhance the home's appeal.

A superbly-sized deck flows beyond the sliding door from the dining area and overlooks the exceptionally

low-maintenance grounds, which, depending on your preference, could easily be enhanced with some colourful

plantings or greenery. In addition to the ensuite, there's a well-designed family bathroom that is shared between

the remaining two bedrooms. Rounding out this fully fenced property is the presence of a heat pump and an

internal access double garage that incorporates the laundry. Clear instructions have been issued, and the keys

to this home will be changing hands. Contact Mike now for more information.

Lifestyle, Business or Leisure!

Surrounded by established hedging and set within a 3.6ha lifestyle block that's only 15 minutes from the airport,

this four-bedroom home offers a wonderful example of classic yet convenient country living. The 240m2 floor

plan includes an open plan layout, large farm style kitchen with walk in pantry as well as an adjoining formal

lounge that offers a spacious alternative setting. Sprawling lawns with pop up irrigation system surrounded

by mature plantings and specimen trees and shelter hedging has created a beautifully private environment

around the home. This property has a three bay barn, is fenced into nine paddocks including a hotwire and stock

water, a central laneway and small stock yards and has irrigation consent in place to 2031 supporting a raft of

possible uses. Perfect base for a plumber, drain-layer, builder or anyone wanting a high level of visibility with

its far boundary backing onto the west coast road. Also suited to rearing calves or fattening beef etc. Make

no mistake, the commitment to sell is genuine and at a high. With the RV at $1,010,000 and negotiable over

$849,000 (plus gst if any) the value for money is undeniable and the opportunity to purchase with room to add

value is exceptional. An Independent registered valuation is available on request. Call Mike now to view.

68 Rolleston Drive, Rolleston

0800 645 346

www.oneagencyres.co.nz

Mike Goatley

027 249 5561

Stephen Ferguson

021 224 2000

Fraser Mackintosh

027 286 8161

Elyse Campbell

021 187 6217

Deepak Gangar

021 227 9563

Nicola Curtis

Administrator

Julz Sibbe

Administrator

Real Estate Specialists Ltd Licenced REAA (2008)
---
14

Stage one selling fast

24 sections SOLD

Live where the

grass is greener

VERDECOPARK.CO.NZ

In balance with nature

Verdeco Park has been purposefully designed to magnify the connection between nature, happiness and healthy

living, by providing a framework that empowers residents to achieve, fuller, richer, healthier lives.

With earthworks underway join us on site Wednesday, 27th February from 5.00-7.00pm. We will have further

information available and would love to take you for a drive or walk through Verdeco Park to view your dream section.

Choose from Verdeco Park's range of generously sized sections and as well as building a new home, you'll be shaping a

greener, more sustainable future.

Build A Better Lifestyle

A Healthier Future

Community Orchard

Electric Car Station

Native Plantings

Verdeco Park features generous

sections ranging from

640m²-6,000m²

Embracing eco-design

innovations that enable you

to live sustainably

Communal orchard and garden

areas designed to bring residents

and community together

Open walk ways and cycle ways,

plus centrally located electric car

charging stations

Native trees and plantings

throughout Verdeco Park have

been cleverly chosen

60

3050m 2 114

3046m 2

3330m 2

175

4060m 2

163

164

5118m 2

5732m 2

159

+ row

+ row

5500m 2

+ row

158

6000m 2

+ row

153

154

5500m 2

59

161

162

5250m 2

+ row

900m 2

160

+ row

3350m 2 3874m

3590m 165 166

730m 2

157

3533m 2 3533m 2

3000m 2 32

156

900m 2

3214m 2

155

107

152

726m

4500m 2

4466m 2

61

2

5000m 2

3220m 2 2

171

3360m 2 4000m

170

169

172

4158m 2

173

3227m 2

115

3316m 2

174

178

3115m 2 3302m 3158m 2 177 176

168

116

5000m 2

117

L I N C O L N U N I V E R S I T Y

1472 Springs Road, Lincoln

49

50

52 51

750m 2

640m

53

2

54

700m 2 640m 2

700m

55

2 732m 2

56 731m 2

57 731m 2

655m

58

2

640m 2

700m 2 111

110

109 687m 2

687m 2

108

688m 2

113

112 750m 2

687m 2

687m 2

N

S I T E M A P

7

738m 2 6

720m 2 5

803m 2

86

87 88 89 90

85

943m

943m 2 2 943m 2 940m 2 1000m 2

1002m 2

Under Contract

Sold

S P R I N G S R O A D

3,000m² sections available from $355,000, titles due mid-2019

Mick Sidey

027 229 8888

Sally Hargreaves

021 125 1545

Ben Harris

021 995 596

mick.sidey@bayleys.co.nz

sally.hargreaves@bayleys.co.nz

ben.harris@bayleys.co.nz

WHALAN AND PARTNERS LTD, BAYLEYS,

LICENSED UNDER THE REA ACT 2008
---
15

FINAL NOTICE

Glenroy 322 Windwhistle Road

Endless options - deer, sheep, cattle, crop

Ridge Farm is a 128.3ha fully deer-fenced dryland farm. This well-developed property has recently been growing

kale to winter dairy cows, followed by crop producing very high yields. Fencing is excellent and laneways are wellthought-out,

giving access to most paddocks providing many options for farming. The farm is supported by a very

good deer shed, cattle yards, hayshed and workshop and a large, six-bedroom family home. With tourist numbers

at an all time high and the location of the property being only a short drive to skifields, the Rakaia River and lakes, the

home could also be used for homestays or Air BnB. This is a property with options.

bayleys.co.nz/559364

6 2 2

Deadline Sale (unless sold prior) 4pm, Fri 1 Mar 2019

3 Deans Ave, Chch

View by appointment

Ben Turner 027 530 1400

ben.turner@bayleys.co.nz

Craig Blackburn 027 489 7225

WHALAN AND PARTNERS LTD, BAYLEYS, LICENSED UNDER THE REA ACT 2008

NEW LISTING

NEW LISTING

Boundary lines are indicative only

Tai Tapu 165 Tancreds Road

West Melton 2/1280 West Coast Road

Charm and location

Retreat to the outskirts of the city and enjoy the

charms of this 3.65 hectare property. The family

friendly home features tasteful décor and a number of

living areas offering choice for relaxation. Heating is by

way of a Masport log burner in the lounge

accompanied by a heat transfer system. Suited for

most stock types the land is supported by good

shelter and sheds including stables. Positioned

approximately five-minutes' drive from both Tai Tapu

and Lincoln, it is also less than 10 minutes from

Halswell to ensure you can enjoy the convenience of

countless amenities only a short drive away.

4 2 2 3

Deadline Sale (unless sold prior)

1pm, Wed 20 Mar 2019

View Sun 1-1.30pm

Chris Jones 027 220 5043

chris.jones@bayleys.co.nz

Sam Sidey 027 346 3500

sam.sidey@bayleys.co.nz

WHALAN AND PARTNERS LTD, BAYLEYS, LICENSED REAA 2008

When location and quality

matters

Well located lifestyle property accessed through

electric gates with lovely tree-lined drive leading to a

warm, spacious 258m 2 four-bedroom home. Two

living areas open out to expansive decking that

overlooks the gardens and pond. 4.051ha surround

the home including two bay shed, wood lot and much

more.

bayleys.co.nz/559417

4 2 2 2

Deadline Sale (unless sold prior)

4pm, Thu 14 Mar 2019

3 Deans Ave, Chch

View by appointment

Richard Innes 027 522 9598

richard.innes@bayleys.co.nz

Jeremy Gould 027 436 1581

jeremy.gould@bayleys.co.nz

WHALAN AND PARTNERS LTD, BAYLEYS, LICENSED REAA 2008

bayleys.co.nz/559433

bayleys.co.nz
---
2 16

[Edition datE]

For Sale - Rolleston

Offers Invited

Incorporating show homes

in your planning process

There are many things to think about when you're

considering building a new home.

Four Car Garage Potential - 5 Bellbird Place, Rolleston

75

5

Landscape Masterplan

73

74

RV $680,000 - Vendors on the move - Your offer is invited now!

Privately situated in a small, select cul de sac of established, quality homes;

69

this near new, 4-year old family home of 263sqm offers a lifestyle to be envied.

Set on 888sqm, fully fenced section with an extensive patio with built-in pizza oven

and heaps of space for the family's enjoyment. Large, open-plan living/dining/ EXISTING

STORMWATER

PONDS

kitchen, four bedrooms, ensuite and full family bathroom, and internal access double

garage. Separate studio/sleepout - ideal for the growing family. This building offers

opportunity to create 4-car garaging.

Be quick for this one!

7

CENTRAL AVENUE

COACHMANS ROAD

Brent Miles

18

03 343 9482

17

027 432 6512 www.glassmiles.co.nz/GMR11214

19

Licensed Agents REA Act 2008

Open Home:

Sunday 1pm-

1.30pm

PREBBLES DRAIN

CONDUCTORS ROAD

21

76

20

77

16

33

72

70

68

5

15

71

70

Browsing show homes is a fantastic way

to get you thinking about practicalities,

60

needs, aesthetics and your wish list! Here

are a few consideration's to help spark your

planning process.

• What is your exterior style? What kind

of homes do you like? Look around and

take a mental note of what you are drawn

to most.

66

• What kind of BUPA exterior SITE materials do you

65

like? Once you've worked out the look

64

you like, research what materials are

6

60

available and find out about durability.

61

59

• How 62 will you use your house? It's

58

50 important 57 to 54most people to have a good

5

49

indoor/outdoor

55

flow and attractive,

48 56

53

1

sheltered outdoor 52 living. Imagine your

47

home 46in various 51 seasons.

2

44

45

• Landscaping is important. Look around

41 43

4

and consider what you like and don't like.

36 40

42

Are you a structured formal garden type

3

37

39

35

or do 2 you like a contemporary native

38

71

style?

• Sustainability 34

and future-proofing

67

63

FUTURE

RESERVE

STATIONMASTERS WAY

aren't just buzzwords anymore. It's

very important for your new home to

be environmentally friendly. Research

insulation requirements, solar hot water

heating, ventilation options and new

technology to ensure your home will be

affordable to run.

• Interior décor is really exciting. This is

where show homes can really help you get

to know current trends, colours, beautiful

furnishings and furniture. Collect home

magazines and figure out what you'd love

to emulate.

• Also, pause to give thought to

architectural components inside. Do you

remember a raised ceiling? What kind of

finishing do top homes use and which

File Ref: C17038_Masterplan.indd

styles are you drawn to?

KEY

• Heating is also a consideration. Have a

1 Gateway features

2look Central at reserve what with stormwater show ponds homes are offering.

3 Feature bridge

• Kitchens form the heart of the house.

4 Community space

Show homes give you insight into the

5 Courtyard Mews

6latest Greenway styles, connection materials and storage

7 Cycleway/ footpath

facilities available.

Low density lots

• Bathrooms Medium density lotsare another big component.

They Comprehensive need lots to be as luxurious as you can

Existing trees

make them, so start dreaming.

Proposed trees

Stormwater ponds

Swales

Planting

Lawn Kitchens form the heart of

Paved thresholds

Paved the car parking house. bays Show homes

Site boundary

give you insight into the

latest styles, materials and

storage facilities available.

StaGeS 1, 2a & 2B

NoW SellING

www.boffamiskell.co.nz

PRemIum SeCtIoNS

www.bayleys.co.nz/556437

TOSSWILL ROAD

Images 26 artist impressions only

• stages 1, 2a and 2B selling now

• titles due mid 2019

• priced from $219,000

• sections ranging from 400m 2 to over 700m 2

• an easy commute to christchurch city via the

southern Motorway

32

31

27

1

30

25

28

23

29

House and Land

packages by Mike

Greer Homes.

5 7

Landscape Masterplan

2

24

3

1

22

6

4

8

10

12

9

11

14

13

CENTRAL AVENUE

COACHMANS ROAD

77

400m 2

76

420m 2

75

72

455m 2 5 400m 2

73

405m 2 71

74 425m 2 400m 2

460m

0

60m

2

70

69

66 1:2,000 @ A3

460m 2 5 400m 2

BUPA SITE

67

68 405m 2 65

400m

460m

64THE VILLAGE 2

2

ESTATES | PREBBLETON

400m 2

63 LANDSCAPE MASTERPLAN

400m 2 | Date: 6 19 September 60 2018 | Revision: 4 |

EXISTING

400m 2

Plan prepared for New Ground 61 Capital by Boffa Miskell Limited

STORMWATER

Project Manager: jane.rennie@boffamiskell.co.nz

400m 2 | Drawn: 59 DR| Checked: KC

PONDS

62

400m 2

400m 2 58

430m 2

50 57

54

436m 2 460m 2 5 400m 2

49

455m 55

2 405m 2

48 56

53

405m

435m 2 420m 1

2 460m 2

2

7

52

47

445m 2

46 51

70 2

440m 400m2

2

44

505m

45

2

450m 2

41 43

500m

4

2 500m 2 42

33

36 40 500m

435m 2 445m 2

2 39

3

37

18

35 440m 2 445m 2

480m 2

2

38

17

71

450m 2

480m 2

19

16

780m 2 500m 2

34

21

20

FUTURE

665m 2

700m 2 15

RESERVE

515m 2

23

22

700m 2 645m 2

14

12 500m 2

25

24

700m 2 13

640m 2

700m 2

500m

10

2

700m 2

27

26

11

645m House and Land

600m 2 2

8

925m 2

28

650m 2 packages by Mike

615m 2 Greer Homes.

32

29

9

6

600m2 715m 2

720m 2

600m 2 600m 2

31

TOSSWILL ROAD

1

30

FUTURE

SUBDIVISION

PREBBLES DRAIN

CONDUCTORS ROAD

765m 2

3

2

745m 2

1

650m 2

5 7

650m 2 715m 2

960m 2

4

60

toSSWIll RoaD,

PReBBletoN

= UNDER CONTRACT/SOLD

N

STATIONMASTERS WAY

FUTURE

SUBDIVISION

ChRIS JoNeS

M 027 220 5043

B 03 375 4700

chris.jones@bayleys.co.nz

www.boffamiskell.co.nz

NathaN Collett

M 027 826 1535

B 03 375 4700

nathan.collett@bayleys.co.nz

www.chrisjonesbayleys.nz

www.facebook.com/chrisjonesbayleys

Whalan and partners ltd, Bayleys, licensed under the rea act 2008
---
17

Visit Our New

Showhome Village

Featuring seven of Canterbury's

leading building companies

The Flemington Showhome Village is now open.

Find your perfect house and land package within a well regarded

community. Each home site has been created to enjoy the best

possible aspect situated amongst Lincoln's rural outlook.

First National Real Estate

Sue Mullins

027 244 1325

Visit Us Onsite Corner of Birches Road and Craig Thompson Drive, Lincoln.

Barry O'Neill

021 364 422

www.flemington.co.nz
---
2

18 [Edition datE]

Property Market Update

with Ray White

Property market more buoyant

After a slowing in real estate sales in the

latter part of 2018, the market lifted a little

in the first part of 2019, providing more

optimism for those with properties for

sale.

"At the end of October last year,

the Selwyn property market slowed

significantly for properties over $550,000.

This was due to the Overseas Investment

Act being introduced which led to some

uncertainty in the market at the time.

Post-Christmas, things have changed with

sales volumes more consistent across all

price levels," explains Brendan 'Big Red'

Shefford, Principal at Ray White Town &

Lifestyle Real Estate.

Brendan says first home buyers

continued buying so properties up to

$550,000 were assured a market while

other buyers lagged behind. The market

has now picked up across all price points

including the upper levels.

Currently, Rolleston and Lincoln are

experiencing considerable activity as is

any property up to $450,000 Selwyn wide,

though further out the houses in that price

range are generally older or smaller.

Low interest rates have also assisted the

property market by stimulating activity as

well as stabilising the market.

Proposed changes to the Residential

Tenancy Act have influenced some

movement, with more properties which

Brendan 'Big

Red' Shefford,

Principal at Ray

White Town &

Lifestyle Real

Estate.

were previously rented being sold to

first home buyers. While a plus for those

starting on the property ladder, the

downside is a potential decrease in rental

housing stock leading to rent increases in

the future.

"It's a great time to buy if an

investor," advises Brendan. "After the

Christchurch earthquakes, rents rose

dramatically. They have declined in the

last few years and only began stabilising

a few months ago. With low interest

rates and an emerging shortage of

rentals, rent prices are likely to rise

offering a better return on investment

than has been achieved in the past two

or three years."

December, January and February

were strong months for the Ray White

Selwyn team with an increased number

of properties sold. Opening a branch in

West Melton has also been a good move

for Ray White.

"It's a great location and the shopping

complex is becoming quite busy. There's

a good community spirit and people

just drop in," adds Big Red.

With bases in Rolleston, Lincoln and

West Melton, the Ray White Selwyn

team of 26 salespeople and three

property managers, share a wealth

of experience and knowledge of the

property market in Selwyn.
---
19

thiS WEEk'S

5.30pm – 6.00pm

10.00am – 11.00am

1.00pm – 1.45pm

1.00pm – 1.45pm

5.00pm – 5.45pm

11.00am - 11.45am

11.30am – 12.00pm

12.00pm – 12.30pm

12.00pm - 12.30pm

12.15pm - 1.00pm

12.45pm – 1.15pm

1.00pm – 1.30pm

1.00pm – 1.30pm

1.00pm – 1.45pm

1.15pm – 1.45pm

1.15pm – 1.45pm

1.45pm – 2.15pm

2.00pm – 2.30pm

2.00pm - 2.30pm

2.15pm – 2.45pm

2.15pm – 2.45pm

2.30pm – 3.00pm

2.30pm – 3.15pm

2.30pm – 3.15pm

2.45pm – 3.15pm

3.00pm – 3.30pm

3.15pm – 3.45pm

3.30pm – 4.00pm

3.45pm – 4.15pm

10.00am – 10.30am

11.00am – 11.30am

11.00am – 11.30am

11.00am – 11.30am

11.00am – 11.30am

11.00am - 11.30am

11.00am – 11.30am

11.00am – 11.30am

11.00am – 11.30am

11.00am – 11.30am

11.00am – 11.30am

11.00am – 11.30am

11.00am – 11.30am

11.00am - 11.45am

11.15am – 11.45am

11.45am – 12.15pm

WEDNESDAY 27th fEbruArY

4 Frame Crescent, Rolleston

Ray White Rolleston

thurSDAY 28th fEbruArY

51 Clydesdale Way (off Carnaveron Drive)

Lincoln

Harcourts Hornby

49 Lignite Drive, Rolleston

Harcourts Rolleston

24 Dunlop Crescent, Rolleston

Harcourts Lincoln

333 Buchanans Road, Yaldhurst

Harcourts Rolleston

SAturDAY 2ND mArch

RAY WHITE

ROLLESTON 03 347 9988

www.rwrolleston.co.nz

WEST MELTON 03 347 9933

www.rwwestmelton.co.nz

LINCOLN 03 325 7299

www.rwlincoln.co.nz

235 Rolleston Drive, Rolleston

Harcourts Rolleston

19 Oakden Drive, Darfield

Harcourts Lincoln

10 Caesar Close, Rolleston

Ray White Lincoln

3 Trents Road, Templeton

Harcourts Rolleston

10 Sunline Avenue, Lincoln

Harcourts Rolleston

12 Brookside & Burnham Road, Brookside

Harcourts Lincoln

7 Mahoe Street, Templeton

Ray White Rolleston

421 Trents Road, Prebbleton

Ray White Rolleston

24 Dunlop Crescent, Rolleston

Harcourts Lincoln

49 Lignite Drive, Rolleston

Harcourts Rolleston

788 Weedons Ross Road, West Melton

Ray White West Melton

52 Vernon Drive, Lincoln

Harcourts Lincoln

670 Springston Rolleston Road, Rolleston

Harcourts Lincoln

5 Barnsley Crescent, West Melton

Ray White West Melton

1/174 Clarence Street, Riccarton

Ray White Rolleston

84 Torlesse Road, West Melton

Ray White West Melton

72 Liffey Springs Drive, Lincoln

Harcourts Lincoln

11 Aua Street, Lincoln

Harcourts Lincoln

333 Buchanans Road, Yaldhurst

Harcourts Rolleston

16 Shona Lane, West Melton

Ray White West Melton

83 Highsted Road, Bishopdale

Harcourts Rolleston

20 Rossington Drive, West Melton

Ray White West Melton

108 Shepherd Avenue, West Melton

Ray White West Melton

22 Rossington Drive, West Melton

Ray White West Melton

SuNDAY 3rD mArch

4 Craig Thompson Drive, Lincoln

Ray White Rolleston

3 Redruth Avenue, Spreydon

Ray White Rolleston

158 Dunbars Road, Halswell

Ray White Rolleston

10 Caesar Close, Rolleston

Ray White Lincoln

50 Strauss Drive, Rolleston

Ray White Rolleston

964 Old West Coast Road, West Melton

Bayleys Canterbury

7 Quirk Place, Upper Riccarton

Harcourts Rolleston

1134 Leeston Road, Irwell

Matson & Allan Leeston

18 Liddington Drive, Rolleston

Ray White Rolleston

3 Annie James Close, Rolleston

Ray White Rolleston

80 Windsor Drive, Kirwee

Ray White Rolleston

12 Anaru Road, Lincoln

Ray White West Melton

26 Anaru Road, Lincoln

Ray White West Melton

235 Rolleston Drive, Rolleston

Harcourts Rolleston

28 Goodland Place, Rolleston

Ray White Rolleston

50 Barbour Street, Waltham

Ray White Lincoln

11.45am – 12.15pm

12.00pm – 12.30pm

12.00pm - 12.30pm

12.00pm – 12.30pm

12.00pm - 12.30pm

12.00pm - 12.30pm

12.00pm – 12.30pm

12.00pm – 12.30pm

12.00pm – 12.30pm

12.00pm – 12.30pm

12.00pm – 12.30pm

12.00pm – 12.30pm

12.00pm – 12.30pm

12.00pm – 12.30pm

12.15pm – 12.45pm

12.15pm - 1.00pm

12.15pm – 12.45pm

12.15am – 12.45pm

12.15pm – 12.45pm

12.15pm – 12.45pm

12.15pm – 12.45pm

12.30pm - 1.00pm

12.30pm – 1.00pm

12.45pm - 1.15pm

12.45pm – 1.15pm

12.45pm - 1.15pm

12.45pm – 1.15pm

1.00pm – 1.30pm

1.00pm – 1.30pm

1.00pm – 1.30pm

1.00pm - 1.30pm

1.00pm - 1.30pm

1.00pm- 1.30pm

1.00pm – 1.30pm

1.00pm – 1.30pm

1.00pm – 1.30pm

1.00pm – 1.30pm

1.00pm – 1.30pm

1.00pm - 1.30pm

1.00pm - 1.30pm

1.00pm – 1.30pm

1.00pm – 1.30pm

1.00pm – 1.30pm

1.00pm – 1.30pm

1.00pm – 1.45pm

1.15pm – 1.45pm

1.15pm – 1.45pm

1.15pm – 1.45pm

1.15pm – 1.45pm

1.15pm – 2.00pm

1.30pm – 2.00pm

1.30pm - 2.00pm

8 Ledbury Drive, Rolleston

Ray White Rolleston

3 James Hight Avenue, Halswell

Ray White Rolleston

3 Trents Road, Templeton

Harcourts Rolleston

15 Tiny Hill Drive, Rolleston

Property Brokers

86 Hayes Road, West Melton

Bayleys Canterbury

11 Goldie Place, Rolleston

Harcourts Rolleston

25 Kathleen Crescent, Hornby

Harcourts Rolleston

67 Manse Road, Leeston

Matson & Allan Leeston

2 Cross Street, Coalgate

Matson & Allan Darfield

15 Cross Street, Coalgate

Matson & Allan Darfield

75 Burnham School Road, Rolleston

Ray White Rolleston

10 Full Moon Lane, Rolleston

Ray White Rolleston

17 Tiny Hill Drive, Rolleston

Ray White Rolleston

10 Navy Loop, Rolleston

Ray White West Melton

6 Tauhinu Avenue, Lincoln

Ray White Lincoln

10 Sunline Avenue, Lincoln

Harcourts Rolleston

34 Pennington Street, Leeston

Matson & Allan Leeston

20 Full Moon Lane, Rolleston

Ray White Rolleston

567 Days Road, Springston

Ray White Lincoln

9 Fairhurst Place, Rolleston

Ray White Rolleston

23 Denimes Crescent, Rolleston

Ray White Rolleston

500 East Maddisons Road, Rolleston

Harcourts Rolleston

21A Spring Street, Leeston

Matson & Allan Leeston

55 Farnborough Way, Rolleston

Harcourts Rolleston

8 Bluff Street, Coalgate

Matson & Allan Darfield

8 Spring Place, Leeston

Bayleys Canterbury

20 McLenaghan Road, Rolleston

Ray White Rolleston

7 Stonebridge Way, Prebbleton

Ray White Rolleston

5 Bellbird Place, Rolleston

Glass Miles Real Estate

57 Manse Road, Leeston

Matson & Allan Leeston

13 Mila Haven, Rolleston

Harcourts Rolleston

69 Farthing Drive, Prebbleton

Harcourts Rolleston

21 Siltstone Street, Rolleston

Ray White Rolleston

21 Symes Road, Wigram

Harcourts Hornby

72 Liffey Springs Drive, Lincoln

Harcourts Lincoln

15 Fairfield Way, Rolleston

Property Brokers

79 Hungerford Drive, Rolleston

Ray White Rolleston

15 Cassini Place, Leeston

Matson & Allan Leeston

423 Burnham School Road, Burnham

Bayleys Canterbury

165 Tancreds Road, Tai Tapu

Bayleys Canterbury

34/28 James Street, Lincoln

Farmlands Real Estate

48 Riverstone Drive, Rolleston

Ray White Rolleston

25 Jacqueline Drive, West Melton

Ray White West Melton

303 Davidsons Road, Lincoln

Ray White Lincoln

24 Dunlop Crescent, Rolleston

Harcourts Lincoln

49 Lignite Drive, Rolleston

Harcourts Rolleston

33 Birchs Road, Prebbleton

Ray White Lincoln

197 Brookside Road, Rolleston

Ray White Rolleston

32a Moore Street, Rolleston

Ray White Rolleston

51 Tancreds Road, Tai Tapu

Farmlands Real Estate

21 Newbrook Terrace, Darfield

Farmlands Real Estate

61 Gordon Street, Southbridge

Bayleys Canterbury

1.30pm – 2.00pm

1.30pm - 2.00pm

1.30pm – 2.00pm

1.30pm – 2.00pm

1.30pm –2.00pm

1.30pm – 2.00pm

1.30pm – 2.00pm

1.45pm – 2.15pm

1.45pm – 2.15pm

1.45pm – 2.15pm

1.45pm – 2.15pm

1.45pm – 2.15pm

1.45pm – 2.15pm

2.00pm – 2.30pm

2.00pm - 2.30pm

2.00pm – 2.30pm

2.00pm – 2.30pm

2.00pm – 2.30pm

2.00pm – 2.30pm

2.00pm - 2.30pm

2.00pm – 2.30pm

2.00pm - 2.45pm

2.15pm - 2.45pm

2.15pm – 2.45pm

2.15pm – 2.45pm

2.15pm – 2.45pm

2.15pm – 2.45pm

2.30pm - 3.00pm

2.30pm – 3.00pm

2.30pm – 3.00pm

2.30pm – 3.00pm

2.30pm – 3.00pm

2.30pm – 3.15pm

2.30pm – 3.15pm

2.30pm – 3.00pm

2.30pm – 3.15pm

2.45pm - 3.15pm

2.45pm – 3.30pm

2.45pm – 3.15pm

2.45pm – 3.15pm

3.00pm – 3.30pm

3.00pm - 3.30pm

3.00pm – 3.30pm

3.00pm – 3.30pm

3.00pm – 3.30pm

3.00pm – 3.30pm

3.00pm – 3.30pm

3.00pm – 3.45pm

3.15pm – 3.45pm

3.15pm – 3.45pm

3.30pm – 4.00pm

3.30pm – 4.00pm

3.30pm – 4.00pm

FOR FULL DETAILS OF ALL OPEN HOMES, PLEASE CONTACT THE REAL ESTATE COMPANIES

FARMLANDS www.farmlands.co.nz

FARMLANDS LINCOLN 03 325 2889

FARMLANDS LEESTON 03 324 3189

FARMLANDS DARFIELD 03 317 9070

PROPERTY BROKERS ROLLESTON

www.propertybrokers.co.nz

ROLLESTON 03 929 0306

HARCOURTS

www.fourseasons.harcourts.co.nz

HARCOURTS HORNBY 03 349 9919

HARCOURTS ROLLESTON 03 347 4711

HARCOURTS LINCOLN 03 662 9933

PGG WRIGHTSON CANTERBURY

03 318 7850, www.pggwre.co.nz

MATSON & ALLAN

www.marealestate.co.nz

ROLLESTON 03 347 9949

DARFIELD 03 318 8204

LEESTON 03 324 3704

MIKE PERO ROLLESTON

03 347 1111, www.mikepero.com

4 Thomas Street, Kirwee

Matson & Allan Darfield

35 Riverstone Drive, Rolleston

Harcourts Rolleston

27 High Street, Leeston

Matson & Allan Leeston

7 Juliet Place, Rolleston

Matson & Allan Rolleston

3 Bruce McLaren Way, Rolleston

Ray White Rolleston

460 Newtons Road, West Melton

Ray White Lincoln

45 School Road, Tai Tapu

Ray White Rolleston

83 Ledbury Drive, Rolleston

Ray White Rolleston

14A Stonebrook Drive, Rolleston

Ray White Rolleston

4 Reeds Road, Darfield

Matson & Allan Darfield

63 Clausen Ave, Leeston

Matson & Allan Leeston

26 Rossington Drive, West Melton

Ray White West Melton

52 Vernon Drive, Lincoln

Harcourts Lincoln

18 Wilbur Close, Rolleston

Ray White Rolleston

2 Wallace Crescent, Prebbleton

Harcourts Rolleston

670 Springston Rolleston Road, Rolleston

Harcourts Lincoln

8 Chert Street, Rolleston

Property Brokers

199 Brookside Road, Rolleston

Ray White Lincoln

23 Dryden Avenue, Rolleston

Ray White Rolleston

11 Dollar Place, Prebbleton

Bayleys Canterbury

21 Lynley Drive, West Melton

Ray White West Melton

188 Knights Road, West Melton

Harcourts Rolleston

24 Weston Way, Lincoln

Harcourts Rolleston

43 Masefield Drive, Rolleston

Matson & Allan Rolleston

65 Longcot Drive, Rolleston

Ray White Rolleston

51 Oak Tree Lane, Rolleston

Ray White Rolleston

19 High Street, Southbridge

Matson & Allan Leeston

39 Bass Street, Woolston

Harcourts Rolleston

62 Selwyn Street, Leeston

Ray White Rolleston

64 Rossington Drive, West Melton

Ray White West Melton

21 Shillingford Boulevard, Rolleston

Ray White Rolleston

38 Stonebrook Drive, Rolleston

Ray White Rolleston

11 Aua Street, Lincoln

Harcourts Lincoln

4 Piako Drive, Darfield

Farmlands Real Estate

2/82 Heaton Drive, Tai Tapu

Ray White Rolleston

333 Buchanans Road, Yaldhurst

Harcourts Rolleston

17 Cryer Street, Southbridge

Matson & Allan Leeston

63 Coopers Road, Leeston

Matson & Allan Leeston

6 Fleming Drive, Leeston

Bayleys Canterbury

53 Oak Tree Lane, Rolleston

Ray White Rolleston

83 Highsted Road, Bishopdale

Harcourts Rolleston

40 Heathridge Place, Lincoln

Bayleys Canterbury

6 Moore Street, Rolleston

Property Brokers Real Estate

45 Lemonwood Drive, Rolleston

Ray White Rolleston

6 Boulez Mews, Rolleston

Ray White Rolleston

2 Perthshire Crescent, Lincoln

Ray White Lincoln

88 Roydon Drive, Templeton

Ray White Lincoln

12 Brookside & Burnham Road, Brookside

Harcourts Lincoln

63 Lancewood Drive, Halswell

Ray White Rolleston

36 Market Street, Leeston

Property Brokers

436 Southbridge Leeston Road, Leeston

Ray White Rolleston

12 Oakley Drive, Prebbleton

Ray White Rolleston

223 Brookside Road, Rolleston

Ray White Rolleston

BAYLEYS

CANTERBURY 03 375 4700

www.bayleys.co.nz

GLASS MILES

CHRISTCHURCH 03 343 5178

www.glassmiles.co.nz
---
20