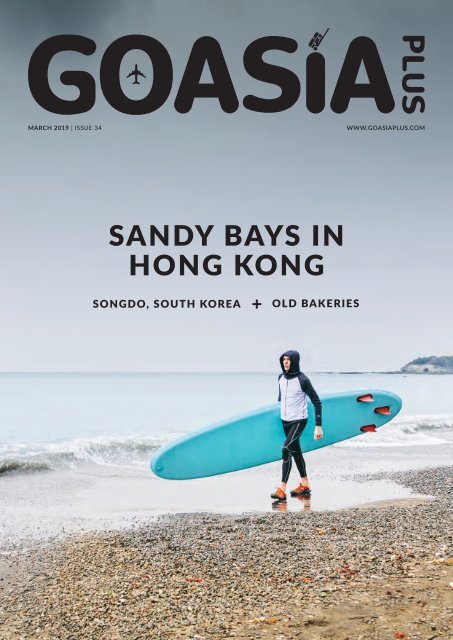 GOASIAPLUS March 2019
Embrace the sun on your skin by the beaches in Hong Kong. Our March issue highlight the island's coasts as the new attraction for travellers. Also, learn to live sustainably by swtiching to bamboo products for daily use in our shopping article. See our take on the age-old bakeries in Malaysia, the hottest K-drama filming location in South Korea and Antaboga in Indonesia.
Embrace the sun on your skin by the beaches in Hong Kong. Our March issue highlight the island's coasts as the new attraction for travellers. Also, learn to live sustainably by swtiching to bamboo products for daily use in our shopping article. See our take on the age-old bakeries in Malaysia, the hottest K-drama filming location in South Korea and Antaboga in Indonesia.
SHOW MORE
SHOW LESS
Do you know the secret to free website traffic?
Use this trick to increase the number of new potential customers.
MARCH 2019 | ISSUE 34

WWW.GOASIAPLUS.COM

SANDY BAYS IN

HONG KONG

SONGDO, SOUTH KOREA

OLD BAKERIES
---
CONTENTS

4 ON THE RADAR

8 OUT & ABOUT

16

10 TRAVEL

Spotted in Asia:

Songdo, South Korea

12 TRAVEL

Beach, Bay and Beyond

16 TRAVEL

Davao, Philippines

18 TRAVEL

Heaven in the Forest

20 SHOP

Time to Rethink Bamboo

22 FOOD

Buns for the Long Run

24 TALES ON TRACK

Lost & Found

22

COVER BY

GETTY IMAGES

EDITORIAL TEAM

GROUP HEAD & BRANDS

JOHN SO

GRAPHIC DESIGNER

JAMIE SOO-HOO

SENIOR WRITER

JESSY WONG

PHOTOGRAPHER

RICK CHEAH

CONTRIBUTORS

FRANCIS YIP & NG SHEN LEE

DIGITAL TEAM

4

WEB CONTENT

JESSY WONG

EDITORIAL ENQUIRIES

EDITORIAL@PCOMASIA.COM

SENIOR MANAGER

SALES & MARKETING

YONG WANG CHING

YONG@PCOMASIA.COM

20

COMMERCIAL & PARTNERSHIP

JOHN SO

JOHNSO@PCOMASIA.COM

PUBLISHED BY

PUBLISHCOM ASIA SDN. BHD.

NO. 83–1, JALAN MEDANG SERAI, BUKIT BANDARAYA,

59100 KUALA LUMPUR, MALAYSIA.

+603–20118983 WWW.PCOMASIA.COM

PRINTED BY

PERCETAKAN TURBO SDN. BHD.

NO. 8, JALAN SEKINCAN 26/9,

SECTION 26, SHAH ALAM 40000, MALAYSIA.

The views expressed in the articles published are not necessarily those

of Publishcom Asia Sdn Bhd (963236–P). While every reasonable care is

taken in compiling the magazine, the publisher shall not be held liable for

any omission, error or inaccuracy. Please notify the publisher in writing of

any such omission, error or inaccuracy. Editorial contributions are welcome,

but unsolicited materials are submitted at the sender's risk. The publisher

cannot accept any responsibility for loss or damage. All rights reserved by

Publishcom Asia Sdn Bhd (963236–P). No part of this publication may be

reproduced in any form without the publisher's permission in writing.

KDN PP 19019/05/2016 (034482)

WWW.GOASIAPLUS.COM · 1
---
EDITOR'S

NOTE

John So

Publisher

March arrives like a gust of warm wind after the two months of

low-key break and festivity since the beginning of the year. This

warm wind might be expectant to some but it blows at crosspurposes

with others.

I believe that life will always bring us somewhere. Despite the

wariness in the unknown horizons and distant future, it is inevitable for

us explore. Gear up because we will never know what we can discover by

believing and working hard.

So when the chance arrives, dare to explore different things. Hong

Kong has always been one of my favourite destinations–be it business

or leisure trips. The yum cha sessions and food kept many desirous of

returning but how many explored the other sunny and sandy side of

Hong Kong?

From our 'Beach, Bay, and Beyond' (page 12), I hope you will be

enticed by their coasts and have a different holiday approach for your

next Hong Kong trip. For embracing new things, the old ones will always

keep me in balance.

On page 22, check out our take with three old bakeries in Malaysia.

Each notable for their own offerings, I wish the roti and buns will take

you for a bite back to revisit your childhood days.

BRINGING

THE BAGS

Photo ADOBE STOCK

Go around anyone's house and you will find me stashed

away with tens of my other cousins. All thanks to my

popularity. For the good reasons.

For the longest period, I am introduced to the world

as a battle against my fated sworn enemy–known as the

plastics. Born and recycled with good blessings, many of you

supported me by giving me a platform to grow my influence.

Supermarkets are my biggest ally in the reformation and

it wasn't long until I was put to work as giveaway bags in

events and promotions. Brands started using me as an easily

available tote to advertise their businesses. Useful on one

day then stashed away for the eternity.

Now, I exist in an abundance of quantity but not fully

utilised to my initial purpose.

While I'm readily available in their homes, people would

still rather pay the minimal amount for plastic carriers at

their own convenience in disregard to the environment.

Take a look around and you'll find only one out of ten

shoppers diligently bring me around on their errands.

So, please don't leave me at home. Always keep me in

your car storage or bag and allow me to do what I am made

for. Afterall, I'm of a better quality than the plastics!

Often neglected,

Reusable bags

PICK-UP POINTS

Read our magazine exclusively in Aerobus airport shuttles or bring home a copy of GOASIAPLUS with you at these pick-up points below:

GATEWAY@KLIA2

AIRPORT SHOPPING MALL

KLIA EKSPRES

KL SENTRAL

KLIA

INFORMATION COUNTER AT

DEPARTURE MAIN TERMINAL

& SATELLITE BUILDING

KLIA2

INFORMATION COUNTER,

SATELLITE BUILDING &

INTERNATIONAL ARRIVAL

2 · WWW.GOASIAPLUS.COM
---
NEWS

ON THE RADAR

GET UP TO DATE ON THE LATEST HAPPENINGS ON

TRAVEL, HOTEL OPENINGS, FOOD OFFERS AND

TRENDING FASHION AROUND SOUTHEAST ASIA

SUNSHINE STATE OF MIND

The theme of Swarovski's

bright new Spring/Summer 2019

collection, Sunshine, catches its

gleam across the Mediterranean in

celebrating radiance and brilliance

for women. The Royal Goddess line

takes inspiration from the Hamsa

and the Eye of Providence in a

vibrant palette of gold, cherry red

and turquoise blue.

Available at Swarovski outlets

nationwide

A SILVER JUBILEE FOR PANTAI HOSPITAL

CHERAS

Cheras' pioneering hospital celebrates their 25-year

anniversary to mark the medical milestones achieved

since 1994. Pantai Hospital Cheras specialises in various

expertise including general surgery, neurosurgery,

ophthalmology, orthopaedics and paediatrics.

To commemorate the occasion, Pantai Hospital

Cheras is offering a comprehensive health screening

package that tests diabetes, nose cancer and liver

function (valued at RM250) for senior citizens at just

RM25. It is open to residents of Cheras aged 60 years

and above. Be the first 500 participants to register

before 30 June 2019 to enjoy this screening package.

www.pantai.com.my/cheras

LIGHTEST CANON EOS MODEL

The EOS RP, second addition to Canon's new EOS R

range, weighs only at 485grams for an interchangeablelens

mirrorless camera. One of the main feature of this

model is its smooth and fast autofocus speed even in

poorly lit conditions. Using DIGIC 8 image processor,

Canon EOS RP is perfect for new users to full-frame

cameras to achieve superb image quality.

www.canon.com.my

SHERATON ARRIVES AT PHILIPPINES

The new Sheraton hotel is set to attract guests

to the capital of Philippines with its dynamic

location. Close to the main airport, Sheraton

Manila boasts of 390 rooms including two-level

lofts accomodation for a multigenerational travel.

Sheraton Manila is also the first to introduce "The

ColLab", a co-working space in a hotel.

www.sheratonmanila.com

4 · WWW.GOASIAPLUS.COM
---
NEWS

RECORD-BREAKING SUCCESS FOR 8TV CNY GRAND BAZAAR

For the entire 19-day event, the one and

only 8TV CNY Grand Bazaar has welcomed

over 400,000 visitors at Bukit Jalil Sports

City. Garnering a massive number of festive

shoppers and weekend strollers, Malaysia's

biggest Chinese New Year bazaar ended with

a bang on 31 January 2019.

The mainstream national channel 8TV

organised the bazaar in collaboration with

Build Up Resources (BUR) and AirAsia Berhad

for a fun-filled festival. Besides meeting 8TV

personalities and celebrities, visitors were

engaged with various programme like cooking

demonstrations, cultural music performances

and interactive games throughout the days.

AirAsia BIG even took a spot in the

Malaysia Book of Records for the 'Most

Number of Lions' in a lion dance performance

during the event launch with 388 dancing

lions. For those who missed the performance

have excitedly gathered for AirAsia BIG

King of the Lions Championship to catch

contestants all over Asia put on a thrilling

set of moves with Lien Huu Dragon & Lion

Dance from Vietnam emerging as the new

champion.

The 8TV CNY Grand Bazaar saw more

than 300 merchants in both indoor and

outdoor shopping areas, food street, and the

flower market. While one is spoilt for choice

at the bazaar, the projection mapping of

thousands of flowers at Blossom Wonderland

became their highlight attraction.

The closing ceremony is joined by

Finance Minister Lim Guan Eng and an

adrenaline-pumping lion dance performance

by world-champion winner Kun Seng Keng

Lion and Dragon Dance Association.

GO TRAVEL IN ONE STOP SOLUTION

Get all your bookings done from flights, hotels,

tour packages and attractions on Go Travel–

homegrown travel e-portal and mobile app.

Introduced by Gofay Group, the e-portal and

mobile app features plenty of travel packages

and needs for leisure travellers, business trips

and even wholesale partners.

Gofay Group is known in the Malaysia

travel market for offering personalised travel

services and global chartered flights. With this

new launch, travel and business booking are

made easy and efficient through digital space.

Go Travel mobile app is now available for

download on Google Play and Apple Store.

www.gofaytravel.com

WWW.GOASIAPLUS.COM · 5
---
ADVERTORIAL

Basic Toolkit

for

Travel

Journaling

F Canon Mini Photo

Printer (model

number PV-123)

F Unlined notebook

F Coloured pens

F Washi tapes

F Travel stubs

KEEPING UP WITH

TRAVEL JOURNALING

CALL IT A TRAVEL DIARY OR SCRAPBOOKING, THE COLLECTION OF ADVENTURES AND

MEMENTOS FROM YOUR TRIP CAN BE A WONDERFUL MEMOIR IN YEARS TO COME. THE NEW

CANON MINI PHOTO PRINTER MAKES KEEPING A TRAVEL JOURNAL EFFORTLESS WITH ITS

PORTABLE AND EXPRESSIVE WAYS TO RECORD MEMORIES.

The creative way of making

a log of travels extends

beyond the sentimental and

artsy community in perfecting

their visual diary. Travel

journaling has become a trending

hobby because the satisfaction

of gathering tangible objects and

assembling it into an experience

and memory is irreplaceable.

Now, up your game with

Canon Mini Photo Printer to

enjoy the freedom and excitement

in imagining your travel journal.

After all, travel journaling is all

about capturing vivid visits and

Canon's mini portable printer just

refashioned the ways of creating

a travel journal at anywhere and

anytime you want.

SNAP AND PRINT

Enjoy a wireless printing with

Canon Mini Photo Printer just

by pairing it to a smartphone via

Bluetooth. The lightweight and

compact mini printer has a builtin

battery for easy mobility

during travels.

PERSONALISED PHOTOS

Canon Mini Photo Printer mobile

app has an extensive library of

photo-editing tools from filters,

photo frames, creative stamps and

textbox to draw on artworks to

enhance photos before printing.

GLOSSY PRINTS

The ZINK Zero Ink Technology

enables dry-printing in full colour

without having to use any ink

catridges in the mini printer.

SCRAPBOOK MATERIAL

Put your glue away for these

mess-free glossy photos! Printed

photos from Canon Mini Photo

Printer have a peel-and-stick

reverse side for scrapbooking in

a jiffy.

ENLARGING MEMENTOS

Blow it up if the standard 2x3-

inch image does not give the

photograph its justice. Canon

Mini Photo Printer has a "tiling"

function for you to enlarge a

photo by printing in tiles to

create a bigger photo made up of

multiple collage prints.

WWW.GOASIAPLUS.COM · 7
---
EVENTS

OUT & ABOUT

LOOK OUT FOR THE MOST ANTICIPATED EVENTS OF

THE MONTH IN MALAYSIA AND BEYOND

DESCENDANTS OF THE

DRAGON 2060 WORLD TOUR

16 MARCH

Wang Leehom is returning to

Malaysia for a prodigious concert

since his last visit 5 years ago. His

Malaysian fan group, Homaniacs,

are in treat for a sci-fi themed stage

and performance of Leehom's hit

songs such as 'Forever Love', 'The

Only One' and 'You're Not Here'.

Stadium Merdeka,

Kuala Lumpur, Malaysia

www.ticketcharge.com.my

RAPTOR WATCH 2019

9-10 MARCH

For the 20th anniversary of Raptor

Watch, Malaysian Nature Society are

extending the annual event to 2 days

for bird watchers and enthusiasts to

welcome the return of migratory birds

to their breeding grounds. Guests can

participate in the guided walks, join craft

activities and games besides watching

raptors at this special event.

Tanjung Tuan Forest Reserve,

Melaka, Malaysia

www.mnsraptorwatch.wordpress.com

MALAYA RELIVED: THE FALL OF

SINGAPORE

22-24 MARCH

This new musical–The Fall of Singapore–is

the first of the Malaya Relived series which

explores the foundations of Malayan

cultural identity. The three-act musical

surrounds the story of a young family with

Bugis ancestry living in Singapore under

the British empire in the 1940s of Malaya.

GMBB Gallery, No 2 Jalan Robertson

Kuala Lumpur, Malaysia

www.liverandlung.com

MAROON 5 RED PILL BLUES TOUR

LIVE IN SINGAPORE

7 MARCH

The band is set to play their largest

show in Singapore in accordance to

their successful sixth studio album 'Red

Pill Blues' that has more than a million

sales. This tour is a first for Sam Farrar

to debut as an official member of the

Grammy-winning Maroon 5 as a multiinstrumentalist

in the band.

National Stadium, Singapore

www.sistic.com.sg

RITA ORA PHOENIX 2019 LIVE IN TAIPEI

16 MARCH

Embarking on her first solo tour in Asia, Rita Ora

will be performing in support of her second studio

album 'Phoenix'. Despite the long wait since her

debut studio album, Rita Ora remains the first

British solo artist to have 13 top 10 songs in UK

with singles like 'Your Song' and 'Anywhere'.

Legacy Taipei, Taipei, Taiwan

www.livenation.com.tw

8 · WWW.GOASIAPLUS.COM
---
TRAVEL

SPOTTED: ASIA IN FILMS

SONGDO, SOUTH KOREA

Text NG SHEN LEE

Photos ADOBE STOCK & FREEVECTORMAPS.COM

By the waterfront of Incheon in South

Korea lies Songdo. Dubbed as the

country's "smartest" city, it's been

built from the ground up to become the

ultramodern city it is today–a wonder of

technology bringing the term "eco-friendly"

to a whole other level.

Think built-in computers in every

building and street, as well as garbage

chutes which suck waste underground.

But Songdo's claim to fame doesn't stop

there. It's modern utopia-like surroundings

has made it popular among filmmakers as a

filming location for multiple dramas, movies

and even music videos.

Among them include "Descendants of

the Sun", where the Songdo G-Tower made

an appearance. The rooftop of the 33-floor

skyscraper is also accessible to members of

the public looking for a panoramic view of

the city.

Not too far away, also in Songdo Central

Park is the Northeast Asia Trade Tower.

Filming for "Goblin", another household

name for fans of Korean dramas was held

here as well.

In the romantic fantasy "My Love

From The Stars", the character Do Min-

Joon heroically saves Cheon Song-Yi from

falling down the cliff. This setting was made

possible at the Incheon Songdo Mountain,

an abandoned quarry. The same male lead

also played the role of a university professor

at the Songdo campus of Incheon University

in the drama.

And surely many can recall the infamous

music video of PSY's "Gangnam Style"

which took the world by storm at the time

of its release in 2012. The underground

parking lot? That was the parking lot of a

building in Songdo. And that bawdy scene

where an actor dances on top of PSY as he's

on all fours? Filmed in an elevator of the

same building too!

So, if one weren't in the know, they'd

probably say that Songdo is the "Tomorrow

City" it boasts itself to be, flocked day and

night by tourists. But what if that wasn't so?

Even with a slew of triumphs behind its

back, the city hasn't been seeing nearly as

much tourism as it should have as a result

of being host to so many filming locations.

To the extent of being called a No Man's

Land, the unsettling emptiness of the city

has even been compared to the desolation

of Chernobyl.

We can only hope that the pristine

metropolitan will be able to spike tourism

with the help of more and more established

film projects in the area.

In Songdo, there

are no trash

cans or garbage

trucks!

FUN

FACTS

An impressive

40% of the city is

to be made up of

green parkland.

10 · WWW.GOASIAPLUS.COM
---
TRAVEL

BEACH, BAY AND BEYOND

A WALK TO THE SIDELINES OF URBAN HONG KONG IS AN ABSOLUTE WONDER FOR ONE TO

UNCOVER ITS LESSER-KNOWN COASTAL TREASURES ON THE ISLAND.

Text JESSY WONG Photos HONG KONG TOURISM BOARD, ADOBE STOCK & GETTY IMAGES

1

1 The resort-like Repulse Bay on Hong Kong island 2 Big Wave

Bay for surfers 3 Cheung Sha Beach of Lantau island 4 A surfer

playing against the tides 5 Paddleboarding competition for the

locals 6 BBQ pit by the beach 7 A rocky Hung Shing Yeh beach

8 Windsurfers casually parked on the sandy beach

12 · WWW.GOASIAPLUS.COM
---
TRAVEL

Why pack your swimming attire for a trip to Hong Kong if you are only going to use it at

the hotel's pool? Bring along your sun hat as not many know that hidden beneath the

shadows of a world-class metropolitan city are its secret scenic beaches.

Beyond the fascinating buildings, vibrant nightlife and lip-smacking food, it is commonly

forgotten that Hong Kong is afterall, made up of several islands. Situated in the southeast of

China, Hong Kong's beaches are a perfect escape from the fast-paced city life and play hosts to all

sunbathers and outdoor buffs with summer recreations on the waters.

WWW.GOASIAPLUS.COM · 13
---
TRAVEL

BIG WAVE BAY BEACH

The surfer's paradise in Hong Kong is one of the

best-equipped beaches for a family picnic or beach

gathering. Besides the readily available beautiful

location with public BBQ pits, equipments like

parasols, beachmats, surfboard and wetsuit are up for

rents. Living up to its namesake, Big Wave Bay Beach

is a remote surfing spot enveloped by green hills. For

interested amateurs, you can even take up surfing

lessons at the beach from the professionals. Another

nearby attraction is a large prehistoric rock carving

with geometric designs and animals.

Popular for

Surfing

Location

North of Shek O,

Hong Kong island

2

How To Get There

Taking a direct cab from Central to Shek O would take

30 minutes. For cheaper alternative, public transport like

the MTR or buses go to Chai Wan and you can enjoy the

short scenic hike from Chai Wan to Big Wave Bay.

3

4

5

CHEUNG SHA BEACH

Known as the longest beach in the country, Cheung Sha beach is an ideal escapade

from the urban capital. In the absence of high-rise buildings, it certainly makes

one hard to believe that the serene beach is part of Hong Kong as the beach

overlooks an endless horizon of the blue sea ringed by nature and adjacent

hills. The beachfront of lower Cheung Sha beach is populated with cafes and

restaurants besides a water-sports center that rents out kayaks, paddle-board and

surfing equipments. Other than sunbathing in the day, there is also a camping

ground for a campfire night at the beach.

Popular for

Windsurfing from November till March

Location

South coast of Lantau island

How To Get There

From Central Ferry Pier, take a ferry ride to Mui Wo. Once arrived, take bus number

1 or 2 to Cheung Sha Ha Tsuen. The beach would be walking distance from the stop. If

you're driving, do take note that parking is limited by the beach.

14 · WWW.GOASIAPLUS.COM
---
TRAVEL

6

HUNG SHING YEH BEACH

Hung Shing Yeh beach is a commercial site on Lamma

island with a long line of eateries, shops and street vendors

heading to the sandy area. Compared to other beaches in

Hong Kong, this beach is notable with rocks decked by the

coast. Hung Shing Yeh beach is a sunny calling for a breezy

relaxation for locals and tourists so do expect large crowds

on weekends and Hong Kong's public holiday. Close by,

Lamma Power Station beach is a small, less crowded seaside

bank overlooking Lamma power plants if you want to escape

the crowd.

Popular for

Sunset BBQ

Location

North of Lamma island

7

How To Get There

Take a short ferry trip from Central Ferry Pier heading to Yung

Shue Wan Pier. Once arrived, the beach is only a 20-30 minutes

walk on the main road from Yung Shue Wan Pier with road signs

to the beach.

8

TUNG WAN BEACH

Don't be surprised if you catch couples taking wedding photos on the

beach. Tung Wan beach has one of the best picturesque views in Hong

Kong with the country's longest suspension bridge, Tsing Ma Bridge, and

clear blue sky in the backdrop. Fitted with shark net and lifeguards on

duty, the beach is safe for swimming, windsurfing, canoeing and surfing

if the wave permits. Tung Wan beach is a scenic spot to go for a fun

weekend. Furthermore, the nearby Noah's Ark Theme Park could be an

optional stop when the weather turns awry.

Popular for

Windsurfing

Location

Cheung Chau island

How To Get There

It takes a 30 minutes ferry ride from the Central Ferry Pier to Cheung Chau

and it is only a 10 minutes walk to the beach from the pier. You can rely on sign

posts along Tung Wan Road while making your way to the beach.

ALSO CHECK OUT

SHAM WAN BEACH

This coast at Lamma

island is unique to green

turtles as it is their only

nesting site in the whole

South China Sea. Due to

its ecological importance,

authorities closed the

site from early June till end of

October every year to allow turtles to breed.

After the nesting period, the beautiful beach

is reopened to public. The only way to get to

the remote beach is through a 3 kilometres

hike through Mo Tat Wan New Village.

WWW.GOASIAPLUS.COM · 15
---
TRAVEL

ROAD LESS TRAVELLED

DAVAO, PHILIPPINES

THE HIGHLY URBANISED CITY ON THE ISLAND OF MINDANAO

NICKNAMED "KING CITY OF THE SOUTH" IS A LAND OF DELIGHT FOR

NATURE ENTHUSIASTS AND ANIMAL LOVERS.

Text JESSY WONG • Photos ADOBE STOCK & RED PLANET HOTELS

HOW TO GET THERE

Located 2 hours south from the main capital of

Manila, easily get to Francisco Bangoy International

Airport via domestic flights. International airlines

like Singapore Airlines and AirAsia have direct flights

to Davao. Besides travelling on road, one may also

travel by sea to Davao on ferry rides from Manila.

WHERE TO STAY

Red Planet Davao is a budget hotel strategically

located close to shopping hotspots. Perfect for

business and leisure travellers, the hotel is also

equipped with wheelchair-friendly facilities.

Alongside, Bahay Ni Tuding is a homely inn in

the city with minimal accents of Filipino decor.

This inexpensive inn is also walking distance to

Davao River.

16 · WWW.GOASIAPLUS.COM

WHERE TO EAT

Dine at Kaonanan sa Tribu K'Mindawan Davao

to taste authentic Mindanao cultural food and

tribal inspired meals. The Palosebo meal is

a vegan food to try made of banana blossom

cooked in coconut milk. For a good range of

Spanish and Filipino cuisine, go to Tiny Kitchen

& Dulce Vida restaurant.

WHAT TO DO

Bird lovers can spend their day at Philippine

Eagle Centre, home to the largest eagle species

in the world. The conservation center is also a

breeding facility for the critically endangered

Philippine eagles. Afterwards, head to People's

Park to see life-sized sculptures of the native

peoples of Mindanao.

Take a quick ferry ride to neighbouring Samal

Island and spend a day there by visiting the cave

of Monfort Bat Sanctuary, play in giant slide at

Maxima Aqua Fun and dip in Hagimit Falls. For

the adventurous spirit, try whitewater rafting in

Davao river and ziplining at Asia's longest and

fastest zipline at Outland Adventure.

GOOD

to

KNOW

Davao is home to

the highest peak in

Philippines, Mount

Apo, a dormant

volcano near 2,954m

in height.

Durian, the "King

of Fruits" is amply

grown in Mindanao

and can be found

almost everywhere in

Davao.

Kadayawan Festival

is Davao's biggest

annual festival in

celebration of life and

thanksgiving for good

harvest held on every

third week of August.
---
TRAVEL

1

2

HEAVEN IN

THE FOREST

PURA ANANTHA BOGA IS A SACRED FOREST

IN INDONESIA KEPT BEAUTIFULLY WITH

SCULPTURES OF MOTHER MARY, JESUS

CHRIST, GODDESS OF MERCY, SHIVA, GANESHA

ALONGSIDE A MUSLIM SURAU.

Text & photos FRANCIS YIP

In Malaysia, we have streets of harmony with churches, mosques

and temples side by side. But did you know in Indonesia, there is

a sacred forest site displaying a similar rare show of unity?

Welcome to Pura Anantha Boga or aptly known as Anta Boga

in Banyuwangi, Indonesia. I call it "Heaven in the Forest" because

the sacred site exudes an aura of peace and serenity captured in the

beautiful verdant profile of the forest.

Nestled on the slopes of Raung Mountain in Glenmore District,

Banyuwangi, Anantha Boga is sprawled over an area of 300 acres of

forest. The people of Bali and the surrounding villagers believe that

the legend Rsi Markendeya meditated in this forest and received

God's calling to build a temple in the next island now known as

Bali. The temple is named Besakih, mother temple of Bali.

Anantha Boga is then transformed into a sacred forest site with

the belief that all religions are good and could co-exist in harmony.

The site was built by the local community to reflect East Java's rich

culture and tolerance to all religions. It has since attracted locals

and tourists alike from all faiths.

18 · WWW.GOASIAPLUS.COM
---
TRAVEL

4

"All religions

are good and

could co-exist

in harmony."

5

3

1 Hindu God Ganeshan overlooking the holy river 2 A

portrayal of Lord Shiva among the greens 3 This holy

river's water is believed to have healing powers 4 A

statue of Jesus in the forest 5 An altar of Mother Mary

with flower offerings

BEHIND THE LEGACY

Anantha Boga is the name of one of the Sang Hyang Naga Tiga; namely

Sang Hyang Naga Ananthaboga (symbolising earth), Sang Hyang Naga

Basuki (symbolising water) and Sang Hyang Naga Taksaka (symbolising

air). The three are believed to form the island of Bali. Etymologically,

Anantha Boga means food that will not run out.

It is believed that Pura Anantha Boga takes on the Tri Hita Karana

concept, which is the harmonisation between God (parahyangan), humans

(pawongan), and nature (palemahan).

There are various kinds of symbols that represent the existence of

the oldest religion Hinduism, such as lingga-yoni and Ganesha statues.

Lingga-yoni is an object used for the means of worshiping Shiva and

Parvati, while Ganesha is known as the god of knowledge and son of Shiva

and Parvati.

Today, the Tourism Board of Indonesia is dynamically promoting Pura

Anantha Boga as one of the key tourist destinations in East Java. Garuda

Indonesia's low-cost airline, Citilink has also recently opened the Kuala

Lumpur-Banyuwangi direct round-trip route.

Getting There

From Airport Belimbing Sari, approximately 40-45km

From nearest Hotel Pinus, appoximately 10-15km

From the Genteng Subdistrict, about 6km to the west

(Glenmore). Turn right after finding a signboard (to

the north) then cross the railroad tracks. Then walk

straight for 6 km to the Anantha Boga secretariat, the

Sandya Dharma Temple in Selorejo Hamlet.

Good To Know

Cover your body

appropriately when

entering the site. If you

want to purify your

body in the holy spring

water, you may change

into a sarong.

WWW.GOASIAPLUS.COM · 19
---
SHOP

TIME TO RETHINK

BAMBOO

MITIGATE THE EFFECTS OF CLIMATE CHANGE

WITH BAMBOO-MADE CONSUMER PRODUCTS

THAT ARE MORE ENVIRONMENTALLY FRIENDLY

AND SAFE FOR OUR PLANET IN THE LONG RUN.

Text JESSY WONG • Photos THE USUK INITIATIVE, THE HIVE & JESSY WONG

Ride in the current wave of sustainability

to reduce plastic usage in our daily lives.

Plastic is extensively used everywhere and

the non-biodegradable material is damaging to

the planet. When thrown on land, it reduces soil

fertility. When disposed in sea, it harms marine

life and pollutes the ocean.

Therefore, naturally-sourced materials that are

composable are better for the planet in a long run.

Bamboo has proven its versatility in many ways

and today, it is used in popular productions like

furniture, flooring and clothes.

This is because bamboo is one of fastest

growing plants on Earth and it can be harvested

frequently in a year. Also, the root is not damaged

when harvested so it doesn't need to be replanted.

Besides being the panda's favourite snack, bamboo

also absorbs a higher amount of carbon dioxide

than most other plants.

However, due to the strong nature of raw

bamboo, the process of manufacturing it into

fabric puts the 'green' product into question. Even

that, the possibilities and benefits of bamboomade

products still outweigh the mass production

materials like plastic and cotton.

Take a small step to rescue the environment

by reinventing your daily choices and usage. Like

the late Stan Lee has put it, one person can really

make a difference. So even if you failed all your

previous resolutions, take a momentous turn this

year by switching to bamboo-made products for a

good change.

STRAW

Malaysia has called a nationwide ban on plastic

straws starting 2019 so be equipped with

your own straw for your next dining outside.

Bamboo straws can be soaked in boiled vinegar

water then scrub it with coconut fibre cleaning

brushes for a more thorough clean!

GET IT AT G

The Usuk Initiative

www.theusukinitiative.org

20 · WWW.GOASIAPLUS.COM
---
SHOP

COTTON SWAB

Reduce your daily toiletries waste with

these compostable bamboo sticks cotton

swabs for everyday use.

GET IT AT G

The Hive Bulk Foods

92A, Lorong Maarof, Bangsar Park,

Kuala Lumpur

GOOD

to

KNOW

All eco-friendly products could be reuse and

disposed. In its entire life cycle, a sustainable

product can help to reduce the waste in our

landfills from the process of making, consumer

usage and till the final disposal. The products can

be infinitely recycled as raw materials or fully

composted back to Earth.

TOOTHBRUSH

Biodegradable bamboo handles makes

an ethical change for toothbrush

replacement in every 3 months.

GET IT AT G

The Hive Bulk Foods

92A, Lorong Maarof, Bangsar Park,

Kuala Lumpur

PAIR it WITH

FRANGIPANI BULK SOLID

TOOTHPASTE

Made with natural and organic ingredients,

the toothpaste comes in a reusable stainless

steel mini box. This handmade toothpaste

is also refillable for a zero waste initiative.

GET IT AT G

The Linc KL, 360, Jalan Tun Razak,

Kuala Lumpur

www.frangipani-shop.com

WWW.GOASIAPLUS.COM · 21
---
FOOD

BUNS FOR THE

LONG RUN

THE MORNING STAPLE FOR MOST

MALAYSIANS IS PROUDLY A GENERATIONAL

BUSINESS FOR THESE ONE-OF-A-KIND

BAKERIES IN WEST MALAYSIA.

Text & photos JESSY WONG

Steeped in Malaysia's multicultural community,

bread is among the major bedrock to our

identity and history. One that represents our

ancestor's culture that steams mantou, another

kneaded and baked over hot iron griddle that forms

roti and the English's introduction of brown outercrust

white loaves to Malaya.

Be it if you pair with the spicy curry, sweet

kaya or fragrant butter, bread is a universal love for

Malaysians. Conceivably, the popularity of bread

sees many independent operated bakeries serve the

local demands for decades and some has held certain

irreplaceable trademark products. All tried and

tested, here are the places I found that may fix your

cravings for good buns.

CONTINENTAL BAKERY

Since 1980s

The retro set-up of the bakery is a spell of age and

esteem to the locals in Penang. As the star of Nagore

Street, Continental Bakery is known for baking fresh

and hearty buns for the longest time. The bakery's

best well-known recipe belongs to Multi Grain

Walnuts and Dates bread, a comforting healthy bread

for the health-conscious consumers. Find a wide

variety of Western baked goods like wholewheat

English muffin, cream puffs and cakes. The bakery

also has a small eating area for dine-in to pair their

buns with mushroom soup and spaghetti bolognese.

Personal pick

French Butter Croissant. The

croissant is unbelievably soft with

a well-baked savoury crust. Larger

than the size of my palm, each

bite of the handmade croissant

brings a dough buttery finesse to

the tastebuds.

33, Jalan Nagore, 10050,

Georgetown, Penang

+604-228 3814

22 · WWW.GOASIAPLUS.COM
---
FOOD

"A spell of age

and esteem to

the locals."

HIAP JOO BAKERY & BISCUIT FACTORY

Since 1919

This four generational bakery takes pride

in their long commitment of providing

the finest buns to the locals. Using only

one large brick-made woodfire oven,

Hiap Joo Bakery is filled with the aroma

of freshly baked buns daily. Besides plain

buns, their round bread comes in nine

variety of fillings from coconut, red bean,

peanut, curry potato, sardine and etc.

Also, the good thing about this age-old

bakery is that no preservatives are used

in baking so all their cakes and breads

are best consumed within 3 days to

maintain its freshness.

Personal pick

Banana Cake.

Underneath the slightly

charred top is an

irresistibly spongy and

moist banana cake with a

light smoky flavour. This

crowd-magnet is sold in

two sizes; big with ten

sliced pieces or small

with five slices.

13, Jalan Tan Hiok Nee,

Johor Bahru, Johor

+607-223 1703

SALAHUDDIN BAKERY

Since 1937

The beige front and pastel green interior is a

familiar sight to many in this town. Salahuddin

Bakery was a start-up dream for this family.

For four generations, it remains as a charm to

Malaysians with their original soft bread baked

in coal-fired oven till this day. From the wee

hours of morning, fifty over kinds of baked goods

are slowly put on display like the olden times.

One may be spoiled for choice with all kinds of

pastries, breads and muffins but their best-seller

remain to be the large triangular Indian curry

puffs with potato fillings.

Personal pick

Bengali bread with the bakery's

kaya spread. Bengali bread is a

local term for common white

bread with brown crusts. The

bread from this bakery is a gem

because it is difficult to find an

authentic Bengali bread with

coal-fired fragrant.

26, Jalan Dhoby,

Johor Bahru, Johor

+607-2273736

WWW.GOASIAPLUS.COM · 23
---
TALES ON TRACK

LOST & FOUND

ADVOLUTION

Text & photos FRANCIS YIP

mee, fast to cook,

good to eat." "Milo, grow

"Maggi

like a champion grow."

"Energizer. Keep going and going." I grew

up watching these TV commercials in

the 80s. And I didn't expect years later

in 1993, I joined the advertising world as

a copywriter. Some friends thought my

job was literally "copying" information or

dealing with copyright law! Well, welcome

to the unexpected world of advertising.

THE EARLY DAYS

The history of advertising in Malaysia

can be traced back in the early days of

independence. There were only a few

advertising agencies in Kuala Lumpur,

namely Cathay, Grant. Benson, Young,

Fortune, Masters, Millington, MarkLin and

the famous local agency, Union 45.

The advertising industry in that era

was dominated by foreign agencies but

the landscape started to change in the

80s and 90s with the set up of more

local agencies. In 1971, the Association of

Accredited Advertising Agents of Malaysia

was established to represent the voice of

advertising agencies in Malaysia.

In those days, if children told their

parents they would be joining advertising,

the first impression in mind was they

would be drawing bus signages, cinema

posters and billboards. Thankfully, this

stereotype perception had gradually faded

over time with the emergence of new art

colleges in Malaysia like Lim Kok Wing

Institute of Creative Technology, One

Academy and more.

LIFE AS AN AD MAN

Many people think advertising is full of

glitz and glam. Believe me, agency life is

not a bed of roses. We rack our brains and

even stay overnight in the office to meet

deadlines. It is even more of a torture

when there is an advertising pitch.

But if you get used to it, you will love

your job. I have been saying I wanted to

quit advertising probably more than ten

times in my entire career. Guess what? I

am still doing copywriting today.

Looking back at how I first started my

career can be quite amusing. Back then,

there was no internet. So art directors

would do scamps and the visualisers have

to hand-draw or airbrush the ads and

storyboards.

Photoshop and other Adobe software

were still not extensively used. Corel Draw

was used instead. Video editing was done

manually by cutting and pasting the back

of the films with Scotch tape. A tedious

process compared to video editing using

computer today.

I have also worked in an agency

which didn't believe in investing in

technology. Hence, copywriters had to

use the complicated Wordstar software

instead of Microsoft Word. Well, not all is

bitter. Advertising people also have their

taste of glory. We have our own Oscar

in advertising known as Kancil Awards

and later, more awards like Putra Brand

Awards and Effie Awards came into play.

Afterall, all work and no play makes Jack a

dull boy.

THE DIGITAL WORLD

Today 87.4 percent of Malaysians use the

internet. Digital marketing has become

more important and clients channel

more budget in digital than traditional

media. Out-of-home media such as

digital billboards, transit and wallscape

advertising are also growing in demand.

The landscape of advertising has

changed but the good old wisdom of the

business stays.

Above all, "I'm lovin' it" in spite of my

love-hate relationship with the industry.

24 · WWW.GOASIAPLUS.COM

FRANCIS YIP always loses himself but somehow, finds his way back with lots of juicy stories to share. Forgive him if he sparks a debate.

Love him if he unlocks hidden jewels. So heavenly, so travelicious with him!

www.franciswriter.com franciswriterAd franciswriter