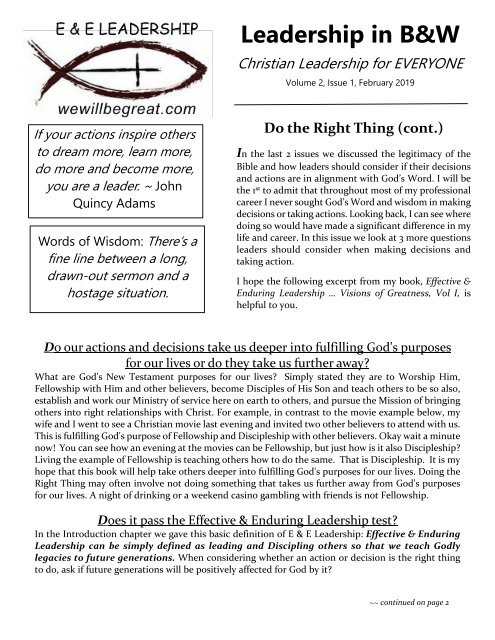 You also want an ePaper? Increase the reach of your titles
YUMPU automatically turns print PDFs into web optimized ePapers that Google loves.
Leadership in B&W

Volume 2, Issue 1, February 2019

Do the Right Thing (cont.)

John

Quincy Adams

Words of Wisdom:

In the last 2 issues we discussed the legitimacy of the

Bible and how leaders should consider if their decisions

and actions are in alignment with God's Word. I will be

the 1st to admit that throughout most of my professional

career I never sought God's Word and wisdom in making

decisions or taking actions. Looking back, I can see where

doing so would have made a significant difference in my

life and career. In this issue we look at 3 more questions

leaders should consider when making decisions and

taking action.

I hope the following excerpt from my book, Effective &

Enduring Leadership … Visions of Greatness, Vol I, is

helpful to you.

Do our actions and decisions take us deeper into fulfilling God's purposes

for our lives or do they take us further away?

What are God's New Testament purposes for our lives? Simply stated they are to Worship Him,

Fellowship with Him and other believers, become Disciples of His Son and teach others to be so also,

establish and work our Ministry of service here on earth to others, and pursue the Mission of bringing

others into right relationships with Christ. For example, in contrast to the movie example below, my

wife and I went to see a Christian movie last evening and invited two other believers to attend with us.

This is fulfilling God's purpose of Fellowship and Discipleship with other believers. Okay wait a minute

now! You can see how an evening at the movies can be Fellowship, but just how is it also Discipleship?

Living the example of Fellowship is teaching others how to do the same. That is Discipleship. It is my

hope that this book will help take others deeper into fulfilling God's purposes for our lives. Doing the

Right Thing may often involve not doing something that takes us further away from God's purposes

for our lives. A night of drinking or a weekend casino gambling with friends is not Fellowship.

Does it pass the Effective & Enduring Leadership test?

In the Introduction chapter we gave this basic definition of E & E Leadership: Effective & Enduring

Leadership can be simply defined as leading and Discipling others so that we teach Godly

legacies to future generations. When considering whether an action or decision is the right thing

to do, ask if future generations will be positively affected for God by it?

~~ continued on page 2
---
Leadership in B&W

page 2

Is it fair to everyone involved or

affected by the decision or action?

E & E Leaders understand they do not live isolated

lives and they realize that their decisions and actions

have effect on other people, perhaps even far

reaching across distance and generations. This

applies to major life decisions such as our

professions, where we live, and who we marry. It also

applies to small decisions, such as buying gifts for

others or clothing or cars or do we go to the movies

tonight?

Luke 16:10 says, "Whoever can be trusted with very

little can also be trusted with much, and whoever

is dishonest with very little will also be dishonest

with much." Perhaps our example is not 'dishonest'

in the purest sense of the word, but not being fair to

all involved may be a form of dishonesty. Do not get

me wrong, I really enjoy going to the movie theater,

but I have been guilty of making a bad decision of

going to the movies when I should be doing

something else or being more considerate of my wife's

time, schedule, and need for personal time. This just

points out the importance of even small, simple

decisions we make. Imagine the even more far

reaching effects of the major life decisions of our

professions, where we live, and who we marry.

Matthew 25:21 encourages us, ""His master replied,

'Well done, good and faithful servant You have been

faithful with a few things; I will put you in charge of

many things. Come and share your master's

happiness!'" and Jesus goes on to warn us in Luke

16:11-12, "So if you have not been trustworthy in

handling worldly wealth, who will trust you with

true riches? And if you have not been trustworthy

with someone else's property, who will give you

property of your own?"

To

Or provide feedback, send an email to:

wewillbegreat.com

The book,

Signposts On

The Road To

Armageddon,

talks about

our financial

responsibility

or lack

thereof:

""Benjamin

Franklin's dictum, "It's better to go to bed supperless

than to run into debt," sounds silly to this generation.

The craving for the good life has lured millions of

Americans hopelessly into debt. If we add home

mortgages to what Americans otherwise owe, then

consumer debt reaches an astronomical $1.5 trillion.

As a nation, we are a people addicted to living beyond

our means in order to gratify our wants. The oldfashioned

idea of working and saving for what we want

has long since been abandoned. Then there is the U.S.

Government's own staggering debt. Our love of money

and the things that money can buy has saddled

millions of Americans with a hopeless burden.""

Saddling future generations with our debt is not fair

to them, it is not the right thing to do, and displeases

God.

As we go about our daily activities and decisionmaking,

let us Do The Right Thing in God's eyes

versus what we think is pleasing from our earthly

perspectives. How do we do this? By keeping God as

the center of our lives, our reference point on how to

live. "What does seeking first the kingdom of God

mean in terms of our leadership decisions? It means

bringing an eternal perspective into the realm of

practical, day-to-day leadership decisions that effects

better results and better relationships." ~ Lead Like

Jesus. We must make God more important than our

families, our work, our country, (yes, even football)

and everything else in our earthly lives.

Michael Bianchi is the author of

and