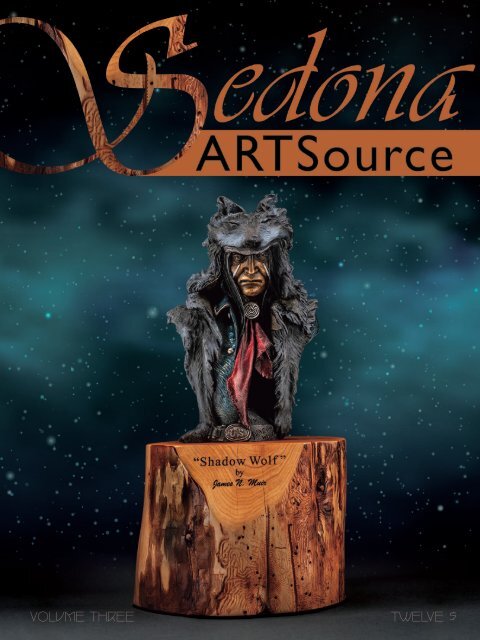 Sedona Art Source - Volume Three
Sedona ARTSource Volume Three spotlights Sedona visual artists including Bearcloud, Nicholas Kirsten Honshin, James N. Muir, and Steve Simon; performing artists including Rick Cyge and Sammy Davis Band; culinary artist Jeff Smedstad; and artist advocates Linda Goldenstein and Marty Herman. Learn about the spirit within the art of the Zuni; view Sedona seasons as captured by the Sedona Camera Club; and get a sense of art in action through films featured at the Sedona International Film Festival.
Sedona ARTSource Volume Three spotlights Sedona visual artists including Bearcloud, Nicholas Kirsten Honshin, James N. Muir, and Steve Simon; performing artists including Rick Cyge and Sammy Davis Band; culinary artist Jeff Smedstad; and artist advocates Linda Goldenstein and Marty Herman. Learn about the spirit within the art of the Zuni; view Sedona seasons as captured by the Sedona Camera Club; and get a sense of art in action through films featured at the Sedona International Film Festival.
SHOW MORE
SHOW LESS
Create successful ePaper yourself
Turn your PDF publications into a flip-book with our unique Google optimized e-Paper software.
VOLUME THREE TWELVE $
---
Voted Best Gallery in Sedona 11 Years Running!

"Broken Arrows"

Bronze Limited Edition of 12

by James Muir

Cochise "broke the Arrow" in a sign of Peace.

The government broke the treaty in a sign of War.

The loyal "Apache Scouts" were shipped to prison

with the "Hostiles".

"We are all "Broken Arrows"

…James N. Muir

GOLDENSTEIN GALLERY

Sedona ARTSource

150 State Route 179, Sedona ◊ 928.204.1765 ◊ GoldensteinArt.com

1
---
FROM THE PUBLISHER

The third issue of Sedona ARTSource continues

to build on a commitment to serve the arts

community and the general public by providing an

informative platform supporting the arts and those

that contribute to the fabric of the art scene in

Sedona.

Veteran writer and musician Lynn Alison Trombetta,

who has been with us from the beginning, has moved

into the position of editor bringing years of creative

experience along with a zest for all the arts to

complement her role.

Volume lll introduces a new feature titled Toast of

the Town that will honor a person or group that has

contributed positively in supporting the arts in our

community.

Special "Thanks" too for the thoughtful expressions

and well wishes received from many that have taken

time to express support for the ARTSource project.

Art has such a wonderful capacity to cheer us on and

inspire us; it can pull us up when we're down, satisfy

many of our hungers and stimulate all of our senses

and emotions. Art is surely worth the time we invest

in creating and appreciating it!

Greg Lawson

6 Editor's Message

8 City of Sedona

State of the Arts

15 Chamber of Commerce & Tourism Bureau

Nature's Masterpiece

18 Artist Bearcloud

Echo in the Clouds

26 Sedona International Film Festival

Art in Action

34 Marty Herman

Toast of the Town

Sedona

ARTSource

Published by Sedona ArtSource

2679 West State Route 89A

Sedona, AZ 86336

Volume Three

Design elements by Erick Hale Agency

and Nadezda Skocajic

Printed in PRC

SedonaArtSource.com

ON OUR COVER

"Shadow Wolf"

By James N. Muir

Ed. 12

Sedona ArtSource is published quaterly.

Copyright © 2019 Sedona ArtSource. All world rights reserved. No part

of this publication may be reproduced, transmitted, transcribed, stored

in a retrieval system or used as a model for any type of reproduction,

in any medium, by any means without the publisher's prior written permission.

The publisher assumes no responsibility for errors or omissions.

Opinions expressed do not necessarily reflect the views of the publisher.

4

Sedona ARTSource
---
CONTENTS

36 Linda Goldenstein

Putting Her Heart Into Art

42 Zuni Fetishes

The Spirit Within the Art

46 Artist Nicholas Kirsten Honshin

Fifty Years of Creativity

54 Guitarist Rick Cyge

A Personal Evolution of Acoustic Music

61 Anna's in the Snow

64 Sedona Seasons

Winter to Spring

66 Chef Jeff Smedstad

Southwest & Mexican Flavors

75 The Spotlight

76 Sedona Entertainment Venues

78 Sedona Gallery Map

80 Sedona Gallery Index

18 26

46 66

Publisher

Editor

Art Director

Web Master

Greg Lawson

Lynn Alison Trombetta

Kristina Gabrielle

Rick Cyge

SedonaArtSource.com

info@SedonaArtSource.com

Facebook.com/SedonaArtSourceForce

From the beginning

mankind has advanced on two legs:

one is science, the other is art.

— Coddington

Sedona ARTSource

3
---
6

Sedona ARTSource

GERARDO'S

Italian Kitchen

2675 West State Route 89A, Sedona

GerardosItalianKitchen.com

928.862.4009
---
Sedona ARTSource

5
---
FROM THE EDITOR

As the team that is the ArtSource force achieves the milestone of one year of

production, planning and publication, we celebrate the artistic fabric that is

Sedona. That artistic fabric, made up of artistic types who live, work and are

represented in Sedona is more rich and varied than one would ever imagine.

On the pages of Sedona ARTSource, we focus on all of the arts; music, film,

culinary, visual art, design, education, literary and performing arts.

Be sure to visit our website, www.SedonaARTSource.com for the calendar

of local arts, music and performance related events and to see articles and

interviews in previous issues of the

Sedona ARTSource publication.

In the world outside of Sedona, especially

during creativity seminars that my

husband, Rick Cyge and I taught, we

would often hear the phrase, "But I have

no artistic talent at all!" It occurred to me

that I haven't heard those words during

my encounters while living here the past

nearly ten years. As my grandmother,

who was one of Sedona's earliest

transplants once said, "Everybody's

dancing or dreaming of dancing."

I believe that is the artistic, creative

energy that is a force of its own in

Sedona. We are honored to get to know our innovative neighbors who call this

magnificent place home and to shine a light on those who work quietly in their

studios and out in the field to bring us the products of their creative endeavors.

The still waters run deep here.

As we complete this issue of Sedona ARTSource, the one thing that we are

certain of is that we will never run out of creative people to interview in Sedona!

Here's to the dancing!

Lynn Alison Trombetta

Editor

6

Sedona ARTSource
---
Sedona ARTSource

7
---
Arts

STATE

OF THE

By Nancy Lattanzi

Art has healing benefits. Virtues promote collective and individual greatness. What

better way to start the new year than by promoting the virtues of peace and kindness

through the arts?

I am honored to collaborate and help spread the messages for two special

connections I have made: The first is prolific painter Steve Simon, whom has created

a detailed collection of portraits capturing the Great Peacemakers of our time. The

other is SedonaKind. This generous group of industrious women lives by their motto

"to encourage acts of kindness, large and small, locally and around the world."

NANCY LATTANZI

Arts & Culture Coordinator

City of Sedona

Steve Simon

Beginning with the salient and timeless

message of spreading peace, painter Steve

Simon has been working on his collection

for six years. Simon is the son of immigrant

parents from Luxembourg. His late father

survived the Nazi concentration camps.

In a series of nightly chats, Simon's father

recounted everything he could remember

about those dark days to his then twelve

year-old son. Those chats would leave a

lifelong impression on Simon and a strong

sense that he wanted to leave the world a

more peaceful place. The future artist began

by presenting his father's story to his sixthgrade

class.

Steve Simon

The young idealist eventually focused his

attention on more pragmatic career pursuits.

Simon received a degree in mechanical

engineering and an MBA. By the age of

twenty-nine he had studied, worked and

traveled in thirty countries. It was while

he was working as a consultant in Paris,

France he made the decision to seek his own

version of personal peace by listening to his

inner voice. The voice urged him to paint

and so Simon began a professional painting

career that has now spanned 25 years.

He left France and opened his own gallery

on Balboa Island in southern California. He

8 Sedona ARTSource
---
egan painting landscape oils, eventually publishing seven coffee-table books of his art and

poetry. In 2007, Simon moved to Sedona with his wife and children and continued to find

peace in painting the inspirational landscape. With no experience painting portraits or

figurative work, Simon nevertheless began to pursue what had become his new muse; he

studied and painted three-dozen historical peacemakers.

Simon is currently in the process of writing a book offering brief peacemaker biographies,

the lessons he has learned from studying each peacemaker and the broader, collective

perspectives he has gleaned as well. He believes these lessons are imminently relevant.

One example includes a remarkably consequential peacemaker few of us have ever

heard of. His name is Deganawidah. Referred to by the Iroquois simply as the Great

Peacemaker, this figure united the five warring nations of the Iroquois into the world's

first democratic confederation.

Steve Simon

Simon's painting

depicts the Great

Peacemaker

figuratively

straightening the

seven crooked

places in the

body of a chief

who served

as a stubborn

obstacle to

peace. Meanwhile

the Great

Peacemaker's

accomplice,

Hiawatha, combs

the snakes from

the wicked

chief's hair.

Deganawidah's

Great Law of

Peace would

eventually influence

our nation's

founding fathers

in establishing their own confederation of colonies and the U.S. Constitution would

incorporate many aspects of his "Law." Interestingly, this ancient surviving democracy of

the Iroquois does not rely on the competition of majority rule, but rather on a shared

consensus—a lesson Simon finds particularly intriguing given our current state of polarity.

The paintings are not being sold individually. Simon is instead seeking a single buyer and a

venue to permanently exhibit the complete collection of oil paintings. In addition to the

original artwork, the artist is creating a traveling educational exhibit featuring the art.

Don't miss viewing this extraordinary Great Peacemakers Solo Exhibit, which will be

on display at Sedona City Hall from January through the end of April 2019. To make an

appointment for viewing, please contact Nancy Lattanzi, Arts & Culture Coordinator at

NLattanzi@sedonaaz.gov or 928-203-5078.

Sedona ARTSource

9
---
Photos: Larry Kane

SedonaKind

SedonaKind began by creating charms made from donated

recycled jewelry that say, "Take me home and spread

kindness." Over 6,000 of these charms were delivered to

every state in the US and to three dozen countries, in the

hopes they remind people they are loved. After the positive

impact the project made, the organization took off with a

long list of kindness projects and has partnered with 15 other

non-profit groups, which financially support a special group

each year. Some of the projects include: Welcome Home

Vietnam Vets, Kindness in Schools, Kind Art from the Heart,

Winter Hats Knitting projects just to name a few. Many

volunteers have knitted hundreds of warm winter hats for

school children, veterans and the homeless. Each spring our

unsung heroes are honored with a special, crafted "thank

you."

SedonaKind has sponsored Sedona Kindness Week for the

past three years, sharing films and raising money for the

Yavapai Food Council, Veteran PTSD programs and this year

for local teachers. There also are Gratitude Trees sprouting

up all over the community for everyone to express what

they have been grateful for. The latest donation the group

has created is a project called "Kindness Benches." These 15

beautifully crafted mosaic benches, each with a message of

kindness inscribed on them are a generous gift to the City of

Sedona.

It would be remiss to not include gratitude for all those who

donated their time and efforts to make this project possible

for our community. SedonaKind and the City of Sedona

would like to thank the following:

10

Sedona ARTSource
---
The artists who have so kindly dedicated time to creating these works

of art: Lucy Paradise, Lenore Hemingway, Katie Hamilton, Joy Sinnott, Dottie Webster,

Carol Wallen, Mary Feeney, Ruti Lovett, Wendy Bialek-Kling, Lori Reinhard, Heather

Molens, Brenda Cosse, Cheri Baldwin and Linda Brecher. The artists and residents who

have assisted with fabrication are: Steve Fiedler, Ed Paradise, Judi Kizzier, Jackie McCarthy,

Donna Werner, Ruth Cornell, Sue Haan, Janice Gary and Suzanne Owens.

Bench Donors include: Lucy Paradise, Patricia Wheat, Dottie Webster, Joy and Brian

Sinnott, Brenda Cosse, Laurie and Dick Dawe, Lenore and Steve Fiedler, Carol Wallen,

Cheri Baldwin, Linda Brecher, Heather Molans, Katie and Cliff Hamilton, Mary Feeney,

Ruti Lovett, Janet Misamore, Wendy Bialek-Kling, Jawn and John McKinley, Connie

Levinson.

Photos: Larry Kane

Community Members who assisted in the Kindness Bench project

include: Gandolfo Studio for their work space, Excalibur for the cement benches,

City of Sedona Public Works, Sir Moves A Lot and Go Orange for moving these heavy

benches to their locations, Judith Fogarty for storing benches in summer, Larry Kane

photography and Nancy Lattanzi, Arts & Culture Coordinator for facilitating the project

and inviting the group to present their work to the City Council for November's

Moment of Art. SedonaKind truly strives to "Be the Reason Someone Believes in the

Goodness of People."

Kindness Benches can be found throughout the City at the following locations: Sedona

City Hall courtyard and Mary D. Fisher Theatre have two benches each, Sedona Medical

Center, the Amitabha Stupa and The Village Gallery of Local Artists in Village of Oak

Creek each have one bench, Forest Point has three benches and the remaining five are

placed around Uptown Sedona. ∞

Sedona ARTSource

11
---
Celebrating 25 Years!

12

The BEST independent films from around the world!

February 23 - March 3, 2019

PASSES NOW ON SALE!

Sedona ARTSource

www.SedonaFilmFestival.org 928.282.1177
---
GREG LAWSON

Now Celebrating 60 Years behind an Independent Lens

Three Sedona Galleries

270 N. SR 89A

Lawson Legacy

Images in Low-Number

Limited Editions and

Exclusive Creations

Passion for Place

2679 W. SR 89A

Seven Continents, Fifty States,

an Entire Global Experience

ART TASTING ROOM

270 N. SR 89A

Lawson Images

in Appetizer Sizes

GREG LAWSON GALLERIES

GREGLAWSONGALLERIES.COM

Sedona ARTSource

13
---
14 Sedona ARTSource
---
Sedona is nature's masterpiece. This small city — with its crimson earth and shapely

spires, expansive azure skies, and green wooded canyons — is a testament to the raw beauty that only nature

could create. Visitors and residents alike can surely relate to the timelessness of this attraction. Whether

you've been here for two days, or 20 years, Sedona's allure never fades.

However, Sedona is more than just its majestic

landscape. Simply being here affects you. Whether

you're thoughtfully lingering along a labyrinth's

swirling path, ambling on a quiet trail, or sitting with

a cup of locally-roasted java watching the sun bathe

the red rocks in its early morning glory, this place will

make an impact on your life. Similar to the way that

art impacts you.

As if Sedona doesn't already satisfy your senses, the

city also has a rich art scene with an eclectic past.

It began most notably in the early 1930s when two

famous sculptors, Robert and Mary Kittredge, found

solace in the town's beauty and chose to call Sedona

home. During the 1950s, surrealist icons Max Ernst

and Dorothea Tanning claimed Sedona as a source

of inspiration. In 1958, famed Egyptian sculptor

Nassan Gobran together with a group of other artists

founded what would become the Sedona Arts Center.

Contemporary Western artist Joe Beeler along with

John Hampton, George Phippen, Frank McCarthy

and Charlie Dye founded the prestigious Cowboy

Artists of America in 1965 at the Oak Creek Tavern in

Uptown Sedona — known today as the Cowboy Club

Grille & Spirits. The intrigue of Sedona as a place for

creative awakening has continued as people come here

to open themselves up to their imagination in this

incredibly stimulating and unique setting.

MICHELLE CONWAY

Director of Marketing,

Sedona Chamber of Commerce

& Tourism Bureau

Photo: Mal Cooper

What would a modern-day Sedona creative immersion look like? How can you experience the arts in this city

while you're visiting? Your perfect agenda might look something like this:

• Artists hold light in high esteem when painting

or photographing, especially outside. The different

natural light, changing minute-by-minute, can make

or break a photo, for example. Observe a particularly

glorious time of day with sunrise coloring while

floating in a peaceful hot air balloon.

• Enjoy a scrumptious trout and ham benedict

with citrus basil hollandaise at Etch Kitchen/Bar

at L'Auberge de Sedona as the dappled shade from

sycamore trees dances on the ground and cool water

bubbles over multi-hued rocks in the nearby creek.

While here, interact with any one of the more than 10

local Sedona artists as they paint and sculpt as part of

the Artist in Residence program.

• Take a tour of Sedona on foot with the GPSenabled

web map, WalkSedona.com. Everywhere

you turn, you will be surrounded by natural beauty,

which is only amplified by perfectly appointed

Sedona ARTSource

15
---
sculptures. Sedona has nearly 30 public art pieces

throughout the city that range in topic from Native

American heritage to Sedona's apple farming history.

Use the Public Art Map distributed at the Sedona

Chamber of Commerce Official Visitor Center at 331

Forest Road and SR 89A to guide you to the various

pieces.

• Art is not only visual. Layer your senses with a

flavorful treat. There's nothing prettier (and tastier)

than an array of frozen artisan dessert in brightlycolored

Prickly Pear, rich Double Chocolate, and

swirled Amarena Cherry at Red Rock Gelato.

Delectable raw chocolate cups, magic bars, and

truffles made from scratch abound at ChocolaTree

Organic Oasis. At these locales you'll likely rub

elbows with the locals, many of whom are painters,

photographers and writers who once had Red Rock

Fever before making Sedona their home.

• Peruse the numerous galleries throughout West

Sedona, Uptown and Gallery Row (from the "Y"

down through Tlaquepaque Arts & Crafts Village

and up SR 179 including Hozho and Hillside plazas).

The New York Times referred to Sedona as, "A

'New-West' enclave of art galleries," and the galleries

certainly deliver. The varying styles of art in this city

are numerous and come from both emerging and

established artists. From Western bronzes, Native

American weavings and contemporary jewelry, to

woodcarvings, landscape photography and fine art

paintings, and much more. By now, you're feeling

inspired and moved by all that you're experiencing

in this magical city. Let that feeling guide you as

you choose an art piece that resonates most with

you. Take it home as a memory of your visit that will

enrich your life for years to come.

• If it's the beginning of the month, join the

festivities at 1st Friday in the Galleries. From 5:00

until 8:00 p.m., members of the Sedona Gallery

Association offer a monthly showcase of artists, art

events and special exhibits. This event gives Sedona

visitors and residents the chance to socialize with

other art lovers – both novice collectors and longstanding

supporters – in a relaxed and open reception

environment complete with light refreshments.

Your exploration of innovation doesn't end at

dinnertime.

• Restaurants in Sedona revere the culinary

arts and the respective atmosphere provided to

their guests. As with varied styles of art, there is

an equal amount of diversity in cuisine. Relax at

Pump House Station Urban Eatery while delighting

in their Crispy Skin Red Trout. Or partake in an

innovative and regionally-infused prix fixe dinner

menu at Cress on Oak Creek which recently claimed

one of the "Top 100 Al Fresco Dining" spots in the

U.S. by OpenTable. Enhance the palette and pair

your dinner with locally grown wine co-created by

passionate winemakers and the area's abundant

sunshine, cool nights and rich volcanic soil.

• Mary D Fisher Theatre hosts films year-round,

along with the esteemed Sedona International

Film Festival's annual celebration of independent

filmmakers in February/March. Sound Bites Grill

has live entertainment nearly every night and various

local restaurants offer a variety of music throughout

the week. Other performing arts include the Verde

Valley Sinfonietta which is in its 14th season, and

the Red Rocks Music Festival showcases a unique

collaboration of musicians. The Emerson Theater

Collaborative at The Collective Sedona offers

live theater, and the Sedona Photofest returns

in June 2019 with a series of presentations on top

photographers' perspectives, photographic technique

and use of digital software. Details about these

events and more can be found at SedonaEvents.com.

This is a full day! You'll need to stay longer to

really immerse yourself in the full artistic and

cultural experience that is Sedona. Check out

VisitSedona.com to explore your options for lodging,

dining, galleries, tours, events and entertainment.

With such rich layers of artistry, Sedona is an

incredible destination to visit, and an extraordinary

place to live, work and play. It's as if this small piece

of the planet was created solely for the purpose of

inspiring and connecting people to what matters

most in life. There's no better place to do just that

than Sedona, The Most Beautiful Place on Earth. ∞

16

Sedona ARTSource
---
Introduction by Ian Westfield. Artwork and accompanying quotations by Bearcloud.

A Gathering of Nations

Have you ever lain in the grass, peering into the clouds only to find

yourself imagining the likeness of creatures or other familiar objects

unfolding in the passing mists? Then you will no doubt appreciate the

story and the artwork of an iconic Sedona artist, Rod Bearcloud Berry.

As a young Native American boy born in the rolling grasslands of Oklahoma,

he recalls seeing visions of towering monuments in his head even before he

ever laid eyes on them. In fact, it wasn't until he was about twenty years old

18

Sedona ARTSource
---
Lodge of the Buffalo Bear Heart

when he was driving through the Four Corners area

of the American Southwest for the first time that he

understood his earlier visions. As his car crested a

hilltop, he was mesmerized by the landscape that spread

out before him.

The perfect panorama filled with red-hued monuments

was the very reality of his youthful visions. He came to

learn that this was known as Monument Valley. And

even though it was his first visit to this magical place,

for this young artist it felt like he was just coming home.

Bearcloud, as he came to be known, had been drawing

and painting such monuments even before he left

his native, Ni U Kon Ska homeland in Oklahoma.

Eventually migrating to Sedona, his visions were

transformed to paint and pigment with a focus on

'cloud-reveals' and are appreciated and collected by a

global audience. Bearcloud says his mission is to depict

powerful realities of both the physical and spiritual

planes in his landscape and nature portrayals. A careful

analysis of each of his paintings reveals concealed gems

not discernable to the casual observer, most of them

hidden in the clouds.

The Bearcloud Gallery in Sedona has been operating

since the 1990's and today's expanded Bearcloud

galleries include locations in Uptown Sedona and at

The Collective Sedona in the Village of Oak Creek.

The gallery in The Collective Sedona includes a Native

Cultural Center created to help visitors glean insights

about regional tribes such as the Yavapai, the Hopi and

the Navajo.

Depicted on these pages are a few of Bearcloud's

powerful creations, accompanied by poetic

commentaries by the artist.

Sedona ARTSource

19
---
As Above As Below

As Above As Below

As I stand upon the Earth Mother I feel the strength of the Eagle Spirit at my side. The old ones gather in the mountains of truth

bringing their messages of the Great Mystery and there are visions of harmony between the Earth and Sky. The thunder of the

buffalo pounds through my body. My heart soars as the Eagle Dancers wings touch the sky. The sky unfolds with the powers

of the four sacred winds that brush my face and touch my spirit. As my thoughts cross the winds of the Great Mystery and the

reflections of the waters of harmony, As Above is as Below and I will continue to walk a humble path.

found my way to the top of a

I small knoll one day. I was out

seeking a vision near a place similar

to the mountains in this painting.

There was a heavy breeze as I

reached to grab a rock next to a

plant to pull m myself on top. Just

next to my hand a leaf from the

plant shimmered in the sun. It was

summer and a small patch of Indian

paint brushes were growing from a

split in the red rock. I turned and

looked behind me at the massive

red rock that reached upward

pushing through the bottom. The

wind blew the clouds in such a way

they came closer to the ground.

When they lifted back up a herd

of buffalo formed in the lower

rock and was coming towards me.

They seemed to be coming straight

up out of the ground and a dust

storm followed behind them. The

power of their thrust carried a voice

that suggested they were coming

to assist the earth. The vision

had begun and the magic of the

20

Sedona ARTSource
---
mountain had come to life.

Faces in the upper rock caught

my attention. Arms of these rock

beings reached skyward and

the vertical spires of the rock

formations turned into wings.

Seven of these spirit Eagle Dancers

slowly came to appearance. I

could almost see these rock spirits

dancing to a drumbeat when the

thunder crashed off in the distance.

The sunlight coming through the

clouds made them appear to be

moving on the rocks on this stormy

evening.

Lightning in the distance had a

slight yellow cast when it bolted

from the clouds, hitting a distant

rock mountain. I knew my vision

was in a sacred manner when the

lightning flash formed into a white

buffalo.

It reminded me of a vision of a

white buffalo I had seen long ago

from a remote cave high in red

rock cliffs. That had marked the

beginning of an important time

when I was making shifts in my life

and was beginning to paint visions

and their stories.

The old vision seemed to return

when the entire landscape had

come alive and was filled with

spirits. The clouds above the red

rock formation formed into a spirit

with out reaching arms. One arm

gifted the ways of the Eagle spirit

bringing new vision with its eyes of

far-reaching sight. The other arm

sitting in the shadow of the cloud

offered out four horses, bringing

the powers of the four winds. One

arm was the color of the sun while

the other was the color of the night.

Together they formed a harmony

that had connected to earth and as

above was as below. − Bearcloud

Heart of Oneness

"Although this painting took a year to create,

I would have to say it was a lifetime adventure that

unfolded a piece at a time."

− Bearcloud, "Heart of Oneness"

Sedona ARTSource

21
---
Send Me Visions, Guide My Path

As in the old ways, one may call on the wolf-medicine for

guidance. A wolf would know his way very easily, and in

days gone past would sense and know the way once again

with ease.

Gazing into the fire, I seek the ways and the spirit world

calling on the wolf medicine to show me the trail to the

vision in the night from the night eagle and the knowledge

of the ancient one. For the ways of the old one can show the

knowledge of the spirit and balance with the universe.

climbed to the top of a rocky mountain that was high

I in the Sierras. It was summertime but at timberline

heights, it appeared as if spring had just arrived. The

wild flowers spread across the landscape like daubs

of paint on an artist's palette. Patches of red, purple,

yellow and orange looked beautiful on the tall green

grass. A granite cliff was against the back edge of the

grassy field almost touching the clouds. Small streams

of water ran through the grass that was only a few

inches wide. I realized it was the headwaters for the

river far below I had seen when I was making my way up

the pass road. A cool breeze softened the hot sun.

I felt compelled to seek a vision with the assistance of

an elder. I found a spot to connect with the earth and

a circle I had created along with the universe and spirit

that had been calling to me.

I watched a distant mountain through a break in the

pine trees. A small fire I built broke the cold of the

night and its glow danced on the bushes around me.

The moon was full and the magic of the stars seemed to

sing in the wind. I looked all around for signs. I could

hear cracks of snapping wood breaking the silence of

the night. It was the sound of wildlife moving in the

forest. It brought visions that left me with the feeling

as if my relative the wolf was close at hand. The moon

struck the mountain in front of me illuminating the face

of it. My vision was growing into a story. An owl had

appeared next to the face of the old one. Deep in the

cinders of the fire, an image of a Night Eagle, my relative

the owl was emerging, assisting my vision. It was giving

me eyes to see the things I was seeking in the wind.

The old people talk about this being a gift that comes

from the owl, something it accepted on its journey on

the Earth Mother, eyes to see in the darkest part of the

night and ones inner circle, the darkest shadow. When

I glanced out through a canyon I could feel wolves

lingering in the clouds singing to

the moon. I could see spirit filtering

from the stars like stardust that

magically surrounded my circle.

The sound left the lingering feeling

of always knowing where I was

going, like the wolf has the ability

to find an old trail weeks after he

had been down it. Through such

ways its teachings emerge.

Send Me a Vision

When I gazed back into the cinders

of the fire I could feel the spirit

would send me visions and guide

my path. All would be perfect as

I connected my heartbeat to the

heartbeat of the Earth and the

heartbeat of the Sky. In the same

manner in which my vision was

progressing the spirits had told

me my life was a journey. It wasn't

about having gotten somewhere

or attaining something from the

visions, but how the journey was

lived. − Bearcloud

22

Sedona ARTSource
---
Call of the Eagle Spirit

Call of the Eagle Spirit

I sit in ceremony looking

down the long stem of my

sacred pipe watching the

smoke curl into the Universe.

As I sit, I humble myself

before the magnificent

power of creation. The

thought of the sacred ways

flow in. Looking into

the sky I see the buffalo,

remembering how the days

of past were plenty and an

eagle formed overhead. I

thought of the seven feathers

on the sacred pipe and saw

seven buffalos in the sky

and felt completeness as all

seven were visible. I saw the

White Buffalo and the Bear

in the clouds. The symbols

of wisdom and strength

come my way on the wings

of the things I seek.

There are three sacred mountains that I have drawn

and painted since I was young. Teachings of the

sky came from here. This painting is one of those

mountains. I felt something much more would come

from them, so I watched carefully. A rocky ledge

was a guide towards a place I like to sit and view this

mountain. The trail opens to a large, flat, red rock area

that creates a great circle. Sometimes I felt this magical

mountain had stars that filtered through it, mingling

with the sky. I had a calling to do a ceremony in this

place when a vision came to view. The clouds had

parted and sunbeams pierced through them creating

shafts of light that touched the ground. The sun shed

a blessing of light on the edge of the mountain gracing

it with the elements of the cosmos. I looked towards

the clouds and saw buffalos forming. An ancient voice

had brought them forward to manifest on the Earth

plane. They thundered through the air rising cloud

dust which formed an Eagle spirit above them. It

carried deep meaning for me because of the ceremony

and connection I was doing and now it was sitting on

the sacred winds swirling into my circle. A bear in

the shadow of the cloud formed, bringing pathways

of strength. The Great Mystery overcame my essence,

visions of these spirits were manifesting in the clouds.

I made a gift to this Eagle spirit and sent it as thank

you and a voice of humble gratitude for whatever gifts

were sitting on this wind. It had rained recently and the

smell of the desert was heavy in the air. Large puddles

of water mirrored the red rocks and clouds. Almost like

stars from the sky I saw the reflection of a warrior shape

shifting in pools of water. The warrior held his pipe

towards the sky. In the reflection I saw wings forming

from the warriors arms. This silent voice was intended

as a gift. Then he became the Eagle spirit.

In the old native ways, the elements, everything around

us possessed teachings of spirit if one had the ears to

listen closely. There wasn't anything that didn't carry a

voice or a teaching or an understanding of the nature of

the cosmos, spirit and the ways of the Earth Mother. It

is a world of plenty. Anyone who had come to find this

understanding and connect to it would, also discover

their world would have synchronistic and serendipitous

elements. One finds themselves moving against a

magical realm. − Bearcloud

Sedona ARTSource

23
---
A Gifting of Spirit

A Gifting of Spirit

.... When I had almost completed this painting a

vision of a lizard kept appearing and fading as it was

progressing. I had been uncertain if it was supposed to

be there or not. I completed the painting and was still

undecided.

I recall it was 4:00 in the morning when I was sitting

in the darkness observing this slightly illuminated

painting off in the distance deciding if the lizard was

supposed to be in the painting or not. It was so quiet

one could have heard a pen drop. The sound of a

crumpling piece of paper caught my attention near a

sliding glass door. Oh no, mice, I thought to myself. I

continued gazing at the painting when a loud thunking

sound along with another loud crashing noise occurred

and I jumped to my feet. A bit caught off guard I asked

myself, what was that? That was way too big to be a

mouse. A wooden box was in front of the glass door

blocking my view in the direction of the noise. I got

up and crept slowly towards it hoping not to disturb

what ever had happened. When I got near the box, I

looked very slowly over the top of it. I stood there in

amazement when I saw a lizard that must have been

around 15 inches long. It was the biggest I had ever

seen short of an iguana in the Yucatan. It was the most

amazing color of blue that had an iridescence that could

have only come from the stars. It was about an inch

and a half wide. I opened the glass door in an effort

Thunder Mountain

to get him to move out. When I bent over the box it

bolted into the front room and under a sofa faster than

anything I had ever seen before. I knew that there was

no way I would be able to catch it. I grew concerned it

might die in the house. How it got inside the house was

a mystery. I saw the lizard as a sign to be in my painting.

It was a gift from the cosmos. But the story did not end

there.

The next day I pulled up in my driveway. It was early

afternoon. I was walking towards the front door and

was caught by surprise once again. There, over the top

of the door flawlessly horizontal to the doorframe was

a lizard. It was so perfectly placed, it appeared as if it

were part of the architecture. I paused in surprise and at

the same time knowing that the universe was speaking

to me. I walked underneath it to go inside. I never saw

it again. I had never seen one like it and suspected I

24

Sedona ARTSource
---
Thunder Mountain

In the circle of spirit and the elements of night and day, I saw

the waters that moved between light and shadow, all flowed

in harmony with the Earth Mother and within the nature of

the universe.

I saw sunbeams pierce through the clouds and the elements of

the sky earth move as one in magical symmetry.

Ravens flew with wings of spirit through the sky and on the

Earth brought their magic like stars on sacred water.

There was the balance of light all connected to the nature of

the wind as the lightning spirits blew its breath through the Sky

and the Earth chanting its cries on Thunder Mountain, in the

circle of spirit and elements of night and day. − Bearcloud

would never see one again. Although he was real, for

me it was pure magic. When I walked underneath it,

I felt it had left me a story. It came to me almost like a

sprinkling of stars. It said this:

Greetings relative, we are as one

because we are of the Earth Mother.

You may think I am asleep,

I am not. I am the dreaming

because I am the dreamer.

I manifest dreams to reality

and this is my gift. A-ho.

− Bearcloud

Voices of the Ancient Ones

For more about Bearcloud's art visit

www.BearcloudGallery.com ∞

Sedona ARTSource

25
---
26 Sedona ARTSource
---
Interview by Lynn Alison Trombetta. Photos by Mark Short provided by the Sedona International Film Festival.

Art in Action

The Sedona International Film Festival

Like the first flicker of film on a screen, the idea that has come to be

the Sedona International Film Festival has sparked the imaginations of

thousands since its inception. Now celebrating its 25th anniversary, this

nine day event brings in some 160 films and fills the town with filmmakers,

audience members and draws like-minded community members together

in participation in the film festival experience. With all eyes on that silver

screen, it is easy to be lulled into different times, different perspectives and

different experiences. We may be drawn so deeply into the magic that we

may be unaware of the machinery behind the event. The Festival's Executive

Director, Patrick Schweiss shares some insight into all that came before and

the year round offerings that have been birthed from those early dreams.

Sedona ARTSource 29 27
---
SAS: Clearly, many people in the Sedona community

wanted to be involved in this wonderful event long

before it became what it is now.

PS: When I started with the festival 14 ½ years

ago, we were just a three day festival. The board

was trying to figure out how we might expand the

festival and also how to expand our reach in the

community beyond the festival. We were launching a

membership program and knew patrons would want

to be a member of something that happened more

than just once a year. To expand our presence year

round, we launched the Second Tuesday cinema series

at Harkins Theatre. Once a month we rented one of

Harkins theatres and brought in an independent film,

something that people weren't going to see otherwise.

SAS: Was it an immediate success?

PS: Not at first. It was very comical the first two or

three months because although we had the publicity

out there, people didn't really know what it was. I was

literally standing out on the street giving tickets away,

'just come in, just come in…try this' kind of thing.

Finally, after about four or five months it started taking

off and pretty soon, after nine months, we were selling

out the show. Soon we added a second screen, and

then we added a second show and offered shows at

4:00 p.m. and 7:00 p.m. People liked it so much we

started doing multiple Tuesdays!

28

Sedona ARTSource
---
a demand for this. If people like independent films and

want this more as a year round offering, we should

investigate opening our own theatre.' We wanted to

do it kind of small because we didn't want to over

invest and then have the community say, "Yes, we liked

it once a week, but seven nights a week is a little

much."

SAS: The small theatre you now occupy is a little jewel

nestled in west Sedona.

PS: This wonderful building was available and sitting

vacant for several years. We moved our offices into

the backside of it before we even had the idea of

opening a theatre up front. I brought in an architect

and a theatre specialist and a sound and light specialist

and asked, 'Ok, tell me if I am I crazy. Can this building

be converted into a theatre?' And they both not only

didn't tell me I was crazy, they each separately drew

up plans for the theatre that were exactly the same!

So, we knew it was meant to be.

SAS: How did you fund the project?

SAS: And meanwhile, the film festival event was in the

works each year?

PS: Yes, while all this was happening, the festival was

growing. It went to four days, and then it went to five

days over the next few years.

We were starting to do multiple events like a fourweek

foreign film series and we'd rent Harkins every

Tuesday for four straight weeks. Then we would do a

Sundance here, then a comedy series. It ended up that

within about two, three or four years we were actually

renting 45 of the 52 Tuesdays of the year at Harkins.

We kind of scratched our heads and said, 'Well, there's

PS: Mary Fisher was on our board at the time so

we went to her for advice on how to fundraise for

something like this. I asked about family foundations

we might reach out to and if there was a way to get

the project funded quicker. Mary is a philanthropist

and I knew she would know who we could ask, and

how we make that ask. She reviewed the plans and

heard the budget, gave me some advice and told me

how we would do it. Then she said, "But frankly, I want

to do it. I've got a foundation, I'm very supportive of

the arts and my foundation is set up for wonderful

things like this–I'd like to do it."

SAS: The theatre seemed to happen overnight!

PS: It was literally the fastest turnaround. We had that

concept in summer of 2011. By maybe July or August

the plans were starting to come together; we broke

ground on the first of November and we opened by

the 18th of February that year for the film festival.

That was back in spring of 2012, and now the theatre

Sedona ARTSource

31 29
---
is going to be seven years old soon.

SAS: And that was an overnight success?

PS: It's been going splendidly. When we first opened

six and a half years ago, we were just doing things

four nights a week - Tuesday through Friday - just to

see again if the community could support it. That is,

if the community wanted it, how much did they want

it? Within about a year, Mary Fisher came to me and

said, "It just seems so silly, why are we closed on the

weekends when people would go to movies?" We

30

Opening Night

By Tom Fish

Sedona ARTSource
---
decided to try seven days a week. This incredible

place has been a gift to us and to the community,

allowing us to expand our programming tenfold.

Now that the festival has expanded to 9 days for the

past few years, we bring in around 160 films. The Mary

D. Fisher Theatre has allowed us to bring in hundreds

more programs that the community would not be

able to see if we didn't have this theater. It's kind of

become this hub of wonderful activity and people are

here multiple times a week because we do so many

different things. They can have an opera on Saturday, a

ballet on Sunday, a special series on Monday, and two

different foreign or independent films the rest of the

week.

It's allowed us to not just feature films, but cultural

events from around the world. Like the ballet; like

the Met Live Opera. We take ballet from Bolshoi,

the Royal Ballet in London; we also do theatrical

productions in high definition from the National

Theatre from Broadway, and all the places that make

them available- it's really quite wonderful. Then we do

simulcast events, live events, and small concert events.

This place has been a gift to us. Mary's been a gift to

us – what she gave to this community. Every day we

pinch ourselves because there's so many fun things

that we're doing.

SAS: When it comes to the programs you offer,

everything you could offer here, from films to live

theatre broadcast and concerts has a community

behind it that made it happen.

PS: We do think about that. Especially since ours is

more involved with the filmmakers who are living their

dream. And they've got hundreds of people behind

them that are also living their dream. Places like the

Mary D. Fisher Theatre and the Sedona International

Film Festival are often the only places their dreams get

seen. The ratio of how many films are made around

the country every year to how many actually get

picked up for distribution and shown in big theatres

is tiny. So, independent filmmakers and foreign film

makers have to depend on art house theatres, like us

and film festivals like ours to get their products out

there and get their baby shown to the world. We fill

an amazing gap; we provide a tremendous service.

SAS: You provide this service to both the patron and

the filmmaker.

Sedona ARTSource

33 31
---
Celebrating

25 th Year

of entertaining

and enriching

the lives of everyone

in our community

SEDONA

INTERNATIONAL

FILM FESTIVAL AND

MARY D. FISHER THEATRE

447 Exciting Programs

year round

Sedona International Film Festival

9 Days / 168 Films

152

34

34

26

19

14

Mary D. Fisher Theatre

FEATURE FILMS

Narrative, Documentary

THEATRE

Shakespeare, Broadway,

National Theatre

CULTURE

Performances, Met Opera,

Ballet

LIVE SHOWS

Music, Comedy, Acting

EDUCATION

Ted Talks, Student

Programs, Outreach

ART ON SCREEN

Learn about the matters of

music and visual arts

PS: Our patrons are certainly part

of that circle. If it wasn't for them

seeing the film, why would the

filmmakers make it? If it wasn't

for them coming and supporting

art house theatres, non-profit

organizations like the film festival,

and this kind of thing, the cycle

would be broken.

SAS: One outstanding feature

of the Sedona International Film

Festival is that many filmmakers

actually come to the event and

represent their films during the

festival.

PS: Yes, of the 160 films that we

bring in and show at the festival,

between 100 and 120 of the

filmmakers come and represent

their films. And, yes every film

festival has to have its celebrities;

those are the eye candy that

helps get people to come to

appreciate all the films. But our

true celebrities at the film festival

are our filmmakers, and we treat

them as such.

SAS: It is easy to see that those

in the Sedona community who

participate in the annual Sedona

International Film Festival as well

in as the year-round programming

at Mary D. Fisher Theatre are also

living a bit of their own dreams.

PS: Absolutely, we are so thankful

for this incredibly generous

community. All of the hotel

accommodations are donated for

our filmmakers, and that's a lot

– it's over 900 room nights that

32

Sedona ARTSource
---
VV

are given to us by our incredible

hospitality industry here. Our

restaurants donate meals in the

VIP lounge and resorts. We get

tremendous community support

and the filmmakers can feel that.

They often rave that this is not

only the best run, but the best,

most 'filmmaker friendly' film

festival that they've ever attended.

We've received a lot of emails

and comments, sometimes six, or

seven months later saying that

we were the first film festival

that a filmmaker got into. They've

commented, 'Wow, I've just been

in eight festivals and nothing

compares to how you treated us!'

And again, it takes a village;

it takes our staff, our board,

our volunteers, the generous

community that donates their

accommodations and food, it's

amazing. And of course, if any

one of those in that cycle is not

working, or is not donating, it

breaks that chain. So we pride

ourselves on all of that and being

part of all of the people living their

passion and living their dream.

SAS: Your volunteer staff clearly

has ownership in the festival and

they treat it like it's part of their

dream.

PS: I think that we are one of the

only organizations in town that

by event time we have a wait list

of people wanting to volunteer

for the festival. We just can't

accommodate everybody. We

want the patrons to feel that sense

of family and our volunteers are

a big part of their Sedona Film

Festival experience. We require

the volunteers to do three or

four six-hour shifts. Because the

volunteers are the ones that they

are interacting with, people often

remember our volunteers much

more than those of us who are

hosting the films. It's all part of

the philosophy that we have here

at the festival. And people feel

that; the patrons feel that, the

filmmakers feel that and that's why

everybody comes back here year

after year.

SAS: Thank you, Patrick!

For more information or to

donate online visit

www.SedonaFilmFestival.org ∞

Sedona ARTSource

35 33
---
MARTY HERMAN

"One of the first places we visited upon

purchasing a home in Sedona was Exposures

Gallery. We were drawn to Marty's photography

and were delighted to find that he was the owner

of this beautiful gallery. We now own three

pieces of Marty's work as well as numerous other

artists. Thanks to Marty's wonderful vision, we

are all blessed with sharing the joy of being able

to collect beautiful art from so many talented

and diversified artists. Thank you Marty!"

Gail Alba

"Marty Herman is a true visionary with an eye

for detail and quality that is exemplary in every

way. I have known the man for over 40 years and

yet I am repeatedly amazed at his ability to see

beyond the obvious and to discern the attributes

that define value and quality every time. His

honesty & integrity are a core part of who he is

and he inspires the same in others."

Jim Brunen

Toast of the Town

Sedona ARTSource is pleased to

host the Toast of the Town feature

which honors those responsible for

helping create the vibrant Sedona

art scene. In this issue we share in

a community toast that recognizes

Marty Herman whose insightful

efforts have helped create one of

Arizona's iconic art destinations,

Sedona's own Exposures Gallery.

"When it comes to knowing and showing art,

Marty Herman is the ultimate impresario. By

following his dream of showcasing artists and craftmanship, he has brought

acclaim to Sedona, Arizona, and put us on the map as a leading haven for

world-class artisans from all realms and creative mediums."

Chef Lisa Dahl

"I have known Marty Herman for the better part of a decade. His life has

been fascinating and it shows in his outgoing, cheerful demeanor. Marty

not only loves the arts and represents great artists but he is an extremely

smart businessman! That combination has made Marty's gallery one of

the best in Arizona, if not the United States. Many may not know it, but

Marty's creative side is Photography and in his gallery you can find many

outstanding images Marty has taken over the years. It has been a pleasure

to work with him and get to know him so well. He's just an outstanding

person!"

Ron Draxler, CIC

"I have known Marty Herman for over 16 years. He is a very complex and

consummate professional. He is passionate about art and the artists who

create it. He and his wife Diane have created an art gallery that is known

worldwide and is one of the best west of the Mississippi. I am honored to

be his friend."

Chris Foreman

"I have worked for Marty and Diane at Exposures Gallery for over 5 years

as the Sales Manager. I love to see how Marty inspires many of our artists

to create their very best works, and even encourages them to create pieces

34

Sedona ARTSource
---
they never thought they would or to a

scale they never thought they could.

With Marty's encouragement and

support, our artists have no limits,

which leads to the most spectacular

artwork that we are so honored to

display."

Jennifer Garcia

"Marty Herman and I were successful

business colleagues as young

entrepreneurs when he revolutionized

retailing in Southern California. Back

then his nickname was Magic Marty as

everything he touched seemed to turn

to gold. It appears Marty has brought

that same magic to Sedona in the

form of the extraordinary Exposures

International ... a stunningly unique

one-of-a-kind Art Gallery, ambiance

and experience."

Monte Gast

"His kindness, sensitivity, integrity and

his romancing of me were absolutely,

mesmerizingly wonderful. How

could I resist him? He won my heart

completely."

Diane Herman

"Marty and Diane have created

something special that goes beyond

just an Art Gallery. It is a home for

incredible, hardworking artists. It is

a familiar place for clients, in which

they can be welcomed by name and

discover new works of art. And for me

personally, it is a place that has become

so special and dear to my heart because

of the wonderful role-model and leader

I have had in Marty. His love for the

arts really comes through in every way

at Exposures Gallery. He is not only

a very generous and caring boss, and

a wonderful friend, but he is family. It

has been an honor working alongside

Marty for 12 years and I look forward to

doing so for many more years to come.

Thank you both for all you do!!!"

Debbie Ibarrola, General Manager

Exposures International Gallery

"As a member of

the family that

published Sedona

Magazine for 26

years, and now

as an exhibiting

artist at Exposures

International,

I've had the

opportunity to

Marty Herman with Exposures Gallery Staff

know and work

closely with Marty Herman since he attests to that. He is looking forward

opened his art gallery in Sedona. His never back. He sets the pace and is an

love for the arts, our community, and independent thinker."

the artists he represents is a passion

Wendy Lippman

that drives his success as a gallery

owner. Marty forges a special bond "Marty Herman is a rare and true

with the many clients who visit the renaissance man. His spirit, knowledge

gallery, assisting them to discover

and integrity is unlike anyone else

the unique piece of art they will truly I've met. As one of his artists he

treasure."

continues to provide me with valuable

Tom Johnson insight that inspires me to grow and

encourages me to expand my creativity

"Marty is proud of his heritage and is with no boundaries. "

all about sharing happiness and joy.

Tesa Michaels

His soul's purity is infectious. It is a

pleasure and an honor to know him!" "Marty Herman is an exceptional man

on so many levels. He has a brilliant

Rabbi Mendel Kessler mind, impeccable taste, a huge heart,

and incredible advice to share. It is a

"Before moving to Sedona ten years rare day when you have the honor to

ago, Marty made us feel at home and say Marty is your friend. As busy as

welcome at Exposures International. he is, he still is a humble human, who

We have been fortunate enough to believes in friendship and love. A walk

collect high quality art from near and through his gallery is a wonderland for

far, yet we continue to return again and the imagination."

again to Marty's gallery to be met by

Deborah Murray

his warm welcome. We are lucky to call

him our friend."

"For more than twenty years I have

observed Marty and Diane Herman's

Daryl Kling and Lewis Guthrie genuine passion for art, the variety

and quality of choices they make for

"Marty is a one of the modern art

their gallery, and the close personal

pioneers in Sedona, and is a great asset relationships they build with their

to not only the arts community, but to artists and collectors. As a result, they

the City of Sedona as a whole"

have created one of the top galleries

in the U.S. There is no doubt in my

Kyle Larson, General Manager, mind that Sedona is more desirable

Larson Newspapers and attractive as an art destination, and

that the city benefits significantly due

"Marty knows what he is doing! His to their endeavors."

longevity and success in Sedona

Richard Ruehs

Sedona ARTSource

35
---
Linda Goldenstein

By Lynn Alison Trombetta

Linda Goldenstein

proudly announced,

"From day one, my

mission statement has

been, 'Life Enhancement

through Art.' At

Goldenstein Gallery we

realize we're part of

people's lives through

the artwork and that's

really what shapes

everything we do. It is

the real joy and juice that

feeds us at the gallery!"

Obviously, sales have

been important to keep

the gallery sustainable

over its nearly eighteen

years in various Sedona

locations, yet enter into

the magic contained in

the four walls of the

gallery and you instantly

recognize the feeling of

something greater.

Linda Goldenstein with "The Holy Grail" by James N. Muir and "Wheel of Compassion" by Sherab Khandro

at L'Auberge de Sedona. Photo by Connie Perez.

From the warmest greeting as you enter, through the

staff's obvious excitement over each and every artist

represented, you get the impression that this is

a family of sort. A family lovingly adopted as

each artist birthed works that help complete the

eclectic offering that fills the gallery location

and extends outward into the community.

"I'm just so blessed; I hear praises about my

staff all the time and we have so many big

exciting projects and fun things happening,"

Goldenstein smiled. "Our satellite exhibits are

thriving; we have a beautiful relationship with

L'Auberge de Sedona where we have our Artist

in Residence program. We are probably getting

close to 3000 artist hours there and have had

well over 100 artists participate since we

started."

DENNIS ELLIOTT | Turned Wall Sculpture

Big Leaf Maple Burl
---
Putting Her Heart into Art

The L'Auberge de Sedona

satellite exhibit also includes

over 50 pieces of outdoor

sculpture and indoor paintings

on display with an art map

available in the gallery and on

site in the lobby for visitors to

walk the property and enjoy the

work.

"We're our own program

within Sedona's Art in Public

Places, but it's just part of our

citywide presence. There's the

Chapel of the Holy Cross with

the majestically sculpted 'Christ

of the Holy Cross' by James N.

Muir and we still show pieces at

City Hall. We just have a very

big presence at many locations

throughout Sedona."

The Goldenstein Art Gallery

satellite exhibits illustrate a

wonderful symbiotic relationship

with the community.

Goldenstein explained, "We

have always been very happily

a community-oriented gallery

where we've worked with

endless groups to support their

cause and also to bring a

different experience to people.

Be it Tony Curtis and his films

with the Sedona Film Festival

and showing his art; or giving

a platform to charities that we

think are important such as the

Verde Valley Sanctuary, the

women's shelter."

Blending the creative from many

genres, Goldenstein has had

Chamber Music Sedona

SHERAB KHANDRO | "Mother Tara: Angel of Peace"

Acrylic on Board

Sedona ARTSource

37
---
DAVID DEVARY | "Roman Wall"

Oil on Canvas

38

Sedona ARTSource
---
perform in the gallery multiple times over the

years. She added, "At least a dozen times the

musicians have come into the gallery space and

allowed people to experience the music. And

then, on the reverse side, it allows Chamber

Music to reach those people. We've had many

different musicians perform in the gallery, some

famous like Lee Oskar who started the band

'War' and 'LowRider Band.' He's one of our

artists. I think to have music and art together is

just wonderful! It feeds the soul."

LYNETTE JENNINGS | "Breach" | Oil on Canvas

The gallery's visual artists are primarily local

and regional, although Goldenstein is quick to

add that some are from outside the region. "We

love all of our artists and I'm very happy to say

that a very high percentage of our artists have

been with us since the beginning. We have had

long standing relationships with most of our

artists, and over time you become like family."

Goldenstein art collectors, both local and from

out of town feel the same way, and many return

year after year. "We have some that say, 'It's

holiday time, here's my list of people.'"

Adding to that sense of family, several clients

celebrate their milestone birthdays by renting

the gallery for the evening complete with artists'

painting demonstrations while the party is in

progress.

JOURDAN DERN | "Monsoon" | Acrylic on Board

Goldenstein marveled, "I could never have

imagined the people I would meet and the roads

I would go down through the arts. When I

was a kid growing up in Camp Verde I could

never have dreamed that all these amazing

things would occur. Every day we come in, we

don't know what's going to happen - it's

so exciting, it's a challenge!"

In fact, as Goldenstein mentioned, the art business

can be extremely unpredictable. "That

JAMES COOK | "Oak Creek #12" | Oil on Canvas
---
is actually one of things that we're so addicted

to! We love the excitement over what's going

to happen each day. When we're able to make

a dream come true it's so exciting for both the

collector and the artist; it's just great - we love it

… the sharing of the love."

CARLA ROMERO | "Sunset Elders" | Acrylic on Canvas

She reflected, "You know, that's really what it's

all about. We want to love unlocking the gallery

door and opening it up for the world. And when

we open that door, we open our hearts for

everybody to come in … whether they can collect

or not, whether they choose to collect or not. My

prayer is that their life will be better for having

been here."

About the gallery, Goldenstein commented,

"I especially love something that surprises me a

little bit, and I'd like to think that's what we have

a lot of in our gallery. Because we're very

eclectic in the way we choose to display work,

we've helped so many clients see they can put

one kind of art with very different art; and they

don't have to be all western. They can

incorporate pieces of art that speak to them."

She laughed, "Sofas come and go. Art hopefully

stays with you for a lifetime."

Goldenstein reflected on the feeling she

experiences when someone finds a piece that

changes their life. "They sometimes come back

to us a year or more later and say, 'I'm a different

person because of this; tell me more about the

piece I bought because it's making this impact

on my life', or 'I use this image as my way to heal

every day, and now I'm healed from something

that was pretty terminal for me a year ago.' We

have many, many stories like that."

PATRICIA GRIFFIN | "Magda" | Oil on Linen

Possibly most heartwarming, there's the legacy

of art passed along from one generation to the

next and loving stories told to the family at

Goldenstein Gallery. "Now, because we're
---
RAFE TERRY | "Sunset's Touch" | Acrylic on Board

BEN WRIGHT | "Visions of Drinks Water" | Mixed Media Painting

entering our eighteenth year,

people tell us, 'I grew up with

a piece from your gallery in my

parents' home. My parents have

said it can come to my house

and I'm so excited!'" She added,

"When that happens, we

realize we're part of people's

lives through the artwork. I

really think that art is a critical

component of the human

experience, for those that create

it and for those that view it."

Goldenstein Gallery is located

at 150 State Route 179 in Sedona,

Arizona. For more information

visit www.GoldensteinArt.com

∞

Sedona ARTSource

41
---
TURTLE by Albert Eustace

MOUNTAIN LION by Burt Awalaghte

HOOVED ANIMALS / above

Dilbert Seciwa • Jimmy Yawakia

Brandon Philllips • Clive Hustito

Colin Weeka • Chad Quandelacy

Carol Martinez • Donovan Laiwakete

Daryl Shack • Mike Yatsayte

4

42 Sedona ARTSource

HORNED TOAD

by Lewis Malie

ALTAR DOLL

by Marvelita Phillips
---
BEARS

Double by Paulette and Farlan Quam • Arnie Calavaza • Burt Awelagte • Kenric Laiwakete • Jimmy Yawakia

Ernest Mackel III • Dilbert Gasper • Freddie Leekya • Herbert Halate • Herbert Him

Zuni Fetishes

The Spirit within the Art

IT IS SAID THAT ONLY THE PURE OF HEART WILL BE ABLE

TO STIR THE SPIRITS WITH ANY TRUE POWER.

Article and Photos by Patty Topel, Kachina House

Among indigenous peoples in the

world, it is often believed that all

things possess a spirit, including

humans, animals, birds, plants,

insects, and even rocks.

Though many indigenous people

worldwide use fetishes, the

Zuni are renowned as gifted and

prolific Native American carvers

of these fascinating artifacts. For

the Zuni people of New Mexico,

the complex carvings they create

are commonly called fetishes and

are part of a complex religious

tradition designed to ensure good

health, abundant crops, game for

hunting, and fertility for the people

and the land.

Beginning as early as 900 A.D.,

there is evidence that Zuni hunters

and spiritual leaders found rocks

(accretions) that resembled

animals and often enhanced the

objects with natural pigments or

by wrapping feathers, shells and

arrowheads around the rocks for

use in ceremonies.

The contemporary carvings

available for sale to the public

have always been carvings, not the

sacred objects that the Zuni use

on their altars. Prior to the 1970s,

the Zuni paid little attention to the

shape of the carving or whether

outsiders would find it appealing.

It has taken decades to encourage

Sedona ARTSource

43
---
BAT & BIRDS

Bat by Pernell Laate • Rooster by Derrick Kamasee • Turkey by Enrike Leekya

Quail by Jonas Hustito • Raven with Berry by Calvert Bowannie • Hummingbird by Jusstin Red Elk

Eagle by Jerold Laheleon • Owl by Nelson Yatsatie • Owl by Freddy Leekya

4

4

4

44

CORN MAIDENS

Double by Gloria Chattin • Claudia Peina • Stuart Quandelacy

Sedona ARTSource

4
---
WATER ANIMALS

Swans by Hubert Pincion • Frog by Reynold Lunasee and Georgette Quam

Lizard by Esteban Najera • Fish by Mike Yatsayte • Otter by Jesus Espino

Turtle by Daphne Quam • Duck by Darrin Boone

Animals and 'supernaturals'

depicted in the fetishes are believed

to have certain characteristics that

are transferred to the carvings

themselves. If you own a fetish, you

may then be able to tap into the

respective properties that the fetish

represents. Some animals have

important symbolic characteristics

that are relatively consistent;

however, the spirit of the fetish

can be interpreted in many

ways depending on the owner's

perspective.

Although for centuries the Zuni

people have created the carvings

for personal use from different

materials such as wood, antler,

shell, clay, coral and even silver,

more Zuni carvings are made

from stone than other material. It

is believed that the spirits of the

animals and 'supernaturals' can

act as messengers to the gods and

provide protection from various

evils as well as promote the benefits

of other elements. As mentioned,

the animals are sometimes depicted

with 'offering bundles' of shell,

stone, arrowheads, feathers and

other symbolic elements. These are

offerings that the animal spirit will

carry to the gods on behalf of itself

and the owner of the fetish. ∞

6 DIRECTIONS by Ernest Mackel III

people to view these beautiful and

meaningful traditional carvings,

not just as mere souvenir pieces,

but as the intricate and ancient art

form they are. The Zuni artists state

that if one treats the fetishes with

respect, the spirits that reside in the

carvings will aid their owners in

their journeys.

Today, the carvings are available

in a great variety of styles, from

the old style carvings made

from 'found rocks' that often

have 'offering bundles' added,

to the very complex and highly

detailed contemporary, sometimes

playful, carvings of today. The

subject matter also has changed

dramatically from the traditional

spiritual animals of the Zuni, which

include buffalo, bear, eagle, wolf,

badger and mole, to the esoteric.

Contemporary carvings of dragons,

elephants, whales, and domestic

animals are not traditionally

associated with Native American

traditions.

LIZARD by Ernest Mackel III

Sedona ARTSource

45
---
Artist

Nicholas

Kirsten

Honshin

Interview by Lynn Alison Trombetta

Fifty years of Creativity

For Honshin, art flows from the sacred space within. His original paintings, sculpture and jewelry are filled with

the joy of the artist's creative process. Rich with archetypal symbols of Christianity, Zen, and Tibetan Buddhism,

the art exhibits his keen desire to express a moment of peace and beauty that will enrich the lives of others. Here

the artist Honshin shares insight into his process and inspiration.

46 Sedona ARTSource
---
Golden Moment Journey of the Ascending Spirit

"The art we create, whether its beauty, writing,

or painting or sculpting or dance, it goes out

and it helps the world."

NICHOLAS KIRSTEN HONSHIN

SAS: There's a lot of Asian influence in your art, please tell us

about that.

NKH: The Asian influence in my art comes from my early background. My

father was the artist before me and I entered his studio at a very early age.

He set up a place for me and I worked with him. When I became ten he left

and went to Japan for nine months on a grant from the Seattle Art Museum to

study Japanese art and culture.

When he came back he was a totally different person and our whole world

changed to a very Eastern directed philosophy, artwork, and music. He made

a Shinto shrine in his yard and a Zen garden and he spent many years going

back and forth to Japan. That influenced me into the Eastern way of looking

at art and creativity and how to go about it and also brought the spiritual

aspects of Zen Buddhism. He eventually, after ten years, became an ordained

Zen Buddhist priest at the Zen Kenchoji Temple in Kamakura, and then

that actually focused my own personal Journey on spiritual awakening and

discovery and what you could manifest through creative artwork. And so

that's been my whole journey, fifty years of creativity.

SAS: What is the meaning of your name, Honshin?

NKH: In 1985, my father, teacher, twin soul brother and friend, Richard Kirsten

Daiensai Kuden Bonseki Dojin, after 38 years of sharing each other's space,

time, energy and the awareness of the forces of yin/yang in various levels of

consciousness, acknowledged with joy that I, his son, had arrived at my own

GOLDEN MOMENT JOURNEY

OF THE ASCENDING SPIRIT

ON THE PATH

OF MEDITATION

BRINGING PEACE

COMPASSION

AND LOVE

IN EVERY

PRECIOUS PRESENT MOMENT

TO THE SPIRIT TREE

OF LIFE

EVERY MOMENT

EVERY HEARTBEAT

EVERY BREATH

EMBRACING

THE ONENESS

A JOURNEY OF MEDITATION

A JOURNEY OF COMPASSION

A JOURNEY OF LOVE

A JOURNEY OF PEACE

ON THE ASCENDING PATH

OF DISCOVERY

THE JOURNEY OF THE HEART

- Honshin

Sedona ARTSource

47
---
true creative individual path though my art.

Daiensai bestowed upon me the grace of my Zen name (gago)

"Honshin Kaigen." Honshin reflects the original mind, true or

pure heart - unfolding the Tao nature. Kaigen is the opening

of the spiritual eye and the transmission of visions through the

creative.

SAS: Please tell us about the early years as a

working artist.

NKH: My first painting sold in 1966 and it wasn't even for

sale! People went into the art building at the University of

Washington where I had an exhibition up that wasn't for sale -

it was just for show, and people came in and started buying my

work. And that was the beginning of my art career.

Nicholas Kirsten Honshin

I feel very fortunate that I've had the opportunity to paint and

create for all these years. It is a blessing and it's also some

sacrifice. In the beginning it was a very sacrificial because,

as many beginning artist even though you sold something,

and say, 'Now I'm selling; I'm going to be an

artist and make my money that way,' it doesn't

always flow like a paycheck coming from whatever

the corporation you're working for. Some

of the time I lived without electricity or running

water in the wilderness. That's what evolved,

and then that evolved into our gallery in Seattle

which just closed after being open for forty-five

years. I ran that gallery for twenty-five years before

coming here to Sedona.

SAS: What prompted the decision to close the

Seattle location after so many years?

NKH: There were all kinds of reasons for closing. We just

chose Sedona over everything because that's where we want

to be. Seattle changed a lot in the last twenty-five years, so it's

not what we used to have there. Good time to change it and

move on. Our Japanese garden that we built there is going to

be preserved.

SAS: Japanese garden? That sounds interesting!

NKH: We had a big Japanese garden that I built around the

gallery in Seattle which became a landmark of Seattle, and the

people who bought our buildings are going to keep that as a

permanent part of the city. Pretty exciting! The garden was

another part of my whole embracing of the Eastern spiritual

philosophy. It's all about nature and gardens and relating to

nature as a living thing rather than objects.

48

Sedona ARTSource
---
The Sacred Space of the Treasures of Bother Raven Corvus Council

THE CORVUS COUNCIL HOLDING

A REQUIEM OF THE

ANCIENT ANCESTRAL HEARTS

BROTHER RAVEN SINGING THE SONG

SHARING THE MEDICINE

SHARING THE TRANSFORMATION

SHARING THE RENEWAL & REBIRTH

SHARING THE PATH

SHARING THE GUIDANCE

SHARING THE PROTECTION OF THE

GUARDIANS OF THE HEART

SHARING THE SACRED SYMBOLS

ALL THE TREASURES

OF BROTHER RAVEN

REVEALED

IN THE LUMINOUS LIGHT

OF A MOON OF MEDITATION

A MOON OF NATURE'S HEART

EMBRACED BY THE WINDS OF

THE ANCIENT ONES

AS THEY MOVE IN

THE INVISIBLE REALMS

OF TIME AND SPACE

- Honshin

SAS: Clearly, nature offers inspiration to the art you

create.

NKH: Basically, the inspiration of my art comes from nature because

nature provides us all of our experience. And then, through all those

experiences I always ask people, 'When you paint a mountain, what

mountain is it?' Well, it's all the mountains there ever are or have been

that I've experienced. It's the same with the birds and anything that I

paint. It all comes out of my deep experience and represents a symbol

of the energies that I wish to portray. Not the actual object, but the

energy and the idea in the object or the symbol that's being portrayed.

SAS: What do you call your style of art?

NKH: As you put all the symbols together they create a story. The

story is the painting, and to me, that's my kind of art – which in the

art world is called "Symbolism." It is Symbolism art as opposed to

Romantic art or "art for art's sake" which doesn't have to tell a story

and you just create something that people appreciate. But, in the

Symbolism art world there's always a story.

The story tells us something about what's going on inside of us as it

relates to what is happening on the outside. But the viewpoint is from

the inside, not the outside. To me that's the biggest, most important

part of distinguishing what my art is.

There are other symbolist artists, and their art tells a story. However,

Sedona ARTSource

49
---
unfolds while I'm painting, but not

usually. It unfolds when I've reached

a certain point … a stage of

completion. Then, as it's going well,

it seems to say, "Hey, let's give you a

review of what is happening here,"

and then it just flows out.

SAS: Tell us about your

unusual manner of painting.

most art today is only about "this is

art," and it doesn't have to do anything

– it just gets to be art. I'm for

that too, but that's not my style.

SAS: Then, each image you

create has a story that lives in

the symbolism of the elements

that you have included

in the piece?

NKH: I am brought from not really

knowing what I'm going to do into a

journey that takes me each step and

brings me closer to the story that I

am telling.

And I don't know the story until I

finish the painting. Sometimes I even

have to just sit there and the painting

will teach me the story, and then a

poem comes and then I tell the story

to whoever will listen and who's

excited about seeing and hearing it.

SAS: The poem is simultaneous

as you're completing the

painting?

NKH: Yes, it begins to talk to me.

In my world the painting is alive just

like I'm alive. It has the intrinsic

energy, consciousness as it were,

to communicate back to me what's

going on in the painting and that

reflects back into me and my

experience and then there's the

process of poem. Sometimes it

NKH: My process is that I paint a lot

of time on wood panels. The whole

idea is to make a whole bunch of

panels and then I work on texturing

those panels. At that stage I don't

know what I'm painting. So the panel

gets cut, it gets textured and then

colors start to go on it and I still am

not sure what's going on, other than

I'm making something that is very

beautiful to me and pleasing to my

aesthetics.

And then as that evolves, and the

colors go on, the imagery starts

to suggest itself from internally, it

starts to flow out of me. Something

like this; 'Oh well, this is the perfect

background and texture and energy

in this shape for Brother Raven; he

has a story to tell and he's ready to

tell it now.'

50

Sedona ARTSource
---
Golden Koi on the Path of the Living Waters of Nature's Heart

So I won't know that story until I get to the place where the painting is

showing me the energy it likes and what it wants to do. It's sort of like

working out of nothing and learning what is happening in your

interactions with the paint and the wood and the brush.

SAS: Do you have a name for the technique you use while

painting?

NKH: My texture and technique is called "Dancing Brush," because I'm

painting flat and I dance around the painting with a giant brush. I make

these dancing energy motions of spirals and swirls, like Van Gogh's

Starry Night sky, but it's much subtler than that. You look into the painting

and you see all this energy that I call 'the invisible energy of nature.'

That energy holds us all together and connects us all in the oneness of

being here alive on this planet with other life. All of this energy is completely

interpenetrating us all the time.

When I look out my breakfast window at Thunder Mountain, I know the

mountain is connected to us. The energy of the mountain is flowing in,

and then to us and around us. We don't see it but it's there. And now, of

course because of the development of the wonderful technology that's

used in science, we can look into things and see it with our eyes; we see

that all this energy is there and it's interpenetrating everything.

This is what the mystics and the spiritual seekers saw through

medication long ago and now we have science. You put it down in hardware

– this is real, this is not just somebody meditating on guessing that's

what's happening.

THE WISH FULFILLING

GOLDEN KOI

ON THE PATH

OF THE LIVING WATERS

OF NATURES HEART

IN THE FLOW OF

THE SACRED BLUEGREEN WATERS

OF LIFE

ARE FOUND THE DYNAMIC ENERGIES

OF THE WISH FULFILLING

GOLDEN KOI

IN THEIR PRESENT MOMENT

AWARENESS,

THROUGH MEDITATION

THEY ARE DISCOVERING THE ONENESS

AND GATHERING

THE GOLDEN MOMENTS

OF NATURES HEART

NOW SHARING THEIR

TREASURES OF COMPASSION AND

PEACE

WITH ALL SENTIENT BEINGS

- Honshin

Sedona ARTSource

51
---
So, that's a lot of what my art is all about. It's about

revealing and showing how the invisible is the greatest

part of nature. What we see is the smallest part of nature.

So what we're trying to do is reconnect ourselves with

nature. It's honoring nature because nature is alive, just

like we're alive. Now, of course we're learning how

important it is to renew our connection with nature and

how we affect it by the way we relate to it.

SAS: You offer not only originals and prints,

but also are internationally recognized for

your calendar series.

NKH: In 2001 I was invited by Thich Nhat Hanh's

publishing company to collaborate on a series of

calendars, datebooks, journals and notecards. These

combine my meditation paintings, Zen symbols and

reflections of nature infused with transcendental and

archetypal symbols with the words of the renowned Zen

master and peace activist.

The Zen Cat calendars are a meditation in art and words

on the interconnectedness of all life. I use painting and

poetry to convey a message from the pure heart of the

universe. The teachings of the Zen Cat are born in

awareness and the oneness of existence. They

demonstrate the love, peace, and joy that unfold in

our hearts as we embrace the sacredness and beauty

of all life.

SAS: When it comes to art, you speak often

about trusting your heart.

NKH: You have to trust your heart when it comes to

relating to art and everything else that you do. It's about

finding that which speaks to you and it's about emotion,

it's not just about collecting. It's about all kinds of things.

For us, for our gallery it's about emotion. If a piece speaks

to you then you might consider collecting it.

We also consider our space a place of connectivity

because it is connecting people to all these inner energies

and themselves. The people that come from all over the

world to Sedona are looking for the connection, and it's

here.

I give a talk about that too – about how the whole energy

of Sedona is about the heart. That goes way back to when

the first people, the native people were putting art in

the canyon walls because they felt this incredible energy

coming from nature and they had to inscribe it in symbols

to pass it on to us. We can go out there and see those

energies in those symbols and relate to them just like they

did.

We all know how important Sedona became in art when

Max Ernst, Dorothea Tanning, Walt Disney, Orson Welles,

Maxfield Parrish and all these people came here because

they felt the energy that was here. That energy just

52

Sedona ARTSource
---
He wrote a book about what's happening inside the inner

mind of the artist and the people who look at art and he

stated the very same thing – that the most important and

rewarding part is when the relationship opens up and

the artwork's energy is flowing between them and

communicating something that's deeply meaningful in our

inner psychological world to each person. It's coming from

the art and we're sharing our relationship and the kinship

and harmony with a resonance with each other through

art. "Wow! Hey I'm not separate, I am connected!"

I love to share that energy coming from nature – it's really

not coming from me. That energy is coming through me

as a translator of the experience that nature provides,

translating that into a common language of the art. And

there are pathways to connectivity to make me more

whole. For me, the greatest experience about the arts is

getting to that place where it's doing that to every person,

because it does it to me every time I paint.

exudes out of the rocks and the canyons and it's been

imbued with the spiritual energy from nature. We

discovered it and Sedona is all about art.

It's also about healing and the medicine that comes from

that art itself, which is medicine and has the ability to heal

and bring people back to a balance inside themselves.

This is because it's telling the story about them. It's telling

them the internal about themselves, so when a person

responds to the art they are actually getting something.

SAS: Thank you, Honshin!

For more information, visit Honshin Fine Art

in Tlaquepaque Arts & Crafts Village, Sedona

or the website

www.HonshinFineArt.com ∞

SAS: What is the most rewarding experience

for you as it relates to your art?

NKH: My favorite experience in the gallery is when

somebody is standing in front of a painting and

they're crying. Well what's happening? They have

described it numerous times; "It's talking to my

heart. There's something going on that I'm feeling in

my heart that I haven't felt and I'm feeling it now. I want

to buy that painting and take it home with me."

The most important thing to me and the most meaning I

get out of my work is when that person shares that story.

Colors and shapes and forms are packed in into each

painting and when people can share back to me, I get the

reward. So it's a circle.

There's a great writer, Eric Kandel. He's a

neuroscientist who won the Nobel Prize.

Earth Dragon Iris
---
"For me, the guitar is an extension of myself. When I am truly at one

with my playing, I don't feel any separation between myself

and the instrument."

RICK CYGE

G U I T A R I S T

Fingerstyle guitarist, Rick

Cyge's passion for music

transfers seamlessly

from hands to guitar in an

unexpected tapestry of string

voices, harmonies, rhythms and

counterpoint and communicates a

lifetime of influences in a brilliant

display of musicality.

"For me, the guitar is an extension

of myself," he offered. "When I am

truly at one with my playing, I don't

feel any separation between myself

and the instrument."

The story of this mastery unfolds

as a personal evolution of acoustic

music told through the eyes of a

man powered by the music of the

day, each passage along the way.

Following a strong foundation of

mostly classical piano training at

an early age, the changing music

scene began to catch Cyge's ear in

his teen years and influence the

musical paths he would travel.

"Years ago, I realized nobody

had really taught me how to play

guitar. I don't remember learning

to play guitar. I was so driven, I just

remember practicing and playing."

At the time, there was no written

music or guitar tablature available

for learning the music that had

drawn him in. "I jokingly say, 'the

Beatles and James Taylor taught me

to play.' Sitting there with a record,

picking the needle up, putting it

back, over and over again was a

painstaking way to learn a song.

There were no cassettes to rewind

and replay, no digital music, and

no YouTube videos. The only way

to learn was to listen and repeat,

repeat, repeat until you got it. You

had to be passionate about it; you

had to have patience and absolute

determination to play."

An aptitude for that learning

process led him not only in

learning the guitar, but to an

understanding of the intricacies

of the music, creating a strong

preference for the characteristics

he would seek out in the individual

pieces he chose to examine and

reconstruct on the strings of the

guitar. "The guitar, like the piano,

allows you to express multiple

voices, harmonies, rhythms and

counterpoint simultaneously as a

single performer. The music that I

tend to want to arrange or perform

on guitar is music with substance

beyond just the melody with other

parts that enhance the melody and

create something bigger."

Cyge fell naturally into arranging

music for the first band he was part

of in his teen years. He chuckled,

"By the time I was proficient

enough on the guitar to want to

be in a band it was the mid to late

60's. The whole 'hippie thing'

was happening and 'psychedelic'

was the catchphrase of the day.

We thought our band should be

somehow psychedelic and called

ourselves 'Vacuum Pact.' We

spelled it Pact – as in 'a bond' or 'an

agreement.' We were not the most

popular band when we started; a

little rough around the edges and

there were a couple of bands that

54

Sedona ARTSource
---
were more polished and played

more of the AM radio hits. We

tended to like the 'B' sides of the

songs and album cuts that were

not the hits, so we'd learn songs by

groups like Steppenwolf, Cream

and the Grateful Dead when they

weren't the big, popular groups.

We were playing the kind of

alternative rock music you'd hear

on FM radio."

He continued, "We decided to go

underground for a few months,

not play any gigs and work on

our music. The lead singer's

brother created a psychedelic

light show for us. A few friends

from other schools snagged some

band uniforms so we could do

a Sgt. Pepper's sort of thing. All

dressed up in different colored

band jackets, playing things like

'Purple Haze' and songs from the

Sgt. Pepper's album, we debuted

our new look, name and the light

show at a battle of the bands. And

we won!"

The summer of Cyge's senior year

was the summer of Woodstock.

It was also a time of transition in

popular music when electric bands

took a back seat to a burgeoning

acoustic singer/songwriter

movement happening with the

likes of James Taylor, Joni Mitchell,

Simon and Garfunkel.

Cyge added, "Crosby, Stills and

Nash were huge components, and

Cat Stevens, the list goes on and

on. All these people were hitting

and changing the face of popular

music. I got very excited about

acoustic music, got rid of my

electric guitar and bought a cheap

folk guitar. That's what I brought

to college with me. When I wasn't

studying, I was playing the guitar

and working on this music by

listening to a lot of James Taylor

and all of these people."

Rick Cyge & Leverett Wharton 1972

"I hooked up with a young woman

and we played in the coffee houses

around campus. She had a great

voice and sang Joni Mitchell songs

beautifully. I played fingerstyle

guitar, kind of like Paul Simon and

James Taylor. My idea of folk music

at that point was based on this new

generation of folk music happening

at that time. By junior year I'd

become pretty good on the guitar

and got my first serious guitar, a

beautiful Martin," he reminisced.

While attending University of

Rhode Island, Cyge was introduced

to another guitarist, Leverett

Wharton who grew up in Rhode

Island and spent his childhood

going to the Newport Folk Festival

with his family. The annual festival

was one of the most famous in the

country; people like Bob Dylan and

Joan Baez and many others got their

start playing there.

"Lev had been exposed to all of the

traditional folk music: Country

Blues, people like Mississippi John

Hurt, Reverend Gary Davis and

Doc Watson and all this great

'roots' music, so when we started

playing music together, he turned

me on to all of that. It completely

opened my mind, transformed

me and my taste in acoustic music

to go way beyond just what was

happening then, to all of the

tradition of folk and acoustic

music. The experience really

steeped me in the evolution of

acoustic music and made me more

passionate about playing."

Wharton lived in Jamestown, a

little island about two miles wide

by eight miles long between the

mainland of Rhode Island and

Newport, a larger island. "Lev's

grandparents had owned property

on the island and there were a few

houses and the Wharton Shipyard

still owned by the family. In my

Junior year I took a job in that oldfashioned

shipyard." Cyge smiled

at the memories, "When I wasn't in

class I was wet-sanding the bottoms

of large boats and helping to launch

them. I learned to sail while I was

there, Lev taught me."

A few thousand yards from shore

was a cluster of rocks out in

Narragansett Bay. Surrounded

on all sides by water, Wharton's

grandfather had built a house on

the cluster of rocks, they called it

'Clingstone' and the only way to

Sedona ARTSource

55
---
music while living in Boston and I

brought that passion and influence

with me to Arizona in 1988. There

I met the person who was later

to become my wife, flutist Lynn

Trombetta. We started out playing

Celtic music together and I was

arranging these little pieces for

guitar, mandolin, flute and Irish

whistles. Soon, I booked our new

duo, Meadowlark a tour to play

some dates on the west coast."

Clingstone, Narragansett Bay

get there was by boat.

"When Lev's family went to the

Newport Folk Festival, they would

invite some of the performers back

to the house afterward. At the

time, Clingstone had no electricity

so there was just candlelight at

night. They'd sit around the table,

have dinner and then pull out their

instruments. Lev told the story

of sitting on the floor as a little

kid, listening to several festival

performers casually playing music

while he just sat there, listening

and soaking it up."

Cyge paused, "So, fast forward

15 years and here we are, Lev and

me, living in the Captain's House

behind the shipyard. Lev would

take me out to Clingstone …

nobody was living in it at the time

and the windows were boarded up

for the winter. There were porches

on all four sides. We'd go out by

boat, climb up the rocks to sit out

and listen to the buoy bells and

he'd tell me the stories about all

those musicians playing their music

at Clingstone. Not surprisingly,

by the early eighties I had written

an instrumental guitar piece about

the experience and the place called

'Clingstone.'"

After college, Cyge began to offer

lessons and at the

suggestion of a friend, he decided

to put together what would later

become Wood and Strings Music

Center, a center for teaching,

selling and renting instruments and

producing acoustic music concerts

in Arlington, Massachusetts. Early

in that period a student came to

see him who wanted to learn to

play music by a young French

guitarist, Pierre Bensusan. "When

I first heard Bensusan's music, it

stunned me! I'd never experienced

anything like it. It was in an open

tuning and, while style-wise

it was fingerstyle guitar, it was

radically different than anything

I'd ever heard. I became extremely

passionate about it and obsessed

to learn to play the music he was

composing and performing."

There's a direct line from Cyge's

exposure to Pierre Bensusan and

the music he would later compose

in open tunings, specifically a

tuning Bensusan popularized,

DADGAD, named after the way

you tune the strings from low

to high. "I adopted DADGAD

as a home tuning for my guitar.

That tuning is closely tied to the

tradition of Celtic music. I'd been

exposed to wonderful Celtic

As they traveled, Cyge became

aware that through the flute he had

a voice to write for that didn't need

lyrics. He started writing music for

Meadowlark while they were still

on the road. Between performances

the pair spent their days sitting on

the beach, hiking in the redwood

forest or exploring some part of the

California coastline. "Back where

we were staying, I'd pull out the

guitar and this music spilled out

of me. I captured it as best I could,

jotting down notes, recording it

when possible, calling out melodies

to Lynn to try on the flute and new

pieces were born."

Performing several dates at

Ghirardelli Square in San

Francisco, they began to notice

there was something magical about

the music that drew people in. "As

we played the new Meadowlark

pieces, we noticed people who

were bustling around, in and out

of the gift shops and chocolate

shops would gather seated in the

courtyard and become mesmerized,

as if under a spell and would stay

for extended periods to soak it up.

When we'd take a break, people

would surround us, wanting to buy

CDs and talk about the music. We

were astounded by the response.

We'd recently heard of a concept

called 'entrainment' and realized

others were experiencing that

through our music. Our music

56

Sedona ARTSource
---
"It fuels my passion and creativity

to know that everything that I work

to create through my music is,

in some way unique."

RICK CYGE

was recreating the experience of

some of the melodic contours and

rhythms we had heard in nature.

Whether it's the ebb and flow

of ocean waves or the sound of

wind through pine needles in the

redwood forest and the creaking of

the trees, we humans relate to these

sounds on a very primitive level.

I was creating music inspired by

nature and trying to capture those

sounds and rhythms, and that was

being transmitted through the

music. People who were listening

were entraining with the music."

So, after being what he called, "a

frustrated songwriter for many

years," Cyge had written the

nature-inspired music that became

Meadowlark's debut album, "Dance

of the Sandpiper" on that first tour.

Meadowlark's subsequent album

releases reflect a deep passion for

the planet in a vibrant, colorful

mix of world-influenced music

inspired by the beauty of natural

places and Cyge's compositions

meld influences as diverse as Celtic,

African, and Mediterranean.

In 2000, Cyge and Trombetta

married. Following several years

of featured resort performances

in Scottsdale, Arizona, the couple

moved to Sedona. Soon, Cyge

began to respond to new audiences

for his solo performances with

arrangements of popular music,

especially reaching back in

time to the era of the Beatles.

The transition happened by

circumstance; Trombetta was being

drawn back to her art and writing

and there was less opportunity

for ensembles to perform in

Sedona. "To best adapt, I sought

out opportunities as a soloist. I

felt that for most opportunities

in restaurants, wine bars and

hotel settings the music should be

instrumental. So I reconnected

with that side of my musical

personality."

Through years of teaching how

to arrange for fingerstyle guitar,

Cyge had arranged a large number

of tunes and soon amassed an

impressive repertoire of fingerstyle

guitar arrangements of what he

calls, "Baby Boomer classics," music

from the late 50s to early 80s and

started going out.

Cyge commented, "I wasn't doing

a lot of writing, but was still

compelled to get on the guitar and

create. Finding a way to express

songs as a solo guitar piece with the

vocal melody, the guitar or piano

accompaniment and the rhythms

Sedona ARTSource

57
---
of whatever band might have

played it gave me the same sense of

satisfaction and accomplishment as

composing."

"In the end, it is always about the

music," Cyge pointed out. "There

are a lot of good guitarists out

there, but when I listen to them

I hear the predictable kinds of

patterns that happen naturally

on the guitar. I call them 'guitarisms.'

It's very easy to fall into

guitar-isms. When I am writing or

arranging, I consciously work to

not do it from the standpoint of

what falls naturally on the guitar,

but through what I can capture on

the guitar to adequately reproduce

musically what I have heard or

want to express."

Honoring the music

of the Beatles as one of the first

profound influences on his

music, Cyge recently completed

a project that's been in the

works for a while. "There's so

much counterpoint, so many

different voices all happening

concurrently in the Beatles music

that arranging their music for the

guitar was really satisfying."

"Rick Picks The Beatles," Cyge's

third solo release invites listeners

to enjoy all those details arranged

for fingerstyle guitar in a nostalgic

look back at the group. "They

burned so bright and created such

magnificent music for the short

time they were together."

Recently voted

"Sedona's Best

Musician" in KUDOS

Reader's Choice

Awards, what Cyge

finds most exciting

is performing in

concert settings.

"As I engage the

audience, the

energy I put out

through my

music is reflected

back to me and

amplified by the

audience. Both

the audience

and I can

experience a higher and more

intense, creative experience of the

music in those true concert settings

than can be had anywhere else."

Being surrounded by the

dramatic landscape of Sedona has

strengthened Cyge's connection

to nature. "Living in the canyon

where we're exposed to raw nature

in a really dramatic form every

time I walk out the door keeps me

passionate and that passion spills

into my making music, whether it's

writing or arranging. Passion is the

driving force that makes me want

to create."

On creativity, Cyge has offered this

insight in workshops and seminars

he's taught over the years: "I do

believe we all are creative beings

in whatever capacity we find to

express that creativity, and we're

an amalgam of our life experiences.

Early in my life experience I felt

unsure if I had anything unique to

offer. That is, every time I tried to

do what I thought was creative, I

feared that it might be derivative

of something I'd heard before.

However, I came to embrace the

idea of that and realized that we

ARE a product of everything

we've heard and everything we've

experienced."

He continued, "If you take all

the influences in our lives and

combine their impact on us, what

comes out of us is a creativity

that incorporates elements of

everything we've experienced.

That makes it unique, in that no

two people experience the same

thing. Even if we're in the same

room, we're not experiencing the

same thing. It fuels my passion and

creativity to know that everything

that I work to create through my

music is, in some way unique."

Visit www.RickCyge.com ∞

58

Sedona ARTSource
---
15% OFF

when you mention this ad

2920 Hopi Drive Sedona, AZ 86336 928-204-9750 www.kachinahouse.com

SedonaArtSceneAd3rEdition.indd 1

10/13/2018 3:07:17 PM
---
"Once upon a time, in a place not unlike this place, in a time not unlike this time, there

was a lovely Anna's hummingbird..." begins Sedona artist Beth Kingsley Hawkins' book

Anna's in the Snow. Based on her experience discovering a nesting hummingbird in

Sedona late one winter, Beth shares her story.

Anna's Snow

in the

"All life is in the nature of the miraculous"

One year, an Anna's hummingbird made her nest in our neighbor's

cottonwood tree.

The Anna's hummingbird is a full-time resident in Sedona. Choosing not to

migrate, this cold-hardy hummingbird starts nesting early in the winter, in the

chilly months of February and March!

Because our neighbor's patio was high above the base of the tree, the nest

was readily visible. I carefully negotiated the space between the nest and my

camera with a 300 mm lens on the tripod and faithfully returned mornings

and early evenings to document the process.

Story and Photographs

by Beth Kingsley Hawkins

Sedona ARTSource

61
---
Her nest placement, under a larger protective branch,

turned out to be very serendipitous. In March,

Sedona had a surprise snowstorm. Lasting two days,

the storm left seven inches of beautiful white snow,

just when her eggs were hatching.

I was worried! Could the mother and chicks survive?

Was her nest location the best choice? Was she

overconfident that they could endure anything the

weather presented? Would they all endure?

She rarely left the nursery. Luckily, a sapsucker

had drilled holes in the tree next to her which gave

her access to the sap as a nearby source of food. To

keep the new babies warm, she hunkered down and

spread her breast feathers completely over the nest.

Her high metabolism maintains a body temperature

around 104°, so any snowflake landing on her would

melt instantly.

Thank goodness, she succeeded! I continued

photographing even after all the snow had melted.

My most exciting photo shot was one that occurred

as the sun was setting, making the shadows of the

babies' heads visible through the leaf, with their little

beaks open to be fed when Mama returned.

I even managed to get a shot of the first chick after

it flew, and documented the mother finding it and

continuing to feed it even after it had fledged.

My husband, Ross Hawkins is the founder and

director of the International Hummingbird Society,

a nonprofit organization headquartered in Sedona

dedicated to teaching about hummingbirds and

working to prevent their extinction. I share that

mission and at that year's Sedona Hummingbird

62

Sedona ARTSource
---
"I even managed to get a shot of

the first chick after it flew, and

documented the mother finding it

and continuing to feed it

even after it had fledged."

Festival, I gave a presentation with

my images and the story of the

Anna's success. As stories often

do, this one opened hearts and a

number of people were so moved

they suggested I make it into a

book! That was a whole new idea

and adventure for me and, as it

turned out, a very satisfying one.

Anna's in the Snow was published

and a portion of the proceeds

from the sale of each book are

donated to the International

Hummingbird Society to help in

its mission of conservation and

education.

When Cesar Frank, a Peruvian

artisan living in Massachusetts

Nesting Anna's Hummingbird,

sterling silver pendant by

Cesar Frank, a Peruvian artisan

living in Massachusetts.

came into my store, Sedona

Hummingbird Gallery and saw

my book, he proposed creating

a sterling silver pendant of the

Anna's hummer mom. I was

thrilled and commissioned a

necklace. I first met this amazing

artist at the Sedona Arts Festival

where his jewelry representing

the flora and fauna of Peru was

featured. When I walked into

his booth, I was amazed to see his

inlaid hummingbird pendant and

exclaimed, 'Oh my goodness, you

have the Marvelous Spatuletail!'

He replied, "Oh my goodness, you

know what it is!" and a friendship

began.

The commissioned pendant is

perhaps the first necklace that

shows a nesting hummingbird.

Of course, it's of our very own

Anna's who lives in Sedona

all year round, and, it ties in so

beautifully with the book!

Through my nature photography

I invite others to focus on the

beauty in life and to celebrate

what's right with the world. I

concluded the book with an

invitation to 'stand still like the

hummingbird and know that

all life is in the nature of the

miraculous.' ∞

Beth Kingsley Hawkins received

a master's degree in music and

music therapy for studies at the Orff

Institute, part of the Mozarteum, in

Salzburg, Austria. Her background in

the fine arts as a music therapist and

her work in hospice gives her a unique

perspective on life, which comes

through in her photography. At the

age of eighty, the inner child within

the grandmother is still alive and well.

She has recently published another

joyful book, Hummy the Magnificent:

How a Hummingbird Learned to

Read, beautifully and whimsically

illustrated by local artist S. Ann

Rhinehart. It is about a hummingbird

whose hero's journey begins because

he is allergic to flowers. Its overall

message is that in the same way that

hummingbirds receive nurturance

from the flowers, children can receive

nurturance from reading books.

Beth is a charter member of the

North American Nature Photography

Association (NANPA). Her

photographic mentors include: DeWitt

Jones, with travel to Monet's garden

in Giverny, France and to Molokai,

Hawaii; Freeman Patterson, with travel

to Shampers Bluff, New Brunswick

and Namaqualand, South Africa and

the Namib Desert; and Courtney

Milne with travel to Saskatchewan and

the study of photography as an Inner

Landscape.

Her husband, Ross, is the founder

and director of the International

Hummingbird Society, headquartered

in Sedona, with its mission of

conservation and education. Beth

is a popular speaker at the Sedona

Hummingbird Festival each year and

she shares an essential part of that

mission.

Beth is the owner of the

Sedona Hummingbird Gallery

and can be contacted at

hummerlady@hummerlady.com or

(928) 284 0339. For more information

visit www.hummerlady.com

Sedona ARTSource

65 63
---
PETER GASSNER

WEST FORK
---
ELAINE BELVIN

ROBBERS ROOST

Members of the Sedona Camera

Club share recorded memories of

transition from Winter to Spring in

Sedona's landscape.

SEDONA

S

EASONS

JOHN GAFFORD

COFFEE POT ROCK

Sedona ARTSource

65
---
Chef Jeff Smedstad

Takes Southwest & Mexican

Flavors to Artistic New Levels

at Elote Café in Sedona

Interview by Lynn Alison Trombetta

Photos provided by Elote Cafe

Chef Jeff Smedstad specializes in the bold, flavorful cuisine of southern and interior

Mexico combined with the unique flavors of the Southwest. As owner of Elote Café

in Sedona, Arizona, he translates the beautiful flavors into a cooking style he calls,

"Authentically me," as he stays true and respectfully interprets the influences of a lifetime

through cooking for others.

SAS: Was yours a conscious decision to become

a chef or did you find you fell into it?

JS: I started cooking in the Coast Guard, so my first gig

cooking was on a desert island halfway between Japan and

Hawaii. And that doesn't sound like much to most people,

but that experience is one of those times that really

shaped my life because I started cooking for a group of

30 guys, and they had no options as far as where to eat.

It was all food made by me, period. There were no

commercial outlets and so I got to see the difference that

food can make in somebody's life, in their day. I think my

way of getting into food in that way was different than

most people's.

It was just something that I experienced. And I knew

that year, which was 1987, that there would be no turning

back. That this was something that I really wanted to do

because I could do this and make people happy. And if I

did, I figured I'd end up rewarded for it. And it's worked

really well as a two-way-street, if you will.

SAS: What would you say was a major turning

point for your career as chef?

JS: It was when I spent time in Mexico. For me, I knew

I wanted to be a chef, and that's great, but I was just

starting out. Then I spent time down in Oaxaca. I studied

primarily with a lady named Susana Trilling, who now

operates Seasons of my Heart Cooking School, but then

we went around to other ranches and we cooked with

a lot of different ladies. The flavors and the way that the

food was prepared, that was sort of a lightbulb moment as

to what was going to be my style of cooking.

I felt like there was this beautiful, full earthiness and

vibrancy. It was just food that seemed more alive than

what I was used to seeing as a young man growing up in

66

Sedona ARTSource
---
UCHEPOS

Michoacan Style fresh corn Tamales

with Tomato Chipotle Sauce and Crema
---
SAS: What do you call your cooking style?

JS: "Authentically me." I've also called it Mexican and

Southwestern cuisine, and the reason that I've added

Southwestern to it now is that we see influences from

the area happening all the time. I'm an Arizona guy, I grew

up here, I'm proud of where I'm from. I want to make

sure that we don't lose the actual ideas of what the early

cuisine of this area was.

I think that we can get romanced by different

ingredients at the farmer's markets that might not

have much in common with what the earlier people's

were in this area. I want to make sure that we are not

losing some of those traditions as well.

Whether it's using a hatch chile, or doing something with

the citrus or mesquite in the area, or remembering the

Tepary Beans, or the Anasazi beans, foods like these have

become very important to me. They aren't what you're

going to search for in Mexico, but that's what you're going

to search for in the southwest US and in New Mexico,

Arizona and parts of California.

Chef Jeff Smedstad

the desert. I love the entire bounty of the Southwest,

but the refinement and where they took things in the

markets and houses of Oaxaca really showed me a new

level of where these flavors could go. That's what became

the nucleus for what I do now.

SAS: So Oaxaca and the ladies you were cooking

with would be the biggest influences on your

cooking?

JS: Yes, it would be and probably twenty, thirty years of

traveling back to Mexico; I'm always going back there to

try to have foods in their element. And then I come back

and show you my interpretations of them. But in doing

that, we weave authenticity into everything because for

me it's really important to do what I do respectfully. I am

doing much more than translating recipes, I am honoring a

land and traditions of the people and the very food itself

with authenticity from my heart and from my experience.

I work with a lot of people from Mexico, I have a lot of

people that come in here for dinner that are visiting from

Mexico, and I do want to make sure that I'm giving the

respect due to that food that it deserves.

SAS: What's your favorite ingredient?

JS: Corn! Corn all the way! Corn for the win!

SAS: Is it fair to say that you are constantly

innovating?

JS: Absolutely! The biggest thing that can happen to me,

and I don't always know where it comes from anymore,

is I just come across new ingredients, or maybe an old

ingredient and somehow I see it differently.

There's nothing in the world that doesn't touch your

world when you do this for a living. I mean, just being

alive, being present, I guess is going to make you a better

chef. But there's a lot out there, and I'm discovering even

after thirty years of being in kitchens that you don't know

much and you're always humbled by what you're learning.

So yes, the innovating will never stop, whether I want it to

or not!

SAS: Are you finding sustainable, local, organic

product available to incorporate into the menu?

JS: Quite a bit of things we use are from Arizona. We

do get in a few things from the Verde Valley. I've had

people show up at my back door with peaches and we get

mushrooms and berries from up in the canyon every year.

We've been known to use beef from a couple of different

68

Sedona ARTSource
---
cattle ranches around here. We had somebody in

Wickenburg raise pigs for us a couple years ago and

we did a sort of a study as to where to go with pig.

We do try to get a variety and we have fun with it.

SAS: Tell us about your cookbooks.

JS: I have two cookbooks out: The Elote Café Cookbook and

The Elote Café Notebook. The first book, the Cookbook

was about getting down to basics of where we were in the

restaurant and sharing that with the public. The second

book has a few new 'stars' in it, if you will; things that have

become very popular since the publication of the first

book that I've shared with people many, many times.

And then there's a lot of things in there that I just like to

cook at home offering a little more fun on a couple of new

ideas: things like brisket and tri tips, different sauces that

have become more popular over the years, and potato

tacos that I make at home on the weekends. It's fun to

share it. Both books are pretty laid back experiences, but

both are unique in their own way.

SAS: What big changes have you noticed over

the last 25 years?

JS: Food has evolved in the last 25 years a thousand fold.

Everybody's got an opinion about something now, a lot of

people are very food savvy, and people have traveled a lot

more than they did 25 years ago. The internet's made the

world a lot smaller too. A lot of times in the early parts

of my career, it was sort of trailblazing; you were showing

people something that they'd never seen before. And now,

usually the best you can hope for is to be the best version

of that. But that's the new way of being pushed forward.

I feel like 25 years ago, for me the push was to innovate

and now the push is to refine; to absolutely make that

one plate of food as close to wonderful, every single time,

which could be twenty-thousand times in a year. And

make it absolutely wonderful, so that if people come back

a year later you're still impressing them.

SAS: What is your favorite recipe from the book

– or the one you are most proud of?

JS: I love a potato taco, but I don't really serve them here.

I've always loved my Lamb Adobo – that's' never gotten

old! And I think that I love the flavor of it, but there's also

an emotional attachment to it. I consider it to be one of

the dishes that made my career. It's sort of like having a

LAMB ADOBO

Sedona ARTSource

69
---
I noticed that the crew didn't seem

excited about the food there. At

the age of seventeen or eighteen I

didn't know what I was going to do

to improve on that because there

are government recipes that you're

given. So I started cooking things

I'd never heard of out of the James

Beard cookbook. I'm just a country

boy from what was Chandler, which

was cotton fields when I left it - at

the time it was pretty humble.

hit song and I find that it always makes me happy, that's not

gone away. The thrill of making that dish, smelling that dish

and eating that dish has never gone away.

SAS: How does people's relationship with food

differ between Mexico and here?

JS: I think that the relationship with food in Mexico is just

kind of matter-of-fact. It's just part of the fabric of your

day, of your life. It's what you do; you've been eating tacos,

the pollo, tacos al pastor or whatever your whole life. And

that's just something you've done.

ELOTE CAFÉ, Sedona

SAS: What were some of the

first recipes you tried?

JS: I started cooking things like

Crème Brulee, and to me it was

pudding that had a burnt top – I'd never had it. They loved

it. And then I would work on this recipe or that recipe;

they loved it. I had limited ingredients, but we had a papaya

grove in the middle of the island, and I knew the pilots that

would fly our supplies out once a week. The plane would

drop off stuff and leave you. I started trading papayas

to them and then the next week they'd show up with a

contraband bottle of wine that complimented roasts really

good that they gave to my commanding officer. Or I'd get

in real prime beef or a prime rib roast that you're just not

going to get on a military budget. And I'm not going to tell

you I knew what I was doing, I just kept trying.

Here in the US, we're seekers. In Mexico people are

eating it, they are getting their nutrition from it, they are

not gorging, and it is just part of their day. It seems there's

more of a balanced approach to eating in Mexico than

there is here. People here often eat for an experience.

There, they mostly eat for sustenance.

SAS: Please tell us a bit more about your time

with the Coast Guard.

JS: That was at the Loran Station, pre-dating GPS,

so there's no boat involved there. That was a great

experience to get me really excited about cooking. I was

a deckhand on an ice-breaker before that, and when I left,

they gave me a cookbook out of the ship's library. They

said, "Good luck, kid," and they tossed a book at me. I put

it in my bag and off I went. When I unpacked everything

when I finally arrived in Japan, I noticed that it was an old

paperback book with some fat, bald guy on the cover, who

I assumed was Chef Boyardee. (It was James Beard, but

that meant nothing to me.)

SAS: Is that when you decided you wanted to be

a chef?

JS: My mother sent me a book on patisserie, which is

French and I started making croissants. I'd never had a

croissant in my life, so I spent seventy-six hours on the

recipe! I noticed that these things would really keep the

morale way up high and I was like, "Okay, I want to be a

chef, I want to learn more about this."

SAS: And one thing led to another?

JS: Yes, my next experience after I left there was I lived in

Morro Bay, California, and here we were next to San Luis

Obispo, which at the time had something new and novel

that I'd never seen growing up in Arizona … it's called

a Farmer's Market. They didn't exist here! There were

pick-up trucks full of turnips and beets, and there were

real farmers like hanging out on their trucks, and some guy

with a barbecue thing making barbecue! And Mojo Nixon

would be playing in the bar up the street … it was a

70

Sedona ARTSource
---
I am doing much more than translating recipes, I am honoring

a land and traditions of the people and the very food itself

with authenticity from my heart and from my experience.

CHEF JEFF SMEDSTAD

different time. I don't know if it was better, but it

definitely got me into the idea of how much was going

on in cuisine.

Then, I got a gift of a Wolfgang Puck cookbook. Who

again, I'd never seen, had no idea who the guy was. And

I'd never made Szechuan Beef - I'd probably never eaten

Szechuan Beef. But I knew guys talked about it, and there

was a recipe in the Wolfgang Puck cookbook, which is the

furthest thing from real Chinese food, but I was doing a

Frenchified version of Chinese food and I literally fanned

out New York Strip and it went

over so big and the rumors got

out to all the police departments,

the fire departments and the

harbor patrol guys.

JS: That was a great thing; as I had that opportunity in the

Coast Guard, I had the faith of my crew. Which, number

one, if you don't get that faith, you're dead in the water.

It's similar to having the faith of your customers, and I've

been dealing with that ever since then. As soon as you get

that faith, you get kind of carte blanche for where you can

go and do what you want.

So, I expanded beyond what normal people would do in

the military and cooked whatever I wanted. Then I got out

and went to Scottsdale Culinary Institute with a G.I. Bill

They would buy tickets; you

could actually sell a limited

amount tickets for lunches. You

could make money; you just

couldn't keep the money. So, if

I made money on these lunches,

then I could use that money to

buy better food. Suddenly I'd

expanded my budget and found

a way within the system to beat

the system so that we could eat

crab and lobster. That's what the

guys wanted and I'd tell them,

'We're going to eat hot dogs for

three days straight, but we're

going to save that money and

then that's going to go into the

Friday feast.' Not that I knew

how to cook everything, but I

was going to try.

SAS: How did that

experience shape your

ideas of your future and

your relationship with the

people who enjoyed your

food?

Chef Jeff in the Blue Agave fields of the Jalisco valleys, Mexico
---
and then I worked in some

hotels and things like that

where I felt very detached.

I knew that someday I had to

get back to a restaurant, I just

didn't know how, what and

where it was going to happen.

Chef Jeff and Elote Cafe

General Manager,

Juan Rojas at Tlaquepaque

in Guadalajara, Mexico

I tried to work in Mexican

restaurants, because I really

liked the food after the first

time that I was down there when

I discovered both the food, and at

the time, a girl which worked out

really well for a while. But I had

to get back to the idea of having a

relationship with the people I was

cooking for; otherwise, I can't do it.

SAS: Having one, very successful restaurant

in this beautiful Sedona setting has filled that

need?

JS: People have often asked me about why I don't have

several of these. Because once you get so busy, people

expect you to plant, do another one, and do another one.

But in that plan, I would never have that relationship with

people. When I was working in hotels, where you were

detached and pushed into the back, it just didn't ever feel

like it had the meaning. And so now, when I pass through

the dining room, it's to check on the customers, but it's

also to give my day meaning, probably more so than even

checking on the customers. It's about me. Because

without that, I don't feel inspired to get up the next

day and do this again. I don't do this for the money

anymore – I'm humbled and lucky. I do it because I

want to.

SAS: It gives meaning to your life, to cook for

people.

JS: It does, and to have those connections. Some people

think that I get off by having a big line here. But I don't –

I want everybody to get in and be happy, but I'm humbled

that so many people try to get in the doors. It's blowing

my mind. I never expected it. I've been very lucky here,

but that's what keeps me from trying to build something

bigger. My life's been damn charming.

SAS: Please share little more about your

experience on the Backroads of Mexico.

JS: I think the backroads of Mexico

are one of the most misunderstood

things to most people that are north of the border.

Generally when you are out in the country, people are

very welcoming and of course, the food can be wonderful.

You can definitely still take a step back in time in some

places. You'll find a lot of people that live a simpler life.

In a way, when you're out in the backroads of Mexico you

become inspired about what maybe is more important

in the world, that can give you that one moment of quiet,

you know? I find that there's a much more 'in tune' sort

of circle of life consciousness when you're out in the

country like that. People seem to have a whole lot less

they're hung up about. If anything, I'm jealous of that. They

are not concerned with being a vegan, a vegetarian, or

whatever dietary restriction might be popular this week.

They just live in tune with nature, with sustenance, with

what they've got. They seem happy.

I've driven on back roads from Mexico City all the way to

Oaxaca and then all the way over to Veracruz from there.

If anything, I find the cities more overwhelming than the

country.

And I think that you can still see real happiness out there.

Happiness without the deep "needs" that we all have

decided we need. Yeah, I think that in the US we have that

too, you can find it, but I think it's a little harder. There's

just something real beautiful about the connection of life

and earth when you're way out there.

SAS: Thank you, Jeff.

Enjoying a tlacoyo

For more about Chef Jeff Smedstad's award-winning

cuisine, visit www.EloteCafe.com ∞

72

Sedona ARTSource
---
SEDONATROLLEY.COM • 928-282-4211

Sedona Trolley, "The Best First Thing To Do in Sedona" for over 25 years. Take a step back in time on

the Sedona Trolley and enjoy a fun, informative tour of the entire City. Between two different fully

narrated 55 minute tours, we'll take you to all of the best places in Sedona.

Visit historic spots and inspirational landmarks, take in breathtaking views, learn where to experience

a vortex and get many great photos. Learn about Sedona's past and present and get tips on hiking,

shopping, dining, and watching gorgeous red rock sunsets.

TOUR "A" 55 MINUTES

Visit the South side of town, highlighted by scenic

Highway 179, featuring a 15-20 minute stop at the

famous Chapel of the Holy Cross. Fully narrated with

lots of photo opportunities among the Red Rock

formations.

TOUR "B" 55 MINUTES

Head out west through the City of Sedona and on out

to Dry Creek Valley highlighted by the breathtaking

scenery of Boynton and Long Canyons. Fully narrated

with two photo stops in the Coconino National Forest.

Sedona ARTSource

73
---
SAS quarter page ad:Layout 1 12/4/18 7:19 PM Page 1

ARTSource

promotes the arts

and the artists in

Sedona by forging

a beneficial alliance

between the arts

and business

communities.

ARTSource

online publishes

performance venues

as a public service.

All Sedona venues

have a free

promotional

opportunity for

their events and

performances at

SedonaArtSource.com/Sedona-Event-Calendar
---
The Spotlight

Live Entertainment Venues in Sedona

Sammy Davis Band at Club 89

Music is alive and well in Sedona venues all over town! To give area visitors some insight into what's behind those doors,

we break it down with information on each venue's musical flavor and focus. In this issue, we shine The Spotlight on

Steakhouse89 where live music is on the menu every day with Happy Hour and offerings for those 'late night' crowds.

Where:

When:

Steakhouse89 and Club89

2620 W. Hwy 89A, Sedona,

928.204.2000

HAPPY HOUR: Entertainment every

Tuesday through Sunday; 5 – 8 p.m.

LATE NIGHT SERIES: Entertainment

Wednesdays through Saturdays; 8:30 – 11:30

p.m. (or later) Late night entertainment

takes place in Club89, a separate dining

room from the main bar/dining area that

features a stage and a dance floor. Club89

offers a smaller late night menu until 10

p.m. with live entertainment continuing until

11:30 or later, depending on the crowd.

SUNDAY BRUNCH: Entertainment weekly;

11 a.m. – 2 p.m.

COMMENTS: Reservations are not required but strongly

suggested due to limited seating in the venue.

Type of Music Featured:

Happy hour entertainment in the bar is mostly solo

musicians, primarily pianists and piano/vocalists. These

performances are usually ambient in nature with music at a

modest volume to allow for comfortable conversation while

providing a relaxed environment to enjoy the happy hour

drink and food specials.

The late night series in Club89 typically features various

ensembles, DJs and other unique performers. Much of

this music is danceable and engaging with the focus in this

room being on the entertainment. Stylistically, the late

night music includes a broad spectrum of artists and genres

ranging from rock and roll to jazz, from live music to DJs,

and even some regional and touring acts, with something for

everyone. ∞

Sedona ARTSource

77 75
---
The Spotlight

VENUES

WEST SEDONA

Bella Vita Ristorante

ChocolaTree

Dahl & DeLuca

Enchantment Resort

Gerardo's Italian Kitchen

Golden Goose American Grill

Greg Lawson Gallereum

Judi's Restaurant

Mary D. Fisher Theatre

Mesa Grill

Music in the House

Oak Creek Brewing Co.

Olde Sedona Bar & Grill

Reds Lounge

Sedona Chamber Music

Sedona Performing Arts Center

SteakHouse89

Vino di Sedona

MUSIC DAYS & TIMES

Wed, Thu, Sun 6:30 - 8:30 p.m.; Fri, Sat 6:30 - 9:30 p.m.

Fri, Sun 6 - 8 p.m.

Fri - Mon 7 - 9 p.m.

Thu-Sat 5 - 8 p.m.

Tue 5:30 - 8:30 p.m.

Sun, Tue, Thu 5:30 - 8:30 p.m.

Occasional concerts - call for details

Thu 6 - 9 p.m.

Concert performances throughout the year - call for details

Thu 4 - 7 p.m.; Sat & Sun 11 a.m. -2 p.m.

2nd Fri of each month, September - May, 7 - 9 p.m.

Wed & Thu 6 - 9 p.m.; Fri 8 - 11 p.m.; Sat & Sun 3 - 6 p.m.; Jam Nite: Sat 7 - 11 p.m.

Live Music: Fri 9 p.m. - 2 a.m.; DJ: Sat 9 p.m. - 2 a.m.

Wed, Fri, Sat, Sun 6 - 9 p.m.

Monthly concerts seasonally - call for details

Occasional concerts - call for details

Happy Hour: Tue - Sun 5 - 8 p.m.; Late night: Wed - Sat 8:30 - 11:30 p.m. (or later)

Sun - Tue 6 - 9 p.m.; Wed - Sat 7 - 10 p.m.; Wine Tasting: Fri 3:30 - 6 p.m.

UPTOWN

Briar Patch Inn

El Rincon

Hillside Sedona

L'Auberge de Sedona

Mooney's Irish Pub

Rene's Retaurant

SaltRock Southwest Kitchen

Secret Garden Café

Sound Bites Grill

Thai Palace Uptown

Tlaquepaque

Thu - Sun 8:30 - 10:30 a.m. June - September

Sun - Tue 5:30 - 7:30 p.m. March - October

First Friday ArtWalks 5 - 8 p.m.

Sun - Thu 5 - 7 p.m.; Fri 6 - 9 p.m.

Fri & Sat 9 p.m. - 1 a.m.

Sat 5:30 - 8:30 p.m.

Fri & Sat 6 - 9 p.m.

Tue - Fri 5:30 - 8:30 p.m.; year round weather permitting

Sun - Thu 6 - 9 p.m.; Fri & Sat 7 - 10 p.m.

Mon & Tue 6 - 9 p.m.

First Friday Art Walks 5 - 8 p.m. March -October; special events year round - call for details

VILLAGE OF OAK CREEK

Collective, The

Cucina Rustica

Full Moon Saloon

J Wine Bistro

PJ's Pub

Special events and concerts year round - call for details

nightly 6:30 - 9:30 p.m.

Fri & Sat 8:30 - midnight

Thu & Fri 6 - 9 p.m.

Tue (every other) 6 - 9 p.m.; Wed 6 - 9 p.m.; Sat (times vary) - call for details

Browse the list for details about live music at other area venues and visit www.SedonaARTSource.com

for calendar and performance information. Dates and times are subject to change, please check with venue.
---
Live Entertainment Venues in Sedona

TYPE ADDRESS PHONE

entertainment 6701 AZ-89A, Sedona, AZ 86336 928.282.4540

ambience/entertainment 1595 West Hwy 89A, Sedona, AZ 86336 928.282.2997

ambience 2321 West Highway 89A, Sedona, AZ 86336 928.282.5219

ambience The View Restaurant, 525 Boynton Canyon Road, Sedona, AZ 86336 928.204.6014

ambience 2675 W State Rte 89A, Sedona, AZ 86336 928.862.4009

ambience/entertainment 2545 W State Rte 89A, Sedona, AZ 86336 928.282.1447

entertainment 2679 W. Highway 89A, Sedona, AZ 86336 928.202.0340

ambience 40 Soldiers Pass Rd, Sedona, Arizona 86336 928.282.4449

entertainment 2030 AZ-89A Suite A-3, Sedona, AZ 86336 928.282.1177

ambience 1185 Airport Road, Sedona, AZ 86336 928.282.2400

entertainment The Hub, 525-B Posse Ground Road, Sedona AZ 86336 207.907.9365

entertainment 2050 Yavapai Drive, Sedona, AZ 86336 928.204.1300

entertainment 1405 West Highway 89A, Sedona, AZ 86336 928.282.5670

entertainment Located in Sedona Rouge Hotel & Spa, 2250 AZ-89A, Sedona, AZ 86336 928.340.5321

entertainment 2030 W. State Route 89A, Suite B5, Sedona, AZ 86336 928.204.2415

entertainment 995 Upper Red Rock Loop Road, Sedona, AZ 86336 928.282.0549

ambience/entertainment 2620 W. Hwy 89A, Sedona, AZ 86336 928.204.2000

entertainment 2575 W. State Route 89A, Sedona, AZ 86336 928.554.4682

ambience 3190 N State Rte 89A, Sedona, AZ 86336 928.282.2342

entertainment Tlaquepaque Arts & Crafts Village, 336 AZ-179, Sedona, AZ 86336 928.282.4648

entertainment 671 AZ-179, Sedona, AZ 86336 480.998.5025

ambience/entertainment 301 Little Lane, Sedona, AZ 86336 800.905.5745

entertainment Hillside Sedona Shopping Center, 671 AZ-179, Sedona, AZ 86336 928.282.2331

ambience Tlaquepaque Arts & Crafts Village, 336 AZ-179, Sedona, AZ 86336 928.282.9225

ambience Amara Resort, 100 Amara Lane, #101, Sedona, AZ 86336 928.340.8803

ambience/entertainment 336 AZ-179, F101, Sedona, AZ 86336 928.203.9564

entertainment 101 N. State Rte. 89A, Sedona, AZ 86336 928.282.2713

ambience 260 Van Deren Rd., Sedona, AZ 86336 928.282.8424

entertainment 336 AZ-179, Sedona, AZ 86336 928.282.4838

entertainment 7000 AZ-179, Sedona, AZ 86351 928.255.0900

ambience The Collective Sedona, 7000 Arizona Rt. 179, Sedona, AZ 86351 928.284.3010

entertainment The Collective Sedona, 7000 Arizona Rt. 179, Sedona, AZ 86351 928.284.1872

ambience The Collective Sedona, 7000 Arizona Rt. 179, Suite E100, Sedona, AZ 86351 928.641.6587

entertainment 40 W Cortez Dr., # 7, Sedona, AZ 86351 928-284-2250

Want to be on the List? Email your venue and event information to rickcyge@gmail.com.

Deadline for submission is 2 months before next quarterly publication date.
---
78 Sedona ARTSource
---
Sedona ARTSource

79
---
Sedona Art Galleries - See Map pageS 78-79

E2

B3

D3

D3

Adonai Chrisan Fine Art Gallery

101 N SR 89A

ALT Gallery

2301 W SR 89A

Andrea Smith Gallery

336 SR 179

AZADI Rug Galleries

Creang worldwide beauty for over 200

years. Specializing in Contemporary and

Anque fine rugs.

336 SR 179

E2

A3

E1

Greg Lawson Galleries: L'Image

Lawson Legacy Images offering lownumber

collector edions and exclusive

commission opportunies.

270 N SR 89A • GregLawsonGalleries.com

Greg Lawson Galleries: Passion for Place

Greg Lawson Images featuring people,

places and wildlife; an enre global

experience.

2679 W SR 89A • GregLawsonGalleries.com

Hoel's Indian Shop

9589 N SR 89A

D3

D3

B3

E2

Renee Taylor Galleries

336 SR 179

Rowe Fine Art Gallery

Nature and wildlife art. Tradional and

contemporary southwestern sculptors,

painters and jewelers.

336 SR 179

Sedona Arst Market

2081 W SR 89A

Sedona Arts Center

15 Art Barn Road

A5

E2

D3

D3

C3

Bearcloud Gallery

7000 SR 179 • BearcloudGallery.com

Bearcloud Gallery

390 N SR 89A • BearcloudGallery.com

Big Vision Art Gallery & Design Studio

Pamela Becker's studio + gallery: Symbolic

Portraits, Desert Lotus Altars® & Charisma

Cards.

251 SR 179

Carre D'Arstes

336 SR 179

Creave Gateways

45 Birch Blvd

D3

D3

D3

D3

A3

Honshin Fine Art:

Gallery of Wholeness, Harmony & Radiance

336 SR 179

Honshin Fine Art:

Gallery of the Ascending Spirit

336 SR 179

Inner Eye Gallery

336 SR 179

James Ratliff Gallery

671 SR 179

Kachina House

2920 Hopi Drive

KachinaHouse.com

B3

A5

E3

B4

D4

Sedona Giclee Gallery

2055 W SR 89A

Sedona Hummingbird Gallery

Gallery features spiritual nature

photography by Beth Kingsley Hawkins

and everything hummingbird.

6560 SR 179

Sedona Poery

411 SR 179

Soderberg Bronze

45 Finley Drive

Son Silver West Gallery

1476 SR 179 • SonSilverWest.com

D3

D2

D3

E3

E3

D3

C3

E3

D2

B3

D3

E2

Eclecc Image Gallery

336 SR 179

El Dorado

101 N SR 89A

El Picaflor Gallery

336 SR 179

Eve Franc - A Bryant Nagel Gallery

431 SR 179

Exposures Internaonal Gallery of Fine Art

561 SR 179 • ExposuresFineArt.com

Gallery of Modern Masters

World renowned contemporary arsts of all

mediums for both inside and outside display.

671 SR 179

Gallery Tesla

2030 W SR 89A

Garland's Navajo Rugs / Collector's Room

411 SR 179

Goldenstein Gallery

Represenng renowned local and regional

arsts in all styles and mediums.

150 SR 179 • GoldensteinArt.com

Gordon's Clock Soup Gallery

2370 W SR 89A

Great Southwest Gallery

336 SR 179

Greg Lawson Galleries: Art Tasng Room

Appezer sizes of Lawson images produced

for people on the go.

270 N SR 89A • GregLawsonGalleries.com

E3

D3

E3

E3

A5

C3

D3

E2

E2

D3

D3

E2

Kopavi Internaonal

Specializing in fine Hopi jewelry. Beauty

from the hand of America.

411 SR 179

Kuivato, A Creave Gateways Gallery

336 SR 179

KuivatoGlassGallery.com

Lanning, A Bryant Nagel Gallery

431 SR 179

Lark Art

431 SR 179

Magical Mandala Kaleidoscope Gallery

7000 SR 179

Mexidona

1670 W SR 89A

Mountain Trails Galleries

Painngs, sculpture & more by tradional,

contemporary award-winning arsts from

the West.

336 SR 179

Nave American Traders

321 N SR 89A

Nave Jewelry of Sedona

276 N SR 89A • NaveJewelryGallery.com

Navarro Gallery

336 SR 179

Quilts Ltd. Gallery

313 SR 179

R.C. Gorman Navajo Gallery

285 Jordan Road

D2

C3

E2

E3

A5

A5

D2

D3

C3

The DeSerio Gallery

101 N SR 89A

The Melng Point

This educaonal facility provides home to

locally craed glass of all forms.

1449 W SR 89A

Touchstone Gallery

320 N SR 89A

Turquoise Tortoise, A Bryant Nagel Gallery

431 SR 179

Van Loenen Gallery

7000 SR 179

Village Gallery of Local Arsts

Over 40 local arsts cooperavely

sharing mulple genres of affordable

artwork.

6512 SR 179 • SedonaLocalArsts.com

Visions Fine Art Gallery

Award winning fine art gallery.

World renowned arsts, painngs,

sculptures, and glass.

101 N SR 89A

Vue Gallery

336 SR 179

Wayne B. Light Gallery

40 Soldier Pass Road • WayneBLight.com

ARTSource adversers listed in bold.
---
Extraordinary

and

Unforgettable

"One of the Largest and Most Unique Galleries in the World"

800-526-7668 561 State Route 179, Sedona, AZ 86336 928-282-1125

ExposuresFineArt.com

Sales@ExposuresFineArt.com

©2018 Exposures International LLC