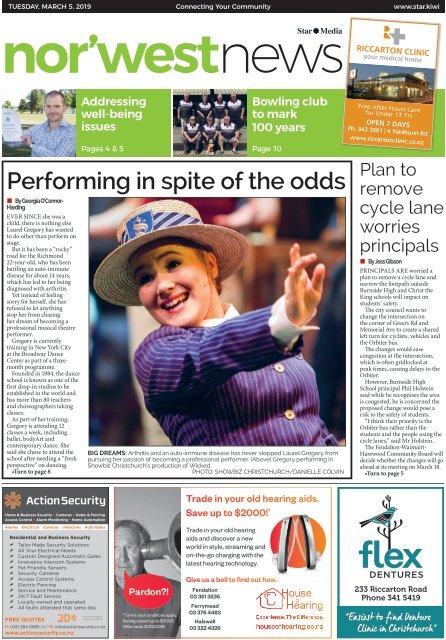 Nor'West News: March 05, 2019
You also want an ePaper? Increase the reach of your titles
YUMPU automatically turns print PDFs into web optimized ePapers that Google loves.
TUESDAY, MARCH 5, 2019

Connecting Your Community

www.star.kiwi

• By Georgia O'Connor-

Harding

EVER SINCE she was a

child, there is nothing else

Laurel Gregory has wanted

to do other than perform on

stage.

But it has been a "rocky"

road for the Richmond

22-year-old, who has been

battling an auto-immune

disease for about 14 years,

which has led to her being

diagnosed with arthritis.

Yet instead of feeling

sorry for herself, she has

refused to let anything

stop her from chasing

her dream of becoming a

professional musical theatre

performer.

Gregory is currently

training in New York City

at the Broadway Dance

Center as part of a threemonth

programme.

Founded in 1984, the dance

school is known as one of the

first drop-in studios to be

established in the world and

has more than 80 teachers

and choreographers taking

classes.

As part of her training,

Gregory is attending 12

classes a week, including

ballet, bodyArt and

contemporary dance. She

said she chose to attend the

school after needing a "fresh

perspective" on dancing.

•Turn to page 8

Addressing

well-being

issues

Pages 4 & 5 Page 10

Bowling club

to mark

100 years

Performing in spite of the odds

BIG DREAMS: Arthritis and an auto-immune disease has never stopped Laurel Gregory from

pursuing her passion of becoming a professional performer. (Above) Gregory performing in

Showbiz Christchurch's production of Wicked.

PHOTO: SHOWBIZ CHRISTCHURCH/DANIELLE COLVIN ​

Free After Hours Care

for Under 13 Yrs

OPEN 7 DAYS

Ph: 343 3661 | 4 Yaldhurst Rd

www.riccartonclinic.co.nz

Plan to

remove

cycle lane

worries

principals

• By Jess Gibson

PRINCIPALS ARE worried a

plan to remove a cycle lane and

narrow the footpath outside

Burnside High and Christ the

King schools will impact on

students' safety.

The city council wants to

change the intersection on

the corner of Greers Rd and

Memorial Ave to create a shared

left turn for cyclists, vehicles and

the Orbiter bus.

The changes would ease

congestion at the intersection,

which is often gridlocked at

peak times, causing delays to the

Orbiter.

However, Burnside High

School principal Phil Holstein

said while he recognises the area

is congested, he is concerned the

proposed change would pose a

risk to the safety of students.

"I think their priority is the

Orbiter bus rather than the

students and the people using the

cycle lanes," said Mr Holstein.

The Fendalton-Waimairi-

Harewood Community Board will

decide whether the changes will go

ahead at its meeting on March 18.

•Turn to page 5

Home & Business Security • Cameras • Gates & Fencing

Access Control • Alarm Monitoring • Home Automation

Trade in your old hearing aids.

Save up to $2000! *

Alarms Electrical Cameras Intercoms Auto Gates

Residential and Business Security

Tailor Made Security Solutions

All Your Electrical Needs

Custom Designed Automatic Gates

Innovative Intercom Systems

Pet Friendly Sensors

Security Cameras

Access Control Systems

Electric Fencing

Service and Maintenance

24/7 Fault Service

Locally owned and operated

All faults attended that same day

FREE QUOTES

P: (03) 384 0995 24/7 E: info@actionsecurity.co.nz

www.actionsecurity.co.nz

Pardon?!

*Terms and conditions apply.

Saving valued up to $2000.

Offer ends 31/03/2019.

Trade in your old hearing

aids and discover a new

world in style, streaming and

on-the-go charging with the

latest hearing technology.

Give us a bell to find out how.

Fendalton

03 351 3535

Ferrymead

03 376 4483

Halswell

03 322 4326

233 Riccarton Road

Phone 341 5419

"Easiest to find Denture

Clinic in Christchurch"
---
2

get in touch

Tuesday March 5 2019

from the editor's desk

IT'S GREAT to see people beating the

odds.

On page 1 today, we have one such

example. Laurel Gregory has been battling

an auto-immune disease for more than

a decade, which has led to her being

diagnosed with arthritis.

The 22-year-old's passion is dancing, so you would think her

condition would be a major hurdle to that career path.

But not for Laurel. She is currently in New York, training at the

Broadway Dance Center as part of a three-month programme.

In 2015, she was accepted into the National Academy of

Singing and Dramatic Art here in Christchurch.

Medication is helping Laurel live her dream. But I suspect

there's an amazing amount of determination and dedication,

too.

– Barry Clarke

GENERAL INQUIRIES Ph 379 7100

CLASSIFIED ADVERTISING Ph 379 1100

Star Media, a division of Allied Press Ltd

PO Box 1467, Christchurch

starmedia.kiwi

NEWS

Jess Gibson

Ph: 021 914 169

jess.gibson@starmedia.kiwi

ADVERTISING

Monique Maynard

Ph: 364 7474

monique.maynard@

starmedia.kiwi

Rodd Gray

Ph: 982 9308

rodd.gray@

starmedia.kiwi

Latest Christchurch news at www.star.kiwi

papanui heritage

Suffragettes in the suburb

Find out who in Papanui signed the petition demanding women

receive the right to vote.

Pages 8

sport

Medals for Rangi rowers

Isabella Carter teamed up with Grace Loveridge to win at the

New Zealand Rowing Championships on Lake Ruataniwha.

Page 13

community events

Need help with technology?

As a high school student at the Papanui Library today from

noon to 12.45pm

Page 15

NOR'WEST NEWS

The best-read local newspaper, delivered to

16,717 homes every Tuesday

Harewood, Burnside, Bishopdale, Bryndwr, Fendalton, Merivale,

St Albans, Mairehau, Papanui, Casebrook, Redwood, Regents

Park, Styx Mill, Northwood, Belfast, Strowan.

Cocoon Lift Chair

Ultimate lift chair for

comfort and functionality.

Single - $1,998.00

Dual - $2,399.00 (2 Motors)

XXL - $3,099.00

Folding Bed

Convenient and functional with

an exceptionally comfortable

contract mattress.

Visitor $449.00

Crown Premier $898.00

"When we need a bit of help to live life

to the full, our first stop is the Radius

Shop. The Shop Team always go the extra

mile, and there's a full range of quality

products to help us feel confident and in

control every day."

Monarch Power

Lift Chair | VIKING

Comfort with electronic rise

or recline motion.

$1,299.00

Rollz Motion

This Dutch convertible

wheelchair to walker will

make your day out much easier!

$1,750.00

Freedom Walking Frame

FREIHEIT RANGE

German-engineered.

Standard $364.00 (8" wheels)

Narrrow $374.00 (8" wheels)

XTREME $655.00 (12" wheels)

Rollz Flex Walker

European design, 25 litre

bag. Adjustable handlebar

for stability.

$889.00

A typical Radius Shop Customer

Prices accurate at time of printing . GST included . Shipping costs apply . Promo code: CHCH valid until 21/3/19

Call 0800 213 313 or visit

radiusshop.co.nz

Our Home is

Your Home

When support is required to continue living life to the

full, Radius Care aims to make the transition into aged

care as smooth as possible. New Zealand owned and

operated, our Kiwi values are about providing the best

lifestyle possible.

radiuscare.co.nz

0800 737 2273

Leaders in Care
---
NOR'WEST NEWS Latest Christchurch news at www.star.kiwi

Tuesday March 5 2019 3

News

Neighbourhood hub finally opens

• By Jess Gibson

AFTER EIGHT months of

delays and a $70,000 cost

blowout, the community hub on

Main North Rd is finally ready.

The old Redwood Plunket

rooms have been restored and

repaired after they suffered

damage in the February 22, 2011,

earthquake.

The restored Neighbourhood

Links building was initially set

to cost $30,000 but ended up

coming in at $100,000.

It was scheduled to be

completed in June but was

delayed after the discovery of

black mould and asbestos.

The city council made the

decision to grant an additional

$45,000 to the project in 2017,

and this was increased again

by $25,000 after the mould and

asbestos discovery in August.

On Wednesday the building

was finally opened, with

residents, community workers

and Papanui-Innes Community

Board members attending

a blessing and cake-cutting

ceremony.

The refurbished centre will

provide a base for community

engagement in Northcote and

Redwood.

The Neighbourhood Links

project was started in 2014

by Joss Buttriss to give the

community a sense of identity.

It will mainly be overseen

by community development

organisation, Te Ora Hou, with

involvement from other groups,

including Northcote School.

Te Ora Hou has employed

Angie Durey and Charlotte

Clark, who have offices in

the building, to manage

Neighbourhood Links.

Mrs Durey and Ms Clark

have been volunteering for

Neighbourhood Links since

2017.

"I genuinely love helping

people and I am so thankful that

I have been given this chance,"

said Ms Clark.

Mrs Durey is also studying

OFFICIAL:

Emma Norrish,

city councillor

Mike Davidson,

Angie Durey,

Joss Buttriss

and Charlotte

Clark cut

the cake to

open the new

Neighbourhood

Links building

in Redwood.

towards a certificate in health

and well-being and Ms Clark

is studying multicultural social

services.

The opening of the building

was supported by the Rotary

Club of Belfast and Kaiapoi, the

Red Cross and the North West

Collective. Te Ora Hou will pay

to keep the Neighbourhood

Links building up and running.

Local

News

Now

In Brief

Fire rages, homes at risk

RELOCATION COSTS

The temporary relocation of

the Fendalton service centre

to the corner of Ilam and

Clyde Rds will cost ratepayers

$69,184. Due to the closure

of Fendalton Library for

renovations, the service centre

will operate at Fendalton

Village until the library is

reopened in July.

GARDEN PRIDE AWARDS

Judging has been completed for

the Community Pride Garden

Awards in the Fendalton-

Waimairi-Harewood area and

the winners will be announced

on March 27. More than 300

award cards and 1002 thank you

cards have been given out. The

awards ceremony will take place

at the Russley Golf Club and

Function Centre.

STORYBOARD

On January 12, Nor'West

News published an article

stating a storyboard explaining

the development of the new

St Albans Community

Centre may be installed at the

St Albans Tennis Club. This

was not correct. If the

storyboard is approved, it

will be put up at St Albans

Community Centre rebuild site

on Colombo St.

'CEREC' & cosmetic dentistry

Wisdom tooth removal

Painless, high quality dentistry

Sedation dentistry

Experienced, conscientious team

Experienced hygienists

OPEN SATURDAYS

355 9380

144 Cranford Street

www.stalbansdentalcentre.co.nz

Discover Christchurch's

best priced pet

accommodation

• Daycare - all breeds

• Long stay/short stay

Call now to

book in your

fur baby,

inspections

welcome

anytime!

aLameDa

kenneLs & cattery

271 Dyers Road | Ph 384 1297

www.alameda.nz

Big Bargain

Book

Sale

Friday 22 March

9am–7pm

Saturday 23 March

9am–4pm

Pioneer Recreation

and Sport Centre

75 Lyttelton Street

Spreydon

rechargeable

hearing aids

• No more batteries

• Stylish design

• Effortless handling

• Natural sound

• Connectivity direct to

your hearing aid

Book your free consultation today

Merivale

Hearing Clinic

24b Church Lane

Call now: 356 2324
---
4 Tuesday March 5 2019

Latest Christchurch news at www.star.kiwi

NOR'WEST NEWS

News

What issues are affecting people in

A new report identifies

several issues which

are having a negative

impact on the wellbeing

of people in

Papanui and Harewood.

Jess Gibson talks to its

authors

PAPANUI AND Harewood

residents are concerned about

loneliness and isolation in their

communities.

The Papanui Community

Voices report identified strengths

and challenges within the

suburbs based on a survey of 122

residents last year.

The participants were asked

to identify key areas of concern

from a list of eight options, with

58 per cent agreeing loneliness

and isolation were a problem.

When asked to identify

strengths by agreeing or

disagreeing with a range of

statements, 31 per cent of those

surveyed disagreed that people

were positively connected.

The survey and report were

created by Damian Ardell, a

community worker from the

Papanui Baptist Freedom Trust,

and Dominic Chilvers from the

Bethlehem Tertiary Institute,

who was working for the

The revolution

in heat pumps

is here now!

The Fujitsu e3series

The brilliant

heat pumps from Fujitsu

e1 : efficiency

e2 : environment

e3 : economy

Northgate Community Services

Trust at the time of the survey.

"The report has confirmed

what we thought, which was

that loneliness and isolation is

a significant issue in our area,"

said Mr Ardell.

He said by identifying these

strengths and concerns, the

Northgate Community Services

The revolution in heat pumps is here now!

The brilliant e3 series

heat pumps from Fujitsu

e1 : efficiency

e2 : environment

e3 : economy

Trust, Papanui Baptist Freedom

Trust and other communityfocused

organisations are able to

respond to the needs of people in

Papanui and Harewood.

"It's given us added impetus to

look at different ways to develop

what we are already doing to

make it more effective and also

to look at new initiatives to bring

OPTION ONE

WELL-BEING:

Damian Ardell

and helped

create the

report Papanui

Community

Voices to

tackle some

of the issues

affecting

people in

Papanui and

Harewood.

about to combat isolation," said

Mr Ardell.

Dr Chilvers said a primary way

to minimise social isolation is to

create opportunities for people

in a neighbourhood to connect

and build relationships.

"Mentoring, language classes,

dance classes, youth groups, or

cooking classes are all examples

of services that can also create

an opportunity for building

social connectedness," said Dr

Chilvers.

With the help of other

community groups, the Papanui

Baptist Freedom Trust will host

the Papanui Neighbourhood Fair

on March 17.

Mr Ardell said he hopes the

all-ages fair will bring people

together to meet and learn

about what is going on in the

community.

As well as information about

activities, programmes and

groups that people can get

involved in, the fair will have

live music, food, clowns and

games. Some of the groups

in Papanui and Harewood

that people can join include

friendship lunches, card game

clubs and a men's exercise group.

"We run these things to give

people a chance to interact and

to get to know other people

and to learn about further

opportunities where they can

connect with people," said Mr

Ardell.

Mr Ardell and Dr Chilvers

worked on Papanui Community

Voices for more than a year and

consulted with organisations and

professionals to make sure they

were asking the right questions.

Website: www.pshc.co.nz

NEW ZEALAND'S FAVOURITE AIR

Fujitsu's Catechin Filters are

approved by the Asthma and

Respiratory Foundation NZ's

Sensitive Choice ® programme.

FREE consultation from your local

Accredited Heat Pump Expert

Phone today: 03 381 6950

INSERT DEALER DETAILS HERE

FG1441

Email: info@pshc.co.nz

18B MAIN NORTH RD, PAPANUI | PH 354 6000 | WWW.SHOSHA.NZ

CAMERON BAILEY

For up to the minute Real Estate

advice and future property

opportunities follow me on...

@cameronbaileyharcourtsgold

@cam_jbailey

NO.1 HARCOURTS CANTERBURY 2012-2018

NO.1 HARCOURTS NEW ZEALAND 2017-2018

NO.1 HARCOURTS INTERNATIONAL 2017-2018
---
NOR'WEST NEWS Latest Christchurch news at www.star.kiwi

Tuesday March 5 2019 5

Local

News

Now

Fire rages, homes at risk

Harewood, Papanui?

As part of the survey,

participants were asked to

give their thoughts about

their neighbourhood. Here

are some of the answers:

"Too many people moving

in and out all the time. Better

controls on rentals forcing

landlords to keep rents

low and more importantly

stable for longer periods of

time will encourage people

to stay longer and invest

in and participate in the

neighbourhood they live

in. Most people's incomes

don't increase every year

yet there is a constant threat

of increased rent costs that

people have to worry about."

"I had a really nice

neighbour give me some

Other key areas of concern

identified in the survey include

people living with health and

disability issues at 49 per cent,

and youth and children not being

engaged in positive activities at

46 per cent.

Mr Ardell said he and Dr

Chilvers identified mentoring

programmes and groups to help

people struggling with these

issues.

CHEERS: One survey

respondent said

neighbourhood lunches were

a good way to meet people in

the community.

plants. She'd often plant

them in front of our house

when she walked by. I

also felt secure letting a

neighbour know about

"If we can collaborate to make

society a happier, healthier place,

then we all benefit," said Mr

Ardell.

Dr Chilvers and Mr Ardell

presented their findings to the

Papanui-Innes Community

Board.

City councillor Mike Davidson

said that the report sparked

discussion about how it is

important the board continues to

suspicious texts from

someone before I went

out and they were able

to catch someone trying

to break into our house

and stop them. I was very

thankful."

"If there were young or not

so young mums needing

support I think there is a

great resource of retired or

semi-retired women who

could be available to offer

some practical help and

child care on occasions."

"When we first

moved here they had

neighbourhood dinners at

different places like the

bowling club and the local

church. That was a good

way to meet some of the

people in the area."

provide community groups with

funding and general support.

"It's about looking at how we

can support the community

groups that are already doing

the work in the area," said Cr

Davidson.

•HAVE YOUR SAY: Do you

think loneliness and isolation

is an issue in your area?

Email your thoughts to jess.

gibson@starmedia.kiwi

CONCERNS:

The Orbiter

bus could

take priority

over the

safety of

students who

walk or bike

to Burnside

High School

and Christ the

King School.

Changes to cycle lane,

footpath may impact

on safety – principals

•From page 1

Christ the King School

principal Mike

Bonisch said a large

percentage of his

students use the

intersection to walk

or cycle to and from

school.

"The safety of our

children is going

to be extremely

compromised with

the reduction of the

footpath and the redundancy of

the cycle lane," said Mr Bonisch.

Both Mr Bonisch and Mr

Holstein will make a combined

presentation at the board

meeting on March 18.

Mr Holstein will be seeking

feedback from students that

may be affected by the

changes before the

meeting.​

City councillor Jamie

Gough said that the

safety of the students

in the affected area is

"paramount."

"I'd be very reluctant to

make any moves which

Mike Bonisch could increase any risk

to kids going to and from

school," said Cr Gough.

•HAVE YOUR SAY: Do you

think the cycle lane should

stay or go? Email your

thoughts to jess.gibson@

starmedia.kiwi

Beautiful Beasts

Lisa Grennell

9 March - 3 April 2019

And then we fell in love with them...

The animals painted in this exhibition are from our

farm. Booboo, the Highland cow, being the main

subject, because of her sweet nature (and the fact

that she is my favourite). From my experience as

a beginner farmer and animal lover, I believe early

influence on both human and animal can be similarly profound. However I am a realist regarding

the consumption of animals. I don't eat meat – so perhaps I have an unusual perspective.

Booboo, eerily painted in her majestic beauty, surrounded and almost

hidden by the reflective surface of the black mirror- like background, the

viewer too is captured in the reflective surface, a comment on human

impact on animals. This Plato quote comes to mind and challenges our

thoughts…

'Is there something distinctive about humanity that tries to justify the

idea that humans deserve moral status, but non - humans do not?' -

https://plato.stanford.edu/entries/moral-animal/

Within this body of work I'm celebrating the beauty within every

creature. Real moments captured are a reminder of an innocence

untainted by society. In contrast to the black paintings are some

pure white images of children, along with animals, and their

imaginary adventures. This emphasises the preciousness of

children and their innate connection with nature.

We'd like your feedback

on our activities,

spending and funding

for 2019–20

Our Draft Annual Plan is open for your

feedback from 1 March–1 April

HAVE YOUR SAY

ccc.govt.nz/haveyoursay

Beautiful Beasts

Lisa Grennell

9 March – 3 April 2019

Main Rd, Little River | 03 325 1944

art@littlerivergallery.com
---
6

Latest Christchurch news at www.star.kiwi

Tuesday March 5 2019

NOR'WEST NEWS

raNGiora • Northwood • st martiNs • tower juNctioN • BishoPdaLe • raNGiora • Northwood

Northwood • st martiNs • tower juNctioN • BishoPdaLe • raNGiora • Northwood • st martiNs • tower juNctioN • BishoPdaLe •

ADULT READS

BARGAIN

BOOK BONANZA

ADULT NON-FICTION

100s OF BOOKS ON SALE

STOREWIDE!

35 %

KIDS' ACTIVITY

off*

*Stock may vary from store-to-store. Discount excludes books marked with an Our Price sticker.

50 %

off

GREETING CARDS

TUESDAY, MARCh 5 - SUNDAY, MARCh 10

TOWER

JUNCTION:

LARGEST

RANGE IN

ChRISTChURCh

Follow us on Facebook:

@papertreestores

KIDS' FICTION

KIDS' READS

tower junction, off Clarence St, Riccarton | Bishopdale, 31 Bishopdale Court, Bishopdale | rangiora, 206 High Street, Rangiora

Northwood supa centre, Main North Road, Belfast | st martins shopping centre, Wilsons Road, St Martins

• st martiNs • tower juNctioN • BishoPdaLe • raNGiora • Northwood • st martiNs • tower juNctioN • BishoPdaLe • raNGiora
---
NOR'WEST NEWS Latest Christchurch news at www.star.kiwi

Tuesday March 5 2019 7

News

Olivia first to play in refurbished town hall

$20k conference to bring north-west organisations together

• By Jess Gibson

A $20,000 conference on

Thursday aims to help small

organisations become stronger in

the north-west.

More than 80 people will attend

the very first Hapori conference

from 8am to 4.45pm at the

McFaddens Centre in St Albans.

The North West Collective has

organised Hapori to help people

in leadership positions in small,

not-for-profit​ organisations

through a range of workshops

and guest speakers.

The collective is made

up of nine organisations

from different communities,

which each aim to

provide services and

programmes in the area.

Organisations in the

collective include the

Belfast Community Network,

Bishopdale Community

Trust, Community Focus Trust,

Neighbourhood Trust, Northgate

Lynda

Goodrick

• By Jess Gibson

OLIVIA EADY was five when

she first went to the town hall to

see the Wiggles perform live.

It was not long before the

hall was closed due to severe

damage in the February 22,

2011, earthquake.

Now the 13-year-old was the

first person to take to the town

hall stage before it reopened,

performing a song which she

wrote and composed herself.

In her final year at Selwyn

House, Olivia wrote Worth

about humanity's responsibility

to take care of the planet.

After sending her song into

a radio station, Olivia was

chosen to perform as part of

a competition celebrating the

reopening of the hall, which

cost more than $150 million to

rebuild.

Olivia wrote the song for her

school's Passion Project – a

year-long challenge in which

students use their passions to

help solve the world's problems,

using the United Nations

sustainable development goals

as their framework.

Olivia wrote Worth about

goal No 15 called life on land,

which aims to conserve and

restore ecosystems, such as

forests, wetlands, drylands and

mountains, by 2020.

"I love nature and always

have," said Olivia.

While only her mum, dad

and the film crew got to see

Olivia perform in person, the

Community Trust and

the Papanui Baptist Freedom

Trust, among others.

The Rata Foundation

has helped the collective

under a small grants programme

for grassroots

initiatives.

"We identified how

infrequently small to

medium size organisations

actually get time to meet

and learn from each other," said

Belfast Community Network

PERFORMER: Olivia Eady performed her song Worth at

the town hall, three days before the restored building was

opened to the public.

song was broadcast on The Hits

radio station and Facebook page

on February 20. The hall was

officially opened on February

23.

Her mum Lisa Eady said it

was an honour to watch Olivia

perform live at the new hall.

She said Olivia has always

been a singer and has kept

growing as a performer since

she picked up a guitar at age

nine.

Since then, she has been

busking around the streets of

Christchurch in an effort to one

day make it on the international

manager Lynda Goodrick​.

"A small conference with topics

identified from the community

in a survey would be a great opportunity

to support other local

managers such as ourselves", said

Mrs Goodrick.

There will be six speakers at the

conference, including Sala Tiatia

from season one of Survivor, who

now runs a Maori and Pacific

Island leadership programme in

high schools.

The workshops will teach

stage like her idol Ed Sheeran.

In her first year at

Christchurch Girls' High

School, Olivia has joined a

rock band and made the elite

choir.

She also plans to keep her

YouTube channel going by

uploading more of her own

music. "I want to write at least

one song this year," said Olivia.

•The town hall reopened to

the public last weekend and

is open for events. However,

the entire restoration project

won't be completed until

August.

attendees about sustainable

funding, community-led development,

social media marketing

and promotion and building a

high performing board.

From 1.30-2.45pm, the

conference will be open for a

session about a community

organisation grants scheme.

•If you would like to

learn more about the

conference, visit https://

northwestcollective.weebly.

com/conference-2019.html

CAREGIVERS

Earn £££ to fund your travels

Use your nursing/caregiving background in a flexible work situation of short-term

assignments, caring for UK clients in their own home.

• Free induction training and paid ongoing training

• Free lodging in our Oxford Aunts dedicated house whilst training

• Earn up to £7896 for 12 weeks work

• Holiday pay and good time off

• Experience English life in city or countryside

locations: Oxford, the Home Counties and more

To be eligible to work for us in the UK you must have one

of the following:

• Valid British or EU passport

• Youth Mobility Visa for commonwealth citizens aged 30 or under

• Ancestry Visa by virtue of having a UK grandparent

TO APPLY: www.oxfordaunts.co.uk/carer-application

For more information contact: + 44 1865 791017

enquiries@oxfordaunts.co.uk

Halal FresH

quality meats

Lamb, Beef, Chicken, Goat and more!

THIS WEEK'S

SPECIAL

Lamb Sausages

$9.99kg

open

7 days

205a Hills road, edgeware

phone 03 421 3786

mon to Fri 9.30am-6pm

sat and sun 9.30am-4pm

witH tHis

coupon

$5 oFF

minimum spend of $20 required
---
8 Tuesday March 5 2019

Latest Christchurch news at www.star.kiwi

Papanui's suffragettes

signed 'monster petition'

Papanui Heritage Group

chairman Murray Williams

writes about the suffragette

movement in Papanui

IN MID-1893, New Zealand

suffragists launched a campaign

for a 'monster petition,' which

demanded that adult women

(those aged 21 or over) should

be granted the right to vote in

Parliamentary elections.

Eventually, 31,872 women

signed the main and subsidiary

petitions (men were not invited

to do so), and of these, 60 gave

Papanui as their address.

Papanui Heritage Group

researcher Christine Grant has

located information on 27 of

them and, although this is a

small sample, it does present

some interesting detail about the

local women who helped prompt

Parliament to take the step that

ensured New Zealand would

become the first country in the

world to carry out this reform.

In order to be classified as a Papanui

signatory, Papanui had to

be part of the address provided.

Thus the two women who

gave only their street (Mays Rd),

without adding a suburb, could

well have been Papanui residents

if they lived on the northern side

of that street, although the other

side of Mays Rd was technically

part of St Albans borough.

Another signatory gave her

address as 'Mary's' Rd, although

subsequent evidence from the

electoral roll indicates that she

also lived in Mays Rd.

In another case, the address

Webb St, Papanui, was given, although

at the time this street was

in the borough of St Albans and

RIGHT TO VOTE: Of the

thousands of New Zealand

suffragists who signed

petitions, 60 gave a Papanui

address.

should not have been included in

the figures for Papanui.

Some unorthodox spelling adds

interest, for example 'Pappanui'

and 'Papnui'

It has been possible to find the

birthplaces of 18 of these Papanui

women.

Fourteen (78 per cent) were

born in England or Scotland and

only three in New Zealand, while

one came from Germany.

The ages of the women when

they signed the petition ranged

from 23-75 and the average age

was 48.

The marital status of 27 of the

Papanui women at the time the

petition was signed has also been

traced.

Nineteen were married, five

were 'spinsters', while three were

widows.

The majority of married

women would have described

themselves as being engaged in

domestic duties, but those who

were involved in professions

included two music teachers, a

'ladies nurse' and Sarah Maria

Pope, who gave her name to a

highly successful retail business

which she founded and managed.

•From page 1

"I didn't trust my abilities and

I couldn't stop worrying about

what people were thinking to the

point it would not allow me to

show what I can actually do as I

have to in an audition."

Gregory has been passionate

about the arts since a young age,

starting ballet at six.

But it was when she was accepted

into the National Academy

of Singing and Dramatic Art

in 2015 that she began to train

heavily in ballet, jazz and tap.

"In terms of my love of musical

theatre, it was never a choice.

There's nothing else I want

to do and I need to do it," she

said.

When Gregory was eight, the

skin on her hands and feet began

to break and she recalls having

to walk on her toes because her

heels hurt so much.

But it wasn't until she began to

get arthritis in her hands at the

age of 14 that she was officially

diagnosed with rheumatoid and

psoriatic arthritis.

Gregory said both conditions

are caused by the auto-immune

disease, psoriasis, which causes a

rapid build-up of skin cells.

Before she was diagnosed, she

was told her skin condition was

a result of dermatitis. But now

she is taking an oral immune

system suppressant, methotrexate,

which has kept her condition

under control. The only time she

ever stopped dancing was when

she attempted to take a break

from her medication in 2015

to find a more natural way to

control her condition. When she

stopped taking it her psoriasis

came back "horribly" and she

had to spend three months away

from dance.

"This time (away from dance)

allowed me to realise how much

NOR'WEST NEWS

Local

News

Now

Arthritis doesn't hinder

passion for performing arts

Fire rages, homes at risk

LOVE OF DANCE: Nothing has stopped Laurel Gregory from

following her dreams of becoming a professional musical

theatre performer.

I actually enjoyed dancing

rather than just doing it," she

said.

Gregory said she is grateful the

medication gives her the ability

to do what she wants with her

life.
---
NOR'WEST NEWS Latest Christchurch news at www.star.kiwi

Tuesday March 5 2019 9

SHAKE YOUR SHAMROCK

Smirnoff Ice Red 5% 12pk

Cruiser bottles/KGB cans all 12pks Blackheart/Wild Moose 12pk bottles

Jim Beam Gold/CC premium 7% 250ml 12pk/ Smirnoff pure 10pk bottles

Woodstock 330ml 7% 6pk

cans

$

Devil's Cut 8pk all cans

.99 ea

$

20 .99 ea 22 $ .99 ea

$

23

(incl zero)

.99 ea

22

$

13 .99 ea Jim Beam/CC 18pk 330ml 4.8% cans

Woodstock Bottles/Codys 7% 250ml cans all 18pks

$

Wolf Blass yellow Wither Hills range Brown Brothers

Riverstone range

31 .99 ea Canti Asti/Prosecco

label range (ex PN)

(ex PN)

Prosecco Range

2 for $

17 .00

$

.99 ea $

14

13 .99 ea .99 ea .99 ea

George Wyndham/Montana winemakers/

Jacob's creek sparkling ranges

2 for $

21 .00

WITH THESE MARCH DEALS...

Squealing Pig range

$

11

$

$ .99 ea

14 16

Finlandia 1L

Jim Beam 1.125L/Jim Beam Black

$

Dewar's 1L

35 .99 1L/Jim Beam Devil's Cut 1L/

Woodstock/Blackheart 1L

$ 34 .99 ea Paddy Irish Whiskey 1L

Gordon's 1L/Smirnoff 1L Coruba 1L (incl Gold)

$ $

35 .99

Maker's Mark 700ml

$

42 .99

37 .99 ea .99 ea

$

39

$

42

.99 ea

$

21 .99 ea Kingfisher/NZ Pure 12pk bottles

$

30 .99 ea Tui/Export Gold/DB Draught 15pk bottles

Glenlivet 12 yr old 700ml

Jameson 1L/Chivas Regal

12 yr 700ml

$

47 .99 ea

$ 59 .99 Old Mout 1.25L cider Monteiths 6pk range

Larios 1L / Roku 700ml

range

$ $

9 .99 ea .99 ea

14

3 for $ 99 .00 2 for $ 99 .00

$ .99 ea

19

NEW PRODUCT

NEW PRODUCT

DB Export Gold Extra

$

20 .99

Steinlager Pure Light 12pk

$

20 .99

Kronenbourg/Magners cider 12pk bottle range Tiger Crystal 12pk Heineken 12pk bottles Carlsberg 15pk bottles

$

22 .99 ea $

23 .99 $

25 .99 $

25 .99

Corona 12pk bottles Lion Red/Speights/Waikato/Summit & low carb 24 pk bottles

$

25 .99 ea $

27 .99

$

36

.99 ea

www.thirstyliquor.co.nz

OVER 155 STORES NATIONWIDE!

www.facebook.com/ThirstyLiquorandBlackBullLiquor

398 High Street, Rangiora

03 313 7207

1275 Main North Road, Bridgend

03 323 8833

585 Springs Rd, Prebbleton

03 349 6031

45 South Terrace, Darfield

03 317 9499

Available from 1st – 31st March. Specials while stocks last. Available at participating stores.

1147 West Coast Rd, West Melton

03 347 8460

670 Main South Rd, Islington

03 349 7337

Main Rd, Lake Tekapo

03 680 6242

42 Waimate Highway, St Andrews

RD24 03 612 6740

69 Main St, Fairlie

03 685 8061

21 Aldwins Road, Linwood

03 982 1753

9 Parnwell St, Burwood

03 383 2564

495 Papanui Rd, Christchurch

03 260 2380

65 Victoria St, Christchurch CBD

03 260 1155
---
10

Tuesday March 5 2019

Latest Christchurch news at www.star.kiwi

NOR'WEST NEWS

Bowling club to mark 100 years

Three-day

celebration

planned

over Easter

• By Gordon Findlater

THE BELFAST Bowling Club

will celebrate its 100th birthday

with three days of festivities over

Easter weekend.

The club will host a get

together on Friday night, a bowls

tournament and dinner on

Saturday, and then a celebrity

bowls event and barbecue on

Sunday. With Easter weekend

approaching, the centenary

organising committee is urging

those interested in being part of

the celebration to register for the

events.

The Belfast Bowling Club was

founded in 1919. The present

site was originally leased

from the Waimairi County

Council, which has now been

amalgamated into the city

council.

Since then, a number of fine

bowlers have graced the green at

Belfast. The club has had three

members represent New Zealand

during their time at the club –

Kelvin Scott, Glen McDonald

and Nathan Glasson.

Scott became the only Belfast

member to win a national

singles title in 1997/1998 when

he defeated Maurice Symes in

the final 21-15 at the Naenae

Bowling Club in Wellington.

Belfast has also been a

dominant force in Canterbury's

interclub competition – winning

13 of the last 20 sevens titles.

The club has hosted many

social occasions, including

a regular Thursday club

night, which is rumoured to

occasionally turn into a bit of a

party.

"It's a very social club.

Thursday nights is a real social

occasion, we have meals and

do get carried away sometimes.

Not too much, though, there's

been no dancing on the tables

yet," said centenary committee

member Ann Gray.

The committee got some

extra funding for the centenary

through their Mickey Mouse

piggy bank, which can be found

at the Thursday club night.

"If someone does wrong

biases, they get a fine. If they

travel overseas, that's another

one," said centenary committee

member Jasmine Latham.

With the clubrooms regularly

hired for birthday parties and

other gatherings, it's not just

members at the club who have

TURNING

100: Belfast

centenary

organising

committee

members Bill

Haase, Malcolm

Taylor, Jasmine

Latham, Ann

Gray, Murray

Jones (club

president), Les

McFadden and

Eric Allison with

their Mickey

Mouse piggy

bank.

created memories there over

the years. The club's green is

also often hired out for private

bookings.

"We had one group on a stag

do. They had been on about

a five-hour bus trip before

they even got here, so you can

imagine what sort of state they

were in . . . to get them off the

green when they were finished

I said the sprinklers are set on

a timer and they're about to

come on, so I suggest getting

off the green," said centenary

committee member Eric Allison.

"I just snuck into the control

panel and turned them on. The

SPORT

stag just stood right over the top

of the sprinkler and got a good

washing down."

The current clubrooms and

facilities are the result of a lot

of hard work from members in

the late 1970s and early 1980s,

mostly by volunteer labour.

Sheldon Park, which the

Belfast Bowling Club is part

of, was generously gifted to

the Belfast district by William

Nicholls who was the owner of

Kaputone Wool Works. The park

was named in 1913 after his wife

Sarah Sheldon Nicholls who

passed away in 1911 aged 56.

A significant year for the

club came in 2000 when the

amalgamation of the Belfast

men's and ladies bowls sections

took place.

The Belfast ladies section was

started in 1955 and has had

fluctuating member numbers

over the years from 18 in 1965

to 10 in the 1979/80 season to

a peak of 42 members in the

1990/1991 season.

"We had a uniform with long

skirts that you had to measure.

When you kneeled down it

would touch the ground. We had

hats and everything," said Gray.

The club currently has 39

men and 18 ladies who are full

playing members. It also has 10

limited playing members, 76

social members and six living life

members.

HOME: The

Belfast green

and clubrooms

at Sheldon

Park.

•If you want to register for the centenary, email belfast.bowls.

centenary@gmail.com or phone the clubrooms on 323 7205

EARLY DAYS:

Belfast's

first ever

Manning Cup

winning side

in the 1934/35

season.

3 issues $20 • 6 issues $44.50 • 10 issues $65

rugbynews.co.nz 0800 77 77 10
---
NOR'WEST NEWS Latest Christchurch news at www.star.kiwi

Tuesday March 5 2019 11

STOCKTAKE

SALE

SERTA DEKOTA

Pocket Spring Unit, Single-Sided Mattress,

Medium Latex, and Dreamfoam Comfort Layers

High Profile Platform Base,

Foam Box Edge Support,

Euro Top, Blended Wool,

Knit Fabric SAVINGS

STOREWIDE

FANTASTIC

STOCKTAKE

HUGE RANGE

OF POCKET

SPRING

BEDS

SAVE

NOW

DEALS

STOREWIDE

NOW

CHIROPRACTIC KAURI HD

Torquezone ® HD 5 zoned Spring System

Eco-friendly Dreamfoam ®

Endorsed by the New Zealand

Chiropractors' Association.

MASSIVE

RANGE

SANCTUARY

RANGE

STOCKTAKE

SALE PRICES

IN-STORE

NOW!

CLEARANCE

BEDS MUST

BE SOLD

SLEEPYHEAD - MAKING

BEDS IN NEW ZEALAND

SINCE 1935

Made by Kiwis for Kiwis.

10 YEAR WARRANTY

Quality you can trust...

we guarantee it!

SLEEPYHEAD - MAKING

BEDS IN NEW ZEALAND

SINCE 1935

Made by Kiwis for Kiwis.

10 YEAR WARRANTY

Quality you can trust...

we guarantee it!

SLEEPYHEAD - MAKING

BEDS IN NEW ZEALAND

SINCE 1935

Made by Kiwis for Kiwis.

10 YEAR WARRANTY

Quality you can trust...

we guarantee it!

7 Day Money Back Comfort Guarantee on Queen and King Beds

CNR MOORHOUSE AVENUE & MONTREAL STREET

NEXT TO FARMERS. PHONE: 365 0132
---
12 Tuesday March 5 2019

Latest Christchurch news at www.star.kiwi

NOR'WEST NEWS

We have courses at

all levels: Where would you

like to start?

Level 1

the ultimate

career

decider

FREE 19 week course! Earn credits towards NCEA,

gain your learner driver licence, complete a range

of practical taster courses like barista training, early

childhood, driving quad bikes and tractors.

For more info txt 'ULTIMATE' to 027 557 8839

security

and forces

prep

FREE 19 week course! Earn credits towards NCEA and gain your

COA for free. Both theory and practical based. Learn conflict

management, door entry and exit control, security requirements,

industry knowledge, digital security and more...

For more info txt 'SECURE' to 027 557 8839

Level 2

Level 3

business admin & technology

Looking for an administration role? This FEES FREE 20 week course

will give you the skills to work in a modern office, covering advanced

use of Microsoft Word, Excel, Publisher and other computer based

business applications.

For more info txt 'OFFICE' to 027 557 8839

modern office

skills

early childhood education

This is a full year course at University Level 5 for ages 17+.

Gain a NZ Diploma in Early Childhood! Following your year with us,

you can secure a role at an Early Childhood Centre, and study the

rest of the degree through Open Polytechnic.

UE not required to enrol in this programme!

For more info txt 'ECE' to 027 557 8839

start your CAREER

IN TEACHING

Level 5

50 Hazeldean Road, Addington

www.studywithus.co.nz

0800 834 834

www.trainme.org.nz

www.vision.ac.nz
---
NOR'WEST NEWS Latest Christchurch news at www.star.kiwi

Tuesday March 5 2019 13

Top school rugby player

SPORT

pushes for NRL start

• By Gordon Findlater

FORMER BURNSIDE High

first XV player Mikaele Ravalawa

looks set to be the latest young

Christchurch league convert to

make his mark on the NRL.

Ravalawa scored two tries

for the St George Illawarra

Dragons in their 18-10 win over

the Newcastle Knights in a preseason

trial match.

In 2016, the Fijian

winger finished as the UC

Championship's top try scorer

after crossing the line 14 times

for Burnside.

He was then picked up by the

Canberra Raiders and went on

to be named the club's under-20

player of the year before moving

to the Dragons this year.

Ravalawa showed his ability

against the Knights, brushing

past five defenders to score from

a desperate play that seemed to

be going nowhere.

Australian media have

now started drawing

comparisons between the

21-year-old and Fijian NRL

legend Noa Nadruku.

He would join several other

former Christchurch school

rugby players who have switched

to league. Last year Shirley

Boys' High School and St

Bede's College first XV product,

RISING STAR: Mikaele

Ravalawa, who scored 14 tries

for Burnside High School in

the 2016 UC Championship,

crossed the line twice for the

Dragons in a trial match.

Jamayne Isaako, was named

NRL rookie of the year and also

finished as the competition's top

points scorer. Meanwhile, 2016's

most outstanding player in the

UC Championship – Cruz Topai-

Aveai – could also be set to make

his NRL debut after being named

in the Cronulla Sharks squad.

GOLD: Isabella

Carter (right)

teamed up

with Grace

Loveridge

to win the

under-20

women's

coxless pair

at the New

Zealand

Rowing

Championships.

Rangi girls in the medals

at NZ rowing champs

FORMER RANGI Ruru

Girls' School students

were among the medals at

the New Zealand Rowing

Championships held on Lake

Ruataniwha in Twizel.

Isabella Carter and Eve

Macfarlane achieved excellent

results in a competitive field.

Carter won gold in both the

under-20 women's single sculls

and under-20 women's coxless

pair. She also finished second

in the under-22 women's

coxless four. Meanwhile,

Macfarlane finished second

in both the premier women's

double sculls and coxed eight.

The regatta attracts club

and senior athletes, as well as

novice rowers, who compete

on the same course as elite

rowers who have represented

New Zealand on the world

stage. Rangi Ruru's rowing

manager Ella Vink also took

away three golds in the coxed

four and eights.

Vink says she was thrilled

that Carter and Macfarlane

did so well in the regatta and

expects them to both continue

to succeed on the rowing stage

at whatever level they choose to

compete at.

"That's the key," she said.

"At Rangi we support the

girls to achieve the very best

they can and they then have

choices about what they want

to do, where and when. They've

worked hard to be in a position

to make these choices and we

will always be here for them,

cheering for them whatever

they choose to do."

JOIN US NOW!

See website for details

BENDON OUTLET

Biggest Bra Sale (Selected Styles Only,

Terms & Conditions Apply).

ASICS

Massive Summer Sale: 1000's of Shoes

Under $100, All Clothing Priced to Clear

from $10.

STYLES MAY DIFFER TO IMAGE SHOWN

BONDS OUTLET

40% Off All Marked Prices Storewide.

CUTLER & CO

SUMMER CLEARANCE

All Short Sleeve Shirts, Shorts, & Selection

of Long Sleeve Shirts Now Reduced to

$69.95 Each or 2 for $100 (While Stocks

Last, Terms & Conditions Apply).

UNDER ARMOUR

2 Tee's & 1 Pair Shorts for $100

(Terms & Conditions Apply).

Sign up to Smart Deals & be in the monthly draw for a $100 Dress-Smart gift card!

Be one of the first to hear about the latest deals, sent straight to your inbox each week!

CHRISTCHURCH 409 Main South Road, Hornby

www.dress-smart.co.nz

Open 10am-5pm, 7 Days 03 349 5750
---
14

Tuesday March 5 2019

Latest Christchurch news at www.star.kiwi

2

NOR'WEST NEWS

A

EVENT

CITY2SURF

with Les Mills

Sunday 24 March

#Areyouupforit?

14km, 6km Community

Fun Run Event

It's our

45th

Anniversary Year!

EntEr NOW!

Entry $25 (children 10 and under free)

Available online now from city2surf.co.nz or at these outlets
---
NOR'WEST NEWS Latest Christchurch news at www.star.kiwi

Tuesday March 5 2019 15

Email jess.gibson@starmedia.kiwi by

5pm each Wednesday

Scrabble club

Today, 10.30-noon, Wednesday,

1pm-3pm, 1.30pm-3.30pm

Go along and play Scrabble

with a friendly group. Just head

down when you can when you

can as no bookings are required.

All materials are supplied at this

free event.

Redwood Library, Bishopdale

Library, Shirley Library

Shirley Library's Culture

Exchange

Friday, 3.45-4.45pm

Go along and make new

friends, practice English and

learn about New Zealand and

Christchurch.

Shirley Library

JP Clinic

Today, 10am-1pm, tomorrow,

10am-1pm

A justice of the peace will be

available to members of the community

to witness signatures and

documents, certify document

copies, hear oaths, declarations,

affidavits or affirmations as well

as sign citizenship, sponsorship

or rates rebates applications. No

charge.

Today, Papanui Library, Fendalton

Library and Shirley Library,

tomorrow, Bishopdale Library

Knit 'n' Yarn

Today, 1pm-3pm, Wednesday,

1pm-2.30pm, Thursday, 2pm-

3.30pm, Friday, 10am-noon

Take your knitting, crochet or

another craft project and have

fun with this social group. This is

a free, drop-in event.

Bishopdale Library, Redwood

Library, Fendalton Library, Papanui

Library

Makerspace

Today, 3.30pm-4.30pm,

Thursday, 3.30pm-4.30pm

Join in on fun activities

every week in these Makerspace

sessions. There will be creative

and/or tech activities to try each

week. For kids of all ages. No

bookings for this free event.

Redwood Library, Bishopdale

Library

Reading to Dogs ​

Today, 3.30pm-4.30pm, Thursday,

3.30pm-4.30pm

Reading to dogs is designed

to provide a relaxed, nonthreatening

atmosphere which

encourages children to practise

their reading skills and develop a

love of reading. This programme​

uses dogs who are the beloved

pets of the Christchurch City

Council Animal Management

team. These furry friends have

all been trained and tested for

health, safety and temperament.

Registration is required for this

free event.

Head to Papanui Library today from noon to 12.45pm and Papanui High School students will

be available to help you find answers to your questions about iPads, smartphones or tablets.

If you want to know how to use Skype, Facebook, or share photos with family or friends you

can get help here. This is a free drop-in event.

Shirley Library, Papanui

Library

Rummikub

Thursday, 1pm-3pm, Monday,

1pm-3pm

Go along and play Rummikub

– an exciting, interactive strategy

game. This is a free, drop-in

event.

Fendalton Library, Bishopdale

Library

Mahjong Group

Saturday, 2pm-4pm, Monday,

2pm-4pm

If you are interested in playing

Mahjong or would like to learn

to play, head down and have a

go. If you have your own set, feel

free to take it along. This is a free

event.

Shirley Library (registrations

required), Papanui Library (dropin)

Activity Zone

Monday, 3.45pm-4.45pm

Go and have fun at Activity

Zone. There will be fun activities

involving technology, games,

crafts and books. This event is

suitable for ages six to 10. Caregivers

are advised to remain in

the library during the session.

This free event requires no bookings.

Shirley Library
---
16 Tuesday March 5 2019

Latest Christchurch news at www.star.kiwi

SENIOR LIVING

NOR'WEST NEWS

Modern lifestyle living in Geraldine

Single Assisted

Care Unit

2019 has started with a bang! McKenzie Lifestyle Village in

Geraldine welcomes the start of stage 8. Offering Assisted Care

Units central to the leisure centre, Independent Living in either

Single or Double Units. This will allow those wishing to have

discreet help on hand whilst retain an independent lifestyle.

The handy location will allow full access to all the facilities and

activities the village calendar offers. We hope August will see us

welcome the first residents to this lovely facility.

Some 113 Independent villas make up our modern development

anything from 2 bedrooms with Single Garage to a larger 3

bedrooms, master ensuite and Double Garage. The hub of

village life in the Leisure Centre offers everything from Indoor

Swimming Pool / Spa, gymnasium, Hair Salon, Treatment Room

(Podiatrist / Massage Therapist), Craft Room, Lounge and a wellstocked

library of some 2,000 books and dvds. Outside take in

the generous seating surrounding the Bowling Green, Petanque,

Mini Golf, Table Bowls, Croquet and Putting Green. If that wasn't

enough to fill your day the activities calendar boasts monthly

events from concerts, lunch outings, shopping Trips and Qigong

to name just a few.

Geraldine is a great little town with a big heart - welcoming all.

Nestled among the foothills of the Southern Alps where people

still greet one another by name and popping to the supermarket

for a pint of milk often becomes a social outing in its own right.

The town has a long proud diverse history and being along the gateway

to the southern lakes and Mt Cook/Aoraki, your friends and family will

be visiting regularly!

To see if McKenzie Lifestyle Village is right for you, pop in or call

Hayley Grant on 0800 845524 / 027 6938340

Double Assisted

Care Unit

Single Assisted Care Unit

with sunroom

Available villas Make 2019 your fresh start - call to view today!

WOODBURY - 143m 2

2 bedrooms + study, seperate second toilet, underfloor heating, double

garage, north facing, spacious open bright location.

BelfielD Villa - 108m 2

2 bedrooms, fully refurbished, spacious living, modern kitchen,

single car garage, north facing to soak up the sun.

33 CONNOLLY STREET, GERALDINE 7930

FREEPHONE. 0800 845 524 LANDLINE. 03 693 8340

WEBSITE mlv.org.nz

ACCREDITED VILLAGE OF THE RVA
---
NOR'WEST NEWS Latest Christchurch news at www.star.kiwi

Tuesday [Edition March 5 datE] 2019 17 3

SENIOR LIVING

How to support

healthy weight loss

One of the big reasons we

gain weight especially as we

get older is our metabolism

slows down. Metabolism is

the process by which our

bodies convert what we eat

and drink into energy. That

energy is what allows our

body to operate. With a slower

metabolism we often feel like

eating more leading to more

weight gain and less energy.

If we try to do more exercise

with a slower metabolism

often this has little benefit

as we feel hungrier and eat

more.

GO HEALTHY NZ have recently released

an advanced new weight management

formula "CAPSI-SLIM" that contains

clinically researched ingredients. The first

new ingredient Capsimax ® has been shown

to support energy production, healthy

metabolism as well as Lipolysis the breakdown

of stored fat for energy. The formula

also contains Hydroxycitric Acid or HCA

from Garcinia cambogia. HCA has been

shown to help control the appetite so we feel

like eating less. HCA also helps manage your

stress levels preventing excessive emotional

eating. As well as this it also helps reduce the

amount of fat being stored in the body but

instead helps burn this stored fat for energy.

Green tea extract is another

nutrient in the formula that

can help activate the central

nervous system, which in

turn increases the body's

metabolic rate, decreases fat

absorption and is a powerful

antioxidant. The next nutrient

is chromium a trace mineral

that is essential to stabilize the

body's blood sugar levels but

is often lacking in our diet.

Chromium may help reduce

carbohydrate and sugar

cravings while increasing

lean body mass. It has been

shown to stimulate weight

loss in people with obesity. The last nutrient

iodine is lacking in the New Zealand

diet. Sufficient iodine is essential for the

production of thyroid hormones, which

regulate the metabolic energy of the body.

As well as weight gain iodine deficiency can

lead to diseases and reduced life-span.

The Natural Health Advisers at Marshall's

Health & Natural Therapy are happy to help

you with your weight loss goals. Everyone

is different and we can help you choose the

most suitable supplements for best results.

Come and see us in our new larger

store at 101 Seaview Road, New Brighton

or phone us on 388-5757. We are always

happy to help!

Modern diet leads to illness!

It's not what you eat but what you absorb

Two Australian Naturopaths Stephen

and Shane noticed at the end of the 20th

century more and more of their patients

were experiencing gut, bowel and digestive

issues that were often leading to more

serious chronic health conditions. Being

Naturopaths they wanted to find what was

going wrong and began extensive research.

What they found was although their clients

were generally eating good food they were

not obtaining all the nutrients required for

good health from this food. Further research

showed one of the main problems was the

digestive system, "it's not what you eat but

what you absorb." Another well-known

problem is the soils the crops are grown in

have been depleted of many trace elements

and other nutrients that are known to be

essential for good health and therefore the

crops and food are also depleted. If we do

not obtain all the nutrients we require the

body will compensate to some degree but

a lack of too many nutrients will eventually

lead to health issues.

Based on this they

developed VITAL

GREENS, now called

VITAL ALL-IN-

ONE, a nutrient dense

powdered formula

that provides superior

absorption as well

as comprehensive

nutrition. They

decided on a

powdered formula

that could be made

as a great tasting drink because liquid

nutrition is the easiest way for the body

to absorb nutrients especially if digestive

issues are present. The formula provides

78 vital ingredients that work together in

synergy optimising each other's absorption

and benefits. Vital Greens contains a

carefully balanced blend of nutritionally

rich greens, vegetables, fruits, minerals,

vitamins, essential fatty acids, plant and

herbal extracts, superfoods, powerful

antioxidants, probiotics, essential amino

acids, digestive enzymes, fibre plus a

uniquely alkalising pea protein. It provides

superior nutrition to a multivitamin and

just about anyone will benefit from it. It is

designed to provide all the nutrients the

body requires for good health. It is also ideal

for those in poor health, those recovering

from injury or sickness, children, athletes,

poor eaters and the elderly. It is also suitable

for people with dietary restrictions and is

gluten, wheat and dairy free. VITAL ALL-

IN-ONE will help remove toxic waste from

the body while supporting all organs. You'll

often notice more energy and endurance,

better sleep, a more positive mood,

skin problems improving, less sickness,

improved eyesight and overall better more

optimum health.

Further information and how to obtain

the maximum benefits from VITAL ALL-

IN-ONE as well as tastings is available

from the Natural Health Advisers at

Marshall's Health & Natural Therapy,

101 Seaview Road, New Brighton, Phone:

388-5757. We are always happy to help!

you can stop him

snoring with a

SNOREX

Why put up with a broken

night's sleep?

Ph 377-4318 or 027 682 1752

DENISE LIM

FOR A FREE INFO PACK

Website: www.snorex.co.nz

Would you

like to profile

and grow your

Business?

For feature advertising

please phone

Jenny Wright

03 364 7446 or 021 220 3484

jenny@starmedia.kiwi

A Leader in Healthcare

Excellence for the

Older Person

Lady Wigram

Retirement Village

210 Kittyhawk Ave,

Wigram

Phone 03 341 0543

Golden Age

Retirement Village

96 Harewood Road,

Papanui

Phone 03 375 0720

Somerfield

Rest Home

137 Barrington Street,

Somerfield

Phone 03 332 5897

Hoon Hay House

Dementia

16 Anvers Place,

Hoon Hay

Phone 03 335 0297

www.goldenhealthcare.co.nz

Brookhaven

Retirement Village

29 Alport Place,

Woolston

Phone 03 384 5046

Camellia Court

Rest Home

84 Harewood Road,

Papanui

Phone 03 375 0722

Albarosa

Rest Home

80 Harewood Road,

Papanui

Phone 03 375 0727

Hoon Hay

Rest Home

16 Anvers Place,

Hoon Hay

Phone 03 379 7825

wanting to lose some weight?

GO CAPSI-SLIM contains clinically researched natural ingredients to support a healthy metabolism, help

manage appetite & burning fat for energy. Award-winning Capsimax® promotes thermogenesis by generating heat

in the body which increases metabolic rate. It also promotes the breakdown of fat for energy. HCA from Garcinia helps

prevent overeating by making us feel fuller sooner. It also helps prevent fat being stored in the body & increases energy

levels. Iodine is essential for healthy thyroid function.

The thyroid regulates the metabolic energy in the body.

Chromium helps stabilize the body's blood sugar levels & reduce

cravings. Green tea extract increases the body's metabolic rate,

decreases fat absorption & is a powerful antioxidant.

• Helps support healthy metabolism,

manage appetite & supports fat breakdown

• Supports energy & endurance

• Supports good health & healthy weight loss

To optimise your weight loss goals talk to our Natural Health Advisers in store.

Bringing You the Best in Natural Health

super low prices

60 VegeCaps

ONLY $19.90 Save $20.00

120 VegeCaps

ONLY $38.90 Save $31.00

240 VegeCaps

ONLY $68.90 Save $70.90

MAIL ORDER

AVAILABLE

MARSHALLS HEALTH & NATURAL THERAPY

CONSULTING - PRESCRIBING - DISPENSING - MANUFACTURING - MEDICAL HERBALISTS

101 SEAVIEW RD, NEW BRIGHTON • PH 03 388 5757 • Email: enquiry@marshallshealthshop.co.nz

- WE ARE ALWAYS HAPPY TO HELP! -

ARE YOU RECEIVING ALL THE NUTRIENTS YOU REQUIRE?

Take the VITAL ALL-IN-ONE 12 day Challenge to Better Health!

VITAL ALL-IN-ONE has been developed to provide superior nutritional

support to your body. It is near impossible to obtain all the nutrients your

body requires from a modern diet. VITAL ALL-IN-ONE contains 78 vital

nutrients in a balanced & highly absorbable form to help you receive

all the nutrients you require for optimum health. It consists of a blend

of nutrient dense greens, fruits, herbs, superfoods, vitamins, minerals,

antioxidants, prebiotics & 14 billion probiotics, essential fatty acids, fibre,

digestive enzymes, plus a uniquely high alkalising pea protein.

- Increased Energy & Endurance

- Better Digestion & Assimilation of Nutrients

- Optimised Immune Function

- Reduced Brain Fog

- More Balanced Blood Sugar

- 78 Vital Nutrients to Support Optimal Health

- Superior to a Multivitamin Tablet

- Dairy Free, Gluten Free, Vegan Friendly, Wheat Free

- Gently Detoxifies, Cleanses & Energises Every Cell in Our Body

- ALL YOU NEED – ALL IN ONE – DAILY HEALTH SUPPLEMENT

Super Low Prices

120g only $25.90, save $9.00

300g only $54.90, save $20.10

600g only $94.90, save $44.10

1kg only $138.90, save $60.10

MAIL ORDER

AVAILABLE

Bringing You the Best

in Natural Health!

MARSHALLS HEALTH & NATURAL THERAPY

CONSULTING - PRESCRIBING - DISPENSING - MANUFACTURING - MEDICAL HERBALISTS

101 SEAVIEW RD, NEW BRIGHTON • PH 03 388 5757 • Email: enquiry@marshallshealthshop.co.nz

- WE ARE ALWAYS HAPPY TO HELP! -

FREE

TASTINGS

INSTORE
---
18

Tuesday March 5 2019

Latest Christchurch news at www.star.kiwi

NOR'WEST NEWS

Exhibitors

Book now

Don't miss your opportunity to

showcase your business in front of

10,000+ qualified attendees

Jon.Holmes@starmedia.kiwi or 021 225 8225
---
2

NOR'WEST [Edition NEWS datE]

Latest Christchurch news at www.star.kiwi

Tuesday March 5 2019 19

HOME & HEATING

The

importance

of air quality

Choosing the

right heat pump

for your home

The quality of the air we breathe

affects our health and ability to

perform. We breathe in and out

approximately 20,000 litres of

air every day. It is therefore very

important to ensure good air

quality indoors through adequate

ventilation. Ventilation is the

process of air exchange to provide

the necessary air quality that meets

the needs of the occupants for clean,

fresh air. Low oxygen with high

carbon dioxide causes stuffiness

in the room and occupants can

feel drowsy. Invisible harmful

substances like a high content of

dust and tobacco smoke are harmful

and can cause various diseases. Even

bad smells can cause discomfort

or irritate the nervous system. In

summer, it's easy to open windows

for cross ventilation, however as

winter approaches, we start to shut

up out houses to trap in the heat and

as a result, air quality can decline.

Ventilation includes both the

exchange of air to the outside as

well as circulation of air within

the building. It is one of the

most important factors for maintaining

acceptable indoor air quality in buildings.

Filtered air supply for summer and filtered

and warmed air in winter creates a healthy

environment in which to live and work. In

case of poor or insufficient air intake from

outside, the oxygen content decreases,

humidity and dustiness levels increase. If

exhaust ventilation is not provided or it is

not effective, polluted air, smells, humidity

and harmful substances are not removed.

To ensure the quality of your air, contact

the experts. Smooth-Air Products can

calculate the required air exchange for

your building requirement.

Smooth-Air offers a wide range

of ventilation equipment, from

air vents to ducting for fans,

for both the commercial and

domestic markets. They have

an extensive range of fans and

ventilation components instore

but they can also provide

innovative solutions tailored to

differing requirements.

You can contact Smooth-Air on

0800 SMOOTH (0800 766684).

Are you struggling with the heat of

Summer or wanting to get organised for

Winter? With the ever changing weather

patterns, heat pumps have the flexibility

of being able to heat and cool which is an

advantage no other appliance can offer. This

represents great value for your investment

as you can use it all year round. The team

at Enviro Master Ltd can help keep you

cool this Summer either at home or work.

Enviro Master supplies, installs and services

all the leading brands including Panasonic,

Fujitsu, Mitsubishi and Daikin. This means

our team can show you which system and

brand will best suit your needs.

With new regulations coming in for

Landlords to provide heating in rentals,

now is a great time to beat the 1st of

July deadline. Inadequate heating and

ventilation can lead to mould growth and

dampness in your property, leading to

costlier maintenance and an unhealthy

living environment. Providing a fixed

heater with a higher heat output and lower

running costs, like a heat pump, will enable

your tenants to heat the area effectively.

It will also discourage them from using

unflued gas heaters which can make a

house damp and mouldy.

It is important to remember, when

selecting an installer, the manufacturer's

warranty does not cover the installation

and consumers could be responsible for

any repair or damage caused to the system

due to poor installation. Enviro Master's

five-star installation guarantee ensures

correct installation, and a demonstration

so customers have an understanding on

how it will best meet their needs.

For a free in home consultation, call

Enviro Master on 366 0525 or visit our

showroom at 41A Shakespeare Rd,

Waltham, Christchurch.

Smooth-Air

Ventilation Equipment Suppliers

Domestic

to

Commercial

Industrial

trade

&

retail

HEAT PUMP

SALE NOW ON!

Amazin' Autumn Specials!!

Centrifugal

inline fans

Axial inline fans

Axial fans Axial fans Bathroom fans

Window fans

• We will offer you the best quality brands and

option of heat pump for your home/business

• Providing Heat Pump solutions for over 17 years to Cantabrians

• We personally guarantee all our products & installs for 5 years

(providing annual maintenance has been completed)

Phone us today for your free consultation & quote

41A SHAKESPEARE RD, WALTHAM

PHONE 03 366 0525

www.enviromaster.co.nz

"A local team for local people"

0800 SMOOTH

(0800 766 684)

sales@smooth-air.co.nz

the

right

264 Annex Rd

Riccarton

Christchurch

03 343 6184

for the

product

job

Monday - Friday

7.30am - 5pm

www.smooth-air.co.nz
---
20

Tuesday March 5 2019

Latest Christchurch news at www.star.kiwi

NOR'WEST NEWS

Calling for exhibitors

weddingshow

Sunday 25th August, 2019 Air Force Museum, Christchurch

To exhibit at this fantastic show, please email mark.sinclair@starmedia.kiwi for more info.
---
NOR'WEST NEWS Latest Christchurch news at www.star.kiwi

Tuesday March 5 2019 21

REAL ESTATE

An inspiring lifestyle retreat

869 Purau Port Levy Road, Port Levy

By negotiation – realistic vendor

5-6 bedrooms | 3 bathrooms | 2-3 living rooms | 4 outdoor sheds | 3 bay barn/garage (1.23 hectares approx. Title pending) | Listing Number; 8453

As they say there is no substitute for quality

and this home has that in spades.

North facing, sheltered, and nestled amongst

mature trees and gardens this superbly built

spacious light and airy home of about 337m2

enjoys lovely sea and rural views and is also

very private.

Comprising 5/6 very generous bedrooms,

3 bathrooms including an en suite, and 2/3

living areas. The kitchen and lounge are

enormous, the hallways wide and most of the

rooms open on to covered verandah giving

shelter in Winter and shade in Summer. The

main living area is octagonal in shape and is

huge with a large wood-burner and also opens

onto the verandah and lawn area giving great

indoor outdoor flow.

The farm house style kitchen features plenty

of storage, a Rayburn stove connected to a

wetback and the entire house is centrally

heated with a diesel burner supplying hot

water radiators. Fully insulated throughout

and with double glazed cedar joinery you can

see and feel no expense has been spared on

this build.

The land (1.23 hectares approx. Title pending)

is a mixture of lawns, native plantings a

paddock and 2 very well established orchards.

There are 4 outdoor sheds, a good sized 3 bay

barn/garage, lockable with concrete floor,

3 phase power and toilet and good water

supplies with a spring and deep water bore.

This property gives many options due to its

size, i.e. extended family or Airbnb etc. etc.

and only a 12 minute drive to the Diamond

Harbour ferry giving access to Lyttelton and

the city.

This is the perfect opportunity to have the

lifestyle without having too much to look

after, a chance to be semi self-sufficient and all

this only 45 minutes approx. drive from the

city.

Only approx. 10 years old, to build this now

to this quality would cost well in excess of

the asking price so this is great buying in a

beautiful location.

For a private viewing, please contact Tim

Dunningham of Min Sarginson Real Estate

(Licensed Agent REAA 2008), phone 027

651 5474 or 329 4161

growing with you June 2018 | 100%

Plants For

winter wow

Cool Choices

For Colour

& Contrast

From swamp

to sea views

The journey

begins with sarah

the Gardener

$7.90 incl. GST

Snap it up

Enter our annual

Birdlife Photo

Competition to win

great prizes!

clear the air

Why groWing

indoor PLAnTs is

so good for you

give it a grow

from gArLic

To chinese

ArTichokes,

We hAve your

groWing TiPs

covered

the latest releases

into the rose world

+ rose care

through winter

The magazine for

gardeners who like to get

their hands dirty

SUBSCRIBE FROM

$43. 50*

*6 issues/6 months

SUBSCRIPTIONS FREEPHONE

0800 77 77 10

WWW.GARDENER.KIWI
---
22 Tuesday March 5 2019

Latest Christchurch news at www.star.kiwi

NOR'WEST NEWS

If you want more information about an item or to contact a

seller, visit www.postanote.co.nz and search the ID#

Impala Jet Boat

Tasman 20 Trailer Sailer

Volkswagen Beetle

98 Suzuki DR 350

2006 Holden Commodore SV6

Oregon Bench Seat (oiled)

$15,000

ID 27221

$4,500

ID 27076

$8,000

ID 26025

$1,990

ID 27276

$7,000

ID 27087

$195

ID 22848

2009 Lunar Freelander Caravan 2005 Mazda Premacy 2.0L

Heron Dome Tent

Kuhn Power Harrows

2014 Willet Tandem Discs

2001 Mazda MPV

$16,900

ID 27291

$2,500

ID 26994

$600

ID 27157

$8,000

ID 27128

$20,000 ono

ID 27120

$2,500

ID 27075

Tandem Trailer

Rabbit/Guinea Pig Hutches

Kune Kune Piglets

1962 Bedford J2 Tipper

Honda Fit

2005 Mitsubishi Colt

$3,300

ID 27074

$60

ID 26693

$80

ID 26685

$10,500

ID 22042

$4,000

ID 26280

$3,700

ID 26715

Mazda RX8

Oak Drawers With Brass Handles

Quad Trailer

Fish Tanks & Equipment

Mitsubishi Diamante 3.5 V6

Folding Mobility Scooter

$10,000

ID 22809

$200

ID 27155

See Seller

ID 27149

$500

ID 27131

$1,500

ID 17224

$1,850

ID 27299

Drill Press

Compass Reflection Caravan 6m

Subaru Legacy TS-R (non turbo)

Land-Rover 4WD Camper

Ingersol Rand Rattle Gun

Nissan Serena People Mover

$150

ID 27118

$14,500

ID 25336

$4,900

ID 27082

$6,500

ID 27294

$650

ID 26130

$1,800

ID 27072

Samsung Fridge Freezer

Martin Acoustic Travel Guitar

Old Sailing Ship HMS Bounty

Ford Falcon S/W

Oregon Cabinet (Custom-built)

Honda TRX 300

$750

ID 27070

$600

ID 27038

$450

ID 27033

$3,750

ID 22603

$600

ID 26906

$3,500

ID 26895

Nissan

2007 Kia Rio

Playpen Mat

Cow Magnets & China Cow

Zephyr 460 Plan A

Mitsubishi Grandis

$1,600 Offers Accepted

ID 21212

$5,500

ID 26860

$20

ID 26839

$15

ID 26836

$12,000

ID 24933

$6,995

ID 26882

2123896-h
---
Tuesday March 5 2019

NOR'WEST NEWS 23

Latest Christchurch news at www.star.kiwi

Book now and

receive 20% discount

for summer.

Rope and harness a

speciality.

No scaffolding required.

30 years experience.

Free quotes, call

Craig 021 060 2392

rooF

painting

Trades & Services

Classifieds Contact us today Phone our local team 03 379 1100

Community Events

ALCOHOLICS

ANONYMOUS, If you

want to have a drink that's

your business. If you want

to stop, we can help. Phone

0800 229-6757

Holiday

Accommodation

SUNSHINE

COAST

RESORT

Australia QLD

All Units Have Ocean Views.

Heated Pools, Spa & Sauna,

Free Wifi, Tennis

& Mini Golf.

CHECK OUR GREAT

WINTER SPECIALS

www.mandolin.com.au

0061 7 5443 5011

JUNE to AUG temps 20C

ALEXANDRA HEADLAND

Personals

SINGLE MAN

Lving in NW of City seeks

single lady (NS,SD) slim

& well presented 40yrs +

to do things with. Ph 027

6594425

Storage

Storage UnitS

26 Belfast Road

Various sizes available in this

very tidy and safe complex.

Phone 021 810 433

• Power / lighting available in

large units and include large

door access (over 3.5 metres)

• Individually alarmed

• Surveillance cameras on site

• Vermin controlled

• Toilet on site

Unit Sizes:

13.5m x 3.5m

13.5m x 4m

8.5m x 4m

Double 6m x 6m

Single 6m x 3m

plumber

0508 AQUA PRO | aquaproplumbing.nz

PLUMBING | DRAINAGE | GAS FITTING | SOLAR

Whether you're

looking for advice,

maintenance,

urgent repairs or a

FREE quote contact

Aquapro now.

Call your local plumber

Trades & Services

DRIVEWAYS

Exposed Aggregate

Stamped Concrete Plain

Concrete Resurfacing

Things we offer...

Competitive/affordable pricing

Attention to detail

Professional service

free quotes/insurance scopes

Cell 0278 145 848

www.drivecrete.co.nz

Trades & Services

PAINTER

Michael Kelly Painters

Locally owned and

operated family

business.

25+ years Experience

• Painting • Wallpapering

• Interior • Exterior

Free Quotes

michaelkellypainter@hotmail.co.nz

Phone

Michael 0212 649 492

Trades & Services

Noel 027-411-3596

kemp.painters@gmail.com

kemp painters and decorators

We offer

free quotes

Quality not

Quantity

Specializing in:

• Roof Painting

• Interior/exterior

residential

• Small commercial

painting

A husband and wife team

Canterbury Owned and Operated

Painters and Decorators Ltd

PAINTERS

Items too big for the rubbish bin?

Or too heavy for you to move?

Why go to the Dump? Junkman comes to you!

*Prices vary depending on items and volume – minimum charge $65

Junkman comes to

you & takes it away $ 65 *

FROM

0800 586 5626

www.junkman.co.nz

office@junkman.co.nz

junk

Trades & Services

PLUMBER

Call us now for fast friendly service.

Get your problems sorted out

quick smart - on time!!

NEED A PLUMBER

Phone 03 377 1280 | Mobile 021 898 380

Phone for a

FREE

quote now.

Senior Reporter -

Star Media

The successful candidate will ideally

have worked in Christchurch and

have a good knowledge of its people,

movers, shakers and issues.

You will be part of a vibrant team which will dominate the news coverage

in our region.

You will need to be competitive, a team player, think outside of the square

and have an enviable contact book.

The successful applicant will also be a key part of news room planning.

The successful applicant will need to have a full New Zealand driver licence.

The position will be filled as soon as the right applicant is found.

Star Media is seeking a

senior reporter with a track

record of breaking the big

stories and producing top

line backgrounders to join its

award winning newsroom.

If you have the above and want to be part of a progressive media

company, please email your CV to:

Barry Clarke, Editor In Chief - barry@starmedia.kiwi

Page 3 Page 13

Li ter library

Problem areas for li ter

revealed

Surf club move

New Brighton surf club opts

to rebuild on new site

TUESDAY, APRIL 10, 2018 www.star.kiwi

Loca ly Owned

jo

hayes

christchurch east

Ca l to make an

a pointment

P: 384 9459

www.national.org.nz

Authorised by Jo Hayes

Unit 6/950 Fe ry Road, Christchurch

• By Sophie Cornish

WORKSAFE NEW Zealand

has b en a proached in a bid to

fina ly repair the potholes in New

Brighton's Hawke St car park.

Coastal-Burw od Ward city

counci lor David East wants

WorkSafe to pre sure the car

park's private owners into

repairing the potholes which are

a "trip and vehicle" hazard.

WorkSafe chief inspector

a se sment southern Da ren

Handforth said it may be able to

take action under the Health and

Safety at Work Act 2015, "as a

person conducting a busine s or

undertaking."

Mr Handforth said WorkSafe

is aware of the concerns raised by

Cr East abou the car park.

"WorkSafe has completed

an a se sment visi to the site

and is engaging with the owner

to advise them that it is their

responsibility to manage their

risks a propriately."

Different parts of the car park

are owned by various people

and the Coastal-Burw od

Community Board recently

wrote to them about its concerns

around health and safety.

Cr East said the bi gest i sue

in the past has b en ge ting in

touch with the landlords and

owners and ge ting them to

agr e to anything. "The board

a preciates that multi-ownership

of the parking space may present

a difficulty in co-ordinating

repair/resurfacing but felt obliged

to pa s these concerns onto you,"

said the le ter.

One reply has b en received so

far from an owner who is wi ling

to discu s the i sue. However, a l

the owners would have to agr e

to undertake work.

Cr East said there had b en

a "number of incidences" in

the car park of people injuring

themselves which had gone

unreported.

"I've always though that it

has b en quite amazing that we

haven't had any serious a cidents

or senior citizens perhaps

tri ping in those potholes and

doing themselve some damage."

He is confiden the new

a proach wi l bring results.

"I think the WorkSafe

involvement may prove to be the

lever that we are l oking for."

New bid to fix potholes

Action looms

on Hawke St

car park

HAZARD: Coastal-Burw od Ward city counci lor David East wants WorkSafe New Zealand to put pre sure on the Hawke St car

park owners to fix the dangerous potholes. PHOTO: GILBERT WEA LEANS

Ph 3 7 0 70,

30 Cashel St,

Christchurch

Restore your oiled CEDAR BLINDS with ou re-oiling service.

Rejuvenate your lacquered CEDAR BLINDS

High-tech Cleaning

We clean and repair a l types of blinds –

Venetians, Cedar, Verticals, Ro ler, Ho lands,

Romans and Pleated – with environmenta ly

friendly cleaning products.

Temperature Contro led Drying

Re-oiling & Rejuvenating

Fabric Blinds - such as Austrian and Roman

Same Day Pick Up & Drop O f

We o fer a same-day, pick up an drop o f

service for mos types of blinds. B okings

are required.

Convenient Location

Drop blinds into us by 9am, at

30 Cashel Str et (near the

Fitzgerald end), and co lect

them a th end of the day.

New Blind Sales Priced from $30

WE ARE OPEN

Mon - Fri

8. 0am to 5. 0pm

Ro ler Blinds cleaned

from as li tle as $20

per blind

www.blindcare.co.nz SCAN QR code for Info >

BLINDS .Cleaned, Repaired & Restored .

Land size

Garage

Bedr om

Carport

Bathr om

Car pad

Lounge

Boat pad

Dining

P ol

Toilet

Te nis court

Shower Study

2.5

1

2

4

850m

1 2 3 4 5 6 7 8 9 10 1 12 13 14

Land size

Garage

Bedr om

Carport

Bathr om

Car pad

Lounge

Boat pad

Dining

P ol

Toilet

Te nis court

Shower Study

2.5

1

2

4

850m

1 2 3 4 5 6 7 8 9 10 1 12 13 14

Land size

Garage

Bedr om

Carport

Bathr om

Car pad

Lounge

Boat pad

Dining

P ol

Toilet

Te nis court

Shower Study

2.5

1

2

4

850m

1 2 3 4 5 6 7 8 9 10 1 12 13 14

Land size

Garage

Bedr om

Carport

Bathr om

Car pad

Lounge

Boat pad

Dining

P ol

Toilet

Te nis court

Shower Study

2.5

1

2

4

850m

1 2 3 4 5 6 7 8 9 10 1 12 13 14

Page 3 Page 5

Cartwright steps downs

Community board chairman

stays true to his word

Pool plans for Edgeware

Designs for ind or learner's

p ol revealed

TUESDAY, APRIL 10, 2018 www.star.kiwi

Loca ly Owned

www.denturesouth.co.nz

call 332 4004 TexT 027 537 0567

230 BarringTon sTreeT

Mobile

Service

Available

• By Sophie Cornish

THE ST Andrew's Co lege big

band had extra incentive to

win a the National Youth Ja z

Competition – ba s player, Tom

Fastier, co lapsed and died the

day before the competition

began.

"Tom was a ba s player from

Cashmere High Sch ol who was

playing with our big band this

year. He had a strong chance of

wi ning best ba s player a the

festival as he was a very a complished

musician," head of music

Duncan Ferguson said.

"We were delighted to win, but

it was bi tersw et," he said.

St Andrew's won the most

outstanding big band title a the

competition in Tauranga.

The band dedicated it se to

Tom, who died while on his way

to Cashmere High on March 27.

His death was po sibly related to

a medical event.

•Turn to page 9

SW ET SOUNDS: St Andrew's Co lege year 12 students Lewis Edmond and Je na We ls performing a the 41st National Youth

Ja z Competition.

Bittersweet win for St Andrew's big band

• By Sophie Cornish and Julia Evans

THE PAPANUI-I nes

Community Board has taken the

rare step of starting a petition

to figh the city council over

funding.

Signatures are being co lected

in a bid to get funding for a community

facility in Shirley.

It comes after the city council

removed funding for the centre

pla ned for Shirley Rd, near the

intersection with Hi ls Rd. This

was the site of the former community

centre, which was badly

damaged in the February 2,

20 1, earthquake.

The removal o funding

prompted community board

chairwoman Ali Jones to threaten

to stand down, citing it as her "die

in the ditch" project.

Ms Jone said the board's role

is to represen the community,

and by gathering signatures from

residents, it was fulfi ling that

role.

"One of the roles of a community

board is to represent and act

as advocate for the interests of its

community and this is what we

are doing. The LTP and a nual

plans are a l about lo bying the

council."

•Turn to page 5

Board

launches

petition

to get new

community

facility

Ph 3 7 0 70,

30 Cashel St,

Christchurch

Restore your oiled CEDAR BLINDS with ou re-oiling service.

Rejuvenate your lacquered CEDAR BLINDS

High-tech Cleaning

We clean and repair a l types of blinds –

Venetians, Cedar, Verticals, Ro ler, Ho lands,

Romans and Pleated – with environmenta ly

friendly cleaning products.

Temperature Contro led Drying

Re-oiling & Rejuvenating

Fabric Blinds - such as Austrian and Roman

Same Day Pick Up & Drop O f

We o fer a same-day, pick up an drop o f

service for mos types of blinds. B okings

are required.

Convenient Location

Drop blinds into us by 9am, at

30 Cashel Str et (near the

Fitzgerald end), and co lect

them a th end of the day.

New Blind Sales Priced from $30

WE ARE OPEN

Mon - Fri

8. 0am to 5. 0pm

Ro ler Blinds cleaned

from as li tle as $20

per blind

www.blindcare.co.nz SCAN QR code for Info >

BLINDS .Cleaned, Repaired & Restored .

Grenadier Real Estate Ltd MREINZ is a Licensed Agent Under the Real Estate Agents Act 2 08

Alistair Hazeldine

Mobile: 027 572 1 5 | Phone: 0 384 7950

Email: alistair.hazeldine@harcourts.co.nz

ww.harcourtsfe rymead.co.nz

MAgic on clifton

Mobile: 021 353 280 | Phone: 0 384 7950

Email: joy.butel@harcourts.co.nz

Joy Butel AREINZ - Dip.R.E.

Four Seasons Realty

Grenadier Fe rymead

TEAM

BUTEL

20 Tuawera Te race, Clifton Hi l - $980, 0 3 2 2 2

Phone: 03 384 6540

183 Dyers Rd, Bromley • OPEN 7 DAYS

W ekdays 7.30am-5pm. W ekends 8.30am-3pm

www.dyersroadandlandscapes.co.nz

Dyers Road Landscape

& Garden Supplies

• Barks • Peastraw • Composts - we su ply the best available

• A gregates - Chip, Round and Basecourse

• Pavers & Schist products • Pungas

• Decorative Stones & Landscaping Rocks

• Trailer Hire first hour fr e with purchase

• Bag & Bulk - pick up or delivered

David, Carol & Mike

We wi l deliver!

SOIL

AND

HARDFILL

DUMPING

Page 3 Page 5

Traffic plan at The Brae

Bid to ease traffic on busy,

na row str et

New pi za joint

Fire and Slice fina ly se to

open in Sumner

WEDNESDAY, APRIL 1 2018 www.star.kiwi

Loca ly Owned

LICENSED SALES CONSULTANT RE A 2 08

GRENADIER

Alison Carter

P: 384 7950 M: 0274 318 960

E: alison.carter@harcourts.co.nz

Your local

hi l and

seaside

specialist.

• By Gordon Findlater

DEAN CALVERT (above)

returned from the United

Kingdom last w ek after

ge ting closer than mos to

Joseph Parker in the build up

to his world heavyweigh title

unification fight with Anthony

Joshua in Cardiff.

The former New Zealand

title-holder trave led with his

father George and brother

Bryce to London ahead of the

fight where they spen time

with Parker in the build up.

Mr Calvert, 47, comes from a

boxing mad family.

•Turn to page 6

Former champ hooks

up with Parker in UK

Cave Rock

Apartments'

owners

expect EQC

sign-off

this week

• By Sarla Donovan

THE OWNERS of Sumner's Cave

Rock Apartments ar expecting the

Earthquake Commi sion to sign-off

on a se tlement agr emen this w ek.

Body corporate chairman Mike

White said the group had gone

into mediation with IAG and EQC

on February 20, and signed off

on a deal with IAG on February

2 – coincidenta ly seven years

to the day after the February 2,

20 1, earthquake. However, they

are waiting for EQC to sign the

agr ement.

"Given that EQC actua ly drafted

the agr ement, there' l be no

problem with them doing that."

The apartment suffered damage

in the February and June, 20 1,

earthquakes and were demolished in

late 2012. In 2016, IAG's offer of the

difference betw en indemnity value,

$10 mi lion, and the sum insured,

$16 mi lion, was rejected by the body

corporate.

The mediation agr ement

prevented Mr White from disclosing

the se tlement amount, but he said it

involved the two parties paying "a bit

more money than they'd wanted to

earlier."

•Turn to page 6

Page 7 Page 10

Fishin' for w eds

Children's event at risk if The

Groynes' lakes not cleaned up

Pedaling acro s NZ

Stroke survivor finishes long

journey

TUESDAY, APRIL 10, 2018 www.star.kiwi

Loca ly Owned

www.denturesouth.co.nz

ca l 32 4 04 TexT 027 537 0567

230 Ba ringTon sTr eT

Mobile

Service

Available

A NEW 60km/h sp ed limit and

double ye low lines wi l be in

place on Dyers Pa s Rd by early

May.

The sp ed limit change was

a proved by the city counci last

w ek.

A decision to paint double yellow

lines on the stretch betw en

Summit Rd and the Sign of the

Takahe was earlier made by the

Spreydon-Cashmere Community

Board.

Bu the Banks Peninsula Community

Board decided against

ye low lines on the Summit Rd-

Governors Bay section due to the

road's na rowne s and general

condition.

The changes are designed to try

and reduce the crash rate.

Insta lation of the double

ye low lines, the new sp ed limit

signs and raised centre line pavement

markers wi l begin in mid

April.

The work i scheduled to take

place betw en April 15-18, 2-26,

29 and May 2.

While the work is done, Dyers

Pa s Rd wi l be closed to traffic

from the Sign of the Takahe to

Governors Bay betw en 7pm and

6.30am.

60km/h

Dyers Pass

speed

limit from

early next

month

• By Emily O'Co ne l

A WOOLSTON butcher proved

to be a cut above the rest in an

international competition.

New World Ferry Rd butcher

Jeremy Garth and his team, the

Pure South Sharp Blacks, recently

came second a the World

Butchers' Cha lenge in Northern

Ireland.

It was the firs time Mr Garth

had competed in the cha lenge

and he was "rea ly proud" of

how the team performed.

"We produced some top quality

products and came away

with a g od result so we're very

ha py," he said.

The preparation for this year's

World Butchers' Cha lenge was

intense as the team members

met in Auckland every two

months for lengthy w ekend

practices.

Mr Garth, who has b en a

butcher for 14 years, said the

competition brought back his

pa sion for the job.

"Doing a l thi stuff and

m eting new people, s eing new

ideas, it just brings that flair

back for you," he said.

Mr Garth hopes to own a

butcher shop of his own someday

but says for now he wi l focus

on ge ting mor experience

and on the 2020 cha lenge.

"In two years' time, we' l be

going back to try and win the

title," he said.

U per Ri carton butcher Corey

Winder was part of the Pure

South Sharp Blacks team.

GLOBAL STAGE: W olston butcher Jeremy Garth back home after his team came second in the World Butchers' Cha lenge.

PHOTO: MARTIN HUNTER

From New World Ferry Rd

to second in the

world

Ph 3 7 0 70,

30 Cashel St,

Christchurch

Restore your oiled CEDAR BLINDS with ou re-oiling service.

Rejuvenate your lacquered CEDAR BLINDS

High-tech Cleaning

We clean and repair a l types of blinds –

Venetians, Cedar, Verticals, Ro ler, Ho lands,

Romans and Pleated – with environmenta ly

friendly cleaning products.

Temperature Contro led Drying

Re-oiling & Rejuvenating

Fabric Blinds - such as Austrian and Roman

Same Day Pick Up & Drop O f

We o fer a same-day, pick up an drop o f

service for mos types of blinds. B okings

are required.

Convenient Location

Drop blinds into us by 9am, at

30 Cashel Str et (near the

Fitzgerald end), and co lect

them a th end of the day.

New Blind Sales Priced from $30

WE ARE OPEN

Mon - Fri

8. 0am to 5. 0pm

Ro ler Blinds cleaned

from as li tle as $20

per blind

www.blindcare.co.nz SCAN QR code for Info >

BLINDS .Cleaned, Repaired & Restored .

Page 3 Pages 10 & 13

Cyclist's helipad bid

Serious crash gives new

perspective on ride to hospital

River working group

Rebuilding a healthy

ecosystem in the Selwyn River

WEDNESDAY, APRIL 1, 2018 www.star.kiwi

Loca ly Owned

June 29 - July 1

EXHIBITORS BOOK NOW

vanessa.fleming@starmedia.kiwi

021 914 565

• By Georgia O'Co nor-Harding

A CRACKDOWN on mobile

traders acro s the districts could

be l oming.

However, the public has li tle

interest in having input into the

i sue.

Only eight submi sions were

received for a potential bylaw

aimed at regulating commercial

activities in public places.

The district council wi l be

holding a hearing for the Public

Places Bylaw and Policy on Commercial

Activities and Events in

Public Places.

A hearing i scheduled to be

held on Thursday.

The bylaw comes as an increasing

number of mobile traders

are s eking to operate in Selwyn,

especia ly during the summer

months.

In the past year, the district

council has received five inquiries

about se ting up a mobile busine s

on private or public land.

A report said there are two

str et operators in Darfield, a

coff e cart is parked beside the

railway in Ro leston, and a pi za

cart visits Lincoln w ekly betw en

September-May along with a Thai

f od truck.

•Turn to page 7

Mobile

traders

could

face

regulation

Pupils learn about role of war horses

GR ENDALE SCHOOL pupils

have taken a step back in time,

s eing first hand what men and

horses l oked like during war.

The New Zealand Mounted

Rifles Charitable Trust president

Mark A pleton and member

Mike Donaldson t ok their

horses to the sch ol on Monday,

in a bid to educate pupils on the

sacrifice their ancestors made in

World War 1 and World War 2.

Mr A pleton and Mr Donaldson

a rived a the sch ol dre sed

in World War 1 uniforms while

their horses Tommy and Kruze

wore 1 0-year-old sa dles donated

to the trust.

The presentation is a prelude

to the Gr endale Recreation Reserve

Management Commi t e's

upcoming Anzac Day service.

As a tribute to those who

served, members of the trust wi l

ride horseback to the service.

Mr A pleton said it was

important children were

educated on what soldiers

wen through during World

War 1 and World War 2.

But he said the presentation

didn't go into t o much detail

and was more of a "show and

te l" to make them aware of what

the soldiers l oked like.

Children were shown the type

of kits horses were required to

wear in the war.

•Turn to page 7

• By Georgia O'Co nor-Harding

HISTORY: Pupils have taken a step back in time learning about what

New Zealand soldiers and horses l oked like in World War 1. Abi P oler,

5, sits on Kruze, alongside Mounted Rifles Charitable Trust president

Mark A pleton. PHOTO: MARTIN HUNTER

New sections

selling now

There's no be ter place to se tle out wes than at Falcon's Landing. Pop in to our sales and

information office, 17 Branthwaite Drive, this Thursday, Friday or Sunday from 1pm to 3pm

to find out more. Contact us on 03 741 1340 or mail enquiries@yoursection.nz anytime.

Page 3 Page 5

Driver hazard?

Community board member

blasts Yaldhurst Rd island

Mega centre f edback

Denton Park a tracts more

submi sions than Cathedral

TUESDAY, APRIL 10, 2018 www.star.kiwi

Loca ly Owned

www.denturesouth.co.nz

ca l 32 4 04 TexT 027 537 0567

230 Ba ringTon sTr eT

Mobile

Service

Available

• By Emily O'Co ne l

AN U PER Ri carton butcher

has proven himself to be a cut

above his Au sie rivals at an

international competition.

Elite Meats owner Corey

Winder was named in the a l

star team a the World Butchers'

Cha lenge in Northern Ireland.

Mr Winder and his team, the

Pure South Sharp Blacks, which

includes W olston butcher

Jeremy Garth, finished second

in the competition.

He said the cha lenge started

as a "transtasman test match"

seven years ago.

The preparation for this

year's World Butchers' Challenge

was intense as the team

members met in Auckland

every two months for lengthy

w ekend practices. Mr Winder

said coming second against 1

other countries was a "fantastic"

result.

"To get second behind Ireland

was a huge achievement and to

be ahead of Australia is an

even bi ger thing for us," he

said.

But Mr Winder admires the

Australian team.

"Those guys over there

[Australia] are on top of their

game, they do a g od job," he

said.

"And it just showcases that

New Zealand has got some

of the best butchers in the

world," he said.

Mr Winder has b en a butcher

since the age of 19.

Elite butcher cut above the world

• By Emily O'Co ne l

THE HALSWE L-Hornby-

Ri carton Community Board

has b en given the gr en ligh to

o pose the pla ned qua ry near

Templeton.

Mayor Lia ne Dalziel told the

board on Thursday it had the okay

from the city council to make a

submi sion if Fulton Hogan a plies

for a resource consen to create a

qua ry.

Board chairman Mike Mora

told Western News the submi sion

would likely o pose Fulton Hogan's

plan.

"You can just about guarant e

it . because we [the community

board] don't believe qua ries

should be so close to residential

areas," he said.

Mr Mora said he wasn't sure if

the city council would endorse the

board' submi sion.

"I'd like to think so because the

city council has had their eyes

open as we l ove recent years over

the crysta line silica risk," he said.

Mr Mora said the community

board wi l be "representing and

advocating" for the Templeton

community.

•Turn to page 5

Community

board get

permission

to oppose

Templeton

quarry

AWARD-WINNING: Corey Winder is back home after his team came second in the World Butchers' Cha lenge .

PHOTO: MARTIN HUNTER

Ph 3 7 0 70,

30 Cashel St,

Christchurch

Restore your oiled CEDAR BLINDS with ou re-oiling service.

Rejuvenate your lacquered CEDAR BLINDS

High-tech Cleaning

We clean and repair a l types of blinds –

Venetians, Cedar, Verticals, Ro ler, Ho lands,

Romans and Pleated – with environmenta ly

friendly cleaning products.

Temperature Contro led Drying

Re-oiling & Rejuvenating

Fabric Blinds - such as Austrian and Roman

Same Day Pick Up & Drop O f

We o fer a same-day, pick up an drop o f

service for mos types of blinds. B okings

are required.

Convenient Location

Drop blinds into us by 9am, at

30 Cashel Str et (near the

Fitzgerald end), and co lect

them a th end of the day.

New Blind Sales Priced from $30

WE ARE OPEN

Mon - Fri

8. 0am to 5. 0pm

Ro ler Blinds cleaned

from as li tle as $20

per blind

www.blindcare.co.nz SCAN QR code for Info >

BLINDS .Cleaned, Repaired & Restored .

Pip Su ton BCM (Marketing)

Residential Sales & Development

Specialist - Licens e Salesperson

Next Step Realty Limited

Licensed (RE A 2 08)

Your best choice

in the West

Mobile: 027 24 9524

DI: 03 421 8417

Email: pip.su ton@raywhite.com

$ 40

T Y R E S

LTD

New Tyres - Ba teries

Quality Secondhand Tyres

Discounts on sets of tyres

LOOK

Used tyres from

FR E PICK UP & DELIVERY (in local area)

Ph 348 0626

9 Main South Rd (cnr Wa ts Rd), Sockburn

T Y

Quality Secondhand Tyres

Discounts on sets of tyres

A l at very competitive prices

$ 70

155

x 13

AA

Discounts

8047287 A

8214716 A

LOOK

New tyres from

5

Star Media is a division of Allied Press.

Situations Vacant

HOUSE

CLEARING

Are you

moving house

or trying to

downsize?

Call All Clear

Canterbury. We work

with you to recycle,

sell and dispose of

unwanted items.

Ph: 03 260 0934

or 021 078 4553

raewynlcooke@gmail.com

www.allclearcanterbury.co.nz

Trades & Services

(Ex Leacroft St, Bishopdale)

We specialise in

re-upholstering all types of

household furniture

inc squabs.

Trusted craftsman for over

30 years. Fabric samples,

Free quotes, pick up &

delivery.

All work guaranteed.

Ph. 359 5033 or

022 106 0108

UPHOLSTERER

dyers upholstery services

Trades & Services

Lawns, Gardens

& Home Cleaning

Free Quotes

Professional, personalised

service. Regular &

one-offs. Fixed price.

Ph: 377-5814

For all your property and

cleaning requirements

Trained, insured & security

screened owner/operators

Multi-award winning

systems & Franchises

Franchises Available

www.viphomeservices.co.nz

Trades & Services

BATHROOM

Renovations,

complete

service from start to finish,

free quotes, ph Dave 027

334 4125

****************

CARPET & Vinyl

lAying

Exp. Repairs, uplifting,

relaying,

restretching.

Email jflattery@xtra.co.nz

ph John on 0800 003 181

or 027 2407416

CHiMnEy SWEEP

Txt 027 669 4681

ElECTRiCiAn

Registered,

electrical

installation and repairs,

Gorbie Electrical, ph 021

026 73375 or 03 322 4209

ElECTRiCiAn

Prompt & reliable

registered

electrician

with 24 years experience

for all residential and

commercial work, new

housing and switch board

replacements. Phone Chris

027 516 0669

PAinTER

DECORATOR

All int /ext painting.

Comp rates. I stand by

Canterbury. Wayne 385-

4348, 027 274 3541

PlASTERER

Gib Stopping, Small

job specialty. 30 + years

experience. Ring 0800

387-369

PlUMBER

ALF

THORPE

PLUMBING

Certifying

Plumber for all types of

plumbing,

maintenance,

spouting, alterations etc.

Phone 352-7402 or 0274-

350-231

ROOFing REPAiRS

Fully qualified, over 40

yrs experience. Ph John

027 432-3822 or 351-

9147 email johnchmill@

outlook.com

SHOE REPAiRS

Belfast engraving. Shoe

repairs, key cutting &

engraving. (10 yrs exp)683

Main North Rd, ph 027

3113423

SPOUTing

ClEAning

Spouting

Unblocked,

Cleaned Out and Flushed

Out. Call Trevor 332 8949

or 021 043 2034

STOnEMASOn,

BRiCK,BlOCKlAyER

Earthquake Repairs, Grind

Out & Repoint, River/

Oamaru stone, Schist,

Volcanic Rock, Paving,

all Alterations new & old,

Quality

Workmanship,

visit

www.featureworks.

co.nz or ph 027 601-3145

STUMP gRinDing

Best price guarantee Tony

0275 588 895

Trades & Services

TilER/CARPEnTER

35 years exp, no job

too small. Ph Ross 027

4311440.

Tiling

Flooring - Splashbacks -

Wall incl tile removal, reg

master tiler, ph Dave 027

334 4125

T.V. SERViCE CEnTRE

Repairs, tvs, microwaves,

audio amps, soundbars.

.Aerial & satellite

installations, kitsets, 480D

Moorhouse Ave, ph 03 379

1400

VHS ViDEO TAPES

& all camera tapes

converted to DVD, video

taping special occasions,

www.grahamsvideo.co.nz

ph 03 338-1655

Trades & Services

ACCORDION

LESSONS $15 subsidy

per lesson for 1st 5 lessons.

Canterbury

Accordion

Assoc welcomes new

players. All ages. Ph 359-

6615 / 027 323 5943

Tuition

AAA Buying goods

quality

furniture,

Beds, Stoves, Washing

machines, Fridge Freezers.

Same day service. Selwyn

Dealers. Phone 980 5812

or 027 313 8156

TOOLS

Garden,

garage,

woodworking,

mechanical, engineering,

sawbenches, lathes, cash

buyer, ph 355-2045

Wanted To Buy

Tree and shrub pruning

Hedge trimming

Garden maintenance

Landscaping

Lawnmowing

CALL us 021 405 277

House & Garden

Property services Ltd

Rope & harness

a speciality,

no scaffolding

required,

30 years of

breathtaking

experience.

FREE QUOTES

ROOF

PAINTING

Phone Kevin

027 561 4629

Exterior staining,

exterior painting,

moss and mould

treatment and

waterblasting

Trades & Services

Public Notices
---
24

Tuesday March 5 2019

Latest Christchurch news at www.star.kiwi

NOR'WEST NEWS

OUTDOOR REDUCED

Outdoor prices have dropped even

further so you can enjoy the last

days of summer in style!

STOREWIDE SALE NOW ON! EXCLUDES MANCHESTER & ACCESSORIES. SALE ENDS 18.03.19.

SAVE

$

1200

Montego

Corner Lounge/Dining Set

Includes Corner Sofa, Dining Table

+ 2 x Ottomans

REDUCED

now

$

699

now $ 1799

Ego Egg Chair REDUCED Bistro Dining Table Bistro Dining Chair

now

now

REDUCED

now

$

299

$

169

$

75

SAVE

$

280 SAVE

$

260

ON THE SET

Manteau

Modular Lounge Set

Includes Corner Sofa

+ Coffee Table

SAVE

$

1100

REDUCED

now $ 1699

Shop

Online

Nationwide

Delivery

Finance

Options

targetfurniture.co.nz

Cnr Blenheim & Curletts Rds, Christchurch

Ph: 0800 TARGET (0800 827438)

Offers and product prices advertised here expire 18/03/19.

Sale excludes Manchester and Accessories.