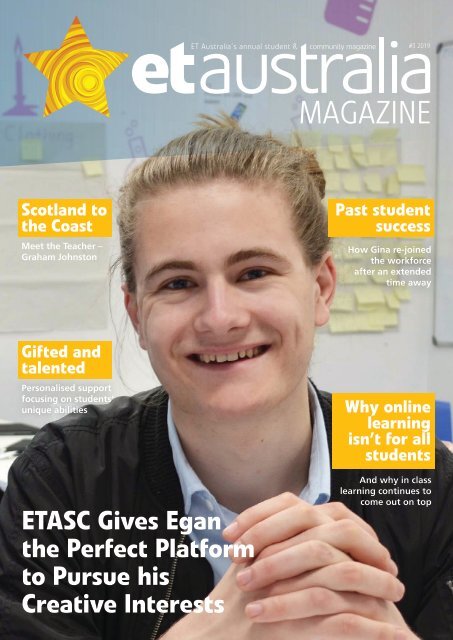 ET Australia Magazine Issue #3 February 2019
ET Australia's annual student & community magazine.
ET Australia's annual student & community magazine.
SHOW MORE
SHOW LESS
You also want an ePaper? Increase the reach of your titles
YUMPU automatically turns print PDFs into web optimized ePapers that Google loves.
ET Australia's annual student &

community magazine

#3 2019

MAGAZINE

Scotland to

the Coast

Meet the Teacher –

Graham Johnston

Past student

success

How Gina re-joined

the workforce

after an extended

time away

Gifted and

talented

Personalised support

focusing on students'

unique abilities

ETASC Gives Egan

the Perfect Platform

to Pursue his

Creative Interests

Why online

learning

isn't for all

students

And why in class

learning continues to

come out on top
---
Welcome to 2019

ET Australia provides students

with the skills to be successful

in employment and/or further

studies. Our adult training

college and independent

high school models provide

professional, supportive

and nurturing learning

environments.

Tony Mylan, CEO, ET Australia

ET Australia's adult training college

has continued to grow its student

base and our reputation with

industry has continued to flourish.

We have expanded our industry

partnerships and this has led to an

increase in the number of direct

employment outcomes our adult

students have gained.

Recently the NSW Education

Standards Authority awarded ET

Australia Secondary College the

maximum five years' of accreditation

to deliver the NSW Year 7 to Year

10 curriculum in the mandatory

key learning areas. Gaining the

maximum level of accreditation is an

achievement that our school staff are

rightly proud of.

In 2019 ET Australia Secondary

College (ETASC) is expanding again in

response to unprecedented demand

from parents and students who

want a place at ETASC. We will be

recruiting for extra teaching and

support staff to ensure that our very

successful staff to student ratio is

maintained.

Our Wyong campus has been given

a re-fresh with new office equipment

and furniture upgrade. Our Gosford

learning campus has been refurbished

and staff have been provided with

new workstations. Student amenities

and resources have also been

upgraded and expanded.

We are experiencing a period of

strong consolidation due to our

focus on business partnerships on

the Central Coast to deliver mutually

beneficial employment outcomes.

Please come and experience why our

students are achieving so highly.

ET Australia always

welcomes your feedback.

Please drop us a line at

email@etaustralia.com

Contents

ET Australia is a Registered Training Organisation (RTO ID 90084)

delivering Nationally Recognised Training qualifications.

P4

P6

P8

Meet the Trainer: Michelle Burden

How Gina Re-Joined the Workforce

After an Extended Time Away:

Past Student Success

Why Online Learning Isn't for all

Students

P10 The Value of Investing in

Quality Training

P12 Dana Shares her Experience

Studying Child Care at ET Australia

P14 From Scotland to the Central Coast:

Meet the Teacher - Graham Johnston

P16 ET Australia: Secondary College

Class of 2018 Graduation

P18 ETASC Gives Egan the Perfect

Platform to Pursue Creative

Interests

P20 ETASC 2018 Excursions

P22 Gifted and Talented: Personalised

Support Focusing on Students

Unique Abilities

18

On the Cover –

ET Australia Secondary College

Graduate Egan Thornycroft

ET Australia

Board of Directors

Paul Tonkin

Deputy

Chairman

& Public Officer

Partner & Lawyer –

Tonkin Drysdale

Partners

Tim Cullen

Treasurer

Graham McGuinness

Chairman

Managing Director

and Consultant –

Delgarah Pty Ltd

Michael North

Director

Tim Cornish

Director

Alan Williams

Director

Director

and Chief

Technology

Officer –

One Blink

2
---
Update – 82% of ET Australia

Training College's 2018 Aged Care

Graduates are now Employed.

There is huge demand for skilled aged care workers, with aged and

disability carer jobs predicted to have the largest jobs growth from now

until May 2022 according to the Federal Government*.

"But it's not about identifying

growth industries, offering a course

and hoping your students will get

a job in that industry" said Cath

Roden, Training College Manager at

ET Australia Training College.

"There's an entire wrap around

student service offering here at ET

Australia Training College that sees

us achieve high job outcomes and it

starts from the first time we speak to

a potential student" she said.

This service offering includes:

Candidate screening

To confirm potential students are the

right fit for the aged care industry

and to confirm that their career

aspirations are well matched to

course offerings.

Engaging class tuition

Which sees students learn through

interactive learning experiences and

scenarios, simulation-based training

and in class discussions with a focus

on real industry applications.

On the job learning

Prior to the half way point of

training, students are on site in

aged care facilities with their trainer,

applying theories learnt in class.

Job placement

ET Australia organises suitable

facilities for students to complete

the required 120 hours of mandated

work placement which is necessary

to complete the course.

"We have found the right formula

and linkages between students

and aged care employers in 2018.

The interactive learning both in

the classroom and on site in aged

care facilities gives our students the

understanding from day one of their

training here at ET Australia what the

expectations of employers will be"

said Cath Roden.

We have found the

right formula and

linkages between

students and aged care

employers in 2018

*Source: https://docs.jobs.gov.au/system/files/doc/other/australianjobs2018snapshot_1.pdf

Our April 2018 aged care class celebrating all being

offered positions in aged care facilities

3
---
Meet the

Trainer:

Michelle Burden

Making a difference by taking an interest

in her students

Happy-go-lucky Michelle Burden grew

up on the Central Coast where she

now lives with her husband, three

children and two dogs – a Whippet

and a Weimaraner.

Throughout her schooling Michelle felt

she was never very good academically,

but she definitely excelled when it

came to sports. Her favourites were

tennis, softball and running.

After finishing her schooling Michelle

completed a TAFE course to become

qualified as an Enrolled Nurse. She

then began her career working for

NSW Ambulance as an Ambulance

Officer. This was just the beginning

of her career in the health industry

where she has been now for over

thirty years.

After getting married and having a

family, Michelle continued her

working career in a local nursing

home as a team leader and low care

co coordinator. She continued in this

role for the next seventeen years.

In addition to these roles she has

also worked in a number of other

positions in the health industry.

Michelle worked as a practice nurse

for a local doctor's surgery for three

years and also in a customer service

role for an organisation who supplied

mobility aids. Michelle has also had

experience working as a funeral

arranger.

Michelle's most recent role was as a

case manager for a community care

organisation here on the Central Coast.

She was working in this role when she

first heard of a position at ET Australia

that interested her. This position

required a Certificate IV in Training

and Assessment qualification, which

Michelle didn't have, so she researched

and sourced information regarding the

training to find out what it would entail

for her to complete it. After careful

consideration she decided to go ahead

and complete the course online with

the encouragement and support from

her former work colleagues. Once

she finished a portion of the online

qualification, Michelle applied for

the position at ET Australia and was

successful in securing the role.

Training her students on how to assist clients with medication

Students celebrating

Michelle's return from

holidays

4
---
I really enjoy seeing

my students get

involved in their

studies.

In October 2016, Michelle began her

job as a Trainer and Assessor at ET

Australia. On her first day she was

extremely nervous. She constantly

worried about the message she

was sending to others through

her body language and nonverbal

communication. Michelle thought a

lot about how animated she was as

a person, worrying how this would

translate to a teaching environment.

But she eventually realised it actually

worked in her favour and was probably

one of her best assets.

Michelle believes others would

describe her as being a perfectionist,

and she certainly pays attention to

details when it comes to her work.

But the thing she loves best about her

job is being around people. She loves

being social and talking with others,

especially when it comes to supporting

other people. She also really enjoys

seeing her students getting involved in

their studies and wanting to give back

through care for the frail and elderly.

The part of Michelle's job she finds

most interesting is when she watches

relevant YouTube videos with her

students – especially ones that make

them all laugh and cry. One of these

videos that really stands out in her

memory is one which involves a man

who has Parkinson's and is dancing

with a walker. By the end of the video

he walks without his walker, singing

and even dancing.

Michelle believes we can all make a

difference in somebody's life, no matter

how small that difference may seem.

This is a theme she uses a lot in her

teaching and learning practice. She

believes the key to this is all about

taking an interest in other people. It

brings a smile to her face to remember

a particular instance where she helped

one of her students to believe in

herself. This mature-aged student

had said she was going to withdraw

from the program, but Michelle

could see she really didn't want to

leave the course and that there were

probably some other personal issues

at play instead. The student ended up

continuing her studies and went on

to complete them successfully. At the

end of the course the student broke

down and sobbed, telling Michelle she

had never finished anything in her life

and here she was now holding her

CHC33015 Certificate III in Individual

Support. This was one of Michelle's

greatest lessons in life, and an example

she often uses in class; that sometimes

all people need is to have someone

else believe in them.

5

Michelle would like people to

know that ET Australia has a great

learning environment that provides

different learning opportunities and

supports for the learner from start to

finish. Students are often supported

beyond their studies too. Throughout

their learning, students are mentored

and supported in all aspects of their

educational journey and in areas of

personal development too.

When Michelle is not working as a

trainer at ET Australia, she enjoys

taking her dogs for a nice walk along

the beach, so they can get some

exercise together.

For anyone thinking about becoming

a trainer, Michelle would tell you that

all you need to do is have passion

along with the industry experience

and believe in everything you do, and

you will never have any regrets.
---
How Gina Re-Joined

the Workforce

After an Extended

Time Away

Past Student Success

I was born in Newport in South Wales

and my memories of growing up were

good ones. My sisters and I went to

Crindau Primary School, which was

a fun time. I especially enjoyed St

David's Day (Welsh Eisteddfod) when

the school enjoyed singing the Welsh

national anthem and making Welsh

dishes such as cakes and rarebit. I

learnt to play the guitar, sang in the

choir and enjoyed going to the local

stadium to watch the rugby.

My parents were big on education

and even though I had balance issues,

encouraged me to always attend school.

After school, I went on to pursue a

career with the Royal London Insurance

Company which I enjoyed very much.

I am now married to Mark who is a

chartered accountant and we have

been married for 25 years. We met

each other for the first time on a train

while I was on a working holiday from

the UK and on my way to work at the

Chatswood CES Job Centre. Once I

returned to Wales Mark visited me

and my family and then stayed on

to work in Wales while we travelled

around Europe. We married in

Wales and afterwards immigrated

to Australia.

When I came to Australia, Mark

and I set up home in Woy Woy and

started life as a married couple. We

both found employment in Sydney. I

worked for MLC Insurance for a

Gina (far right) pictured with her family

6

number of years and enjoyed working

as part of a fabulous team. I was sad

to leave when I had our son Jack

but was lucky enough to be a stay

at home Mum and went on to have

our daughter Katie. While Jack and

Katie attended school, I spent a lot of

time helping at their school, assisting

with raising funds for the school and

helping out in the classrooms.

Mark and I joined the Woy Woy

Stroke Recovery Club, a not-for-profit

volunteer group which introduced me

to a wonderful group of members.

I worked as volunteer Secretary and

enjoyed the position very much.

Speakers joined us at our meetings

to update the members with the

latest information on stroke. Recently

a couple of us travelled to Sydney

and enjoyed afternoon tea with the

delightful Governor Mr. Hurley and his

wife as part of National Stroke Week.

N ow that Jack and Katie are busy with

their lives, I decided I wanted to return

to the workforce after twenty-one

years. With the encouragement of my

family I knew I would have to go back

to College to update my skills. I had

heard positive things about

ET Australia, so I called up to see if

they could help me after so long out

of the workforce.

I went along to the enrolment day,

had an interview and to my delight
---
ET Australia called me to confirm

I would be able to enrol in the

BSB30115 Certificate III in Business

course for three months at their

Wyong premises. On my first day I

met a lot of wonderful students and

Dione (ET Trainer & Assessor).

Honestly, there were a lot of times at

first where I wondered how I would

pass (there had been a couple of small

technological changes in twenty-one

years!) I even said to Dione, 'I think I

am in the wrong class. I am fifty-two

and perhaps I have left it too long to

retrain.' Dione was always supportive,

and it didn't matter how many times

I called her for help, she was always

kind and respectful (even when I

told her she might as well be talking

French to me). She gave me some

great advice and told me I would need

to do a lot of homework.

I found the computer difficult at

first, but it was so great to get back

out there again. At the end of the

course, I was thrilled to pass and get

every unit signed off. Dione opened

up my world and the digital world

blew me away with how much there

was to learn. I couldn't wait to get

back to class each day to learn more.

Dione was always happy and smiling

and never made me feel silly when I

asked questions.

I started applying for any job

vacancies in administration - full

time and part time – once I'd

finished studying. I knew it wouldn't

be easy as I had been out of the

workforce for twenty-one years and

at the age of thirty had also been

diagnosed with Cerebral Palsy. I

applied for job vacancies and put my

diagnosis on the applications and

never heard anything back. I decided

to apply for jobs using the same

resume but deleting the diagnosis

out. I got a number of interviews

then, only to find when I got there

I never left the front reception area.

One person even said to me, 'Is this

some kind of joke?' Determined

not to give up I kept trying with my

fabulous family's support.

I was invited to attend a forum at

Central Coast Disability Network at

Erina. On that day I met a number of

wonderful and supportive people, one

of whom worked at Fairhaven at Point

Clare. We chatted, and I gave him

my e-mail address in the hope a job

vacancy may arise.

Gina now works as a receptionist at Fairhaven

I couldn't wait to get

back to class each day

to learn more.

To my delight I did hear from

Fairhaven again and I applied for a

front desk receptionist job. I got an

interview and the Cerebral Palsy was

never a factor. It was all about my

ability to do the job required of me.

After the interview, I got a call back

asking me to become part of their

team.

Fairhaven is a joy to work for. They

are always supportive, respectful

and most of all SEE ME and not my

disability.

ET Australia: thank you for supporting

me 100%.

Dione: thanks for opening up my

world, and always supporting me but

at the same time having some fun.

Fairhaven: thank you for your

continued support.

7
---
Why Online

Learning Isn't for

all Students

Advances in technology has seen

online learning grow in popularity,

with many institutions now offering

courses and training delivered via

online platforms. Of course, online

learning has some obvious advantages.

Training can be completed wherever

you are, the tuition fees are often

cheaper, and you can study when it

suits you – allowing you to fit your

study commitments around your work

and family life.

Though it might be appealing to study

online, the flexibility of learning in this

way does come at a cost. Even though

the popularity of online learning is

increasing, there's still a whole range

of reasons why traditional in-class

learning continues to come out on top.

Online learning

requires excellent time

management skills

Studying online means you have

control over when and where you

study. Whether you want to study at

home, on your lunch break, at the

library or on-the-go – it's completely

up to you. While you'll have plenty of

flexibility, it doesn't necessarily mean it

will lead to productivity.

Without dedicated class time and

structured lessons, many people

struggle to keep up with their online

studies. Especially if you're someone

who gets easily distracted. Studying at

home is accompanied by family noise

and constant interruptions that can

distract you from your studies or break

your concentration. While getting to

a class can seem like an effort, once

you're there you're set up to learn.

Your phone is turned off, there's no

housework to do and you're unlikely

to be interrupted by a friend or family

member half-way through your lesson.

The Online College Students report

in the US showed that online

students are under far more stress

than students studying in traditional

formats as well (source: learninghouse.

com). Students studying online

typically have a lot of demands

on their time, with 70 percent of

undergraduate students and 80

percent of graduate students in the

same study working full or part time.

It's easy to see that carving out

dedicated study time is easier when

your classes are scheduled for you

and the environment is conducive to

learning.

It can be hard to

maintain your

motivation

Some research shows dropout rates

are higher for online students and they

are also unlikely to perform as well

academically as face-to-face learners

(source: eric.ed.gov).

Online learners need to be selfmotivated

and self-directed. Not only

do you need to be able to set your own

8
---
study schedule, you also need to be

able to stay on top of your workload

too. Academic performance may not

be as high for online learners due to a

lack of interaction with teachers during

study. Without in-person feedback it

can be difficult to complete work to an

appropriate standard.

In a classroom environment, teachers

take their cues from students' verbal

and non-verbal interactions (source:

Sage Journals, journals.sagepub.com). In

an online environment, communication

is quite different. Responses to

questions are not always immediate

and you can be left for days waiting on

feedback or advice. Plus, online learning

issues can arise as teachers are less able

to track your progress or follow-up on

how you're getting on.

There's a lack of student

services for online

students

Online students are often left in the

dark when it comes to student services

(source: edsurge.com). Facilities like

onsite childcare (at our Young Parents

Hub campus), study hubs complete

with laptops, internet, printers and

Wi-Fi are all available to students who

choose in class training programs.

While not always directly related to

their studies, having access to student

services can make a real difference to

the likelihood of a student completing

their studies – especially if their

course goes for a number of years.

What happens when online students

need support? It might be available

but it's usually difficult to find out

about, not to mention problematic to

utilise from a remote location.

Libraries, study hubs and course

specific facilities all help to make

on-campus learning easier. Online

students are expected to make

use of their own equipment or

visit public libraries for access to

extra resources. Career advice,

work placement assistance and

resume support services, all of

which are available at ET Australia,

help students to make use of their

studies.

Social isolation can be

an issue

Less social interaction and feelings

of isolation can create a lack of

satisfaction with online learning

(source: Science Direct Journal,

sciencedirect.com). Online learning

allows for little in-person contact

with your teachers and fellow

students – most often, none at

all. While you might be able to chat

virtually with people from all over

the world, there'll be no real-world

interaction with the people you're

studying with.

Your classmates often become your

support network when studying.

Having someone to study with and

talk about the courses you're taking

can help to keep you motivated.

When you're struggling with your

learning, interaction with your peers

or teachers can help get you back on

track. Students have shown they value

the greater engagement provided by

discussions that take place face-toface,

rather than via a screen (source:

National Center for Biotechnology

Information).

9

Creating a social circle of like-minded

individuals who are all studying in the

same area is often the basis for lifelong

friendships too. It's how you create

networks for future job opportunities

and keep up-to-date on changes in

your career field.

Technology issues can

halt your learning

If you're going to use online learning,

you need to be tech savvy because

you'll be forever at the mercy of

technology.

Online learning platforms can be tricky

to learn, with each education provider

using programs that are custom

designed for their needs (you'll need

to learn how to use it before you can

even get started on your studies). You

will be dependent on the internet and

technology for all your learning needs,

including submitting assignments and

completing exams. Those who are not

technically savvy will find it can be a

steep learning curve.

But even if you are technologically

proficient, you will still be susceptible

to technology issues that are beyond

your control. Network connections,

browser compatibility issues and

WiFi connection problems can halt

your learning at any time, with little

warning, and online course providers

are not always sympathetic to these

problems.
---
The Value of

Investing in

Quality Training

Completing further education and training is a

great way to broaden your career options. But

if you're not investing in training that's high in

quality, you may be left with nothing more than

a certificate at the end of your studies.

When it comes to studying there's a

range of options you can choose from.

There's university degrees, Vocational

Education and Training (VET) courses

and online programs varying in length

and qualification level. It's important

to consider your individual needs and

your career goals when making your

decision.

Training that leads to

employment

If you want to increase your

qualifications and your job prospects,

VET is the ideal solution. VET offers

formal qualifications along with

practical on-the-job experience in your

chosen profession. It offers a faster,

more cost-effective way to complete a

qualification and enter the workforce.

According to the National Student

Outcomes Survey 86.1% of those

surveyed were employed or enrolled in

further training after completing their

VET studies (source: ncver.edu.au).

University degrees typically take three

to four years to complete and many of

them don't include work placements

or practical components. Fees for VET

courses are usually lower than fees for

university courses too. VET courses vary

in length and are much more practical

in design. Certificates I–IV typically

take from a few months to two years

to complete. Diploma courses typically

take one or two years and Advanced

Diplomas take between eighteen

months to two years, meaning you can

get out into the workforce faster.

Not only can you get out into the

workforce faster, you might actually

earn more money with a VET

qualification too. The average full-time

income for a VET graduate is $50,000,

whereas the graduate salary for

students completing a bachelor degree

is $56,000 (source: vet.nsw.gov.au).

Your VET course will broaden your

skills in a specialised area and give

you the practical experience you'll

need for the workplace. Traineeships

and apprenticeships also offer you

the opportunity to work and get

paid while you are studying for a

qualification at the same time. ET

Australia Training College specialises in

the delivery of a variety or VET courses

from Certificate I to Diploma levels.

Skills for some of

the fastest-growing

occupations in Australia

Why not train for the jobs of the future?

The industries predicted to have the

greatest jobs growth in the next few

years include healthcare, information and

communication technology, education,
---
hospitality, retail and the personal service

and care industry.

Quality VET courses offer the skills

people need for these careers, and

many of the other fastest-growing

occupations in Australia. Don't

just take our word for it, though.

According to NCVER research,

these ten occupations linked to VET

qualifications (listed in order of need)

are projected to grow by 2022:

• Aged and disabled carers – 77,400

extra jobs

• Child carers – 25,800 extra jobs

• Sales assistants - 24,900 extra jobs

• General clerks – 22 200 extra jobs

• Education aides – 21,900 extra jobs

• Truck drivers – 16,200 extra jobs

• Kitchen hands – 13,400 extra jobs

• Nursing support and personal care

workers – 13,200 extra jobs

• Welfare support workers – 11,600

extra jobs

• Electricians – 11,000 extra jobs

While completing a shorter course

might seem more attractive, you need

to consider the quality of the education

a shorter course provides. Unduly short

training can be problematic if you don't

understand the course structure and

the qualification you'll receive after

completion (source: asqa.gov.au). The

duration and type of course content

and work placement are important

elements to consider if you're looking

at enrolling in a shorter course. Find

out the qualifications required for the

occupation you are seeking and make

sure you're completing a course that

will offer what you need.

The quality of the teaching staff is

important too. Choose a training

provider who provides industry trained

and experienced teachers. This gives

the Australian Skills Quality Authority

(ASQA). ASQA regulates courses and

training providers to ensure nationally

approved quality standards are met.

You can find a factsheet on how to

choose a training education provider

from their website. ET Australia is an

ASQA approved RTO.

ET Australia is an approved Smart

and Skilled training provider. Smart

and Skilled is an initiative of the NSW

Government and it is helping people

in NSW get the skills they need to

find a job and advance their careers.

Approved training providers must

adhere to guidelines and policies,

implement standard fee arrangements

and deliver quality training. Under this

inititiative eligible students may be

If employment is your focus, or you're

looking to make a career change, it

makes sense to study for an occupation

that will be in high demand in the

future. At ET Australia we have training

programs available in aged care which

can provide pathways into nursing

support, personal care and childcare

which can lead to higher level university

studies. Our training programs focus

on skills shortages to maximise student

outcomes.

The importance of quality

training

According to the National Student

Outcomes Survey, 87.3% of people

were satisfied with the overall quality of

their VET training.

When selecting the ideal course and

study provider, you need to make

informed choices about training that

will best meet your needs. Whether

your goal is to seek employment, be

promoted or change careers, you need

to choose a course and a training

provider who can assist you with your

individual goals. At ET Australia prior

to enrolling any student we ensure that

the training program on offer matches

the career aspirations of the applicant.

you the best opportunity to learn and

complete your training and assists you

in achieving your goals too.

Selecting the right VET

provider

When enrolling in a VET course, it's

important to select the right provider.

There's a wide variety of VET courses

and providers to choose from, all with

different resources provided, course

durations and delivered qualifications.

To ensure you enrol in a high-quality

course, make sure your provider is a

Registered Training Organisation (RTO).

They also need to be registered with

11

entitled to Government subsidies to

help pay for their training.

Of course, you need to consider

location, fees and study mode when

choosing a VET provider. ET Australia

offers payment plans and scholarships

are available to assist with fee payment.

You might also like to think about

what other services the VET provider

offers that can add to your learning

experience and future job prospects.

At ET Australia we provide career

advice, employment network access,

work placement, resume support and

access to wrap around community

services to help you find the right path

to employment.
---
Dana Shares

her Experience

Studying Early

Childhood at

ET Australia

Growing up on the Central Coast,

Dana always knew she wanted to

go into child care. She loved being

around kids and was often paid for

babysitting. A friend had completed

a CHC30113 Certificate III in Early

Childhood Education and Care with

ET Australia and recommended it to

her. When Dana called to enquire

about the Diploma course there was

a new class starting soon. It was

perfect timing!

Dana found the CHC50113 Diploma

of Early Childhood Education Care

course challenging, and struggled

at times to get through assessments

while juggling family commitments.

However, she found the trainers very

supportive and always there to help

when needed.

The work placement experience

was great for Dana and she visited

three different Child Care centres

during her studies. She learned so

much and found the centres great

in helping with assignments and

teaching her skills she still uses

today.

Having a Diploma opened Dana up to

many job opportunities. Following

completion of the course, she worked

in a centre close to her home for

five months. She is now working as

a Diploma Educator at a child care

facility in Turramurra, where she has

been for the past six months.

While very content in her current

role, Dana would like to go on to

university in the future to further

her studies in early childhood. In

ten years time, she would like to be

running her own child care centre.

Of her experience at ET Australia

Training College, Dana says: 'It was

truly amazing. Everyone was so kind,

so understanding, so supportive.'

12
---
Upcoming 2019

Training Programs

Enquire now to apply for any of the 2019 programs below:

Program Code

and Name

Next Classroom

Start Date

End

Date

Classroom

Days

Time

Location

Additional

Delivery Modes

Individual Support (Ageing)

CHC33015 Certificate III

in Individual Support

CHC33015 Certificate III

in Individual Support

CHC33015 Certificate III

in Individual Support

CHC33015 Certificate III

in Individual Support

CHC43015 Certificate IV

in Ageing Support

Business

BSB10115 Certificate I

in Business

BSB20115 Certificate II

in Business

BSB30115 Certificate III

in Business (Evening)

BSB30115 Certificate III

in Business

BSB30415 Certificate III

in Business Administration

BSB40415 Certificate IV

in Business Administration

27 February 21 August Wed, Thurs

26 June 18 October Wed, Thurs, Fri

28 August 12 March Mon, Tues

6 November 15 March Wed, Thurs, Fri

9:00am to

2:30pm

9:00am to

2:30pm

9:00am to

2:30pm

9:00am to

2:30pm

Young Parents

Hub, Wyong

ET Australia,

Gosford

Young Parents

Hub, Wyong

ET Australia,

Gosford

Start this course today. Call ET Australia on 4323 1233 or email training@etaustralia.com

Start these courses today. Call ET Australia on 4323 1233 or email training@etaustralia.com

27 March 18 September Wednesday

17 June 5 November Monday, Tuesday

6:00pm to

9:00pm

9:00am to

2:30pm

Gosford

Young Parents

Hub, Wyong

Start this course today. Call ET Australia on 4323 1233 or email training@etaustralia.com

Start this course today. Call ET Australia on 4323 1233 or email training@etaustralia.com

Traineeship/

Self Paced

Traineeship/

Self Paced

Traineeship/

Self Paced

Traineeship/

Self Paced

Traineeship/

Self Paced

Self Paced

Traineeship/

Self Paced

Traineeship/

Self Paced

Traineeship/

Self Paced

Traineeship /

Self paced

Traineeship /

Self paced

Leadership and Management

BSB42015 Certificate IV

in Leadership and Management

Early Childhood

CHC30113 Certificate III in Early

Childhood Education and Care

CHC30113 Certificate III in Early

Childhood Education and Care

CHC50113 Diploma of

Early Childhood Education and Care

Start this course today. Call ET Australia on 4323 1233 or email training@etaustralia.com

4 March 26 August

10 Sept

Completion early

2020

Monday,

Tuesday

Tuesday,

Wednesday

9:15am to

2:45pm

9:00am to

2:30pm

Young Parents

Hub, Wyong

Young Parents

Hub, Wyong

Start this course today. Call ET Australia on 4323 1233 or email training@etaustralia.com

Traineeship /

Self paced

Traineeship /

Self paced

Traineeship /

Self paced

Traineeship /

Self paced

Subsidised training places available (subsidised by the NSW Government), eligibility criteria applies.

*Actual end date may vary depending on completion of required mandated work placement hours. Units of competency

from within each of these qualifications are available individually or can be grouped to meet a specific need.

Call ET Australia today on 4323 1233

or email us at training@etaustralia.com to apply.
---
Meet the

Teacher:

Graham Johnston

From Scotland to the

Central Coast

Graham draws on his experience

working in a range of professions to

bring a relaxed and friendly approach

to teaching at ET Australia Secondary

College.

Born and raised on the remote Orkney

Islands in Scotland, Graham became

a teacher after working in a range of

other professions. His determination to

find a career he is passionate about is

testament to the idea that it's never too

late to make a change or to further your

studies.

Graham's working life started at

the age of 11 with a part-time job

delivering newspapers. He went on to

work in a range of other jobs including

completing a milk-round, delivering

flyers, working as a store-hand in a

newsagent and working on the local

ferries (even though it made him seasick).

At school Graham's favourite

subjects were music, physics, PE and

mathematics (although he claims he

wasn't so good at it). When he left

school in 1997 he was unsure which

career path he wanted to pursue but

music had always been a constant

in Graham's life. He started playing

trumpet at age 8 and guitar at age

12. He played guitar and bass in local

bands and even went on to record an

EP, playing gigs on weekends to save up

enough money to fund the project.

With this in mind, Graham eventually

decided to go to college in Glasgow

(about 600km from Orkney) to study

Music and Audio technology. Graham

enjoyed the course but had difficulty

finding work in the music industry. In

2000, he went on to study Podiatry

but only completed two years of study

before taking a break due to some

poor exam results. Graham then found

14

himself working as a pastry chef, never

returning to his Podiatry studies.

After a few years of long hours and

hard work as a chef, Graham decided

to return home to Orkney. Here his

career adventures continued, finding

work in a crab factory, and in hotels

and restaurants. Music had always

remained an important part of Graham's

life though and he eventually settled
---
on permanent work in a café which

provided working hours that suited his

hobby of playing in a band.

Falling in love with an Australian was

what eventually bought Graham out to

our shores. He met his partner Nicole

(who is from the Central Coast) while

she was back-packing around the UK.

After they met Graham and Nicole spent

10 years together in Orkney.

Graham was inspired by Nicole's

university graduation ceremony in 2009

to follow another career path himself.

One of the graduates at the ceremony

was 92 years old, reminding Graham

that it was never too late to further his

education. This, together with the worry

that working as a chef would not be

compatible with raising his child which

was on the way, Graham enrolled in a

degree in Economics and Mathematics

through Open University in the UK.

Over the next 4 years he cut back on

kitchen work and worked part-time in

youth clubs while studying full-time and

looking after his son. By the time his

second child arrived in 2012, Graham

had also started working in a local

primary school as a Teacher's Aide, for

children with special needs. It was this

experience that finally steered Graham

towards teaching.

Helping children to learn gave Graham

a new excitement and enthusiasm for

work. Not long after this discovery

Graham and his partner Nicole decided

to move to Australia. The first thing

Graham did when they arrived was enrol

in a Master of Teaching at UNE.

Graham's approach to teaching is

relaxed and supportive. If he notices a

student is having a bad day, he is always

quick to offer a smile and let them know

he is there if they need him. He loves to

use humour in the classroom too, even

if it is at his own expense. He believes

students who are relaxed are more

engaged in their learning.

The best part of being a teacher for

Graham are those 'lightbulb' moments

where a student who has previously

been struggling with a concept suddenly

gets it. This incredibly rewarding

experience sometimes sees Graham

more excited than his student too.

When it comes to mathematics, Graham

loves problem-solving and giving

students a question to investigate.

He enjoys seeing the different ways

students solve problems and finds this

diversity in thinking interesting to watch

as a teacher. He loves to encourage

students to get up in front of the class

and teach the concept they have just

learnt, helping to strengthen their

learning.

Graham started working at ET Australia

Secondary College in July 2017. He loves

the way the staff genuinely care about

the students and work hard to help

them achieve their full potential. He

would like people to know that ETASC

is a school catering to a diverse range of

students. He loves being part of a

Graham (far left) pictured

with his family

supportive teaching team too and says:

"This is something that all the staff at ET

are really good at - making the students

feel safe and supported."

When he's not working, Graham spends

most of his time watching his sons play

sport. At different times of the year he'll

be watching them play soccer, futsal,

tennis, swimming and nippers so he's

always busy.

Graham is a life long learner and in

October last year he completed a Master

of Education: Special Educational Needs

from Deakin University.

Occasionally he still picks up a guitar,

but not quite as often as he would like.

15
---
ET Austra

Secondary

Class of 2018 Gradua

Year 10 students celebrate their Year 10

achievements in style.

ET Australia Secondary College

Year 10 students celebrated

their achievements at the annual

College Year 10 graduation

ceremony. The event was held on

Friday the 14th of December in

the Show Room of The Mingara

Recreation Club.

Students, parents, teachers and

distinguished guests celebrated the

completion of Year 10 and achieving

their Record of School Achievement

(RoSA).

Students were presented with their

College graduate certificates and

high achievers were recognised for

their success throughout the year

with individual and subject awards.

Right and below:

Year 10 ETASC Students

celebrating their

achievements

Congratulations to all Year 10 2018 graduates

and special thanks to our volunteer team for

their time and effort.
---
lia

College

tion

Above: Year 10 Graduating Class of

2018 with their teachers.

Right: Curriculum Coordinator,

Kim Wheeler addressing the

audience

Congratulations to our

ET Australia Secondary College

2018 award winners:

Zoe Moore

Congratulations to Zoe Moore who in

2018 was the first student to be

awarded first place in all subjects.

First place in History

First place in Mathematics

First place in PDHPE

First place in Science

First place in Geography

First place in English

Ben Fletcher

Congratulations to Ben Fletcher on being awarded

the Principal's Award which recognises high standards

of overall achievement, attitude, academic progress

and involvement in the school community.
---
Egan accepting his graduation

certificate in 2016

ETASC Gives Egan the

Perfect Platform to Pursue

his Creative Interests

Attending the local primary school, I

struggled to fit in with the other kids

and my restlessness was disliked by

my teachers. My Year 2 teacher would

often tell me to sit down and follow

the example of my other classmates.

Her favourite kid in the class was also

the school bully who would often

taunt me for having no friends. I told

myself if I just rode out that year all

would be better. However, in Year 3

I was thrown back into the rhythm of

"sit down and don't say a word".

My mother already had the idea to

home school me, but my father still

needed convincing.

When my teacher was asked about

my behaviour she said I needed to

be taught to handle an office job as

she thought that's all I would end up

doing. The next day when my sister

and I were asked if we "wanted out"

we said yes.

The next 6 years I spent in home

school learning what interested me

and I feel I had an amazing education.

I spent my days in the bush or in later

years creating short films with friends.

One of the first films I made, "The

Station", was nominated to go to New

York to the finals of the International

Silent Film Festival.

The home school community accepted

me so much more than what I had

18

experienced in school. At the end of

year nine I was faced with a choice:

go back to school or face the

challenging mission that is getting a

RoSA through home schooling. That's

when I got to talking to a friend who

highly recommended ET Australia

Secondary College.

I was very sceptical but agreed to a

meeting with John Lenton (may he

rest in peace). I walked into that room

feeling nervous about the future but

walked out ecstatic to start Year 10

at ET Australia in February 2016. The

first day I walked in to ET Australia

Secondary College I was nervous and

wondering if all the horrors of high

school would be true, however that

could not be farther from the truth

as this was not a typical high school.

It was different.

The first day was quite a blur but I do

remember some key moments. Certain

things stood out that made it feel

welcoming right away. Calling teachers

by their first names, the use of iPads

to help with my writing disability
---
(I had overcome this in the past by

using a computer at home however

a typical high school would not have

had this) as well as the friendly nature

of everyone else in the class.

Over the weeks and months, I started

to call ET Australia Secondary College

a second home. The friends

I made, and the relaxed nature of the

whole school made it feel like a place I

wanted to be. I enjoyed being able to

wear want I wanted and my feelings

of self-worth would start at 9am

every day not at 3:30pm when I got

home. When waking up I never felt

like I didn't want to go to school. I

was only late on two occasions. The

first, I was so sick the doctor told me

I was a hazard to others around me

and the other I arrived late after the

trains broke down.

I will never forget the way I felt

the teachers actually cared for my

education and that made it a joy to go

to school.

I loved maths and the challenges

it presented. Jasmyn was great

at helping as well as the teacher

assistants.

Outside of ET Australia Secondary

College I had a few other pursuits that

I engaged in which mostly consisted of

film making - making videos at home

or with friends. As well as mountain

biking, sailing and exploring.

In terms of achievement, I was top

of my class for Maths, Geography,

PDHPE, History and Science. I was also

nominated for the Principal's Award

and having the highest attendance.

While at ET Australia Secondary

College I decided I loved it for the

people and not for the subjects, so

I chose to leave high school after

getting my RoSA and go onto TAFE to

study more.

In 2017 I went to TAFE in Newcastle

and studied at Hunter Street Campus. I

got a Certificate III and then Certificate

IV in Screen and Media in November

of 2017. Throughout 2017 I also

worked part time at a local studio in

Kincumber and learnt a lot from my

mentor Glen from Studio2You. I learnt

retouching skills as well as shooting in

a corporate environment.

Throughout 2017 I also started using

Instagram and with that platform

my photography started to build a

following. With that following also

came photography work. After I

finished at TAFE, I was on the look

out for a job in the creative industries

which led me to Social Media

Management. I am currently working

on managing social media accounts

and building a portfolio of work for

larger projects. As I write this I have

just finished 4 days of solo travel on

the Gold Coast and Brisbane and I am

heading to the Great Barrier Reef for

two weeks.

In 5 years' time I hope to be doing

something that gives me creative

licence or freedom to create and

express myself, whether that be

through photography or film. I also

hope to travel and see the wonders

that this amazing world has to offer.

Meeting new people is a joy and

learning their stories and how they

create is amazing.

19
---
ETASC 2018 Excursions

Duke of Edinburgh

The Duke of Edinburgh International

Award program commenced at ET

Australia Secondary College in 2018.

The Duke of Ed is a non-competitive

self-development program available to

students which encourages them to set

and achieve goals at a level appropriate

to their needs and aspirations. There are

four sections for students to develop

in; skill, service, physical recreation

and adventurous journey. Throughout

participation in this award students

develop skills in decision-making,

teamwork, organisation, communication,

perseverance, self-confidence, leadership,

resilience and citizenship. These are highly

sought after employability skills and great

for the holistic development of young

persons.

Museum of

Contemporary Art

Great Aussie Bush Camp

In Term 1 last year, Year 7 and 8

students attended the Tea Gardens

Great Aussie Bush camp. Students

participated in a range of activities,

including the Rock and Water

program. This program focuses on

recognising and dealing with each

student's sense of self, their purpose

and motivation in life, as well as how

to deal with the actions of others

appropriately. Students also engaged

in a collection of outdoor activities

relating to the topics they studied in

PDHPE, Mathematics, Science and

Geography classes.

In Term 2 ET Australia Secondary

College Year 7 and 8 students

visited the Museum of

Contemporary Art Australia as part

of their Visual Arts studies. Students

explored the 'Today, Tomorrow,

Yesterday' exhibition and were

asked to create conversation

amongst the group by critically

responding to artwork shown on

display at the museum. Students

were also given the opportunity

to see how video can be used

20
---
to create art and were given the

opportunity to participate in a hands

on workshop in the museum art

studio utilising technology to create

art of their own.

Wetlands

Environment Centre

Q Station Manly

In Term 2 ET Australia Secondary

College Year 8 students visited Q

Station Manly located on the North

Head of Sydney Harbour to learn

more about how the Great Plague,

which occurred in Medieval Europe,

affected the Sydney area in the 1800s.

Q Station was established in 1832 to

quarantine early immigrants afflicted

by disease.

Students examined how authorities

dealt with first contact during early

British settlement and explored how

sickness and disease influenced why

the site was established and how it

functioned. Students also discovered

the story of plague outbreaks in

Sydney and the quarantine process

that occurred in the event of a plague.

In Year 8 Geography students studied

the topic of Water in the World. To

enhance their learning, students visited

the Wetlands Environment Centre in

the Hunter to partake in water quality

testing, discover the types of animals

that live in ponds, learning how to use

a compass and GPS mapping, taking

weather measurements and viewing

Aboriginal seasonal calendars.

21
---
Gifted and

Talented

Personalised support focusing on students' unique abilities

Learning Enrichment at ET Australia

Secondary College includes The

Gifted and Talented Program (GAT).

The GAT Program provides high

achieving students the opportunity

to extend their learning through

development activities and the

provision of personalised support.

This takes a number of forms,

including one-on-one sessions, ability

groups, involvement in academic and

Chloe, utilises the GAT program

at ETASC to enhance her

English and photography

talents

creative competitions, and

participation in enrichment

excursions.

Chloe Stocks was one of the

students selected to take part in

the GAT program in 2018. Through

testing and observation Chloe's

natural abilities in both the intellectual

and creative domains were identified,

particularly in English, Creative

Writing and Photography.

She received in-class support and

attended extra-curricular sessions to

extend her learning in English. This

included English Ability Group where

activities such as Reciprocal Teaching

allowed her to engage in in-depth

discussion of texts with her peers,

creating links between texts and

social issues.

Chloe's talent for creative writing

was supported and she entered her

work into a national creative writing

competition. Her poem 'Lover With

A Concrete Heart' will be published

in the next Write 4 Fun Anthology.

Additionally, Chloe recently presented

this poem at the Central Coast

Council Seniors Week Concert. She

plans to attend Creative Writing

Group with the GAT program in 2019

to continue to develop her abilities.

Chloe's photography (primarily

portraits utilising natural light and

interesting angles to create ethereal,

dramatic images) was additionally

supported through the program. In

Term 4, she worked as an assistant to

internationally acclaimed underwater

and fashion photographer Brett

Stanley. Here, she took behind- thescenes

images of shoots which

Stanley posted on his business

Facebook page.

She also entered two photography

competitions in 2018, receiving a High

Commended award in the Panasonic

2018 Photographer of the Year

Competition (Junior Division). Which

is an incredible achievement for an

amateur photographer.

22
---
Enrolling Now for

2020 and Beyond

ET Australia Secondary College is an

independent Year 7 to 10 high school equipping

students with the skills to be successful in

employment and/or further studies.

Now is the time to book your tour of the school for your child to attend

ET Australia Secondary College in 2020.

With over 97% of our graduates engaging in further studies

or a career, you can be confident ET Australia Secondary College

will equip your child with the skills to be successful in ongoing studies and

employment.

Book your tour now

by contacting us on:

Phone: 02 4323 1233

Email: etasc@etaustralia.com

The excursions, the

tutoring, everything

is included in the

school fee.

Parents of Chris, Year 9
---
ET Australia Magazine is produced by ET Australia

in collaboration with Mars Design.

A special thanks to all those who contributed to

this issue of ET Australia Magazine.

ET Australia is a Registered Training Organisation (RTO ID 90084)

delivering Nationally Recognised Training qualifications.

Contact Mars Design:

enquiries@marsdesign.com.au

@ www.marsdesign.com.au

Contact ET Australia

(02) 4323 1233 @ email@etaustralia.com

Follow ET Australia

ET Australia

ET Australia

@ETAustralia

ET Australia