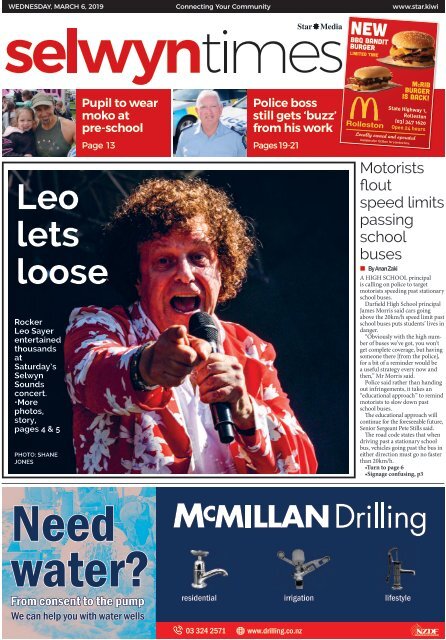 Selwyn Times: March 06, 2019
Create successful ePaper yourself
Turn your PDF publications into a flip-book with our unique Google optimized e-Paper software.
WEDNESDAY, MARCH 6, 2019

Connecting Your Community

New

BBQ Bandit

Burger

limited time

www.star.kiwi

Page 13

Leo

lets

loose

Rocker

Leo Sayer

entertained

thousands

at

Saturday's

Selwyn

Sounds

concert.

•More

photos,

story,

pages 4 & 5

PHOTO: SHANE

JONES

Pupil to wear

moko at

pre-school

Police boss

still gets 'buzz'

from his work

Pages 19-21

Rolleston

State Highway 1,

Rolleston

(03) 347 1620

Open 24 hours

Locally owned and operated

Available after 10:30am for a limited time.

Mcrib

burger

is back!

Motorists

flout

speed limits

passing

school

buses

• By Anan Zaki

A HIGH SCHOOL principal

is calling on police to target

motorists speeding past stationary

school buses.

Darfield High School principal

James Morris said cars going

above the 20km/h speed limit past

school buses puts students' lives in

danger.

"Obviously with the high number

of buses we've got, you won't

get complete coverage, but having

someone there [from the police],

for a bit of a reminder would be

a useful strategy every now and

then," Mr Morris said.

Police said rather than handing

out infringements, it takes an

"educational approach" to remind

motorists to slow down past

school buses.

The educational approach will

continue for the foreseeable future,

Senior Sergeant Pete Stills said.

The road code states that when

driving past a stationary school

bus, vehicles going past the bus in

either direction must go no faster

than 20km/h.

•Turn to page 6

•Signage confusing, p3

Need

water?

From consent to the pump

We can help you with water wells

residential irrigation lifestyle

03 324 2571 www.drilling.co.nz
---
2 Wednesday March 6 2019

Latest Christchurch news at www.star.kiwi

get in touch

from the editor's desk

SELWYN SOUNDS has come and gone for

another year and by all accounts the 2019

instalment was a good one.

The weather was perfect, the bands gave

a great show and there were plenty of the

other necessities for a long day at Lincoln Domain – drink

stations, bars and Portaloos. Getting in and out of the concert

was a breeze too this year.

Selwyn Sounds is well and truly locked into the calendar. No

doubt promoter David Parlane will announce the next line-up in

the not too distant future.

And the photo on the front page of Leo Sayer. Apart from the

hair, he's changed a bit from his heyday . . . but then who hasn't.

There are more photos on pages 4 & 5.

– Barry Clarke

GENERAL INQUIRIES Ph 379 7100

CLASSIFIED ADVERTISING Ph 379 1100

Star Media, a division of Allied Press Ltd

PO box 1467, Christchurch

starmedia.kiwi

schools

Lincoln student's European foray

John Elliott tells us about his trip to Prague, Geneva and

London to study leadership.

Pages 24-25

sport

Country cricket down to top four

Leeston-Southbridge finished top of the table, while Darfield

face possible relegation.

Pages 30-31

community events

Fun with colours

Get covered in paint on Sunday, 11am-2pm, at the

Rolleston colour fun day.

SELWYN TIMES

NEWS

Anan Zaki

Ph: 021 911 576

anan.zaki@starmedia.kiwi

ADVERTISING

Lynette Evans

Ph: 364 7434

lynette.evans@starmedia.kiwi

Page 39

The best-read local newspaper, delivered to

20,015 homes, RDs and farms every Wednesday

Ladbrooks, Tai Tapu, Leeston, Lincoln, Southbridge, Prebbleton,

Halswell, Rolleston, Templeton, Burnham, West Melton, Darfield,

Kirwee, Arthur's Pass.

NEW ULTRA LOW EMISSION BURNER

CAN BE INSTALLED INTO ANY HOME

Rosa wood

pellet fire

472 Blenheim Road, Sockburn Phone: 03 343 1651

Open: 8:30am – 5pm | Saturday 10am – 1pm

www.heatstore.co.nz

ROLLESTON LAW

Rolleston Office: 78A Rolleston Drive, Rolleston

Darfield Office: Darfield Business Hub, 68 South Terrace

W: www.meareswilliams.co.nz

T: (03) 374 2547 M: 021 148 6221

Richard Gray

E: rcg@meareswilliams.co.nz

Anita Molloy-Roberts

E: am@meareswilliams.co.nz

Kate Warren

E: kcw@meareswilliams.co.nz

BOWRANDA

ROOFS

For a free Measure & Quote PH 0800 26 26 20

● Immediately increase the value of your home

● Manufactured to custom specifications

● A permanent, sheltered outdoor space

● Strong and durable frame constructed of powdercoated

aluminium and stainless steel

● Square profile complements NZ residential architecture

● Option to enclose with outdoor blinds

● Eliminate 99% of harmful UV light

● Achieve your outdoor vision

A Lifestyle Choice

www.bowranda.co.nz
---
SELWYN TIMES Latest Christchurch news at www.star.kiwi

Wednesday March 6 2019 3

News

Local

News

Now

Too much signage at intersection – police

Fire rages, homes at risk

• By Anan Zaki

MOTORISTS ARE running stop

signs due to "bizarre" signage.

Senior Sergeant Pete Stills said

many intersections across the district

have varying speed signs near

stop signs, causing confusion.

The concerns come after Senior

Sergeant Stills' call to remove the

open road signs

in last week's

Selwyn Times.

He said one

example of confusing

signage is

at Boundary Rd

– near Lincoln.

Murray

Washington

At the intersection

with

Shands Rd,

motorists are

being met by an open road sign,

a stop sign and an 80km/h sign

– causing confusion according to

police.

Boundary Rd has a speed limit

of 80km/h and Shands Rd has

a 100km/h limit. The intersection

is marked by a stop sign on

Boundary Rd.

But before the stop sign, there

is an open road sign on Boundary

Rd, even though it has a

speed limit of 80km/h.

The district council said the

open road sign is required by law

as drivers continuing straight on

Boundary Rd are technically on a

100km/h area on Shands Rd for a

few metres.

Once drivers cross the few

metres of Shands Rd, there is an

80km/h sign, indicating they are

now back on Boundary Rd.

Senior Sergeant Stills said

the open road sign needs to

be removed as it confuses the

drivers who continue on straight

Boundary Rd.

"In my personal opinion, it's

confusing," Senior Sergeant Stills

said.

"I think anecdotally we've

found at crashes that signs are

missed because there's too much

signage," he said.

CONFUSION:

Putting open

road signs on

an 80km/h

road

confuses

drivers,

police say.

PHOTO:

MARTIN

HUNTER

CRASHES SINCE 2013

Boundary and Shands

Rds intersection:

Minor and non injury –

two

Serious – one

Source: NZTA

The open road sign on

Boundary Rd also impairs the

visibility of a stop sign before

Shands Rd, Senior Sergeant Stills

said.

The district council has no

plans to change them even

though Senior Sergeant Stills

wants them removed.

District council assets manager

Murray Washington said

the signs need to be in place

in accordance with the Land

Transport Rule, Setting of Speed

Limits 2017.

"Drivers need to be aware of

the change in speed limit. For example

if turning onto Shands Rd

from Boundary Rd they need

to know that the speed limit

on Shands Rd is 100km/h," Mr

Washington said.

"The stop control is clearly

signed with 'stop ahead' warning

signs and two stop signs at the

intersection. The change in

speed limit does not change the

need to obey the stop control,"

he said.

•Our People, pages 19-21

•Readers' letters, p15

•HAVE YOUR SAY: Do

you think the pictured

intersection could confuse

drivers? Send your thoughts

to anan.zaki@starmedia.kiwi

tree trouble?

call us 384 9630

www.fourseasonstreecare.co.nz

t h e t r e e p e o p l e

f o u r s e a s o n s t r e e C a r e

Full Time Rolleston

Hearing Aid Clinic

Need hearing aids? Already wear hearing aids?

GET YOUR HEARING SORTED LOCALLY!

Full range of hearing aids available, with funding options to suit.

Call for a no obligation chat or book a free baseline hearing check today -

Ph. 03 390 2332

36 Tennyson Street, Rolleston | Darfield | Leeston | Lincoln | www.sincockhearing.nz
---
4 Wednesday March 6 2019

Latest Christchurch news at www.star.kiwi

SELWYN TIMES

Selwyn Sounds

Rock music

festival packs

them in again

• By Anan Zaki

LINCOLN WAS rocking

on Saturday as 8800 people

descended there for

the annual Selwyn Sounds

concert.

Festival organiser David Parlane

said the event was "fantastic" with

no issues or queuing or issues

with crowd behaviour.

"It [attendance] was slightly

down from last year [10,000],

but not a great deal down," Mr

Parlane said.

Long queues at the bar, which

plagued last year's event were

non-existent this year, he said.

The highlight of the event

was Kiwi rock icon Jon Stevens

performing, Mr Parlane said.

"He put out a hit record 39

years ago called Montego Bay,

he hasn't sung it or played in 39

years," he said.

"And he played it here at Selwyn

Sounds for the first time in 39

years and everybody just went

off. It was such a bloody fantastic

moment."

Lincoln businesses and

organisations were able to cash in

on the event.

"I know that Lincoln High

School had something like 60

campervans there, and they would

have around 1000 cars parked,"

Mr Parlane said.

"When you look at the sum,

that's about $7000 for the high

school."

The event was a team effort, he

said.

"We're looking at a 140 volunteers

on the day, stage and crew of

about 30 people and another 60

artists and management and crew

coming in as well," Mr Parlane

said.

Preparation is already under

way for next year's event.

"We will look to be announcing

early July with a line-up. We've got

a few more signatures to put on

a few more pieces of paper," Mr

Parlane said.

ON STAGE: Leo Sayer (left) and the Little River Band were the headline acts at Saturday's Selwyn

Sounds concert.

ELECTRIC: Little River Band guitarists Rich Herring (left), Wayne Nelson and Colin Whinnery

(right) pump out the music.

JOIN US NOW!

See website for details

BENDON OUTLET

Biggest Bra Sale (Selected Styles Only,

Terms & Conditions Apply).

ASICS

Massive Summer Sale: 1000's of Shoes

Under $100, All Clothing Priced to Clear

from $10.

STYLES MAY DIFFER TO IMAGE SHOWN

BONDS OUTLET

40% Off All Marked Prices Storewide.

CUTLER & CO

SUMMER CLEARANCE

All Short Sleeve Shirts, Shorts, & Selection

of Long Sleeve Shirts Now Reduced to

$69.95 Each or 2 for $100 (While Stocks

Last, Terms & Conditions Apply).

UNDER ARMOUR

2 Tee's & 1 Pair Shorts for $100

(Terms & Conditions Apply).

Sign up to Smart Deals & be in the monthly draw for a $100 Dress-Smart gift card!

Be one of the first to hear about the latest deals, sent straight to your inbox each week!

CHRISTCHURCH 409 Main South Road, Hornby

Open 10am-5pm, 7 Days 03 349 5750

www.dress-smart.co.nz
---
SELWYN TIMES Latest Christchurch news at www.star.kiwi

Wednesday March 6 2019 5

PARTY TIME: Thousands

turned out for Selwyn

Sounds.

PHOTOS: SHANE JONES
---
6 Wednesday March 6 2019

Latest Christchurch news at www.star.kiwi

SELWYN TIMES

News

Celebrate

the district's

parks from

Saturday

THE TIME to celebrate

regional parks is nearly here.

Parks Week, which is being

organised by Environment Canterbury,

will run from Saturday

until March 17.

In the district, parks week will

be marked with two events on

March 17. Both are open to the

public.

The first event will be a

"working bee in the horse trails"

at West Melton Forest from

9am-1pm with a barbecue. The

other event will be a barbecue at

Weedons Ross Rd trail car park

from 11am-2pm.

ECan looks after three parks

in the region – the Ashley Rakahuri,

Waimakariri and Lake

Tekapo regional parks – and

also patrols Northern Pegasus

Bay.

ECan team leader parks and

forests James Page said Parks

Week is a great time to check

out Canterbury's outdoors.

The Rakahuri Rage, an

annual mountain bike race in

the Ashley Rakahuri Regional

Park, is scheduled to take place

on Sunday.

Speed limits around school buses ignored

•From page 1

Senior Sergeant Stills said the

20km/h limit is in place due to

the unpredictability of children.

He said the slower speed reduces

the risk of injury.

Said Senior Sergeant Stills:

"There's a lack of general

understanding that the

requirement to reduce your

speed limit

to 20km/h

when passing

a stationary

school bus."

Senior

Sergeant Stills

also said there

was a lack

James Morris

of respect

towards the

law and pleaded for drivers to

slow down.

Mr Morris said there had been

a number of close calls near

Darfield High School's buses.

The latest near miss was in term

four last year in Darfield – which

a passerby reported, Mr Morris

said.

Darfield High and Primary

Schools are served by 15 buses.

Twelve of them serve the high

school, Mr Morris said.

Hororata School principal

Marty Gameson – who also

operates as a relief bus driver

– said speeding cars are

SLOW DOWN: Students board a school bus on Springs Rd, Prebbleton. Police are

reminding drivers to slow down to 20km/h when travelling past a stationary school bus.

PHOTO: MARTIN HUNTER

concerning.

"A majority of our pupils take

the bus. I've witnessed cars

scooting past at 100km/h when

the bus stopped," he said.

"That's what the law is about, it's

about [protecting] unpredictable

kids," Mr Gameson said.

One incident that exemplified

why the 20km/h rule exits,

happened early last year, he said.

"Children crossed the road

without looking – because they're

children. And there were trucks

coming," Mr Gameson said.

"But the trucks slowed down.

I can say that a combination of

safety vests the children were

wearing and the truck driver

slowing down actually saved

those kids' lives," he said.

Rolleston College and Lincoln

High School said they do

not have issues with drivers

speeding past school buses.

Children are unpredictable on

roads, Senior Sergeant Stills said.

"The risk is heightened

because they are children," he

said.

The most recent serious

incident with a school bus in

the district was in 2014, Senior

Sergeant Stills said.

A 14-year-old Thai exchange

student at Lincoln High School

was left seriously injured when

he was hit by a car after exiting

a school bus on Main South Rd,

between Curraghs and Weedons

Ross Rds.

The boy was flung 15m on

impact.

•HAVE YOUR SAY: Do you

think motorists slow down

past stopped school buses?

Email anan.zaki@starmedia.

kiwi

HEAT PUMP

SALE NOW ON!

Amazin' Autumn Specials!!

• We will offer you the best quality brands and

option of heat pump for your home/business

• Providing Heat Pump solutions for over 17 years to Cantabrians

• We personally guarantee all our products & installs for 5 years

(providing annual maintenance has been completed)

Phone us today for your free consultation & quote

41A SHAKESPEARE RD, WALTHAM

PHONE 03 366 0525

www.enviromaster.co.nz

"A local team for local people"

50% OFF

All Ladies Summer

Fashion

2 McMillan St, Darfield

Ph. 03 318 8734

Open Mon-Fri 9am-5pm

Sat 9.30am-12.30pm

Find

us on

OPEN

NOW

Brand new sales and

information office

Visit us at our brand new Falcon's Landing sales office on the corner of Falcon Road

and Lincoln-Rolleston Road, open Thursdays, Fridays and Sundays from 1-3pm.

Or call us on 03 741 1340, email enquiries@yoursection.nz
---
SELWYN TIMES Latest Christchurch news at www.star.kiwi

Wednesday March 6 2019 7

Playground repairs set to

cost ratepayers $70,000

• By Anan Zaki

RATEPAYERS are footing

a $70,000 bill to repair

a playground built by a

subdivision developer.

Levi Park playground off

Strauss Drive, Rolleston,

was built by developers

Gillman Wheelan in 2014,

but it was constructed

on poor soil, causing the

playground to slump late

last year.

But, in spite of the

playground not being built

by the district council, it

is paying to repair it. The

district council did not

respond to questions from

Selwyn Times about why

ratepayers had to foot the

bill. Gillman Wheelan

said it is working with the

district council to resolve

the issue.

It was dubbed New

Zealand's first "smart

playground" as it had

augmented reality

markers which would

give instructions for

games when scanned by a

smartphone.

Said district council

property and commercial

manager Douglas

Marshall: "Investigations

completed by the geotechnical

engineer

engaged by the council

have indicated that parts

of the playground site had

historically been filled

with poor compaction,

which was likely to have

occurred some years ago

when the land was used for

agricultural purposes."

The land is currently

being remediated. A

geo-technical engineer

advised the council that

this issue is isolated to

the playground area and

does not affect nearby

residential properties.

The old playground

equipment is being

replaced with lighter

BIG BILL:

Levi Park

playground in

Rolleston is

being rebuilt

after poor soil

caused the

playground

equipment to

slump.

equipment to prevent

future slumping, Mr

Marshall said.

"The new playground

equipment will be more

suitable for the remediated

site. Our thanks to nearby

residents for their patience

and support as we work

to make Levi Park a

safe playground for the

community," he said.

Drainage work started in

November and is expected

to be completed at the end

of the week.

A new climbing

structure being imported

from Germany is expected

to be installed at Levi Park

in late May.

The playground is likely

to re-open in June.

WHEN YOU BUY ANY

2 V 500mL CANS

See instore for details.

NEW

PRODUCT

Snax Crunches

160g

$

1 99 ea

The Natural

Confectionery

Company 200-260g

$

2 59 ea

Lindauer 750ml

(excludes Reserve)

$

9 99 ea

Tip Top Bakery

Supersoft Bread

700g

$

2 99 ea

Fresh NZ

Quality Mark

Prime Beef Mince

$

10 99 kg

Broccoli

Product of New Zealand

$

1 49 ea

www.foursquare.co.nz

facebook.com/FourSquareNZ

Specials available South Island only from Monday 4th March until Sunday 10th March 2019 or while

stocks last. Wine and beer available at stores with an off licence. Wine and beer purchases restricted to

persons aged 18 years old and over.
---
8 Wednesday March 6 2019

Latest Christchurch news at www.star.kiwi

News

SELWYN TIMES

In Brief

STOLEN UTE

A stolen ute belonging to

the Prebbleton Veterinary

Hospital has been recovered by

police. The white Ford Ranger

was stolen on Friday. Police

found the vehicle abandoned

in Burnside on Saturday. A

police spokeswoman said it is

following strong lines of inquiry

to find those responsible.

MADDIE RECOVERING

West Melton teenager

Maddie Collins is recovering

back home after a health scare

last month. The 15-year-old

was dealing with kidney rejection

and norovirus – and was

flown to Auckland's Starship

Hospital last month. She is now

back home in West Melton. Her

mother Sarah Manson-Collins

said Maddie's kidney is still

struggling. Maddie, who suffers

from the kidney disease nephrotic

syndrome, underwent a

kidney transplant more than a

year ago.

ROAD REPAIRS

Work has been completed on

Ellesmere Junction Rd between

Shands Rd and Springston. The

district council said chip has

been laid on the recently

resealed stretch of the road.

While it may have a patchy appearance,

the chip will provide

a waterproof layer.

More time to explain quarry

Fulton Hogan

must respond

by Tuesday

• By Anan Zaki

FULTON HOGAN has been

given more time to respond

to requests for additional

information about its

controversial quarry plan near

Weedons.

Environment Canterbury

and the district council asked

Fulton Hogan in December

for additional details about its

plan to quarry

at a 170ha

site bordered

by Curraghs,

Dawsons, Jones

and Maddisons

Rds.

Fulton Hogan

Simon

Moore

told the two

councils in

January it would

respond to the requests by

Thursday last week.

But on Wednesday, ECan

said Fulton Hogan asked for

more time to provide the

most up-to-date information,

including a revised draft cleanfill

management plan and a visual

impact assessment.

ECan said Fulton Hogan's

MORE TIME: Fulton Hogan has until Tuesday to respond to

requests for more information about its proposed quarry near

Weedons.

response is now expected by

Tuesday. Weedons Residents'

Association member Simon

Moore believed Fulton Hogan

has given itself an "optimistic"

time frame.

"It doesn't matter, we're ready,"

Mr Moore said.

Mr Moore was also

disappointed ECan and the

district council had not offered

generic submission writing help

sessions for Weedons residents.

The city council offered six

generic submission writing

sessions to Templeton residents.

A number of Weedons

residents attended the city

council event because the district

council and ECan did not offer

the sessions, Mr Moore said.

ECan consent and planning

manager Virginia Loughnan said

it and the district council will

not provide the sessions until the

resource consent application is

publicly notified.

"We are choosing to run these

during the notification period

as that is when the public can

make submissions and therefore

is more timely and can help

inform an actual submission as

the whole application will be

available then," she said.

Said Mr Moore: "What's the

point of that? Why?"

"Why do we have to wait? It's

going to be a rush as it is. I just

don't see any point," he said.

Fulton Hogan submitted a

resource consent application

to quarry near Templeton and

Weedons in late November.

ECan requested more

information about the scope

of the application, Canterbury

air regional plan assessments,

effects on air quality, dust

management, groundwater

effects, well use, effects on water

races, aggregate washdown

water, truck washing, stormwater

discharges, land contamination,

hazardous substance storage,

clean-fill management and

site rehabilitation. The district

council requested more

information on transportation

matters, noise, landscape,

assessment of effects, mitigation

measures and planning and other

general information.

HAVE YOUR SAY: Should

ECan and the district council

have provided generic

submission writing sessions

to Weedons residents –

similar to Christchurch

City Council's sessions

for Templeton? Send your

thoughts to anan.zaki@

starmedia.kiwi

LANDSCAPING CANTERBURY FOR OVER 30 YEARS

ONE DAY ONLY

SUMMER SALE

WE DO:

Decking

Paving

Driveways

Irrigation

Fencing

Excavation

Pizza Ovens

Lawns

Retaining

walls

Planter

boxes

Ponds

DESIGN IT!

BUILD IT!

9th March 9am-2pm Up to 75% off trees & shrubs

Is your section in serious need of landscaping? Evergreen is here to help with some spring

promotions to Design, Build and Plant your landscape so you can enjoy it come summer!

We design gardens from a blank canvas

and transform outdoor living areas into

attractive, relaxing spaces for the client to

enjoy year after year.

At Evergreen Landscapes, our friendly staff

are specialists in landscape construction;

we have experts in excavation, paving,

building, irrigation, planting, and

maintenance.

PLANT IT!

At Evergreen we have our

own large tree and shrub

nursery that can supply all

your garden needs.

If you prefer, we can do

the tasks of planting,

composting and mulching

with our skilled labour

teams.

EVERGREEN LANDSCAPES LTD 60 Ivey Road, Templeton, Christchurch

Nursery Enquiries Ph 027 312 4406 Ph: 03 349 2929, Mob: 027 359 9877, E: design@egn.co.nz

OPEN: MON TO FRI, 8:30AM - 4:30PM

w w w . e g n . c o . n z

WE HAVE:

Tree Nursery

Diggers

WE SUPPLY:

Design services

Trees / shrubs

Loaders

Tip trucks

Bark / soil

Decorative

stone

Landscaping

from Residential,

to Lifestyle, to

Commercial Sites
---
SELWYN TIMES Latest Christchurch news at www.star.kiwi

Wednesday March 6 2019 9

ACTION:

Competitors

navigate

their way

through

Fiordland

in the

GODZone

Adventure

Race last

year.

Adventure race to finish in Akaroa

• By Louis Day

AKAROA WILL be the

final destination for one

of the world's largest

adventure races.

On Sunday, 250

competitors in the

GODZone Adventure

Race will start a seven-day

journey to navigate their

way through a 600km

course, which will stretch

throughout Canterbury

and finish in Akaroa. The

location of the start line

will be announced this

week.

Said GODZone

media manager Margo

Berryman: "It is the largest

in terms of team numbers

and the length of the race."

Competitors from

all over the world will

race in teams of four

and have to execute a

range of disciplines, such

as mountain biking,

trekking, kayaking,

canoeing and pack-rafting.

The official welcome and

race briefing will be held at

The Gaiety in Akaroa on

Saturday.

Ms Berryman said

Canterbury was the

perfect location to host the

event.

"Canterbury was an

obvious location that

we all knew we would

eventually end up going

to. It has an amazing

landscape and has an

amazing adventure

background."

The event is being

welcomed by the

Akaroa District

Promotions Society, which

is made up of a group of

business operators in the

area.

"An event the size

of GODZone has a

significant regional

benefit with competitors

staying for to 10-15

days and purchasing

accommodation, food,

rental vehicles and

participating in sightseeing

activities in the

region," said executive

officer Hollie Hollander.

5 Warning Signs of Spinal Stress!

André Grob,

Dr of Chiropractic,

has had over

15 years

experience of

specialty spinal

care in Australia

and New Zealand.

A healthy spine is vital to

your wellbeing.

Specialist spinal therapy

at Southern Chiropractic

consists of:

• Manual manipulative therapy

• Soft tissue Massage

• Low level Laser therapy

• Exercise and postural

education

HEADACHES

NECK PAIN

AND TENSION

MID BACK PAIN

AND TENSION

LOW BACK PAIN

SCIATIC PAIN

FOR BETTER SPINAL HEALTH

ACT NOW… RING 322-1432

Southern Chiropractic Ltd

NEW PREMISES

Unit 4, 3 Kennedys Bush Road, Halswell

(Down the drive beside Pringle Homes offices)

Telephone 322 1432

www.southernchiropractic.co.nz

Email dre.nik@xtra.co.nz

Halswell Jct Road

Halswell

Road

Kennedys

Bush Road

3 Kennedys

Bush Road

Sparks Road
---
10 Wednesday March 6 2019

Latest Christchurch news at www.star.kiwi

News

Shakespeare

pieces from

Lincoln students

LINCOLN HIGH School senior

drama students are shaking up

Shakespeare with an evening

of five minute pieces from his

various plays.

The students were challenged to

make Shakespeare understandable,

relatable and entertaining.

They have been researching

the food of the time to create a

scrumptious sit-down supper

while you are entertained with

acting, dance and music.

The event will be on March 21

at 7pm in the school hall.

Dressing up for the evening in

Shakespearean fashion is encouraged

but not compulsory.

Students involved are looking

forward to the evening.

Said year 13 student Kendra

Fleming: "I'm really excited

about the whole evening,

especially the musical number.

There'll be good food produced

with the help of a chef and

entertaining pieces outside of

what you normally think of as

boring Shakespeare."

•Tickets range from $5 to $15.

They are available from the

Lincoln High School office

(these must be purchased

by March 11 for catering

purposes).

Stolen firearms sold to gangs

• By Anan Zaki

UNSECURED firearms

are falling into the hands of

methamphetamine dealing

gangs.

Burglars are frequently targeting

rural homes right across the

district in the hope of finding

firearms, then selling them on

the black market, police said.

Constable

Blair Croucher

said the most

commonly stolen

firearms are

shotguns and

.22 rifles – which

could fetch up

Blair

Croucher

to $3000 on the

black market.

"Unfortunately,

they are also the firearms types

most favoured by criminals

because they are so easily

converted to a pistol length," he

said.

"Rural locations are targeted

such as farms or lifestyle blocks

as they usually have firearms

either for farming purposes or

for recreational hunting."

The most recent incident was

in Rolleston, but police refused

to provide the date of the

burglary, as they did not want

to "potentially disclose the

victim."

Police said the burglaries have

been ongoing over the past six

months, but could not provide

figures.

"If the firearms are not taken

in the initial burglary, offenders

have been known to return to

the address at a later date to

target the gun safe in order to

steal the firearms," Constable

Croucher said.

"There is a ready market for

stolen firearms in this country,

and police believe many of these

stolen weapons will end up in

the hands of organised crime

gangs dealing in methamphetamine."

Constable Croucher said police

are becoming "frustrated"

at people not keeping their

firearms unsecured.

"In some recent cases

where firearms have been

stolen, gun safes have not

been locked or keys to gun

safes have been left near the safe

or on easily visible key hooks,"

he said.

"Security is a condition of the

Local

News

Now

SELWYN TIMES

Fire rages, homes at risk

TARGET: Police

say commonly

used firearms

such as shotguns

are being stolen

and falling into

the hands of drug

dealing gangs.

[firearms] licence and failure to

comply will result in the loss

or theft of firearms, and

. . . the licence holder's fitness to

retain his or her licence [will] be

reviewed."

A secured, purpose-built

metal gun safe anchored to a

building is the safest way to store

firearms, Constable Croucher

said.

"No gun owner would want to

live with the fact that a firearm

they failed to properly secure

was used in the commission of a

crime."

PEAK MEAT

Have we reached it?

A gAME cHAngEr for food ProducTion,

THE EnvironMEnT And HEAlTH?

This is an issue of importance to the world.

Intensive production of meat and milk is a

major source of greenhouse gasses, water

pollution and soil degradation. Many people

are turning to a vegetarian or vegan diet. Food

production is vital to New Zealand's economy

and to ensuring the world has enough to

eat. Non-meat production, while requiring

less land, is often more damaging to local

environments than meat production.

How will changes in demand, modern

technology and an awareness of ethical,

environmental and health issues affect our

agricultural production? Is artificial meat going

to take off? Should we planning for this? How

will it affect our Farmers?

Join well known broadcaster Kim Hill and

panellists for the Hot Topic 2019 of Peak

Meat to be held on Thursday 28 March at

Lincoln University where Kim will chair a

stimulating discussion with panellists: Ronan

Phelan, Vegan and Environmentalist; Nick

Pyke, Director Ag Innovate; Jocelyn Eason,

Plant and Food Research; Kevin Marshall,

Chairman, Riddet Institute Board.

This discussion is again certain to be

stimulating, and entertaining, with the

audience invited to put questions to the

panellists.

The 2019 Kim Hill Hot Topic will be the

ninth coordinated by Lincoln Envirotown.

Each year, well known broadcaster Kim Hill

chairs a panel discussion on a subject of

national and global environmental significance.

For those wishing to hear and be part of

this important discussion – it takes place in

the Stewart Building of Lincoln University

on 28th March. Doors open at 6.30pm with

refreshments and nibbles provided. Please

be seated by 7.20pm. A koha of at least $5 is

requested and there is a cash bar along with

the now traditional craft beer tasting supplied

by The Laboratory .

For more information and to register

your interest in attending go to: the Events

Section of Lincoln Envirotown's Website:

lincolnenvirotown.org.nz/events/

Dr Sue Jarvis, Lincoln Envirotown Trust and

chair of the Kim Hill Hot Topic planning committee.
---
SELWYN TIMES Latest Christchurch news at www.star.kiwi

Wednesday March 6 2019 11
---
12 Wednesday March 6 2019

Latest Christchurch news at www.star.kiwi

SELWYN TIMES

News

favourite fashion store

FASHION QUARTERLY FEbRUARY 2019

Autumn is fast approaching and new season arrivals are coming in.

There are still lots of colour in the autumn range with tangelos and greens

being prevalent.

New labels instore are Laura Jo from Paris and E S from Italy with some

stunning silk tops and a variety of jackets including biker jackets, denim,

and longer styles.

Gorgeous merino knits are arriving

in - ponchos and tops are selling well

already, so don't wait until the weather

cools down or

you could miss

out!

There are so

many styles,

which are perfect

for trans-seasonal

and can be

dressed up or

down for a more

casual look.

We are now

stocking Alaska

Tees and Honey

Denim from

Augustine. New

London Jeans are

also new in store.

We have Augustine

Autumn Pre-Orders on

Wednesday, 6 March

at 7.00pm.

Don't forget

we have

Partpay so you

can spread

the payments

over six weeks.

www.vivalamoda.co.nz

Like us on

Facebook

Tai Tapu running festival

to return next month

THE ROADS of Tai Tapu

will be filled with the

sound of hundreds of

running shoes hitting the

ground next month.

The rural community is

hosting the Verdeco Park

Tai Tapu Run Festival on

April 7, which has been

held annually since 1974.

The event – organised by

the New Brighton Olympic

Athletic Club – will include

a 15km competitive race, a

15km fun run, an 8km social

run/walk a 4km family

walk/jog and a 1.6km kids

"dash."

The athletic club said the

event will be more than

a running and walking

event.

The event aimed to

provide a "fun festival

atmosphere" for

participants and spectators,

the club said.

Said event manager

Janelle Tyler: "Last year's

event had bumper boats,

Are you a new business or

organisation in Selwyn?

District

District

Your essential guide for better living in Selwyn

Residents'

Guide 2018

DAY OUT:

Runners

taking part

in the Tai

Tapu Run

Festival

last year.

The event

will be held

again next

month.

music, and lots of great

food trucks. Already this

year promises to be even

better with giant games,

healthy food choices, and

a wider range of great live

entertainment."

The festival is a

fundraiser for the athletic

club, which uses the funds

to help athletes to travel to

national events.

•To register online visit

www.taitapurunfestival.

com

You need to let people know

who you are, where you are and

how to find you.

The 2019 Selwyn District Residents Guide

will be delivered into 20,050 rural & residential

addresses across the entire Selwyn District on

Monday 30th April, 2019.

If you want to promote your business in this A4 Gloss

Magazine that is the essential A-Z of information on

Selwyn townships, business services, recreation,

contact Lynette Evans

to find out more.

Bookings

close

12 noon

Friday 22 nd

March

New

publication

out 30th

April 2019

Your essential guide for better living in Selwyn

District

Residents'

Guide 2018

Your essential guide for better living in Selwyn

Residents'

Guide 2018

SELWYN

SELWYN

SELWYN

Shop 12, Rolleston Square, Rolleston. Phone 347 1151

Times - Star Media

Published by Selwyn Times - Star Media

P 17

HORORATA

EVENTS

SELWYN

CAMPING

AL

N

P 32

P 51

P 17

HORORATA

EVENTS

SELWYN

CAMPING

RURAL

SELWYN

Published by Selwyn Times - Star Media

P 32

P 51

Star Media

HORORATA

EVENTS

SELWYN

CAMPING

RURAL

SELWYN

Contact Lynette Evans for more information:

Phone 03 364 7434 Email lynette.evans@starmedia.kiwi

P 17

P 32

P 51

Star Media
---
SELWYN TIMES Latest Christchurch news at www.star.kiwi

Wednesday March 6 2019 13

Pupil to wear moko at pre-school

• By Anan Zaki

WHEN ROLLESTON mother

Teresa Butler asked a pre-school

if her daughter could wear a

moko kauae, she expected some

resistance.

But to her surprise, threeyear-old

Taika (Tiger) Werahiko

Butler-Dennison will be allowed

to wear a moko kauae on her

chin next month.

Ms Butler is set to get a moko

kauae tattooed on her chin early

next month – and it will then be

made into a stamp for Taika to

wear.

Bright Beginnings Montessori

pre-school principal Zoe Irvine

said the decision to allow Taika

to wear the moko kauae was

"easy."

"We didn't even have to

think about it. We work under

Te Whariki, which is a bicultural

curriculum, as all early

childhood centres do," Ms Irvine

said.

"And it's part of the Treaty

of Waitangi, so naturally we

need to work towards

partnerships, protecting the

Maori culture."

Before deciding to get a moko

kauae, Ms Butler looked at the

history behind the tradition.

"Young wahine Maori [women]

got them done at a really young

age because children were gifted

CULTURE: Teresa Butler and her daughter Taika Werahiko Butler-Dennison wearing a

temporary moko kauae last year.

away at a young age," Ms Butler

said. Before colonisation, Maori

put moko on their children to

identify them from other tribes,

she said.

"So I thought 'you know what?

Kids where face-paint at kindy

all the time. I thought, I'm her

mother, she can wear a moko

kauae whenever she wants," Ms

Butler said.

Taika has worn a moko kauae

stamp in the past, but it was not

one that her family identified

with, Ms Butler said.

If Taika's moko kauae stamp

gets smudged, no teacher is

allowed to touch it, she said.

"It's not like normal face-paint,

because if you wipe off any part

of a moko, you're wiping off our

ancestors. So you can't touch it

without (Taika's) permission,"

Ms Butler said.

Work starts

on Birchs Rd

upgrade

WORK TO upgrade Birchs Rd in

Lincoln is under way.

The $250,000 project will

include a new footpath, as well

as kerb, channel and stormwater

improvements to a 700m stretch

on the western side of the road,

between Grangewood and Carnaveron

Drives.

District council assets manager

Murray Washington described

the work as an urbanisation

upgrade.

"This area has grown rapidly

in recent years, with a further

subdivision currently under

way. The upgrade reflects the

need to bring amenities up to a

standard that's appropriate for a

more urban environment, which

has developed through recent

growth," Mr Washington said.

An existing bus stop between

Grangewood and Craig Thompson

Drives will be upgraded to

a full bus bay, with a bus shelter

which will be relocated from the

now unused bus stop outside the

Lincoln police station.

The work is expected to take

about eight weeks to complete,

and temporary speed and parking

restrictions on Birchs Rd will

be in place when required.

QUICKSCREEN FENCING

VERSATILE SCREENING SOLUTION

Quickscreen Fencing is an innovative, easy-to-install,

aluminium slat screening system that offers the

latest in architectural style. Quickscreen Fencing is

tough, long lasting, low maintenance and can be

adapted to suit a wide variety of applications.

• Available in Woodland Grey or Black

• Blades do not warp, crack, or splinter

• Non-weld assembly for easy installation

• Low maintenance"Stylish & easy to install"

Open Day

22 March / 11am-4pm

Limited places available 2020

QUALITY GARDEN SHEDS

"Stronger & sturdier storage sheds"

STRONG, HIGH QUALITY STORAGE SHEDS

Crisp, clean and uncluttered lines are a feature of

this attractive and economical storage shed.

The Stratco Garden Shed is a simple, strong and

secure, well designed storage unit that comes in a

size to suit every lifestyle and backyard requirement.

Quality construction means your Stratco Garden Shed

will be a lasting investment. Stratco Garden Sheds are

made in Christchurch to withstand New Zealand

conditions. Strong, durable and made to last, the

Stratco Garden Shed can be installed yourself, or

Stratco can organise installation for you.

CHRISTCHURCH

Ph: (03) 338 9063 55 Hands Rd, Christchurch NZ 8024

www.stratco.co.nz

Year 7 – Year 13, Day and Boarding School
---
14

Latest Christchurch news at www.star.kiwi

Wednesday March 6 2019

SELWYN TIMES

raNGiora • Northwood • st martiNs • tower juNctioN • BishoPdaLe • raNGiora • Northwood

Northwood • st martiNs • tower juNctioN • BishoPdaLe • raNGiora • Northwood • st martiNs • tower juNctioN • BishoPdaLe •

ADULT READS

BARGAIN

BOOK BONANZA

ADULT NON-FICTION

100s OF BOOKS ON SALE

STOREWIDE!

35 %

KIDS' ACTIVITY

off*

*Stock may vary from store-to-store. Discount excludes books marked with an Our Price sticker.

50 %

off

GREETING CARDS

TUESDAY, MARCh 5 - SUNDAY, MARCh 10

TOWER

JUNCTION:

LARGEST

RANGE IN

ChRISTChURCh

Follow us on Facebook:

@papertreestores

KIDS' FICTION

KIDS' READS

tower junction, off Clarence St, Riccarton | Bishopdale, 31 Bishopdale Court, Bishopdale | rangiora, 206 High Street, Rangiora

Northwood supa centre, Main North Road, Belfast | st martins shopping centre, Wilsons Road, St Martins

• st martiNs • tower juNctioN • BishoPdaLe • raNGiora • Northwood • st martiNs • tower juNctioN • BishoPdaLe • raNGiora
---
SELWYN TIMES Latest Christchurch news at www.star.kiwi

Wednesday March 6 2019 15

News

•Former Star Media journalist Matt Salmons has become a

stay-at-home dad. We follow his journey weekly.

Needing to remember

the important things

Readers react to last

week's Selwyn Times front

page story about open

road signs

Keith Osborn – I

totally agree with the

article about speed

limit signs.

As a bus driver and

travelling numerous

times on the road

from Christchurch to

Akaroa. I have found

that when a tourist approaches

a speed sign before a corner

they most often slow down to

the speed indicated on the sign

but do not increase their speed

once they have exited the corner

and continue to drive at reduced

speed.

Therefore they may be correct

as there is no sign

to indicate they may

increase their speed

back to the open

road speed after

exiting the corner.

This can be very

frustrating if you are

following in a large

vehicle that does not

have the room to

pass the slow vehicles.

Clint Ussher – Yes, I

agree that open road signs

should be replaced with speed

limit signs.

I LOST THE race against time

this week.

This term, Vittoria's swimming

lessons are on a Monday. We

headed there as per normal, she

had a great time as per normal.

And then we went to wash and

change as per normal.

Here my race began. I had

forgotten to restock the nappy

bag.

It was like a lead weight in my

gut realising that. Honestly, it

was like some kind of nightmare

– I'm sure other parents will

sympathise.

Or else they're thinking I'm

some kind of idiot, lying to

themselves that they've never

done it.

I know you have.

So I had to take a big risk; put

on Vittoria's clothes and race

home to get a new nappy. Racing

against the possibility that she

would wet said clothes, or worse,

without any idea of when that

may or may not happen.

Like I said, nightmare.

So I rushed us home, hoping

against hope.

I lost anyway. I got home and

she needed some fresh clothes. A

lesson to be learnt on my

part.

MEMORIES: Vittoria with her

great-grandmother Mary

Miller at Christmas.

Well, after a bit of lightheartedness,

I need to touch on

something that has hit us hard as

a whānau.

VITTORIA

& Matt

Recently, my Nan, Vittoria's

great-grandmother, Mary Miller

passed away at 91.

Her funeral was held on her

92nd birthday.

She was an amazing woman,

fierce, determined, sharp as a tack

and as equally at home wearing

the most elegant clothes at high

society events as she was flinging

out her fishing line to haul in a

catch of blue cod wearing a man's

flannel shirt.

Widowed young, my Nan

successfully raised six children

as a single mother in the 1950s.

Proper tough.

I am so glad that my daughter

and she could meet and that I

had her in my life for so long. I

dearly hope that I will be able to

teach Vittoria to be like her and to

love the heritage that my Nan has

given her.

Moe mai, moe mai rā I te

rangimarie e Nan.

SEARCH
---
16 Wednesday March 6 2019

Latest Christchurch news at www.star.kiwi

SELWYN TIMES

ellesmere speedway

SunDAY 10 TH march

Midgets Adult Ministocks Modified sprints

Motox

1/4 Midgets

Sidecars

TQs

selwyn burt tq classic

& CTRA nz midget title

gates open at 12pm for a 1pm start

supporting classes:

1/4 Midgets, modified sprints, tqs, moto x,

midgets, sidecars, adult ministocks

www.ellesmerespeedway.co.nz

Under 15yrs

free

$15 per adult

gold card

holders $10
---
SELWYN TIMES Latest Christchurch news at www.star.kiwi

Wednesday March 6 2019 17

Local

News

Now

News

Online community groups in spat

Fire rages, homes at risk

• By Georgia O'Connor-

Harding

A SPAT HAS broken out

between two Facebook

community pages.

Greig Russell has hit out at the

administrators of the Halswell

Community Group page for

being "ousted" from the group

of nearly 11,000 members for

speaking his

mind.

He was

removed from

the page when

he posted a

mobile phone

number

online.

Chrys Horn

Mr Russell

has since

set up a new

page called Halswell Community

Page Uncensored with a

catchphrase of #LETSMAKE-

HALSWELLGREATAGAIN

"They ousted me out of the

community. Short of pitchforks

and tiki torches that is what they

have done," he said.

Mr Russell was returning

home from a fishing trip in Greta

Valley when he came across a

group of men stranded due to

having a flat tyre. He lent the

men his spare wheel to enable

them to get home and got one of

their mobile numbers. Mr Russell

said the men had promised

to return it the next day, but

nothing eventuated and they

would not return his phone calls

and blocked his number.

To put pressure on them, he

asked members of the Halswell

Community Group to phone the

number and ask for the wheel's

return. It was returned after

about a week.

But Halswell Community Project

chairwoman and one of the

administrators Chrys Horn said

it was harassment and would not

be tolerated.

"The trouble is people put up

stuff and they make allegations.

ARGUMENT:

Halswell

resident

Greig

Russell

said he was

ousted from

the Halswell

Community

Group

Facebook

page.

We have had quite a few times

that has happened and the poor

person on the receiving end has

no idea what was going on," Dr

Horn said.

But Mr Russell responded,

saying it "absolutely" was not

harassment. He said he did

something about his wheel being

stolen and he got a result.

"Someone was trying to rip

me off. You put yourself in my

situation. You have got a phone

number that is all you have got.

What are you meant to do if they

block you?"

He said there is no consistency

in the Halswell Community

Group's rules.

But Dr Horn said it is the

Halswell Community Project's

page and it has clear rules which

people need to follow.

"If people step outside those

and they don't take no for an

answer, then we block them and

that is just the way the world

works.

Dr Horn said it is a large group

to monitor and because the

administrators have a lot going

on in their lives, they do not

always catch posts breaking the

rules right away.

The group has a wide range

of policies, including group

members being unable to

advertise businesses, abuse

or make racial comments,

complain about organisations

or make posts containing sexual

references or innuendo.

Dr Horn said the group

doesn't bear many grudges and

she would like to reinstate Mr

Russell when things settle down

and if the administrators agree.

Fun and exercise

all year round

Lagoon Pools import and install quality fibreglass swimming pools. To compliment the pools

they supply good quality equipment including salt water chlorinators, heat pumps, pool lights,

fountains and water features, swim turbines, spa jets, robotic pool cleaners and a range of covers

and roller systems including hidden and automated.

Imported from Leisure Pools in Australia, their Vinyl Ester pools are strong with six layers including

protective armour. Each pool is strength tested and has a lifetime structural and osmosis warranty.

Lagoon Pools owners Julie and Warren are dealers for Leisure Pools in the North Canterbury to

Southland area, and agents for the Elite Hideaway Roller system.

Call Lagoon Pools on 0800 927 282 or 349 2160, email info@lagoonpools.co.nz or visit:

www.lagoonpools.co.nz They are open by appointment only.

www.lagoonpools.co.nz

03 349 2160

0800 92 72 82

Join the Selwyn

Public Arts Panel

We are seeking expressions of interest to participate in a Public Arts

Panel. The purpose of the panel will be to purchase or commission a

piece of Public Art for Selwyn in 2019.

We are looking for local creatives, who are currently practising or have

a degree in the arts (or equivalent).

Collectively the Panel will have an informed view of the district's

geography and an understanding of the place making potential of arts

and culture for our communities. They must respect the values of the

communities and individuals that may be affected by the panel advice.

Priority will be given to Selwyn residents, former residents of Selwyn

and mana whenua.

Applications close Wednesday 13 March. To register your expression

of interest, please email arts@selwyn.govt.nz.

Arts Culture

& Heritage

SELWYN
---
18 Wednesday March 6 2019

Latest Christchurch news at www.star.kiwi

SELWYN TIMES

Locals looking after locals

When our vehicles need attention, it is great

if the servicing, repairs or warrant can be

sorted locally by capable automotive experts.

Conveniently located Rolleston Diesel

& Petrols has the manpower, skill and

equipment to look after any vehicle

maintenance requirements. If you have a

concern or need an opinion Simon, Hayden

or Allen will be happy to check it out for you

too.

There may be tell-tale signs such as the smell

of oil pointing to an oil leak or a less obvious

clue, which if not attended to, could result in

something more serious like engine damage

meaning an expensive vehicle repair. With

annual warrant of fitness checks, servicing

can be overlooked yet a year is a long time.

Vehicles do need regular maintenance

especially when totting up the kilometres,

something easy to do for those living in

Selwyn.

Even late model vehicles break down on

occasions. Having your vehicle regularly

serviced will assist its reliability and help

identify a potential issue, before it becomes

an inconvenience or renders the vehicle

unsafe, such as when tyre tread is low or

uneven.

Simon

The Team:

Hayden, Simon

& Allen

Rolleston Diesel & Petrols

is a multi-skilled, repair

and service centre where

vehicle servicing, repairs

or warrant checks are

easily taken care of. Along

with experienced qualified

automotive technicians,

you will find a workshop

which has sophisticated

diagnostic equipment like

fuel injector cleaning gear,

Egr and Dps. This allows

the team to maintain and

repair most personal and

business vehicles while

Simon insists on only

using reliable quality components, oils and

original specifically manufactured equipment

parts.

"We never use cheap parts that won't last.

Every vehicle deserves to be maintained and

fixed properly," says Simon.

They repair more than just cars, utes, 4WDs,

vans and light commercial vehicles up to

Allen

12 tons. You can also take your

motorhome, bus, motorcycle, jet ski,

boat, horse float or even the rideon

lawnmower down to Rolleston

Diesel & Petrols. They will have it

running like new in no time. They

also remind customers when their

vehicle needs a new WOF.

As members of the Motor Trade

Association, you are assured

your vehicle will receive quality

workmanship at Rolleston Diesel &

Petrols; a firm owned and operated

by a local, employing local people

and supporting the local community

by giving back to the area they live

and work in.

You will find the Rolleston Diesel &

Petrols team at 839 Jones Road

(the industrial side of Rolleston).

To give them a call phone

03 347 7110 or email: simon@

rollestondieselandpetrols.co.nz.

You may also want to check

www.rollestondieselandpetrols.nz

Hayden

Call 03 347 7110 today to book your vehicle!

Open daily Monday to Friday 7am-5pm and Saturday morning 8am-12pm (WOFs only)

3 TRUCKS

3 CARS

3 LUBES

3 SERVICING

3 FLEET WORK

3 BOATS

3 DIESEL INJECTOR

3 & PUMP SERVICING

3 ENGINE TUNING

3 BRAKES

AND MUCH MORE!

Mon-Fri 7am-5pm, Sat 8am- 12pm (WOFs only)

3 MAXXIS TYRES

3 WHEEL ALIGNMENTS

3 BATTERIES

3 WOFs

3 CAMBELTS

839 Jones Road, Rolleston P.O. Box 16 Rolleston

Phone Simon on 347 7110 or Mobile 027 272 9213
---
SELWYN TIMES Latest Christchurch news at www.star.kiwi

Wednesday March 6 2019 19

Our People

Pete Stills

Top cop immersed in the community

CHALLENGES: Senior Sergeant Pete Stills joined the police in

1983 and is in charge of policing in the district.

Senior Sergeant Pete Stills has been a police officer since 1983. During his

time in the force, he has served in many stations across Christchurch and in

Wellington. Anan Zaki talked to the man in charge of policing in the district

Your job in Selwyn, did that

throw up a new challenge?

Yes, Selwyn offered up a

new challenge, it's more of a

community-focused way we

police. We still apply a small

town model to an area which

is growing. We have the scope

here to do a lot more complaints

than we did in Hornby, with

the resources and amount of

work. It's an area where we

can immerse ourselves in the

community a lot more than we

can in metro areas.

How long have you served in

Selwyn?

I've managed Selwyn since the

beginning of 2013. But up until

October 2017, I managed the area

from the Hornby station because

I also had a role at Hornby and

Christchurch South police station

in Beckenham.

Have you moved around at

other stations?

Prior to Hornby I did eight

years at Papanui station, managing

the response staff at Papanui

and New Brighton. Prior to that

I was a shift senior sergeant at

Christchurch metro, prior to

that I was a sergeant at the beat

section at Cathedral Square. And

that was a really good job and I

really enjoyed the position [at Cathedral

Square]. And even prior

to that I did 15 years in various

roles at the old Sydenham station

in Stanley St. I was initially posted

to Wellington Central [after

graduating] and walked the beat

for two years then transferred to

Christchurch in 1985.

Was there much difference

from policing in Christchurch

and your first stint Wellington?

There was actually. Back

then Wellington had a very

limited and almost no suburban

drinking. Wellington suburbs

had prohibition and most of the

nightlife had centred around

the city. So it was an easier place

to police as you didn't have to

stretch your resources too far

at night because everyone came

in to town. And of course the

physical layout of Wellington

was different to what I was

used to in Christchurch. You

had the hills and the wharf

which added an interesting

dimension. You had the red light

district in Wellington, which

got a lot of policing attention

The revolution

in heat pumps

is here now!

The Fujitsu e3series

The brilliant

heat pumps from Fujitsu

e1 : efficiency

e2 : environment

e3 : economy

particularly at night. And at the

time Christchurch didn't have

a red light district. So I saw and

learned a lot of things I hadn't

experienced before.

Over the years you've worked

on many cases, are there notable

cases you worked on which

readers might remember?

Probably the biggest one was

a homicide in the early 1990s

where a woman [Gay Oakes]

had poisoned and suffocated her

husband [Doug Gardner] and

buried him in the garden. I was

the officer in charge of that, it

was a missing person inquiry

initially and became a homicide

investigation after we found him.

I charged her with murder and

she was convicted. At the time

it was a very high profile case. It

was quite a difficult case to work

the victim's family were disappointed

that we didn't get a result

earlier than we did. But we have a

process to work to, we have to be

evidence-based in everything we

do. And everything we do have to

be founded on good information

and good evidence. We can't just

act on impulse. But eventually we

got the right result.

The revolution in heat pumps is here now!

The brilliant e3 series

heat pumps from Fujitsu

e1 : efficiency

e2 : environment

e3 : economy

Website: www.pshc.co.nz

NEW ZEALAND'S FAVOURITE AIR

Fujitsu's Catechin Filters are

approved by the Asthma and

Respiratory Foundation NZ's

Sensitive Choice ® programme.

FREE consultation from your local

Accredited Heat Pump Expert

Phone today: 03 381 6950

INSERT DEALER DETAILS HERE

Email: info@pshc.co.nz

FG1441

FIRST AND SECOND STAGE ALL SOLD!

OUR NEXT STAGE BUILD HAS COMMENCED WITH CONTRACTS

ALREADY BEING SIGNED FOR OUR TWO & THREE BEDROOM VILLAS.

Secure you villa now, choose your location and personalise your interior.

CONTACT KAREN HARRIS 027 3739 463 & COME AND VIEW OUR SHOW VILLAS

200 DUNNS CROSSING ROAD, ROLLESTON | info@boulevardvillage.co.nz | BOULEVARDVILLAGE.CO.NZ
---
20 Wednesday March 6 2019

Latest Christchurch news at www.star.kiwi

SELWYN TIMES

Our People

'Helping people still gives me a

Police often get criticsed, is it

unfair?

Yes, very much so [unfair].

Look, sometimes we miss the

opportunity to tell people why

we do what we do. There's often a

lack of understanding about how

things came about or why they

came about which leads people

to draw their own conclusions

about how or why things

happened. Social media has

probably made it worse because

people fire off and come up with

conclusions that you wouldn't

logically come up with if you sat

down and looked at everything.

But I've always said to people, if

you want to know why or how

something has happened, just ask

me, I'm happy to tell you.

You mentioned social media,

has that thrown a whole new

dynamic into policing?

Hugely, both positive and

negative. Younger staff nowadays

who are way more IT savvy than

some of us older staff, use social

media in inquiries and get very

good results very quickly. The

negative side is urban myths and

legends seem to start on social

media and grow out of control

and it's often based on inaccurate

information.

When did you join the police?

I joined in October 1982 on the

84th recruit wing. We graduated

DIFFICULTIES: One of the most high profile cases Senior Sergeant Stills worked on was the

murder of Doug Gardner by his wife Gay Oakes (left). Another issue he has strongly campaigned

on is road safety.

in late March 1983.

And why did you join the

police?

It's something I had always

wanted to do. I inquired about

joining when I was in high school

but I was told to get a bit of life

experience and come back. I

had a friend in the police who

made the job sound exciting and

I just sort of felt that it would

give me an opportunity to be

community-spirited and force

me to be a good role model and

lead a life with a good example to

others.

What did you do before the

police?

I was a grain and seed

representative with Dalgety New

Zealand at Darfield for six and a

half years. I did that straight out

of school, so from school I was a

stock and station cadet and did

the cadetship with Dalgety.

Did you grow up in

Christchurch?

I grew up in Somerfield and

Hoon Hay.

If you stacked up the rewarding

and challenging aspects of

policing what would they be?

The rewarding aspects are

helping people make positive

changes in their lives. Or to help

people move on successfully from

a negative experience. Helping

people still gives me a real good

buzz. If I leave work really happy

it's after I feel that I've really

done something that has helped

somebody. The negative aspect is

death, particularly children. The

worst thing we do is when we go

and tell somebody that a member

or loved one has been killed or

seriously injured. Particularly

when young people are involved,

it makes it very, very difficult.

And it's something that I've

never fully been able to deal with,

without getting involved in the

emotion of it all myself a bit. All

Blacks coach Steve Hansen made

a really good comment when he

was interviewed once, prior to

one of the World Cups. He was

asked what it was like telling

players they've missed out on the

final squad for the World Cup.

And he said to the interviewer he

used to be in the police and had

to tell people their children had

been killed, and telling a player

he's missed a tournament is easy.

You often campaign on road

safety, why is road safety such

an important part of policing?

It's our biggest risk in Selwyn.

Selwyn is over represented

nationally in terms of serious

injury crashes and fatalities. So

we put a huge resource into try

and turn that around. It's a major

thing that kills people in this part

of the country. We try to change

behaviours because we're trying

to reduce the crashes. We have a

goal of no serious injury or death

crashes. People say we'll never get

there, but if we don't try we won't

achieve. So we're out there trying

to change behaviour, and we're

doing that through enforcement

and education and through

engineering changes to the roads.

SOUTH ISLAND FIELD DAYS SPECIALS

ALL STORES OPEN 7 DAYS

Come & see us

at the Field Days,

sites 676 and 677

Raptor Zero-Turn Mower

Fastrak Zero-Turn Mower

Engine: Kawasaki,

21.5HP, V-Twin OHV

Drive System: Dual

Hydro

Cut Height: 3.8 - 11.5cm

Deck: 107cm/42"

Mulch kit included

Zero turn

3 year warranty

Contact us for a no

obligation demonstration

at your place

Engine: Kawasaki,

24HP, V-Twin OHV

Drive System: Dual

Hydro

Cut Height: 3.8 - 11.5cm

Deck: 137cm/54"

Zero turn

Optional mulch kit

4 year warranty

Contact us for a no

obligation demonstration

at your place

NOW

$7495 Incl

GST

Save $500

NOW

$15495 Incl

GST

Save $1000

All pricing includes GST. Images may vary from in store product. Offers valid until 31st March, 2019 or while stocks last.

Store opening hours: All stores open 7 Days: Mon-Fri 8am - 5.30pm, Sat 9.30am - 3pm, Sun 10am - 3pm. Also we are at the South Island Field Days in Kirwee 27, 28, 29 March 2019.

STIHL SHOP Northwood - 554 Main North Road, Belfast, Christchurch - Ph: 03-974-2469

STIHL SHOP Rangiora - Corner Lineside and Station Road, Rangiora - Ph: 03-313-3398

STIHL SHOP Fosters - 559 Blenheim Road, Sockburn, Christchurch - Ph: 03-343-6339

www.stihlshopchristchurch.co.nz

LOVE YOUR LAND
---
SELWYN TIMES Latest Christchurch news at www.star.kiwi

Wednesday March 6 2019 21

real good buzz'

From when you walked into

the job for the first time, how

has policing changed today and

has it changed for the better?

I don't know if I could always

say for the better. There's

certainly change, change is

constant. Some things have

improved. Technology means

that everybody is watching

everything now, everyone films

things, records things.

Has there been a lot of culture

change?

Yes, there has been. I guess the

two big culture changes we saw in

the police is the disappearance of

the heavy drinking culture which

was certainly a thing in the early

1980s. I think the Springbok Tour

[1981] probably started some

changes in terms of a lot of cops

not being able to be deployed

into the frontline. The other

big culture change is the move

to have a fitter force than we

once had. High levels of fitness

standards were introduced in the

1980s with regular fitness and

health testing and a requirement

to maintain an acceptable level

of fitness. We're happy with

that because it's really the only

measure that the public have that

police are physically fit enough to

do the job that we're required to

do. If I had it my way the fitness

testing would be more frequent.

Outside of police work, do you

have any hobbies?

I spend as much time with

my family as I can, and I like

to try and keep myself fit. So

I do that nowadays by riding

mountain bikes cross-country.

I'm the masters club captain at

Halswell United Football Club.

I played football until I had two

knee replacements recently.

Nowadays my involvement is

limited to managing the team,

administering and refereeing.

Is football your main sport?

I'm a rugby nut. Massive

Crusaders and All Blacks fan. My

background is in rugby union so

that's the sport that takes most of

my interest in terms of following

it. I played football from the days

I couldn't play rugby anymore

and been involved with Halswell

United since 1986.

Tell me a bit about your family?

FRONTLINE:

After

the 1981

Springbok

Tour, police

went

through

culture

changes.

I've been married [to Yvonne]

since 1983, I have three grown

up daughters and three

grandchildren. I met Yvonne

working together at Dalgety.

When we actually started

going out she moved to a rival

company Pyne Gould Guinness.

I think I met her at the company

Christmas do from memory.

There's a big drive for new

police recruits right now, for

anyone thinking about joining

the police, what would you say

to them?

It's an extremely rewarding,

the work is varied and you do

something different every day.

You'll have times where you feel

really sad but there are lots of

times where you feel really glad.

It keeps you on your toes in terms

of ensuring your own behaviours

are without reproach.

JOB DONE: Lincoln University School of Landscape

Architecture students Nathan Campbell, Eva Shin, Amy

Bruce and Sophie Harrison with some of the tactical

improvements they made to one of the sites on the Lincoln

campus.

Uni campus transformed

MORE THAN 100 landscape

architecture students from

Lincoln University and the Ara

Institute of Canterbury teamed

up on Friday to transform a

number of sites around the

Lincoln campus.

Using the same type of approach

responsible for transforming

New York's Times

Square into a more peoplefocused

area, the students aimed

to create maximum impact with

minimal means.

They gathered items such as

pea straw bales, pallets, road

cones, chalk, balloons and string,

creating improvements around

10 different sites on campus with

a technique known as tactical

urbanism.

This is used in cities around

the world to test temporary

designs in cities before making

them permanent. Activists and

neighbourhood groups have

used the approach to enhance

walking routes and slow down

traffic in cities.

Due to Lincoln's location, the

project was dubbed "tactical

ruralism".

Those who participated in

the project were first, second

and third-year students from

Lincoln's School of Landscape

Architecture and Ara's

architectural studies programme.

we have

moved!

131 Iport Drive, Rolleston | Phone 03 347 4020

Open Monday to Friday 8am-5pm

and Saturday 8am-12pm (for WOFs only)

www.jonesroadauto.co.nz

Montessori & Early

Childhood Preschool

• We Offer a Friendly, Fun and supportive

environment – only 5 minutes from Rolleston.

• We believe that Tamariki thrive in a peaceful,

structured and caring environment, full of fun

and challenges.

• We Offer focused, balanced curriculums

that prepare Tamariki for the next step in

their learning journey.

• We value diversity within our Tamariki and

their whānau and this is reflected in our

whānau focused philosophy.

• We have 3 well resourced classrooms,

caring for Tamariki from 6 weeks to 6 years

of age. We are proud of our large, natural

playgrounds that offer challenges for all

ages.

Call in to visit us today, meet the teachers

and have a look around our school

ENROL

NOW

FOR 2019

For enrolments please contact Jasmine or Kylie on 347-6161

Visit us at 643 Burnham School Road

Download forms from www.burnham-montessori.co.nz
---
22

Wednesday March 6 2019

Latest Christchurch news at www.star.kiwi

Selwyn Times

For 46 cents, 1 cubic metre (1000 litres) gives you approximately:

11 baths 22 5-minute 10 full loads

showers of washing

Your water rates –

helping keep the

water flowing

167 toilet

flushes

4,000 glasses

of water

1 hour watering

with sprinkler

Households on Council water supplies will be receiving their latest water rates invoices over the

next four months, starting this month.

Every six months, households are billed for their volumetric charge, which is based on the amount

of water used. There's also a fixed annual charge, which is billed separately on the rates invoice.

Water rates are charged to fund the ongoing costs of operating the water supply, and to provide

funds for maintaining and renewing the supply infrastructure so that it continues to operate at an

acceptable level of service, providing reliable, safe, clean water to Selwyn communities.

All councils charge for water supply. Some councils charge households a fixed water rate, some

charge a rate based on a property's capital value, some charge a variable amount based on the

amount of water used (volumetric charging), and some charge a combination of these methods.

In Selwyn, for the majority of households, the current water rate comprises a fixed charge of $235

a year, plus an additional volumetric charge of 46 cents per cubic metre of water (1000 litres).

Water meters have been progressively installed across Council water supplies in Selwyn over

a number of years, and are installed as standard in all new subdivisions. Currently 98.3% of

households on Council water supplies are metered.

One of the benefits of water meters is that they directly link water use to cost , and help to

reduce water consumption, as households become more aware of their water consumption.

People who use more water pay more in charges, while properties with lower water use benefit

from lower charges.

A recent independent comparison of water charges across New Zealand shows Selwyn's

volumetric charge is one of the lowest in the country, and when combined with the fixed charge, is

in the middle of the range of water charges nationwide.

For more information on water meters and charging, see selwyn.govt.nz/watermetering.

Volunteer benefits go both ways

We recognise that volunteering is important for our community, not

only because positive volunteering efforts play an important role in

building community spirit and resilience, but it also brings rewards to

individuals who volunteer. Rewards can include improving individual

wellbeing and social connections, increasing self-confidence,

broadening knowledge and experience and growing friendships.

Recently Council staff had the opportunity to do some volunteering

around the district.

Around 30 staff offered their time to give back to the community

as part of a wider volunteering campaign run by the economic

development team. A further 10 staff are planning for their

volunteer activities to take place over the coming month, due to

workload commitments.

The volunteers worked on a number of different projects

including native planting at Lincoln Wetland, restoration work at

Southbridge Pool and lending a hand at the local Salvation Army

second-hand store.

Tracy Beardsley, Manager at Salvation Army, Family Store said the

extra volunteer assistance was greatly appreciated.

"It really made a difference as this time of year is always very busy

for us," she says.

Andy Spanton, Council Biodiversity Coordinator said the help from

the volunteers helped to maintain the Lincoln Wetland as a pleasant

spot for the community to visit and explore.

"It was great to have our corporate volunteers assist with managing

the native restoration sites at Lincoln Wetland. Those who attended

put in some hard work on a hot afternoon to release the native

plants and distribute mulch around the sites," he said.

In addition to corporate volunteering, the Council is facilitating

increased awareness of volunteering benefits and opportunities

for the wider community through an initiative called 'Volunteering

in Selwyn'. Volunteering Canterbury are running the six-month

initiative in Selwyn at local libraries to connect residents looking to

volunteer with local not-for-profit organisations. It will also assist

local organisations looking for volunteers.

Go to selwyn.govt.nz/events for dates and times.

CHECK–

CHECK AGAIN

Every intersection, every time.

Learn how to reduce your waste at home

Council is supporting two waste-free workshops this month hosted by Kiwi mum Kate Meads.

In the first workshop, Waste Free Parenting, Kate will give tips and inspiring ways to minimise waste,

while introducing you to modern sustainable products for use in the home.

The second workshop is a Food Lovers Masterclass, focusing on ways to reduce food waste when

cooking and preparing meals and interesting facts like what the difference is between 'use by' and 'best

before' dates.

The workshops are being held on Thursday 14 March at the Rolleston Community Centre. The Waste

Free Parenting Workshop runs from 12.30–2.30pm and the Food Lovers Masterclass from 7–9pm.

Tickets are $25 each or for a couple and each ticket comes with a free goodie bag worth $100.

Bookings are required, visit eventfinda.co.nz or wastefreeparenting.co.nz to book.

Park and ride update

Ducting cabling is being installed on the

Kidman Street, Rolleston park and ride site,

to allow for lighting of the parking area.

This work will continue and some of the

existing lighting will be relocated to suit the

new design works. The existing lighting will

be upgraded into LED lighting.

Instalment of stormwater services works will

continue next week along with general civil

works for the formation of the car park.

Council Call

Selwyn District Council

Norman Kirk Drive, Rolleston

Ph 347 2800 or 318 8338

Rolleston Library

Rolleston Drive, Rolleston

Ph 347 2880

Darfield Library & Service Centre

1 South Terrace, Darfield

Ph 318 8338 or 347 2780

CC060319
---
Selwyn Times Latest Christchurch news at www.star.kiwi

Wednesday March 6 2019

23

Notices

ALCOHOL NOTICES

Wine Plus Gifts Limited has

applied for an off licence.

Objections are open until

Wednesday 13 March. For more

information head to selwyn.govt.

nz/alcoholnotices.

MOBILE LIBRARY

TIMETABLE

No mobile service on

Wednesday 6 March.

Thursday 7 March;

Upper Selwyn Huts 10–10.30am

Lincoln Childcare and Preschool

10.45–11.15am

Whippersnappers, Lincoln

11.25–11.55am

Giggles & Scribbles Early

Learning Centre 1–1.30pm

Lincoln Uni Early Childhood

Centre 2–2.30pm

Prebbleton Township/Tavern

3.30–5.30pm

No mobile service on Friday 8–

Monday 11 March.

Tuesday 12 March;

Greendale School

10.15–10.45am

Hororata School 11.15–11.45am

Windwhistle School 1–1.30pm

Glentunnel School 1.55–2.55pm

Meetings

Public Forums: Council,

Community Board and local

committee meetings are open

to the public. Time is available at

the start of meetings for people

to speak on matters of concern.

Please notify Bernadette Ryan

or your local committee at least

three days before the meeting.

Township, Hall and Reserve

Committees: To list or make

changes to meeting details, email

meeting.changes@selwyn.govt.

nz or phone 347 2800 or 318

8338 by 9am Wednesday the

week before publication.

COUNCIL AND COMMUNITY

BOARD

Unless otherwise stated all of

these meetings will be held at the

Rolleston Council Building.

Selwyn Waihora Zone Committee

Tue 5 Mar 2pm

Glentunnel Hall 3–3.30pm

CHIEF ALCOHOL LICENSING

INSPECTOR

Selwyn District Council is

seeking expressions of interest

from suitably qualified parties

to provide an on-call alcohol

inspection and reporting

service to assist the Council in

meeting its obligations in terms

of the legislative requirements

under which it operates and

provide a high level of service

to its customers. The primary

legislative requirements are

included in the Sale and Supply

of Alcohol Act 2012.

The Council will select and

negotiate with individuals/

contractors who fulfil the

requirements sought and who

are cost competitive. Copies

of the expression of interest

documents can be obtained by

contacting the Council on 03

347 2800.

General enquiries about the

expression of interest may be

made to Billy Charlton, at billy.

charlton@ selwyn.govt.nz or 03

347 2878 during business hours.

Expressions of Interest must be

received by 5pm, Friday 8 March

and be sent to:

Property Committee

Wed 6 Mar 9am

Audit and Risk Subcommittee

Wed 6 Mar 3pm

Council Meeting

Wed 13 March 1pm

LOCAL COMMITTEES AND

ASSOCIATIONS

Glenroy Community Hall

Committee

Tue 19 Mar 7.30pm

Glenroy Community Hall

Glentunnel Community Centre

Committee

Tue 19 Mar 7.30pm

Glentunnel Community Centre

Killinchy Community Centre

Committee

Mon 11 Mar 7.30pm

Killinchy Community Centre

On the roads this week

Billy Charlton, Regulatory

Manager Selwyn District Council

PO Box 90, Rolleston 7643.

MICROCHIPPING

Free dog microchipping will take

place on Friday 8 March at

· Leeston: 9–9.30am

· Darfield: 10.15–10.45am

· Rolleston: 11.30am–12pm

· Lincoln: 12.45–1.15pm

Please note:

· Clinics last for only 30 minutes

· The Rolleston venue is Norman

Kirk Drive (off Rolleston Drive),

other locations are outside

libraries

· Microchipping won't occur if

wet.

If you have any questions

regarding microchipping, please

contact Tracey on 347 2800.

Kirwee Recreation Reserve

Management Committee

Mon 11 Mar 7.30pm

Kirwee Recreation Reserve

Sports Pavilion

Kirwee Township Committee

Mon 18 Mar 7.30pm

Kirwee Community Hall

Lincoln Community Committee

Mon 11 Mar 7pm

Lincoln Event Centre

Southbridge Advisory Committee

Mon 11 Mar 7pm

Southbridge Hall meeting room

Tawera Memorial Hall Committee

Wed 6 Mar 7.30pm

Tawera Memorial Hall

Waihora Park Reserve

Committee

Tue 5 Mar 7.30pm

Waihora Bowling Club

Seal repairs will be carried out on Wards Road.

ON THE

Road reconstruction (granular overlay) on Leaches Road and Cordys Road.

ROADS

Reseals will take place on Bealey Road and Ellesmere Junction Road.

Kerb and channel and footpath construction will continue on Masefield Drive.

Drainage work will begin on Downs Road, Whitcombe Place, Steeles Road and Waianiwaniwa Road.

Kerb and channel and footpath construction will occur on Birchs Road, Lincoln.

Footpath construction will be carried out in Southbridge.

Opportunity for retired teachers

Selwyn is the only Council in New Zealand to have a Sister Cities relationship in Indonesia.

Toraja is a mainly Christian community in the highlands of Sulawesi. Coffee farmers in this region have

been supported by a group of Canterbury farmers for over 12 years.

The Selwyn Sister Cities Committee is planning to send a small group of teachers to Toraja for around

two to four weeks later this year. These teachers will assist in local schools to help staff and students

develop English language skills. Improved English, in time, should assist the business community as

they seek to export more high quality coffee and increase tourism to this distinctive cultural area.

The Sister Cities Committee is also aiming to help develop links between Selwyn and Toraja students.

To learn more about the opportunity please contact Bernadette on bernadette.ryan@selwyn.govt.nz or

03 347 2800.

Selwyn Events

SUMMER IN SELWYN

WEDNESDAY

6

MARCH

WEDNESDAY

6

MARCH

SUMMER IN SELWYN

THURSDAY

7

MARCH

SAT & SUN

9/10

&

16/17

MARCH

SUMMER IN SELWYN

WEDNESDAY

13

MARCH

SUMMER IN SELWYN

SUNDAY

17

MARCH

SUMMER IN SELWYN

WEDNESDAY

20

MARCH

West Melton Summer

Skate/Scooter Jam

West Melton School, 3.30–5.30pm

A great way to introduce children and

young people to skating with free

gear hire, prizes, music and coaching

from experienced skaters from

Cheapskates Skate Skool. Something

for all abilities!

Selwyn Speaker Series:

Tips for Young Drivers

Leeston Library, 6–7.30pm

Learn more about the licence process

and how to improve the safety of your

teenager.

Springfield Picnic in the Park

Springfield Domain, 5.30–7.30pm

Spend your summer evening at the park

with live music, Pedalmania, bouncy

castles, face painting, entertainment,

free sausage sizzle and more.

Tai Tapu Sculpture Garden

Annual Autumn Exhibition

199 Cossars Road, 11am–3pm

An outdoor sculpture event with over

70 artworks for sale. Visitors will

also enjoy the growing permanent

collection featuring works by some of

the stalwarts of NZ sculpture. $10 cash

entry for adults. Picnickers welcome.

Prebbleton Summer Skate/

Scooter Jam and Picnic in

the Park

Prebbleton Community Park,

5.30–7.30pm

Spend your summer evening at the

park with live music, Pedalmania,

bouncy castles, face painting,

entertainment, free sausage sizzle and

let your children have a go at skating

with free gear hire, prizes, music and

coaching from experienced skaters

from Cheapskates Skate Skool.

Something for all abilities!

Summer 3X3 Basketball Jam

Faringdon Playground Court,

Rolleston, 2–4pm

Jump into a game! No registration

required, just come along with a team,

join a team or sit back and enjoy

watching. Pack a picnic and enjoy

basketball, music, and prizes.

Lincoln Summer Skate/

Scooter Jam

Lincoln Skate Park, 3.30–5.30pm

A great way to introduce children and

young people to skating with free

gear hire, prizes, music and coaching

from experienced skaters from

Cheapskates Skate Skool. Something

for all abilities!

For information on listing a community event visit

www.selwyn.govt.nz/councilcall

Leeston Library & Service Centre

19 Messines Street, Leeston

Ph 347 2871

Lincoln Library & Service Centre

Gerald Street, Lincoln

Ph 347 2876

(03) 347 2800

Darfield call free 318 8338

www.selwyn.govt.nz

SelwynDistrictCouncil
---
24 Wednesday March 6 2019

Latest Christchurch news at www.star.kiwi

SELWYN TIMES

Conference a chance to learn about

Lincoln High

School year

13 student

John Elliott

writes about

his visit to the

European Union

AT THE START of this year,

I was offered the opportunity

to take part in a trip to the

European Union with others

from around New Zealand and

Australia.

I got the chance to go to

Prague, Geneva and London

taking part in an International

Youth Conference, visiting

the Red Cross and United

Nations buildings and exploring

universities within London.

The trip helped me to explore

what leadership meant to me

and help my understanding of

the importance of why it is we

need to understand and listen

to others and their perspective,

which is becoming ever more

important within today's diverse

and separated world.

My trip began in Prague, where

I was invited to take part in the

International Youth Leadership

Conference.

The conference was a weeklong

event with around 30 people

from around the world. We all

took part in recreating real-world

decisions and discussion through

model UNs, model international

crimes court and debating.

The IYLC mission is "to

facilitate an exchange of

ideas across an ethnically

diverse and socially responsible

group of young international

leaders."

During my time at the

IYLC, I felt like this is exactly

what was achieved. I was able

to talk with and learn about

many other cultures and beliefs

that I hadn't known about

previously.

I didn't always agree with

everyone while at the IYLC,

but the environment was one

where we all considered the

other ideas and meant we were

able to express those differences

in a way that helped each other

expand and change our own

perspective of the world and why

it's so important to take time to

consider others' views.

If you don't you can't expand

LEARNING

TRIP: Lincoln

High School

year 13

student

John Elliott's

European

trip began

in Prague,

Czech

Republic.

your scope and aren't able

to see the world from other

perspectives.

It is easy to ignore others that

have a view that differs from

yours but learning to understand

each other is necessary to help

improve relationships around the

world.

READY, SET, FLEX

Flex Fitness is set to open in just weeks and

the new gym promises to be an exercise

venue where everyone feels welcome –

whatever your fitness levels.

Whether you are at the start your fitness

journey or you're a work out guru from way

back, the newest gym in Lincoln will be able

to cater to your every need.

Locals and owners Scott and Mel have set

up this gym, on the corner of Edward St and

Eastfield Drive, with the community in mind.

Both grew up in the area, so are aware of

the needs of local residents.

"What we want to provide is a 24-hour

gym that also offers great support and

encouragement to those who need it.

We want to see our members succeed

in reaching their goals and achieve great

things," says Mel.

"We know there are lots of reasons for

coming to a gym – whether it is fitness,

strength, weight loss or just general

wellness. We also know that it is easier

for people to succeed when they feel

supported, have the right equipment and

programme, as well as an environment

where they feel welcome and included."

The new gym promises to be state-of-the

art. Here you will find a range of options to

suit your exercise preferences.

"We're bringing Life Fitness (cardio) and

hammer strength gear, group fitness classes

and personal trainers. There will be Netflix

to watch while you work out on the cardio

equipment. There will also be a smoothie

and coffee bar."

There is also a beauty therapist on site who

will be offering half price services for the

first month.

Mel and Scott are also the parents of a

young family, including twin girls, so they

know the demands on time and pressures

family face. "We want to make sure people

are working out smartly so they make best

use of whatever time they have available to

exercise."

If you sign up before the official open day

Mel and Scott will waive the joining fee

and you'll also go in the draw to win 1 of 6

helicopter experiences with Independent

Helicopters. Those who become members

prior to opening are also able to join in

outdoor training sessions in Lincoln two

days a week.

If you want to find out more about Flex Fitness ring Mel

on 027 3222 164 or email lincoln@flexfitnessgym.co.nz

Malvern Residents Form Social Housing Trust

What would you do if you were a solo parent or a senior who needed to find

affordable housing in Malvern?

A group of citizens who want to assist in finding viable housing has recently

been incorporated as the Malvern Housing Trust.

This follows the release of a report to the Selwyn District Council on 7

November 2018 entitled 'Council Involvement in Social Housing'. This report

includes a policy statement that SDC 'does not view social housing as a core

activity and will not be a direct provider or investor in this activity'.

The members of the Trust have begun a conversation with Selwyn District

Council about the various recommendations in this report,

which can be accessed at https://www.selwyn.govt.nz/__data/assets/

pdf_file/0008/286649/PUBLIC-Agenda-Council-7-November-2018.pdf

(pp.141–177).

If you share a similar concern for social housing issues in the district, the

Trust welcomes your involvement and your comments in its work.

For further information please contact the Chair, Philip Baldwin,

on 022 637 5296 or malvernhousingtrust@gmail.com.

CHANGE

BEGINS

HERE.

TEXT LINCOLN@FLEX TO 884

TO GET YOUR FREE TRIAL

3 EASTFIELD DRIVE, LINCOLN, CHRISTCHURCH P: 027 322 2164 E: lincoln@flexfitnessgym.co.nz

Are you concerned about the need for social housing in Malvern?

is looking for people to help meet the need for affordable housing for

Join us: Tuesday, 12 March, 7.00pm, Darfield Library, or

ring Philip Baldwin 022 637 5296 for more information
---
SELWYN TIMES Latest Christchurch news at www.star.kiwi

Wednesday March 6 2019 25

cultures and beliefs

SCHOOLS

We are all equally as important

and so this open communication

between us is needed

or else we lose sympathy and

perspective of others and their

lives.

To me this was the biggest take

away from my trip as today we

seem to only be able to divide

ourselves into groups, left or

right, but the IYLC focused us

to work together and learn that

while you don't have to agree

with others you need to learn to

understand and listen to others

because alone we are weak – to

create change we must work

together.

After my time in Prague,

we visited Geneva. There we

explored the United Nations and

got to talk to a panel of speakers

at the Red Cross. During

my time at the United Nations

building in Geneva we were

shown the conference rooms

and while most were grand and

covered in history none spoke

more to me than the main meeting

room. Within this room is a

large sculpture of stalactites that

hang off the ceiling.

They are painted in many

bright colours. After not

knowing what the artwork

represented, I asked and was told

that some colours are meant to

be hidden behind stalactites and

not meant to be unseen when

looking at the work and that you

can only see those colours if you

were to change your position.

This was meant to signify that

no matter where in the room

your perspective of the artwork

was different from others but

even changing your position

slightly you become able to see a

whole new section of the work.

It showed that everyone was here

with their own perspectives and

that all perspectives are needed

to be able to view something as

a whole.

This idea of unity instead

of division was only further

emphasised when visiting the

Red Cross that seeks to help the

victims of war and protect those

in need. Working together we

can protect the people that need

help.

PERSPECTIVES:

Stalactites on

the ceiling of the

United Nations

main meeting

room in Geneva

change colours

depending on

where you are

seated.

Before I went on this trip I was

having regrets, I didn't know if I

was good enough to go, but I realised

quickly that the only way

to get better and to improve my

view of the world and its many

diverse and complex people is

to go and explore and listen and

talk to them.

Through my whole trip,

I was always improving my

understanding of others and

learning to work with others

that held different views of the

world.

My take away and advice is

that unless you listen to others

and learn to understand other

perspectives you will not be able

to come to solutions that help

benefit all but instead benefit

only a group and that we can all

take time to just ask why? And

to talk to someone about their

thoughts rather than belittle and

look down upon those that differ

from ourselves.

BACKYARD CRITTERS

Moth feeds on leaf litter

Mike Bowie is an ecologist who specialises in

entomology (insects and other invertebrates).

Each week he introduces a new species found in

his backyard at Lincoln. His column aims to raise

public awareness of biodiversity, the variety of

living things around us. Check out the full list of

invertebrates found at http://naturewatch.org.nz/projects/

backyard-biodiversity-bugs-in-lincoln

IN NEW Zealand there is about

1800 known moth species and

possibly another 1000 unknown

species yet to be described.

The moth fauna in New

Zealand is largely endemic, with

90 per cent of the species only

found here. A common endemic

species throughout the country

is the small hooked tip moth,

Homodotis megaspilata.

The moth has a 20-28mm

wingspan and has variable

brown colouration. The male

moth has a distinctive black

dot inside a white patch on the

forewing.

Adults are mainly seen

between October and March

and frequent native forest,

shrublands, gardens and coastal

areas.

Larvae are pale brown, reach

20mm long and are free-living

amongst the leaf litter which

they feed upon.

ENDEMIC: Ninety per cent of

the small hooked tip moth is

only found in New Zealand.

SOUTH ISLAND FIELD DAYS

ALL STORES OPEN 7 DAYS

Come & see us

at the Field Days,

sites 676 and 677

LX42 Ride on Mower

MS250 Chainsaw

HSA66

Battery

Hedgetrimmer

1023 XT2

Ride on

Mower

12 months interest free & no

payments! See in-store for details

Engine: 20HP Kohler

V-Twin OHV

Drive System: Hydrostatic

PTO Clutch: Manual

Cut Height: 4 - 1cm

Deck: 107cm/42"

+ receive a FREE push

tow trailer and cover!

$5299 Incl

GST

Save $200

45.5cc

4.6kg

2.3kW

16" bar & chain

$695 Incl

GST

36V 3.1kg 500mm blade

No lead, no exhaust, no smell and low noise

Comes with a AP200 battery

and AL101 charger

Save $70

$535 Incl

GST

+ receive a FREE push

tow trailer and cover!

12 months interest free & no

payments! See in-store for details

Engine: 23HP Kohler

OHV V-Twin

Drive System: Hydrostatic

Cut Height: 2 - 12cm

Deck: 106cm/42"

Catcher: 320 litre

$7399 Incl

GST

35 Ton Log Splitter

FS120R Brushcutter

RMA410 Battery

Lawn Mower

KM85 FSKM

Combi Engine + Line Trimmer

Engine: Kohler

Cycle time: 14 secs

Pump: 2 stage,

16 GPM

Log Capacity: 24.5"

(62.23cm)

30.8cc 1.3kW 6kg

Commercial grade machine

36V

20kg

Cut Height: 2.5-7.5cm,

width: 41cm

Comes with a AP300 battery

and AL300 charger

25.4cc

0.95kW

4kg

Fitted with a

bump feed

head

Can be fitted

with a

blade

$4199 Incl

GST

Save $400

Save $200

Incl

$895 GST

All pricing includes GST. Images may vary from in store product. Offers valid until 31st March, 2019 or while stocks last.

Store opening hours: All stores open 7 Days: Mon-Fri 8am - 5.30pm, Sat 9.30am - 3pm, Sun 10am - 3pm. Also we are at the South Island Field Days in Kirwee 27, 28, 29 March 2019.

Save

$285

Incl

$910 GST

$695 Incl

GST

Save $150

STIHL SHOP Northwood - 554 Main North Road, Belfast, Christchurch - Ph: 03-974-2469

STIHL SHOP Rangiora - Corner Lineside and Station Road, Rangiora - Ph: 03-313-3398

STIHL SHOP Fosters - 559 Blenheim Road, Sockburn, Christchurch - Ph: 03-343-6339

www.stihlshopchristchurch.co.nz

LOVE YOUR LAND
---
26 Wednesday March 6 2019

Latest Christchurch news at www.star.kiwi

SELWYN TIMES

STOCKTAKE

SALE

SERTA DEKOTA

Pocket Spring Unit, Single-Sided Mattress,

Medium Latex, and Dreamfoam Comfort Layers

High Profile Platform Base,

Foam Box Edge Support,

Euro Top, Blended Wool,

Knit Fabric SAVINGS

STOREWIDE

FANTASTIC

STOCKTAKE

HUGE RANGE

OF POCKET

SPRING

BEDS

SAVE

NOW

DEALS

STOREWIDE

NOW

CHIROPRACTIC KAURI HD

Torquezone ® HD 5 zoned Spring System

Eco-friendly Dreamfoam ®

Endorsed by the New Zealand

Chiropractors' Association.

MASSIVE

RANGE

SANCTUARY

RANGE

STOCKTAKE

SALE PRICES

IN-STORE

NOW!

CLEARANCE

BEDS MUST

BE SOLD

SLEEPYHEAD - MAKING

BEDS IN NEW ZEALAND

SINCE 1935

Made by Kiwis for Kiwis.

10 YEAR WARRANTY

Quality you can trust...

we guarantee it!

SLEEPYHEAD - MAKING

BEDS IN NEW ZEALAND

SINCE 1935

Made by Kiwis for Kiwis.

10 YEAR WARRANTY

Quality you can trust...

we guarantee it!

SLEEPYHEAD - MAKING

BEDS IN NEW ZEALAND

SINCE 1935

Made by Kiwis for Kiwis.

10 YEAR WARRANTY

Quality you can trust...

we guarantee it!

7 Day Money Back Comfort Guarantee on Queen and King Beds

CNR MOORHOUSE AVENUE & MONTREAL STREET

NEXT TO FARMERS. PHONE: 365 0132
---
SELWYN TIMES Latest Christchurch news at www.star.kiwi

Wednesday March 6 2019 27

Hockey club places more

emphasis on performance

• By Jacob Page

WAIKIRIKIRI Hockey will

enter its third season with an

added emphasis on performance.

President Lyndal Marshall said

after two seasons of building

up the club with an emphasis

on people, pathways and

performance, it is now time for

teams to impress on the hockey

turf.

THe club has grown from 17

teams to 21 this season, and

includes fun sticks through to

senior division three sides.

THe club was affiliated to

Canterbury Hockey last year,

which Marshall said will

offer players a pathway to

representative teams.

"Our club motto is

participation, growth and

culture," she said.

"Now it's time to focus a little

more on performance. While

the juniors is still all about fun

and enjoyment, as the players get

older we're introducing coaching

philosophies and strategies to

help bring them through the

grades, " she said.

One of the long-term aims of

the club is to have premier men's

and women's teams.

"We have a lot of players

growing through our under-18

side, but what we'd like to form

is a division three over-18 team

ENERGY: More than 75 Waikirikiri Hockey club members turned

up for the first week of pre-season training.

PHOTO: WAIKIRIKIRI HOCKEY

SPORT

with the hope that there are some

older players out there that want

to get back in the game with an

anti-social level," she said.

"We fielded a mid-week open

team for men and women last

year, but we'd like to have a

division three team so that

they can eventually merge with

our under-18 team and make a

division two team."

The club was formed when

Waikirikiri and Malvern

joined forces to make a

Country Combined team,

which plays age-group games

against Kaiapoi, Rangiora and

Hurunui.

The clubs hope to include more

grades later this season.

Rolleston teen softballers

make NZ academy squad

• By Jacob Page

THREE 15-year-old Rolleston

softballers will head to Australia

to represent New Zealand in

October.

Liam Egan, Hayden Perriam

and Mitchell Dierck have been

selected in the New Zealand

International Softball Academy

under-15-16 years team for the

under-18 Blue Blaze tournament

in Sydney.

The event will see a squad of 30

split into two Kiwi teams to play

Sydney-based club teams.

It will be Mitchell's second

time at the tournament, while

Hayden and Liam will make

their debuts.

Mitchell, a right-handed

pitcher, has been plating for the

past four years.

The trio have impressed at club

level and as pick-up players for

South Canterbury during the

season.

"I was forced to give pitching

a go when I was 11 and I realised

I was pretty decent and just kept

working at it," Mitchell said.

"You need strong legs, height

and fitness."

Hayden, an infield specialist

who can also play catcher, was

introduced to the sport by Liam

three years ago.

"I gave it a go and loved it ever

since," he said. "I used to play

rugby and do swimming but

now I just love softball."

TALENTED: Rolleston

softballers Liam Egan,

Mitchell Dierck and Hayden

Perriam will take on several

Australian club teams.

All three play for the Rolleston

under-18 team each week.

Liam is a pitcher, second base

and short stop. "I like short stop

because there's a lot of action

there during the game and I've

gotten better each year."

Rolleston club president David

Egan said it was thrilled to have

three representatives from one

team selected.

"It's a great opportunity for

our boys to get some excellent

coaching from some greats of

New Zealand softball, like Dale

Eager, and to test themselves

overseas," he said.

Each player has to raise more

than $3000 to get to Sydney

and their club will be running a

quiz night on March 25 as well

as sausage sizzles over the next

month.

•For more information on

their fundraising events,

visit www.sporty.co.nz/

rollestonsoftball

•More sport, pages 29-31

100%

Capital gain

to the resident

$1,000 fully

refundable

deposit

investMent in your retirMent and

reap the reWards in rolleston

E S T A T E

Phone. 03 421 7796 | Email. sales@woodcroftestate.co.nz

WOODCROFT WAY, 28 KENDON DRIVE, ROLLESTON, CANTERBURY

rolleston's neW registered retireMent village

• Initial weekly fee of $75 includes rates & full insurance

• Gated community and emergency call button in each villa

• Two & three bedroom villas with single/double garage from $450,000

• There will be an on site manager and a pavilion and bowling green

• Show Home now open Monday to Friday 10am to 2pm or weekend

viewing by appointment call Corinne 021 292 1141

www.manorgroup.co.nz
---
28 Wednesday March 6 2019

Latest Christchurch news at www.star.kiwi

SELWYN TIMES

SHAKE YOUR SHAMROCK

Smirnoff Ice Red 5% 12pk

Cruiser bottles/KGB cans all 12pks Blackheart/Wild Moose 12pk bottles

Jim Beam Gold/CC premium 7% 250ml 12pk/ Smirnoff pure 10pk bottles

Woodstock 330ml 7% 6pk

cans

$

Devil's Cut 8pk all cans

.99 ea

$

20 .99 ea 22 $ .99 ea

$

23

(incl zero)

.99 ea

22

$

13 .99 ea Jim Beam/CC 18pk 330ml 4.8% cans

Woodstock Bottles/Codys 7% 250ml cans all 18pks

$

Wolf Blass yellow Wither Hills range Brown Brothers

Riverstone range

31 .99 ea Canti Asti/Prosecco

label range (ex PN)

(ex PN)

Prosecco Range

2 for $

17 .00

$

.99 ea $

14

13 .99 ea .99 ea .99 ea

George Wyndham/Montana winemakers/

Jacob's creek sparkling ranges

2 for $

21 .00

WITH THESE MARCH DEALS...

Squealing Pig range

$

11

$

$ .99 ea

14 16

Finlandia 1L

Jim Beam 1.125L/Jim Beam Black

$

Dewar's 1L

35 .99 1L/Jim Beam Devil's Cut 1L/

Woodstock/Blackheart 1L

$ 34 .99 ea Paddy Irish Whiskey 1L

Gordon's 1L/Smirnoff 1L Coruba 1L (incl Gold)

$ $

35 .99

Maker's Mark 700ml

$

42 .99

37 .99 ea .99 ea

$

39

$

42

.99 ea

$

21 .99 ea Kingfisher/NZ Pure 12pk bottles

$

30 .99 ea Tui/Export Gold/DB Draught 15pk bottles

Glenlivet 12 yr old 700ml

Jameson 1L/Chivas Regal

12 yr 700ml

$

47 .99 ea

$ 59 .99 Old Mout 1.25L cider Monteiths 6pk range

Larios 1L / Roku 700ml

range

$ $

9 .99 ea .99 ea

14

3 for $ 99 .00 2 for $ 99 .00

$ .99 ea

19

NEW PRODUCT

NEW PRODUCT

DB Export Gold Extra

$

20 .99

Steinlager Pure Light 12pk

$

20 .99

Kronenbourg/Magners cider 12pk bottle range Tiger Crystal 12pk Heineken 12pk bottles Carlsberg 15pk bottles

$

22 .99 ea $

23 .99 $

25 .99 $

25 .99

Corona 12pk bottles Lion Red/Speights/Waikato/Summit & low carb 24 pk bottles

$

25 .99 ea $

27 .99

$

36

.99 ea

www.thirstyliquor.co.nz

OVER 155 STORES NATIONWIDE!

www.facebook.com/ThirstyLiquorandBlackBullLiquor

398 High Street, Rangiora

03 313 7207

1275 Main North Road, Bridgend

03 323 8833

585 Springs Rd, Prebbleton

03 349 6031

45 South Terrace, Darfield

03 317 9499

Available from 1st – 31st March. Specials while stocks last. Available at participating stores.

1147 West Coast Rd, West Melton

03 347 8460

670 Main South Rd, Islington

03 349 7337

Main Rd, Lake Tekapo

03 680 6242

42 Waimate Highway, St Andrews

RD24 03 612 6740

69 Main St, Fairlie

03 685 8061

21 Aldwins Road, Linwood

03 982 1753

9 Parnwell St, Burwood

03 383 2564

495 Papanui Rd, Christchurch

03 260 2380

65 Victoria St, Christchurch CBD

03 260 1155
---
SELWYN TIMES Latest Christchurch news at www.star.kiwi

Wednesday March 6 2019 29

Rolleston runs away with Challenge Shield

SPORT

LEAP: Ben Michael in the under-15 long jump.

PHOTOS: DEAN MOWER

• By Jacob Page

ROLLESTON College took

out the Challenge Shield at the

inaugural Selwyn secondary

schools' athletics day at Nga Puna

Wai last week.

Rolleston won the most

4 x 100m age-group relays to cap

off a stellar event.

More than 300 athletes from

Rolleston, Lincoln High School,

Ellesmere College and Darfield

High School competed in track

and field events.

Rolleston won the under-16

boys, under-14 boys, and

under-16 girls sprint relays to

take home the big prize of the

day.

There were also a number of

top individual efforts.

Lincoln's Dominick Wilson

won the under-19 100m, 200m

and 400m titles.

Ellesmere's Scott Harper

won the under-16 boys 100m

and 200m double, as did

Lincoln's Alizjah Campbell in

the under-15 boys and Darfield's

Casey Taylor in the under-14 boys

age-groups.

Casey also won the long jump

title in his age-group.

Ellesmere's Nina Tucker won

the under-19 girls 100m and

400m titles and finished second

in the 200m. She also won the

discus and triple jump titles in

the field events.

Lincoln's Caroline Richards

won the 100m and 200m double

in the under-16 girls event. She

also won the high jump and

long jump titles in the same agegroup.

Darfield's Emily Waters

claimed victory in the 400m and

1500m events in the same agegroup.

In the field events; 16-year-old

Theo Gilbert from Ellesmere

College won the under-19 high

SPEED: Ellesmere College's Jacob Greenwood leads

schoolmate Elijah McIlraith in the 1500m.

jump and long jump. He was the

only competitor to clear 1.55m in

the high jump, while also taking

victory in the long jump by 6cm

with a leap of 5.35m.

Rolleston's Avelima Loua won

the under-16 boys shot put and

javelin crowns. He managed

33.17m in the javelin to win by

more than 3m and threw 11.03m

to win the shot put by more than

1m.

Ellesmere's Jared Poole won

the under-15 boys shot put and

discus competitions. He threw

the discus 24.20m to win by more

than 2m and backed up in the

shot put to throw a distance of

8.63m to win by 17cm.

Lincoln's John Mottus won the

under-15 boys long jump and

high jump. His leap of 5.71m was

enough for the long jump title,

while he also cleared 1.70m in the

high jump.

Darfield's Alex Gerritsen won

the under-16 girls javelin and

discus and finished second in the

shot put.

Darfield's Emma Watson won

the under-15 girls shot put, discus

and javelin titles.

Lincoln's Aaliyah Metcalf won

both the high jump and long

jump in the same age-group.

Darfield's Kirsty McCarthy-

Dempsey claimed victory in the

under-14 girls shot put, discus

and javelin.

Event organiser Chris

O'Connell said he hoped the

event will grow in numbers next

year as more athletes found out

about it.
---
30 Wednesday March 6 2019

Latest Christchurch news at www.star.kiwi

SELWYN TIMES

Country cricket gears up for semis

LEESTON-Southbridge have

finished top of the country

cricket premier competition, in

spite of a disappointing loss at the

weekend, and will play Cheviot

in next week's semi-final.

Southbrook claimed second

after thumping Darfield on

Saturday. Darfield now face

possible relegation from next

season's CRV Ambreed country

premier one day competition.

The 'Brook will host rivals

Oxford-Rangiora in the second

v third semi-final after the combined

side sealed their play-off

berth with a hard-fought win

over Weedons.

At Pearson Park, Oxford, the

home side were put in to bat by

a Weedons side hoping to make

early in-roads.

But opener Jake Waghorn got

Oxford-Rangiora off to a flying

start, smashing 36 off 42 balls.

Weedons fought back through

the middle overs with some tight

bowling from Lachie Stove and

Brad Nightingale, before the

game turned with two late-order

knocks by Mark Murphy and

Sam Fleming.

Veteran off-spinner Murphy's

composed 43 off 60 balls was

topped off by Fleming's rollicking

half-century off just 33 balls,

which included four sixes.

They helped Oxford-Rangiora

to a commanding 227 all out in

45 overs. Sandeep Singh picked

up 4-34 off his nine overs.

FRIGHT: Darfield batsman Chris Warner looks back to see where the ball has gone during his

side's heavy loss to Southbrook on Saturday.

PHOTOS: KAREN CASEY

Weedons' run chase was soon

in trouble at 8/2 before Sam Wilson

(62 off 88) and Stove (51 off

90) gave them a sniff of victory

and a semi-final spot.

But when the batsmen fell

in quick succession, the innings

capitulated and a jubilant

Oxford-Rangiora claimed a 32-

run win to book a match-up with

Southbrook on Saturday.

The 'Brook destroyed a hapless

QUICK: Rob Frew touches his

bat down in the crease.

Darfield unit at Southbrook Park,

bowling them out for just 100

inside 25 overs.

A trim-looking Darryn Boyle

conjured a five-wicket bag with

his crafty medium-pacers, while

Sam Ermerins took the prime

scalp of country legend Robbie

Frew for just nine runs.

Matt Brine (44 off 54) and Tony

Hancox (28 off 45) put on 68 runs

for the opening wicket before ex-

Black Cap Shanan Stewart (22 off

26) finished the job off with 22.3

overs to spare.

Beautiful Beasts

Lisa Grennell

9 March - 3 April 2019

And then we fell in love with them...

The animals painted in this exhibition are from our

farm. Booboo, the Highland cow, being the main

subject, because of her sweet nature (and the fact

that she is my favourite). From my experience as

a beginner farmer and animal lover, I believe early

influence on both human and animal can be similarly profound. However I am a realist regarding

the consumption of animals. I don't eat meat – so perhaps I have an unusual perspective.

Booboo, eerily painted in her majestic beauty, surrounded and almost

hidden by the reflective surface of the black mirror- like background, the

viewer too is captured in the reflective surface, a comment on human

impact on animals. This Plato quote comes to mind and challenges our

thoughts…

'Is there something distinctive about humanity that tries to justify the

idea that humans deserve moral status, but non - humans do not?' -

https://plato.stanford.edu/entries/moral-animal/

Within this body of work I'm celebrating the beauty within every

creature. Real moments captured are a reminder of an innocence

untainted by society. In contrast to the black paintings are some

pure white images of children, along with animals, and their

imaginary adventures. This emphasises the preciousness of

children and their innate connection with nature.

Centrifugal

inline fans

Axial inline fans

Smooth-Air

Ventilation Equipment Suppliers

Domestic

to

Commercial

Industrial

trade

&

Axial fans Axial fans Bathroom fans

retail

Window fans

Beautiful Beasts

Lisa Grennell

9 March – 3 April 2019

the

right

for the

product

job

Main Rd, Little River | 03 325 1944

art@littlerivergallery.com

0800 SMOOTH

(0800 766 684)

sales@smooth-air.co.nz

264 Annex Rd

Riccarton

Christchurch

03 343 6184

Monday - Friday

7.30am - 5pm

www.smooth-air.co.nz
---
SELWYN TIMES Latest Christchurch news at www.star.kiwi

Wednesday March 6 2019 31

over the weekend

MINE: Nick Jenkins

provides Southbrook

bowler Luan Blom with

a catching opportunity

while wicketkeeper

Gus Mowat watches.

GOOD LUCK: Simon

Edwards welcomes

new batsman Cullen

Moody to the crease.

Cheviot claimed the last semifinal

place with a big win over

Leeston-Southbridge at Cheviot

Domain.

Ben Hartland, son of former

New Zealand opener Blair

Hartland, made a matchwinning

81 off 90, which

included 12 boundaries, as the

home side made 192/8 in their

45 overs. Joel Harden again

enjoyed not being behind the

stumps to pick up 3-28.

After young gun batsman

Rupert Young was knocked over

by Chris Burnett in the third

over and then Tim Gruijters

soon after, the Leeston-

Southbridge chase never

threatened. They were all out for

120 in the 36th over, with Harry

Chamberlain not batting after

injuring himself in the field.

Burnett finished with 4-29 while

Charlie Sidey also grabbed four.

Sefton finished their

FINE: Nick Jenkins plays a

shot off his pads.

stuttering one-day season on a

high with a 131-run thrashing of

Kaiapoi.

The Seals racked up 245/8

in their first innings, with

Canterbury paceman Fraser

Sheat dominating with a

stunning 85 runs off 83 balls.

Only the ageless Wayne

Bell (32 off 59) showed much

fight with the bat as 10-man

Kaiapoi fell all out for 114 in

29.1 overs.

FINALISTS: Tai Tapu School have a shot at becoming

Canterbury country primary school champions today.

Tai Tapu line up primary

school cricket title today

• By Jacob Page

TAI TAPU School are set to

challenge for the Canterbury

country primary school cricket

title today.

Tai Tapu will meet Loburn/

Ashley/Sefton in the 20-over

decider at Sefton Domain.

Captain Rene Frame said his

team is excited at the prospect of

playing in a final.

"I'm really stoked because last

year we didn't make it past the

second round so it's been good,"

he said.

The 12-year-old wicketkeeper,

who opens the batting, said the

team have a strong bowling unit.

"We've come together really

well as a team this season."

Tai Tapu came away with

10-wicket win over Darfield to

reach the final.

"We took four wickets in the

first four overs, which is pretty

good," he said.

Loburn/Ashley/Sefton beat

Woodend to make the final.

Rene said he knows what his

team needs to do to win the title.

"We're going to have to come

together and basically play our

hearts out," he said.

Selwyn's friendly team of

hearing experts.

Understand your hearing health with a FREE Hearing Check

from your local Bay Audiology. Book your appointment today!

We have 10 clinics across Christchurch. Your local clinics are:

Lincoln 03 374 6593

Rolleston 03 925 9703

West Melton 03 348 5096

Opening hours may vary. Visit bayaudiology.co.nz

FREE

hearing

checks for

everyone

aged

18 years

and over

WIN $1000

TOWARDS YOUR

balustrade

solution

Go into the draw to

win this great prize

by requesting a no

obligation measure

and quote for a

HomePlus balustrade

today.

Enhance your home

and outdoor areas,

add value, good

looks and safety by

choosing a custom

made balustrade

from HomePlus.

*Promotion closes 31 March 2019.

Measured, made

and installed by our

team of experts.

5 year warranty.

88 Gasson St, Sydenham | 03 379 3740 | www.homeplus.co.nz
---
32

Latest Christchurch news at www.star.kiwi

2 [Edition Wednesday datE] March 6 2019

SELWYN TIMES

dISCOVER

Homemade preserves & baking, petting

zoo & pony rides, scarecrows, cotton

candy and bacon butties plus over 100

stalls full of beautiful crafts, homewares,

clothing, food, health and beauty

products - the West Melton Country Fete

will have something for everyone.

Plans are well underway for the Fete to

be held at West Melton School on Sunday

31 March from 10am to 3pm. For a small

gold coin donation on the gate - the day

will be filled with fabulous entertainment

from local bands, dancers and solo artists

plus loads of kids games and activities -

like mini jeeps, bumper boats, hunger ball

and of course farm animals. All the while

parents can grab a coffee, a raffle ticket

(and hopefully a prize!) and browse the

many stalls. A great range of food trucks

will also be available throughout the day.

The 2017 Fete was a great success with

over 5000 people through the gates and

the school was able to raise enough funds

for a new playground that the kids all love

and enjoy daily.

This years Fete has been proudly

supported by Gold Sponsors Ray White

Real Estate, McLenghans Contracting &

Wilfield - yoursection.co.nz.

For a full list of stalls, sponsors,

entertainment and activities please keep

an eye out for updates on our Facebook

Page and website. www.westmeltonfete.

co.nz

Spacious

lifestyle

Sections 900–6,500m 2

from $225,000

Offers valid 4th March - 31 March 2019. *Terms & conditions apply.

12/736 Weedons Ross Road, West Melton

Phone 03 347 0777

dISCOVER

West Melton Pharmacy

Think big with our wide range of sections at Wilfield. Find out more,

call us on 03 741 1340, or email enquiries@yoursection.nz

To promote your Business in the next

West Melton feature

Contact:

Elaine Moon

Ph. 03 364 7436 or 021 914 335

elaine.moon@starmedia.kiwi
---
SELWYN TIMES Latest Christchurch news at www.star.kiwi

Wednesday [Edition March 6 datE] 2019 333

A modern approach

to physiotherapy

PhysioSteps Selwyn is West Melton's up-to-date

musculoskeletal practice, treating a variety of

conditions ranging from sports injuries, to back

pain/headaches and everything in between.

PhysioSteps has now been open for almost two

years and the team is enjoying working closely with

the Selwyn community.

Director and principal physiotherapist, Kayla,

says the clinic prides itself on the PhysioSteps motto

'Treating the patient, not just the injury'.

"We have a modern approach to physiotherapy,

where we treat our clients as a whole and work on

fixing the source of their symptoms, not just putting

a band aid on the pain."

Kayla is joined by Tom, who moved out from

the UK 18 months ago and has been working at

PhysioSteps Ashburton since then, and Lee, who is

the friendly face on reception.

"We are an ACC-accredited practice, meaning we

get regularly audited, and also allows you to fill in

ACC paperwork here, without having to go to your

GP first," Kayla says.

"Sports-related injuries make up a large portion of

our case load and we are proud to be the preferred

provider, offering discounted services, to both the

West Melton and Kirwee rugby clubs for the 2019

season."

PhysioSteps is located in the West Melton

shopping centre at 736 Weedons Ross Road.

Opening hours are: Monday – 9am-8pm, Tuesday

– 9am-6pm, Wednesday – 2pm-6pm, Thursday –

9am-8pm, Friday – 9am-6pm.

To make an appointment or to discuss your

requirements phone 03 930-1119.

The PhysioSteps Selwyn team: back

left, receptionist Lee Sijken; back right,

director and principal physio Kayla

Marshall; front, physio Tom Trumper

10% OFF

WITH THIS VOUCHER

Is pain stopping you living you living your best life?

Come and see the friendly team at PhysioSteps Selwyn, your up to date

musculoskeletal and sports physiotherapists

WEST MELTON

Call us for more info or for an appointment

NOW OPEN

IN WEST MELTON

03 930 1119 www.physioselwyn.co.nz

10/736 Weedons Ross Rd, West Melton

Your Friendly West Melton

Community Vet Centre

West Melton Village,

Unit 3, 736 Weedons Ross Rd

P 03 347 4546

E nurses@westmeltonvets.co.nz

Spacious ECE Centre offers

excellent care and education

Fully qualified, caring teachers

at West Melton Kindergarten,

Nursery and Learning Centre

ensure your child experiences a

positive, respectful, fun learning

environment.

Primary caregiving by key teachers ensures Nursery

children develop strong, secure relationships giving

them the confidence to explore the environment and

develop their independence. Throughout the centre,

key teachers plan for individual children's interests

and needs. Teachers nurture and support each child

as they travel on their Learning Path.

We encourage families to visit anytime to see what

we can offer in our purpose-built centre with large

outside area.

• Four separate

sections,

Nursery, Kindergarten,

Learning Centre

Before & After School

Programmes

• Age appropriate

programmes

• Large outdoor

grassed playground &

bike track

Open Mon - Fri 7.30am - 5.45pm

• ECE hours available

for 3, 4 & 5 year olds

• Qualified,

experienced,

registered teachers

West Melton Kindergarten,

Nursery & Learning Centre

Phone Penny for more information 03 347 4132 or visit the centre at any time

info@westmeltonkindergarten.co.nz | www.westmeltonkindergarten.co.nz
---
2

34 Wednesday [Edition datE] March 6 2019

Latest Christchurch news at www.star.kiwi

SELWYN RURAL LIFE

SELWYN TIMES

SAIFD draws crowds to Kirwee

The South Island Agricultural Field Days

(SIAFD) attracts crowds of 30,000 farmers

from near and far and is one of the oldest

agricultural events in the South Island.

This year's SIAFD is at Kirwee from

March 27 – 29 and provides a place for

farmers to meet up with each other, see the

latest in agricultural machinery and plenty

of competitions.

The field days provide an opportunity

for people in the agricultural industry to

HON AMY ADAMS

MP FOR SELWYN

Working hard for our communities

network and meet customers, says SIAFD

organising committee chairman Rodney

Hadfield. With its focus on presenting

working machines, SIAFD reinforces

the relationship between farmers,

manufacturers, retailers, and technical

experts, he says.

"The field days are all about getting the

people who want to buy to come along

and look. It is an event for people who are

really ready to make financial decisions and

spend their money. We want them to come

to our event and get their field days deals."

Power Farming Canterbury dealer

principal Geoff McCabe says the company

has doubled the size of its site at this year's

SIAFD.

"People come from far and wide to the

field days to look at machinery. They are

very important for customers because they

get the chance to compare all the brands."

A lifestyle section was introduced at

the 2017 event and its popularity has led

them to expand it this year with more

than 100 stalls, says SIAFD lifestyle section

coordinator Michaela McLeod.

"They will showcase a wide variety of

products – from garden sculptures and

outdoor furniture to jewellery, clothing, art,

plants and food products, including local

producers Kirwee Bees," Michaela says.

This year will be the first time Tractor

Pull has been held at SIAFD since they

moved to their new home at Kirwee thanks

to Diesel Tune NZ. The first two days of

the field days will be practice days and day

three will be the competition day with three

classes – standard, modified and pree-1985.

If you would like to sign up for

my newsletter please visit:

www.amyadams.co.nz

CONTACT

P 03 344 0418

E selwynoffice@parliament.govt.nz

Funded by the Parliamentary

Service and authorised

by Amy Adams, 829 Main

South Road, Templeton,

Christchurch.

Tickets to SIAFD

are $20 per day

(children are

free) and can be

bought at the

gate. For more

information visit

www.siafd.co.nz.

canterbury

timber & Hardware

Are now stockist of Laminata

prefabricated timber fencing

new

product

Sustainably sourced, ethically produced

Kiwi construction systems from the

heart of Northland

www.laminata.nz

Call in today for your free quote!

NEW ENTRANCE: 167 Manion Road, Rolleston

Jason Pester P 03 347 7465 F 03 347 7032 E jason@cthl.co.nz

Mon-Fri: 7am-5pm Saturday: 8am-12pm

canterbury

c t H timber & Hardware

We are here
---
SELWYN TIMES Latest Christchurch news at www.star.kiwi

Wednesday [Edition March 6 datE] 2019 353

SELWYN RURAL LIFE

Why the burn offs?

Although it sounds odd to many, stubble burning benefits rural fire safety

during the summer. Controlled burns remove many hectares of highly

flammable material from rural areas, thus providing fire breaks in case of

accidental fire events.

Why don't farmers burn in the morning when dew might make it 'safer'?

The reasons for this are that the stubble has to be dry to burn well; burning

damp stubble will be less effective and will create more smoke. The safest

time to burn stubble is early in the evening, on hot days, when winds are

light or calm; unfortunately this is also the time that many non-farmers are

arriving home from work and looking forward to sitting outside with a cold

drink.

Farmers must have permits to burn stubble and follow strict rules around

things like wind conditions and smoke management. Permits must be

gained in advance and they last throughout the stubble burning season.

For more information go to www.checkitsalright.co.nz . The same permit

is required by anyone living on a property over 2 hectares who wishes to

burn rubbish, hedge clippings etc. Anyone living on a property under 2

hectares, may not burn outdoors unless they are cooking.

Stubble is the crop residue left in a paddock after the grain has been

harvested. Dealing with stubble is part of preparing the paddock/soil in

order to sow the next crop. Depending on what the next crop will be, the

farmer has a range of options for dealing with this stubble; baling and

removing the straw, leaving the stubble standing and sowing the next crop

into it, ploughing the stubble into the ground, or burning it.

Each of these options has its own set of advantages and disadvantages. The

farmer will decide which option to use based on a range of factors including

what crop will be sown next; whether the paddock has any particular weed

or pest problems which could be alleviated by burning; whether they are

trying to reduce farm emissions by reducing the hours spent on tractors,

and whether there is a market for the straw once it is baled.

As most Canterbury wheat and barley crops have now been harvested,

stubble burning is well underway on farms where it has been deemed the

best practice for this season.

Selwyn Auto

Canterbury Ltd

• Quotations for water system designs and water testing

• Pipes, valves, fittings sales

• Filtration supply and installation

• Pump service, repairs and maintenance

• Bore flush and development

• Bore pump sales, servicing and maintenance

• We also sell, service and repair most

pump brands including sewage pumps

NEW LOCATION

551 Halswell Junction Road

0800 GRUNDFOS / 0800 478 633

For sales and service or

after hours service call

Jason 021 649 944

or Mike 021 560 044

www.pumps-filters.co.nz

ALL YOUR MOTORING NEEDS

› WOF's › Diagnostics › Repairs

› Servicing › Batteries › Tyres

› Motorbike WOF's & Repairs

› Courtesy Cars Available

Phone 329 5841 | 132 Leeston Road, Springston

www.selwynauto.com | office@selwynauto.com

3 TRUCKS

3 CARS

3 LUBES

3 SERVICING

3 FLEET WORK

3 BOATS

3 DIESEL INJECTOR

3 & PUMP SERVICING

3 ENGINE TUNING

Mon-Fri 7am-5pm

Sat 8am-12pm (WOFs only)

3 BRAKES

3 MAXXIS TYRES

3 WHEEL ALIGNMENTS

3 BATTERIES

3 WOFs

3 CAMBELTS

AND MUCH

MORE!

839 Jones Road, Rolleston P.O. Box 16 Rolleston

Phone Simon on 347 7110 or Mobile 027 272 9213

Do you want to get your business

message out to every rural farmer

and lifestyle block holder througout

the entire Selwyn District?

Contact Lynette Evans today

...about advertising in the Selwyn Times fortnightly

Selwyn Rural Life feature.

P: 364 7434 | E: lynette.evans@starmedia.kiwi

Delivered FREE every Wednesday to 20,050 home and rural

addresses and viewable online at www.selwyntimes.co.nz
---
36

Latest Christchurch news at www.star.kiwi

Wednesday March 6 2019

SELWYN TIMES

Mercedes-Benz A200 perfect for conversation

Motoring

Ross Kiddie

I'VE OFTEN been known to talk

to my cars, it's usually when one

of them is broken or has stopped

inexplicably, or when I have grief

fixing a fault.

Those words are hardly ever

complimentary.

However, I recently found

myself talking constantly and

politely to my latest evaluation

car – a Mercedes-Benz A200.

By saying: "Hey Mercedes,''

and entering into a conversation

with voice within the car you can

initiate a raft of automated functions

such as opening and closing

the sunroof inner, changing the

radio station, displaying head-up,

or even guidance to a particular

address, just to name a few of the

many features it is capable of.

Voice recognition isn't new, it

is even available in many budget

cars, but the A200 is different and

the operations are up a level or

two from the mainstream. If you

like to do things manually, that's

still possible, much of that can be

done through a wide touch screen

device that stretches from the

traditional dash panel through to

the centre of the vehicle.

Of course, the A200 isn't at the

bottom of the price structure, at

$60k ($70,000 for the test car),

there is a bit of a capital outlay,

but there is a lot on the A200

even without the extra adornments.

There is also a surprise within

the driveline. The A200 now has a

1.3-litre engine, and if you think

that's a bit wimpy you'd better

re-evaluate. The four-cylinder

turbocharged unit pumps out a

healthy 120kW, and with 250Nm

of torque on tap there is a stroppy

little power plant under the

bonnet. Mercedes-Benz claim

an 8sec time to reach 100km/h

from a standstill, while I recorded

a 5.3sec time to make 120km/h

from 80km/h.

These are healthy acceleration

figures, and you can tell by the

feel beneath the throttle that it's

a zingy, lively engine that delights

in working hard, yet, it is

also the fuel miser you'd expect

from a small displacement unit.

It is rated at 5.7-litres per 100km

(50mpg) on a combined cycle

which sits well with my test

figures – an average of 7l/100km

(41mpg) was registering on the

fuel usage meter, along with a

stunning 4.6l/100km (62mpg)

instantaneous figure sitting at a

MERCEDES-BENZ A200: Thrifty 1.3-litre engine.

steady 100km/h (engine speed

1800rpm).

Combining economy and performance

is never an easy build,

yet that is certainly the case with

the A200, it is lively and a real

darling to be behind the wheel of.

The engine is honest and it delivers

smoothly through a sevenspeed

double-clutch gearbox.

Don't read me wrong, you treat

the A200 as if it was a traditional

automatic, it's only at take-off

where it is a little abrupt, but

thereafter the changes are quick

and smooth.

Of course, paddle-shifters are

fitted for those who like to take

control of the gearshift protocols,

and a sport mode can be

selected just to enhance engine

urgency a little. Not that it needs

any encouragement, it is a willing

worker to the redline, and it does

so with a soft engine tone that

never sounds as if it is working

out of its comfort zone.

On the road the A200 is a lot

of fun. It offers decisive cornering

characteristics with a firm

steering feel that delivers surety

and direction. Riding on low

profile Bridgestone Turanza rubber

(225/45 x 18in), there is solid

tread grip with the surface of the

road and enough sidewall flex so

that ride isn't too rigid.

Weighing in at around 1400kg,

the A200's tyres don't carry a lot

of load, and any hint of body

roll is quickly negated by firm

spring and damper rates. That's

not saying the ride is hard, there

is healthy compliance within the

• Price – Mercedes-Benz

A200, $60,900

• Dimensions – Length,

4419mm; width, 1796mm;

height, 1440mm

• Configuration – Fourcylinder,

front-wheel-drive,

1332cc, 120kW, 250Nm,

seven-speed automatic.

• Performance –

0-100km/h, 8sec

• Fuel usage – 5.7l/100km

suspension and the cabin is well

isolated from rough road shock

(and there's plenty of that in

Canterbury).

Mercedes-Benz has a strong

reputation for performance, and

the A200 is a worthy recipient of

the badge of the three-pointed

star. However, it is the entry level

model, and for that reason it also

needs to be practical. It's not a big

car, but it is airy inside, and all

those on board are treated to high

seat comfort and just enough

space so that long journeys aren't

taxing.

Even though the evaluation

car was carrying a lot of optional

extras, it must be noted that

there is a long list of specification

extras that can be built into

any Mercedes-Benz on order.

Personally, I'd be a base model

buyer, even in standard form

there is a lot of car for the money,

and as retirement looms a cheeky

purchase such as an A200 could

be a wise decision.

NEW

LOCATION

95 Gasson St

The Automotive Lamp Specialists

Kids!!

Kids 14

and enter Under the

FREE

Banner

Competition!

Kids

14 years

& Under

FREE

New and Used Lamps for Cars, Trucks,

Vans, 4WD and Motorhomes

PH 0800 225 483 | 95 Gasson Street, CHRISTCHURCH

presents

Saturday March 9, 6PM

Gates open at

4.30 pm

Admission — Adults $20, Students and Seniors $15, Children 14 and Under FREE: Eftpos at the Gate

PLUS Admission — Adults $20, Students and Seniors $15, Children 14 and Under FREE: Eftpos at the Gate

PLUS

SUPPORTING

www.ruapunaspeedway.co.nz Infoline 3497727

PROGRAMME www.ruapunaspeedway.co.nz Infoline 3497727

SUPPORTING

PROGRAMME

WAR OF THE WINGS SPRINTCARS

Plus MODIFIED SPRINT CLAY
---
SELWYN TIMES Latest Christchurch news at www.star.kiwi

Wednesday March 6 2019 37

FINAL CALL

ON THE LAST OF THE RUNOUT TRITON GLX-R'S WE HAVE

9 MANUALS AND ONLY 6 AUTOS LEFT - THATS IT!

Drop what you're doing!

TRITON 2WD GLX-R

DOUBLE CAB MANUAL

$29,990+ORC *

Automatic model available for only $31,990 +ORC

The Triton Runout is on. Drop everything, and if you're quick you can pick up • 17" Alloys • 2.4L Turbo Diesel

• 7.1L per 100km efficiency (manual) • Sports Suspension • Cruise Control • Smartphone Connectivity •

Reversing Camera • Daytime Running Lights • 5-Star Safety and a 10 Year Powertrain Warranty † .

Call 03 379 0588 or visit christchurchmitsubishi.co.nz

CHRISTCHURCH MITSUBISHI

386 Moorhouse Avenue, Christchurch.

03 379 0588 | christchurchmitsubishi.co.nz

*Price listed is for Triton 2WD GLX-R manual and excludes on road costs, which includes registration, WoF, 1,000km road user charges and a full tank of fuel.

Available while stocks last. † Visit mmnz.co.nz for full Diamond Advantage warranty conditions.

10 year / 160,000km Powertrain Warranty (whichever comes

first) (non transferable). 5 year / 130,000km New Vehicle

Warranty (whichever comes first) (non transferable).
---
38

Wednesday March 6 2019

Latest Christchurch news at www.star.kiwi

SELWYN TIMES

Exhibitors

Book now

Don't miss your opportunity to

showcase your business in front of

10,000+ qualified attendees

Jon.Holmes@starmedia.kiwi or 021 225 8225
---
SELWYN TIMES Latest Christchurch news at www.star.kiwi

Wednesday March 6 2019 39

'P is for Pain * Pastel *

Pottery'

Wed to Thurs 11.30am-2.30pm

Featuring the work of Averil

Cave, Clive Scott, Cheriene Singer.

Three artists in command of

their various artforms – a lovely

summer exhibition. Until March

17.

Down by the Liffey Gallery, 1

James St, Lincoln

Summer Skate/Scooter Jam

Wednesday, 3.30-5.30pm

A great way to introduce children

and young people to skating

with free gear hire, prizes, music

and coaching from experienced

skaters from Cheapskates Skate

Skool. This is a relaxed environment

which will allow participants

to give it a go, cheer on

their friends and family or ease

their way into skateboarding.

West Melton School, 743

Weedons Ross Rd

Lego Club

Wednesday, 3.30-4.30pm

Once a month come and have

some fun with Lego led by experts

from the House of Bricks.

Lincoln Library, 22 Gerald St

Teen Artspace: after school

drop-in

Leeston: Wednesday 4.30-6pm,

Darfield Tuesday 4.30-6pm

Teens can participate in art and

Email anan.zaki@starmedia.kiwi by 5pm

each Wednesday

craft activities, and hang with

friends in a creative atmosphere.

Leeston Library, 19 Messines St,

Darfield Library, 1 South Tce

Picnics in the Parks

Thursday, 5.30-7.30pm

Enjoy fun family activities with

live music, bouncy castles, face

painting by Beyond the Faerie

Tree, Pedalmania, Sport Suzie's

sister Lieutenant Lou, events

trailer packed with games and

more. Activities for all ages to get

involved and prizes up for grabs.

Free sausage sizzle and coffee

available for purchase. Pack a

picnic and make an evening of it.

Springfield Domain

Board Games Club

Sunday, 1.30-3pm

Love board games? Join the

Board Games Club at Rolleston

Library to play a variety of exciting

games. Suitable for those

new to board games, as well as

regular players. Recommended

for intermediate and high school

aged children aged 11–18. Drop

in – no booking required.

Rolleston Library, 94 Rolleston

Drive

Adult Book Club

Friday, 1.30-3pm

Enjoy a good book? Don't

mind sharing the good the bad

and the ugly bits? Book clubs are

an opportunity to get together

with other readers and talk about

books on a monthly topic or

genre.

Rolleston Library, 94 Rolleston

Drive

Justice of the Peace Clinics

Rolleston on Monday, noon-

1pm, and Lincoln on Tuesday,

10am-1pm

A justice of the peace will be

available to members of the community

to witness signatures and

documents, certify document

copies, hear oaths, declarations,

affidavits or affirmations, as well

as sign citizenship, sponsorship

or rates rebates applications.

Rolleston Library, 94 Rolleston

Drive, and Lincoln Library, 22

Gerald St

Volunteering Selwyn

Tuesday, 9am-1pm

Are you interested in volunteering?

Or part of a not-forprofit

organisation that requires

volunteers? Head along to a dropin

session and find out more

from Volunteering Canterbury.

These are for anyone interested

in volunteer engagement, recruitment,

retention, recognition, or

just want to find out more about

volunteering. This is part of a sixmonth

initiative in Selwyn, led by

Volunteering Canterbury which

is helping to connect residents

looking to volunteer with local

not-for-profit organisations.

Leeston Library, 19 Messines St

S.T.A.R.S

Tuesday, 4-5pm

Fun, educational and interesting

with something new every

month. Go along and have a go.

Leeston Library, 19 Messines St

Markets:

West Melton Market:

Saturday, 9am-noon. St Paul's

Church.

Darfield Market: Saturday,

9am-1pm, opposite Challenge

Darfield, South Tce.

Lincoln Farmers and Craft

Market: Saturday, 10am-1pm,

Gerald St.

Rolleston colour fun day,

Sunday, 11am-2pm. A family

event where you end up

being covered in paint and

powder, passing through

five colour stations and

four obstacles. Afterwards,

free water and art activities

continue the fun. Run by

Rolleston Lions and all

proceeds to the youth of

the district. Tickets through

Eventfinda. All details on the

facebook page Rolleston

colour fun day. Helpet Park.

Running groups:

Rolleston Road Runners:

Monday registration from

6.15pm for a 6.30pm start. 2.5km

and 5km options in Foster Park,

next to the gravel car park beside

the playground.

Lincoln Road Runners: Tuesday

registration from 5.40pm,

starts at 6pm. 3km or 6km

events. Starts outside Coffee Culture

on Gerald St. 3km or 6km

options. Gold coin donation.

Malvern Road Runners:

Tuesday registration, starts at

5.45pm for a 6pm start. 3km and

6km options and a 1.5km over

summer. Meet at McHughs Plantation

in the summer.

Ellesmere Road Runners:

Wednesday registration from

5.45pm, starts at 6pm. 3km

or 6km walk or run. Starts

from Leeston Physiotherapy.

Foster Park Run: Saturday

from 7.50am. Free weekly timed

5km run, jog or walk. Register at

www.parkrun.co.nz/foster and

don't forget your barcode. Starts

at Foster Park in Rolleston.

'Famous for their roasts!'

RESTAURANT & CAFÉ

Kid's SPECIAL

Two courses

Seniors SPECIAL

Two courses

$13

We are family friendly. Great Kids menu plus designated play area.

Soup/Roast or

Roast/Dessert

Special available lunch only

Monday - Saturday 12pm - 2.30pm

$22

ENTER NOW!

Start your

day with us

We are open from 6.30am

Cooked

breakfasts

$19

Check out our extensive

breakfast menu from

Continental to Cooked

The

RACECOURSE HOTEL

& Motorlodge

118 Racecourse Rd, Sockburn,

Christchurch. Ph 03 342 7150

www.racecoursehotel.co.nz

It's our

45th

Anniversary Year!

H ORNBY

WORKINGMEN'S

CLUB

BUSINESS AS USUAL DURING REDEVELOPMENT

SATURDAY

9 MARCH,

7.30PM

RETRO

ROCKIN'

AVAILABLE

LUNCH &

DINNER

ON FRIDAYS

AT THE

CLUB CAFE

Special

includes

Burger served

with a glass

of post-mix

ANTHONY

EASTERBROOK- CARTER

& BACKPACK

PRE-SALE TIX $20.

DOOR SALES $25

NEXT BUFFET

APRIL 7!

SUN 7 APR

SUN 5 MAY

SUN 9 JUN

5-8PM IN THE

SPORTS HALL

ADULTS $27

CHILDREN 5-12 =

$1 PER YEAR OF AGE

BOOKING ESSENTIAL

BOOK NOW!

Sunday 24th March

city2surf.co.nz

The Hornby Club | ph 03 349 9026 | 17 Carmen Rd | Hornby

www.hornbywmc.co.nz Members, guests & affiliates welcome
---
40 Wednesday March 6 2019

Latest Christchurch news at www.star.kiwi

Editorial supplied by

Gardening

Plants that will provide autumn colour

Whether you're

looking for flashy

foliage or a flurry

of flowers, Rachel

Vogan highlights the

plants that will put

on a good show in

autumn

SELWYN TIMES

www.gardener.kiwi

Bark & Mulch

20%

OFF

Sale ends 31 March 2019. See our website for T's and C's

Ph: 03 348 2915

www.gardenbox.co.nz

57 Lunns Road, Middleton (off Curletts Road)

Formerly Parkhouse Garden Supplies

RICH: Little Goldstar

(top) Glowing Violet

(above right) and My

Girl (above) will all

brighten your garden

during the cooler

months.

1. NEW: ISOTOMA

AXILLARIS 'PRETTY IN PINK'

AND 'GLOWING VIOLET'

Two new varieties will hit the

shelves this autumn from the Fizz

'n' Pop series. 'Pretty in Pink' and

'Glowing Violet' each produce

masses of star-shaped flowers

that cover the plants for months.

An Australian native, Isotoma

axillaris have finely cut, feathery,

bright-green foliage. They form

a tidy and compact dome about

30cm high and round. In colder

regions, they're best grown in

patio tubs or planters that can be

moved to a sheltered spot over

winter. Alternatively, take a few

cuttings and plant them out in

the spring after all the hard frosts.

Full sun is best.

2. HEUCHERELLA 'HAPPY

HOUR LIME'

A cross of Heuchera and

Tiarella, Heucherella are versatile

perennials that withstand heat

and cold, while being wonderful

gap-filling and ground-covering

plants. 'Happy Hour Lime' makes

a statement all year round with

its glowing lime-green leaves.

Planted in groups, 'Happy Hour

Lime' provides contrast to other

garden plants and has a real

look-at-me presence. Ideal in

sun or partial shade, they also

makes a tremendous patio plant

specimen. Over summer and

autumn, spikes of creamy white

flowers appear.

3. GAURA LINDHEIMERI 'SO

WHITE'

This butterfly bush is a ripper, as it

flowers continuously throughout

summer until the end of autumn.

The whimsical white flowers

appear on the end of tall, arching

stems, looking almost cloudlike

as they move in the breeze.

Hardy and reliable, 'So White'

adds a clean fresh punch of white

to brighten up sunny garden

borders. While it will thrive in

a pot, it tends to preform better

in the garden. Plant en masse to

maximise the impact.

4. RUDBECKIA FULGIDA

'LITTLE GOLDSTAR'

This wee gem of a plant is as

bright as a button. Numerous

stems of vibrant golden-yellow

flowers boast centres punctuated

with ebony-black seed cones.

Released a couple of seasons

ago, 'Little Goldstar' has become

popular due to its long flowering

period – until the end of autumn

to early winter. It reaches kneeheight,

40cm or so, and forms a

round mound, from which the

stems of flowers appear. Team

it up with other autumn flowers

such as zinnia, coreopsis, gaura,

echinacea, salvia or penstemon.

5. ROSE 'MY GIRL'

Valentine's Day was two weeks

ago, but this glorious hybrid

tea rose 'My Girl' could still be

a contender for a special lady

in your life. 'My Girl' will keep

blooming for months to come.

Sam McGredy bred this one by

crossing 'Northland' with 'Big

Purple'. With its beautiful sweet

fragrance and perfectly formed

blooms of lilac pink, it's a real

charmer and, better still, the

flowers do not bleach or fade

in the sun. 'My Girl' has a

compact habit in relation to

other bush roses, making it

ideal to use at the front of a

rose border, backed by tall

types like 'Iceberg'. It is

described as disease resistant,

therefore requiring little

maintenance.

6. ECHEVERIA 'VIOLET

QUEEN'

Succulents come in numerous

types, colours, shapes and sizes.

This one is pretty and catches

the eye with its dusky silvery

leaves, which curl up at the tips

to form neat rosettes of foliage.

Over the cooler months, the

plant changes colour to shades

of violet and mauve. Echeverias

have a shallow root system,

therefore they can grow in the

even the smallest pockets of

earth. Full fun or partial shade

are options, though the ground

does need to drain well as, like

many succulents, echeverias

loathe wet feet. Ideal for patio

planters, hanging baskets and

window boxes. Plants quickly

multiply and are easy to divide

into new plants.

PATIOS - OUTDOOR AREAS - CAR PORTS

Shadecraft is a locally owned company who specialise in shade and weather

protection products to enhance your homes design and use of outdoor areas.

SHADE SAILS – UMBRELLAS – ALL WEATHER CANOPIES

ShadeCraft (SI) Ltd

0800 742332 • Cell 0274 981239 • www.shadecraft.co.nz
---
SELWYN TIMES Latest Christchurch news at www.star.kiwi

Wednesday March 6 2019 41

Caravans, Motorhomes

& Traliers

CARAVAN Wanted to

buy. Up to $5000 cash

today 027 488-5284.

Cars

$8,001 - $12,000

HOLDEN CAPTIVA

CG5, 2.4L 2WD 2012

model. White, in great

condition, currently

owned by older couple

downsizing their car.

Been garaged. Current reg

and WOF. 145,000 kms.

$9,250 ono. Great family

SUV. To view or more info

phone Shane 021 381 765

HOLDEN CAPTIVA

CG5, 2.4L 2WD 2012

model. White, in great

condition, currently

owned by older couple

downsizing their car.

Been garaged. Current reg

and WOF. 145,000 kms.

$9,250 ono. Great family

SUV. To view or more info

phone Shane 021 381 765

Classifieds Contact us today Phone our local team 03 379 1100

Funeral Directors

Non-Service Cremation $2,050

Just Funerals, a family owned and

operated company with qualified,

registered and experienced staff.

Other services also

available, please

call to enquire.

Phone 0800 804 663 - 24 Hour Availability

Email: info@justfunerals.co.nz

christchurch.justfunerals.co.nz

Gardening & Supplies

Macrocarpa Sleepers

200x100

Ideal for

landscaping

1-5m

We cut to

length

SUPPLIES LIMITED

Gardening

& Supplies

ellesmere

lions

Pea straw

now available

We deliver:

Small bales $6

Medium squares

(equivalent of

10 small bales)

$50

Contact

alex Hayward

03 324 4094

Phone

021 325 661

653 Ellesmere Road, Lincoln

www.macrocarpasupplies.co.nz

Heating

Log Fires

Pellet Fires

Heat Pumps

Sales

Service

Installations

Free Quotes

03 343 1651

472 Blenheim Rd

www.heatstore.co.nz

Personals

Why Stay Single & Alone…

…when at New Beginnings

Network we have many

members seeking

companionship/love!

Meet through personal phone

calls not impersonal computer

match up whilst receiving

expert dating advice with real

relationship experts with 25+

experience.

Servicing all areas: City/Rural

with members of all ages from

the young to the young at heart

(seniors welcome!).

Call 0800 315 311 for a free

compatibility match to see

who is waiting to meet you!

Taking calls 7 days til late

www.

newbeginningsnetwork

.co.nz

Select Services

Heat Pump Specialist

(Registered Electrician)

Installation • Sales • Maintenance

Cozy 5.85Kw

Heat Pump

$2,100 installed

* Conditions apply,

other models also

available

Contact Stu Masters: 027 472 7955 or 03 338 0295

www.greeonline.com | airconmasters@xtra.co.nz

Select Services Select Services Select Services

Reduce fire risk -

mulch down long grass

We have just purchased a new mulcher to mulch

down long grass - contact us today!

THOMSON CONTRACTING For all your baling needs

Contact Michael or Jackie:

OffICe 03 347 3479 | Cell 027 228 9868

Need a hand?

✤ Lawns & Edges

✤ Landscaping

✤ Gardening

✤ Hedge Trimming

✤ Handyman Jobs

✤ Casual or One Off

Phone Mike Lineton

022 341 8848

Your local

Selwyn District

GARDENER/

HANDYMAN

Hedge tRimming

& gaRden

maintenance

• Hedge Trimming

• Small Trees and Shrubs Topped,

Shaped or Removed

• Trenching and Digging Buckets

• Garden Maintenance

• Landscaping

• Cleanups Available

• Wood Splitter for Hire

JuSt Small

HedgeS

Stu Reid OWNER OPERATOR

Phone: (03) 325-4664 | Mobile: 021-500-519

hedgesandmore.co.nz

To Let

RENT ME!

Ideal as an extra

bedroom or office.

no bond required

Fully insulated and double glazed for warmth.

Three convenient sizes from $70 a week:

Standard 3.6m x 2.4m

Large 4.2m x 2.4m | Xtra-large 4.8m x 2.4m

Visit our website

www.justcabins.co.nz

for display cabin locations

www.justcabins.co.nz

Trades & Services

BUILDING REPAIRS

GIB STOPPING | FENCING

YARD CLEARING / CLEAN UP

SMALL DIGGER WORK

DRIVEWAYS & CONCRETE REPAIRS

RC MAINTENANCE

no job too small

LTD

ROSS CHESTNUT

ROSS Owner CHESTNUT

/ Operator

Owner / Operator

021 969 654

021 969 654

ross@rcmaintenance.co.nz

ross@rcmaintenance.co.nz

PO Box 92010

PO Box 92010

Farringdon, Rolleston

Rolleston 7650

BUILDING REPAIRS | GIBB STOPPING | YARD CLEARING / CLEAN UP

SMALL DIGGER WORK | FENCING | DRIVEWAYS & CONCRETE REPAIRS

• Irrigation • Drainage • Driveways

• Auger Hole Drilling

• Land Clearing & Development

• Culvert Installation • Construction Site Works

• Tree & Hedge Removal • Concrete Breaker

Phone Mike: 027 272 8058 OR 03 324 4323 A/H

g.m.contracting@xtra.co.nz

www.gmcontracting.co.nz

• Gates and gate openers

• Automatic openers

• Garage doors

digga hire

0800 344 425

The genuine custom

made garage door

professionals

• Maintenance

• Repairs

• Free quotes

276 Larcombs Road, Rolleston

Call us on 0800 661 366 or 03 347 8333

Open Monday to Friday 7am-5pm

www.custommade.co.nz

Short and long term hire -

Flexible and competitive rates

1.5t - 25t Excavators & attachmEnts

Cnr SH1 & Weedons Ross Rd, Rolleston

Access from Manion Rd

Driveways

AUTO ELECTRICIAN

Ellesmere

Auto

Electrical

• Air Conditioning • Alternators

• Starter Motors • Wiring Repairs

• Diagnostics • Lighting • Batteries

Mobile Auto Electrician

022 644 9664

Farmlands Card Accepted

CARPET carpet/furnishings

/ FURNISHINGS

Di's Carpet

BinDing

Have your carpet

off-cuts bound

124 Halswell Junction Rd, Halswell

Phone 322 1103 Mobile 027 586 4830

Hours Mon - Fri 9.30am - 5.00pm

ELECTRICAL

SELWYN

ELECTRICAL

SERVICE

Don't let electrical

problems worry you

For all electrical

repairs & service

CALL TODAY

027 492 8971

or ah 344 6202

SHELTERBELT TRIMMING

Boundary

Trimming

Call Tony Dempsey

Phone 03 325 3256

Mobile 0274 323 943

SWAINS

KIWI KERB

(Since 2005)

Over 22 Years Experience

Quality

Workmanship

• Driveways

• Kerb &

Channel

• Garden Edging

Phone: 0800 081 400

Mob: 0274 325 457
---
42

Latest Christchurch news at www.star.kiwi

Wednesday March 6 2019

SELWYN TIMES

Classifieds Contact us today Phone our local team 03 379 1100

Trades & Services

Trades & Services

Trades & Services

Trades & Services

Trades & Services

Trades & Services

•Re Roofing

•Roof Repairs

•Spouting

Approved Age Concern provider

Over 30 years experience

Licensed Building Practitioner

N A BARRELL

ROOFING LTD

Ph: 349 9778 or 0275 389 415

Email: nabroofing@xtra.co.nz

Peninsula

scaffolding

Certified set up/dismantle

Tube/clip system scaffold

For all scaffolding and

propping jobs

Phone 329 0040 or

027 235 8180

DECORATORS

New Paint • Repaints

Wallpapering • Fences

Repairs • Feature Walls

Floor & Roof Painting

Spray Painting

Light Commercial

Restoring Timber

Selwyn based but service the whole of Canterbury

www.andertondecorators.co.nz

www.facebook.com/andertondecorators

027 724 6846 027 PAINTIN

TAI TAPU TYRES

53 Main Rd Tai Tapu

Ph. 03 329 6767

Will better any

other quoted price

Stockists of Kumho, Goodride and

Petlas Tyres, for all cars, 4WD, bikes,

tractors and trucks.

Excavations

• Driveways

• Car Parks

• Site Cleaning

• Demolition

• Farm Tracks

• Drain Cleaning

• Stump & Hedge

Removal

• Ashpalt Concrete

Wide range

oF TruckS

• Tennis Courts &

Swimming Pools

• Chip Seal Driveways

• Diggers – 2 Ton

up to 20 Ton

• Excavators

• Bobcat & Drilling

• For Posthole &

Fence hole

For a Free Quote

on your next project

Phone Steve on 021 338 247

or 325 7922

Free

QuoTe

LANDSCAPING

Call Aaron &

the team today!

Phone: 03 347 4422

or 021 542 402

Email: Aaron@theoutdoorspace.co.nz

RE-ROOFING

need a new roof?

We can replace your old concrete tile,

deco tile or old corrugate roof.

We can also complete asbestos removal.

Free measure and quote.

For a quality job contact us.

163 ShandS road, hornby | Ph: 03 349 8439

www.roofline.co.nz

STOP BIRDS

hail, leaves, snow & vermin from

blocking & damaging your spouting

Quality materials: BHP Colorbond steel mesh with

unique patented louvre will even keep out pine needles.

Will not rust or sag with age or load. 10 year warranty,

range of colours.

Proven in Australia & New Zealand over the last 15 years.

FOR SAFE, PURE DRINKING

WATER FROM YOUR ROOF.

NOW AVAILABLE: STAINLESS STEEL

MICO MESH

Call Rohan anytime Mon-Sat for a

no-obligation assessment & quote

03 982 8850 0800 486532

www.gumleaf.co.nz

For the Outdoor

Space of your

Dreams...

Paving, Irrigation,

Lawns, Planting,

Fences, Pergolas,

Water-features,

Outdoor fires,

Raised Vege beds,

Decks, Artificial

grass & more...

www.theoutdoorspace.co.nz

Trades & Services

LifestyLe

BLock

fencing

new fencing, post driving,

repairs, maintenence.

Quality workmanship

& advice.

Phone Allan 021 049 6151

allan@agrifencenz.com

Facebook: agrifencenz

Trades & Services

BUILDER QUALIFIED

Decks, T & G Flooring,

Villa Restoring, New

Homes, Weatherboards.

Free Quotes. Bennet &

Sons Ltd Sam 027 496-

9362 or Tony 027 224-

0374

Trades & Services

UDI PAINTING &

DECORATING

For all painting and

decorating services.

Fully Qualified

• Interior &

Exterior Painting

• Wallpapering

• Plastering

• Roof Painting

All work guaranteed

FREE QUOTES

Contact Udi Aale

Ph. 021 074 2075

ELECTRICIANS

Professional

Friendly Registered

Tradesmen available

for your Electrical

requirements today.

For immediate

quality service please

contact

services

Ph. 03 322 8454

www.skeltonelectrical.co.nz

ROOF

PAINTING

Rope & harness

a speciality,

no scaffolding

required,

30 years of

breathtaking

experience.

FREE QUOTES

Exterior staining,

exterior painting,

moss and mould

treatment and

waterblasting

Phone Kevin

027 561 4629

PESt

coNtRol

• Spider proofing

& fly control

• all other pest

problems

Rob & Scott WaRloW

Servicing Selwyn Area Since 1987

Qualified & Experienced Professional

office: 03 337 9553

Rob: 027 436 1169

Scott: 021 168 6118

Member of Pest Management

Assoc. of NZ

Trades & Services

BUILDER

Local builder with 35

years exp in all types

of building - from light

commercial construction

to housing, etc. Also some

gib stopping and painting.

Selwyn based. High

quality work with careful

attention to detail. No job

too big or small. Ph Bruce

027 2742792.

Licensed

Builder

LBP 35 years building

in the Selwyn area

Extensions/alterations

Kitchens Bathroom

Joinery shopfitting

Farm buildings

maintenance

Decks and pergolas

Contact Barry:

027 2626 867

or 03 329 5506

ACE HIGH

PLUMBING

All Plumbing

Gasfitting

Drainlaying

Blocked Drains

Log Fires,

Wetbacks

Gas Hotwater

Phone

021 454 864

Trades & Services

BUILDER QUALIFIED

Decks, T & G Flooring,

Villa Restoring, New

Homes, Weatherboards.

Free Quotes. Bennet &

Sons Ltd Sam 027 496-

9362 or Tony 027 224-

0374

CARPENTER

HANDYMAN

Small Job Specialists,

Carpentry, Repairs,

Decking & Maintenance,

40 years experience, no

job too small, Ph Warren

03 322-1103 or 027 697-

8541

CARPET & VINYL

LAYINg

Exp. Repairs, uplifting,

relaying, restretching.

Email jflattery@xtra.co.nz

ph 0800 003 181 or 027

2407416

CONCRETE CUTTINg

Affordable Concrete

Cutting with Quality, and

removal work. Free quote.

No job to small. Phone 027

442-2219, Fax 359-6052

a/h 359- 4605

FENCINg

Quality timber fencing -

gates & repairs, ph Ryan

027 951 8892

Bellamy's

Furniture

Furniture made to

order and restoration

by tradesman with

35yrs experience.

PH Stephen

021 073 2624

LANDSCAPINg

Paving, Lawns, Irrigation,

Decking, Fencing.

Kanga & small digger

services. Check out Squire

Landscaping on facebook.

FREE QUOTES. Ph

Arthur 347-8796, 027

220-7014 Edwin 027 220-

7154

MASONRY

DAMAGED

MASONRY?? Rock and

Blocks Work Ltd for all

your brick, block and tile

laying needs. Friendly

service Licensed Building

Practitioner phone Devon

on 021 375-888 or 03 329-

5511

RJB PLUMBINg

Renovations, New Houses,

Hot Water Cylinders,

Kitchens Bathroom

Upgrades, Laundries,

General Maintenance ,

Water Filters. Phone Mark

0278690026

Situations Vacant

SHEEP SHEARINg

MOBILE

Fast friendly professional

service. 25 yrs exp.

Shearing, drenching, hoof

trimming etc. Call Shaun

021 204 1274

STUMP gRINDINg

Best price guarantee Tony

0275 588 895

TILINg

Flooring - Splashbacks

-Wall incl tile removal, reg

master tiler, ph Dave 027

334 4125

WINDOW CLEANINg

Brown & White Ltd.

Family owned since 2001.

Ph Paul 027 229 3534

Civil Operator

& Labourer's

ACL has established itself as a leading Company in Civil Contracting

with a workforce in excess of 130 staff and has proven itself in a

dynamic and challenging market through performance and quality.

Due to an increased workload we are looking for licensed Operators

and Labourers to join our team in the Selwyn District. If you are

experienced in Construction work and can meet the below attributes

then we would like to hear from you.

Key Attributes:

• Focused on Safety and delivering high quality work

• The ability to work well within a team

• Be motivated with a positive can do attitude

• Operators will need a minimum Class 4 and WTR, and be

experienced in Civil, Drainage & Utility work, and on multiple machines.

• Labourers will need minimum Class 2 and WTR

What we offer:

• Competitive wage

• Opportunities for further training

• On-the-job training

• Professional and Supportive team environment

The successful applicant will be required to complete a preemployment

drug screen.Applicants for this position should have

NZ residency or a valid NZ work visa. Please send your application

and a CV or details to:

Steve Adam, Ashburton Contracting Ltd, PO Box 264, Ashburton

Email: stevea@ashcon.co.nz
---
SELWYN TIMES Latest Christchurch news at www.star.kiwi

Wednesday March 6 2019 43

Situations Vacant

Situations Vacant

Public Notice

REGISTERED

NURSE FOR EAR

WAX REMOVAL AND

HEARING TESTING

Part time position -

Ashburton

Registered Nurse required for Audiology

Company, to perform Ear Wax removal by

microsuction and Hearing Testing.

• Part time - 24 hours per week

• The clinic operates Monday to Friday,

8.30am to 5.00pm

• Previous experience not necessary, as

complete training in ear wax removal and

hearing testing will be provided to the

successful candidate

• The position is rewarded by a competitive

hourly rate, a great work environment and

offers the opportunity to make a positive

difference in people's lives

• We are looking for someone with drive and

initiative, to become a valuable member

of our team and provide our clients

outstanding service

If this sounds like the opportunity you have

been looking for, please forward your CV to

manager@houseofhearing.co.nz

Applications close Friday, March 8, 2019

Please note: All applicants must be legally

entitled to work in New Zealand

We're now looking for

great people to join our team.

Situations Vacant

we design.

we build.

we develop.

we innovate.

Trainee Crawler Crane Operator

Who Are We

Calder Stewart is a leading construction company specialising in design and

build services to the industrial, commercial, rural and public construction markets.

With a thirst for building innovation, pride in traditional business values and a

commitment to 'build it the right way', Calder Stewart has been a recognised

leader in the New Zealand building industry for 60 years.

About the Role

This is a great opportunity to enter the construction industry, joining our

small team initially as Dogman, with the prospect of gaining Crane Operators

qualification. You'll work with our fleet of mobile and crawler cranes, carrying out

work on our various commercial construction sites throughout the Christchurch

region. You will have a passion for learning, be highly motivated, with knowledge

of agricultural machinery or similar heavy equipment.

Our ideal candidate

To be successful in this role you will need to have:

• exposure to machinery or farming equipment

• a full driver's licence

• self-motivation

• ability to think outside the box

• a commitment to improving performance in product quality and safety

• a good level of physical fitness

• ability to follow clear instructions and work well within a team.

Full training will be provided with prospect of Trainee Crawler Crane opportunity

considered for a stand out applicant who is motivated and reliable.

Culture and Benefits

In return, we offer you an opportunity to join a solid, long standing and reputable

company with a supportive work environment, where you will meet great people

and are provided with long term career opportunities.

Please apply online now by visiting our website: www.calderstewart.co.nz

and click our employment section.

Calder Stewart is committed to a drug and alcohol free workplace. A negative

drug test result will be a condition of any offer of employment.

Coordinator/

Wellness Coordinator

The above position has become

available with the North Canterbury

Rural Support Trust.

The Trust is a unique organisation

working with individuals and families

out in the North Canterbury Rural

Community.

Our area extends from the Rakaia

River in the South to North of

Kaikoura and includes Banks

Peninsula.

The position requires a person with

good IT skills, an understanding of

farming and rural life, has a warm and

empathetic personality, able to be

flexible with time, 15 – 25 hours/week,

and will be able to work from home.

For further details visit:

www.calderstewart.co.nz

To request a position description

please email:

NCRST.coordinator@gmail.com

Applications for this position close

Monday 11th March.

Public Notices

Tuition

Selwyn District Plan

PRIVATE PLAN CHANGE 59

GW Wilfield Ltd has lodged a private plan change request with the Council. The

plan change seeks to rezone approximately 73.5ha of land at West Melton from

Living 2 and Living 2A to a Living WM South Zone, to allow for more intensive

residential development.

Selwyn District Council

Clause 5 of the First Schedule, Resource Management Act 1991

Plan Change 59 (PC59) proposes to change the Selwyn District Plan (Townships Maps

and Plan text) to rezone approximately 73.5ha of land at West Melton from Living

2 and Living 2A to a Living WM South Zone, to allow for more intensive residential

development. The subject land is located on the south side of West Coast Road/State

Highway 73, bounded by Weedons Ross Road to the west and is the whole of the area

known as the 'Wilfield' subdivision.

PC59 proposes amendments to the Selwyn District Plan that include:

· amending the District Planning Maps to rezone the subject land from Living 2 and

Living 2A to a Living WM South Zone

· amending Township Volume, Appendix 20 Outline Development Plan – West Melton by

deleting the existing Outline Development Plan (ODP) and replacing it with two ODPs

· renaming the existing Living WM Zone to Living WM North Zone, with consequential

amendments to district plan provisions that make reference to that zone

· amending Township Volume, A4.5 Townships and Zone, Table A4.4 Description of

Township Zones

· amending Section B4 Growth of Townships, Residential Density – Anticipated

Environmental Results

· amending the explanation to Townships Policies B4.3.98 and B4.3.101

· introducing rules to manage fencing, buildings and subdivision within the proposed

Living WM South Zone

The plan change request and the assessment of why it is needed can be read at

Council's Rolleston Headquarters and Darfield Library and Service Centre and can

be viewed online at libraries and service centres in Darfield, Leeston, Lincoln and

Rolleston or at www.selwyn.govt.nz.

Submissions

Any person or organisation may make a submission supporting or opposing any

aspect of this plan change. Submissions must be written and in accordance with Form

5 of the Resource Management Regulations and is available from a Council service

centre or on the website.

Submissions may be:

Posted to: Planning Department, Selwyn District Council, PO Box 90, Rolleston 7643

Delivered to: A Council service centre in Darfield, Lincoln, Leeston or Rolleston.

Faxed to: (03) 347 2799 (if you fax your submission please post or deliver a copy to

the details above)

Emailed to: submissions@selwyn.govt.nz

At a later date, all submissions received will be summarised and published. Further

submissions will then be invited, allowing certain persons and organisations to support

or oppose any of the initial submissions. A Council hearing will then be arranged

to consider all submissions, after which the Council will decide whether to reject

or approve the plan change. Any submitter who is not satisfied with the Council's

decision may then appeal to the Environment Court.

For further information regarding this plan change or the process outlined above,

please contact Rachael Carruthers on (03) 347 2800 or (03) 318 8338.

The closing date for submissions is 5pm, Thursday 4 April 2019.

www.selwyn.govt.nz

Tuition

ACCORDION

LESSONS

$15 subsidy per lesson for

1st 5 lessons. Canterbury

Accordion Assoc

welcomes new players. All

ages. Ph 359-6615 / 027

323 5943

Tuition

Tuition

Line Dance Class for beginners

Where: Rolleston Community Centre

When: Starting 21st March

Every Thursday for 8 weeks

from 6pm-7pm

PriCe: $6

Call/text Carol on 027 227 8919

Wanted To Buy

AAA Buying goods

in Rolleston,Lincoln,

Prebbleton. Quality

furniture, Beds, Stoves,

Washing machines,

Fridge Freezers. Same day

service. Selwyn Dealers.

Phone 980 5812 or 027

313 8156

Vehicles Wanted

CAR REMOVALS

$$CASH PAID$$

CARS, VANS, UTES

& 4X4 WANTED

NZ OWNED

AND

OPERATED

FOR

24 YEARS

We use world class vehicle

depollution systems

0800 8200 600

www.pickapart.co.nz
---
44 Wednesday March 6 2019

Latest Christchurch news at www.star.kiwi

SELWYN TIMES

OUTDOOR REDUCED

Outdoor prices have dropped even

further so you can enjoy the last

days of summer in style!

STOREWIDE SALE NOW ON! EXCLUDES MANCHESTER & ACCESSORIES. SALE ENDS 18.03.19.

SAVE

$

1200

Montego

Corner Lounge/Dining Set

Includes Corner Sofa, Dining Table

+ 2 x Ottomans

REDUCED

now

$

699

now $ 1799

Ego Egg Chair REDUCED Bistro Dining Table Bistro Dining Chair

now

now

REDUCED

now

$

299

$

169

$

75

SAVE

$

280 SAVE

$

260

ON THE SET

Manteau

Modular Lounge Set

Includes Corner Sofa

+ Coffee Table

SAVE

$

1100

REDUCED

now $ 1699

Shop

Online

Nationwide

Delivery

Finance

Options

targetfurniture.co.nz

Cnr Blenheim & Curletts Rds, Christchurch

Ph: 0800 TARGET (0800 827438)

Offers and product prices advertised here expire 18/03/19.

Sale excludes Manchester and Accessories.
---
SELWYN TIMES Latest Christchurch news at www.star.kiwi

Wednesday March 6 2019 45

RELOCATION

SALE NOW ON

UP TO

80 % OFF!

LARGE GRADE

TREES, SMALL

GROWING

TREES

& SHRUBS

ALLWOOD TREES IS RELOCATING

TO A NEW SITE LATER IN 2019!

We don't want to move thousands of trees

so we are having a relocation sale during

the month of March to reduce stock numbers.

Get in

Quick!

View our sale catalogue online now:

www.allwood.co.nz/sale

366 Halswell Junction Road, Halswell

T: 03 349 9240 | E: info@allwood.co.nz

Keep up to date on what is happening around the nursery

through our Facebook page and at www.allwood.co.nz
---
46 Wednesday March 6 2019

Latest Christchurch news at www.star.kiwi

SELWYN TIMES

RELOCATION SALE NOW ON

TO8

UP

Large Trees

Suitable for farms, lifestyle

properties, large sections.

• Flowering Cherry Trees

• Hornbeam

• Oaks

• Lime Trees

• Elms

• Tulip Trees

• Canadian Maples

• Claret Ash

• Magnolia, deciduous

and evergreen

Trees up

to 5.0m in

height

Smaller Growing Trees

Suitable for residential sections,

townhouses, over 60s units.

• Japanese Maples

• Cornus Eddies White

Wonder

• Weeping Silver Pear

• Magnolia Little Gem

and Teddy Bear

• Japanese

Snowdrop Tree

• Cercis Forest Pansy

• Flowering Cherry

Trees

Trees up

to 2.5m in

height

Liquidamber FROM $50 Upright Oak FROM $50 Evergreen Magnolia FROM $70 Japanese Maple FROM $100

HUGE RANGE

Golden Elm FROM $70 Canadian Maple FROM $50 Cercis Forest Pansy FROM $50 Flowering Cherry FROM $20

366 Halswell Junction Road, Halswell, Christchurch 8025 | T: 03 349 9240 | E: info@allwood.co.nz

View our sale catalogue online now: www.allwood.co.nz/sale
---
SELWYN TIMES Latest Christchurch news at www.star.kiwi

Wednesday March 6 2019 47

0 % OFF!

FOR A LIMITED TIME ONLY

Until 31 March 2019

Daphne

Large Grade

Pink and white scented

flowers. $89.50 grade

NOW $65

Topiary

Standards

20% off

or more!

• Portuguese Laurels

• Bay Laurels

• Liquidamber

Gumball

• Photonia Red Robin

• Robinia Mop Top

Hedging

Plants

• Griselinia

• Pittosporum

• Photinia Red Robin

• Euonymus

• Mexican Orange

Blossom

• Bay Laurel

• Portuguese Laurel

• Plus many more

Great

savings!

Robinia Mop Top/

Liquidamber Gumball

Laurus Nobilis

(Bay Tree)

Pyrus Salicifolia

Pendula

Evergreen

Magnolia Tree

(Weeping Silver

Pear Trees)

FROM $60

Great hedging tree. Large grade.

Were $85

NOW $50

Tough ornamental tree for

exposed sites. Were $145

NOW $80

• St Mary

• Little Gem

• Grandiflora

20% off

or more!

• Blanchard

• Teddy Bear

• Jade Emperor

366 Halswell Junction Road, Halswell, Christchurch 8025 | T: 03 349 9240 | E: info@allwood.co.nz

www.allwood.co.nz

OPEN TUESDAY to FRIDAY - 9.00am to 4.30pm

SATURDAY & SUNDAY - 10.00am to 4.00pm
---
48 Wednesday March 6 2019

Latest Christchurch news at www.star.kiwi

SELWYN TIMES

RELOCATION SALE NOW ON

Pittosporum

Wrinkle Blue

Large grade, great for instant

hedge. Were $39.50

NOW $30

Rhododendron

Varieties

Big chunky plants.

$59.50 grade

NOW $45

Shrubs

20% off

or more!

• Camellia

• Thuja Smaragd

• Pieris

• Pittosporum

Golf Ball

• Cranberry

Plus many more

plant varieties.

Ideal for all gardens.

Good, honest

gardening

advice is our

hallmark

Our services include:

• Landscape and

planting plans

• Garden maintenance

• Great advice from

arborist / Horticulturalist

• Project planning

• Contract growing for

future projects

Landscape plans, planting plans...

Allwood Trees has a great

planning service for garden

design.

From planning to completion,

Allwood Trees can organise

this for you.

View our sale catalogue online now: www.allwood.co.nz/sale
---
the BeSt PRoPeRtieS AcRoSS

the SeLWYn DiStRict

INSIDE

PUBLiSheD eVeRY WeDneSDAY

Week commencing WeDneSDAY, 6th mARch 2019

Private Darfield Oasis

The owners have poured their heart and soul

into this Boyd Chamberlain designed home in

a prestigious subdivision. Enjoying beautiful

surroundings and stunning mountain views.

Comprising of 3 wings, the home flows

seamlessly from the open-plan living spaces

to the westerly aspect outdoor area.

Entering through the stunning entrance

foyer you instantly appreciate the space and

tranquillity this property offers enhanced

by the high ceilings. To the right is the hub of

the home with a modern kitchen with stone

benchtop and two living areas. To the left you

are spoilt with 4 large bedrooms plus an office.

The master enjoys a tiled en suite and two

walk-in wardrobes. A tiled family bathroom,

expansive storage and a large laundry.

Spacious 3 car garaging. A stunning expansive

garden and outdoor tennis court, vege patch,

tunnel house and a variety of fruit trees.

www.farmlandsrealestate.co.nz

Property ID: DA1776 or RX1806231

Ron Ferguson

Contact:

Phone: 027 498 6256

email: ron.ferguson@farmlands.co.nz

Tracy Stevenson

Contact:

Phone: 027 543 9029

email: tracy.stevenson@farmlands.co.nz

4 Piako Drive, Darfield

Negotiable Over $799,000
---
2

Hastings McLeod Limited Licensed under the Real Estate Agents Act 2008 6 Tennyson Street ROLLESTON rolleston@pb.co.nz 03 929 0306

Contemporary lifestyle

Live it up large and lush

NEW LISTING

NEW LISTING

WEB ID DFL66357

DARFIELD

95A Bangor Road

View By Appointment

Set on a secluded private 6536m3 section enjoying

superb positioning on the edge of Darfield Township is

this contemporary designed 167m2 home built in 2018.

The modern dwelling features open plan

kitchen/dining/living, 3 bedrooms and family bathroom

boosting a double tiled shower and twin vanities.

Mezzanine floor above provides a useful study/office

space. Separate laundry and internal access double

garage with loft ensures all space is well utilized.

Complemented by a range of outbuildings.

Gareth Cox

Mobile 021 250 9714

gareth@pb.co.nz

Home heating designed to save money!

$625,000

3

1

2

WEB ID ROU66823

ROLLESTON

3 Dylan Close

• 239m2 home on 772m2 private section

• Large 5th bedroom loft or 3rd living space option

• Huge master with spacious WIR and ensuite

• Gas cooking and hot water (separate kitchen HWC)

• Extra-height ceilings to the main living areas

• Log burner and ducted heat pump system

• Double-glazed and LED lighting

• Double garage with drive through and excellent OSP

• Covered patio & deck area with water feature & servery

windows

Vintage to Vibrant!

VIEW Sunday 10 Mar 4.00 - 4.30pm

Sarah Yeates

Mobile 027 447 2719

Office 03 929 0306

sarahy@pb.co.nz

BUYERS $589,000+

5

2

2

NEW LISTING

NEW LISTING

WEB ID ROU66842

ROLLESTON

9 Ragley Way

Cleverly designed in 2016 to exacting standards and

perfectly positioned for sun and space on its private

408m2 section, those looking for the right mix of

comfort, style and OH SO affordable living will find it

right here. Quality features include:

•Trendy kitchen with hi-gloss bench & WIP

•Spacious separate master with WIP & ensuite

•LED lighting, air conditioning, fibre connected

•Heat pump powered radiator & water heating

•Large private patio/deck & plenty of lawn

•Fully-fenced, side trailer access

VIEW Sunday 10 Mar 12.00 - 12.30pm

Sarah Yeates

Mobile 027 447 2719

Office 03 929 0306

sarahy@pb.co.nz

BUYERS $499,000+

3

2

1

WEB ID DFU66818

DARFIELD

9 Bray Street

Reinvented from vintage to vibrant with the impeccable

attention to detail you'd expect in a builder's own home

comes this renovated villa where classic elegance melds

graciously with modern elements.

• Classy chef's kitchen, combo dining/open plan living

• Heat-pumps, wet-backed log-burner

• Fully insulated

• 3 bedrooms / 2 bathrooms

• Detached 2 bedroom sleep-out

• Established quarter acre section

View By Appointment

Amy Jones

Mobile 021 077 9945

amy.jones@pb.co.nz

$475,000

3

2

1

pb.co.nz
---
3

Presenting your home for sale?

The presentation of your home

doesn't mean spending thousands

on an upgrade either! So why

wouldn't you want to do everything

possible to make it appealing to

prospective purchasers?

Street appeal

The exterior of your home is the first

thing buyers will see, so the property

needs to look well-kept and inviting. Take

a look at your place from the street and

see it through a buyer's eyes. So, cut the

lawns, trim trees, plants and hedges, add

some garden lights and place a nice pot or

plant by the front door. Ensure the house

exterior is cleaned or freshened with new

paint if necessary, hose down drives, paths

and fences, put stylish new numbers on

the house and perhaps buy a funky new

letter box!

Make an entrance

Even if your entrance or hallway is

small, you can still give it some wow! A

large mirror adds light and makes an

entrance look twice the size. Fresh flowers,

candles or a stylish piece of art create an

inviting first impression. Ensure floors are

clean whether timber, tiles or carpet.

Create space

Light, air and space are three key

factors in presenting a home to the

best advantage. Open up curtains

and windows and use lamps and light

fittings for mood and ambience. Arrange

furniture to maximise space and remove

items that make the room appear

cramped.

Fresh feel

Freshen rooms with new paint if

necessary, but aim for neutral tones which

are more versatile for buyers. Add a splash

of colour in cushions, throws, artwork or

a vase of flowers. Invest in a new duvet or

bedspread and always make the bed!

Clear out clutter

Storage space sells but clutter

complicates! Clean out your cupboards,

shelves and garage, and get rid of

unnecessary clutter. Buyers inspect

wardrobes and cupboards so tidy them up

and reduce the number of photos, books,

nicknacks on display – they distract

buyers, too!

Beautify the bathroom

Replace or resurface fittings if necessary,

but otherwise you can simply beautify

your bathroom with thorough and

fastidious cleaning, thick opulent towels,

a tray of beautiful soaps and some lush,

green plants. Invest in a new shower

curtain or laundry hamper, and maybe a

sleek, modern towel rail.

Clean clean clean

Cleaning is a mandatory part of

selling your home: have carpets, rugs

and upholstery commercially cleaned

and sanitised, clean drapes and blinds to

look like new, polish glass and furniture,

wash down all surfaces and fittings in

the bathroom and kitchen, clean all light

fittings, wash windows inside and out,

deodorise your home to eliminate any

odours from pets, cooking or smoke.

Outdoor spaces

Even a small patio, deck or terrace

can be enhanced with a café table and

chairs. Add some colourful accessories –

placemats, candle lamps, pots and plants,

and there you have an extra living area.

If space is not limited, hang a hammock,

string some outdoor lights, position a

garden sculpture or create a water feature

that buyers will love.

Hire a handyman

Squeaking doors, dripping taps, cracked

tiles, broken fences, leaking toilets or

appliances that don't work are a turn-off

for buyers. If you can't repair or replace

things yourself, then hire a handyman to

make sure everything in your home works

as it should.

Finish it first

Buyers want to see a finished home,

not one that's still being fixed! So finish

everything before you list your home

for sale, then launch it onto the market

when it looks its absolute best – you have

nothing to lose and everything to gain!

Hastings McLeod Limited Licensed under the Real Estate Agents Act 2008 6 Tennyson Street ROLLESTON rolleston@pb.co.nz Office 03 929 0306

Stylish entertainer

Modern design and comfort

WEB ID ROU65145

LEESTON

65 Selwyn Street

This stunning 4 bedroom home is an entertainers dream

offering a large kitchen with butlers pantry and lots of

storage space. Open-plan dining/ living with new heatpump

and fabulous indoor/ outdoor flow, beautiful

views out to the gardens and lawns. A stylish bathroom

and separate shower room offer ease and comfort. A

great laundry/utility room that offers space and storage.

This home has been beautifully renovated in neutral

tones with family living in mind.

pb.co.nz

VIEW Sunday 10 Mar 1.00 - 1.30pm

Penny Dadson-Clausen

Mobile 027 895 5943

Office 03 929 0306

pennyd@pb.co.nz

BUYERS $499,000+

4

1

1+

WEB ID LEU66544

LEESTON

22 Friars Lane

View By Appointment

This beautifully designed 377m2 family home is

available now. And there`s plenty of room for all the

family and friends with 6 bedrooms and sprawling living

spaces. The kitchen area offers a 6-burner gas hob, walkin

pantry and large central breakfast island and, with the

open-plan living/dining area with log fire, this is a

perfect `family-hub`. The indoor/outdoor flow from here Penny Dadson-Clausen

onto the spacious, sheltered veranda makes entertaining

Mobile 027 895 5943

and alfresco dining a real pleasure.

Office 03 929 0306

pennyd@pb.co.nz

BUYERS $895,000+

6

3

4
---
4
---
5
---
6
---
7
---
8

2.00pm Wednesday 20 March 2019

(Unless sold prior)
---
9
---
10

Supporting

our community

#SupportCommunity Our Lincoln team

presenting safety vests to the students at

the newly opened Ararira School. Oh and we

didn't forget the fairy bread!

Four Seasons Realty 2017 Ltd | Licensed Agent REAA 2008

Your home for local property
---
11

Four Seasons Realty 2017 Ltd | Licensed Agent REAA 2008

Contributor to realestate.co.nz

Your home for local property

harcourts.co.nz
---
12

New to the market!

1/206 Tancreds Road, Lincoln

Lifestyle for Serious Sale

Perched on an established setting, this lifestyle

opportunity lies in wait for its new owner.

The kitchen and living spaces are the true hub of the

home. Spacious and open plan, a mono pitch ceiling,

huge windows and with views to both the Port Hills and

Southern Alps, it is the perfect place to unwind, or enjoy

social occasions.

Stacking sliders flow to the numerous outdoor spaces

means enjoying the Summer months, alfresco dining

and BBQs is a regular luxury.

Beyond the living spaces of the home, you'll find four

bedrooms plus office - Master with walk in robe, ensuite

and outdoor access. The fourth bedroom is currently

set up as a work from home salon option but could be

returned to a bedroom with ease.

The outdoors are well established and fully fenced. Stock

water to the paddocks, and good shelter ensures the

quality and potential are not limited to indoors.

A change in circumstances for our owners means this

wonderful home and lifestyle is available TODAY. Your

immediate enquiry is encouraged.

Sale by Negotiation

Viewing Thursday 4:00pm-5:00pm

Sunday 1:00pm-2:00pm

Call Steve for more infomation

Steve Alfeld

P 021 024 02528

E steve.alfeld@harcourts.co.nz

40150m2 4 2 1

Consider

A fresh approch to selling

your lifestyle property

Steve Alfeld

021 024 02528

steve.alfeld@harcourts.co.nz

Four Seasons Realty 2017 Ltd | Licensed Agent REAA 2008

Your home for local property
---
13

Key reasons

to buy new

Buying new has many advantages. No one has

yet lived in your brand new home and it has that

new home smell and feel.

That doesn't appeal to the villa crowd.

But many people dream of a home in a

new suburb.

There are many other advantages -- such

as being able to customise the home before

it's built. Buyers love it that their build

guarantee covers most things and there's

little maintenance to do for the first 10

years.

There are a long list of reasons some

people dream of buying new.

They include:

• Current Building Code requirements

specify a higher standard of insulation

and glazing than you can expect in an

older home, which makes your new home

warmer in winter and cooler in summer,

meaning cheaper to run. In addition there

has been a vast improvement in the quality

and technology of construction materials

over the last decade.

• New homes are designed for modern

lifestyles with walk-in wardrobes, double

or triple car garaging, en suites and heat

pumps.

• Internal access garaging.

• Indoor-outdoor flow. Home builders

before the 1970s rarely thought about this.

• Automatic pool covers and electric

curtains are included in a lot of new

homes, he says.

• In a new subdivision you're not going

to have five cross-leased small homes next

door to your architecturally designed fivebedroom

dream home, he says.

• New purpose-built shopping and

service centres cater for the modern life.

• New schools can be popular. New

schools are being designed with "Modern

Learning Environments", which are

considered better layouts for 21st-century

learning.

Another important factor is it's easier

to get a mortgage. New Reserve Bank of

New Zealand loan to value (LVR) ratio

restrictions from October 1 don't relate

to new homes. Likewise the KiwiSaver

HomeStart grant is doubled for first time

buyers.

When it comes to new apartment

buildings they're built to a higher standard

of earthquake/fire proofing and, hopefully,

are no longer leaky.

There are, of course, disadvantages to

buying new. Not everyone wants to wait

six or 12 months to move into their home.

Other downsides include:

• Borrowing to cover the progress

payments is more complex than taking out

a mortgage on an existing property.

• Builders and developers can go broke,

leaving the buyer in an awkward position.

• With some new homes the buyer

effectively needs to become a project

manager.

• You have to deal with council for

building and sometimes resource consent.

• The location may be further from the

centre than you wanted.

• If it's infill housing you might have a

cross lease situation that some people find

tricky.

• There are often teething problems with

a new build.

• You won't get a quaint tree-lined street.

• Your section will most likely be smaller

than that of an existing home.

• Fences, paths and landscaping might

need to be added at a cost.

RURAL | LIFESTYLE | RESIDENTIAL

DARFIELD

Quality Lease of Sheep and Cropping Farm

• Approximately 120ha of unirrigated flat land

• Quality Templeton and Lismore soils

• Well fenced into 20 paddocks with good shelter belts

• A woolshed and sheep yards will be available to use

DEADLINE PRIVATE TREATY

Closes 2.00pm, Wednesday 3 April

Sam Davidson M 027 488 8269

E sdavidson@pggwrightson.co.nz

Mark Clyne M 027 531 2964

E mark.clyne@pggwrightson.co.nz

pggwre.co.nz/CHR30068

HORORATA

$765,000 GST Inclusive

Time For Rural Life

This well-presented 16ha lifestyle property ticks all the

boxes for size, privacy and views. The home features a

large kitchen and open-plan family room. There are

three large bedrooms, a family bathroom and separate

toilet. The great heating features keep it cosy in the

winter with a free-standing log fire, floor-standing heat

pump and coal range on a wetback. An extra-large

double garage sits adjacent to the home along with a

lock-up shed, cool room and sleepout. Seven

paddocks, good yard area and an array of sheds.

Min Cookson

M 027 249 5417

E min.cookson@pggwrightson.co.nz

CHARING CROSS

Good Sized Lease Available

Approx. 143ha of unirrigated flat land on the corner of

Highfield and Wards Roads with good sheep yards and fourbay

shed available with the lease. Has recently run sheep,

beef and wintered dairy cows. A quality property.

DEADLINE PRIVATE TREATY

Closes 2.00pm, Wednesday 27 March

Sam Davidson M 027 488 8269

E sdavidson@pggwrightson.co.nz

Mark Clyne M 027 531 2964

E mark.clyne@pggwrightson.co.nz

pggwre.co.nz/DAR30011

pggwre.co.nz/CHR30023

PGG Wrightson Real Estate Limited, licensed under REAA 2008

Helping grow the country
---
14

NEW LISTING

Boundary lines are indicative only

Lincoln 40 Heathridge Place

Tai Tapu 165 Tancreds Road

Functional, established and

ready for you!

Perfectly suited to family living, this large 224m 2

(approximately) home offers you four bedrooms, two

bathrooms and plenty of versatility in its open-plan

living spaces. Naturally sunny, additional heating is

taken care of courtesy of a gas fire and two heat

pumps. Set on a 671m 2 (approximately) sized section

with established gardens, double garage and

workshop what more could you want! Properties in

this incredibly convenient location are always in

demand, so we urge you to act quickly!

bayleys.co.nz/559474

4 1 2 2

Price by Negotiation

View Sun 3-3.30pm

Urszula Bedggood 027 338 7889

urszula.bedggood@bayleys.co.nz

WHALAN AND PARTNERS LTD, BAYLEYS, LICENSED REAA 2008

Charm and location

Retreat to the outskirts of the city and enjoy the

charms of this 3.65ha property. The family friendly

home features tasteful decor and a number of living

areas offering choice for relaxation. Heating is by way

of a Masport log burner in the lounge accompanied by

a heat transfer system. Suited for most stock types the

land is supported by good shelter and sheds including

stables. Positioned approximately five-minutes' drive

from both Tai Tapu and Lincoln, it is also less than 10

minutes from Halswell to ensure you can enjoy the

convenience of countless amenities only a short drive

away.

bayleys.co.nz/559433

4 2 2 3

Deadline Sale (unless sold prior)

1pm, Wed 20 Mar 2019

View 1-1.30pm Sun 10 Mar

Chris Jones 027 220 5043

chris.jones@bayleys.co.nz

Sam Sidey 027 346 3500

sam.sidey@bayleys.co.nz

WHALAN AND PARTNERS LTD, BAYLEYS, LICENSED REAA 2008

FINAL NOTICE

Boundary lines are indicative only

Boundary lines are indicative only

Weedons 4/634 Weedons Road

Broadfield 2/265 Selwyn Road

Impressive equestrian

lifestyle

Meticulously maintained from top to toe by vendors

who have taken immense pride in their property, this

4.1382 hectares presents a picture perfect lifestyle

opportunity. The Gold award-winning 372m 2 (approx)

home is set within immaculate landscaped grounds.

There is so much on offer for the horse lover or

lifestyler including quality fencing and fully equipped

stables. Easy access to quality schools and less than

half an hour to the city. Privacy and tranquillity are in

abundance here.

bayleys.co.nz/559026

4 2 2 2

Deadline Sale (unless sold prior)

1pm, Wed 13 Mar 2019

View by appointment

Chris Jones 027 220 5043

chris.jones@bayleys.co.nz

Sam Sidey 027 346 3500

sam.sidey@bayleys.co.nz

WHALAN AND PARTNERS LTD, BAYLEYS, LICENSED REAA 2008

Location, shelter and privacy

This 309m 2 (approx) double glazed residence enjoys

magnificent garden vistas and a tranquil ambience.

Multiple bi-fold doors and double doors provide

seamless outdoor access. The landscaped grounds

include a heated swimming pool. Entirely surrounded

by mature shelterbelts, the land is divided into five

paddocks supported by a three-bay shed. Undeniably

rural yet only minutes from Broadfield School and

handy amenities, this 3.85ha property will appeal to

those wanting to be close to the city yet have plenty of

space and the much sought after country lifestyle.

bayleys.co.nz/559240

4 2 2 3

For Sale offers invited over $1,290,000

View 12-12.30pm Sun 10 Mar

Chris Jones 027 220 5043

chris.jones@bayleys.co.nz

Sam Sidey 027 346 3500

sam.sidey@bayleys.co.nz

WHALAN AND PARTNERS LTD, BAYLEYS, LICENSED REAA 2008

bayleys.co.nz
---
15

43 Hectares Irrigated Bareland

NEW LISTING

WEST COAST ROAD, AyLESbuRy

• Prime location

• Cattleyards and sheds

• Well subdivided and sheltered

• CPW water

To be sold by Deadline Private Treaty

All Offers to be presented on or before

4pm, Thursday 21 March 2019

View: www.marealestate.co.nz/MA0511

M: 027 435 5930 W: 03 347 994 E: andrew@marealestate.co.nz

M-A

MATSON & ALLAN

REAL ESTATE LIMITED

'The Experts'

Selwyn

Andrew Taylor

Residential

Lifestyle

Rural Property

Licensed REAA2008

ROLLESTON PH: 03 347 9949 LEESTON PH: 03 324 3704 DARFIELD PH: 03 318 8204 www.marealestate.co.nz

Thursday 1.00pm - 1.30pm

Sunday 11.00am - 11.30am
---
16

A large, quality home sited in a private and established

5021m 2 park-like se ting in the sought after Claremont

Estate on the boundary of Christchurch City.

The home features four bedr oms (master with

en suite and walk-in robe), open-plan kitchen, dining

and living along with formal dining, lounge and

conservatory. Great ind or outd or flow to a large

sheltered deck set in sprawling lawns and easy care

gardens with automated watering. Triple car garaging,

security gates, ducted heating, solar energy and

security system are just a few of the many extras on

offer with this property. There is a separate standalone

spacious office/studio that gives options for

those who require a dedicated work from home space

or alternatively, r om for a dependant relative.

Set amongst other quality homes on larger sections,

Selwyn Times

Auction (unless sold prior)

Thursday 19 October, 2pm

411 Blenheim Road

www.pggwre.co.nz/DAR26164

Karen Hennessy

Contact:

karen.he ne sy@p gwrightson.co.nz

W ek commencing Tuesday, 3Rd ocToBeR 2017

Brand new 'show stopper' with 4 car garaging

As always, this builder has finished his latest new build to

perfection, incorporating a l the 'must haves' and more for

the discerning buyer. Situated on a 12 0m 2 section, with

an established backdrop, the substantial 315m 2 fl or plan

provides the ultimate in family living options. The su ny &

spacious open plan living r om boasts a designer kitchen

with 90cms oven, stone bench tops & a walk in pantry,

together with define dining, living & study spaces that

The formal lounge als opens to the landscaped garden

& has a boxed high stud ceiling with sound speakers. A l 4

bedr oms are fabulously proportioned qu en sized r oms,

with the master suite providing the perfect parents' retreat

featuring an amazing dre sing r om with fu l wardrobe

system, a ditional storage & a beautiful tiled ensuite with

double tiled shower, fr estanding bath & twin vanities. The

family bathr om is equa ly elegant with a tiled shower &

twin vanities. Cosy up in front of the log burner, k ep your

toes warm with the under tile heating in the bathr oms &

k ep c ol or warm, as required, a the push of a bu ton with

2 heat pumps.

The home's practical layout also includes a walk-in linen

r om, a substantial separate laundry, a tic storage with

la der a ce s and last, but certainly not least, hugely sought

after 4 car garaging. From the moment you a proach this

www.flemington.co.nz

DeaDline Sale:

Closing 4pm on Monday

11th June 2018

(unless sold prior)

rwro leston.co.nz/RLL23148

Town & Lifestyle Real Estate Ltd

Licensed (REAA 2 08) - West Melton

Sarah Booth

Contact:

Mobile: 027 527 8258

Brendan 'Big Red' Shefford

Mobile: 027 224 4733

Lincoln - 03 325 7299

Ro leston - 03 347 9988

West Melton - 03 347 9933

THe BeST PRoPeRTieS AcRo S

W ek commencing WeDneSDAY, 23RD mAY 2018

Town & Lifestyle Real Estate Ltd

Licensed (REAA 2 08)

Your guide to Show Homes & New Sections

in the Selwyn District

A showhome

that sets

itself apart

Impressive and unique describe

Generation Homes' totally new showhome

in Halswell Common, a community style

higher density housing development in a

green garden setting.

Overlooking a reserve, this new concept

in showhomes includes a two-storey home

separated yet interconnected to its garage

with a self-contained apartment above (all

part of one title).

"The house is built to a homestar

rating system of 7, higher than minimum

building code," explains Evan Beker, Joint

Venture Partner of Generation Homes

Christchurch.

"An environmental management plan

was produced, which included minimising

and measuring waste. A manual for

operating the various features of the home

was also written up."

French doors access a

west facing deck.

Upgraded insulation, large thermally

broken windows and Velux skylights open

up the house while capturing the sun's free

energy for heating efficiency (backed up by

heat pumps). Outdoors a raised vegetable

garden beds, fruit trees and native planting

fit with the environmental features of the

home.

The architecturally designed four

bedroom (or three plus study) home has

a natural division between living and

upstairs bedroom quarters and with a

separate flat, is ideal for those wanting

space for older children, a relative or to

rent out.

Walking through the elegant entry/

formal reception area one looks up 2½

storeys to a raked ceiling, setting the scene

for this contemporary modern home.

Furnished with the latest Finnish

The kitchen's splashback is

glass over designer wallpaper.

The showhome is at 19 Holmes Hanover Lane, Halswell.

Marimekko print fabrics beautifully

enhance the light streaming through the

windows and skylights into the various

parts of the home.

There are two living areas where lounge

adjoins living, dining and kitchen space

along with two outdoor living options.

French doors open wide from the dining

area to a west facing deck, and stacking

sliders lead from the kitchen to a covered

breezeway; also the walkway connecting

the garage building.

The cook's kitchen has a butler's pantry,

glass splash back over designer wallpaper,

upgraded appliances, engineered stone

bench tops, Island tower Fawcett and gas

cooktop.

The New York style master bedroom has

internal shutter windows opening over

the front entry atrium. The large walk-in

robe with upgraded wardrobe organisers

and luxuriously tiled ensuite with double

vanity and large tiled shower, ensure no

hold-ups in the morning.

The main bathroom (upstairs) is modern

with higher than average specifications in

the tiled floor, freestanding bath and floor

mounted vanity. Another separate toilet is

downstairs along with the laundry where

there is a walk-in linen room.

The garage is a larger double with ample

storage under the private stairway leading

to the self-contained flat. This has a large

living area with built-in kitchen and

The home is interconnected

to the garage and apartment.

cupboard laundry, and a separate master

bedroom, complete with walk-in robe and

ensuite.

This 316sqm home, garage and

flat reflect the quality of house likely

at Halswell Common and offer an

opportunity to view a higher specified and

uniquely different showhome.

Generation Homes' latest showhome

officially opens this Saturday, 9th March so

why not call by 19 Holmes Hanover Lane

in Halswell between 12noon and 4pm?

PUBLiSHeD eVeRY WeDneSDAY

THe SeLWYn DiSTRicT

INSIDE

Quality Home, Private Setting, Sought After Location

extend through sliding d ors to a large deck & covered 'al

fresco' entertaining area.

this property maintains a semi-rural f el whilst being

a short, easy commute into the city or ou to Ro leston.

Phone: 03 341 4301

Mobile: 027 967 0186

premium property, you wi l a preciate what a privilege it

would be to be able to ca l it 'home'.

Contact:

63 Rossington Drive, West Melton Open Home: Sunday 2.00pm - 2.30pm

EVERY WEDNESDAY inside Selwyn Times

Address: 19 Devine Drive, Templeton Open Home: Sunday 8 & 15 October, 1pm - 1.45pm

Get the power

of three offices

working for you

Your section hunt

starts here

New Falcon's Landing sales office open, 17 Branthwaite Drive, Ro leston,

Ray White Rolleston,

Lincoln & West Melton

Sales - Property Management - Loan Market

Residential - Lifestyle - Commercial

Thursdays, Fridays and Sundays from 1-3pm. Come, visit and share in our vision

for Ro leston. Or ca l us anytime 03 741 1340. Email enquiries@yoursection.nz

Get your messages into homes throughout

the Selwyn District.

Delivered to every home & rural letterbox

(also available at selected pick up points).

For full information on placing your

advertising call:

Lynette Evans

Ph 021 222 7831 | email: lynette.evans@starmedia.kiwi

Printed on

high impact

Gloss!

Selwyn Times dedicated to getting you outstanding results & making our district a better place to live.
---
17

[Edition datE] 1

Making the most of

show home viewing

Looking through show homes is a great way to get ideas for

features and fittings to put into a new home. It can also be helpful

for getting a spatial feel for other aspects of a house design.

Before heading out for a day's

viewing, conduct an internet search.

identify the locations of show home

villages and the types and sizes of the

various building company's homes on

display, noting down the square metre

size of each home.

if wanting a high end, architectural

design, focus on the larger homes that

have desirable design features. if at the

entry or middle level of the market,

earmark homes that fit this taking in

other show homes for extra ideas.

allow sufficient time when visiting each

show home, asking for a floor plan that

has room sizes before walking through.

Check also the floor to ceiling height

of the rooms and consider how this feels

and whether you prefer a cosier feel with

the standard ceiling eight of 2.4 metres or

more spaciousness created with a higher

stud or exposed ceiling beams.

if doors and windows are taller than

normal, weigh their effect in creating

a more luxurious and spacious feel,

against potential inconvenience for small

children, cleaning and maintenance.

on entering each room, take account of

how much furniture is in each room and

whether there is sufficient space for the

furniture you will have in the room and

the size needed in a walk-in robe. Look

too, at storage capacity throughout the

home and whether this is adequate.

in the living areas, consider whether a

lounge separated from the family living

room or a true open plan kitchen, dining,

living/lounge area is preferable, and

compare internal kitchens with those that

have natural light.

Look too at the layout of

the kitchen: whether to have

an island sink or breakfast

bar where a newspaper can

be read, and children can

sit and draw or complete

homework; the positioning

of appliances; and how

important having a pantry is.

for the little rooms, equate

space and features desired

with that needed, especially

if the budget needs to be

sharp. it might be nice to

have a large walk-in shower

with double shower heads

but is this just fanciful and

will the extra cleaning annoy you long

term. a laundry in the garage is also more

economical though a separate laundry

may be handier.

Bring the garage size into the equation

also. as these vary considerably, assess

the actual measurements of each garage

viewed comparing this with the space

needed for your motor vehicles and other

items to be stored there. if a good number

of toys will be housed there, it may be

sensible to increase the size of this area of

the home.

By imagining what you need, want and

will have in your new home, you will be in

a better position to confidently choose a

design that works for you.

Visit Our New

Showhome Village

Featuring seven of Canterbury's

leading building companies

The Flemington Showhome Village is now open.

Find your perfect house and land package within a well regarded

community. Each home site has been created to enjoy the best

possible aspect situated amongst Lincoln's rural outlook.

First National Real Estate

Sue Mullins

027 244 1325

Visit Us Onsite Corner of Birches Road and Craig Thompson Drive, Lincoln.

Barry O'Neill

021 364 422

www.flemington.co.nz
---
18

17447 BCS 6982

DESIGN:

DRAWN:

JOB No.

SCALE:

CHECKED:

DATE:

SHEET No.

Show

home

Guide

Homes by Parklane

"Standout Homes for an

Outstanding Price"

Flemington, Lincoln

6 Craig Thompson Drive

Thurs & Fri 1pm - 4pm

Sat & Sun 12pm - 4pm

Wigram

2 Harvard Avenue

Mon to Fri 9am - 5pm

Master Builders House of the

Year 2017 Gold Reserve Award

Winning Showhome

(03) 341 3000 or 029 201 2453

www.homesbyparklane.co.nz

Signature Homes

Rolleston

97 Ledbury Drive, Faringdon.

Open Wed to Sun 12pm - 4pm

Prestons Park

37 & 39 Prestons Park Drive

Marshland, Chch both Open Wed

to Sun 12pm - 4pm

Show Room/Office:

31 Watts Road, Sockburn

0800 8444 88 or 03 3427788

www.signature.co.nz

Jennian Homes Canterbury North

Rolleston

7 Lemonwood Drive, Faringdon

Wednesday to Sunday, 12pm - 4pm

Rangiora

9 Westpark Boulevard

Wednesday to Sunday, 12pm - 4pm

www.jennian.co.nz

First Homes - Christchurch

St Albans

39 Sherborne Street

Open Tuesday to Saturday

10am - 4pm

021 575 545

chchsales@firsthomes.co.nz

www.firsthomes.co.nz

To advertise in

The Showhome Guide

Contact Elaine: (03) 364 7436

elaine.moon@starmedia.kiwi

New House and Land

Packages Available Now

Call Us Today for Further Details

www.homesbyparklane.co.nz

Promote your

Showhome

throughout

Christchurch

to over

93,000 homes

Contact Elaine Moon:

Phone 03 364 7436

elaine.moon@starmedia.kiwi

Build Brand new in 2019

from 293K Build price

First in PRICE

First in QUALITY

First in EXPERIENCE

TAURANGA OFFICE 027 404 1311 tgasales@firsthomes.nz

CHRISTCHURCH OFFICE 021 575 545 chchsales@firsthomes.nz

Christchurch

Phone: 021 575 545

www.firsthomes.nz

P.O. Box 2309

Tauranga

david.fishing@xtra.co.nz

ph. 021 742 734

Notes:

LOOKING FOR DESIGN INSPIRATION?

Visit one of our three stunning showhomes to gather ideas for your dream home

SHOWROOM / OFFICE:

31 Watts Road, Sockburn

Open Mon-Fri 8am-5pm

177m 2

0800 844 488

signature.co.nz

Permit for:

TERRITORIAL AUTHORITY:

GEOGRAPHICAL ZONES:

DRAWING TITLE:

Showhome open

39 Sherborne St

St Albans

97 Ledbury Drive, Faringdon 37 Prestons Park Drive, Marshland

39 Prestons Park Drive, Marshland

SHOWHOMES:

All three showhomes

Open Wed-Sun 12pm-4pm

Showhome

6 Craig Thompson Drive, Flemington, Lincoln

Thursday and Friday 1pm-4pm

Saturday and Sunday 12pm-4pm

(03) 341 3000 or 029 201 2453

Registered Master Builders House of the Year

Multi Gold Award Winning Builder

Standout Homes for an Outstanding Price

Two New Display Homes Now Open...

Jennian Homes Canterbury North have two new Display Homes that are now open.

With their outstanding features and functional design, they are sure to impress.

7 Lemonwood Drive, Faringdon, Rolleston

Open: Wednesday - Sunday, 12pm - 4pm

Example photos

Jennian Homes Canterbury North

212 Main South Road, Sockburn

P 03 741 1436 E canterburynorth@jennian.co.nz

jennian.co.nz

9 Westpark Boulevard, Rangiora

Open: Wednesday - Sunday, 12pm - 4pm

At Jennian Homes Canterbury North we pride ourselves on delivering the home you've

always wanted. So, what are you waiting for? Come on over and see for yourself what life

could be like in a Jennian Home.
---
19

this Week's

10.00am - 10.45am

11.00am - 11.30am

12.00pm - 12.30pm

1.00pm - 1.30pm

1.00pm - 1.45pm

5.00pm - 5.30pm

5.00pm - 5.30pm

6.00pm - 6.30pm

6.00pm - 6.45pm

11.00am - 11.45am

11.30am - 12.00pm

12.00pm - 12.30pm

12.15pm - 12.45pm

12.30pm - 1.00pm

12.30pm - 1.15pm

12.45pm - 1.15pm

1.00pm - 1.30pm

1.00pm - 1.45pm

1.00pm - 2.00pm

1.15pm - 1.45pm

1.30pm - 2.00pm

1.30pm - 2.00pm

2.00pm - 2.30pm

2.00pm - 2.30pm

2.00pm - 2.30pm

2.15pm - 2.45pm

2.15pm - 2.45pm

2.30pm - 3.00pm

2.30pm - 3.00pm

2.30pm - 3.15pm

3.15pm - 3.45pm

3.15pm - 4.00pm

3.30pm - 4.00pm

10.00am - 10.30am

11.00am - 11.30am

11.00am - 11.30am

11.00am - 11.30pm

11.00am - 11.30am

11.00am - 11.30am

11.00am - 11.30am

11.00am - 11.30am

11.00am - 11.45am

11.15am - 11.45am

thursday 7th march

51 Clydesdale Way (off Carnaveron Drive),

Lincoln

Harcourts Hornby

11 Goldie Place, Rolleston

Harcourts Rolleston

69 Farthing Drive, Prebbleton

Harcourts Rolleston

2 Wallace Crescent, Prebbleton

Harcourts Rolleston

24 Dunlop Crescent, Rolleston

Harcourts Lincoln

45 School Road, Tai Tapu

Ray White Rolleston

80 Windsor Drive, Kirwee

Ray White Rolleston

34/28 James Street, Lincoln

Farmlands Real Estate

friday 8th march

12 Brookside & Burnham Road, Brookside

Harcourts Lincoln

saturday 9th march

235 Rolleston Drive, Rolleston

Harcourts Rolleston

19 Oakden Drive, Darfield

Harcourts Lincoln

1 Kelly Close, Lincoln

Harcourts Lincoln

12 Brookside & Burnham Road, Brookside

Harcourts Lincoln

5 Foxbridge Lance, Lincoln

Ray White Lincoln

10 Sunline Avenue, Lincoln

Harcourts Rolleston

6 Whitehorn Drive, Lincoln

Harcourts Hornby

158 Dunbars Road, Halswell

Ray White Lincoln

24 Dunlop Crescent, Rolleston

Harcourts Lincoln

6 Ryton Place, Lake Coleridge

Matson & Allan Darfield

52 Vernon Drive, Lincoln

Harcourts Lincoln

40 Shelley Street, Rolleston

Harcourts Rolleston

268 Southfield Drive, Lincoln

Ray White Lincoln

3 James Hight Avenue, Halswell

Ray White Rolleston

670 Springston Rolleston Road, Rolleston

Harcourts Lincoln

10 Caesar Close, Rolleston

Ray White Lincoln

72 Liffey Springs Drive, Lincoln

Harcourts Lincoln

2/131 Carmen Road, Hei Hei

Ray White Rolleston

63 Thames Drive, Rolleston

Harcourts Rolleston

62 Selwyn Street, Leeston

Ray White Rolleston

11 Aua Street, Lincoln

Harcourts Lincoln

23 Tirangi Street, Hei Hei

Ray White Lincoln

83 Highsted Road, Bishopdale

Harcourts Rolleston

436 Southbridge Leeston Road, Leeston

Ray White Rolleston

sunday 10th march

4 Craig Thompson Drive, Lincoln

Ray White Rolleston

421 Trents Road, Prebbleton

Ray White Rolleston

16 Boundary Road, Lincoln

Ray White Lincoln

197 Brookside Road, Rolleston

Ray White Rolleston

567 Days Road, Springston

Ray White Lincoln

80 Windsor Drive, Kirwee

Ray White Rolleston

12 Anaru Road, Lincoln

Ray White West Melton

26 Anaru Road, Lincoln

Ray White West Melton

235 Rolleston Drive, Rolleston

Harcourts Rolleston

7 King Street, Doyleston

Ray White Lincoln

11.15am - 11.45am

11.30am - 12.00pm

11.45am - 12.15pm

12.00pm - 12.30pm

12.00pm - 12.30pm

12.00pm - 12.30pm

12.00pm - 12.30pm

12.00pm - 12.30pm

12.00pm - 12.30pm

12.00pm - 12.30pm

12.00pm - 12.30pm

12.00pm - 12.30pm

12.15pm - 12.45pm

12.15pm - 12.45pm

12.15pm - 12.45pm

12.15pm - 12.45pm

12.15pm - 12.45pm

12.15pm - 12.45pm

12.30pm - 1.00pm

12.30pm - 1.00pm

12.30pm - 1.00pm

12.30pm - 1.00pm

12.30pm - 1.15pm

12.30pm - 1.15pm

12.45pm - 1.15pm

12.45pm - 1.15pm

12.45pm - 1.15pm

12.45pm - 1.15pm

12.45pm - 1.15pm

1.00pm - 1.30pm

1.00pm - 1.30pm

1.00pm - 1.30pm

1.00pm - 1.30pm

1.00pm - 1.30pm

1.00pm - 1.30pm

1.00pm - 1.30pm

1.00pm - 1.30pm

1.00pm - 1.30pm

1.00pm - 1.30pm

1.00pm - 1.30pm

1.00pm - 1.30pm

1.00pm - 1.45pm

1.15pm - 1.45pm

1.15pm - 1.45pm

1.15pm - 1.45pm

1.15pm - 1.45pm

1.30pm - 2.00pm

1.30pm - 2.00pm

1.30pm - 2.00pm

1.30pm - 2.00pm

20 Chert Street, Rolleston

Ray White Rolleston

7 Boulez Mews, Rolleston

Ray White West Melton

223 Brookside Road, Rolleston

Ray White Rolleston

9 Ragley Way, Rolleston

Property Brokers

6 West Belt, Lincoln

Bayleys Canterbury

11 Goldie Place, Rolleston

Harcourts Rolleston

25 Kathleen Crescent, Hornby

Harcourts Rolleston

2/265 Selwyn Road, Broadfield

Bayleys Canterbury

2 Cross Street, Coalgate

Matson & Allan Darfield

21 Siltstone Street, Rolleston

Ray White Rolleston

55 Farnborough Way, Rolleston

Harcourts Rolleston

10 Navy Loop, Rolleston

Ray White West Melton

10 Caesar Close, Rolleston

Ray White Lincoln

14A School Road, Halswell

Ray White Lincoln

65 Longcot Drive, Rolleston

Ray White Rolleston

10 Full Moon Lane, Rolleston

Ray White Rolleston

50B Stonebrook Drive, Rolleston

Ray White Rolleston

28 Goodland Place, Rolleston

Ray White Rolleston

8 Chert Street, Rolleston

Property Brokers

1429 Tramway Road, Dunsandel

Ray White West Melton

4 Frame Crescent, Rolleston

Ray White Rolleston

29 William Street, Rolleston

Ray White Lincoln

1/522 Weedons Ross Road, West Melton

Ray White West Melton

10 Sunline Avenue, Lincoln

Harcourts Rolleston

24 Weston Way, Lincoln

Harcourts Rolleston

8 Bluff Street, Coalgate

Matson & Allan Darfield

8 Spring Place, Leeston

Bayleys Canterbury

10B Jozecom Place, Rolleston

Matson & Allan Rolleston

6 Boulez Mews, Rolleston

Ray White Rolleston

34/28 James Street, Lincoln

Farmlands Real Estate

20 Full Moon Lane, Rolleston

Ray White Rolleston

65 Selwyn Street, Leeston

Property Brokers

36 Perthshire Crescent, Lincoln

Ray White Lincoln

33 Birchs Road, Prebbleton

Ray White Lincoln

53 Oak Tree Lane, Rolleston

Ray White Rolleston

23 Dryden Avenue, Rolleston

Ray White Rolleston

26 Rossington Drive, West Melton

Ray White West Melton

13 Mila Haven, Rolleston

Harcourts Rolleston

69 Farthing Drive, Prebbleton

Harcourts Rolleston

423 Burnham School Road, Burnham

Bayleys Canterbury

165 Tancreds Road, Tai Tapu

Bayleys Canterbury

24 Dunlop Crescent, Rolleston

Harcourts Lincoln

3 Bruce McLaren Way, Rolleston

Ray White Rolleston

49 Lignite Drive, Rolleston

Harcourts Rolleston

3 Breccia Street, Rolleston

Ray White Rolleston

50 Strauss Drive, Rolleston

Ray White Rolleston

7 Quirk Place, Upper Riccarton

Harcourts Rolleston

31 Central Avenue, Prebbleton

Ray White Lincoln

15 Tiny Hill Drive, Rolleston

Property Brokers

40 Shelley Street, Rolleston

Harcourts Rolleston

1.30pm - 2.00pm

1.30pm - 2.00pm

1.30pm - 2.00pm

1.30pm - 2.00pm

1.30pm - 2.00pm

1.30pm - 2.10pm

1.30pm - 2.15pm

1.30pm - 2.30pm

1.45pm - 2.15pm

1.45pm - 2.15pm

1.45pm - 2.15pm

1.45pm - 2.15pm

2.00pm - 2.30pm

2.00pm - 2.30pm

2.00pm - 2.30pm

2.00pm - 2.30pm

2.00pm - 2.30pm

2.00pm - 2.30pm

2.00pm - 2.30pm

2.00pm - 2.30pm

2.00pm - 2.45pm

2.15pm - 2.45pm

2.15pm - 2.45pm

2.15pm - 3.00pm

2.30pm - 3.00pm

2.30pm - 3.00pm

2.30pm - 3.00pm

2.30pm - 3.00pm

2.30pm - 3.00pm

2.30pm - 3.00pm

2.30pm - 3.00pm

2.30pm - 3.00pm

2.30pm - 3.00pm

2.30pm - 3.15pm

2.30pm - 3.15pm

2.45pm - 3.15pm

2.45pm - 3.15pm

3.00pm - 3.30pm

3.00pm - 3.30pm

3.00pm - 3.30pm

3.00pm - 3.30pm

3.00pm - 3.30pm

3.30pm - 4.00pm

3.30pm - 4.00pm

3.30pm - 4.00pm

3.30pm - 4.00pm

3.30pm - 4.00pm

3.30pm - 4.00pm

3.30pm - 4.15pm

4.00pm - 4.30pm

4 Thomas Street, Kirwee

Matson & Allan Darfield

76 Othello Drive, Rolleston

Matson & Allan Rolleston

35 Longcot Drive, Rolleston

Property Brokers

460 Newtons Road, West Melton

Ray White Lincoln

2 Perthshire Crescent, Lincoln

Ray White Lincoln

6 Whitehorn Drive, Lincoln

Harcourts Hornby

51 Tancreds Road, Tai Tapu

Farmlands Real Estate

61 Gordon Street, Southbridge

Bayleys Canterbury

788 Weedons Ross Road, West Melton

Ray White West Melton

21 Shillingford Boulevard, Rolleston

Ray White Rolleston

99 Shillingford Boulevard, Rolleston

Ray White Rolleston

4 Reeds Road, Darfield

Matson & Allan Darfield

3 Annie James Close, Rolleston

Ray White Rolleston

18 Wilbur Close, Rolleston

Ray White Rolleston

95 North Belt, Lincoln

Ray White Lincoln

2 Wallace Crescent, Prebbleton

Harcourts Rolleston

670 Springston Rolleston Road, Rolleston

Harcourts Lincoln

46 Vernon Drive, Lincoln

Harcourts Hornby

11 Dollar Place, Prebbleton

Bayleys Canterbury

21 Lynley Drive, West Melton

Ray White West Melton

188 Knights Road, West Melton

Harcourts Rolleston

7 Salisbury Drive, Rolleston

Matson & Allan Leeston

45 Lemonwood Drive, Rolleston

Ray White Rolleston

1 Kelly Close, Lincoln

Harcourts Lincoln

79 Hungerford Drive, Rolleston

Ray White Rolleston

20 Wilfield Drive, West Melton

Ray White West Melton

303 Davidsons Road, Lincoln

Ray White Lincoln

3 Bradbury Avenue, Rolleston

Ray White Rolleston

39 Bass Street, Woolston

Harcourts Rolleston

63 Thames Drive, Rolleston

Harcourts Rolleston

63 Lancewood Drive, Halswell

Ray White Rolleston

573 Trents Road, Prebbleton

Ray White Rolleston

20A Telegraph Road, Darfield

Matson & Allan Darfield

11 Aua Street, Lincoln

Harcourts Lincoln

333 Buchanans Road, Yaldhurst

Harcourts Rolleston

31 Chervier Street, Leeston

Property Brokers

18C Emerson Lane, Rolleston

Bayleys Canterbury

14A Stonebrook Drive, Rolleston

Ray White Rolleston

83 Ledbury Drive, Rolleston

Ray White Rolleston

83 Highsted Road, Bishopdale

Harcourts Rolleston

40 Heathridge Place, Lincoln

Bayleys Canterbury

88 Roydon Drive, Templeton

Ray White Lincoln

1/842 West Coast Road, West Melton

Ray White West Melton

10 Michaels Road, Tai Tapu

Ray White Rolleston

47 Hungerford Drive, Rolleston

Harcourts Rolleston

45 School Road, Tai Tapu

Ray White Rolleston

88 Melton Grange Road, West Melton

Ray White West Melton

2 Hurley Drive, Rolleston

Ray White Rolleston

157 High Street, Southbridge

Harcourts Hornby

3 Dylan Close, Rolleston

Property Brokers

FOR FULL DETAILS OF ALL OPEN HOMES, PLEASE CONTACT THE REAL ESTATE COMPANIES

RAY WHITE

ROLLESTON 03 347 9988

www.rwrolleston.co.nz

WEST MELTON 03 347 9933

www.rwwestmelton.co.nz

LINCOLN 03 325 7299

www.rwlincoln.co.nz

FARMLANDS www.farmlands.co.nz

FARMLANDS LINCOLN 03 325 2889

FARMLANDS LEESTON 03 324 3189

FARMLANDS DARFIELD 03 317 9070

PROPERTY BROKERS ROLLESTON

www.propertybrokers.co.nz

ROLLESTON 03 929 0306

HARCOURTS

www.fourseasons.harcourts.co.nz

HARCOURTS HORNBY 03 349 9919

HARCOURTS ROLLESTON 03 347 4711

HARCOURTS LINCOLN 03 662 9933

PGG WRIGHTSON CANTERBURY

03 318 7850, www.pggwre.co.nz

MATSON & ALLAN

www.marealestate.co.nz

ROLLESTON 03 347 9949

DARFIELD 03 318 8204

LEESTON 03 324 3704

MIKE PERO ROLLESTON

03 347 1111, www.mikepero.com

BAYLEYS

CANTERBURY 03 375 4700

www.bayleys.co.nz

GLASS MILES

CHRISTCHURCH 03 343 5178

www.glassmiles.co.nz
---
20