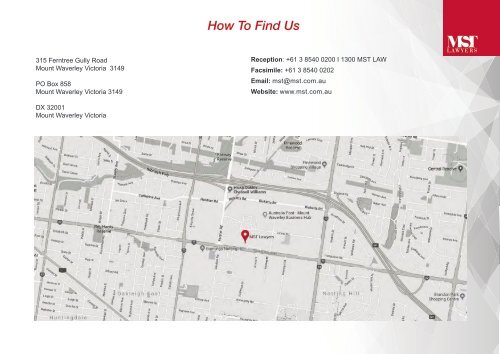 MST Lawyers Capability Statement MST Lawyers is a progressive law firm comprising some 60 dedicated Lawyers and support staff. MST has grown from a small firm originally founded in the 1950s, into a dynamic mid-tier commercial and private client legal practice.

Our clients include individuals, entrepreneurs and businesses, small to medium sized enterprises, national and international corporations, including publicly listed corporations, national retail groups and national franchise groups, many of whom are household names throughout Australia and the world.

MST Lawyers is divided into teams, each headed by a Principal experienced in a specific discipline of legal practice. The teams are as follows:

Corporate Advisory
Franchising
Property and Leasing
Dispute Resolution and Litigation
Employment Law
Wills and Estates
Family Law

MST Lawyers' experienced, friendly and dedicated team of lawyers prides itself on delivering great service and sensible solutions to our clients every day.
How To Find Us

315 Ferntree Gully Road

Mount Waverley Victoria 3149

PO Box 858

Mount Waverley Victoria 3149

Reception: +61 3 8540 0200 I 1300 MST LAW

Facsimile: +61 3 8540 0202

Email: mst@mst.com.au

Website: www.mst.com.au

DX 32001

Mount Waverley Victoria

Ferntree Gully Road