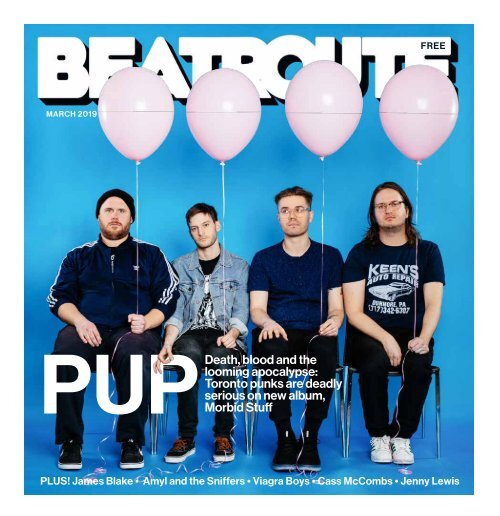 BeatRoute Magazine BC Edition March 2019
BeatRoute Magazine is a monthly arts and entertainment paper with a predominant focus on music – local, independent or otherwise. The paper started in June 2004 and continues to provide a healthy dose of perversity while exercising rock 'n' roll ethics. Currently BeatRoute's AB edition is distributed in Calgary, Edmonton (by S*A*R*G*E), Banff and Canmore. The BC edition is distributed in Vancouver, Victoria and Nanaimo. BeatRoute (AB) Mission PO 23045 Calgary, AB T2S 3A8 E. editor@beatroute.ca BeatRoute (BC) #202 – 2405 E Hastings Vancouver, BC V5K 1Y8 P. 778-888-1120
BeatRoute Magazine is a monthly arts and entertainment paper with a predominant focus on music – local, independent or otherwise. The paper started in June 2004 and continues to provide a healthy dose of perversity while exercising rock 'n' roll ethics.

Currently BeatRoute's AB edition is distributed in Calgary, Edmonton (by S*A*R*G*E), Banff and Canmore. The BC edition is distributed in Vancouver, Victoria and Nanaimo. BeatRoute (AB) Mission PO 23045 Calgary, AB T2S 3A8 E. editor@beatroute.ca BeatRoute (BC) #202 – 2405 E Hastings Vancouver, BC V5K 1Y8 P. 778-888-1120
SHOW MORE
SHOW LESS
You also want an ePaper? Increase the reach of your titles
YUMPU automatically turns print PDFs into web optimized ePapers that Google loves.
FREE

MARCH 2019

blood and the

looming apocalypse:

Toronto punks are deadly

serious on new album,

PUPDeath,

Morbid Stuff

PLUS! James Blake • Amyl and the Sniffers • Viagra Boys • Cass McCombs • Jenny Lewis
---
SPRING HAS

SPRUNG!

(TELL YOUR PANTS!)

JOHN FLUEVOG SHOES 837 GRANVILLE ST 604·688·2828 65 WATER ST 604·688·6228 FLUEVOG.COM

2 BEATROUTE MARCH 2019
---
Contents

Up Front

4

7

8

9

10

12

The Guide

Noname: poetry in commotion

The Agenda

VanCity Places

4 new restaurants we

can't wait to try

That's Dope

Top 5 leading ladies in the

Cannabis Industry

VanCity People

Q&A with Chelene Knight

from Growing Room, the

Feminist Literary Festival

Exploits

Prior Snowboards source

local artwork

Music

11

31

36

Concert Previews

Amyl and the Sniffers

want to be your dog

+ Viagra Boys, Low, Cass

McCombs, Baroness,

In Flames, Schwey, Cat

Empire, Devours, Marie

Davidson, James Blake

and more!

Album Reviews

Jenny Lewis, N0V3L,

Bob Mould, Royal Trux,

La Dispute, The Cinematic

Orchestra, Ex Hex,

White Denim, Andrew

Bird, American Football,

Weezer and more!

Live Reviews

Sharon Van Etten, A Bowie

Celebration, Ella Mai,

Robyn & more!

blood and the

looming apocalypse:

Toronto punks are deadly

serious on new album,

PUPDeath, Morbid Stuff

Cover Story

26

MARCH 2019

PLUS! James Blake • Amyl and the Sniffers • Viagra Boys • Cass McCombs • Jenny Lewis

PUP

Toronto punks channel

doom and gloom of

the here and now on

Morbid Stuff

Cover photo by:

Tanja Tiziana

FREE

Movies|TV

39

40

Film Interview

We sit down for a chat with

Through Black Spuce actress

Tanaya Beatty

This Month In Film +

The Binge List

Marie

Davidson

pg 22

The Arts

41

42

43

44

45

Horoscope

47

Sharon Van Ettan

See Live reviews, pg 36.

Theatre Multiple Organism

embraces the bare neccessities

at the Cultch

Comedy Comedian Yumi

Nagashima tells us what makes

Vancouver so funny

Art Mowry Baden dances with

a mop at his Vancouver Art

Gallery exhibition

Dance The Vancouver

International Dance Festival's

platform for cultural exchange

Performance New Yorkbased

creative everyman Isaac

Mizrahi adapts his life story for

the stage

No matter your sign, there's

always a song for you here

ARCHI BISWAS

MARCH 2019 BEATROUTE 3
---
The Guide

wCity

Briefs

By NIK HONCHARUK, DANIELLE

WENSLEY, JORDAN YEAGER

AND KEIR NICOLL

CLAMPDOWN RECORD

PRESSING OPENS

Local musicians are rejoicing after

decades of waiting for a local

Vancouver spot to press its own

vinyl again. Billy Bones, lead singer

of local band Vicious Cycles,

is the answer to their prayers

with the opening of Clampdown

Record Pressing Inc. The plant

will press everything from picture

discs to classic black records,

in 7-12 inch formats. With vinyl's

resurgence in popularity over the

last few years, it's a ripe opportunity

to crack the ever-growing

market. Visit them at clampdownpressing.com

(N.H.)

CHANTAL ANDERSON

NoName: Poetry

in commotion

Tuesday, March 12

The Commodore Ballroom

Fatimah Warner, who goes by

Noname, got her start as a performer

in the world of slam poetry in her

hometown of Chicago, Illinois. That

was nine years ago. In the time since,

Warner has made the transition from

writing poetry to writing songs, often

collaborating with other artists from

the Chicago area like Chance the

Rapper and Mick Jenkins.

Noname's music feels like an intimate

4 BEATROUTE MARCH 2019

glimpse into her life. Her lyrics retain

the poetic influence of her youth, and

she releases her music independently

to retain full creative freedom.

Even her cadence is reminiscent of

spoken word – thoughtful, contemplative

and vulnerable. Her words are

born of experience, whether they're

reflecting on things her community

has been through or exploring the

many facets of womanhood.

Warner is enigmatic, and it's not

only reflected in the moniker she's

chosen. Her music speaks for itself,

and between 2016's Telefone mixtape

and 2018's debut studio album

Room 25, she's already curated an

impressive catalogue. In her music,

the enigma breaks. Telefone introduced

her as an observant poet who

reflects on society, and its introspection

carries through into Room 25 in

a way that shows she becomes ever

more self-aware as she matures,

both musically and personally.

Jordan Yeager

ODD SOCIETY FINE SPIRITS

1725 Powell Street

This East Van Distillery now

serves a Wednesday night $8

cocktail special, the Ginger Snap

Flip. They have a resident DJ

from Mexico the first Thursday of

the month, and the last features

live emerging artists, including

singer-songwriters. Odd Society

is a family-run business that

serves top quality cocktails and

spirits with an all-inclusive community

vibe. (K.N.)

CONTINUED ON PG .8 k

ODDSOCIETYSPIRITS.COM
---
2019VANCOUVER

INTERNATIONAL

DANCEFESTIVAL

MARCH 4-30

TAIWAN'S

TJIMUR DANCE THEATRE

8pm, March 29 & 30

Vancouver Playhouse

$60-$70

JAPAN'S

VANCOUVER'S

VANCOUVER'S

VANCOUVER'S

VANCOUVER'S

MONTREAL'S

DAIRAKUDAKAN

8pm, March 8 & 9

Vancouver Playhouse

$60-$70

V'NI DANSI

2pm, March 10 & 17

and 2pm & 3pm, March 24

Woodwards Atrium

Free

HARBOUR DANCE ITP

& PLATFORM

3pm, March 10 & 17

Woodwards Atrium

Free

RAVEN SPIRIT DANCE

5pm, March 13-16

KW Production Studio

$15-$20

OLIVIA C. DAVIES / O.DELA ARTS

7pm, March 14-16

Roundhouse Exhibition Hall

Free with VIDF Membership

MANUEL ROQUE

8pm, March 13-16

Roundhouse Perf. Centre

$30-$35

VANCOUVER'S

VANCOUVER'S VANCOUVER'S MONTREAL'S

VANCOUVER'S

OTTAWA'S

KELLY MCINNES

5pm, March 20-23

KW Production Studio

$15-$20

JEANETTE KOTOWICH

7pm, March 20-23

Roundhouse Exhibition Hall

Free with VIDF Membership

VISION IMPURE

8pm, March 20-23

Roundhouse Perf. Centre

$30-$35

DAINA ASHBEE

5pm, March 27-30

KW Production Studio

$15-$20

LESLEY TELFORD /

INVERSO PRODUCTIONS

7pm, March 27-30

Roundhouse Exhibition Hall

Free w/ VIDF Membership

10 GATES DANCING

8pm, March 27-30

Roundhouse Perf. Centre

$30-$35

27 Days of World-Class Dance

Performances, Free Events, Classes

& Workshops, and More

Info & Box Office:

VIDF.CA

604.662.4966

Venues include the Roundhouse,

Vancouver Playhouse, KW Studios

and Woodward's Atrium

Tjimur Dance Theatre photo by Maria Falconer
---
UPCOMING SHOWS

CHROMATICS DAN MANGAN

WITH SPECIAL GUESTS

FEB JUNE 6

WITH DESIRE & IN MIRRORS

SUNMI

2019 WORLD TOUR

mARCH FEBRUARY 11 7

SCOTT HELMAN

WITH RALPH

MARCH FEBRUARY 14 25

SCOTT HELMAN

WITHIN TEMPTATION

WITH SPECIAL GUESTS

WITH IN FLAMES

march FEBRUARY 15 26

MATTHEW GOOD

DAVE MASON

WITH SPECIAL GUESTS

OF THE BAND TRAFFIC

MARCH march 2118

THE WHITE BUFFALO

MATTHEW GOOD

WITH SPECIAL GUESTS

WITH POESY

march MARCH 23 23

THE CRYSTAL METHOD

BROODS

WITH SPECIAL GUESTS

WITH SPECIAL GUESTS

APRIL

MARCH

2

30

SMINO

WITH PHOELIX

april APRIL 5 10

THE MUSICAL BOX

WINTERSLEEP

A GENESIS EXTRAVAGANZA

april MAY 93

WITH SPECIAL GUESTS

LENNON STELLA

LOVE, ME TOUR

MAY april 3 10 (sold out) april 11

TICKETS ARE AVAILABLE AT VOGUETHEATRE.COM
---
MARCH

The Agenda

8

CAPTAIN MARVEL

Friday, March 8

Opening in theatres on March 8,

Captain Marvel is the 21st film in

the Marvel cinematic universe.

Set in 1995, this superhero story

follows Carol Danvers, played by Brie Larson, as Earth is

caught in the middle of two alien worlds locked in conflict.

Written and directed by Anna Boden and Ryan Fleck.

9VICIOUS CYCLES

Saturday, March 9 at

Antisocial Skateboard

Shop

The Vancouver-based

punk band Vicious

Cycles is releasing a

new 7'' on neon pink

vinyl. Come celebrate

the release party

at Antisocial Skate

Shop with showings

from the band and

their fellow punk pals,

Victories. Limited 500

copies available, and

doors open at 8 p.m.

14

HELP

KIMMORTAL

Thursday, March 14 at Fox Cabaret

Queer Filipinx artist-emcee Kimmortal's new album has

been five years in the making and it's finally ready for

release. Celebrate with Vancouver's own at the album

release party, taking place at the Fox Cabaret with

a special live performance and supporting acts Tin

Lorica and Dakk'one.

15

MOUNTAIN

3RD ANNUAL

ST PATRICK'S

PUNKSTRAVAGANZA

Friday, March 15 to Saturday,

March 16 at

the Rickshaw Theatre

Celebrate St. Patrick's Day

at the third annual

Punkstravaganza. This East

Van tradition is taking place

at the Rickshaw Theatre,

featuring the Dreadnoughts

and many of your favourite

local bands including Pet

Blessings and BRASS.

19ME I'M DYING:

AN EVENING OF

COMEDY WITH KATYA

ZAMOLODCHIKOVA

Tuesday, March 19

at the Vogue Theatre

The Vogue Theatre

is host to RuPaul's

Drag Race Miss

Congeniality and

All-Stars S2 finalist,

Katya Zamolodchikova.

The hysterical comedy

show was so popular

that the tour was extended.

Don't miss

out on all Katya's

fabulous personas!

22

MAGIC TOUR

Saturday,

March 30 at M.I.A

Electronic acts and beat

producers Smalltown

DJs, Case of the Mondays,

and Dances with

White Girls are coming

together to perform

at the Mountain Magic

Tour. The seventh annual

edition of the tour, which

traditionally plays ski

towns, is sliding into

downtown Vancouver's

M.I.A. for a #DeepDown-

Inside iteration.

VINCE STAPLES

Friday, March 22

at Harbour Convention Centre

Friday, March 22 at Harbour

Convention Centre

Hip hop artist, lyrical wordsmith

and social commentator Vince

Staples is rolling into Vancouver

on his Smile, You're on Camera

Tour. He'll be joined by

rapper JPEGMAFIA as well

as hip-house producer

Channel Tres for a night

at the Harbour Centre

full of thought-provoking

verses and catchy

beats.

30

MARCH 2019 BEATROUTE 7
---
VanCity Places

Eats

COMO TAPERIA

201 E 7th Avenue

Mount Pleasant welcomed its

newest Latin-inspired eatery in

November. Como Taperia is a

love letter to the tapas bars of

Spain. Small share plates, like

the classic tortilla española, land

on the table in custom tapas

cases flown in from Barcelona.

And the bar lives up to the love,

with Spanish beer and Spanish

vermouth on tap, cava by the

glass, and a generous selection

of local favourites.

City

Briefs

k CONTINUED FROM PG. 4

Marie Chouinard Takes On

Hieronymus Bosch

Vancouver Playhouse,

March 15 and 16

Montreal's enigmatic choreographer

Marie Chouinard has a

true gift for breathing life into the

literature and images of the past.

Her most recent work, Hieronymus

Bosch: The Garden of

Earthly Delights, delivers a haunting,

visceral incarnation of the

painter's Renaissance triptych in

honour of the 500 year anniversary

of his death. In three acts,

The Garden of Earthly Delights,

Hell and Paradise, Chouinard's

dancers will explore and exult

the wonderful weirdness of this

infamous masterpiece. For lovers

of hallucinogens, art history and

eerie visual compositions, this

will be a feast. This piece is not

to be missed. (D.W.)

4 NEW

RESTOS

WE CAN'T

WAIT TO

TRY

From authentic

Spanish fare to a

menu that caters

to local produce in

flux with the season,

these newly

opened eateries

are ones to keep

your eye – and

taste buds – on.

By MAGGIE MCPHEE

HUNDY

2042-B W 4th Avenue

The latest in split-space

concepts, Hundy transforms

Their There cafe into a latenight

burger joint Thursday

through Sunday evenings.

Michael Robbins and Jeff Parr,

the duo behind Kitsilano staple

Annalena, wanted to create a

space dedicated to the burger.

They keep it simple with

signature buns, Two Rivers beef,

homemade sauce, and doublecooked

fries. And craft beer on

tap, of course.

UBUNTU CANTEEN

4194 Fraser Street

In the space once occupied by

Bows and Arrows resides a new

yet equally community-dedicated

cafe/bakery/restaurant. With

morning, daytime, and evening

menus that ebb and flow with

the seasons, Ubuntu promises

to surprise and satisfy everyone.

David Gunawan – of Farmer's

Apprentice fame – and his lauded

team source organic ingredients

from local farmers to craft

their affordable(!) menu. In the

evenings they open a raw bar and

pour only natural wines.

INSTAGRAM

DACHI

2297 East Hastings

The newest addition to Hastings-

Sunrise is intimate in many ways:

the cozy 40-seater space has

close ties with local farmers, and

its owners are eager to foster

relationships with diners. Dachi's

Pacific Northwest menu changes

every other day, and their

selection of natural wines, craft

beers, saki, and cocktails don't

last much longer. Their shellfish

arrives at 4:30 p.m. and service

starts at 5. For fresh and fun

food, Dachi might be the place

to beat.

8 BEATROUTE MARCH 2019
---
That's Dope

THIS MONTH

IN CANNABIS NEWS

AND VIEWS

TOP 5

WOMEN IN

CANNABIS

In celebration of

International

Women's Day we

shine a light on the

Top 5 leading ladies

in the cannabis

industry

By Jamila Pomeroy

1

JODIE EMERY

Cannabis Activist

and Entrepreneur

The Princess of

Pot, Jodie Emery,

has seen it all in

her 14 years of

cannabis activism in

Vancouver. While a

greener hue may be

on the horizon with

legalization, Emery

cautions we have

so much work to do,

especially for members

of the industry

who have remained

on the forefront

during prohibition.

Emery continues to

be one of the most

prominent women

in the Canadian

cannabis industry,

unapologetically.

She has most-recently

extended

her love for hempt

with Jodie's Joint,

a hemp cafe in Toronto's

Kensington

Market.

2 3 4 5

TRACY MACRAE

Vice President;

Marketing at Kiaro

MacRae, leads

marketing at Kiaro.

Kiaro means light;

because cannabis can

be, well, illuminating.

The cannabis retailer

aims to destigmatize

cannabis use by

creating inviting retail

spaces, providing the

tools, information and

resources for customers

to not only make

their own informed

decisions, but become

empowered through

provided resources.

MacRae has over 20

years experience in

marketing and is passionate

about socially

responsible cannabis

retail.

SALIMEH TABRIZI

Founder of Cannabis

Hemp Conference

and Expo (CHCE)

Tabrizi is the Founder

of CHCE, the largest

and most comprehensive

cannabis

conference in Canada.

Through CHCE Tabrizi

hopes to legitimize

cannabis with science.

Gathering prominent

leaders, researchers,

patients and government

officials to

explore the endless

benefits of the industry.

BETHANY RAE

Founder of

Flower & Freedom

As a fitness enthusiast,

Rae experienced

judgement and negative

stereotypes while

exploring cannabis for

her own health and

wellness. This inspired

her to create Flower

& Freedom; a female-focused

lifestyle

community dedicated

to reducing the stigma

that surrounds cannabis

use. The creative

fashion designer and

fitness enthusiast,

has incorporated her

professions with her

passion for cannabis,

launching her own

cannabis-themed

clothing line.

ANDREA DOBBS

Co-owner of Village

bloomery

Working in management

at Womyns'Ware

Inc for over

ten-years, in Vancouver,

British Columbia,

Dobbs has been

prominent in women-centred

issues

and education. When

she began to experience

Peri-Menopausal

symptoms, she

turned to cannabis

to help relieve her

ailments. She is now

the Co-Owner of Village

Bloomery, where

she extends her love

for education and

alternative medicine;

providing women-centred

resources

and products.

LITTLE

BOOK,

BIG IDEAS

Amanda Siebert's new book is perfect

for the medical cannabis newbie

who want simple answers By BRAD SIMM

Some people only need one good reason to use marijuana.

Usually that's the feel-good sensation of getting high. Beyond

the euphoric state, Amanda Siebert looks at the broad

spectrum of cannabis and gives you 10 other reasons why

it's such a marvelous substance.

"I wanted to have balance with topics that were medicinal

for things like chronic pain and the treatment for cancer

in conjunction with chemotherapy. Then I wanted to have

some light-hearted subjects like cannabis as a super-food or

how it can improve your sex life."

While there's a disclaimer that the book is "not intended

to be a substitute for advice for medical advice from physicians,"

Siebert delves into health-related references, arguments

and the flurry of conflicting views whether cannabis

is good or bad for you by presenting a wealth of information

that's easy to digest and understand.

Of course, the chapter on A Steamier Sex Life garnishes

a lot of attention that Siebert acknowledges with a laugh.

"Yes, everyone wants to talk about the chapter on sex."

Cannabis as an aphrodisiac is well-known, but Siebert also

discusses how the application and dose levels help to cultivate

the inner workings of a heighten mind-body experience

when sharing or alone.

And then there's the suggestion that instead of being the

gateway drug, cannabis is actually an exit drug that reduces

other harmful addictions. Getting sober in one step!

MARCH 2019 BEATROUTE 9
---
VanCity People

P

erhaps more than ever,

conversations around

inclusivity are getting

louder. Room, Canada's

oldest feminist literary

journal, has been

encouraging such dialogue for

almost 45 years with pages that

champion diversity and, most

recently, with Growing Room: A

Feminist Literary Festival. The

annual festival features over 100

authors in more than 50 events

including workshops, panels, and

readings. BeatRoute caught up

with Chelene Knight, the Festival

Director of Growing Room – as

well as the Managing Editor of

Room and an award-winning

author in her own right – to discuss

this year's programming and

the increasing importance of a

judgment-free platform.

In a time where #MeToo and

Time's Up are significant parts

of our cultural narrative, how

does Growing Room exist as a

place to encourage writers to

feel like they can freely express

themselves in a safe space?

I think that's what Room Magazine

is essentially known for. I look

back at our No Comment project,

which spun off from #MeToo and

basically said, "Hey, send us your

stories, and we're going to publish

them without judgement." The

festival really mirrors that. And I

think people are beginning to trust

that that's what we're all about.

Even though we're only in year

three, folks know that Growing

Room is that safe space where we

can talk about anything. And this

year, we're going to have some

anti-oppression training, some

panel toxicity prevention going

on, so we're really thinking about

creating that safe space. We pretty

much programmed the whole

festival around that idea of care

and ethics.

Can you tell me more about

Toxicity Prevention?

Let's say we're having a wonderful

in-depth panel, and we've got

some marginalized folks on. And

maybe somebody in the audience

stands up and says something

inappropriate. How do we deal

CHARLENE

KNIGHT

DIRECTOR OF GROWING ROOM:

A FEMINIST LITERARY FESTIVAL

With Growing

Room, Knight

opens the floor

to writers and

non-writers alike

– all you need is

a story to tell.

By YASMINE SHEMESH

with that? So preparing not only

the volunteers, but also the venue

managers and, of course, the

moderators and hosts. Everyone in

the audience is going to be aware

that we've discussed this. We're

even looking at having that printed

in our program. We're going to

have a two-page condensed

[version of the] toxicity prevention

discussion, because we also want

to the audience to feel safe.

We're also looking at having safe

spaces at each venue. Say we

have members of the audience

who are triggered by something

on the panel – and this could

happen anytime, there's really

no way to prevent that from

happening. So, offering someone

a space to just step out, without

having to physically leave the

venue. I'm really excited to listen to

the feedback around that.

Are these actual physical

spaces?

Depending on the venue. I know

with the Native Education College,

we have various classrooms and

different little nooks and crannies.

We're going to have a volunteer,

and they are going to be aware

that somebody's coming into

the room feeling triggered, and

[there's] an option for that person

to approach [the volunteer] or just

sit there quietly. It's totally up to

them how they handle it.

Specifically, what kind of things

do you feel have impacted the

literary landscape and writing

community in recent years?

I think people are really

recognizing that there are a variety

of voices out there. There's not

just the traditional linear story,

there's folks who are bringing in

their personal experiences and

these are tough to share, and

they might not fit a traditional

template. They might come out a

little fragmented or blurry. I think

we're really opening up the canon

and we're looking at what stories

need to be heard. We have a good

chunk of our program that's

giving space to folks without

published books and people

who haven't even done a

reading before. We have two

youth showcases. And to have

emerging writers, non-writers,

even, and established writers in

one space – what can happen?

I don't know, but it's going to be

really incredible.

How do you find those voices,

especially ones that are

unheard?

Yeah, that's a tough one. I think it's

hard to find these folks, but having

conversations with people in the

know. Everyone at Room is doing

a million other things and our

programming committee will say,

"I heard of this person, I saw them

tweet this, let's dive in and see

what they're doing." So, it's a lot of

investigating, but having our ears

open and having conversations

with people. I think social media

helps a lot with that. Twitter is a

big one.

What are some of the highlights

of the festival this year? You

mentioned the youth showcases,

but what other things can people

look forward to?

We have a full day of Indigenous

Brilliance at the Revue Stage on

Granville Island, so that's going

to be absolutely incredible. We

have various readings, we have

Indigenous vendors on site, and it

starts off with our burlesque show

opening night and dance party.

There's Black Voices Raised, which

I'm really excited about. We've got

some killer black authors coming

in to do a reading and it's going to

be really beautiful. It's also going

to be the semi-launch of Whitney

French's anthology, Black Writers

Matter.

Are there any events you're

particularly excited about?

Aside from the Black Writers

Matter event, I'm really excited

about the opening night party

– because I've never seen a

burlesque show! And just to see

what people come in, because I

think we're really open to not just

bringing in the literary community,

but folks who don't necessarily

feel included sometimes.

Growing Room: A Feminist Literary

Festival runs at various venues from

March 8-17

10 BEATROUTE MARCH 2019
---
PETER RICQ'S

MONSTER

MASH-UP

Once Our Land

sequel demands

to be devoured

By Leah Siegel

When Peter Ricq came out

with the first instalment of his

graphic novel Once Our Land

in 2016, his imagination transported

readers to a fantastical

time and place full of monsters

and post-apocalyptic

musings. Now, Ricq, who also makes up

one-half of the Vancouver duo Humans,

is releasing a sequel with a story as

inventive and compelling as the first.

In the original OOL, readers followed

Fritz and Ingrid's fight to survive as

human-munching monsters swarmed on

their village in 1830s Germany. Now, it's

several years later. The pair are surviving

— if not exactly thriving — in a time

that's post-post-apocalypse. Time has

passed and humans have learned how

to make do in this new monster-filled

reality.

As a fun bit of trivia, the choice of

setting was inspired by Ricq's own

family mythos: an ancestor reportedly

once saved the actual city of Rothenburg

from outside rule by drinking a barrel of

wine in one go. It's a wild story, and one

that is still celebrated by Germans living

in the area as the "Meistertrunk," or the

"Master Draught."

Ultimately, what emerges is a beautiful,

complex world: one full of touching

family reunions (Ricq says his favourite

parts to draw were "all the hug scenes");

adorable, thumb-sized alien-friends;

and a cruel despot. The human-eating

monsters aren't the only villains this

ONCE OUR LAND

LAUNCH PARTY

Thursday, March 21

Slice Of Life Gallery,

1636 Venables St

go-around.

OOL2's combination of

lush illustrations and engaging

storytelling, simply put,

demands to be devoured —

then revisited, to admire the

detailed work. (A page, Ricq says, could

at times take up a week to finish.)

To celebrate this month's release,

Ricq will be hosting a launch party

and art show, which will also feature

the work of several other local artists.

Hardcover copies of OOL2 may also

be purchased online at onceourland.

com. Additionally, Ricq will be holding a

special OOL2 art raffle at the March 19

at the American.

YORK THEATRE

$24

TICKETS FROM

Apr 02–

Apr 06, 2019

L'ORCHESTRE D'HOMMES-ORCHESTRES (QUÉBEC)

New Cackle Sisters:

Kitchen Chicken

A musical and culinary

tour de force

TICKETS AVAILABLE AT THECULTCH.COM
---
Exploits

ART

BOARDS

Prior Snowboards support

Sea-to-Sky Corridor artists

with an annual contest

By JESSIE FOSTER

Local artist

Ginette

Guiver's winning

artwork

W

ould you rather see your boards shipped and glued

together in some faraway land or handcrafted nearby

by a bunch of professional riders based around

the block? People are physically jumping on board

for Prior Snowboards & Skis, a shop bred out of

Whistler circa 1989. What sets Prior apart is their commitment

to the community, and not in some cheesy, product marketing

sort of way either. They genuinely care for their neighbours.

This team of snow hounds are well known around the Village

for working with talented local artists, custom building

products unequalled in performance and boasting some very

steady-handed craftsmanship. They are the only shop

in the Village to manufacture, design and shape

their boards right in house. Sea-to-Sky Corridor

artists every year revel in the chance to be

chosen to showcase their artwork on brand

new prototypes as part of Prior's Topsheet

Exhibition.

Prior gives the design briefs to the artists

in terms of aspect ratios, which is then

displayed into a pure rectangular shape.

The artists then start working on expectantly

funky designs that will encompass the topside

of these new skis and boards. They throw a large

celebratory party whilst making sure to fill their

manufacturing warehouse with riders and new gear.

Following this, the winning design is decided fully on

a public vote, which happens in September. Ben Brough

is one of their top dogs when it comes to the graphic designing

side of production and maintains that their exhibitions

always packs their factory with great vibes.

"Being a small company we like to feel like we're very much

in tune with that local core snowboarding community here in

Whistler," says Brough. "It allows people to stay very connected

to the community, more so us staying connected with the

community and getting people to feel involved with us, which

is a big thing."

They use this annual opportunity to scope the talent

through the Sea-to-Sky Corridor of the Horseshoe Bay through

Whistler, Pemberton Valley and beyond. Artists start preparing

for this competition as early as they would like, with some

prepping for a year in advance. Ginette Guiver reined champion

for this year's competition and was awarded two custom

snowboards sporting her design. Not shabby when coupled

with the opportunity for her work to be showcased attached to

people's bindings throughout this and future seasons. Limited

numbers of these boards will be available to the public starting

the beginning of February.

"It's pretty wicked when you go skiing or boarding and you

see your own design on your feet. Then on top of that, having

such a diverse talent pool does allow us to get some stuff that

we normally wouldn't get in terms of design. It's always super

fun and it gives us a really diverse range of topsheets that will

hit a fairly wide demographic and get things that are a little bit

out of the ordinary."

Support your local snowrider and find out more at www.priorsnow.com

12 BEATROUTE MARCH 2019
---
MUSiC

Concert Preview

AMYL & THE

SNIFFERS

Not such a long way to the

top (if you wanna rock 'n' roll).

JAMIE WDZIEKONSK

By JJ POWELL

O

n "Some Mutts (Can't Be Muzzled)," Amyl

and the Sniffers cut right to the quick,

declaring what could be their thesis in

one gleeful, defiant snarl. Inside two-anda-half-minutes

of Raw Power-esque proto-punk

boogie, you get the message: rock 'n' roll ain't

done with you yet. And although comparisons

to the Stooges spring to mind, these Melbourne

punks are an Aussie kind of dog.

"Definitely ACDC is my favourite band,"

says guitarist and songwriter Declan Martens.

"Bon Scott-era ACDC. I love all that '70s stuff,

I think it's amazing. Lobby Loyde, he's like the

godfather. He sort of set the style of Australian

rock that made it that real tough-sounding

thing we have going on over here. Rose Tattoo

as well – they're not anything like they used to

be, but I listen to their first album a lot." As for

contemporary groups, Martens cites fellow locals

Civic and Orb as stand-outs. "Melbourne's

just got the best scene. There's always so

CONTINUED ON PG. 14 k

MARCH 2019 BEATROUTE 13
---
LONG & McQUADE

MUSiC CONCERT PREVIEWS

AUSSIE PUNK

FREE CLINICS

DURING MARCH

A series of free career-enhancing clinics specifically

tailored to the needs of musicians, songwriters, producers

and home studio enthusiasts.

JAMIE WDZIEKONSK

368 Terminal Avenue ∙ (604) 734-4886

vancouver@long-mcquade.com

At all Long & McQuade locations, including:

1363 Main Street ∙ (604) 986-0911

northvan@long-mcquade.com

NORTH BY NORTHEAST

MUSIC & GAMING FESTIVAL

TAKING OVER TORONTO

JUNE 7-16

NXNE.COM

k CONTINUED FROM PG. 13

AMYL & THE

SNIFFERS

many things to do and you've

got to fit them into one night.

That's the problem everyone

complains about: there's too

much going on."

The band formed over their

mutual love of '70s Australian

music and culture three years

ago. "Me and Bryce (Wilson, drums),

our original bassist (Calum Newton),

and Amy (Taylor, lyrics/vocals), all lived

together on a street in St. Kilda. It was

one of the party houses – the one that

everyone goes to after the pub – so we

were like, we should start a party band

and play house parties." But as the

guitarist explains, it didn't work out that

way: "I got home from work and all this

recording gear was set up, and we just

jammed four songs, it took four hours.

We were like, 'Let's put it out tomorrow,'

but then we got too excited about it. So

we put it out (on Bandcamp) that night,

and by the next day we had three gigs

booked, and we never played a house

party." Those takes are what you hear

on the band's debut EP, Giddy Up.

In the following year, ginger-mulleted

Tasmanian Gus Romer joined on bass

and the band played their first gig as

headliners. A second EP, Big Attraction,

was unveiled to further acclaim, propelling

them into the world of high-profile

tours with King Gizzard and the Lizard

Wizard, as well as appearances on

AMYL AND THE

SNIFFERS

Tuesday, March 19

The Fox Cabaret

Tix, $15: timbreconcerts.

com, TicketWeb

foreign continents. 2018 saw extensive

touring with the likes of American freakpunks

Surfbort and the release of a 7"

single, Some Mutts / Cup of Destiny.

As with the songs on the debut, these

subsequent bursts of riff-heavy pubrock

are splattered with references to

the city they know and love. Landmarks

like the Westgate Bridge are

immortalized in Amy Taylor's

guttersnipe-songbird singalongs,

with choruses happily

echoed by audiences who

don't always understand what

they're singing about. "People

send us tattoo photos where

they've got this balaclava, for 'Balaclava

Lover Boogie.' We're like, ah shit,

do we tell them that it's a suburb? But

everyone's thinking it's a balaclava you

put on your head." When I ask Martens

about "70's Street Munchies," however,

I learn that Taylor's lyrics are sometimes

open to interpretation: "Amy's dad used

to get a magazine called 70's Street

Machines, and she accidentally read it

as 'munchies.' I think she hates it when I

tell that story."

Speaking of Amy Taylor, Martens'

partner-in-crime is known not only

for her brilliant wordplay, which veers

between hilarious and disturbing, but

also, like the best punk frontpeople, her

abilities as a chaos-inducing agent of

Wildness.

"We put a massive emphasis on our

live shows," says Martens. "It's not girls

to the front, boys to the back, it's everyone

side-by-side and let's have fun."

With Amyl and the Sniffers, the style

is specific but the sentiment is eternal.

The mutt that can't be muzzled is probably

just the spirit of rock 'n' roll itself. ,

14 BEATROUTE MARCH 2019
---
POST PUNK

Editor-In-Chief

Glenn Alderson

glenn@beatroute.ca

Managing Editor

Jordan Yeager

jordan@beatroute.ca

City

Yasmine Shemesh

yasmine@beatroute.ca

Exploits

Jessie Foster

jessie@beatroute.ca

That's Dope

Jamila Pomeroy

jamila@beatroute.ca

Music

Johnny Papan

johnny@beatroute.ca

Music

Joey Lopez

joeyy@beatroute.ca

Live Music

Darrole Palmer

darrole@beatroute.ca

Comedy

Graeme Wiggins

Graeme@beatroute.ca

Film

Hogan Short

hogan@beatroute.ca

Web

Jashua Grafstein

jashua@beatroute.ca

Social Media

Mat Wilkins

mat@beatroute.ca

Contributing Writers

Sarah Allen • Lindsey Blane • Stephan

Boissonneault • Lauren Donnelly

• Mike Dunn • Esmée Colbourne •

Lauren Edwards • Kenn Enns • Karina

Espinosa • Conor Finlay • Mia Glanz

• Willow Herzog • Nik Honcharuk •

Jeevin Johal • Robann Kerr • Brendan

Lee • Christine Leonard • Dayna Mahannah

• Chad Martin • Maggie McPhee

Trevor Morelli • Keir Nicoll • Jennie

Orton • Rick Overwater • Cole Parker

JJ Powell • Josh Sheppard

Leah Siegel • Brad Simm

Quinn Thomas • Danielle Wensley •

Cole Young

Contributing Photographers

& Illustrators

Chantal Anderson • Sara Baar

Archi Biswas • Silvia Grav

Zee Khan • Mary Matheson

Shelly Mosman • Marek Sabogal

John Walters • Jamie Wdziekonsk

Sophia Wolfe • Zeustate

Advertising Inquiries

Glenn Alderson

glenn@beatroute.ca

778-888-1120

Distribution

Gold Distribution (Vancouver)

Mark Goodwin Farfields (Victoria)

BeatRoute Media

Group editor/ publisher

Michael Hollett

Creative Director

Troy Beyer

beatroute.ca

OLLIE NORDH

STIFF COMPETITION

nists and anti-racists.

pretty much every day

Stockholm's Viagra Boys lash out against the

"We just try to be

VIAGRA BOYS

with Pottery and and actually needed

American fever dream By GLENN ALDERSON

nice," he says. Viagra Bored Décor

it to survive. But now

Monday, March 25

Viagra Boys came out swinging though I deal with a lot of serious Boys are a professional

I'm just trying to have

The Fox Cabaret

last year with the release of their issues in my life, I think some of punk band masquerading

as shitheads,

Born and raised in

a good time," he says.

Tix, $15: TicketWeb.com

debut, Street Worms, on Stockholm-based

label YEAR0001. The things is to laugh at them in a way carrying the torch

a county just north of

the best ways to deal with these

label is also home to Yung Lean, and turn them into a little bit of for a new sound that

San Francisco, Murphy

one of the country's most notable comedy."

recalls elements of ESG and Fun talks fondly but cautiously of his

rap music exports, but Viagra When prodded further on the House-era Stooges with 2019 sensibilities.

They're a serious band to Sweden in 2007 because his

American upbringing. He moved

Boys exist on a whole other level. serious issues to which he's referring,

Murphy cites drug addiction but they know how to fuck with mother is Swedish and he'd

In a time where UK post punk

acts like Idles and Shame are as an immediate example.

people in all the right ways. fallen in love with the country

gaining international attention "I think drug addiction is a Take the first single from the as a child. Now he's living in

via the Spotify wasteland, Viagra good example because it's really band's debut, "Sports," where Stockholm, working as a tattoo

Boys exist more as a commentary fun but it's also really not fun. Murphy talk-sings his way

artist and making music with his

on the futility of hardcore music Which is a bit like our music, it's through a laundry list of pseudo friends.

to make any sort of change. Instead

of blue-collar working class Calling their band Viagra Boys basketball, wiener dogs, short of a tour that's taking them all

fun but it's pretty dark also." machismo nonsense, "Baseball, Viagra Boys are in the middle

fight songs, they're more likely to is a statement in and of itself; a shorts — sports." You get the over the UK, Canada and the USA

rip a line of coke and mock the stiff middle finger to toxic masculinity,

as opposed to the immamerizing

"Just Like You," Murphy is quick to acknowledge that on

idea. On another track, the mes-

throughout the summer. Murphy

world from the outside with their

driving rhythms and intellectual ture drug-addled boner popping distills dystopian fantasies while tour, every day can't be Friday

social observations.

that a flipside impression might unpacking the American fever so he looks to his bandmates for

"It has a lot to do with how lend itself to.

dream and wrestling with his own guidance and inspiration.

I try to look at myself," says

"At first when we started out, inner demons.

"Some of them are fathers,

frontman Sebastian Murphy, on we were maybe a little bit worried "I try not to be too hard on some of them have much better

the phone from Warsaw Poland, that we were called Viagra Boys myself because I've been in situations

in my life that were much helps," he says. "Because you

self control than me, and that

in between bites of his truck stop and it could be misinterpreted,

chicken sandwich. "I try to not but we made it pretty clear from worse. Before I started the band really don't want to be the only

take myself too serious. Even the beginning that we're all femi-

I was way more into heavy stuff, guy in the band partying." ,

MARCH 2019 BEATROUTE 15
---
BL_ad_Feb2019_FINAL_marks.pdf 1 2019-02-19 1:29 PM

MUSiC CONCERT PREVIEWS

DREAM POP

C

M

Y

CM

MY

CY

CMY

K

SHELLY MOSMAN

A 25-YEAR LOW

Indie veterans Low capture the brutally beautiful noise of the

now with Double Negative By GRAEME WIGGINS

C

elebrating a 25 year

connects with our current

long career and an 11 LOW

political climate. There's an ever

album discography, Friday, March 15 present sense of foreboding to

indie band Low are no The Imperial

the record. While recording

strangers to progression and

reinvention. With the release of

Tix, $20: Ticketfly the album was begun during

the runup to the last American

2018's Double Negative they have crafted

an album that is equal parts beautiful and

brutal, a stark, noisy experimental work

that still manages to be both moving and of

the moment.

In hindsight, there were hints that they

could pull off something like this. Their

previous record with the same producer,

B.J. Burton, hinted at things to come.

"Ones and Sixes was sprinkled with

moments and things that make you go

'that's interesting,' so we were like let's

make the whole record that. It took a while,"

singer Alan Sparhawk explains. "There was

a conversation about what could be done

with the voices, how could that be broken

up. How the voice collides with it. And is

there a way we can make rhythm and make

movement without it just being drums."

election, the influence was organic rather

than purposeful.

"There are definitely some songs that are

a reflection of that time," Sparhawk says.

"The way I write, I'm not intentional, but

I can look back. I don't sit around like, I'm

going to write about this, or I'm going to

write about that. The songs come and you

put the puzzle together and if you're lucky

you can take a step back and feel a pattern."

Low are known for the their live show,

which has come a long way from their history

of turning things down, confrontationally,

to combat loud audiences. Sparhawk

credits this to their longevity.

"We were lucky," he says. "We're lucky

to be able to tour and develop. Work with

cool people who have helped to us become

who we are. Most bands only get a few

The album's dark beauty seemingly years." ,

16 BEATROUTE MARCH 2019
---
CLASSIC ROCK

SILVIA GRAV

SOMETHING BORROWED.

SOMETHING BLUE.

Cass McCombs isn't afraid to sonically reference classic rock moments By MIA GLANZ

Cass McCombs isn't in pursuit.

Making music and playing

music is what it's about for

the veteran songwriter and

his approach is refreshing. He

doesn't pretend to have the

answers, responding with awareness of

everything he doesn't know.

"I don't have Spotify, I don't use that. I

don't even really know what it is," he says.

McCombs doesn't need to care. He's

doing fine; a great songwriter and then

some. Let him focus on the music and the

moment. Meanwhile, his new classic rock

album, Tip of the Sphere, plants its roots

in the collective consciousness through

Spotify, and the forces of the Internet.

McCombs' albums are collaborative

efforts, both in their making and in their

references to music history.

"Personally I like making music with

other musicians rather than it being a

solitary event," he says. And with that

intention, he has made music and toured

CASS McCOMBS

Monday, March 25

St. James Hall

Tix, $20, Ticketweb

with some of the biggest

indie artists of the day. Here

there is no attachment to the

paraphernalia of the music

industry. Scenes for him are

"gross" and he makes music

with his friends. He is able to call himself,

"pro friend, anti scene."

Music was natural for someone raised

by it. McCombs was "crawling, on [his]

knees, through the legs of musicians

playing." He started out listening to

metal, and making music with his friends.

"We became obsessed with the electric

guitar." He moved to the East Coast

early on, saying about it simply, "I don't

think anybody really wants to stay where

they're from."

Despite the wealth of political and

literary references in his music, McCombs

wants you to take what you want from his

music, and forget the rest. "They're only

intended, really, for me." The appreciation

of the singularity of people's experiences

makes him reluctant to qualify

anything generally.

"It sounds really goth," he says. "But

we're all invading each other's spaces like

some sort of modern dance. We have to

move around each other's spaces."

Dancing is also McCombs' metaphor

for the act of listening. "If you're listening,

you're dancing." That's about as far

as he'll go to categorize his audience.

Music making is more about the realm of

the psyche, that "not nice place." That's

where he goes to write.

"I mean, I'm writing all the time. I

don't think about it like I'm writing an album,

and I definitely don't think about it

like it's a business," he says. "I don't have

to write these songs. Like, I need to write

these songs, and I always write these

songs because I have emotional problems.

This is the only thing I can do to deal with

certain shit that's going on inside me.

Again, maybe that sounds super goth or

something but that's just the way it is." ,
---
MUSiC CONCERT PREVIEWS

BARONESS

CROWNS A

NEW QUEEN

New guitarist Gina Gleason is no novelty act, just a

great player says band leader John Dyer Baizley

By CHRISTINE LEONARD

W

hen BeatRoute last

touched base with melodic

metal monarch

John Dyer Baizley, the

leader of Savannah,

Georgia's Baroness, it was mid-2016

and singer/guitarist/visual artist was

in a warehouse in England,

or as he puts it "an

alternate universe version

of preparing for tour by

rehearsing a lot." Having

BARONESS

With Deafheaven &

guests

Wed, March 20

Vogue Theatre

Tix, $33.50, Eventbrite

subsequently introduced

Europe to their moody

Grammy-nominated album

Purple, the first release on the

quartet's newfound Abraxan Hymns

record label, Baizley more recently

found himself looking for another

mountain to summit. That challenge

unexpectedly arrived when longtime

friend and member Pete Adams announced

his amical departure from

the band after decade of providing

backing guitars and vocals. Fortunately

for Baizley and remaining

crew, bassist Nick Jost and drummer

Sebastian, the next ascendant to the

royal family was waiting in the wings,

axe in hand.

"It was just one of the easiest and

perhaps luckiest things that's happened

to us in our career," says Baizley

of Baroness's acquisition of guitarist

Gina Gleason. "We got really

lucky, Gina is an incredible player

and she's got a great attitude. She is an

incredibly diligent and hardworking

musician. We have found yet another

incredible musician to join the band

and do what we love doing."

Novelty never entered the picture

according to Baizley, who perceives

the recruitment of a woman to Baroness's

muscular lineup with an open

mind and a discerning ear; just as

he did for the ingestion of Jost and

Thomson in 2013.

"Much the same as when Nick

and Sebastian joined the band, our

HEAVY METAL

It was just one of the easiest &

perhaps luckiest things that's

happened to us in our career.

John Dyer Baizley

fectively broke them in twain, Baizley

is in a better place both physically

and mentally. He explains that the

group would have "more than likely"

gone down an alternate path if destiny

hadn't intervened "had we not

experienced what we experienced

on the first tour for Yellow & Green

(2012 Relapse Records) - which, of

course, is when we had that flying

bus accident off the cliff - had we not

suffered that and lost members and

had to rebuild and restructure…" It's

amazing how things can change in an

instant. "When we were a younger

band, we played seven days a week.

After I was injured… I've got the type

of injury where I'm a better musician

if I get a few days off a week."

Taking time to recharge and write

has been beneficial and by Baizley's

estimates a "not uncolourful" release

from the freshly-forged Baroness is

lurking right around the corner. An

accomplished painter and illustrator

in his own right, Baizley was actually

response time between

members has been phenomenally

fast and often

seamless. I'm always

afraid there's going to be

some extremely laborious

process of integration and

chemistry building, but it's

just never been that big of an issue

for us. Her qualifications for joining

the band and becoming a member

of Baroness had nothing to do with

gender. Anybody with her skill level

that had shown interest would have

gotten it. It just happened to be her.

We couldn't be happier."

Baizley continues. "Additionally,

I'd like to think that this band is now,

and has always been, a place where

ideas like gender or age or race aren't

significant to who we work with and

how we work with those people. It is

awesome. If I'm being honest, I don't'

think we see enough of it out there in

our scene. It can feel a bit male dominated,

I'm might be the wrong person

to even say that being a male myself,

but she's proof made flesh that your

gender has virtually no bearing to

what you're able to accomplish and

the way you're capable accomplishing

it. And I'm really glad that I can say

this about this band and about this

woman."

Well-past the terrifying 2012 road

wreck that crippled the band and efcompleting

the artwork for their yetto-be-unveiled

album's cover as this

interview was being conducted.

"We've finished recording the next

album and now we're just in the process

of figuring out how, when, where,

why, what it's going to look like. With

each record we lean into something

entirely different. We really pushed as

creatives and as songwriters with this

new record. We were without a doubt

a difficult group of people to satisfy.

We held ourselves to a very high standard

creatively and wrote something

that I think some people will like. I

like the Hell out of it. I think it's the

best record we've ever done. I'm extremely

excited." ,

SHELLY MOSMAN

18 BEATROUTE MARCH 2019
---
MELODIC DEATH METAL

EXTREME METAL

METAL THERAPY

Sweden's durable melodic metal icons In Flames are

ready to drop lucky number thirteen By JOHNNY PAPAN

WILLIAM FELCH

In Flames is one of Sweden's most prolific

IN FLAMES

metal groups. They are credited with pioneering

Friday, March 15

the melodic death-metal genre, often utilizing

machine-gun-like distorted riffs with dynamic The Imperial

synths, versatile guitar-leads and a contrast of Tix, $44.50: eventbrite.ca

soft vocals and demonic screams. Together for

nearly 30 years, In Flames is about to drop I, The Mask, due March 1.

"People carry a lot of darkness within [them]," vocalist Anders

Fridén says. "That's where the title comes from and what a lot of the

songs are based around. Instead of hiding behind something, you need

to address it so you can see what's ahead and what's around you."

I, The Mask, though not a concept album, does have a lyrical

through-line. The idea of society hiding behind a mask is prevalent, but

there seems to be a deeper meaning when you dissect each individual

track.

"Instead of talking to someone, I do therapy on myself with the way

I write," Fridén explains. "There are a lot of metaphors which, in itself,

is maybe a mask I use because I don't want people to come too close.

I always need that safety net. I deal with a lot of things to get lyrics out

of me, and when it's written on paper, it's out for good. That's a good

session for me."

The last few In Flames records swayed in an alternative-metal

direction as opposed to melodic death. I, The Mask feels like a perfect

concoction of old and new, blending 2016's Battles and 2011's Sounds

of a Playground Fading with classic energies from records like 2002's

Reroute to Remain and 2006's Come Clarity. A fresh record with

potent hits of nostalgia.

"In a perfect world I want people to listen to this album from side A

to side B, by themselves in a dark room, and just absorb everything,"

Fridén concludes. "This record is a great representation of who we are

these days. It's our 13th album, which is crazy. It's been a long career

and I'm so grateful we have people listening to what we do so we can

continue doing something we truly, truly love."

MAREK SABOGAL

BIG FINNISH

Road weariness, introspection and sobriety guide Finland's Children of

Bodom on their latest album Hexed By JOHNNY PAPAN

Hexed, the forthcoming record from

Finland's extreme metal outfit Children

of Bodom, may be the band's most

thought-out album in recent memory.

Frontman Alexi Laiho says this album

found him "branching out" when it

came to penmanship, expressing an introspection

on his addictive personality.

Opening track "This Road" begins the album's

foray.

"People thought ['This Road'] was about alcoholism,

but it's more about being addicted to

being on the road," says Laiho. "After 20 years

on the road, everything becomes a blur and you

don't know what the hell's going on. It's so emotionally

and physically draining that it feels like

it's killing you, but you can't stop doing it because

you love it."

Despite people's misconceptions about the

track, Laiho admits his past relationship with

alcohol was a dangerous romance, holding him

with a reaper-like grip. A booze-infused scythe

grazed his jugular with every sip he took, and every

hangover began to feel like a foot in the grave.

"'Under Grass and Clover' is about severe alcohol

withdrawal," Laiho says. "I don't really drink

like that anymore, but back in the day it was pretty

hardcore. [While writing Hexed] I went back in

time and started remembering what it felt like to

go through detox. I don't even drink on the road

anymore. I don't want to fuckin' feel like that ever

CHILDREN OF

BODOM

Thursday, March 28

Vogue Theatre

Tix, $27.50-$35:

eventbrite.ca

again. I'd wake up and take a couple

shots, not to get drunk, but just to keep

an even keel and feel normal. It's fuckin'

sad."

Laiho cut back on drinking in 2013.

"I said to myself, 'It's either the

booze or the music.' When you put it

like that, it's like, 'What am I talking

about? Of course, the music.' But I didn't want to

stop altogether. I wanted to prove I could drink

like a normal person."

It's rare that someone can go through detox

and maintain a relationship with their substance

of choice without relapsing, but Laiho seems to be

pulling it off. In fact, Children of Bodom just released

their own beer, which was brewed with the

water of Lake Bodom, the infamous Finnish murder

scene for which the band got its name. For the

last five years, Laiho has refused to drink on tour,

opting only to controllably drink with friends at

home.

"I think that's the most important thing: admitting

it," he continues. "If you stay in denial,

that's not going to take you anywhere. Admit it

to yourself, know yourself, and keep an eye on

yourself. I've been there, and I've seen people

ruin their lives because of alcohol or drugs. Don't

get me wrong, I'm not a fuckin' saint, and I'm not

trying to preach here. This just worked for me.

It's actually pretty fucking great, not feeling so

fuckin' shitty everyday." ,

MARCH 2019 BEATROUTE 19
---
MUSiC CONCERT PREVIEWS

Our story is like: became a band,

played a stupid amount of shows,

and never put out any recordings

Isaiah Dobbs

ZEUSTATE

EASILY "SCHWEYED"

Live show veterans Schwey's self-titled debut album

has been six years in the making. By QUINN THOMAS

T

hree desperados in heavy

winter coats enter the bar

they have seemingly never

been to before. These are no

normal men – they are the key members

of Schwey (formerly known as

Funk Schwey), Isaiah Dobbs, Jarah

Dobbs and Jacob Schwinghammer.

They sit down, order a bag of

chips and proceed to recall the history

of Schwey while "Rocket Man"

fills the air of Funky Winker Beans

in downtown Vancouver.

Jacob (keyboard) and Isaiah

(bass and vocals) started jamming

back in high school. It all took off

when Isaiah's neighbour let him borrow

their vintage Fender Rhodes, lugging

it up and down stairs and around

tight corners just to rehearse. They

debuted their material at a community

event in Vancouver called Heat

Wave Classic back in 2013, a backyard

barbeque and basketball tournament

hosted by their friend.

"We played some weird songs, really

rock, really fun," says Jacob. "We

were trying to be the Beatles. Really

random music."

The group played Ignite festival

in 2014 followed by playing nonstop

shows around the city in 2015. It

was during this time that

you say 'funk,' it has so

SCHWEY

Schwey developed their

much weight and stigma

Friday, March 22

signature sound, presentation

and branding, fea-

The pure magnetism of

around it."

604 Soundstage

Album release party

turing Ben Robertson on

their live shows was so legendary

that it attracted the

guitar. Their vibe was a

message of peace and love, turning attention of 604 Records, who signed

the dance floor into a safe space. the band and will be releasing their debut

album on March 15.

After their original guitarist left for

business school in Montreal, Schwey Hype man Jarah chimes in, boasting

about his brother's commitment

entered their second and most

recognizable iteration. Their new to putting time in on weekends and

aesthetic called for a new name – after school at their makeshift studio

dropping the "funk" from their name in Jacob's parent's basement. Both

allowed fans to find them more easily

and gave them the edge they were Jarah says they're "musically con-

Jacob and Isaiah are producers, and

looking for.

nected."

Isaiah adds they changed their "We just kind of work together to

name "to disassociate from anything

weighing us down. When "We've worked together for so

make the right sound," Jacob says.

many

years. We don't want to explain what

we're going for to a third person and

have it not sound like us."

Putting an album worth of effort

into every song, Isaiah describes this

record as a diverse "mood board"

displaying what the band can do.

"Our story is like: became a band,

played a stupid amount of shows, and

never put out any recordings," says

Isaiah. "We kind of built a fan base

around the energy of our shows."

Their forthcoming self-titled album

is six years in the making and

the group says they'll be relocating

to Montreal in the near future. They

are looking to change up the scene

of their live performances, hopefully

getting more of Canada on board

with the Schwey vibe. ,

20 BEATROUTE MARCH 2019
---
FUNKY FANGS

The Cat Empire roll out their big top on this tour with

tough, bold, brassy downunder funk By TREVOR MORELLI

JAZZ-FUNK ROCK

When Australia's The

the same as the others

Cat Empire dropped

THE CAT EMPIRE

– it's really different.

Sunday, March 17 &

their self-titled debut album

more than 15 years The Commodore Ballroom write songs that would

We really wanted to

Monday, March 18

ago, frontman Felix

Riebl had no idea what

kind of journey he was

about to embark on.

"I didn't expect it to

be going this long," he

Tix: $99, Ticketmaster

Tuesday, March 19

Royal Theatre (Victoria)

Tix: $37-$47

translate and be really

tough going from the

studio to the stage…

(with) rhythm sections

that would just carry

on a big festival stage.

says. "The band started because

a bunch of musicians got together

from all different parts of sound,

and there's just a real chemistry

there. Something just clicked."

The Cat Empire is a six-piece

orchestrated mix of steamy pop

and bold, brassy, deep funky

grooves that translate on stage to

busting a move in rainbow colours

and visual theatrics. Coming overseas

to promote their new album

Stolen Diamonds, Riebl says it's

one of the most inspiring records

they've ever made.

"I feel like Stolen Diamonds is

the end of a trilogy. It's the third

part of us having made these

albums with Jan (Stubiszewski,

producer), which is not to say it's

We really wanted to make some

tough albums. It's probably one

of the most musically challenging

that we've made."

With eight records under their

belt, the live show is a jubilant

mix of old and new as Cat Empire

strives to find the, ahem, purr-fect

balance of fan favourites and

improvised pieces.

"There's always been this big

struggle in our band between

songs, in the sense of songs that

people sing back [to us], and sections

that make music interesting

and challenging for us on stage as

well," Riebl admits. "Both of them

have their place in a set, but you

want to get the right tension between

those two different coasts.

The good shows are the ones

that kind of have an arc between

both of those things, because they

give an audience a sense of going

somewhere, having been somewhere

that's very unique to that

night, not just having seen a show

that's kind of cookie cutter."

As for their upcoming Canadian

tour, Riebl says the group feels

right at home despite being thousands

of kilometers from their

native land down under.

"Canada has been a bit of a

second home for us. I always

feel like we're being made very

welcome in Canada. It's always a

tour that's really fun for us." ,

MARCH 2019 BEATROUTE 21
---
MUSiC CONCERT PREVIEWS

SPASTIC POP

LO-FI HYPNOTIC WAVE

SHE'S A

WORKING

CLASS HERO

Marie Davidson lightens the mood on

Working Class Woman By GRAEME WIGGINS

FREE AT LAST

Devours let go of any lingering traces of internalized

homophobia and passionately embraces their queer

identity By JOEY LOPEZ

Vancouver avant-garde pop artist

Devours has been pushing boundaries

since the release of his last record

Late Bloomer, a massive-sounding

album with studio quality recorded

in his own apartment. With his upcoming

album Iconoclast, Devours

took the approach of being wholly

and completely himself: dramatic,

honest and queer.

"The last three years have been

extremely transformative for me,"

he says. "The emotions are pretty

raw and intense on Iconoclast. I

was in a significant relationship that

came to an end during the songwriting

period, so there are a few breakup

songs on the album. Iconoclast

is not an album about relationships

with other people, though. It is

about my relationship with myself.

The album is also about masculinity

and queer identity. I

dealt with a ton of shame

and insecurity growing

up about my sexuality

and issues surrounding

my body image. This album

is about letting go

DEVOURS

Friday, March 15

Red Gate Arts Society,

1965 Main Street

Tix, $10

of any lingering traces of internalized

homophobia inside of me and finally

embracing who I am."

For Devours, creating Iconoclast

has been a journey of self-exploration.

On it, he discovers who he is

not just as an artist, but as a person.

Most of this trip through the inner

workings of himself comes from his

experience within the gay community,

trying to fit into particular roles in

a bid to find a sense of belonging. To

liberate himself, he created an iconic

look that contradicted his masculine

features, instead presenting Devours

as something feminine.

"Aside from my friend Joel Gomez

lending his amazing falsetto

to some of the tracks, I wrote, recorded,

mixed, and mastered this

album by myself in my tiny apartment

in Mount Pleasant," he says.

"The process lasted several years,

so my feelings towards the album

have had time to shift around. My

breakup was hard, and my journey

of self-discovery isn't

over, so the album still

feels pretty raw. I was

also pushing myself

to make a Vancouver

album that

was both DIY

and huge-sounding, weird

but catchy, honest to my

own experiences but still

relatable. One big thing

that drove me with this album

was my desire to write

about male body image – mainly

because of my struggles with it, and

because I know a lot of fellow gays

who are wrestling with the same

demons. Also, I'm at a place in

my life and career where I only

want to write queer lyrics. No

more pandering to the mainstream.""

,

Humour and Emotion are two

things not typically associated

with electronic music to

most minds. This makes Marie

Davidson's most recent album

Working Class Woman that

much more refreshing as it combines

both with club-friendly,

danceable tunes.

MARIE

DAVIDSON

Thursday, March 21

Fortune Sound Club

Tix, $15, Ticketweb

"It was important for me that there would be a lot

of different emotions and subjects that I wanted to

touch," explains Davidson. "Of course humour is

very present because I went through dark times

in my 20s and humour was something that

helped me a lot to address things, it makes

it easier. There's not only humour on the

record there are some dark moments on

the record."

Working Class Woman is a biographical

trip for Davidson, that reflects on the duality

of what brought her to her current level of

success: work.

"I'm a workaholic. Sometimes

it can become a

problem. That's why I

talk about it. I kind of

knew I was for a

few years but

in 2017-2018

I started to

have health

problems

related to

working too

much, traveling

too much, playing

too much, partying

too much, everything."

In keeping with this she is

planning on taking some time

off shortly, so catch her while

you can.

JOHN LONDONO

22 BEATROUTE MARCH 2019
---
MOOD

MUSIC

MASTERCLASS

Paleman approaches music

making like an academic.

By JOEY LOPEZ

T

here's an old adage

that art school

PALEMAN

students around the

world are familiar Open Studios

with: you have to

know the rules before

you can break them.

It's about taking conventions

and making them unconventional. There's

something special about an artist that

can manipulate matter like an alchemist.

Paleman is a UK-based DJ that

does exactly that, taking sonic lead and

turning it into gold. Paleman was once an

art student himself, studying jazz before

making the move to internationally

renowned DJ.

"I consider jazz to be the pursuit of

freedom to express yourself musically,"

he says. "It embodies rebellion and

experimentation with improvisation and

decisions, practicing refining intentions

when performing or writing music. Jazz

was everyone's dance music once, and

played in clubs for people who wanted to

escape. Those parallels still exist within

electronic dance music. On a practical

level, I made electronic music in my down

time from studying. I enjoyed creating

Saturday, March 30

Tix, $20-$25: leisure.

events/paleman-openstudios

music with sounds I didn't

realize existed. I went clubbing

to escape eight hours a day of

practice. It's still an escape for

me. I love playing the drums,

and I still study classical music

and jazz, but electronic music

was a mystery. It pulled me in

and somehow I made a career out of it."

Paleman reaches to the roots of music,

stripping it down to its bare bones to create

a minimal, percussive sound, working

on modular machines as opposed to

computers. Paleman wants his music to

feel real. More importantly, he wants to

craft a mood.

"It's an extraordinary ability that

comes with a lot of thought, experience,

patience and practice in writing music,"

he says. "A Rothko painting does the

same: it pulls you in with a mood. Even

though it's arguably quite understated,

you can't avoid being pulled into his

world, but it's on your terms. I want to

do that too – it comes with time, I guess.

Dark, gritty electronic music, when done

right, creates a really powerful and profound

headspace for me, so for now I'm

focused on that." ,

ALBUM OUT MARCH 29

MARCH 2019 BEATROUTE 23
---
FRI 1

DOORS @ 7:00PM

TOURIST COMPANY & THE LONG

RANGE HUSTLE

FRI 15

DOORS @ 7:O0PM

ACTORS

WITH BOOTBLACKS AND SPECTRES

FRI 29

DOORS @ 10:30PM

NO REQUEST FRIDAY

INDIE, ROCK, ALT, 80S, 90S, & 2000S

FRI 1

DOORS @ 10:30PM

NO REQUEST FRIDAY

INDIE, ROCK, ALT, 80S, 90S, & 2000S GEMS!

FRI 15

DOORS @ 10:30PM

NO REQUEST FRIDAY

INDIE, ROCK, ALT, 80S, 90S, & 2000S GEMS!

SAT 30

DOORS @ 7:00PM

PLINI

WITH MESTIS AND DAVE MACKAY

SAT 2

DOORS @ 5:00PM

SEISHUN YOUTH ACADEMY

1ST ANNIVERSARY SHOW

SAT 16

DOORS @ 10:30PM

NITE*MOVES

DANCE PARTY JAMS FOR THE YOUNG, RESTLESS, AND BORED!

SAT 30

DOORS @ 10:30PM

NITE*MOVES

FOOLISH FAR BACK

DANCE BIG SHOES. PARTY BIG JAMS HAIR. FOR BIG THE ATTITUDES. YOUNG, RESTLESS, AND BORED!

SAT 2

DOORS @ 10:30PM

PISCES ZODIAC PARTY

CELEBRATE ALL YOUR FAV FISHES!

MON 18

DOORS @ 7:30PM

NASTY WOMEN COMEDY

IMPROV & SKETCH SHOW

FRI 5

DOORS @ 10:30PM

NO FOOLISH REQUEST FAR FRIDAY BACK

INDIE, BIG SHOES. ROCK, BIG HAIR. ALT, BIG 80S, ATTITUDES. 90S, & 2000S GEMS!

FRI 8

DOORS @ 7:00PM

OLD MAN CANYON

WITH BLUE J

SAT FRI 22 17

DOORS @ 7:00PM

ELLA VOS

WITH SPECIAL GUESTS

SAT 617

DOORS @ 7:00PM

JON BYRANT

WITH SPECIAL GUESTS

FRI 8

DOORS @ 10:30PM

NO REQUEST FRIDAY

INDIE, ROCK, ALT, 80S, 90S, & 2000S GEMS!

FRI 22

DOORS @ 10:30PM

NO REQUEST FRIDAY

INDIE, ROCK, ALT, 80S, 90S, & 2000S

SAT 6

DOORS @ 10:30PM

BYE FELICIA

VANCITY ROYALTY DRAG PARTY!

SAT 9

DOORS @ 7:00PM

DARLINGSIDE

WITH RIVER WHYLESS

SAT 23 17

DOORS @ 7:00PM

ROYAL CANOE

WITH NEHIYAWAK

SAT SUN 17 7

DOORS @ 8:00PM

HOP ALONG

WITH SPECIAL GUESTS

SAT 917

DOORS @ 10:30PM

BYE FELICIA

WITH SHE'S BAAACK! VANCITY ROYALTY LAUNCH PARTY!

SAT 23 17

DOORS @ 10:30PM

BYE FELCIA FT. MISS TOTO

A GENDER BENDING, BODY BUILDING, DRAG MONSTER FROM MIAMI!

SAT TUES 17 9

DOORS @ 7:00PM

MISSIO

WITH BLACKILLAC AND SWELLS

TUES 12

DOORS @ 7:00PM

GILMORE GIRLS TRIVIA

HOSTED BY IQ 2000 TRIVIA

MON 25

DOORS @ 8:00PM

THE BRIGHT LIGHT SOCIAL HOUR

WITH GUESTS SEA MOYA

THURS 11

DOORS @ 7:00PM

THE TROUBLE NOTES

LOSE YOUR TIES TOUR

24 BEATROUTE MARCH 2019
---
MUSiC CONCERT PREVIEWS

JAMES

BLAKE

HEALS

HIMSELF

After taking time to improve

his mental health, James

Blake has taken on a whole

new perspective

By JOEY LOPEZ

J

ames Blake has been

on the forefront of forward-thinking,

innovative

electronic music

and avant-garde pop

since the release of his

debut self-titled album

in 2011. He creates evocative

emotional landscapes that embody

anxious longing and the feeling

of being awash, never quite feeling

like you exist in the space you occupy.

Blake has sonically captured depression

in the electronic age, but now,

nine years and three albums later, he

has captured an entirely different feeling:

one of romance and love. Never

being one to shy away from themes of

love in the past, Blake decided to approach

it differently this time. Instead

of heartbreak, it's happiness – something

new for longtime listeners of

the London-born musician.

"It's a product of a good thing, I

guess," says Blake. "I've been previously

frustrated, maybe by my own

cryptic writing. I think it was time

to express how I feel like I could be

without being on the nose. I just tried

to say the things I needed. I think I

managed it. Generally, the thing that

you mean isn't always the most singable

sentence. I tend to have a general

level of rawness out of the box."

Being more honest, raw and open

with his feelings, Blake has found a

sound that suits him well. Gone are

I think arriving

at some kind

of mental

balance had a

drastic effect

on my music.

It needed

a personal

change to

effect a musical

change.

the days of the sadboy,

a term Blake himself

despises due to the idea

it proposes of men not

being allowed to be emotional,

and in its place

reigns a more mature,

JAMES BLAKE

Saturday, March 9

Harbour Convention

Centre

Tix, $55: eventbrite.ca

thoughtful artist. This transition

wasn't an overnight change. It's been

three years since the release of his

last project, The Colour

in Anything, and Blake

has had time to ruminate.

Giving himself room to

breathe, Blake made personal

changes by stepping

away from himself

and his work. Those who suffer from

mental illness will be able to relate:

he had to break away from how his

AMANDA CHARCHIAN

mind was playing tricks on him.

"Honestly, I think I've done a lot

of work on myself," he says. "A great

deal of soul-searching and getting to

the point where I really needed to fix

a few things with the way I viewed the

world, the way I felt and my patterns.

The stuff we all have to at some point

conquer: our own egos and our ability

to listen and not make everything

about ourselves, for positive or for

negative. That is what 'Don't Miss

It' is about: taking anxiety head-on,

and depression, and everything that

was bringing me down at the time. I

think arriving at some kind of mental

balance had a drastic effect on my

music. It was a garden well, unkempt

and untended to. It needed a personal

change to effect a musical change."

At the age of 30, Blake has had time

to grow up and, with a humble maturity,

assess himself for the better. His

latest album, Assume Form, shows

all the signs of that maturity. It's

thoughtful and takes its time to grow

with surprising moments of dramatic

expression. The most welcomed surprise

is an André 3000 feature that

blew not only listeners away, but also

Blake himself.

"It was a dream come true. I

learned a lot. I always learned a lot

from [André 3000]. Before I even

knew him, I was learning from him.

He doesn't do verses that often. The

fact that he did one for my album

doesn't go unappreciated. I'm really

so happy. Other than that, whatever,

it was the process: he liked the

song, he did the verse," Blake laughs,

playing it cool. Assume Form also

features a breathtaking feature from

Rosalía, who Blake met during their

first studio session together. By the

end of the session they had "Barefoot

in the Park," one of the most beautiful

tracks off the entire project.

Blake's exponential growth is admirable,

and Assume Form is proof

that he will not be slowing down anytime

soon. The fact that he has taken

time to grow and create music from

a completely different perspective is

a sign of an intelligent artist that is

only going to keep growing and improving.

Assume Form doesn't feel

like a follow-up, but a new beginning.

Reborn anew, but holding onto the

familiar sounds of yesterday, Blake

embarks on the journey of an eventual

legend. ,

MARCH 2019 BEATROUTE 25
---
MUSiC COVER STORY

TANJA TIZIANA

26 BEATROUTE MARCH 2019

PUP (L-R): Zack Mykula, Stefan Babcock, Steve Sladowski and

Nestor Chumak. Toronto, Ontario's punk rock road warriors

combat depression with laughter on their new album, Morbid Stuff,

set for release on the band's brand new label Little Dipper.
---
Life of

the party

Toronto punks channel doom

and gloom of the here and

now on Morbid Stuff

T

oronto has just recovered from a week-long

winter apocalypse and PUP frontman Stefan

Babcock and drummer Zack Mykula are sitting

in a craft beer hall in the city's West End,

nursing their beverages while pinball machines

clink away loudly in the background.

Torontonians have an interesting, if not comedic, relationship

with winter. Remember 20 years ago when

the mayor had to call in the military to help them battle

mother nature? While this year didn't call for a full

blown national emergency, it was still pretty dark — for

Toronto.

"I actually love the doom and gloom of winter, but

that long Canadian winter does play into the songwriting

and general vibe of our songs," Babcock says.

Surviving winter is one thing, but the story of PUP

is actually rooted in survival, with a bit of deep-seated

nihilism thrown in for good measure. The young punk

band has just finished the final touches on their new

album, Morbid Stuff, and they're enjoying some downtime

before they take off on tour for what's basically

looking like the rest of the year and then some.

The album is so fresh they haven't even had a chance

to think about what this installment of their discography

means to them yet, but you can tell by the album

name alone that it's pretty much the same old PUP doing

what their fans have grown to love from their previous

albums, up to and including 2016's defiant The

Dream Is Over.

If you don't know the story, the narrative around

the album is one of perseverance; one that defines the

band's ethos through and through. In 2015, on the first

day of a six-week tour, Babcock discovered a cyst on

his vocal chords. The band was in Baltimore and he felt

CONTINUED ON PG. 28 k

MARCH 2019 BEATROUTE 27
---
TANJA TIZIANA

MUSiC COVER STORY

I mean, yeah man, the

fucking apocalypse is

coming. Get ready!"

Lead singer, Stefan Babcock

k CONTINUED FROM PG. 27

something was off so they went to a clinic at Johns Hopkins

Hospital. This is where he would meet the doctor who would

be the source of inspiration for the album name when she

uttered the four words no artist ever wants to hear — "The

dream is over."

But in actuality, PUP's journey was just beginning.

Babcock recalls: "She was like, 'Just go home, this band thing

is over for you.' So, all of us being very defiant in the face of

that stuff, we decided to just keep going and we ended up getting

through five weeks of that tour, which was crazy."

The actual crazy part is that when they finally landed back

home in Toronto on week five, Babcock's

voice had finally had enough.

"In our home market with the

most pressure and the most fans and

everything, just before we went on, I

literally couldn't make a sound," Babcock

continues. "It just wasn't there

PUP

Friday, March 29

With Pkew Pkew Pkew

and Brass

The Wise Hall

SOLD OUT

at all. And we played that day and I was just croaking. After

that I went to another specialist in Toronto and found out I

hemorrhaged my vocal chords. Essentially the cyst burst apart

and filled my vocal chords with blood."

Vocal chords have to meet to make a sound and the blood

was preventing Babcock from using his voice so he had no

choice but to stop. After weeks of silence and months of healing,

Babcock eventually trained himself to sing again. It was

a total of four months recovery before the band could even

start thinking about playing shows again. While their future

was never certain, the band persevered.

From the "Dark Days" Babcock sings about on their 2013

self-titled debut to the "dark thoughts," as heard on the track

"Scorpion Hill" from their soon-to-be-released Morbid Stuff,

the band has always maintained their emo composure blended

with pure punk rock sensibilities, but the reality is PUP is thriving

in their nihilistic tendencies that have carried them all over

the world many times over.

Are things really that bad though?

"Yeah, pretty not good," Babcock says. "But music is what

we do because it's fun. That's why we play in a band and that's

why we quit our jobs to make no money and it's a really positive

way for us to deal with a lot of negative garbage in this world."

It makes sense then that one of the pre-orders for Morbid

Stuff is the "Annihilation Preparedness Kit," complete with an

inflatable boat.

"I mean, yeah man, the fucking apocalypse is coming. Get

ready!"

I

n the meantime, PUP have three already-sold-out

west coast shows scheduled for Calgary, Edmonton

and Vancouver. You could say the band is road testing

their new album in some tried-and-true Canadian markets

before they leap over the pond for a string of dates

throughout the UK, France and Germany.

"It's funny because when we do something cool like

play smaller shows, all it does is make people pissed at us because

they couldn't get tickets. We get so many angry messages

and try to reply to as many of them as we can," Babcock says

with a genuine smile on his face. "Sometimes bands make decisions

selfishly because we want to play a smaller show. We'll be

back and play a bigger room and everyone will get the opportunity

to see us eventually, but if we don't do these kind of things

for ourselves once in a while, we're fucked."

Regardless of the size of shows they're playing, PUP has succeeded

at capturing the DIY work ethic of the new millennium.

Babcock knows things are fucked but it's through embracing

them with a sense of humour and humility that they're able to

rise up and persevere. Having climbed the ranks of the music

industry in a most respectable way, Babcock cut his teeth in the

all ages scene, playing in a ska band called Stop Drop 'N' Skank

(it was a different time back then, okay?), and eventually found

himself working music industry odd jobs, including marketing

for Toronto-based indie imprint Arts & Crafts. He was even the

manager for METZ at one point in time and has been known to

offer grant writing tips and assistance to younger, less experienced

bands.

Music is a lifestyle but punk rock is a commitment that ultimately

chooses you. And while PUP continues to climb the

ranks of the music industry and gain notoriety through their

catchy songs and impressively executed music videos, they've

never forgotten where they came from because they're still active

members of the same scene they grew up in.

"As much as we've all been a part of building a community

since we were 15 playing in bands, all of the people who have

helped us along the way have really inspired us. It made us realize

that once you get a little bit of traction as a band, it's your

duty to help other people."

Later on that night, three active and notable Toronto bands

— Casper Skulls, Greys and Chastity — are playing a show at

a venue in downtown Toronto. In the middle of Chastity's set,

looking out into the sea of fans, you can see Babcock wearing

the same clothes he was in earlier that day during our interview,

rocking out with ear plugs in and a huge pint of beer in his

hand. The big smile on his face suggests he's clearly surrounded

by friends and you can tell he wouldn't rather be anywhere else.

Because no matter the weather, it's the music and the community

you're a part of that carry you through those dark winter

nights. ,

28 BEATROUTE MARCH 2019
---
Reviews

MUSiC

Album Review

JENNY LEWIS

On the Line

WARNER BROS. RECORDS

With the release On the Line, it

seems Jenny Lewis has traded

in her once-signature rainbow

blazer for an even bolder outfit

choice: the album cover displays

an up-close photo of a silken teal

jumpsuit, fit snugly onto Lewis'

torso. But a change of wardrobe

isn't the only thing that distinguishes

this eqra in her career

from the rest. Both literally and

figuratively, Lewis ditches the

summery tunes and cotton candy

aesthetic of her previous work to

take a more straightforward look

at her life and her music.

Five years have passed since

the arrival of 2014's The Voyager,

but Lewis' songwriting abilities

have only sharpened since then.

On her fourth record, she revives

the Seventies power-rock vibe

and amps up her country-tinged

confessionals heard in her

previous solo work. Only this

time around, Lewis' sound is even

more polished and self-assured.

Serving as guest performers on

the album are some notable rock

'n' roll heavy hitters, including

Beck, Ringo Starr, former Tom

Petty and the Heartbreakers keyboardist

Benmont Tench, bassist

Don Was, and renowned session

drummer Jim Keltner.

Since her days as the frontwoman

of Rilo Kiley, Lewis has

been a master of crafting evoc-

CONTINUED ON PG. 31 k

MARCH 2019 BEATROUTE 29
---
UPCOMING SHOWS

THE RUBENS

LO LA RU TOUR

APRIL 6

THE WHITE BUFFALO

W/ SPENCER BURTON

MARCH 16

LOW

W/ SPECIAL GUESTS

MARCH 19

WET & KILO KISH

W/ HELENA DELAND

MARCH 23

TOM WALKER

W/ SPECIAL GUESTS

MARCH 28

AGAINST THE CURRENT

W/ SPECIAL GUESTS

APRIL 3

AJJ & ANTARCTIGO VESPUCCI

W/ LISA PRANK

APRIL 11

KT TUNSTALL

W/ SPECIAL GUESTS

MAY 6

LÉON

YOU AND I TOUR

MAY 7

MILLENCOLIN

W/ SPECIAL GUESTS

SEPTEMBER 21

TICKETS ARE AVAILABLE AT IMPERIALVANCOUVER.COM

30 BEATROUTE MARCH 2019
---
MUSiC ALBUM REVIEWS

EX HEX

It's Real

Merge Records

Mary Timony is nothing short

of prolific. Through her work

in Helium, Wild Flag and time

spent in the Washington D.C.

math-rock band Autoclave, her

influence is expansive. Ex Hex is

no exception. Certain tracks on

this sophomore offering ("Another

Dimension," "Cosmic Cave")

wouldn't feel out of place in Helium's

discography, but the band

doesn't rely on '90s nostalgia. The

vocal harmonies are layered on

top of guitar solos and impressive

riffs that act as a welcomed show

of skill instead of feeling masterbatory

or over-the-top.

It's Real feels truly collaborative.

You can hear bassist Betsy

Wright's recent work in her power-pop

project, Bat Fangs, mesh

well with Timony's more hard rock

leaning and evocative guitar play.

The first single, "Tough Enough,"

feels like what should be played

as movie credits roll. With Timony

crooning that she "thinks about it

all the time / back when you were

mine / four tears down your golden

cheek / won't bring that back

to me" as the leads drive down an

empty stretch of highway into the

sunset.

Ex Hex lack the pretentiousness

that often is associated

with early success. Instead, they

apply their clear skill to creating a

record that is genuinely enjoyable

and fun to listen to.

Kenn Enns

THE CINEMATIC

ORCHESTRA

To Believe

Domino Records

There is beauty in simplicity. Only

a few piano keys and soft vocals

are in The Cinematic Orchestra's

emotionally compelling composition

"To Build a Home," which was

released in 2007 and became

a hit single. Twelve years later,

they're releasing To Believe, which

carries just as much raw emotion

as its predecessor.

The album shines through simplistic

introductions with acoustic

chords and piano keys, before a

violin slowly joins and hauntingly

beautiful vocals, like Moses

Sumney, drawing the listener into

the eponymous album opener.

The second track "A Caged

Bird/Imitations of Life," strikes

a match, carrying a toe-tapping

beat highly differing from the

melody of the first. Featuring the

strong vocals of Roots Manuva,

he pairs well with the song's jazzy

electronic instrumental.

The familiar transcendent

sounds of The Cinematic Orchestra

eloquently unfold through the

rest of the album, reminding that

an instrumental song unravels

feelings of nostalgia. Such as in

"The Workers of Art,"—which

flows into the hopeful, slightly

more upbeat "Zero One/This

Fantasy."

Whether it's in an amphitheatre

or listening through headphones,

the creative genius of The Cinematic

Orchestra's latest will make

a believer of us all.

Lauren Edwards

WHITE DENIM

Side Effects

City Slang

It's only been a hot minute since

Austin's White Denim released

their album Performance, but the

prolific rockers have plenty of outfits

in their wardrobe that are just

dying to be trotted out. Enter Side

Effects the band's latest effort for

the Berlin-based City Slang label

and their eighth record to date.

An attempt to bottle the magic

elixir of White Denim and their

mood-altering live concerts, Side

Effects drips with the very juices

of life.

The ebullient opener "Small Talk

(Feeling Control)" bursts with a

colourful joie de vivre that pulls

the rest of the album along in

its wake. Bringing the weird,

"Hallelujah Strike Gold" runs

headlong into the radiant waves

of "Shanalala" before surrendering

to the crosstown traffic of

the seven-minute commuter "NY

Money." Smooth transitions to the

rolling hills of "Reversed Mirror"

and wiggly roads of "So Emotional"

come easily to the breezy

psych-blues troupe as they set

"Heads Spinning" with riffs that

tickle the senses. Dissolver "Introduce

Me" finishes the deed with a

smeared tempo that magnifies the

imperfect and forgets your name

the instant you pronounce it; most

likely a side effect of too much

sunshine and Bonnaroo-brand

champagne.

Christine Leonard

JENNY LEWIS

kCONTINUED FROM PG. 29

ative narratives that are both specific and universal. The

record opens with the piano-driven ballad "Heads Gonna

Roll," in which the songstress tackles the familiar story

of leaving a toxic relationship. Her dreamy voice floats

between layers of acoustic guitar, piano and lush orchestral

strings, which altogether work to give the song greater

poignancy. And yet, while the song exudes technical

sophistication, the writing comes across as casually as a

conversation. Lewis takes a clear-eyed view of her doomed

love, but she still manages to insert a few witty one-liners in

her lament: "I hope the sycophants in Marrakesh/Make you

feel your very best/Anonymity must make you blue."

Lead single "Red Bull & Hennessy" commands attention

with its distinctive piano riff and sparkling vocals à la Stevie

Nicks. Like Lewis' earlier compositions, the song carries

the same tone and tempo that instantly transport you to a

lonesome American landscape. On the track, her voice is

as strong and beautiful as ever, and when sung over bluesy

guitars and loud drums, it sounds full of authority. While

"wired on Red Bull and Hennessy," she even proclaims that

she's "higher than you." But it becomes clear that she's

chasing after someone who doesn't reciprocate her feelings,

and her desperation shines through. It's seen in songs

like "Wasted Youth" and "On the Line"—the songwriter

uses her bright and sultry voice to mask her gloomier

lyrical content.

A song entitled "Rabbit Hole" closes out the record,

which might be the only instance of a catchy, indie pop

tune comparable to Lewis' Voyager work. Unlike the similarly

named "Rabbit Fur Coat" from her eponymous 2006

album, here it seems Lewis is stepping away from the

shadows of her past—in this case, an unhealthy romantic

fling—to take more control over her life. But despite going

it alone, she recognizes she may not break her bad habits

entirely: "I'm not going down the rabbit hole with you/I'm

going down the rabbit hole without you," she sings. It's

a vulnerable position to put yourself in, but when you're

already on the line, it's a risk worth taking. Karina Espinosa

MARCH 2019 BEATROUTE 31
---
MUSiC ALBUM REVIEWS

WEEZER

Weezer (The Black Album)

Atlantic Records

Fresh off the high from their surprise

January release of refreshingly

non-ironic covers that was

the Teal Album, one might go into

Weezer's newest release expecting

the same level of refreshment

and self-awareness. One will be

disappointed.

Weezer fans would be better

served going in with no expectations

at all. After all, there's been

no roadmap for their creative

direction since Pinkerton and their

adult life spent in Los Angeles

has driven them headfirst into

background noise territory.

The Black Album starts with a

thrusting ode to the gig economy

with "Can't Knock the Hustle," an

admittedly fun song to listen to.

From there are a series of fairly

harmless odes to the Beach Boys

without innovation.

Songs run the gamut from

mildly catchy ditties like "Zombie

Bastards" to completely forgettable

offerings like "The Prince

Who Wanted Everything" and

"Byzantine." But it's in the radio

noise tracks like "High as a Kite"

and "California Snow" where you

might start to formulate theories

in your mind about some greater

joke Weezer is telling that you're

just not in on. But no matter how

much digging through the band's

colour-coded discography you

do, there's no narrative present to

explain the band's official fade to

black.

Jennie Orton

STEVE EARLE

& THE DUKES

Guy

New West Records

Guy Clark certainly had a way

with hooks. Steve Earle & The

Dukes put every swing in Clark's

words on Guy, their tribute to the

folk legend, with tasty drums and

big bass that shuffle in time with

Earle's phrasing. There's a dance

to be had in Clark's songs, and a

lived in story in every one of his

lines.

Clark was a master heartbreaker

and "Desperadoes Waitin' On A

Train" stands nearly alone in that

regard; the story of the bonds

between youth and mentors with

no detail in hiding. In "The brown

tobacco stains all down his chin"

or "Wondering 'Lord has every

well I drilled gone dry," Clark

is unflinching in the colours he

uses, painting a window into how

hard men live and grow old. The

deathbed handshake of "Come on

Jack, that son of a bitch is comin'"

brings the heartache to a gentle

close.

Earle sings Clark's songs

ragged, feeling like one live shot

of songs he's known for 50 years.

His voice provides a close up

with the weariness of his own 64

years, being the last of three good

friends who spent their years

trying to write the best songs in

the style they pioneered.

Mike Dunn

SONNY AND

THE SUNSETS

Hairdressers from Heaven

Rocks In Your Head

Hairdressers From Heaven is the

kind of album you need to listen

to really loud several times to truly

appreciate it. The first few times

it comes across as not much

more than a simple indie album

that pairs well with household

chores, but dig a little deeper and

you'll hear that band leader Sonny

Smith and his Sunsets are the

ones cleaning up.

Produced by James Mercer

and Yuuki Matthews of the Shins,

the album is driven by catchy

basslines met with complex yet

simple-sounding drum beats right

from the opening track onwards.

Smith's lyrics are sharp and

witty but often recede into the

background, leaving space for the

guitar and keys to really shine.

After an album full of classic

indie rock, "Man Without A Past"

breaks the wave. It's a cumbia-esque,

instrumental, horn filled jam

that fills the soul. Album closer

"Drug Lake" brings Hairdressers

From Heaven full circle, overdosing

your senses with the band's

signature pop that has always

made Sonny and the Sunsets a

cut above the rest.

Cole Young

AMERICAN

FOOTBALL

LP3

Polyvinyl Records

American Football released their

self-titled debut album in 1999

and split up shortly afterwards.

The album didn't receive much attention

at the time but it amassed

a cult following over the next 15

years.

Following up on their long-awaited

2016 sophomore, the Midwest

emo pioneers make a lateral move

with their direction on LP3, even

delving into shoegaze territory.

The opening track, "Silhouettes,"

is moody and atmospheric with

rich layers of guitar and Mike Kinsella's

echoing vocals, while "Heir

Apparent" has dreamy volume

swells.

LP3 also features some unique

guest vocalists, including Paramore's

Hayley Williams on "Uncomfortably

Numb." Kinsella and

Williams display beautiful vocal

chemistry against a backdrop of

plucking harmonics, trumpet and

calming waves of tremolo picked

ambient guitar.

One of the most rewarding

moments on the album is when

"Doom in Full Bloom" reaches its

climax with its repeating, slightly

overdriven arpeggio that builds

into a breathtaking crescendo.

American Football take a bold

step in a developed direction

on LP3. They still maintain the

confessional lyrics, twinkly guitar

and unconventional time signatures

they're known for, but at the

same time, they've expanded their

range of sound.

Robann Kerr

ROYAL TRUX

White Stuff

Fat Possum

White Stuff is the first full-fledged

Royal Trux album since 2000's

Pound for Pound and if you've

been patiently awaiting more of

this band's low-fi, sloppy-Stonesblues-slurry,

you'll likely be

pleased. Here, Royal Trux founders

Jennifer Herrema and Michael

Hagerty continue the famously

drug-addled meandering they first

embarked on in the late '80s.

But this doesn't seem like music

originating from a warm, velvety

heroin-cocoon. Nor does it come

from the abrasive, jaw-grinding

stridency of the cocaine use

alluded to on the album cover.

This is the lurching, attention-deficit-causing

buzz of a trailer-park

concoction whipped up from a

case of cough syrup and a jug of

household cleaner.

Sounding like a string of

tape-splices, the title track kicks

the album off with tight guitarstylings

jammed between jumbled

piles of slacker-rock fuzz. Next,

Herrema and Haggerty drift into

the syrupy glue-trap that is "Year

of the Dog."

By the time White Stuff finally

hangs itself on the sharp hooks of

"Under Ice," we've been treated to

a rock album as satisfying as it is

disparate. And, make no mistake,

this is a rock 'n' roll album. Which

means that, in 2019, White Stuff

deserves to be heralded as the

rare and magical beast that it is.

R. Overwater

32 BEATROUTE MARCH 2019
---
N0V3L

Novel

Flemish Eye

BOB MOULD

Sunshine Rock

Merge Records

MEAT PUPPETS

Dusty Notes

Megaforce Records

LA DISPUTE

Panorama

Epitaph Records

GARY CLARK JR.

This Land

Warner Bros. Records

N0V3L represent a distinct ideal

of Vancouver's many housing

artist collectives. As the housing

and rent crisis forces artists to

either leave in droves to more

livable situations or to unite and

collaborate, this forceful push for

survival has its own unique set of

opportunities. These creative eco

systems can help bridge the trauma

of isolation, encouraging more

focus on creative pursuits and

eventually great creative works.

The angular riffage and existential

socioeconomic mires of the

self-titled debut EP is post-punk

updated for a modern audience.

Harkening back to the likes of

Gang of Four and new wave

aesthetics of Devo with a touch of

Clockwork Orange. The urgency

and compact structure of the

songs lend to a youthful exuberance

where one can only hope

to spasm to the syncopations at

play.

However, don't let the infectious

grooves on display fool you, they

are formidable, tightly knit into a

package ready to force a factory

line walkout. From the corporate

frustrations of ''To Whom This

May Concern'' to the jangle pop

sensations of ''Take You For''

N0V3L deliver a consistency that

lands them in the pantheon of

their many post-punk forbearers.

One could almost imagine Kafka

being sent into a spiral of paranoia

after listening to this.

Josh Sheppard

If a wave of nostalgia for the emo/

screamo/post-hardcore movement

is inevitable, as nostalgia for

styles tends to be, it's probably

time to listen to Bob Mould's

records a lot more.

His latest, Sunshine Rock, sees

Mould pushing the beat as he

always has, like a longboard on

fire. Sunshine Rock is relentless

from the downbeat of the opening

title track with its pogoing punk

rock hooks. Mould is writing

from a place of sincerity and, as

the record blazes through its 39

minutes, you sense he knows time

is catching up.

"The Final Years" has a great

synth hook and you can sense

Mould is pensive about the time

he's got left when he sings, "Foot

caressing pavement with caution,

not like before when we ran with

abandon across the rocks and

cracks of fissured earth and shattered

sky."

Sunshine Rock sees Mould's past

clearly, and it's hard to overstate

his presence in the rock n' roll

that his generation grew up

with. There comes a point for

a songwriter to look back and

notice that 1989 was thirty years

ago and give some thought to

their lifetime, whether they were

the ones making the music that

defined an era, or were just kids

discovering it.

Mike Dunn

Legendary Arizona alt-rockers

Meat Puppets are back in fine

form on Dusty Notes. The founding

members enlist the help of

keyboardist Ron Stabinsky, who

owns the keys any style and Curt

Kirkwood's son, Elmo, to play

some reinvigorated '90s guitar

rock.

Opening track "Warranty" makes

sure you know that this is their

house. Mariachi style trumpet

synths lead us onwards with

"Dusty Notes." "The Great Awakening"

has us floating on piano

and guitar, bouncing each other

off the clouds until a signature

plummet into droning stomp riff

city.

Curt Kirkwoods's songwriting

is in fine form. A left turn into

their Simon & Garfunkel inspired

acoustic "Nightcap," lands us

on the doorstep of another left

turn, while rotary organ lulls you

into the psych episode that will

remind you why these guys really

like playing together. Not to be

missed.

At the end of this tour of the property,

"Outflow" sounds like we are

rolling over the waves, but you're

not sure if they are rowing you to

dry land, or farther out into the

blue. When did we get in a boat?

Chad Martin

Panorama, Midwest post-hardcore

group La Dispute's fifth

full-length release, is the band's

most dichotomous work. Bouncing

rapidly between subdued

spoken word interludes backed

by shimmering lead guitar is

contrasted harshly by the raw,

emotional bellows and blistering

artillery barrages of drums and

drop-D power chords they build

beautifully into.

While this repeated buildup

and breakdown can often sound

formulaic, La Dispute manage to

make each crescendo feel earned

and wholly heartbreaking.

Trumpets accent "Rhodonite

and Grief," a track that commits

to the group's melancholy to deliver

a harrowing story of trauma

through a partner's eyes. This

is broken up quickly by "Anxiety

Panorama" that never seems to

give up on the all-out pummel its

title promises.

These two trenches of restraint

and full, all-feeling emotion

showcase the vast empty space

of sentiment that exists between

them.

Panorama sees La Dispute's

storytelling and songcraft stand

out as the group paint poetic

pictures of their hometown landscapes

and indulge in their desolate,

grief-ridden soundscapes.

Cole Parker

Grammy Award winning singer/

songwriter/guitarist/Texan Gary

Clark Jr. returns to his birthplace

for solace and inspiration on his

third full-length release, This

Land.

Destined to become a classic in

its own right, This Land declares

that Mr. Clark is pissed and has a

mighty big axe to grind.

"What About Us" conjures a

deep but glorious groove that

plows through a subterfuge of

surging strings and modern conundrums.

Lyrics that tip a hat to

showmen like Prince and electric

guitar flourishes that pay homage

Hendrix aren't just spiritual ornamentation;

they're a means to an

end.

Stepping beneath the shady

boughs, the slow sway of "I Got

My Eyes on You (Locked & Loaded)"

and "Pearl Cadillac" allow

ample room for Clark's voice to

breathe and bloom with an irresistible

combination of vulnerability

and strength.

Meanwhile, the boppin' rocker

"Gotta Get Into Something" fills

the air with dust and smoke as

"Got To Get Up" puts in hard

labour on the bluesman's chain

gang.

Traversing drought and flood,

This Land is a remarkable

17-chapter scrapbook of Americana

that draws a line of conscience

in the sand between the

unnecessarily nostalgic and the

crucially historic.

Christine Leonard

MARCH 2019 BEATROUTE 33
---
MUSiC ALBUM REVIEWS

LOCAL ALBUMS

Mode Moderne

DAN'S HOMEBREWING SUPPLIES

Huge selection

of beer and

wine-making

equipment &

ingredients

835 East Hastings ST. Vancouver, BC • 604-251-3411 beermaking.ca

MODE MODERNE

Mode IV

Light Organ Records

Sometimes it's ok to be

naïve. Mode IV, the latest

from Vancouver's Mode

Moderne, is a comfortingly

familiar and contemporary

take on new

wave and college rock.

Released track by track

over eight months, each

song is unique, yet can be

construed as a narrative,

a rambling stream of

consciousness.

Goth is a label Mode

Moderne have tried to

separate themselves

from and they would

be right to do so. Their

music feels too emotive

and pop-centric to be

eerie. "Yours Truly" and

"Modern Love" are quite

romantic and are foils for

"Dazzling Dreams" and

"Gastown Nights," combining

a sense of vivid

nausea with their synth

and thrumming bass.

Fundamentally, Mode

Moderne's Mode IV is

pithy and elegant, while

allowing itself to be heavily

stylised by elements of

synthetic '80s new wave

and the natural melodrama

of everyday observations.

If you are a fan of

Echo and the Bunnymen,

A Flock of Seagulls or

The Smiths, you'll love

Mode IV for its intimate

and escapist harmonies.

Esmée Colbourne

ALEX ARCHIBALD

Cat Got Tongue

Independent

A hypnotic and whimsical

journey of fingerpicked

instrumentation, this new

release by Alex Archibald

evokes a warm trance

from beginning to end.

Cats Got Tongue faithfully

captures a sonic palette

popularized by John

Fahey and the styles of

American Primitive. The

swirling, dissonant guitars

and banjos are played

beautifully, bleeding

emotion and conveying a

gentle catharsis perfectly

suited for quiet contemplation

and introspection.

Cat Got Tongue is an

impassioned homage to a

sound that feels timeless

and nostalgic, a reminder

of how vast a single

instrument can sound

when plucked in isolation.

Conor Finlay

KIN KANYON

Relics Left Behind

Independent

Glimmering through

the winter clouds, Kin

Kanyon's EP, Relics Left

Behind, is all good vibes.

A band that embraces

nostalgia like a warm day

at the beach, Kin Kanyon

blends soul, psych, and

classic rock into an

approachable collection

of songs. Opener "Until

There Was You" stands

alone in both genre and

feel while smooth lyrics

surround the listener

with a soulful ballad.

In contrast, the rest of

the album is a much

more cohesive combo

of psychedelia and 60's

rock. A standout on the

four-track EP is surf rock

classic "Rhythm and

Blues," which is broken

into two excitable,

hip-swiveling parts. Tantalizingly

muggy, Relics

Left Behind gives the

listener a chance to hear

everything Kin Kanyon

can do in one concise

package.

Esmée Colbourne

34 BEATROUTE MARCH 2019
---
HAWKSLEY

WORKMAN

Median Age Wasteland

Isadora Records

The business of making music

has long been child's play for

singer-songwriter Hawksley

Workman. From polishing the

glam-pop pole with "Stripteaze" to

warming the hearth of humanity

with "Almost a Full Moon" the

multi-talented instrumentalist and

author has successfully encapsulated

the modern Canadian

experience while panhandling his

way into the hearts and record

collections of rock and folk music

fans around the globe.

Sizing up personal demons on

his self-exploratory 16th studio

album, Median Age Wasteland,

Workman (who turns 44 this

month) applies his careful yet

ebullient craft to tracks like the

equally luminous and humourous

"Lazy" and the small town summer

ditty "Battlefords." As ever,

soaring vocals and cafe corner

guitar rambles ease any sense of

awkwardness as the true north

troubadour dives headlong into

another library of unabashedly

innocent and sentimentalized

moments. "Birds in Train Stations",

cigarettes, lucid dreams, bingo

cards and cars perched on blocks

are all fair game as the obtuse

and observant "Skinny Wolf"

catalogues his impressionistic adventures.

Elevating the mundane,

he readily points out "Nobody

really asked for this," but by the

time you've reached your 40s it's

not so much about getting what

you want, but rather claiming what

you need. Christine Leonard

HELADO NEGRO

This Is How You Smile

RVNG Intl.

Roberto Carlos Lange's—known

on stage as Helado Negro—recent

album This Is How You Smile

is just the boost of vitality we

need in these confusing times.

Fringing on lo-fi, experimental pop

and aural indie acoustic rock, the

new work doesn't over or under

stay its welcome. The rejuvenating

opening track "Please Won't

Please" moves at a steady clip,

set with a steady drum clip and

glimmers its way to climax full of

clarity and organic joy.

The album harkens back to Helado

Negro's Private Energy work

and remains consistently ethereal

and aurally pleasing. Lange's song

writing on the song "Fantasma

Vaga" is some of his best work

yet, utilizing his calming voice and

young Latin pride with vocals in

Spanish.

The instrumentation is hallucinatory

and exploratory, relying on

an array of whirring instruments

that are impossible to label. And

yet, the track remains as one of

the most digestible on the album.

Indeed, at first listen songs like

"Pais Nublado" and "Two Lucky"

sounds like a Devendra Banhart

track and that's because Helado

Negro's sound is on par with the

freak folk maestro.

In all, This Is How You Smile

is tranquil and addictive and demands

your full attention.

Stephan Boissonneault

DRUG APTS

Clean Living Under

Difficult Circumstances

Mt. St. Mtn.

Experimental noise art rockers

Drug Apts deliver a kinetic punch

perfect for this horror show of

a decade on Clean Living Under

Difficult Circumstances. Vocalist

Whitney Kebschull obliterates into

numerous dynamic frustrations,

all packed into an engrossing

narrative on the disorientation of

our times. Meanwhile the band

behind her lays into some of the

most frenetic and crunchy rock

riffs with a clear penchant for '90s

noise rock in their repertoire.

Wonderfully, there's also a

sense of warped Americana

instilled on songs like "New Nam"

and "Sharp Shooter," where the

acceleration and repetition of folly

rests with the powers that be.

Drug Apts enlisted the help of

fellow Sacramentonian and hardcore

legend Tim Green (Nation Of

Ulysses) to engineer the album,

exploring new techniques, sounds

and themes while keeping the

spirit and cultural importance of

this kind of weirdo progressive

hardcore alive. And most importantly

they make it a hell of a fun

time to listen to.

Josh Sheppard

AVEY TARE

Cows on Hourglass Pond

Domino

David Portner's third studio

album as Avey Tare is so textured

and diverse it feels like a sonic

interpretation of a topographic

map. Delving back to the Mayan

era and forward into a robot-filled

future, this map somehow spans

all of space and time. Cows on

Hourglass Pond does so with humility—not

claiming to understand

the universe but boldly venturing

into it nonetheless.

The opening track greets the

listener, "Welcome to the Goodside,"

then unravels into echoes

asking: "what is? is? is? is? I can't

even find it on the map." The ensuing

songs see Portner grapple,

both with this unanswerable question

and across landscapes that

can never lead him to an answer.

Cows on Hourglass Pond honours

the act of curiosity.

Portner builds his layered, elliptical

sounds into worlds sprinkled

with rays of luminous guitar and

populated with transient samples.

In constant kaleidoscopic metamorphosis,

sounds once earthy

turn celestial. On "Our Little

Chapter," sparkly synths pulse

and recede like waves as Portner

reminisces on the undoing of a

relationship.

Cows on Hourglass Pond calls

on the vastness of the universes

to wonder about personal things,

inviting listeners to try it out too.

Maggie McPhee

ANDREW BIRD

My Finest Work Yet

Loma Vista

As hard as it may be to imagine

Andrew Bird exceeding his

already impressive discography,

My Finest Work Yet lives up to its

name.

On the album art, Bird re-imagines

a famous image of the

French Revolution, The Death

Of Marat, wherein the radical

journalist Jean-Paul Marat is

lying dead, murdered in his bath.

Jacques-Louis David's work is

touted as the first modernist

painting for the way it blends the

personal and the political.

Similarly, Bird is employing his

artistry on this latest collection of

songs to comment on the world

at large. A past columnist for the

New York Times, Bird transmutes

the world he lives in, fuelled by

his eloquent compositions and

profound storytelling abilities.

The album leads with single

"Sisyphus," highlighting his signature

whistle as leading accompaniment.

Elements of folk and jazz

carry him through familiar guitar

and piano-laden territory, making

this a relatable yet refreshing ride.

Folksy melodies with beautiful vocal

harmonies are heard throughout

as Bird offers upbeat anthems

that contrast his tortured words.

Bird paints in broad but effective

strokes, which is ultimately

what makes every piece of music

he releases a masterpiece in its

own right.

Sarah Allen.

MARCH 2019 BEATROUTE 35
---
LiVE

MUSiC

Photo: Archi Biswas

SHARON

VAN ETTEN

Friday, February 22

The Imperial

Sharon Van Etten has a knack

for making the most devastating

tales of love sound gorgeous

and sweet. And although her

music explores the darker side of

relationships, Van Etten herself is

a tender and generous performer.

During her sold-out show in Vancouver,

the songstress exuded

warm, loving vibes and received

even more love in return.

Atmospheric synths overpowered

the Imperial during

the opening number, "Jupiter 4."

Hunched over the microphone

with shaggy hair framing her face,

Van Etten gestured toward the

audience with angular limbs. Her

onstage demeanour was reminiscent

of Nick Cave, especially as

she spit into the microphone, raw

and intense during "Comeback

Kid." The similarities between

Van Etten and the post-punk icon

became even more obvious when

Van Etten thanked her bandmates

and joked, "This is the only band

willing to go to a goth club at 2

a.m. with me."

Accompanied by a four-piece,

Van Etten chose a set list that

largely favoured her latest record,

Remind Me Tomorrow. It's a

shoegaze-heavy album that often

left Van Etten without an instrument

onstage; this allowed her to

sing songs like "Seventeen" with

greater feeling. The few times she

picked up her guitar were during

performances of songs from

earlier records, which seemed to

please nostalgic fans the most.

Numbers like "One Day," "Tarifa,"

and the poignant "Every Time

the Sun Comes Up" all received

overwhelming cheers from the

audience. Karina Espinosa

36 BEATROUTE MARCH 2019
---
Photo: Darrole Palmer

A BOWIE

CELEBRATION

Saturday, February 16

The Commodore Ballroom

Mike Garson recorded on more than 20 of David

Bowie's albums and was witness to his many personas,

adapting his playing style to enhance that of his

chameleon leader's, without ever attaining commercial

recognition himself. On this evening at the Commodore,

Garson played conductor and was joined by a select

group of Bowie band alumni to pay tribute to the man

whose spotlight he sat alongside for so many years.

Seasoned singer, Bernard Fowler was first of many

vocalists that would take a crack at some of the Thin

White Duke's gems. With only Garson on piano, the two

began the night with, "Bring me the Disco King," before

Veteran guitarists Charlie Sexton, and Earl Slick joined

the stage to amp up the crowd with bangers like "Rebel,

Rebel," and "Fame." Guatemalan singer Gaby Moreno

performed an emotional rendition of "Rock n' Roll

Suicide," that if hasn't yet been recorded for a coming

of age indie film, likely soon will. But of all the singer's

it was certainly former Living Colour frontman Corey

Glover that stole the show with his wildly operatic version

of "Young Americans."

This ain't no cover band. While these musicians may

be buried within the liner notes of many esteemed

Bowie records, they put in the work that helped craft

the man who many consider rock 'n' roll's greatest

performer.

For real though, when are we going to get a Living

Colour reunion?

Jeevin Johal

ELLA MAI

Tuesday, February 12

The Commodore Ballroom

Ella Mai took a little break from her Debut Tour schedule

between Oslo and Vancouver for the 61st Annual Grammy

Awards, where her single "Boo'd Up" was nominated for

both Best R&B Song and Song of the Year. And it's a good

thing she wasn't still in Norway, because the track won the

Grammy for Best R&B Song. With Vancouver being her

first stop after the award show, the newly minted Grammy

Award-Winning 24-year-old was clearly energized and

ready to take on the second lap of her tour.

"I just won a fucking Grammy!" she exclaimed to the sold

out Commodore crowd in her ecstatic British accent.

Flanked by two backup singers, Mai's stage presence was

enormous, punctuated by bouncy choreography and repeated

affirmations of her love for Vancouver and everyone

there in the room with her. Blue, purple, and pink lights

surrounded her from intro "Good Bad" all the way through

to some of the last songs of the night, "Everything," "10,000

Hours," and "Own It." The DJ Mustard-produced beats are

easy to dance to while maintaining the slow sultriness of

Mai's vocals.

Despite being something of a breakthrough act, Mai has

already amassed a huge body of work and an equally impressive

following. And she's only just getting started.

Jordan Yeager

Photos: Sara Baar
---
MUSiC LIVE REVIEWS

Photos: Zee Khan

ARKELLS

Saturday, February 2

Pacific Coliseum

Canadian rock 'n' roll

giants Arkells unleashed

their monster Rally Cry

tour across the country

last month. With the

success of their 2017

smash hit, "Knocking at

the Door," they've practically

become a household

name. Playing to a

packed Pacific Coliseum,

they kicked off the night

with the slow burn of "Relentless,"

following it up

with the massive-sounding

"Leather Jacket."

Arkells know how to work

a crowd, bouncing their

energy off one another

as they play, and running

back and forth across the

stage and down the catwalk.

It's not easy to play

to an arena and engage

with every member of the

audience, but frontman

Max Kerman pulled it off

with ease.

During latest single

"Hand Me Downs,"

confetti exploded across

the venue as the faithful

crowd sang along to

every word and danced

their hearts out.

With a quick outfit

change before the

encore to a black jacket

with rainbow fringe, Kerman

and the rest of the

band delivered one rowdy

cover of Abba's "Dancing

Queen," before closing

the show with "My

Heart's Always Yours."

Arkells are at the top of

their game right now and

their live show proved it.

Lindsey Blane

Photo: John Walters

ROBYN

Thursday, February 28

Pacific Coliseum

Swedish disco queen, Robyn, sang softly

offstage. The crowd waited anxiously

until she finally emerged from behind

a sculpture of ivory coloured, pleading

hands, in a robotic silver dress. Her

moves were equally mechanical, dancing

simply and gracefully to the gentle

tempo of the title track from her latest

album, Honey.

As the beats grew faster and heavier,

so too did the pulse of the Pacific

Coliseum. Any and all vulnerabilities

were completely shed as Robyn let the

rhythms take complete control of her

body and colossal voice.

The set focused heavily on Robyn's

new album, but it was certainly her

smash hit, "Dancing on My Own," that

received the greatest uproar. Upon

the first chorus, Robyn and her band

completely cut out and let the audience

harmoniously perform the hook — on

their own; the likes of which had Robyn

gushing.

Robyn has completely dissolved any

hindrances of the fabricated pop icon

persona that record companies failed to

mold her into. She is in complete control

of her ascension into the stars and on

this particular evening she took us on a

piece of that vibrant journey.

Jeevin Johal

38 BEATROUTE MARCH 2019
---
MOViES|T.V.

CALM, QUIET

STRENGTH:

AN INTERVIEW WITH

THROUGH BLACK

SPRUCE ACTRESS

TANAYA BEATTY

By PAT MULLEN

T

anaya

Beatty is asked what she learned most from

playing Annie Bird, the young heroine portrayed

in Through Black Spruce.

"Strength," she replies. "Definitely strength."

Beatty pauses, lets the answer hang in the air,

and considers the role. "Annie and I had some par-

allels in that we came into ourselves as women, even though

she's around 23 in the script and I'm 28," says Beatty. "We

both found a different level of maturity and independence.

Playing Annie taught me that I am capable of carrying a story

like this."

Based on the 2008 Giller Prize winning novel by Joseph

Boyden and directed by Don McKellar (The Grand Seduction),

Through Black Spruce follows Annie as she searches

for her missing sister, Suzanne. The performance calls for

raw vulnerability as Annie walks in Suzanne's footsteps,

encountering the all-too-relevant violence that Indigenous

women face in Canada's streets.

The role of Annie demanded a lot from the Vancouver-born

Beatty. It's her first lead role after small parts in films like Hochelaga,

Land of Souls and Hostiles, and roles in TV series like

Yellowstone, Arctic Air, and The Night Shift. "Every different

character teaches me something new," observes Beatty. "If

it's on a medical drama, I might learn new technical aspects,

or if I'm playing a role like Sacagawea [on HBO's long-delayed

mini-series Lewis and Clark] and learning an entire dialect,

that's what I love about being an actress."

Reading Through Black Spruce as a teenager gave Beatty

something to which she could aspire because she related to

Annie. Beatty says that as a dynamic, complicated Indigenous

female lead, Annie arrived when she felt uninspired by

the roles that were available. "The audition came just as I

was telling my boyfriend that I wished there was something

like Annie that I could do," says Beatty.

Through Black Spruce demands strength of any performer

as it comes steeped in controversy following questions

raised about the legitimacy of Boyden's Indigenous heritage.

Beatty is diplomatic. "I think that it's its own standalone

piece," she says. "I'm grateful that Joseph wrote this story,"

adds Beatty. "I'm grateful that this film was even put on

its feet and that somebody like Tina Keeper is the one who

spearheaded it. It's rare that even happens." Keeper plays

Annie's mother, Lisette, and is the film's mother in her own

way as producer.

The film situates Suzanne's disappearance within the

greater mystery of missing and murdered Indigenous women,

a cause that has gained more attention in the ten years

since Boyden's novel was published, but still not nearly

enough. Beatty says this aspect of the story is what gave her

strength. "I'm still carrying that weight and that responsibility

with me. It feels like that's something that doesn't go

away," says Beatty. "Given my history and my ancestors and

my peers, these stories just feel so close to my heart." ,

In Theatres March 29, 2019

MARCH 2019 BEATROUTE 39
---
MOViES|T.V.

THIS MONTH IN FILM

WOMAN AT WAR

March 1

Delivering quirky black comedy

in true-to-form Icelandic style,

Woman at War tells the story of

Halla, a lovely choir-master by

day and a DIY eco-terrorist by

night. Premiering in 2018 in festivals

such as Cannes and TIFF,

it's a perfect blend of funny,

brutal, and hopeful activism.

THE BOY WHO

HARNESSED THE WIND

March 1

Best known for his Academy

Award-nominated role in 12

Years a Slave, Chiwetel Ejiofor

tries his hand at Writing/Directing,

and does so with marked

passion. The Netflix-distributed

film is based on the memoir of

the same name, and tells the

story of a young boy who builds

a wind turbine for his village.

CAPTIVE STATE

March 15

John Goodman plays evil again,

aliens designed with an eye for

post-modern realism invade

earth, and 10 years later, the

people must overcome. From

the Writer/Director of Rise of

the Planet of the Apes comes

a post-apocalyptic sci-fi thriller

that looks to be a mix of Arrival,

District 9, and Independence

Day all in one.

US

March 22

There's nowhere to run this

time, no place to hide. The

monsters have invaded the living

room, they sit at the dinner

table, they scratch behind the

mirror… The monsters are Us.

Jordan Peele's highly anticipated

follow-up to last years

Oscar-winner, Get Out, tells a

dark tale of monstrous doppelgangers,

and emanates with

uncanny, satire-horror vibes.

By Brendan Lee

THE BiNGE LIST

AFTER LIFE / SEASON 1

NETWORK:

NETFLIX

AIR DATE: MARCH 8

"A good day is when I don't go

around wanting to shoot random

strangers in the face, and then

turn the gun on myself." Ricky

Gervais (The Office, Extras)

drags his hilarious, narcissistic

butt back to Netflix with his

latest dark dramedy. After Life

tells the story of Tony, a man

whose wife's sudden death

corkscrews him into a depression

that isn't deep enough to kill

him, just enough to turn him into

an insensible asshole. Produced,

Directed, Written, and Starring

the man himself, the 6-part first

season promises to be classic

Gervais, with his knack for

saying whatever, whenever, the

subject of close examination

that begs the question: Why

care about anyone else, if you

don't care about yourself?

TURN UP CHARLIE /

SEASON 1

NETWORK:

NETFLIX

AIR DATE: MARCH 15

Idris Elba – the name carries

such a weight these days. He's

the man best known for his roles

in HBO's The Wire, BBC's Luther,

and everybody's dream-choice to

be the next James Bond. With another

big leap, Elba takes a crack

at co-creating and producing with

Turn Up Charlie, a comedy about

a DJ treading water who's given

a chance at long sought-after

success when he's forced to be

a nanny for his famous bestfriend.

It's a premise that doesn't

immediately kick you in the pants,

but the eight-episode first season

is worth a watch for Elba alone.

Also, look up DJ Big Driis – Elba's

real-life DJ pseudonym – and the

appeal intensifies.

HANNA / SEASON 1

NETWORK:

AMAZON PRIME

AIR DATE: MARCH 29

You may remember the 2011 film

with the same name, starring

Saorsie Ronan and written by

Seth Lochhead while a student at

Vancouver Film School. Well, nine

years later, David Farr (co-writer

of the original script) has adapted

the story for television, and the

first episode – released for a 24-

hour period at the beginning of

February – has already whitened

more than a few knuckles. The

dramatic-thriller follows Hanna

(Esme Creed-Miles), an extraordinary

girl with violent skill. Cut-off

from all things civilized and

bunkered in a forest on the edge

of Eastern Europe, Esme hides

Idris Elba takes a spin at

being a DJ in Turn Up Charlie.

out with a man named Erik (Joel

Kinnaman). With veiled mystery

surrounding Hannah's past, the

man who's taught her to kill, and

the rogue CIA agent who hunts

them both down (Mirelle Enos),

only time will tell how deep this

foxhole goes.

BARRY / SEASON 2

NETWORK:

HBO/CRAVE

AIR DATE: MARCH 29

In case you missed it the first time

around, with the inaugural season

released in March of last year,

Barry is the next hit HBO-produced

comedy series. Co-created

by Alec Berg and Bill Hader, a

depressed, ex-marine turned

serial killer looks for fulfillment

in his life when his hits just aren't

doing it for him anymore. So, like

a wandering stray dog, Barry

stumbles his way into the arms

of a local theatre group where he

pretends to have a passion for

the stage – and then begins to

actually develop one. The show's

become known for the way Berg

and Hader juxtapose gut-wrenching

violence with laugh-out-loud

comedy and emotionally staggering

scenes. If you haven't seen it

yet, I'd advise that you sign up for

Crave, binge the first season, and

buckle up for Season 2 while you

still have the chance.

By Brendan Lee

40 BEATROUTE MARCH 2019
---
ARTs

NAKED

AMBITION

Chloé Ziner and Jessica

Gabriel tap in to

the bare necessities in

Multiple Organism

By DAYNA MAHANNAH

"I think the practicality of the human

body is funny."

That's Chloé Ziner, who, along

with Jessica Gabriel, has unearthed

an oft-forgotten aspect of appreciating

the naked body as presented on

a public stage: humour. Behold their

award-winning show Multiple Organism.

"The female form is seen as this

elusive, magical, beautiful, pure

thing," says Gabriel. "That's not what's

going on in our show."

The two performers make up the

entirety of their shadow puppetry

company, Mind of a Snail, which has

produced numerous shows to high

acclaim. The duo takes on a multitude

of other projects, including collaborations,

installations, and workshops.

Gabriel and Ziner bonded over a

shared creative background when

they met 16 years ago – Gabriel has a

painting degree and Ziner spent years

playing in punk bands in her hometown

of Courtenay, BC.

This is not nudity for

MULTIPLE

Later on, they honed their

nudity's sake, however.

ORGANISM

on-stage skills at Vancouver's

clowning school,

incredibly personal and

Multiple Organism is an

March 19-39

Culture Lab

Fantastic Space. Ziner explains

the ethos of clownrived

from Ziner and Ga-

vulnerable concept de-

Tix, $28: thecultch.com

ing as "being present,

briel's own lived experiences.

Gabriel works as a life drawing

connecting with your audience and

being fully authentic as a performer."

From this concoction of fine arts, and drawing groups around the Great-

model for a handful of art institutions

music, and clowning emerged their er Vancouver area, which she's done

current performance art: projection for the past 12 years.

puppetry.

"During the breaks I walk around

Their shows use overhead projectors

to create a world with manipuditions

of my body," Gabriel shares.

the room and see all the different renlated

layers of scene and character, "It's surreal! [Seeing] who drew pubic

content and symbolism. But in Multiple

Organism – for audiences 18+ drew my boobs super large when, in

hair, or if they left my legs hairy… who

– "we're playing a little bit with some reality, I have small breasts." The show

taboos," admits Ziner. "In the live draws on these visceral encounters

video portion, my mouth [is projected]

onto Jessica's nude torso and her others and bounces between the pub-

with how her body is perceived by

boobs are the eyes." The surrealist mix lic and the private, the latter of which

of puppetry and the zoetic along with is captured in a bathroom setting on

the non-linear storytelling and formplay

are perhaps why they describe "The magic of puppetry is project-

stage.

the show as a "psychedelic dream" or ing [animation] onto what are usually

inanimate objects," says Ziner. "visual poem."

"We

make assumptions about who those

objects are based on how we perceive

them." This is not far from how humans

interact, as illustrated in Gabriel's

experience as a life drawing model.

Ziner and Gabriel's combined puppet

character asks questions about gender

and the body, and how they are seen

and not seen. "When we build a show

we always look at the metaphor – why

are we using puppetry for this?" Ziner

continues. Multiple Organism uses

projection literally and figuratively

to explore how meaning is projected

onto bodies, all while having a laugh.

The first run of this show couldn't

have been more timely. It ended two

weeks prior to the Harvey Weinstein

exposé in 2017 and the #MeToo wave

that followed. A year and a half (and

many awards) later, they continue to

crush expectations about what nudity,

the body, gender, and even puppetry

entail. "Expectations are dangerous,"

Gabriel says. "We're trying to tickle

[the audience]."

Ziner chimes in, "right in the diaphragm."

,

MARCH 2019 BEATROUTE 41
---
ARTs THEATRE • COMEDY • DANCE• ART • PERFORMANCE

YUMI

NAGASHIMA

Stand-up comic is flipping the script on stereotypes in

search of the ultimate punchline By LAUREN DONNELLY

A

s anyone who's

ever told a joke and

been disappointed

in the reaction can

attest, comedy is

subjective. A true comedian is

skilled in the art of combining

the expected with the

unexpected, and the familiar

with the unfamiliar. Yumi

Nagashima is a master at

understanding that balance.

Originally from Tokyo, Japan,

Nagashima has been living

in Vancouver for eight years.

Over the course of the last

three years, she's been

making a name for herself

in the Canadian stand up

comedy scene. She expertly

plays up stereotypes only to

completely subvert them with

a single deadpan punchline.

Judging by the reception so

far, Nagashima's hilarious

takes are a welcome addition

to the comedy scene. In the

midst of a tour to promote the

release of her comedy album

debut, BeatRoute caught

up with Nagashima to talk

comedy.

How did you get your start in

comedy?

Steve Allen, the owner of the Kino

Cafe on Cambie, suggested I try a

three-minute set there as he had

never seen a Japanese female

comedian before. Two weeks later,

on October 20, 2015, I did my very

first set there.

What was it about stand-up

comedy that drew you to it?

Comedy feels like freedom

of speech to me. That's what

appealed to me.

You've appeared in TV

commercials and magazines

in Japan. What made you

decide to make the move to

Vancouver?

My ex-boyfriend was from

Vancouver. I met him in Japan

and he asked me to move to

Vancouver so I did. We broke up

though!

What's the funniest thing

about Vancouver?

Vancouver can't have

enough rain.

Has it been challenging

breaking into the

Vancouver comedy

scene?

It actually hasn't! I must

say that the comedy scene

here has been very

supportive.

Are there major

differences

between Japanese

humour and

Canadian humour?

Japanese humour

is more physical and

juvenile compared

to Canadian humour.

Vancouver is very politically

correct.

You've said in other interviews

that it's one of your dreams

to be an SNL cast-member.

Who is your favourite SNL

comedian of all time?

Adam Sandler

YUMI NAGASHIMA

March 7-9

The Comedy Mix

Tix, thecomedymix.com

Yumi Nagashima's debut

comedy album, My Name

is Yumi, is now available

online.

smarturl.it/mynameisyumi

You've said that you want your

comedy to empower women,

especially other Asian women.

How does that affect how you put

your act together?

I try not to have too many selfdeprecating

jokes. I don't want

to bring down other women with

me. I try to have a balance. I feel

like there are more women in the

scene now though and that's very

exciting!

Where do you find new material

for your act?

Usually in the shower.

How do you deal with political

correctness in your comedy?

I've learned not to start your set

with offensive jokes.

What's next for you in your

comedy/film/TV career?

My comedy album, My name is

Yumi, just came out and then

next I am doing Winnipeg

Comedy Festival.

42 BEATROUTE MARCH 2019
---
THEATRE • COMEDY • DANCE• ART • PERFORMANCE

LIFE VERSUS ART

Victoria-based sculptor Mowry Baden showcases work from

the late 1960s to the present By LAUREN EDWARDS

"H

ave you ever danced

with a mop bucket?"

asks sculptor

Mowry Baden over

the phone. "I have. Many people

have. You use a standard mop

bucket – the kind that janitors use with

wheels. You grab the mop by its handle while

it's in the bucket and you can dance with it,

like a partner."

The award-winning artist is explaining the

origins of his piece Trisector, which contains

three mop buckets, that was created after

winning the prestigious John Simon Guggenheim

Memorial Foundation Fellowship in

2014. In his intricate installations and public

structures, Baden utilizes everyday found

objects, putting a new perspective on common

things one's eyes usually glaze over.

"There has to be some familiar invitation

to engage and interact with the work," he

explains. "The mop bucket is a good example.

Other sculptures in the show – one is

called Seatbelts – use objects from commonplace

utilitarian moments in life that are so

familiar that the viewer knows exactly what

to do and how to engage. It sends the viewer

a signal swiftly so there's the least amount

of hesitation on the viewer's part and they

know how to get involved physically."

The elements of his work silhouette

experiences in day-to-day life, a culmination

of something happening "in the course of a

MOWRY BADEN

March 9-June 9

Vancouver Art Gallery

Tix, vanartgallery.bc.ca

day that triggers an unexpected

response."

"I think right away, 'Ah, there's a

sculpture' that can be enlarged, refined,

sharpened, given precision,

and set in a public space," says

Baden. "The public realm is so different than

a gallery, almost completely separate worlds.

In the public world, people don't make a

special effort to go to see a work of art. They

have business there, have to go shopping or

meet a friend… they're busy moving from

point to point and if they're lucky, their journey

might include a work of art."

Baden's work, spanning from the 1960s to

present day, will be shown in an exhibition

at the Vancouver Art Gallery until June.

The exhibit is "not like a retrospective, but

it does touch on a long career," explains

Baden. "It'll give visitors a pretty good idea

of what my studio production has been like."

The viewer's perceptual psychology will

be fully engaged in interactive, intricate

pieces like Hopper Tedder and Prone Gyres,

which requires a person to lay down on their

stomach and manoeuvre themselves with

their hands. Prone Gyres is "a sculpture that

is less frock with unfortunate complexities,"

says Baden. Both of those installations, as

well as Trisector, will be shown at the VAG.

For those unfamiliar with his work, Baden

hopes "they'll find something inside themselves

they didn't know that was there." ,

YORK THEATRE

$24

TICKETS FROM

Mar 15–

Mar 30, 2019

BRIEFS FACTORY (AUSTRALIA)

Hot Brown

Honey

Fighting the power

never tasted so sweet

TICKETS AVAILABLE AT THECULTCH.COM

MARCH 2019 BEATROUTE 43
---
ARTs THEATRE • COMEDY • DANCE• ART • PERFORMANCE

DANCE DANCE

REVELATIONS

Vancouver International Dance Festival shines as a platform

for cultural exchange, celebrating movement and

diversity By MAGGIE MCPHEE

The Vancouver International

Dance Festival returns this

month for its 19th year. The

festival celebrates contemporary

dance with equal

focus on international, Canadian,

and BC artists. BeatRoute

spoke with program

director Barbara Bourget, a

Vancouver-raised dancer who founded

the festival with Jay Hirabayashi nearly

two decades ago.

"We've been growing every year,"

Bourget says of the festival, over the

phone. "I don't think we're going to

grow any bigger. It's a lot of work, but

it's joyful work. We love dance. It's our

life and calling. To be able to introduce

Vancouver audiences to new things and

to different points of view in the dance

world has been really rewarding."

VIDF performances take place in

venues around the city — Vancouver

Playhouse, The Roundhouse, and KW

Production Studio — over three weeks,

in addition to free workshops and talkback

sessions. "There's something for

everybody," Bourget says. "We really try

to focus on the kind of greater wealth

that's in the dance milieu."

Festivalgoers can see everything from

Buto, a dance form hailing from Japan

to contemporary dance inspired by the

Indigenous Paiwan people in Taiwan to

intimate expressions performed by local

choreographers. Bourget says they

make an effort to showcase Indigenous

artists every year. In fact, their mission

statement reads: "We are cognizant

of the challenges facing artists that

are marginalized because of societal

and cultural biases, including those

that discriminate against artists from

VANCOUVER

INTERNATIONAL

DANCE

FESTIVAL

March 4 to 30

Various locations

Tix, $0-70, www.vidf.ca

ethno-cultural and Aboriginal

heritages, as well as artists

with challenging perspectives

on sexual identity and gender.

Our programming reflects

these concerns."

Kelly McInnes' piece, Shiny,

is another highlight — a

multidisciplinary "exploration

of women's bodies and how they're represented

in our culture." She sewed

her costumes from pictures cut out

of magazines.

Beyond the festival's value as

a platform for cultural exchange,

Bourget exalts dance as "the

most beautiful art form and the

most ethereal." Western culture,

she argues, has warped the

body into something "mystical,"

either an object of fantasy or some-

thing to inspire shame.

But with dance, the body

is front and center, communicating

beyond words through

"dynamic image" and moving

people in ways that escape

intellectualization.

"You can't even grasp

it, you can't take hold of

it," Bourget says. "It's so

constantly appearing and

disappearing. That's the

forces of nature and

the forces of the world

[coming] through the

body." ,

Tjimur Dance Theatre

JHAO LUN HUANG

Dairakudan

Raven Spirit Dance

HIROYUKI KAWASHIMA

RAVEN SPIRIT DANCE

Kelly McInnes

Daina Ashbee

ARELI MORAN

SOPHIA WOLFE

44 BEATROUTE MARCH 2019
---
THEATRE • COMEDY • DANCE• ART • PERFORMANCE

NEW

YORK

STATE

OF MIND

Creative everyman Isaac Mizrahi reflects

on his life's journey in autobiographical

cabaret By YASMINE SHEMESH

I

t's 1968 in Brooklyn. Isaac Mizrahi was seven years old

at the movie theatre with his family to see Funny Girl.

As he sat there looking up at the big screen, he became

totally captivated by the visuals, the colours, the

costumes, and, most profoundly, the star of the show

– Barbra Streisand. She was beautiful. She had the

same New York accent as his sisters, but she was even more

glamorous. She embodied it in a way he'd never seen. It would

be one of the formative moments of his life.

"She really saved me in a way," Mizrahi says. "Before I knew

who Streisand was, I didn't know there was such a thing as

this whole world of glamour. I won't ever forget that, sitting

there, watching that movie."

Mizrahi's affinity for Streisand (and Judy Garland, in the

same way) planted a seed that later grew into a diverse canon

of creative interests – namely, fashion, music and theatre.

These passions eventually led him to become a world-renowned

designer, television personality, and theatrical

performer. His memoir, I.M., which is released this month,

reflects on his life's journey with stories on everything from

his rise to fame working with Calvin Klein

and his friendship with Liza Minnelli

to struggles with chronic

insomnia and depression.

It's taken him seven years

to write.

In support of the

book, Mizrahi is also

touring his cabaret

show, which kicked off in February with a residency at Café

Carlyle. He began doing residencies at the New York club a

few years ago, which earned him the best review from the New

York Times, Mizrahi says, of his entire life. For Mizrahi, it all

represents an important transition and alignment into show

business. "It's very exciting, it's terribly scary, but it's keeping

me – how can I find the word? – it's keeping me not bored," he

says. "And, to me, that's the most important thing

in life. You're bored, you're dead."

As a kid, Mizrahi always had an impulse to create.

That and his love of entertainment and art are what Rio Theatre

he credits with keeping him from drowning in the

dark depths of depression. "My depression, I think,

was mostly circumstantial and it kind of rendered

me inert for a short time," Mizrahi contemplates. "By inert, I

mean I sat on the couch in front of the television and ate my

feelings for a long time. I began to make things with my hands.

It was the way out of depression."

Mizrahi's circumstance? Growing up gay in an Orthodox

Syrian-Jewish community. His family wasn't exactly Orthodox,

but they did keep kosher in the house, attend synagogue, and

enroll Mizrahi in a Yeshiva. Not to mention, it was the early

1970s – the subject of gayness in America was a largely stigmatized

one, especially in the Orthodox Jewish community.

"If you were gay, it was persona non grata," Mizrahi says.

"Like, no – there's no such thing as gay. People would bully me

for being effeminate, but I don't think they put it together with

ISAAC MIZRAHI

Monday, March 18

Tix, $58, riotheatre.ca

the homosexual identity. No one put it together. They called

me a fag, but it was just another thing. I don't think they could

plumb the depths of what it meant. I couldn't even plumb the

depths."

He knew he was romantically attracted to men, always. And

he understood, deep down, that his feelings about his sexuality

were right. "I think I got that from my mom," Mizrahi says,

of his gut instinct. "I think artists, they understand

that the feeling you have about something is what

runs you. When you express yourself, when you

move yourself through the world, it's all about your

feelings. I knew that my feelings couldn't be liars. I

just knew that."

He would do impersonations of Streisand and

Garland in the lobby of the synagogue and at Yeshiva – a precursor

into his talents as a cabaret star, to be sure – and while

Mizrahi's mother and father didn't encourage it, they didn't

discourage it, either.

"They never bullied me, my parents," Mizrahi insists. "I

was 10 years old when I started doing this in 1972 – were they

supposed to encourage a female impersonator in 1972? I'm

not sure if culturally it would have been a good idea for them

to do that. Now, it's a different thing if you have a kid who's a

female impersonator who's 10. Do you encourage that kid? I

think probably now you do. Politically, where we are. But, in

1972, I don't think it was at all a good idea to do so. Here and

there, I got the feeling they were embarrassed. And I couldn't

help feeling that way. It's not their fault – it's just what was

going on in the world at the time."

Although Mizrahi has been doing his cabaret act for years,

he admits he was nervous for his mother to see this particular

iteration with it being so autobiographical. "I always wonder

if she is going to be capable of seeing the humour in it and allowing

herself to be this subject," he says, adding that he was

especially anxious about her reading the memoir. "She finally

finished the book and we spoke, about a week and a half ago.

It was literally like a dream come true. She said she loved the

book. The courage of doing a memoir doesn't come in the

writing because, if you're a creative person, you get yourself to

do stuff. Really, it's when it's published and people see it and

they react to it. The people that you're writing about – that

you love – you want them to continue to love you. And yet,

you've got to tell the truth. I kept saying to my close friends

and my husband, 'I hope my mother doesn't die hating me

when she reads this book, because it's lovingly told.'"

Mizrahi felt an incredible release when he finally finished

writing I.M. He painted an honest and gritty portrait of his

life, and coloured it with humour and resilience. The past

was behind him. Now, there's only the present and future. It

was a dreamy moment. Mizrahi took a step back. "I was like,

'Darling, you did it," he says. "'You told your story. You are

queen.'" ,

MARCH 2019 BEATROUTE 45
---
Horoscopes

MESSAGES FROM THE STARS: A LOOK INTO THE CYCLES AND COSMIC

DETAILS OF AN UNFOLDING FOREVERMORE, PAIRED WITH A SONG

SUGGESTION CURATED FOR YOUR SIGN by Willow Herzog

Aries (March 21 - April 20)

A deepened connection to self

means not compromising in ways

that can be detrimental to your

form. As your truest expression

continues to shape and expand stay

dedicated, aligned and working

towards future dreams. Affirmations

of motivation, determination

and returning to the ever-changing

self. This is a month of becoming

stronger in your sense of self and

what you stand for. Watch for habits

that want to pull you off course and

use discernible discipline. Step into

a dance of otherworldly lulling to

offset strong work demands this

month.

Song suggestion for the month:

"Hello from the Edge of the Earth" -

Mary Lattimore

Taurus (April 21 - May 21)

Your internal duties are communicating

to your life purpose. Take this

on with motivation and honor the

creative muses that desire to work

with you. Cultivating power through

process and getting the good work

done. This is a month to continue to

grow in your professional pursuits

and align with greater potency to

your purpose. You have innovations

and gifts of paramount to share with

the world.

Song suggestion for the month:

"Poem" - U.S Girls

Gemini (May 22 - June 21)

Enlargement of dreams and plans of

expansion. Allow your heightened

sense of mission to inspire and

widen your reality. A walk in the

clouds isn't for everyone but for you

it is where you build your castles

and turn them into your life. Keep

close to what inspires you and in

turn inspires your community. Turn

up your language into forms that

count as you deepen in your voice

of honesty. Speak to those who will

help you build your empire and feel

gratitude for all you have already

accomplished.

Song suggestion for the month:

Harm in Change" - Toro y Moi

Cancer (June 22 - July 23)

Harmonious alignment in collaborative

pursuits holds time and space

this month. There is a pull to retreat

into contemplation and evaporation

that meets a surge of conspiring

creativity within relationships. Let

these two opposites create a whole

and allow yourself to ebb and flow

as destined. There is healing in the

realm of self-esteem and worthiness

for all that is forming in your reality.

Take time to get right with yourself

so you may get right with life and

your mission.

Song suggestion for the month:

"Diagonals" - Stereolab

Leo (July 24 - Aug. 23)

Honouring right relationships and

those who really see you. There is

a change in the relationships close

to you and how you may perceive

and interact with them. Life holds

increased opportunity to exchange

hearts with those you hold dear and

in turn hold you. Allow yourself

to be held in love's warm embrace.

You have gone through a plethora of

changes and leveled up professionally.

This is a time to let those changes

change your compass and proceed

with navigational clarity.

Song suggestion for the month:

"Woman Is a Word" - Empress Of

Virgo (Aug. 24 - Sept. 23)

The seemingly never-ending work

flux of the everyday continues to pile

and make mountains. Good thing

you have the ability to move mountains.

Enjoy the flow of the everyday

and make room for unexpected

experiences, pleasure and surprises.

Orienting your present moment to a

state of calm will be essential for all

that needs to get done this month.

Pull a Marie Kondo and clear the

clutter from your life so you may

have space to think and dream.

Song suggestion for the month:

"Peripheral" - Eartheater

Libra (Sept. 24 - Oct. 23)

Healing deep feelings, old wounds

and family ties are priority as you

move into this next cycle. Make way

for new, old and fluctuating feeling

states but hold close peace and vibrational

pull to what rings true. Check

in with the layers of your psychic

experience and remember to clear

out outdated views and self-inflicted

behaviours that don't serve. You are

going through an energetic recalibration,

allow yourself healthy physical

outlets for excess emotion.

Song suggestion for the month:

"Beautiful Blue Sky" -

Ought

Scorpio (Oct. 24 - Nov. 22)

Calling yourself back to yourself

and stepping into a vibration of

returning to your internal well of

exquisiteness. This is a passage

that asks you to reclaim time with

self in a way that nourishes and

inspires. Beautify your space, your

bedroom, buy some flowers for

your table and wash your floors

with rosewater. This is also a time

of much work, projects, figuring

out the details. Having a nourished

home space and honouring space

for reflection will do wonders for

your ability to see, feel and receive

beauty.

Song suggestion for the month:

"I'm Clean Now" - Grouper

Sagittarius (Nov. 23 - Dec. 21)

Commitment to the many tasks

and opportunities that punctuate

your reality. Stay concentrated,

pouring joy and love at the

projects that have come into your

sphere of influence. There is a reason

for what has been presented

on your path. Stay honest, check in

and communicate with authentic

potency. Old mind layers are

disappearing and a new way of

experience is becoming evident.

Sit in the stillness and be ready to

change your mind once again.

Song suggestion for the month:

"The Hollow Sound of the Morning

Chimes" - TOPS

Capricorn (Dec. 22 - Jan. 20)

What have you healed? What has

come full circle? Perhaps it is time

to start anew in some key areas

while letting go of what doesn't

serve you. Patterns and potential

with finances are highlighted as you

look at where your funds go and

how they may leak. Taking your

abundance into your own hands

and create a practice of moderation

paired with gentle indulgences.

Song suggestion for the month:

"symbol" - Adrianne Lenker

Aquarius (Jan. 21 - Feb. 19)

What is hidden in plain sight? What

direction is the energy of your

life taking you? This is a period of

recoiling back to your foundation so

you may build with greater strength.

Strategize and prioritize so you may

construct your empire and experience

the totality of your dreams.

Song suggestion for the month:

"Bent (Roi's Song)" - DIIV

Pisces (Feb. 20 - Mar. 20)

To quote Leonard Cohen "I don't

trust my inner feelings. Inner

feelings come and go." This is a

time of taking your feelings into

account but realizing the fluctuating

nature of being a deep feeler.

Regather yourself in essential ways

so that you may serve yourself and

community in the potent ways you

do and dream to. It's okay to say no,

take a step back and stay in for sake

of self-preservation.

Song suggestion for the month:

"Unconscious Melody"

- Preoccupations

U.S. GIRLS OUGHT TORO Y MOI DIIV GROUPER

46 BEATROUTE MARCH 2019
---
MARCH 2019 BEATROUTE 47
---
CANADA'S LARGEST INDEPENDENT CONCERT PROMOTER

UPCOMING SHOWS

SCOTT HELMAN

WITH RALPH

March 14 - The Vogue Theatre

THE UNDERCOVER DREAM LOVERS

WITH SPECIAL GUESTS

Mar 18 - The Fox Cabaret

DEAFHEAVEN & BARONESS

WITH ZEAL & ARDOR

Mar 20 - The Vogue Theatre

WET & KILO KISH

W/ HELENA DELAND

Mar 23 - Imperial

THE BRIGHT LIGHT SOCIAL HOUR

WITH SPECIAL GUESTS

March 25 - The Biltmore Cabaret

PLINI

WITH SPECIAL GUESTS

March 30 - The Biltmore Cabaret

BROODS

WITH SPECIAL GUESTS

April 2 - The Vogue Theatre

SMINO

WITH SPECIAL GUESTS

April 5 - The Vogue Theatre

WICCA PHASE SPRINGS ETERNAL

WITH SPECIAL GUESTS

April 6 - The Fox Cabaret

HOP ALONG

WITH SPECIAL GUESTS

April 7- The Biltmore Cabaret

48 BEATROUTE MARCH 2019

TICKETS ARE AVAILABLE AT MRGCONCERTS.COM