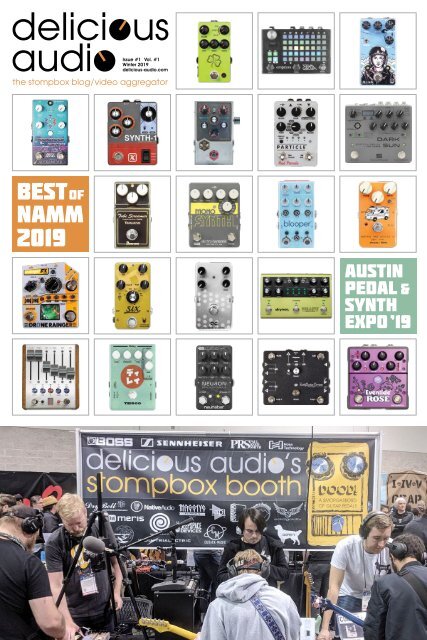 Delicious Audio #1 - Best Pedals of NAMM 2019 - Best Pedals of 2018 - Austin Pedal and Synth Expo
A magazine entirely focused on guitar pedals (with a section on synthesizers).
A magazine entirely focused on guitar pedals (with a section on synthesizers).
SHOW MORE
SHOW LESS
Do you know the secret to free website traffic?
Use this trick to increase the number of new potential customers.
delicious

audio

Issue #1 Vol. #1

Winter 2019

delicious-audio.com

the stompbox blog/video aggregator

Bestof

NAMM

2019

Austin

Pedal &

Synth

Expo'19
---
delicious

audio

EDITOR IN CHIEF / PUBLISHER

PAOLO DE GREGORIO

EDITOR / PEDAL GURU

NICHOLAS KULA

ART DIRECTOR

KAZ YABE ( WWW.KAZYABE.COM)

ASSISTANT EDITOR / COPY EDITOR

ERIN BETHUNE D'SOUZA

COVER IMAGE

KAZ YABE ( WWW.KAZYABE.COM)

WEB DEVELOPER

BINOD LAMSAL

CONTRIBUTING WRITERS

CONNOR MCINERNEY

TUCKER PENNINGTON

SUNNY BETZ

BRANDON STONER

Advertising Inquiries:

paolo.dg@thedelimag.com

Issue #1 Vol. #1

Winter 2019

delicious-audio.com

the stompbox blog/video aggregator

MASTHEAD

Hello pedal fiends, welcome to the first print issue

of Delicious Audio!

if you are wondering what we are, you can find

more info about our blog/aggregator/magazine on

page 4; this space, then, is dedicated to the object

of our desires and its virtues: the stompbox.

That's what we prefer to call it, because we find any

other label (like "guitar pedal" or "guitar effect") very

limiting. The stompbox doesn't care what it's fed,

no matter what signal goes through it; guitar, bass,

keyboards, vocals—it treats them all the same way.

The stompbox opens up a plethora of creative possibilities,

no matter what signal you feed it.

It's hard to deny that this is the musical era in

which stompboxes have become much more than

static musical machines: They have morphed into

devices with the potential to inspire any electrified

musician, and that's important, because inspiration

is what moves art forward.

P.16

BEST PEDALS

OF NAMM 2019

P.12

NAMM 2019

P.8

THE PEDAL &

SYNTH EXPO'S

SHOWCASE

EDITORS' NOTE

The latest NAMM show has once again brought an

increased number of effects and manufacturers,

pushing the envelope of pedal technology and giving

us an even greater breadth of gear over which

to drool. What once was a niche market confined to

the outer reaches of the show floor has blossomed

into a formidable industry whose boundaries expand

past the esoteric and into the closest thing to

a mainstream that music gear has.

Here at Delicious Audio, we eat, sleep and breathe

effects pedals, and if you are familiar with what we

do you know that we take great care in consuming,

organizing, and curating large groups of them just

for you. It stands to reason, then, that we should

find ourselves in the thick of the NAMM show floor

on the hunt for the latest and greatest.

The intelligence that we gathered has been distilled

into these very pages and prepared for your

consumption. Better yet, you'll also be able to experience

a sample of it with your own ears, hands,

and eyes at the upcoming Austin Stompbox Exhibit.

We hope to see you there!

Paolo De Gregorio & Nicholas Kula

P.26

PEDALS OF THE

AUSTIN

STOMPBOX EXHIBIT 2019

TABLE OF

CONTENTS

P.36

SYNTHS AT

NAMM 2019

P.40

AUSTIN

SYNTHS EXPO

2019
---
What's Delicious Audio?

Delicious Audio is a blog entirely focused on stompboxes, whose content

is driven by the videos published on YouTube by the most reputable videographers

shooting demos of guitar effects.

The team that runs it also organizes the Stompbox Exhibits, free guitar

pedal parties, with editions in Brooklyn, Austin, Los Angeles, Toronto and

Montreal, and the shared Stompbox Booth at the NAMM shows – see

pictures of our 2019 NAMM booth on pages 12-14.

In 2018 we have merged the Stompbox Exhibit with the Synth Expo (which

we started in 2014), since the formats are increasingly complementary.

Why an Aggregator?

The aggregator format allows us to amplify the content posted by expert

in the stompbox sector, while allowing us to be at once informative,

neutral and supportive of both the content makers and the community of

pedal builders. The "aggregation" of content is not automatic but curated,

which allows us to retain a voice through the website's blog posts.

Does Delicious Audio Create Any Original Content?

Yes it does. We regularly work on in-depth articles focused on a specific

kind of effect. Some of our most popular pieces are about the "Klon

Klones", ambient reverbs and Uni-Vibe pedals – you can easily find these

articles through generic Google searches.

What About the Magazine?

The issue you are reading is born on the ashes of The Deli, a magazine we

started in 2004 that was focused on emerging NYC bands. After we debuted

the Stompbox Exhibit in 2011 and then the Synth Expo in 2014, these

shows allowed The Deli's print issue to survive until the winter of 2019,

when we decided to convert it into the publication you are reading now.
---
THE PEDAL &

SYNTH EXPO'S

SHOWCASE

DAY 1

FRIDAY MARCH 15

The Chuggin' Monkey

(219 E 6th St.)

FREE!

Lina Tullgren

5:20pm

Anemone

4:30pm

This DIY artist rarely conforms to the trends of the moment, while

also avoiding the "kitchen sink" approach to experimentation. Simultaneously

gritty and pristine thrashing drums and guitars can

sneak up on the listener, whereas Tullgren's vocals remain the

gravitational center. Even more surprising is how her uncomfortably

surreal songs harmonize together, reaching a point where

her funeral marches are equally hypnotic and skin-crawling,

beckoning us to go deeper into the void. (TUCKER PENNINGTON)

Montreal alt-pop polymath Chloe Soldevila hits her stride on

Beat My Distance, the second full length released under the

project name Anemone. It's a record drenched in vintage psychedelia

and classic pop sensibilities, from a melancholic vocal

performance on "Daffodils" to the progressive, shuffling beat of

"Sunshine." While Anemone clearly draws inspiration from hippy

ephemera, the strength of Beat My Distance comes from how

these soundscapes are filtered through a contemporary, frequently

synth-laden perspective. (CONNOR MCINERNEY)

Hot Flash Heat Wave

3:40pm

Soft Kill

2:00pm

Mood Ring—the latest EP by SF-based

psych-rock group Hot Flash Heat Wave—

couldn't have a more suitable title. The always-morphing

nature of the jewelry fits the

group's six diverse songs. Woozy guitars

and brightly-colored bombast are part of the

band's DNA, but when it dip its toes in vaporwave

aesthetics and off-kilter samples, the

band's sound really washes over the listener

with a sun-kissed burnish. This combination

of the expected and surprising makes Mood

Ring a constantly fluctuating yet engrossing

listen. (TUCKER PENNINGTON)

8 delicious audio Winter 2019

Reptaliens

2:50pm

Although the stylish indie pop duo of Bambi and

Cole Browning has morphed into a quartet, it is still

as succinctly focused on its interpretation of vintage

psych pop as it was on debut LP FM-2030,

with new single "Shuggie II" a landscape of curated

arpeggios and tight basswork. While labeling Reptaliens

as "yacht pop" might feel trite, it's hard to

deny the group's music will be best enjoyed on a

warm beachside (but preferably on a boat) while

sipping a cool drink. (CONNOR MCINERNEY)

"Punishing" isn't the first word you'd think to

describe Soft Kill, but the more its barrages of

post-punk and shoegazer pummel into you,

the more fitting the word becomes. On Savior,

the Portland outfit buries most of its synths

into a thundering vessel of fuzz. Moments of

joy surface occasionally, only to get smothered

in a wave of rumbling drums and crashing

cymbals. In its relentless hail of gloom

and doom, Soft Kill is here for the raw ennui.

(TUCKER PENNINGTON)
---
THE PEDAL &

SYNTH EXPO'S

SHOWCASE

DAY 2

SATURDAY MARCH 16

The Chuggin' Monkey

(219 E 6th St.)

FREE!

Beshken

5:20pm

Photo: Nick Vernet

Your Smith

4:30pm

Fresh off a sold out Fall tour in support of Gus Dapperton,

NYC-based, genre-bending producer Beshken released in

early March the video for single "Cursed," the first taste of

his forthcoming debut album Aisle of Palm, which seems

to mark a sonic evolution towards a less structured and

more experimental electronica. The song explores the

concept of living like we're dead due to an obsession with

personal progress. (PAOLO DE GREGORIO)

Last year folk artist Caroline Smith announced a change in

name: with the new moniker (Your Smith) came a sound less

rootsy and more modern, based on an upbeat, electronic indie

pop. The arrangements, layered with synths and drum machines,

are complemented by tongue-n-cheek lyrics and vocals

varying between sweet gasping whispers, a Sheryl Crow rock

feel, and vibes reminiscent of Robyn. "Bad Habit" is a single with

all the attributes of a timeless pop song. (MICHELLE KICHERER)

Helena Deland

3:40pm

Each whimsical folk-pop track off Helena

Deland's Altogether Unaccompanied is varied

in texture and mood, and centered around the

singer's vocal prowess. It's like Karen Peris and

Vashti Bunyan but with the empowering presence

of Sharon Van Etten – plus something

entirely her own. The popping synths dropping

like gumballs on tracks like "Claudion," the

warm keys on "Rise," the lovely harmonies and

hooks on "A Stone is a Stone" are all elements

that contribute in making her album a beautifully

produced synthpop dream. (MICHELLE KICHERER)

CLAVVS

2:50pm

Brooklyn duo CLAVVS has always had their

its squarely planted in the realm of electronic

soul-pop. Yet with its recent EP No Saviors, the

pair has cracked open new patterns to make

its distinct ideas sound infinitely more versatile.

"Lay Back" adds a baroque flourish that crashes

down like a waterfall of strings, while the title

track bursts with polyrhythms and self-assured

brashness. CLAVVS is breaking out of the

dream-pop bubble with exuberance and quality

songs. (TUCKER PENNINGTON)

Angelica Garcia

2:00pm

This Richmond-based singer-songwriter understands

the potency that a little chaos can

have in bringing pop music to life. Her voice

can be lifted by the infectious "nu-cumbia"

pianos and jaunty rhythms, but it's the laconic

lyrics and expressive delivery that Garcia

injects in every line on "Karma the Knife" that

emphasizes the tempestuous nature of her

pop. Grounded in Latin rhythms, her bluesy

bravado adds a noteworthy edge that brings

a jolt to her style. (TUCKER PENNINGTON)
---
STOMPBOX

TRENDS

NAMM

2019

BY

NICHOLAS

KULA

T

hough one might think that it's the holiday

season that sees our beloved pedal companies

galloping into the limelight to vaunt

their new releases, any hardened pedal geek

knows that the real fireworks begin just after New Year's

Day. The occasion is the winter NAMM Show in Anaheim

and for folks like us, it may as well be a national holiday.

Over one weekend in Orange County—and starting the

Friday before—any staff position filled by a musician experiences

its productivity grind to a halt. It's NAMM, baby!

In the convention center hosting the event, a basement area

exists where pedal companies once remotely huddled together

for warmth. At the 2019 NAMM show, however, effects

manufacturers were sitting front-and-center in an area earmarked

for high foot traffic. It was a move that sent a message

loud and clear to the music equipment industry: Pedals

are what showgoers are here to see—they're relatively small,

collectible, affordable, they perform wildly different tasks and

they come in all sorts of shapes and colors. Those not knowledgeable

about effects and their mark on music history can

appreciate them aesthetically if not sonically, and it is that

aesthetic draw that players and non-players can agree upon.

Delicious Audio was smack in the middle of all this, with not

one but two Stompbox Booths (pictured on the left page)

hosting a total of 24 more or less emerging pedal manufacturers.

On top of that, inside our main booth, we had 60 Cycle

Hum shooting videos of all the new pedals released at NAMM

(we ended up with 64 in total!) with our blog covering also the

ones they couldn't shoot. This presence gave us a vantage

point on the new trends in the world of stompboxes, which is

what we are going to tackle in this article.

THERE'S NO STOPPING THE

DIGITAL TRAIN

Technology is accelerating at such a rapid clip that it eventually

finds its way into the farthest corners of niche enthusiasm. The

pedal format has transcended analog nuts and bolts and many

stompboxes havenow full-blown computers inside them, complete

with memory and processors. The technology of pedals

has evolved dramatically in the last few years, and like in each

and every walk of life, as things get more complex, they also

get more expensive—the prices on this year's models seem to

be markedly higher compared to the past.

It should come to nobody's surprise then, that many of NAMM

2019's crop of effects focused on even more feature-laden and

refined workings of some of the most electrically complicated

circuits. While analog overdrive and fuzz haven't lost their dominance

and are witnessing some long due innovation (see carbon

quantum tunneling), manufacturers continue the arms race for

coders and digital engineers. And as this plays out, companies

continue to blur the line between analog and digital. circuits.

The Strymon Volante perfectly exemplifies this trend: Visually

and sonically patterned after a highly-influential Italian-made

magnetic echo machine, it dishes up a trio of awe-inspiring

delay algorithms and an integrated looper before finishing the

package with a spring reverb that leaves the player wanting

12 delicious audio Winter 2019
---
nothing. No wonder it was voted as one of the two best pedals

of the show in our aggregate chart (see pages 16-24). On the

opposite side of the coin, certified and card-carrying mad scientist

David Rainger unveiled his Drone Rainger, an absolute

anomaly in the world of delay. As bonkers as it is inspiring. It's

unabashedly digital, but features two drone voices that you

can engage separately, then play alongside.

PEDAL SYNTHIFICATION #1:

FILTERS AND OSCILLATORS

The Drone, with its two oscillators, provides the perfect segue

to a chapter dedicated to the growing niche of synth pedals.

Meris, a new company born from a rib of

Strymon, hit it big in late 2018 with Enzo,

a polyphonic synth pedal with a truly innovative

circuit that earned it the label of

"the Ferrari of Synth Pedals." It ended up

on the top of our aggregate Best Pedals

of 2018 list.

Meris Enzo, Best

pedal of 2018 in

Delicious Audio

aggregate chart.

With its Motor prototype, Latvian manufacturer

Gamechanger Audio showcased

at NAMM another impressive polyphonic circuit,

but with "spinning motors" replacing oscillators as sound

source—you've got to hear it and see it for yourself.

On the monophonic side of things, synth pedal pioneer Electro-Harmonix

introduced two Mono Synths (one optimized

for bass) giving players access to massive synth patches including

vintage Moogs, Oberheims and more, while Keeley

unveiled its debut in this niche with the Synth-1. They are

both streamlined, easy to use machines, unlike the Moutarde,

by French builder Glou-Glou, a complex (and big)

filter and modulation monster featuring four non-tracking oscillators.

Similar drone devices are also featured in the already

mentioned Rainger FX Drone and in the other winner (tied with

the Volante) of the Best of NAMM 2018 aggregate chart: the

Beetronics Swarm Harmonic Fuzz, a wicked PLL-type

circuit that gives players some organic harmonizing with a

fuzz chaser. The Pigtronix Resotron also belongs to this

category, using the same chip found in the Sequential Circuits

Prophet 5 for an intriguing take on the envelope resonant filter.

PEDAL SYNTHIFICATION #2:

GRANULAR SYNTHESIS

AND SEQUENCERS

But that's not quite it as far as synthesising pedals are concerned!

Another emerging category of effects was one spearheaded

by developers looking to push the sonic boundaries

of today's digital tech, including bitcrushers, sample manglers

and stutter devices.

Granular synthesis pioneers Red Panda upgraded its Particle

granular delay to a second version that includes tap

tempo and presets, while Catalinbread emerged with the

Coriolis Effect, a genre-bending yet deceptively intuitive

box that includes stutter, octave down, filtering and harmonizing

in one unit. Cult Canadian builder Cooper FX took the

opposite approach, giving players a near-infinite amount of

control parameters with the Moment Machine, a pitch-shifter

with a 16-step sequencer and over 200 tweakable controls,

each accessible through the onboard screen. Speaking of

sequencers and screens, new company Poly Effects introduced

a multi-effect prototype called Morph that has a big

touchscreen instead of knobs and features an internal step

sequencer that can be applied to the its effects.

delicious audio Winter 2019 13
---
SPACE AND TIME

In the as spacey world of... spatial effects, reverb units are

always prime candidates for the advancement of pedal tech,

although this year not many manufacturers dove headfirst into

developing a monstrous multi-option device. In fact, some operations

saw fit to return to analog reverb—springs included.

The Anasounds Element is one such device. Like Fender's

outboard reverb tank of years past, the Element relies on a spring

cartridge, of which there are three different sizes available. Its

core unit emulates the front end of a Twin amplifier, one of the

most pedal-friendly amps in the history of rock music. Fender

itself marked a return to those days as well, though through a

much more technically advanced platform. Its Tre-Verb hearkens

back to the company's glory days, featuring every iteration

of reverb and tremolo that showed up on its classic amps.

Delay is also a permanently hot niche. Besides the already

mentioned Strymon Volante, Eventide returned the scene with a

gorgeous sounding (and looking) digital take on the bucket brigade

delay, called Rose, while Seymour Duncan, GFI Systems

and Free The Tone introduced lush multi-mode digital

devices featuring both delay and reverb, a combination beloved

by the experimental and shoegazer types. Keeley, Supro, Caroline

and Lunastone are among the many companies that

offered some simpler devices featuring personal takes.

DIRT BOXES ARE ALIVE!

For those who enjoy the comforts of old-school analog circuitry,

winter NAMM was a goldmine of new gear, serving up

tons of overdrive, fuzz, boost and modulation offerings. Overdrive

was still the belle of the ball, and this year's crop seemed

to center on traditional designs that focus on a specific gain

range, with new products from stalwarts such as Wampler,

with its Bluesbreaker-inspired Pantheon, One Control and

its Silver Jubilee recreation Silver Bee, Pettyjohn's Chime

MKII, and a couple of D-style emulations by Outlaw Effects

(the Dumbleweed) and Joyo (the Taichi).

However, the biggest story in the dirtbox world was the collaboration

between Chase Bliss Audio and Benson Amps:

the Automatone Preamp MKII. Featuring an ultra-sleek look

and killer all-analog sound, the Preamp offers a bevy of user

presets and... motorized faders! Recalling a preset moves the

faders to the positions that comprise it, letting you slightly tweak

your favorite sounds to fit your band or stage setup. In the fuzz

realm manufacturers seem to be finally moving in the direction of

innovation. Dunlop announced the Siete Santos, an Octavio

circuit with a healthy EQ section in tow. David Rainger was up

to his old tricks with the hotwired Dr. Freakenstein Chop Fuzz,

pushing fuzz innovation to its absolute limit, and Spiral Electric

FX introduced two fuzzes based on carbon quantum tunneling.

SolidGoldFX stole the show in this department however, with

the prototype of the Lysis, a circuit that merges rhythmic filtering

and synthesis tones with a gnarly fuzz circuit that sounds like the

hard-nosed synthesized fuzzbox of your dreams, not at all unlike

the snarling grind of the Russian-made Formanta Polivoks.

PATIENCE REQUIRED

Some of these pedals are already available as you read this,

while some are being targeted for shipment in the next few

months—as per usual in NAMM parlance.

If this year's show is any indication, the pedal industry is alive

and well. From being transported from its dank basement environs

to the main drag of NAMM, the pedal community is

stronger and more present than ever, and we hope you enjoyed

your look at some of its awesome offerings. d

14 delicious audio Winter 2019
---
The ZOIA is a sound design sandbox that allows

for more in depth control and creation of effects

and instruments than anything seen in a

stompbox to date. Based on the concepts of

modular synthesis, the Zoia can function as a

synthesizer, sequencer, MIDI controller, a multi

effect pedal or all of these at once.

seymourduncan.net/darksun

DIGITAL DELAY + REVERB

DARK SUN
---
Best Pedals of NAMM 2019

The splendor that was the NAMM 2019 show has come and gone

in what feels like a heartbeat, and it's now time to take stock

of what stompable devices left a mark on our collective mind.

This is what we did to try and figure that out: Faithful to our aggregating model, we

gathered all the (reputable) "Best Of" articles and videos focused on the guitar pedals

released at NAMM and created an aggregate chart from them.

We tracked down five lists this year, and we think the results reflect quite accurately

the general consensus about what stood out at the January show.

The Jury is In But Also Out (on the web)

Here are the "Best of NAMM 2019" lists we took into consideration for this endeavor,

in rigorous alphabetical order:

BestGuitarEffects.com : Top 22 Best Pedals of The NAMM Show 2019

Guitar.com : The Best New Pedals at NAMM 2019

GuitarPedalX : The Best New Pedals In and Around Winter NAMM 2019 Show

Music Radar : The 14 best new guitar effects pedals of 2018

Reverb.com : Andy's 7 Pedal Picks on the NAMM 2019 Floor

We never participate in the polling, so builders in search for somebody to blame for

not picking their pedals will have to look somewhere else!

There's No Madness to Our Method

The method we used to aggregate these lists and create our "'final' Best Of NAMM

2019 chart" was very simple: we assigned one point to each pedal mentioned in one of

these lists. We didn't include products by companies that didn't exhibit at NAMM 2019

(GuitarPedalX's list had a few). We ended up with a list of 48 stompboxes, which we

diligently organized in the following pages, highlighting the first 17 effects with a picture

and blurb and listing the remaining 31 on the last page as "Honorable Mentions."

The

FINAL

List!

If you are looking for a more comprehensive list of the new pedals released at NAMM

2019, don't miss our two web pages, one focused on gain pedals and the other one on

non-gain pedals—they are organized by kind of effect, links below!

List of Gain and Compressor Pedals released at NAMM 2019: bit.ly/NAMM19-Gain

List of Non-Gain Pedals released at NAMM 2019: bit.ly/NAMM19-NonGain

16 delicious audio Winter 2019
---
ad_NOMAD_Half-pg_The Deli.qxp_Layout 1 2019-03-04 12:41 PM Page 1
---
THE BEST NEW GUITAR PEDALS

NAMM 2019

#

1

Beetronics FX

Swarm

5pt.

What happens when you marry an exquisitely voiced fuzz circuit to an equally

voiced PLL circuit? The answer is the Beetronics Swarm.

For those not in the know, a PLL circuit is a relatively new type of synthesizer-esque

effect that relies on a phase locked loop IC, which in audio is used to affect

the output signal in relation to the phase of the input. In short, pedal makers have

been using them to craft rudimentary synth circuits, in which a guitar signal is sent

into a square wave fuzz for tracking purposes, then fed into a PLL, whose stability

is mostly questionable. This PLL circuit is a means to an end, giving you the bare

essentials by way of harmonizing, stopping short of giving you a tweakable interface

beyond simple mixing and blending.

Enter: Beetronics, whose Swarm turns this nascent circuit on its ear with one of the

first truly refined implementations of the formula. The fuzz circuit is quick and dirty

but is much more refined and articulate than the brute-force squarewave approach

found in almost all PLL circuits. And while most give you a harmony or two and

leave it at that, the Swarm doubles down on the features by giving you harmonies

but also a slick gliding circuit as well as several other ways to manipulate the synthesis,

giving the Swarm a much greater feel than its competitors. And when you're

a guitarist, that's the most important thing, isn't it?

18 delicious audio Winter 2019
---
#

3

#

1

Strymon

Volante

Clad in black and gold, the Strymon Volante immediately

calls to mind the aesthetic profile of vintage

Italian magnetic delay, but the sum of its parts is so

much more than a simple Binson emulation.

Nothing is as timeless as mechanical delay devices,

and the Volante serves up the best of each in spades.

For starters, the three modes present are Drum Delay,

Tape Echo and Studio Delay, each with their specific

parameters backed by hours upon hours of research.

Chase Bliss Audio

Preamp MKII

When Joel Korte of Chase Bliss flew to Portland to meet with

Chris Benson of Benson Amps, people thought it was two

great minds getting together to shoot the breeze under a common

umbrella. As it turns out, the two were hatching a scheme

(or finalizing one) to develop one of the most ambitious gainbased

boxes any of us had seen in quite some time.

The original magnetic drum echoes are rife with tubes,

containing them in all stages including the input and

mixers. The result is a harmonically rich and impossibly

warm piece of gear, and one that has been used on

more classic records than we can count. Multi-head

tape echo is another one of those classic sounds that

you've surely heard even if you swear up and down

that you haven't. Four virtual tape heads give you the

ability to program complex multi-tap delay patterns

and every single mechanical parameter of such delay

devices is emulated down to the alignment of the

mechanical components. What Strymon calls Studio

Delay is the sound of real tape machines buzzing and

whirring, with a relatively clean sound rich with harmonic

content available at your fingertips. This is the

sound of early recording studios, plain and simple.

Digging deeper, you'll find scads of extras, including

intuitive preset storage and recall, infinite repeats, individual

head adjustment and tons more.

4pt.

You know Chase Bliss Audio by now: Joel's digitally-controlled

analog pedals have burst onto the scene and taken it

by storm in recent years, with each and every one regarded

by many as the best in their respective category. Chris Benson

is much his equal in the amp world, rising to prominence

very quickly and being a part of the backlines for some of

rock music's biggest contemporary artists.

The Preamp MKII combines Chris's knack for preamp circuitry

with the immense knowledge of Joel to serve up a

preamp circuit as functional and excellent sounding as it is

beautiful. Featuring a bank of thick faders, the Preamp MKII

offers up several user-adjustable presets, and once recalled,

the faders mechanically slide to the position at which they

were saved. This gives players a blank canvas with the faders

set flat, or an excellent jumping-off point for fine-tuning an

existing preset. With this combination of aesthetics, feature

set and jaw-dropping tone, the Preamp MKII is going to blow

minds when it's released this fall.

5pt.

delicious audio Winter 2019 19
---
THE BEST NEW GUITAR PEDALS

NAMM 2019

#

4

Wampler

Terraform

For a company that's created deep dives into almost every

effect imaginable, Wampler has been without a do-itall

modulator since its inception. That all changes with the

Terraform, a modulation box that focuses on highly-specialized

takes on classic effects for some new sounds you

simply can't get anywhere else. Not content to offer a simple

chorus-vibe-flanger box, the Terraform gives you highly

tweakable takes on additive and subtractive flanging,

through-zero flanging, phaser and several chorus modes.

Extra features include a ton of inventive

routing options, courtesy

of the post ins and outs, allowing

you to connect the same device

at two different points in a signal

chain. In addition to that, the Pantheon

supplies global tap tempo

and a centrally-located preset

function equipped with eight

slots. MIDI and expression options

come standard, along with

multiple LFO shaping options.

3pt.

"These will change in the

final version," Wampler says.

#

4 Eventide

Rose

3pt.

These days, it seems like it would be hard for Eventide to

top itself, but that's exactly what happened at NAMM this

year. Eventide's Rose delay represents a return to organic

effects by offering a kitchen-sink approach to one effect:

digital delay. The Rose began its life as a set of ones and

zeroes that Eventide "grafted" onto an analog control platform

for an incredibly unique take on the concept of delay.

The control set of the Rose offers up some familiar faces,

but a series of small pushbutton switches dramatically expand

the possibilities, from five incredibly unique modulation

options with an unbelievable range of depth to time

multipliers, one-touch phase inversion and a reverse playback

function. Every level of the Rose is customizable,

from the assignable Hotswitch to how the bypass switch

functions. The Rose simply performs functions that can't

be done in the analog realm or the digital realm, needing

the symbiosis of both to truly realize its full potential.

20 delicious audio Winter 2019
---
#

4

Neunaber

Neuron

3pt.

Several pedals of any size can cram the amount of

features the Neuron boasts into any enclosure, let

alone the compact box picked out by Neunaber.

However, that's just what the company has done,

serving up a feature-packed dirt box in a deceptively

demure enclosure.

What does it do? A better question to ask might

be "what doesn't it do?" The Neuron gives players

every bit of the entire gain range, from crystalline

cleans to amp-smashing distortion, and also offers

a built-in compressor, studio-quality noise gate

and cab simulator. Add this to a rich three-band EQ

that couples with a smart tilt EQ, MIDI with multiple

presets and a total of 12 knobs when employing

the "alt" feature set and you have a true ride-or-die

dirt machine that rides shotgun at the mixing desk.

#

4

ThorpyFX

Deep Oggin

3pt.

After conquering the dirt realm rather swiftly, Adrian Thorpe's

battalion of dirt boxes quickly established him as one of the

scene's top minds, and he only reinforced that notion with the

introduction of his Fat General comp and Chain Home trem. It

should come as no surprise then that the man has his sights set

on modulation, and his Deep Oggin is a total winner in this regard.

Just like his dirt boxes, the Deep Oggin is an ultra-rich take on

chorus and vibrato, designed in collaboration with Dan Coggins,

the man behind the nearly-mythical Lovetone and its army of

borderline-psychotic modulation devices. Not a duo to take a

design and simply tweak a couple values, Thorpe and Coggins

built the Deep Oggin from the ground up to achieve a breathtaking

riff on the tried-and-true chorus formula, giving a rich

three-dimensional shimmer due in no small part to the clever

Treble control and bulletproof engineering.

delicious audio Winter 2019 21
---
THE BEST NEW GUITAR PEDALS

NAMM 2019

#

8

Rainger FX 2pt.

The Drone Rainger

Featuring one full second of delay

time, the Drone Rainger gives you

boatloads of options that will inspire

your playing to no end. Two

individual drone voices can be

spliced into the signal at intervals

you select, with plenty of routing

and tuning options available at

your fingertips. Further options

such as chip-generated white

noise and pitch sagging scramble

your signal, making the repeats

fight for air amongst the sonics.

#

8

Seymour Duncan

Dark Sun 2pt.

A pedal full of options for people that

don't need two different pedals for delay

and reverb,The Dark Sun delivers the

very best of both effects for a hyper-inspirational

box that pushes the boundaries

of each. A routing switch lets you

route the two effects in four different configurations,

giving you some truly awe-inspiring

combinations of time and space.

A switch that doubles as a tap and preset

function puts the secondary right at your

feet so you don't have to coddle the Dark

Sun to get the most from it.

#

8

Red Panda

Particle V2

A completely redesigned version of

this granular delay, usinbg a modern

32-bit processor and a high-performance

ADC/DAC. It runs at a higher

sampling rate, with more headroom

and lower noise than the original.

Keeps the immediacy and character

of the original, with improved

fidelity and wider control ranges. It

can also do more traditional granular

processing with dozens of

simultaneous grains, and you can

combine the different modes.

#

8 Blooper Looper

Chase Bliss Audio

A collaborative, creative stereo looper

created in conjunction with 3 Degrees

Audio (a very new company producing

wicked looking digital effects) and

Knobs, the talented Canadian videographer

that produces all the Chase

Bliss demos and is in charge of filming

the process that leads to the creation

of this effect. Still in prototype version,

you can check its design progress on

the Knobs YouTube channel.

2pt.

2pt.

#

8 Ibanez/

Vemuram

Tube Screamer

TSV808 2pt.

A collaboration with Vemuram, a popular

Japanese boutique pedal manufacturer.

Billed as a "Next Generation

Tube Screamer" the TSV808 is a marriage

of the green overdrive and Vemuram's

Jan Ray overdrive, combining

the familiar mid-boost EQ curve of

the former with the expanded dynamic

and frequency range of the latter. It

also features a hand-crafted bass enclosure,

as well as an output volume

that is 7dB higher than the standard

Tube Screamer.

#

8Alexander Pedals

Radical Delay DX

Tthe "neofied" version of this '80s

flavored delay (Neo is the company's

series of pedals with high connectivity

features and preset function). Each of

the three modes offers some creative

twists: Mod adds slow chorus or fast

vibrato, Glitch is a clean digital delay

that can do glitchy effects, while Bend

adds pitch shifting.

2pt.

22 delicious audio Winter 2019
---
THE BEST NEW GUITAR PEDALS

NAMM 2019

#

8

Tsakalis

Audio Works

Six B.O.D. 2pt.

Hailing from Greece, the Tsakalis

Audioworks Six B.O.D. serves up

a buffet of dirt circuitry, with six

different selectable modes inspired

by such revered gain devices as the

Analogman KOT, Marshall Bluesbreaker,

Paul C Timmy and more. If

these emulation sound even close

to the original, this pedal packs a

treasure chest worth of tone.

#

8 SolidGoldFX

Lysis (Prototype)

2pt.

A wild pedal prototype that combines

fuzz, synth and filter sweeping for a wild

trip into synthesis. The Lysis does all

this with a series of five knobs and five

switches that adjust everything from

the depth of the filter sweeps to the

smoothness of the fuzz. No stone is left

unturned on the quest for synth madness,

and the Lysis delivers it in spades.

#

8

Spaceman 2pt.

Mission Control

This is a pedal that sits as the central

nervous system of your pedalboard

and operates everything around it.

Dialing in the Mission Control and

stomping the Activate footswitch

triggers attack and release times

that you set. The built-in effects

loop lets you insert any number of

pedals into the path of the Mission

Control and the analog VCA and

accompanying envelope generator

keeps the action nice and tight.

#

8

Ernie Ball

VPJR Tuner

2pt.

A volume pedal from the industry

standard in the category with

a built in tuner visible through a

screen embedded on top of the

pedal's treadle. The large display

automatically switches between

tuner and volume modes

depending on the signal level,

allowing the player to tune at

minimal volume.

Anasounds Elements

Spring Reverb

Caroline

Guitar Company

Megabyte

Catalinbread

Coriolis Effect

Danelectro

The Breakdown

Dunlop

Billy Gibbons Siete Santos

Octavio Fuzz

EarthQuaker Devices

Swiss Things

EHX

Mono Synth

Empress Effects

Zoia

HONORABLE MENTIONS

Fender

Tre-Verb

Foxpedal

Quiver Harmonic Tremolo

Free The Tone

Future Factory

Fuzzrocious

Knob Jawn

GFI System

Synesthesia

Hotone

Ampero

JHS

Clover 'Edge'-style

PreAmp/EQ

Keeley Electronics

DDR

Keeley Electronics

Eccos Stereo Vintage

Tape Flanger Delay

Keeley Electronics

Fuzz Bender

Laney

Secret Path

MXR

Dookie Drive

Old Blood Noise

Endeavors

Rêver

Origin Effects

RevivalDRIVE Compact

Pigtronix

Resotron

Poly Effects

Digit

Rainger FX

Dr. Freakenstein

Chop Fuzz

REVV

G4

Source Audio

Spectrum

Intelligent Filter

Supro

Delay

TWA

Mini Morph Modulated

Fuzz/Distortion

Two Notes

Torpedo C.A.B. M

Walrus Audio

Lillian

24 delicious audio Winter 2019
---
A BOUQUET

OF SOUNDS

A BOUQUET

Rose is a modulated delay

OF SOUND

unlike any other. Learn more

at eventideaudio.com/rose
---
THE PEDALS OF THE

AUSTIN STOMPBOX EXHIBIT 2019

Overdrive

One Control

Silver Bee

Features a retooled version of

the Honey Bee's drive engine,

giving you sounds reminiscent

of classic American "silvery"

combo amps of the '60s, the

kind of gear that had a helping

hand in crafting some of the

world's finest rock records.

Animals Pedal

Vintage Van Driving is Very Fun

An affordable, flexible and very

fun looking overdrive/boost

that can deliver a variety of

tones from clean boost to medium

gain dirt. Engineered to

respond well to both single coil

and humbucker pickups.

Outlaw FX

Dumbleweed

Based on a D-style amp, one

of the most desired (and expensive!)

tones in rock music.

4 simple controls dial it in with

Gain, Tone, Volume, and a

Voice switch with extra control

over the EQ.

Mods Kits DIY

Thunderdrive Deluxe LTD

A DIY kit that you need to build

and solder yourself. This version

of the Thundredrive is an LED

clipping overdrive that includes a

three-way switch that will let you

alternate between silicon diodes,

germanium ones and a standard,

cleaner boost selection.

distortion PREAMP/EQ AMP EMULATOR routing

ProCo

RAT 2

JHS Pedals

Clover

Rabbit Hole FX

OGOD

EarthQuaker Devices

Swiss Things

A fat, high gain, beloved classic

distortion/fuzz for well

under $100. One of the most

cloned pedals out there, this is

the real thing.

26 delicious audio Winter 2019

Based on the rare BOSS FA-1

this FET design has a Volume

control and 3 band EQ, with

3 switchable settings: Full

EQ, No Mids (fixed mids, only

High/Low knobs active), and

No EQ. A balanced XLR output

facilitates use with acoustic

guitar or bass.

Driven by mini-vacuum tubes

found in old military radios and

hearing-aids, this is an overdrive

pedal that also works

as an amp emulator with two

headphone outputs. The Level

knob controls the level of signal

coming from the tubes for

warmth, while Clean lets you

blend the original signal back in

for parallel distortion.

A "pedalboard reconciler" featuring

two effects loops, an

AB-Y box, a buffered tuner output,

20dB of clean boost with

adjustable gain, an expression

pedal output for volume control

and a quiet, high headroom.
---
THE PEDALS OF THE

AUSTIN STOMPBOX EXHIBIT 2019

synth delay Modulation

Keeley Electronics

Synth-1

Empress FX

Zoia

Teisco

Delay

Walrus Audio

Lillian

Labeled by the company as a

"Fuzz Noise and Chaos Creator",

this is a reverse attack

fuzz wave generator. There are

controls over Level, Attack,

Blend, and a band-pass Filter

as well as a Chaos switch that

changes pitch of the waveform.

A 3-position switch gives you

different waveforms and includes

expression pedal input.

The date of the Zoia release is

(hopefully) approaching and the

news for this innovative modular

effect is that it will feature some

pre-built effects and other mind

blowing presets for both effects

and synth sounds. One even

lets you use it as a keyboard!

This pedal's limit is the sky.

This legendary Japanese brand

is returning with three new solid

designs featuring gorgeous

graphics. Their Delay has controls

for Level, Feedback and

Delay Time, as well as a modulation

section with controls for

Depth and Rate and a switch

to choose between Fast/Slow

mod rates.

Based on the same concept

of the Julia Chorus, the Lillian

features knobs for Rate, Width

and Feedback, a toggle switch

to select between 6 or 4 stages

and - just like the Julia - the

bottom right D-P-V knob that

acts as an enhanced Mix knob

that adds some vibrato when

turned all the way to the right.

Multi-Effects

Sponsors of the Austin Stompbox Exhibit

Line 6

HX Stomp

It packs all of the Helix's amps,

cabs, and effects into a stompbox

roughly the size of a BOSS

Space Echo. This shift in size

makes this pedal a lot more

appealing for all the guitarists

who enjoy constantly upgrading

their boards with new pedals

but also find it useful to rely on a

device that can drastically open

up the palette of tonal options.

PRS Guitars

Founded in 1985,

Paul Reed Smith Guitars

has cemented

its reputation for high

quality guitars with

an unmistakable look,

and is known worldwide

for being Santana's

six-string builder

of choice. At NAMM

2019 they unveiled

three new signature

models of their SE series:

the SE Santana

Singlecut Trem (pictured),

the SE Schizoid

and SE Paul's Guitar.

The company also

manufactures bass

and acoustic guitars

and guitar amps.

MONO

Already an industry leader in the instrument

case realm, MONO has become a major player

in the pedalboard realm since they entered

it in 2017. Available in five different sizes, the

MONO boards are cut from a single piece of

3mm anodized aluminum, and feature cutouts

optimized to facilitate any kind of custom

wiring. MONO also offers Rise elements

in two different sizes to elevate key pedals.

Each board comes with a sturdy padded soft

case and is available in black or silver.
---
Aggregating the

"Best Pedals of 2018" List

T

he NAMM show gave us the opportunity

to look ahead at what 2019 will have

to offer in the stompbox world, but we

shouldn't miss the opportunity of the new

year to see what devices stood out from the

crowd during the previous twelve months...

Since Delicious Audio is an aggregator of

pedal news and doesn't review gear, our "Best

Stompboxes of 2018" chart is an aggregate

of the year-end lists compiled by other pedal-centered

online resources. Up to this point

(early January at the time of writing), we found

this list of relevant "best ofs": Reverb.com,

The Pedal Zone, Dennis Kayzer, BestGuitarEffects.com,

Popular Mechanics and

Vintage King — the chart in these pages is

compiled by tallying these lists' results.

Here's how we did it: some of these lists (like

The Pedal Zone's one) assigned a specific

"chart position" to each effect, while others

(like the JHS one) just mentioned a list of devices

in no particular order. To add the results

up in a way that made sense, we decided to

assign a value of 10 to any pedal that was

given the #1 spot; we gave second places

9 points, 8 to third places and so on. Pedals

beyond the 9th position got just 1 point.

Lists that didn't specify an order generated 5

points for each pedal.

Here are the results!

P.S. We'll updating this page on

Delicious-Audio.com whenever new,

relevant year-end lists will be published:

bit.ly/BestFX18—keep checking it!

30 delicious audio Winter 2019

1

2

Chase Bliss Audio

Dark World

27 pt.

delicious-audio.com

3

Meris

Enzo

29 pt.

Red Panda

Tensor

23 pt.
---
4 5

EarthQuaker Devices

Pyramids

6 6

20 pt.

8

Benson

Preamp

15 pt.

Beetronix

Royal Jelly

9 pt.

BOSS

MT-2w

10 pt.

Chase Bliss Audio

Thermae

10 pt.

8

10. Chase Bliss Audio - Condor

10. Old Blood Noise Endeavors - Dweller

10. Southampton Pedals - Indie Dream

13. Dwarfcraft Devices - Witch Shifter

14. Electro-Harmonix - OCEANS 11

8pt.

8pt.

8pt.

7pt.

6pt.

Find the full list of 40+ pedals here: bit.ly/BestFX18

KMA Machines

Horizont

9 pt.
---
The Ultimate Guide to

Reverb Pedals

delicious-audio.com

The object pictured here that

looks like a 10 inch-long

metal bath tub is how reverb

effects for guitar looked like

when they first appeared in the

early '60s — although you didn't

really see that, since it was hidden

inside guitar amps like the Ampeg

Reverberocket and the Fender Vibroverb.

Those amps represented

the beginning of a long lasting and

prolific love story: the one between

electric guitar and reverberation.

The first reverb in stompbox format

only appeared in the mid '80s (DOD

and BOSS units), but since then the

acceleration in popularity has been

A spring reverb tank. (Credit: Grebe, Common License)

so swift that, thirty years later, looking

for a reverb pedal has become a

little bit like looking for a car: there's

a wide range of options and prices,

with each model excelling at different

things and offering different features.

This is why when confronted

with the idea of creating a guide to

reverb pedals we decided to organize

it in the four categories below

— you can find the full articles by following

the red links next to the titles.

Best Ambient/Shoegazer Reverb Pedals

bit.ly/GazeVerbs

Once upon a shoe-gazing time, guitarists had few choices when it

came to pedals that could create washes of ambiance. Many players

used multiple delay and reverb pedals at the end of their signal chains

to generate deep, blooming and lingering soundscapes. These days,

thanks to advances in digital signal processing (DSP) chips, pedal

makers can create stompboxes dedicated to this particular brand of

reverb. As it happens, pedals that excel at creating ambience are all

the rage right now. We've spent some time with the current crop of offerings

and have collected 18 that we consider the best. All of the pedals

listed in this article will allow you to create cavernous reverbs with

lingering tails, shimmer effects, delay, modulation and much more.

In this article you'll find these lists:

1. Ambient/Shoegaze Reverb Pedals

2. Ambient/Shoegaze Reverb + Delay Pedals

32 delicious audio Winter 2019
---
Best Multi-Mode Reverb Pedals

bit.ly/Multiverbs

If a simple spring reverb is a little too spartan for you, we have compiled

a list of the best multi-function reverb pedals (aka "Multiverbs") on the

market organized by depth of features and (perceived) popularity. They

range from stompboxes with three or four different reverb flavors to fullblown

workhorses that deliver a dozen ambience algorithms and deep

levels of control. Some are big, some are small, but all will tickle your

craving for the wondrously wet world of reverb.

In this article you'll find these lists:

1. Multi-Algorithm Reverb Workstations

2. Compact Reverb Pedals with 5 or More Modes

3. Compact Reverb Stompboxes with 3-4 Modes

Best Spring Reverb Pedals

bit.ly/SpringRvb

This list focuses on pedals dedicated to the spring reverb effect, which

is based on a design featuring springs in a little tank that vibrate when

your guitar's signal goes through them. A pickup mounted inside the

tank picks up those vibrations and sends them back to your amp. The

spring reverb is an effect associated with the electric guitar sound of

the '60s, brought to fame, in particular, by surf music, and facilitated by

reverb circuits built inside many vintage amps from that decade. The

first Fender Reverb Unit was introduced in 1961 and reissued in 2016.

In this article you'll find these lists:

1. Pedals with Actual Springs

2. Spring Pedals without Springs

3. Mini Spring Reverb Pedals

4. Spring Reverb Pedals with Tremolo

Best Hybrid Reverbs with

Modulation and Fuzz/Distortion

bit.ly/HybridVerbs

Some of the best reverb stompboxes out there are not "pure" reverb circuits,

but feature other effects that are often used with it — without necessarily

being a "do-it-all" reverb workstation. In this article you'll find reverb

mixed with tremolo and other forms of low-frequency modulation, and

with old-school fuzz, distortion and EQ filtering that lets you emphasize

bass or treble frequencies. While many of the entries in this article feature

both classic and modern styles of reverb, a few are satisfyingly spartan,

allowing you to conjure up vintage ambience by turning just a few knobs.

In this article you'll find these lists:

1. Reverb Pedals with Modulation

2. Reverb Pedals with Distortion or Fuzz
---
The New Synths at

NAMM 2019

By Paolo De Gregorio

Elektron

Samples Groovebox

Akai

Pro Force Controller

Korg

Volca Modular

Arturia

MicroFreak

Synths had a slightly muted presence at NAMM

2019 compared with previous years and pedal releases.

The huge "isle" of Eurorack and boutique

manufacturers organized by WMD didn't happen

this year, resulting in several smaller builders deciding to

skip the show. On top of that, several major manufacturers

(Behringer, Moog and Teenage Engineering among

them) opted to have a "ghost presence," passing on the

booth but leaking information about their new releases.

All in all, a few new and intriguing synths were introduced,

and we've got a nice little recap for you.

This standalone Force music production and DJ performance device

is designed for users that want to have a clip-centric workflow,

but don't want to be connected to a computer. To facilitate

this, the Akai Force features an eight-by-eight RGB clip launch

matrix, a seven-inch full-color touch-capacitive multi-touch display,

eight touch-sensitive knobs with graphical OLED displays,

two audio inputs, four audio outputs, MIDI and CV ins and outs.

Additional features include time stretching and pitch-shifting in

real time, a comprehensive set of on-board effects by AIR Mu-

sic Technology, plus the TubeSynth, Bassline and Electric synth

engines. It also boasts an additional synth called "Hype," a preset

and macro-based synth combining several different synth

engines into a single easy-to-use package. It can also record

eight stereo tracks, and the recent 3.01 update includes other

exciting new features.

Described as "a peculiar instrument that rewards the curious

musician," the MicroFreak is a hybrid analog-digital synth built

around a unique, expressive touch keyboard, and propelled by

11 oscillators, four Arturia engines, and seven modes designed

by Mutable Instruments. Offering various approaches to synthesis

like physical modeling, wavetable synthesis and virtual

analog, modes like Texturer, KarplusStrong, Harmonic OSC,

and Superwave offer new takes on sound design that inspire

musicians in search of new palettes of sonic possibilities.

This is a decidedly more streamlined—and therefore also more

affordable—product, compared to the ones Elektron got us

used to. A six-track, one-function-per-knob, sample-based

drum machine, the Samples Groovebox feels like a lighter,

easier-to-use version of the company's Digitakt, and comes

with 300 drum sounds and the ability to load your own samples,

hence the name. Elektron's useful composition tools combine

36 delicious audio Winter 2019
---
Y15194 Deli Magazine Yamaha Synth.indd 1

2/20/19 12:19 P
---
Moog

Sirin

Korg

Minilogue XD

Yamaha

CP73 /CP88

Teenage Engineering

PO Modular

Behringer

Crave

with supreme portability, making this device an intriguing product

for producers on the go.

The Minilogue is one of the most successful new synths of the

decade, and Korg unveiled an updated "XD" version that will

likely reinforce its dominance. The new features include a digital

multi-engine, a multi-effects processor, enhanced input and

output, an improved sequencer, and microtuning support.

Korg introduced the Volca Modular—a powerful mini-modular

synth under $200 featuring eight modules, 50 patch points, a

step sequencer, microtonal support and more. Korg describes the

Volca Modular as "a fusion of West Coast-style in a Volca format,"

and when Korg refers to "West Coast-style," it's talking about FM

synthesis. The eight modules include an FM source, two envelope

generators called "Functions," a random signal generator

called "Woggle," two low-pass gate circuits, a reverb effect, and

a module that allows you to connect the Volca to a sequencer.

Yamaha's renewed focus on synths was confirmed at NAMM

2019 through the release of two stage pianos that also feature

classic synthesizer sounds inside them: the CP73 and CP88. Neither

is exactly as affordable or compact as the Reface mini-synth

series, the CP73 and CP88 are powerhouse keyboards for professional

musicians and feature weighted keys, incredibly realistic

piano sounds, and an extensive library of samples. A big effort

went into creating intuitive controls for on-the-fly sound shaping,

and these keyboards feature "one-on-one" controls that only have

one function to avoid confusion. The CP series also features a very

creative effect section including a looper and several other effects.

"NAMM Ghosts":

Moog, Behringer and Teenage Engineering

Moog is among those who didn't participate directly at NAMM

but released products just before the show, and unveiled a colorful

tabletop monosynth called Sirin, based on the Taurus Bass

engine. Unlike its relative, it can also deliver lead sounds. Behringer

was very active with new releases, but we'll skip all its

clones of other synths and focus on the one new original synth—

Crave, an extremely affordable semi-modular analog device featuring

a VCO, a ladder filter, 32-step sequencer and 16-voice Poly

Chain. Finally, Teenage Engineering leaked news and videos of

its PO Modular systems, a truly intriguing, portable, super-affordable

and semi-DIY mini-modular system that already features 15

modules and all the usual flair of the Swedish company's devices.

38 delicious audio Winter 2019
---
"The combination of onboard controls,

built-in filter and openness to CV

modulation makes EuroDDL capable

of creating quite adventurous sounds."

— Ask Audio

Eventide is a registered trademark of Eventide Inc. © 2019 Eventide Inc.

UNO_SYNTH_ADV_2018_v1_HALF_pedalexpos_20190221_6.125x2.9375_OL.indd 1 21/02/2019 17:55
---
Try (and Win) These at the

AUSTIN

SYNTH EXPO

2019

The Chuggin' Monkey

219 E 6th St, Austin TX

Friday March 15: 12pm - 7pm

Saturday March 16: 11am - 6pm

Novation

Circuit

• A groove box with two polysynths

and a four-part drum machine,

combined with an intuitive gridbased

sequencer.

• New firmware unlocks new useful

functions like Sample Flip, which

lets you place multiple samples on

the same drum track, and a more

streamlined workflow.

• A new editor also allows you to

design complex patches from the

comfort of your computer screen.

Here's a selection of the synths you'll find

at the Austin Synth Expo – by the way

WE ARE GIVING AWAY

ONE OF EACH! (And more.)

See: bit.ly/ATX19gives

Toraiz

AS-1

• A monophonic analog synthesizer with touchpad-style

keyboard and slider.

• Driven by a fully programmable, true analogue synthesis

engine based on the circuitry in Dave Smith Instruments'

Prophet-6.

• Features 7 on-board effects from the Prophet-6 synth

and a brand new digital distortion.

40 delicious audio Winter 2019

Sensel

Morph

• A multi-touch, battery powered,

programmable surface

that can become a series of

different controllers thanks to

different overlays that can be

purchased separately.

• Approx. 20,000 pressure sensors

and 5g - 5kg sensing

range per touch (32,000 levels)

to achieve the highest level of

touch sensitivity.

• Connects to your device using

Wireless Bluetooth LE, USB,

or Serial.

IK Multimedia

UNO

• IK Multimedia's entry in the hardware synthesizer world

is a collaboration with Italian boutique synth-maker

Soundmachines.

• Portable, monophonic, true analog synth with 2 VCOs,

noise generator, resonant multimode VCF and VCA.

• 2-pole OTA-based analog resonant sweepable multimode

filter with LPF, HPF and BPF.

• Custom-designed, dual-stage overdrive and flexible

LFO section.