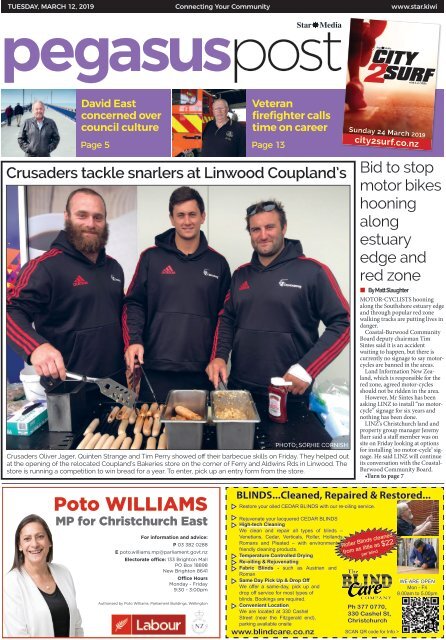 Pegasus Post: March 12, 2019
Do you know the secret to free website traffic?
Use this trick to increase the number of new potential customers.
TUESDAY, MARCH 12, 2019

Connecting Your Community

www.star.kiwi

CITY

2SURF

with Les Mills

David East

concerned over

council culture

Page 5 Page 13

Veteran

firefighter calls

time on career

Crusaders tackle snarlers at Linwood Coupland's

PHOTO: SOPHIE CORNISH

Crusaders Oliver Jager, Quinten Strange and Tim Perry showed off their barbecue skills on Friday. They helped out

at the opening of the relocated Coupland's Bakeries store on the corner of Ferry and Aldwins Rds in Linwood. The

store is running a competition to win bread for a year. To enter, pick up an entry form from the store.

CITY

2

2SURF

Sunday 24 March 2019

city2surf.co.nz

with Les Mills

Bid to stop

motor bikes

hooning

along

estuary

edge and

red zone

• By Matt Slaughter

MOTOR-CYCLISTS hooning

along the Southshore estuary edge

and through popular red zone

walking tracks are putting lives in

danger.

Coastal-Burwood Community

Board deputy chairman Tim

Sintes said it is an accident

waiting to happen, but there is

currently no signage to say motorcycles

are banned in the areas.

Land Information New Zealand,

which is responsible for the

red zone, agreed motor-cycles

should not be ridden in the area.

However, Mr Sintes has been

asking LINZ to install "no motorcycle"

signage for six years and

nothing has been done.

LINZ's Christchurch land and

property group manager Jeremy

Barr said a staff member was on

site on Friday looking at options

for installing 'no motor-cycle' signage.

He said LINZ will continue

its conversation with the Coastal-

Burwood Community Board.

•Turn to page 7

Poto WILLIAMS

MP for Christchurch East

For information and advice:

P 03 382 0288

E poto.williams.mp@parliament.govt.nz

Electorate office: 133 Brighton Mall

PO Box 18898

New Brighton 8641

Office Hours

Monday - Friday

9:30 - 3:00pm

Authorised by Poto Williams, Parliament Buildings, Wellington

BLINDS...Cleaned, Repaired & Restored...

Restore your oiled CEDAR BLINDS with our re-oiling service.

Rejuvenate your lacquered CEDAR BLINDS

High-tech Cleaning

We clean and repair all types of blinds –

Venetians, Cedar, Verticals, Roller, Hollands,

Romans and Pleated – with environmentally

friendly cleaning products.

Temperature Controlled Drying

Re-oiling & Rejuvenating

Fabric Blinds - such as Austrian and

Roman

Same Day Pick Up & Drop Off

We offer a same-day, pick up and

drop off service for most types of

blinds. Bookings are required.

Convenient Location

We are located at 330 Cashel

Street (near the Fitzgerald end),

parking available onsite

Roller Blinds cleaned

from as little as $22

per blind

Ph 377 0770,

330 Cashel St,

Christchurch

www.blindcare.co.nz SCAN QR code for Info >

WE ARE OPEN

Mon - Fri

8.00am to 5.00pm
---
2 Tuesday March 12 2019

Latest Christchurch news at www.star.kiwi

get in touch

from the editor's desk

IT'S ONLY taken six years, but finally

the Government organisation which

looks after the red zone has woken up to

the need for "no motor-cycle" signs in

Southshore.

Local community board member Tim Sintes (see page 1) says

people using the walking tracks and beach are in danger. He

is worried there will be the odd punch-up too as frustration

grows.

Sintes raises a valid point about the motor bikes. The sooner

the signs are put up the better.

And bad news for seagulls on page 3. The city council is looking

at seagull-proof rubbish bins on the north and south ramps.

No doubt they'll swoop elsewhere for the left over chips and

bits of batter.

– Barry Clarke

GENERAL INQUIRIES Ph 379 7100

CLASSIFIED ADVERTISING Ph 379 1100

Star Media, a division of Allied Press Ltd

PO box 1467, Christchurch

starmedia.kiwi

news

British expat's work to enhance Richmond

Cathy Allden has worked tirelessly to get the suburb back on

its feet after the quakes.

Page 8

sport

Players vie for Shirley Boys' first XV spot

About 45 students are braving early starts on Monday, Tuesday

and Wednesday to push their case for selection.

Page 17

community events

PEGASUS POST

Golden Oldies Movie

Indulge your love for old films and head to the New Brighton

Museum on Monday at 1pm to catch the The Young Ones.

NEWS

Matt Slaughter

Ph: 021 910 788

matt.slaughter@starmedia.kiwi

ADVERTISING

Elaine Moon

Ph: 364 7436

elaine.moon@starmedia.kiwi

Page 19

The best-read local newspaper, delivered to

15,657 homes every Tuesday

Linwood, Avonside, Richmond, Shirley, Burwood, Dallington,

Wainoni, Bromley, Aranui, Avondale, Bexley, New Brighton,

Northshore, Queenspark, Parklands, South Brighton.

Secondary Schools' Enrolment

Scheme Consultation

Greater Christchurch state secondary school principals and

boards of trustees have undertaken a joint effort to strengthen the

current secondary network. One of the outcomes of this work

is the proposed implementation of new enrolment schemes

and amendments to existing enrolment schemes for some coeducational

state secondary schools. There are seven secondary

schools proposing to amend or implement a scheme, which are:

• Burnside High School

• Haeata Community Campus

• Hillmorton High School

• Linwood College

• Mairehau High School

• Papanui High School

• Riccarton High School

More information on this process and an online

survey to gather feedback can be found at:

www.shapingeducation.govt.nz/secondary

There are also public meetings to gather feedback:

• Wednesday 20th March, 7pm – 8pm – Hillmorton High School

• Monday 25th March, 7pm – 8pm – Papanui High School

• Tuesday 26th March, 7pm – 8pm – Riccarton High School

• Thursday 28th March, 7pm – 8pm – Burnside High School

• Tuesday 2nd April, 7pm – 8pm – Linwood College

• Thursday 4th April, 6.30pm – 7.30pm – Mairehau High School

• Wednesday 10th April, 6pm – 7pm – Haeata Community Campus

Similar content will be covered in all sessions, so feel free to

attend whichever best suits your schedule.
---
PEGASUS POST Latest Christchurch news at www.star.kiwi

Tuesday March 12 2019 3

News

Revolutionary plan for red zone

• By Matt Slaughter

A NEW, children-friendly

development along the

Richmond end of the Avon River

will aim to help Banks Avenue

School Pupils recover from the

trauma of the earthquakes.

Avon-Otakaro Network's

Evan Smith said about four out

of five Banks Avenue School

pupils had been left with some

form of post-traumatic stress

disorder.

Banks

Avenue School

principal

Toni Burnside

said an ongoing

study by

Canterbury

Toni Burnside

University associate

professor

Kathleen

Liberty had found Banks Avenue

pupils continued to show symptoms

of PTSD almost nine years

on from the first quake.

Mrs Burnside said these

symptoms included not being

able to focus in class, having

separation anxiety from their

parents and struggling to sleep

at night.

Mr Smith said Avon-Otakaro

Network's so-called Riverlution

project would aim to bring

normality and fun back into the

lives of pupils and residents who

had been surrounded by red

zone for so long.

"With the behaviours some

of the kids are exhibiting, they

calm down a lot if they're out

and about and getting in touch

with the dirt."

The development would run

from Glade Ave to Banks Ave

and include a number of features

including kids walking trails,

play areas gardens, a pop-up cafe

and a tiny house village.

"For a long time this area has

been a place of fear and now it

can be a part of the solution.

It's really just enabling kids to

RECOVERY:

The

Riverlution

project will

aim to bring

normality

back into the

lives of Banks

Avenue

School pupils

who have

been affected

by the

trauma of the

earthquakes.

have an opportunity to explore

the space and be at peace with it

again," said Mr Smith.

He said Banks Avenue

pupils would get to choose

one feature to include in the

project and the discussion on

what this would be was in its

early stages.

Mrs Burnside said Ms Liberty

was continuing to work with

Banks Ave's teachers to develop

strategies to help pupils with

PTSD cope at school.

These included "drink to

think," a daily initiative where

children are made to drink milk,

having play time before lunchtime

so students are

settled when they come

back into the classroom and

having a snack break between

the start of school and morning

tea time.

She said involving pupils in

the Riverlution project would

be another positive step towards

their recovery.

"We've been devastated here,

so it's really nice for them to

be a part of that re-growth

and rejuvenation . . . in years

to come, they'll remember the

earthquakes, but they'll also

remember that they've played a

part."

Local

News

Now

In Brief

Fire rages, homes at risk

YACHT CLUB BUILDINGS

Pleasant Point Yacht club has had

two buildings moved onto its site

in South New Brighton Domain.

Two buildings previously used

as makeshift lecture theatres

at Canterbury University were

shifted by crane on Tuesday

and Thursday. The buildings are

expected to be fully operational

by July, with the club hoping to

host an opening in September.

YOUTH DEVELOPMENT FUND

$3000 has been added to the

Coastal Burwood Community

Board's youth development fund.

The funding boost was approved

at a meeting last Monday. The

money will be given to young

people in a number of different

fields including sport, education

and leadership The value that

was initially proposed was $2500,

but Coastal Ward city councillor

David East convinced the board to

add the extra $500.

NEW BRIGHTON BINS

City council staff will be asked to

consider installing seagull-proof

bins on New Brighton's north and

south ramps and south of the pier.

The Coastal-Burwood Community

Board will ask that they be

replaced by Bigbelly bins, which

are designed to keep seagulls out.

HIKING BOOTS

& SHOES

For men, women

and children

From

$79.95

to $250

47c Garlands Road, Woolston

Phone 389 3431

www.thefootwearfactory.co.nz

Need funding

for a

community

project?

Strengthening Communities

Fund applications now open

until 9 April

Apply at

ccc.govt.nz/SCFund

or call 03 941 5448

What happens

to the contents

of your green bin?

Come along to the

Organics Processing Plant

OPEN DAY!

Saturday 16 March

10am–3pm

FREE ENTRY

40 Metro Place, Bromley

(next to EcoDrop)

Parking onsite or on Metro Place

Hosted by

• See New Zealand's largest

compost windrow turner

• Prizes and giveaways

• Informative, educational and

fun for the whole family

on This Weekend!

MAR 16-17

10am-6pm

Sat & Sun

ADDINGTON RACEWAY

Adults $10, Children free

62 free workshops plus 121

exhibitors! Full details online

bodymindspirit.co.nz

RED

GREEN

YELLOW

For more information, phone 941 8999

or visit ccc.govt.nz
---
4

Tuesday March 12 2019

233 Riccarton Road

Phone 341 5419

"Easiest to find Denture

Clinic in Christchurch"

ENTER NOW!

Sunday 24th March

PARENTS

Do you have a son or daughter

interested in horse riding?

✭ We run courses every weekend.

✭ 2, 5 & 7 day School Holiday courses.

✭ Private lessons available

Monday to Friday

✭ An alternative to private horse ownership.

✭ Opportunity to compete on our horses.

✭ Opportunity to join Pony Club.

Fully supervised, fun & educational.

2064941

711 Island Rd View Hill, OXFORD 7495

03 312-4309 www.kowhai.co.nz

It's our

45th

Anniversary Year!

city2surf.co.nz

Latest Christchurch news at www.star.kiwi

News

Reserve developments

• By Matt Slaughter

AN OVERHAUL of

reserves in South New

Brighton is set to continue.

The city council has said

the designs for new projects

in a plan to improve

parks and green areas

throughout South New

Brighton can start.

A new pump track in

South New Brighton Park

and new picnic areas in

southern Bridge St and

Blighs Garden will be

designed.

The projects are expected

to be completed by 2021.

They are part of

a plan, which was

created in 2014 to

revamp Blighs Garden,

Bridge Reserve

and South New

Brighton Park.

Work has already

occurred in all of

the areas and so far,

has involved the removal

of trees, the demolition

of earthquake damaged

buildings and the construction

of some infrastructure

including a new

toilet and jetty in South

New Brighton Park.

Once the pump track

and picnic areas are

Tim Sintes

PROGRESS: Developments will continue in South

New Brighton reserves.

completed, they will be followed

by the development

of other infrastructure

including walking tracks,

car parks, playgrounds,

green areas and

toilet facilities.

Coastal-Burwood

Community Board

deputy chairman

Tim Sintes said the

reserves had been

hammered in the

earthquakes.

"There's not an

area around that didn't

need work

. . . they were just in a general

state of disarray."

He said the parks were

used by large numbers of

residents and the developments

would do a lot to

boost the morale of the

South Brighton community.

PEGASUS POST

"It's really big, it means

so much."

"When things get tidied

up, it restores the pride in

the area."

Coastal Ward city councillor

David East said the

pump track and picnic area

projects that had just been

green-lighted would help

attract more visitors to

South New Brighton.

"Blighs garden is an

under-utilised area at the

moment, so some improvements

down there will be

a welcome edition. The

bridge street area

. . . to have a picnic area

there is good and the bike

track pump station in the

domain itself to me is just a

complementary activity to

a lot of great things that are

in there now."

Seven retirement villages

in Canterbury

• Halswell • • Rangiora •

• Mairehau •

style

noun

elegance and sophistication.

synonyms: flair, grace, poise, polish, suaveness,

urbanity, chic, finesse, taste, class, comfort,

luxury, affluence, wealth, opulence, lavishness.

• Beckenham • • Riccarton • • Papanui • • Hornby •

www.rymanhealthcare.co.nz • 0800 000 290

MAGAZINE

STYLE.KIWI
---
PEGASUS POST Latest Christchurch news at www.star.kiwi

Tuesday March 12 2019 5

Council culture worries East

• By Julia Evans

UNDER FIRE city councillor

David East is worried about the

internal culture among some city

council staff.

It has been six months since Cr

East accused city council staff of

tampering with the District Plan.

He has since been embroiled in a

code of conduct complaint.

But he said the saga had

sparked concerns about aspects

of the city council's culture.

Cr East passed on those concerns

to Mayor Lianne Dalziel,

chief executive Karleen Edwards

and his city council colleagues.

He said the majority of staff are

"brilliant" and do an "exceedingly

good job" for the council.

"However, in parts, there is resistance

and a culture that is detrimental

to the future progress of

the city . . . there is a reluctance

to embrace a can-do attitude."

He said he has lodged his own

code of conduct complaints

against two senior staff members.

They had not yet been formalised,

but he said staff were "on

notice."

"One senior member wrote

something in an email to question

my ability . . . the other was

a verbal comment made in the

council foyer," he said.

SIEGE: City councillor David East is still calling for an

independent inquiry into how a clause was left out of the

District Plan.

Cr East has been under fire

since he claimed a clause in the

District Plan, giving leeway to

people in specific coastal areas,

deemed at risk of flooding, to

build and extend homes, was

intentionally left out by staff.

His call was backed by Coastal-

Burwood Community Board

chairwoman Kim Money and

deputy chairman Tim Sintes,

and Linwood-Central-Heathcote

Community Board member Darrell

Latham, who face their own

code of conduct complaints.

As a result of the outspoken

comments, Greater Christchurch

Regeneration Minister

Megan Woods approved the city

council's proposal to amend the

District Plan under section 71 of

the Greater Christchurch Regeneration

Act.

Cr East acknowledged Dr

Woods, Ms Dalziel, Dr Edwards

and staff for fast-tracking the

changes.

But he is still calling for an

urgent, independent inquiry into

how the clause was left out.

An audit, which the city council

commissioned, by Environment

Canterbury councillor and

former Environment Court judge

Peter Skelton found there never

was a missing clause.

However, Cr East said the

Skelton audit did not address a

number of irregularities or how

the clause came to be missing.

Ms Dalziel and Dr Edwards are

demanding a further apology,

he said. "I think my major

objection is I've been proved

guilty as charged and the inquiry

is needed to say if there's any

substance to the claims," Cr East

said.

"I apologised and I'm not

wanting to do it again and again

. . . the independent inquiry

would bring to the fore these

irregularities in the District Plan,

why should I apologise before

that?"

Local

News

Now

Fire rages, homes at risk

Coastal climate

change plan

goes 'off-track'

• By Julia Evans

SOUTHSHORE residents feel

climate change might come

sooner than their promised

regeneration plan.

Regenerate Christchurch has

told the city council the Southshore

and South New Brighton

project was "off-track" as it undertook

an internal review. It announced

coastal residents would

be consulted in July about the

future of their suburbs to come

up with solutions to manage the

impacts of climate change.

But Southshore Residents'

Association chairwoman Lynda

Burdekin said it was "incredibly

disappointing" to hear the plan

had been delayed. "If they wait long

enough, they won't have a problem.

We're feeling really let down– we

put a lot of work into working with

Regenerate," she said.

Regenerate chief executive Ivan

Iafeta said it is reviewing the

project's next phase with the city

council, Environment Canterbury

and Ngai Tahu. "Because of

the complexity of the overlapping

issues associated with the earthquakes

and climate change, it is

important to review and refine

our approach."

Your local friendly Bar

200gm Steak, Salad & Fries

Just $15.50 or 2 for $25

With a drink purchase on Monday nights

Buy a main meal & get another

for $5 Sunday nights. Conditions Apply

Chats Bar

251 Travis Road,

QEII Shopping Centre

Ph: 388 1566

Tuesday quiz nights

Wednesday karaoke

Thursday live music

Sky Sports

Courtesy van

LIQUID

SELF SERVICE

LAUNDROMATS

345 STANMORE RD, RICHMOND • 713 FERRY RD, WOOLSTON

261 BURWOOD RD, BURWOOD • 319 PAGES RD, ARANUI

ALL SITES OPEN 7 DAYS, 5AM-11PM

WASH 2 MINK

BLANKETS OR

DUVETS

FOR ONLY $8

HOT WATER &

EXTRA LARGE

WASHERS

AVAILABLE

Dry up to 14kg from $4

in only 25 minutes!

Save Time &

Electricity

WASH & DRY

ALL YOUR

LAUNDRY IN

UNDER 1 HOUR

from

$

4.00 WASH $ 4.00 DRY

• Fast Dryers

• Sports Gear

• Duvets

• Mink Blankets

• Bedding

• Washers

• Domestic Laundry

OVER 65 LOCATIONS NATIONWIDE

Other Locations: Sydenham • Hornby • Hoon Hay • Rangiora

www.liquidlaundromats.co.nz
---
6 Tuesday March 12 2019

Latest Christchurch news at www.star.kiwi

PEGASUS POST

END OF SUMMER READS

NEW RELEASES

The Hunt for MH370

The mystery. The cover-up. The Truth

By ean Higgins

Somewhere out in the wild seas of the southern Indian Ocean, in

the underwater canyons of Broken Ridge near the alien sub-terrain

known as the Seventh Arc lies the answer to the world's greatest

aviation mystery.

Why, on the night of 8 March 2014, did Malaysia Flight MH370

suddenly U-turn on the trip from Kuala Lumpur to Beijing, zig-zag

over Malaysia and up the Straits of Malacca, then disappear in the

middle of nowhere without a word from anyone on board?

Was it an elaborate murder-suicide by a rogue pilot? A terrible

accident as a result of an on-board fire, rapid decompression or

systems failure? A terrorist hijacking gone wrong? Was the flight

captured by North Korean spies? Or even, as a few extremists

believe, the victim of extra-terrestrial intervention? Journalist for The Australian Ean Higgins has led

the world's coverage of the MH370 saga, one of the 21st century's most baffling, enduring and

controversial mysteries. Ean's book draws on five years of interviews with aviation experts, victim

families, air-crash investigators and air and ocean hunters, and takes us inside the saga like never

before, written up close, on the inside, and from the major player's perspectives.

Untitled By Anna Pasternak

Who was the real Wallis: an opportunistic American social climber,

a master manipulator or the true love of Edward's life? Amid the

cacophony of condemnation her story has become obfuscated.

Untitled is an intimate biography of one of the most misunderstood

women in British royal history. His charisma and glamour ensured

him the status of a rock star prince. Yet Edward gave up the British

throne, the British Empire and his position as Emperor of India, to

marry his true love, American divorcee Wallis Simpson. So much

gossip and innuendo has been levelled at Wallis Simpson that it

has become nearly impossible to discern the real woman. Many

have wondered why, when Edward could have had anyone he

desired, he was smitten with this unusual American woman. As

her friend Herman Rogers said to her in 1936 when news of her

affair with Edward broke: 'Much of what is being said concerns a

woman who does not exist and never did exist.' History is mostly

perceived from the perspective of his-story.

Keepers of History

New Zealand Centenarians tell their stories.

By renee Hollis

From the everyday to the extraordinary, these are the stories of New

Zealand centenarians who have lived through history. In 2017,

Renee Hollis interviewed 120 people over the age of 100, living in

every region of New Zealand. Along the way, she had the privilege

of interviewing 23 World War II veterans. Her goal in compiling the

book was to preserve New Zealand history by sharing the stories and

memories of our eldest citizens. She wants all people to value the

elderly and to read and appreciate their stories and contribution to

our society. Most importantly, she wants to ensure that that they are not forgotten and do not become

invisible in our communities, but instead are honoured and celebrated. In this collection of interviews,

we meet opera singers and farmers, a politician and a racing car driver, a nun and a freedom fighter

with Gandhi, and even a member of Hip Operation - the oldest hip-hop group in the world! They have

witnessed momentous global events and technological innovations that have changed our world.

Mutiny on the Bounty

by Peter Fitzsimons

The mutiny on HMS Bounty, in the South Pacific on 28 April 1789,

is one of history's truly great stories - a tale of human drama,

intrigue and adventure of the highest order - and in the hands of

Peter FitzSimons it comes to life as never before. Commissioned

by the Royal Navy to collect breadfruit plants from Tahiti and take

them to the West Indies, the Bounty's crew found themselves in

a tropical paradise. Five months later, they did not want to leave.

Under the leadership of Fletcher Christian most of the crew mutinied

soon after sailing from Tahiti, setting Captain William Bligh and

18 loyal crewmen adrift in a small open boat. In one of history's

great feats of seamanship, Bligh navigated this tiny vessel for 3618

nautical miles to Timor. Fletcher Christian and the mutineers sailed

back to Tahiti, where most remained and were later tried for mutiny.

But Christian, along with eight fellow mutineers and some Tahitian

men and women, sailed off into the unknown, eventually discovering the isolated Pitcairn Island - at

the time not even marked on British maps - and settling there. This astonishing story is historical

adventure at its very best,encompassing the mutiny, Bligh's monumental achievement in navigating to

safety, and Fletcher Christian and the mutineers' own epic journey from the sensual paradise of Tahiti

to the outpost of Pitcairn Island.

paperbacks

titles may vary

selected titles $9.99 each or

3 for $25

1005 Ferry rd

Ph 384 2063

while stocks last (see instore for terms and conditions)

Barry & kerry
---
PEGASUS POST Latest Christchurch news at www.star.kiwi

Tuesday March 12 2019 7

News

Dog attack concerns in Southshore

• By Matt Slaughter

NOT ENOUGH is being

done to prevent dog attacks

in Southshore, says an ex-dog

owner of 30 years.

However, the city

council's head of regulatory

compliance Tracey Weston says

Southshore and other beach

suburbs do not have a reputation

for dog attacks and the city

council's current approach to dog

control is working fine.

But Southshore resident Bernie

Calder claimed residents on

his street have had their dogs

attacked in the past.

One neighbour's terrier was

even killed as a result of an

attack, he said.

"This vicious dog that had

killed before somehow got out of

the household and went straight

over to this chap's dog and

started going at it. Fortunately,

he managed to grab hold of it

and took it back home. There

was no further action against the

owner."

At a Coastal-Burwood

Community Board meeting last

Monday, Mr Calder said the

board should request the city

council tighten its stance on dog

control.

"My view is that any dog which

has attacked another dog should

really be muzzled in public

because they should be able to

have their dog approach another

one without it being killed."

Ms Weston said dog control

already took this approach.

"Dogs that are classified as

'menacing or dangerous' are

required to be muzzled while at

large in a public place."

However, Mr Calder said in

the cases he and his neighbours

had been involved in, dog control

only issued warnings to the

owners of aggressive dogs. He

said muzzling was not done often

enough.

However, Ms Weston said

dog control takes all the steps

necessary to prevent dog attacks.

"Public safety is paramount in

the functions we perform. We

manage dog aggression on a

case-by-case situation, where

warnings are appropriate,

we issue them, and where

classification, based on

evidence, it is appropriate we do

that."

Southshore Residents

Association chairwoman Lynda

Burdekin, who has owned a

dog, said from what she has

seen, more muzzling of dogs is

necessary.

"In an area where there are lots

of dogs, lots of families, young

children who are not always

terribly careful around dogs, you

need to have good control and

if you haven't got a dog that you

can rely on, it does need to be

muzzled."

•From page 1

Mr Sintes hopes these

conversations will lead to action,

but said he is disappointed it has

taken so long for new signage to

be seriously considered.

Mr Sintes said if nothing is

done to stop motor-cyclists

riding through the areas "there's

going to be fisticuffs."

"There's been a bit of an

increase in it happening and

it's just a bit of a concern that

residents might take things into

their own hands and it might get

out of control."

"It's a very, very popular

walkway and cycleway with

families and, if you get a motor

bike hooning down there,

it's very dangerous and then

occasionally we get one hooning

down to the estuary."

Said Mr Barr: "We are aware

of the issue of motor-cyclists

using walking tracks in the

Southshore red zone and estuary

area. We have had complaints

about this in the past."

Mr Barr said LINZ has put

measures in place to try and stop

the problem, but they had not

been effective.

"There is signage in place that

says no unauthorised access, and

our security guards regularly

Local

News

Now

Fire rages, homes at risk

Hooning motor-cyclists an

accident waiting to happen

HOONS: Motor-cyclists riding

in the Southshore red zone

and estuary edge are causing

problems for residents.

patrol that area. They have in

the past asked motor-cyclists to

move on. This, unfortunately,

has only temporarily addressed

the issue."

Mr Sintes said some motorcyclists

had intimidated walkers

in the past when they had been

asked to get off their bikes.

"Invariably they get pretty

aggressive . . . it's not pleasant for

anyone. They went down there

for a walk, not an argument."

He said it shouldn't have to

come to this and LINZ should

act on the issue now.

JOIN US NOW!

See website for details

ASICS

Massive Summer Sale: 1000's of Shoes Under

$100, All Clothing Priced to Clear from $10.

FILA

Further 20% Off All Compression

(some exclusions apply).

CONVERSE

Buy 1 Get 1 Half Price on Almost Everything

(ends Thursday 14 March).

STYLES MAY DIFFER TO IMAGE SHOWN

THE BAG LAB

Huge Selection of Bags Up To 75% Off RRP,

From $35 - $50.

LAZEEZA JEWELLERS

40 - 70% Off All Sterling Silver Jewellery

& Accessories.

UNDER ARMOUR

2 Tee's & 1 Pair Shorts for $100

(terms & conditions apply).

BENDON OUTLET

Biggest Bra Sale

(selected styles only, terms & conditions apply).

Sign up to Smart Deals & be in the monthly draw for a $100 Dress-Smart gift card!

Be one of the first to hear about the latest deals, sent straight to your inbox each week!

CHRISTCHURCH 409 Main South Road, Hornby

www.dress-smart.co.nz

Open 10am-5pm, 7 Days 03 349 5750
---
8 Tuesday March 12 2019

Latest Christchurch news at www.star.kiwi

News

Subdivision

gets new

reserves

• By Matt Slaughter

FOUR EMPTY plots of land in

the Prestons subdivision will

become recreation reserves.

The Coastal-Burwood Community

Board approved the proposal

and the reserves' names at

a meeting last week.

The decision means the

reserves will now be maintained

regularly by city council staff.

It has previously not been

responsible for the areas because

unnamed reserves cannot be

placed under the city council's

schedule of maintenance.

The community board agreed

the renaming was the best

option for all involved because it

means the reserves can now be

easily located by residents and

their use can be promoted by the

city council.

The reserves will receive their

official names in the next month.

The names are:

1. ​Aopori Reserve (Prestons

Park Drive)

2. Arokehe Reserve (Avemore

Drive)

3. Kowaro Reserve (Prestons

Park Drive)

4. Mara Reserve (Katrine

Drive)

The city council also plans to

extend Marshland Domain.

• By Matt Slaughter

WHEN CATHY Allden laid eyes

on Richmond in 2007, she knew

she was home.

The British expat fell in love

with New Zealand's landscapes

when she first visited in 2001.

When she and her partner

John Cleminson decided

to start their house hunt in

Christchurch, they quickly

realised they loved no landscape

more than the one around

Richmond.

"We really loved the river and

we loved the proximity to the

city and we didn't look much

further than within a 1km radius

of the river."

After the February 22, 2011,

earthquake, the surroundings

Miss Allden had grown so fond

of all but disappeared.

Her house was one of the few

still habitable in her street, just

five houses down from the red

zone.

The stress of the situation was

added to Miss Allden's attempts

to have a child through IVF in

2012, which eventually led to the

birth of her son Jack in 2013.

Seeing damage all around her,

Miss Allden realised she wanted

to do whatever she could to help

Richmond recover.

After quitting her job as a

travel agent to become a fulltime

mum, she decided to make

Local

News

Now

British expat's love of Richmond

LEGEND: Cathy Allden has worked tirelessly to get Richmond

back on its feet post-quake.

PEGASUS POST

Fire rages, homes at risk

this her mission. It all started

with a paddling pool.

"Me and a couple of other

mums put together a petition

and went and did a deputation

to the city council for the Long

Term Plan to get the paddling

pool at Avebury House fixed.

That got approved."

Miss Allden said she got such

a buzz out of making this project

happen she became hungry to do

more.

"That was the catalyst really

that started the momentum of

a sense of empowerment that

we could actually do more and

engage more and take ownership

of the post-earthquake recovery

in Richmond."

She then decided to turn

her attention to Richmond's

green spaces and became the

co-founder of the Richmond

Community Garden.

The garden was started on the

edge of the River Rd red zone in

2017 and its contributors have

since worked on a number of

community planting and green

space development projects with

schools and other community

organisations.

Miss Allden said the space has

helped connect the Richmond

community.

"We're showing skills and

growing food resilience and

really working together as a

village to support each other."

Call to put toilets near QE II hydrotherapy pool

• By Matt Slaughter

THE DISTANCE between the

hydrotherapy pool and the toilets

at Taiora: QE II Recreation and

Sport Centre is causing pool

users embarrassment.

Parklands resident Aileen Trist

said the hydrotherapy pool was

most often used by people who

need close access to the toilet and

changing room facilities.

However, the hydrotherapy

pool is further away from the

facilities than any other pool at

the venue.

"People that use the

hydrotherapy pool use it because

they have a disability, whether

it's a big one or a small one, they

have mobility problems."

City council head of recreation,

sports and events Nigel Cox said

the hydrotherapy pool was 55m

away.

He said installing the pool

any closer to the facilities had

not been an option because the

budget for it was a late addition.

"The hydrotherapy pool was an

addition to the original design

and was included in April 2017

after construction had already

started."

Mrs Trist said her husband

Tony has suffered two strokes

and is paralysed down his left

side.

He was almost left

embarrassed trying to get to the

facilities during the couple's last

trip to QE II, she said.

Mrs Trist wants three

uni-sex toilet facilities to

be installed closer to the

hydrotherapy pool so others

like her husband do not have to

struggle in the future.

She discussed this proposal in

front of the Coastal-Burwood

Community Board at its meeting

last week.

The board requested the

city council seek urgent advice

on how the toilets could be

added.

Mr Cox said the city

council was aware of Mrs

Trist's concerns, but there are

currently no plans and no

funding available to install more

accessible toilets.

Mrs Trist said it was not good

enough.

"I don't want QE II known

as the pool complex in

Christchurch that's always

having code browns because

we're getting the highest

number."

SCHOOL'S NOT FOR EVERYONE!

NOT SURE WHAT YOU WANT TO DO THIS YEAR?

FREE

19 WEEK

COURSE!

Ultimate offers the opportunity to earn credits towards NCEA Level 1,

gain your learner drivers license plus a range of tasters of other

courses; barista training, early childhood, and driving quad bikes and

tractors. Gain a wider skill set in a fun, engaging place to learn.

If You Didn't enjoy school,

then this is the Ultimate

alternative - learn in a

fun and engaging way!

FOR 16-19

YEAR OLDS!

EARN

NCEA

LEVEL 1

CREDITS!

enrol now

for march

intake

hello@trainme.org.nz | www.trainme.org.nz | Call free on: 0800 872 466 | Visit us at: 50 Hazeldean Road, Addington
---
PEGASUS POST Latest Christchurch news at www.star.kiwi

Tuesday March 12 2019 9

manUfactUrers

stocK cLearance

1000's of BLm carPet aVaiLaBLe

FREE no obligation measure & quote (conditions apply)

Washington

• Polyester 22oz

• Cut pile

• 2 Great colours

$50.00 Per BLm

500

metres

to cLear

Q Card Finance Now Available

Selected Vinyl

Planks

3 Colours in stock

now $25.00Pm 2

Vermont

• Polyester 28oz

• Cut pile

• 2 great colours

now $59.00 Per BLm

Newport

• Commercial Solution Dyed Nylon

• Loop pile carpet

• 2,500 metres to clear

$65.00 Per BLm

Limited

time

onLy

now

haLf

Price

Vinyls

2m & 3m wide

2m wide from $29.90Lm

3m wide from $50.00Lm

Garage Carpet

6x6m, Fully installed

now $850.00

312 Wilsons Road North, Waltham Phone 366 0070

Mon to Fri 8am-5pm and Sat 10am-1pm

Check out our website! www.carpetkingdom.co.nz
---
Montre

Dur

Caledonian Rd

Colombo St

Sherborne St

10

Tuesday March 12 2019

News

No garden

awards

ceremony

• By Matt Slaughter

A CEREMONY for the

Community Pride Garden

Awards will not be held for the

Coastal-Burwood Ward this

year.

It is the only ward in

Christchurch which will not

be hosting a ceremony for the

awards. The Coastal-Burwood-

Burwood Community Board

decided at a meeting last week the

$3000 cost of hosting the awards

was out of its budget.

Instead, the board will post

out certificates to the ward's 142

award winners.

Board member Linda Stewart

opposed the decision.

"I see it as a negative to not

encourage the ward to be

colourful and pretty again and

pretty for everybody."

She said gardening is a way

for many people to add some

vibrancy to damaged streets

and manage the stress which

came with being surrounded by

damage.

All the other members of the

board agreed that the Community

Pride Garden Awards should be

hosted once every two years to

save money.

Getting fighting fit for

• By Jess Gibson

AFTER A lifetime of low

self-esteem and a fear of injuries,

Jennine White felt unfit,

vulnerable and afraid to work

out.

Now the 33-year-old

performance reporting analyst

will take part in the 6km

City2Surf run on March 24

feeling better than ever.

Mrs White decided to focus on

her health in November after a

visit to her doctor to talk about

a shoulder injury turned into a

discussion about how her lack

of fitness was affecting her wellbeing.

Her doctor recommended

the 'green prescription', a free

programme which offers advice

from a physical activity coach.

She received a plan from her

coach Olivia Maisey and gained

the confidence to participate

in the City2Surf after she was

encouraged to see a personal

trainer, get injury rehabilitation

and see a life coach.

Mrs White is now positive she

can push herself to do the 6km

event if she alternates between a

brisk walk and a jog to take care

of her injury.

While she has finished with

the green prescription, she

said Miss Maisey has been like

Latest Christchurch news at www.star.kiwi

GETTING FIT: Jennine White (left) will take part in the City2Surf

6km event after completing Sport Canterbury's 'green

prescription' programme.

her "cheerleader". She said her

personal trainer, life coach,

family and friends have all helped

her to stay motivated.

"People like me need someone

in our corner and someone to

help us fight through to get a

better lifestyle," she said.

Mrs White said she is focussed

on her well-being rather

than losing weight, and feels

"amazing" because of it.

"My mental health is so much

better, I have reduced anxiety

and sleep so well. I feel like I'm

on another planet now," said Mrs

White.

Miss Maisey said it was good to

see how extra support can make a

difference to someone's lifestyle.

"She's gone from doing barely

any exercise to absolutely

smashing it," said Miss Maisey.

"She has done amazing."

CITY

with Les Mills

2SURF

Local

News

Now

2

PEGASUS POST

Fire rages, homes at risk

CITY2SURF

with Les Mills

How to get involved in the

City2Surf

•Entry forms are available

online, at Pak'n Save and

New World supermarkets,

and at The Athlete's Foot

Northlands and Riccarton

•Standard entry can be

purchased until March 24 for

$25

•Late entry on the day, March

24, will be $30

•Children aged 10 and under

are free

Open Home

Refurbished apartments & studios

Thurs 14 & Fri 15 March, 10am-2pm

Merivale

Find comfort in

a new home at

St Albans! Join us at

our open home this

Thursday & Friday.

Abberley

Cres

Enjoy delicious coffee and cheese rolls with us on Thurs 14 & Fri 15 March, 10am–2pm.

Claire would love to show you our newly refurbished village, apartments and studios.

Get the care and support you require in your own home at St Albans. We have one-bedroom

serviced apartments and studios available now. Come and have a look for yourself this

weekend, friends and family are welcome.

For more info on our serviced apartments and studios, please call Sales Manager

Claire O'Connell on 366 1824 or 021 905 778 or email sales@stalbansretirement.co.nz

St Albans

Papanui Vict

41 Caledonian Road, St Albans, Christchurch.

www.stalbansretirement.co.nz

Bealey Ave

Park
---
PEGASUS POST Latest Christchurch news at www.star.kiwi

Tuesday March 12 2019 11

this sunday

17 th march

St Patrick's

Day

HATS, GLASSES, wigs, face

PAINT and MUCH more!

Make this ST PATRICKS DAY MEMORABLE!

Your Local JUST INCREDIBLE STORES

• Barrington Mall • New Brighton Mall

• The Hub, Hornby • South City Centre
---
12

Tuesday March 12 2019

Latest Christchurch news at www.star.kiwi

PEGASUS POST

Buy Honda from Honda

THE NEW 2019 CIVIC RS &

CR-V AWD – NOW FEATURING

COLLISION MITIGATION BRAKING SYSTEM // LANE KEEP ASSIST SYSTEM

FORWARD COLLISION WARNING // LANEWATCH CAMERA

LANE DEPARTURE MITIGATION // LANE DEPARTURE WARNING

ADAPTIVE CRUISE CONTROL WITH LOW SPEED FOLLOW

LAUNCHING THIS SATURDAY, 9 MARCH

CHOOSE: ZERO DEPOSIT WITH 3.9% FINANCE OR

0% INTEREST PAY 1/3 1/3 1/3

PARKING ON-SITE AVAILABLE AND LIGHT REFRESHMENTS SERVED

HONDACARS-RE GCX60X

MODEL

JAZZ FROM

18LATE

$14,950

62ND GENERATION

JAZZ FROM

$13,950

12

LATE MODEL

CIVIC FROM

$24,950

MODEL

HR-V FROM

17LATE

$22,950

25

LATE MODEL

LATE MODEL

CR-V FROM

$17,950

Photos of Honda vehicles are indicative only.

Car of The Week

$26,950

2017 Honda Civic SX NZ New, 16-inch Alloy,

NZ New, 16-inch Alloy,

LaneWatch Camera, 6 Airbags, 3 Angle Rev'

Camera, Cruise Control, HSA, LED Daytime

Running Lights, Apple Car Play & Android Auto.

Sample image only

Jazz

15 Jazz RS, Sporty Blue, Auto, Nav', Reversing Camera, Magic Seats, Bluetooth, Airbags, VSA $19,950

16 Jazz S, Alabaster Silver, 6 Airbags, HSA, Traction Control, VSA, Rev' Camera, Audio $16,950

16 Jazz RS, Sunset Orange, Auto, Nav', Reversing Camera, Magic Seats, Bluetooth, Airbags, VSA $23,950

17 Jazz RS, Sunset Orange, Auto, Apple/Android Car-Play, Rev' Camera, Magic Seats, Airbags, VSA, Cruise $21,950

17 Jazz RS, Milano Red, Nav', Bluetooth Hands-free, Reversing Camera, Magic Seats, Airbags, VSA, Cruise $23,950

18 Jazz RS, Sunset Orange, Auto, Bluetooth Hands-free/Audio, Cruise Control, Magic Seats, Rear Sensors $24,950

18 Jazz RS, Milano Red, Auto, Bluetooth Hands-free/Audio, Cruise Control, Magic Seats, Rear Sensors $24,950

18 Jazz RS, White Orchid, Auto, Bluetooth Hands-free/Audio, Cruise Control, Magic Seats, Rear Sensors $25,950

Civic

13 Civic, Modern Steel, VSA, 6 Airbags, Cruise Control, Rev' Camera, Bluetooth Hands-free, Audio $10,950

16 Civic LN, Morpho Blue, 17" Alloy, Rev' Camera, Cruise Control, VSA, Leather Upholstery, Audio $24,950

16 Civic Turbo, Modern Steel, 17" Alloy, 6 Airbags, Rev' Camera, HSA, LaneWatch Camera, Audio $26,950

16 Civic RS Turbo, Lunar Silver, 17" Alloy, 6 Airbags, Rev' Camera, LED Headlights, Sunroof, Audio $29,950

18 Civic RS Turbo, Milano Red, 17" Alloy, 6 Airbags, LaneWatch Camera, LED Headlights, Sunroof, Audio $37,950

HR-V

15 HR-V Sport, Ruse Black, LaneWatch & Rev' Camera, 6 Airbags, Cruise Control, Sports Pedals, Audio $27,950

15 HR-V Sport, Morpho Blue Pearl, LaneWatch & Rev' Camera, 6 Airbags, Cruise Control, Sports Pedals $29,950

16 HR-V, Sport, Orchid White, LaneWatch & Rev' Camera, HSA, Cruise Control, Panoramic Sky Roof $27,950

16 HR-V Sport X, Modern Steel, LaneWatch & Rev' Camera, Heated Seats, Panoramic Sky Roof $31,950

16 HR-V Sport, Orchid White, Motion Adaptive, Rev' Camera, LaneWatch, HSA, Traction Control, VSA $33,950

17 HR-V L, Modern Steel, Leather Upholstery, Rev' Camera, Cruise, Heated Seats, Audio $27,950

17 HR-V Sport, Lunar Silver, Nav', Reversing Camera, Parking Assist, Bluetooth Hands-free Audio, Alloys $36,950

18 HR-V L, Carnelian Red Pearl, 16" Alloy, Rev's Camera, HSA, Daytime Running Lights, Cruise Control $32,950

CR-V

12 CR-V Sport, Twilight Blue, Rev' Camera, Cruise Control, Heated Seats, Leather Upholstery. Sunroof $16,950

12 CR-V Sport, Twilight Blue, Rev' Camera, Cruise Control, Heated Seats, Leather Upholstery. Sunroof $24,950

13 CR-V Sport, White Orchid Pearl, Cruise Control, Navigation, Leather Upholstery, Sunroof, Audio $29,950

14 CR-V SN, Silver, Navigation, Reversing Camera, Bluetooth Hands-free, Cruise, Alloys, Airbags, VSA $27,950

15 CR-V S, Silver, Lane Watch & Reversing Camera, Daytime Running Lights, Cruise, Alloys, VSA $29,950

17 CRV AWD Sport Sensing, Dark Olive, Adaptive Cruise, LaneWatch, Electric Tailgate, Pano Sky Roof $43,950

17 CRV AWD Sport Sensing, Sporty Blue, Adaptive Cruise, LaneWatch, Electric Tailgate, Roof Rails $42,950

18 CRV AWD Touring, White Orchid Pearl, Electric Tailgate, Cruise Control, ECO Assist, Audio $37,950

Accord

12 Accord Euro LN, Polished Metal, Auto, Airbags, Alloys, Cruise, Leather Upholstery, Electric Sunroof $16,950

14 Accord LN, Modern Steel, LaneWatch & Rev' Camera, Cruise, Leather Upholstery, Electric Sunroof $25,950

15 Accord V6 NT, Modern Steel, Auto, Lane Keep Assist, LaneWatch, Adaptive Cruise, Electric Sunroof $34,950

Honda Cars Christchurch: Phone 03 940 3000

Find us at our new temporary home:

104 St Asaph Street, Christchurch,

across the road from our original dealership.

www.hondaused.co.nz

Opening Hours:

Mon-Fri: 8:00am - 5:30pm

Saturday: 9:00am - 5:00pm

Sunday: 10:00am - 5:00pm

*Zero Deposit with 3.9% fixed interest rate p/a on selected new

Honda, max 36 month term, establishment fee $350 & PPSR fee $10.34.

Subject to HFS lending criteria. Offer excludes Type R & ends 31/03/19.

*0% Interest rate, 1/3 Deposit, 1/3 in month 12 & 1/3 in month 24.

Offer available on selected new Honda & based on 24 monts loan agreement.

Establishment fee $350 & PPSR fee $10.34. Subject to HFS lending

criteria. Offer excludes Type R & ends 31/03/19.
---
PEGASUS POST Latest Christchurch news at www.star.kiwi

Tuesday March 12 2019 13

News

• By Sophie Cornish

ALAN HICKMAN was sick of

constantly being woken up by the

alarms going off at the fire station

a couple of doors down from his

house.

So the then 27-year-old decided

he might as well sign up for

volunteer service at the old New

Brighton Fire Station.

Now at age 68, Mr Hickman

will soon retire after more than

41 years of fighting fires.

Starting off as a volunteer in

1977, Mr Hickman remained at

his job as a property officer for

the Education Department (now

the Ministry of Education).

In 1981, he began moving

up the ranks as a volunteer,

becoming a senior firefighter and

then station officer in 1994.

Then in 1999, Mr Hickman

became the volunteer district

support officer for the New

Brighton station, in Hawke St,

which was a paid role, while he

also continued as a volunteer.

He was joined by long-time

friend Dave Chivers in the role.

In 2008, he became deputy

chief at the station.

Then in 2012, he moved into

the Christchurch City Fire

Station metro area office, where

he supported four brigades –

New Brighton, Brooklands,

Sumner and Lyttelton.

It wasn't until 2013 that he

retired from being a volunteer

and continued as a career staff

member.

"I decided that working 24

hours a day was crazy."

He can still recall the first ever

house fire he entered on New

Brighton Rd and admits it was

"pretty neat."

"I was fascinated by it,

I didn't know what to expect," he

said.

"I managed to get a direct

hit on the home's power board

with my hose. It exploded and

there was a blinding blue flash. I

thought, wow, this is what it is all

about."

Ample training had prepared

Mr Hickman for this moment,

particularly the 'safe person

concept'.

"You risk a little to save a lot.

You don't risk a lot to save a

little."

Mr Hickman was buying

lunch on Bower Ave when the

February 22, 2011, earthquake

hit. He raced back to the station

and the crew "self-responded"

and headed to North Beach Fish

Supply, where the roof had caved

in.

The owner had got out alive,

luckily. Little did Mr Hickman

know, his home on Waitaki Ave,

Bexley, had been destroyed by

liquefaction and was structurally

unsound.

"It was stuffed. So my family

and I moved into the station

. . . it was fun, it was different, but

we had things highly organised."

Mr Hickman slept on the

floor in the storeroom of the

station, which was running on

a small amount of power from a

generator and no water.

The crew's main jobs were to

ensure buildings were made safe

and chimneys were knocked

down. The generosity of people

during the time "amazed him."

"People would stop us

everywhere just to give us food or

baking."

While fighting fires, Mr

Hickman has rescued numerous

horses, cows, rabbits, cats and

dogs and has seen some "pretty

Local

News

Now

Veteran New Brighton firefighter calls time

HEROES: Alan

Hickman (fourth

from left),

wearing his

Gold Star Award

for 25 years

of service,

with other

volunteers at

the old New

Brighton Fire

Station.

Fire rages, homes at risk

SERVICE: Alan

Hickman will

soon retire as a

paid employee

in the fire

service after

42 years. He

will continue

as a volunteer,

providing

operational

support.

PHOTO:

MARTIN

HUNTER

horrific" car accidents.

"You just have to get on with it

and deal with the job," he said.

During the devastating 2017

Port Hills fires, Mr Hickman

worked behind the scenes,

ensuring all brigades were

supported with the resources

they needed.

Mr Chivers and Mr Hickman

became friends when they met

as volunteers and have fought

"thousands of fires since."

"At one point, we were

attending more than 500 fires

a year. I've made a lifetime of

friends. I don't want to mention

any more names, I'll miss

someone out and then I'll hear

about it," he said.

A career highlight was in 2002,

when Mr Hickman received a

Gold Star Award for 25 years of

service. Although he will retire

soon, Mr Hickman plans to

continue volunteering for the

New Brighton brigade, now based

at the Anzac Fire Station on

Anzac Drive, doing operational

support.

Saturday March 16, 6PM

It's the fastest show in town!

Kids

14 and

Under

FREE

Kids

14 years

& Under

FREE

Gates open at

4.30 pm

SOUTH ISLAND SPRINTCAR

CHAMPIONSHIP

Admission — Adults $20, Students and Seniors $15, Children 14 and Under FREE: Eftpos at the Gate

PLUS Admission — Adults $20, Students and Seniors $15, Children 14 and Under FREE: Eftpos at the Gate

SUPPORTING

PROGRAMME PLUS

SUPPORTING

www.ruapunaspeedway.co.nz Infoline 3497727

PROGRAMME

Dyers Road Landscape

& Garden Supplies

• Barks • Peastraw • Composts - we supply the best available

• Aggregates - Chip, Round and Basecourse

• Pavers & Schist products • Pungas

• Decorative Stones & Landscaping Rocks

• Trailer Hire first hour free with purchase

• Bag & Bulk - pick up or delivered

David, Carol & Mike

We will deliver!

SOIL

AND

HARDFILL

DUMPING

Phone: 03 384 6540

183 Dyers Rd, Bromley • OPEN 7 DAYS

Weekdays 7.30am-5pm. Weekends 8.30am-3pm

www.dyersroadandlandscapes.co.nz
---
14 Tuesday March 12 2019

Latest Christchurch news at www.star.kiwi

PEGASUS POST

FINAL CALL

ON THE LAST OF THE RUNOUT TRITON GLX-R'S WE HAVE

9 MANUALS AND ONLY 6 AUTOS LEFT - THATS IT!

Drop what you're doing!

TRITON 2WD GLX-R

DOUBLE CAB MANUAL

$29,990+ORC *

Automatic model available for only $31,990 +ORC

The Triton Runout is on. Drop everything, and if you're quick you can pick up • 17" Alloys • 2.4L Turbo Diesel

• 7.1L per 100km efficiency (manual) • Sports Suspension • Cruise Control • Smartphone Connectivity •

Reversing Camera • Daytime Running Lights • 5-Star Safety and a 10 Year Powertrain Warranty † .

Call 03 379 0588 or visit christchurchmitsubishi.co.nz

CHRISTCHURCH MITSUBISHI

386 Moorhouse Avenue, Christchurch.

03 379 0588 | christchurchmitsubishi.co.nz

*Price listed is for Triton 2WD GLX-R manual and excludes on road costs, which includes registration, WoF, 1,000km road user charges and a full tank of fuel.

Available while stocks last. † Visit mmnz.co.nz for full Diamond Advantage warranty conditions.

10 year / 160,000km Powertrain Warranty (whichever comes

first) (non transferable). 5 year / 130,000km New Vehicle

Warranty (whichever comes first) (non transferable).
---
PEGASUS POST Latest Christchurch news at www.star.kiwi

Tuesday March 12 2019 15

AUTOMOTIVE PROFESSIONALS

Your

car light

95

gasson st

specialists

Long-established car light specialists,

Braxton Car Lights, are now shining their

lights from a new address – just around the

corner from their familiar Brougham Street

site.

The business moved from 325 Brougham

Street to 95 Gasson Street, where they offer

a brighter showroom, easier access for their

customers and plenty of off-street parking.

"We're all set up in our new premises,"

sales manager Richard Vernimmen says,

"and continuing to provide our customers

with an extensive range of replacement

lights for most Japanese, European and

New Zealand-made vehicles. We can cover

most vehicles on the road, and all our lights

are fully checked and in perfect working

order."

If they don't have it in stock, they can

source it from one of the other branches in

the nationwide BE Group, Richard says. BE

is one of New Zealand's largest importers of

• new & quality

secondhand tyres

• alloy wheels

• replacement rims

• puncture repairs

WITH A MASSIVE RANGE OF TYRES IN STORE,

WHY NOT POP IN AND SEE US TODAY!

8c Birmingham Drive,

(Cnr Hands & Birmingham Drive)

Ph: 03 343 0099 Cell: 027 226 3805

Website: www.jcmdirect.co.nz

®

car, truck and commercial parts.

Braxton Car Lights also offers a repair

service for headlights, with their skilled

staff of three having 80 years' experience in

the automotive trade between them. They

also specialise in light adjuster and light

conversion of American car lights and their

repair service includes plastic

welding, drying out, and

re-silvering, re-sealing

and lens refurbishment.

Their services can also

be arranged through

your own local garage or

workshop.

So, next time you

need replacement car

lights, call into Braxton Car

Lights' bright new showroom,

95 Gasson Street, phone 0800 225 483,

email carlights@carlights.co.nz.

A vonhead

utomotive

free

6 months roadside assist

with any vehicle servicing

• automatic transmission

flushing service

• Wof • tune-ups • suspension

• batteries • neW tyres • oil &

lube service • courtesy cars

• full mechanical repairs

oPen 6 days (sat until 1pm)

126 racecourse road

Ph 342 7123 or 027 495 6600

s

m

a

r

t

mall

edium

• Panel beating

• Spray painting

Fast

turnaround

utomotive

epair

echniques

Smart repairS (NZ) Limited

automotive refinishers

272 Lichfield St (Fitzgerald Ave end)

Ph 377-0409

NEW

LOCATION

95 Gasson St

The Automotive Lamp Specialists

New and Used Lamps for Cars, Trucks,

Vans, 4WD and Motorhomes

PH 0800 225 483 | 95 Gasson Street, CHRISTCHURCH

European

Car Owners

NEW DIAGNOSTIC EQUIPMENT!

We can identify ANY electrical

fault & reduce repair work

with our NEW European Car

Specific Diagnostic Equipment

ROSES

AUTO ELECTRICAL

Enquiries welcome

CH 352 5090

SPECIALISTS IN

• Repairs

• Overhauls

• Rebuilds

• Radiators

• Oil Coolers

• Petrol Tanks

• Car Heaters

• Classics

• Vintage

• Racing Cars etc

64 Buchan St, Sydenham

Ph (03) 366 0181
---
16

Tuesday March 12 2019

Latest Christchurch news at www.star.kiwi

2

PEGASUS POST

A

EVENT

CITY2SURF

with Les Mills

Sunday 24 March

#Areyouupforit?

14km, 6km Community

Fun Run Event

It's our

45th

Anniversary Year!

EntEr NOW!

Entry $25 (children 10 and under free)

Available online now from city2surf.co.nz or at these outlets
---
PEGASUS POST Latest Christchurch news at www.star.kiwi

Tuesday March 12 2019 17

Players push for selection

through early starts

SPORT

• By Gordon Findlater

THREE 6.50AM training

sessions a week have Shirley

Boys' High School in full

swing ahead of this year's UC

Championship.

Around 45 students are braving

an early start to the day on

Monday, Tuesday and Wednesday

to push their case for selection

in the first XV ahead of the

season.

"Everyone is playing other

sports so if we want really

good numbers. The only ones

who can't make it are our rowers.

We have a really strong

volleyball culture at school so

we'd lose all of those players if

we trained in the afternoon,"

said Gibson.

SBHS also announced openside

flanker Kiarn Wilson as first

XV captain at the beginning of

the year, ahead of pre-season

training which began in early

February.

"He stood up a lot last year

and we gave it to him early

because we wanted him to start

thinking about who his vicecaptain

will be and how he will

lead the team," said Gibson.

"He's had a couple of months

in that role now and he's grown

more in that role than I thought

was going to happen which is

awesome.

LEADER: New SBHS captain Kiarn Wilson makes a tackle on

Lincoln's Will Gaulter in last year's UC Championship. ​

SBHS will also break in their

new ground at QE II this year

when the UC Championship

begins in early May.

"It should be pretty good. I

think the contractors that have

put the field in have to keep it to

a certain standard for a certain

amount of years so the field

should be kept in pretty good

nick," said Gibson.

With three fields at the new

school site, Gibson is also hopeful

the first XV may have a

dedicated field for training and

matches.

SBHS begin the UC

Championship with a trip to

Christ's College on May 4.

Their first match at their new

home ground is against Lincoln

Combined on May 11.

RESULT: Ari Graham finished an impressive fourth in the under

23 category at the OTU Sprint Triathlon Oceania Championship.

PHOTO: AT PHOTO ​

Graham fourth in Tasmania

through strong bike leg

SOUTHSHORE triathlete Ari

Graham has finished fourth in

the under-23 category at the

OTU Sprint Triathlon Oceania

Championship in Devonport,

Tasmania.

Graham, 19, also did enough

to finish seventh overall in the

elite women's category when she

finished in a time of 1hr 4min

46sec.

Graham was amongst the lead

group after the opening 750m

swim leg which she completed

in 10min 25sec. An impressive

20km bike leg which she completed

in 33min 58sec saw Graham

come into the transition

with a 25sec buffer as she hit the

pavement for the final 5km run.

However, she was chased

down by race winner Joanne

Miller at the 2km mark.

Graham finished the run

in 19min 3sec to finish fourth

behind fellow Kiwis Ainsley

Thorpe and Nicole Van Der

Kaay.
---
18

Tuesday March 12 2019

Latest Christchurch news at www.star.kiwi

PEGASUS POST

Calling for exhibitors

weddingshow

Sunday 25th August, 2019 Air Force Museum, Christchurch

To exhibit at this fantastic show, please email mark.sinclair@starmedia.kiwi for more info.
---
PEGASUS POST Latest Christchurch news at www.star.kiwi

Tuesday March 12 2019 19

Email matt.slaughter@starmedia.kiwi by

5pm each Wednesday

JP Clinic at Shirley Library

Tuesday, 10am-1pm

A justice of the peace will be

available to members of the community

to witness signatures and

documents, certify document

copies, hear oaths, declarations,

affidavits or affirmations as well

as sign citizenship, sponsorship

or rates rebates applications. No

charge.

Shirley Library, 36 Marshland

Rd

SAYGo Steady As You Go falls

prevention exercise Class

Tuesday, 10am

This is a specially-designed

class to help you not to fall. There

will be a $2 koha entry. There is

no booking fee required, those

interested are invited to just turn

up on the day and see what the

class can do for them.

Parklands Community

Centre (opposite the shops

in Queenspark Drive)

Ascot Sit and Be Fit

Wednesday, 1-2pm and on

Thursday, 9.30am-10.30am

Go along and complete a

class, which lets you complete a

number of exercises without even

leaving your chair. The cost of the

class is $4 and with this, you'll

get a cup of tea or coffee.

Ascot Community Centre, Ascot

Ave, Parklands

Wā Pēpi/Babytimes

Tuesday, 11.15-11.45am,

Wednesday and Thursday, 10.30-

11am

Go along with your little one

for an interactive programme

including music, movement,

rhymes and a story.

Aranui Library Tuesday, New

Brighton Library Wednesday,

Shirley Library Thursday

Scrabble Club

Wednesday, 1.30-3.30pm

Go along to the Scrabble

Club. No obligation, just go

along when you can and join the

friendly group. All materials are

supplied. No fee.

Shirley Library, 36 Marshland Rd

Technology help drop-in

sessions

Thursday, 3.30-4.30pm

Go along to a drop-in session

for help with email, searching

the internet, using the library

catalogue, eBooks, and general

computer queries.

Shirley Library, 36 Marshland

Rd

Cards Club

Friday, 1.30–3.30pm

This weekly club is on every

Friday, just go along and join the

fun. Free, no bookings required.

Shirley Library, 36 Marshland

Rd

The Golden Oldies movie screening will be take place at New Brighton Museum, 8 Hardy

St, on Monday at 1pm. The film will be The Young Ones. Cliff Richard stars in this 1961

musical about a youth club member and aspiring singer Nicky and his friends, who try to

save their club in London's West End from an unscrupulous millionaire property developer.

Shirley Library's Culture

Exchange

Friday, 3.45-4.45pm

Go along and make new

friends, practice English and

learn about New Zealand and

Christchurch.

Shirley Library, 36 Marshland Rd

New Brighton Seaside Market

Saturday, 10am-2pm

Held at Brighton mall every

Saturday, just across the road

from the beach and the new children's

playground.

New Brighton Pedestrian Mall

Mahjong Group

Saturday, 2-4pm

Learn to play Mahjong at

Shirley library. For beginners and

advanced players alike. If you

have your own set, please take

it along, otherwise go along and

join in a friendly game.

Shirley Library, 36 Marshland

Rd

The Monday Makers Club

Monday, 3.30-4.30pm

Go along to weekly after school

making sessions for kids. A range

of activities varying in theme,

week by week. Free of charge, no

booking required.

New Brighton Library, 213

Marine Pde

Activity Zone

Monday, 3.45-4.45pm

Go and have fun at Activity

Zone, the Shirley Library

after school club. There will be

technology, games, crafts and

books. Suitable for ages six to 10.

Caregivers, please remain in the

library during the session.​Free,

no bookings required.

Shirley Library, 36 Marshland Rd

It's our

45th

Anniversary

year!

#areyouupforit

45th Anniversary

Retro T-shirt

available now

Sunday 24th March, 2019 www.city2surf.co.nz
---
20

Tuesday March 12 2019

Latest Christchurch news at www.star.kiwi

PEGASUS POST

Exhibitors

Book now

Don't miss your opportunity to

showcase your business in front of

10,000+ qualified attendees

lisa.lynch@starmedia.kiwi or 021 800 809
---
PEGASUS POST Latest Christchurch news at www.star.kiwi

Tuesday March 12 2019 21

REAL ESTATE

Timeless style, modern delivery

80C Hinau Street, Fendalton

Auction: Thursday, 21 March 2019 Unless Sold Prior

4 bedrooms | 2 bathrooms | 3 toilets | 3 living rooms | 1 dining room | 1 office/study | 2 car-garage | Listing Number: PI57385

This high-quality home has been crafted

to capture the grace of a bygone era, while

offering all the comfort of contemporary

construction. Designed to sit comfortably

amongst the substantial homes of this

established neighbourhood, it enjoys an

exceptionally private setting yet is within

15 minutes' walk of the Farmers' Market

and Westfield Riccarton, or a three-minute

drive to Fendalton Mall.

A natural gathering place for family

and friends, the sleek contemporary

kitchen with walk in pantry is finished in

granite and overlooks a light-filled living

and dining room with bi-fold doors to

let the outside in. Cavity sliders allow

seamless flow to a large separate lounge

where feature wallpaper and a dado rail

add classic style. An additional separate

living room adds further flexibility. The

master bedroom includes a tiled en suite

complete with sauna, and three more

double bedrooms plus study share a family

bathroom with corner spa bath. Outside,

the 482 sqm grounds are landscaped with

easy-care established plantings, providing

a leafy backdrop for north-facing outdoor

living. There's also a separate laundry,

double internal-access garage and

additional off-street parking.

Zoned for Ilam School, Boys' High

and Girls' High, this beautiful home is

impeccably presented and move-in ready.

Don't miss the opportunity to make it

yours.

Auction date: Thursday 21 March

10:00am (471 Papanui Road) USP

Open Homes: Please contact agent to

view.

To arrange a private viewing phone

Cameron Bailey on 352 6166 or mobile

0275 557 079 of Harcourts Gold Papanui

(Licensed Agent REAA 2008)

growing with you June 2018 | 100%

Plants For

winter wow

Cool Choices

For Colour

& Contrast

From swamp

to sea views

The journey

begins with sarah

the Gardener

$7.90 incl. GST

Snap it up

Enter our annual

Birdlife Photo

Competition to win

great prizes!

clear the air

Why groWing

indoor PLAnTs is

so good for you

give it a grow

from gArLic

To chinese

ArTichokes,

We hAve your

groWing TiPs

covered

the latest releases

into the rose world

+ rose care

through winter

The magazine for

gardeners who like to get

their hands dirty

SUBSCRIBE FROM

$43. 50*

*6 issues/6 months

SUBSCRIPTIONS FREEPHONE

0800 77 77 10

WWW.GARDENER.KIWI
---
22 Tuesday March 12 2019

Latest Christchurch news at www.star.kiwi

PEGASUS POST

If you want more information about an item or to contact a

seller, visit www.postanote.co.nz and search the ID#

Impala Jet Boat

Tasman 20 Trailer Sailer

Volkswagen Beetle

98 Suzuki DR 350

2006 Holden Commodore SV6

Oregon Bench Seat (oiled)

$15,000

ID 27221

$4,500

ID 27076

$8,000

ID 26025

$1,990

ID 27276

$7,000

ID 27087

$195

ID 22848

2009 Lunar Freelander Caravan 2005 Mazda Premacy 2.0L

Heron Dome Tent

Kuhn Power Harrows

2014 Willet Tandem Discs

2001 Mazda MPV

$16,900

ID 27291

$2,500

ID 26994

$600

ID 27157

$8,000

ID 27128

$20,000 ono

ID 27120

$2,500

ID 27075

Tandem Trailer

Rabbit/Guinea Pig Hutches

Kune Kune Piglets

1962 Bedford J2 Tipper

Honda Fit

2005 Mitsubishi Colt

$3,300

ID 27074

$60

ID 26693

$80

ID 26685

$10,500

ID 22042

$4,000

ID 26280

$3,700

ID 26715

Mazda RX8

Oak Drawers With Brass Handles

Quad Trailer

Fish Tanks & Equipment

Mitsubishi Diamante 3.5 V6

Folding Mobility Scooter

$10,000

ID 22809

$200

ID 27155

See Seller

ID 27149

$500

ID 27131

$1,500

ID 17224

$1,850

ID 27299

Drill Press

Compass Reflection Caravan 6m

Subaru Legacy TS-R (non turbo)

Land-Rover 4WD Camper

Ingersol Rand Rattle Gun

Nissan Serena People Mover

$150

ID 27118

$14,500

ID 25336

$4,900

ID 27082

$6,500

ID 27294

$650

ID 26130

$1,800

ID 27072

Samsung Fridge Freezer

Martin Acoustic Travel Guitar

Old Sailing Ship HMS Bounty

Ford Falcon S/W

Oregon Cabinet (Custom-built)

Honda TRX 300

$750

ID 27070

$600

ID 27038

$450

ID 27033

$3,750

ID 22603

$600

ID 26906

$3,500

ID 26895

Nissan

2007 Kia Rio

Playpen Mat

Cow Magnets & China Cow

Zephyr 460 Plan A

Mitsubishi Grandis

$1,600 Offers Accepted

ID 21212

$5,500

ID 26860

$20

ID 26839

$15

ID 26836

$12,000

ID 24933

$6,995

ID 26882

2123896-h
---
PEGASUS POST Latest Christchurch news at www.star.kiwi

Tuesday March 12 2019 23

Classifieds Contact us today Phone our local team 03 379 1100

Caravans, Motorhomes

& Traliers

CARAVAN Wanted to

buy. Up to $5000 cash

today 027 488-5284.

Cars

$8,001 - $12,000

HOLDEN CAPTIVA

CG5, 2.4L 2WD 2012

model. White, in great

condition, currently

owned by older couple

downsizing their car.

Been garaged. Current reg

and WOF. 145,000 kms.

$9,250 ono. Great family

SUV. To view or more info

phone Shane 021 381 765

Collision Repairs

QEII Collision Repairs.

Free Courtesy Cars

(conditions apply),All

Insurance work,Rust

Repairs &Private work.

Spray-painting.

Free pickup & delivery.

Ph. 03 388 5187

Community Events

ALCOHOLICS

ANONYMOUS, If you

want to have a drink that's

your business. If you want

to stop, we can help. Phone

0800 229-6757

ADD SOME

COLOUR

TO YOUR ADVERT!

Finance

NEED A

QUICK CASH

LOAN NOW?

We offer a range of personal Loans

and can provide cash quickly.

Loans from $500 to $20,000

Contact Karyn or Kris

0800 695 626

or 03 379 7798

www.alternatefinance.co.nz

Holiday

Accommodation

Australia QLD

SUNSHINE

COAST

RESORT

ALEXANDRA HEADLAND

All Units Have Ocean Views.

Heated Pools, Spa & Sauna,

Free Wifi, Tennis

& Mini Golf.

CHECK OUR GREAT

WINTER SPECIALS

www.mandolin.com.au

0061 7 5443 5011

JUNE to AUG temps 20C

Health & Beauty

KATANG

Fitness

Held at St Faiths Church Hall,

46 Hawke Street, New Brighton

For more info contact Katrina 3811704 or 0274966845

Trades & Services

Sit & Be Fit

Monday 1 – 2pm

$4 per class

Movement to Music

Thursday

9.30 – 10.30am

$5 per class

Organic

Footcare

Deluxe Treatment

Footpod offers a complete array of

footcare services to help you overcome

problems and maintain healthy feet.

. Athletes foot

. Fungus nails

. Ingrown toenails

Health & Beauty

. Warts, corns,

calluses & bunions

. General foot care

021 900 977

27 Forfar St, CHCH | www.footpod.co.nz

Trades & Services

FOR ALL YOUR

★Garden Clean-ups

★Pruning

★Lawn Mowing

★Garden Maintenance

Call us today for a FREE quote

PH 0800 4 546 546

(0800 4 JIMJIM)

House & Garden

Property services Ltd

Tree and shrub pruning

Hedge trimming

Garden maintenance

Landscaping

Lawnmowing

CALL us 021 405 277

plumbING AND GAS

• Gas fitting – servicing, new, renovations

• Gas hot water installs

• Gas cookers and gas fires

• Kitchen / Bathroom renovations

• Backflow testing and installs

• Filtration – whole house, kitchen tap

• Domestic maintenance

Email: james@plumbingandgashq.co.nz

Text: 021 174 9265

0800 H20 LPG

junk

4 2 6 5 7 4

plumber

Call for an instant quote

DISCOUNT FOR

SUPER GOLD CARD

HOLDERS!

FREE QUOTES

UNIVERSAL PLUMBING LTD

WE'LL FIX YOUR PLUMBING

ISSUES TODAY!

• Affordable pricing

• Fast and reliable

• Licensed and insured

Need a maintenance

plumber?

Contact us today!

03 348 8537

5/33 Nga Mahi Road, Sockburn

office@universalplumbing.co.nz

www.universalplumbing.co.nz

Trades & Services

Trades & Services

plumber

Water Filtration

Looking for the

best price on inhome

water filtration

systems? Aquapro

has you covered for

all your plumbing

needs!

0508 AQUA PRO | aquaproplumbing.nz

PLUMBING | DRAINAGE | GAS FITTING | SOLAR

UNIVERSAL

PLUMBING

Trades & Services

Why go to the Dump? Junkman comes to you!

Items too big for the rubbish bin?

Or too heavy for you to move?

Junkman comes to FROM $

65 *

you & takes it away

*Prices vary depending on items and volume – minimum charge $65

0800 586 5626

www.junkman.co.nz office@junkman.co.nz

Trades & Services

ROOF REPAIRS

Locally owned & operated with

over 30 years experience.

• Extensions & repair • Roof coating

• Concrete & clay tiles • Butynol

• Malthoid • Asbestos Certified

• Coloursteel • Old iron • Guttering

Phone Dave 981 0278

or 021 223 4200

E: dave@beaumontroofing.co.nz

BEAUMONT ROOFING LTD

Trades & Services

HOUSE

CLEARING

Are you

moving house

or trying to

downsize?

Call All Clear

Canterbury. We work

with you to recycle,

sell and dispose of

unwanted items.

Ph: 03 260 0934

or 021 078 4553

raewynlcooke@gmail.com

www.allclearcanterbury.co.nz

BLOCKED

DRAINS?

• Video inspection

• Waterblasting

• liquid Waste

pH: 03 365 7960

24 hours // 7 days

info@h20jet.co.nz

www.h20jet.co.nz

BUILDER QUALIFIED

Decks, T & G Flooring,

Villa Restoring, New

Homes, Weatherboards.

Free Quotes. Bennet &

Sons Ltd Sam 027 496-

9362 or Tony 027 224-

0374

Trades & Services

*****************

CARPET & VInyL

LAyIng

Exp Repairs, uplifting,

relaying, restretching.

Email jflattery@xtra.co.nz

ph John on 0800 003 181

or 027 2407416

FEnCIng

All styles and shapes,

gates, wooden, ph Mark

0273 313-223

LAWnMOWIng

You Grow I Mow. Free

quotes. Ph / text Chris 021

252 1801

LAWnMOWIng

Lawns, gardens & shrubs.

Mosss removal, free

quotes. James 0220 652

637

PAInTER

DECORATOR

All int /ext painting.

Comp rates. I stand by

Canterbury. Wayne 385-

4348, 027 274 3541

PLUMBER

ALF THORPE

PLUMBING Certifying

Plumber for all types of

plumbing, maintenance,

spouting, alterations etc.

Phone 352-7402 or 0274-

350-231

SPOUTIng

CLEAnIng

Spouting Unblocked,

Cleaned Out and Flushed

Out. Call Trevor 332 8949

or 021 043 2034

STOnEMASOn, BRICK

& BLOCKLAyER,

Earthquake Repairs, Grind

Out & Repoint, River/

Oamaru stone, Schist,

Volcanic Rock, Paving,

all Alterations new & old,

Quality Workmanship,

visit www.featureworks.

co.nz or ph 027 601-3145

STUMP gRInDIng

Best price guarantee Tony

0275 588 895

TILER/CARPEnTER

35 years exp, no job

too small. Ph Ross 027

4311440.

T.V. SERVICE

CEnTRE

Repairs, tvs, microwaves,

audio amps, soundbars.

.Aerial & satellite

installations, kitsets, 480D

Moorhouse Ave, ph 03 379

1400

VHS VIDEO TAPES

& all camera tapes

converted to DVD, video

taping special occasions,

www.grahamsvideo.co.nz

ph 03 338-1655

Tuition

PIANO LESSONS

25 yrs experience. All

styles, all levels. Ph 0274

677 457

Wanted To Buy

fridge freezers. Same day

service. Selwyn Dealers.

Phone 980 5812 or 027

fridges, freezers, washing

cash paid. Ph Paul 022

sawbenches, lathes, cash

AAA Buying goods

quality furniture, beds,

stoves, washing machines,

313 8156

A+ Household effects,

machines, ovens. Good

0891 671

TOOLS Garden,

garage, woodworking,

mechanical, engineering,

buyer, ph 355-2045

Public Notices
---
24

Tuesday March 12 2019

Latest Christchurch news at www.star.kiwi

PEGASUS POST

OUTDOOR REDUCED

Outdoor prices have dropped even

further so you can enjoy the last

days of summer in style!

STOREWIDE SALE NOW ON! EXCLUDES MANCHESTER & ACCESSORIES. SALE ENDS 18.03.19.

SAVE

$

1200

Montego

Corner Lounge/Dining Set

Includes Corner Sofa, Dining Table

+ 2 x Ottomans

REDUCED

now

$

699

now $ 1799

Ego Egg Chair REDUCED Bistro Dining Table Bistro Dining Chair

now

now

REDUCED

now

$

299

$

169

$

75

SAVE

$

280 SAVE

$

260

ON THE SET

Manteau

Modular Lounge Set

Includes Corner Sofa

+ Coffee Table

SAVE

$

1100

REDUCED

now $ 1699

Shop

Online

Nationwide

Delivery

Finance

Options

targetfurniture.co.nz

Cnr Blenheim & Curletts Rds, Christchurch

Ph: 0800 TARGET (0800 827438)

Offers and product prices advertised here expire 18/03/19.

Sale excludes Manchester and Accessories.