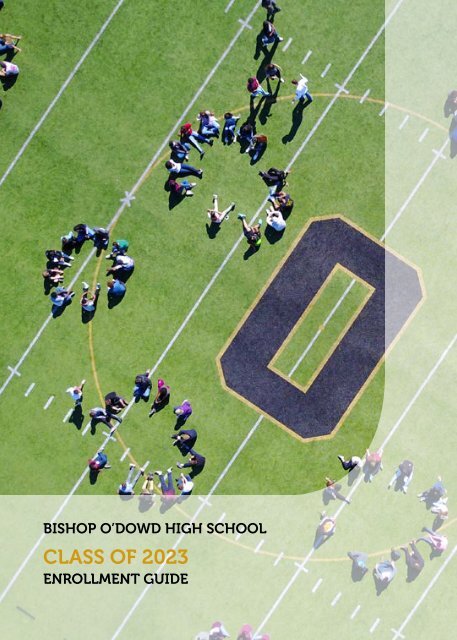 2019 Student Enrollment Guide
You also want an ePaper? Increase the reach of your titles
YUMPU automatically turns print PDFs into web optimized ePapers that Google loves.
BISHOP O'DOWD HIGH SCHOOL

CLASS OF 2023

ENROLLMENT GUIDE
---
table of contents

enroll online 4

freshman requirements & electives 6

placement test dates 7

math assessments 8

student life 10

academic support 14

counseling 15

LD/ADHD services 16

tuition information 17

parent pledge program 19

1:1 laptop program 22

transportation, dress code, 23

cafeteria

FAQs 25

campus map 29

key contacts

back cover
---
welcome to the

O'Dowd community!

We are excited to have your family join our forward-looking

community as your student embarks on an O'Dowd college

preparatory journey that is both joyful in its experience and

profound in its impact.

An O'Dowd education is a priceless investment with successes and challenges that prepare

students to thrive academically and personally. We want your student to be happy, to explore

and to develop intellectually, morally and spiritually during these formative high school years.

Our outstanding faculty, counselors, coaches and administrators will nurture success and will

work with you and your student to address challenges along the way.

As your student makes new friends and explores and engages

in the breadth and depth of classes, activities and experiences

for which O'Dowd is known, they will forge an individual

path leading to self-discovery as well as a college choice just

right for them.

We look forward to getting to know you and your family and to

supporting your student on their personal journey.

James Childs, M.A., M.Ed., President

SAVE THE DATE!

GO DRAGONS!

NAVIGATING

O'DOWD

All freshmen and their

families are strongly

encouraged to attend.

On campus

Saturday, May 4, 2019

9 - 11 a.m.

• Meet your classmates,

teachers, counselors

and coaches

• Learn about student

co-curricular activities

• Try on O'Dowd gear

to order the right size

• Participate in the

parent orientation
---
class of 2023

enroll today to secure

your student's space

enroll online

To secure your student's space at O'Dowd, please complete the online enrollment contract via

your student's admissions portal under the Enrollment tab and submit the non-refundable

$1,100 enrollment fee.

IMPORTANT: Please be prepared to enroll online at 3 p.m. on Saturday, March 23, 2019.

We will close the enrollment portal for new student enrollment when we reach capacity.

If you have applied for tuition assistance and have questions regarding your financial aid

notification, please contact Nancy MacKinnon in the Business Office at

nmackinnon@bishopodowd.org. Please note: The deposit of $1,100 is not reduced by financial

aid and should be paid at the time of enrollment.

ready, set, go!

The online enrollment process only takes 30-40 minutes.

Log in to your portal at https://bishopodowd.schooladminonline.com/users/sign_in. Fill out

the contract and pay the enrollment deposit. Then complete the remaining checklist items.

To enroll, you will need:

1. Preliminary Course Placement Sheet

(received with your decision letter)

2. Family Calendar

make sure you complete

these additional steps:

3. Health Insurance Information

4. Financial Information

1. Send your student's California School Immunization Record (with 2019 TB test

information; please keep a copy of TB test results) to the main school office, not

Admissions (by June 7)

2. For athletic participation, please complete the online athletic registration form at

http://www.bishopodowd.org/athletic_registration/ (by June 7)

4 |
---
3. If your student were admitted with a summer school requirement, register for the O'Dowd

Summer Academy High School Prep program at http://www.bishopodowd.org/academics/

summer-academy/

4. Request final transcript from current school be sent to the Admissions Office (by June 17)

Admissions questions? Please contact our Admissions team at (510) 553-8631 or

admissions@bishopodowd.org.

make a counseling appointment

Scheduling for August family counseling appointments opens at the end of May, and appointments

can be scheduled in your admissions portal.

For a complete list of counseling and student support services available during your student's

four-year journey at O'Dowd, please visit our website at

http://www.bishopodowd.org/academics/student-support/.

Counseling program questions? Please call (510) 577-9100 x605.

5 |
---
O'Dowd academics

freshman requirements & electives

Freshmen take seven courses each semester. Please reference the Preliminary Course

Schedule sent by email along with the online Course Catalog before enrolling. These

resources will support thoughtful decisions about core class schedule and fine arts electives.

Students in the ninth and tenth grade follow a core academic curriculum enhanced by

courses in visual and performing arts. In addition to required courses, sophomores are

eligible to take Advanced Placement (AP) Human Geography, and juniors and seniors

choose from a wider range of elective offerings including AP and honors course options as

well as independent study. All students must enroll in a minimum of 30 units per semester.

Explore the variety of required courses and wide selection of electives with your

student. Read through our online Course Catalog at

https://www.bishopodowd.org/pdfs/administrative/Course%20Catalog.pdf

6 |
---
placement test dates

O'Dowd requires placement tests for students seeking placement

in classes above Algebra 1, beyond level 1 in a foreign language and

placement into our Honors English or English 1 instead of English 1

Intensified. This helps to ensure your student is set up for success.

There is no charge for these placement tests. However, if your student is unable to take one of

these scheduled tests for any reason, there is a $50 fee per test to administer them at a later date.

Placement changes, as a result of test scores, will be sent to you by email in May.

math

math placement test

One test for students seeking math

placement above Algebra 1.

Tuesday, April 9, 4-5 p.m.

algebra 2 readiness test

Placement above Honors Geometry

Tuesday, April 30, 4-5 p.m.

NOTE: By invitation only, for students who

pass initial Math Placement Test.

english

honors english test

Students seeking placement into Honors

English (if you were accepted with Honors,

there is no need to register for this test).

english 1 test

Students seeking placement out of English 1

Intensified and placement into English 1.

both the honors english and

english 1 intensified challenge

test date will be held on:

Thursday, April 11, 4-5 p.m.

world languages

world languages test

FRENCH, MANDARIN, SPANISH

Placement in 2nd or 3rd year of study

Wednesday, April 10, 4-5 p.m.

test day information

• Students should report to the lobby of

Hurley Hall at least 10 minutes prior to

the test time.

• Bring two #2 pencils.

• Calculators are not allowed, unless you

have a calculator accommodation.

• Student with a diagnosed learning

difference will be given time and a half

for each exam - testing will conclude at

5:30 p.m. for LD students.

Questions? Please contact Darling

Vinavong at (510) 577-9100 x316

or dvinavong@bishopodowd.org

7 |
---
math assessments

math placement

Math placement for students who take any math assessment test will be made after

considering both the assessment and HSPT scores. The math placement test evaluates

students on Algebra 1 skills and concepts derived from the California Common Core

Mathematics Standards. Types of questions include integer arithmetic; solving equations;

linear equations; systems of equations; exponents and radicals; quadratic equations, including

real world applications of these skills/concepts.

The test will consist of multiple choice questions and a few free response questions (word

problems). We will provide scantrons and scratch paper. Please bring two #2 pencils.

No calculators are allowed.

algebra 2 readiness

This test is for students who have taken Algebra 1 and Geometry in middle school. It will

assess a student's understanding of algebraic and geometric methods as covered by O'Dowd's

Algebra 1 and Geometry courses. Both courses are derived from the California Common Core

Mathematics Standards. A passing score on this test will place students in Honors Algebra 2

and Trigonometry. Note, students must take the Math Placement Test before taking this test.

8 |
---
math assessment FAQs

My student has completed both high school level algebra

and geometry in seventh and eighth grades and is seeking

placement into Honors Algebra 2/Trigonometry.

What do we need to do?

Your student must take the Math Placement Test and the Algebra 2 Readiness Test. The results of

these along with High School Proficiency Assessment (HSPT) scores will determine readiness for

Honors Algebra 2/Trigonometry.

My student has been placed in Math Flex Support, what does

that mean?

Students who are admitted with Math Flex Support may opt to take the math placement test to

test out of Math Flex Support. If a student does not test out of Math Flex Support they will be

required to attend math support during the school year during their flex period. Students who

show progress and confidence in their math skills during the school year can place out of Math

Flex Support.

What is CORE? My student was admitted into the CORE Program.

CORE (Creating Opportunities to Reinforce Education) placement is determined upon

admission to O'Dowd. The CORE program serves students whose HSPT and previous school

records suggest that they may benefit from additional support at O'Dowd. These students exhibit

academic promise through their application and prior academic record. Students in the program

receive targeted support throughout their four years with the most intensive support occurring

during freshman year; these supports are tailored to meet each student's needs.

Students accepted into CORE are required to take English 1 Intensified over the summer and

take both English 1 and English 1 Intensified courses during their ninth-grade year. Students

can register to take the English 1 Placement test if they would like to place out of English 1

Intensified and into English 1 without the intensified requirement.

Students accepted into Math Flex Support are admitted with a math flex support requirement,

meaning they must attend math support during their flex period. They will also be required to take

a math diagnostic test in May.

See page 7 for all placement test dates.

Questions? Contact Patrice Wakeley, Counselor at x403 or pwakeley@bishopodowd.org.

9 |
---
student life

Opportunities for exploration, deepening of interests and achievement

of excellence at O'Dowd are grounded in college preparatory academics

and a wide range of co-curricular offerings.

health/wellness The Health and Wellness Program is offered to support the social and

emotional growth of the whole student in a community of care. There are four basic areas

of focus for Health and Wellness Program: relationship health and wellness, physical

health and wellness, mental health and wellness, and community health and wellness.

Students learn about issues related to health and wellness in relationships each year

through the Safe Environment curriculum. For freshmen, the Safe Environment

curriculum is delivered in the Sexuality and Spirituality course in Religion and focuses

on recognizing healthy and unhealthy relationships. The emphasis is placed on the

importance of respect for self and others and on the inherent dignity of all human beings.

Students learn about issues related to physical health and wellness through our

substance use and abuse prevention efforts. Freshmen learn about the harmful effects of

alcohol and other drugs through on online course taken as part of the Bishop O'Dowd

Week of Welcome.

All students have the opportunity to seek mental health and wellness supports from our

School Therapist by self-referral or by speaking to their Counselor.

All students have the opportunity to address issues related to community health and

wellness by participating in Dragon Talks which are student-led, faculty and staffsupported

conversations that seek to address issues related to the health and wellness of

our community. Dragon Talks are hosted and attended with the intention of creating

a space where all members of our community feel safe and supported in sharing their

thoughts, feelings, and experience.

advancement of social and environmental justice

10 |

Programs that provide opportunities for students to engage in

advancing social and environmental justice reflect the moral vision of

pursuing the common good at O'Dowd

service learning Service Learning is an educational method that deepens

understanding about and our response to social justice through hands-on student

service experiences within the greater community. Through service experiences that

happen locally and beyond, the learning about justice is primary, and serves our Religion

department curriculum. Each student completes four projects designed to build life

skills as well as knowledge of social justice. This program partners with over 250

organizations annually. Students also may participate in intensive service retreats in

other parts of the U.S. and the world.

solidarity in action This student club is an empowered group of students who take

action to bring forth a socially just and sustainable community. Through solidarity with

those who experience injustice, they empower O'Dowd youth to grow as a community of

learners and agents of change.
---
arts

sustainability The on-campus, four-acre Living Lab ecological study area and adjacent

5,000 square-foot LEED Platinum certified Center for Environmental Studies are highly

visible aspects of a deep commitment to sustainability and the development of the next

generation of sustainability leaders.

O'Dowd is a leader in the Education for Sustainability movement and a national model

of sustainability at the high school level. Sustainability informs all facets of O'Dowd life:

campus and operations, curriculum and education with an emphasis on place-based and

experiential learning, community engagement and overall culture.

Students actively participate in many sustainability co-curricular offerings including the

student action team, Eco-Leaders, which pairs awareness and behavior change campaigns

with hands-on stewardship of the Living Lab garden to further progress towards an

environmentally sustainable, socially just and economically viable world.

The arts program at O'Dowd prepares students to excel in a creative and design-driven world.

Your student can engage in and strive for excellence in a variety of arts expressions across

music, performing and fine arts. From theater, digital music, and ceramics to playing with the

Jazz Band, the opportunities for creative expression and learning abound.

athletics

O'Dowd Athletics has a long-standing tradition of excellence defined by a commitment

to supporting participation and skill development in order to achieve at the highest level

athletically as well as academically. We field 58 teams across 15 competitive sports with over

700 participating student athletes, including many freshman team opportunities.

11 |
---
campus ministry

The Catholic tradition and mission along with the inclusive teachings of Jesus Christ inform

O'Dowd's orientation to our students' spiritual development and maturation. Students are

invited to deepen their faith from their own point of spiritual origin, thereby nurturing and

sustaining a diverse community of faith and learning. Campus Ministry and the Religious

Studies department align in their goals to ensure that students benefit from a well-integrated

spiritual education. Programs include:

catholic faith enrichment These opportunities in conjunction with all-school Catholic

traditions such as liturgies and the morning prayer enrich Catholic faith at O'Dowd.

Opportunities include: Class Masses, retreat Masses, special Masses for student organizations,

Lenten Reconciliation Services, drop-in spiritual counseling/direction, weekly drop-in Masses,

individual confession upon request and class faith group meetings.

clubs

retreat program O'Dowd's retreat program offers unique age-appropriate opportunities,

from learning how to be part of the O'Dowd community to attending and leading Kairos

retreats. These experiences expand our students' understanding of their faith and their

place in our faith community.

Does your student want to learn how to build robots? Or be a lawyer in mock trial? Are

they proud to be Armenian or interested in computer programming? Do they play ultimate

frisbee or do they have the entrepreneurial spirit? Committed to freeing political prisoners?

Encourage them to explore one of the many student-run clubs at O'Dowd.

debate

Award-winning, leadership skill building, nationwide traveling — that describes the debate

program at O'Dowd (Public Forum, Parliamentary, Lincoln-Douglas, and Policy). Every

student is welcome to learn how to compete in the exciting world of debate. Be part of the

team that goes to the top tournaments in the country to compete at the highest levels.

leadership

Developing strong leaders is a major focus at Bishop O'Dowd High School. In addition to

learning leadership development skills in the classroom, we offer a number of ways students

can participate in co-curricular activities that build their confidence while also experiencing

the value of giving back to their school, the community and the world. We encourage all

students to find leadership-building opportunities that match their interests. Leadership

building opportunities include (but are not limited to):

campus ministry team The Campus Ministry Team (CMT), a core group of senior

leaders, provides leadership in all liturgies and school-wide charity drives and enlivens the

faith experiences for fellow students. Peer Ministry is open to all students in each grade so

that they can explore their own spirituality, discuss issues relevant to faith and minister to

their peers.

12 |
---
dragon ambassadors Ambassadors are leaders and role models on campus, who introduce

prospective students and parents to life at O'Dowd. As an O'Dowd representative,

they share their own unique O'Dowd stories which illustrate our positive, inclusive and

dynamic learning environment. Being a Dragon Ambassador is a tremendous privilege

and responsibility. A cohort of ten juniors and seniors comprise a Captain team which

helps to oversee the organization of our Dragon Ambassador program.

student government The Associated Student Body is led by an elected Executive Council.

Every class also has its own elected leadership team. Working together, these students

organize events and activities, dances and environmental action and are involved in all

school spirit events as well as raising social justice awareness.

National Honor Society and California Scholarship Federation

O'Dowd is proud to be a member school of both the National Honor Society (NHS) and the

California Scholarship Federation (CSF). NHS recognizes and honors students throughout

the country who exemplify academic excellence, personal character, leadership and service to

both school and community. CSF recognizes high standards of scholarship, service and citizenship

of students in California. Members of CSF and NHS are recognized at graduation.

Questions? Please visit http://www.bishopodowd.org for details. More information

will also be available at Navigating O'Dowd on May 4 (see page 3 for details).

13 |
---
academic support

O'Dowd addresses student academic performance challenges during

their time as Dragons through a layered system of resources and

support that is carefully designed and personalized. We believe that

students succeed when they are supported by a collaborative program

that includes structured communication between the home and school

and a concerted case management approach involving all stakeholders,

including teachers, coaches, academic support staff and counselors.

drop-in tutoring

Staffed by adult and peer tutors, drop-in tutoring is available for all subjects.

Academic Support Center hours: Monday through Friday before and after school as well as

during Flex periods, and from 10 a.m.-12 p.m. Saturday and Sunday.

academic coaching

Academic coaching is a program available to 11th and 12th graders by referral. Candidates come

from the bi-weekly list of students at risk of academic probation. Students have access to an

academic coach to strengthen organization, time management, self-advocacy, and study skills.

SMART sessions

These sessions are subject-area specific, teacher-led study groups held before and after school.

Participating students commit to a fixed schedule.

dragon success

Dragon Success is O'Dowd's academic coaching program for 9th and 10th graders. Students

work closely with an academic coach who provides help transitioning into high school.

Students work on goal setting, organizational skills, planning and time management, effective

communication and self-advocacy.

SSA (Support for Student-Athletes)

Student athletes receive grade monitoring, communication with coaches and personal

check-ins as needed. This helps students adhere to demanding practice schedules while

meeting the academic rigor of our college preparatory curriculum.

catch-up support

This support is available for back-to-school transitions following concussion, medical leave or

other extended absences.

Questions? Visit the Student Support section bishopodowd.org/academics/studentsupport/

or contact:

Catherine Harris, Director of Academic Support, x334 or charris@bishopodowd.org

Malik McCord, Academic Support Liaison, x114 or mmccord@bishopodowd.org

14 |
---
counseling

At the heart of the O'Dowd experience is the relationship that O'Dowd students develop

with their counselors and the outcomes that this relationship supports. O'Dowd's skilled,

experienced and caring counselors develop individualized relationships with students, meeting

them where they are and empowering them to become their best selves. Each student is

assigned a counselor who partners with them and their family throughout their four years

at O'Dowd. Within this personally tailored relationship, counselors apply an integrated

approach, addressing academic, college and career and personal needs. This holistic approach

ensures that students find their place in high school and beyond as they are supported in

developing their talents, identifying and responding to challenges, building resiliency and

developing competencies.

dragon launch

The Dragon Launch program serves as the Counseling Department's career development

program. During their four years at O'Dowd, students will learn personal and professional

skills that will benefit them during high school and in life. From how to shake hands and

make a strong first impression as freshmen to crafting resumes and preparing for interviews as

seniors, students advance and explore their individual skills, interests and personalities so they

can leave O'Dowd prepared for the opportunities that lie ahead.

Questions? Contact counseling@bishopodowd.org

15 |
---
LD/ADHD services

We believe that intellectual and cognitive diversity enriches our campus

community. We welcome students from a broad spectrum of learning

profiles and provide resources that allow students to contribute fully to

our school.

O'Dowd LD/ADHD services are designed to support students with documented learning

disabilities and/or attention deficit through a team-based approach. A full-time specialized

counselor coordinates LD/ADHD services. Prior to the start of ninth grade, the counselor

meets with each student and family to create an Educational Care Plan outlining student

strengths, relative weaknesses and accommodations to the educational environment.

accommodations include:

• Preferential seating

• Extended time on teacher-designed assessments and assignments

• Use of laptop/computer for written output

• Text-to-speech resources (for example, audio files of books)

our LD/ADHD services encompass:

• An interface for close collaboration between students, their families and the school

• Design and documentation of appropriate and feasible accommodations

• Referrals and consultation regarding psycho-educational and related evaluations

• Facilitation of requests for accommodations on standardized tests such as the

SAT or ACT

• Support and counseling for the application and transition process to college

Questions? Please contact Juliet Arechiga, LD/ADHD Counselor, x618

or jarechiga@bishopodowd.org.

16 |
---
tuition information

We are mindful of the investment that you are making in your student's

education. Here are the costs to attend Bishop O'Dowd High School

during the 2019-2020 school year and payment options:

$19,900 Tuition

$ 1,100 Enrollment Deposit (non-refundable; not reduced by financial aid)

$21,000 Total

Additional expenses may be incurred for technology, books and the Parent Pledge contribution,

as well as for optional student activities such as athletics, co-curricular clubs

and student programs.

Please remit your student's $1,100 deposit during online enrollment to complete your contract.

tuition payment options

The balance of the tuition is delivered either in person to the Bishop O'Dowd High School

Business Office or by wired funds via Wells Fargo Bank.

• Annual — Paying your tuition balance in full by July 18, 2019

A $19,9000 tuition payment by check will be mailed to the school's lockbox address, due on

July 1, 2019 and considered late if not received by July 18, 2019. Complete annual tuition

payment instructions will be mailed to families in June.

• Semester — Paying your tuition balance in two payments, the first is due July 1, 2019, and

the second is due December 1, 2019

A $9,950 semester tuition payment by check will be mailed to the school's lockbox address,

due on July 1, 2019 and considered late if not received by July 18, 2019. The second semester

payment of $9,950 will be due on December 1, 2019 and considered late if not received

by December 18, 2019. Complete semester tuition payment instructions will be mailed to

families in June.

• Monthly — Paying your tuition balance in 10 installments beginning in July 2019 and

ending in April 2020 through Smart Tuition. The monthly due date is specified at Smart

Tuition registration.

Families must register with Smart Tuition for monthly tuition processing. An annual fee

of $50 to Smart Tuition is combined with the first monthly tuition payment due in July.

Families will pay tuition of $1,990 per month beginning in July 2019 and ending in April of

2020. Enroll at www.enrollwithsmart.com with school code 11912.

Questions? Please contact Nancy MacKinnon, x171 or nmackinnon@bishopodowd.org.

17 |
---
18 |
---
parent pledge program

making the difference

Your participation in the parent pledge program makes all the difference!

what is the parent pledge program?

Tuition and fees cover 89 percent of the cost to educate your student

at O'Dowd. In order to minimize tuition increases and still provide an

excellent O'Dowd education, we depend on the generosity of parents,

family and friends to help close the gap.

what are the pledge levels and payment options?

During enrollment, you will be asked to select the commitment level that

works best for you:

$834 monthly ($10,000 annually)

$417 monthly ($5,000 annually)

$250 monthly ($3,000 annually)

$175 monthly ($2,100 annually)

We offer monthly, semiannual and annual direct debit payment options.

If you feel you are unable to participate at these levels, please select the option to attend a one-onone

meeting, held April 30, May 1, 2 and 4, to discuss your participation commitment.

where does the money go?

19 |
---
can my friends and family pay my pledge on

our behalf?

Yes. Please contact Karolyn herryhomes in the Advancement Office

at (510) 577-9100 x304 or kcherryhomes@bishopodowd.org to

make arrangements.

can I pay my pledge through a matching gift

program?

O'Dowd does not credit gifts made from employee matching gift programs

toward your annual pledge. However, we appreciate your efforts in

leveraging matching gifts, which serve as an additional way to support your

student's education.

We appreciate your support!

Your Parent Pledge

helps fund the gap

between tuition and the

true cost of an O'Dowd

education. Your gift

supports key features

and programs that

define and distinguish

O'Dowd:

• Dedicated and

talented teachers;

• Small class sizes;

• Award-winning

programs such as

debate, drama and

athletics;

• Enriching campus

ministry programs;

• Expanded

counseling center

and comprehensive

academic support.

Please give as

generously as you can

to ensure the ongoing

quality of an O'Dowd

education for your

student and their peers.

Questions? If you have any questions about the parent pledge

program, please contact Karolyn Cherryhomes in the

Development Office at (510) 577-9100 x304 or

kcherryhomes@bishopodowd.org

20 |
---
21 |
---
1:1 laptop program

at O'Dowd

At O'Dowd, the personalized learning journey begins with the option for

students to choose their own laptop.

Students may:

• Purchase a school-distributed and supported laptop

• Or bring a school-approved Windows or Mac laptop.

All students are required to have an approved laptop to complement the educational

experience at O'Dowd. It is highly recommended that students acquire an extended warranty

(for example, AppleCare, GeekSquad or other). When you purchase the school-distributed

laptop or AppleCare for the Mac, your student will have immediate, on-site hardware support.

Software support is provided only for O'Dowd course-specific software programs.

All new students must:

• Sign the O'Dowd New Student Laptop Contract (available during the online

enrollment process)

• Select a Laptop Option(purchase through school or bring your own)

• Attend Tech Check, an introduction to our 1:1 Laptop program and technical

configuration of your device to work in our environment and

• Attend Orientation to learn important overall information and skills.

Tech Check is a required technology onboarding session for new students. There are multiple

avenues of completing Tech Check, depending on whether your incoming student is participating

in Summer Academy or not. Information about Tech Check can be found in the

Enrollment Checklist as well as on the Technology page of our website. After completing

Tech Check, students will be ready to begin their O'Dowd experience.

Orientation is required for new students, and is referred to as BOWOW (Bishop O'Dowd

Week of Welcome). BOWOW starts on Sunday, August 11 and continues on Monday, August

12 and Tuesday, August 13 where students attend classes, participate in social activities,

make friends, learn from student leaders, get comfortable with the campus, learn how to use

our technology, and develop study skills that will get them ready for school. Attendance on

Monday and Tuesday is required for incoming 9th graders.

Questions? Please visit Technology at bishopodowd.org/academics/technology/ or

email Gavin Maeda at techsupport@bishopodowd.org.

22 |
---
transportation,

dress code, cafeteria

how to get here

carpools

With students commuting to and from O'Dowd from over 30 different cities, you may be interested

in finding a carpool for your student. Find-A-Carpool is a new parent carpool system now

being used by O'Dowd. In order to access this parent carpool network, you must:

• Use a Google account (an existing one, create a new one, or set-up a non-Google

account as a Google account) to request membership into this group.

• Upon approval, select the city of interest to connect with other parents in the network.

Check out the online instructions to get started. https://bod.zendesk.com/hc/en-us/

articles/360017871253.

Student parking permits are available only to seniors. Contact Gary Mason at x155 or

gmason@bishopodowd.org for more information.

parking

To complement our campus-wide sustainability efforts, we encourage students to carpool or

take public transportation. We provide on-campus parking spaces reserved for seniors. There are

additional free parking spaces near our school entrance and in or adjacent to our lower lot.

AC transit

There are two chartered bus lines to/from O'Dowd that serve our students:

• Route 682 starts in Rockridge and runs the length of the Highway 13 corridor.

• Route 680 runs along MacArthur Boulevard from Lakeshore Avenue.

BART

O'Dowd provides free and convenient transportation for students and staff on an O'Dowd

shuttle bus to and from campus and the San Leandro BART Station.

youth clipper card

Students can apply for Youth Clipper Cards and receive a discount off of adult fares. Visit the

Clipper Card website https://www.clippercard.com/ClipperWeb/discounts/youth.do for

more information.

23 |

For all transportation information, including schedules and signing up for the shuttle

service, use the Getting Here link in the My O'Dowd section at bishopodowd.org.
---
what to wear

At O'Dowd, we wear our name proudly—on our polo shirts, sweatshirts and club T-shirts.

Our dress code emphasizes that the way we look positively impacts the way we feel: proud to

be Dragons.

And, we make it easy!

• Approved O'Dowd polo and O'Dowd outerwear available exclusively at the Dragon Den

• Clean (no holes) pants, jeans, khakis, shorts to the knees, long skirts

• Shoes with backs or back straps

To receive your order for the start of the school year, we recommend

placing your order by June 1.

For information and to place orders, visit the online Dragon Den Store in the

Students & Parents portal under My O'Dowd at bishopodowd.org.

where to eat

Epicurean Group, dedicated to sustainable dining, manages our Cafeteria. This means locally

produced, natural foods for delicious meals! Grass-fed or Niman Ranch beef. Eggs from cagefree

raised chickens. Seasonal menus—sometimes with vegetables from our Living Lab!

Breakfast and lunch are provided every school day for easy purchase at our Cafeteria with

student meal cards.

24 |

For information and menus, visit the Students & Parents portal under My O'Dowd at

bishopodowd.org.
---
FAQs

Please visit www.bishopodowd.org for more information about topics

addressed here.

What is the deadline for sending

final 8th-grade transcripts?

O'Dowd requires that all final 8th-grade

transcripts be sent to the school by June 17.

Please contact Admissions at admissions@

bishopodowd.org with any questions or

concerns.

What occurs at the parent

education meetings?

Parent education meetings address teen

choices and decision-making regarding

health and safety issues. All parents/guardians

are required to attend one session each

year in order for students to participate in

school activities.

What is PowerSchool?

What is Schoology?

O'Dowd provides online access to grades.

Parents and students may check progress as

teachers update grades through PowerSchool.

Schoology is the learning management

system and provides an online complement

to your student's classes. Course homework,

review sheets, and assignments are examples

of resources posted on the Schoology site.

How do I contact teachers?

You are encouraged to contact teachers at any

time to partner with them on your student's

progress. Teachers are available through email

or voicemail (all teacher contact information

is posted on the school website). You can

expect a response within 48 hours. You will

have the opportunity to meet your student's

teachers at Back-to-School Night in early

September (see next question).

Why should I attend Backto-School

Night?

Back-to-School Night offers an opportunity

to "walk in your student's shoes" as parents

move through classrooms and meet teachers

based on their student's course schedule.

Each teacher makes a short presentation

on course expectations and policies.

May I request a meeting

with a teacher?

Parents are invited to schedule conferences with

teachers at any time during the school year.

How do I know which counselor

is assigned to my student?

Counselors are assigned alphabetically by

your student's last name. You can locate

your student's counselor assignment on the

Counseling page at www.bishopodowd.org.

May my student request

a particular teacher?

Student schedules and teachers are

determined by the course choices indicated on

the Preliminary Course Schedule. Students

may not select particular teachers.

25 |
---
What is the Academic

Support Center?

The Academic Support Center is located next

to the library and is where students can receive

support. We offer free tutoring and academic

coaches before during, and after school.

May my student take finals

at a time other than the

scheduled finals week?

Since finals are an important aspect of your

student's grade, please plan your vacations

accordingly as students are not allowed to take

exams outside of finals week.

What can I find on the

school website?

The school website, www.bishopodowd.org,

offers up-to-date information on all aspects

of the school. Please contact webmaster@

bishopodowd.org with website questions.

Where do I find the

school schedule?

Weekly schedules and updates are available

on the school calendar located on the

O'Dowd website and in the Student Planner

distributed to students at Orientation.

What is MP?

MP stands for meeting period, which

occurs periodically in the schedule and

offers students the opportunity to meet with

teachers for tutoring or to engage in club

activities.

Where can I find the school

rules and policies?

The school rules and policies are documented

for parents and students in the Student-Family

Handbook and the Student Planner. An

electronic version of the handbook is available

on our school website under the Students &

Parents portal under My O'Dowd.

What do I need to do if

my student is sick?

Please email the attendance office at

attendance@bishopodowd.org or call

(510) 553-8691 between 8-9:30 a.m. on the

day of the absence.

What is the dress code?

Dress code policy is explained above on page

24 as well as in the Students & Parents portal

under My O'Dowd.

Where do I access the

School Calendar and the

Family Directory?

The School Calendar is accessed through the

homepage of the school website (upper right

corner). Visit the Quick Links page under the

Students & Parents section of the website to

access the Family Directory.

How can my student get

involved in freshman retreats?

Freshmen will be excused from school to

attend a required day-long retreat with their

whole class on October 16. The follow-up to

the retreat is "Peer Ministry," an optional faith

sharing group. Visit Campus Ministry http://

www.bishopodowd.org/faith-justice/campusministry/

for more information.

26 |
---
What types of clubs are

available for my student?

There are more than 50 student-run school

clubs available for your student to join that

include academic, social, and sports-related

activities. Students can also form their own

clubs in areas that they are interested in.

Encourage your student to check out the

clubs at the O'Dowd Club Fair in September

during lunch.

What is Spirit Week?

Chances are you will hear a lot about our

famous Spirit Week. This week highlights

school pride through a variety of activities.

Expect talk about dress-up days, the

Night Rally, dance, hall decorations and

the Olympics.

What is service learning?

Service learning, an applied, educational

method that meets a real need both in the

community and in the classroom, integrates

student volunteer service with reflection and

classroom connections.

At O'Dowd, our four-year Service Learning

program focuses on social justice. At

agencies around the world, students foster

relationships with those most marginalized

and thereby gain a personal understanding of

the Christian call to reach out to those "on the

edges." Each student completes a total of four

Service Learning projects and graduates with

a minimum of 100 hours of service.

How many servicelearning

hours are required

for graduation?

Our Service Learning program is project-based:

four projects that build on each other. Across

four years students engage in a minimum of 100

hours of service.

How can I support my

student's O'Dowd experience

by getting involved?

There are many ways to support your student's

O'Dowd experience and to get involved. The

Dragon Parents Group is an excellent way to

meet other parents and to support your student's

experiences at O'Dowd. From fundraising

to parent education nights, formal volunteer

commitments to opportunistic ones, please

visit the Dragon Parents Group section of the

website or email dragonparents@bishopodowd.org

with questions.

What is Flex Period?

Flex Period provides students with the time

and space that supports their development as

well-rounded persons. Flex Period http://www.

bishopodowd.org/what-is-a-flex-period/ can

be used in a wide variety of ways. We encourage

you to work with your child to think through

how to make best use of that time.

27 |
---
28 |
---
Library

and Tutoring

Center

Classroom

Building

Hurley

Hall

N

The Classroom

Building contains almost all

of the classrooms at O'Dowd.

Rooms are numbered

sequentially from west

to east.

Living Lab and

Center for Environmental

Studies (CES)

CES

Living

Lab

Hurley Hall is the

heart of O'Dowd. The main

office as well as the

principals' and deans' offices

are located here. Rooms

22-25 are located on the

second floor.

E

The Student Center

houses the cafeteria and

student lounge. It looks

out on the Quad.

128-130

228-230

Art

Studio

Student

Center

Large

Gym

Quad

Small

Gym

Performing

Arts Center

101-102

201-202

Dominican

Hall

Chapel

Dominican Hall is home

to Campus Ministry,

Counseling, Academic

Support and the

Business Office.

W

Cummins

Drama

and

Music

Rooms

Cummins Center houses the

president's office, Admissions,

Advancement and

Marketing/Communications.

S

29 |
---
key contacts

MAIN: (510) 577-9100

EMAIL: FirstInitialLastName@bishopodowd.org

For a complete listing, visit the school directory under My O'Dowd at bishopodowd.org.

school

PRINCIPAL

Christopher Smart, Ed.D

Hurley Hall

ASSOCIATE PRINCIPALS

Brian Judd x166

(Campus Ministry/Activities)

Dominican Hall

Colette Roche x205

(Academics)

Hurley Hall

Jase Turner x143

(Student Life-Academic Support,

Athletics, Summer Academy)

Hurley Hall

ACADEMIC SUPPORT

Catherine Harris, Director x334

Dominican Hall

ATHLETICS

Mike Bowler, Director x401

Carlos Arriaga,

Associate Director x412

Hillary Kigar,

Assistant Director x119

Dominican Hall

CAMPUS MINISTRY

Mary Hicken, Director x165

Dominican Hall

COUNSELING SERVICES

x605

Dominican Hall

DEANS

Gary Mason x155

Shannon Donahue '95, x192

Hurley Hall

FOOD SERVICE

Vince DiPietro, General Manager

vince@epicurean-group.com

LIBRARY

Annette Counts,

Librarian x187

Hurley Hall Library

O'DOWD SUMMER ACADEMY

summeracademy

@bishopodowd.org

PERFORMING & VISUAL ARTS

Thien Pham, Chair x187

PLACEMENT TESTS

Darling Vinavong, Academic

Coordinator x316

Hurley Hall

RECORDS & TRANSCRIPTS

Chris Abdenour, Registrar x605

Dominican Hall

SECURITY

Mike Dixon, Campus Security

Coordinator x705

Cummins Center

STUDENT ACTIVITIES

Starr Gray '98, Director x111

Hurley Hall

TECHNOLOGY

techsupport@bishopodowd.org

Classroom Building

TUITION PAYMENTS

Nancy MacKinnon x171

Dominican Hall

administration

(Cummins Center)

PRESIDENT

James D. Childs x112

Elizabeth Herp, Assistant to the

President x335

ADMISSIONS

Kerryn Pincus, Director x603

Moire Bruin, Associate

Director x333

Tricia Bevilacqua, Admissions

Associate x253

General Admissions Questions:

(510) 553-8631

admissions@bishopodowd.org

DEVELOPMENT (fundraising)

Rebecca Bischoff, Chief

Development Officer x308

Tracey Broadhead Frith, Capital

Campaign Director x126

Michelle Hawkins,

Director of Development x301

Elizabeth Horpedahl, Director of

Events & Stewardship x303

LizaDawn Ramirez, Director

of Alumni Engagement &

Philanthropy x317

Jen Ripley, Donor Relations

Officer x619

MARKETING &

COMMUNICATIONS

Shannon Cabral,

Senior Director Marketing and

Communications x147

Lisa Coffey Mahoney '76,

Communications Director x302

Donovan Rittenbach

webmaster@bishopodowd.org

Bishop O'Dowd High School

A Catholic College Preparatory School | 9500 Stearns Ave., Oakland, CA 94605

Finding God

in All Things

Accredited by the Western Catholic Education Association

and the Western Association of Schools and Colleges