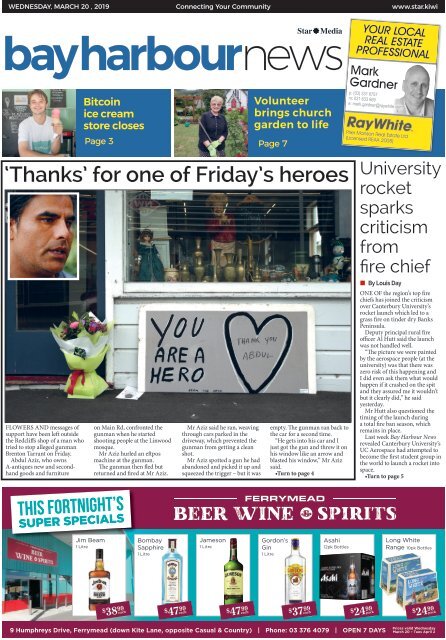 Bay Harbour: March 20, 2019
Do you know the secret to free website traffic?
Use this trick to increase the number of new potential customers.
WEDNESDAY, MARCH 20 , 2019

Connecting Your Community

www.star.kiwi

YOUR LOCAL

REAL ESTATE

PROFESSIONAL

Bitcoin

ice cream

store closes

Page 3

Volunteer

brings church

garden to life

Page 7

'Thanks' for one of Friday's heroes

FLOWERS AND messages of

support have been left outside

the Redcliffs shop of a man who

tried to stop alleged gunman

Brenton Tarrant on Friday.

Abdul Aziz, who owns

A-antiques new and secondhand

goods and furniture

on Main Rd, confronted the

gunman when he started

shooting people at the Linwood

mosque.

Mr Aziz hurled an eftpos

machine at the gunman.

The gunman then fled but

returned and fired at Mr Aziz.

Mr Aziz said he ran, weaving

through cars parked in the

driveway, which prevented the

gunman from getting a clean

shot.

Mr Aziz spotted a gun he had

abandoned and picked it up and

squeezed the trigger – but it was

empty. The gunman ran back to

the car for a second time.

"He gets into his car and I

just got the gun and threw it on

his window like an arrow and

blasted his window," Mr Aziz

said.

•Turn to page 4

Mark

Gardner

p: (03) 331 6757

m: 021 633 669

e: mark.gardner@raywhite.com

Prier Manson Real Estate Ltd

(Licensed REAA 2008)

University

rocket

sparks

criticism

from

fire chief

• By Louis Day

ONE OF the region's top fire

chiefs has joined the criticism

over Canterbury University's

rocket launch which led to a

grass fire on tinder dry Banks

Peninsula.

Deputy principal rural fire

officer Al Hutt said the launch

was not handled well.

"The picture we were painted

by the aerospace people (at the

university) was that there was

zero risk of this happening and

I did even ask them what would

happen if it crashed on the spit

and they assured me it wouldn't

but it clearly did," he said

yesterday.

Mr Hutt also questioned the

timing of the launch during

a total fire ban season, which

remains in place.

Last week Bay Harbour News

revealed Canterbury University's

UC Aerospace had attempted to

become the first student group in

the world to launch a rocket into

space.

•Turn to page 5

THIS FORTNIGHT'S

SUPER SPECIALS

Jim Beam

1 Litre

Bombay

Sapphire

1 Litre

Jameson

1 Litre

Gordon's

Gin

1 Litre

Asahi

12pk Bottles

Long White

Range 10pk Bottles

$

38 99

each

$

47 99

each

$

47 99

each

$

37 99

each

$

24 99

pack

$

24 99

pack

9 Humphreys Drive, Ferrymead (down Kite Lane, opposite Casual & Country) | Phone: 03 376 4079 | OPEN 7 DAYS

Prices valid Wednesday

March 20 – Tues April 2
---
PAGE 2 BAY HARBOUR

Latest Christchurch news at www.star.kiwi

Wednesday March 20 2019

get in touch

from the editor's desk

THOUSANDS OF people will be

pounding the pavements and roads at the

annual City2Surf on Sunday.

It's Christchurch's iconic event, which

The Star has put on for decades.

This year it will be the 45th time the event has been held. It

used to go from the Square out to

QE II, but a certain event on February 22, 2011, changed all of

that. It now goes from Centennial Park and Hansen Park to

Ferrymead.

Each year there is a buzz as thousands gather in the parks

for the challenge that lies ahead – whether it be going as fast

as you can, or simply completing the journey for personal

satisfaction.

On page 12 today, we talk to some of the people taking part.

– Barry Clarke

GENERAL INQUIRIES Ph 379 7100

CLASSIFIED ADVERTISING Ph 379 1100

Star Media, a division of Allied Press Ltd

PO box 1467, Christchurch

starmedia.kiwi

NEWS

Louis Day

Ph: 021 919 917

louis.day@starmedia.kiwi

ADVERTISING

Jo-Anne Fuller

Ph: 364 7425

jo.fuller@

starmedia.kiwi

Rob Davison

Ph: 021 225 8584

rob.davison@

starmedia.kiwi

city2surf

Are you up for it?

We talk to some of the people taking up the challenge at the

45th Star Media City2Surf on Sunday.

Page 12

local views

Korako: 'We stand united'

Port Hills list MP Nuk Korako focuses on the 'extraordinary

outpouring of love, fellowship, and unity' following the events of

Friday.

Page 15

community events

Sumner Bridge Club

Want to play bridge? Join the Sumner Bridge Club on Monday at

7.15pm or Wednesday at 12.45pm.

Page 21

The best-read local newspaper, delivered to

10,056 homes, RDs and farms every Wednesday

Brookhaven, Heathcote, Ferrymead, Redcliffs, Mt Pleasant,

Sumner, Lyttelton, Diamond Harbour, Governors Bay, Akaroa.

HIKING BOOTS

& SHOES

For men, women

and children

From

$79.95

to $250

47c Garlands Road, Woolston

Phone 389 3431

www.thefootwearfactory.co.nz

LIQUID

SELF SERVICE

LAUNDROMATS

289 COLOMBO STREET, SYDENHAM

713 FERRY ROAD, WOOLSTON

ALL SITES OPEN 7 DAYS, 5AM-11PM

WASH 2 MINK

BLANKETS OR

DUVETS

FOR ONLY $8

HOT WATER &

EXTRA LARGE

WASHERS

AVAILABLE

Dry up to 14kg from

$4 in only 25 minutes!

Save Time &

Electricity

WASH & DRY

ALL YOUR

LAUNDRY IN

UNDER 1 HOUR

from

$

4.00 WASH $ 4.00 DRY

• Fast Dryers

• Sports Gear

• Duvets

• Mink Blankets

• Bedding

• Washers

• Domestic Laundry

OVER 65 LOCATIONS NATIONWIDE

Other Locations: Richmond • Hornby • Hoon Hay • Burwood • Aranui • Rangiora

www.liquidlaundromats.co.nz
---
Wednesday March 20 2019

Latest Christchurch news at www.star.kiwi

BAY HARBOUR

PAGE 3

News

Bitcoin ice cream store closes

In Brief

• By Louis Day

AFTER TWO years in business,

a young Sumner entrepreneur's

ice cream enterprise has come to

an end.

Charlie Kavanagh opened

Charlato when he was 18. His ice

cream store, which was closed

last Wednesday, became the first

in the country to accept Bitcoin

as a form of payment.

Mr Kavanagh said 10 to 15

people paid using Bitcoin during

the two years the store was

open.

"It was definitely worth doing,

a lot of people would see the

poster and have a bit of a laugh."

Bitcoin is a digital currency,

which exists only online, and is

one of more than a thousand

"cryptocurrencies."

It has come with harsh

warnings from investors

and traders worldwide for its

volatility and lack of regulation.

However, Mr Kavanagh said

the precarious nature of the

cryptocurrency did not have

a significant impact on his

business.

"I only had $50 invested in it

so it didn't really affect me."

Mr Kavanagh worked for the

previous owners of the gelato

container and decided to take

over when they closed.

"I was just hanging out with a

25 %

off

Resene Premium Paints,

Wood Stains, Primers,

Sealers, Wallpaper,

Decorating Accessories

and Cleaning Products

few mates, we were going down

to the pub to have a few drinks

and I said 'I'm going to start an

ice cream business' and within

two weeks it was open."

Mr Kavanagh, who is

Farewell to

Smith & Boston.

currently in the final year of a

commerce degree at Canterbury

University, said he was closing

so he could work towards

his masters in information

systems in Germany. But he did

RiccaRton

37 Main South Road

massive

shoe

clearance

now on

18 th -29 th MaRch at ouR Main South Road clinic

RedcliffS

2 augusta Street

CURRENCY:

Young

entrepreneur

Charlie

Kavanagh's

ice cream

store was

the first

in New

Zealand

to accept

Bitcoin as

a form of

payment.

not rule out a return to the ice

cream industry. "I would love to

return in the future, probably

not in Christchurch, my dreams

are centred more around

Europe."

MaRShlandS

427 Marshland Road

daRfield

darfield Pharmacy

Ph 348 7910 | www.feetfirst.co.nz

VIGIL IN LYTTLETON

A vigil will be held at Albion

Square in Lyttelton tomorrow

night in memory of those

who lost their lives in the

shooting on Friday. The

ceremony will be held from

8.30 to 9.30pm.

GOVERNORS BAY CRASH

A suspected drink driver

went off the road, rolled and

hit a tree near the Governors

Bay Hotel on Saturday night.

Governors Bay Volunteer

Fire Brigade chief Andrew

Norris said the driver had

"done a runner" by the time

they had arrived on the scene.

Mr Norris suspected the

driver was intoxicated. The

other passenger walked away

without significant injuries

and claimed not to know the

driver involved.

GODLEY HEAD RESCUE

A rescue helicopter,

ambulance and the fire

service were required to

rescue a person in a critical

condition on Godley Head

last week. The individual

was transported via

helicopter from Summit Rd

to Christchurch Hospital

last Wednesday. St John

ambulance was unable to

disclose any further details.

now servicing

oXfoRd

A BRANCH OF

Visit your local Resene ColorShop!

Addington, Ferrymead, Hornby, Lichfield Street,

Northwood, Rangiora, Shirley, Tower Junction

Adam Curtin

Solicitor

akc@younghunter.co.nz

or shop online at shop.resene.co.nz

Discounts off the normal retail price of Resene premium paints, wood stains, primers,

sealers, wallpaper, decorating accessories and cleaning products until 23 April 2019.

Available only at Resene owned ColorShops and participating resellers. Paint offer

also available at participating Mitre 10 MEGA and selected Mitre 10 stores. Valid only

with cash/credit card/EFTPOS purchases. Not available in conjunction with account

sales, promotional vouchers/coupons or other offers. Excludes trade, ECS, WallPrint,

wall decals, Crown products and PaintWise levy.

Closing Down

Sale on Now!

SMITH & BOSTON

Prebbleton Village | Christchurch

Ph: 03 349 5646

www.smithandboston.co.nz

Michelle Rossiter

Legal Executive

mjr@younghunter.co.nz

Proudly providing legal advice

to the community for over 25 years

P 03 384 5350

www.younghunter.co.nz

186 Main Road, Redcliffs
---
PAGE 4 BAY HARBOUR

Latest Christchurch news at www.star.kiwi

Wednesday March 20 2019

News

18 th to 24 th March 2019

$

2 29

kg

Loose Royal Gala

Apples

$

6 99

kg

Fresh NZ Pork

Leg Roast

(Excludes Free Farmed)

TAKE DOWN: Alleged gunman Brenton Tarrant captured by police on

Brougham St after the Linwood shooting.

$

3 99

ea

Ploughmans

Bakery Bread

750g

$

2 99

ea

Country Soft Blend

500g

Businessman thanked

•From page 1

Mr Aziz said the

gunman was cursing at

him, yelling that he was

going to kill them all. But

he drove away and Mr

Aziz said he chased the

car down the street to a

red light, before it made a

U-turn and sped away.

Tarrant killed seven

people at the Linwood

mosque. Latef Alabi, the

mosque's acting imam,

said the death toll would

have been far higher at the

mosque had Mr Aziz not

intervened.

The gunman killed 50

people after attacking the

Linwood mosque and the

Al Noor mosque on Deans

Ave.

Mr Aziz thanked the

community for their

support on the A-antiques

new and second-hand

goods and furniture

Facebook page.

"We are slowly

trying to get on with

everyday activities and

due to our cars being

held at the crime scene

we haven't opened the

shop, we are trying our

best to get hold of a vehicle

and re-open our shop so

the lovely residents can

come and visit us," he

said.

Sumner resident Terry

O'Leary was quick to offer

Mr Aziz a vehicle.

"He can have it for as

long as he wants. We

have shown in the past in

Christchurch that we can

rally around each other,

now is the time to do

that," he said.

Sumner's Vicky

Southworth also offered

her vehicle. "I don't use the

car that much and I can

use the bus," she said.

•Korako column, pg 15

$

3 99

ea

$

1 79

ea

HEAT PUMP

SALE NOW ON!

Amazin' Autumn Specials!!

Hubbards

Light & Right 450g,

Muesli 600-700g

or Just Juice 2.4L

Bluebird Original,

Thick or Thinly Cut

Chips 140-150g

• We will offer you the best quality brands and

option of heat pump for your home/business

• Providing Heat Pump solutions for over 17 years to Cantabrians

• We personally guarantee all our products & installs for 5 years

(providing annual maintenance has been completed)

Phone us today for your free consultation & quote

$

32 99

pk

Export Gold or Tui

24 x 330ml Bottles

$

14 99

ea

41A SHAKESPEARE RD, WALTHAM

PHONE 03 366 0525

www.enviromaster.co.nz

"A local team for local people"

The Ned

750ml

(Excludes Pinot Noir)

svbhn2003

Mmmm... Hot Cross Buns!

In-store

Now

Owned &

operated

by locals

SuperValue Lyttelton, Sumner

For inspiration visit SuperValue.co.nz |

While stocks last at SuperValue Lyttelton and Sumner only.

Please drink

responsibly
---
Wednesday March 20 2019

Latest Christchurch news at www.star.kiwi

BAY HARBOUR

Local

News

Now

PAGE 5

Fire rages, homes at risk

Catch-22 for Black Cat

Rocket launch

• By Louis Day

BLACK CAT Cruises is in a

catch-22 situation over the

ongoing saga of its disability

ramps on Akaroa wharf.

In July last year, the Banks

Peninsula Community Board

gave Black Cat Cruises three

months to remove all nonconsented

structures, such as

disability access ramps, seating,

signage and canopies.

But the two ramps remain in

place nearly five months after

they were meant to be removed.

Black Cat Cruises chief

executive Paul Milligan told

the Banks Peninsula

Community Board at its

meeting on Monday that if the

ramps were removed the Black

Cat Cruises' building would

become non-compliant.

"We are not asking the

council or community board to

bend the rules here. If we could

get rid of the ramps, we would,"

he said.

The community board has

also received advice from city

council staff, saying if the ramps

were removed the building

would become non-compliant

and may be closed down.

However, Akaroa Fishermen's

Association head John Wright

said the group wants to see the

HON AMY ADAMS

MP FOR SELWYN

Working hard for our communities

ONGOING: The unconsented disability ramps at Black Cat

Cruises continue to be debated.

ramps removed.

"We are definitely sticking

by our guns. We require the

unconsented structures to be

removed," he said.

Mr Wright previously told Bay

Harbour News the combination

of the disability ramp and

crowds of tourists from cruise

ships were a real issue.

"There are some days where

it is impossible to get a chiller

truck on to the wharf to unload

our fishing vessels. If it's a hot

day and we've got fish on the

deck, it spoils in the hot sun."

The community board

requested city council staff to

continue to negotiate changes

to access structures on the

wharf and that any structures

which could not be removed

at present be addressed in the

redevelopment of the wharf.

tree trouble?

call us 384 9630

www.fourseasonstreecare.co.nz

draws criticism

•From page 1

The launch was made from

remote Kaitorete Spit near

Birdlings Flat on March 3.

The rocket did not get out of

the Earth's atmosphere and came

back down on the spit, causing

a fire. It was supposed to have

crashed into the sea. The fire was

put out by the students involved

in the project before the Little

River Volunteer Fire Brigade

arrived.

Said Little River Volunteer Fire

Brigade acting station officer

Matt Ledgerwood: "With a bit of

bad luck it could have been a lot

worse, luckily the grass was quite

short and there was no wind."

Rocket launches do not require

a fire permit.

But Fire and Emergency NZ

has the legal ability to prohibit

or restrict activities in certain

circumstances.

Mr Hutt said they would be

taking a harder line with any

future rocket launches.

"In this particular activity, we

have a bit of case history where it

has gone wrong, whereas before

we had nothing. So it would

have been difficult to impose

restrictions on people but now, if

Christchurch Showroom

13b Parkhouse Rd, Wigram

Massive Stock Clearance - End of lines Display models and Accessories up to 70% OFF

Heated towel Rails From $109

they came back, I would be able

to say last time this happened

so I am going to impose some

restrictions."

Canterbury University said last

week there were no current plans

for more launches in the area.

The launch was also criticised

by nearby residents.

Little River Wairewa

Community Trust chairman

Robert Burch labelled the rocket

launch as a "silly thing to do."

"Why are they launching a

rocket when we have a total fire

ban?" he said.

Birdlings Flat resident Sue

Morrow also had concerns.

"It's bloody stupid doing that at

this time of year when it is tinder

dry," she said.

The rocket launch was part of

the international race to become

the first university group to blast

a rocket beyond the Karman line.

The Karman line is 100km

above the earth's surface and

is widely recognised as the

boundary to outer space.

The University of Southern

California's rocket propulsion

laboratory set the highest altitude

reached by a university group in

March 2017 with 44km.

If you would like to sign up for

my newsletter please visit:

www.amyadams.co.nz

CONTACT

P 03 344 0418

E selwynoffice@parliament.govt.nz

Showers

From $459

UP tO 50% OFF

Vanity Range

t005 Model

Now $249

Freestanding Baths

From $999

Funded by the Parliamentary

Service and authorised

by Amy Adams, 829 Main

South Road, Templeton,

Christchurch.

t h e t r e e p e o p l e

f o u r s e a s o n s t r e e C a r e

Open 6 Days Mon-Fri 9am - 5.30pm | Sat 9.30am - 4pm

0800 MILLEN | www.millen.co.nz | 03 348 8678

THE NEW KING

OF THE FARM

The all new 2019 KingQuads are here and ready to work.

1 ⁄3

DEPOSIT

1 ⁄3 1 ⁄3

IN 2020 IN 2021

Power away on a new Suzuki KingQuad 400, 500 or 750

and pay 1/3 deposit, 1/3 in 2020 and a final 1/3 in 2021.

TALK TO US TODAY OR VISIT WWW.SUZUKI.CO.NZ

FOR MORE DETAILS

KingQuad 750XPZL9

shown with alloy wheels.

2.95 %

INTEREST

SZM0439 PIC

Promotion ends 30 April 2019 or while stocks last. Not available in conjunction with

any other promotion. Prices include GST. Finance is at 2.95% interest. Payments include

$300 documentation fee, and $10.35 PPSR. Normal lending and credit criteria apply.

WWW.SUZUKI.CO.NZ
---
PAGE 6 BAY HARBOUR

Latest Christchurch news at www.star.kiwi

Wednesday March 20 2019

Quick

& Easy

Dinner

NEW

PRODUCT

Whittaker's

Destination

or Artisan

100g Range

IN STORE

NEXT WEEK!

Available at participating Four Square stores.

News

Targeted rate plan to rid

Banks Peninsula of pests

• By Louis Day

MORE THAN 20,000

households across Banks

Peninsula may have to

pay a targeted rate for pest

control.

Environment

Canterbury's proposed

Pest-Free Banks Peninsula

strategy would affect

21,276 rateable properties

on the peninsula.

Public consultation on

the proposal has closed

and it will go to a hearings

panel next month before

the plan is finalised.

Different properties

would pay different rates,

depending on their size

and value.

"It would be based 80

per cent on land value, and

20 per cent on land area.

The targeted rate formula

would be approximately

$5 per $100,000 land value

plus $0.65 per hectare of

land," said Maree Willetts,

ECan team leader of strategy,

planning, biodiversity

and biosecurity.

Ms Willetts said the

project would focus on

eradicating feral goats and

controlling pests, such as

TARGETS: Environment Canterbury is planning a

targeted rate to help eradicate all pests on Banks

Peninsula by 2050.

Examples of the annual cost for the

proposed targeted rate:

•800m² property in Sumner, $455,000 land

value: $22.85.

•1000m² property in Lyttelton, $240,000 land

value: $12.09.

•980m² property in Akaroa, $315,000 land

value: $15.84 p.a.

•95ha property in Little River, $600,000 land

value: $91.97 p.a.

possums, feral cats,

ferrets, stoats, weasels and

rats.

The project aims to help

meet the goal of a pest-free

peninsula by 2050.

"The removal of pest

animals from the Banks

Peninsula will ensure

indigenous species become

more abundant and

widespread across the

peninsula and into the

city," she said.

$

3 69 ea

Puhoi Valley

Yoghurt 450g

$

4 79 ea

Tip Top Bakery

Supersoft Bread

700g

$

2 99 ea

Feijoas Loose

Product of New Zealand

$

9 99 kg

Fresh NZ Quality

Mark Lamb Leg Roast

$

12 99 kg

Pams Fresh PoTatoes

2.5kg Prepack

Product of New Zealand

$

4 99 pk

www.foursquare.co.nz

facebook.com/FourSquareNZ

Specials available South Island only from Monday 18th March until Sunday 25th March 2019 or while

stocks last. Wine and beer available at stores with an off licence. Wine and beer purchases restricted to

persons aged 18 years old and over.

Exhibitors

Book now

Don't miss your opportunity to

showcase your business in front of

10,000+ qualified attendees

lisa.lynch@starmedia.kiwi or 021 800 809
---
Wednesday March 20 2019

Latest Christchurch news at www.star.kiwi

BAY HARBOUR

PAGE 7

Lyttelton church garden comes to life

• By Louis Day

ELIZABETH Barrie was

heartbroken when she saw the

state of the garden at Lyttelton's

St Saviours at Holy Trinity

church.

"The weeds were taller than

the rose bushes," she said.

Since then, Mrs Barrie has

been on a mission to restore the

garden to its former glory.

After commuting from her

home in Redcliffs three to

five times a week for the last

five months, Mrs Barrie has

achieved this. She has weeded

the garden, planted roses,

petunias, cosmos, cornflower,

portulaca hydrangea and a

lemon tree.

Mrs Barrie, who grew up in

Lyttelton, was baptised and

married at the Holy Trinity

Church, which was on the

site until it was demolished

following the earthquakes.

"When I was a child and

I used to go, there was this

lemon tree under the corner of

the garden, so the other day I

planted a little lemon tree."

However, Mrs Barrie said

there was still work to be

done.

"It is an ongoing issue really,

it is a beautiful spot, it is a

community thing, it is so much

more than just a church."

The priest of the Parish

of Lyttelton Reverend John

McLister commended Mrs

Barrie's efforts.

"We are very grateful for

what she has done, we have had

people come in for weddings

and funerals who have been

very appreciative of her work,"

he said. St Saviours Church was

moved onto the Winchester

St site after the Holy Trinity

Church was demolished.

Rev McLister said the garden

had been restored to its former

glory but there was still work

DEDICATION:

Elizabeth

Barrie has

restored the

St Saviours

at Holy

Trinity church

garden to

its former

glory as a

volunteer.

PHOTO

MARTIN

HUNTER

to be done on the rest of the

grounds. "The grounds are

still badly damaged, the stone

masonry is badly damaged and

it is a work in progress. It will

take years to restore it back

to where it used to be and a

considerable financial cost."

City council

applies for

NZTA funding

• By Louis Day

THE CITY council is applying

for funding for a section of the

Coastal Pathway.

The section between Shag Rock

and Sumner Surf Life Saving Surf

Club is estimated to cost about $6

million.

City council planning and delivery

transport manager Lynette Ellis

said this section of the Coastal

Pathway would be completed to

schedule even if the New Zealand

Transport Agency did not grant

the funding.

"NZTA subsidise between 50

and 75 per cent of eligible parts

of projects. Construction on this

section of the pathway is already

underway," she said.

Landscaping and lighting

improvements are also part of the

project expected to be completed

by mid-October.

Ms Ellis said the entire project

when completed would provide a

multi-functional pathway to benefit

the community and visitors.

"The asphalt path will run

between Shag Rock and Gollans

Point, and will then transition to

a boardwalk along the front of the

car park and the Sumner Surf Lifesaving

Club where it connects with

the existing memorial walkway."

JOIN US NOW!

See website for details

MONS ROYALE

50% Off RRP for Mid Layers & Outer Layer Jackets

(excludes Spring & Summer 2019 range).

RODD & GUNN

Selected Jackets from $199, Selected Shirts from $49 &

from $79 (while stocks last).

COTTON ON KIDS

'Free' (Teen Range 9-14) from $10, Baby Sale from $5,

Tee's $7.50 each or 3 for $15 (while stocks last).

KESS HAIR AND BEAUTY

Fudge Violet Shampoo 1L $35, Fudge Hair

Shaper 2 for $22.

CANTERBURY

All Rugby Boots Now $50 & Under.

STYLES MAY DIFFER TO IMAGE SHOWN

CUTLER & CO

Linen Short Sleeve Shirts were $129.95, Now $69.95 Each

or 2 for $100 (while stocks last).

ANDREA BIANI

Take a Further $10 Off Ladies Last Pairs Over $20

(terms & conditions apply).

HALLENSTEINS

Selected Short Sleeve Tee's $5, Short Sleeve

Polo's $10 (while stocks last).

FILA

Further 30% Off Fila Clothing (exclusions apply).

UNDER ARMOUR

2 Tee's & 1 Pair Shorts for $100 (terms & conditions apply).

BENDON OUTLET

Bra's Under $25 & Briefs Under $15 (starts 20th March).

Sign up to Smart Deals & be in the monthly draw for a $100 Dress-Smart gift card!

Be one of the first to hear about the latest deals, sent straight to your inbox each week!

CHRISTCHURCH 409 Main South Road, Hornby

www.dress-smart.co.nz

Open 10am-5pm, 7 Days 03 349 5750
---
PAGE 8 BAY HARBOUR

Latest Christchurch news at www.star.kiwi

Wednesday March 20 2019

Your Local Views

Local

News

Now

Tourist numbers threaten 'fragile' Akaroa

Fire rages, homes at risk

Akaroa Civic

Trust chairman

Mike Norris

has his say

on how mass

tourism is

impacting

Akaroa

SINCE 1969 the Akaroa Civic

Trust has been protecting the

town's beauty, history and

character.

In 1999, Heritage New Zealand

registered Akaroa as a historic

area. Mass tourism now poses

threats to Akaroa, and the civic

trust's aims to prevent damage

to Akaroa's fragile character and

ensure the long-term well-being

of the community.

It is hard to appreciate Akaroa

when its streets are clogged with

buses and visitors shuffling past

street stalls. The longer-term

impacts include the loss and

privatisation of open public

spaces and reserves.

Infrastructure developments

to cope with huge daily spikes

CONFLICT: Mike Norris says more needs to be done to manage

the increasing number of cruise ship passengers and tourists

visiting Akaroa.

in tourist numbers are difficult

to accommodate, as Akaroa is

sandwiched between the sea

and steep hills, and has limited

capacity.

Britomart Reserve near the

wharf is one of the few green

public spaces and is used for

family picnics and recreation.

The city council has placed unconsented,

temporary toilets on

this highly-sensitive area. The

city council also fails to properly

maintain the town, which is

looking run down and overused.

Cruise ship passengers are

bearing much of the blame for

harming Akaroa's character,

but pressure is also coming

from an increasing number of

independent travellers, many in

campervans.

Small ships of several hundred

passengers present few problems.

Tourists staying for several days,

eat in the town's restaurants,

shop and sustain businesses

which residents also need and

use. Sustainable tourism has

long been the lifeblood of the

local economy, but if Akaroa's

character is damaged, these

visitors will stay away.

The city council is developing

a new visitor strategy to assist

business owners as they work

through the transition of large

ships returning to the Port of

Lyttelton. Cruise ships will

continue to visit Akaroa, but

hopefully on a more managed

schedule, with less impact on the

town's limited infrastructure.

The civic trust recognises that

many businesses have invested in

servicing the market presented

by the temporary increase in

cruise ship visits, but with the

completion of the Lyttelton

terminal everyone needs to look

for a new tourism strategy which

is sustainable and will replace

some of the lost business.

Akaroa needs to protect its

authentic character and ensure a

local community survives against

high visitor numbers, which put

both character and community

at risk. Lonely Planet has already

recorded unfavourable comments

advising visitors not to bother

with Akaroa on busy cruise ship

days, and the town's businesses

could be seriously impacted

simply through negative social

media.

•More local views, page 15

Fete and music festival to restore Governors Bay jetty

• By Louis Day

A FETE and music festival will be

held next week in a bid to restore

the Governors Bay jetty.

The Governors Bay

Community Association and

Governors Bay Jetty Restoration

Trust have joined forces to

organise the annual fete and a

"save the jetty" music festival

on March 30 at the Allendale

Reserve.

The Governors Bay Jetty

Restoration Trust is currently

raising money and working with

city council on a project to restore

the jetty.

The jetty has been closed since

2011 after an inspection from

engineers found it to be unfit for

public use.

Trust secretary Louisa Eades

said $735,000 has already been

raised towards the project.

However, she said the restoration

project was likely to cost $3

million in total.

"We are working with the city

council to get them to allocate

more money towards the project

in the Annual Plan. If all goes to

plan, we would like to start the

project in the spring, but that

totally depends on fundraising,"

she said.

Proceeds made from the fete

UNSAFE: The Governors Bay

jetty has been closed since

2011 after an inspection from

engineers found it to be unfit

for public use.

and music festival will go towards

the restoration of the jetty.

The fete will run from noon-

4pm and include entertainment,

stalls, a fire brigade

demonstration, white elephant, a

vintage car showing, food and a

pop-up bar.

From 6-10pm, the trust will

hold the "jetty music festival."

Local bands will provide

entertainment and there will

be food stalls and a pop-up bar

run by Two Thumbs Brewing

Co. The line-up will include

The In Crowd, 3KG and James

Constable.

Visit our new website: www.min.nz

A professional realtor with

local expertise

and a personal touch

COASTAL REAL ESTATE SPECIALISTS

We'll help you live the dream.

Min Sarginson Real Estate Ltd. specialises in homes, sections and

rental properties in the spectacular Lyttelton Harbour bays, and

coastal suburbs of Christchurch, New Zealand.

We'll make it so easy for you. All our sales consultants live in the

area – we can give you valuable insights into life in our thriving

coastal communities.

This is an exciting time; of promise, optimism, and opportunities

never anticipated pre-quakes. Beachfront, or hillside with

grandstand views, find the property of your dreams:

Lyttelton | Diamond Harbour | Governors Bay | Cass Bay

Charteris Bay | Church Bay | Purau Bay | Port Levy | Northshore

Southshore | New Brighton | Heathcote | Sumner | Redcliffs

Scarborough | Mount Pleasant | Clifton

Call Min Sarginson Real Estate Ltd. for free, no-obligation advice. Lyttelton: 03 328 7273, lyttelton@min.nz or Church Bay: 03 329 4161, churchbay@min.nz
---
Wednesday March 20 2019

Latest Christchurch news at www.star.kiwi

BAY HARBOUR

PAGE 9
---
PAGE 10 BAY HARBOUR

Latest Christchurch news at www.star.kiwi

Wednesday March 20 2019

Still Pedalling!

Trevor Crowe's been repairing &

improving vehicles for 70 years.

You can benefit from his

experience at...

Subaru Specialists

Electric and

Hybrid Vehicles

We have a great range of Leaf's and

Prius's hand picked for the best

battery health. Sensible prices,

easy finance options. Backed up by

our expert technical team.

Visit online at

www.crowesport.co.nz

518 Moorhouse Ave (East End)

Phone 379 7615

Keeping measles away

KEEPING MEASLES at bay

has been our top priority.

It's been excellent, I've

barely driven further than

30km the whole time.

Vittoria has thoroughly

enjoyed the car seat reprieve.

In spite of this, it was me

suffering in the car.

With all the measles cases

popping up in the region, we

booked Vittoria in for her

next stage of immunisations

as soon as we could.

Unfortunately, that meant

8.30am.

But Vittoria and I needed

to stay in Waikuku and

we couldn't move the

appointment.

With the rush on the

measles vaccine, I didn't want

to risk missing out.

Anyone who's ever done

the North Canterbury to

Christchurch commute will

understand why this is a bit

of a stretch if you don't leave

early enough.

So, for the first time in a

long time, I woke up before

Vittoria and then in turn

woke her at 6.30am.

Having said that, we didn't

leave until 7.45am.

By the time we hit Main

North Rd, we were knee

deep in traffic, time was

ticking and my road rage was

kicking in.

I was sweating, watching

the minutes creep by.

Meanwhile, Vittoria was

chilling in the back seat,

having a sip of water when we

were forced to crawl along.

If you were driving there

at the same time, I'm sorry,

I definitely called you some

very carefully selected words.

Not swear words, of course,

as bubs might pick that up.

No, I likely called you a

VITTORIA

& Matt

spoon or a muggy fluffer.

I need not have stressed

really, we got there just in the

nick of time to wait in the

waiting room for the vaccines

to be ready.

Now, having whinged

about myself, I need to extol

the virtues of my daughter –

because she did great.

She cried a bit when the

needles went in (just two

this time) but was running

around outside smiling and

laughing 2min later.

She was even her happy self

for the rest of the day.

But we've not long noticed

that she's pushing a molar

out. So watch this space as to

whether her happy self sticks

it out.

•Former Bay Harbour

News journalist

Matt Salmons has

become a stay-at-home

dad. We follow his

journey weekly.

Exhibitions on

Sumner Rd

reopening

THE HISTORY OF Sumner

Rd has been captured in two

exhibitions celebrating its

reopening.

The exhibitions, which are

on at the Lyttelton Library and

the Mataku Takotako: Sumner

Centre until April 28, tell

the story of the road and the

important role it has played in

linking the communities.

They have been put together

to mark the reconstruction of

Sumner Rd, which is set to reopen

to traffic for the first time in eight

years at 6pm next Friday.

"Since Sumner Rd opened in

1857 it has played a vital role in

Christchurch's transport network,''

said Lyttelton community

librarian Annette Williams.

Ms Williams said the road also

played a role in the defence of

Christchurch against possible

enemy attack.

"In the late 19th century, when

there were fears the Russians

were going to invade, gun

emplacements were installed at

strategic points along Sumner

Rd."

The exhibitions detail the

engineering work that has gone

into keeping Sumner Rd open for

the past 160 years.

Sarah, Anita, Grant, Ashleigh and Kellie

Full Service Pharmacy

including...

• Passports Photos

• Revlon Cosmetics and Revlon Club

• Gifts and Gift Wrapping

• Ear Piercing

• Extensive Natural Health range

• Scarves, Hats and Sunglasses

• Focus on Natural Organic Skincare including Trilogy,

Antipodes and Sukin

OPEN SAT & SUN

Dispensary Service

• Medico Packs

• Quit Smoking Quitcards

• Emergency

Contraceptive Pill

• Delivery Service

Owned and operated by

your pharmacist, Grant Bell

CAFÉ

NOW OPEN

1005 Ferry Rd, Ferrymead. Ph:943 9635

OPEN 7 DAYS: Mon to Fri 8.30am - 6pm

Sat 9am - 4pm and Sun 10am - 4pm
---
Wednesday March 20 2019

Latest Christchurch news at www.star.kiwi

BAY HARBOUR

PAGE 11

Four Grenadier seasons Ferrymead realty & Sumner

Mt Pleasant

3 1 2 4 Sumner

4 2 2 2

15 Tama Terrace

Superbly located on the lower slopes of St Andrew's Hill, this spacious immaculately presented home promises

spectacular views from every room and will attract buyers with an eye for potential.

It's not difficult to imagine an idyllic lifestyle in this unique home that reflects the style of its era. Open living spaces

flow seamlessly to the sunroom and north-facing deck, making the most of the stunning views of the coastline and

providing an ideal spot for family meals or entertaining. Solidly constructed in concrete in 1946 the property retains

many of its original features and comes to the market in excellent condition with earthquake repairs completed.

Auction: 28th March 2019 from 12pm

View at: www.harcourts.co.nz ID#SM0179

Alison Carter Ph 027 431 8960

10 Denman Street

Love builds a happy home... And that is exactly what our owners had in mind when they were inspired to create this

extraordinary house, just 4 years ago. The result of their careful planning is a contemporary and stylish property that

meets the needs of a modern family, yet retains a warm and welcoming atmosphere for all.

With a sleek and simple design embellished by contemporary touches, this is unmistakably cutting-edge. The heart

of the home is a light-filled, open plan kitchen & living zone. A clever floor plan allows an additional living area to be

opened up, creating an easy flow for entertaining friends, or to be closed off for a more intimate family space.

Auction: 28th March 2019 from 12pm

View at: www.harcourts.co.nz ID#SM0167

Michelle Ward Ph 027 203 7858

Redcliffs 44 Augusta Street

Woolston 12 Delta Way

Mt Pleasant 97B Mt Pleasant Road

Sumner 45 Arnold Street

4 2 2 1

3 2 2 2

4 2 1 2

3 1 1 1

Auction: 28th March 2019 from 12pm

View at: www.harcourts.co.nz ID#SM0175

Alison Carter

Ph 027 431 8960

Deadline Treaty: 3rd April 2019 at 4pm

View at: www.harcourts.co.nz ID#FM5512

Sam Ansell Ph 021 160 6254

Josh Westland Ph 021 258 4410

Price: $980,000

View at: www.harcourts.co.nz ID#SM0149

Deb Beesley

Ph 027 280 8837

Auction: 28th March 2019 from 12pm

View at: www.harcourts.co.nz ID#SM0171

Michelle Ward

Ph 027 203 7858

Wainoni 42 Te Rama Place

Rolleston 31 Burford Way

Hoon Hay 5 Hussar Place

South New Brighton 253 Pine Avenue

3 1 1 2

3 2 1 1

4 1 1 2

4 2 3 3

Deadline Treaty: 2nd April 2019 at 4pm

View at: www.harcourts.co.nz ID#FM5499

Price: NPM

View at: www.harcourts.co.nz ID#SM0172

Price: NPM

View at: www.harcourts.co.nz ID#FM5493

Auction: 28th March 2019 from 12pm

View at: www.harcourts.co.nz ID#FM5508

Mandi Ussher

Ph 022 621 5758

Michelle Ward Ph 027 203 7858

Shaun Davey Ph 027 953 8860

Sam Ansell Ph 021 160 6254

Josh Westland Ph 021 258 4410

Joy Butel Ph 021 353 280

Alistair Hazeldine Ph 027 572 1555

Greg Powell

Branch Manager

027 274 6157

Alison

Carter

027 431 8960

Michelle

Ward

027 203 7858

Deb

Beesley

027 280 8837

Joy

Butel

021 353 280

Chris

Moores

027 588 4440

Kirsty

McLeod

027 226 5893

Liz

Lewis

027 453 0952

Megan

Looyer

027 841 2335

Mandi

Ussher

022 621 5758

Carol

Williams

027 282 4950

Dave

Elston

0274 593 165

Claire

Savage

0210 314 342

Steve

Liebert

021 138 8401

Shaun

Davey

027 953 8860

Alistair

Hazeldine

027 572 1555

Lynton

Hubber

027 433 4141

Prue

Dacombe

021 752 348

Suzanne

Robin

027 271 4906

Sam

Ansell

021 160 6254

Josh

Westland

021 258 4410

Ferrymead

& sumner

1020 Ferry Rd Ferrymead • Ph 384 7950 • harcourtsgrenadier.co.nz

Grenadier Real Estate Ltd MREINZ is a Licensed Agent Under the

Real Estate Agents Act 2008
---
with Les Mills

2SURF

PAGE 12 BAY HARBOUR

Latest Christchurch news at www.star.kiwi

Wednesday March 20 2019

Who's taking part in the

It's the 45th anniversary

of the Star Media

City2Surf. Reporter

Anan Zaki spoke to

some of the participants

aiming to be at the start

line on Sunday

Aaron Cooper, 43

Mr Cooper is set to take part

in his first City2Surf and will do

the 14km race.

"I just want to keep fit and test

the legs on running the distance."

Mr Cooper plans to run a

half marathon

(21km) – which

is on his bucket

list – and

believes this is a

step towards the

goal.

"It's the

Aaron Cooper

first time I'm

running 14km.

I'm a surfer,

I'm not really a runner. I used

to play rugby until I was 21 . .

. and, yeah, it [running] is just

something I've always wanted to

do," he said.

Mr Cooper's wife often takes

part in multi-sport events but

she will greet him at the finish

line as the couple have two young

children.

"When she gets fit, we'll

definitely be doing other races as

a team," he said.

David Clark,

29

Taking part in

the 14km event,

Mr Clark is

looking for a new

challenge. It will

be his second

David Clark time entering the

City2Surf.

"It's just a wee challenge to just

test myself for a bit of fitness," he

said.

"[The first time] was good. I

want to try something further, I

did the 6km [last year] and want

to try the 14km."

He has been training hard

for the event and says he will be

ready for the race on March 24.

NEWBIE: Hailey McConchie will be running in her first

City2Surf this year.

"Currently I'm doing it myself

but we'll see if my partner does it.

That will be just a wait and see."

Hailey McConchie, 25

The mother of two used to be

focus on body building, but since

having her second child last year,

she's switched to running.

It will be her first City2Surf.

"I've never been a runner.

People who tend to lift weight do

not like cardio whatsoever," Mrs

McConchie said.

To lose weight after pregnancy,

she took up running. "I've lost a

lot of my baby weight . . . I started

an eight-week challenge and lost

about 6kg," she said.

Getting into running was

difficult.

"At first it felt like a long time

to get running, even that first

kilometre. It felt like ages," Mrs

McConchie said.

She will be taking part in the

6km event. "Every time I see a

race I just enrol myself and just

build myself in it."

Mrs McConchie has heard

great things about the City2Surf

but couldn't take part in it last

year as she had just given birth to

her second child a month before

the event. "I'd like to keep my

running up [this year]. It's not

something I really enjoy but once

I find my rhythm 2-3km in, that's

when I can see why some people

are addicted to running," she

said.

Kelly Clements, 46

Mrs Clements

doesn't live

far from the

start line near

Centennial Park.

She says the

City2Surf is a

good excuse to

Kelly

Clements

not pay for a gym

membership.

"It's just my

one thing that makes me head

out and train each year. It's

not too far being only 14km.

Rather than paying for a gym

membership, I sign up and it

makes me run," Mrs Clements

said.

This will be her fourth

consecutive City2Surf. "A friend

got me into running and it was

that whole give it a go, it's a

reasonably flat course and lots of

fun," she said.

Unfortunately her friend

How to get involved in the

City2Surf

•Entry forms are available

online, at Pak'n Save and

New World supermarkets,

and at The Athlete's Foot

Northlands and Riccarton

•Standard entry can be

purchased until March

24 for $25. Late entry on

the day, March 24, will be

$30. Children aged 10 and

under are free

has rolled her ankle and Mrs

Clements will be running the

event solo for the first time.

"I'll be on my own but that

doesn't matter because it's so well

set up you don't really care, you

just run.

"I haven't stopped [training]

all year but I probably stepped

up distances in the last six weeks.

There might have been a few 5km

runs but I stepped it up to a few

10km."

Nory Lansing, 28

Being a personal trainer,

Ms Lansing has many friends

and clients taking part in the

City2Surf.

"I'm a runner

in general, I

always like a

challenge in a

run. Living in

Christchurch,

it's part of the

routine here,"

she said.

It's her second

time doing the City2Surf. "

It was good fun [last year]

Nory Lansing

knowing so many runners in the

field. It's a challenging course

but in saying that it's just for

yourself really, not so much a

competition," she said.

"I do heaps of running with my

clients so I think it's motivating

and encouraging to be on the

course for them.

I mention it every week

in a [gym] newsletter and during

my running sessions to sign

up and do whatever they can,

running or walking," Ms Lansing

said.

2

CITY2SURF

with Les Mills

Kristyn Ferry and Simon

Bradshaw

Simon Bradshaw, 30

Mr Bradshaw was

convinced by his partner

Kristyn Ferry to take part in

the 14km event.

"She did it last year and

enjoyed it and this year she's

going to do it again. She said

she'd like me to do it with her

and I said why not."

"She's doing it more for a

social, keep fit aspect than it is for

a competitive aspect. So I've got

the same kind of idea to be doing

it to keep fit and healthy rather

than making the top 10," he said.

Mr Bradshaw trains most days.

He has never entered a running

event before.

"I think I'll be a bit nervous on

the day [of the race]. Just nervous

trying to get to the end," Mr

Bradshaw said.

Seamus Tredinnick, 30

Running in the 6km event, Mr

Tredinnick, who is a keen sailor,

will be returning

to the event

for the second

consecutive year.

"My wife [Emily]

is a keen runner

and has done a

few marathons

so she'll be doing

the 14km run,"

he said.

"Basically, at

Seamus

Tredinnick

least if I sign up for an event, it

gives me a bit of motivation to

work towards to getting me out

and running, which is probably a

good thing," Mr Tredinnick said.

"When you've got a peg in

the ground it's easier to move

towards that goal," he said.

Mr Tredinnick's goal is to

finish the event.
---
Wednesday March 20 2019

Latest Christchurch news at www.star.kiwi

BAY HARBOUR

PAGE 13

STOCKTAKE

SALE

SERTA DEKOTA

Pocket Spring Unit, Single-Sided Mattress,

Medium Latex, and Dreamfoam Comfort Layers

High Profile Platform Base,

Foam Box Edge Support,

Euro Top, Blended Wool,

Knit Fabric SAVINGS

STOREWIDE

FANTASTIC

STOCKTAKE

HUGE RANGE

OF POCKET

SPRING

BEDS

SAVE

NOW

DEALS

STOREWIDE

NOW

CHIROPRACTIC KAURI HD

Torquezone ® HD 5 zoned Spring System

Eco-friendly Dreamfoam ®

Endorsed by the New Zealand

Chiropractors' Association.

MASSIVE

RANGE

SANCTUARY

RANGE

STOCKTAKE

SALE PRICES

IN-STORE

NOW!

CLEARANCE

BEDS MUST

BE SOLD

SLEEPYHEAD - MAKING

BEDS IN NEW ZEALAND

SINCE 1935

Made by Kiwis for Kiwis.

10 YEAR WARRANTY

Quality you can trust...

we guarantee it!

SLEEPYHEAD - MAKING

BEDS IN NEW ZEALAND

SINCE 1935

Made by Kiwis for Kiwis.

10 YEAR WARRANTY

Quality you can trust...

we guarantee it!

SLEEPYHEAD - MAKING

BEDS IN NEW ZEALAND

SINCE 1935

Made by Kiwis for Kiwis.

10 YEAR WARRANTY

Quality you can trust...

we guarantee it!

7 Day Money Back Comfort Guarantee on Queen and King Beds

CNR MOORHOUSE AVENUE & MONTREAL STREET

NEXT TO FARMERS. PHONE: 365 0132
---
PAGE 14 Wednesday March 20 2019

BAY HARBOUR

Latest Christchurch news at www.star.kiwi

Calling for exhibitors

weddingshow

Sunday 25th August, 2019 Air Force Museum, Christchurch

To exhibit at this fantastic show, please email mark.sinclair@starmedia.kiwi for more info.
---
2

Wednesday March 20 2019

[Edition datE]

Your Local Views

Latest Christchurch news at www.star.kiwi

BAY HARBOUR

ARA INSTITUTE OF CANTERBURY

PAGE 15

Retraining puts

new career within

easy reach

'United as one with

our Muslim friends'

Port Hills

list MP Nuk

Korako

focuses on

the 'love,

fellowship,

and

unity' shown by New

Zealanders in the face

of terror

I HAD originally written

this article with a view to

the change in season which

is approaching. The events

on Friday have utterly

changed my view.

In considering what

to say to you at this time

of great mourning and

sorrow, I will not dwell

on the small man who

sought to drive division

and hatred through our

nation's heart.

Rather I want to focus

on the extraordinary

outpouring of love,

fellowship and unity we

have seen over the past few

days.

Up and down the

country Kiwis of every

race, creed and colour have

poured out of their homes

and into places of worship

and places of gathering to

show that the actions of

one man cannot change

who we are.

Our fellow New Zealand

Muslim community

has paid a terrible price

in bringing our nation

together.

Each and every one of us

is united as one with our

Muslim friends, family

and community. We stand

united in showing that

their pain, their loss, their

sacrifice will never be

forgotten by any of us.

This is the time when

we will search our souls,

seek out division and

hatred and meet it head

on with love, compassion,

and the light of unity

that defines us as New

Zealanders.

To the victims and the

families associated with

this awful day – we cannot

hope to understand the

devastation you face.

What we can do is be

here for you and work

with you to ensure not

only does this never

happen again – but that

we use this time of grief

and mourning to unite

more closely with you and

with each other as New

Zealanders united.

Ma te atua e manaaki e

tiaki tatou katoa.

It's never too late to completely change

career, as Reece Scott has discovered.

Calling time on his 17-year career in the

travel industry, he's completely changed

path and is now focused on becoming

a chef.

"At the time I was the South

Island sales manager for The Travel

Corporation, which involved

representing the company's award

winning travel products to travel agents

and consumers throughout the South

Island, from Invercargill to Nelson,"

Reece says. "By then I'd been in the

industry for a long time and I just felt

the need to challenge myself again."

In order to forge a new career path,

Reece knew he needed to retrain. "I've

always enjoyed working with food and

have had experience in the industry

before so I wanted to brush up on my

skills and seek employment in cookery."

Reece says he chose to study at Ara

Institute of Canterbury because of its

reputation as a world-class tertiary

training centre. "The cookery school

at Ara has a reputation for preparing

students to a high standard and giving

them the best skills for employment.

They also have great facilities and

inspiring, knowledgeable tutors."

One of those tutors is Stuart

Goodall, who's had a hand in

training many students who've

gone on to become top chefs,

both here and overseas. "He really

knows his stuff," Reece says. "He

bestows his knowledge to us in

a very relaxed way that's easy to

understand."

While Reece undertakes his

cookery course, he's getting

to put his training into

practice at Ara's on-campus

restaurant, Visions. "It's

great to see how it all works,

from when an order comes

in right through to producing

a saleable product for paying

customers. It's giving me the skills

and preparation to be ready for

employment."

Reece is keen to encourage others

– especially those who aren't happy

in their current career - to follow

his example and study towards a

new career. "Definitely do it," he

says. "Retraining has prepared

me really well for employment

in this industry."

Celebration to send

off Linwood College

A CELEBRATION is

planned for April 5 and

6 to celebrate the past 65

years of educational history

of Linwood College.

In mid-2019, the

school's buildings will be

demolished in preparation

for a full rebuild on the

site. At $44 million, the

rebuild budget is one of

the largest of any of the

Ministry of Education's

rebuild programmes since

the February 22, 2011,

earthquake.

Students enrolled at the

school will be relocated

to the former Avonside

Girls' High site for the full

duration of the rebuild.

When news of the

rebuild was released,

approaches were made

to the school for an

opportunity to celebrate

its past.

At the time it was built

in 1954, Linwood High

was the first post-war, coeducational

school to open

in New Zealand.

While the school looked

more like a building

site than an educational

campus on its opening

day, the community soon

proudly rallied around

its new high school and

ensured it had resources

equivalent to any existing

school in the city.

To mark the demolition

of the buildings, a ticketed

Conversazione event will

be hosted on April 5 and a

free open day on April 6.

The event will end with a

farewell ceremony at 3pm.

This event will be open to

anyone in the community

to attend.

Past students from all

over New Zealand and

Australia have bought

tickets to attend the

farewell, says organising

committee chairwoman

Linda Rutland.

"People have a real

attachment to their old

school with the original

1954s remaining a very

tight-knit group."

•To find out more

or book tickets,

email registration@

linwoodcollege.school.

nz or call Linda Rutland

on 021 239 8946 or

email linda.rutland@

xtra.co.nz
---
PAGE 16 Wednesday March 20 2019

BAY HARBOUR

Latest Christchurch news at www.star.kiwi

2

A

EVENT

CITY2SURF

with Les Mills

Sunday 24 March

#Areyouupforit?

14km, 6km Community

Fun Run Event

It's our

45th

Anniversary Year!

on this sunday

Entry $25 (children 10 and under free)

Available online now from city2surf.co.nz or at these outlets
---
Wednesday March 20 2019

Latest Christchurch news at www.star.kiwi

BAY HARBOUR

PAGE 17

Our People

Rose Lindley

Returning to nursing to work in Africa

After 47 years as a

nurse, Mt Pleasant's

Rose Lindley wanted to

get involved in aid work.

So she spent three weeks

on a mercy ship in Guinea,

West Africa. Sophie

Cornish talks to her about

the experience

Tell me about your trip on the

mercy ship?

I worked as a recovery nurse,

looking after people after they

have had surgery. I have done

that for more than 20 years in

Christchurch. It took more than

40 hours to get to Conakry, the

capital of Guinea in West Africa,

and more than 40 hour to get

home – it was hideous. The

mercy ship organisation is more

than 30-years-old. Basically it

is a Christian ship – it is run on

Christian principles. You don't

have to be a Christian to work on

it. You are treated regardless of

your race or religion; there are no

barriers. They treat everything.

They go up the coast of Africa.

The countries of West Africa

invite them to come because they

can't provide surgeries for people.

Even if they did, the people

couldn't afford to pay for it. So

mercy ships provide free medical

and surgical care for these

patients. People come to the ship

at the beginning of its time in the

country and they are assessed for

suitability of surgery. Some people

they say yes to, some people

they can't treat and have to go

home to die. There is a palliative

care team that follows them up.

Not everyone can be treated, but

they treat as many as they can.

They spend 11 months in every

port. Sometimes they take people

in at the beginning of their time

there, then they go away and

come back and have follow-up

surgery. It is funded by donations

from big corporations in

America. A lot of pharmaceutical

companies provide resources. All

the people on it work for free and

pay for everything.

So how does it all work with

the staff?

You pay for your airfares,

vaccinations and a monthly crew

to live on the ship, nothing is

free for staff. I was on it for three

weeks. Some people are on it for

two weeks and the longest person

has been on it for 30 years. He

brought up his whole family

on the ship – there is a really

good school on it. The thing I

always say about the ship is that

it should never work, but it does.

We have 400 people, plus 200 day

crew, living on a ship together.

There is something like 30 or 40

nationalities working together

and it's the happiest environment

I have ever worked in. It was

brilliant, it was amazing. You

could be working with someone

from Australia, the Netherlands

or Germany, but English is the

spoken language. They have

interpreters throughout the place.

From September last year to

when I was there, they had 214

staff through the theatre block.

A lot of the staff go back again.

For me, I wish I did it when I

was in my 20s. I would have gone

back, but it's a bit late now, it is a

long journey to travel. There are

a lot of jobs I could do. There is

a place called the hope centre,

where people stay until their next

surgery. There are a lot of jobs –

plumbers, electricians, every job

you could think of, it's like a wee

town.

Was everything as you

expected it to be?

I watched the videos online

and it was what I expected,

but the atmosphere was way

more amazing than I ever

anticipated. It was beautiful.

The conditions we saw on the

ship, we would never see in

New Zealand, because we have

free medical care here. There is

a huge stigma about disability

there, it is considered a curse.

These people are ostracised from

their communities because they

are disfigured, so they come to

the ship. No one on the ship is

revolted by what they look like,

we know they need help. So they

immediately feel they are loved

and not ostracised. When people

feel they are loved and not being

told they are different, there

is hope. The extremity of the

disability was way more than you

would ever see in New Zealand.

There were children born with

cataracts, no one in New Zealand

is born with cataracts. It's to do

with malnutrition and disease

with the mothers. There were

goiters (when the thyroid gland

becomes enlarged). The biggest

one they removed when I was

there was 1.6kg. Nothing is

treated at an early phase, there is

no early treatment. These people

live on less than $2 a day. Things

are cheap there, but if you don't

have an income, it is still not

enough.

Did you ever feel unsafe there?

Conakry is certainly not on

the tourist destination route. It's

so poor. Most western tourists

like a little bit of comfort; they

like to see giraffes and elephants.

The infrastructure is pretty

limited there. At the moment,

it's reasonably politically stable. I

think the ship was in Cameroon

last and that's really unstable

at the moment. They have this

awful, unstable political situation

in most of these countries. I

never felt unsafe, though, not

once. They really love the mercy

ships, they are French-speaking

so they would say 'merci.' We

weren't allowed to go into

town by ourselves, they didn't

recommend it. To be honest, it is

all pretty unsafe, poverty drives

people to it.

Tell me about your 47 years in

nursing?

I trained in Christchurch. I

went down the surgical route of

nursing. I have always wanted to

do aid work, but when you have

a husband, children, a mortgage,

all that sort of thing, it makes it

harder. I did some private work,

but I mainly worked at Christchurch

Hospital, working in the

Intensive Recovery Unit and

in recovery for 14 years. I have

been overseas and worked in the

outback of Australia. You might

think I have an obsession with

indigenous people, and I have, I

love them. I worked in this place

called Halls Creek, way up in

Kimberley in Western Australia.

• Turn to page 18

ON THE JOB:

Rose Lindley

recently

returned from

working on a

mercy ship as a

recovery nurse

in West Africa.

NEW

LOCATION

95 Gasson St

The Automotive Lamp Specialists

3 issues $20

6 issues $44.50

10 issues $65

New and Used Lamps for Cars, Trucks,

Vans, 4WD and Motorhomes

PH 0800 225 483 | 95 Gasson Street, CHRISTCHURCH

SUBSCRIPTIONS

FREEPHONE

0800 77 77 10

rugbynews.co.nz
---
PAGE 18 BAY HARBOUR

Latest Christchurch news at www.star.kiwi

Wednesday March 20 2019

Our People

From nursing to small business owner

•From page 17

I was a nurse in a hospital there

for five months.

What was the difference

between your time as a nurse in

New Zealand and on the ship?

We are very privileged in New

Zealand. We have a really good

health system. I have seen some

of the most appalling behaviour

from adults in the medical

profession. But on the ship, I

have never seen such humility

among the staff. That's what we

are all about – we are here for

the patients, not our own egos.

There is so much money involved

in medicine. There is medical

insurance, hospitals, private

hospitals – such vast quantities of

money. Over there, there isn't any

money involved, everyone works

for free. We are all there for the

patients. The guy that has been

there for 30 years, Gary Parker,

he is amazing. He puts people's

faces back together in five or six

hours. He does the most amazing

surgeries. The sort of surgery

he's doing, he would be a multimillionaire

in America, but he is

sponsored to work on the ship.

What were some of the most

significant moments for you on

the ship?

Watching the children having

their bandages taken off and they

can see for the first time in their

lives. I cry, I'm such a big baby. It

just gets me, because of what you

know, that these people's lives are

changed forever.

The stuff they are doing is just

basic stuff so the people can have

a decent life. I went down to the

Ponseti clinic one day, that is

where they treat clubbed feet. The

patient's feet are rotated inwards,

they just don't function. So they

do a simple treatment over a

course of weeks and months and

the kids can walk again normally.

It's incredible. The surgery they

do is always life-changing. In

their notes, they have a picture

of what they looked like when

they came in beforehand. We

would always look at the pictures

and 99 per cent of the time we

were saying 'oh my goodness.'

We would ask if they want to see

a mirror and some would say,

yes, and some would say, no, and

sometimes they would get the

mirror and just be beaming. It

was just amazing.

Tell me a little about the

business you are running now?

I love markets, I'm a foodie. So

SNACKS: Rose

Lindley runs

her healthy

food business,

Mumma Bear,

out of a shop

in Mt Pleasant.

I started my own wee business. I

used to write recipes for a health

and fitness website. I started

with two products, I am now at

16 products. I used to go out to

a commercial kitchen at Lincoln

to make it all. Then two years

ago, the wee shop at the bottom

of the hill came up, so we rented

it. That's what I want to do

now, make healthy muesli and

porridges and crackers and bars.

My husband is retired and he was

a food scientist, so he does all

my nutritional stuff. I like selling

good, healthy food. It's called

Mumma Bear – food as it should

be. I got the name because my

kids call me Mumma Bear.

I woke up one morning thinking

that's what it should be called.

I get really grumpy with food

in the supermarkets because

you don't know what you are

eating. They don't know what the

heck it is. I am really honest with

my stuff, what is on the back

is what is in it. As of next

month, we will be selling

ingredients from the shop, as

long as they bring their own

containers.

Tell me about your family?

We have been here in Mt

Pleasant for 32 years. We built

our house and we have lived in

this area all our married life.

We have two children, Grace

and David. Grace is a speech

language therapist in Paris. She

has been there for nine years.

David has got a finance degree

and works for company called

Compass in Tampa, Florida.

He is shifting up to Chicago to

October. They are there with

their boyfriends and girlfriends.

I don't have any grandchildren

yet, but I want them back here if

they do have grandchildren. My

husband Tim is on the Linwood-

Central-Heathcote Community

Board, he loves it and is really

good at it.
---
Wednesday March 20 2019

Latest Christchurch news at www.star.kiwi

BAY HARBOUR

PAGE 19

0% INTEREST *

PAY JUST $19,125 +ORC* NOW, $19,125 IN 12 MONTHS, $19,125 IN 24 MONTHS.

BASED ON RSP OF $56,990+ORC*

The fully-equipped Pajero Sport VRX now comes with an unbeatable finance offer.

You also get: 7 seats • 2.4L turbo diesel engine with 8-speed auto • 3.1T towing • Super Select 4WD • Smartphone Connectivity for Android

Auto and Apple Carplay • 5 star safety • Adaptive Cruise Control • Forward Collision Mitigation • Multi-Around Monitor • Blindspot Warning.

To experience it for yourself, call 03 379 0588 or visit 386 Moorhouse Avenue.

*Offer for approved applicants of Mitsubishi Motors Financial Services only. Offer is based on a vehicle price of $56,990 which does not include On Roads Costs, which includes WoF, registration, 1,000km road user charges and

a full tank of fuel. Finance offer over 24 months with deposit of $19124.35 required then second payment in 12 months of $19124.35 and final payment in 24 months of $19124.35. Total amount payable over the term $57373.05

excluding ORC of $650. Fixed Interest Rate 0% p.a. This offer includes documentation fee of $375 and PPSR fee of $8.05. Terms and conditions apply. Excludes all lease and some fleet purchasers. Offer expires 31 March 2019 or

when stock runs out.

0% INTEREST *

PAY JUST $13,458 +ORC* NOW, $13,458

IN 12 MONTHS, $13,458 IN 24 MONTHS.

BASED ON RSP OF $39,990+ORC*

10 year / 160,000km Powertrain Warranty (whichever comes

The fully-equipped Eclipse Cross VRX 2WD now comes

with an unbeatable finance offer. .

CHRISTCHURCH MITSUBISHI

386 Moorhouse Avenue, Christchurch.

03 379 0588 | christchurchmitsubishi.co.nz

first) (non transferable). 5 year / 130,000km New Vehicle

Warranty (whichever comes first) (non transferable).

*

Offer for approved applicants of Mitsubishi Motors Financial Services only. Eclipse Cross VRX 2WD offer is based on a vehicle price of $39,990 which does not include on roads costs of $550, which includes WoF, registration and

a full tank of fuel. Finance offer over 24 months with deposit of $13457.68 required then second payment in 12 months of $13457.69 and final payment in 24 months of $13457.69. Total amount payable over the term $40373.05

excluding ORC. Fixed Interest Rate 0% p.a. The offer payment instalments are based on a vehicle price of $39,990, plus documentation fee of $375 and PPSR fee of $8.05. Terms and conditions apply. Excludes all lease and some

fleet purchasers. Offer expires 30 June 2019 or when stock runs out.
---
PAGE 20 Wednesday March 20 2019

BAY HARBOUR

Latest Christchurch news at www.star.kiwi

Want a storage-friendly

sidekick with style?

BOMBAY BUFFET

4 Door Buffet – Black

NOW ONLY $

799

Want fresh outdoor

at bargain prices?

REDUCED OUTDOOR

Limited time only.

While stocks last.

Spritz Corner Suite + Coffee Table

was $ 3598

now $ 2198 SAVE

$

1400

Ego Egg Chair

was $ 579

now $ 299

SAVE

$

280

Capella 3 + 1 + 1 + Coffee Table

was $ 2999

now $ 1699

SAVE

$

1300

Shop

Online

Nationwide

Delivery

Finance

Options

targetfurniture.co.nz

On trend designs? You want it, we got it! Sale ends 08.04.19

Cnr Blenheim & Curletts Rds, Christchurch

Ph: 0800 TARGET (0800 827438)

Offers and product prices advertised here expire 08/04/19.

Sale excludes Manchester and Accessories.
---
Wednesday March 20 2019

Latest Christchurch news at www.star.kiwi

BAY HARBOUR

PAGE 21

Email louis.day@starmedia.kiwi by 5pm

each Wednesday

WāKōrero/Storytimes

Today, 10.30-11am

Encouraging learning

through a love for stories, this

interactive programme includes

stories, songs, rhymes and play.

This is a free, drop-in session.

Matuku Takotako: Sumner

Centre

Create and Connect

Thursday, 9.30am-noon

Enjoy some company while

creating. Take your project or get

some inspiration. Cost is $3 to

cover morning tea. Phone Beth

for more information on 022 678

1252.

St Andrews Church, 148 Main

Rd, Redcliffs

Peninsula Plaques

Friday, Saturday and Sunday,

10am-4pm

An exhibition of innovative

ceramics by Jan Valentine

Priestley which depict the

natural and historic cultural

landscapes of Banks Peninsula

on weatherproof plaques which

can be displayed outdoors or in.

Stoddart Cottage, 2 Waipapa

Ave, Diamond Harbour

JP Clinic

Saturday, 10am-noon

A justice of the peace will

be available to members of

the community to witness

signatures and documents,

certify document copies, hear

oaths, declarations, affidavits

or affirmations, as well as sign

citizenship, sponsorship or rates

rebates applications. There is no

charge for this service.

Matuku Takotako: Sumner

Centre

Sumner Market

Every Sunday until April

There will be a great range

of stalls from fresh veges to

amazing food from all over

the world and amazing crafts.

You'll find the market right next

to the beach as you go in to the

village.

Cnr of Marine Pde and The

Esplanade

Social Games Club

Monday, 10-11.30am

This free session is for people

who enjoy playing board

games such as Scrabble, Chess,

or Rummikub. No bookings

required.

Matuku Takotako: Sumner

Centre

Technology Help Sessions

Monday, 2-3pm

If you need help using your

computer, smartphone, iPad or

tablet, go along to a free drop-in

session. Learn to use email,

search the internet, use the

library catalogue, eBooks and

other computer functions. Take

your devices or use one of the

libraries computers. This free

event requires no bookings.

Matuku Takotako: Sumner

Centre

Akaroa Craft Group

Monday, 1.30-2.30pm

Go along and join the friendly

Akaroa Craft Group. Sit in

the beautiful library on the

comfortable chairs and have

a relaxing chat while working

on your craft project. Share

skills like needlework, knitting,

quilting, handicrafts, making

dolls, teddy bears and

spinning.

Akaroa Library

Loopy Tunes Preschool Music

Tuesday, Sumner, 9.30am, and

Sumner

Bridge Club

– Do you

play bridge?

Go along

and join the

Sumner

Bridge Club

at 57 Dryden

St, on

Monday at

7.15pm or on

Wednesday

at 12.45pm.

For more

information

phone Julie

on 027 434

6678.

Redcliffs, 10.30am

Each 30min session of music

is followed by a playtime for

the children. All children

aged up to five years plus their

parents/caregivers are welcome.

Cost is $2 per child. For more

information, phone

Siu Williams-Lemi on 022 632

6140.

Matuku Takotako:

Sumner Centre, and Uniting

Church hall, 4 Augusta St,

Redcliffs

It's our

45th

Anniversary

year!

#areyouupforit

45th Anniversary

Retro T-shirt

available now

Sunday 24th March, 2019 www.city2surf.co.nz
---
PAGE 22 BAY HARBOUR

Latest Christchurch news at www.star.kiwi

Wednesday March 20 2019

REAL ESTATE

Private, peaceful and great value

2B Marama Tce. Diamond Harbour

Price: $499,00

3-4 bedrooms | 2 bathrooms | 1-2 living rooms | Listing number: 8668

An interesting quirky Stewart Ross

architecturally designed home tucked away

on a very sheltered, sunny 997m2 section.

Spacious open-plan living opening onto

a large North facing deck, perfect to take in

the excellent Harbour views.

With 3/4 double bedrooms, 2 bathrooms

and one or two living areas depending on

how you configure the house.

Set down a private lane with off-street

parking, the rambling section is well

established with lots of potential to enhance

and improve.

The house is well built but in need of a

little cosmetic TLC and is very realistically

priced well below the current RV.

Only 30 minutes scenic drive from the

bottom of Colombo Street. Local amenities

are many and varied to indulge in and in

the pipeline is a cinema, supermarket and

additional shops, as well as the development

of Te Ana Marina at Lyttelton stage 1 now

complete. The local school and Kidsfirst

centre have an excellent reputation and the

zoned high school is Cashmere.

To view this home contact Tim

Dunningham of Min Sarginson Real

Estate (Licensed Agent REAA 2008),

phone 027 651 5474 or 329 4161

growing with you June 2018 | 100%

Plants For

winter wow

Cool Choices

For Colour

& Contrast

From swamp

to sea views

The journey

begins with sarah

the Gardener

$7.90 incl. GST

Snap it up

Enter our annual

Birdlife Photo

Competition to win

great prizes!

clear the air

Why groWing

indoor PLAnTs is

so good for you

give it a grow

from gArLic

To chinese

ArTichokes,

We hAve your

groWing TiPs

covered

the latest releases

into the rose world

+ rose care

through winter

The magazine for

gardeners who like to get

their hands dirty

SUBSCRIBE FROM

$43. 50*

*6 issues/6 months

SUBSCRIPTIONS FREEPHONE

0800 77 77 10

WWW.GARDENER.KIWI
---
Wednesday March 20 2019

Latest Christchurch news at www.star.kiwi

BAY HARBOUR

PAGE 23

Computer

Services

VIRUS REMOVAL AND

PC HEATH CHECK

$50.00 With free pick

and delivery within 10km

of Redcliffs. Phone Paul

on 021495577. Microsoft

Certified Pro with 25 years

experience. Visit www.

seracnz.com

Funeral Directors

direct

cremation

service

0800 27 28 29

www.mainland

crematorium.co.nz

KATANG

Classifieds Contact us today Phone our local team 03 379 1100

Health & Beauty

Fitness

Tues 9.15am-10.15am

Health & Beauty

EXERCISE for over

65s. Redcliff's Bowling

Club "Use it or Lose it"

classes. Mondays 11am

(men only), Wednesdays

9am (mixed), Fridays

11am (mixed). MoveEzy

gentle class: Mondays

1.30pm. Contact Kris

021 262 8886 or kris@

exerciseasmedicinenz.com

Holiday

Accommodation

Australia QLD

SUNSHINE

COAST

RESORT

ALEXANDRA HEADLAND

All Units Have Ocean Views.

Heated Pools, Spa & Sauna,

Free Wifi, Tennis

& Mini Golf.

CHECK OUR GREAT

WINTER SPECIALS

www.mandolin.com.au

0061 7 5443 5011

JUNE to AUG temps 20C

To Let

RENT ME!

Ideal as an extra

bedroom or office.

no bond required

Sumner Community

Centre (above library)

$5 per class.

Concession cards available.

For more info

contact Katrina

381 1704 or

027 4966 845

ADD SOME

COLOUR

TO YOUR ADVERT!

Fully insulated and double glazed for warmth.

Three convenient sizes from $70 a week:

Standard 3.6m x 2.4m

Large 4.2m x 2.4m | Xtra-large 4.8m x 2.4m

PLUMBING &

DRAINAGE

SERVING

CHRISTCHURCH

AND WIDER

CANTERBURY REGION

WITH QUALITY

WORKMANSHIP

AND SERVICE.

PHONE HAMISH BALDWIN

027 636 3499

Visit our website

www.justcabins.co.nz

for display cabin locations

www.justcabins.co.nz

Trades & Services

Trades & Services

Your local professional

FOR ALL YOUR

PLUMBING,

GAS &

DRAINAGE

• Bathroom repairs

• Renovations

• Leaks

• Blocked drains

• Gas and drainage

Carol and Chris

Wanted To Buy

AAA Buying goods

quality furniture,

beds, stoves, washing

machines, fridge freezers.

Same day service.

Selwyn Dealers.

Phone 980 5812 or 027

313 8156

Phone 376 5322 or email

chcheast@laserplumbing.co.nz

Trades & Services

rooF

painting

Book now and

receive 20% discount

for summer.

Rope and harness a

speciality.

No scaffolding required.

30 years experience.

Free quotes, call

Craig 021 060 2392

PLUMBER

AvAilAble for:

Hot water cylinder

replacements

Gas conversions

Top quality full

house filtration to

protect all your

plumbing and your

health from chlorine.

Phone Mike

021 132 8929

Trades & Services

Landscape

and Garden

Services

Need help with

your garden?

We provide a quality

service for all your

Garden Maintenance

(hedges, lawns,

line trimming, weeding)

and Landscaping needs,

(fencing, paths, drives,

retaining and earthworks).

Full Arborist Service

Ph 021 272 0303

ROOF

PAINTING

Rope & harness

a speciality,

no scaffolding

required,

30 years of

breathtaking

experience.

FREE QUOTES

Exterior staining,

exterior painting,

moss and mould

treatment and

waterblasting

Phone Kevin

027 561 4629

Trades & Services

CARPET & VINYL

LAYINg

Exp. Repairs, uplifting,

relaying, restretching.

Email jflattery@xtra.co.nz

ph John on 0800 003 181

or 027 2407416

CONCRETE CUTTINg

Affordable Concrete

Cutting with Quality, and

removal work. Free quote.

No job to small. Phone 027

442-2219, Fax 359-6052

a/h 359- 4605

ELECTRICIAN

JMP Electrical.

Experienced & registered..

Expert in all home

electrical repairs &

maintenance.Call James

027 4401715

ELECTRICIAN

For electrical work, no job

to small, affordable, tidy &

experienced, HEATPUMP

servicing, & perfomance

test $70 + gst, ph or txt 027

432 9755 or 03 326 49922

gARDENER

Need your home or

commercial garden tidied

up or renovated or require

long term assistance.

Phone Ruth 326-6663 or

021 272-0303

LAWNMOWINg

You Grow I Mow. Free

quotes. Ph / text Chris 021

252 1801

PLASTERINg

INTERIOR

no job too big or too

small, specialise in repair

work & new houses, free

quotes given, over 20 yrs

plastering experience, ph

Peter 027 221-4066 or

384-2574

SHEEP SHEARINg

MOBILE

Fast friendly professional

service. 25 yrs exp.

Shearing, drenching, hoof

trimming etc. Call Shaun

021 204 1274

Trades & Services

STONEMASON, BRICK

& BLOCKLAYER

Earthquake Repairs,

Grind Out & Repoint,

River/Oamaru stone,

Schist, Volcanic Rock,

Paving, all Alterations

new & old, Quality

Workmanship, visit

www.featureworks.co.nz

or ph 027 601-3145

Public Notice

Tuition

Tuition

Tuition

PIANO LESSONS

Catherine Bracegirdle

DipABRSM ATCL AIRMT

51A Colenso St, Sumner

Ph. 021 044 5102

www.pianoandtheory.co.nz

catherine.bracegirdle@gmail.com
---
PAGE 24 Wednesday March 20 2019

BAY HARBOUR

Latest Christchurch news at www.star.kiwi

FERRYMEAD

Unit 1/950 Ferry Rd, Ferrymead, Christchurch | 03 376 4974 | ferrymead@flooringxtra.co.nz

P R O D U C T D I R E C T O R Y

& I N S P I R AT I O N G U I D E

www.flooringxtra.co.nz

LOOK BOOK 16/17 NZ$5.99

P R O D U C T D I R E C T O R Y

& I N S P I R AT I O N G U I D E

cork &

LOOK BOOK 16/17 NZ$5.99

hardwood

flooring

Specialists in:

• Carpet for home

interiors and garages

• Underlay

• Engineered Timber

• Laminate and Luxury

Vinyl Tiles & Planks

• Rugs

• Plus some good

sound advice

FERRYMEAD

THE FLOOR THAT HAS IT ALL...

BEAUTY | COMFORT | DURABILITY | SUSTAINABILITY

FERRYMEAD

LOCALLY OWNED & OPERATED

Unit 1/950 Ferry Rd, Ferrymead, Christchurch | 03 376 4974 | ferrymead@flooringxtra.co.nz

www.flooringxtra.co.nz

Unit 1/950 Ferry Rd, Ferrymead, Christchurch | 03 376 4974 | ferrymead@flooringxtra.co.nz

www.flooringxtra.co.nz
---
Wednesday March 20 2019

Latest Christchurch news at www.star.kiwi

BAY HARBOUR

PAGE 25

ARE YOU UP FOR IT?

It's our

45th

Anniversary Year!

Sunday March 24

Under 10's free

Enter now at Pak'NSave | New World | The Athlete's Foot

or online at city2surf.co.nz

A Star Media Event
---
ENTRY

ENTRY

PAGE 26 Wednesday March 20 2019

BAY HARBOUR

Latest Christchurch news at www.star.kiwi

You choose your distance: 14km, 9am start or 6km, 10am start

76

OPAWA

74

Colombo Street

SPREYDON

76

74A

Ferry Road

Wilsons Road

H 2 0

6KM START

Hansens

Park

H 2 0

Grange Street

Barrington Street

14KM START

FERRYMEAD

Centennial

Park

CASHMERE

Port Hills Road

76

FINISH

Ferrymead

Playing

Fields

CITY

2SURF

with Les Mills

H 2 0

Water

Toilets

H 2 0

CITY

2SURF

with Les Mills

74

P

2

Hawford Rd

CITY2SURF

with Les Mills

6km

Site

Map

P

ENTRY

Butler St

HANSEN

PARk

Les Mills

Warm Up

STAGE

Aynsley Tce

6km

runners

Grange St

ENTRY

Pioneer Stadium

CENTENNIAL

PARK

Lyttelton Street

2

CITY2SURF

with Les Mills

14km

Site Map

First Aid

Free Sunscreen

STAGE

Les Mills

Warm Up

P

WALkERS

JOGGERS

RUNNERS

Participants

assemble

here

START

14km runners

Heathcote River

STAGE

START

First Aid

Free Sunscreen

Toilets

Clothing Drop Off

8.30-10am

Late Registrations

8.30am-10am

9am-10am Les Mills

Warm Up & Entertainment

Start Line. 10am start

6km Runners

14km Runners

P

Participants

assemble here

WALKERS

JOGGERS

RUNNERS

Rose Street

START

Cashmere View

STAGE

START

Toilets

Clothing Drop Off

Late Registrations

7am-9am

8am-9am Les Mills

warm up & entertainment

Start Line, 9am start

FIT FOR FREE *

SAT + SUN

ALL OF MARCH

*CHRISTCHURCH ONLY. FULL TERMS AND CONDITIONS APPLY – SEE WEBSITE FOR DETAILS.
---
Wednesday March 20 2019

Latest Christchurch news at www.star.kiwi

BAY HARBOUR

PAGE 27

CITY

2SURF

with Les Mills

CITY Need to know

2SURF

Online Order: Selected collect? Bring your e-ticket confirmation to Smiths

City Colombo street on Friday 22 March between 11-5pm Or Saturday 23

2with Les Mills

March between 9-5pm. Selected courier? You will receive your entry shortly.

• The 14km starts at 9am at Centennial Park, Pioneer Stadium.

The Sport Canterbury 6km starts 10am at Hansens Park, Opawa.

CITY2SURF

• Warm up with our Christchurch Les Mills fitness team.

• At the finish line grab your free Pump Water or Powerade

• Enjoy free children's entertainment 2and our live DJ.

with Les Mills

• Look out for our social media squad. See your photo on The Star City2Surf

Facebook Page.

• Prize giving starts at mid-day.

• Please be aware that we are no longer using McCormacks with Les Bay Mills for Parking

CITY2SURF

• Enjoy free entry to Ferrymead Heritage Park with you entry bib

76

CITY

2SURF

with Les Mills

Routes

Look the part

CITY

2 SURF

with Les Mills

Routes

Available in 3 different colours

T-Shirt $35 Singlet $30

Children's T-shirt $30

WOOLSTON Available now at The Athlete's Foot

74A

Riccarton, Northlands and on event day

P1

P1

Pre-Run bus route

Ferrymead - 14km-6km

Post-run bus route

Ferrymead - 6km - 14km

Limited free parking

CITY2SURF

with Les Mills

Christchurch 2019

Pre-Run bus route

Ferrymead - 14km-6km

Post-run bus route

Ferrymead - 6km - 14km

Limited free parking

74

Colombo Street

SPREYDON

76

OPAWA 6 KM

DROP OFF

WOOLSTON

76

74A

74A

Ferry Road

P2

Grange Street

74

14 KM

START

Centennial & DROP

Park OFF

14 KM

START

Centennial & DROP

Park OFF

SPREYDON

Barrington Street

Barrington Street

CASHMERE

CASHMERE

Colombo Street

Wilsons Road

Wilsons Road

Hansens 6 KM

OPAWA 6 KM START Park

DROP OFF

76

Hansens 6 KM

START Park

Grange Street

74A

Port Hills Road

76

Port Hills Road

76

Ferry Road

FERRYMEAD

P2

INFO

FERRYMEAD

P1

FINISH

LINE

INFO

MOUNT

PLEASANT

FINISH

LINE

74

P1

MOUNT

PLEASANT

MCCORMACKS

BAY

BUS TICKETS

MCCORMACKS

$6

BAY

BUY NOW AT

CITY2SURF.CO.NZ

INFORMATION

PRE EVENT

BUS SERVICE

74

POST EVENT BUS

SERVICE

LIMITED FREE

PARKING NEAR

• Purchase pre and post run bus tickets prior to event day to avoid hassle.

• Limited INFORMATION

bus sales on the day, however can be purchased from the PRE EVENT

POST EVENT BUS LIMITED FREE

finish line info tent.

• Buses to startline from 7.15am

• Limited on street parking available at both start lines. FINISH LINE

• Purchase pre and post run bus tickets prior to event day to avoid hassle. BUS

• Show bus drivers e-tickets printed, on phone, or show on the day • SERVICE

Last bus to 14km at 8.15am for 9am SERVICE

start • Post event bus runs from Ferrymead PARKING finish to 14km NEAR

• Limited bus sales on the day, however can be purchased from the

• Spaces available at parking zones P1 & P2 as

wristband.

and 6km starting point

finish line info tent.

• Buses • to Last startline bus from to 6km 7.15am at 9.30am for 10am • Limited start on street parking available at both start lines. FINISH LINEshown on map

• No • Show cash bus on drivers buses e-tickets - sales only printed, at info on phone, tent on or day. show on the day • Last bus • Buses to 14km only at 8.15am stop at for start 9am line startdrop offs • Post event bus • runs Buses from run Ferrymead from 10am finish to 14km

• Spaces available at parking • See zones separate P1 & finish P2 as line parking maps for

• Children wristband. under 10 ride free with participating adult.

• Last bus to 6km at 9.30am for 10am start and 6km starting point

• Buses only stop at start lines

shown on map more details

• No cash on buses - sales only at info tent on day.

• Buses run from 10am

• Please note - No parking across vehicle entrances or in business parks. • Buses only stop at start line drop offs

• Last bus from finish line is 1.25pm • See separate finish line

• Children under 10 ride free with participating adult.

• Parking parking maps in the for reserve on Bridle Path Road

• Buses only stop at start lines

more details

• Please note - No parking across vehicle entrances or in business parks.

• Last bus from finish line is 1.25pm

• Parking in the reserve on Bridle Path Road

Proud to support

Sunday

24th

March

Spot Prizes

WiFi Range Extender, Belkin Powerbanks, Power

Shaver, Lightning Cable , Bluetooth Headphones

Corporate Prize

TCL 55" 4K UHD

Smart TV

School Prize

HP 11.6" 32GB

Chromebook

Family Prize

Fisher & Paykel 12kg

ActiveIntelligence TM Washer

Kids Prize

Bauer Ambush

20 Kids Bike
---
PAGE 28 Wednesday March 20 2019

BAY HARBOUR

Latest Christchurch news at www.star.kiwi

CITY

2SURF

with Les Mills

2

CITY2SURF

with Les Mills

March 24 $25

Enter now at Pak'NSave | New World | The Athlete's Foot | or online at city2surf.co.nz

Be into win 2x return

flights to Singapore in

Premium Economy on

Singapore Airlines.

Prize announced midday on Sunday 24

March 2019. You must be wearing your

registration sticker to be eligible.

Find the giant Singapore Airlines suitcase to

enter into the draw to win return

Economy flights for two to Singapore.

singaporeair.com

1

SINGAPORE AIRLINES

BRAND GUIDELINES

SUMMARY

Proud Sponsors