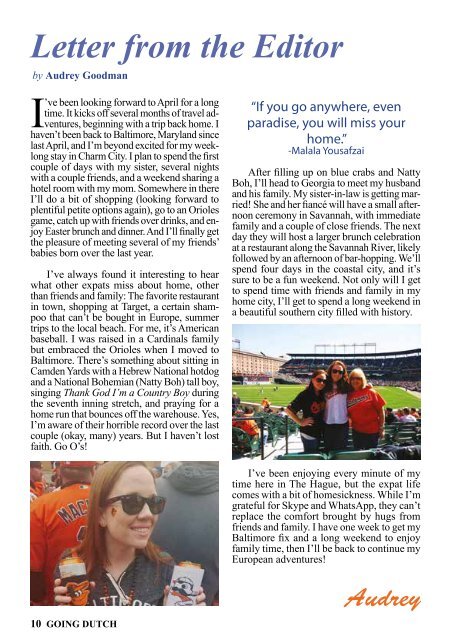 AWC Going Dutch April 2019
The monthly magazine of the American Women's Club of The Hague
The monthly magazine of the American Women's Club of The Hague
SHOW MORE
SHOW LESS
Create successful ePaper yourself
Turn your PDF publications into a flip-book with our unique Google optimized e-Paper software.
Letter from the Editor

by Audrey Goodman

I've been looking forward to April for a long

time. It kicks off several months of travel adventures,

beginning with a trip back home. I

haven't been back to Baltimore, Maryland since

last April, and I'm beyond excited for my weeklong

stay in Charm City. I plan to spend the first

couple of days with my sister, several nights

with a couple friends, and a weekend sharing a

hotel room with my mom. Somewhere in there

I'll do a bit of shopping (looking forward to

plentiful petite options again), go to an Orioles

game, catch up with friends over drinks, and enjoy

Easter brunch and dinner. And I'll finally get

the pleasure of meeting several of my friends'

babies born over the last year.

I've always found it interesting to hear

what other expats miss about home, other

than friends and family: The favorite restaurant

in town, shopping at Target, a certain shampoo

that can't be bought in Europe, summer

trips to the local beach. For me, it's American

baseball. I was raised in a Cardinals family

but embraced the Orioles when I moved to

Baltimore. There's something about sitting in

Camden Yards with a Hebrew National hotdog

and a National Bohemian (Natty Boh) tall boy,

singing Thank God I'm a Country Boy during

the seventh inning stretch, and praying for a

home run that bounces off the warehouse. Yes,

I'm aware of their horrible record over the last

couple (okay, many) years. But I haven't lost

faith. Go O's!

"If you go anywhere, even

paradise, you will miss your

home."

-Malala Yousafzai

After filling up on blue crabs and Natty

Boh, I'll head to Georgia to meet my husband

and his family. My sister-in-law is getting married!

She and her fiancé will have a small afternoon

ceremony in Savannah, with immediate

family and a couple of close friends. The next

day they will host a larger brunch celebration

at a restaurant along the Savannah River, likely

followed by an afternoon of bar-hopping. We'll

spend four days in the coastal city, and it's

sure to be a fun weekend. Not only will I get

to spend time with friends and family in my

home city, I'll get to spend a long weekend in

a beautiful southern city filled with history.

10 GOING DUTCH

I've been enjoying every minute of my

time here in The Hague, but the expat life

comes with a bit of homesickness. While I'm

grateful for Skype and WhatsApp, they can't

replace the comfort brought by hugs from

friends and family. I have one week to get my

Baltimore fix and a long weekend to enjoy

family time, then I'll be back to continue my

European adventures!

Audrey

APRIL 2019 11