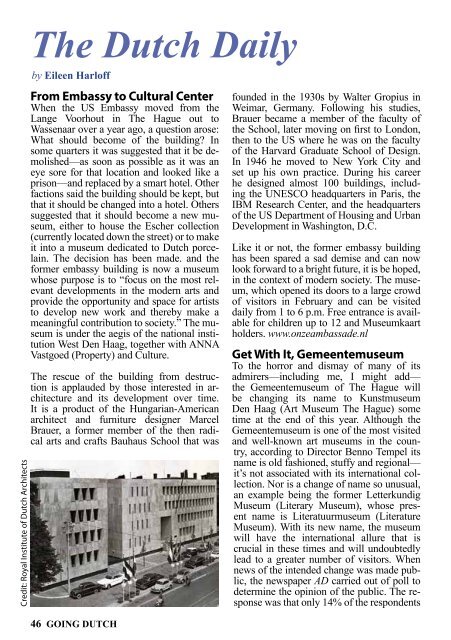 AWC Going Dutch April 2019
The monthly magazine of the American Women's Club of The Hague
The monthly magazine of the American Women's Club of The Hague
SHOW MORE
SHOW LESS
Create successful ePaper yourself
Turn your PDF publications into a flip-book with our unique Google optimized e-Paper software.
Credit: Royal Institute of Dutch Architects

The Dutch Daily

by Eileen Harloff

From Embassy to Cultural Center

When the US Embassy moved from the

Lange Voorhout in The Hague out to

Wassenaar over a year ago, a question arose:

What should become of the building? In

some quarters it was suggested that it be demolished—as

soon as possible as it was an

eye sore for that location and looked like a

prison—and replaced by a smart hotel. Other

factions said the building should be kept, but

that it should be changed into a hotel. Others

suggested that it should become a new museum,

either to house the Escher collection

(currently located down the street) or to make

it into a museum dedicated to Dutch porcelain.

The decision has been made. and the

former embassy building is now a museum

whose purpose is to "focus on the most relevant

developments in the modern arts and

provide the opportunity and space for artists

to develop new work and thereby make a

meaningful contribution to society." The museum

is under the aegis of the national institution

West Den Haag, together with ANNA

Vastgoed (Property) and Culture.

The rescue of the building from destruction

is applauded by those interested in architecture

and its development over time.

It is a product of the Hungarian-American

architect and furniture designer Marcel

Brauer, a former member of the then radical

arts and crafts Bauhaus School that was

founded in the 1930s by Walter Gropius in

Weimar, Germany. Following his studies,

Brauer became a member of the faculty of

the School, later moving on first to London,

then to the US where he was on the faculty

of the Harvard Graduate School of Design.

In 1946 he moved to New York City and

set up his own practice. During his career

he designed almost 100 buildings, including

the UNESCO headquarters in Paris, the

IBM Research Center, and the headquarters

of the US Department of Housing and Urban

Development in Washington, D.C.

Like it or not, the former embassy building

has been spared a sad demise and can now

look forward to a bright future, it is be hoped,

in the context of modern society. The museum,

which opened its doors to a large crowd

of visitors in February and can be visited

daily from 1 to 6 p.m. Free entrance is available

for children up to 12 and Museumkaart

holders. www.onzeambassade.nl

Get With It, Gemeentemuseum

To the horror and dismay of many of its

admirers—including me, I might add—

the Gemeentemuseum of The Hague will

be changing its name to Kunstmuseum

Den Haag (Art Museum The Hague) some

time at the end of this year. Although the

Gemeentemuseum is one of the most visited

and well-known art museums in the country,

according to Director Benno Tempel its

name is old fashioned, stuffy and regional—

it's not associated with its international collection.

Nor is a change of name so unusual,

an example being the former Letterkundig

Museum (Literary Museum), whose present

name is Literatuurmuseum (Literature

Museum). With its new name, the museum

will have the international allure that is

crucial in these times and will undoubtedly

lead to a greater number of visitors. When

news of the intended change was made public,

the newspaper AD carried out of poll to

determine the opinion of the public. The response

was that only 14% of the respondents

Credit: Gemeentemuseum The Hague

thought it a good idea. A former Professor of

Corporate Communications, Cees Riel, who

has carried out extensive research on the subject,

agrees with Director Tempo. The new

name, he suggests, is associated with modern

art from the 20th and 21st centuries, and

while change often leads to uncertainty and

irritation, in the long run the change will generally

be accepted.

The Case of the Glass Piano

It's like a story from a book or a film, and

its main character is a former Malaysian millionaire,

Jho Low, who stole millions from

Malaysia's national funds, among others,

through various white-washing deals. He

was a big spender, owning a super-luxe yacht

with helicopter platform and a 19-man crew

(bought in the Netherlands), a private plane,

10 houses in New York City, California

and London, paintings (one of which was a

Picasso that he gave as a gift to Leonardo

DiCaprio), jewels, etc. He also gave money

to charity.

Now this is where Holland comes into the

story. Jho Low ordered a glass piano from

Dutch piano maker, music teacher and director,

Peter Tol. The piano maker lives in

Ablasserdam, where he has a home and

workshop. When he was 12 years old, he

saw an acrylic piano in a store in town. He

was fascinated with it and decided that one

day he would like to have such an item in his

own home. Peter grew up, married, and had

a daughter named Cecille, who was severely

handicapped, but who learned to play the

piano. Together they entertained themselves

with playing duets. When she was 25 years

old, Cecille moved out of the home and Peter

began building acrylic pianos, to which he

gave her name.

Switch back to Jho Low, millionaire. He

saw one of Tol's acrylic pianos and decided

that this was the perfect gift for supermodel

Miranda Kerr. It was October, and he wanted

the piano to be delivered to Miranda in

California by Christmas, about three months

away. It usually takes nine months to build

a piano, but Peter Tol had an unfinished one

on hand and was able to meet the deadline.

Moreover, the piano was to have a red acrylic

ribbon around it just above the legs, and

when it was taken out of its wrappings it was

to automatically play You're Still the One.

The piano was delivered on time, in the rain,

but as no one was home it was deposited on

the front porch. How it was received and if it

were used is not known.

The end of story is not yet in sight. Eventually

the financial machinations of Jho Low came

to light and he fled to an unknown destination,

although it is suspected that it is China.

As most of these transactions took place in

the US, that country was tasked with sorting

out the mess. This undertaking is costing a lot

of money, as items that had been gifted to various

people (the Picasso given to Leonardo

DiCaprio, the glass piano to Miranda Kerr,

etc.) have had to be retrieved, examined and

repaired. The fate of Peter Tol's glass piano

is not yet known. I hope it ends up in the

Netherlands and that it will be on display. It

may even become a national treasure.

Credit: Vogue

46 GOING DUTCH

APRIL 2019 47