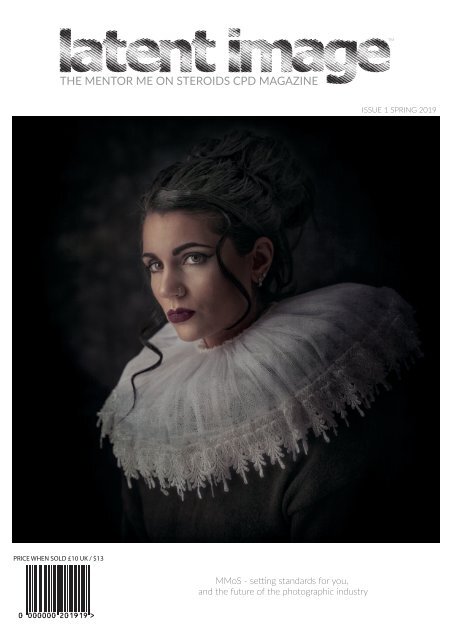 LATENT IMAGE - Spring 2019
The Photographic Journal of the Mentor Me on Steroids Group. Published by Damian McGillicuddy & Associates.
The Photographic Journal of the Mentor Me on Steroids Group. Published by Damian McGillicuddy & Associates.
SHOW MORE
SHOW LESS
Create successful ePaper yourself
Turn your PDF publications into a flip-book with our unique Google optimized e-Paper software.
Welcome to the

photographic industry's

most comprehensive

Continued Professional

Development Programme

Setting standards...

Not just for you, but for the future of the photographic industry

MMOS MINI

MMOS CORE

MMOS

MMOS BABY

Bite-size

CPD lessons

to build your

photography skills

Held at locations

across the country.

Pick one or

book all ten.

The perfect way

to kick start your

photography career

Five intensive

sessions over

a year taking you

to Qualification

The building blocks

of Photographic

Excellence

Ongoing CPD

for Photographers

covering business,

marketing & branding

whilst building firm

photography skills

Almost a baby

photography

business in a box

Create the lifestyle

you choose with

business and

photography

mentoring

Let the results speak for themselves!

25

Hear first hand how MMoS has helped our mentees at:

www.mentormeonsteroids.com/why-mmos
---
Hello!

It's been eleven years since the very first group of mentees arrived at

my studio for the inaugural session of MMoS (Mentor Me on Steroids).

I never dreamt Mentor Me would grow into the continual professional

development programme it is today - helping photographers across the

UK and further afield develop their business, as well as photography

skills. I am so very proud of my magnificent mentees and their

achievements - which they've worked incredibly hard for - that I wanted

to put together a publication, not only celebrate our MMoS family but

to share tips, how-to features and real-life biographies with all of you

too!

From an initial hands-on delivery of education, MMoS has developed

into an in-depth delivery of knowledge, enabling mentees not simply to

replicate what they're taught, for example 'the how', but to understand

the 'why', allowing them to produce professional results in any given

situation.

It's a system which has built successful businesses for those who have

taken on board the education and put in the effort and commitment

required to build any successful business. The beauty for me is that we

don't help build a one-size-fits-all franchise, we support mentees to

craft their own individual bespoke business'.

Since 2008, I'm so very proud to have watched 25 mentees achieve

Photographer of the Year status and know I've supported them along

their journey, but it was their hard work which won out. I'm even more

proud to see businesses, start, grow and thrive. One diligent MMoSer

went from startup to 78k in just ten short months. Knowledge isn't

just power, it's the application of knowledge which builds success; we

provide the knowledge and hopefully the positive environment to

motivate that application.

This may sound odd, but I am genuinely more proud of our MMoS

family's achievements than of my own endeavours (those who know

me and know how competitive I am will realise just how much MMoS

means to me from that statement). To see mentees start a business,

grow a business, and most of all take control of their own future and

success is an amazing feeling. If it's a sin to be proud, I am that sinner!

So, please...Read the words within these pages, enjoy the pictures and

stories shared and know this is my way of acknowledging those

hard-earned successes and showing my mentees, and you, just how

proud of each and every one of them I am.

Cheers for now

McGillicuddy & Associates

Phoenix House Spring Street Widnes WA8 0NL

contact@damianmcgillicuddy.com

Find out more at www.mentormeonsteroids.com

Damian McGillicuddy
---
Contributors

A working commercial and Portrait photographer for over 30 years, Damian shoots all genres from

fashion to footballers, products to politicians and musicians to motorsport. Having amassed over

700 international awards, 12 Photographer of the Year titles, 12 Fellowships, an Honorary

Fellowship and a Double Grand Masters, Damian is also a Grand Master with Double Bar.

Damian's latest achievement is a Fellowship in Photographic Training, the first to be awarded in

the United Kingdom.

Damian McGillicuddy

Also Olympus UKs Principle Photographer, Educator and European Visionary, Damian is following

in the footsteps of past celebrity photographers. Over the past 10 years Damian McGillicuddy

Photography Training, under the banner of MMoS, has resulted in his mentees achieving multiple

national and international awards, including 25 Photographer of the Year titles as well as Licentiate,

Associate, Fellowship, Master and Grand Master distinctions.

Rewind to January 2018 aged 47, Damian was presented with a Lifetime Achievement Award from

the photographic industry, in recognition not only of his achievements but his continued

commitment to the industry and his students.

Angela Adams

MMoS Master Associate,

SWPP Grand Master Photographer

SWPP Fellow & Judge MPA Fellow

Jocelyn Conway

MMoS Master Associate

SWPP Grand Master Photographer

SWPP Fellow & Judge MPA Fellow

Clive Hall

MMoS Master Associate

Guild Master Craftsman & Judge

SWPP Fellow

Neil Shearer

MMoS Fully Qualified Associate

SWPP Associate

Jamie Morgan

MMoS Junior Associate

MPA Licentiate

SWPP Licentiate

Lilly Von Pink

MMoS Junior Associate

Karen Wiltshire

MMoS Junior Associate

SWPP Licentiate

Nuala O'Rourke

MMoS Junior Associate

Leah Dollimore

MMoS Junior Associate

An MMoS Publication

Managing Editor: Damian McGillicuddy

Editor: Angela Adams

Designer: Jamie Morgan

Published by: One Vision Imaging

www.onevisionimaging.com
---
Jamie's Article

Fraud, hoaxer, wannabe. Just of a few names that

come to mind, when I consider my photographic

career. It's so easy to feel like a fraud in an industry

of such immensely talented people. Photography

wasn't my first choice of job and my family certainly

wasn't luvvy enough for me to go to art school.

Whilst I loved art classes at school if I wasn't' feeling

it that day, then ink, paint or pencil, it just wasn't

happening. I dreamed of being an Architect and

creating amazing buildings, but instead took the

sensible route of qualifying in geeky stuff like

Computer Sciences and Electronics.

There's been an entrepreneurial streak in me since

primary school, so whilst completing my engineering

qualifications at night school I worked for a printer

learning about papers, design and how creative

things come together. Shortly after graduating,

I started a new business in electrical engineering.

Fast forward, 17 years and life has a funny way of

reminding you about where your passions really lie.

Lady luck dealt a serious run of challenges, from

losing my mid-range hearing in both ears, needing

two hearing aids, to a relationship breakdown and

business challenges. It made me take a serious look

at what I actually wanted from life.

It's an amazing and daunting time when you can

literally change anything and everything in your life.

I still had that love of architecture, the appreciation

for good design, and my working life had developed
---
a keen eye for detail, as often it meant the difference

'If you put enough effort in, you will produce

between life and death.

results.' Wise words handed down from a past

mentor. In 2015, I launched my dog photography

So, in November 2014, I purchased my first

business Hound Dog Photography I didn't want

professional digital camera, a Nikon D7100. Worlds

the stress of working with people and couldn't pose

apart from the Nikon FM2, that camera documented

them for toffee. Having grown up around a working

my first travels abroad as a teenager, across Salvador

farm, I had a natural affinity to working with

Dali's Spain and the magical castles of Carcassonne,

animals.

France.

Knowing that I needed to stand out in a busy market

Emboldened with my purchase, I started out

place, I worked hard attending events, promoting my

photographing cityscapes and night scenes of

business and shooting for competitions that would

projects I'd worked on office blocks, power stations,

drive my business further. There was a plan and a

all sorts really. I even enrolled in a local adult

purpose behind everything.

education course, but within weeks, I'd outgrown the

rest of the class and left disgruntled.

Kennel Club Dog Photographer of the Year is the

world's largest dog photography competition; I knew

Those 17 years of running a small business gave me a

a win of this scale would really push my business

huge range of experiences, but most of all taught me

forward. I put together a plan to shoot breeds that

the need for life-long learning... As an engineer I had

weren't seen every day, that would stand out. And

to be back in the classroom for a specified number of

they did.

hours each year to retain my qualification!

In 2015/16 over 13,800 people from 80 countries

The quest for knowledge became similar to my

entered the Kennel Clubs' competition. Less than

photography, I read books and attended every

18 months into my new business, I had won Kennel

workshop I could find that interested me and fuelled

Club Dog Photographer of the Year for my portrait of

Jamie's Article

my love of photography.

two Afghan Hounds. I'd earned a feather to my cap

which opened countless new doors to my business.

From camera club style model shoots, to training with

From photographing for the Metropolitan Police in

fashion, automotive and portrait photographers, I

London, to become a press photographer at Crufts

looked for as many ways as I could to constantly

the UK's largest dog show.

learn. I travelled the length and breadth of the

the country, like a lunatic, with no real structure,

One of the world's richest men, American investor,

desperate to use any techniques I was learning to

Warren Buffet has often said you have to surround

develop my own style.

yourself with people in business 'that push you to
---
ecome better, that have higher goals and higher

motivations'.

I found a professional photographic organisation,

an organisation owned by the members, designed to

support each other. Following a serious dose of

imposter syndrome, I made the leap to become

qualified as a Licentiate.

Our West Midlands Region formed a new team in

2017, volunteering my time and skills, I started to

make waves within the industry. Expanding the circle

of photographers that we met and helped through

our regional meetings.

I wanted to see the industry start to change and

modernise, for too long it had been described as an

old boys club, set in its ways. We put a fresh face to

the Awards and Training Weekend, raising the

bar dramatically, a breath of fresh air for members.

But on home soil, I still wanted changes. With a new

studio in Surrey, there were a whole bunch of new

challenges. I've needed to work on my weaker skills

like posing. I also wanted to build a variety of work

to provide a less rollercoaster cash flow. Our fledgling

business had been very weather dependent in

Jamie's Article

the past and to grow, this had to change.

Continued professional development, or life-long

learning is one of those core beliefs I still hold today.

As soon as you become complacent in business, or

with your skills, someone is there to step in and take

the things you've worked hard for.

Joining Mentor Me on Steroids in 2018 was a

natural progression for me, it was time for structured

learning. I have goals and I needed a mentor who

could get me there and had been there before.

If you wanted to train for the Olympics, surely you

would choose a coach that had not only competed

himself, but had also taken countless teams there.

I undertake regular training in business, marketing

and photography skills to constantly perfect my skills

and push my business forward. For me, MMoS, helps

me stay leader of the pack.

Find out more about Jamie at:

www.hounddogphotography.co.uk
---
By Clive Hall FSWPP
---
Nowadays I work as a photographer, but my

previous career saw me serve with the Fire Service

for 30 years!

I wanted to tell a fire fighter's story in pictures,

a story which would make the viewer feel they were

walking in the footsteps of these men and woman

who risk all to save others.

What started as a personal project developed into a

panel of images which were fun, but very stressful to

complete, a panel which has since earned me a

Fellowship and Master Craftsman qualification.

Every aspect of my skills as a photographer was

employed to capture these pictures, which are

neither posed nor directed.

I had to think quickly and move fast, utilising the

available natural light and my knowledge of fire

behaviour. At times working in a toxic environment

where temperatures could rise close to a thousand

degrees.

The concept of my panel is detailed in my Statement

of Intent that follows.
---
This was read aloud in the qualification room for my

Fellowship and Master Craftsman before my

photographs were presented to the judges:

Good Morning,

I'm Clive and welcome to my panel. Before you view,

I'd just like a few minutes of your time to set the background

and explain the context of what you're about to

see.

I've spent 30 years as a front-line operational firefighter.

Not many people will actually see close-up leave alone to

be able to photograph in this very hostile environment.

Here I'm literally shooting on the edge, in extreme

temperatures and in an unbreathable toxic atmosphere,

visibility close to zero.

Leave alone myself but my photographic equipment

was also on the edge of its operating capacity in this

immense heat. Very few people have the knowledge and

technical skills in fire behaviour and photography to enter

this alien world and capture it on camera in this way.

In my experience, a lot is made in the media of the

drama relating to the work of the Fire and Rescue Service

and quite rightly, so because the scenes and machines

are highly visible, bright, colourful and certainly very

dramatic.

But you'll see this panel is entirely different from that.

It's personal, it's about the people behind the fire kit and

breathing apparatus, and it gives you the opportunity

(emotionally at least) to walk in their footsteps.

This panel is purely documentary because as you see it,

this is as it happened. Not only was this panel challenging

to me in terms of its concept, but it was also

challenging technically.

During my 30 years operational service I gained lots of

valuable knowledge relating to firefighting techniques

and also to the chemistry and behaviour of fire in

different situations. I had to use all that experience to be

able to shoot this panel.

I was fortunate that due to my background I was given

permission to access what I needed, taking into account

my own safety and the safety of others. I had to physically

position myself in places that I thought something

would be likely to happen whilst being mindful of the

condition of the smoke levels and the very high heat

levels being radiated.

What have they seen? What have they done?

Was a life saved – or was a life lost?

Firefighters risk their own lives in a highly calculated way

to save a saveable life, but what was the risk they took?

How close to the line was it?

What are the thoughts and feelings they might have at

the time and what might they take with them and live

with when they go home to their families?

To do this effectively took me out of my comfort zone,

which for me is normally portraiture.

In this panel, there is no posing or direction,

no positioning of lighting and using different techniques

to get the best results.
---
The most difficult technical challenge was, of course, the

lighting. Because this was a live fire situation, I couldn't

get in the way or direct the crews in any way, shape or

form, their job was to save lives and protect the property

and the last thing they wanted was me using flash or

asking for poses.

I did this by trying to predict where crews would appear

and making good use of any available light source to

effectively light the firefighters as they were working. The

lighting was, therefore, a very dynamic issue and was

constantly changing both as the fire developed and also

as it was extinguished.

Smoke is also very dense and artificial lighting is largely

ineffective as it will bounce off the surface of the smoke

layers. Other things I had to think about were focusing

issues, would the camera focus through very high

temperatures (approximately 800 degrees) would you get

distortion in the recorded picture and would that have

an effect on the quality of the image, of course, the

smoke layers were an issue preventing focusing

accurately.

I had to use all my knowledge of fire behaviour to judge

the fall of natural light against internal operations and

how that would be affected by the impact of smoke

conditions.

To me, of equal importance to what I wanted in this

panel, is what I didn't want.

This panel isn't intended to be personal to the casualties

or the owners of the premises. Any fire is always a very

personal disaster for them and their loved ones and I

don't believe it is right to use that in any form. This is

about the firefighters as people and that's why the

images are more close-ups rather than full scenes of

building and fire appliances.

It's important to consider the environmental and physical

conditions in which the firefighters were working.

Typically, a domestic fire can reach a temperature up to

1000 degrees Fahrenheit, rising to over 1400 degrees if

a flashover occurs. Highly toxic smoke is produced often

including chemicals such as hydrogen cyanides which are

deadly. Death can occur in only 2 breaths. The generic

atmosphere of most fires will not sustain human life.

So, try and place yourself in their shoes. You as a

Firefighter enter an unfamiliar burning building, its

heavily smoke logged and you can't see. You and your

team-mate immediately make your way by touch and

feel to the point of greatest danger and then work back,

looking for casualties as you go. The atmosphere will fill

with super-heated black dense smoke making visibility

nil.

You will search, sometimes on hands and knees feeling

your way around rooms. You still cannot see and have no

knowledge of the layout. Information will come to you by

radio – 'persons reported' (still trapped inside) or

perhaps, 'all persons accounted for'.

Persons reported? You as the firefighter know you have

got to find them.

Perhaps then at that very point you become aware the

structure of the building has become compromised by

the fire, there are signs, sounds and symptoms of

impending structural collapse but there's a room still left

to search. People are still missing; the evacuation signal
---
is sounding for you to leave but you know someone is

still trapped in there.

You know that if you can't get to that person, then no

one else is coming!

Under that pressure, you make your decisions and take

highly calculated risks.

So, what do you do and how does it end?

So now, when you look at those images…what are you

seeing?

What is that firefighter trying to wash away – sweat, dirt

and grime….Or sights, sounds and memories?

What are they listening for - the sounds of impending

structural collapse or the faint cry of a child?

What are they waiting for with flames behind them -

water, equipment? Or are they listening for sounds of

life?

Who is behind that mask? Is the firefighter male or

female? Does it make a difference? Are you safe with

them? Are they safe?

Is the person being carried in the firefighters' arms

already dead? Is there a pulse? Are they breathing? Can

they be saved? What happens next?

Why is that firefighter kneeling alone? Where has he

crawled from? What is he about to say? What are they

getting ready for? What have they just seen or heard?

What will they find when they step through the door into

the burning building? Are they hurting, emotionally,

physically or both?

Those firefighters you are looking at, and in whose

footsteps you're walking… Consider what's behind the

fire kit and the breathing apparatus masks, the people,

those men and women are just like you, just like me!

Warmest Regards

Clive (pun intended)
---
Behind the pictures:

I joined Damian McGillicuddy's MMoS programme

four years ago. Both he and Lesley have encouraged

and taught me to develop my skills, correcting issues

and guiding me in practical and technical areas. I've

learnt how to shoot in a dynamic way, looking at all

aspects of a photograph to make an image. Damian's

photographic knowledge is second-to-none and he

shares this freely with us during MMoS.

Lesley McGillicuddy's compliments this with her skill

in printing and framing beautiful images - she also

runs printing courses sharing her knowledge of

paper, techniques and styles. Lesley has helped me

with both my panels, offering her knowledge skills

and advice on printing to paper types and qualities

to help with the finished look of a photograph. Her

finished images are stunning.

With Damian and MMoS I have now gained

3 Fellowships, 2 Master Craftsman and a Master's

qualification and I'm so grateful for what he and the

MMoS gang have done for me, don't get me wrong

you certainly have to work hard.

I would highly recommend MMoS to anyone

interested in developing your skills for a complete

overview of all things photographic from business to

capturing that perfect image.

Find out more about Clive at:

www.clivehallphotography.co.uk

The Fellowship Panel Submission
---
This is probably my favourite image from last year,

as it has all of the elements that get me really

excited about a project. Great concept, complex

set-up, and a great product to advertise.

The product in question is the FitMitz, essentially a

weighted boxing mitt designed to make workouts

harder. After further discussion, we decided the

background should have an international feel.

The concept was first pitched by the owner of the

company who wanted to show the many different

ways that his new product could be used. We

discussed several ideas and came up with a

back-of-the-napkin plan... We would source a great

location, one with wooden floors, lots of natural light

and use a professional fitness model to show the

product, then overlay as many different movements

as we could.

Initially, I wanted to add motion blur and dragged

shutter effects into the final image but the idea was

discarded after a trial - it just detracted from the

overall look and made it harder to identify the

product. When you're shooting an advertising

image, the product is king!

The plan was always to shoot somewhere we could

composite in a separate backdrop from my own

personal stock library.

The location we settled upon was a leisure centre in

Manchester, as it had the most amazing high

windows.

After some trial and error on the day, I figured out

the best place to shoot from and secured my tripod

to the floor - with lots of Gaffer Tape!

I took my time with deciding where to position the

camera, as once it was in place, it would not move

for the duration of the shoot, this made post-production

of the final image, much easier.
---
As you can see from the picture right, we marked

the floor with masking tape giving our model precise

positions to aim for during her routine.

I shoot a lot of composites in my commercial work,

so I am aware that cutting out a model from a white

background is much easier than a busy one.

So after getting out backplates (several exposures of

the background), we set up a white paper backdrop

to shoot our model on - this was also instrumental in

cutting down on reflections from our lighting kit.

Let's talk about lighting... I like to keep things as

simple as possible, especially with this commission,

as we would be shooting lots of different positions

with our model and I wanted to keep the lighting as

consistent as possible for each one.

Marking the scene using gaffer tape

As you can see from the diagram right, I used two

lights which were balanced with the ambient light

from the huge windows.

My key light came from an Elinchrom ELC1000 with

the large silver parabolic umbrella and my rim light

was another ELC1000 with a strip box - giving a nice

even light from head-to-toe, with a good rim light

emulating the light you would expect from the big

windows behind.

All that was left to do now was to shoot. We shot

many different moves, not knowing exactly what the

final make-up of the image would look like.

White backgrounds simplify cut-outs

I made sure we got plenty of options left and right,

as well as central shots.

Reference images were also taken with the white

background, to see how the shadows would fall

naturally. This is something that often lets a

composite down, so I did this to ensure my final

image was realistic with correct lighting patterns.

Planning lighting to match the existing shadows
---
This is a straight-out-of-camera (SOOC) image,

you can see the lights reflected in the windows and

exactly where the shadows fell.

The editing was actually very straightforward for a

project with this level of complexity. The first step

was to tidy up the backplates, remove all the tape

marks on the floor and cut out the windows.

A straight out of camera image

The green shown here is just a solid colour layer

to check for neat edges. Next, we chose the

background, a cityscape shot from a high-rise

building.

This was chosen to give the impression of the

studio being in a penthouse looking out over the

city, a subtle hint to show the FitMitz as a premium

product.

I then went through our selections, cut the image

out and give each one a full retouch and colour

balance.

The next step was layering the assets to create an

image which wasn't too crowded, but gave a clear

message and showed the versatility of the product.

A clean green layer to show clean edges

I experimented with different amounts of opacity

to create the finished advertisement piece you see

below.

Single images with alternate backdrops were also

produced for different markets.

To sum up, this shoot had the potential to be

seriously complex and a hugely challenging edit,

but thanks to the skills I have picked up during my

6 years under Damian's mentorship, everything went

really smoothly.

Before joining MMoS I was a scientist working in a

lab. To be where I am now, a successful commercial

photographer would have been impossible without

the help of the MMoS family and Damian.

One of the finished toned images

Find out more about Neil at:

www.neilshearerphotography.com
---
Inside the

£78,000

Start-up

Profile with MMoS Member

Leah Dollimore
---
After a number of years working for other people in the

photography industry, I dreamt of setting up my own and

taking control of my photography and my business.

Attending one of Damian McGillicuddy's lighting

workshops and getting to see a master at work highlighted

the gaps in my knowledge. I had ambition and drive

but felt trapped working for other people.

The prospect of leaving my job, becoming selfemployed

and running my own portrait studio was

daunting, so I made plans to ensure my studio was the

best it could be. Taking that leap without having any

previous experience of running a business is the biggest

challenge I have ever faced!

I joined Mentor Me on Steroid (MMoS), Damian's

continual professional development programme for

photographers, was the first step to getting the guidance

and advice to help me exceed my business plan.

Running your own portrait studio is hard work!

You have to develop a multitude of skills including,

marketing, sales and customer service, not forgetting the

fundamentals of lighting and photographic techniques.

To be honest, I'm a bit of a workaholic and have taken

my business very seriously from day one - making it a

success was very important to me.

My studio now has a large and growing client base and

I'm kept busy with baby and children's portrait sessions.

Damian taught me to have a number of marketing

strategies in place all the time to get your business seen

and your brand-story heard. I have used this advice to

generate all my clients without spending unnecessarily

on advertising

.

With a guiding hand from Damian, the MMoS team and

family, I can really see an improvement, not only my

photography but in my level of confidence too!

I worked incredibly hard and managed to hit the targets I

had set for my 3rd year in business within my first ten

months.

Continual professional development is at the core of

growing my company, and being a part of MMoS is

actually a part of my business plan.

"I took the plunge and opened

my own studio. I was delighted to

exceed my plan, and find

in just 10 months,

I had grossed £78,000"

- Leah Dollimore

6
---
Being self-employed can be quite isolating so the

support and guidance from not only the MMoS team but

also my fellow mentees is priceless. I am also fortunate

to have a very supportive family.

I have trained with Baby Whisperers Jocelyn Conway

and Karen Wiltshire, who I consider the industry's

leading newborn photographers - they're also fellow

MMoSers!

The training has not only given me the confidence to

photograph newborns safely and professionally, but it's

also given my clients confidence that I use safe practices

when working with their children and in turn helped

build a good reputation for me and my studio.

My ambition is to work on establishing my own name

and brand in the photographic industry; to work towards

gaining qualified within the photography community is

also something I am planning.

Striving to be original, not copy others and attempt to

use my fine-art education within my work is also a goal.

I'm working hard to build a loyal client base, ones

who are happy to recommend me to their friends and

associates. I believe if a client loves your work and

enjoys their experience at your studio, they will be a

client for life!

More about Leah: www.dollimorephotography.com

More about MMoS: www.mentormeonsteroids.com

MMoS BABY - ALMOST A BABY BUSINESS IN A BOX

Six Intensive sessions designed to build your business

This course is for existing newborn

photographers or those thinking about

becoming one and will include:

We've trained some of the industry's leading

baby photographers including Jocelyn Conway,

Karen Wiltshire and Tracy Willis.

Photography Skills:

• Basic camera craft

• Studio lighting

• Post production

• Shot planning

• Essential photography kit

Business & Marketing Skills

• Business basics

• Branding

• Marketing

• Pricing

• Choosing products

• Sales skills

• Setting up your Studio

• Setting up to shoots

on-location

• Health & Safety

Creating Your Success

• Picture critique

• Qualifications

• Styling your sessions and set creation

• Bumps & Newborns Sessions

• Working with babies and siblings

• Posing and working with parents

• Settling, Soothing, Wrapping,

• Managing parents and baby behaviour

Find out more about MMoS Baby at:

www.mentormeonsteroids.com/mmos-baby
---
Sometimes you just get a crazy idea in your head!

Initially, you think, that's a little mad. Then you

consider the idea a little more, and the more you

think the more you decide to rise to the challenge.

Photographers often say to me during a conversation,

I'm a natural light photographer, and look little

scared as if I'm going to quiz them on the physics of

flash lighting. Some of the braver ones approach

me with the statement... I just don't understand

supplementary lighting. It was the former, as well as

the latter which made me want to show the world,

that with a little thought, you can put light anywhere

you want it, make it look the way you would like it

to, and with minimal kit.

I love a challenge, so set myself the challenge of

using minimal kit to create this picture. Why? I

wanted to show that employing supplementary

lighting to make a picture isn't anything to be scared

of - when you know how and give it a go. I'm a real

fan of the power and recycling speed offered by the

Modus 600RT, these are my speedlights of choice

when I need to go minimal. And to prove that

supplementary lighting needn't be expensive, I only

used two Modus' in this image... Yes, just two

speedlights!

Just to make it even harder on myself, I chose to go

naked, there wasn't a light modifier in sight - my

flash heads were used bare faced. I needed to show

those afraid of flash lighting, that it's not difficult

(honest) and those who think you need to spend on

expensive kit to create pictures like this one, that

you don't. This image could easily have been

captured by two inexpensive speedlights, the ones

we can buy for less than £30 each.

The truth is very simple, light is well…Just light!

Wherever it comes from, no matter the source, it all

acts the same; light only has a few properties:

brightness, colour, contrast and direction. I love

engineering light and bending it to my will, so if I'm

honest, part of the creation of this image was ego

driven, I really wanted to turn night into day, a real,

let there be light moment! The image was shot as a

bit of fun, while the team and I were relaxing in our

villa, after completing a workshop day in Lanzarote.

The light in Lanzarote is far too bright for a small

speed light to be used as a key light, most of the

time, but at night one speedlight can become king.

I placed my first speedlight in the garden outside my

bedroom door so the light would shine back into the

room. This light was set at full power. I wanted to

create a shaft of light beaming through the door so

was careful to allow enough light to also spill onto

the tree outside, making sure the patio area looked

the same as it does in daylight. Pushing the light

through the closed curtain, supported the illusion I

was trying to create.

Now it has to be said that much of the picture lends

itself not to the lighting but the effort the team put

into the styling and the dynamics of the image.

Camera left (and out of shot ) we have Lilly my

make-up-artist, who was instructed to

simultaneously throw the heavy drape in the air and

jump backwards out of shot, as best she could,

throwing a few leaves at the same time. My better

half and assistant, Lesley, was positioned camera

right. Lesley was instructed to jiggle the curtain and

throw leaves from the garden for all she was worth -

it really is always a team effort.

The single flash placed outside the window, would at

best, semi-silhouette our model Pixie, so we needed

to resolve the issue by adding in another speedlight.

I wanted this light to be low contrast, soft, yet

directional and all out of a tiny barefaced speed

light. To achieve this I need to make the light

bigger. The simplest solution would be to turn the

flash away from the subject. So the speedlight was

aimed behind me, at the point where the wall and

the ceiling meet, to bounce the light back at the

model from a non-central direction to add a little
---
shape and form to the subject. The speedlights were

set to manual and independently measured by my

hand-held light meter to a 2 to 1 ratio to, keep the

shadows delicate but distinct.

incredible flash duration they have, from around

half-power down, this is where the speedlight's flash

duration really starts to speed up, from high

hundreds to thousandths of a second…

The ratio between lights is the best way to discuss

the difference in power between lights, it is the

relationship between units which creates the effect,

not the actual aperture or F numbers - they are just

labels for reference.

Now, here's a sad truth, if you saw the raw file for

this image everything is static, frozen and as boring

as hell! A little secret about speedlights is the

The upshot being, the creative potential of freezing

motion. To be able to freeze motion is a big thing

and works well when splashing paint or water

droplets, to name just two.

I know his image is about motion, not freezing

motion. I wanted the viewer to feel the motion in

the picture... Of the light beam blowing through the

window disturbing and forceful. To achieve this,
---
I dragged the shutter, or in other words, lowered the

shutter speed to let in the ambient light.

I did this for two reasons, one more successful than

the other. Firstly, to include some of the ambient

light, the light that is already in the room. This light

had a warming effect due to the lamps having a

warmer colour temperature than the daylight

balanced flash. Secondly, I was hoping to capture a

little movement in the material and leaves, to sell the

idea of motion. In truth that wasn't as successful as I

wanted, it was too random. It was late at night, the

team were tired and instead of cracking the whip in

the hope of eventually getting the perfect capture, I

went back to the vanilla-flavoured freeze and

decided I could add the finishing touches in

post-production, without inconveniencing anybody

further!

layer, to complete the look I wanted. Then erasing

at varying levels of opacity until I had painted in the

effect and look I desired.

I'm not known for my dalliances with Photoshop, I

like to capture the image in-camera. However, the

simple truth is every digital image requires some

manipulation, even if it's just output sharpening.

All I did during editing, was raise the contrast and

saturation slightly, sharpen and add a subtle

vignette. It's the manipulation of motion in-camera,

which makes this image more unique and different

from the norm. There is nothing magical and

long-winded, just a matter of a duplicate layer and a

touch of Photoshop's motion blur filter on the lower

Hopefully, you will now understand how, with a

couple of inexpensive speedlights, you too could

create an image like this. Always remember, in my

humble opinion, it's the concept which makes a

difference and can lift an to the next level… That

said, there's no excuse for poor capture, the

technical aspects need to marry with the concept

;0).

'Till next time.

3 LOCATIONS

NATIONWIDE

10 IN DEMAND

WORKSHOP

TOPICS

AFFORDABLE BITE-SIZE TRAINING SESSIONS
---
From Carrickfergus Camera Club

to Baby Whisperer and Celebrity Photographer

with Jocelyn Conway FSWPP

At 16, I joined the local Camera Club in

Carrickfergus, Northern Ireland. Shortly after, I was

given a part-time job with the local paper - I attended

children's football matches, took a photo of the

winning team and made a note of all the player's

names.

My career path took me into nursing, I still loved

photography, so set up a darkroom in the nurses

home. In my spare time, I took photos around

Liverpool and in the pubs and clubs... Just for me!

I would give the developed prints, to the subject of

the photo, the following week. Photography

became my main hobby during my years as a nurse

and midwife.

In 2012, I started training with Damian McGillicuddy,

attending his MMoS (Mentor Me on Steroids)

continual professional development programme,

since then my photography has gone from strength

to strength. My first studio opened its doors in July

of that year, which was wonderful, as I'd been

working out of my living room for the previous seven

months.

Nowadays my specialism is newborns, babies,

children and pregnant mums, playing to my

strengths as a nurse and midwife, as I'm trained in

the skills required to safeguard mums-to-be and

newborns.

2015 saw the opening of my second studio, a larger

space and now I'm on the brink of moving into my

third. My Liverpool studio is successful and the

space big enough to comfortably accommodate
---
mums, babies and now families too.

I attract lots of first-time mums due to my midwifery

background and I also get a lot of repeat clients. It's

a privilege to watch their families grow... I have one

client who's been coming to my studio every year,

for the last 9 years.

My aim is to give a boutique experience. Clients

often compliment me, saying they feel relaxed and

comfortable during their sessions.

Much of my inspiration comes from paintings, my

favourite painting of all time is, The Death of Nelson

1859-64, by Daniel Maclise (1806-70) which hangs

in the Walker Art Gallery - I visit frequently. There is

so much in that painting, each visit I see something

new in its story. The lighting, the atmosphere and

the feeling the painting evokes are incredibly

powerful.

I strive in my photography to recreate something of

the great paintings. I try to emulate mood, lighting,

pose and story. It pleases me when clients pass

comment that my photographs look like paintings.

I love to learn, constantly strive to improve and at

times feel nothing is working, artistically, for me.

Then I look back and see what I have accomplished

in just a few years down to Damian's mentoring and

hard work in assisting me and my business move

forward.

The thing that drives me is family. My family means

the world to me, so it follows that my client's family

means a lot to me too. Like most, I need to earn

money to pay the bills, that's why I have a business

but that isn't my driving force! It's the desire to give

people something timeless they can treasure for

years to come. A photograph which documents a

slice of their social history... And it's my image

they're looking at. How powerful is that!

I try and keep my work simple and like to photograph

the baby on its own without too many props but I'm

happy to use props which parents have brought with

them. My focus is still on the baby, the same with

maternity, I love the pregnant form and light each

commission beautifully to show mum-to-be and baby

at their best. I love to use gently draped fabrics to

enhance the female figure and enjoy creating beautifully

simple and tasteful nudes. Very much like the

paintings I love to view in galleries.

We need to celebrate how women change and grow

into mothers in just nine months - it's an amazing

transformation!

Photography has been in my blood from an early

age; my dad gave me a Kodak Instamatic for my 7th

birthday. My first pictures where of the giraffes in

the zoo... I've been hooked ever since!

When I'm not using my camera I'm taking pictures

with my phone and during my career as a midwife I

was an Ultrasonographer - I used an ultrasound

machine to create 3D images of babies!
---
A peek behind the curtain..

How it was done....

How it was done.. Step by Step

1. Baby in basket, supported on the floor.

Parent very close by as spotter.

2. Baby out of basket, parent holds

basket up, light adjusted to replicate light

for baby.

Settings: ISO 200, f/4 at 160th sec.

25 mm lens. (50mm equivalent) .

Baby composited into hanging shot in

Photoshop.

Find out more about Jocelyn at www.photojos.co.uk
---
The advent of digital cameras during the late 1990s

reinvigorated my lifelong, on-and-off, interest in

photography. However, over the next decade, I was

mostly interested in photography as a vehicle to

document my children's life and specifically their

horses.

In 2013, I made my third, and first successful,

attempt at a-photo-a-day for a year, project. The

process made me look around each and every day

for something to photograph. Over time, the project

made me want to make beautiful photographs rather

than just taking record shots. In the Spring of 2014,

I discovered the niche which now inspires me - that

niche is flower photography.

I have a black thumb, meaning I've never been able

to keep a plant alive! I always try to have flowers in

the house, however. So I started by photographing

them against different backgrounds, soon after I
---
ecame inspired by photographers like Kim

Klassen, who added textures in post-production.

I decided to create my own textures to overlay

over my flower photographs.

Painting with acrylics on artists A4 paper was my

chosen medium, I then scanned each texture I

completed to create a jpeg file. Practising the

process of creating textures by layering different

colours using sponges, combs and brushes to get

texture in the paint, became addictive.

I do like variety, so at times I like to process images

to look like detailed botanical drawings, other

times I employ a very narrow depth of field. I find

flowers beautiful at all stages of their lives and

often have a collection of dying blooms waiting to

be photographed.

At the end of 2014 Damian McGillicuddy visited

my local camera club, I liked what I saw and heard,

so started attending some of his training courses.

I was lucky to enough to be able to attend some

of his Big Shoot Experiences in 2015 and 2016,

where a small group of photographers spent a day

on location learning how to create portraits and

control light.

Learning lighting from Damian was a revelation...

Out came the flash guns and modifiers enabling me

to illuminate my flowers without having to rely on

natural light. I could create mood and atmosphere

with ease.

A year or so later I attended an MMoS taster day

and even though I had no desire to run a

photographic business, I was enthralled by the

process and the learning opportunity. I thought to

myself, I'll do this for a year and I'm sure I'll learn

loads.

However, I couldn't give up the learning experience

at the end of the year and Damian still has to put

up with me three years later.

My photography skills have visibly increased over

the last few years and many people have

commented to that effect too.

More than that, my vision has developed and now

have much higher standards. I've taken an interest

in portraits and learned how to make composite

images too. I still love to photograph flowers, and

six years and two months later, I'm still taking

a-photo-a-day!
---
With the abundance of social media platforms

available to assist you and your business, it's more

important than ever to be headshot savvy!

Ask yourself what story or image, you're aiming to

portray with the headshot you place on LinkedIn

versus the one you place on Facebook? Put simply,

the picture needs to fit the platform - one size

doesn't fit all in the world of social media. I'm not

saying this because headshots - or business

portraits, as I like to call them, are a valuable aspect

of my business (and I'm trying to drum up more

trade). I'm sharing this information with you as it can

be of real benefit. For example, a) selling the service

you provide to the marketplace you want work

within i.e. the headshot which will give you and your

client the best chance of engagement, and b)

because you need to educate your clients to understand

what works in a constantly changing business

environment - not only to get them seen but more

importantly, seen in a way which will engage with

their tribe or the tribe they wish to gain as clients.

Learning what's best for each platform isn't difficult,

but thought and consideration for each and every

picture is essential.

I've heard many business people chatting at

networking meetings discussing business portraits

(usually when they think I'm out of earshot).

The common statement is, 'what's the point of a

professional headshot, my phone takes great

pictures', they then laugh and change the topic of

conversation. They don't get it! Why should they,

they've not been educated about how to make a

great first impression with a professionally photographed

business portrait. I never challenge these

conversations but I do take a peek at their profiles

on social media, as I'm really interested to see what

they think is an acceptable picture for their chosen

platform. Sometimes they get it right, however on

balance, the picture chosen is usually inappropriate

i.e. a holiday snap, a picture taken in casual clothing

in their garden or home office and poorly lit pictures

which hide their features.

At the moment, there seems to be a run on pictures

of people participating in their favourite hobby or

sport - great if you are a sports coach! However,

will a picture of you in your hockey kit sell your skills

as an accountant or copywriter?

Analysts tell us we're judgmental creatures and make

decisions within five seconds of looking at a portrait,

or within a minute or two, in a face-to-face meeting.

I simply don't understand why so many people, take

so little care to make a great first impression? The

devil really is in the detail!

When asking a past client why they'd commissioned

me, their response made me smile: 'I liked your

work, but you looked like a nice person in your

website picture.' Really? I'd honestly never thought

about this before it was brought to my attention.
---
As a business owner and the face of your business,

have you?

Many clients ask, what's best for marketing, text or

pictures? My reply is usually... Ideally, a little of both.

However, when you click on a web page, are you

drawn to look at the picture first or do you read the

text? In our fast-paced busy lives, we read much

less and our attention spans are shorter. We filter

information in the first few lines of reading, then

decide whether to continue. An appropriate

picture, accompanied by a great tagline, can be

immensely powerful in providing your business with

a professional edge – either by adding impact, wow

factor or simply by drawing attention.

We're very much an image-driven society, so don't

lose business by hiding behind text – we're

inquisitive by nature, and want to put a face to a

name. Fundamentally, people really do buy people!

Let your customers know who they're doing

business with; don't underestimate the value of a

professional headshot.

If you're a photographer who wants to provide a

business portrait service, do your homework and

educate your clients on why they should commission

you!

Find out more about Angela at:

www.angelaadamsphotography.co.uk

10 Top Tips for

Better Business Portraits

1. Discuss clothing choices with your client - the

clothing should ideally mirror their occupation or

what they wear for work - avoid patterns and logos

whenever possible.

2. Advise clients to bring a hairbrush - it's easier to

get it right in-camera than spend hours editing stray

hairs for a polished end result.

3. People can have a best-side, so photograph your

clients from both sides.

4. Let your clients see their images on the back of

the camera, then work together to create a picture

they like. Don't be afraid to show clients your work!

5. Relax and engage your clients - encourage them

to talk about themselves and take the time to allow

them to feel comfortable (around 80% of my

business portrait clients first sentences start with, I

hate having my photograph taken).

6. Viewpoint is important - ensure you photograph

your clients from the correct height, dependent on

whether your taking a headshot, 3/4 length or full

length portrait.

7. Pay attention to how you frame and compose

your portrait and the lighting pattern you create on

the client's face.

8. Always be aware of background conflict i.e. trees

growing out of heads.

9. Attempt to capture the client's personality if

possible, not just their likeness.

10. Ensure your choice of lens is flattering (85mm+,

if you have the space, as it adds compression to the

picture).
---
Lilly is a key member of the creative team at Phoenix

House, MMoS HQ. Senior Make-up Artist, Stylist and

Personal Assistant to the Damian. Lilly is a star in her

own right, adding to the knowledge bank at HQ, and

this is just a little space to allow here to shine as she

talks about a few of her favourite "Makes" for shoots.

1. When I'm required to make something this big, I

have to think about what is needed, how heavy it is

etc. This rose headdress is fashioned, yet again,

from foam...

And because I know it would be used for portrait

pictures, I employed a white pallette, meaning I

could force all the colour into the face and make it

pop, so the eye is still drawn to where it needs to

be, rather than the headdress, as it's bright white.

Plus, I know Damian loves white on white so it made

the decision easy.

2. Not all ideas need to be expensive, this

costume was crafted from off-cuts of background

paper. I wanted to recreate the paper dolls, you

may remember from childhood (the ones which

had paper tags to hold the cut-out clothes onto a

cardboard doll). Using backdrop paper meant the

outfit and backdrop colours matched, adding a

unity to the image.

It wasn't the most comfortable costume to wear

but was worth the discomfort for the end result.
---
3. Whenever possible, I like to let the nerd in

me run free... Loud and proud! For these

costumes I simply couldn't resist a stint at the

sewing machine - I've sewn everything from

ballgowns to clown costumes, using materials

such as fabric, paper, vinyl and latex. If you

don't have the skill or the inclination to sew

there's no shame in buying or having a costume

handmade for you. My mum taught me to sew,

and as they say, 'you've got to use what your

mama gave you!'

My job can involve a lot of travelling . Sometimes

I forget or lose props - it happens! So you

have to improvise - for this image I forgot my

Tricorder (yes, I had made one, for those who

don't know what they are, a Tricorder is a

hand-held device issued by Starfleet used for

sensor scanning and data analysis), so a light

meter took its place and saved the shot.

4. Some pictures call for heavy-duty lifting and a

drill! As did this full set-build. I built an L-shaped

room set complete with dado rail and skirting

boards. Lesley McGillicuddy and I also wallpapered

and painted the set.

The brief was an aged room, old and neglected.

After a trip to the wood store and DIY shop we

spent the week constructing, wallpapering and

painting, then aged the set with cradle paint.
---
It's not every day you get asked to write about

yourself (and thank goodness for that). I must

admit, when Damian rang and asked me to put

pen to paper, I was pretty blown away he liked

my work enough to want me to write about it.

So, whilst wondering how on earth I was going

to actually start writing, Facebook helpfully

reminded me that it was six years ago this week,

I started my journey on Mentor Me on Steroids.

Wow! It's a whole six years I've been making the

long journey up north to Damian's studio from

Poole, Dorset. Every eight weeks a 500-mile

round trip, that's some commitment and I've

never missed a session! I confess there have

been times when I really didn't want to get in the

car and spend hours driving, and then to do it all

again the following day to travel back home.

If I'm honest, there have been moments when

I've asked myself, is it worth it?

Here's my journey so far:

Back in 2014, I was a typical mummy-tog.

There's nothing wrong with that, but I quickly

realized that to earn a living I needed to charge

more than £50 a shoot. So if I was to replace the

salary I'd lost after being made redundant in

2011, I needed to actually learn the principals of

photography and lighting properly. This is where

my journey started with Damian and the team -

secretly I wanted a magic wand or better, some

fairy dust to make my photography amazing

overnight. No fairy dust, magic wand or quick fix

was offered by my mentor... He offered something

much better - knowledge!

Over the past six years, Damian has equipped

me with the knowledge to take my business

forward and produce work I'm proud of.

Knowledge really is power!

I can now think through a scenario and find the

best solution with the equipment available to

me, in my own space. I'm still guilty of searching

for quick fixes and attending other's workshops

with prescriptive set-ups, but the reality is they

don't work in the real world, unless you understand

the why as well as the how.

Pretty early on in my MMoS journey, I won

Photographer of the year with The Guild and

Runner-up Baby Photographer of the Year with

the SWPP - what a whirlwind year that was.

I even started to believe my own hype (ego is a

strange beast), but the reality was, I was just

starting out and had a really long way to go. It's

true what they say, you never stop learning!

In 2016, I was runner up in Children's Photographer

of the Year with the SWPP Children's.

I actually cried when the nomination arrived in

my inbox. The image they had chosen was of

my daughter, Lizzie. I was just bursting with

joy that Lizzie had been nominated.

This January I entered the SWPP 20 x 16 print

competition with a single print, but one I was

pretty proud of because it was so different from

the work I'm best known for. It was awarded a

Merit and displayed in London. I was delighted!

I have been working hard building my maternity

work, both in the studio and on location. My
---
clients just love the gowns I have for maternity

sessions and choose several for each session. I

love them too but also want to bring a more

fashion-shoot style to my sessions in the studio.

For this, I knew the perfect client, Ashleigh. She

is strong and beautiful, and not a tutu-wearing

kinda gal, I wanted her Bump session to show

this side of her personality.

I used a Paul C Buff, 4 foot, indirect parabolic

umbrella, with a diffuser cover, to create a

butterfly lighting pattern. Camera right, there is

a white wall, reflecting some of the spill back

toward Ashleigh.

This is clamshell beauty lighting (image right),

which gives the high-fashion, glossy-magazine

look we wanted for the shoot. I used the 4-foot

parabolic umbrella mentioned above, and a

gridded strip box on a floor stand below.

This look is certainly bringing in the maternity

clients, as no other photographers in my area

are offering high-end maternity portraits. In

fact, I've never been busier with bump sessions.

I tend to mix the sessions now so we do a few

with the gowns and a few more beauty style,

my clients love it.

High Fashion Maternity

Clamshell beauty lighting

with a 4' parabolic.

I still love getting outside for maternity

sessions, living so close to beautiful outdoor

spaces makes it easier but even the local park in

January can look beautiful.

Using the ambient sunset as backlight and a

speedlight in a shoot through brolly, to light the

subject.

Powerful maternity shoots

using a Paul C Buff 4' Indirect

Parabolic
---
Many of my maternity clients travel large

distances for their session with me. This brings

added pressure to get it right on the day as it's

our one chance, before my mentoring that

would have filled me with dread. I would have

been terrified that I wouldn't get the shot they

wanted. Actually, if I'm honest, I would never

have been commissioned by those clients

anyway, but if by some miracle I had, I'd have

bombed big time!

Armed with the knowledge I have learnt over

the years, I feel able to tackle most scenarios

and am now confident enough to control the

situation so I do get the shot.

I guess I've answered my own question in

writing about my journey over the last six

years...

Was it worth the effort, the long journey and

days away from home?

Oh yes! It most definitely was.

Exploring the sunset. Maternity session using ambient light,

balance with a speedlight and brollly.

Find out more about Karen at:

www.kw-photography.co.uk

At one with nature. Maternity sessions in a local park

using ambient light, balance with a speedlight and brollly.
---
The Ultimate

in online framing

The best just got better!

Framing

Beautiful, hand-made frames with a

choice of over 95 styles, colours

and profiles to choose from.

111

BEAUTIFUL

FRAME

CHOICES

AVAILABLE!

Prices from

£11

28

WINDOW

MOUNT

OPTIONS

Mounts

With a choice of 28 mounts,

including 10 textured options, you

can add up to three mounts per

frame for a stylish, layered effect.

Prints

For over 40 years, we have been

printing award-winning, gallery grade

photos using only the finest Fuji

professional papers and hand grading

every image for the perfect print.

Warranty – we are so confident in

the quality of our products, we offer a

5-year warranty on all of our frames.

WWW.ONEVISIONIMAGING.COM

0845 862 0217
---
PROFESSIONAL PHOTOGRAPHIC CO-OPERATIVE

The Photography Co-operative

that shows your dedication to

standards, quality and service

Our mission: To make Most Beautiful Photography the go-to, bespoke quality assured studios throughout the

country. Why? To raise and maintain professionalism and standards for the photography industry, for the

future and to provide clients with a quality experience and product.

Accreditation: Each and every member of Most Beautiful Photography will have a proven track record of

excellent business practice, excellent customer service and an excellent standard of photography and will be

monitored and supported to ensure best practice at all times. Why? We are passionate about our industry

and want Most Beautiful Photography to become a recognised badge of honour, one which stands for quality.

Commitment: Each Most Beautiful Photography member will commit to six face-to-face mentoring sessions

each year where they will be individually mentored in business and photography skills and encouraged to

achieve internal and external qualifications. Why is this different from MMoS? Members have access to

bespoke client promotions and are given the training on how to shoot, promote, deliver and up-sell each

promotional package within their own business.

Most Beautiful Photography is not a shortcut to running a successful photography business.

Success comes from hard work and commitment over time - if you're prepared to commit, so are we!

Additional Member Benefits:

In addition to face-to-face mentoring each member may enjoy: unlimited telephone and online access to

mentoring when required, benefits and discounts from our trade partners, internal prize-winning competitions

to help with motivation and monitor quality, access to Summer School and MMoS networking day.

McGillicuddy & Associates

Phoenix House Spring Street Widnes WA8 0NL

contact@damianmcgillicuddy.com

Find out more at www.mentormeonsteroids.com