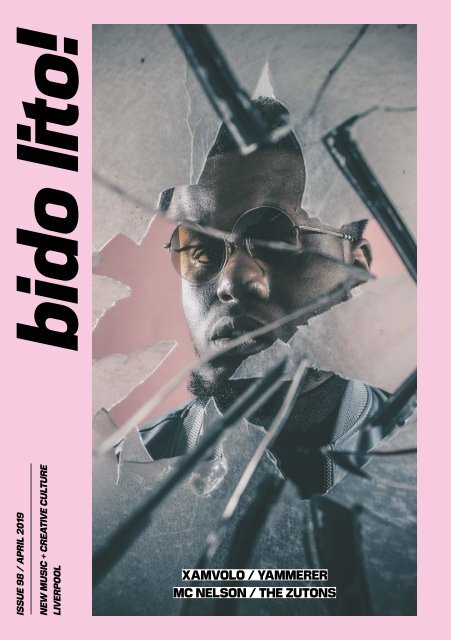 Issue 98 / April 2019
April 2019 issue of Bido Lito! magazine. Featuring: XAMVOLO, YAMMERER, THE ZUTONS, MC NELSON, ROSE MCGOWAN, CITY OF LIVERPOOL FC, SLEAFORD MODS, SNAPPED ANKLES and much more.
April 2019 issue of Bido Lito! magazine. Featuring: XAMVOLO, YAMMERER, THE ZUTONS, MC NELSON, ROSE MCGOWAN, CITY OF LIVERPOOL FC, SLEAFORD MODS, SNAPPED ANKLES and much more.
SHOW MORE
SHOW LESS
Create successful ePaper yourself
Turn your PDF publications into a flip-book with our unique Google optimized e-Paper software.
ISSUE 98 / APRIL 2019

NEW MUSIC + CREATIVE CULTURE

LIVERPOOL

XAMVOLO / YAMMERER

MC NELSON / THE ZUTONS
---
facebook.com/o2academyliverpool

twitter.com/o2academylpool

instagram.com/o2academyliverpool

youtube.com/o2academytv

FRI 5TH APR 6.30PM

PINEGROVE

TUE 7TH MAY 7PM SOLD OUT

LUCY SPRAGGAN

Thur 4th Apr

Holy Moly

and the Crackers

Sat 6th Apr

The Showhawk

Duo

+ Benji & Hibbz

Fri 12th Apr • SOLD OUT

Mountford Hall, Liverpool Guild

of Students

DMA's

Wed 17th Apr • SOLD OUT

Dave

Thur 18th Apr

The Good, The Bad

& The Queen

Sat 20th Apr

Nirvana UK (Tribute)

Sun 21st Apr

M Huncho

Sat 27th Apr • 6.30pm

Liverpool Rocks

Final

Sat 27th Apr

Newton Faulkner

Sat 27th Apr

Mountford Hall, Liverpool Guild

of Students

Hollywood

Undead

Sat 27th Apr

Newton Faulkner

Tue 30th Apr

Arctic Monkeys:

Performed by a 10

Piece Brass Band

Fri 3rd May

The Bon Jovi

Experience

Thur 16th May

Little Steven &

The Disciples Of

Soul

Sun 19th May

Ross Edgley -

Worlds Fittest Live

Show

Thur 23rd May

Glenn Hughes

Performs Classic

Deep Purple live

+ Laurence Jones

Fri 24th May

KSI & Randolph -

New Age Tour

Sat 25th May

The Icicle Works

Sat 1st Jun

The Smyths

Mon 3rd Jun • SOLD OUT

Mountford Hall, Liverpool Guild

of Students

Anne-Marie

Sun 4th Jun

Mountford Hall, Liverpool Guild

of Students

Kaiser Chiefs

Sat 8th Jun

The Mighty Wah!

Presents The Pete

Wylie Show

Fri 21st Jun • SOLD OUT

Alesso

Sat 22nd Jun

Hipsway

Sat 5th Oct

Definitely

Mightbe

(Oasis tribute)

Fri 11th Oct

Fleetwood Bac

Sat 12th Oct

The Marley Revival

+ UB40 Tribute Set

Thur 24th Oct

Jake Clemons

+ Ben McKelvey

Sat 9th Nov

She Drew The Gun

Sat 9th Nov

Mountford Hall, Liverpool Guild

of Students

Greta Van Fleet

+ Ida Mae

Sat 9th Nov

Antarctic Monkeys

+ The Alleys + The Patriots

Sat 16th Nov

The Macc Lads

Sat 16th Nov

UK Foo Fighters

(Tribute)

Wed 20th Nov

Fontaines D.C.

Fri 29th Nov

The Doors Alive

Sat 30th Nov

Pearl Jam UK

Thur 5th Dec

Shed Seven

+ The Twang

SAT 6TH APR 6PM

MAVERICK SABRE

+ JORDAN MAX

MON 8TH APR 7PM

YAK

+ BOBBY WEST + MUSH

WED 10TH APR 7PM

INDOOR PETS

FRI 12TH APR 7PM

MONKS

SAT 13TH APR 6PM

ANTEROS

+ REDFACES

FRI 19TH APR 7PM

WHENYOUNG

+ LUCIA + SHARDS

SAT 20TH APR 7PM

A TRIBUTE

TO EDDIE VEDDER

WED 24TH APR 7PM

CABBAGE

FRI 26TH APR 6.30PM

UNDER THE

APPLE TREE

– LIVE ON TOUR WITH

WILDWOOD KIN

+ ELEANOR NELLY

TUE 30TH APR 7PM

THE

COATHANGERS

FRI 3RD APR 7PM

KOJAQUE

SAT 4TH MAY 7PM

BLANCMANGE

FRI 17TH MAY 7PM

J MASCIS

FRI 17TH MAY 7 PM

ALEX LAHEY

SAT 18TH MAY 7PM SOLD OUT

ELECTRIC SIX

SAT 8TH JUN 7PM

JOHN POWER

SAT 8TH JUN 7PM

HANDS OFF

GRETEL

SUN 9TH JUN 7PM

MEGAN MCKENNA

TUE 11TH JUN 7PM

HONEYBLOOD

SAT 5TH OCT 7PM

A BAND CALLED

MALICE

FRI 18TH OCT 7PM

NINE BELOW ZERO

SAT 19TH JUN 7PM

SAINT AGNES

SAT 2ND NOV 7PM

STONE

FOUNDATION

SAT 16TH NOV 7PM

LONDON CALLING

PLAY THE CLASH

FRI 22ND NOV 7.PM

BLOOD RED SHOES

TUE 10TH DEC 7PM

THE PAPER KITES

TICKETS FOR ALL SHOWS ARE AVAILABLE FROM

TICKETMASTER.CO.UK

90

SEEL STREET, LIVERPOOL, L1 4BH

by arrangement with ITB presents

Sat 4th May

The Amy

Winehouse

Experience…

A.K.A Lioness

+ Lauren Hope

Sun 5th May • 11pm

Love 90's R&B

Bank Holiday

Special

ticketmaster.co.uk

Fri 2nd Aug

The Fillers

(The Killers Official Tribute)

Sat 14th Sep

Ocean Colour

Scheme

(Ocean Colour Scene Tribute)

Sat 28th Sep

Red Rum Club

o2academyliverpool.co.uk

11-13 Hotham Street, Liverpool L3 5UF

Doors 7pm unless stated

Fri 6th Dec

Mountford Hall, Liverpool Guild

of Students

Happy Mondays -

Greatest Hits Tour

Fri 6th Dec

SPINN

Sat 14th Dec

Ian Prowse

& Amsterdam

Venue box office opening hours:

Mon - Sat 10.30am - 5.30pm

ticketmaster.co.uk • seetickets.com

gigantic.com • ticketweb.co.uk

FEATURING ROCK AND ROLL HALL OF FAMER

STEVEN VAN ZANDT

OF THE E STREET BAND, THE SOPRANOS, LILYHAMMER,

AND LITTLE STEVEN'S UNDERGROUND GARAGE!

NEW

ALBUM

SUMMER

OF SORCERY

OUT MAY

THURSDAY 16th MAY 2019

O 2 ACADEMY LIVERPOOL

TICKETMASTER.CO.UK | LITTLESTEVEN.COM
---
Bank Holiday Sun 5th May

An evening with

Irvine Welsh
---
What's On

April – June

Wednesday 3 April 8pm

Music Room

Band On The Wall Presents

Bill Laurance

Tuesday 9 April 7.30pm

King of Ghosts

Wednesday 22 May 7.30pm

Film

The Favourite (cert 15)

Saturday 25 May 8pm

Music Room

Elephant Sessions

Tuesday 30 April 8pm

Music Room

Carla Morrison

Friday 10 May 8pm

Thursday 23 May 8pm

Saturday 15 June 8pm

Friday 28 June 8pm

Music Room

Kaleidoscope –

Music Memes

Box Office

0151 709 3789

liverpoolphil.com

LiverpoolPhilharmonic

liverpoolphil

liverpool_philharmonic

Principal Funders

Thanks to the City

of Liverpool for its

financial support

Principal Partners

Media Partner

Image The Favourite
---
17 / 5 - 22 / 6 2019

What will Liverpool's

new music and creative

culture look like in

2028, in another 100

editions' time?

Full programme now announced

bidolito.co.uk/bido100
---
New Music + Creative Culture

Liverpool

Issue 98 / April 2019

bidolito.co.uk

Second Floor

The Merchant

40-42 Slater Street

Liverpool L1 4BX

Publisher

Craig G Pennington - info@bidolito.co.uk

Editor-in-Chief

Christopher Torpey - chris@bidolito.co.uk

Media Partnerships and Projects Manager

Sam Turner - sam@bidolito.co.uk

Features Editor

Niloo Sharifi - niloo@bidolito.co.uk

Live Editor

Elliot Ryder - elliot@bidolito.co.uk

Digital and Social Media Officer

Lucy Doyle – lucy@bidolito.co.uk

Community Membership Manager

Brit Williams – brit@bidolito.co.uk

Design

Mark McKellier - mark@andmark.co.uk

Branding

Thom Isom - hello@thomisom.com

Proofreader

Nathaniel Cramp

EDITORIAL

There's an inherent danger in overlooking the intricacies

of society. To apply all-encompassing brackets of

existence to a population is to venture into unstable

waters. Yet it's a destination we're careering towards:

red, white and blue sails tearing apart in the headwinds. There

is no hauler and fishing net capable of dragging along the

diversities of the UK. Not one capable of half that, never mind

51.9 per cent. More than half will slip

through the net, happily.

When Theresa May took to

addressing the nation in late March,

she did so in the hope of outlining an

extension to Brexit was the fault of MPs

and MPs alone. "I'm on your side," she

croaked. It was a remarkable power

move. It was an attempt to disregard

the rest of the chess board and sweep

the queen to an opposing side where it

would declare itself a new colour. Where

it would become one of the people; this

singular, homogenous species, free of

difference, free of contrasting cultures,

free of multi-ethnicity, free of its own individual will. The opposing

side, our side, the people's, in a world where there can only be two

sides to any difference. Here, May looked beyond the intricacies

and idiosyncrasies of our cities. Those, like in Liverpool, that we

define ourselves upon. The brackets of subculture we joyously slip

between to find the like-minded and those perfectly different.

As you can imagine, it was foolhardy to box up the nation,

and a complete failure for a flagging Theresa May. No nation is

resistant to populism, and Britain bears its scars, from populism

of both left and right-wing strains. However, to opt for such a

brazen switch to anti-establishment tactics was clouded and

callous. Contrary to ever present soundbites, there is not a defined

'people'. They don't have a singular will, either. To use such a

FEATURES

"Existence is shared

experience, but it is

uniquely interpreted by

every mind subscribed

to its continuum"

phrase colours the speaker in one defined colour, and more so the

subjects they wish appeal to. Desperate. Desperate for control,

with the centre-right populist playbook under the thumb. The

yawning reaction to this calculated switch was one tiny glimmer

of hope in the otherwise D-rate drama, now given an extended

run beyond its original 1,000-day slog since June 2016.

Applying unnecessary brackets to the politicised population

isn't the only sphere where intricacies are

often overlooked. This month's cover star,

XamVolo, will attest to the boredom of

being bracketed and made to carry the

weight of genre tags on young shoulders.

Often outlined as a neo-soul singer,

he enlightens us to the nuances we all

too often look beyond, the limitations

of naming exercises that reduce the

expansive reaches of his craft into one,

singular bitesize form. In contrast, MC

Nelson outlines to Niloo Sharifi the

changing perceptions and societal tags

he's confronted since moving from

Liverpool to London and now Rotterdam.

Entering into the world of City Of Liverpool FC, as Christopher

Torpey did, uncovers a co-existence between working-class

culture, community and ambition. An intricate make-up not solely

hinged on the 11 purple shirts that take to the pitch each week,

although their various team's ascent is worthy of your attention.

Existence is shared experience, but it is uniquely interpreted

by every mind subscribed to its continuum. An appreciation for

the intricacies of being and culture is the best roadmap to an

understanding of the population. Just leave the bracketing to the

failing politicians.

Elliot Ryder / @elliot_ryder

Live Editor

Cover Photography

Robin Clewley

Words

Elliot Ryder, Niloo Sharifi, Brit Williams, Christopher

Torpey, Sophie Shields, Bernie Connor, Sam Turner,

Cath Holland, Richard Lewis, Glyn Akroyd, Paul

Fitzgerald, Jennie Macaulay, Sinéad Nunes, Joe Hale,

John McGovern, Ken Wynne, Mike Stanton, Christopher

Carr, Megan Walder, Ryan Murphy, Esme Davine.

Photography, Illustration and Layout

Mark McKellier, Robin Clewley, Niloo Sharifi, Michael

Driffill, Tabitha Jussa, Hannah Blackman-Kurz, Markus

Spiske, Sasha Kuzmina, Glyn Akroyd, Hannah Starkey,

Darren Aston, Tomas Adam, John Middleton, Amin

Musa, John Latham, Michael Kirkham, Mook Loxley.

Distributed by Middle Distance

Print, distribution and events support across

Merseyside and the North West.

middledistance.org.uk

16 / XAMVOLO

Exploring the structures of nuance with one of the most finelytuned

minds in British music today.

18 / NELSON...ON THE WATERFRONT

"This is the longest I've ever been out of the country in my life…

seeing more of the world made me more reflective because it was

a different perspective"

22 / CITY OF LIVERPOOL FC

Football, football, football – is it more important than life and

death? For The Purps, a community spirit that is an antidote to

modern football is at the heart of their manifesto.

24 / INNOVATEHER

Liverpool Girl Geeks' mission to make coding accessible to

everyone is opening up new pathways to equip women with the

skills to conquer the tech industry.

20 / YAMMERER

Searching for Yammerer. Brit Williams follows the group down

the rabbit hole of fictional managers and fruit machines, in

pursuit of what it truly means to be authentic.

26 / CHARACTERS: ONION DELI

Bernie Connor nominates Kerry Thomas of Onion Deli as an

on-the-quiet hero who deserves more attention in our new

Characters feature.

32 / ROSE MCGOWAN

"I wonder what we could achieve if we didn't have to fight the

other stuff."

34 / THE ZUTONS

"When you grow up with a band you can't really replace that, it

just feels right"

The views expressed in Bido Lito! are those of the

respective contributors and do not necessarily

reflect the opinions of the magazine, its staff or the

publishers. All rights reserved.

REGULARS

10 / NEWS

30 / SPOTLIGHT

33 / PREVIEWS

40 / REVIEWS

52 / ARTISTIC LICENCE

54 / THE FINAL SAY
---
NEWS

Future Yard

You've always known that Birkenhead is the

center of the musical universe right? Well, coming

this August bank holiday weekend (Friday 23rd

and Saturday 24th August) FUTURE YARD

FESTIVAL is the next step on Birkenhead's

new music journey. The festival will present

innovative and internationally significant work

from exceptional national, international and local

artists, all showcased in a collection of Birkenhead's

iconic spaces. Pulling from Wirral's great musical

traditions, as well as Birkenhead's position as the

Mersey's shipbuilding powerhouse, this event is the

chance to develop a new, forward-thinking creative

culture for a town which has music in its DNA.

Watch for a full line-up announcement coming on

15th April at futureyard.org.

LIMF Myself And I

Bido Lito! has chosen lo-fi perfect pop composer BILL

NICKSON as our pick for LIVERPOOL INTERNATIONAL

MUSIC FESTIVAL this year. The Wirral singer-songwriter

will perform on the It's Liverpool stage on the Saturday of

the festival alongside the great and the good. Elsewhere,

LIMF have announced a raft of extra special artists who

will be gracing Sefton Park. Chief among those names

are hip hop legends DE LA SOUL. The Long Island rhyme

purveyors precede SISTER SLEDGE on the Sunday of the

July weekender. Elsewhere, SIGMA helps celebrate local

label institution 3BEAT's 30th anniversary and Soul II

Soul's JAZZIE B will get people moving in the True School

Club House. Tickets for LIMF (20th-21st July) are available

through ticketquarter.co.uk.

De La Soul

Friday Night Lights

LightNight

Culture crawls don't come more comprehensive than LIGHTNIGHT. The expansive programme is always a

vibrant reflection of Liverpool's broad creative offer. As ever, the festival has announced commissions created

around a theme, which this year is Ritual. Seven one-off events are created especially for the event on 17th

May. As well as our special collaboration with Merseyrail which you can read about overleaf, there is a multiscreen

installation exploring diverse Brazilian ceremonies at Victoria Gallery and Museum, a collaboration

between dance organisation MOVEMA and Indian music institution MILAPFEST and artist RICHIE MOMENT

brings a series of light sculptures which explore modern day rituals. Also on the line-up PROJECTILE VOMIT

create Donna Summer Fever at Constellations, Japanese artist ANTI-COOL brings a video installation to the

Bluecoat and local musician RORY BALLANTYNE presents Ad Finitum: The Invisible Choir And Death Café at

the Anglican Cathedral. Full programme details can be found at lightnightliverpool.co.uk.

Pizza The Spring Action

Spring is officially here and so begins the hunt for the best

outdoor drinking areas in the city. A relatively new addition

to that list has to be the balcony terrace of Parr Street's

Crazy Pedro's. As always Pedro's Post Work Party Playlist

(PPWPP) will be drawing a close to the working day from

5pm each weekday and to celebrate the outdoor drinkingfriendly

temperatures they've got a tasty giveaway. In

order to get your hands on one of four pizza and cocktails

deals for free, all you need to do is suggest the best spring

and summer tracks to add to the PPWPPL. From Monday

1st April we'll be inviting recommendations on the Bido

Lito! Facebook page – get involved!

Best Before

A new venue which looks to support those new to

Liverpool's live music scene has opened in the Baltic

Triangle. BEST BEFORE is a 150-capacity venue

which provides promoters the opportunity to put on

gigs showcasing new talent without the standard

financial risk. With a no flash photography or phones

policy, it's also venue that wants to throw it back to

a time when being in the moment was an important

feature of the nightlife experience. Expect all-nightlong

sets, local artists topping the bill and an intimate

environment. A welcome addition to the city's venue

offer, we say.

The Baltic Is Alive With The Sounds Of The City

Gwenno

With the festival on final manoeuvres for its outing on 3rd, 4th and 5th May, an extra

round of additions to the SOUND CITY programme are a welcome reminder of how much

there is to get stuck into. Iconic Pretenders singer CHRISSIE HYNDE is joining the fray

as the keynote speaker at the festival's Sound City+ conference, which takes place at

the British Music Experience on 3rd May. A host of showcases have been added to the

main festival line-up, with Bella Union, DIY and Gigwise among those hosting stages and

late-night parties across the weekend. And Welsh musician GWENNO is taking part in

a five-day residency which will culminate in a brand new piece of work being performed

at the festival, as part of the Both Sides Now initiative from charity Brighter Sounds. The

project is looking for female musicians from across Merseyside to work with Gwenno on

this material, following on from Stealing Sheep's memorable Suffragette Tribute at 2018's

festival. Further details on all this can be found at soundcity.uk.com.

10
---
DANSETTE

Merseyside punks QUEEN ZEE have

been busy conquering the world, but they

stopped long enough to release their

self-titled debut LP in February, on their

own Sasstone Records label. Here, Zee

herself picks out a few choice records

that were important touchstones for her

when making the album.

M62 Cool For School

As is often the case, the line-up for MANCHESTER

INTERNATIONAL FESTIVAL is looking like a who's

who of creators currently setting the global cultural

agenda. Recently announced additions to the

programme include a series of events curated by

cinema legend DAVID LYNCH and a mass-participatory

event by seminal artist YOKO ONO. Elsewhere on the

programme, grime star SKEPTA will be delivering a

futuristic meditation on the history of rave culture, plus

IDRIS ELBA and KWAME KWEI-ARMAH present Tree,

an exploration of the soul and spirit of contemporary

South Africa. MAXINE PEAKE also portrays the life of

Nico in a new production and JANELLE MONÁE plays

a one-off show at Castlefield Bowl on MIF's opening

night. All the events taking place between 4th and 21st

July can be found at mif.co.uk.

Birthday Merchants

Streamers and party hats at the ready, THE MERCHANT is celebrating two whole

orbits around our sun. The Parr Street hub has enjoyed a buoyant brace of years,

welcoming disc spinning guests from David Rodigan to Stealing Sheep, taking in

the city's finest creative organisations as tenants and serving up a fair amount of

pretty mean pizza slices. For their birthday weekend they'll be doing what they do

best. Friday sees a celebration of all things Frank Ocean with CHANNEL ORANGE,

Saturday is Motown night with the likes of Marvin Gaye and Diana Ross being

celebrated with SUPERSTITION and everyone's favourite super weird DJ GREG

WILSON rounds things off on Sunday when he celebrates 10 years of his lauded

BBC Essential Mix.

Love Is The Message,

The Message Is Death

OSHUN (Rhian Askins)

David Lynch

Arabian Nights

"I want to make black cinema with the power, beauty, and alienation of black

music. That's my big goal." This is the mantra of Mississippi-born filmmaker

and visual artist ARTHUR JAFA, whose groundbreaking work Love Is The

Message, The Message Is Death is coming to Tate Liverpool this spring

(running 29th March to 12th May). Presented in almost total darkness, the film

will feel like an immersive video installation, as depictions of African American

history flick by to the Gospel-like sounds of Kanye West's Ultralight Beam.

Jafa's seven-minute montage has been praised for its unflinching appraisal of

modern America that gives a visual vocabulary to black American experience.

Clips from hip hop videos and YouTube footage of protests are interspersed

with a recurring sun motif, which represents Jafa's belief that these issues

should be viewed on a cosmological scale.

Each year, the Liverpool Arab Arts Festival (LAAF) attracts

tens of thousands of people from Liverpool and beyond for

a thrilling showcase of the richness of Arab culture, with a

packed programme of visual art, music, dance, film, theatre,

literature and special events taking place in venues across

the city. This year the festival will take place between 5th and

14th July, with the ever-popular Family Day – where people of

all ages can indulge in traditional Arab dance, music, cuisine

and wider culture – serving as the finale in Sefton Park's

Palm House. Bahraini poet QASSIM HADDAD's powerful

The Chronicles of Majnun Layla (Sunday 7th July at the Unity

Theatre) is one of the festival's flagship events, alongside the

appearance of visual artist and performer YARA BOUSTANY,

who performs two of her pieces at the Unity on 11th July.

Further announcements are due, so keep your eyes on

arabartsfestival.com for additions.

Oyé Additions

Afro-futurist hip hop duo OSHUN are the latest act to be added

to this year's AFRICA OYÉ line-up (22nd and 23rd June). The USbased

artists fuse digital and acoustic sounds with heavy drums

and bass to create a unique sound with rich harmonic textures.

Joining OSHUN in a (everything crossed) sunny Sefton Park is

Haitian artist MOONLIGHT BENJAMIN. After a childhood raised

by a priest Benjamin followed her own path to create a sound

which encompasses 70s blues, a powerful voice and intoxicating

rhythms. Also announced by the busy festival team are this year's

Oyé Introduces artists with local SATIN BEIGE and TABITHA

JADE getting the honour of playing the main stage at the event.

Arthur Jafa

Chrome Hoof

Chrome Hoof

Tritone

Chrome Hoof were always

more than a band; they

are a mythology, a show, a

performance. I wanted to

capture that element of Queen Zee with this record. It's a

show, it's meant to take you out of your boring life and let

you lose yourself for an hour. Inject some colour into the

grey British mundanity.

Pansy Division

Undressed

Lookout! Records

I love how rude this record is.

What's the point of punk if it

doesn't make you throw up

in your mouth a bit? Pansy

Division were singing songs about sucking guys' dicks, in

a hardcore scene where guys were getting stabbed for

being gay, and women were mostly excluded. Punk has

such a bizarre and twisted relationship with the LGBTQ+

community; to me they're one and their similarities much

outweigh their differences. But to a lot, they don't see it like

that. I'd say this is the queercore album to dig into. A scene

that has given me a lot of strength in my own journey.

Smashing

Pumpkins

Gish

Hut

This was one of my first

records. Billy Corgan was

really trying to make off-kilter pop. I think all the bands in

that scene were in some way; Nirvana definitely were. I

loved Corgan's voice, it was so weird. I think there's a lot of

what Corgan was trying to create in my vision as well.

Parliament

Mothership

Connection

Casablanca

You all know I love a costume.

This record slaps. The vision

and the execution of that

vision is unparalleled. It's an absolute classic. I've drawn

so much from Parliament as an influence and I continue

to. Why wear your jeans when you can dress like the love

child of Judas Priest and The Clangers? I hate all the crap

indie bands who live for the 'I own one pair of jeans and

don't have a comb' look. It lacks ambition, imagination and

talent. Push the boundaries you collective of clichés.

@queenzeeuk

Queen Zee is out now via Sasstone Records.

NEWS 11
---
MEMBERSHIP

THE ALL-NEW BIDO LITO!

COMMUNITY MEMBERSHIP

Bido Lito! has always been about supporting and championing

Liverpool's new music and creative culture. Through our team of community

writers, photographers, illustrators and creative minds we've charted our

city's vibrant, do-it-together creative ethos since 2010. This community

spirit is central to what Bido Lito! has become, and it's something we're

committed to expanding upon.

A new global movement towards community journalism has emerged

in recent years, and we see Bido Lito! playing a key role the movement's

continuing development. As traditional media organisations face existential

threats to their business models and their moral authority, community

journalism harnesses the energy and passion of local people, creating a

powerful, independent media voice free from advertorials and clickbait.

Bido Lito! Community Members will still receive the latest edition of the

magazine in the post before anyone else, along with exclusive download

and playlist content from Liverpool's most exciting new artists. And,

members are still invited to come along to our monthly Bido Lito! Social for

free.

"Community journalism

harnesses the energy

and passion of local

people, creating a

powerful, independent

media voice free from

advertorials and clickbait"

But - and most importantly - Bido Lito! Community Members will be

at the heart of shaping the content of the magazine itself; whether it be

recommending features, providing insight into live events, curating playlists

or suggesting artists for our Bido Lito! Socials, our members will be at the

centre of everything we do.

We still believe strongly in the editorial integrity of the magazine, so Bido

Lito! Editors will have the final say on commissions; but the voice of Bido

Lito! going forward will be shaped by our community members.

If you are passionate about supporting and championing Liverpool's new

music and creative culture, join the community media revolution. Become a

Bido Lito! Community Member today.

SIGN UP AT BIDOLITO.CO.UK/MEMBERSHIP NOW TO

TAKE PART IN THE FIRST BIDO LITO! MEMBERS FORUM
---
ido100!

Today, our city's creative community faces a unique set of

challenges and as a magazine we've never shied away from this

fact. To mark the publication of our 100th issue we will be taking

the opportunity to look forwards rather than backwards, asking

the following question: what will be the key issues and challenges,

opportunities and changes we'll be grappling with in 2028?

Through a series of projects, bido100! will explore our fast-paced

and unpredictable tech-laced future and look to learn what we can

do differently today to help shape a better, creative tomorrow.

Ritual 2.0

On LightNight (17th May), RITUAL 2.0 marks the launch of

bido100! and invites participants to consider a creative future

based on Artificial Intelligence. Are we at the vanguard of a new

chapter of ritualistic expression, a cross pollination between

human and AI creativity? Is this Ritual 2.0? A large-scale, public

realm light and sound installation developed by artist SAM

WIEHL with an accompanying soundtrack mix by FOREST

SWORDS, set within the subterranean tunnels of Moorfields

Station, will explore these pertinent creative questions. The

installation is one of LightNight 2019's commissions and will take

the form of a walk-through, immersive experience, encouraging

the public to question AI's ideal boundaries and parameters as

we plough head-on into a new technical age..

AI Audio Lab

Following on from Ritual 2.0, AI AUDIO LAB will be installation which places the Liverpool public within this

world of automated creativity. We live in an age of unparalleled technological advancement, where robots

are being taught to drive our cars, teach our children and administer our healthcare. And it seems that artistic

creativity is no longer a uniquely human condition either. We invite you to step into a virtual recording studio

and shape the creation of an Artificial Intelligence-composed piece of music, in a genre of your choice. The

process will be facilitated by a team of 'technicians' who will assist in the creation of brand new compositions

which will be publicly broadcast across Bido Lito!'s digital media channels. The project is intended to

encourage participants to critically engage with the idea of a music future based on AI rather than human

creativity, questioning the boundaries and parameters.

Pow Wow!

Held within the iconic surroundings of The Bluecoat on 6th and 7th June, POW

WOW! will be a unique discursive event where we will debate the key challenges

and opportunities we will be contending with in 2028. The event will feature the first

of what is set to be an annual Roger Eagle Memorial Lecture and will be conducted

by the inimitable BILL DRUMMOND. An opportunity to shine a focus on one of our

city's most enduring musical forces, this annual lecture will invite an artist to explore

a topic they see as pressing today, but also in keeping with the spirit of Roger Eagle.

The evening will also host the Pow Wow! Discussion, featuring representatives from

the worlds of art, politics and journalism casting their minds forward to what the world

has in store for our creative future. And, the inaugural Bido Lito! Community Members'

Forum will see our members come together to shape the agenda the magazine will

pursue, as part of our continuing drive towards community-focused journalism.

Commissions

For bido100! we will be undertaking three projects which

commission new work in response to the central ideas of

the programme. We will be commissioning a film short to

coincide with the project in partnership with FACT. As well

as archiving the action across the project, this commission

provides a local filmmaker with the opportunity to creatively

explore the bido100! themes. Submissions are now open

via bidolito.co.uk/bido100/film-commission. Visual artists

have also been responding to a similar call-out, successful

submissions will be displayed at dot-art gallery from 17th

May. As well as these, read about MC Nelson's music

commission with Metal on pages 22-23.

Inside Pages

Following the launch of this magazine back in the heady days of 2010, we

teamed up with a collective of our new-found friends and musical allies to

present INSIDE PAGES Festival. The concept for the festival was simple: create

a full-blown celebration of the artists and music community our magazine

was established to champion. To mark our 100th issue we will be hosting an

event in the same spirit and under the same name. This time at Constellations

on 22nd June, Inside Pages will be a festival which brings the pages of Bido

Lito! to life and closes bido100! with a volatile mix of artists of both local and

international significance. Our recent cover artists XAMVOLO, YANK SCALLY

and EYESORE & THE JINX will all perform live, alongside many more familiar

and unfamiliar names. MC NELSON will also present the first ever performance

of a new piece of work he has been developing as part of his residency with

Metal in Rotterdam (see page 22 for more details).

Tickets for all bido100! events are

available at ticketquater.co.uk.

Expect further programme

announcements over the coming

months at bidolito.co.uk/bido100.

NEWS

13
---
Storyhouse

Women

A weekend for everyone,

celebrating women and girls

26 – 28 April 2019

Rose McGowan: headline speaker

global topics: careers / trans stories / feminism / Islamophobia /

overcoming addiction / rape culture / domestic violence

panel discussions / debates / workshops / performances

join the conversation – book now storyhouse.com

weekend pass £20 / day pass £15

Storyhouse, Hunter Street, Chester
---
XAMVOLO

Exploring the structures of nuance with one of the

most finely-tuned minds in British music today.

16
---
Blue skies are reflecting from the blacked-out mirror façade jutting across Mann Island. It's

a strangely warm day, especially for this time of year. Beside the undisturbed reflections

of this faux summer sky peer in neoclassical columns, baroque domes and concrete

foundations, held in place by aspiration and the nurturing hands of redevelopers. It's an

active scene. The perfect setting for the Royal Institute of British Architects' northern exhibition

space, today's destination. The perfect place to meet architecture graduate turned musical virtuoso

XAMVOLO, real name Sam Folorunsho. You'd think, anyway.

"I don't want to be an architect," Sam declares earnestly, in his confident yet polite manner. "I've

met some great people through my studies, but I don't intend to use that side of my education."

He tells me this from our office on the fringes of a building site on Wolstenholme Square, where

we've rescheduled to meet, away from the complete and distinguished structures on Liverpool's

waterfront. This says a lot about Sam; signature creations are at the forefront of his wildly active

mind. And if his studies taught him anything, he only has interest in the

intricate spaces where he can fulfil the potential of his own design. Not

those that reflect established marks of grandeur.

If an interest in architecture has faded since arriving in Liverpool

from London, one feature of Sam's character has remained since first

appearing in these pages four years ago: the desire, if not purpose, to

produce music cut from his own individualistic nature. "I understand that

there is structure in life, but I don't really agree with the paint-by-numbers

processes we allow to rule over decision making," he coolly asserts,

responding to a suggestion that he's taken an alternative path towards

success. The self-taught 24-year-old has forgone any classical training,

acquiring his talents via a solo venture through the musical frontier.

Before coming to Liverpool, he was quietly active from the controls

of his bedroom studio in London. A rush of EPs and singles followed

his relocation up north, assimilating influences from soul, hip hop, metal

and pop-punk. Now he's taking calls from high-end producers and

collaborators queuing up to borrow his versatility.

He's an artist, on the face of things, that's adept at producing luscious,

high-end productions topped off with an enviable vocal range. Sonically,

it's music that matches the size and feel of D'Angelo. It's music that's

not to be expected to emerge from Liverpool in a climate dominated

by bands; it arrives from an attention to the subtlest nuances of style,

those that mark his musical interpretations of life as a patchwork

blanket of cultures and experience. "When people want to do things,

they generally find a way to get it done. I liked a certain kind of music,

and it was very rare to hear. So, in the beginning, making music was

a vehicle to adhere to my own tastes. That's what really pushed me

on."

Sam's voice is understated when in conversation, perhaps

more so today. Our interview is a little delayed as he's under

the weather this afternoon. There's little respite offered by the

premature summer conditions. His usual cool isn't deterred,

though. He doesn't even think to remove his coat throughout

the interview, despite today's rare climate. "I woke up quite late

due to being ill, but I didn't go to sleep until 4am." As always, a

determined streak shines through. "I was up all night working

on some tracks. Being my own producer means I can work on

my music whenever, you know, to finish off an idea, to whittle

away at my own pace while the creative spark is still there."

Sam constantly at the controls of his music, whether

that be through observation or creation. It's this meticulous

streak that brought about his debut album, released in

January; a 15-track concept album for his first full swing.

It's a bold move, but a clean hit. All The Sweetness On

The Surface is an amalgamation of everything Sam

has been alluding to in terms of his capabilities since

announcing himself as XamVolo five years ago. Swathes

of confidence spread across a diverse landscape, with

microscopic idiosyncrasies treated with the importance of a macro feature. It's evidently been a

painstaking process. Yet, you see no signs of fatigue beyond the unregulated bedtime. "From a

creative standpoint, the album really pushed me," he admits. "But for a good 12 months or so, I was

putting in 13, 14 hours a day in the studio; just me, on my own, with no windows." Most would be

flushed out by the claustrophobia and constant blanket of unnatural light. "For me that was really

good. It allowed me to learn new things and get things done at a speed I was comfortable with. I

was able to devote my complete attention."

Signing to a major sub-label, Decca, was just another piece in the

puzzle; the vehicle for manifesting the present world of his musical

imagination. "An album is not about telling yourself, 'Right, I'm going to

write 30 songs this month'. It's about letting the creative process dictate

the quantity of the finished product. I'm not about creating McMusic. The

studio for me isn't a factory line way of thinking."

While the creative energy was in abundance through the early

stages of the project, its overall delivery wasn't seamless. The record

was finished by late 2017. A year of waiting followed, with an output

locked in gears easily able to stretch ahead of the static, complete body

of work.The year offered the room to enhance the visualisation of the

concept embedded within the music, drawing on the themes interwoven

into the writing process. "I finally got the opportunity to build the extra

mediums into the music, which is something I've always wanted to do.

Everything down to the visual campaign, the overall concept." He pulls

out his phone and guides me through a palette of colour schemes for

the record, logos and graphic illustrations of a hive – all of which he'd

designed himself. It's just another signal of Sam's willingness to carve his own way with his own

capabilities, including a graphic design A-Level.

As a conceptual artwork, All The Sweetness On The Surface wanders through a world

hollowed by decadence. It's a theme that's explored through all 15 tracks, with added visual cues.

"The album taps into the outward vision of perfection," Sam informs me. It's a feeling that clearly

engages such a meticulous, prolific artist content on blazing their own trail. "It draws on the

subconscious battles with bitterness. All of this translates through to the artwork. You've got the

cosmetic gold, but closer up the deficiencies really shine through – the cracked gold paint, chipped

nails, broken glasses." The running narrative of the record is founded upon a hive, depicted in the

earlier noted graphic designs. It's the ruling metaphor of a perceived gold standard, the source of

an unattainable brand of honey which humankind strives for, unwittingly. "The album was split

into two halves: the first looks at the acquisition of the honey and its perceived benefit. The second

focuses on the psychedelic comedown, as a result of a life dedicated to its discovery." However, the

record isn't an entirely fictional experience, as the elaborate concept would allude to. While Sam

himself isn't the lead character, the questions put forward over the 15 tracks roll the narrator into

the heart of the narrative. The inquisition brings about its own confession.

"Every song I write is honest. My songs are real, it's just that I'm not always at the heart of the

"You can't pay

for intricacies, so

you've got to create

them yourself"

"The sound I create

isn't a genre, it's

a reflection of my

musical experiences.

It's no different to me"

narrative. I can take what I see and experience and translate [it] into music, so it becomes an honest

interpretation. I'm not an overly emotive person, so I don't like to lead with feelings. I set my own

mechanical boundaries and bring the music to life. It draws in all of my failures, my experiences, as

though making music is like a scientific trial and error that continually evolves. I appreciate locating

the problem more so than the definitive answer." This is a mark of the ever-evolving student.

There's a definite appreciation for process in Sam's work, even if his album arrived via an

off-piste musical education. From a young age, he was surrounded by gospel music played by his

parents. Music was an ever-present, but not a set path; he appreciates the intricacies of his route,

the potential to gather experiences from aspects of life that don't glaringly inform one another, yet

always leave their mark. "If you're in a band you make your name by playing lots of shows in the

early stages of your career. My own beginnings were sat in a bedroom. I only went to my first show

when I was 19. Before then I was making and recording from my bedroom, living in London. It

became my own stage. When I came to Liverpool I existed in a vacuum; I

had the liberty to exist in a bubble and put myself out there online."

The feeling that music was to be his main outlet soon set in after

starting university. From here came a balancing act; architecture on one

hand, and learning to produce in his free time on the other. Though, he

admits, the latter overlapped into his paid study. "I see music as problem

solving, and the process of finding answers. For me, the internet was

somewhere I took a lot of my cues." Like many burgeoning producers, the

open source space of the internet liberated his potential. Here there was

no set syllabus, tests, course work. "Of course, there is a lot of trial and

error. I've made the most of as many lectures on YouTube as I could, more

so than the ones I was actually paying for at Uni." Working away on two

fronts, graduating and continuing his music is the clearest example of this

artist's endeavour.

A passing listen to All The Sweetness On The Surface would suggest

it's a genre-spanning LP, designed to cater to as many tastes as possible.

It draws in influences of rock, blues and neo-soul, but not simply as

a popularity exercise. Sam is vehemently opposed to this idea, citing the thin web that ties the

album's parading feathers together, irrespective of the clashing colours. "For me, my music caters

to a single taste," he attests. "I don't really see it as being split on genres. The sound I create isn't

a genre, it's a reflection of my musical experiences. You know, I started producing trying to make a

grime track and now I'm here. It's no different to me. When I was younger the first CD I was bought

was 50 Cent, and the first one I bought with my own money was Paramore. I had a whole pop-punk

phase following that. I've got an appreciation for metal, dubstep and EDM, the technical elements

of each." It's the congealed paints on the canvas that bear the reflection

of his art, not the individual elements that each contribute. Originality

is a mere repacking of shared understanding. Sam doesn't find himself

bogged down in discussion of the latter.

"I'm really drawn to nuance. It's a standard human reaction to try

to put everything in boxes or within certain barriers. It sort of follows

a simple equation: X+X = Y. That's not my life experience. I lived long

enough to develop and portray a certain nuance in myself. You know,

you look at me straight up you'll say first, 'He's a rapper, and if he's not

a rapper he must be a singer, a soul singer, a neo-soul singer'." The

preconceptions noted aren't only limiting musically, but a signal of too

casual a reaction to understanding how Sam perceives himself as an

artist; which identities society deems him entitled to. "Now I like both

of these genres, but it's not my entire thing. It's just easier to underline

my music as neo-soul; it just makes it easier for people to understand

without having to look for any of the nuance I try to reflect."

"You listen to someone like Janelle Monáe: The ArchAndroid has all

kind of genres. You've got country in the mix, a Spaghetti Western vibe,

Fela Kuti samples. That's one version of a nuanced portrayal. That's the world that I exist in. I'm not

out here trying to play a part in someone's 8-bit narrative. There's a lot more to explore, and the

gradient is there. You can't pay for intricacies, so you've got to create them yourself."

For someone who has relinquished an interest in architecture, XamVolo is an artist uniquely

driven by the potential of space. Modification, workability and an ear for fine details shine through

in his music. He's calculated and meticulous; two attributes necessary if a self-taught dream is to

materialise into a reality. In a city of defined structures, he's used every tool to hand to carve out a

space that bears his own design. All The Sweetness On The Surface is as intricate as it is subtle. It's

finely measured, to the highest expanse. !

Words: Elliot Ryder / @elliot_ryder

Photography: Robin Clewley / robinclewley.co.uk (at Vessel Studios)

xamvolo.com

All The Sweetness On The Surface is out now via Decca. XamVolo plays at Inside Pages, part of our

bido100! programme, at Constellations on 22nd June. Tickets available now at ticketquarter.co.uk.

FEATURE

17
---
YAMMERER

Searching for Yammerer. Brit Williams follows the group down the rabbit hole of fictional managers and fruit

machines, in pursuit of what it truly means to be authentic.

My initial impression of the post-punk outfit

YAMMERER was presented through the

kaleidoscopic eye of the garrulous J George JC, the

band's frontman and, in my representation of him,

quite the storyteller. Initially, I was scheduled to speak with only

JC, who cunningly attempted to manoeuvre me into concocting

a wacky concept for the interview. In his vision, the interview

would take place at John Lennon Airport, where I would be

introduced to a 4'4" Japanese man named Hiro purporting to be

the band's manager; the peerlessly inventive saga would then

take in massage chairs, a casino, a missed flight, a Deal Or No

Deal fruit machine, a ladybird neck pillow and the ramblings of

the collective's fictional manager, through whom they would

converse. Although obliged to leave J George JC's creative efforts

to his lyricism, I manage to sneak in some questions to the rest of

the group while they aversely have their photos taken.

"We want to be mixed in with the crowd and walk along the

crossing so it's not focused on the band. A bit like Where's Wally,

but it's all of us." As I shiver in the wind outside the Albert Dock,

attempting to get the perfect non-band photo proves difficult

as people scurry from their day jobs and eagerly head home for

dinner. We head towards the Liver Birds while our photographer

Michael suggests it may be a more suitable backdrop given we've

run out of daylight. Guitarist GC witters "No big landmarks, none

of us are actually from Liverpool". JC walks toward the water

with his oversized umbrella held firmly in his right hand as he

takes his shoes off and rolls up his trousers, stepping into the icy

marina unfazed. "Stay there JC," I say. "Turn around and spin the

umbrella above on your head. Nobody smile, this isn't supposed

to be fun." I'm poking fun at the idea of serious musicians needing

serious photos. I step back and think about J George JC's story of

Hiro. As intriguing as the concept was, I couldn't help but wonder

why a band with little press, no Facebook page or SoundCloud

would prefer to mask themselves behind an elaborate story.

As we continue to take photos, I dig a little deeper and

find out what experiences led them to form as a 'band' in the

first place. Weaving psychedelic tendencies together with

characteristic repetitive percussion, the early development of

Yammerer's sound came from a year of jamming without a singer

or a name. In fact, they found their missing piece in JC through an

ad they posted on Gumtree, which stated they were looking for a

"Can/The Fall-type singer".

"We had about 10 responses. It's like people didn't even

listen to the kind of music we'd asked for. Mostly wannabe popstarlets,

it was ridiculous and I was getting sick of it," exclaims

guitarist GC. "Then literally one

email came through and it was

JC going, 'I can do that'. So, I

simply replied 'Oh, can ya now?'

and, before I knew it, I had an

a cappella-type spoken word

recording through, wondering

then who this madman was." JC,

who was in a transitional period,

felt that timing was everything

in the initial formation of the

band. "I was a bit at my wits'

end and going through a lot

of change. I wanted to make a

band because my old one, Spliff

Priest, had just dissipated so I

didn't know what to do. I rang

round everyone I knew to see

if there were any bands going and there just wasn't. I looked on

Gumtree, saw the ad and thought: wow, I can definitely do that

because it was what I had been doing anyway."

From there, the rest of the band had made the conscious

decision to take him on. "By the end of the first weekend, a few

practices in we kind of convinced ourselves that if we're not using

this guy, then what the hell were we waiting for?"

"You can either have

everything be perfect

in every set or you

can reach higher and

possibly fail… then we

can hopefully have some

kind of transcendence"

Some years later, Yammerer's artistic efforts demonstrate

that they are still winding through life as a quasi-band,

discovering their own distinctive parameters. They've certainly

honed in on a sound that makes them uniquely Yammerer, using

a sort of improv-punk aesthetic on stage to keep the entirety of

the performance interesting. "Especially for the first few gigs we

made sure to throw in some random stuff that JC would have to

make up on the spot," GC adds. "We would jump into songs that

weren't invented until we just started playing them right there on

stage and see what happened."

It's true, there is an

unpredictable element to a live

Yammerer show. Fronted by

a distinctively rambunctious

singer who is known to thrash

around with the audience,

the core personnel behind

him compliment JC's onstage

intensity. I noticed a shift,

however, last November when

I saw their show in Chester,

commenting on how I had seen

what seemed to be a softer

side of the group, sans crowd

flogging. I later found out it was

because JC had a concussion

and felt it was important to take

it easy that night. Concussion or

not, it worked and allowed the band to flourish on stage in a more

genteel way. They all agree that, although JC was playing it safe,

they pushed themselves to try something new. "The way I always

said it is, we want to have peaks and troughs because that way

you know that you're actually trying to play on the edge of what

your abilities are," affirms GC. "We always knew there was room

to harness the energy. You can either go straightforward and

18
---
have everything be perfect in every set, or you can reach higher

and possibly fail. So, we try that with each gig. But then we can

hopefully have some kind of transcendence. Although we're not

the ones to say how well that's working."

The band's mutual agreement that social media stifles

creativity is perhaps why they have remained off the internet

for so long. Although with the release of their first EP looming,

naturally they have been prodded to start one by their label

Restless Bear Records. Despite the subtle pressure, Yammerer

seem unphased by the need for social profiles, something they

believe increasingly smothers the music scene with pointless

content. As guitarist SD comments, "We just feel it will be a bit

shit to put something up that won't be doing us any favours." I

chime in and ask, 'But what about journalists or fans, how can

they find out more from you? Is this not limiting your growth?'

JC, quick to respond, observes how "bands have been around

throughout history. Social media is such a relatively new thing

and people have just jumped on it". He continues: "After time

people started to realise that maybe sitting in front of the TV all

day really wasn't that fucking good for you. I don't need to have

an extra thing that I don't really want to be dealing with."

With that, the EP Poisonous Reptilian Colleagues And

Co. showcases a manifestation of Yammerer's world, one

that is blooming with ideas of escapism and has evidently

benefited from their two-day recording session at Elevator

Studios. On first listen, Yammerer drive more energy out

of their short, yet powerful four track EP than most bands

are able to gain from an entire album. GC mentions the

band's approach to the recording process by highlighting

the importance of keeping the sound raw. "The final track

that we've called Seasons 13-30 was very under developed

on purpose," he explains. "We come from different playing

backgrounds in how we listen to and absorb music," JC adds,

picking up the thread. "We hope to delve deeper into that as

things move along – we kind of pushed the boat out in our

studio to mess around with things we haven't unleashed on

anyone yet."

Using this method as the backbone for Yammerer

has enabled the band to develop an intuitive approach

which complements JC's unconventional attitude towards

the musical process. "A lot of our songs are first-takes,

literally making them up on the spot and then we keep that

blueprint for a lot of them," he adds. "That's what we took to

Seasons…, we wanted to bring that element of surprise to the

record. The other ones are well played by us and, with this

track, we felt we could show a little bit more of what we think

is a valuable energy that we bring." Escapism is particularly

evident on the song Airport, with its dominant and catchy

riff, chiming well with JC's monotonous delivery, a clear mirror

image of the energy found in their live shows.

There is, undoubtedly, an odd sense of discipline required to

go against the grain in popular music. To denounce social media

as a platform for people to hear them is bold, but Yammerer

seem confident things will unfold as they are meant to. While JC

himself is still developing as a lyricist, the band continue to jam

together the same way they always have, without any rules. As

reflected so clearly with the distraction of Hiro and the airport,

this entire notion of escapism fuels the power behind Yammerer,

fitting so well with their creative vision to care less about

portraying a bleak image of an average band to everyone. "Some

stuff you want to have a meaning, and for me, I want to make

people question the lens and how they see the world," concludes

JC. "It's like The Death Of The Author. Whatever you say isn't

relevant because people will hear what they want anyway." !

Words: Brit Williams / @therealbritjean

Photography: Michael Driffill / @Michael.Driffy

PRCACO is released on 22nd April via Restless Bear Records.

Yammerer play the Bido Lito! Social in association with Dig Vinyl

on 25th April at the Kazimier Stockroom.

FEATURE

19
---
"The mission now

for InnovateHer is

about getting girls

ready for the tech

industry and getting

the tech industry

ready for the girls"

Through their mission to make coding accessible to everyone, the team behind Liverpool Girl Geeks are

opening up new pathways to equip women with the skills to work in and conquer the tech industry.

As a female who has recently entered into the digital

and tech world in Liverpool, I can't help but notice

how male-dominated the field is and how difficult

it can be to work your way upwards in the industry.

However, it's not just myself who has noticed that this is a

problem for the city's digital and creative culture: tech education

specialists INNOVATEHER have recognised this imbalance in the

industry and have been working across Liverpool and the North

West to help make the digital sector much more accessible for

girls and women.

To help combat the lack of education and awareness for

girls in tech, Chelsea Slater and Jo Morfee have spent the last

few years developing the InnovateHer brand. Their mission

is to prepare girls for a career in the digital sectors and help

existing businesses develop their workplace cultures to be more

accommodating for women. Digital and tech-based industries are

generally male-led, but by providing educational programmes for

girls aged between 12 and 16, meet ups for women interested

in tech and advice for tech companies on how to be more gender

inclusive, they have been able to start bridging the gender and

skills gap in the city. The beginning of 2019 has been very

significant for the team after merging the two strands of their

business – Liverpool Girl Geeks and InnovateHer – to start

encouraging more girls and women across the North West to

enter into the digital sector. I went to speak to Chelsea and Jo

about their journey and what they are doing to help keep all us

girl geeks going strong.

"I've been working in tech for about six to seven years,"

Chelsea explains as she recalls how the idea for Liverpool Girl

Geeks came about. "I went to university and got a tech job in

Liverpool when I left. I had various jobs and realised there was a

massive gender imbalance in the industry. I love technology and

how creative it is and I was disappointed to not see many people

like me in that role. I've always been quite an entrepreneur, so I

was like, 'Right, I'm going to inspire more women to get into tech'.

So I started Liverpool Girl Geeks back in 2013."

"It [Liverpool Girl Geeks] wasn't really meant to be anything

other than an event and a blog about inspiring women in tech,

but it kind of rolled into what it is today," Chelsea continues.

"Joanne came to a bloggers meet up and said, 'I'm really

passionate about what you're doing, can I write for you?' She

ended up being our chief blogger and I asked her to join the

business as my partner, that's how it all began."

The snowballing nature of the business is obviously down

to the passion Chelsea and Jo both share for helping women get

into tech, which is allied to hands-on experience in the industry

and a knowledge of the barriers that need to be overcome.

"I've worked in digital and tech roles for over 10 years after

I graduated from John Moores University in Law and Business,"

Jo recalls. "I had to approach a lot of male clients and they would

always speak to me in jargon, like I never got it. That point stood

out in my career and I was like, 'I need to know a bit more about

this because I need to be able to talk to these people and have

them not treat me like I'm dumb'. I made it my mission to learn

HTML and CSS and got a job at the University of Liverpool. I

became quite proficient in it, but there were still only two women

on the team who were doing technical jobs; similarly to Chelsea I

just thought, 'Why is this?'"

Questioning the gender imbalance in the digital and tech

sectors in Liverpool was obviously a catalyst for something much

bigger. Liverpool Girl Geeks soon outgrew its primary role as a

blog and in hosting meet up events, developing into the full-time

social enterprise company it is today. "It was just a community

thing, a Twitter account and a shit website. I remember putting

that together and was well proud of it, but now, looking back, it's

not," Chelsea laughs with refreshing honesty as she recounts the

early days of the business. "Then it merged into training girls and

women up because they were coming to our events inspired and

wanted to learn the skills. There wasn't anything offering to teach

them coding in Liverpool, so we thought we'd do it."

From here Girl Geeks expanded its outlook, providing coding

and UX courses to young people between 12 and 16. The

expansion brought about other opportunities, which Chelsea

and Jo rolled together under the new banner of InnovateHer.

This recent merging of Girl Geeks and the new brand feels like

a very big step in the right direction for women and girls in the

tech industry in 2019. "Liverpool Girl Geeks has grown up, we

like to say, into InnovateHer," Chelsea says. "The mission now for

InnovateHer is about getting girls ready for the tech industry and

getting the tech industry ready for the girls."

Their new programme now consists of two elements: an

eight-week programme that teaches digital skills in after school

sessions led by industry mentors, and the company membership.

"The company membership allows us to work really closely with

companies on their diversity, recruitment and working policies," Jo

explains. "There's no point in telling these girls to go and get a job

in tech if the spaces aren't inclusive for them."

"We're still running the coding courses for adults this year,

too, because it works really well with our company membership,"

Jo explains when I ask what they are doing to help adult women

in the industry. "We run a day-long Introduction To Coding course

and we've also just partnered with North Coders to provide a

financial aid package for women who want to come on our course

for the 12 weeks but can't afford it. They don't pay anything to

go on the boot camp until they get into employment afterwards –

97 per cent of them get jobs within 15 days, so it's a really good

journey to go on. Working with 12-16 year olds is a long-term

strategy, so it's also good to keep progress going with the adults."

"We have our monthly meet ups, too, which are aimed at

adult women and men," Chelsea explains. "We make sure we

have diverse panels and we have a lot of men coming to them

now. We want men to get on board with the mission because

they are the ones who normally own the company or are in a

senior position. There is no way we can tackle the issue without

including men, but we have to think carefully about how we do

that so we can still put forward our message and still have a

predominantly female community."

I went along to their March meet up to see what goes on

and it really did feel like a community of people, regardless of

gender, all there to talk openly about tech. Sharing knowledge is

key, and is something Chelsea and Jo have put at the forefront of

their message. It's all about empowerment and supporting girls

on their path to a digital career which is still unfortunately not

encouraged in a lot of schools.

"There are only 42 per cent of schools offering computer

science at GCSE in Liverpool. Only eight per cent of pupils take

it, and of that eight per cent the amount of girls is very low," Jo

explains. "Computer science isn't the answer to everything, but

it is a good path, which is why we focus on that on the 12-16

programme."

These shocking statistics really show how underrepresented

tech and digital subjects are in schools and highlight just how

important InnovateHer's work is. I ask if they have any success

stories that have come out of their programmes and they laugh,

not knowing where to start. Jo tells me how there was a 17-yearold

girl called Jess who applied for one of their web development

programmes with the intent of creating a blog about fashion,

and now wants to work in cyber security. "She wants to work for

MI5, is now studying computer science and enters national cyber

competitions with another girl she met through our network. The

experience just normalised it for her, that it was OK to be a geek!"

"It changes mentors' lives, too," Chelsea comments. "A lot of

our mentors say they get a lot out of our programme, it's just so

empowering and rewarding. A girl, Sophie, came to us wanting

to be a mentor because she struggled with bullies in high school.

The memories of that were quite strong, but because of the fear

she wanted to face it by going back into school. She has excelled

in it: she is so much more confident and has come out wanting to

make more changes."

InnovateHer has also managed to work with companies

in Liverpool to increase their recruitment of women, and they

are beginning to expand their mission to other cities including

Warrington, Wigan and Manchester, with London on the horizon.

"We just want to make as much of an impact as we can. Our

mission is to make sure there is no talk of gender, and over the

next few years we are going to work on getting our current

programmes to the highest quality possible."

The ultimate goal for this equality approach is for gender to

not be an issue, for us not to be having this conversation in a few

years' time because the industry will be gender balanced and

women and girls will have the same opportunity as everyone

else. "We don't want a business eventually," Jo laughs. "But

we can't solve the issue on our own; it's too big of a job for one

grassroots organisation, it's a societal problem. I can't see there

ever not being a need, but hopefully I'm wrong."

"We can't be what we are trying to be without people,"

continues Jo, "so the more people that get involved in any

capacity and help spread our message is how we work. Without

that then we would be nothing." !

Words: Sophie Shields

Photography: Markus Spiske via Unsplash

innovateher.co.uk

20
---
PANELLISTS:

CITY OF LIVERPOOL FC

AND THE SOCIAL FABRIC

OF MERSEYSIDE FOOTBALL

GARY ASPDEN (ADIDAS)

SIMON HUGHES

(THE INDEPENDENT)

PAUL MANNING

(CITY OF LIVERPOOL FC)

STEPHANIE POWER

(BBC RADIO 4)

JOIN SEVENSTORE AND ADIDAS FOR AN EVENING CELEBRATING

THE LAUNCH OF THE BRAND NEW ADIDAS TRIMM TRAB

MERSEYSIDE COLLECTION - THE ICONIC TERRACE AND AWAY

DAY SHOE - FEATURING DISCUSSIONS ON THE SOCIAL IMPACT

OF GRASSROOTS FOOTBALL IN THE CITY.

FRIDAY 12TH APRIL

7PM-11PM

SMITHDOWN ROAD

SOCIAL CLUB

SIGN UP FOR TICKETS AT:

SEVENSTORE.COM/TRIMM

-TRAB-EVENT
---
NELSON...

AT THE

WATERFRONT

This could be Rotterdam or anywhere, Liverpool or home… Niloo Sharifi spent a week in

the company of the Liverpool rapper during his residency in The Netherlands.

A

lot has changed this year for MC NELSON, and it's

not even summer yet. He started it by quitting his

full-time job in London and moving to Rotterdam for

a residency with Liverpool arts organisation Metal

and art charity CBK Rotterdam. The three-month project, titled

Residency… At the Waterfront, was set up for two artists from

four European port cities: Liverpool, Marseille, Naples and

Rotterdam. The residency is based on the ideas of Gyz La Rivière

in his book titled New Neapolis, a meditation on these four cities

and their similarities. When we first arrived in Rotterdam, we find

him sitting at the table of a bar with Nelson.

"I have visited all of these cities and they all have the same

type of energy, the same sort of spirit," he tells us. These ports

all have similar histories, shaped by the decline of their main

industry as business shifted away from the docks. Left to their

own devices, these once thriving cities have all undergone

periods of neglect in the recent decades. The individuals who

live in these cities also share a certain independence of spirit

which endures and fuels a constant effort to re-establish the life

and energy that was once abundant here. Gyz wanted to invite

artists from each of the cities to live and work in Rotterdam, with

enough resources and connections to focus their artistic practice,

because he believes in the strength of these cities and their

creative culture.

When Nelson's application for the residency was successful,

he couldn't say no. "I went to my job and was like, 'Yo, I've got

this dope opportunity, is there any chance I could take a little bit

of a time off and maybe come back afterwards?'" They made it

clear this wasn't possible. "I was just like, 'Peace out'. It came at

the perfect time, when I wanted to do something new and just

dedicate all my time and energy to making tunes and rapping.

I've always been in full-time education or working. I've never

been able to just, fully prostrate myself to rap music." During

this time, he's performed in cities across Europe and finished his

first cohesive project, Anglosfear. Once the residency ends, he

is returning to live in Liverpool after years away and his work

with Metal will continue once he gets home – in conjunction with

Metal, Bido Lito! have commissioned MC Nelson to produce an

original piece to be debuted at the bido100! Inside Pages festival.

Staying with Nelson, and meeting the people who set up

this project, is enlightening. These independent programmes

investing in the growth of artists and turning disused spaces into

creative hubs are exactly the kind of thing we believe Liverpool

needs more of. Metal is one such organisation; operating out of

Edge Hill railway station, they set up cinemas and art spaces in

neglected buildings and forgotten parts of the city. Parts of our

stay in Rotterdam feel like a great model for what Liverpool's

future could look like. The places we see and the people we meet

inspire our belief in how Liverpool could be transformed with a

little imagination.

The building itself is a bungalow named Paviljoen …aan het

Water (Pavilion… On The Waterfront), an abandoned cantina

which had long been out of use. Kamiel Verschuren, who owns

and maintains the building, has restored over 100 disused

buildings across the south of the city, where artists live for a small

membership fee. The structure stands a little apart from anything

else on a broad-set street in South Rotterdam. The charming

wooden seating area in front of it is populated with flower pots,

with a red LED light display above the house showing an art text

written by Kamiel. What had previously fallen into disrepair is now

a functional creative base with good acoustics for recording, welllit

and spacious with large windows overlooking the waterfront.

The current residents have filled the living room with dozens

of instruments and recording equipment, and having no close

neighbours means the music can go on all night. As I find on my

borrowed mattress at 4am, the only resident nearby has no moral

high ground when it comes to noise complaints; several roosters

announce the sunrise every morning, their call reverberating

through the walls.

While we're staying here, we get chatting to Nelson's

temporary housemate and fellow resident, Mak, who brought

most of the instruments. "It's allowed me space and time to focus

on creative projects in a fantastic environment, in a different city,

being inspired by different things, and feed the flavour and vibes

of that into the art." Nelson has similarly used the rare opportunity

to create at an unprecedented level. "There was a period of time

where I was, like, living inside of this mixtape that I'm making, and

there wasn't really much else going on in the world," he tells us. "It

was dominating all my thoughts and everything, and just general

maintenance of yourself and life, all the other things, just fell by the

wayside." This is his first extended release, and it feels momentous

for the artist: "It feels so good to finally get it out my system. This

is me planting a flag in the ground to say, 'This is what I am trying

to do'. Obviously, it's not a perfect project, but I feel like this is a

good summation of my general philosophy, beyond trying to do

like, rappity-rap-rap or just rapping fast, or whatever."

The project's philosophy is a meditation on national and

cultural identity. "It's not a linear story, but all the lyrics reinforce

each other to tell a story, and reflect on England and Englishness,

identity and immigration." The ability to consider England from

a distance was useful for gathering his thoughts on a topic that

had consumed his life as well as his work. "This is the longest I've

ever been out of the country in my life. Even though so much of

Anglosfear is about bouncing about England and being English,

a lot of the project did change being out of England, and seeing

more of the world made me more reflective because it was a

different perspective on shit."

Different contexts change the way identity is received and

experienced. "You get to be a different person that you're not at

home – just the way you're treated. In Liverpool, because we're

all Scouse, I was a black guy. When I moved to London, then I'm

a Scouser, and then out here, I sound like an Englishman." He

22
---
"This is the longest

I've ever been out of

the country in my life…

seeing more of the

world made me more

reflective because it was

a different perspective"

imagines what he is feeling is something like the experiences he

has read about in historical accounts of black ex-pats: "A lot of old

black writers from America, when they all used to fall in love with

Paris and move over there – because they just get to experience a

different perspective and a different life, you're not just shackled.

I dunno, stuff that happens at home is just way more painful."

Distance from the culture he is writing about allowed him a kind

of breathing space to work, and these questions of identity are

lucidly explored in Anglosfear. He takes us through from darker

tracks like England to the more utopian Immigration, making

the project a space for exploring a full spectrum of emotion and

analysis, all executed with Nelson's characteristically crisp flow

and wordplay. Besides completing the project, Nelson has used

the residency as a base to perform across Europe. "I've done loads

of gigs this year, but I've not done one in the UK, which is mad,"

he laughs.

The country he will be returning to at the beginning of April

is one in political turmoil and uncertainty. There is a justified

worry that resources are about to become very scarce, with

consequences for the poorest. In these circumstances, funding

for the arts is often axed, considered a luxury. The south of

Rotterdam is a historically underfunded, densely multicultural

area which has been shut out of institutional representation and

allowed to decline. The work of people like Kamiel considers how

art might extend beyond the representational and enact real

change. They used a €100,000 grant to set up a ferry connecting

the south of Rotterdam to the north, a free service which allows

for connections to be made over the water; a channel for people

and exchange information on a frequent journey which also

connects them to the rest of the city.

The Paviljoen is a subsidised bar and eatery in the summer,

allowing local residents to participate in public life at a low cost.

Kamiel's work with disused spaces is part of a movement to

redefine empty spaces in terms of potential for new ways of

living. He explains the underlying concept to us: "If you want

your art to be leading society, then you have to find tools that

allow you to be leading and not following the art world. It's

about being in control of how things are happening and why

things are happening." He uses a network of DIY experts to turn

squats into liveable workspaces and maintain them, creating a

self-sufficient network of artists living without high rent costs.

In the absence of infrastructural support for the arts, they

have turned infrastructure into an artistic project. They set the

projects running first, proved that they work, and then linked

their infrastructure with official governments. "It's art but it's also

real, there are people living in it," Kamiel says, smiling. These

endeavours tamper with accepted ideas of what it means to be

an artist, bringing it down from a theoretical realm to earth.

The Scouse artists on this residency are on a similar wave;

Nelson has designed Black History workshops for schools; he

hopes to fully embody his role as a researcher and teacher, which

underlies his musical practise as an MC. Mak talks to us at length

about how combining art and education can "change the face

of the human planet". Aside from music his lifelong passion is in

education; after teaching at LIPA for several years he continues

to offer workshops, which use the arts to teach. Like Kamiel,

for Mak it comes down to critical thinking: "An artistic way of

being is something that can be applied to anything, and should

be applied to everything." He sees musicality as a metaphor for

the fundamental principle of harmony. "By teaching kids how to

think instead of how to tick boxes, you unlock a different way

of thinking which is based in seeing the similarities in things

as opposed to the difference in things." He expounds upon

ancient classical education systems: the trivium; the quadrivium;

multidimensional thinking which transcends the constraints of

time and space. "It's about finding harmonious processes for

different things to sit together, and we could do with a bit more

harmony in the world."

The approach taken by organisations like Metal, CBK

Rotterdam and individuals like Mak and MC Nelson is ultimately

an optimistic one. They look at empty spaces and evidence of

societal failure and see opportunities for growing, building and

learning. Nelson will be returning to Liverpool with a wealth

of empowering experiences: "It's honestly mad. And you think

about all the spaces in Liverpool that are disused, that nothing

is happening in, that could be a boss centre – like that cinema

on the bottom of Park Road – things like that, all these spaces

that could be transformed into something, but they're just left as

eyesores that nothing happens with." Liverpool is full of untapped

potential; if government is failing, art organisations can play a

role in imagining new forms of infrastructure which enable new

modes of existence. While governmental and European funding

dwindles, we must search for self-sustaining enterprises which

create the sort of freedom and productivity afforded by the

Rotterdam residency.

"There's a nice energy in Liverpool at the minute," Nelson

observes. "It feels fertile. There are loads of great acts, and if

we all just come together a little bit more, there's enough talent

for an incredible scene." Without a certain degree of funding

and investment in the arts, possibilities might be limited. But as

we witnessed in Rotterdam, artists working in the city have the

power to push for changes and be instrumental in enacting them,

expanding a city's understanding of what is possible and creating

futures we want to live in. !

Words and Photography: Niloo Sharifi

@mcnels0n

MC Nelson performs a special music commission at Inside Pages

on 22nd June, as part of bido100!. Tickets available now at

ticketquarter.co.uk.

FEATURE

23
---
24
---
CITY OF

LIVERPOOL FC

Football, football, football – is it more important than life and death? For The Purps, a community spirit that is

an antidote to the riches of modern football is at the heart of their manifesto.

The Hallmark Security Football League Premier Division

(the North West Counties Premier to me and you)

is not one of English football's more salubrious

operations. The ninth tier of the footballing pyramid

is as far removed from the glitz of the Premier League as you

can imagine, but it's not the comfortable trappings of elite level

football that attracts 400-odd hardy souls to a HSFLPD fixture

on a bright, breezy March afternoon. It's something that reaches

far beyond football.

CITY OF LIVEPOOL FC are the somewhat unlikely attraction

on this particular occasion, as they take on Hanley Town in what

looks like a formality on paper. CoL FC – more affectionately

known as the Purps for the colour of their kit – currently sit top

of the division, almost 50 points ahead of their opponents. The

real spice in this match lies in the title race they're locked in with

city neighbours and closest rivals, Bootle FC. The Purps are two

points ahead with a game in hand, as the two teams battle it out

for the one guaranteed promotion place, which is a huge goal in

the bottleneck that is the non-league system. This rivalry is made

all the more intense by the fact that the two Liverpool clubs

share a ground, making for a healthily feisty landlord-and-lodger

relationship. New Bucks Park sits on a nondescript industrial

estate in Aintree, on the other side of the railway lines to the

racecourse: it is Bootle's home, and they've been playing host

to City of Liverpool since the Purps formed in 2015 (Bootle FC,

by contrast, first formed in 1879, but this current iteration was

founded in 1953). The upstarts have been on fast-forward since

then, streaking past their hosts and assuming seniority. All very

interesting, you may be thinking, but why should we care about

the fortunes of two local football teams? Can we not just leave

them to it, on their godforsaken industrial estate in Sefton?

"It's unquestionably about community. And politics as well."

Paul Manning is more aware than most of how important teams

such as City of Liverpool are to people's relationship with the

city. Manning is the club's secretary and a founder member,

and he speaks to me on the phone prior to the match versus

Hanley. "I've seen football change, massively. Hillsborough was –

correctly – a turning point for professional football in this country,

and fair enough. But it then got exploited because of the free

market economy."

Manning is also a volunteer, juggling his own job with the

administerial tasks of making sure matches take place and bills

get paid. He does so because he believes that a football club

should be about something more than just silverware and brand

marketability, and that, if run successfully, they can be vital to the

health of local communities. "Previously, owners of first division

football clubs were the local butcher, businessmen who'd worked

themselves up," he continues. "The television money that came

in at the start of the Premier League kind of changed them." The

Premier League era, buffeted by the winds of Rupert Murdoch's

BSkyB, ushered in a new wave of rampant capitalism that saw

FCs become PLCs, and slowly saw the decoupling of clubs –

often with a hundred years of history behind them – from the

values of their supporter bases.

A former member of the Spirit Of Shankly supporters' group,

Manning was part of the group who founded City of Liverpool,

partly in protest at the running of Liverpool FC, the club he's

supported his whole life, under the auspices of their previous

American owners, Tom Hicks and George Gillett. The same

reasons that caused them to start a new club afresh are the very

things that still attract new fans to the club today.

"Disillusionment was the first thing," he says, which is a

refrain often heard in Against Modern Football movements,

which eschew the uber-consumerist trappings of contemporary

British football. "It was a political thing almost," continues

Manning, "but not in a party-political sense. It was just about

our brand of community politics and wanting to help people.

We wanted to help the homeless, we wanted to help the

hungry we continue to do so. Professional football is necessarily

individualistic and we're not individualistic – we're socialists."

There's a temptation to use this as a stick to beat the

corporate beasts that profit from the national institutions that

are pillars of the national game; but, given that the majority of

owners of Premier League clubs are

overseas investors, we can't really

expect them to be out canvassing

on the doorstep every week. It's

also bad for business to get into

politics when your primary role is

to make money. "That's exactly

right," Manning says in response

to the idea that the people holding

football's purse strings are scared

of talking about the things that the

Purps are. "It's not that they're not

talking about it, they don't think

about it. The business is to make

money and the individuals are there

to make as much money as they individually can make out of this

enterprise."

"The manager now, and most of the players, understand

that the club sits in a community. In the first couple of years, the

players were on at us, 'Give us a prize, give us a bonus!' And we

just said, 'No. There are people starving on the streets. You've

got a job and you've got your football money coming in, but you

want us to give you more money so you can get pissed while

there's people sleeping in sleeping bags?' Not happening."

The crowd at New Bucks Park are in boisterous mood as

kick-off approaches, with occasional shouts of "PEEEEEEERRRR-

PUUUULLLLLL!" coming from The Shed, the seated area behind

one of the goals where the Purple ultras gather. There are no

flares (yet), but the atmosphere is definitely upbeat, expectant

even. The team have been on a great run of form, but Bootle are

hot on their heels. At the derby clash versus their neighbours

earlier in the season, a purple wheelie bin was temporarily hoisted

inside the ground, to the delight of the Purps and annoyance of

the landlords. Today, the assembled crowd witnesses something

altogether more picturesque, in the form of a steepling opening

goal by Purps' centre midfielder Karl Clair, hit from inside his own

half. A replay of the goal makes the rounds of the football Twitter

accounts in the days following, as much for the Hanley keeper's

flailing save attempt as for Clair's sweet strike.

By the time he and the rest of the team make it into the bar

after a tense 3-2 victory, Clair has even had a song minted for

him by the Purps' vocal brigade of singers. A knot of die-hards

belt it out, as well as many of their standard numbers, in a joyous,

occasionally raucous, post-match atmosphere inside the club

house. This is the heart of City of Liverpool FC's community,

where the pilgrims gather every Saturday to roar their charges on.

The core of their fanbase is made up of slightly jaded Liverpool

and Everton fans, their numbers being swelled in recent weeks by

curious visitors who want to see what the bandwagon looks like.

Prior to forming the club, Manning did his market research to

find out what people wanted from a club of this stature. He also

maintains a focus group of about 30 regular fans who he polls

throughout the season, tweaking the offer accordingly. "A lot of

the joy and fun has gone out of football, in our opinion," he tells

me, referencing the fan experience that left a bad taste in the

mouths of many LFC fans after what happened under Hicks And

Gillett. "We did just want to make people happy at the match

again, make it so that people could have a laugh and have a drink

with their mates."

For fans who rarely get to see their 'first' club play on a

Saturday afternoon anymore, the Purps offer more than just a

viable alternative to alleviate weekend boredom. They offer an

identity, something to believe in, something to be part of. Sure,

you can be a Liverpool fan and feel part of the wider "family"

that the club's marketeers like to harp on about, but there you are

one of millions and can just be another face in the crowd. At the

level that City of Liverpool are currently at, you can be a noise,

have your voice heard, be recognised by the players or treasure

your own intensely personal connection with a club. A club that

actively seeks to improve the lives of the community it serves.

"There was a definite political activism feeding into the

community aspect of the club, and the football was really just

"We don't need

American hedge funds

or Russian oligarchs to

have a successful and

enjoyable football club

in our community"

a representation of it because a

lot of people can't be arsed with

politics," Manning continues. "But

if you do want to be part of the

club – a shareholder, part of the

community, and have an influence

in the club and the direction that we

take – then you are going to have

to match the aims and ambitions of

the club overall. And that's about

socialism, to be brutally honest. Or,

we might call it commune-ism – not

communism, but commune-ism,

community-ism."

Back in 2005, a group of

Manchester United fans broke away and formed the club

FC United of Manchester, largely in protest at another set of

Americans – the Glazer family – who had taken over their club.

With their reputation from stripping sporting franchises of

their assets and squeezing money out of it, these fans didn't

like what they saw, so they started from scratch. Almost 15

years later, FC United sit in the National League North, English

football's sixth tier, and have a 4,000-capacity stadium all of

their own.

The similarities between FC United and City of Liverpool

are evident, but there's a big difference in their identities:

where FC United were seen as an alternative to fans of one

club in particular, City Of Liverpool wanted a much broader

remit. Manning admits that, at the outset, the Purps' founding

committee received some relational support from FC United;

but, other than admiring the model employed, there was a

faultline in it that they as founders weren't comfortable with.

"As brilliant as FC United had been to get to that point,

they'd basically cut the city in half. They'd replicated all the old

rivalries of their parent club, Man United. And Man City fans in

the city or in the area were excluded. We made a decision off

the back of that, saying that this [CoL FC] has got to be for the

whole city."

With relative success on the horizon – fingers crossed –

Manning and his committee have to look to the future, and one of

the things they've taken from the FC United playbook is the goal

of having their own stadium. "We're coming to the point very

shortly where there is no more revenue. We need that revenue

[from match-day sales] and we need food outlets and we need

to treat supporters in a better way in a match-based scenario.

We need stadium sponsorship rights, we need pitch-side

advertiser opportunities. That's the glass ceiling. Not the football,

but the ground."

"The market of the Liverpool City Region is there for us, the

desire is there for us. This club can be anything it wants to be,

there's no question in my mind."

Although the grey area of having a 'second club' is one that

I occasionally feel uncomfortable with – as a staunchly stubborn

Tranmere season ticket holder – I can definitely see the appeal

of getting swept up in the who romance around a football club

built on foundations and solid and noble as these. Paul Manning

agrees. "It means a lot of different things to different people,

but in a football sense I think it just means happiness and the

enjoyment of seeing a local, successful team on the pitch in

a successful club, giving us all pride, proving that we are the

community."

"We don't need American hedge funds or Russian oligarchs,

or whatever you want to mention, in order to have a successful

and enjoyable football club in our community." !

Words: Christopher Torpey / @CATorp

Photography: Tabitha Jussa / FotoOcto

colfc.co.uk

Join us at Smithdown Social Club on 12t April for our event

Purple Sole: City Of Liverpool And The Social Fabric Of

Merseyside Football. Tickets at sevenstore.com/trim-trab.

FEATURE

25
---
CHARACTERS

Merseyside is brimming with authentic and genuine people who all of us could learn from, but we don't

always get the chance to show the gratitude we have towards them. This new series will be a regular

celebration of extraordinary people, nominated by you, the other people. Is there someone in your life who

you think everyone should know about?

ONION DELI

Tears are not enough

Nominated by

Bernie Connor

I

don't feel good doing things like this and I really don't like

using this platform as a confessional. But something is on

my mind, and this is one of the best places to get it out there.

And, anyway, all the people involved will read it here.

A couple of years ago, with one thing and another, I went

through a massive personal upheaval. I found myself in a space

I would never have anticipated in a million years. It was dark,

long and unforgiving. If it had lasted for a couple of weeks, it

would have been 13 and a half days too

long. My only experience of feeling this

way – detached, unhappy, freaked out

– was in the days following my giving

up drinking and taking drugs, 13 years

ago. On the unpleasant scale, it was a

rocking 9.9; darkness and unhappiness

were everywhere I seemed to look.

Hand on my heart, I genuinely couldn't

see how the situation would ever get

any better.

When the shit hits the fan in your

life, it's good to know who your friends

are. Despite all evidence to the contrary,

I'm not a very outgoing person. In my

earlier years I used devices and props

– people, drink, drugs – to do all my outgoing for me. It was so

much easier. When I was a kid, I was horribly shy and always

pushed to the back. I countered this by inventing a whole new

character, one that was mouthy, opinionated, desperately trying

to be funny. It masked a whole raft of difficulty and anxiety in my

life. If I could just send it over there and not think about it for a bit,

that would be just fine. I was far too young to deal with difficult

things. That, in itself, was a truly difficult thing. Something that I

feel may have come back to haunt me. Over a long period of time,

"I found salvation

in a really unusual

place. I didn't

see it coming,

and I wasn't

looking for it"

the character I invented became me. I had to live with it. With

the benefit of hindsight – in which I could be wrong – I never

felt comfortable with it. But, to be fair, I never allowed myself

any reflective moments in which I could review my situation.

Everything was done for the minute, and if it wasn't, fuck it.

So, the shit did hit the fan. All the atoms and particles of

life felt like they were all moving in different directions. I felt like

there was nowhere to go. It was the first crisis in my life that

I'd experienced without the safety

net of drink and drugs to soften the

fall. I didn't know what to do. Based

on that, I became (more) grouchy,

more insecure, more unpleasant to

be around. I couldn't stay at home for

any length of time, the four walls were

killing me. With nowhere to go and

nothing to do, I found a convenient

table in a local café, a place where I

felt safe and comfortable, and parked

meself. And I didn't move. Indeed, I

haven't moved. As it all unfolded, I

found salvation in a really unusual

place. I didn't see it coming, and I

wasn't looking for it.

For this, I have to say a million thank yous to Kerry Thomas

and the staff at Onion Deli. Onion is a sanctuary from the waiting

world. It has been my office, social meeting point and sounding

box for many years. At one time, I was a member of their staff.

Had they not been there, the difficult situation I found myself in

may have festered, grown and got lots worse. They have put up

with my horrid, challenging moods for longer than they would

care to admit. Every day they have had an open door policy to

me, inviting me in and trying to lessen my load. At moments of

extreme unhappiness and loneliness, I've felt that Miss Kerry

Thomas has been my only friend. She's like Superwoman, no

matter what. She has never, ever said, 'Aahhh, fuck off, Bernard'

– not even once. When I know for certain there have been times

when she's wanted to. This commitment to my everyday wellbeing

cannot be underestimated. Kerry has helped me through a

horrid, unbearable chapter of my life and I can never, ever forget

that. And, more importantly, like the Lone Ranger, she asks for

nothing in return.

To step out and hold out a helping hand to somebody she

didn't even know very well was a colossal gesture. Often, she has

immersed herself in my own personal misery, when I've known

before we started that she has shit going on in other areas she

could be dealing with. The sort of kindness that you wish you

could find in everybody you know. Some people are genuinely

incapable; some people are genuinely unwilling to do anything

to help. I can't forget this. Ever. What Kerry has done puts her in

the top bracket of people I've ever met. I have no idea how you

go about repaying that enormous debt of gratitude. Even as I'm

writing, I'm not sure how she'll feel about this. But I hope she

sees it as my saying an enormous thank you for all the help she

gave me at a time in my life that I needed it so much. She'll stay in

my heart forever; everybody needs a friend like that.

Thanks, Kegs. I really mean this from the very pit of my soul.

You really are Superstar-Woman, and I'd never be here to write

this if it wasn't for you. The best therapy available in the city.

Some of that magic can rub off on you. Just be there. !

Words: Bernie Connor

Illustration: Hannah Blackman-Kurz / @HBkurz

Onion Deli on Aigburth Road is open 8.30am to 4pm (closed on

Wednesdays).

26
---
#STILLHEREFORANOTHERYEAR

NEW SUMMER

GARDEN MENU

5TH BIRTHDAY

LIVE MUSIC

LOCAL DJS
---
ido lito social invites you to

confirmed guests

dj's

Melodic Distraction

Grooveyard

Linster Sangster

Nightdubbing

Dig Vinyl DJ's

in the garden - free

bands

Yammerer

Samurai Kip

Good Problems

Live music

in the Stockroom

£5 adv/£6 OTD

THURSDAY 25 APRIL

date . . . . . . . . . . . . . . . . . . . . . . .

7PM TO LATE

time . . . . . . . . . . . . . . . . . . . . . . .

KAZ GARDENS & KAZ STOCKROOM

place . . . . . . . . . . . . . . . . . . . . . .
---
SPOTLIGHT

COW

Kyle Lee juggles his time between a couple of North Wales-via-Liverpool bands,

but finds the most catharsis in this grungy countrified outfit.

If you had to describe your style in a sentence, what would you

say?

Pissed off, noisy alt.rock country verging on a nervous

breakdown.

Have you always wanted to create music?

I haven't necessarily always wanted to create music, but from

the age of about nine I felt a strong pull towards music, and

in particular the guitar. I was lucky enough to have a very

supportive mum who bought me my first guitars and an older

brother with taste in guitar bands, which, over time, shaped my

influences and record collection.

I joined my first band when I was 14/15 and, after figuring out

exactly what it is we wanted to do, I began to write my first

songs. To share an idea of a song with like-minded musicians and

see it take shape or follow a completely different path than you

originally imagined is highly addictive and probably my favourite

aspect of being in bands.

Can you pinpoint a live gig or a piece of music that initially

inspired you?

Back when I was eight, Oasis were the reason for myself and a

whole generation of musicians picking up a guitar and beginning

the long, tortuous and joyous journey of becoming a musician.

Although their live gigs were regular features in my house –

taped on VHS from a mate who had Sky – I wouldn't say this

has influenced the sound of any band I have been in. Oasis

were merely proof to me that some normal lads who had grown

up with nothing can start a band, they can make something

of themselves and they can do this with backing of the whole

country.

Nirvana, and In Utero especially, spoke to me on a very personal

level. Kurt's guitar solos to me were something you couldn't really

learn, and it opened up a whole new

world in guitar-playing for me and

forced me to focus on how to make

a guitar howl and cry with feedback

and distortion. It was OK to play

something different every time just as

long as I was feeling it and it proved

to be a very efficient way of letting

off steam and getting all that teenage

angst out of my system.

Do you have a favourite song or

piece of music to perform? What

does it say about you?

I'm lucky to be in more than one band, so I think it would be

hard to choose one particular song and unfair on the others. For

COW it's usually Happy Birthday, our set closer. This song can

last between eight and 15 minutes depending on my mood (a

promoter's worst nightmare). The final two thirds of the song

consist of me taking out whatever issues I may have on that

particular day on my guitar. I prefer to play noisy, discordant

and unplanned guitar solos. I'd say that says a lot about me as a

person and not necessarily positive things.

What do you think is the overriding influence on your

songwriting?

It would depend from song-to-song, but I suppose my emotions

do get the better of me and this is displayed in my songwriting.

There's a lot of heartache in my songs, so they are a bit of an

emotional vent. I find it really hard to write songs when I'm happy

and will sometimes have to pull on bad memories to finish song

lyrics. I don't think I've ever looked at a piece of art and thought,

"Fuck, I need to write a song about that".

"Music is a time

machine that can

take you back to any

period in your life"

If you could support any artist in the

future, who would it be?

Young Jesus would be high on my

list. I like their whole dismantling of

a song structure. They're also not

shy on 20-minute songs and John

Rossiter (guitar/vocals) can fucking

wail and he does this when you least

expect it.

Why is music important to you?

If I'm having a shit day, I've got

some music to help process it. If I'm

in a good mood, I've got some music to enhance that feeling.

Don't want to talk about my feelings? I'll write a song. Music is

a time machine that can take you back to any period in your life,

whether that be good times or bad times. I can't think of a single

film that I like where the soundtrack isn't as important as the

cinematography.

I moved to this city purely to be around music and the bands that

it has produced. I make every effort I can to watch live music on a

weekly basis, which is very easy when you have the likes of Eggy

Records, Sound, Deep Cuts, Capeesh, Harvest Sun and a whole

host of labels, venues and promoters readily promoting the talent

that this city has to offer.

Photography: Sasha Kuzmina

COW perform at Focus Wales on 18th May as one of Bido Lito!'s

selected artists.

30
---
RACHAEL

JEAN

HARRIS

Crafting highly-charged songs

from the frantic emotions of life's

ups and downs is a characteristic

of this jazz-inflected songwriter.

"Words are the

linchpins in my

songs, where

everything

flows from"

Have you always wanted to create music?

No. I didn't think of myself as a particularly creative person in

any artistic sense during my school years. I was very focused on

sport. We didn't have any big record collections at home… most

of the music I remember hearing was a heady mix of church

hymns, my dad's Status Quo tapes in the car and The Chart

Show on Saturday mornings! I do remember buying my first tape,

Madonna's Immaculate Collection, when I was about 12. Maybe

that's when I started to develop an affection for great songs.

During my teens I got an allowance every month and would head

into town and relinquish about half of it for a carefully chosen

album. Suzanne Vega, Joni Mitchell, Sleater-Kinney, Radiohead,

REM, all sorts really. I got a guitar when I was 17, the result of

an instinctive desire to emulate some of the beauty and rawness

in the music that I'd come across. I got three chords down for

Blowin' In The Wind and was away. I was pretty rubbish for a

long time but kept plodding on, convinced it was a worthwhile

pursuit.

Can you pinpoint a live gig or a piece of music that initially

inspired you?

Too difficult I reckon – but going to gigs when I was in sixth form

and seeing local bands, particularly with women players, was

very encouraging. There was a band called Boba Fett who had a

girl playing bass – it sticks in my memory 'cos it was a rare thing

to see. A small thing, but a seed, and it helped me imagine myself

doing something similar. Maybe I'd also put Suzanne Vega's song

Luka in there. So subtle and poetic and powerful.

If you had to describe your music/style in a sentence, what

would you say?

Emotive, real life stories fusing the personal and the political, wrapped

in songwritery sounds with a bit of jazz and 90s indie influence.

Do you have a favourite song or piece of music to perform?

What does it say

about you?

A song that has affected me deeply in the last few years is

the jazz standard Spring Can Really Hang You Up The Most

(Fran Landesman/Tommy Wolf). It just has the most perfect

melody and trajectory and is such a pleasure to sing – it's

also quite difficult to do it well, so it's challenging. I do enjoy

listening to sophisticated melody/harmony, and one of the

aims in my own work is to write things that are accessible but

not predictable.

What do you think is the overriding influence on your

songwriting: other art, emotions, current affairs – or a

mixture of all of these?

Certainly a mixture of things. My own life experience, my

thoughts and interests and feelings, the subjects I come

across that I think are important or unusual – which is

currently the realities of imprisonment and long term

confinement, based on my friendship with a guy called Tamir

who's on death row in the US. Words are the linchpins in my

songs, where everything flows from, so poetry and novels are

big inspirations, I spend a lot of time researching themes. And

yes, visual arts, the natural world, my subconscious, they all

feature, they all do their work.

Why is music important to you?

It's my small way of trying to make the world a more beautiful

and interesting place.

rachaeljeanharris.com

Rachael Jean Harris' latest EP Leaving Light is out now.

GOOD

PROBLEMS

Canadian grunge and British

indie collide in the swirl of noise

created by this Liverpool-based

four-piece.

"Making music

is easier than

making friends…"

If you had to describe your music in a sentence, what would

you say?

Liam: A very welcome, dark but gentle slap in the face.

George: Good music for when you're angry, sad and slaughtered.

Can you pinpoint a live gig or a piece of music that initially

inspired you?

Nat: Gotta be the Gallagher brothers.

Jen: To be honest, I'm wracking my brain here. I have no idea

when it happened, I've been singing and writing for ages. I think I

was into poetry first… I think?

George: Seeing Joe Bonamassa blew my mind and to this day still

makes me feel inferior about my musical abilities.

How did you get into music?

Jen: Making music is easier than making friends…

Nat: One fine Sunday afternoon I had a hangover and felt the

need to make the world feel as miserable as I did.

Liam: When I was in school, some lad played the drums in front

of our whole class and all the girls loved it. I was jealous, I knew

there and then that I needed a drumkit.

Do you have a favourite song or piece of music to perform?

What does it say about you?

Liam: A song called Rejektor. It's a stomper, I like anything that

makes you want to nod your head aggressively.

Jen: I'm the opposite. Cadaver is my absolute fave to perform. It's

slow and sad and sweet but still perrrty intense.

George: Flamingo has a groove that gets to me each time, it's

infectious.

What do you think is the overriding influence on your

songwriting?

Nat: A mean riff and gritty lyrics.

Liam: An underlying dark humour, with a groove.

Jen: Relatable catastrophe with a side of hope.

If you could support any artist in the future, who would it be?

Jen: I'm gonna keep it local when I say I wanna do another gig

with Hannah's Little Sister. They're our buddies too, so it's always

a sick time when you combine forces.

Nat: Get me up with Trampolene

George: I'd love to support Sleaford Mods, they're the best.

Do you have a favourite venue you've performed in? If so, what

makes it special?

Liam: We played in the back of a pub in Rhyl once. It was great,

not many of the clientele had any teeth, I loved it.

Jen: My favourite was last year at the Kazimier Garden; it was

cold, packed and sounded great. I love the way music carries

outside, too.

soundcloud.com/goodproblemo

Good Problems play the Bido Lito! Social at the Kazimier

Stockroom on 25th April.

SPOTLIGHT 31
---
PREVIEWS

"How we're treated behind

the scenes in Hollywood, how

we're treated on screen, is

how we're treated in the world.

It is the world's number one

propaganda machine"

CONVERSATION

ROSE McGOWAN

26/04 – Storyhouse

"I wonder what we could achieve if we didn't have

to fight the other stuff." The actor and activist

speaks candidly about the #MeToo movement and

the continuing impact the patriarchy is having on

women's lives.

Interviewing ROSE MCGOWAN is a prospect that one can't help but approach with some

trepidation. She is a highly accomplished woman, triumphing as an actor, starring in films

such as Scream and the phenomenally successful TV series Charmed. She's got a fierce

reputation as a feminist campaigner, #MeToo activist and Harvey Weinstein whistleblower,

talking publicly and leaving out no details whatsoever about an alleged sexual assault two

decades ago by the now shamed producer.

We're speaking on a weekday morning, during that period of freak sunshine belonging to

another season. She's in London staying with a friend. It's a city she visits a lot because she's trying

to decide where she wants to exist. She hasn't hit it yet. "I'm a bit of a rolling stone." You're on a

journey, I respond. "Yeh, definitely. The reality is I probably need to sit in a rest home and heal from a

lot of trauma for a while, but I can't afford to. I need to keep plugging away."

She's achieved so much despite a difficult childhood being brought up in a cult and living as a

teenage runaway. Her memoir, Brave, was published a year ago, adding author to McGowan's list

of credits which also include actress, singer, activist, model – plus screen writer and film director. It's

her 2014 short film Dawn we talk about first.

Dawn may be only 15 minutes long, but it makes for unsettling and apt viewing in these post

#MeToo times, because, even though times have changed, "it still hasn't changed that much". It is

set in 1961, slap bang in the middle of the no man's land between a chastened Elvis Presley's return

home from the army and the arrival of The Beatles to America's shores, mixing everything up again.

Those few years were a curious time, the world trying and failing to put teenagers in their box, eerie,

doom-laden pop songs and death ballads capturing imaginations instead.

In the film, strictly brought up teenager Dawn is intoxicated by the charms of a bad boy. She's a

good girl and does what she's told, and during her encounters with him the pressure to say nothing,

go along with everything and submit, is huge. She doesn't feel able to say she feels uncomfortable.

Because of that, bad things happen.

McGowan wrote the script, she says, to hold a mirror up to the female experience past and

present. "It tells the story of what happened to me in Hollywood, and what happens to all of us in

the world, especially girls," she explains. "We're sent out to be polite and this is what happens when

your hands are tied behind your back by politeness... it's the tragic consequence of not letting girls

and women understand that it's OK to have their own instincts."

Rose worked in Hollywood from her own teenage years onwards, and in her book the litany of

incidents of abuse and misogyny by men both within the star system and outside it is depressingly

long. Ultimately, she agrees getting her story out there in print was cathartic. "When I was writing

it, it was hard – really, really hard. It stretched my brain." Brave is an angry book. The reader can feel

the heat of the author's fury. But it's also got some very clear, precise recollections.

She recalls a sexual assault in a gay club. A man put his hand up her skirt and digitally

penetrated her before shrugging away her objections with the comment, "I just wanted to see what

it was like". That very line is also the final one in the film: Dawn's tormentor using it to justify his

behaviour. I suggest those words sum up what might go on in the minds of men who abuse women.

They want to see what the reaction is and do it simply because they can, to see how far they can

push it. "I think there's something to your theory," Rose replies, "we're talking about abuse of power

and the people that cross that line just to see what it's like. Some are actually super-predators. With

the lower level ones, it's still a form of abuse of power," she says.

It's the notion of bad behaviour having zero consequences because, until recent times, it didn't.

"Correct. 'That's just the way things are'. I heartily disagree with that."

In the wider world, #MeToo means women are starting to be believed when previously stories

were dismissed. Reading Brave, it is apparent that, in McGowan's world, women's stories were

believed all along. The issue was, no one cared enough to do anything about it.

"My book is not about, as you know reading it, #MeToo. It is not about the last year and a half.

It's about considerably more, and what I wanted to say in the book was to get across what happens

in Hollywood and a closed, cult-like world. It leaks out into the world and it happens to all of us

in different ways. Like, if you're in a small town and the star rugby player rapes somebody and

everyone protects the star rugby player, it's really quite similar."

You call Harvey Weinstein 'The Monster' in both the book and in interviews, because…?

"Because I don't like his name, it's ugly," she says sharply, before elaborating further. "It's relatable

to everybody, everybody's got a monster," before adding, "or multiple ones."

After watching Dawn, I was talking to female friends about it, how the main character finds it

impossible to extract herself from an uncomfortable situation, and the conversation unexpectedly

spread wider, to the first time a man or boy made us feel uncomfortable. Our ages were scarily

young. "It shrank probably before 10," agrees Rose. "That's what I mean with Dawn… kids girls –

and boys too – their discomfort counts… they can have a voice."

After the incident with Weinstein, the response from a fellow actor – who McGowan has

previously named as Ben Affleck – was, "I told him to stop doing that." As if Weinstein, this

powerful mogul, was a naughty toddler reprimanded for picking its nose or stealing a 10p sweet.

The response was "chilling", she replies simply. "It's corrosive, it's dangerous and it's deadly. It's the

kind of stuff that kills souls. It takes a really long time to heal, it's not fair."

The issue of men telling women's stories, putting words in their mouths – because most

Hollywood scriptwriters and decision makers are men – is an issue also discussed in the book.

Charmed was a female-fronted show, aimed at and loved by a female audience, yet every word the

Halliwell sisters and Rose's character Paige Matthews uttered was written and signed off by men.

"We're, generally speaking, historically portrayed by men, written by men, broadcast by men, edited

by men so there's… not one male gaze – there's a hundred on the set, behind the scenes. How we're

treated behind the scenes in Hollywood, how we're treated on screen, is how we're treated in the

world. It is the world's number one propaganda machine. If you have this kind of narrow view about

what women are and what women can be, and what men are and what men can be, it's damaging."

#MeToo may have changed things for the better but there's still room for improvement around

how survivors are treated. In one confrontational television interview Rose was subjected to, it was

suggested that it is difficult for the public to view conventionally beautiful Hollywood stars, sex

symbols, as victims.

"The conventionally beautiful tend to be targets from a very young age. Targeted harder than

others. The person at every party makes the beeline for them, the predator goes for them. And

I'm not saying that the unconventionally beautiful don't get hurt, too, because that would be an

absurd thing to say, but there's an element of 'if you wear a short skirt you deserved it'. That's really

disgusting," she says. It was all the more disappointing that the interviewer taking such a stance

in this case was a woman. "It's discrimination. It's definitely not just men who think that way, and

by women thinking that way, being that vindictive and nasty towards other women, it sets up an

atmosphere where women get more hurt."

With women, it's because we're trained to follow such thought processes. It's a difficult thing

to unpick and unlearn. "I think it's a cultural thing, it's a societal thing. It's brainwashing. And it's an

ugly stain on the human heart."

Being a woman can be exhausting at times, I put to her. "I wonder what we could achieve if we

didn't have to fight the other stuff," she muses.

In Brave, Rose writes about her unease at the sex symbol tag. While I get the resentment at

being judged by one's looks – we can all identify with that – being a sex symbol must have its perks,

surely. She pauses. "No. There wasn't actually anything I enjoyed about it. I felt targeted. It was very

much at odds with who I was on the inside. It always led to great discomfort – discomfort in my

own skin, discomfort in my appearance, discomfort across the board. It's not a real fun way to live."

You're comfortable now?

"Yeh, I think my outsides match my insides more. Reclaiming what I want to look like. And

for myself, not have hair length dictated by other people, hair colour by other people, having a

committee about what you're supposed to look like. It's not right. We should all be able to choose

how we want to represent ourselves and do it based on how we feel inside and not societal

dictates."

You feel free. "I do feel free," she agrees with some relief, then corrects herself. "Freer." !

Words: Cath Holland / @cathbore

Rose McGowan: Brave takes place at Storyhouse, Chester on Friday 26th April as part of

Storyhouse Women festival.

32
---
Rae Yan Song

EXHIBITION

Survey

The Bluecoat – 13/04-23/06

The Bluecoat is opening its main gallery spaces this April to a

range of emerging artists supported by Jerwood Visual Arts,

a leading independent funder dedicated to supporting artists,

curators and producers.

SURVEY will display the work of 15 artists at the early beginnings of

their careers, all of which have been selected to exhibit their work via a

non-institutional process. 35 mid-career artists – including Ryan Gander,

Andy Holden and Rachel Maclean – were given the chance to put forward

the work of burgeoning talents, 15 pieces of which will fill the backdrop

of The Bluecoat for its spring to summer exhibition. Altogether, 50 artists

put forward the works of their contemporaries to be considered for the

display, which features a range of sculptures, paintings, compositions, film,

performances, ceramics and installationa.

The final selection was made by Sarah Williams, head of

programme at Jerwood Visual Arts, with the criteria for the display

aimed at highlighting the most dynamic and creative artists in the

first five years of their practice. Artists with featured works include

Chris Alton, Simeon Barclay, Hazel Brill, Flo Brooks, Emma Cousin, Joe

Fletcher Orr, Tom Goddard, Ashley Holmes, Lindsey Mendick, Nicole

Morris, Milly Peck, Anna Raczynski, Will Sheridan Jr, Rae-Yen Song and

Frank Wasser.

The opening night of Survey will feature a performance by

exhibited artist Ashley Holmes, titled Good To Us. The live performance

has been developed from a written adaptation of Dope, a poem by

African American writer and music critic Amiri Baraka.

MEMBERS

PICK

Record Store Day

81 Renshaw, Probe Records,

Phase One – 13/04

For those who love the smell of vinyl in the morning (as well as

bacon butties), 81 Renshaw is the place to be for this year's

RECORD STORE DAY. The cafe-venue-vinyl vendor is once

again putting together a programme of activity which begins at

the crack of dawn (well, 7.30am) and celebrates the heritage and future

of music committed to wax.

This year, they'll have a pop-up Liverpool Music Museum to consider

while clutching that rare 12" and wiping the sleep from your eyes. The

temporary exhibition, put together in partnership with Liverpool John

Moores University, features the first public showing of Yoko Ono's John

Lennon time capsule as well as a variety of other items themed around

20th century popular culture. In the afternoon, Eggy Records crooner

BEIJA FLO will be performing live in the venue and all the while over

400 special RSD releases will be up for grabs on a first come first served

basis.

To continue the tour, over on Seel Street, Phase One will also be

celebrating with live performances from the fantastic ZUZU along with

up-and-comers MUNKEY JUNKEY and BANG BANG ROMEO. As is

customary the Jacaranda Records crew will also be providing prize

giveaways throughout the day and stocking a wide assortment of special

releases. For the traditionalists, stalwarts Probe Records over on School

Lane will be adorning their racks with the best in limited edition releases.

And providing the best place for the first spin of your new vinyl (or for an

old favourite, Bold Street Coffee are hosting a special open decks event

in the shop. Make a plan, set your alarm, beat the queues and save us a

copy of that Mad Max 2 soundtrack.

EVENT DISCOVERY PARTNER

ticketquarter.co.uk

PREVIEWS 33
---
PREVIEWS

MEMBERS

PICK

GIG

THE ZUTONS

Eventim Olympia – 05/04 and 06/04

Zuton Fever is back, as the zany Scouse rockers

celebrate 15 years since the release of their debut

album with two sold-out headline shows at the Olympia.

Following a one-off tribute gig dedicated to their friend, former Tramp Attack frontman

Kristian Ealey in September 2016, it looked as though THE ZUTONS might have ceased

trading for good. Thankfully, that gig at Mountford Hall, billed as "probably The Zutons'

last ever show", wasn't the end. The group announced on

social media last November, that they are setting out to celebrate

the 15th anniversary of their debut LP Who Killed…… The Zutons?. A

decade and a half later, its combination of angular Captain Beefheart

riffs, skewed psychedelia, off-beat character studies, B-movie theatrics

and Dr John voodoo sound as refreshingly strange as they did on

release.

Backed by a seemingly endless series of gigs, including a

memorable, audience-converting set at Glastonbury 2004 where they

appeared in the mid-afternoon sun decked out in yellow hazmat suits,

the road miles turned the quintet into a formidable live draw. For their

first tour in a decade, the outfit are set to play a score of dates that

will see the album played in full, calling at the magnificent Olympia

in early April. To get the lowdown on what we can expect, Richard

Lewis chatted with lead singer Dave McCabe on the phone between

rehearsals at Elevator Studios.

A really obvious question to begin with: what was the inspiration for getting back together?

I've just missed playing, really. I've got a load of new songs that are Zutons songs. When you grow

up with a band you can't really replace that, in terms of playing together and singing together, it just

feels right. That's the inspiration for me. The reason we haven't done it in so long is 'cos we all fell out

with each other – when you all hate each other you can only hate each other for so long, before you

start liking each other again! [laughs] It's nice to just ease back in to it. I'm not doing this for money,

I'm doing this 'cos I wanna do it. I've missed playing; they're like family this band. I've imagined playing

with them. You can't just sit down and write with everyone when you're young. You're scared to

express yourself in case someone doesn't like it and you fall out with them, so you kinda go home and

write words on your own. It's still like that now to a certain extent. When people turn up and write

songs together that's really professional; it's not like that in most bands, I don't think it is anyway. It's

not straightforward.

How will the gig format work, are you going to play the LP front to back in order?

No, we're gonna do it front to back, but not in order. As a live thing, The Zutons were always better,

if I'm totally honest, than they were on the records. We tried that and it didn't really work doing it as

a record, you've got to build it up and build it down more live. There are a lot of slow-paced songs

in the middle of the record. We're gonna do it how we did it touring the first record, looking [back]

at all the sets. A lot of the songs are stretched out live: Zuton Fever, Pressure Point, You Will You

Won't. It makes the difference doesn't it, instead of playing the album start to finish note by note, it's

never what we did live anyway. If anything, actually, it's gonna be more like the record 'cos we've got

someone playing strings and the keyboard parts and percussion, we've got more people singing. It'll

sound warmer, especially on the slower numbers. Not A Lot To Do [underrated Bacharach-esque

track] sounds really good and it's easy to sing. Some of them haven't been easy 'cos it's 15 years and,

"When you grow up

with a band you can't

really replace that,

it just feels right"

with smoking weed and drinking, I'm learning how to do the album again, which makes me sound old!

I'm not as young as I used to be.

Are you gonna throw any deep cuts in such as the early non-album singles and B-sides?

Yeh, I think so, I'm not too sure. We still want to do other album stuff and new songs. We're definitely

gonna do one B-side, I just don't wanna say which one at the moment.

With Russ currently playing bass on tour for Noel Gallagher's High Flying Birds, who will be filling

his shoes for these dates?

Jay Lewis [The La's, Cast, John Power cohort of many years]. I've know Jay since I was 17, it was

a no brainer, he can sing too. We're all quite big personalities within the band and it can get a bit

heated, he's just right. And there's a guy called Neil Bradley, he's playing keys and doing singing and

percussion as well.

How is it returning to the role of lead singer, is it fair to say you're more of a sideman for Silent K

instead of frontman?

I'm not the full-on frontman for them, no. I wrote a lot of it with Chris [Taylor, lead singer], we've been

friends for years, so we naturally just had fun. Playing in Silent K's good, but it's a different thing, it's a

lot more aggressive. Especially with an evolving line-up as it has been.

What are your memories of Who Killed…… The Zutons? coming out? You

seemed to be on tour the entire time around then.

All that's a blur, I don't remember really having a bad gig with The Zutons

over the years. I can remember them with other things I've done, ha! This

just seems right; this is my band, this is what I do, this is my vehicle for my

songwriting, really. Things like the hazmat suits at Glastonbury, they make

you stand out. We were on top form as band, the confidence was high, we

were all getting on well, we were all into touring, we all had energy.

Without Alan Wills [legendary Deltasonic Records founder] I don't think

we would've done anything really, because he put a lot of time and money

in and got us loads of good support slots. So, it was word of mouth when

we did one gig and went back to that town and then played there again

they'd bring their mates and it had a snowball effect. I feel sorry for bands

now, young bands, there's none of that. I think you've got to be really good

looking – not to say that Abi [Harding, saxophone] isn't good looking – but I

was never the natural frontman, we had to build it up from nothing, really. We were constantly getting

these Coral shouts thrown at us so we had to break out of that. I just don't think it'd work for a new

band, you'd have to have someone who really believes in you. That's me giving Willsy from Deltasonic

a shout out.

Revisiting the chorus lyric in Dirty Dancehall: "This is just a night in the City of Culture/But

everyone's whacked and looks like vultures". That was written four years before Liverpool was

named European Capital of Culture in 2008. How does it feel singing those lines 11 years later?

I remember at the time everyone going on about it and going up for this thing. Do I think it's made

a difference? I think it has. If you like glass buildings, it has made a difference. I kinda miss the old

Liverpool, slightly.

With the band fully reactivated, will there be new material included in the shows?

We'll be playing new stuff on the tour, but we're gonna do two sets, I think. The first one will just be

first album and the second one will be a mixture and a 'best of the rest' thing. I've got loads of songs

I've had for years and loads of new ones, too. With me doing some new stuff we've just got to get it

right, really. Maybe the end of the summer we're gonna do a single or something like that. There's

no point in rushing anything out, it's been this long so we wanna get it right. But we're definitely

gonna do some new stuff. We're always gonna be playing songs off the first record, though, we're

always gonna be playing Valerie too. It's depressing not to do that. !

Words: Richard Lewis

The Zutons play two shows at the Eventim Olympia, on Friday 5th and Saturday 6th April.

34
---
CLUB

Actress

24 Kitchen Street – 11/04

Actress

SEVENSTORE and 24 Kitchen Street present a brand-new, one night

experience this April. ACTRESS will perform an exclusive DJ set alongside

a bespoke, live audio visual test bed produced on the night by visual artist

SAM WIEHL (whose previous work includes visual commissions for Forest

Swords and Liverpool Psych Fest). Support will be provided by Liverpool

producer and DJ ASOK. Actress is an artist capable of music and mind

duality, sharing his cerebral existence between an arresting electronic

output that congeals influences from IDM, techno, hip hop and industrial.

The Wolverhampton-born producer meticulously entrenches himself into

the world of his productions to generate a product both haunted and

breathing, subtly melancholic and spectrally mechanic.

GIG

YAK

Arts Club – 08/04

It's been a rollercoaster two years for London outfit YAK, since they signed

off their debut album (Alas Salvation) with a raucous sold-out show at

The Scala. Since then, the band have lost a member, endured a failed

recording stint at Kevin Parker from Tame Impala's studio in Perth, struck

up a friendship with Spiritualized's Jason Pierce and signed a new deal with

Virgin EMI – all of which left frontman and songwriter Oli Burslem broke

and in increasing desperation. The resulting album, Pursuit Of Momentary

Happiness – which features Pierce on the cinematic closer This House Has

No Living Room – retains the scuzz and restless energy that marked the trio

out from pack first time round, and adds a layer of eccentric bombast that

matches their new ambition.

YAK

THEATRE

Sweeney Todd

Everyman Theatre – 12/04-18/05

The classic Sondheim and Wheeler play SWEENEY TODD gets the

Everyman treatment this year. Through a lens of the social conditions

of the time period, director Nick Bagnall's reimagining of the production

looks to uncover the rotten core of 19th Century Britain with all its

wealth disparity and degradation. Embodying the discontent is the

ghastly eponymous barber who plots his dastardly vengeance from

his London salon. Alongside an innovative live soundtrack and with a

smattering of the blackest humour, the tale of Sweeney Todd seems

like a timely show for our desperate times.

OPERA

Andrew Poppy – Hoarse Songs

Capstone Theatre – 12/04

Post minimalist composer ANDREW POPPY is bringing his new album,

Hoarse Songs, to the Capstone Theatre with its piano, electronica,

orchestral textures in full multimedia glory. Fusing elements of

recording, live concert and AV, the show promises to be a vibrant

representation of Poppy, an artist who thrives on exploring unusual

themes via innovative means. This work sees the London-based

creative look at contemporary topics of the veiled intimacy of couples,

introspection of place and the fluidity of gender. Tickets for this are

available through TicketQuarter.

PERFORMANCE

Art 360

After Dark @ Tate Liverpool – 12/04

Art 360

Tate opens its doors later for a one-off chance to see its Op Art In Focus exhibition in an immersive setting.

The sensory experience will begin at the door, as visitors will be given headphones which will enable them

to tune in to three separate audio channels. Live music will be performed in the gallery by BREAKWAVE

and ANNEXE THE MOON – and ATM's studio member PHIL CHANNELL will be working with NANNA

KOEKOEK on a bespoke soundscape with accompany 360-degree visuals. Visitors will be able to use sound

to tailor their trip around the gallery, thus transforming the viewing experience. A range of Mexican street

food, beer from Love Lane Brewery and 3D projection complete the night of 'total art'.

GIG

The Good, The Bad And The Queen

O2 Academy – 18/04

Rarely have discussions around Britishness been so pertinent and charged with

the nation grappling with its place in the world. It was in to this maelstrom that

THE GOOD, THE BAD AND THE QUEEN returned late in 2018, 11 years after

their only other album, with Merrie Land. The quartet of Damon Albarn, Paul

Simonon, Tony Allen and Simon Tong filter their own experiences of Britishness

through a quirky, end-of-the-pier whimsy that reads like a farewell to nostalgia.

It packs a lot in – from Afrobeat to dub, via music hall – pulling from each of the

four members' own experiences. If you don't get to see the legendary quartet at

the BBC Radio 6 Music festival in March, this is your second chance – and not

one that should be sniffed at.

The Good, The Bad And The Queen

PREVIEWS 35
---
PREVIEWS

GIG

Tirzah

24 Kitchen Street – 17/04

Tirzah

Essex-born performer TIRZAH has been at the centre

of the vital post-grime and UK garage sound of London

for the better half of a decade, releasing a lauded run

of releases on Greco Roman. But it's only now that her

work has come to full fruition, delivering what feels like a

landmark debut LP on Domino. Devotion shines a brilliant

new light on Tirzah's unique experimental pop, exquisitely

soulful voice and potent lyricism. Childhood friend and

long-time and collaborator Mica Levi helped out on writing

and production, bringing out Tirzah's rawness of emotion

and talent.

GIG

Swimming Tapes

Sound Basement – 06/04

Harvest Sun Promotions aren't treading water as we enter April.

Diving in headfirst into the basement of Sound on Duke Street

is the celestial noise of London's dreamy five-piece SWIMMING

TAPES. The show will be the perfect spring board for the band's

debut album, Morningside, which drops in May and is already

garnering anticipation throughout London and beyond. Early cuts

from the record, such as Pyrenees, have made quite the splash

thanks to the band's penchant for melodic riffs drenched in

vitamin D. Just one cue that Swimming Tapes may just be behind

an indie summer anthem or two this year.

Swimming Tapes

THEATRE

User Not Found

Leaf – 22/04-23/04

GIG

Pinegrove

Arts Club – 05/04

MEMBERS

PICK

It's the moment of your death. There's a magic button. Do you delete

your entire online legacy? Or do you keep it? USER NOT FOUND

is about our digital identities after we die. For the show performed

at Leaf, audience members receive a smartphone and a pair of

headphones and are immersed in one man's story as he's faced

with keeping or deleting his partner's online existence. A story of

contemporary grief unfolds through this intimate, funny performance

that gently interrogates our need for connection, which Time Out

described as "a raw and magnetic performance... a gorgeous show

about grief in the era of hyper connectivity".

Pinegrove are a band in constant motion. Since the release

of their 2016 break-out album Cardinal, the Montclair, New

Jersey group have toured relentlessly, selling out shows

across the world and appearing at a number of high-profile

festivals. Cardinal won widespread acclaim for its wiggly,

open-hearted indie rock stylings, and their 2018 follow-up,

Skylight, carried on in the same vein, albeit after a stuttering

start. Their folk-ish math rock has always had something of

the Wilco about it – but you can make your own mind up by

catching them in the flesh.

GIG

Steam Down

Alexander's Live – 18/04

Steam Down

Deptford-based community-led vibe collective STEAM DOWN bring their

collectivist grooves to Alexander's Live this month. Led by multi-instrumentalist,

composer and producer Ahnanse, the group's unique shows are earning them a

special reputation for fun, interactive shows which channel a multitude of genres

from jazz and Afrobeat to soul and hip hop. Community and collaboration is central

to Steam Down's infectious output and this show in the intimate confines of

Alexander's should be very special indeed.

GIG

Terry Riley and Gyan Riley

24 Kitchen Street – 10/04

Kitchen Street continue to diversify their music programme with

a foray into the world of classical music, presenting one of the

key innovators within the minimalist movement, TERRY RILEY,

performed by the composer himself and his son, GYAN RILEY. Riley's

music is intricate, utilising improvisational structures and melding

elements of minimalism, jazz, ragtime and North Indian raga. The

legendary American composer will be performing an intimate

aural exploration on piano, with his son accompanying on acoustic

guitar, and support coming from Liverpool-based composer and

saxophonist DANIEL THORNE.

Terry Riley and Gyan Riley

36
---
CLUB

Keep it Cryptic

Secret location – 19/04

The collective behind KEEP IT CRYPTIC have discretely

being building a following and reputation for their

transcendent party nights which blur genre boundaries and

put an emphasis on good people having a great time. Their

fourth party takes place in a location which will be unveiled

on the day of the event. The clandestine crew are bringing

together the likes KŸOGEN, the project of PINS keyboardist

Kyoko Swan, local indie jazzers SAMURAI KIP, former Black

Grape man KERMIT LEVERIDGE and a further roll call of

more than 20 other artists for what appears be an evening

of entertainment which is as expansive as it is secretive.

GIG

Johnny Dowd

81 Renshaw – 18/04

A cult Americana hero, gothic story teller and alt

country stalwart, JOHNNY DOWD is a respected

name in the Venn diagram of worlds he operates.

From Ithaca, New York the singer songwriter has

a long and distinguished career which is brought

right up to date with his newest album Family

Picnic released in March this year. The dark subject

matter and off-kilter sensibilities afford comparisons

to the likes of Cave, Waits and Beefheart which has

always enamoured him to Liverpool's passionate

Americana community. The veteran comes to

Renshaw Street with RAE CLARK in support.

GIG

Roosevelt Collier

Phase One – 14/04

Brought up in the House Of God Church in Perrine, Florida,

pedal and lap steel guitar ace ROOSEVELT COLLIER has

become a sought-after talent both on record and on stage.

So proficient he's affectionately known as 'The Dr', Collier

is a regular 'artist at large', performing alongside musical

luminaries in the fields of rock, blues and pop, including the

Allman Brothers and Los Lobos. His solo debut, Exit 16, is

a potent mix of blues, gospel, rock and, in his words, "dirty

funk swampy grime". Roosevelt built his sacred steel guitar

prowess alongside his uncles and cousins in The Lee Boys,

known for their spirited, soul-shaking live performances.

CLUB

Kate Miller

North Shore Troubadour – 12/04

Berlin is undoubtedly the capital of techno, and Liverpool is fast

becoming a North West outpost for the scene. North Shore

Troubadour is the latest venue to get in on the action, hosting

one of Berlin's current hottest talents. KATE MILLER's explosive,

electro-focused sound has earned her regular slots at the infamous

Berghain, and her own brand Oscillate has been making serious

waves in the city. She has smashed slots at prestigious festivals the

world over, from Gottwood here in the UK to Sugar Mountain in her

native Australia (for Boiler Room), and is rapidly becoming one of

Europe's rising stars. Escape your planetary mindset as Miller pilots a

journey into the unknown.

Kate Miller

GIG

The Midnight Hour – Ali Shaheed Muhammad

and Adrian Younge

24 Kitchen Street – 26/04

MEMBERS

PICK

Ali Shaheed Muhammad and Adrian Younge

Two of hip hop's most accomplished producers bring their new live project to town, featuring a

nine-piece brass and string section. ALI SHAHEED MUHAMMAD (founding member of A Tribe

Called Quest) and ADRIAN YOUNGE (Black Dynamite, Jay-Z, Ghostface Killah, etc.) began their work

together in 2013 on the critically acclaimed There Is Only Now by Souls Of Mischief, and Kendrick

Lamar's untitled unmastered albums. THE MIDNIGHT HOUR is their ode to the cultural sophistication

of the Harlem Renaissance that occurred in New York in the 1920s, pairing two of hip hop's greatest

producers with a tight rhythm section and a full orchestra.

GIG

Girli

The Zanzibar – 18/04

Brazen London pop star GIRLI is gearing up for the announcement of her debut album

Odd One Out, due on 5th April via PMR/Virgin EMI. The highly-anticipated record

was co-written by Girli with various collaborators, such as Fast Friends and MNDR/

Peter Wade (Charli XCX, Brooke Candy), and follows on from 2017's Hot Mess EP,

the record that launched Girli's chaotic mix of pop, electronica and punk. The eighttrack

album marks her new mature alt.pop sound, drawing inspiration from real life

experiences and exploring identity and the difficulties of adolescence.

Girli

GIG

Bido Lito! Social: Dig Vinyl's 5th Birthday

Kazimier Stockroom – 25/04

Yammerer

It's party time! Bold Street's vinyl enthusiasts Dig Vinyl are celebrating their fifth birthday in

April, and we're made up to be teaming up with them for the occasion. We're throwing an

old-school birthday party, with cake and balloons and lots of friends, plus loads of good music.

We're squeezing ourselves into the Kazimier Garden's new Stockroom venue, along with

YAMMERER, SAMURAI KIP and GOOD PROBLEMS, which is nailed on to be all kinds of raucous.

And out in the Garden, a host of fine selectors will be on the turntables all night, which you'll be

able to enjoy for free. GROOVEYARD, LINSTER SANGSTER, NIGHTDUBBING and MELODIC

DISTRACTION are gearing up for the heavy hits party, as well as Dig's own superstar DJs. As

usual, Bido Lito! Members get free entry – tickets are available now from ticketquarter.co.uk.

PREVIEWS 37
---
THE JONI MITCHELL

SONGBOOK

CAPSTONE THEATRE

26 APRIL

SOUND CITY

BALTIC TRIANGLE

3-5 MAY ...AND MANY MORE!

FAME! UK REUNION

M&S BANK ARENA LIVERPOOL

5-6 MAY

CREAM CLASSICAL

SEFTON PARK

19 JULY

LIMF

SEFTON PARK

20-21 JULY

SIGMA / ELLA EYRE / YXNG BANE

DISCO CLASSICAL WITH

SISTER SLEDGE ft KATHY SLEDGE

DE LA SOUL / JAZZIE B

REMINISCE

SHERDLEY PARK, ST. HELENS

7 SEPTEMBER

ticketquarter.co.uk

0344 8000 410 JOIN THE CONVERSATION
---
REVIEWS

Vein (Glyn Akroyd / @GlynAkroyd)

"It's engaging,

romantic and dosed

in the curious. Just

the sort of brilliance

of programming we've

come to expect from

this most unique and

innovative festival"

Liverpool International Jazz

Festival 2019

+ Vein ft. Andy Sheppard

+ Ancient Affinity Orchestra

+ Deep Cabaret

+ After The Flood

Capstone Theatre – 03/03

The Sunday afternoon of LIVERPOOL INTERNATIONAL JAZZ

FESTIVAL really shows the festival for what it does best: breaking

new ground with music that asks questions and influences

ideas that provoke thought and discussion. This particular triple

bill spans all genres, all influences, and although each occupies

its own definitive space, they share a sense of uniqueness,

innovation and invention.

When we reach dystopia, with the seas poisoned, choking

and churning with the detritus of uncaring humans; when war

and greed have finally ravaged the earth until there's nothing

left to ravage; when civilisation, such as we call it, has finally

crumbled, we'll need to rebuild, to regroup and start again,

constructing a new society with no boundaries, no borders. To

find a future out of the ruins. The last remaining humans will

gather together as one, AFTER THE FLOOD. Such is the concept

behind Neil Campbell's band and album of the same name. Built

around a post-dystopian vision of the music which will need

to carry the new society forward, it imagines music as one. A

seamless, single entity, pan-global confluence, a celebration

of the universal language, and a bedrock for the future. No

boundaries, no borders.

After The Flood is, then, a journey of discovery through

continents and the ages, traditions and structures, bringing

together the varied elements of European folk music, prog,

Afrobeat and the Middle East. Though built around the peerless

fretwork of Campbell, each instrument takes its place as an

integral part of the whole, weaving together, segueing the

styles into a single and really quite glorious celebration. To Asia

is a wonderful piece built around a deftly picked chiming guitar

pattern, twisting and turning in its imagined colour, dancing

almost. Similarly, From Africa brings the heat of that great

continent, beginning with a mbira-sounding intro, before lifting us

through more percussive celebration, both uplifting and soulful.

After The Flood is a fascinating and enjoyable concept, an album

well worth extensive further investigation, and a band of some of

the finest musicians in the city.

In DEEP CABARET, we find multi-layered imaginings drawn

from jazz, from Africa and melodic pop, from journalism and the

landscape around Morecambe, from poetry, drones and Siberian

throat singing; a conversation of bass clarinet and hurdy-gurdy,

cello and guitar. It is a fascinating and compelling confluence

Vein (Glyn Akroyd / @GlynAkroyd)

of ideas – rich, pensive and, yes, deep. Bandleader Steve Lewis

digs into his readings, selecting standout paragraphs and

building a wonderfully leftfield musical backdrop around them

through improvisation and free expression. The Blue, its central

lyric taken from Wassily Kandinsky's writings, is a compact and

tender piece, with an edgy beauty. The forgotten tale of Sambo,

its narrative hewn from a newspaper cutting from 1822, tells

the tragic story of a former slave, buried without ceremony in

Morecambe following a hunger strike. A slow looping guitar

pattern, it is a haunting Arabian-flavoured death knell bound

together by long droned notes and a skittish shuffling jazz

drum pattern. Deep Cabaret's music asks questions and makes

suggestions. It's engaging, romantic and dosed in the curious.

Just the sort of brilliance of programming we've come to expect

from this most unique and innovative festival.

The afternoon ends with the shimmering, cosmic wanderings

of ANCIENT INFINITY ORCHESTRA. The Leeds-based collective,

favoured by Gilles Peterson, find their genre-fluid roots held in

the light of Sun Ra or Pharoah Sanders. Theirs is a worldly sound,

heavy on evocation and imagery, peppered throughout with

lustrous, celestial percussion. Psychedelia, jazz and the music of

the world all take their place in these portraits, these sketches

of nature and the universe. Space is given over between the

grooves, broad cinematic freeform strokes of melody, undulating

and twisting from free improv to the more structured moments

with ease. There is an enormous sense of freedom to this band,

and it's not forced nor over studied. It just feels deeply expressive

and natural. An immersive journey, cinematic and wide at one

minute, hushed and devotional the next.

Closing another deliciously varied and very well supported

Jazz Festival are Swiss trio VEIN, accompanied by British

saxophone legend ANDY SHEPPARD. Vein are comprised

of twins Michael and Florian Arbenz, on piano and drums

respectively, and bassist Thomas Lahns. All are classically

trained, meeting at Basel's Academy of Music, and their mixture

of European classical music and jazz improvisation has won

many plaudits. They have a long history of collaborative work

with notable soloists such as Greg Osby and Dave Liebman

(saxophone) and Glenn Ferris (trombone). The Arbenz brothers

compose most of their original material but they are also noted

for their re-interpretations of jazz and classical standards, 2017's

Vein Plays Ravel being the latest example.

Sheppard has long been heralded as a cornerstone of British

jazz and is an equally serial collaborator, having worked over the

last three decades with an enviable list of musicians including Gil

Evans, Carla Bley and Seb Rochford.

A double bass bowed in orchestral fashion is our

introduction. Michael Arbenz counts it in and the band hit a

smooth groove over a crisp, spare drum pattern. The piano

beautifully discordant at times, a counterpoint to Sheppard's

lyrical, flowing saxophone on Michael's Under Construction,

from 2019 album Symphonic Bop (a title that neatly captures

their oeuvre). The rubbery bounce of Lahns' bass getting heads

nodding. It's an early indication that we are in the presence of

some very fine musicians this evening.

They include several pieces from the Ravel album in tonight's

performance, the first being the delightful Mouvement De Minuet.

Florian's gently pattering drums underscore Michael's delicate

piano. They're both played with absolute clarity, despite its pace.

Sheppard bides his time, saxophone slung across his body, head

nodding as he listens with intent. Michael's solo drops quietly

away as Lahns' bass picks up the rhythm before Sheppard brings

his thoughtful silence to an end with a delightfully light, airy solo.

It meanders and spirals into the night air.

A 2017 Guardian review opined that "they can be too

flawlessly polished for their own jazz good" (before labelling

them "one of Europe's most exciting ensembles"). And flawless

the playing certainly is tonight – not once at the expense of

expression or a calmly delivered passion.

Florian's Fast Lane ups the tempo and swings at a merry

pace. It is, frankly, funky as hell, the bass jumping, Michael's

fingers flying across the keys, Florian's drumming loose in a tight

groove. It's a wicked solo drawing sustained applause.

Sheppard's playing is wonderfully melodic, Lahns' subtle,

vibrant bass holds it all together. The twins seem as though they

could riff off each other all night.

A cover of Duke Ellington's Reflections In D really flies, the

soloing hot, cool, exquisite, before Ravel's Five O'Clock Foxtrot

wraps it up, swinging us joyfully out into the sharp night air, the

only hint of regret being that we wanted more. As a mightily

impressed festival director Neil Campbell says, "Some people

take it to another level."

Paul Fitzgerald / @NothingvilleM

Glyn Akroyd / @glynakroyd

40
---
"The photographs are a

beautiful art form. They

not only showcase the

diversity of the subjects,

but the lens draws out

their character, focusing

on the understated

side of each MP"

Cat Smith MP by Tabitha Jussa

Tabitha Jussa / tabithajussa.com

209 Women

Open Eye Gallery – until 14/04

"To represent and be presented for what we are – as women,

by women – is a very special thing. This is what 209 Women is all

about." Helen Pankhurst, the great-granddaughter of Emmeline

Pankhurst, sums up the new 209 WOMEN exhibition at Open

Eye Gallery perfectly.

To mark 100 years since women achieved the right to vote in

the UK, photography exhibition 209 Women has been launched

to commemorate this significant step towards women's equality.

Not just in politics, but throughout society. Launched in the

Houses of Parliament on 14th December 2018 – 100 years to

the day since the first women voted – the exhibition showcases

photographs, taken solely by people who identify as a woman,

of all 209 female MPs currently in Parliament. This is also the

first time all 209 photographs have been exhibited together, as

it includes the Sinn Féin MPs who abstained from having their

portrait shown in Parliament.

As part of RISE, Culture Liverpool's season of events

celebrating female artists, thinkers and leaders, the exhibition

provides an opportunity to reflect on how far we have come

towards gender equality. From the passing of the Representation

of the People Act which allowed certain British women to

vote in UK Parliamentary Elections in 1918, to the Parliament

Qualification of Women Act which allowed women to be elected

into UK Parliament in the same year, 1918 was a huge year for

women's political rights, which is why it is important we still

recognise it today. The exhibition not only highlights how far

women have come in politics, but also in terms of the workplace

and reproductive rights; again, areas which we are still working

towards equality in.

However, the exhibition also illustrates how much more we

need to do. The opening statement to the show claims: "Women

form 51 per cent of the population, but only 32 per cent of our

MPs are women. Why is this?". This stays fresh in your mind as

you take in the photography. It does make you really focus on the

why. Suddenly, the 209 doesn't feel like such a large number at all.

The photographs, however, are incredibly powerful. They

represent each woman not necessarily as an MP, but as an

empowering woman who has her own life alongside her position

in politics. Some women's portraits are of a serious nature,

some in black and white, some in colour, some in back gardens,

on the beach, in parliamentary chambers. Some women are

smiling, while others look more forlorn; there's one MP stood

with a goat, another is draped in a European flag. There are

also photographs of women in surgical scrubs and a firefighter

uniform, highlighting their other roles within society alongside

their positions in parliament. It is unclear if the subjects chose

their setting themselves, but their situations allow for the

humanisation of women whose lives are so strongly bound into

politics.

The photographs are a beautiful art form. They not only

showcase the diversity of the subjects, but the lens draws out

their character, focusing on the understated side of each MP.

It often becomes too easy project that the 209 are a singular

entity of female MPs. It becomes a restrictive bracket wrapped

around its widely diverse group, with more room to grow. In

addition, each female photographer has also been given the

chance to showcase their work through the exhibition. What's

more empowering than women supporting other women?

Their names, constituencies and the female identifying

photographer's name are given alongside the portraits, but their

political party is not addressed. This allows for the exhibition

to focus on the women in the photographs rather than their

politics. It is a refreshing way of bringing everyone together for

an important issue. Political opinions, for once, are put to one

side.

Our achievements within gender equality so far are only

the start of the milestones of what we can and will hit over the

next 100 years. Hopefully, we will not have to wait that long

to see significant changes. Notwithstanding the changes to be

made, in 2019 we can't ignore that we have come a long way

from where we were in 1918. The exhibition carries this theme

of forward-looking celebration, highlighting how there are only

209 elected female MPs in Parliament – out of the 650 MPs.

There is no doubt this is a cause for celebration, in a century

that began without the right for women to vote. From 1918 to

having a female Prime Minister in 2019, it's progress, but 209

out of 650 is still in the minority.

Sophie Shields

REVIEWS 41
---
REVIEWS

Sleaford Mods

O2 Academy – 02/03

Watching SLEAFORD MODS is always going to be good:

Saturday night, pint in hand, surrounded by the young and

middle aged bouncing along, in the hands of a duo whose lyrics

Sleaford Mods (Michael Kirkham / michaelkirkhamphotography.co.uk)

comment on the lives of many in Brexit Britain.

Jason Williamson belts out Into The Payzone with fervour,

while Andrew Fearn stands nonchalantly behind nodding his

head along in approval, kitted out in shorts, cap and Run-DMC

T-shirt, sipping occasionally from a bottle of lager. With their

division of labour and set up on stage, they could be the 21st

Century, more excitable, more mobile, more politically peeved Pet

Shop Boys with an attitude that aggravates as well as entertains.

And it's there that any whimsical similarities end. This is a group

the treads its own path and tells the tales of those often ignored.

The gig's packed out and full of energy and, by the third

song Subtraction, those less possessive of their pints start

jumping about; the ubiquitous mosh pit emerges. The crowd love

it: those at the sides guffaw at the well-observed lyrics, while

others shout them back to the worldly frontman. The setlist is

predominantly comprised of songs from their new album Eton

Alive, along with a selection of older favourites, such as TCR and

Just Like We Do.

Accompanied on stage by just a microphone stand and

laptop, the duo still manage to command the room. If the

baseline throbbing through the floor doesn't grab your attention,

Williamson's skill at delivering the lyrics does. His performance

style is impressive, moving from snarky drawl to mania as he

inhabits different characters.

His recall of the lyrics is equally impressive, and his

monologues take the form of theatre, especially as he physically

changes. His posture and facial expressions create an idea of the

imagined characters. When he's not busy doing that, his various

dance moves are a delight to behold: walking around with an

imagined hat and cane, a cheeky crotch grab and even giving us a

glimpse of the start of a nutty boy walk.

The lyrics are brilliant. They create vivid, pertinent and often

hilarious snapshots of life in contemporary Britain with its foibles

and failures. They resonate with the feelings of many about

where the country is politically and socially at the moment. The

lyrics swing from pointed ire with clear targets in songs like BHS,

where "the able-bodied vultures monitor and pick at us" and in

OBCT where the narrator "passed Oliver Bonas in the Chelsea

tractor", to funny observations on the mundane: "I got two brown

bins, should I only have one? But what the council don't know

won't hurt them" on Policy Cream.

Williamson works himself in to a frenzy. By the end of the

night his T-shirt could be rung out and fill up a few of the pint

glasses flung around the mosh pit. Fearn meanwhile looks as cool

and collected as he did when he came on stage. It's over far too

soon and after an encore, which includes the dynamic Tied Up In

Nottz and Discourse, Williamson's off with a nod, but without a

backwards glance, leaving his bandmate to pack up the laptop

with a lack of fanfare. It's all just part of the night's work.

Sleaford Mods are here to point out the dire times we're in, in

an entertaining, needle-sharp way. Live, they take it all up a notch

or two. What's not to like?

Jennie Macaulay / @jenmagmcmac

Omar Souleyman

24 Kitchen Street – 23/02

Postponing a gig can prove disastrous for attendance levels,

but nobody is deterred by tonight's show being rearranged for

three weeks after the original date. Kitchen Street is rammed and

bouncing well before OMAR SOULEYMAN takes to the stage.

A party atmosphere grips the crowd from the off as Jacques

Malchance smashes out a pounding dabke beat.

Dabke can be translated as 'stamping the feet', a line or circle

dance traditionally performed at weddings. A Levantine hoedown

of sorts, a celebration. "Their weddings sound like more fun than

ours," says a smiling punter before weaving his way into the

jumping mass of bodies.

On his more recent albums, Souleyman has replaced the

traditional accompanying instruments of oud, mijwiz and tablah

with electronic keyboards and contemporary, crunching basslines

and percussion played at breakneck speed. That's not to say

he's thrown the baby out with the bathwater. The vocal stylings

utilising both Arabic and Kurdish are centuries old and much of

the keyboard accompaniments are based on traditional Arabic

patterns; the stuff of the wedding songs for which he originally

became famous in his homeland.

In truth, if there wasn't a slight pause in proceedings I

wouldn't have known that Souleyman had begun his set, such is

the (to my uneducated ears, perhaps) indistinguishable transition

from DJ set to live set. Souleyman's keyboard player takes to

the stage and sets the scene before the man himself appears,

dressed in his trademark keffiyeh and sunglasses.

Souleyman, constantly on the move, pacing the stage, hands

outstretched towards his adoring audience, is a somewhat

puzzling phenomenon. As Gabriel Szatan states in Crack

Magazine, he is "greatly respected by some and not taken entirely

seriously by others", and there is something in the crowd's

reaction that supports this. There is a slightly amused/bemused

vibe among some of the revellers; a couple jovially video his

shoes, glimpsed occasionally beneath the swirl of his kaftan,

while at the same time wildly excited admirers are being told to

get down from the stage barricade. The crowd are dancing all

the way to the back of the room, grinning from ear to ear, feet

stamping, hands clapping.

Souleyman's latest album, To Syria, With Love, tackles the

current political situation in that country through a series of

personal, heartfelt odes expressing his hopes and fears for his

homeland. However, there is little sense of soul searching among

this audience, who seem all too ready to embrace the positive,

vibrant link to their own homeland that Souleyman's musical

conduit provides.

The intensity of the beats is unwavering, the keys adding

swirling Euro-disco synth effects to the patterns riffing

on traditional themes, the handclaps riding over the mix.

Souleyman's chanted, staccato delivery entices a series of

call and answer responses from the crowd, and those hands

not holding aloft mobile phones are stretched over the barrier

towards him in adoration.

At the back of the room dancers gather in a circle, hands

linked, swirling around a series of individuals who take turns to

Omar Souleyman (Amin Musa / aminmusa.co.uk)

show off their flashy steps. The evening really does have the

feeling of an extended family celebration.

It's a unique take on a primordial traditional, and it's earned

Omar Souleyman international acclaim. Here, through him, we are

surrounded everywhere by smiles and joyous laughter.

Glyn Akroyd / @glynakroyd

42
---
Winds & Skins

SisBis @ 24 Kitchen Street – 23/02

SisBis stands tall as a night for the people of Liverpool. It's

for all music lovers, there isn't a certain group of people that you

will find at the event. It's also non-profit, with all the money taken

on the door going to help Refugee Women Connect, a charity

that supports refugee and asylum-seeking women, especially

mothers, who have settled in the city of Liverpool. Free donations

of nappies, period products and baby clothes are also welcomed

and any pledges are given to the charity. Now partnering with

Resident Advisor, 50p of the booking fee will also go towards

good causes.

The music is highly variable at SisBis. It keeps you on your

toes. There's no other way to explain it, perhaps only in the way

the curators explained it themselves: unrestricted cuts, jazzfunk,

celestial grooves and soulful beats from across the globe.

Tonight DONNA LEAKE, the first DJ to play at a SisBis gig, is

back with her crew of DEBORA IPEKEL and ECE DUZGIT, aka

WINDS & SKINS.

GIOVANNA, a member of SisBis, steps up to play through

the start of the night. The songs vary from old-school dancehall

with New Yorker by Johnny Ringo along with the experimental

and out of this world Secondo Coro Delle Lavandaie by Roberto

De Simone. By the end of the set, the crowd is present, ready

for Winds & Skins to hit the stage.

Similar to Giovanna, the girls make sure that the selection

keeps one ski slightly off-piste. The smooth and funky

Lipstick (Shout) by JM Black feels like something from a

GTA soundtrack. Further in, the hypnotic sounds of the tabla

come through with Rapanagatun by Zakir Hussain, only to be

followed by the sounds of the late, great Jim Capaldi with I'm

Gonna Do It.

It feels like the night that Liverpool has been missing:

flamboyant, free and fearless. That goes for both the music and

crowd. Everyone is accepted here. It's great to see a group of

DJs looking like they're really enjoying themselves on the decks,

there's smiles all round. Not too serious or stiff. The lights come

Winds & Skins (Michael Driffill / @Michael.Driffy)

down while the last song plays and the crowd makes for the

exit, reluctantly. There remains a big group of dancers even until

the end. The seal of approval for a good night.

It's only a matter before this is the event that everyone wants

to go to in the city.

Joe Hale / @Joehale94

Snapped Ankles

Kazimier Stockroom – 08/03

Launching Kazimier's newest micro-venue are London-based

post-punk outfit SNAPPED ANKLES. Known for their signature

electronica-meets-krautrock noise, echoey vocals and throbbing

basslines, the group are equipped to make a serious mark on

Liverpool's hotly anticipated new space.

A who's who of emerging and established DJ talent opens

the show, with Melodic Distraction's own LUPINI (Nina Franklin)

starting things off alongside UpItUp / cartier4everyone favourite

ISOCORE, and IWFM's SHEA TWINS. Due to the restricted

nature of the space, the DJ sets aren't a priority for much of

the audience, with a healthy overspill into the Garden – the

quintessential Kazimier Friday night party scene.

Snapped Ankles were originally billed to play at the Invisible

Wind Factory, but alas, there's a last-minute venue change.

The almost immediately sold-out status leaves gig goers, firstly,

pondering where on earth Stockroom is and, secondly, how

they'd never heard of it before. Clever PR, or a genuine case of

last-minute logistics? Either way, the band fill the space with a

buzz reminiscent of the much missed Kazimier.

Perhaps it is their formative years playing at warehouse

parties and run-down social clubs that make them so perfect

for this cosy new space, accented by an impressively 'local'-

esque bar, crowned with a sniper post sound tech booth-cumtreehouse.

The clever architecture of the space promises a larger

room than the cave-like contours actually offer, but it works so

well.

Those fatigued by the psychedelic overkill of recent

years, fear not; songs like Rechargeable, I Want My Minutes

Back, Hanging With The Moon, and a few accents of pure

instrumentation and improv between songs keep the pogoers in

the room hopping throughout. It's a playful atmosphere unlike

your standard guitar band gig. Aided by the yeti-like stooges in

the crowd (in costume as additional members of the haystackclad

group), the band bring with them a hype crew who mingle

into the audience, introducing would-be friends and dance

partners as they roam around.

A perfect launch with one of the most interesting and

experimental bands currently touring. Stockroom might just be

the intimate (and undoubtedly rowdy) venue that Liverpool has

been missing.

Sinéad Nunes / @sineadawrites

Snapped Ankles (Michael Driffill / @Michael.Driffy)

Snapped Ankles (Michael Driffill / @Michael.Driffy)

REVIEWS 43
---
REVIEWS

Our Girl (John Middleton / johnmiddletonphoto.co.uk)

Our Girl

+ Jelly Boy

I Love Live Events @ Phase One – 04/03

A sunny morning that gave way to rain, wind and then

hailstones. This should probably have been an indicator of the

set that would unfold from OUR GIRL. Purveyors of indie that

flits between grungy and psych, gentle and gripping, the band

emerge onto the stage in a thick film of red light. That fades, goes

blue and later, nearly dims to complete darkness. Before that

though, we've barely shook our hair dry when in a slightly too

sharp, brilliant light, support act JELLY BOY bounces onstage.

They quickly settle into a low, AOR style opener. Essentially

the creation of Benji Compston of Happyness, Jelly Boy perform

here as a four-piece of Benji on lead vocals and guitar, with an

extra guitarist, drummer and a keyboard player doubling on

bass. Most of the set goes along in a similar vein to its opener,

with ploddy, sophisticated pop taking bits of American indie,

but there are some exceptions. Jelly Boy's second tune has an

uptempo and interesting Green-era REM feel, one that ventures

into Weezer grunge-lite. Their fourth sees Benji take centrestage

at the keyboard, playing two verses before admitting he's

forgotten the song, remembering it and carrying on where he left

off. The penultimate song of the set features a decent guitar line

and some nice glissandos on the keyboard but belies an absolute

blinder of a closer, which starts with a wail of guitars before

settling into a 90s power-pop kick. It saves the bloody set.

Headliners Our Girl have had something of a strange

gestation, particularly for lead-singer guitarist, Soph, also the

lead guitarist in The Big Moon, whose rapid ascent lead to a

Mercury Prize nomination in 2017. The two bands' fortunes have

dovetailed quite neatly with Our Girl's debut, the Bill Ryder-

Jones produced Stranger Today, released last year. And where

The Big Moon deal in Britpop-indie with a tinge of Sleeper, Our

Girl tend towards something more explosive – simpler in some

respects and more complex in others. Opener I Really Like It

is a case-in-point, with its sweet toned lyrics sung in Soph's

Faithfull-esque drawl, but underscored by a heavy reverb on her

guitar, particularly during a middle 8 that's just a little bit thrash.

Being Around is another sparkler, benefitting from the light and

shade, only this time with more guitar squeals and vocal yowls.

The band's rhythm section are totally on board, in garage terms

– with drummer Lauren's stomp-snap pattern and bassist Josh

fret-walking these songs into life, particularly on the Elastica-ish

Josephine.

After a tiring journey, Lauren tells us that the band "are all

out of chat". "It's OK, because we've got songs," says Soph. What

follows are the group's most intricate arrangements of the night

– album track Sub Rosa (a neat bit of indie balladeering) and

the stripped-back Heat which features Josh switching to guitar

so he and Soph can produce some Buckley-style spectral guitar

lines. They finish up the intimate portion of the set with two more

slow tunes, the latter of which, Careful, is so sweet and soft, it's

almost folky. Level sees a return to the garage, with In My Head

crawling towards an echoey psych, before dramatically changing

tempo at its close. "This is our last song, no bullshit," says Lauren,

but closer Boring still manages to draw out the finale, changing

speed and volume before morphing into the kind of syncopated

psych jam that the set has threatened all evening. And true to

their word, afterwards, the band speed off-stage.

John McGovern / @etinsuburbiaego

Psycho Comedy:

A New York Minute

Purple Noise @ Shipping Forecast

23/02

Down in the belly of the Shipping Forecast tonight, there

takes place a performance of art-rock so precise, so intentional,

even Andy Warhol would be proud. This is the space where

the collective ideas of frontman Shaun Powell sit atop a mental

pedestal as he waits to invite us into his wild world. For those

unfamiliar with the artistic mastery of PSYCHO COMEDY, it is a

spectacle worth viewing. Hovering through the local music scene

for some years now, the band have fascinated audiences with

the same strategic concept they began with: melding punk and

poetry in unison, breathing art back into music.

Tonight is an exhibition of Powell's own craft and the

celebration of a goal he set out to accomplish. The very essence

of Psycho Comedy bleeds New York City; from the band's Patti

Smith and Velvet Underground influences, it is no surprise why

this group from Liverpool find it so important to make their

mark on the Big Apple. Without this vision, the spirit of Psycho

Comedy would fold.

Twisting the audience through their performance like a

mad puppeteer, Powell holds the crowd's attention through

one of the band's first and favourable tracks, I'm Numb. Highly

literate and full of raw power, Psycho Comedy blaze through

the evening, shaking the foundations of the venue with the

infectious Michigan State and the thematically relevant Uncle

Sam. The low, seedy bass playing of Connor Duff paired with the

ever-cool poise of the band's own poet Matthew Thomas Smith

works wonders through Sleep Walking, as he projects his words

through two microphones out to the crowd.

As an animated Powell claims this to be their best of the

night, drummer Jack Williams begins Performance Space Number

One. It's a song that oozes cool, proving how mature the band

have become since their inception.

Introducing the last song of the evening, the energy rises

as the garrulous singer stands with a sinister grin and exclaims:

"The thing about now is everybody's always down, the theatre

came crashing down, I am the silver screen." A roar from the

crowd brings the anthemic I Am The Silver Screen to life. The

venue is full of family and friends, all witnessing something great,

a band whose sonic vision will no doubt take them to great

Psycho Comedy (John Latham / @MRJOHNLATHAM)

heights. It is this sense of passion in honing their craft that is so

admirable and one that will be remembered among a plethora of

bands in Liverpool's music city.

Brit Williams / @therealbritjean

44
---
BOOK NOW: 0161 832 1111

MANchesteracademy.net

KAMASI WASHINGTON

FRIDAY 24TH MAY

MANCHESTER ACADEMY

MARSICANS

SATURDAY 6TH APRIL

ACADEMY 3

LEGENDS OF REGGAE

THURSDAY 2ND MAY

ACADEMY 2

FLAMIN' GROOVIES

TUESDAY 4TH JUNE

CLUB ACADEMY

BLACK FLAG

SUNDAY 13TH OCTOBER

ACADEMY 2

SKINNY LISTER

SATURDAY 6TH APRIL

CLUB ACADEMY

LEE FIELDS AND

THE EXPRESSIONS

FRIDAY 3RD MAY / ACADEMY 3

ROYAL REPUBLIC

SATURDAY 26TH OCTOBER

ACADEMY 2

JOYCE MANNOR

SATURDAY 13TH APRIL

ACADEMY 3

PHILIP H. ANSELMO

& THE ILLEGALS

WED 26TH JUNE / CLUB ACADEMY

NINA NESBITT

SATURDAY 13TH APRIL

ACADEMY 2

THE WILDHEARTS

FRIDAY 3RD MAY

ACADEMY 2

LIVING COLOUR

FRIDAY 26TH JULY

ACADEMY 2

SHE DREW THE GUN

WEDNESDAY 30TH OCTOBER

ACADEMY 2

CHRIS YOUNG

SUNDAY 5TH MAY

MANCHESTER ACADEMY

ANIMALS AS LEADERS

MONDAY 5TH AUGUST

ACADEMY 2

PALACE

THIURSDAY 7TH NOVEMBER

ACADEMY 2

THE TYRANTS

FRIDAY 19TH APRIL

ACADEMY 3

THE FLAMING LIPS

FRIDAY 6TH SEPTEMBER

MANCHESTER ACADEMY

MOTT THE HOOPLE '74

FRIDAY 19TH APRIL

MANCHESTER ACADEMY

ANGEL HAZE

SUNDAY 5TH MAY

ACADEMY 3

HAPPY MONDAYS

THURSDAY 21ST NOVEMBER

MANCHESTER ACADEMY

UNDER THE APPLE TREE

LIVE ON TOUR WITH WILDWOOD KIN

MONDAY 6TH MAY / ACADEMY 3

PLASTIC HOUSE

FRIDAY 20TH SEPTEMBER

ACADEMY 2

DROPKICK MURPHYS

THURSDAY 25TH APRIL

MANCHESTER ACADEMY

KILL II THIS

FRIDAY 27TH SEPTEMBER

ACADEMY 2

THE SOUTHMARTINS

SATURDAY 23RD NOVEMBER

MANCHESTER ACADEMY

JOHN POWER

THURSDAY 25TH APRIL

ACADEMY 3

DEMONS OF RUBY MAE

SATURDAY 11TH MAY

ACADEMY 3

THE SMITHS LTD

SATIURDAY 27TH APRIL

ACADEMY 3

FUZZY SUN

SATURDAY 18TH MAY

CLUB ACADEMY

PALE WAVES

FRIDAY 27TH SEPTEMBER

MANCHESTER ACADEMY

BURY TOMORROW

FRIDAY 20TH DECEMBER

MANCHESTER ACADEMY

facebook.com/manchesteracademy @mancacademy FOR UP TO DATE LISTINGS VISIT MANChesteracademy.net

45
---
REVIEWS

Frank Carter & The Rattlesnakes

+ Black Futures

Arts Club – 19/02

"We all come from an explosion in the sky/One day there

was nothing and the next there was life/And all the rivers and the

mountains and the sun and the moon/And then all of a sudden

there's a cloud of doom," FRANK CARTER bellows, as THE

RATTLESNAKES plough into their latest single and first song of

the set, Crowbar. The Arts Club crowd explodes in a frenzy of

bodies, making it near impossible not to bang your head.

By Tyrant Lizard King, Frank is in the audience doing a

Frank Carter & The Rattlesnakes (Tomas Adam)

fucking handstand! Not on the floor, but on top of a feverish

crowd who just can't seem to get enough of the band's mix

of hardcore punk and alternative rock. Frank Carter & The

Rattlesnakes have transcended their punk rock roots. They

embrace an arena rock aesthetic, losing none of their razor-sharp

edge.

Perhaps I'm getting ahead of myself... Before Frank Carter &

The Rattlesnakes even take to the stage, BLACK FUTURES' blend

of punk rock and industrial noise already has sweat dripping

from the walls. The dystopian/utopian, boiler-suited duo take no

prisoners during their opening set. Everyone is a casualty of their

aural and visual assault on the senses. Anonymous dancers stand

on either side of the stage waving white flags, before jumping

into the crowd and dancing in what little space is available.

It's a chaotic awakening for someone that wasn't even

aware of the band's existence until one hour prior. Together, the

audience and Black Futures are pop anarchy. This live set is their

soundtrack.

Emerging from the gallows, so to speak, comes Frank Carter,

along with Dean Richardson, Tom Barclay, Gareth Grover and

Thomas Mitchener. This is a band that could sell out much bigger

venues across the United Kingdom, but the intensity of playing

in smaller venues, like the Arts Club, is an opportunity to revel in

chaos. What is more punk than that?

Playing songs from albums Blossom, Modern Ruin and the

upcoming End of Suffering, Frank consistently dives into the

crowd; walking and surfing atop a sea of fanatics united by music

– stopping only to share his sincerest thanks. "I have the best

view in the house!" he relays to his sweaty, euphoric audience,

still in the midst of crowd surfing their own brethren to the front

of the stage.

Frank dedicates the next song in the set, Heartbreaker, to his

female audience. "If you have ever wanted to crowd surf, now is

your chance to do it in a safe environment." Smiles adorn every

face in the venue, including that of the security who can be seen

bracing for another blitz of bodies. "There is no anonymity," Frank

warns as Deano begins to pound into lead guitar. Many women

take The Rattlesnakes up on this opportunity and surf their way

towards the stage. My wife signals over to me so she can speak

into my ear. "What a fucking gentleman!"

Another highlight is Anxiety – a grunge-infused guitar ballad

that directly relates to Frank's personal mental health struggles.

Frank suffers from anxiety, but friendships and family have

helped him through darker days. In introducing the song, Frank

implores the crowd to do the same as he has done in the past: if

you find yourself struggling with anxiety, talk to someone.

Frank Carter has come a long way from the frontman he was

in Gallows. At times Frank could be obnoxious, and in his own

words, "a bit of a cunt", but in Liverpool, Frank comes across with

nothing but sincerity and gratitude. Gratitude towards the fans,

towards the band, towards the road crew, towards the support

provided by Black Futures, and towards the venue staff. And it's

not long before Frank has ventured back out into the crowd.

Climbing up onto the Arts Club bar, Frank points towards

Deano with a sly grin, signalling him to riff into Crowbar once

again. "I can do what the fuck I want," Frank laughs before

launching himself into a crowd who greet him with open arms;

surfing him back to the stage. The feeling here is mutual, and by

the time The Rattlesnakes play the last song on their setlist – the

closing track on Blossom, I Hate You – the energy in the room

is so intense it's perceptible by touch. Respect yourself, respect

others, respect the music and don't let anyone bring you down.

Ken Wynne @Ken_Wynne

International Teachers Of Pop

+ Los Bitchos

+ Beija Flo

Harvest Sun @ District – 23/02

District in Liverpool's Baltic Triangle is another one of those

repurposed industrial spaces that oozes urban cool and boasts a

brilliant sound system and punchy acoustics. It's a fitting venue

for Sheffield's INTERNATIONAL TEACHERS OF POP to close out

their successful tour.

Liverpool's BEIJA FLO opens proceedings with half an hour

of bittersweet, darkly comic musings layered with plenty of

self-deprecating humour and offbeat tales. Flo's presence on

stage is wildly contradictory, all at once inhabiting a vulnerable

yet defiant persona, holding the audience with a steady gaze and

wry observations. Her music is pop electronica and her touch

is deft with melodies and avant-garde flourishes encircling her

remarkable voice. Think the squeak and pop of Lene Lovich, the

poise of Siouxsie Sioux cloaked in an Essex drawl and you have

some kind of magical chimera. Her Bolan-esque glam makeup is

effortlessly cool and she owns the room.

LOS BITCHOS follow and are a force of nature. Consisting of

bass, two guitars, a keytar and drums they groove and move in

unison as if The Shadows, a Mariachi band and Stealing Sheep

had been gene-spliced to create hypnotic Cumbian rhythms.

Everyone is into this, the band jam, swaying in synch, riffing

off each other, smiling broadly as the audience party. They are

ineffably cool, hitting us with wave after wave of dubby bass

and hypnotic drones. They all hug each other at the end, which is

really nice.

International Teachers Of Pop are a kind of a throwback,

echoing a time when electronic music was all about having fun.

They obviously enjoy performing and this comes across in their

exuberant performance. The Moonlandingz' founders Adrian

Flanagan and Dean Honer have hit upon a formula that works.

Their sound could be described as radiophonic disco, chock full of

blurry analogue lines and spacey synth pads.

Leonore Wheatley and Katie Mason provide the drive and

vocals, close harmonising to lend a West Coast 60s psychedelic

vibe to the churning electronics of the guys either side of them.

They pull shapes and groove like the cool girls at a disco, pulling

the audience along on their sleigh-ride of electronic pyrotechnics.

Heady renditions of Age Of The Train, The Ballad Of Remedy

Nilsson, She Walks and Praxis Makes Prefect take us through

the Giorgio Moroder, Kraftwerk, Human League and Ladytron

badlands. There's fun to be had here. A krautrock version of

Another Brick In The Wall is a highlight, being a truly original

interpretation of a song so ingrained in the psyche that it's at first

jarring as we attempt to process all the angular lines and Teutonic

posturing.

Blasting through their repertoire, International Teachers Of

Pop barely give the audience a chance to breath between songs.

The stillness of Flanagan and Honer behind their keyboards is

International Teachers Of Pop (Darren Aston)

offset by Wheatley and Mason's dancing as they beam and twirl

with impish glee.

Things wind down and they exit stage left. Everybody gets

fidgety as the house lights remain dimmed, they then re-emerge

to much cheering and close the gig with After Dark, a tune so

giddy it could have been written on helium.

This is a night of music for music's sake, for those who

wanted to enjoy the communal spirit of seeing artists enjoying

their craft, to dance, to bounce and to leave with warm ears

ringing.

Mike Stanton / @DepartmentEss

46
---
DAM

+ DJ Sotusura

MARSM and Liverpool Arab Arts Festival @

Constellations – 27/02

As the great B Dolan once rapped, hip hop is folk music

grown from the struggle. The struggle for, or against, what?

Well, the era we're currently roller coastering through provides

answers to that question on a daily basis. Social and economic

inequality, sexual inequality, racial inequality, poverty, corruption

and untold amounts of other global issues are caught in many

rappers' and artists' perpetual crosshairs. As a movement, hip

hop epitomises the struggle of those underfoot trying to strive for

two things: justice and freedom.

At its inception, its individual components – turntablism,

rapping, breakdancing and graffiti art – served to pull together

the victims of institutional and overt racism in America and

offered a haven for those swept under the proverbial rug of

Robert Moses' New York. As folk music does, it empowered the

powerless, gave a voice to the voiceless and sparked a fire that

generations of people would gather around. This was late 70s,

early 80s New York. Who knew that this same musical style

would rouse the strength of a people who're victims of colonial

war and religious/political persecution? This is the value of music,

the meaning of hip hop, and it's being demonstrated tonight in

our fair city's Constellations, where we await the Palestinian trio

DAM.

Tonight's show is a powerful and important statement, which

showcases the diversity and ingenuity that is possible within the

genre. As the doors open and people begin to funnel through to

stage area, it's unfortunate to see that the room doesn't become

as full as it deserves to be. No matter, though. The heads in this

room form a small but dedicated nucleus. They're heads ready to

bop.

The support, DJ SOTUSURA, provides some enchanting

and refreshing cuts which mix Arabic samples with old school

hip hop beats. Following the release of his first solo album, the

crowdfunding success Salah El Alhan, Sotusura delivers a lush

and brim-full set that displays his unique style and approach to

the turntables.

Before long it's time for the anticipated headliner, DAM.

This Palestinian hip hop trio has garnered legendary status, a

renowned talent present throughout the course of their 20-year

career. As new-ish member, MC and singer Maisa Daw, joins her

partners Mahmoud Jreri and Tamer Naffar on stage, they make an

energised dive into what proves to be an insightful and passionfilled

set.

In equal measures a show of artistry and musicianship and

a celebration of poetry, these are three incredibly gifted writers

and rhymers. Tamer Naffar, sometimes hailed the Godfather of

Palestinian rap, oozes charisma and syllables by the bucketload.

The new single, Emta Njawzak Yamma, is a clear standout and

one of the most memorable performances of the night.

DAM (Glyn Akroyd / @GlynAkroyd)

During the set the poetic strengths of each member has its

own time in the spotlight, with Maisa Daw taking a stand for her

Arab femininity in the moving Jasadik-Hom (Your Body Of Theirs)

and Mahmoud Jreri's complex rhyming ability showing consistent

strength throughout. #Who_You_R is another highlight; one of

many. This is hip hop as raw and sincere as it's supposed to be.

As the set closes with a return to the refrains of their new

single, it's clear that DAM are the best hip hop group you've

never heard of (until now). Liverpool, open your ears.

Christopher Carr

Fatherson

+ Vistas

I Love Live Events @ Phase One – 03/04

FATHERSON first came on the scene in 2012, and yet

whenever I mention them to fellow music lovers, I can almost

guarantee that I will get the response: "Who?" Frontman Ross

Leighton acknowledges the band's small presence within the

music scene, crediting fans for Fatherson's desire to continue

touring their music. He looks around the sold-out room, inhales

deeply and tells us, "We carry on because of this, because of you

guys".

The Scottish music scene has a tight bond, and the amount

of Scottish accents in the crowd tonight only supports this claim.

Slowly but surely this band seem to be advancing into the English

scene and beyond. Their recent single Making Waves allows Ross

to bring his vocals to the forefront while being punctuated by a

killer rock guitar and drum combo. Tonight, it is this song that

brings the audience together, hardcore fans and new followers

alike. Everyone is singing. "Somebody called it a longshot" is the

lyric that resonates. This band's success, no matter how covert,

would have once been a longshot. This song isn't just about

human love, but the importance of music and the love story it

weaves throughout all of our lives.

As a band that know all about the struggle of Scottish artists,

I credit Fatherson for their choice in VISTAS as support act. Their

upbeat indie-rock guitar and a vocalist that does not shy away

from his Scottish accent but takes hold of its authenticity and

runs with it, is a perfect choice to open tonight. Combine 2014

Circa Waves (whom the band are also supporting this year) with

Sundara Karma's debut and you have the closest thing to Vistas.

A double clap from frontman Prentice Robertson and we're

beamed into Retrospect, by far the band's best song. With his

knees swaying side to side and the crowd following, I overhear

"these are so good man" from my left. If that isn't a compliment

worth pinning on your fridge, I don't know what is.

Their new single Eighteen just shows how much this band

have developed; the potential they hold. With a less repetitive

lyric than the aforementioned, the band still harness their positive

and uplifting sound to create music that feels important to both

a past and present you. "Can we go back to eighteen/Do you

remember everything?/I made you cry, I made you sing". We all

need to remember these times, these life-altering moments of

emotion, good and bad, and use our past to fuel our future.

Tonight showcases what the Scottish indie music scene

has to offer, with its guitars, double claps and irrefutably strong

accents. Has Gerry Cinnamon opened the floodgates for Scottish

music in England? I can only hope.

Megan Walder / @m_l_wald

John Cooper Clarke

Philharmonic Hall – 22/02

John Cooper Clarke (Mook Loxley / mookloxley.tumblr.com)

John Cooper Clarke (Mook Loxley / mookloxley.tumblr.com)

REVIEWS

47
---
EIGHTY

NE.

RENSHAW

Record Store Day is Saturday 13th April!!!

RSD sees the release of hundreds of limited

edition vinyl releases, why not come and celebrate

at 81 Renshaw? All releases are sold on a first-come,

first-served basis and each release is limited to one per customer.

★ Front Bar open from 7.30am

★ Pop Up Record Store in the Venue opens at 8.00am

★ Over 400 RSD titles in stock

★ Bacon butties and Veggie sausage sarnies £1.50 All Day

★ Tea and Coffee 50p All Day

★ 81 Renshaw record vouchers for the first 50 customers*

★ Free bottle of beer in the afternoon for first 100 customers

★ Beija Flo Live Concert at 2pm – free admission

★ Pop-Up Liverpool Music Museum (including the 1st public

showing of The John Lennon Time Capsule – conceived by Yoko Ono)

COMING SOON...

LIVE AT 81 !

Johnny Dowd

Thur 18th April

7:30pm

£12 Adv.

Black humour, doom and

gloom, alternative country

with big, noisy breaks.

For fans of Beck, Tom Waits,

Nick Cave and Captain Beefheart

81 RENSHAW STREET L1 2SJ • 0151 707 1805 • www.81renshaw.co.uk

E: info@81renshaw.co.uk Fb: /81renshaw Tw: @81renshaw

*Not valid on 2019 RSD stock Johnny Dowd image: Kat Dalton

INDIAN STREET FOOD • CRAFT BEER

OPENING THIS APRIL IN LIVERPOOL

LEEDS

6 MILL HILL • LS1 5DQ

MANCHESTER

61 PICCADILLY • M1 2AG

LIVERPOOL opening soon

19 BOLD STREET • L1 4DN
---
E

YEAH BUDDY and

EDILS RECORDINGS present

TH

E

NT I

T Y

R

E

C

I AUTUMN RITUAL

SINGLE LAUNCH

WITH SPECIAL GUESTS

OH WELL, GOODBYE

DOUBLE ECHO

ADE FROM CLINIC (DJ SET)

FRIDAY 5 APRIL

8PM - LATE

TICKETS £5 FROM SKIDDLE.COM / £7 OTD

EBGBs

SEEL ST. LIVERPOOL

THEENTIRECITY.COM @THE_ENTIRE_CITY @THEENTIRECITY

AUTUMN RITUAL SINGLE LAUNCH ARTWORK A3 FINAL.indd 1 11/03/2019 10:23:54
---
BREWING Co.

BREWING Co.

BREWING Co.

INTERNATIONAL SHOWCASE FESTIVAL

NECK DEEP | KERO KERO BONITO | BOY AZOOGA | THE LOVELY EGGS |

CATE LE BON | BC CAMPLIGHT | SKINDRED | SNAPPED ANKLES | 9BACH |

THE BETHS | ISLET | FEMME | AVI BUFFALO | COLORAMA |

MARTYN JOSEPH | ZABRINSKI | MWWB | PENELOPE ISLES | ADWAITH |

MART AVI | KIDSMOKE | ACCÜ | AUDIOBOOKS | ANI GLASS | ALFFA |

LIZZY FARRALL | SEAZOO | WORLDCUB | BRONNIE | BABY BRAVE | BARDD |

CHROMA | LIFE | DOOMSQUAD | PERFECT BODY | AUDIO FARM DJs |

+ ACTS FROM: AUSTRIA | BALEARICS | BELGIUM | CANADA | CATALONIA | DENMARK |

ESTONIA | FINLAND | FRANCE | GERMANY | IRELAND | JAPAN | KOREA | LATVIA |

NEW ZEALAND | PORTUGAL | SWEDEN | SWITZERLAND | USA

…A WORLD OF NEW MUSIC TO DISCOVER!

200+ BANDS, 20 STAGES, ARTS, FILM & INTERACTIVE SESSIONS

16-17-18 MAY

A MULTI-VENUE FESTIVAL IN WREXHAM NORTH WALES FOCUSWALES.COM

FOCUS2019_BidoLito_HalfPage_advert.indd 1 21/02/2019 14:09
---
ARTISTIC

LICENCE

As part of our continuing series focusing on the region's wordsmiths,

we present a short story submitted to us by Ryan Murphy. If you'd

like to be featured in this section, please send your submissions and

ideas to niloo@bidolito.co.uk.

Ryan Murphy

Sixes And Sevens

The lion jumped onto the bench and woke me from my dream with a kick. I sat up straight, startled in the morning sun, squinting at

the knifelight. From somewhere close by, I heard something like the sound of the fast unfastening of a long Velcro strap.

I frowned.

"Where am I?"

I rubbed my face.

Bright, late-spring grasses. The lion. A damp park bench. No? No, not a park. A large garden. Is this somebody's garden? Oh no...

What have I done? My head was aching – my whole body was aching in the cold-blue-daybreak.

"You're still in Milan," yawned the lion.

I blinked, "Right... right, I know." I rubbed my eyes. "What time is it?"

"Time?" the lion snarled, shifting his half-mounted perch. "The time is time to get up and take your life into your own hands." His

scruffy tail swished and swooshed in lackadaisical rhythms. Dotty flies hung around him in the still air. I frowned once more at the

lifting mist and then took a proper look at my preaching companion.

"My life is in my own hands."

"Oh! Is it now?" The lion retorted, bringing his face closer to mine and forestalling my naïve confidence with a throat-clearing growl.

The dew on his whiskers glistened, his hot breath condensing into takeaway-coffee-plumes. His mane was golden and gracious,

drifting lighter than air.

I wanted to poke his rubbery nose.

"And I suppose this is what you call being in control, hey? Sitting here, in this stranger's garden, on this stranger's bench at five

in the morning, somewhere in Milan," he twisted his face into a question mark. "Rather looks to me like you're lost and in a very

vulnerable position."

I considered this statement for a second. The silence around us imagined empty Italian streets. Was it a Sunday? Where were

Marcus and the others?

"Well?" The lion crept.

"Well," I offered, but I was unsure of how to continue.

The lion loomed, wide-eyed.

"Well... aren't we all just lost?" I passed the buck. The lion pressed closer, "I mean, aren't we all just lost and in as much of a

vulnerable position as the next? As each other?"

A wry smile from the lion, his whiskers twitching. "Go on…"

I thought for a moment, caught a glimpse of my warped reflection in the lion's glassy eyes. "I mean, we're all searching around in

the great unknown... and in the end all of the clues we've gathered up will flash before our eyes and we'll be none the wiser..." I was

fidgety as I talked-with-my-hands, "it's like, we're always guessing at something… I don't know."

The lion sat back, crossed his legs like a hairdresser on a cigarette break and pondered my ramblings. From behind an ivy-mapped

white stone wall came the Velcro sound again, only this time, I realised it was water being thrown from a bucket.

The lion raised a heavy paw, "I'd like to see my life flash before my eyes," his claws sprung as he snatched nothing-at-all out of the

air, "it'd never slip past me!" With a low roar he jumped up to his feet, striking a predatory pose and ruffling his mane in adamance.

For a short time there was not a sound.

We must have looked like a feature in the National Geographic Society's magazine.

A fly buzzed by.

The slow sun worked away at the morning mist. I sat there looking at the unlikely lion. A puzzled look had passed over his face and

mine. I never knew what we were thinking.

"Right," I started, placing my hands on my knees, "I have to leave now. I'm supposed to be somewhere," and I began to stand up, but

the lion turned and stopped me with the weight of one colossal paw, nailing me to the bench in sleep-paralysis.

"I know you're trying to set the world on six and seven boy," the lion cautioned, "believe me, I admire your courage, but listen: don't

make assumptions. You can't just skip to the end. You have to endure." The lion's eyes burned. With this final warning – and not so

much more as a blink – he backed down and disappeared into the bushes behind the bench like the Cheshire cat of Cheshire cats.

He was right about something, and it was probably overdue.

I gawked at the now wet grass. It was getting on.

I climbed a nearby fence, wandered out onto a street and found a taxi. It cost me 25 euros to get back to my hostel.

That was the last day I ever felt the opposite of independent.

52
---
5pm til 9pm - SUNDAY TO FRIDAY

£2 Slices

£10 Pizzas

2 cocktails £10

cheap plonk

25 Parr Street, Liverpool L1 4JN.

0151 559 2599
---
SAY

THE FINAL

Esme Davine confronts the damage to female musicians that comes

about from tokenism, and questions what real diversity looks and

sounds like.

"We don't want to

be a subculture,

we want equal

exposure and

representation"

2019, the year of the Woke Olympics. It feels like every

designer, magazine, event line-up and most other art

and media outlets are in some kind of wacky race to

see who can appear the most diverse without actually

having to deliver these ethics that they so desperately want to

ram down our throats.

What these companies are too egomaniacal to realise is

that their half-assed cherry-picking of minority voices does not

count for diversity. It is tokenism that stems from the incorrect

assumption that every person of colour has had the same

experiences, that every queer person has shamefully cowered in

the closet, that all women endure the same level of misogyny.

These platforms need to evaluate why they are centering the

voices of privileged, white cisgendered men in the first place. By

trying to 'include' PoC, queer, disabled, working-class voices acts

as a diversity band-aid is just ignoring the root of the problem.

The problem is not just diversity, it's that the systems deny

access to the people that are not deemed marketable. These guys

have a business to run and wealth to hoard, and if you're not a

skinny white cash cow, you're invisible. This then creates the

dynamic that everybody is at the mercy of the rich white dudes

who run shit, and if you don't have power then you're at the

mercy of those who do.

I'd always found a way to smile through gritted teeth at music

industry heads when they clearly just saw Piss Kitti as a novelty

and a commodity with there being a spectrum of genders within

our band. Until February when we were booked for a gig at the

Punk At Picton exhibition at Liverpool library to play a support slot

for The Gentle Scars. The bassist of this band approached us and

expressed his disappointment that we weren't an "all-girl band";

he then went on to encourage us to bring back an ex-member for

the Punk And Picton event so we would appear more of a "girl

band" to the man from Liverpool Council, who was funding the

event, as he had agreed to put us on the line-up because they

needed "females" involved to avoid complaints.

Following the realisation we had only been booked as a

diversity token and not for the quality of our music, I attempted

to contact the head organiser of the event explaining why we

were pulling out of the gig. I received no reply so we went ahead

with posting a statement on social media about the incident,

encouraging promoters to book gender-diverse gigs and centre

voices equally, without resorting to blatant tokenism. We awaited

response to no avail, yet the words "Piss Kitti" miraculously

changed to a replacement band on the poster, but the other

support bands saw our statement and event and pulled out of

the show in solidarity. The event was soon cancelled; in more

ways than one. This is a daily occurrence for womxn and queer

bands, more often than not it remains a lose-lose situation; do we

grin and bare it and play the show anyway? Or do we reject the

offer and silence ourselves while clinging onto our principles and

integrity? We shouldn't have to make this decision and still hinder

the success of our band either way. How is that fair?

If you don't have money, you have to succumb to the rich

in order to be let in and have your voice heard. To overlook

this structural power imbalance that lazily uses individuals as

diversity tokens is insulting and derogatory at best, and racism

and misogyny at worst.

This inherently tokenistic constitution trickles down to smaller

social constructs in the form of underrepresentation in local music

scenes. It's hard to exist – let alone thrive – in a community where

you see no relatable material or reflections of yourself. There have

been moments where I wanted to tear down what I saw as my

opposition, and slander the gentlemen's club that is the smalltime

local music industry, but I've since realised that everybody

needs to decode and confront systematic misogyny together.

How can a cocktail of different styles and experiences be

a bad thing? To have a genuine sense of diversity can only

benefit everyone, giving us all room to grow and bring more

opportunities.

However, I feel like we still have a very long way to go. The

amount of times I have heard "next up we have female-fronted

punk band Piss Kitti!" when referring to my band is absolutely

soul-destroying; would you refer to a band as male-fronted? No.

Didn't think so.

If I had a pound for every time a music reviewer referred to

us as "Riot Grrrl", I wouldn't have to work full time on a minimum

wage job just to scrape by. To brand us as Riot Grrrl is, in itself,

unabashed sexism – that or just downright lack of musical

knowledge and/or creativity.

Riot Grrrl was a subcultural movement in the 1980s

consisting of feminism, activism and politics, mainly expressed

through musical mediums. It really illustrates the lack of

opportunity and visibility of womxn musicians if this is the only

thing that springs to mind when you see us perform.

We don't want to be a subculture, we want equal exposure

and representation. So, we have learnt from experience that

dividing gender and having resentment for more privileged

musicians can be detrimental to us personally and is never going

to make a change on a bigger scale. We are visible. We don't

need you temporarily offering your space to us for your own gain,

we aren't victims. We aren't a novelty. And if one more person

compares us to Bikini Kill I'll chop your brain up and eat it.

Words: Esme Davine

54
---
www.liverpoolbandvans.co.uk

info@liverpoolbandvans.co.uk +44 78 544 94764

Cain's Brewery District ● 9 Mann Street ● Liverpool ● L85AF