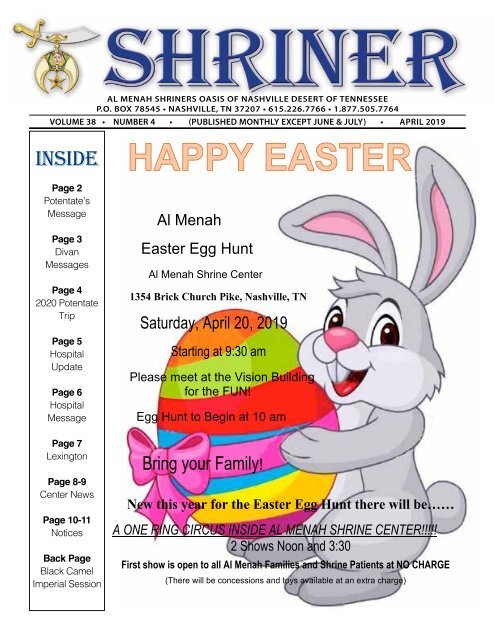 SHRINER APRIL 2019
Events and happenings of Al Menah Shriners for April 2019. Includes currently scheduled activities for April and May 2019.
Events and happenings of Al Menah Shriners for April 2019. Includes currently scheduled activities for April and May 2019.
SHOW MORE
SHOW LESS
Create successful ePaper yourself
Turn your PDF publications into a flip-book with our unique Google optimized e-Paper software.
AL MENAH SHRINERS OASIS OF NASHVILLE DESERT OF TENNESSEE

P.O. BOX 78545 • NASHVILLE, TN 37207 • 615.226.7766 • 1.877.505.7764

VOLUME VOLUME 36 • NUMBER 38 • NUMBER 4 • 4 • (PUBLISHED MONTHLY EXCEPT EXCEPT JUNE JUNE & JULY) & JULY) • APRIL APRIL 20192017

INSIDE

THIS

ISSUE

INSIDE

Page 2

Potentate's

Message

Page 3

Divan

Messages

Page 4

2020 Potentate

Trip

Page 5

Hospital

Update

Page 6

Hospital

Message

Page 7

Lexington

Page 8-9

Center News

Page 10-11

Notices

Back Page

Black Camel

Imperial Session

Al Menah

Easter Egg Hunt

Al Menah Shrine Center

1354 Brick Church Pike, Nashville, TN

Saturday, April 20, 2019

Starting at 9:30 am

Please meet at the Vision Building

for the FUN!

Egg Hunt to Begin at 10 am

Bring your Family!

New this year for the Easter Egg Hunt there will be……

A ONE RING CIRCUS INSIDE AL MENAH SHRINE CENTER!!!!!

2 Shows Noon and 3:30

First show is open to all Al Menah Families and Shrine Patients at NO CHARGE

(There will be concessions and toys available at an extra charge)
---
Al Menah Al Menah Temple Temple

Oasis of Nashville

Oasis

Desert

of Nashville

of TennessEE

Desert of TennessEE

P.O.Box 78545 • Nashville, TN 37207

P.O.Box 78545 Phones • Nashville, 1.615.226.7766 TN 37207

Phones 1.615.226.7766

1.877.505.7766

1.877.505.7766

www.almenahShriners.org

www.almenahShriners.org

The Publication Committee

The Publication Committee

The Divan/Board of Directors

Potentate .................... Randy Frank Williams Hester

The Chief Divan/Board Rabban. .............. . of Directors Horace Scott Perkins Jones III

otentate Assistant .................... Rabban .........Donny ..........Randy Frank Hester Williams Drayton

hief Rabban High Priest ........... & Prophet Horace .......... .Vernon Perkins Scott Blackburn IIIJones

ssistant Oriental Rabban Guide. ..........Randy ........... . Donnie Williams Frank Drayton Wilson

igh Priest Treasurer & Prophet ....................Wes ........................ Scott Jones

Frye

riental Recorder. Guide ...................Robert Donnie Drayton

Daniel

reasurer Editor. ........................ Maurice Wes Frye Smmith Smith

ecorder ...................Robert Published monthly except June Daniel and July

ditor ..................... www.almenahShriners.org

Maurice Smith

PAST POTENTATES

Published monthly except June and July

www.almenahShriners.org

*Charles Barham

*John D. Whalley

*V. *Charles K. Stevenson Barham

Jack *John Norman, E. PattonJr.

*V. K. Stevenson

*John D. Whalley

PAST *W. *W. F. F. Hunt Hunt POTENTATES

*Albert Bennett

*J. Pink Lawrence *Clyde Jack Norman, R. Watson Jr.

*J. Pink Lawrence

*Albert Bennett

Charles Barham *Ed R. Burr

*Ed R. Burr *John E. *Marshall

*Clyde Patton S. Whitley

R. Watson

V. K. Stevenson

*J. Harry Murphy

*J. Harry Murphy *John D. *James

*Marshall Whalley J. White

*Charles N. Rolfe *G. Cooper S. Holt Whitley

W. F. Hunt*Charles N. Rolfe Jack Norman, *James Jr.

*Paul DeWitt

*J. Coleman J. White Hayes

J. Pink Lawrence *E. *Paul M. DeWitt Kelly *Albert Bennett

*Donald *G. Cooper R. Holt Dunning

Ed R. Burr *Joseph *E. M. Kelly Higgins *Clyde R. *J.

*J. Watson P.

Coleman

Foster

Hayes

J. Harry Murphy *Ira *Joseph E. Parker Higgins *Marshall *Gale

*Donald S. Whitley Robinson

R. Dunning

Charles N. *Martin

*Ira Rolfe E. Parker

S. Roberts *James J. *C.

*J. White P.

V.

Foster

Cramb

Paul DeWitt *R.

*Martin

C. Derivaux

S. Roberts *G. Cooper *J.

*Gale

Nelson Holt Robinson

Bryan

E. M. Kelly *Oren

*R. C.

A.

Derivaux

Oliver *J. Coleman *Robert

*C. V. Hayes Cramb

Battle

Joseph Higgins *Lee

*Oren

L.

A.

Gamble

Oliver

*Donald*Jerry *J.

R.

Nelson

Dunning N. Tate

Bryan

*Lee L. Gamble

*Robert Battle

Ira E. Parker *R. R. Clark

*R. R. Clark

*J. P. Foster *Fred H. Gay, Jr.

*Jerry N. Tate

Martin S. *William Roberts Raine

*William Raine *Gale Robinson James A. Campbell

*Fred H. Gay, Jr.

R. C. Derivaux *Hugh F. Smith, Jr.

*Hugh F. Smith, Jr. *C. V. Cramb *Claude G. Southall

James A. Campbell

Oren A. Oliver *W. A. Bryan

*W. A. Bryan *J. Nelson *W.

*Claude Bryan B. Lawson

G. Southall

Lee L. Gamble *Charles L. Cornelius

*Charles L. Cornelius*Robert *Gale Battle *W. B.

Robinson

Lawson

R. R. Clark

*W.

*W.

Bush

Bush Herbert

Herbert

*Jerry N.

J.

*Gale Tate

Dudley

Robinson

Phillips

*Marshall

*Marshall

Hotchkiss

Hotchkiss

*M.

J. Dudley

Norris

Phillips

Jenkins

William Raine

*Jess

*Jess

B.

B.

Templeton

*Fred H.

Hugh F. Smith, Jr. Templeton

*James

Gay, Jr.

*M. Norris

F. Scalf,

Jenkins

Jr.

*T.

W. A. Bryan *T.

A.

A.

Springfield James A.

Springfield

*William Campbell

*James F. Scalf,

B. Jones

Jr.

*James

Charles L. *James

G.

Cornelius G. Stahlman

Stahlman *Claude Jack G. Southall

*William

C. Phelps

B. Jones

*J.

W. Bush Herbert

*J.

Clark

Clark

Akers *W. B. Lawson

Akers

*David

Jack C. Phelps

P. Brumfield

*R.

*R.

E.

E.

Baulch *Gale Robinson

Baulch

*Zack *David S. P. Parrish, Brumfield Sr.

Marshall *Thomas Hotchkiss

*Thomas

E.

E.

Doss

Doss

J. Dudley *Robert *Zack

Phillips

S. E. Parrish, Newman Sr.

Jess B. Templeton Kerbela Kerbela Temple '28 '28 *M. Norris *George *Robert Jenkins E. Cook Newman

T. A. Springfield *Maurice Weinberger

*James F. *R. *George Scalf, Parker Jr. Cook Graham

James G. *S. Stahlman *S. N. N. Allen

*William H. *R. B. Parker Parker JonesToler

Graham

J. Clark Akers *W. *W. B. B. Hager

Jack C. Phelps *R. H. Parker T. McNaney Toler

R. E. Baulch *O. *O. Lynn Meek

*David P. James *R. Brumfield T. McNaney L. Ham

Thomas E. *Jack *Jack Doss Norman

*Zack S. *Charles James Parrish, L. Ham Sr. H. Williams

erbela Temple

*James '28

J. J. Vaughn

*Robert William E. Charles Newman H. D. Williams Jones

*C.

Maurice Weinberger

*C. H. H. Smith

John

*George William L. Weaver,

Cook D. JonesIII

*Fred

S. N. Allen

C. C. Laskey

Gale

*R. Parker John Graham L. B. Weaver, Robinson III

*Ivo

W. B. Hager

A. A. Burton

Joe

H. Parker Gale Bell

Toler B. Robinson

*T.

O. Lynn Meek

*T. W. W. Bray, Jr.

Ronny

*R. T. McNaney

Joe BellL. Greer

*James R. Cox

Charles Ronny L. E. Greer Cardwell

Jack Norman *Paul R. R. Jarratt

James L. J. Charles

Ham Franklin E. Cardwell "Jay" Scalf, III

James J. Vaughn *J. *J. Sumpter Anderson

Charles Conley H. J. Franklin Williams Dykes "Jay" Scalf, III

C. H. Smith *Hugh W. Robertson

William David Conley D. Jones Smith Dykes

Fred C. Laskey *M. T. T. Gossett

John L. Weaver, Jim David Cain Smith III

Ivo A. Burton *Joe C. Carr

Gale B. Robinson *Mike Jim Cain Martin

T. W. Bray, *James Jr. T. Hayes

Joe Bell *Johnny *Mike Martin Dudley

James R. Cox *E. Lee Bennett

Ronny L. David *Johnny GreerWantland

Dudley

Paul R. Jarratt *Orris E. E. Davis

Charles Melvin E. David Cardwell Wantland Meadows

J. Sumpter *Raymond AndersonH. Leathers J. Franklin Dennis Melvin "Jay" Meadows Belford Scalf, III

Hugh W.

*Hilry

Robertson

H. Shaffer

Conley Dykes

David Dennis Vaughn Belford

*James N. Stansell

M. T. Gossett

*James

David

N. Carl

Smith

David E. Vaughn Barnes

*John E. Patton Stansell Mike Carl E. Van Barnes Sant

Joe C. Carr

Jim CainJeff Mike Head Van Sant

James T. Hayes

*Mike Martin Frank Jeff Head Hester

E. Lee Bennett

*Johnny Horace DudleyPerkins III

Orris E. Davis

David Wantland * Deceased

* Deceased

Raymond H. Leathers Melvin Meadows

Hilry H. Shaffer

2

Dennis Belford

*James N. David Vaughn

Imperial Potentate Frank S Land's Dream 100 years Later

The year was 1919 when Frank S. Land was asked if he could

find some odd jobs around the Scottish Rite Building in Kansas

City, Missouri where he was employed. The young man, Louis

Lower had lost his father and needed extra money. He met with

Frank Land and a friendship began. As Louis worked around the

building, he and Frank had discussions about he and other young

men who were growing up without fathers in their lives. This was

after World War I and many of them had lost their fathers in that

conflict. Frank came up with an idea to start a boy's club to help

mold the character of and provide guidance during those teen

years.

Last Month, Demolay celebrated 100 years of building young

men into the leaders of tomorrow. Since that day in the Kansas

City Scottish Rite millions of young men have been taught love

of parents, courtesy, reverence, fidelity, cleanliness, patriotism,

comradeship-the virtues of a Demolay. "Because, when values are

clear, decisions become easier".

Now meet some of the Hall of Fame Members that credited

Demolay with helping them get their good start in life-Walt

Disney, Buddy Ebsen, Paul Harvey, John Wayne, Fran Tarkenton,

Pete Rose, Past Imperial Potentates Nicholas Thomas, Raoul

Frevel, and Douglas Maxwell.

Thank you, Frank S. Land for having a dream!

Yours in the Faith,

Randy Williams,

2019 Potentate
---
From the desk of...

CHIEF CHIEF RABBAN RABBAN

Spring is finally here! We had a great turnout for

the St. Patrick's Day parade in Erin, which is

one of the best parades of the year. Apologies

that I could not be there...I was attending the

SESA Mid-winter meeting, but I heard that

everyone had a great time. A Big thank

you to the Erin Lodge for always preparing

a delicious breakfast for everyone.

SESA is planning a great convention

on August 14-18 in Pigeon Forge and I

hope everyone can attend. There will be

competitions for the Clowns, Motor Corp,

Hillbilly, Provost Guard and Legion of Honor and

I hope all the units will make plans to attend. Yes, there will be a parade

this year!!! Al Menah has been the foundation of SESA for so many

years and we need to continue to show our support.

Friendly reminder… the Circus Ad Sales have officially kicked off

and remember that this is Al Menah's main fundraiser for the year. The

forms for the Circus Ad Sales are in the office or ask any one on the

Divan.

A big round of applause for the Potentate Ball Committee for

working so hard on behalf of the entire Al Menah nobility. They

always go the extra mile to make Al Menah look absolutely fabulous!!!

Thank you.

Fraternally yours,

Chief Rabban

Scott Jones

ASSISTANT RABBAN

Just back from Assistant Rabban school in Tampa

where I learned the value of leadership,

fundraising, and the woes of men wearing

dresses. That was 4 days of my life I can't get

back but whatyougonnadoaboutit? It turns

out there are no real secrets to becoming a

good leader; you just need to remember that

we are all volunteers and that this temple

ASSISTANT RABBAN

will be as good as we want it to be, end of

story.

While we were sunning on the beaches,

a miracle happened here at home—Jingles

grew a full head of hair—no kidding, he looked

"normal." It could only be the use of Scrotox that

m a d e him fuzzy on top. In other earthshaking news this month

it turns out that while on the cruise, Valerie was secretly negotiating with

the Keebler Elves to mine diamonds and rubies for the Daughters of

the Nile. At Gwen's installation, the tables were covered with them. (I

don't think Valerie knew they were plastic but who's keeping score?)

Well that's all from here. Remember to be nice to your wife, she's knows

where you sleep at night....

Assistant Rabban

Donnie Drayton

HIGH PRIEST AND PROPHET

Finally!! Spring has arrived, and it brings countless

opportunities for us to continue the great work

we do for Shriners Hospitals for Children.

The month of April has much to offer in your

fight against boredom. On Saturday, April

20th, I hope to see each of you and your

families at the Annual Al Menah Easter Egg

Hunt. As if that weren't enough fun for one

day, Al Menah proudly presents for your

entertainment pleasure "Larry the Clown".

Grab your kids, grab the neighbor's kids, go

ahead and grab a few other kids on the way

to Al Menah to see the Circus! You do not want

to miss this exciting event!

HIGH In a few PRIEST short AND weeks PROPHET our communities

will be filled with men

wearing a Fez and giving their time and energy in support of

Shriners Hospitals for Children. Our purpose as Shriners is to assist

those within our communities who can benefit from the world

class healthcare provided by Shriners Hospitals for Children. Our

obligation as an Al Menah Shriner is to help with the work required

to provide the necessary support to our hospitals. This obligation

doesn't expire, it doesn't fade away. In fact, it only becomes more

important each passing day. We each made the decision to serve

the day we became a Shriner. So, let us once again get out there and

do what it is we do best!

As always, Thank You for all that you do. Thank you for the time

away from your families that you selflessly give to Al Menah, but

most importantly for the commitment you choose to give each day

to Shriners Hospitals for Children. After all, to serve others is why

you became a Shriner.

High Priest and Prophet

Vernon Blackburn

ORIENTAL GUIDE

Well March was a great month for Lady Valerie

and me as we attended Oriental Guide

School in Tampa and met our counterparts

from across the country. What a great

bunch of men and women! I certainly

don't "know it all" now but we did learn

a lot and hope to put some of our lessons

into action.

You may have heard by now that the

Cincinnati hospital may be partnering

with Dayton Ohio Pediatric Hospital. There

will be, no doubt, those who see this as a

closing of one of our cherished Shriners Hospitals

for ORIENTAL Children. It's GUIDE a partnership

that allows the work of the Cincinnati

hospital to continue and allows for the sustained health of our

hospital system. I'll share with you a conversation, as it was relayed

to me, that took place between one of our doctors and the Imperial

Hospital Board: The physician described the sad feeling she had as

she amputated a stunted limb from a child and the quiet mood of the

technicians in the room. But she realized that while saddened by the

child's loss of the limb, the child would receive a prosthetic limb

that would enable that child to be otherwise healthy and participate

in activities with other children. The loss of the limb while sad and

tragic, enabled the health of the child's body and spirit to thrive.

So, it is with our hospital system. We may have to lose a building,

but the hospital system will be allowed to thrive without the financial

affliction of a facility whose patient census cannot be sustained at a

level prescribed by the Joint Commission of Hospital Accreditation.

Our Shriners Hospitals for Children system must be protected even

if it means closing some doors to open others. Or you can think of it

this way, if we remove that cigar stub from Donnie's face, he's still

Donnie, he just looks a little different.

Make sure you get tickets for the Potentate's Ball on April 6th and

watch for other opportunities to participate with our great fraternity.

It's Great to be a Shriner!!

Oriental Guide

Frank Wilson

3

3
---
2020 Al Menah Potentate Trip

Cabo San Lucas

February 23 – March 1, 2020

Los Cabos is a magic land full of contrast, from breathtaking

seas, to desert and mountains. Also known as "Land's End"

for being located at the tip of the southern Baja California

Península. Step into the extraordinary world of Los Cabos

where the unparalleled natural beauty, biodiversity and

range of amenities will appeal to any personality.

In a paradise where the Sea of Cortés meets the Pacific

Ocean, there is something for everyone: fishing, golf, scuba

diving, snorkeling, kayaking, ATV Adventures, camel riding,

whale watching, wave runners, horseback riding, relaxing in

luxury spas and resorts and dancing 'til dawn.

Stay at the all-inclusive Pueblo Bonito Los Cabos Resort and Spa

7 nights $1,425 per person – Double occupancy ($2,475 – single)

3 nights $795 per person – Double occupancy ($1,250 – single)

*A Sunset Dinner Cruise with open bar is included

Package includes: Round trip Cabo to resort transfers, Vacation protection insurance, Travel Agent escort,

Complimentary Wifi, Restaurants (Los Cabos Resort - 3, Rose Resort - 5, Sunset Resort -15, alcohol beverages

and 24-hour room service), Twice – daily housekeeping, Feather-top mattress and pillow menu, Premium bath

amenities, Plush bathrobes, In-room safe, Complimentary shuttle service to Sunset Resort and

Taxes and gratuities included.

Sunday, March 31, 2019 there will be a meeting at AL Menah Dinning room at 1:00pm.

A lunch will be served .

For additional information – call Michelle Atchley @ (615)-792-7552

4
---
5
---
6
---
7
---
CeNter

NeWS

Clowns

March has gone by fast and the

Clowns have been busy with the

Jamboree in Gatlinburg then on to

Erin, TN for the St. Patrick's Day

Parade. Next up is the Down Syndrome

Awards at the Temple and then

Clowns on the town for a great night

of Bowling.

As always, thank you for what

you do to support the hospitals and

please keep our sick brothers in your

prayers.

Clay "Flat Top " Hedgepath

Secretary

Directors Staff

Hard to believe we are a quarter the

way through the year already.

Are unit has grown by one new

member each meeting, let's keep up

the trend.

For those who have not been able to

attend for whatever reason we have

several new things going on this

year. The Onion sales are back, we

are participating in parades, although

the Erin Parade was a little shy on

Director Staff appearances there were

several Director's Staff attending in

different capacities. Everything from

Fuzzy being a driver, Barry, Mike,

and Gerald as Parade Marshals to our

Divan Member Donnie Drayton. Randy

Byrum is forging ahead with some

great ideas for the parades.

8

We have started ordering the crayons

to hand out at the parades and circus.

We need more sponsors.

The Potentate's Ball will be April

6 and the Directorettes are planning a

special movie theme unit room, one

that I believe we will all be proud of.

The paper sale caravan will be

April 8-12 let's get out and do our

part.

The Temple has a special Easter

Egg Hunt that includes a One Ring

Circus Act on April 20.

Lt. Joe Anderson

Horse Patrol

Greetings from the Horse Patrol.

We've been very active so far this

year, we had 9 members participate

in the Irish Day Parade in Erin last

month. A big shout out to our newest

member Shannon Parker. Shannon

is our mule skinner and does a great

job with them and he also painted our

wagon and we bought new harness

for our team.

We had our mid-winter meeting

with the International Shrine Horse

Patrol in March. We went out to the

state fair grounds and showed everyone

the facilities. We anticipate 100

horses coming to Nashville for the

Imperial Session including a stagecoach

with a 6-horse hitch pulling it.

The Horse Patrol competition will be

Monday July 1 starting at 9:00 am. It

will be at the fairgrounds and is open

to the public.

By the time you read this the Potentate's

Ball will probably be history,

but a great time was had by all! Let's

all continue to support Randy and the

rest of the divan as they continue to

lead us through this extremely busy

year.

See you down the trail.

Cowboy Dale

Legion of Honor

The Legion of Honor has added an

addition to their parade participation

this year. LOH Noble Steward Long

has offered the use of his vintage

vehicles to beef up our participation

in parades and anyone who attended

the Erin Parade on 16 March saw

his 1939 Cope. He also has a 1965

Pontiac GTO that will be profiled in

other parades this year to include; the

Imperial Parade in Nashville this July.

The 16th of March was a busy day

for us. In addition to our members

who participated in the Erin Parade,

we also had members posting colors

for the Hooligan's event that took

place in the Shrine Temple that day.

We will decide at our next meeting

concerning our participation in the

Mule Day Parade, on the 6th of April,

because it falls the same day as the

Potentates Ball. We have several

members attending the Ball and are

posting Colors for that event. Those

going to the Ball will not be able to

participate in the Parade due to time

restrains.

This month we published our rewrite

of our White Book, which houses

our Constitution and By-Laws.

We have also begun selling Circus

Ads, Shrine plaques, and are gearing

up to begin the Annual Paper Sale

Drive.

Members of the Legion of Honor

have also made several runs to the

Lexington and Cincinnati hospitals.

It is a sheer pleasure for us to do so

and look forward to additional trips in

the future.

W. R. Steele

Commander

Motor Corps

March went out with a *BANG* and

SPRING HAS SPRUNG! Flowers

are blooming and birds are chirping..

all the while we are anticipating

some great riding

weather ahead!!
---
Most likely by the time of publication,

the 2019 Al Menah Potentate's

Ball will have just come and gone and

everyone will be gearing up for the

Easter Egg Hunt and 1-Ring Circus

activities. It's always a lot of fun for our

children and grandchildren. Make plans

to join in the fun and fellowship!

Thank you to everyone who helped

and those that attended the Motor Corps

Ladies Luncheon. We can't thank you

enough for what you do to help us and

your constant love and support, not only

for us and this Men's organization, but

for our patients and our hospitals. WE

could not do what we so love doing

without YOU!

Please join me in congratulating the

newly crowned Queen of Dynasty

Amenna Temple No. 164 Daughters of

the Nile, our very own Gwen Hayes!

We stand behind you with love and

support throughout your year.

As we celebrate the Resurrection

of Christ, Praise Him - for He allowed

this glorious life. Please keep those less

fortunate than we in your thoughts and

prayers.

Easter Facts - Did You Know? Approximately

1.5 billion "Peeps" are sold for

Easter.

Happy Easter!

Fat Rabbit

2019 Journalist

Shrine Club News

Hendersonville Shrine Club

Our club meets on the 4th Monday

of the month . The next meeting will be

on Monday the 22nd of April. We meet

at the Black Eyed Pea in Hendersonville.

We eat at 6:00 and meet at 7:00.

All members of Al Menah are welcome,

members or not. So bring a friend and

come visit us.

Right now we are planning for the

Paper Sale in May. If you would like to

help with this please contact me (615-

330-0210) or Boyd Parnell ( 615-598-

1339 ) .

A. W. (Pete ) Boswell

615-330-0210

Sumner County Shrine Club

Finally the cold days are gone,

spring has sprung. The Potentate's

Ball is April 6 and Easter is just around

the corner. After that the Shrine Paper

Sale I hope all Sumner County Shriners

have this on your calendars and set

aside a few hours to help. We have two

Kroger's and a Walmart to cover. We

need all Shriners to participate as you

took an oath to do when you became

a Shriner. This is our main fundraiser

for Children's Hospitals. Please don't

let the kids down. It doesn't cost you

anything, it only takes a few hours of

your time plus you get a great feeling

of accomplishment knowing you are

helping the kids. Also it's easy and fun,

you just stand there (or sit) and people

walk by and drop money in your bucket.

I've met a lot of nice people that way. If

you want to help and don't know where

to go, you can call me or if you're in

Hendersonville area you can call Noble

Boyd Parnell. We seriously need all

Shriners to do your part this year.

All Shriners and their ladies have an

open invitation to attend our Sumner

County Shrine Club meetings. We

meet on the first Monday of the month

at Logan's Roadhouse in Gallatin. We

begin socializing at 5:30, eat at 6:00 and

the meeting starts at 7:00pm. Come and

help us build our club back up. We welcome

you to join or just come and visit.

Have all-you-can-eat peanuts while you

fellowship with your Shrine brothers,

then enjoy a nice meal and stay for the

meeting.

Roy Lindsey

President of SCSC

615-397-1270

Williamson County Shrine Club

The Williamson County Shrine Club

(WCSC) held its monthly meeting at the

Sportsmens' Lounge in Brentwood with

25 members and wives in attendance.

The meeting was called to order by President

Dale Pewitt at 6 PM. The normal

formalities of the Pledge of Allegiance

and opening prayer were conducted by

the President. Noble dignitaries and their

ladies were recognized.

The club was given a good presentation

by Mr. Patrick Leahy of the

Tennessee Star, and he received an internationally

famous WCSC Coffee Mug

for his efforts.

The club began planning for the

upcoming Franklin Rodeo Parade with

Sam Isbell being the hospitality chairman.

Plans were made to turn loose on

the world the newly formed "WCSC

force of Pontiacs" at the Erin Parade on

St. Patrick's Day Weekend. The Pontiac

Soltices in multi colors will participate

in the parade.

The membership was advised of all

upcoming Masonic and Shrine events so

they could mark their calendars.

As always, the Club honored Past

Presidents and closed with a prayer.

Fun and laughter were once again

shared by all!!

All are welcome at the next meeting

on March 21st at the Sportsmens'

Lounge in Brentwood - right off I65

South.

Art De Vooght

(Secy.)

REMINDER!

NOTICe:

ALL communications

for the Shriner

should be sent to

editor.amsc@gmail.com

9
---
MARCH NOTICES

Director Staff Divan Member Donnie Drayton joins members Barry, Mike,

and Gerald to fill the role of Parade Marshals at a recent parade.

Have you gotten your t-shirt?

Make your monthly donation of $25 or more and receive this exclusive

Show Them LOVE t-shirt as a "thank you" for your generosity and

support. Get your t-shirt today!

Donate Today - Press Here!

10
---
Please see photos below. These cars will appear in various Shrine parades this year.

Owner/Driver Stew Long - member of Al Menah's Legion of Honor

Stew has agreed to make GTO available for Imperial Parade. This 1965 GTO was elected street

muscle car of the year for 2018. Quite an honor.

UPCOMING EVENTS

AS OF THIS PUBLICATION – SUBJECT TO CHANGE

APRIL

1 100th DeMolay Degrees @ Shrine

5 Potentate Ball Hospitality

6 Potentate Ball

8-12 Paper Sale Caravan

20 Temple Easter Egg Hunt

One Ring Circus @ Temple

MAY

1-5 Paper Sale

9-12 43rd Smoky Mt. Funfest

6-18 Dixie Shrine Association

19 Lexington Hospital Days

25 Ice Cream Social & Gospel Singing

5th Hot Rod Boogie Car Show

Music Valley Dr – for Shrine Hospitals

11
---
Paper Sale Donation from Kroger

On Monday, 7/18 Potentate Jeff Head and members of the Williamson

County Shrine Club were with Kroger Management at their Belle

Meade store where they presented a $1,000.00 to us for the Shrine

Hospitals for Children. The Kroger Manager was an acquaintance of

Scotty and Teresa Travis who put this together for the Al Menah Shrine

Hospitals for Children Paper Sale.

This is a portion of a message from Phyllis Berry, wife of this

Kroger Store Manager, Michael Berry.

Let me tell you, our son was a Shrine Hospital patient

and we are forever grateful The experience was an

awakening in humanity. The care was phenomenal. The

friendship my family made. The support from the men in

your fraternity was phenomenal. We thank you for all you

and your members do for children across the country.

Sincerely

Phyllis Berry

Fraternally,

Butch Mayes, WCSC

12
---
HERBERT D. BARKSDALE

Nashville

11/02/32 – 02/23/19

Nobles Nobles Visited By Visited By

The Black The Camel Black Nobles Camel Visited By

The Black Camel

PAUL P. PATTEN

Nashville

03/23/19 – 02/27/19

AL MENAH AL TEMPLE MENAH

AL MENAH TEMPLE

A.A.O.N.M.S. A.A.O.N

1354 BRICK CH

P. O. Box A.A.O.N.M.S.

78545

P. O. Box 7

1354 BRICK CHURCH PIKE

NASHVILLE, 1354 BRICK TN 37207 CHURCH

NASHVILLE,

PIKE T

P. O. Box 78545

www.almenahs

www.almenahshriners.org

NASHVILLE, TN 37207

www.almenahshriners.org

JOHNNY L. BYRD

Mt. Juliet

11/30/30 – 03/14/19

WILLIAM R. SOREY

Mt. Juliet

11/20/46 – 03/05/19

RICHARD D. HOLLOWAY

Dickson

07/13/32 – 02/19/19

KEITH D. VANDENBRINK

Roan Mountain

07/08/35 – 02/26/19

DEADLINE FOR MAY 2019 SHRINER IS APRIL 19 TH

13