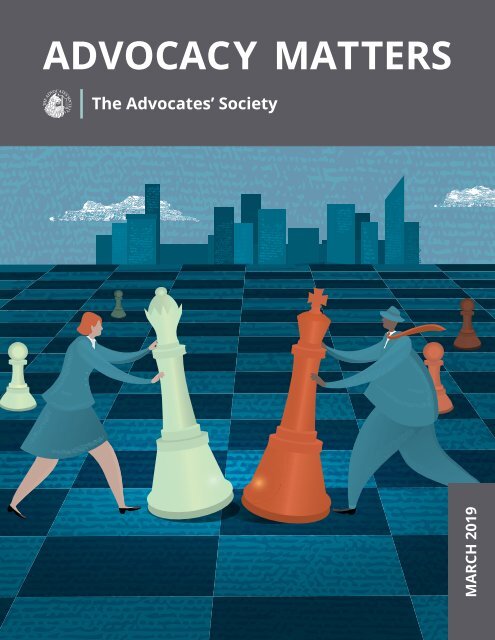 Advocacy Matters - March 2019
Keep up to date on what your fellow Society members have to say in Advocacy Matters. In this issue: From the Editor - Lauren Tomasich, Osler, Hoskin & Harcourt LLP; Diversity In The Profession - Sarah Armstrong, Fasken; Signature Conference - Sabrina A. Lucenti, Dooley Lucenti LLP; TAS Report - Jeffrey J. Kroeker, B.A. (Hons.), J.D, Civis Law LLP; International Women's Day - Yola S. Ventresca, Lerners LLP; The Future Of Advocacy - Brent J. Arnold, Gowling WLG
Keep up to date on what your fellow Society members have to say in Advocacy Matters. In this issue: From the Editor - Lauren Tomasich, Osler, Hoskin & Harcourt LLP; Diversity In The Profession - Sarah Armstrong, Fasken; Signature Conference - Sabrina A. Lucenti, Dooley Lucenti LLP; TAS Report - Jeffrey J. Kroeker, B.A. (Hons.), J.D, Civis Law LLP; International Women's Day - Yola S. Ventresca, Lerners LLP; The Future Of Advocacy - Brent J. Arnold, Gowling WLG
SHOW MORE
SHOW LESS
You also want an ePaper? Increase the reach of your titles
YUMPU automatically turns print PDFs into web optimized ePapers that Google loves.
ADVOCACY MATTERS

The Advocates' Society

MARCH 2019
---
What the TWEET is this?

When you see this icon, throughout the publication,

click on it to see what members are tweeting about.

CONTENTS

04

09

12

14

17

20

From the Editor

Lauren Tomasich, Osler, Hoskin & Harcourt LLP

Diversity In The Profession

Sarah Armstrong, Fasken

Signature Conference

Sabrina A. Lucenti, Dooley Lucenti LLP

TAS Report

Jeffrey J. Kroeker, B.A. (Hons.), J.D, Civis Law LLP

International Women's Day

Yola S. Ventresca, Lerners LLP

The Future Of Advocacy

Brent J. Arnold, Gowling WLG

Mastering the art and craft of advocacy is a career-long commitment and we are

here to help. The Advocates' Society has been the premier provider of advocacy

skills training for over 30 years. We are proud to provide lawyers across Canada

with the training and the confidence they need to execute on their feet when it

counts. The Judge will notice…your clients will too.

Editor: Lauren Tomasich, Osler, Hoskin & Harcourt LLP, Ltomasich@osler.com

The opinions expressed by individual authors are their own and do not necessarily reflect the policies of The Advocates' Society.

Visit www.advocates.ca. Be part of the legacy of extraordinary advocates.

3
---
FROM THE EDITOR

COMING UP

(Click on the program to learn more)

4

The season for change

Lauren Tomasich, Osler, Hoskin & Harcourt LLP

Our spring issue of Advocacy Matters carries

with it a spirit of change – which is perfect for

this time of year. Change is indeed a foundation

of our profession. The law evolves to

reflect societal realities, and we as litigators

are catalysts and vehicles for such change,

through, among other things, creative legal

arguments made zealously on behalf of our

clients. However, there are different types of

change that are equally, if not more important

– and this issue of Advocacy Matters is

particularly inspirational on this front.

Sarah Armstrong recounts the #Robing-

Room revolution, which is an encouraging

example of female advocates using social

media to call attention to the disparity in

the male and female robing rooms at Osgoode

Hall. And what I have gone so far

as to call a "revolution" is less about the

space itself, but the symbolism of it all,

and the importance of calling attention to

these issues – otherwise, things simply do

not change. Even if we like to think that

things are "better" than the past, there are

persistent and developing challenges that

women and diverse members of the profession

face – which are aptly captured in

Yola Ventresca's article about international

women's day, alongside a powerful summary

of the historical origins of this annual

March milestone.

Change comes in other forms in our profession,

and does not need to take the form

of new law from an appellate court or the

galvanizing of a societal movement to impact

our work as litigators. Technological

advancements and ways to adjudicate cases

more efficiently and effectively are top

of the agenda for the Toronto Commercial

List. Jeffrey Kroeker recounts the remarks

of the Commercial List lead judge, Justice

Hainey at the annual TAS "Evening with the

Commercial List", with the central message

being that the Commercial List is committed

to being business-minded and practical in

its approach to dispute resolution. Brent Arnold

also summarizes the Commercial List's

new "Digital Hearing Workspace". Technology

was also a key theme at the personal

injury bar's annual TAS "Tricks of the Trade"

conference, which Sabrina Lucenti reviews.

This is all important and productive change

that facilitates effective dispute resolution.

With that, here's hoping that this spring

brings positive change to our profession

and to all of your practices – and hoping

this edition of Advocacy Matters showcases

that we are off to a good start.

APR 8

Celebrating Advocacy

Reception with

The Hon. Justice

Suzanne Côté

APR 16

Negotiation

Strategies for

Litigators

(Toronto)

APR 4

Finding Your Hook:

How To Develop a

Winning Case

(Toronto)

APR 9

Women in

Litigation

Symposium

(Calgary)

APR 17

Commercial

Litigation PG:

Diversity & Inclusion

Breakfast

(Toronto)

APR 4

Tax Litigation:

Settlement

Conference in Tax

Litigation

(Toronto)

APR 12

Insolvency

Litigation

Toronto

APR 8

Women in

Litigation

Symposium

(Vancouver)

APR 10

Women in

Litigation

Symposium

(Edmonton)

APR 12

L'Art Du

Contre-interrogatoire

(Montreal)
---
BENCHER ELECTION 2019

Lawyer Candidates Outside Toronto

Lawyer Candidates from Toronto

Be an informed voter. Get to know the TAS Members who are running for Bencher in 2019.

The 2019 Bencher election for the Law Society of Ontario will take place from mid-April to April 30,

2019. On this page we showcase the TAS members who are running in the 2019 election.

Full information on the election process, voting, etc can be found on the

Law Society of Ontario website.

R. Lee Akazaki

John Callaghan

Jeff Cowan

Signa A. Daum

Shanks

Jeremy Devereux

Rebecca C. Durcan

Nathan Baker -

Central East

François N. Baril -

East

Peter Beach -

East

Jack Braithwaite -

Northeast -

Acclaimed

Dianne G. Corbiere -

Central East

Teresa Donnelly -

Southwest

Julian Falconer

Joseph Groia

Paul Le Vay

Atrisha Lewis

Samuel Marr

William C. McDowell

Etienne Esquega -

Northwest

Jacqueline Horvat -

Southwest

Michael Lerner -

Southwest

Cecil Lyon -

East

James John Mays -

Southwest

Jorge E. Pineda -

Central South -

Pending

Isfahan Merali

Malcolm Mercer

David Milosevic

Barbara Murchie

Sean Robichaud

Jonathan Rosenthal

M. Stephen Rastin -

Central East

Andrew Spurgeon -

Central South

Deepa Tailor -

Central West

Claire Wilkinson -

Central West

Mirilyn R. Sharp

Julia Shin Doi

Megan Shortreed

Darryl Singer

Peter C. Wardle
---
The Catzman Award

for Professionalism & Civility

Throughout his distinguished career both as an advocate

and a judge, Justice Marvin Catzman earned an exemplary

reputation for his knowledge of the law, his integrity, his

fairness, his civility and his dedication to the highest ideals of

the legal profession. He inspired younger lawyers by example

and contributed to legal education by writing and lecturing

with great insight and humour. He was unfailingly generous to

colleagues with his time and expertise. Justice Catzman's

career was characterized by all of the qualities that are

encompassed by the terms professionalism and civility.

The successful candidate for the Catzman Award will be

a person who exemplifies these qualities.

Call For Nominations

The Catzman family, The Advocates' Society and the Chief Justice of Ontario's Advisory

Committee on Professionalism are pleased to call for nominations for an award in memory

of the late Justice Marvin A. Catzman, recognizing individuals who have demonstrated

a high degree of professionalism and civility in the practice of law. The Award will be

presented by the Chief Justice at the Opening of the Courts in September 2019 and

acknowledged at The Advocates' Society End of Term Dinner in June 2020.

Deadline Friday, May 31, 2019

Please fill out the following nomination form and attach the nominee's C.V. and two

(2) letters of support (to a maximum of two (2) pages).

For questions, please contact Rachel Stewart, Events and Awards Manager,

at rachel@advocates.ca

SUBMIT NOMINATION

DIVERSITY IN THE PROFESSION

The recently successful

Osgoode Hall #RobingRoom

campaign is just

the beginning

Sarah Armstrong, Fasken

On February 7, after spending three days in court at Osgoode Hall with a fierce group of women

litigators fighting for pay equity and equality rights, Fay Faraday tweeted photos of the then "Lady

Barristers" sign on the women's robing room and of her colleagues crammed inside the room with

the comment: "But after 25+ years doing this, I still need to walk past the so-2-centuries-ago #LadyBarrister

sign & there are still only 12 lockers for women litigators at 130 Queen St. in T.O. where the Court of

Appeal, Divisional Court and Superior Court all sit. First thing every woman litigator who came in this week

said was "are all the lockers full again?". Answer: eye roll, sigh ... yes. The lawyers for just 3 of 6 parties on

ONE case fill more than half the robing room. I hear the men have 75+. #RoomOfOurOwn".

Enter fearless advocate for equality and #WomenInLaw and prolific tweeter, Breanna Needham.

In less than 24 hours following Faraday's tweets, Needham and a group of allies had: (i) produced a

Twitter photo display of the shocking disparity between the two robing rooms; and, (ii) developed

a petition with over 500 signatures asking the Law Society of Ontario to retire the "Lady Barristers"

robing room at Osgoode Hall in favour of a unisex space where the men's robing room is.

8 9
---
WOMEN

in Litigation Symposium

The Advocates' Society's award-winning Women in Litigation

Symposium is coming to Vancouver, Calgary and Edmonton this

spring. Join us for this unique networking conference designed

for female litigators where you will receive candid advice and

practical strategies for your life and practice as a litigator.

To learn more or register visit www.advocates.ca

Reactions from fellow women

litigators on twitter who, like me,

had just seen photos of the men's

robing room for the first time included

the following: Demoralizing.

Gutted. OMG. Just silly. We've

been had. Are you freaking kidding

me??!? [and a few more explicit

turns of phrase which I will not

quote here, but you get the idea].

LEAF tweeted: "That the disparity

between robing rooms surprised

so many (after existing for so many

years!) is indicative of how privilege

works - maintained through secrecy.

Imagine what else we'll discover

if we pull back the curtain on other

inequalities through #paytransparency,

etc!". Many male advocates

expressed surprise on Twitter as

well, many of them evidently having

had no idea how "quaint" the

women's robing room was.

As Needham and many others

succinctly articulated in 240

character tweets, the campaign

is about more than just a room.

Robing rooms are a place where

informal mentoring, networking

and even substantive discussion

on files takes place. Yet, for decades,

women litigators have had

to tolerate (albeit not always happily)

small, cramped and sometimes

non-existent robing rooms.

We've waited by the doors of the

courthouse while our male colleagues

have taken forever to get

changed out of their robes. And

we've been briefed on important

robing room discussions about

our files on the walk back from

Court. Even more broadly, the

#RobingRoom campaign is about

inclusion and the women's robing

room being representative of the

systemic inequality that is pervasive

in the legal profession.

To its credit, less than a day after

the initial Twitter storm, the LSO

replaced the "Lady Barristers" sign

and responded to say: "We appreciate

the concerns outlined in the

petition about the women's robing

room at Osgoode Hall and we are

looking into options. We'll provide

an update as soon as we are able."

Then, on Feb 20, LSO announced:

"Change is coming! We're working

to create one dedicated gender-neutral

space for all barristers

to robe & network in what's now

the men's robing room. Modifications

are needed to support personal

privacy in the washrooms.

Once complete the space will be

open to all. We are working out

specific plans and timelines. Please

stay tuned for updates as we work

to ensure robing & networking facilities

are inclusive & welcoming.

In the meantime, please continue

to respect people's privacy."

The Twitter campaign to make

the Osgoode Hall robing room

facilities fair illustrates just how

quickly change can happen when

fearless advocates speak out

about an issue and work together

using the power of social media

to make change. To be sure,

there are far bigger injustices and

battles to be fought but achieving

an inclusive space for counsel at

the building housing Ontario's

highest Court is an important and

symbolic step forward.

VANCOUVER

Monday, April 8, 2019

9:30 am to 3:35 pm

UBC Robson Square, 800 Robson St.

CALGARY

Tuesday, April 9, 2019

9:30 am - 3:30 pm

Hotel Le Germain, 899 Centre Street SW

EDMONTON

Wednesday, April 10, 2019

1:00 p.m. to 4:30 p.m

The Sutton Place Hotel Edmonton

10235 101 St NW

10 11
---
SIGNATURE CONFERENCE

Tricks of the Trade 2019:

Cyberspace and back

Sabrina A. Lucenti, Dooley Lucenti LLP

The personal injury bar got their usual head start in 2019 with the annual Tricks of the Trade

Conference in Toronto. Conference chairs Patrick J. Brown, McLeish Orlando LLP, Susan E.

Gunter, Dutton Brock LLP and Peter W. Kryworuk, Lerners LLP lead a great lineup of speakers

who provided updates on recent court decisions, hot topics in the law and trial advocacy tips.

This year's Tricks took the audience on a wonderful journey through the #digitalworld.

Rikin Morzaria, McLeish Orlando LLP (@RikinMorzaria) discussed social media evidence

from the investigation phase through to trial. He covered what you need to know about

preserving and producing social media evidence during the discovery process and a case

law update on disclosure obligations and the use of social media evidence at trial.

Daniel Michaluk, Hicks Morley (@danmichaluk) gave us a refresher on privacy law including

everything you need to know about the tort of inclusion upon seclusion and a case law update

on the exclusion of evidence obtained in breach of privacy. In a time when people are

sharing their day-to-day happenings with hundreds of their closest "friends", where do we

draw the line on one's reasonable expectation of privacy? Asking for a friend.

Catherine Bruder of Bruder

Springstead LLP gave a case law

update on how to get your social

media and surveillance evidence

before the court at trial.

Everyone knows the way to a

personal injury defence lawyer's

heart is through surveillance.

However, there is nothing

more heart wrenching than

having the evidence excluded.

Avoid the unknowns of a voir

dire. When in doubt, disclose!

Chris Bentley, Legal Innovation

Zone (@Chris_Bentley) talked

about artificial intelligence and

the future of personal injury litigation.

As the first legal tech incubator,

Chris explained how the

savvy LIZ team and their partners

are developing fast, simple,

affordable decision-making techniques

and solutions to improve

legal services and the justice

system. To learn more about LIZ

and their affiliated startups visit

www.legalinnovationzone.ca

When the voyage through

cyberspace was complete, the

unplugged portion of the conference

took the audience back

to basics.

The Advocates' Society welcomed

keynote speaker Erika

Chamberlain, Dean of Law

at of the University of Western

Ontario. Dean Chamberlain

took the audience on a journey

through the evolution of the

duty of care in negligence. Dean

Chamberlain discussed recent

trends in the law that suggest

that the courts may be moving

towards a more fact-specific or

category-based inquiry when

determining whether a duty of

care exists. For torts and other

sorts, follow Dean Chamberlain

at @lawdeanerika.

Last, but certainly not least, the

panel of @SCJOntario_en judges

(yes, the Ontario Superior Court

of Justice is on Twitter) gave novice

advocates trial tips (not tricks)

on qualifying an expert witness

and choosing the right expert.

Here are some key takeaways:

(1) Eliminate the guesswork.

Write out for the court the area

in which you seek to qualify your

expert and in which he or she will

give opinion evidence. (2) Forget

the fillers. From the moment

you choose your expert until the

moment you qualify him or her

at trial, focus in on education,

training and experience. If your

expert does not have the expertise

necessary to assist the court,

do not risk losing your case by

calling the expert anyway. Finally,

the panel was unanimous in

saying to all advocates: "get up

on your feet and try your cases".

#nocomputersneeded

Another great day of learning

and collegiality at Tricks of the

Trade. See you next January!

12 13
---
TAS REPORT

New one-judge civil case

management pilot project

Jeffrey J. Kroeker, B.A. (Hons.), J.D, Civis Law LLP

On January 23 rd , 2019, The Advocates' Society hosted its annual Evening with the

Commercial List reception with honoured guests Regional Senior Justice, The

Honourable Geoffrey Morawetz; Commercial List lead judge, The Honourable

Justice Glenn Hainey; and his Commercial List judicial colleagues, Justices Victoria

Chiappetta, Barbara Conway, Bernadette Dietrich, Thomas McEwen, Laurence

Pattillo, and Michael Penny. With more than 70 lawyers attending, the bench and

bar were able to have discussions about issues and experiences regarding Court

processes in an informal setting.

This event was generously

sponsored by NERA

Economic Consulting.

Lead judge of the Commercial

List, Justice Hainey gave

an address that strongly encouraged

lawyers to embrace

case management as a means

to produce more effective

and timely results. Justice

Hainey stressed that he and

his fellow judges are working

to make the Commercial List

more efficient, user-friendly,

and responsive to litigants

with the aim of providing

timely and cost-effective service

to commercial clients.

With that in mind, Justice

Hainey discussed the merits

of a new One-Judge Model

pilot project which landed

on February 1 st , 2019, where

parties can consent to have

one judge assigned at the

outset of a civil proceeding.

Under this pilot initiative, a

single judge will case manage

all pre-trial hearings; case

conferences; and, the trial

itself (only settlement-related

case conferences will be

presided over by a different

judge). The aim of the pilot

is to allow judges to become

entirely familiar with the issues

in the dispute and will

allow judges to vet particular

issues before scheduling

interlocutory motions.. Of

note: The Advocates' Society

worked with other legal organizations

to support the

Court in its development of

the pilot program, as part

of the Society's commitment

to improving our justice system

and enhancing access

to justice. You can expect to

hear more from the Society

about the program following

its launch. In the meantime,

for more information, please

review the Practice Advisory

on the website of the Ontario

Superior Court of Justice.

Another exciting evolution

announced by Justice Hainey

is the mandatory "Digital

hearing workspace pilot project".

As of February 11, 2019,

documents can be uploaded

to a digital workspace website

hosted by the Court.

Owing to increases in judicial

workloads and lengthy

wait times for trials on both

the Commercial and Estates

Lists, Justice Hainey indicated

a judicial shift toward more

frequent use of case conferences

to resolve as many

issues as possible before

contested motions are even

scheduled. Justice Hainey

also noted that full and partial

Summary Judgment Motions

will no longer be scheduled

at 9:30am meetings in

Chambers. Counsel wishing

to bring full or partial

summary judgment motions

must first schedule a case

conference to have the merits

of their matter vetted by

a judge before a motion can

even be scheduled. Counsel

at the event were also urged

to limit 9:30am meetings in

Chambers to a 10-minute

maximum. If a 9:30am Chambers

appointment is expected

to exceed 10 minutes,

counsel are strongly encouraged

to arrange a case conference,

which can also be

scheduled within a relatively

short period of time.

Finally, nominations for the

Commercial List Users Committee

(CLUC) will be open

for new members of CLUC for

the fall. Justice Hainey is encouraging

all to serve on the

CLUC, which is for a 3-year

term. For more information

click here.

14 15
---
INTERNATIONAL WOMEN'S DAY

International Women's Day:

a modern consideration

of the centuries long

struggle for equality

Yola S. Ventresca, Lerners LLP

18 th Annual Spring Symposium

Wednesday, April 24, 2019 | 9:00 am - 4:00 pm | The Carlu, College Park, Toronto, ON

What sets Spring Symposium apart from every other civil litigation conference?

ADVOCACY. It's what our members do and, for nearly two decades, we have advanced the

work of advocates with Spring Symposium. Join us on April 24 in Toronto and experience

rich, collegial learning that focuses on what you do every day – ADVOCACY.

One of the iconic images of revolutionary movements that have shaped the course of world

history is a grainy photograph of thousands of women textile workers crowding the streets

of Petrograd, then the capital of the Russian Empire, on March 8, 1917. The date had been

purposefully chosen. For years, in fact, in both Europe and North America, March 8 had

come to be associated with the gathering global movement for women's rights, most urgently

the right to vote. The women textile workers were marching in the streets of the

Russian capital, their banners declared, for 'bread and peace'. They were protesting bread

shortages and, more broadly, an increasingly unpopular and destructive war effort whose

disastrous direction was laid squarely at the feet of a repressive, derelict Tsarist regime.

The Advocates' Society 17
---
Though it was scarcely evident

to anyone at the time,

even to the most acute observer,

the march for bread and

peace sparked a movement

that would, in short order, destroy

one of the world's longest-surviving

dynasties, usher

in a radical political, social and

economic experiment with its

own repressive and violent impulses,

and fuel revolutionary

dreams and delusions around

the world. What began as a

protest among women textile

workers, who were among the

most exploited segments of

Russia's working class, sparked

what came to be known as the

February Revolution, as the

women's march morphed into

citywide demonstrations that

virtually paralyzed the capital

of one of the world's major

powers in the middle of a

cataclysmic global war. Within

a week, Tsar Nicholas II had

abdicated, yielding power to

the Provisional Government

which, in turn, was toppled

several months later by Lenin

and the Bolsheviks during

what came to be known as the

October Revolution.

It was not the first time in

history, nor would it be the

last, that women in a given

place and time transgressed

the norms and conventions of

their day to articulate a vision

of a better world. It is commonplace

to attribute to these

pioneering women's marches

a rather traditional motivation

– women as wives and mothers

taking to the streets and

public squares to exert their

moral influence as keepers of

hearth and home, on matters

that were deemed "proper" to

the domestic sphere.

Yet this commonplace assumption

obscures the essential

political feature of what has

come to be celebrated as International

Women's Day. Well before

the decisive, epochal events

that flowed from the Russian

women's march for bread and

peace in 1917, the marches, protests

and celebrations of March 8

were fundamentally about challenging

and changing the structures

of power and privilege that

sustained gender discrimination,

inequality, exploitation, harassment

and violence; hence the

importance of the right to vote for

that pioneering generation of the

women's rights movements. For

much of history, and across cultures,

mobilizing women in the

public sphere meant crossing

boundaries; it meant challenging

cultural and legal constraints that

deprived women everywhere

of basic political rights and legal

status, as well as the social, educational

and economic opportunities

that flowed from having

political rights and legal status.

Over one hundred years

have passed since the women

of Petrograd helped to spark a

global revolution whose reverberations

are felt to this day. It

goes without saying that things

have changed for the better;

so much so that we have

come to embrace International

Women's Day as an occasion

to celebrate women's historic

achievements with perhaps

little more than a symbolic nod

to the lessons of history.

It's wholly understandable to

want to focus on the present,

and the future, which is what

the women marchers and activists

of previous generations

did. But the lessons of the

past can help to put the challenges

of today, and tomorrow,

in their proper perspective,

thereby empowering us

to challenge the norms, conventions

and practices that

sustain systemic gender discrimination,

harassment and

violence. It's commonplace to

hear that we are so very far

removed from the structures

and attitudes that justified the

exploitation of those Russian

women textile workers a century

ago. While the social and

political context certainly has

changed, the fact is that subtle

and not-so-subtle barriers to

equality, parity and opportunity

remain. Gaps persist, for

instance, between women and

men in access to, and mobility

in, STEM-related fields. Gaps

persist between women and

men in wages and professional

opportunity in emerging fields.

Gaps persist between women

and men in access to education.

Gaps persist between women

and men in terms of parenting

demands and expectations. And

gaps persist between women

and men in terms of access to

the corridors of power – political

and economic. In the legal profession,

for instance, for all the

advances women lawyers have

made in recent decades, gaps

persist in terms of access to the

upper ranks of power and decision

making; gaps persist that

continue to favour traditional

male dominated paths to advancement

in the profession,

caused primarily by turning a

blind eye to the systemic barriers

that inhibit a level playing

field between women and men.

And, as I write this on the eve

of International Women's Day

2019, I would be remiss not to

give a nod to the mini-revolution

we saw this past month,

when a group of like-minded

women lawyers, banded

together (with the support of

many male allies), to march

digitally to demand parity in

the robing rooms at Osgoode

Hall. A revolution that was met

with quick success; evidence

of the power of mobilizing

women's voices.

18 19
---
THE FUTURE OF ADVOCACY

A Digital Hearing Workspace

for the Commercial List

Brent J. Arnold, Gowling WLG

The Commercial List has long been a leader in the Ontario courts in adopting procedural

innovations and embracing technology in (and out of) court. The latest example of this forward

thinking takes the form of the Digital Hearing Workspace, which recently completed

testing and was rolled out on February 11, 2019, all courtesy of the MAG Innovation Office.

The Commercial List accepts and encourages parties to submit materials electronically. The

Superior Court's Guide Concerning e-Delivery of Documents in the Ontario Superior Court of

Justice provides guidelines for the preparation and formatting, naming and filing of documents

in this manner, and the current

practice is to file documents on

USB keys in addition to paper

copies. But USB keys are easy to

misplace, and judges reportedly

end up with drawers full of them.

The new Workspace provides a

collaborative, interactive online

portal for sharing and filing electronic

versions of documents.

Documents can be uploaded

to a party's portion of the

case site, and then shared with

the parties and court. Once

posted to the site, they can be

downloaded or opened on the

site in their native format or

viewed in a portal viewer that

allows quick navigation of the

document. Limited annotation

functions are available in the

portal viewer as well.

(A screen capture of the Workplace case dashboard, using

dummy documents from a test session.)

The MAG anticipates eventually

rolling out the Workspace

for use in civil, criminal

and family matters following

a successful proof-of-concept

on the Commercial List. For

now, you'll still need to file

paper copies as well, but the

Workspace represents a big

step in what (I hope) will be a

drive toward paperless courts

in the future.

20 21
---
AN EVENING WITH THE COMMERCIAL LIST

Wednesday, January 23, 2019 | TAS Education Centre, Toronto ON

TRICKS OF THE TRADE 2019

Friday, January 25, 2019 | The Carlu, Toronto ON

The Honourable Justice Mark L.J. Edwards, Superior Court of Justice , The Honourable

Justice Darla A. Wilson, Superior Court of Justice, Peter W. Kryworuk, Lerners LLP

Robert L. Love,

Borden Ladner Gervais LLP

Dean Erika Chamberlain, University of Western Ontario Faculty of Law

22

The Hon. Glenn Hainey,

Robert Macdonald, Fogler, Rubinoff LLP;

Christopher A.W. Bentley,

Lisa Armstrong,

Daniel Michaluk,

Ontario Superior Court of Justice

Monique Jilesen, Lenczner Slaght

Legal Innovation Zone

Strigberger Brown Armstrong LLP

Hicks Morley Hamilton 23

Stewart Storie LLP
---
CROSS-EXAMINATION: STRATEGIES FOR SUCCESS

Wednesday, January 30, 2019 | TAS Education Centre, Toronto, ON

The John P. Nelligan Award

for Excellence in Advocacy 2019

Tuesday, May 14, 2019 | Reception: 6:00 p.m. | Dinner: 7:00 p.m.

Shaw Centre, 55 Colonel By Drive, Ottawa | Dress: Business Attire

Please join us as we honour William J. Sammon, Barnes, Sammon LLP

with The John P. Nelligan Award for Excellence in Advocacy.

The John P. Nelligan Award for Excellence in Advocacy is a tribute to a

member of the bar in the Ottawa region. This dinner is a celebration

of excellence for a leading advocate who has demonstrated their

distinction as counsel, made a significant contribution to the profession

of law and to the well-being of the community at large.

Ticket(s) are $135 per person plus HST

Registration closes Wednesday, May 7, 2019

Steve Tenai, Aird & Berlis LLP, Alan Mark, Goodmans LLP, Sandra Barton, Gowlings WLG,

Raj Anand, LSM, WeirFoulds LLP

ADMINISTRATIVE TRIBUNAL ADVOCACY

Tuesday, February 12, 2019 | TAS Education Centre, Toronto, ON

To learn more or register, click here

Generously Sponsored by:

24 25

Premier Dinner Sponsor Supporter

Supporter

Alexandra S. Clark, Ministry of the Attorney General, Jennifer L. McAleer, Fasken Martineau DuMoulin LLP,

David P. Jacobs, Watson Jacobs McCreary LLP
---
TOP CASES IN COMMERCIAL LITIGATION

Wednesday, February 20, 2019 | TAS Education Centre, Toronto, ON

Paul Guy, Thornton Grout Finnigan LLP, Mark Ross, Ross Barristers P.C., Erin Pleet, Thornton Grout Finnigan LLP,

George Pakozdi, Boghosian + Allen LLP, Atrisha S. Lewis, McCarthy Tétrault LLP

THE INSIDE STORY: ADVOCACY AT THE INTERSECTION OF

LITIGATION AND THE BUSINESS OF CANNABIS

Wednesday, February 27, 2019 | Arbitration Place, Toronto, ON

2019 End of Term Dinner

Thursday, June 20, 2019 | Cocktail Reception: 5:30 pm | Dinner: 7:00 pm

Metro Toronto Convention Centre, North Building, 255 Front Street West, Toronto

Black Tie | A member-only event

Generously sponsored by:

VICTORY VERBATIM

REPORTING SERVICES, INC.

26

Speakers: Matt Maurer, Torkin Manes LLP, Sony Gokhale, General Counsel, The Supreme Cannabis Company

Premier Dinner Sponsor

Cocktail Reception Sponsor

After-Party

Photo Booth Sponsor

After-Party

Patio Sponsor

After-Party

Zone Sponsor
---
TAS MEDAL DINNER HONOURING BRYAN FINLAY, Q.C.

Tuesday, February 12, 2019 | Hilton Toronto, Toronto, ON

LABOUR & EMPLOYMENT:

WOMEN'S BREAKFAST ON SOCIAL MEDIA

Friday, March 1, 2019 | TAS Education Centre, Toronto, ON

Bryan Finlay, Q.C., WeirFoulds LLP, and family

Denise Sayer, Paris & Company, Erin H. Durant, Borden Ladner Gervais LLP, Erin C. Cowling, Freelance Litigator & President of Flex

Legal Network Inc., Kelly Doctor, Goldblatt Partners LLP, P.A. Neena Gupta, Gowling WLG (Canada) LLP

BARRIE COURTHOUSE: THE EFFECTIVE WITNESS

Thursday, March 7, 2019 | Barrie Courthouse, Barrie, ON

The Honourable Ian Binnie, C.C., Q.C., Arbitration Place

28 29

Bryan Finlay, Q.C., WeirFoulds LLP,

and TAS President Brian Gover, Stockwoods LLP

Bryan Finlay, Q.C., WeirFoulds LLP
---
www.advocates.ca