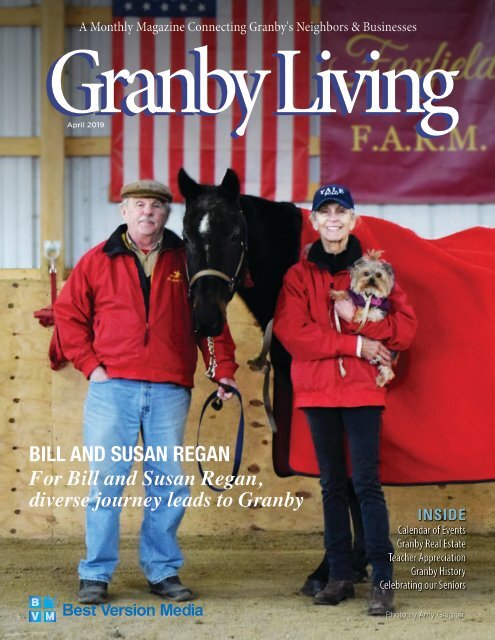 Create successful ePaper yourself
Turn your PDF publications into a flip-book with our unique Google optimized e-Paper software.
A Monthly Magazine Connecting Granby's Neighbors & Businesses

Granby Living

April 2019

BILL AND SUSAN REGAN

For Bill and Susan Regan,

diverse journey leads to Granby

INSIDE

Calendar of Events

Granby Real Estate

Teacher Appreciation

Granby History

Celebrating our Seniors

Photo by Amy Geigner
---
April

Bruce Porter Memorial Music Series:

Les Amies de Théodore

Sunday, April 28

@South Congregational Church, Granby

Music by François Couperin, Jean-

Philippe Rameau and Georg Philipp

Telemann — 18th-century music from

Paris, with commentary by Walter Mayo.

Performers: Susan Allen, flute; Deborah

Robin, recorder; Laura Mazza-Dixon, viola

da gamba; Anne Mayo, harpsichord; and

guest violinist Emlyn Ngai. Supported

by the Granby Education Foundation.

Wheelchair-accessible venue.

More info: 860-653-7289.

Time: 4 pm

Cost: FREE or suggested donation of $10

Granby's Got Talent

Saturday, May 11

@Granby Memorial High School auditorium

The first annual Granby's Got Talent

contest is open to the entire Granby

community, including family and friends

of any of our Granby students from Hartland

and Hartford. Proceeds benefit the

Granby Memorial High School Athletic

Booster Club, a nonprofit. Cash prizes

awarded.

Time: 6 pm

Cost: See www.GMHSBoosters.com

www.GMHSBoosters.com

Something About the Author Book Club

First Monday of month — call to confirm

@Granby Public Library

Call 860-844-5275 to register and for

more info. Copies of books are available

at the library.

Time: Call 844-5275

Cost: FREE

www.granby-ct.gov/granby-publiclibrary-system

CALENDAR OF EVENTS

Around the World Book Club

Third Monday of month — call to confirm

@Granby Public Library

Call 860-844-5275 to register and for more

info. Copies of books are available at the

library.

Time: Call 844-5275

Cost: FREE

www.granby-ct.gov/granby-public-librarysystem

Turbo Kick: Cardio Kickboxing Party!

Mondays & Thursdays — details below

@Salmon Brook Park, Park House, Granby

Ready to become a total knockout? Let us

help you get fit with fun, rhythmic cardio

kickboxing moves and high-energy music.

Register online. More info: 653-8947

Times-Dates:

Mondays • 8:15-9 am

Morning Session 2•March 4-April 15

Morning Session 3•April 22-June 3

Thursdays • 7-7:45 pm

Evening Session 2•March 7-April 18

Evening Session 3 •April 25- May 30

Cost: $65

www.granbyrec.com/info/activities/

Family Movie Night

Wednesdays — call to confirm

@Granby Public Library

All ages can drop in and enjoy a familyfriendly

film. We'll provide the popcorn!

Call for movie titles. No registration

needed.

Time: Call 844-5275

Cost: FREE

www.granby-ct.gov

Sci Fi / Fantasy Book Club

Last Wednesday of month — call to

confirm

@Granby Public Library

Call 860-844-5275 to register and for

more info. Copies of books are available

at the library.

Time: Call 844-5275

Cost: FREE

www.granby-ct.gov/granby-publiclibrary-system

Casual Bikers: Upcoming Events

Throughout the month

@Various locations

Check the Casual Bikers website for details

about weekend and weekday bike

rides all month long.

Cost: FREE

www.meetup.com/Casual-Bikers/events/

calendar/

Open Mic Night in the Bistro

Every Thursday

@Infinity Hall, Norfolk

Whether you like to listen to great music

or are an aspiring performer, join us on

Thursdays to enjoy local talent. Performers

sign up after 7 p.m. A few artists will

be chosen to compete in our Big Stage

Competition and play an opening act at

an Infinity Hall concert.

Time: 8 pm

www.infinityhall.com/Events/

Judy Knows Granby!

• Customer Service Awards for 10+ years

• Five-Star Professional Realtor Award for

the last 5 years.

• Awarded the 2017 "President's Circle"

• Top 4% Nationally for Berkshire

Hathaway Designation for Company

Excellence

• Granby resident for over 50 years.

Oh, by the way...I'm never too busy for any of your referrals!

I'M ALWAYS ON THE BALL WHEN IT

COMES TO YOUR REAL ESTATE QUESTIONS.

...AND YOU DON'T HAVE TO WAIT FOR OPENING DAY TO CALL ME!

Judy Guarco | 860-651-2127

judyguarco@bhhsne.com

www.judyguarco.bhhsneproperties.com

2 | APRIL 2019
---
PUBLICATION TEAM

Publisher | Anthony Serino

Content Coordinator | Bruce Deckert

Designer | Marcelle Hockers

Feature Photographer | Amy Geigner

ADVERTISING

Contact | Anthony Serino

Phone | 860-305-4065

Email | tserino@bestversionmedia.com

Any content, resident submissions, guest columns, advertisements and advertorials

are not necessarily endorsed by or represent the views of Best Version Media (BVM)

or any municipality, homeowners associations, businesses or organizations that this

publication serves. BVM is not responsible for the reliability, suitability or timeliness of

any content submitted. All content submitted is done so at the sole discretion of the

submitting party. ©2019 Best Version Media. All rights reserved.

EXPERT CONTRIBUTORS

To learn more about becoming an Expert Contributor,

contact BVM at tserino@bestversionmedia.com or 860-305-4065

PLUMBING / HEATING / COOLING

Jason Brusa

Beacon Mechanical Service

860-844-0111

jbrusa@beaconmechanical.com

URGENT CARE / OCCUPATIONAL MEDICINE

Dr. Stephen A. Kei, M.D.

The Doctors Treatment Center

860-653-2382

www.urgentcarecentersct.com

FAMILY / COSMETIC / PEDIATRIC DENTISTRY

Dr. Kenneth Endres

Salmon Brook Dental

Phone 860-653-4551

salmonbrookdental@hotmail.com

HEALTH / WELL-BEING

Kristal Fiorentino, I-AYT

The Om Within LLC

702-523-0274

www.KristalFiorentino.com

SENIOR LIVING / HEALTH CARE

Christine M. Looby

The Mercy Community

860-570-8400

clooby@mchct.org

REAL ESTATE

Judy Guarco

Berkshire Hathaway NE Properties

861-651-2127

jguarco@bhhsne.com

NATUROPATHIC MEDICINE

Dr. Katherine Layman, ND

860.393.0478

info@ctnaturopathic.com

ctnaturopathic.com

INSURANCE

Daniel Hess

Southwick Insurance Agency, Inc.

413-569-5541

dhess@southwickinsagency.com

PUBLISHER'S MESSAGE

With April's issue, we're proud to profile Bill

and Susan Regan. The Regans are the founders

and operators of Foxfield F.A.R.M. (For

A Recovery Mission), a groundwork equine therapy

program for veterans and first responders suffering from

PTSD.

The program concentrates on the handling, feeding,

maintenance and groundwork exercise involved in caring for horses. This

healing therapy uses horses with the purpose of contributing positively

to cognitive, physical, emotional and social well-being of the individual

through learning horsemanship skills.

Similar programs throughout the U.S. have proven to be successful in

support of veterans' transition from the battlefield to the home front and

an improved quality of life.

The nonprofit Foxfield F.A.R.M. works in partnership with the Quinnipiac

University Center for Veterans Rehabilitation, Saint Francis Hospital

and Medical Center, and Mount Sinai Rehabilitation Hospital to develop

and study the impact of these interventions on veterans suffering from

PTSD and related mental health issues.

In addition, the program incorporates the "repurposing" of rescue/

retired horses and re-homing to new, responsible owners. The synergy of

the work invested by the veterans to aid in the recovery of these horses is

equitably therapeutic.

If you'd like to help the Regans in this worthwhile mission, I encourage

you to visit their website, www.foxfieldrecoverymission.org, for more

information.

Enjoy the spring!

Sincerely,

Anthony Serino, Publisher

tserino@bestversionmedia.com | 860-305-4065

Like us on FB | Granby Living - Best Version Media

CONTENT SUBMISSION DEADLINES

Content Due:

Edition Month:

March 25.......................................................................May

FEEDBACK | IDEAS | SUBMISSIONS

Have feedback, ideas or submissions? We are always happy to hear from

you! Deadlines for submissions are the 25th of each month. Go to www

bestversionmedia.com and click "Submit Content." You may also email

your thoughts, ideas and photos to: bdeckert@bestversionmedia.com.

VALK YRIE

EQUESTRIAN

CENTER

Boarding / Training / Lessons

ENJOY

RIDING

WITH US

860-653-0288

175 Barn Door Hills Rd., Granby | vec.info@snet.net | www.ValkyrieEquestrianCenter.com

GRANBY LIVING | 3
---
FEATURE STORY

"Susan taught hundreds of people to ride, trained all breeds,

coached and showed at many recognized horse shows."

— Bill Regan

BILL & SUSAN REGAN

FOR BILL AND SUSAN REGAN, DIVERSE JOURNEY LEADS TO GRANBY

BY BRUCE DECKERT | PHOTOS BY AMY GEIGNER / ADDITIONAL PHOTOS SUPPLIED BY FAMILY

A

multifaceted journey has brought William and Susan Regan to

Granby.

As a corporate vice president overseeing community relations,

Susan Patricelli Regan directed sponsorship negotiations with

NFL teams and worked directly with the Clinton Foundation, including

President Bill Clinton and Secretary of State Hillary Clinton.

Susan is the host of "CT Valley Views," the award-winning public-access

TV show. She has trained horses and taught countless people to ride.

Oh, she also learned to play polo at Yale and is a member of the United

States Polo Association.

William J. Regan is executive director of the TV show that his wife

hosts, which airs in 40-plus towns statewide.

His career as an architect resulted in an eclectic résumé that included

noteworthy projects such as the Simsbury Inn and Hop Brook Tavern

(now Millwright's in Simsbury), the themed Last National Bank restaurant

in Hartford, and major Aetna building programs in Hartford and

Middletown.

Besides the TV show, they're working together on another significant

project — Foxfield F.A.R.M., an equine therapy program for veterans and

first responders dealing with PTSD.

4 | APRIL 2019
---
"We utilize our polo horses in the therapy curriculum

and have had some incredible success."

— Susan Regan

The nonprofit Foxfield F.A.R.M. (For A Recovery Mission) is located on Hungary

Road in Granby.

"We moved to Granby in 2003 because we found the perfect property," Susan

says, "with over five acres that could include the addition of a beautiful private

equestrian facility for our polo horses."

An added bonus: The rural location is only a half-mile from the town center.

"Granby was my parents' original home when my mother and I arrived from

Australia to join my father, who was building a house in North Granby," says

Susan, who was born in Sydney, Australia.

The Patricelli family subsequently moved to West Hartford, where Susan spent

most of her growing-up years. Bill, who was born in Hartford, also was raised in

West Hartford.

The couple first met — in West Hartford, naturally — in 1978

and married in 1979.

"My avocation was horses and polo," Susan says. "I had learned

to play the game at Yale, and Bill soon learned to ride and play

the game. After we married, we extended our equestrian interests

at Shallow Brook Polo Club in Somers, where we fox-hunted as

well."

Susan and Bill raised three sons — in birth order, Christopher,

Colin and Craig — and the family lived in Farmington and

Simsbury before to moving to Granby. Craig's daughter Delilah,

10, is a district spelling award-winner — "so bright, articulate and

mature," Susan observes.

"At one point we had a large 40-acre property in Simsbury

where we raised a pack of 22 foxhounds," says Bill, who began his

career at prominent architectural firm Russell Gibson von Dohlen

Inc. in West Hartford. "At our large barn in Simsbury, we had

consignment and boarded horses. Susan taught hundreds of people

to ride, trained all breeds, coached and showed at many recognized

horse shows. We participated in many cross-country events."

Foxfield F.A.R.M. (For A Recovery Mission) is "our largest project

to date," Susan says. The groundbreaking equine program helps

veterans and first responders who suffer from PTSD and related

mental health issues.

"We utilize our polo horses in the therapy curriculum and have

had some incredible success," says Susan, who was corporate vice

president of trade and community relations for Diageo (formerly

Heublein), a British alcoholic beverage company.

The couple hopes to see the program established as a template

elsewhere in the U.S. In addition to PTSD, Susan notes that issues

such as opioid overdose, alcohol and drug addictions, domestic

violence and suicide prevention can be addressed "with this organic

program of six weeks that provides a confidence-building benefit

resulting in a better quality of life."

People who struggle with these issues can be hesitant to admit

their problems, she says, but Foxfield's equine initiative "removes

them from the off-putting clinical venue which has not been sufficiently

effective in treating these challenges."

CONTINUED ON PAGE 6

Sylvia

Patricelli

with Arnold Palmer.

More Than Just

Horse Feed!

Dog and Cat Food and Supplies

Pet Nutrition Consultations

Chicken and Duck Feed and Supplies

Goat Feed

"We love the fact that we can be Pig so Feed involved

Llama Feed

in a town that has much to offer Rabbit and Guinea that Pig Supplies we can

Wild Bird Seeds

15 Mill Pond Road

be part of its fabric." Deer Chow

15 Mill Pond Road

Granby, CT 06035

860-413-9880

www.horsesandhounds.com

Find us on Facebook!

Open 7 Days/Week

Granby, CT 06035

860-413-9880

www.horsesandhounds.com

Find us on Facebook!

Open 7 Days/Week

Dog and Cat Grooming Services

Lawn and Garden Care and Supplies

Equestrian — Susan Apparel Regan

Engraving and Embroidery

Leatherman

Chicks Arrive in March!

Order Online for delivery

or More in store Than pickup! Just

Horse Feed!

Nutrena, Legends, Pro-Elite, Purina, Triple

Crown, Dog and Poulin Cat and Food Blue and Seal Supplies Feeds

Dog Pet and Nutrition Cat Food Consultations and Supplies

Chicken

Pet Nutrition

and Duck

Consultations

Feed and Supplies

Goat Feed

Poultry and Gamebird Feed and Supplies

Pig Feed

15 Mill Pond Rd. Granby CT Goat Feed, Pig and Cow Feed

Llama Feed

Rabbit and Llama Guinea FeedPig Supplies

860-413-9880 Small Animal Wild Feed Bird and Seeds Supplies

15 Mill Pond Road

www.horsesandhounds.com Wild Bird Seed, Deer Hay/Shavings

Chow

Granby, CT 06035

Dog Lawn and and Cat Garden Grooming Supplies Services

Find us on Facebook! 860-413-9880 Open 7 Days/Week Lawn Heat and Pellets Garden and Care Bio and Bricks Supplies

www.horsesandhounds.com

Equestrian Apparel

Find us on Facebook!

Engraving 860-413-9559 and Embroidery

VALLEY Open 7 DOG Days/Week GROOMING Grooming by appointment Leatherman Mon-Sat.

Chicks Arrive in March!

Lawn and Garden Care and Supplies

Equestrian Apparel

Engraving and Embroidery

Leatherman

Chicks Arrive in March!

Dog and Cat Food and Supplies

Pet Nutrition Consultations

Chicken and Duck Feed and Supplies

Goat Feed

Pig Feed

Llama Feed

Rabbit and Guinea Pig Supplies

Wild Bird Seeds

Deer Chow

Dog and Cat Grooming Services

More Than Just

Horse Feed!

860-413-9880

www.horsesandhounds.com

Find us on Facebook!

Open 7 Days/Week

Lawn and Garden Care and Supplies

Equestrian Apparel

Engraving and Embroidery

Leatherman

Chicks Arrive in March!

GRANBY LIVING | 5
---
FEATURE STORY

Bill and Susan hope that their nonprofit's innovative approach will be

included under veterans' health care coverage.

Meanwhile, the couple continues their other labor of love — "CT Valley

Views," the public-access TV show that features interviews with highprofile

guests in the politics, business, education and medical arenas,

along with wide-ranging cultural topics.

The show has been televised for eight years — airing in 42 Connecticut

towns and online at www.ctvalleyviews.com — and has received two sizable

state grants for high-definition equipment.

Further, the show has won two national Pegasus Awards for features on

child trafficking and the Hill-Stead Museum.

The couple's community investment doesn't stop there. Susan sponsors

an annual fine arts scholarship in Granby and West Hartford — in

memory of her mother, Sylvia Davis Patricelli — for a graduating high

school senior pursuing a career in the creative field. For more info: www.

sylviadavisart.com.

Bill and Susan also visit Meadow Brook of Granby, a nursing home and

rehabilitation center, with their Yorkshire terriers and puppies to cheer

the residents and patients. Susan breeds American Kennel Club-registered

Yorkies after previously breeding Jack Russell terriers.

The animal-loving couple have five horses on their Granby property

along with their Yorkies and two cats. They take in rescued and retired

polo horses whose temperament

blends well with the

Foxfield program requisites.

The couple often attends

municipal meetings in

Granby — Board of Selectmen,

Board of Finance,

Development Commission

— so they can be informed

about town budgets and

planning.

"We love the fact that we

can be so involved in a town

that has much to offer,"

Susan affirms, "and that we

can be part of its fabric to

give back to those who have

earned the support we wish

to provide both rhetorically

and in action."

For more information on Foxfield F.A.R.M.

(For A Recovery Mission), visit www.foxfieldrecoverymission.org

Diamond Award Winner

Top 1/2% Nationally

BERKSHIRE

HATHAWAY

HomeServices

#1 Sales Agent Award

in Connecticut

Top Customer Service

Award in Connecticut

Five-Star Award Winner

#1 Top Selling Agent

in Granby

#1 Top Listing Agent

in Granby

I am humbled to receive our 2018 Top Sales,

Top Customer Service awards and Chairman's

Circle- Diamond level recognition for

Berkshire Hathaway HomeServices New

England Properties network of Realtors.

I appreciate your trust and referrals. I care

about my clients and I love what I do.

Thank you!

Top 1/2% in BHHS Network

Call me . . . . I would love to help you sell

or buy your next home!

Nancy Reardon 860-836-7506

www.NancyReardon.com nreardon@bhhsne.com

Whether buying or selling I greatly appreciate the opportunity to be of service.

© 2019 An independently operated member of BHH Affiliates. ®Equal Housing Opportunity

bhhsNEProperties.com

6 | APRIL 2019
---
REAL ESTATE LISTINGS

RECENTLY SOLD IN GRANBY

Address Town List Price Sale Price Beds Bathrooms Rooms Sq Ft

31 Copper Brook Circle, Unit #31 Granby $439,900 $530,363 3 2 Full & 1 Half 6 2,280

3 Becontree Heath Rd. Granby $309,900 $309,900 3 2 Full & 1 Half 7 2,359

70 E. Granby Rd. Granby $247,900 $236,000 3 2 Full 7 2,185

14 Loomis St. Granby $219,900 $220,000 3 2 Full 6 1,224

9 Pendleton Rd. Granby $119,900 $115,000 3 1 Full 6 1,432

Granby Real Estate page is sponsored by Santa Realty

Best Version Media does not guarantee the accuracy of the statistical data on this page. The data does not represent the listings of any one agent or agency but represents the activity of the entire real estate

community in the area. Any real estate agent's ad appearing in the magazine is separate from the statistical data provided which is in no way a part of their advertisement.

A brighter smile for your whole family

Kenneth E.

Endres DDS

Providing

State-of-the-Art

Preventative, Cosmetic

& Restorative Dentistry

New Patients Welcome!

Air Conditioning

Season is Coming!!

Beat the heat with a new

energy efficient air

conditioning system.

Central Air

Ductless Splits

Full Ductwork

New Installations

System Replacement

Energy Efficient Upgrades

Get a FREE in-home

estimate

Call Today!

Emergency Service • Family Oriented Practice

• Convenient Evening and Weekend Appointments

• Invisible Braces • Periodontal Treatments • Chair Side Bleaching

• Digital X-Rays • "No Drill" Dentistry Techniques

ENERGY REBATES & FINANCING AVAILABLE!!!

Call the Sales Department for details!

Now Offering CEREC ® Single Visit Crowns

860.653.4551

35 Hartford Ave. Granby, CT

www.SalmonBrookDentalCT.com

BeaconMechanical.com

S1-0397099 / P1-203890 / HOD - 0000787

GRANBY LIVING | 7
---
CELEBRATING OUR SENIORS

PAINTER

TONY BUSSMAN

IS A JACK OF MANY TRADES —

AND A MASTER OF TRIVIA

By Sarah Merrill

If you live in Granby, there's a good

chance you've seen Tony Bussman driving

his white van through town, Tony

Bussman Painting Co. across the side. His fullservice

residential painting company works all

over the state, but primarily in the Farmington

Valley and Hartford County.

You might also recognize Tony from his

regular participation in the Gran-Bee, an

annual "trivia-bee" fundraiser for the Granby

Education Foundation. Over the past decade,

he and his team members have brought home

the top trophy four times. Tony's wife, Ellen

(Lamoureux) Bussman, a surgical technologist

at Baystate Health, calls him a "total brainiac."

"Well, I don't know about that," laughs Tony.

"But I've always loved trivia."

Tony was born on Dec. 28, 1948 in Buffalo,

New York, the younger of two brothers.

"Shortly after I was born, my father, an aeronautic

engineer, moved our family to Seattle

because that's where all the airplane business

was," Tony says.

When his family moved back east after

about six years, his parents bought a house in

East Aurora, N.Y., just south of Buffalo. Tony

graduated from high school in Aurora as the

class president. He was a good student and a

very good athlete, quarterbacking the football

team and making all-conference in basketball.

"Baseball was my biggest sport," says Tony.

He graduated from Stetson University in

DeLand, Florida, with a B.A. in American studies:

"The 1960s was a great time to be a young

person and a student — the music, the culture,

the activism."

"Incidentally," Tony adds, "It's little-known

that I was also a ballet dancer in college. I

started taking classes because of a girl — but I

quickly became very good at it."

As a 1971 college graduate, with the Vietnam

War underway, the writing was on the wall.

However, Tony's parents remembered that

when he was in the second grade he nearly died

after a bee sting. His father suggested he see an

allergist before his draft

board physical.

"I was still very allergic,"

says Tony. "At my physical, I handed a note

to the doctor and that was that — no Vietnam

for me."

Because he imagined he'd be at war, Tony

hadn't pursued his original plan of applying to

law school. Unsure what to do next, he took a

trip around Europe.

"I followed the Fromm's book on how to live

on five dollars a day," says Tony. "I slept on a lot

of trains."

After working for his brother's bar in Rochester,

N.Y., Tony took a job with a brand-new

health club.

"This place was the embryo of what health

clubs would become," he says. "It had a jogging

track and a swimming pool — not just a vibrating

belt!"

He stayed with this fitness company for about

10 years, ultimately owning and managing clubs

in Manchester and Southington, Conn.

Tony's first marriage was in 1974 and his first

child was born in 1981. Not enjoying the stress

of owning two fitness clubs, Tony sold his share.

Seemingly never afraid to try something new,

for the next 20 years Tony pursued a variety of

other endeavors, including selling employee

benefit plans and working as a stockbroker.

In the late '90s, Tony began picking up

painting jobs because he enjoyed the work.

There was significant precedent for this, Tony

explains. His father used to build and restore

houses.

"My father's generation could do anything,"

says Tony. "He built houses, he restored cars,

and he could fix anything. I picked up none of

those skills, but I could always paint. Even as a

kid, he had me painting."

In high school and in college, Tony often

painted during summer breaks.

In 2001 Tony started his own company, Tony

Tony

Bussman

in 1971

at Stetson University

Bussman Painting, LLC. Almost 20 years later,

he's still enjoying residential painting — and

still trying to avoid bees.

"The truth is, I get stung every year," laughs

Tony. "I have an EpiPen, but I still have to rush

to the clinic or the emergency room. I've had

some close calls."

Tony and his wife Ellen — married for 28

years — met through mutual friends. When

they married in 1991, they joined their two

families and have four children between them.

Their youngest got married last month.

"Our kids had a great experience with the

Granby schools," says Tony. "And recently I've

gotten the inside perspective from subbing

there."

When painting work gets slow in the winter,

Tony has enjoyed some substitute teaching:

"I've gotten to know a lot of the teachers, and

they're great."

"We also loved the sports programs in

Granby," says Tony, who coached his daughter's

soccer team and his son's Little League team. "I

spent many, many hours on the field, but I'd do

it over again in a second."

Ellen, who grew up in Chicopee, Mass., has

lived in Granby for 35 years. She says Granby

was much quieter 30 years ago. She and Tony

live near the center of town at the end of a quiet

cul-de-sac. They back up to the woods and

enjoy frequent wild animal sightings.

"Given how much I drive for work, the only

complaint I have about Granby is how far it is

from the highway," says Tony. "But driving an

extra 20 minutes is a small price to pay for the

beautiful pastoral existence that we've got here."

Sarah Merrill is a personal historian with

Merrill Memoirs, based in Granby. She works

with individuals and families to capture and record

their personal memoirs and family histories.

Visit her website at www.memoirsbymerrill.com.

Celebrating Our Seniors is sponsored by McLean

8 | APRIL 2019
---
WALK-INS WELCOME!

We treat colds, flu, sinus issues,

asthma, stomach bugs, skin

infections, sprains, fractures

and much more!

THE DOCTORS

TREATMENT CENTER

Urgent Care and Occupational Medicine

Avoid long lines at the Emergency Rooms | On-site X-Ray

WE ACCEPT ALL INSURANCE PLANS

WALK IN SCHOOL, SPORTS

& DOT PHYSICALS

Open 7 days a week

Monday-Friday: 7:30am - 8:30pm

Saturday & Sunday: 9am - 3pm

7 Mill Pond Rd., Granby

860-653-2382

Two Locations

240 East St., Plainville

860-747-4541

Coming Soon to Bloomfield Mini Mall

BLOOMFIELD URGENT CARE

www.urgentcarecentersct.com

One Community. A Continuum of Care.

Lifelong Security in a place you call home.

The Village at McLean

Assisted Living | Memory Care Assisted Living

Enhanced Assisted Living

Post-Acute Care / Short-Term Rehabilitation

Long-Term Care | Home Care & Hospice

Outpatient Rehabilitation & Wellness Programs

Campus Clinic

860-658-3700 75 Great Pond Road | Simsbury, CT 06070 | McLeanCare.org

GRANBY LIVING | 9
---
TEACHER APPRECIATION

Grace Matthews

LANGUAGE ARTS & READING TEACHER

Compiled by Bruce Deckert

Grace Matthews — Language Arts & Reading Teacher

Granby Memorial Middle School

8th grade language arts, 6th grade reading support

Began teaching career —2012

Began teaching In Granby — 2012

Career History — Prior to college, I worked for years in the City Slickers

equestrian program, where I helped low-income students connect with

people and animals. I applied to Granby Memorial Middle School in 2012

immediately after graduating from UConn with a bachelor's in English and

from CCSU with a master's in education. I've been a language arts teacher

here in Granby for seven years.

Where were you born and raised?

I was born in New Haven and raised in Wolcott, Connecticut.

What motivated you to pursue a teaching career?

I'd been told from a young age that I had a knack for public speaking,

but really I chose teaching because I loved the idea of being creative with

growing bright minds. Kids have such inspiring ideas and perspectives,

and I knew the classroom would be a place that would never become stale

for me.

What is the most rewarding

aspect of your work as a

teacher?

I think the most rewarding part of being a teacher is when students seek

you out for support or just because they're excited to share something with

you. When they open windows into their lives, you know you're doing

your job well because they feel connected to you. It's always my goal to

make students feel valued so that these moments are frequent.

What do you enjoy most about working with young people?

Young people keep me sane. They remind me of the good in the world,

how rapidly we change, and the ways in which our time flies by.

What is the biggest impediment to student success today? How can

teachers help students overcome this obstacle and succeed?

There are many impediments to student success today, but one that I

always think about is dependency. Teachers and families always aim to act

with an equity lens, giving each student what they need to succeed. While

doing so, we need also to remember to foster independence, resilience and

adaptability. After all, we want our students to be prepared citizens ready

to overcome obstacles in the real world.

Please share a brief anecdote that gives a glimpse of your work as a

teacher:

When you first walk into my classroom,

I hope you see a garden: careful

trimming and watering, dirt-filled

efforts and fragile new growth. When

you come back, I hope you see vivacious

blooms taking over their own

unique paths: a daffodil reaching for

the sun, a rose bush soaking up water,

and a cactus, knowing it needs none.

Family info — My husband is

Gregory Matthews, and we have two beloved dogs, Cruiser and Yoshi. My

always-supportive parents, Steven and Susan Janelli, live in Wolcott.

Age — 30

10 | APRIL 2019
---
EXPERT CONTRIBUTOR

UNDERSTANDING INFLAMMATION:

CAUSES, AFFECTS AND TREATMENT

By Katherine Layman ND

What is inflammation? It seems

like such a blanket term associated

with so many health

problems these days: pain, digestive issues,

headaches, autoimmunity, diabetes, skin issues,

and the list goes on.

The truth is that inflammation is associated

with the development of many health concerns,

and this is why so many drugs are developed

(prescription and over-the-counter) on the

premise of ANTI-inflammatory effects.

Please understand, inflammation is actually

a process that was originally designed by the

body to be beneficial. Unfortunately, today it

has gone awry for many reasons. Inflammation

is actually the body's attempt to repair damage

that has occurred.

Major problems ensue when that damage

is ongoing — when we ignore the reasons the

inflammation is there in the first place, often

for years. Ignoring this damage for years plays a

large role in many of the chronic health conditions

we see today.

Many of my patients are middle-aged men

and women who have been battling with this

notion of chronic inflammation for years. They

have tried many approaches, usually finding

their attempts a waste of time and money

because the stubborn inflammation rears its

head again. They've been told, or have read, to

just take this supplement or that pill and their

problems will go away.

They did this only to find that when they

stopped taking it, their problems return. Not

only does the problem return, but after years of

the band-aid approach other health concerns

tend to pop up as well, leading to more and

more supplements and/or pills.

This is why taking anti-inflammatories has

almost no long-term positive effect; in other

words, the anti-inflammatory pills are widely

just band-aids, and I'm not excluding supplements

here. No, you are not Tylenol-deficient

just as you are not curcumin-deficient. Many

people take natural anti-inflammatories in supplement

form thinking it may fix the problem

naturally, but this too is often just a band-aid.

Don't get me wrong, there is absolutely a

time and place for taking anti-inflammatories,

but if they need to be taken for a long period of

time there is usually something else that needs

to be addressed. You cannot expect inflammation

and any conditions associated with

inflammation to resolve without putting out the

fire — without addressing the cause.

The key to addressing this inflammation

is not fighting it, but rather understanding it.

Understanding why it is there in the first place.

Once we have an understanding of why it is

there, we are able to address it. Only when we

address whatever is keeping the fire burning

can we truly decrease this chronic inflammation,

further adding a sense of well-being,

health and vitality to our lives.

There are more effective therapies than

anti-inflammatories, but they too often aren't

utilized because they're more about education

and the doctor-patient relationship, and the

insurance-based health care system is just not

set up to do that.

Katherine Layman, ND, is a Naturopathic Physician, wellness mentor, speaker and designer of the Revitalize Health Program at Valley Wellness

Center in Canton, Conn. Her professional practice includes nutrition, hormone balancing, fitness, education and sustainable weight control.

Info: www.valleywellnessct.com

On your road to recovery, at

PROVIDING

• Short-Term

Rehabilitation and

Long-Term Care

• Physical, Occupational

& Speech Therapies

• IV Therapies

• Orthopedic Rehabilitation

• Stroke & Neurological

Rehabilitation

• Pulmonary &

Cardiac Recovery

• Complex Medical Care

• Pain Management

• Wound Care

350 Salmon Brook Street

Granby CT

860.653.9888

athenanh.com/meadowbrook

Managed by Athena Health Care Systems

MULTI-DOSE

PACKAGING

& FREE DELIVERY

Our multi-dose packaging is

personalized just for you.

No more guesswork,

and no more bottles

or pillboxes.

860-653-2517

9 HARTFORD AVENUE, GRANBY, CT 06035

WWW.GRANBYPHARMACY.COM

GRANBY LIVING | 11
---
GRANBY HISTORY

THIS MONTH

IN GRANBY HISTORY

By Ken Kuhl

GRANBY

April 1861 — Everett Griswold joined the service April 19, 1861, and

was probably the first Granby man to enlist, although his example was

quickly followed by seventeen more enlistments in May. Twenty more

men were enrolled in the service before the end of the year.

Just after the bombardment of Fort Sumter, S.C., and the U.S. Army's

surrender to the Confederate Army, Granby citizens jumped into action!

The war raged on for four long years until April 9, 1864, when Robert E.

Lee surrendered to Ulysses S. Grant at the Appomattox Court House in

Virginia. Four years later the Town of Granby commissioned a memorial

statue in the center of the village.

Today, the first Civil War statue erected in the state of Connecticut

stands on the green in Granby Center. The brownstone monument was

built by James Batterson of Hartford and was dedicated on July 4, 1868.

The figure was actually sculpted by Charles Conrads (1839-1920), who

was Batterson's lead man at his Main Street shop in Hartford. The somber

monument features a contemplative, bearded soldier holding a rifle with

his overcoat draped over his shoulders.

The statue's pedestal is presumed to be designed by George Keller,

who joined the firm in 1865. Keller later created the famous Soldiers

and Sailors Arch at Bushnell Park in Hartford and the Soldiers National

Monument at Gettysburg, Pa.

Batterson's firm had built a nearly identical statue on Old Main Street

in Deerfield, Mass., in 1867.

After the Civil War, Granby residents wished to honor the memory

of their brave husbands and sons who answered their country's call to

fight and die on a distant battlefield. The dedication on the front (south)

face of Granby's statue reads: "This monument is erected by voluntary

contributions in commemoration of the brave men from the town of

Granby who laid down their lives for the Union in the War of the Great

Rebellion. Erected July 4, 1868"

Other inscriptions include the names of men who were held at the

Confederate prisoner of war camp in Andersonville, Ga., a list that honors

the lost at the Battle of Antietam and the Battle of Cold Harbor, Va.

A biblical verse is etched on each of the four sides of the monument

base, including an inscription on the south side which reads, "They

shall hunger no more, neither thirst any more" and on the north side,

"Death is swallowed up in victory," from 1 Corinthians 15.

The Fourth of July dedication in 1868 was a big celebration and a

major event for the Town of Granby. In addition to the program, the

Committee of Arrangements for the dedication provided for toasts, a

clam bake, strawberries, ice cream, lemonade, flowers and candies.

Treat yourself to

Real Unfiltered

Craft Beer

Made Here!

LIVE MUSIC MOST WEEKENDS!

Visit our website or facebook page for

complete schedule & special events.

Lunch: Tues, Wed, & Sun 11:30am-4pm | Dinner till 9pm

860-653-2739

357 Salmon Brook St., Granby CT

www.cbh.beer BAR OPEN LATE

Lunch: Thur, Fri & Sat 11:30am-4pm | Dinner til 10pm

12 | APRIL 2019
---
Over the years, the cross-cut brownstone

suffered from erosion due to weather and

sunlight. By the late 1940s the musket, which

had been deteriorating, disappeared completely.

In 1950 Lizzie Clark, the daughter

of a Civil War veteran, had the monument

cleaned in memory of her dear father, who

loved looking toward the park and the magnificent

old statue.

By the early part of the 21st century,

the condition of the revered statue had

deteriorated to the point that it came to

the attention of Carol Laun, curator of the

Salmon Brook Historical Society. She asked

the American Legion to help save the monument.

Laun chaired the committee, directed fundraising

publicity and made speeches for donations,

yet she insisted that "the American

Legion guys did all the work of researching,

interviewing and getting the work done."

As spring arrives this year, drop by the

Granby Green with the floral in full bloom

and admire our venerable old friend.

The Batterson Monument Works in Hartford

CONNECTICUT

April 1861

The women of Bridgeport,

Conn., founded the

nation's first soldiers' aid

society on April 15, 1861.

UNITED STATES

April 1861

Fort Sumter in South

Carolina was attacked by

the Confederacy on

April 12, 1861, beginning

the Civil War.

WORLD

April 1861

The Bezdna peasant

revolt was caused by the

unrest of former serfs after

the Emancipation Reform

of 1861 in Russia.

Ken Kuhl is a member of

the Salmon Brook Historical

Society in Granby.

Decoding the Body's language

so you may finally heal.

Q

A

CAN YOGA CAUSE INJURY?

Any exercise can cause injury if not done properly. As with

any type of exercise, proper form and proper instruction

are key components to staying safe. I always recommend

a few private sessions with a qualified instructor for

anyone new to yoga. A well-qualified instructor can not

only teach you proper movement and modifications but

can also recommend which types of yoga are best suited

for your Body and your goals. If you are considering yoga,

reach out! I'd love to help you create the safest most effective

practice for you and your needs.

Contact me at KristalFiorentino.com

for more info how yoga therapy

could help you.

GRANBY LIVING | 13
---
EXPERT CONTRIBUTOR

MUSIC & MEMORY:

A PERSONALIZED PLAYLIST CAN COMBAT MEMORY LOSS

BY CHRISTINE LOOBY

If you have a special senior in your life, you

can do something today that might bring

great comfort and pleasure in his or her

journey through the aging process. By creating

a customized music playlist, you may be able to

prevent acute delirium during hospitalizations,

reduce anxiety and soothe those coping with

Alzheimer's disease and related dementia.

The documentary "Alive Inside" — which

chronicles social worker Dan Cohen's travels

across the United States to demonstrate music's

ability to combat memory loss and restore a

deep sense of self to those suffering from it —

won the Audience Award at the 2014 Sundance

Film Festival.

Recycle leftover paint?

Yeah, we do that.

Beman's will recycle or dispose of your

unwanted paint, stain & varnish, no charge.

Beman TrueValue Hardware

20 Hartford Ave., Granby CT

(860) 653-2598

www.bemanhardware.com

Most of us know the pain of watching a loved

one experience dementia as part of their aging

journey, wondering whether the person we

remember as so vibrant is still "alive inside,"

as many of the manifestations of Alzheimer's

and dementia result in our being unable to see

evidence of emotion or comprehension.

In the movie, and through his founding the

nonprofit organization Music & Memory,

Cohen provides compelling evidence that

personalized music can sometimes heal in a way

that pharmaceutical interventions cannot. The

more scientists study Alzheimer's effects on the

brain, the more emphatically they tell us that

the creative center tends to be the last area ravaged

by this devastating disease.

This gives memory care providers great hope.

By engaging residents and clients in art therapy

and by making art and music an integral part

of their environment and experience, they can

experience a better quality of life.

$7 OFF

Regal Select

Coupon valid for $7.00 off retailer's suggested retail price per gallon of up to 5 gallons of REGAL® SELECT. Redeemable only at

participating retailers. Must present this original coupon to redeem – no copies will be allowed. Limit one per customer. Products may

vary from store to store. Subject to availability. Retailer reserves the right cancel this offer at any time without notice.

Cannot be combined with any other offers. Coupon expires 4/30/19.

"You can't just guess

that because a person

is of a certain age, they

must have loved big

band or jazz," Cohen

explains. "You need

to find out from their

families, from the

people closest to them,

what music elicited an

emotional response

from them. In the same

way, if somebody loved

the Stones, well, you

can't just download the entire library of Rolling

Stones music and expect success. You need to

find out which songs they connected with and

cherry-pick the playlist for each person. It's a

lot of work, but it decreases agitation, increases

cooperation — it's well worth investing the time

in tailoring the music to the individual."

To create a playlist for your loved one, sit down

to talk with him or her. Find out the names of

10-15 artists or bands that he or she remembers

as favorites. If he was a lover of classical music,

who was the composer he admired most? Does

she remember singing beloved hymns at religious

services?

Talk about high school dances, college formals,

weddings — all of these special events may hold

wonderful musical memories.

From there, you will begin to build a music

library on your computer which can be downloaded

to an MP3 device for your loved one's

enjoyment during a stay in the hospital, shortterm

rehabilitation or long-term care. Finetuning

this playlist can be an ongoing source of

joy for both of you.

For more on the connection between music

and memory and the benefits of personalized

playlists, visit www.musicandmemory.org

Christine M. Looby, M.A. is Regional Executive

Director of Marketing and Communications for

Trinity Health Of New England Senior Communities,

2021 Albany Ave., West Hartford, CT

06117. 860-570-8305 clooby@mchct.org / www.

themercycommunity.org

14 | APRIL 2019
---
Capture Life's Precious Moments

Group Photos

Fundraisers

Special Occasions

Hour & Mini Sessions

860.209.4127 FB@AmyGeignerPhotography

Retirement Has Changed.

And So Have We.

Celebrate a Lifetime of Smart Decisions by Making

Another One Right Now. Make the most of your

retirement with The McAuley's new Lifestyle Evolution.

Beautifully-renovated common areas, enhanced wellness

amenities, and tasteful apartments are only the start. With

great neighbors, local cultural events, and access to all West

Hartford has to offer, The McAuley supports your vibrant

lifestyle — without the hassle of home ownership. Choose

The McAuley and celebrate your success in style.

275 Steele Road, West Hartford

www.TheMcAuley.org | 860-920-6319

West Hartford's Only Life Plan Community

INDEPENDENT LIVING • ASSISTED LIVING

GRANBY LIVING | 15
---
Granby Living

0601

Every year the Connecticut Law Tribune recognizes top performing firms in the state.

Brignole Bush and Lewis is consistently on this list of exceptional law firms.

BRIGNOLE, BUSH AND LEWIS, LLC

ATTORNEYS AT LAW

CRIMINAL DEFENSE DIVORCE PERSONAL INJURY

Number One Highest Jury

Verdict for Individual in a

Car Accident. 12.8 Million

#1

Settlement of the Year for $6,475,000

& Two Top Ten Motor Vehicle Verdicts

of the Year for $1,551,318 and $287,924

Referrals always welcome. Referral fees Protected.

Nominated to Top 1%

of Trial Attorneys in the

Nation

HARTFORD

73 Wadsworth Street

Hartford, CT 06106

860.527.9973

GRANBY

261 Salmon Brook Street

Granby, CT 06035

860.653.5222

NEW BRITAIN

25 Arch Street

New Berlin, CT 06051

860.223.4900